Wow, what a morning!
Amazing oneworld transatlantic business class sale
This morning Tiffany wrote about the amazing British Airways transatlantic business class fare sale, whereby British Airways is advertising $2,015 roundtrip business class fares between the US and Europe. However, in reality the fares are considerably lower than that, and are more like ~$1,800.
But it gets even better than that. If you're eligible for the AARP discount (as discussed in this post) that knocks the fare down a further $400. And then if you have the British Airways Visa Card you get a further 10% discount. In the end, this means fares between the US and London are running ~$1,250 per person roundtrip, which is an incredible value.
Keep in mind that on top of that:
Why the timing of this was perfect
I've been planning on going to London for Thanksgiving, and literally last night was sitting in bed flustered at the lack of award options. Thanksgiving is generally an off peak time for transatlantic travel, but there still wasn't much award space.
And for that matter, awards to London aren't ever cheap. At a minimum you're stuck paying the UK Air Passenger Duty, which is ~$250 for business class flights departing London. But beyond that, if you're flying British Airways you're stuck paying fuel surcharges on award tickets, which can total ~$1,000 roundtrip.
So I was about to throw in the towel, until this morning when I saw this fare sale. I decided to book British Airways business class roundtrip between Los Angeles and London. While I've reviewed British Airways first class several times, I've yet to review their business class, so I'm quite excited about doing that.
For my ~$1,250 ticket I'm earning:
~11,000 elite qualifying miles
~16,500 elite qualifying points
52,500 redeemable miles (27,500 redeemable miles for being an Executive Platinum member, plus 25,000 bonus miles as part of the transatlantic bonus)
When you factor in that I'd pay the ~$250 UK Air Passenger Duty even on an award ticket, that makes the "real cost" of the ticket ~$1,000. And I value the 52,500 miles at ~$945.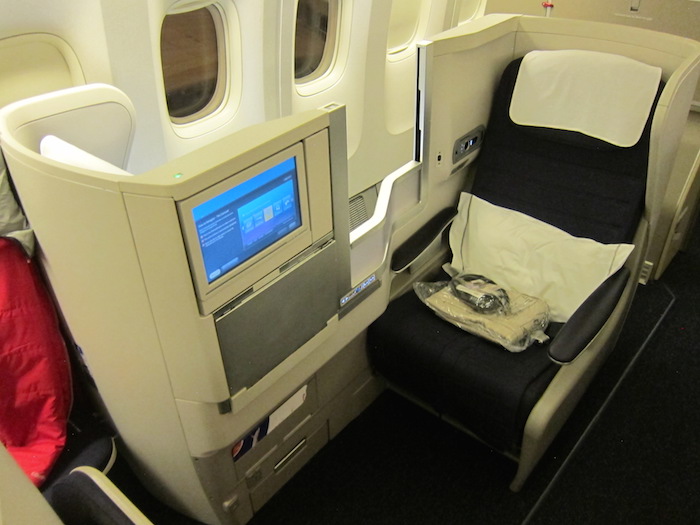 Lastly, keep in mind that you can upgrade British Airways business class tickets to first class quite inexpensively with Avios, assuming there's availability.
Bottom line
This is one of the best sales I've seen so far, though in general these types of sales come around pretty frequently. In a way it sort of shifts the value of using miles for travel to Europe.
If you can plan at the right time (we see these sales at least every couple of months), you can almost always fly to Europe in business class quite inexpensively. If you place any value to your miles (which you should), you're better off paying cash than redeeming points, in these instances.
That being said, this might be the last go around where we can get it quite this cheap. The AARP discount expires for bookings as of October 31, 2015, and we haven't heard yet whether it'll be renewed or not (for a while the discount even seemed to be gone).
In the meantime, I'm certainly looking forward to reviewing British Airways business class on two plane types on my ~$1,250 ticket, which will earn me over 50,000 AAdvantage redeemable miles.
If you're interested in taking advantage of this sale, I'd recommend booking sooner rather than later. The sale is valid through tomorrow, though availability on the more desirable flights might disappear prior to then.
Have you taken advantage of British Airways' business class fare sale?