Review: EVA Air Business Class 777 Los Angeles To Taipei
Review: Novotel Taipei Taoyuan Airport
Review: Hello Kitty Ridiculousness At Taipei Airport
Review: EVA Air Lounge Taipei Airport
Review: EVA Air Hello Kitty Business Class 777 Taipei To Singapore
Review: KLM Business Class 777 Singapore To Bali
Review: InterContinental Hong Kong
Review: St. Regis Lounge Male Airport
Review: Trans Maldivian Airways Flight
Review: St. Regis Maldives Overwater Villa
Review: St. Regis Maldives Vommuli Resort
Review: Prince De Galles Hotel Paris
Review: Alitalia Lounge New York JFK
Review: Philippine Airlines Business Class 777 New York To Vancouver
---
This trip report is going to be a bit different than my usual ones. I've been on an insane trip the past few weeks for something I've been working on, the full details of which I'll eventually reveal. A lot of this involved flying airlines and staying at hotels I've already visited. As a result, I won't be publishing the typical start-to-finish trip report this time around, but rather will be writing about select flights that I think will be most interesting to you guys.
So for the first installment I want to cover my flight from Los Angeles to Taipei on EVA Air, which I booked using Air Canada Aeroplan miles (Los Angeles to Taipei to Singapore cost 77,500 miles one-way in business class without fuel surcharges). I flew EVA Air back when they first joined the Star Alliance, though this was my first time flying with them in over three years. A couple of years ago EVA Air updated their business class soft product, so I was curious to see how the product compared.
Since my flight was departing LAX I had access to the Star Alliance Lounge, which is excellent, and I've reviewed before. At around 9:45AM I headed to gate 155, given that boarding was scheduled for 10AM.
Sure, enough at 10AM boarding was announced. I was happy to see the EVA Air 777 with the updated livery, which I quite like.
EVA Air 5
Los Angeles (LAX) – Taipei (TPE)
Wednesday, February 8
Depart: 10:40AM
Arrive: 5:20PM (+1 day)
Duration: 14hr40min
Aircraft: Boeing 777-300ER
Seat: 8A (Business Class)
I boarded through door L1, where I was greeted by the extremely friendly flight attendants. Upon verifying my boarding pass, one of them escorted me to my seat. That's something you typically only get in first class, though EVA Air even does it in business class, which is impressive.
EVA Air's 777 business class consists of two cabins. There's the forward cabin, consisting of a total of 27 seats, spread across seven rows.

EVA Air 777 business class cabin
Then there's the rear cabin, where I elected to sit. The rear cabin has a total of 16 seats, spread across four rows. Personally I always like sitting towards the back, since there's less foot traffic during the flight.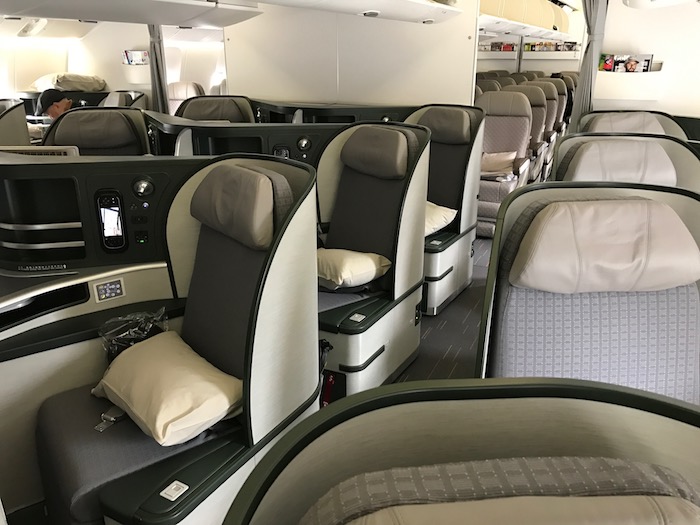 EVA Air 777 business class cabin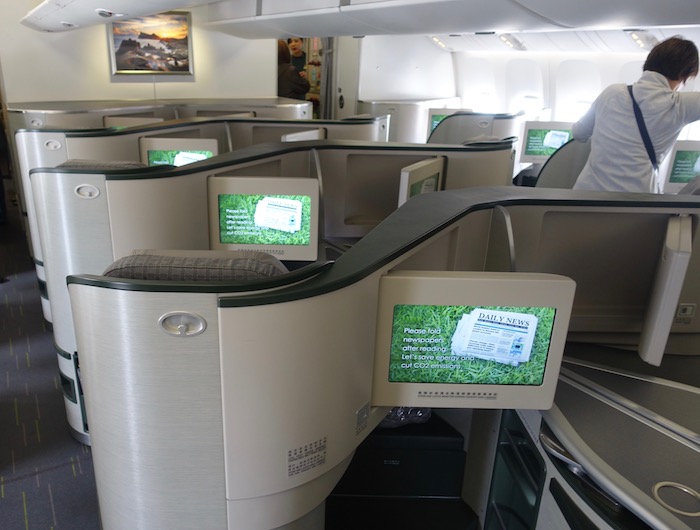 EVA Air 777 business class cabin
EVA Air has reverse herringbone seats in business class, which are among my favorite seats out there. I don't totally love EVA Air's color scheme, though this was one of their newest planes, so the seats were in immaculate condition.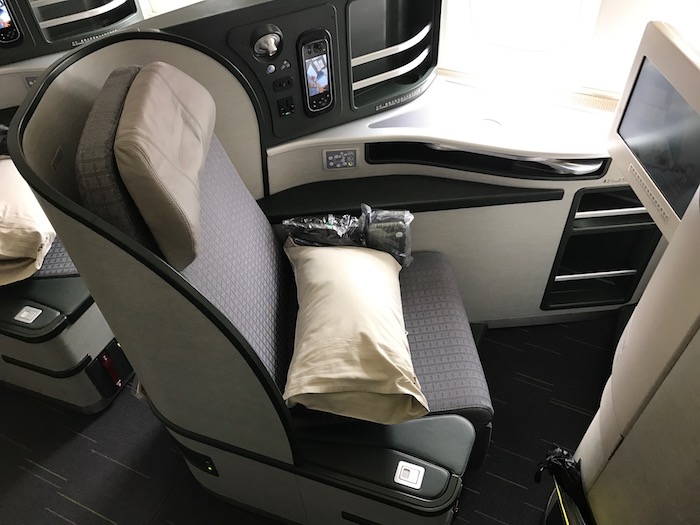 EVA Air 777 business class seat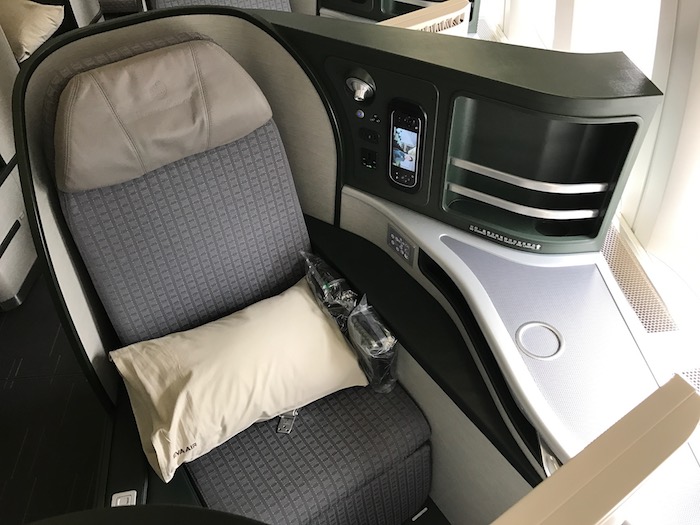 EVA Air 777 business class seat
I was in seat 8A, which is the bulkhead seat in the second cabin.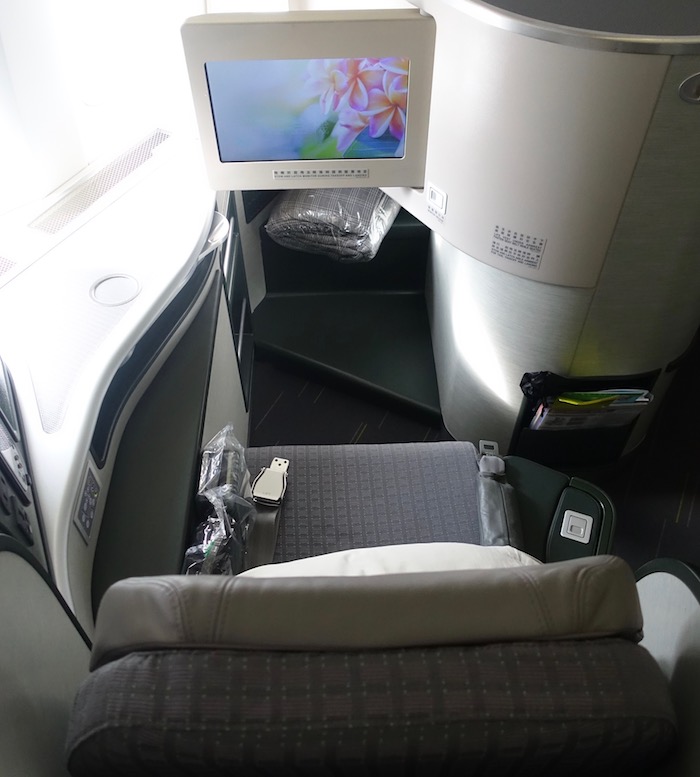 EVA Air 777 business class seat
Legroom was plentiful, and there was an ottoman of sorts, which becomes part of the bed when you recline the seat. While reverse herringbone seats can be a bit tight around the knees when fully reclined, it's still one of the best products out there, in my opinion. Furthermore, thanks to the bulkhead seat I had, I think my ottoman may have even been a bit larger.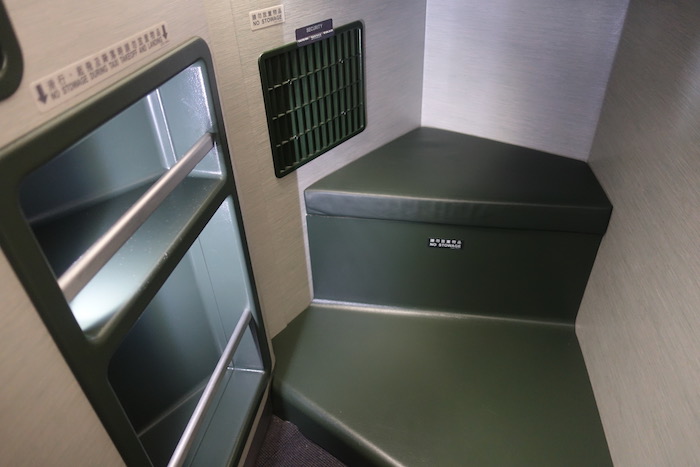 EVA Air 777 business class legroom
This seat had no shortage of storage. To the left of the seat was an exposed compartment.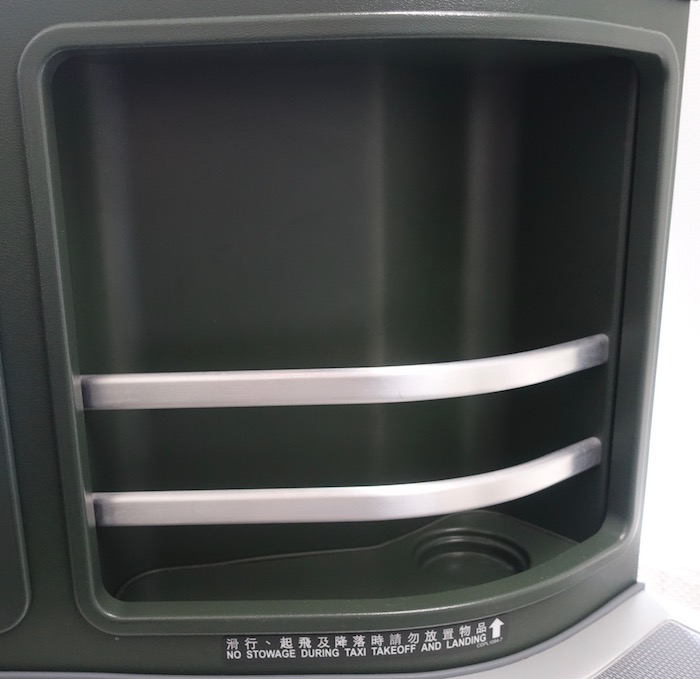 EVA Air 777 business class seat storage
Then below that were two more compartments.

EVA Air 777 business class seat storage
To the left of the top compartment was a reading light, entertainment controller, headphone jack, and power outlet (including a 110V outlet and two USB outlets).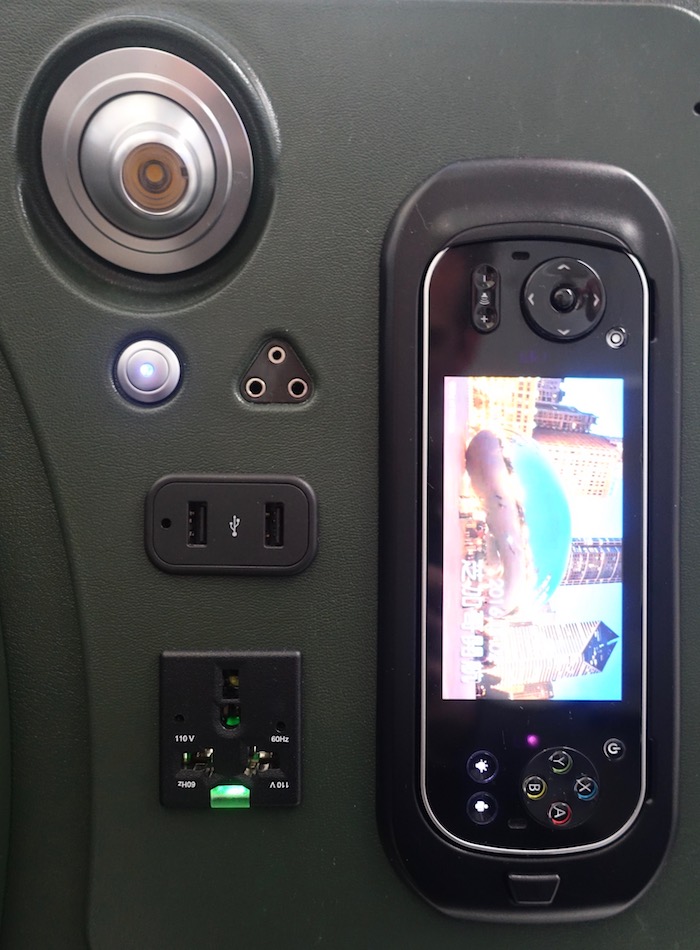 EVA Air 777 business class seat controls, outlets, etc.
Below that were the easy to use seat controls.

EVA Air 777 business class seat controls
Meanwhile on the aisle side of the seat was an armrest, which could be raised or lowered.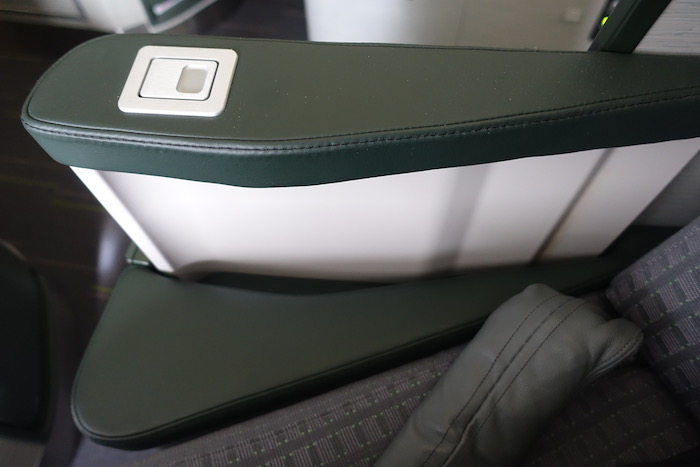 EVA Air 777 business class armrest
Already waiting at my seat on boarding was a fantastic pillow and blanket. Both were so plush and comfortable. I really appreciate when an airline has proper bedding, and it's an area where EVA Air excels.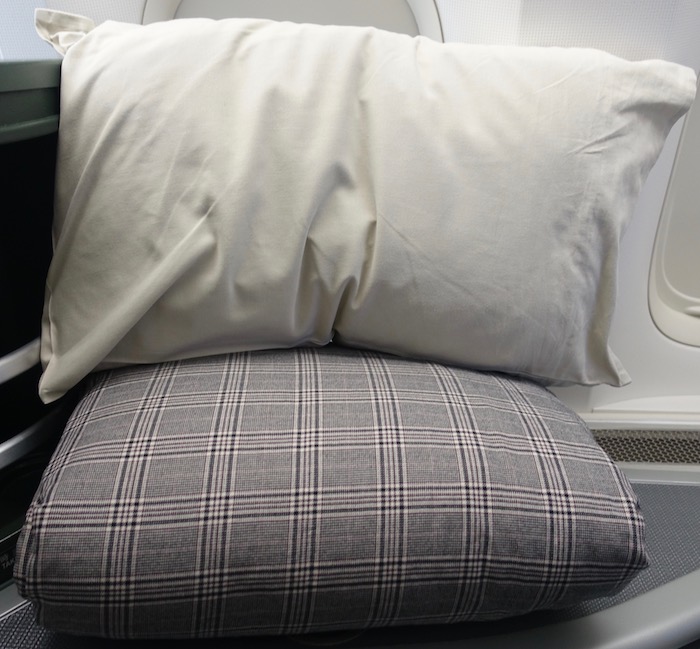 EVA Air business class pillow & blanket
There were also noise canceling headphones. They were decent quality, but still can't compete with Bose.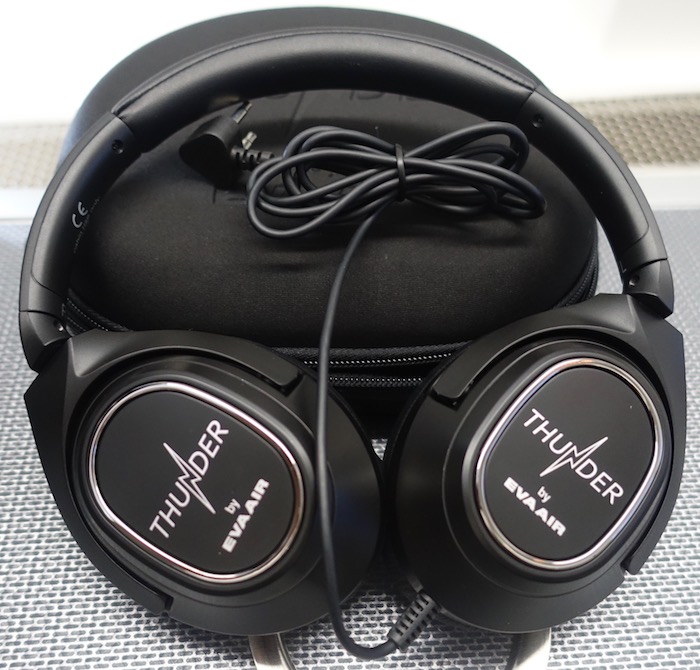 EVA Air business class headphones
There was also a Rimowa amenity kit waiting at my seat. I love these kits, so kudos to EVA Air for offering them.

EVA Air business class Rimowa amenity kit
The kit was also fairly well stocked, and had Harnn toiletries.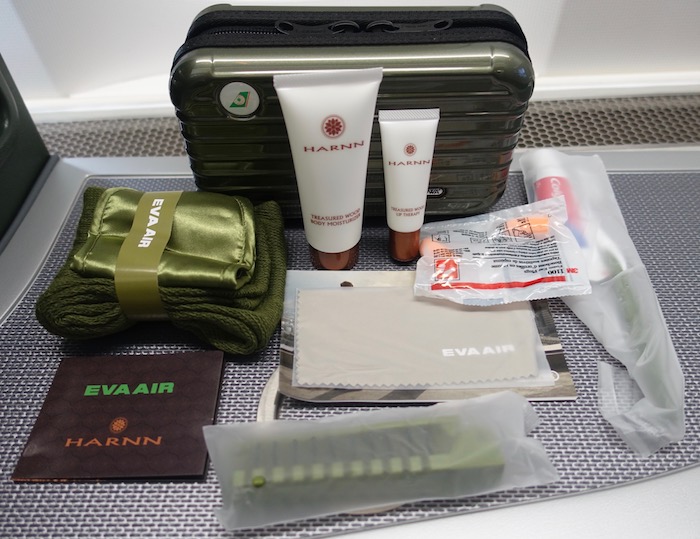 EVA Air business class Rimowa amenity kit contents
There were also slippers waiting at my seat.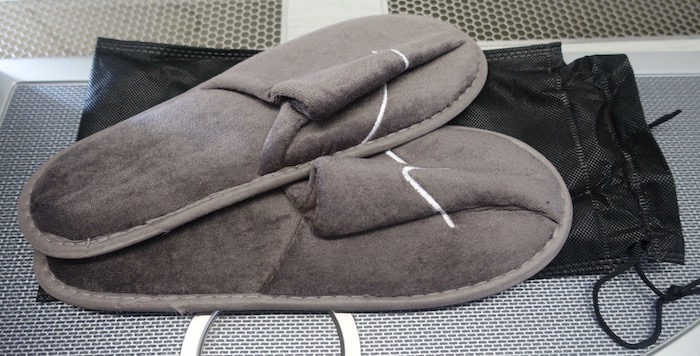 EVA Air business class slippers
Within a few minutes of settling in, one of the lovely flight attendants came by my seat to offer me a pre-departure beverage, with the choice between champagne, water, and orange juice. I selected a glass of champagne, and was served a warm towel and Godiva chocolate to accompany it (which I think is a nice touch — EVA's attention to detail is phenomenal).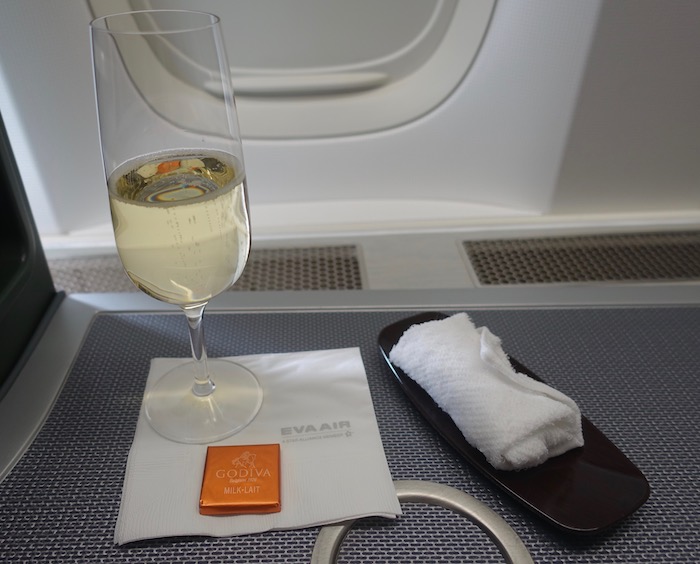 EVA Air business class seat storage champagne, chocolate, and warm towel
About 10 minutes later the flight attendants passed through the cabin with menus, which were beautifully designed, both in terms of the art and the quality of the paper.

EVA Air business class menu & wine list
Boarding was pretty efficient, and by 10:40AM boarding was complete. Economy and premium economy were packed, while there were a handful of empty seats in business class (all of the empty seats were in the rear cabin, and in the center section).
Once the door was closed the safety video was screened, and then about 10 minutes later we began our pushback.
After the safety video the crew came through the cabin to take meal orders. They kneeled at each person's seat as they took orders, and they were charming, addressed everyone by name, and introduced themselves. The one thing I found a bit odd is that they already took the pre-landing meal and drink order. I really don't know what I want to drink or eat in 13 hours.
After pushback we taxied to the north runways, past a LATAM 787 parked on the ramp.
By 11:15AM we were cleared for takeoff on runway 24L, and began the long takeoff roll for our 13hr50min flight to Taipei.
It wasn't an especially nice day by LA standards, so views were somewhat limited on the climb out.
As we climbed out I browsed the entertainment selection for the flight. They actually had a decent number of movies. For example, there were about two dozen Hollywood films.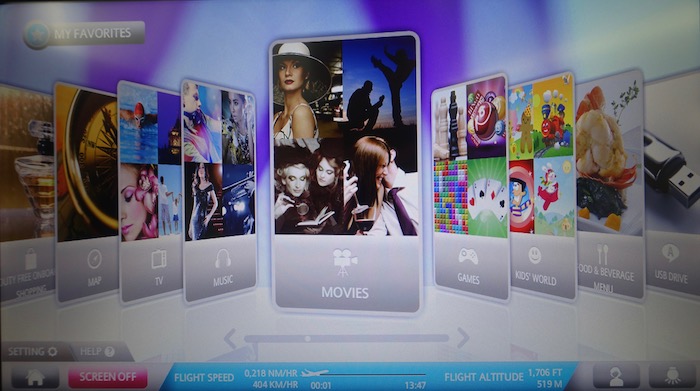 EVA Air entertainment selection

EVA Air entertainment selection

EVA Air entertainment selection
However, the selection of TV shows was disappointing. There were no U.S. sitcoms available. So the entertainment selection is one of the few weak points of EVA's product, in my opinion.
I also checked out the airshow feature. EVA Air uses the Panasonic Voyager System for their inflight maps, which I don't love, but they're not bad either.
However, EVA Air's non-industry leading entertainment is more than made up for by their excellent wifi. You can buy a 24 hour wifi pass for $21.95, with no data caps. The wifi was about as fast as it gets for an international flight, so I was happy about that, as I was able to stay productive most of the way to Taipei.
Despite a smooth climb out, it was about 20 minutes after takeoff until the seatbelt sign was turned off, at which point the captain advised us that we should be landing in Taipei at around 5PM, and may have some turbulence enroute due to the jet stream.
Once it was safe for the crew to be up, they distributed pajamas and bottled Fiji water. I love that EVA Air offers Fiji water, as it's my favorite. I should also mention that they loaded multiple bottles per person.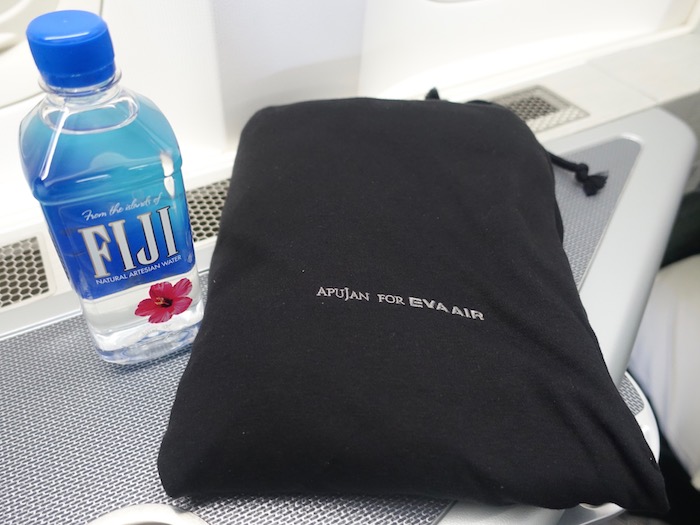 EVA Air business class pajamas & bottled water
I also loved EVA Air's pajamas. I wasn't expecting to like them when I first saw them, but they're just so quirky that they're almost stylish. I kept the pants, and have been wearing them all the time since taking the flight.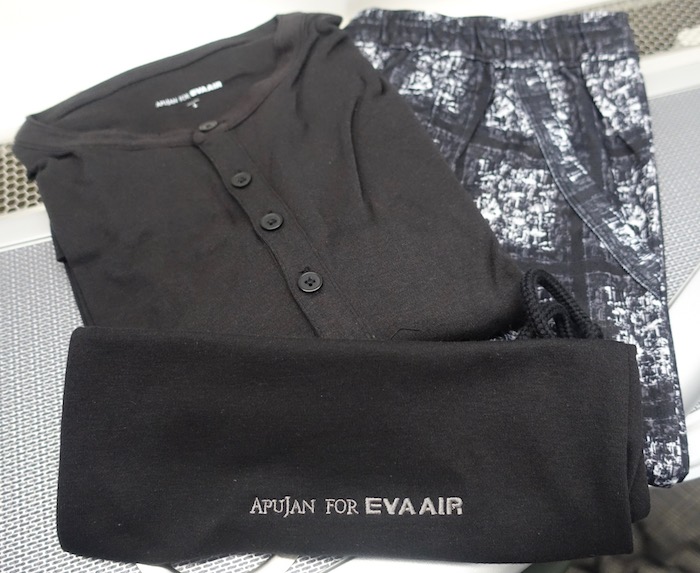 EVA Air business class pajamas
After pajamas and bottled water were distributed, the crew came through the cabin with landing cards for Taiwan.
After takeoff I also  checked out the lavatory. There was a huge lavatory between the two business class cabins, in addition to two lavatories at the front of the forward cabin.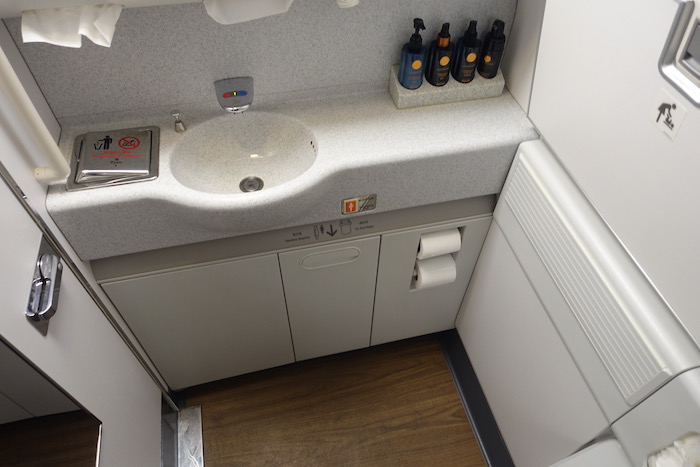 EVA Air business class lavatory

EVA Air business class lavatory
The lavatory had some very nice amenities, though I was mostly just pleased by the great condition in which the crew kept the lavatory. They seemed to clean the lavatory after almost every use, and even at the end of the flight, the lavatory was spotless. Big kudos to the crew for that.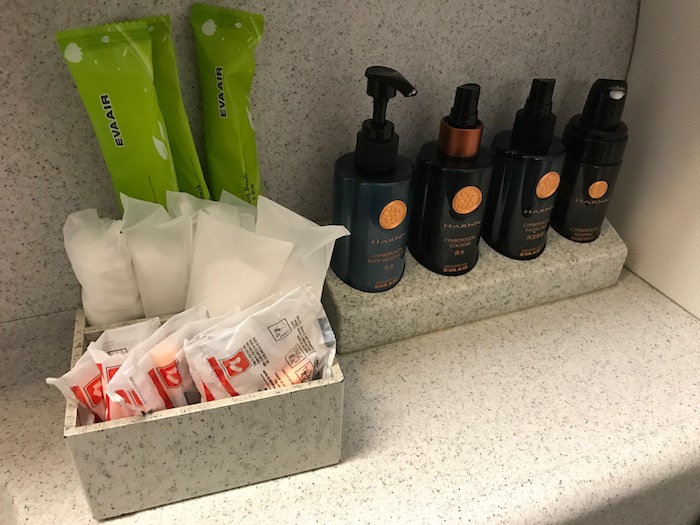 EVA Air business class lavatory amenities
I also had a quick look at the forward business class cabin as I emerged from the lavatory.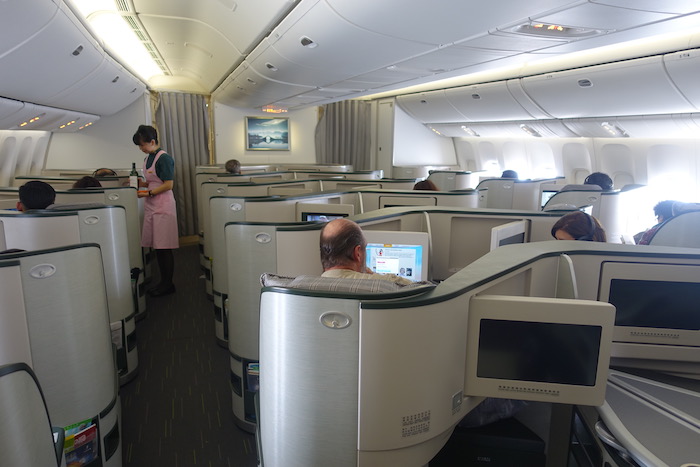 EVA Air business class cabin 777
About 45 minutes after takeoff the meal service began. The menu read as follows: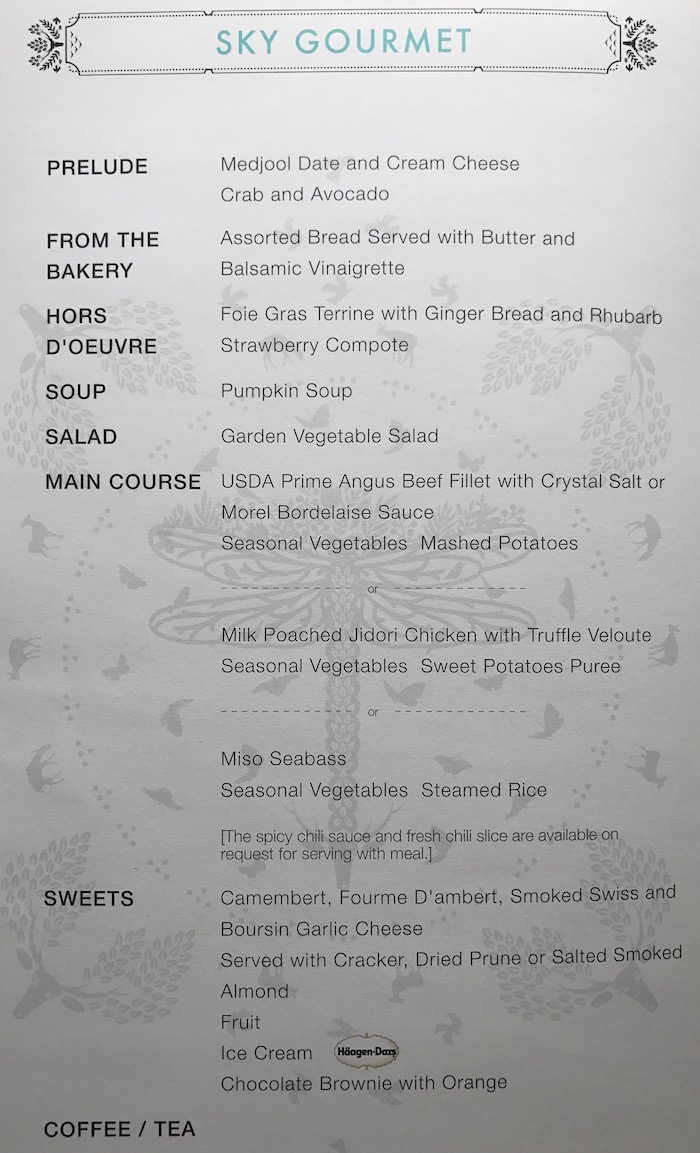 The drink list read as follows: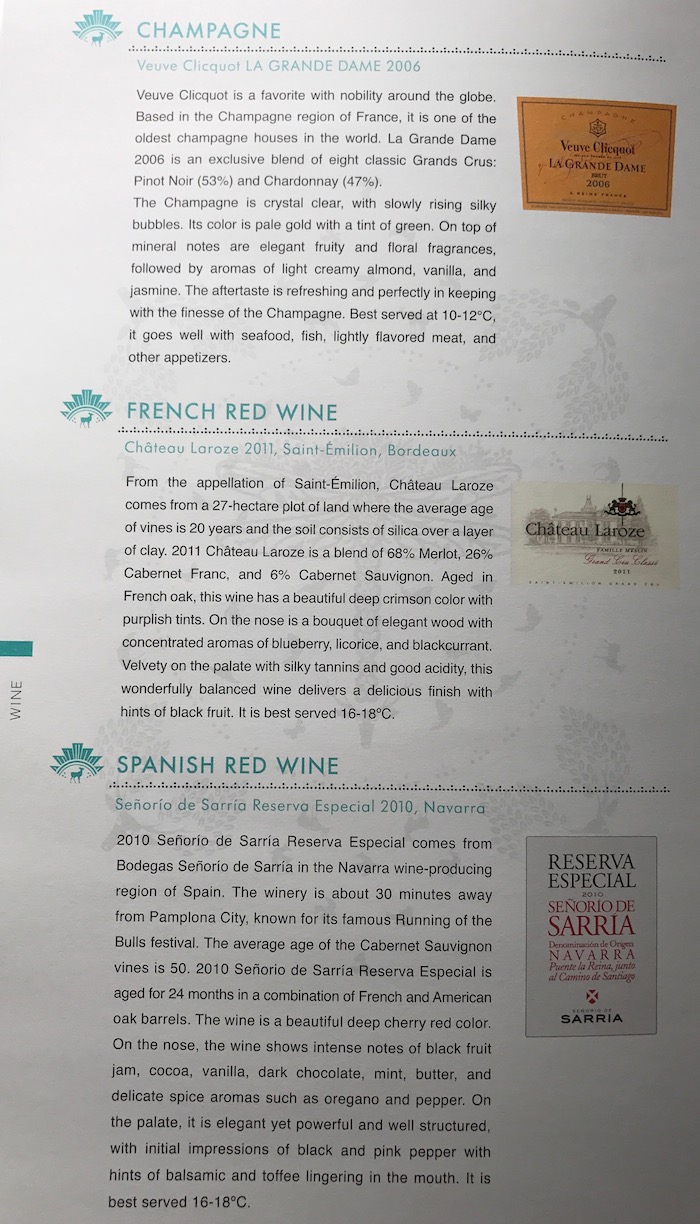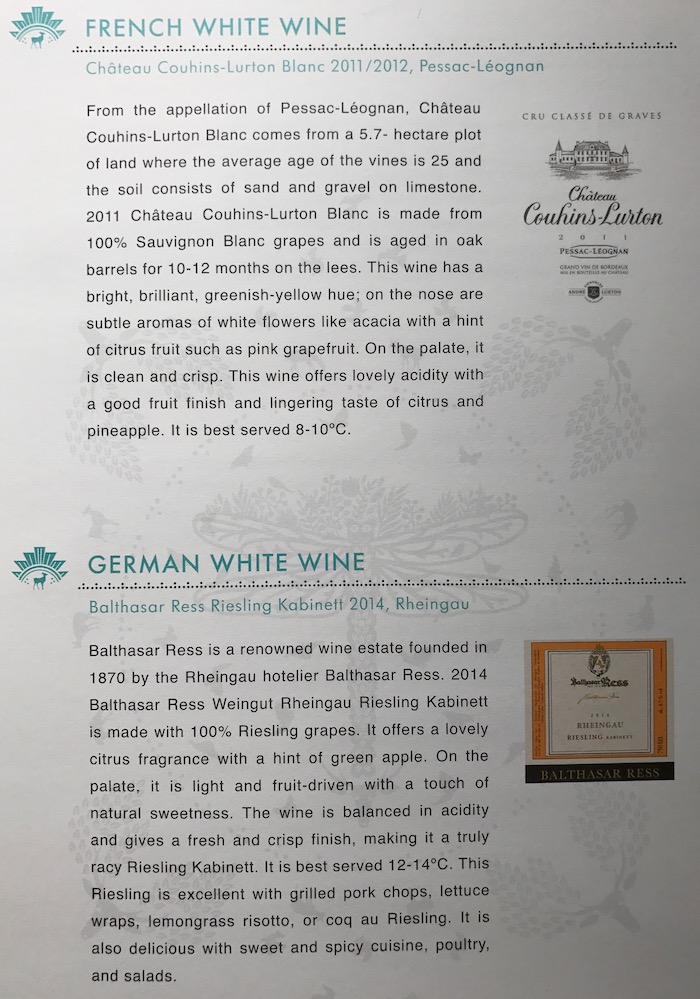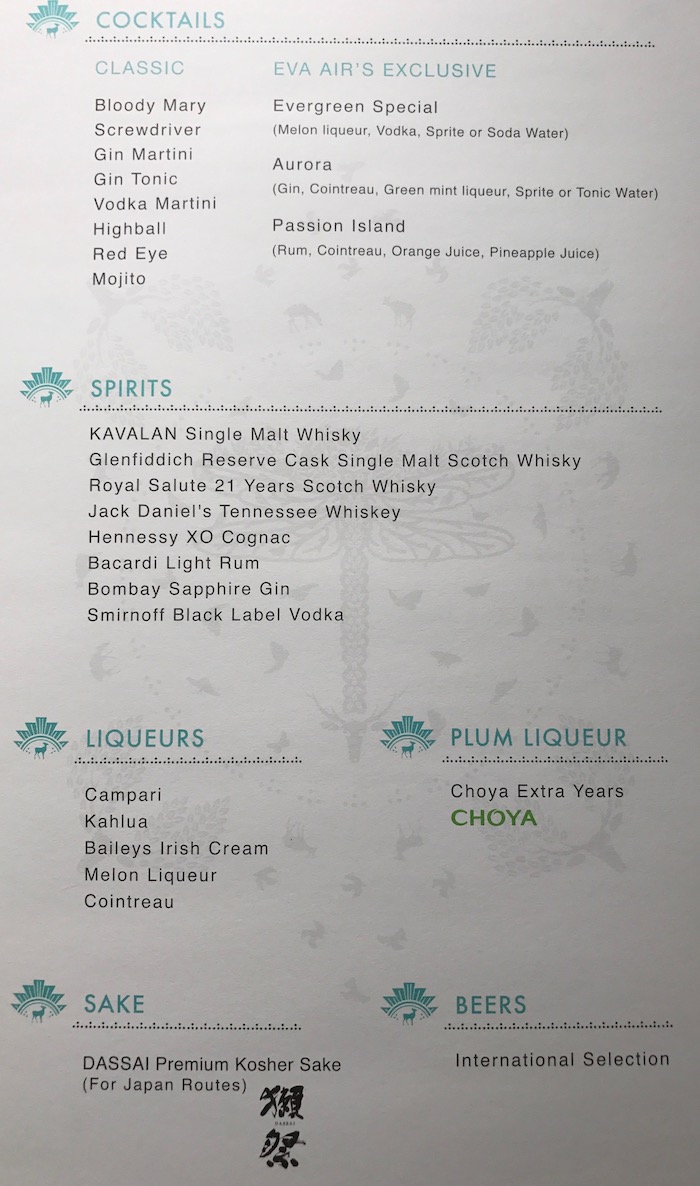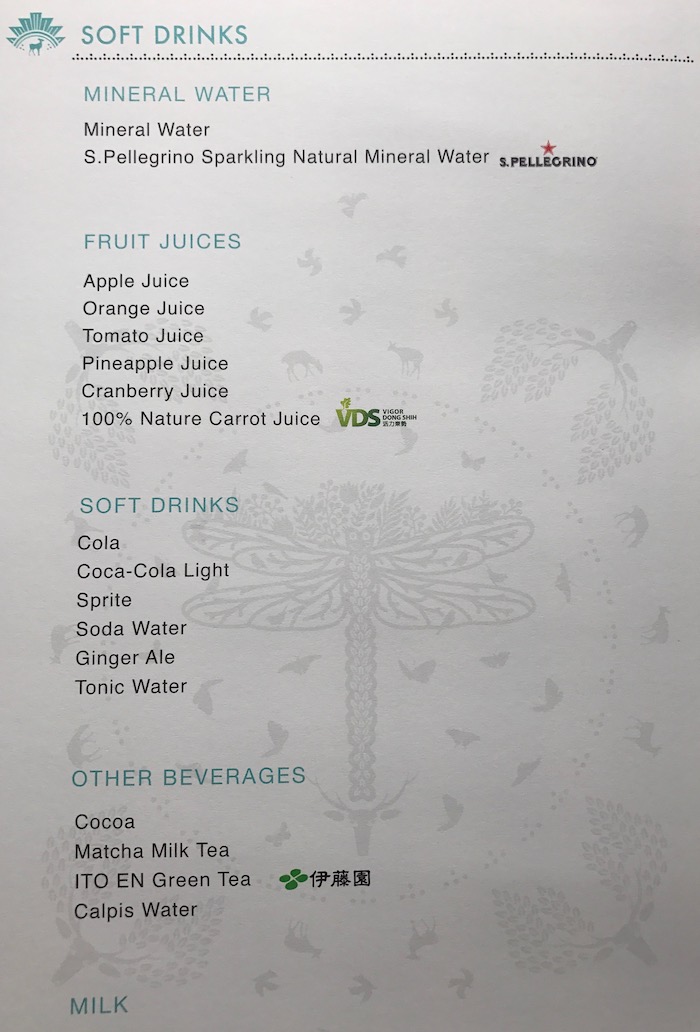 Service began with canapes, which consisted of dates with cream cheese, and crab with avocado. I was also offered a drink, and had some champagne.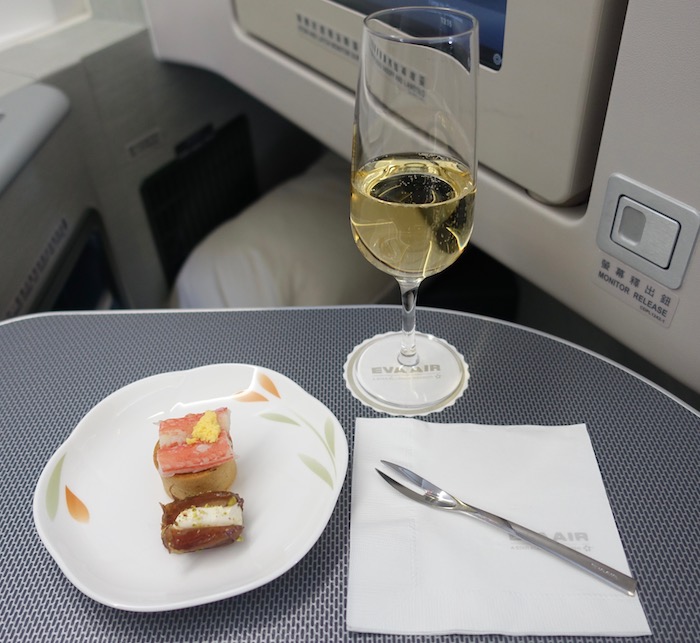 EVA Air business class champagne & canape
EVA Air serves Veuve Clicquot La Grande Dame 2006 in business class, which is phenomenal (on other routes they apparently serve Krug, so it seems to vary by route — however, I think La Grand Dame is just about as good).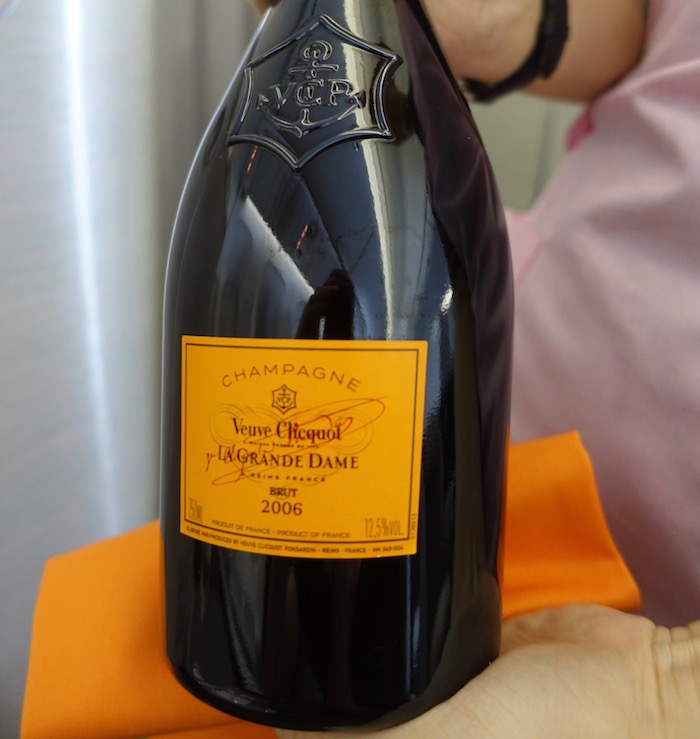 EVA Air business class champagne — Veuve Clicquot La Grande Dame
After that tablecloths were distributes. Again, how cool is the design on that?

EVA Air business class tablecloth
The table was then set, including the appetizer, as well as a display with a breadbasket, olive oil, butter, and salt & pepper shakers.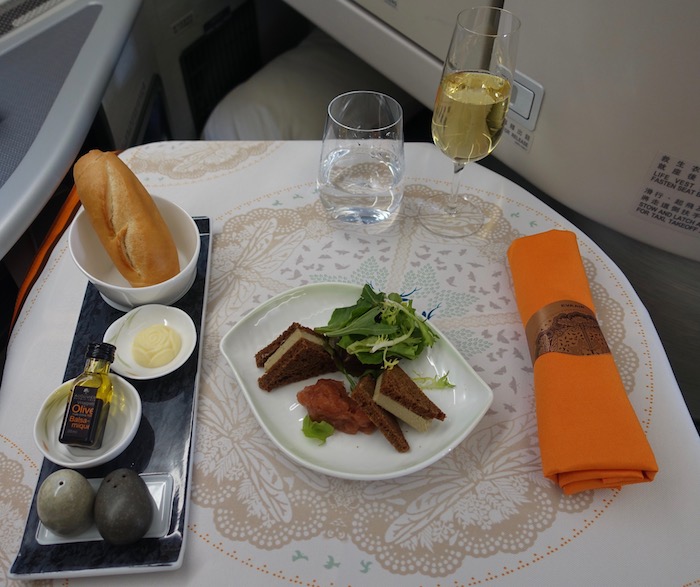 EVA Air business class appetizer
The starter consisted of foie gras terrine. Personally I don't really eat foie gras — I think being a carnivore is cruel enough…

EVA Air business class lunch — foie gras terrine appetizer
Once the appetizer was cleared, I was served a delicious pumpkin soup.

EVA Air business class lunch — pumpkin soup
The next course consisted of a garden salad.

EVA Air business class lunch — garden vegetable salad
Then for the main course I had miso seabass, which was one of the best fish dishes I've had on a plane.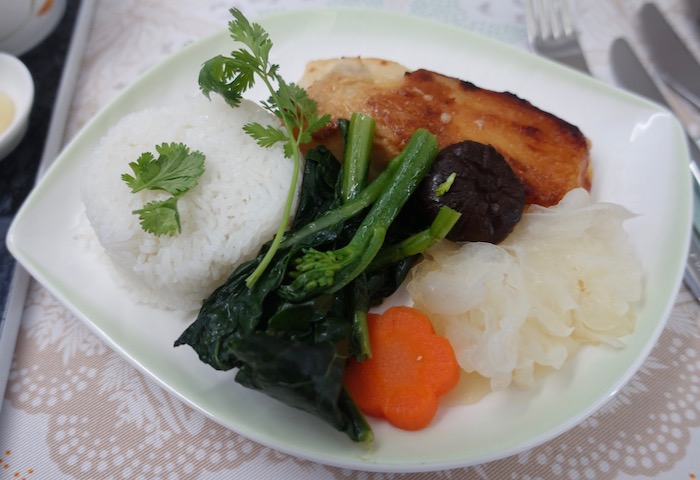 EVA Air business class lunch — miso seabass
After that I was offered a selection of fruit and cheese.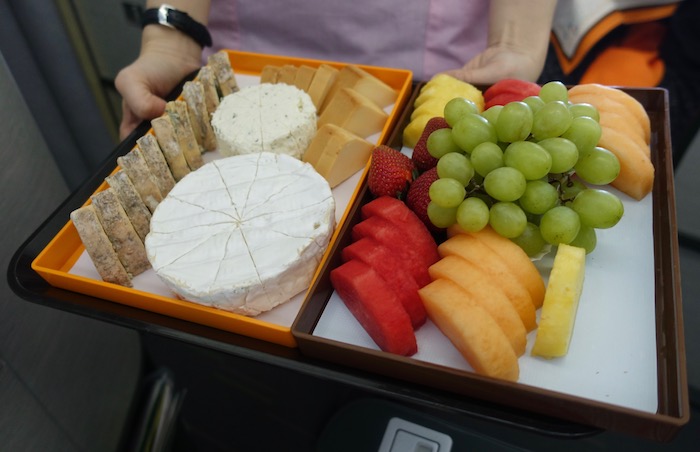 EVA Air business class lunch — cheese & fruit selection
I asked for very little of each cheese, plus cantaloupe and pineapple.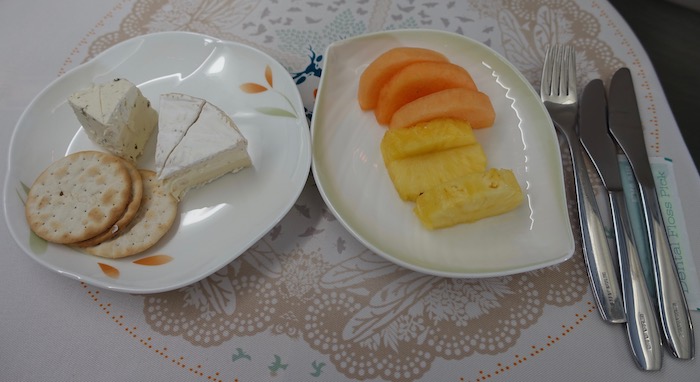 EVA Air business class lunch — cheese & fruit
Finally to finish off the meal I had the dessert, which consisted of a chocolate brownie with orange. EVA Air even has iced coffee, which I love.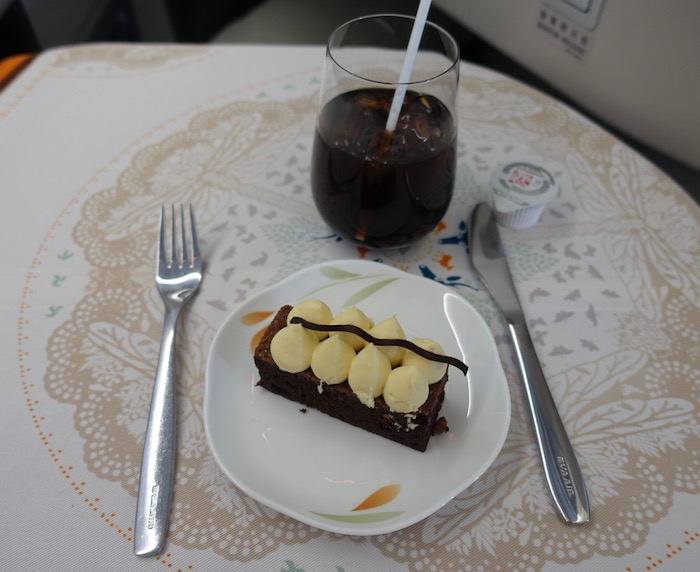 EVA Air business class lunch — dessert & iced coffee
The entire meal service was done a bit over two hours into the flight. I can't say enough good things about the meal experience. Not only was the food excellent, but the service was just as good. The crew was attentive and charming, and did a great job customizing the meal service so that plates were always quickly removed after each course, and so there wasn't ever too long of a wait.
It's not often I watch movies on planes, but I couldn't not watch the movie "Trolls." It was an adorable movie, even more adorable than some of the trolls who reside on the blog. 😉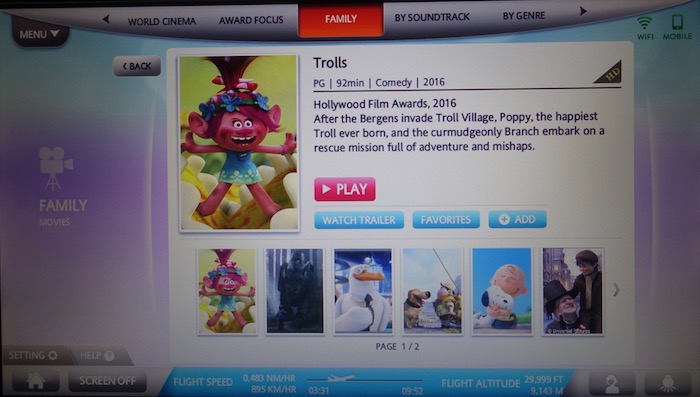 EVA Air business class entertainment selection — Trolls
Once the movie was done we were about 4hr30min into the flight, so I decided to get some shuteye.
I reclined the seat and discovered that EVA Air even has a mattress sheet. I slept well for about three hours, though after that I was wide awake, given how early it still was in the U.S.
At this point I checked out the snack selection in the galley. In addition to a bunch of bottles of Fiji water (which were replenished every time someone took a bottle), there was a selection of packaged snacks.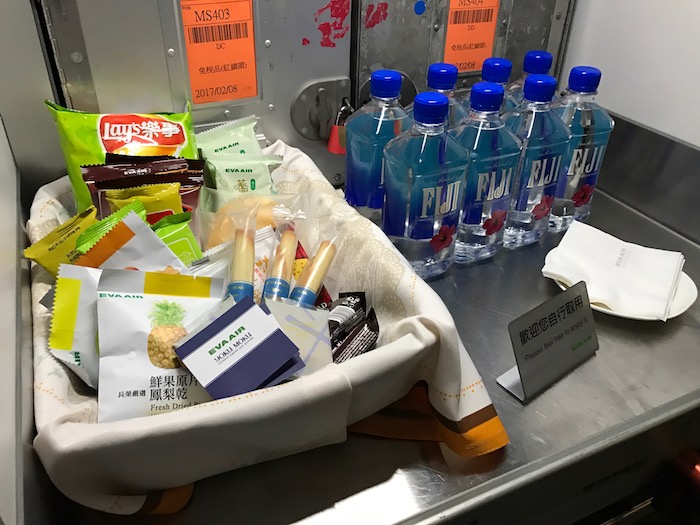 EVA Air business class snack basket
A flight attendant saw me looking at the snacks and asked if I wanted something else, and she ran through the list of snacks they had. The choices were as follows:
I decided to have some instant noodles, which were served about 15 minutes later. They hit the spot.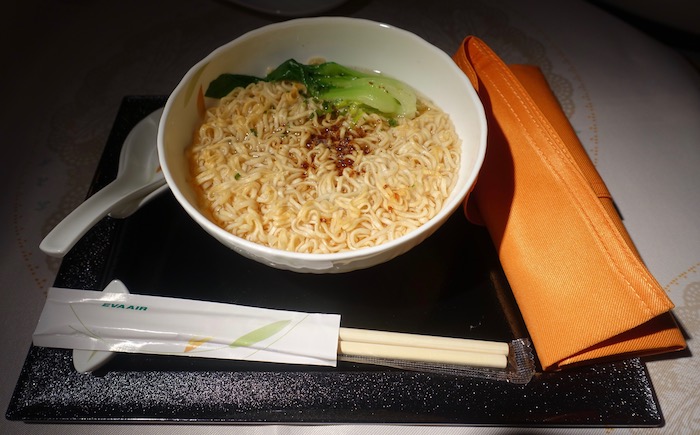 EVA Air business class snack — instant noodles
I also ordered a cappuccino, which was served with some cookies. The cappuccino was excellent.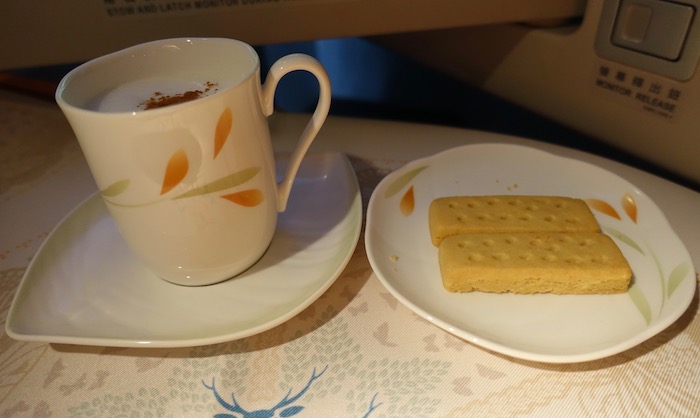 EVA Air business class snack — cappuccino and cookies
I worked for the next several hours thanks to the fast wifi, and before I knew it we were two hours from landing. At that point the pre-arrival meal was served. The menu read as follows:
Unlike the previous meal, this one was served on a tray. Service began with the appetizer, which consisted of scallop ceviche with citrus, pomegranate, and saffron couscous. It was refreshing, and surprisingly good for being served on a plane.

EVA Air business class meal — appetizer
For the main course I selected the lobster ravioli, which was also excellent.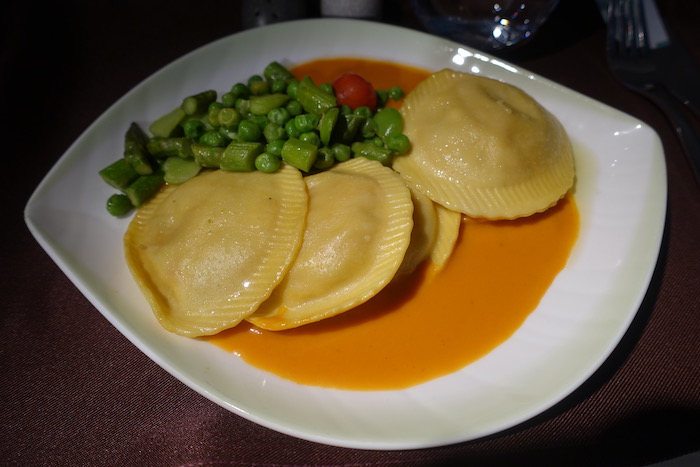 EVA Air business class main course — lobster ravioli
Dessert consisted of a fruit plate with blackberries, blueberries, strawberries, and melon.

EVA Air business class meal — fruit plate
Before I knew it were about an hour from landing, so I raised the window shade to take a look at the view.
There wasn't much to see, other than the stunning engine and wing.
About 30 minutes before arrival the captain came on the PA to provide us updated arrival information, and minutes later we began our descent.
We had a smooth touchdown at Taipei Taoyuan Airport at 4:50PM.
From there it was a short five minute taxi to our arrival gate.

EVA Air 777 and Austrian 767 Taipei Airport
One thing I found interesting was the Austrian 767 parked on the tarmac, given that I don't believe Austrian flies to Taipei. Maybe they do maintenance there, or something?
We pulled into our gate at 4:55PM, not far from a China Airlines 737.
EVA Air 777 business class bottom line
When I flew EVA Air a few years ago, I was impressed. This time around I was blown away. EVA Air has one of the world's best business class products, in my opinion. Reverse herringbone seats are great, the price of wifi is reasonable, the service was exceptional, food was very good, and the champagne excellent.
Those are the basics, and EVA Air got those very right. However, beyond that, I was delighted by all the small touches that really set them apart. For example, chocolate with the pre-departure beverage, beautiful tablecloths, Rimowa amenity kits and high quality pajamas, olive oil with the meal, Fiji water, iced coffee, etc.
Ultimately the difference between a good business class product and a great business class product is the small touches, and EVA Air masters those.
EVA Air business class is hands down one of the five best business class products I've flown, and I can't recommend them enough.