---
As you may recall, back in early September Ben posted about some amazing business class fares between select West Coast cities and Europe. SkyTeam was targeting oneworld hubs, and vice versa. I leapt at the opportunity to buy a round-trip business class fare to Madrid for under $2,000. (Of course, just a month later those same fares fell to a sub-$1,500 level, which was even harder to resist… so I've got another trip to London planned thanks to that fare sale.) I'd never been to Madrid before, and figured it would make an ideal city for a short four-day getaway, and would allow me to try out a range of new SkyTeam products there and back.
While you may know me as a SkyTeam apologist, I should be upfront and let you know the booking situation from start to finish was a giant pain in the ass, because I made the mistake of booking through KLM.com (having heard it offered a $20 "time to think" option to hold a reservation for up to two weeks at the quoted price). Air France's website offers the same option, which I wish I'd known at the time because, ladies and gents…
KLM.com is essentially a non-functioning website. It's truly maddening. My friend, too, purchased the "time to think" option on KLM.com and had the same problem: when it came time to pull the trigger, the system malfunctioned and shut down. I called KLM customer support and they were able to issue my ticket fairly quickly and send me an itinerary, but even until the day before departure, my itinerary was invisible on KLM's website. (Thankfully, because KLM and Air France share confirmation numbers, I was able to review my itinerary on Air France's site.) My friend had it worse, though, since he was actually told by a phone agent that the option wouldn't price because $1,940 was a "mistake fare." (He got it approved by a manager.) Lesson learned — avoid KLM's website at all costs.
I originally booked my itinerary to fly to Madrid via Amsterdam in KLM's new World Business Class on their 747, with a connecting flight to Madrid on Air Europa, which I had forgot existed to begin with. My return would be on all Air France metal via Paris, with a nonstop to Los Angeles on a 777.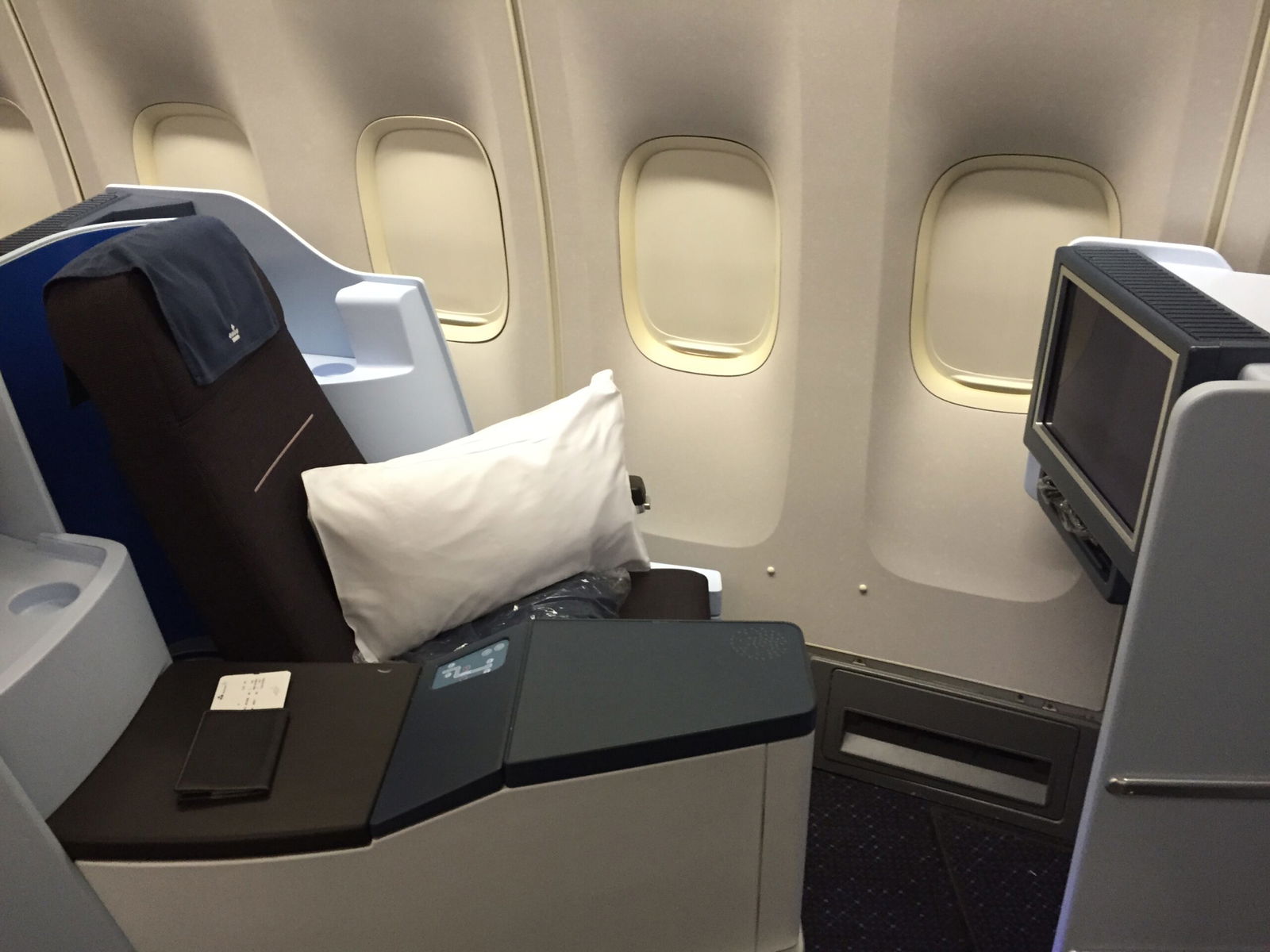 Luckily I checked my itinerary in early January on my own accord and discovered what could have been a huge problem: Air France cancelled my particular afternoon CDG-LAX flight that day (a Sunday, when presumably demand was low), and simply rebooked me on the morning A380 flight… which would depart about two hours prior to my inbound flight from Madrid (which they did not rebook).
Though I was annoyed at the obvious misconnect, KLM/Air France/Delta customer service (their U.S. call center all operates as one, out of Atlanta) essentially allowed me to fly back to Los Angeles using any route I might prefer.
At the time, AF10 between CDG and JFK was one of the few Air France 777's operated with their new Business Class reverse herringbone seats, so I requested an itinerary that would route me between Paris and New York in a seat I've heard nothing but raves about. It's worth noting, by the way, that unless you're a high level FlyingBlue elite or you've purchased a full-fare business class seat, the window seats on the new 777 configuration cannot be assigned until 48 hours before departure (same goes for award bookings), so you'll be assigned one of the middle seats.
If you tweet @AirFrance, however, you can put in a request for a window seat and they will happily assign you one proactively at the 48-hour mark.
And then a few days later, I randomly got an e-ticket and itinerary emailed to me from KLM. KLM's stellar internet team had discovered the initial misconnect, and notwithstanding the fact that I'd changed the itinerary myself to resolve it, KLM involuntarily rebooked my return flight on Delta metal, from Madrid to Atlanta and on to Los Angeles. However, a quick call to the wonderful phone support staff at KLM/Air France/Delta restored my CDG-JFK itinerary. But it is worth repeating: stay away from KLM's web services at all costs!
The saga continues a bit, folks: a few weeks later, I checked my Air France itinerary to discover my seat was no longer assigned at all.
Wha' ha' happen' was… the 777 new business class rollout apparently wasn't going as quickly as Air France anticipated, so my CDG-JFK flight has been downgraded to the old angled-flat 777 layout (which I don't hate, but I also wouldn't have planned a 3-leg trip home in that case). Ah well… too late to do anything about it, but, it at least gives me the opportunity to review "DeltaOne" between JFK and LAX for the first time on this blog, a product that really impressed me.
("And you're a SkyTeam apologist why?," you may be asking. Stay tuned. I'm convinced if I'd booked on Delta.com, these problems — other than Air France cancelling a flight months in advance, which was not in Delta's control — would have been managed by one central interface, undoubtedly for the better. For my second $1,500 SkyTeam journey to England on Virgin Atlantic this summer, I learned my lesson and booked on Delta.com with no problems to be found at all.)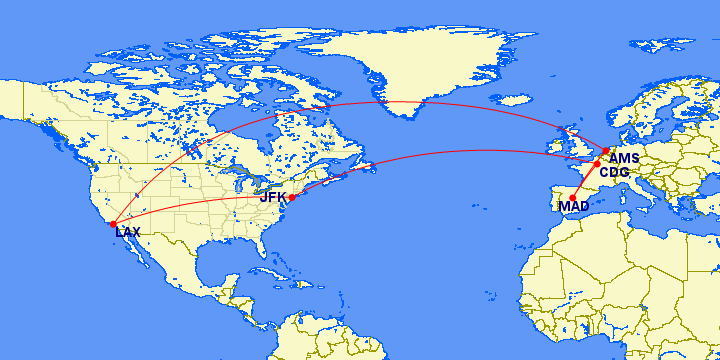 Since I was only in Madrid for a few days, traveling with a friend, we looked at our hotel options. Hotels in Madrid are not terribly priced this time of year, especially with the depressed value of the Euro. Chain options included the Westin Palace Madrid, which is located across from the famed Prado museum, but nothing for Hyatt aficionados like me. We considered the Westin, though its vibe seemed stuffy and old-fashioned. We also considered the highly-regarded boutique hotel Only You Hotel & Lounge Madrid (terrible name, I know), which seemed trendy and gorgeously designed, smack in the heart of Chueca, one of the city's prime nightlife neighborhoods.
However, at the end of the day, we found a short-term apartment rental agency called Let's Room and saw that we could get an enormous, beautifully decorated apartment in the heart of a buzzy residential and shopping district for a very good value. We paid €200 a night for a fantastic 2 bedroom, 2 bathroom flat, and I look forward to sharing my experiences of renting a pad versus a hotel room with you in this series.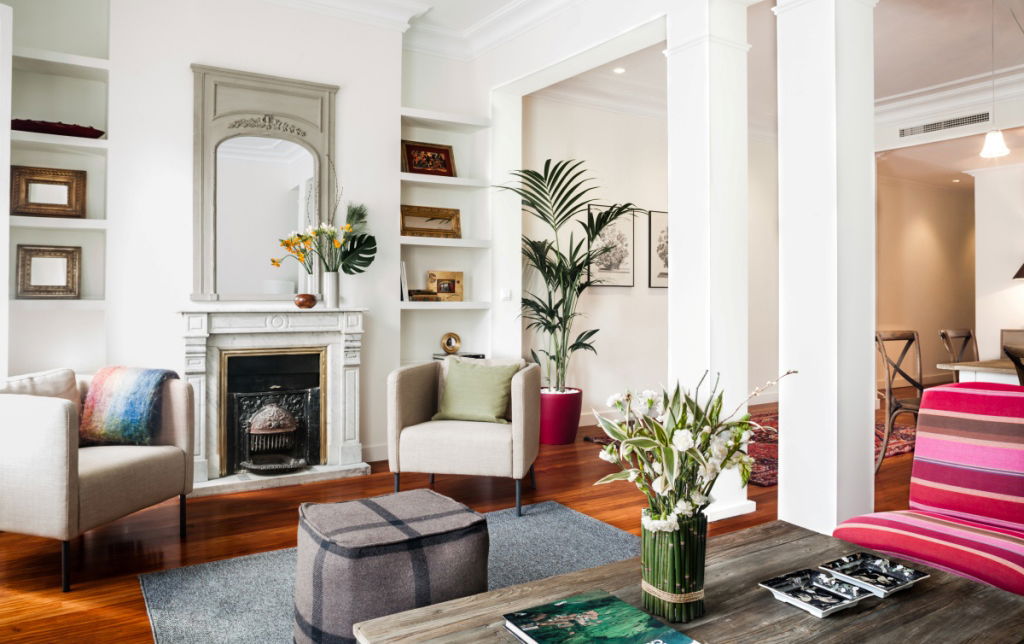 In any event, despite numerous hurdles, and so many, many calls and tweets to various KLM, Air France, and Delta offices, I was still able to enjoy a fabulous short jaunt to Madrid thanks to the SkyTeam fare wars. Between Dutch pragmatism, Spanish joie de vivre, French chic-ness and Delta's good ol' Southern charm, I can't wait to tell you all about my trip.
Thanks in advance for reading, and I look forward to hearing your comments and answering any questions you might have!