A Private Island Getaway
Ford and I are spending the weekend in Nicaragua to visit Calala Island. In the past I didn't review "run of the mill" flights, though I've realized they have the potential to be useful as well, so am trying to do when it's practical.
For example, I've reviewed American's short haul first class product a few times lately, and it occurred to me that I've never reviewed American's Main Cabin Extra, which is their extra legroom economy.
Since I flew it last night, I figured I might as well review it…
Booking American Main Cabin Extra
We booked roundtrip tickets from Miami to Managua for ~$300 per person. As an Executive Platinum member I figured an upgrade with a companion would be a near guarantee, given that the cabin was wide open when we booked, and Managua isn't a particularly premium market, to put it mildly.
Well, we ended up not clearing our upgrades — I was #2 on the list, while Ford was #5 (as an AAdvantage Gold).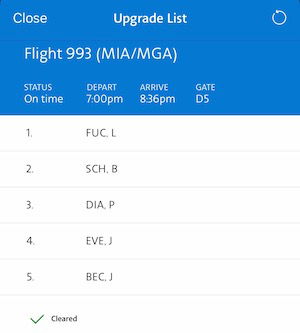 Technically I could have had him moved up to #3 because he was my companion and inherits my priority, but it's such a time consuming and convoluted process, and given that the upgrade wasn't going to clear either way, it didn't even seem worth it.
Instead we flew Main Cabin Extra, which I could select for free at the time of booking:
Main Cabin Extra is free at the time of booking for AAdvantage Platinum, Platinum Pro, and Executive Platinum members, as well as oneworld Emerald and Sapphire members, with up to eight companions on the same reservation
AAdvantage Gold members can select Main Cabin Extra for free starting 24 hours out
For what it's worth, if you don't have status you can buy these seats for $34-37 per person on this flight (the pricing varies based on length of flight, etc.).
As a point of comparison, even most "regular" seats in economy cost $17-21 to assign, so if you're going to pay to assign a seat, the incremental amount is minimal.
American 737 Main Cabin Extra Review
We arrived at Miami Airport shortly before 6PM. Even though it was a Friday evening the airport definitely felt a bit quieter than usual, and we were through security in no-time. Our flight was departing from gate D5, with boarding scheduled to start at 6:15PM, 45 minutes before departure. Sure enough that's exactly when boarding started.
Concierge Key members were invited to board first, followed by Group 1 (first class passengers), followed by Group 2 (Executive Platinum members).
American Airlines 993
Miami (MIA) – Managua (MGA)
Friday, March 6
Depart: 7:00PM
Arrive: 8:43PM
Duration: 2hr43min
Aircraft: Boeing 737-800
Seat: 8C (Main Cabin Extra)
This flight was operated by an "Oasis" 737, which is the name for American's less comfortable interiors nowadays. These interiors debuted on the 737 MAX 8, but have since been retrofitted on many 737-800s.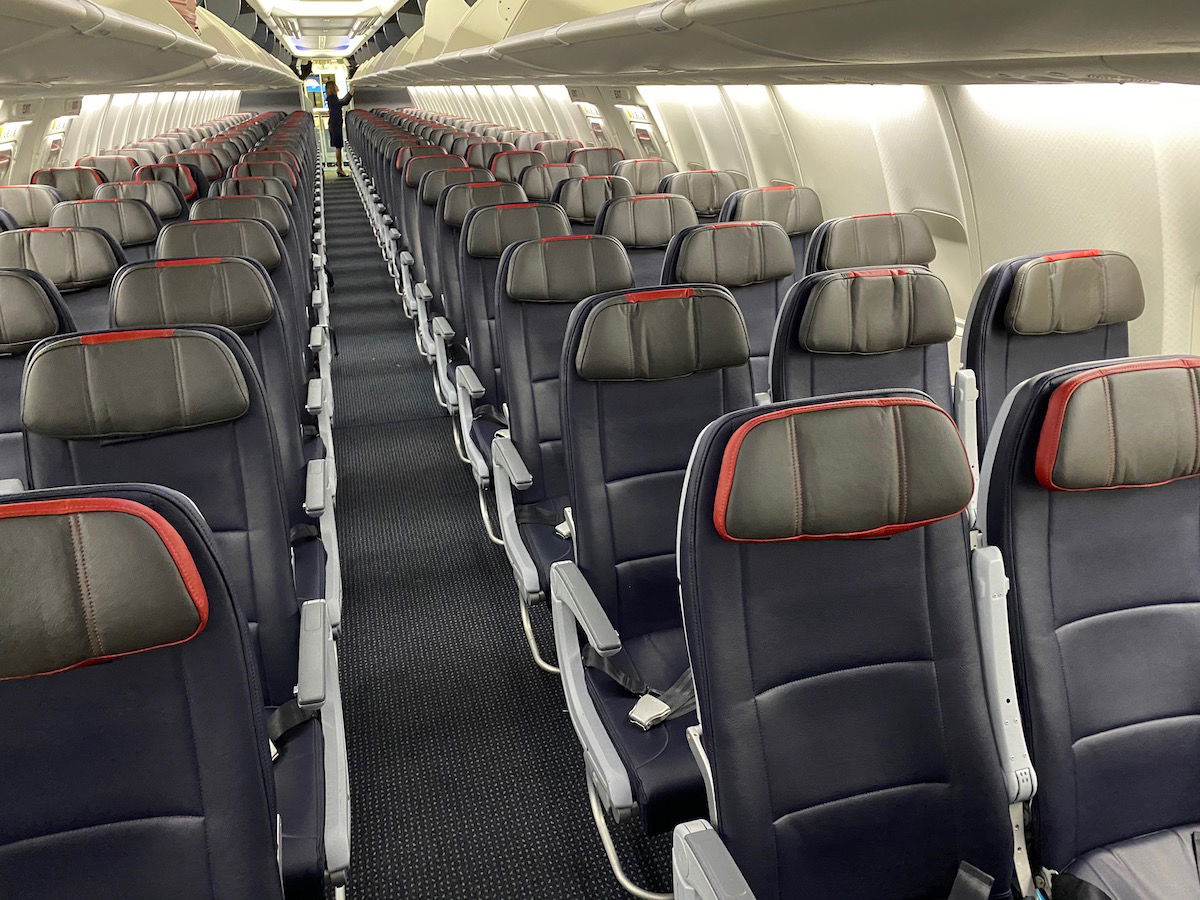 American 737-800 economy cabin
I had assigned us seats 8A & 8C, the bulkhead seats in the first row of economy on the left side. In many ways these seats are actually better since the introduction of Oasis. Since there's no longer a bulkhead between first class and economy, there's plentiful legroom, and you can even store your bags underneath the first class seats in front.
These seats are ideal in terms of legroom, and also in terms of getting off the plane quickly.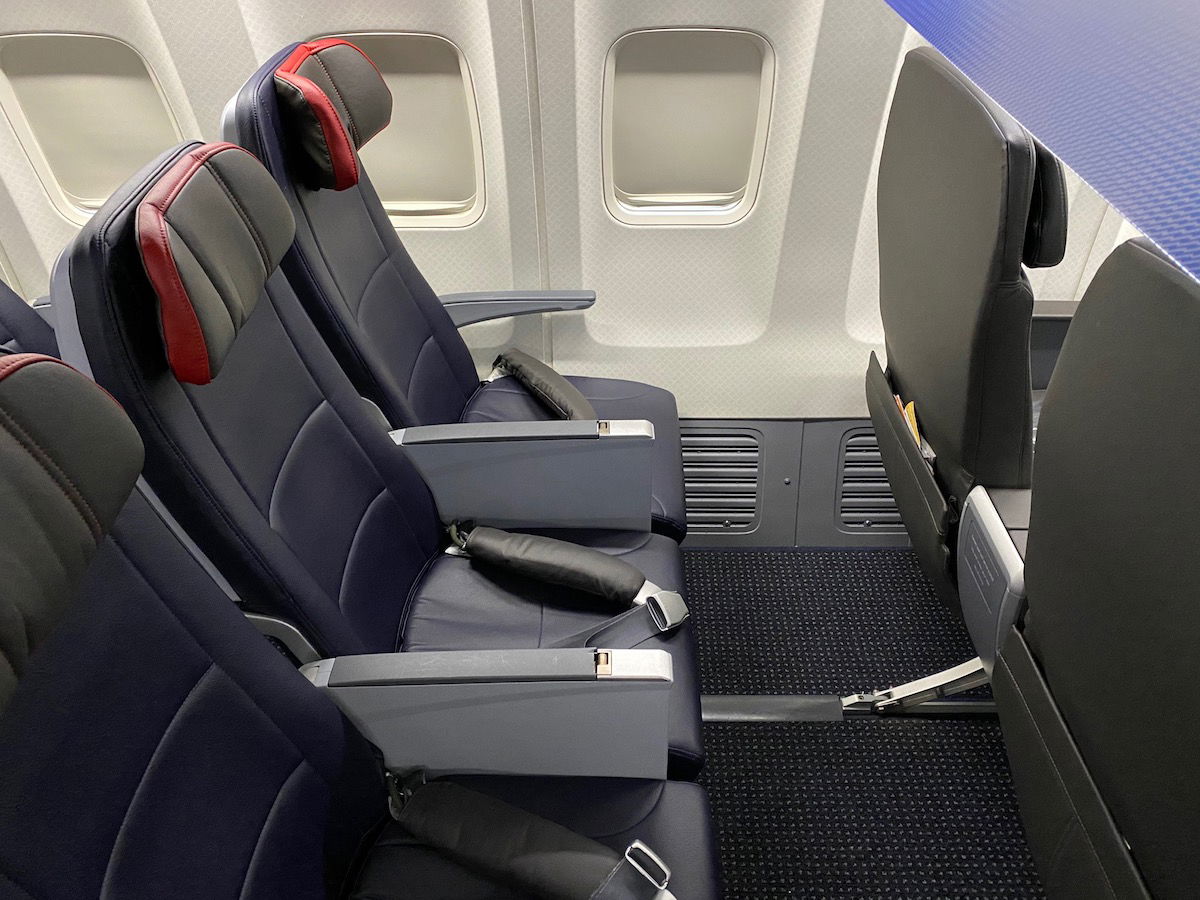 American Main Cabin Extra bulkhead seats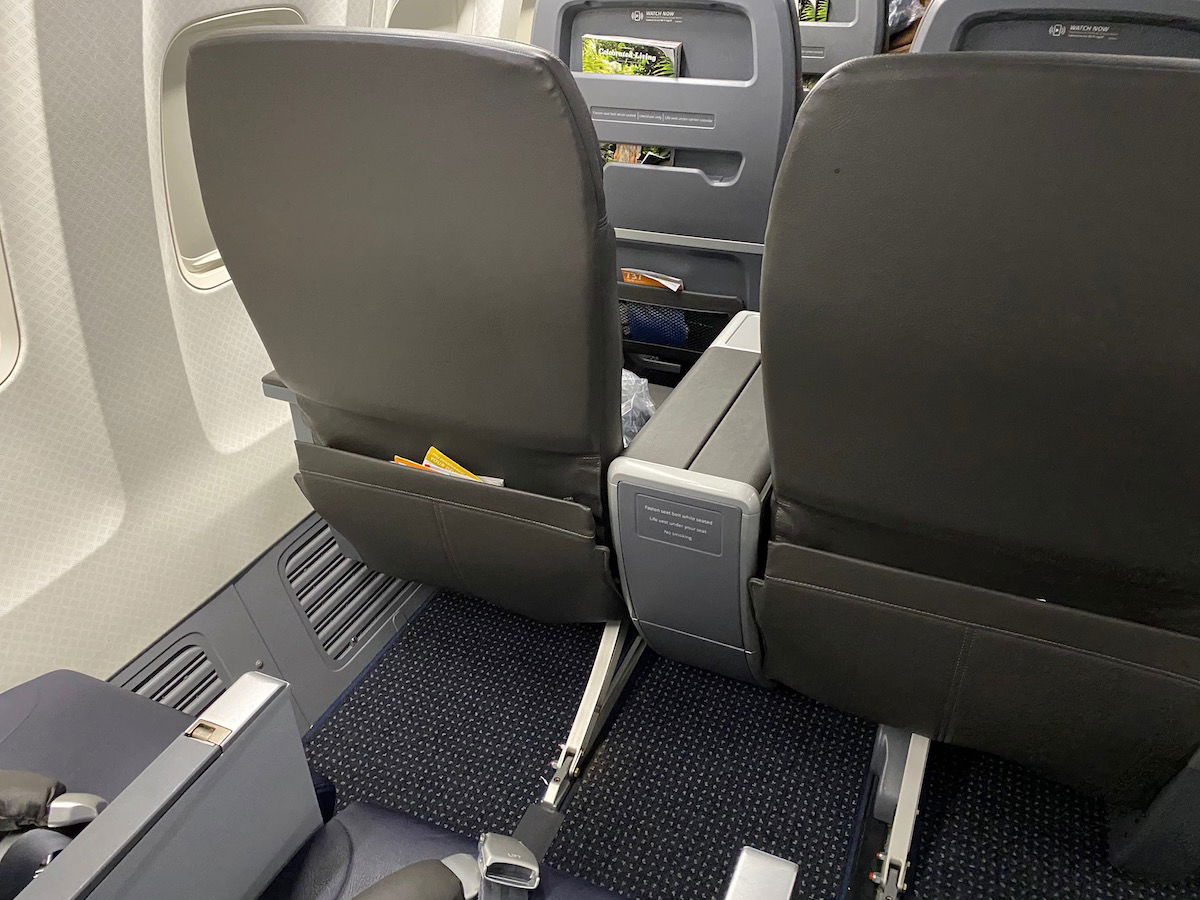 American Main Cabin Extra bulkhead legroom
As a point of comparison, American's standard Main Cabin Extra seats don't have nearly as much legroom — American has cut the legroom in these seats, so while there's still way more than in regular economy, they don't offer as much space as in the past (I think the pitch is ~34″).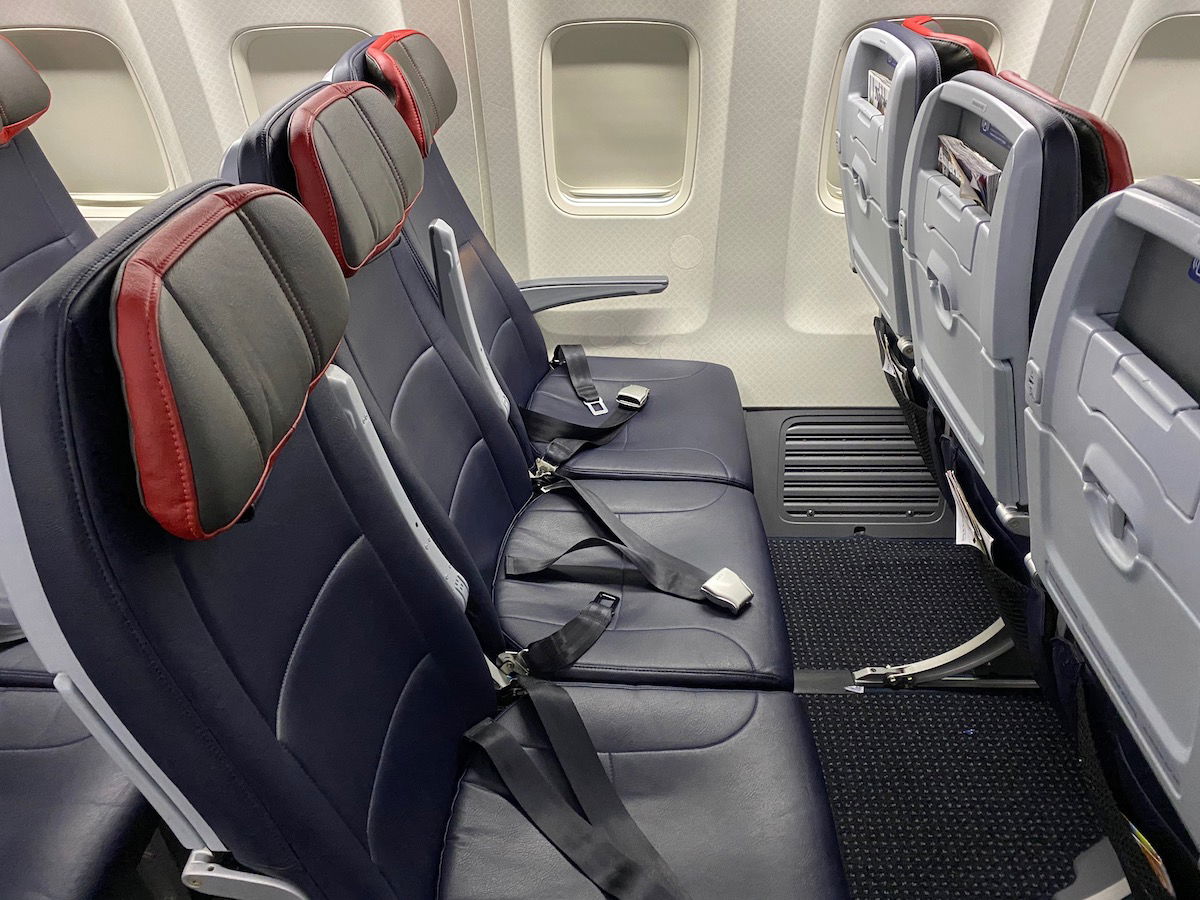 American Main Cabin Extra legroom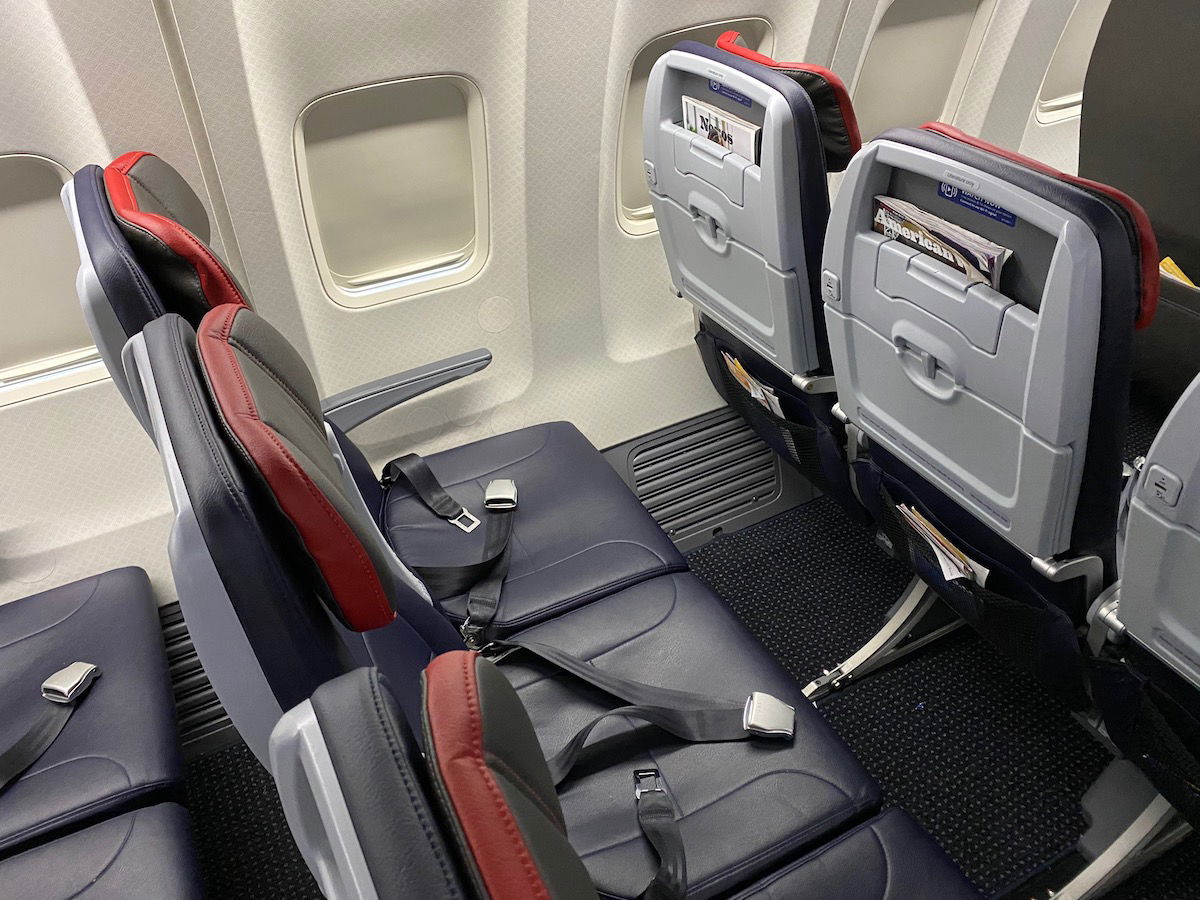 American Main Cabin Extra legroom
With their Oasis interiors, American ripped personal televisions out of their planes. Instead they encourage you to bring your own personal entertainment, and the tray table has a device holder.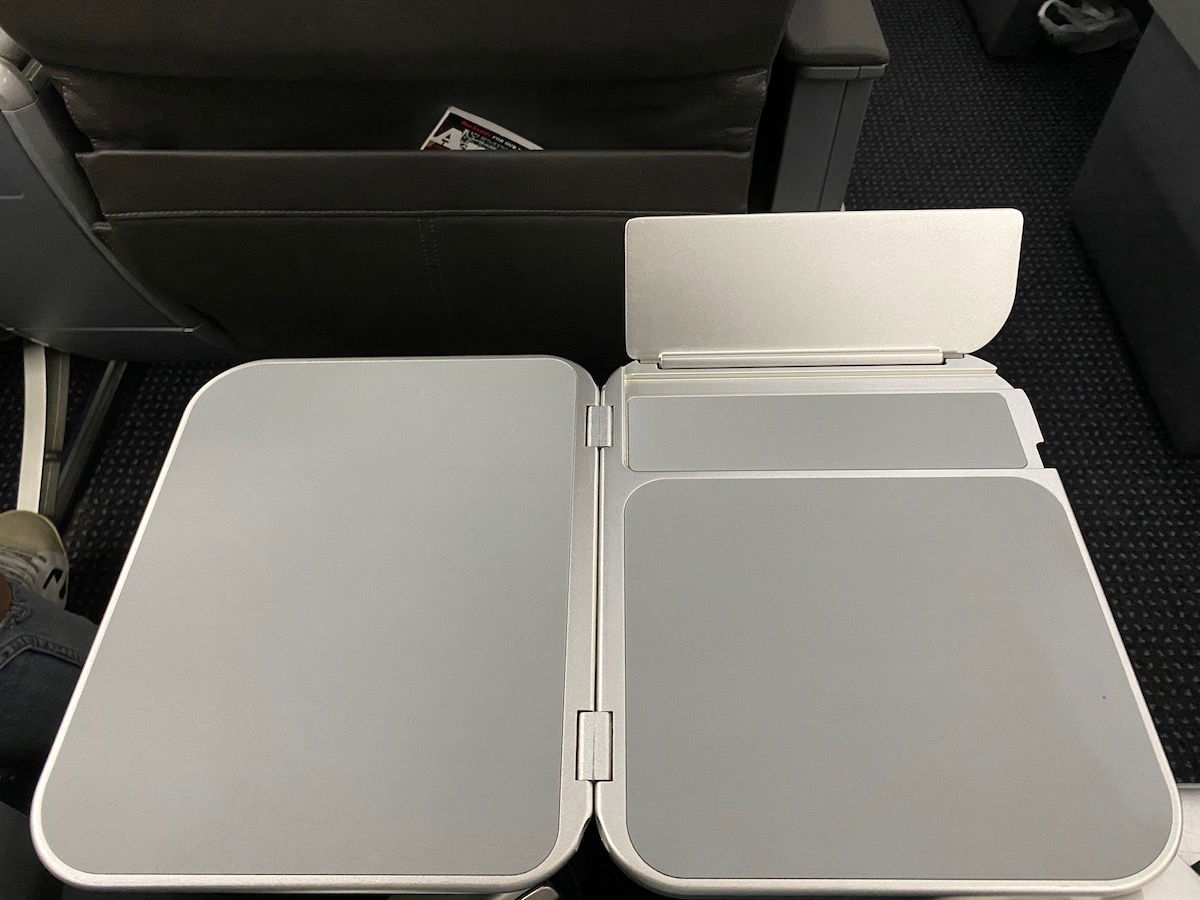 American Main Cabin Extra tray table
Underneath the seat were AC and USB outlets, which is more than can be said for most American A321s.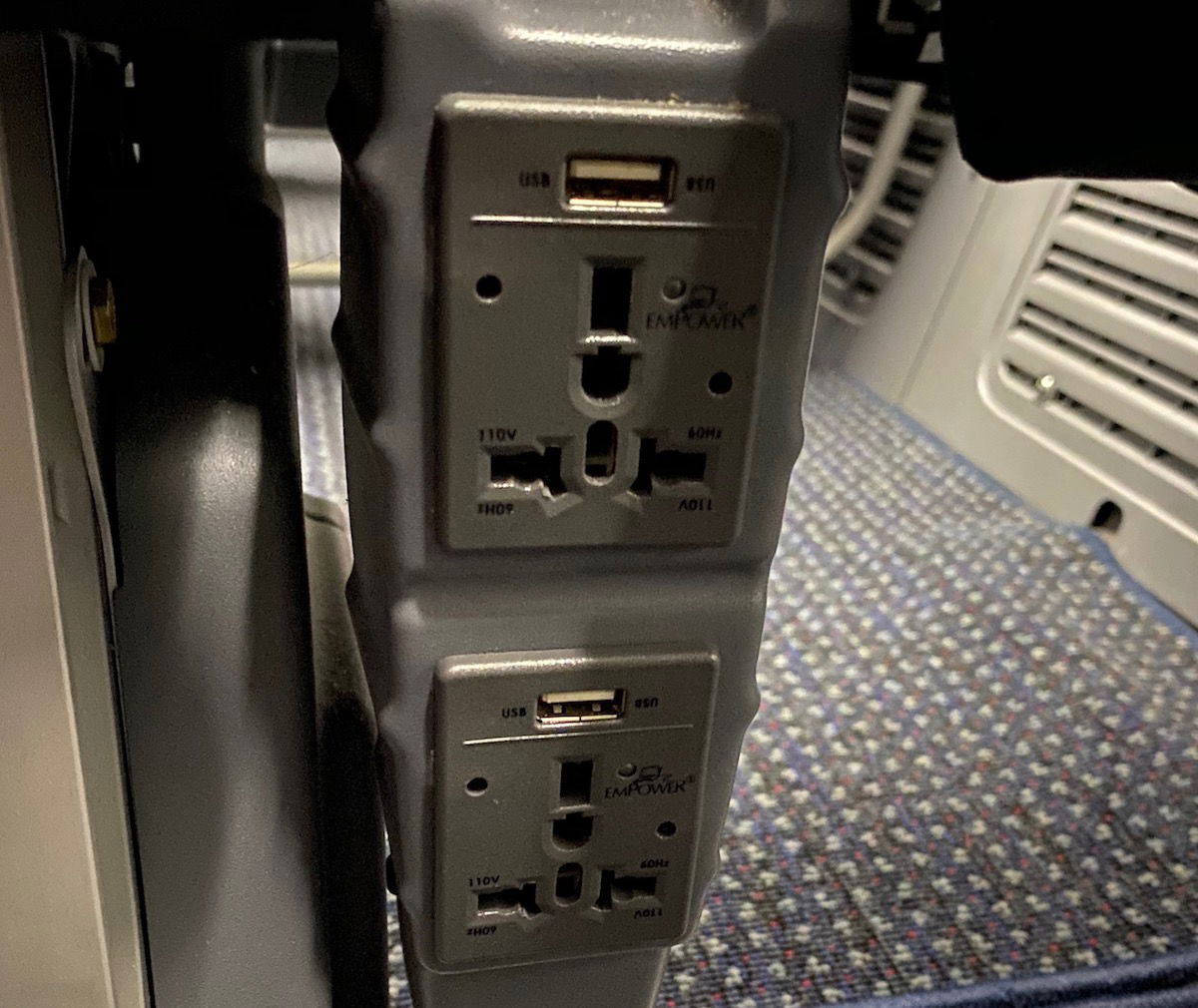 American Main Cabin Extra power ports
The overhead consoles were modern, and had individual air nozzles.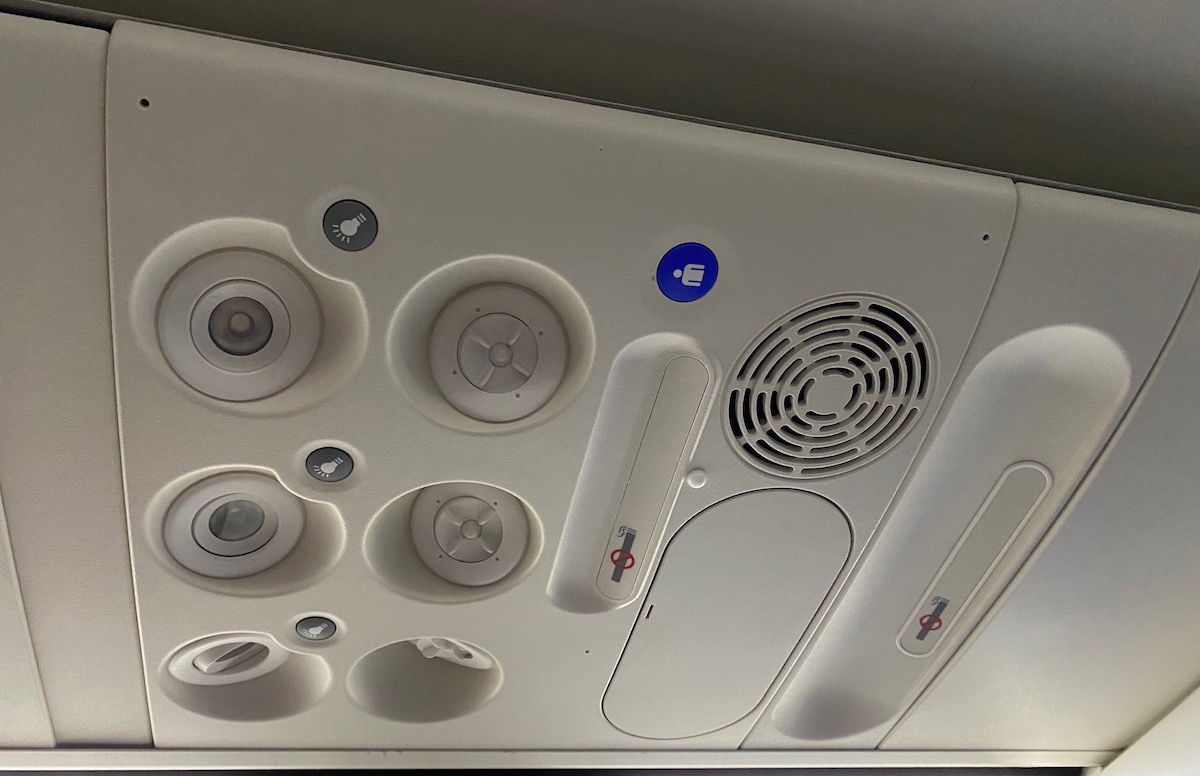 American 737 overhead console
The flight was quite full, though not completely full, and as you can see based on the seatmap shortly before the door closed, our middle seat was supposed to be empty.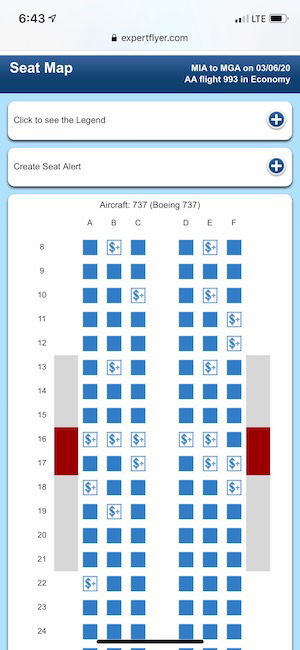 Seatmap for flight
However, last minute the crew moved someone there. I asked the flight attendant if exit row 16 was still open and he said it was, and said we could move there. However, when we got there we found that people had occupied that in the meantime as well.
I'm not sure what exactly was going on — obviously we only paid for two seats and are only entitled to those seats. When there is an empty middle in Main Cabin Extra, I consider it to basically be as good as first class.
Initially I assumed our crew was Lima based, as American has some foreign based crews — the crew spoke excellent Spanish, and made announcements in Spanish before English (which I often find to be the case for the foreign crews). However, I asked one of the flight attendants, and he said they were Miami based.
The door closed at 6:50PM, and a few moments later we began our pushback, at which point the manual safety demo was performed.
We were airborne by 7:05PM for our 2hr12min flight to Managua.
One of the lovely things about American is that many planes have Viasat Wi-Fi, which has a great coverage zone. I have a Gogo monthly pass so got Wi-Fi for free, but otherwise Wi-Fi for the entire flight costs $12.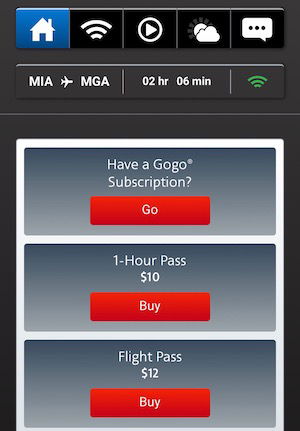 American Viasat Wi-Fi
Wifi speeds were excellent, and Wi-Fi was available throughout the flight. That being said, Viasat may want to update their coverage map through aainflight.com, based on them referring to "early 2019" coverage.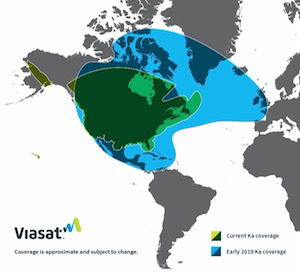 American Viasat Wi-Fi coverage map
About 30 minutes after takeoff the crew came through the cabin with a cart.
The menu read as follows: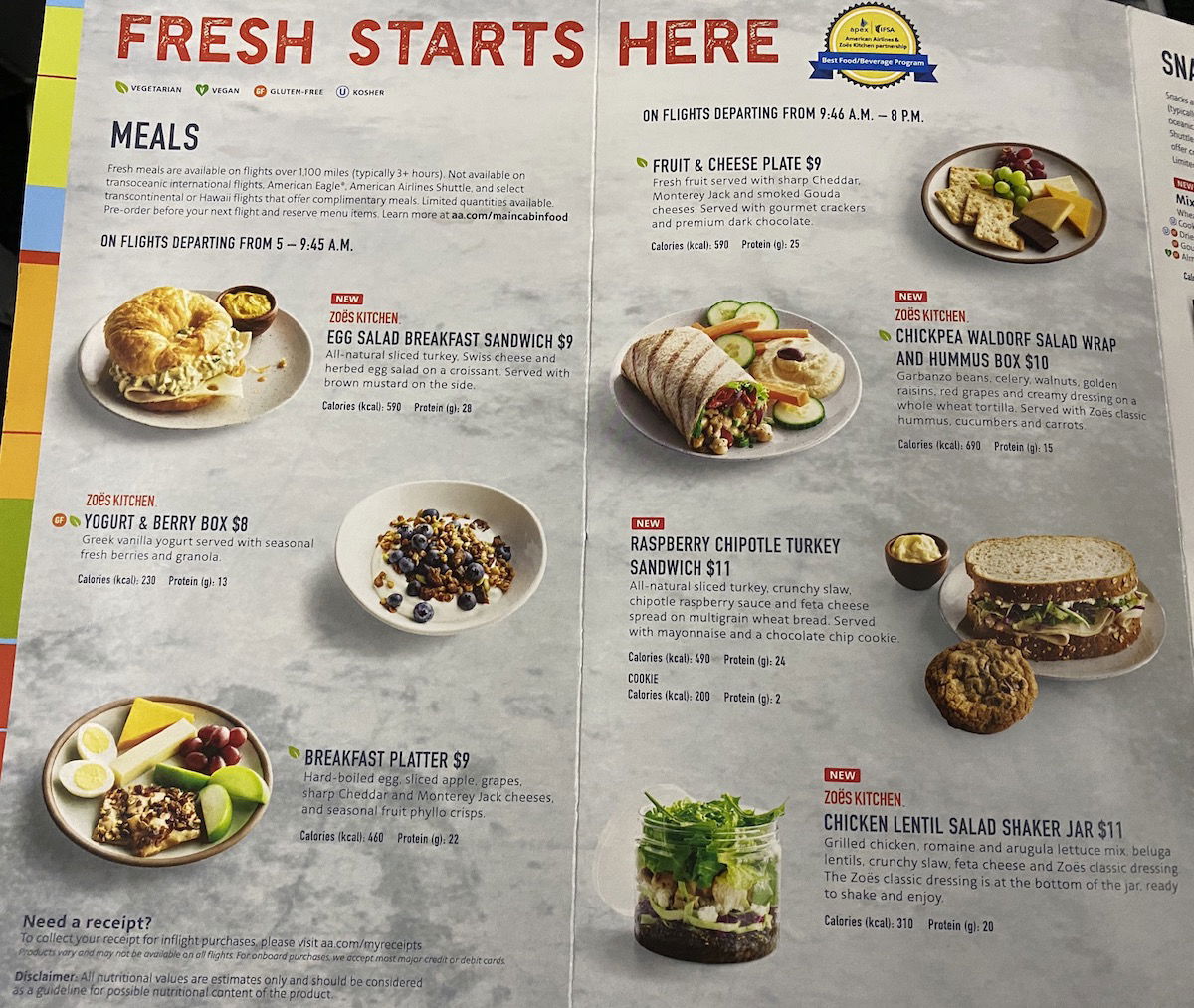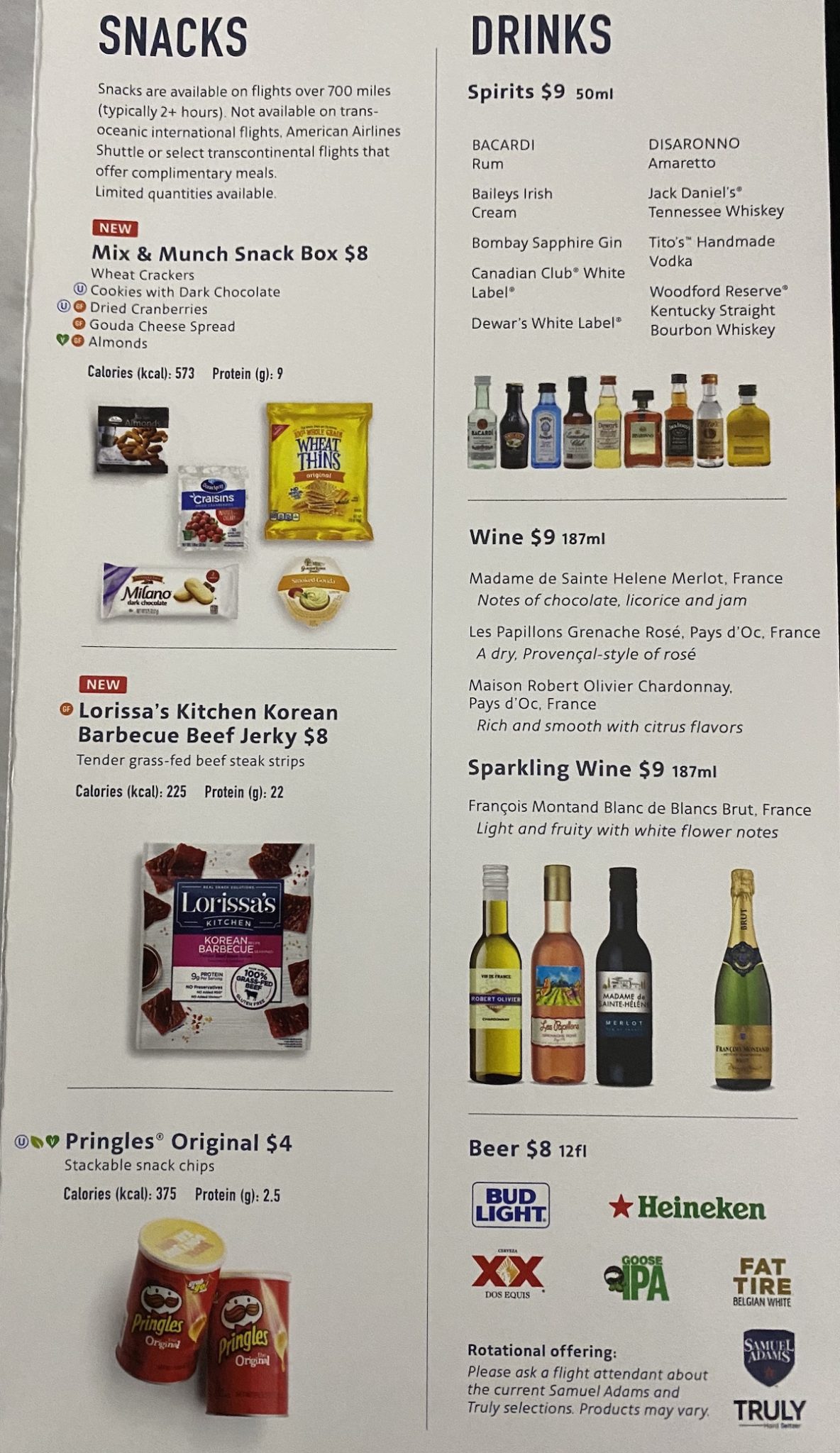 All passengers receive complimentary snacks (and non-alcoholic drinks), with the choice of either mini pretzels or Biscoff cookies.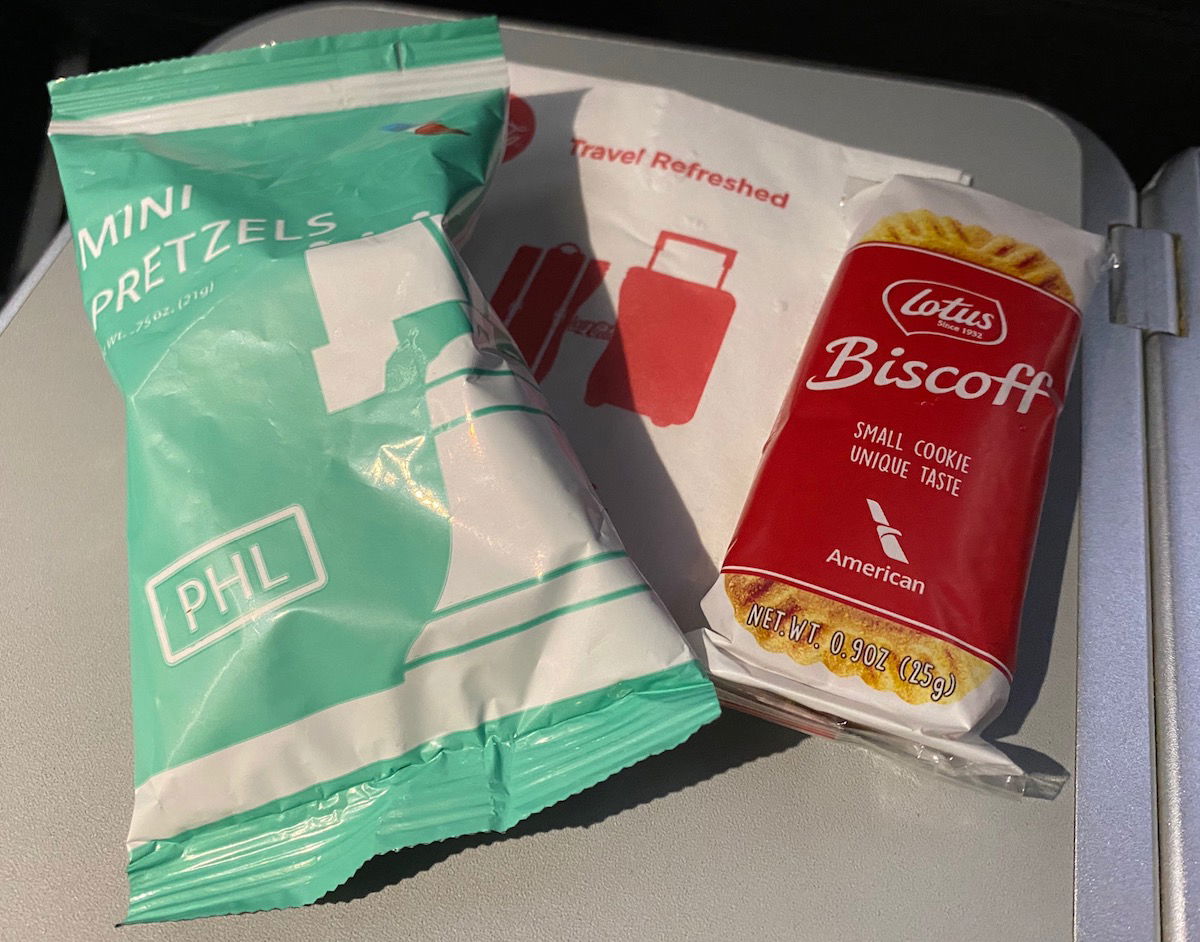 Complimentary snacks in American Airlines economy
Alcoholic drinks are also complimentary in Main Cabin Extra. Ford had a Coke Zero, while I had a Truly, natch.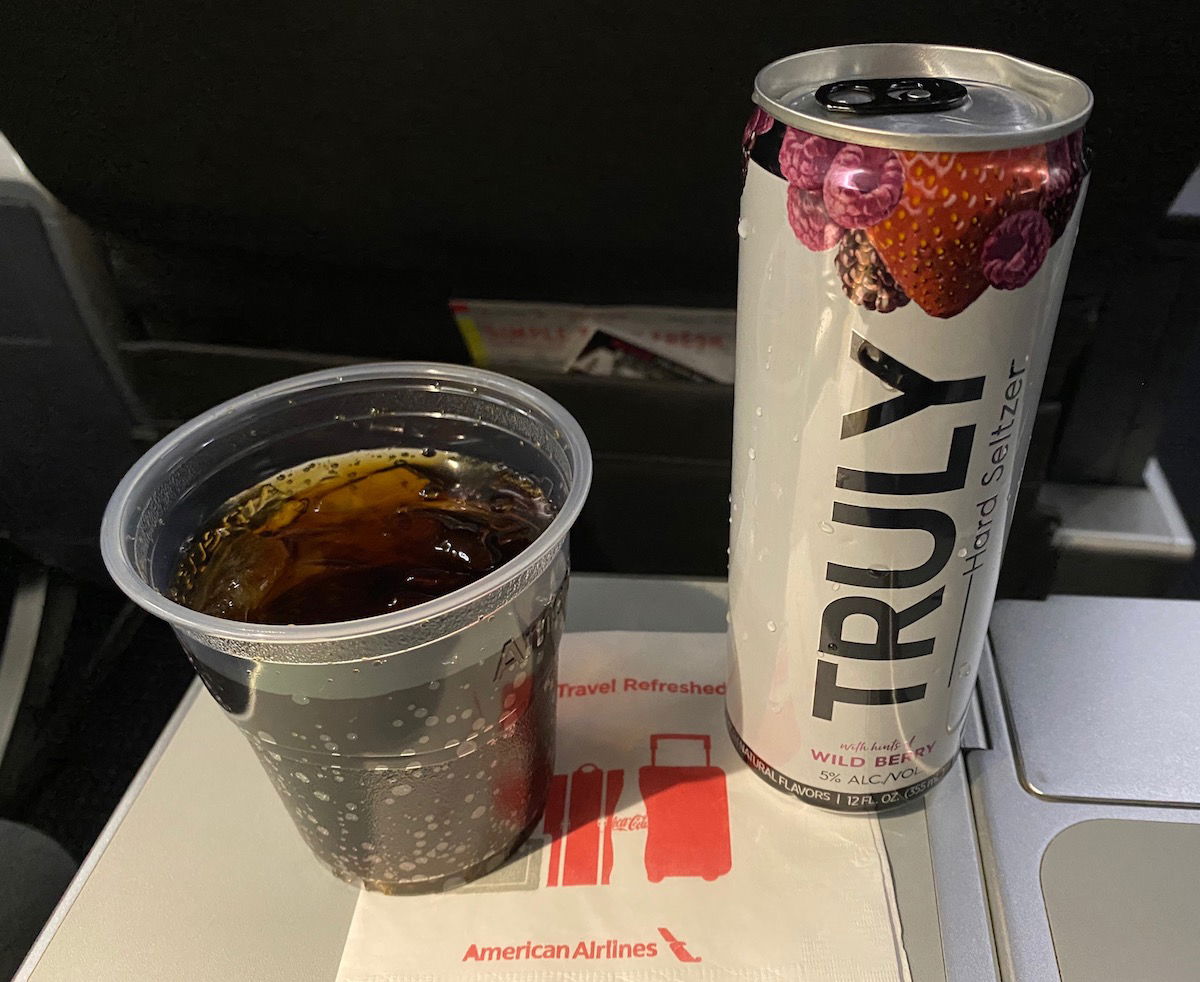 American Airlines economy drinks
We didn't eat dinner prior to this, so Ford and I both ordered something to eat. American has a relatively new menu from Zoes Kitchen.
I ordered the chicken lentil salad shaker jar. This is a cute concept and the salad as such tasted good, though I'd note that it was a rather small portion, and also that I found it very hard to actually shake and mix up the ingredients.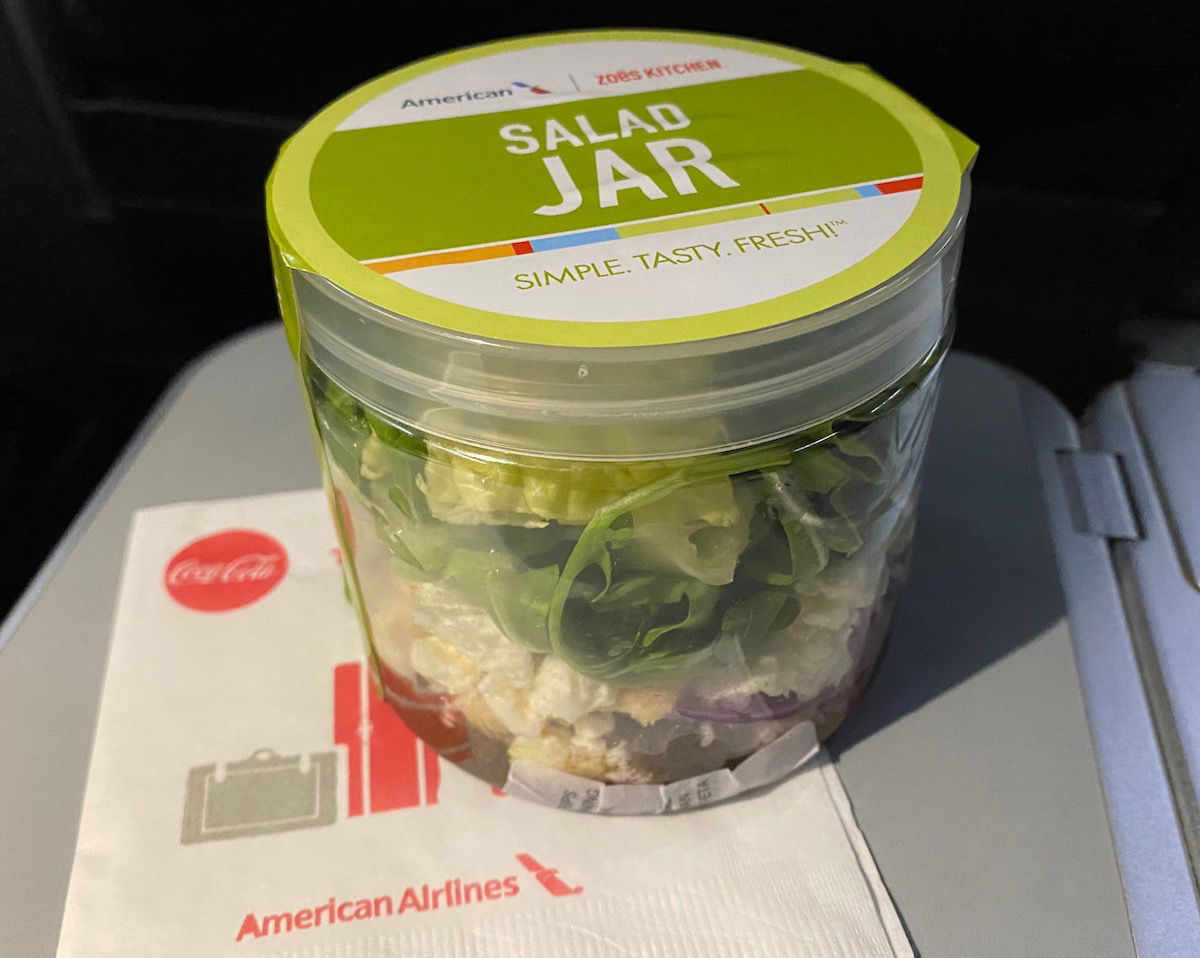 American Airlines economy food for purchase
In the end I first ate all the lettuce, then the chicken and feta, and then the lentils.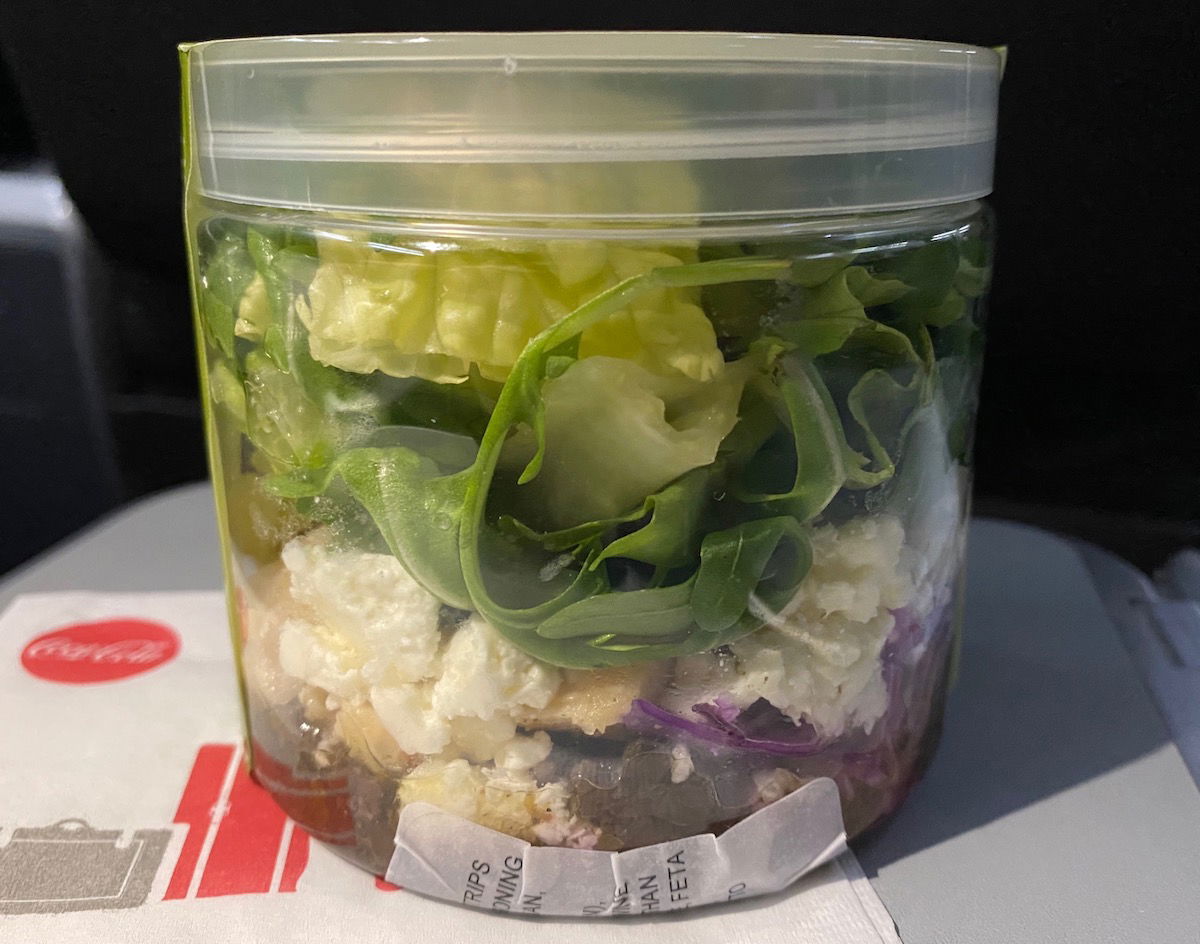 American Airlines economy food for purchase
Ford had the raspberry chipotle turkey sandwich, served with a chocolate chip cookie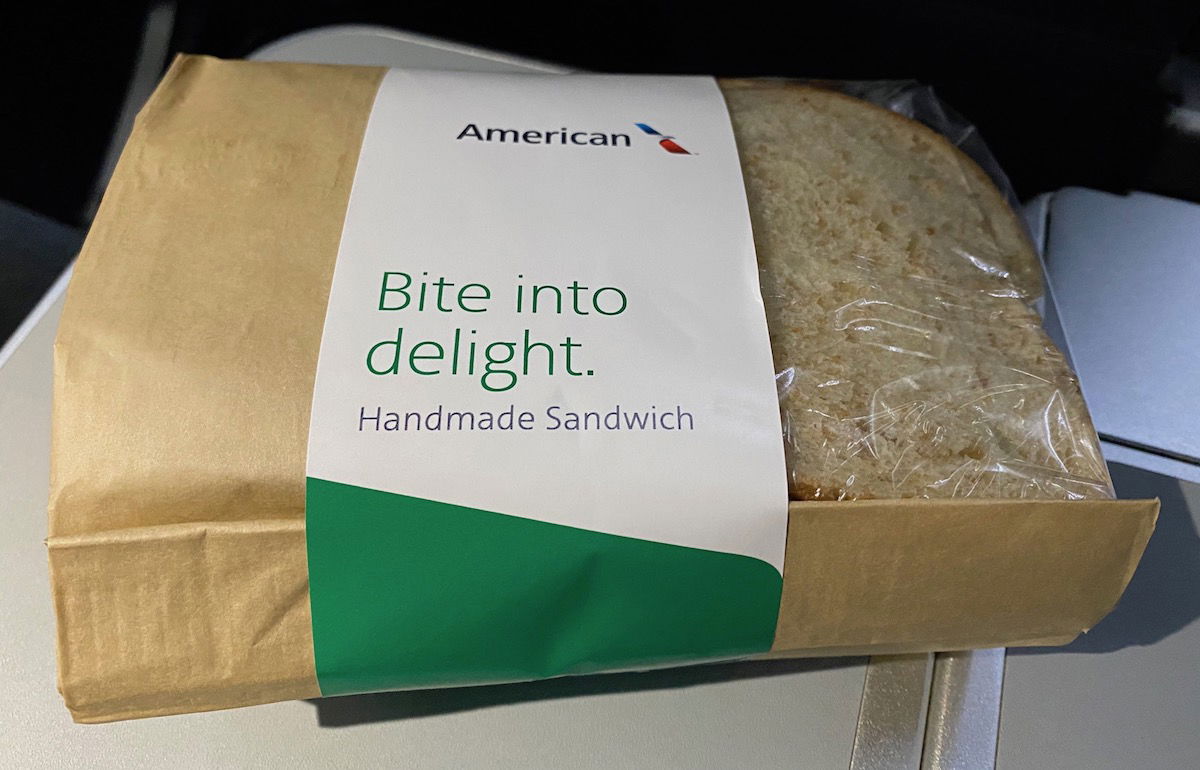 American Airlines economy food for purchase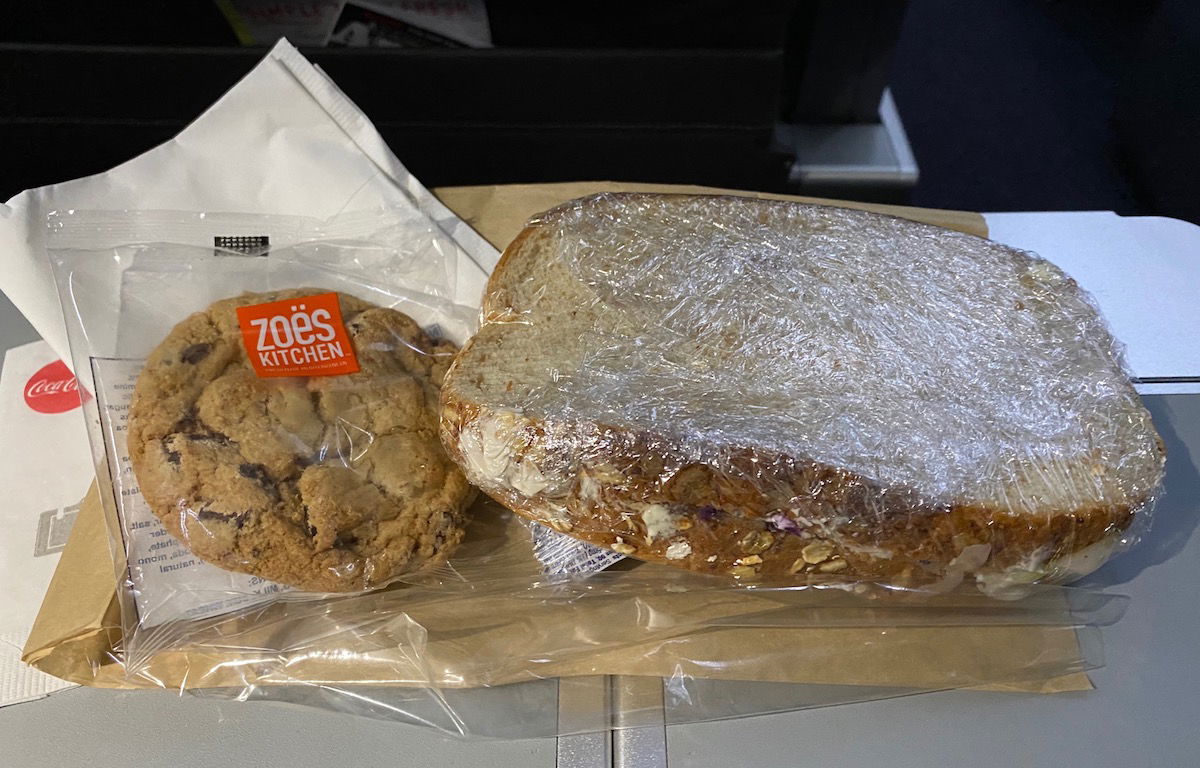 American Airlines economy food for purchase
As Ford described it, "it's like the sandwich your mom would make in school, if your mom wasn't good at making sandwiches." For an airline sandwich I'd actually kind of consider that to be a compliment.
As an Executive Platinum member you receive a free snack, so my meal was free, while we paid for Ford's. I still have the Barclays Aviator Silver Card, which comes with a $25 daily inflight credit, so it didn't cost me anything.
I have to give props to one of the flight attendants working economy. He was extremely friendly, and after realizing I was Executive Platinum during the first service, came back later to see if I wanted anything else.
Towards the end of the flight I checked out the infamous Oasis lavatories.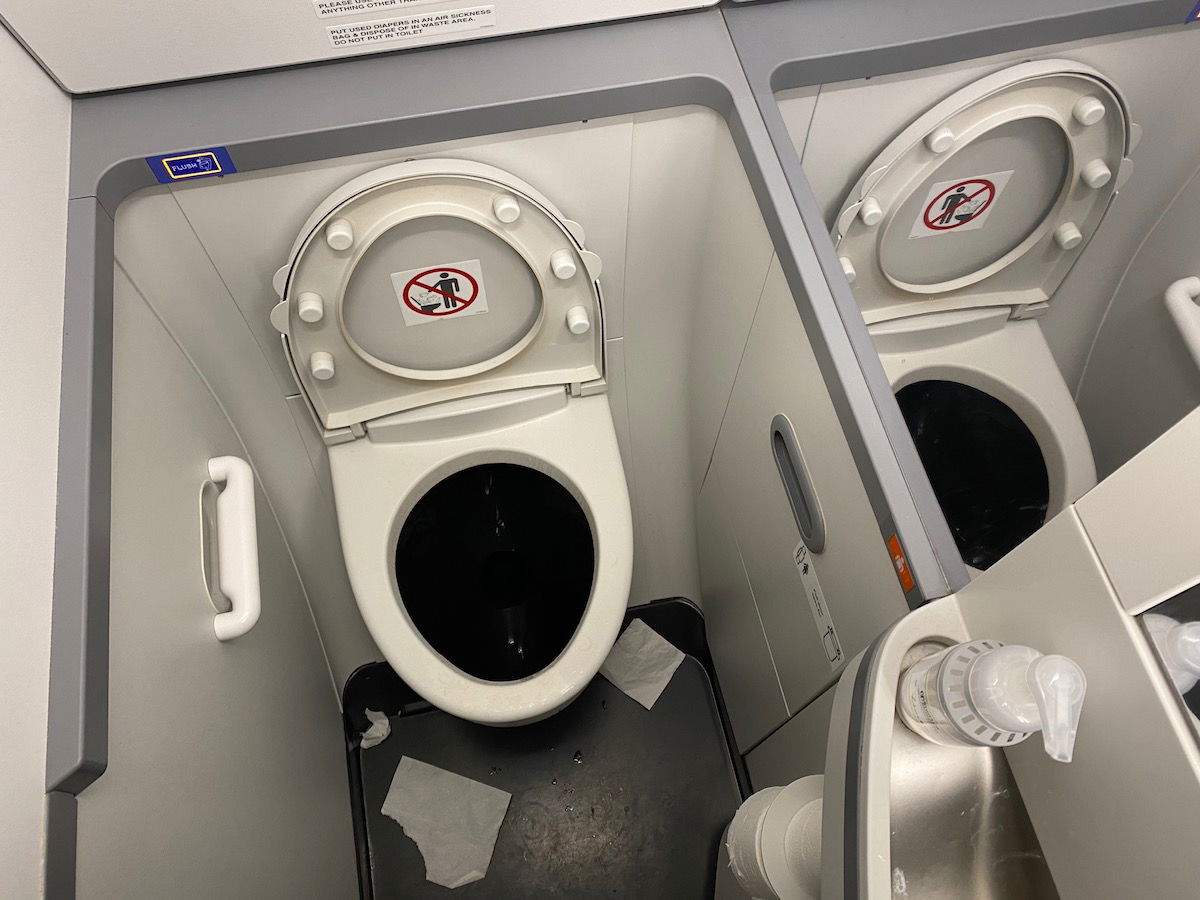 American Oasis lavatory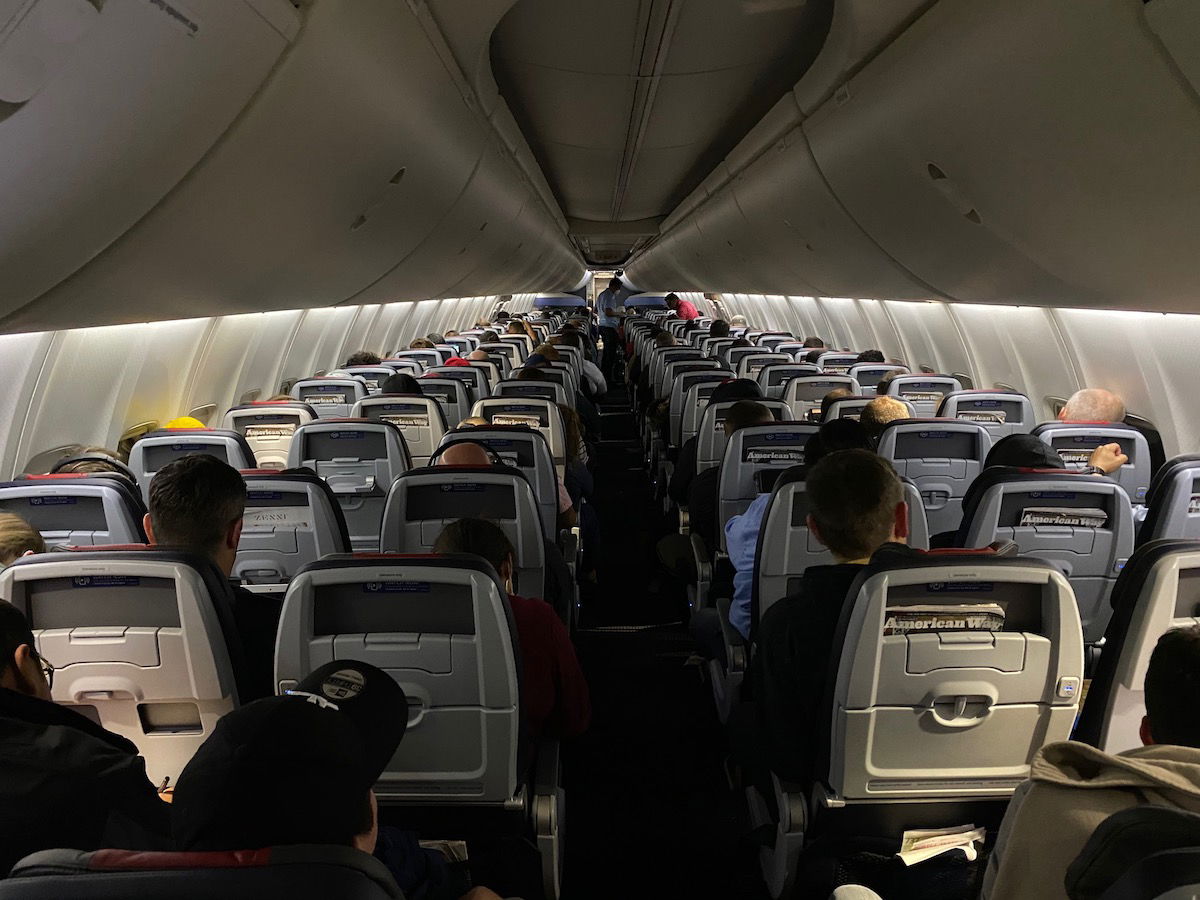 American Airlines 737 cabin
Landing cards were distributed around the start of descent. We started our descent around 7:55PM Managua time (which is one hour behind Miami), and touched down at 8:15PM. From there we had a five minute taxi to our gate.
Bottom Line
As much as American's Oasis 737s offer a not-great passenger experience, this was an all around pretty great flight.
The bulkhead economy seats on Oasis 737s are awesome, the flight departed early and arrived early, Viasat Wi-Fi worked throughout the flight, alcohol is free in Main Cabin Extra and I like "Truly," I received free food as an Executive Platinum member, and the flight attendant was friendly.
While I sometimes give American a hard time, they're running a really punctual operation at the moment and have excellent, high-speed Wi-Fi. Living in Miami I can't really justify not flying them for the convenience.