---
I'm not much of an advance planner though am almost always on the road, so this presents a bit of an issue around New Years. Everyone seems to want to go somewhere around then, so I usually end up spending New Years at home sitting on my couch eating Cheez-Its and watching the ball drop on TV. After all, most places that people would want to go over New Years (warm destinations and mega-cities) are usually sold out months in advance.
But some friends had the idea of going somewhere over New Years, and we realized we had to be realistic. Going to Australia or Thailand or the Maldives over New Years without advance notice is virtually impossible, so we turned to Europe instead.
A lot of my travel to Europe is dictated by what a convenient stopover point would be enroute to Asia. That's because most Star Alliance airlines charge virtually the same number of miles for travel to Europe as they do for travel to Asia via Europe with a stopover there.
However, this time around we wouldn't let routing rules dictate our destinations, but rather places we really wanted to see, even if they're a pain to get to on award tickets. None of us had been to Edinburgh, Scotland, or Prague, Czech Republic, so after verifying hotel availability we decided those would be two fun destinations to visit.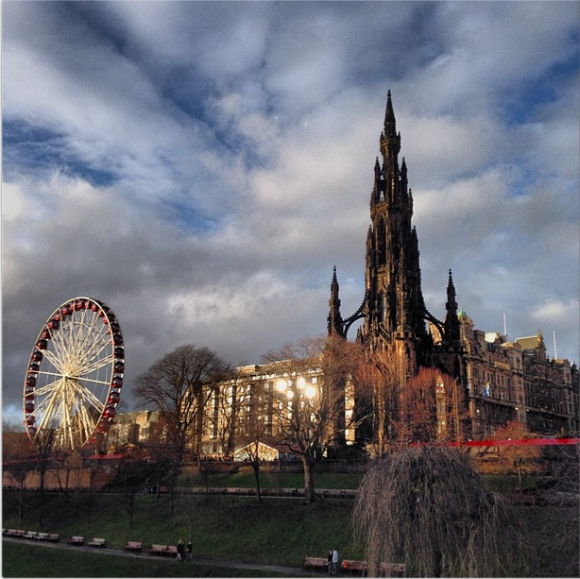 Winter Festival in Edinburgh
Given the imminent Delta SkyMiles devaluation we decided to try and redeem SkyMiles for this award. As luck would have it, there was plenty of transatlantic award space, including on Virgin Atlantic. I do love the new joint venture between Delta and Virgin Atlantic, as Virgin Atlantic is one of my favorite transatlantic airlines.
I had spent Christmas in Florida with my parents at the St. Regis Bal Harbour, so in this case my travel was originating on the East Coast. I purchased a ticket between Miami and New York, which allowed me to qualify for a new tier of American AAdvantage Elite Rewards, and then filled in the flights between London and Edinburgh with British Airways Avios.
In the end, my routing was as follows:
12/29 AA1287 Miami to Washington departing 9:45AM arriving 12:05PM
12/29 AA3230 Washington to New York departing 12:55PM arriving 2:15PM
12/29 VS10 New York to London departing 10:35PM arriving 10:50AM (+1 day)
12/30 BA1452 London to Edinburgh departing 4:20PM arriving 5:45PM
01/04 BA1435 Edinburgh to London departing 7:05AM arriving 8:35AM
01/04 AF1681 London to Paris departing 10:05AM arriving 12:25PM
01/04 AF1982 Paris to Prague departing 1:20PM arriving 2:55PM
01/08 OK724 Prague to Rome departing 11:30AM arriving 1:25PM
01/08 AZ614 Rome to Boston departing 3:20PM arriving 6:45PM
01/09 AS17 Boston to Seattle departing 6:35PM arriving 10:05PM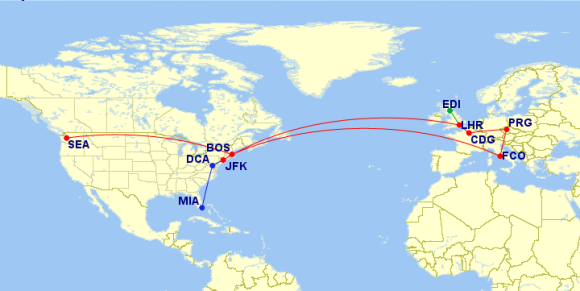 I spent 100,000 Delta SkyMiles, along with 9,000 Avios and $297.70 for the taxes and fees on the award tickets. The flight from Miami to New York was about $200, but as I would have otherwise needed to purchase a ticket home to Seattle anyways, that was a bit of a wash. Besides, that flight got me over the next Elite Rewards threshold with American, which earned me 30,000 bonus AAdvantage miles.
I have to be honest and say that this was probably the most difficult award redemption I've made for myself in years (and I've done some crazy, crazy, crazy award routings). Ticketing this award took over a dozen calls to Delta, and required me to redeposit my award three times. Granted, that's somewhat my fault for how complicated the itinerary was, and the partners I was using, but I do this for a living, and it was still insanely frustrating.
My frustration mainly came from the fact that was I was trying to do should have been not only possible, but relatively easy.
In fact, two of my friends had a slightly different itinerary, and were able to issue their tickets online using the multi-city tool.
They were also able to avoid three consecutive intra-European segments by having an open-jaw between London and Edinburgh, and considering Prague their "stopover," whereas my stopover had to be in London, with Prague as the destination in order for the ticket to price as a single award.
It just goes to show the complexity involved in award tickets, and how a bit of persistence and creativity can be worthwhile. Or that the Delta system is completely broken. 😉
We had actually booked our hotel in Edinburgh prior to getting our flights finalized, which I typically don't recommend, but given that it was New Years and we were doing this very last-minute we didn't want to be without a place to stay. Everyone in the group was a Starwood Platinum, so the Sheraton Edinburgh was the logical choice, and given the paid rate was 301 GBP (~$500) per night, we decided to redeem points.
With Starwood you get the fifth night free when redeeming points, so we decided to go ahead and take advantage of that. I can't remember the last time I stayed in a hotel for five consecutive nights, but the value couldn't be beat, especially as I had a certificate for 35% off a redemption, which was my Platinum renewal gift. So in the end my five night redemption cost me just 33,800 Starpoints.

In Prague we had intended to stay at the Radisson Blu Prague, which is a great use of Club Carlson points. Since I have the Club Carlson Visa Signature Card the second night of the award redemption would have been free, so I was quite excited about the value proposition there. However, while my friends have the Club Carlson Card as well, their points hadn't posted, so we ended up staying for four nights at the Sheraton Prague, which was only about $120USD per night.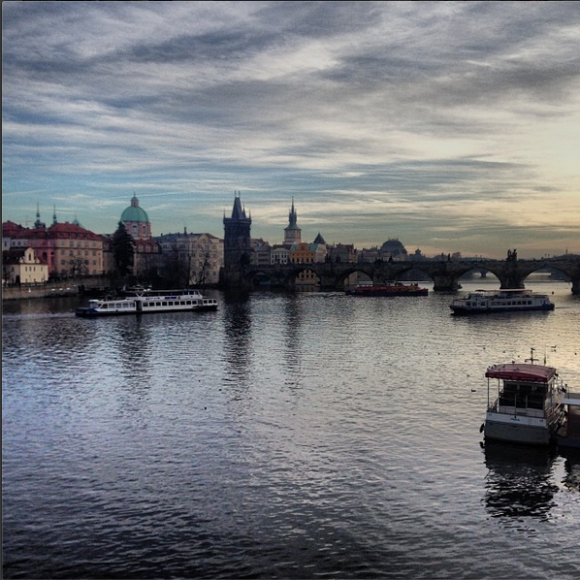 Prague and the Charles Bridge
I have to say that at first I was a bit apprehensive about this trip. I usually make a point of only traveling to warm destinations (I lived in Florida for a decade and am warm blooded), and Europe in January usually doesn't fit that bill.
However, I was really pleasantly surprised. Not only was the weather downright pleasant, but it was nice to experience some cities during non-peak periods, since they weren't quite as overrun with tourists. I also loved spending some solid chunks of time in two new cities. I generally don't take long trips like this, but having multiple nights at a single hotel was surprisingly pleasant.
Usually I'm only on the ground at new destinations for 2-3 days, meaning that while I do my best to maximize the time, it's very rarely relaxing. That's because I'm battling jetlag and trying to get caught up on work after traveling while also seeing the local sights. Spending five days on the ground in one city was awesome, since I could get a good chunk of work done every day, and still have plenty of time to sightsee without feeling rushed. I hope to do more of that in the future!
Thanks for reading, and as always, any questions/comments are welcome!