---
Welcome to my next trip report, covering travel in Lufthansa first class, a few airline lounges (including a United Polaris Lounge), a few hotels (including two independent ones), and more!
Planning the trip
Some of my most memorable trips have been with my dad. Long time readers may remember when I took him on an around the world first class trip for his last "round" birthday, which was one of my favorite trips ever.
While I haven't been able to top that trip, I continue to enjoy traveling with my dad, though it has been a while since we've taken a big international trip. We were supposed to go on one last September to Slovakia and Macedonia. However, my dad lives in Florida and there was a hurricane at the time, so we had to reschedule the trip.
Since the tickets had been booked through Aeroplan, we had a year from the date of issue to reuse them, meaning that we were coming up on the deadline, which is why we planned this trip for August.
Booking flights
My dad loves flying Lufthansa first class (who doesn't?), so as much as I would have loved to review some more unusual airlines, I wanted to make this trip as good as possible for my dad. Lufthansa only makes first class award seats available to partner airlines at most 15 days out, so this entire trip was planned pretty last minute.
Based on looking at availability for US gateways, we ended up flying out of Houston. This worked out great, since I've been wanting to review the new United Polaris Lounge here.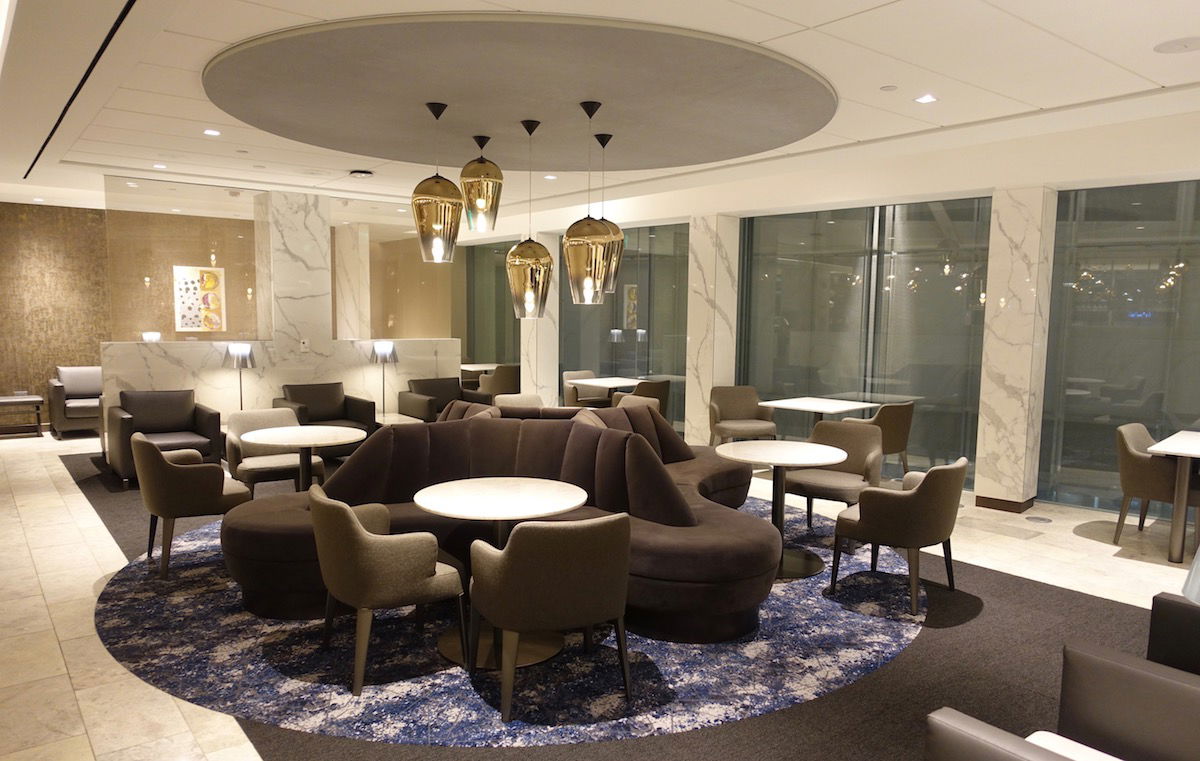 We booked the following about a week before departure for 80,000 Aeroplan miles plus 343USD in taxes and fees per person:
8/14 LH441 Houston to Frankfurt departing 3:50PM arriving 8:35AM (+1 day) [First]
8/15 LH882 Frankfurt to Tallinn departing 2:05PM arriving 5:20PM [Business]
Transfer points to Aeroplan with these cards: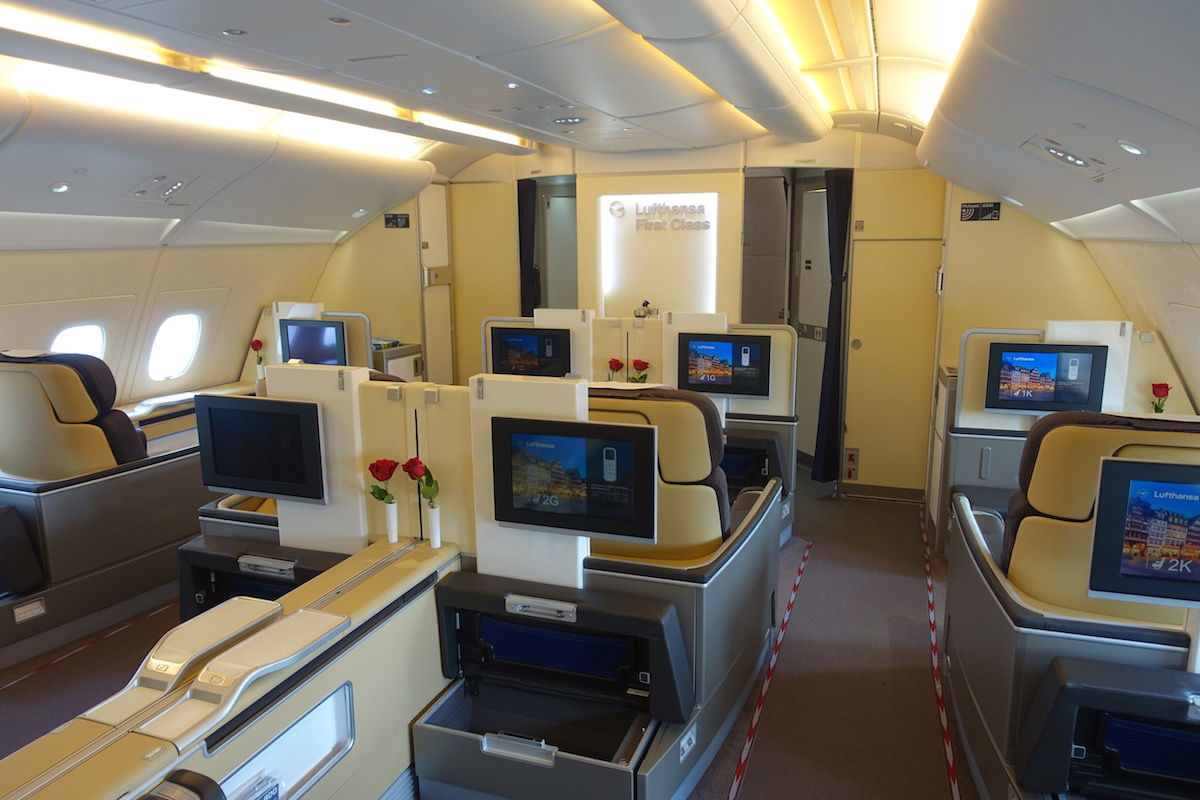 Generally speaking, Boston is the easiest US gateway for snagging first and business class awards, and right at the two week mark two first class award seats opened up from Frankfurt to Boston, so I booked the following for 70,000 Aeroplan miles plus 350USD in taxes and fees per person, which would get us back to the US:
8/21 LH422 Frankfurt to Boston departing 1:05PM arriving 3:00PM [First]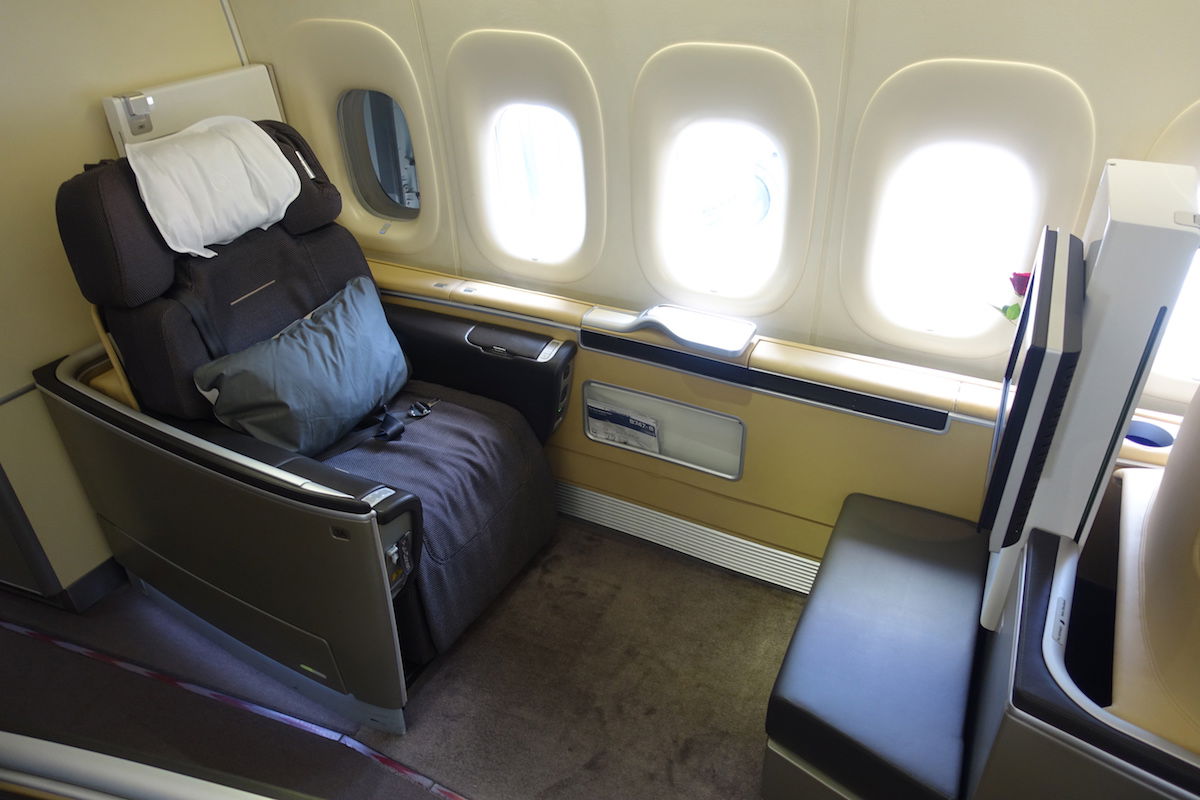 As you can see, we still had to book a few flights separately, including from Tallinn to Riga, and from Riga to Frankfurt.
While Tallinn and Riga are only 175 miles apart, it's surprisingly time consuming to travel between the two by car or train, so we booked a flight on AirBaltic.
We took the following flight, which cost about 140USD per person (this was for a "priority ticket," including a checked bag, priority boarding, and more):
8/18 BT312 Tallinn to Riga departing 10:45AM arriving 11:35AM [Economy]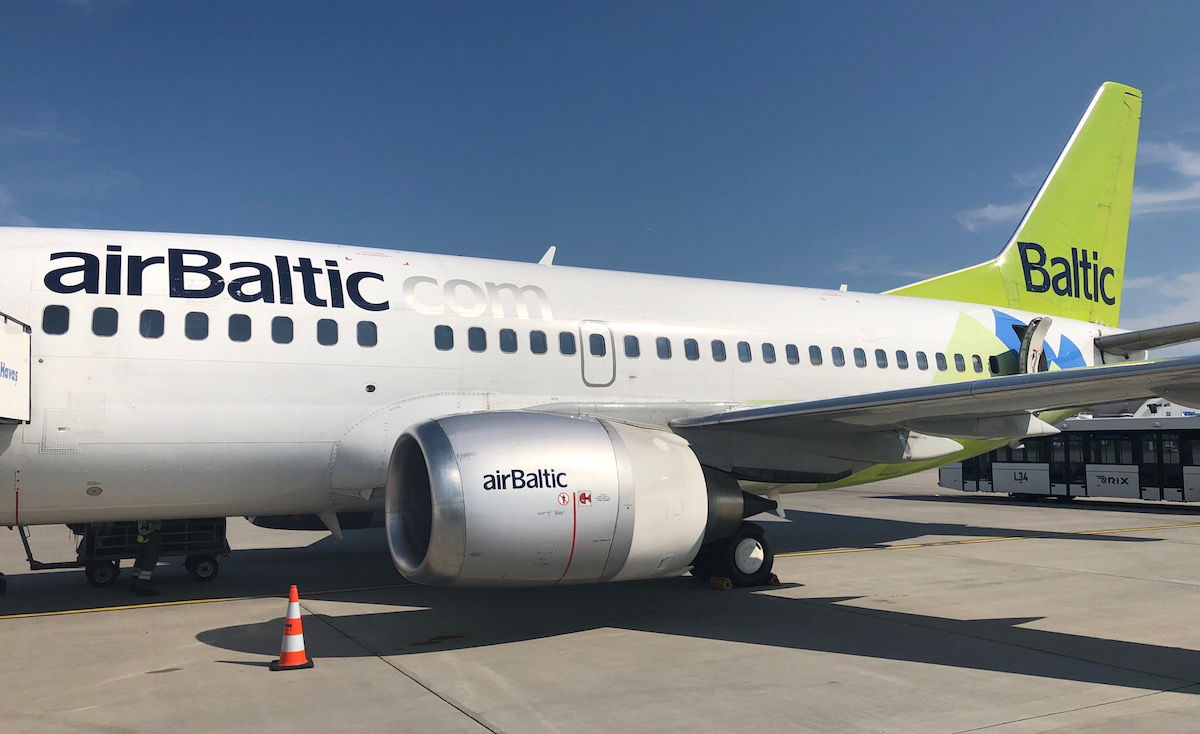 Then since my dad is from Frankfurt originally, he wanted to spend a day there on the return. While I would have preferred to take the evening flight and book the Riga to Frankfurt segment on the same ticket as the Frankfurt to Boston segment, there was no award availability on that flight.
So instead I booked the following on a separate ticket, for 16,000 LifeMiles plus 23USD per person:
8/20 LH893 Riga to Frankfurt departing 6:05AM arriving 7:25AM [Business]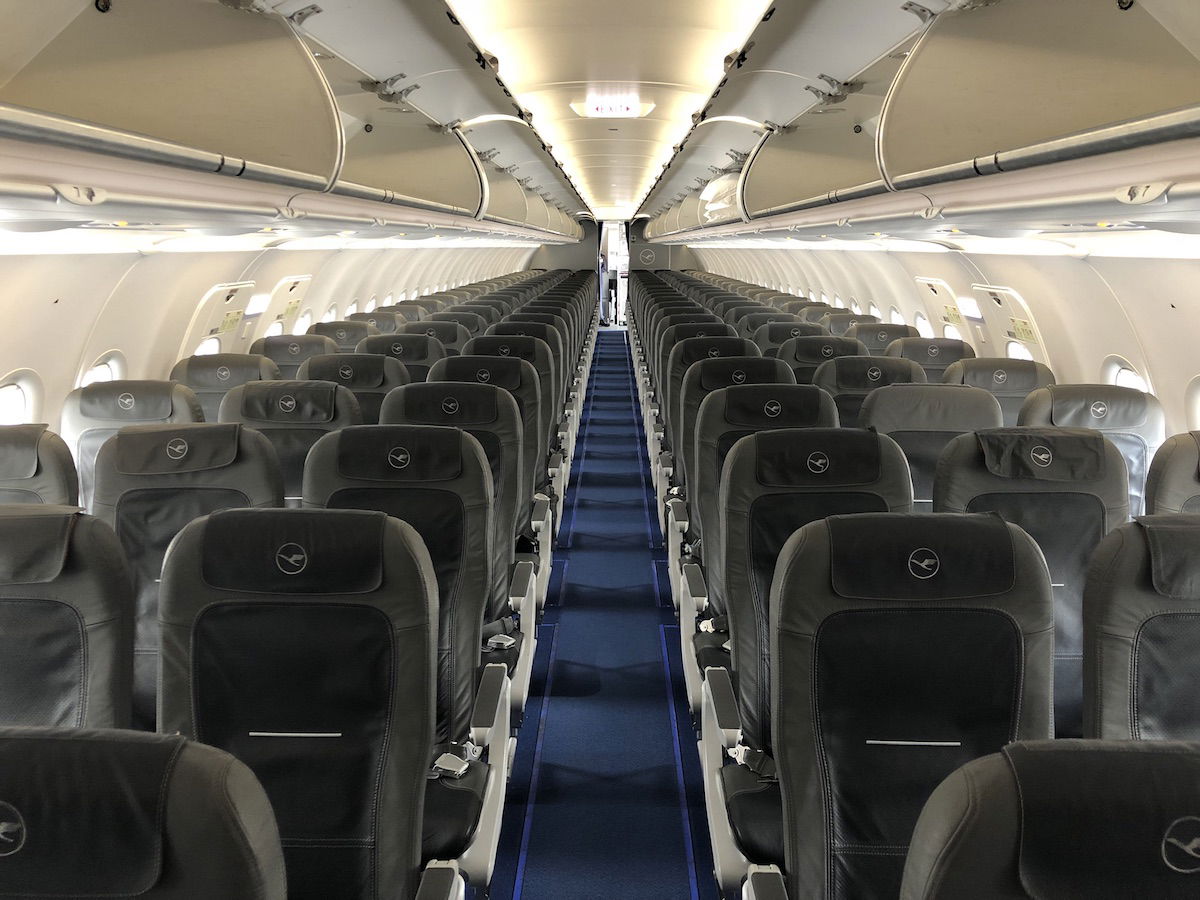 Lastly, I had commitments in Los Angeles after landing back in Boston, so I booked the following JetBlue ticket for $600 one-way:
8/21 B6987 Boston to Los Angeles departing 8:55PM arriving 12:19AM (+1 day) [Business]
In the end, my entire routing looked as follows: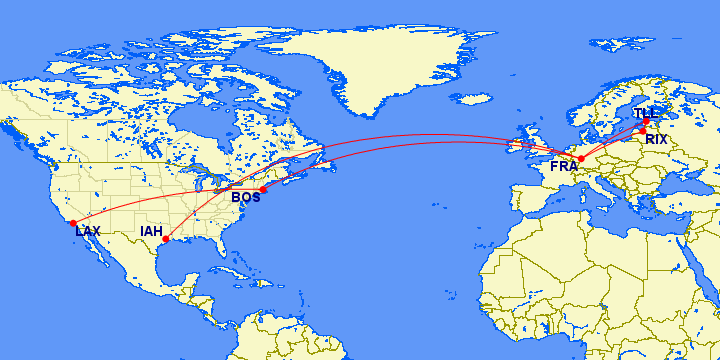 Booking hotels
For our trip we were spending the following number of nights places:
3 nights in Tallinn
2 nights in Riga
1 night in Frankfurt
As soon as I saw the Lufthansa award space I ticketed our flights, but what I hadn't considered is that we'd be in both Tallinn and Riga during some very major events. Specifically, we were in Tallinn the same day as the Super Cup, and in Riga over the country's 100th anniversary.
In Tallinn I would have liked to stay at Hotel Telegraaf, the Marriott Autograph Collection hotel. However, it was sold out. Fortunately there was availability at the Hilton Tallinn, which I had heard pretty good things about.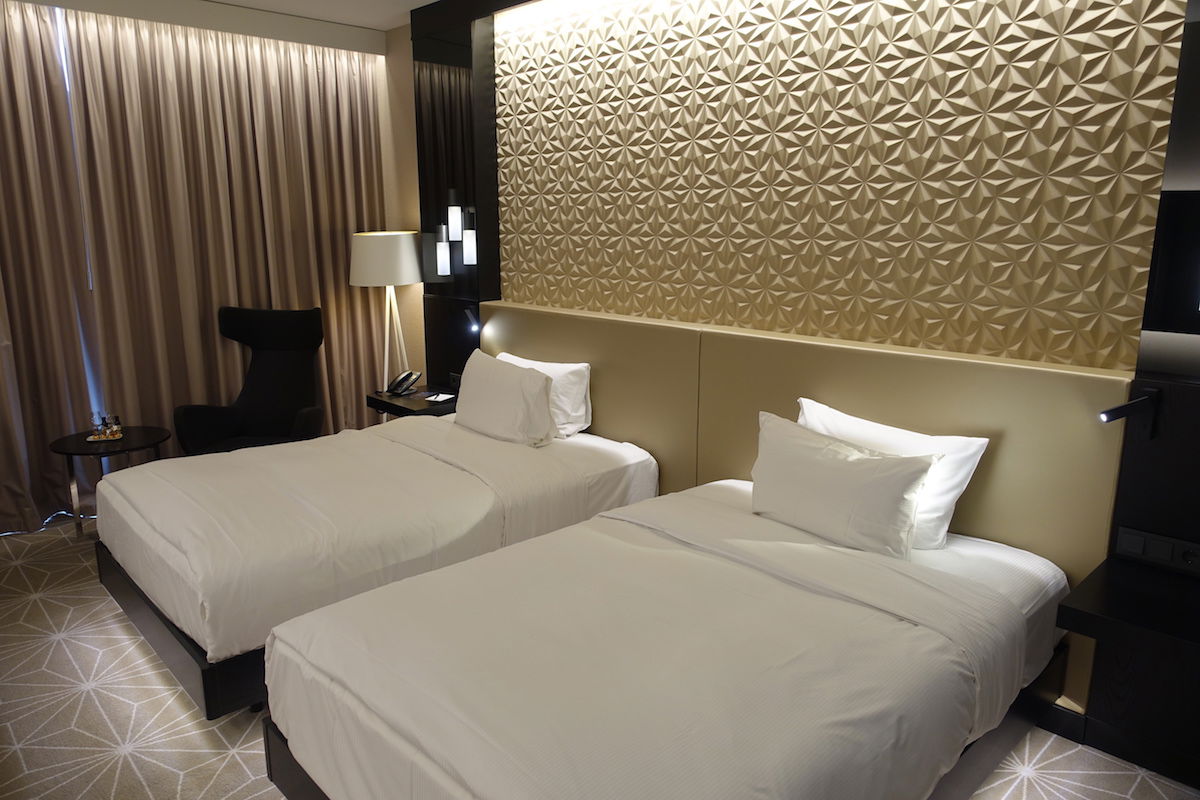 The first night would have been ridiculously expensive, so I redeemed 30,000 Honors points per night, which was a steal compared to the paid rate of 882EUR. That was one of my best uses of Hilton Honors points ever.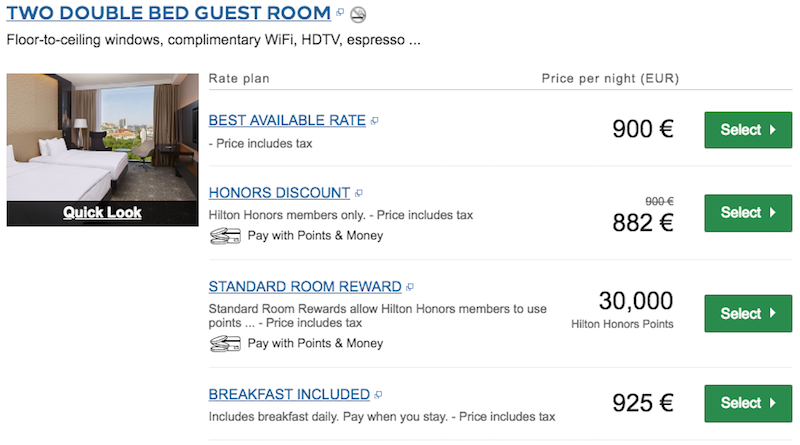 Then for the next two nights I booked a paid rate of 104EUR per night, which seemed much more reasonable.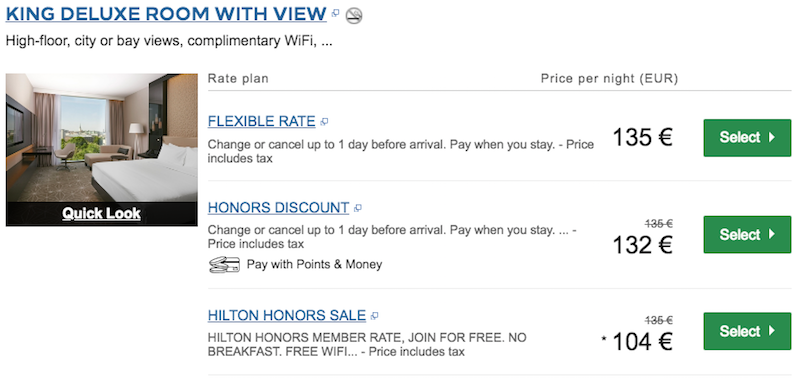 Then for our two nights in Riga I decided to book the Grand Palace Hotel, which is a Virtuoso property. The rate through Virtuoso was 195EUR per night, and for that we received a room upgrade subject to availability, complimentary breakfast, and a dinner for two once during our stay.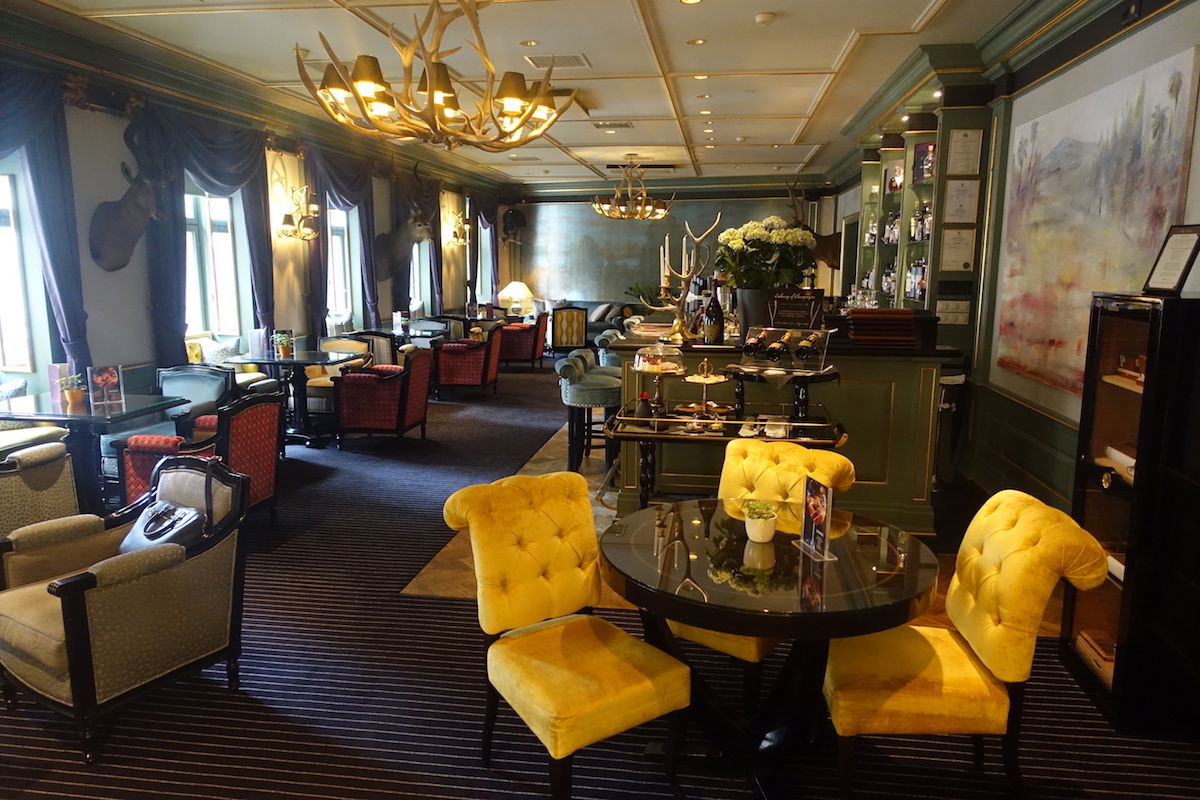 Lastly in Frankfurt I also decided to try something new. Villa Kennedy is generally regarded as one of Frankfurt's best hotels, and since we had over 24 hours in the city, it seemed like a good opportunity to try it. I also booked this through Virtuoso at a rate of 275EUR for our one night stay, and that came with a room upgrade subject to availability, complimentary breakfast, and an 85EUR food & beverage credit.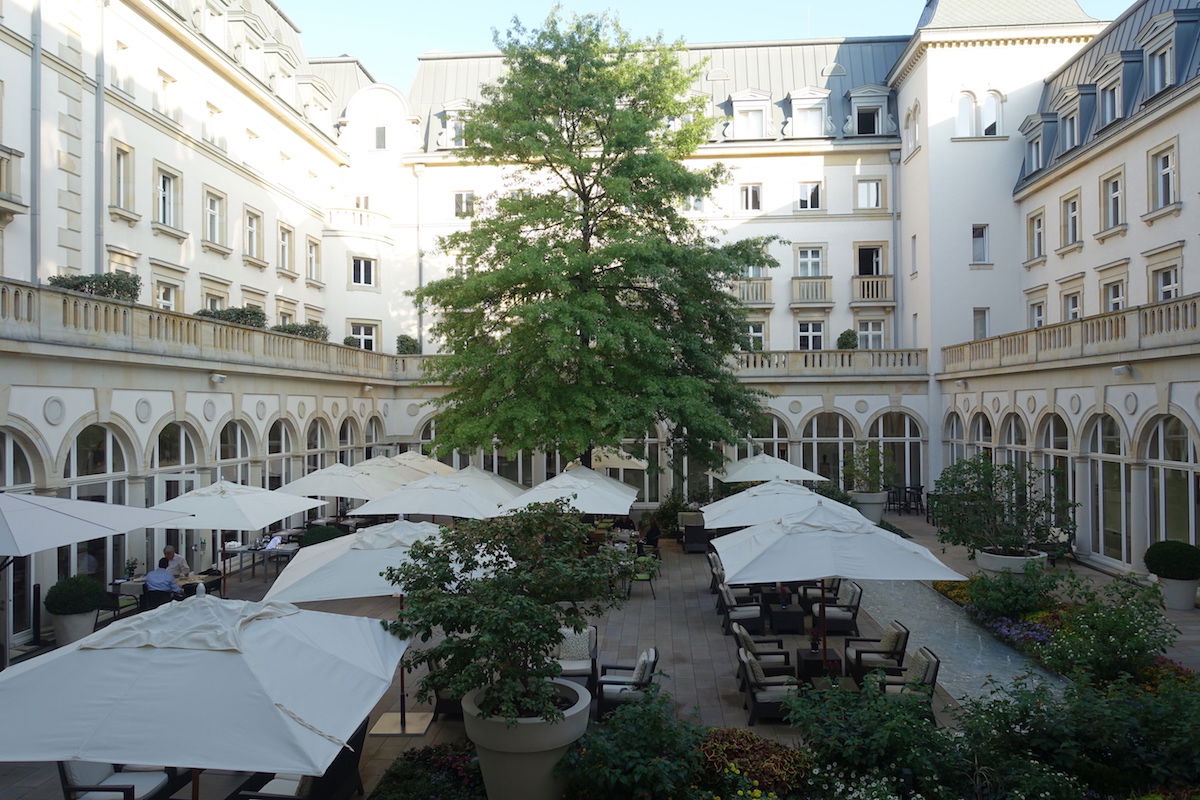 Bottom line
My dad and I always have fun when traveling together, and this trip was no exception. While the flights themselves may not be that exciting, I had interesting experiences at all three hotels, I was excited to check out the Polaris Lounge Houston, and I loved both Tallinn and Riga.
While I won't be covering the destinations as such in this review, check out the posts I wrote about my thoughts on Tallinn and Riga, if you're interested.
I'll also be skipping a couple of segments, like the review of the flight from Riga to Frankfurt (I think one Lufthansa intra-Europe review is sufficient), and a review of the Lufthansa First Class Terminal, which I've reviewed before.
Thanks for reading!