---
Hi, my name is Ben, and I'm kind of addicted to A380s.
Up until Asiana began longhaul service with their A380s in August, I had reviewed A380 first class on every airline that operates the whale jet, including Air France, British Airways, China Southern, Emirates, Korean Air, Lufthansa, Malaysia Airlines, Qantas, Singapore Airlines, and Thai Airways.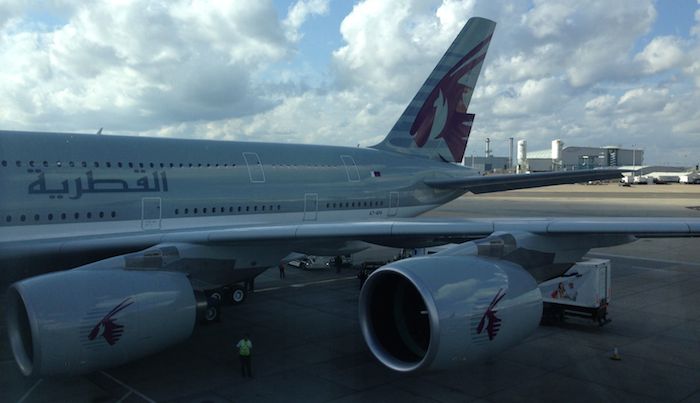 Qatar Airways A380
I had been waiting for a long time for Qatar Airways to finally launch their A380 service, given that it had been delayed by several months. So once the Qatar Airways A380 inaugural flight schedule was finalized, I figured I'd book a trip which would allow me to knock out both of the remaining A380s at once.
So I booked the following:
10/03 OZ201 Los Angeles to Seoul Incheon departing 12:20PM arriving 5:20PM (+1 day)
10/07 EY873 Seoul Incheon to Abu Dhabi departing 12:20AM arriving 5:20AM
10/07 EY653 Abu Dhabi to Cairo departing 10:05AM arriving 11:55AM
10/09 QR1304 Cairo to Doha departing 1:15PM arriving 5:30PM
10/10 QR3 Doha to London Heahtrow departing 7:55AM arriving 1:15PM
10/11 US733 London Heathrow to Charlotte departing 2:25PM arriving 6:20PM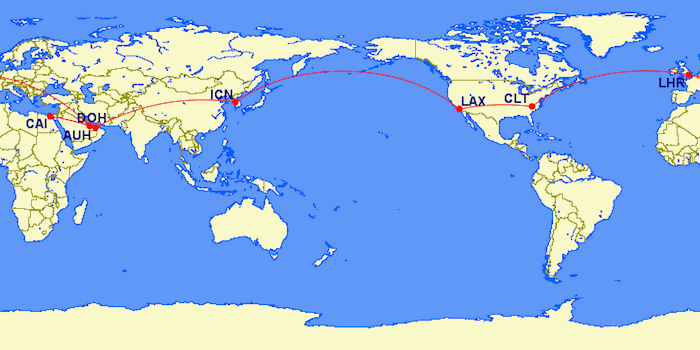 Here's a rundown of how I booked all of this:
Booking flights
Asiana A380 first class Los Angeles to Seoul Incheon
I booked the first portion of the trip using Avianca LifeMiles. The timing couldn't have worked out better, since it was right before LifeMiles devalued their award chart.
Asiana A380 first class award space is quite open last minute, so I had no problem booking a couple of weeks before departure.
The award would usually cost 75,000 miles one-way, though with LifeMiles you can purchase up to 60% of the miles needed at the time of ticketing.
So I decided to redeem 40,000 LifeMiles for the ticket, and then had a cash co-pay of $555.60, which included all the taxes, fees, and additional miles.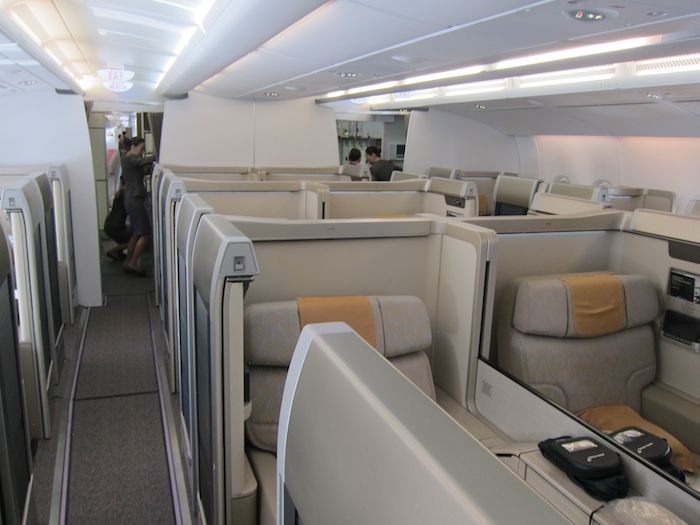 Asiana first class A380
Etihad first class Seoul Incheon to Cairo
One of the very best values on American's award chart is for travel between "Asia 1" and the Middle East, as they charge just 45,000 AAdvantage miles one-way. Flights from Seoul to Abu Dhabi are ~10 hours, so that's a heck of a value for a first class redemption. I've flown Etihad extensively between the US and Middle East, so was curious to see how the experience compared coming from the other direction (at the very least it wouldn't involve their horrid US pre-clearance facility).
The ticket cost me a total of 45,000 miles plus $28 in taxes.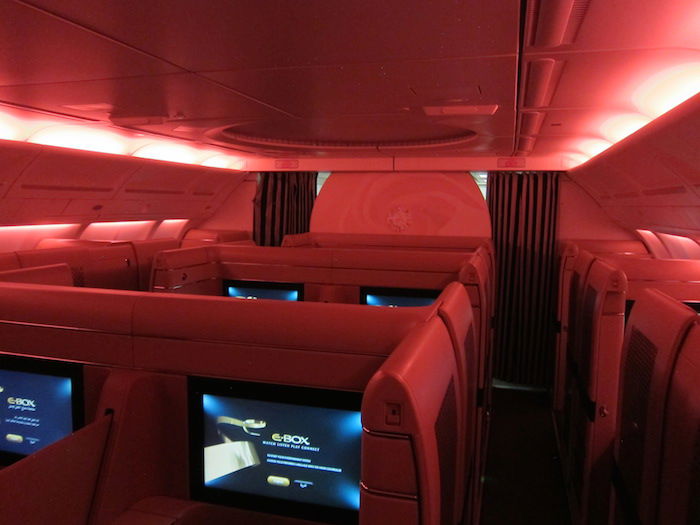 Etihad Airways first class A340
Qatar Airways first class Cairo to London
The reason for the side trip to Cairo was that several airlines publish great first and business class fares out of Cairo.
In this case, Qatar Airways had no premium cabin award space on the A380 inaugural flight (or any A380 flights, for that matter), though for $1,800 I was able to book a paid first class seat from Cairo to Doha to London. That was well worth the cost to me. Booking a paid first class ticket on the nonstop Doha to London flight would have cost me more than twice as much.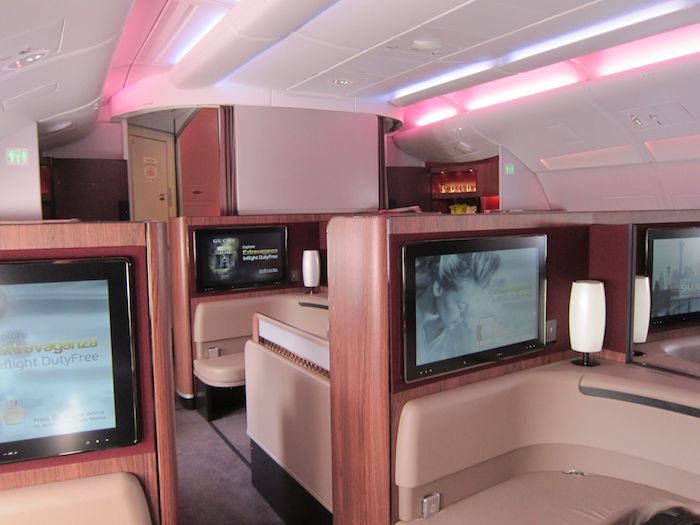 Qatar Airways first class A380
US Airways business class London to Charlotte
When I had originally finalized this trip I locked in a 50,000 mile business class award on US Airways from London to Charlotte. It was intended as a backup, though I didn't see anything better open up. So I ended up sticking to that, which cost me 50,000 AAdvantage plus plus $311.70 in taxes (they're so high because of the UK's hefty Air Passenger Duty).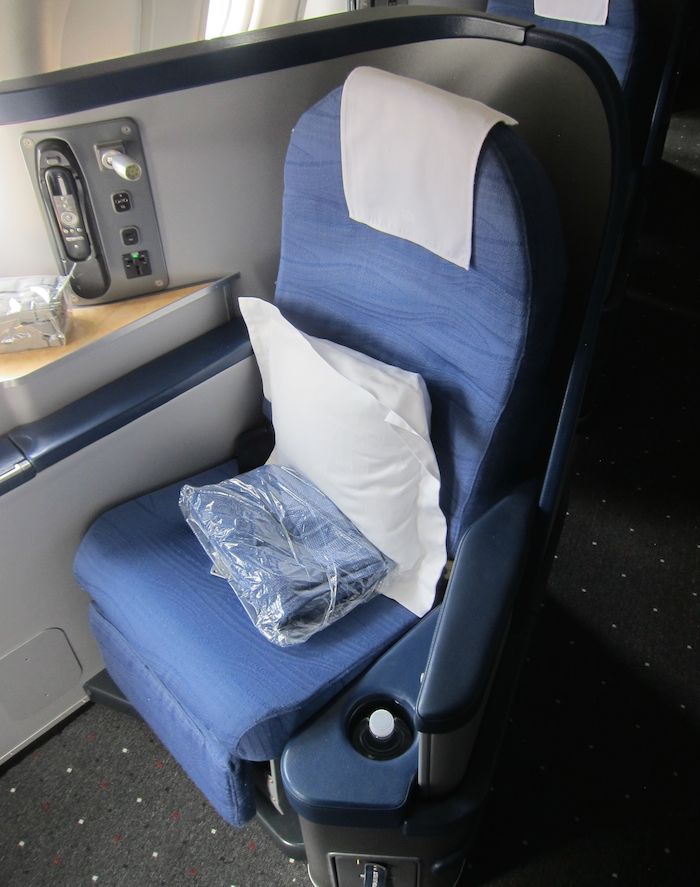 US Airways business class A330
Booking hotels
Park Hyatt Seoul
I absolutely love the Park Hyatt Seoul, and find it to be one of the best value Category 4 Hyatt Gold Passport properties. I stayed for two nights, and redeemed 15,000 Gold Passport points for the first night, and an annual free night certificate from the Hyatt Visa Card for the second night.
That was a heck of a value, given that paid rates were $400USD+ per night.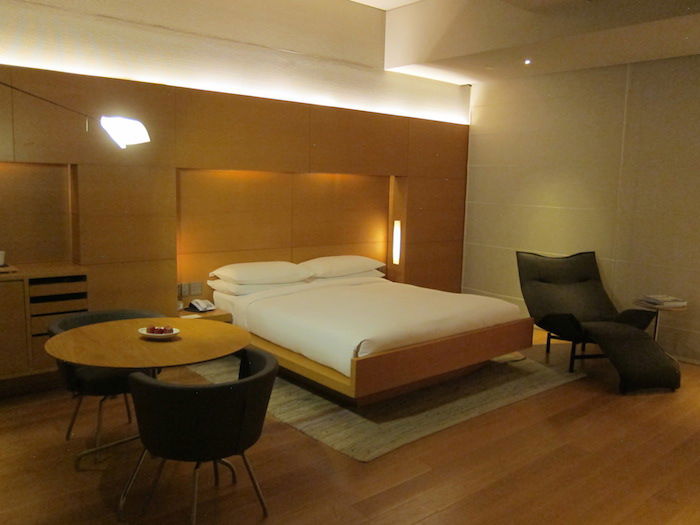 Park Hyatt Seoul
Le Meridien Cairo Airport
This hotel exceeded my expectations more than any other in recent memory. I booked a $113 per night rate at the Le Meridien Cairo Airport, though got upgraded to a massive panoramic suite. The hotel is brand new as well, and even connected to (parts of) the airport.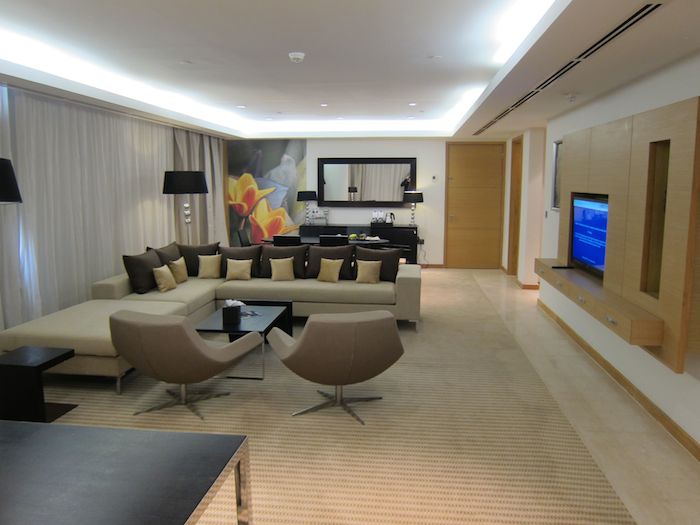 Le Meridien Cairo Airport
Crowne Plaza Doha The Business Park
While Doha has a lot of great hotels, most of them are quite far from the new Hamad International Airport. So I redeemed 20,000 IHG Rewards Club points for a night at the Crowne Plaza Doha, which is just a 15 minute taxi ride from HIA.
Hilton London Heathrow Terminal 4
For my overnight in London I booked the Hilton Heathrow Terminal 4, knowing I'd have a lot of work to catch up on at this point in my trip. Since my Qatar Airways flight arrived at Terminal 4 and my flight the next day departed from Terminal 3, it was as convenient as it gets.
Heathrow hotels are notoriously overpriced, so I redeemed Points & Money for the stay, at a cost of 24,000 Honors points plus $65GBP.
That being said, I reviewed the hotel last year, so won't review it again with this trip report.
Bottom line
I know I'm way behind on trip reports, so I have aspirations of publishing this one at record speeds, so I can also publish my two other major trip reports ASAP. Ideally before I go on my big round the world birthday bash trip with my dad. 😉