---
My dad has always been the biggest supporter of my little "hobby." When I first started mileage running (back when I was 15) it was actually a father-son activity. Some Saturday mornings he'd drive me to the airport in Tampa in time for my pre-6AM flight, and sometimes he'd actually fly with me. As odd as the hobby was, he never once questioned it and always thought it was awesome.
Some of my fondest travel memories are actually from trips we've taken together over the years. I remember our first trip to Asia together years and years ago in United coach to Hong Kong to take advantage of a double elite qualifying miles promotion. It was my first time in Asia, and my mind was just blown. And over the next several years we did many international trips together, mostly to Asia, and I have nothing but fond memories of them.
We haven't done a whole lot of travel over the past couple of years, though. We've had a few trips planned, but for one reason or another we always had to postpone them. So I figured it was about time we took another trip together.
I was attending TravelMagic in Brussels, so it seemed like a good opportunity to take my dad along and extend the trip a bit so we could also take a trip to a couple of other places.
While I tried to talk him into something exotic, he didn't have all that much free time and really just wanted to go back to Germany. He hasn't been to Germany for several years now (he hasn't visited as much since his mother passed away), so I could definitely understand why he wanted to return. But he didn't actually want to return "home" to Frankfurt, but rather really wanted to visit Berchtesgaden, which I've raved about so much and he hasn't yet visited.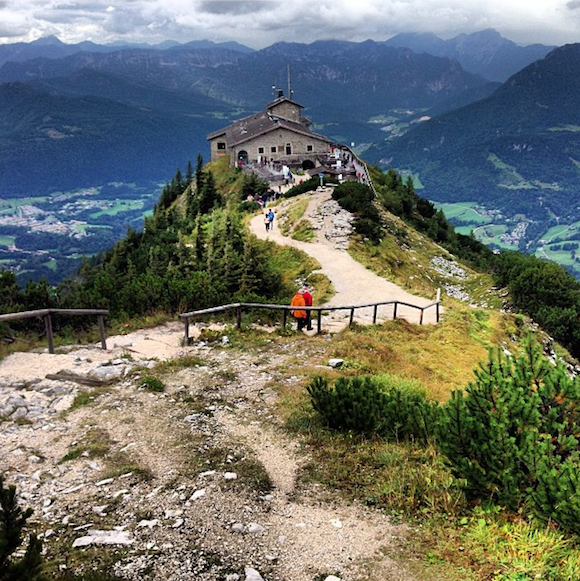 Berchtesgaden
The first challenge was securing the flights. My dad used to fly Lufthansa all the time back in the day for work (we're talking several decades ago back when half of the first class cabin was a smoking section and the other half was a non-smoking section), though hasn't flown them recently or visited the First Class Terminal in Frankfurt, for that matter.
Anyway, my dad has more American Express Membership Rewards points than he can use, so he insisted on using his points for both of us, while I'd pay the fuel surcharges. Aeroplan charges 125,000 miles for first class between the US and Europe "zone 1."
I searched for Lufthansa first class award space using the methods I outlined in this post. I wanted to get us on the best plane possible, and noticed that Houston to Frankfurt, which is operated by the A380, was "F8" for the day I was looking at, meaning all the first class seats were still for sale. This is historically one of the toughest routes on which to find award space, but sure enough a few days out space opened up and I locked the itinerary in.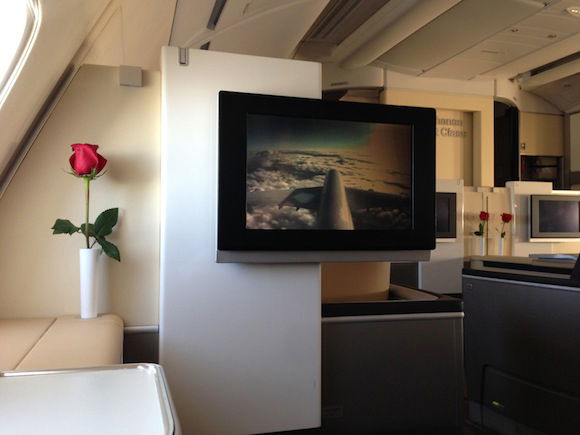 Lufthansa A380 first class
Then we of course added all the intra-Europe flies and booked a placeholder return. Three days before we returned from Europe Frankfurt to Miami opened up in first class on the 747-8, which is another awesome plane I wanted my dad to try. Aeroplan charges a $90 change fee per person for the change, which seemed well worth it.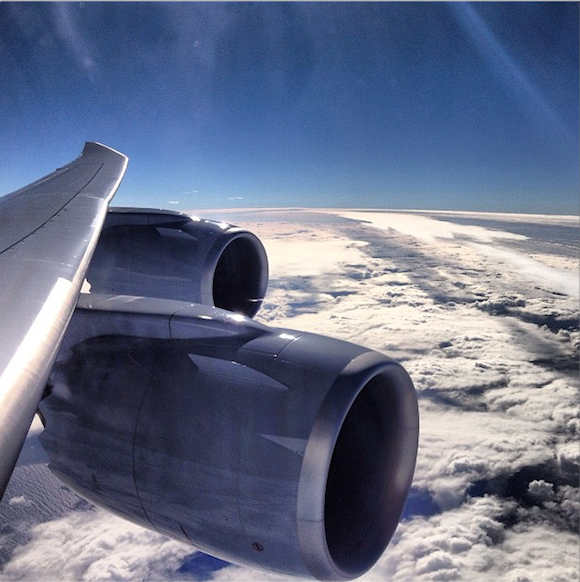 Lufthansa 747-8 wing
So we really lucked out in terms of availability. In the end our combined routing looked as follows, with first class on the transatlantic flights and business class on all the intra-Europe flights (we obviously had different positioning flights since he was coming from Tampa and I was coming from Seattle):
09/16 LH441 Houston to Frankfurt departing 4:10PM arriving 9:00AM (+1 day)
09/17 LH1104 Frankfurt to Salzburg departing 12:40PM arriving 1:35PM
09/20 LH1105 Salzburg to Frankfurt departing 2:35PM arriving 3:45PM
09/20 LH1016 Frankfurt to Brussels departing 4:50PM arriving 5:45PM
09/22 LH1011 Brussels to Frankfurt departing 1:50PM arriving 2:55PM
09/23 LH462 Frankfurt to Miami departing 9:55AM arriving 1:50PM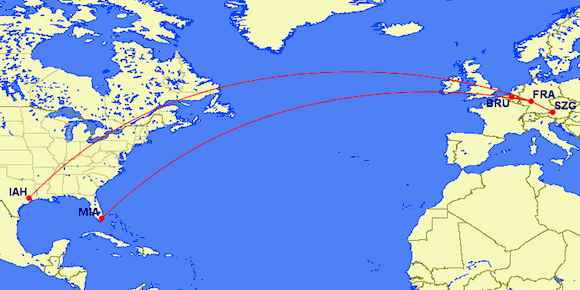 As I mentioned above the goal was to visit Berchtesgaden in the three days we were in Germany. Usually I just fly into Munich and drive to Berchtesgaden, which is a two hour drive, though this time around we decided to fly into Salzburg, which is less than a 30 minute drive from Berchtesgaden. The added benefit is that we wanted to do a night in Salzburg on the front end of the trip, so we booked one night at the Sheraton Salzburg and then two nights at the InterContinental Berchtesgaden.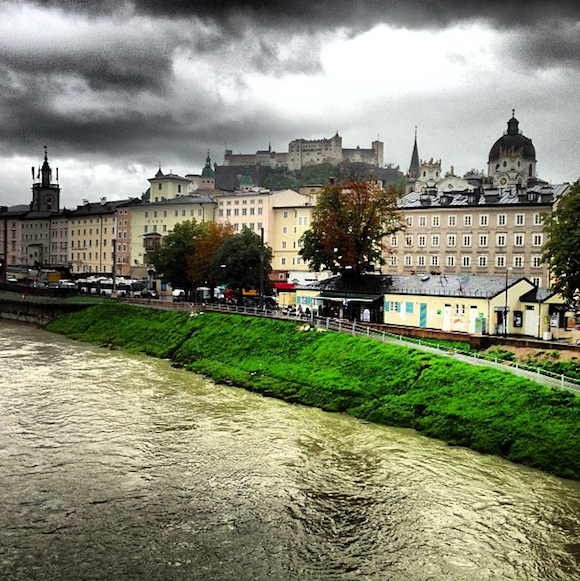 Salzburg
Then in Brussels we stayed at The Hotel (yes, that's the name), which is where TravelMagic was being held.
We had one night in Frankfurt on the return and while we went into the city for the evening we decided to stay near the airport so we'd have an easy transport the morning of our departure. While I've always stayed at the Sheraton Frankfurt Airport, which I really enjoy, I decided it was time to try out the brand new Hilton Frankfurt Airport so I could finally review it.
The return to Miami worked out quite well as Frequent Traveler University was in Tampa the weekend after we returned. Originally I was planning on going home for a few days and then flying back to Tampa, but when I mentioned to my mom that I might stay in Tampa for the week she took that as a promise, so I couldn't get out of it…
Anyway, I've reviewed a ton of Lufthansa first class (including here, here, here, here, here, here, here, here, here, here, here, here, here, here, here, and here) and I've reviewed the InterContinental Berchtesgaden (here and here), so I'll try to focus on what actually made these trips different. As I covered in this post, what made this one of the awesomest trips ever wasn't the airlines or hotels as such, but seeing how delighted my dad was by the whole experience.
And my dad has agreed to also write an installment with his thoughts on the trip, as my mom did for our trip to Bali.