---
Planning for this trip started in June, when British Airways published some incredible discounted business class fares. They published ~$1,600 roundtrip business class tickets from San Francisco to Rome, and then after you apply the $400 AARP discount and 10% discount through the British Airways Visa Card, the fare came down to ~$1,150 per person.
While I don't love British Airways business class, at this price it's really tough to go wrong, as economy tickets were priced in the same range. Ford is also going for Executive Platinum status with American, so I asked him if he was interested in going to Italy. His eyes lit up, as it's one of his favorite countries to travel to.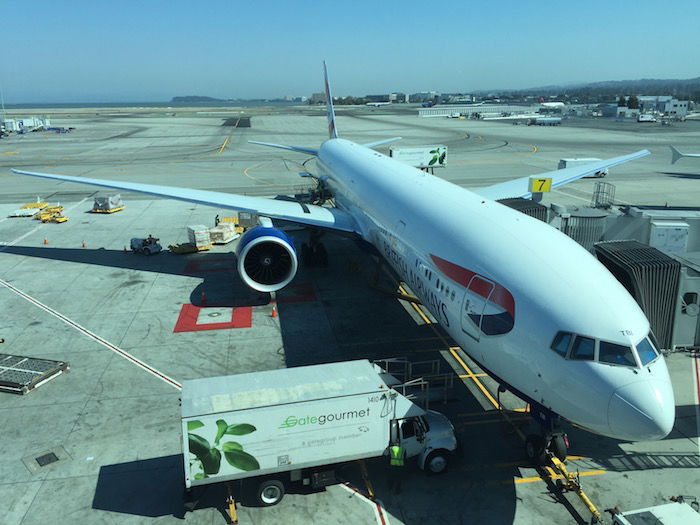 So we booked the following ticket for ~$1,150 per person: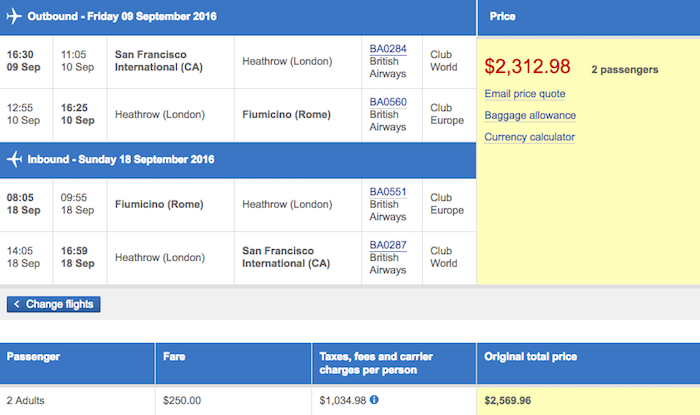 After we booked the ticket we started talking about where in Italy we wanted to go. Ford mentioned that his favorite hotel in the world is Cala di Volpe in Porto Cervo, Sardinia. As it turns out, that's a Starwood Luxury Collection property. While I've been to Sicily and have done a good amount of "mainland" Italy, I've never been to Sardinia. So that sounded like fun, especially since it was a Starwood property.
We decided to plan a two day stopover in Rome, and then ended up booking cheap tickets on Meridiana to Olbia, which is the closest airport to Porto Cervo. Sardinia is just a 30 minute flight from Rome, and the only airline operating the route nonstop is Meridiana on MD-80s. So in the end our routing looked as follows:
09/09 BA284 San Francisco to London departing 4:30PM arriving 11:05AM (+1 day)
09/10 BA560 London to Rome departing 12:55PM arriving 4:25PM
09/12 IG1112 Rome to Olbia departing 8:55AM arriving 9:50AM
09/17 IG1115 Olbia to Rome departing 4:55PM arriving 5:50PM
09/18 BA551 Rome to London departing 8:05AM arriving 9:55AM
09/18 BA287 London to San Francisco departing 2:05PM arriving 4:59PM
Here it is, on a map: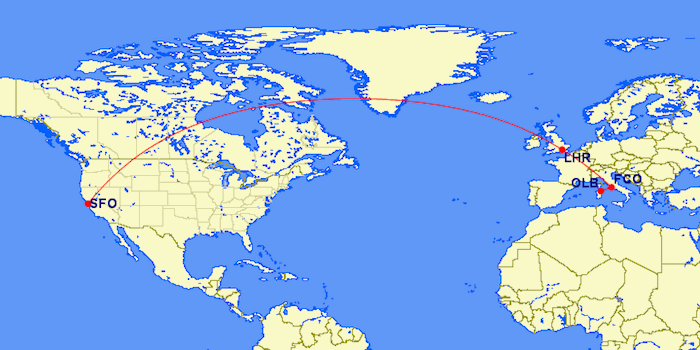 As far as hotels go…
We had one night together in San Francisco on the way out, and I found a fairly reasonable rate for the St. Regis San Francisco, which I love.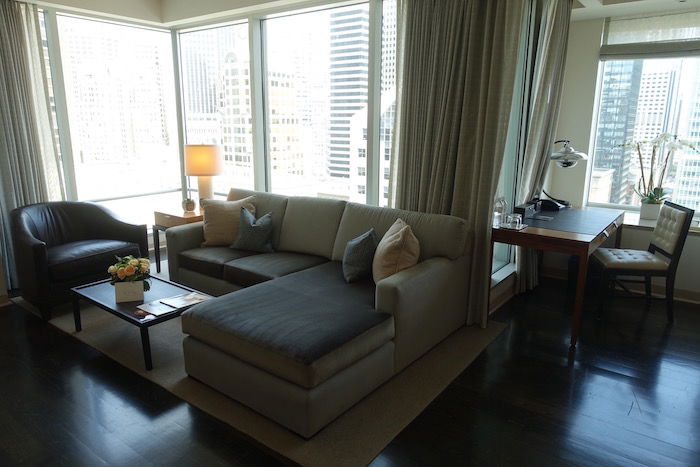 We then had two nights in Rome, so I also redeemed Starpoints for the St. Regis Rome.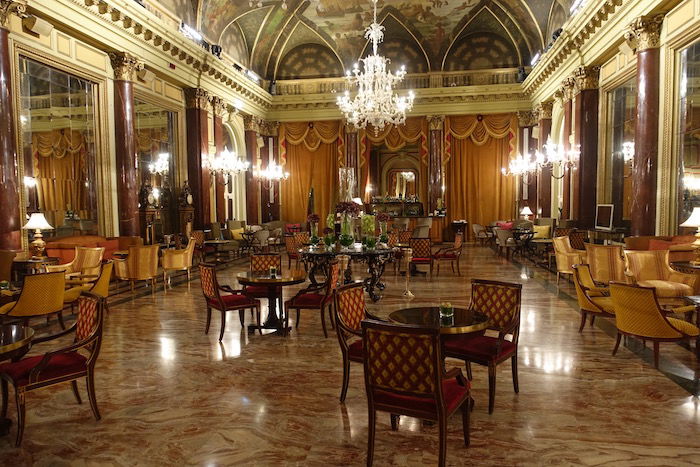 We then had a total of four nights in Sardinia, so we booked four nights at Hotel Cala Di Volpe, given how much Ford loved it.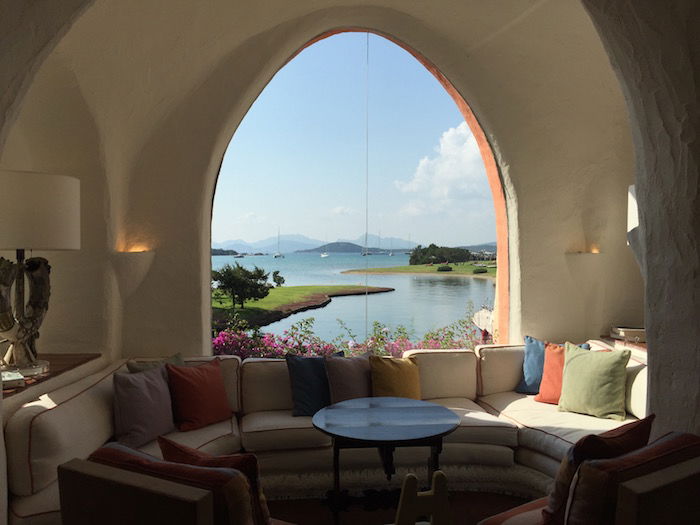 However, Starwood has four hotels in Porto Cervo, so for the last night we decided to book Hotel Romazzino, which was the other Starwood property that looked best.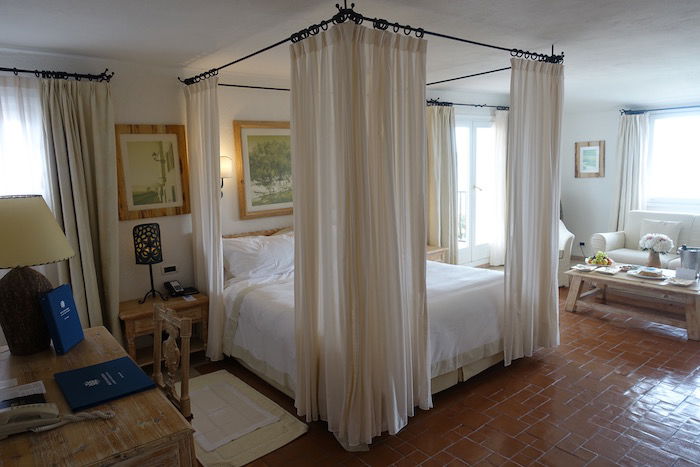 We had a quick overnight in Rome on the way back, after our flight from Olbia, and before our flight back to the US. So we decided to book the Hilton Rome Airport, given that it's (sort of) connected to the terminal.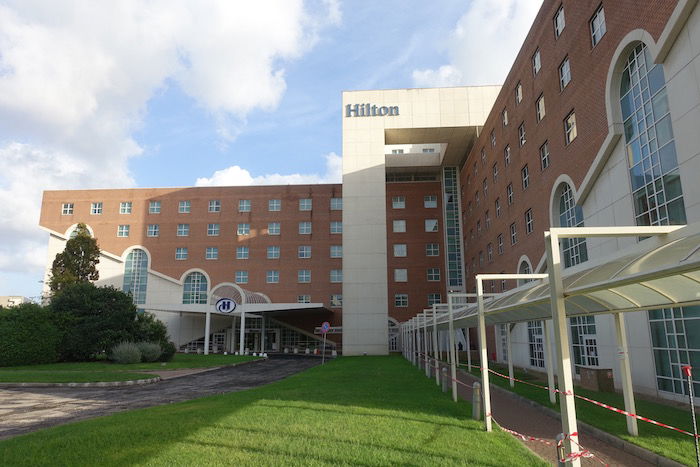 I'll have the details of the pricing for all hotels in the individual installments, though suffice to say that Porto Cervo is the most expensive place I've ever been. And I've been to some expensive places, like Monte Carlo, the Maldives, etc… but Porto Cervo is next level. 35EUR for a cocktail or 200EUR per person for a lunch buffet? Yep, that's the norm.
However, there are ways to maximize value in Porto Cervo and not pay that much, so I'll be discussing that in greater detail in the upcoming installments. The trip ended up being expensive, but not as bad as I was expecting given the "retail price" of things.
What I won't be including in this trip report is our experience on British Airways' intra-Europe flights, Meridiana's flights between Rome and Olbia (since they were 30 minutes and there's not much to say), or the British Airways Lounge in London, since I've reviewed it before.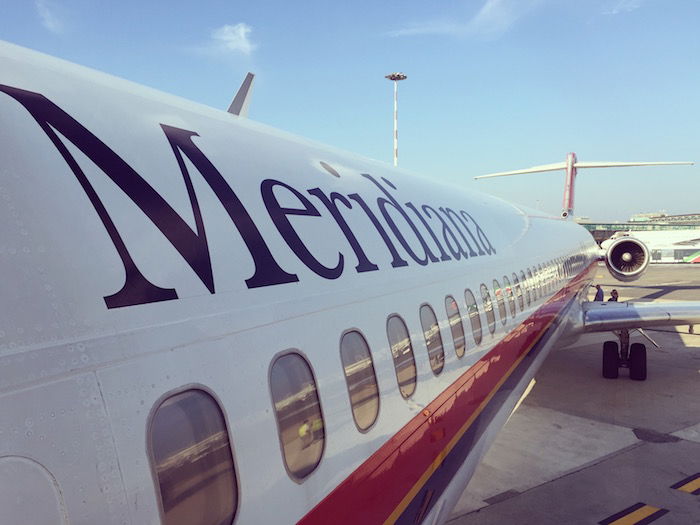 Bottom line
This was one of the most relaxing trips I've ever taken. Part of it is that Porto Cervo is incredibly relaxing, though perhaps it's also partly that I love being in Europe in terms of the timezone, since it allows me to stay caught up on work without having to be up all night, as is sometimes the case in Asia.
Porto Cervo was fascinating, and I'm still trying to fully decide how I feel about it. Even if you don't ever plan on visiting Porto Cervo yourself, hopefully some of you will be interested in reading about the fascinating collection of Starwood hotels there.