---
Welcome to my next trip report, covering travel in China Southern business class, China Eastern first class, Singapore's new A380 business class, and Singapore's new A380 Suites!
Planning the trip
The primary motivation for this trip was to try Singapore Airlines' brand new A380, and in particular, their new business class and Suites. Singapore Airlines began flying their new A380 between Singapore and Sydney as of mid-December, and I wanted to review it as quickly after it was introduced as possible. Then I tried to get creative with the airlines I booked between the US and Singapore, to be sure I was trying something new.
Booking flights
Singapore Airlines began offering their new A380 premium cabins between Singapore and Sydney as of December 18, 2017. They didn't provide much notice in terms of introducing the product, as they only revealed the cabins in November. Prior to that they did drop some hints as to what the first routes with the new cabin would be, but that's it.
When Singapore introduced these new products my concern was that they wouldn't make any award seats available, as was the case when they first introduced their last generation of premium cabins over a decade ago. That's why I tried to make some speculative bookings, especially given what reasonable award redeposit fees that KrisFlyer has.
I ended up booking two sets of these tickets, with my first set being for early February. I wanted to try both Singapore's new A380 business class and new A380 Suites, so I booked one cabin in each direction.
I booked the following for 58,000 Singapore KrisFlyer miles plus 51.60USD in taxes and fees:
2/01 SQ221 Singapore to Sydney departing 8:40PM arriving 7:40AM (+1 day) [Business]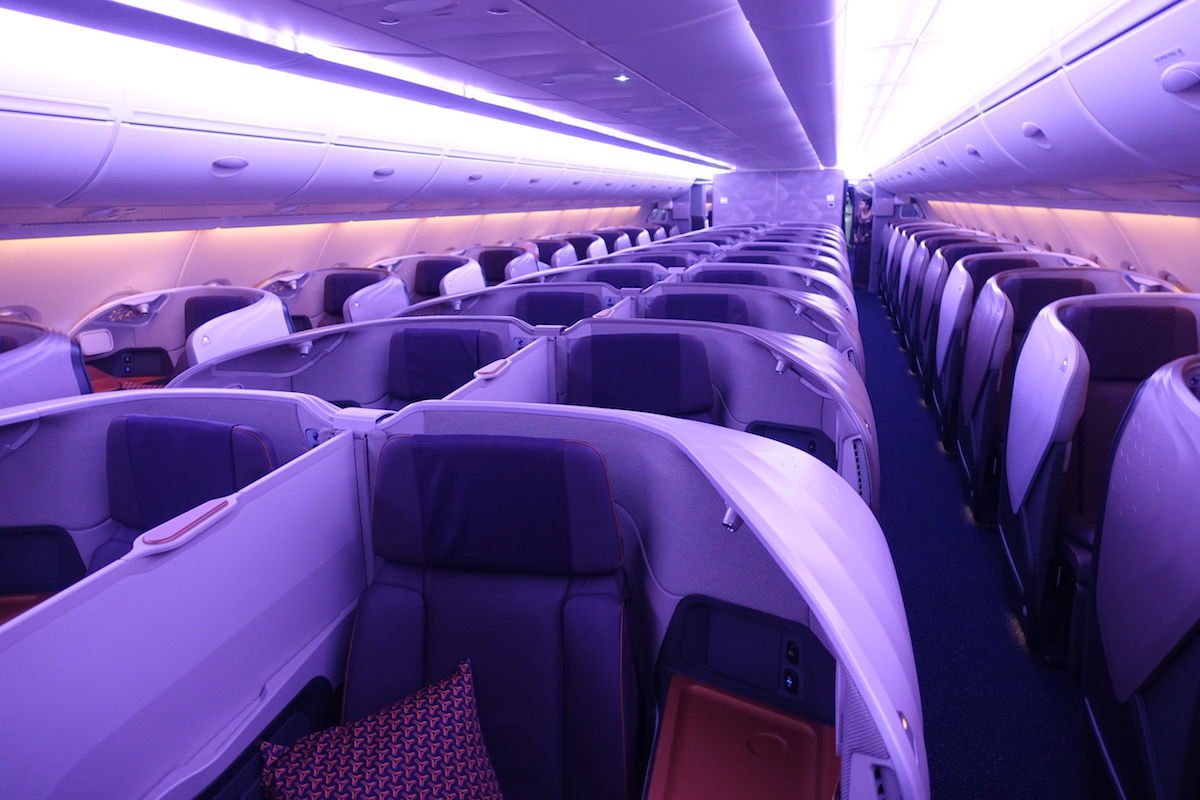 Then after a day in Sydney I booked the following return, for 80,000 Singapore KrisFlyer miles plus 75.44USD in taxes and fees:
2/03 SQ232 Sydney to Singapore departing 12:15PM arriving 5:35PM [Suites]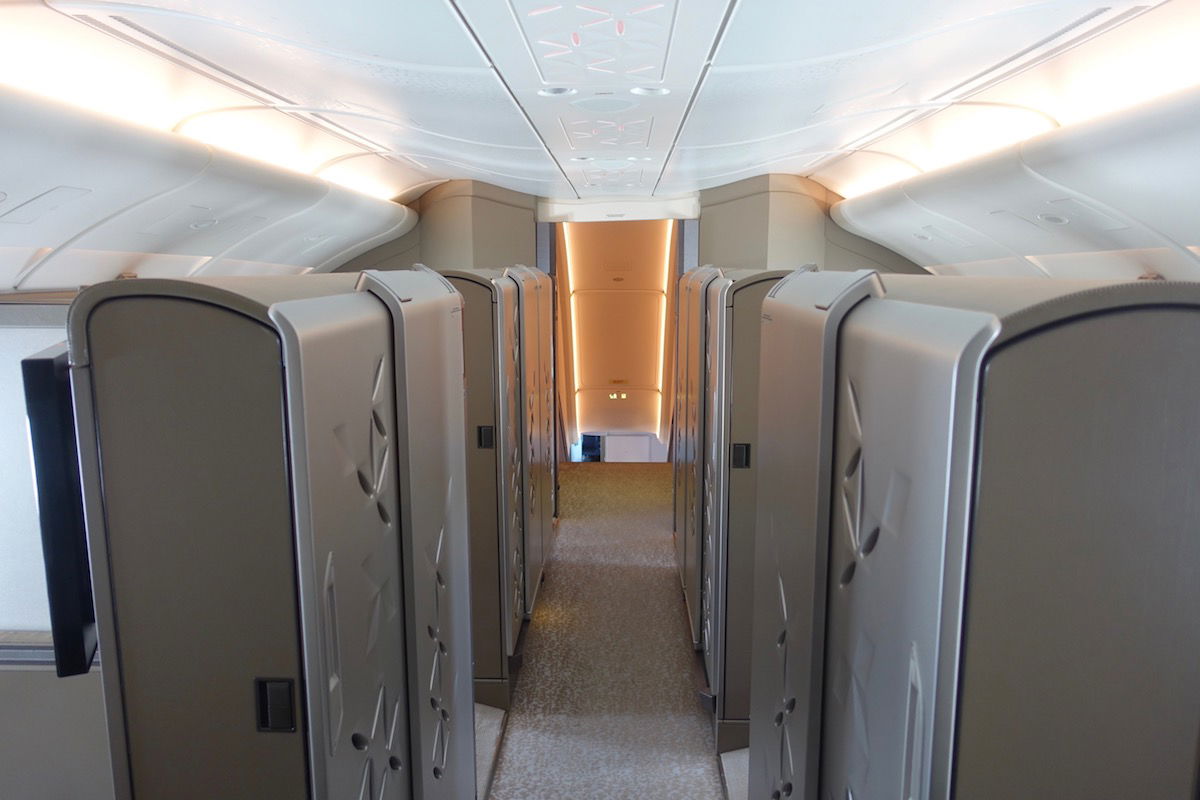 So for several months this just remained a speculative booking, and then when Singapore finally confirmed that the above flights would feature the A380, I needed to book flights from the US to Singapore. I've reviewed so many transpacific first & business class products, so wanted to try something new.
By process of elimination, I realized that two of the transpacific products bookable with points that I haven't yet tried are China Southern business class and China Eastern first class. The only practical way to redeem miles for China Eastern first class is through Korean Air SkyPass, which is a Chase Ultimate Rewards transfer partner. The catch is that they only allow roundtrip awards on partner airlines, so I'd end up paying the roundtrip first class cost, even though I'd only end up flying first class in one direction (since I wanted to fly China Southern business class in the other direction). Unfortunately, Korean Air SkyPass is no longer a transfer partner of Chase Ultimate Rewards.
Both China Eastern and China Southern have pretty good award availability, so in the end I booked the following for 200,000 Korean Air SkyPass miles, plus 276.71USD in taxes, fees, and carrier imposed surcharges.
1/30 CZ328 Los Angeles to Guangzhou departing 10:20PM arriving 5:40AM (+2 days) [Business]
2/01 CZ353 Guangzhou to Singapore departing 8:30AM arriving 12:30PM [Business]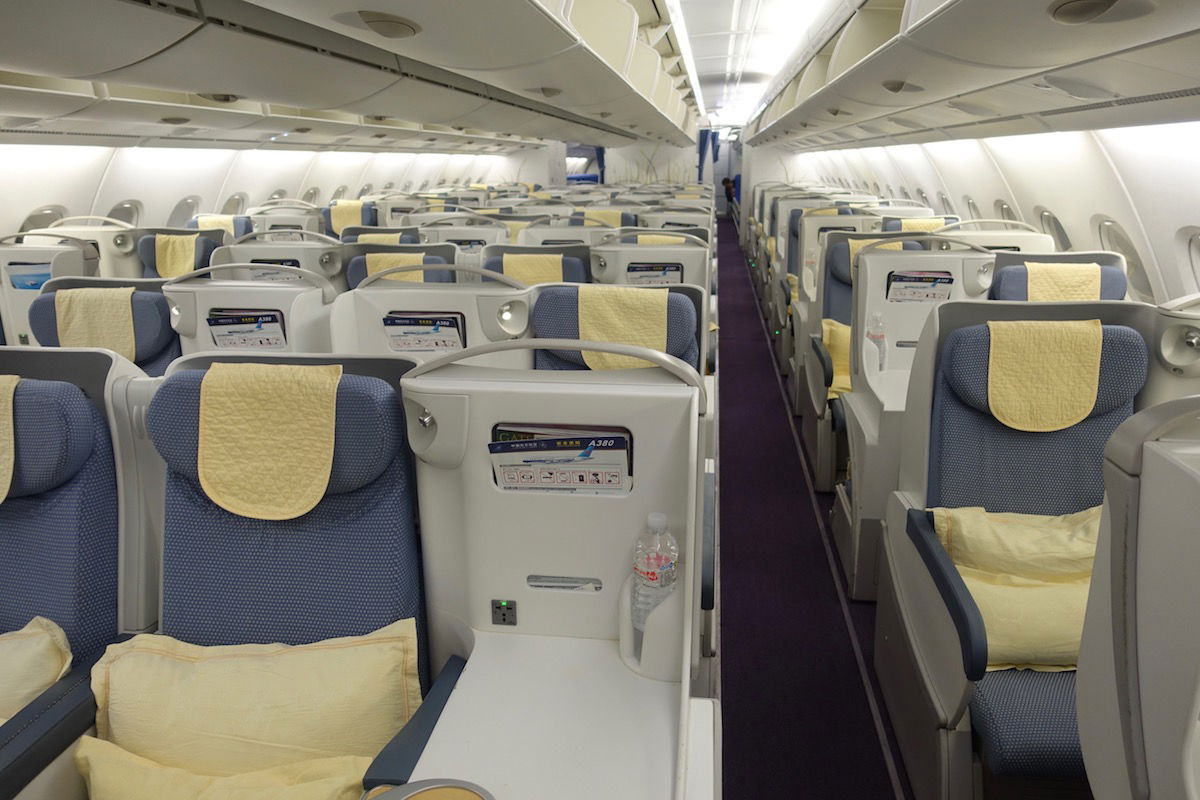 2/05 MU544 Singapore to Shanghai departing 12:25AM arriving 5:40AM [First]
2/05 MU583 Shanghai to Los Angeles departing 1:20PM arriving 9:05AM [First]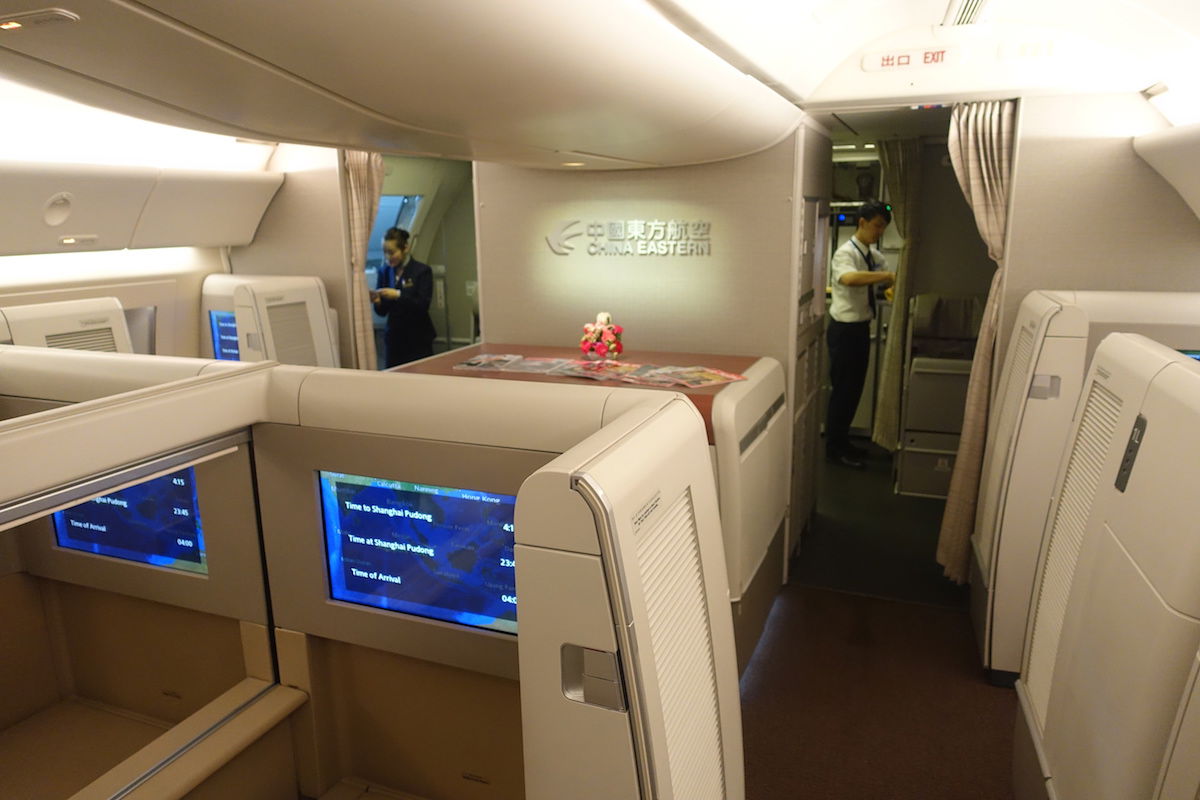 In the end, the entire routing looked as follows: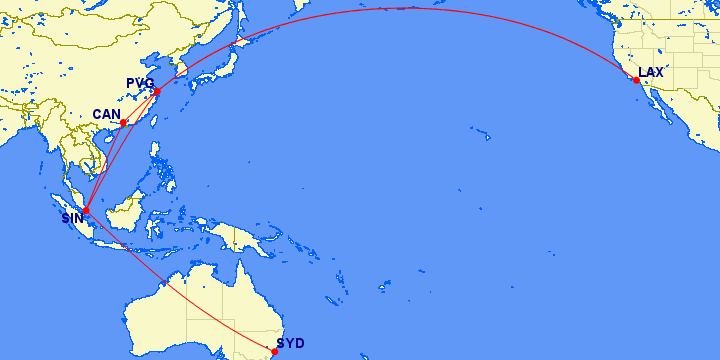 And yes, flying from Los Angeles to Guangzhou to Singapore to Sydney without spending a night anywhere along the way is a long journey, even by my standards.
Earning miles for the above trip
The good news is that the above trip is pretty easy to book with transferable points.
If you don't have Singapore KrisFlyer miles, the program is transfer partners with all major transferable points currencies…
Transfer points to Singapore Airlines KrisFlyer with the following cards:
At the time, Korean Air SkyPass was a transfer partner of Chase Ultimate Rewards, but that relationship has since been discontinued. You can find more information here.
Booking hotels
This was a whirlwind trip during which I spent limited time on the ground, so I only needed two hotel nights:
1 night in Sydney
1 night in Singapore
For my one night in Sydney I ended up returning to a hotel that I love, even though this won't add much in the way of blog content. Specifically, last year when World of Hyatt was introduced, Globalist members received a free night certificate valid at any Hyatt property in the world. This certificate expired at the end of February 2018, and given that I hadn't used it, I felt like I had no choice but to redeem it at the spectacular Park Hyatt Sydney, which is probably my favorite Hyatt hotel in the world. I won't be reviewing it again, given that I've reviewed it twice before in recent years.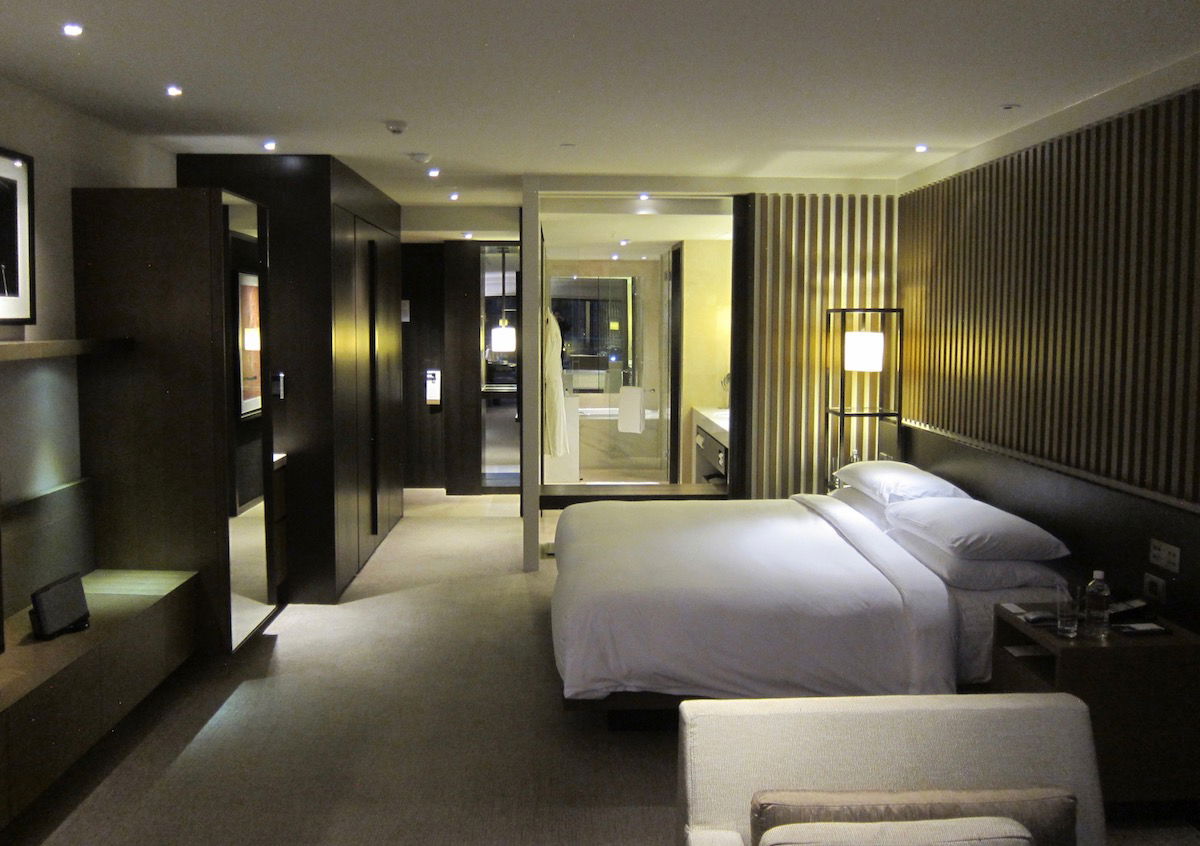 Then in Singapore I decided to book the new Andaz Hotel, which just opened in November 2017. I booked a paid stay there, as the rate was ~250USD, which I thought was quite reasonable, since Singapore isn't cheap.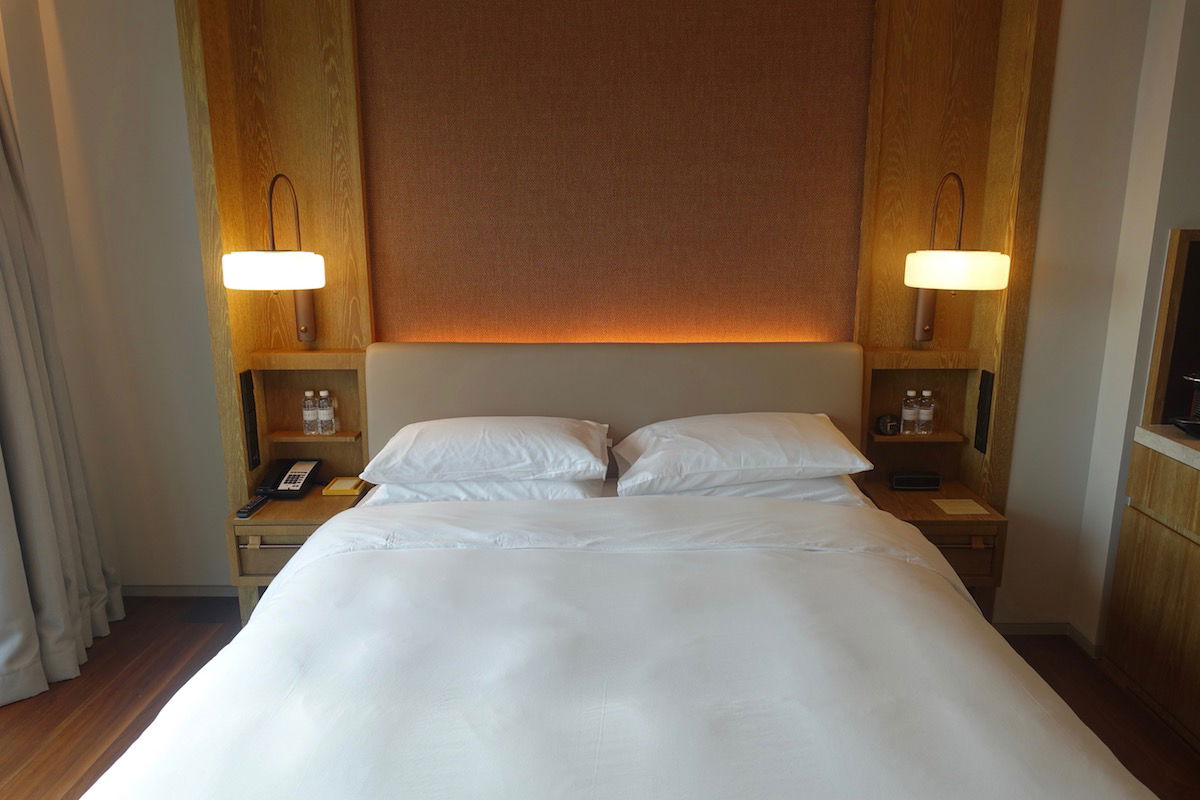 Bottom line
As you can see, I lucked out with my planning for this trip, as I made a speculative booking based on a flight that I hoped would be operated by Singapore's new A380. That paid off, fortunately. Singapore is a far off destination to position to, so I'm happy that I could try new products in both directions between the US and Singapore — I had only flown China Southern in first class before, while I had only flown China Eastern in business class before, so it was cool to reverse those two.
Thanks for reading, and for all the support that makes these trips possible!