---
Two of my favorite places in the world are Hong Kong and Bali. It had been well over a year since I've spent any amount of time in Hong Kong, and it had been several years since I've visited Bali. While I'm all for visiting new places, sometimes it's nice to return to places which feel like home.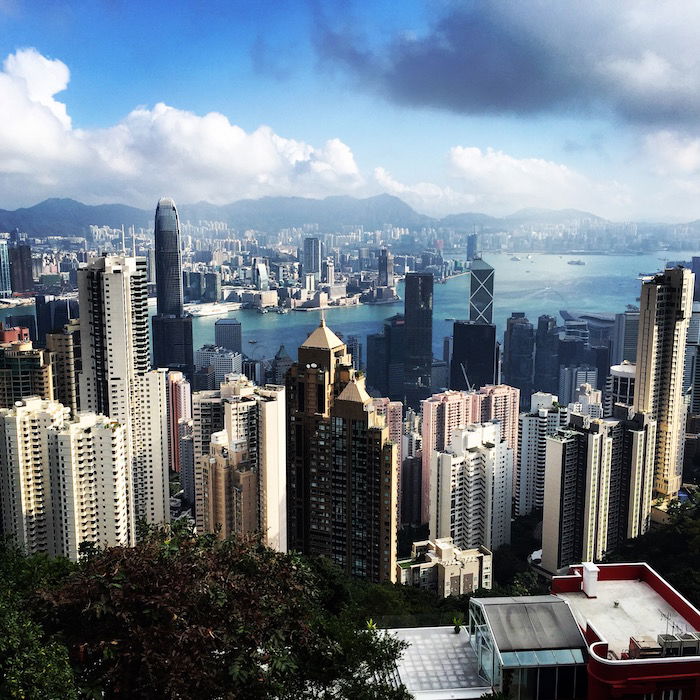 Ford had never been to Asia before, so I thought it would be fun for us to visit both Hong Kong and Bali. We had decided on this trip literally a couple of days before departure, meaning we were booking each flight as we went along.
In this instance we decided to spend five nights in Hong Kong so we could take our time, before continuing to Bali for a few days.
At that point Ford flew home, while I flew to Abu Dhabi, so I could take the Etihad A380 inaugural flight to New York, which was on November 23, 2015. I had taken the very first ever commercial Etihad A380 flight, so was excited to also be on their inaugural US A380 flight.
In the end my routing looked as follows: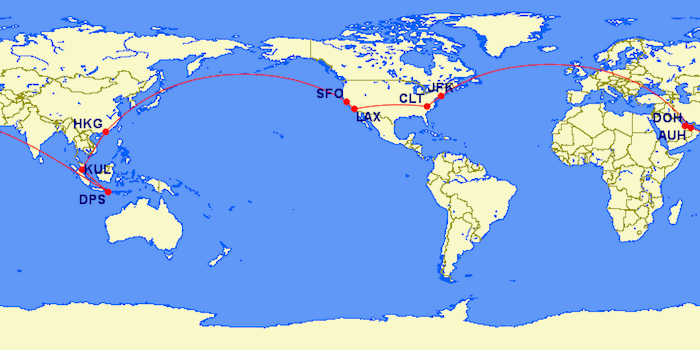 With that in mind, let me walk through how I booked the flights and hotels:
Flights
Los Angeles to Hong Kong
Cathay Pacific is pretty stingy with releasing first class award seats in advance nowadays, and I had been keeping a close eye on space nonstop out of Los Angeles. Cathay Pacific has 3-4 flights per day between Los Angeles and Hong Kong, so I figured between them we'd almost certainly be able to snag two seats on one of the flights.
While a single seat opened up on several of the flights, none of them had two seats open up, unfortunately.
The good news is that there was award space on a routing through San Francisco, so we ended up booking the following literally the morning of departure:
11/06 AA353 Los Angeles to San Francisco departing 5:15PM arriving 6:40PM [First]
11/06 CX873 San Francisco to Hong Kong departing 11:05PM arriving 6:00AM (+2 days) [First]
This cost 67,500 AAdvantage miles plus $5.60 in taxes/fees per person. That's a killer deal!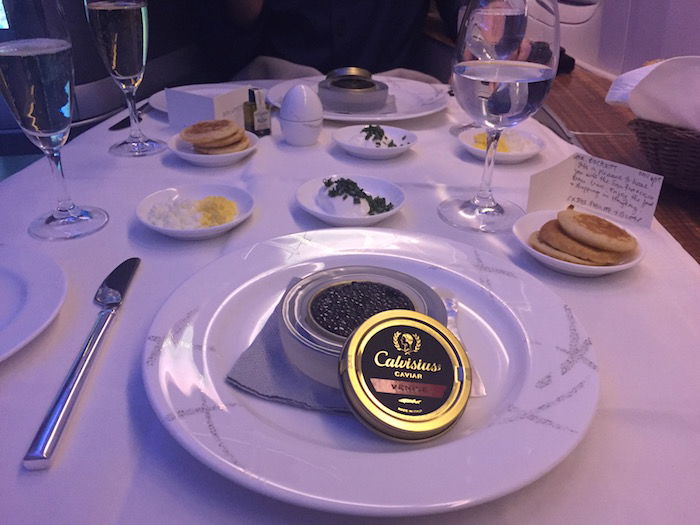 Hong Kong to Bali
This was a bit trickier. As we were in Hong Kong, a volcano was erupting in Bali, which unfortunately was causing tons of flight cancellations. As a result, the Cathay Pacific nonstop flight between Hong Kong and Bali initially showed as being wide open, though unfortunately they "zeroed out" availability on these flights, presumably in anticipation of a cancellation.
When we were sure we wanted to go to Bali, the only option with AAdvantage miles was to connect in Kuala Lumpur on Malaysia Airlines:
11/13 CX729 Hong Kong to Kuala Lumpur departing 4:05PM arriving 8:00PM [Business]
11/14 MH853 Kuala Lumpur to Bali departing 3:20PM arriving 6:20PM [Business]
This cost 25,000 AAdvantage miles plus $26.40 in taxes/fees per person.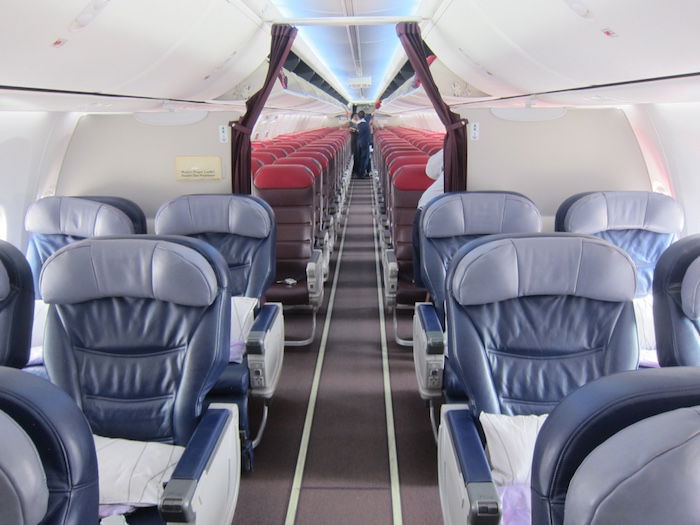 I was especially excited to check out Cathay Pacific's new The Pier First Class Lounge before this flight, which opened earlier in the year. While we were only in business class, we'd be able to access it thanks to my oneworld Emerald status.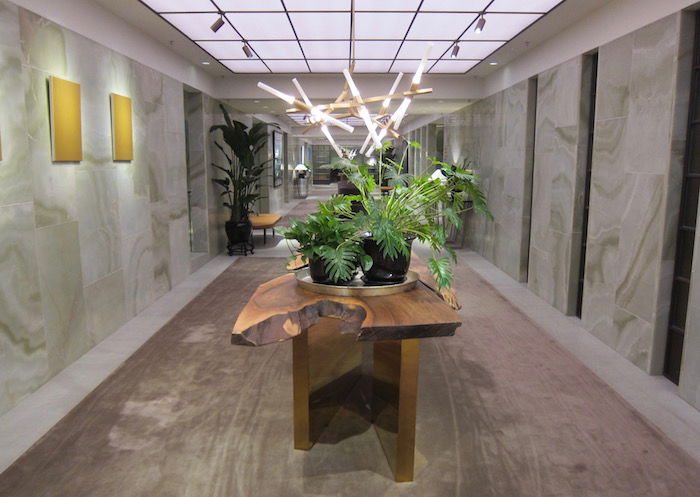 Bali to Abu Dhabi
Ford had to return to the US at this point, while I headed to the Middle East. AAdvantage has exceptionally good award prices for travel between Asia and the Middle East. I managed to book Qatar Airways business class connecting in Doha, as follows:
11/18 QR963 Bali to Doha departing 5:30PM arriving 10:05PM [Business]
11/19 QR1056 Doha to Abu Dhabi departing 8:15PM arriving 10:25PM [First]
This cost 30,000 AAdvantage miles plus $5.50 in taxes/fees. That's a killer deal, given that Bali to Doha alone is a ~10 hour flight. It would also allow me to visit the new Al Safwa First Class Lounge in Doha, which just recently opened.
That's because Qatar Airways markets the forward cabin on all their intra-Middle East flights as first class, even though it's the same as the business class cabin operated on longhaul flights. AAdvantage prices this award at the business class rate, since they realize that the flight within the Middle East is really "only" business class.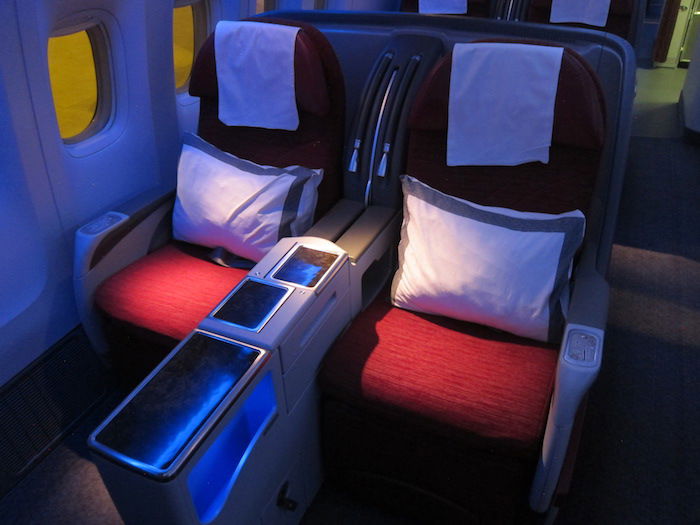 Abu Dhabi to Los Angeles
For this flight I first locked in the Abu Dhabi to New York flight, which would be operated by the Etihad A380. Initially I had a same day connection from New York to Los Angeles in American's A321 first class. Unfortunately I had a commitment come up in New York, which meant I had to fly the next day from New York to Los Angeles instead.
As I've written about, American has gotten extremely stingy with releasing A321 first class award space lately, so unfortunately nothing opened up nonstop. Instead all that was available was first class from Newark to Los Angeles via Charlotte, on ex-US Airways planes. Better than nothing, especially since it was the Tuesday before Thanksgiving. The routing looked as follows:
11/23 EY103 Abu Dhabi to New York departing 3:20AM arriving 9:10AM [First]
11/24 AA1987 Newark to Charlotte departing 5:00AM arriving 6:51AM [First]
11/24 AA1993 Charlotte to Los Angeles departing 7:30AM arriving 9:56AM [First]
This cost 90,000 AAdvantage miles plus $39.30 in taxes/fees.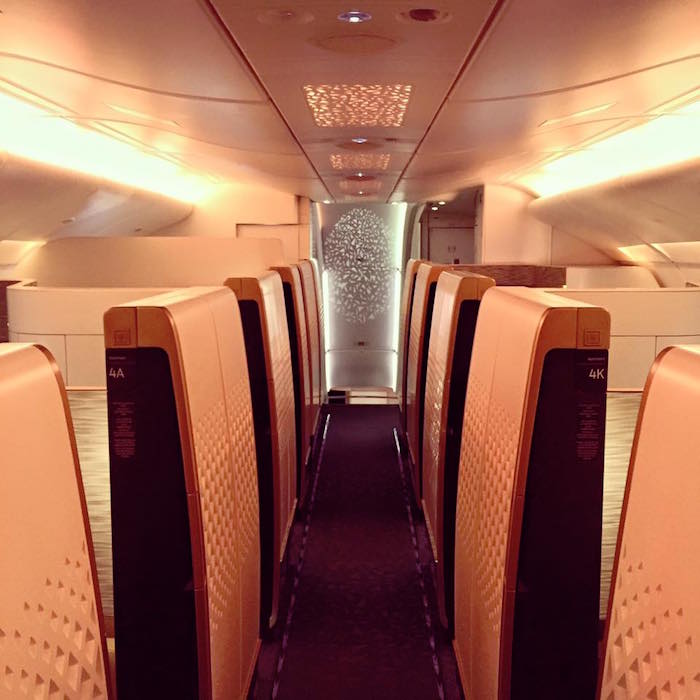 Hotels
I'll talk more about how/why I booked the hotels I did in the introduction of each hotel review, though very briefly: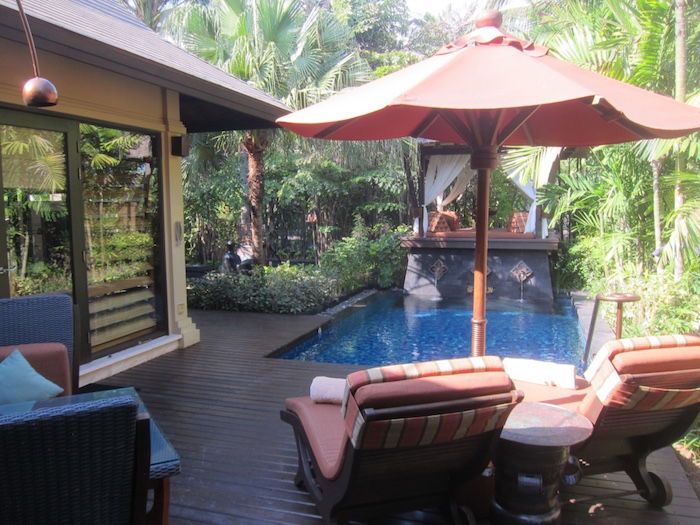 Bottom line
I was excited about this trip for a variety of reasons. For one, it would allow me to show Ford some of my favorite places in the world, including Hong Kong and Bali, both places he hadn't been before.
But beyond that it would allow me to review over a dozen lounges, airlines, and hotels I haven't yet visited. Yes, I know I've reviewed Cathay Pacific first class once or twice (or a dozen) times, but there are lots of new elements as well — new lounges, new hotels, and new flights on other airlines.
I plan to roll out this trip report pretty quickly, as I still have to write about the trip I took before that.
Stay tuned, and in the meantime if you have any questions, let me know. Thanks for reading!