---
Welcome to my next trip report, covering a trip I took with Tiffany that included travel in Delta's new business class, Thai's first class, and a review of the new Park Hyatt Bangkok. Unfortunately this trip ended up being nothing at all like what we were expecting, due to a variety of factors.
For reference, here's the itinerary we initially booked: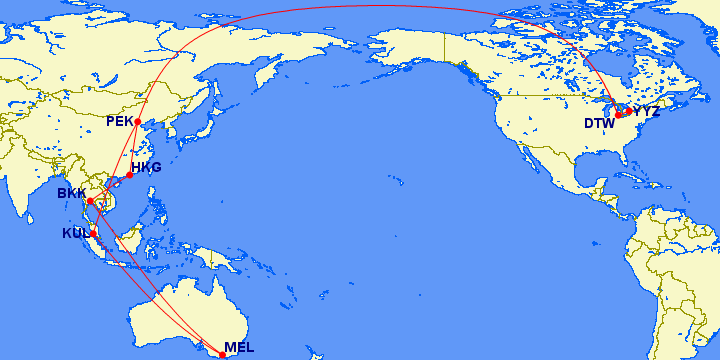 Here's what we changed the itinerary to the day before departure: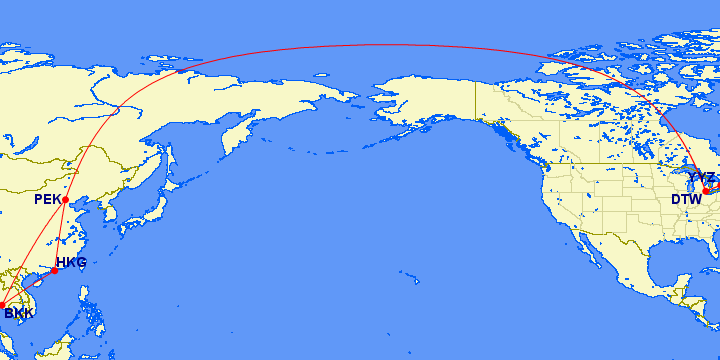 And here's what we ended up changing the trip to after departure: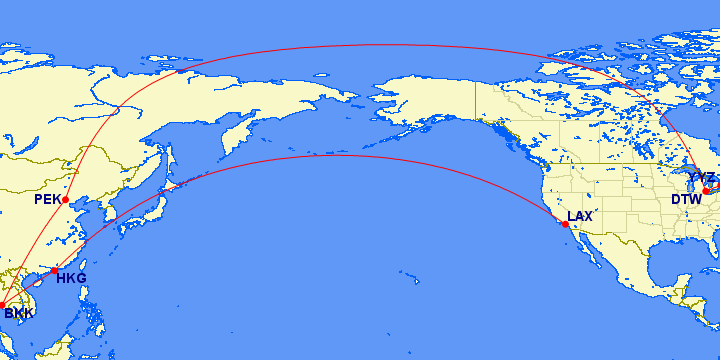 Let me explain…
Planning the trip
Tiffany and I don't get to travel together as often as we'd like, but when we do, we usually plan crazy trips. They always start off innocently enough, but then take on a life of their own. This trip started with some simple planning. We're both going for status with Delta this year, and have been wanting to try Delta's new A350 business class suites, which feature doors.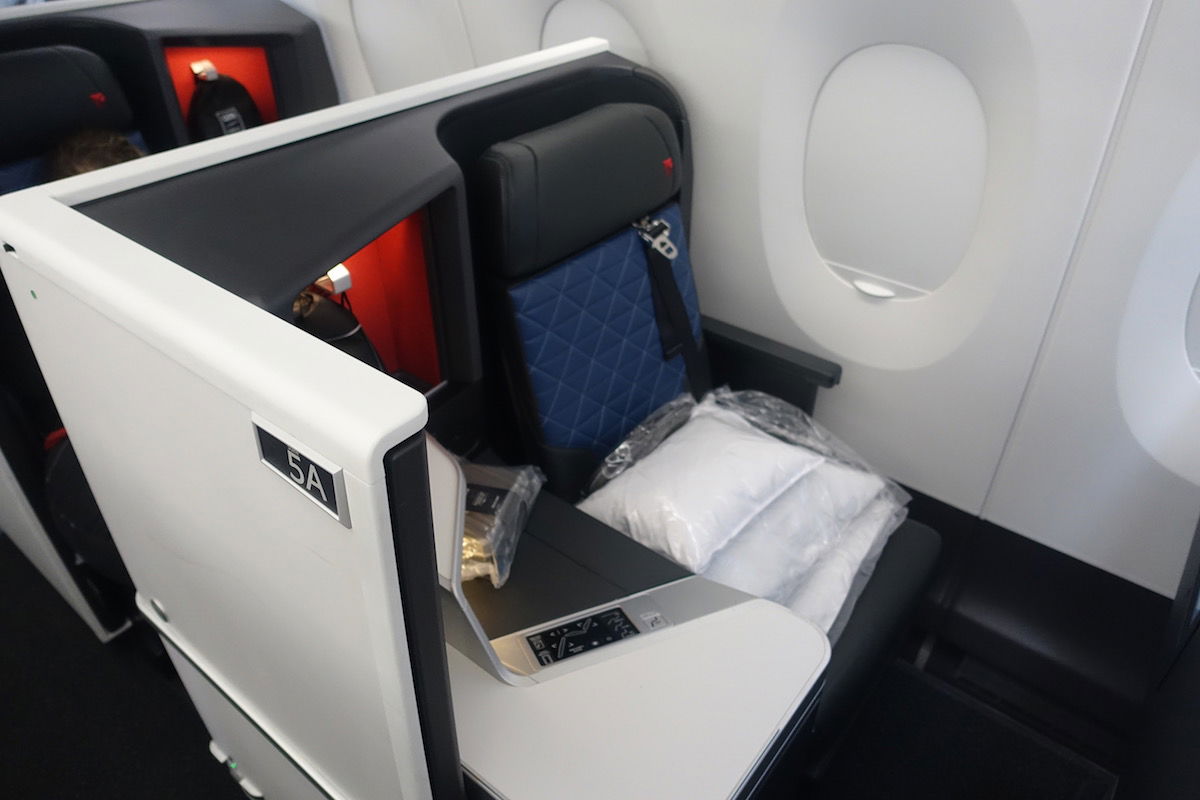 Delta's new A350 business class
The fare had a one week minimum stay requirement. We knew we didn't want to stay in Beijing that whole time, so we figured we'd instead go somewhere from Beijing. That's when things got crazy…
Booking flights
Let me share the flights in the order in which we booked them, rather than the order in which we flew them. To start we booked the following in business class, for just over $2,000 roundtrip per person:
2/13 DL3943 Toronto to Detroit departing 6:15AM arriving 7:35AM
2/13 DL189 Detroit to Beijing departing 12:50PM arriving 3:10PM (+1 day)
2/20 DL188 Beijing to Detroit departing 5:40PM arriving 5:20PM
2/20 DL1821 Detroit to Toronto departing 8:35PM arriving 9:51PM
We left the ticket alone for a while, and then planned the following insanity for our six days in Beijing, all on miles:
Beijing to Kuala Lumpur to Melbourne in Malaysia business class
Melbourne to Bangkok to Hong Kong in Thai business & first class
We left it this way until the day before we were going to leave, and then realized that this was plain ridiculous. We were even on separate flights from Beijing to Kuala Lumpur to Melbourne, since Malaysia typically only makes one business class award seat available on these routes. We'd be on the ground in Melbourne for a total of one day, which isn't exactly ideal.
So last minute we decided to rebook our trip to something that had us on the ground for more time. This was booked the day before we were scheduled to depart. We booked the following in addition to the above Delta itinerary:
2/14 MU2071 Beijing to Bangkok departing 7:00PM arriving 11:15PM [Business]
Cost: 40,000 Delta SkyMiles + $91.40
2/17 TG606 Bangkok to Hong Kong departing 4:00PM arriving 7:45PM [First]
Cost: 35,000 United MileagePlus miles + $47.60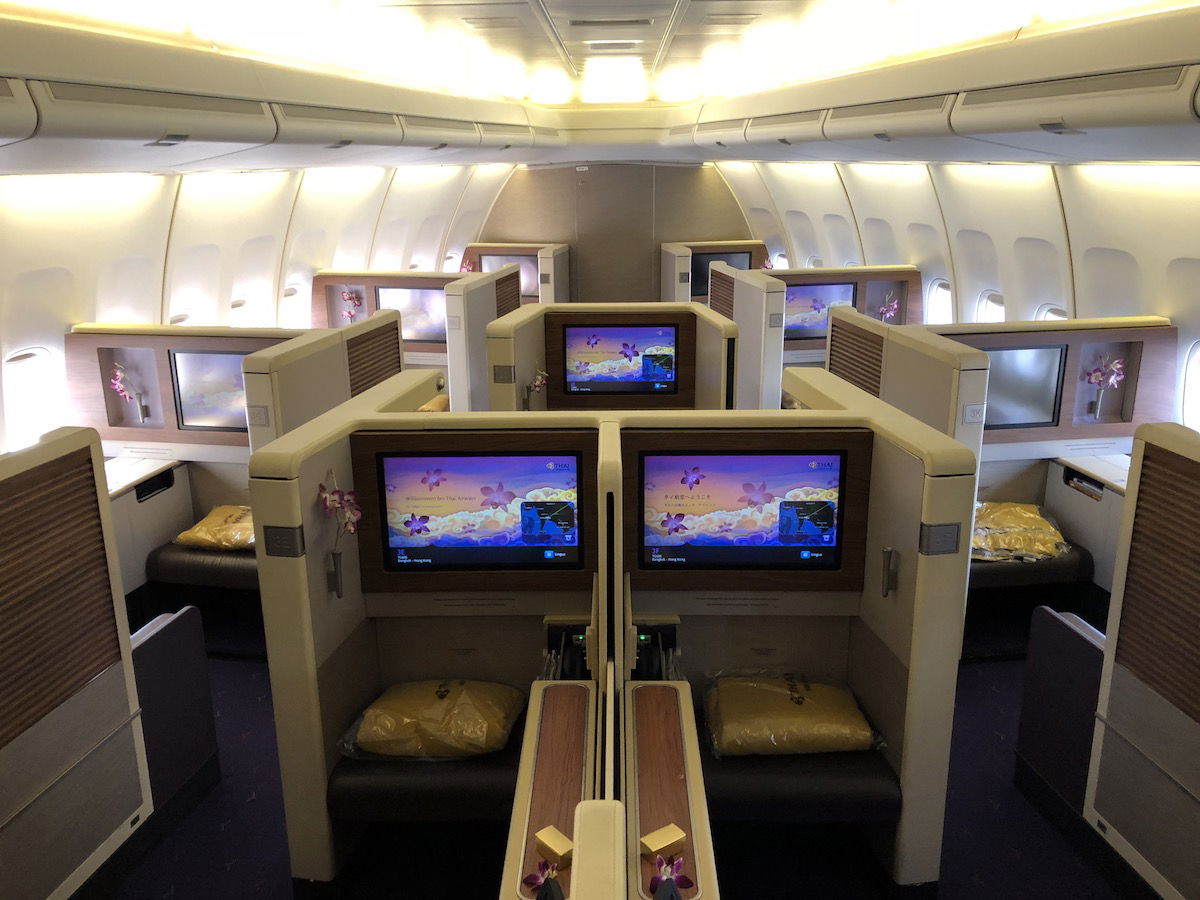 Thai's 747 first class
Booking hotels
This itinerary gave us three days on the ground in Bangkok, and three days on the ground in Hong Kong. While I've been to both of these cities before I thought this would be fun for us:
While Tiffany and I have both been to Bangkok, it has been many years since I've spent a significant amount of time there
Hong Kong is one of my favorite cities in the world, and Tiffany had never really been before, so I was looking forward to showing her around
The hotel booking process was also pretty ideal here, as Hyatt hotels in both cities had Points + Cash availability: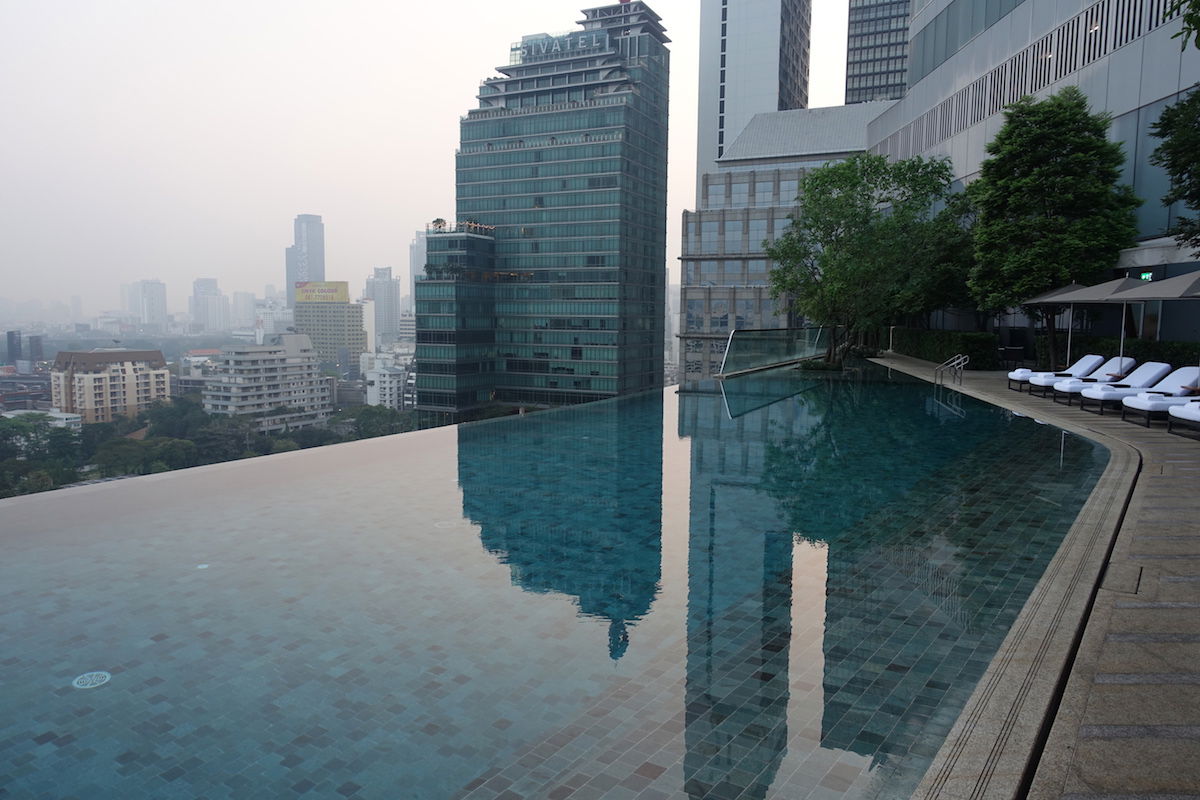 Pool at the beautiful new Park Hyatt Bangkok
We were traveling over Chinese New Year, so paid rates would have been insane ($500+ per night at both hotels), making this a great deal.
Then the flu happened
As if this trip wasn't crazy enough already, I ended up getting the flu while on the trip for the first time ever. I felt as sick as I've ever felt for much of the trip, and at first thought I was just exhausted, but then eventually realized I had the flu. Obviously this turned our plans upside down, since I didn't want to fly while feeling sick and contagious (not to mention I wasn't a great travel companion).
I started to feel better and the doctor also thought it was safe for me to fly (since I was past the point of being contagious, allegedly), so we ended up booking the following to get back to the US (I knew I needed to be responsible and do a nonstop flight to the US, rather than the four segment routing we had planned):
2/20 CX882 Hong Kong to Los Angeles departing 4:35PM arriving 1:00PM [First]
Cost: 70,000 Alaska Mileage Plan miles + $88.21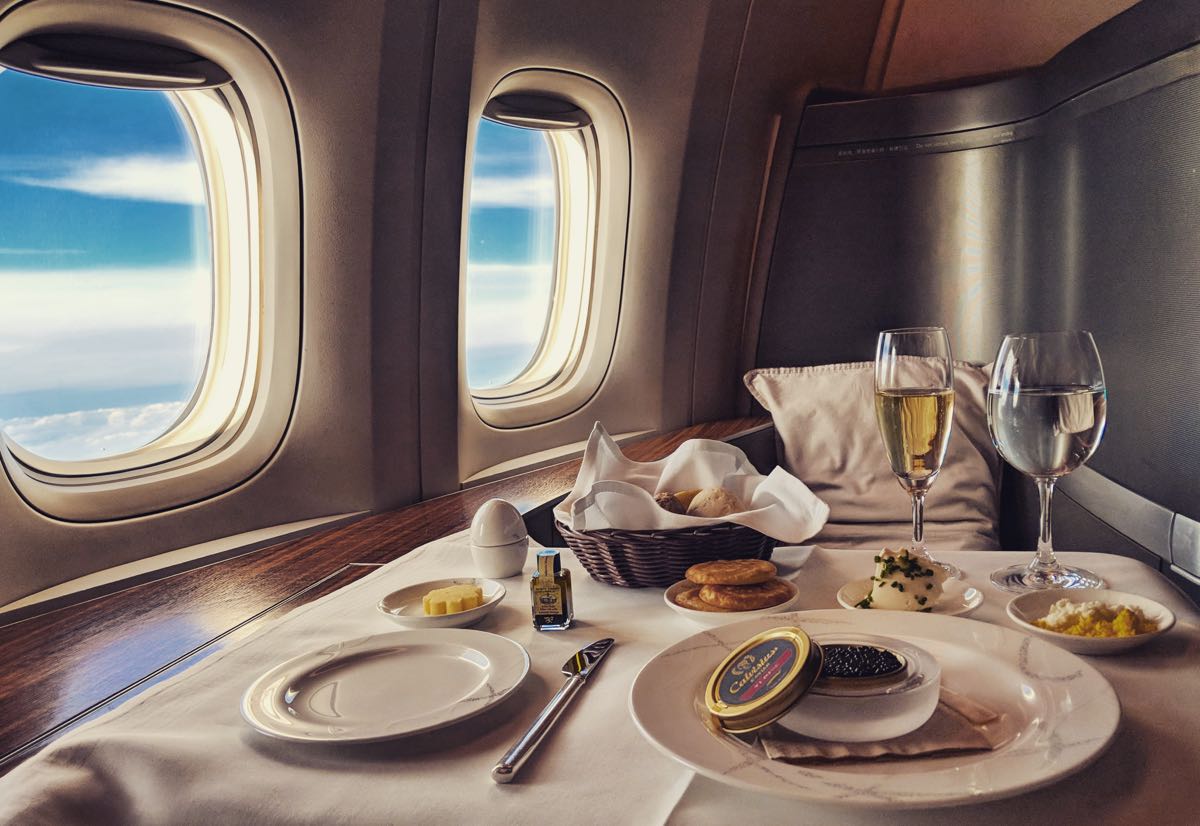 Cathay Pacific's 777 first class (picture by Tiffany)
Bottom line
As you can see, this trip was almost nothing like what we were expecting. This is the second "big" trip in a row I've taken with Tiffany where I got really sick, so I feel terribly for her. On the plus side, I'm grateful I was with her, because she took amazing care of me in helping me feel better.
I'm sad we didn't get to try some of the products we were hoping to and also didn't get to do much exploring at all, though I guess we'll have to plan a make-up trip.
I also regret that I'll be keeping this series fairly brief. I'll be reviewing:
Delta A350 business class and the SkyClub in Detroit
The Park Hyatt Bangkok
The Thai Airways first class lounge Bangkok, and Thai Airways first class to Hong Kong
I won't be reviewing:
So I apologize for the lack of installments in those areas.
Anyway, thanks so much for reading, and for making these trips possible!