---
Welcome to my next trip report, covering a quick round the world trip with travel in Ukraine International business class, Vietnam Airlines business class, Cathay Dragon first class, and Hong Kong Airlines business class.
Planning the trip
My initial inspiration for this trip was wanting to fly Air Belgium, the new startup airline operating flights between Brussels Charleroi and Hong Kong. I'm obsessed with new airlines, and this one seemed especially interesting to me. So I had booked a ticket from Charleroi to Hong Kong on Air Belgium shortly after they were expected to commence operations, and booked flights from the US to Brussels and from Hong Kong back to the US to position for the flight.
Unfortunately things didn't work out quite as I had hoped, as just days before my flight the airline postponed operations by about five weeks. At this point I had booked my tickets to Brussels and from Hong Kong. The airline offered to rebook me in Cathay Pacific business class (which I thought was quite generous), though I figured I could probably have more fun reviewing something else (and you can bet I'll be reviewing Air Belgium soon, now that they're flying).
Booking flights
Given the last minute changes to the itinerary, I'll share the itinerary I ended up booking/flying, not including the Air Belgium flight.
First to get to Europe I booked Ukraine International Airlines' new 777 business class. I had flown with the airline a couple of years ago on their 767, and it was an awful experience. Now that the airline has 777s with flat beds, I wanted to see how the experience compared, given that they have such attractive transatlantic fares.
I booked the following for $1,011 in business class (I ended up not taking the flight from Kiev to Brussels, since I had no need to go to Brussels anymore):
5/03 PS232 New York to Kiev departing 12:30AM arriving 4:20PM
5/05 PS145 Kiev to Brussels departing 10:55AM arriving 12:55PM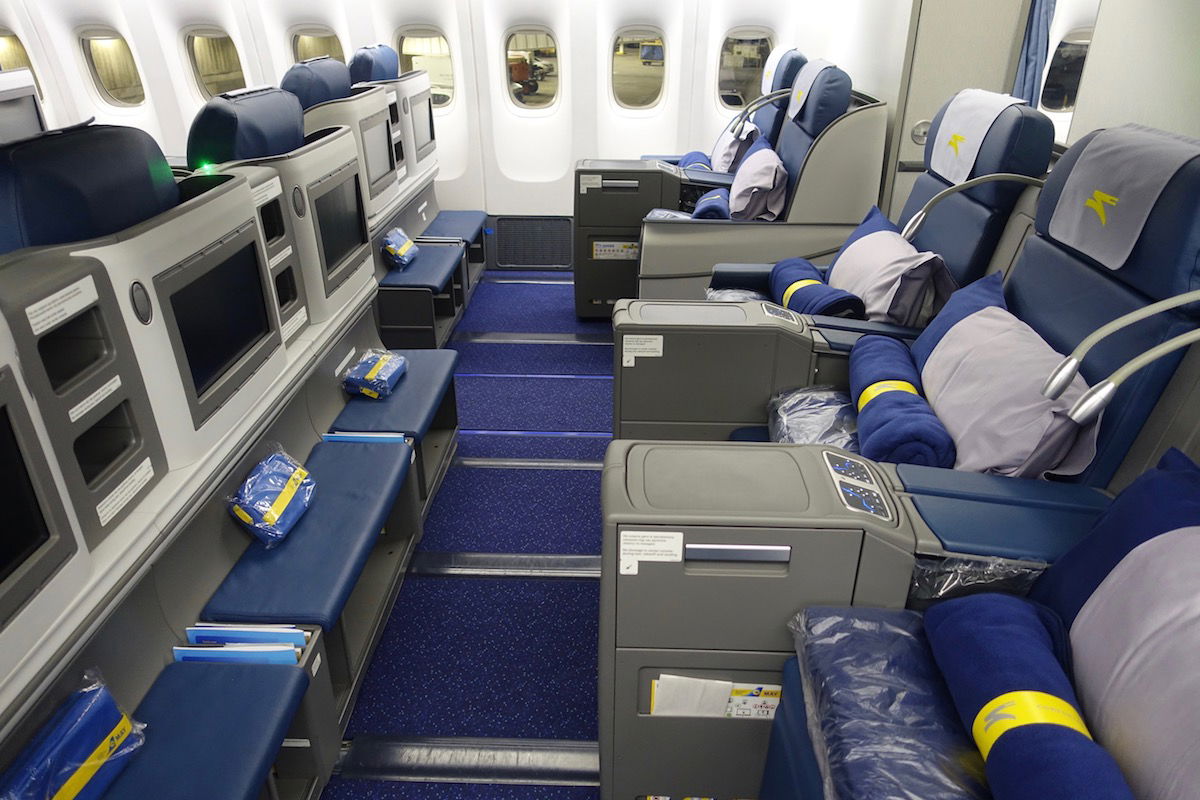 From there I needed to get to London to start the next portion of my trip, so I redeemed British Airways Avios for a business class ticket, which cost 17,000 Avios plus $19 in taxes:
5/04 Kiev to London departing 2:25PM arriving 4:05PM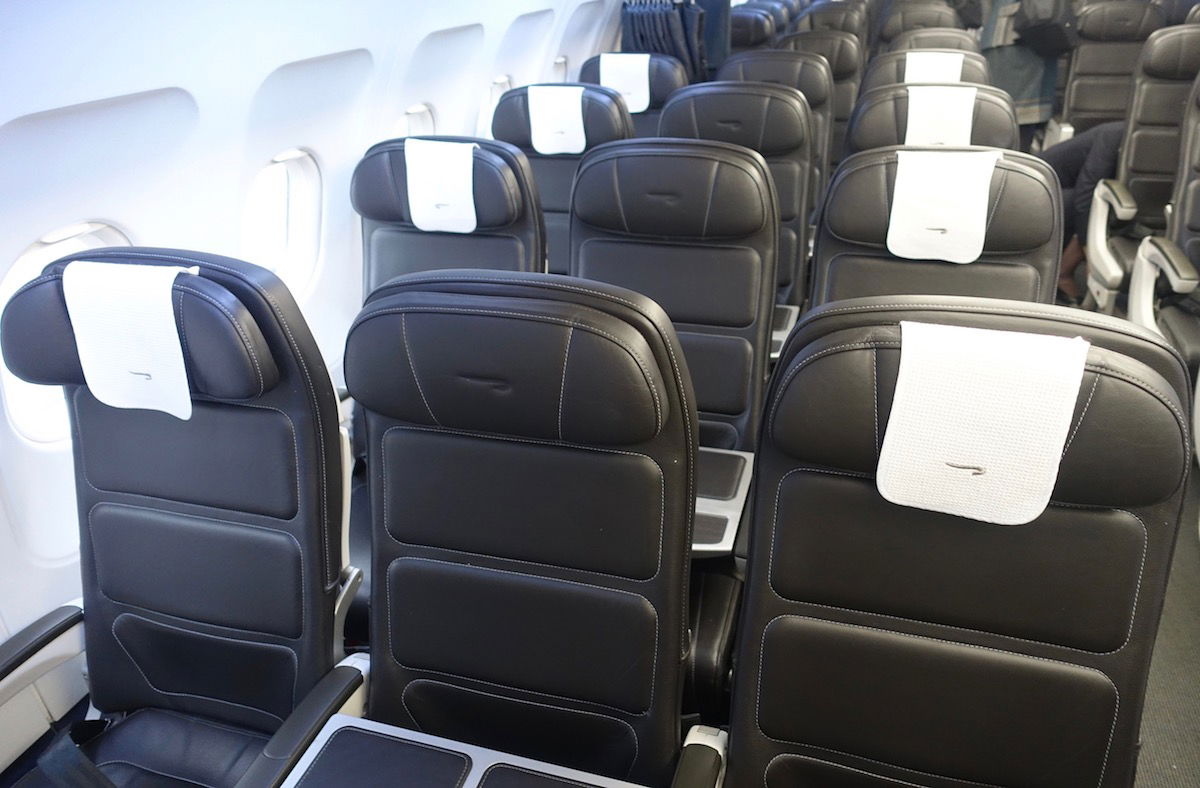 The reason I was going to London was so that I could then get to Asia to catch my return flight out of Hong Kong back to the US. I've been wanting to review Vietnam Airlines for a while, so managed to book an itinerary that would have me reviewing both their 787 and A350 business class. I booked the following with 80,000 Delta SkyMiles, plus $277 in taxes and fees (most of that is the hefty UK Air Passenger Duty that applies for flights departing the UK):
5/05 VN50 London to Ho Chi Minh City departing 11:10AM arriving 5:20AM (+1 day)
5/06 VN522 Ho Chi Minh City to Shanghai departing 7:40AM arriving 12:40PM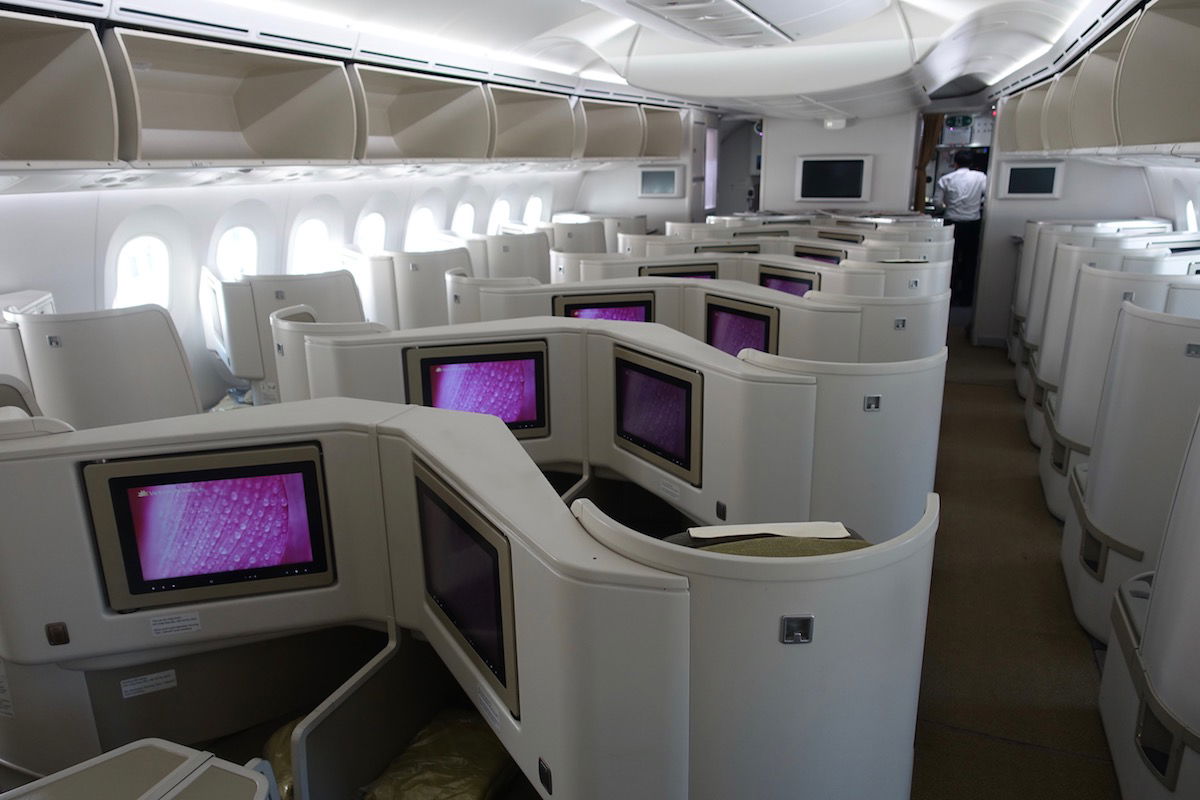 The reason I first flew to Shanghai rather than Hong Kong is because this seemed like a good opportunity to knock out a review of Cathay Dragon first class. This is a Cathay Pacific subsidiary, and a few of their A330s feature a first class cabin, and it was one of only a few international first class products I hadn't yet reviewed. I booked the following for 30,000 British Airways Avios plus $48 in taxes and fees:
5/06 KA805 Shanghai to Hong Kong departing 2:30PM arriving 5:15PM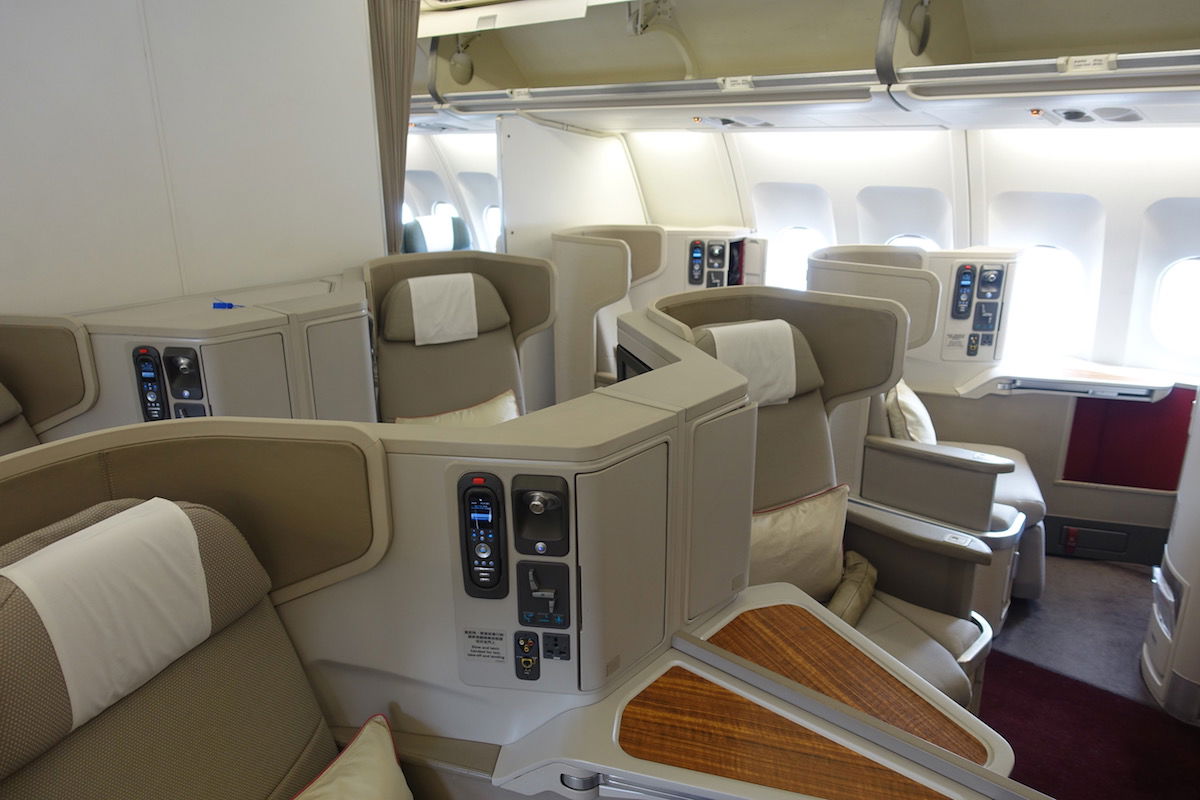 Lastly I had booked a flight from Hong Kong to Los Angeles on Hong Kong Airlines. The airline only recently started flying to the US. There aren't many great ways to redeem miles on them, though a lot of you had asked me to review their product, so I booked a paid business class ticket for just under $2,000:
5/07 HX68 Hong Kong to Los Angeles departing 12:00PM arriving 10:25AM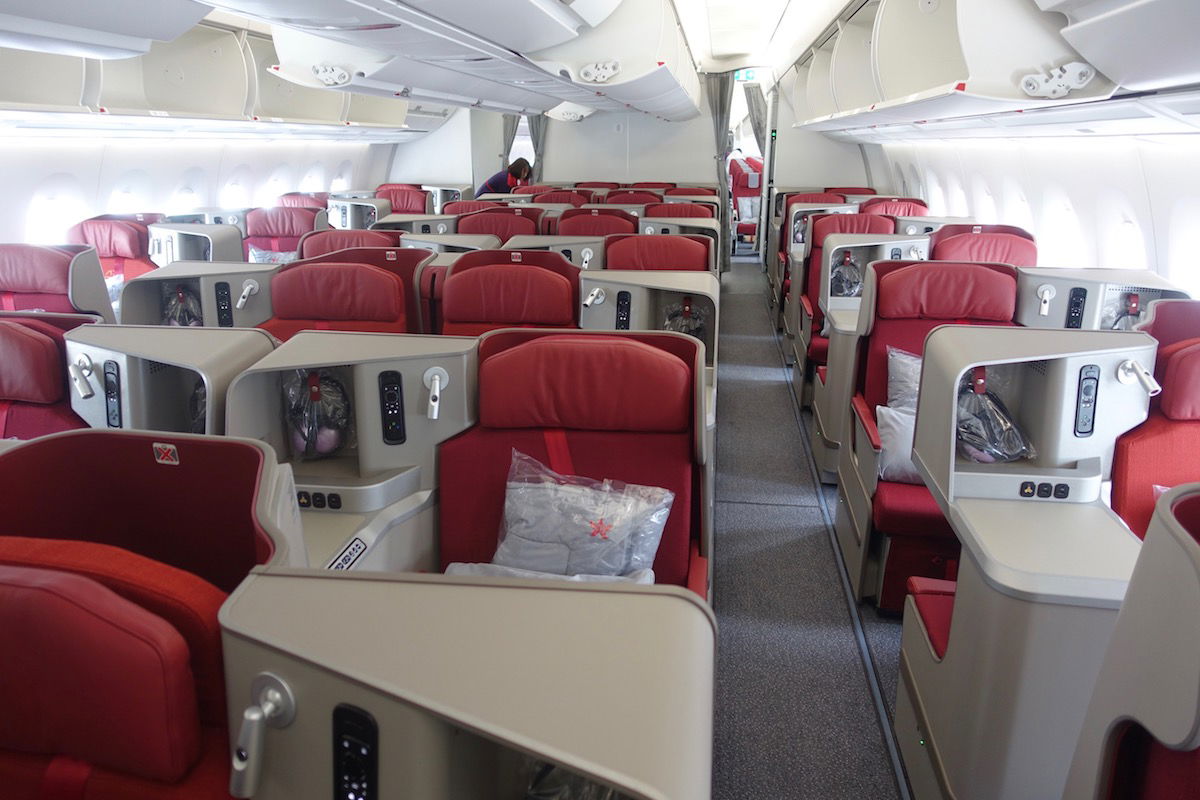 In the end my itinerary looked as follows: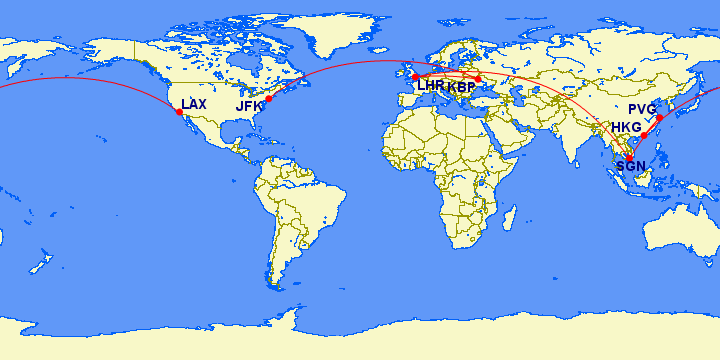 Booking hotels
As you can see, with this trip I was spending most of my time in the air, though I had:
One night in Kiev
One night in London
One night in Hong Kong
For my one night in Kiev I decided to book the Hyatt Regency. I know Ukraine's economy has struggled for the past several years, and in particular the value of their currency has fallen. Despite that, the Hyatt Regency was outrageously expensive, as the paid rate was almost 400EUR per night for a base room. This is a Category 5 World of Hyatt property, meaning a free night redemption would have cost 20,000 points or 10,000 points plus $125. I booked Points + Cash.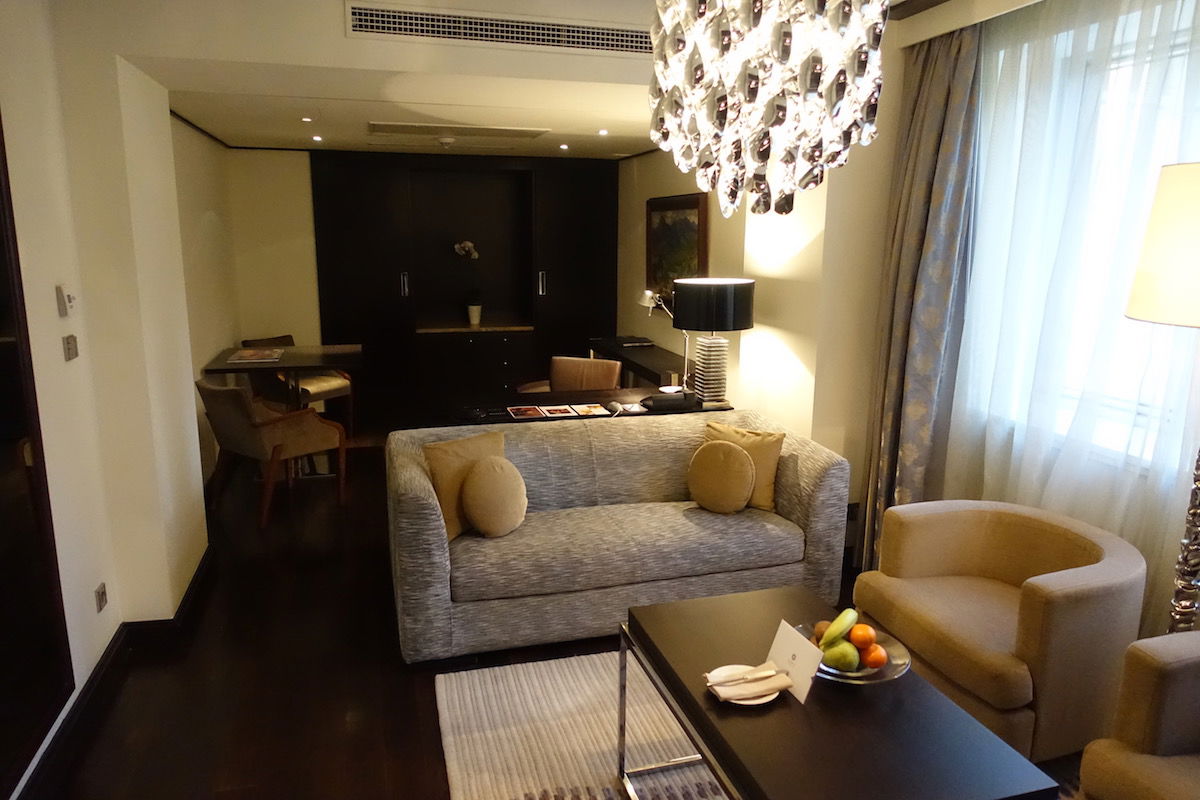 Then for my one night near Heathrow I just wanted to earn Starwood stay credits, so I stayed at my go-to property near Heathrow, the Sheraton Skyline. The paid rate there was just $110 including all taxes and fees, so I paid cash.
Lastly I had one night in Hong Kong, as I was arriving in the evening and departing in the morning. As you guys know, I'm obsessed with loyalty programs, so the natural option would have been the Marriott SkyCity, which is near the airport and has a shuttle. The paid rate for my one night stay would have been around $140.
However my approach to these things is changing a bit. The Marriott Hong Kong SkyCity and the Regal Airport Hotel were the same price, and the Regal Airport Hotel is connected to the terminal. Even though it's not as nice, I decided to just stay at the hotel connected to the terminal, since I figured it would take about an hour total to get to and from the Marriott, and that's not worth it to me for such a quick layover where I'm trying to maximize rest.
Bottom line
I know to most people the concept of flying around the world almost nonstop for five days seems miserable, though it's something I probably enjoy way too much. I had such a fun time, it was great to experience new products, and some of the experiences surprised me. I'm also very efficient with work when taking these kinds of trips. Furthermore, thanks to the fact that I flew Cathay Dragon I'm now down to my last two airlines that I have to fly in international first class (Kuwait Airways and Oman Air), which I hope to review within the next several weeks.
In this trip report I'll be skipping reviews of the Sheraton Skyline Heathrow and Regent Airport Hotel Hong Kong, since I've reviewed both of them recently. I also won't review the British Airways flight to London or the SkyTeam Lounge Heathrow, since I've reviewed those as well.
As always, thanks for reading and for making these trips possible!