Chinese New Year In Taiwan
---
As I've explained briefly before, my family doesn't pick our travel destinations as much as follow the cheap fares. Sure, we have ideas of places we'd like to go someday, but for the most part we just go where the low fares take us. If it's to a new country, that's even better, as I'd love to hit them all at some point.
I realize this somewhat random approach to trip planning isn't for everyone, but it works perfectly for my wife and I — and our growing family.
The problem of late has been that there are just a ton of decent international fares. Whereas the oligopoly and strong economy in the US seems to keep fares high, the rest of the world is actually paying attention to the price at the pump and is pricing tickets accordingly.
When they're forced to, US airlines will compete, which means it's often possible to fly to the other side of the world for just a bit more than it costs to go coast-to-coast here (and often significantly less than it would cost to visit my in-laws).
Why Taiwan?
Last fall, United was selling tickets to Taipei for the mid $600s. We'd never been to Taiwan, and it kind-of-sort-not-really would count as a new country for us, at least in so much as we'd been to China a couple of times previously.
Even better, one of my wife's good friends is Taiwanese-American. She and her husband go back to Taiwan fairly frequently as she still has a lot of family there, and they also happen to have two kids who are interspersed in age between ours, and we've talked about doing a double family adventure at some point.
We quickly pinged them to see if they wanted to tag along with us, or more accurately, to see if we could join their next trip to Taiwan. I mean, who doesn't want to take a trip to Asia with five kids under five, right?
They are clearly our kind of people because it took all of about 15 minutes for them to say yes. When our friends suggested we all go over Chinese New Year, I really didn't know what to expect. I figured we might get some fireworks, parades, or general revelry, which all sounded pretty good to us.
Due to family and work schedules, we (and our collective five children under age five) didn't actually fly together. A couple planeloads of people out there should be thanking us for that.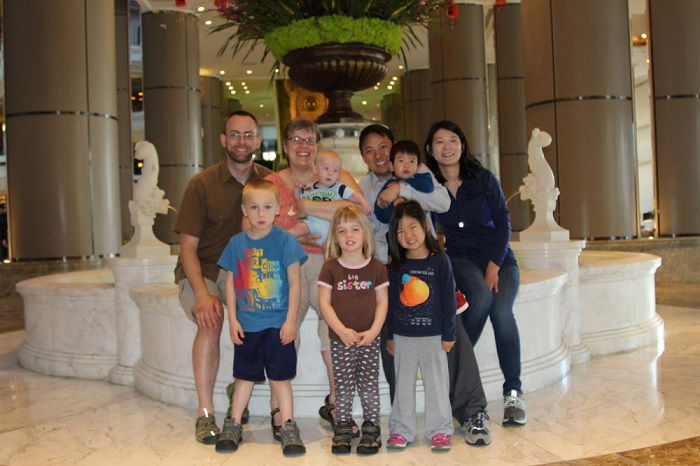 Our crew in the lobby of the Grand Hyatt Taipei
We decided to stay at the Grand Hyatt Taipei as there was availability for Diamond Suite Upgrades, the Hyatt has a club lounge, and the rates were pretty good. Our friends decided to stay there for the overlapping days of the trip which worked out really well.
As with many of our travels, we stayed in the city proper the entire time. Some may find that odd considering that we are definitely not city people. But maybe that's what makes it fun for us — we spend so little time in the city back home that doing just that while traveling is something different. All that notwithstanding, the reality is that it takes a lot of effort to move our family — an almost 5 year old boy, a 3.5 year old girl, and a 6-month baby — such that there is a certain attractiveness to settling in for a while.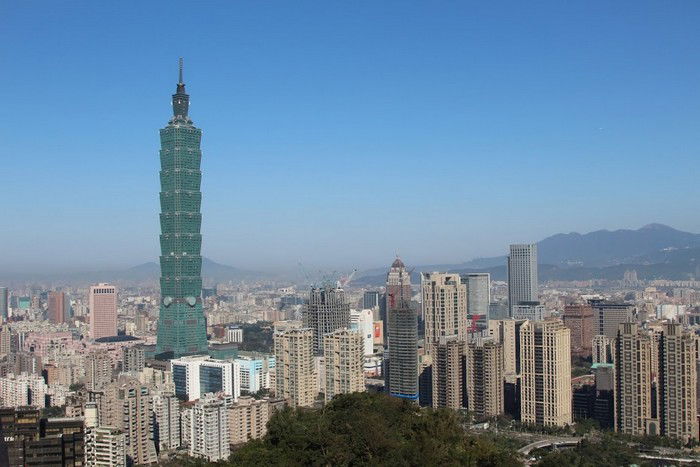 Taipei 101
My general philosophy on trip reports is not so much to provide a detailed accounting of every flight, lounge, and hotel room of our adventure, but rather to fill some gaps that might get less attention here on the blog. For this trip, that translates to the following installments:
Introduction: Chinese New Year in Taiwan
Review: United Transpacific Flights in Economy
Review: The Grand Hyatt Taipei
6 Things To Do In Taipei With Kids
Review: Baby Boss City Taipei
Overall, we loved our week in Taipei and left thinking this might become one of our favorite cities in Asia.
I hope you enjoy reading about it!