Welcome to my next trip report, covering travel in Lufthansa first class, TAAG Angola first class, and American 787-9 business class! I spent a weekend flying to Germany, the UK, Portugal, Angola, and then Brazil, as one does. 😉
Planning the trip
The primary motivation for this trip was to fly TAAG Angola, though given that they don't fly to the US (and aren't allowed to), that requires quite a bit of positioning. We all have things that we're perhaps irrationally into. Some people might be into feet, I'm into flying really random airlines (from a US-centric perspective) for fun. In May 2016 I saw a TAAG Angola plane for the first time at Cape Town Airport, and there was something about it that fascinated me. As I titled my post at the time "My New Airline Crush: TAAG, You're It!"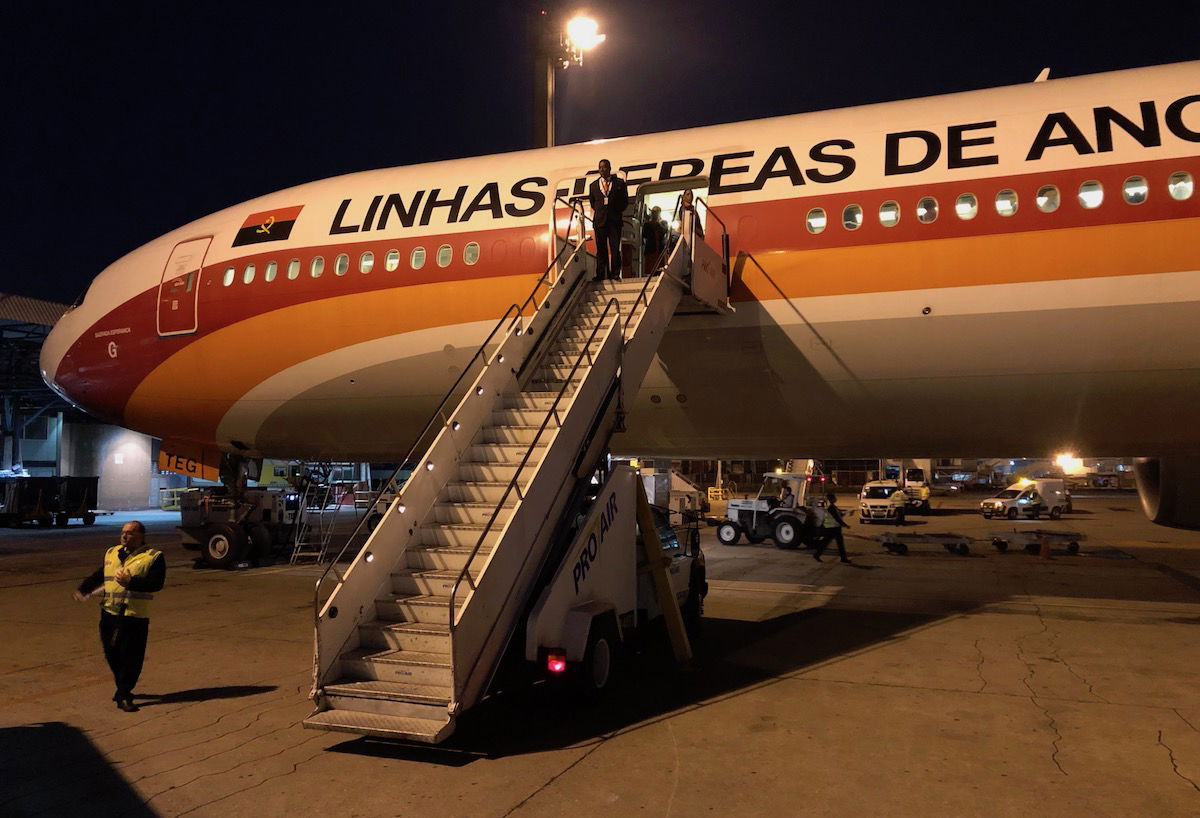 I was so excited to finally fly my "crush" airline, though I guess you could say it was a bad first date. Like, really, really bad. I should've swiped left.
Booking flights
Let me share the flights in the order in which I booked them, rather than the order in which I flew them.
There are no practical ways to redeem partner airline miles for TAAG Angola first class, so a paid first class fare was the only option. For the past year I've been looking for good fares in TAAG Angola first class, which is surprisingly challenging, given that they don't sell tickets through most online travel agencies, and their website is horrible.
In January I wrote a post about the only three international first class products I haven't yet reviewed, and I pointed out how I wasn't seeing any great TAAG Angola first class fares. An awesome reader in the comments section pointed to a fare I hadn't yet seen. Specifically, you can fly from Lisbon to Luanda to Sao Paulo for ~$1,850 in TAAG first class, which is by far the best first class fare I've ever seen on them.
That itinerary looked as follows, with both segments being on 777s configured with different first class products:
3/11 DT651 Lisbon to Luanda departing 10:00AM arriving 6:30PM [First Class]
3/11 DT745 Luanda to Sao Paulo departing 11:15PM arriving 3:30AM (+1 day) [First Class]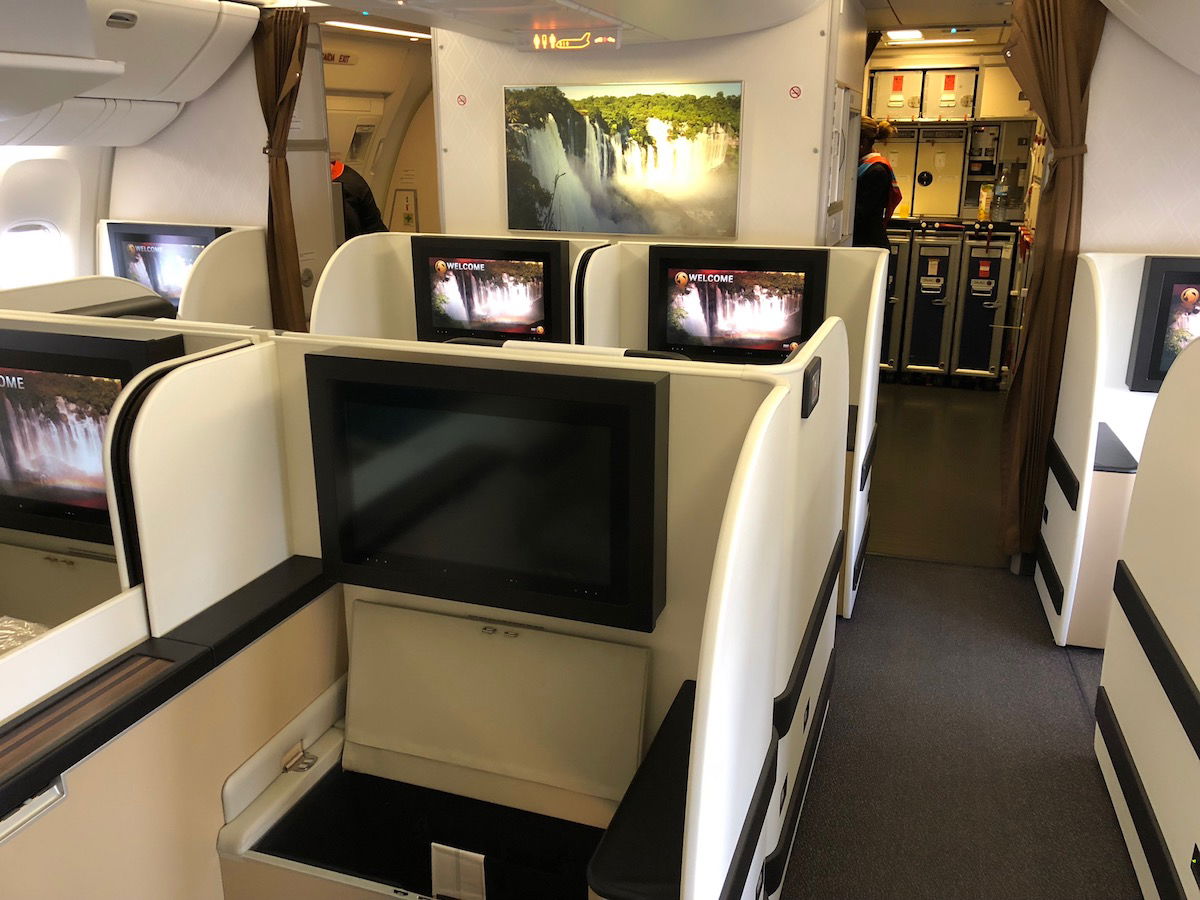 From Sao Paulo I wanted to get back to the US, and as luck would have it, American had business class award availability nonstop to Los Angeles. While that might not sound that exciting, this was a flight featuring B/E Aerospace Super Diamond seats. I haven't yet flown that configuration on American, so thought it would make an interesting review. It would also allow me to check out the oneworld lounges at Sao Paulo Airport.
I booked the following for just 57,500 AAdvantage miles plus $52.11 in taxes:
3/12 AA216 Sao Paulo to Los Angeles departing 10:30PM arriving 7:10AM (+1 day) [Business Class]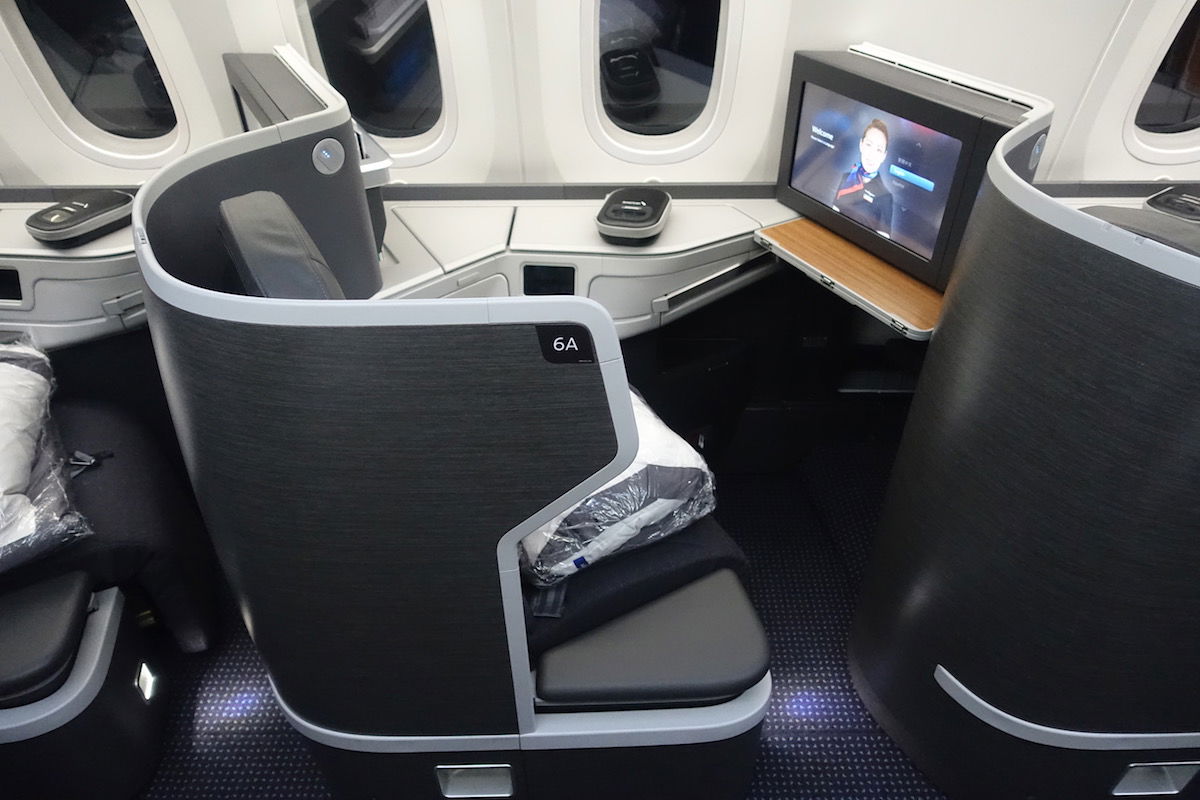 I only ended up ticketing the outbound the day before departure. For transatlantic premium cabin flights, award space reliably opens up in the days leading up to departure. Unfortunately I was leaving during what must have been the first busy Friday of spring break season, as virtually all transatlantic flights were sold out even a week out. I'm usually really good at this stuff, but for a moment I was sweating wondering whether or not I'd find a non-economy way to get to Europe.
A day before departure Lufthansa first class award availability opened up, and I booked the following for 70,000 Aeroplan miles plus $506 in taxes and fees:
3/09 LH453 Los Angeles to Munich departing 5:15PM arriving 1:40PM (+1 day) [First Class]
3/10 LH2478 Munich to London departing 4:00PM arriving 5:05PM [Business Class]
3/10 TP357 London to Lisbon departing 6:30PM arriving 9:05PM [Business Class]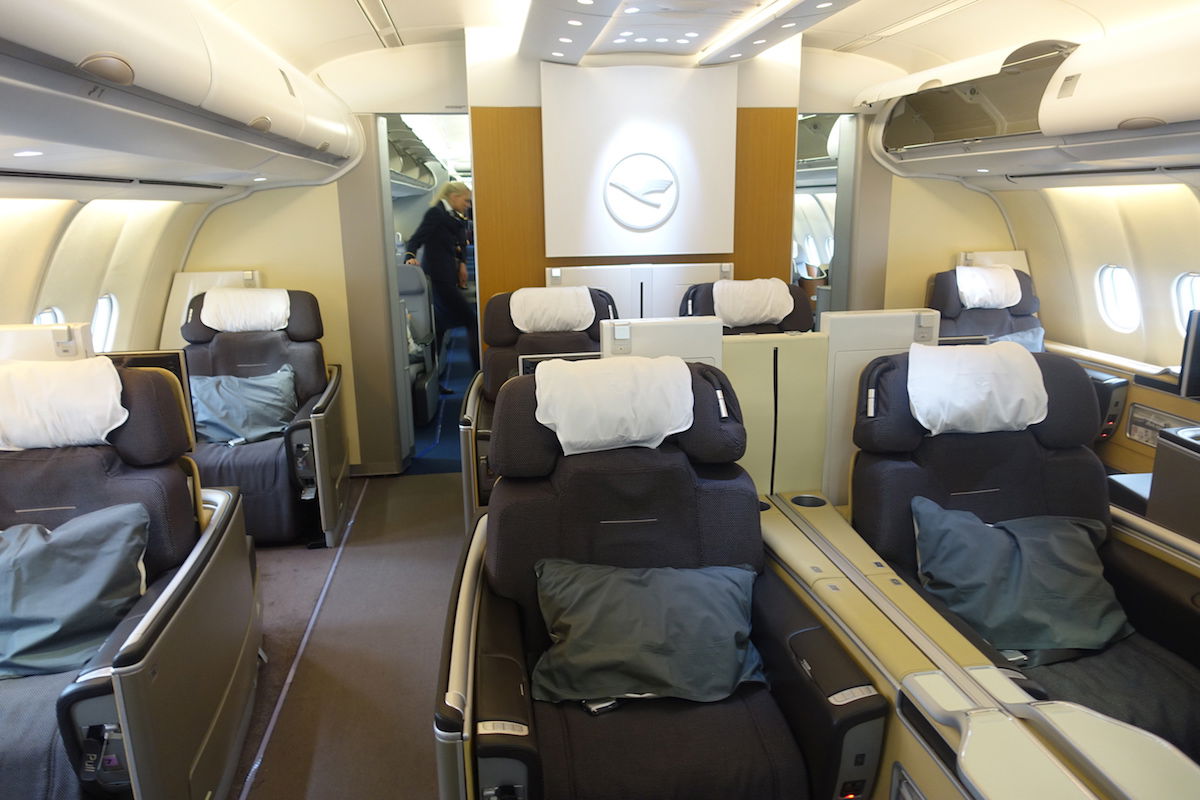 While I've reviewed Lufthansa first class before, this was my first time checking out Lufthansa's fairly new first class lounge in Munich, so I look forward to reviewing that.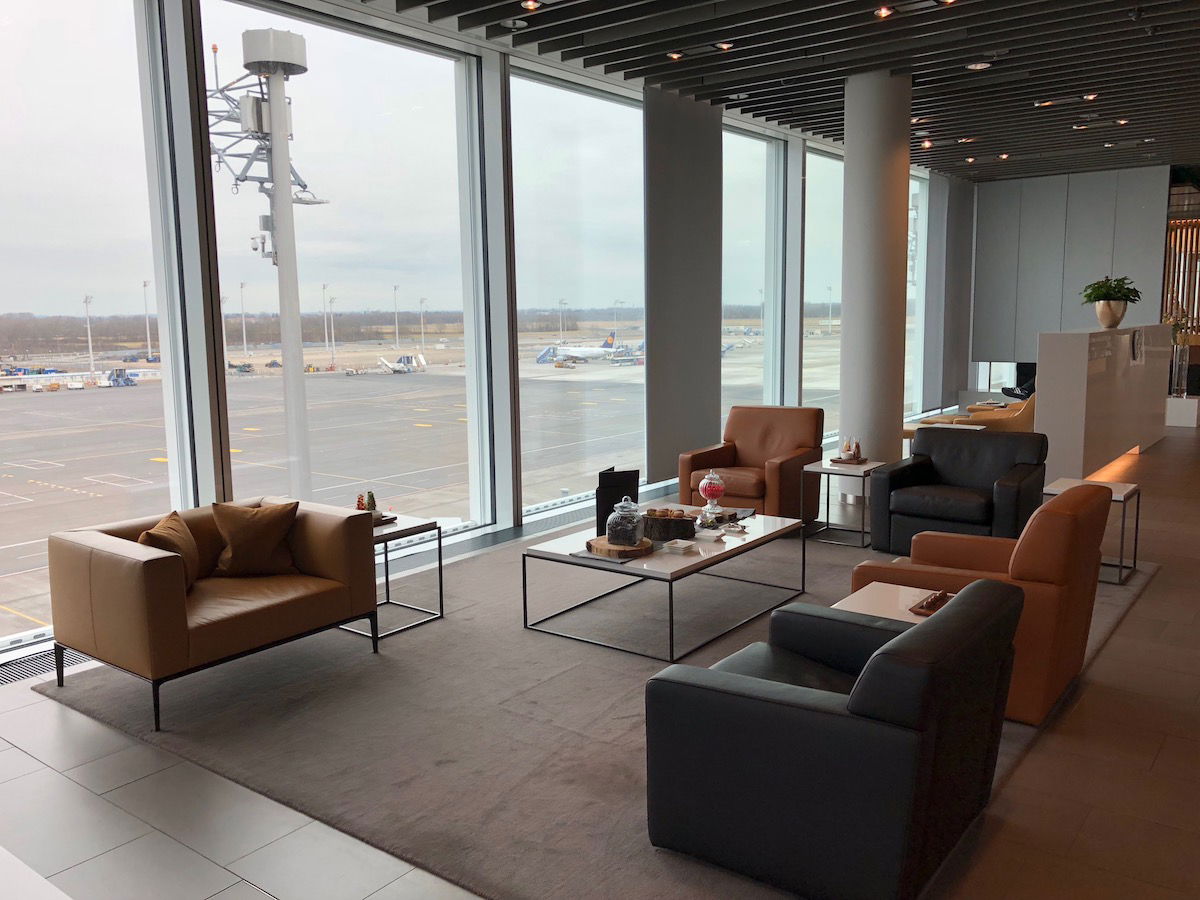 I got those 70,000 Aeroplan miles by transferring them over from Amex Membership Rewards, through Aeroplan is also transfer partners with Marriott Bonvoy.
Transfer points to Aeroplan with these cards:
The routing for the entire ~21,000 mile trip looked as follows (I always make maps for my trips, but I especially love how this one looks):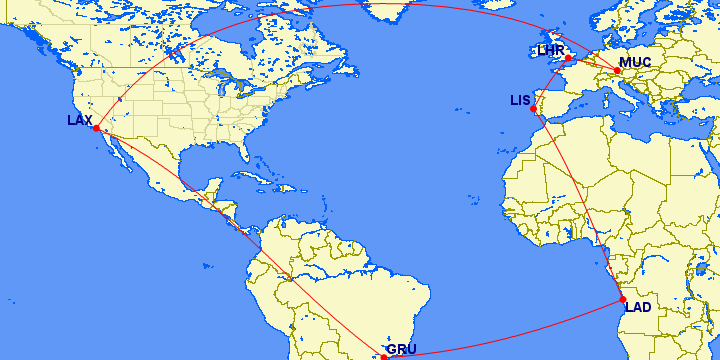 Booking hotels
This was basically a weekend trip, as I took off from Los Angeles Friday evening, and landed back in Los Angeles Tuesday morning. I only needed two hotel stays:
One night in Lisbon
One night(ish) in Sao Paulo — I was landing at 3AM and departing at 10PM, so wanted to have somewhere to rest and a quiet place to work
In Lisbon I booked the Sheraton for ~$150.
Then in Sao Paulo I booked the Marriott Sao Paulo Airport. During Marriott's MegaBonus promotion last fall, they offered a Category 1-5 free night certificate after making just two stays at any Marriott family property. I earned a certificate there, and decided to redeem it for this stay. I just booked it for the night prior to when I landed, and thanks to my Platinum status knew I would get 4PM check-out, meaning that I'd have the hotel room for about 12 hours.
I won't be reviewing either of the hotels, given how short my stays were, and since I didn't have the chance to fully experience them.
Bottom line
I was so looking forward to this trip, given how little I knew about TAAG Angola coming in. I was even more excited since I was being joined by two aviation geek friends on the TAAG Angola flights, which made them all the more fun. Unfortunately TAAG ended up being a complete disaster, but that doesn't mean we didn't have fun.
Thanks for reading, and for making all of this possible!