---
When I actually take a "vacation" I'm usually pretty active, in the sense that I'd rather visit a city than relax by a beach. I get bored easily, and for that matter hate sand and the ocean.
I had been to the Maldives once before a few years back. My impression was that while it was picturesque, it was a bit too boring for me. The Maldives largely consists of a bunch of atolls, so at most resorts you're pretty secluded and a captive of the resort, given that many resorts have their own islands. At that point I kind of put the Maldives in the "been there, done that" category.
However, due to a combination of circumstances I decided to return to the Maldives, this time staying at the Park Hyatt Maldives:
I had some friends that were planning on visiting around the same time, so I figured if I was going to visit the Maldives, I might as well not do it alone
Earlier in the year Hyatt made some award category changes, whereby the Park Hyatt Maldives was increasing from a Category 6 to Category 7 property, raising the cost of a free night redemption from 25,000 to 30,000 points per night
Shortly thereafter Hyatt announced a limited time promotion for a 20% refund on redeemed points, meaning the cost went down even further, to just 20,000 points per night
In other words, I was paying 20,000 points per night for my stay at the Park Hyatt Maldives, while a similar redemption in the future would cost 50% more. That was a deal that was too good to pass up. Looking at the points rate purely in comparison to the cash rate (~$1,200+ per night), this hotel remains an exceptional value on points.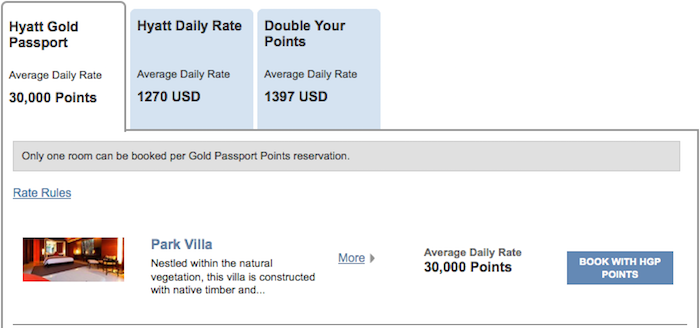 Since I was going all the way to the Maldives I decided to book six nights there, since I wanted a chance to recover, relax, etc.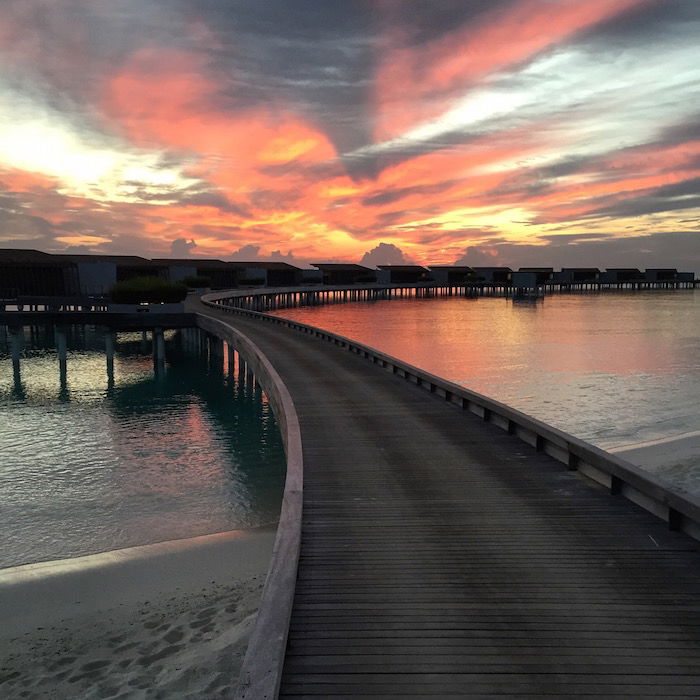 The tricky part was planning flights. I booked my flights in reverse order, and booked the return first. Cathay Pacific publishes fantastic paid business class fares out of Male, so for ~$1,450 I was able to book a one-way business class ticket from Male to Hong Kong to Newark, which was a nice way to earn AAdvantage miles while trying out Cathay Pacific's business class product.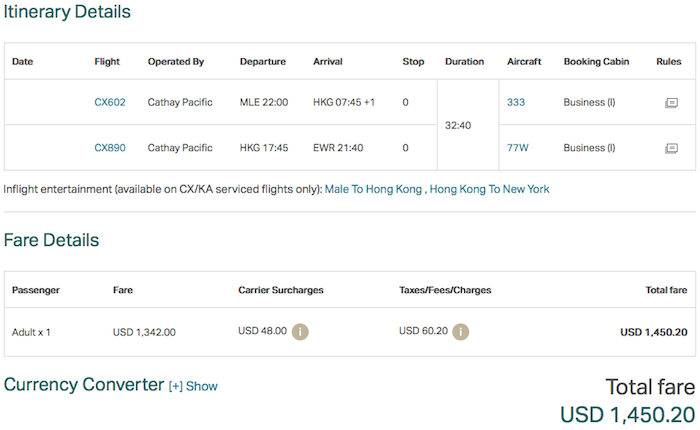 If you want to fly roundtrip, the roundtrip fare is less than double of the one-way fare, so is an even better value.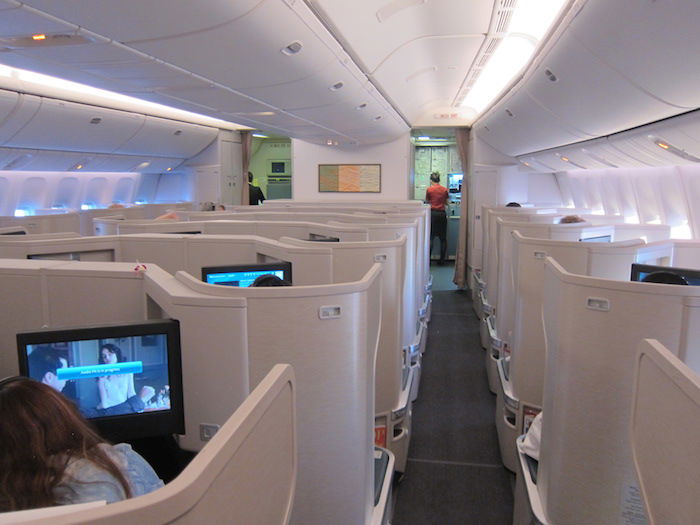 The outbound was a bit trickier. Originally I was hoping to get creative with the outbound, though I had a last minute commitment in New York two days before I was set to check into the Park Hyatt Maldives, which threw off my plan a bit.
In the end I decided to book New York to Hong Kong to Colombo using American AAdvantage miles. The booking in Cathay Pacific first class cost just 67,500 AAdvantage miles. From Hong Kong to Colombo I could have flown Cathay Pacific nonstop, but instead I decided to fly SriLankan through Bangkok, so I'd be able to review a new product.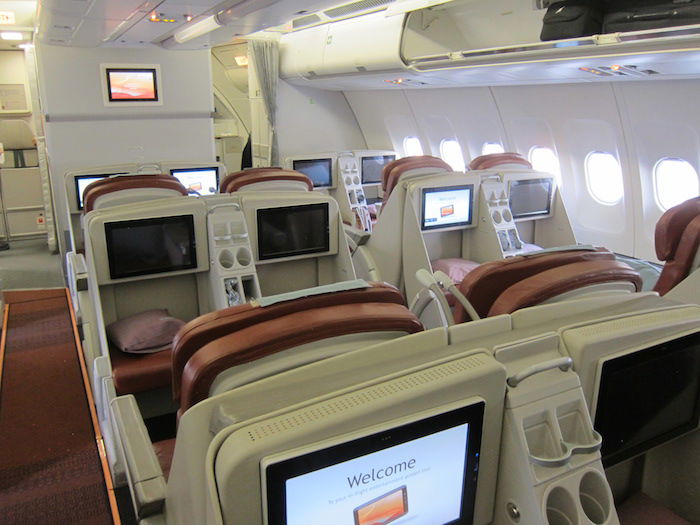 Why did I fly into Colombo? Because on the American AAdvantage award chart, Colombo is considered "Asia 2″ (which from the US costs 67,500 miles in one-way first class), while Male is considered "Middle East" (which from the US costs 90,000 miles in one-way first class).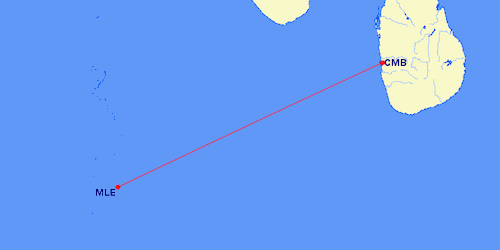 I'd save 22,500 miles by doing that, and then could book a separate paid ticket for the hour-long flight from Colombo to Male. That ticket cost me ~$150, and then I paid $100 for an upgrade to business class.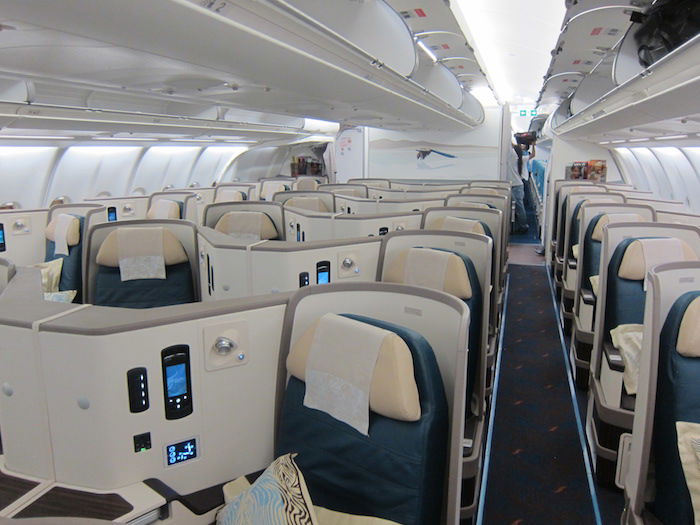 As far as the flights within the Maldives goes, that was arrange by the hotel directly. The Park Hyatt Maldives is located on one of the southernmost atolls, so is several hundred miles from Male Airport. The transfer to the hotel costs $510 roundtrip, which includes the flight and then boat transfer to the resort. The flight schedules are only published a day before departure.
In the end my overall routing looked as follows:
04/03 CX841 New York to Hong Kong departing 10:00AM arriving 2:00PM (+1 day)
04/04 UL423 Hong Kong to Bangkok departing 6:15PM arriving 8:05PM
04/04 UL423 Bangkok to Colombo departing 9:05PM arriving 10:55PM
04/05 UL105 Colombo to Male departing 12:30AM arriving 1:25AM
04/05 Q2275 Male to Kooddoo departing 7:40AM arriving 8:45AM
04/11 Q2261 Kooddoo to Male departing 6:20PM arriving 8:00PM
04/11 CX602 Male to Hong Kong departing 10:00PM arriving 7:45AM (+1 day)
04/12 CX890 Hong Kong to Newark departing 5:45PM arriving 9:40PM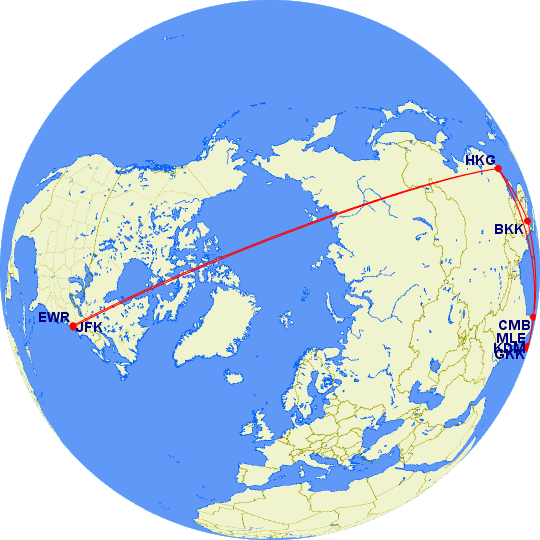 Despite spending six days in the Maldives, this was an exhausting trip. Getting to the Maldives isn't easy, especially when you decide to make an extra connection or two, like I did. But overall I came away from the trip with a different impression of the Maldives than I was expecting.
Stay tuned for the full report. In the meantime, any questions/comments are welcome, as always. Thanks for reading!