---
As is usually the case, the motivation behind this trip started innocently enough. Ford and I were going to take Ford's mom to the Christmas markets in Germany and Austria. Initially we were going to do a simple five day trip to Munich and Vienna (while I know there are other great markets, we wanted to keep the logistics as simple as possible).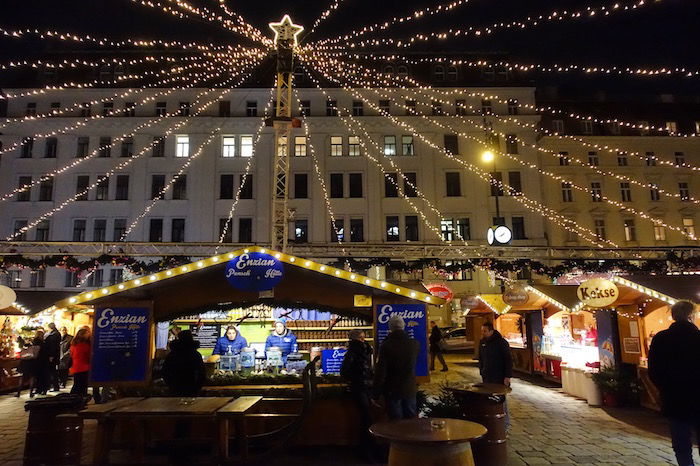 So we redeemed Aeroplan miles (transferred from Amex Membership Rewards) for Lufthansa first class for the three of us. However, that didn't last very long.
Planning the flights
In late November I wrote about how Garuda Indonesia was having a Black Friday sale for travel originating in the UK. The fares were available for travel in both first & business class, and they had some of the lowest fares I've ever seen.
Garuda Indonesia has the first class product that I hadn't yet flown but most wanted to try. In my never-ending quest to stay up to date on the world's best premium cabin products, I had to take advantage of this offer.
In terms of my schedule, it seemed best to try and nest this ticket into the Christmas market trip, since I'd already be in Europe.
So I ended up booking the following fare for ~$2,500 roundtrip in first class:
12/06 GA87 London to Jakarta departing 8:15PM arriving 5:05PM (+1 day)
12/10 GA86 Jakarta to Singapore departing 7:20AM arriving 10:00AM
12/10 GA86 Singapore to London departing 11:05AM arriving 5:35PM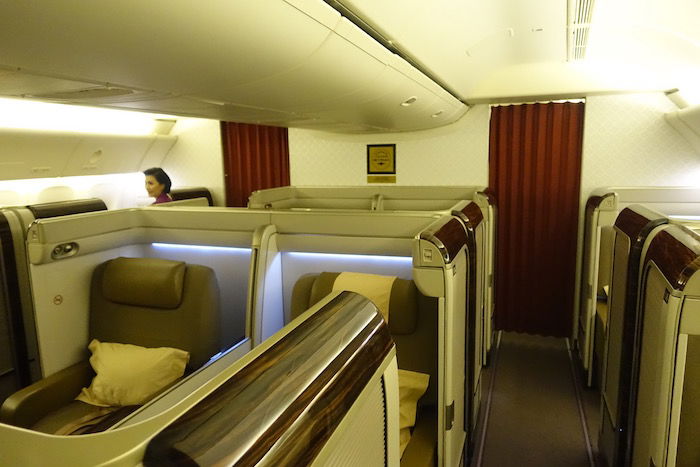 From there we adjusted our flights slightly to work around the itinerary. Like I said, we had already booked roundtrip first class tickets in Lufthansa first class using Aeroplan miles, though ended up adjusting the itinerary to the following flights:
12/03 LH439 Dallas to Frankfurt departing 4:10PM arriving 8:50AM (+1 day)
12/04 LH906 Frankfurt to London departing 12:00PM arriving 12:45PM
12/15 LH1247 Vienna to Frankfurt departing 6:10AM arriving 7:40AM
12/15 LH422 Frankfurt to Boston departing 10:55AM arriving 1:10PM
Those flights cost 140,000 Aeroplan miles per person, plus about $800 in carrier imposed surcharges (which is more than I'd ideally like to pay, but I think it's worth it for Lufthansa first class).
For the outbound, Dallas was one of the only gateways with award availability, probably due to the pilot strike the previous several days. Fortunately all first class equipped planes now feature Lufthansa's new first class product, though I still prefer the A380 and 747-8 to the A330.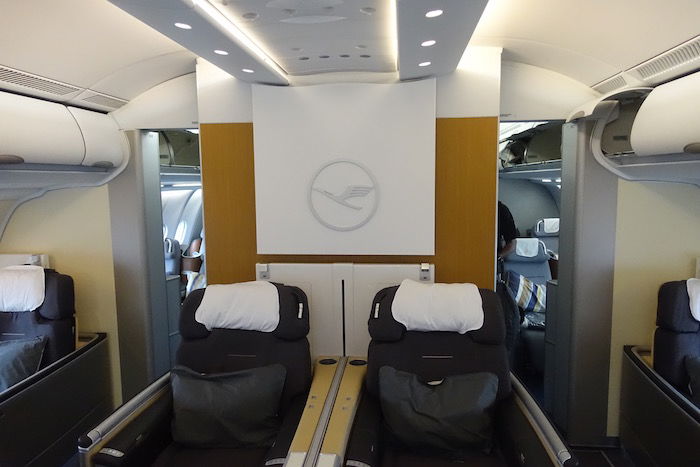 On the return we chose to return to Boston, as that's the closest airport to where Ford's mom lives, and I managed to snag three first class award seats on that flight. Getting three of the eight first class award seats booked using miles right at the 15 day mark is pretty rare, so I was very happy about that.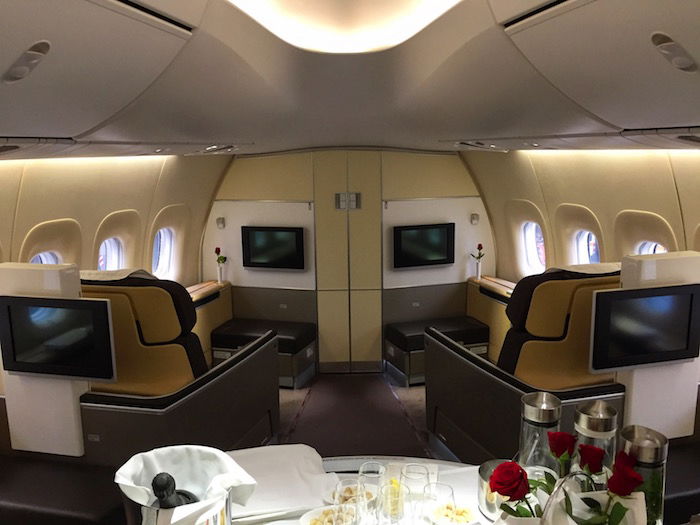 In terms of other intra-Europe travel logistics:
After our Garuda Indonesia flight we had to get from London to Munich, so booked cheap ~$80 Lufthansa economy tickets for that
We had to get between Munich and Vienna, and decided to take the train rather than flying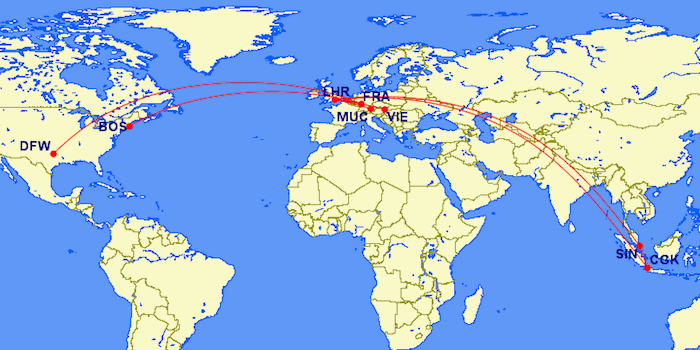 Booking the hotels
This trip would give us two nights in London, three nights in Jakarta, two nights in Munich, and three nights in Vienna.
Usually London is a city where I like to redeem points, though in this case a paid stay seemed to make sense. The Sheraton Grand London Park Lane was recently renovated, and I was keen to check it out. A free night there would cost 20,000 Starpoints, though the paid rate was ~250GBP, which is ~$300. Given the weak GBP, this seemed like a good opportunity to book a paid stay. I was curious to compare this hotel to the Park Tower Knightsbridge, which is the Starwood Luxury Collection property just a few blocks away.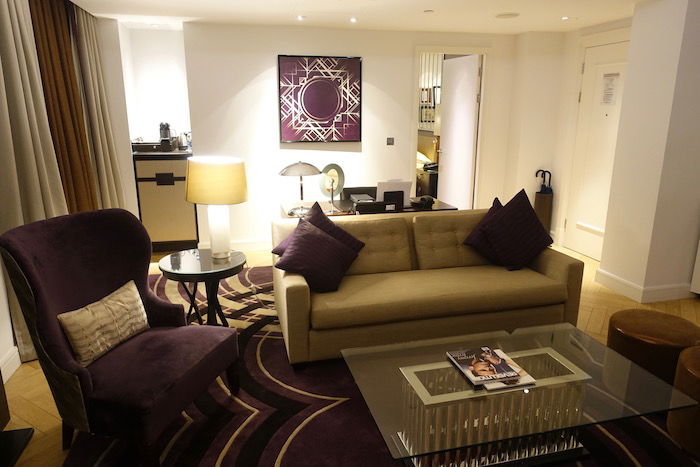 Then in Jakarta I booked the Keraton at the Plaza, which is the Starwood Luxury Collection property. The paid rate at this hotel was ~$200 per night, which seemed like a better value than redeeming 12,000 Starpoints per night.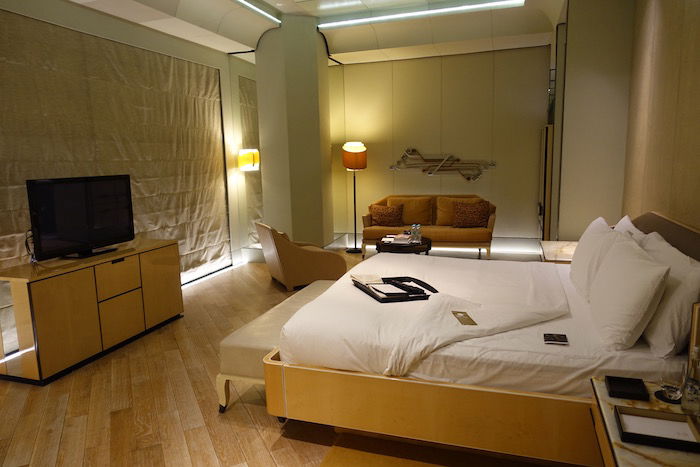 In Munich we needed two rooms, so I booked Le Meridien Munich, which has a great location in the center of the city, even if the hotel itself isn't that great. The rate was 120EUR, which was significantly cheaper than so many other options in the city. One of the things I love about Starwood is that you can earn elite nights for multiple rooms, so that two night stay earned me four elite qualifying nights.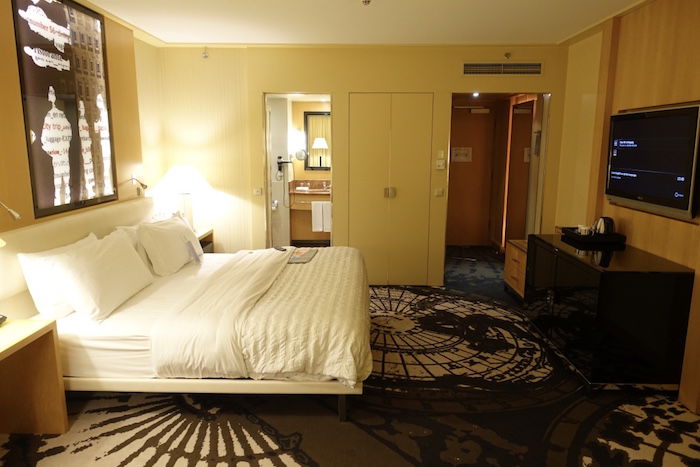 Then in Vienna I booked the Park Hyatt on a Points + Cash rate. I reviewed the Park Hyatt Vienna just last year, so I'll keep the review this time around short, as not much has changed. I applied a Diamond Suite Upgrade to one room, though both rooms ended up getting upgraded to suites — sweet!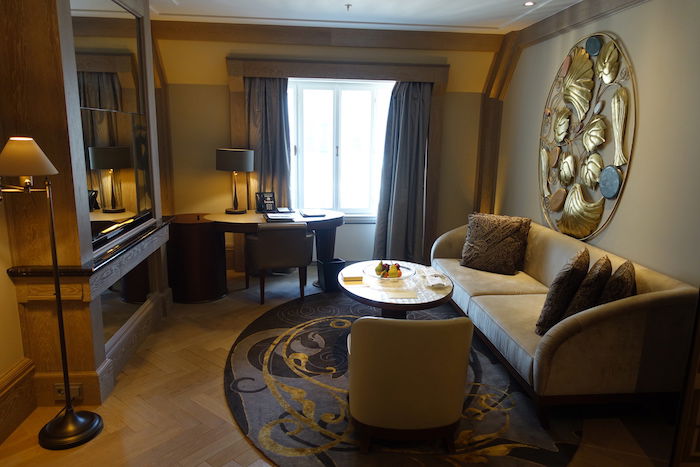 Since this is a Category 6 hotel, a Points + Cash booking cost 12,500 points plus $150 per night, which was much better than the paid rate of $500+ per night.
Lastly in Boston we had a quick overnight before our connecting flight, so we spent the night at the Aloft Boston Seaport, which ended up being an interesting experience, so I'll include it in this trip report as well.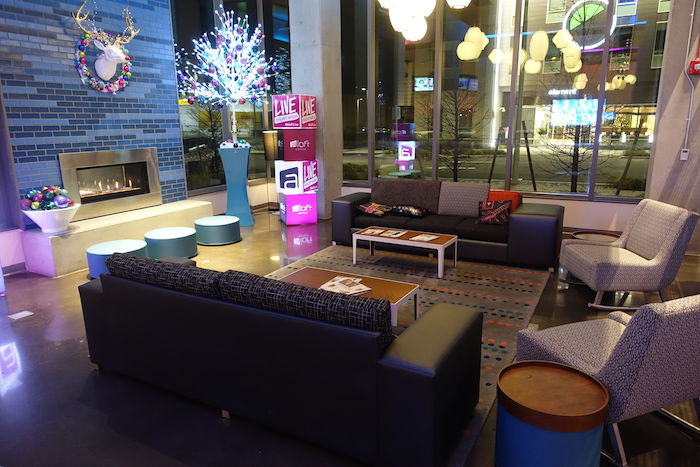 Bottom line
While I'm not usually one for cold weather (I typically only travel to places where it's warm), we had an amazing time at the Christmas markets in Germany and Austria. I was also excited that Ford and his mom got to fly "my" beloved Lufthansa for the first time. 😉
Flying Garuda Indonesia was a special treat, and I'm so happy I had the opportunity, given that their first class is easily one of the best in the world. Furthermore, that price for over 30 hours in Garuda Indonesia first class is a steal, in my opinion.
Stay tuned, as I'll be publishing the trip report over the coming days!