---
In terms of ridiculous but totally worthwhile reasons for taking a trip, this probably ranks pretty high up there. As I explained in the post I wrote when I embarked on the trip, I love electronic dance music, but I'd never dance (no matter how much alcohol I have in me)… at least in public. As a result I limit my dance parties to completely empty first class cabins when the galley curtains are closed.
One of the biggest electronic music festivals in the world is Tomorrowland, held just outside of Brussels. The whole standing on a field shirtless while dancing and using portable toilet thing isn't really for me, but in theory I'm intrigued by all of it.
But to me the most fascinating aspect of the festival isn't the festival itself, but rather Brussels Airlines' involvement with it, as they have special Tomorrowland flights. During the festival they have a couple of planes that fly a few routes as "Tomorrowland" service, with passengers consisting solely of those going to the festival.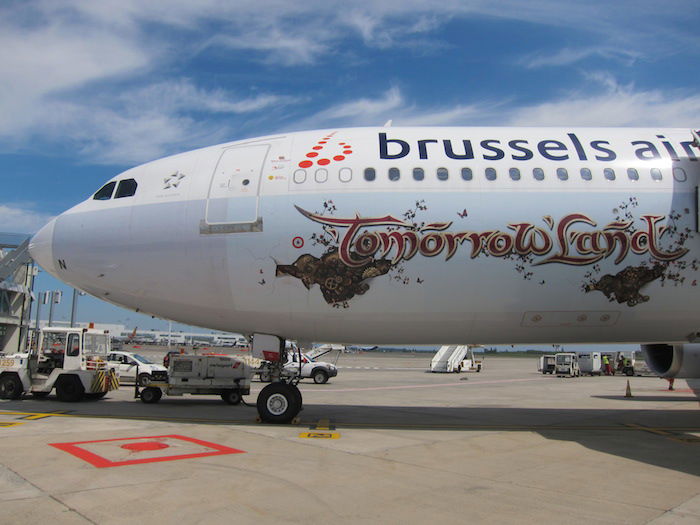 Brussels Airlines Tomorrowland A330
Here's a video Brussels Airlines made of one of their 2012 Tomorrowland flights:
And here's a video of one of Brussels Airlines' 2013 Tomorrowland flights:
Crazy, isn't it?
My friend Bart was on one of these a couple of weeks back, and when I Tweeted him to let me know how jealous I was, Brussels Airlines invited me to join in on one of their other Tomorrowland party flights, from Frankfurt to Brussels.

That's an opportunity I couldn't say no to. As crazy as it sounds to fly to Europe just to take a 45 minute flight, it's something I knew I wouldn't regret.
The party flight was from Frankfurt to Brussels, though the media folks on the flight actually started in Brussels for the day, and flew roundtrip from Brussels to Frankfurt to Brussels. The Brussels to Frankfurt flight was cool in its own right, since it was completely empty aside from a handful of media people, the DJ, the "elves," and some people from Brussels Airlines' PR and social media team.
The party flight was last Thursday, and I had a commitment during the day in New York last Tuesday, so in looking at award availability, the only real option was to take British Airways through London.
So I redeemed 62,500 AAdvantage miles for British Airways first class from New York to London, and then business class from London to Brussels. There were also about ~$400 in fuel surcharges, which wasn't ideal, but it still seemed like the best option.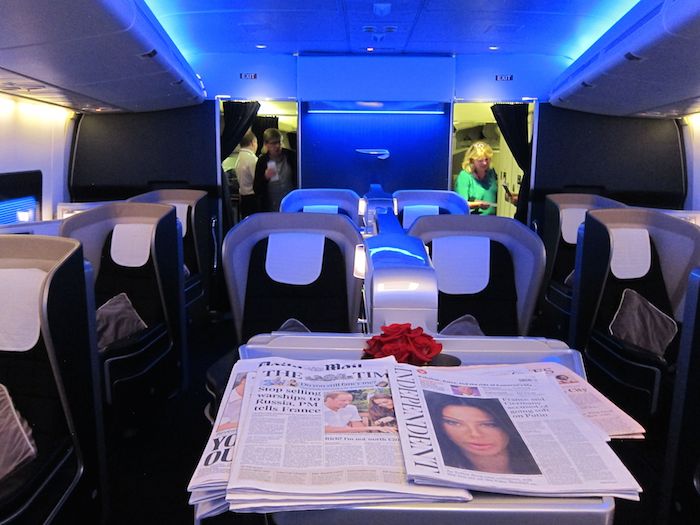 British Airways 747 first class cabin
It also meant I could check out the New York JFK Concorde Room, and check up on how the infamous London Heathrow Concorde Room is doing.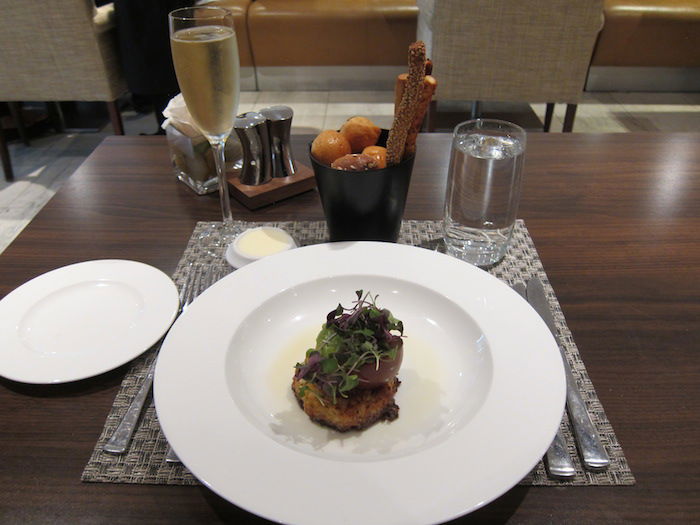 British Airways New York JFK Concorde Room
Due to my schedule I booked the Sheraton Brussels Airport for two nights, which is located right across the street from the terminal. This was extremely convenient, since I was arriving in Brussels in the afternoon and had to be back at the airport at 6:30AM the following morning. In this case I preferred staying by the airport and taking the train to the city, as opposed to staying in the city and taking the train to the airport at 5AM.
Then on Thursday I'd fly Brussels to Frankfurt to Brussels on Brussels Airlines as part of the "party" flight.
On Friday my aspirations were to go to Stockholm, though when I woke up I realized that La Compagnie was actually selling business class tickets from Paris to Newark for 500EUR that day, so I jumped on a train to Paris Charles de Gaulle.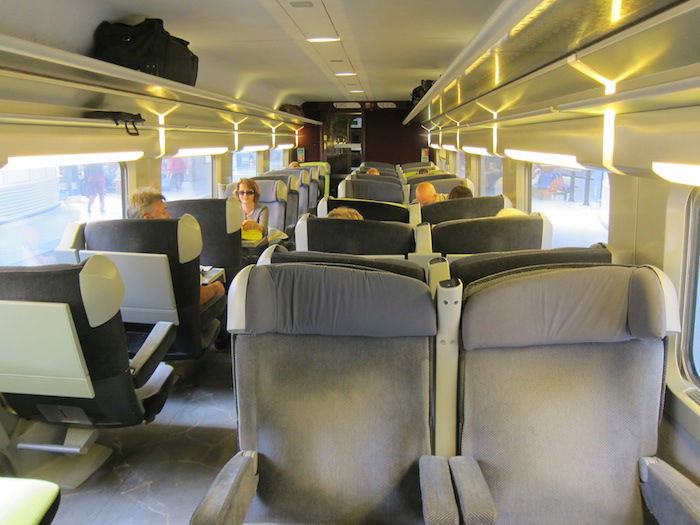 TGV train from Brussels to Paris
I couldn't turn down the opportunity to fly La Compagnie, after all.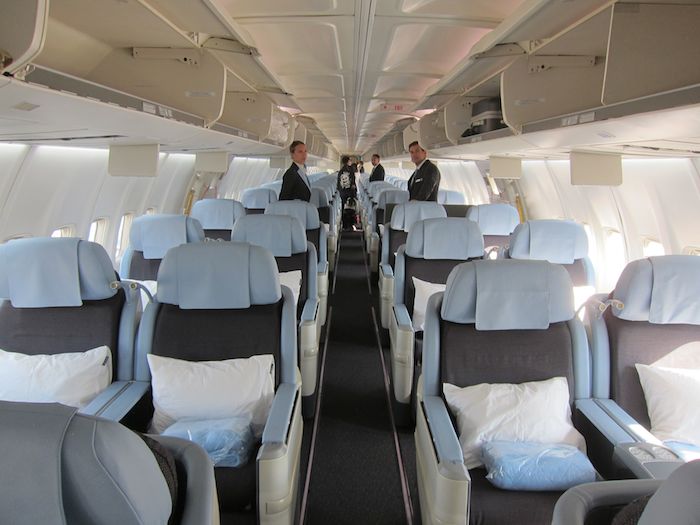 La Compagnie business class cabin
So in the end my routing looked as follows:
07/22 BA172 New York to London departing 9:30PM arriving 9:25AM (+1 day)
07/23 BA394 London to Brussels departing 12:35PM arriving 2:45PM
07/24 SN1807 Brussels to Frankfurt departing 7:35AM arriving 8:50AM
07/24 SN1808 Frankfurt to Brussels departing 10:20AM arriving 11:35AM
07/24 B0100 Paris to Newark departing 5:50PM arriving 8:30PM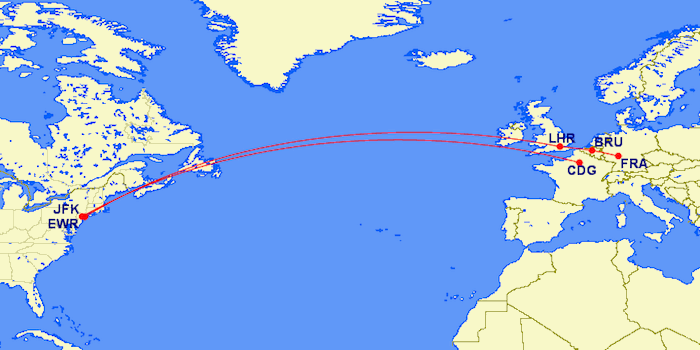 My routing on this trip
A total whirlwind trip for sure, but it also included one of the coolest flights I've ever taken!
As a teaser of what you can expect, here's a video I took from the Brussels Airlines Tomorrowland party flight from Frankfurt to Brussels:
Stay tuned, this was a fun one!