Welcome to my next trip report series, which will cover a recent spring trip to Dubai and Florence (a weird combination, I know!). You can expect reviews of Etihad's A350 business class, a few luxury hotels, and more. Once I'm done with this report, I'll be publishing the full series for my recent surprise round the world trip with my dad.
Why we took this trip
A majority of the trip reports that I've published this year have been "pure" review trips, which is to say that I traveled exclusively to be able to review certain airline products, with some hotel reviews thrown in as well. This includes my whirlwind Aeroplan adventure, my four trips across the Atlantic, and my new era of German business class trip.
In this case, Ford and I were planning on just going to Florence for a quick weekend, as neither of us had visited since we were kids. However, I'm always looking for an interesting review angle when it comes to these kinds of trips, and I wasn't seeing any exciting transatlantic premium cabin flight award options for our dates.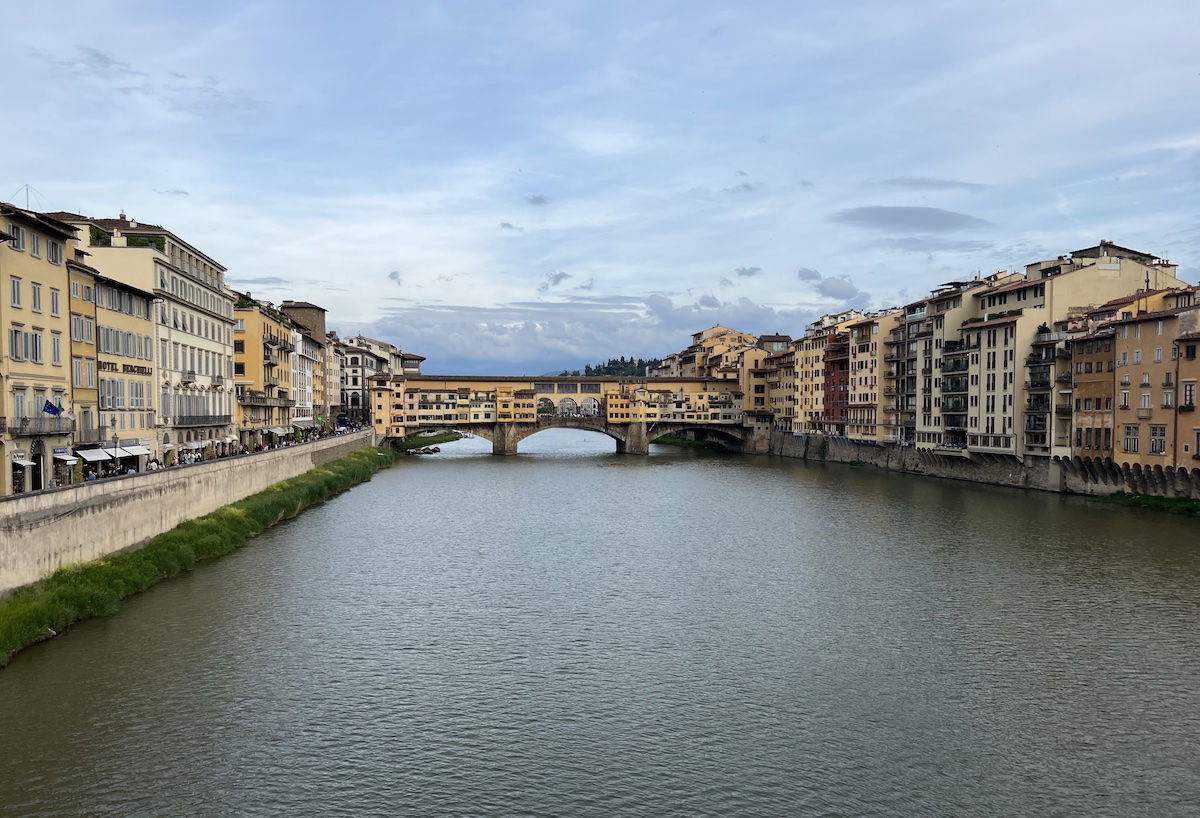 Probably the single airline product I most wanted to review was the new Etihad Airbus 350 business class, especially with the new Armani / Casa amenities. So I talked Ford into traveling to Italy via the United Arab Emirates, which admittedly isn't exactly the most direct way to get there. 😉
Since we were in the vicinity of Dubai anyway, we decided to check out a couple of hotels there as well. While the trip was ultimately a bit more complex than I initially planned, we had an awesome time.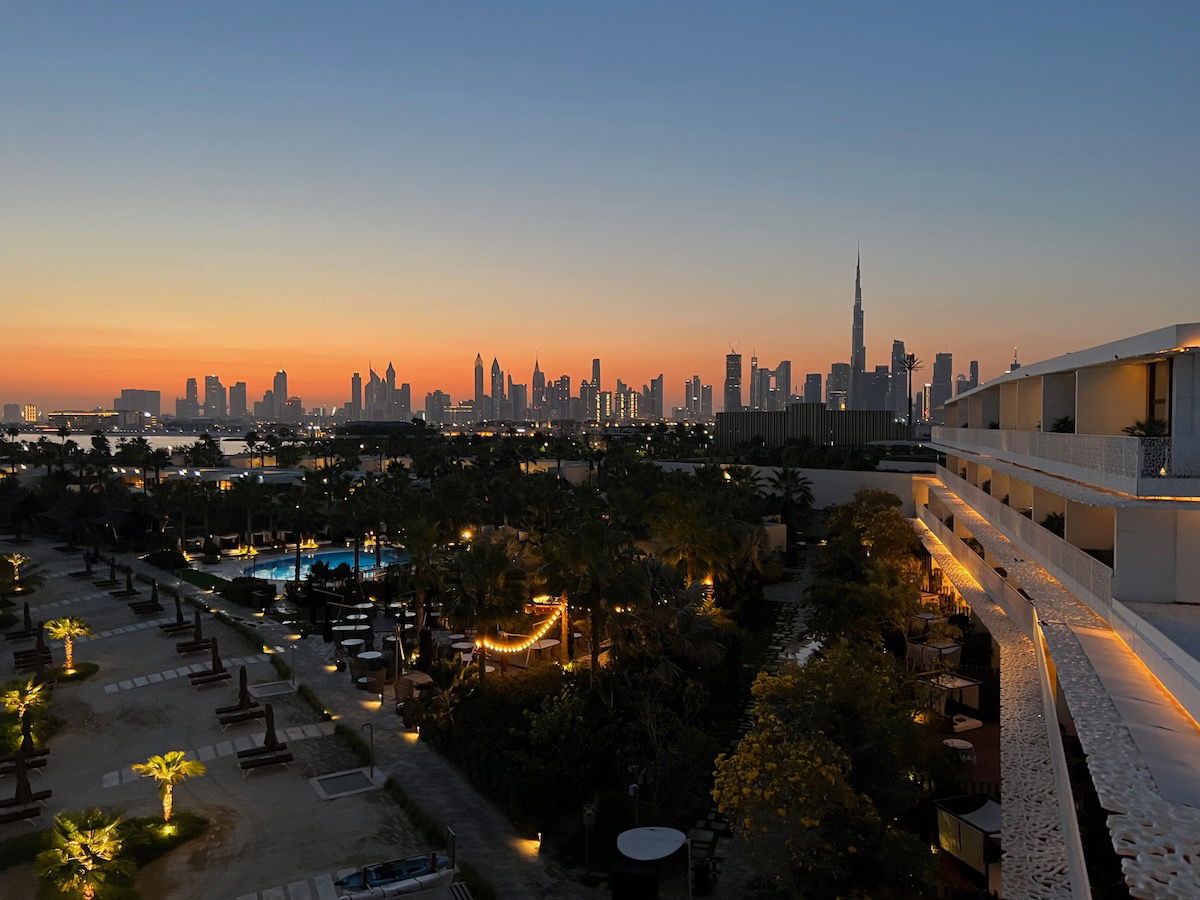 The airlines we flew on this trip
The outbound portion of this journey was definitely the most interesting in terms of airlines I could review.
For the outbound, I managed to redeem miles for Etihad business class. I booked the following for 70,000 American AAdvantage miles plus $5.60 in taxes and fees per person:
4/24 EY150 Chicago to Abu Dhabi departing 12:35PM arriving 11:00AM (+1 day)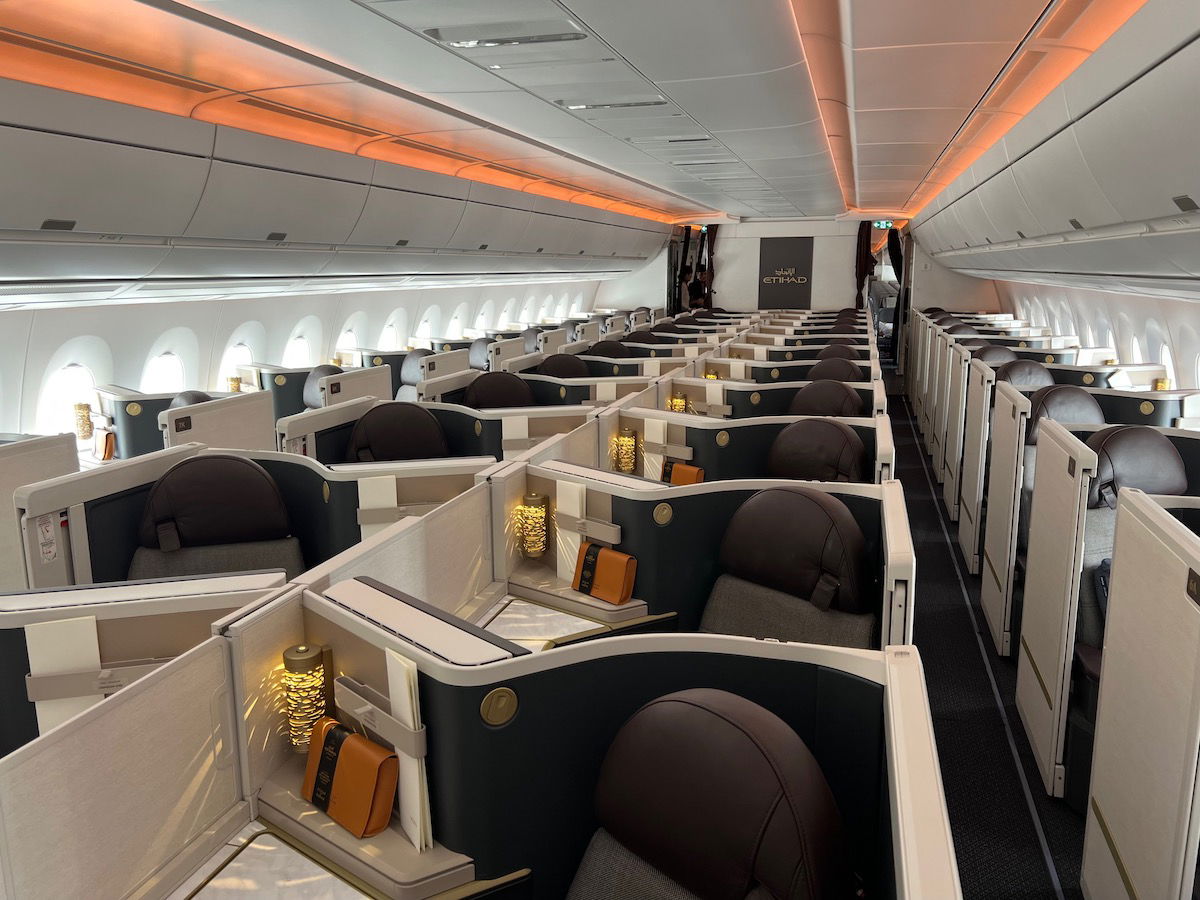 Then to get from the United Arab Emirates to Tuscany, I redeemed for Emirates first class through Emirates Skywards. I booked the following for 102,000 Emirates Skywards miles plus $432 in taxes and fees per person:
4/28 EK93 Dubai to Bologna departing 9:20AM arriving 1:40PM
Admittedly this was a pretty poor value compared to the first flight, but it was a direct option, and for that matter, we had the first class cabin all to ourselves, which is tough to beat. It's also much easier to justify and recoup any fuel surcharges with Emirates' unlimited caviar and Dom Perignon. 😉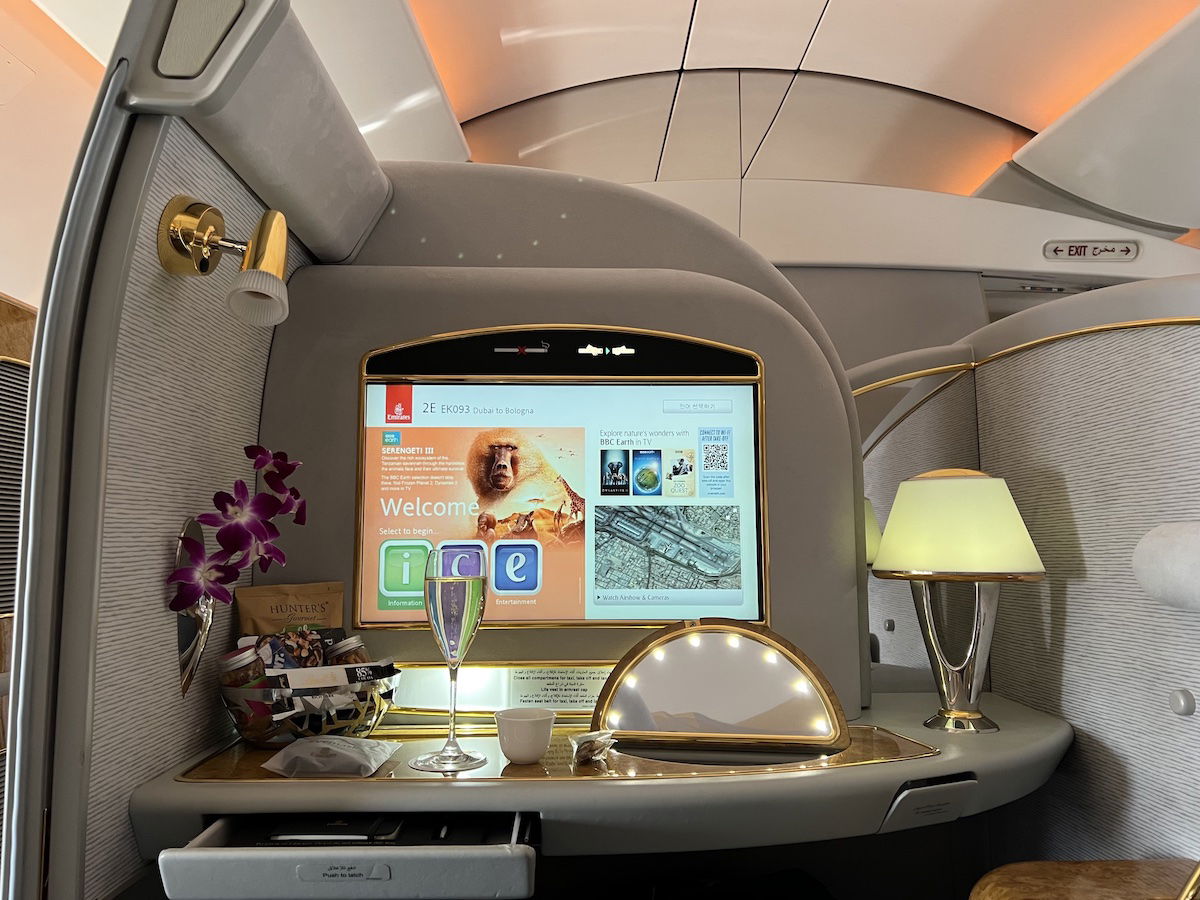 Lastly, to return back home, I redeemed for Lufthansa first class through Air Canada Aeroplan. I booked the following for 100,000 Air Canada Aeroplan points plus $110.54 in taxes and fees per person:
5/01 EN8193 Florence to Munich departing 9:50AM arriving 11:00AM
5/01 LH434 Munich to Chicago departing 3:25PM arriving 6:15PM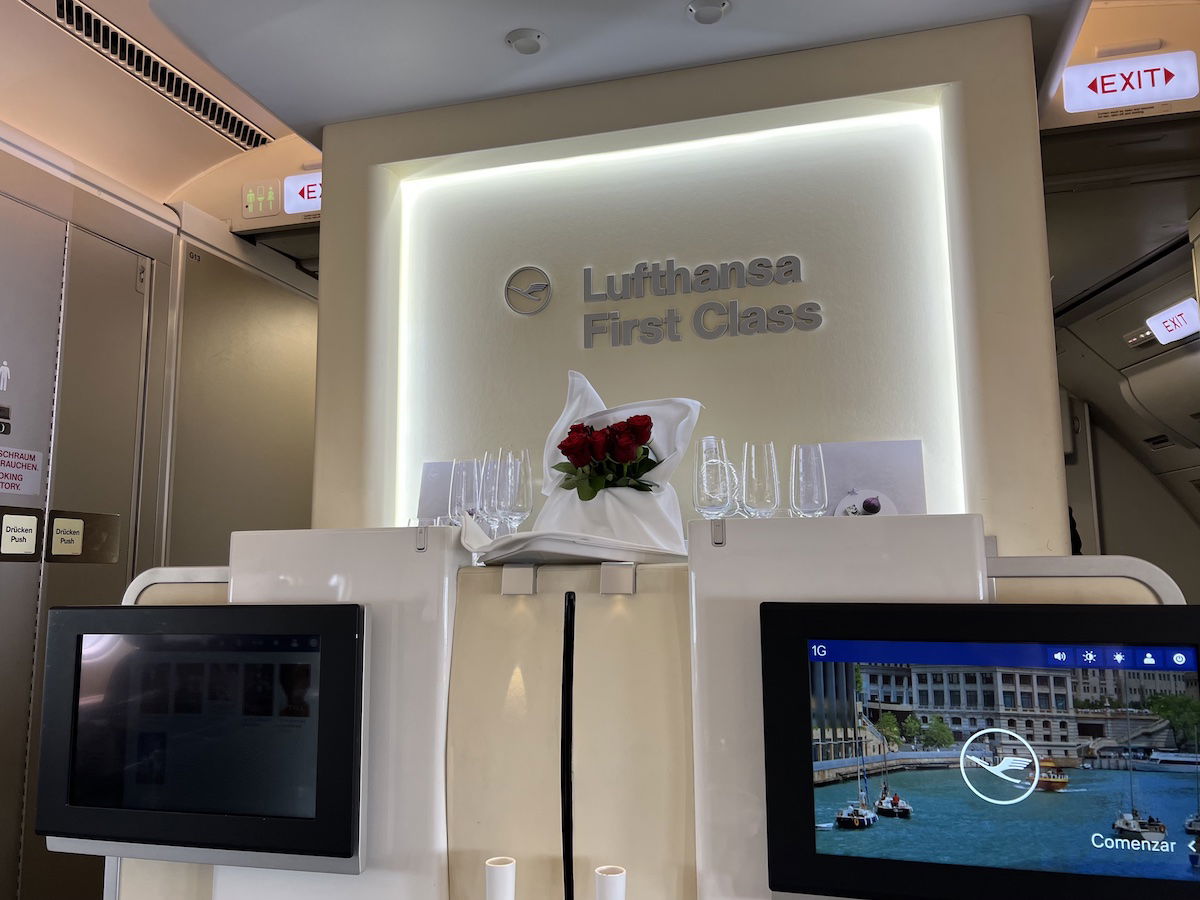 In addition to flight reviews, you can expect reviews of a few lounges, including:
While I'll be fully reviewing the Etihad flight, I'll be doing slightly unconventional reviews of Emirates' 777 first class and Lufthansa's A340 first class, since I've reviewed both of those products in detail recently.
The hotels we stayed at on this trip
During this trip we stayed at three different hotels, all of which were new to us. Let me start by saying that none of them were points hotels, but I think they all make for interesting reviews (and worry not, for my round the world trip with my dad, we exclusively stayed at points hotels, and I have lots more points hotel reviews planned in the coming months).
We decided to spend our time in the United Arab Emirates in Dubai, and for our first night we checked out a hotel that has been on our radar forever, and that I think might just be the world's most iconic hotel. Specifically, we spent a night at the Burj Al Arab, often referred to as the world's seven-star hotel (of course that's not actually a thing, though). I was expecting that the property would be all style over substance, but was actually incredibly impressed.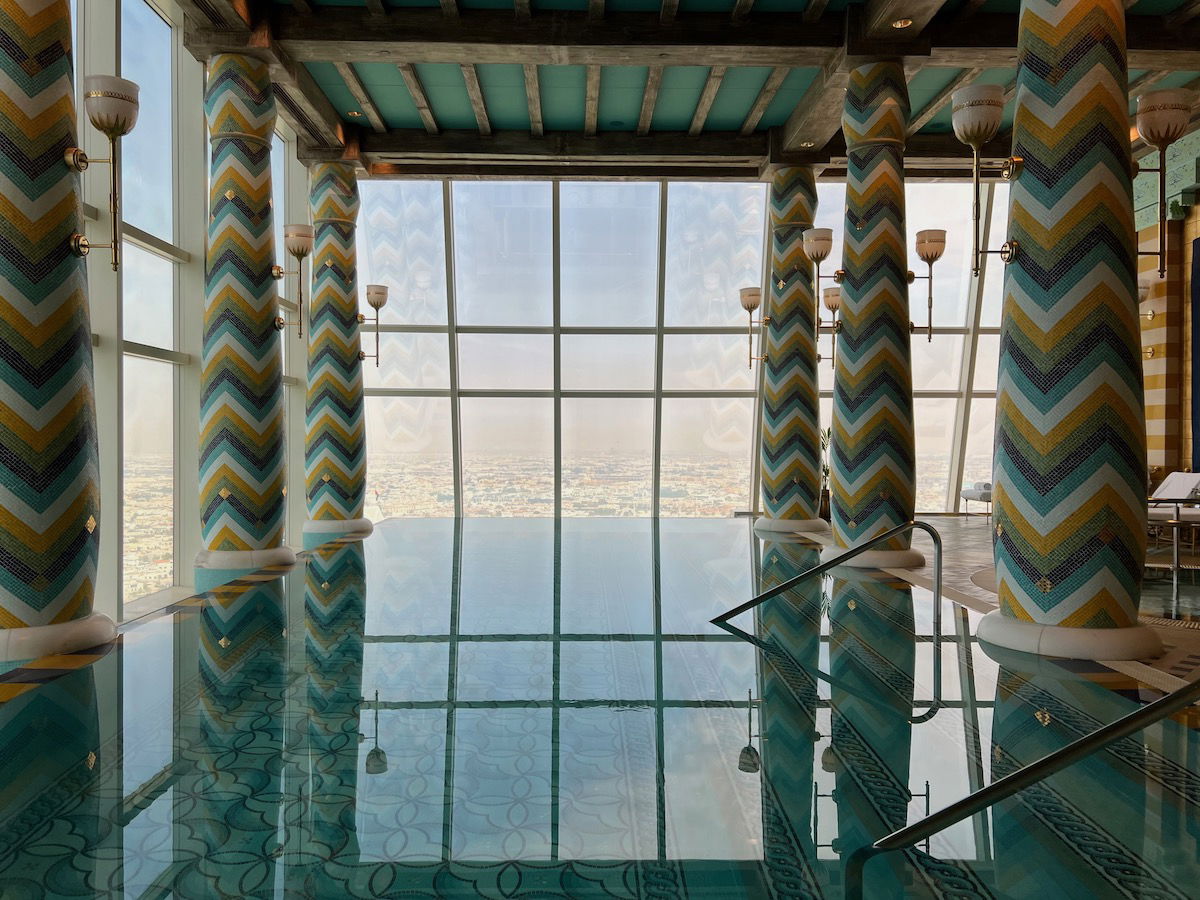 We then decided to check out a hotel we had heard a lot of good things about. Specifically, we visited the Bulgari Dubai. Bulgari is a Marriott hotel brand, but frustratingly, doesn't participate in Marriott Bonvoy. This turned out to be a pretty great hotel as well, though in a totally different way than the Burj Al Arab.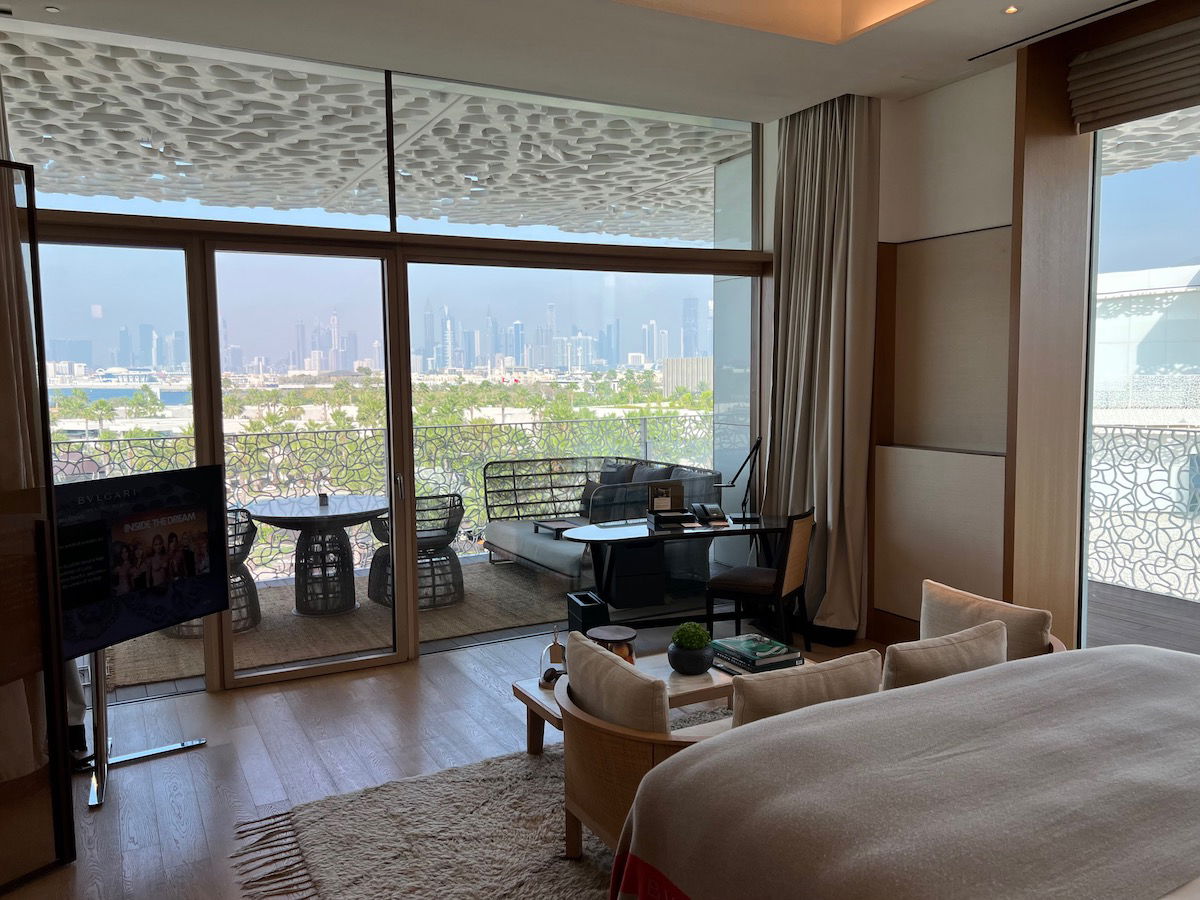 Lastly, in Florence we spent a few nights at the Four Seasons Florence, which has to be one of the most impressive city hotels anywhere in Europe.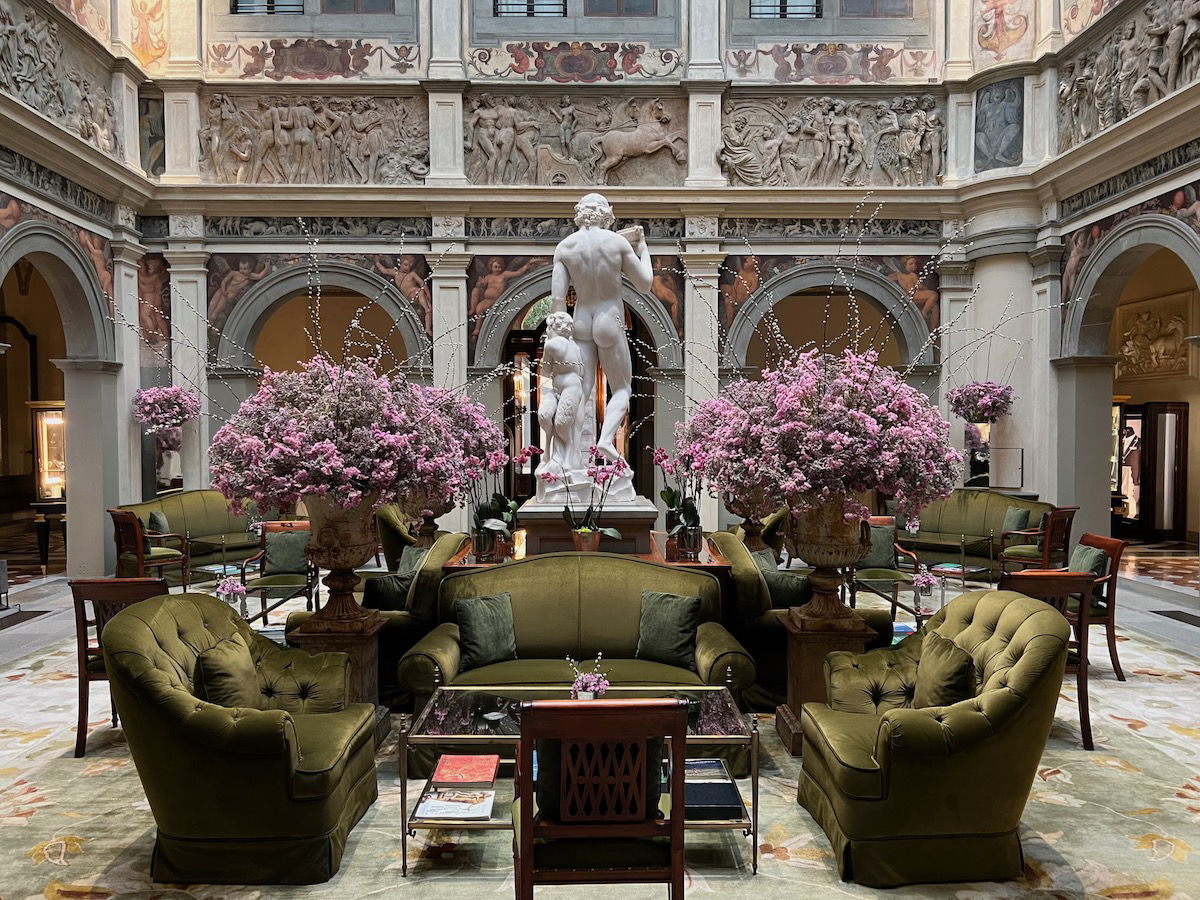 In the individual review installments I'll talk about how we booked each of these hotels.
Bottom line
My next trip report series will cover a recent spring trip to Dubai and Florence, and will include a review of Etihad's A350 business class, as well as reviews of the Burj Al Arab Dubai, Bulgari Dubai, and the Four Seasons Florence. Thanks for reading, and stay tuned!