---
My biggest blog goal for the year has been to review as many new premium cabin airline products as possible. While I started off the year with what I thought was an aspirational list at the time, I've found reviewing new airlines to be so fun that I ended up expanding it significantly.
Earlier in the year I managed to review a lot of mainstream business class products for the first time, though all along there have been some seemingly random airlines on the list (at least from a US perspective) that I've wanted to try.
Tiffany and I hadn't yet taken a big trip together this year, so since we both love flying and visiting random places, we crafted an itinerary that would allow us to try four transatlantic products over the course of about 10 days.
Funny enough part of the motivation here was that we both needed to get from the west coast to DC for a conference this past weekend, so rather than flying nonstop, we routed via Moscow, Belgrade, New York, Baku, Kiev, and New York… as one does. 😉 In the end, the routing looked as follows: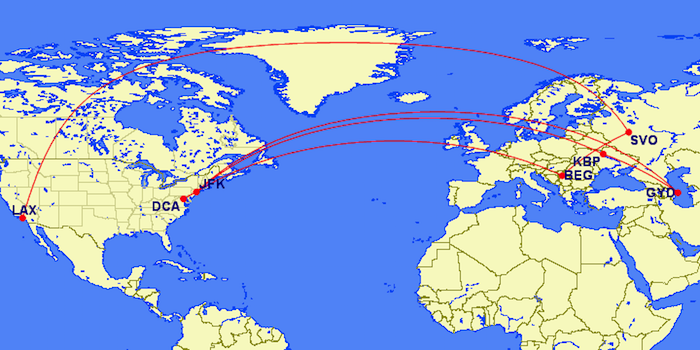 With that in mind, here's how we booked the trip:
Booking flights
I've reviewed most transatlantic SkyTeam airlines, including Air France, Alitalia, Delta, KLM, etc. Aeroflot is an airline that has always fascinated me, and they have surprisingly decent award availability nonstop from Los Angeles to Moscow. So we managed to book the following flights from Los Angeles to Belgrade:
10/25 SU107 Los Angeles to Moscow departing 4:55PM arriving 2:45PM (+1 day)
10/26 SU2092 Moscow to Belgrade departing 8:10PM arriving 10:05PM
Cost: 62,500 Delta SkyMiles + $328.10 taxes and carrier imposed surcharges
As you can see, the downside is that there are hefty carrier imposed surcharges on Aeroflot, though I still figured it was worth trying their product… and boy, am I happy I did!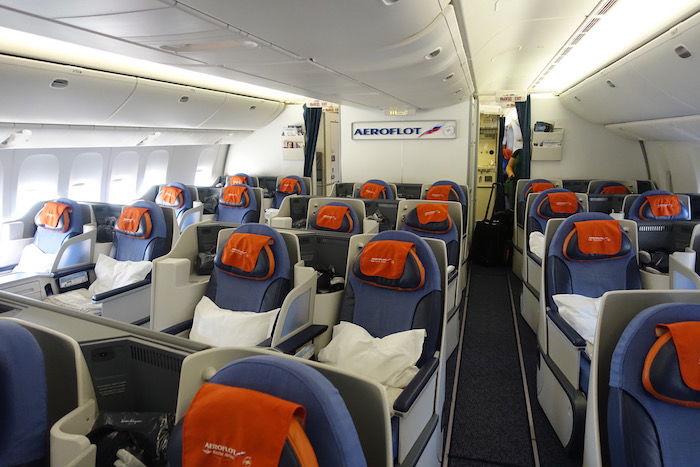 The motivation for making Belgrade our destination was that Air Serbia began flying between Belgrade and New York earlier this year, and I've been wanting to sample their product. Air Serbia's frequent flyer program is Etihad Guest, so we were able to redeem Etihad Guest miles for the trip, as follows (see here for an explanation of how to redeem Etihad miles on Air Serbia):
10/29 JU500 Belgrade to New York departing 12:55PM arriving 5:25PM
Cost: 64,082 Etihad Guest miles + $57.53 taxes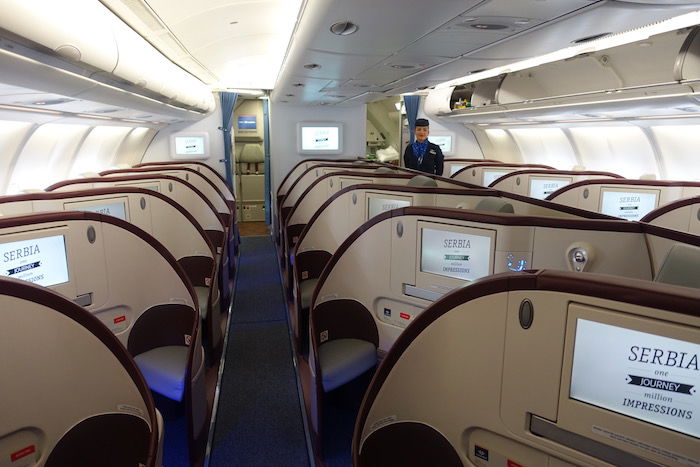 Now back in New York, we saw a decent opportunity to book some paid business class tickets to Baku and back, on two airlines that aren't really practical to book with major mileage currencies. But the airlines still interested me, so we made it work. Specifically, we managed to book AZAL Azerbaijan on a paid business class ticket, as follows:
10/31 J2102 New York to Baku departing 12:30PM arriving 7:30AM (+1 day)
Cost: $1,412.46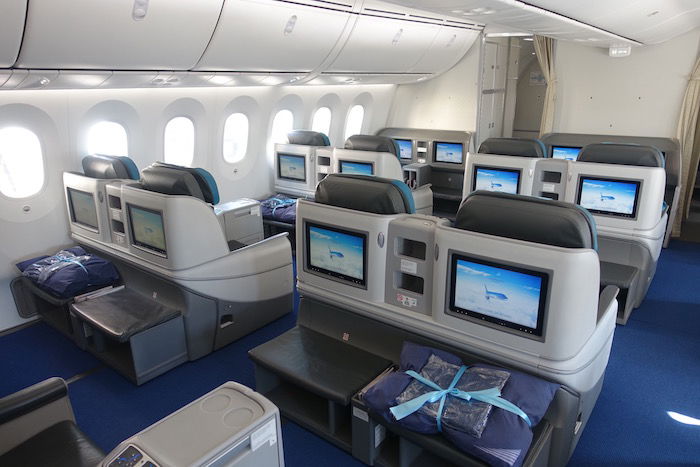 Then for the return we booked Ukraine International Airlines via Kiev, as they had a business class fare that was half as much as what Azerbaijan charges (for good reason, as we later found out). The routing looked as follows:
11/03 PS602 Baku to Kiev departing 6:15AM arriving 8:05AM
11/03 PS231 Kiev to New York departing 11:05AM arriving 3:45PM
Cost: $728.26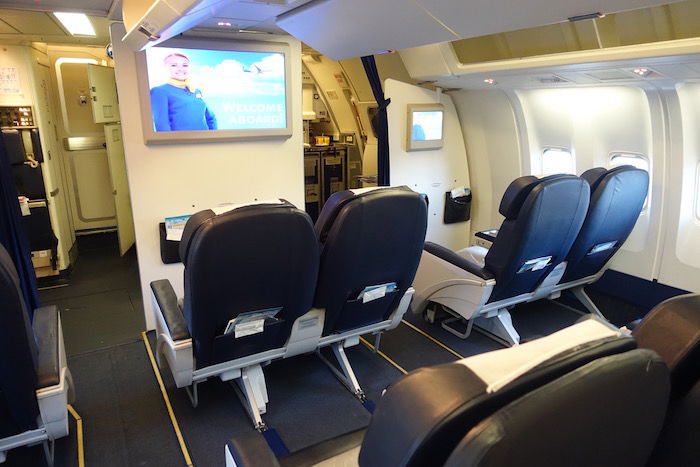 In the end we got to try four fascinating products, none of which really matched my expectations. For a teaser on the flights, check out the posts I've already written about our flights on Aeroflot, Air Serbia, Azerbaijan, and Ukraine.
Booking hotels
With this itinerary we ended up having three nights in Belgrade, two nights in New York, and two nights in Baku.
In Belgrade we decided to book the Metropol Palace Hotel, which is a Starwood Luxury Collection property. The nightly rate was 80EUR per room, which made paying a better option than redeeming points, given that this hotel would have cost 7,000 Starpoints per night.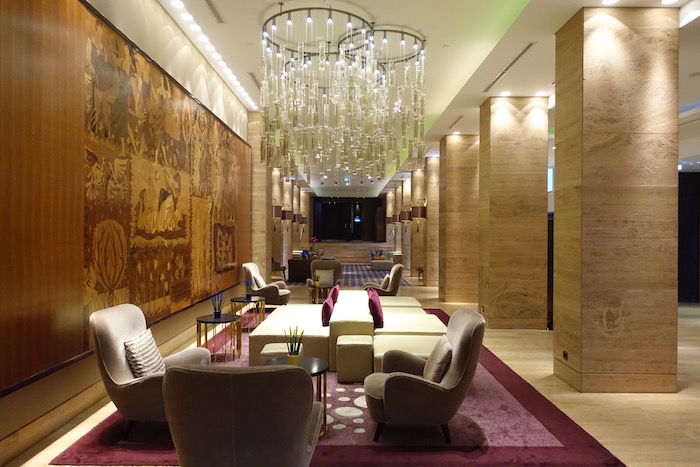 Then in New York we stayed at the Andaz Wall Street, which I won't be reviewing, since I've reviewed it many times before.
Then in Baku we booked the Hyatt Regency Baku, which is the only Hyatt or Starwood property in the city. The nightly rate was $105 per room.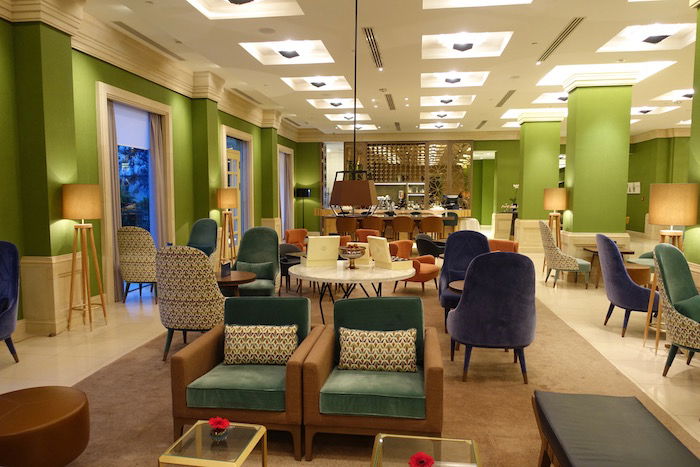 Bottom line
This was such a fun trip, both because I was traveling with Tiffany, and also because these were four airlines I've long been intrigued by. Unfortunately I caught a cold halfway through our trip, which made the whole thing a bit more challenging, but we still had a great time. Stay tuned for the full review, and also for some more installments from Tiffany about the trip.