---
In June I took my first domestic trip in several months. I flew out west to visit some national parks. My goal was to report back on what it's like to fly nowadays, how hotels have changed, and how tourist sites are in the age of coronavirus, given the unprecedented times.
Nearly a week ago I flew to Bodrum, Turkey. Let me share my thought process with this trip, why I chose to travel now, why I chose Bodrum, and my biggest concern with taking this trip.
There's a lot to consider here
There's obviously a lot of shaming going on right now, not just for travel, but in general. Largely that's for good reason, given the mess we're in.
Like most other reasonable people who were able to, I stayed home for over three months, and would continue doing so if it seemed like it would help move the needle. I recognize that some people think we shouldn't leave the house under any circumstances, while others are living their full normal lives. Personally I'm trying to take the cautious but less-restricted approach.
Given our lack of a coordinated national effort and the fact that coronavirus doesn't seem to be going anywhere, at this point my approach is that I'm wearing masks, physically distancing whenever possible, avoiding indoor dining regardless of legality, constantly washing my hands, and am still avoiding social interactions as much as possible (that last part isn't too tough for me, as an introvert). 😉
More specific to travel, I think it's important to acknowledge that there are different ranges and comfort levels right now:
Some people think it's okay to travel for leisure, but recognize that not all leisure travel is equally risky
Some people think that no one should be traveling for leisure, but that business travel is totally fine, even if the business isn't related to healthcare or "essential" activities
Others think everyone should be staying as close to home as possible, regardless of the situation in their area
I don't think there's an absolute right or wrong in terms of what travel is appropriate. I will, however, say that:
I don't support outright violating quarantine rules
I think it's imperative to at least follow general government health guidelines when it comes to wearing masks, washing hands frequently, sanitizing, avoiding indoor spaces, etc.
I also think it's helpful to be able to plan ahead as much as possible. Domestic road trips are a popular idea for this summer, but we found all the "unknowns" in terms of norms and precautions pretty stressful on our trip through the Southwest.
At this point, if I'm going to leave my apartment, I'd much rather it be to a destination with protocols and a population taking coronavirus seriously than somewhere locally where employees are being terrorized for trying to enforce mask policies.
Why now?
There is so much uncertainty right now for the travel industry. Entry restrictions are constantly changing, transiting countries is complicated, and airlines and hotels have greatly modified service.
Many travel businesses (including this one) are trying to find the balance between encouraging people to stay home in hopes that we get through this more quickly, and finding ways to make travel as safe and responsible as possible for those who are ready to do so.
The single question I've received most from readers in the past few weeks is "what countries can Americans travel to this summer?" So I wanted to experience what was actually going on firsthand, as one of the points of this site is to share and review every aspect of international travel.
Frankly I've reviewed all kinds of experiences I wasn't expecting to actually recommend (see my review of TAAG Angola, for example), but at least I wanted to give people a sense of what to expect.
At the same time, in the US coronavirus has become such a polarizing and political topic. As Americans I feel like we're hyper-focused on how coronavirus is being handled (or not handled) domestically, without taking much of a look at what's going on in other parts of the world, what we could learn, or what our "new normal" could eventually look like. So I feel there's value in being able to share that as well.
Still, when I embarked on this trip I wasn't sure how I'd feel about it. I'm hopeful there is a wide pathway to safe and responsible travel soon, but if this trip was a complete disaster I didn't want to even slightly encourage others to embark on a similar trip. I would have written one post about the experience, telling people to definitely not go to Turkey, and maybe not go anywhere else yet either.
Nearly a week into the trip I have to say that I'm very pleasantly surprised by how well coronavirus is being handled, by airlines, at airports, at hotels, and in general, based on everything I've seen. I'll share a lot more details about that in subsequent posts.
Travel is no longer carefree
One of the things I love about miles and points is how much last minute and spontaneous travel I've been able to do. Six months ago I wouldn't have thought twice about going to a new place tomorrow if there was great award space.
That's not how travel works right now, and I want to emphasize that even if you aren't booking flights until a day or two beforehand, you need to start planning far in advance.
In our case, we were tested for coronavirus a bit over two weeks ago. The tests ultimately came back negative, but it took over a week to get results. We isolated for two weeks leading up to our trip. The extent to which we left our apartment was to go on a few runs before sunrise, and to walk Winston. And that's it.
On our travel days we traveled not only with face masks, but also with face shields, which made me feel significantly safer, awful as they may look.
While we've been in Turkey, we've continued to follow the same hygiene/best practices we'd implemented at home:
We constantly sanitize our hands, disinfect just about anything we touch, and check our temperatures
In situations where physical distancing isn't fully possible (even just walking around town outside), we're continuing to wear masks
We've also committed to either outdoor or in-room dining while we're here, and aside from being in our hotel room we aren't going indoors beyond what is absolutely necessary.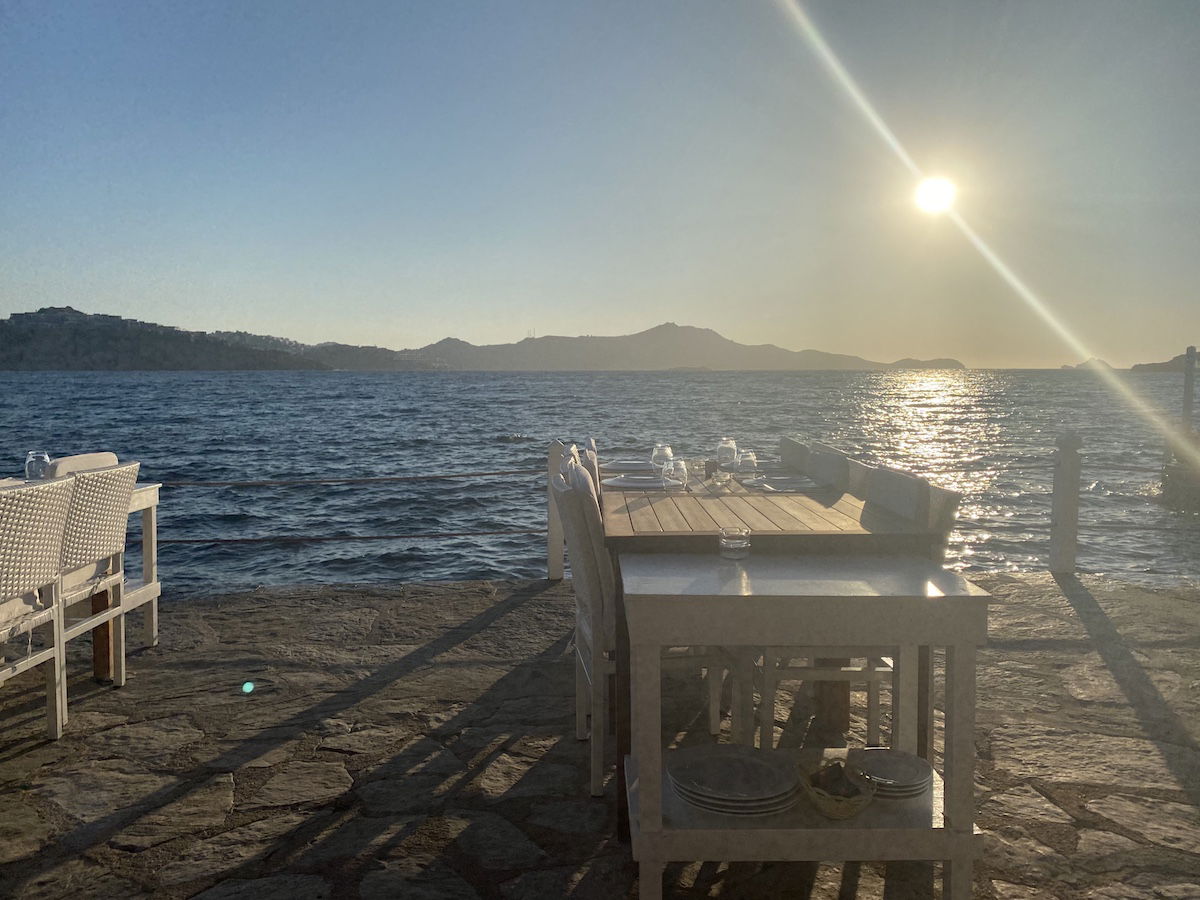 We intend to be here for a few weeks, and will isolate for another 14 days when we get home.
It's effectively a minimum six week commitment to travel right now, which is very different than the quick trips I've usually taken.
Why Bodrum, Turkey?
Late last year we had planned a trip to Bodrum for this summer — I love the Aegean, I love Turkey (the food, the people, the national airline, etc.), and Bodrum has a lot of incredible points hotels. While we didn't go on the original trip, little did we know that Turkey would be one of the few places we'd be allowed as Americans.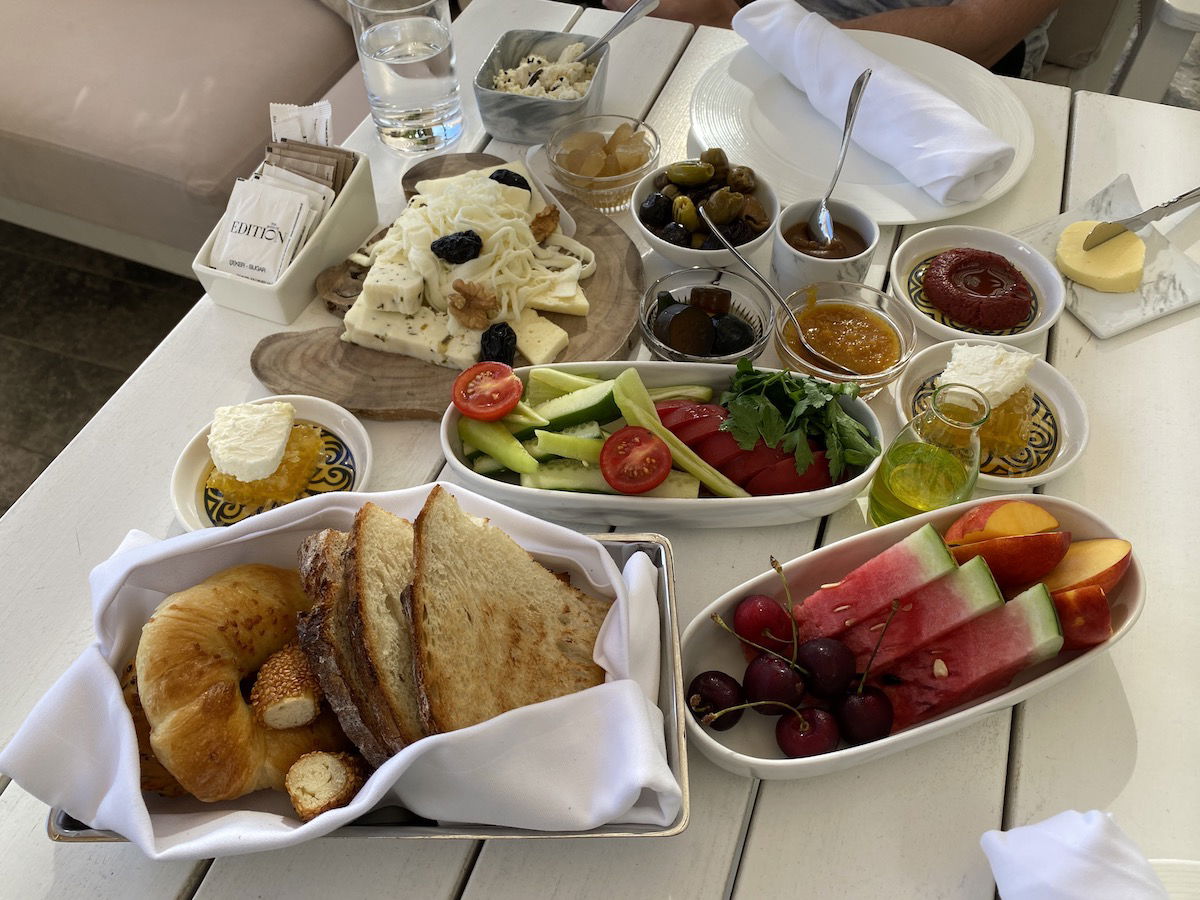 When I decided it was time to review an international trip, how did I arrive at Turkey? Admittedly Americans don't have many options (for good reason), and at this point I'm generally skeptical of any country that is allowing US residents in without quarantine or other restrictions. By my count there are about two dozen countries that are open for US visitors, and there aren't many where traveling there right now actually seems wise.
Turkey (and in our case Bodrum, in particular) stood out for a few reasons:
Just about everything you do in Bodrum is outdoors, so that's ideal for distancing, for the risk of spread of coronavirus, etc.
Turkey is reporting an average of somewhere around 1,000 coronavirus cases per day with a population of 80 million, and has had a contract-tracing app and other measures implemented since April; while they don't claim to have the virus fully contained, there is a general strategy in place
I didn't want to go to a country where I'd potentially be adding to their burden in the event that I got sick, like the Maldives, for example; or where if despite all my precautions I got someone else sick — not only does Turkey have more ICU capacity per capita than the US and virtually all countries in Europe, but the country also has more of a social safety net than virtually every other country allowing Americans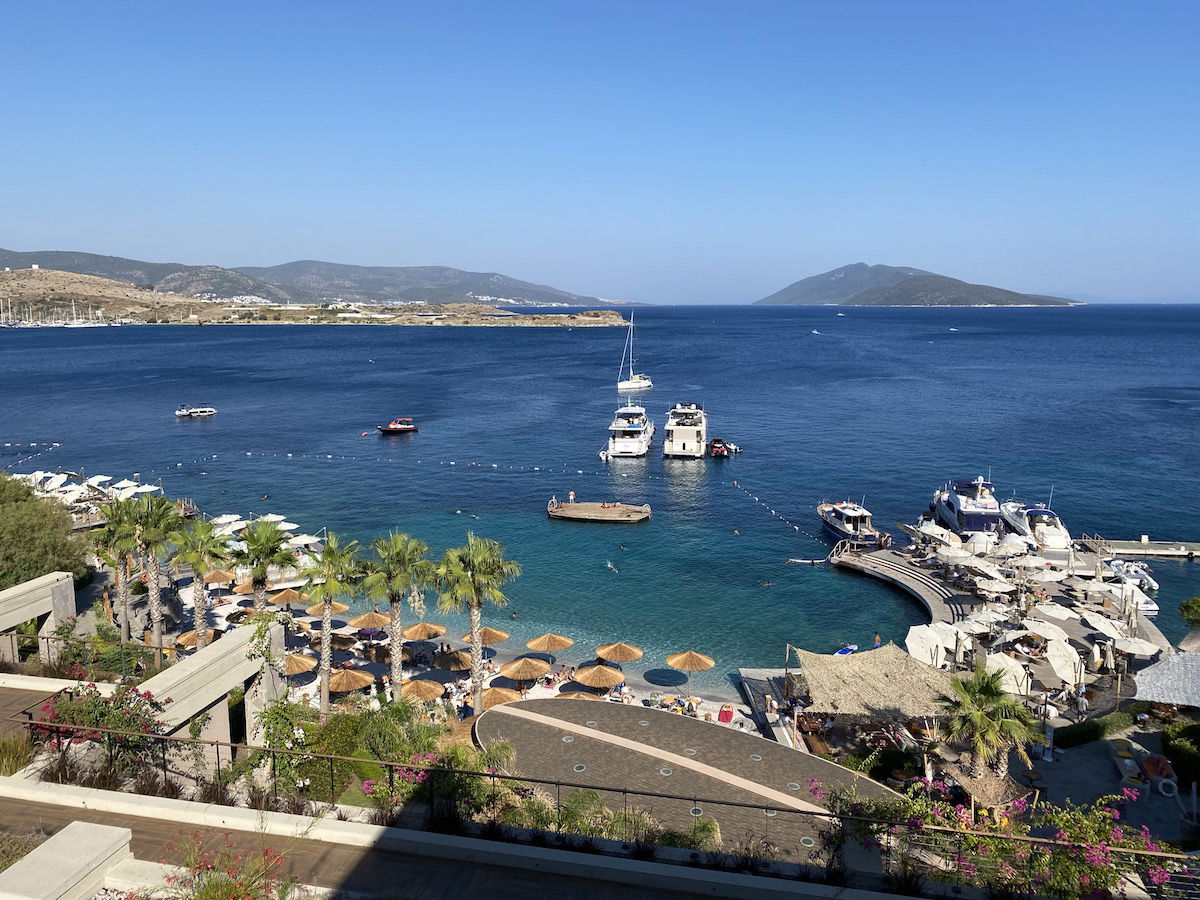 My biggest concern with this trip
Now let me share my biggest concern with this trip. I am incredibly grateful for how many people read this blog, and I know most people can take away the right messages from posts.
I also recognize that the things I post sometimes have influence over what others do in ways that I don't always intend. My concern is that someone reads my trip report here and thinks they should travel as well, without considering the risks or taking appropriate precautions.
In other words, I hope people don't just skim through this story, and say "well I'll go to Turkey too," without having self-quarantined beforehand, without taking precautions to protect themselves and others during the trip, and without fully considering all the risks, including that countries could change entry requirements with no notice (as we've seen a countless number of times).
If you are going to travel, please be responsible, take appropriate precautions, and be aware of the risks.