How I Ended Up On A Gulfstream IV
---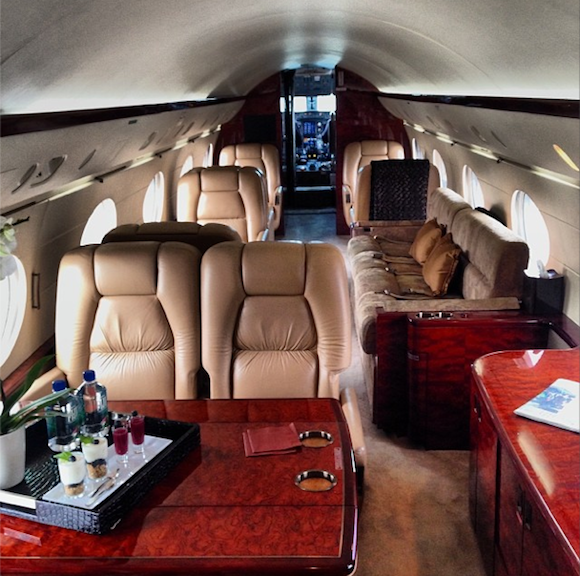 If you're following me on Twitter or Instagram you may have noticed that yesterday I was more giddy than a tween girl with One Direction meet-and-greet passes. That's because I had the chance to fly from Seattle Boeing Field to San Diego on a Gulfstream IV all by myself (well, plus one flight attendant and two pilots).
How did that happen? Well, lets rewind to Monday…
I was sitting at home on my couch trying to write some blog posts. Yesterday (Tuesday) was actually the blog's sixth anniversary, so I was working on writing a post to express my appreciation to you guys for all the support over the years — I really do appreciate it (more on that later this week!). I got sidetracked and was checking my email, when I saw this in my inbox from Rick, a blog reader that I had been talking to:
This is going to be out of left field…..

But do you have any interest in riding on a Gulfstream IV tomorrow from Seattle to San Diego? Free.
Now I'm not going to lie, I get emails like this a lot. There are two things that made this one slightly different:
The email didn't inform me that I was entitled to a sum of $10,000,000.00 and that I was the closest living relative to the deceased prince of some country in Africa
The email didn't direct me to go to my nearest Western Union branch and transfer money to someone at Diamond Bank of Africa
I could describe my reaction, or I could just share how I responded:
Are you f*&%ing kidding me?! If that were possible I'm in, hands down, end of story. My life would be complete.
I hopped on the phone with Rick for a minute, and he explained the situation. Charter clients often have to pay for positioning to get the airplane to their location for the flight they've booked. This positioning creates an "empty leg." Empty legs are usually 30 minute to two hour flight segments and are very common. In fact, apparently a third of private jets actually fly empty.
Rick further explained that a good broker will work to find their client a plane that requires as little positioning as possible. Ideally the charter client pays for only the time they occupy the plane — "occupied flight time" — but if their schedule is rigid and they require a specific plane type then paying for some positioning is almost inevitable.
He cautioned that things could change, including:
The charter out of San Diego could be canceled, meaning the flight down there would be canceled/rescheduled
Someone could still pay to book the jet down to San Diego, or to somewhere else in California (after all, some revenue is better than no revenue)
There may be one other person riding along as well
Of course I was 110% flexible here and literally wasn't expecting to be on the flight until I boarded and the door closed. I mean, a Gulfstream IV usually costs $6,500-7,500 per hour to charter, plus a 7.5% federal excise tax. So this is a charter that would have easily cost $20,000.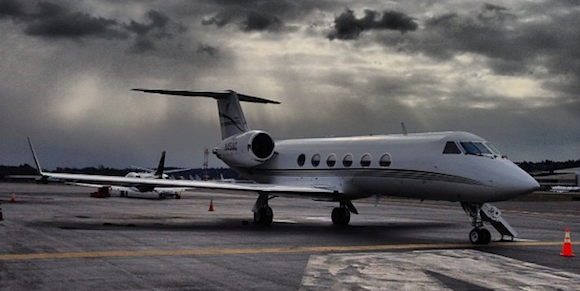 I was so excited Monday night that I had a hard time sleeping, and woke up on Tuesday morning fully expecting to have an email from Rick saying that they had sold the leg or the charter client out of San Diego had canceled. But instead he had emailed me to let me know that it was still a "go."
Not only that, but he emailed me the tail number of the plane that would be flying me and the company operating the plane (AirFuga), where I should be dropped off (Aeroflight at Boeing Field), the anticipated flight time (2hr24min), etc. He recommended that I arrive by 11:45AM, as the crew was eying a 12:30PM departure time.
So I left my apartment at around 11AM and can't even begin to describe how excited I was. I was still convinced it wouldn't actually happen, but that didn't stop me from being excited.
Anyway, it actually did happen, and in the next installment I'll share my thoughts on the private jet experience. To be honest I was skeptical. I always told myself "well, surely it can't be better than flying first class on a top international airline. After all the plane is more spacious and can you really beat the service you'd get in Singapore Airlines first class?" Boy, was this eye opening.
While Rick arranged this without even the expectation of a review, I do want to sincerely give a HUGE thanks to Rick Lashbrook at CharterBox.com private jet charters for arranging this trip and Denielle Pintos of Fuga, Inc., the Part 135 Charter Operator of the gorgeous G-IV.
Never even in my wildest dreams did I ever think I'd have the opportunity to fly private, and to be able to do so on the sixth anniversary of my blog no less was incredible beyond words.