---
I'll keep this introduction short, simply because it could be 50-Shades-Of-Grey-length if I actually shared all the planning details. After all, this trip was a year in the making.
In November my dad was celebrating a "round" birthday, and I wanted to make it extra special. I love my parents more than anything, and taking them on trips is possibly the greatest use of miles there is… and the greatest reward in life, for that matter.
In 2013 I took my mom on a trip to Bali for her "round" birthday, while I took my dad to Europe for his birthday.
But last November my dad had his "round" birthday, and I wanted to make it extra special. So I planned a round the world trip for his birthday, which I thought was awesome in and of itself. But what was especially awesome was that he was cool with it being a total surprise. He knew we'd be gone for about two weeks, but beyond that knew nothing.
Not only was the trip a surprise in advance, but even during the trip he had no clue where we were going. Every step of the way he only found out our next destination as we boarded the flight to that destination.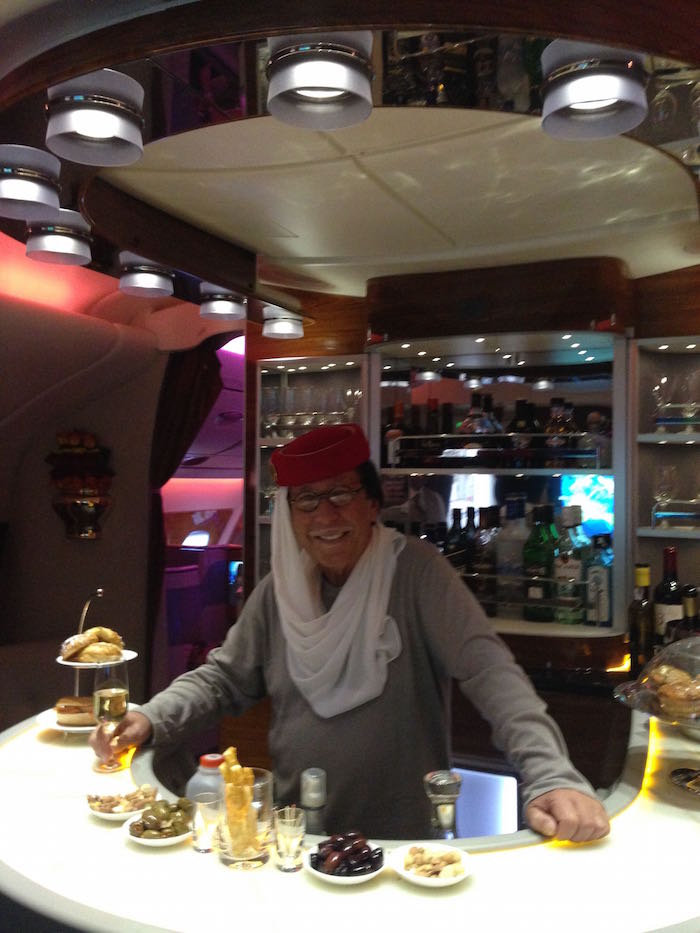 Looking back at the trip, this was probably the coolest aspect of it. Seeing his genuine excitement and surprise every step of the journey selfishly made me the happiest person in the world. I'm afraid planning a total surprise trip and blowing someone away is a once in a lifetime thing, but this is a memory I won't ever forget (and I don't think he will either!). I have a massive grin on my face right now just thinking back at the expression on my dad's face while we took this journey.
I could write thousands of words about the planning process of the trip, but instead will just link to the posts I wrote about the trip during the planning process:
In the end our itinerary looked as follows:
11/13 AA1209 Tampa to Los Angeles departing 7:40AM arriving 10:10AM
11/13 EK216 Los Angeles to Dubai departing 3:35PM arriving 7:35PM (+1 day)
11/18 EK354 Dubai to Singapore departing 3:15AM arriving 2:40PM
11/20 SQ217 Singapore to Melbourne departing 10:45AM arriving 9:15PM
11/22 QF438 Melbourne to Sydney departing 2:00PM arriving 3:25PM
11/26 QF11 Sydney to Los Angeles departing 3:00PM arriving 9:45AM
11/27 QF107 Los Angeles to New York departing 8:55AM arriving 5:05PM
11/28 US1908 New York to Charlotte departing 2:45PM arriving 4:47PM
11/28 US1829 Charlotte to Tampa departing 5:50PM arriving 7:29PM
In terms of booking our flights, here are the miles I used:
| Flights | Number of Miles | Cash |
| --- | --- | --- |
| Tampa to Los Angeles on American | 0 | $200 |
| Los Angeles to Dubai to Singapore on Emirates | 100,000 Alaska Mileage Plan miles | $29 |
| Singapore to Melbourne on Singapore Airlines | 63,750 Singapore KrisFlyer miles | $192 |
| Melbourne to Sydney on Qantas | 9,000 British Airways Avios | $14 |
| Sydney to Los Angeles to New York to Charlotte to Tampa on Qantas and US Airways | 72,500 American AAdvantage miles | $96 |
Here's a map of our routing: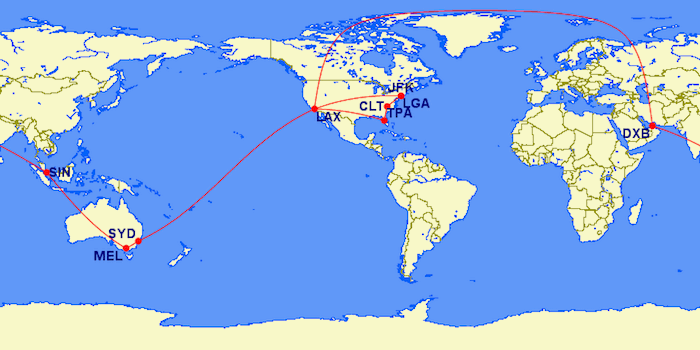 And then here's how I booked the hotels for the trip:
| Hotel | Cost per Night | Number of Nights |
| --- | --- | --- |
| Park Hyatt Dubai | 10,000 Hyatt Gold Passport points + $125 | 3 |
| St. Regis Singapore | $400 | 1 |
| Westin Singapore | 16,000 Starpoints | 1 |
| Park Hyatt Melbourne | 10,000 Hyatt Gold Passport points + $125 | 2 |
| Park Hyatt Sydney | 22,000 Hyatt Gold Passport points | 4 |
| SLS Beverly Hills | $300 | 1 |
| Park Hyatt New York | $0 | Free night certificate |
For me this trip is the perfect example of how damn awesome our hobby is. At retail, the flights alone would have individually cost $40,000+ per person: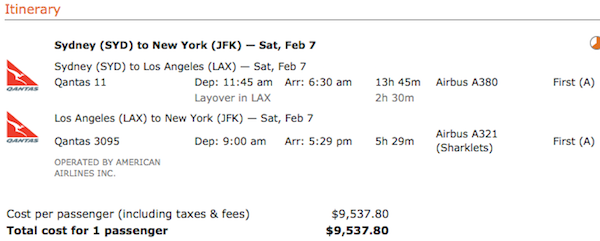 Now, of course I wouldn't base the value of miles off of the retail cost of flights since I'd never be able to pay that in cash, but it is still pretty cool what kind of experiences our hobby can afford us.
Thanks in advance for any comments or questions, and thanks for reading! Now let's get straight into the trip reporting!