In the interest of full disclosure, OMAAT earns a referral bonus for anyone that's approved through some of the below links. These are the best publicly available offers (terms apply) that we have found for each product or service. Opinions expressed here are the author's alone, not those of the bank, credit card issuer, airline, hotel chain, or product manufacturer/service provider, and have not been reviewed, approved or otherwise endorsed by any of these entities. Please check out our advertiser policy for further details about our partners, and thanks for your support!
---
Ford and I recently spent nine nights in Switzerland, as we flew into Geneva and then visited Verbier and Gstaad. Ford is a skiier, while I'm more of a walk around cute towns and then sit inside and drink hot beverages while on my laptop kind of guy. So I'll be reviewing the hotels in the order in which we stayed at them.
Staying in Geneva
We weren't really planning on visiting Geneva, per se, but rather Geneva is the closest major airport to Verbier. Since our flight was only scheduled to arrive into Geneva at around 5PM, it made sense to spend a night there and then take the train to Verbier early the following morning. That ended up being a great idea, since we misconnected at Heathrow, so only arrived into Geneva very late at night, and then left early the following morning to Verbier.
Booking the InterContinental Geneva
Switzerland, including Geneva, is outrageously expensive. As a Hyatt and Starwood loyalist, the options are pretty limited. The only hotel in Geneva belonging to either of those groups is the Hotel President Wilson, which was over $500 per night for our date.
This was one of those situations where it was ideal to use the anniversary free night certificate that comes with the IHG® Rewards Club Premier Credit Card. At the time, the annual free night certificate was valid at any IHG hotel worldwide, though now it is capped at 40,000 points per night.
Originally I was just going to use it for the Crowne Plaza Geneva Airport, which would have cost over $300 if paying cash. However, I saw there was also an InterContinental in the city, so figured we might as well stay there since it would cost us the same. After all, originally we thought we'd arrive in the evening rather than late at night, so the plan was to go into town, have dinner, etc.
A paid stay at the InterContinental would have cost over $500 (and if redeeming points it would have cost 45,000), so redeeming the free night certificate from the IHG® Rewards Club Premier Credit Card was a spectacular deal. This is also the perfect example of how there's value in this certificate for someone who isn't loyal to IHG. Some people say "well I only like to stay at [insert brand]." I'm usually the same, and in this case that would have left me with a single $500+ per night hotel to choose from.
InterContinental Geneva review
This review will be fairly short, because we ended up arriving at the hotel around midnight, and left at around 9AM, so we basically slept and showered.
Our taxi drive from the airport took about 10 minutes and cost 30CHF. Maybe during the day there would have been a cheaper way to get to the hotel, but after our rough travel day, we wanted to get to bed ASAP.
The InterContinental has a beautiful lobby that spans two floors. When you enter through the revolving doors, there are seating arrangements on both sides of the main walkway, with cozy fireplaces.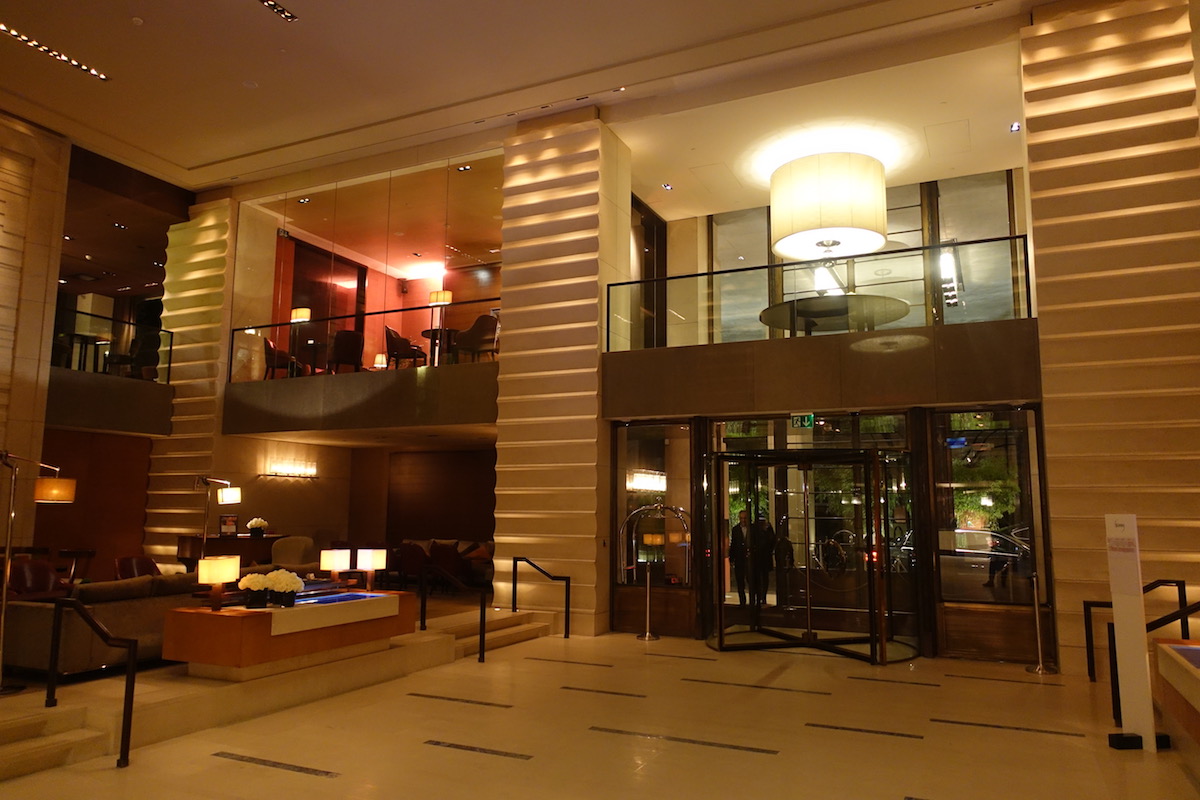 InterContinental Geneva lobby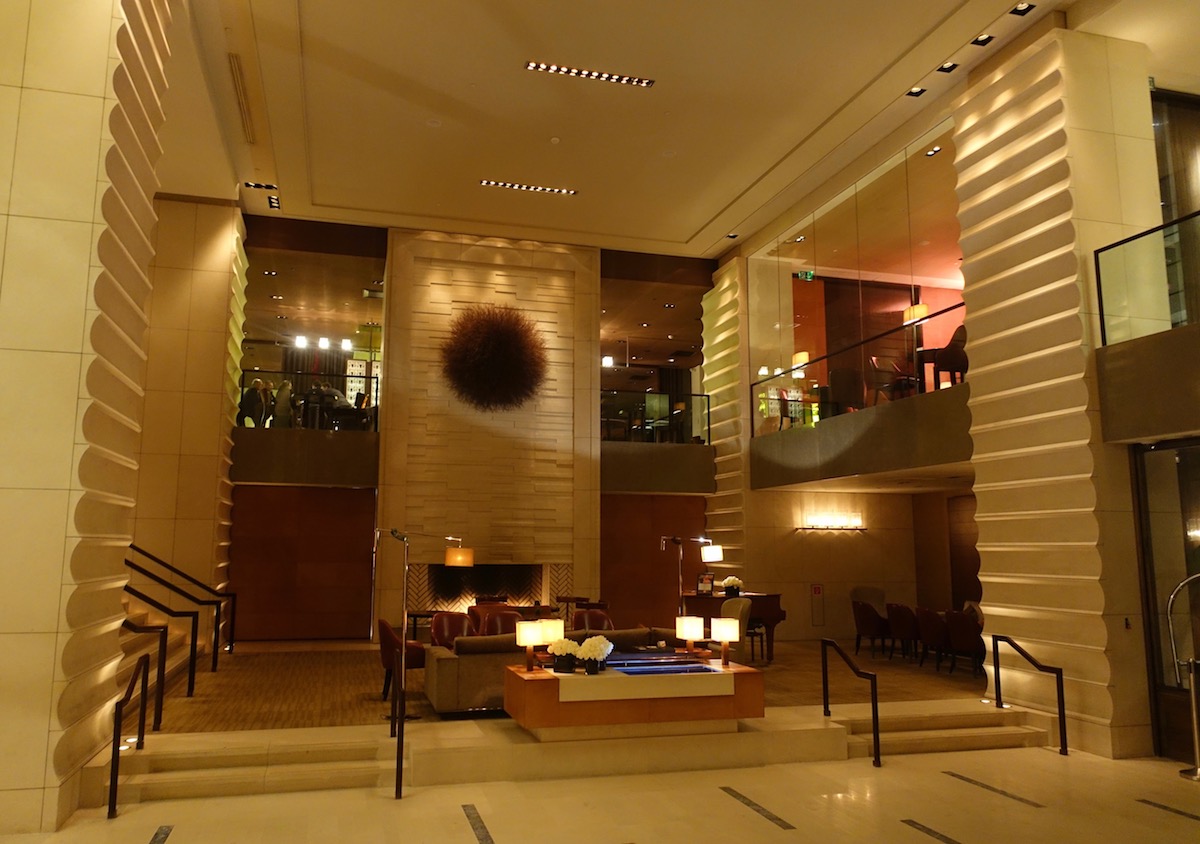 InterContinental Geneva lobby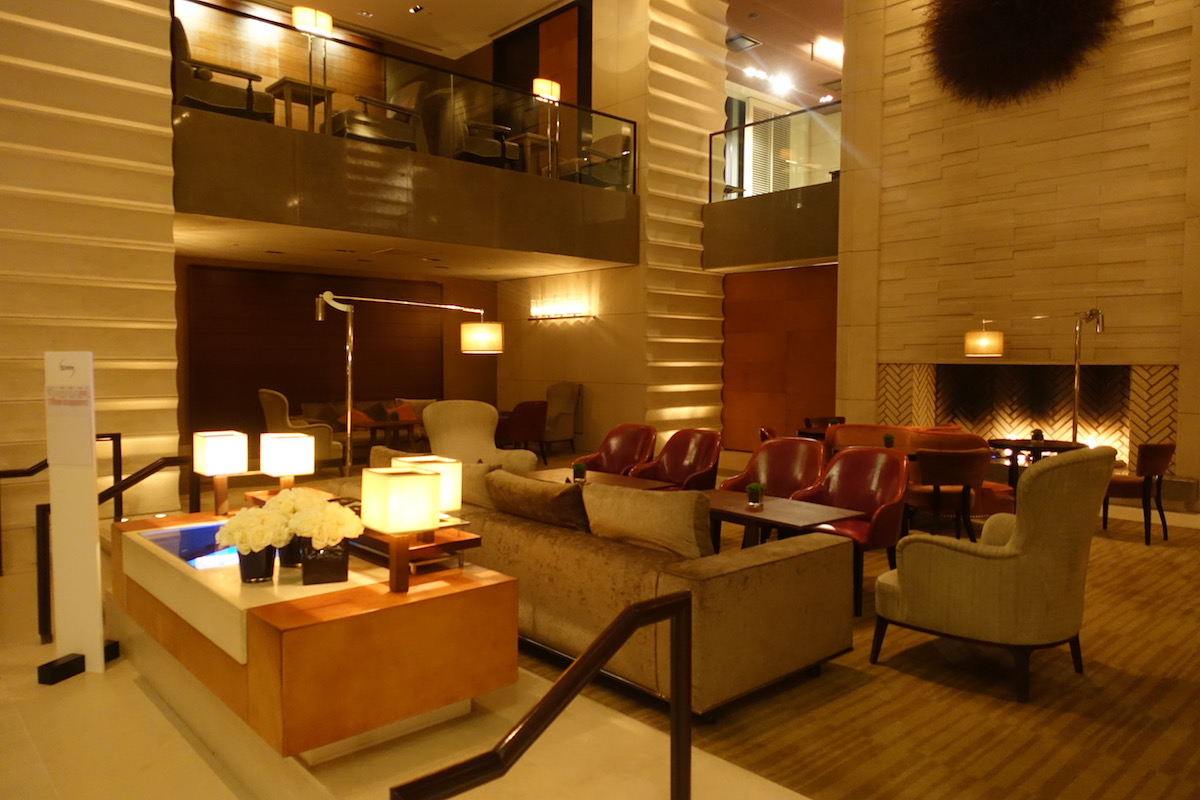 InterContinental Geneva lobby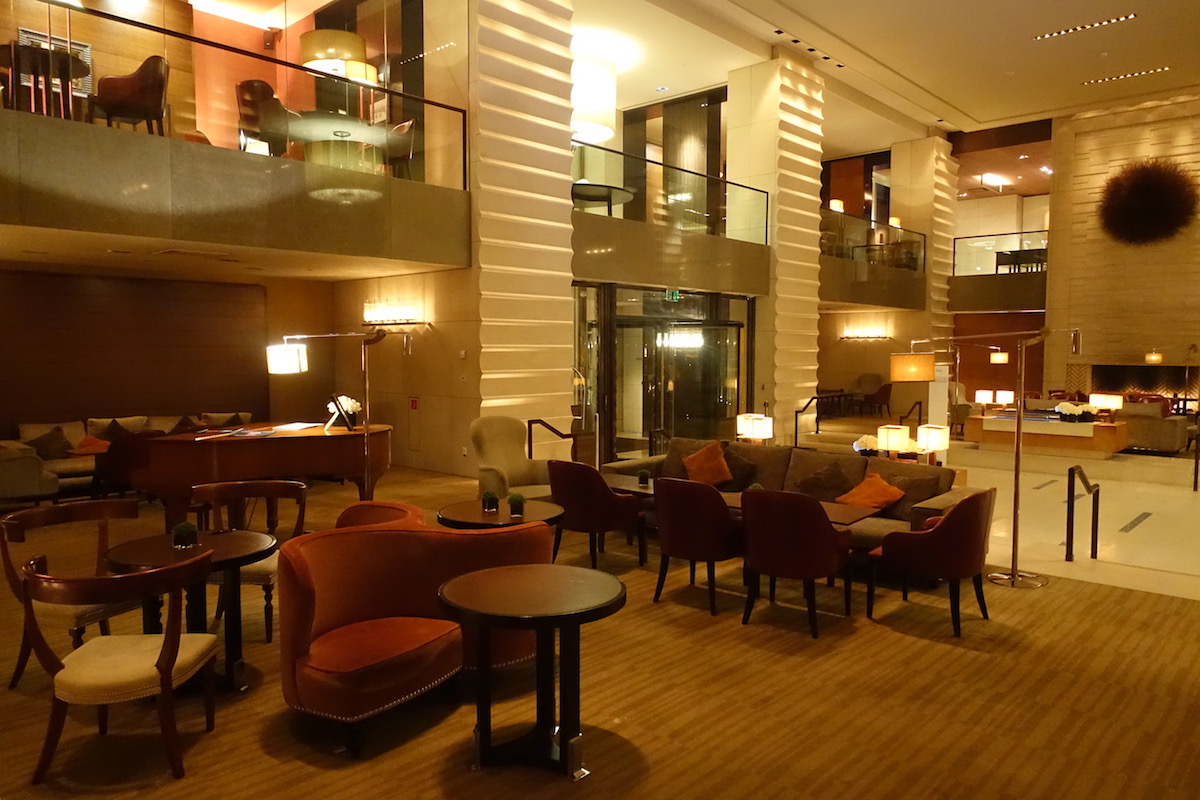 InterContinental Geneva lobby
At the end of the long hall is the reception area.

InterContinental Geneva lobby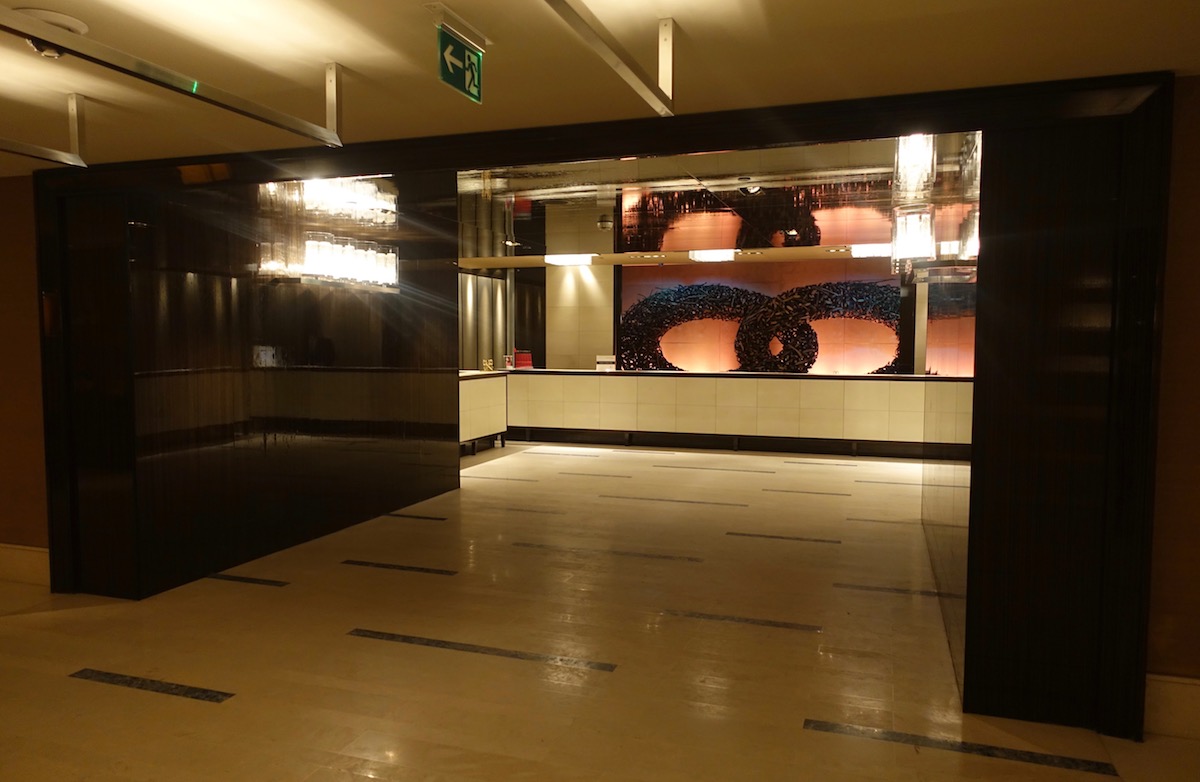 InterContinental Geneva reception
Even though it was midnight at this point, we received an exceptionally warm welcome. I was thanked for being an IHG Platinum member (even though it doesn't get you much at InterContinentals), and while our check-in was processed, a bellmen asked if there was anything he could help us arrange for tomorrow. I mentioned our plan to take the train to Verbier, and he explained that the bus to the train station leaves from right in front of the hotel, and he gave us (complimentary) bus tickets to get there.
It was an impressive check-in experience, despite the late hour.
From reception we turned left, and then towards the end of the hall and to the right were the elevators leading to guest rooms.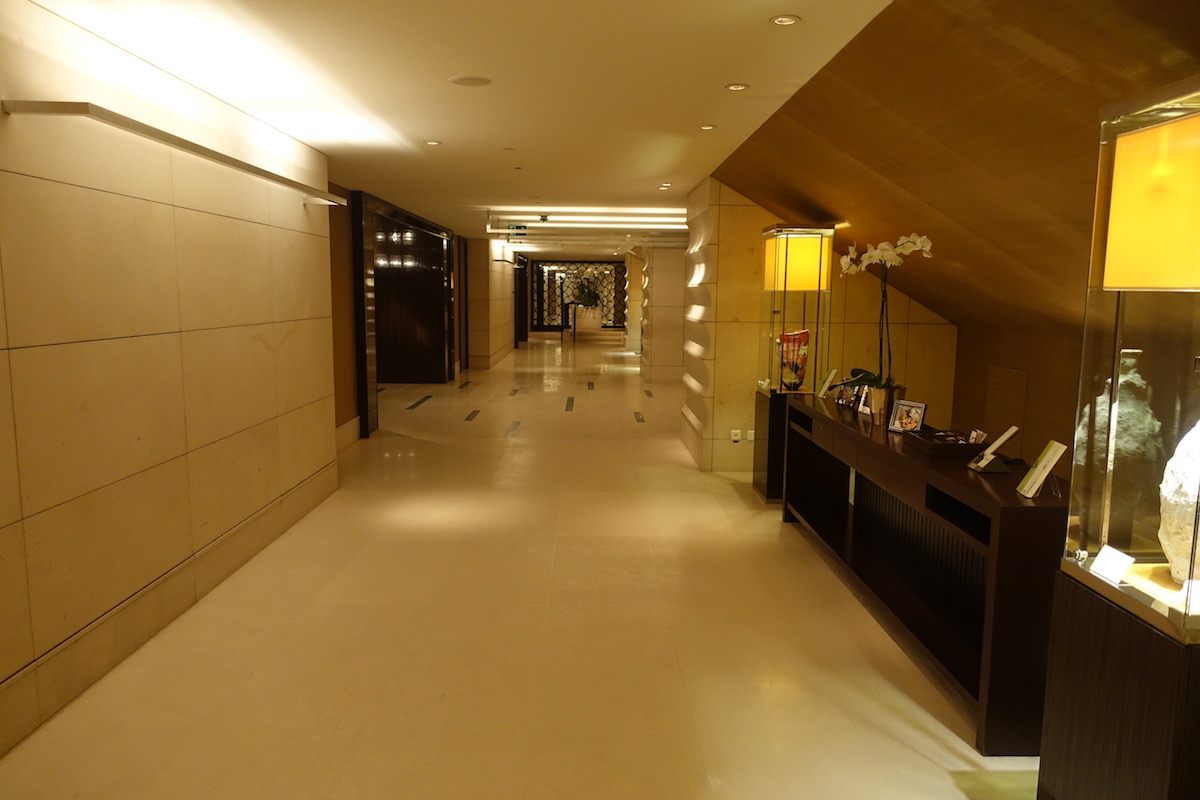 InterContinental Geneva lobby
We took the elevator up to the 11th floor, where our room was located.

InterContinental Geneva elevators
Upon existing the elevator we turned left, and then our room (#1107) was to the right.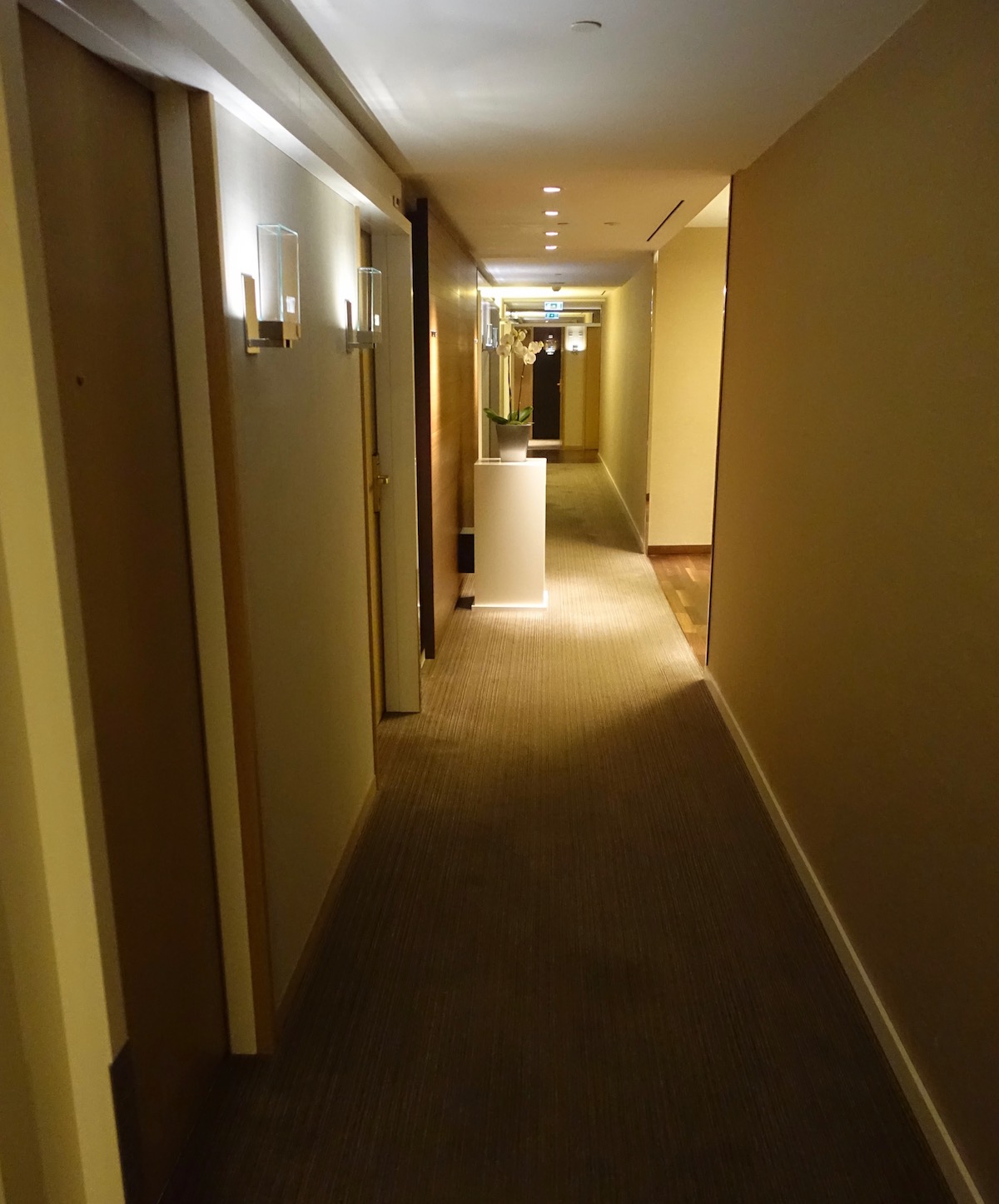 InterContinental Geneva hallway
Our free night certificate booked us into a superior room, and that's exactly what we got.

InterContinental Geneva floorplan
The room featured an entryway with the bathroom to the left and some closet space (with sliding doors) to the right.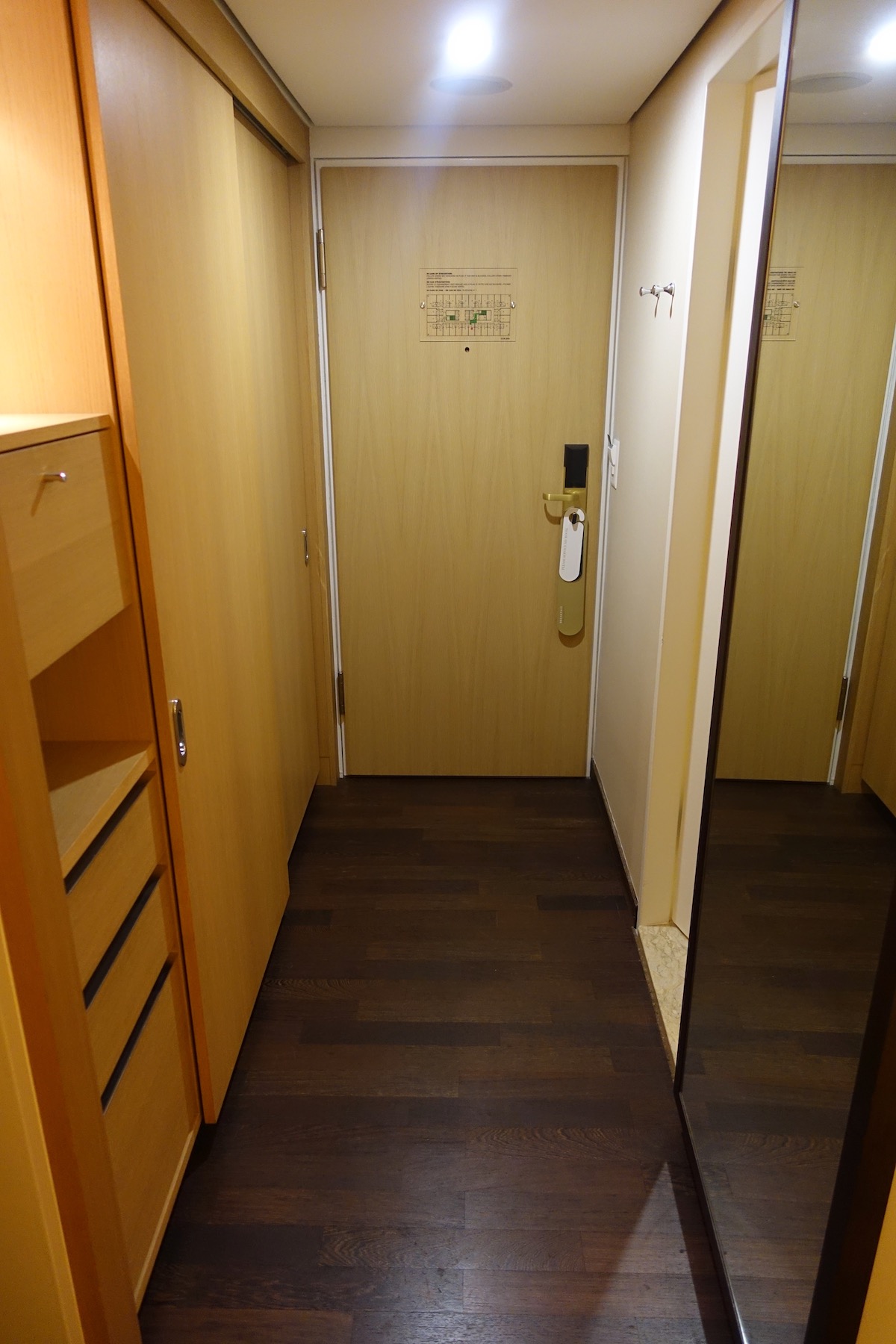 InterContinental Geneva Superior Room entryway
The room was a pretty normal size, with a comfortable king size bed.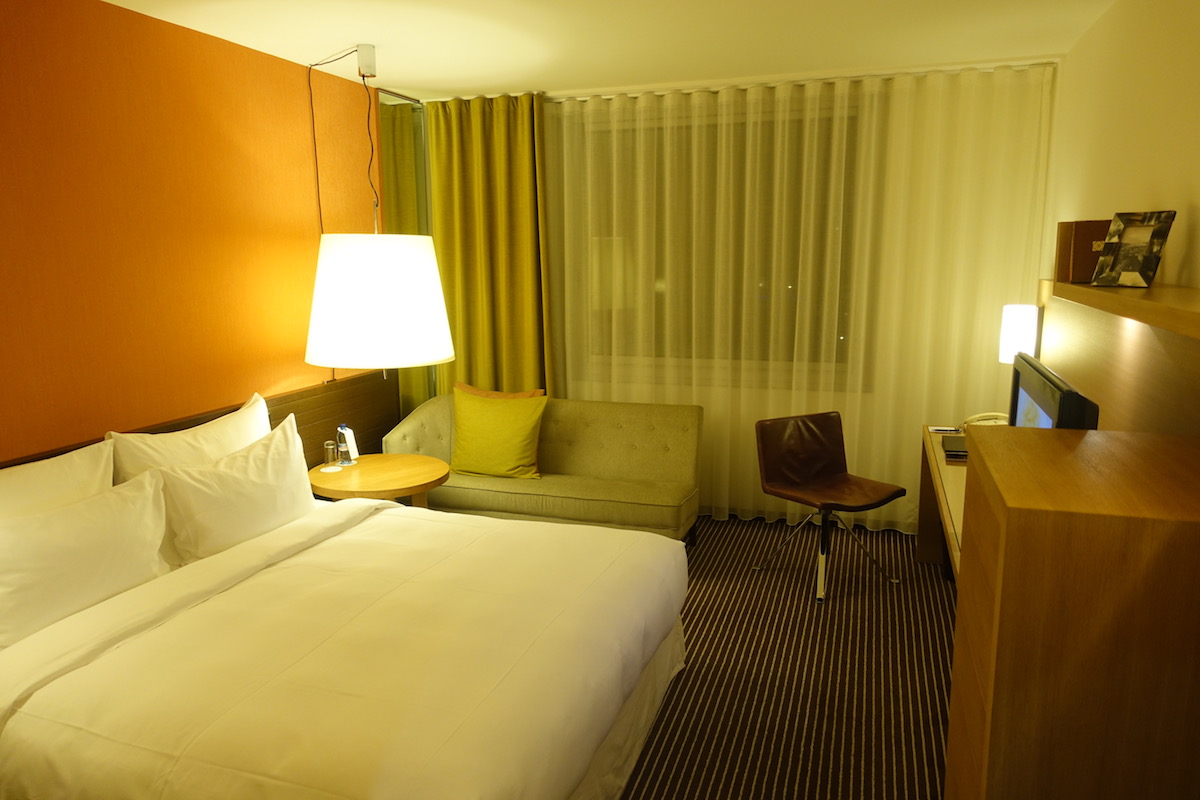 InterContinental Geneva Superior Room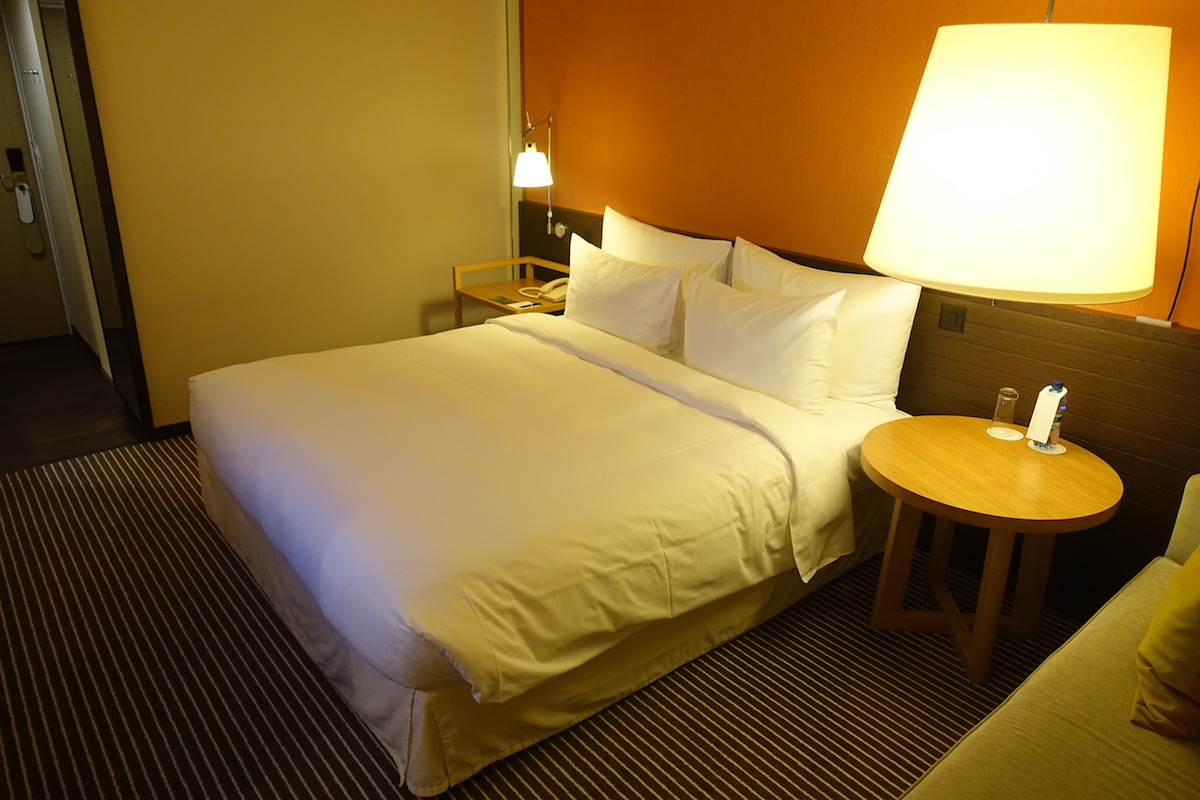 InterContinental Geneva Superior Room
Then by the window was a side table as well as a couch with seating for a couple of people.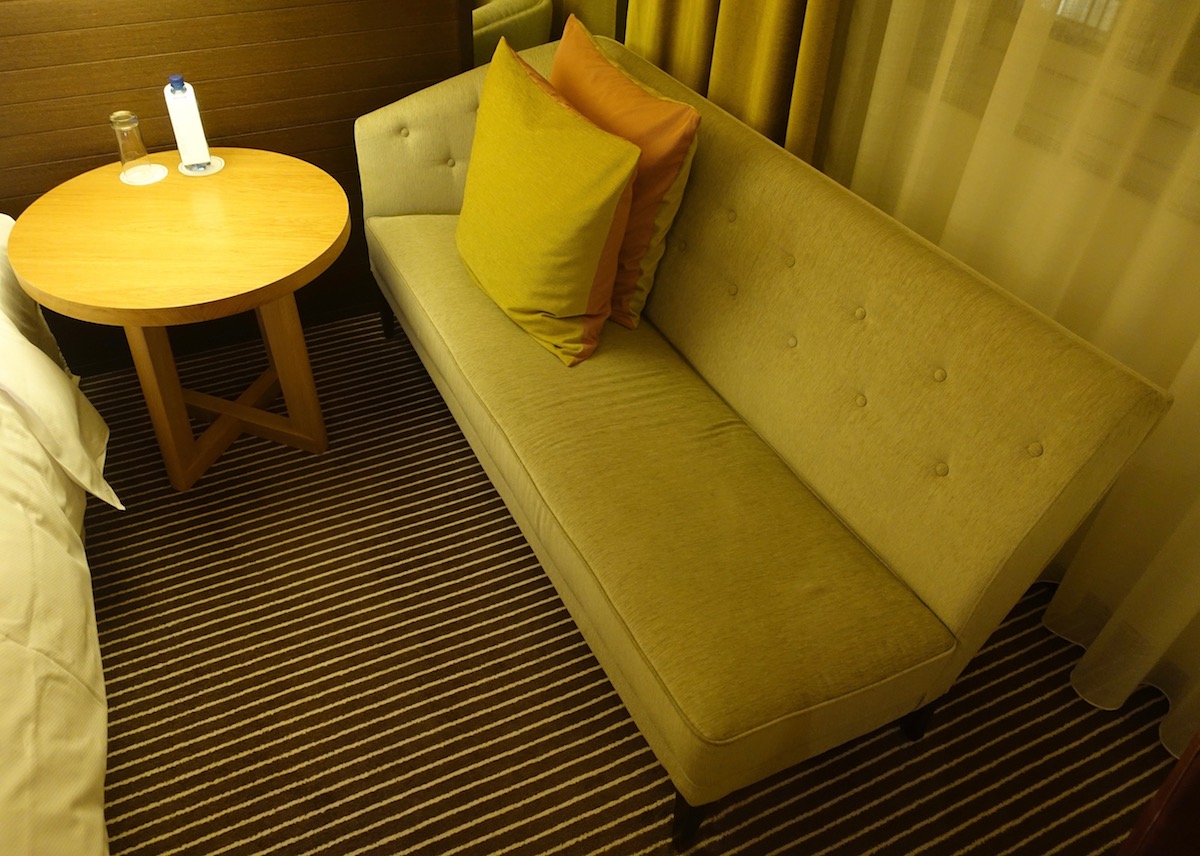 InterContinental Geneva Superior Room couch
Across from the bed was a long counter which had a desk with a rolling chair, as well as the TV.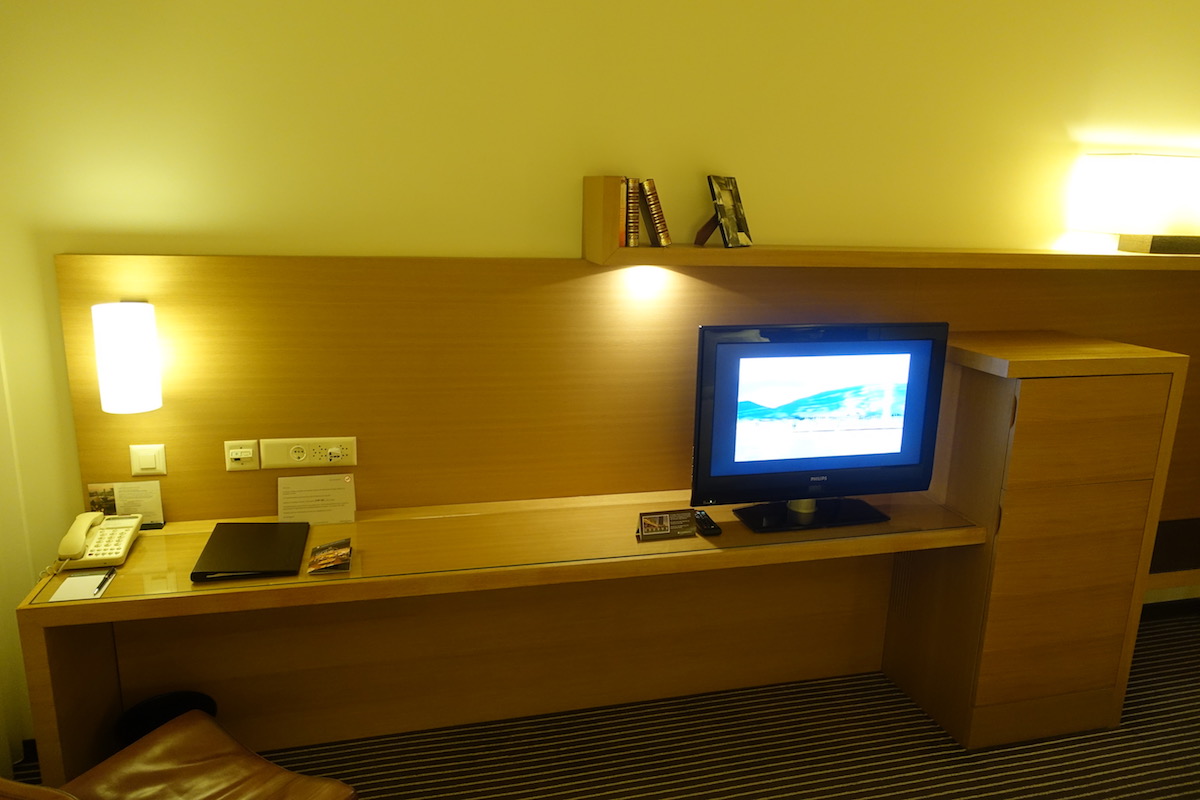 InterContinental Geneva Superior Room desk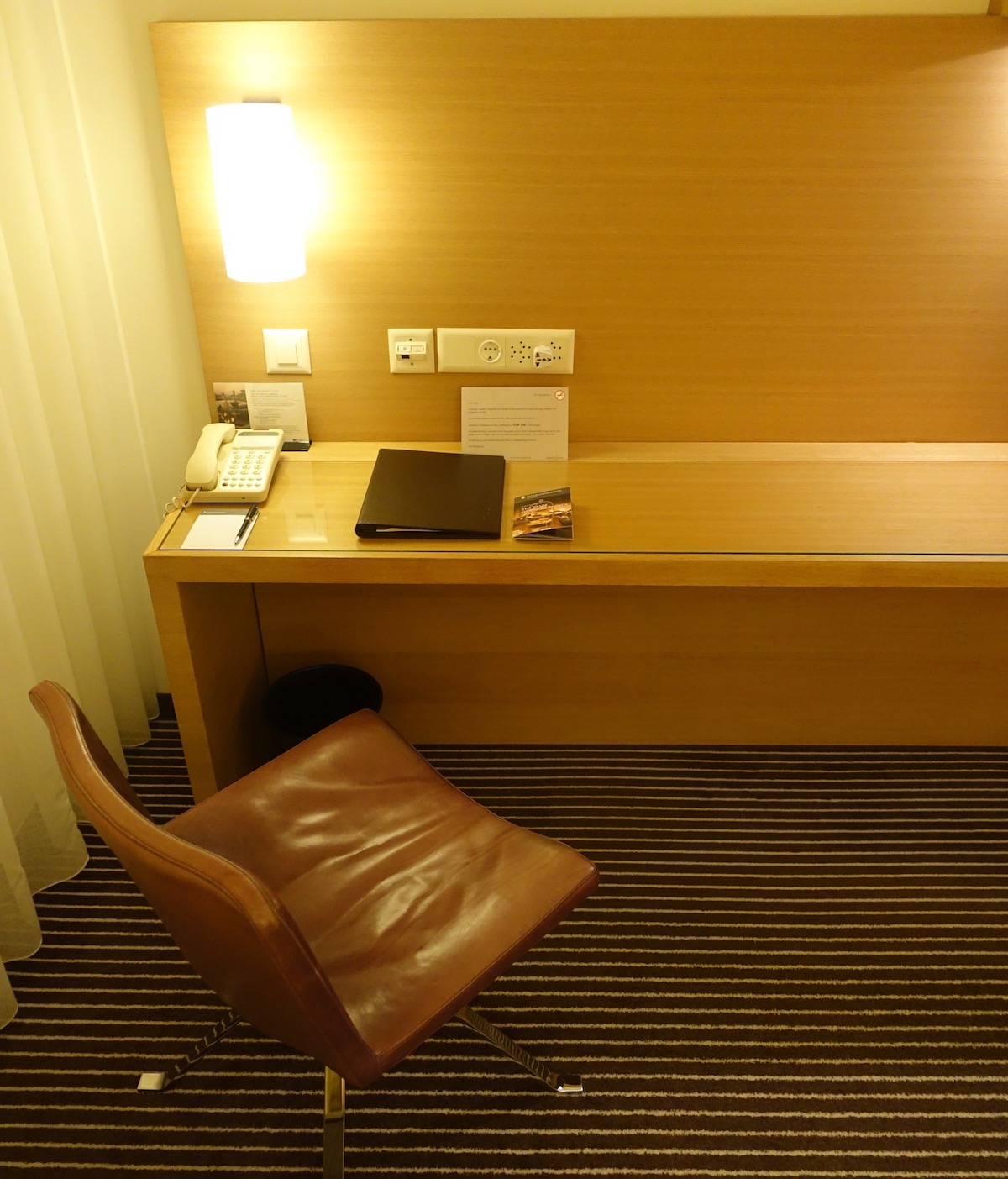 InterContinental Geneva Superior Room desk
Next to the desk was the minibar and in-room coffee & tea. One thing I find cheap for a $500+ per night hotel is that they don't have a real coffee or espresso machine in the room, but rather just have a kettle with instant coffee. Based on looking at the room descriptions on the hotel's website, all the non-base rooms have espresso machines, which makes it all the cheaper that they make the distinction in such a way.

InterContinental Geneva in-room coffee & tea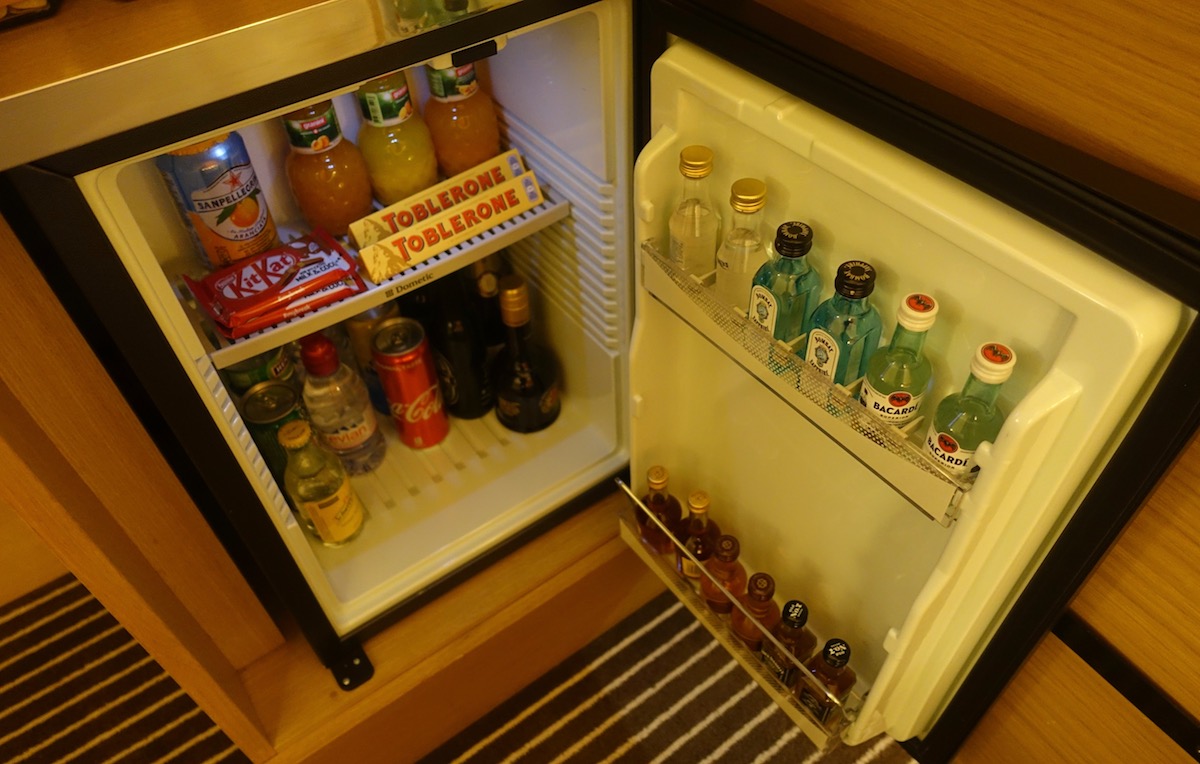 InterContinental Geneva minibar
To the right of that there was a built-in luggage rack.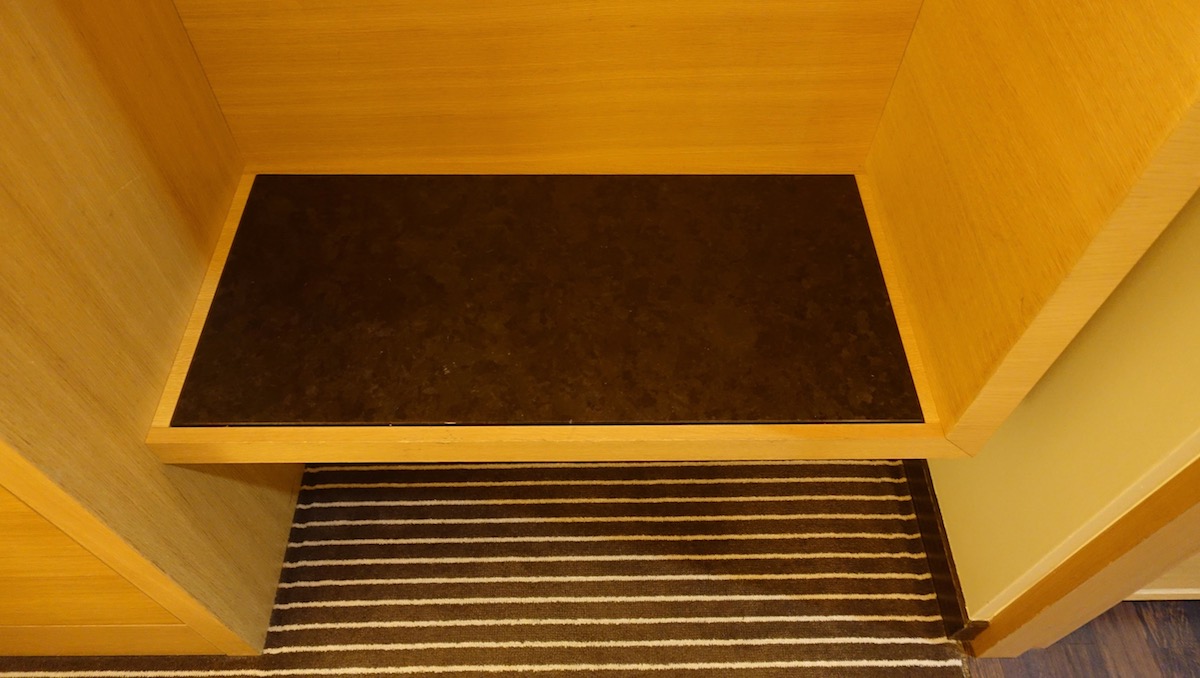 InterContinental Geneva Superior Room luggage rack
Overall I thought the room's decor was generic, though it did have a few cute touches, like this picture frame and some books.

InterContinental Geneva Superior Room decorations
The bathroom was on the small side, and the number of mirrors in the bathroom made me feel like I was at a W Hotel. There was a sink, toilet, and a shower/tub combo.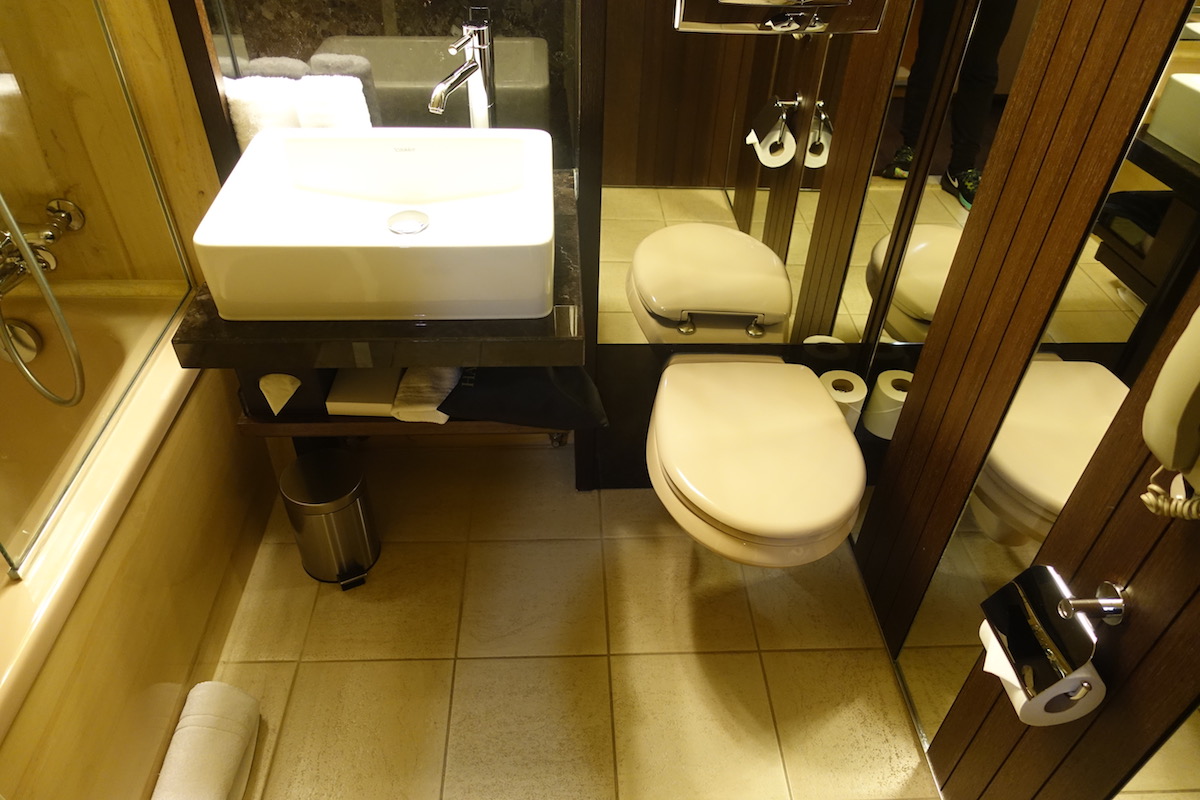 InterContinental Geneva bathroom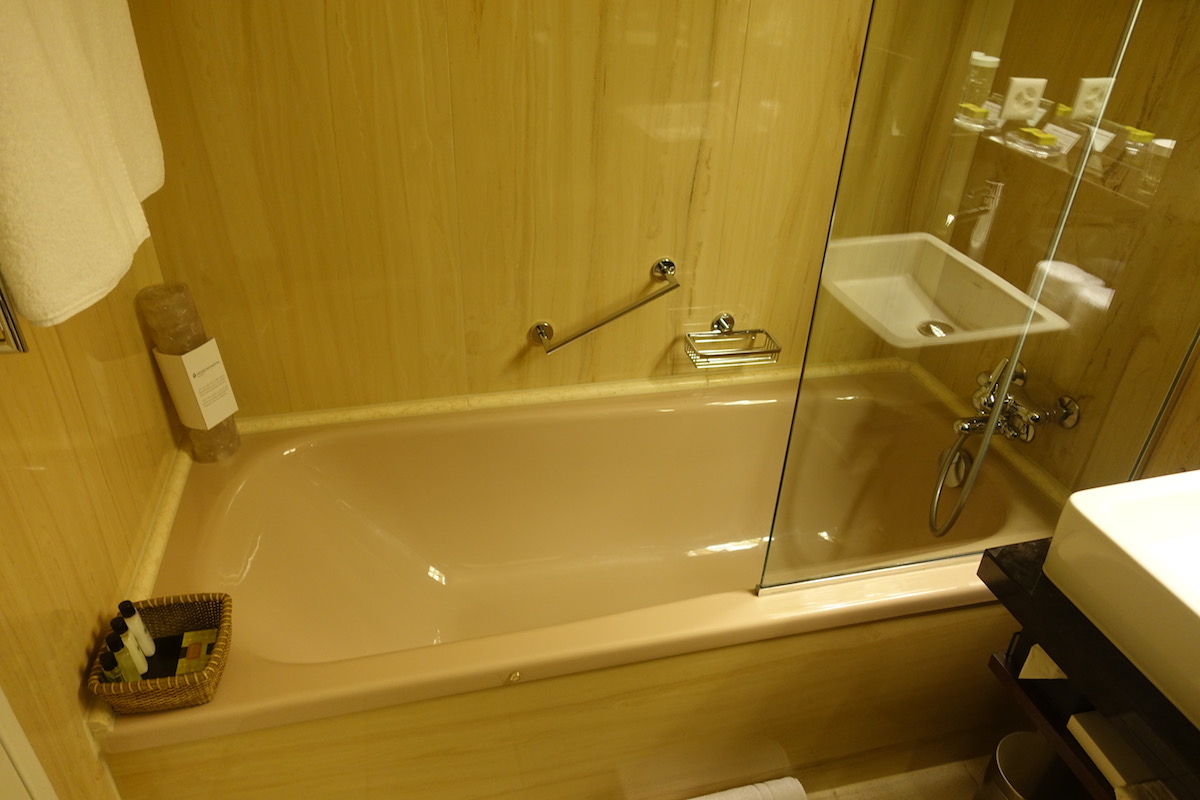 InterContinental Geneva shower
The entire bathroom, including the shower head, felt quite basic for a luxury hotel.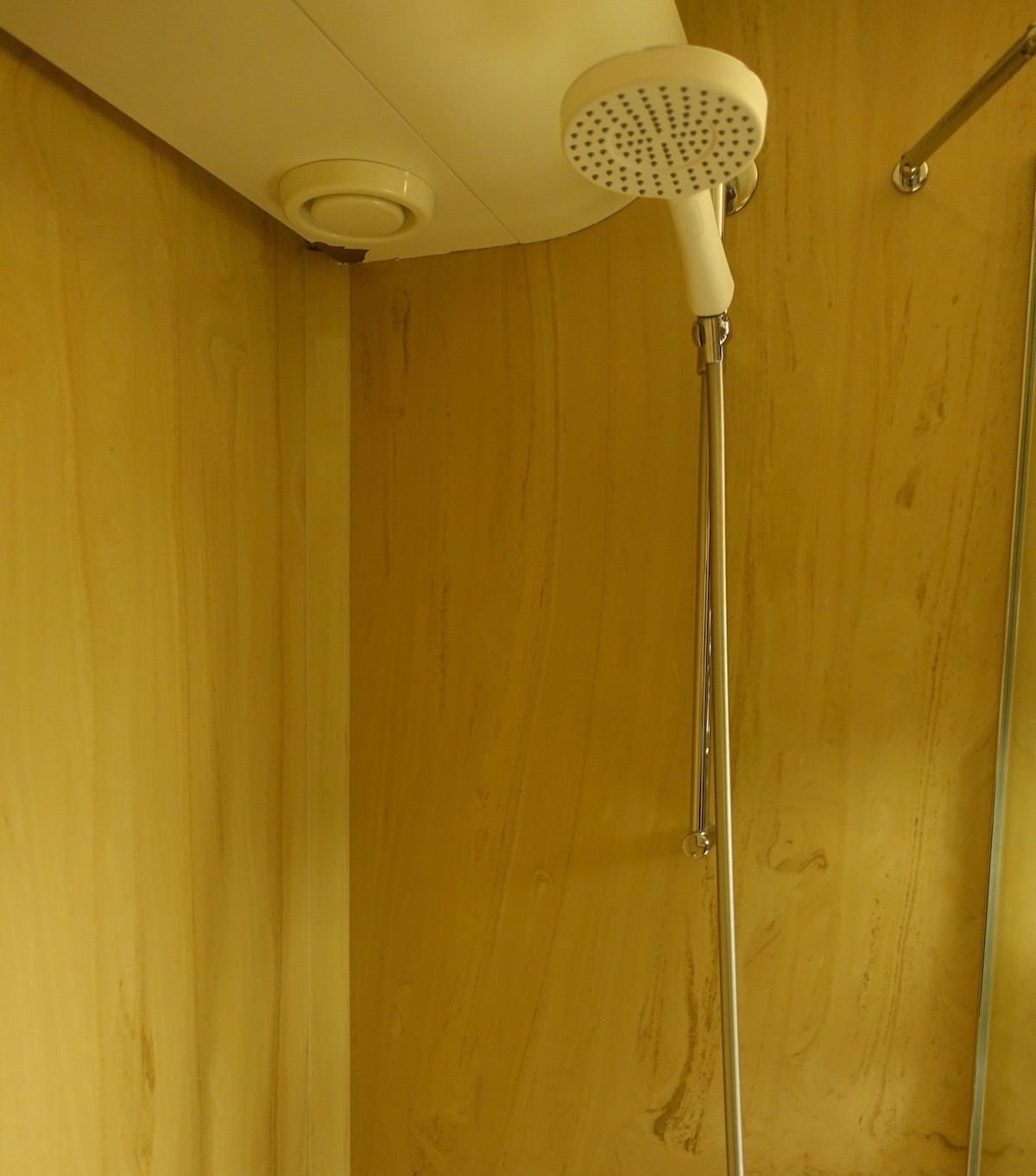 InterContinental Geneva shower
Toiletries were from Agraria, and were agreeable.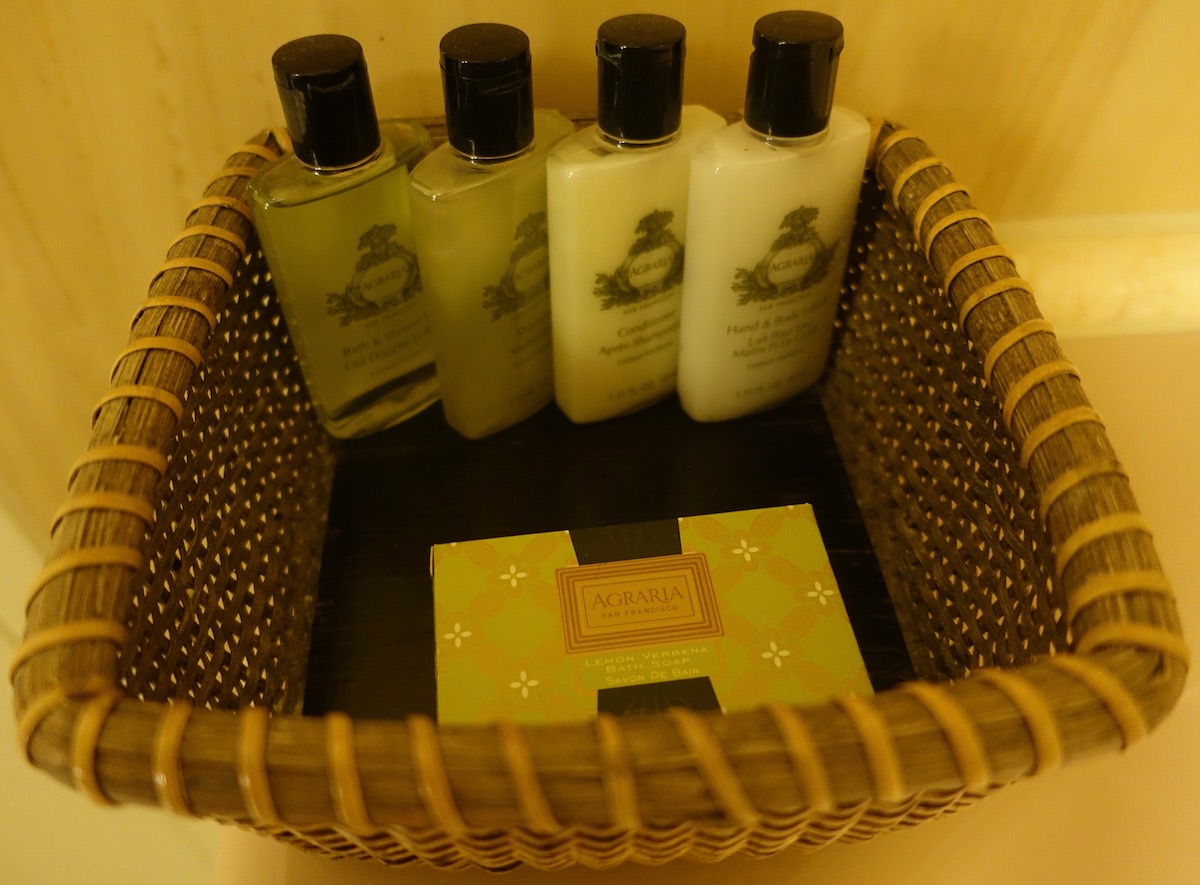 InterContinental Geneva toiletries
The room didn't have much in the way of views. The hotel isn't right near the lake, so views from most rooms are just of nearby buildings. In our case, we had a view of a parking lot.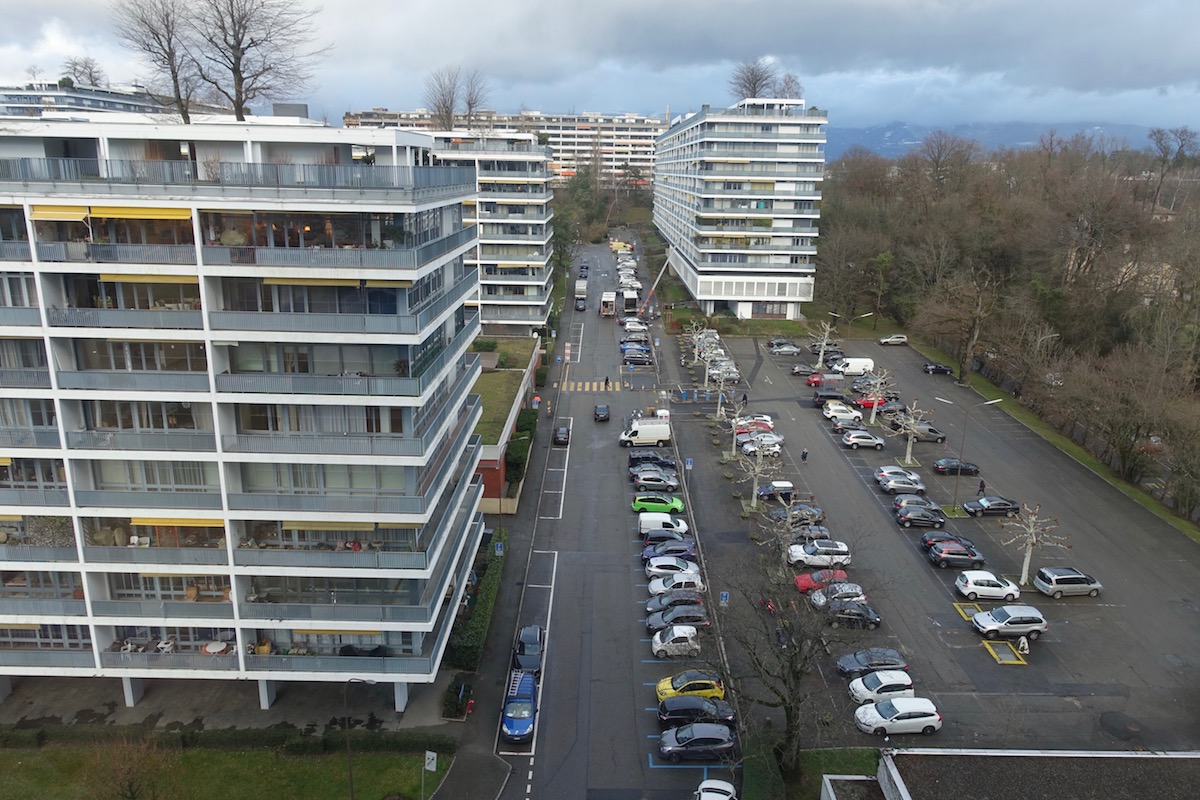 InterContinental Geneva room view
Wifi in the room was fast and free, though I didn't use it much.
While we didn't use them, the hotel's spa and gym were on the second floor. The spa was by Clarins.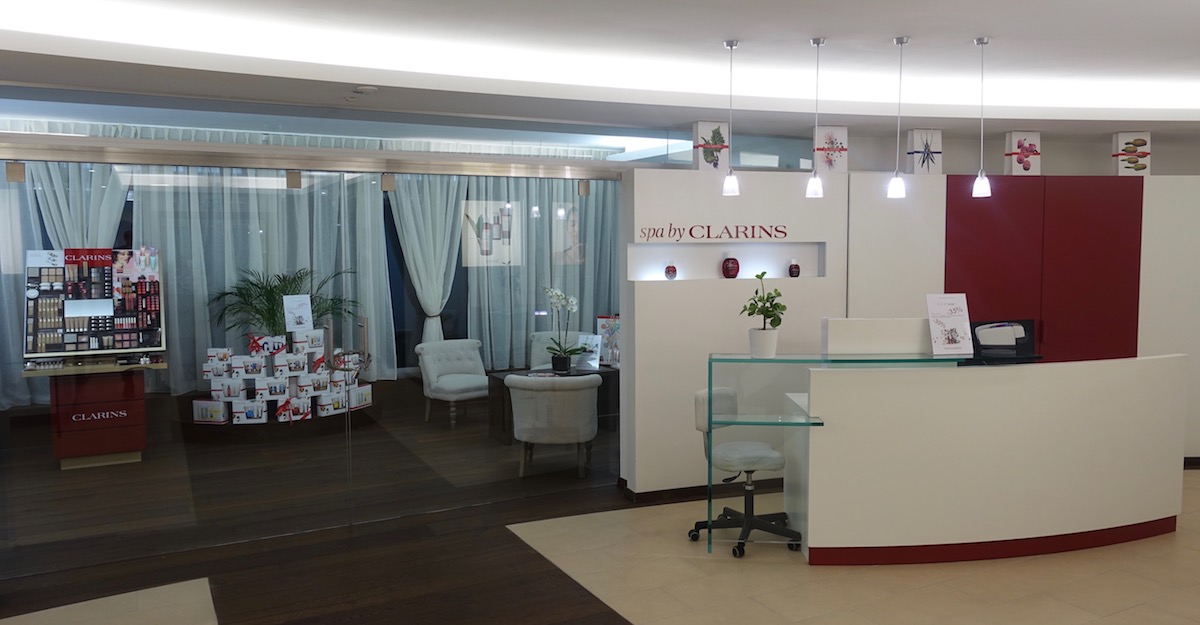 InterContinental Geneva Clarins Spa
The gym looked alright.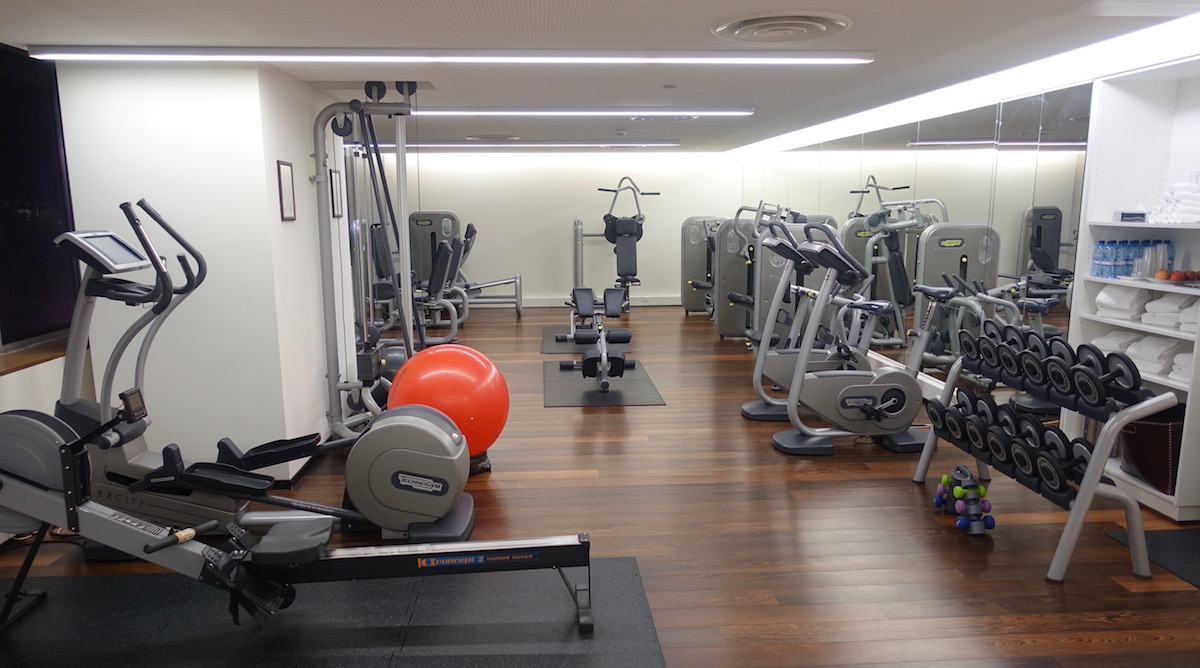 InterContinental Geneva gym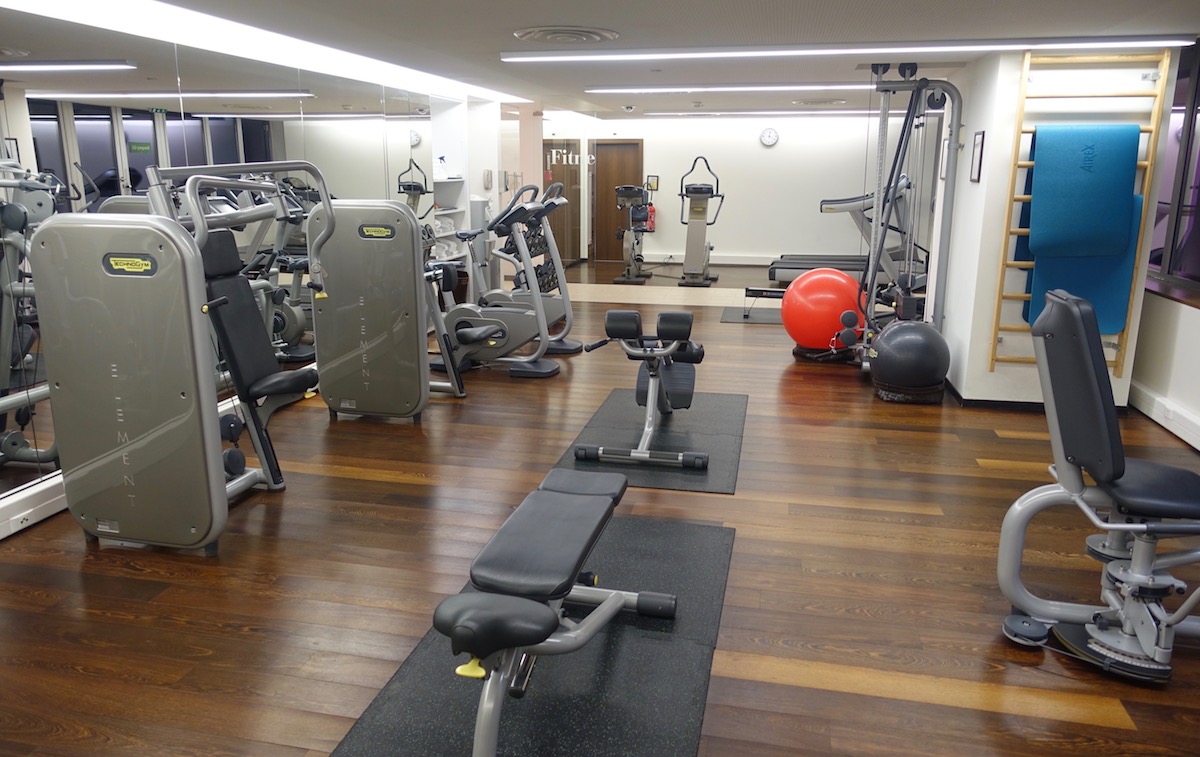 InterContinental Geneva gym
After getting a good night of sleep we showered and took the bus to the train station to start our journey to Verbier.
InterContinental Geneva bottom line
We didn't have enough time to fully experience this hotel. What I can say is that we got an exceptional value here, since we basically paid less than $100 thanks to the IHG® Rewards Club Premier Credit Card. That's an incredible value, and in Geneva you couldn't even get the worst hotel for that price.
The (limited) interaction we had with employees at this hotel was impressive, and the room was comfortable. However, while I thought the lobby area felt high end and luxurious, the rooms themselves didn't. I thought the design felt a bit sterile and cheap, and there were some features missing that I'd expect at a luxury hotel. To me, InterContinental is an infinitely confusing brand as I can't figure out whether they view themselves as a luxury brand, or whether they view themselves as a midscale brand. Who knows.
I couldn't imagine spending $500+ per night to stay here (in fairness, $500 doesn't go as far in Geneva as elsewhere), though I'd absolutely recommend this place using an anniversary free night certificate.
I'm curious, who do you guys view as InterContinental's competitors? Is it supposed to be luxury brands (like St. Regis), one notch below that (like JW Marriott), midscale brands, or what?