---
I know, I know, I'm way behind on trip reports. As I explained on Tuesday, I've been having a bit of a technology meltdown thanks to my MacBook Air running out of hard drive space.
That being said, I've taken so many trips over the past couple of months and I need to catch up on trip reports. So I'll keep this trip report brief by sticking just to the highlights.
After my US Airways 90,000 mile business class award on LOT, Swiss, Ethiopian, and Lufthansa in early July, I needed decide on my next adventure.
I stayed in DC for a bit — including at the Park Hyatt Washington DC — and after a few days I figured I'd enjoy summer and head to Europe.
I love being in Europe… and that doesn't even account for the things to do there. The timezone is simply the greatest thing in the world for me, since I can be productive in the morning, and by the time the US east coast business day starts I can kind of just coast through the day. It's awesome, especially compared to the west coast of the US, where I feel like I'm just playing "catch up" all day (I'm not naturally a morning person, which only makes things worse).
After spending a few days in DC I decided I should go somewhere fun, not for the purposes of reviewing an airline or hotel specifically, but rather to stay somewhere for a while and enjoy the area — after all, that's the real reason I decided to move into hotels full time.
A friend had recently visited Starwood's two Luxury Collection properties in the Netherlands and loved them, so I decided that sounded like a fun way to spend some time.
After looking at hotel options, I decided to book three nights at Hotel Des Indes in The Hague, and then five nights at Hotel Pulitzer in Amsterdam.
I went back and forth on how to book them and in what order to stay in them, but in the end availability and rates dictated all that.
I ended up booking my first three nights at Hotel Des Indes for 180EUR per night. That's more than I usually want to spend for a hotel, though the alternative was spending 12,000 Starpoints per night. I value Starpoints at ~2.2 cents each, so paying cash did seem like the better option.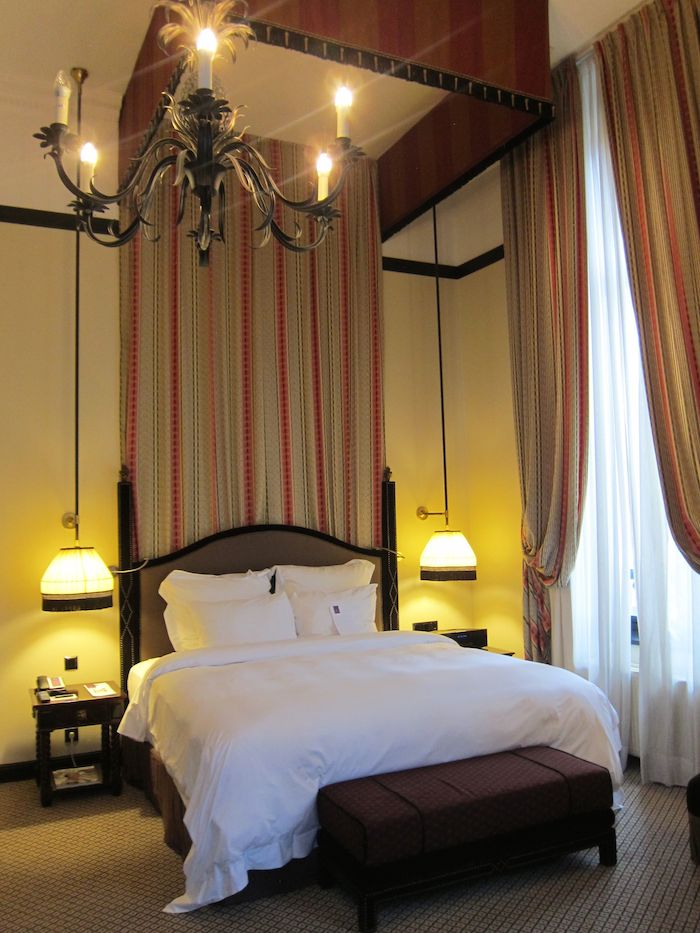 Hotel Des Indes, The Hague
As far as Hotel Pulitzer goes, rates were crazy expensive, as you'd expect in Amsterdam in summer. And as much as I struggle with redeeming Starpoints (since I value them so highly), this was an absolute no brainer. The paid rate was 334EUR per night, so five nights would have cost me 1,670EUR. Instead I could redeem 12,000 Starpoints per night with the fifth night free, so it was like paying 9,600 Starpoints per night. At well over four cents per Starpoint, that was a redemption value I was quite happy with. As of 2015, unfortunately the Hotel Pulitzer is no longer affiliated with Marriott/SPG.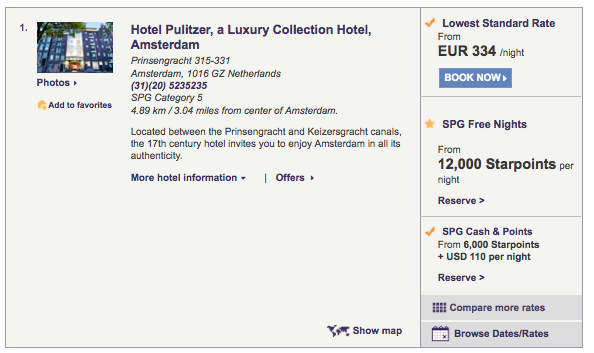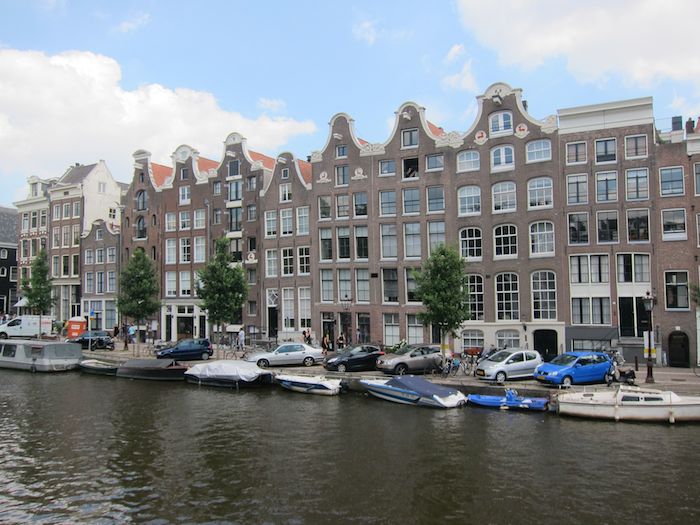 View from Hotel Pulitzer, Amsterdam
This was a trip where I actually booked my hotels before booking my flights, so once I had my hotels locked in I worked on the flights. After much back and forth I decided to book Lufthansa first class on the outbound using Air Canada Aeroplan miles. The booking process was a bit of a fiasco as I booked my flight from the wrong airport. That cost me 62,500 Aeroplan miles (transferred from American Express Membership Rewards), plus about $400 in taxes, fees, and fuel surcharges.
Since I've reviewed Lufthansa first class a million times before and I already shared my initial thoughts on flying Lufthansa first class during the World Cup, I'll only be reviewing the Lufthansa Senator Lounge Washington Dulles as part of the review.
For the return I decided to book KLM business class from Amsterdam to Chicago. I went back and forth a bit on what to book for the return, but in the end I figured I was best off redeeming 62,500 Alaska miles for one-way business class in KLM's new product (as much as that killed me, given the number of great uses of Alaska miles).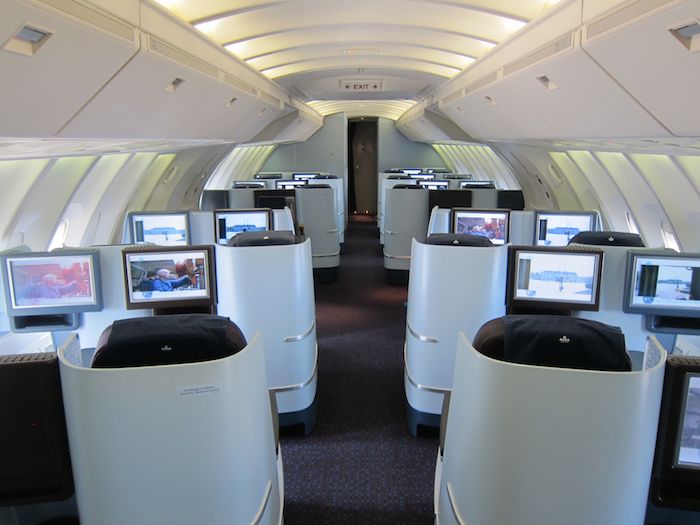 KLM 747-400 business class
In the end my flight itinerary looked as follows:
07/08 LH419 Washington to Frankfurt departing 6:10PM arriving 8:10AM (+1 day)
07/09 LH990 Frankfurt to Amsterdam departing 11:45AM arriving 12:55PM
07/17 KL611 Amsterdam to Chicago departing 12:40PM arriving 2:10PM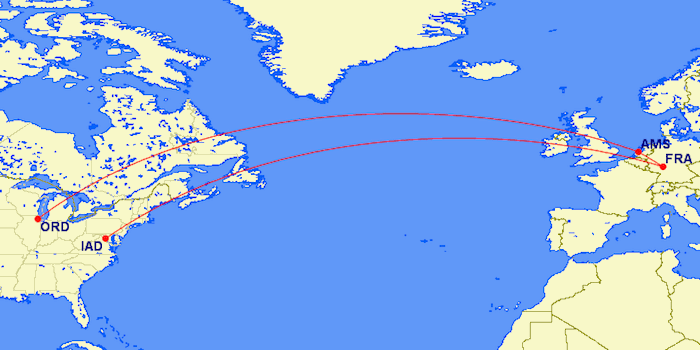 Then upon landing in Chicago I had one night before my other commitments, so I decided to check out the Waldorf Astoria Chicago. While I think the Waldorf Astoria brand as such is several decades past its prime, I've heard this property is an outlier, so wanted to check it out.
There was Points & Money availability for the night I was looking at, so one night cost me $150 plus 32,000 points, which seemed a much better value than the paid rate of $435.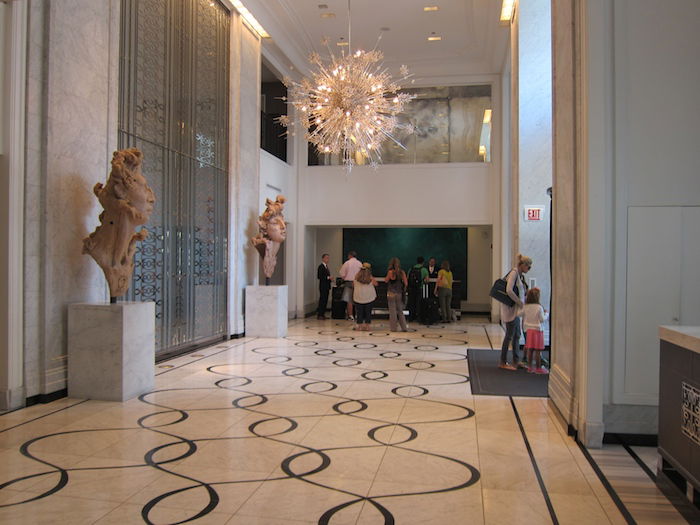 Waldorf Astoria Chicago
I'll try to publish one installment per day so that I can get on with my trip reports and also cover my trip to Portugal and Iceland, and then my recent trip to the Middle East on Jet Airways, Qatar, Emirates, and Etihad.
Thanks, as always, for reading, and for your patience with me getting these trip reports out — I really appreciate it!