---
Hello and welcome to my next trip report! I just wrapped up the trip report for my recent review trip, along with five days in Greece with Ford. I decided to try a different trip report format than usual for that trip.
In the past I'd typically share my initial thoughts during the trip, and then I'd write a full trip report afterwards. I fully recognize that the timeline with which I actually published trip reports slipped. So I tried something new during the last trip — instead of publishing my initial thoughts during the trip, I just published the entire trip report more or less "live."
The feedback has been positive, so let's do it again. This time it's an even more special trip, though.
This might actually be the trip of a lifetime
In general I'm not a huge fan of the concept of thinking of trips as being "once in a lifetime." It creates too many expectations, and I tend to think that by using miles and points properly, just about everything can be repeated.
The exception is that you can't recreate the circumstances around a trip, whether that's an engagement trip, a honeymoon, a special birthday, or whatever else. To me that's that can make a trip "once in a lifetime," as it's all about the people you're with and the memories you create.
I'd say the most memorable trip I've ever taken was when I took my dad on a surprise round the world trip for his 70th birthday.
Some people may not like the concept of a surprise trip where they don't know where they're going, but my dad absolutely loved it. It's not just that he didn't know where we were going before we left, but rather during each segment of the journey he had no clue where we were going next.
While my dad may have enjoyed that it was a surprise trip, his excitement made me even more excited than him, I'd say.
So it's time to repeat the concept, except I knew I had to do it a bit differently.
We're celebrating my dad's 75th birthday!
Ford and I are taking my dad on a 75th birthday trip. I can't believe it has been five years since the last surprise trip… time flies.
What makes this fun is that my dad has absolutely no clue where we're going. Little does he know we're just flying around the country until he figures out Southwest's boarding process… just kidding!
I won't fully share our itinerary here yet, but rather will be reviewing every portion of the trip as it happens, and will also have my dad chime in with his thoughts on the trip. We are eventually going on safari, but there's a lot more to it.
So while my priority is to spend quality time with my dad and Ford, I hope I can make this fun and interactive for you guys as well.
This trip isn't cheap
I'll share the price breakdown and details in the individual installments of the trip report, though let me acknowledge up front that this isn't entirely a miles & points trip, and it's costing me a lot of money.
For my dad's 70th birthday we flew some of the most incredible first class products in the world using miles & points. I knew I had to try something different this time around. I wanted to make it unpredictable, and I tend to think that you can't top your first Emirates first class experience.
I thought this would be a great opportunity to not only give my dad an experience he has never had before, but also to do something that has been on my bucket list and Ford's bucket list for quite a while — a safari.
This is the most I've ever spent on a trip. I struggled to actually pull the trigger and pay this much for the trip. So I just want to emphasize that up front, and also say that this wasn't chump change to me. I also don't take for granted that I could pay this without taking out a second mortgage.
With that in mind, I tend to think that money spent on experiences like this is well worth it, if you can swing it. After all, who knows how many more amazing trips like this I'll be able to have, Ford will be able to have, or my dad will be able to have. Life is short and unpredictable.
The timing of this trip…
We planned this trip late last year, and unfortunately the timing of this wasn't ideal. My mom was diagnosed with cancer earlier this year. She just finished her last round of chemo, and has surgery in a few weeks.
So on the one hand I was almost ready to throw in the towel on this trip with my dad and just give up our deposit. I just didn't feel like being "festive" given what's going on.
But then I looked at it differently:
My mom wants us to take this trip and have a good time
I also don't know how many more awesome travel opportunities I'll have with my dad (he's in great health, but you never know what will happen to anyone, including me)
So we'll maximize the quality time we can spend with my dad now, and maximize the quality time we spend with my mom when we get back.
When I thought about it more, it actually made me feel better about the amount of money I spent on the trip as well. This is going to be damn special and unforgettable, and later in life I don't think one of my regrets will be having spent too much on a trip for my dad.
While my mom is happy for us to go on this trip, Winston isn't. This is his "why did you just take the suitcase out of the closet?" face.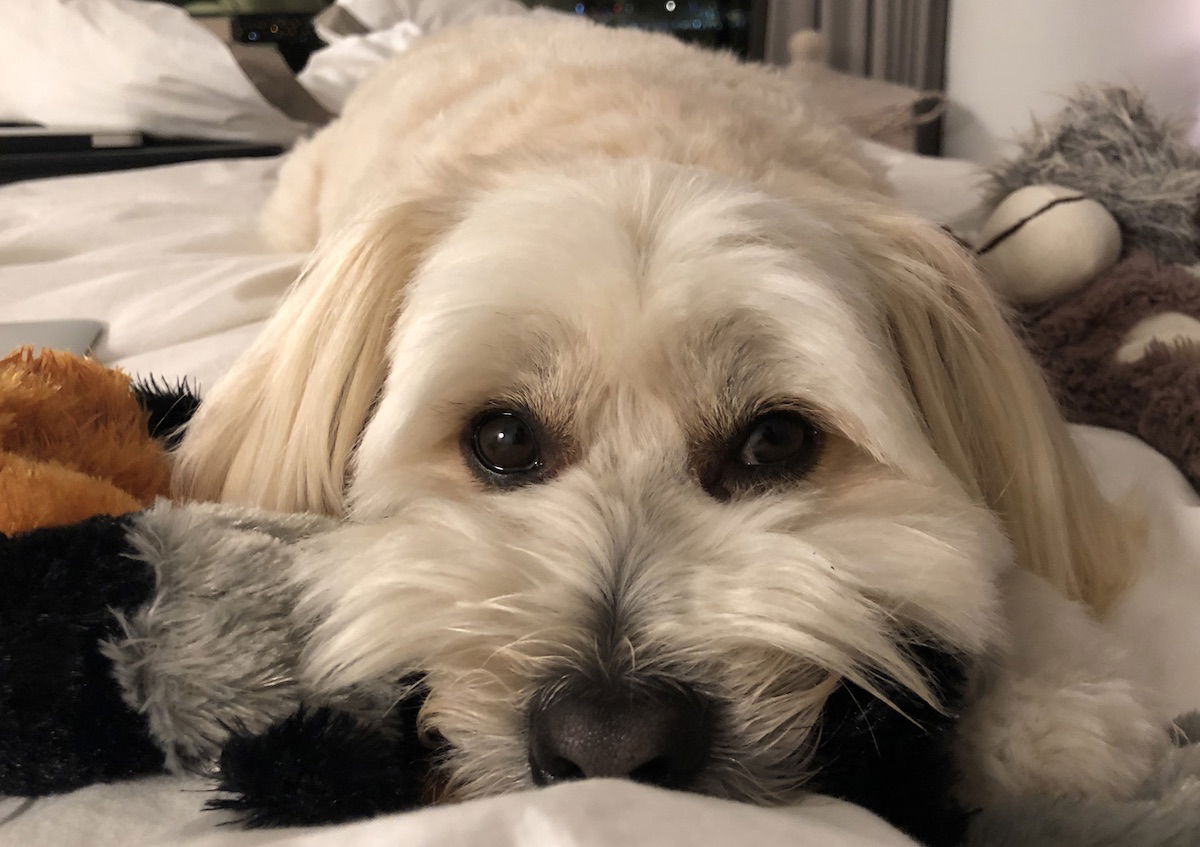 Bottom line
Stay tuned, as this should be an incredible trip, and hopefully a fun review. I'll have my dad chime in every so often with his take on the trip, and will even make a few videos. If you have any special requests from him, please let me know!
In the meantime, if you didn't read my dad's surprise birthday trip for his 70th, you can start reading that here.