---
A lot of my travel is centered around trying new airline products, since that's primarily what I write about. Planning for this trip started when I was able to combine a new business class product with a destination I've long wanted to visit.
For years I've wanted to visit Longyearbyen, the northernmost city in the world. It's on the island of Svalbard, about 1,300 miles north of Oslo. Svalbard experiences 24 hours of sunlight for four months per year, while it experiences 24 hours of darkness for four months per year. I wasn't sure what exactly there was to do, but it looked cool.
That's where the planning for this trip started…
Booking flights
In late April I noticed that SAS had a good amount of business class award availability on their new flight between Los Angeles and Stockholm. I've long wanted to review SAS, so this seemed like a great opportunity to review a new airline while also finally making it to Longyearbyen, given that SAS is one of only two airlines that flies there. So we booked the following outbound flight using Air Canada Aeroplan miles:
07/06 SK940 Los Angeles to Stockholm departing 2:15PM arriving 10:00AM (+1 day) [Business Class]
07/07 SK495 Stockholm to Oslo departing 1:40PM arriving 2:35PM [Business Class]
07/08 SK4490 Oslo to Longyearbyen departing 9:25AM arriving 12:20PM [Business Class]
Cost: 55,000 Aeroplan miles + $5.60 taxes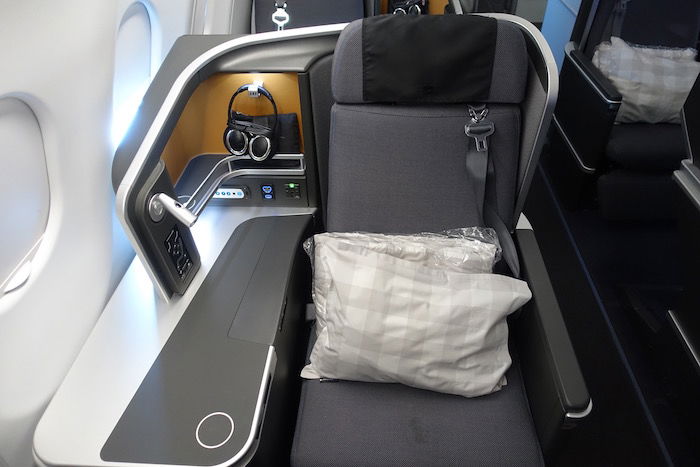 I wasn't sure where to go after Longyearbyen, though since Ford was coming along, we decided on Russia. He briefly studied Russian in school and has always been fascinated by the country. Given that Norway is pretty close to Russia, this seemed like a great opportunity to tie the two together. For these flights we redeemed Avianca LifeMiles for the following ticket (as you can see, while the countries are close to one another, getting between Longyearbyen and St. Petersburg isn't easy):
07/11 SK4497 Longyearbyen to Oslo departing 2:30AM arriving 5:25AM [Economy Class]
07/11 SK1463 Oslo to Copenhagen departing 7:10AM arriving 8:20AM [Economy Class]
07/11 SK736 Copenhagen to St. Petersburg departing 11:00AM arriving 1:55PM [Economy Class]
Cost: 15,000 LifeMiles + $67.51 taxes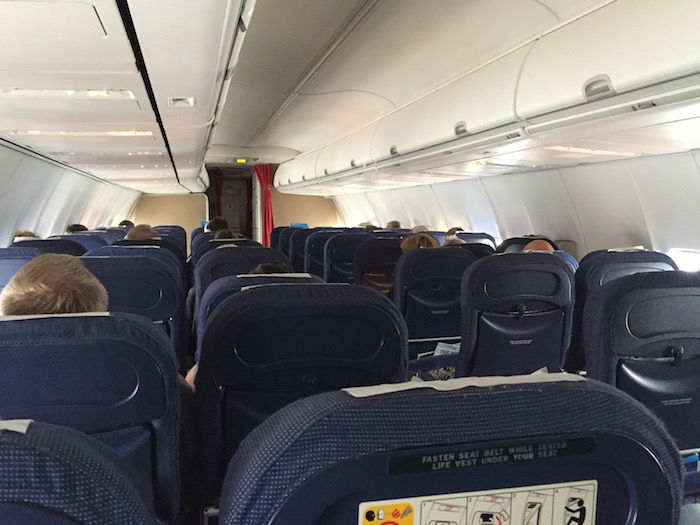 Our plan was to visit both St. Petersburg and Moscow, and we took the train between the two cities. For the return flight, we redeemed Singapore Airlines KrisFlyer miles for the following flight:
07/17 SQ62 Moscow to Houston departing 9:40AM arriving 2:05PM [First Class]
Cost: 57,375 KrisFlyer miles + $205.14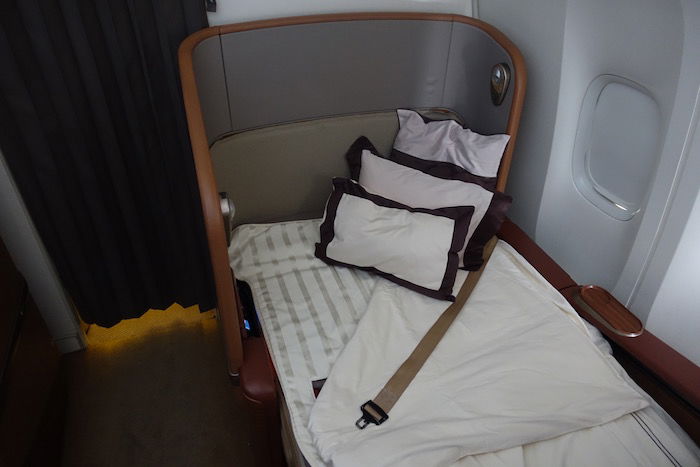 Here's what our entire routing looked like, which I'd say represents a heck of a use of miles: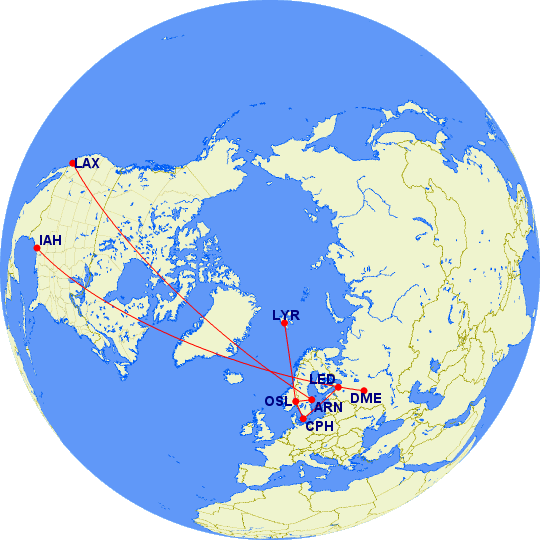 Booking hotels
For this trip we needed the following hotel nights:
1 night in Oslo
3 nights in Longyearbyen
4 nights in St. Petersburg
2 nights in Moscow
For Oslo, our plan was originally to just stay near the airport, since we'd presumably be tired after a redeye. However, while Ford and I had both been to Copenhagen and Stockholm, we had never been to Oslo. So we figured this would be a good opportunity to explore the city for an afternoon, given how late it would be light.
Oslo has a lack of chain hotels, so we decided to stay at Hotel Continental, which is a Virtuoso property. Our one night stay cost ~$275, but we received a room upgrade, complimentary breakfast, a $100 food & beverage credit, and more.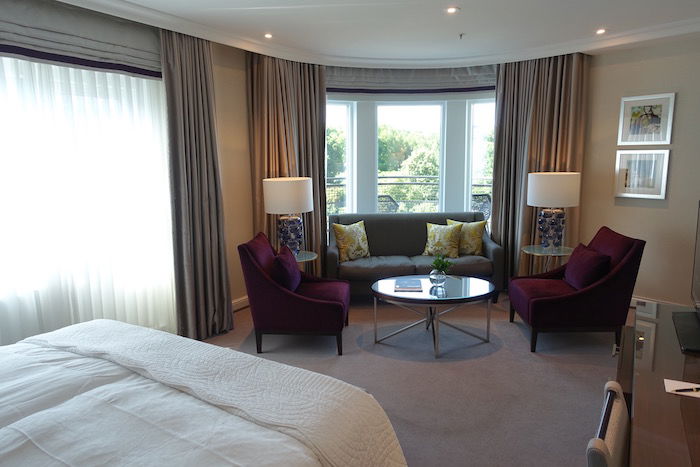 For our three nights in Longyearbyen we booked the Radisson Blu. Actually, the reason I initially learned about Longyearbyen was from looking at Club Carlson's hotel portfolio, and I noticed that this was the northernmost hotel in the world. In this instance a free night would have cost 70,000 points, while the paid rate was $250 per night. While that's more than I'd ideally want to pay, it was the peak of summer, so I guess it wasn't too unreasonable. I ended up booking a paid stay, since I value Club Carlson points at ~0.4 cents each.

We were in St. Petersburg for four nights, and as a Starwood and Hyatt loyalist, my best option was the W Hotel. The rate at the W was ~$250 per night, though I was able to use the Citi Prestige fourth night free benefit to lower the cost of that stay even further. That seemed like a much better value than redeeming 16,000 Starpoints per night, given that this is a Category 5 property. I value those points at 2.2 cents each.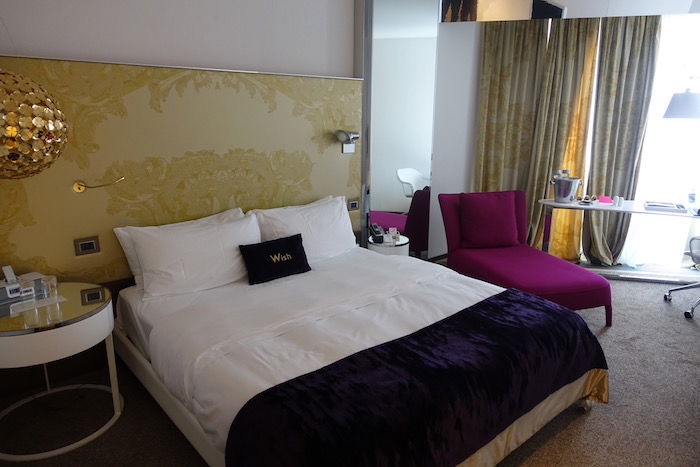 In Moscow we decided to book the St. Regis for two nights, and we redeemed points for that. This is a Category 5 property though was "off season," meaning it cost just 12,000 Starpoints per night. That was a much better deal than the paid rate of $350+ per night.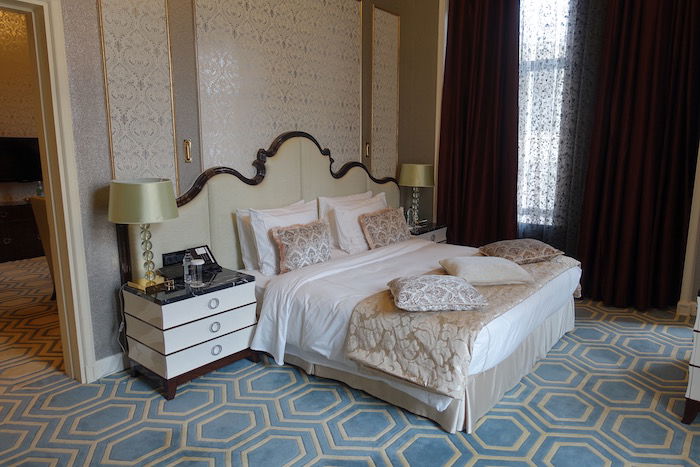 Bottom line
This was one of the coolest trips I've ever taken, because I never thought I'd make it to Longyearbyen or Russia so soon, let alone be able to combine the two on one trip. The amount of daylight we experienced on this trip was unreal, given the 24 hours of daylight in Longyearbyen, along with the ~19 hours of daylight in Russia.
This was an incredible trip, and I can't wait to share all the details.
In the meantime if you have any comments/questions, please let me know!