I just wrapped up an incredible vacation in Maui with my family, and wanted to report back on that. We had an unforgettable time, and I think it's the perfect vacation destination in this era, though I also wanted to share some things to look out for and consider before planning travel.
Also, I apologize for my light postings the past week. Usually I work just as much when I travel as when I'm at home (though I don't actually have a home right now), but between the timezone and the opportunity to spend quality time with my mom, I took a bit more time off.
Why we decided to travel to Maui
Now that we're all fully vaccinated, I've been doing what I can to travel as much as possible with my mom. We recently took a mother-son trip to Big Sur, but there was an even more special trip planned after that over Mother's Day, as that marked the two year anniversary of my mom being diagnosed with ovarian cancer.
My mom hadn't been to Maui in 30+ years, and her partner also had never been to Hawaii, so this seemed like the perfect trip to take them on:
While travel restrictions are constantly changing, Hawaii has been fairly consistent with its regulations, so I felt comfortable planning a trip there without fear of having to cancel
I got great American Airlines business class flights using AAdvantage miles
I could review the new Andaz Maui Villas, which opened at the beginning of May; we were the first guests in the villa we stayed in
My mom has limited mobility, and in that sense Maui is great — you can enjoy the outdoors and some incredible views without having to go on huge hikes; you can drive all around the island and stop at scenic lookouts, you can walk on a beautiful beach right at your hotel, you can go to luaus, you can have an amazing lunch at a farm, etc.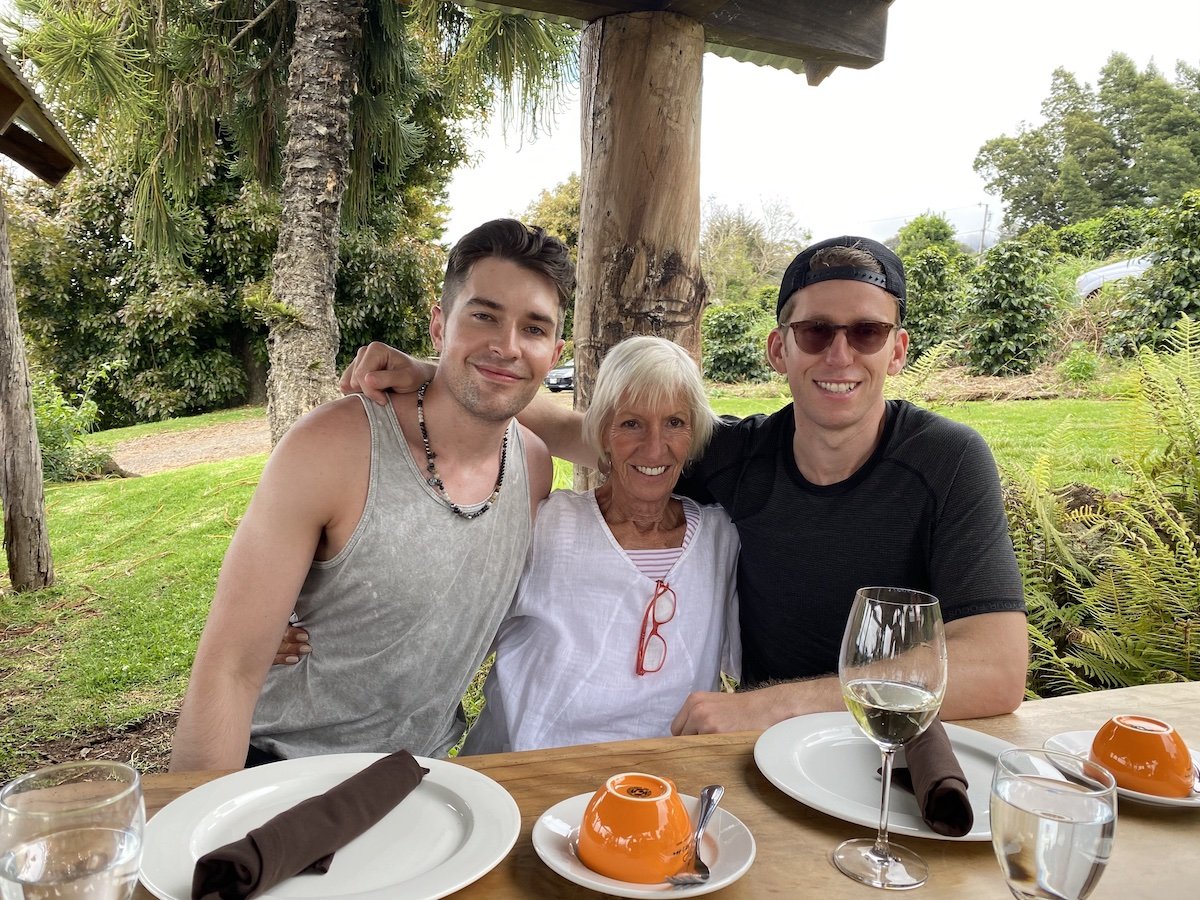 Lunch with mom & Ford at O'o Farm
I've developed a new appreciation for Hawaii
Hawaii really grew on me this trip. I have to be perfectly honest, while I've enjoyed my travels to Hawaii in the past, it has typically not been a place that I've prioritized traveling to.
I'm glad coronavirus travel restrictions caused us to go again, because we had an unforgettable time, and I feel like I now "get" Maui better.
First of all, Maui is easy. You feel like you're a world away, all while having the convenience of being in the United States, from credit card acceptance, to cell phone usage, to the language (of course at times the challenge of being in another country is part of the fun).
Maui is also beyond gorgeous, and that's evident from the second that you're on approach to the airport.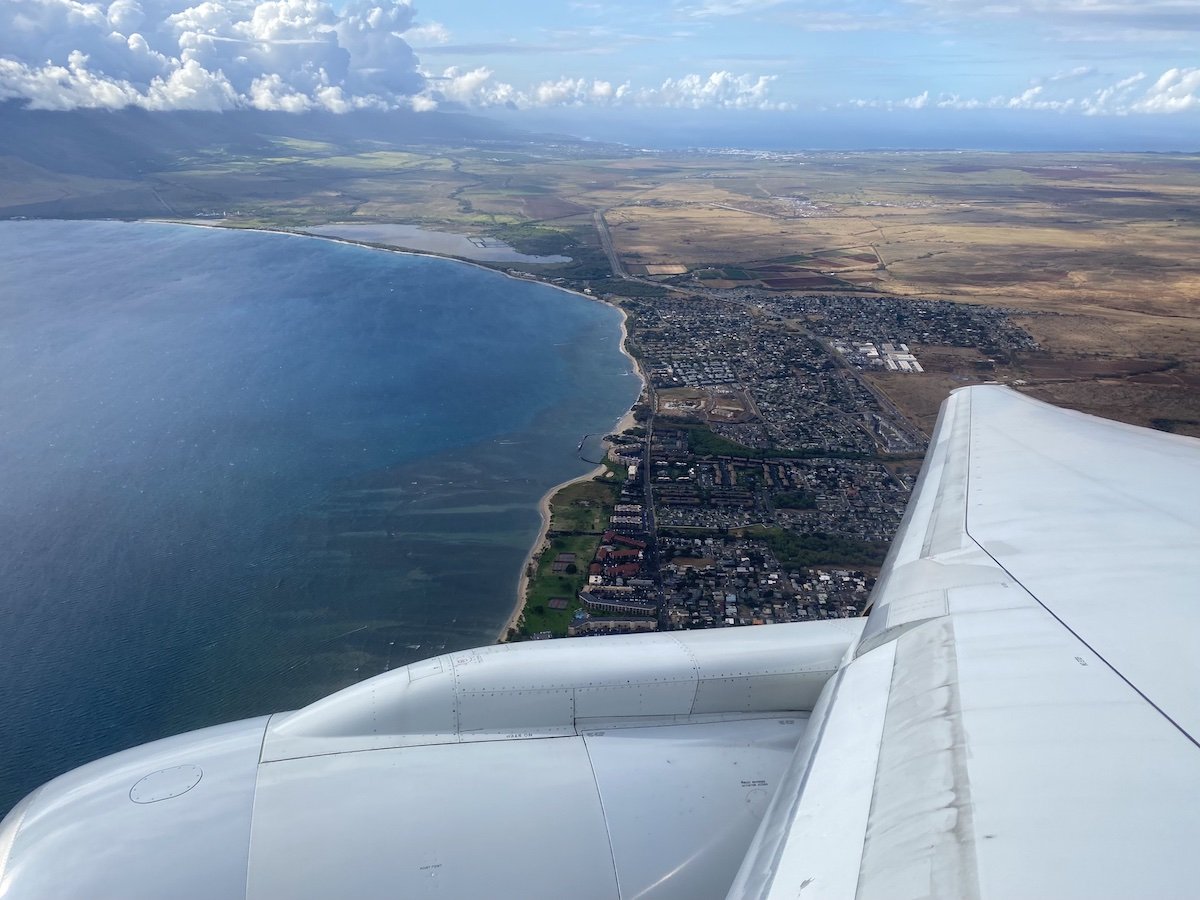 View approaching Maui
From stunning beaches…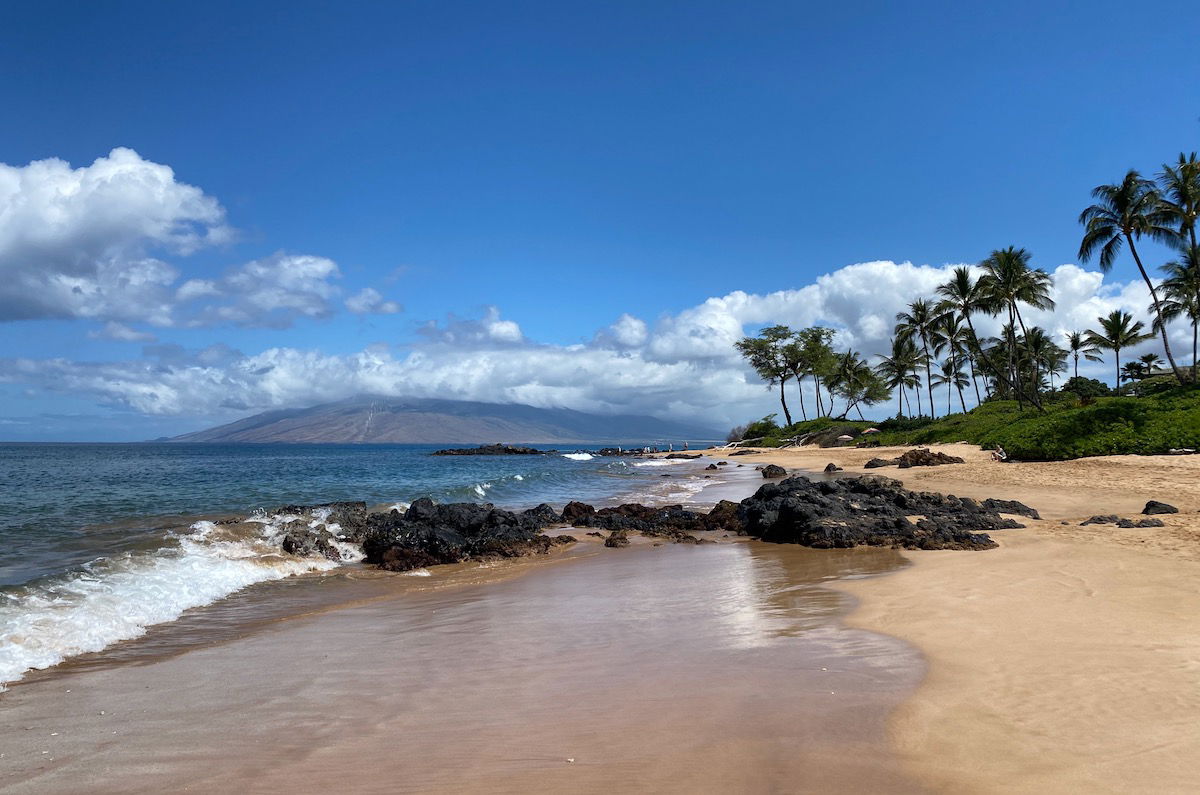 Maui beaches
To beautiful coastline…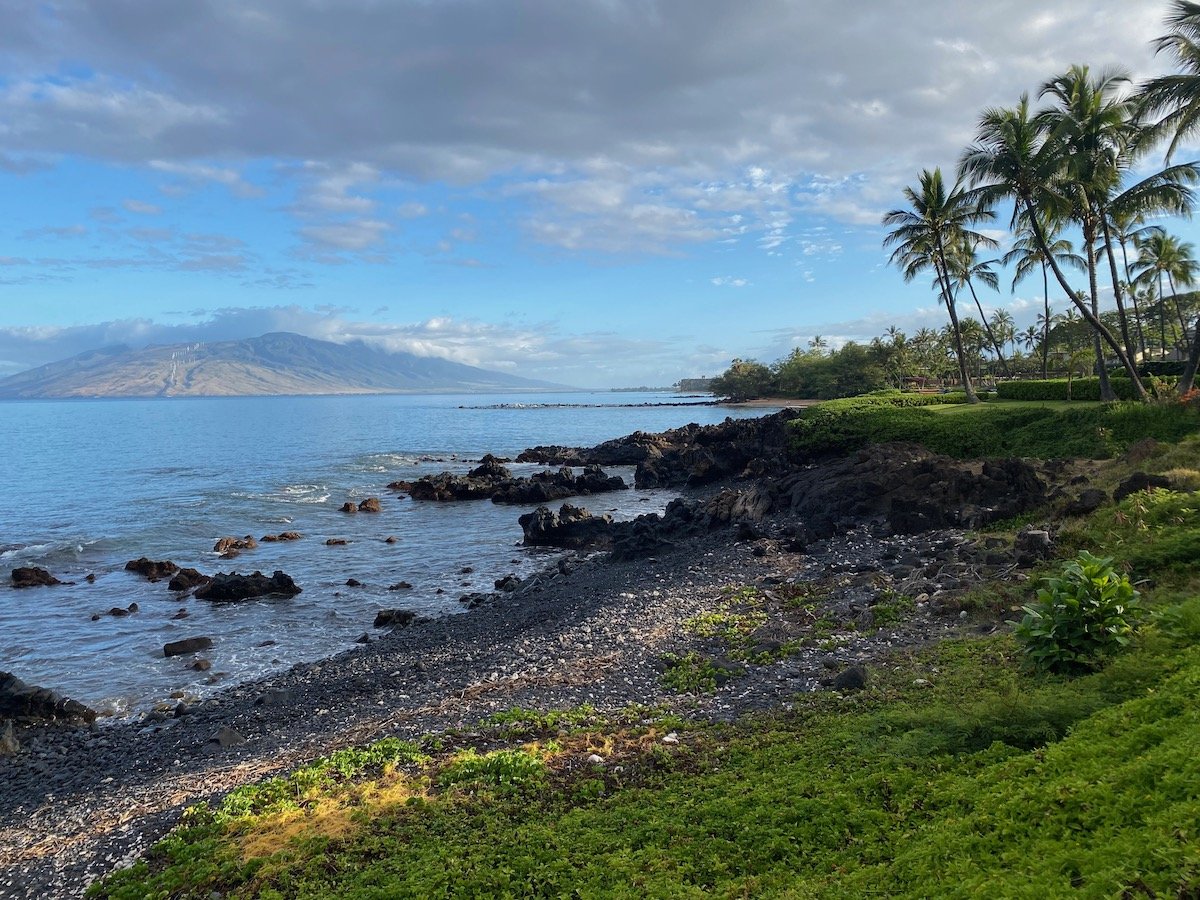 View from Wailea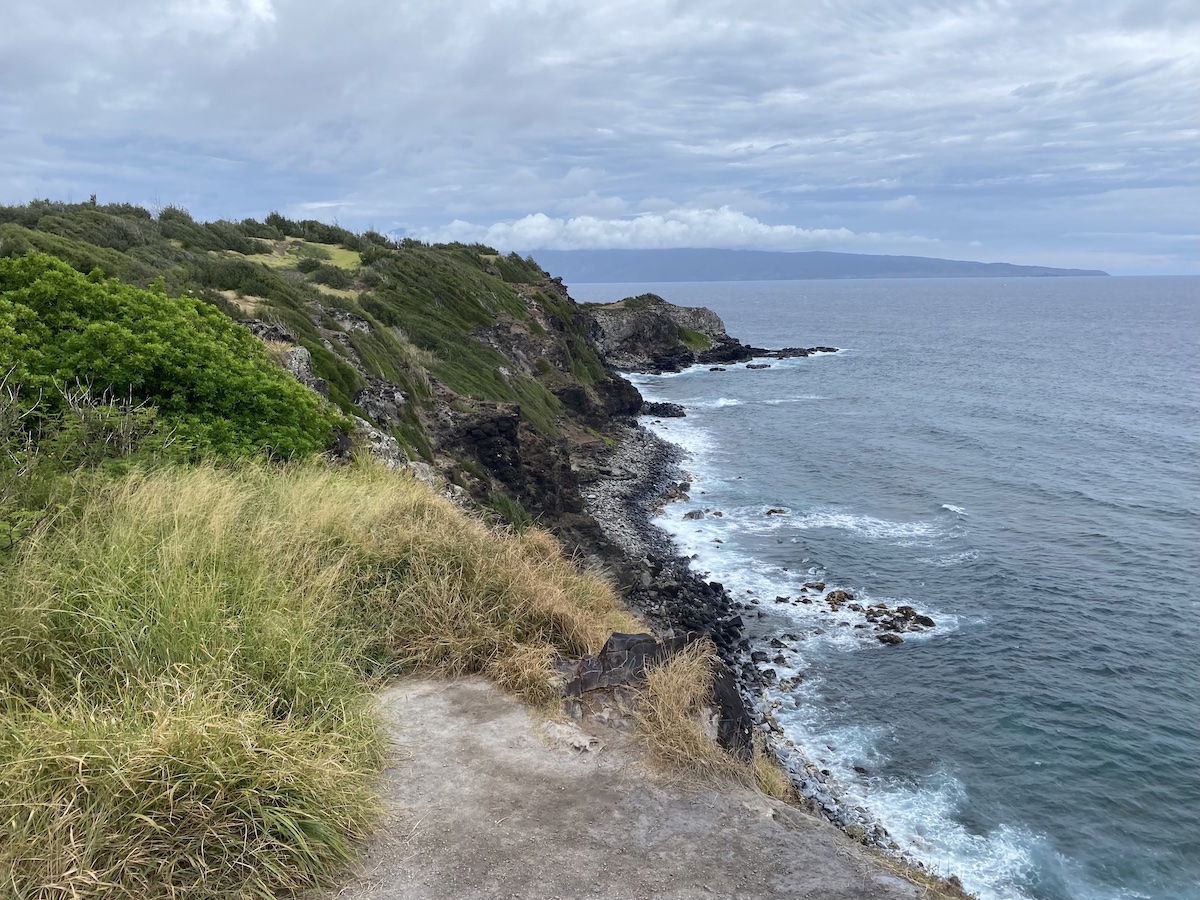 View from Kapalua
To great paths for walking (coronavirus has turned Ford into a power walker — he's now competing with my dad to see who can walk more miles in a week, so don't even get me started on that)…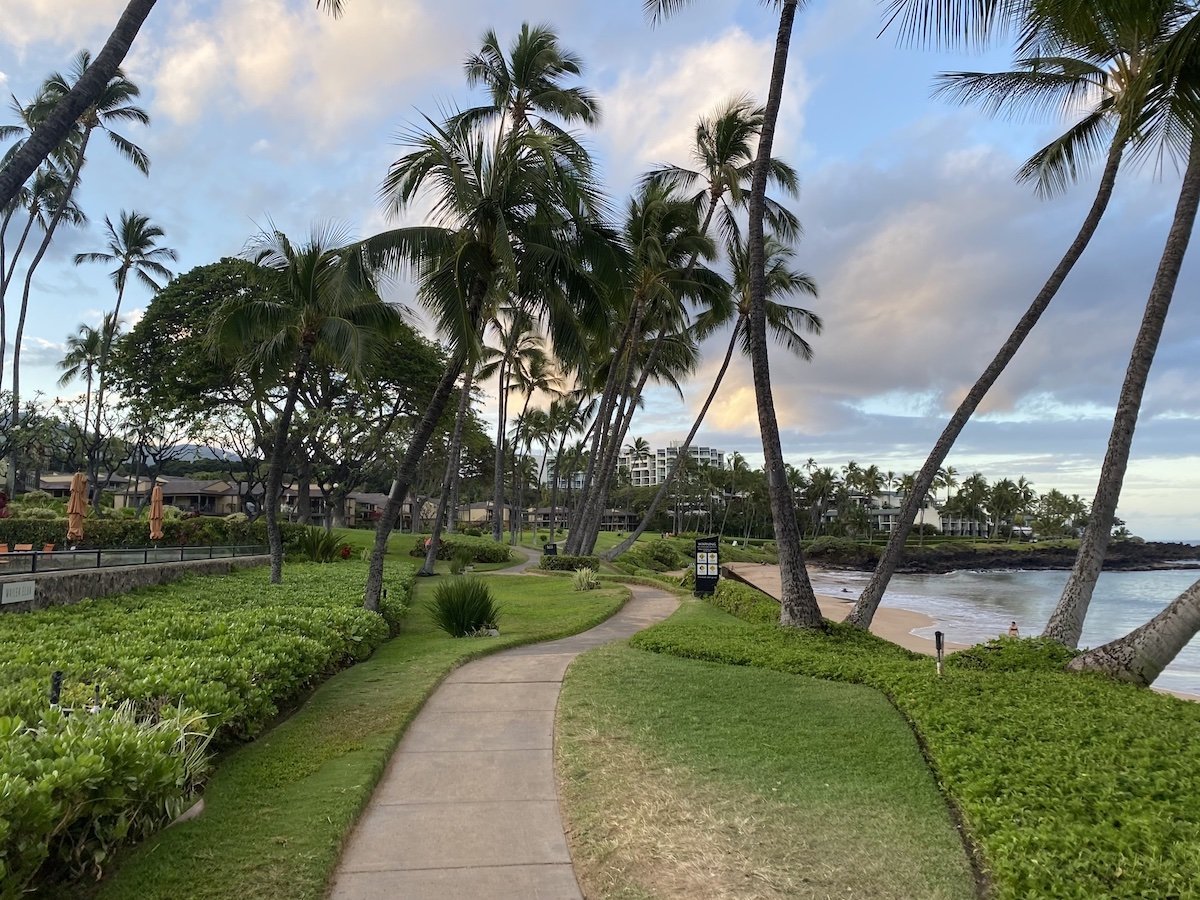 Wailea boardwalk
To amazing drives…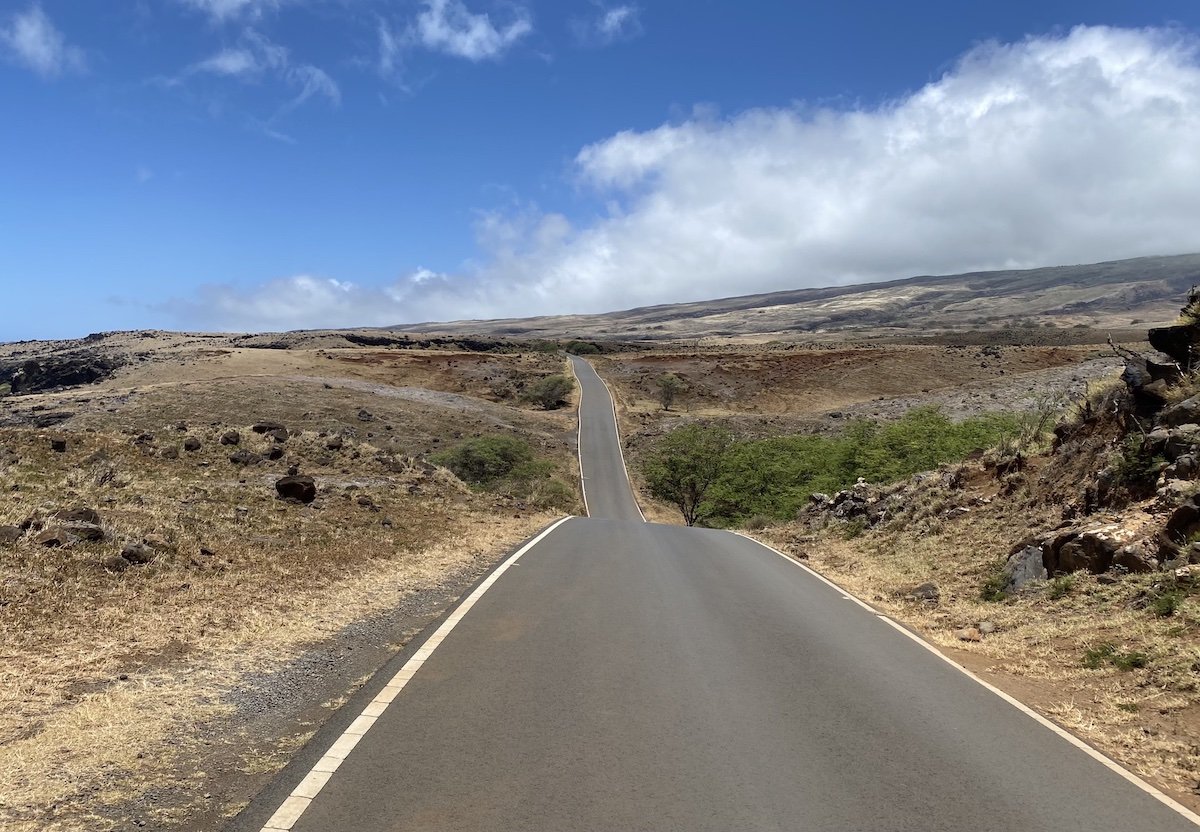 Driving around Maui
To beautiful sunsets…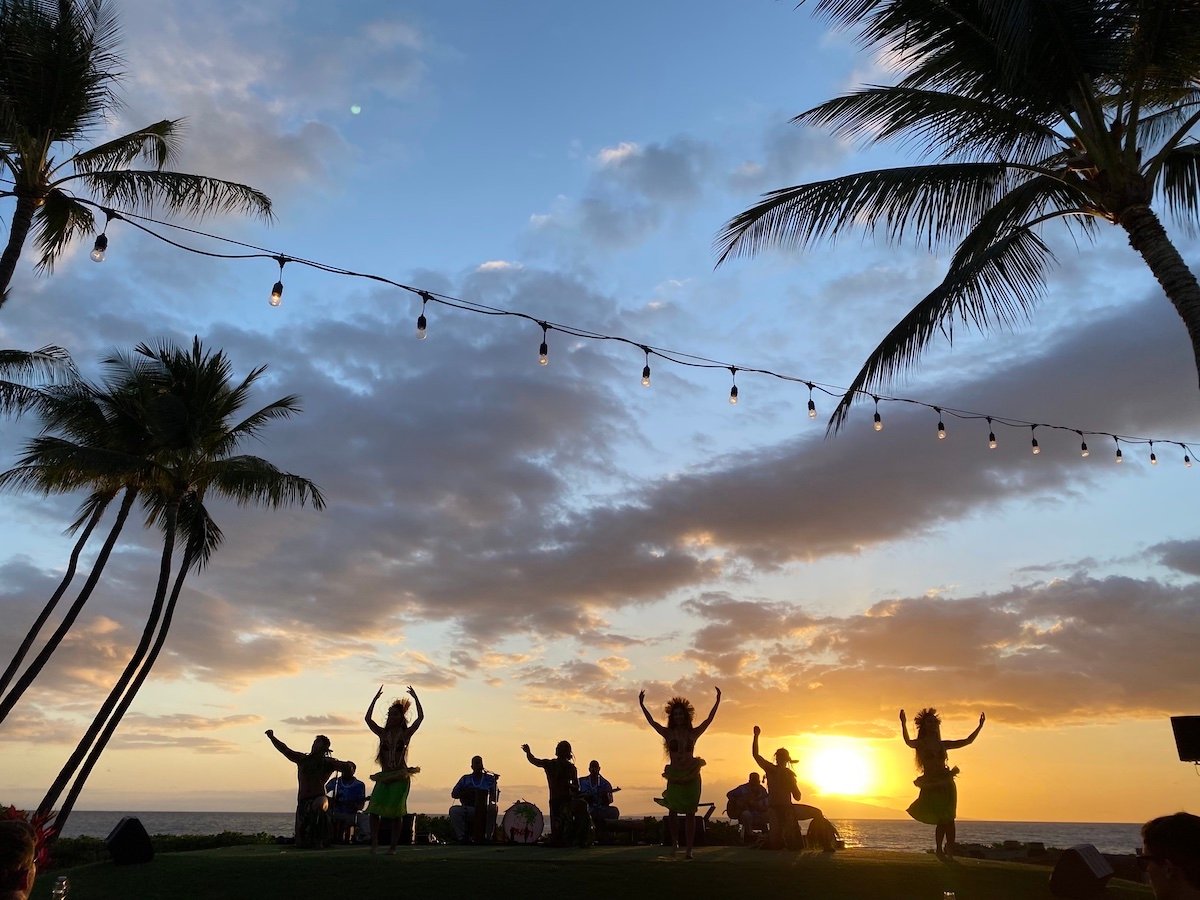 Sunset at the Andaz Maui's incredible luau
…Maui really has something for everyone.
I've just returned to the mainland, and am already wanting to plan my next trip to Hawaii.
Considerations for vacationing in Hawaii
While we had an incredible time and I'd absolutely recommend a trip to Maui in the coming months, I do want to share some things to be aware of, for better or worse. The reality is that most travel nowadays comes with risks and isn't necessarily "easy," and a trip to Hawaii is no exception. In no particular order, below are some things to consider.
The entry process can be time consuming
In a separate post I talked about how Hawaii's Safe Travel program works. Before traveling to Hawaii you do need to get tested, even if you're vaccinated (starting at some point this summer, Hawaii plans to lift the testing requirement for vaccinated travelers).
This is by no means a deal-breaker, though it can be expensive, time consuming, and potentially a bit frustrating (if you're waiting on a test result that could jeopardize your trip).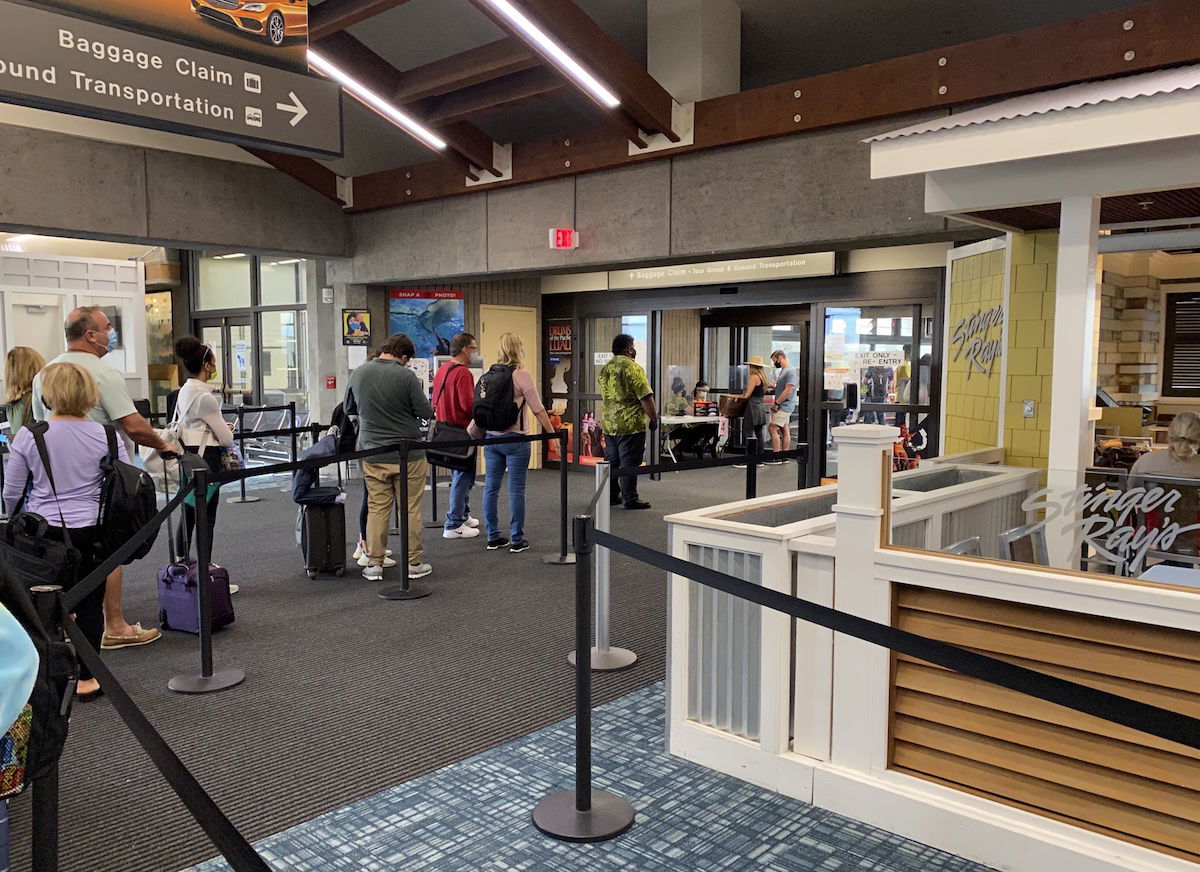 Hawaii's pre-travel testing program takes some effort
Hotels are ridiculously expensive right now
I think at this very moment hotels in Hawaii are more expensive than ever before (if booking in the future, that is — we booked months ago). For some dates in summer, base rooms at the Andaz Maui are going for over $1,600 per night, while base rooms at the Four Seasons Maui are going for over $2,000 per night. Hotels are basically charging Christmas-week pricing for the entire summer.
We got a much better deal at the time that we booked, but that's how supply and demand seems to work right now. It's my understanding that many hotels in Maui are almost entirely booked over summer, and lots of people are paying those prices.
Now, personally I think hotels in Hawaii will get cheaper again as more destinations open to Americans (particularly when the entire European Union opens), and perhaps some of the demand shifts.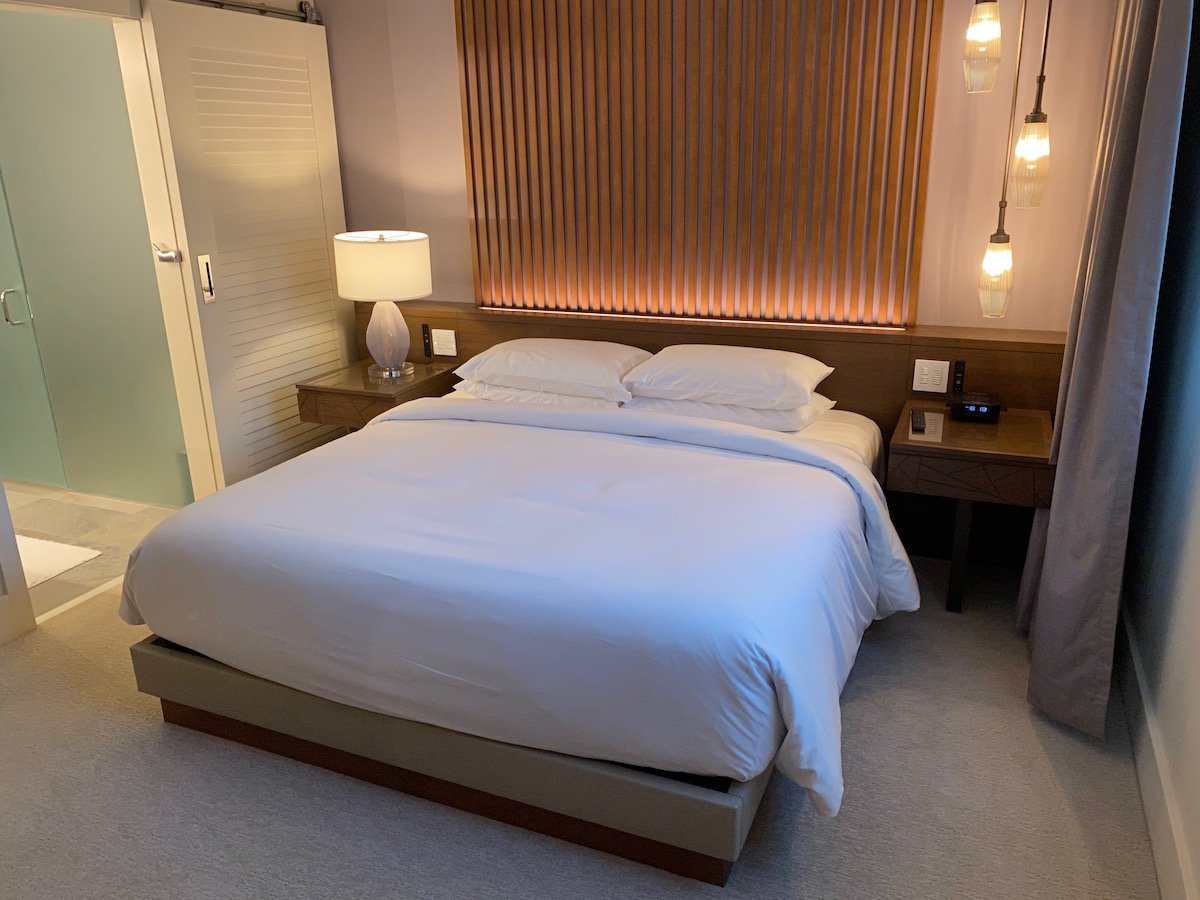 Expect hotels in Hawaii to be expensive
Dining reservations can be complicated
Restaurants in Maui can only operate at 50% of capacity, while many hotels are 80%+ full. As you'd expect, that means dining options are limited if you're not planning way in advance. If you're traveling to Maui, make dining reservations as soon as you book, ideally weeks (or even months) in advance.
For example, Mama's Fish House is booked out literally months in advance. We couldn't get a reservation in advance, but I lucked out when I saw a cancelation there day of.
Even at hotel breakfast you can potentially expect there to be a wait, given the limits on dining.
The other side of that coin is that service was generally excellent and attentive in restaurants, and you definitely had more space and didn't feel crowded, so that was nice.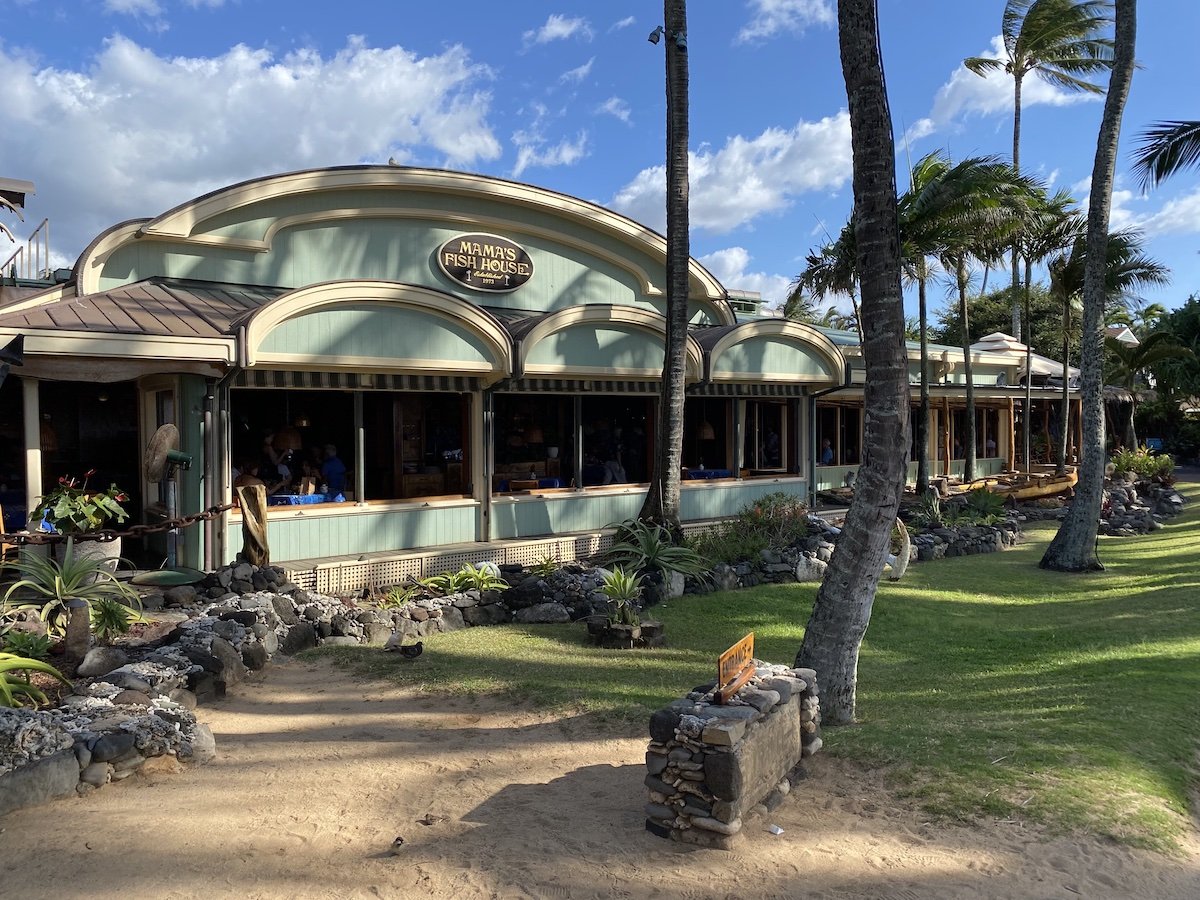 Mama's Fish House
Coronavirus & mask restrictions are very strict
This is sure to be polarizing, especially given the CDC's guidance that vaccinated people no longer have to wear masks in public. That's superseded by local regulations, and Hawaii has a very strict mask mandate.
Just to give a few examples (and these are just observations, not judgment calls):
There's constant communication about mask expectations in a way I haven't noticed anywhere else; for example, when I rented my car and had to drive up to a booth to exit, the car rental employee told me to please keep my mask on that entire time (which I would have done anyway)
Hawaii even mandates that you wear masks at all times on the beach; in fairness, no one followed that, though other than that, mask usage was consistently enforced
I was using the gym in my hotel and there were no other guests there, so I didn't wear a mask (I would have put it on the second another person arrived); a hotel employee came into the gym just to tell me to put on a mask (that's ultimately fair since it's also a hotel policy, but I've never been asked to do that when there was no one else)
Mask wearing among hospitality employees and locals was extremely consistent
So if you're someone who enjoys your newfound vaccinated freedom of not wearing a mask in public, Hawaii probably isn't for you right now. Of course it's possible that Hawaii updates its mask policies, though it doesn't seem like the governor has any plans to do so. Governor Ige is not Governor DeSantis.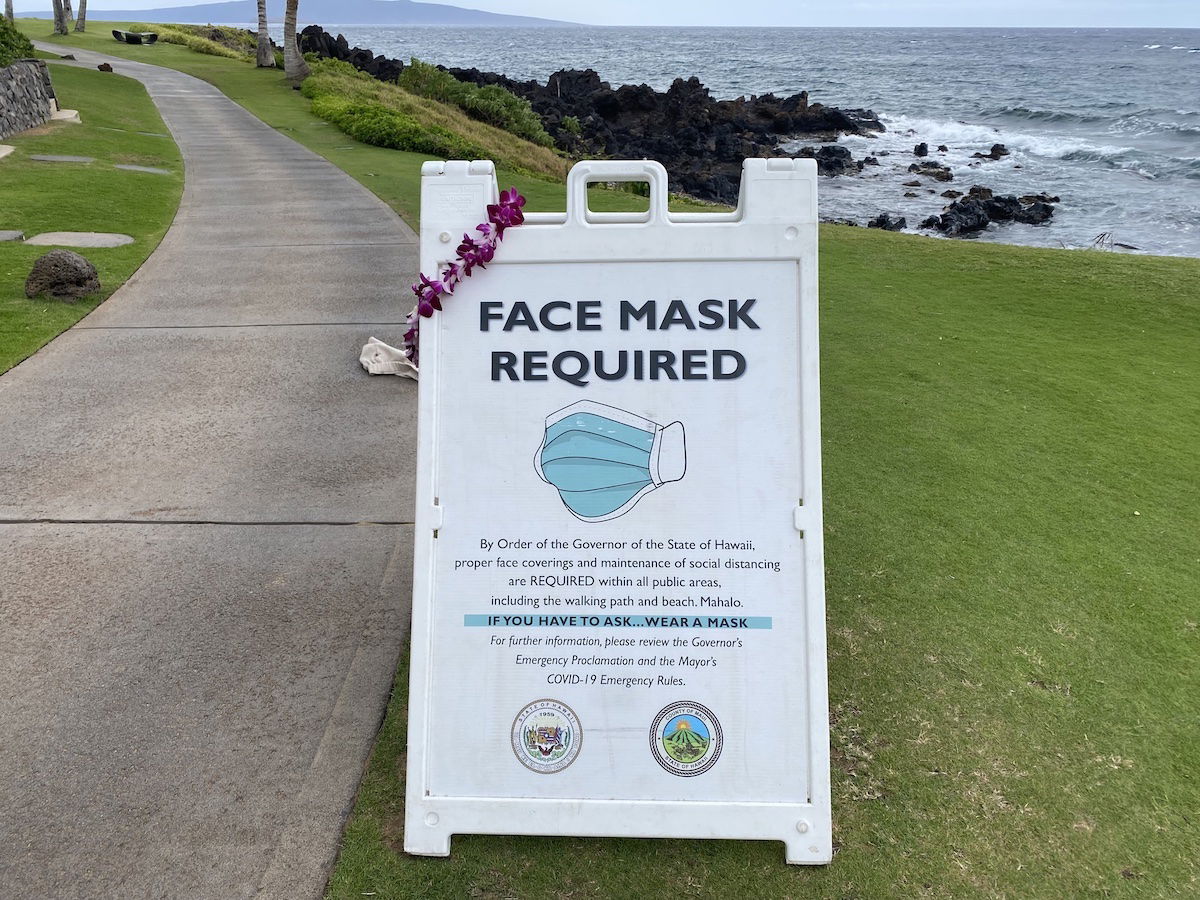 There are signs all over about Hawaii's mask mandate
Bottom line
The trip I just wrapped up in Hawaii was one of my most memorable ones ever — of course that's largely about the people I was able to spend time with, and the memories we were able to create.
With travel restrictions currently in place, Hawaii has become one of the most popular destinations out there, and as you'd expect, things get crowded. Add in capacity and other coronavirus restrictions, and it does take a bit of planning if you're going to Hawaii. I tried to emphasize those points above to give people a sense of what to expect, but ultimately the minor inconveniences aren't the things that I took away from this vacation.
Our trip was totally worth it — Maui is such a special place, and in many ways it's the perfect destination for this era, given all the opportunities to enjoy the outdoors. The trip exceeded my expectations, and I already can't wait to return.
Has anyone else traveled to Hawaii in recent months? If so, what was your experience like?