---
Last September I shared some details of a trip that my cousin Heather and I were planning with our moms. We've been talking about taking our moms on a trip to Vietnam for a few years now. It's not somewhere either of them would naturally go on their own, and the kind of trip we're envisioning isn't necessarily conducive to a big family trip with kids and spouses, so we've kept it simmering on the backburner.
Of course, the nice thing about having general trip ideas in mind is that when a screaming deal comes along, you can quickly take advantage of the opportunity without having to pause to circle the wagons and gather opinions. So when the recent Hong Kong Airlines fares were published I did a quick check of school and work calendars, purchased four tickets, and then waited until I knew the fares would be honored before asking everyone if they wanted to go.
The obvious downside of that approach is that it doesn't allow for much nuanced planning or consideration of the itinerary ahead of time. So while I had our flights, and a rough idea of things I though we might enjoy, I asked for help from the hive mind here at filling in the outline.
The response was tremendous, and I'm so appreciative of the details and suggestions you all shared.
As our trip approaches I wanted to provide some more details as to what we've planned out, but also wanted to keep all those useful comments intact, so this post is going to be an update of the original. Given that so many of us will be headed to Vietnam this year because of either the Hong Kong Airlines or Cathay Pacific fares, I'm hopeful this will be helpful. Definitely don't skip the comments.
Just Vietnam, or Cambodia and Laos too?
One of the big things we had to decide was whether to spend the entire time in Vietnam, or to take advantage of the fact that we were so conveniently located to other places we might want to explore.
With 15 full days we could easily spend the entire time taking a very leisurely trip through Vietnam, as there's so much that interests me there, and I'm intrigued by the idea of taking a slow trip through a country, since that's something I don't generally get to do.
But the only time I've spent in Cambodia was a spur-of-the-moment weekend trip to Siem Reap after a wedding in Malaysia a few years ago, where my husband had food poisoning almost the entire time. I'd love to go back to the country and see Phnomh Penh, and maybe more of the less-touristy areas.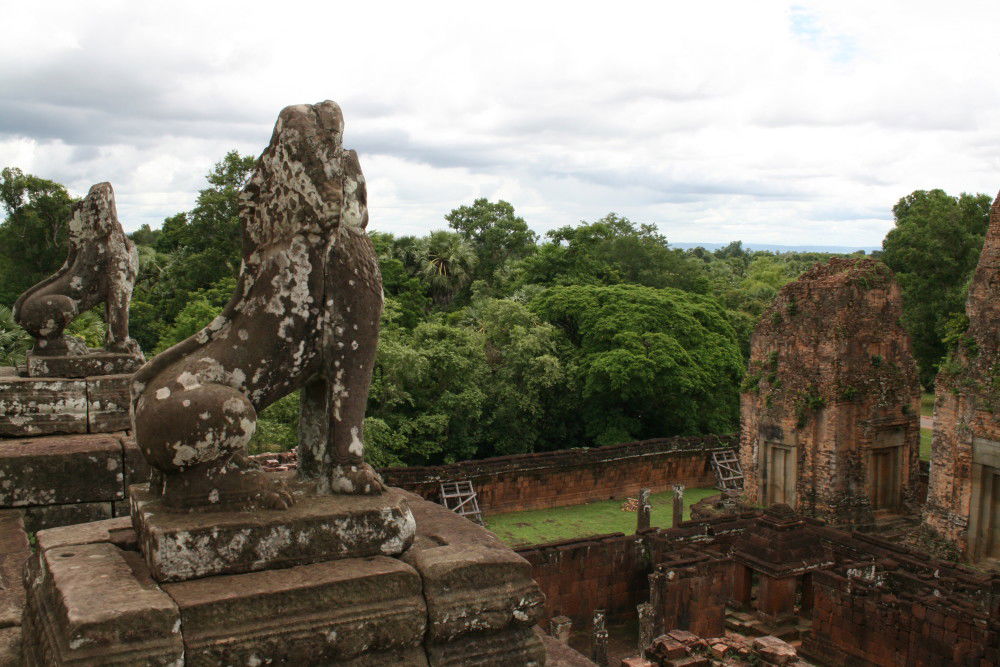 But Laos has also been high on my list of places to visit for ages, and I haven't made it there yet. So it might be nice to spend a few nights in Luang Prabang at least, if only to get a taste of a country that we'd want to come back and experience more thoroughly in future.
I realize that could easily be three (or more) trips, but part of the point of this is to show our moms places they wouldn't otherwise see, so bopping around to several cities might be interesting for them.
Factors to consider
One, we'll be there in February, so I'm not sure the weather will be quite warm enough to spend time out on Ha Long Bay, or do some of the other "must dos" in the northern part of the country. But I've heard mixed reports on that.
Also, we'll be there in February — which means smack-dab in the middle of the Tết holiday. Which from what I understand means that many things will be shut down.
(These are some of the other things you should think about in advance, so you don't book tickets and then realize "damn, I just booked a third-consecutive trip to Asia over the lunar New Year." I spend a lot of time thoughtfully considering other people's travel, and very little on my own, clearly.)
And another factor — my mom is really, really, interested in archaeology.
Like, you know the roughly 40% of most natural history museums where the displays are just full of awls and pottery shards, and you can't help but wonder "okay, but who actually cares about seeing these?" — my mom loves that stuff.
So I think going to the region and not setting aside some time for exploring temples in Angor would be a bit sad for her (though she would never complain about it).
Finally, I am (theoretically) going to try not to work as much on this trip. Which ironically makes connectivity even more important. When we were in Thailand a few years ago this worked out perfectly, as we had fabulous internet everywhere we stayed, so I could comfortably work for a few hours in the morning before everyone else started their day, check in maybe once in the afternoon, then wind down the evening by wrapping things up from my inbox.
This strategy works really well for me with the time zones in Asia, provided the internet is fast and reliable. When it's not, the few hours of efficient morning work turns into a frustrating 10-hour slog. Which, that's also doable if we're in a certain place for a few days — Heather frequently has taken our moms out to do stuff while I work — but I don't love missing out, and if we're traveling at a faster pace that all ends poorly.
Factors I hadn't fully considered, but have ended up being important
While our final itinerary is much less break-neck than my first version (thanks for the revisions!), it's still pretty fast.
Visas
All three of the countries we'll be visiting require visas for US Citizens, and while they can be arranged on arrival, it's always better to have paperwork done ahead of time when you can.
Vietnam offers single-entry eVisas online, in what I thought was a quick and painless process until I applied for our Cambodian visas, which made the Vietnam application look like a goat rodeo in comparison. Multi-entry Vietnam visas are much more expensive, and don't seem to be available online, so in the interest of simplifying life a bit, we re-structured our itinerary so that we'd only be entering Vietnam once.
This is somewhat counter-intuitive in terms of distances and relative geography, but in many ways makes things a little easier.
Flight schedules
Based on your experiences, and the relatively short timeframe for this trip, we cut out any potential overnight train rides. I'm a little bummed about that, because I think it would be a unique thing to do, but given everything involved that's probably a solo or with-husbands-not-moms transportation option.
Instead we're flying between all of our destinations, and given the density of our trip I prioritized non-stop flights whenever possible. While Vietnam is well-connected by air, Laos isn't to the same extent, and I didn't want to spend 6-7 hours taking two flights with a connection when a non-stop flight even theoretically existed.
So for example, there are non-stop flights between Luang Prabang and Siem Reap, but not to Phnom Penh. And there are flights to/from Singapore and several cities in Thailand, but the only Vietnamese city with non-stop flights to Luang Prabang is Hanoi.
That made the obvious decision for the latter part of our itinerary to be Hanoi > Luang Prabang > Siem Reap > Phnom Penh.
The times of these flights have also had an outsized impact. On the day that makes sense for us to fly from Hanoi to Luang Prabang there is only one flight (other days have multiple frequencies), and it's at 7PM. Thus we've worked backwards from that to determine when we want to arrive in Hanoi, how we'll structure our activities, etc.
Weather (and wardrobes)
This is one of those aspects that could totally have gone the other way — it's not like you can't just pack to accommodate whatever weather you might encounter — but in the interest of streamlining and making it easier for our moms, we're trying to stick to just a few microclimates.
Thus once we decided we definitely wanted to spend time in Luang Prabang and Siem Reap (where it is likely to be very warm), we chose to limit our time in the cooler climates of northern Vietnam. I'll just have to go back!
And rather than staying in Da Nang (which has some nice-looking beach resorts), our time on the central coast will be spent in the thick of Hoi An's Ancient Town, since that seems like it will be a better base for us if it does indeed rain everyday.
The itinerary we've settled out on
Here's a map for a bit of context: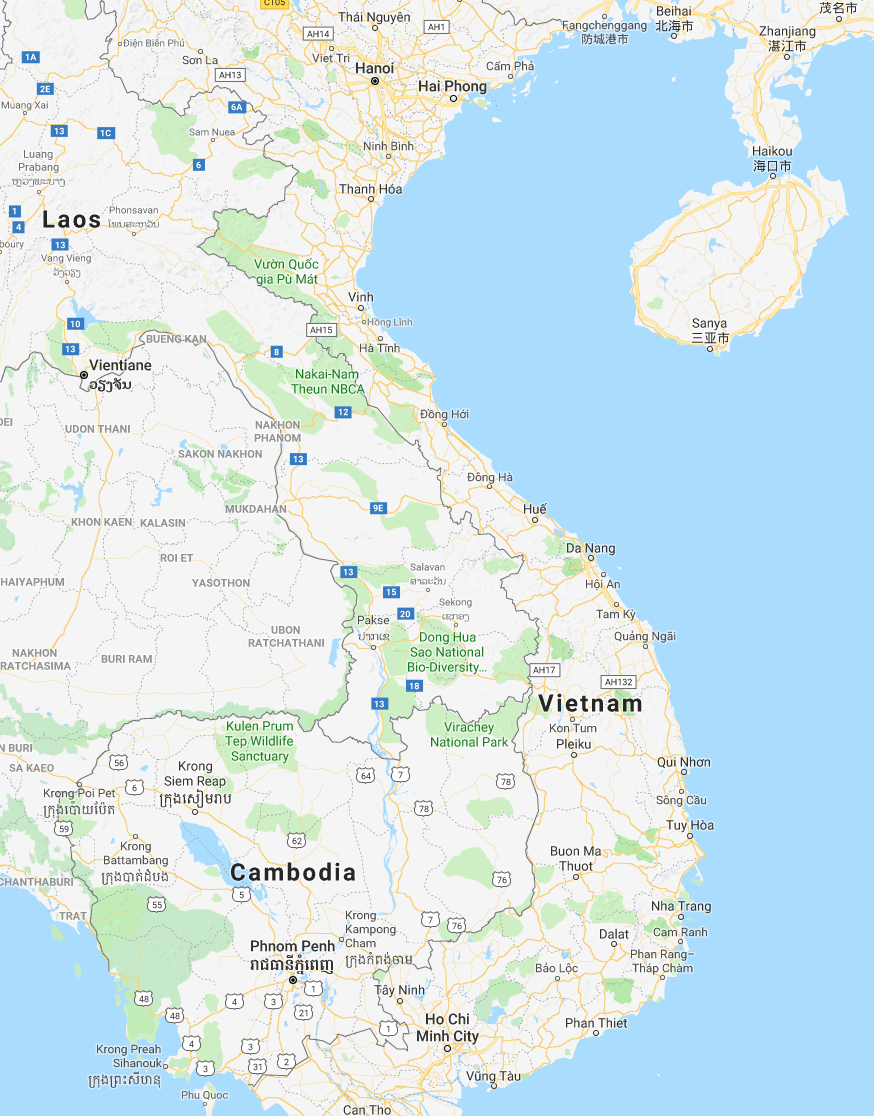 This has gone through several evolutions, and while I wouldn't say it's perfect, I think it will work well for us given all the variables:
Arrive in Ho Chi Minh City (just after midnight), spend that night and the following night
Fly to Phu Quoc in the late afternoon, spend three nights enjoying the island's beaches
Take an evening flight to Da Nang (this is our only connecting flight, with a stop in SGN), spend three nights in Hoi An, where we've booked two rooms with a shared bath in a charming little guest house
Fly to Hanoi in the morning, giving us two full days and one night to explore the city
Fly to Luang Prabang in the evening, spend three nights
Fly to Siem Reap in the afternoon, with just enough time to enjoy sunset in Angkor on arrival, spend two nights
Morning flight to Phnom Penh, going directly from the airport out to the Killing Fields then the S21 museum before settling in at the hotel then exploring the city for a night before catching our flight home in the morning
That's still a pretty fast trip (or glacially-slow, depending on how you feel about seven different hotels in 15 days), but my hope is that it will still be a comfortable pace, while allowing us to show our moms several different areas and experiences.
My asks of OMAAT readers
Even with our trip outlined — or perhaps especially now that we have an idea of where we'll actually be going — what would you all do?
I really want to make this a special trip for our moms (though I can hear the chorus of every mom reading this saying "It will be special because they're with you!" and that is probably true), and would like them to be able to experience as much of the region as possible.
So, are there things that you've done (or have always wanted to do)? We have hotels lined up, but are there can't-miss activities in these cities, restaurants you've loved (or hated), or an incredible local guide that just changed your perspective on an area? Other thoughts and recommendations for a trip like this?
I'd love to hear it all — even if there's stuff you think doesn't make sense for this group, other readers might enjoy it, and I love collating these references for future. You guys always have the best tips, and I really appreciate your input. 🙂
Beyond just this specific question, how do you approach planning trips when you're traveling with family?