---
While perhaps arbitrary, one of my "airline" goals is to review A380 first class on every airline that operates the plane. Prior to last week I had reviewed A380 first class on Emirates, Lufthansa, Malaysia, Qantas, Thai, and Singapore, which leaves Air France, British Airways, Korean Air, and China Southern. I have tickets booked for early next year in China Southern and Korean Air first class, which only leaves Air France and British Airways.
I had actually locked in a British Airways A380 first class award ticket several months back using British Airways Avios. I'm a British Airways Executive Gold so I can redeposit award tickets for free. Given that British Airways only fairly rarely releases A380 first class award space I figured I might as well lock in a seat while it's available.
I didn't put much thought into the trip for quite a while, until two weeks ago when the trip was only a week out. I figured I might as well make a quick trip to Germany to visit the Christmas Markets, which are always fun. At that point the challenge became figuring out the outbound.
I really wanted to try Air France A380 first class, though it's probably also the single most unattainable A380 first class product on miles, since they only release space at the "flex" award level. In June Air France raised their redemption rates, so a one-way first class transatlantic award ticket costs 162,500 FlyingBlue miles (which can be transferred from American Express Membership Rewards). While that does represent a price increase, at least Air France opened up first class redemptions to all FlyingBlue members, while previously only elite members could redeem for first class.
The good news is that through the end of the year you can still request the old award rates by phone, even as a n0n-elite. For transatlantic first class that's 125,000 miles for a one-way ticket. That's crazy expensive on one hand, but I really did want to check the last A380 off my list, so figured I might as well do it now since the price is only going up further. The booking experience was quite a rigamarole, and took eight calls to book, but in the end it worked!
My itinerary looked as follows:
12/10 AF65 Los Angeles to Paris departing 2:45PM arriving 11:35AM (+1 day)
12/11 AF1318 Paris to Frankfurt departing 3:30PM arriving 4:50PM
12/13 BA903 Frankfurt to London departing 10:55AM arriving 11:50AM
12/13 BA269 London to Los Angeles departing 3:00PM arriving 6:05PM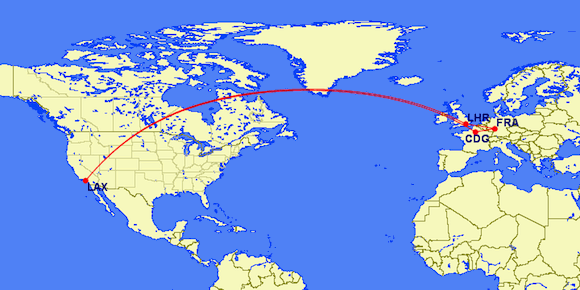 The outbound on Air France cost 125,000 Air France FlyingBlue miles plus 370.94EUR in taxes, fees, and fuel surcharges. The return, booked through British Airways Executive Club, cost 84,000 Avios (9,000 Avios for business class from Frankfurt to London, and 75,000 Avios for first class from London to Los Angeles) plus $413.62 in taxes, fees, and fuel surcharges.
While I didn't have very high expectations of Air France first class (I was completely off, for what it's worth), I was really excited when I went online and saw my seat assignment in Air France A380 first class, a cabin I figured I'd never fly.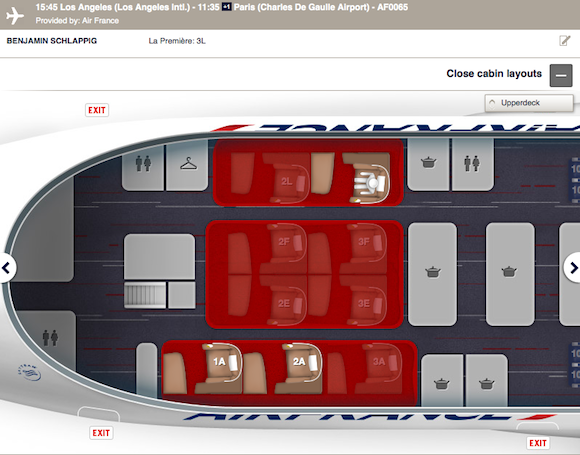 I had two nights in Frankfurt, and wanted to review a new hotel as well. So far I've reviewed the Westin Grand Frankfurt, Sheraton Frankfurt Airport, Le Meridien Parkhotel Frankfurt, InterContinental Frankfurt, and Hilton Frankfurt Airport. Since I recently reviewed the Hilton Frankfurt Airport and am still an Honors Diamond member I figured I might as well stay at the Hilton Frankfurt, so I can review Hilton's city offering.
Then on the tail end of the trip I decided to spend one night in LA and one night in Carlsbad visiting friends, and will explain the booking process for those stays with the individual installments.
Thanks for reading, and as always any comments/questions are welcome!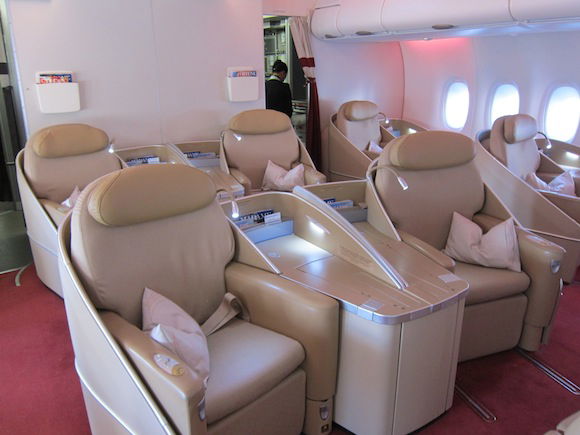 Air France A380 First Class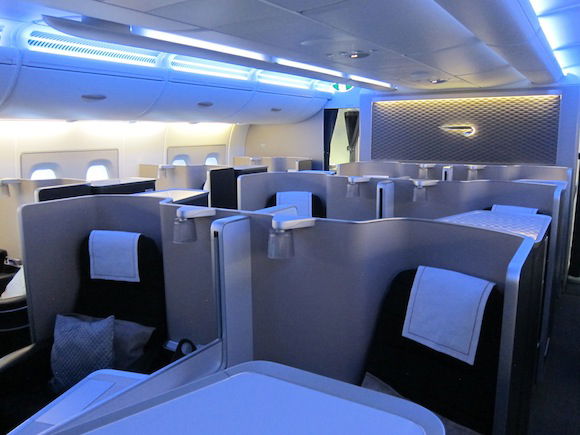 British Airways A380 First Class