---
As I outlined a few weeks ago, I was facing a bit of a dilemma as to how to get to Chicago for an event I needed to attend. I had waited a bit too long to book my flights, and revenue fares were crazy at that point. Coincidentally, US Airways was running a 100% bonus on purchased miles at the same time, which was essentially a way to pick up US Airways miles for ~1.1 cents each. That meant I could book a ticket to North Asia in business class for ~$1,000, while a roundtrip ticket to Chicago would have cost me over $500.
The single best redemption value on US Airways' award chart, in my opinion, is for travel between the US and North Asia. They charge just 90,000 miles in business class, and you can even route via Europe and have a stopover there if you'd like. Check out this post for details on how to book one of these awards.
Anyway, one of my primary goals with this blog is to review as many premium cabin products as possible, so prior to booking this trip I asked you guys which products you most wanted to read about.
In the end I managed to book a routing which would allow me to sample four new products, including:
The US Airways Envoy Suite, which is really where the concept of a reverse herringbone seat in business class started (in the meantime I've flown the more advanced reverse herringbone products offered by American, Cathay Pacific, and EVA).
Air China business class on their new 777-300ER aircraft, which features fully flat business class seats. Given how much award space they release on some routes, a trip report on them is way overdue.
ANA 787 regional business class. I've done plenty of flying in their regional business class, though this would be my first 787 flight ever.
EVA Air is a new member of the Star Alliance and has a phenomenal longhaul business class product, as I discovered on my flight on them from Taipei to San Francisco back in July. However, what I've really wanted to sample is their Hello Kitty service, which they recently launched to the US.
The booking process was quite easy, and in the end my itinerary looked as follows (as you can see I have an open jaw between Chicago and Los Angeles, no stopover, and my destination is Tokyo):
10/13 US2070 Chicago to Charlotte departing 12:10PM arriving 3:06PM
10/13 US786 Charlotte to Paris departing 4:50PM arriving 6:55AM (+1 day)
10/14 CA934 Paris to Beijing departing 8:20PM arriving 12:25PM (+1 day)
10/15 NH906 Beijing to Tokyo departing 2:45PM arriving 7:15PM
10/16 BR2197 Tokyo to Taipei departing 2:15PM arriving 4:50PM
10/16 BR16 Taipei to Los Angeles departing 11:55PM arriving 8:40PM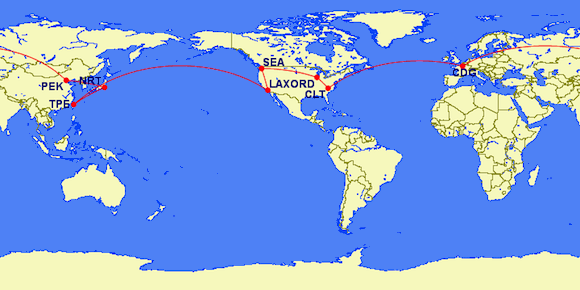 The ticket cost 90,000 US Airways Dividend Miles, plus $122.60 in taxes.
So as you've probably noticed, in the end I didn't totally accomplish my goal of avoiding the outrageous airfare between Seattle and Chicago. However, I did cut it in half since I only had to purchase a one-way ticket from Seattle to Chicago. On the tail end of the trip my travel terminated in Los Angeles, and I spent a few days there with friends before continuing home. So I realized from the start I wouldn't actually save money going this route, but couldn't turn down the opportunity to review four new products, especially given how little I paid for the US Airways miles.
There's no doubt by anyone else's standards this trip is "crazy," especially since I wasn't actually going anywhere. I booked a day room at the Hilton Paris Charles de Gaulle Airport in hopes of being able to get some work done, and booked a night at the Hilton Tokyo Narita. I had a commitment the following week, so sadly couldn't stretch my trip much further, and at the end of the day my blog is a lot more about the journey than the destination (there are much better destination resources out there I could never compete with), so I was still accomplishing my "core" goal for the blog.
Anyway, flying around the world in 80 hours (even in flat beds the entire way) was surprisingly exhausting, and in great contrast to my past "quick" round the world trips, I hardly slept at all. But more to come on that later.
For anyone that can't wait for the installments, I shared my initial thoughts on the individual segments "live" during the trip. You can find them here:
Thanks for reading, and as always, any questions/comments are welcome!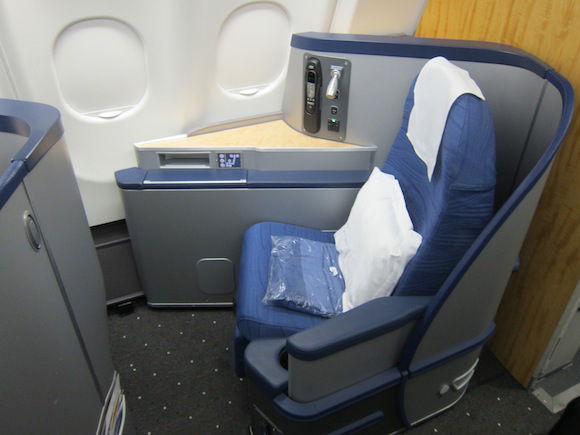 US Airways Envoy Suite A330

Air China Business Class 777-300ER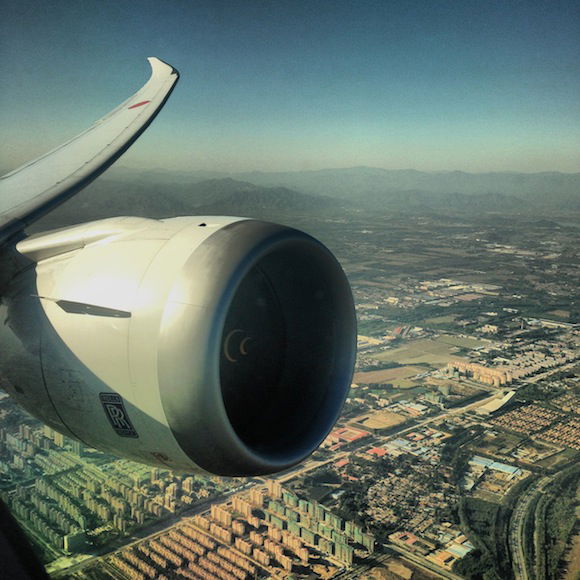 ANA 787 wing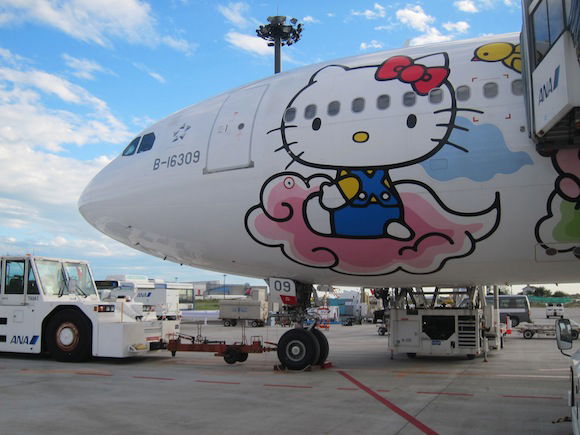 EVA Air Hello Kitty A330