---
Welcome to my first new trip report of 2016, as my goal for this year is to sample as many new first & business class products as possible. And I'm sure you guys will agree this is a good start. 😉
The way this trip came to be is sort of funny. In mid-December I wrote about how Finnair was flying the A350 to the US for a limited time in January. They just recently took delivery of their first A350, and are flying them exclusively to Asia as of now. So when Finnair announced they'd fly the A350 to the US for a bit over a week in January and there was plenty of award space, I couldn't help but book.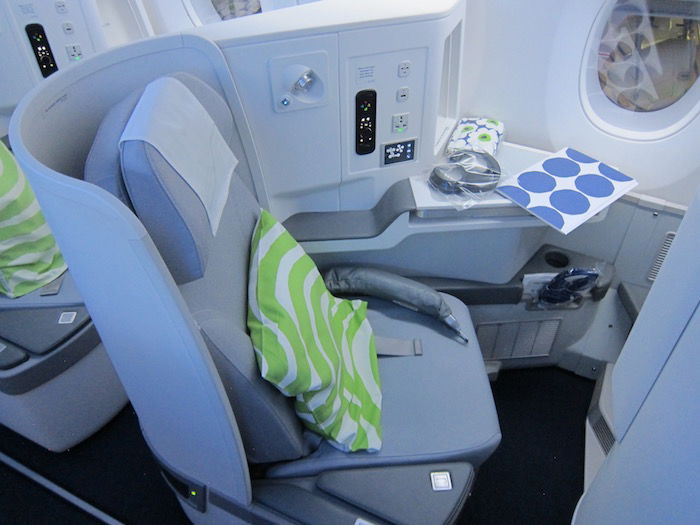 Finnair A350 business class cabin
Not only is the A350 a gorgeous plane, but Finnair has a new reverse herringbone business class product on their A350s, which looks excellent. I decided to take that award a step further, though.
While intra-Europe business class is typically only marginally better than economy (it's usually just economy with a blocked middle seat), I noticed that Finnair was flying an A340 to London Heathrow the day after I'd arrive in Helsinki. Finnair's other longhaul aircraft are the A330 and A340, and both feature the same business class product. So I figured this flight would be a great opportunity to sample Finnair's other business class product, which they usually fly to the US.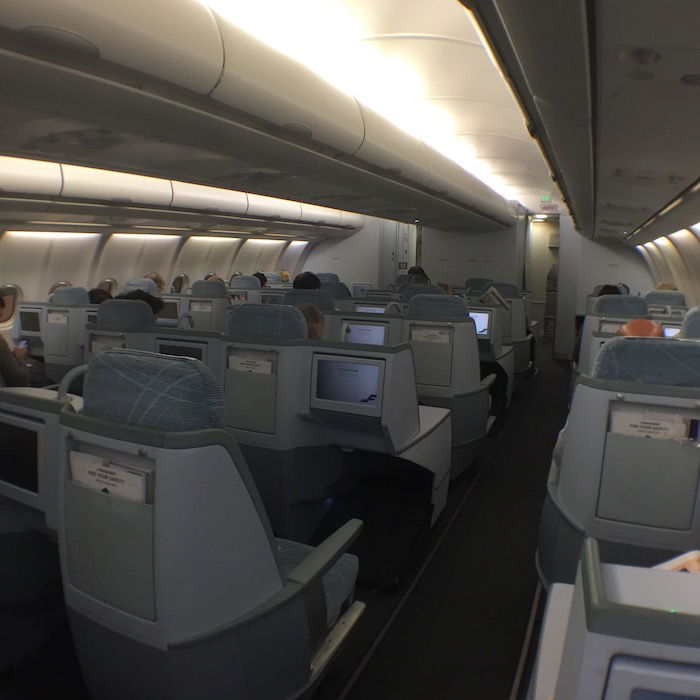 Finnair A340 business class cabin
I also added on positioning flights from Los Angeles to New York, which I unfortunately had to route via Dallas. The entire Los Angeles to Dallas to New York to Helsinki to London ticket cost me 50,000 AAdvantage miles plus $26.60 in taxes.
Then I had to figure out how to get back to the US from London. For years I've been talking about how I want to review Air India, and the perfect opportunity presented itself.
Avianca's LifeMiles program is known for historically allowing some "creative" routings due to how their system works, though nowadays they've blocked most of the better "creative" options. Air India recently launched a new flight between Delhi and San Francisco, so I went to LifeMiles' website and selected Air India as my preferred airline for a flight from London to San Francisco. This itinerary popped up: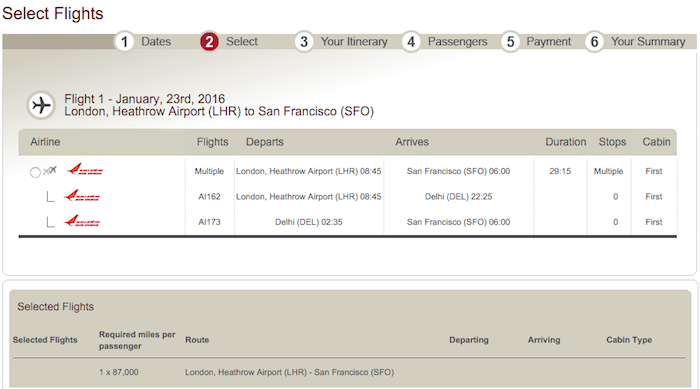 Now, 30 hours on Air India might not sound like everyone's idea of a good time, but it sounded to me like a great opportunity to thoroughly review their first class product. Furthermore, I was actually saving miles by flying them from London to Delhi. The Delhi to San Francisco flight alone would have cost 111,000 miles. So I saved 24,000 miles by adding on the London to Delhi flight, since it meant the award cost would be based on a Europe to US award, rather than a Central Asia to US award.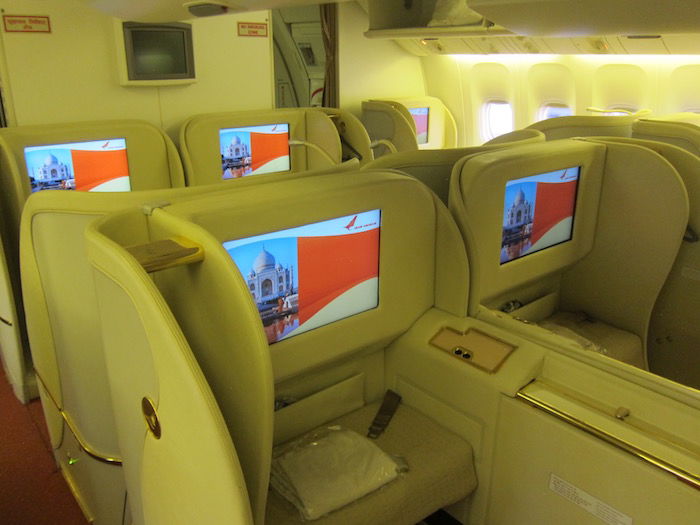 Air India 777 first class cabin
The one "catch" is that since I was originating in the UK, I had to pay the UK Air Passenger Duty. So in addition to the 87,000 miles I had to pay a total of $315.30 in taxes and fees.
Lastly, I booked a paid positioning flight on American from San Francisco back to Los Angeles, which cost $72.10.
In the end, my entire itinerary looked as follows:
01/20 AA2404 Los Angeles to Dallas departing 5:03AM arriving 10:05AM
01/20 AA1345 Dallas to New York departing 11:50AM arriving 4:20PM
01/20 AY6 New York to Helsinki departing 5:45PM arriving 8:50AM (+1 day)
01/22 AY831 Helsinki to London departing 8:00AM arriving 9:10AM
01/23 AI162 London to Delhi departing 8:45AM arriving 10:25PM
01/24 AI173 Delhi to San Francisco departing 2:35AM arriving 6:00AM
01/24 AA5922 San Francisco to Los Angeles departing 8:00AM arriving 9:42AM
Here's my 20,000+ mile, four day jaunt on a map: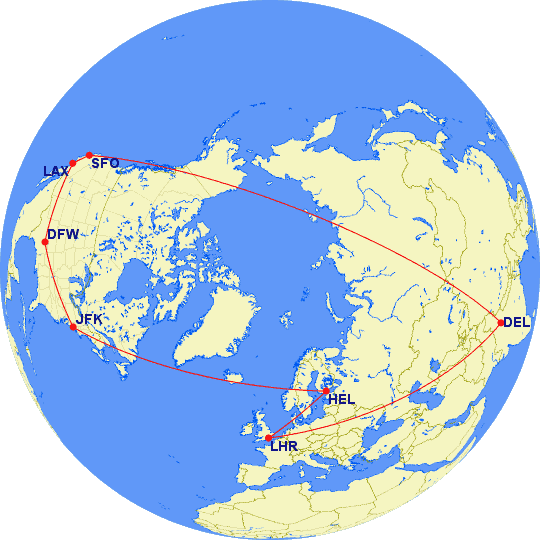 As you can see, the amount of time on the ground was limited, so I only needed to book a hotel for one night in Helsinki and one night in London.
Given that I'm warm blooded and that I'd be in Helsinki in the dead of winter, I decided to just book a hotel near the airport. This seemed like a good opportunity to knock out my IHG Accelerate Promo, where I could earn 45,000 IHG Rewards Club bonus points for a one night stay at the Holiday Inn Helsinki Airport. While it wasn't cheap at 120EUR for the one night stay on the eligible rate, it still seemed like the best option.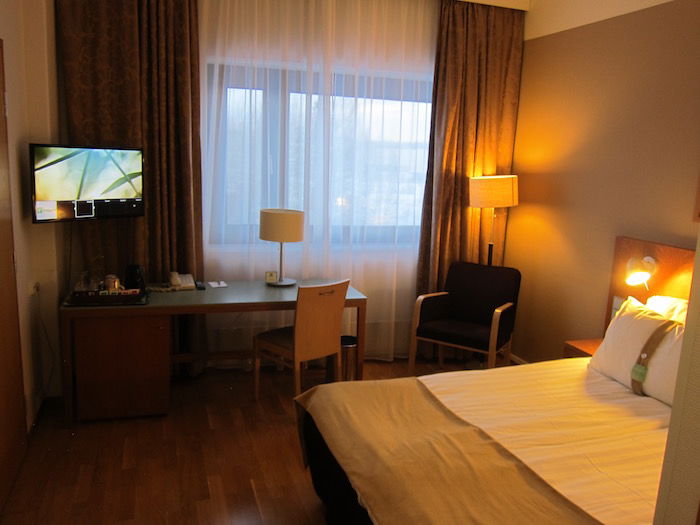 Holiday Inn Helsinki Airport
Then for my one night in London I booked the Hilton London Heathrow T4, which is extremely convenient. I used to avoid Hiltons as much as I could, but now that I'm at least a Diamond my stays are a bit more pleasant. Air India flies out of T4 at Heathrow, so being able to walk directly from my hotel to check-in is awesome, especially given that my flight departed at 8:45AM, and I wanted to arrive plenty early so I could review the lounge. For that stay I booked a pre-paid rate of ~90GBP.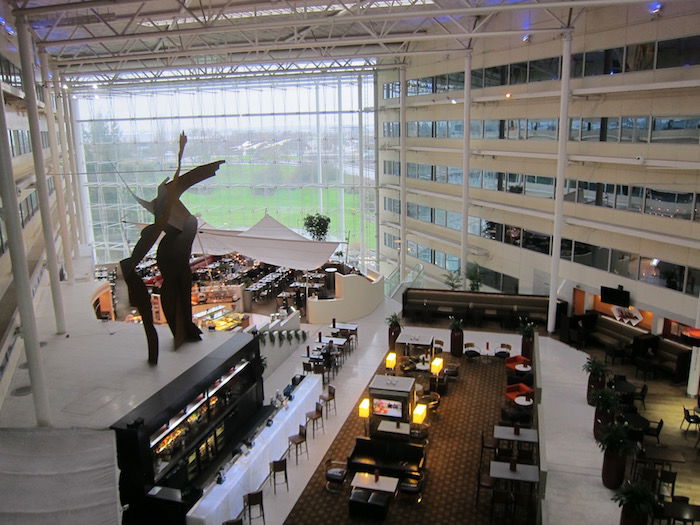 Hilton London Heathrow Terminal 4
Bottom line
I was extremely excited about this trip, given that it would allow me to review two new airlines I hadn't yet flown. While it's admittedly a totally crazy way to spend four days, I hope you guys find the experience enjoyable/amusing to read about. Air India surprised me quite a bit, both in a good and bad way.
Lastly, I should note that I approached this trip report differently than past ones, as I wrote it "live." On each day I wrote the parts covering my travel for that day, so my memory doesn't get fresher than this. Hopefully it's reflected in the level of detail. In other words, the trip report is already completely written, and now I just have to publish the installments.
Thanks for reading, and if you have any comments/questions, please let me know!