---
While I take a lot of crazy trips, usually they're structured that way by design. This trip was different, unfortunately.
As you guys know, my goal is to review as many new airlines in business class as possible. While flying airlines like Pakistan and Saudia in business class might not sound like the most desirable thing out there, I've really been enjoying trying new products, possibly more than flying the same great first class products over and over.
The planning for this trip started back in March, and the goal was to review both Fiji Airways and Air Tahiti Nui business class, given that they're the two biggest Pacific island airlines I've never flown before, yet they're both quite useful airlines for redeeming miles.
Booking the flights
Alaska Mileage Plan is a great frequent flyer program, and they have some very unique airline partners. One of those partners is Fiji Airways, where they have an intriguing redemption opportunity.
For 55,000 miles you can book Fiji Airways business class one-way between the US and Australia or New Zealand. The best part is that Alaska Mileage Plan allows stopovers on one-way award tickets, so this is a fantastic way to do a stopover in Fiji enroute to another destination.

I managed to find availability on dates that worked for me, both from Los Angeles to Nadi, and then a few days later from Nadi to Auckland. The outbound itinerary looked as follows:
08/13 FJ811 Los Angeles to Nadi departing 11:30PM arriving 5:50AM (+2 days)
08/18 FJ411 Nadi to Auckland departing 8:45AM arriving 11:45AM
Cost: 55,000 Alaska Mileage Plan miles + $148.50 taxes/fees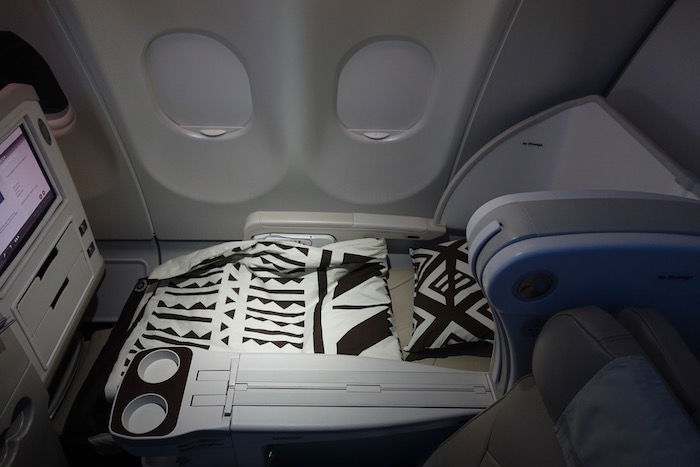 Then for the return flight the goal was to fly Air Tahiti Nui business class. The timing of booking this trip was really pushed along due to American's award chart devaluation in March. The cost of a one-way business class award between the US and South Pacific was increasing from 62,500 miles to 80,000 miles, so I wanted to book before that price increase kicked in.
As a result, I booked the following just a couple of days before American's March 22 devaluation:
08/18 TN102 Auckland to Papeete departing 2:55PM arriving 9:45PM
08/18 TN102 Papeete to Los Angeles departing 11:45PM arriving 10:55AM
Cost: 67,500 American AAdvantage miles + $38.26 taxes/fees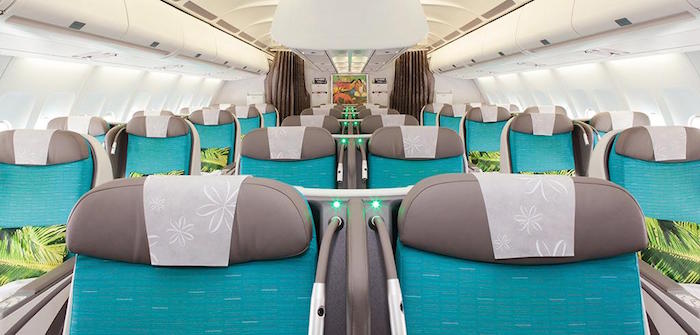 In the end my routing looked as follows: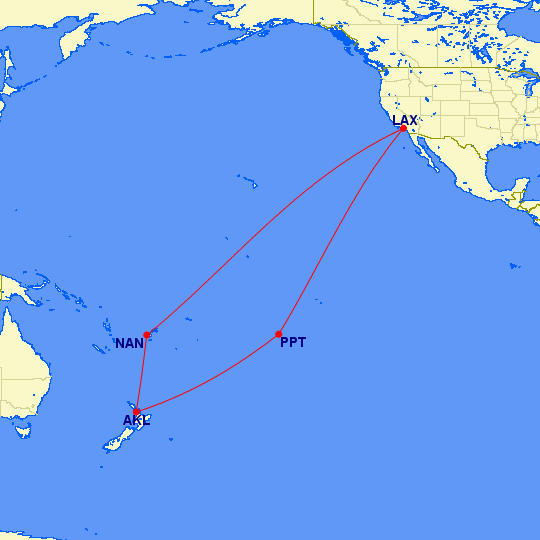 As you can see, in this instance I was doing a direct turn in Auckland. This trip was simply for review purposes and I've been to New Zealand before, so my new destination on this trip was Fiji, where I'd have three days. Then I'd just have a few hours in Auckland, between my Air Tahiti Nui flights.
Everything worked well on the outbound, though unfortunately just hours after getting to Fiji I received news that Ford's stepfather suddenly passed away, so obviously I wanted to return to the US to be with him and his mom.
Fiji is probably one of the worst possible places you can be if you have an emergency and need to get back to the US, given that there's one daily flight between Fiji and the US mainland. There was no award space, though fortunately paid business class tickets weren't horribly priced. I managed to book the following in business class for ~$2,100, while a one-way economy ticket would have cost ~$1,400, so I thought business class was worth the premium:
08/15 FJ810 Nadi to Auckland departing 9:40PM arriving 1:25PM
08/15 AA22 Los Angeles to New York departing 3:30PM arriving 12:05AM (+1 day)
Unfortunately the Los Angeles to New York flight ended up being delayed by hours because American is incompetent, so I ended up being rerouted through Philadelphia and then to Providence, which was perhaps a blessing. Suffice to say it was a crazy few days of flying.
Booking the hotels
Based on everything I've heard about Fiji, the gorgeous parts of the country are the smaller islands, many of which have resorts. There are almost a dozen resorts in Denarau, which is about a 15 minute drive from the airport. I had heard it's not the most picturesque part of Fiji, but in this instance it's where I decided to stay, since I was in Fiji during the week and knew I'd be working most of the time anyway.
It's also worth noting that some hotels on the smaller islands in Fiji are still closed after Cyclone Winston, which hit earlier this year and did some damage. For example, the Sheraton Tokoriki Island is closed until February 1, 2017.
Since I originally planned on a three night stay, I booked the Sheraton Denarau for the first night, and then the Westin Denarau (which is next door) for the next two nights. That way I could compare the two, since I was unclear about which was better prior to my stay.
Both are Category 4 SPG properties, and retail for 10,000 Starpoints per night. That was a better value than the ~$300 per night rates at the properties, I thought.
So while I spent a day at the Sheraton, unfortunately due to the emergency back in the US I never had the chance to stay at the Westin.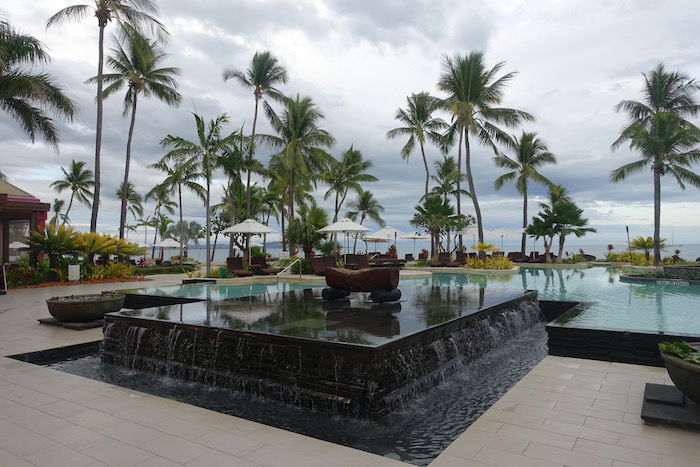 Bottom line
This trip didn't end up being quite as enjoyable as I had hoped, but that's life sometimes. While I didn't have a chance to see much of Fiji, even on my short stay I enjoyed incredible Fijian hospitality. I've always said that Balinese people are the nicest that I've come across in my travels, though I think Fijians rank up there with them.
I'm also happy I had the chance to fly two longhaul segments on Fiji Airways, as it allowed me to get two good samples of their service. Overall I was impressed by Fiji Airways, despite their subpar hard product.
However, I guess I'll have to fly Air Tahiti Nui sometime soon, as I didn't have the chance this time around.
Stay tuned, I'll have this trip report published over the coming week!