---
As some of you may recall, earlier this year I took my mom to the UAE and Singapore for a quick getaway. She hasn't had the opportunity to travel much in recent years, and was really excited about the prospect of flying something "fancy."
To be honest, that was the entire impetus for the trip, and the conversation went like this:
"Can we go on an airplane ride?"
"Ummm…sure?"
"Specifically, I'd like to fly that plane where the stewardesses wear those pretty hats."
"Emirates?"
"I guess."
"So you want to go to Dubai?"
"Is that where it goes? I'm more interested in that Bulgari set."
"So you want to fly Emirates First?"
"Doesn't everyone get those?"
"Pretty sure only first class passengers do, Mama."
"Well, is that what Ben flies? He always posts pictures of these nice seats with wood paneling and makeup mirrors. I'd like to do that, please."
And really, what was I supposed to say to that?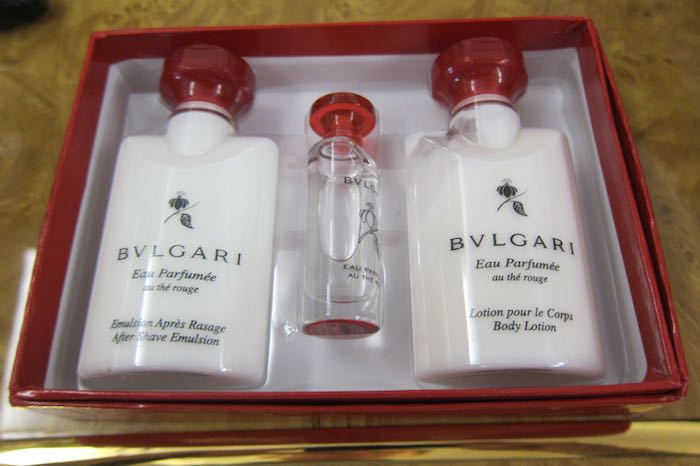 There are probably easier ways to get these…
So I put together a trip that would involve two flights in Emirates first class (a bargain at just 100,000 Alaska Mileage Plan miles), with the idea that we'd stop over in the UAE for a few days before continuing to Singapore.
My plan from there was to redeem American AAdvantage miles for Cathay Pacific first class on the return, as space generally opens up a few days prior to departure. However, I'm also a big proponent of locking in an "acceptable" alternative, and Singapore had space for two people in first on their red-eye through Hong Kong. I don't love that flight, but that was the ideal return date for my mom, and KrisFlyer has very reasonable change/redeposit fees.
Ultimately, I'm glad I locked those flights in, because while literally every single transpacific Cathay Pacific flight eventually had first class award space, nothing ever opened up between Singapore and Hong Kong. We were returning just after Chinese New Year, so it wasn't completely unexpected, but that's the first time I've been stymied by the short segment!
In the end, our itinerary was as follows:
Emirates 222 Dallas to Dubai departing at 11:20AM and arriving at 12:00PM (+1 day) [First class]
Three nights at the Park Hyatt Abu Dhabi
Two nights at the Park Hyatt Dubai
Emirates 354 Dubai to Singapore departing at 3:15AM and arriving at 2:40PM [First class]
Two nights at the Westin Singapore
Singapore Airlines 2 Singapore to Hong Kong departing at 6:30PM and arriving at 10:15PM [First class]
Singapore Airlines 2 Hong Kong to San Francisco departing at 11:40PM and arriving at 7:55PM [First class]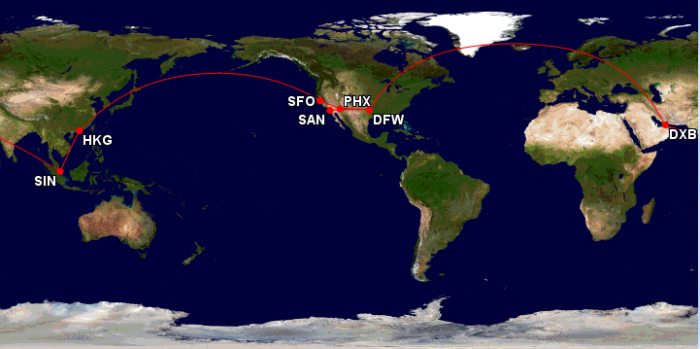 I organized separate positioning flights to Dallas and from San Francisco (with Avios for mom, and paid tickets for me). So in the end I used the following miles for two people:
200,000 Alaska Mileage Plan miles
~183,000 Singapore KrisFlyer miles
32,000 SPG points for the Westin Singapore
15,000 Avios
My Virtuoso agent was able to get a great rate on the hotels in the UAE, so I paid for those and applied Hyatt Diamond Suite upgrades. There were of course taxes and fees on the flights as well, but the overall out-of-pocket costs were fairly reasonable all things considered. Besides, it was for my mom.
I typically don't write trip reports here at OMAAT, though will occasionally chime in on some of the trips I take with Ben, and holy cow they're a lot of work!!!
There's also the not-insignificant issue of my photos being terrible. Ben has his routine down to a science, so I generally only have to snap a quick photo of my entree, if that — he's just as likely to grumble about my attempt and take his own photos of my plate. Compounding that, my husband is an amateur photographer, so there is generally no need for me to take pictures outside of what goes on Instagram.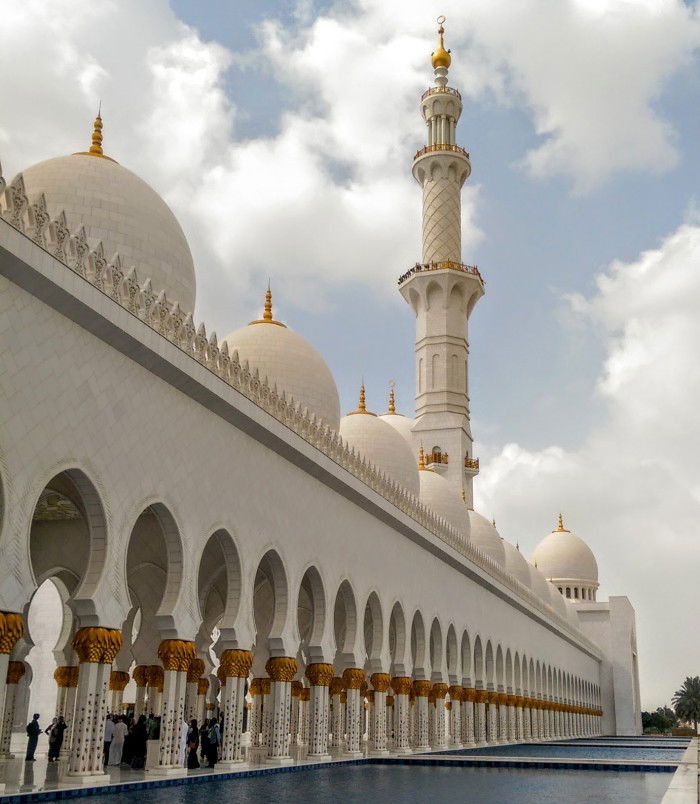 I tried though!
So given that, and that Ben has reviewed all these aircraft and hotels previously, I'm going to be doing something a bit differently.
Rather than focusing on the minutiae of each flight, I'll just give the highlights (with a bit more detail on our Emirates flight), then spend more time talking about what we did in each city, and what I'd do differently the next time. Sorta the opposite of a Lucky Trip Report 😉
I'm excited to share the trip with y'all, and hopefully the different perspective is fun!