---
My quick A380 jaunt to Asia was prompted by two things:
I wanted to try every A380 first class product in the world
In my never ending quest to try the world's best first class product (all for you guys, of course 😉 ), I wanted to be sure that I've tried every A380 first class product in the world. Prior to this I've flown the following airlines in A380 first class:
That left exactly two airlines currently operating the A380 that I hadn't yet flown on the whale jet — Korean Air and China Southern. As luck would have it, both of them can be redeemed for using Korean Air SkyPass miles, so I could try them both on a single award.
Besides, this would allow me to say I've tried all A380 first class products before Asiana, Etihad, and Qatar take delivery of their A380s later this year (though I hope to try them as well).
Korean Air SkyPass used to be an Ultimate Rewards transfer partner. I transferred points from Chase to Korean Air to book these flights, but as of 2018 that's no longer a possibility. Chase ended their partnership with Korean Air SkyPass.
Accruing Ultimate Rewards points is still incredibly valuable, in my opinion, and Ultimate Rewards points are among the easiest points currencies to come across through everyday spend, given that there are cards accruing bonus points on dining, travel, gas, office supply stores, cellular phones, landline, internet, and cable TV services:
Booking the ticket through Korean Air SkyPass
In tomorrow's post I'll cover the process of booking a Korean Air SkyPass award in great detail. After all, ticketing an award with Korean Air SkyPass is nothing like ticketing through a US frequent flyer program. They require just about everything short of your firstborn to ticket an award reservation.
Korean Air SkyPass charges 80,000 miles for one-way first class travel between the US and Northeast Asia, or 160,000 miles roundtrip. Per their award chart, Northeast Asia includes Korea, Taiwan, East Russia, Mongolia, Japan, China, and Hong Kong.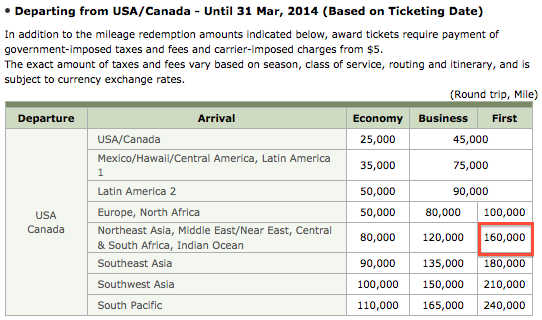 While you can make one-way redemptions for travel on Korean Air, if a partner airline is involved then roundtrip award travel is required.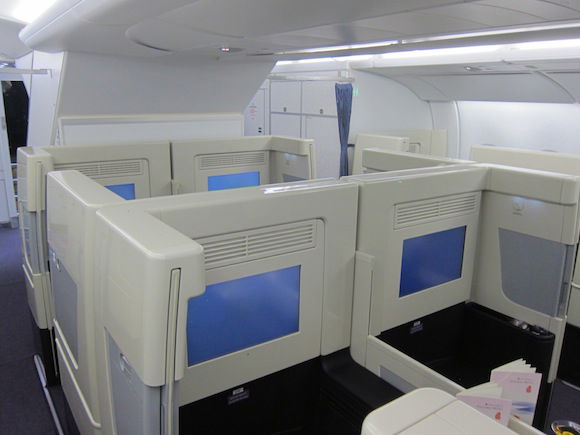 China Southern A380 first class cabin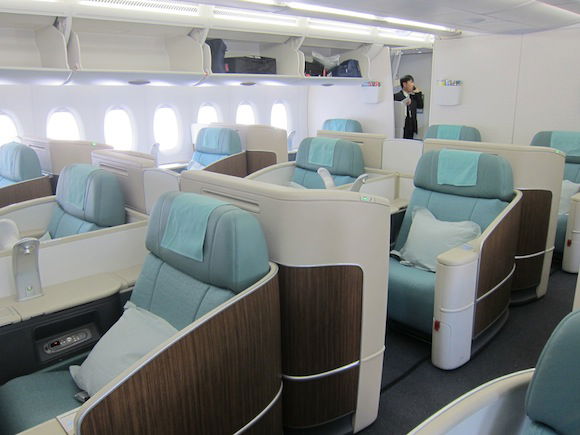 Korean Air A380 first class cabin
Choosing the flights
Unfortunately through at least April I didn't have more than a six day period where I could travel, so I had to make this trip quick. My goal wasn't just to fly one longhaul flight on China Southern and Korean Air, but I wanted to also try their intra-Asia service. So I tried to look for a destination in Northeast Asia which they both service with a longhaul configured aircraft.
That airport was Tokyo Narita. China Southern flies an A330 there, configured with their longhaul first class product.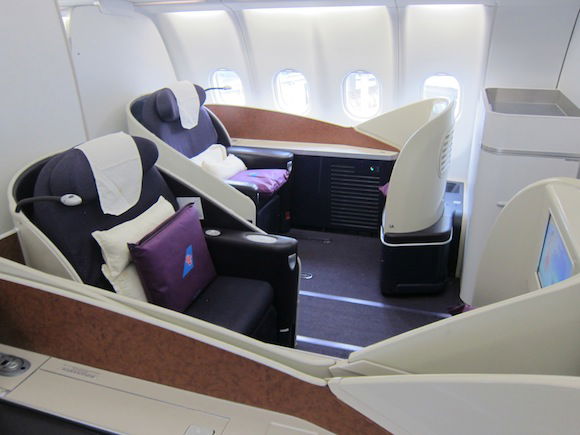 China Southern A330 first class cabin
Meanwhile, Korean Air flies a 777 there, also configured with their longhaul first class product.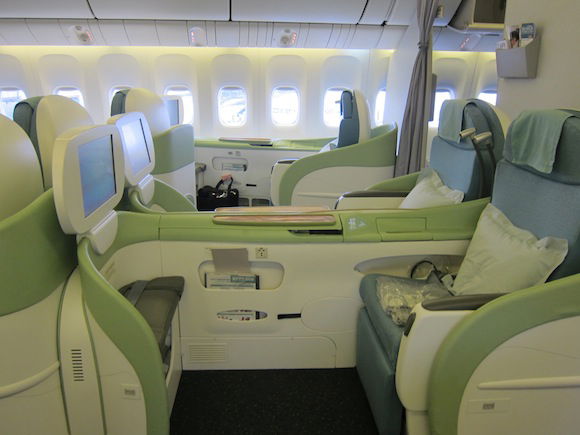 Korean Air 777 first class cabin
I've been to Tokyo and Seoul many times before, so instead decided to spend two nights in Guangzhou as a stopover. Guangzhou was recently added as a city in China which you can transit without a visa for less than 72 hours, so I took full advantage of that.
Guangzhou isn't a "traditional" tourist destination, but since I've visited most other major cities in Asia, it seemed like a fun place to check out.
In the end my routing looked as follows:
02/06 CZ328 Los Angeles to Guangzhou departing 10:30PM arriving 5:40AM (+2 days)
02/10 CZ385 Guangzhou to Tokyo Narita departing 9:30AM arriving 2:20PM
02/11 KE706 Tokyo Narita to Seoul Incheon departing 9:10AM arriving 11:50AM
02/11 KE011 Seoul Incheon to Los Angeles departing 3:00PM arriving 9:00AM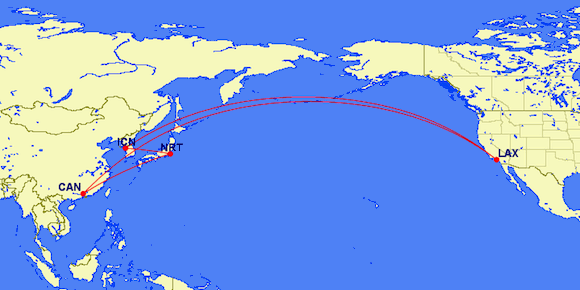 As far as my positioning to and from Los Angeles goes, on the outbound I had the amazing opportunity to fly a Gulfstream IV from Boeing Field to San Diego, and on the return I booked a $100 ticket on Alaska from Los Angeles to Seattle. Lemme tell you, after flying a Gulfstream IV, Alaska is no longer my preferred method of transportation up and down the west coast. 😉
Booking a hotel in Guangzhou
In Guangzhou I booked the W Hotel, which I've heard great things about. While the W Guangzhou doesn't belong to American Express Fine Hotels & Resorts or Virtuoso, it does belong to the Starwood Luxury Privileges program, which offers similar benefits.
For booking through an agent with access to the Starwood Luxury Privileges program I received the following benefits (in addition to my SPG Platinum benefits):
Upgrade on arrival if available
Daily breakfast for two guests
One 600 CNY food and beverage credit per room, per stay
Early check-in if available
Late check-out if available
While my rate wasn't cheap at ~$220USD per night, it seemed worthwhile with the above benefits. I managed to use two of my SPG Platinum Suite Night Awards to confirm into a Fantastic Suite, which cleared five days out.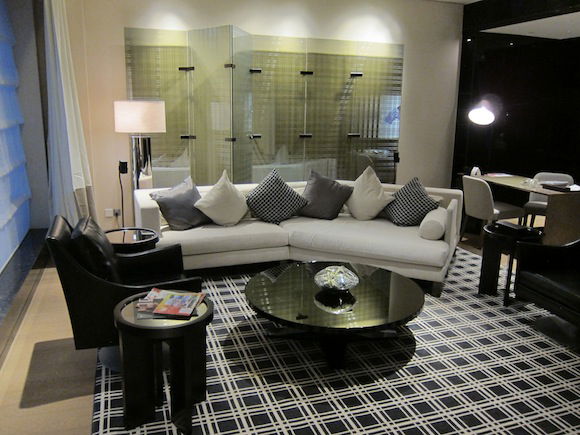 W Guangzhou Fantastic Suite
Stay tuned!
In the next post I'll be sharing more details on the actual process of finding award space and booking an award ticket through Korean Air SkyPass. I'll be posting one installment per day.
As always, if you have any questions or comments, let me know below. Thanks for reading!