EXTRA PERKS AVAILABLE
Enjoy breakfast, upgrades, & more
Want to take advantage of Four Seasons Preferred Partner benefits, including a space available room upgrade, complimentary breakfast, a hotel credit, and more? Contact Ford ([email protected]) for more details. He may even be able to help if you already have a stay booked.
The first stop on our trip to Oman was in Spain, where we spent two nights at the 200-room Four Seasons Madrid, which opened in September 2020. This is a really special property, and instantly became one of my five favorite city hotels I've ever stayed at.
Personally my favorite kinds of hotels are those that are historic and have a sense of place, yet are updated in a way that they're contemporary and have all the modern amenities you'd hope for from a luxury hotel. That's exactly what the Four Seasons Madrid delivers. Let me also say upfront that this is the only non-points property we're planning on staying at during this trip, so if this review doesn't interest some OMAAT regulars, I totally understand.
Booking the Four Seasons Madrid
For our dates in February, the nightly rate for a base room at the Four Seasons Madrid was ~900 EUR. This pricing is roughly in line with what you'll find at Madrid's other top hotels, including the Mandarin Oriental and Rosewood Villa Magna. The hotel does have some offers to get a better deal, like a fourth night free.
The best way to book any Four Seasons hotel is through a Preferred Partner travel advisor. When booking through Preferred Partner you pay the same rate you'll find directly on Four Seasons' website, but you'll receive extra perks, including the following:
A room upgrade, subject to availability
Complimentary daily breakfast
A hotel credit to use during your stay
Four Seasons Preferred Partner is generally combinable with promotions being offered directly through Four Seasons, including advance purchase rates, free night offers, and more. Note that booking Four Seasons properties through Preferred Partner is better than booking through programs like Amex Fine Hotels & Resorts. Why?
With Preferred Partner you have the option of room service breakfast in place of restaurant breakfast
Upgrades are prioritized for Preferred Partner bookings, given that it's Four Seasons' own proprietary program (and the value of an upgrade can be significant)
You can combine Preferred Partner perks with virtually any rate on Four Seasons' website (other programs don't allow you to stack promotions in the same way)
You can't beat getting all of these extra perks just for booking through an eligible travel advisor. Ford is more than happy to help anyone book Four Seasons properties through Preferred Partner, and can be reached at [email protected] He and his team don't charge any booking fees for Four Seasons properties.
Full disclosure — Ford got a travel agent rate for our stay. As always, all opinions expressed are my own.
Four Seasons Madrid location & history
The Four Seasons Madrid has a central location in Madrid, between Puerta del Sol and Barrio de las Letras. Ford is a big stepper (and I'm married to him, so…), and we managed to see most of Madrid's sights on foot. The hotel is a roughly 20 minute drive from Madrid Airport (MAD), and a taxi costs a flat fee of 30 EUR.
The Four Seasons Madrid has a ridiculously cool exterior, which feels both historic and well maintained. And that's for good reason. The hotel is actually a combination of seven historic buildings, which were built between 1887 and 1891.
This used to be the headquarters of Spanish bank Banesto. Banco Santander purchased Banesto, so in 2004 the building was vacated, and stood empty for years. In 2012 the building was declared a cultural heritage monument and was sold, with plans to turn the building into a luxury hotel. Then from 2013 until 2020, the building was transformed into the hotel it is today.
So yeah, €530 million and eight years later, the Four Seasons Madrid opened. That's a pretty time consuming and costly investment, eh?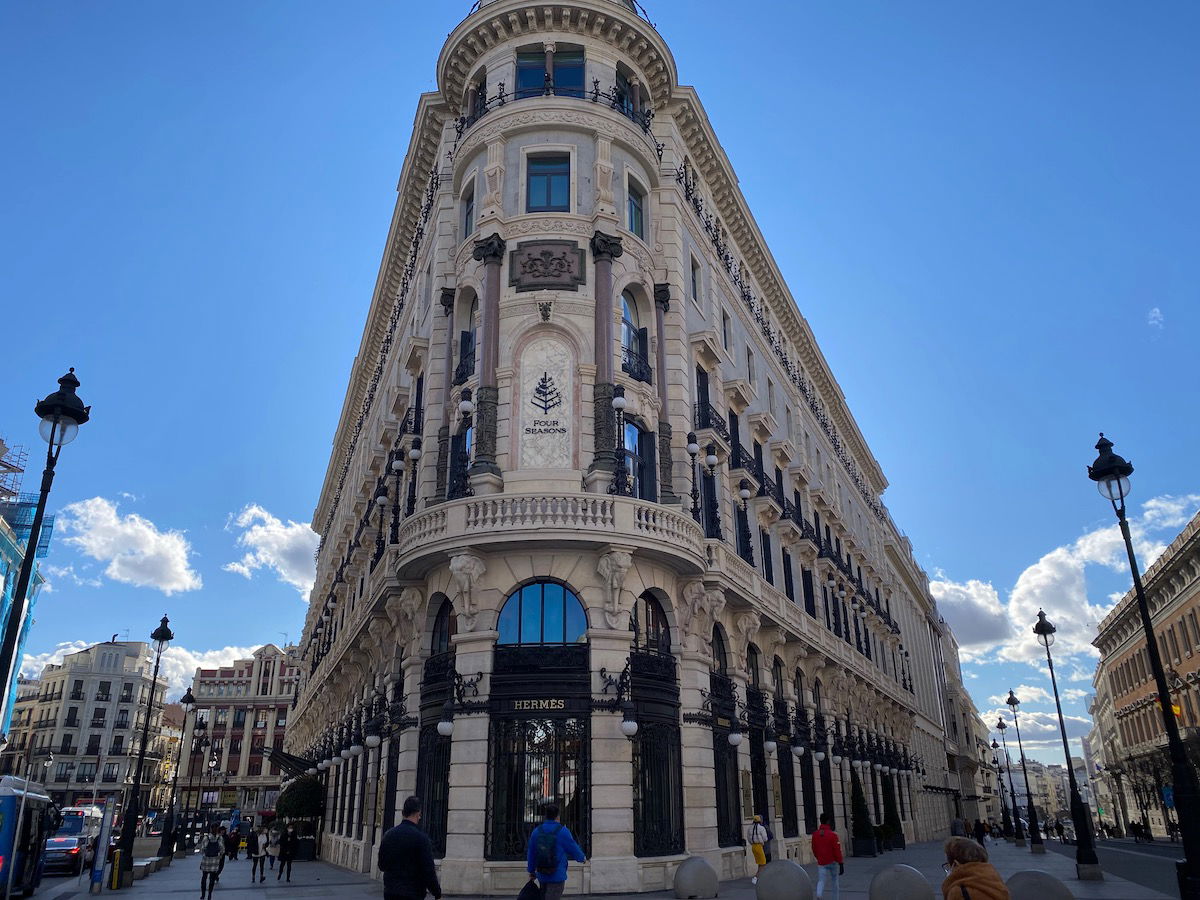 Four Seasons Madrid check-in & lobby
The Four Seasons Madrid has a grand lobby, which spans two floors and has maintained most of the elements of the space from back when it was a bank headquarters. There's plenty of seating in the lobby area, which belongs to the El Patio bar, serving drinks all day, plus afternoon tea and snacks.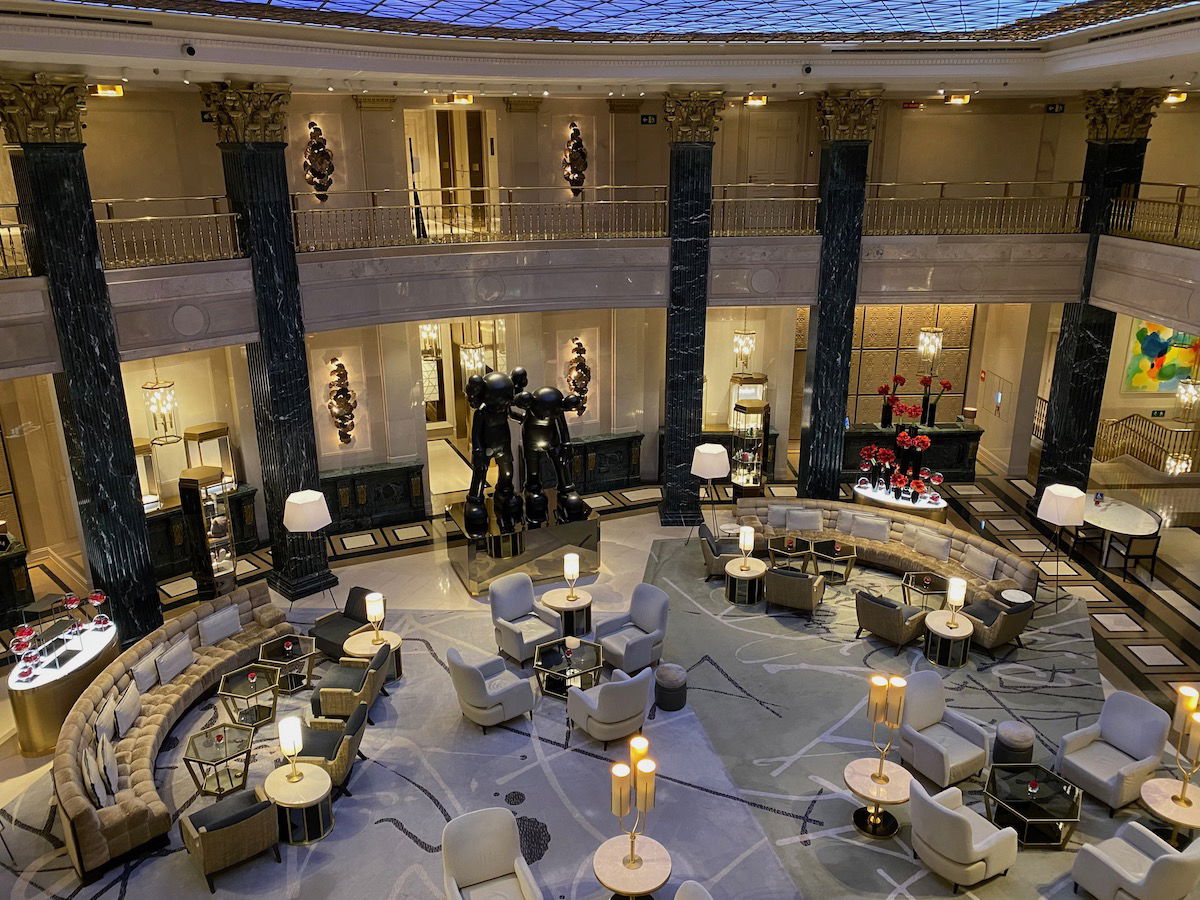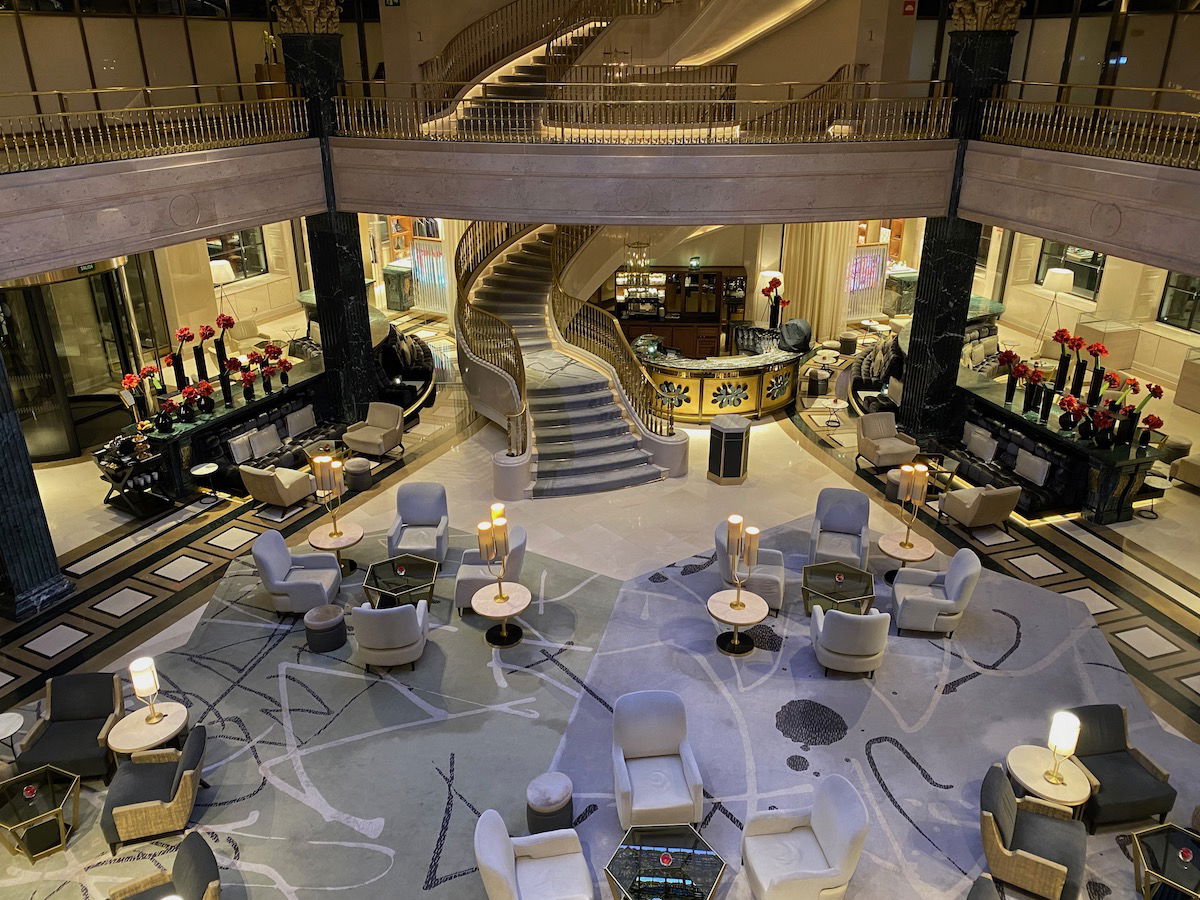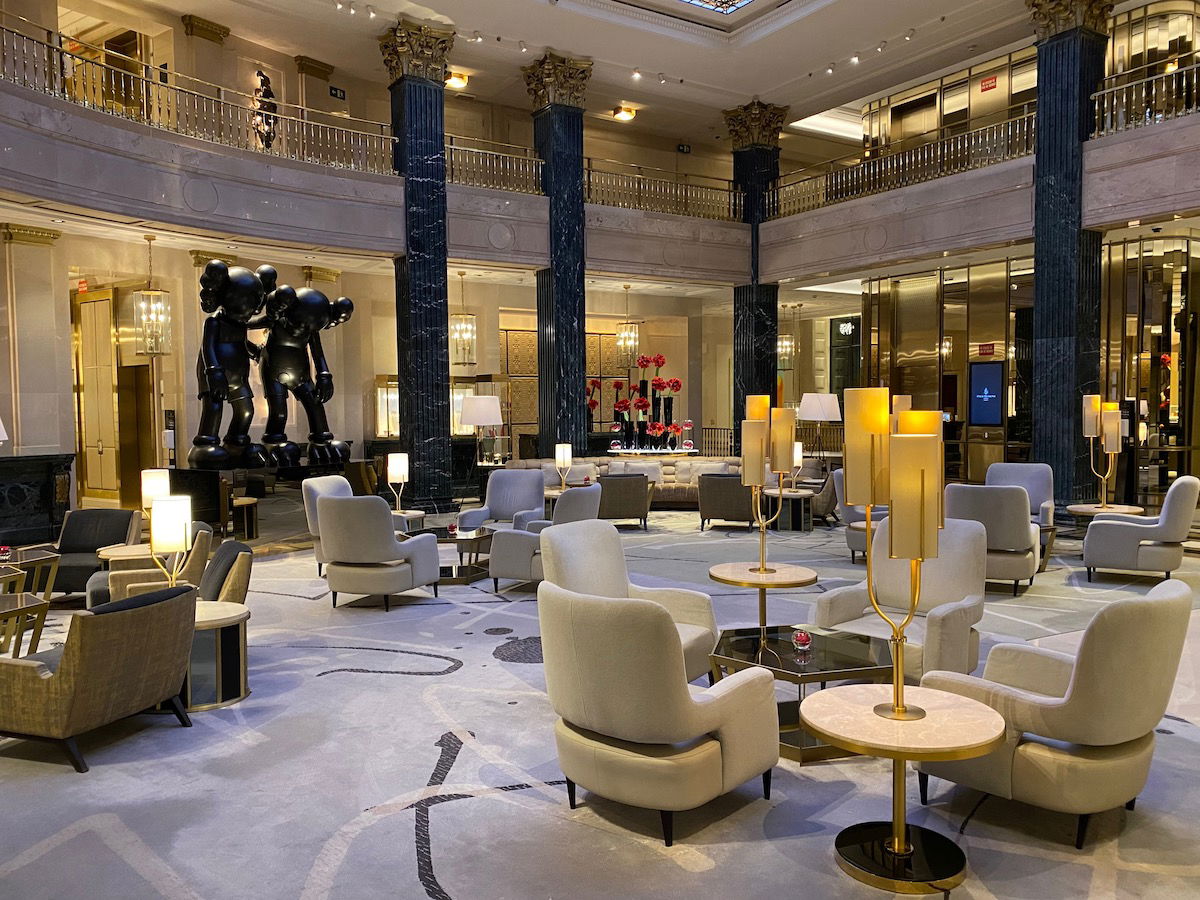 In particular, you've gotta love the decorative skylight above the entire lobby.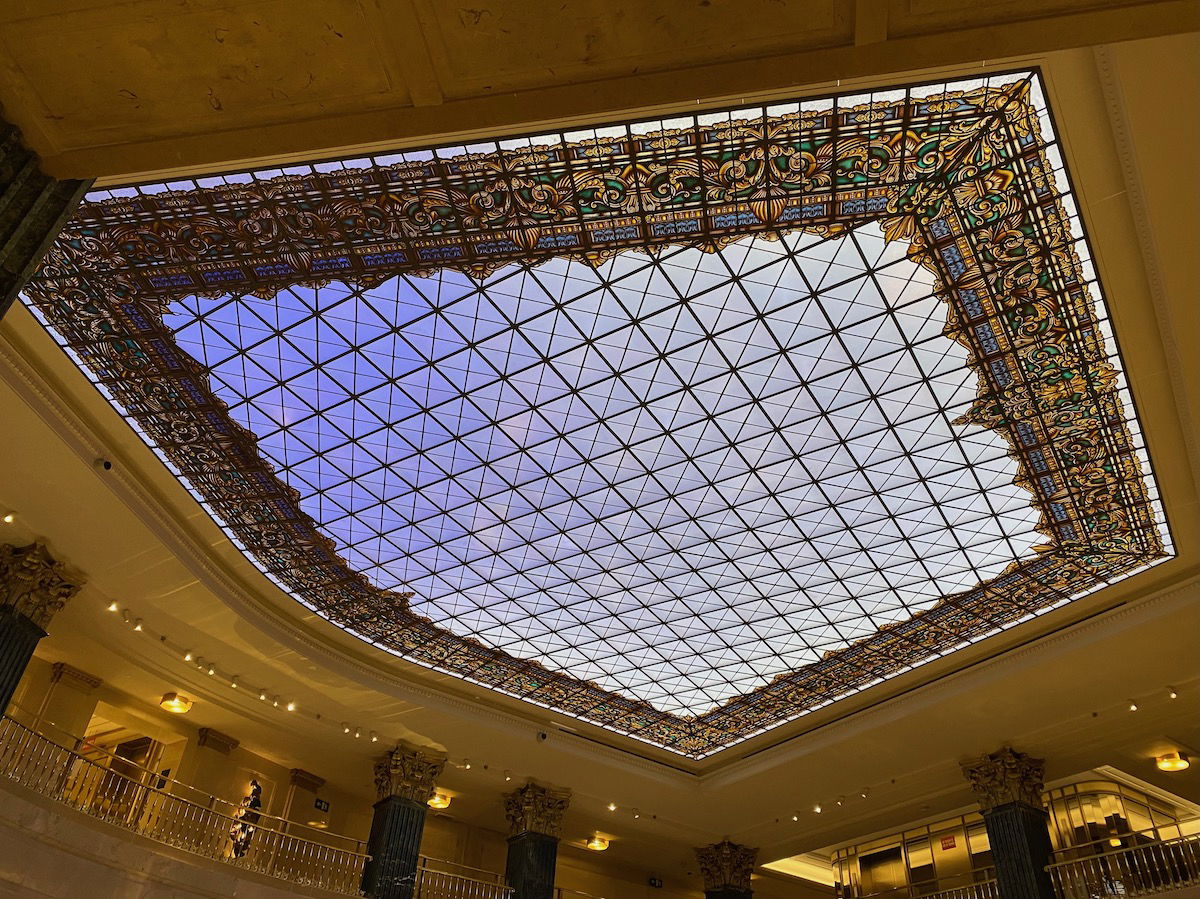 In addition to thousands of original artifacts being restored, the hotel also has hundreds of pieces of art throughout, including two big KAWS figures in the lobby. There are also fresh flowers that are constantly refreshed.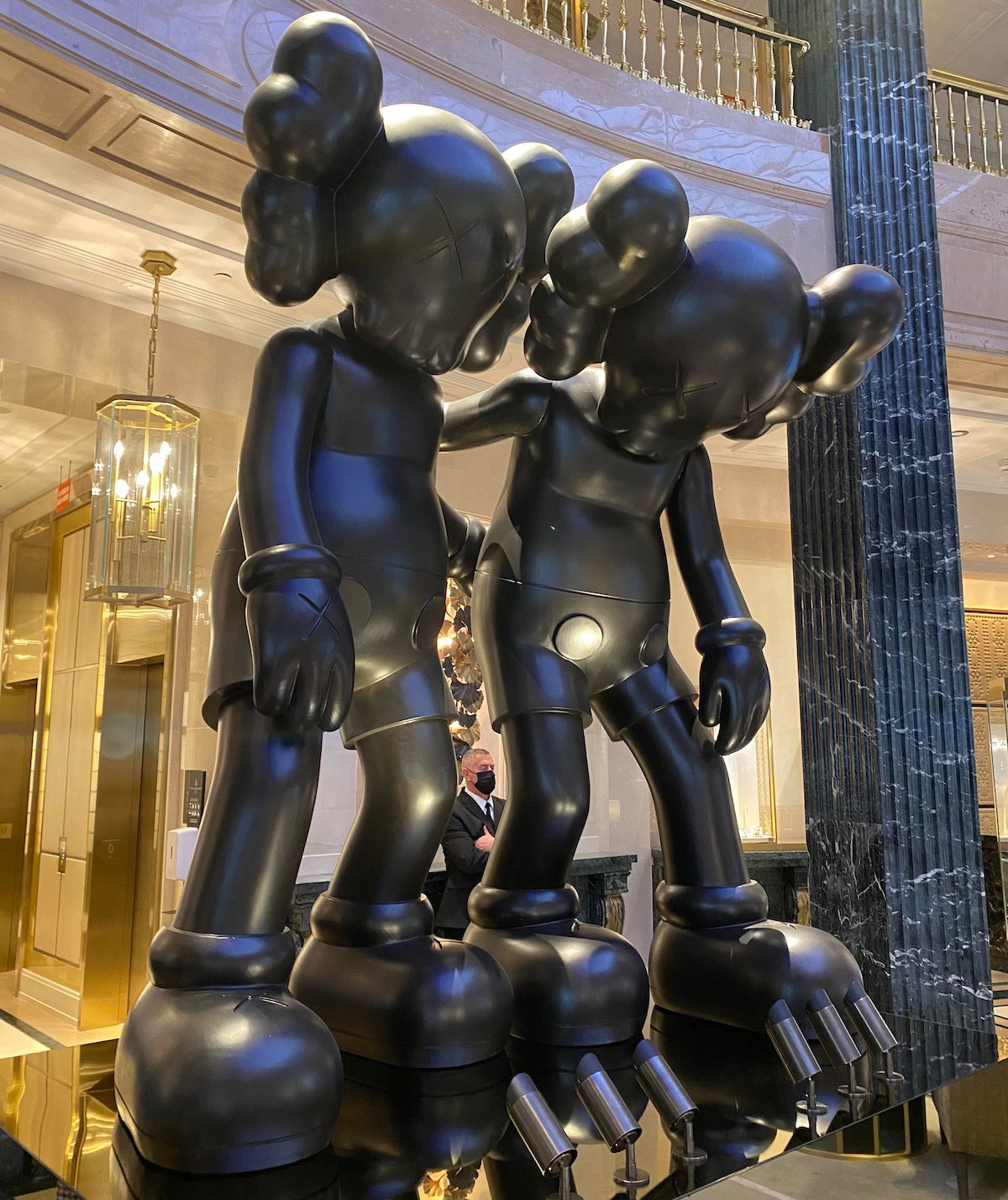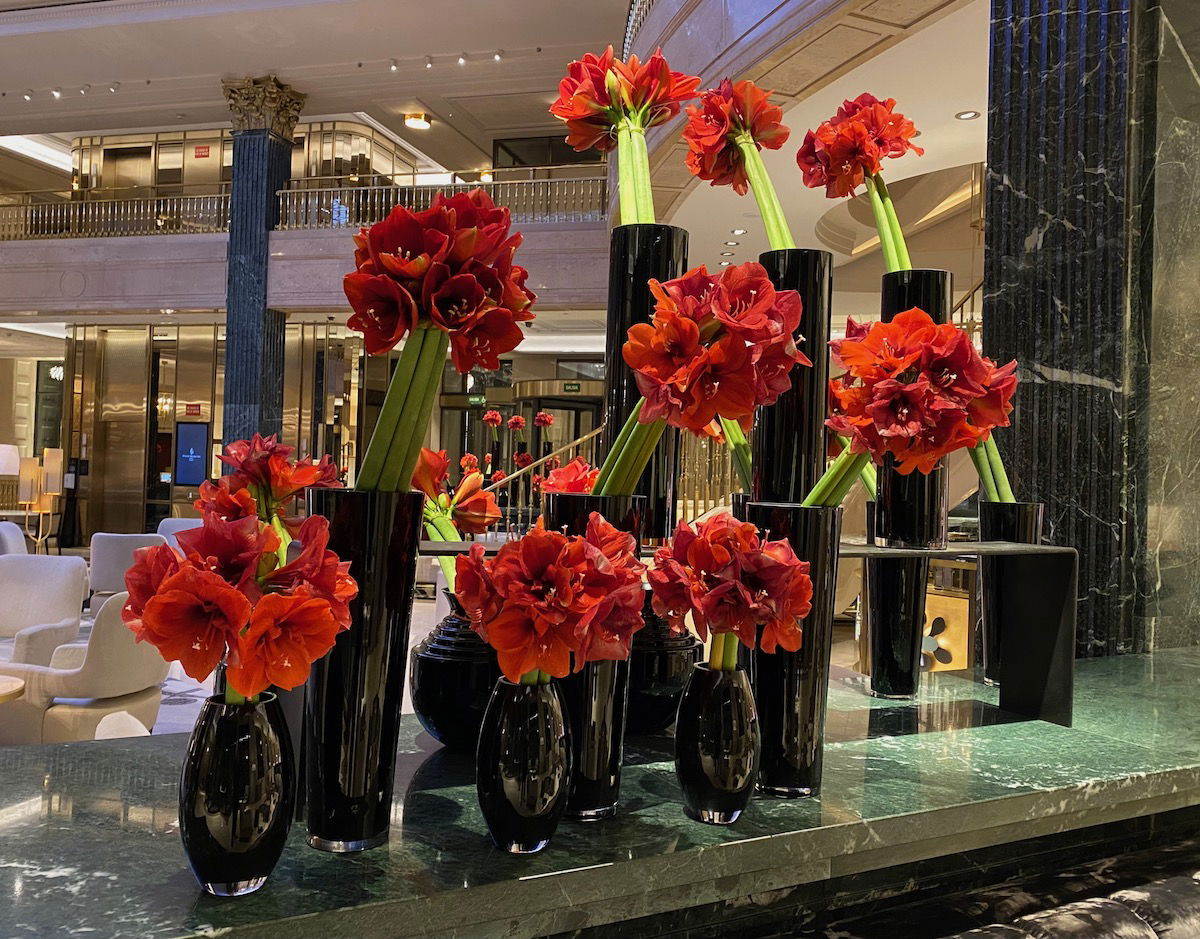 Our check-in experience was efficient and friendly, which was particularly appreciated after our mess at the airport. 😉
Four Seasons Madrid One-Bedroom Suite
With keys in hand, we took the elevators up to the second floor, where our room was located (the hotel has seven floors).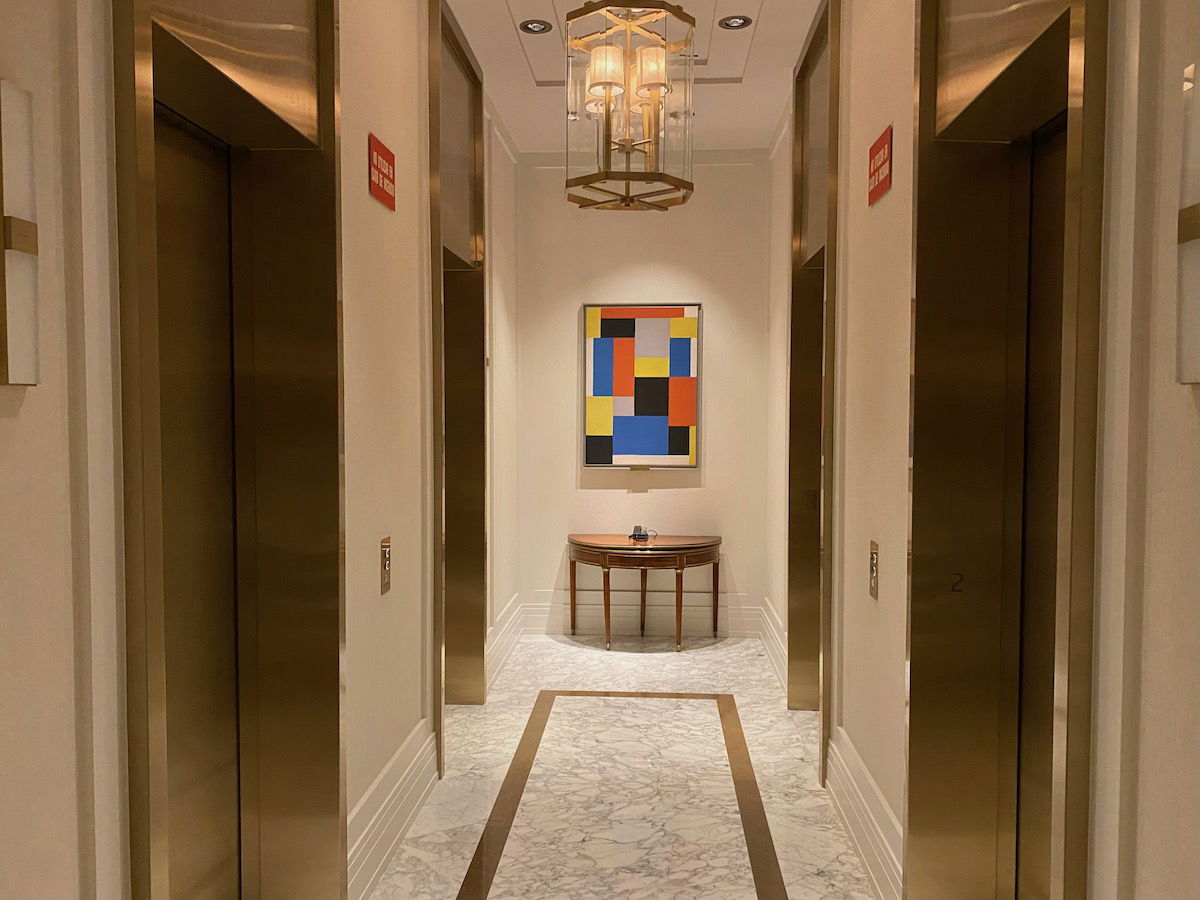 In addition to the elevators, there's also a cool spiral staircase.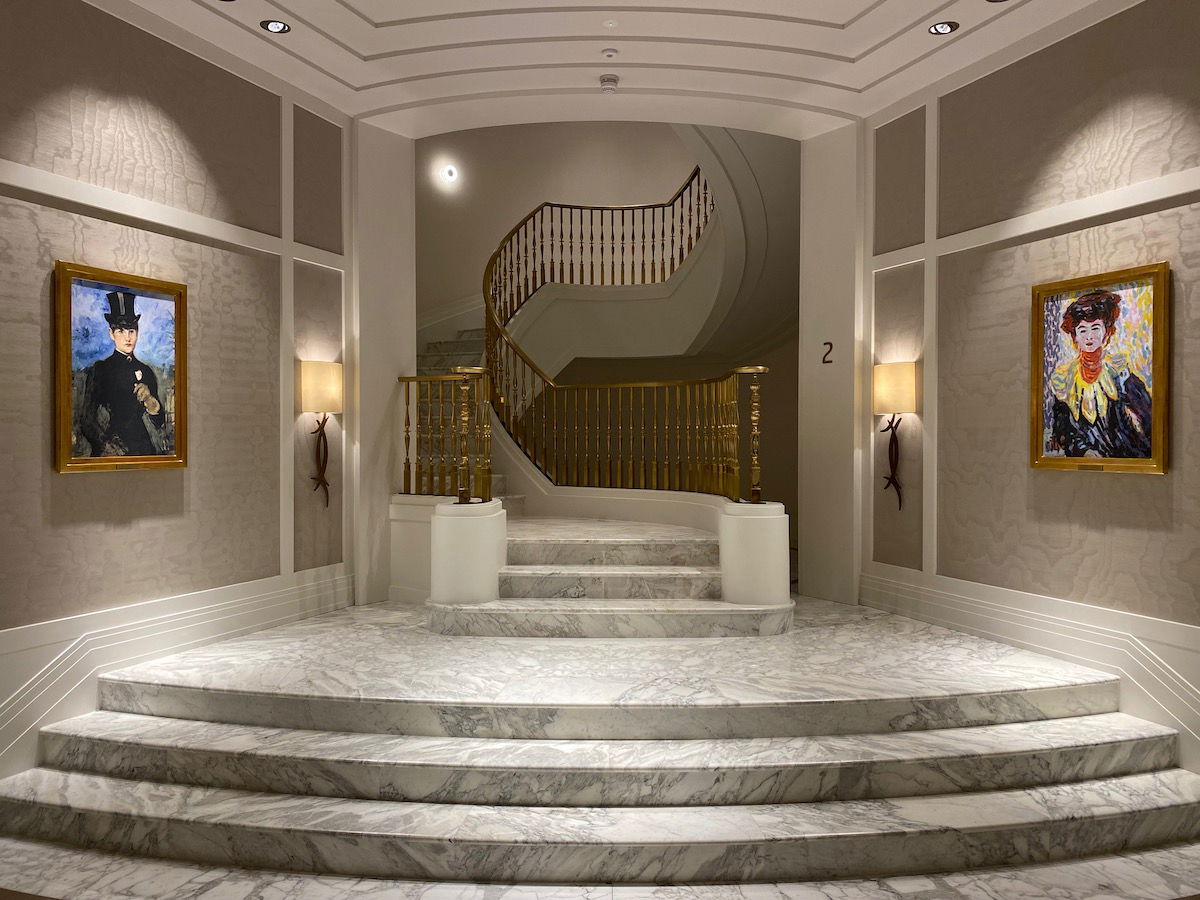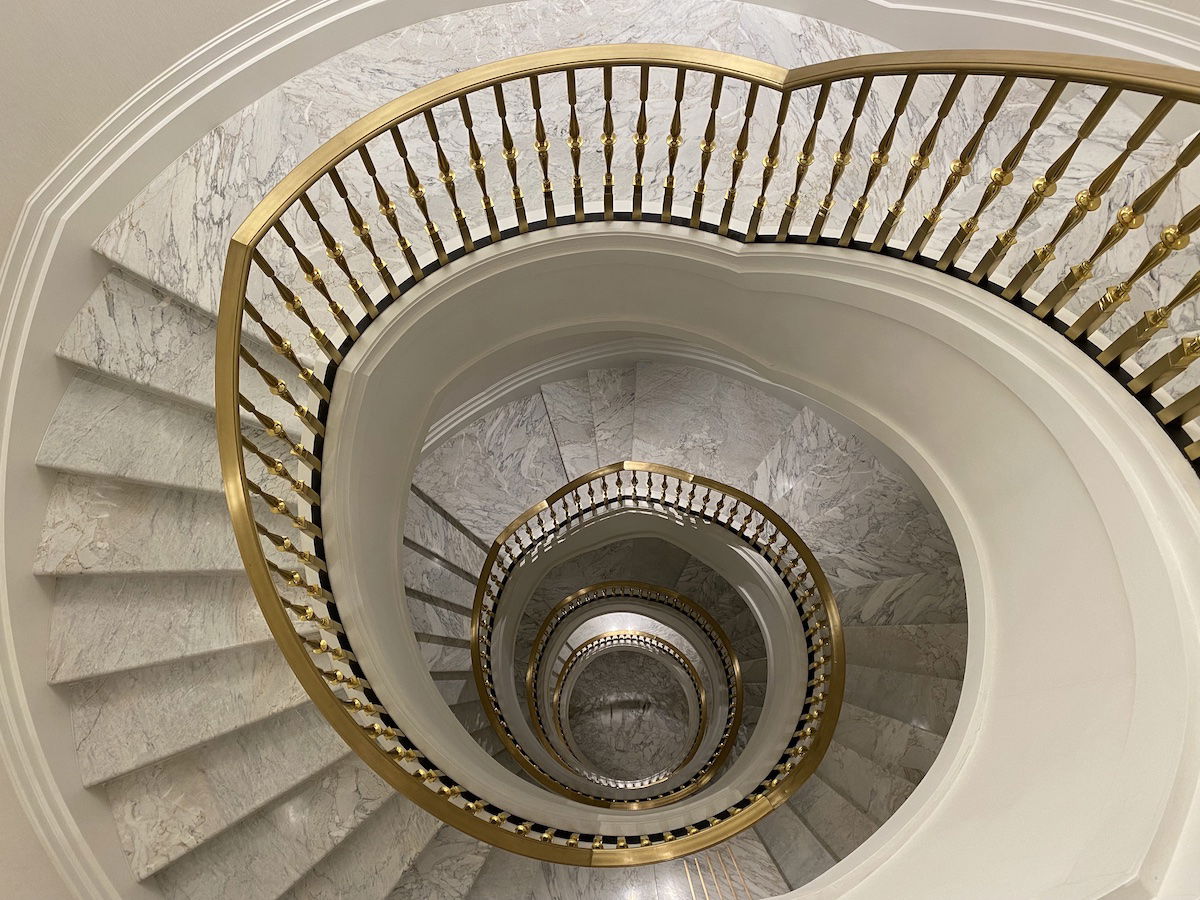 The hotel hallways had a bit more charm than those at the Ritz-Carlton Turks & Caicos, that's for sure. 😉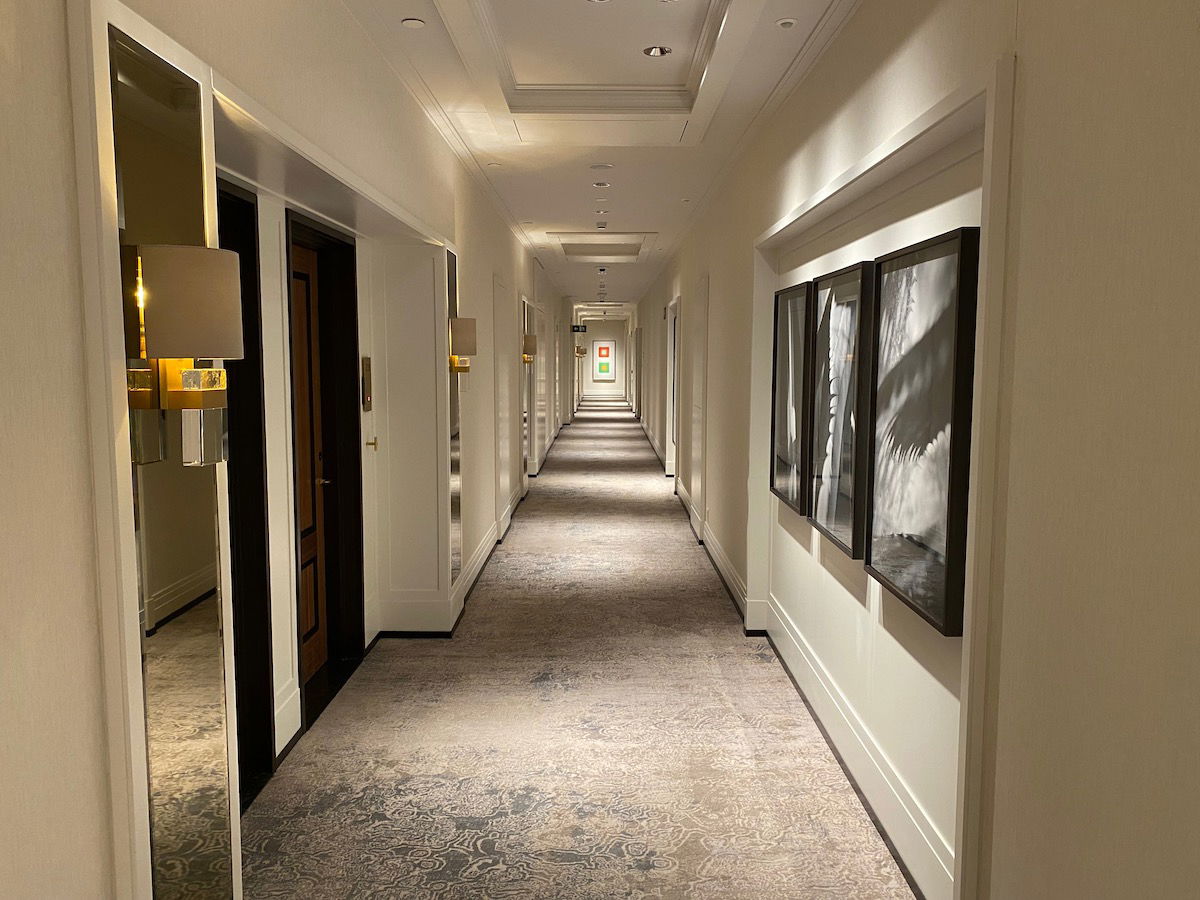 We were assigned room 219, a one bedroom suite.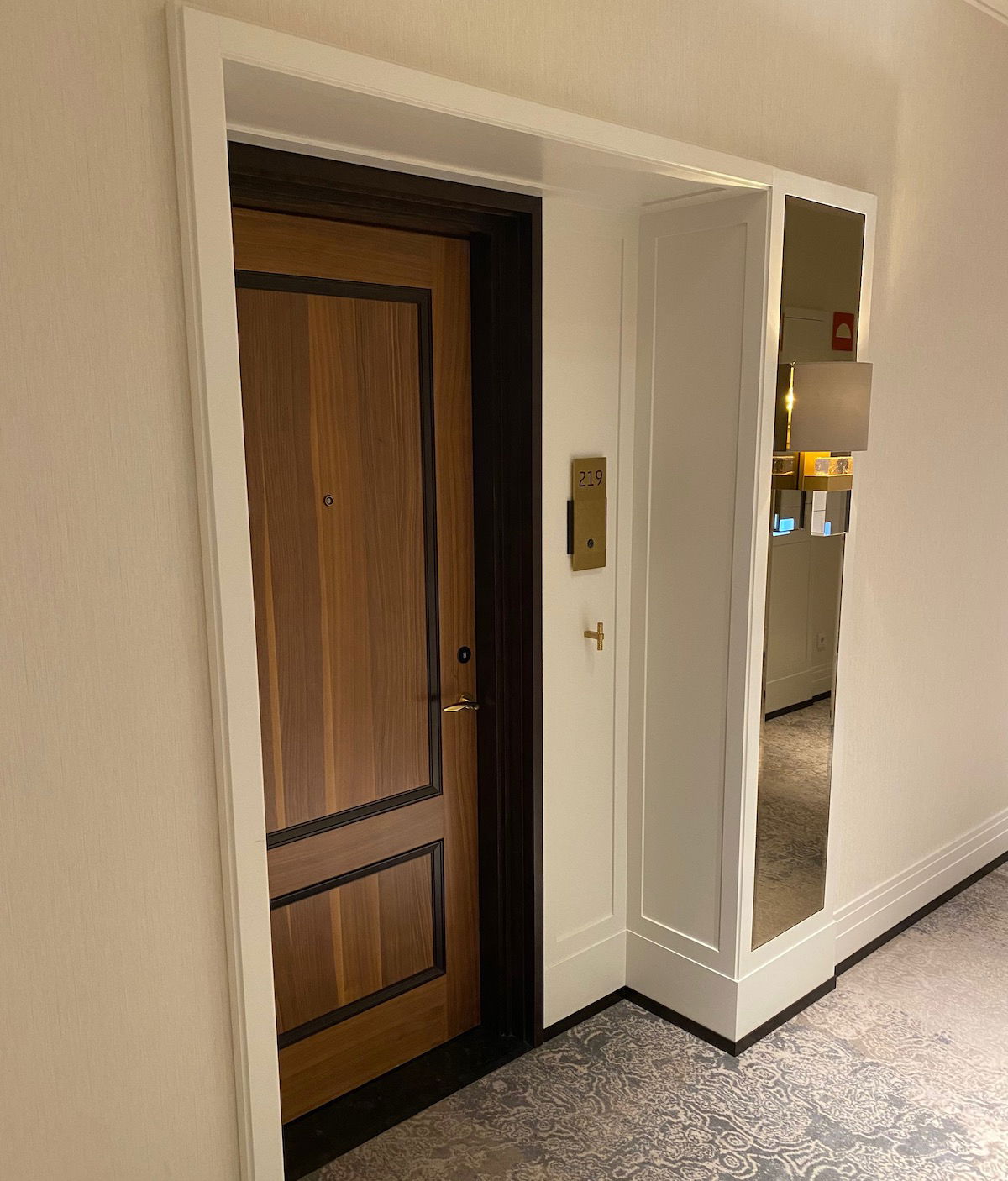 The suite wasn't at all what we were expecting, but in a good way. When you think of a one bedroom suite, you typically think of a suite with two separate rooms all on the same level. Well, the one bedroom suites at the Four Seasons Madrid are more like duplex suites, and this is probably one of the coolest hotel rooms I've ever stayed in.
The room featured an entryway with a closet to the right, as well as a half bathroom.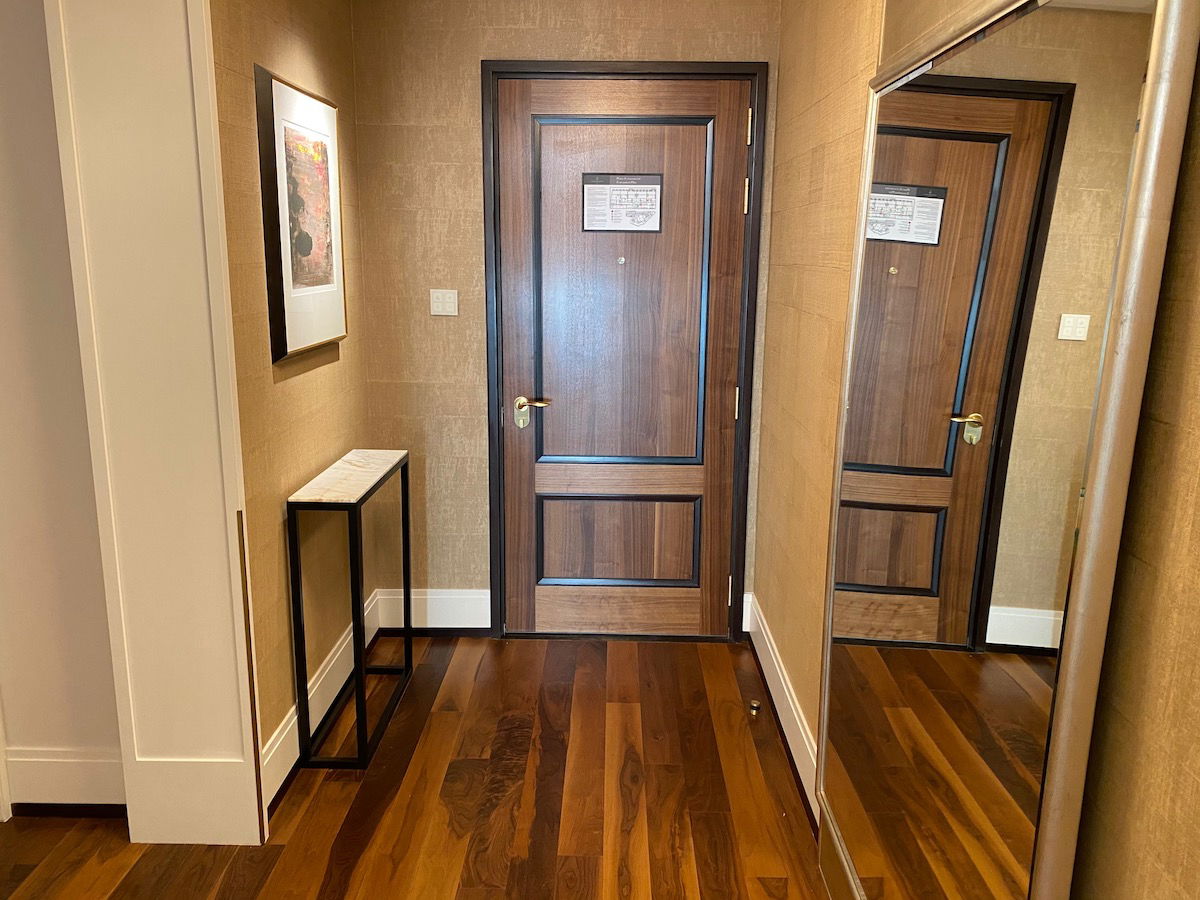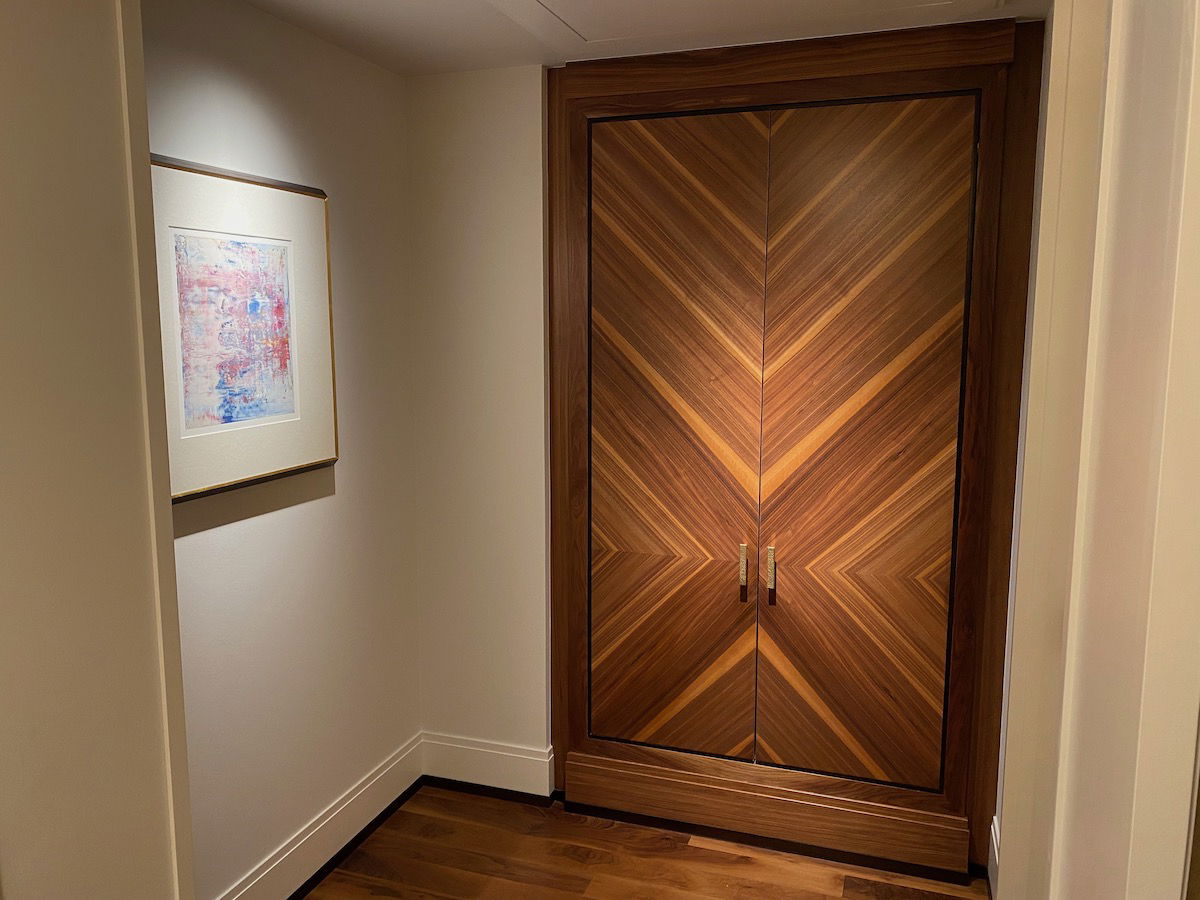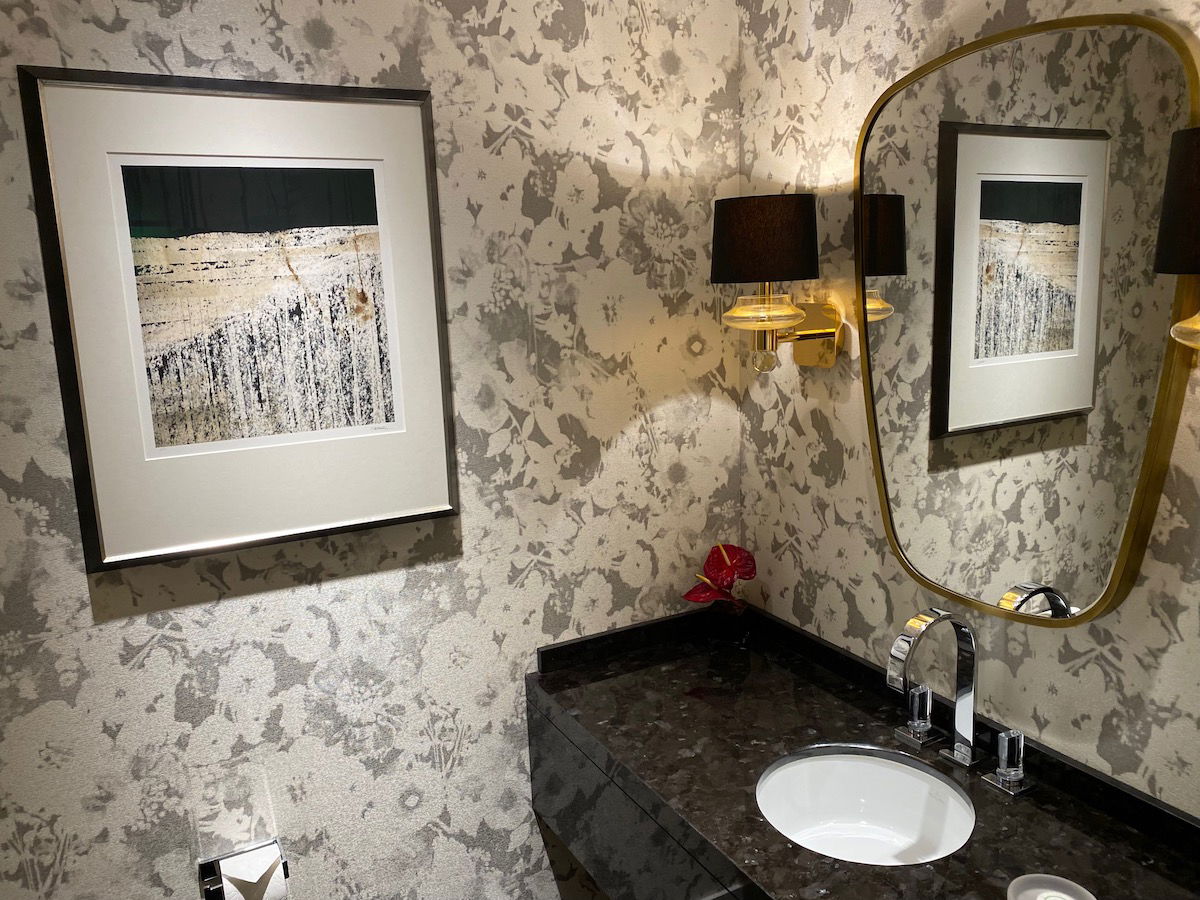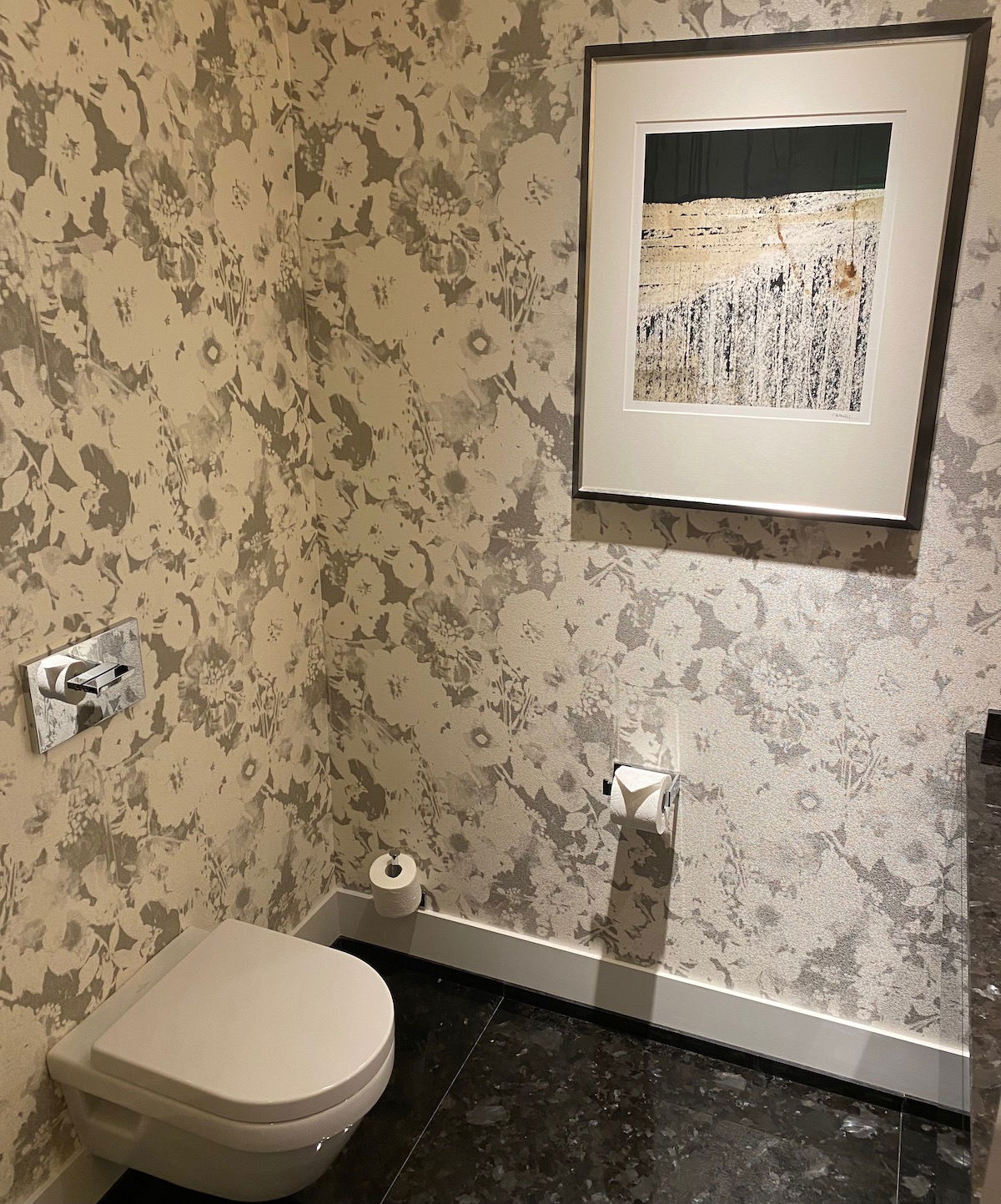 Further down the hall was the upper level of the room, which had the bedroom area. This included a king size bed (Four Seasons has the most comfortable beds in the industry, bar none), a wall-mounted TV, a desk and vanity combo, and a seat with an ottoman.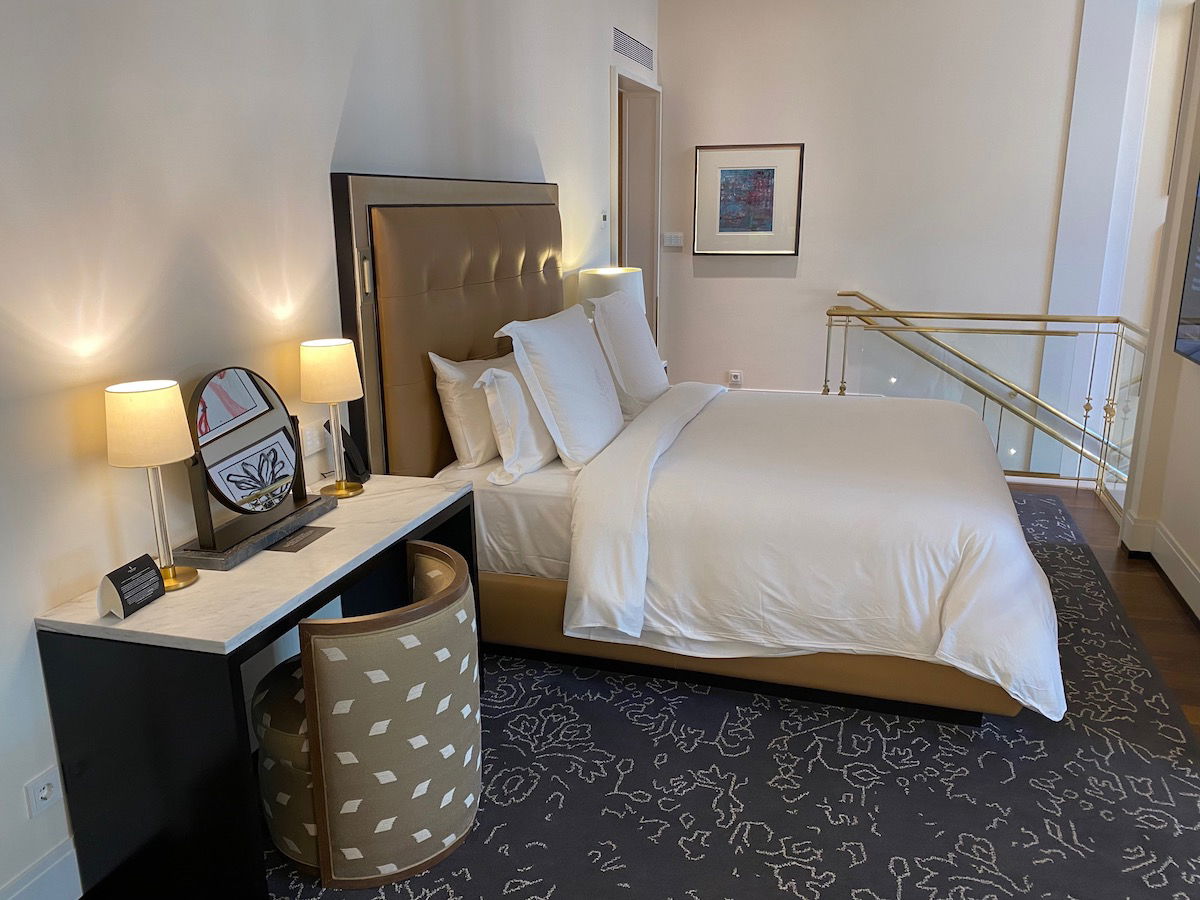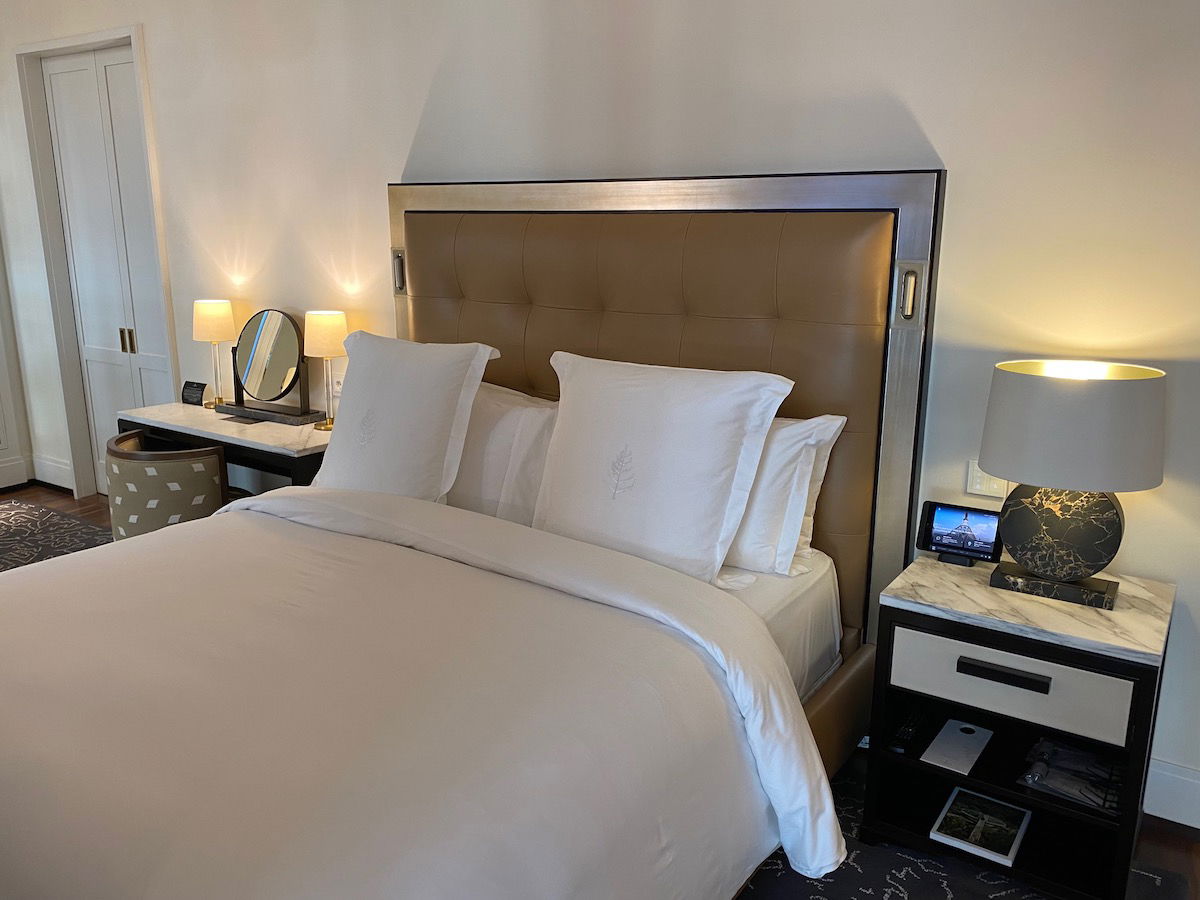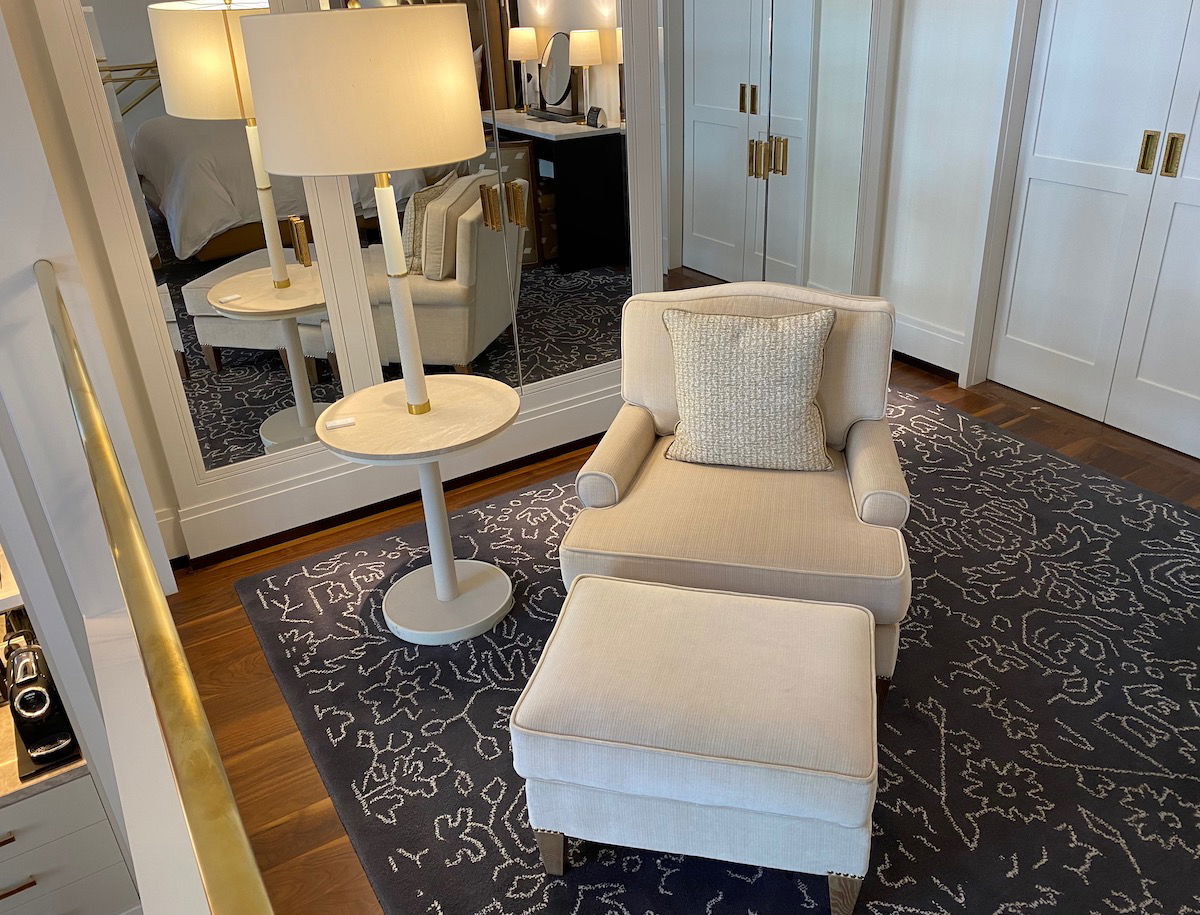 The bathroom was behind the bedroom, and had double sinks, a soaking tub, a walk-in shower, and a toilet and bidet.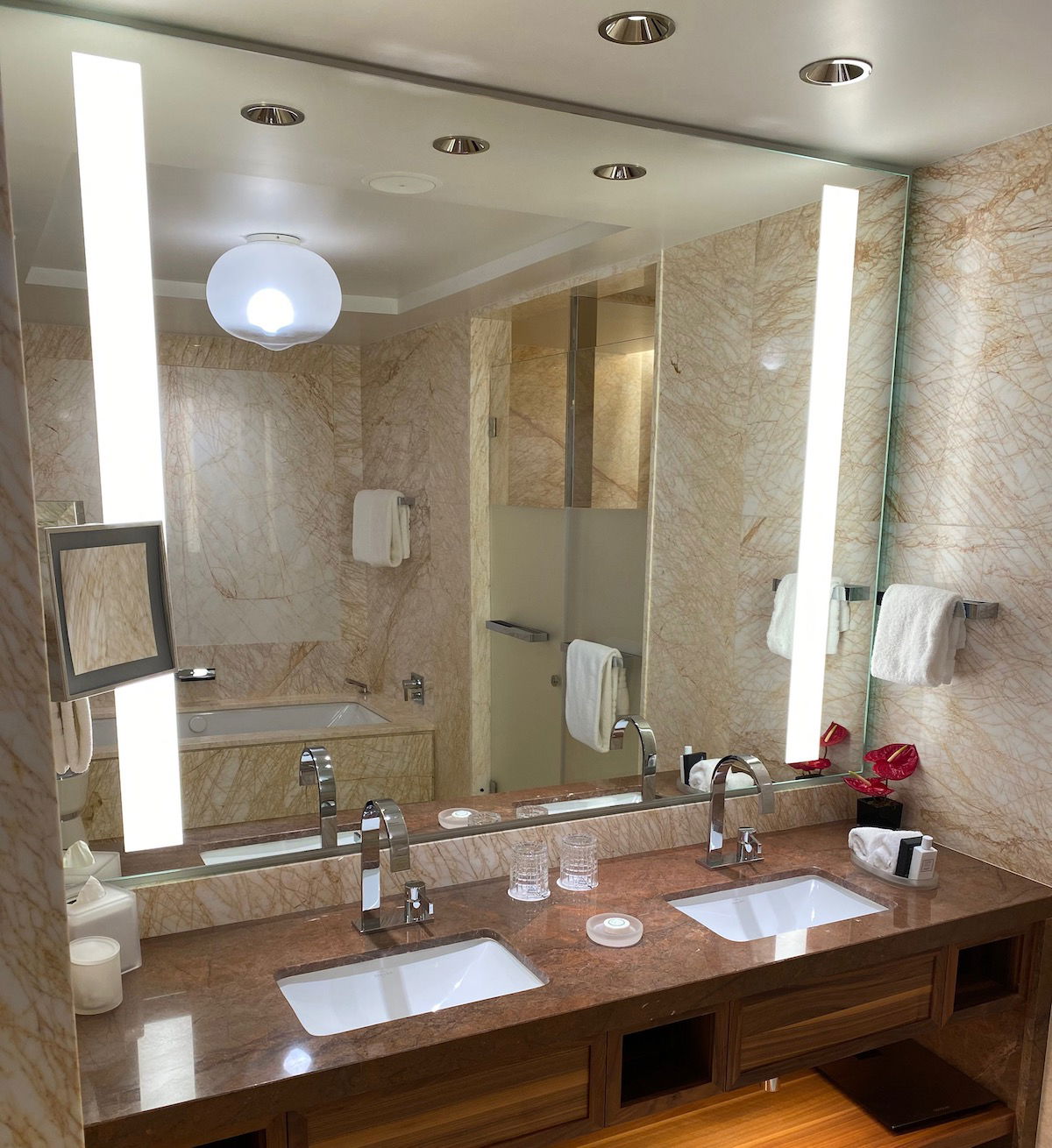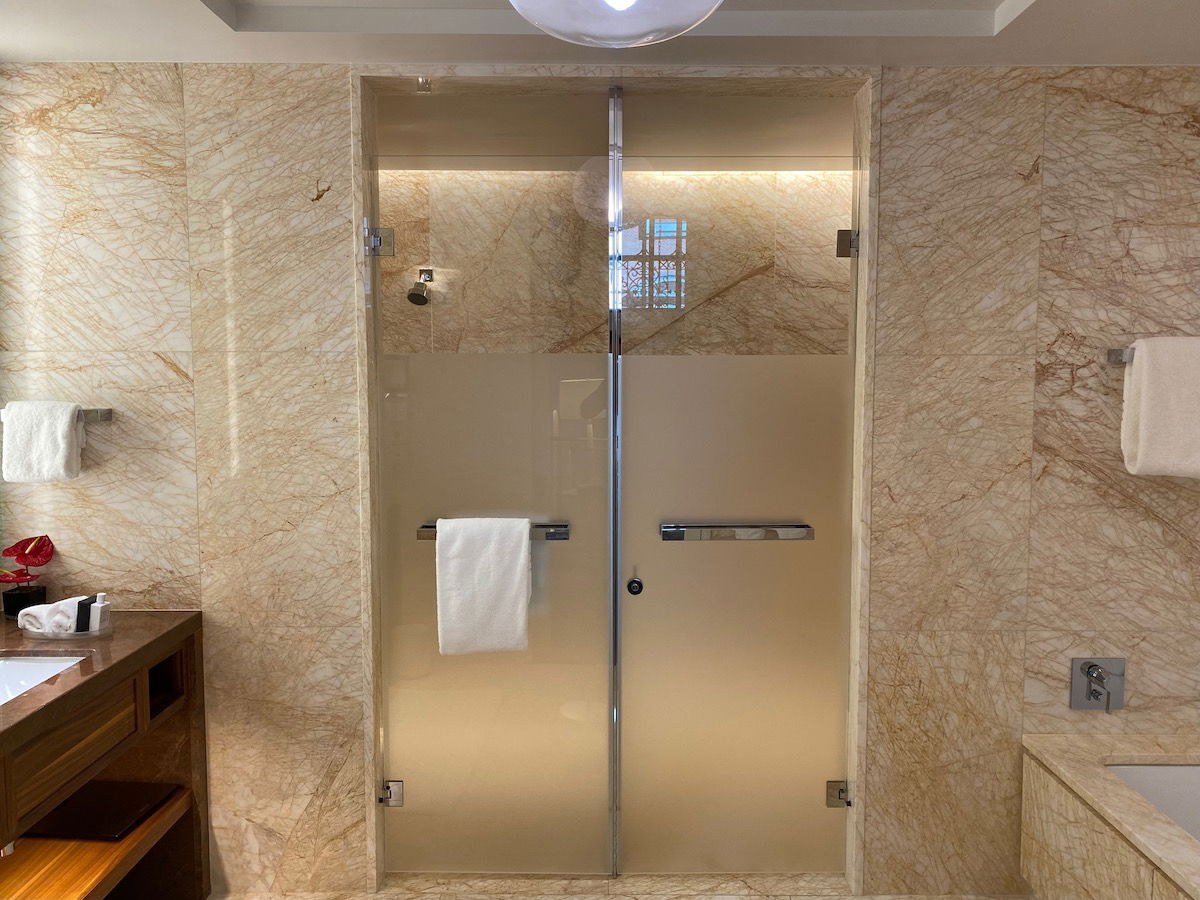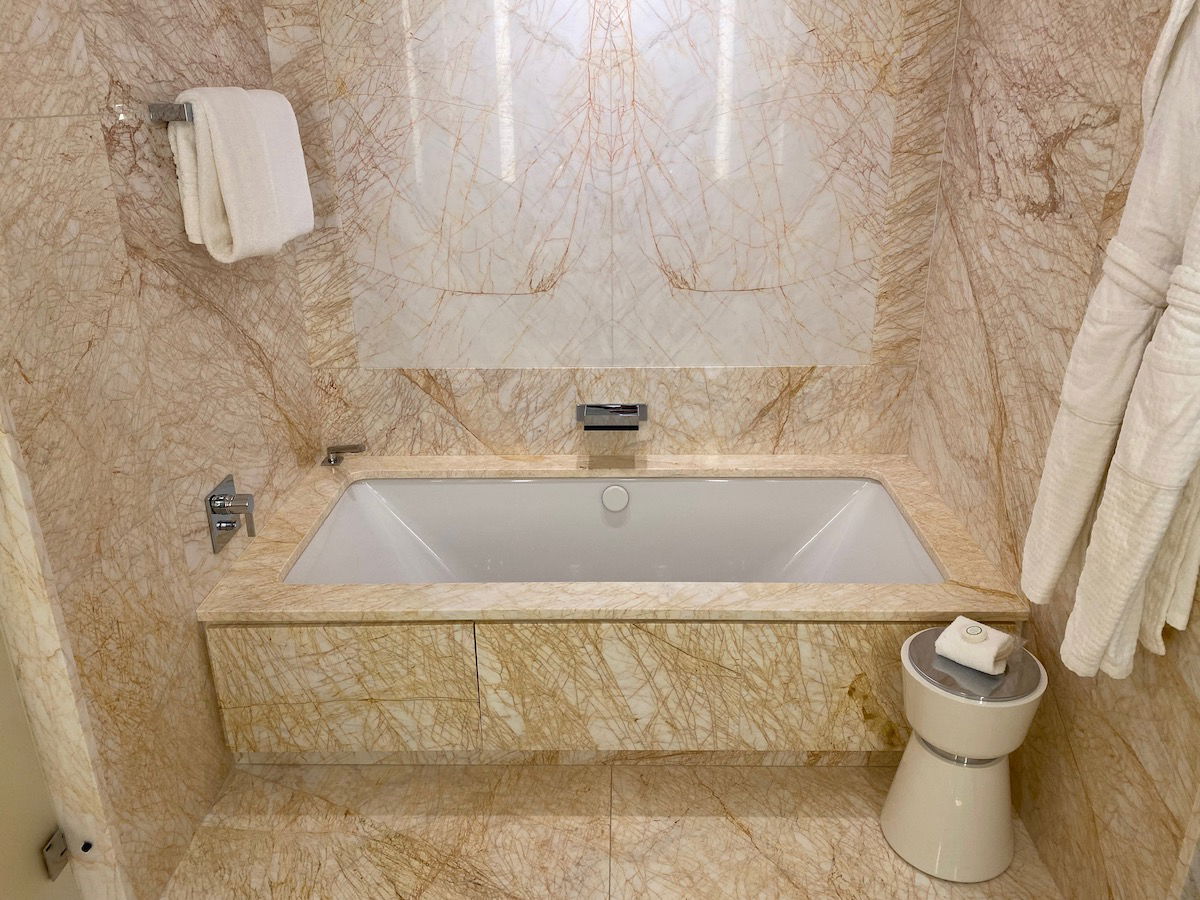 I'd say literally the only thing I can critique about the room is that there wasn't a rain shower head, but rather just one shower head on the wall, and then a handheld one as well.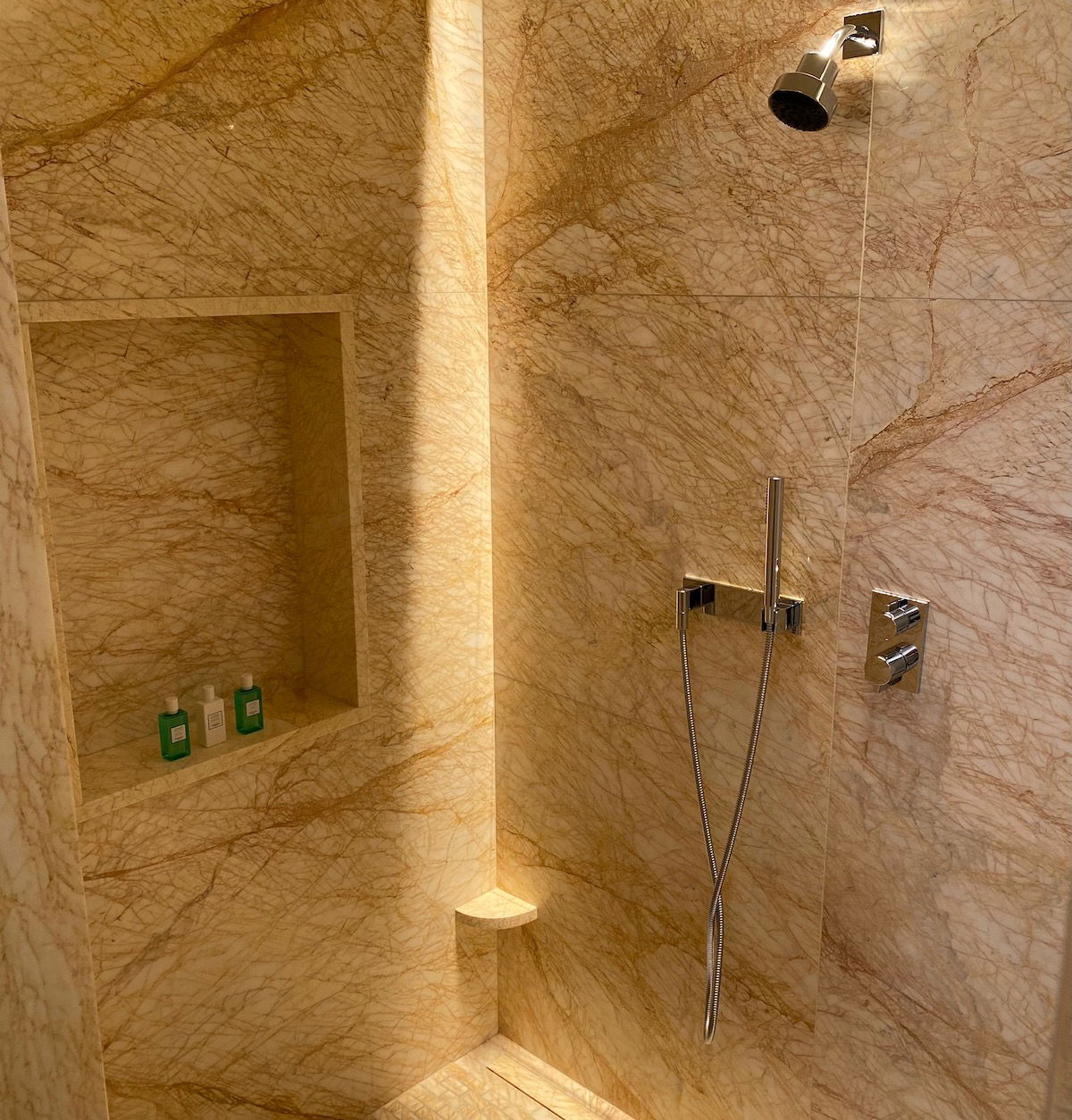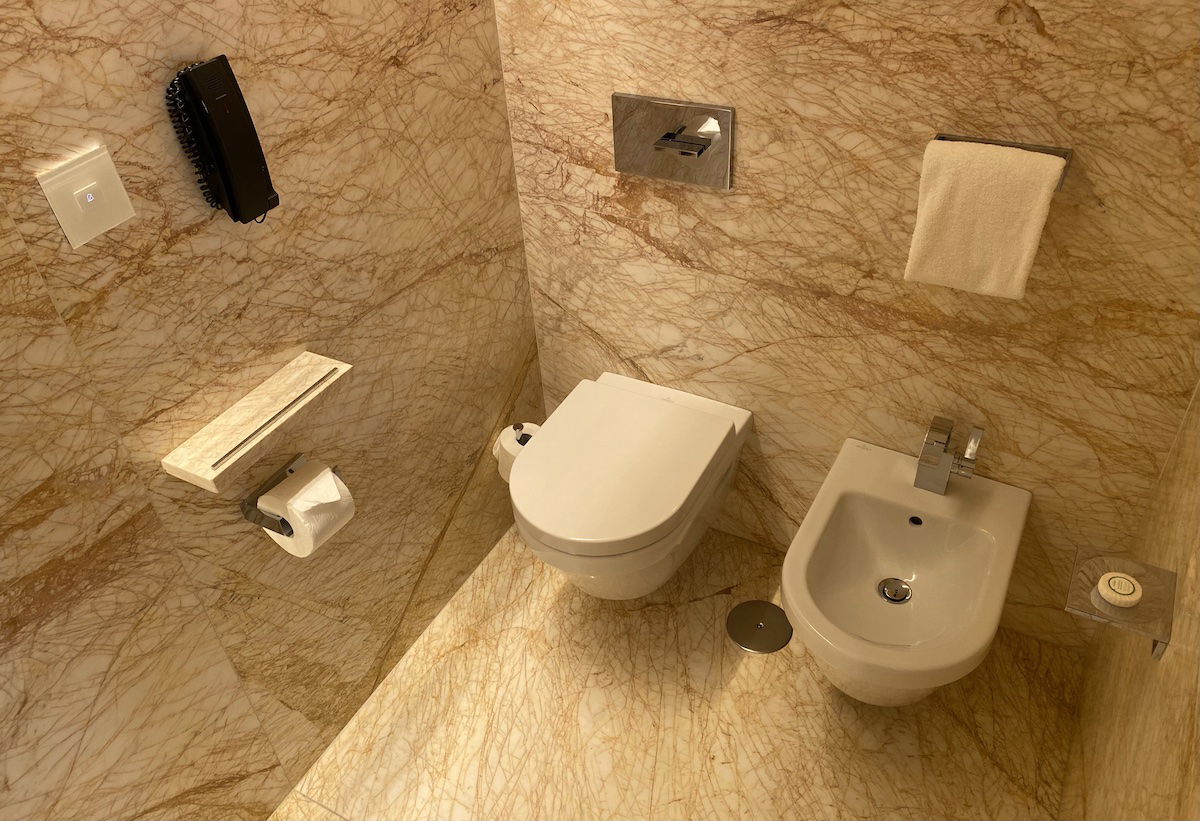 Toiletries were from Hermes, which is always a treat.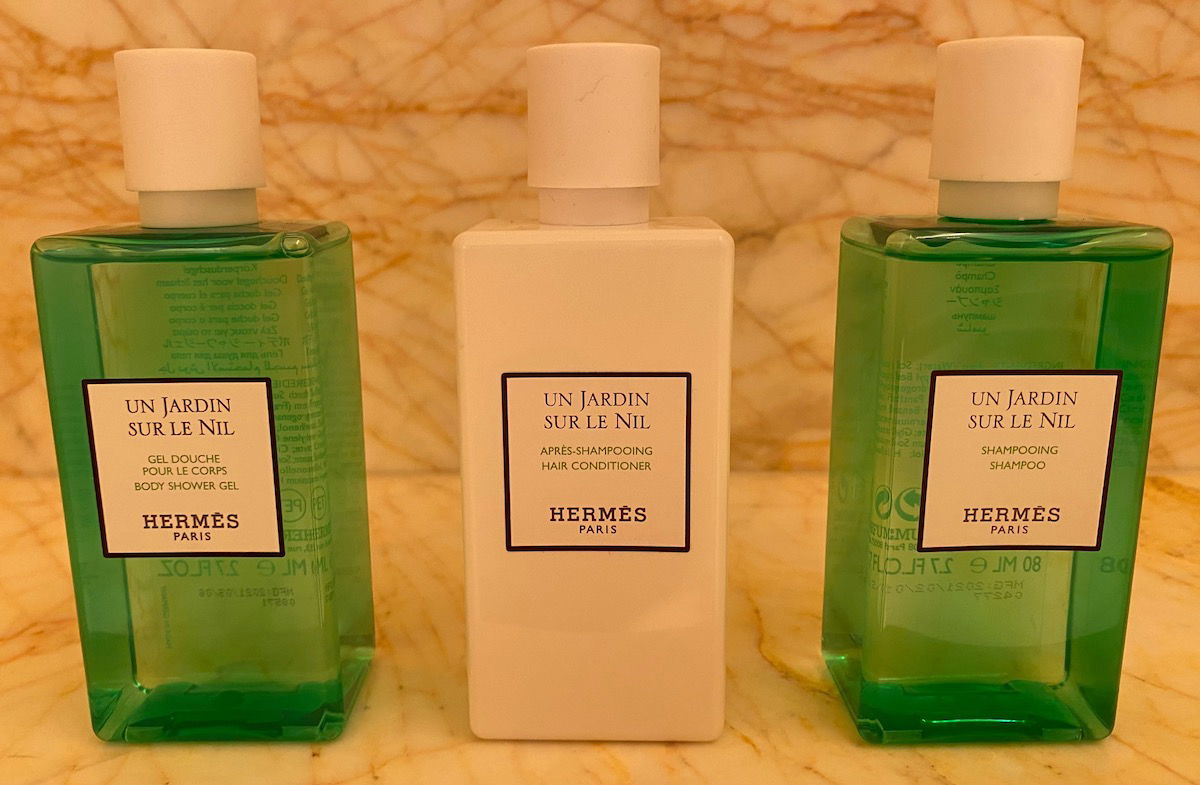 There was then a staircase leading down to the living area (so if you're traveling with small children, you might want to consider one of their other suites). How cool to have a duplex suite like this, especially since it meant the ceilings in the room were really high.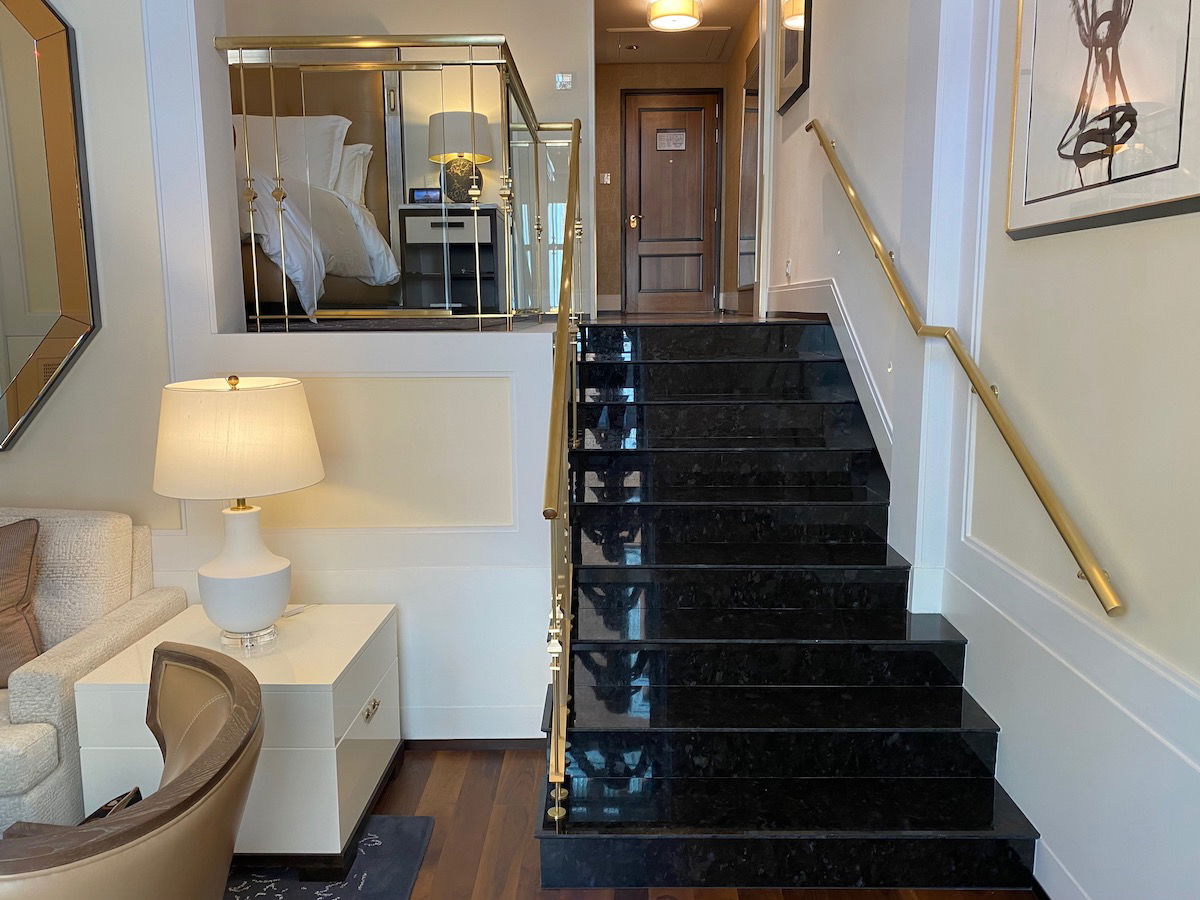 The living area had a couch and two chairs and a dining table, along with a bunch of art and a cool chandelier.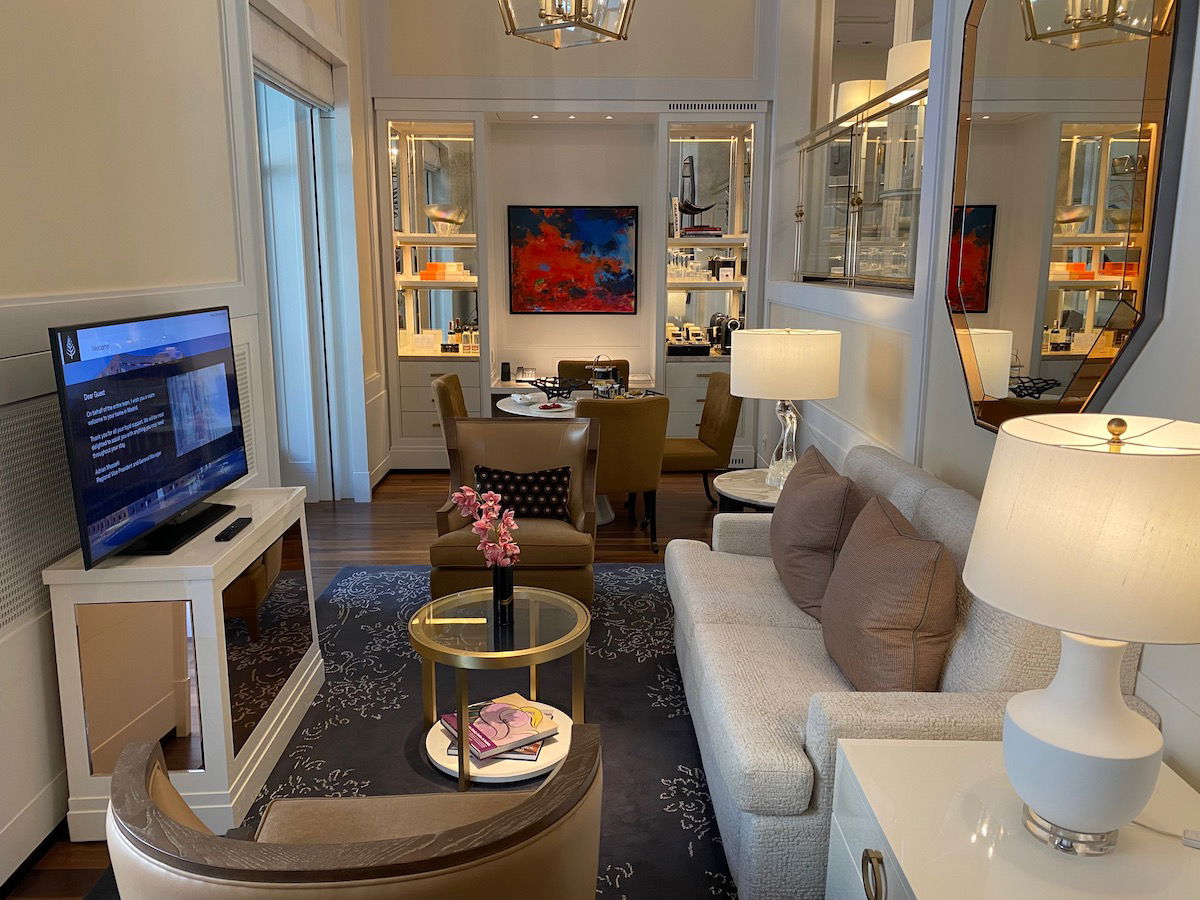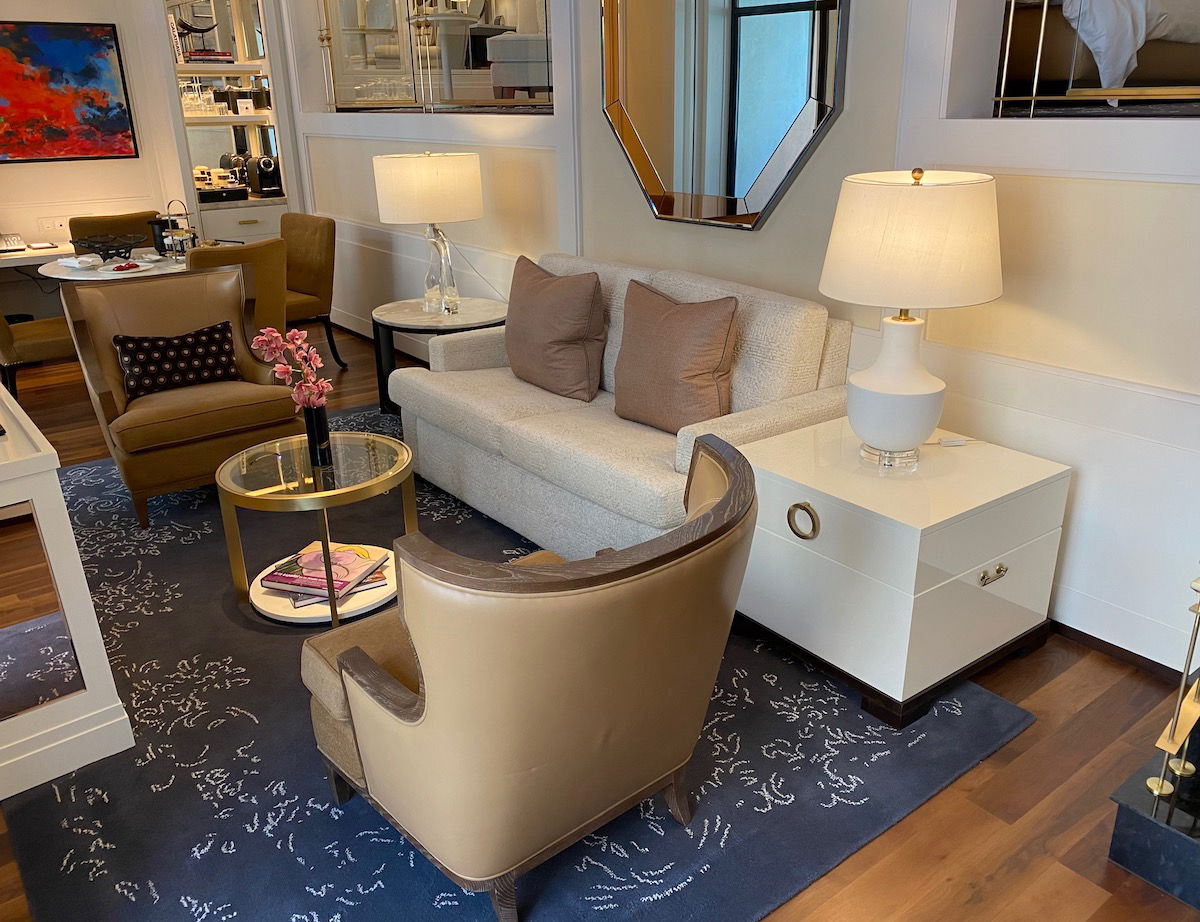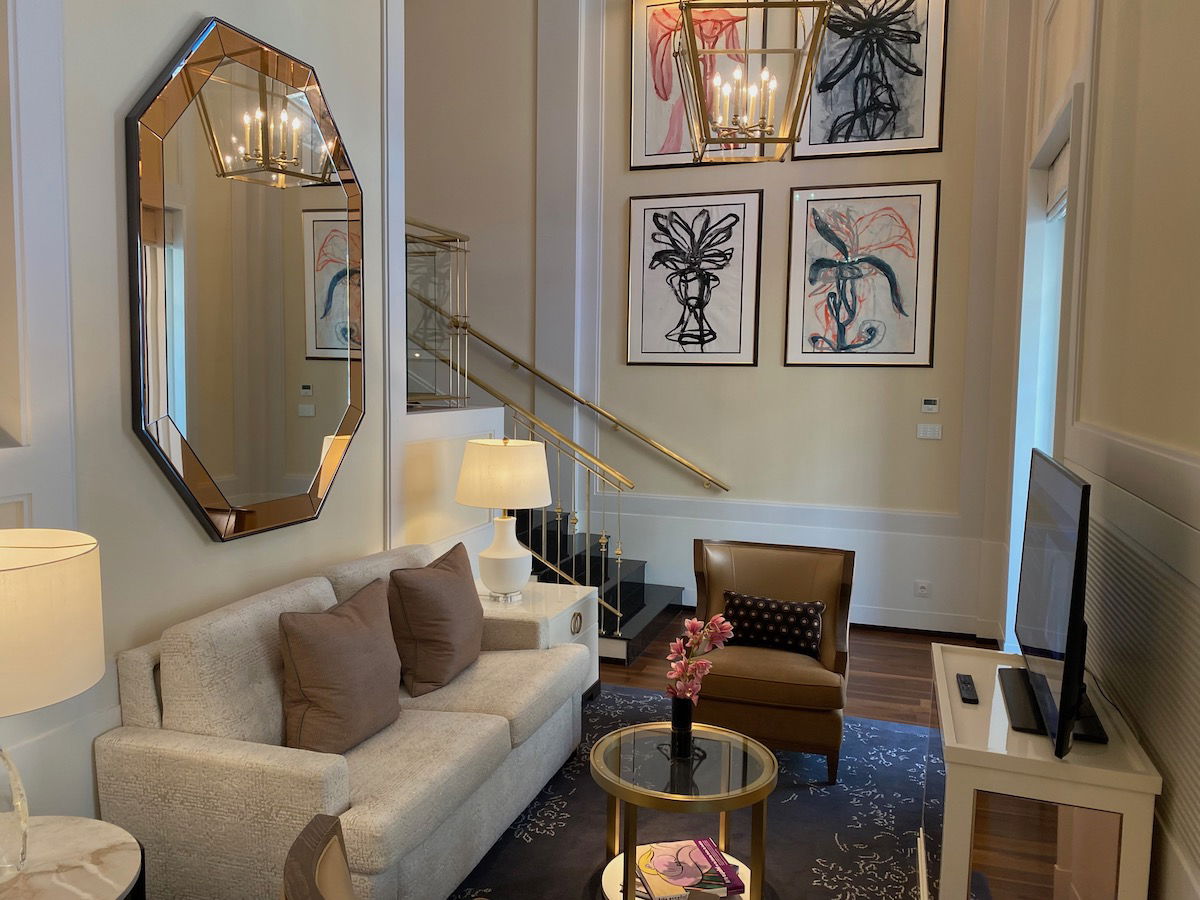 At the far end of the living room was the minibar. This had a Lavazza espresso machine, plus tea.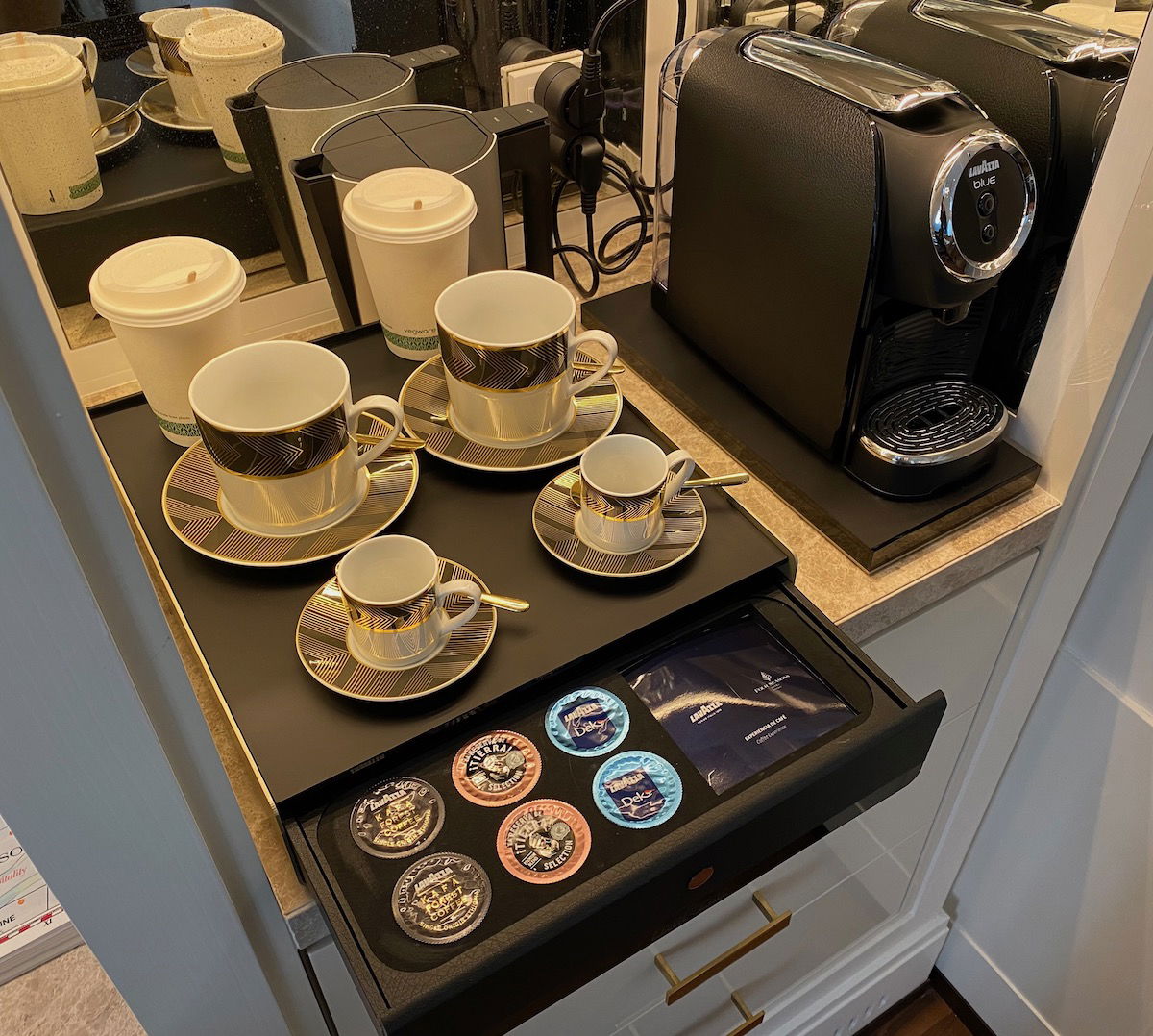 There were also a couple of complimentary snacks and bottled water, plus a variety of drinks and snacks available for purchase.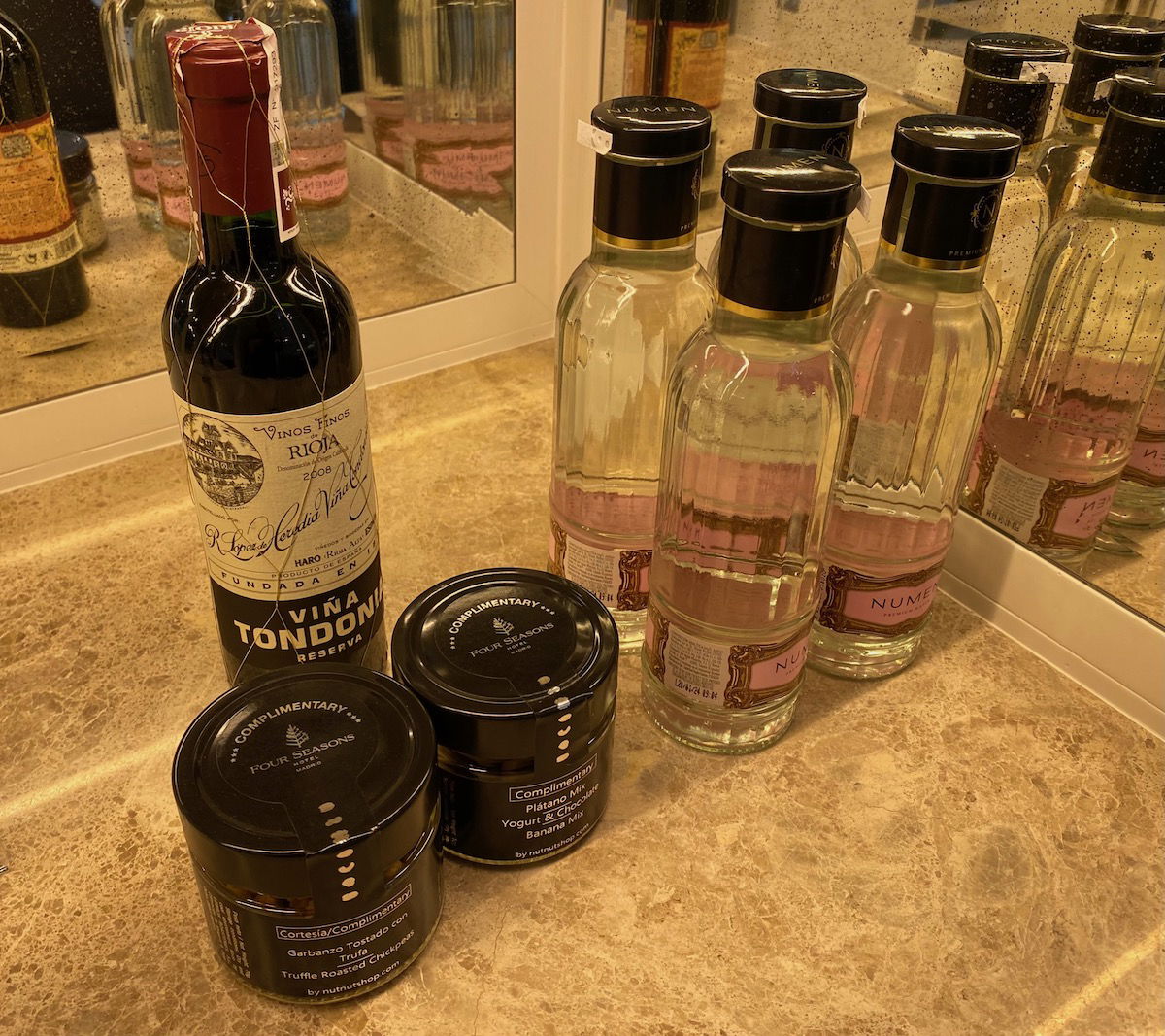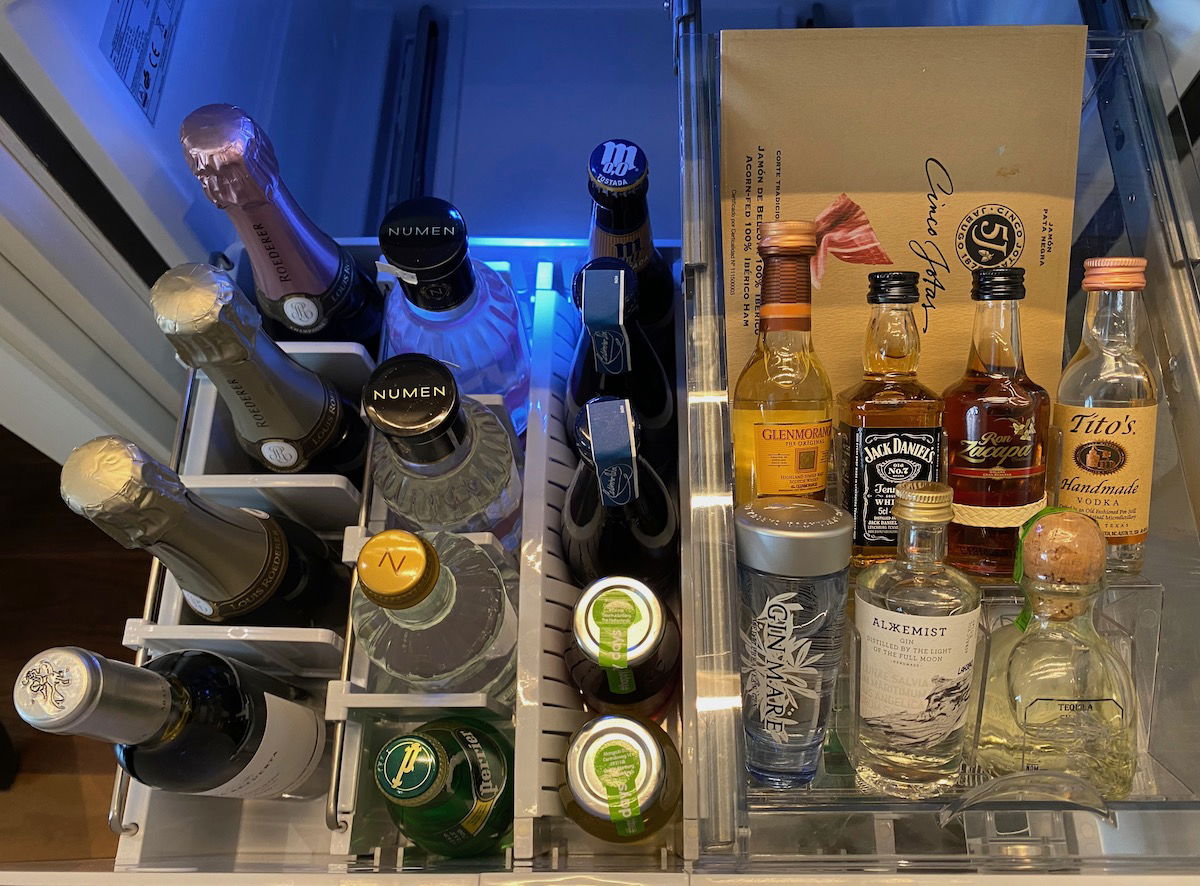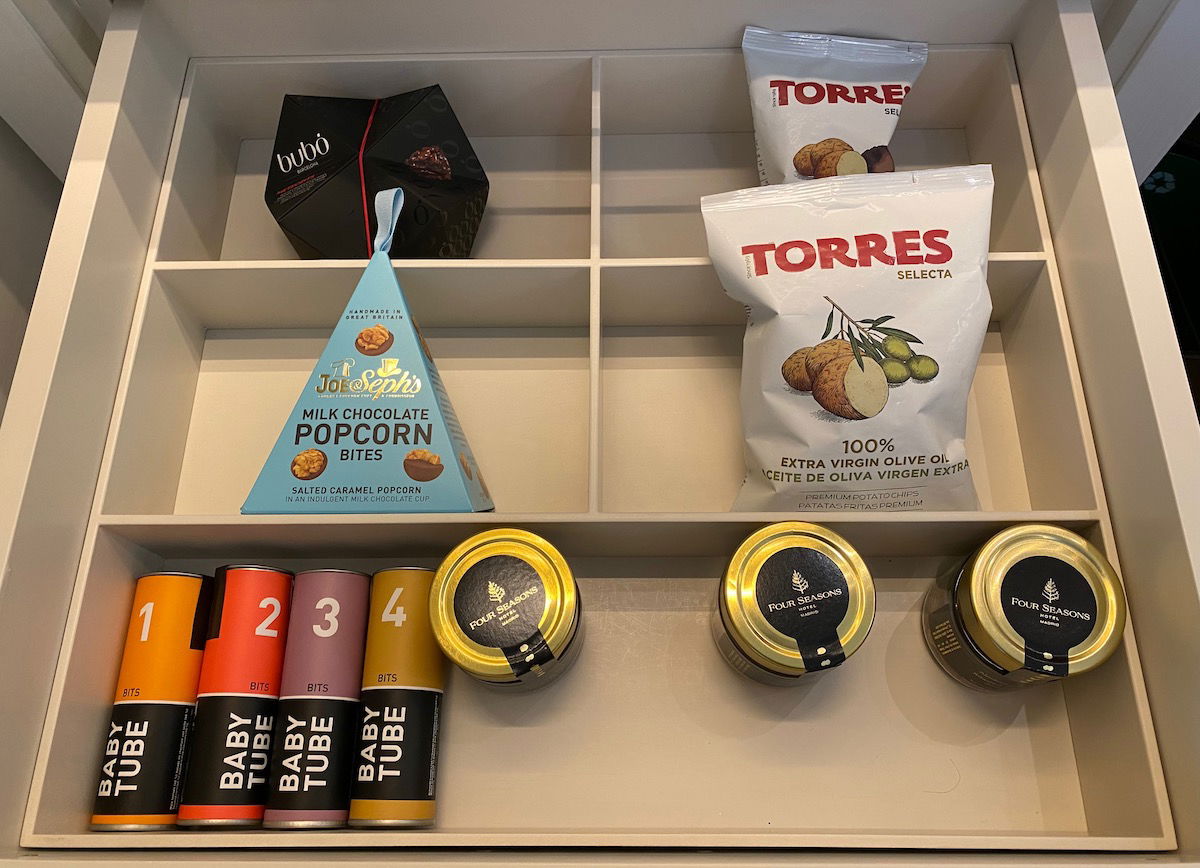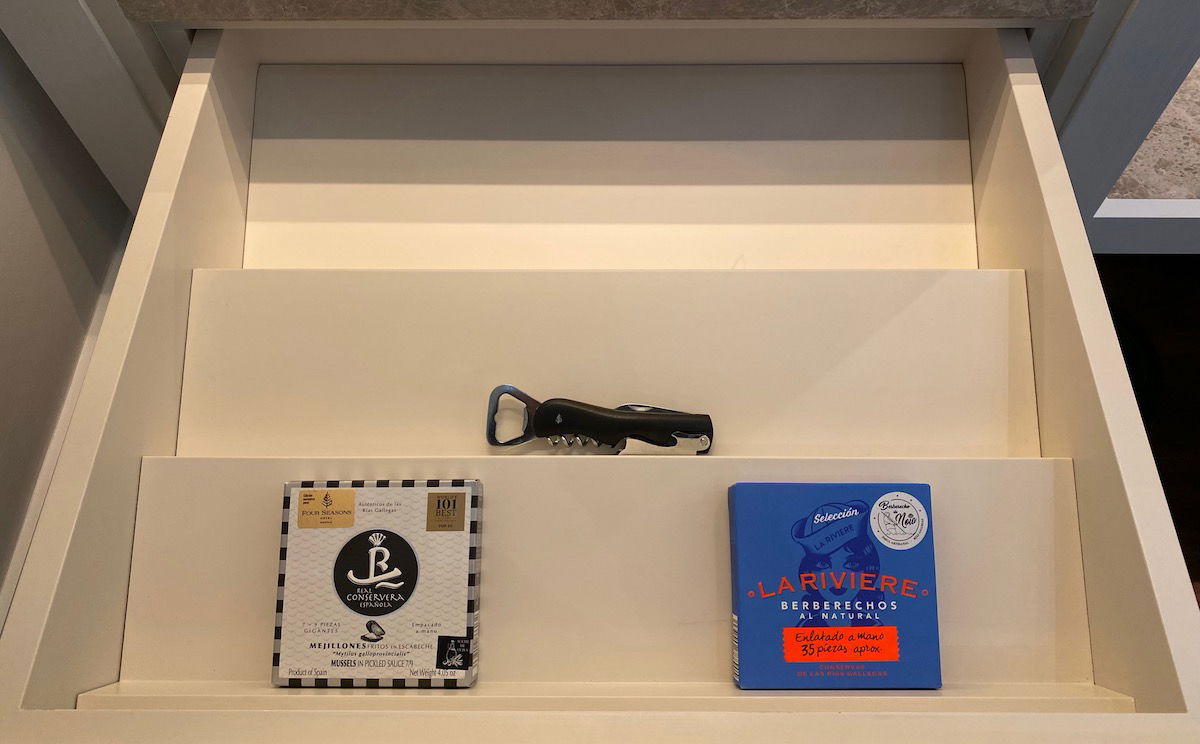 There was a lovely welcome amenity consisting of vermouth (very popular in Spain), along with nuts, olives, cheese, and cold cuts. Since it was Valentine's Day, there were also two heart-shaped chocolates.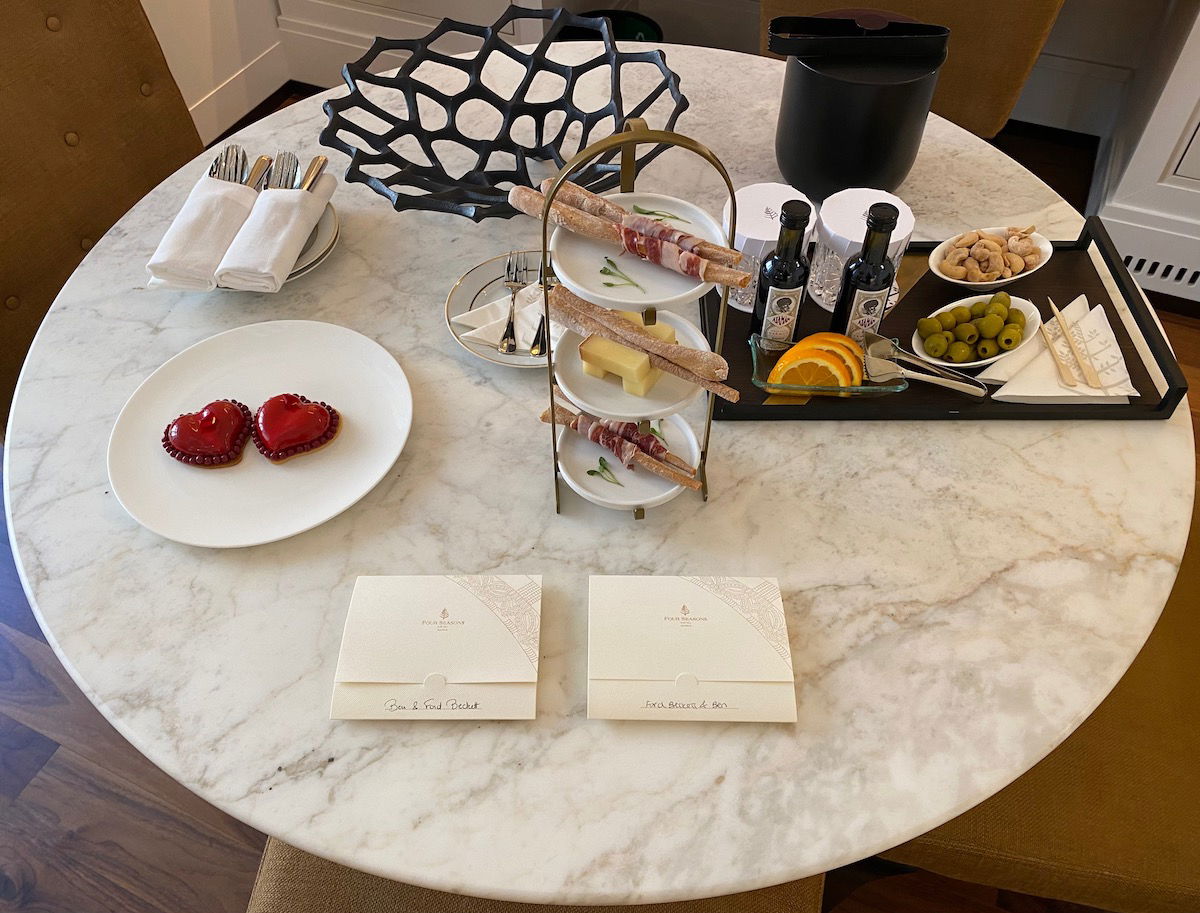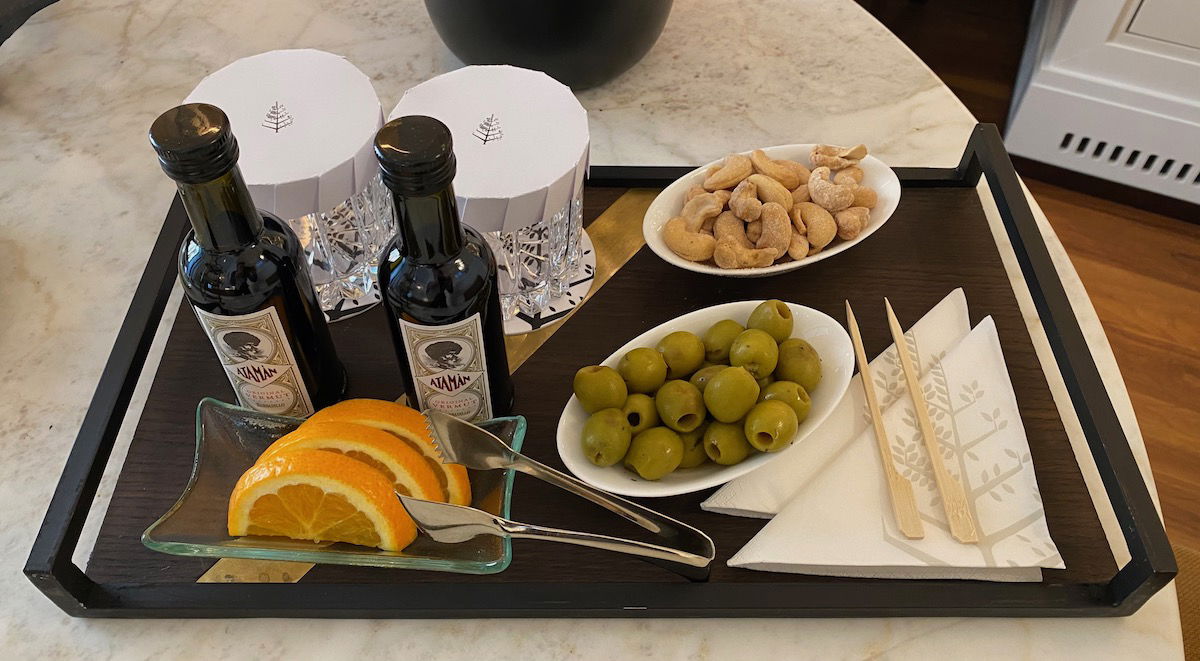 The room also had two outdoor areas. On one side of the living room was an enclosed terrace, while on the other side of the room was a fully open terrace.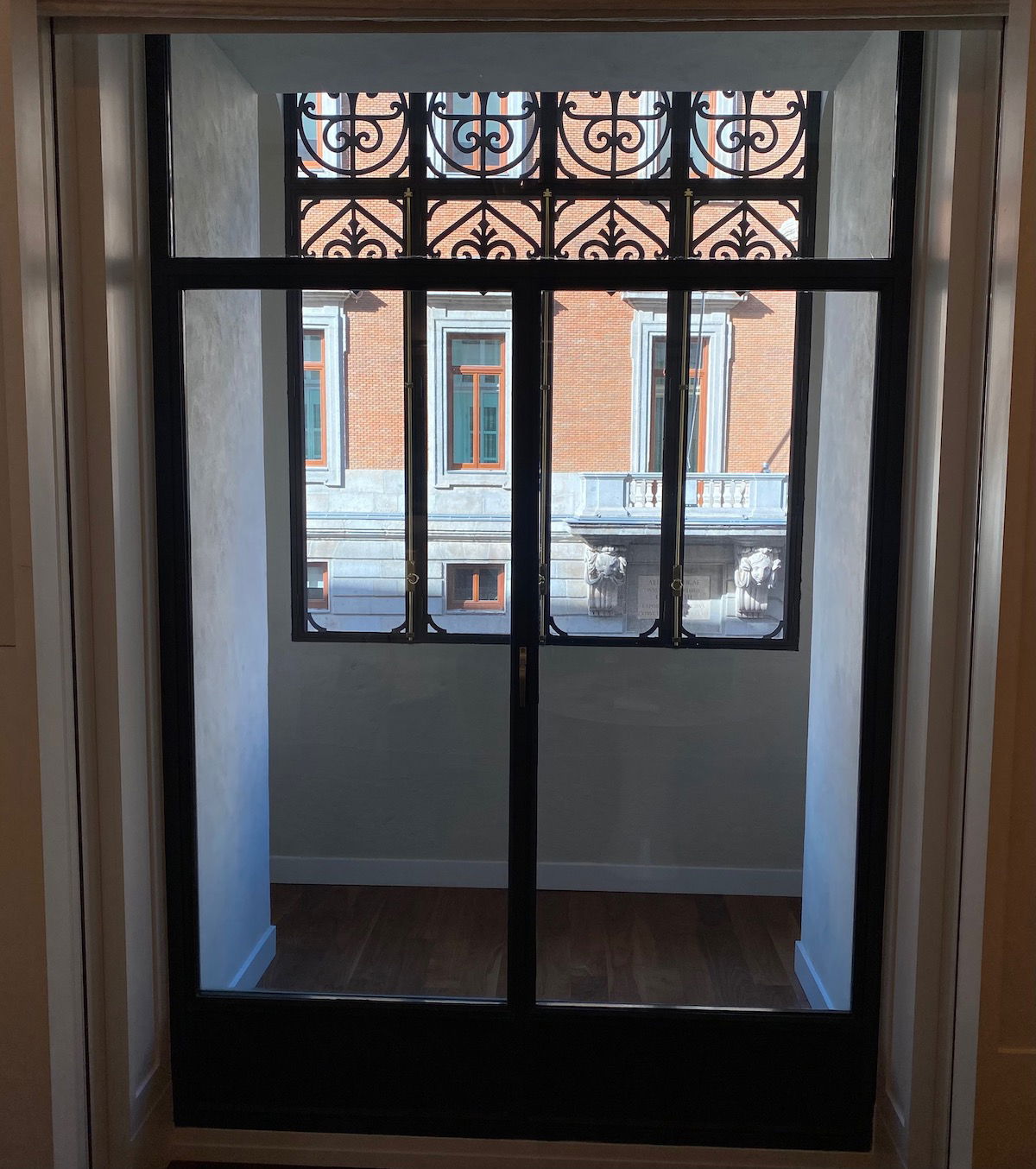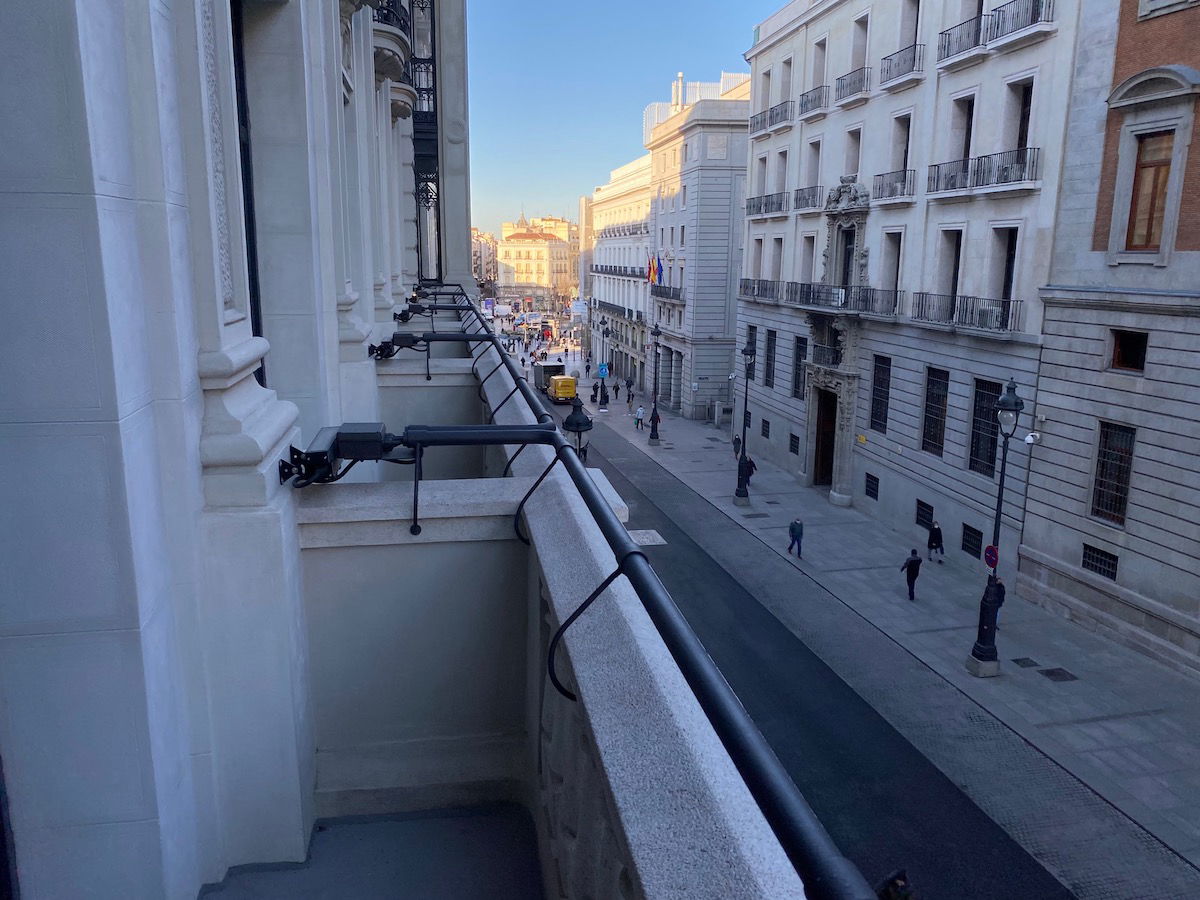 Wi-Fi in the room was fast and included, and housekeeping was provided twice daily. As usual at Four Seasons, there was an incredible amount of attention to detail. For example, a cleaning cloth with a picture of the hotel was left on top of my laptop — cute!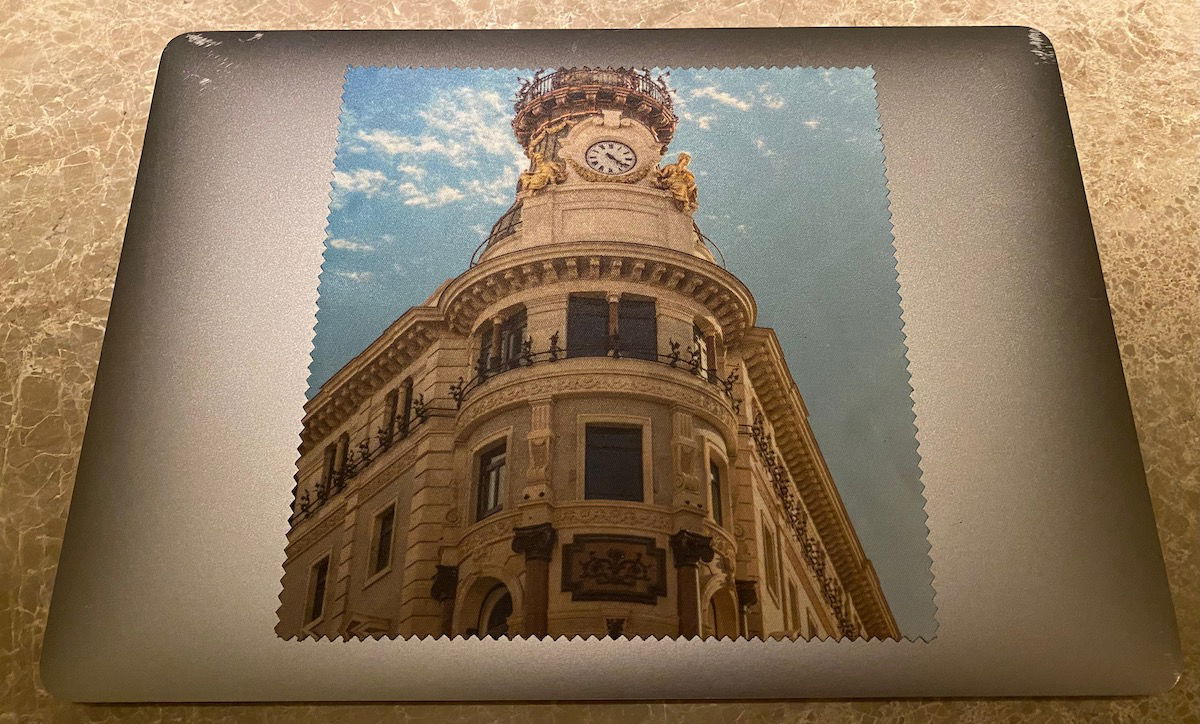 Four Seasons Madrid Premier Twin Room
Admittedly we got a great upgrade, though we also asked to see some other rooms. The Four Seasons has among the largest standard rooms in all of Madrid, as the smallest rooms are 484 square feet. For example, below are some pictures of a premier twin room — still very, very nice!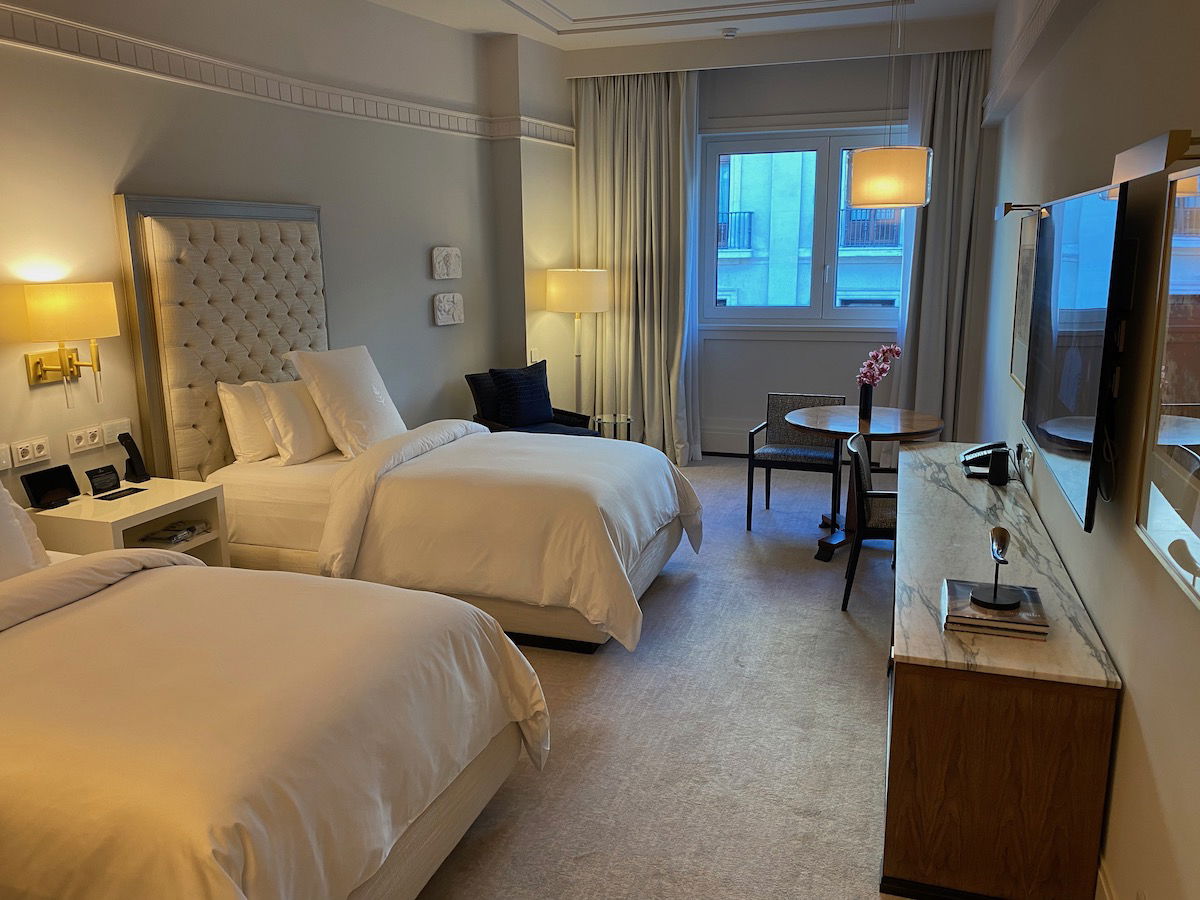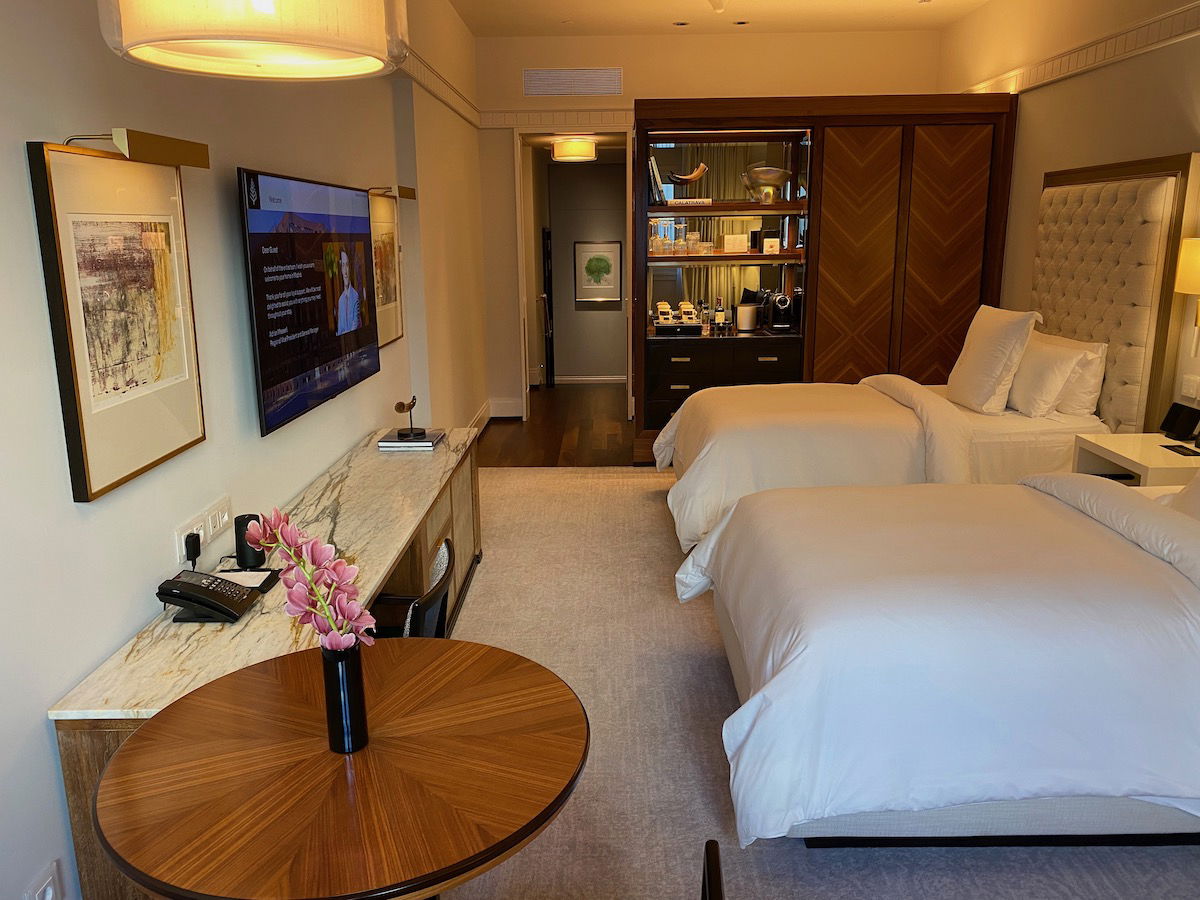 All rooms at the Four Seasons have double sinks, a bathtub, a walk-in shower, and a partitioned off toilet, so that sure is a nice feature, since it's something you'll otherwise often only find in suites.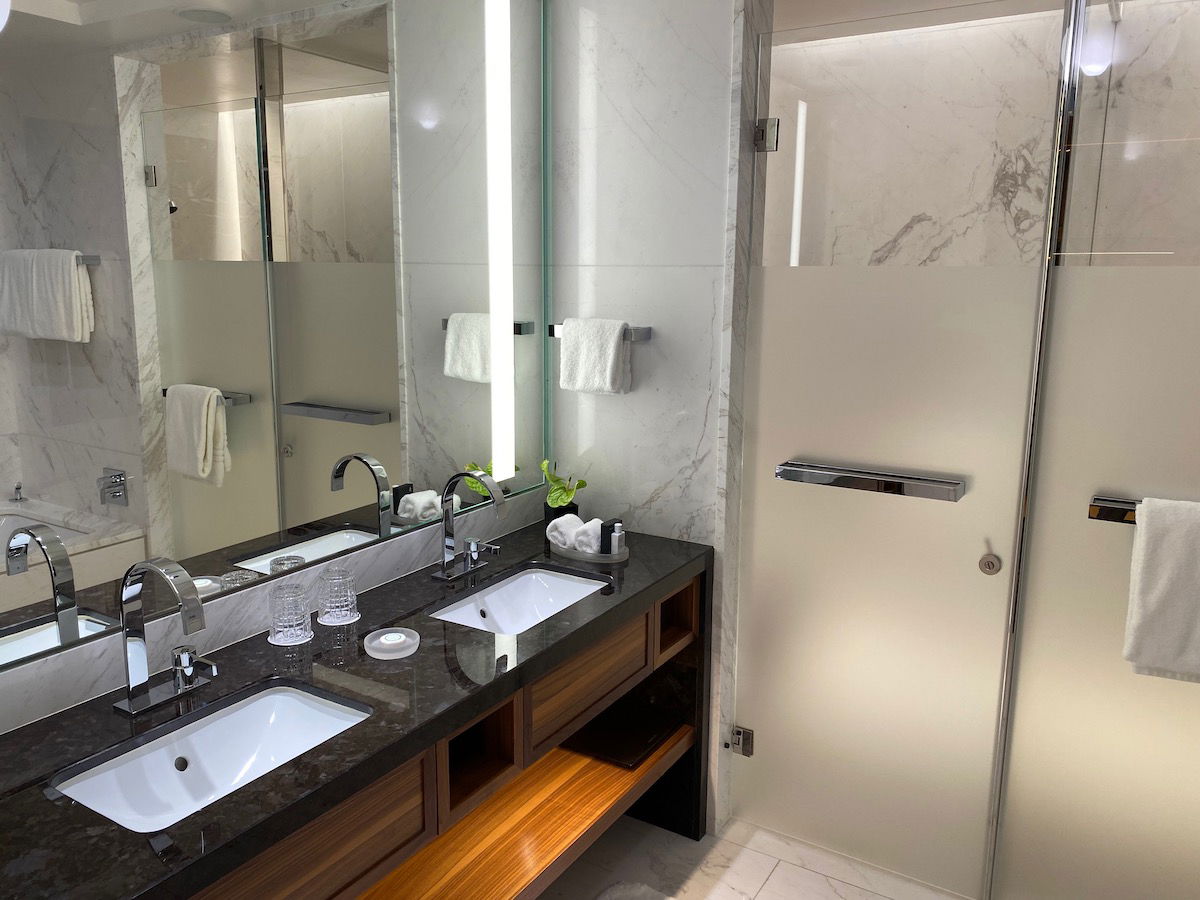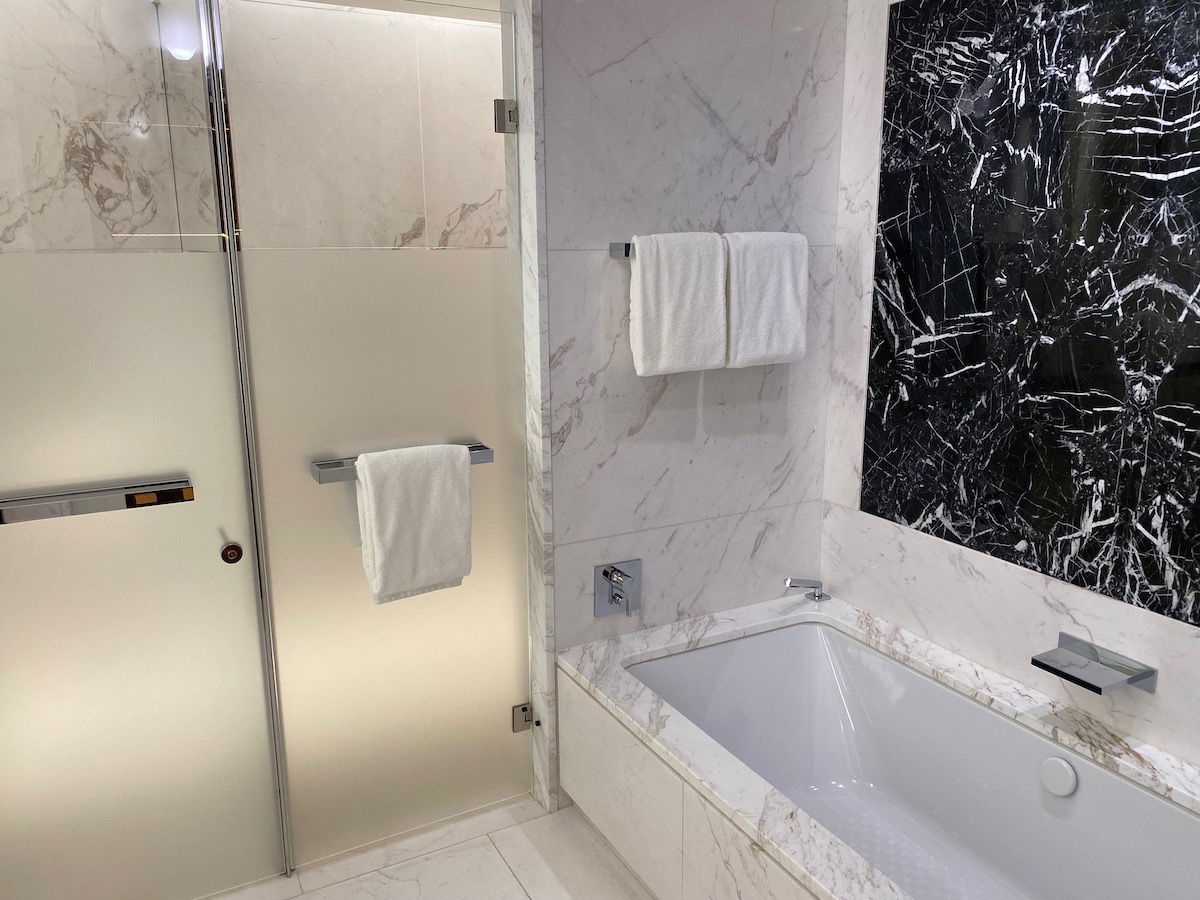 Four Seasons Madrid Dani Restaurant (breakfast)
Dani Restaurant is the Four Seasons' signature dining spot, and it's located on the seventh floor. The restaurant serves breakfast, lunch, and dinner. It's simply a gorgeous space, with both a bar area and a separate restaurant. Chef Dani Garcia (who had a restaurant that was awarded three Michelin stars) is behind the restaurant, which serves Spanish and Andalusian cuisine.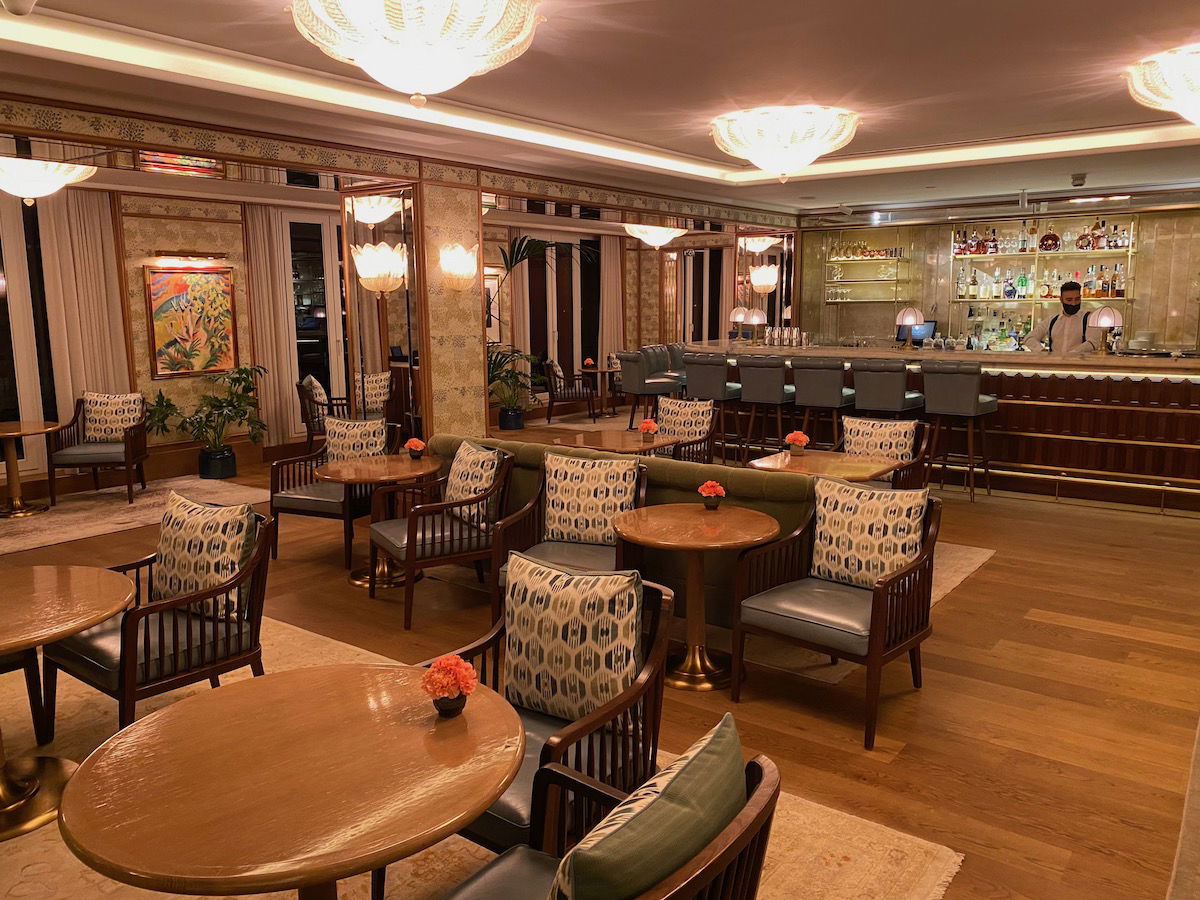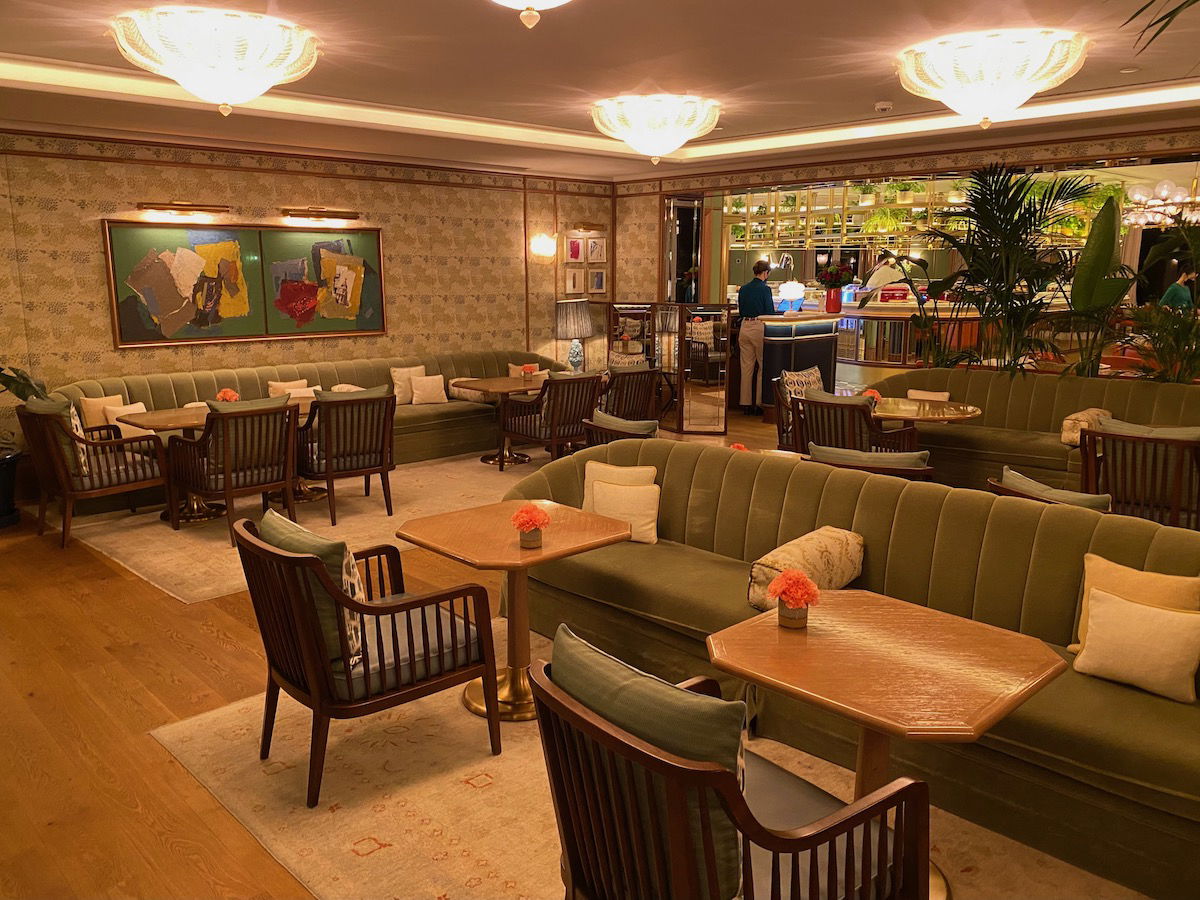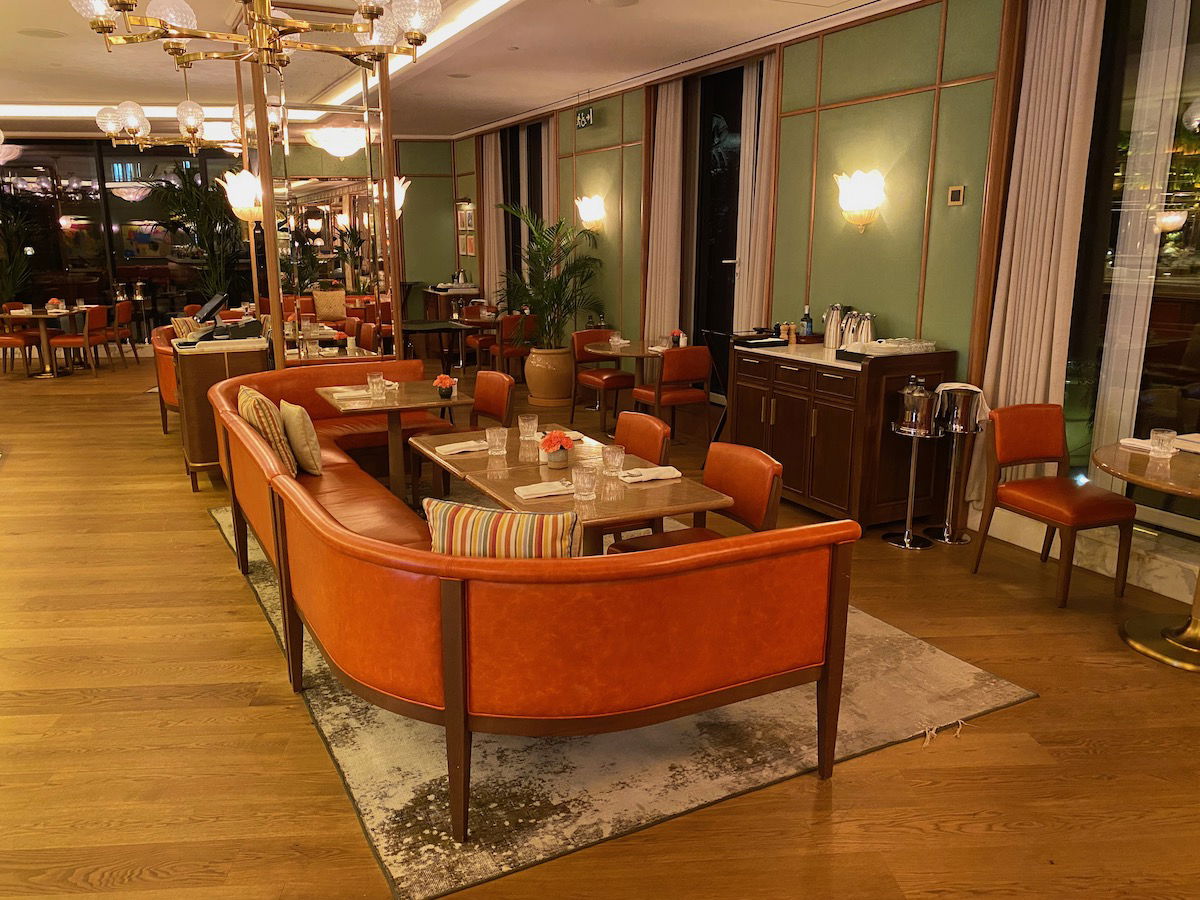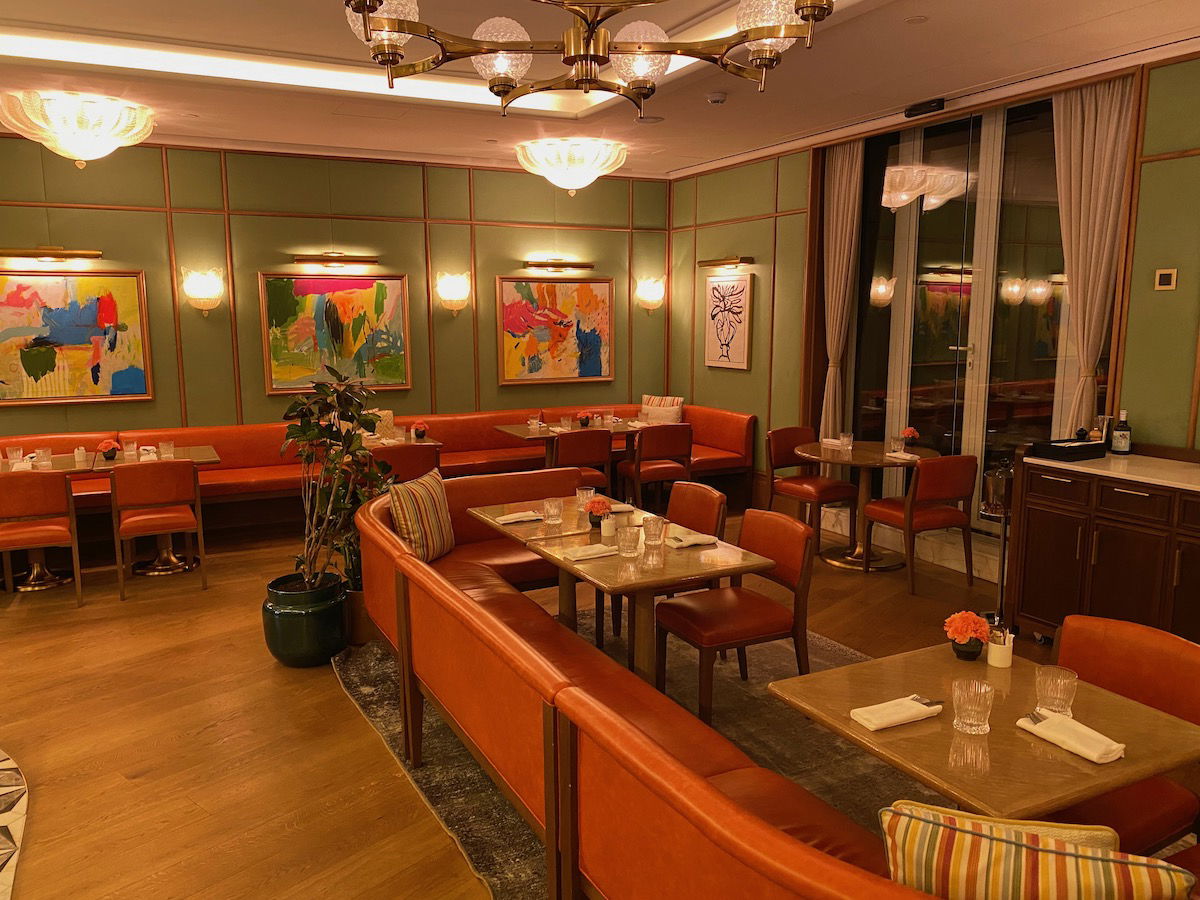 In addition to lots of indoor seating, the restaurant also has a beautiful outdoor terrace with great views (though admittedly winter isn't the ideal time to enjoy this).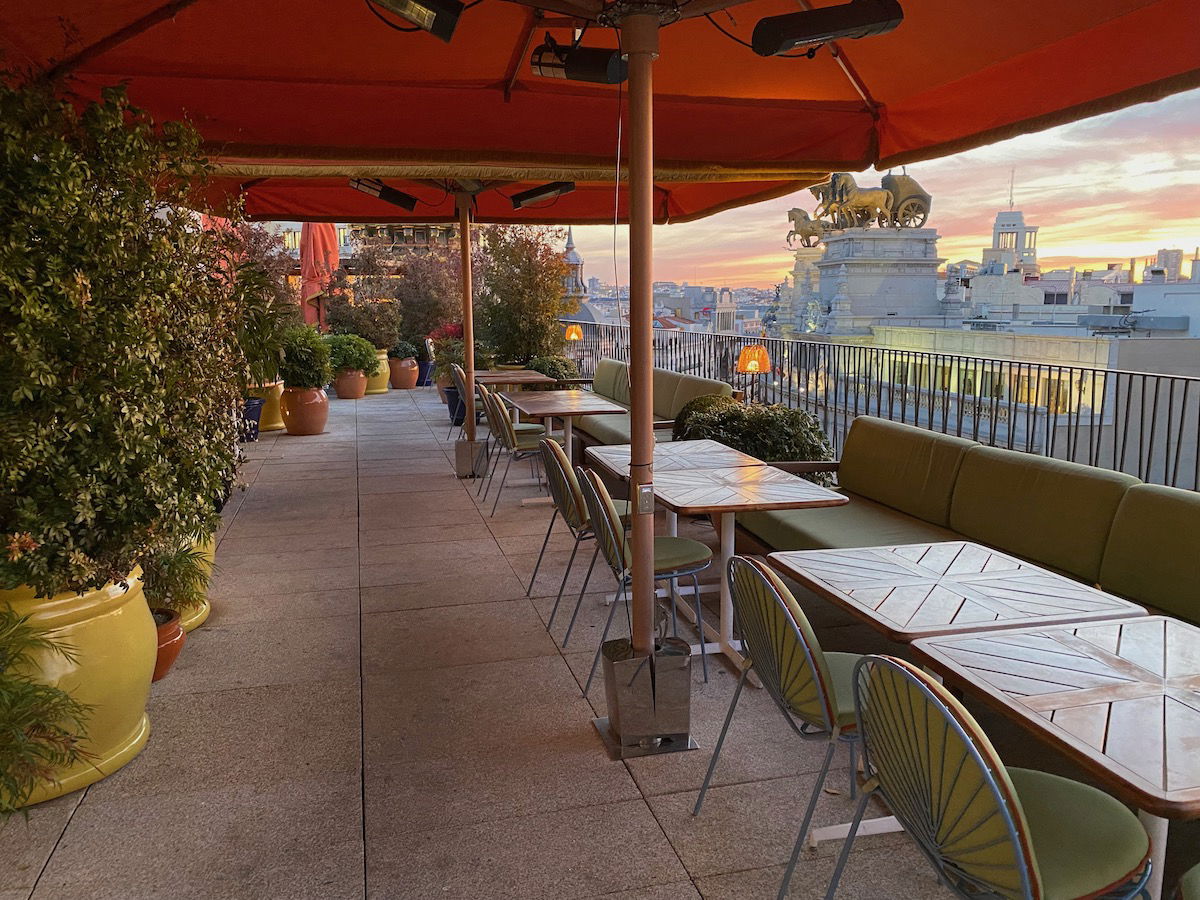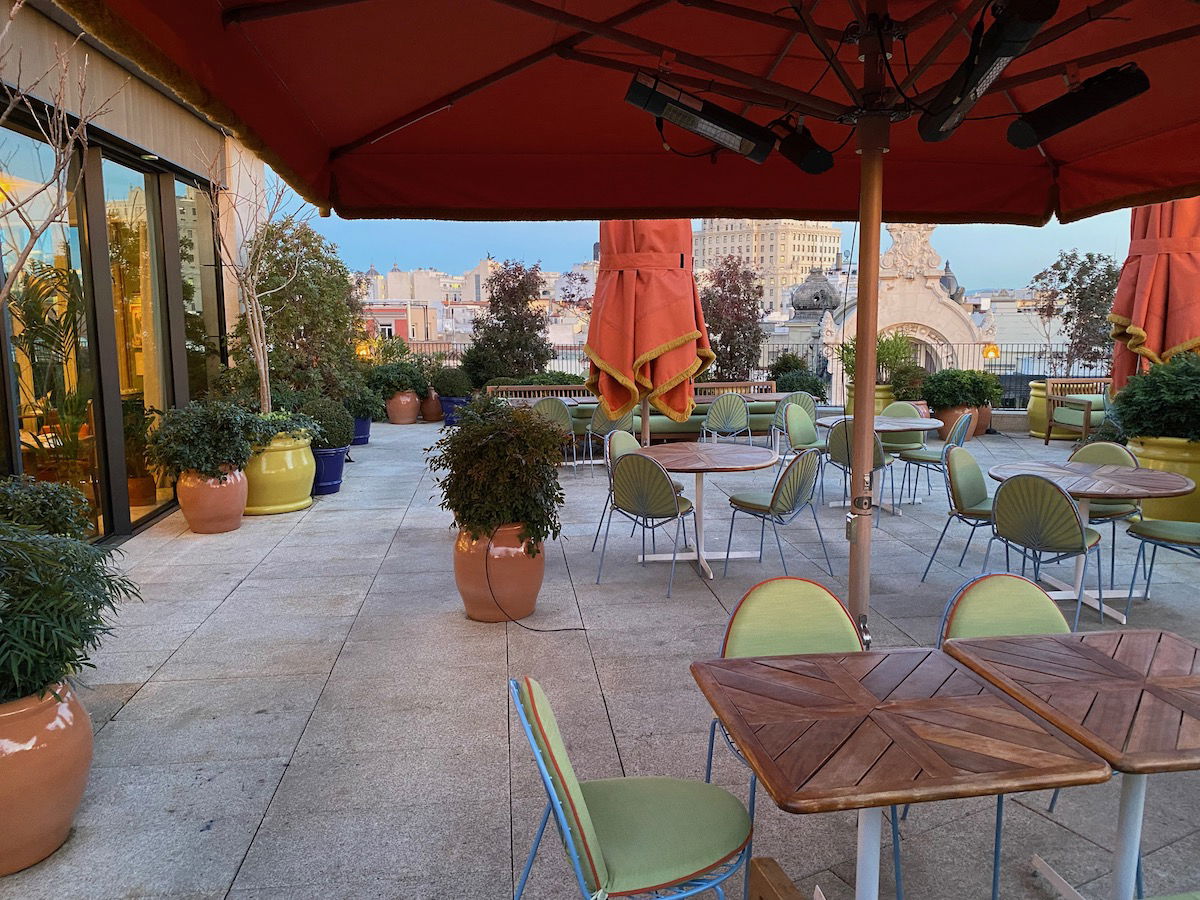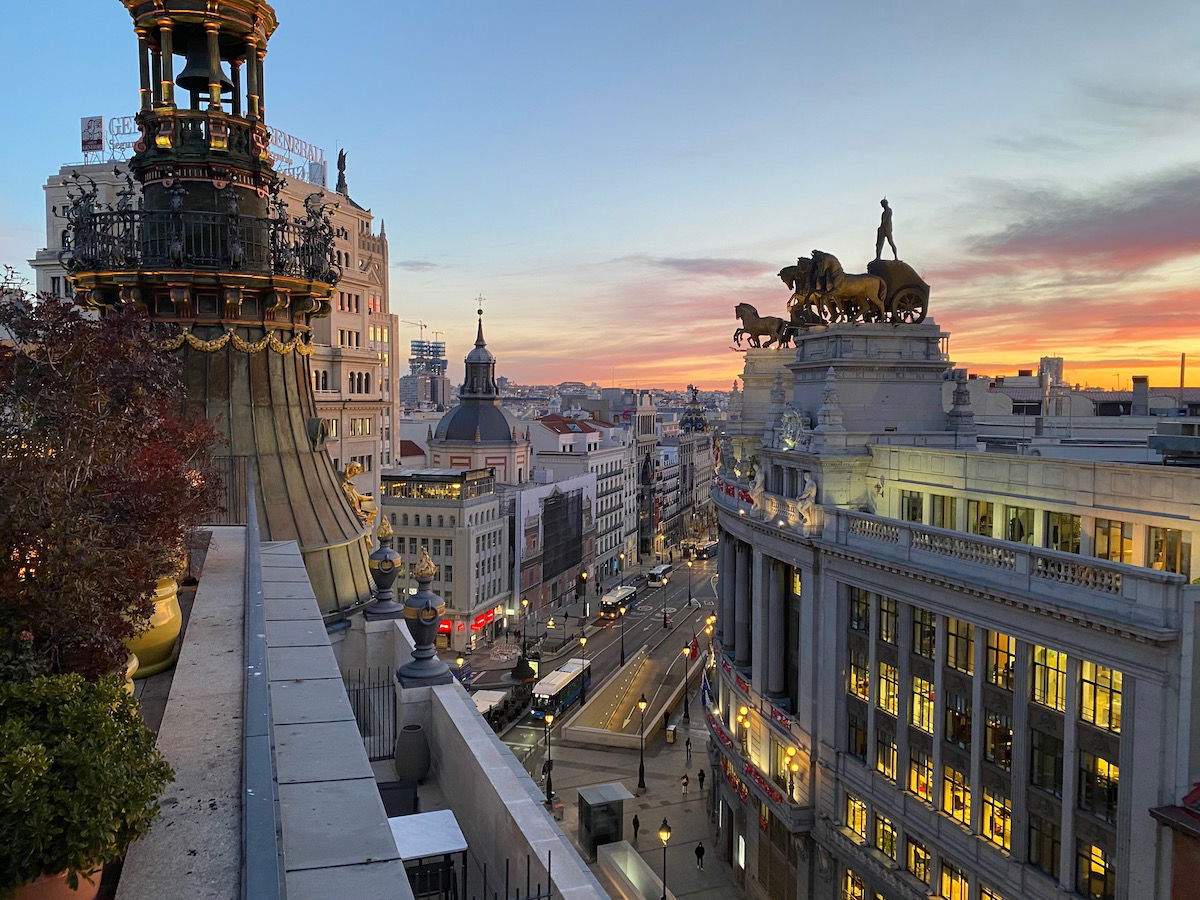 We had breakfast in the restaurant both mornings, and you can find the menu here. Both mornings we had Dani's Breakfast, which includes a hot beverage, juice, the buffet, and one dish from the menu. While the buffet isn't huge, it's wonderfully presented, and almost everything is homemade and tastes amazing.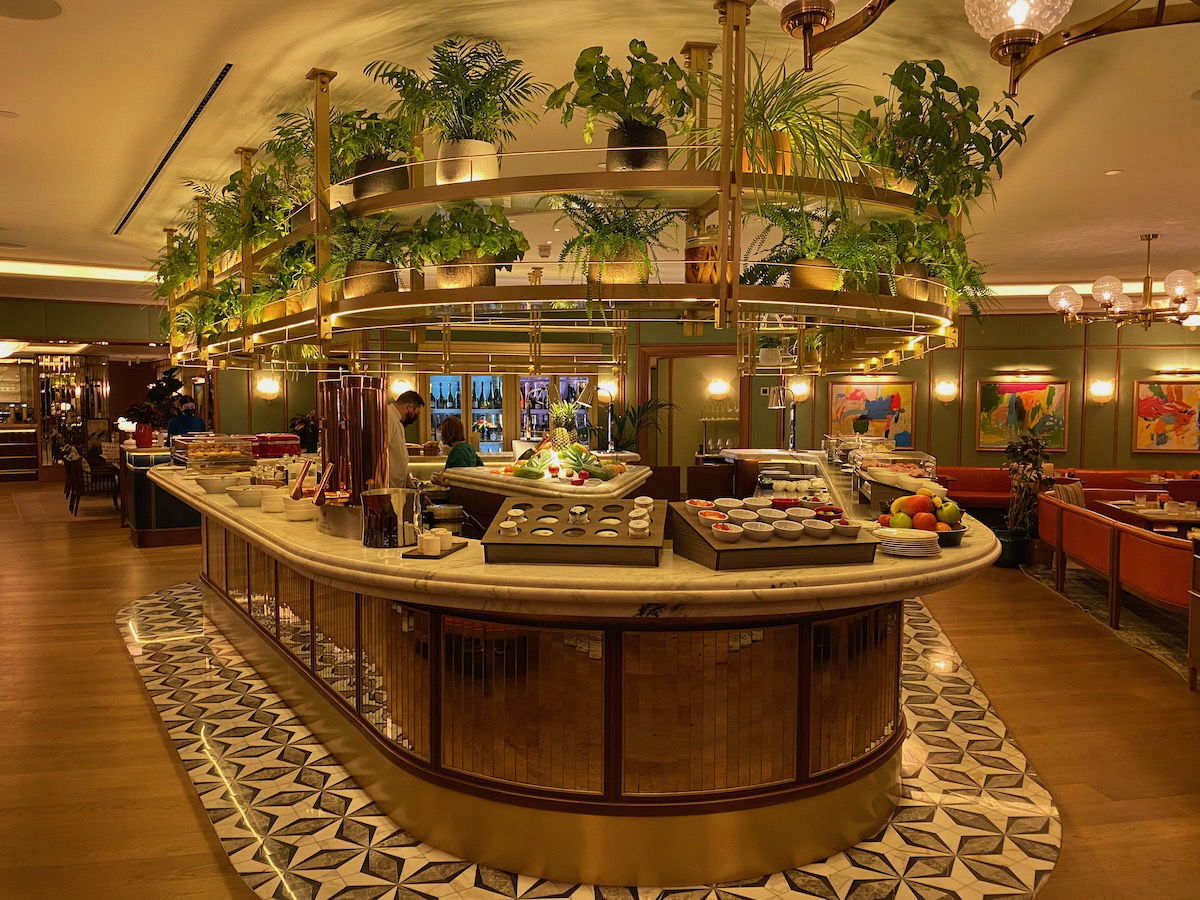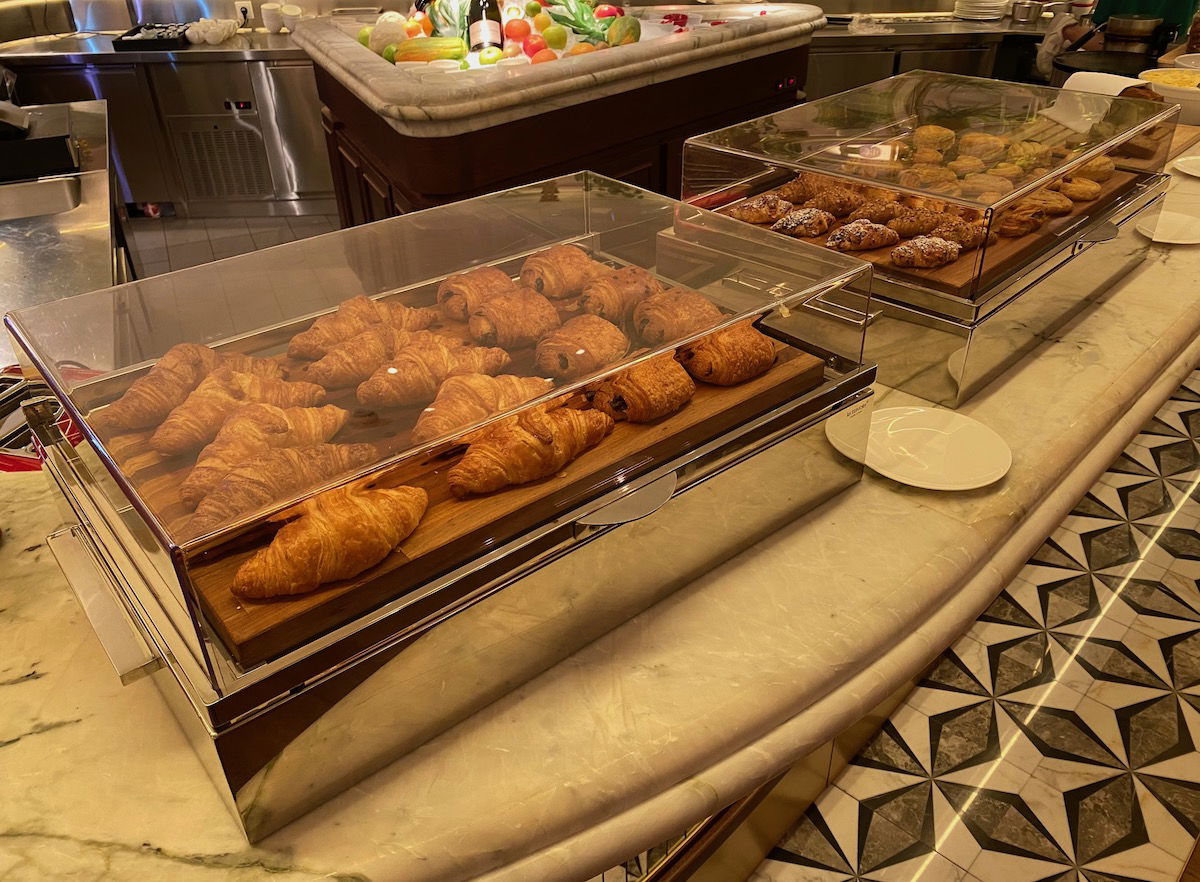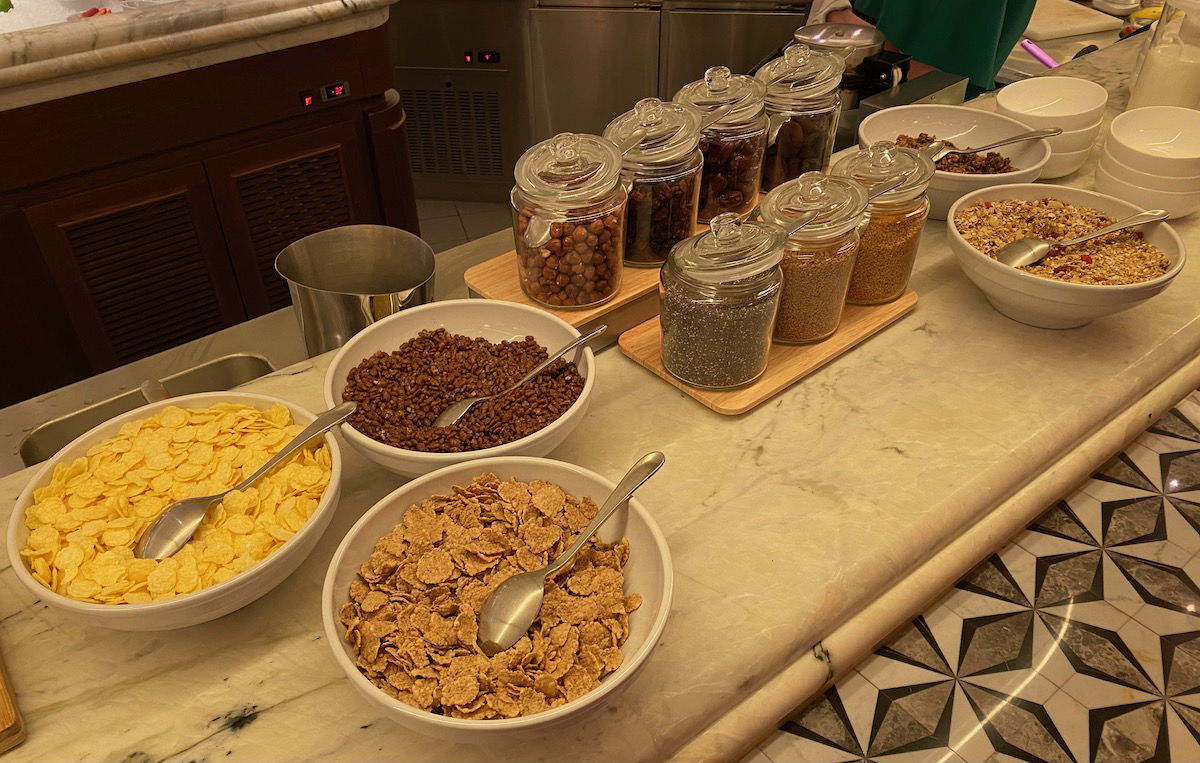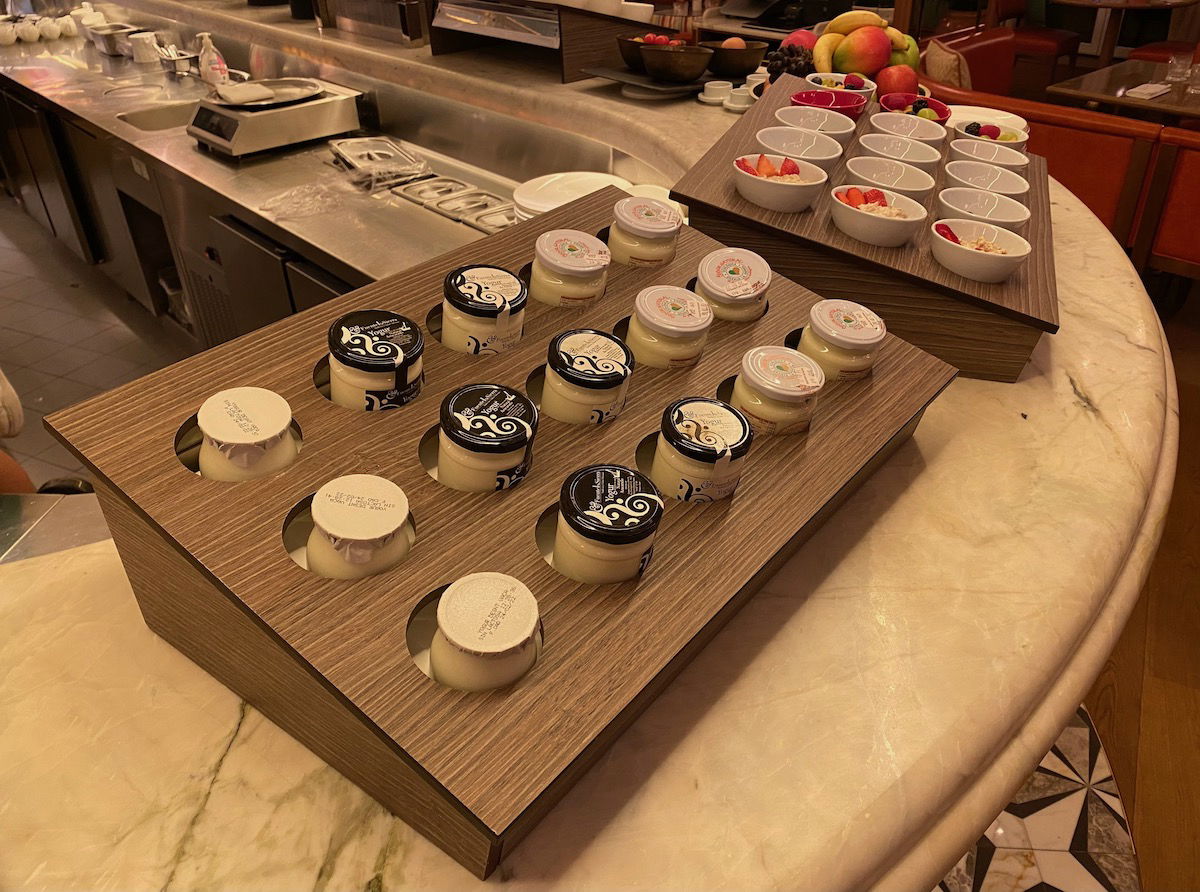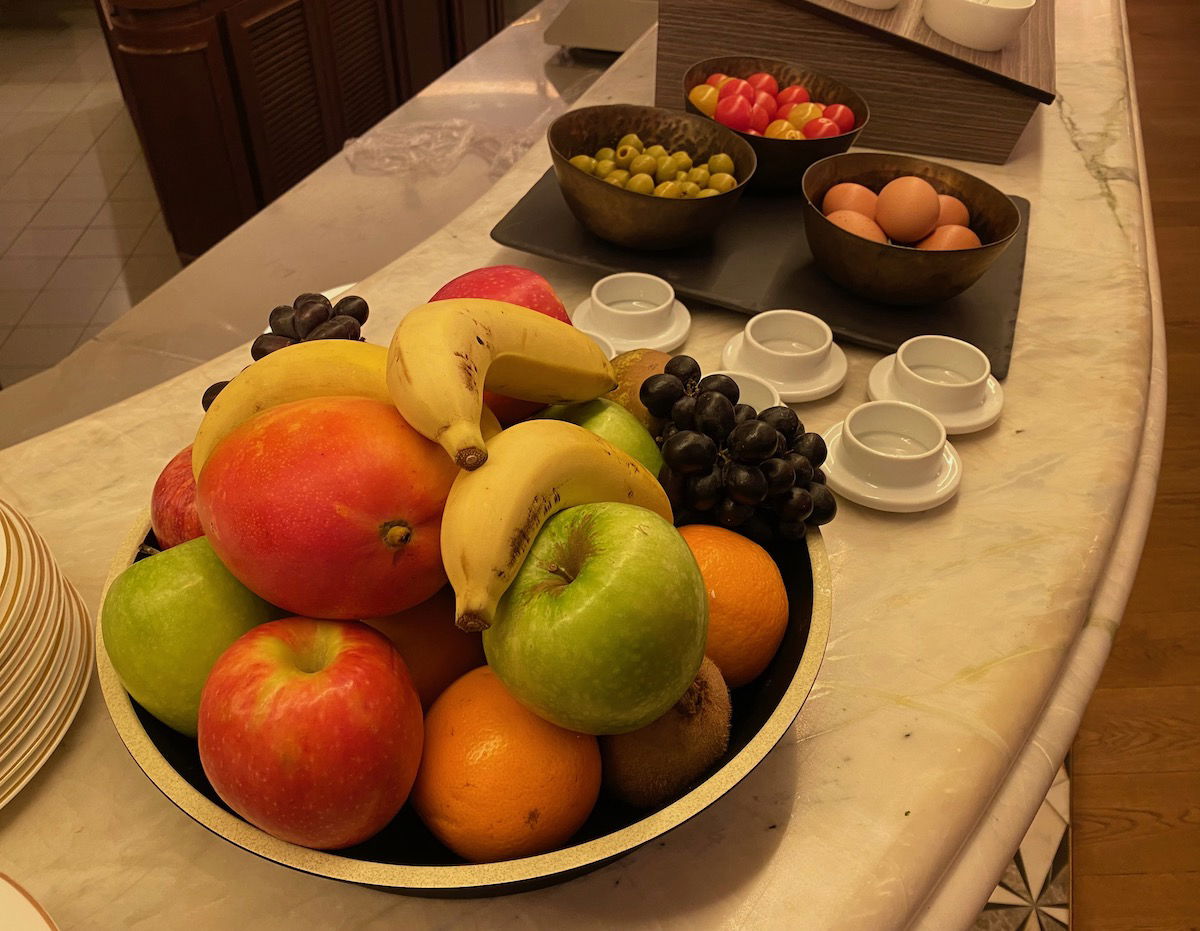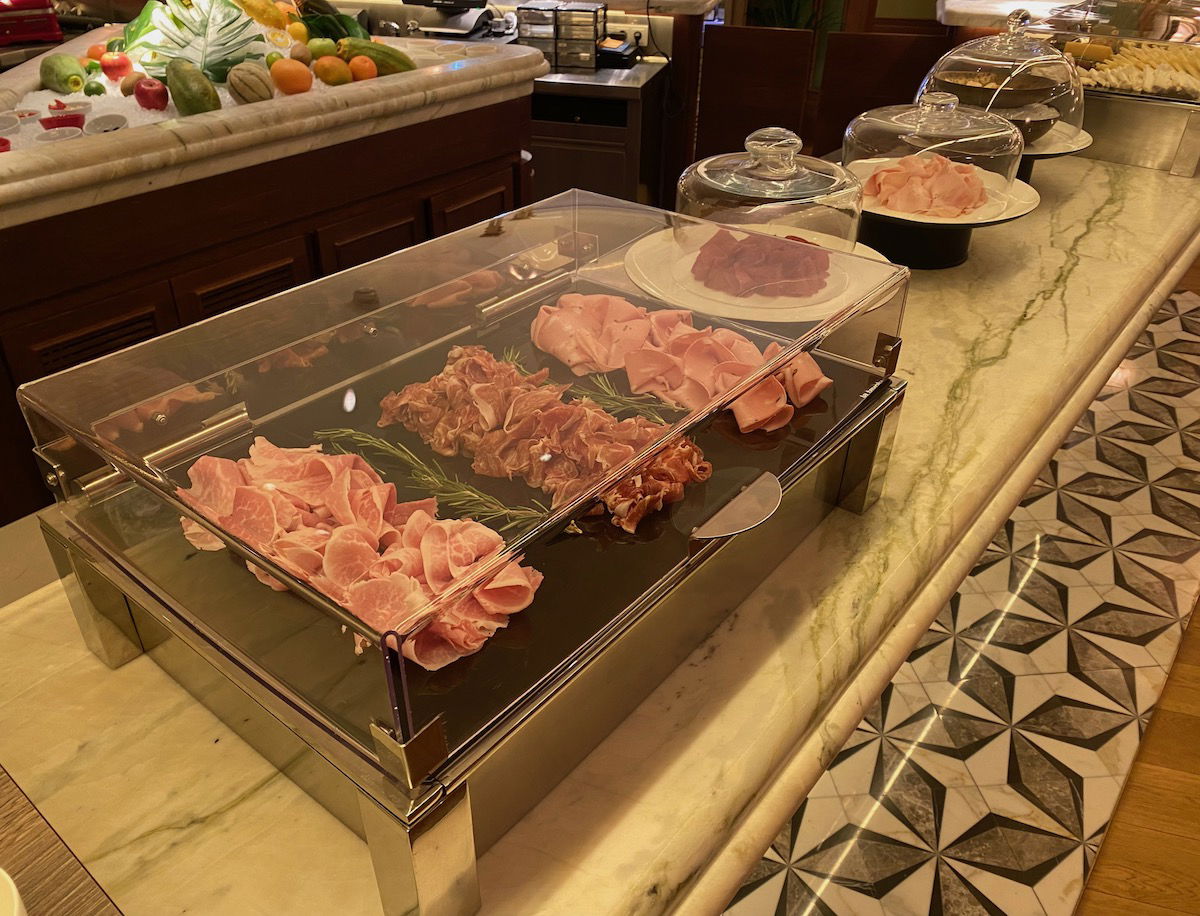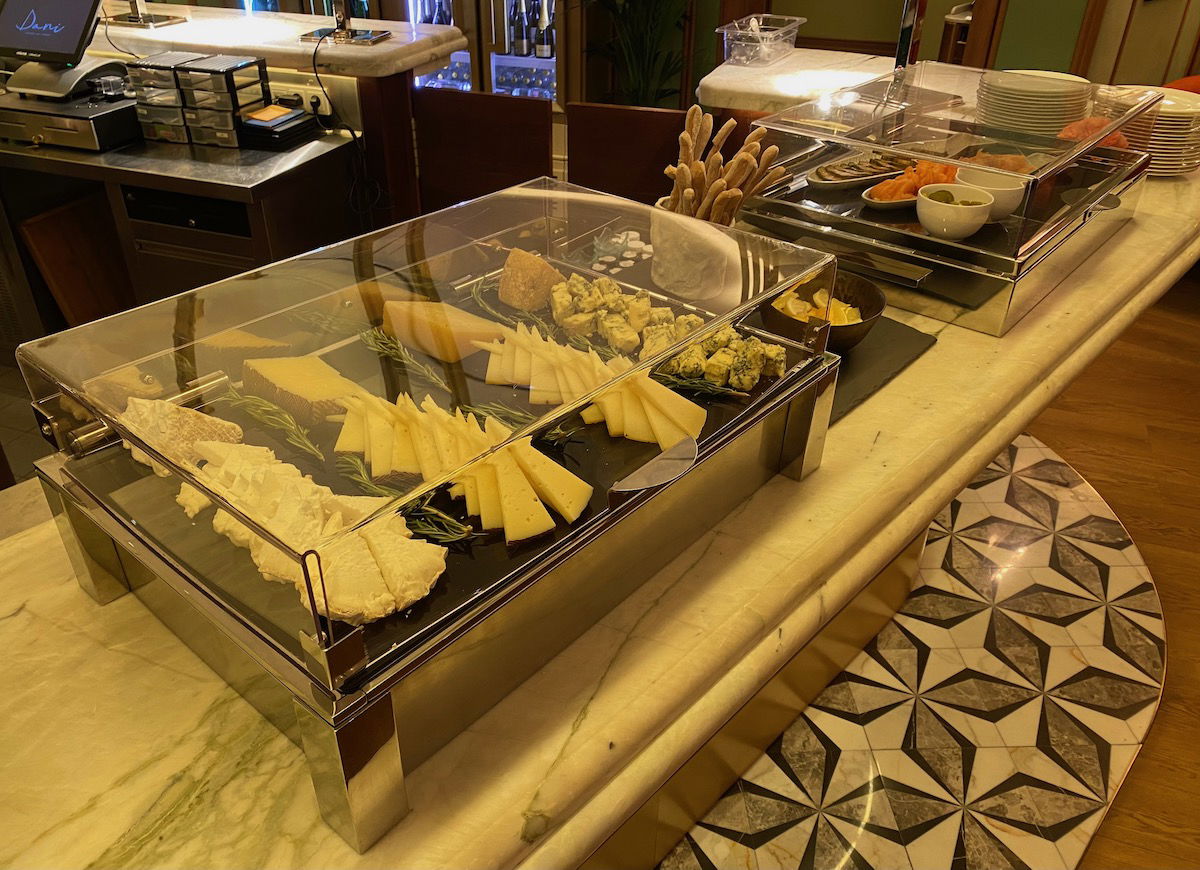 The drinks were delicious, including the green juice, carrot juice, and cappuccino.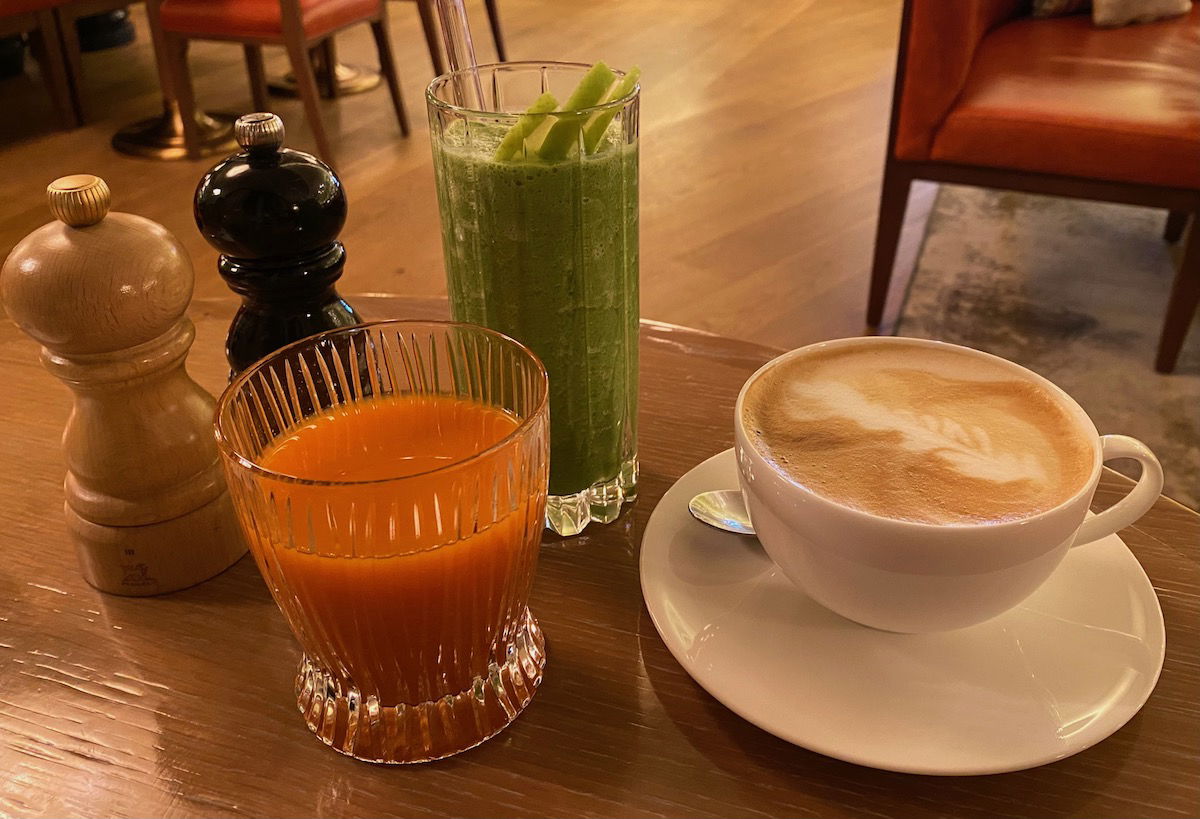 I had the avocado toast on multi-grain bread both mornings, because it was that good.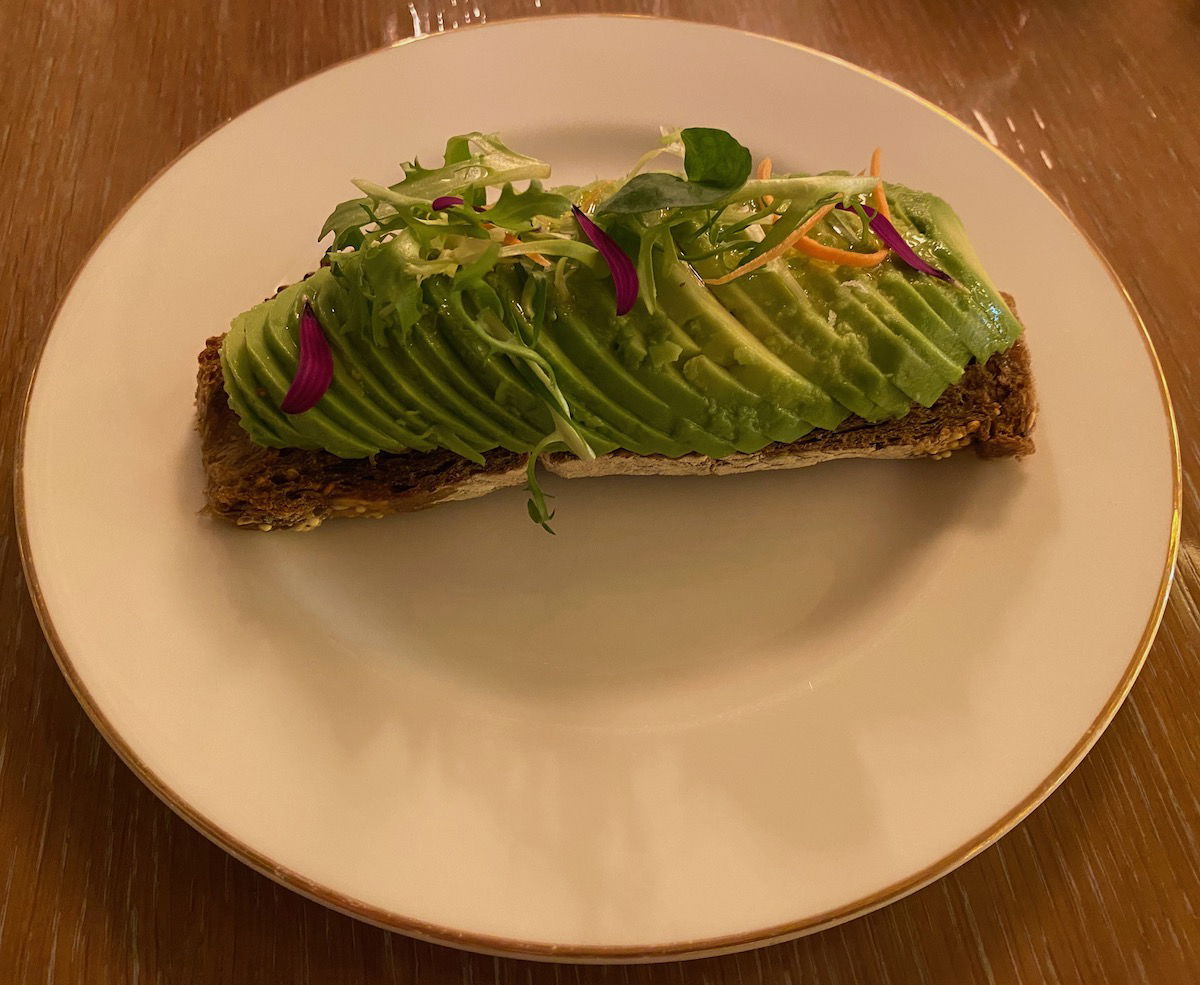 Ford had the avocado benedict one morning, with avocado, poached egg, and hollandaise sauce.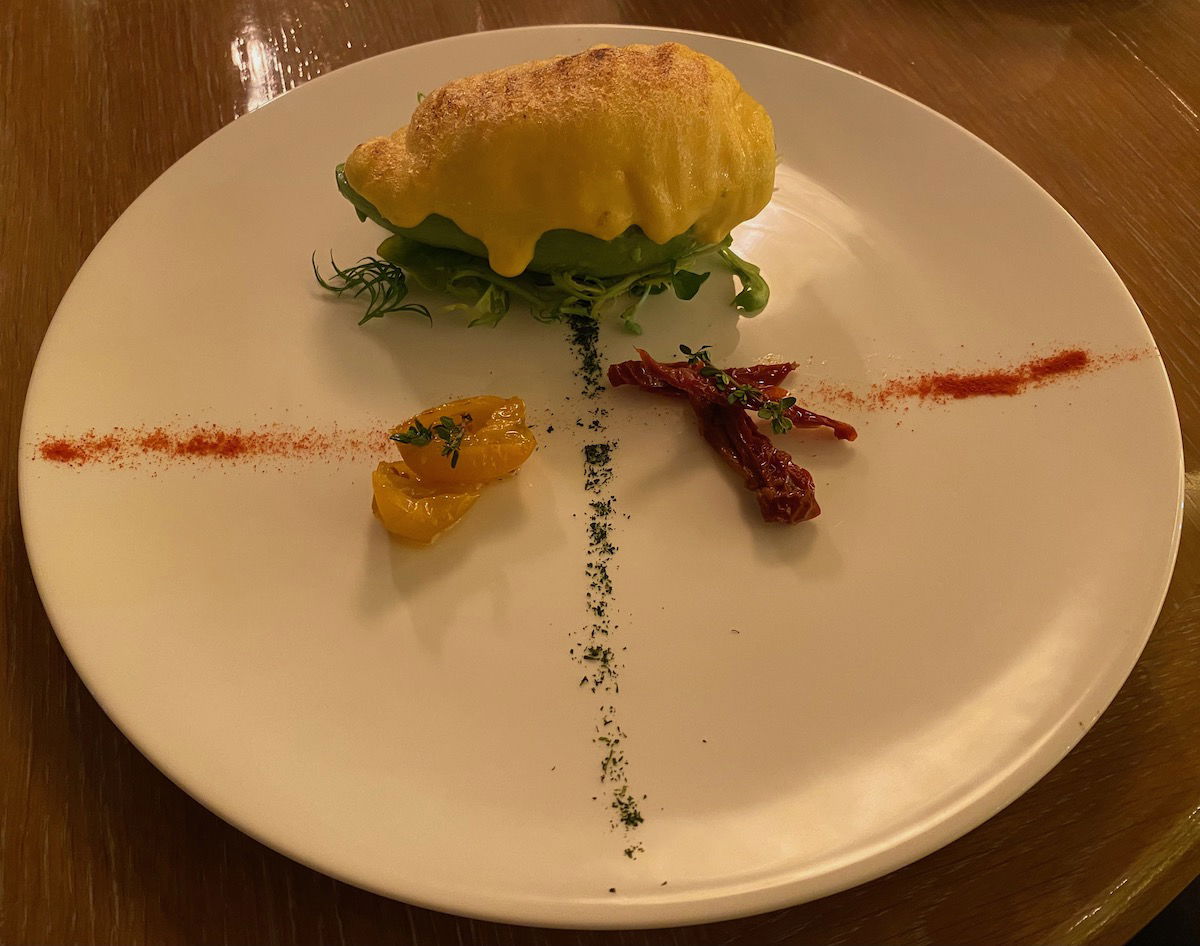 In addition to the amazing breakfast, the hotel also has complimentary coffee, tea, and croissants in the lobby each morning.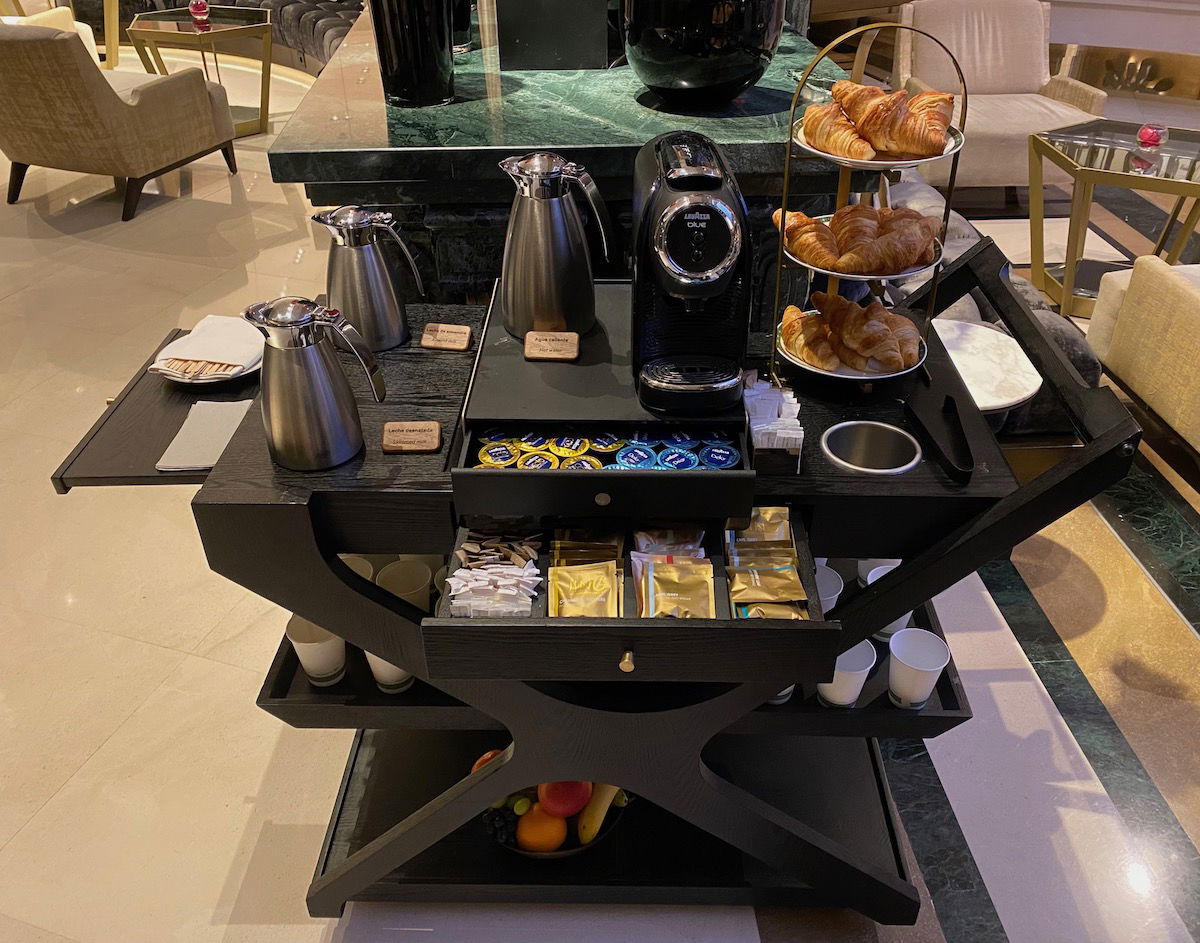 Four Seasons Madrid Dani Restaurant (dinner)
We arrived in Spain on Valentine's Day, and lucked out with being able to get a last minute reservation at Dani Restaurant. We started with some drinks in the bar area, and you can find the menu here.
I ordered the Austrias cocktail, with tequila, pineapple, and green chartreuse, while Ford had the Chueca cocktail, with pisco, purple corn, and coriander. Both were excellent, and were served with cashews and olives.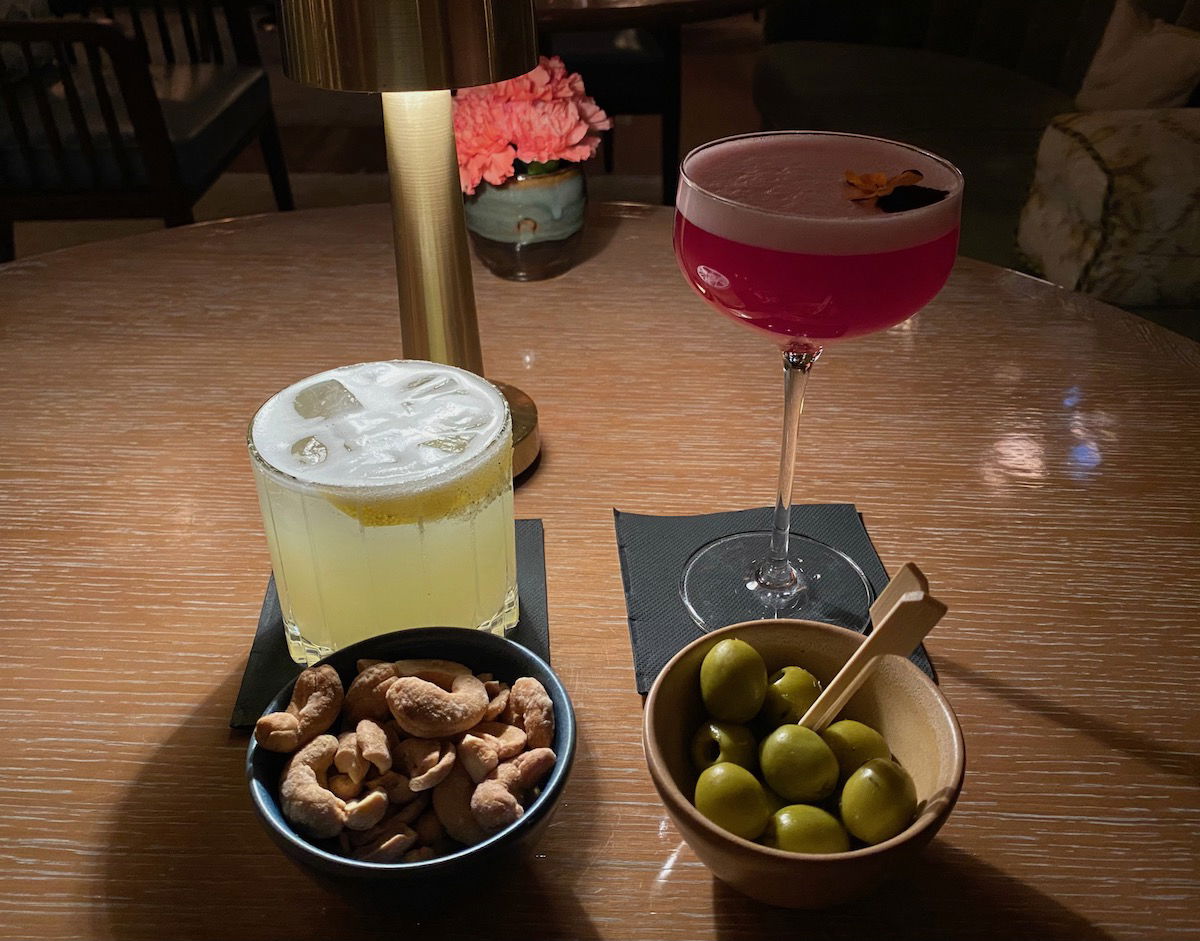 Then we moved over to the restaurant where we had dinner, and you can find the menu here. The restaurant has a rather eclectic menu, and everything is designed for sharing, so courses were brought out one-by-one. We enjoyed just about everything we tried.
We started with the tomato nitro & green gazpacho, which came highly recommended. This had dried tomato, green bell pepper, and baby shrimp tartar. That thing in the middle isn't actually a tomato… cool, eh?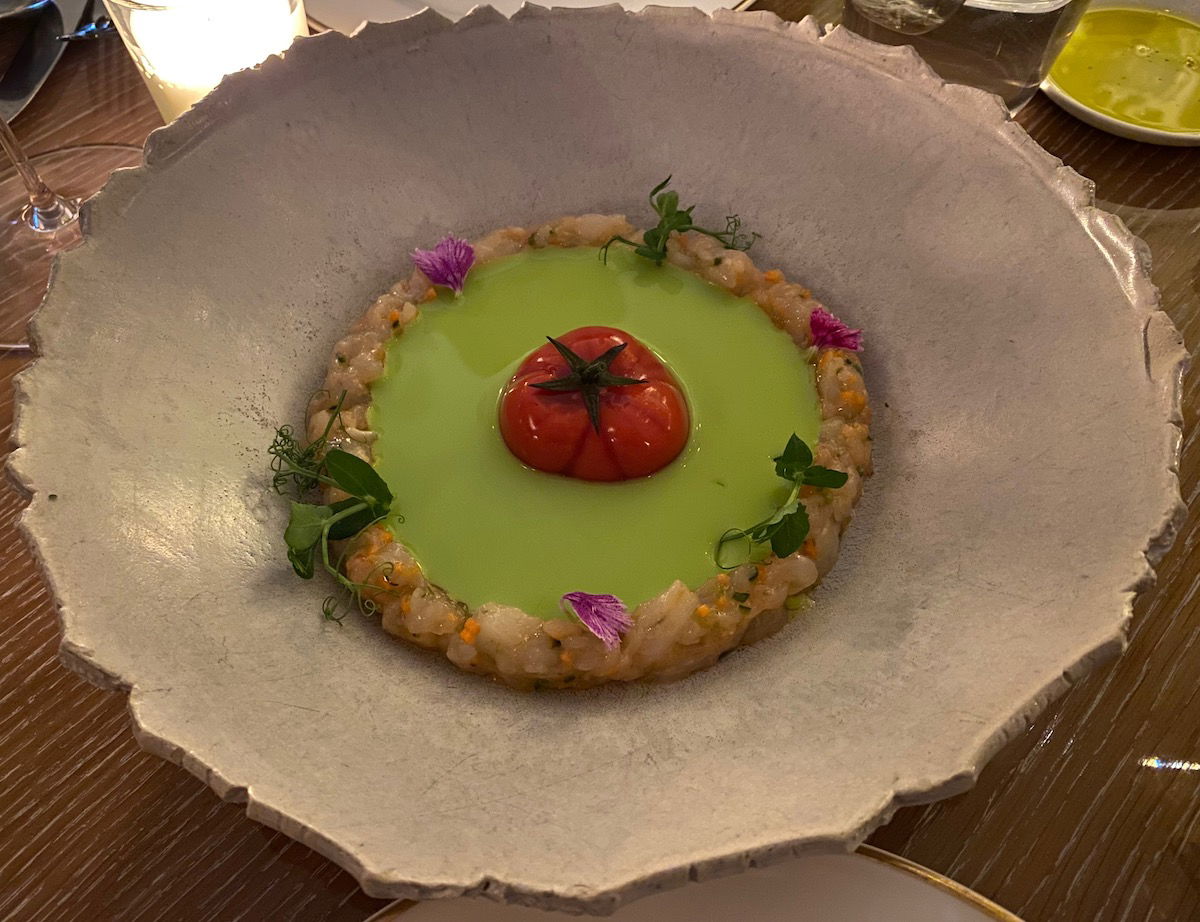 We then had the charcoaled avocado and red tuna belly.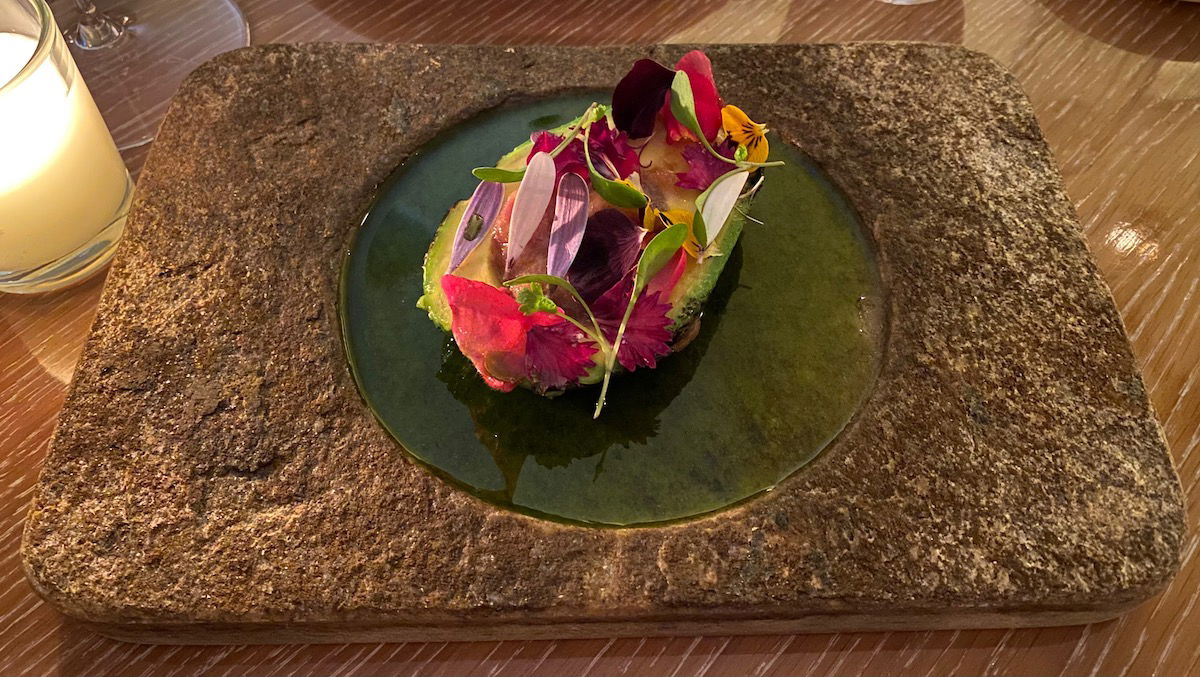 We then had the red tuna "descargamento," with yellow bell peppers, lime, and black olive.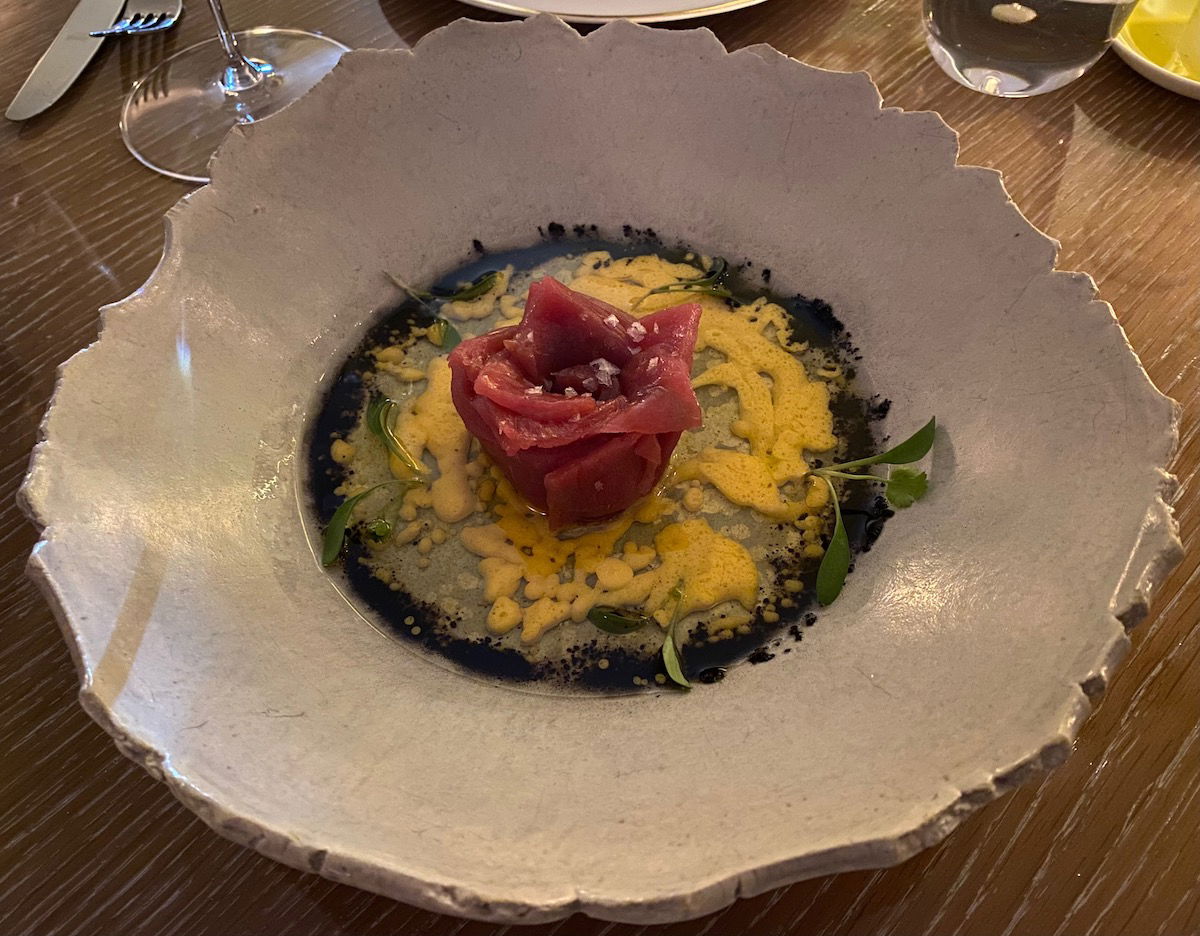 Next we had the calamari "a la Andaluza," with almonds, fried basil, and chili.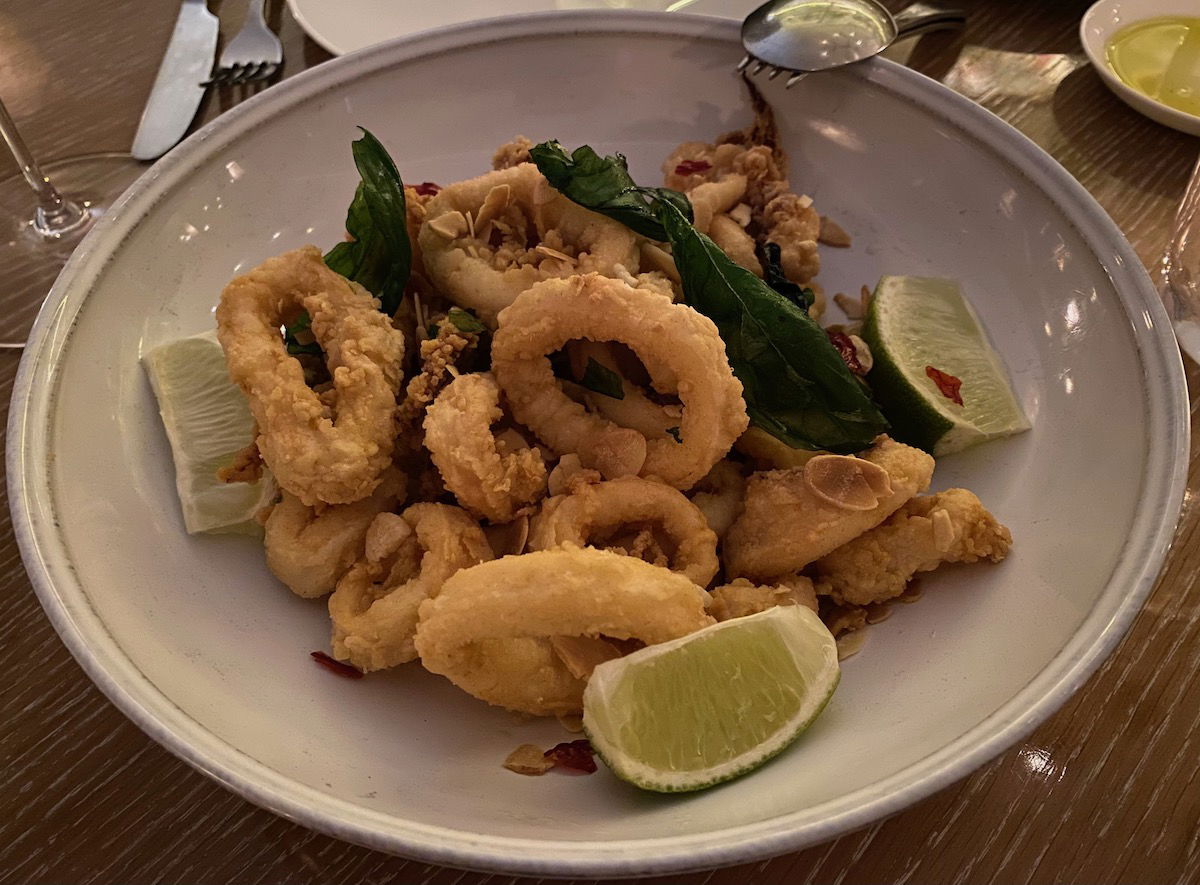 Lastly we had the rossini burger, with foie gras and french fries.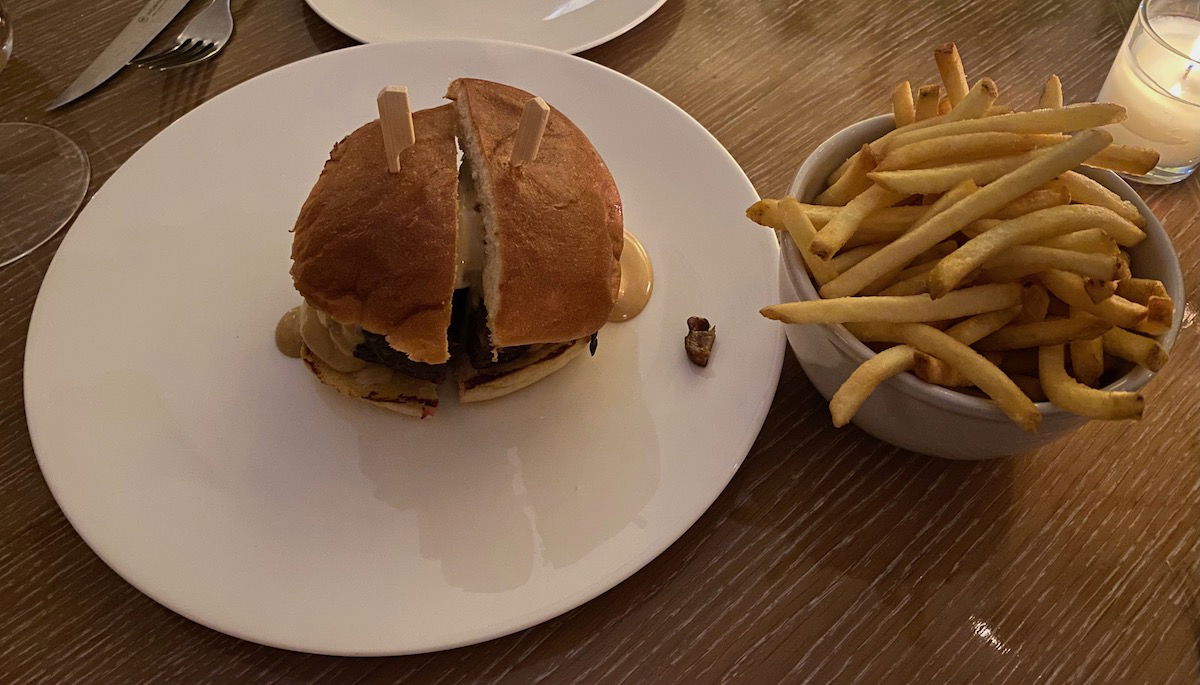 We way over-ordered, but the food was simply phenomenal, and we had an amazing dining experience.
Four Seasons Madrid El Patio (drinks)
In our effort to check out all the hotel has to offer (I know, tough life!), we checked out El Patio on our second afternoon, which is essentially the hotel's lobby bar. It has everything from coffee, to cocktails, to afternoon tea, to snacks, and you can find the menu here.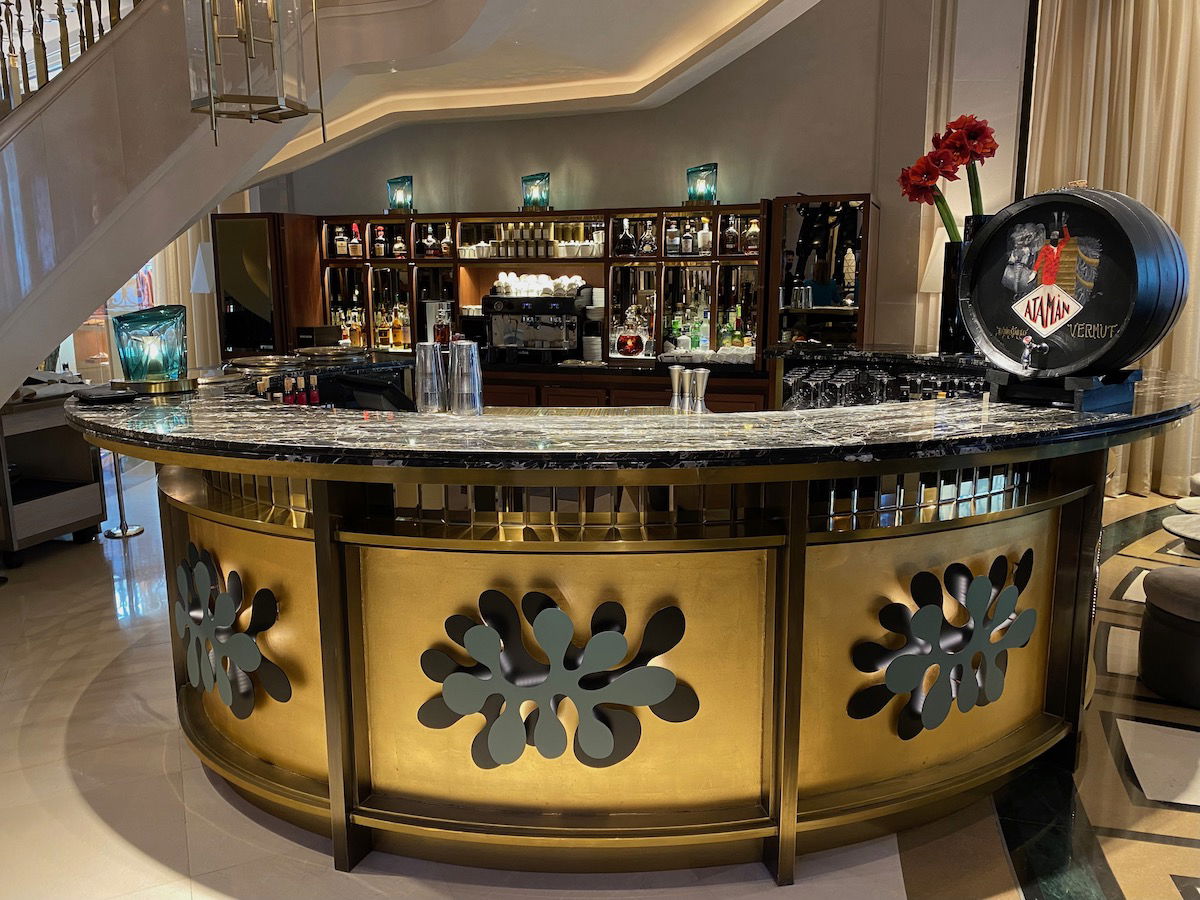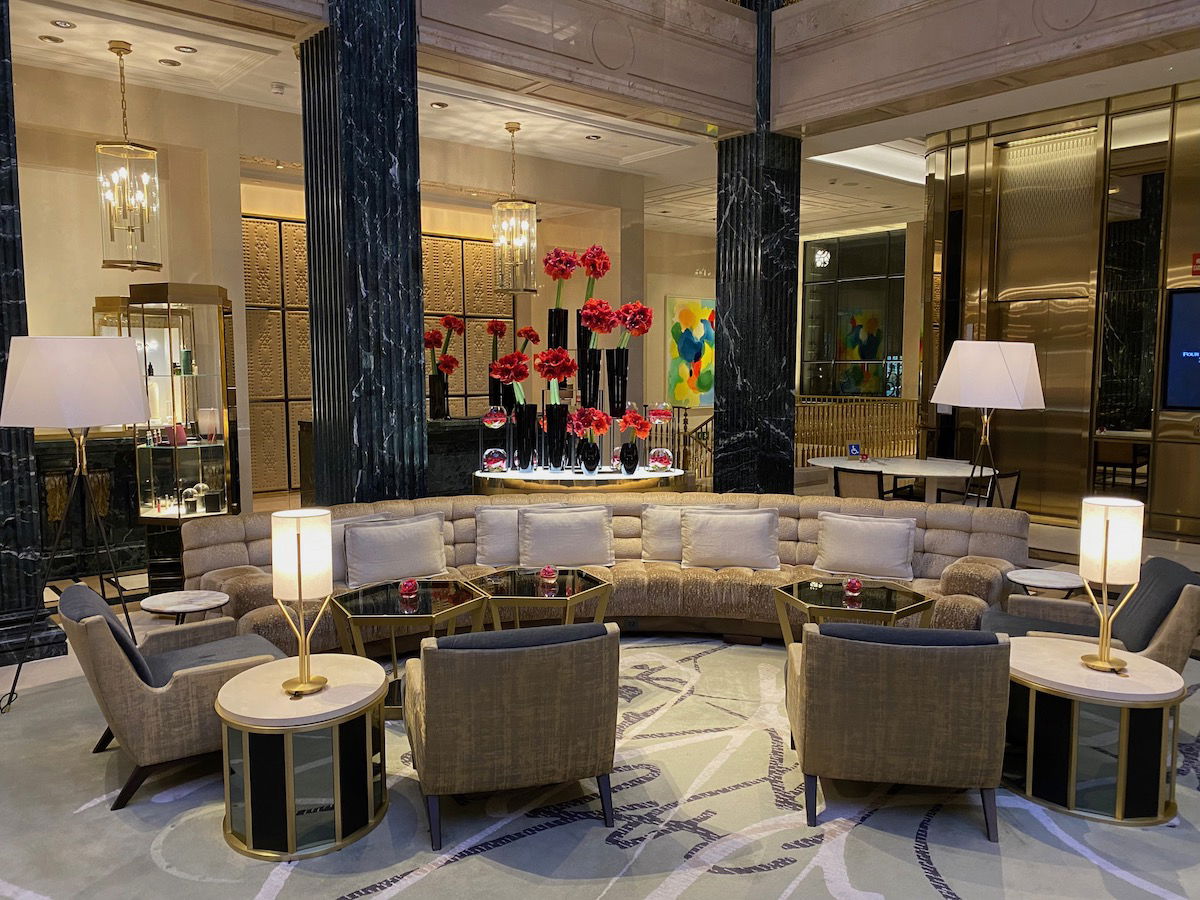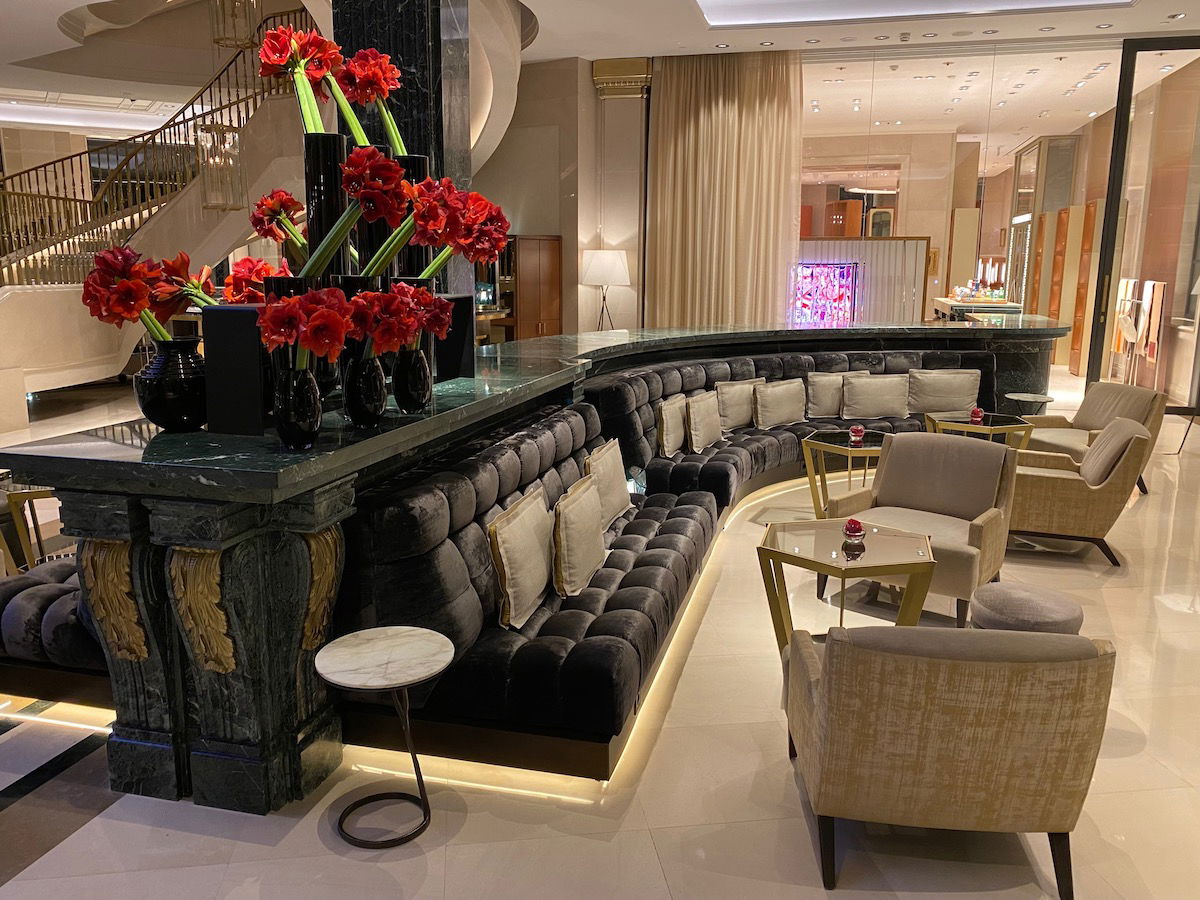 I ordered a gin & tonic to drink, while Ford had vermouth (he chose one made specifically for the hotel).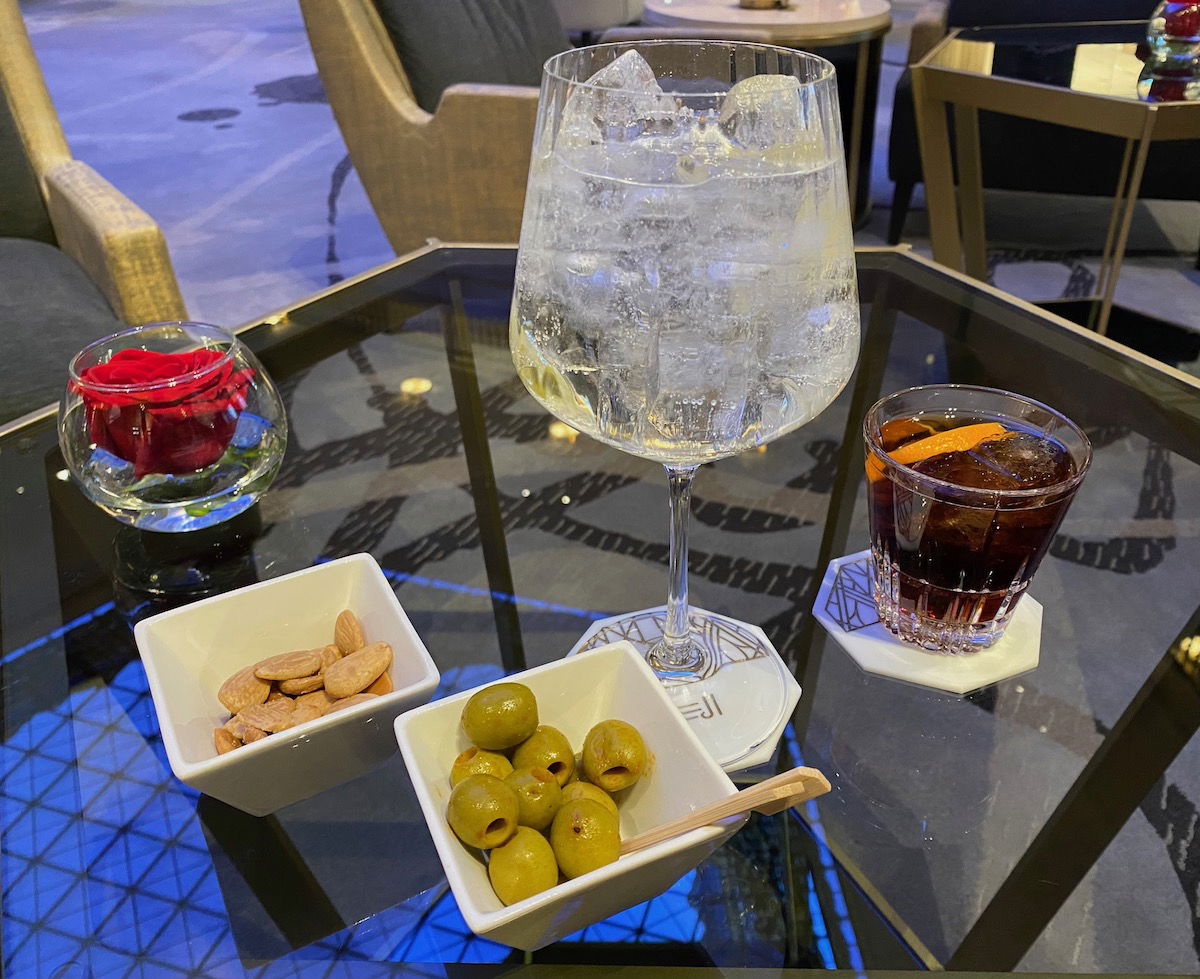 We also tried a couple of snacks, including a crispy artichoke and tofu dish.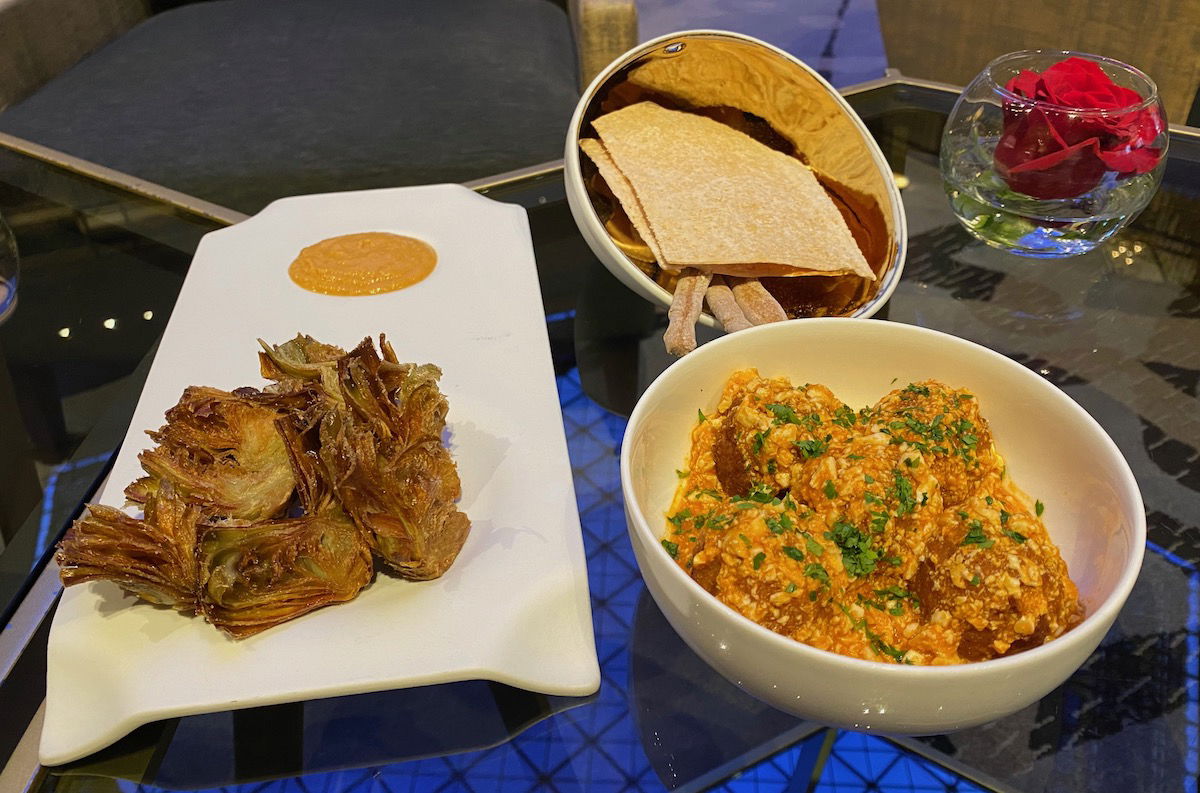 Four Seasons Madrid Isa Asian Tapas Bar (drinks)
In terms of food & beverage outlets, last but not least there's Isa, which is an Asian tapas bar that's located on the first floor. It's open in the evenings from 7PM, and you can find the menu here. You might not expect a historic Four Seasons property to have a hip bar with a DJ and a ridiculously cool vibe, but that's exactly what this is.
The bar has at least six distinct rooms, each with a different design.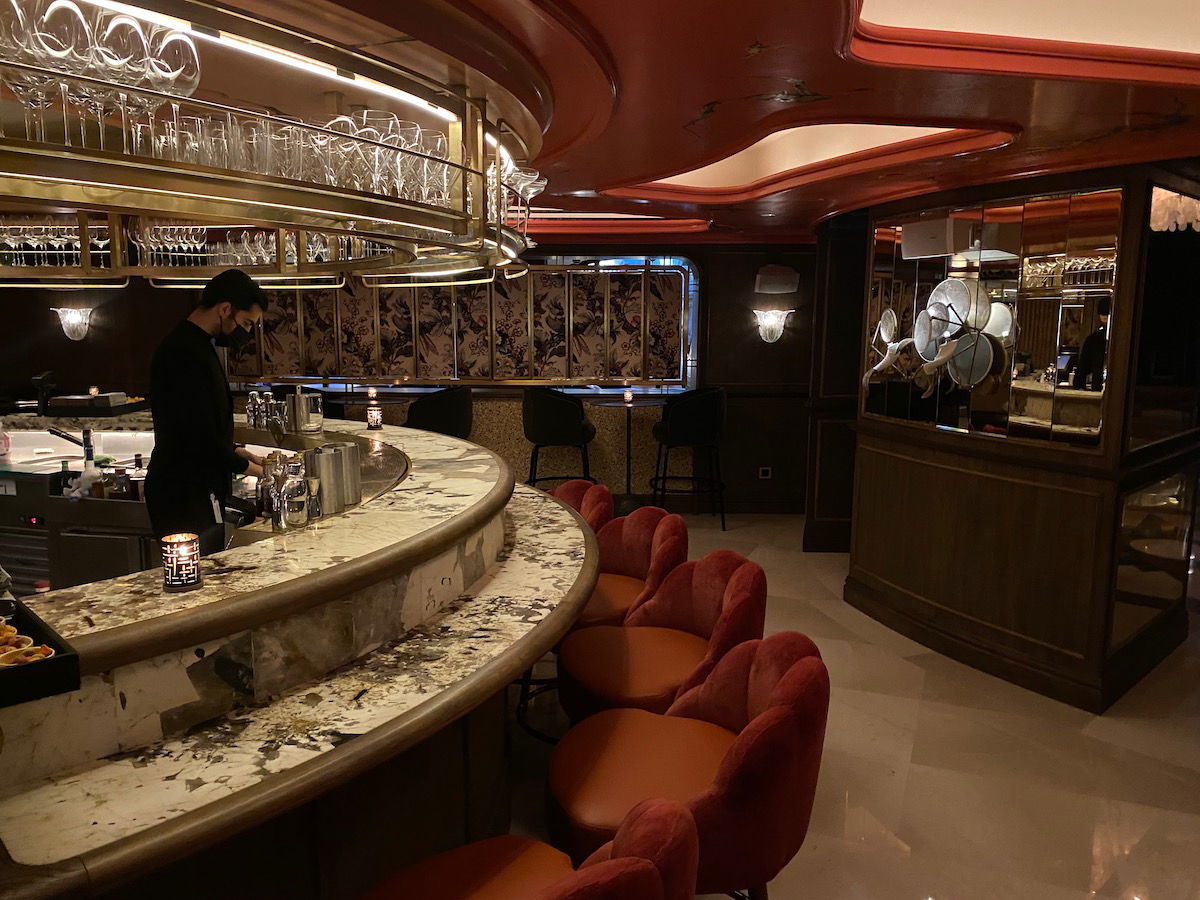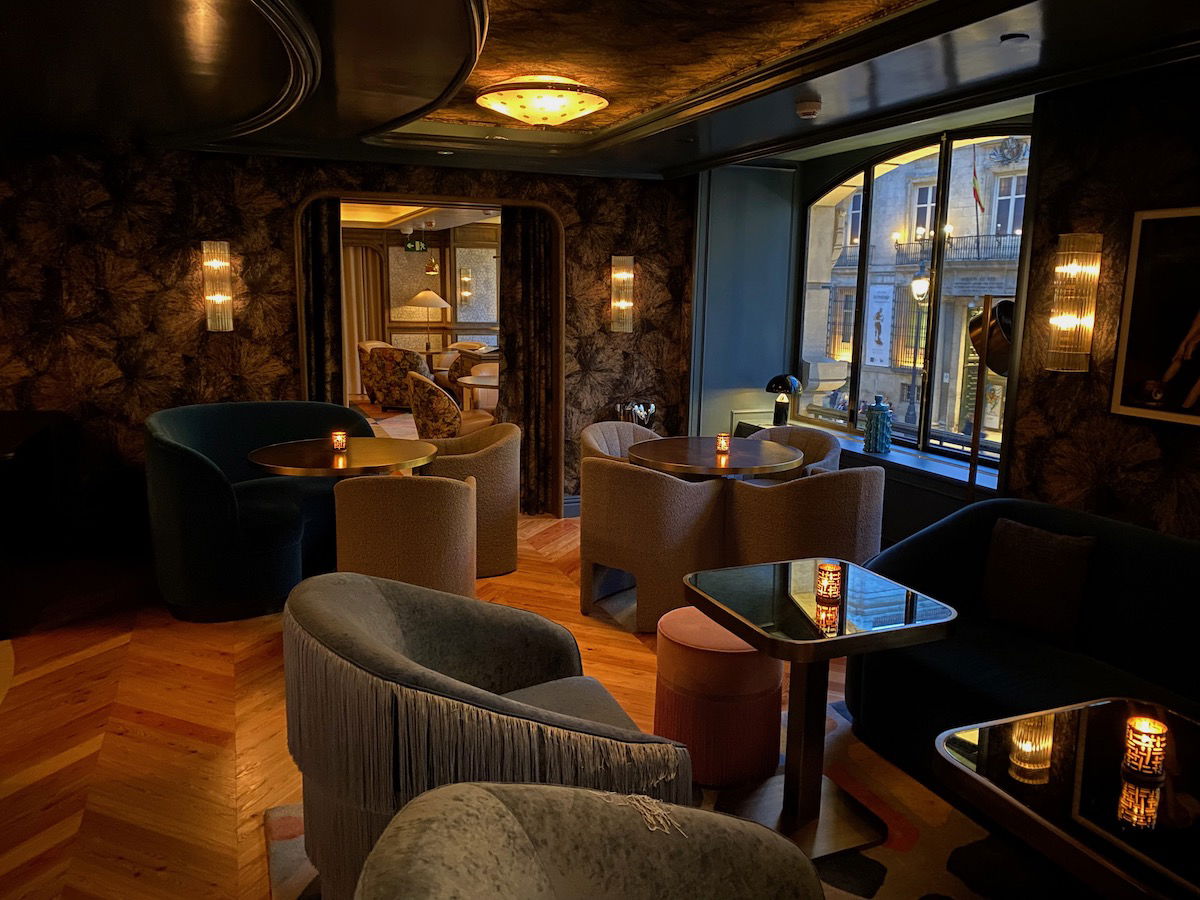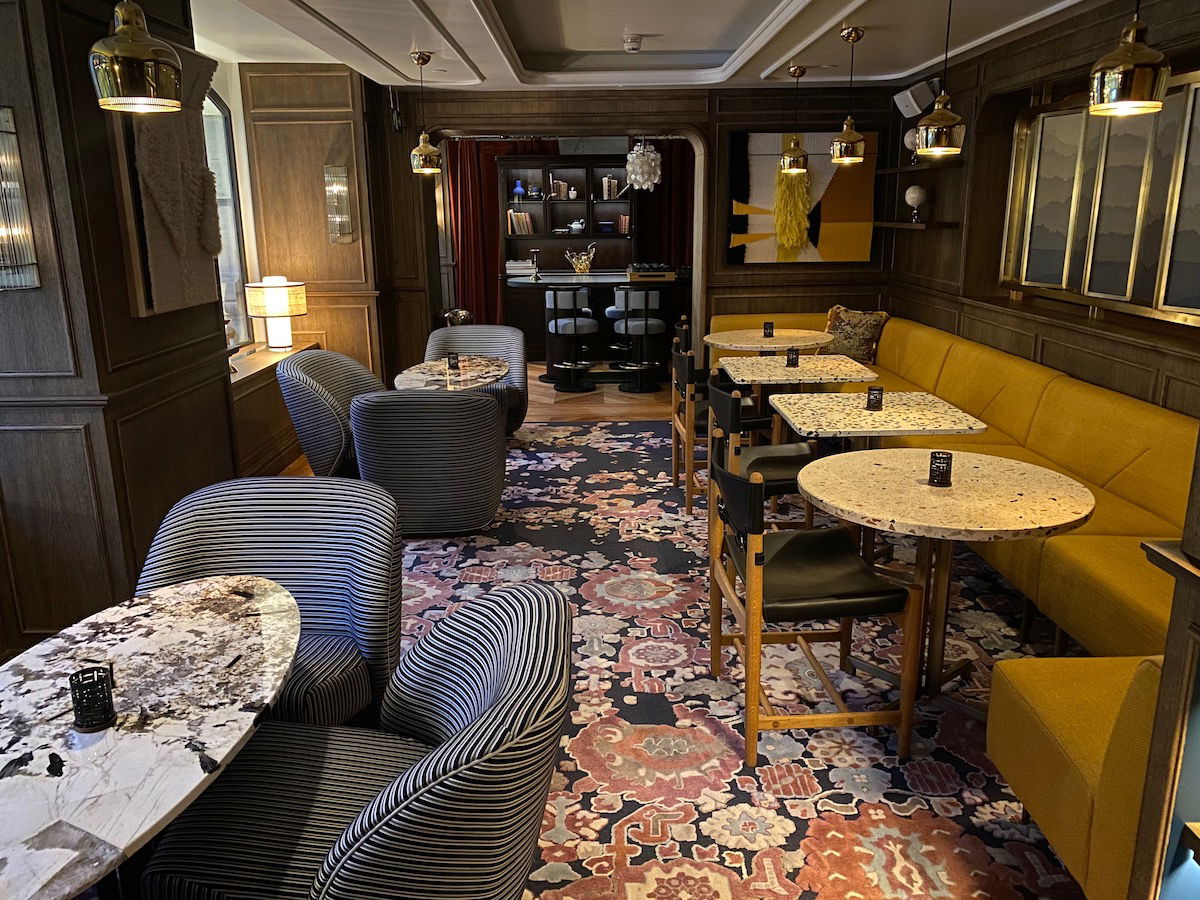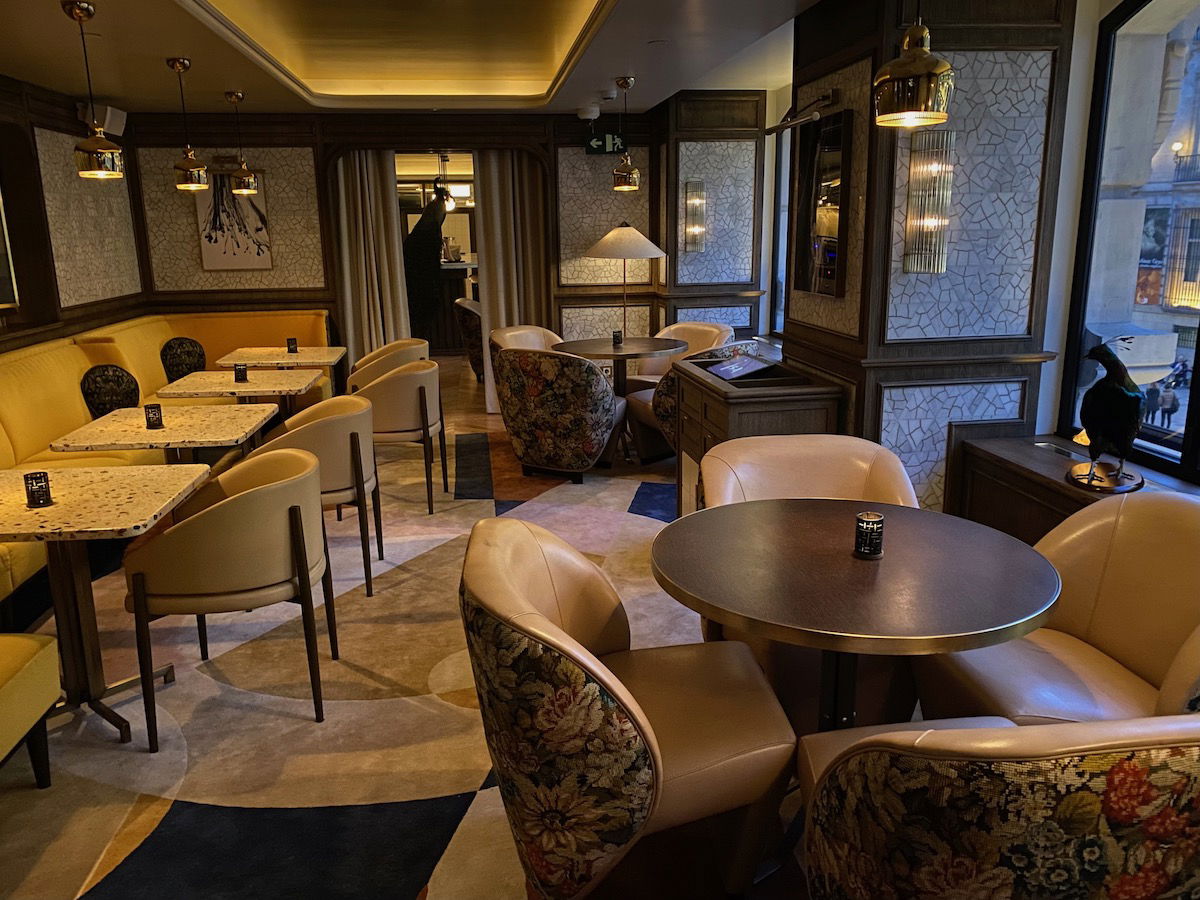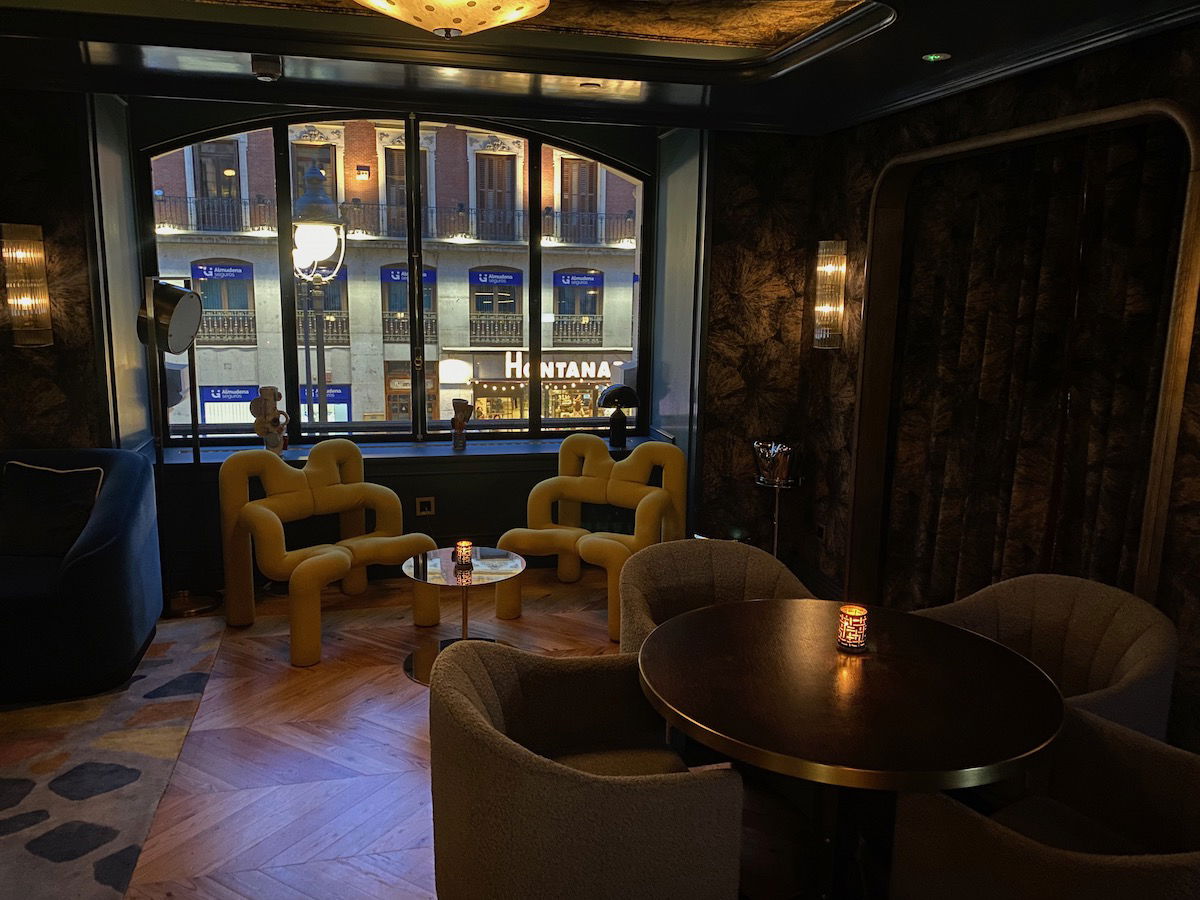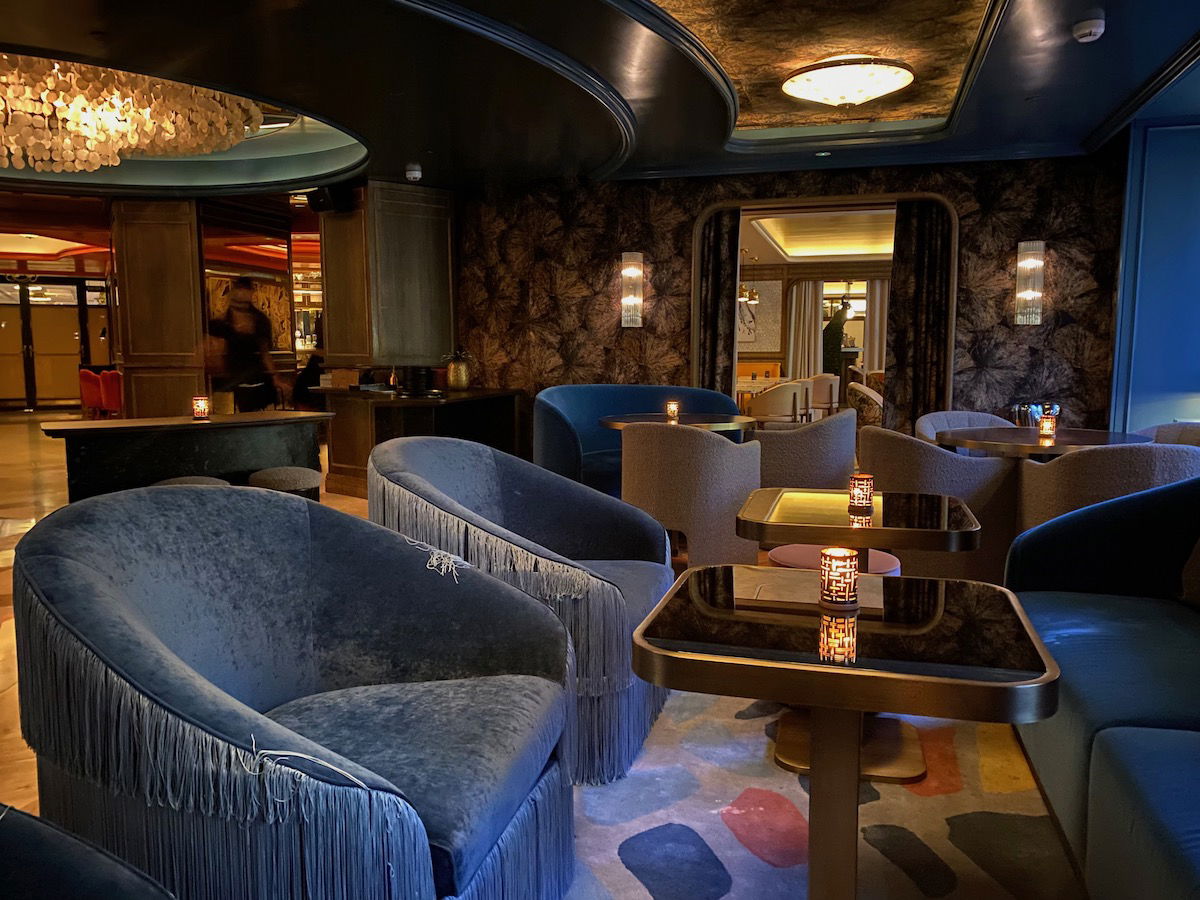 The drinks were mostly Asian-inspired, and were top notch, in terms of taste and presentation. Even on a Tuesday night immediately after Valentine's Day, this place had a fun vibe.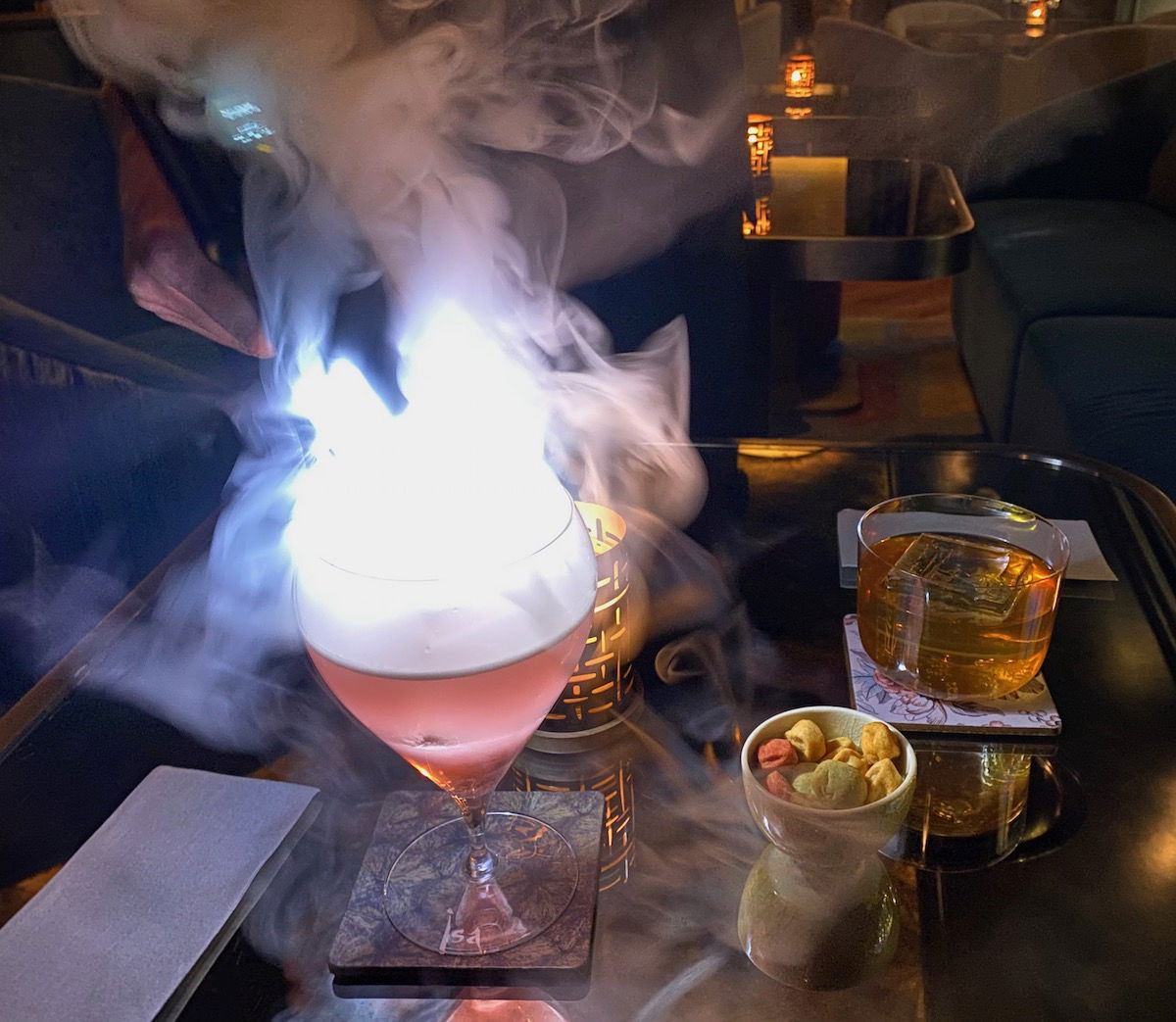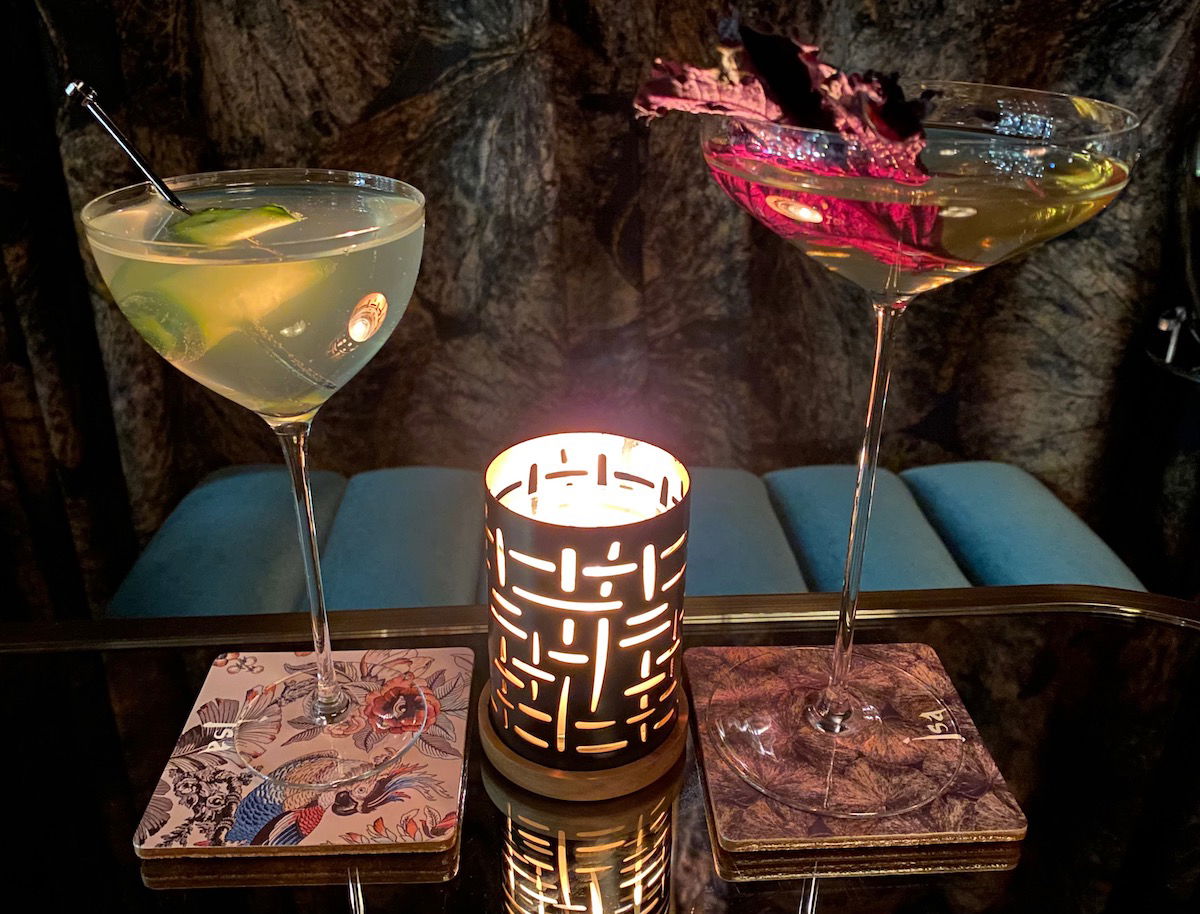 Four Seasons Madrid spa, gym, and pool
The Four Seasons Madrid has a massive four level spa that's exceptional for a city hotel. This is also where the gym is located. While we didn't get any spa treatments, you can find the menu here.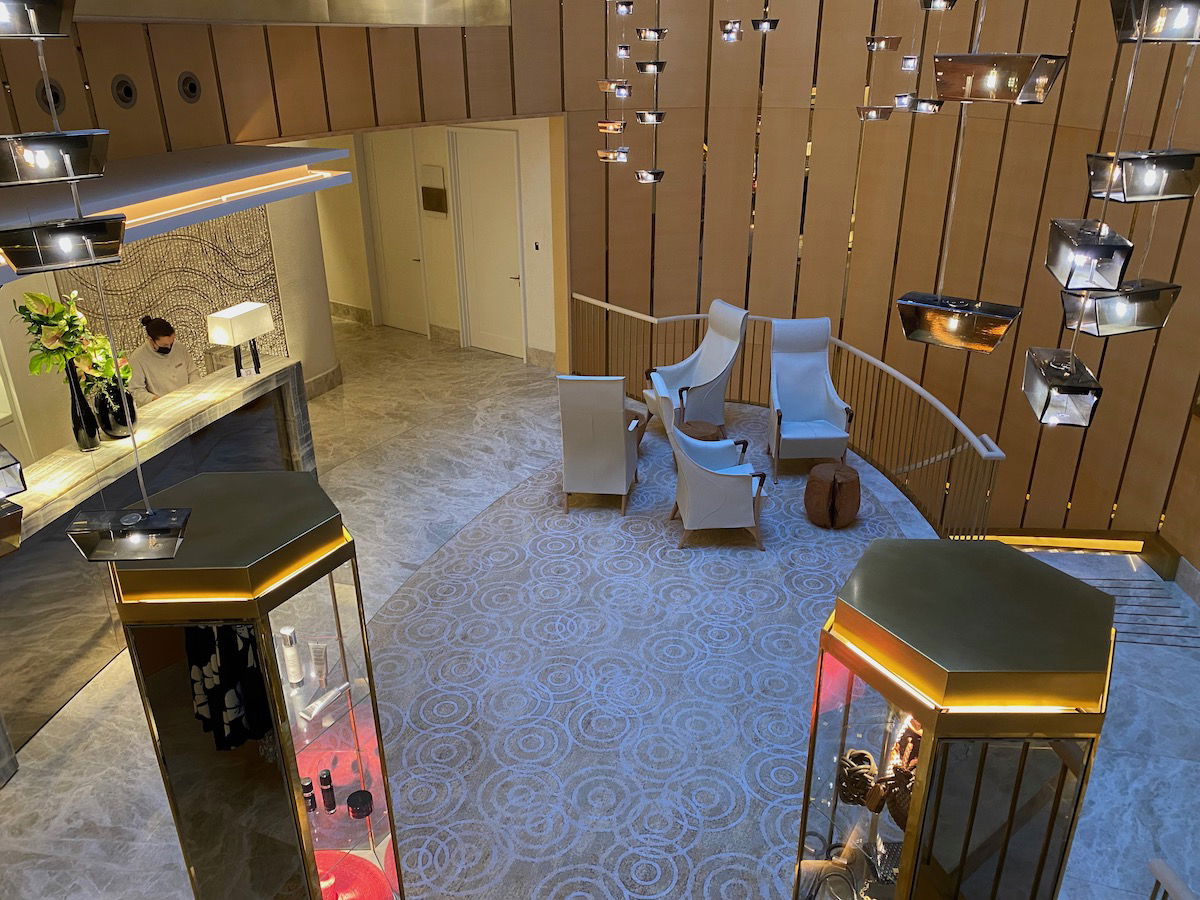 The hotel's gym is one level up from the main spa reception, and has a good variety of both cardio and weight equipment. The only catch is that the whole spa complex is only open daily from 7AM until 9PM, so you can't visit the gym outside of those hours (for those of us who are jetlagged and like to work out at 4AM).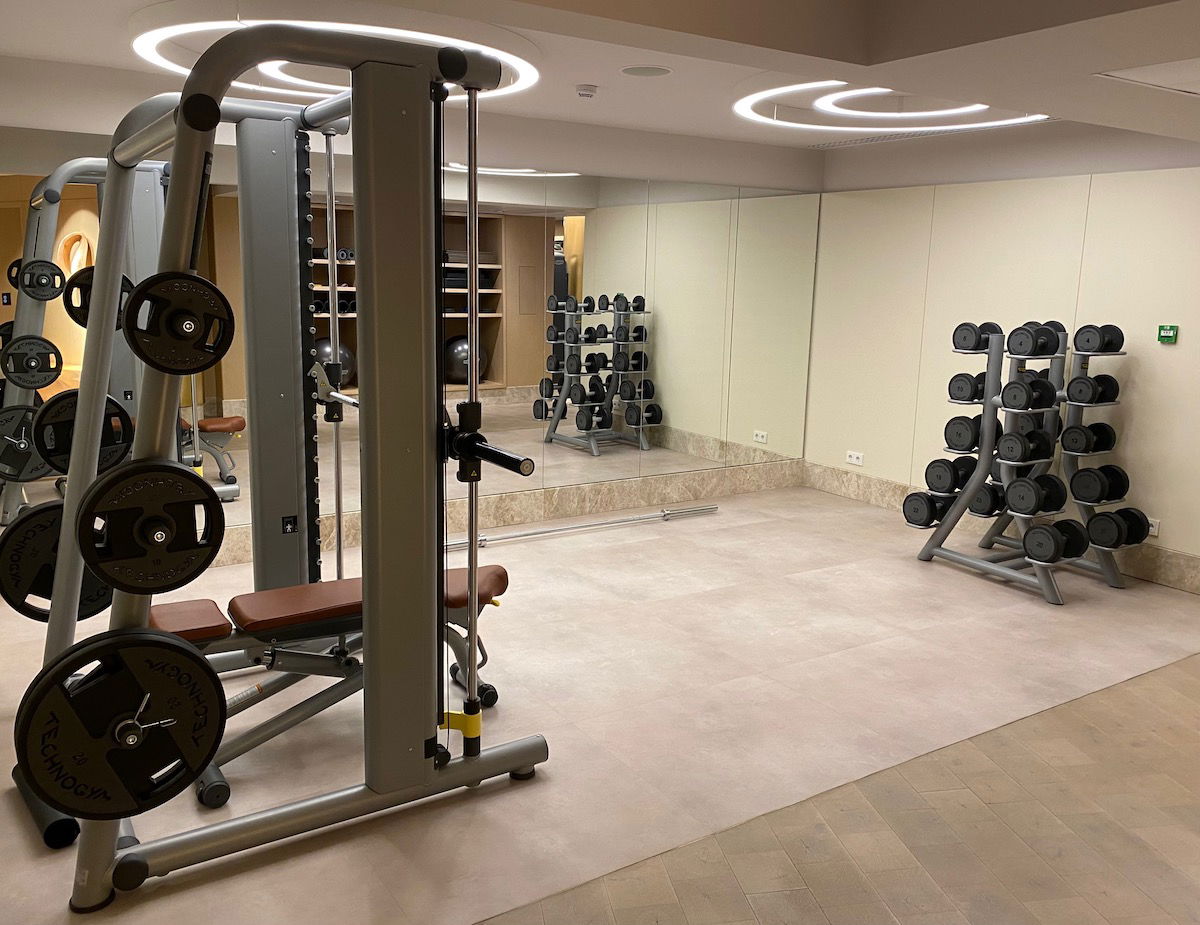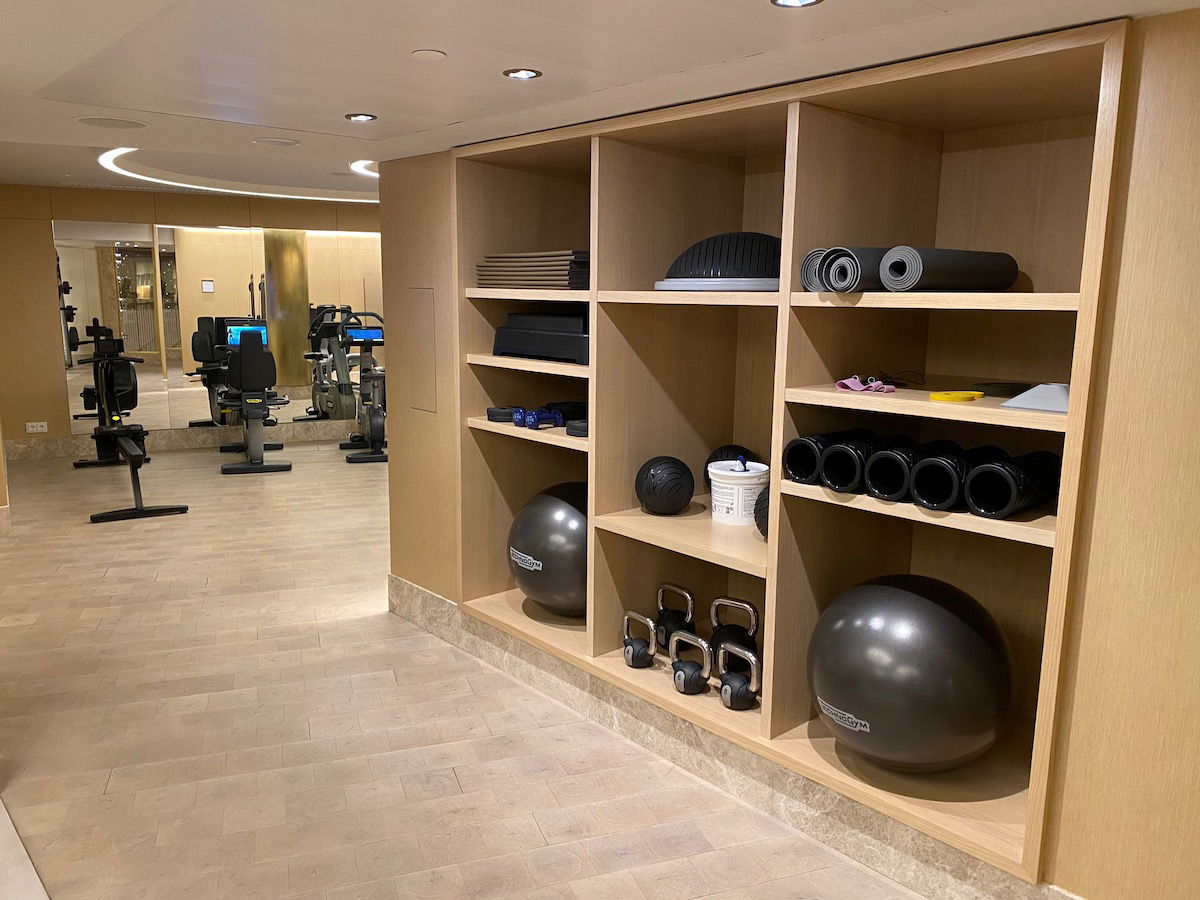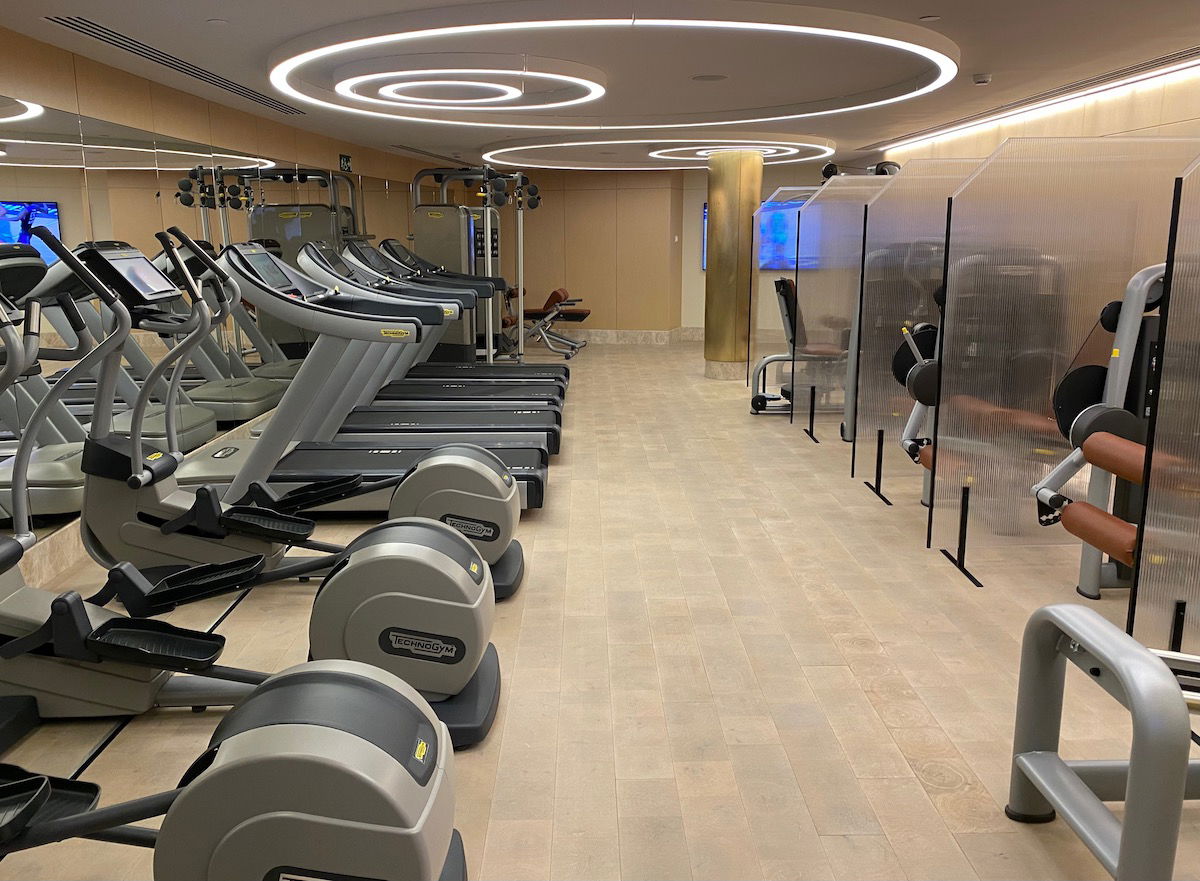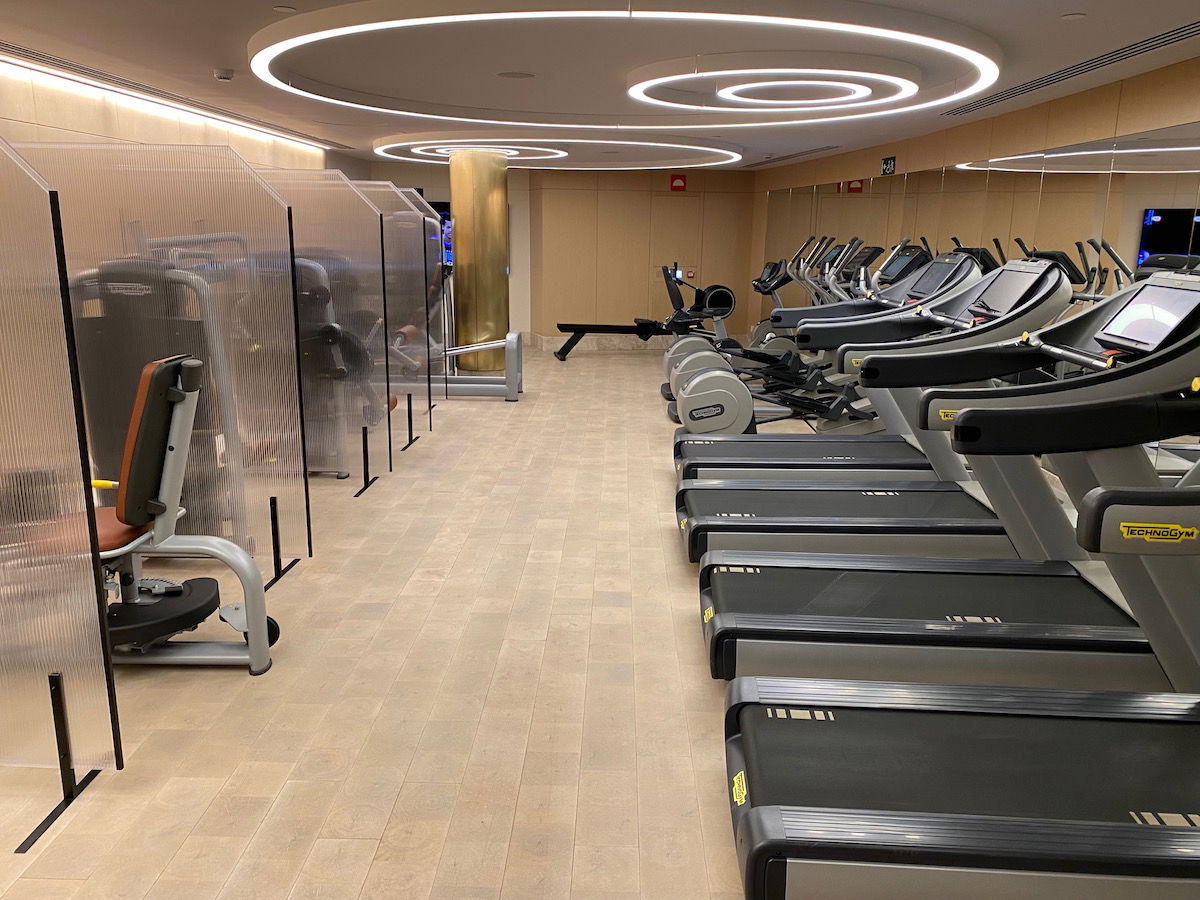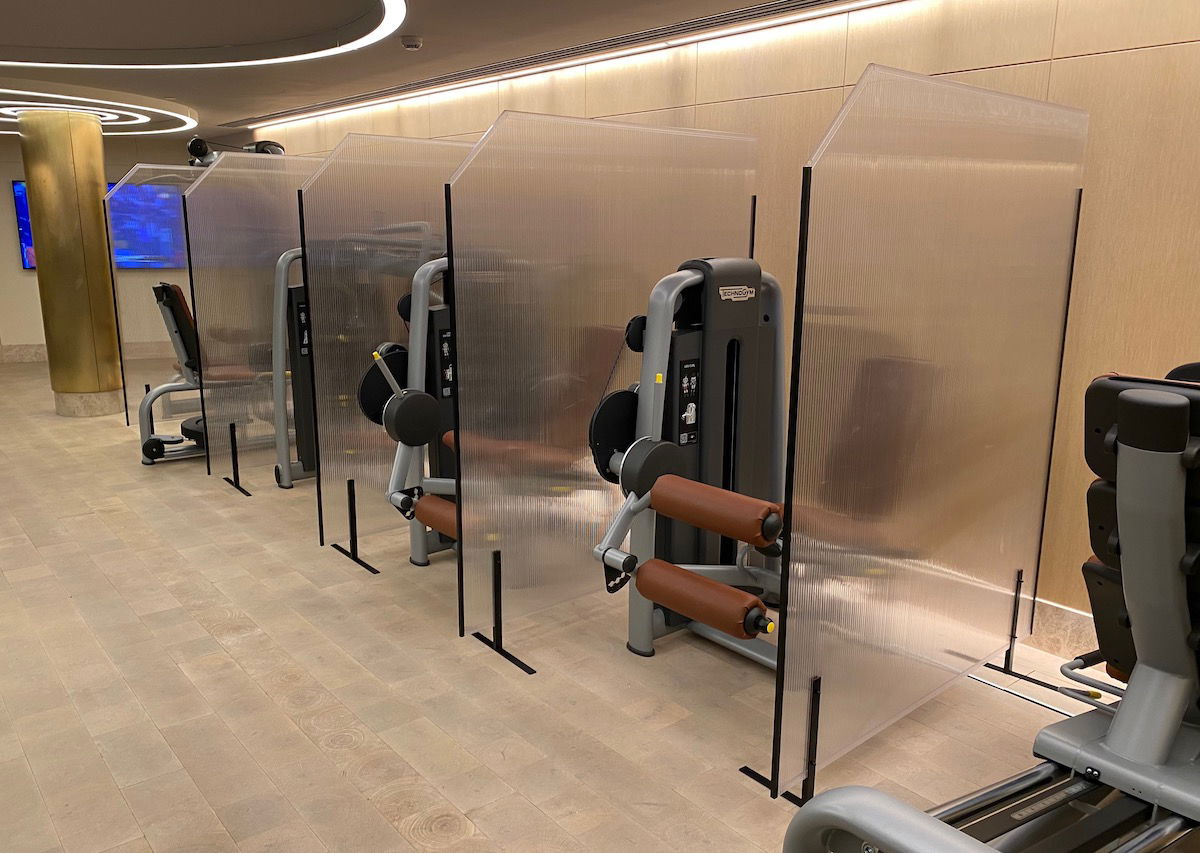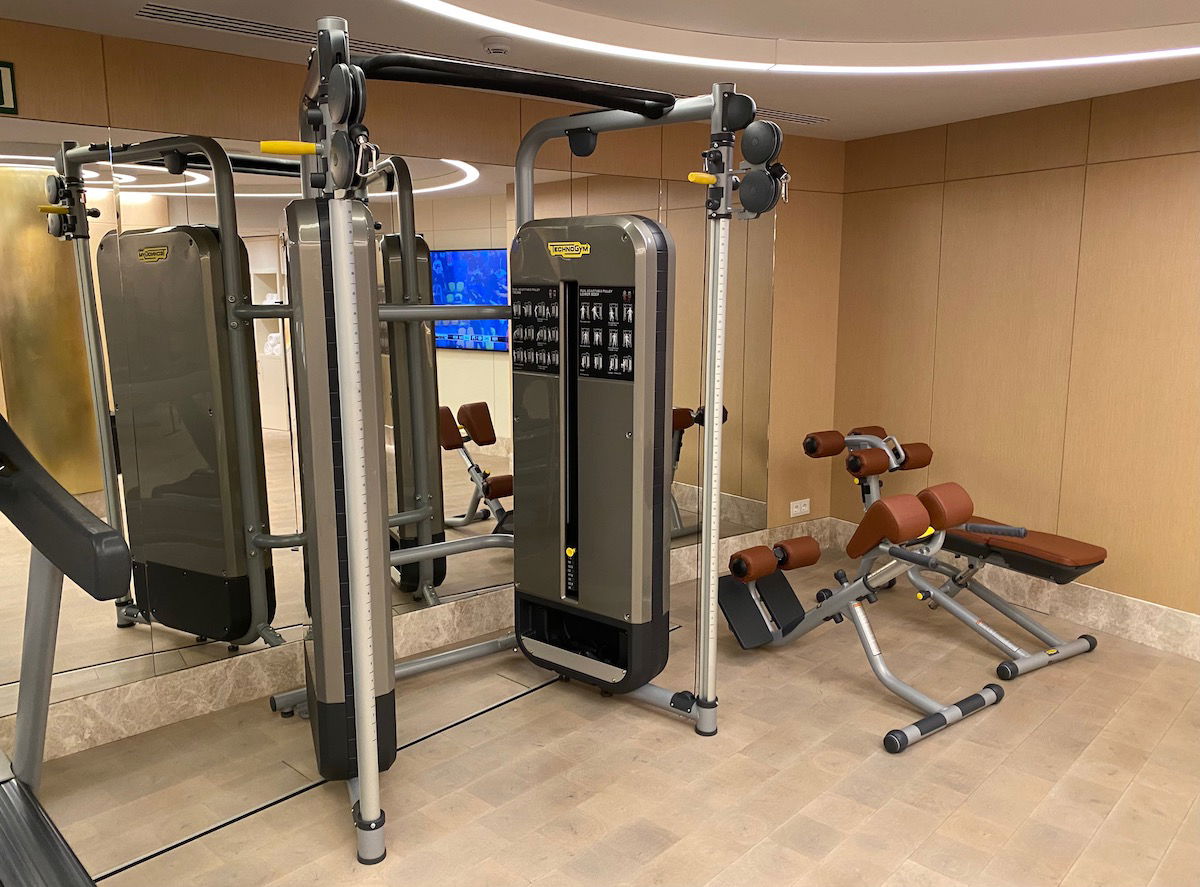 There was also coffee, water, and fresh fruit in the gym.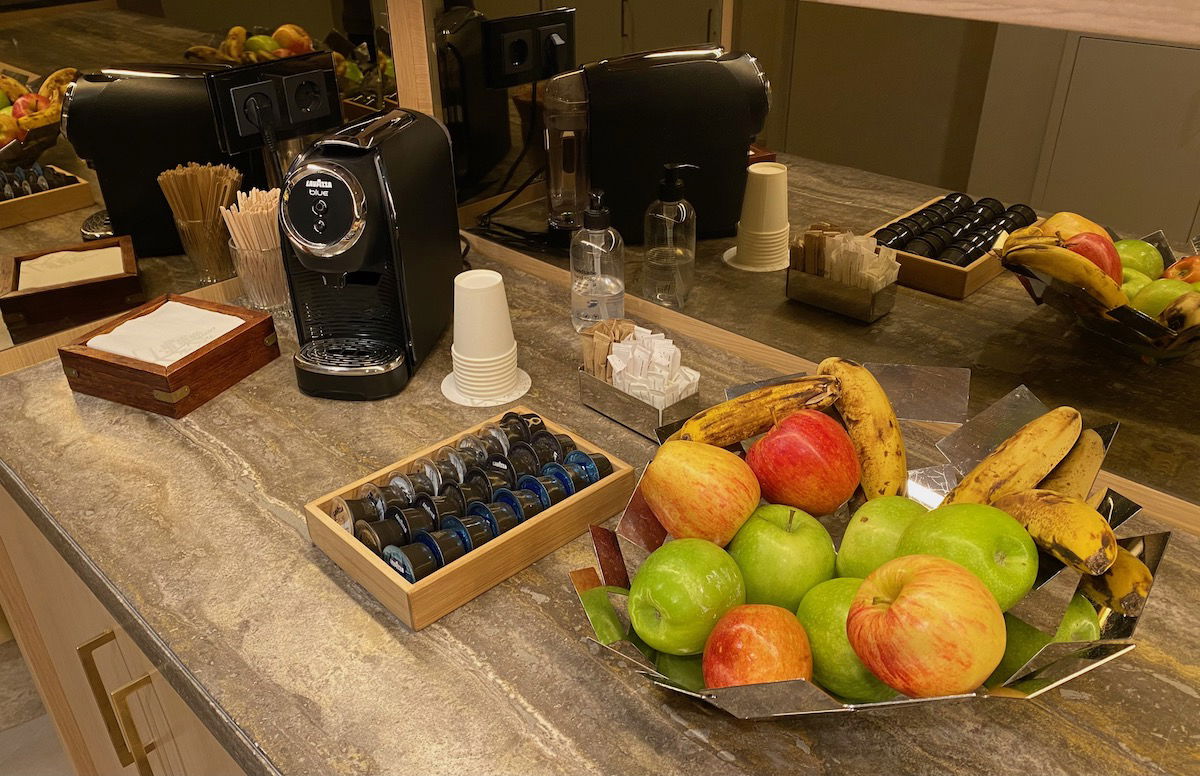 Then up a level was the hotel's indoor pool area. The centerpiece of this was a 14 meter pool.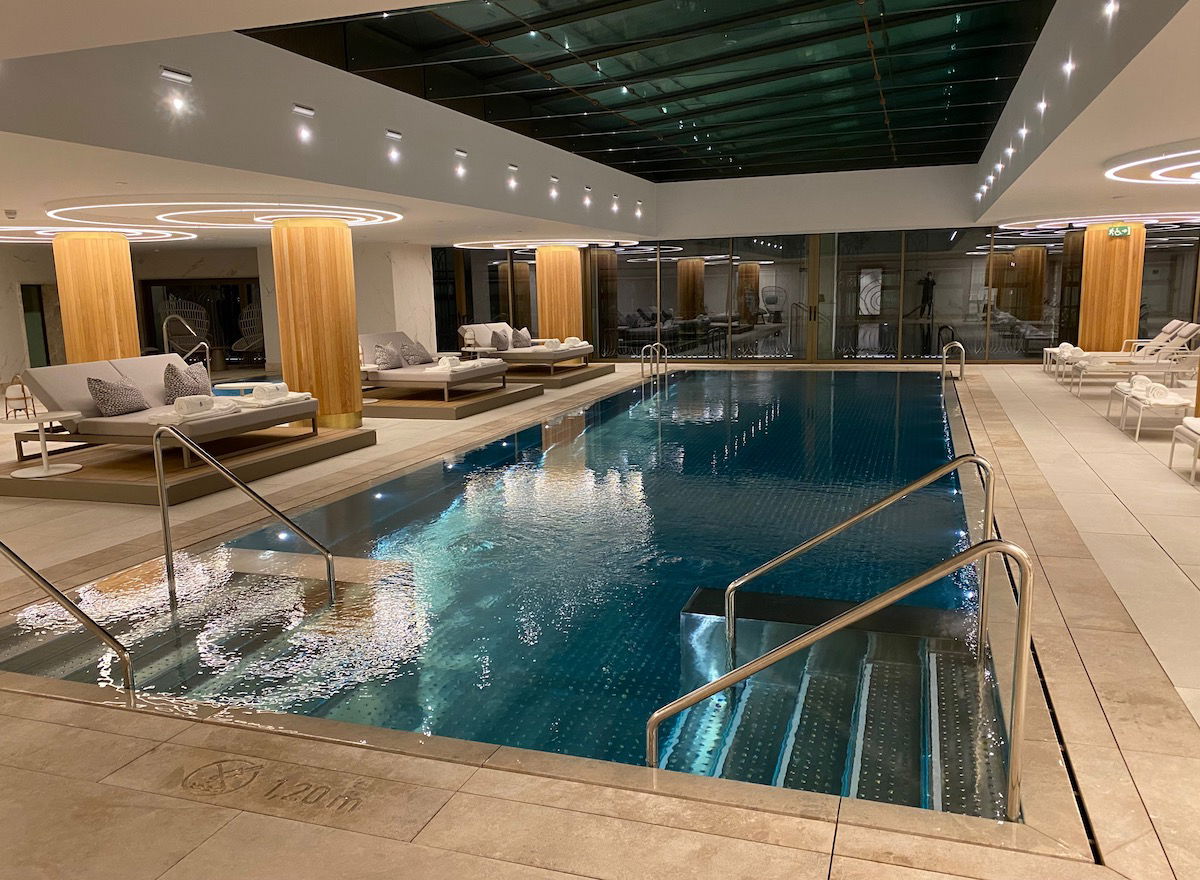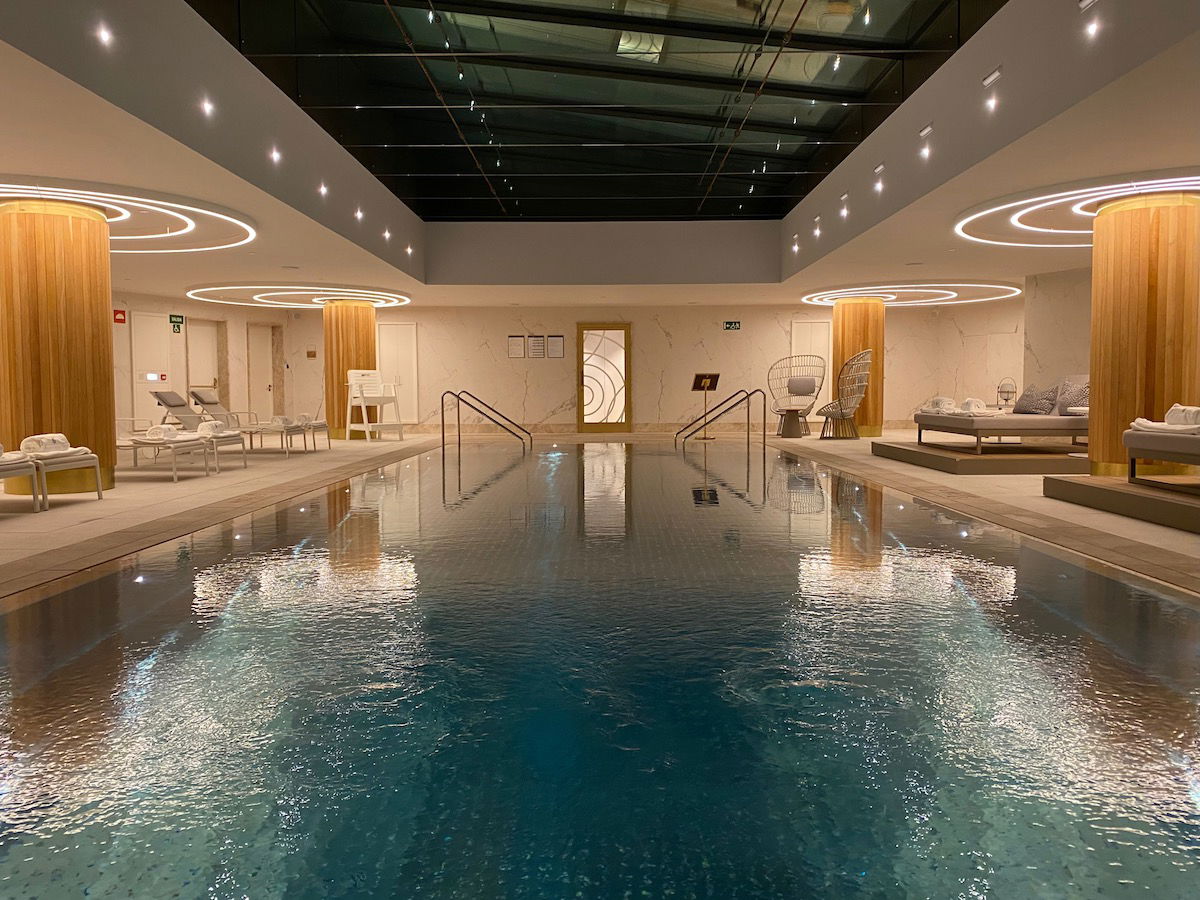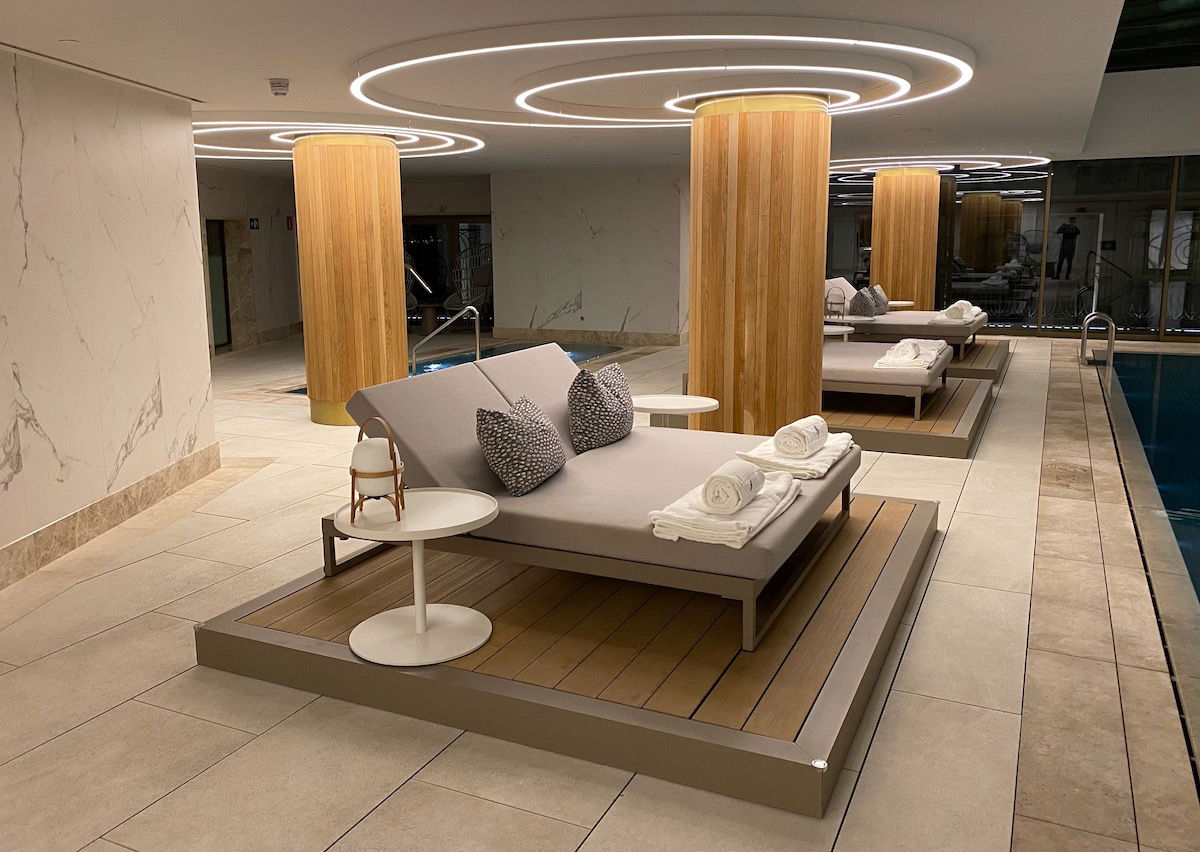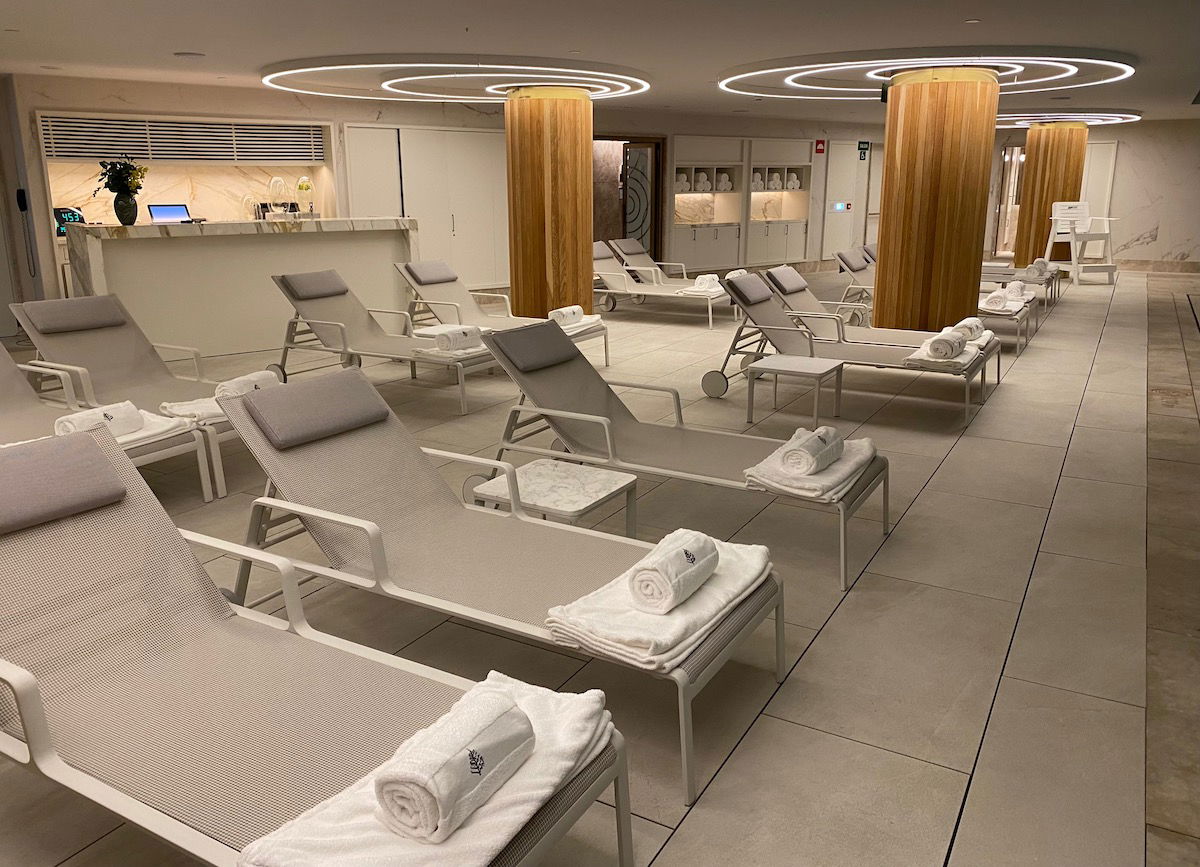 There was also a vitality pool, with warmer water and jets.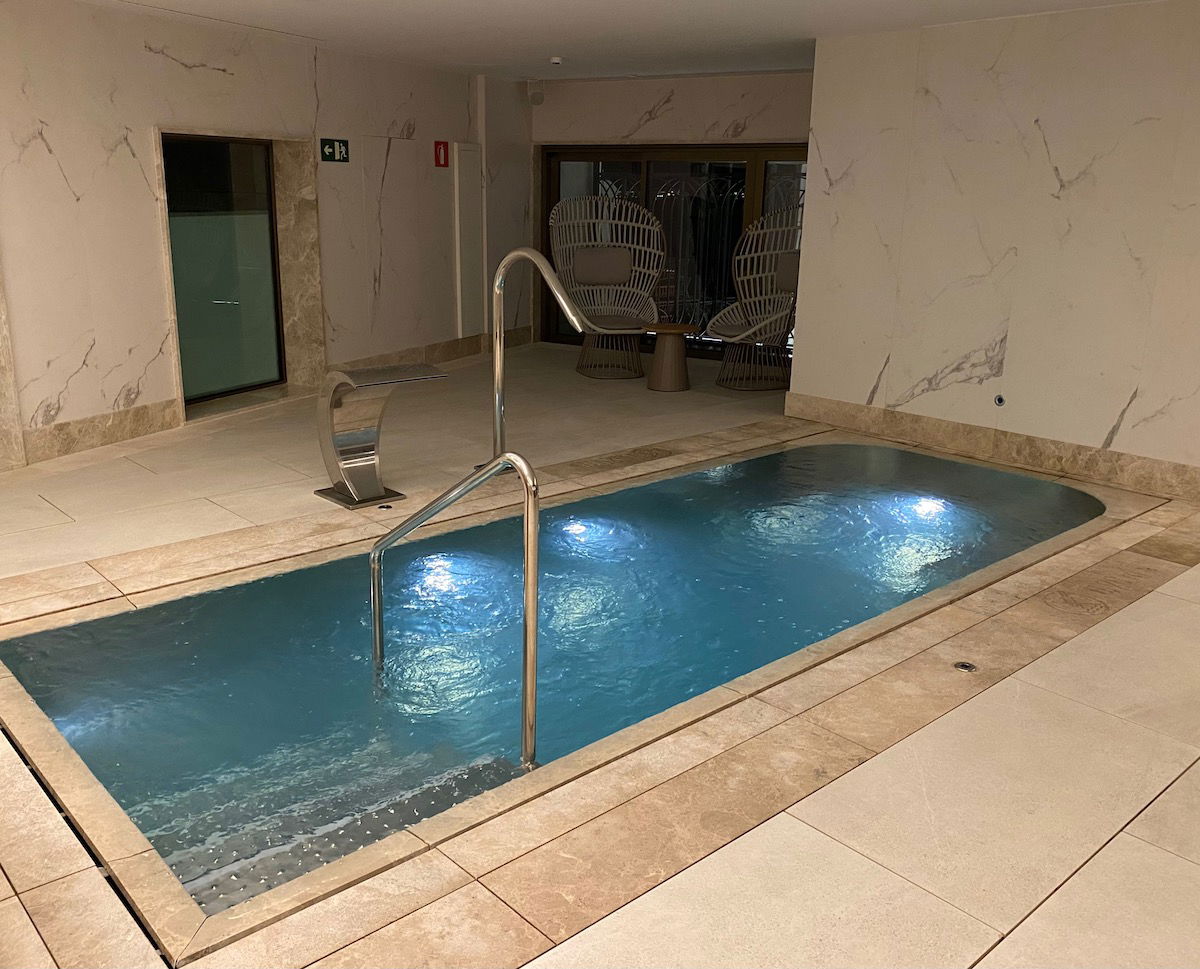 Then there was both a steam room and sauna, plus showering facilities.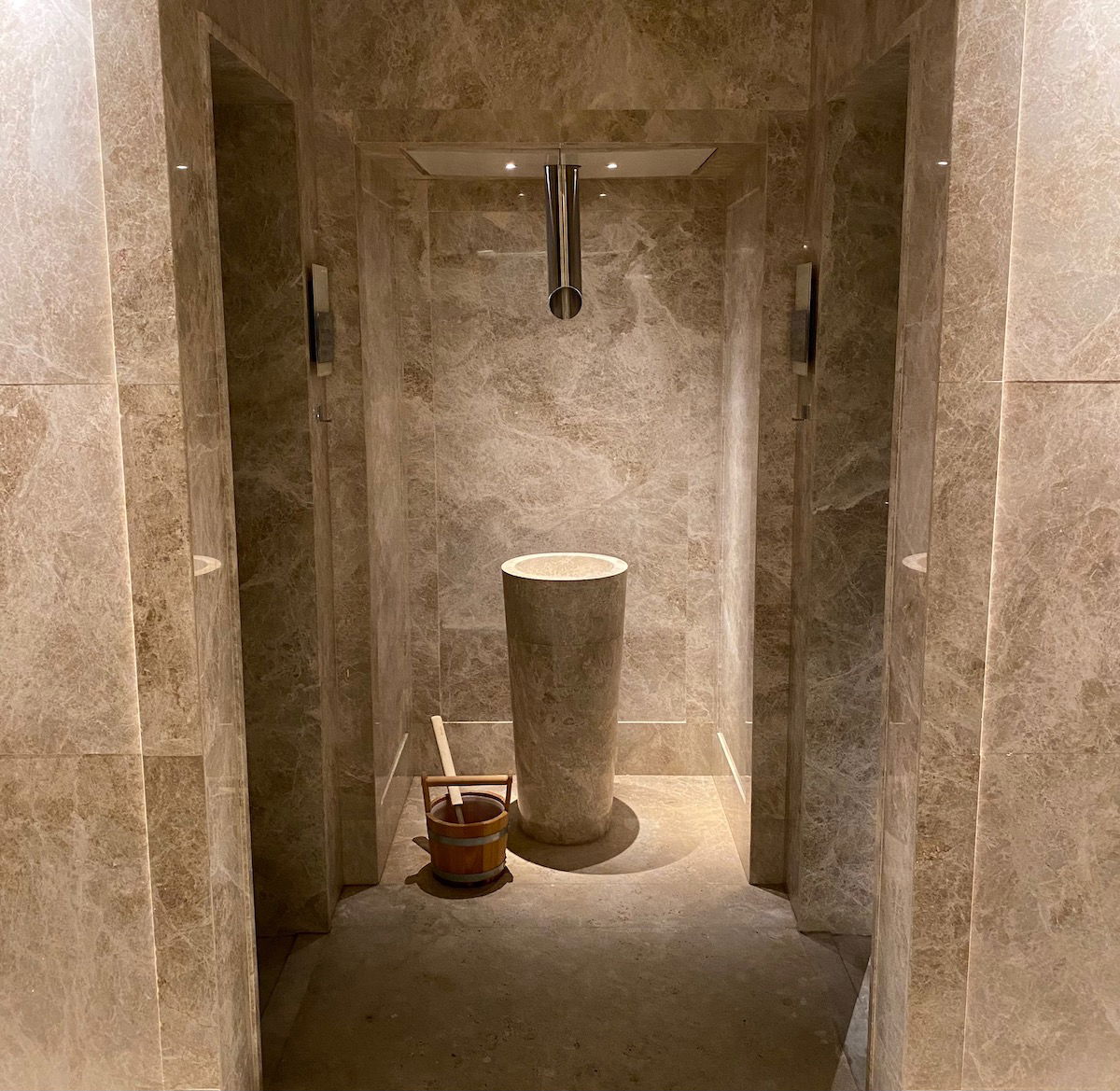 Four Seasons Madrid service
Four Seasons does a great job with service around the globe, even in markets that might not be known for the most attentive service. Employees at the Four Seasons were consistently fun, friendly, and perceptive.
While we're talking about service, I have to say that Four Seasons' chat feature is probably my favorite service feature of any major hotel group in the world. You don't even need a booking at a Four Seasons to use the chat feature, and unlike some other hotel groups (which shall remain nameless), they respond quickly and competently.
A special shout out to the concierge team, as they were extremely helpful with securing us reservations and setting up our coronavirus tests with little advance notice after we had trouble getting tested at the airport.
The only service lapse was at Dani Restaurant, when we had drinks before dinner. We had ordered drinks, and after 15 minutes they hadn't yet arrived. We had asked a different server about the status of our drinks, and they showed up a minute later. A few minutes later the manager showed up and apologized, and insisted on comping the drinks because of how long we had to wait (which really wasn't necessary, but it's impressive service recovery).
Bottom line
The Four Seasons Madrid is one of the most stunning city hotels I've ever stayed at. I love the fact that this is a hotel that is in a ~130 year old building, and it has been restored in a way that pays tribute to its history while still offering all the amenities you'd hope for in a modern luxury hotel.
The Four Seasons has exceptional food & beverage outlets, great rooms, a beautiful spa complex, and top notch service. If you visit Madrid and can swing the Four Seasons, you won't be disappointed…
EXTRA PERKS AVAILABLE
Enjoy breakfast, upgrades, & more
Want to take advantage of Four Seasons Preferred Partner benefits, including a space available room upgrade, complimentary breakfast, a hotel credit, and more? Contact Ford ([email protected]) for more details. He may even be able to help if you already have a stay booked.
Read Four Seasons reviews: Athens, Boston, Cap-Ferrat, Denver, Desroches Island, Fort Lauderdale, Hualalai, Lanai, Los Cabos, Madrid, Maldives at Landaa Giraavaru, Maui, Miami, Napa Valley, Naviva, Oahu at Ko Olina, Paris, Punta Mita, San Francisco at Embarcadero, Scottsdale, Seychelles, and Surfside
Learn about Four Seasons deals & offers: Anguilla, Athens, Atlanta, Austin, Bahamas, Bora Bora, Boston, Cap-Ferrat, Costa Rica, Dubai, Fort Lauderdale, Hawaii, Jackson Hole, London, Los Cabos, Maldives, Minneapolis, Nashville, Naviva, New York, Napa Valley, New Orleans, Orlando, Palm Beach, Paris, Philadelphia, Punta Mita, San Francisco, Santa Fe, Seattle, Sicily, Tamarindo, and Vail
Learn about Four Seasons basics: Four Seasons Preferred Partner, Four Seasons Private Retreats, Four Seasons Private Jet, Four Seasons travel agents, Four Seasons loyalty program, and maximizing value at Four Seasons