After an awesome time in Oman, it was time to work my way back to the United States.
I sent Ford back directly in Emirates first class via Dubai (he doesn't share my passion for taking the long way home to try new products), while I took a bit less direct of a routing, flying from Muscat to Istanbul to Copenhagen in Turkish Airlines' A321neo and 737 MAX business class, and then flying from Copenhagen to Miami in Scandinavian Airlines' A350 business class. A friend from the region even joined me for the return trip, making it all the more fun.
In this post I wanted to review the Primeclass Lounge Muscat, which is probably now my favorite Priority Pass lounge in the world.
Muscat Airport business class check-in
Our flight from Muscat to Istanbul was only departing at 1:20AM, though we ended up getting to the airport way early, around 3PM. I had some work to do and had to check out of the hotel anyway, so this just seemed like the best option.
Muscat Airport is a gorgeous airport — it's beautifully designed but much smaller than many other hub airports, so it's quite an easy airport to use.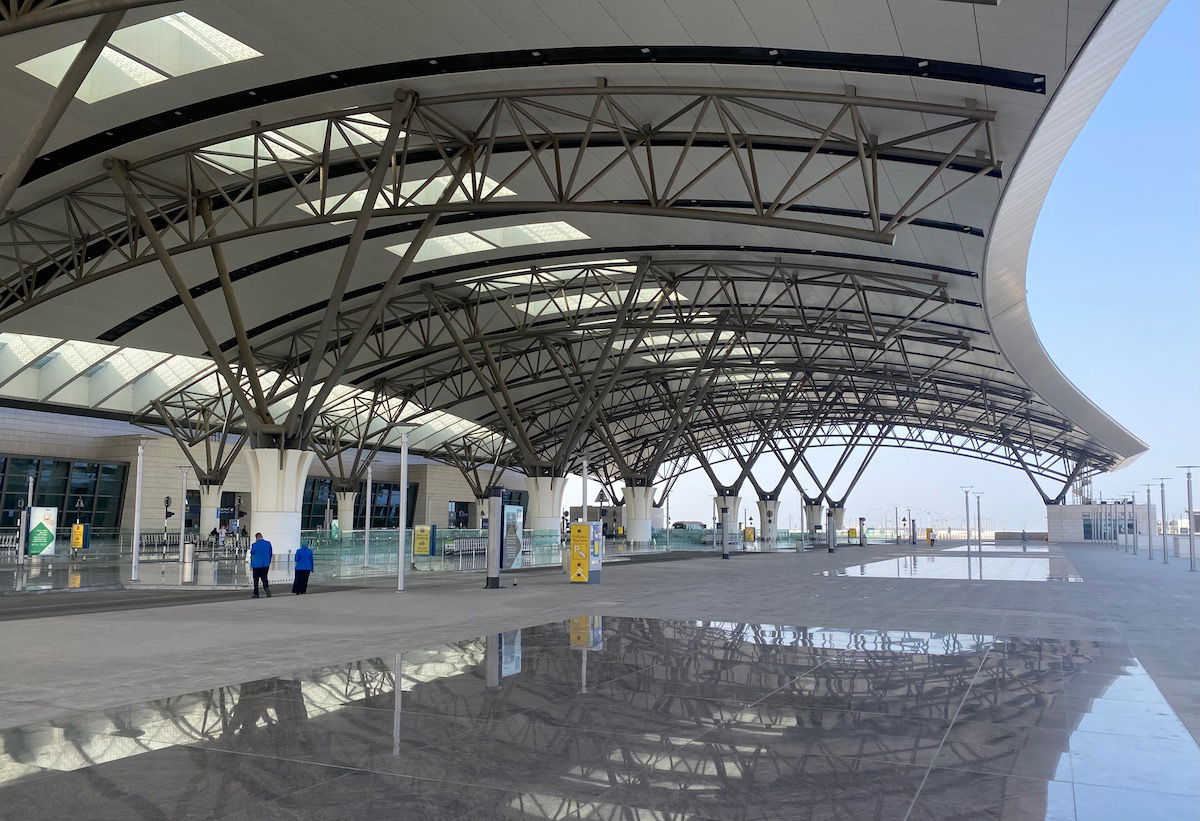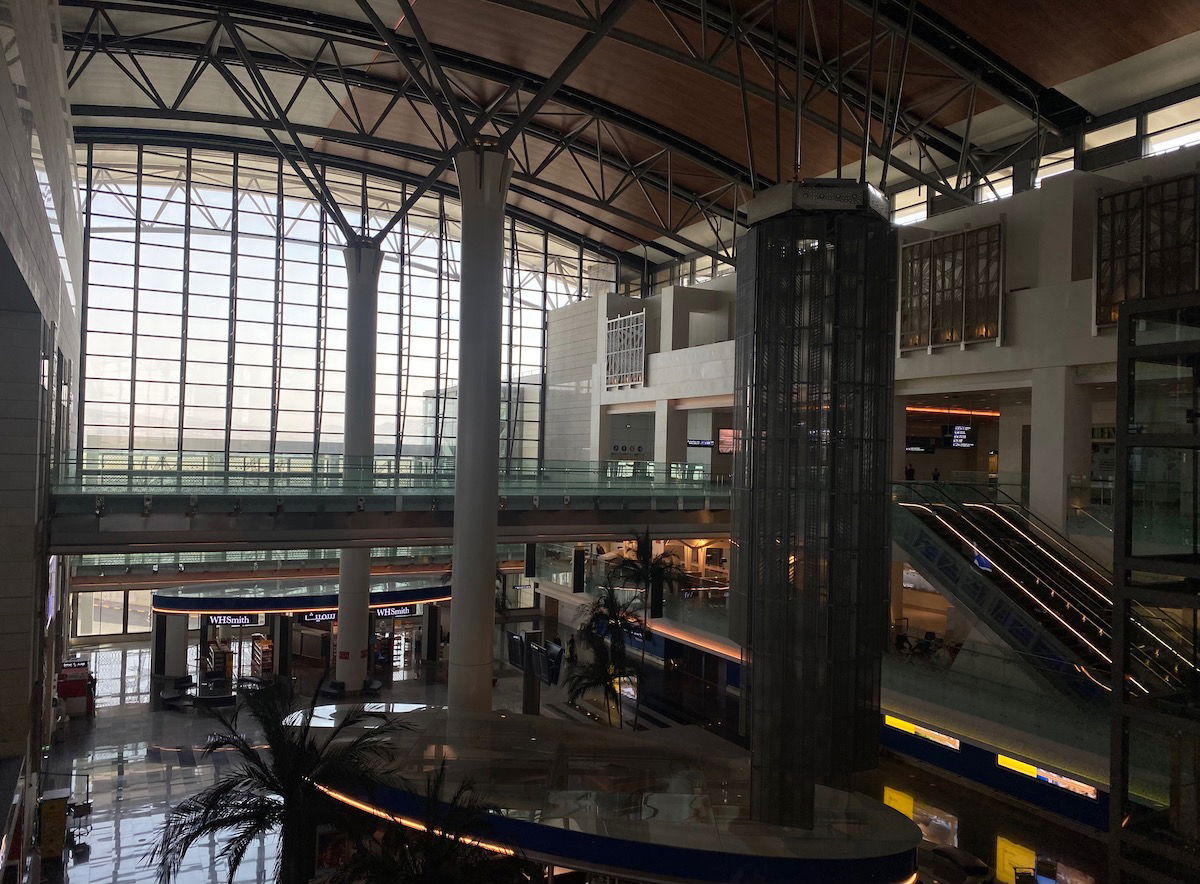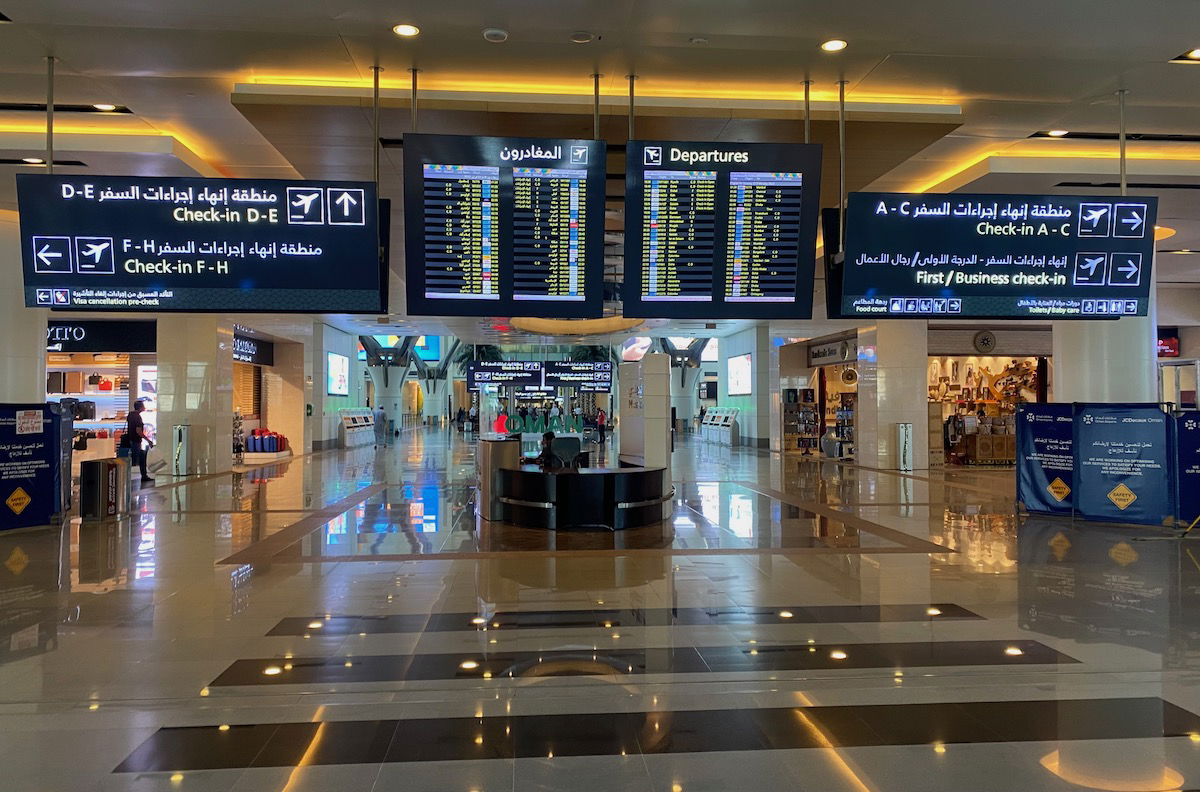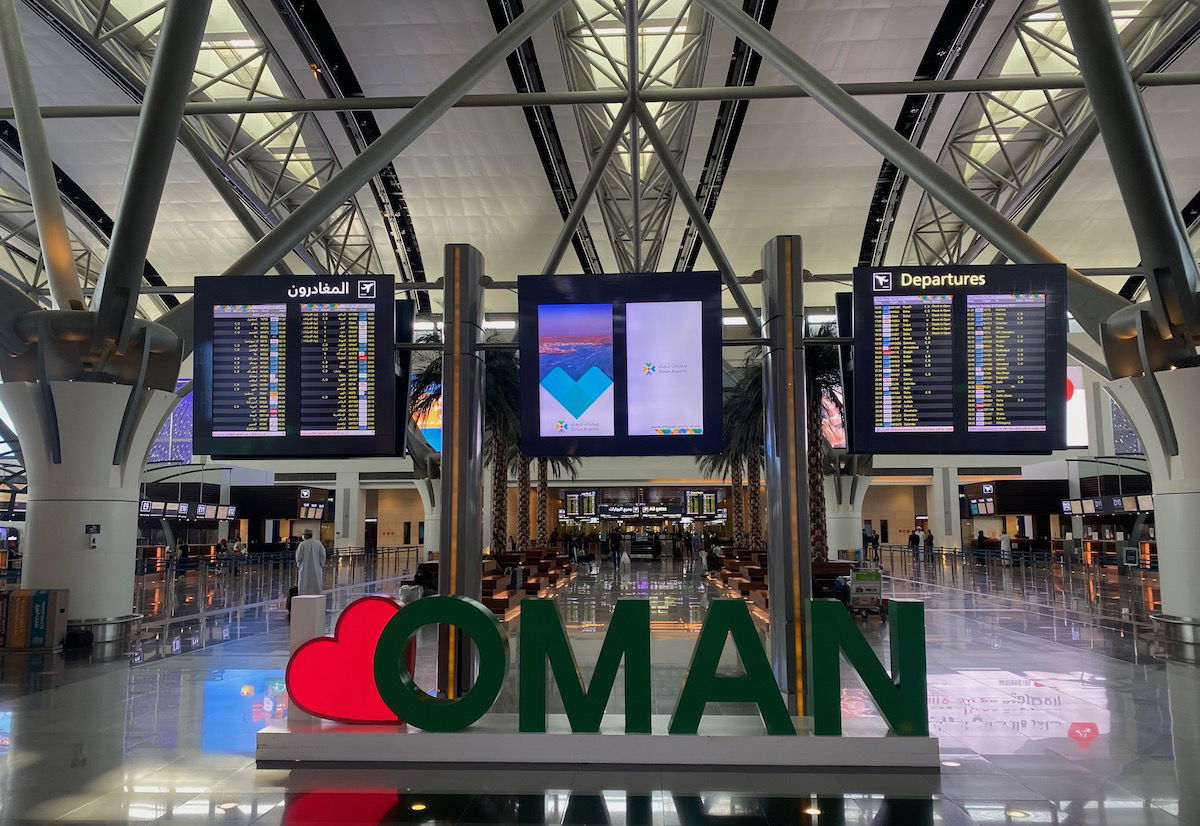 The airport has a dedicated first & business class check-in area. There's one section for Oman Air passengers, and then one section for passengers on all other airlines. This area has shared check-in counters, and then also has some extra seating for lounging around.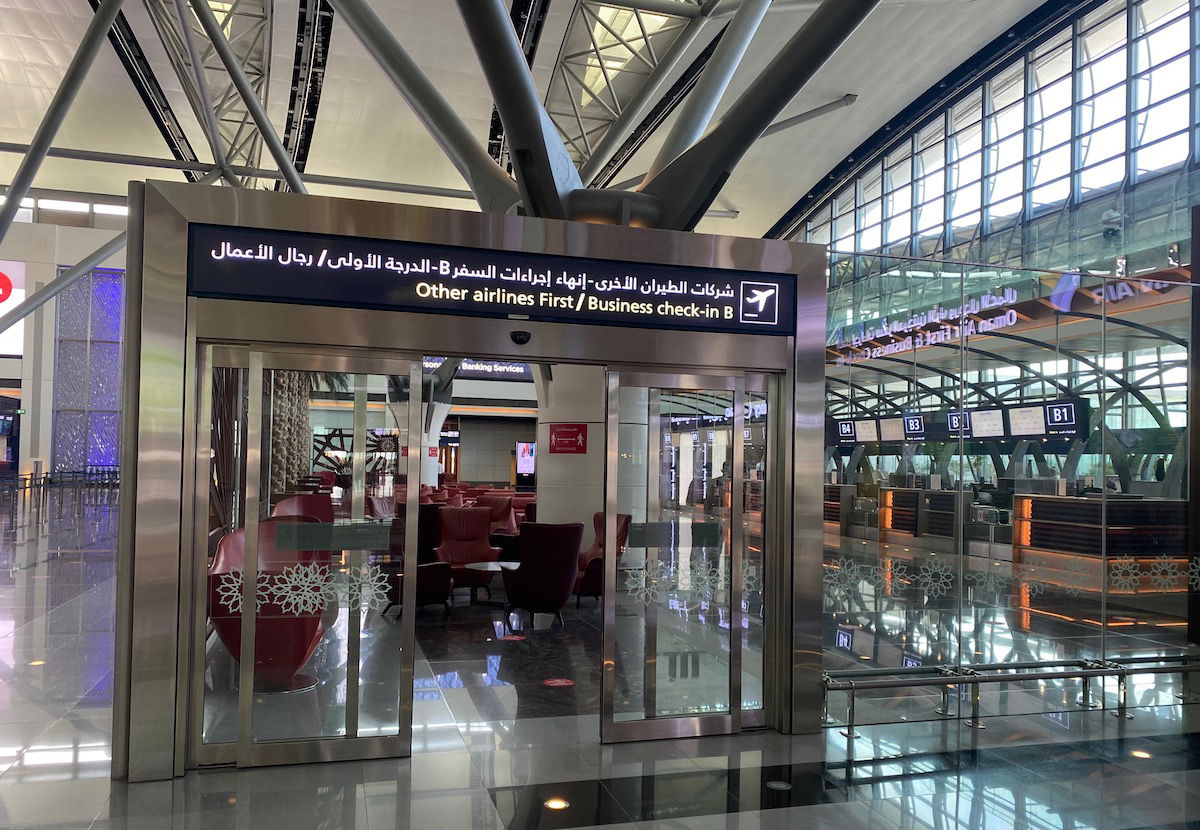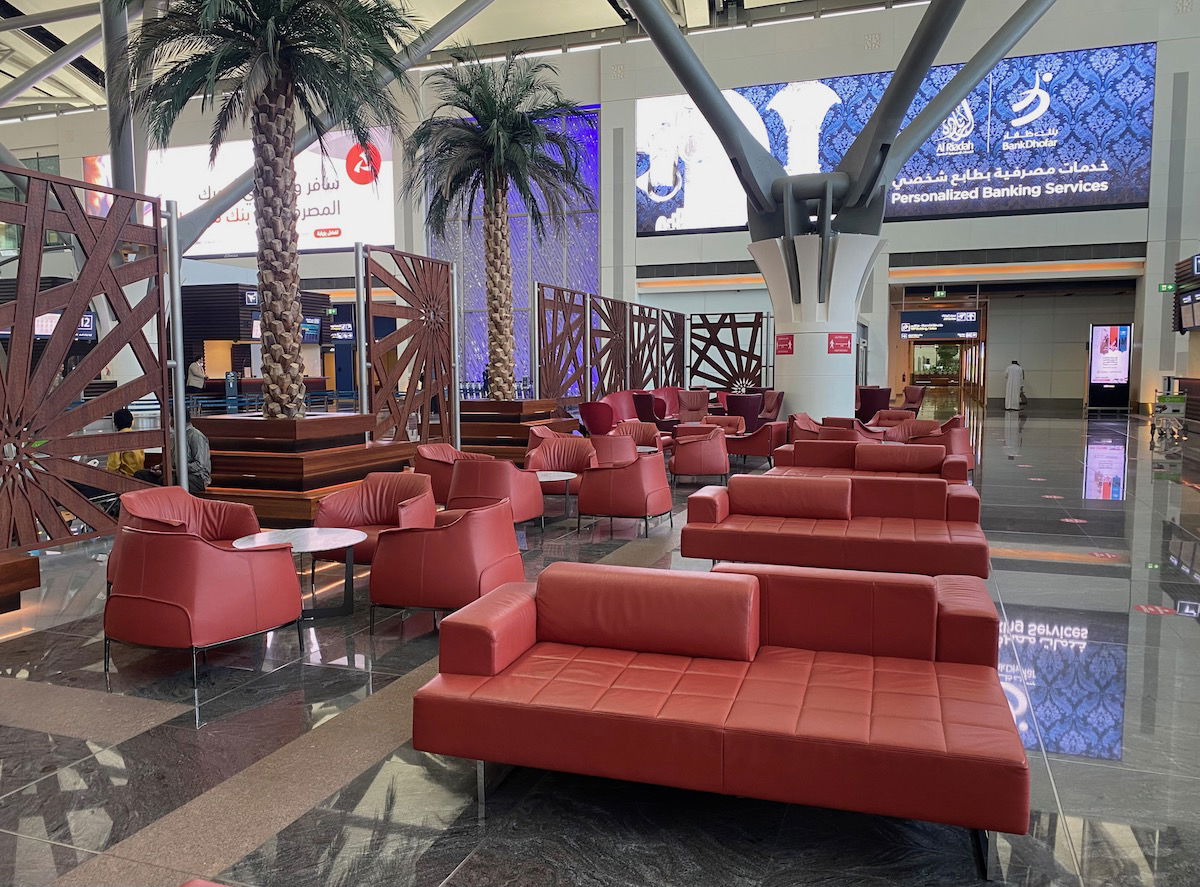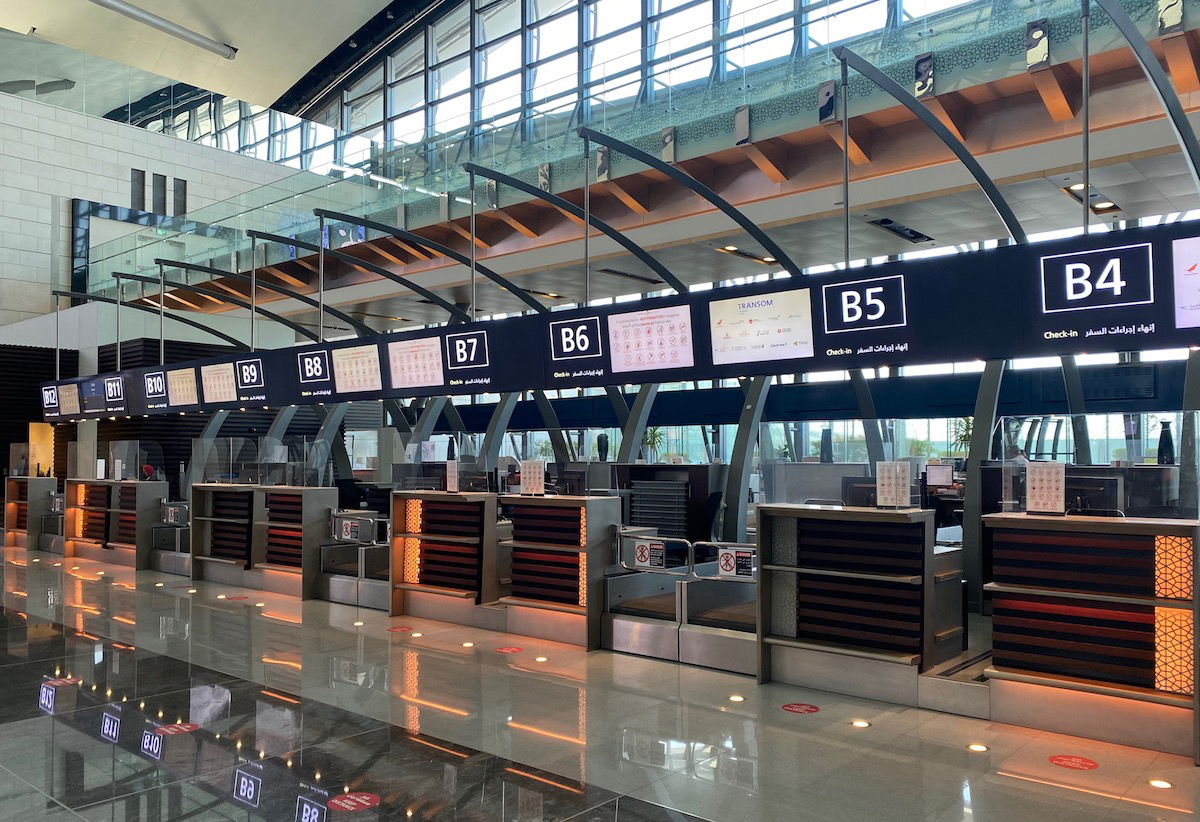 Unfortunately the check-in experience wasn't off to a great start:
While I could check-in online with Turkish Airlines, I couldn't actually get a mobile boarding pass, presumably because travel documents had to be verified
There was an employee at the premium check-in area, but she said that Turkish Airlines check-in wouldn't open until three hours before departure
I asked if there was any way we could just have our boarding passes printed, since it's not like we even had bags to check
She promised to do what she could, but I wasn't very hopeful. Often at airports in the region they're pretty "by the book," especially for contract workers. She said she'd have to get in touch with someone at Turkish Airlines, so I figured that was a dead-end.
To my surprise, around two hours later she managed to print our boarding passes. Okay, that's quite a wait for boarding passes, but it was better than waiting for many more hours!
For the two hours we were waiting, one frustrating aspect of Muscat Airport is the Wi-Fi situation. The airport offers free Wi-Fi, but you need to be texted a code in order to use it. The catch is, only local phone numbers seem to actually receive codes, even though the option is listed for international numbers to receive codes.
There are in theory some kiosks where you can get Wi-Fi codes, but they're only past security. So unfortunately don't expect you'll get Wi-Fi in the landside portion of the terminal, unless you have a local number.
With boarding passes in hand we headed toward immigration and security, which was super easy. There was a dedicated channel for first & business class passengers, and no wait.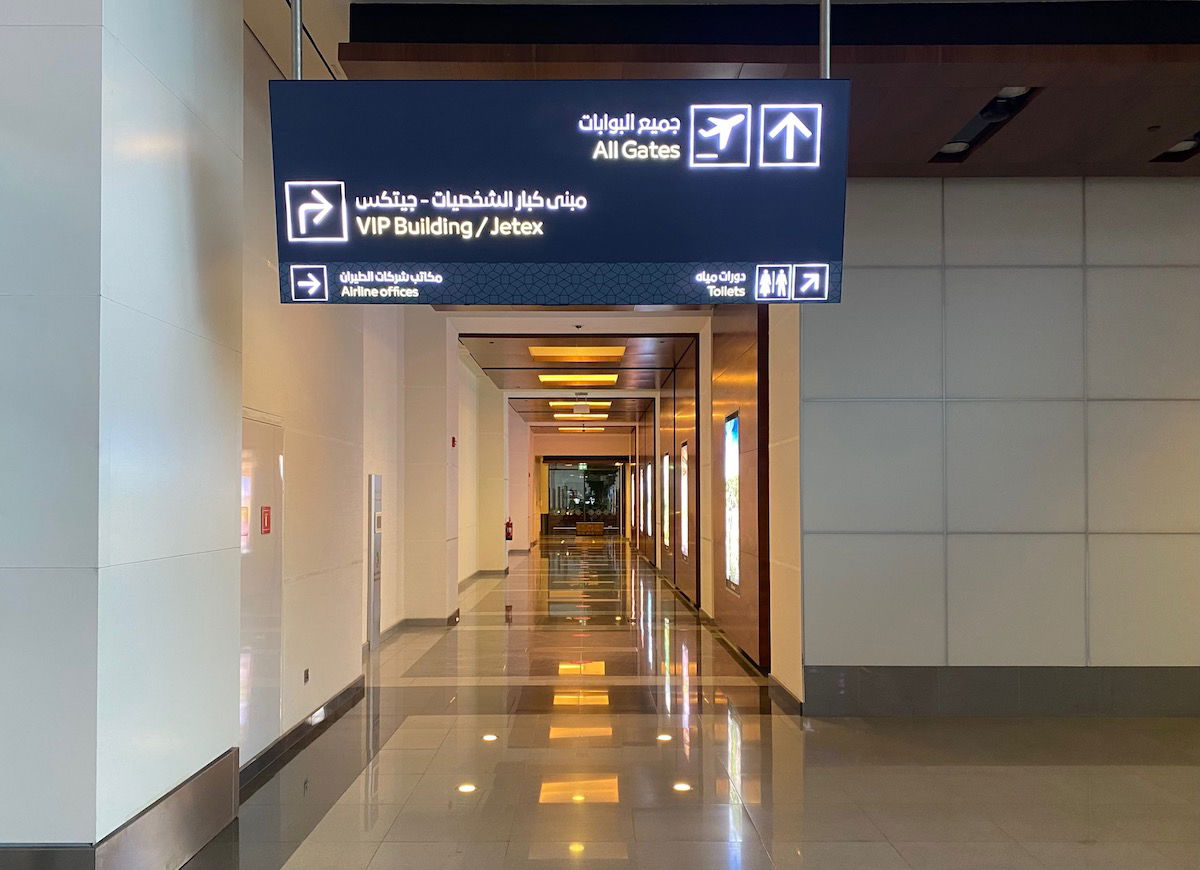 Primeclass Lounge Muscat location
Once you clear security and immigration at Muscat Airport, the lounges are located above the duty free shops.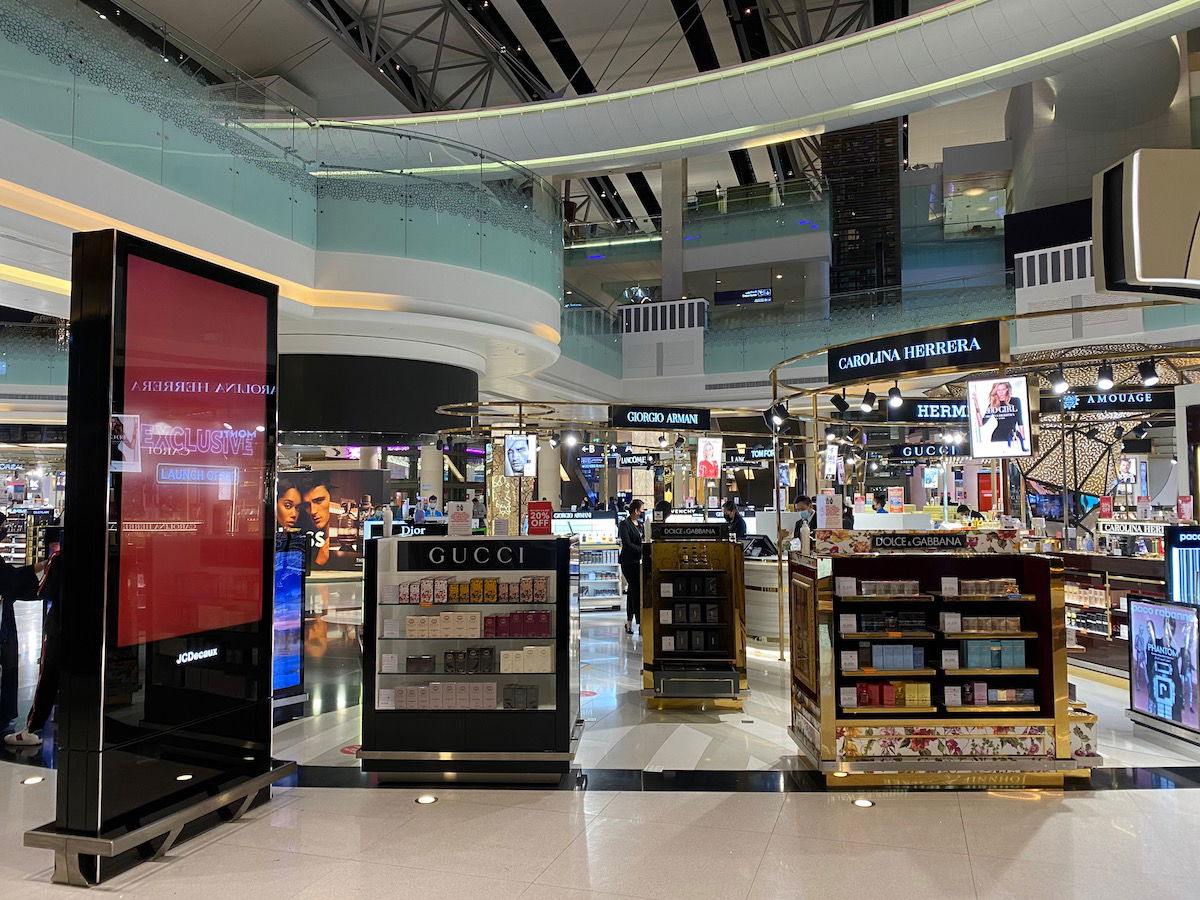 Just find the elevators, and go up to the fifth floor (for context, the fourth floor is the departures level).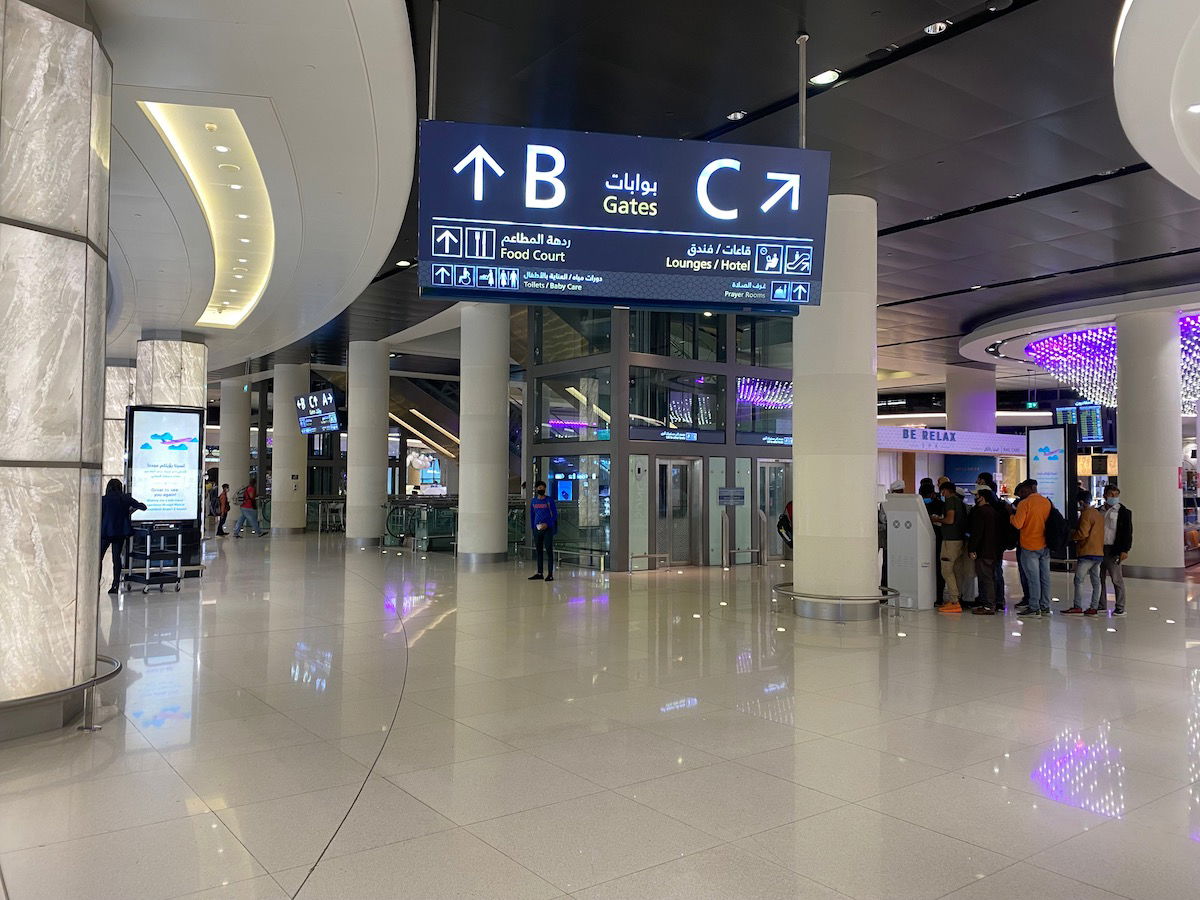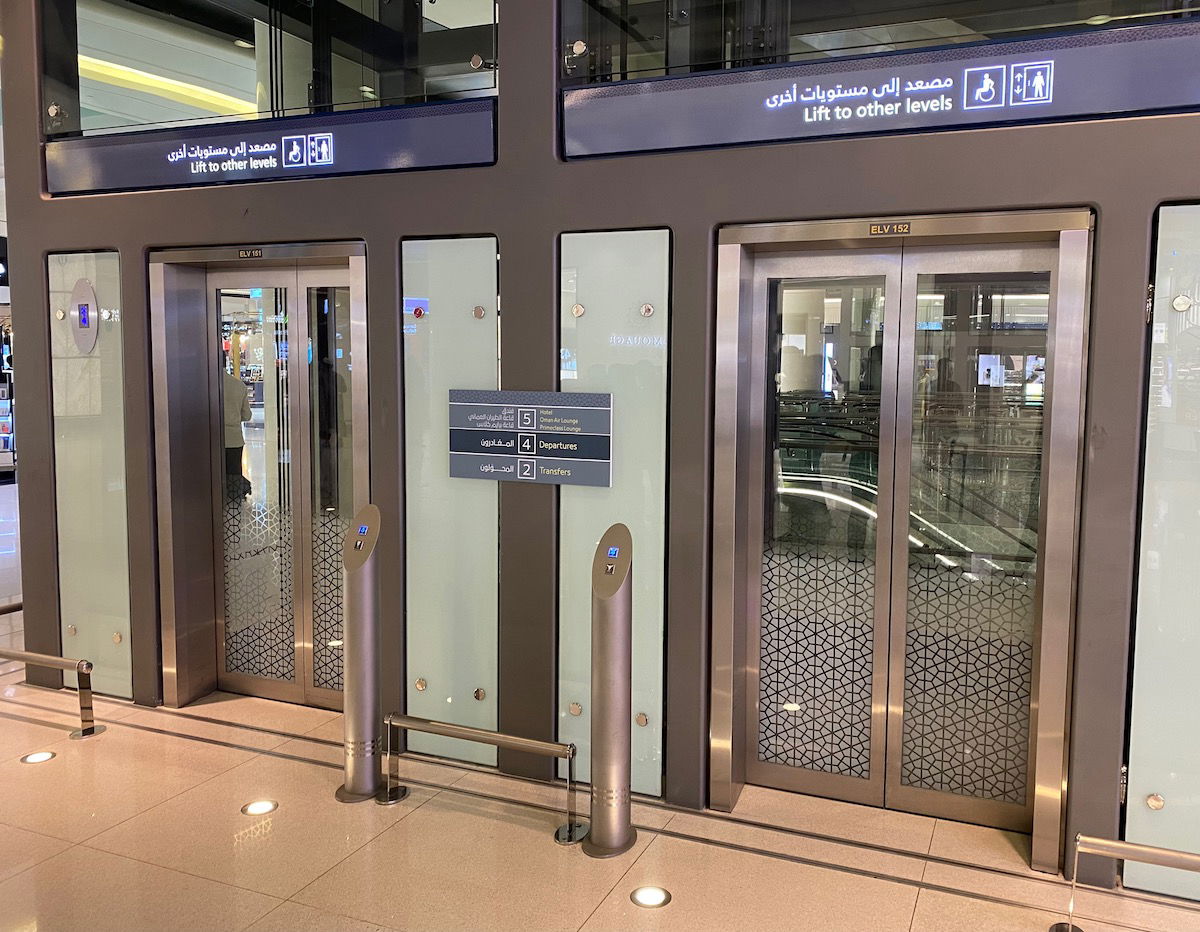 The fifth floor has the Aerotel (the airport's transit hotel), the Oman Air first class lounge, the Oman Air business class lounge, and the Primeclass Lounge.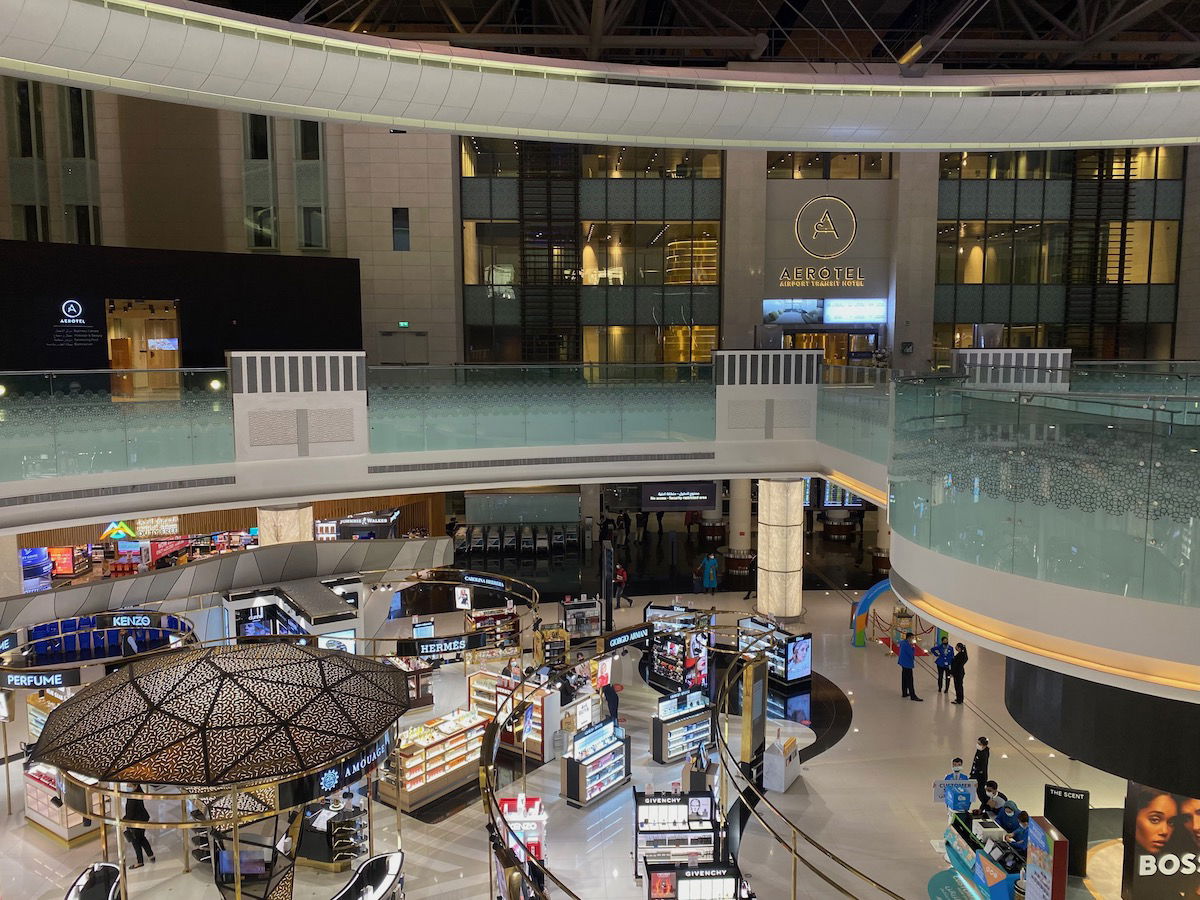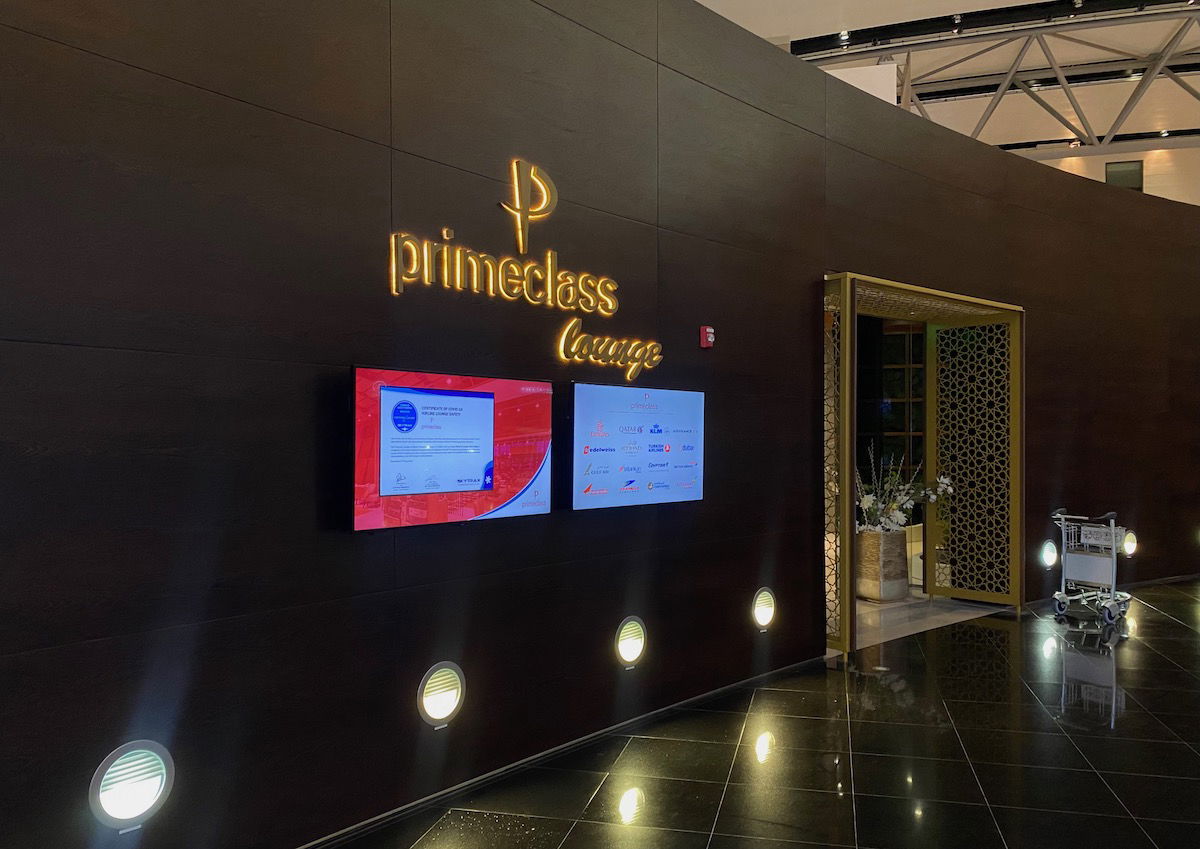 Primeclass Lounge Muscat hours & entry requirements
The Primeclass Lounge Muscat is open 24/7. That makes sense, given that in the Middle East flights operate every hour of the day and night.
The Primeclass Lounge is the only contract lounge at Muscat Airport, so you can generally expect that all non-Oman Air premium passengers will get an invitation to this lounge. On top of that, Priority Pass members can access the Primeclass Lounge (there are lots of great credit cards offering Priority Pass memberships).
Note that regardless of which entry method you use, lounge visits are limited to three hours. However, you can "stack" entry methods, which is to say that if you're a business class passenger and a Priority Pass member, you could visit the lounge for six hours.
And here's the awesome thing about visiting the lounge for longer — if you're entitled to visit the lounge for more than three hours, you also get a private bedroom for the duration of your stay, on a space available basis. I'll talk more about that below, but that might just be my favorite Priority Pass lounge feature ever.
Primeclass Lounge Muscat seating & layout
The Primeclass Lounge Muscat is massive — it's roughly 33,000 square feet, and has seating for 375 passengers. This is one of the most beautifully designed Priority Pass lounges I've ever been to. For example, check out the entryway, and how pretty it is.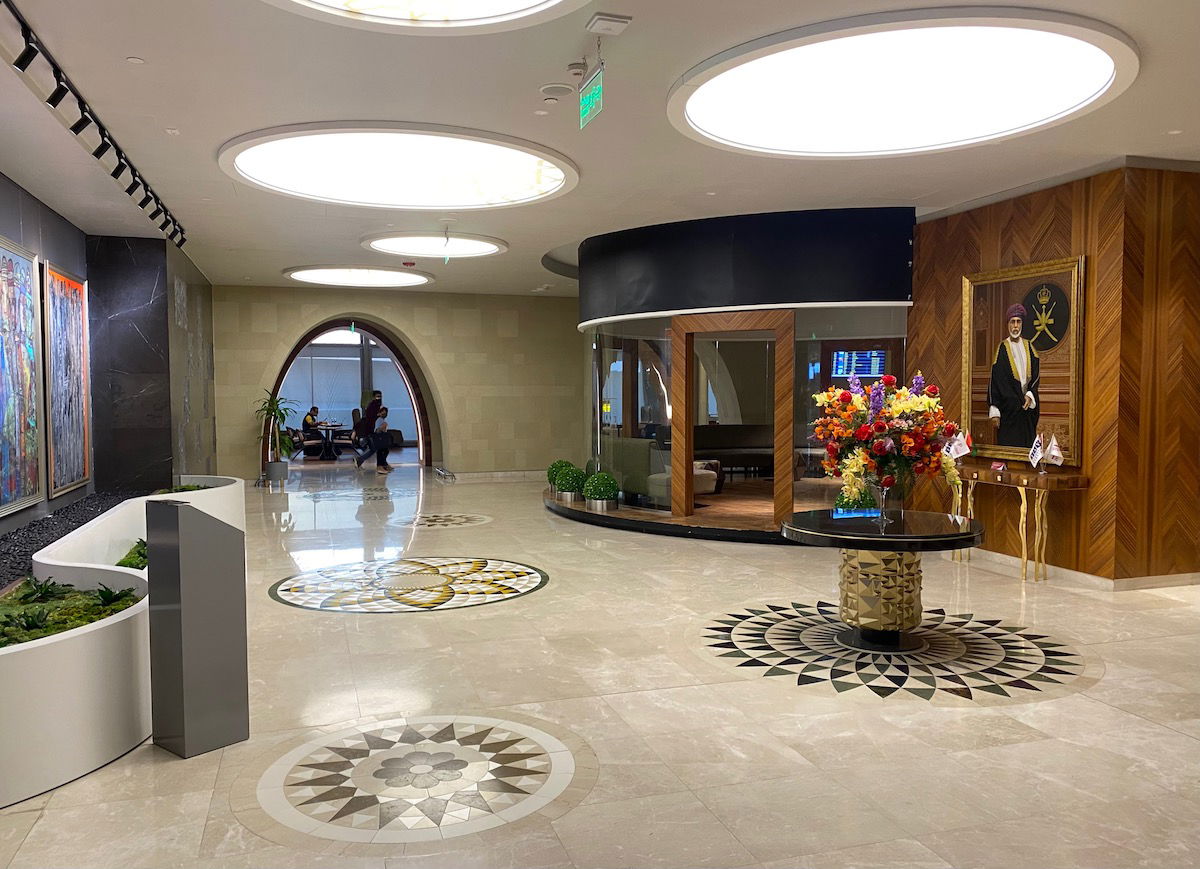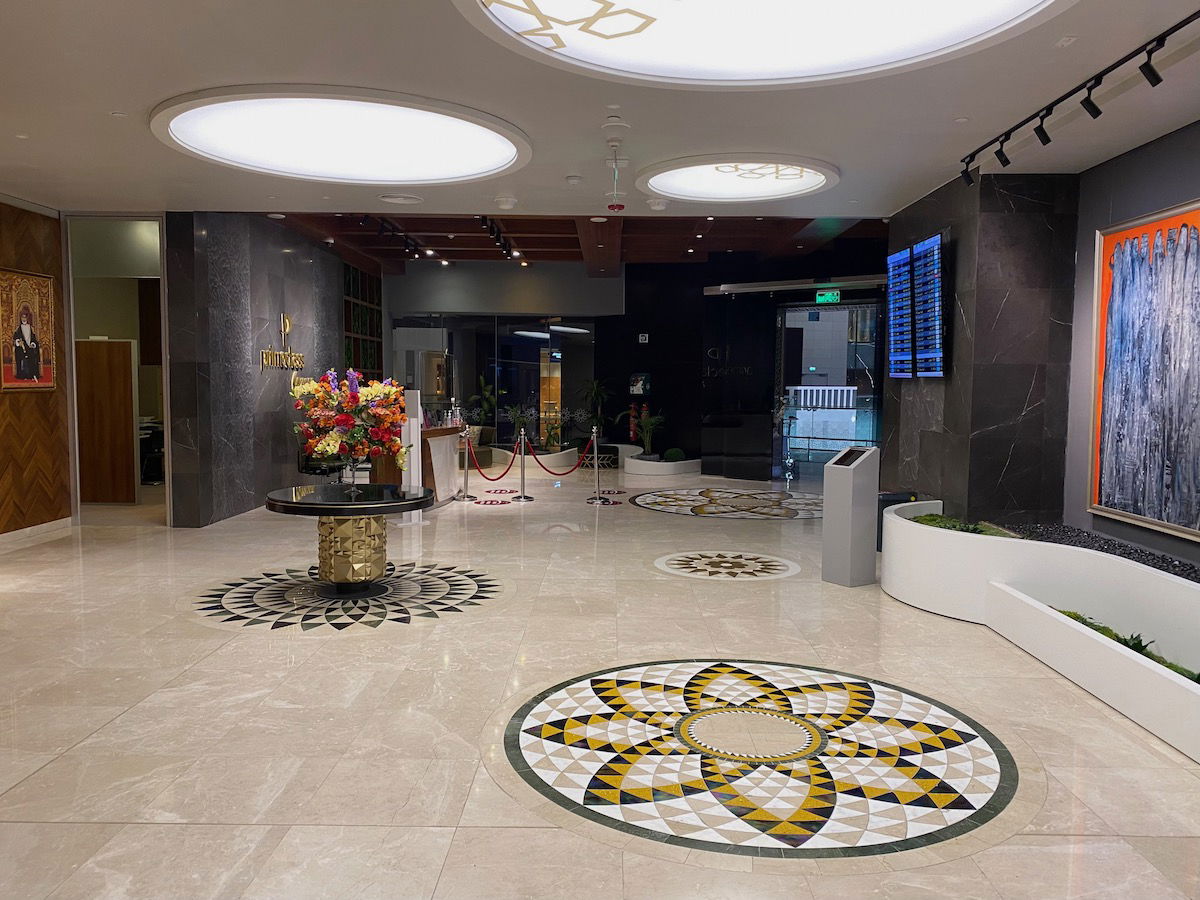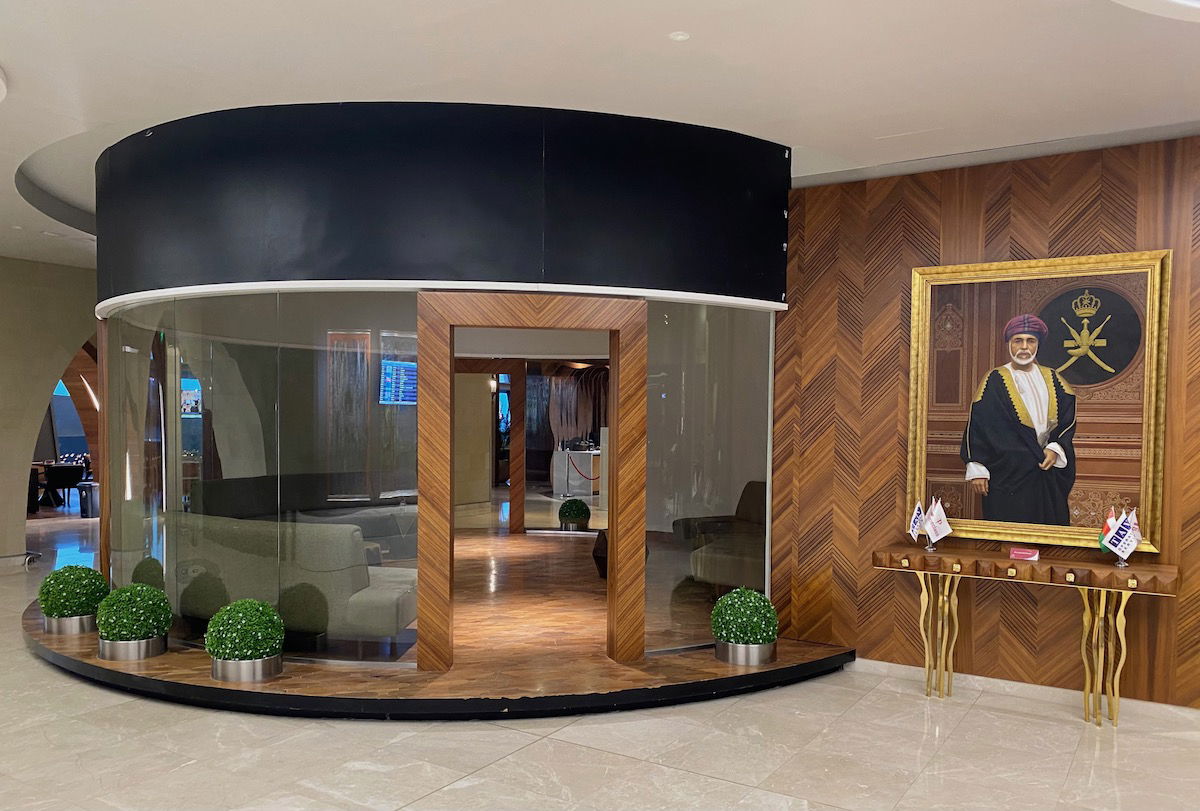 Also near reception are some lockers, should you want to store luggage during your stay.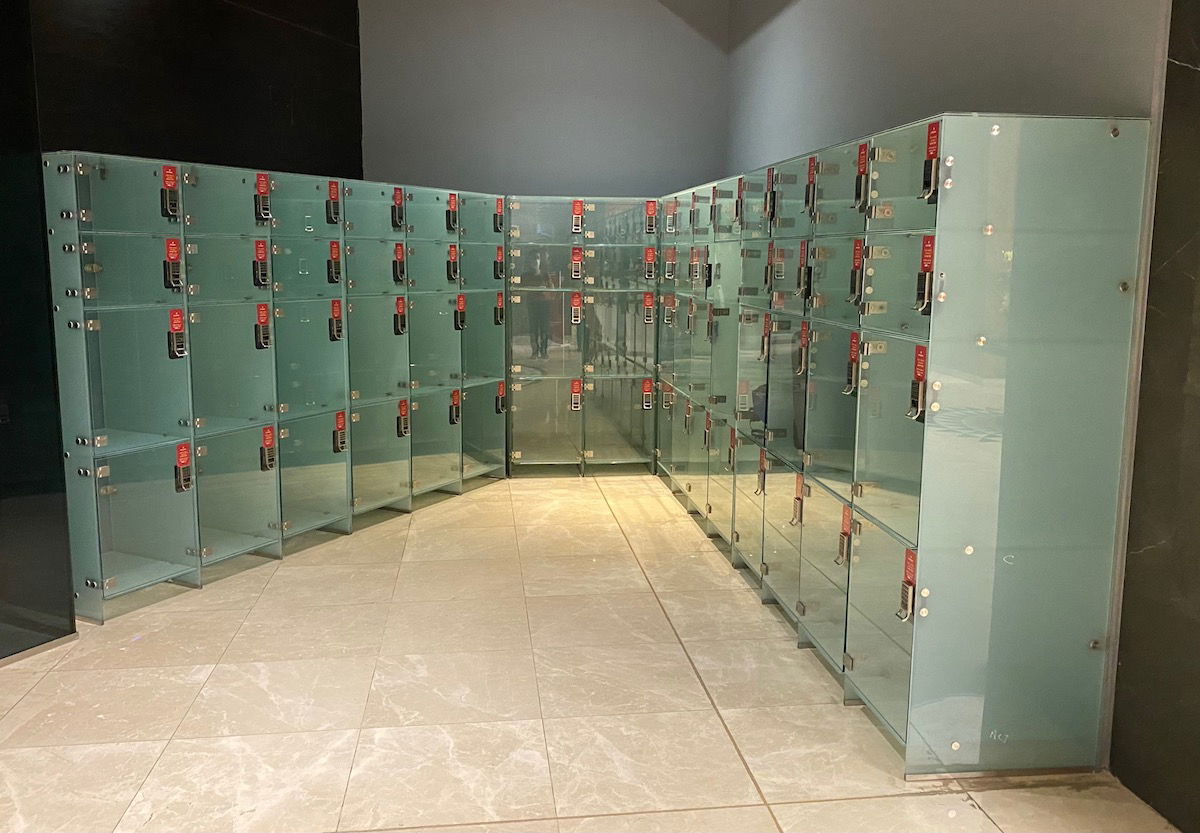 Essentially the lounge is located along one very long corridor, which connects all areas of the lounge.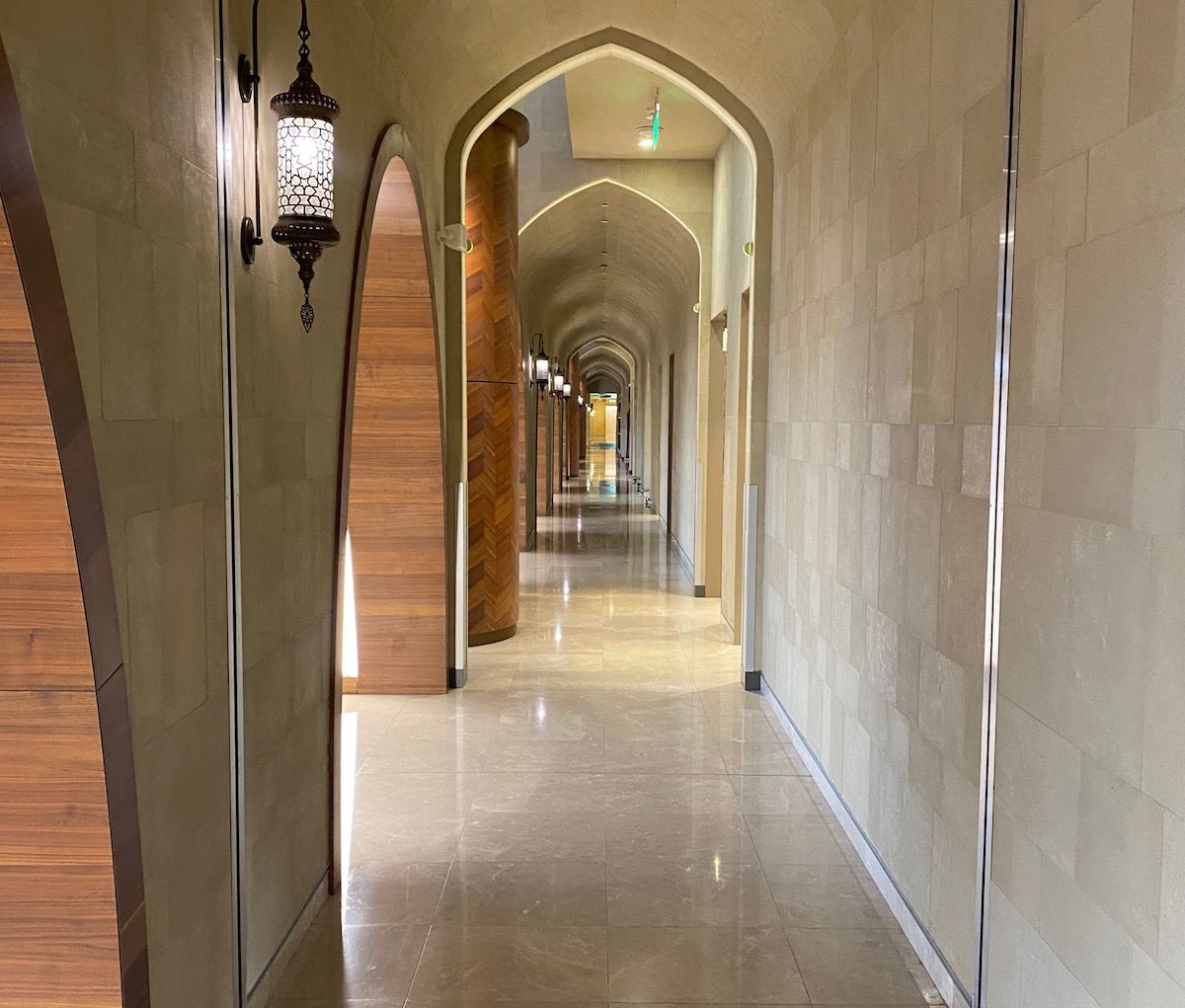 The main part of the lounge is one massive room with nearly endless seating. I love how the lounge has extremely high ceilings, and floor-to-ceiling windows on top of that. There are a variety of seating options, from chairs arranged in rows, to couches, to dining tables.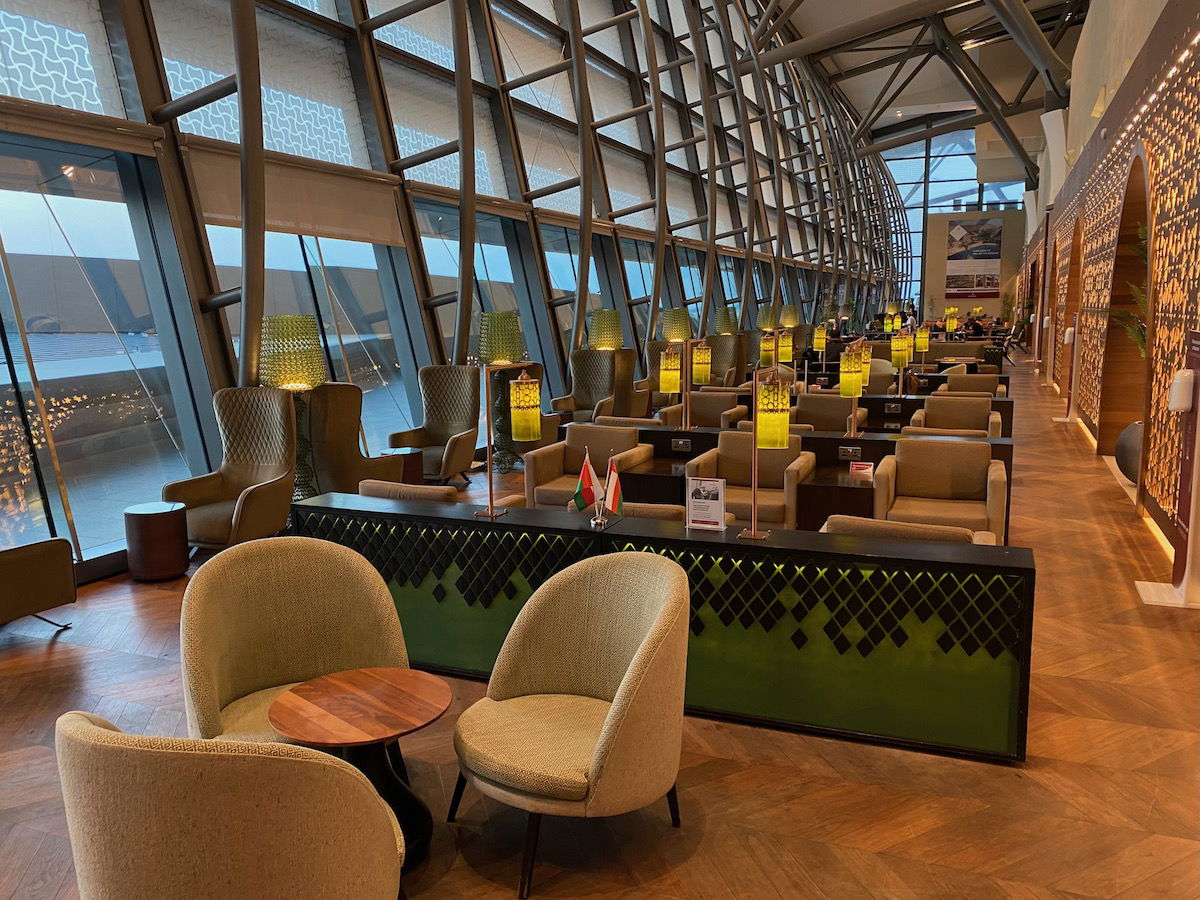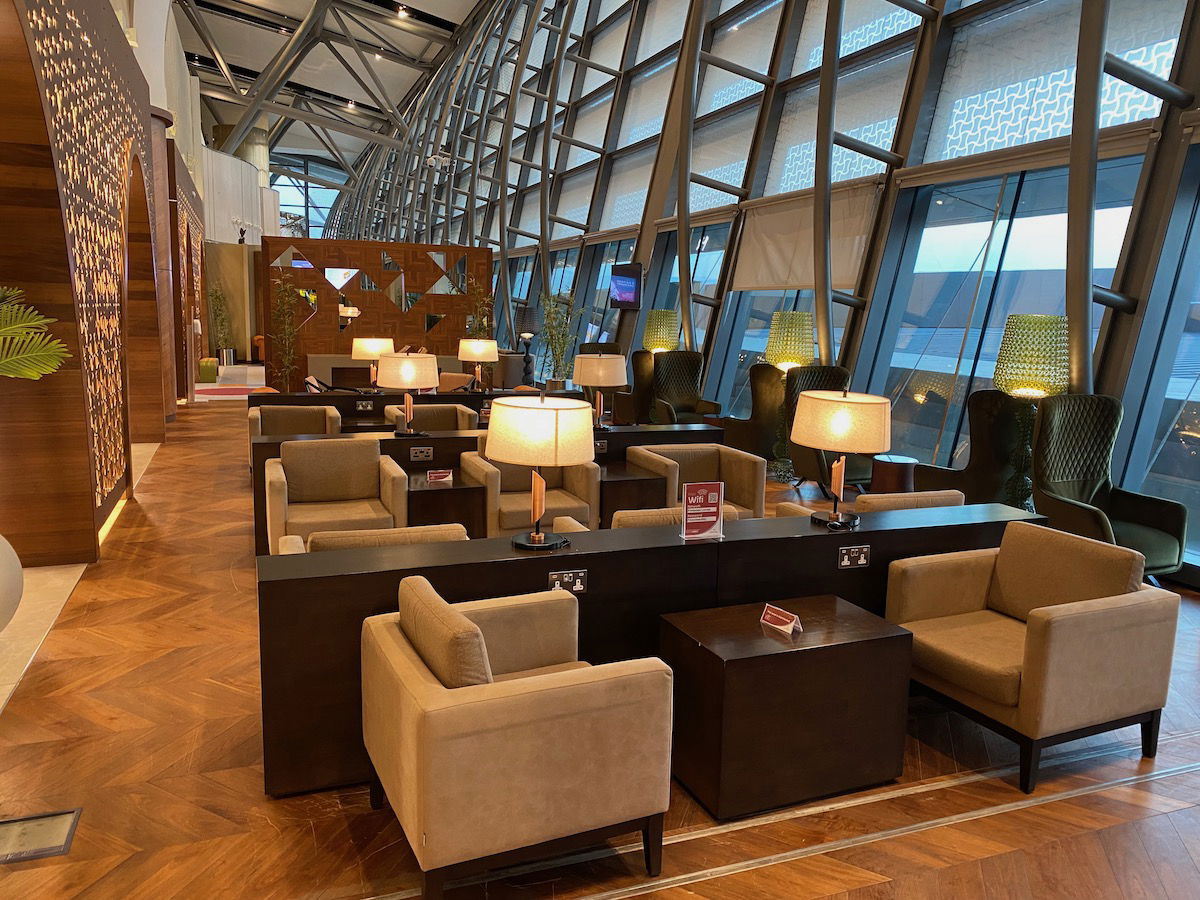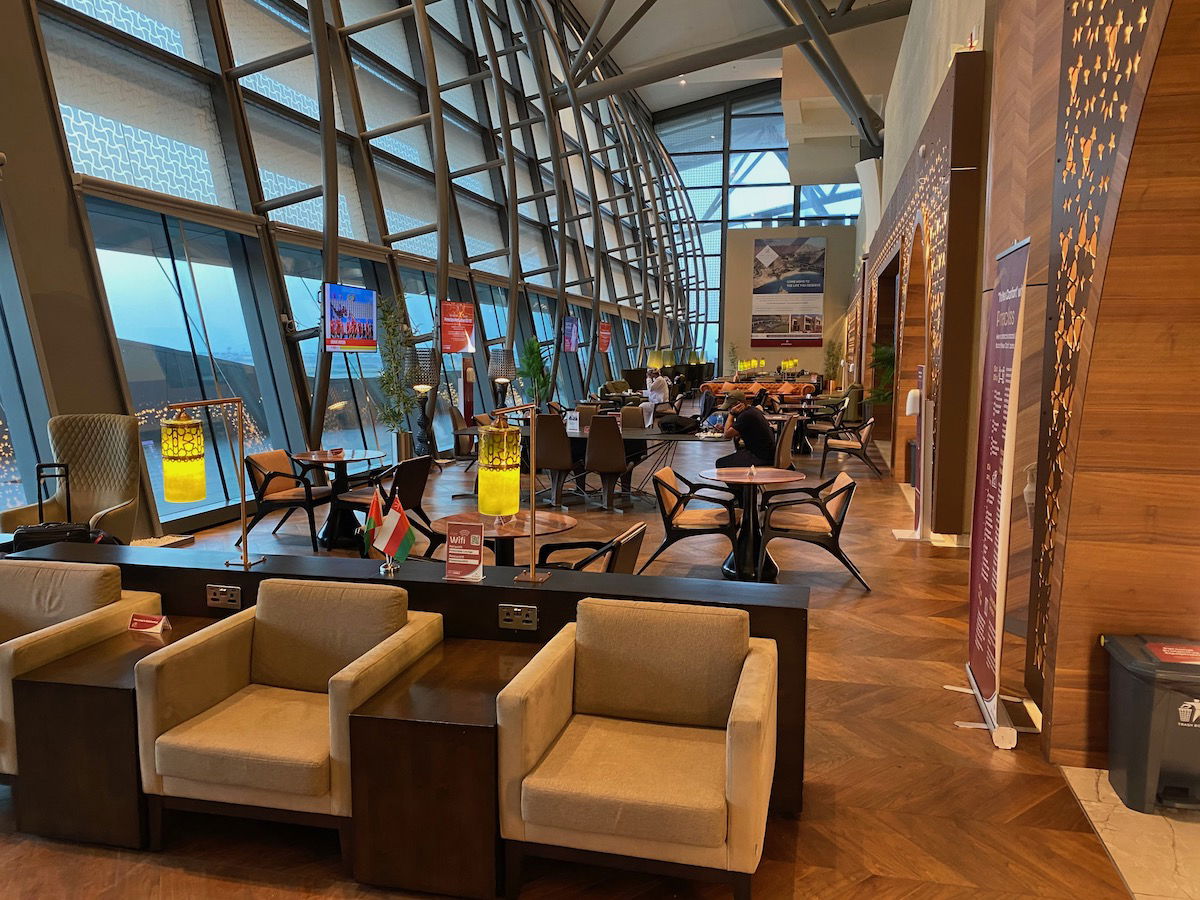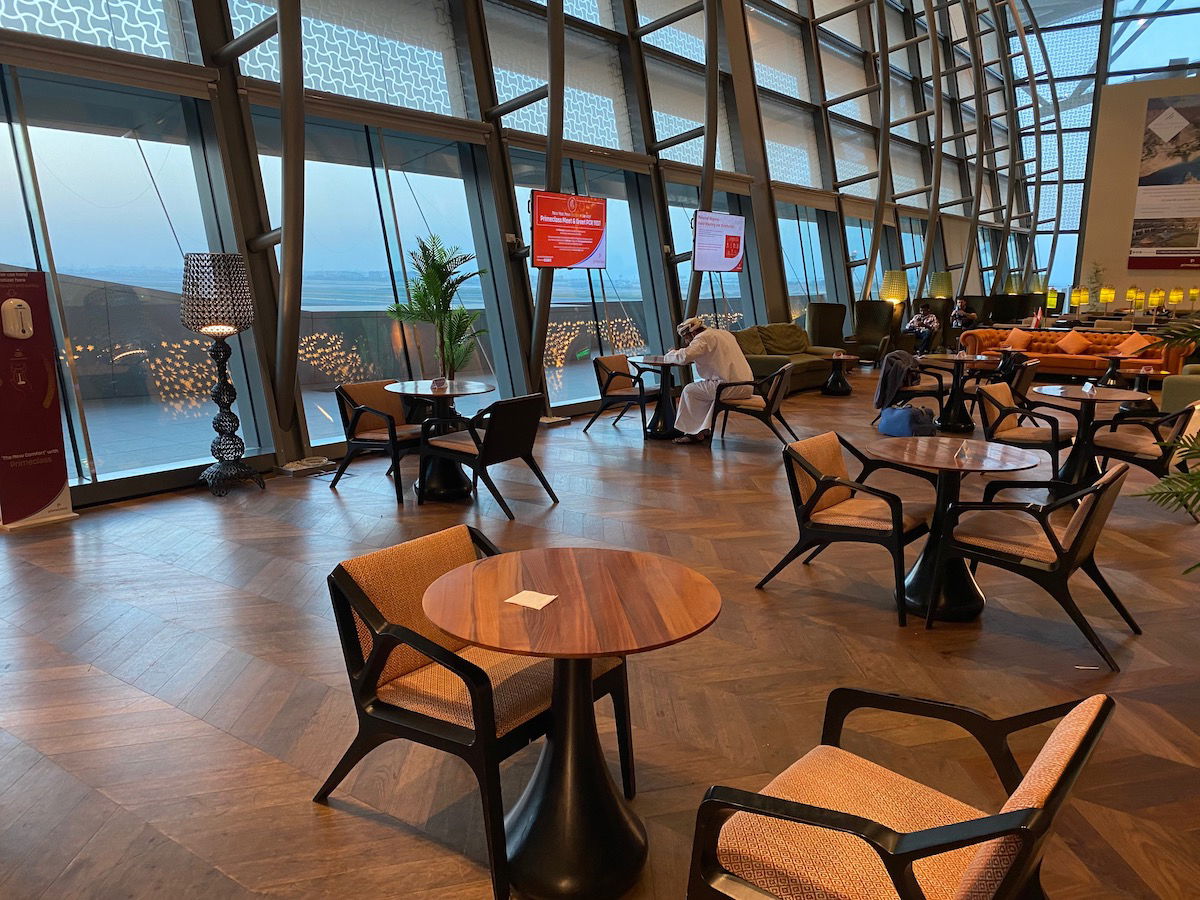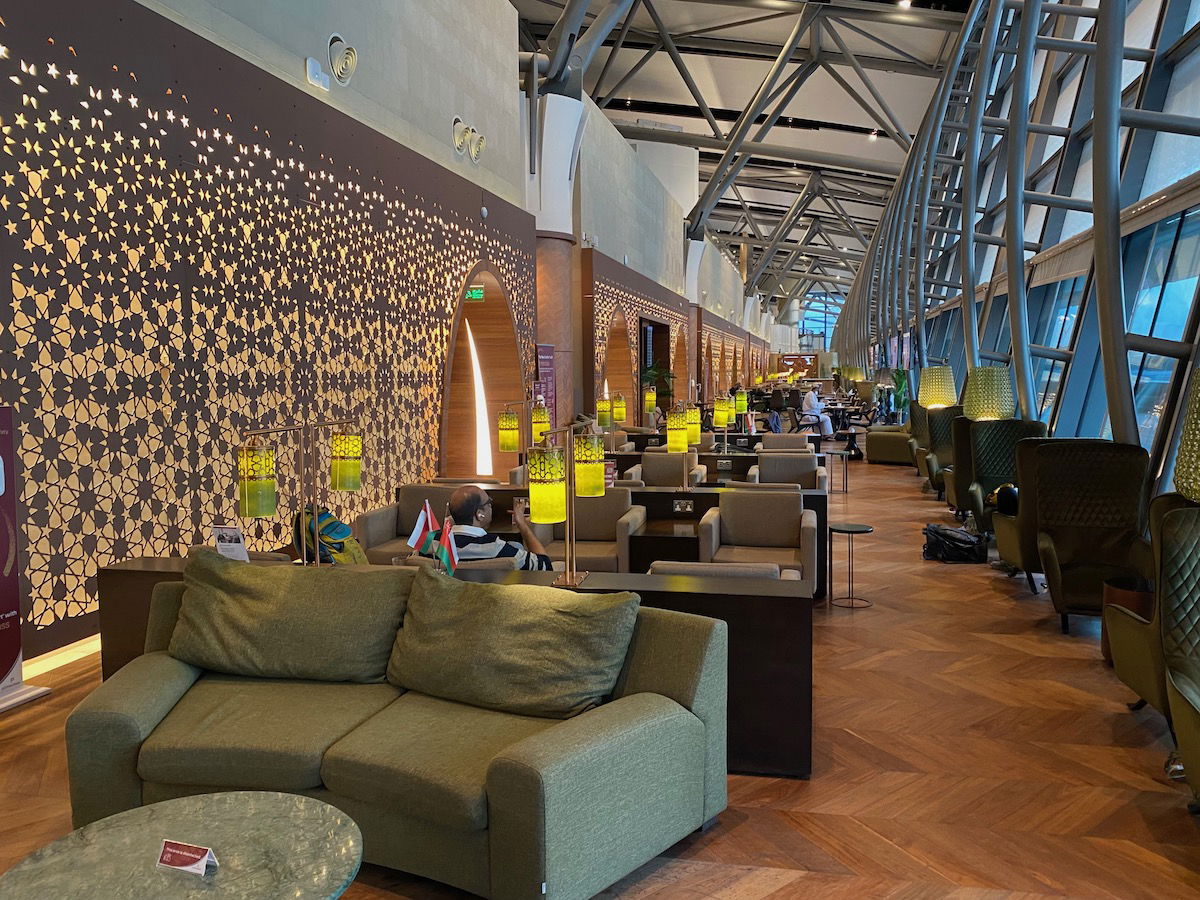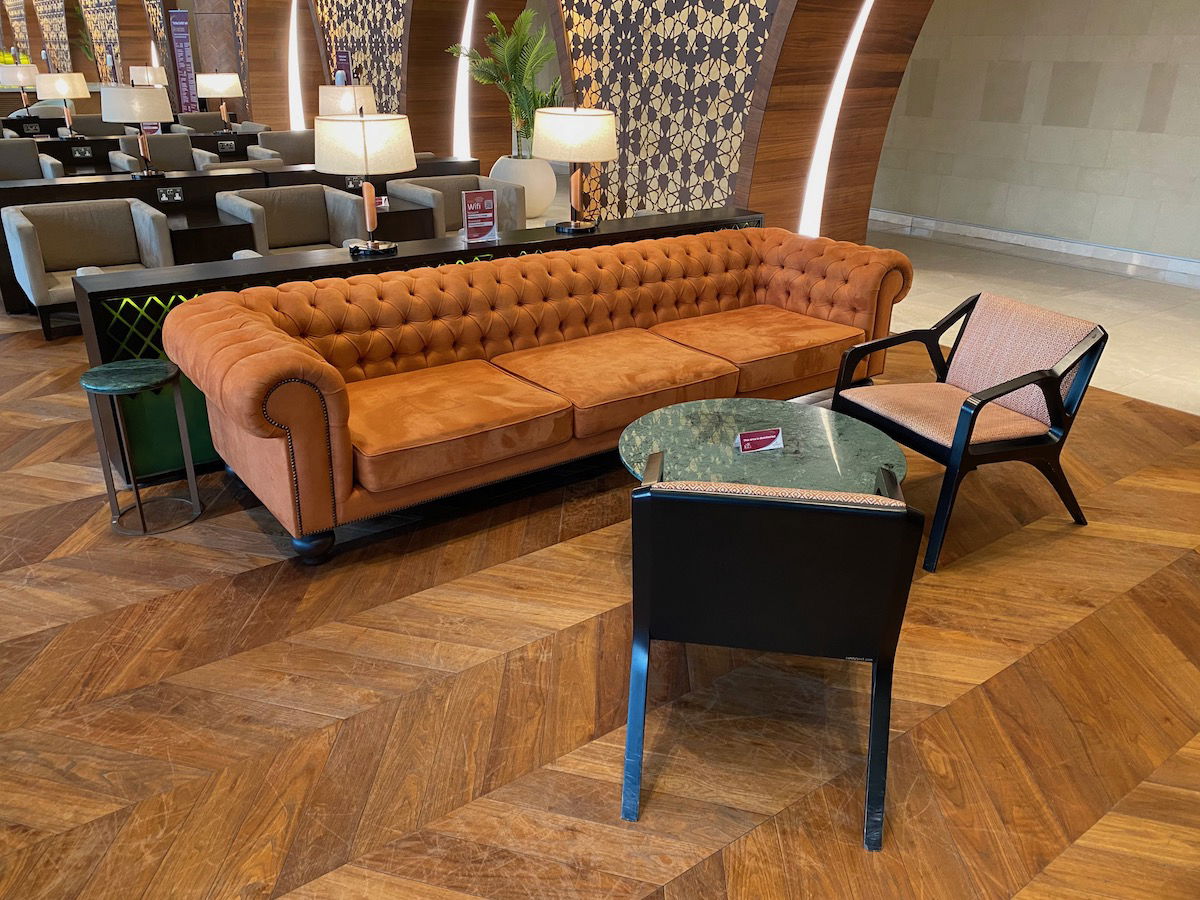 As far as the views go, the lounge looks out over the apron, so you can see planes parked at gates. However, the views are somewhat obstructed by the roof of the building.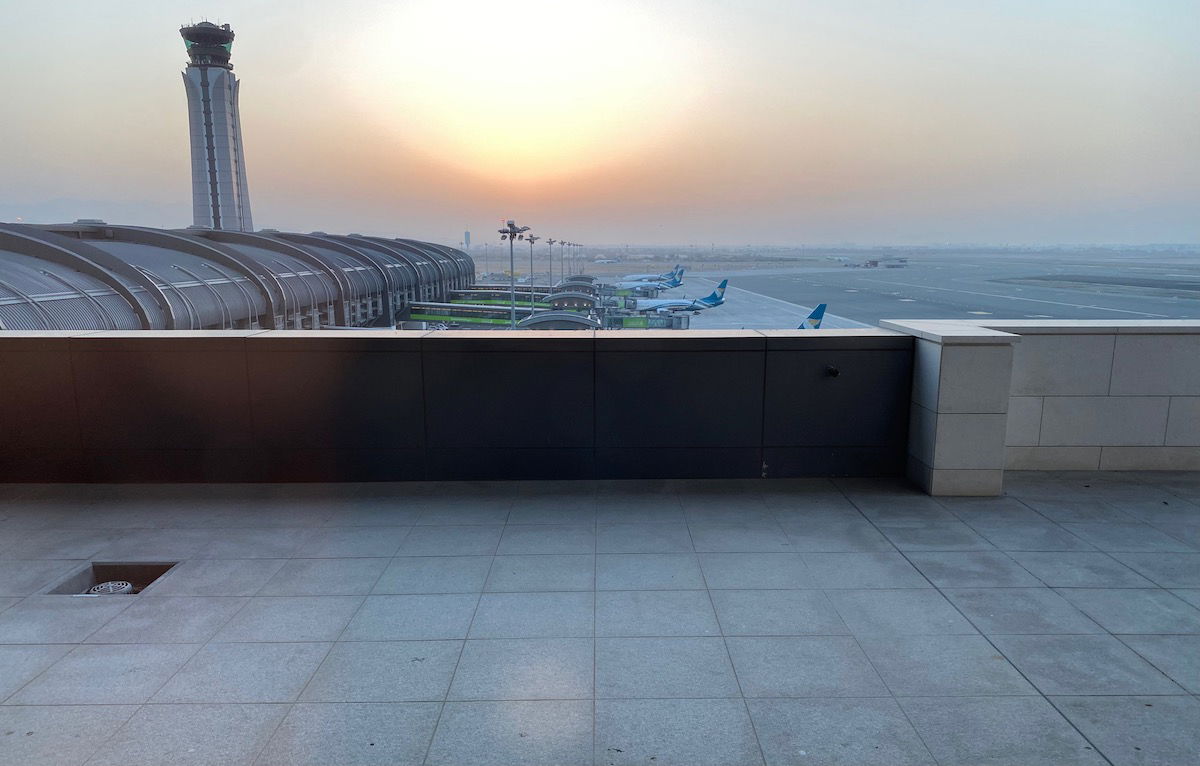 At one end of the lounge is a more enclosed seating area, with chairs, couches, and even a few massage chairs.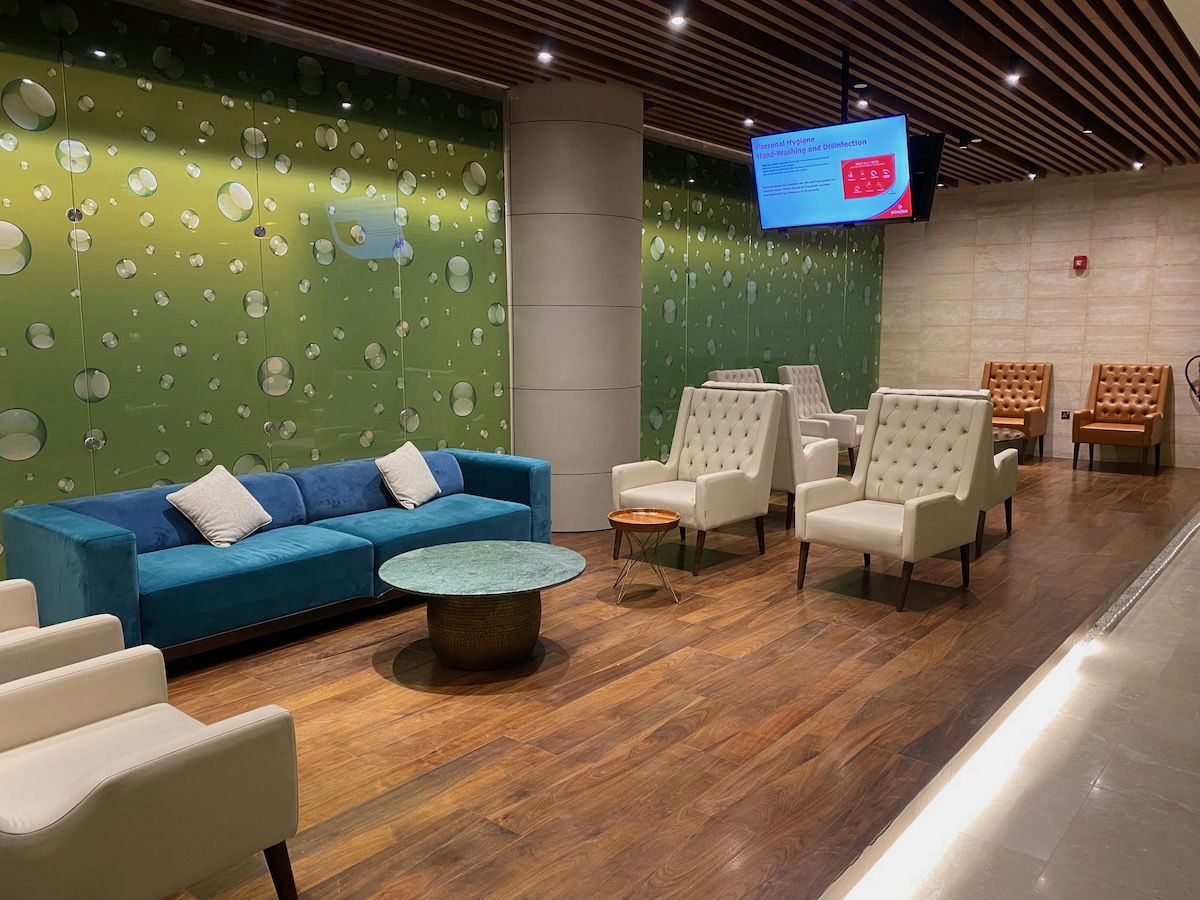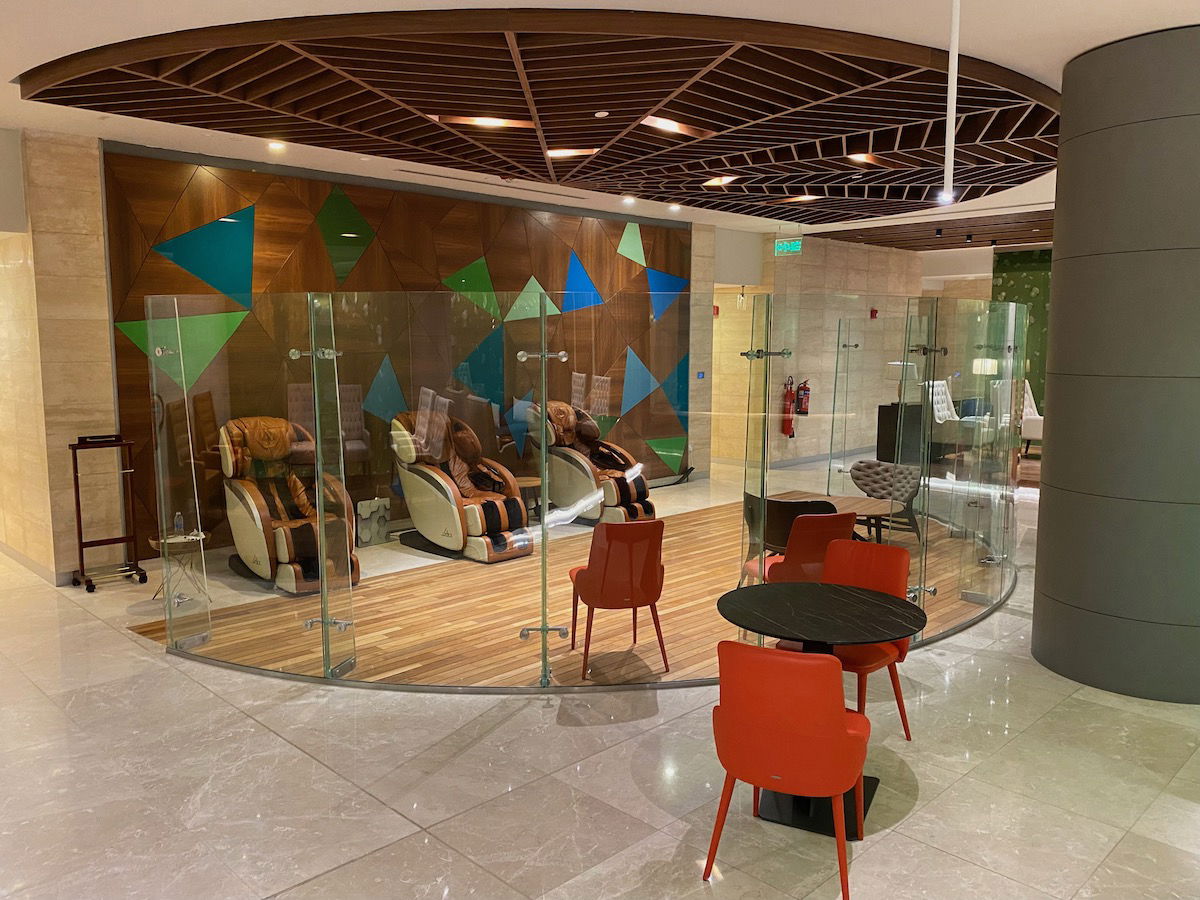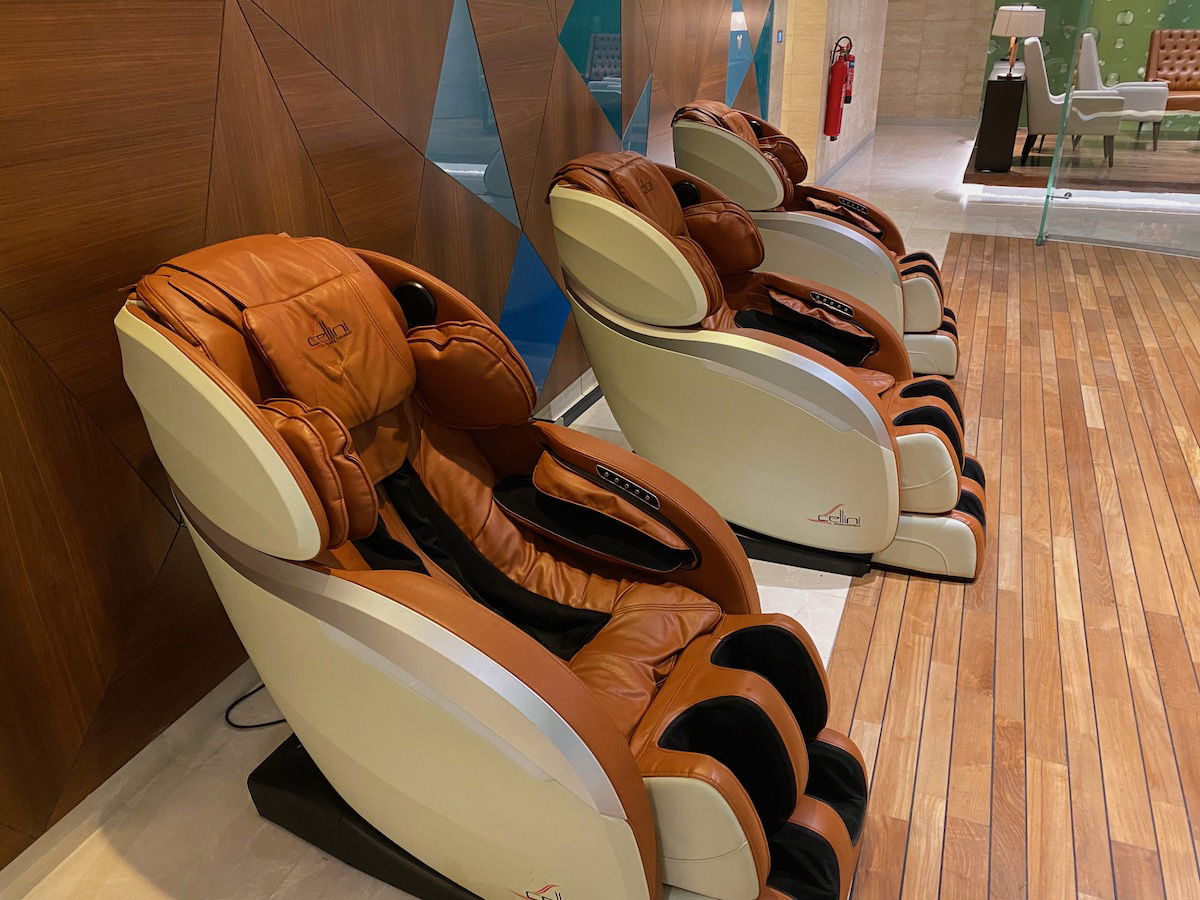 There's also a nap area, an area for children, and a smoking room.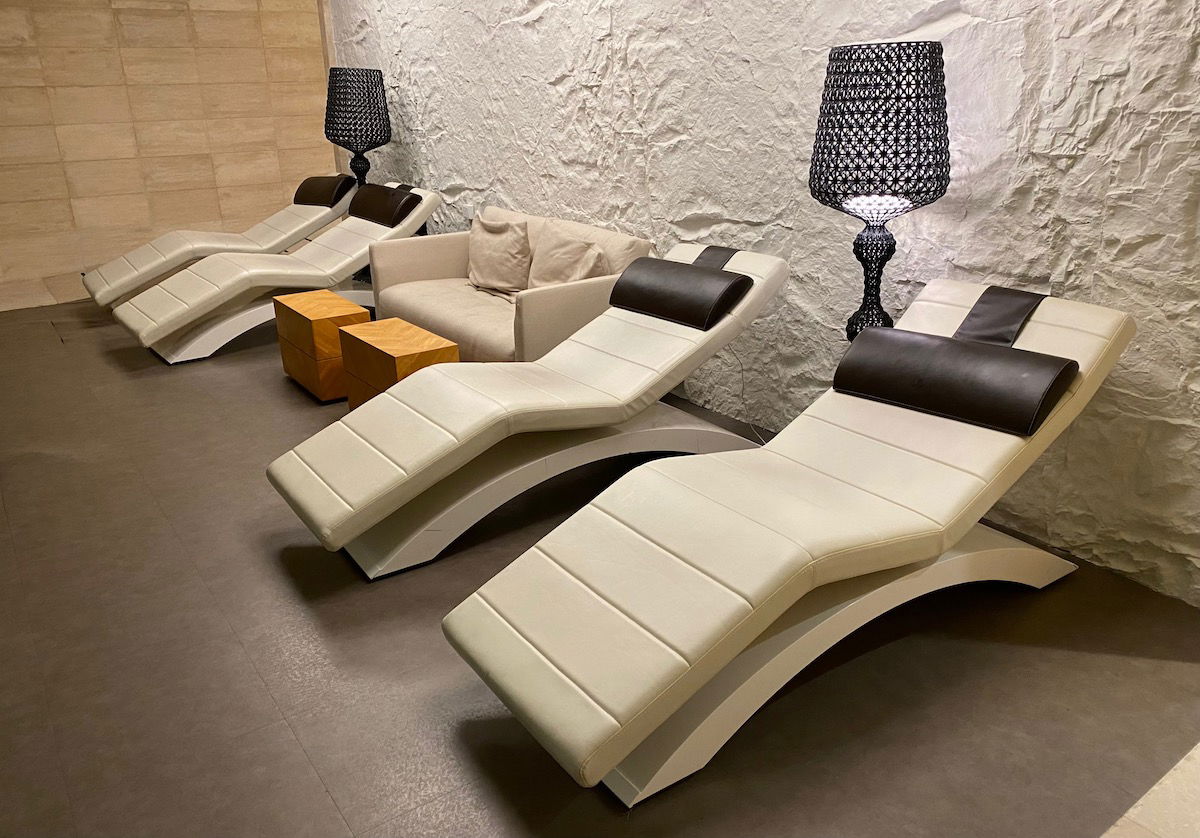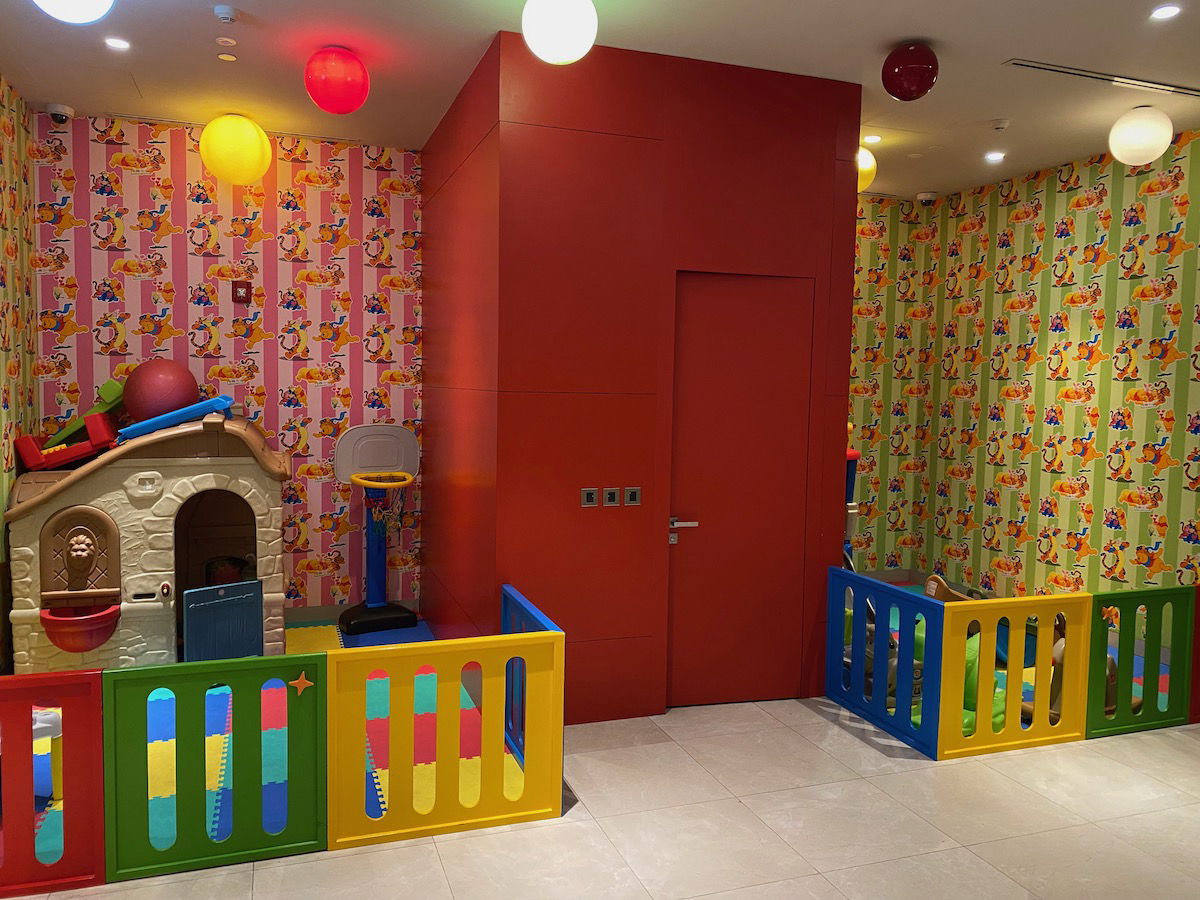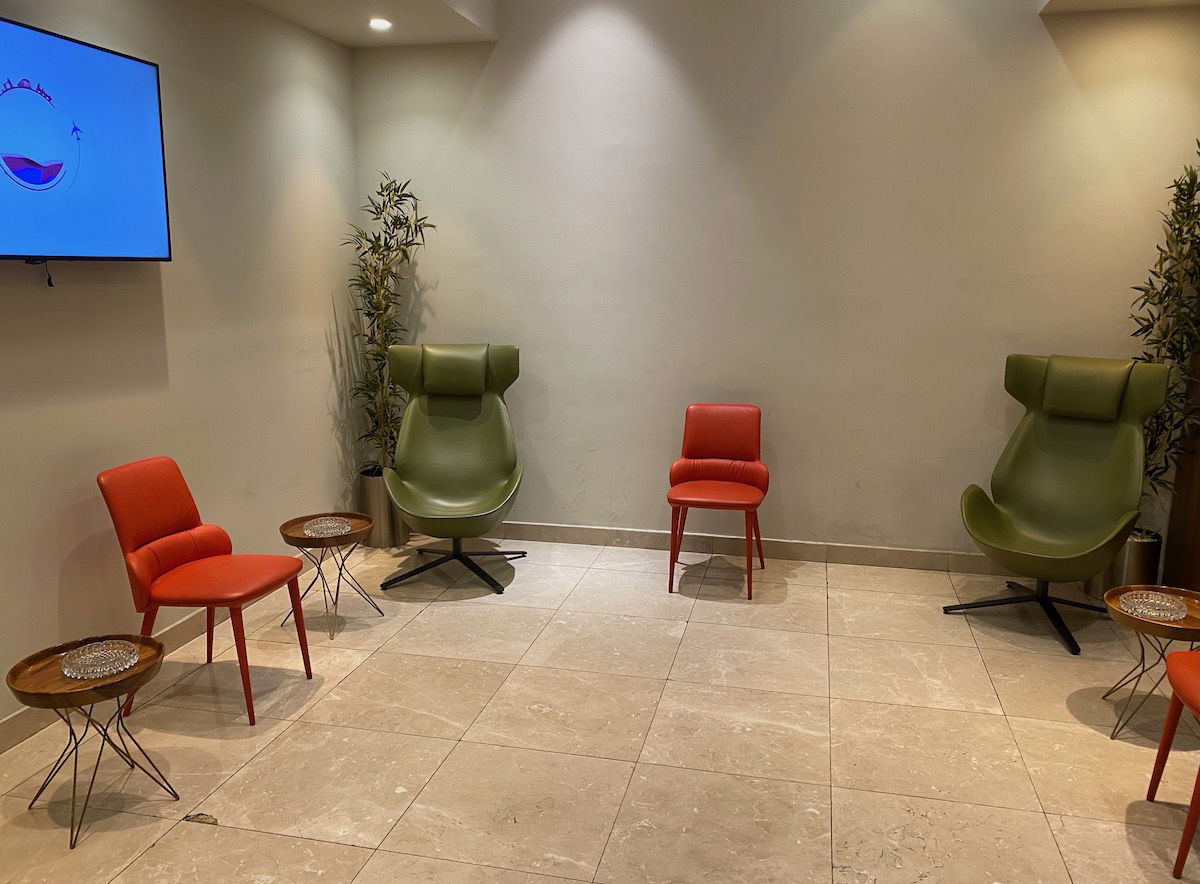 At the other end of the lounge is a small cinema, as well as an area with video games, as well as billiards, foosball, and more.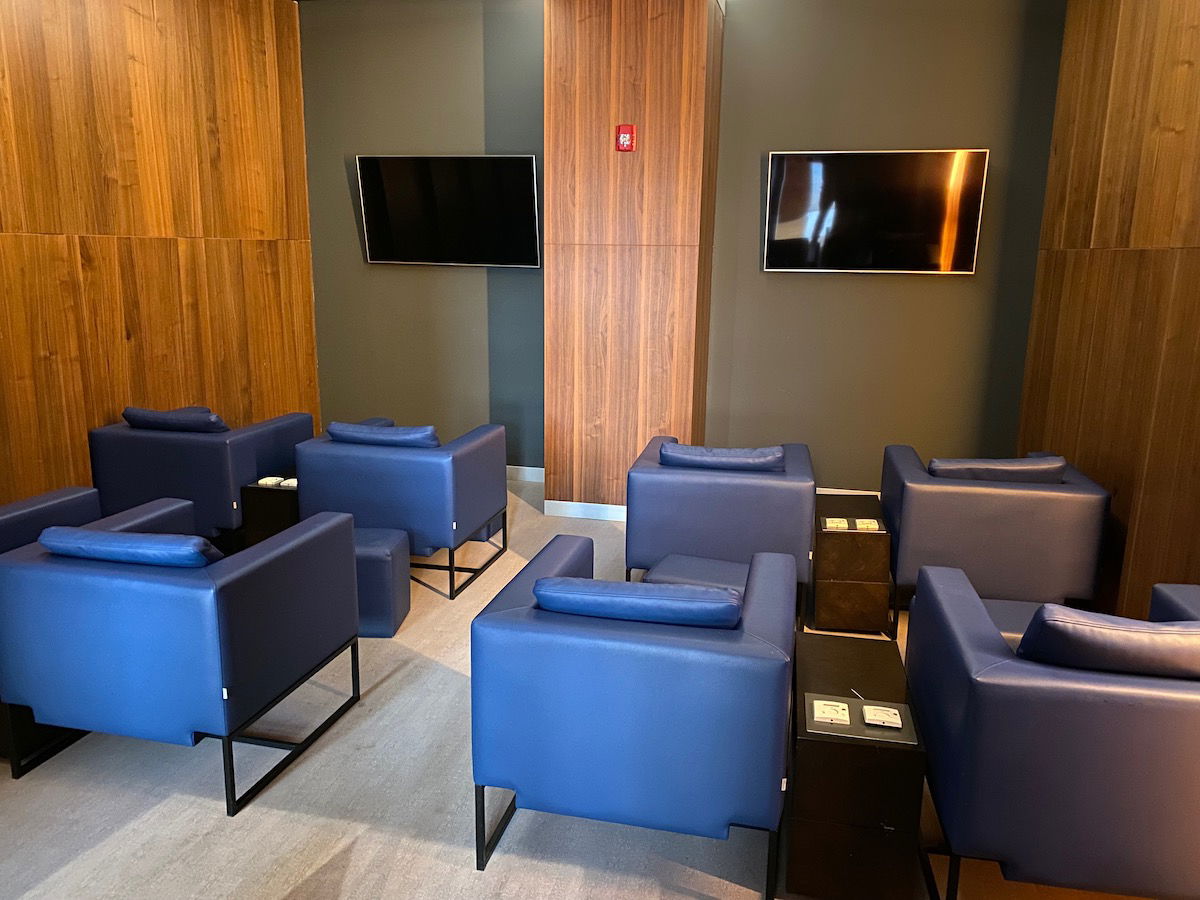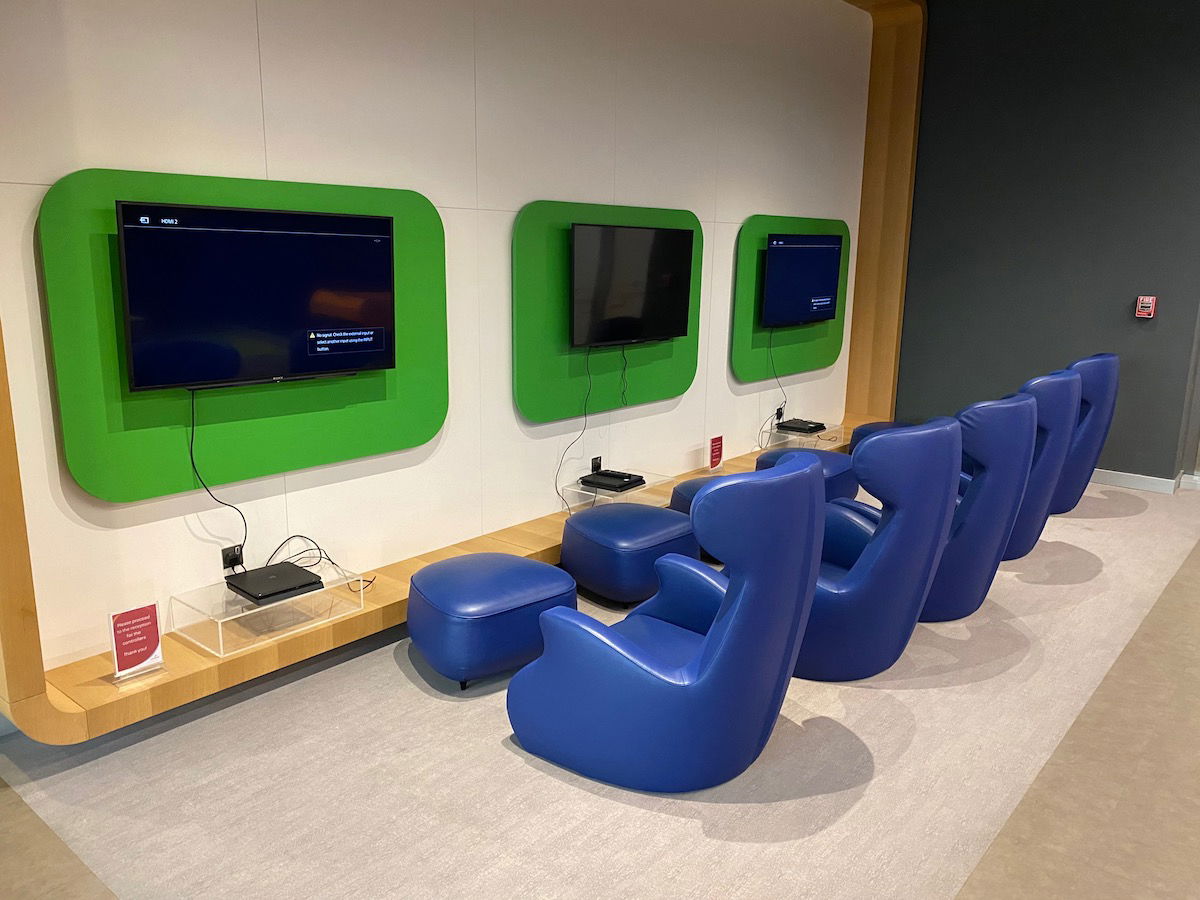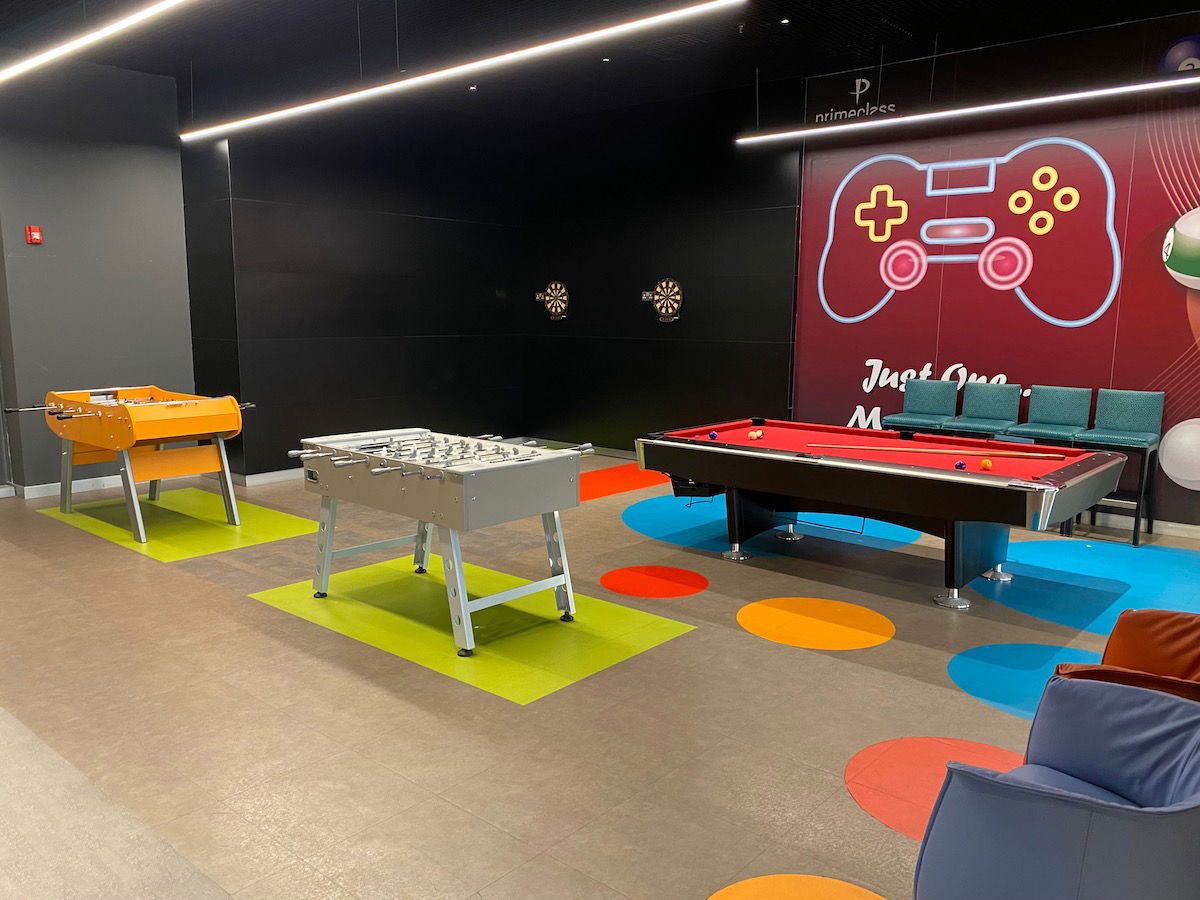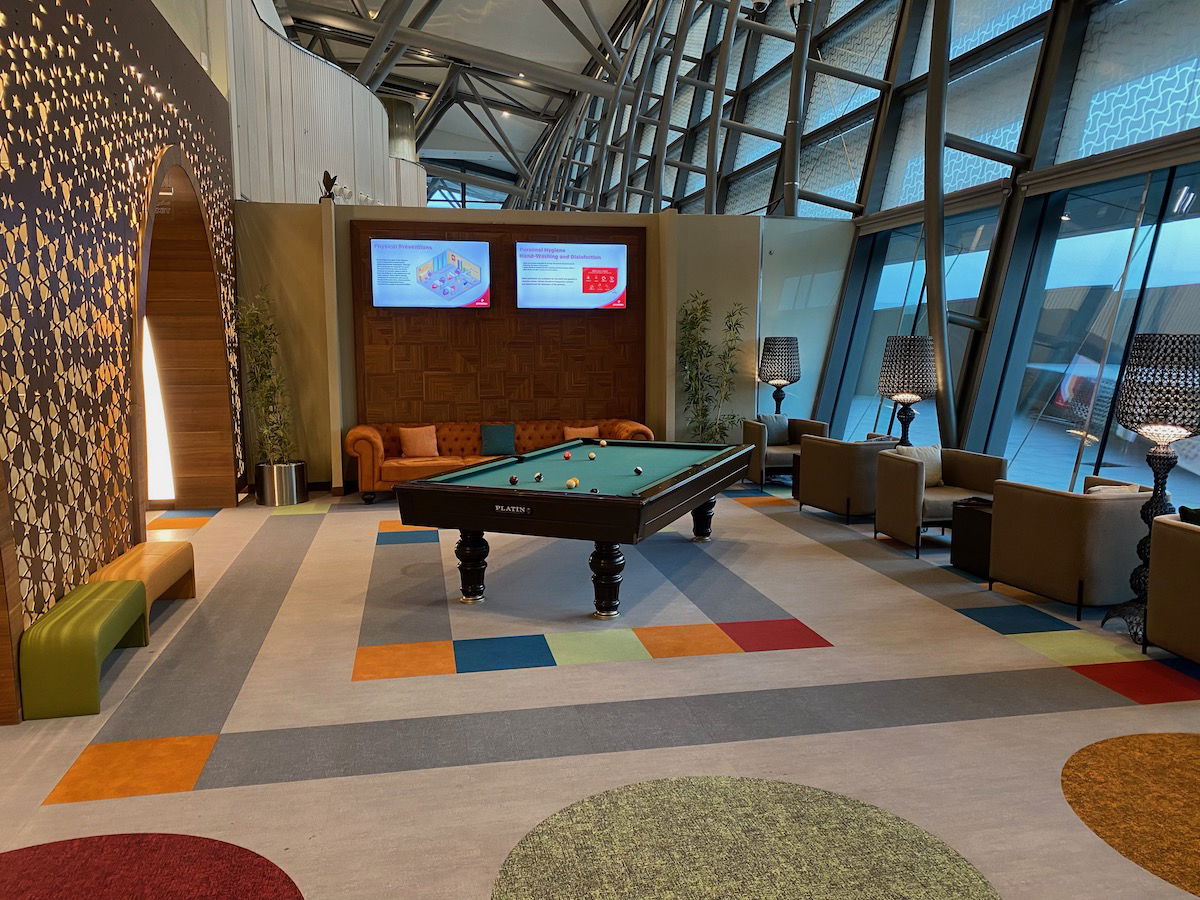 Primeclass Lounge Muscat food & drinks
The Primeclass Lounge has a buffet, which currently isn't self-serve due to the pandemic. The server here was extremely friendly, and it never got too busy.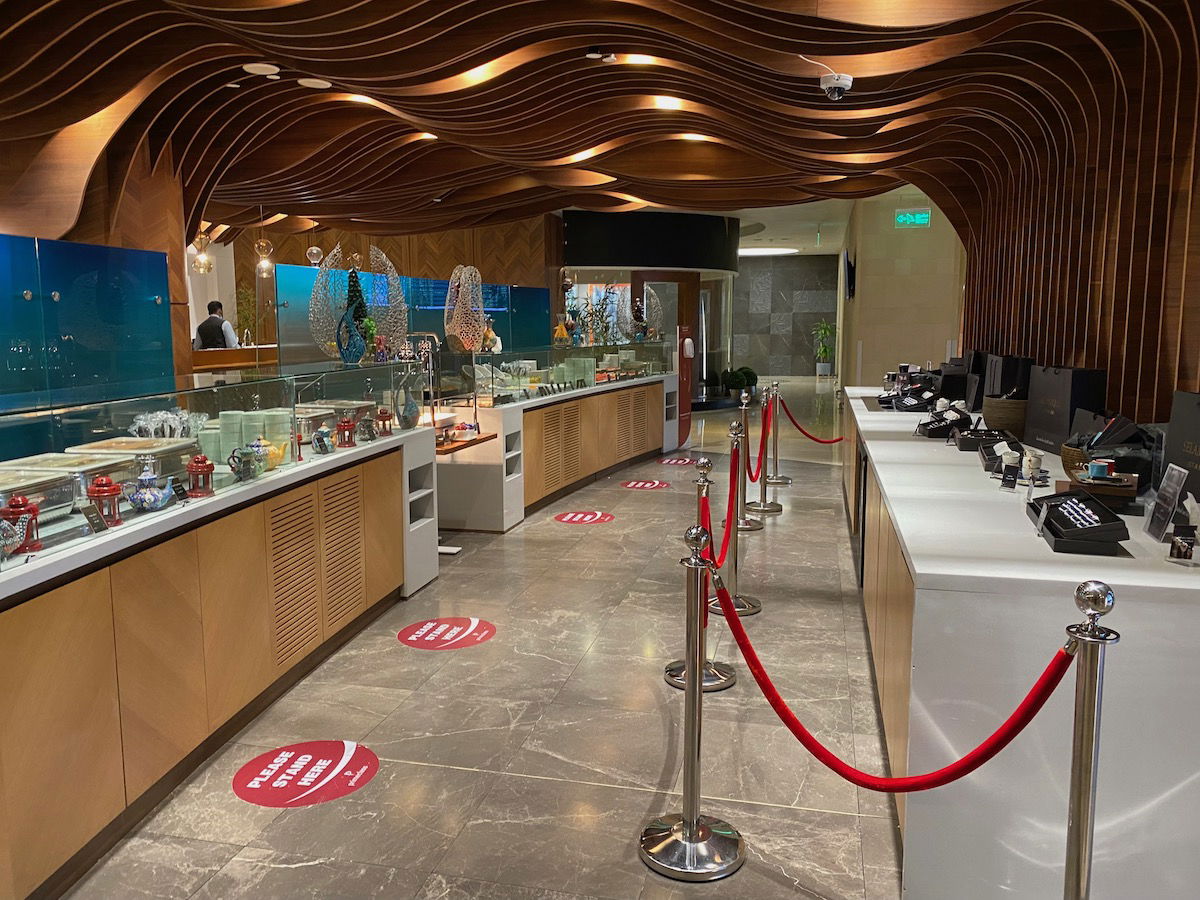 The food selection was pretty good, and featured several hot dishes (including soup), a salad bar, cold appetizers, fresh fruit, dessert, and more.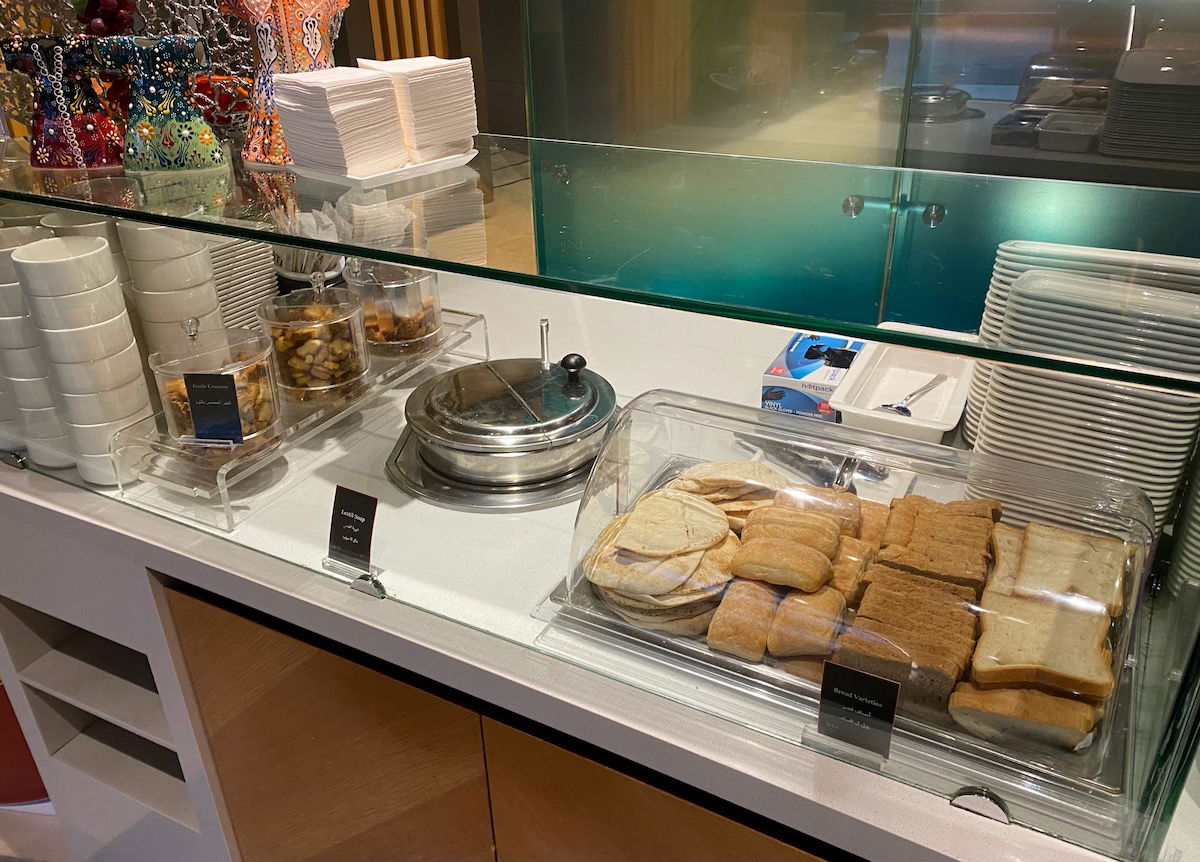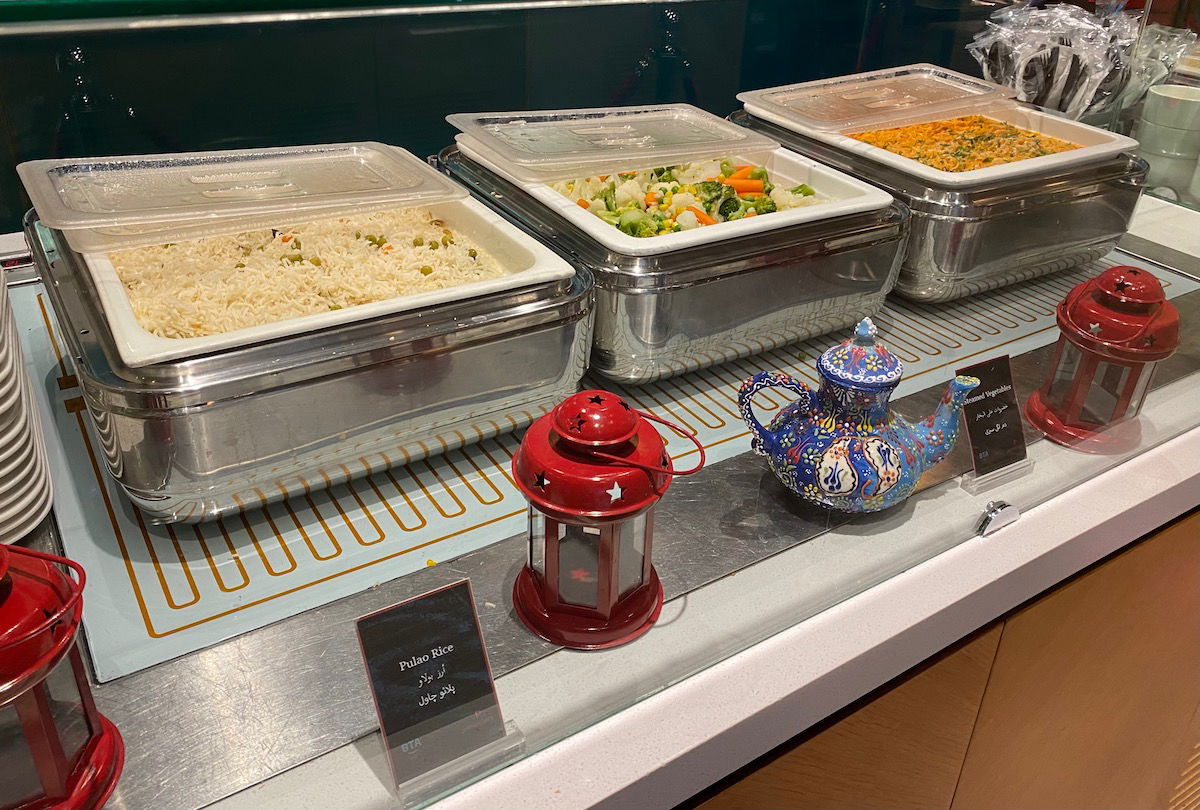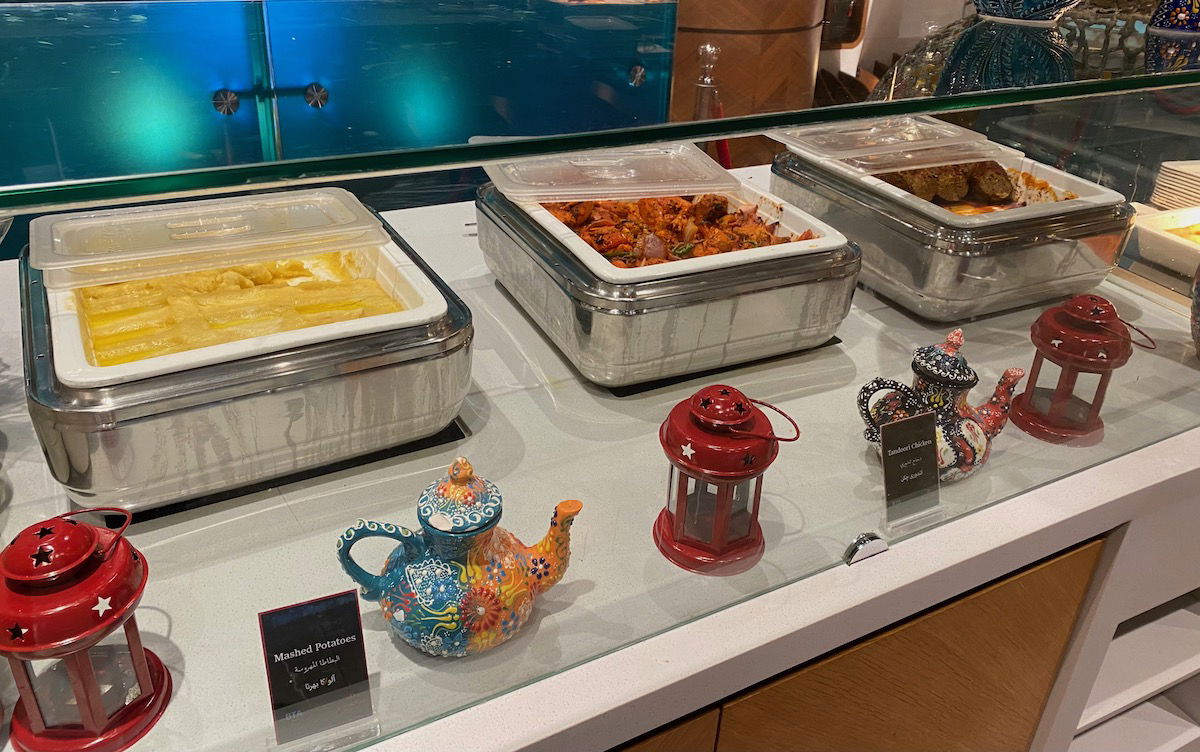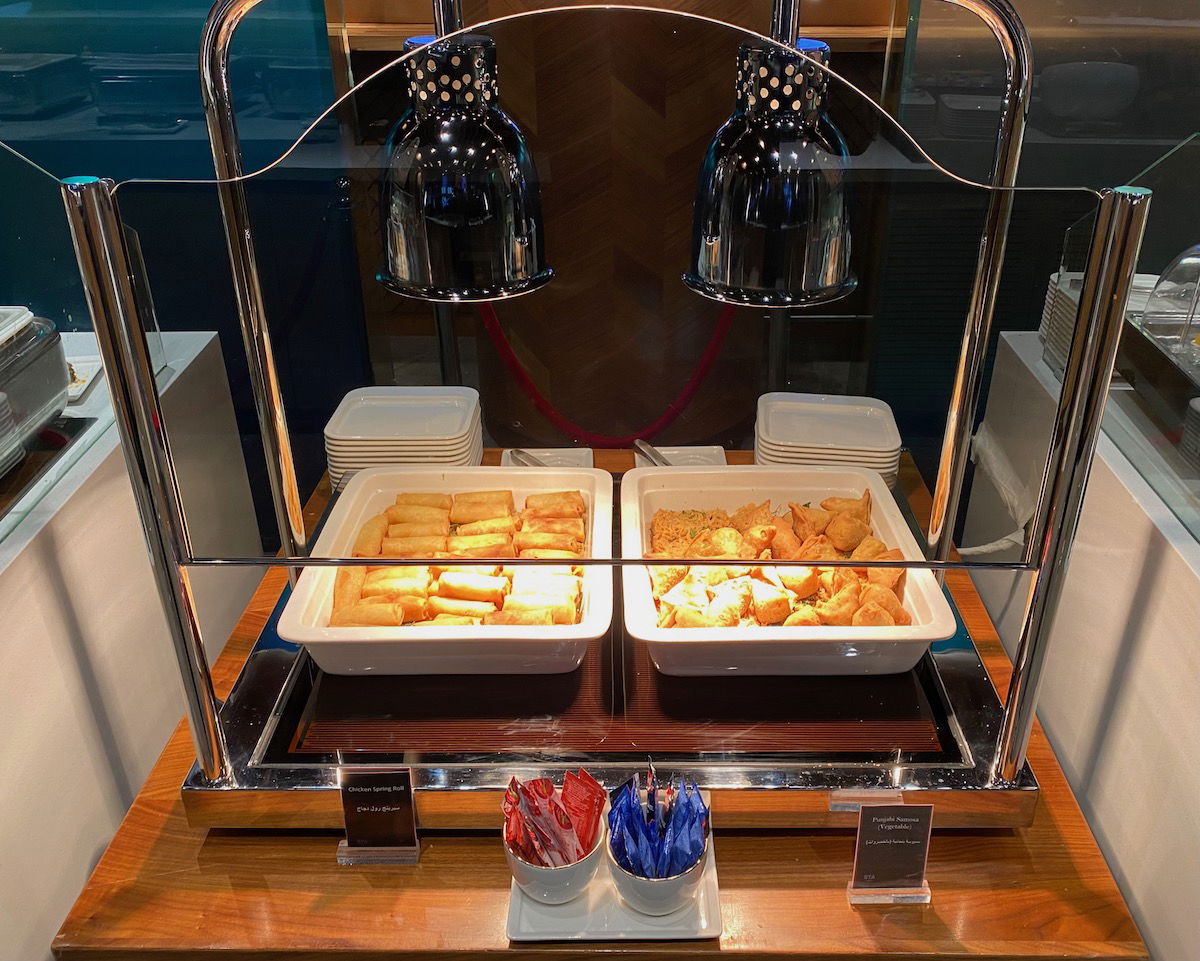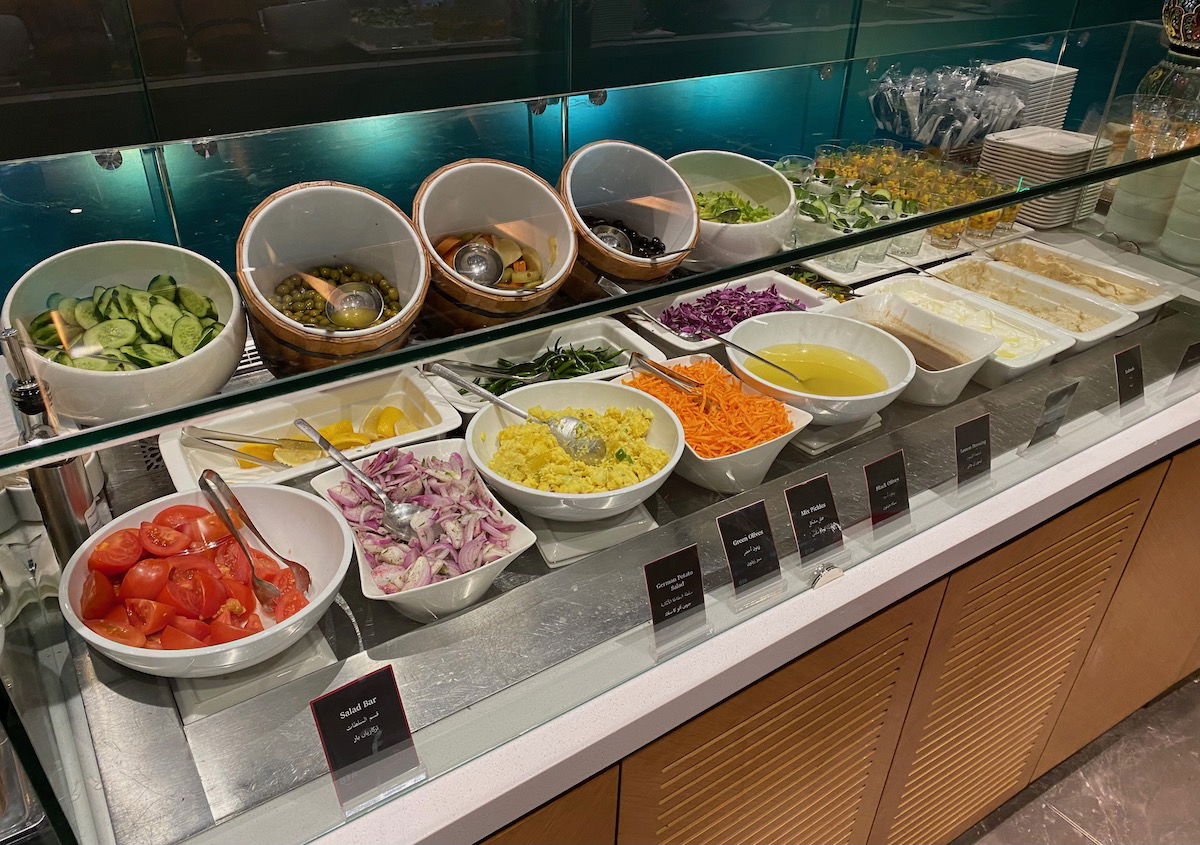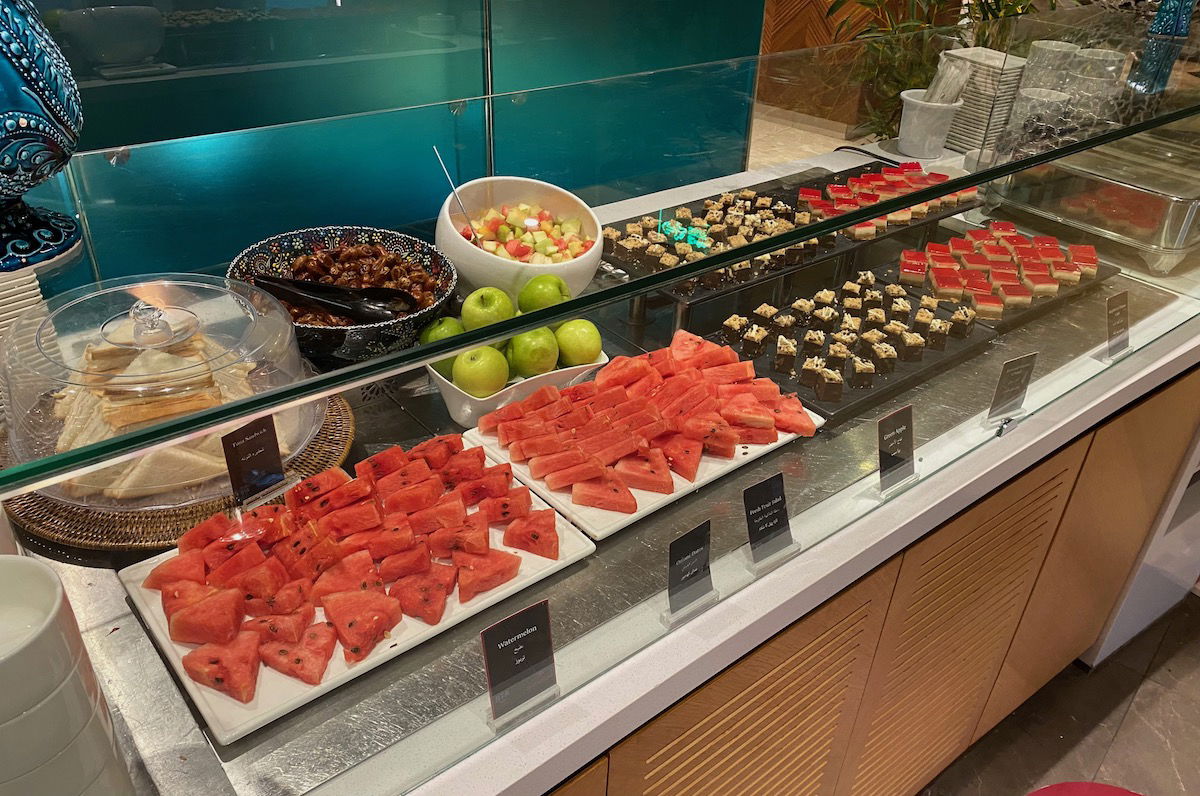 Behind the dining area was the bar, where beverages were available. There was a selection of alcohol, soft drinks, water, juice, etc. On top of that, there were barista-made espresso drinks — I highly recommend the latte, and appreciate this lounge's commitment to good coffee!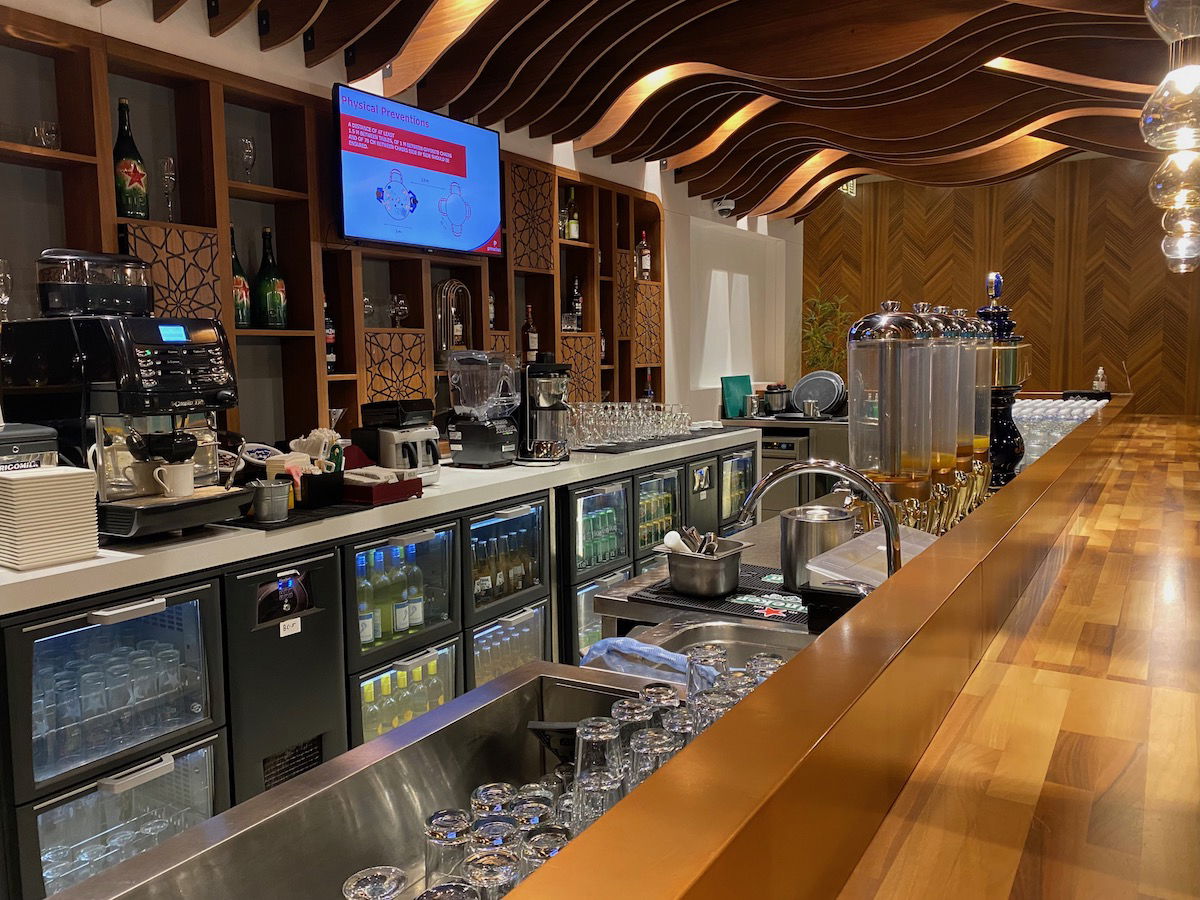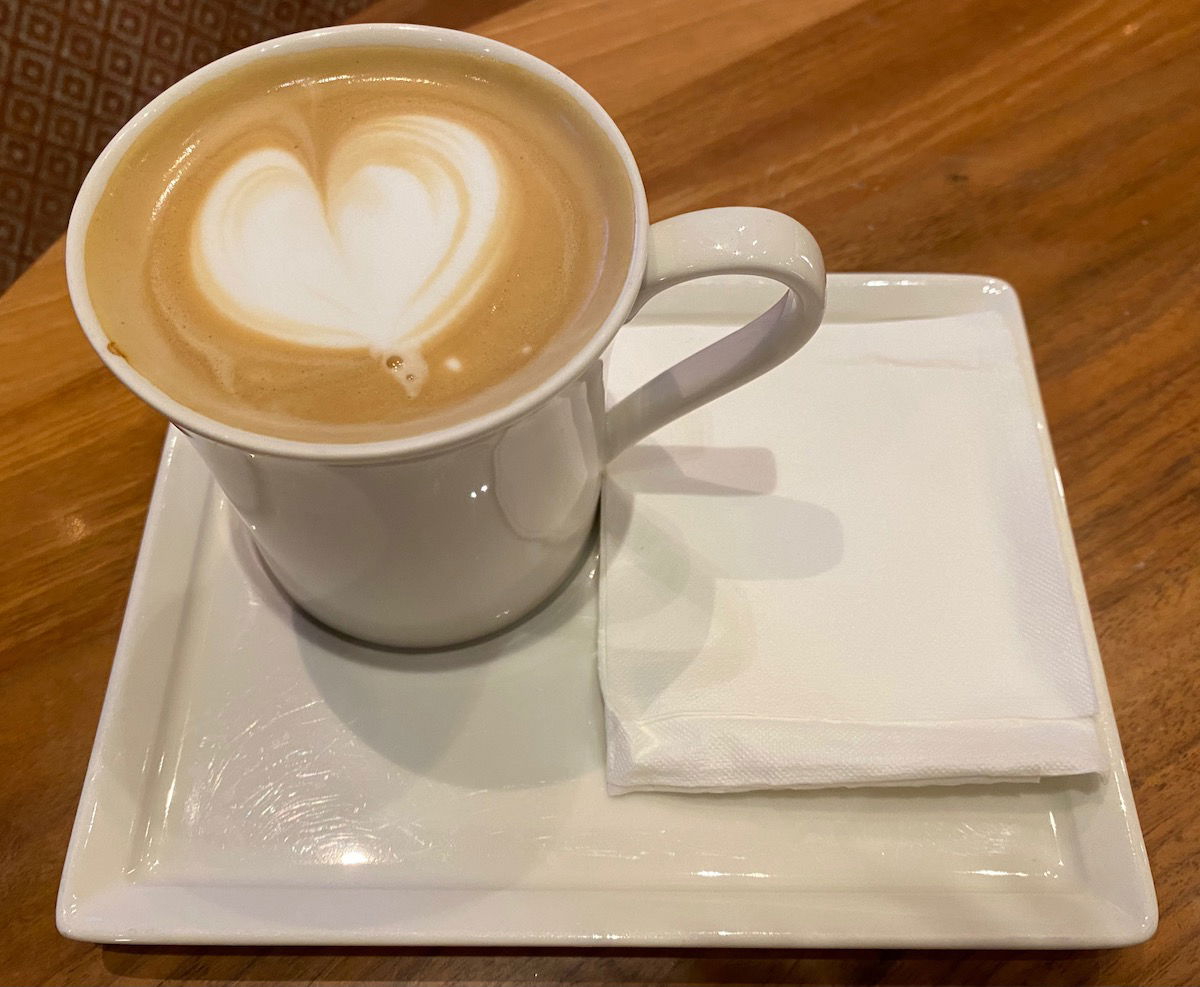 Primeclass Lounge Muscat private bedrooms
The Primeclass Lounge Muscat has several private bedrooms. As I mentioned above, these are available on a complimentary basis to guests who are entitled to visit the lounge for more than three hours. When you're assigned a room you just leave your boarding pass at reception, and then you're given a key card so that you can easily access your room at any time.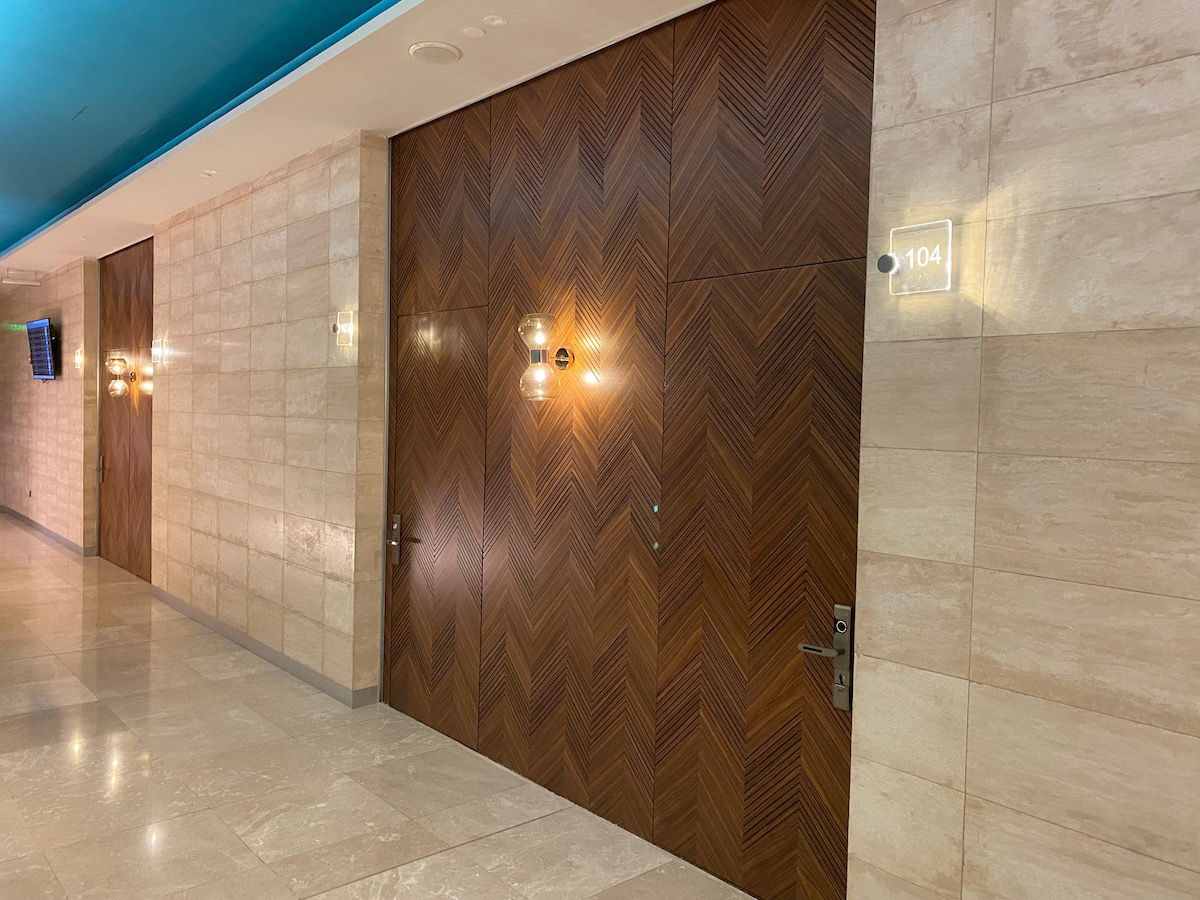 This was a ridiculously nice bedroom — it had a pretty comfortable bed, a television, and a private bathroom, including a toilet and walk-in shower.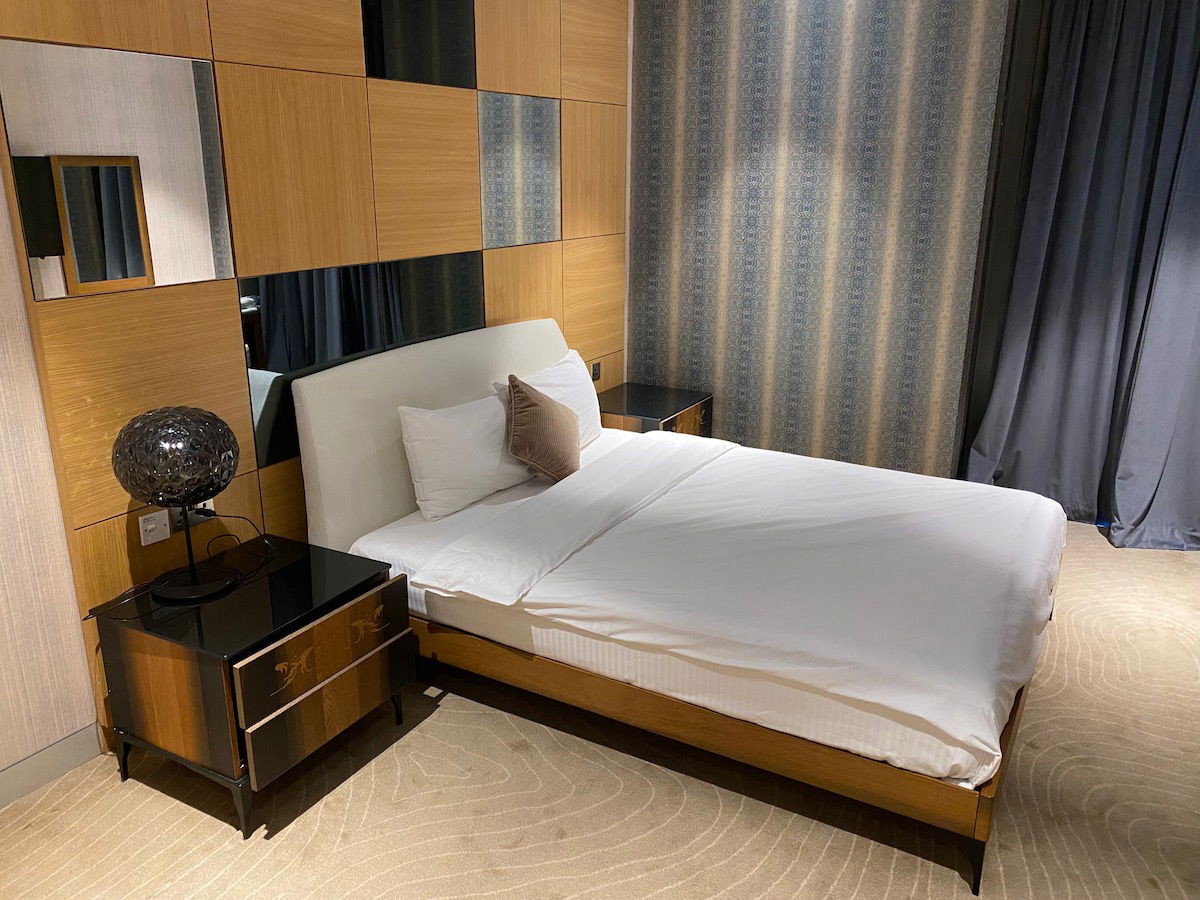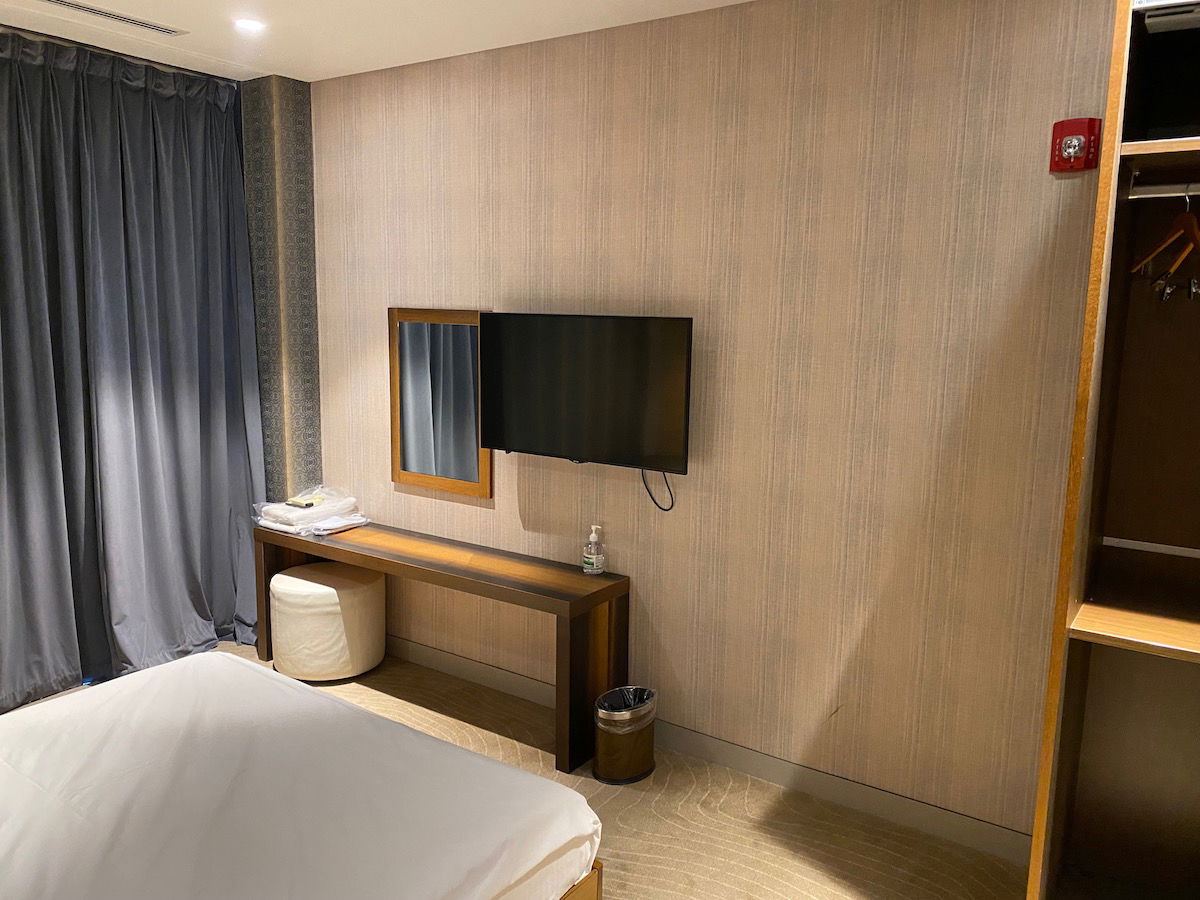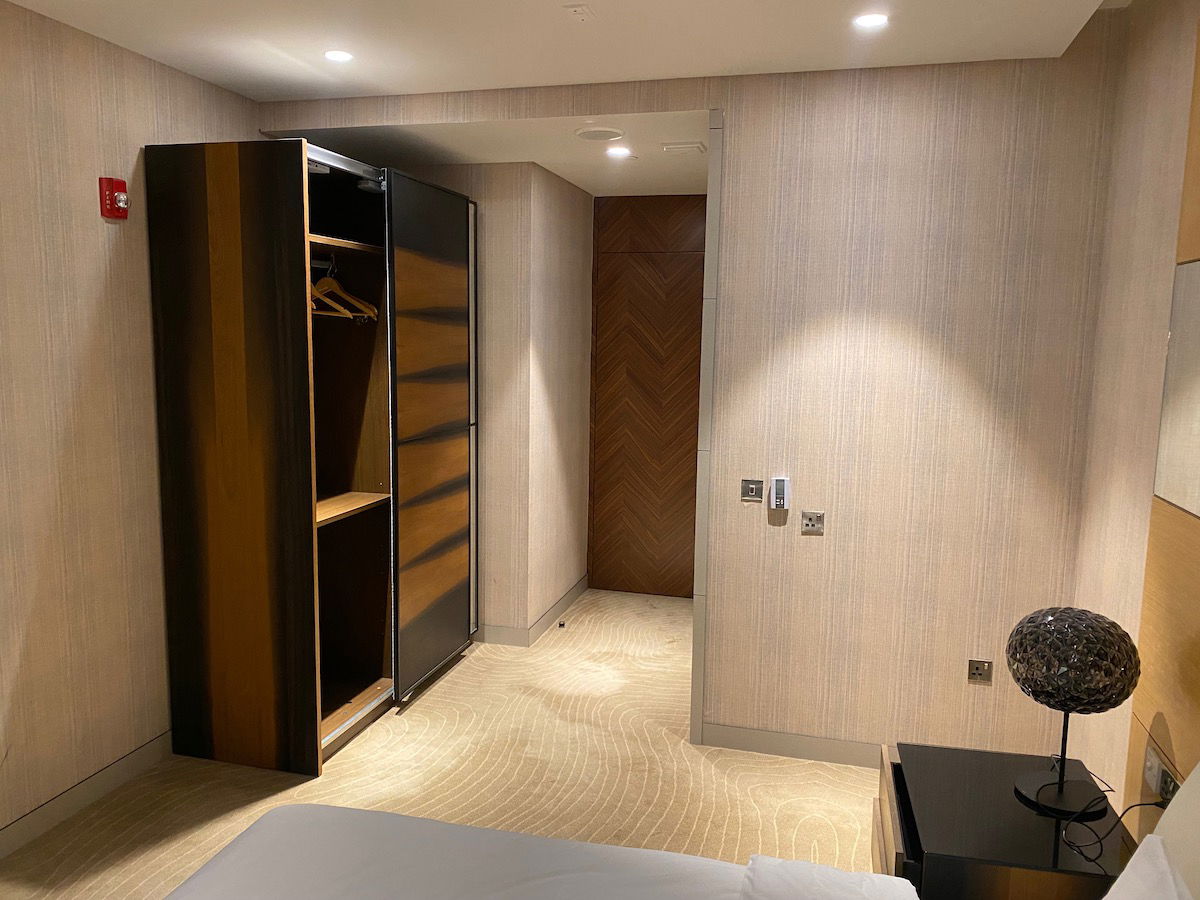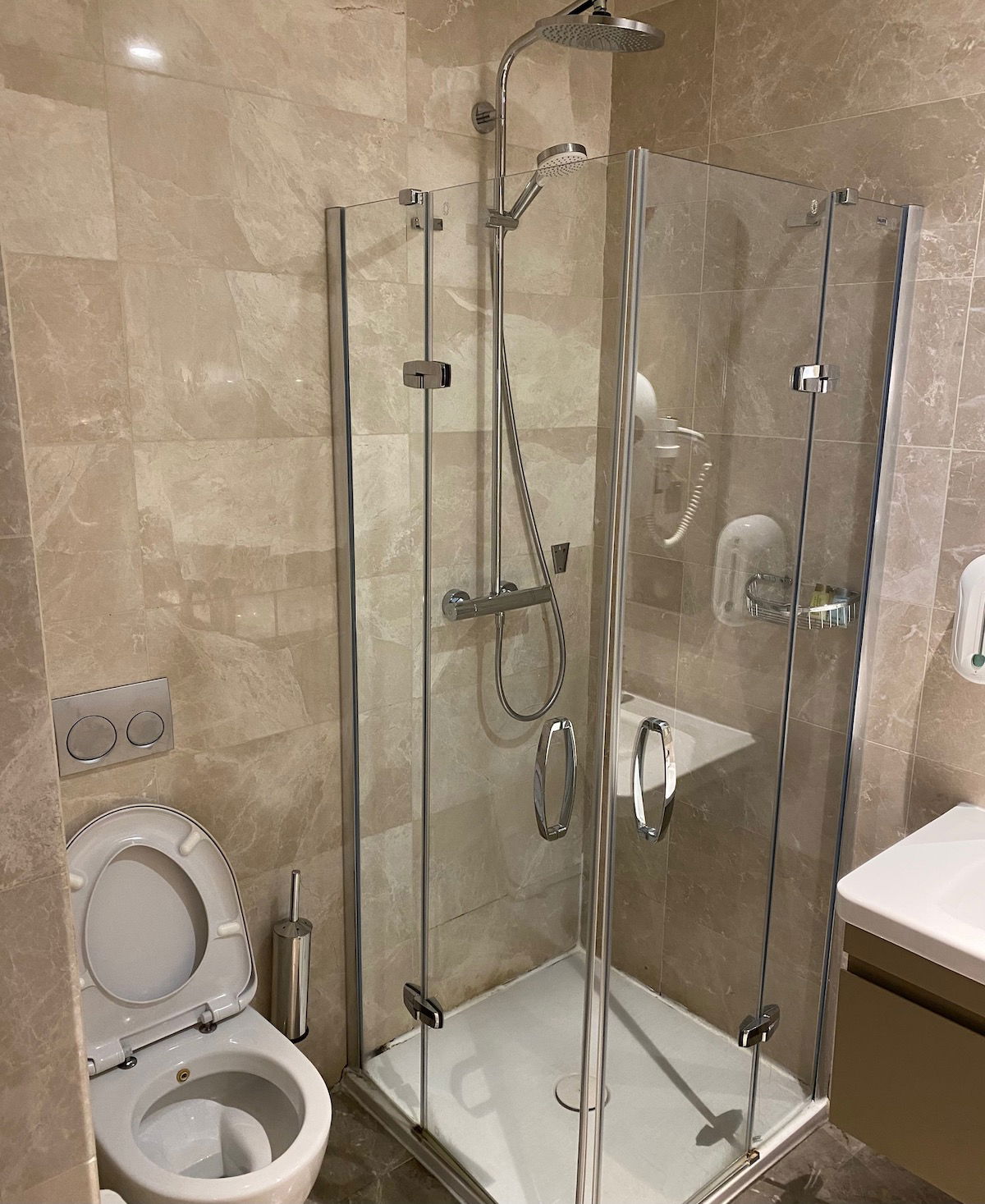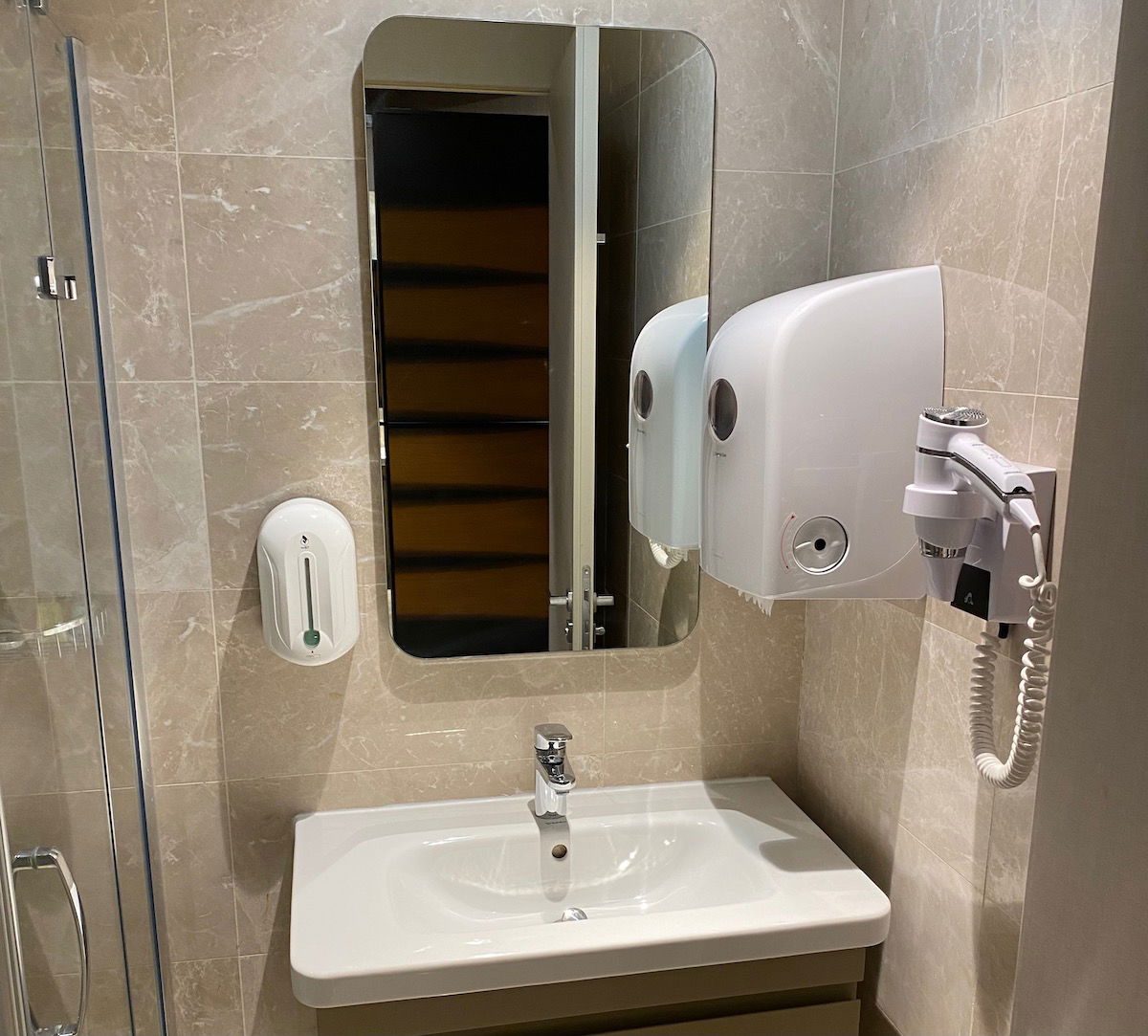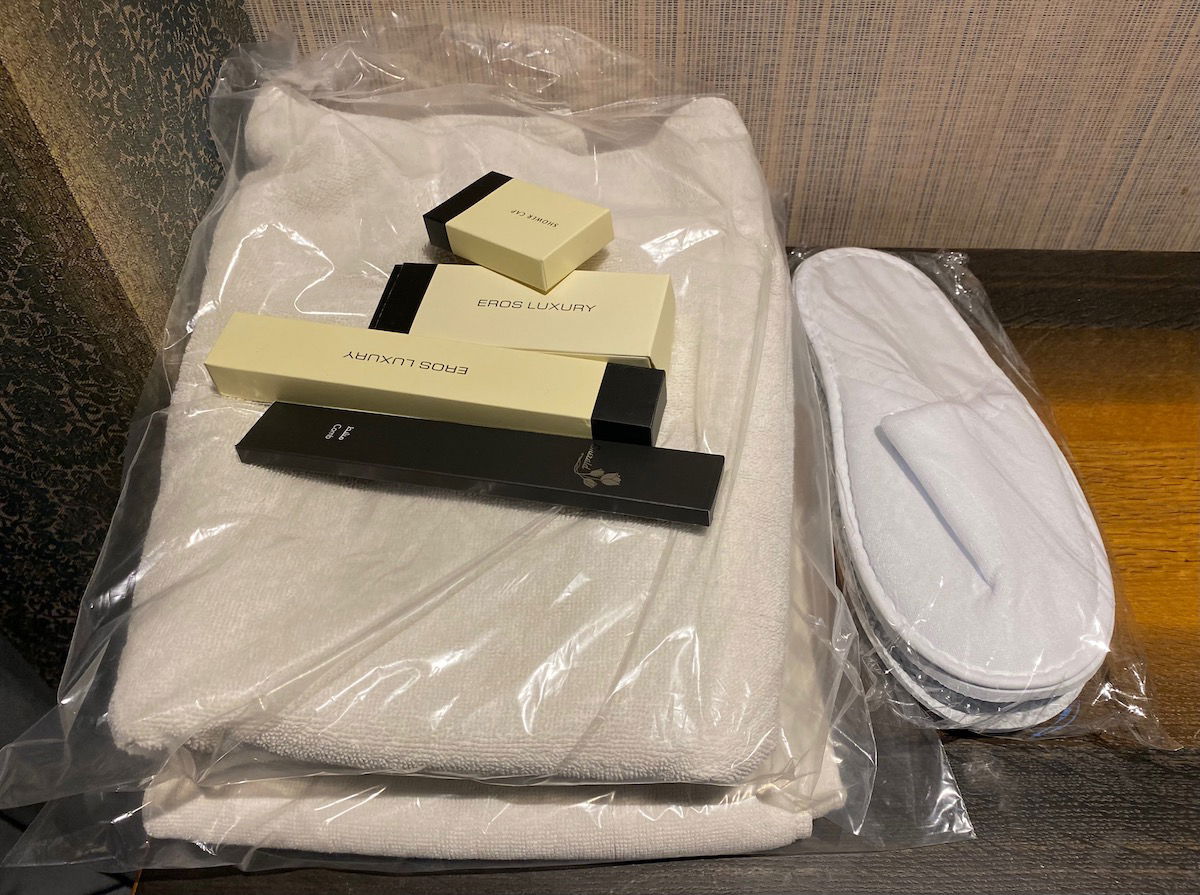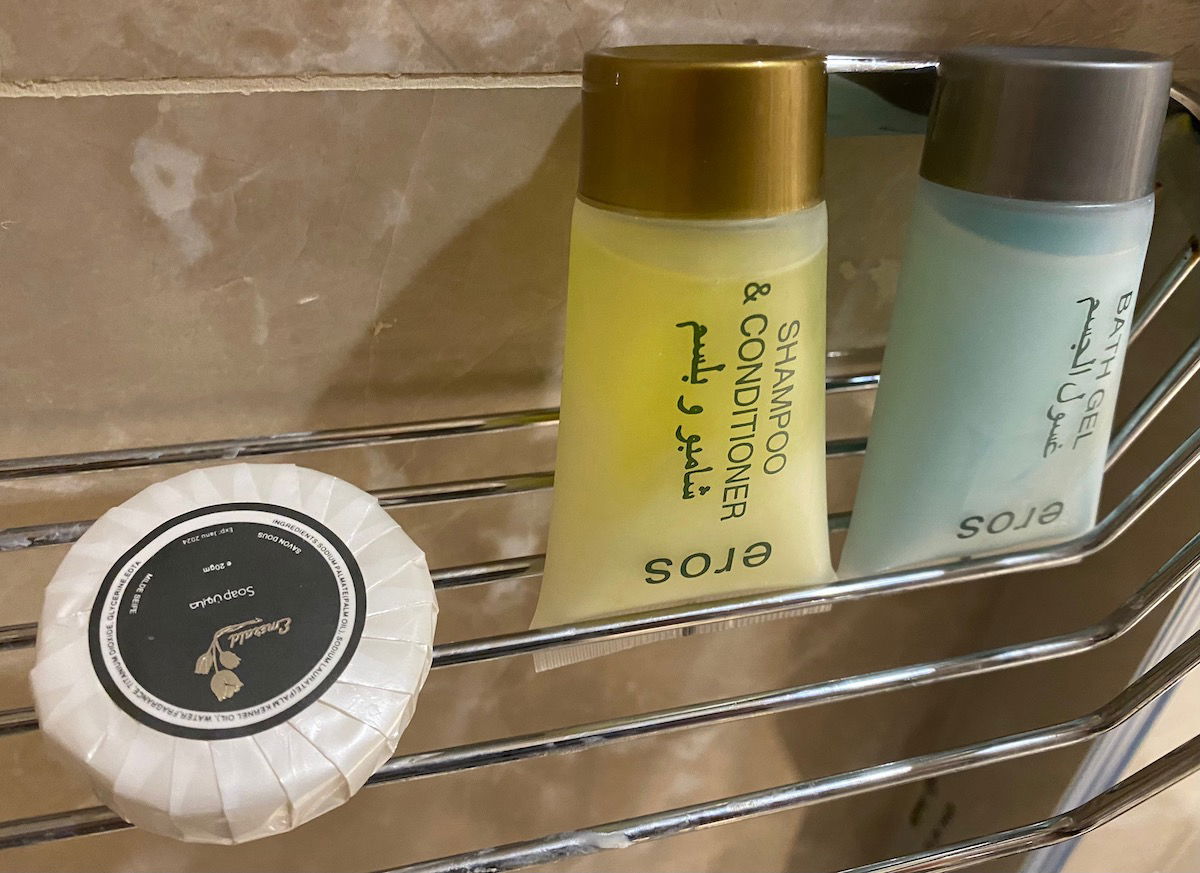 The room also had similar views of the apron as the rest of the lounge.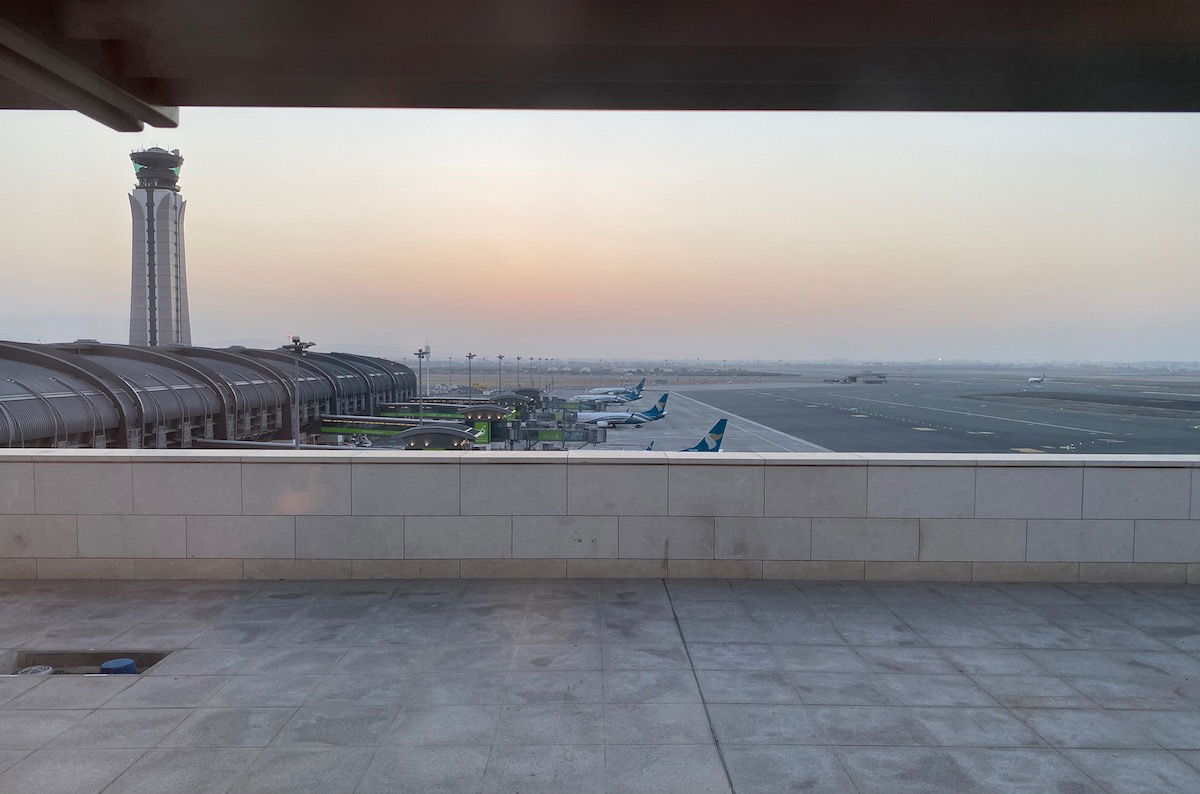 Being able to rest in a bed before a redeye flight was so nice, and helped me be less exhausted the following day. What an awesome amenity!
Bottom line
The Primeclass Lounge Muscat is fantastic, and is easily my favorite Priority Pass or contract lounge I've ever visited. The lounge is spacious, airy, and bright (at least during daylight hours), and has a nice design.
The lounge also has endless amenities, from a cinema, to a game room, to massage chairs. My favorite amenity, though, was a private bedroom, which is available to guests visiting for more than three hours. That really came in handy before a redeye flight.
If you've visited the Primeclass Lounge Muscat, what was your experience like?