In the interest of full disclosure, OMAAT earns a referral bonus for anyone that's approved through some of the below links. These are the best publicly available offers (terms apply) that we have found for each product or service. Opinions expressed here are the author's alone, not those of the bank, credit card issuer, airline, hotel chain, or product manufacturer/service provider, and have not been reviewed, approved or otherwise endorsed by any of these entities. Please check out
our advertiser policy
for further details about our partners, and thanks for your support!
EXTRA PERKS AVAILABLE
Enjoy breakfast, upgrades, & more
Want to take advantage of Hyatt Privé benefits, including a room upgrade, complimentary breakfast, a hotel credit, and more, when booking a cash stay? Contact Ford ([email protected]) for more details. He may even be able to help if you already have a stay booked.
Our first stop in Oman was at Alila Hinu Bay, where we spent four(ish) nights. Alila Hinu Bay only opened in 2021, and I haven't seen too many reviews of it yet, so I was curious to check it out. Let me say upfront that I loved this property, though did get a bit bored after a couple of days. I'm also not exactly sure what the market for this hotel is supposed to be.
There are so many things I adored about Alila Hinu Bay — a sprawling property, exceptionally friendly staff, amazing Southeast Asian cuisine, and a relaxing vibe. On top of that, the resort was eerily empty, and I'd guess occupancy remained well under 10% for the entirety of our stay.
The only catch? Most of us really have to go out of our way to visit this place, and I'm not sure this area is worth making that much of a trek for. Anyway, let's get into the review…
How we booked our stay at Alila Hinu Bay
We paid cash for our stay at Alila Hinu Bay through the Hyatt Privé program, and specifically decided to book a premium room category. We decided to book a pool villa for 180OMR (~$467), but then Hyatt Privé had a fourth night free offer, bringing down the average nightly cost to $350 per night.
Hyatt Privé rates cost the same as standard flexible rates (not member rates, advance purchase rates, AAA rates, etc.), and include the following additional perks:
Daily full breakfast for two in the hotel's restaurant
A $100 property credit per room per stay
A one category room upgrade confirmed within 24 hours of booking (room-to-room or suite-to-suite) — based on availability at the time of booking
Early check-in (as early as 9AM) and late check-out (as late as 4PM), subject to availability
A welcome gift and letter
We were able to confirm an upgrade at the time of booking to the hotel's most premium room category, which is the deluxe pool villa. Frustratingly Alila Hinu Bay doesn't accept Globalist suite upgrade awards, so there's no way to use those to confirm a more premium room. However, this hotel does seem to take great care of Globalist members, so others may have luck with complimentary upgrades.
Across the board, premium Hyatt properties are generally best booked through the Hyatt Privé program. Ford is happy to help with these requests, and can be reached at [email protected]
Redeeming points at Alila Hinu Bay
While we paid cash for our stay, Alila Hinu Bay is a Category 5 World of Hyatt property, meaning that a free night redemption costs the following number of points:
17,000-23,000 points in a standard room
29,000-35,000 points in a standard suite
34,000-46,000 points in a premium suite
Based on current rates at this property, I thought paying cash represented the best value, especially as I'm trying to lock in lifetime Globalist status. I value World of Hyatt points at 1.5 cents each, and standard rooms here were around $250 per night, so paying cash was the better deal.
Even if you're not a Hyatt loyalist, earning World of Hyatt points can be pretty easy. In addition to being able to earn World of Hyatt points with the World of Hyatt Credit Card (review) and World of Hyatt Business Credit Card (review), you can also transfer over points from Chase Ultimate Rewards.
Earn World of Hyatt points with the following cards:
Alila Hinu Bay location
Alila Hinu Bay is located on the coast in the southwest of Oman, near the country's border with Yemen (don't worry, the area is very safe). The hotel is located around a 70 minute drive from Salalah International Airport (SLL), which has direct flights to Muscat, as well as other short haul international destinations in the region.
We decided to rent a car while in Salalah, and found driving to be easy — the road quality is excellent, the roads aren't congested, and driving is fairly civil (there are speed cameras everywhere, so make sure you stick to the speed limit).
The closest town to Alila Hinu Bay is Mirbat, and that's maybe 10 minutes by car from the hotel. I'll talk more about that in a bit. But in general Alila Hinu Bay is truly in the middle of nowhere, and extremely remote. I have to say, driving to the hotel at around 4:30AM after some long flights was quite an adventure, especially given the lack of street lights for much of the journey.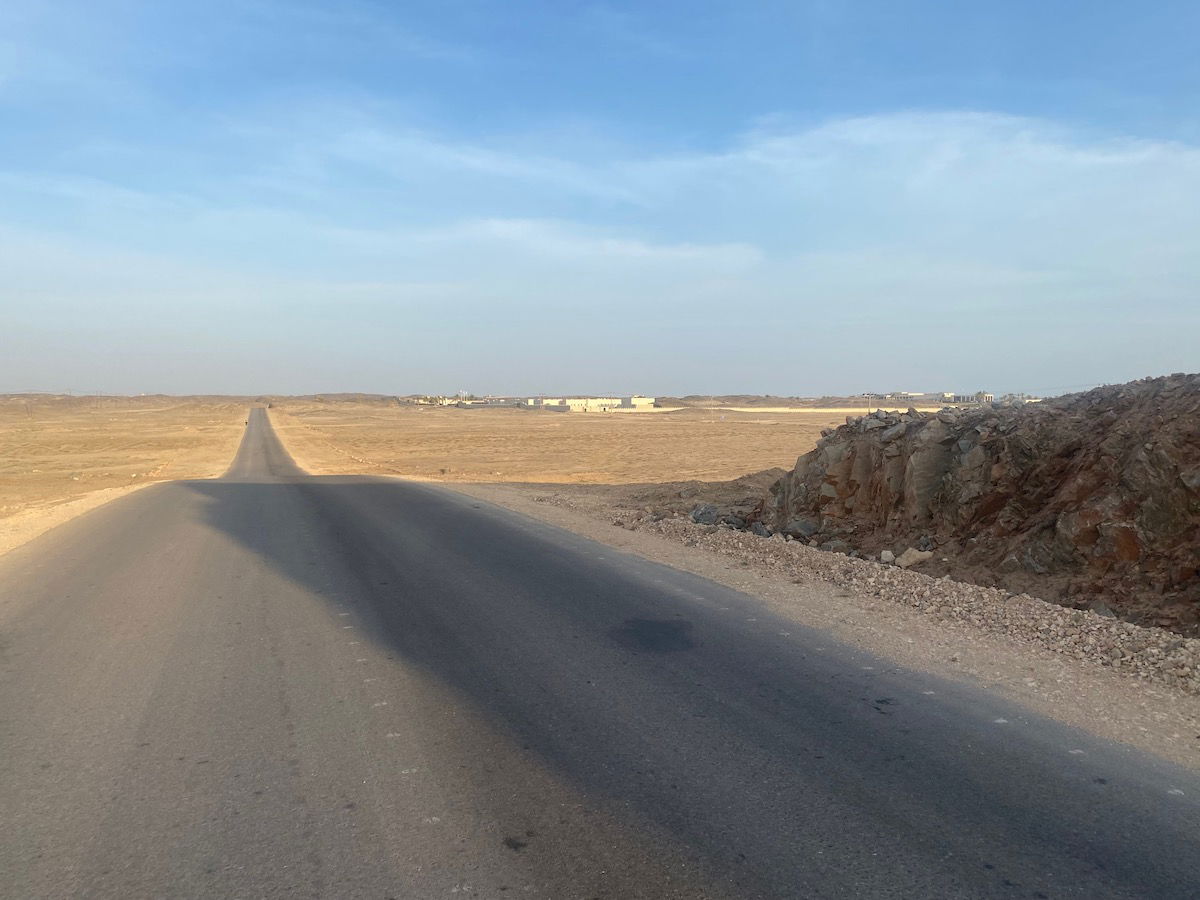 Alila Hinu Bay lobby, layout, & check-in
We arrived at Alila Hinu Bay before 6AM, so obviously it was the night shift still working. Nonetheless we were quickly assisted by a front desk agent and bellman. The hotel has complimentary parking, and you can either park yourself, or have the hotel staff do it for you.
Alila Hinu Bay might just be the biggest hotel I've ever stayed at in terms of the size of the property. The hotel only has 112 rooms (spread across dozens of buildings), but I can't even say how huge this property is. You could easily walk miles per day without leaving the property.
The lobby of the hotel is just near the entrance, and sits at the highest point of the property.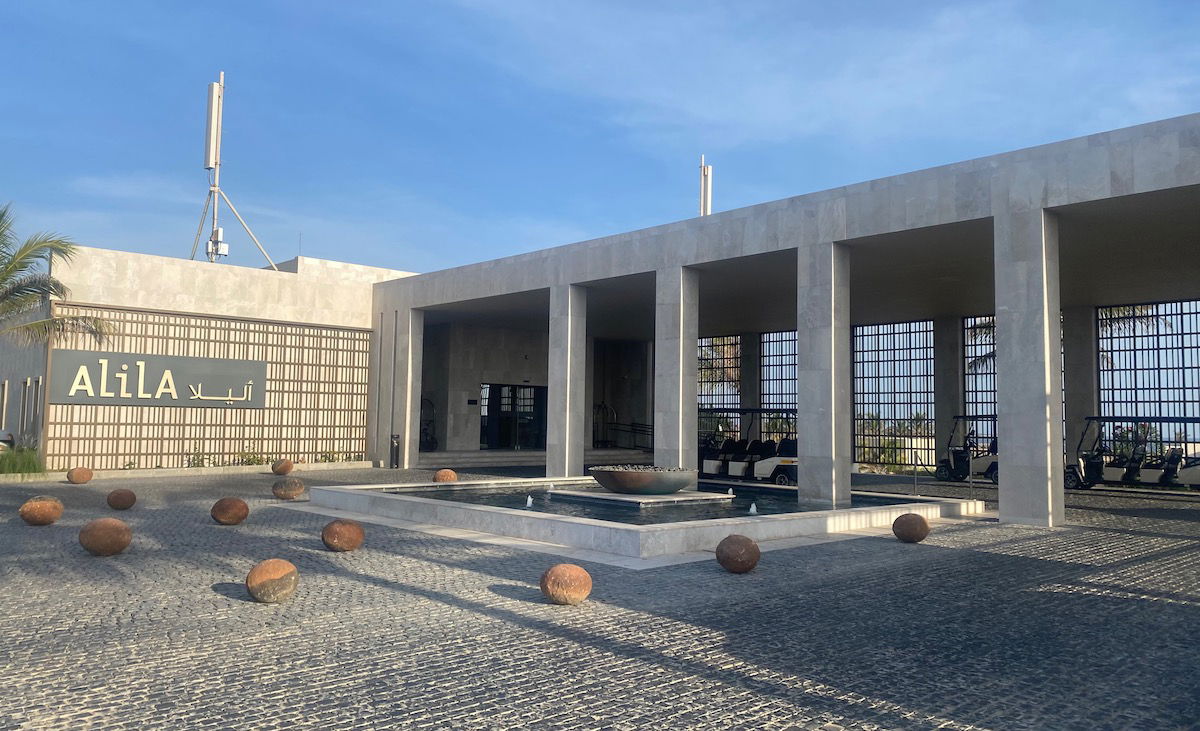 This is where reception is located.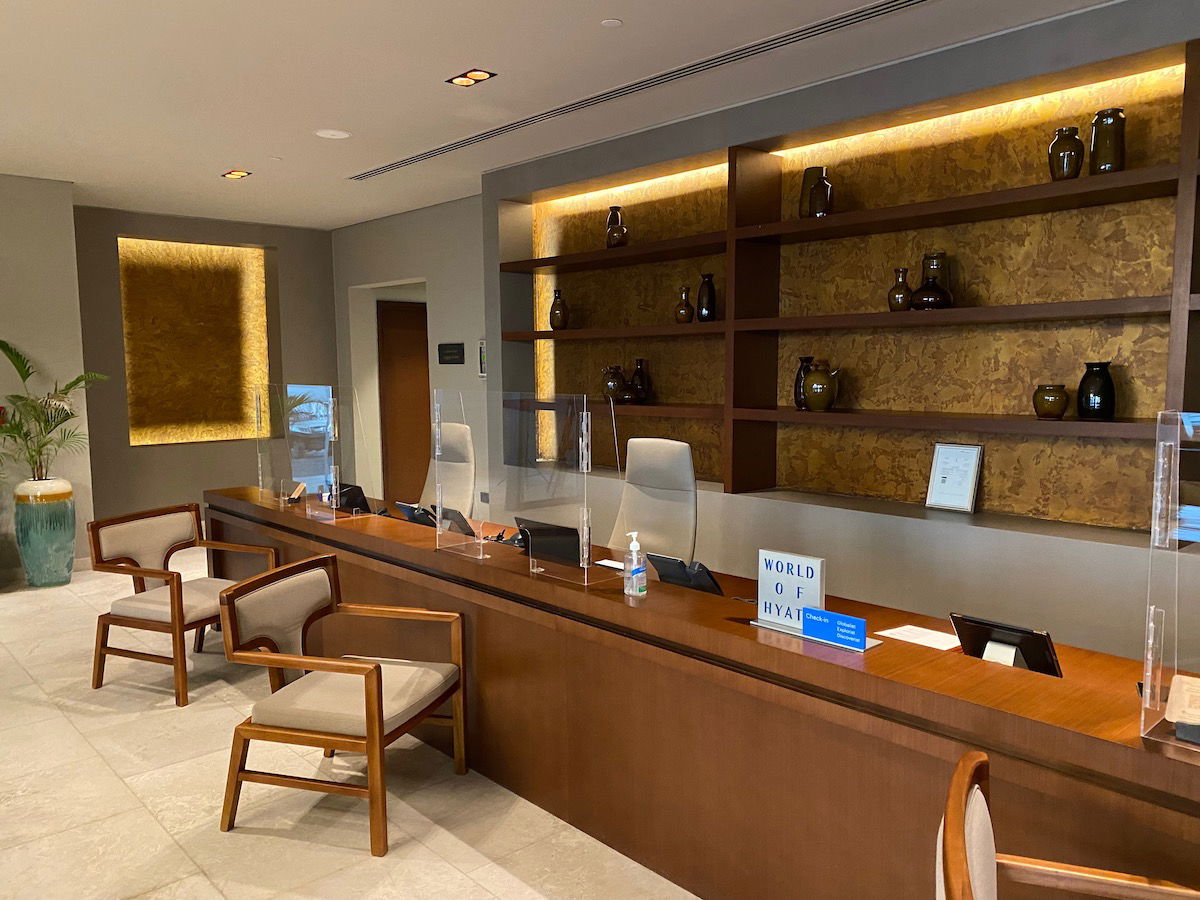 There's also plenty of seating here, and there's a little lobby bar area, with coffee, tea, and sweets. There was indoor seating, as well as a beautiful outdoor terrace, which had incredible views of the resort, especially at sunset.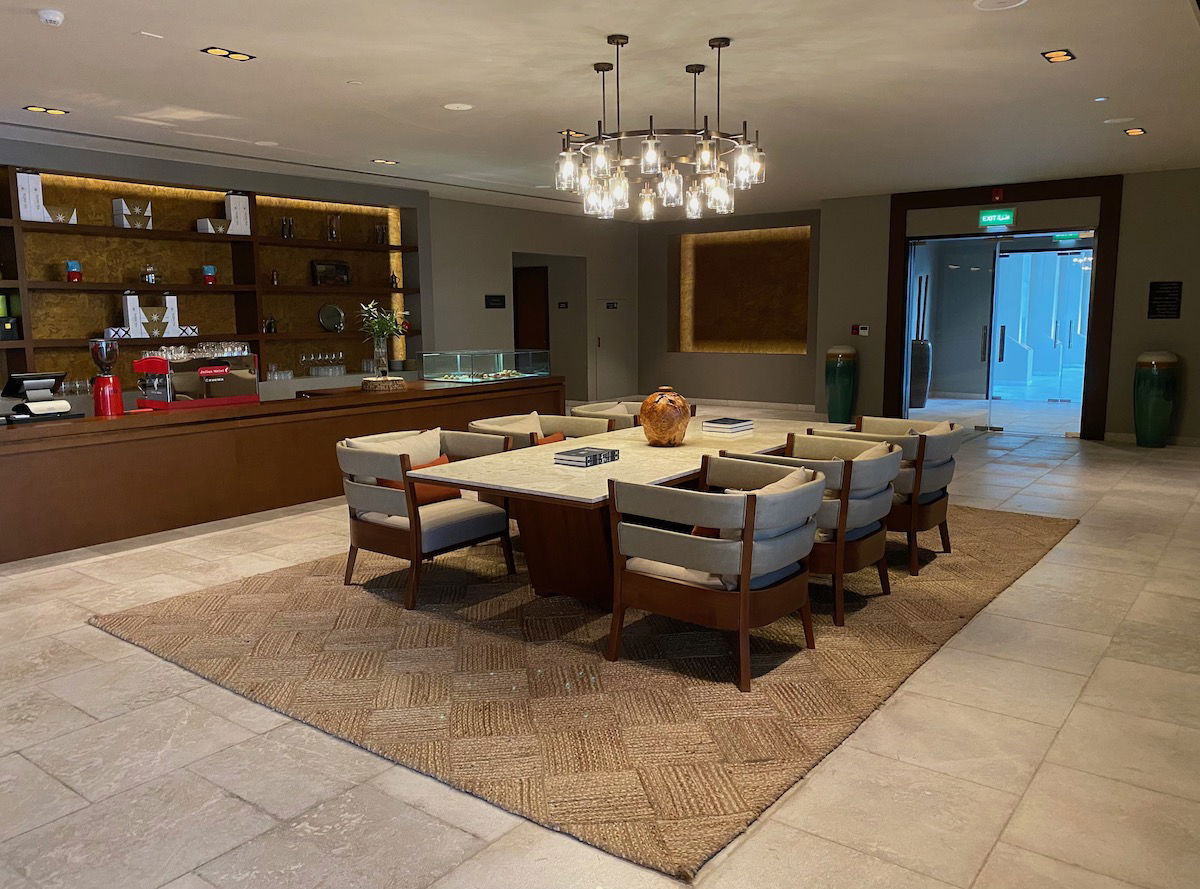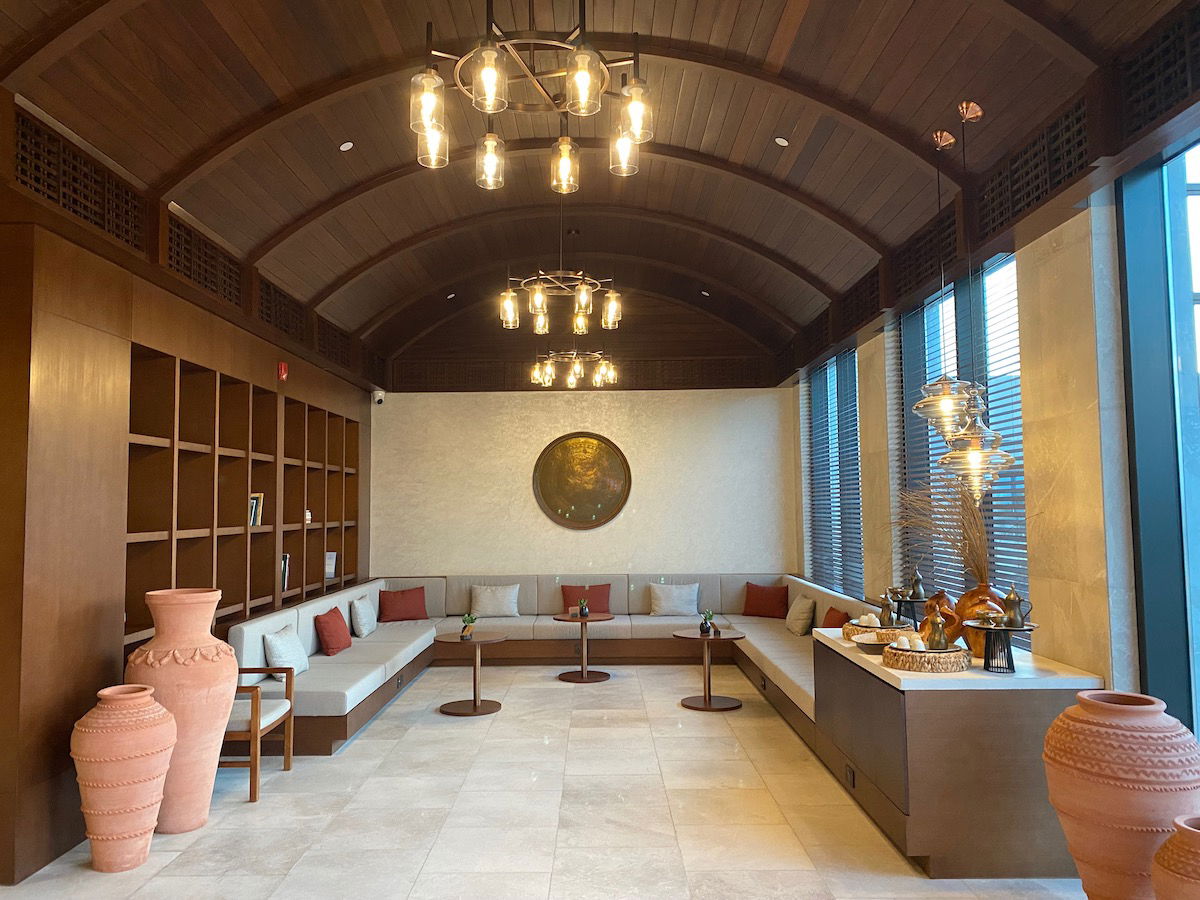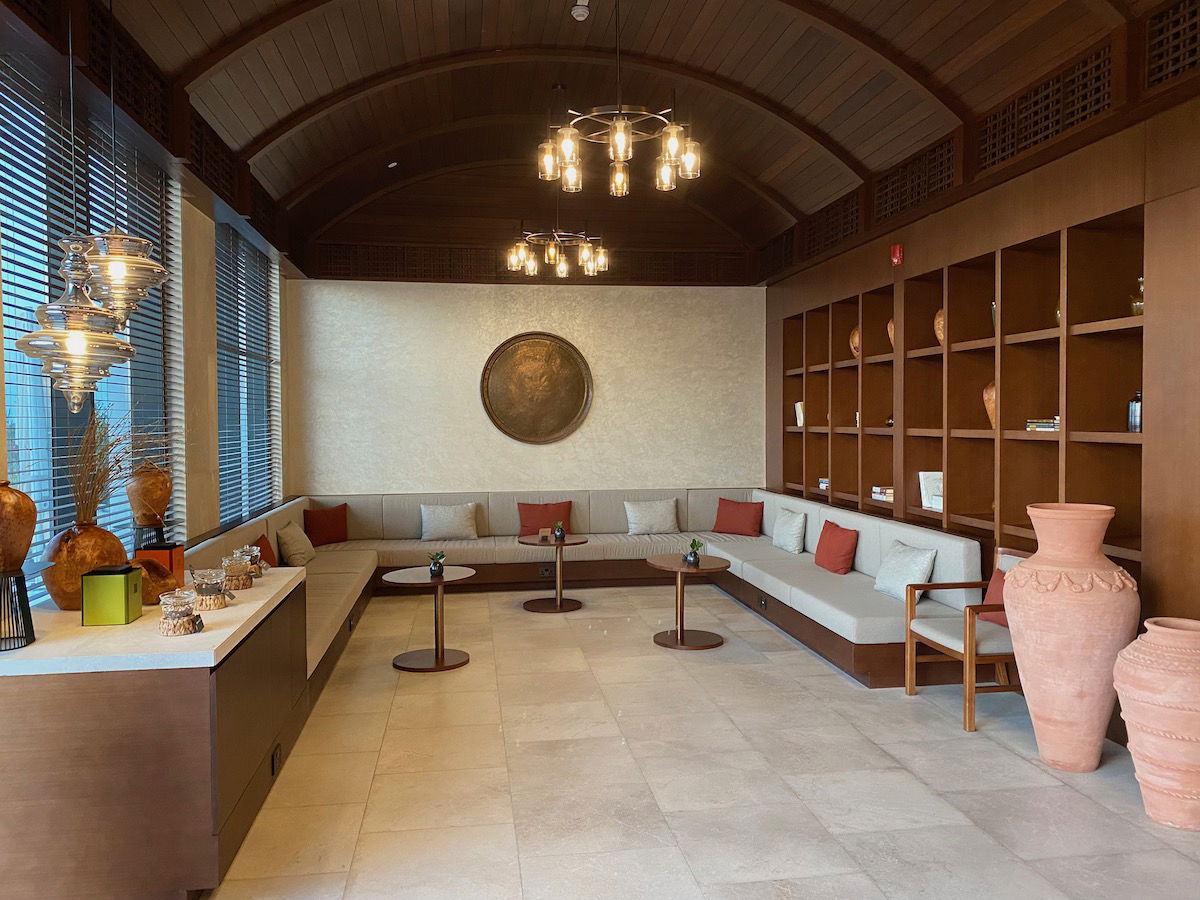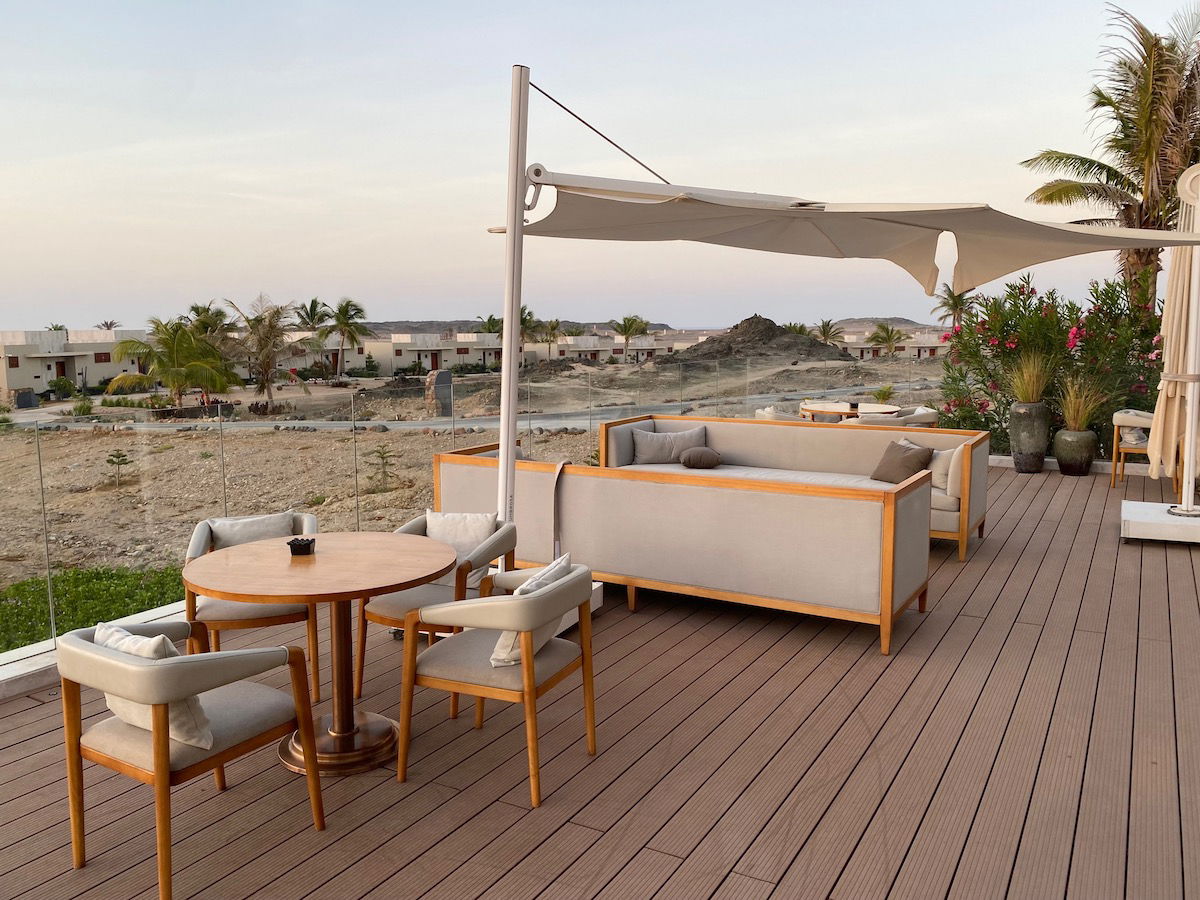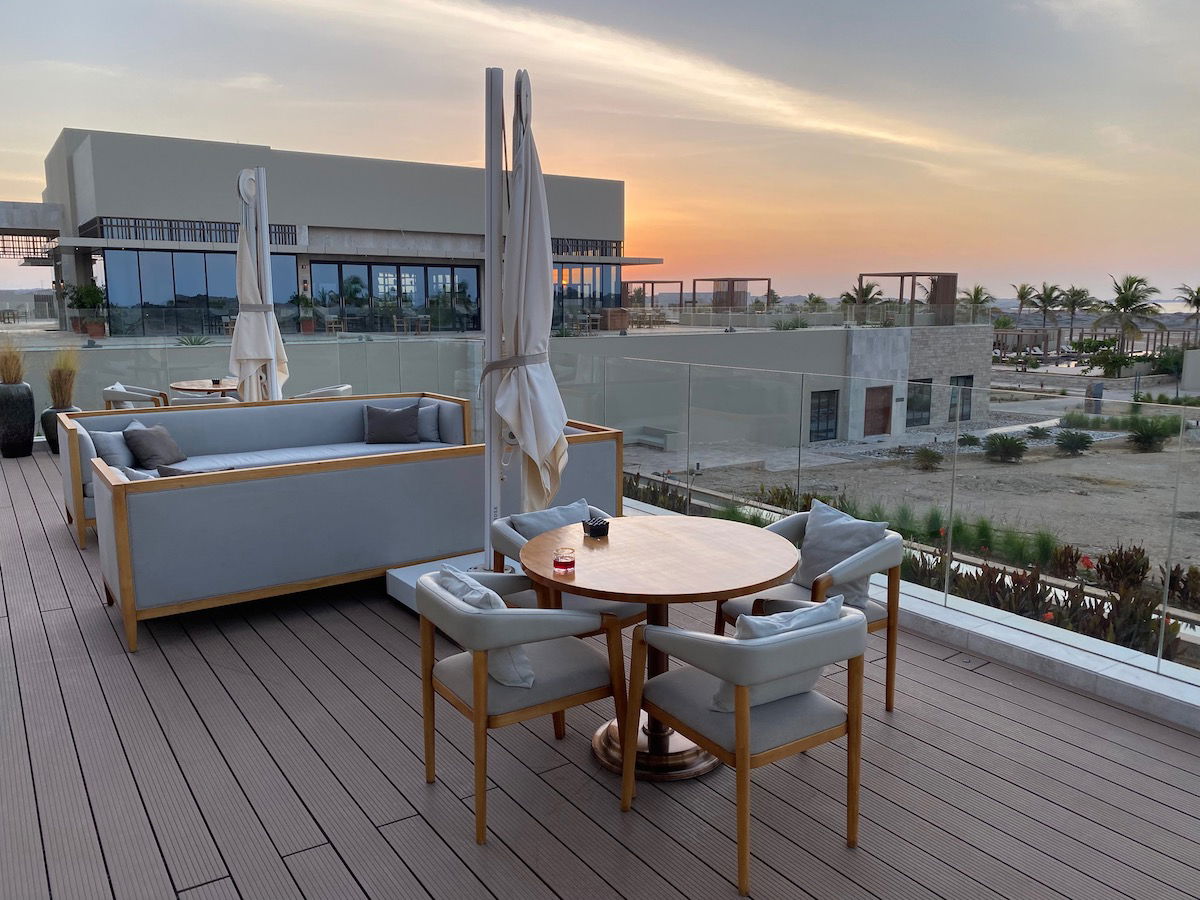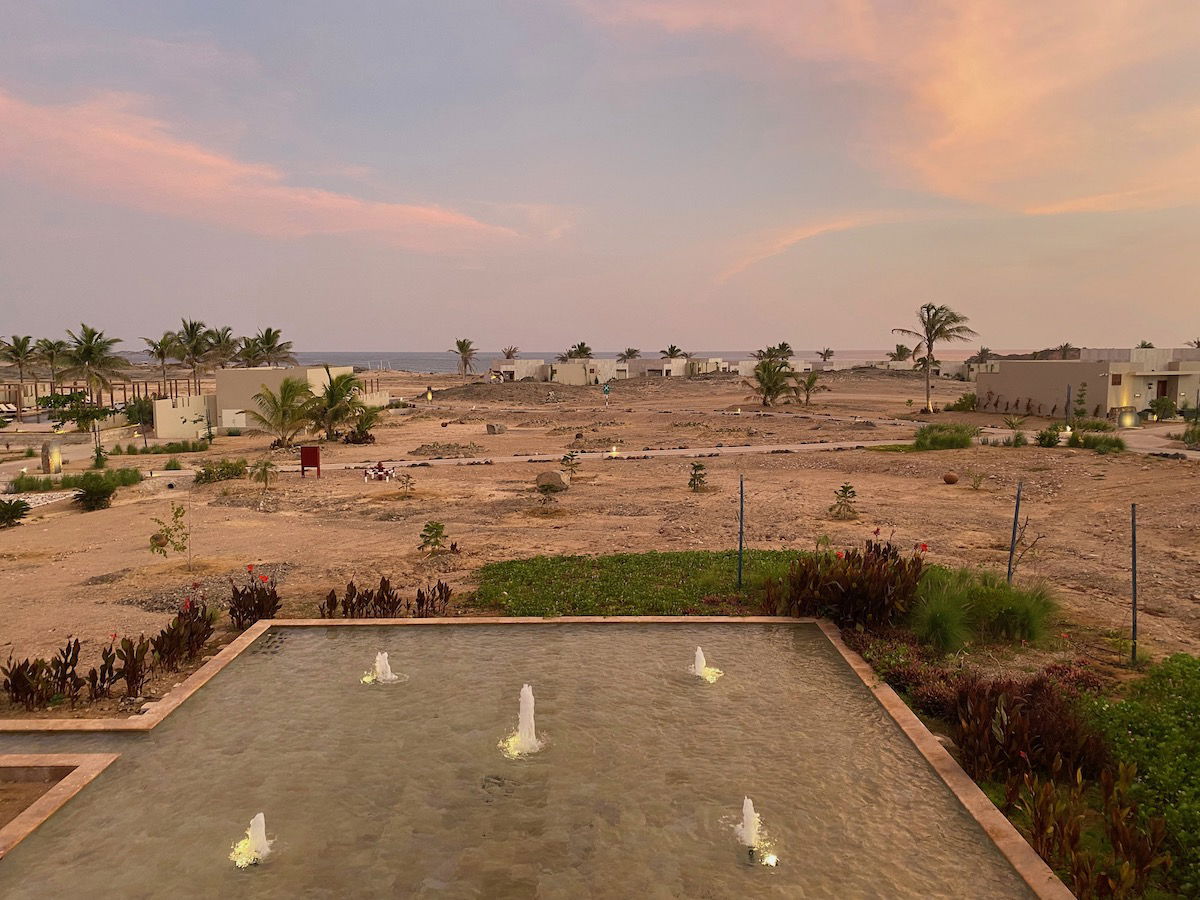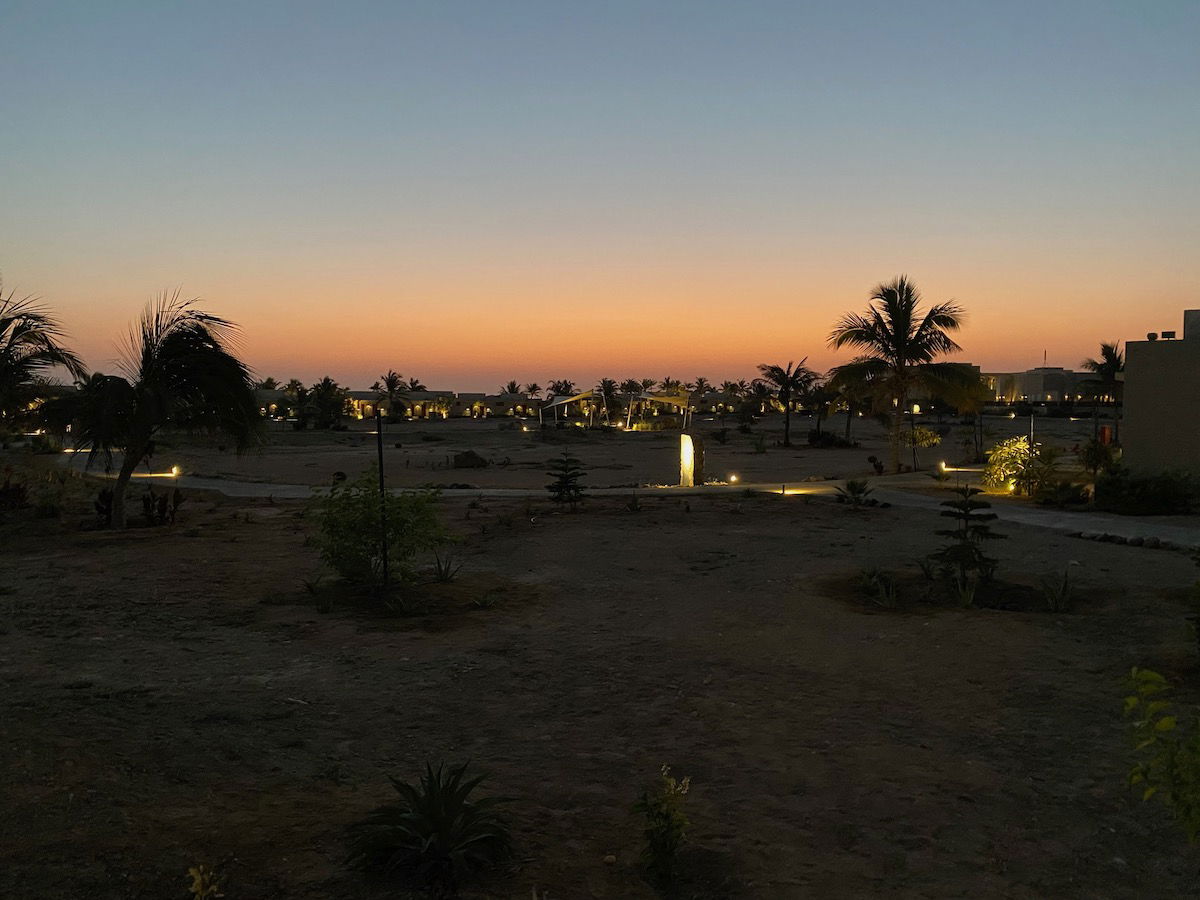 The amount of effort that went into the architecture of this place is impressive.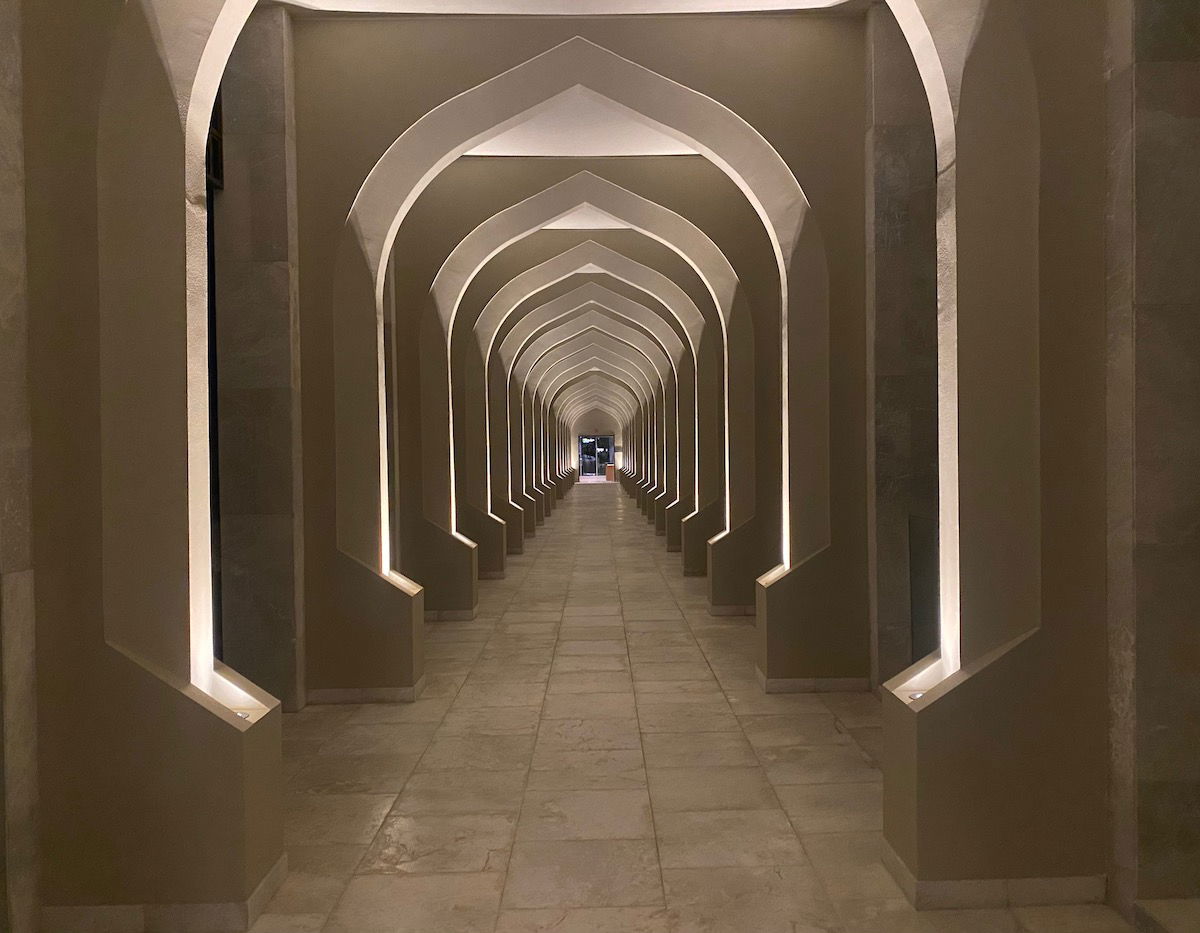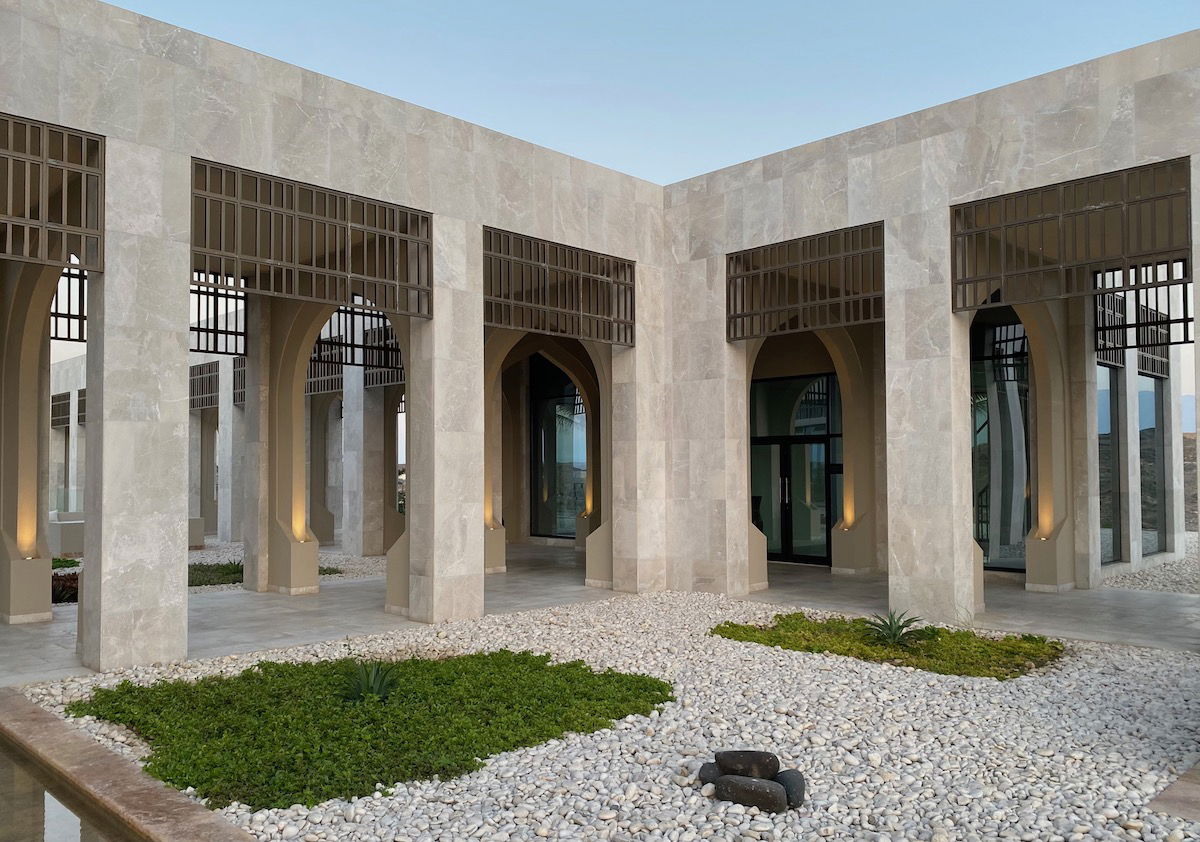 For the most part the hotel feels like it's fully done, but then there are some areas that feel like an afterthought. For example, there's an area for a gift shop that's totally empty, and then there's something described as a "guest waiting lounge," which just has a U-shaped couch, and then some awkwardly placed chairs and coffee tables.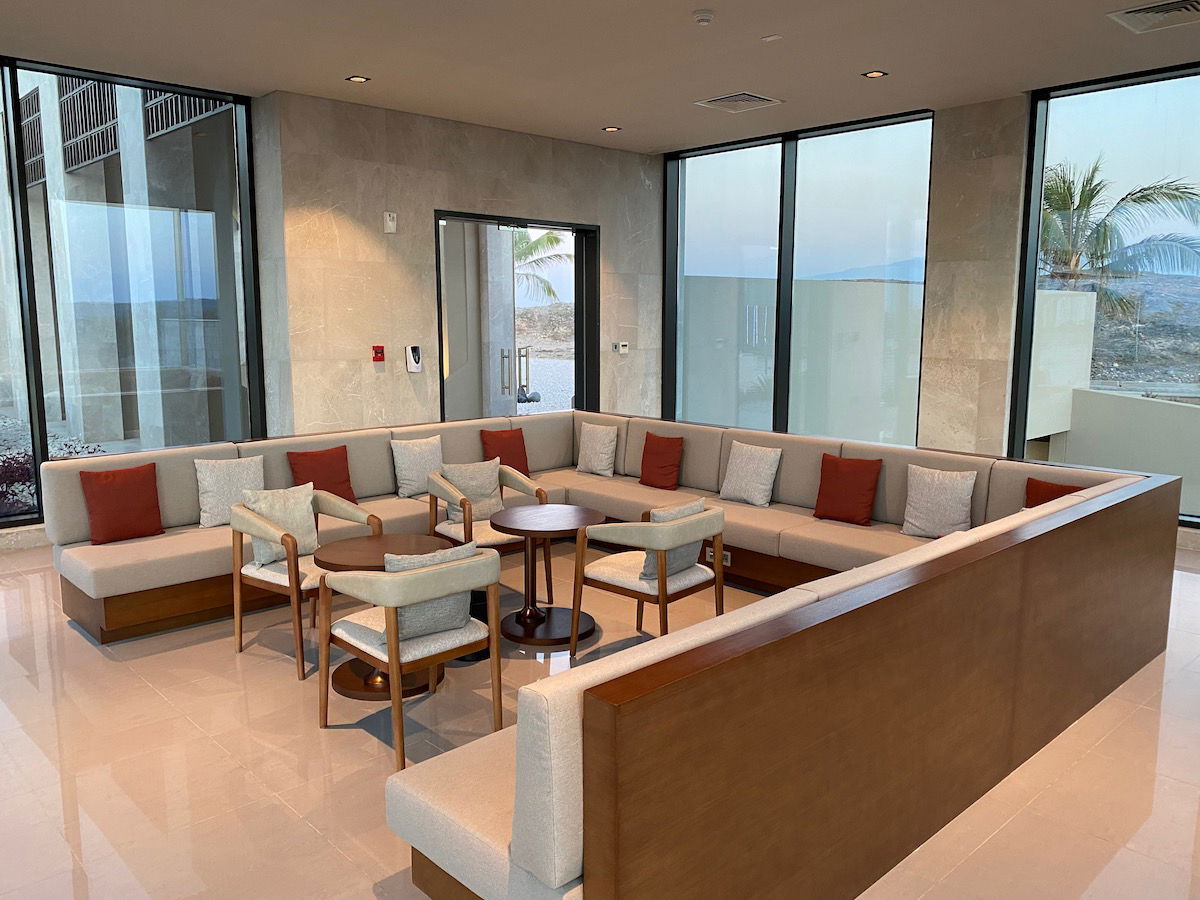 Our check-in process was efficient, and within a few minutes we were on our way to our accommodation.
Alila Hinu Bay deluxe pool villa
We were assigned room 111, one of the property's four deluxe pool villas. While we were driven to our room by golf cart (with luggage), otherwise we always walked. Ford managed to get his 12,500 daily steps in with virtually no effort here. The below pictures might give you a sense of how huge this property is (and this is only a small part of the hotel).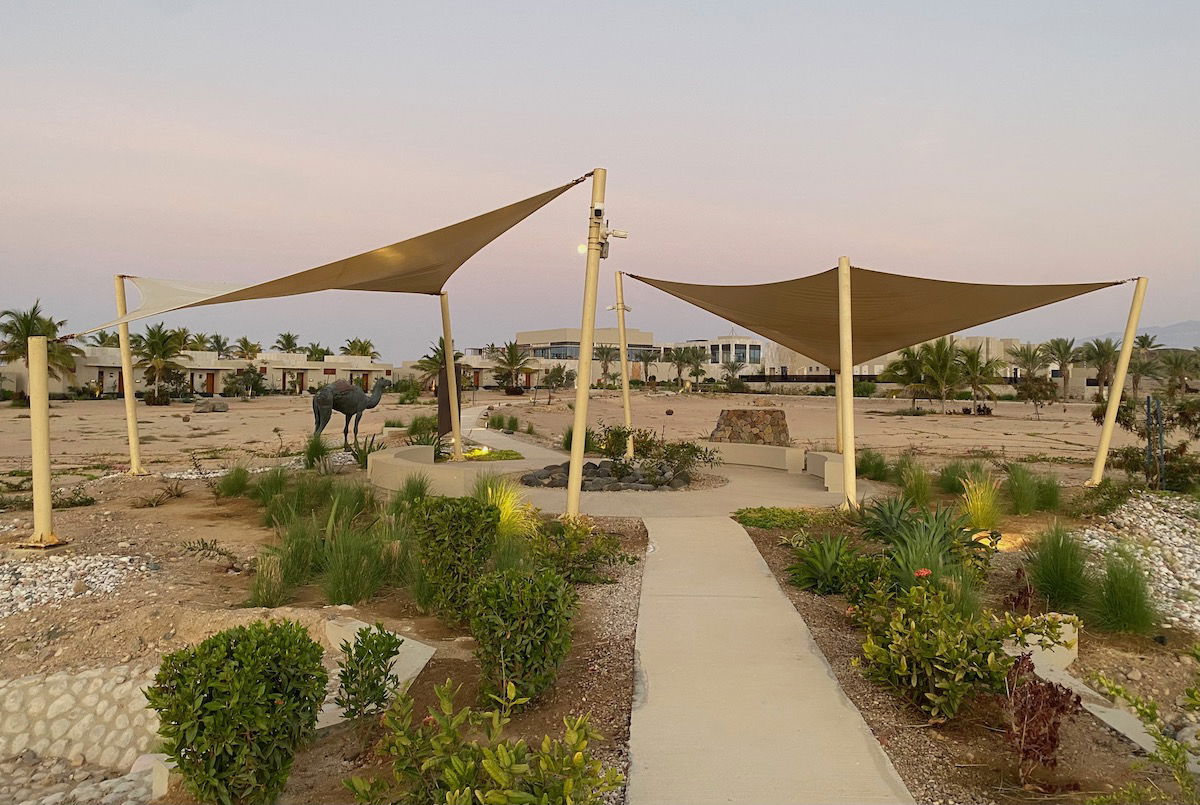 I've seen some people mention that the property almost looks like a construction zone, and plants haven't fully grown in yet. I can see that, though frankly I thought there was a certain charm to the ruggedness. For example, I love Los Cabos, and the general "desert meets see" landscape. That's exactly what this is.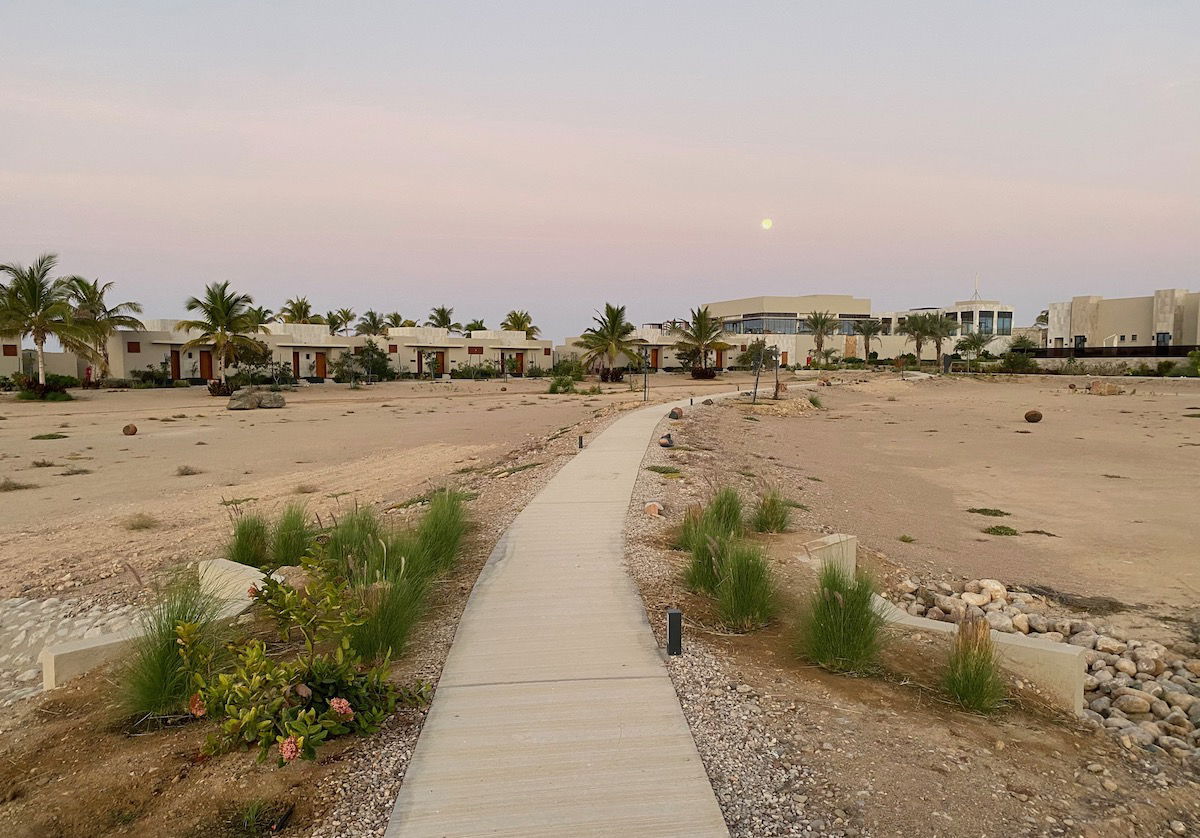 The hotel's four deluxe pool villas are all located in the same area, with two buildings each containing two villas.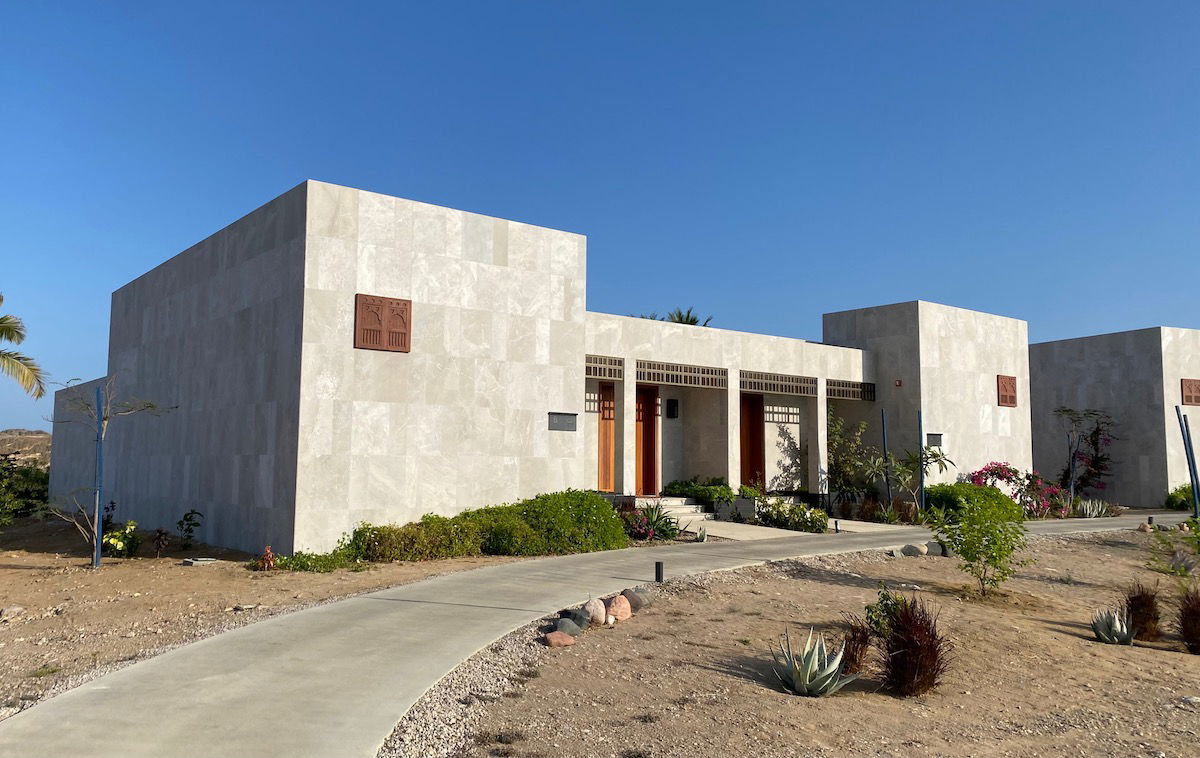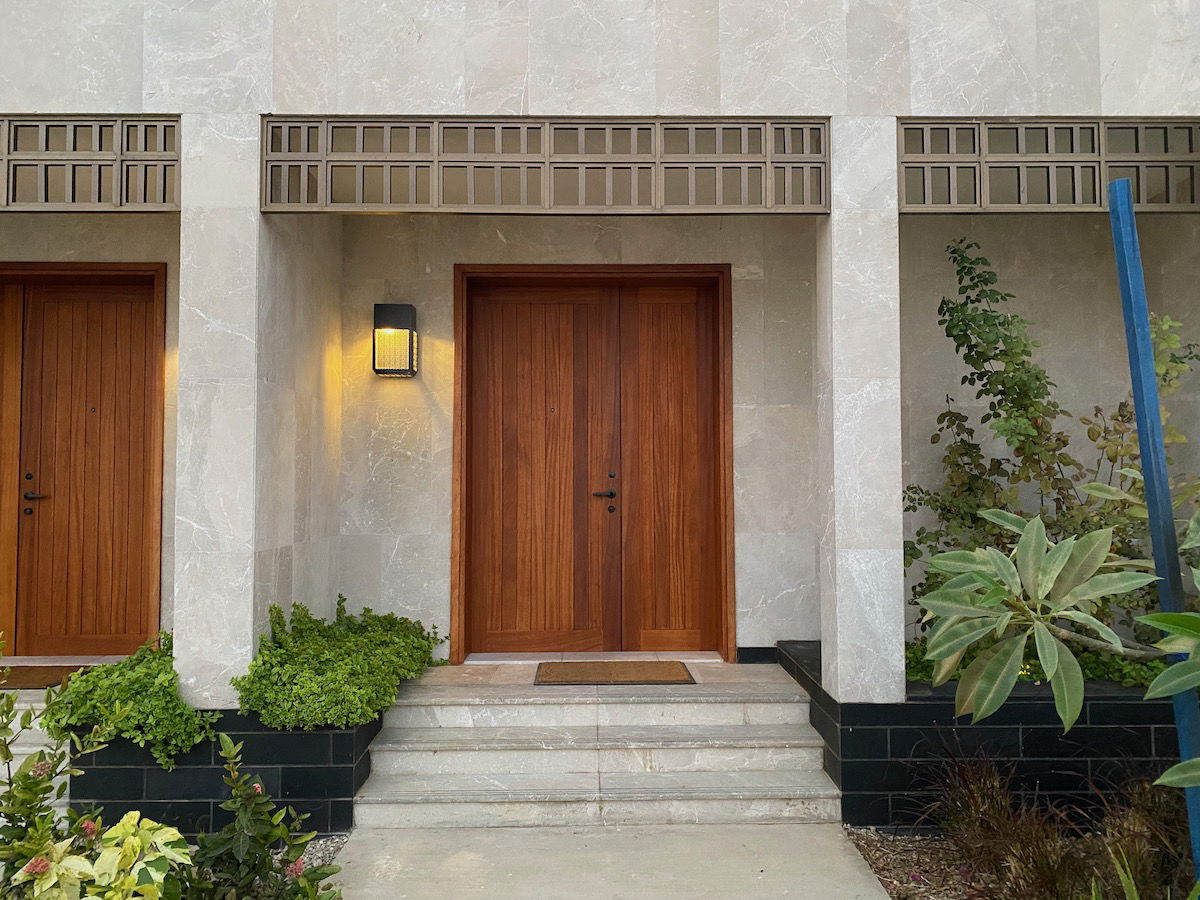 Deluxe pool villas are described as being 175 square meters (~1,880 square feet), though that presumably includes the outdoor space. I'd say the interior space was maybe a little more than half of that.
The room featured an entryway leading into the living room.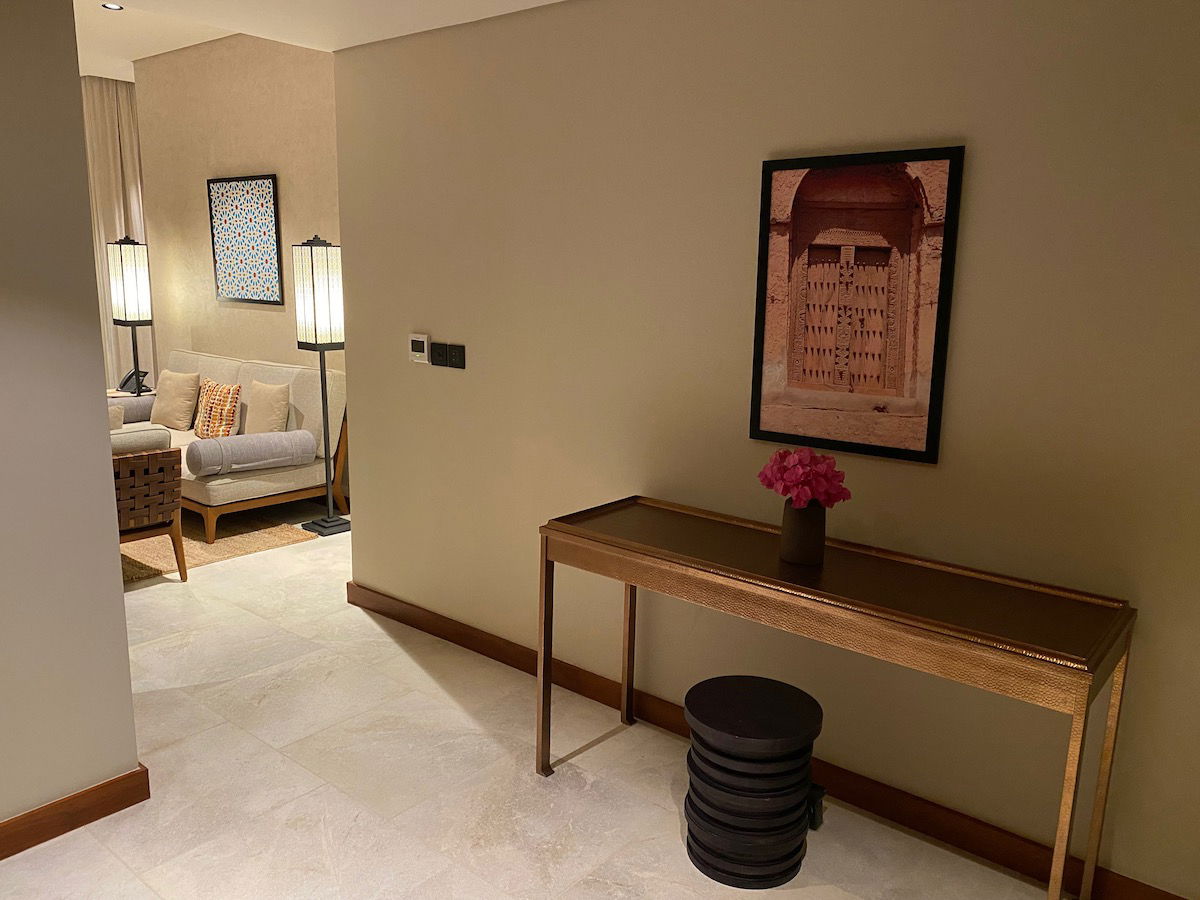 You could host quite a party in the living room in terms of the amount of seating — there was a long bench by the window, and then two sofas, along with a TV.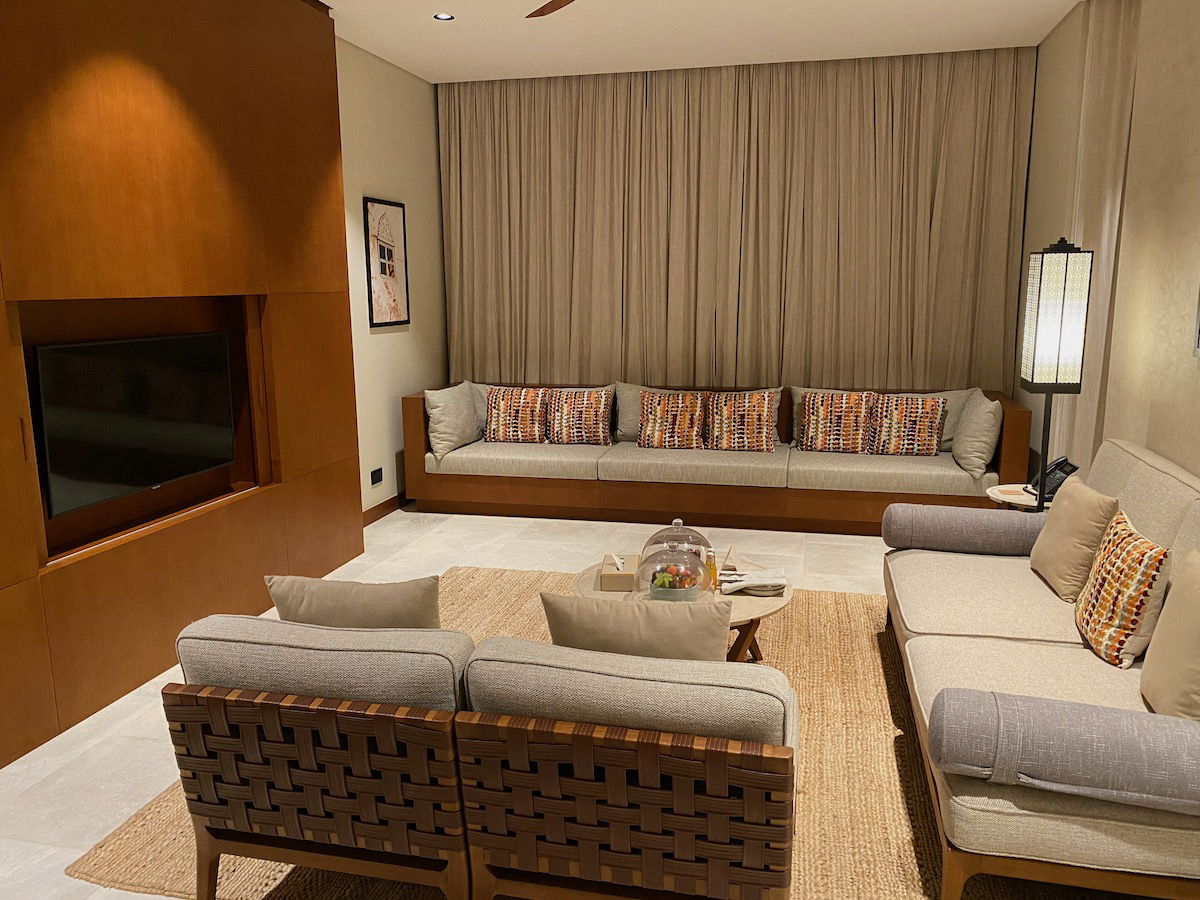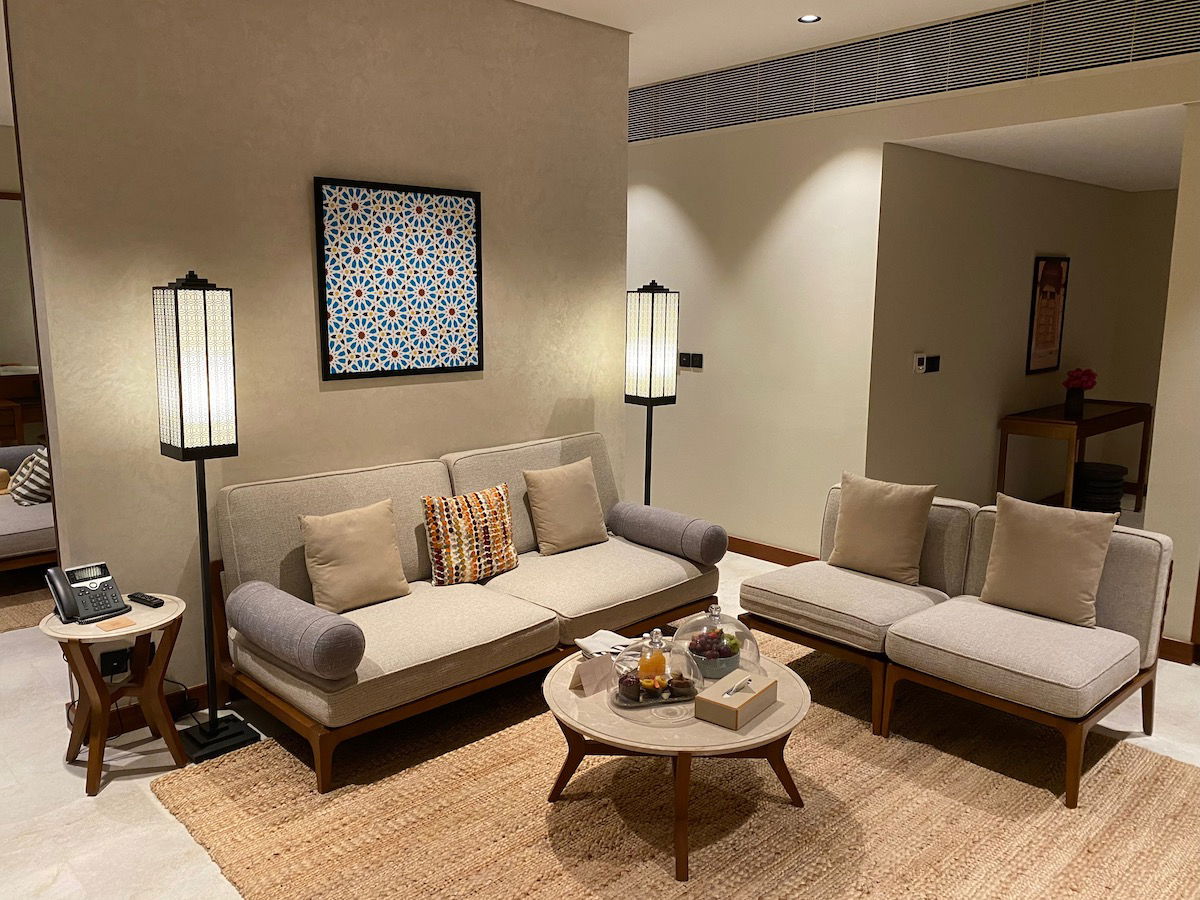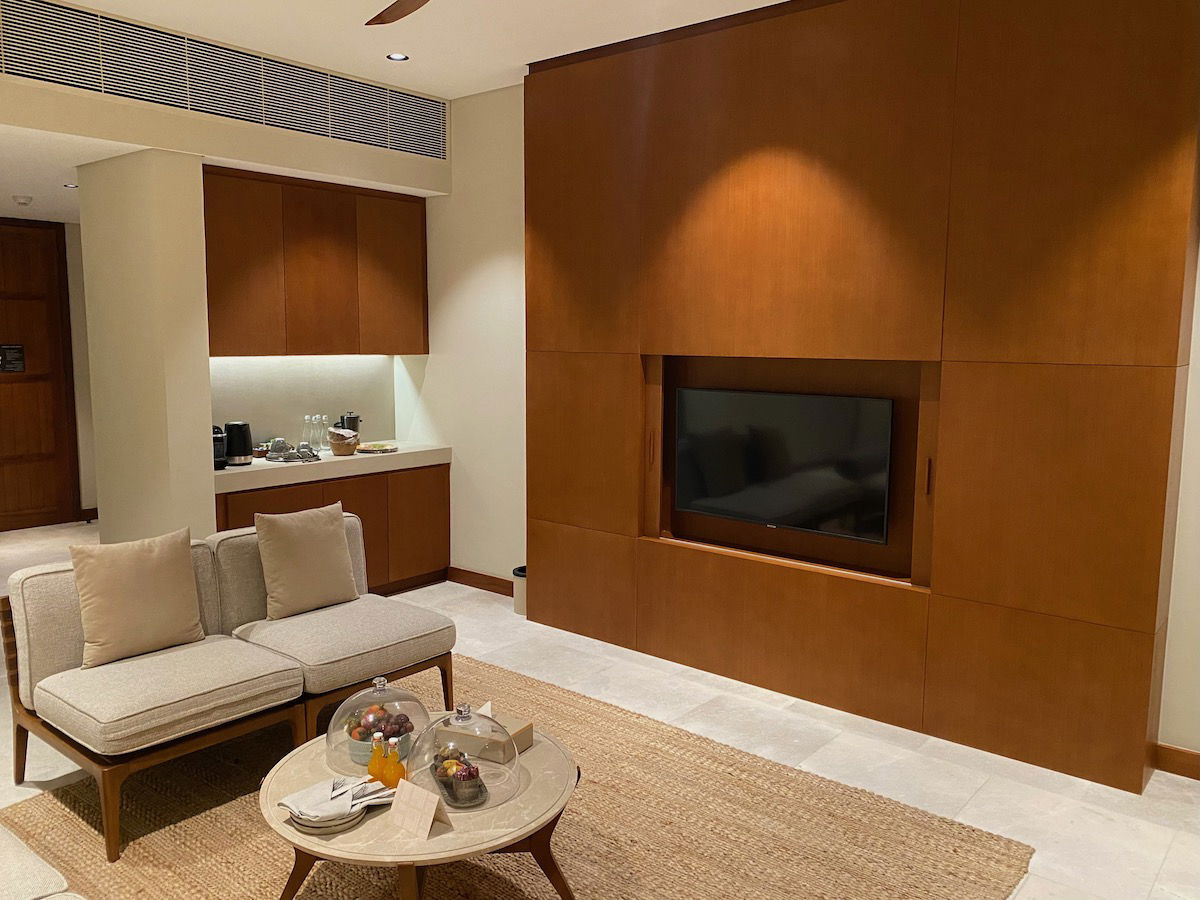 The minibar area was over near the entrance, and had a Nespresso coffee machine, kettle, and mini-fridge.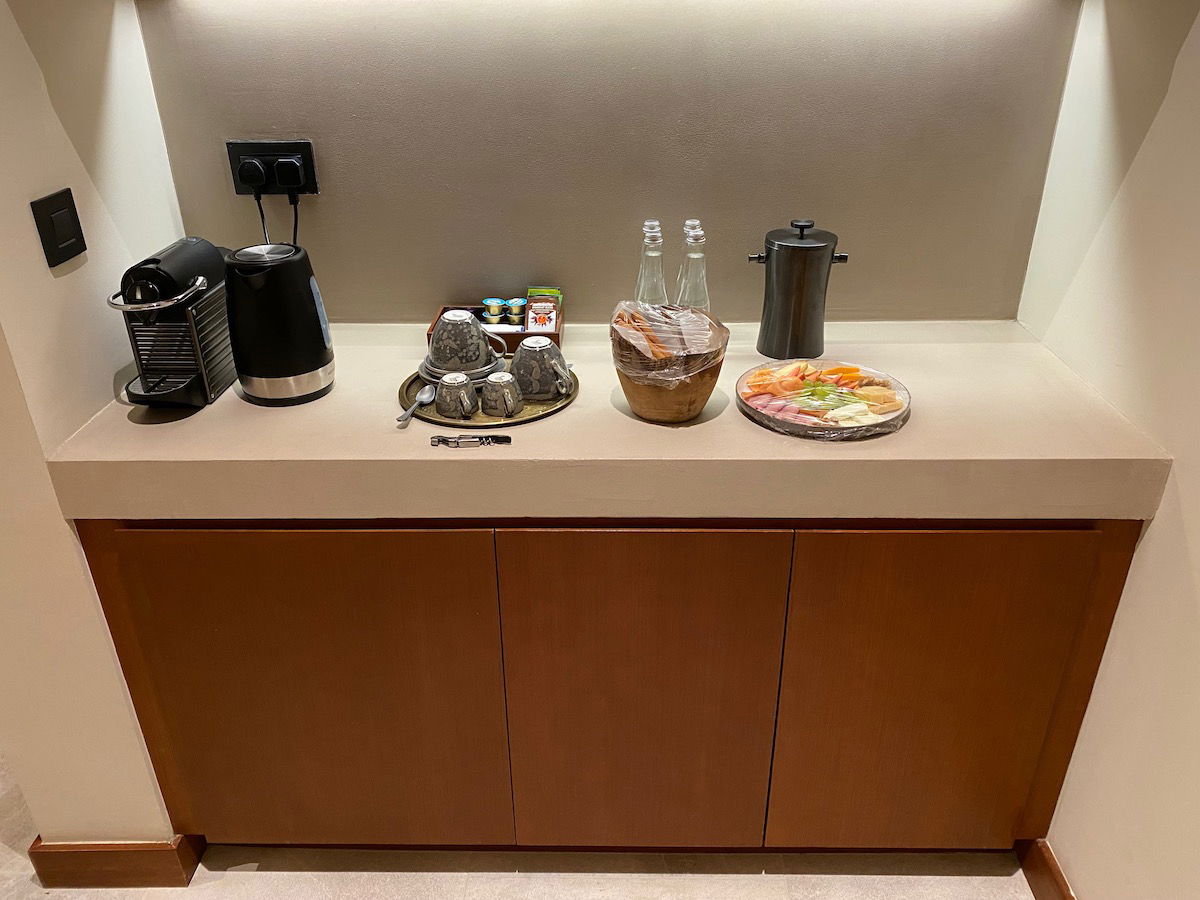 While the mini-fridge was initially empty, we were asked if we wanted the minibar stocked. Here's what that looked like.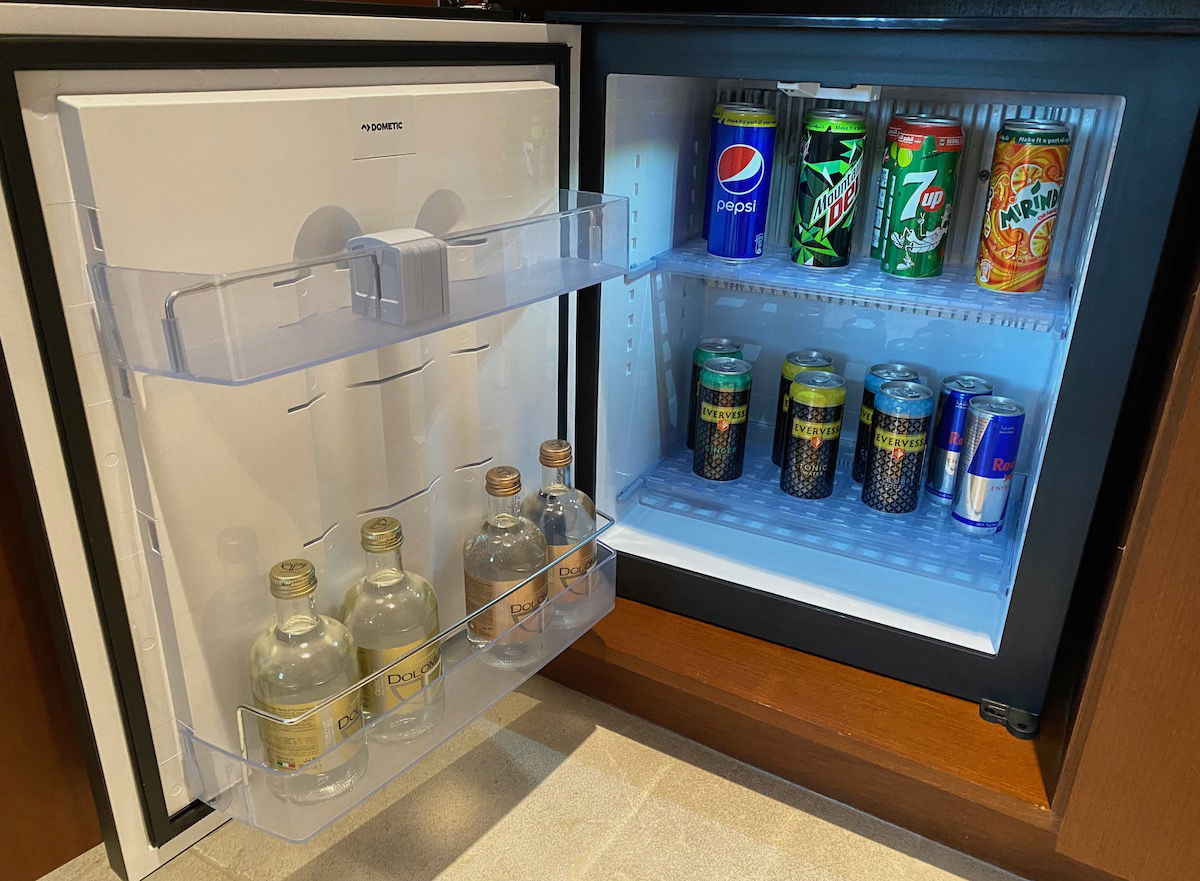 When booking through Hyatt Privé you get a welcome amenity, and we got a lovely one, consisting of a charcuterie plate, a fruit plate, some sweets, and some fresh juice. This hotel also seems to take great care of Globalists (I'm guessing they don't get many Globalist members here).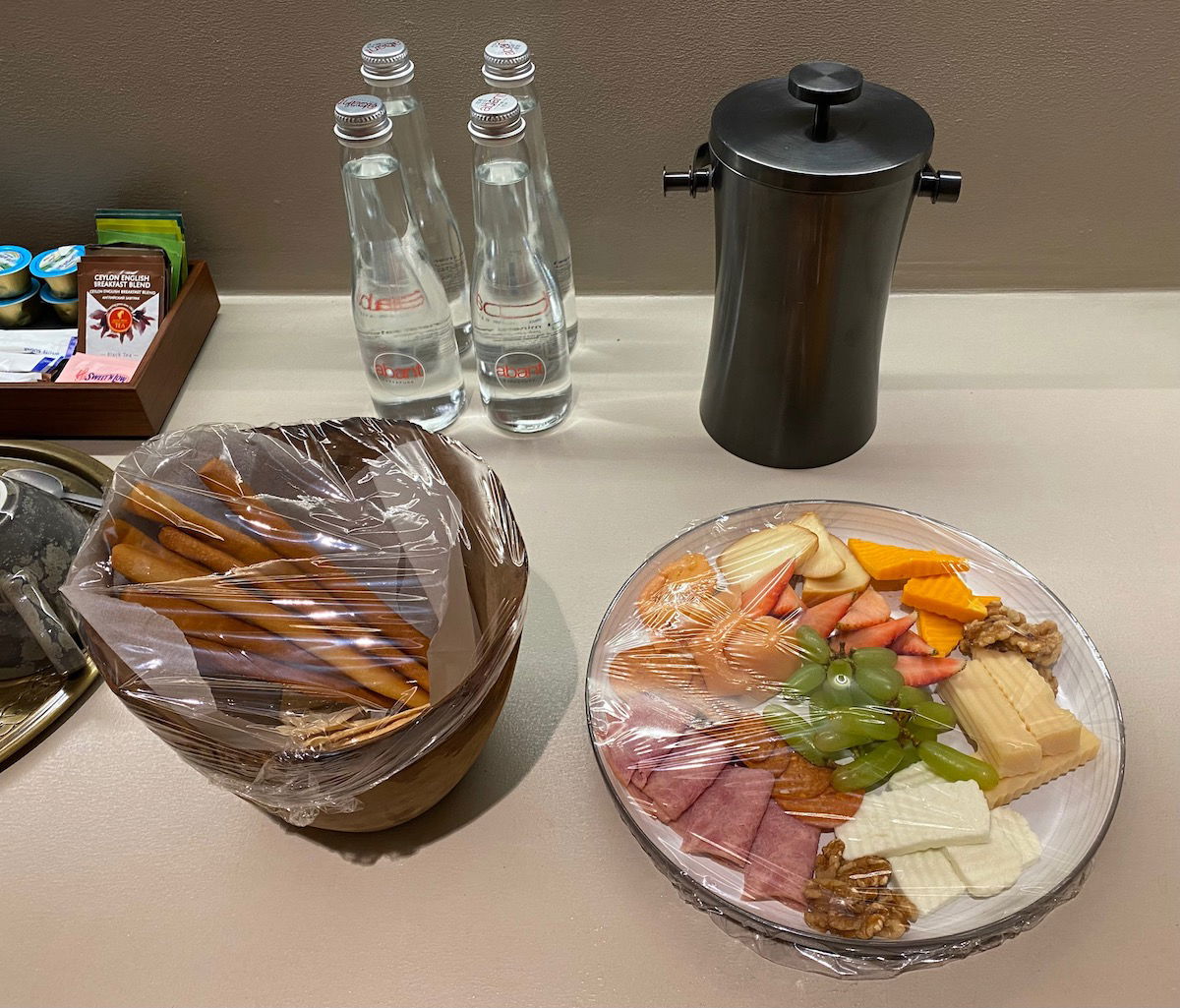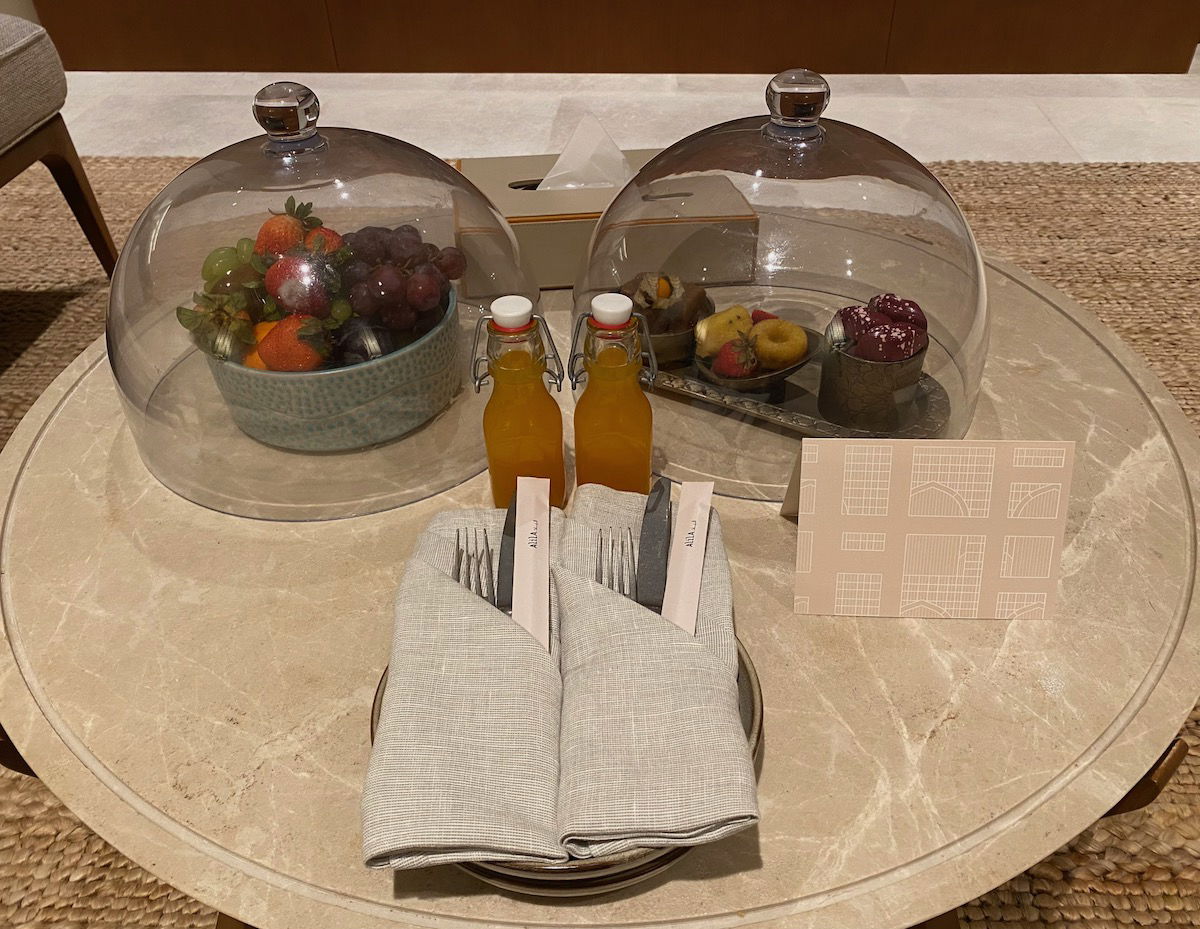 On the other side of a wall was the room's bedroom, which featured a comfortable king size bed, plus a vanity with a mirror.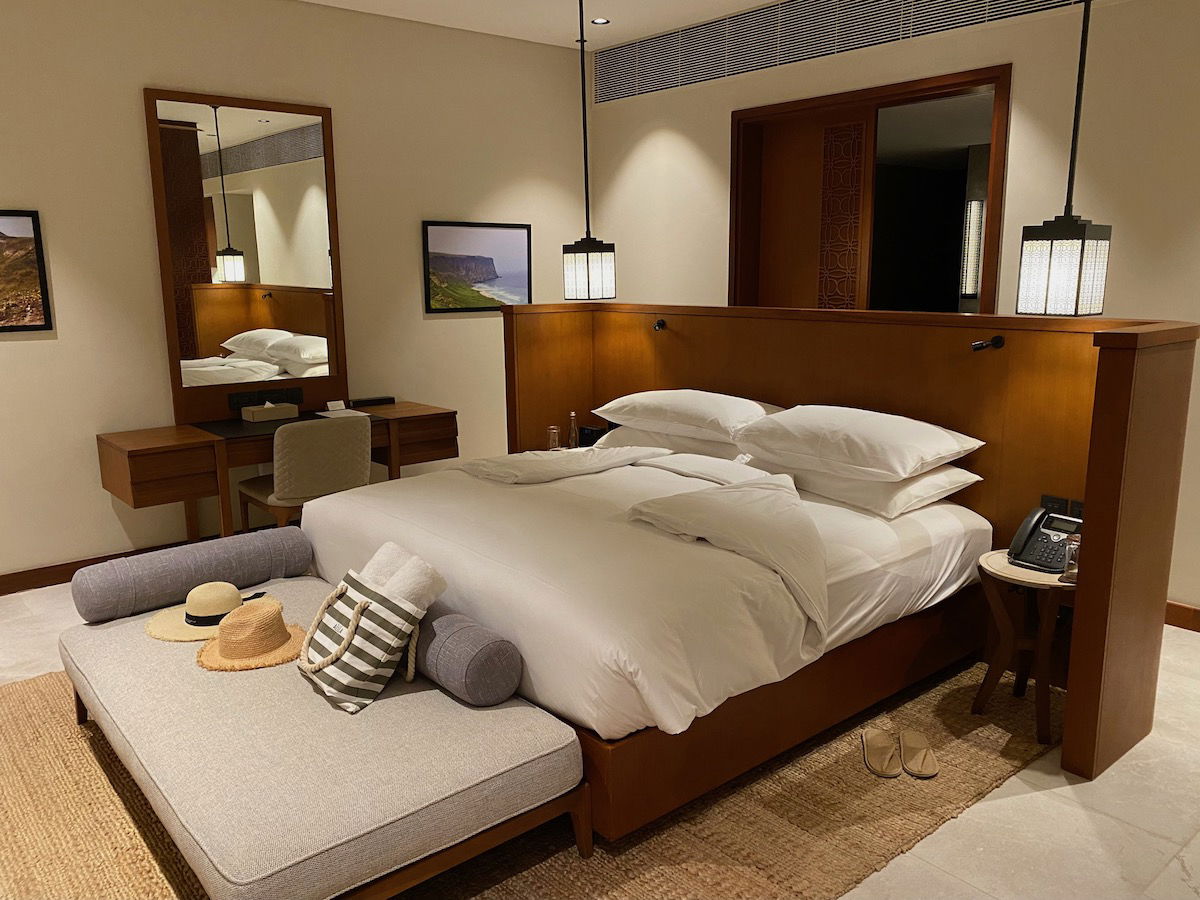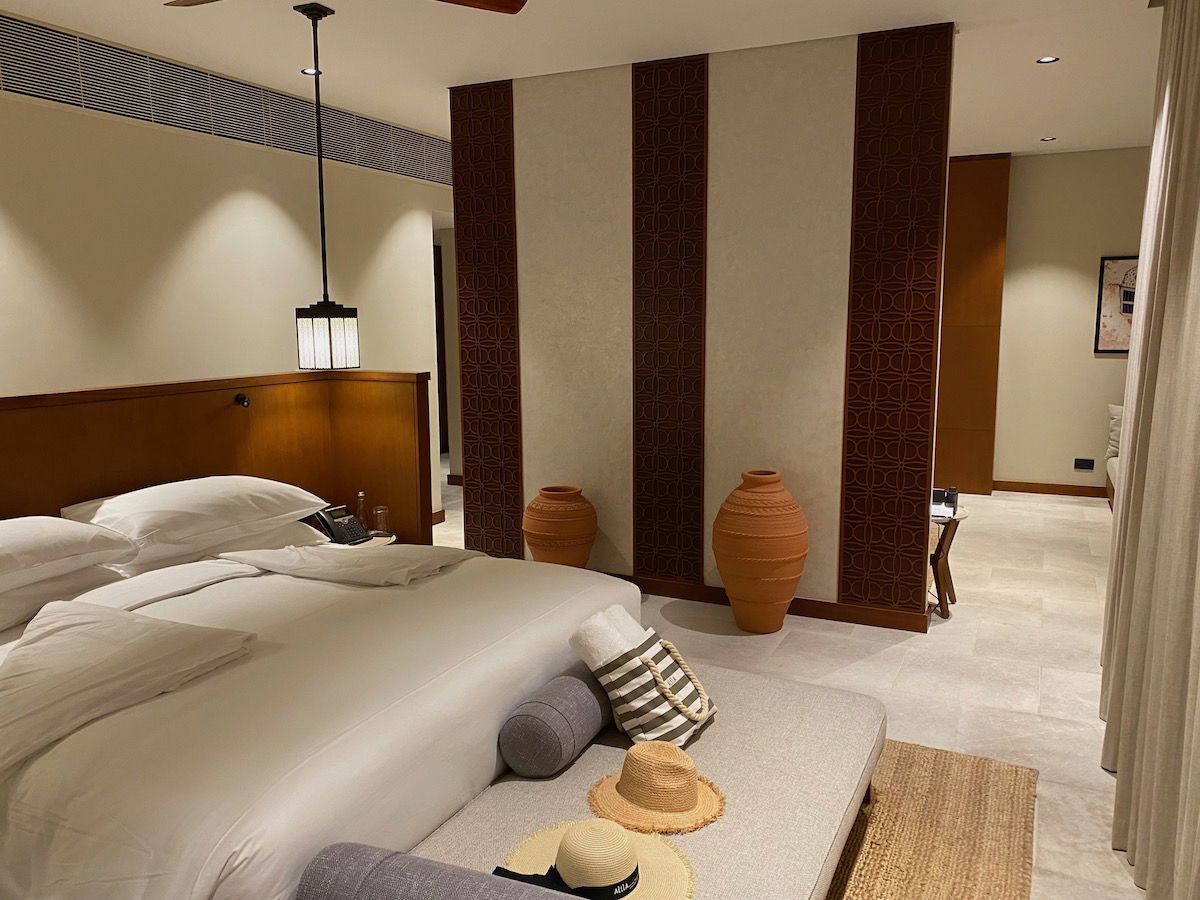 The bathroom was behind the bedroom, and featured double sinks, a partitioned off toilet, and a huge walk-in double shower.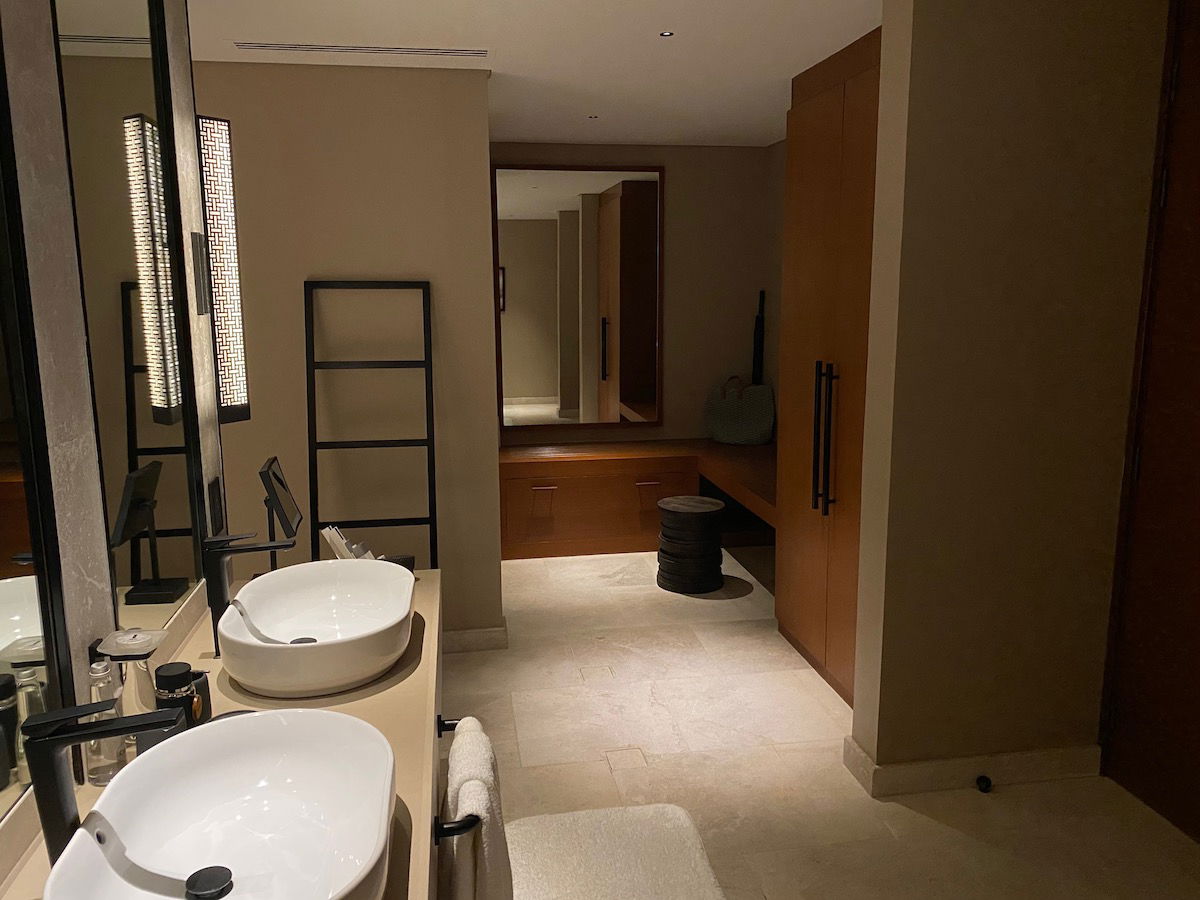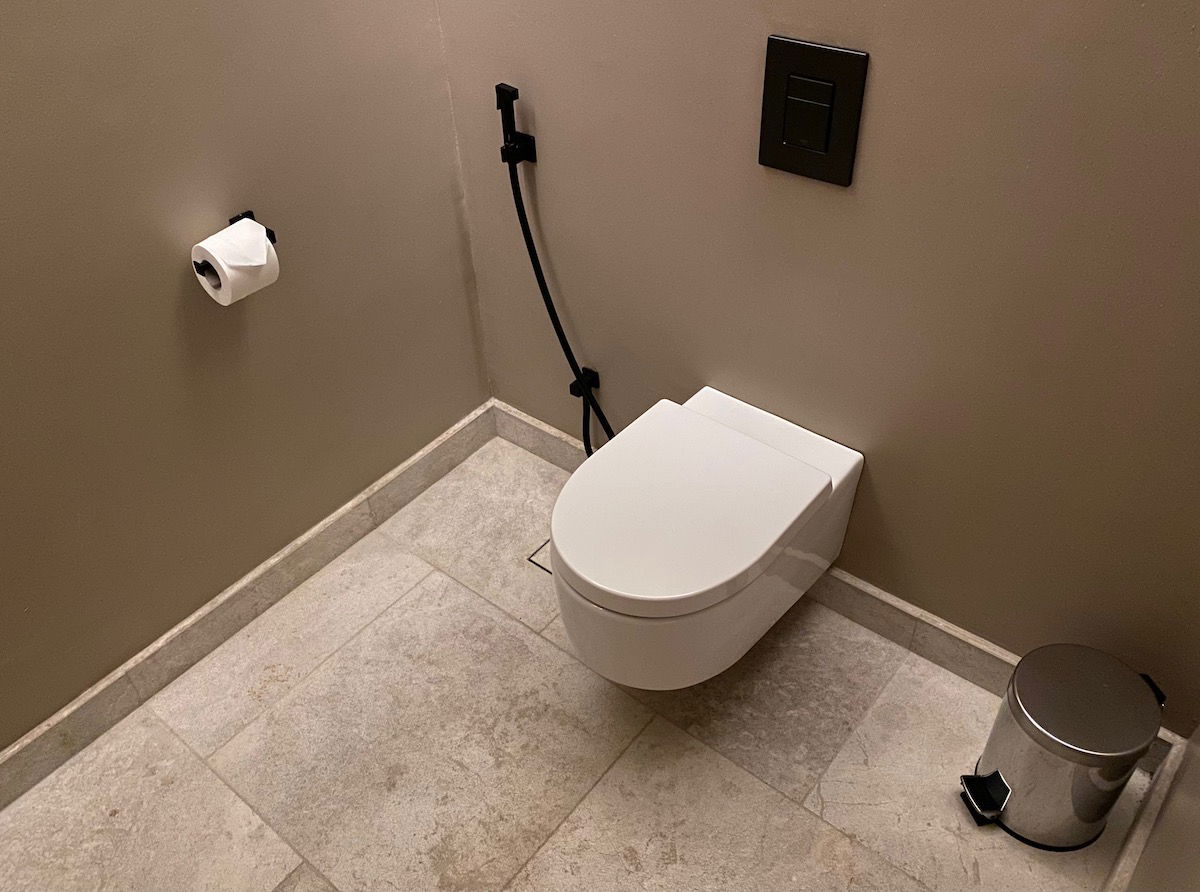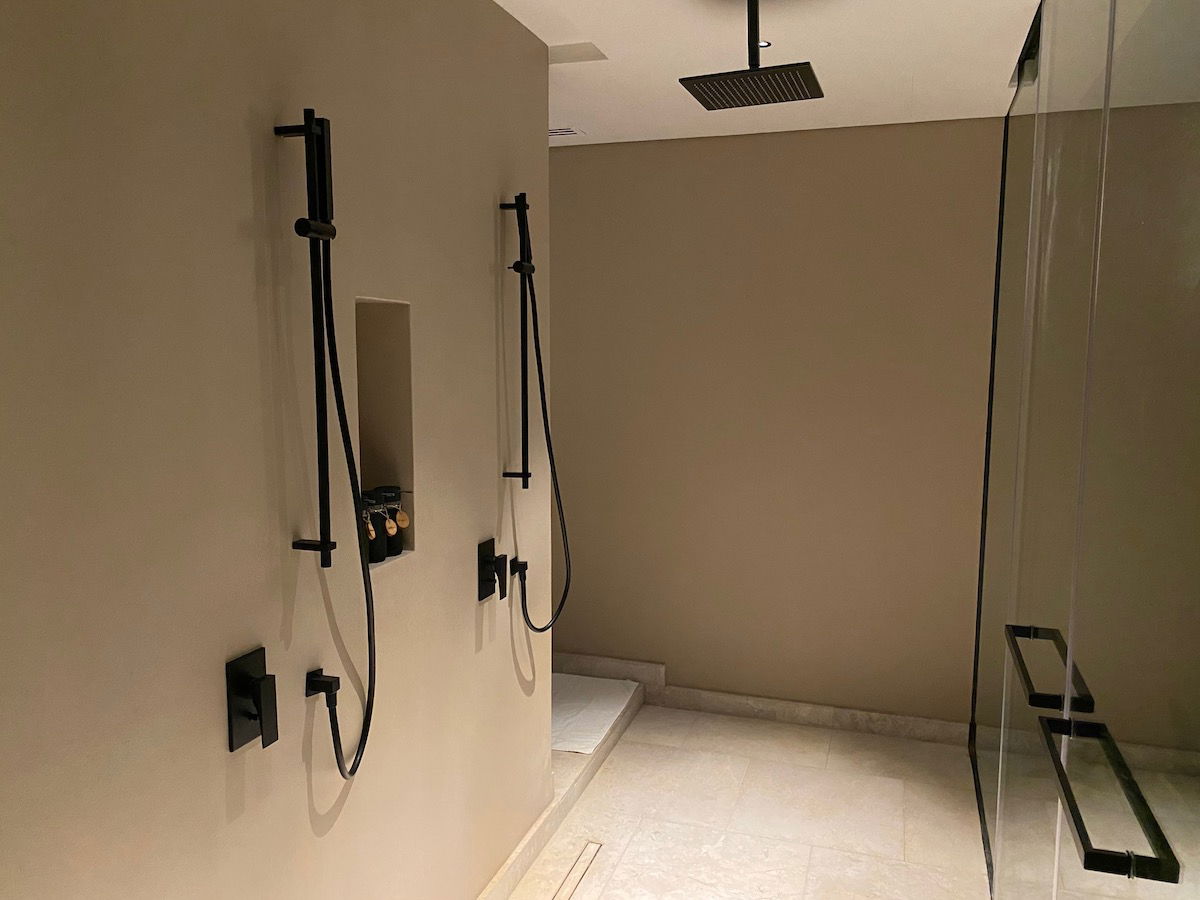 Toiletries were in reusable containers.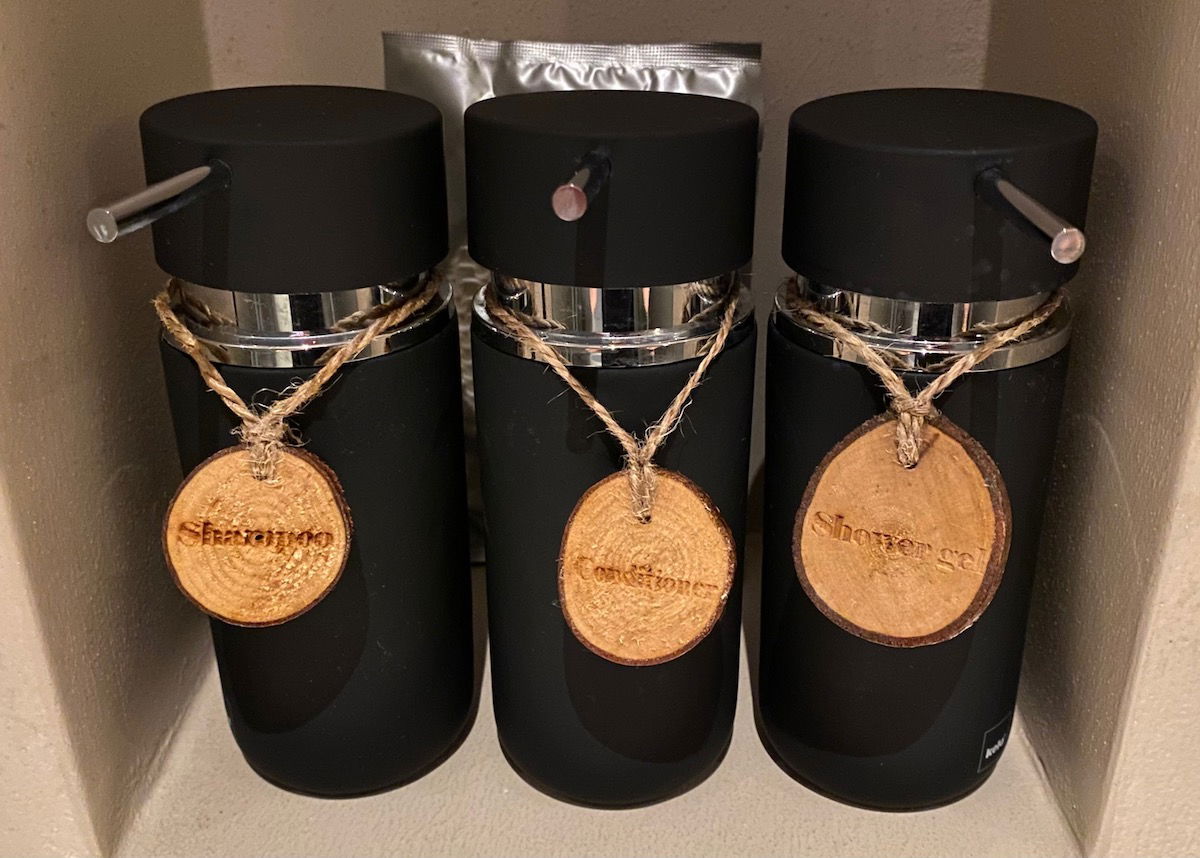 There was even an outdoor bathtub that was walled in, right near the shower.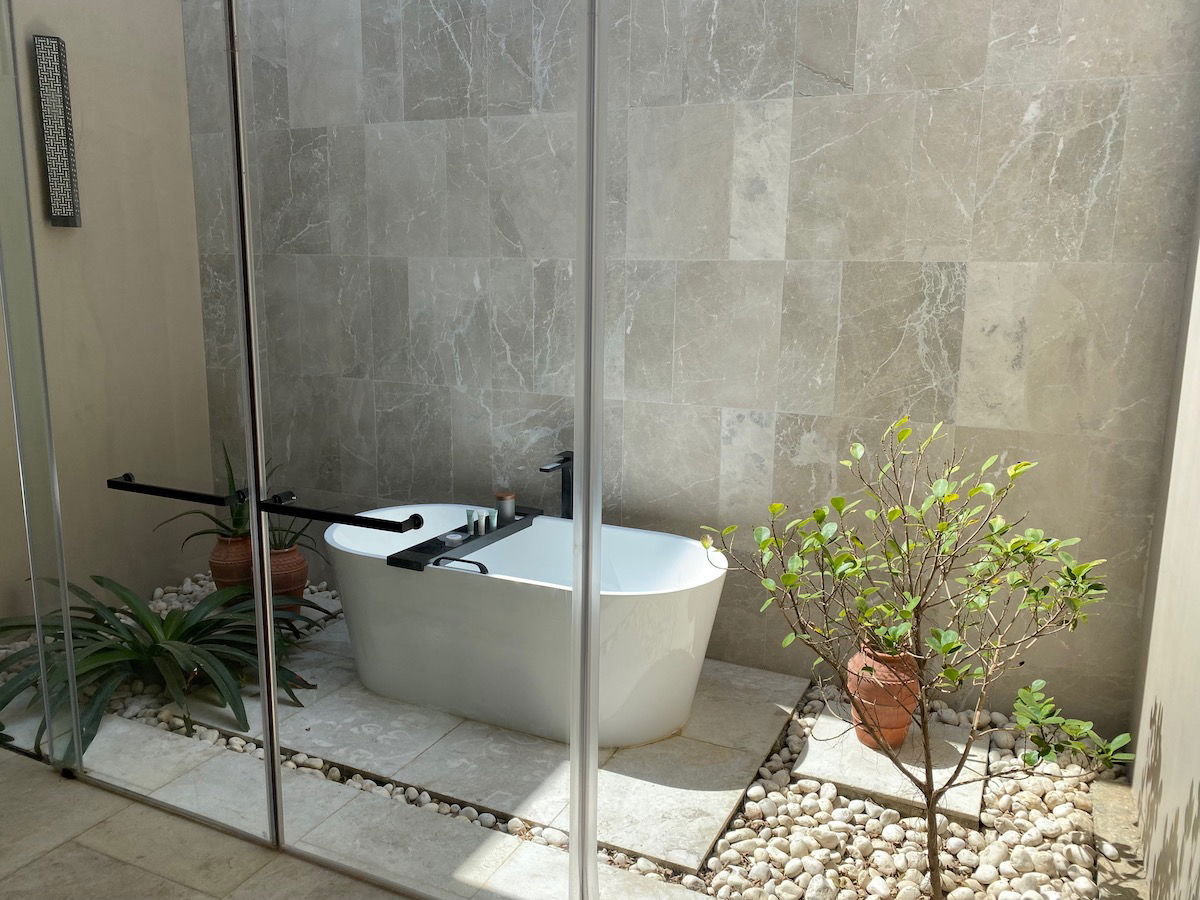 The most impressive part of the villa was the gorgeous outdoor space, which featured a pool, two lounge chairs, and then a little covered area with a couch. We arrived at the hotel right around sunrise, so what a treat the view was!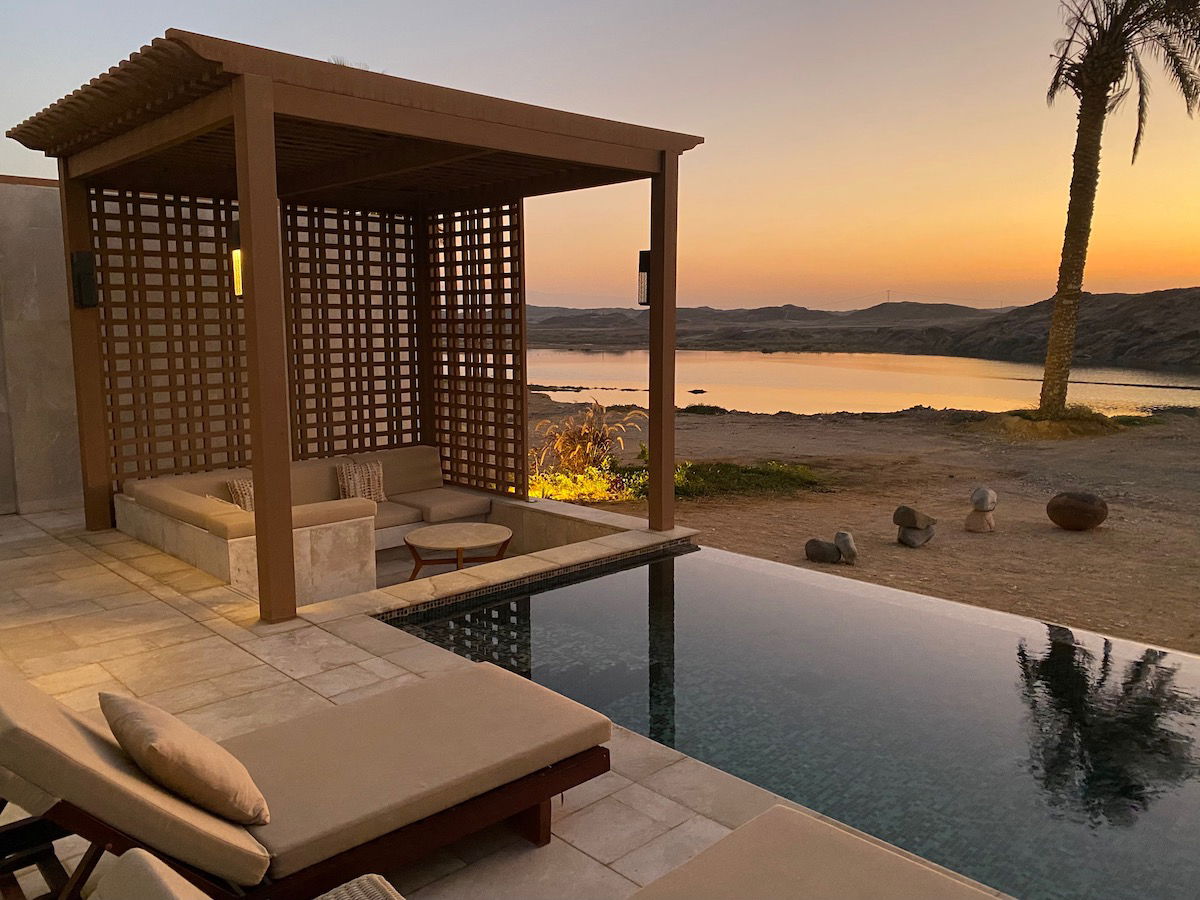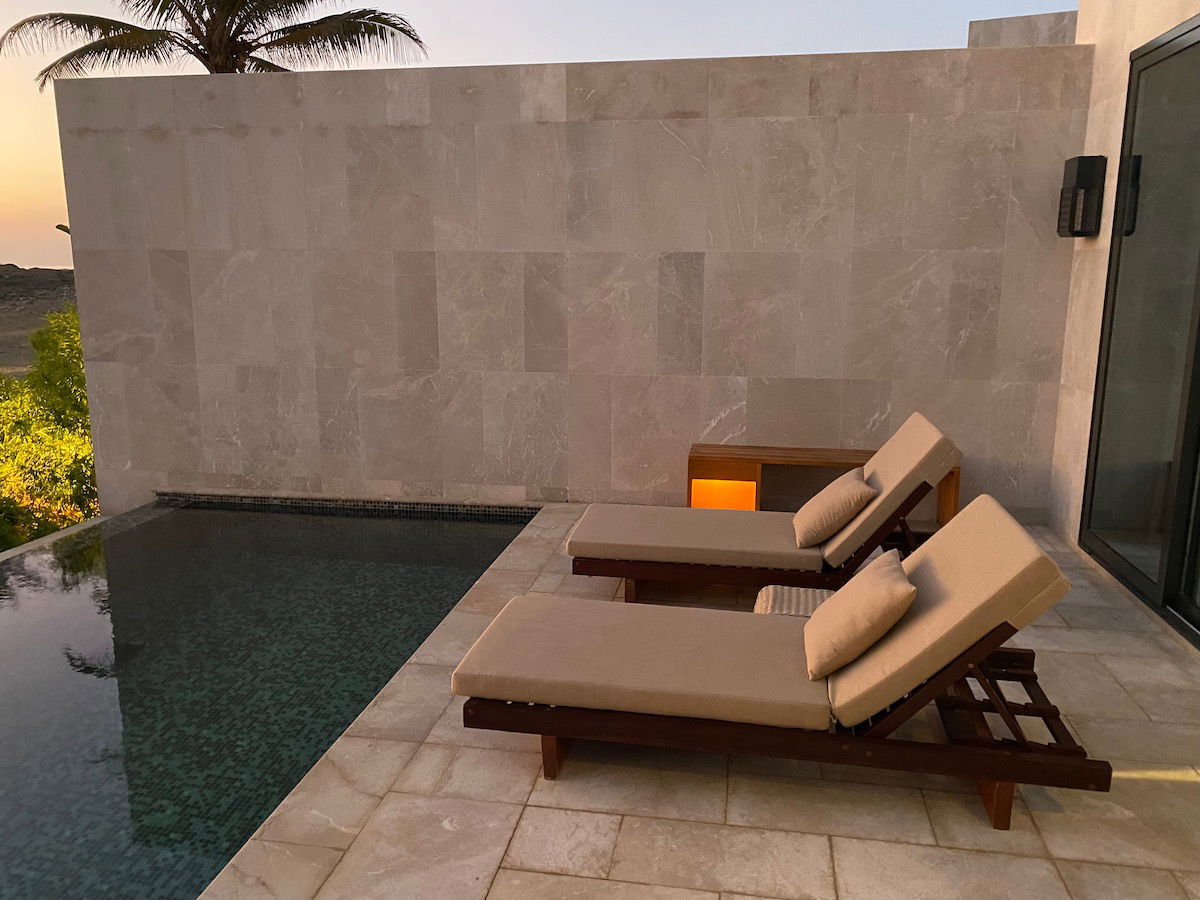 The only difference between the villas at this property is the view. The deluxe pool villas have the benefit of having "direct beach access," but don't expect a traditional beach. The below gives you a sense of the view from our room.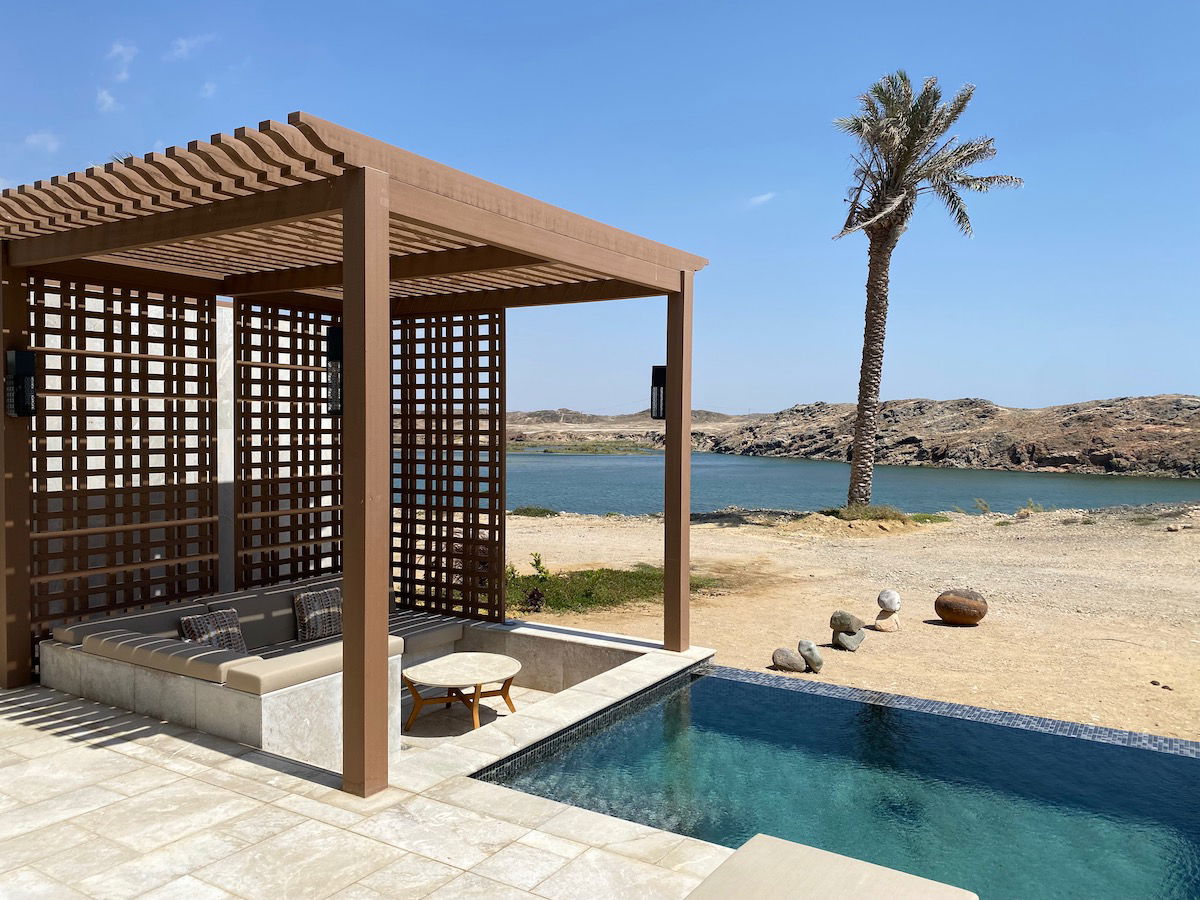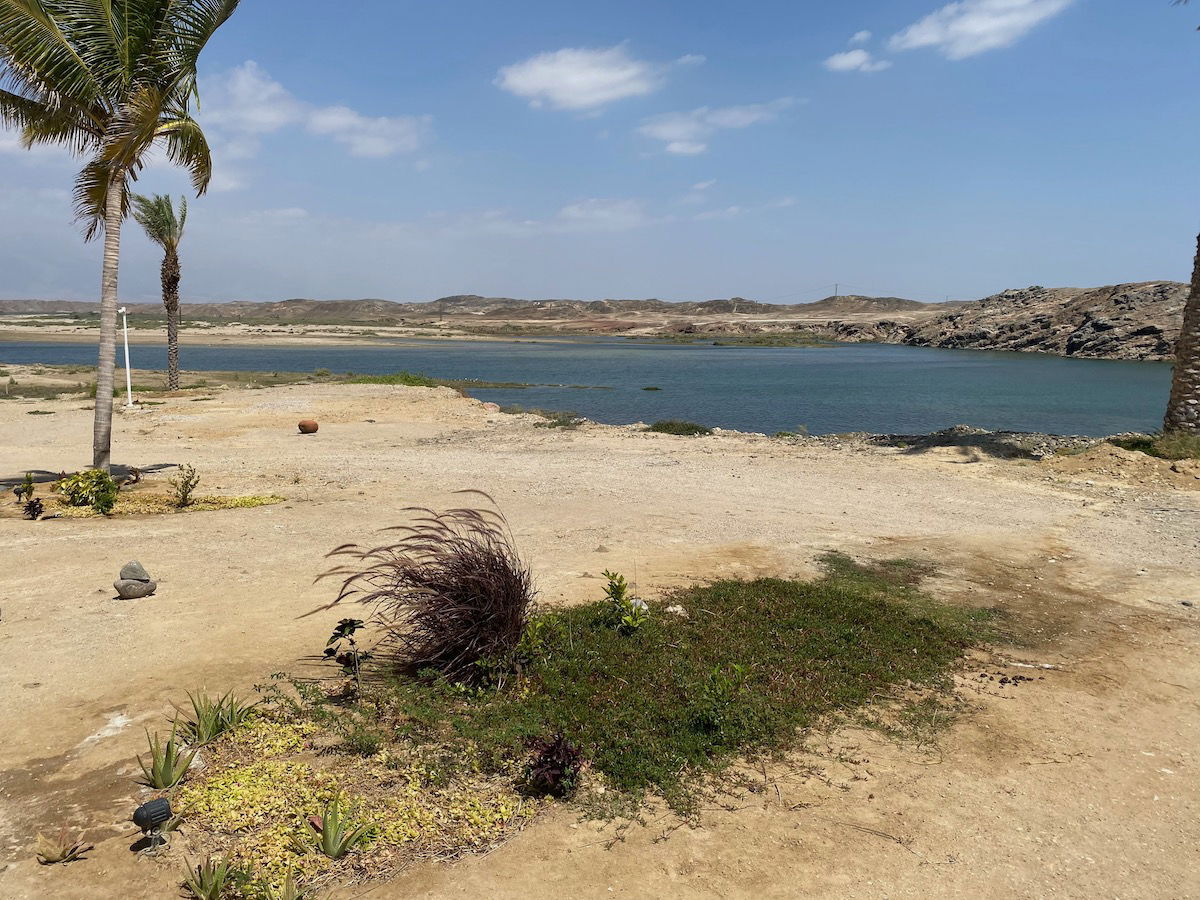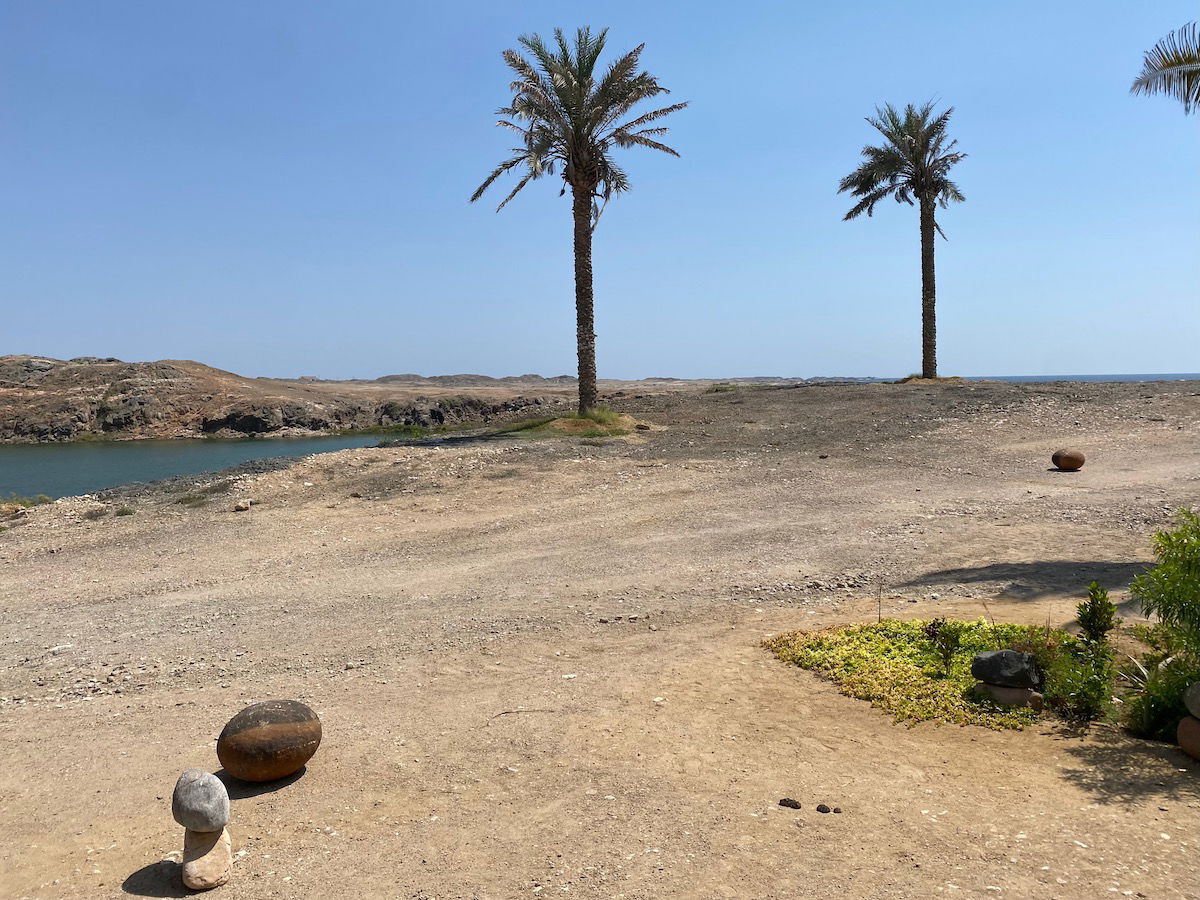 Wi-Fi in the room was fast and free. Furthermore, our room was refreshed twice a day, and on top of that each night we were brought a different sweet treat in the evening. I can't say enough good things about all the staff at this hotel, and that includes the housekeeping team.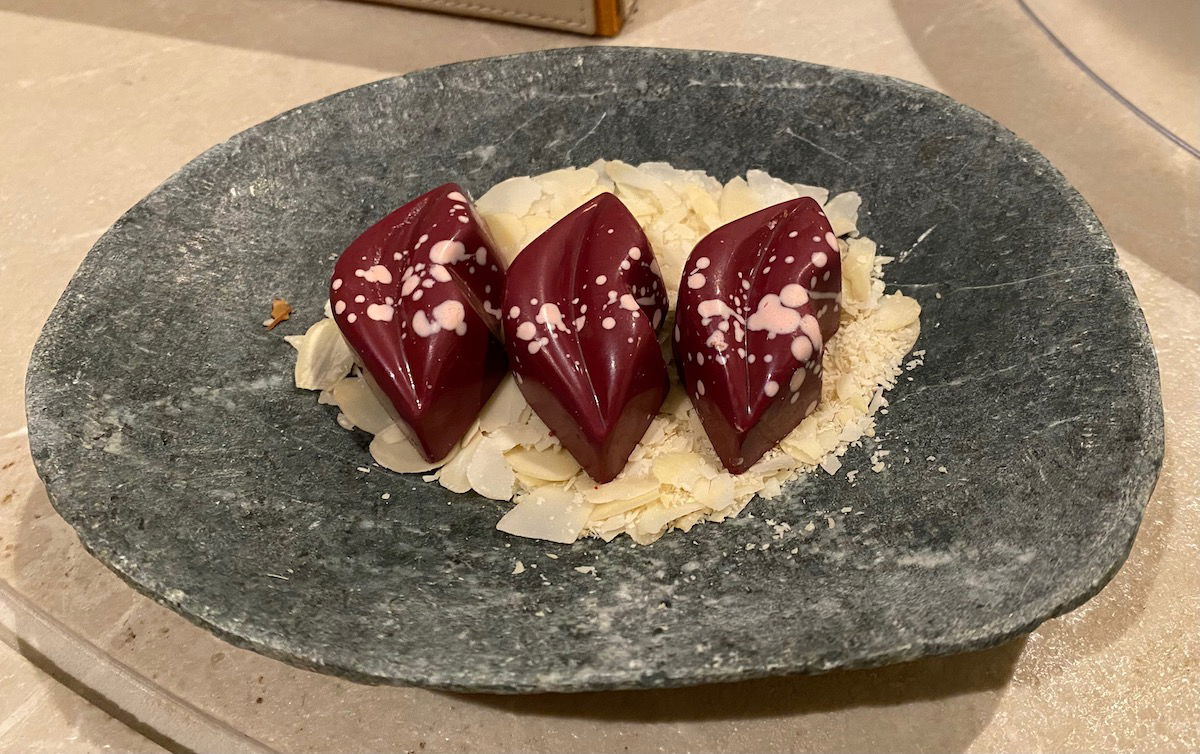 Overall I thought the villa was great. I'm not necessarily sure it's worth paying a premium for the deluxe pool villa, since I wonder how different the view really was. But still, overall I thought the value was pretty good. My only constructive feedback (which is hard to fix at this point) is that I wish the villa had a second half bath, as that's always a nice feature.
Alila Hinu Bay pools & beach
Alila Hinu Bay has two pools. The primary pool is by Sea Salt Restaurant (which is the most popular place in the hotel), and this is a stunning infinity-edge pool. The hotel was deserted when we were there, so this almost felt like a private pool.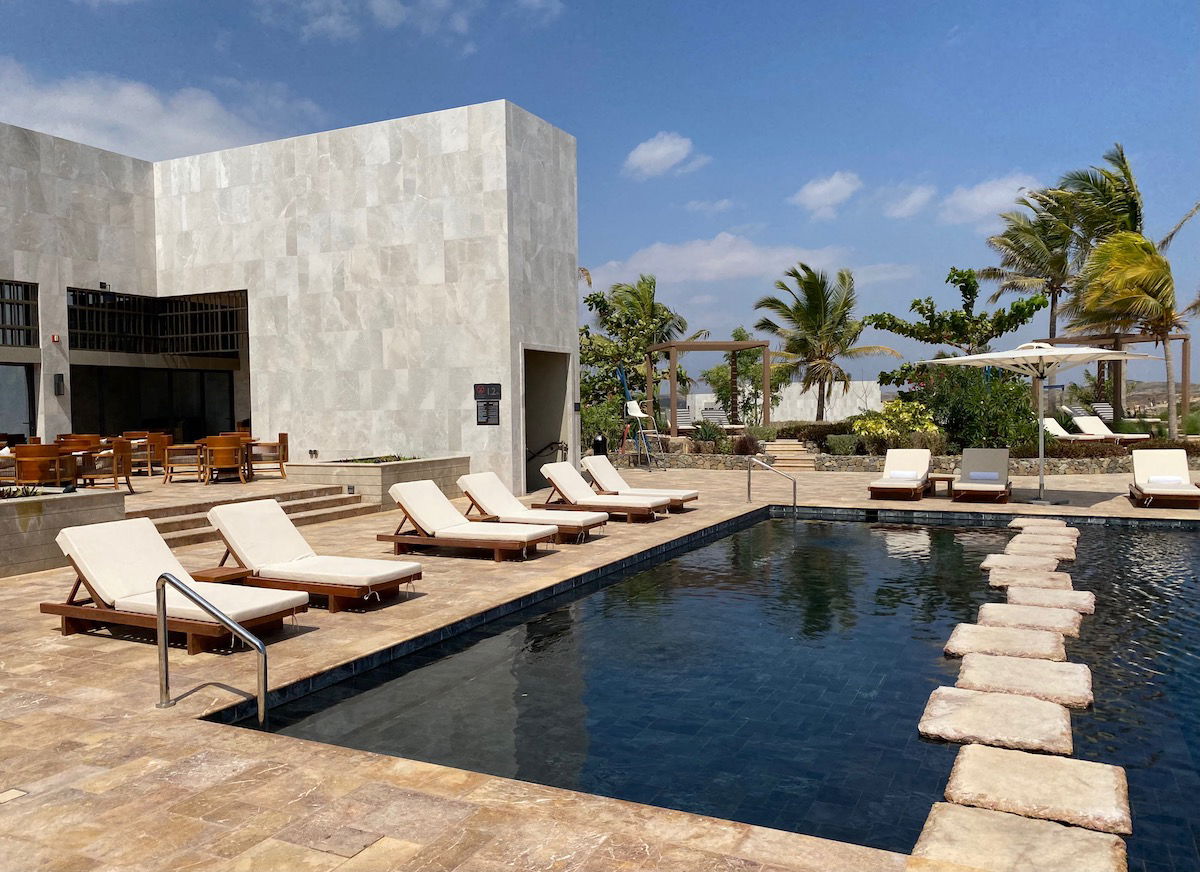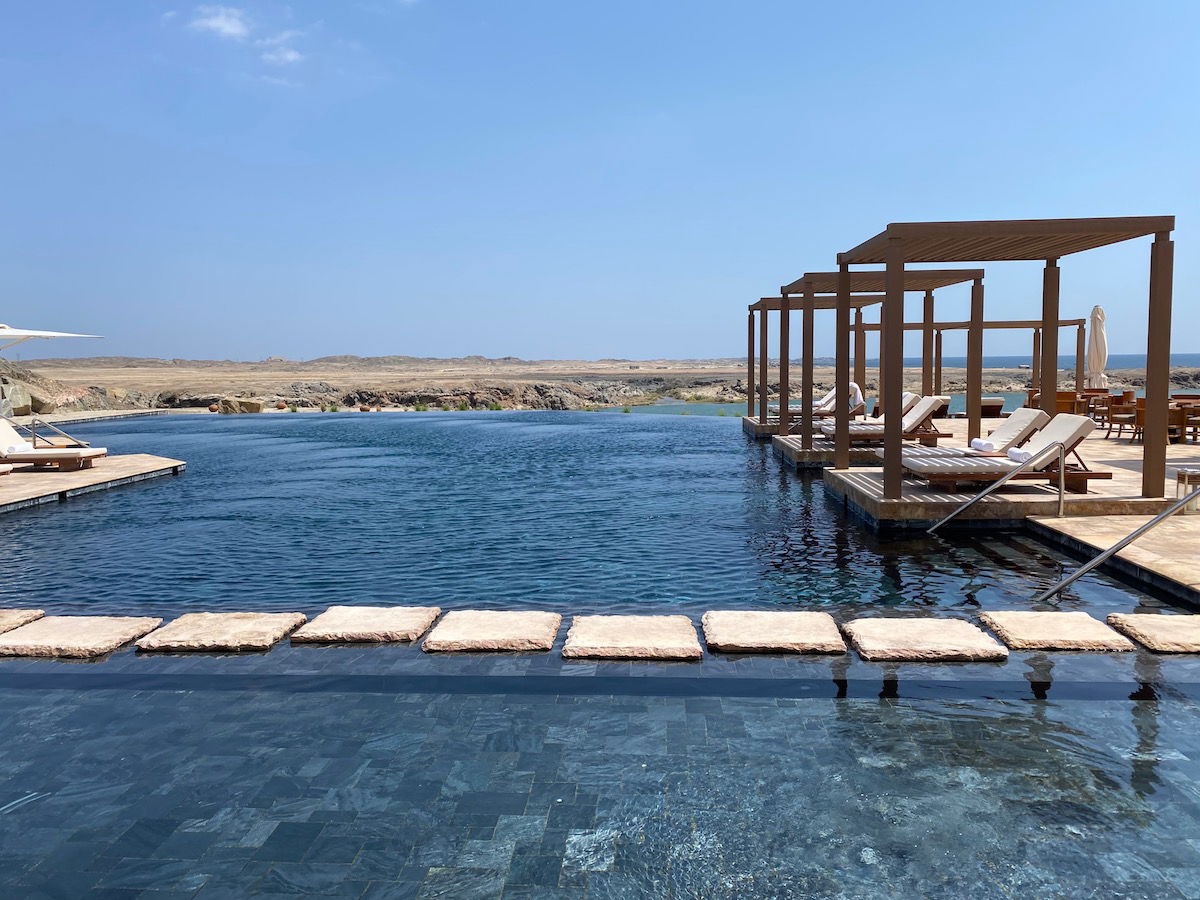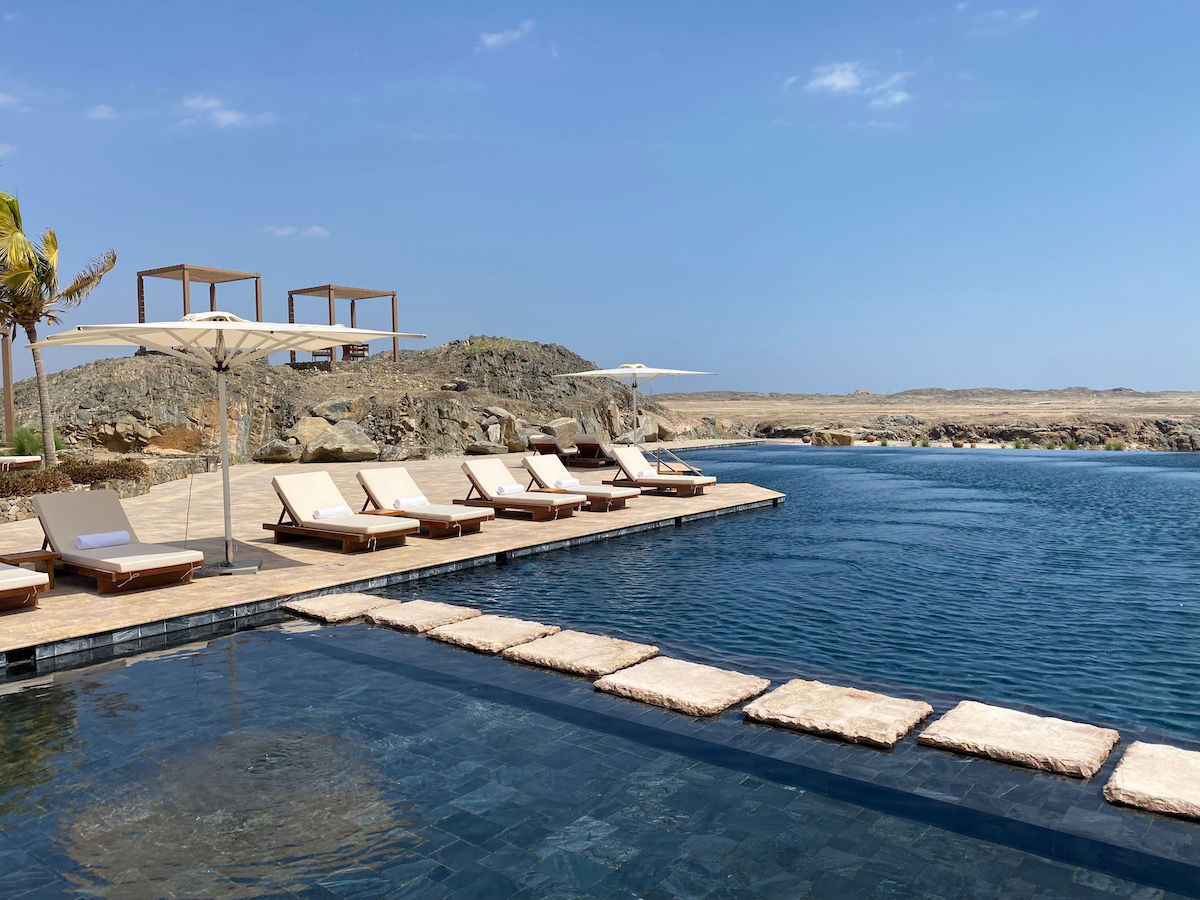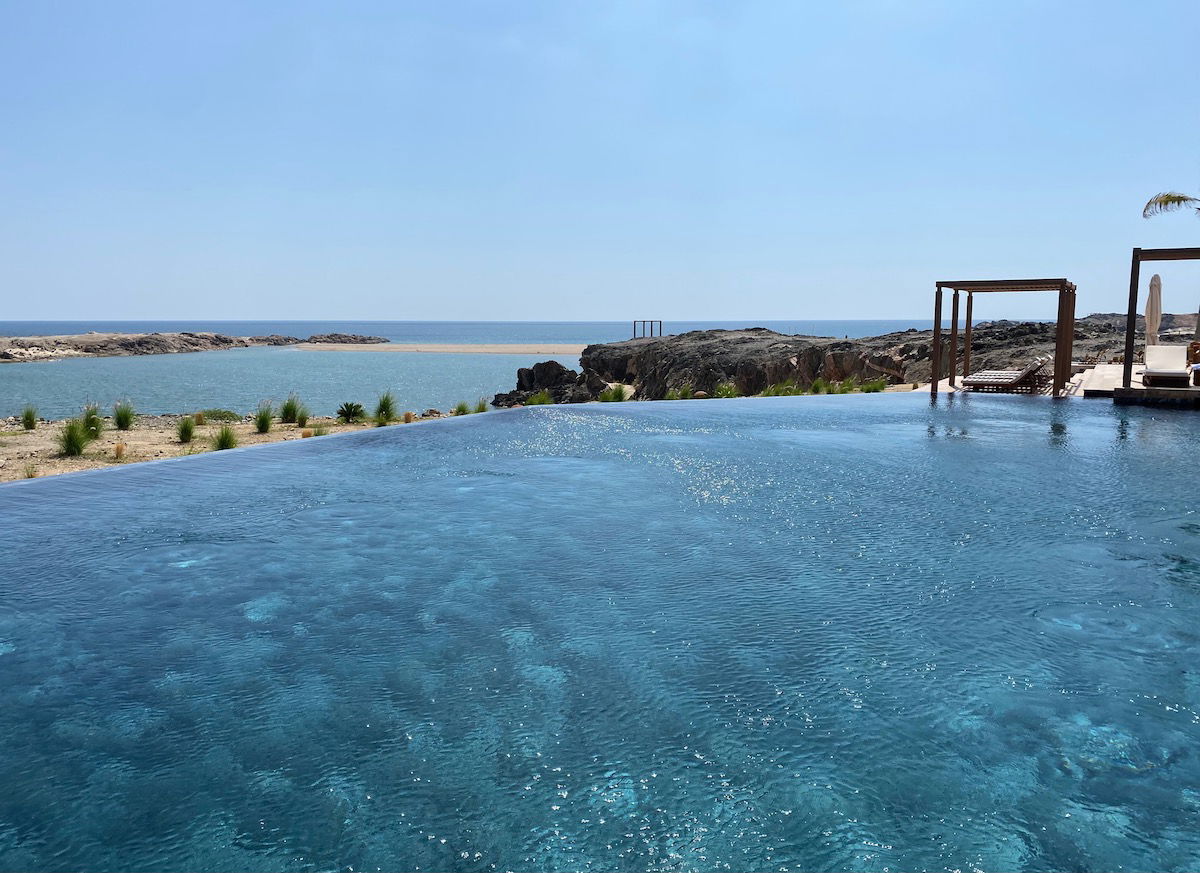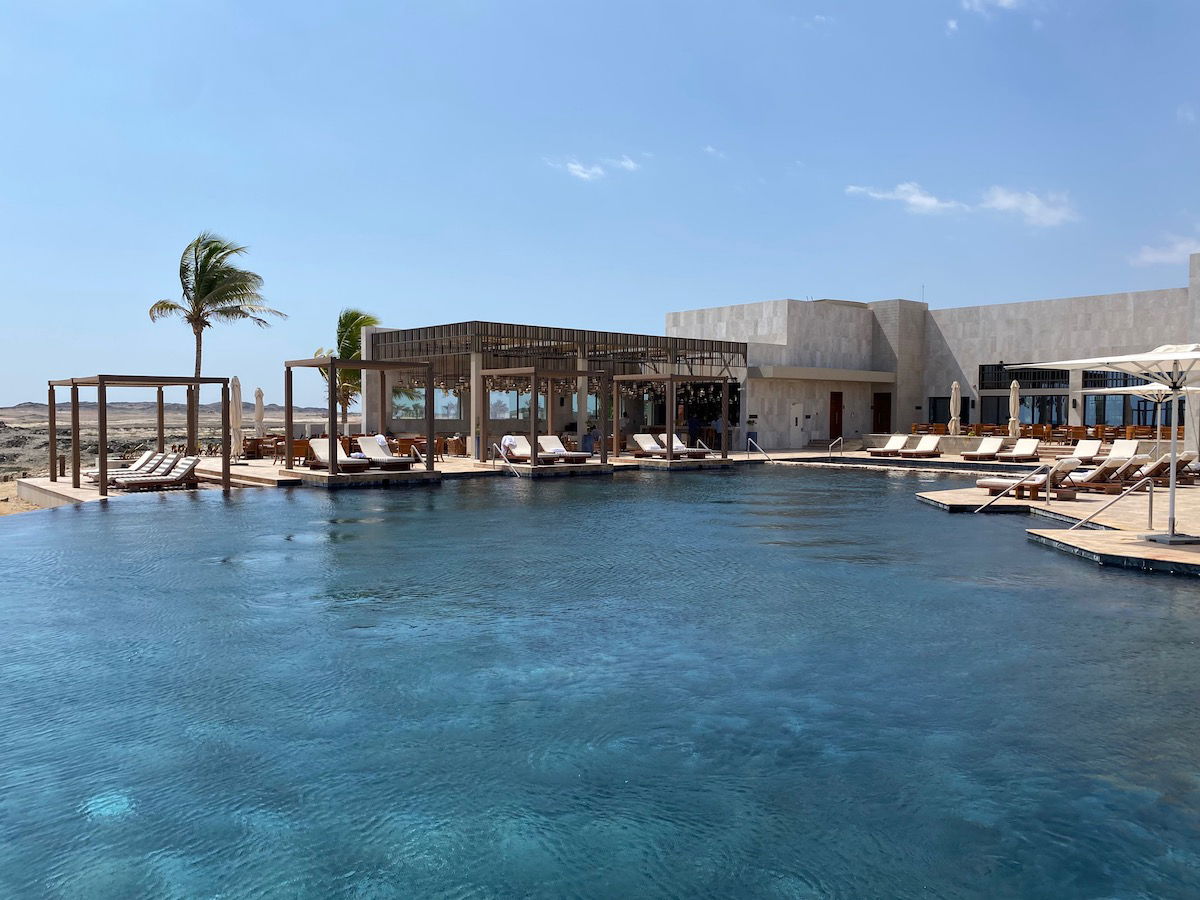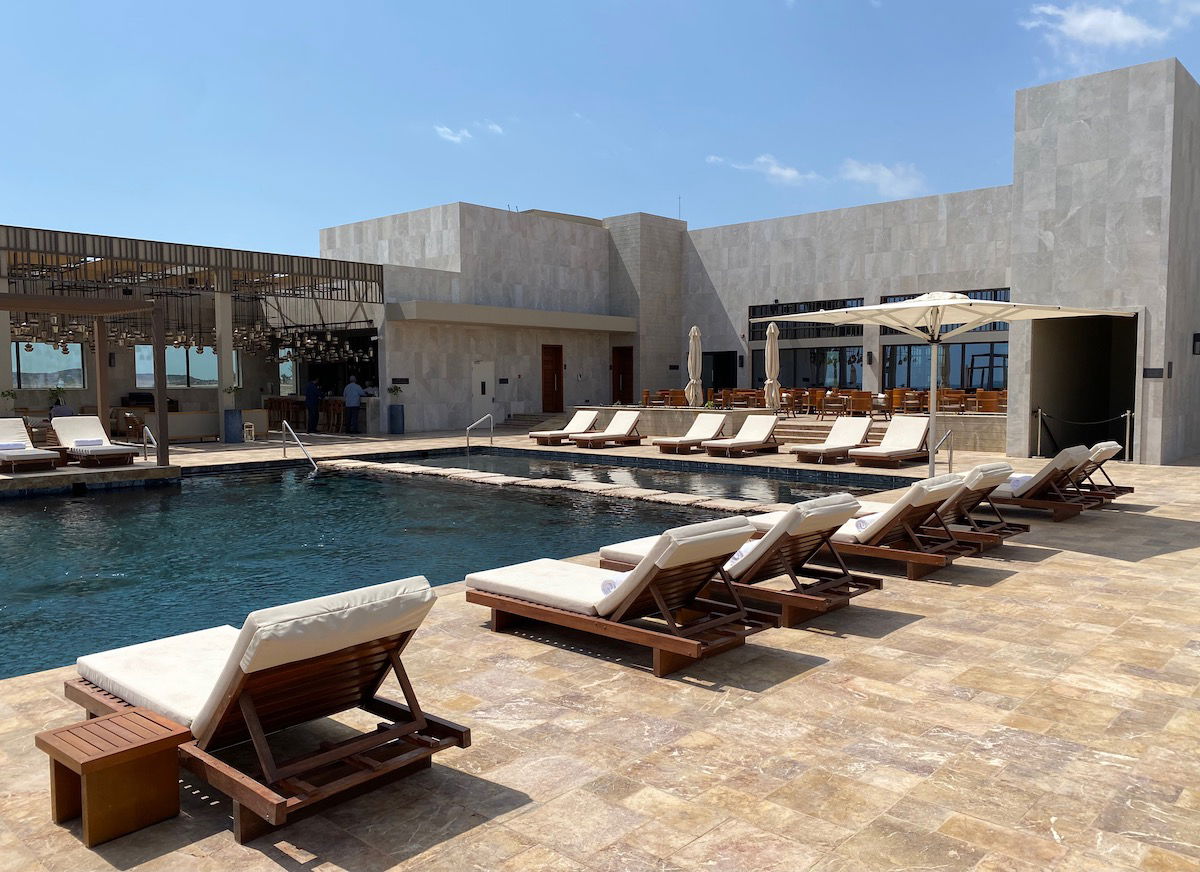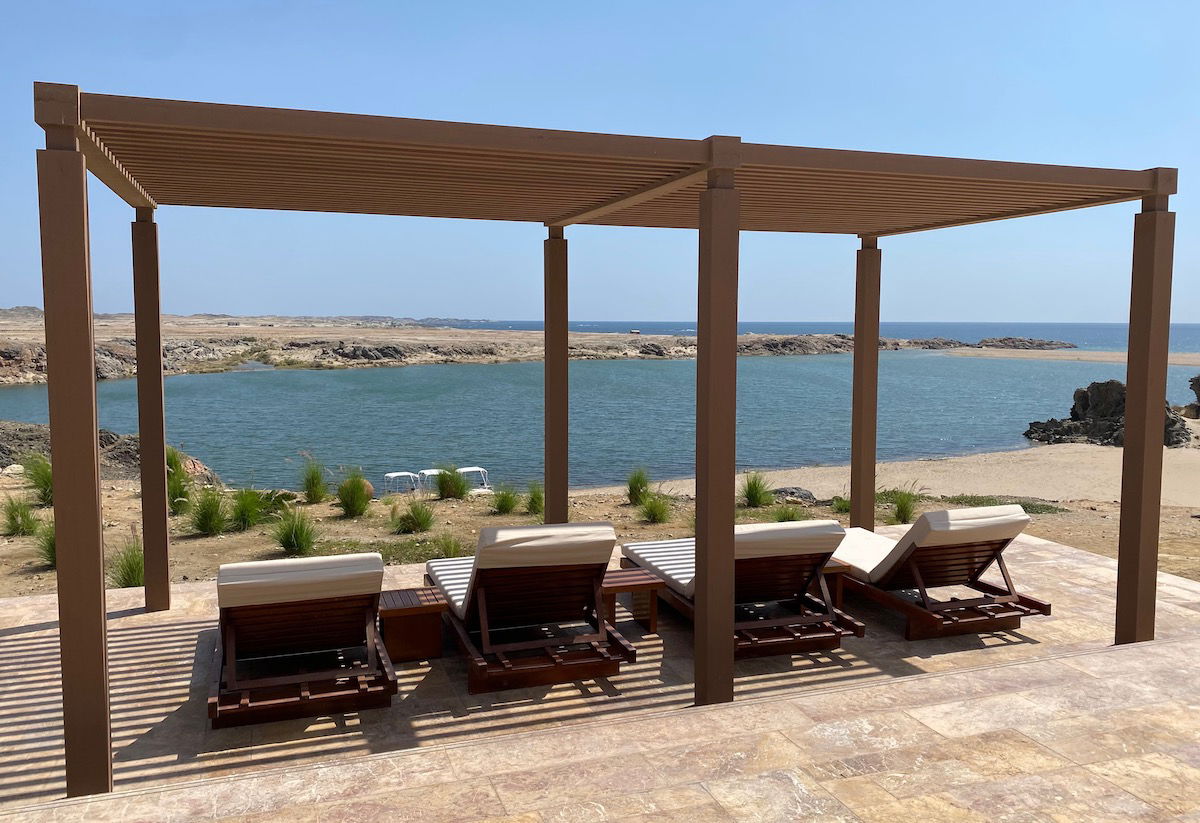 This pool also looks down on part of the beach. Personally I really wouldn't view Alila Hinu Bay as a beach destination, as there are much prettier beaches elsewhere.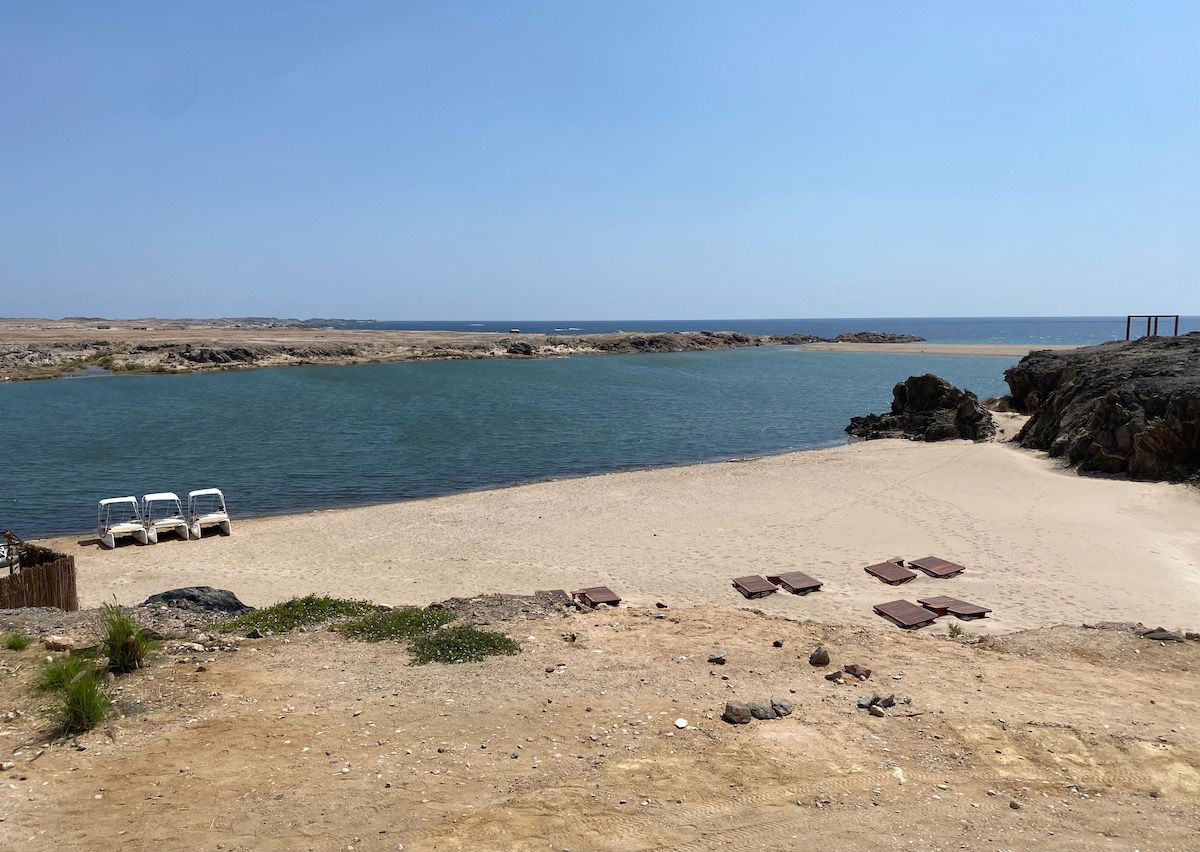 There was also a second pool closer to reception, which was a bit smaller but also very nice.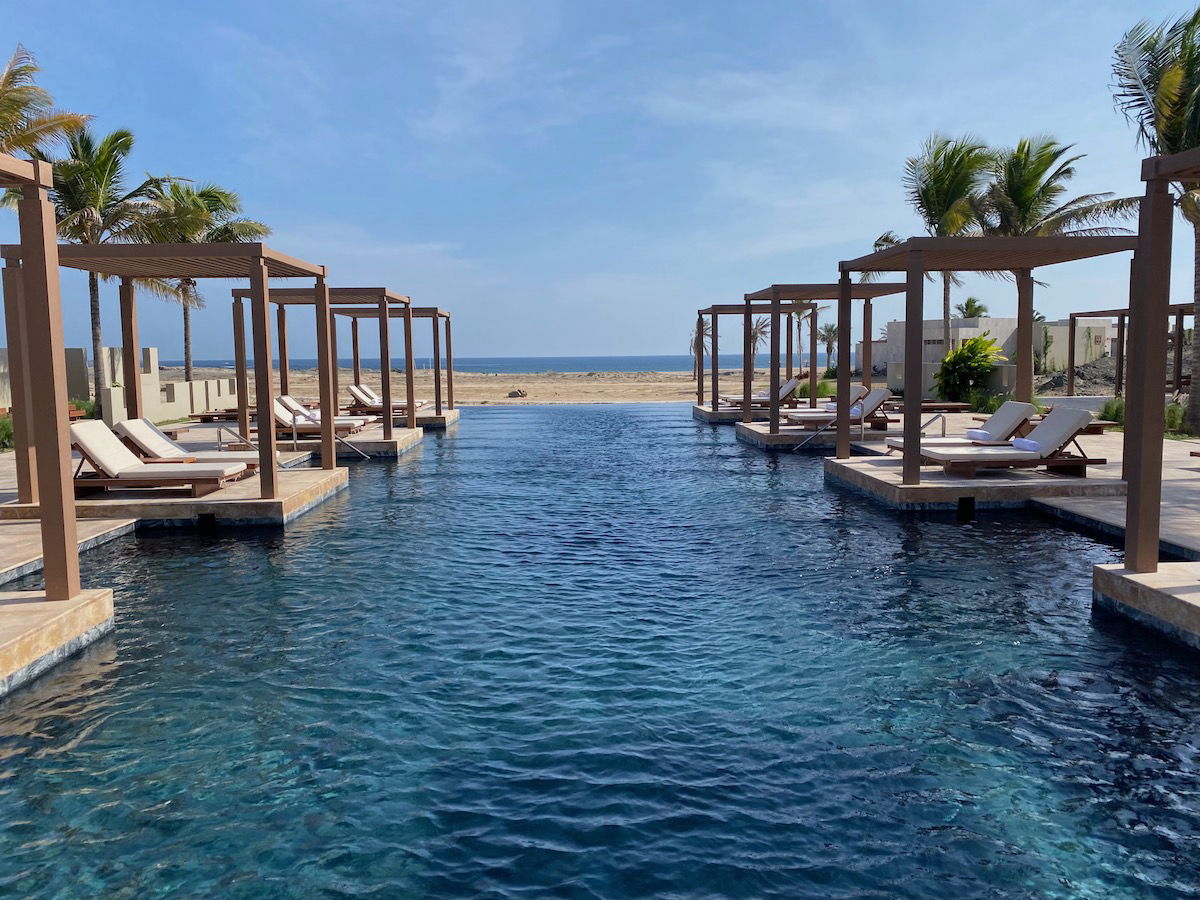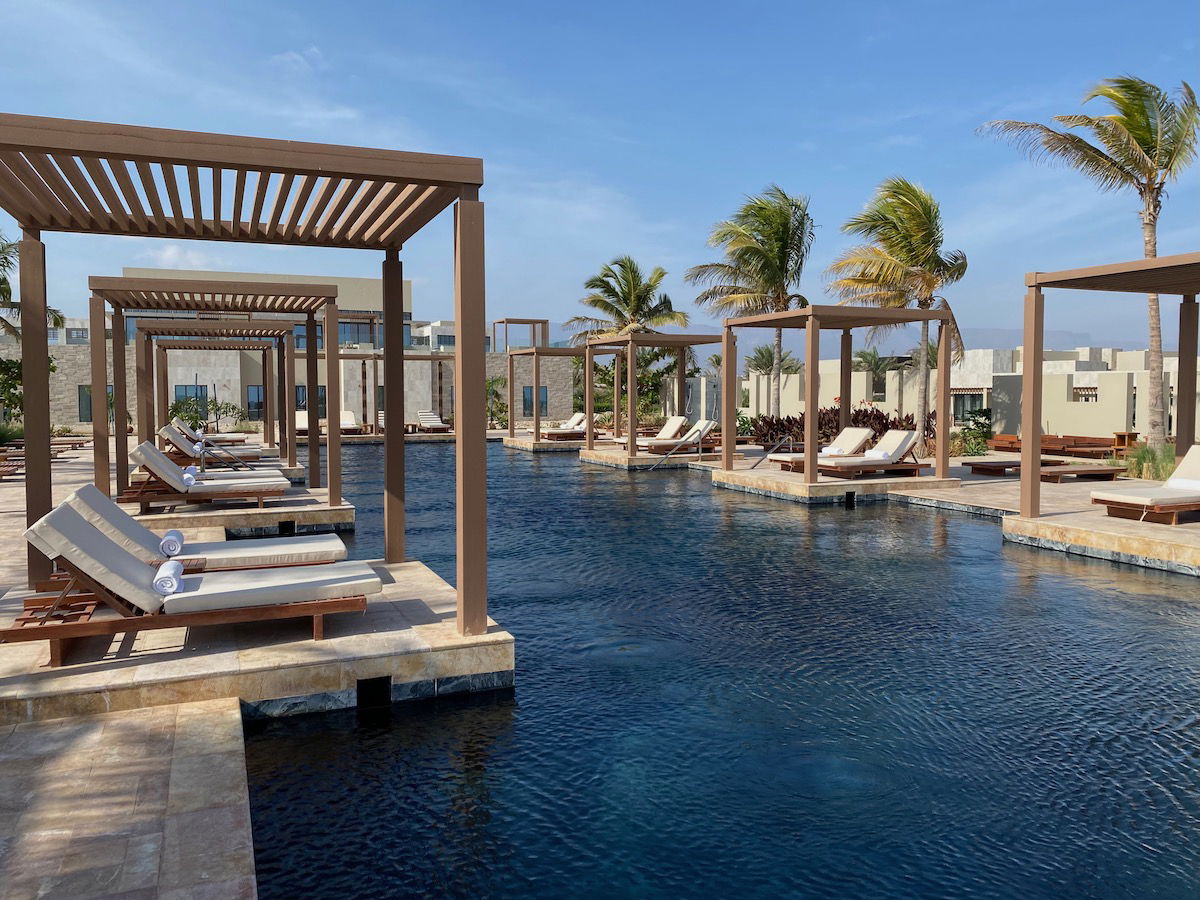 The hotel has quite a bit of coastline. I guess some would call it a beach, but if you're coming here for a beach holiday, you'll probably be disappointed.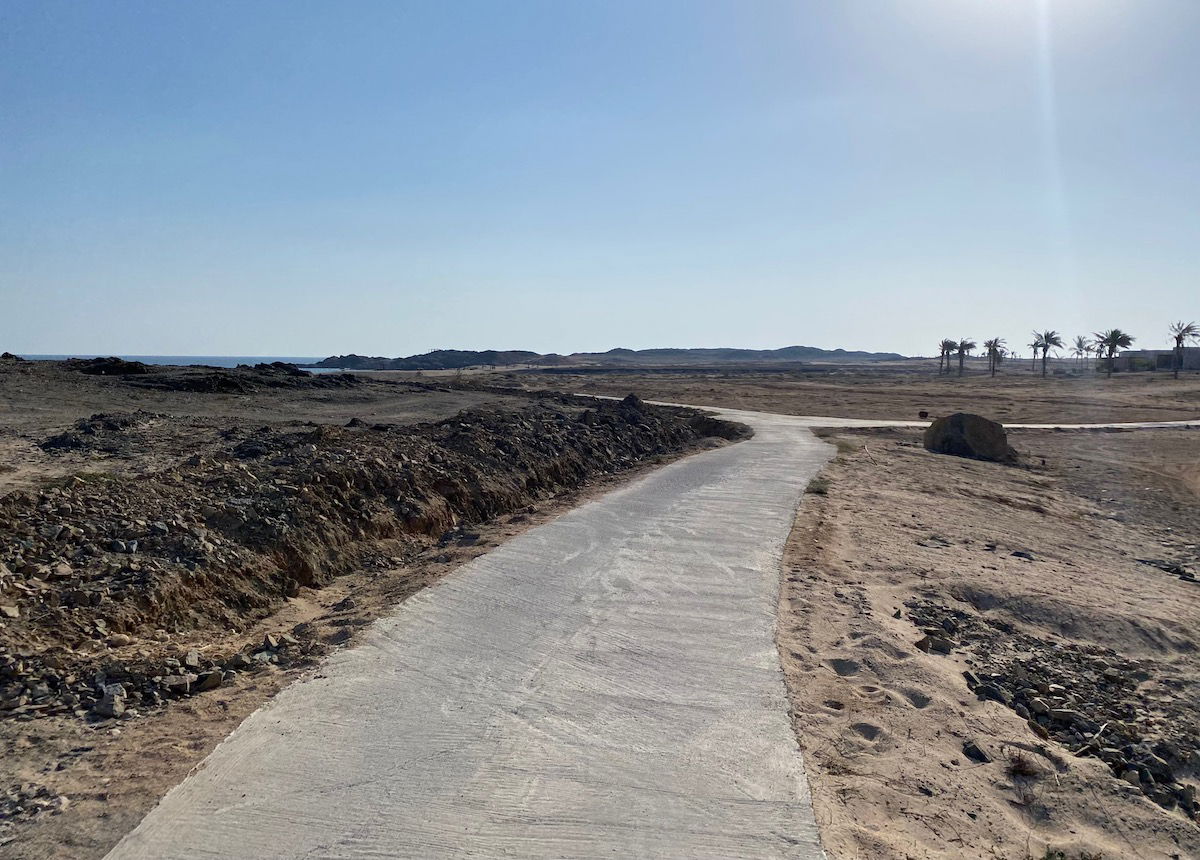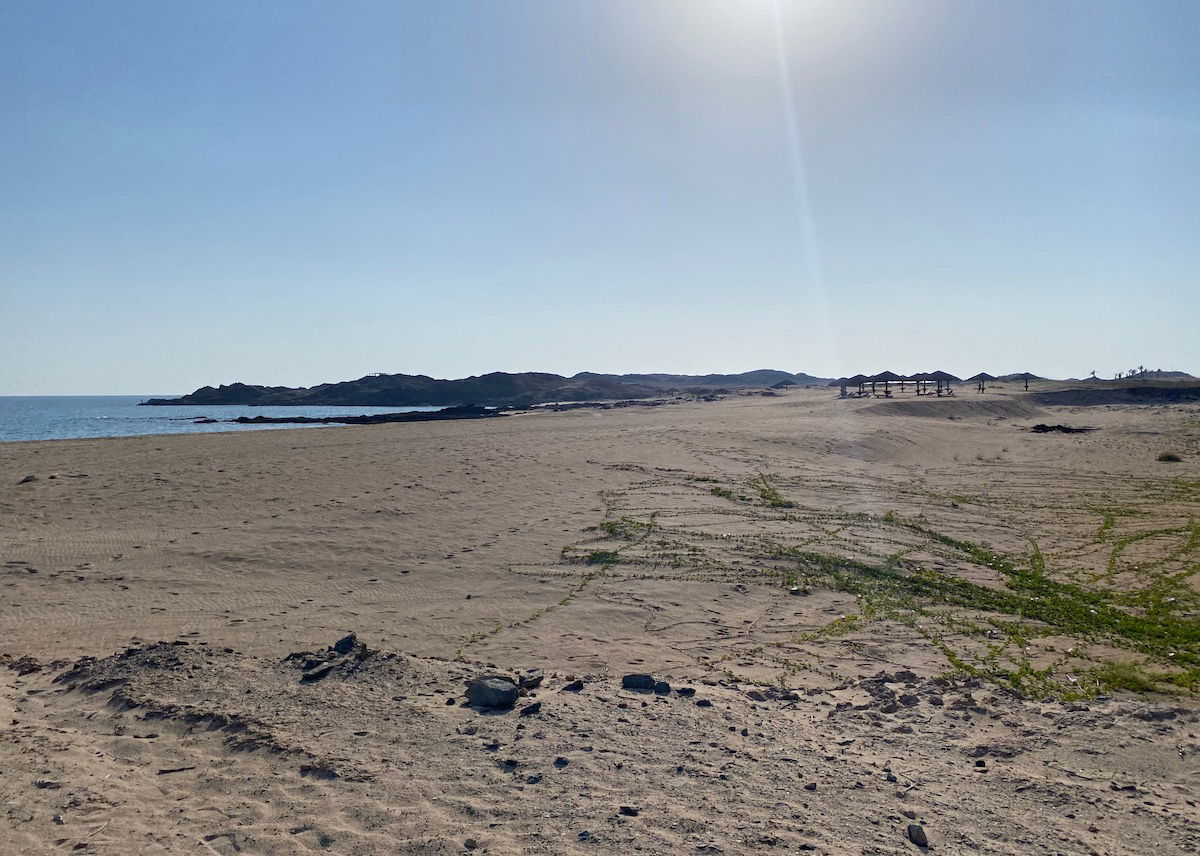 By the way, while we're talking about pools and the beach, make sure you bring lots of sunscreen. The UV index was consistently 10-11 during the day — don't be deceived just because it's not that hot. Fortunately I'm married to someone who is obsessed with not getting burned, so we always used sunscreen. Meanwhile I felt like some of our fellow guests were lobster-colored by the end of their stays.
Alila Hinu Bay spa
Alila Hinu Bay has a spa in a standalone building, and it's excellent. I'm not usually one to get spa treatments, as there are other things I'd typically prefer doing. However, the pace of life is a bit slower at Alila Hinu Bay, so we did get a couple of spa treatments.
You can find the spa menu here. During our stay they were running a 25% off promotion if you got a treatment before 3PM. For example, a 90 minute massage ordinarily costs 60OMR (~$156), but with the 25% discount cost 45OMR (~$116). I'd consider that to be pretty reasonable for an excellent treatment, especially when you consider that you can earn points for spa treatments.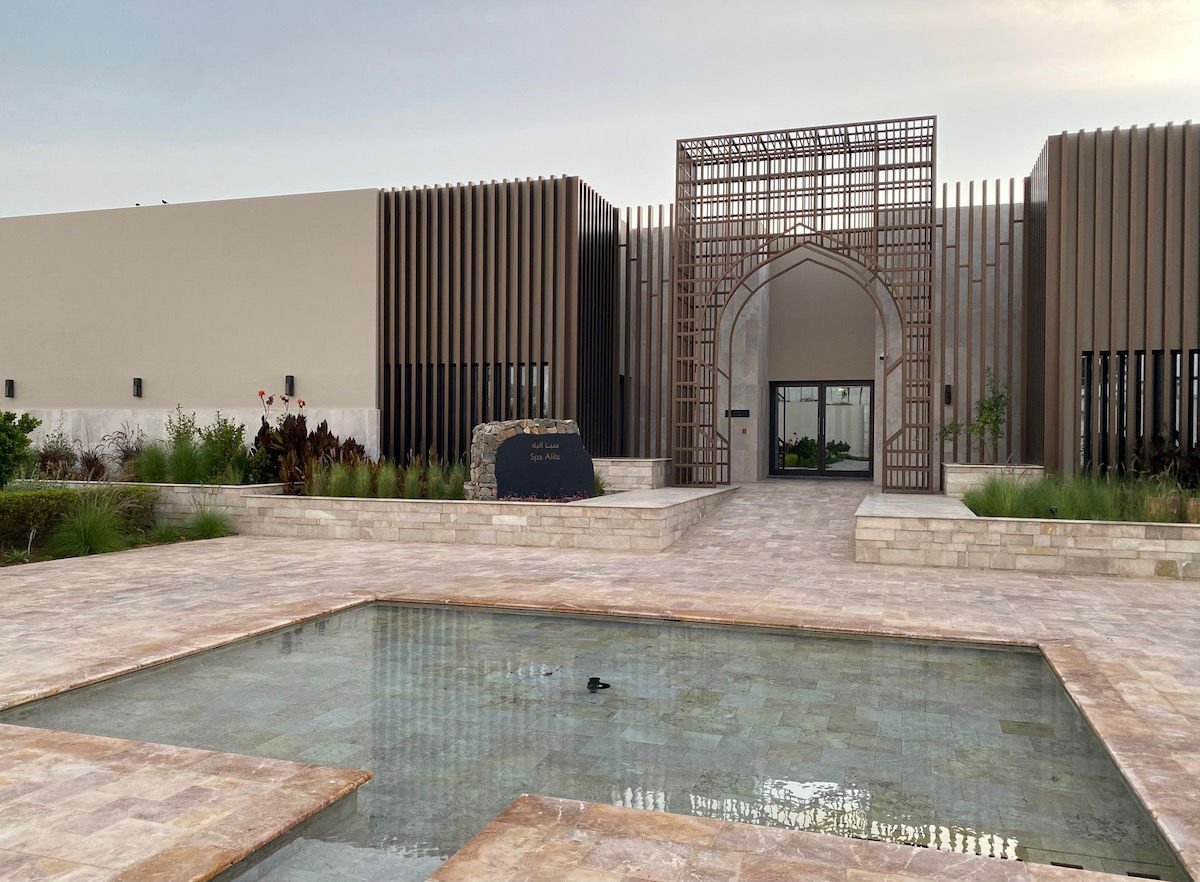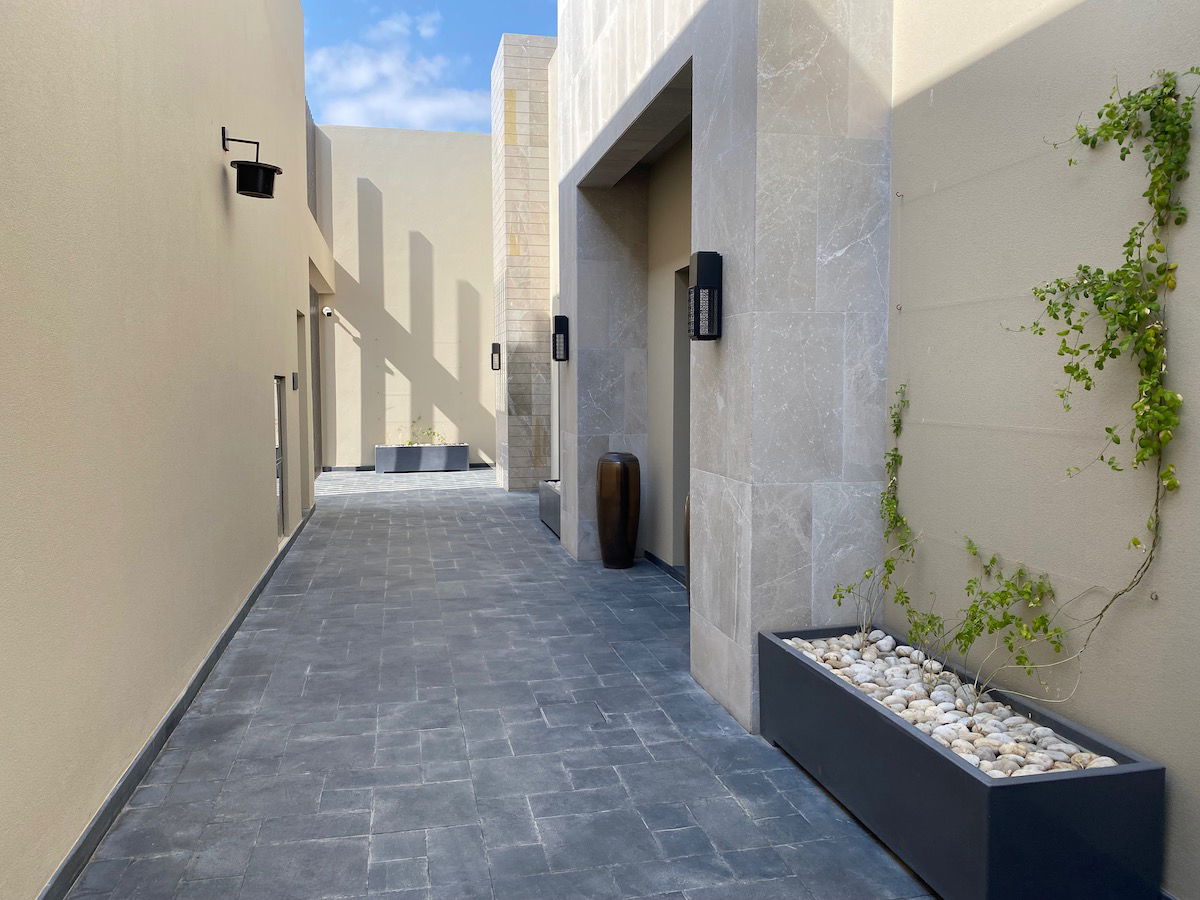 At the start of the treatment we were offered iced hibiscus tea, and at the conclusion of the treatment we were offered frankincense tea with homemade granola.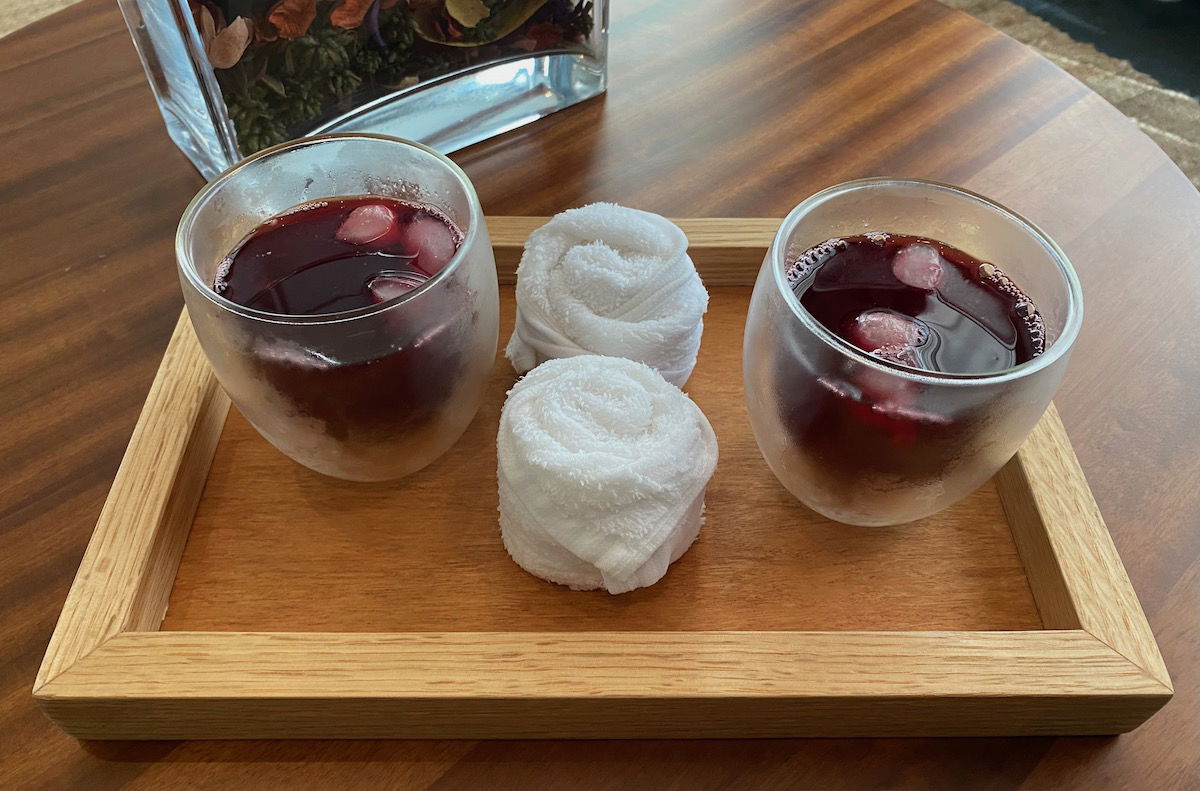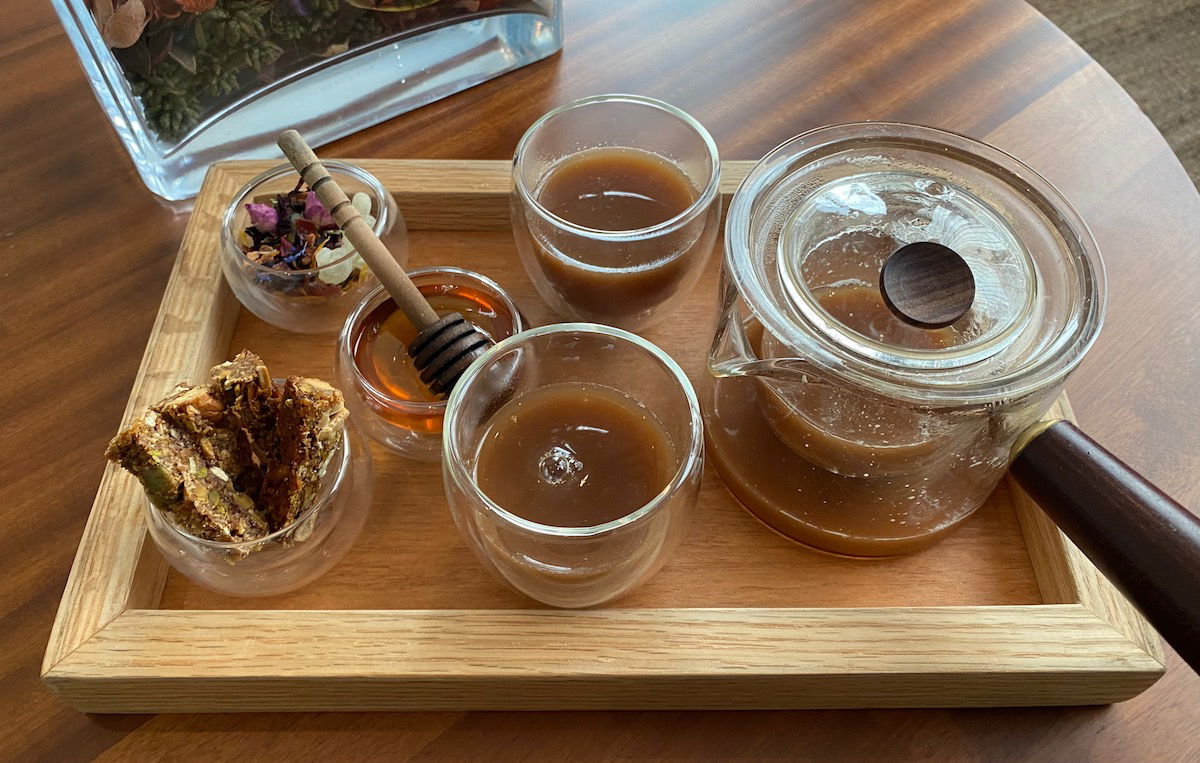 The massages were very good, and the therapists couldn't have been kinder.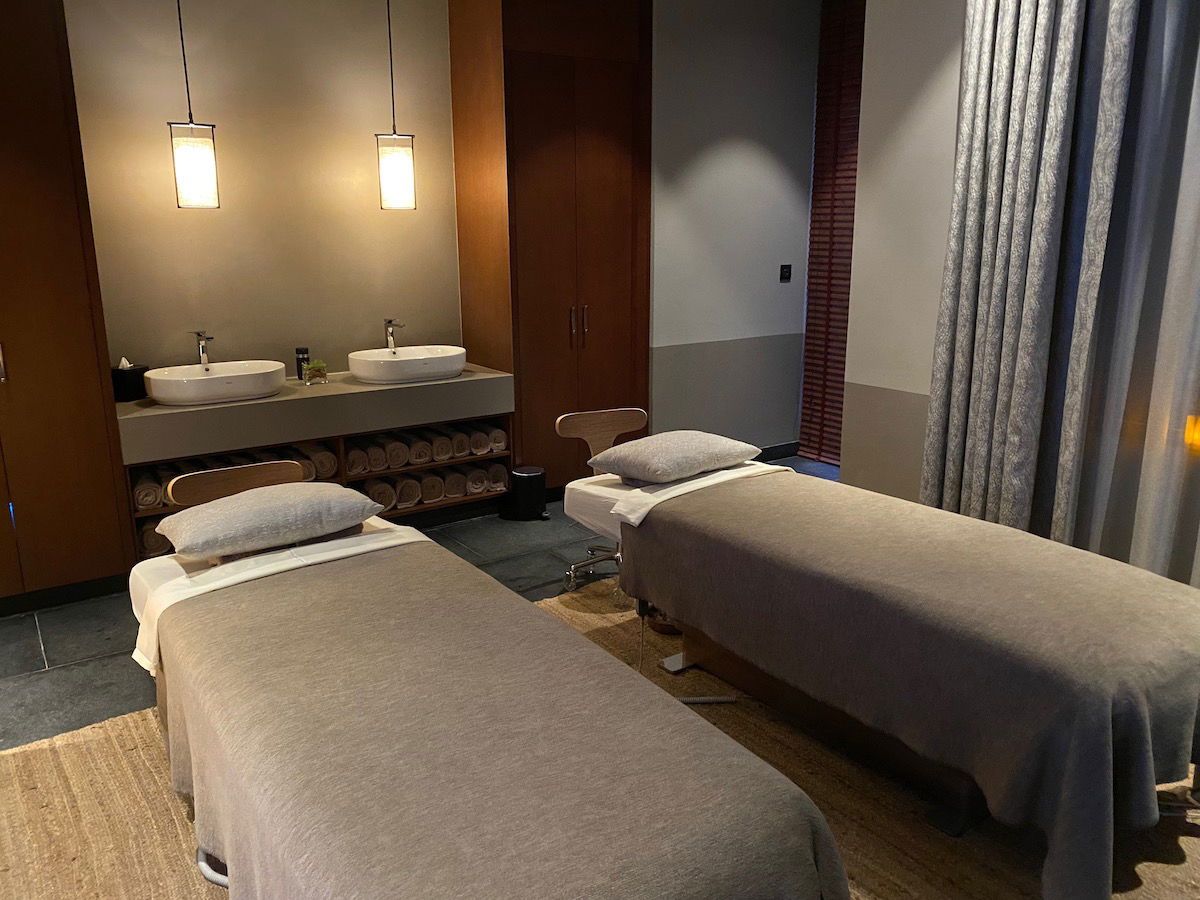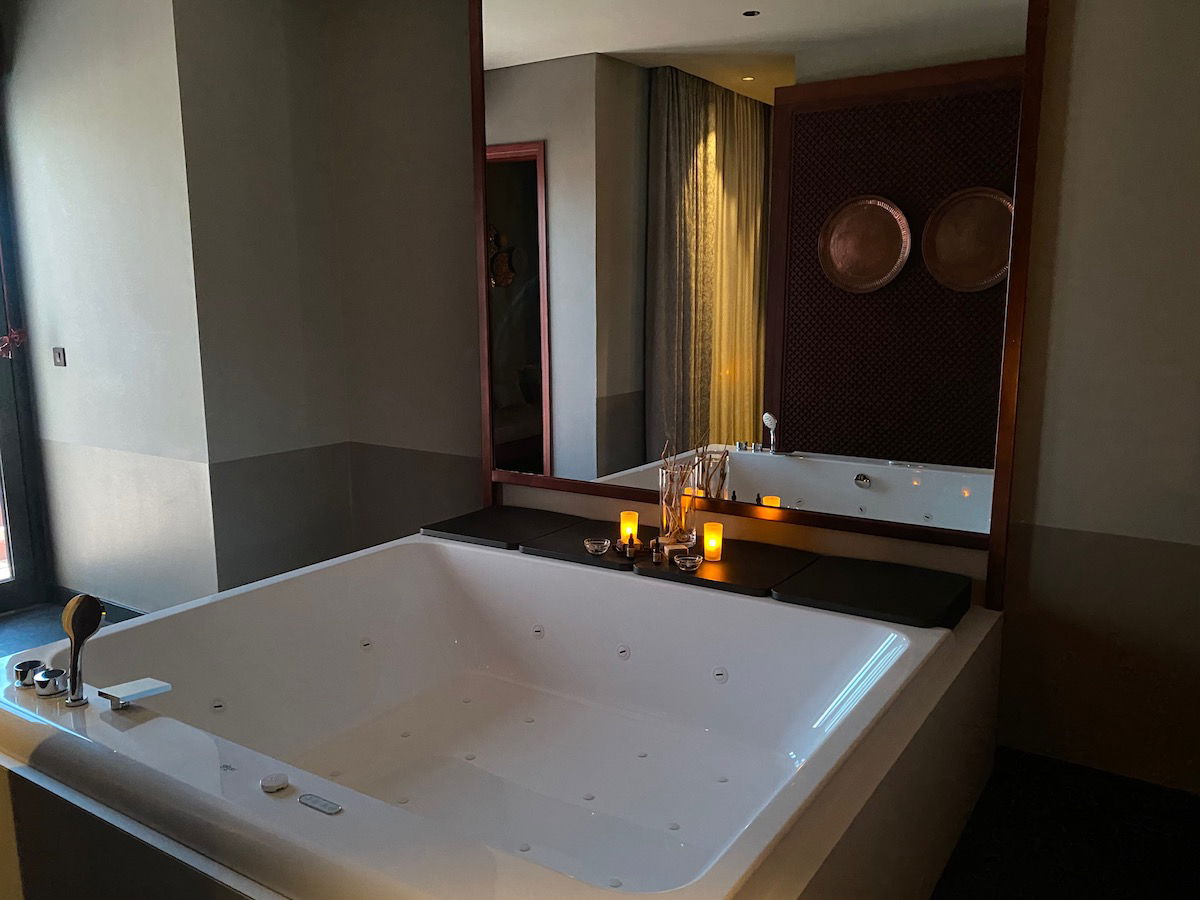 As you'd expect, the spa area also has steam rooms, a small outdoor pool area, etc.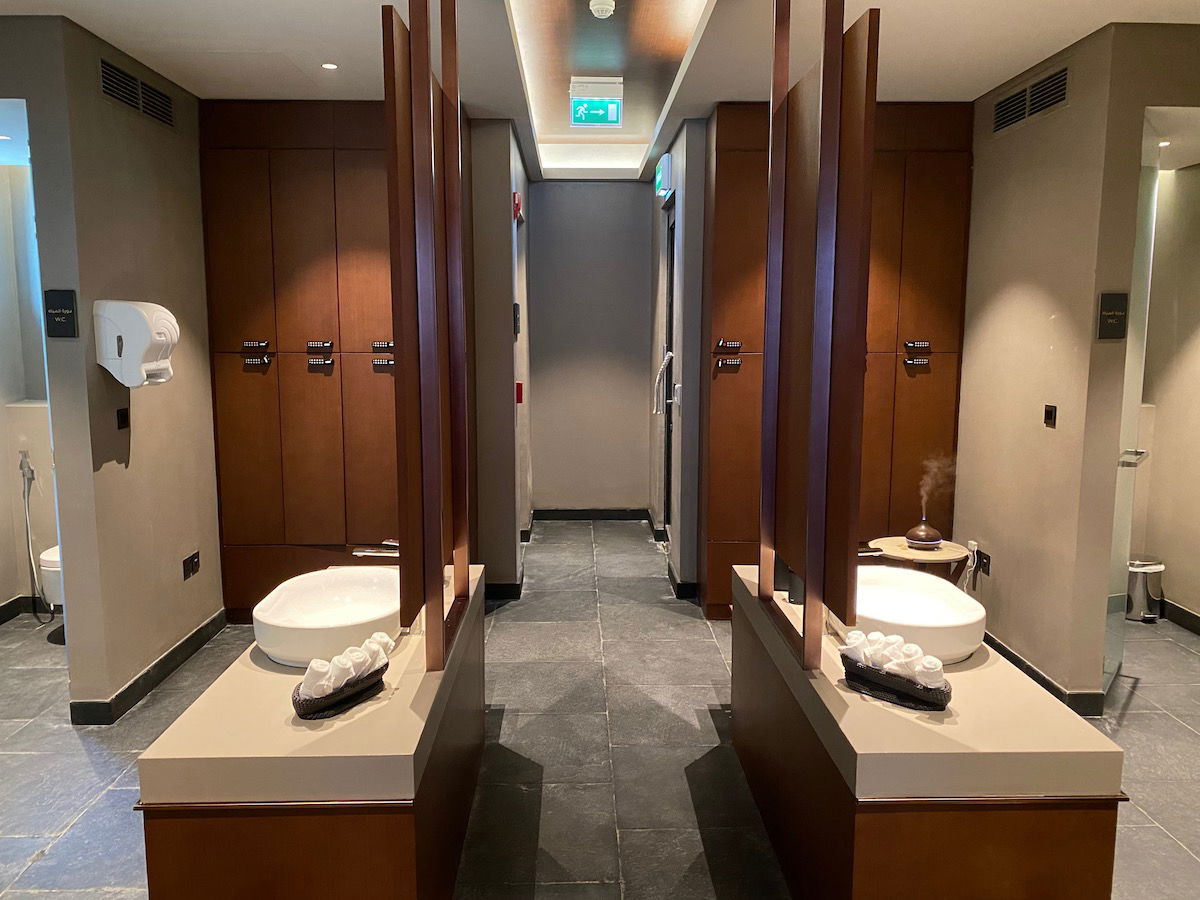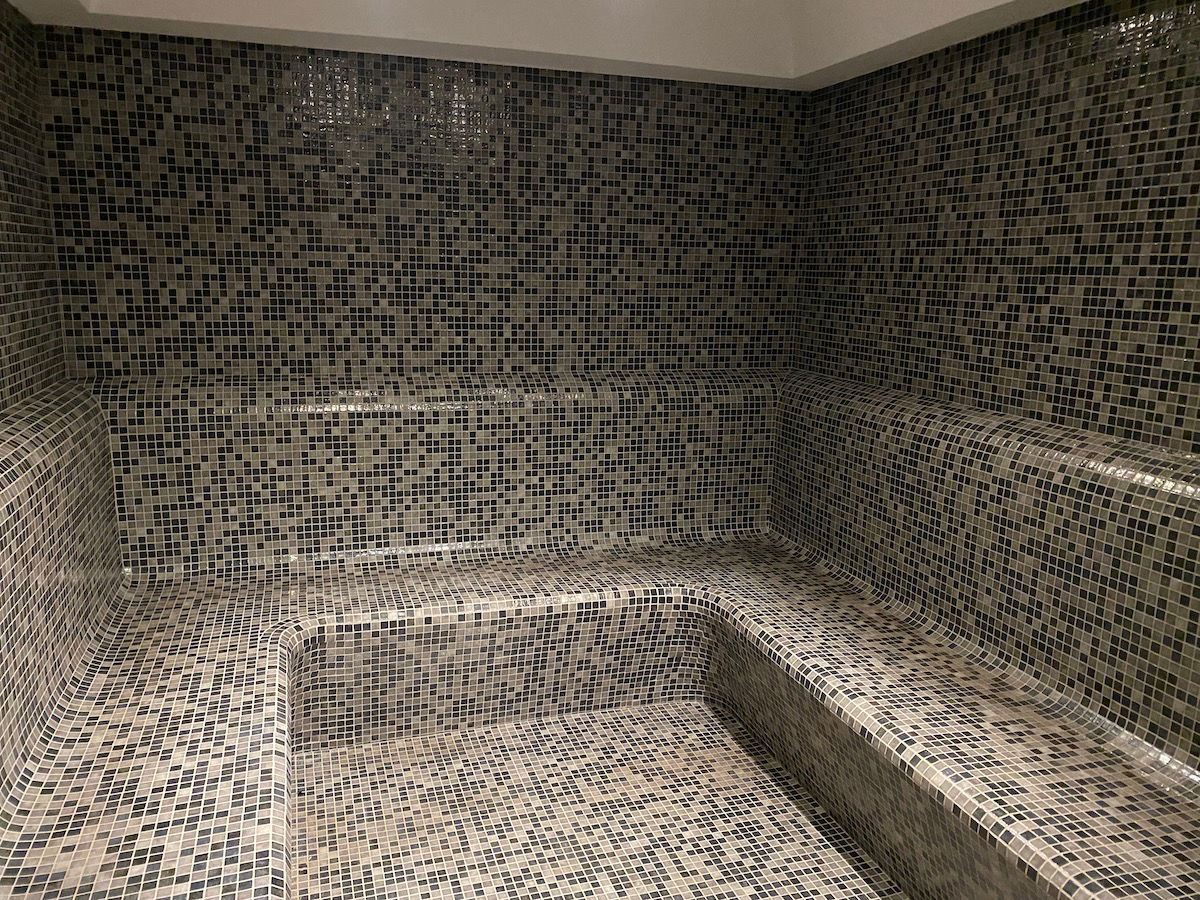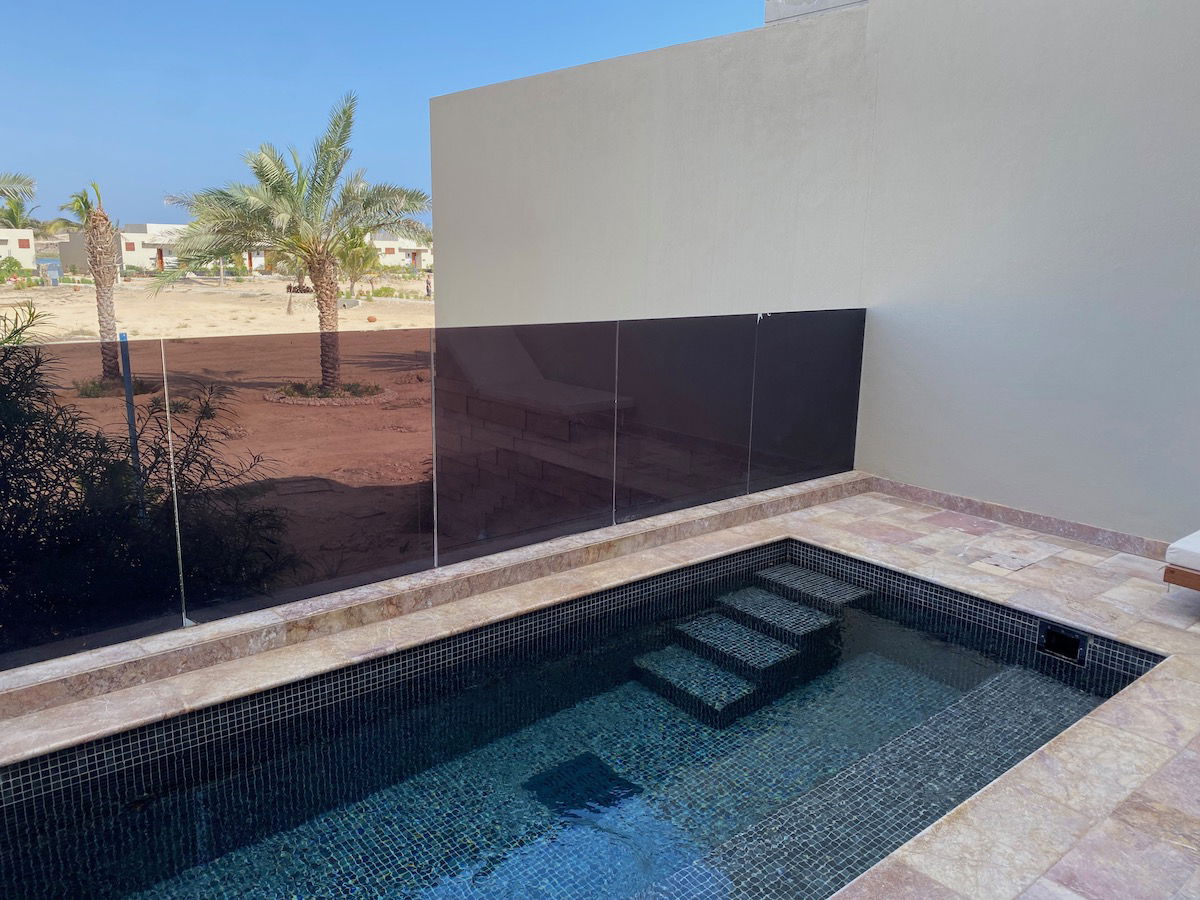 Alila Hinu Bay gym
Alila Hinu Bay has a 24/7 gym. While not cutting edge, it featured a good amount of cardio and weight equipment, especially for a secluded resort. The staff did apologize that the gym wasn't completely done yet, as they're apparently still waiting on some equipment.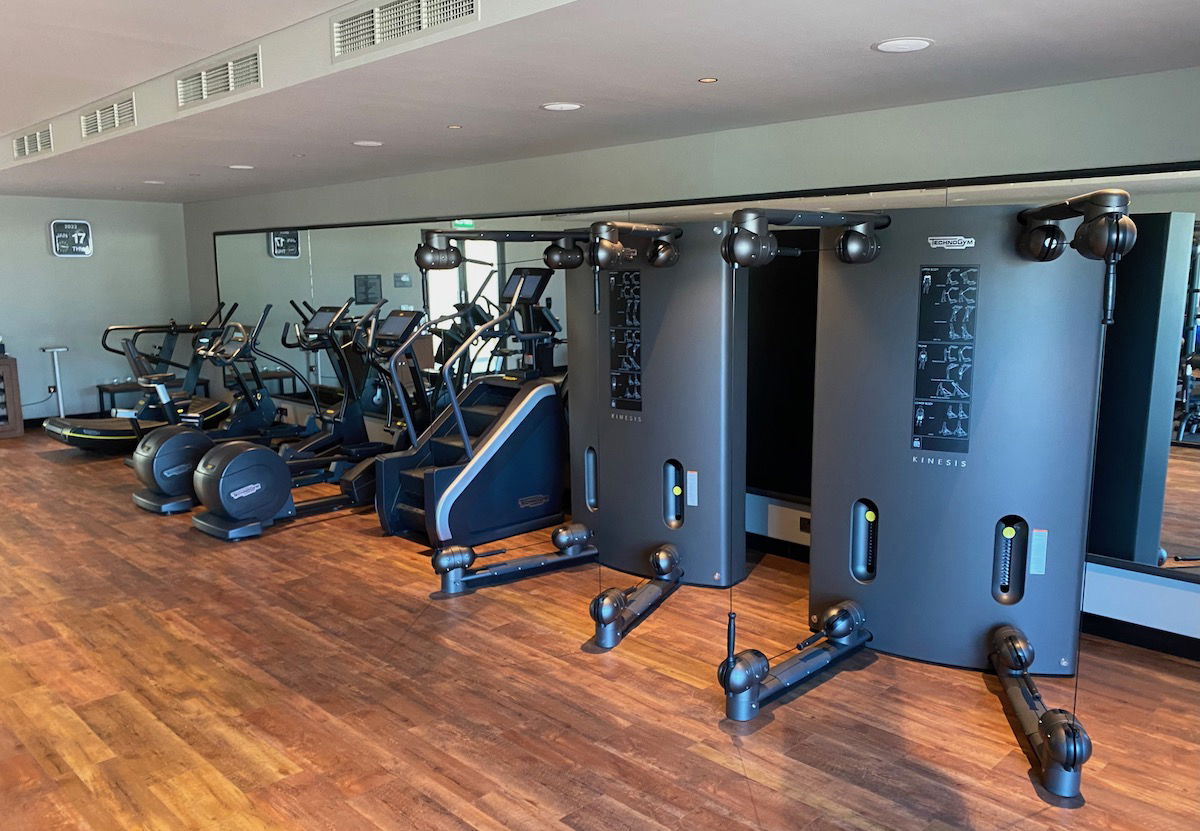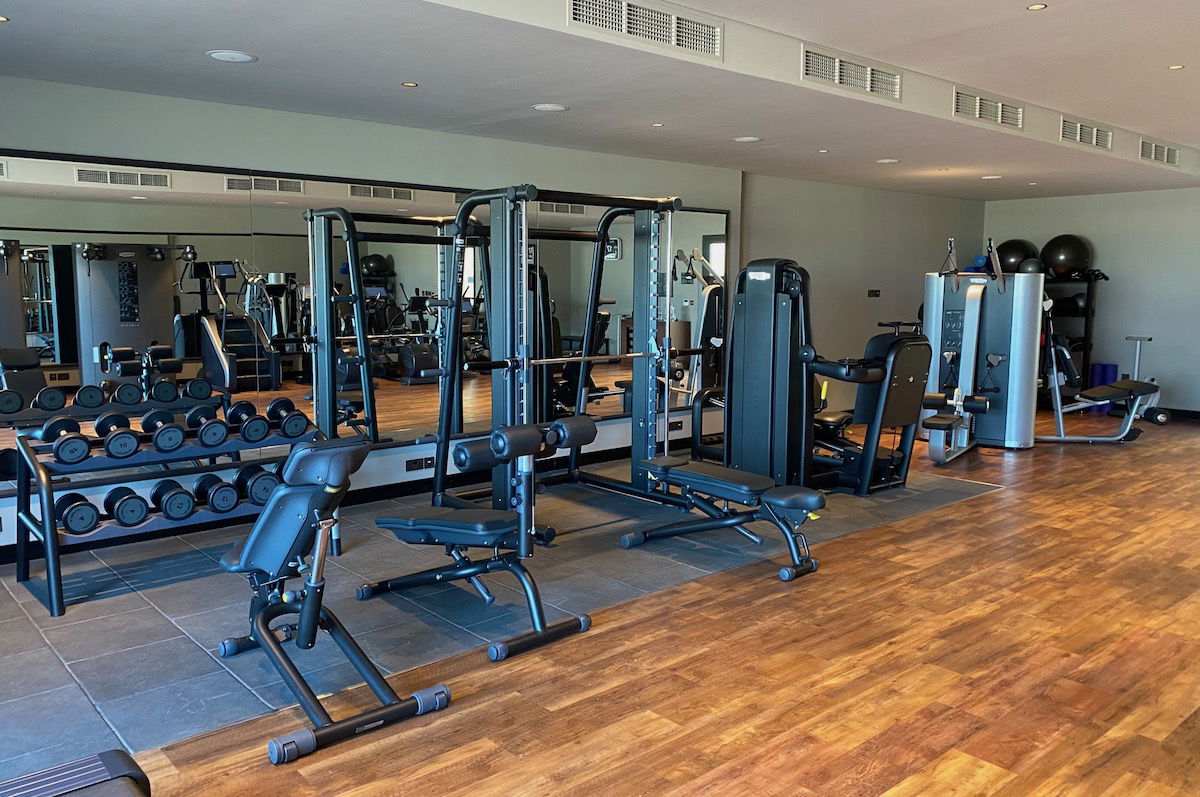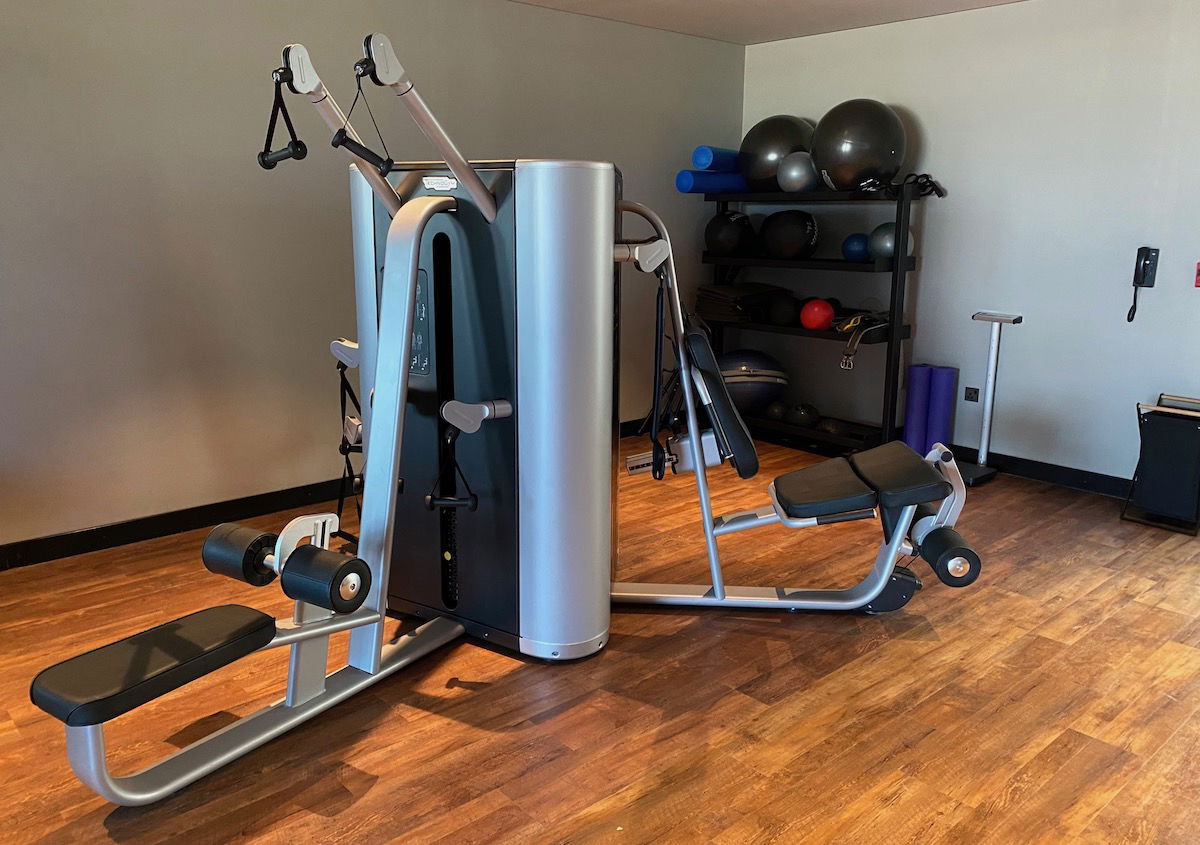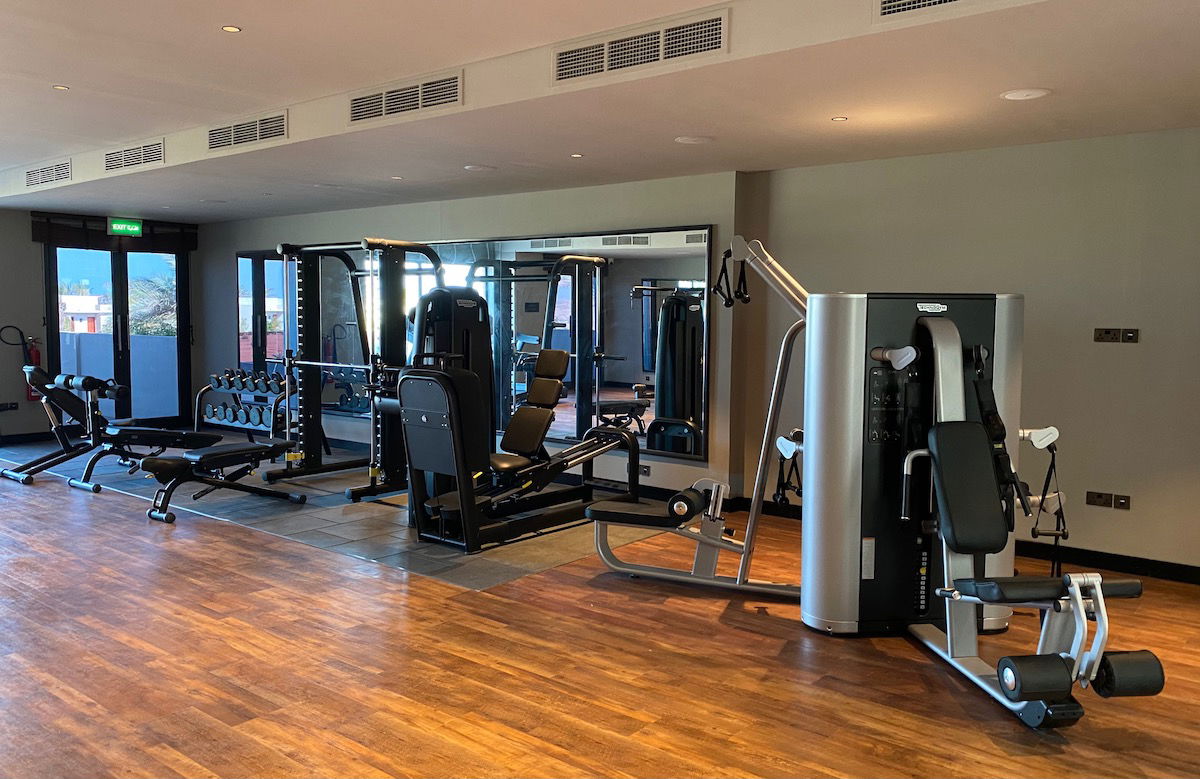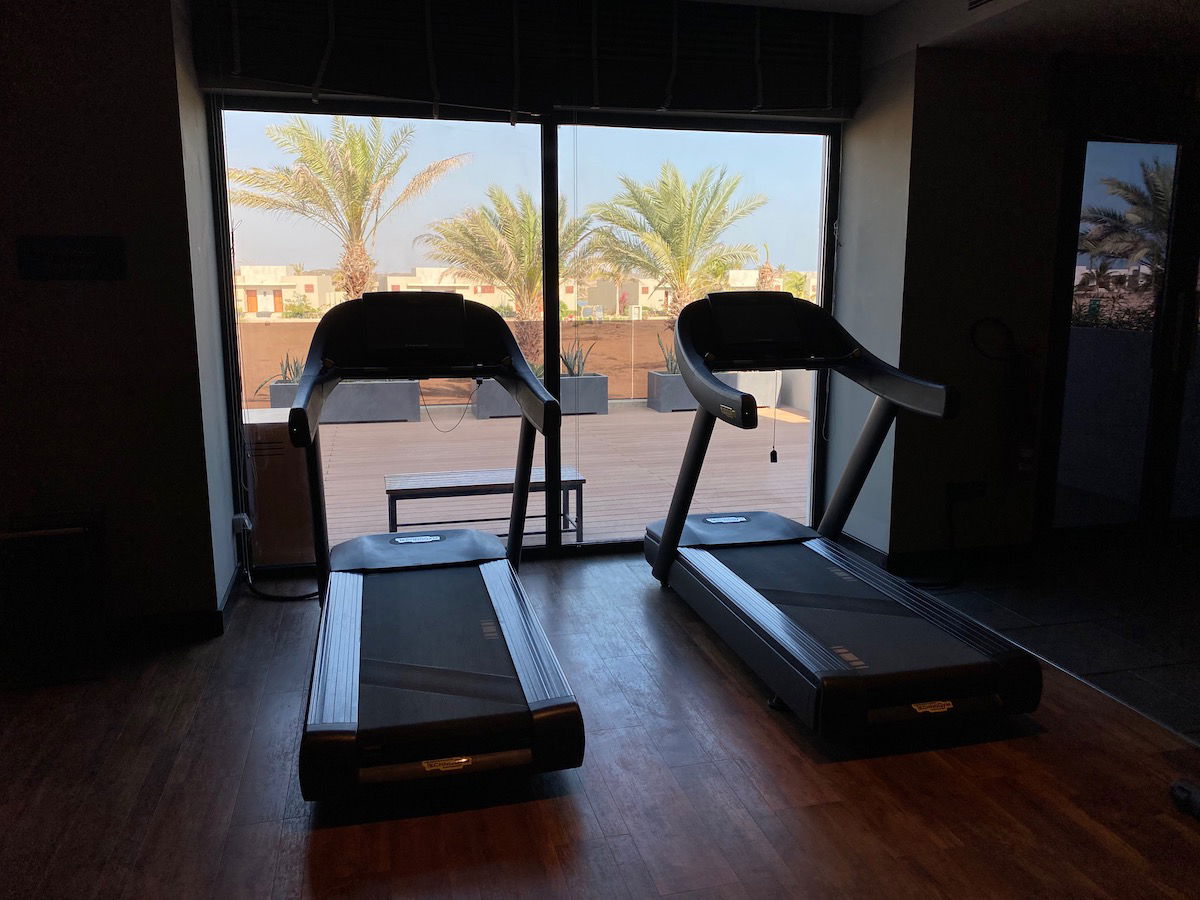 Alila Hinu Bay The Orchard Restaurant (breakfast)
Alila Hinu Bay has two restaurants — The Orchard Restaurant is located near reception, and serves breakfast, while Sea Salt Restaurant is at the main pool, and serves lunch and dinner. Let's start with The Orchard Restaurant.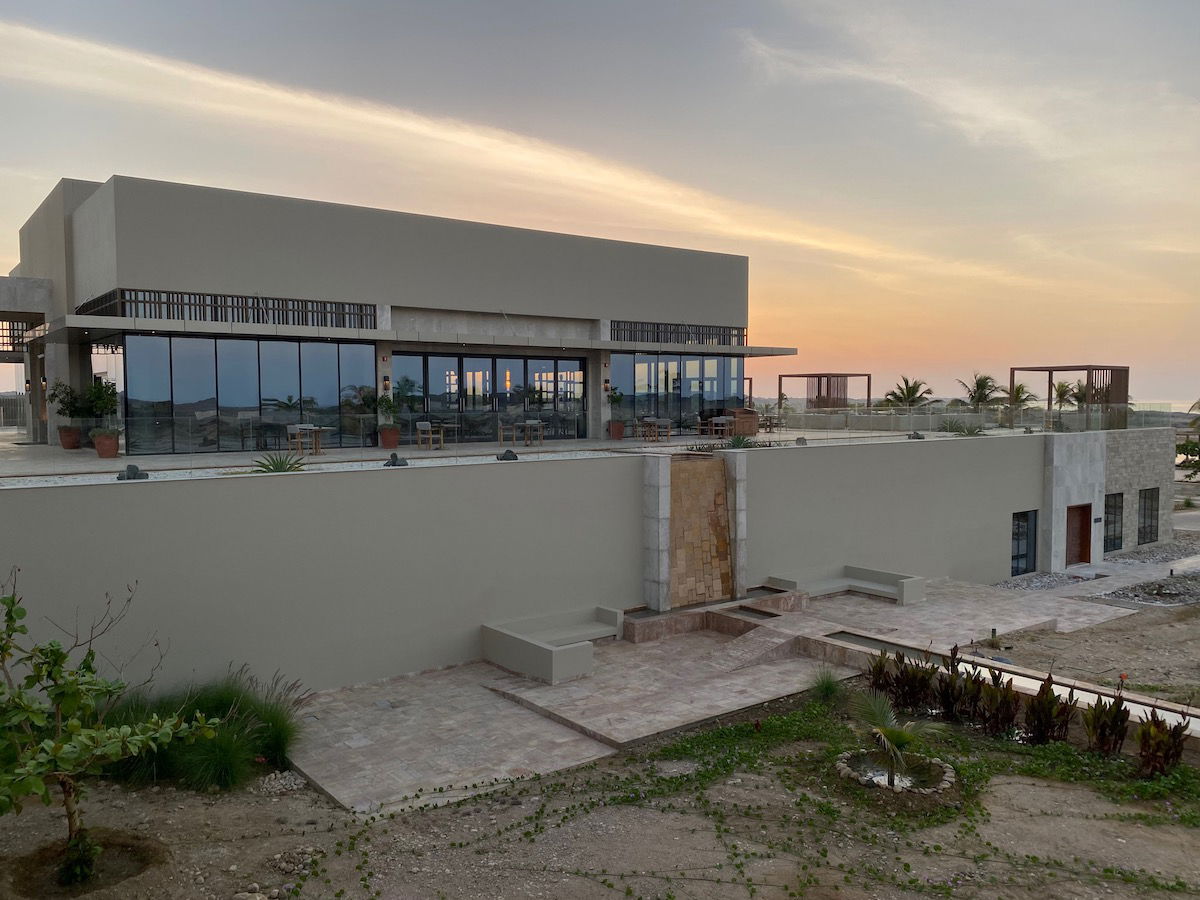 It's nicely appointed, and has both plenty of indoor and outdoor seating.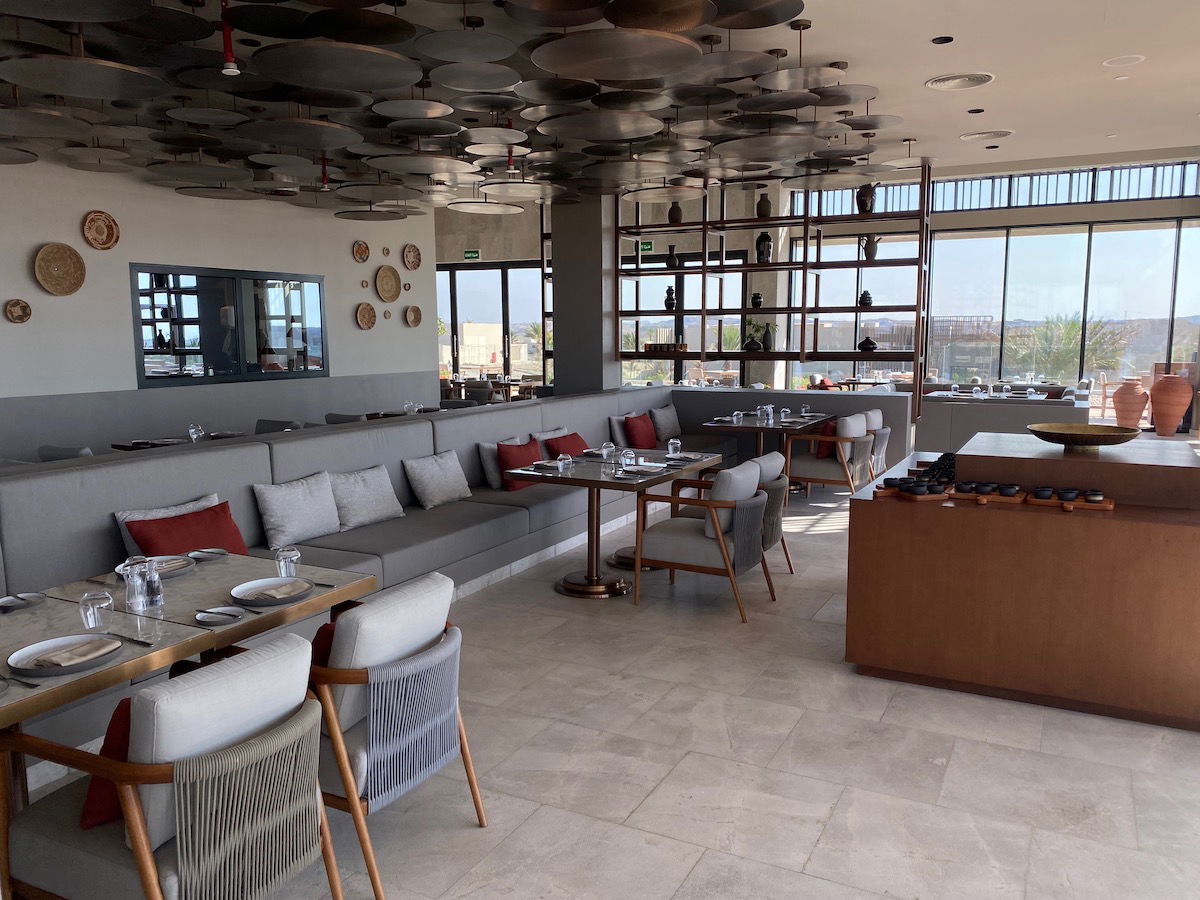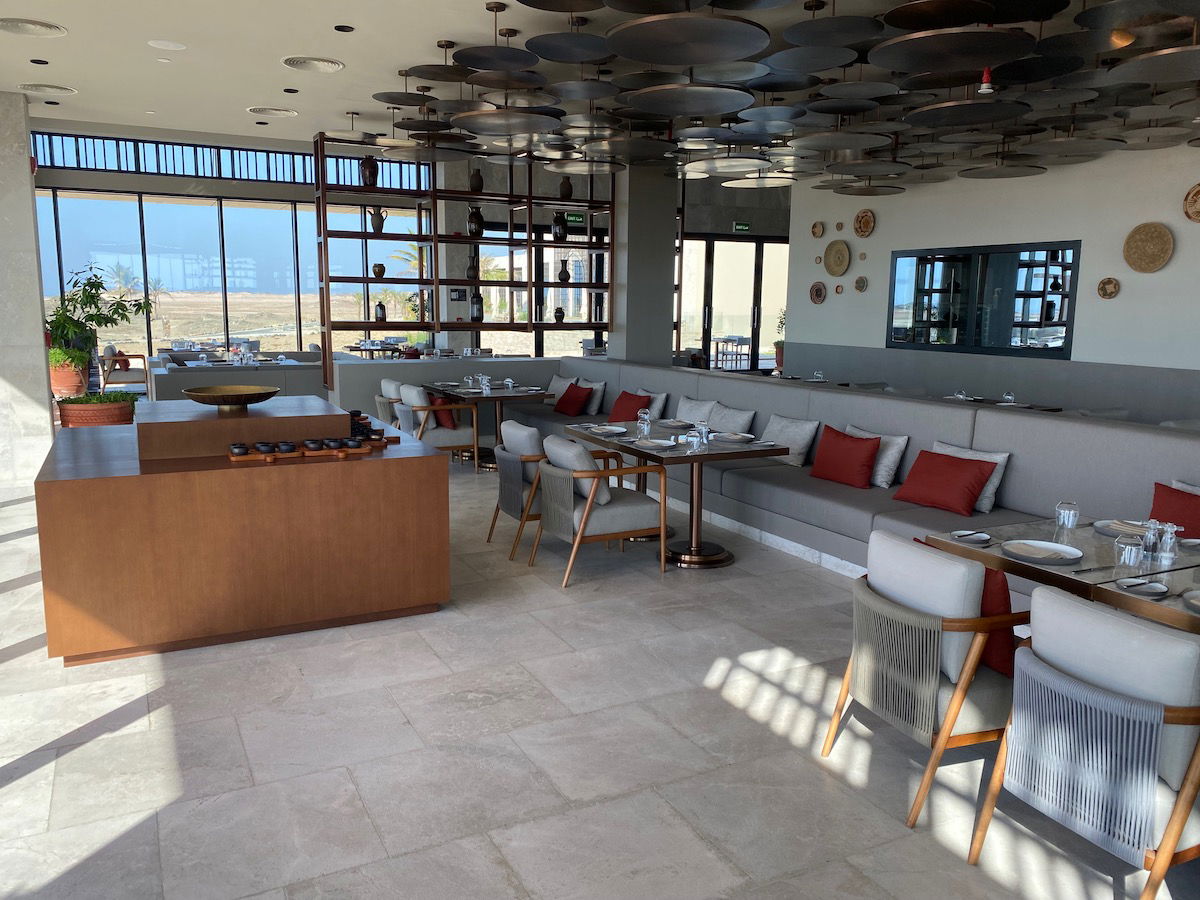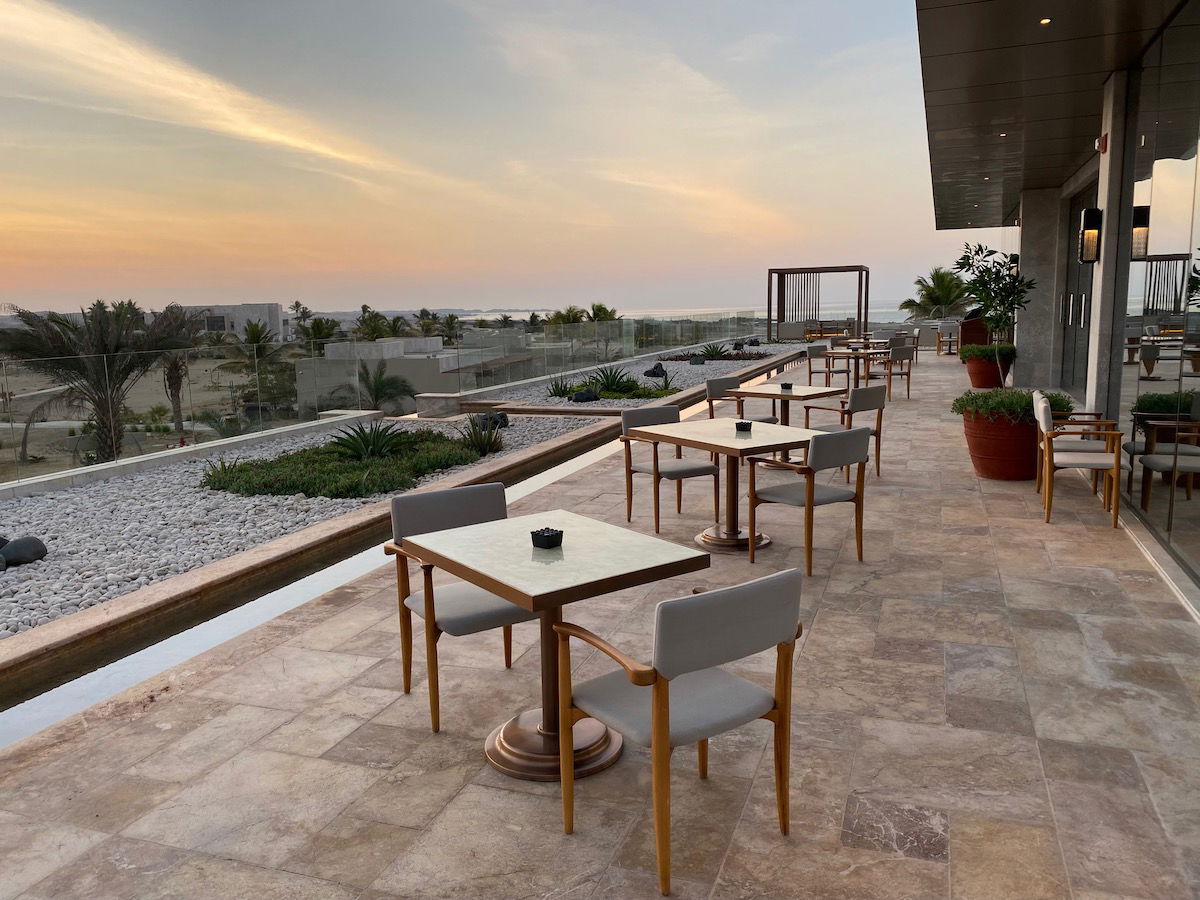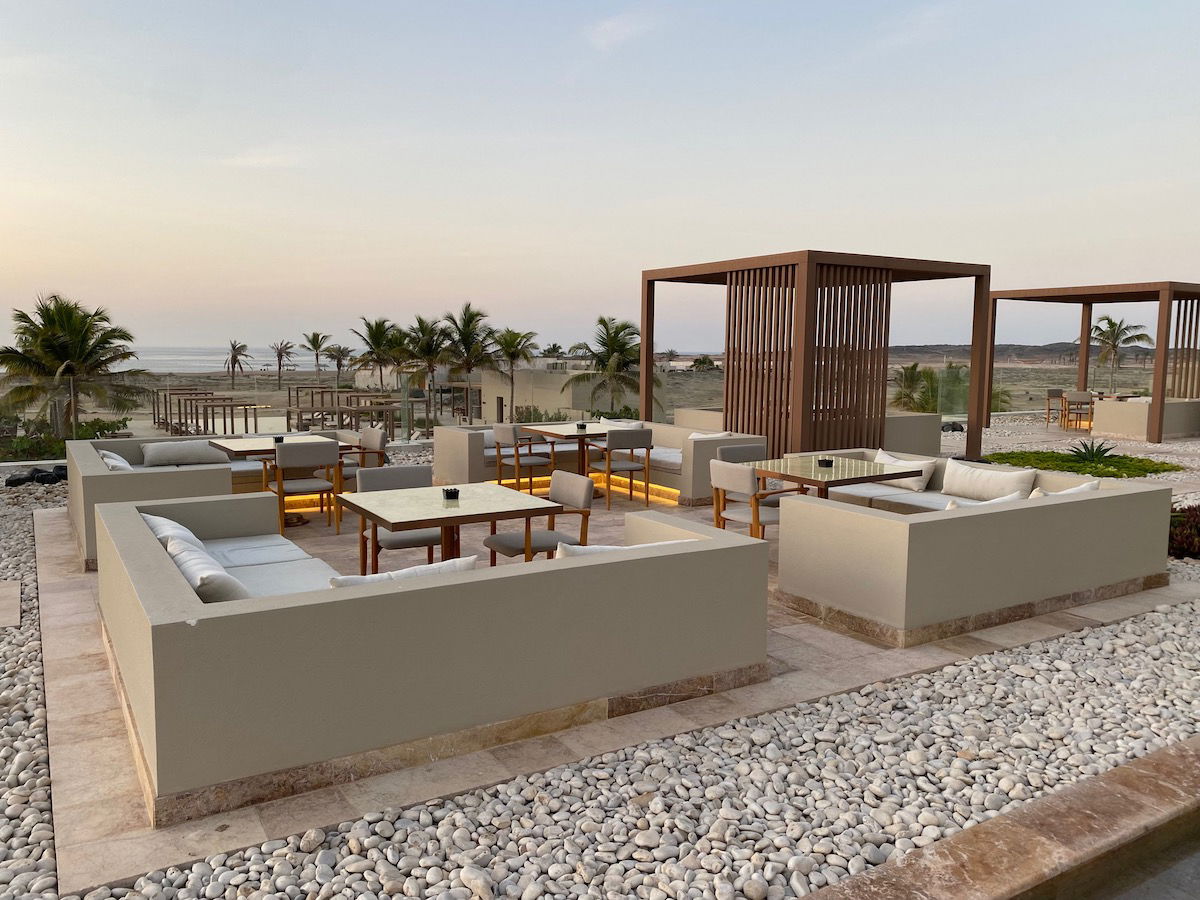 Breakfast was phenomenal. Portions were intentionally small, in order to encourage people to sample all kinds of things. You can find the menu below.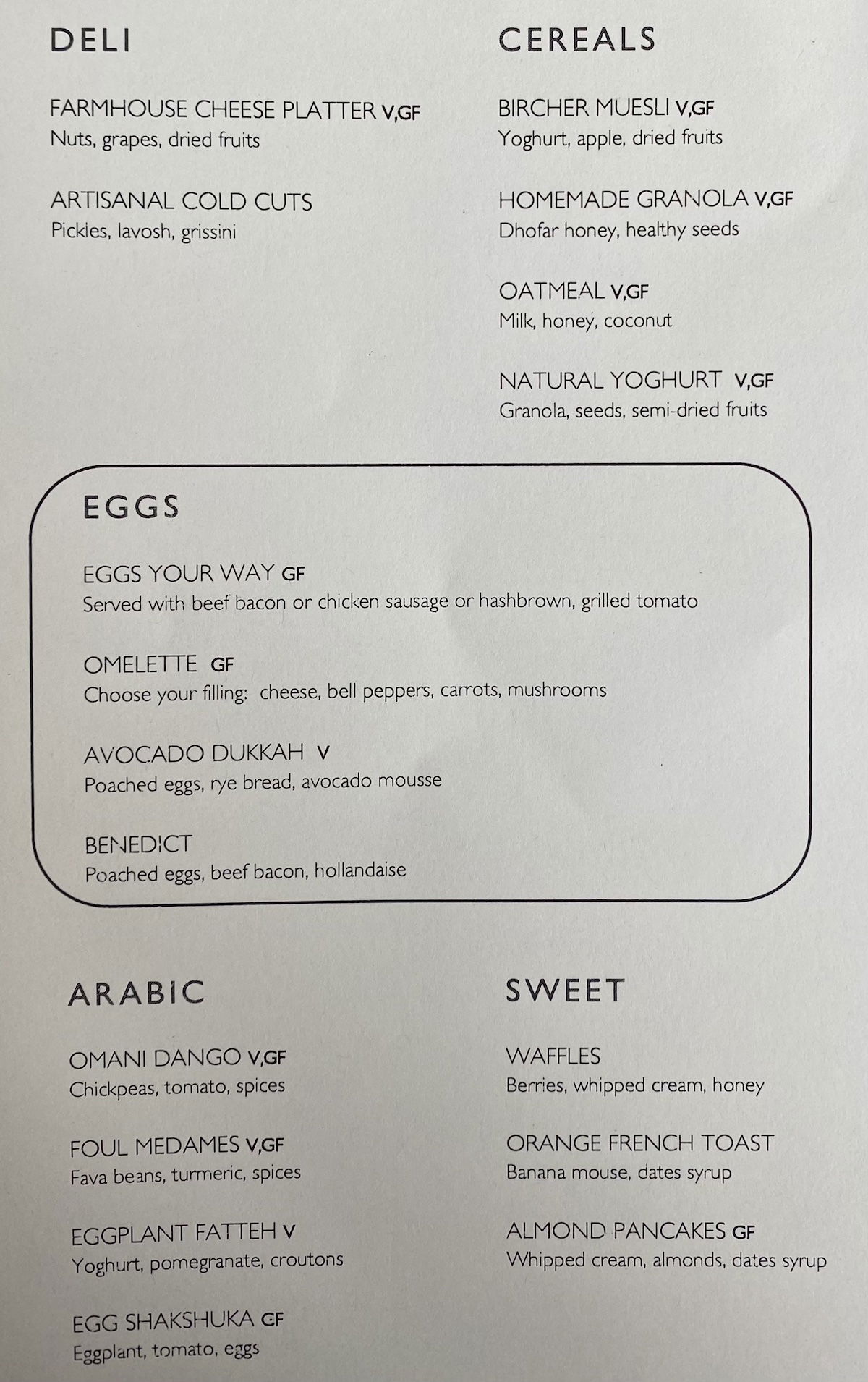 Each morning we were offered an "eye opener," plus coffee of choice.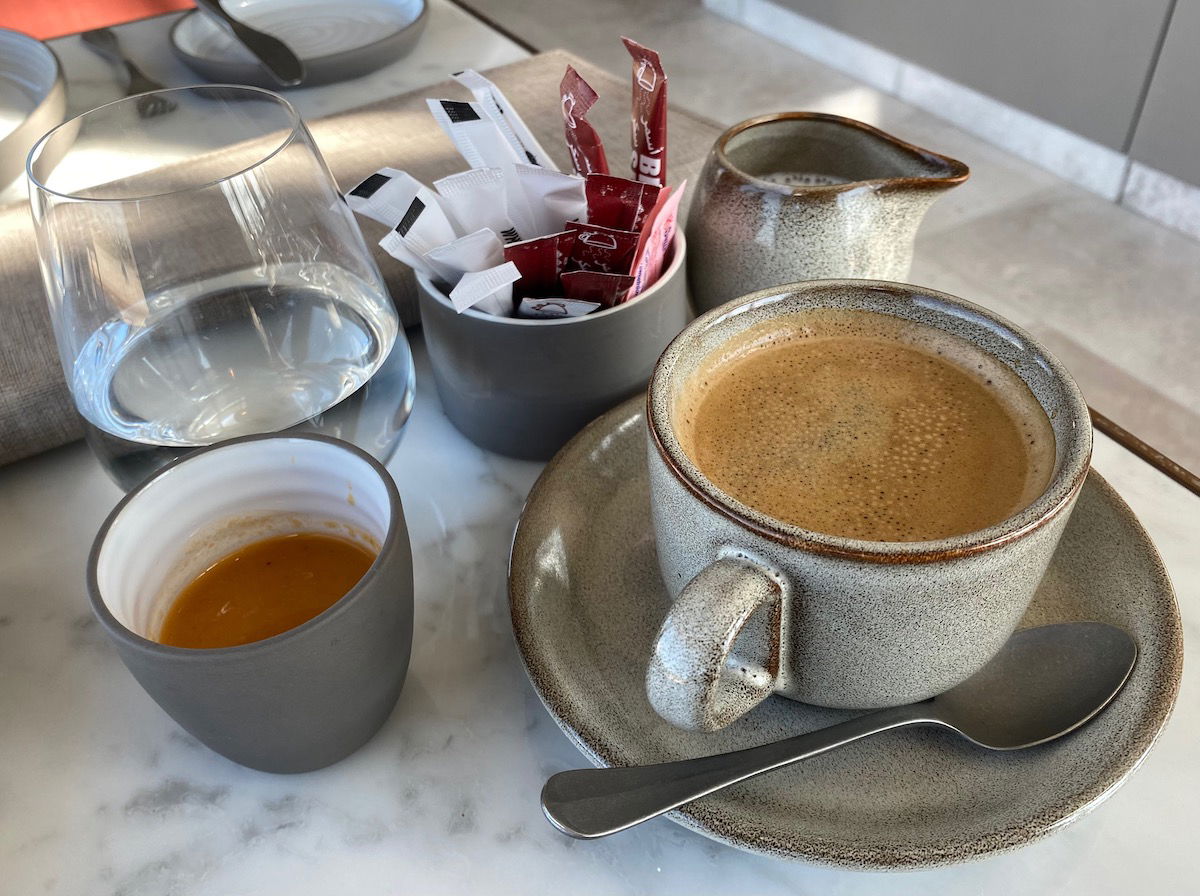 There was also a selection of fresh juices, which we enjoyed.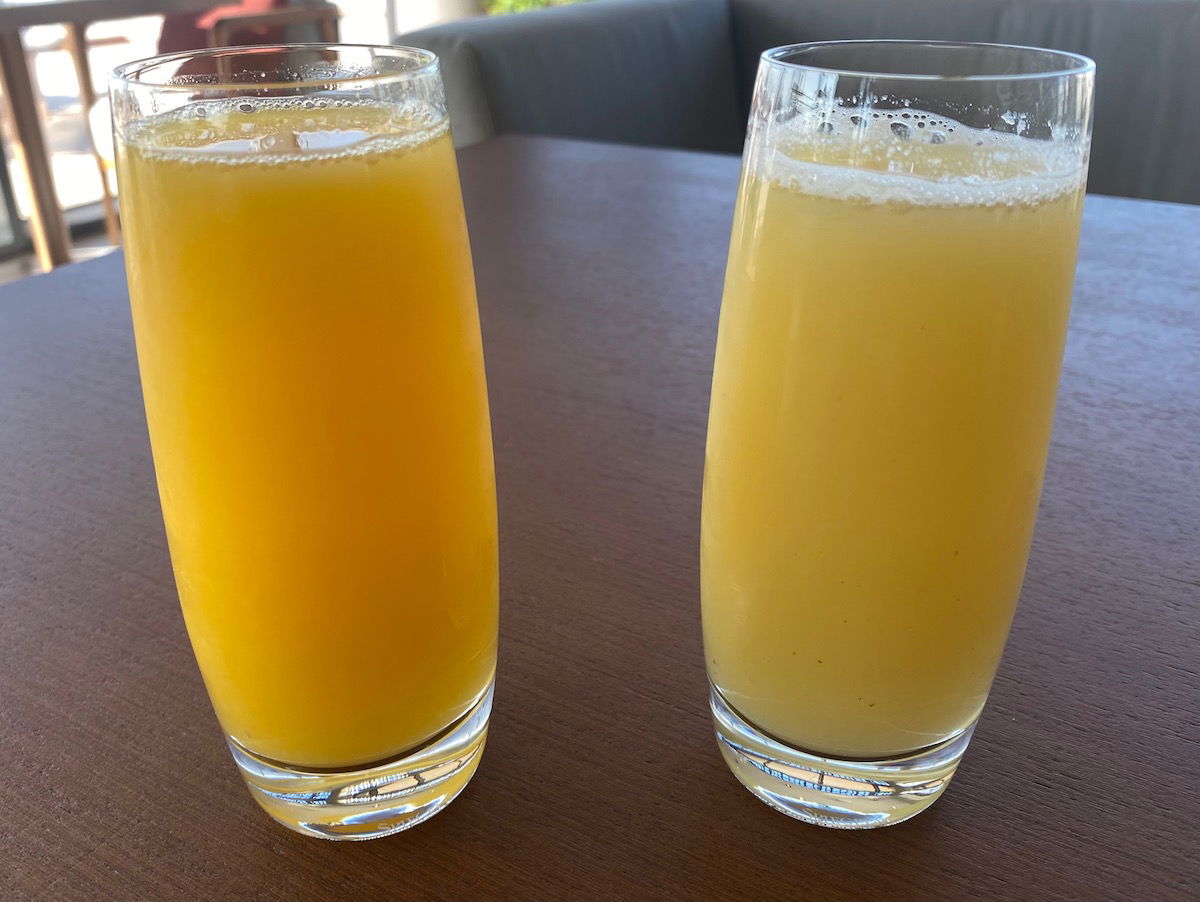 A bread basket was also brought out each morning, containing everything from an olive spread, to a homemade chocolate and date spread, to local honey.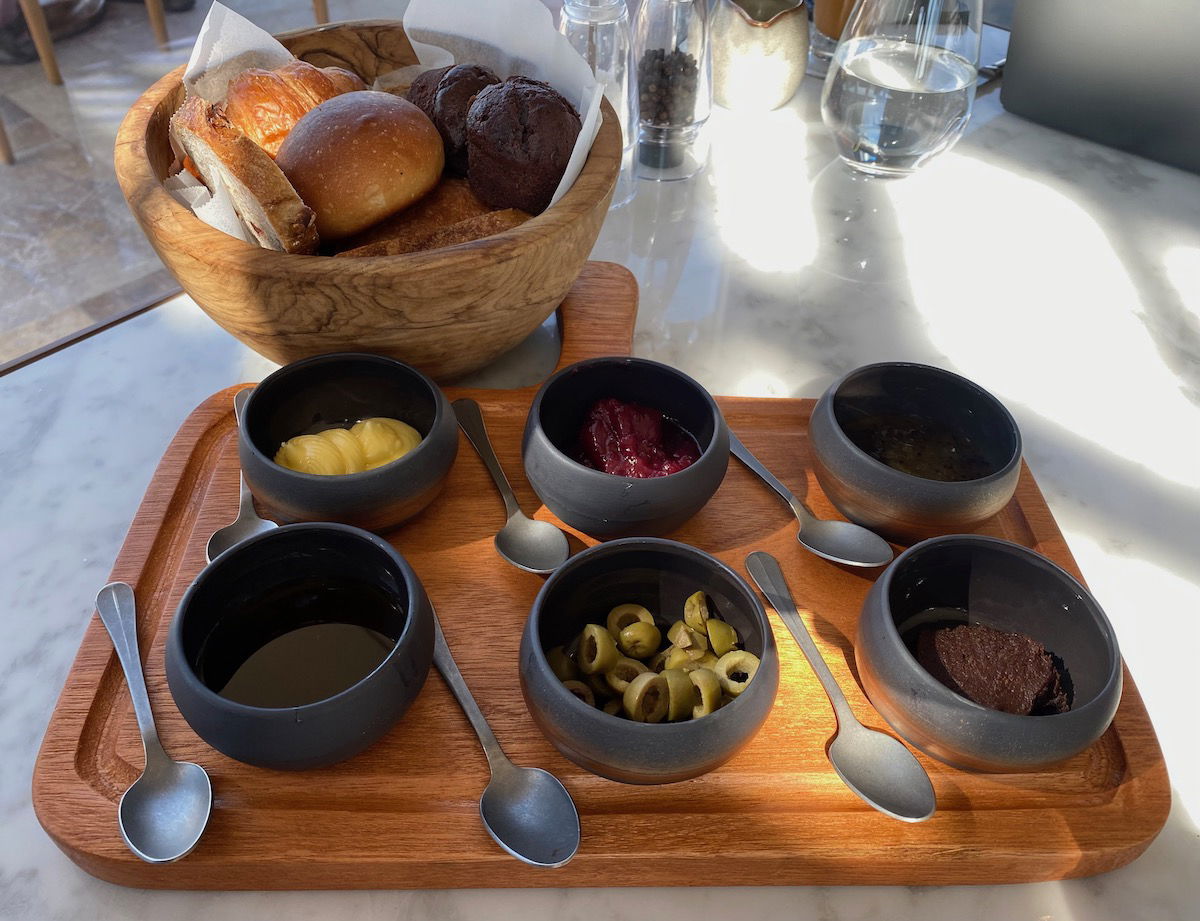 Over the course of our stay we tried quite a few things, including the fruit plate…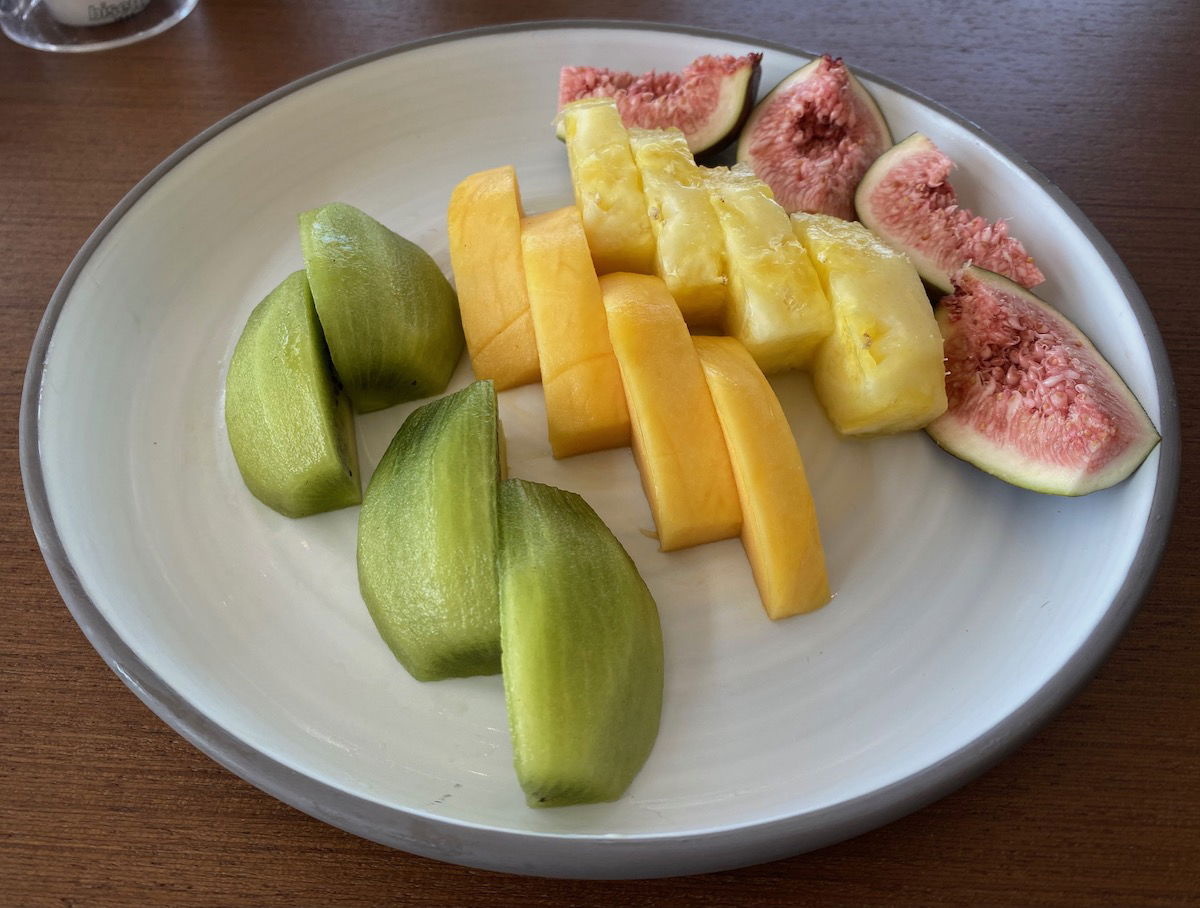 And the homemade granola…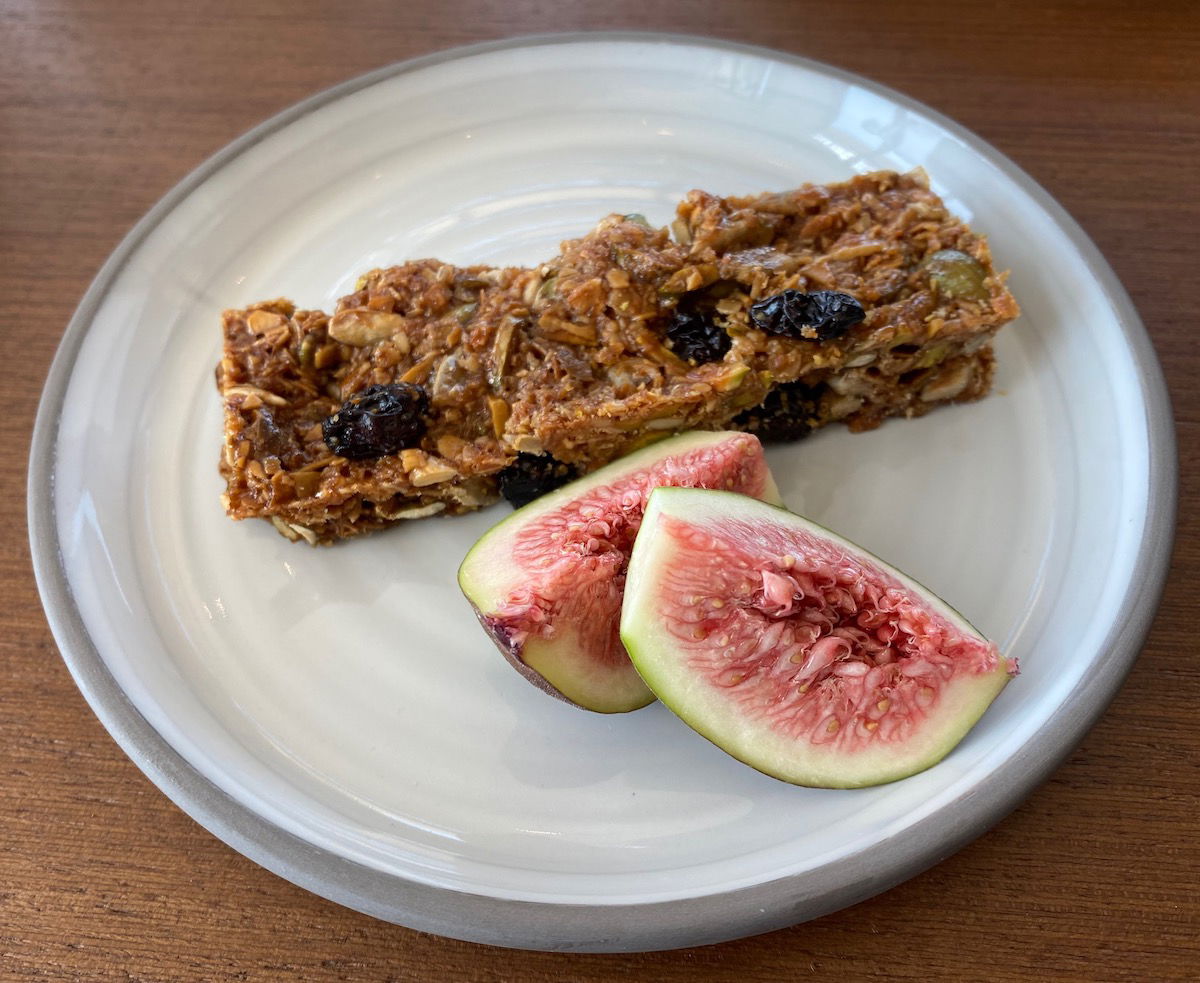 And the shakshuka…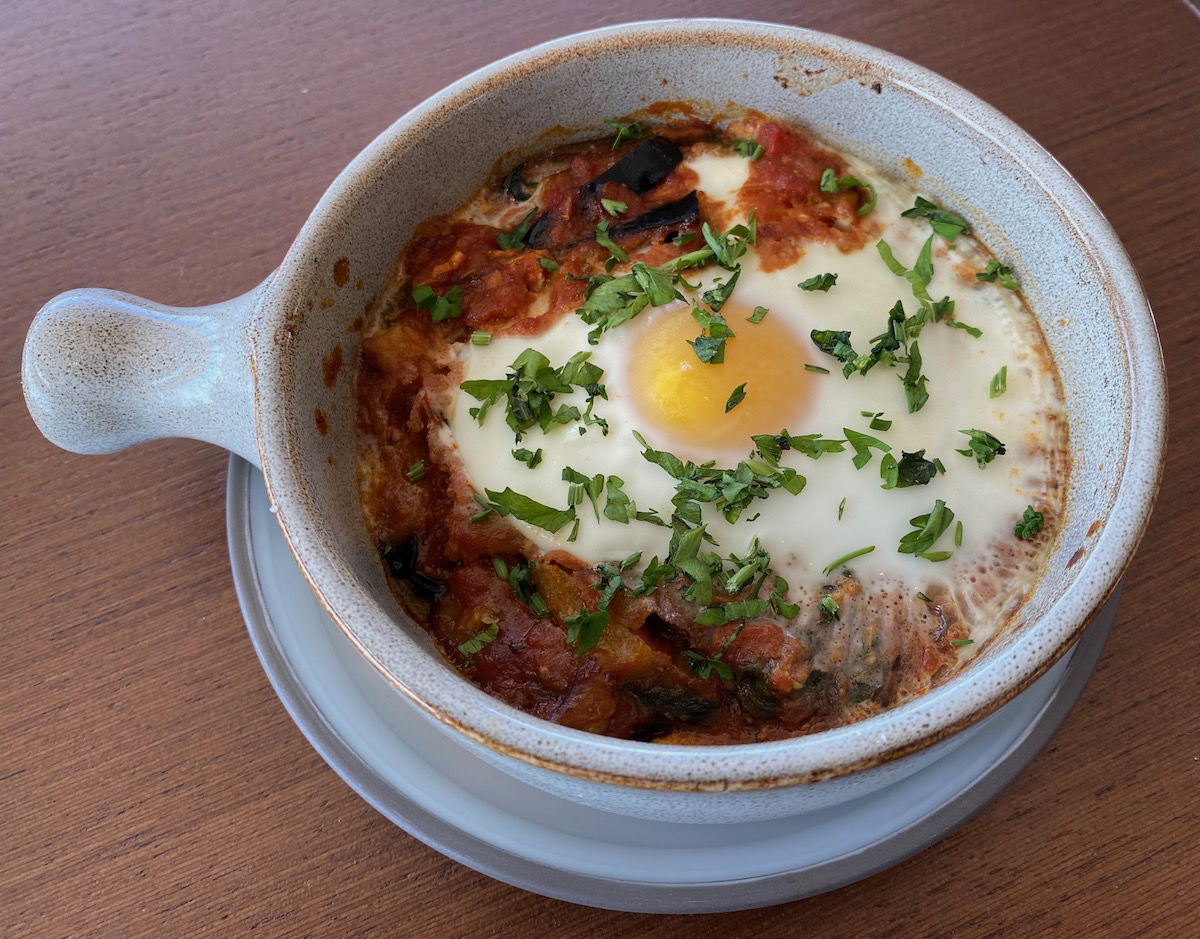 And the Omani dango…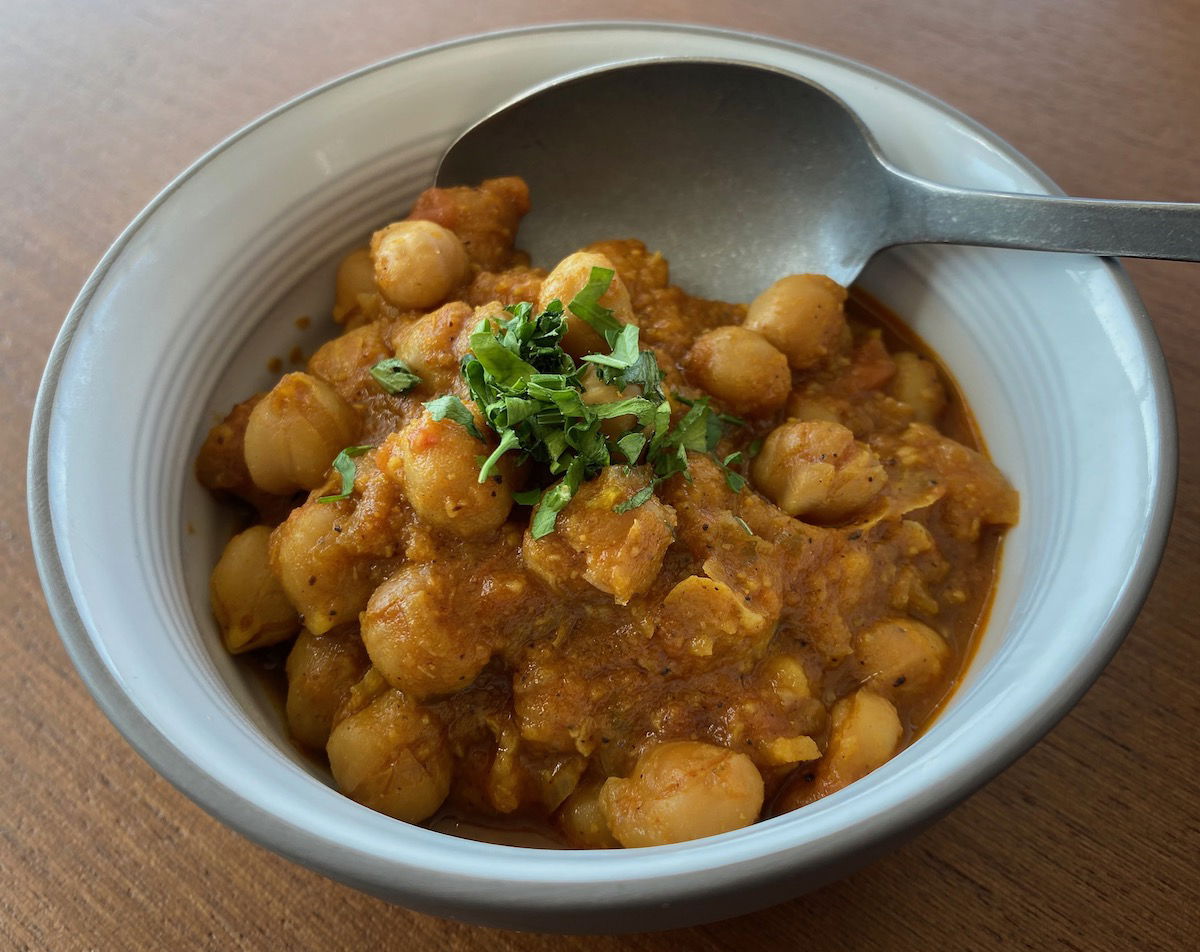 And the eggplant fatteh…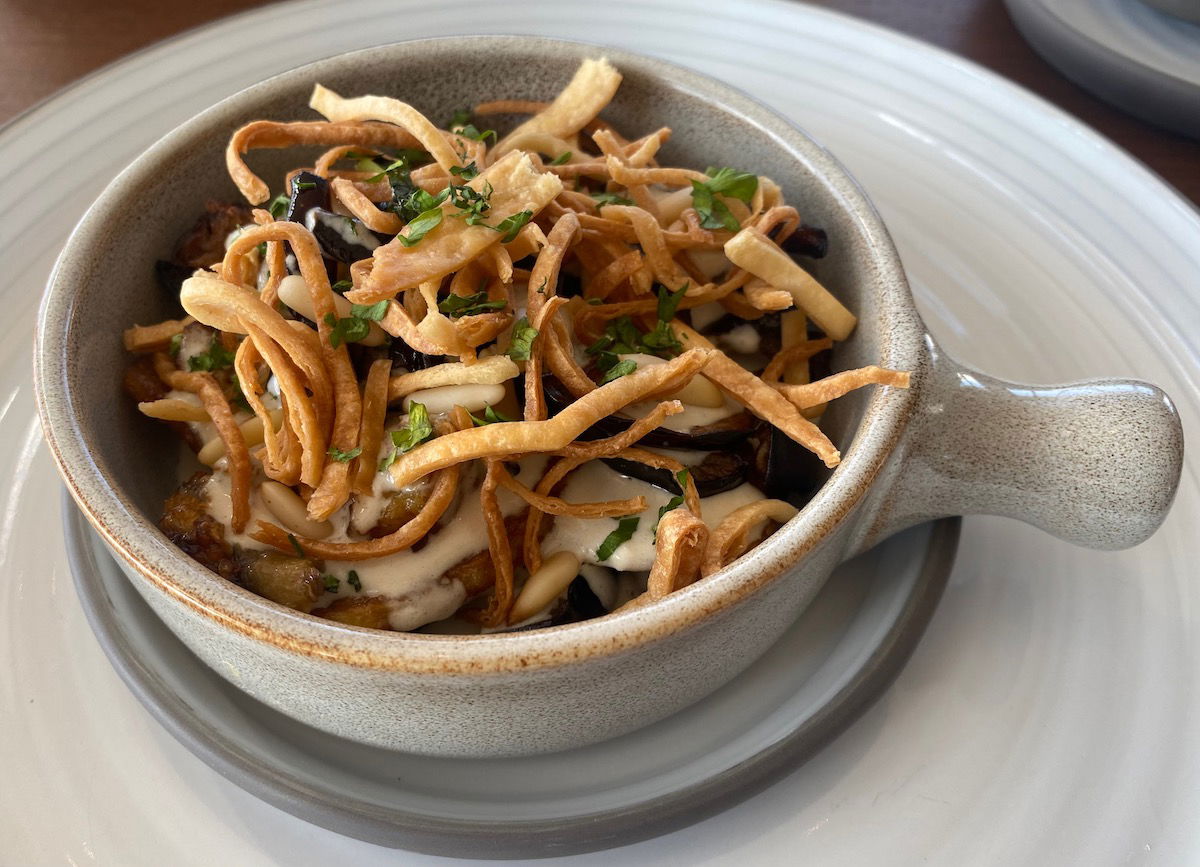 And the eggs benedict…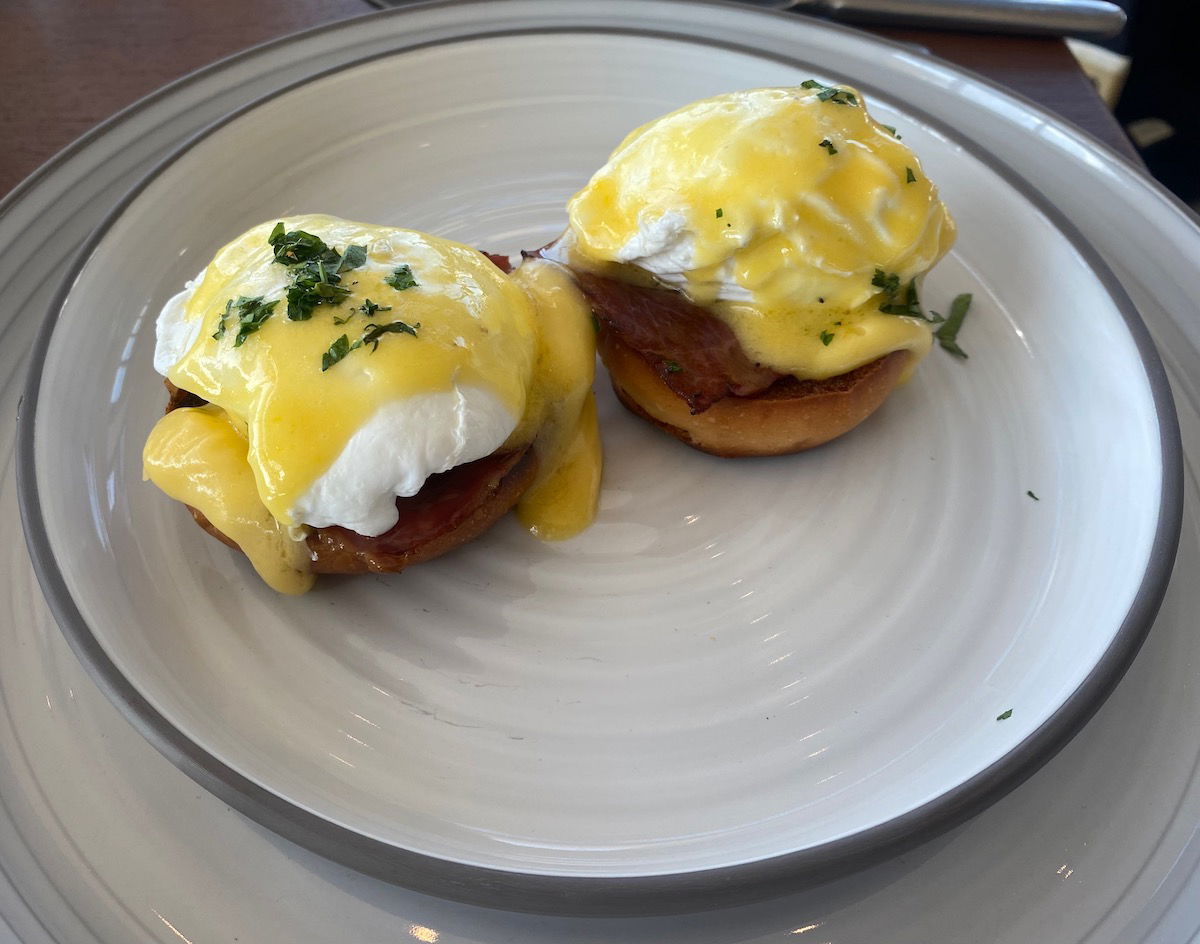 And the french toast…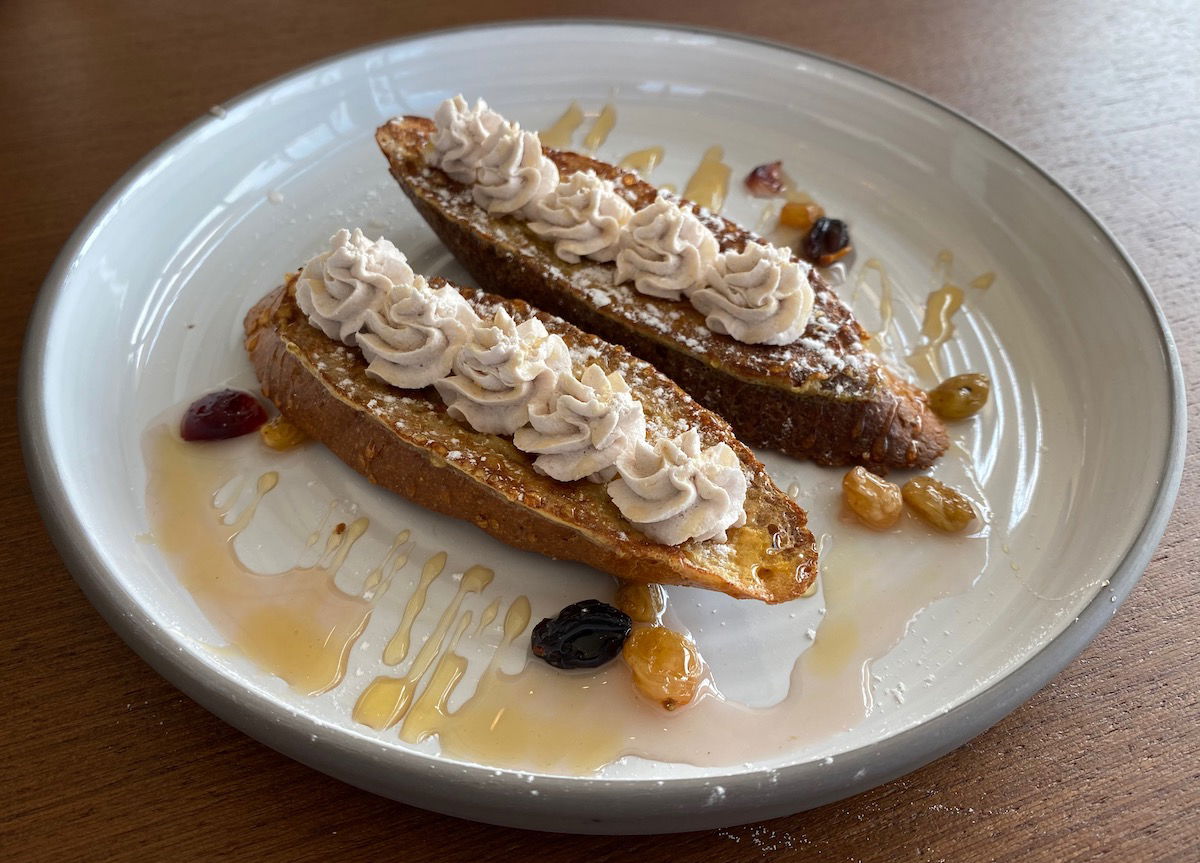 Breakfast was a feast, and the staff were so attentive, and constantly encouraged us to order more.
Alila Hinu Bay Sea Salt Restaurant (lunch & dinner)
Sea Salt Restaurant is Alila Hinu Bay's lunch and dinner restaurant, located by the main pool.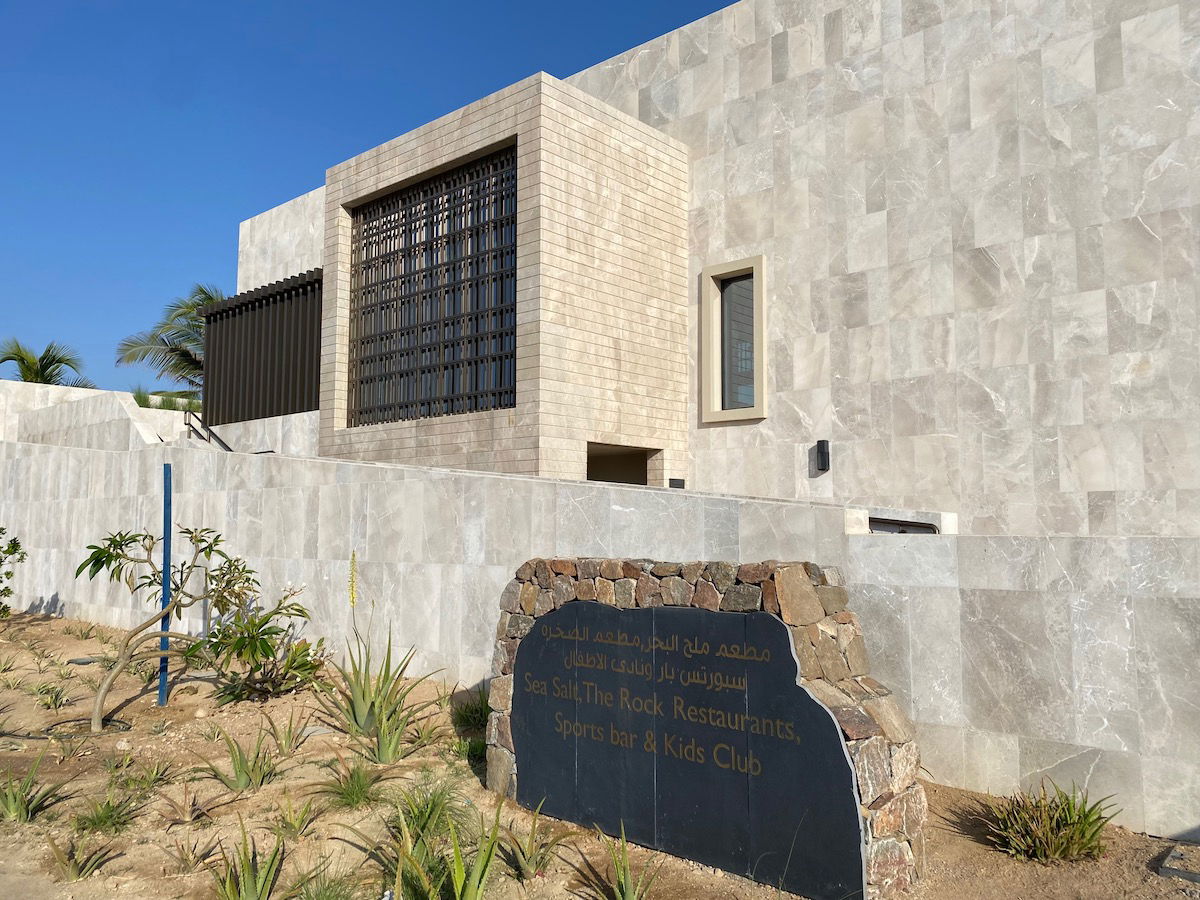 It has an indoor dining area, an outdoor dining area, and then also a large outdoor bar area.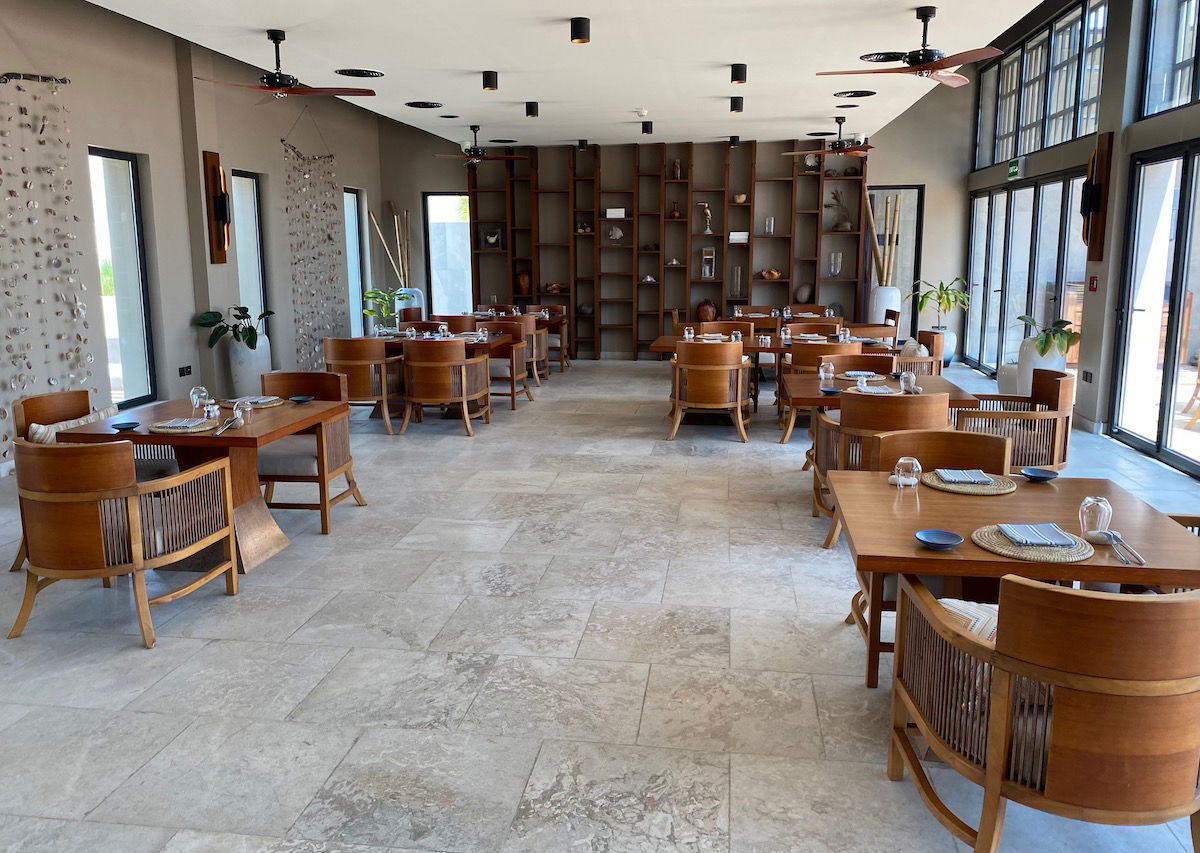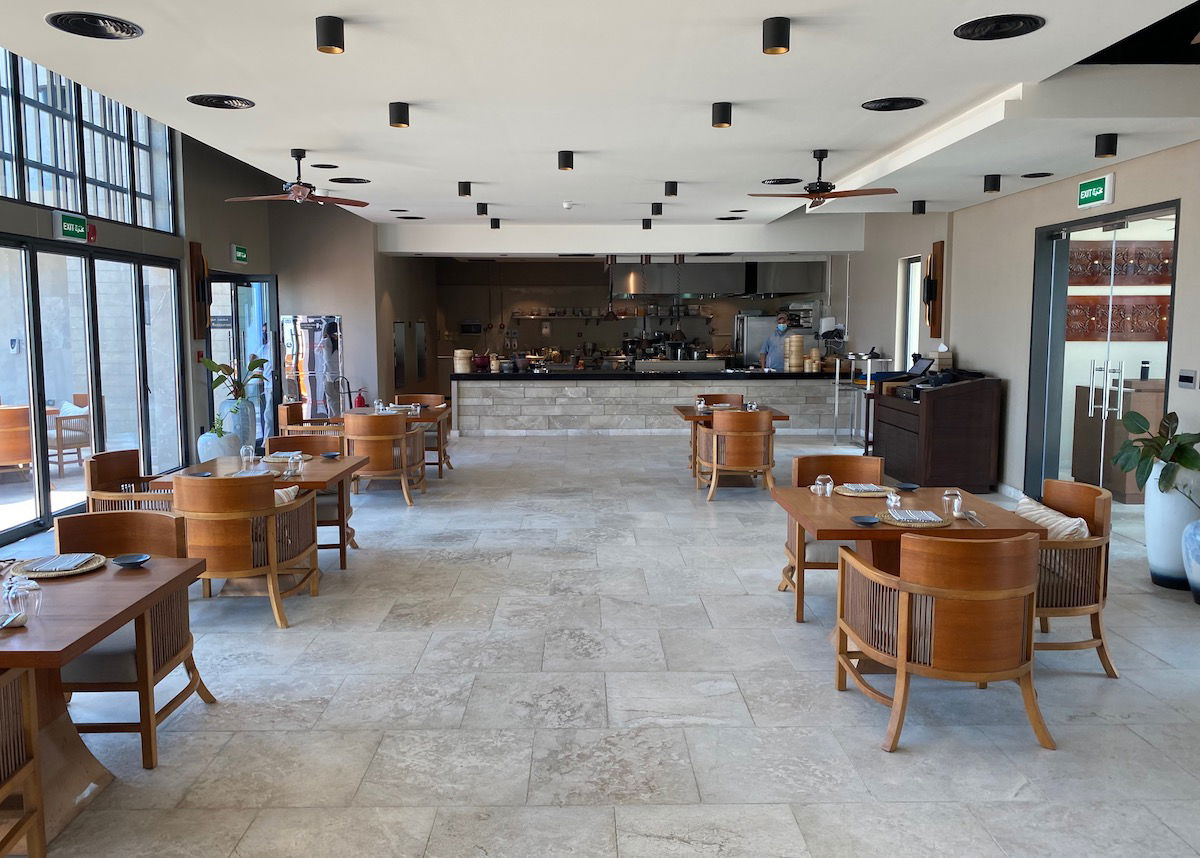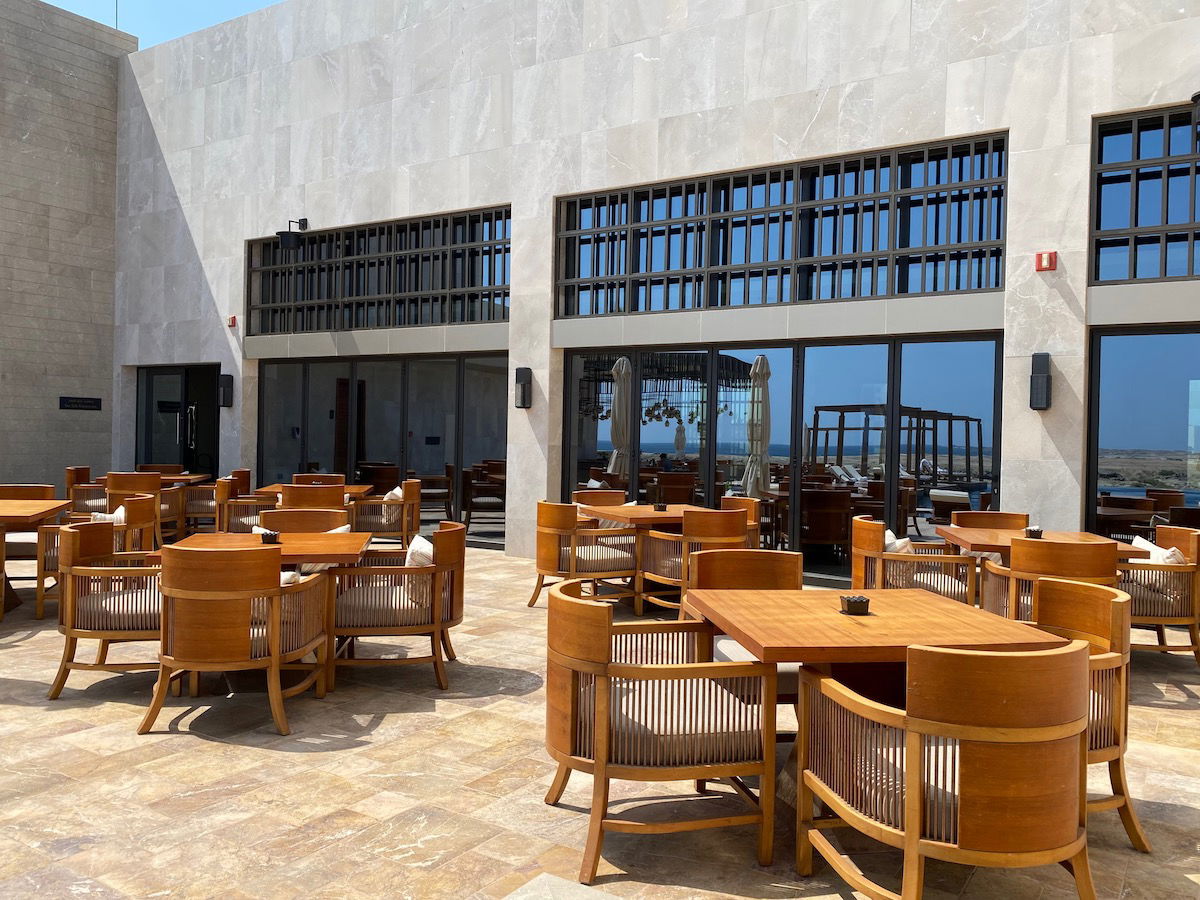 I thought the bar area in particular was nicely designed, and it was a great place from which to work.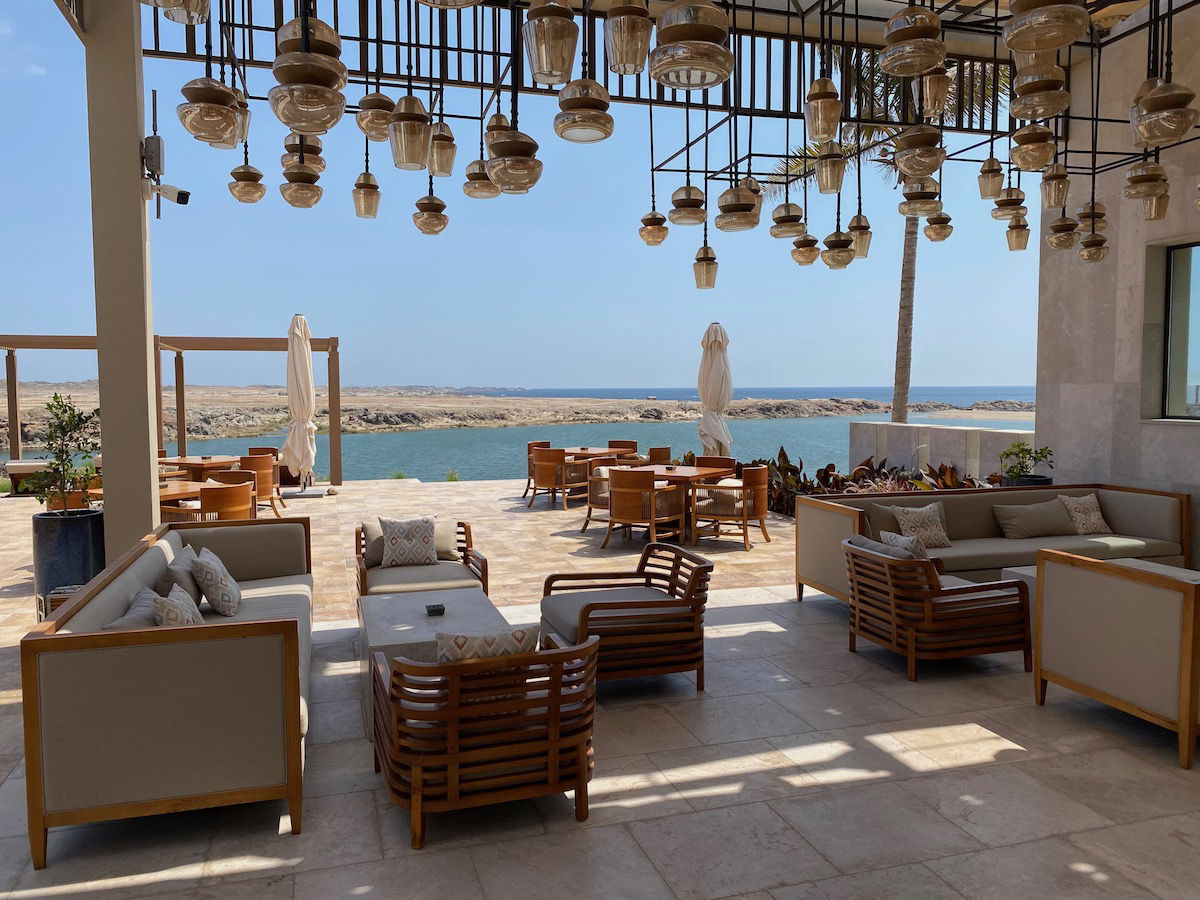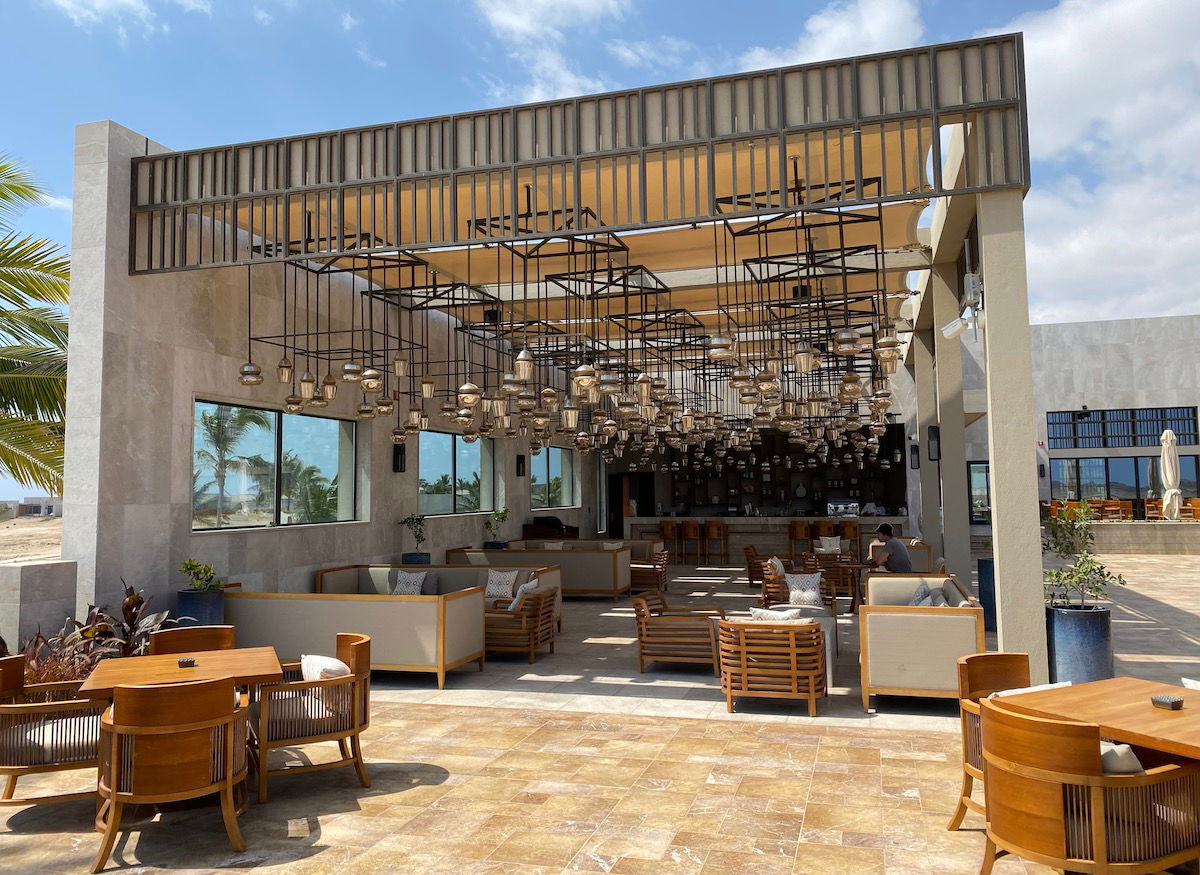 A huge shout out to Yousef and Ukrash, two of the bartenders. These guys weren't just friendly, but were very passionate about cocktails. We're not just talking about them being good at making traditional cocktails, but rather they had their own twists on everything. I'll let the pictures speak mostly for themselves, but the drinks here were a very pleasant surprise.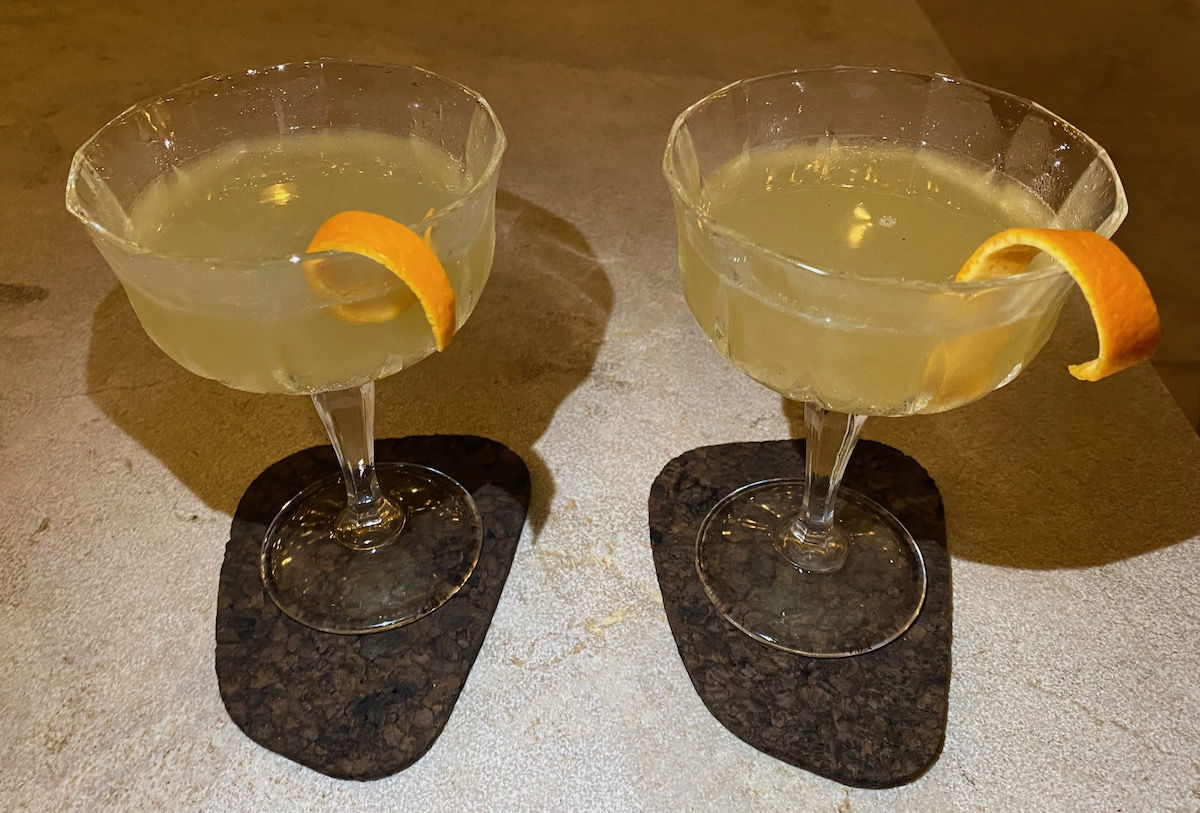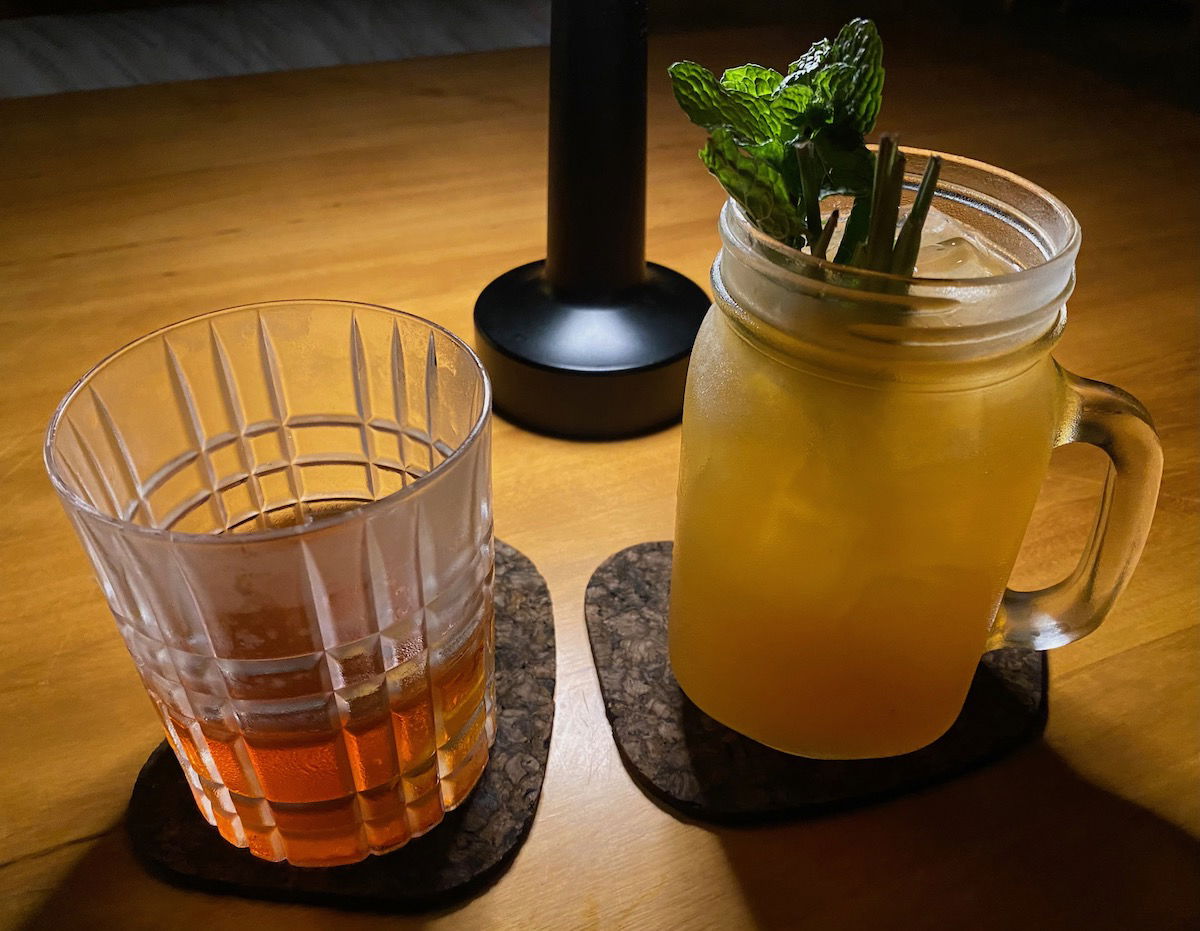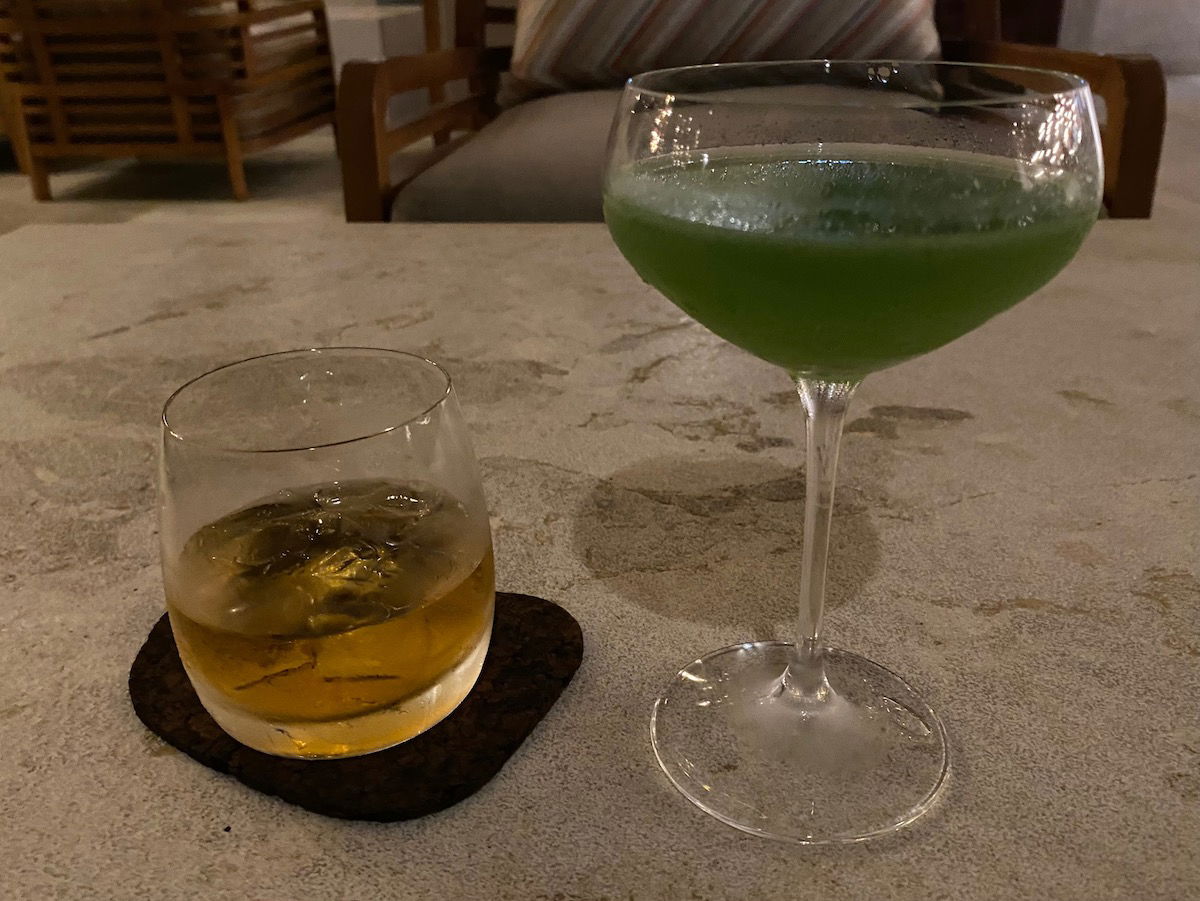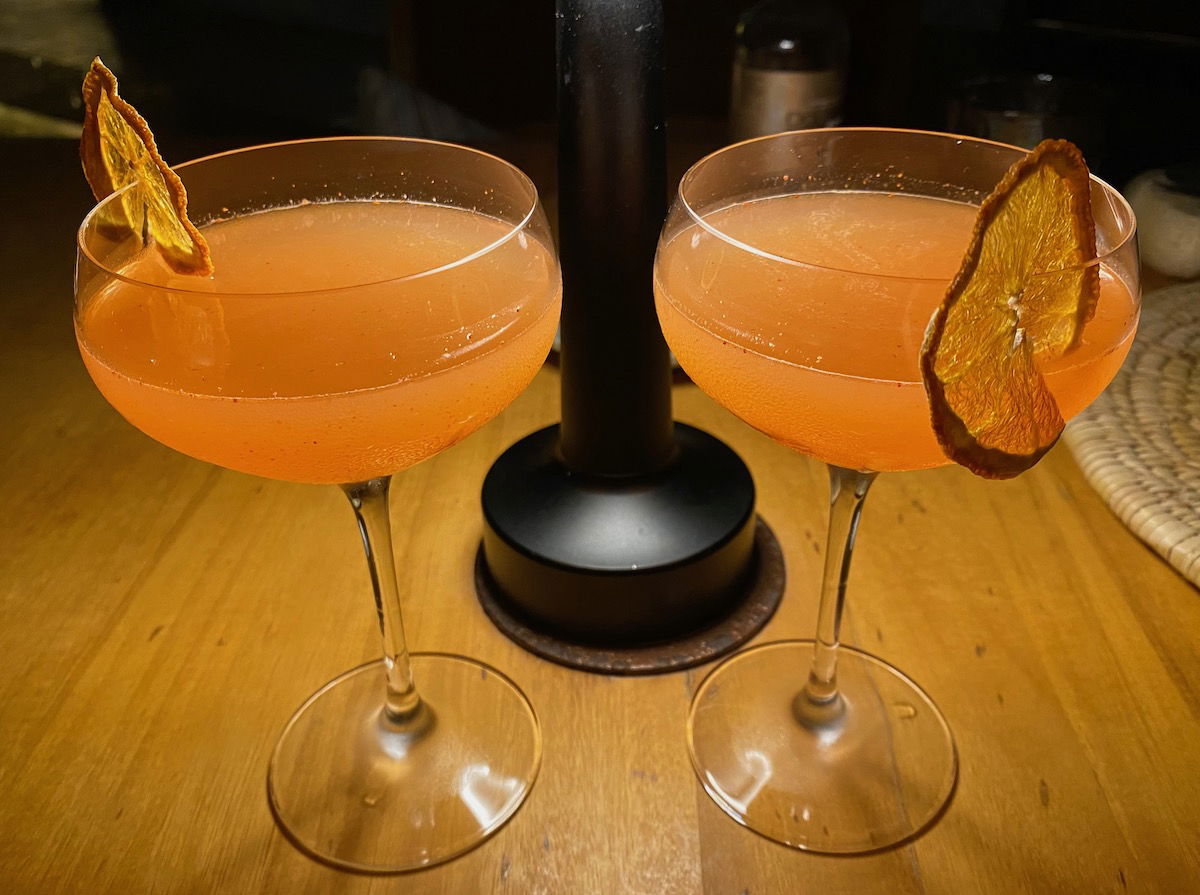 We were frequently offered banana chips with a delicious spicy chili sauce.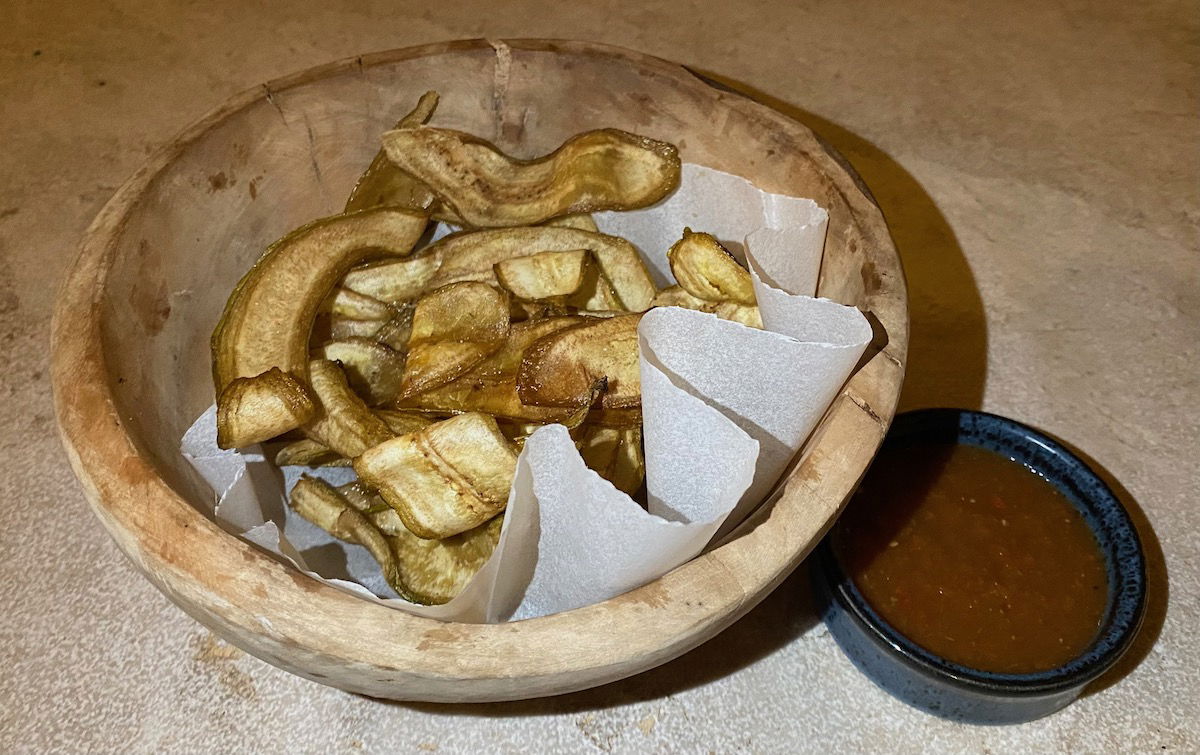 As far as the food goes, Alila Hinu Bay has a Singaporean chef, and he's incredible. The focus of Sea Salt is Southeast Asian cuisine, so you have everything from Thai dishes, to Singaporean dishes, to Indonesian dishes. And they're all very well done. The catch is that there's not much variety in terms of the food on property — this is the only restaurant open for lunch and dinner.
You can find the menu below (for context, 1 OMR is roughly 2.5 USD).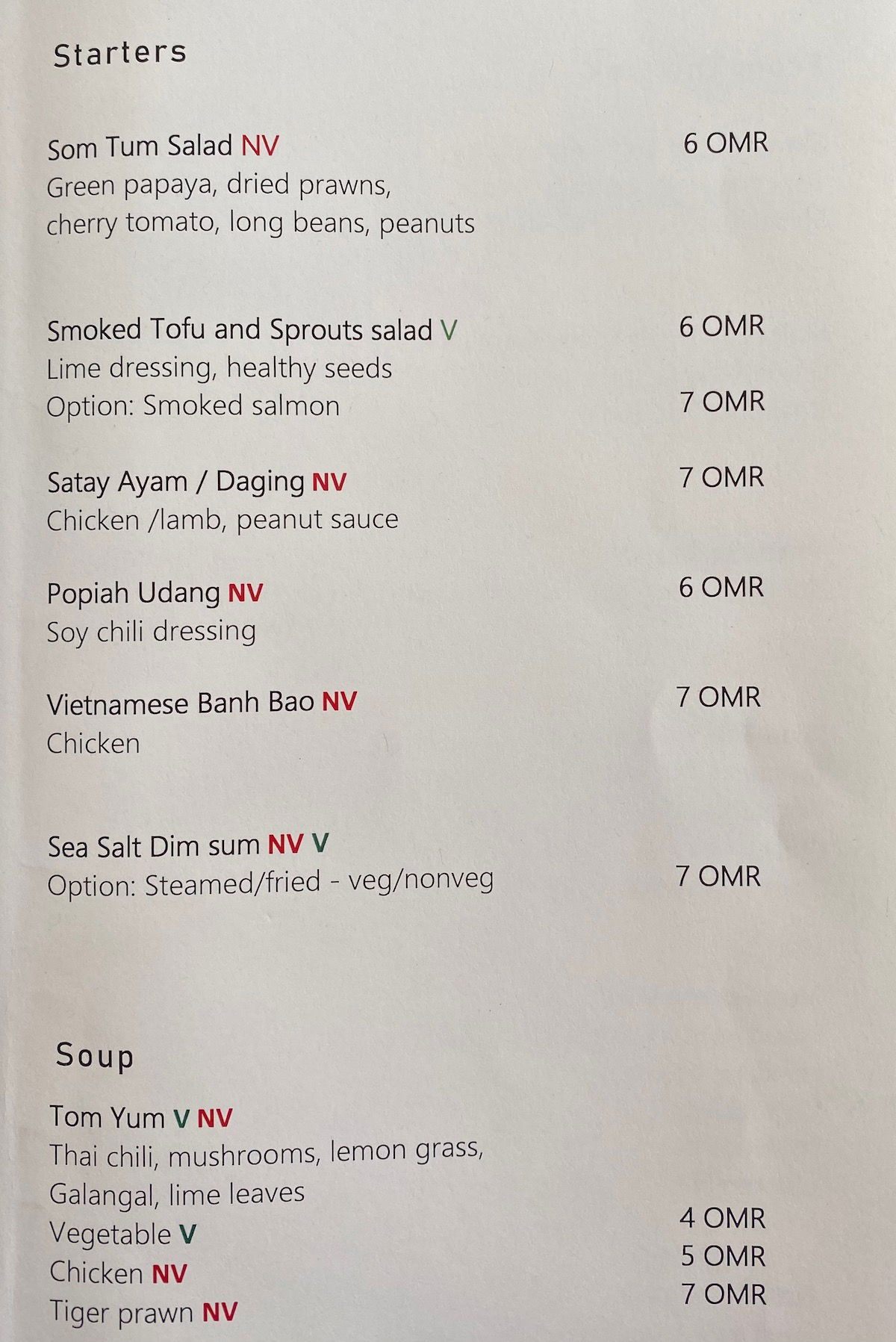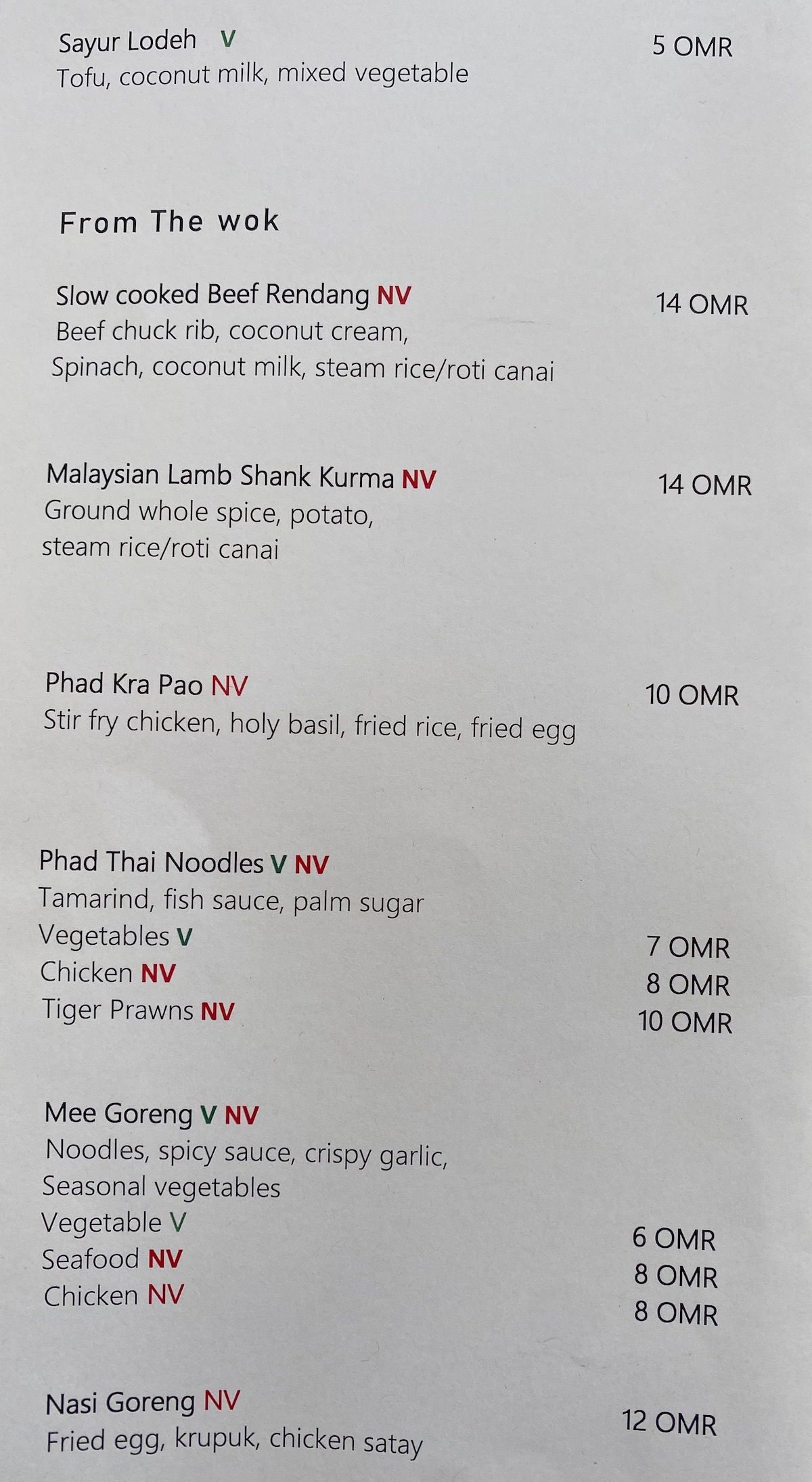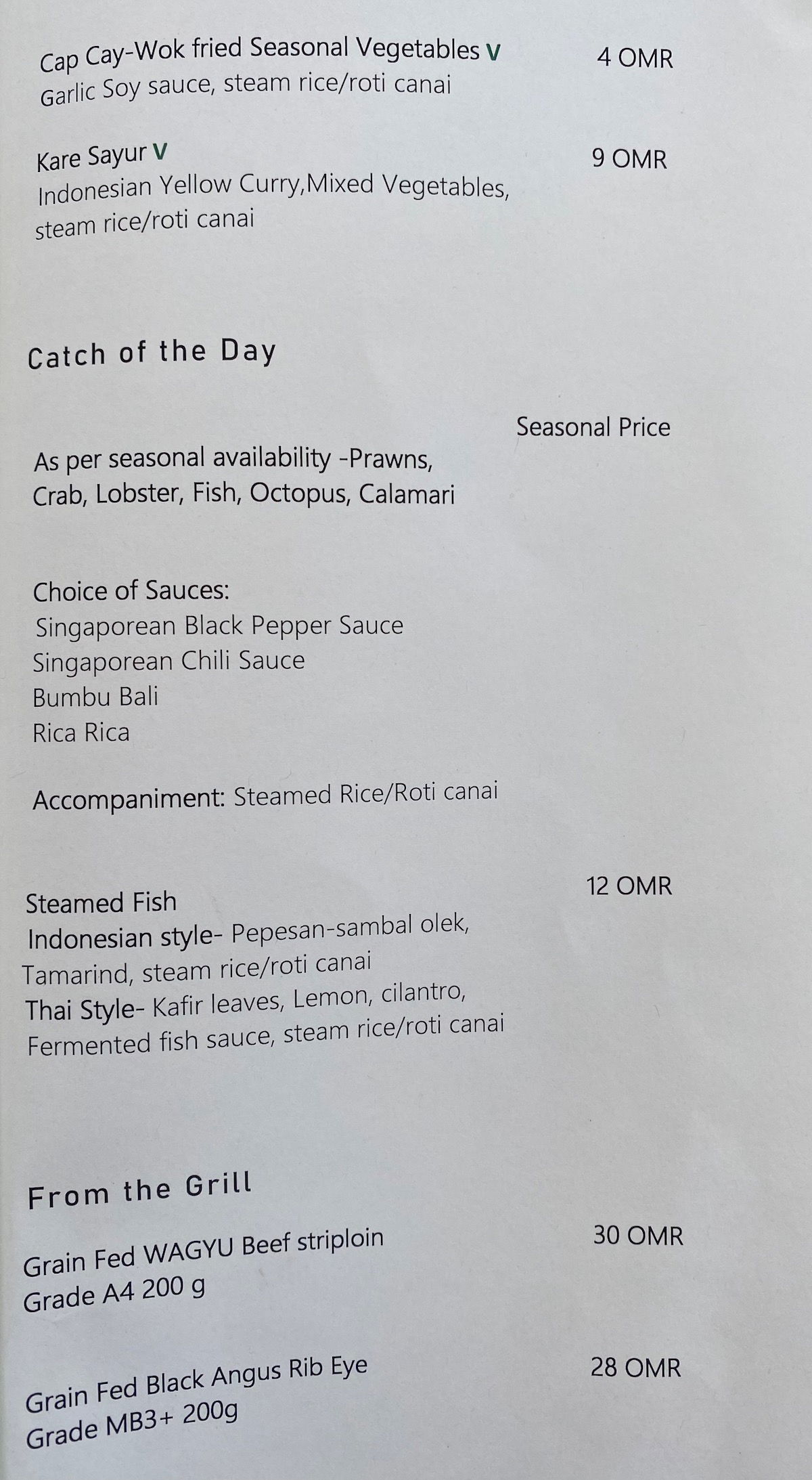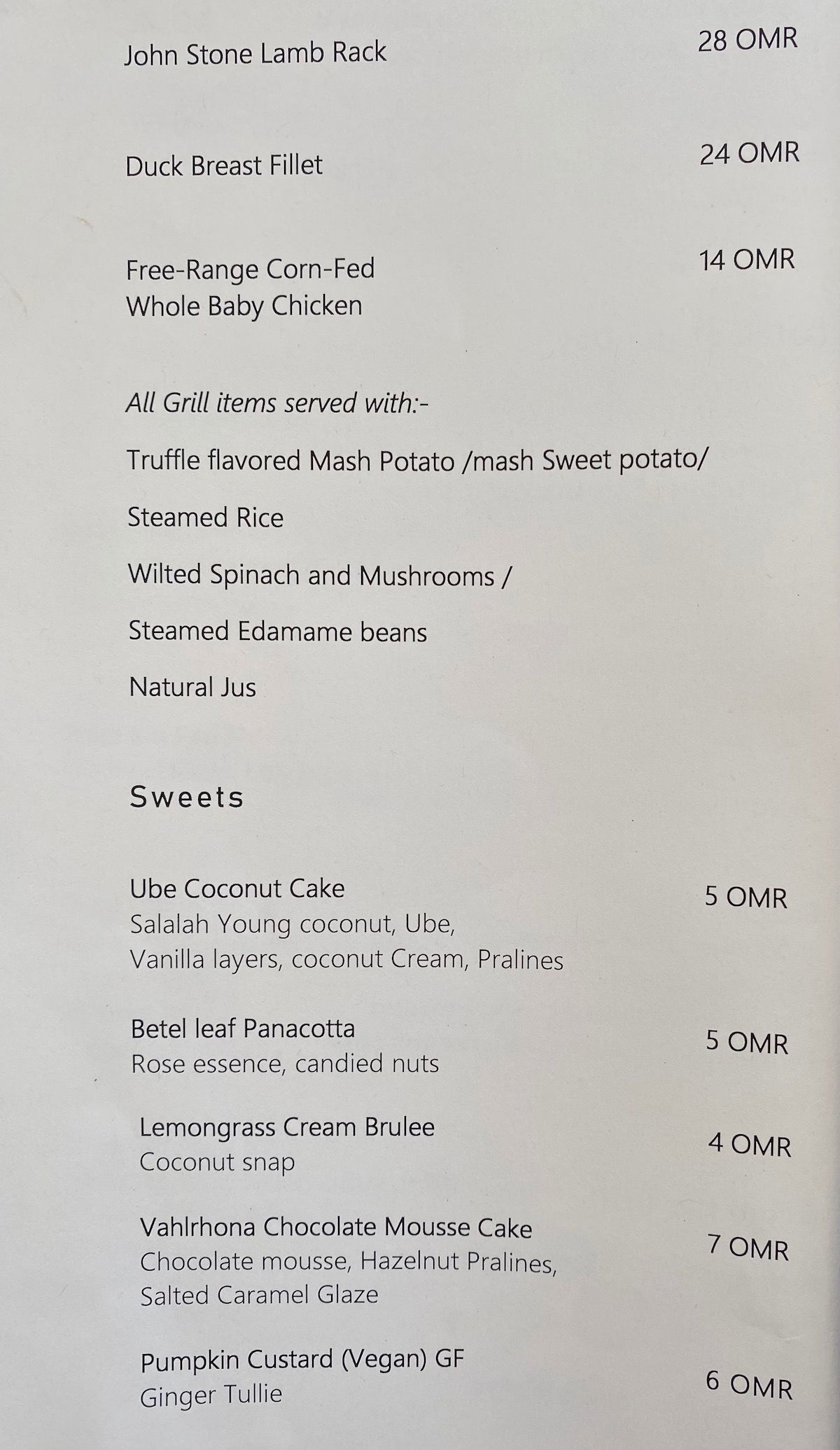 At the start of every meal there was some sort of an amuse bouche, which was quite substantial.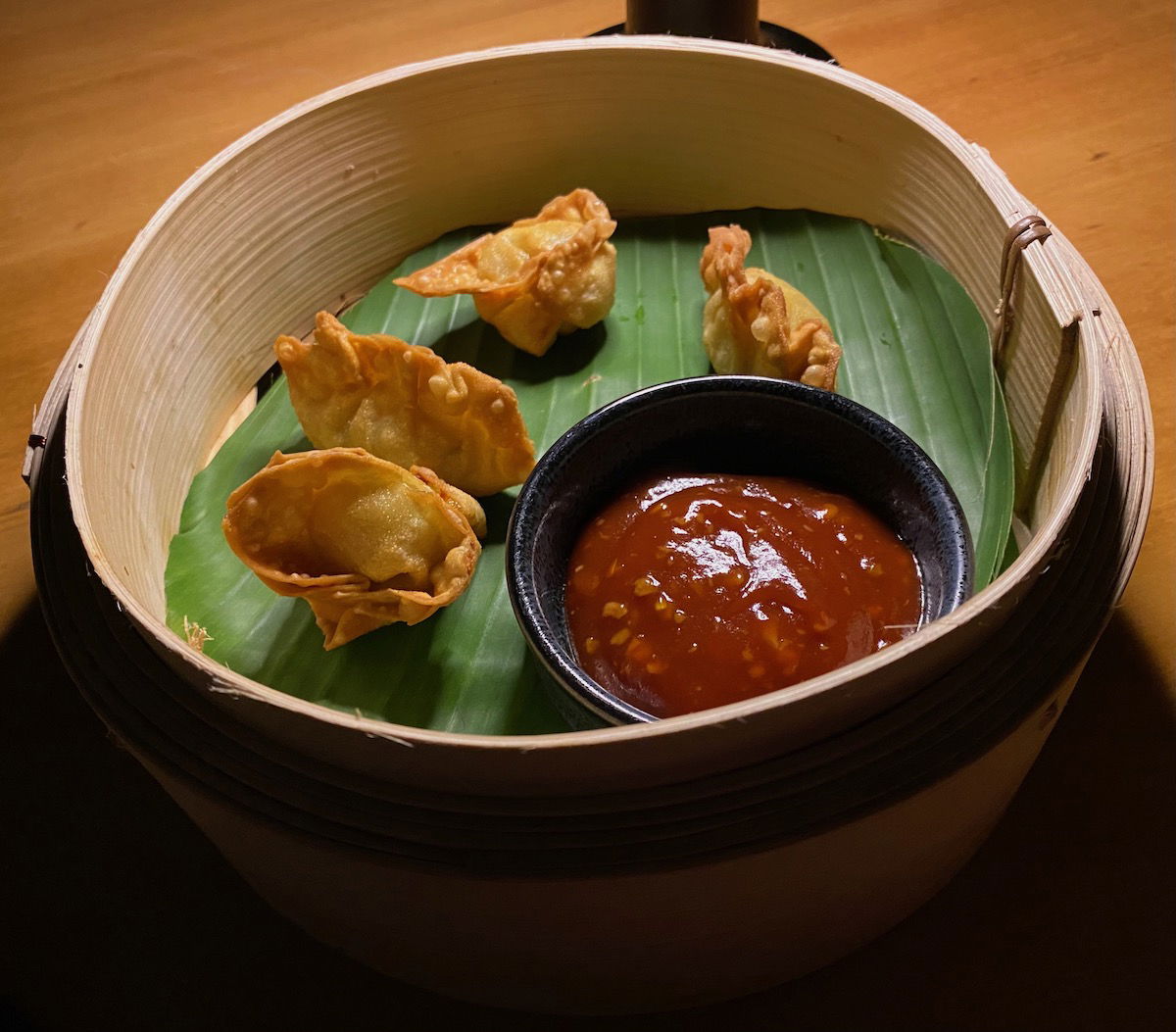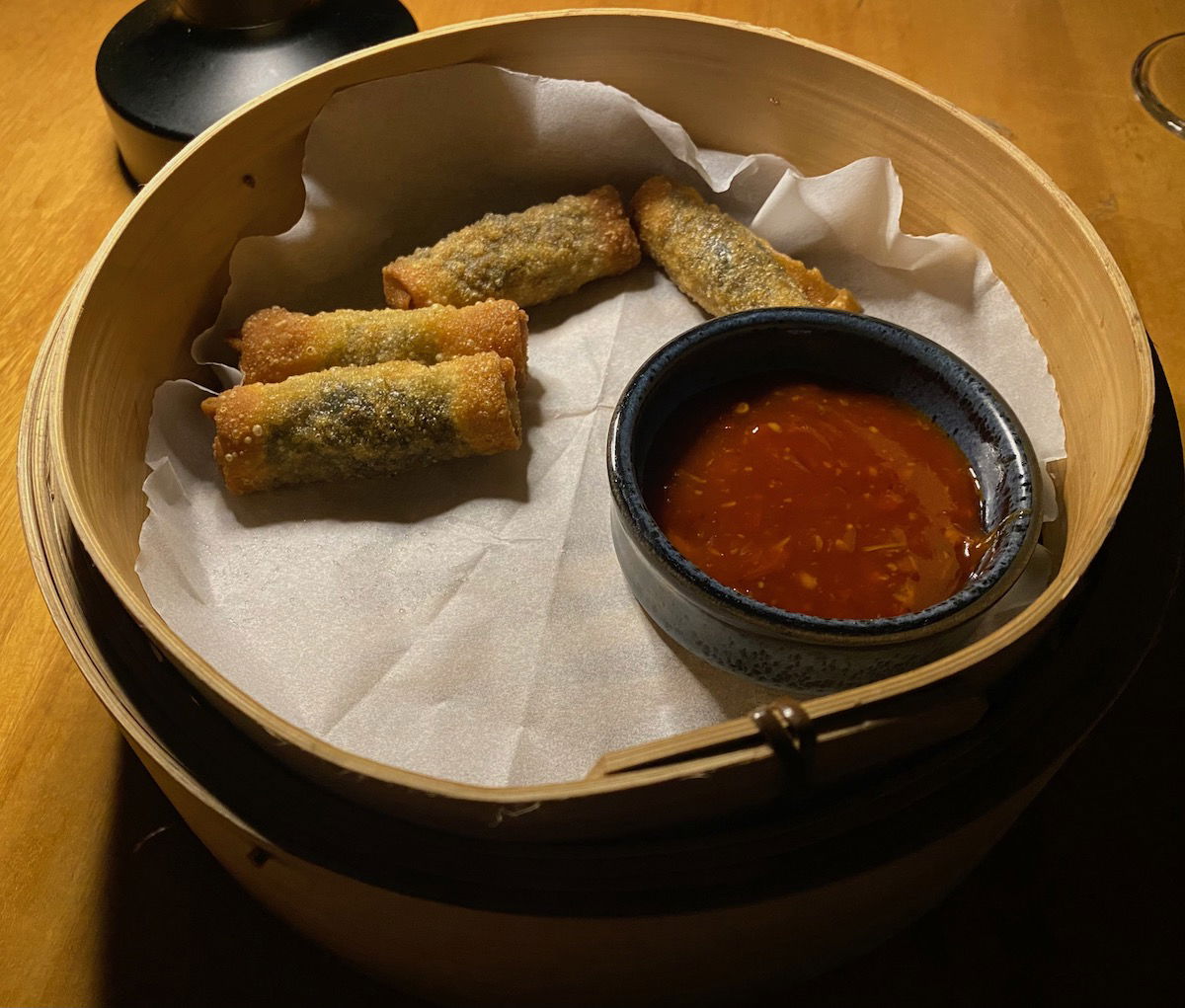 Over the course of our stay we tried quite a few of the dishes on the menu, including the smoked tofu and sprouts salad…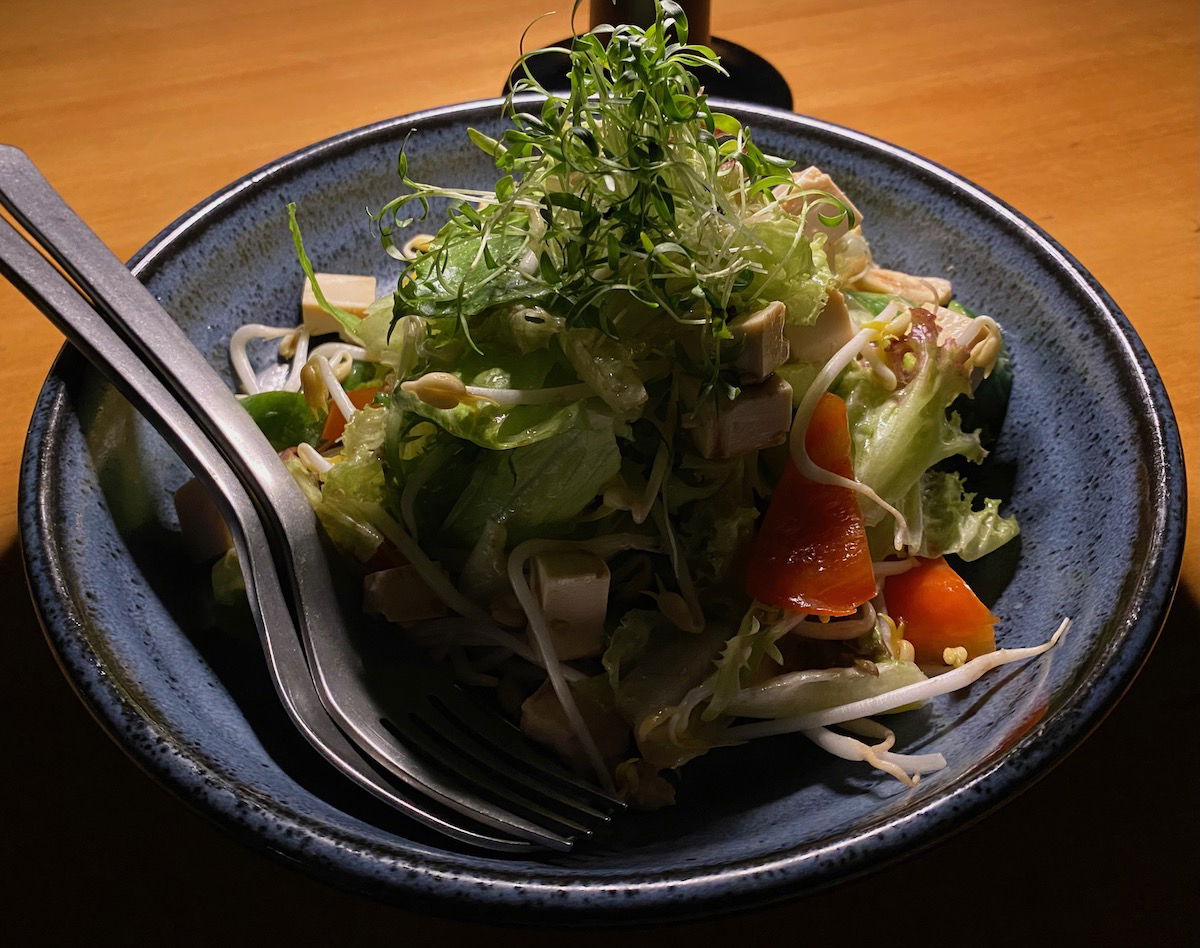 And the vegetable Tom Yum soup…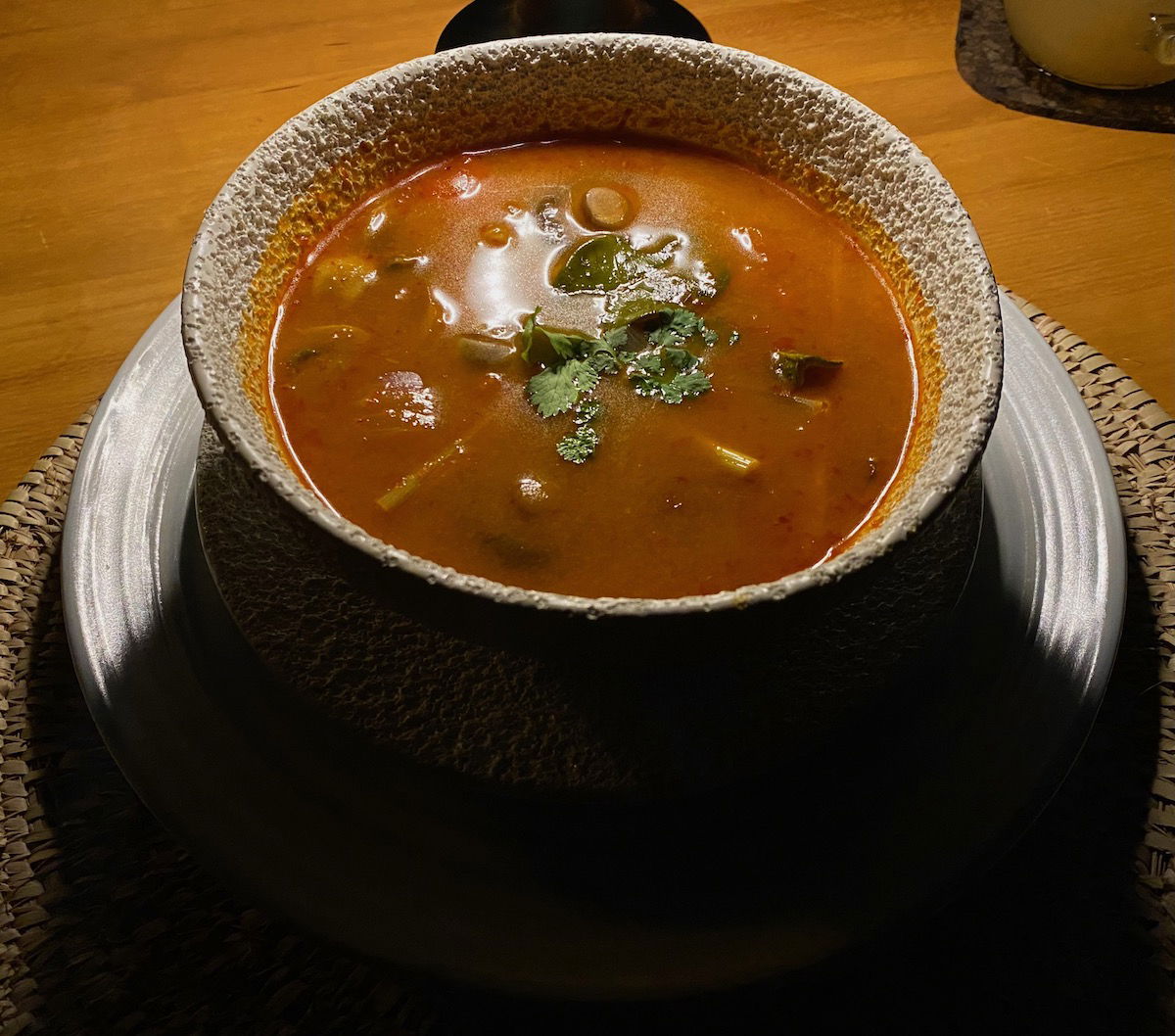 And the chicken satay…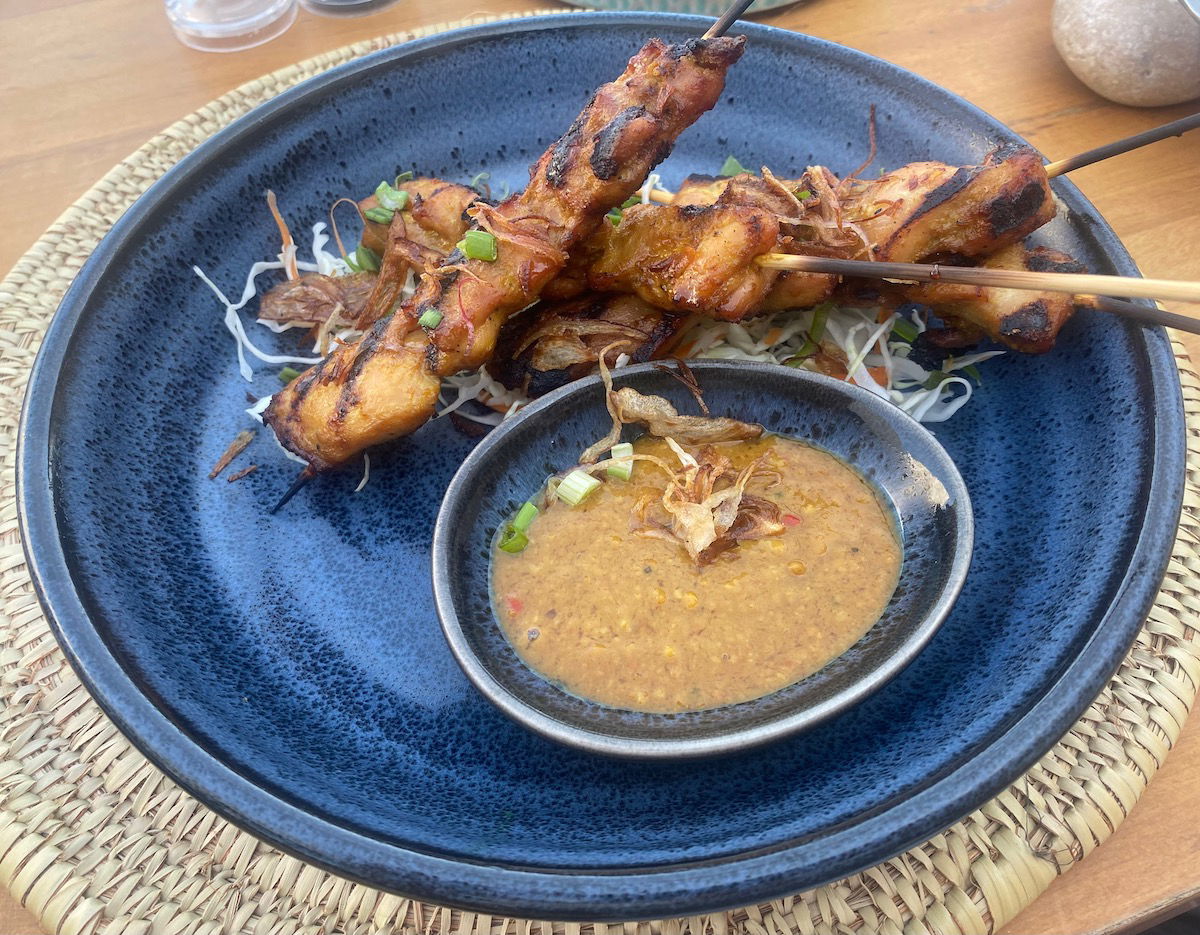 And the shrimp with chili sauce…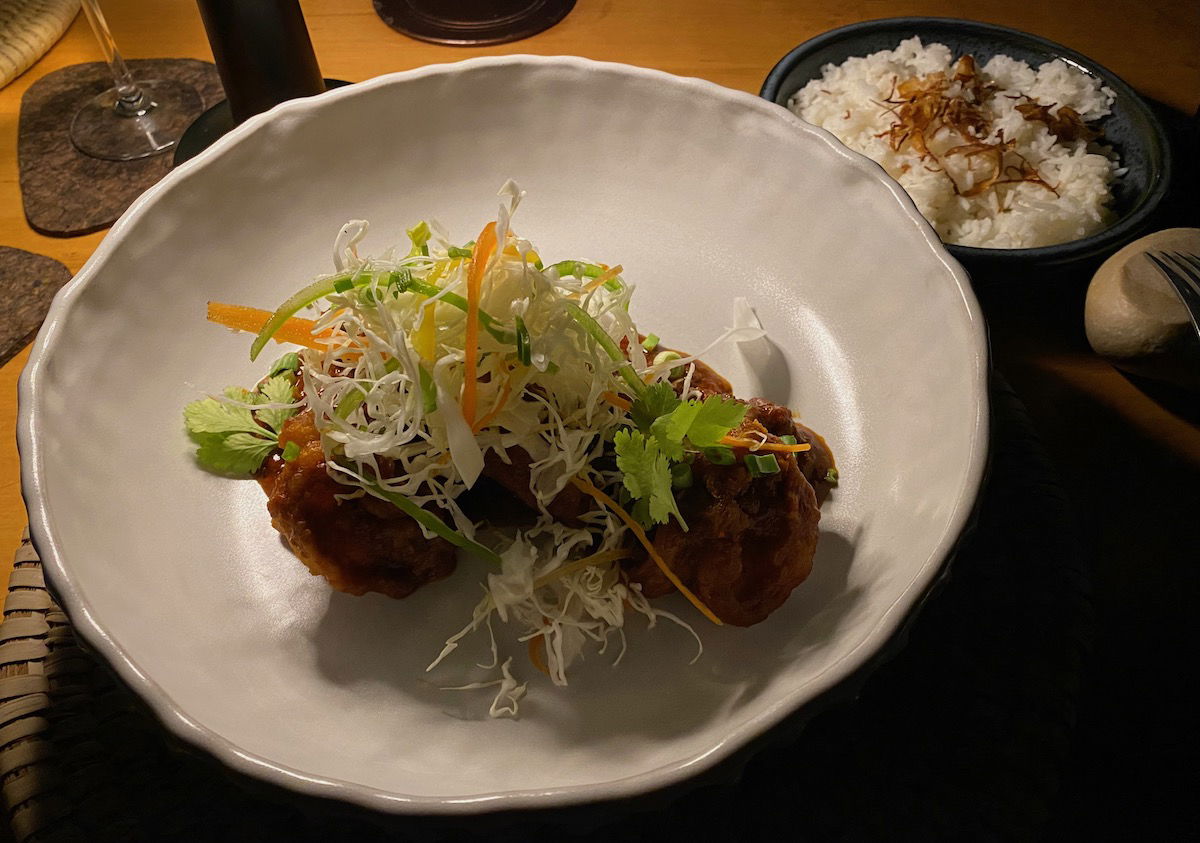 And the Phad Kra Pao…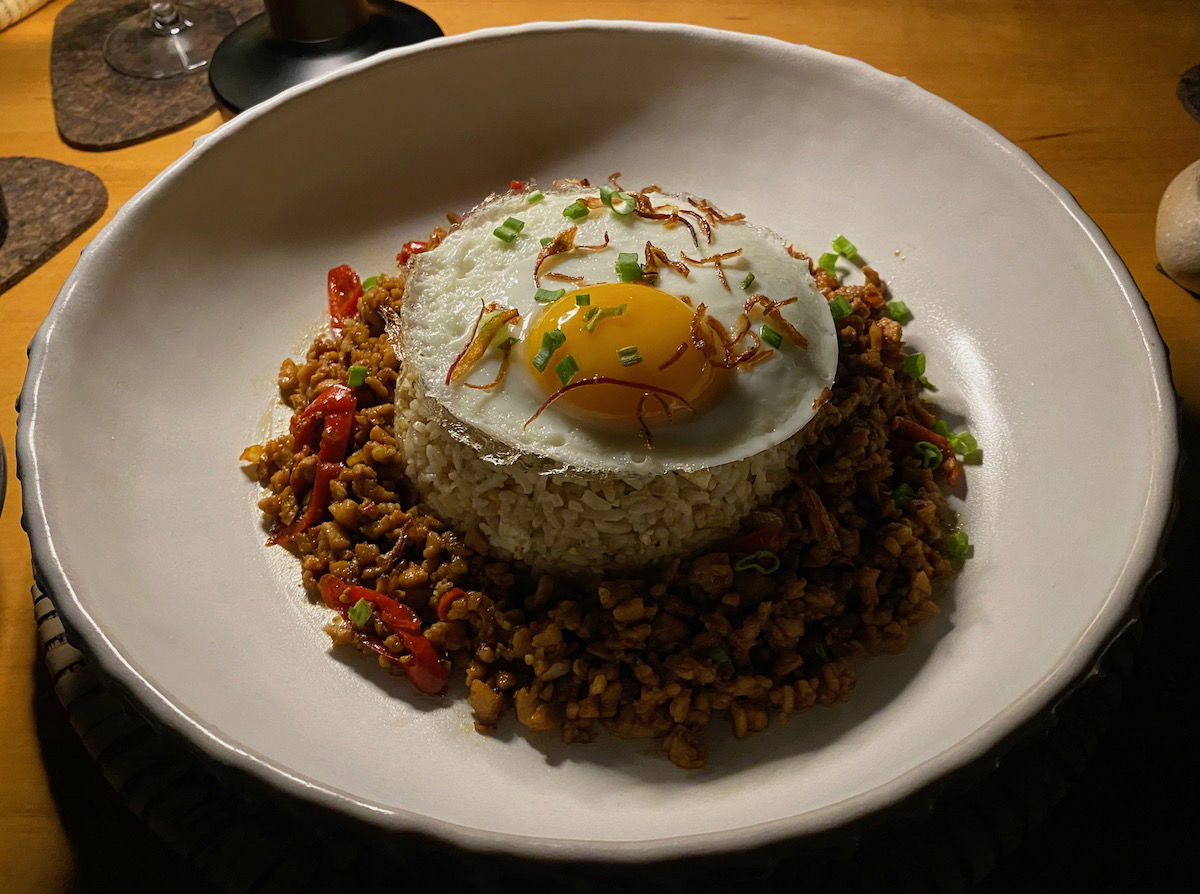 And the Kare Sayur…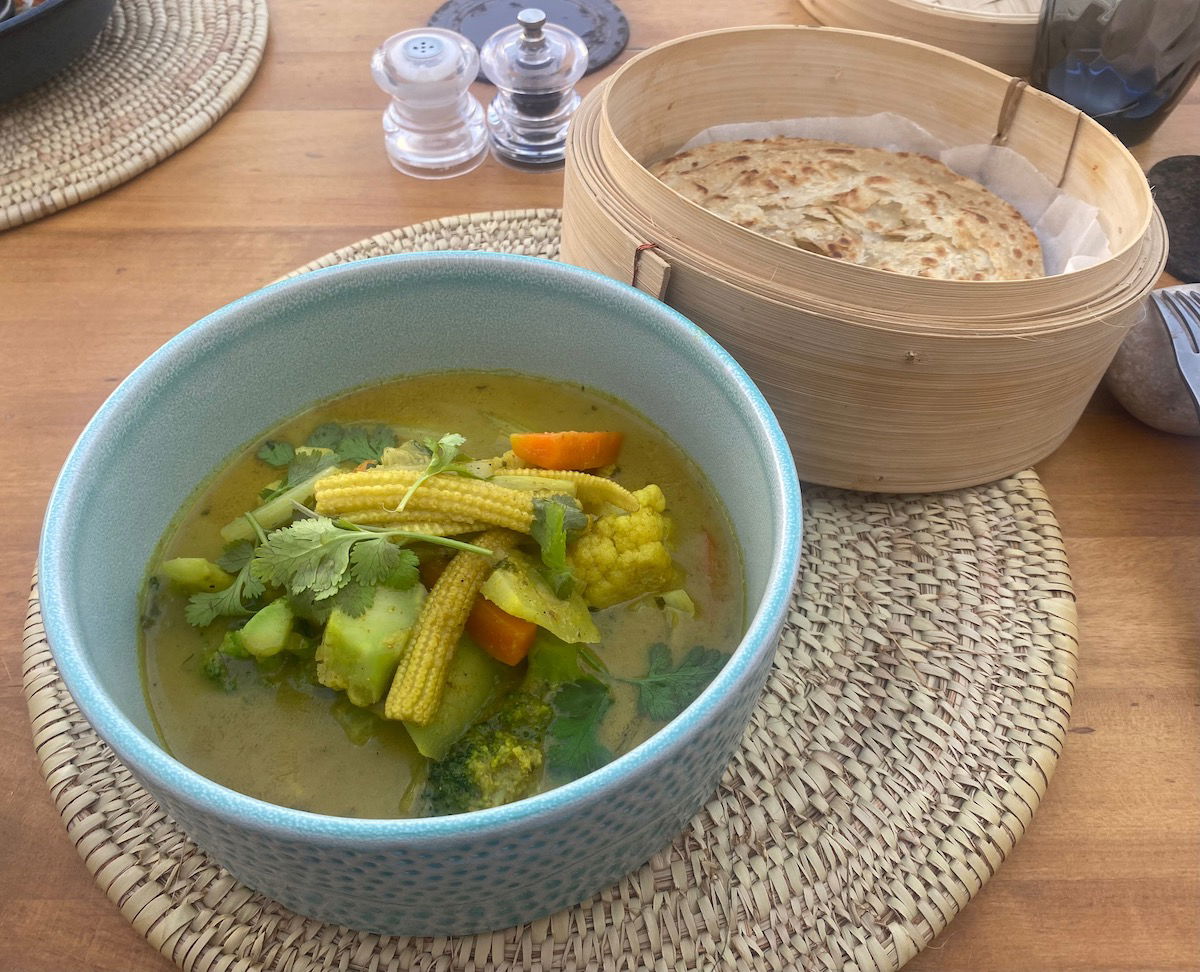 And the Pad Thai…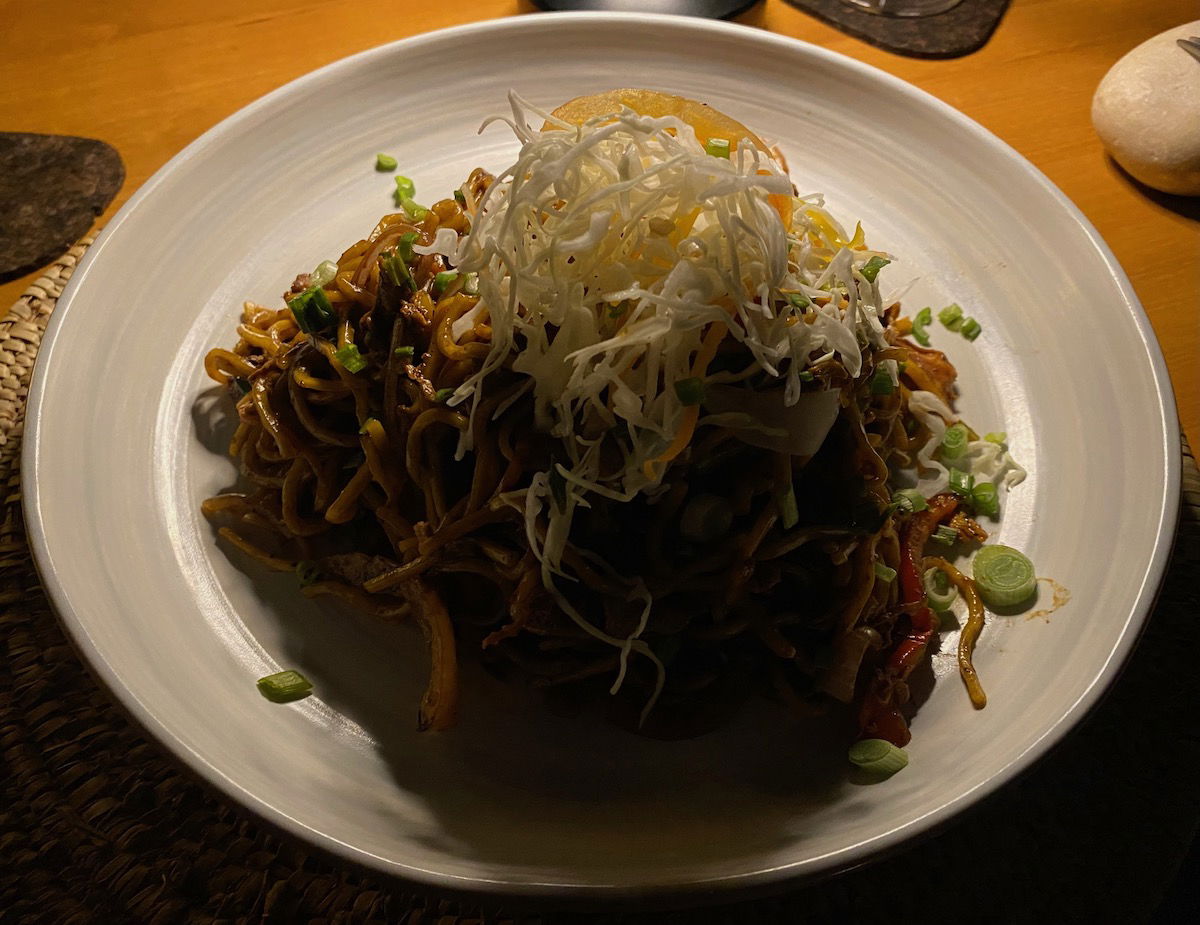 What's also nice is that the chef is more than happy to customize dishes, or even make something not on the menu. The chef frequently came out and checked on guests, and by our last night we asked if there was anything else he could prepare for us that wasn't on the menu (since we had enjoyed most things already). He seemed excited by the challenge. He just asked us how many courses we wanted, and said to leave the rest to him.
He didn't disappoint. He started us off with a delicious chicken mushroom dumpling soup. Yum.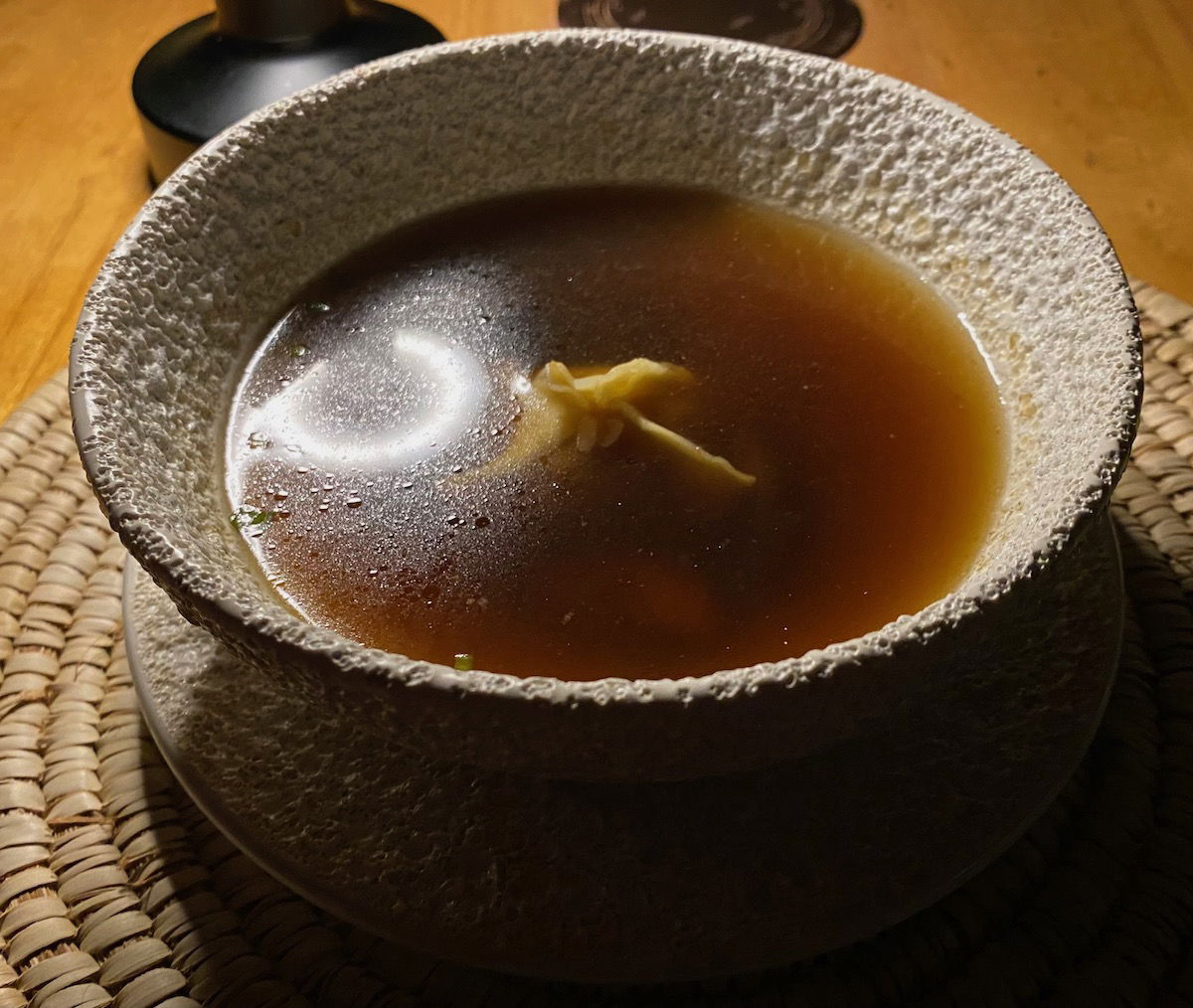 For the main we had a spicy beef dish.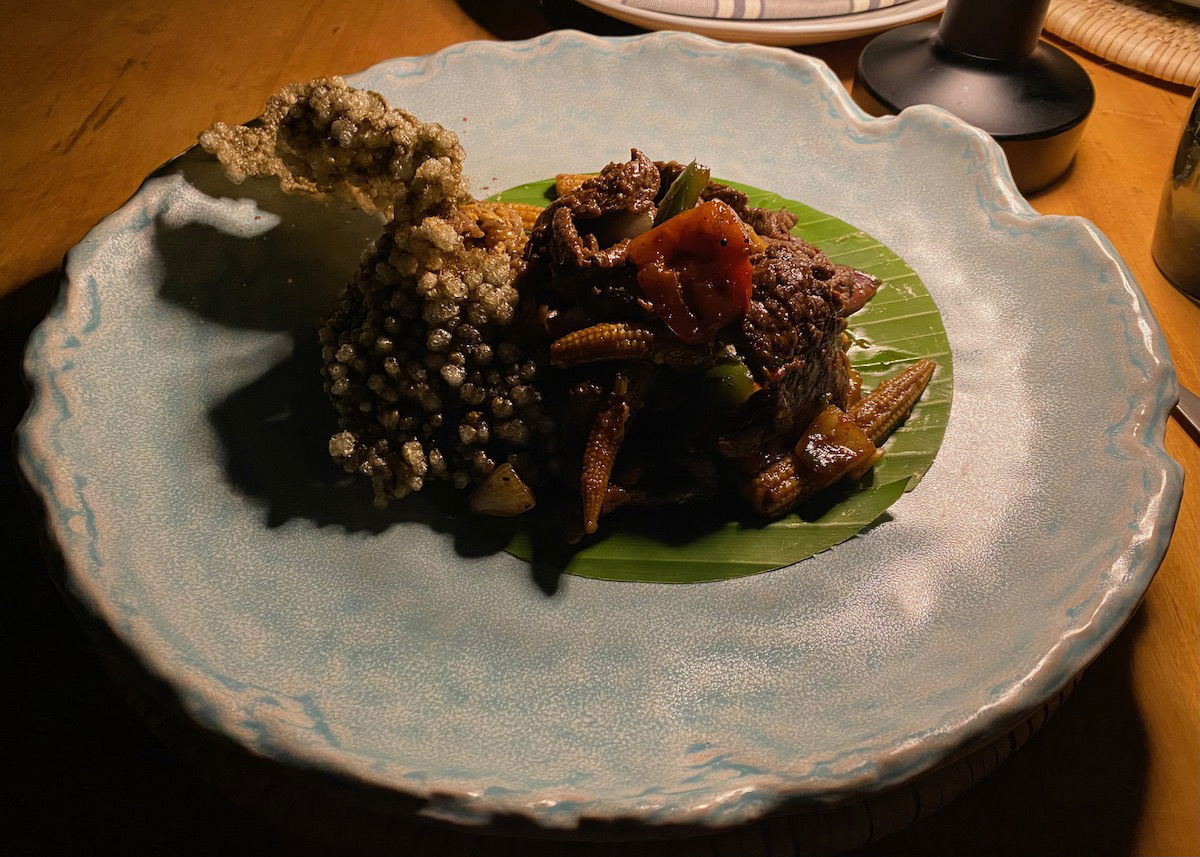 Then for dessert we had a coconut pistachio cake.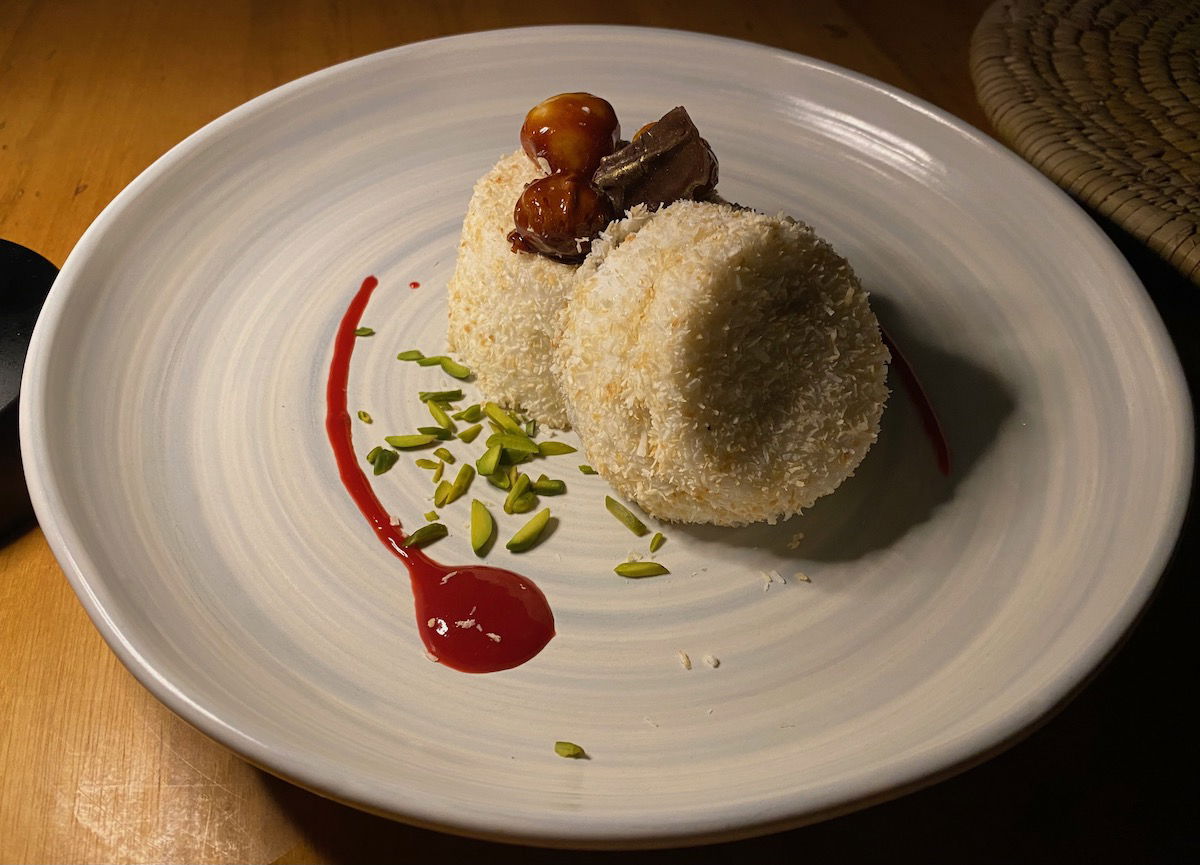 The food at Alila Hinu Bay is phenomenal, and if you're a fan of Southeast Asian cuisine, you'll love this place. The only catch is the lack of variety. Ford and I love Southeast Asian food, but ideally not for lunch and dinner several days in a row.
Alila Hinu Bay room service
One day we decided to order room service lunch, and you can find the room service menu here. We ordered an avocado fattoush salad, a falafel wrap, and a beef burger. We enjoyed all of these dishes, and it was nice to get some variety from the standard menu. I'd guess that they'd probably also let you order this stuff at the restaurant, though we never tried.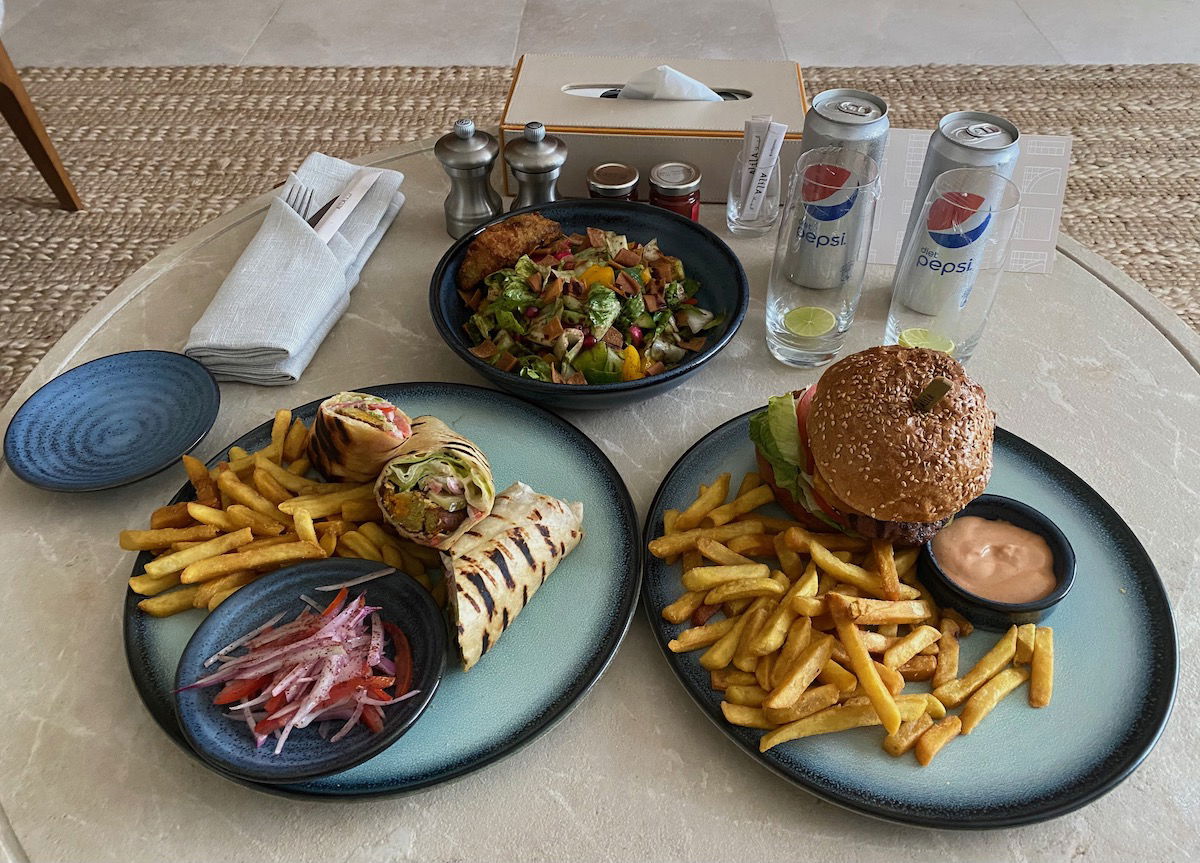 Alila Hinu Bay service
Across the board I can't say enough good things about the staff at Alila Hinu Bay. We stayed at four hotels in Oman, and the service at Alila Hinu Bay was by far the best. Admittedly this was also by far the emptiest property we stayed at — at times we felt like we had the hotel to ourselves.
The staff at Alila Hinu Bay were not only attentive and friendly, but also had so much personality across the board. They showed genuine interest in guests having a great time. The staff were largely international (including from India, Indonesia, Jordan, Mauritius, Philippines, etc.), and they all really seemed to enjoy their jobs. From talking to them they had mostly worked in other places in the Middle East, and many liked just how laid back this place was.
I also appreciated how hands on management was. The front office manager constantly checked on guests, as did the general manager. It was also a nice touch how the chef would constantly check on guests while dining, to see if they had any special requests.
What to do at Alila Hinu Bay
This is the aspect of Alila Hinu Bay that I'm conflicted about. Alila Hinu Bay is a relaxing property where you could easily just lounge by the pool, get spa treatments, and eat amazing food all day. But what is there to do off property?
The town of Mirbat is about a 10 minute drive away. The town has some history, given that the Battle of Mirbat took place here in 1972. The town will give you a taste for what smaller towns in Oman are like, and also has some nice coastal views, but otherwise I can't say that I found it to be the most charming town. The town was still rather dilapidated, as it's clear that a lot of stuff hasn't been rebuilt from the unrest several decades ago.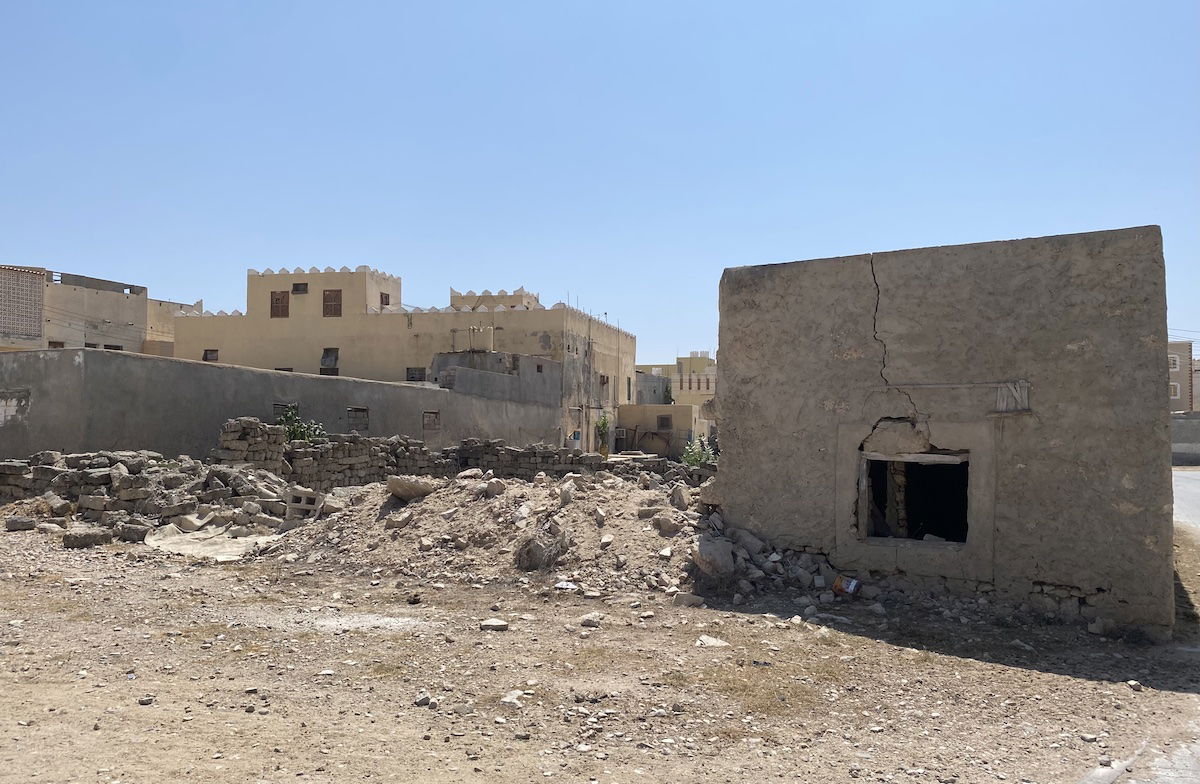 The hotel does also offer a variety of experiences, which you can find here. For example, you can get amazing views from Jabal Samhan, or visit Wadi Darbat. These are things that are cool and perhaps worth seeing, but they paled in comparison to the experiences and views from Alila Jabal Akhdar, the other Alila property we stayed at in Oman.
So that's the aspect of the property that leaves me most conflicted. It's almost like someone decided they wanted to build a hotel here no matter what, and they'd figure out what guests should do after the fact.
Bottom line
I'm so happy I had the chance to check out Alila Hinu Bay, which is a property I've been eyeing since way before opening. There's a lot we loved about Alila Hinu Bay, including the incredible service, amazing food, solid spa, and the amount of wide open spaces. The fact that the hotel was more or less empty didn't hurt either.
At the same time, I struggle to answer the question of whether I recommend others visit, and whether I'd return. So a few thoughts along those lines:
This is definitely more of a place for people who have otherwise traveled a lot; in other words, if you've only ever visited a few countries, this property shouldn't be at the top of your list
If you're a World of Hyatt loyalist and are specifically seeking out good Hyatts, this is a property to consider
If you like good spas, great Southeast Asian food, and just chilling, you'll love this place
I think there's an element of "chicken or egg" here, in the sense that dining options are currently very limited, but presumably that's also because occupancy is so low; I'd love to see them eventually open The Orchard as an all-day dining restaurant as well, ideally serving Omani cuisine
In conclusion, we enjoyed our stay at Alila Hinu Bay (for the first two days we loved the property, while for the last couple of days we enjoyed it but felt a bit bored). I'm not sure I need to return (simply because there are so many other places I still want to visit), but for some people I think this is a great property to consider.
What's your take on Alila Hinu Bay — would you consider a visit?