EXTRA PERKS AVAILABLE
Enjoy breakfast, upgrades, & more
Want to take advantage of Virtuoso benefits at no extra cost, including a room upgrade, free breakfast, a hotel credit, and more? Contact Ford ([email protected]) for more details. He doesn't charge booking fees, and may even be able to help if you already have a stay booked.
At the end of our trip to Oman, we decided to spend one night at The Chedi Muscat. The 158-room hotel, which opened in 2003, is generally regarded as Muscat's best resort. While not a points property, several readers recommended this hotel, and others expressed interest in reading a review.
So, did The Chedi live up to the hype? Yes and no. The grounds of this hotel are among the most gorgeous I've seen anywhere. However, the rooms were uninspiring, and the service left a lot to be desired, especially for a hotel of this caliber.
Booking The Chedi Muscat with Virtuoso
Ford booked our one night stay at The Chedi through Virtuoso, which offers the following additional amenities:
Upgrade on arrival, subject to availability
Daily buffet breakfast for two guests per bedroom, served in restaurant
$100 food & beverage credit, once per stay
Complimentary lunch or dinner for two people per room, once per stay
Early check-in/late check-out, subject to availability
Complimentary Wi-Fi
On the surface these are among the most generous Virtuoso perks I've seen any hotel offer. While the upgrade, breakfast, and early check-in and late check-out are standard, usually there's just one additional amenity. In this case there were two — a $100 credit, plus a complimentary lunch or dinner.
The Chedi also has a club lounge, which intrigued me, and I figured we should check it out. Club rooms also come with quite a few additional inclusions, which I'll cover below.
We ended up booking a Club Deluxe Room, which cost 284 OMR (~$738) for our one night stay. Obviously that's quite a bit, but I figured it was worth it for the review, and at least the benefits through Virtuoso were pretty generous for a one night stay.
The Chedi Muscat location & layout
The Chedi is beachfront, and it's located in the Al Ghubra area near Muscat. The hotel is around a 15 minute drive from Muscat International Airport (MCT), and around a 20 minute drive from the old part of Muscat.
The beauty of this hotel is that when you're on the property you feel like you're in the middle of nowhere at a gorgeous five star resort, while you're also not very far from the sights of Muscat.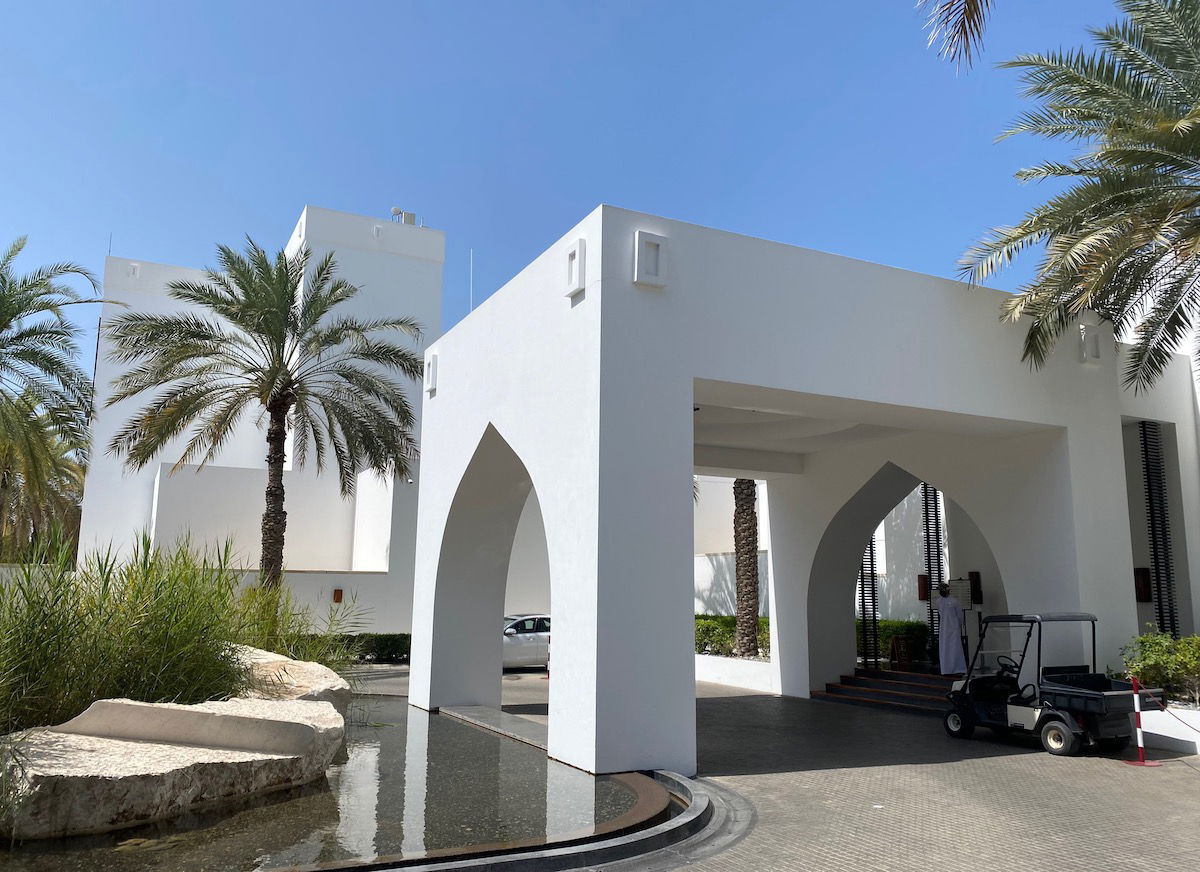 As far as the resort itself goes, The Chedi is located on a 21-acre property, and words can't do justice to the beauty of the resort's grounds. Rooms are spread out over many buildings, and buildings aren't more than two stories. The layout is just so calming and picturesque.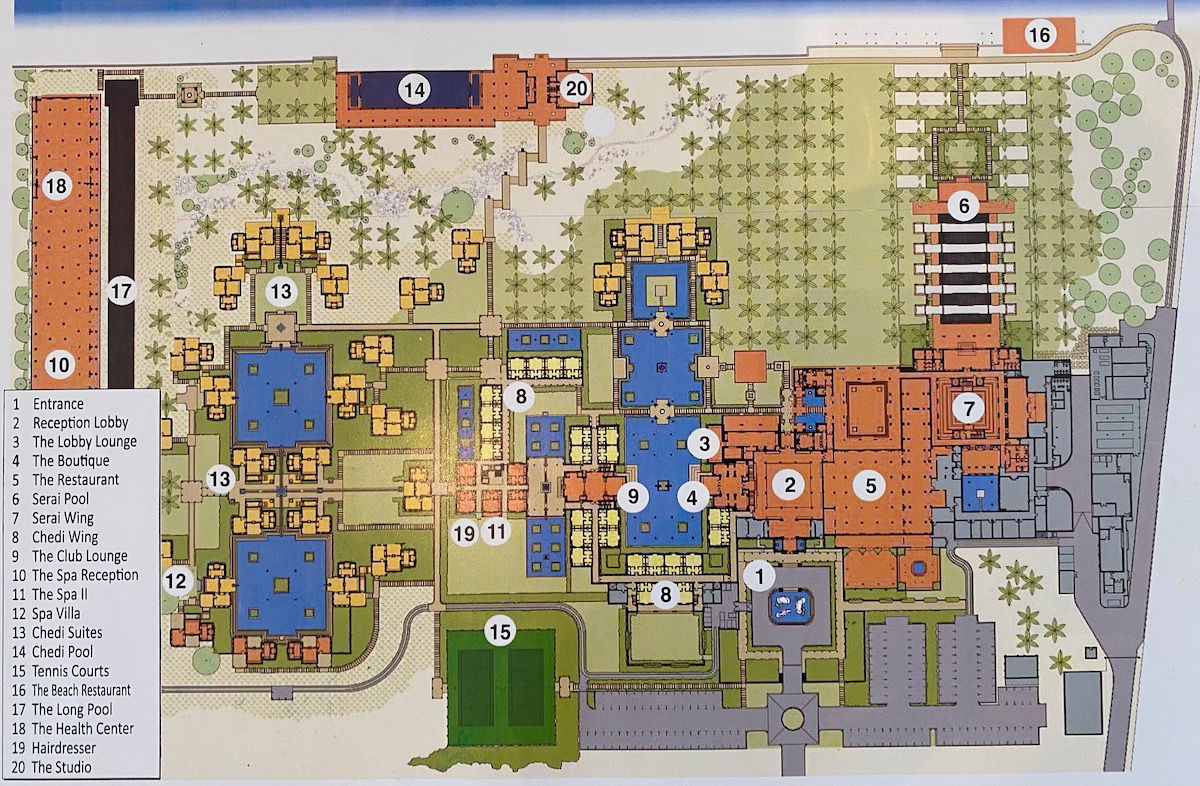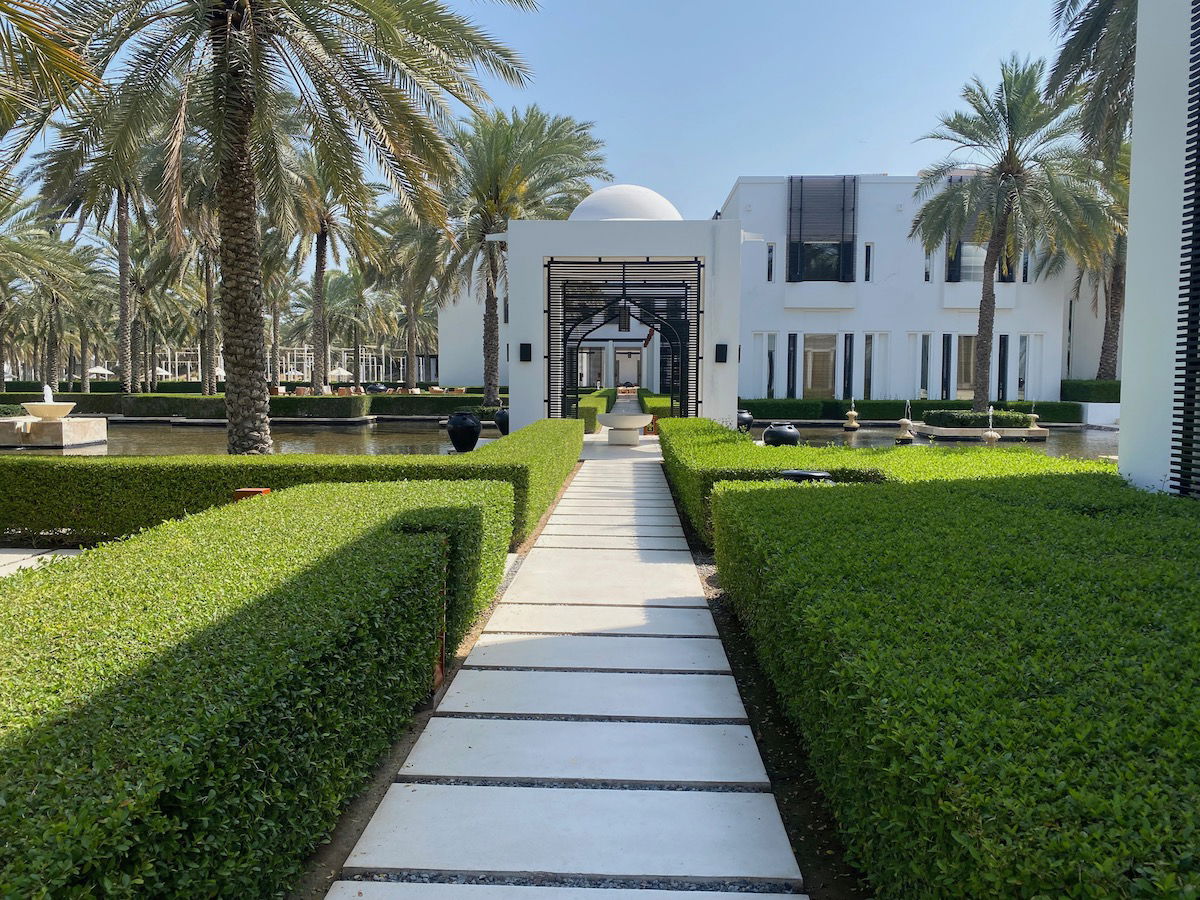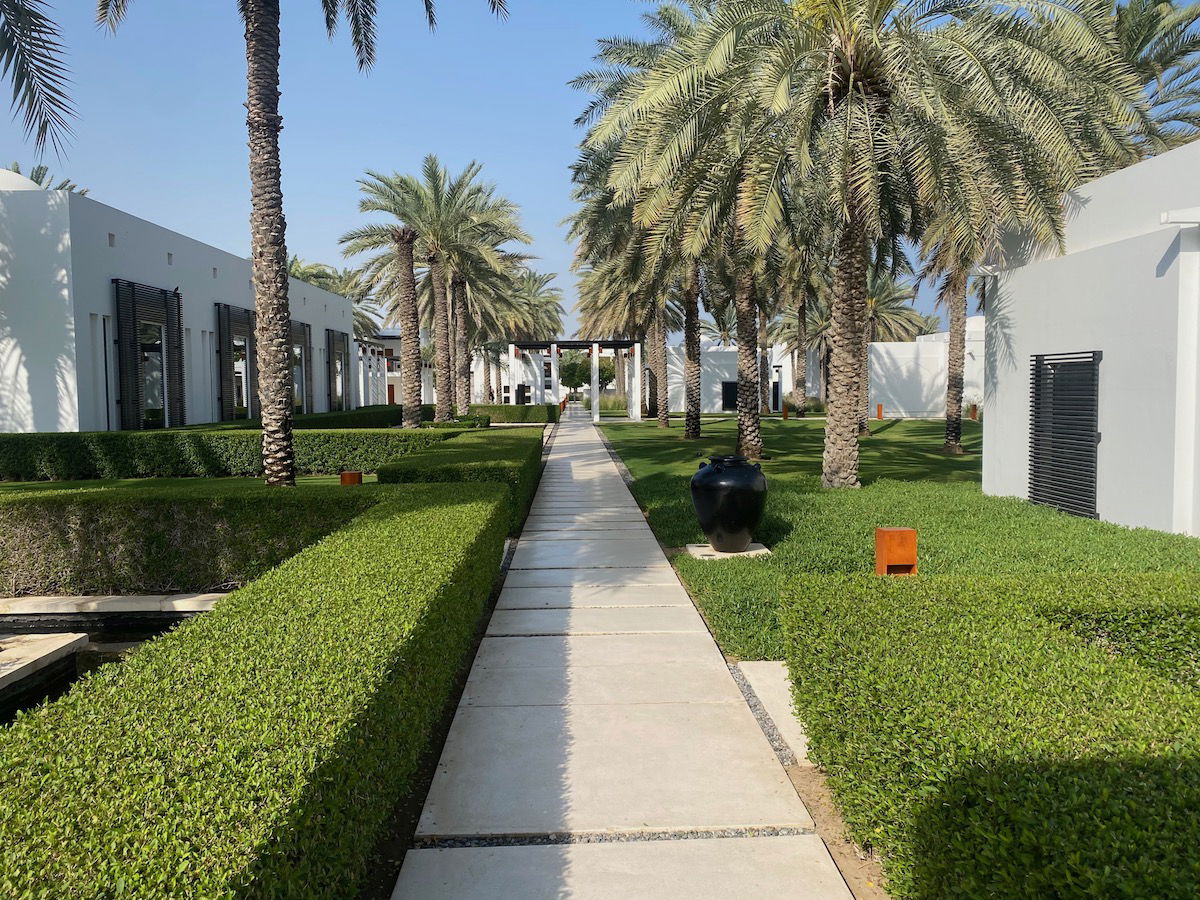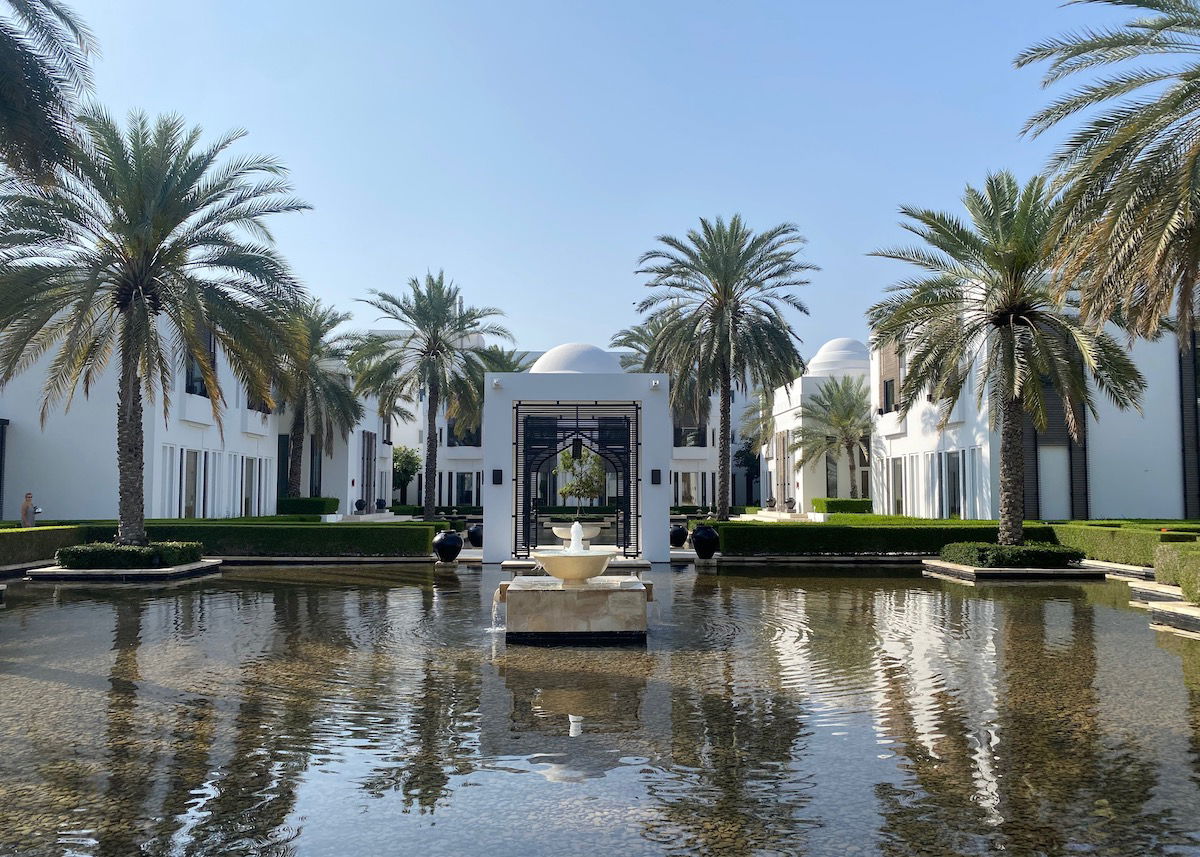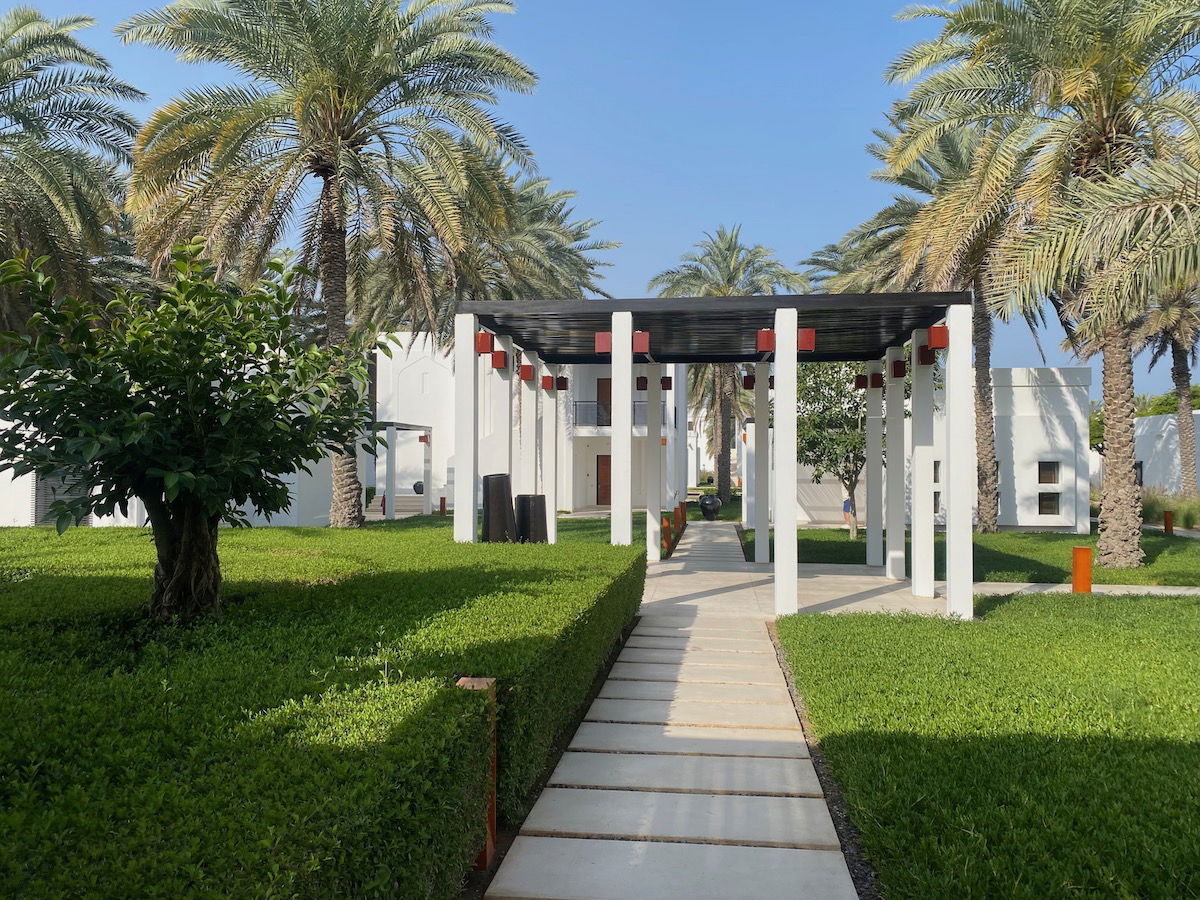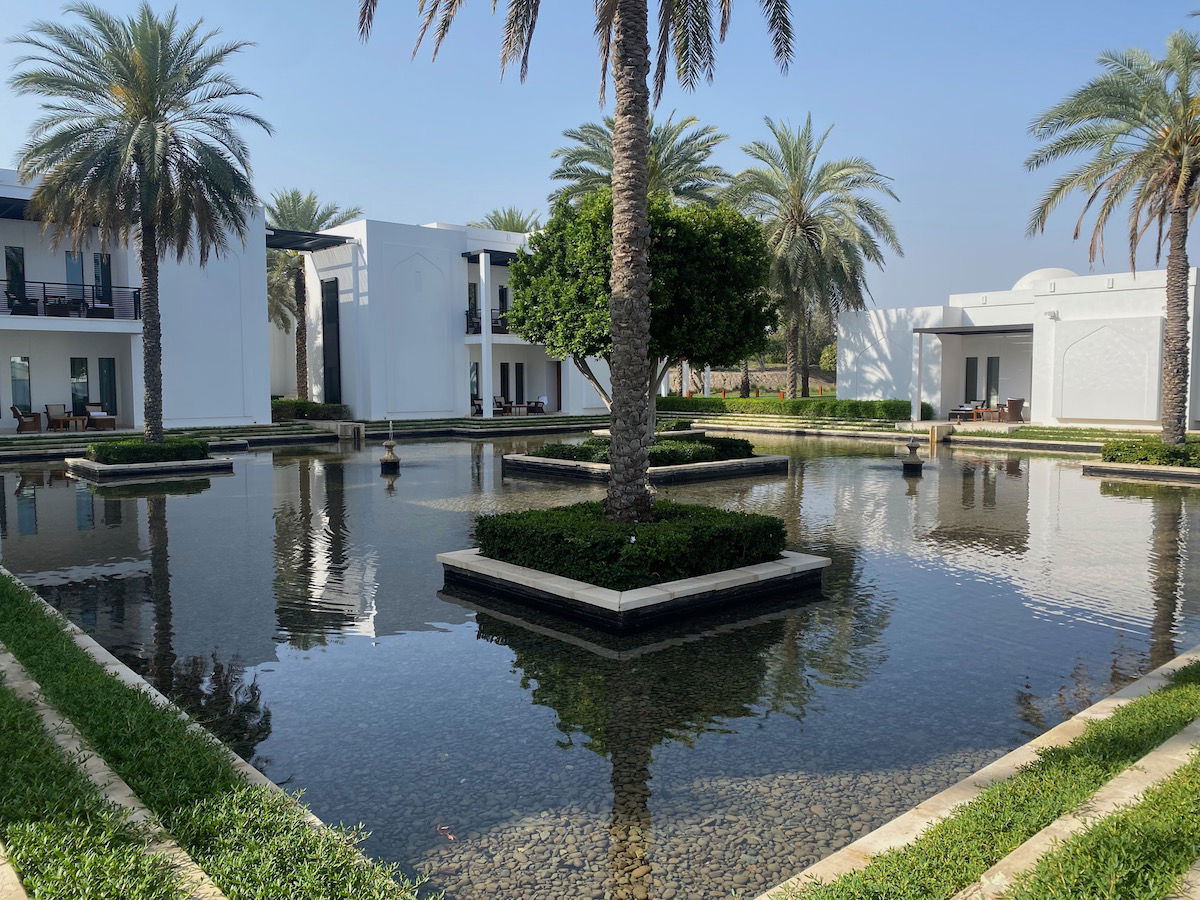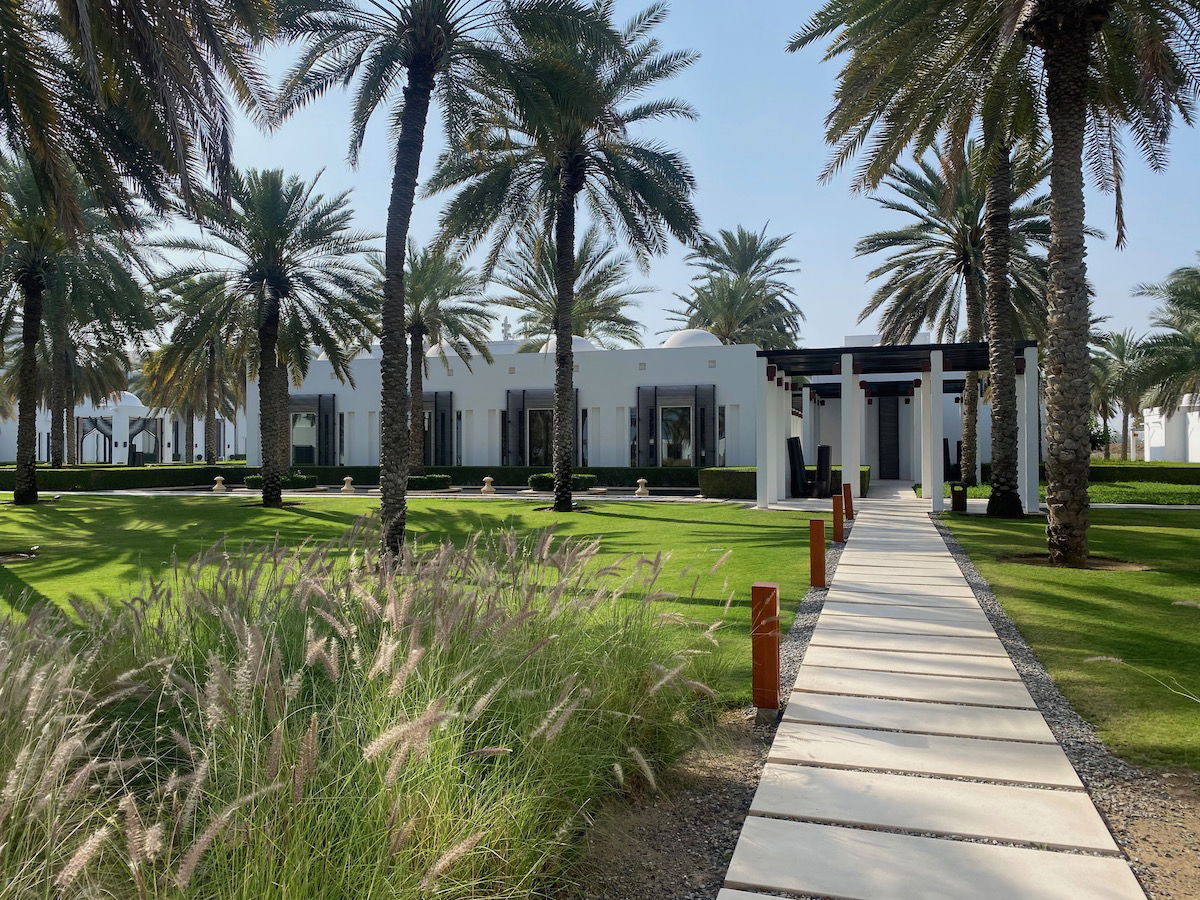 The Chedi Muscat lobby & check-in
The Chedi has a large lobby with traditional Omani design. The lobby lacked natural light and was quite dark, but that's inevitable with this kind of design (and I suppose it's practical, in terms of keeping out the heat).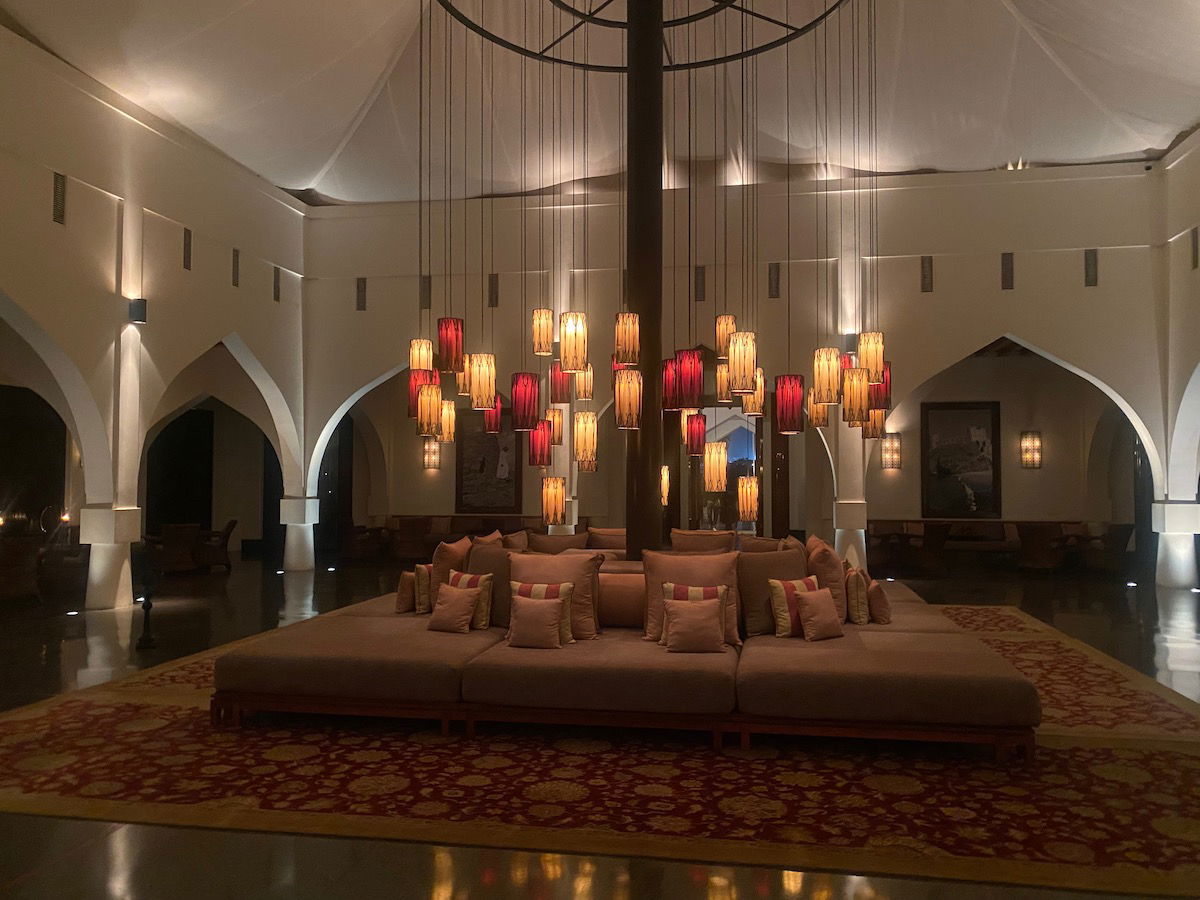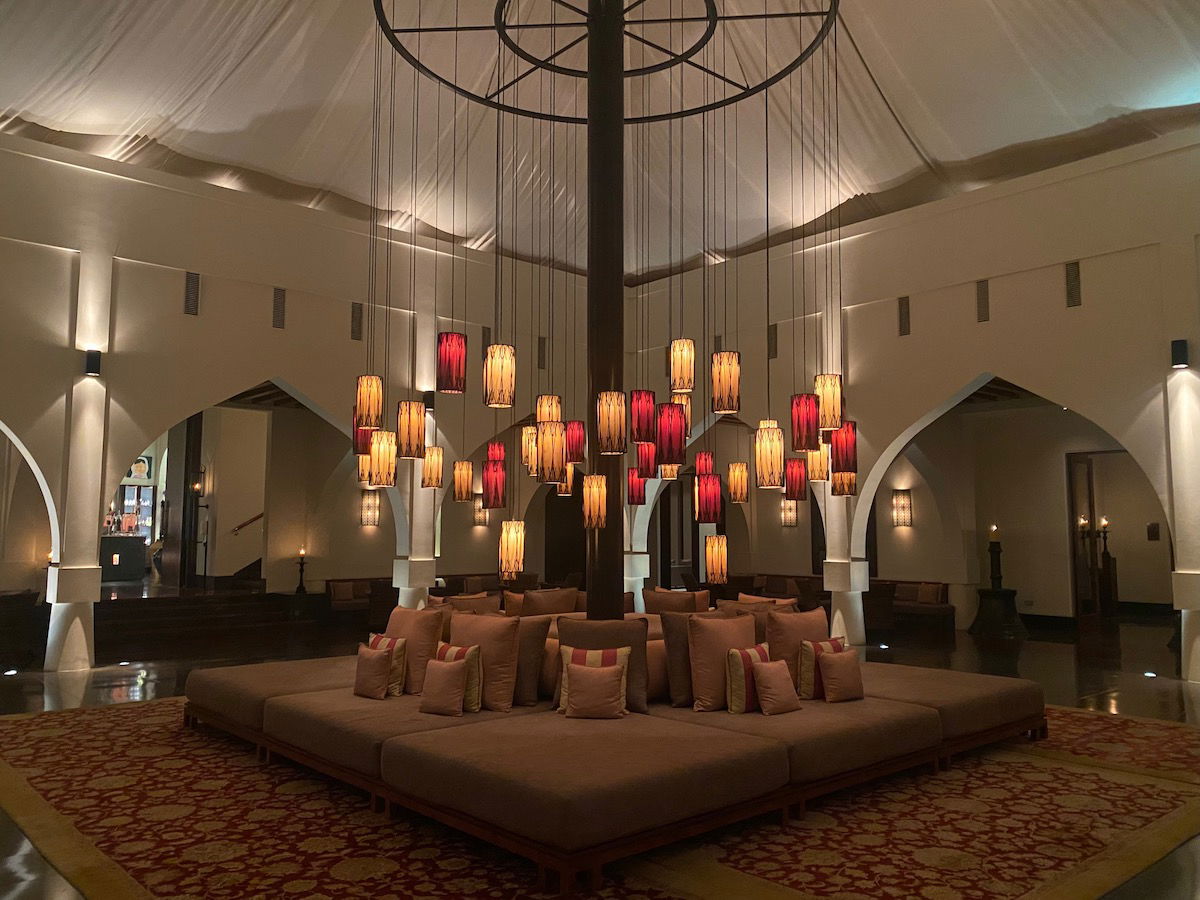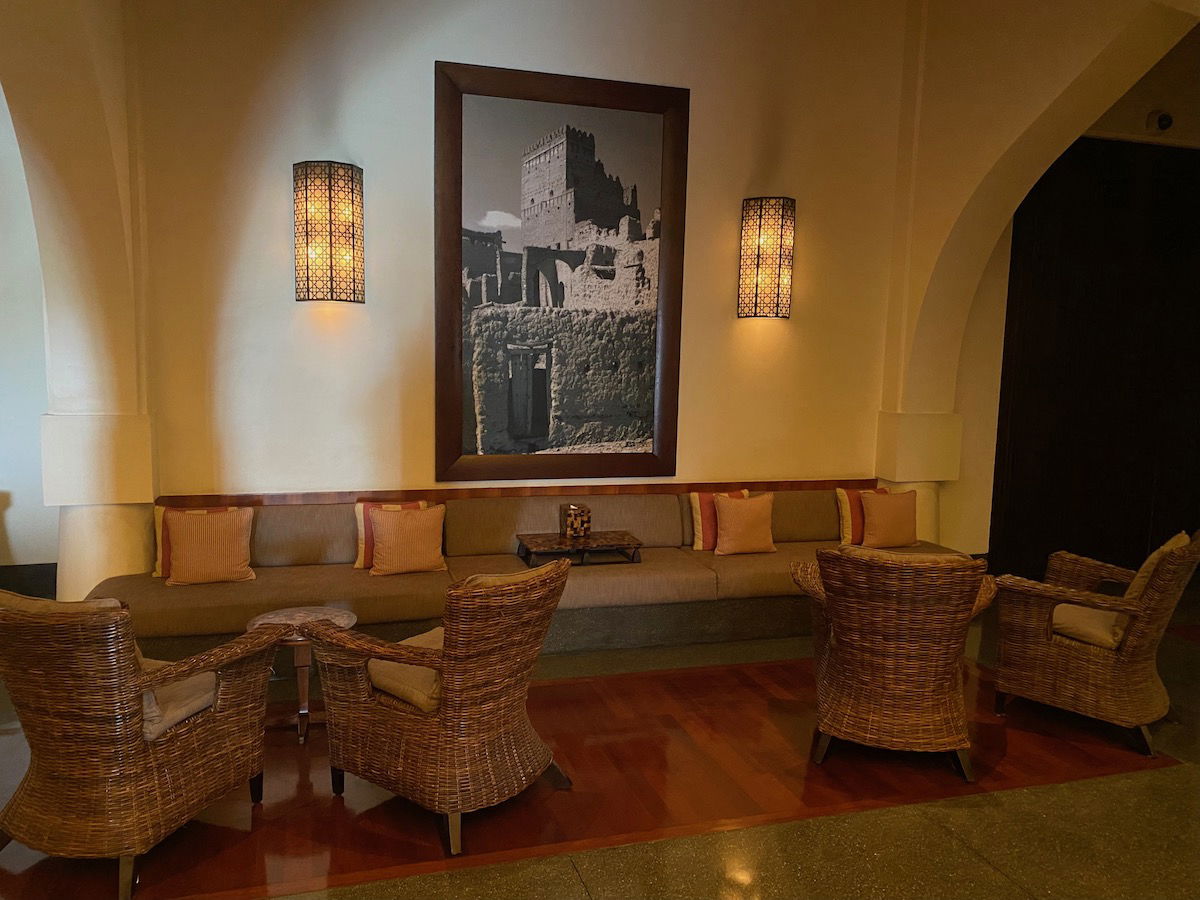 Unfortunately the check-in process wasn't exactly great. When I arrived at the hotel I wasn't greeted by any employee, as you'd usually find at a luxury hotel (or, well, most hotels, for that matter). The reception desk was quite small, and the associate invited me to have a seat in the lobby so that I could sit while being checked in.
When this kind of check-in is performed, in my experience you're usually offered a welcome drink or cold towel (and for that matter a welcome drink is explicitly marketed as a perk when booking here). In this case nothing was offered, but rather I just sat there for around 15 minutes with very little communication from the front desk associate. It just wasn't a great experience, and you expect more from a luxury property.
Eventually I was escorted to my room, which in this case was helpful, since the hotel can be a bit of a maze.
The Chedi Muscat Deluxe Club Room
Once check-in was complete, I was escorted to room 2015, a deluxe club room (this is the same room category I had booked). This hotel has a lot of club rooms (and an unconventional club lounge experience), and my room was in one of the club wings.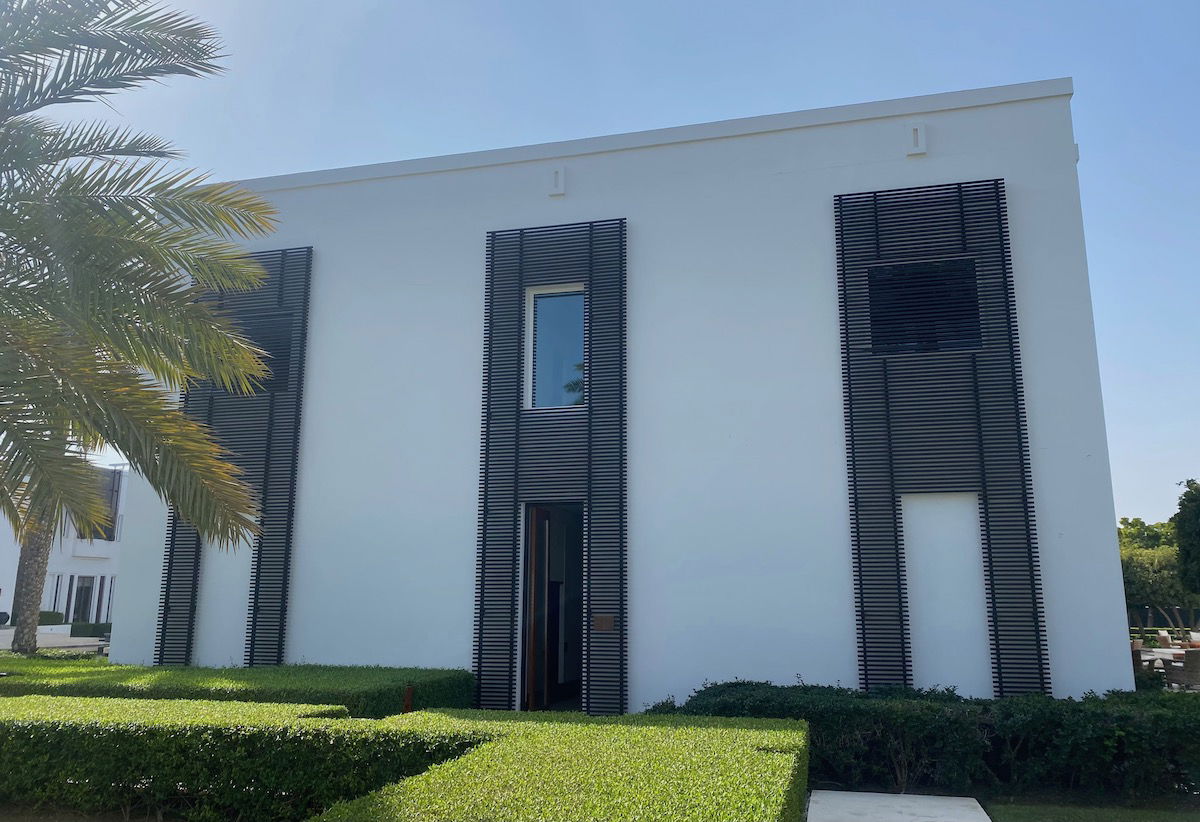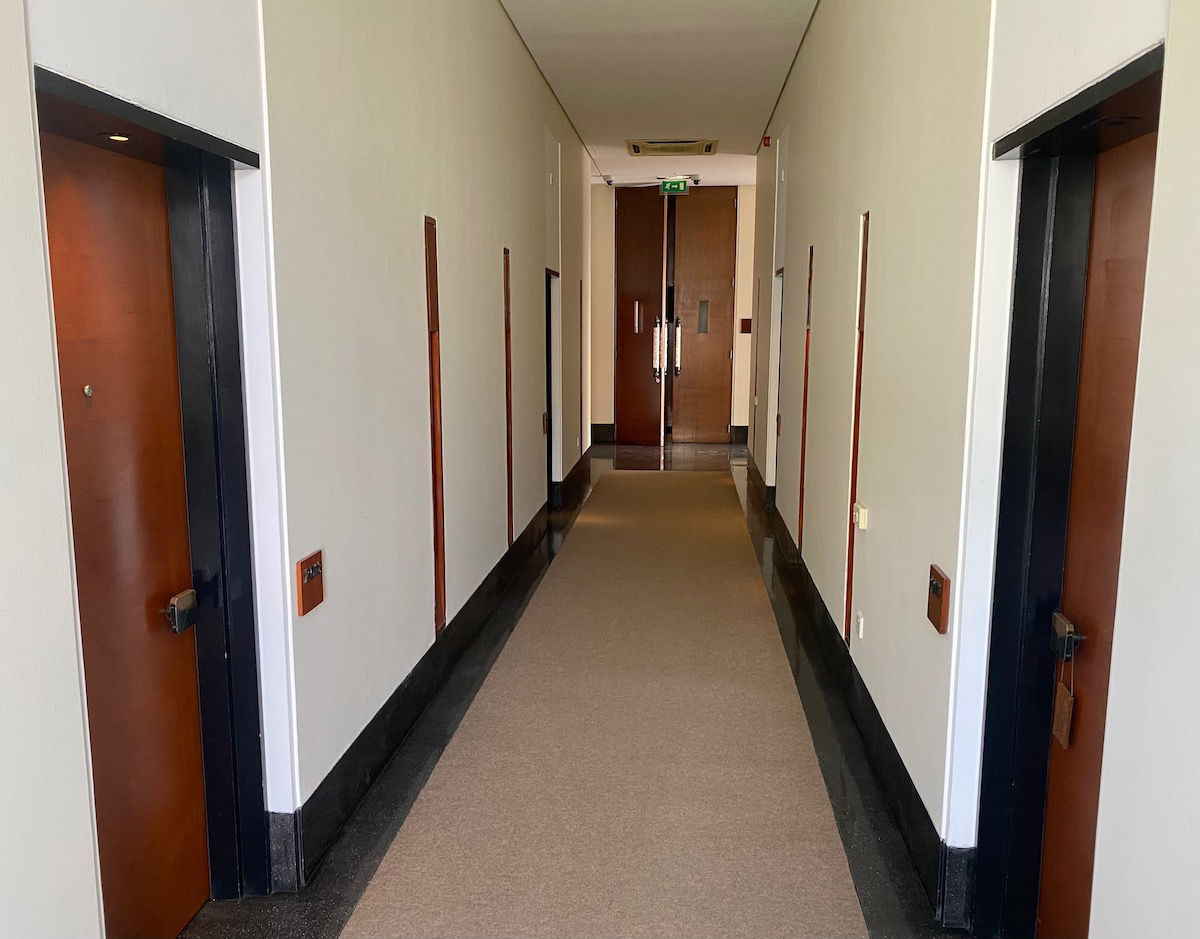 Deluxe club rooms are marketed as being 420 square feet, so they're a fair size, but not exactly huge. The room featured a king size bed, a sitting area with a loveseat and chair, and a desk with a chair.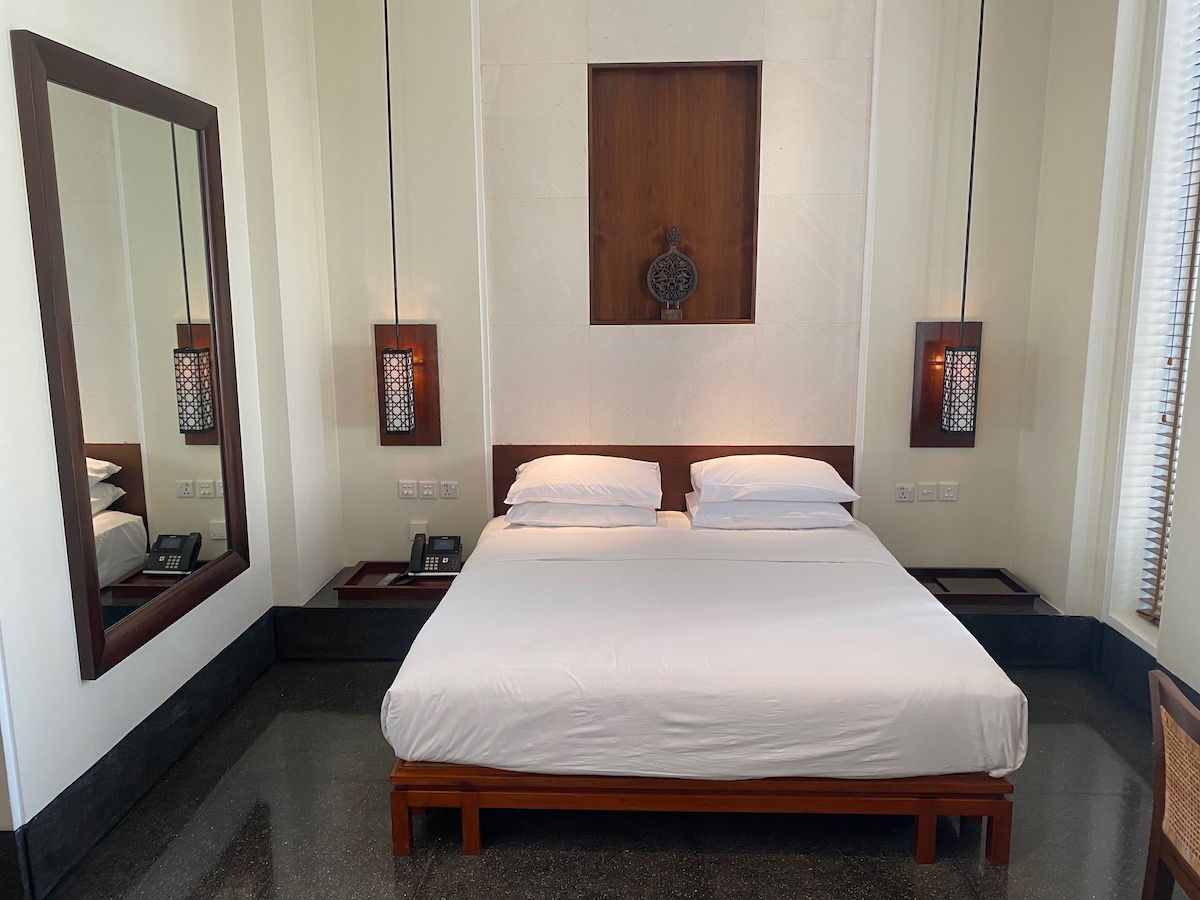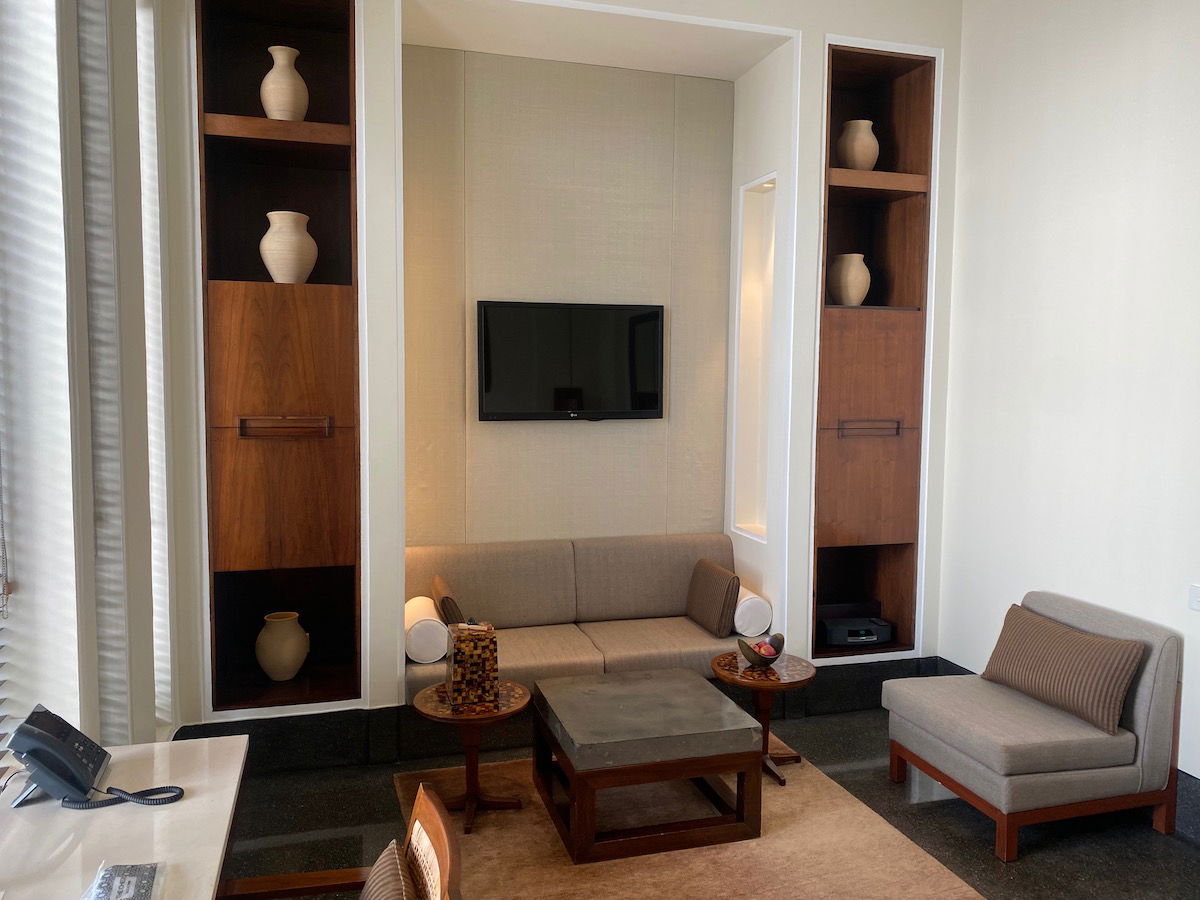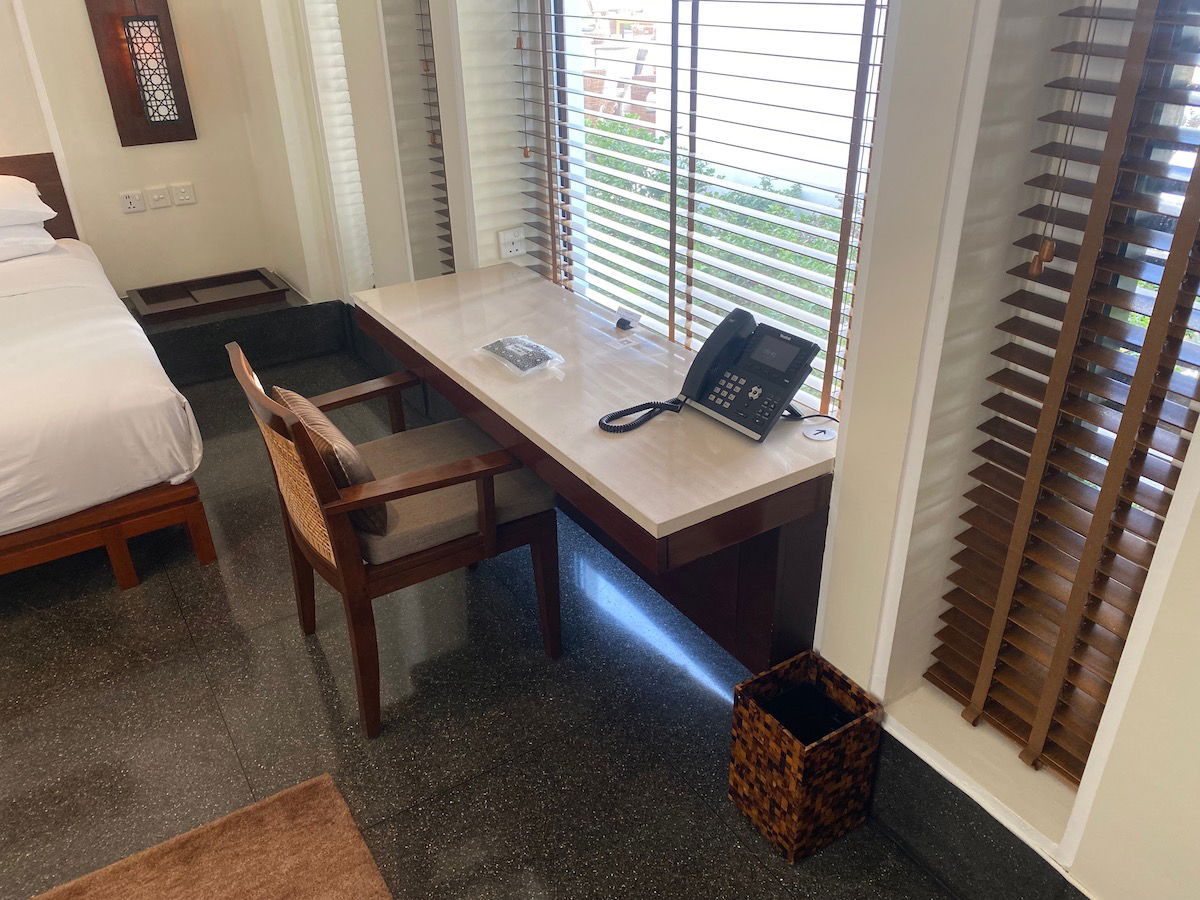 In the closet by the sitting area was a Nespresso coffee machine, plus the minibar. For club guests the minibar is complimentary (including alcoholic and non-alcoholic drinks), so that's a nice touch.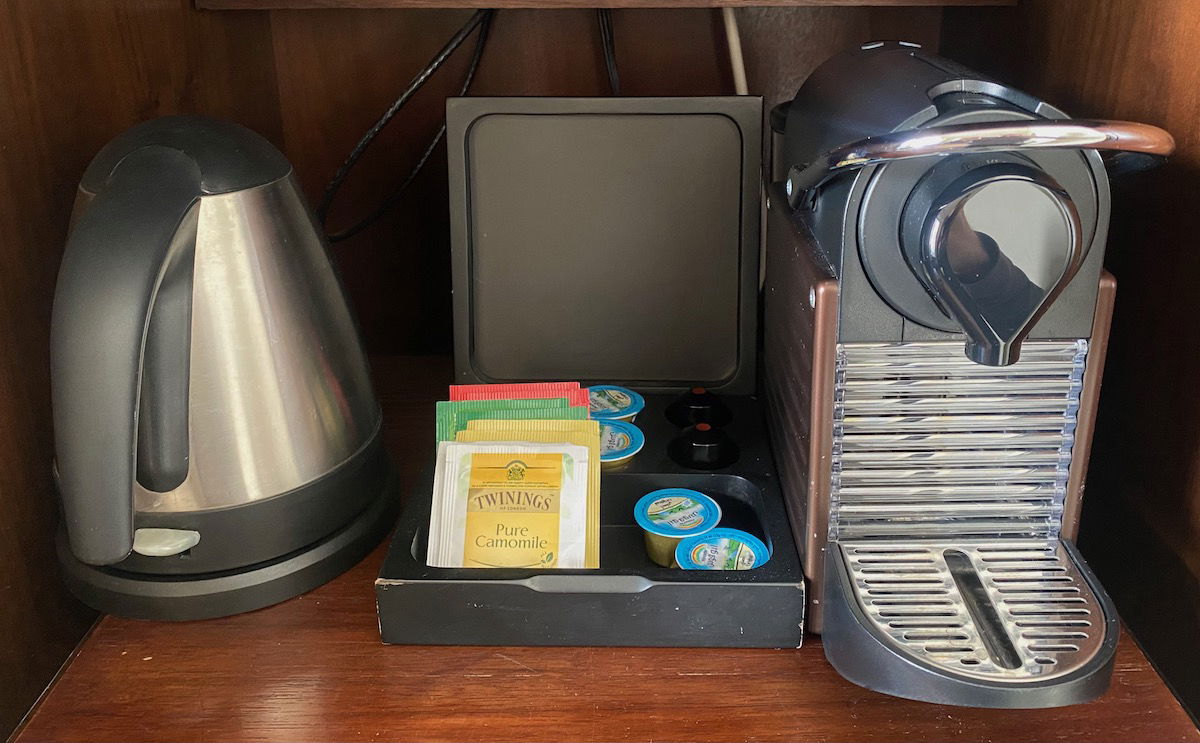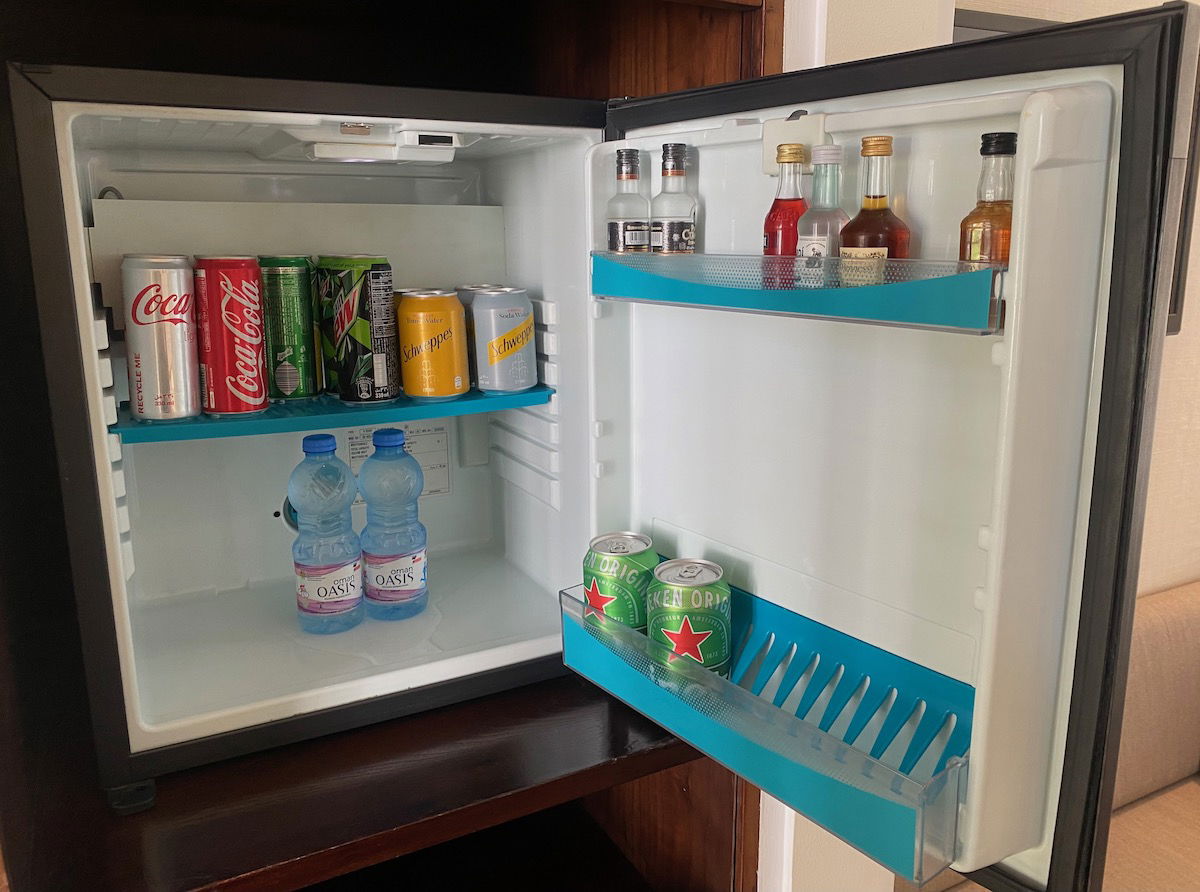 The bathroom was back near the entrance, and featured two sinks (one on each side of the door). Then to the side of one sink was the toilet, while to the side of the other sink was the walk-in shower.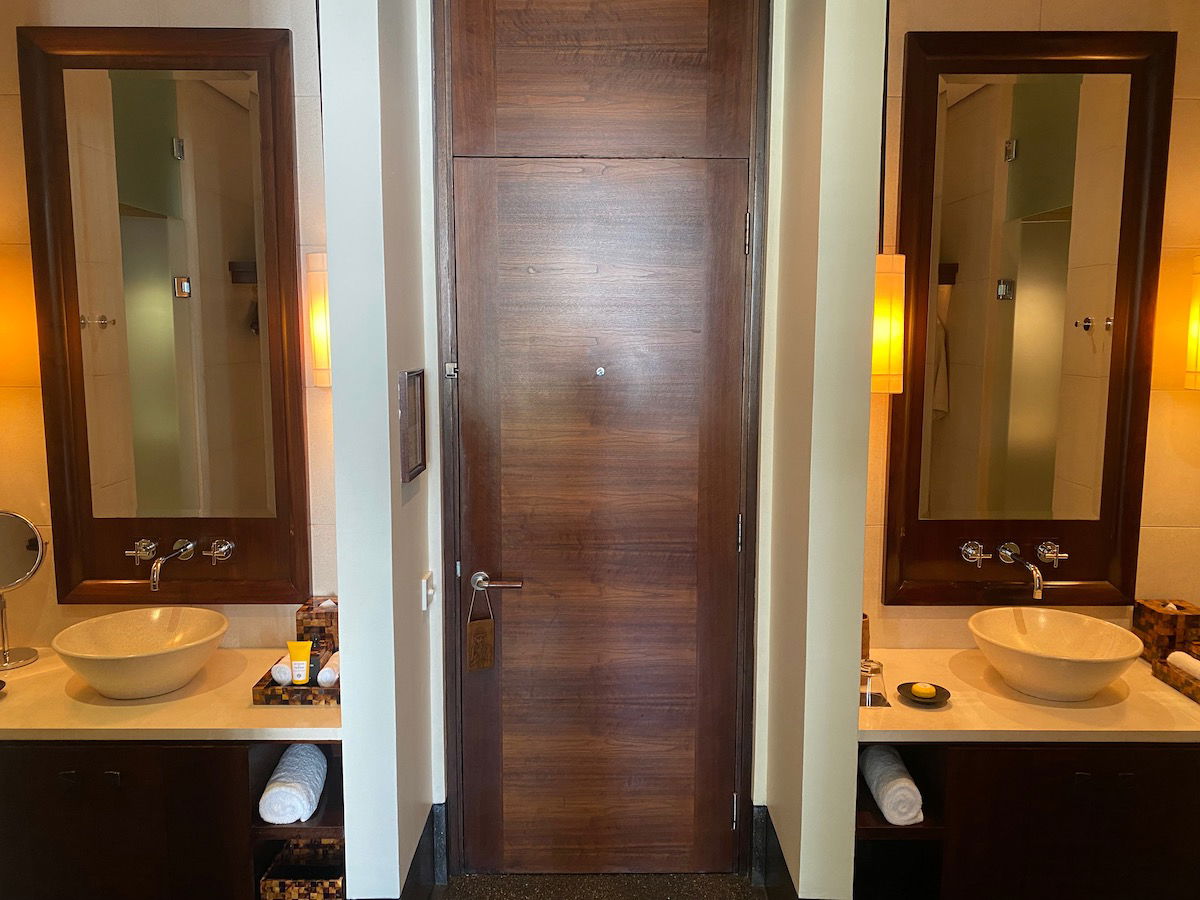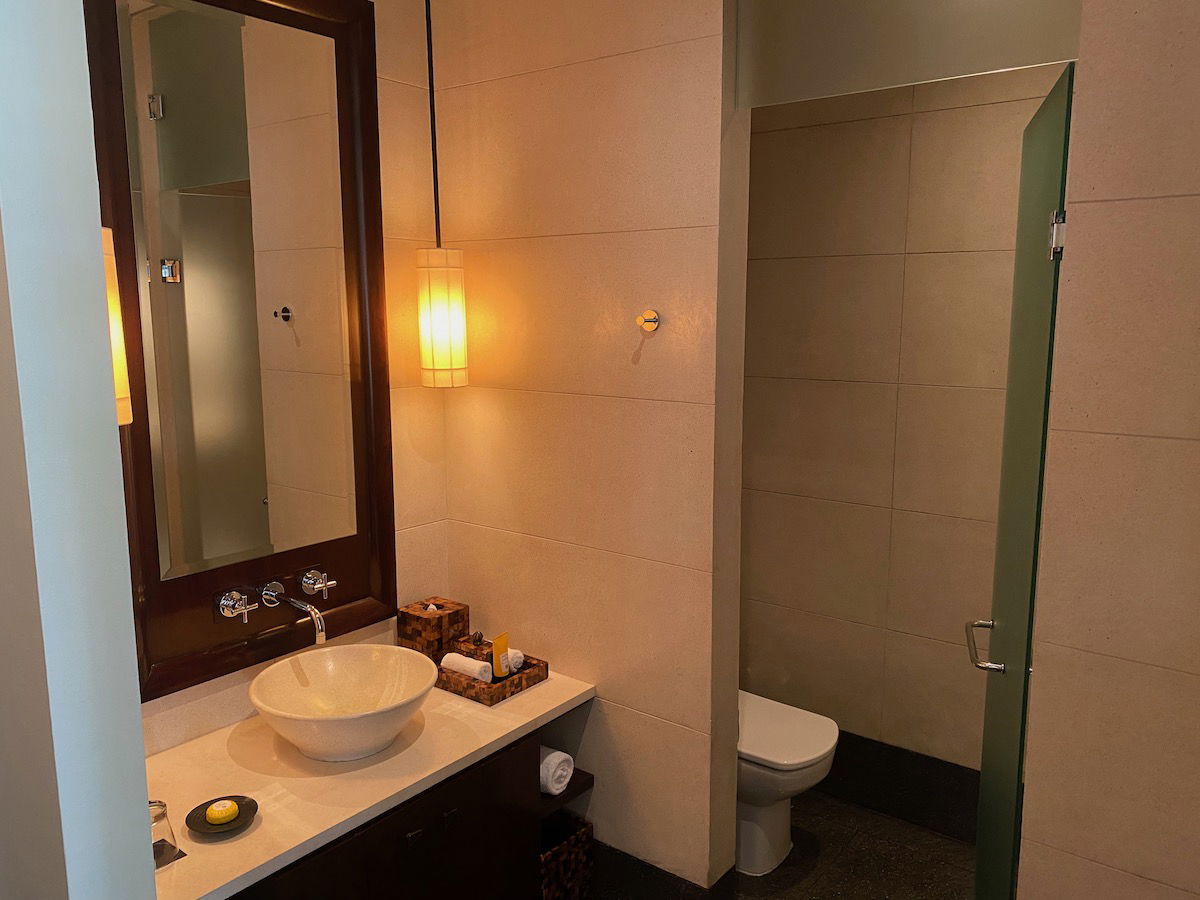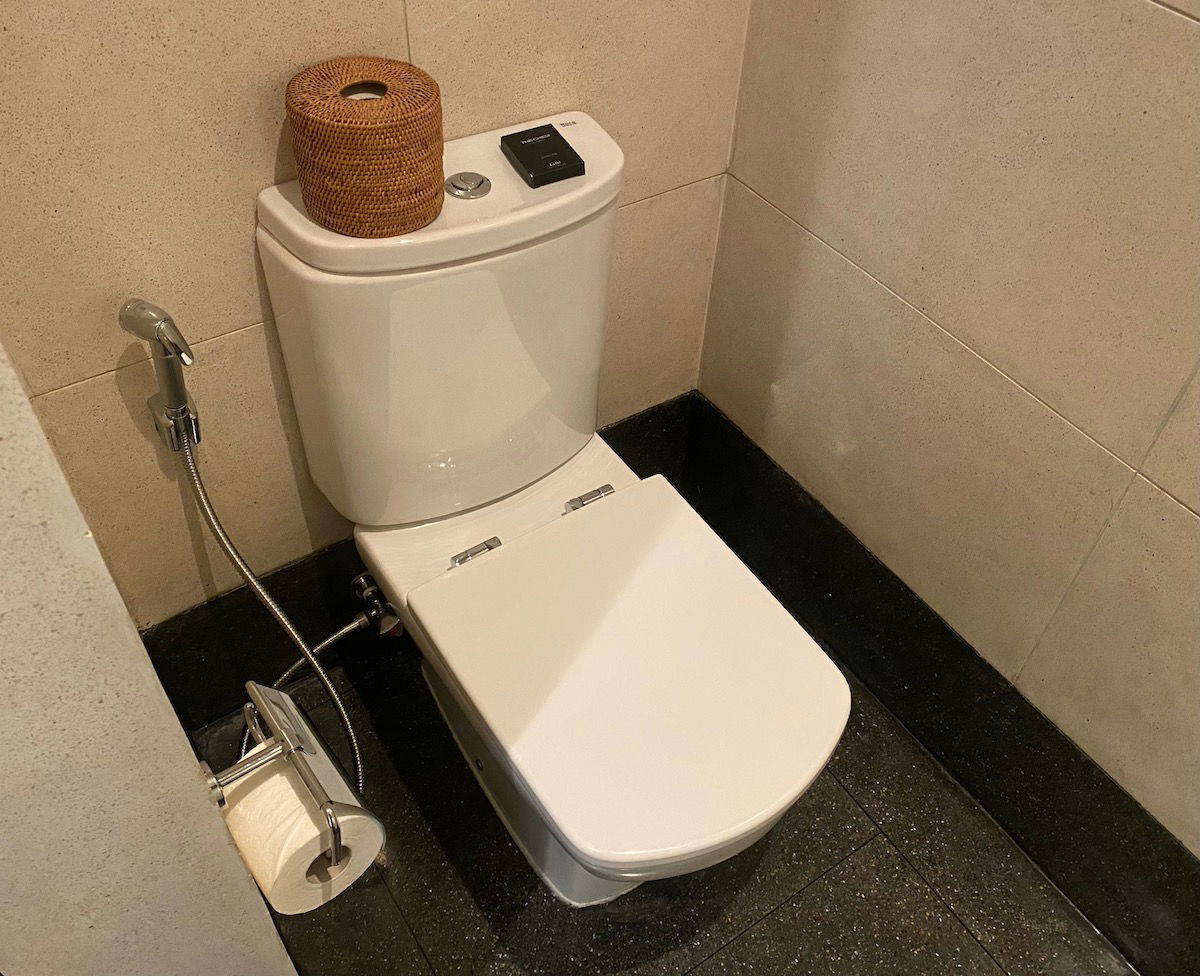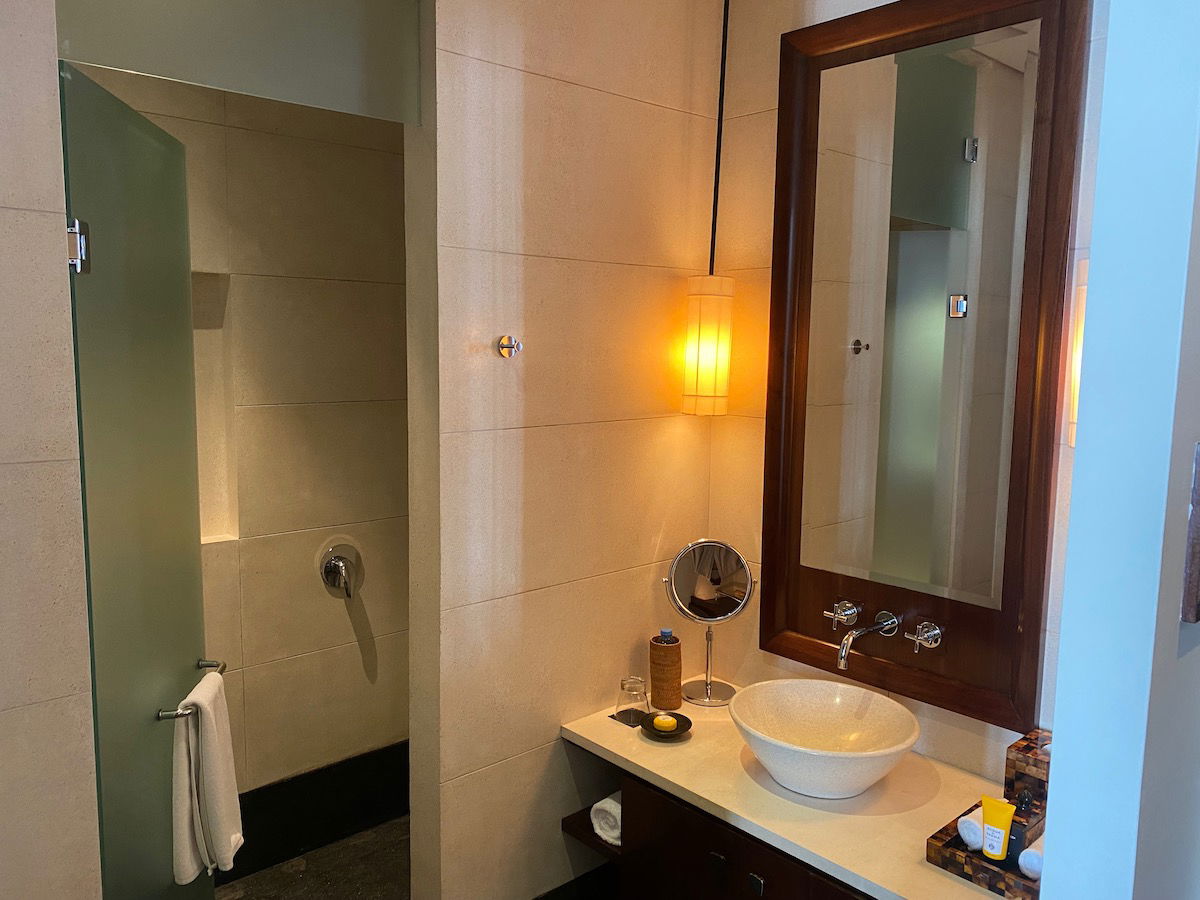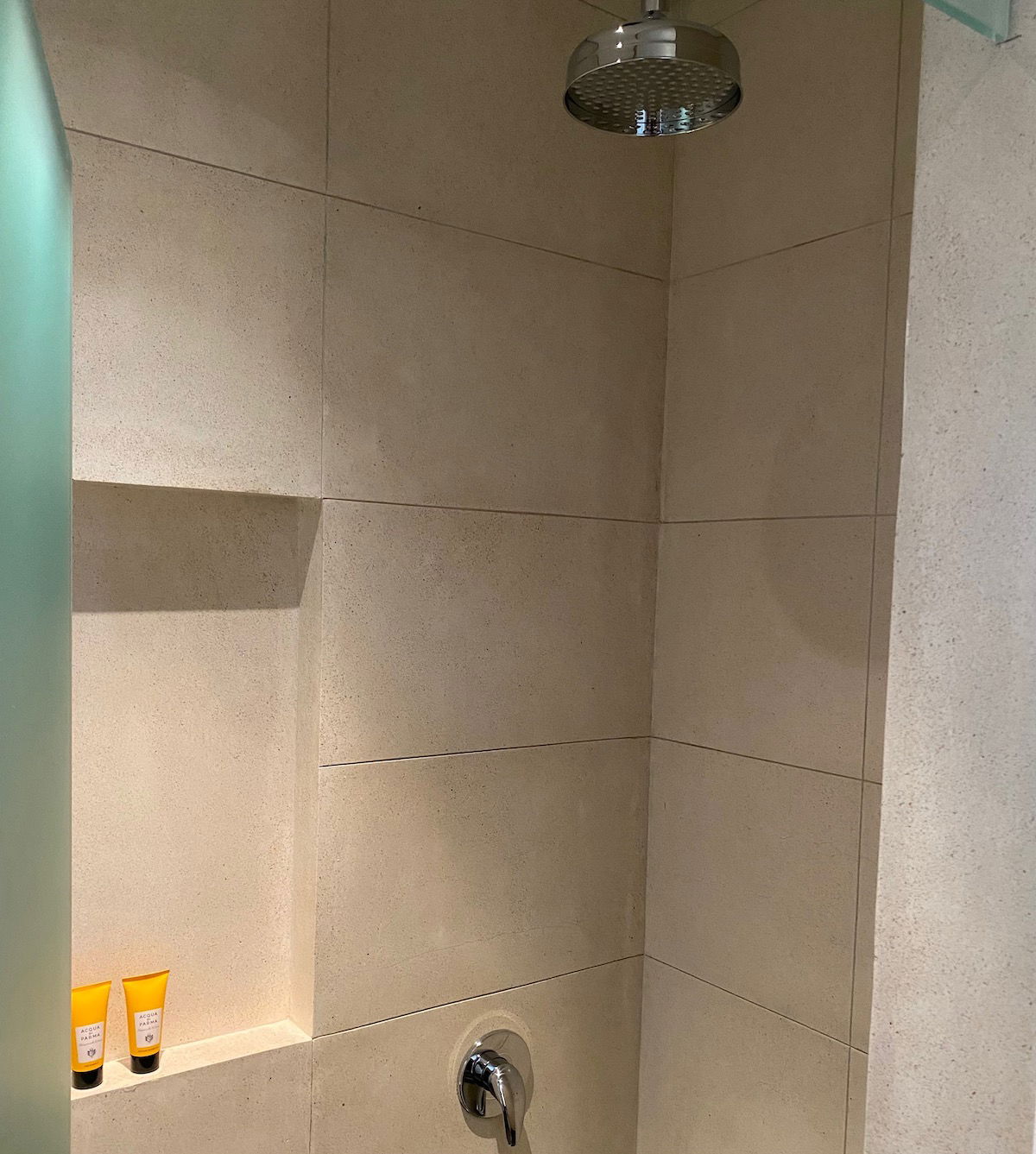 Toiletries were from Acqua Di Parma.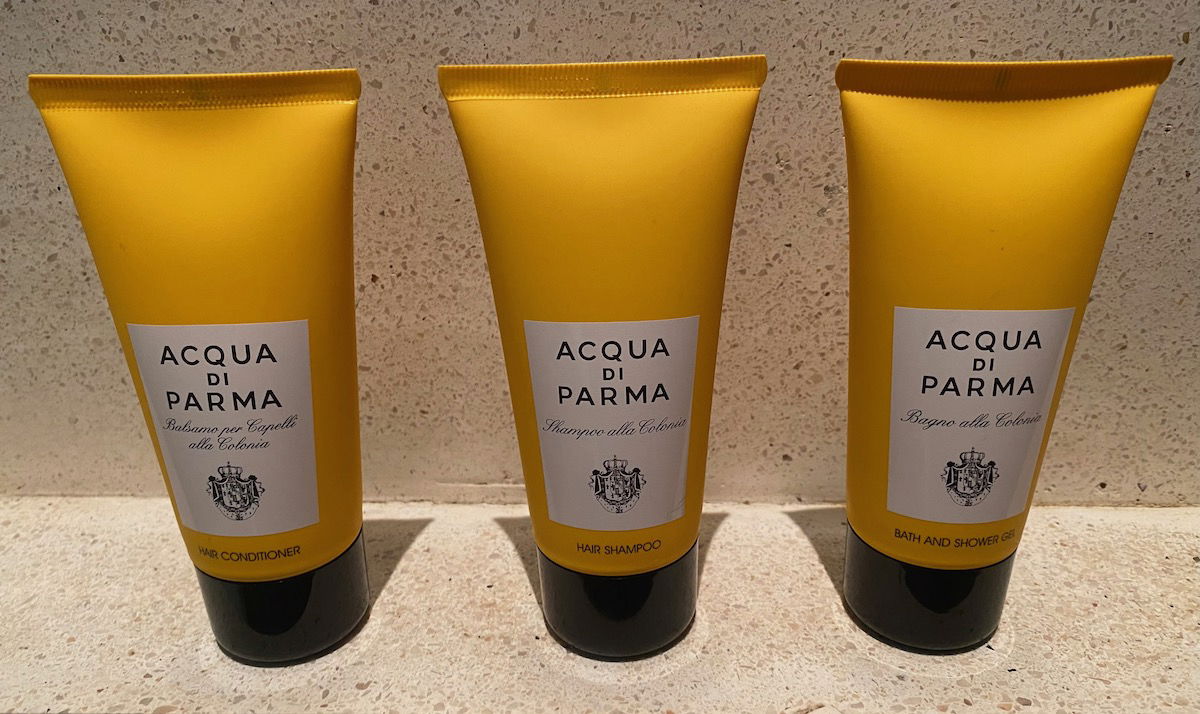 While the interior of the room was nice, what I didn't like was the view. The room had no outdoor space, lacked natural light, and the only view was of the club lounge outdoor sitting area. I didn't really like that, since it meant that if there were people sitting there I'd basically have to draw my curtains, or they could be looking right at me.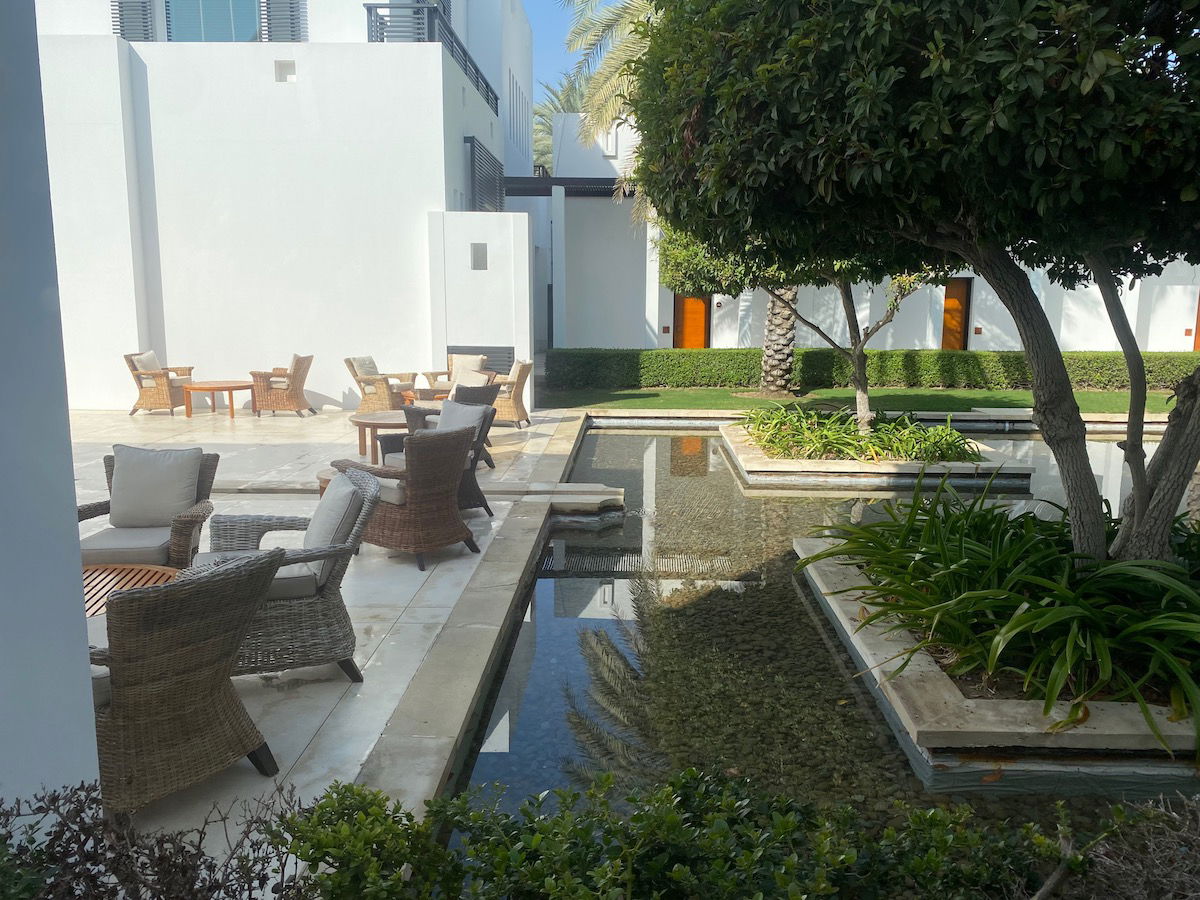 I think it's important to express if you're not happy with something (rather than complaining after the fact), so I asked the front desk associate if they had any other rooms available that had a bit more privacy. At this point I also realized that the associate mentioned nothing at check-in about the space available upgrade that's supposed to be offered through Virtuoso.
Getting a new room at The Chedi Muscat
If you're staying at a luxury hotel and you book a rate that includes a space available upgrade, I think it's professional for that to be acknowledged at check-in. I recognize upgrades are space available, so even if they're not available, I appreciate when an associate says "we make every effort to upgrade our Virtuoso guests, but unfortunately we're sold out this evening, and don't have any upgrades available." Or something like that, because it at least makes it clear that an effort has been made.
In this case the associate didn't mention anything about Virtuoso during check-in (given how limited interactions were due to me being seated while checking in), so I figured I should ask about that.
After I approached the associate about the possibility of an upgrade, she informed me that the hotel was completely sold out and no upgrades were available. It's rare I try to argue this point, but at the same time I was on The Chedi's website, and saw that the hotel was selling at least four rooms in the next higher category, and at least four rooms in the category above that (four rooms is the most inventory that will be displayed at a time).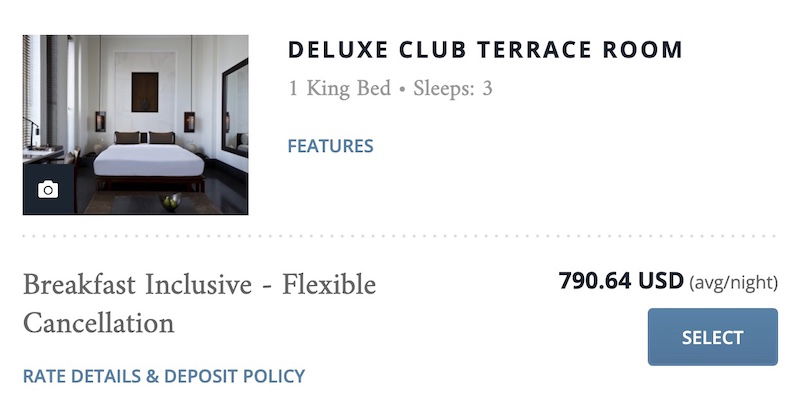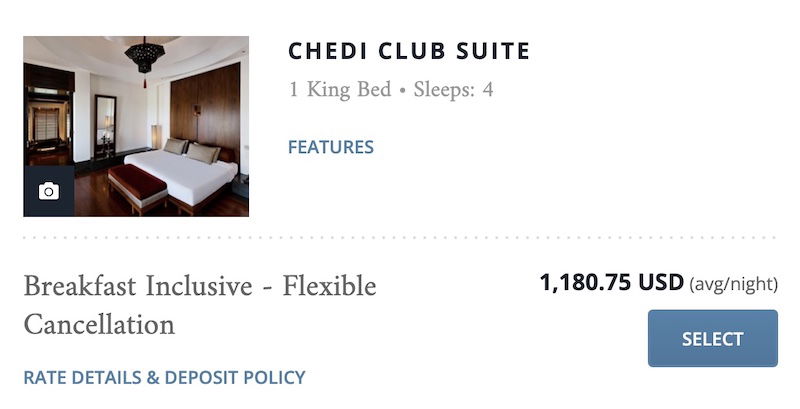 I asked the associate about this, and she claimed that the availability online must be a glitch. So I asked what would happen if I booked one of these rooms, since again, at least four of each of these room types was for sale. She then claimed that these rooms were marked in her system as being "out of service." Hmm…
I was getting full-on Marriott Bonvoy upgrade denial vibes here, and I wasn't looking to pick a fight, especially for a one night stay. So eventually I told her just to forget about it. around 10 minutes after returning to my room there was a phone call offering me a different room that at least wasn't on the ground floor.
The next accommodation I was assigned was room 2516. This room was significantly larger, but also significantly less nice. The room was up a set of stairs (there was no elevator), and oddly there was a kitchen and some sort of a living room (or something) in the hall. I guess that maybe the entire floor can be rented for one party, or something?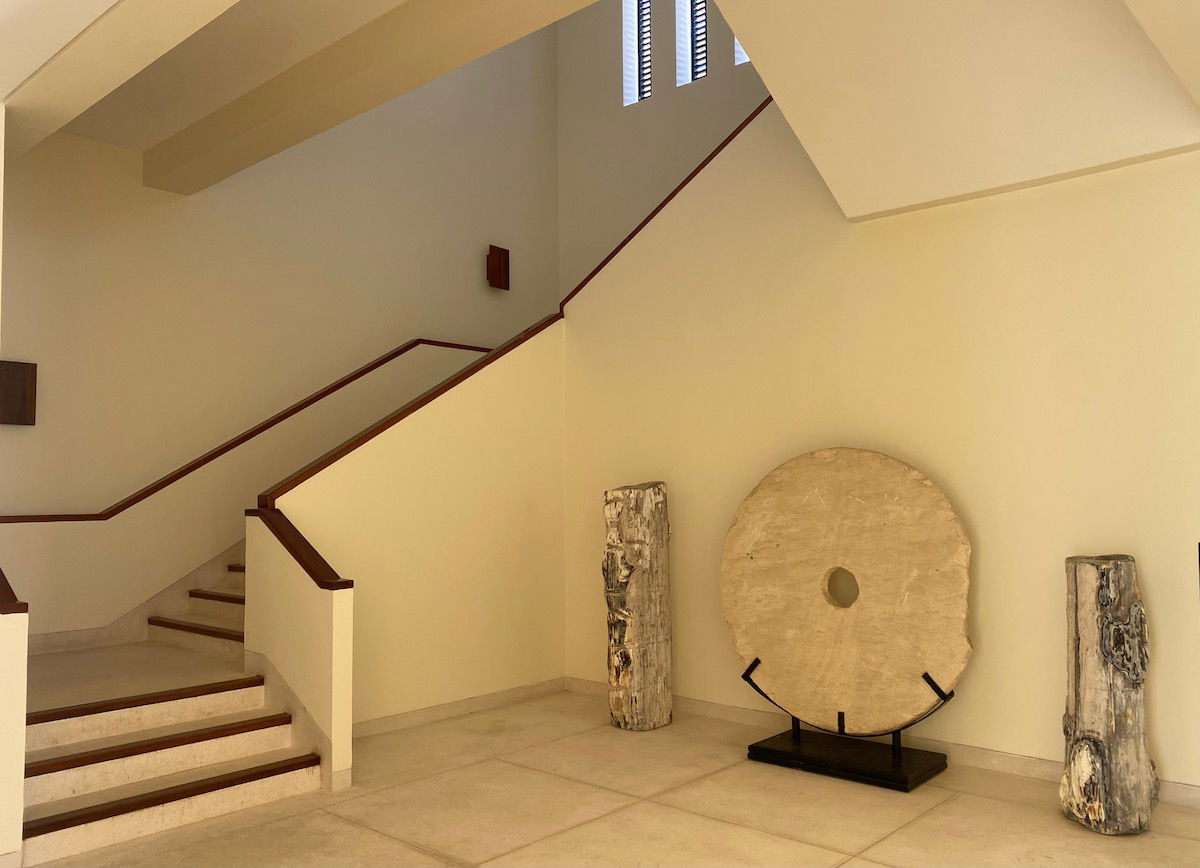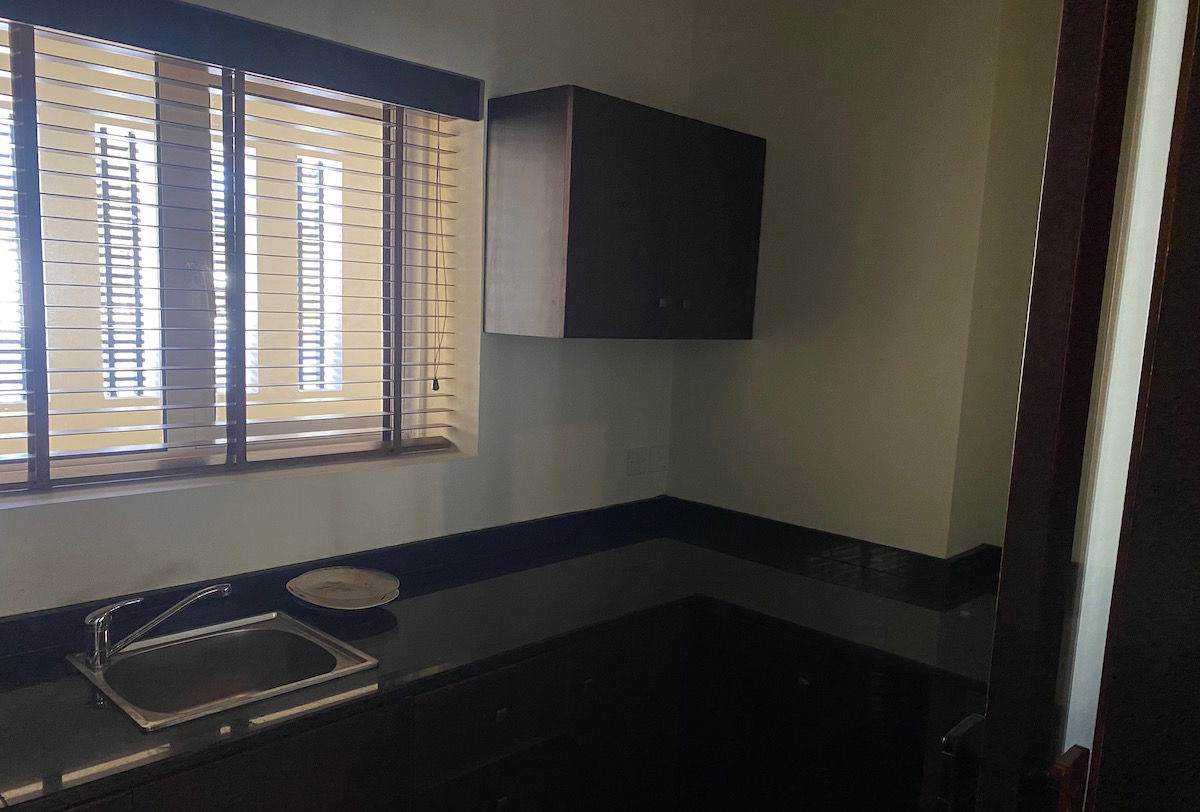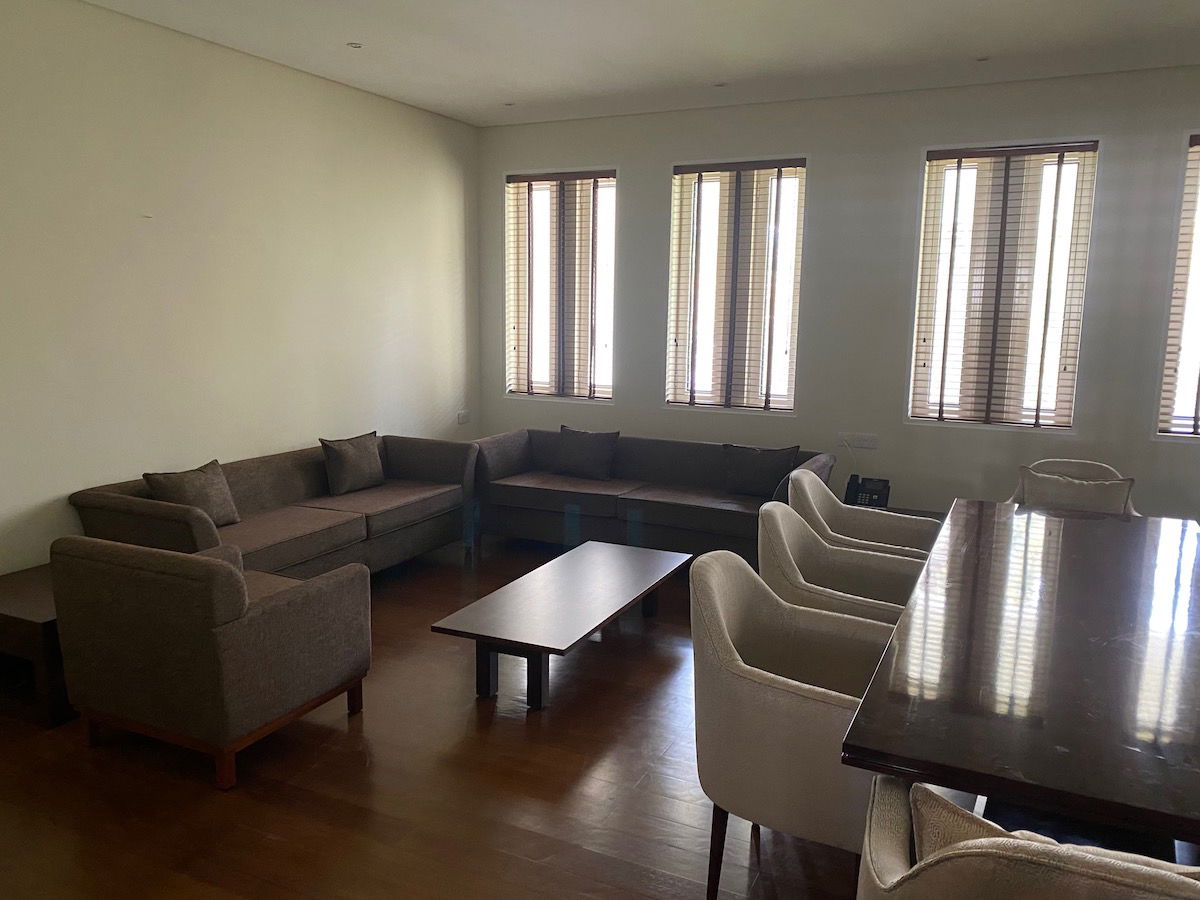 The room was a great size, but was exceptionally bland and under furnished, in my opinion. The room had a king size bed, a coffee table with two chairs, and a wall-mounted TV. The lack of wall treatments gave me flashbacks to the Ritz-Carlton Turks & Caicos.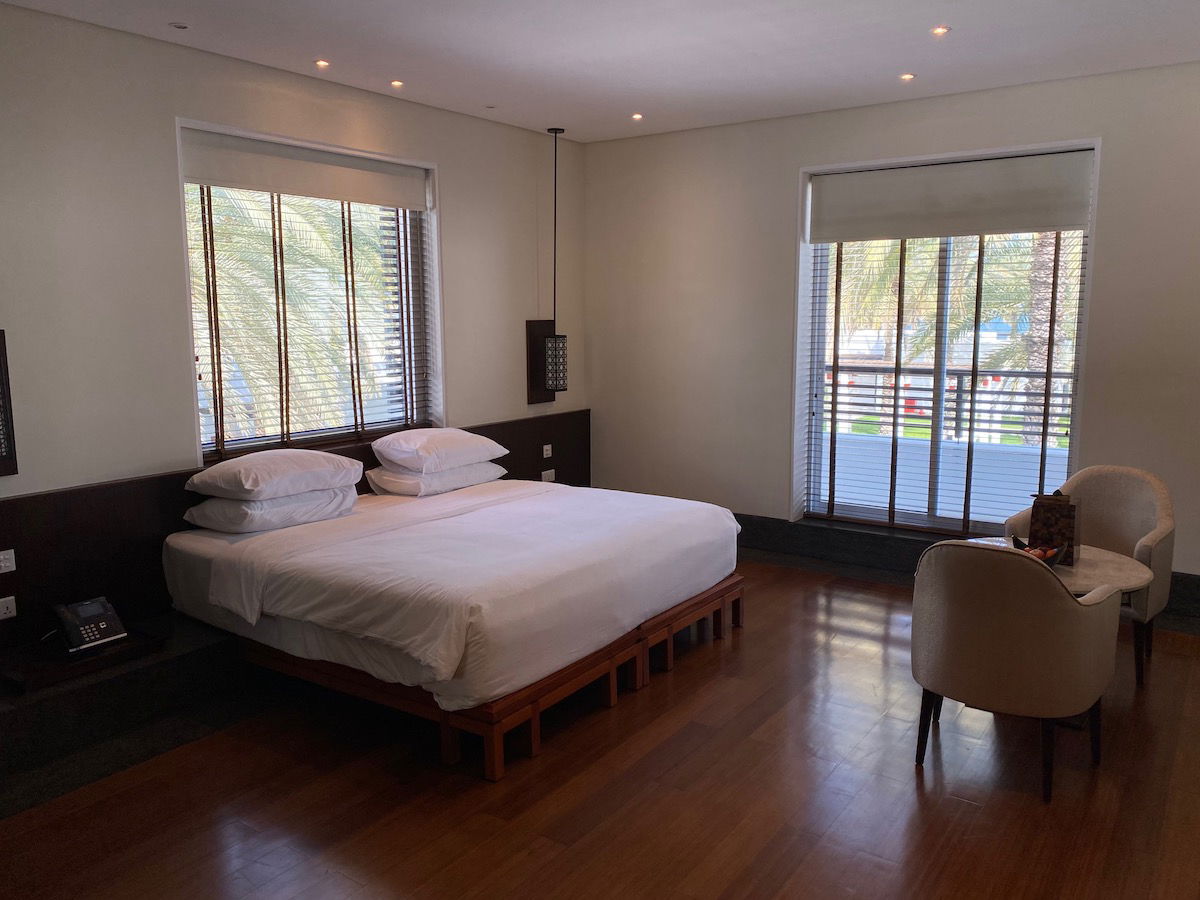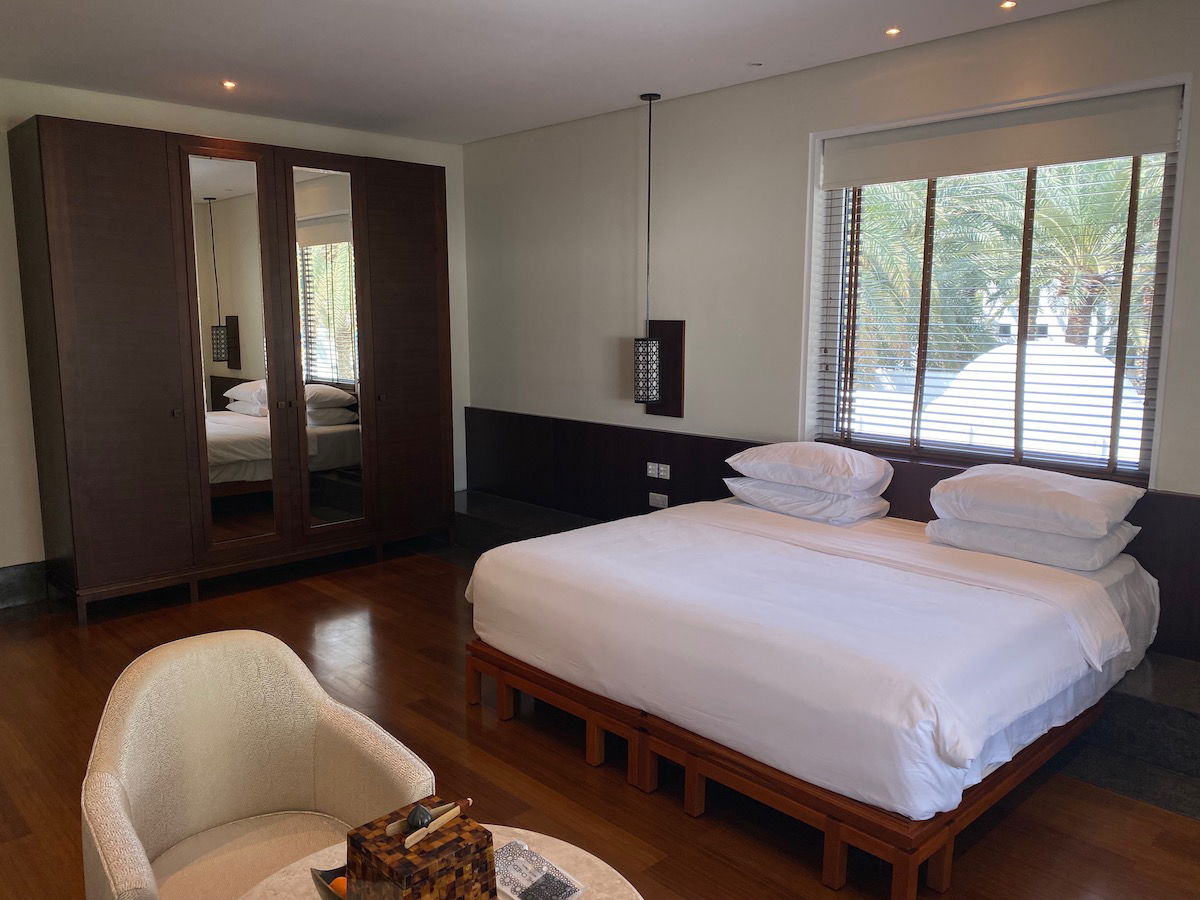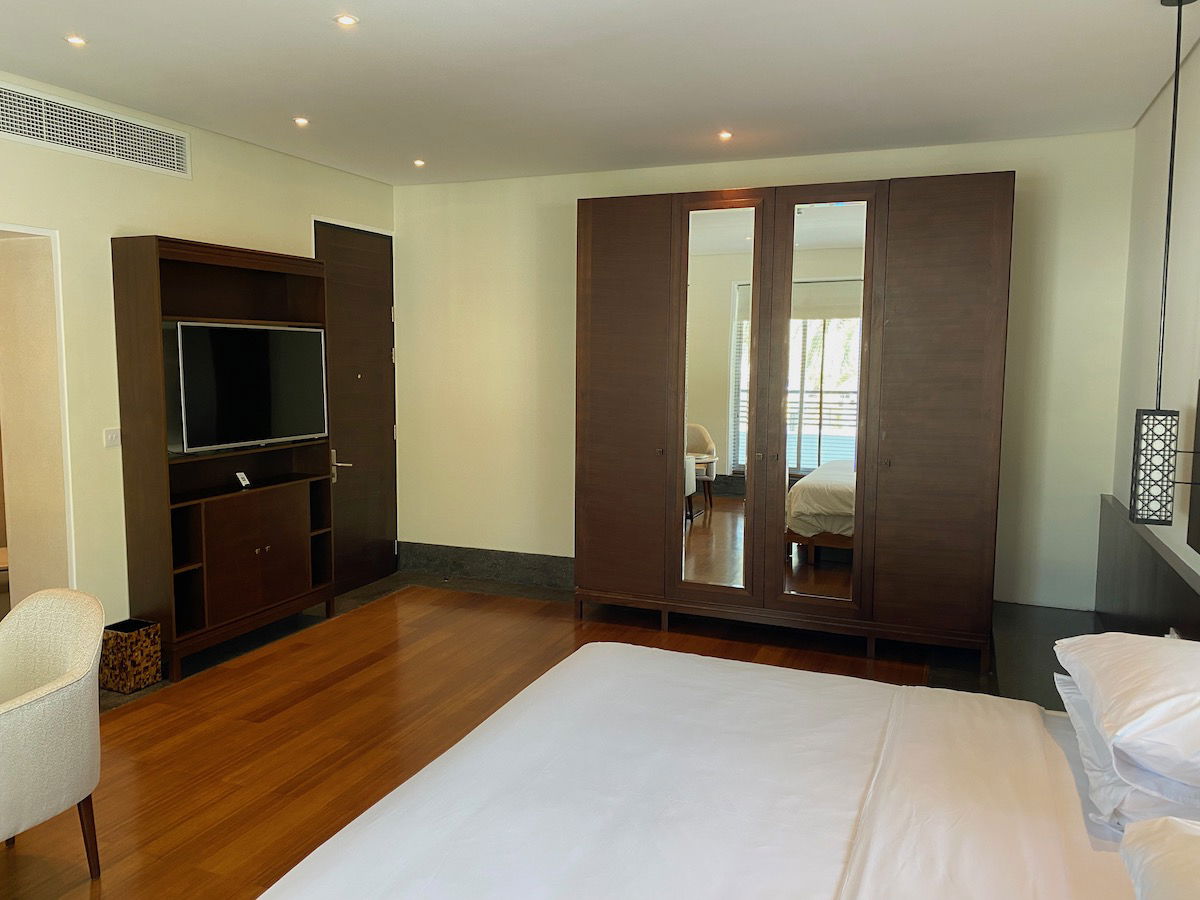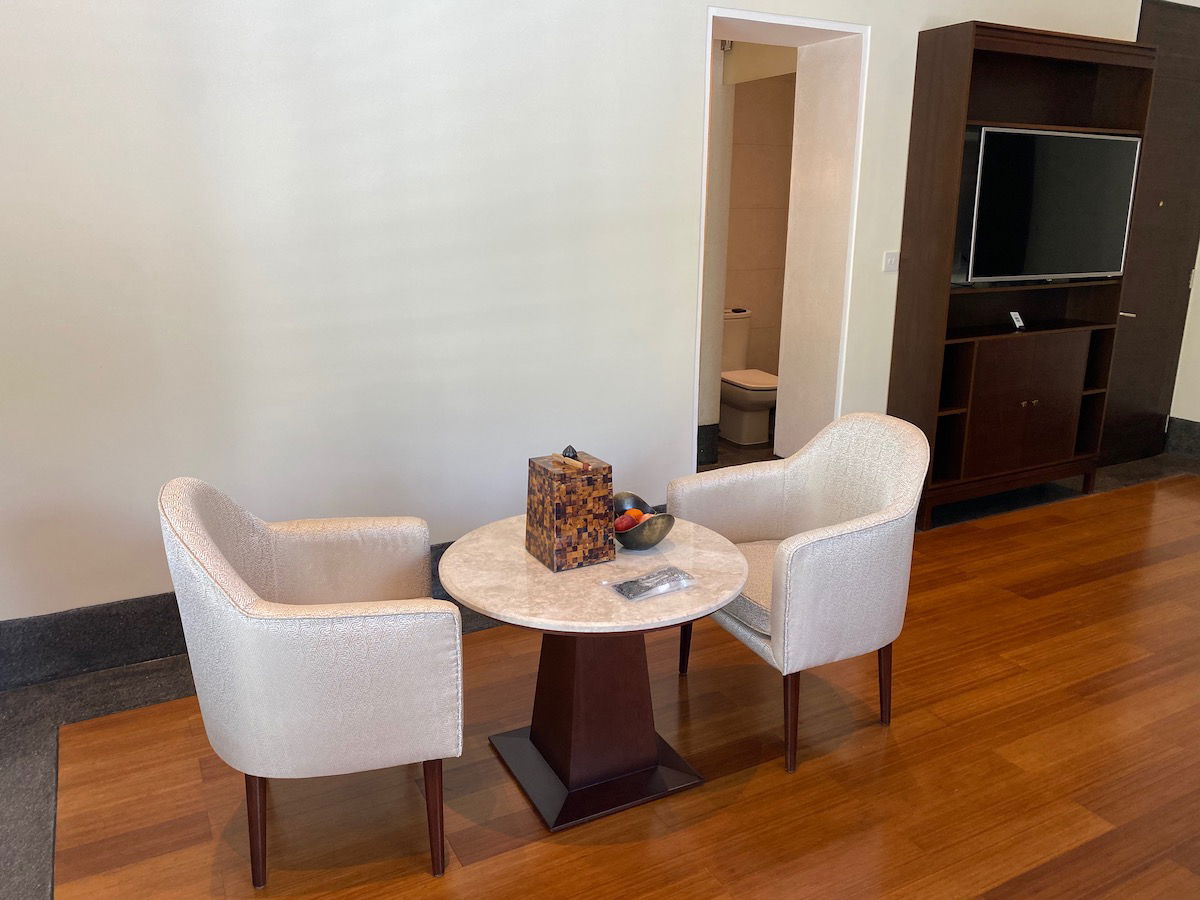 The bathroom just had a single sink (rather than double sinks). Then there was a toilet and a huge walk-in shower.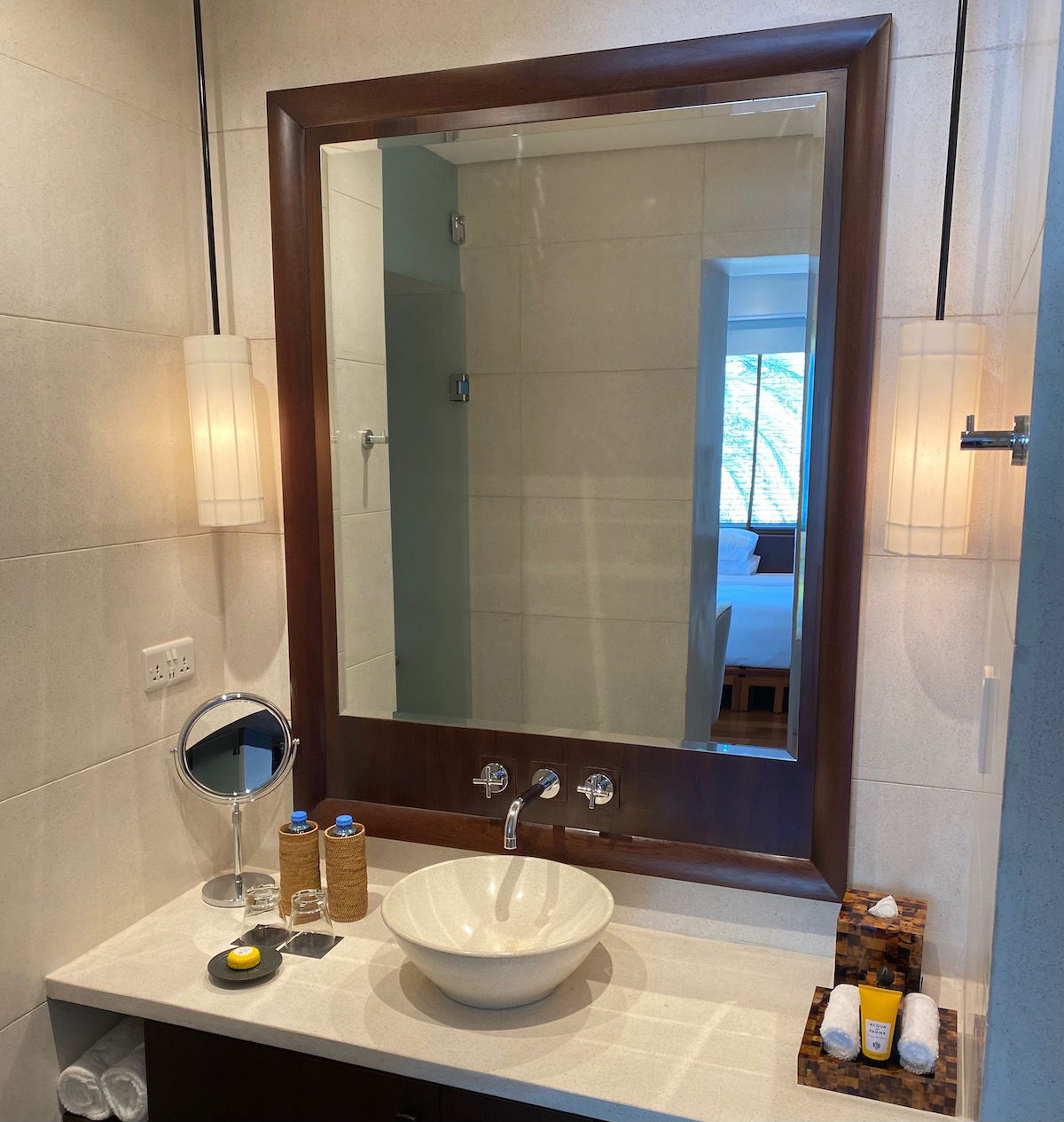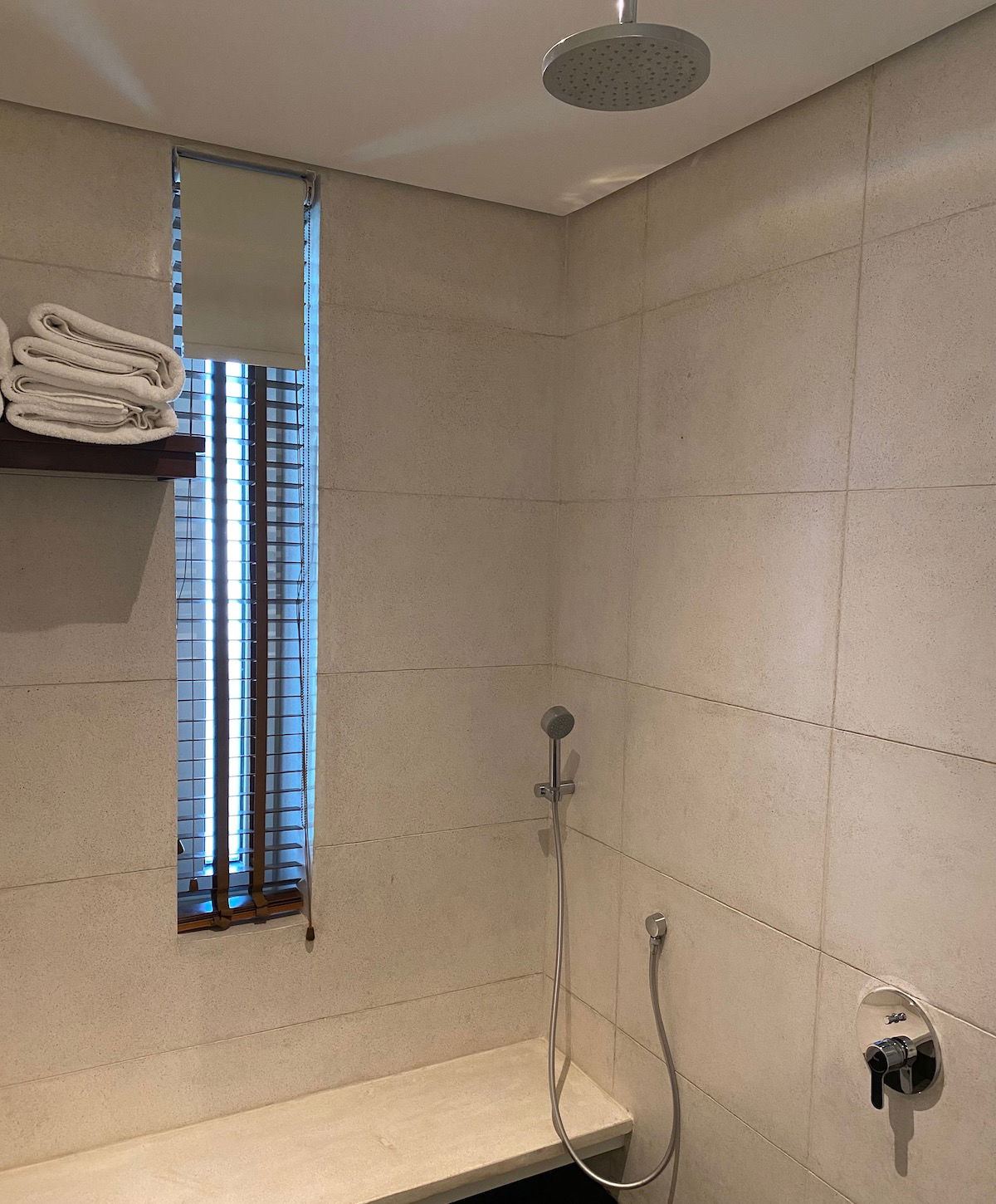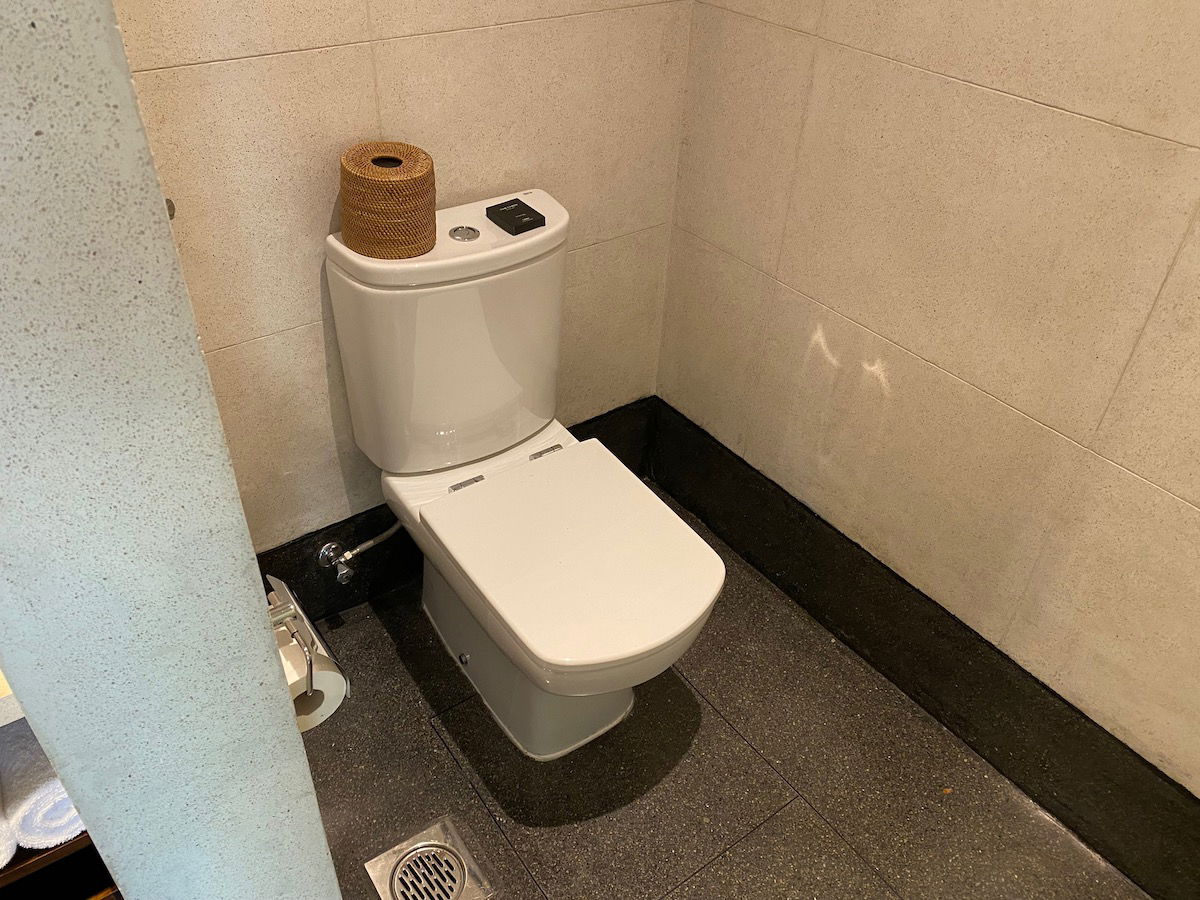 On the plus side, the room offered much more privacy. There still wasn't outdoor space, but the room had a lovely view of the nearby garden.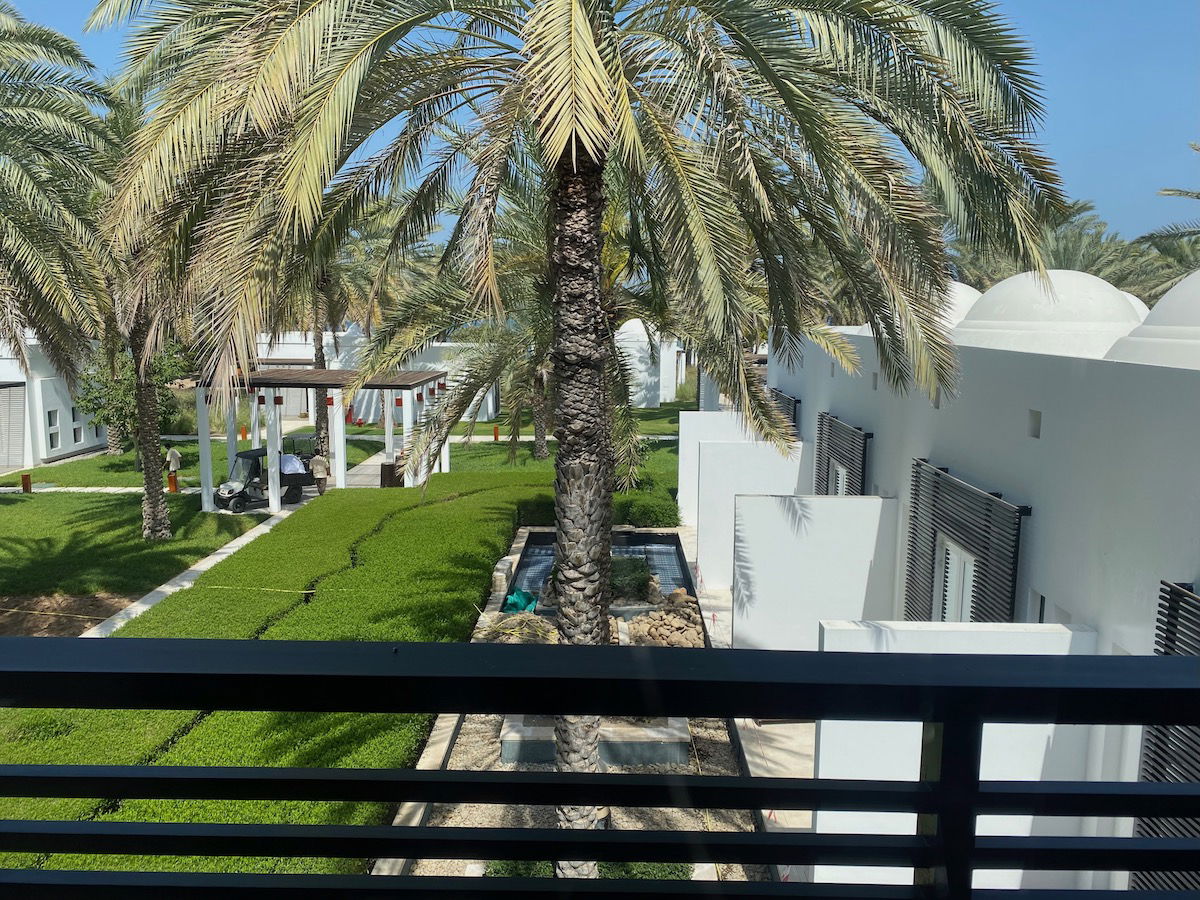 The Chedi Muscat pools & beach
The Chedi Muscat has three ridiculously impressive pools. The first pool is known as the Long Pool. It's 103 meters long, making it more than twice as long as an Olympic pool, and the longest pool in the Middle East. How stunning is this pool?!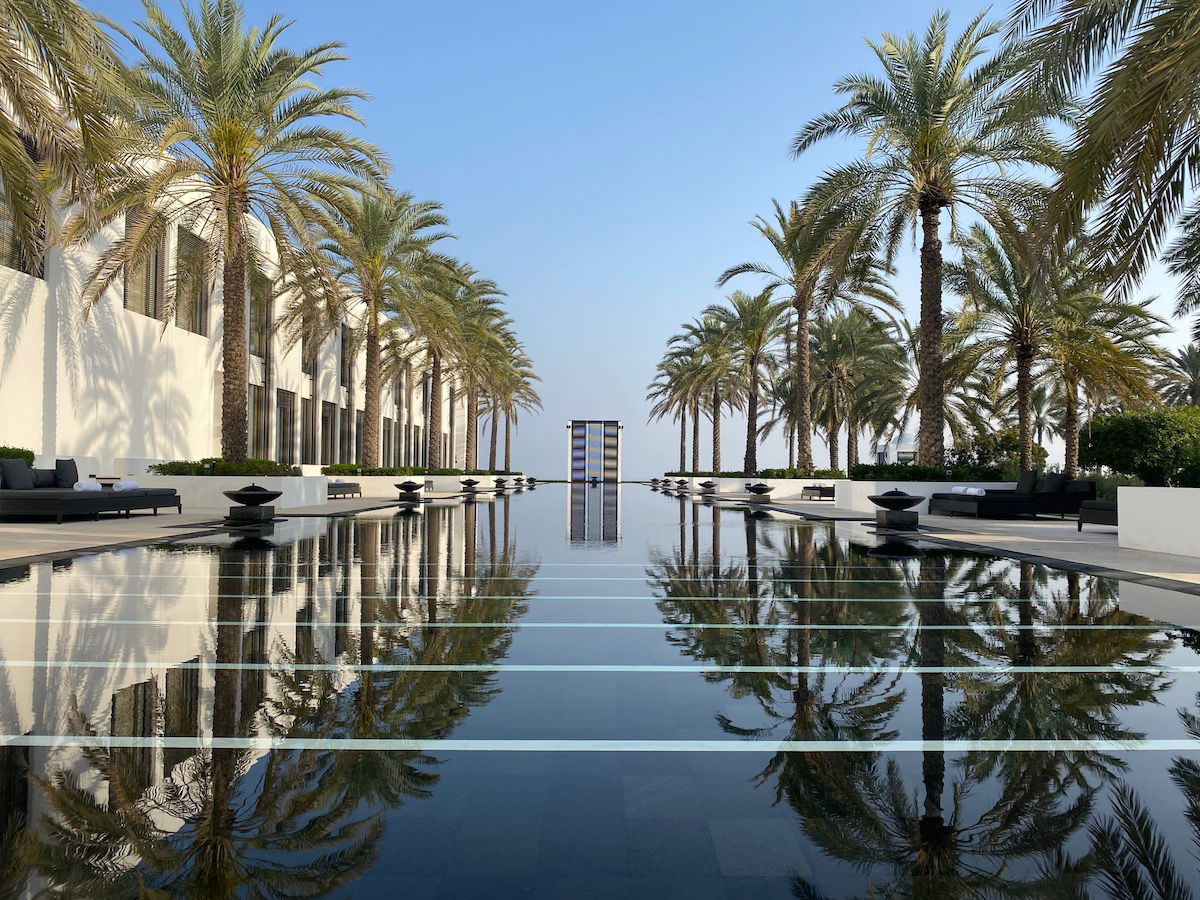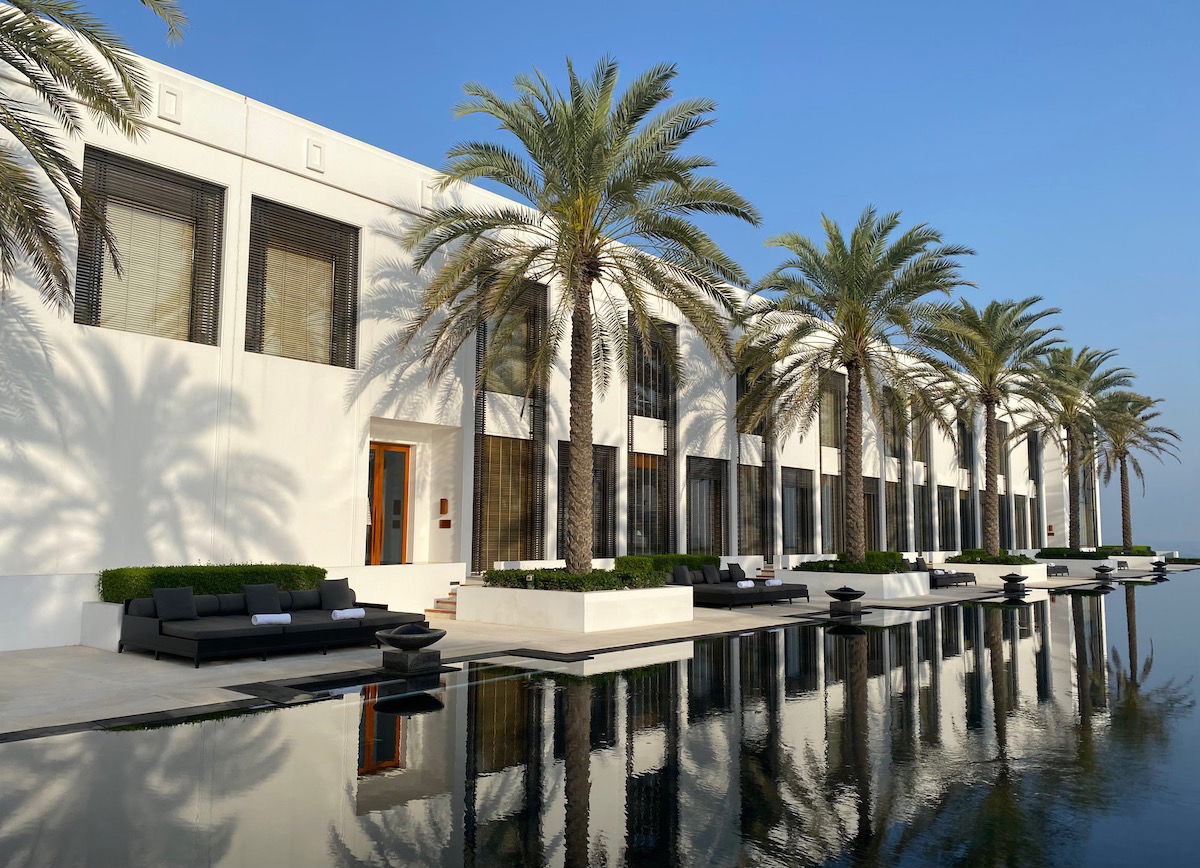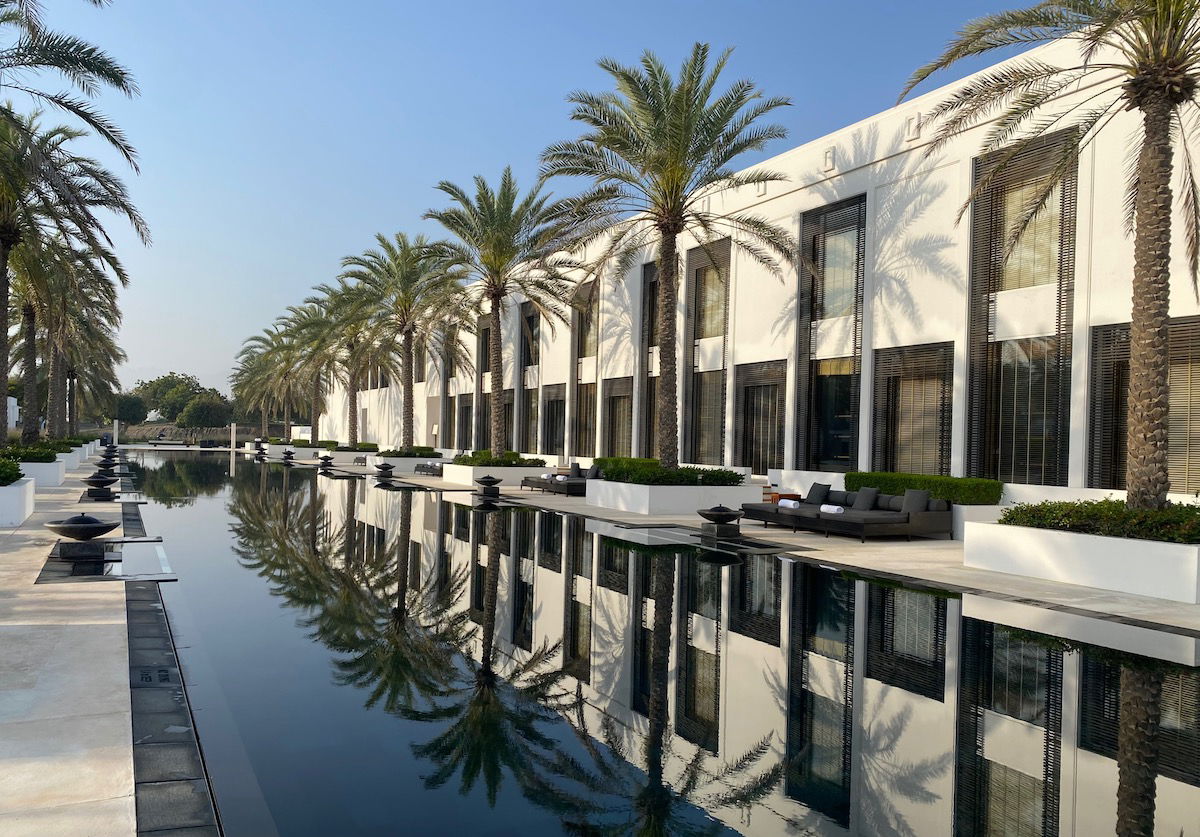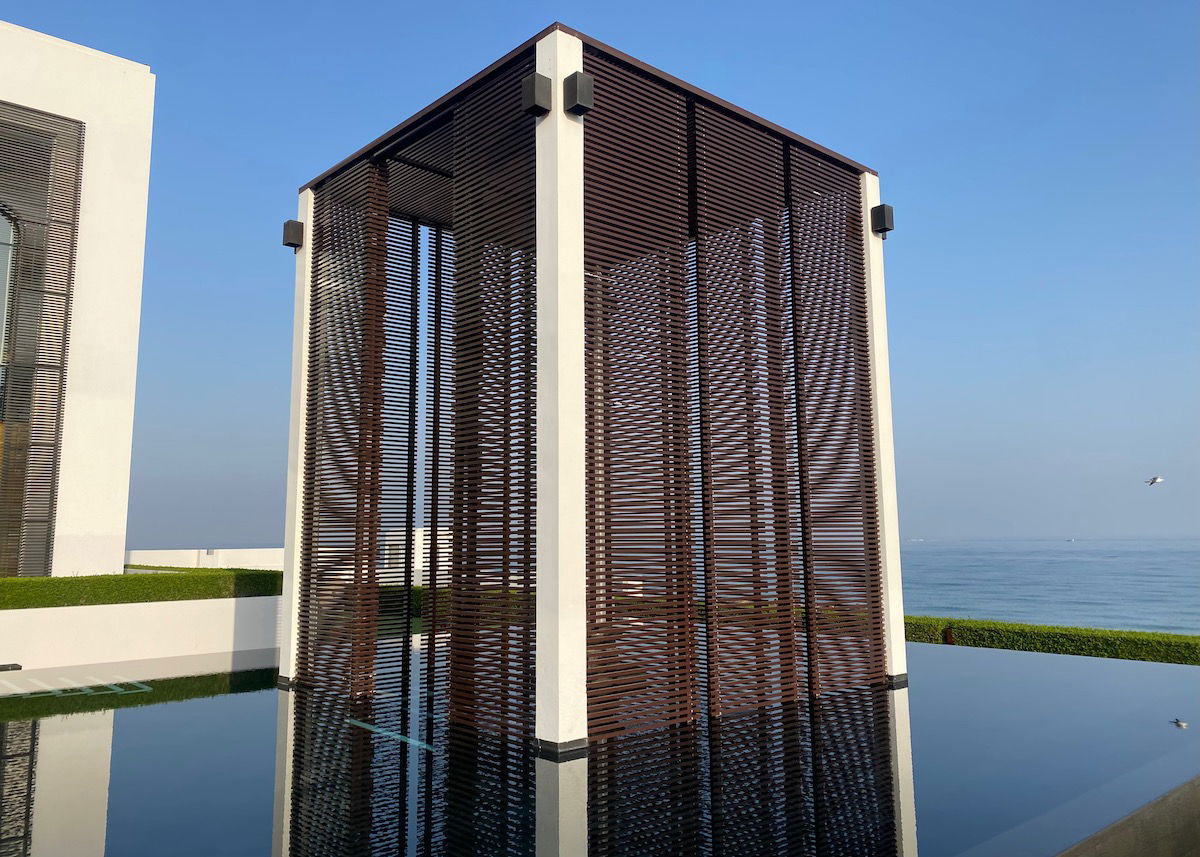 The second pool at the resort is the Chedi Pool. This pool is right on the beach, and is probably the smallest of the three pools. There's also a pool bar here.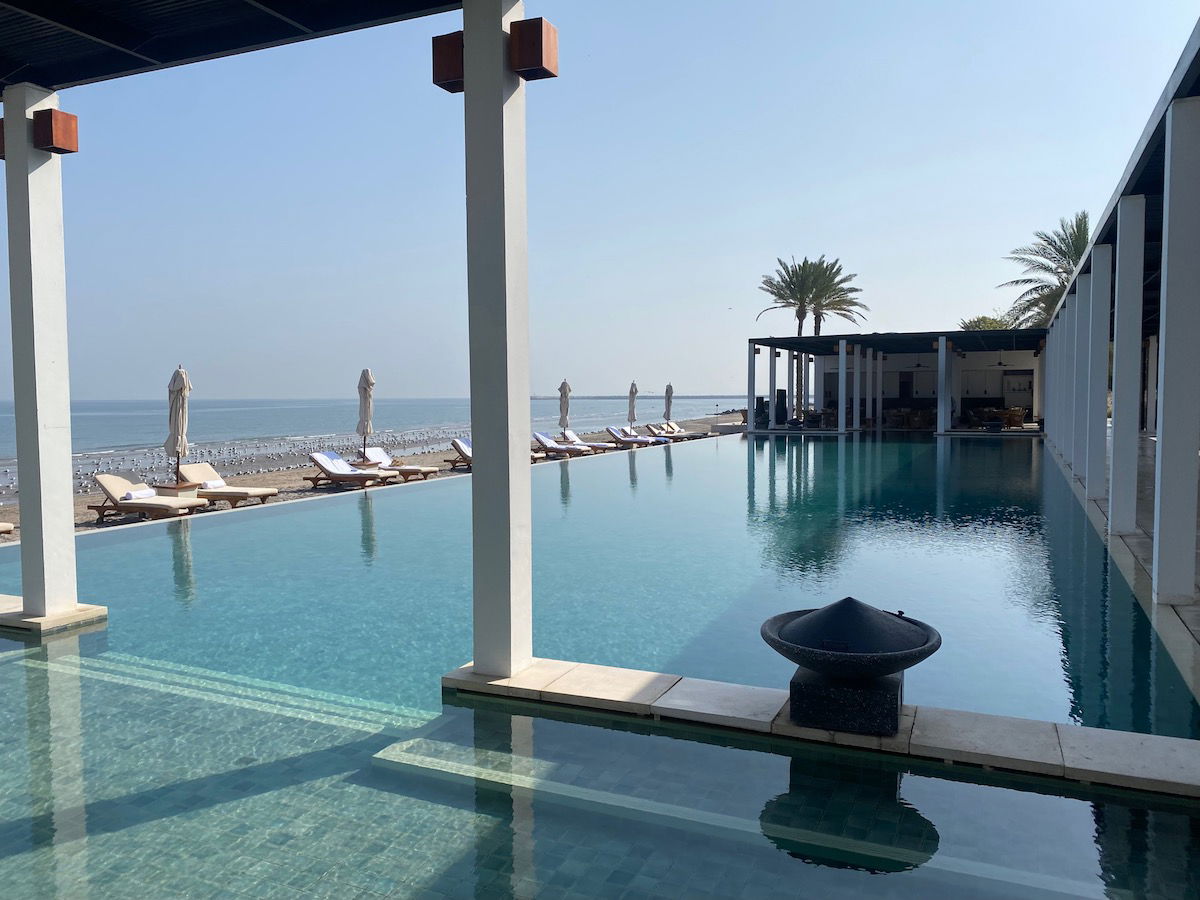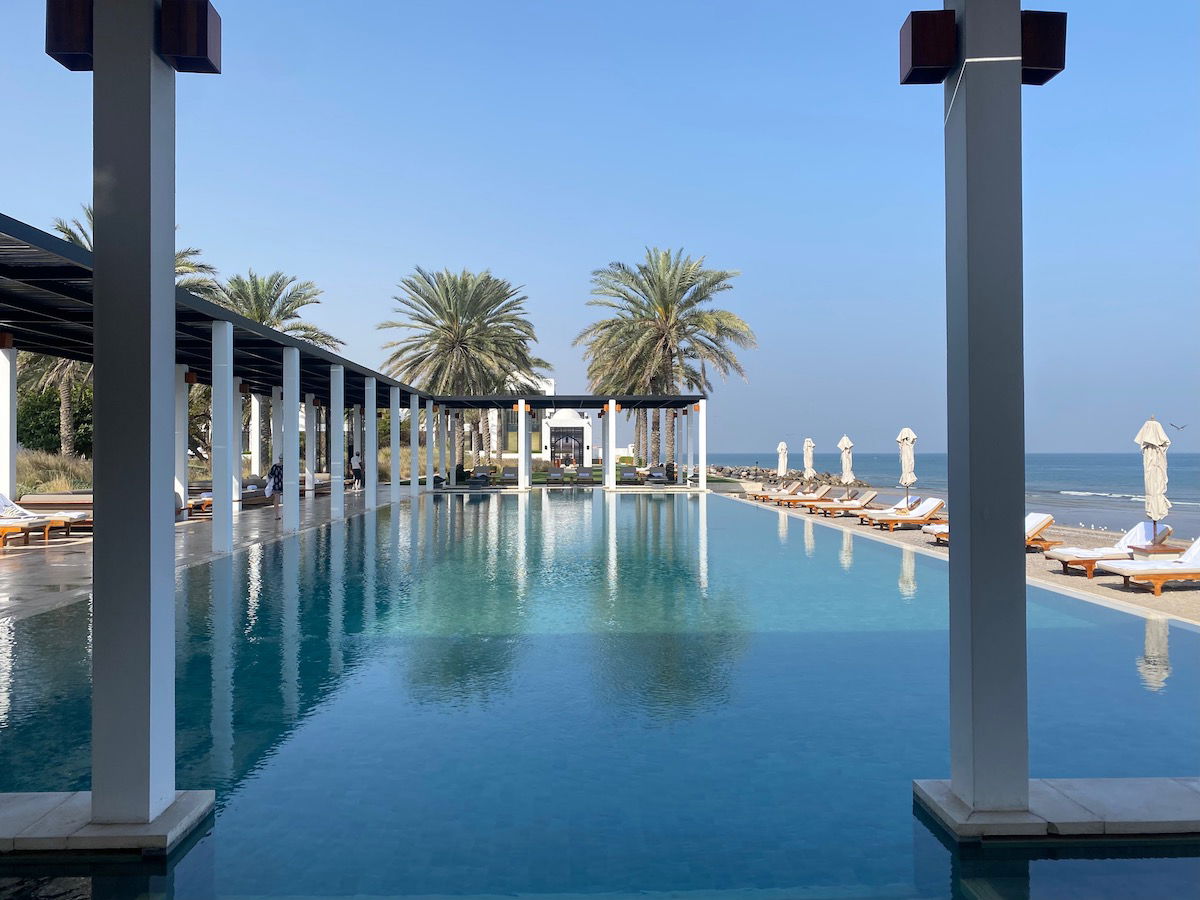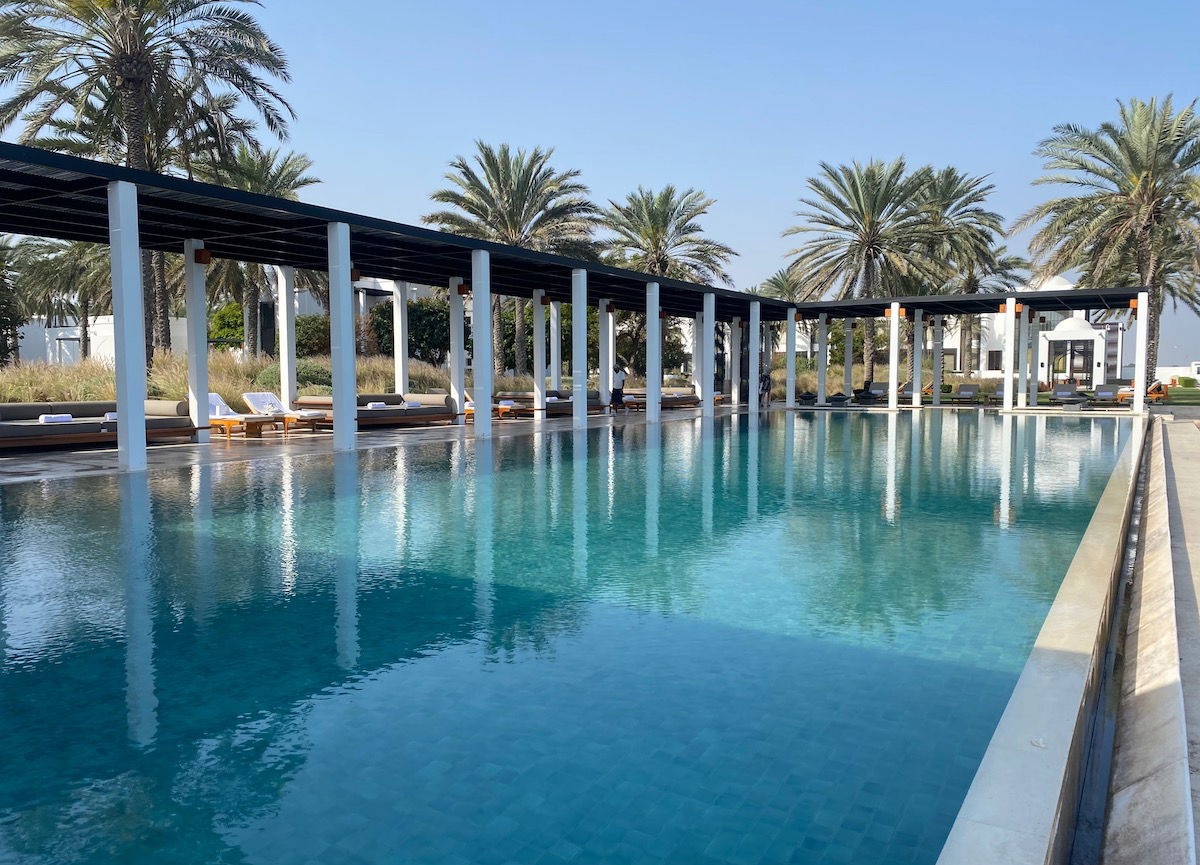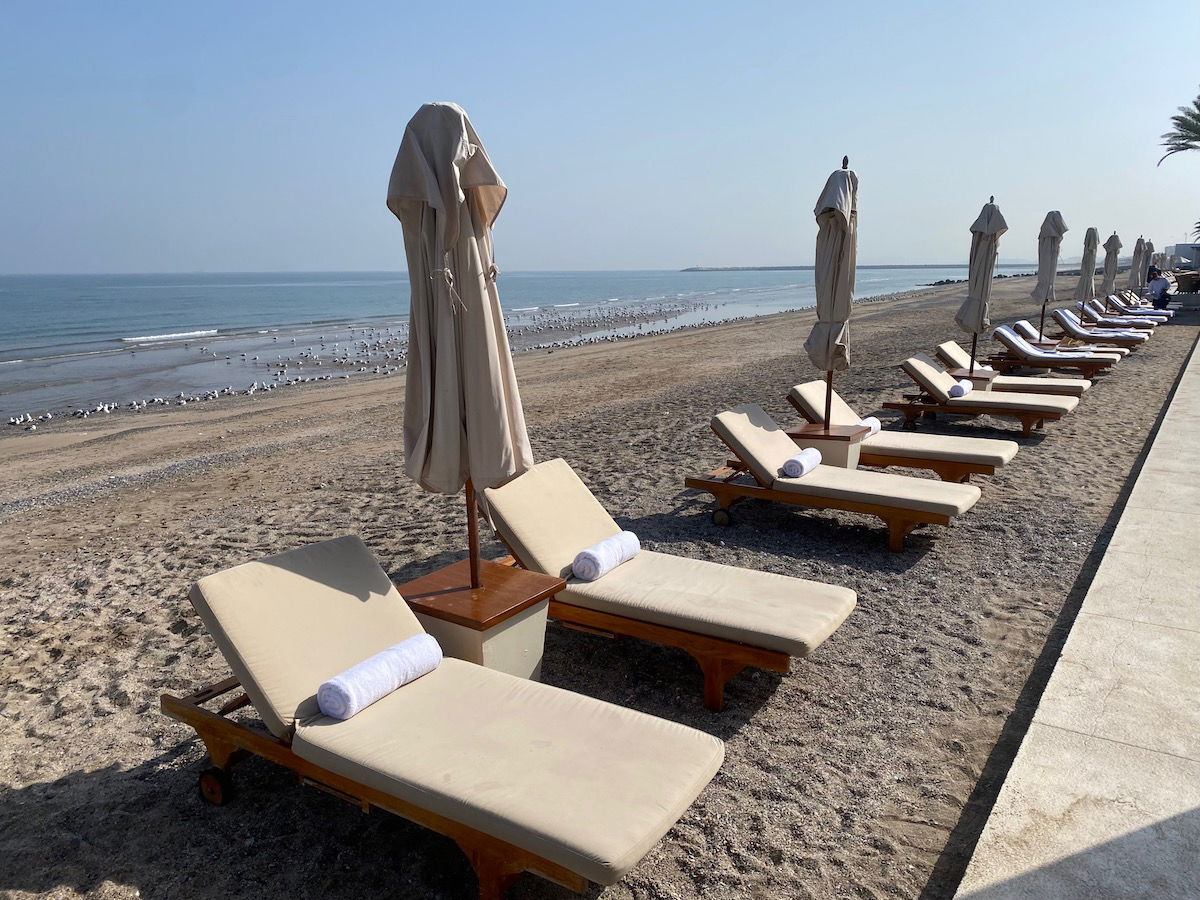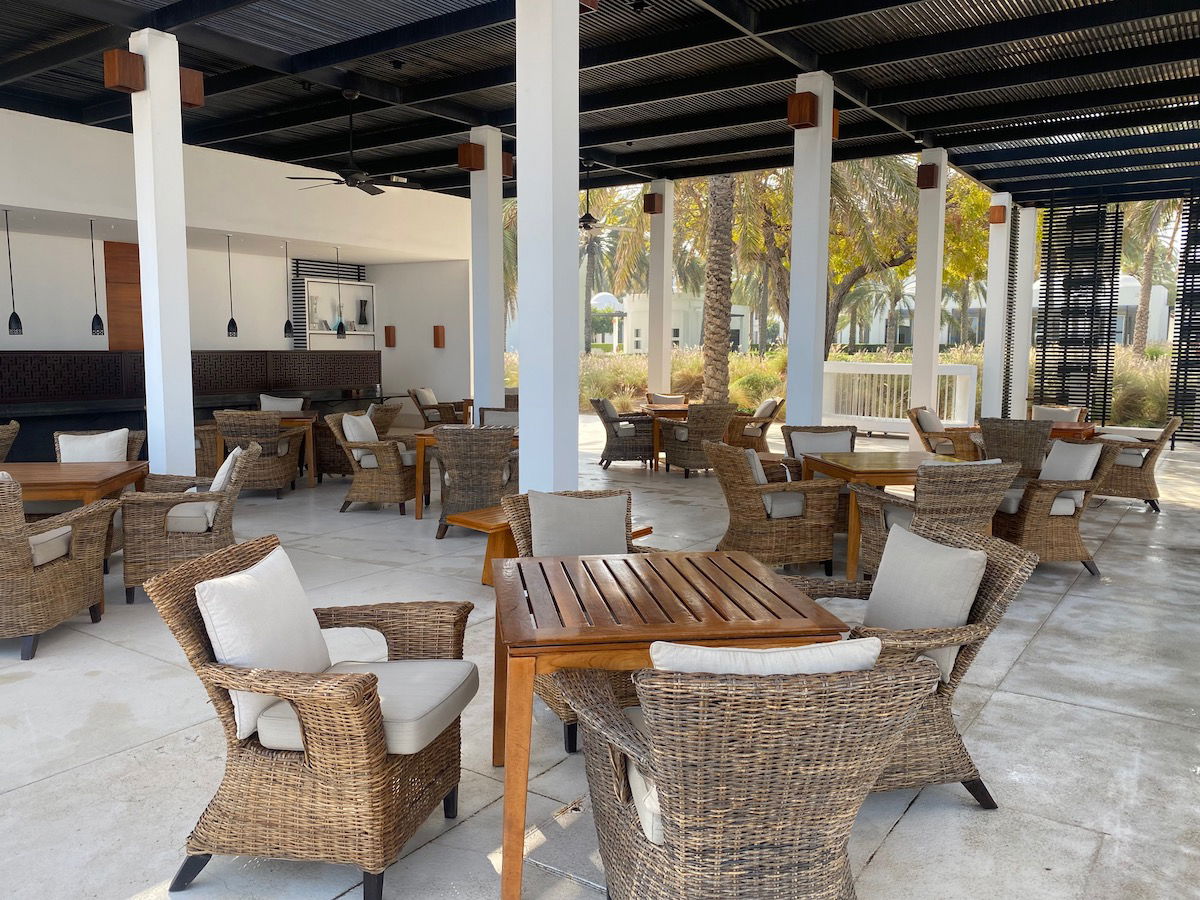 The third pool is the Serai Pool, which is somewhere between the other two pools in terms of size.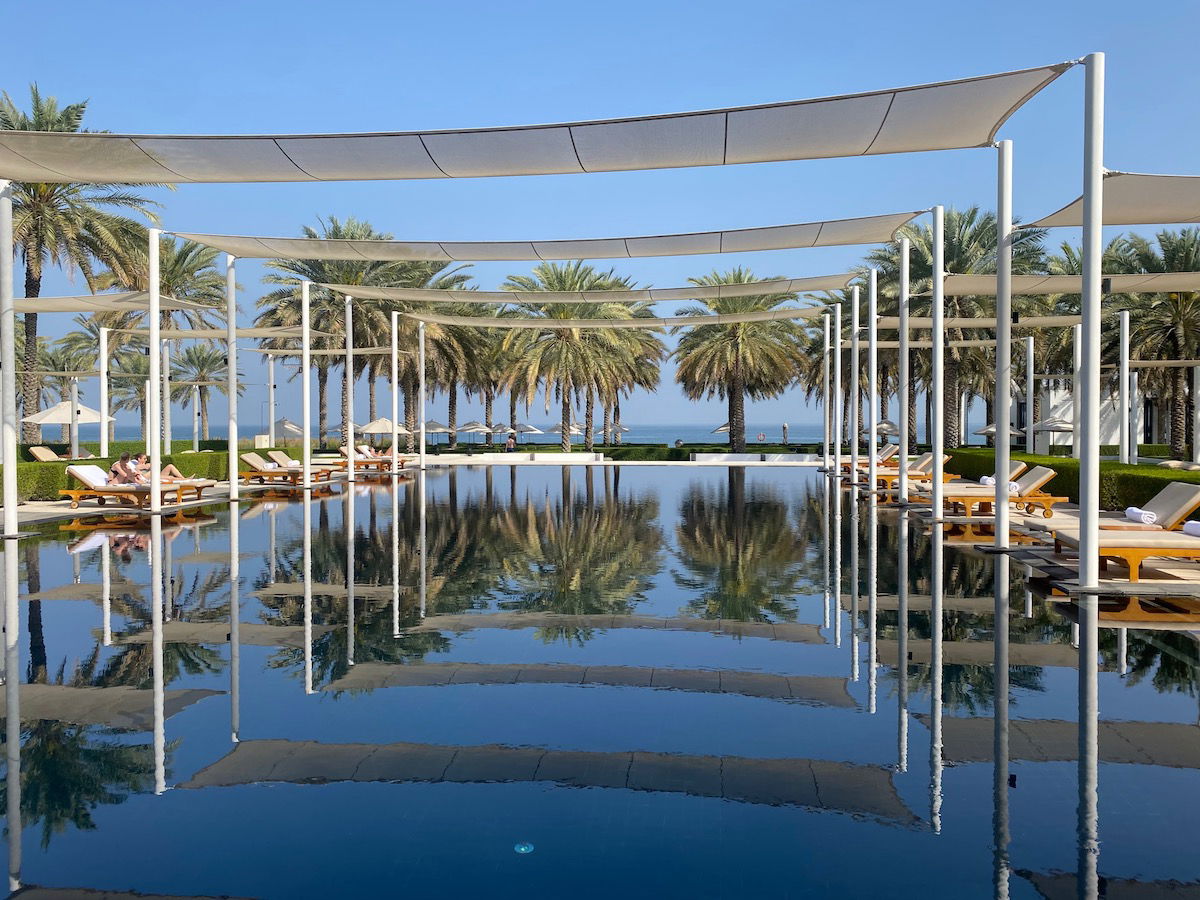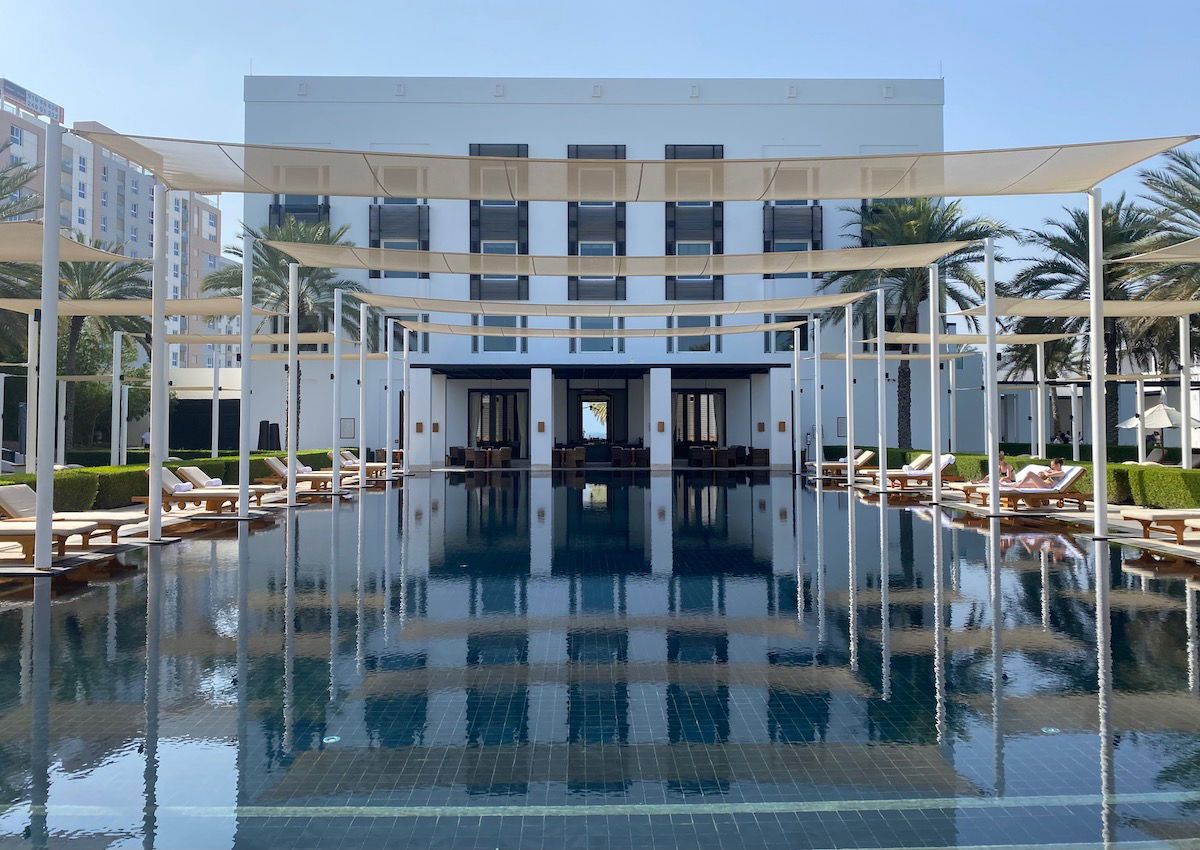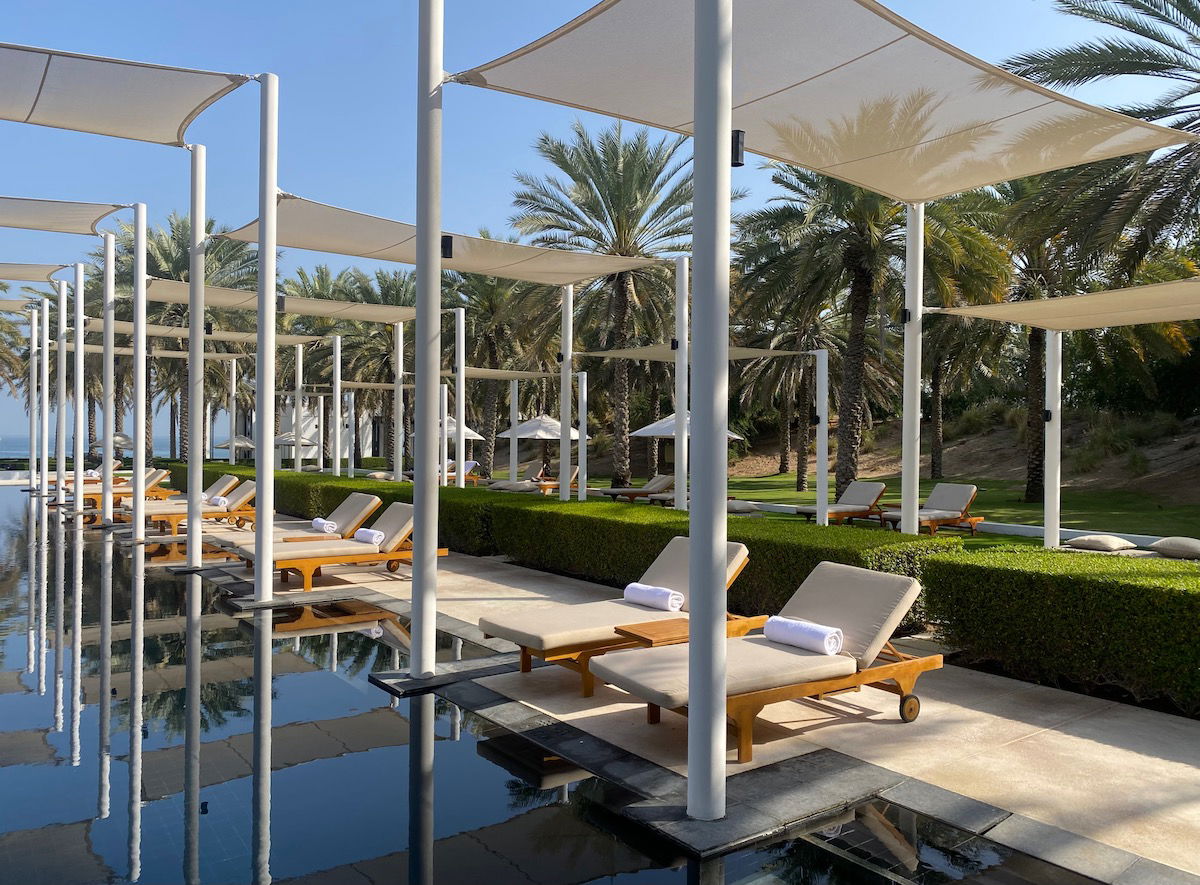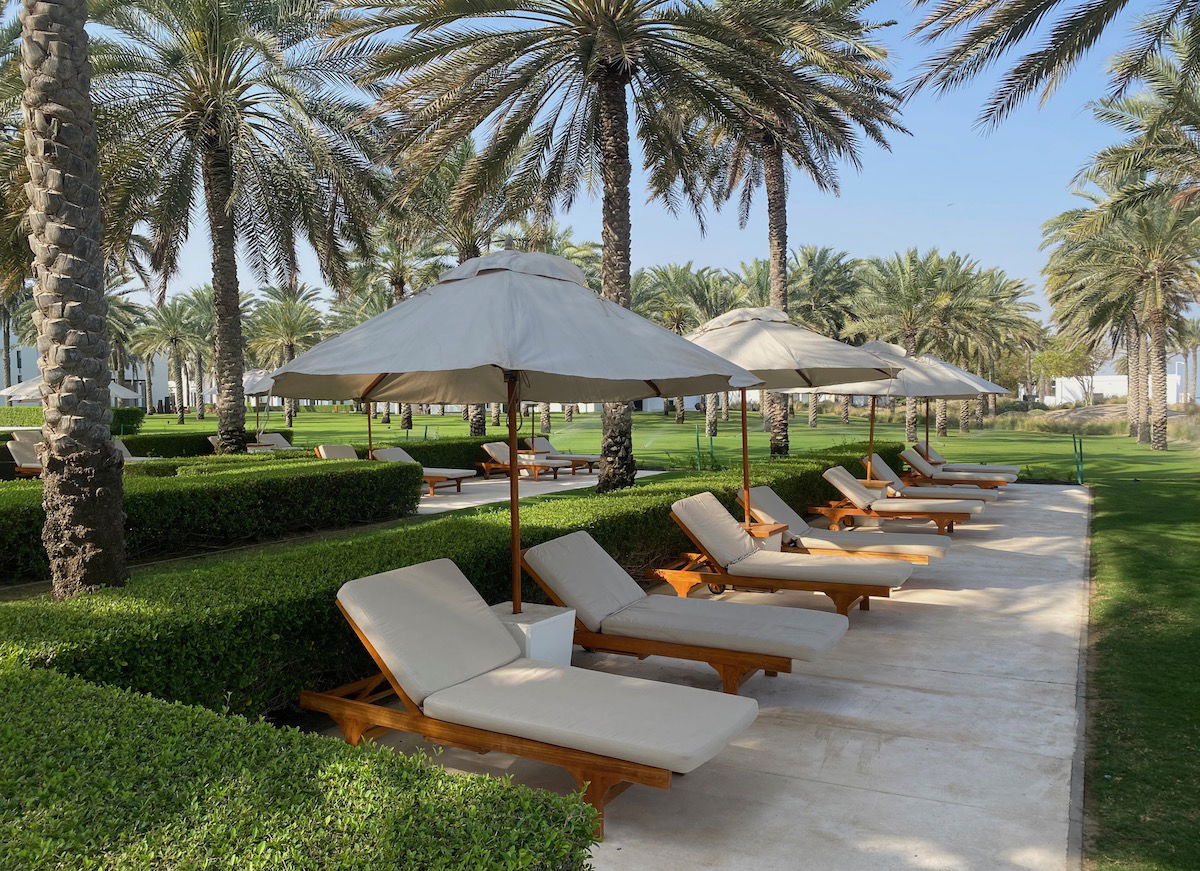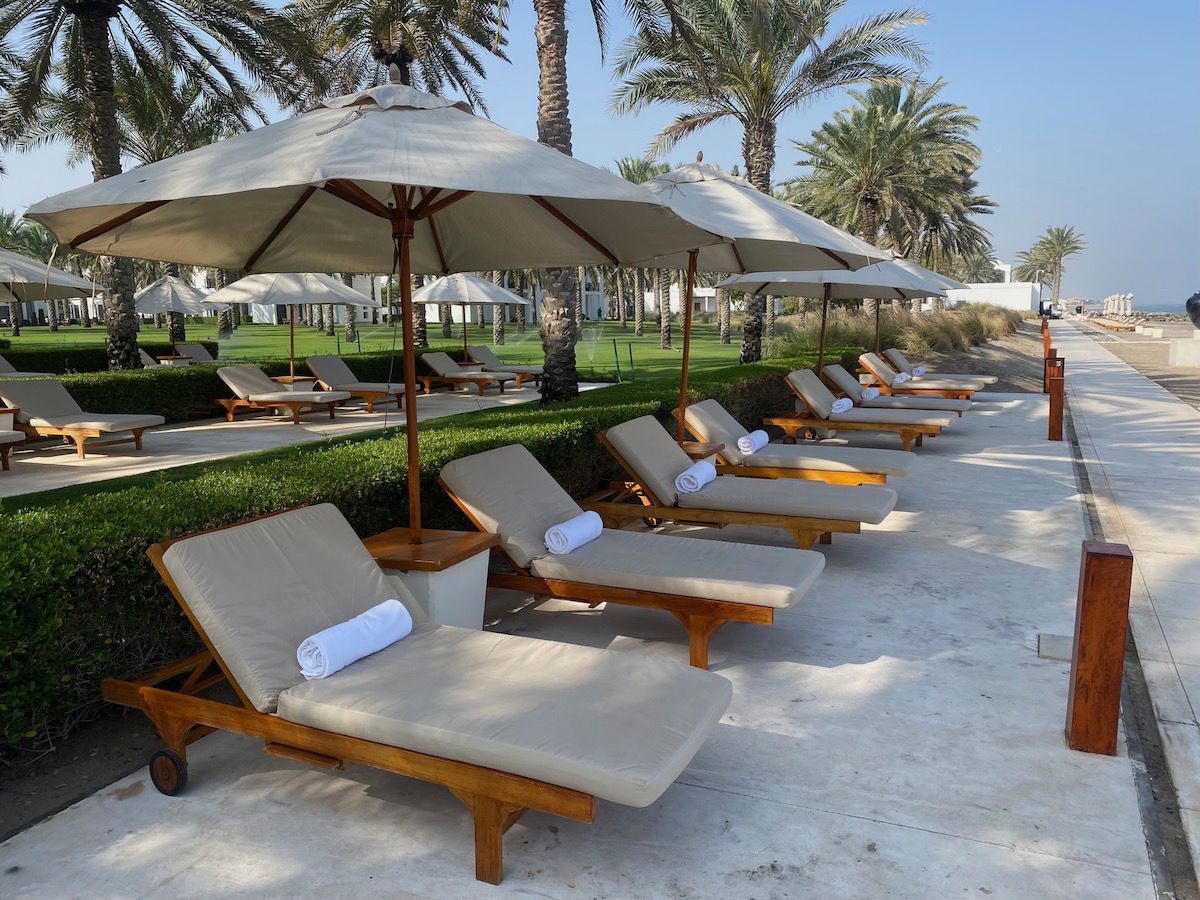 In addition to the three beautiful pools, the hotel is also on the beach. It's a pretty secluded part of the beach, and while it's not as nice as beaches you'd find in the Caribbean or Maldives, it's reasonably nice.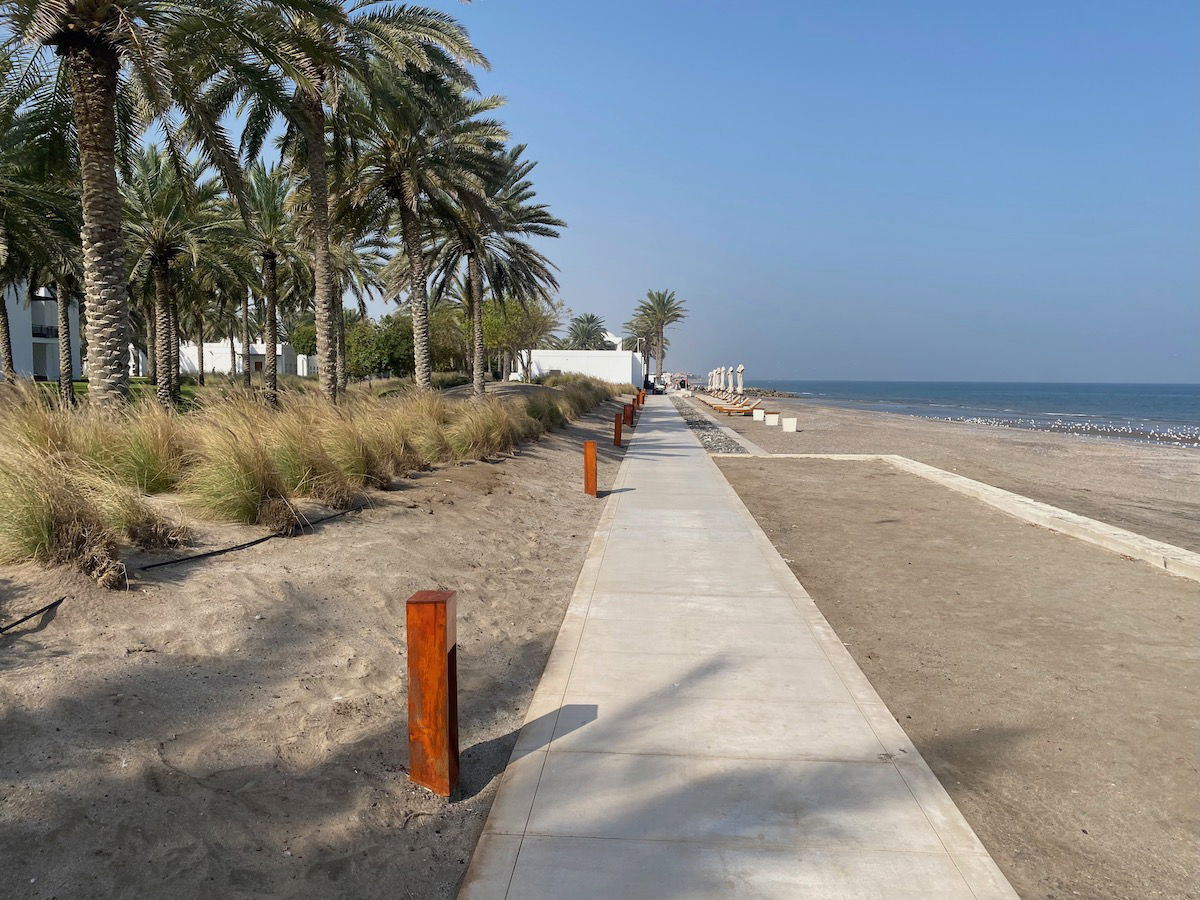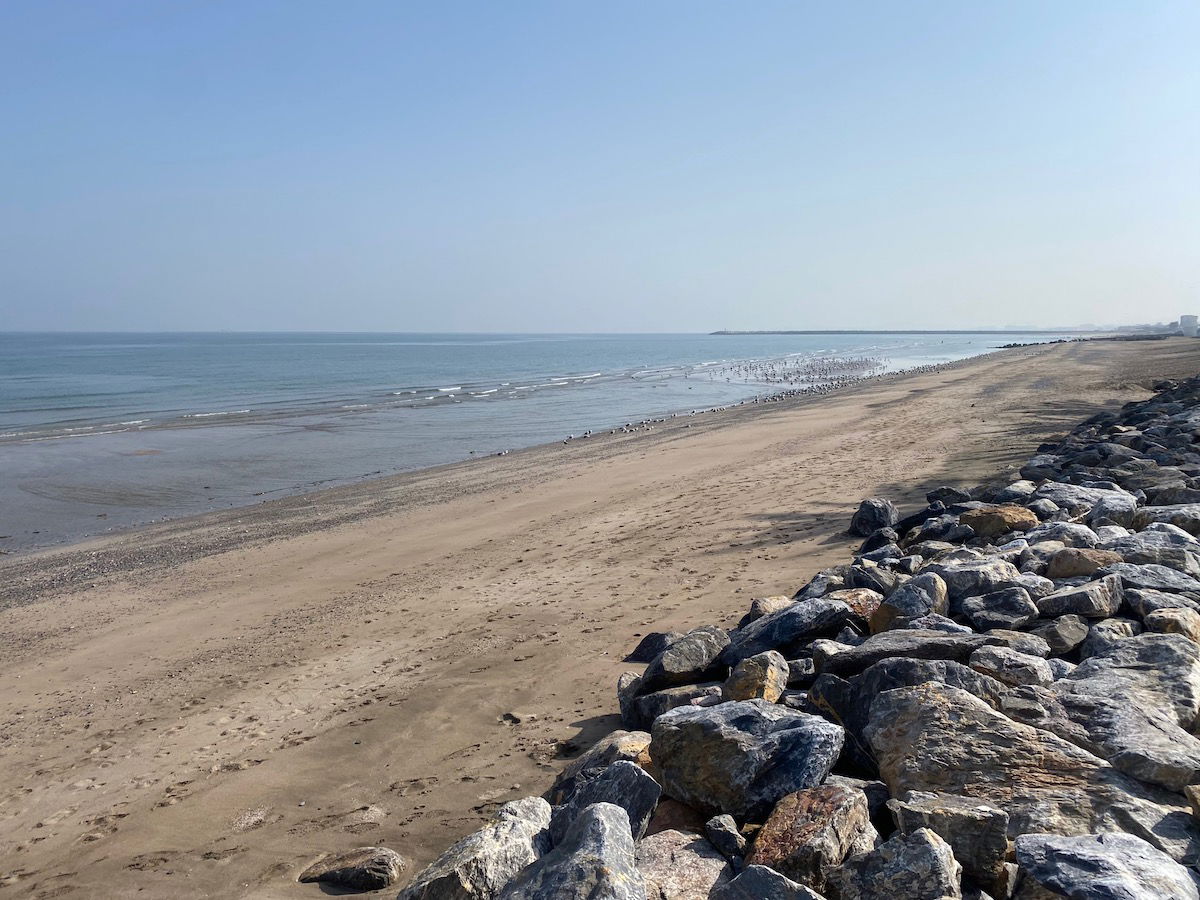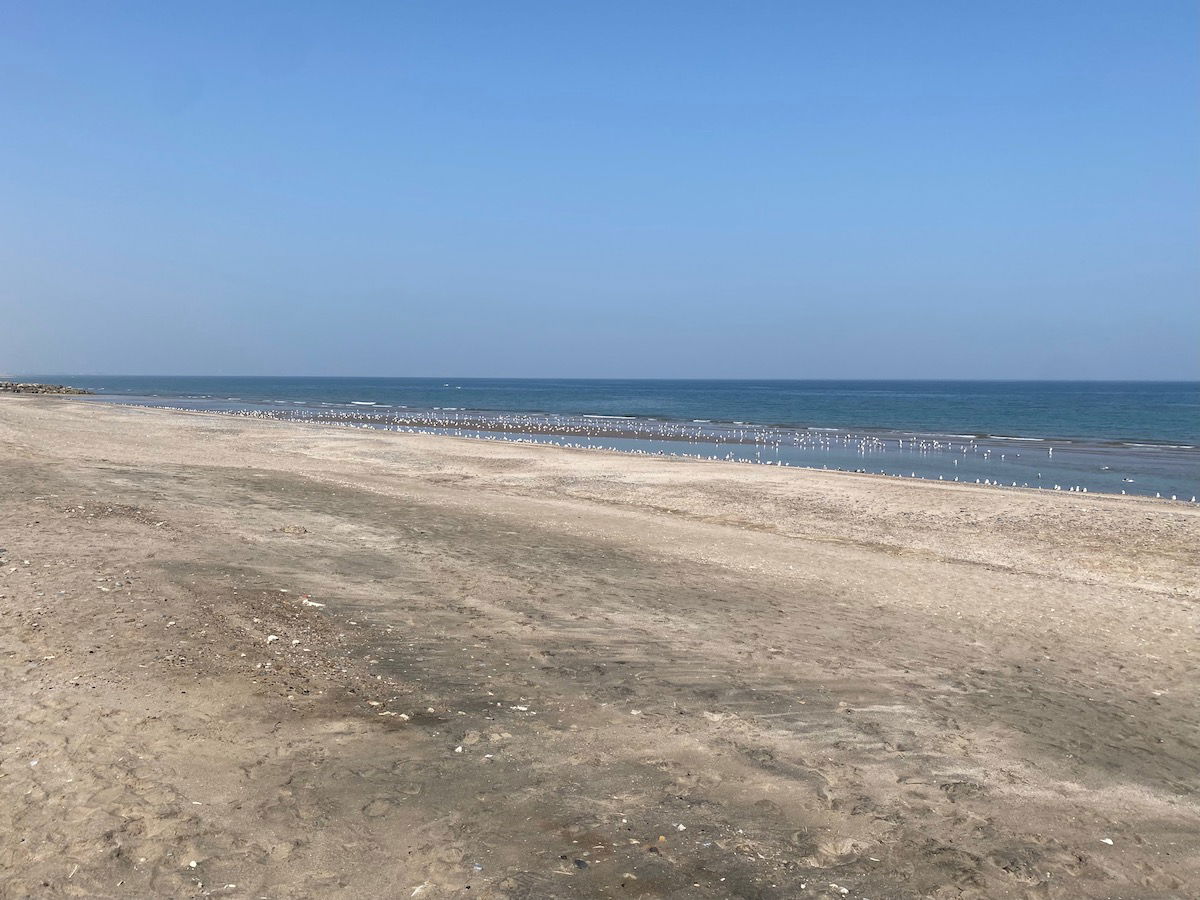 The Chedi Muscat spa & gym
The Chedi Muscat has an impressive spa and gym facility, located right next to the Long Pool. I didn't have time to get any spa treatments, but you can find the spa menu here.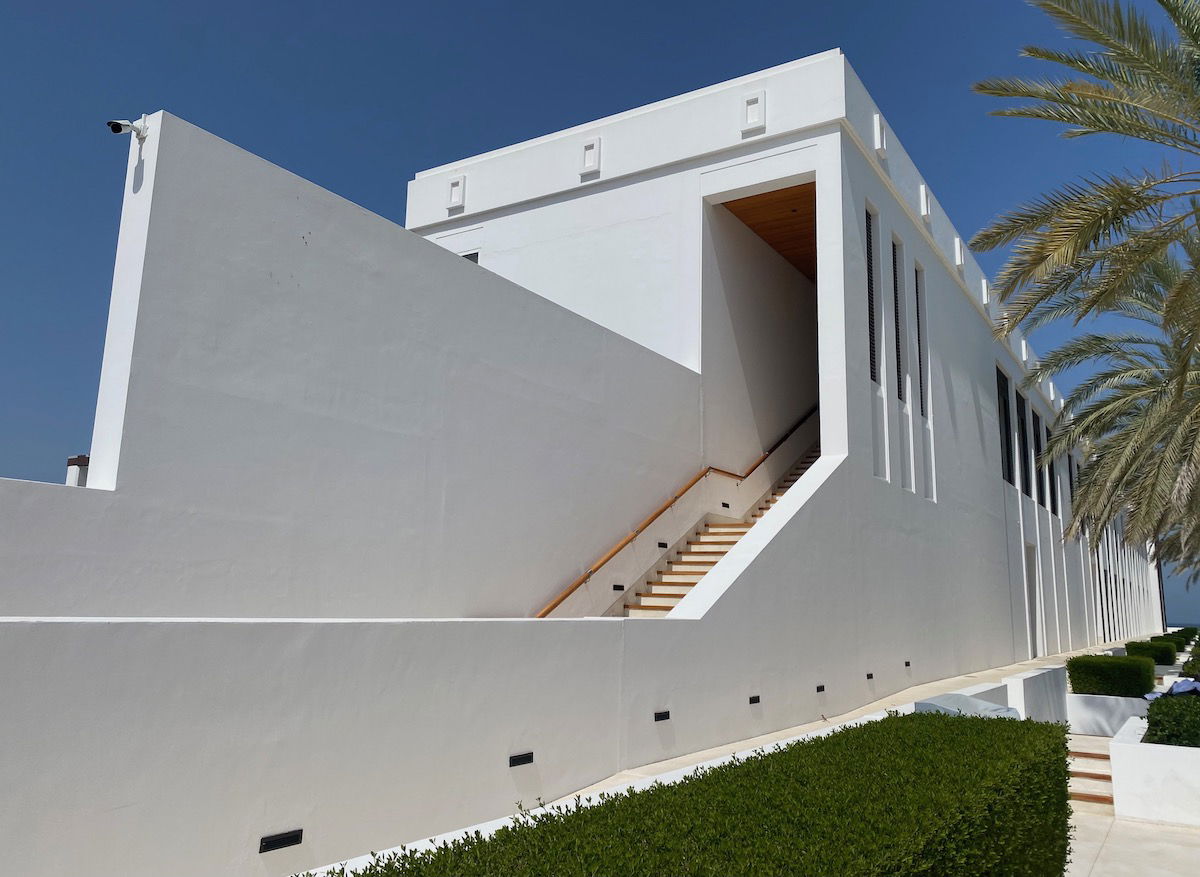 I did have time to use the gym, which was excellent. It had a huge amount of cardio and weight equipment, which was broken up into several zones.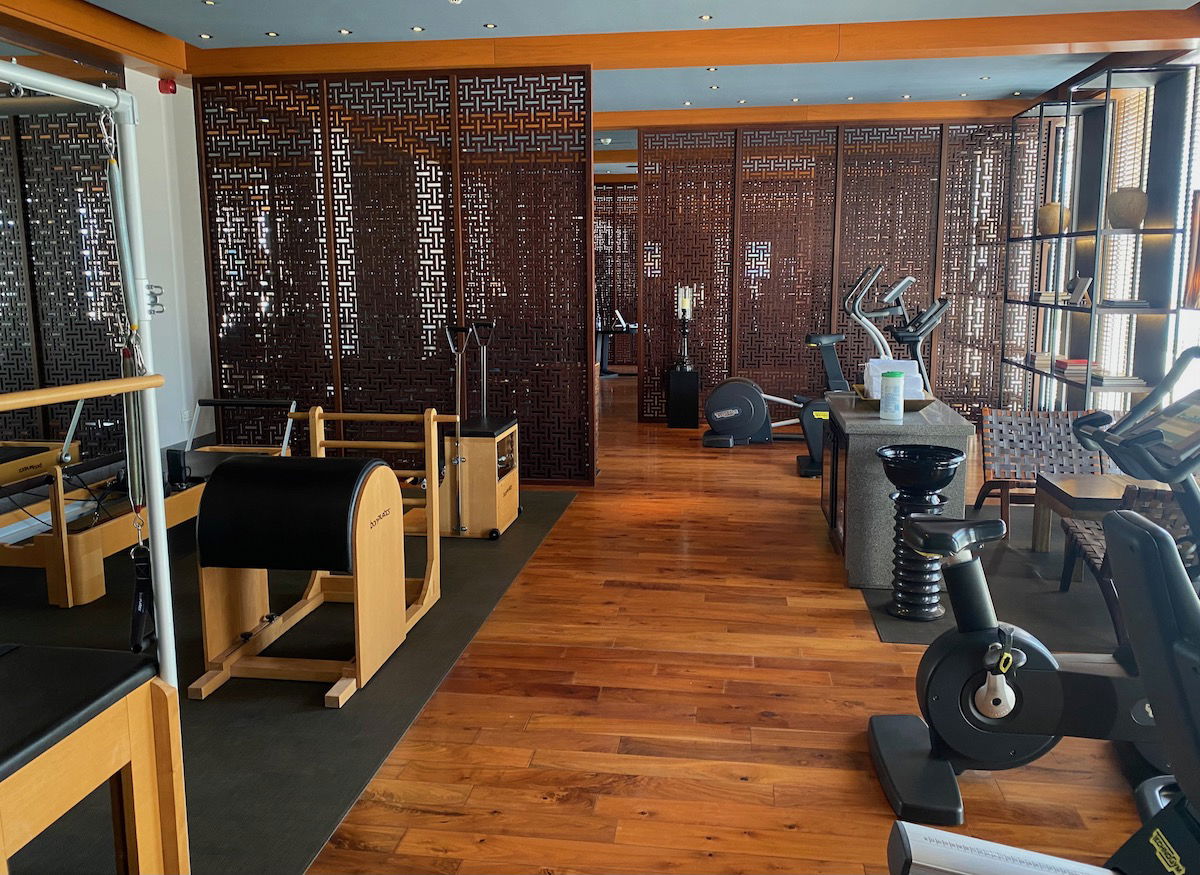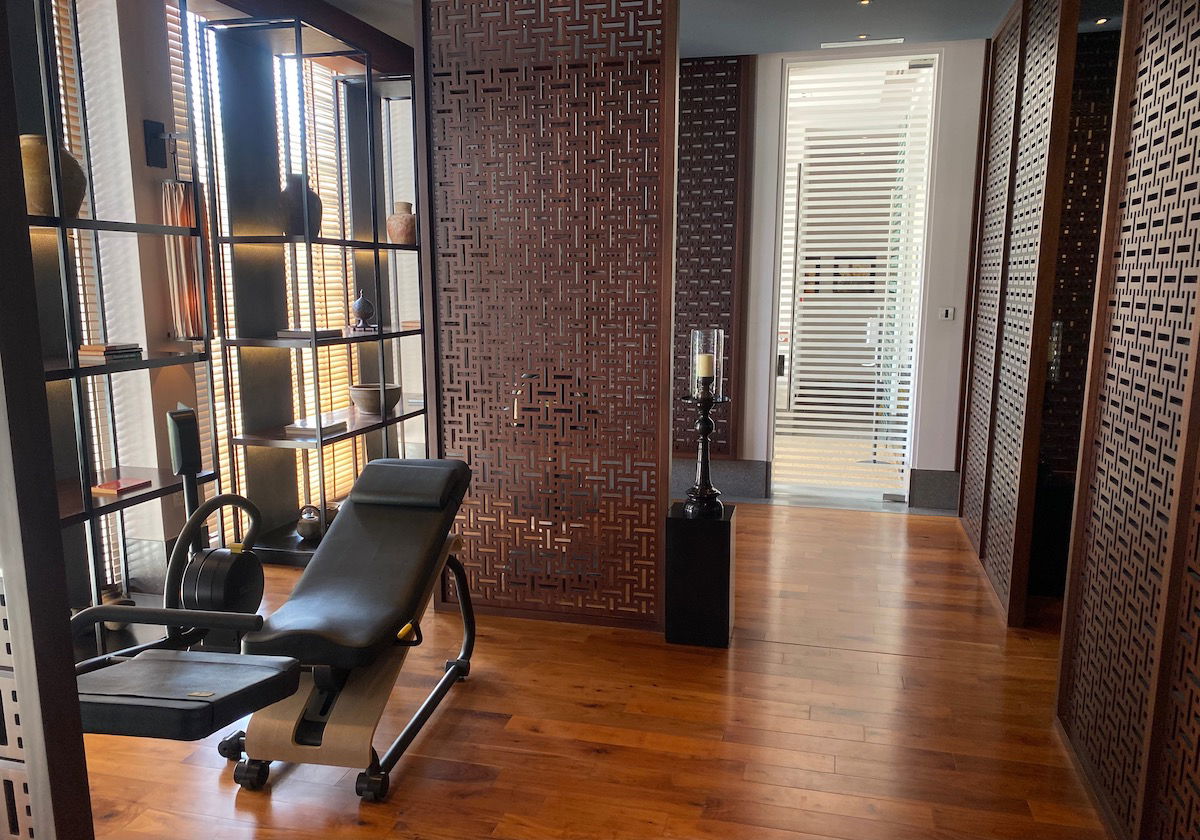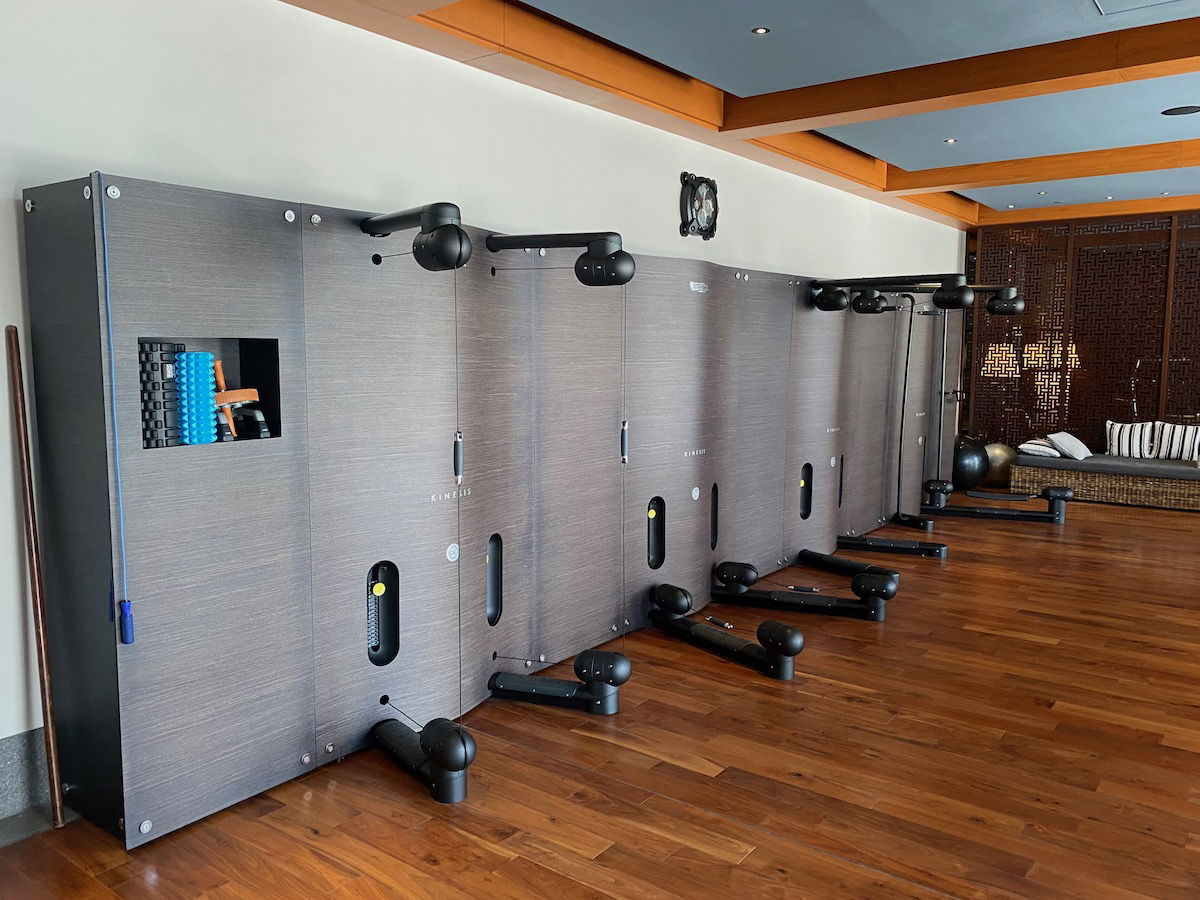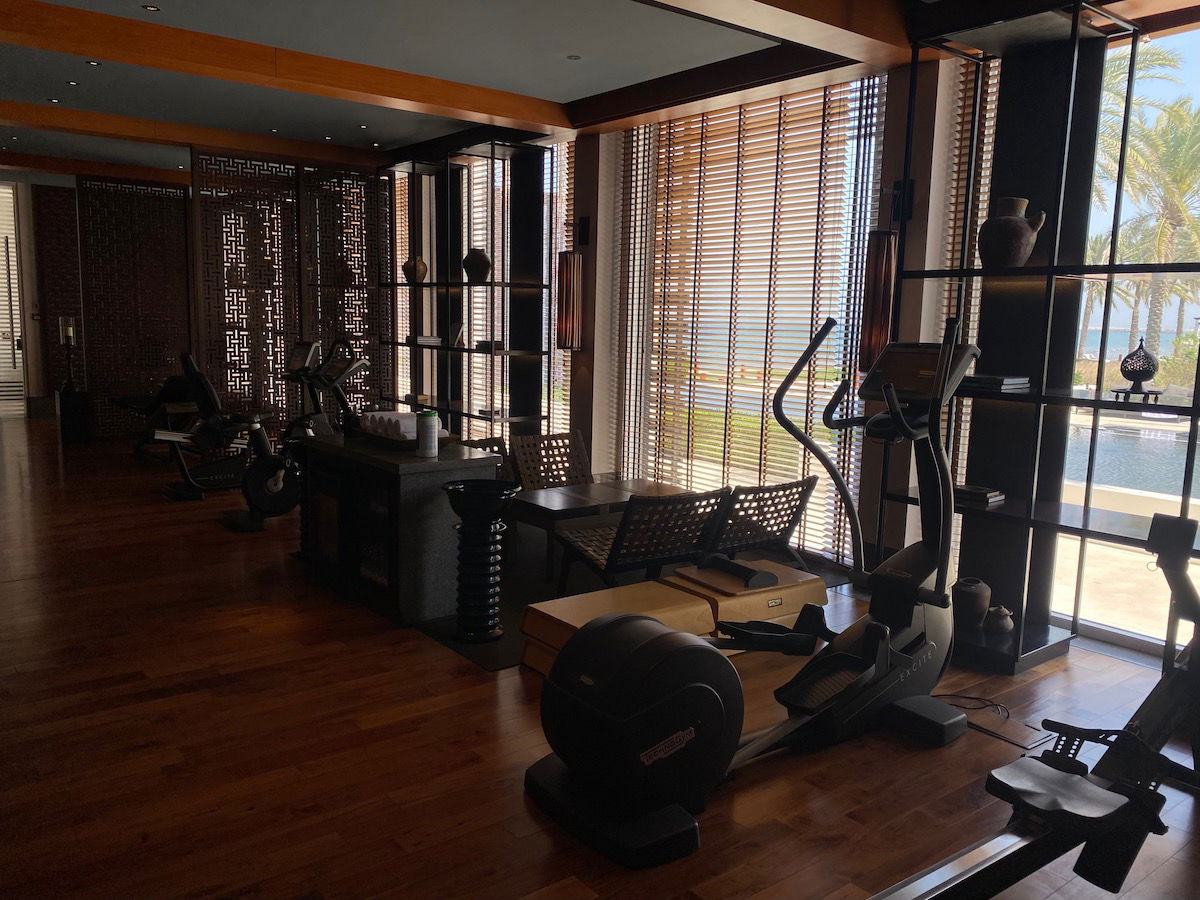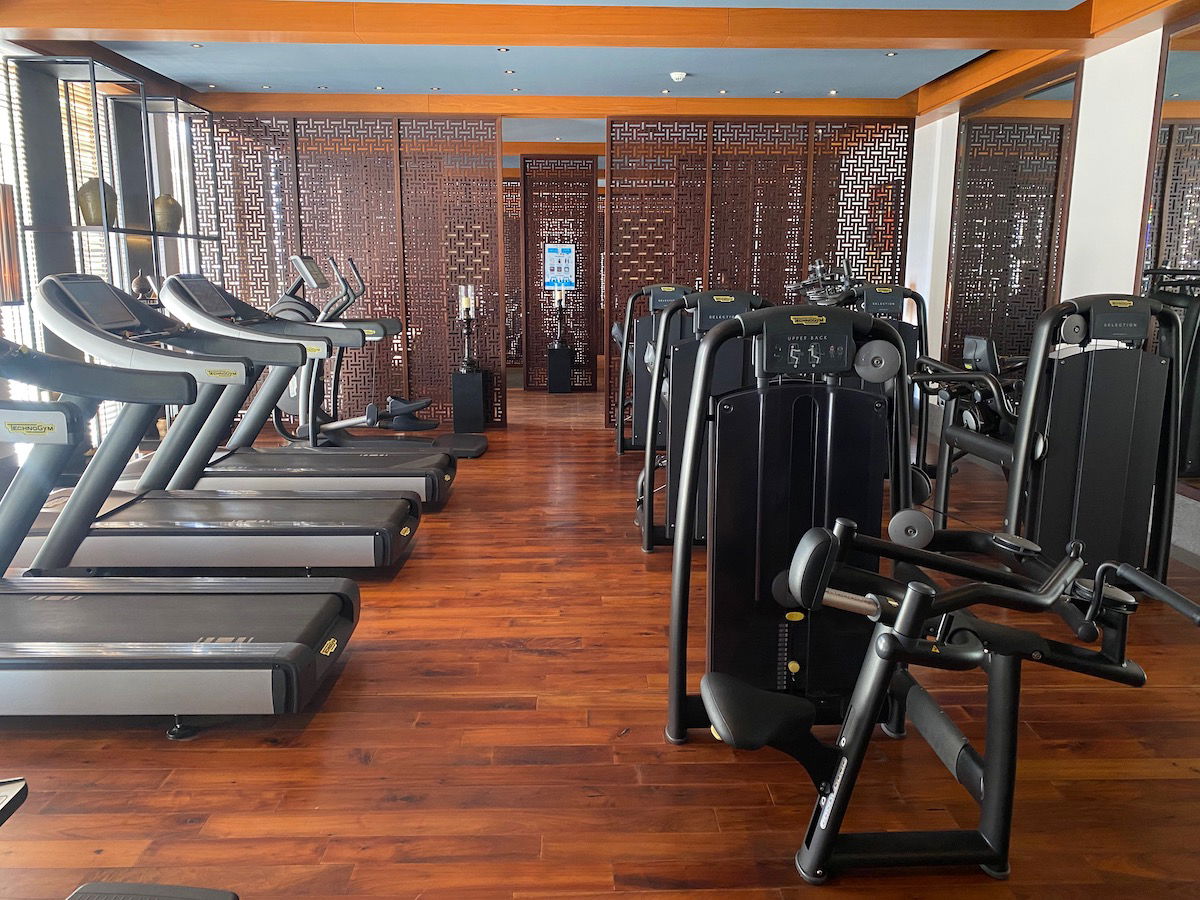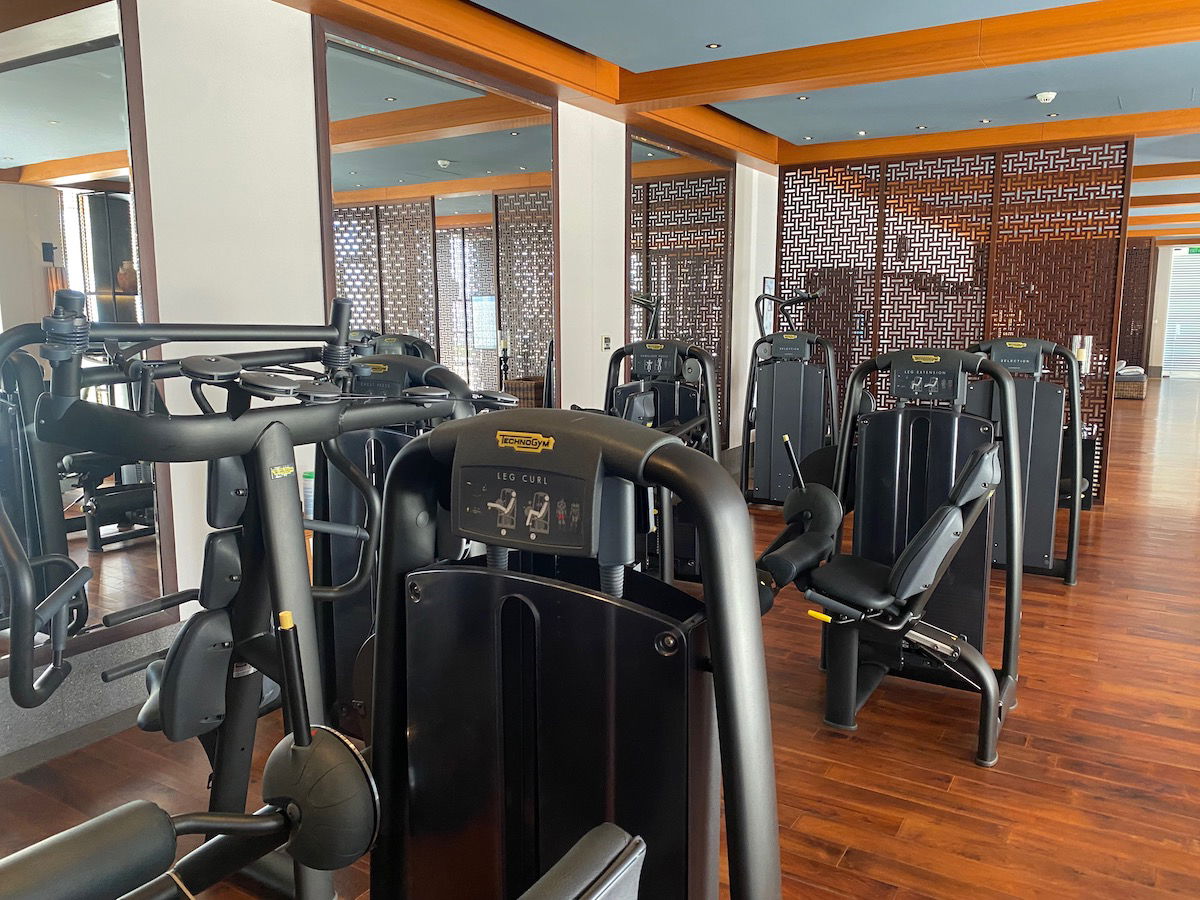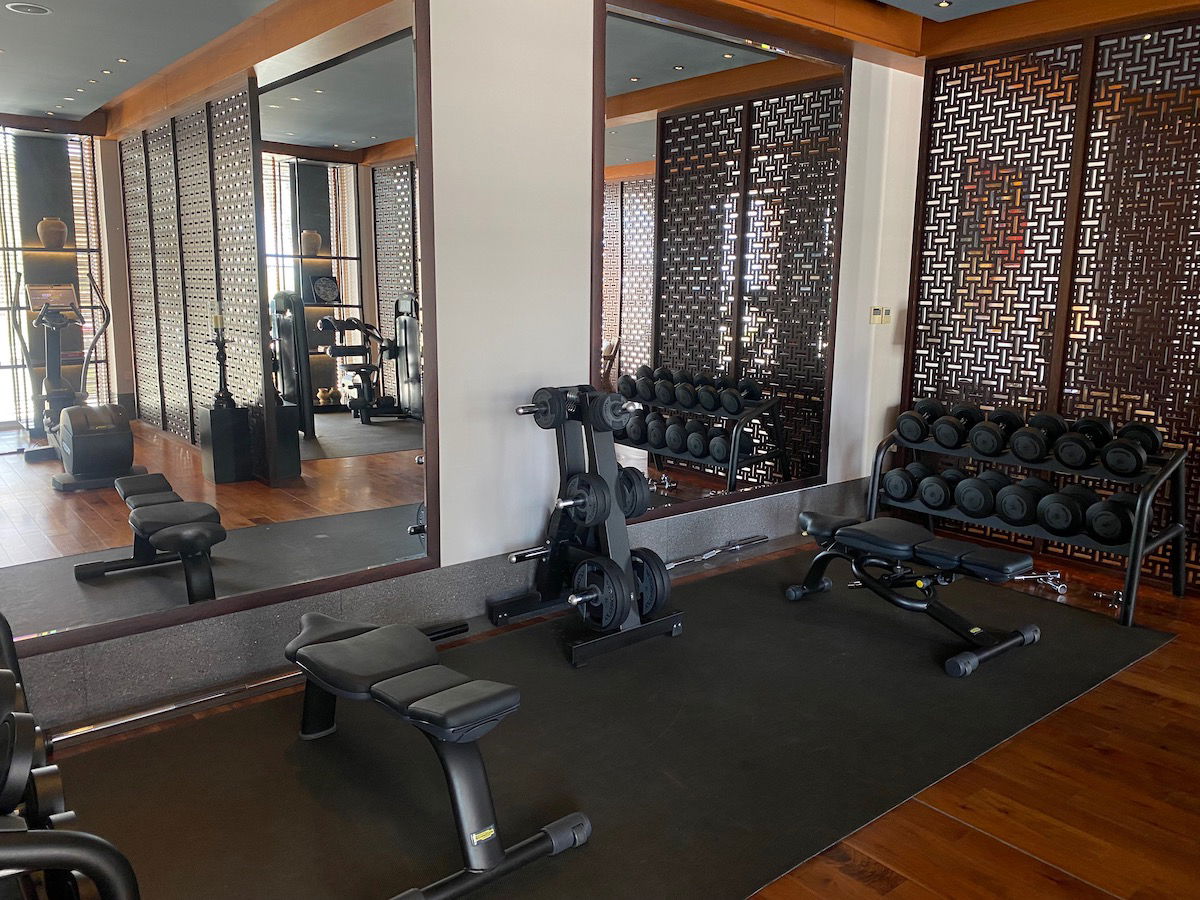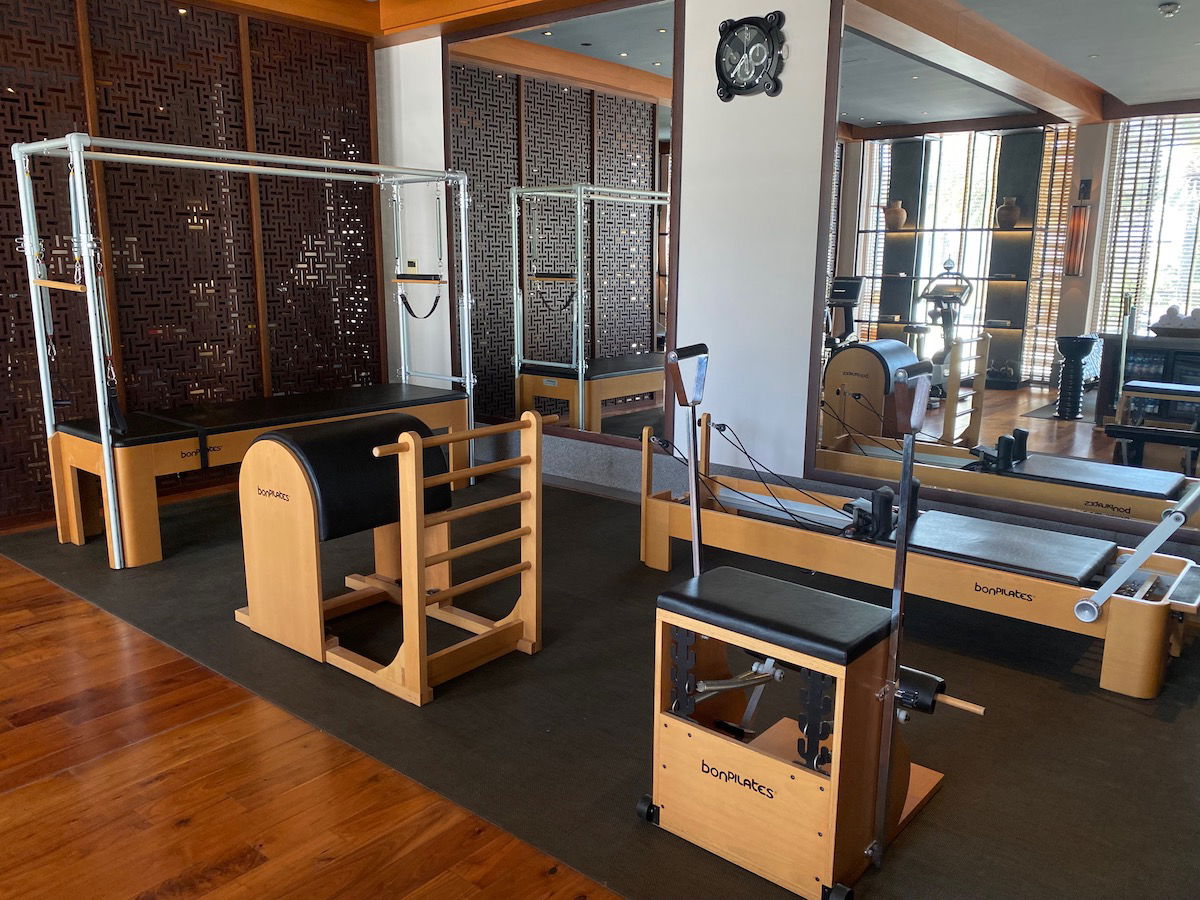 The Chedi Muscat club lounge
In general I'm a fan of hotel club lounges, so when I saw that The Chedi had a club lounge, I figured I had to book one of those rooms. Surprisingly the hotel generally only charges an extra $100 per night for a club room, which seemed like a fairly low premium to me (given how expensive the hotel is otherwise). For booking a club room at The Chedi, you receive the following benefits:
Roundtrip transfers to & from the airport
Daily breakfast either in the restaurant or in your room
Afternoon tea in the club lounge from 3-5PM daily
Evening cocktails and canapés in the club lounge from 6-7:30PM daily
Complimentary minibar drinks, including alcoholic drinks
Complimentary laundry service for up to 15 pieces per day
Those are quite some inclusions! The club lounge itself was near my room, and consisted of one fairly large room. On top of that, there was a courtyard with plenty of outdoor seating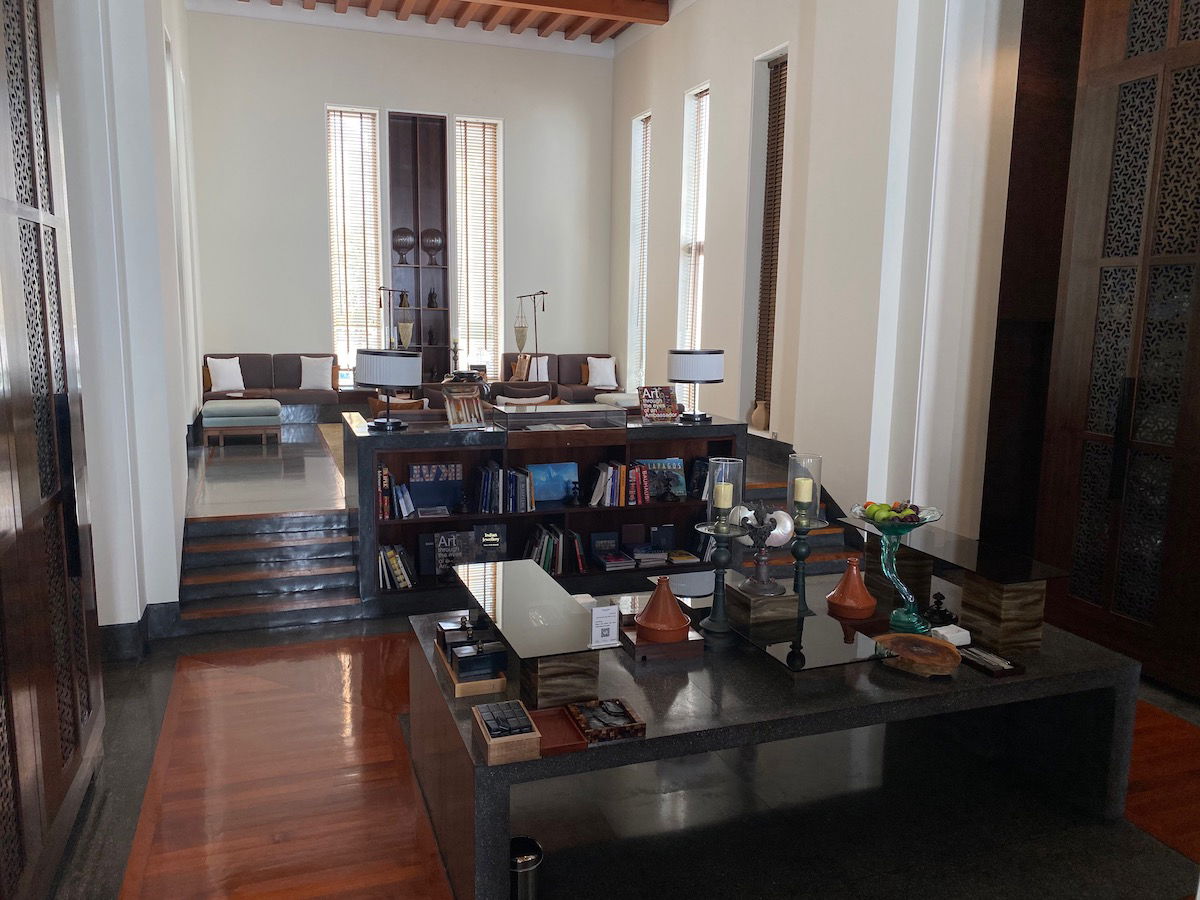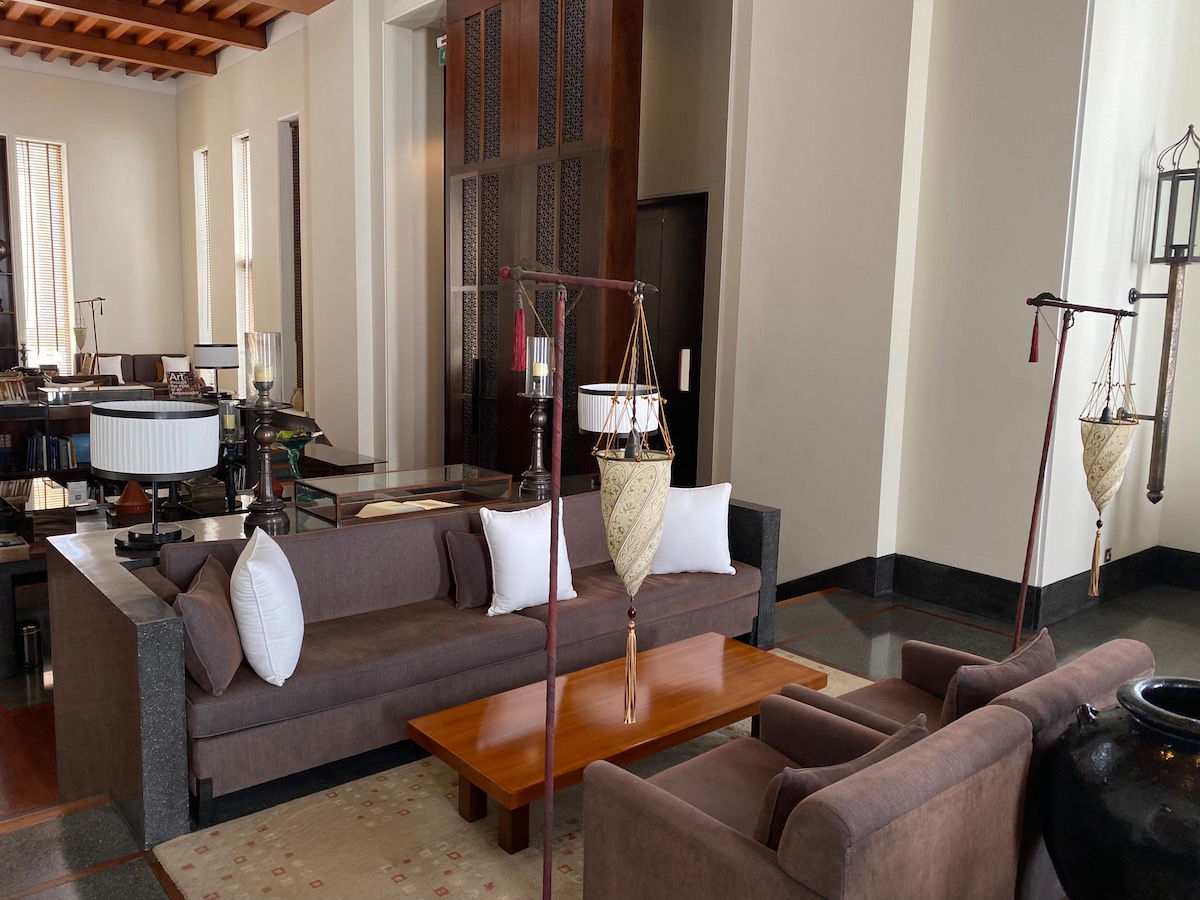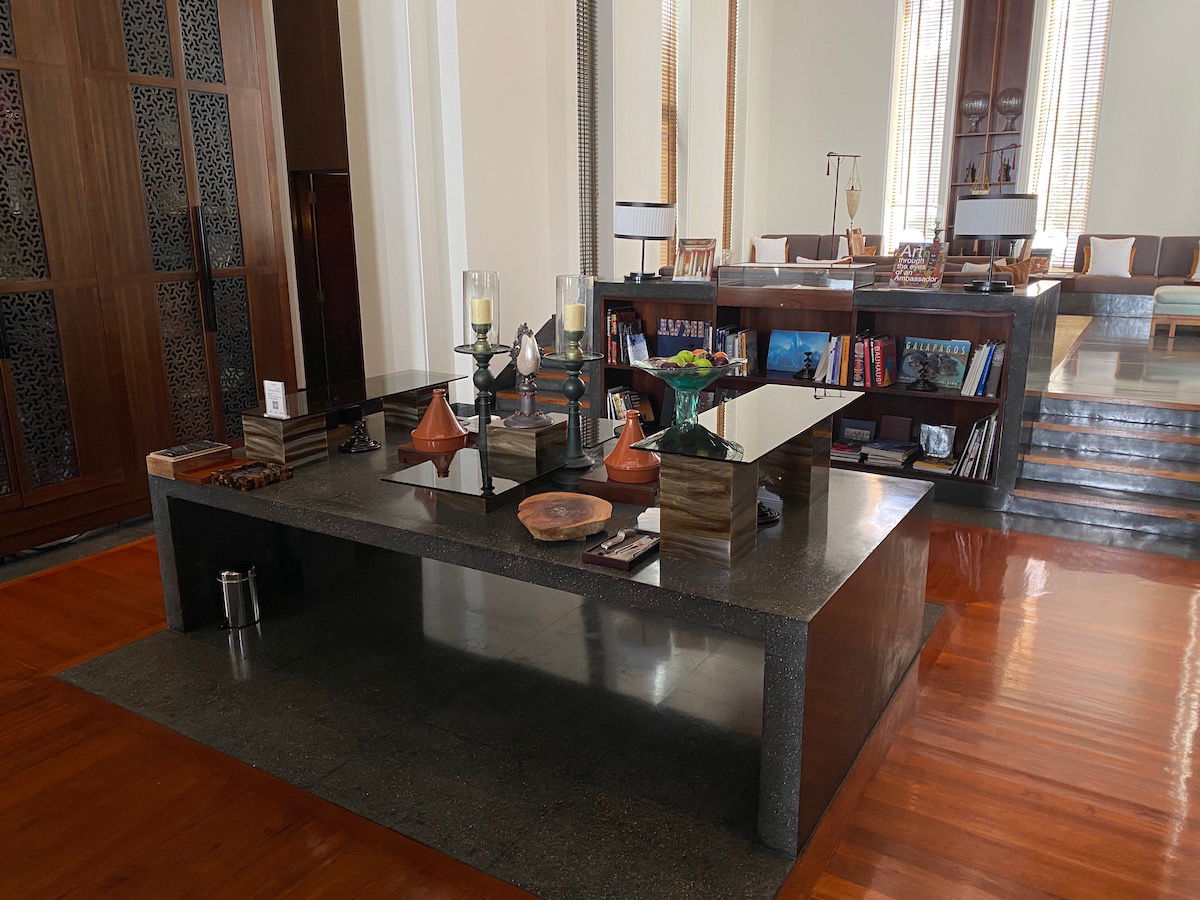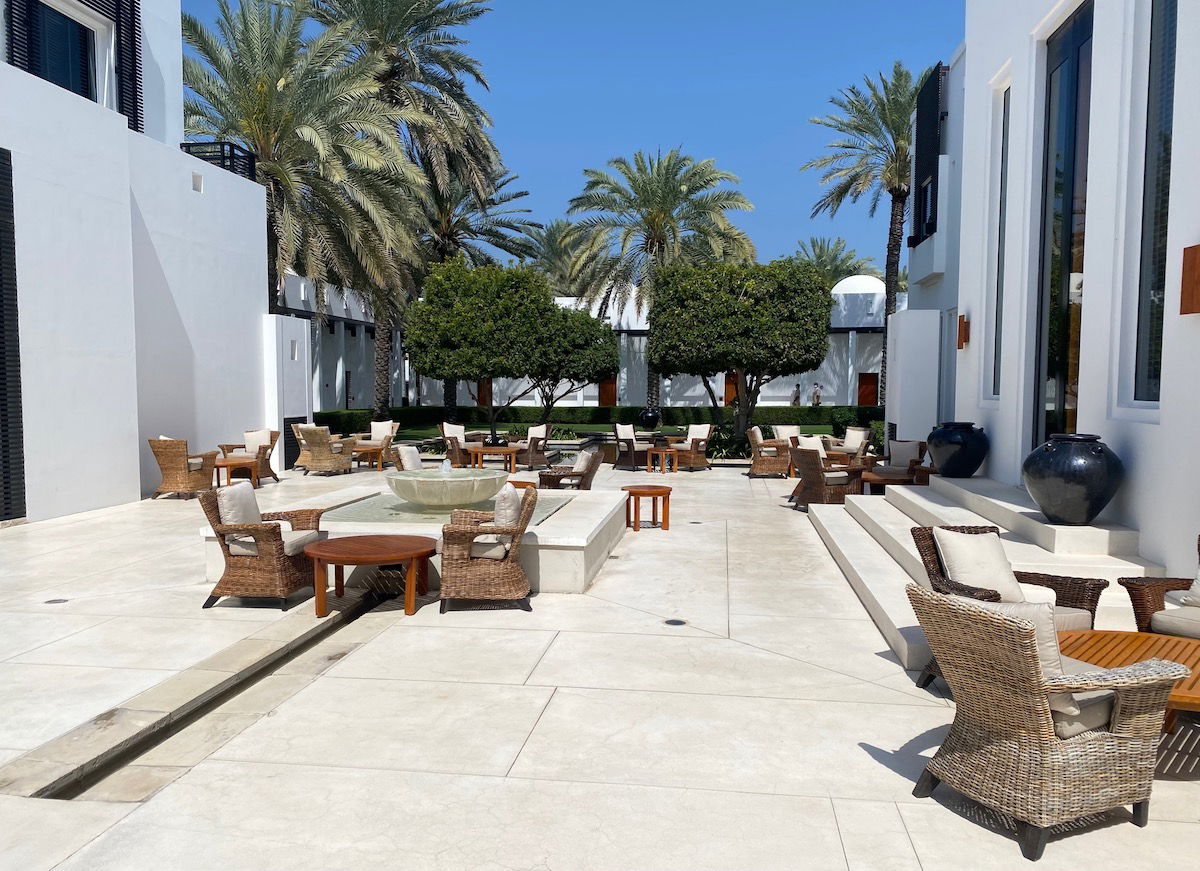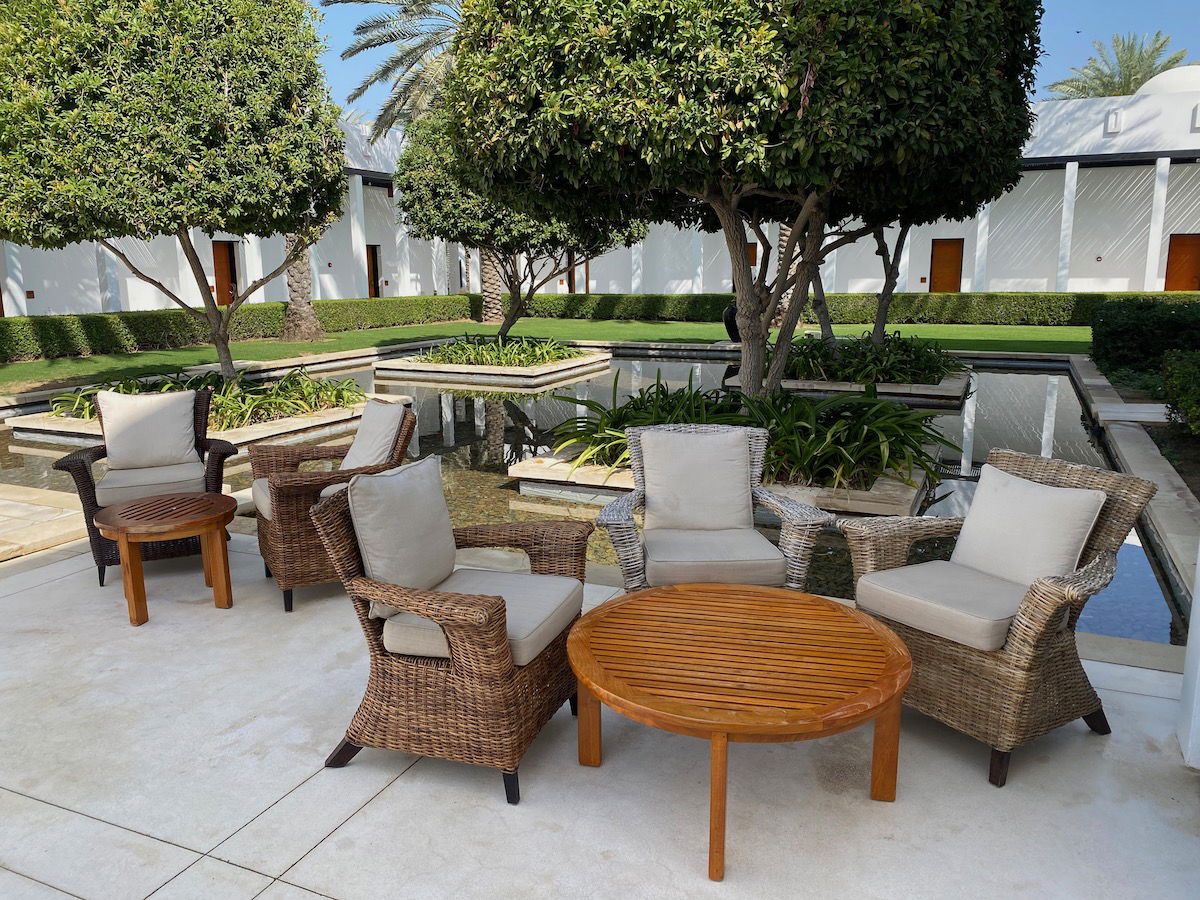 As far as the afternoon tea goes, there was a self serve buffet with some sweets, scones, finger sandwiches, olives, and cheese. On top of that, there were servers who could prefer coffee and tea.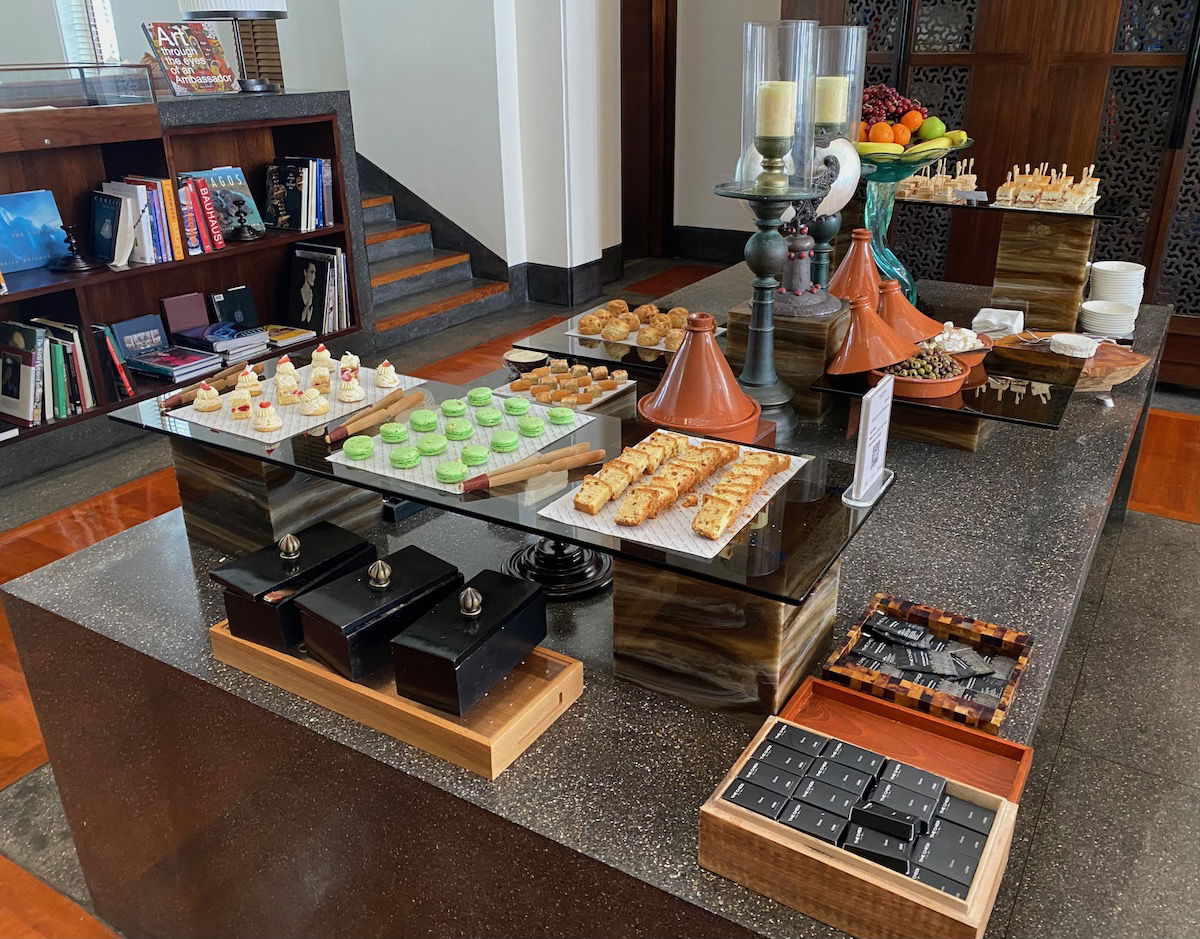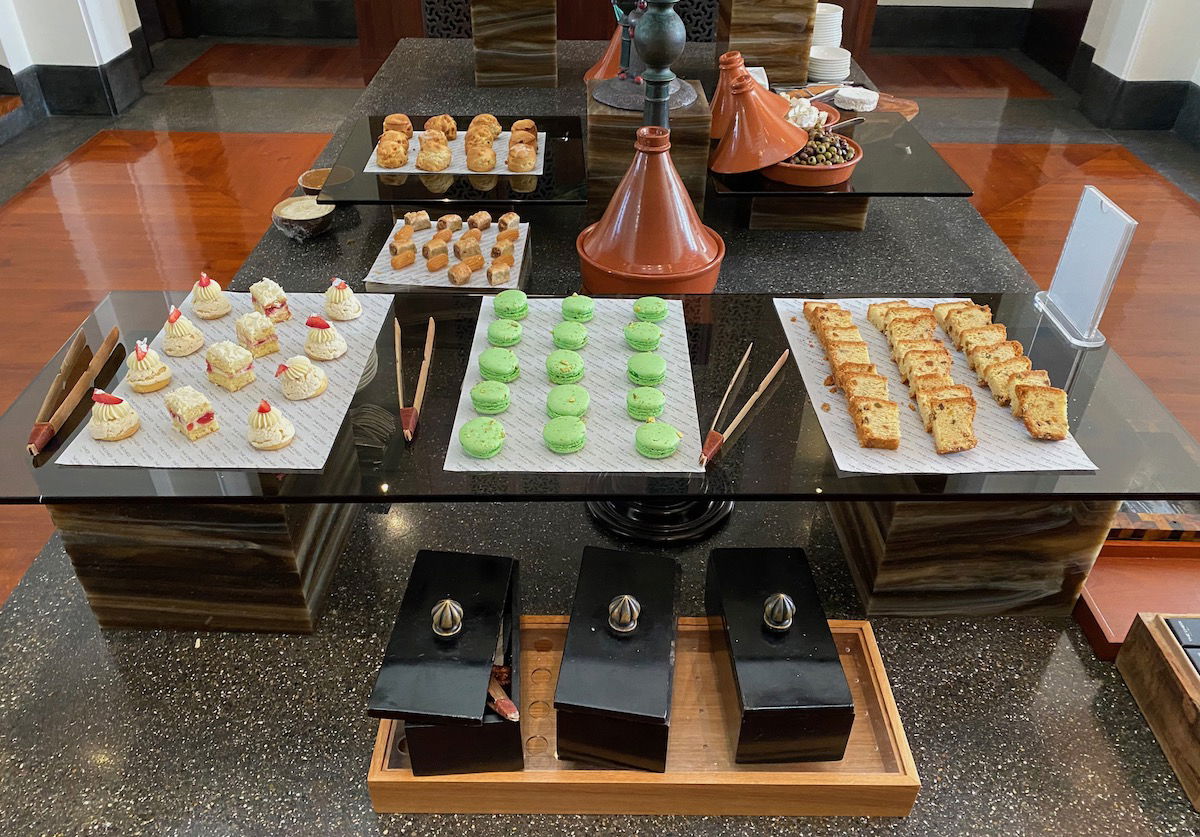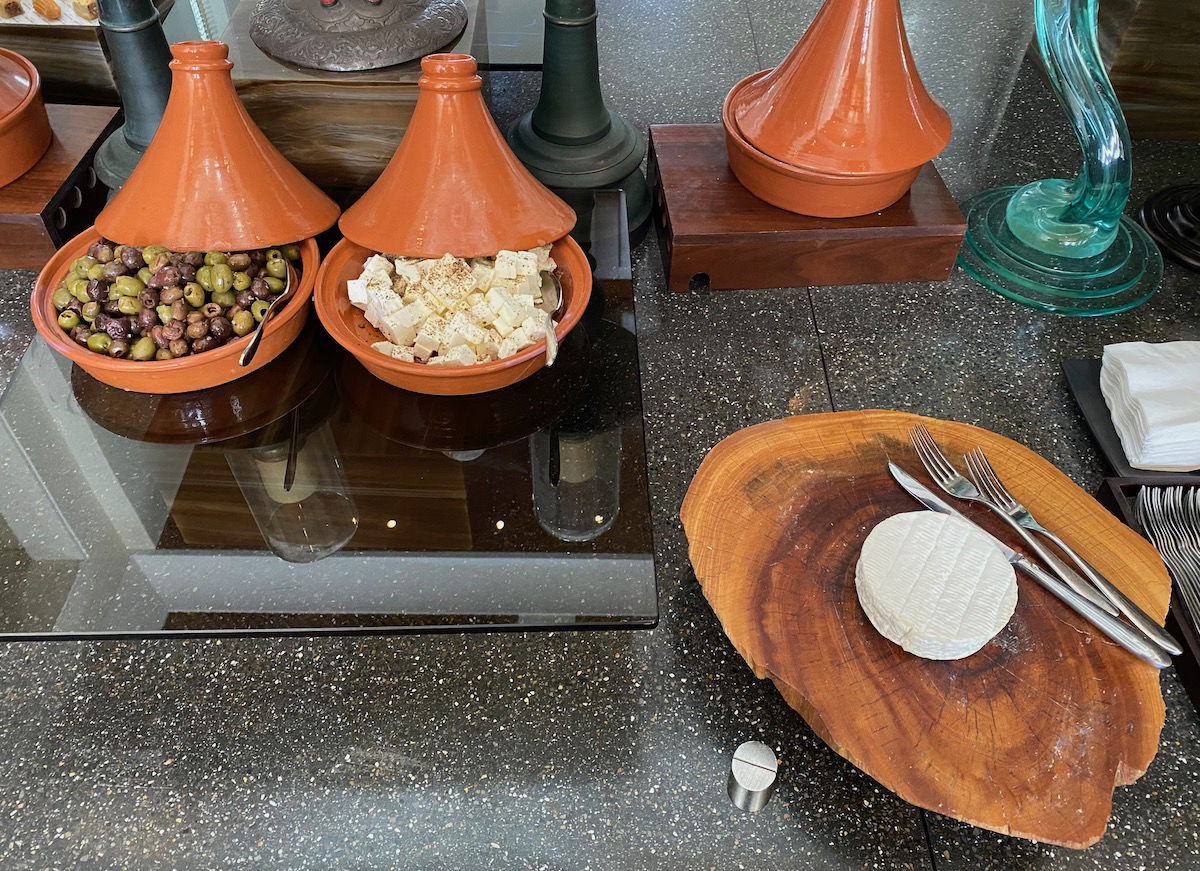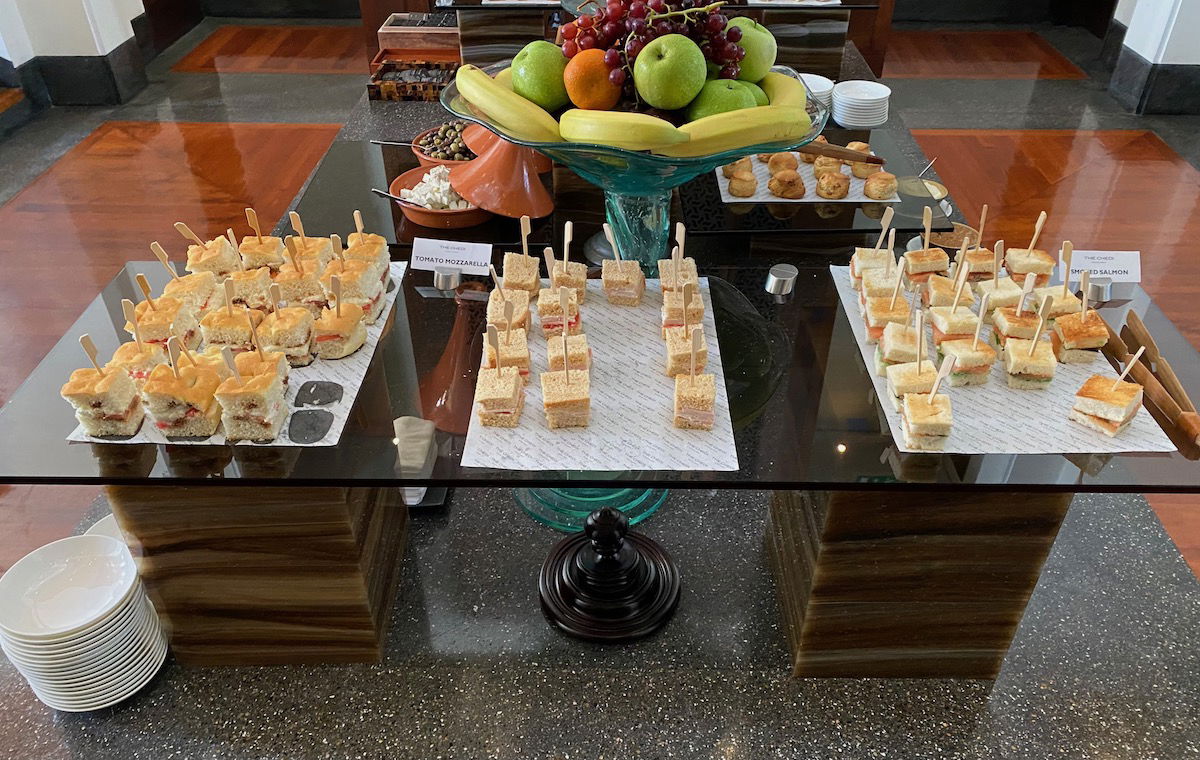 Then the evening happy hour had a light selection of canapés. There were some chicken tikka and shrimp skewers, sushi, cheese, olives, nuts, etc.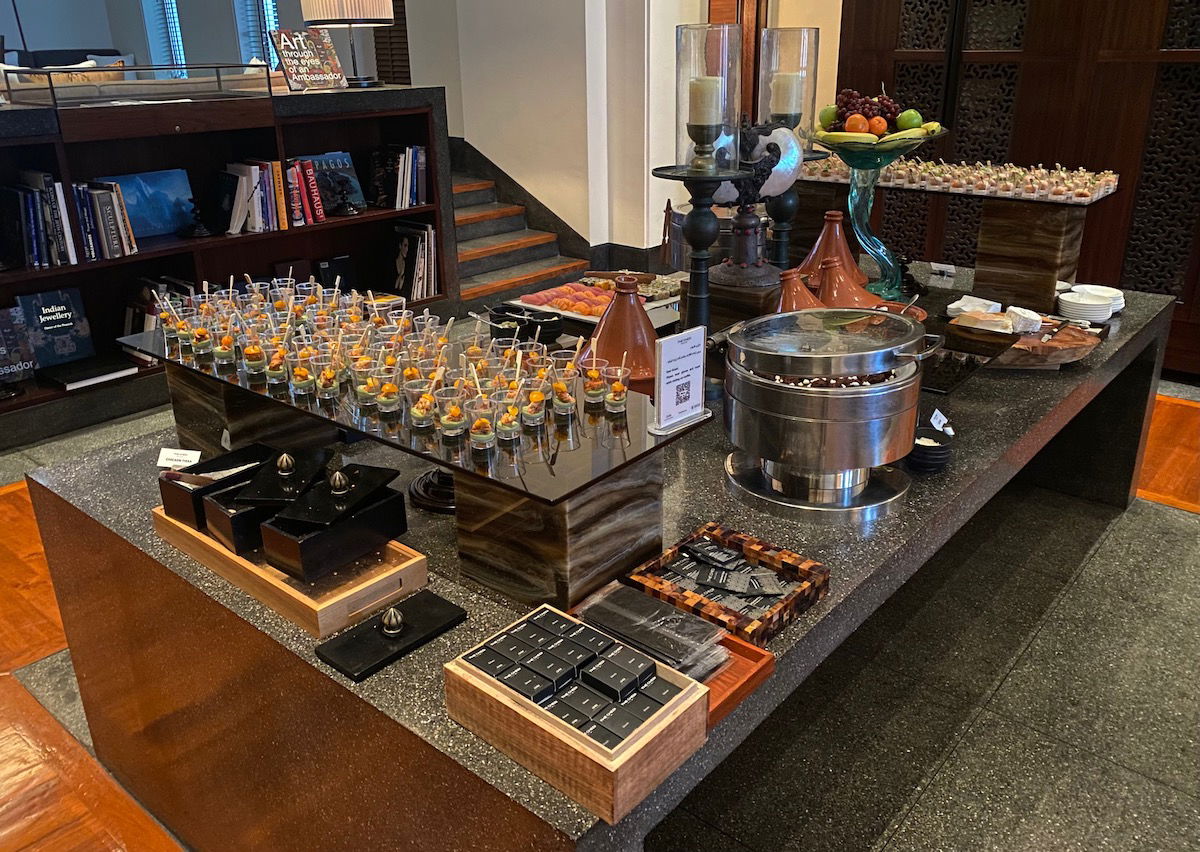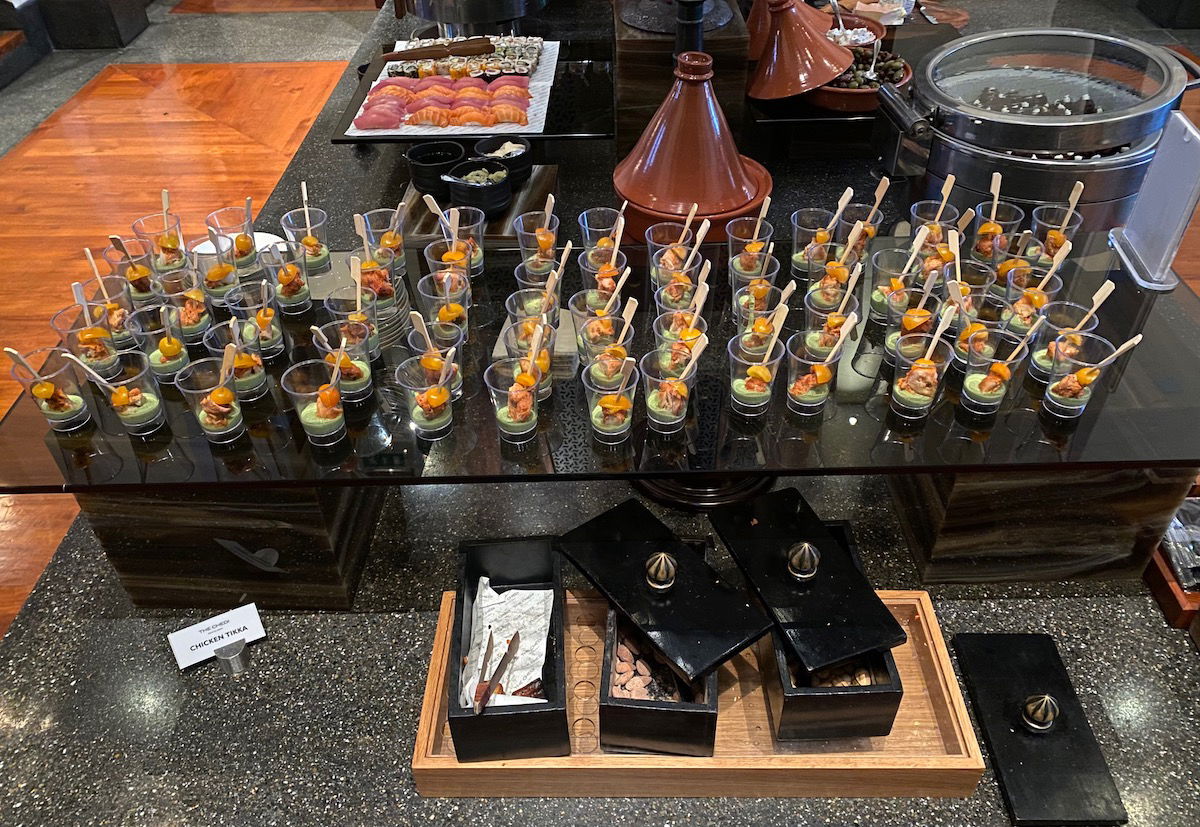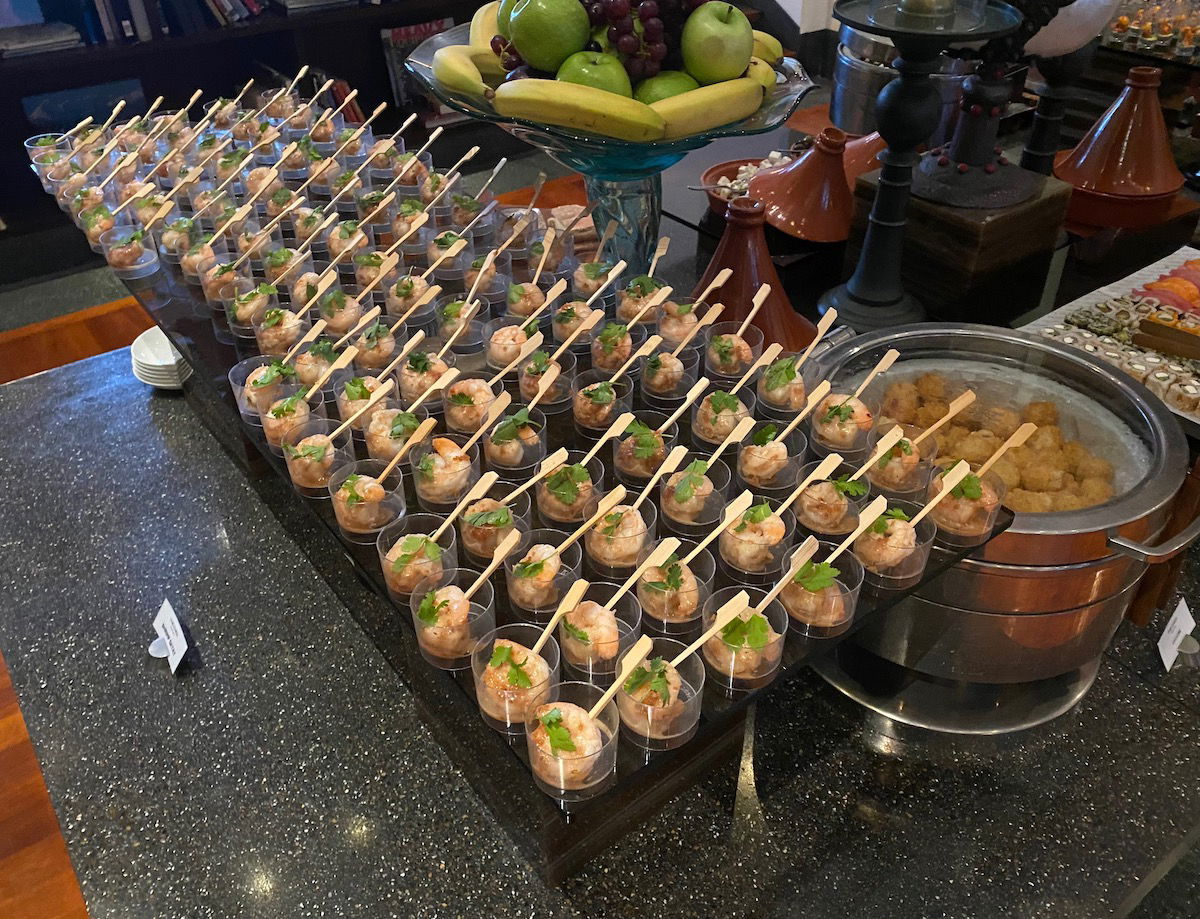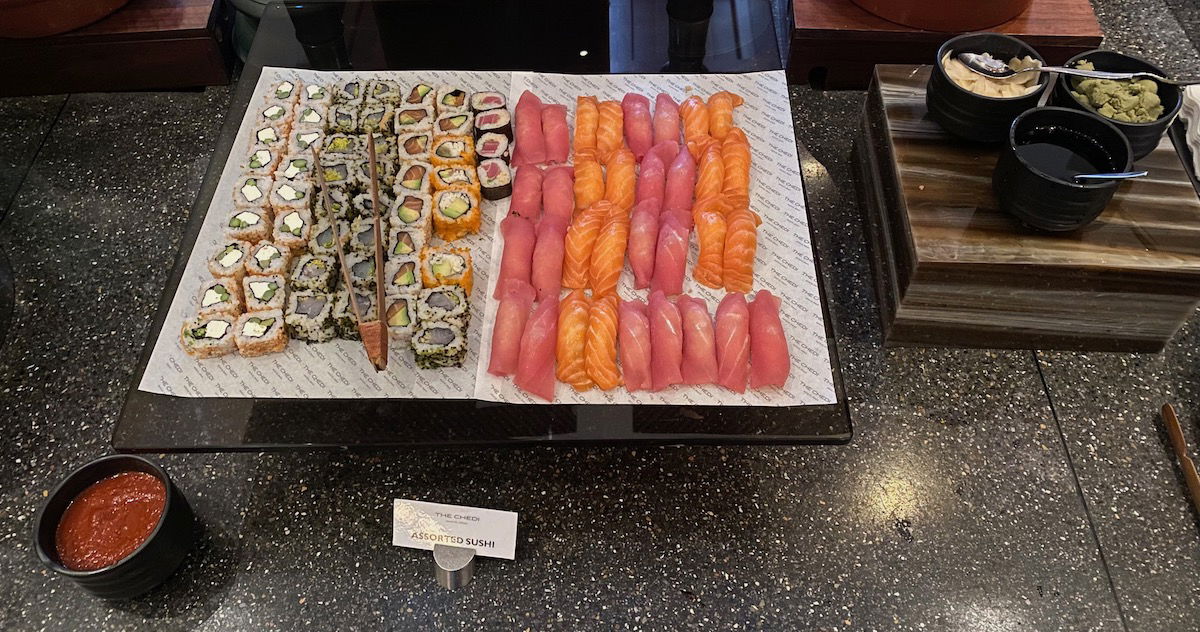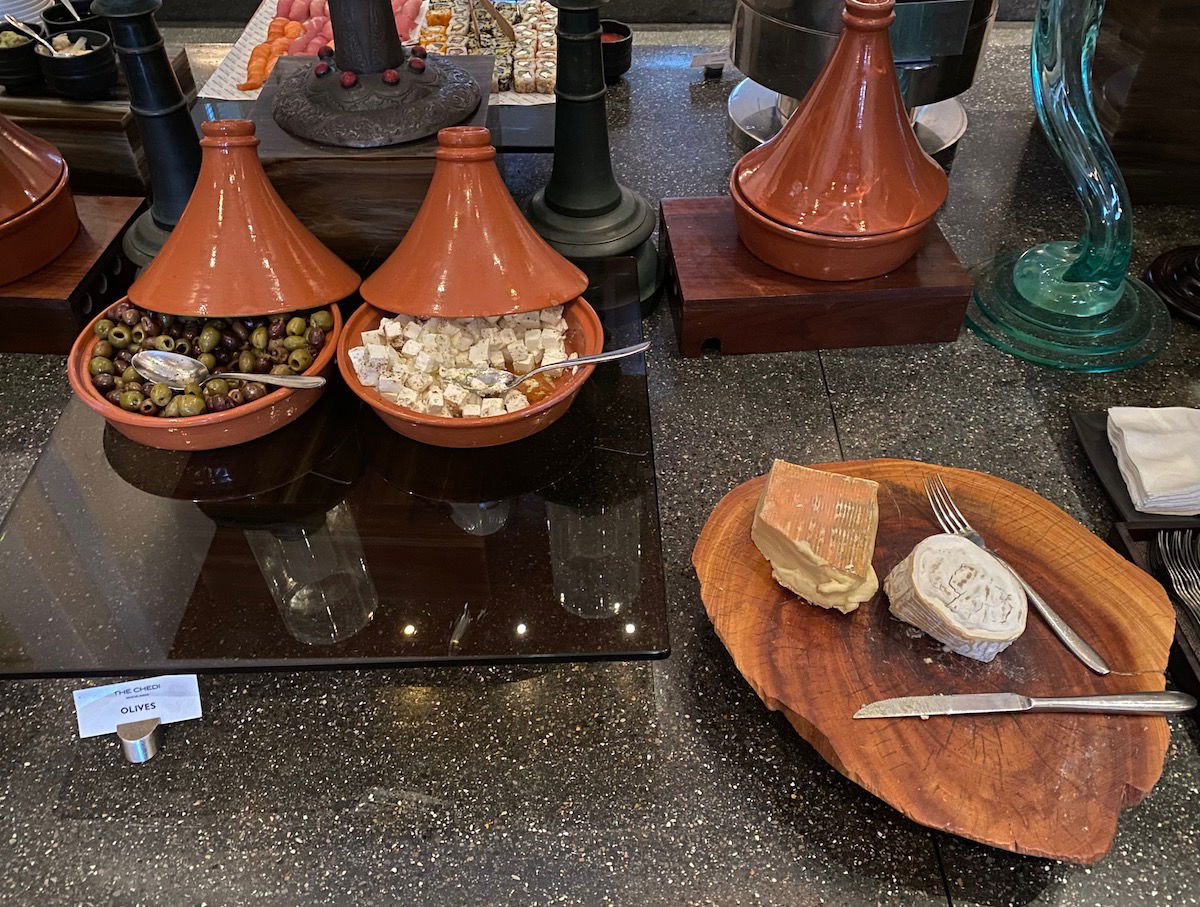 There was self serve wine and beer, plus bartenders could prepare basic cocktails.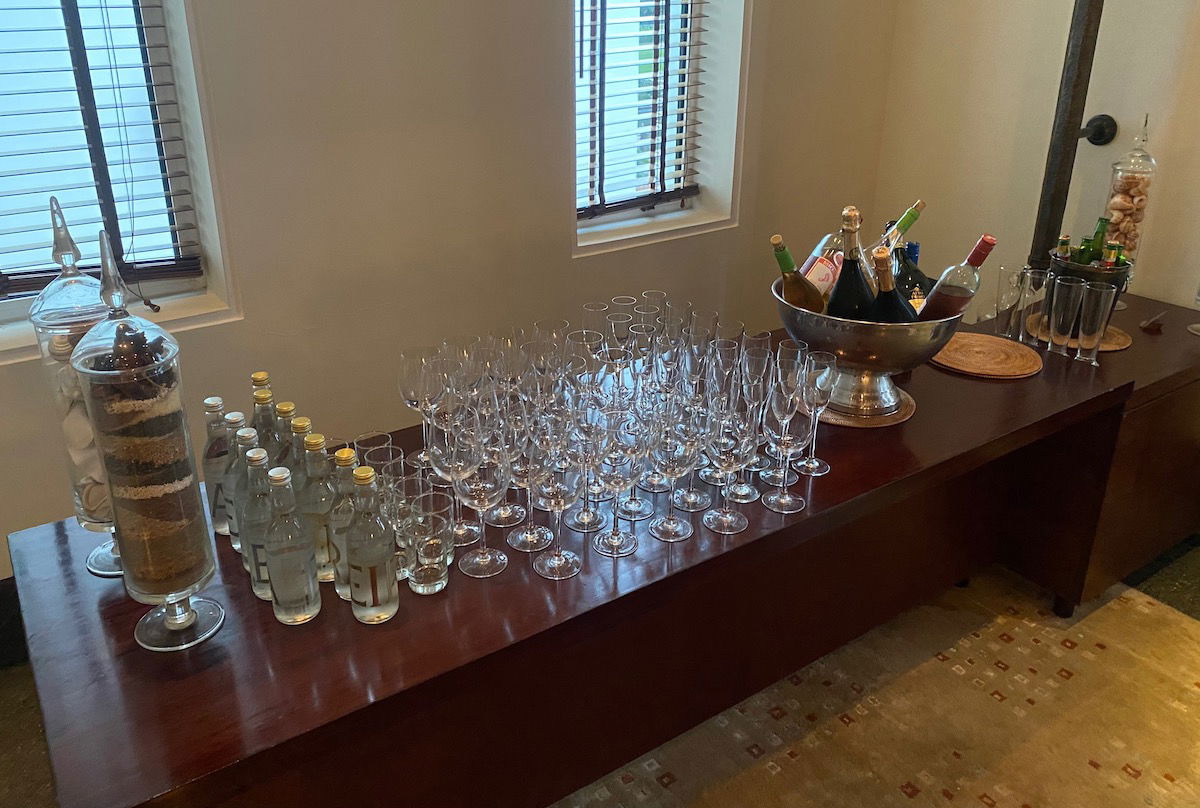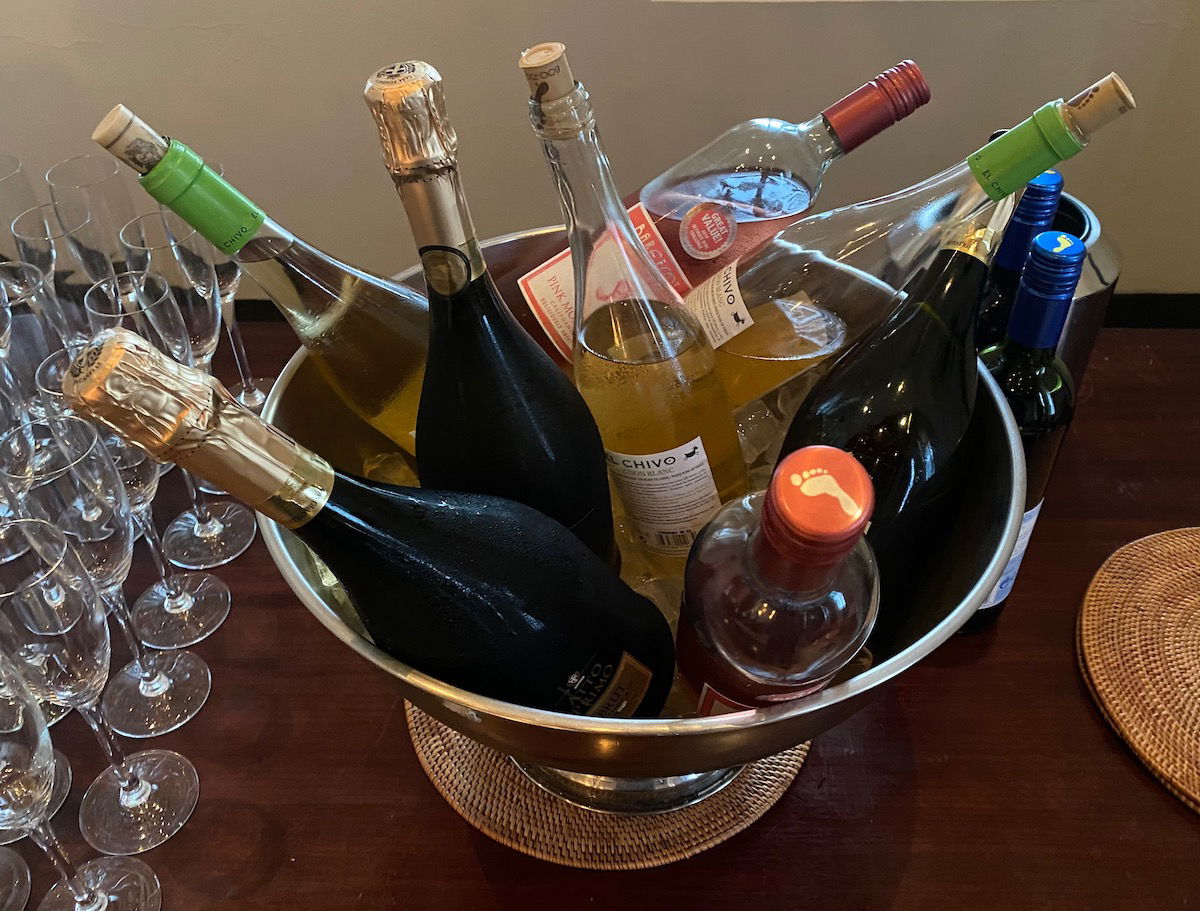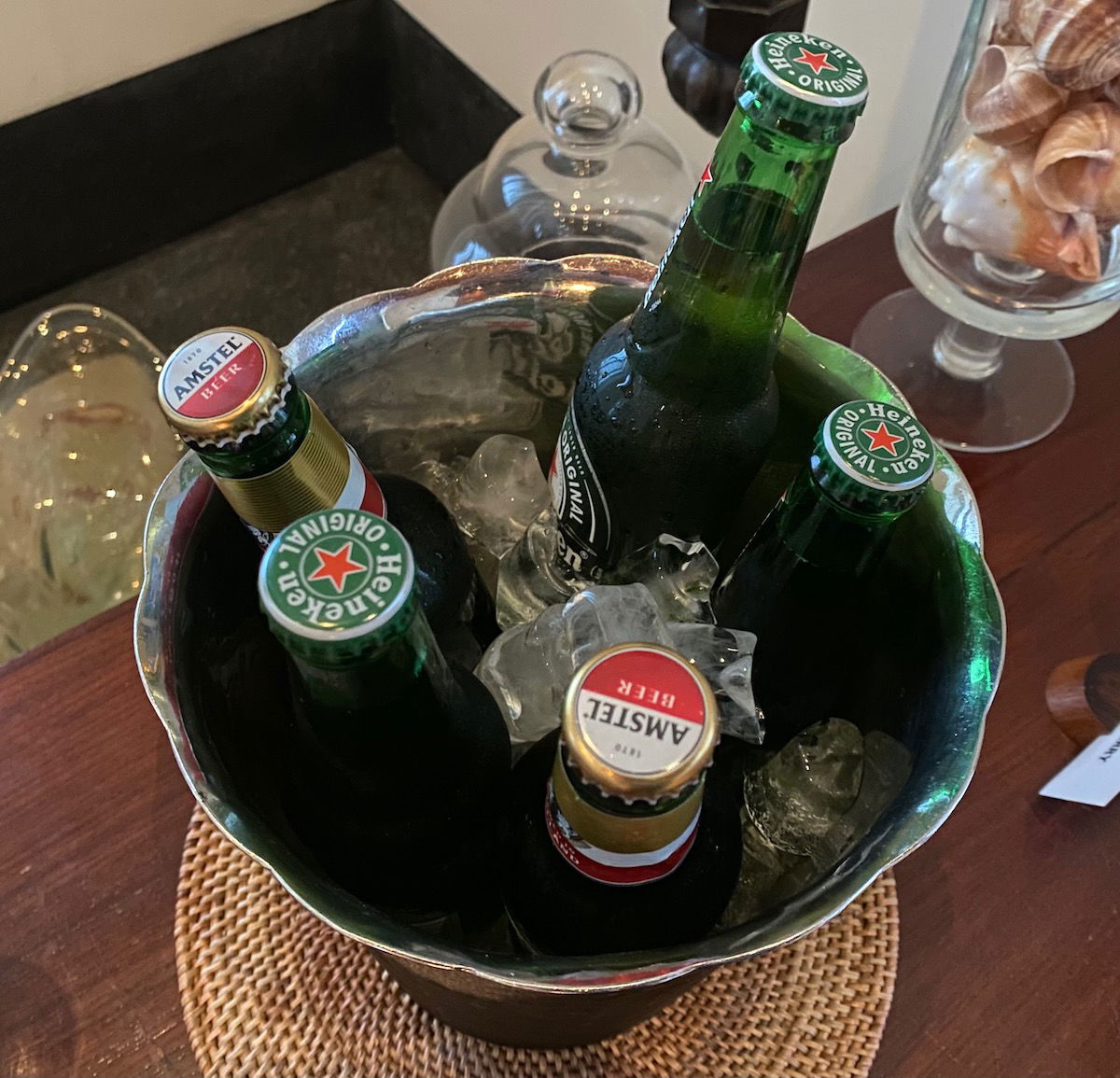 I think upgrading to a club room could represent a great value. Alcohol is expensive in Oman, so if you're traveling as a couple and each have two drinks, that alone will probably cover the premium for a club room. And that doesn't even account for the other perks, like airport transfers and laundry.
That being said, I think it's also important to state that this really isn't a refined or exclusive lounge. There are dozens of rooms with club access, so the whole lounge does have a bit of a "cattle call" vibe when the food is put out. Don't expect this to offer an exclusive hotel-within-a-hotel experience.
The Chedi Muscat breakfast
All guests at The Chedi have breakfast included, which is served in the main restaurant by reception. This is a pretty restaurant, with both indoor and outdoor seating. One thing I loved is that they had live instrumental music during breakfast. For that matter, one thing this hotel does really well is the amount of live music there is throughout the day. That's something I always enjoy.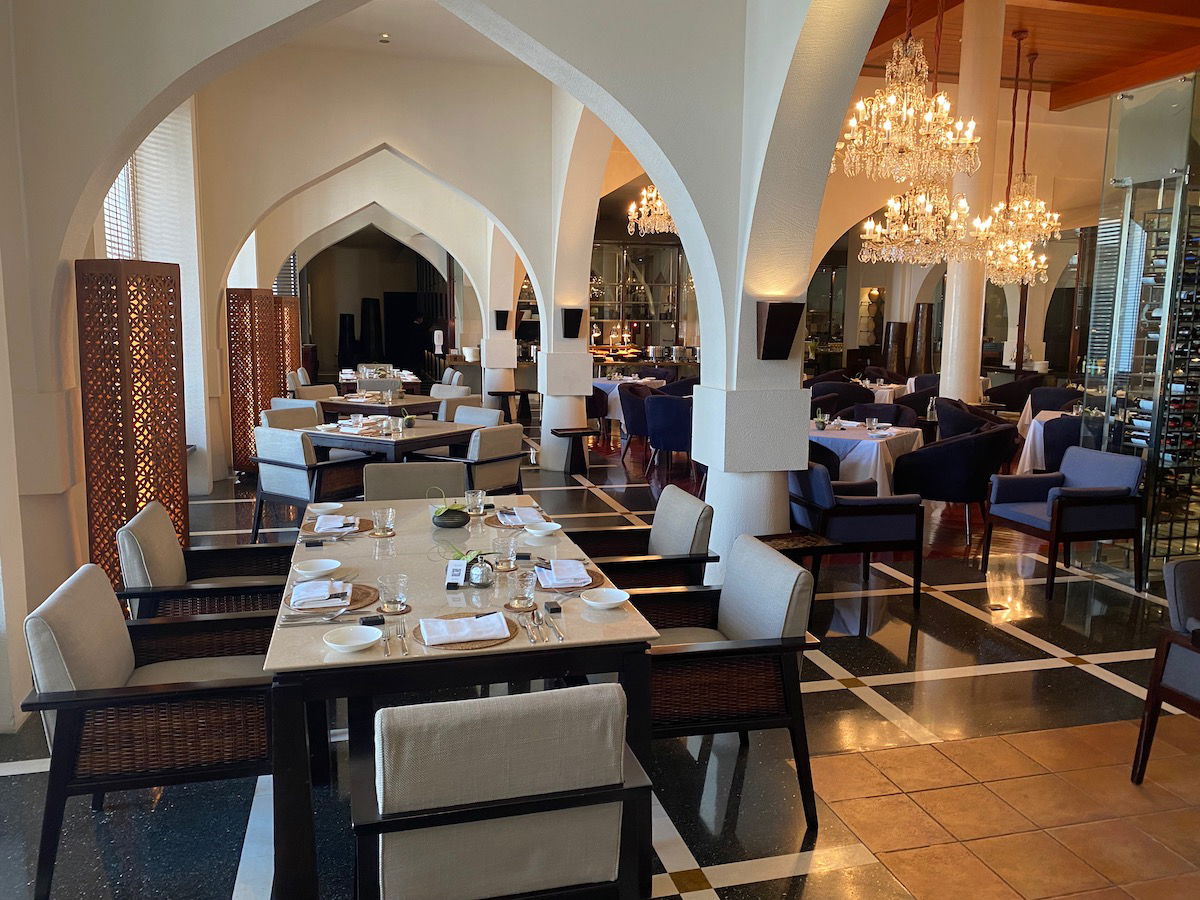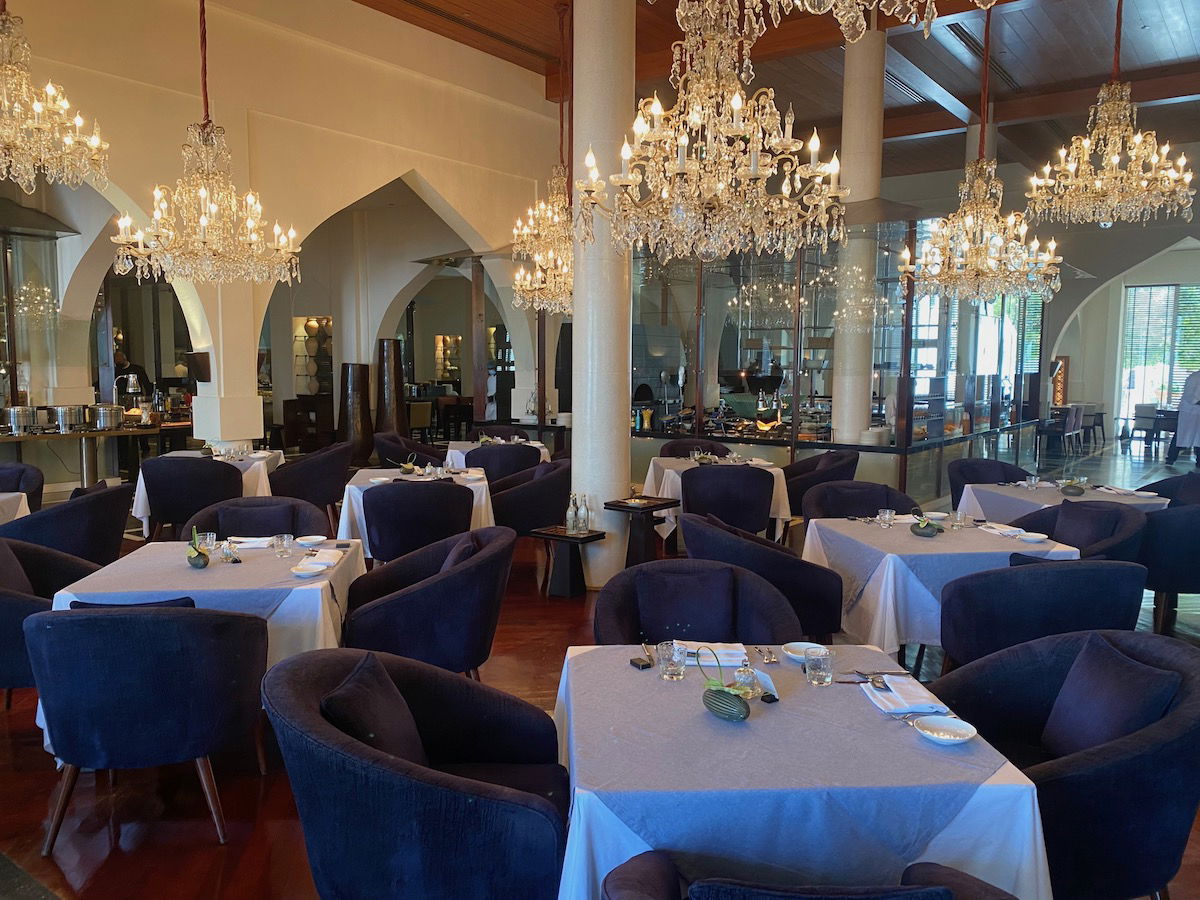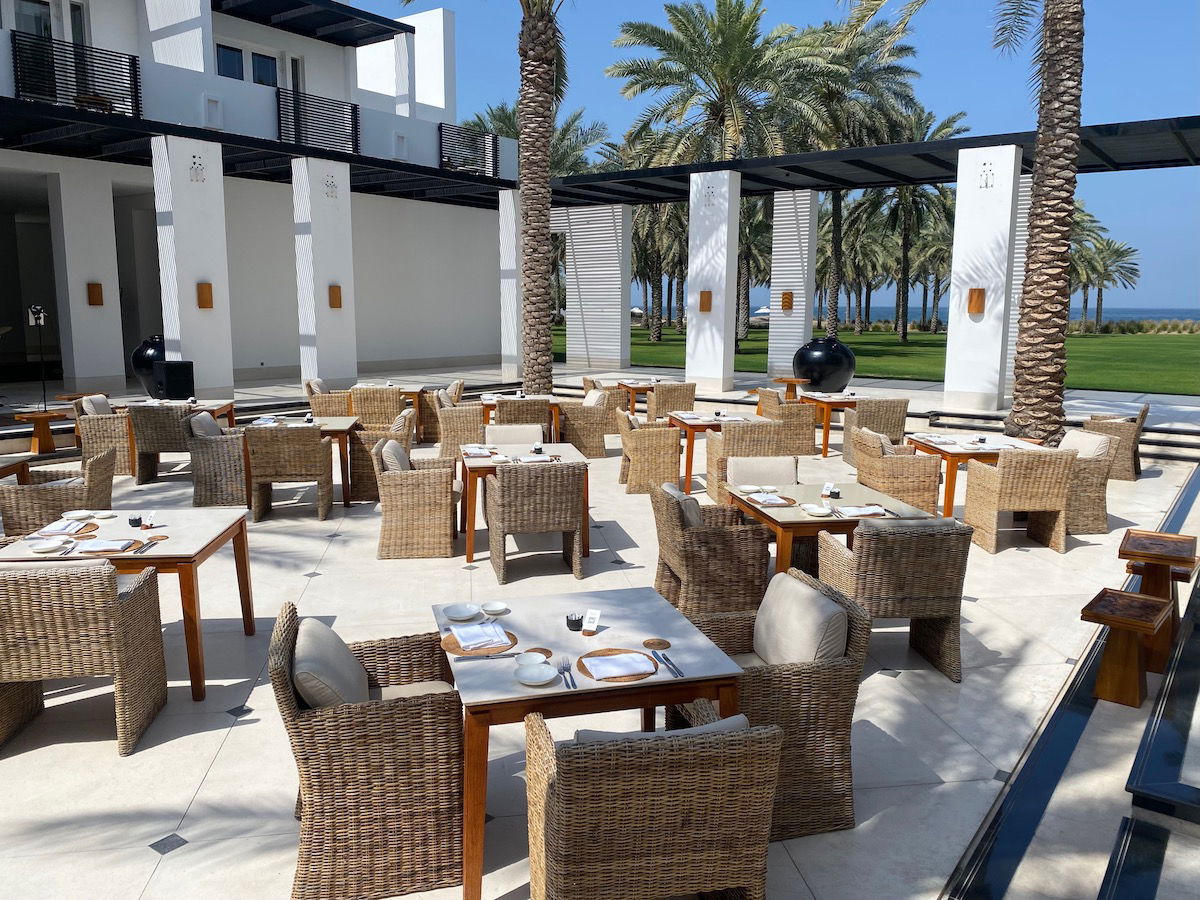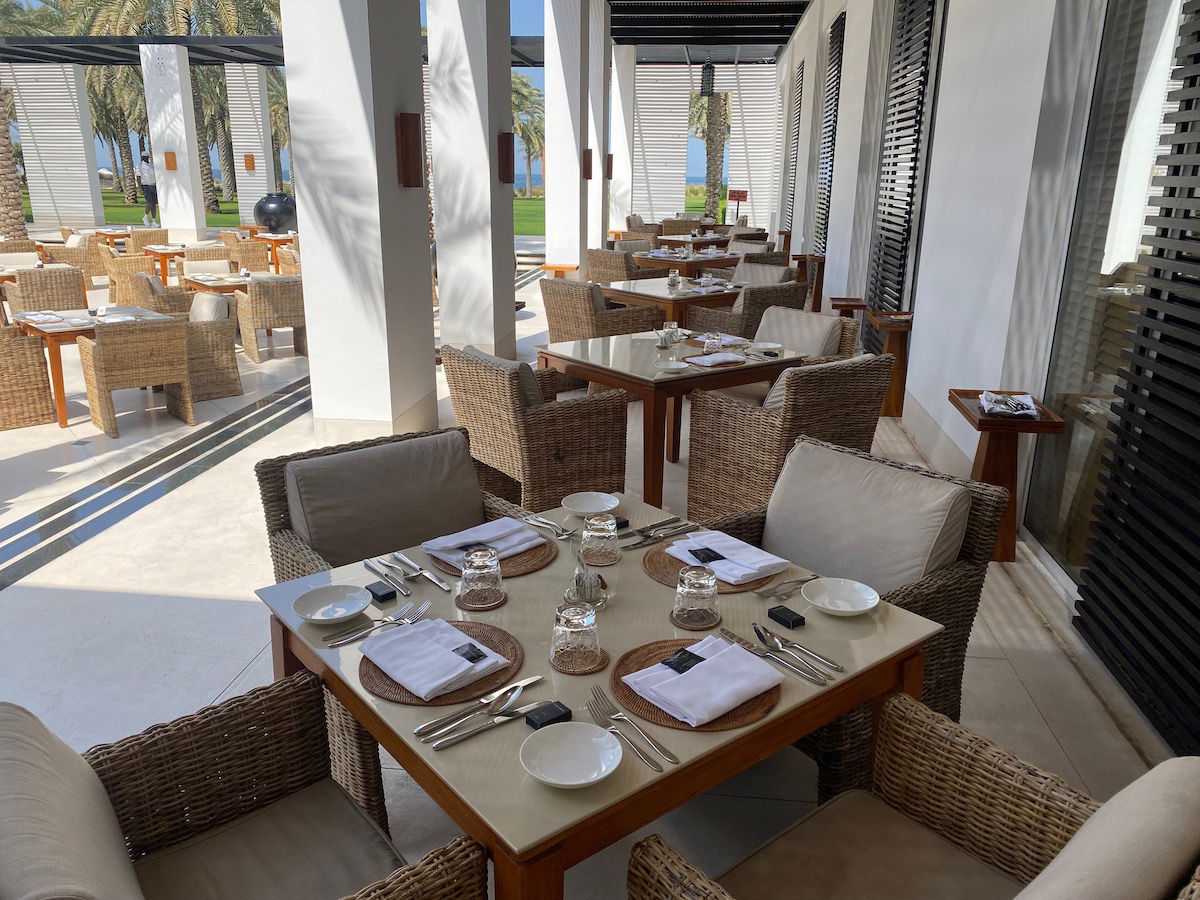 There was an extensive breakfast buffet at the hotel, with both local and international options. I'll let the pictures speak mostly for themsleves.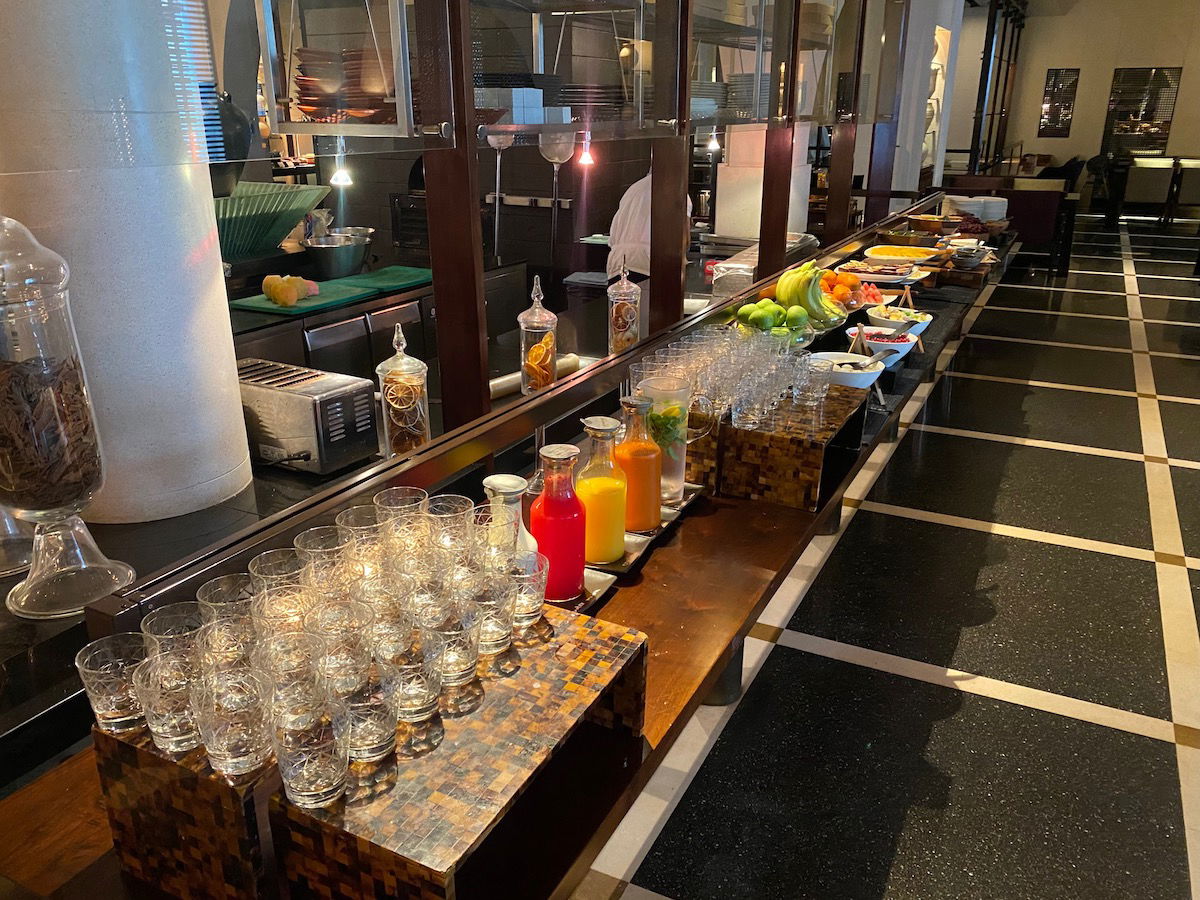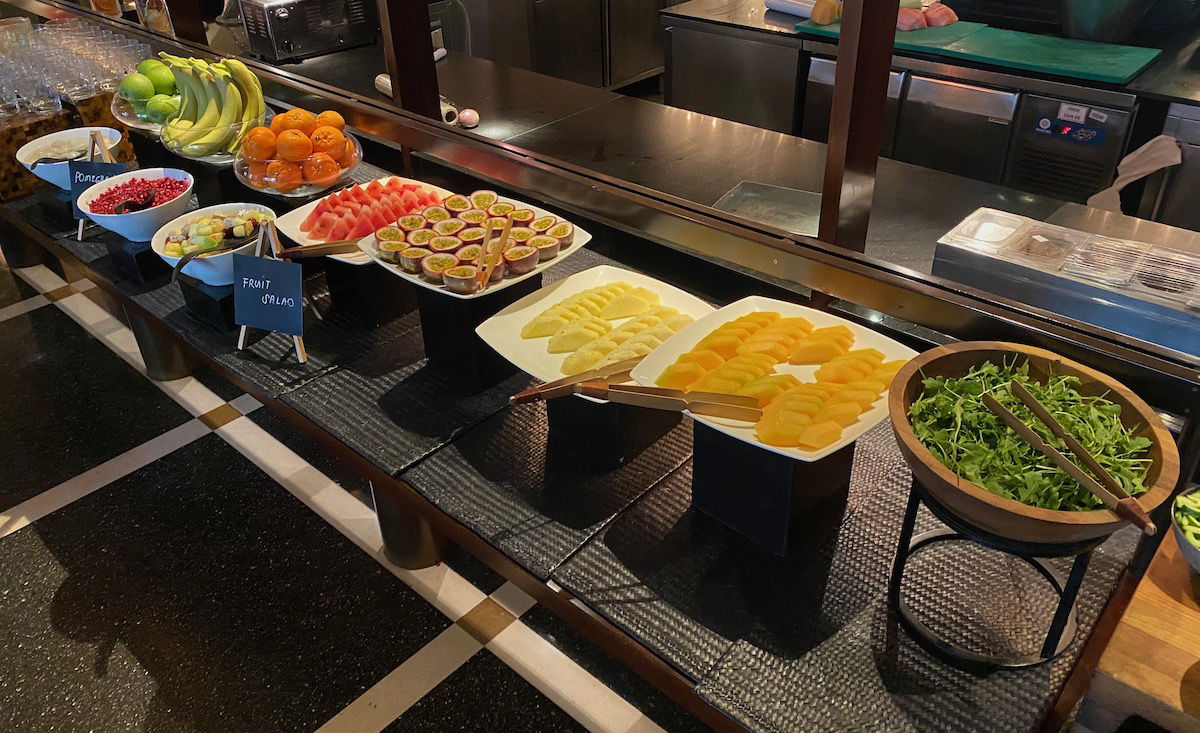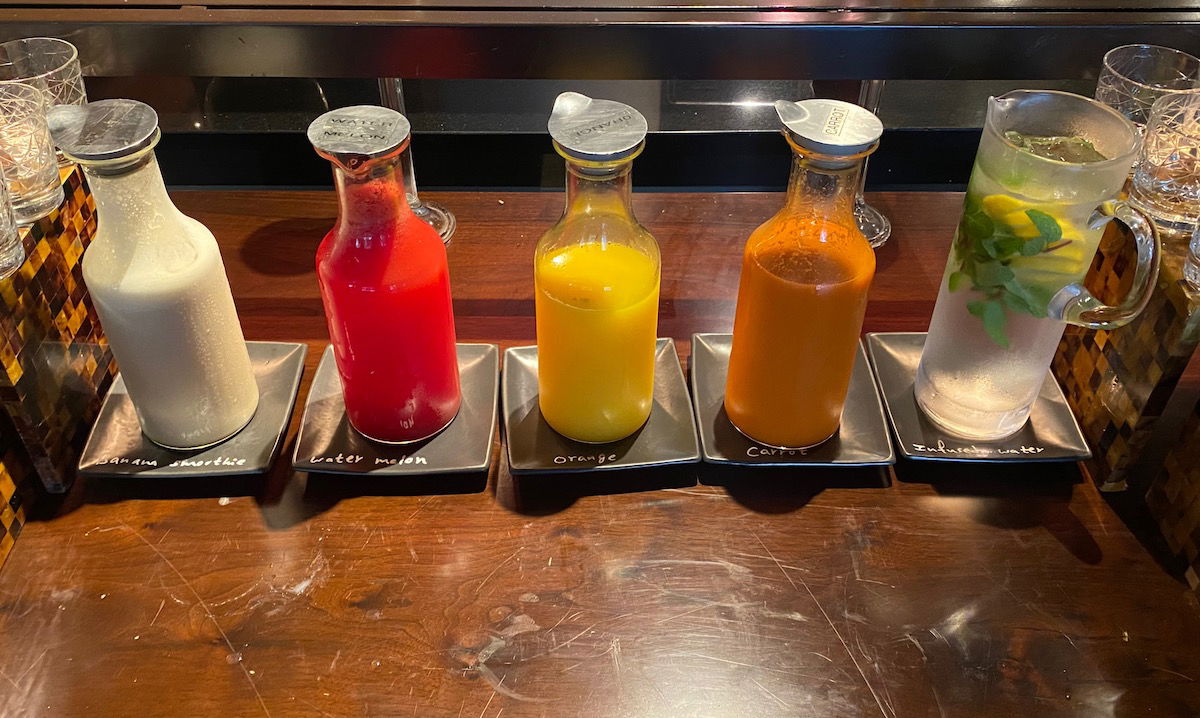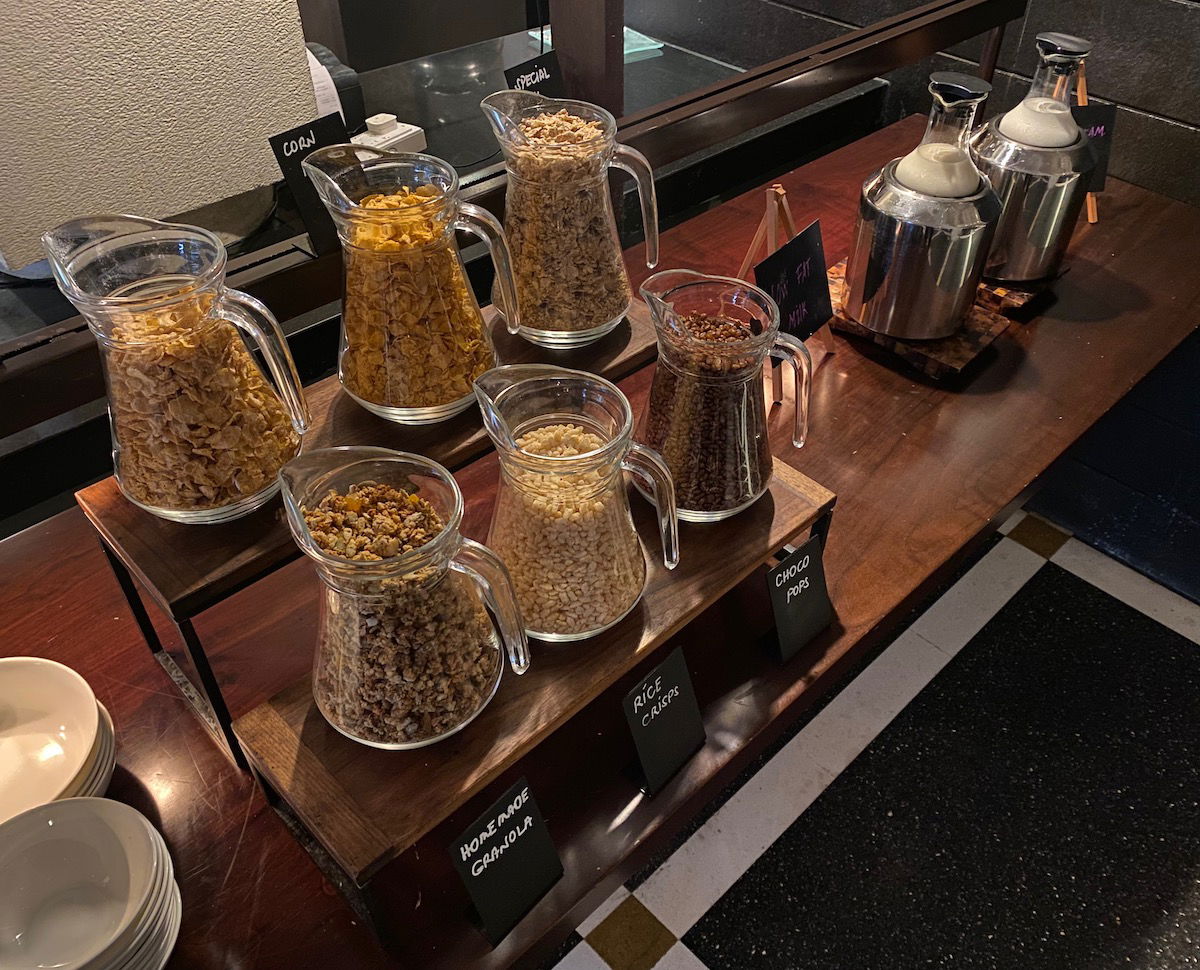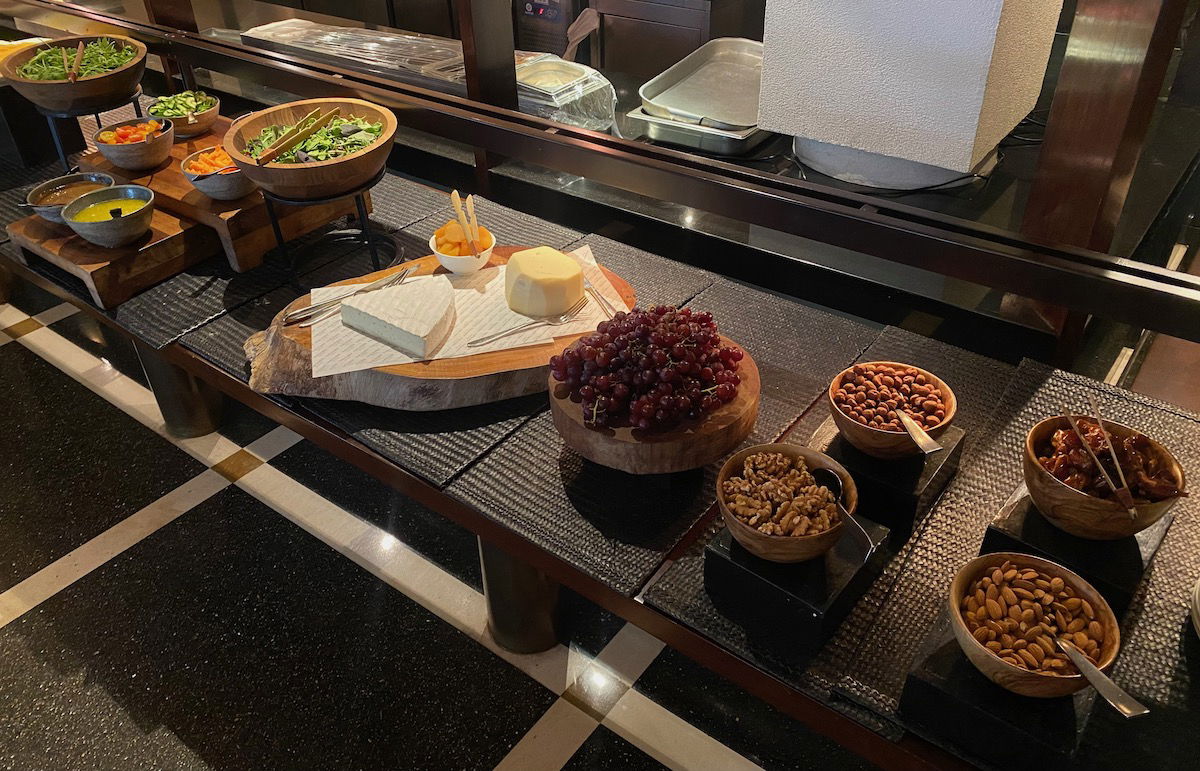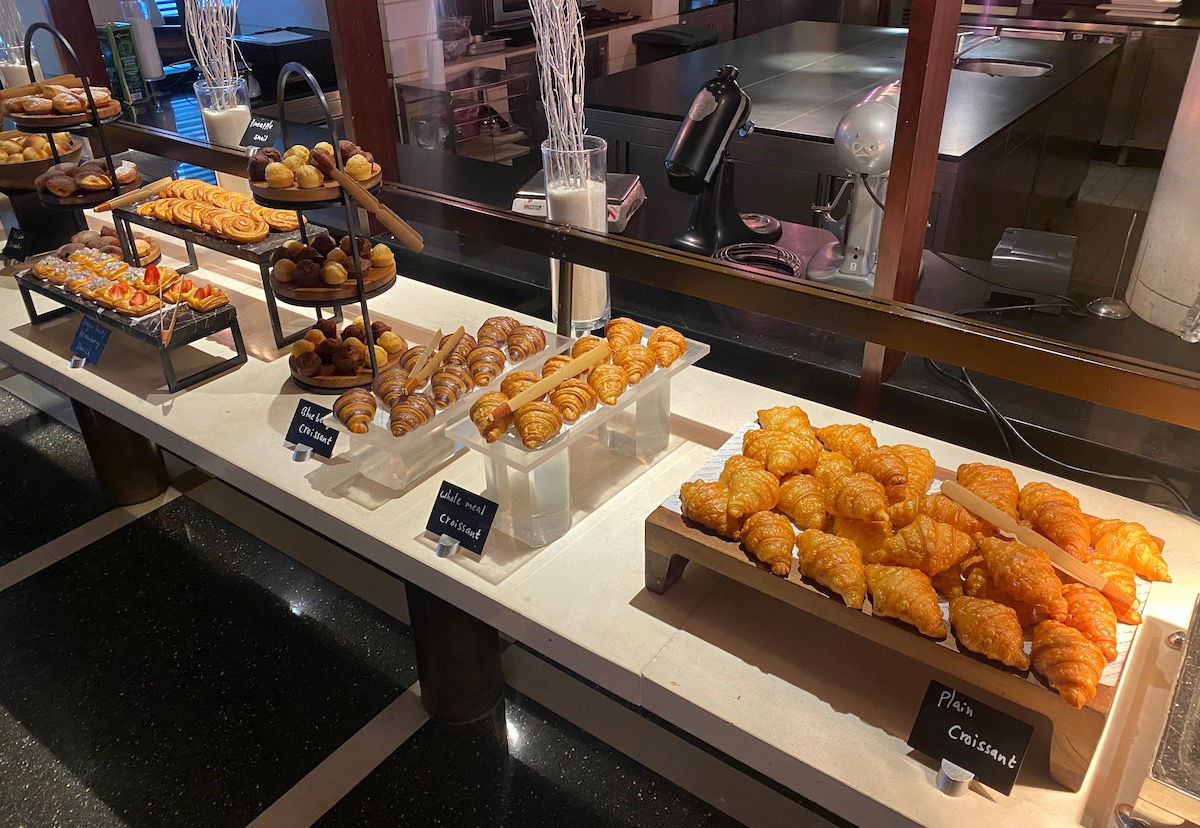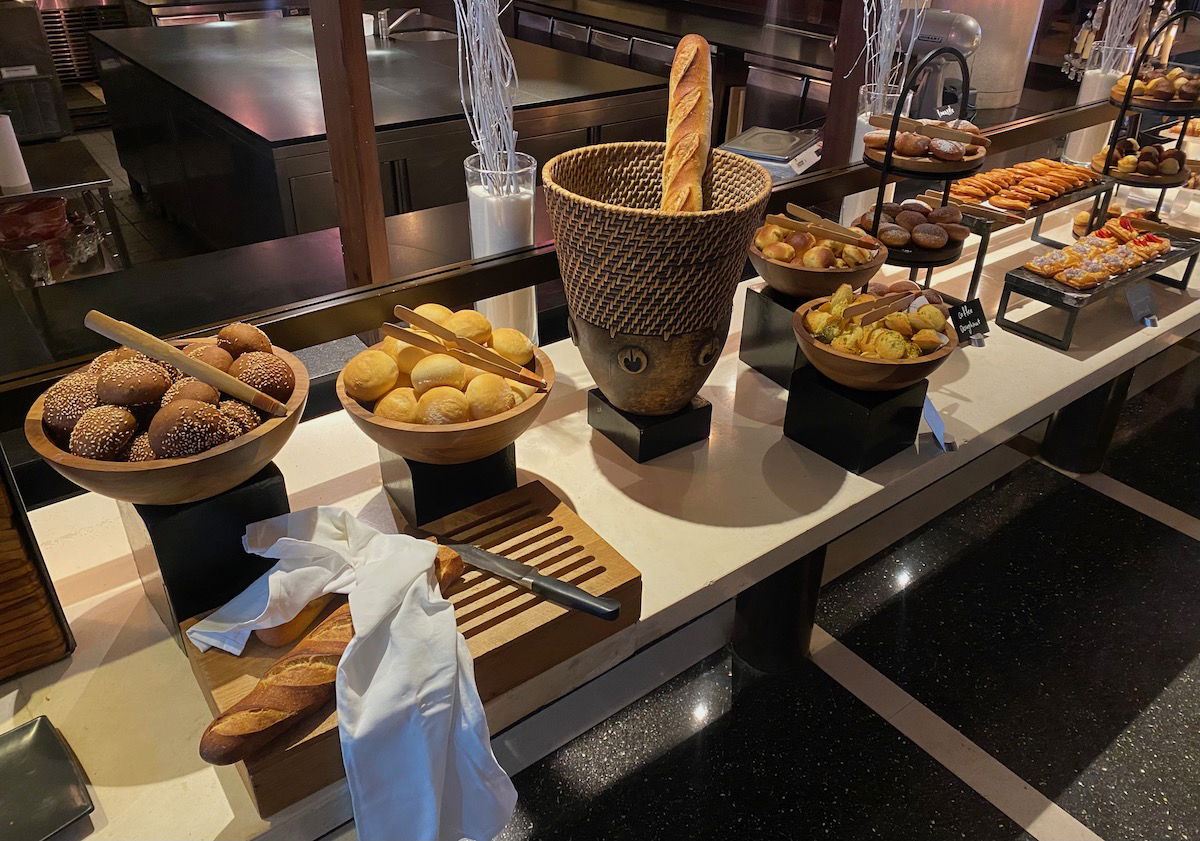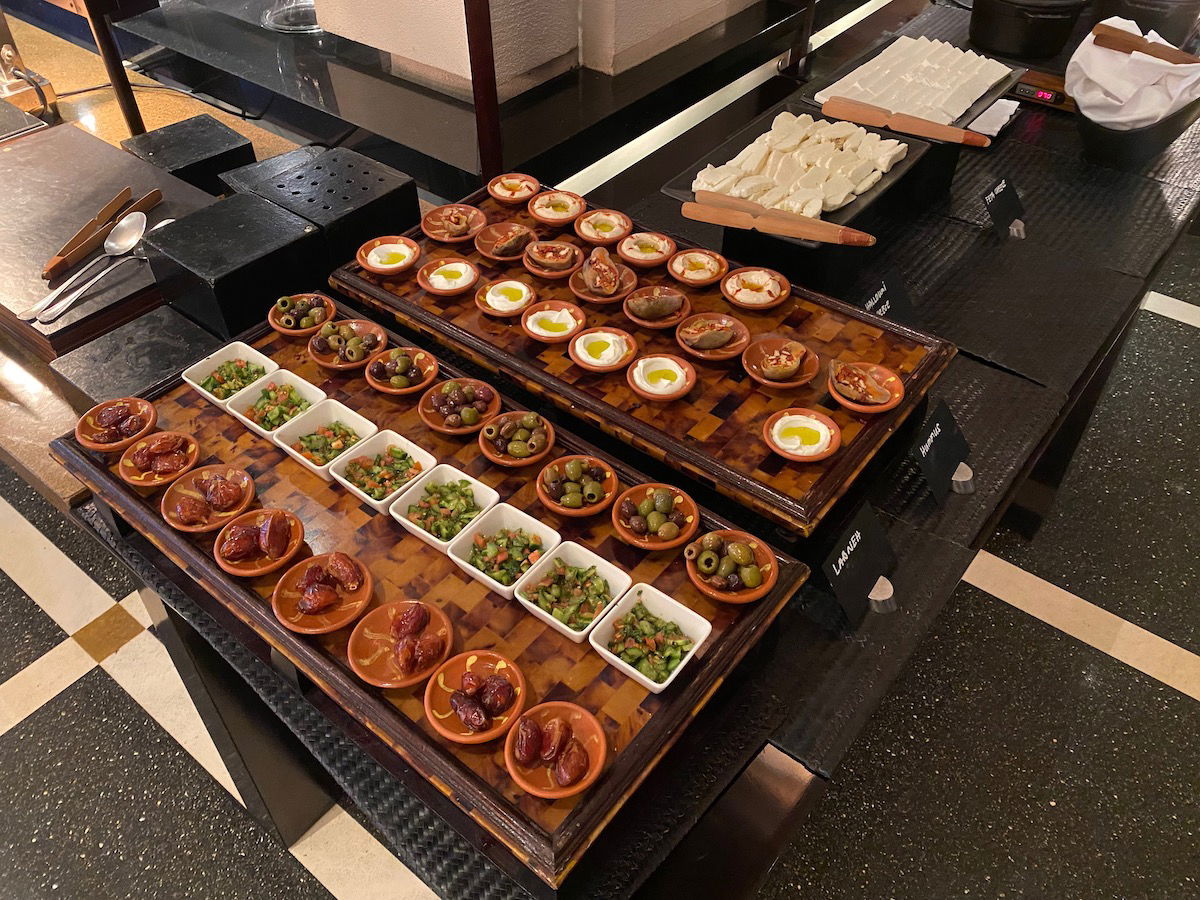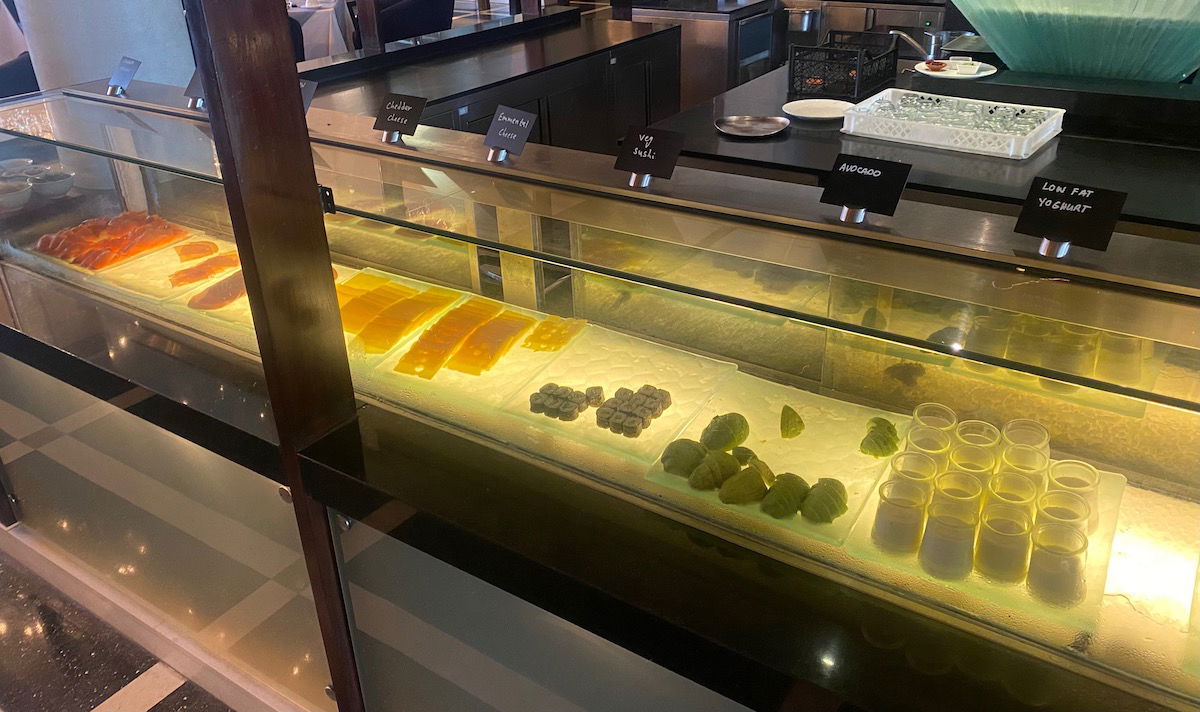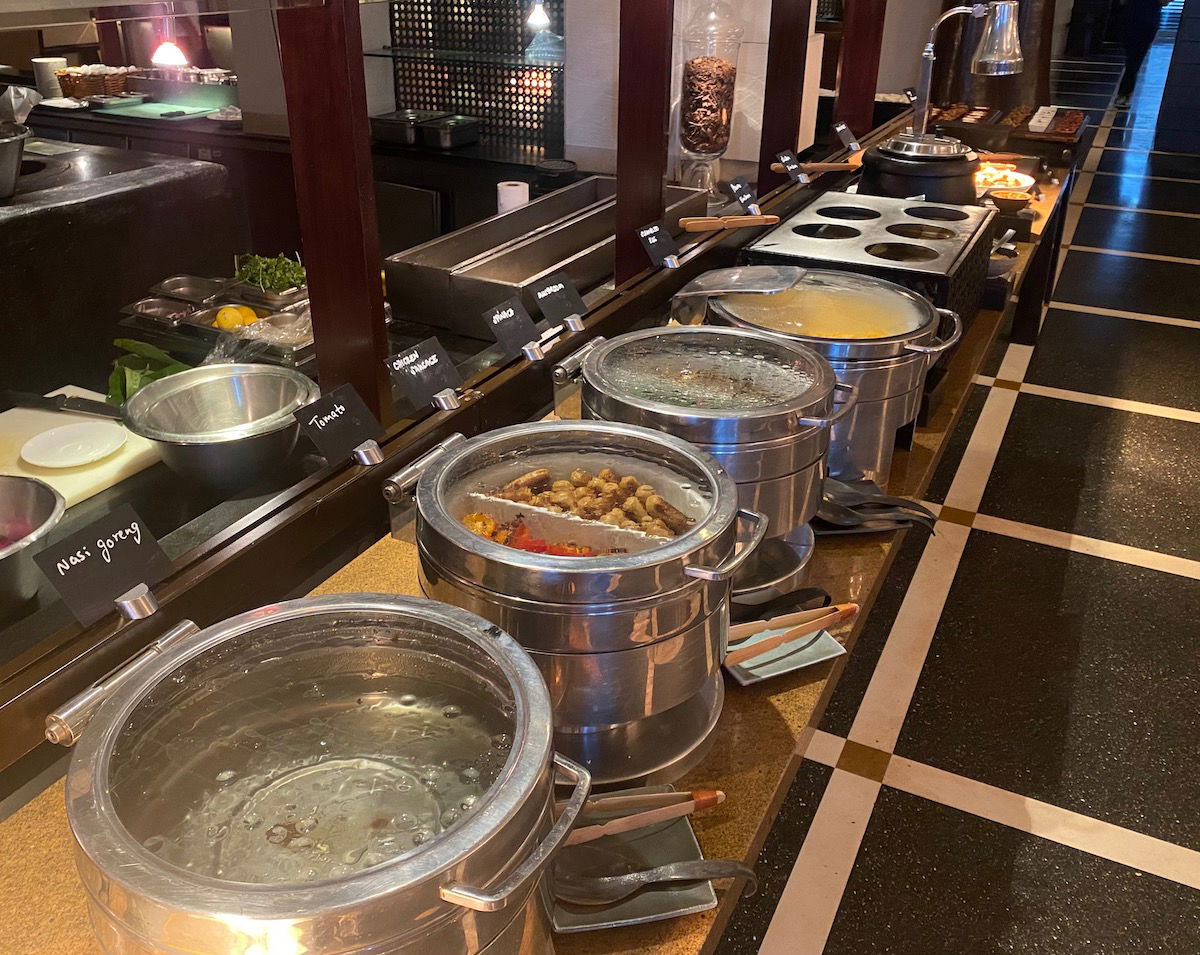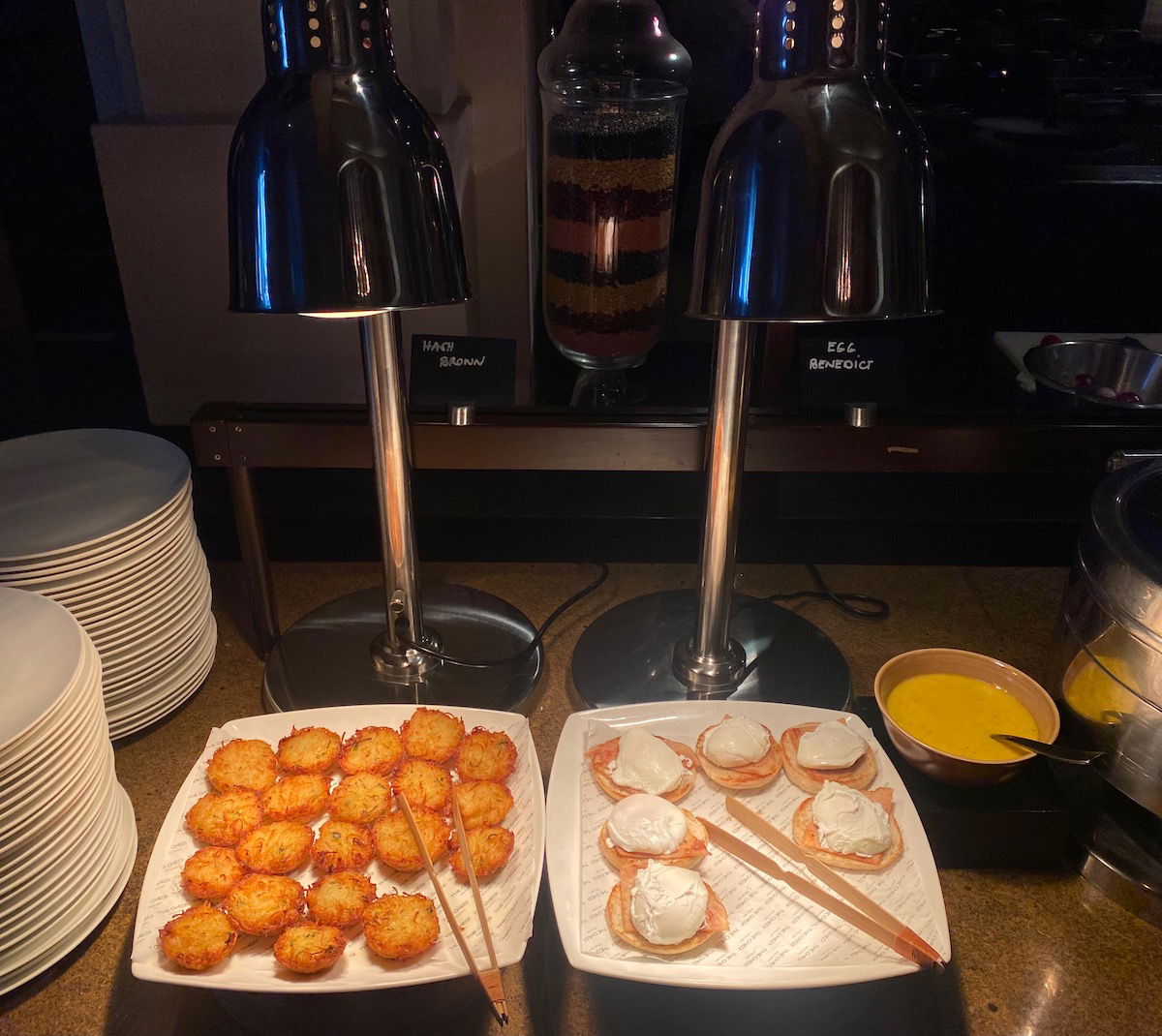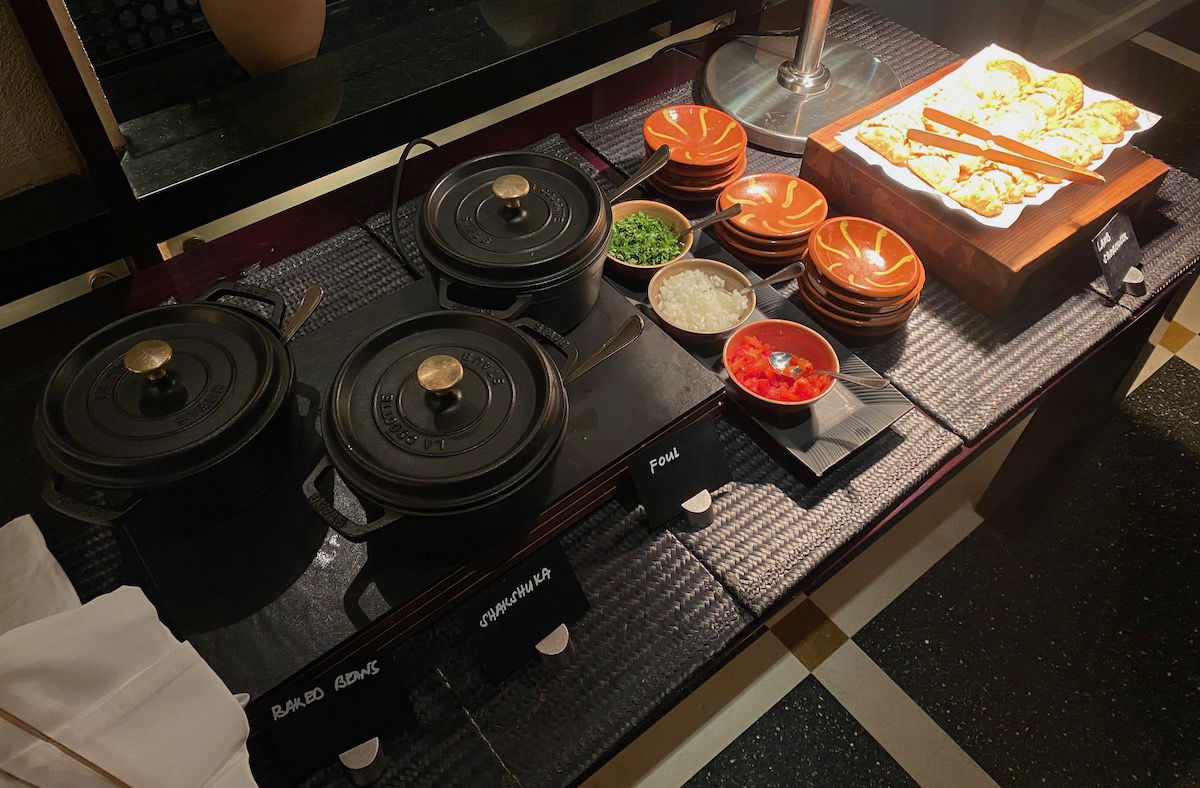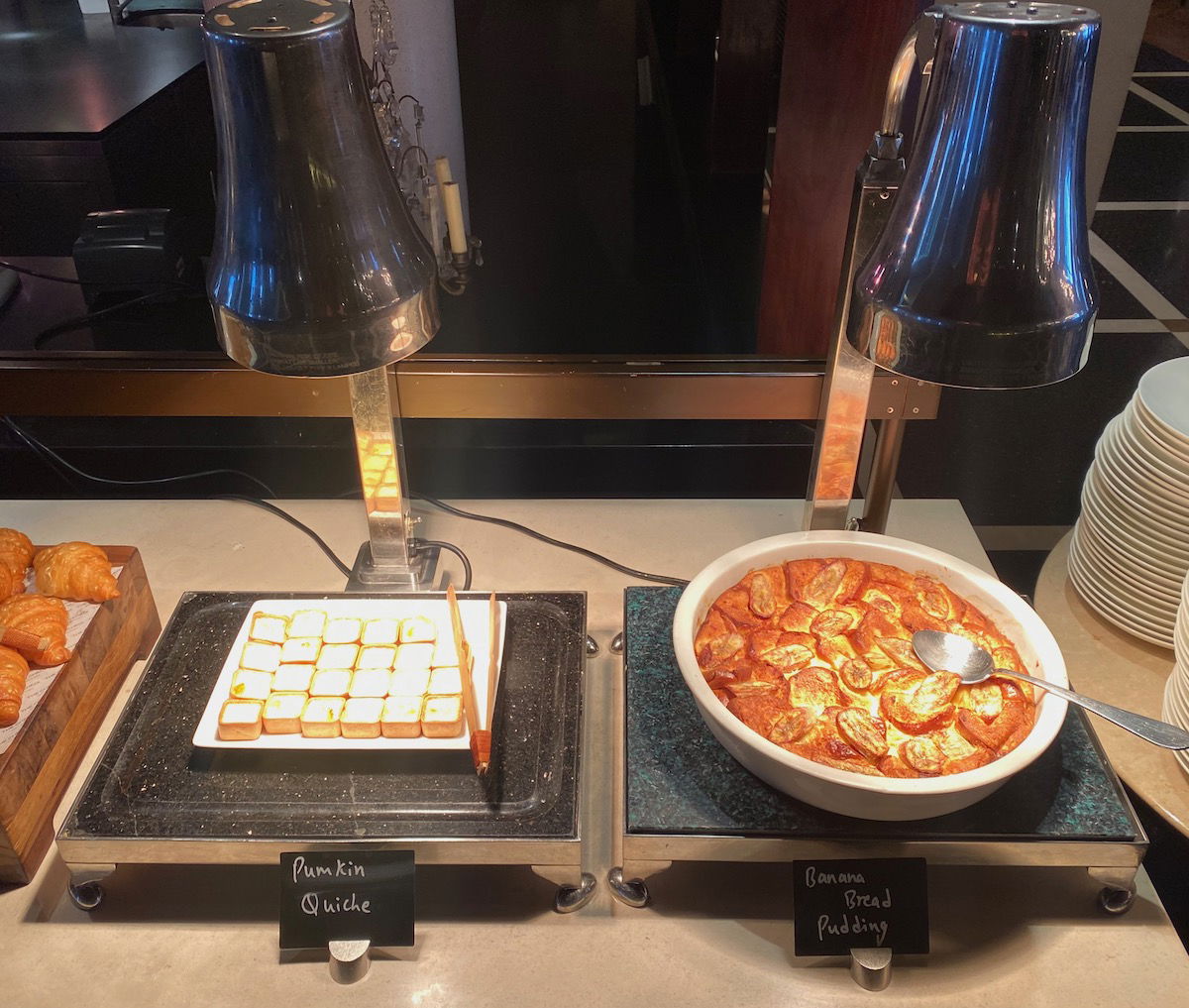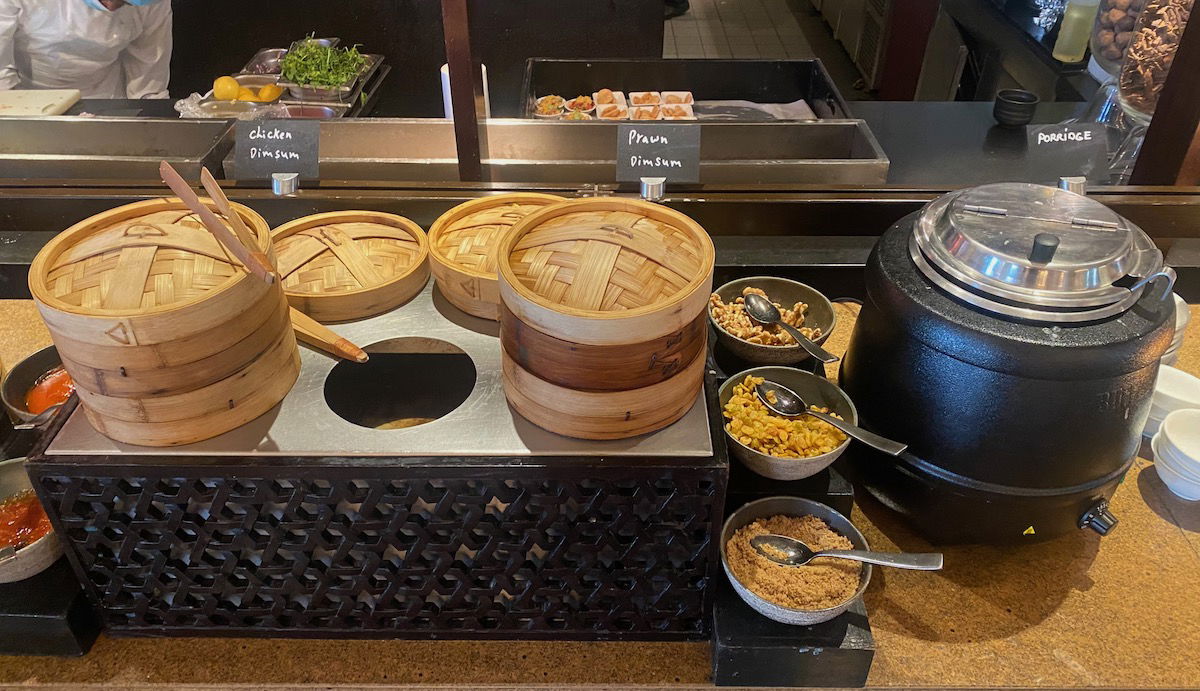 Drinks were brought out by servers, and I had a cappuccino, a banana smoothie, and a french press coffee.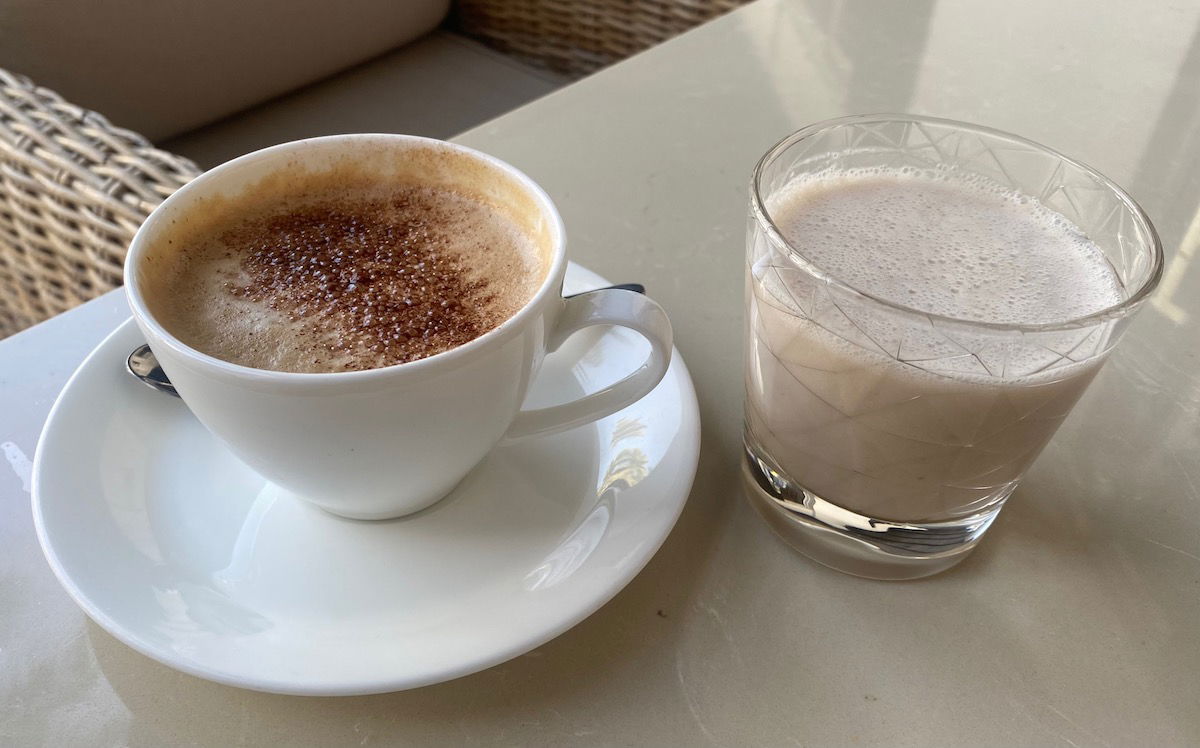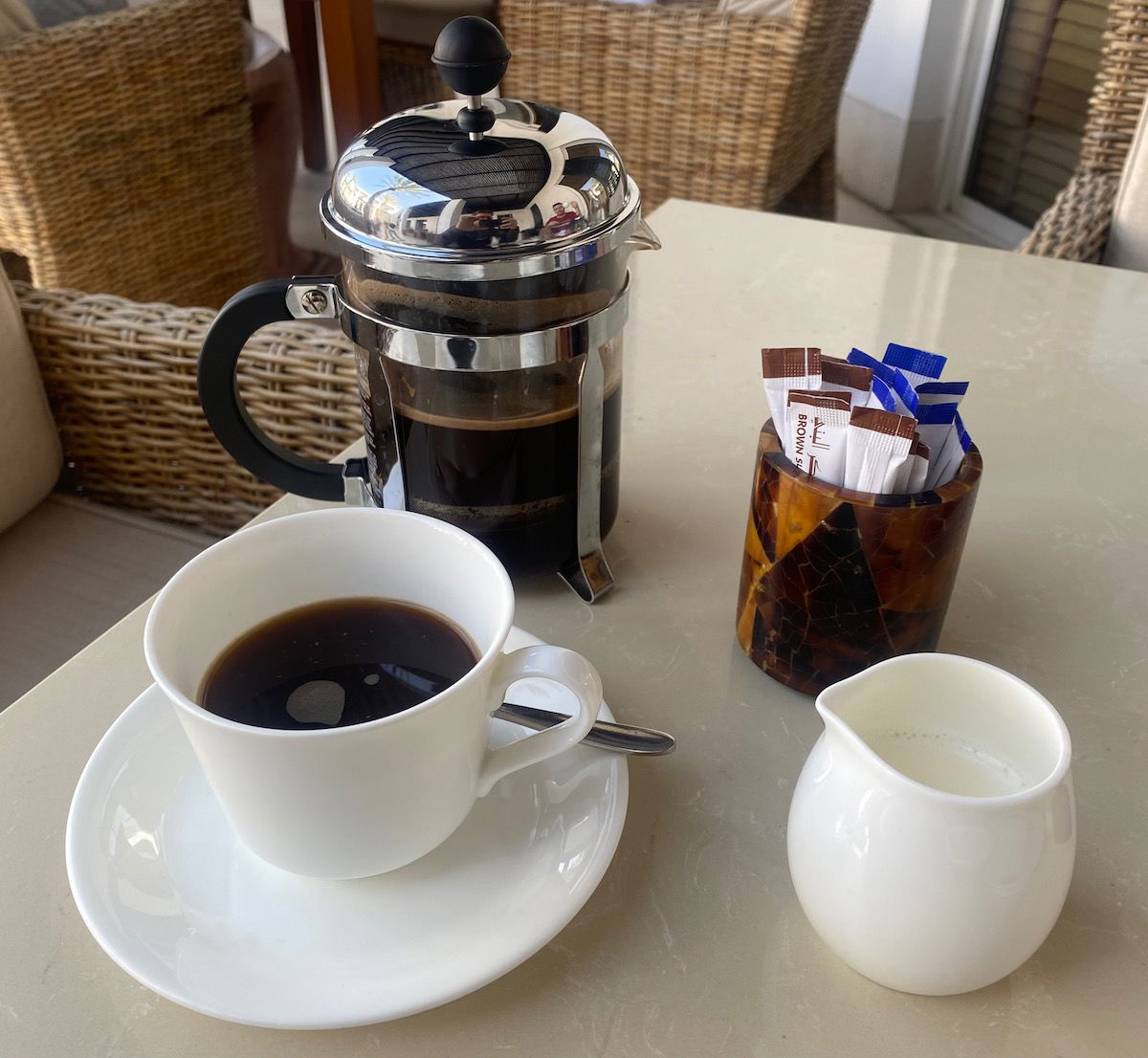 The Chedi Muscat lobby lounge
The Chedi has a lobby lounge near reception, which is open for most of the day, serving drinks and light snacks. There's both indoor and outdoor seating, and I had a cappuccino here.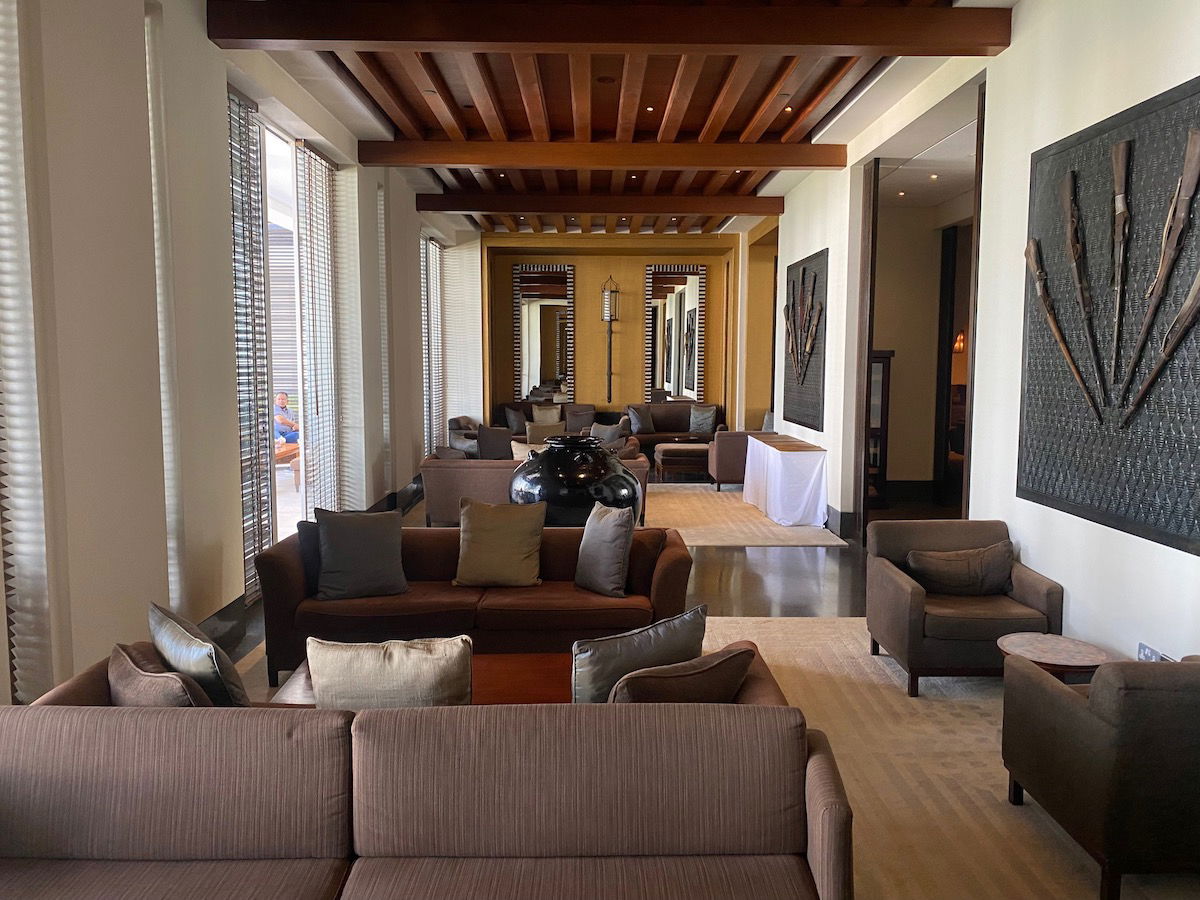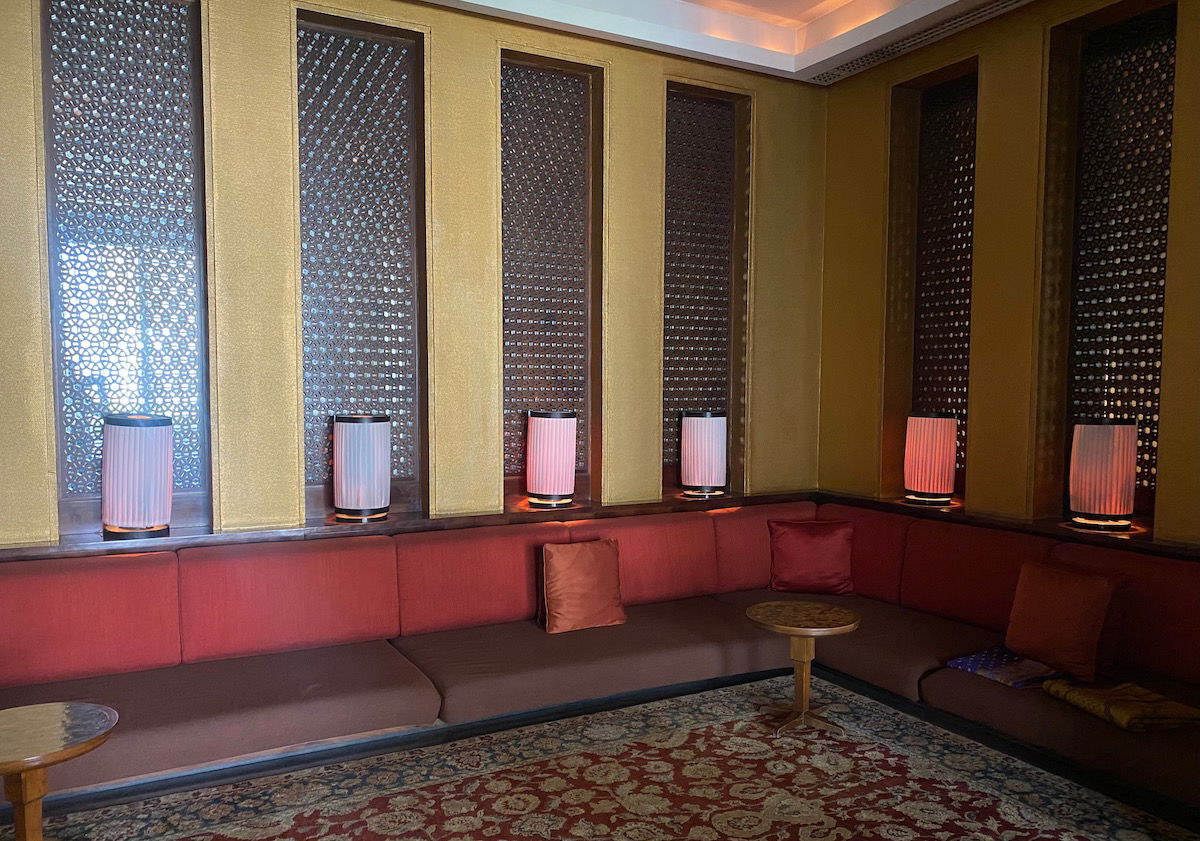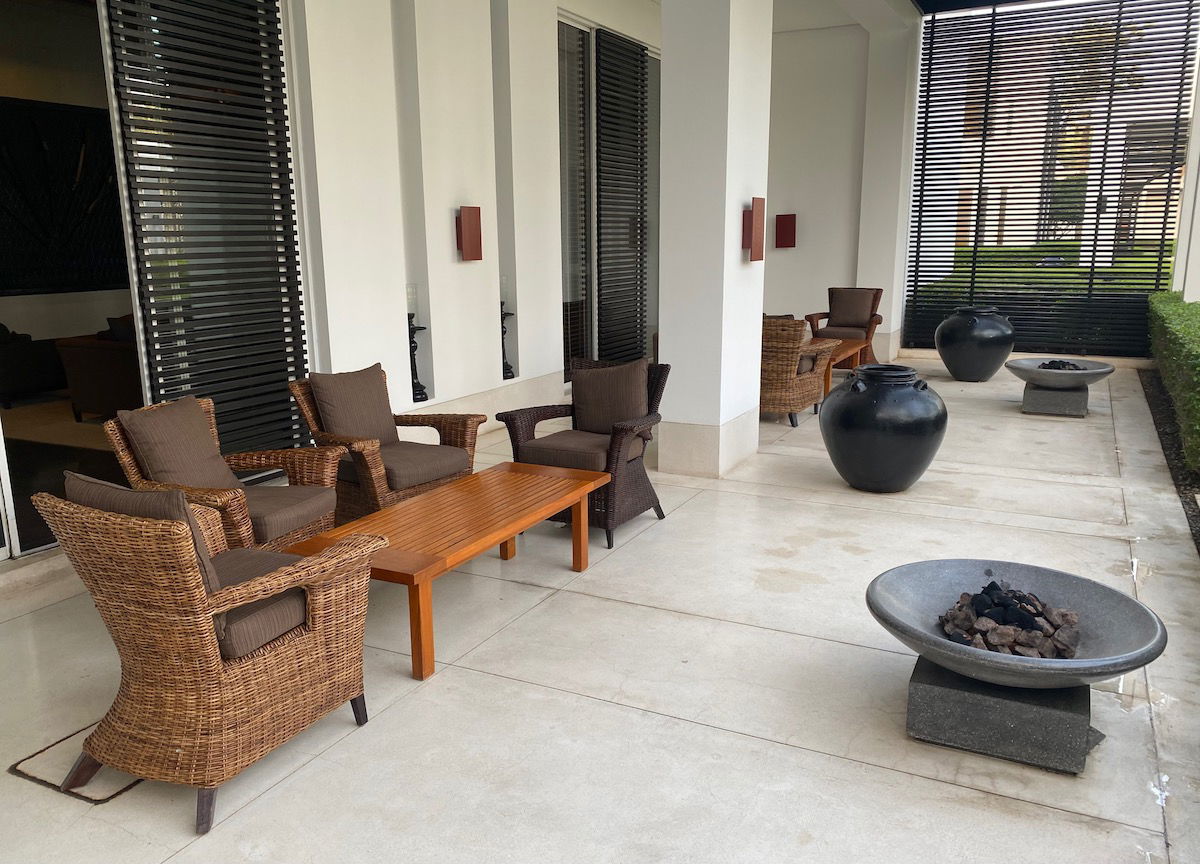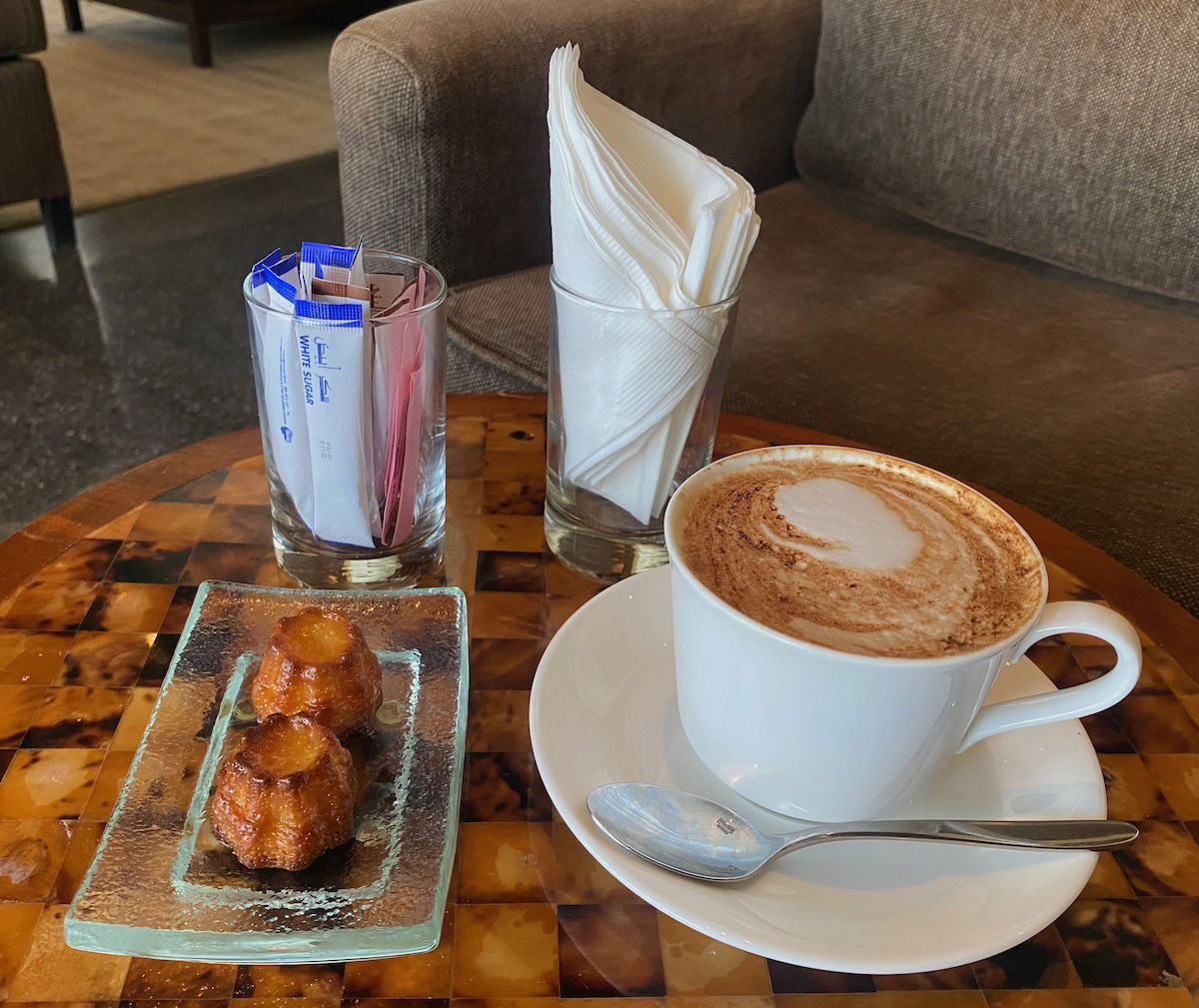 The Chedi Muscat lunch
Since lunch was included with our Virtuoso rate, I had lunch at the Serai Pool one day, which has a cute little outdoor restaurant.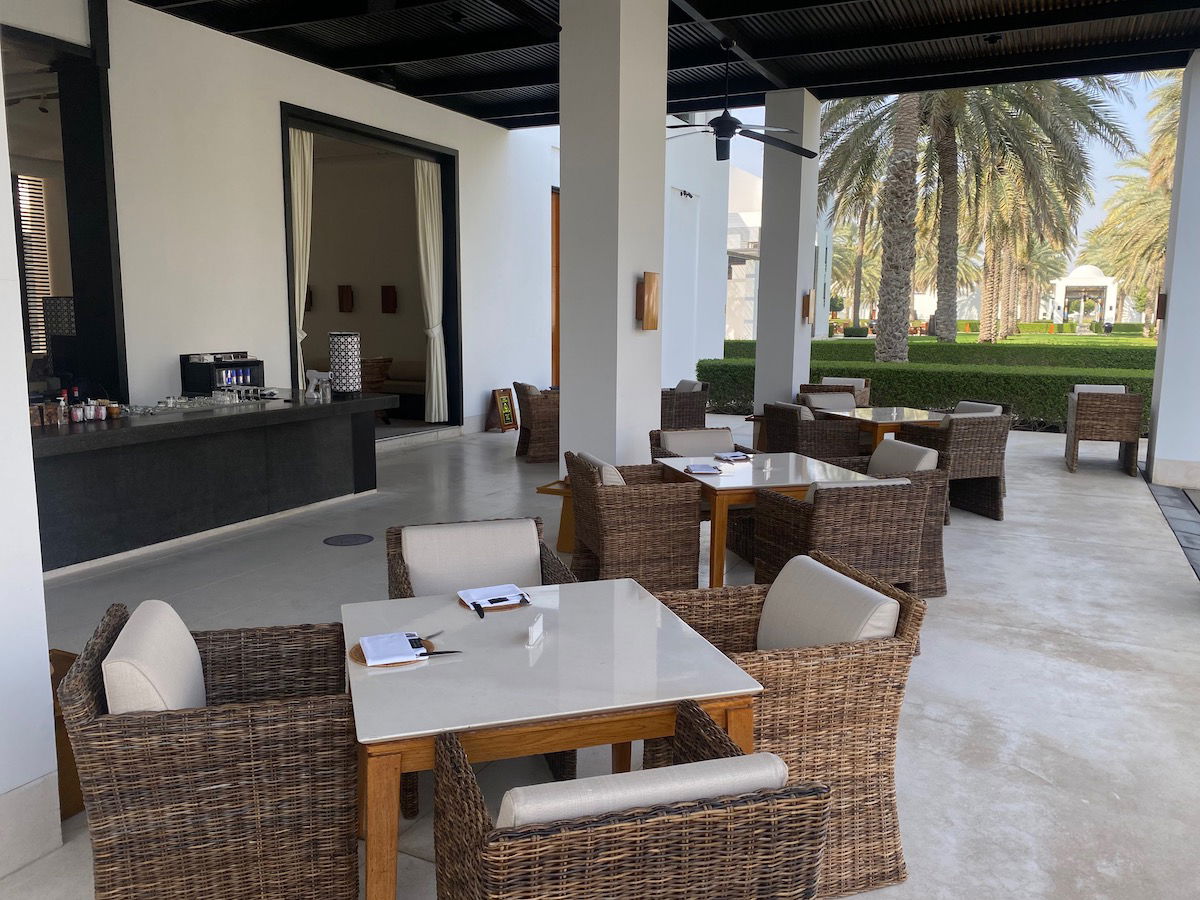 I was offered a selection of bread to start. I had so much Middle Eastern food over the course of the trip that I decided to mix it up, and had tuna tartare and pizza, both of which were very good.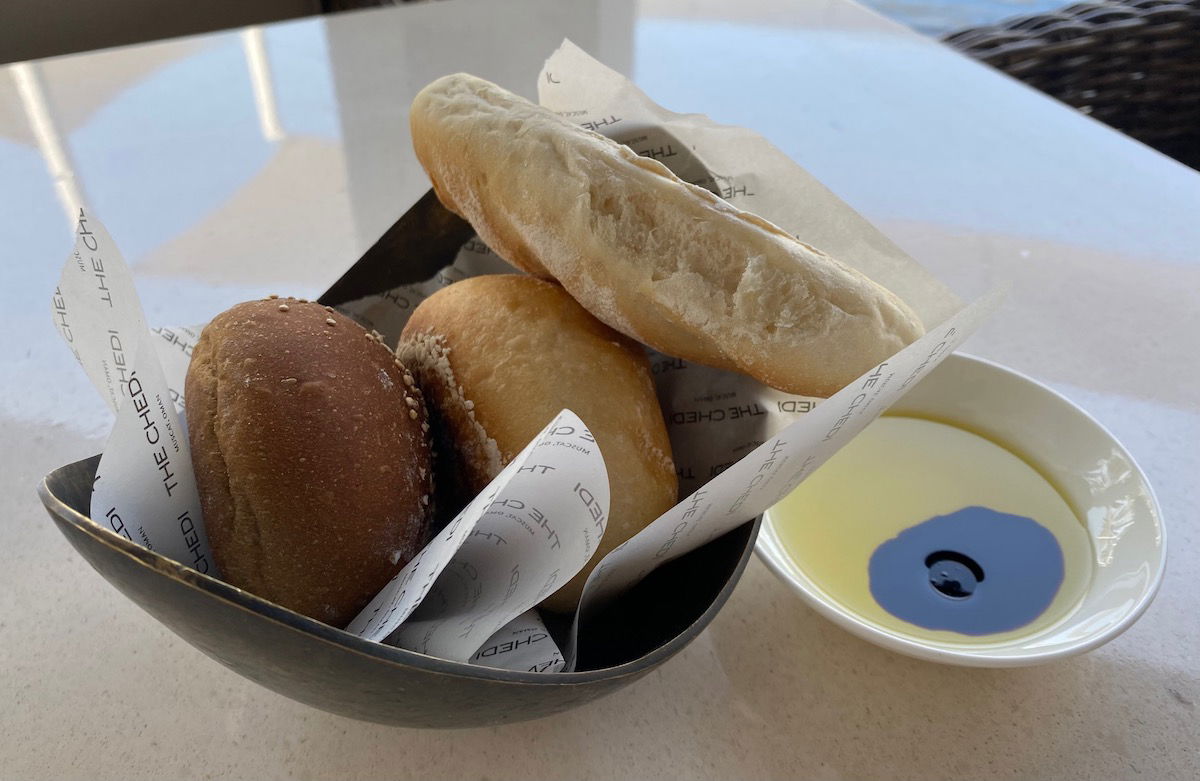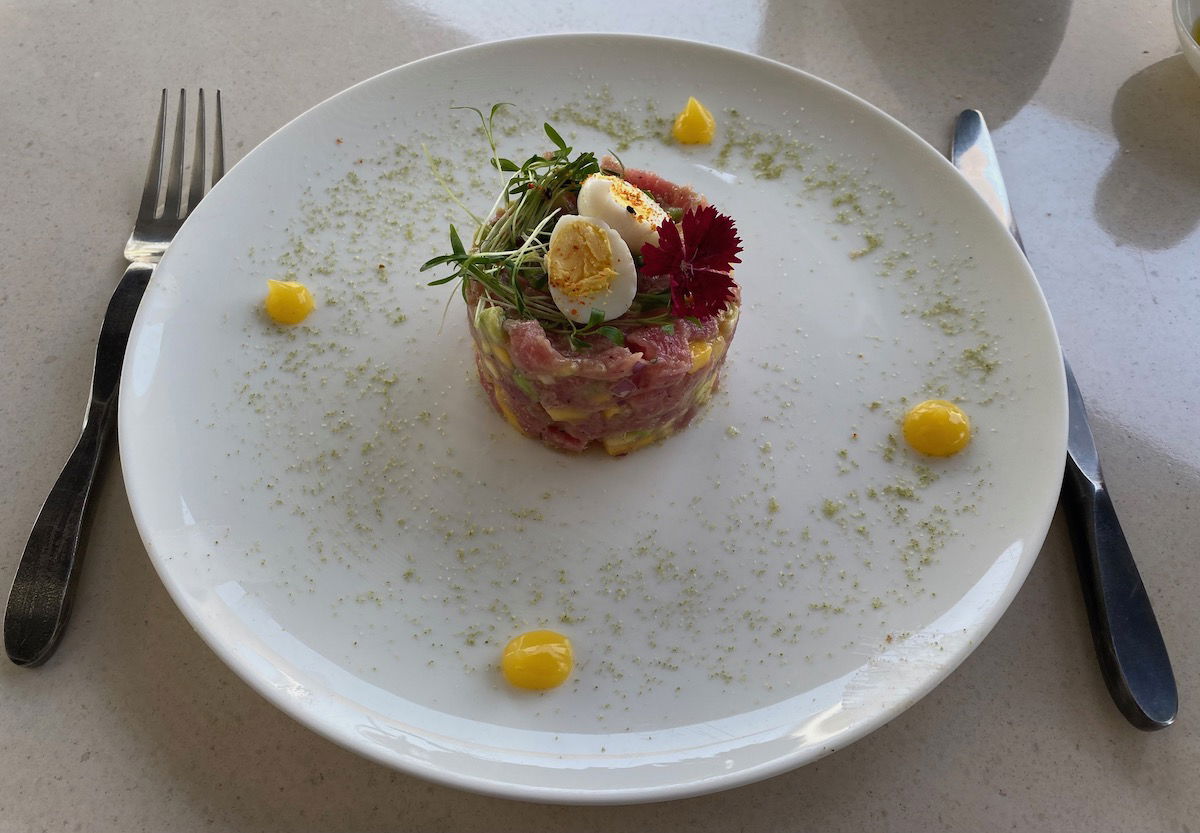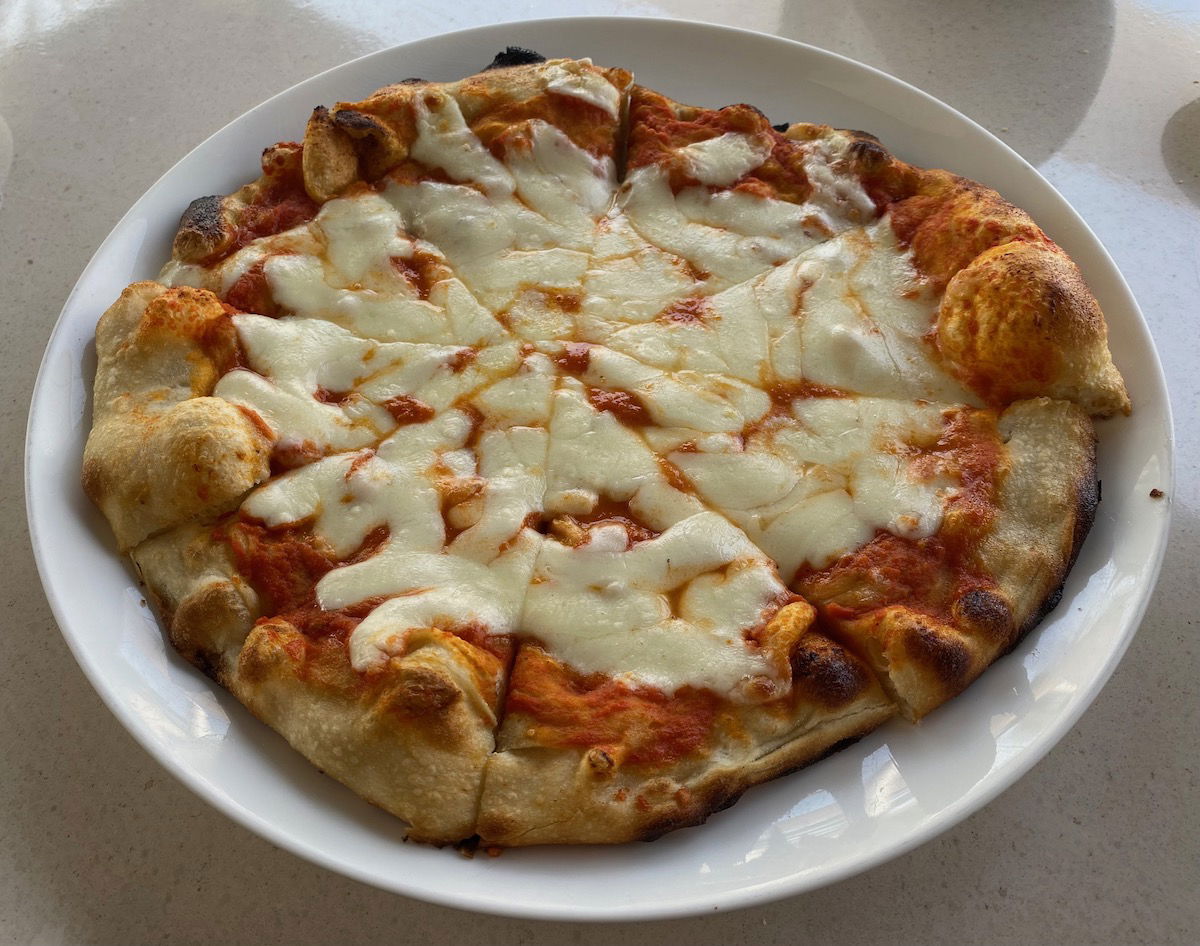 The Chedi Muscat service
Here's where I struggle with The Chedi. Physically it's a gorgeous, stunning, calming property. It's easily one of the most beautiful resorts I've ever visited. However, the service doesn't match the hard product.
I think the first issue is that this fundamentally isn't a boutique hotel. The property charges very high rates and it's designed in such a way that you feel like you're in an exclusive compound, but with 158 rooms there are potentially hundreds of guests on property.
As a result, service here doesn't at all feel like what you'd expect from the best hotel in a city. Just to give a few examples:
Breakfast was very hectic, with every table outside taken, and actually getting a coffee refill required effort; that's not the fault of the staff, but this place just isn't sufficiently staffed
There was a lack of attention to detail among staff; for example, I sat in the lobby lounge for about an hour, and the table across from me was empty the whole time, yet there was a wrapper on the floor and a finished plate on the table
The front desk wasn't sufficiently staffed; I had to wait for about 10 minutes at check-out before being helped, and the other time I went to the front desk there was also a wait
Even in the club lounge, service was reactive rather than proactive; you had to specifically seek out a server to order a drink
Don't get me wrong, there was nothing wrong with the service. However, don't expect to get five star luxury boutique hotel service here. Rather expect service to be more of what you'd expect at a medium-sized four star hotel in terms of attention to detail and attentiveness.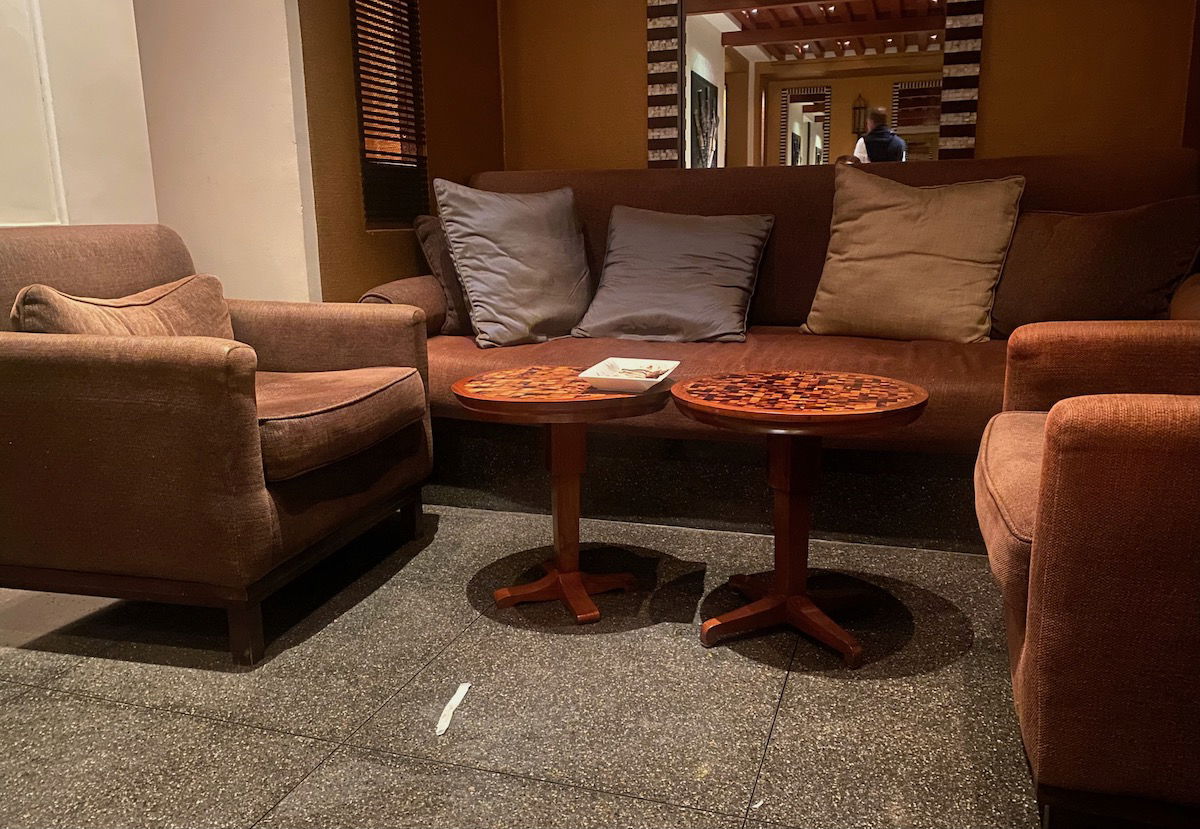 Bottom line
I wasn't initially planning on staying at The Chedi, but when several readers raved about it, I figured I had to check it out, even if only for one night. On the plus side, The Chedi is physically stunning, with some of the most beautiful grounds I've seen at any hotel. From the gardens, to the palm trees, to the pools, this is an exceptionally beautiful property.
The rooms as such were rather unremarkable, in my opinion, and unfortunately I didn't find the service to be great either. Don't come here expecting Aman or Four Seasons service levels, because you'll probably be disappointed. Maybe I just had an unlucky experience — the hotel was pretty full and I know many hotels have been having staffing issues due to the pandemic, so I'm not sure if that's partly the explanation.
Regardless, this is a gorgeous hotel, and if you can swing it, it's definitely the best place to stay in Muscat.
If you've stayed at The Chedi, what was your experience like?