After flying Turkish Airlines' Airbus A321neo business class from Muscat to Istanbul, it was time to continue to Copenhagen in Turkish Airlines' Boeing 737 MAX business class. I was excited to fly both of Turkish Airlines' new short haul aircraft.
In reality the short haul products on both aircraft are nearly identical, so it was a familiar experience. Turkish Airlines is in a league of its own when it comes to regional business class travel within Europe.
How I booked my Turkish Airlines business class ticket
I booked the return itinerary from Oman to the United States through Air Canada Aeroplan. I managed to ticket the following in business class for 105,000 Aeroplan points plus $55.25 in taxes and fees:
02/27 TK775 Muscat to Istanbul departing 1:20AM arriving 6:05AM
02/27 TK1781 Istanbul to Copenhagen departing 11:50AM arriving 1:10PM
03/01 SK953 Copenhagen to Miami departing 9:35AM arriving 2:05PM
One of the awesome things about Aeroplan is that you can add a stopover to a one-way award for just 5,000 points. I was able to add one of those here, so I could spend a couple of days in Copenhagen.
Turkish Airlines transit at Istanbul Airport
In the past I've reviewed Istanbul Airport, as well as the Turkish Airlines Lounge Istanbul. So I won't be reviewing all of that again, but I'll talk briefly about our time on the ground, since we had a roughly six hour layover.
Upon arrival we had to go through transit security — the arrivals area was bustling when we arrived, but there was a separate premium security line, which we cleared in no time.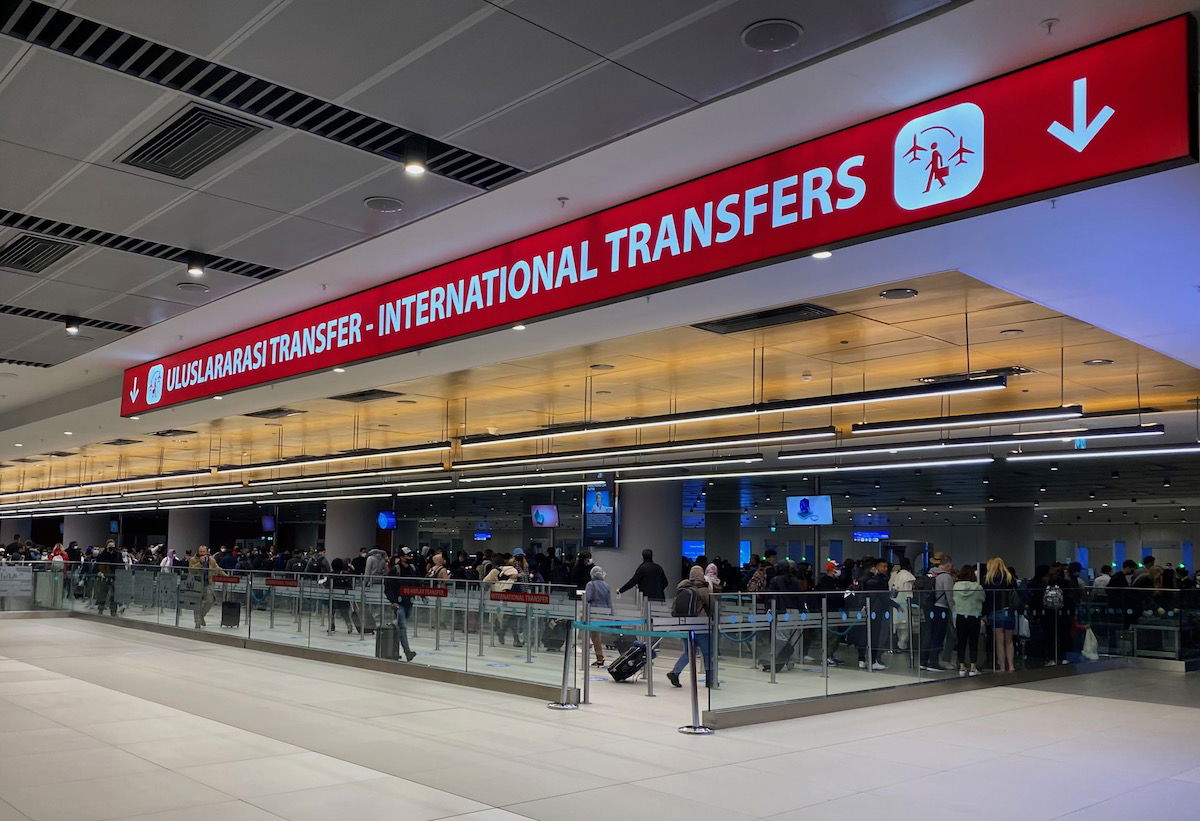 The terminal was ridiculously busy when we arrived, and it's one of the few times I've been at a foreign airport in the past couple of years and felt like it was pre-pandemic. Fortunately the terminal emptied out within an hour or so.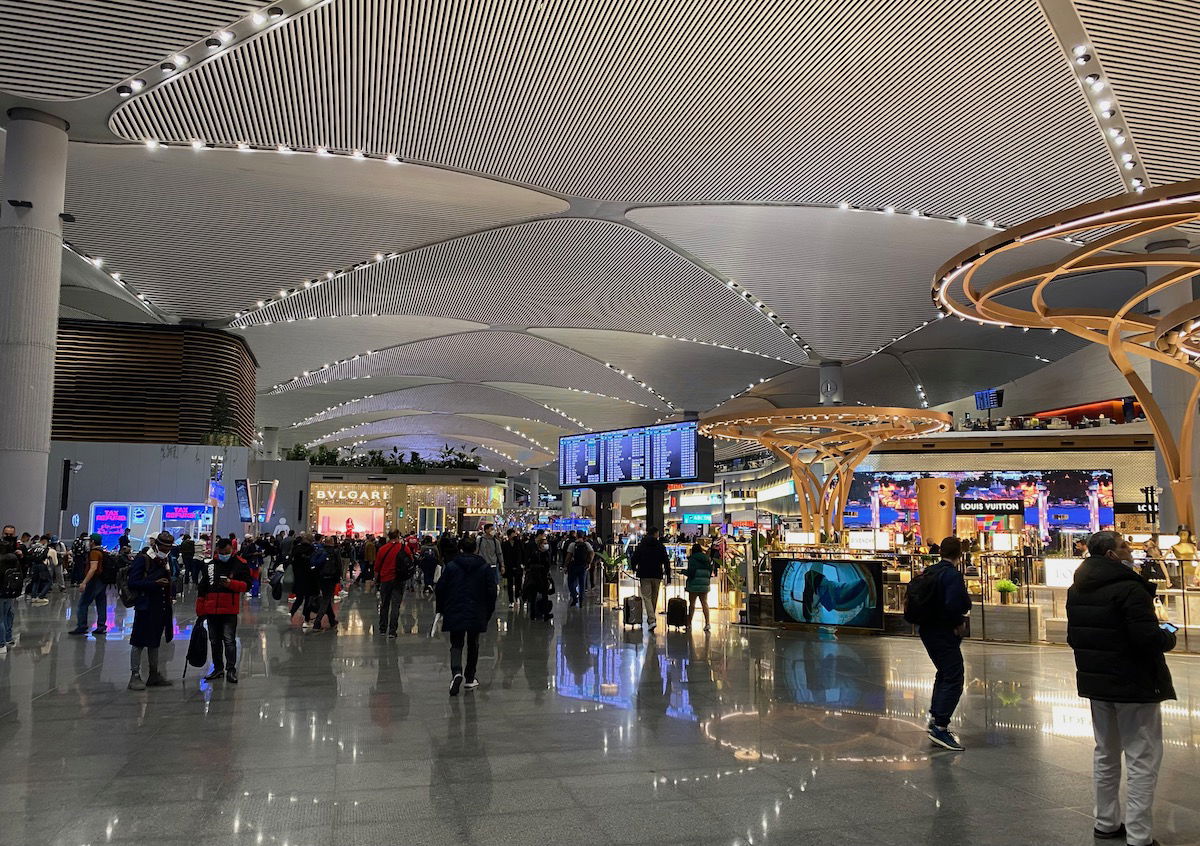 The Turkish Airlines Lounge Istanbul continues to be excellent, with comfortable seating, fantastic food, and great coffee. The lounge was briefly packed to the gills when we arrived, but much like the rest of the terminal, emptied out within an hour or so. That's because Istanbul is a heavily banked hub, so lots of flights arrive and depart around the same time.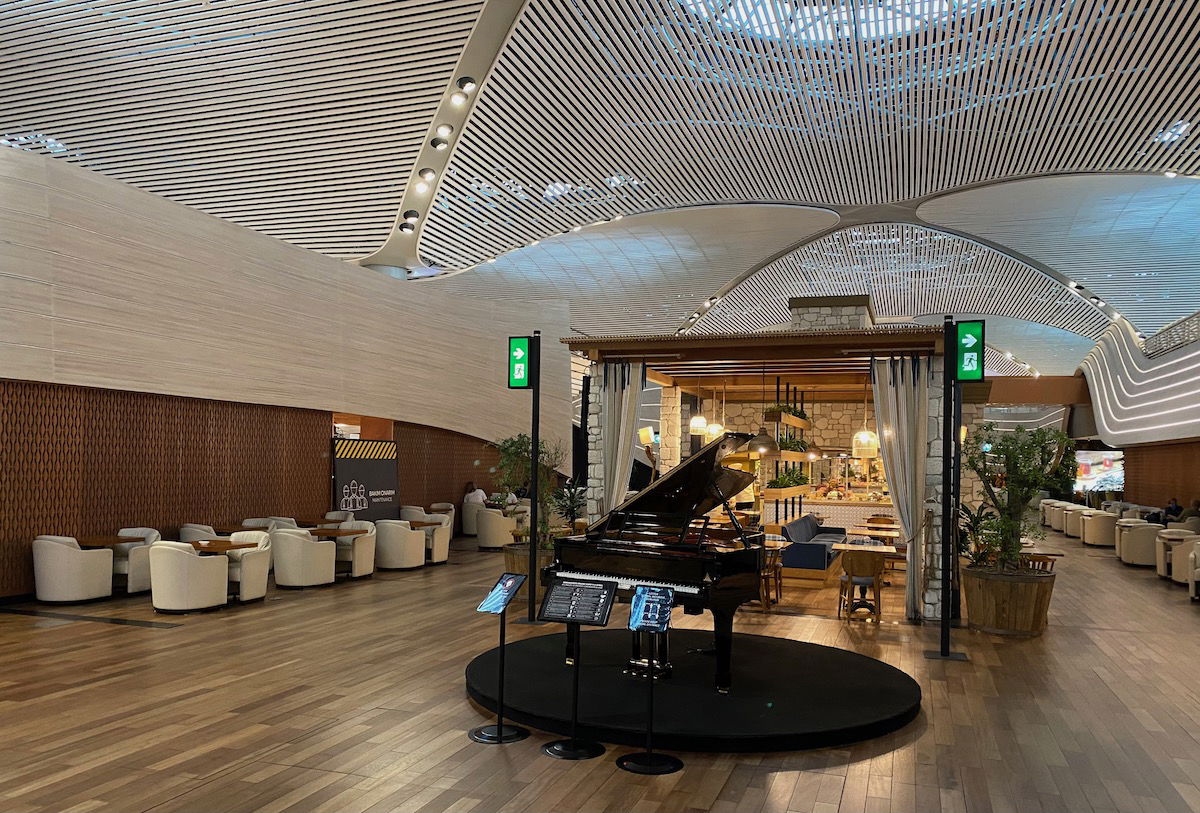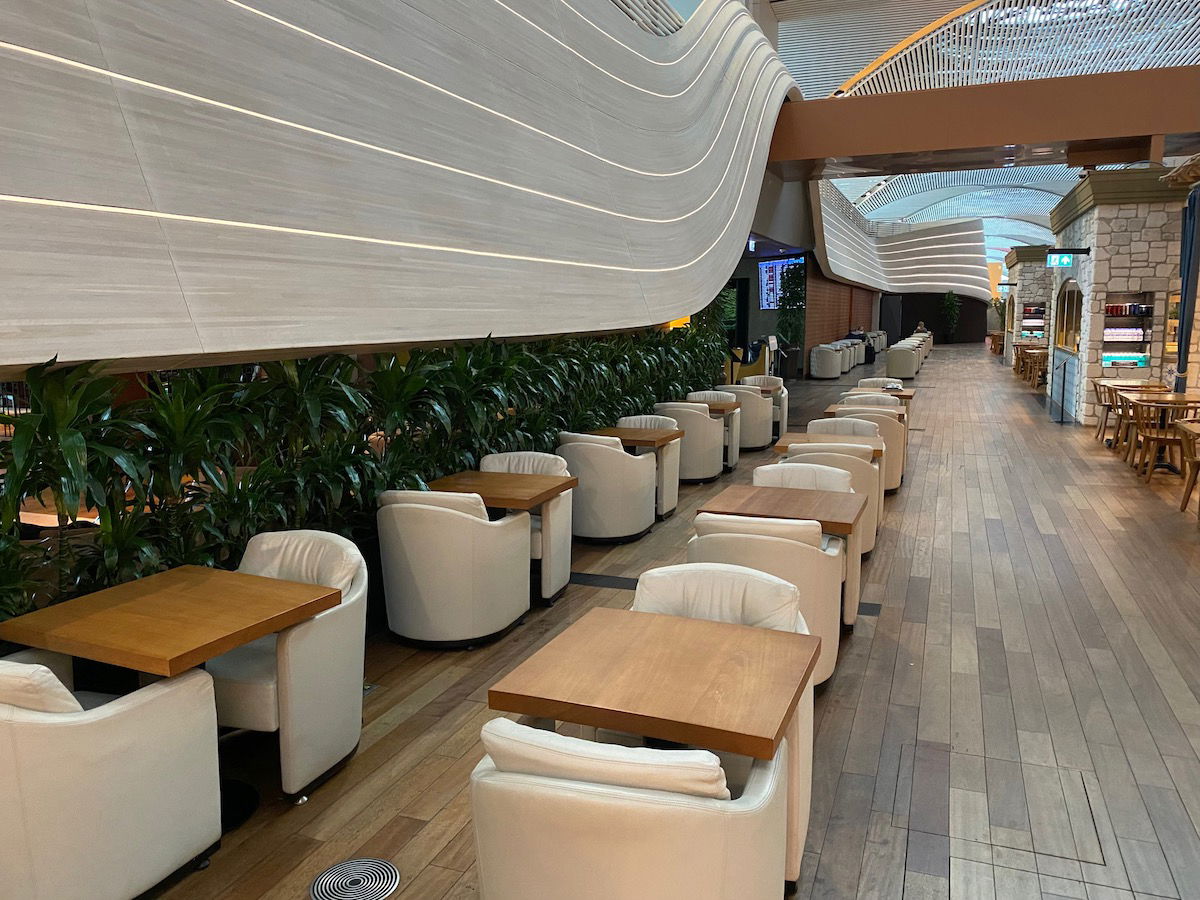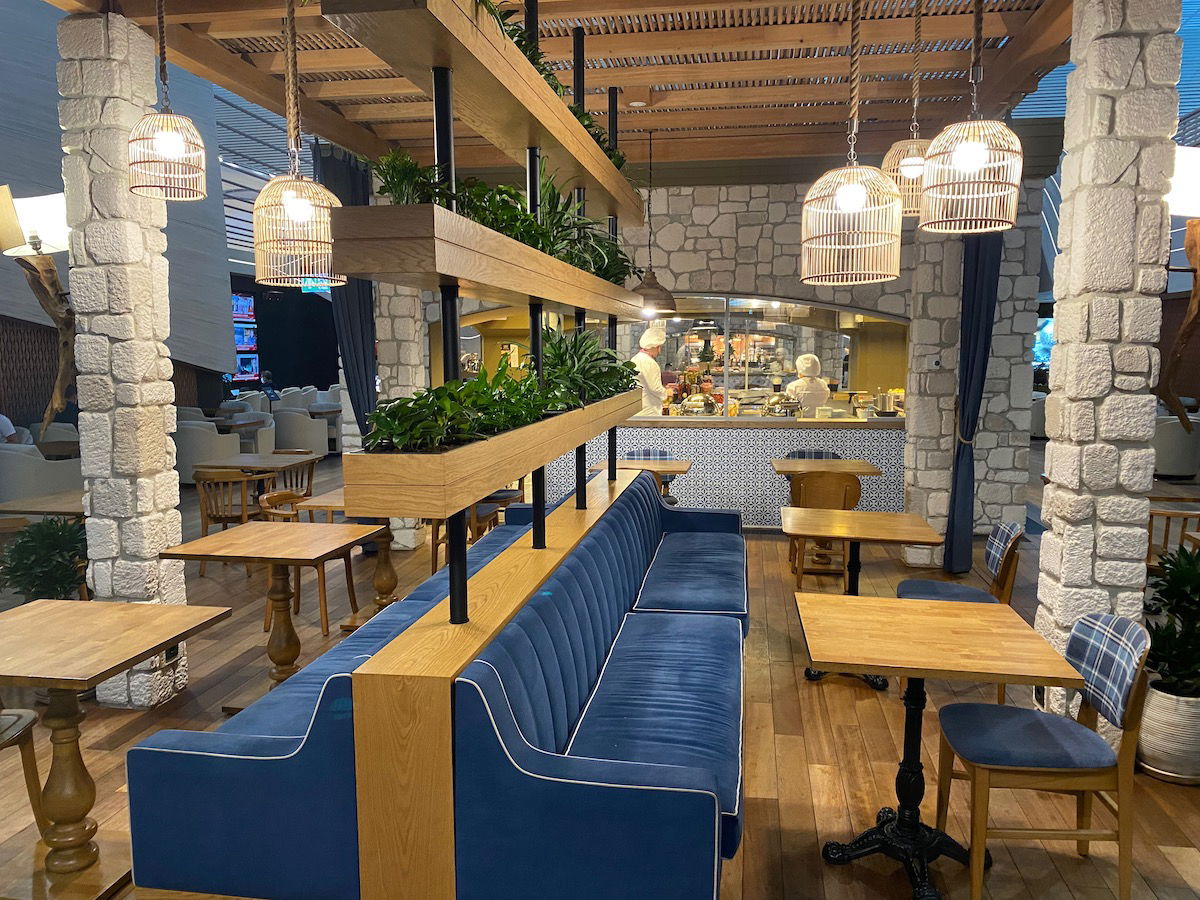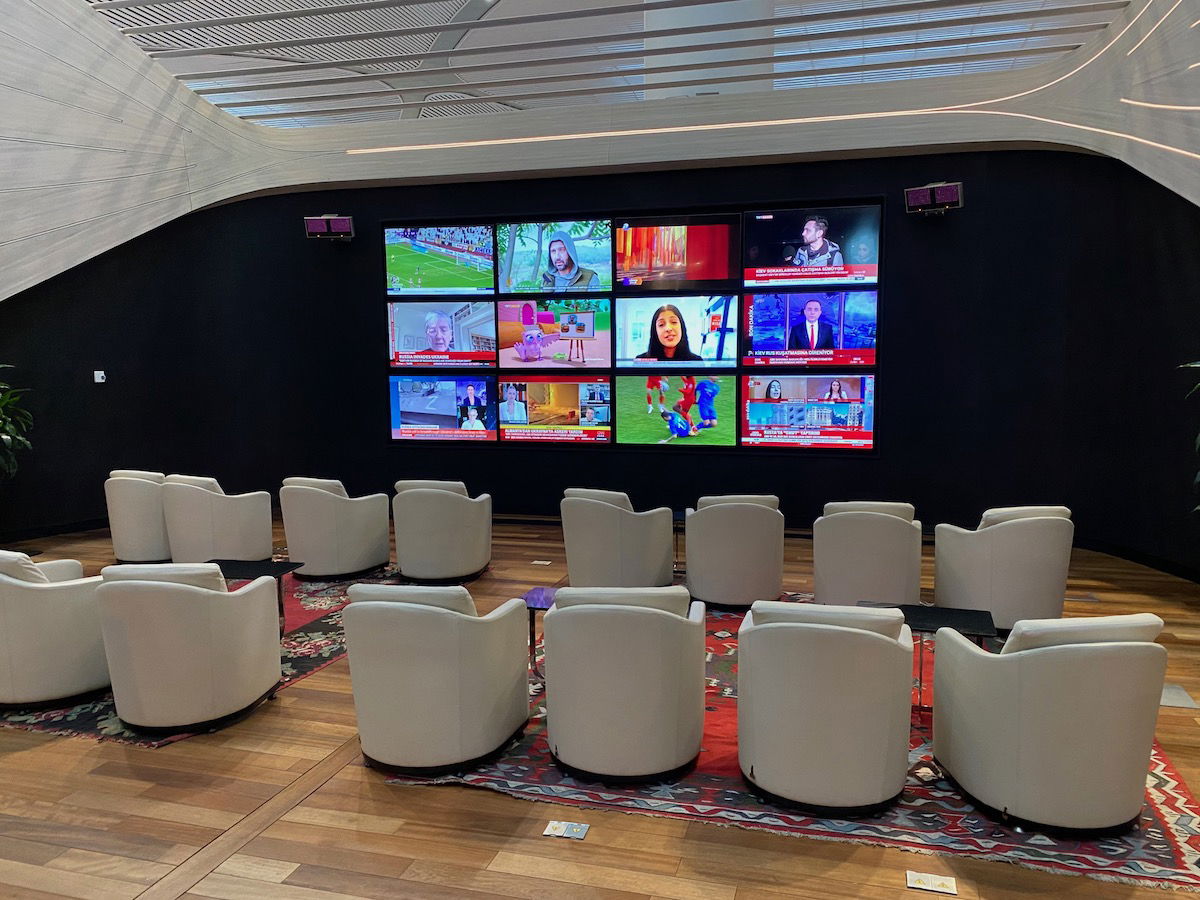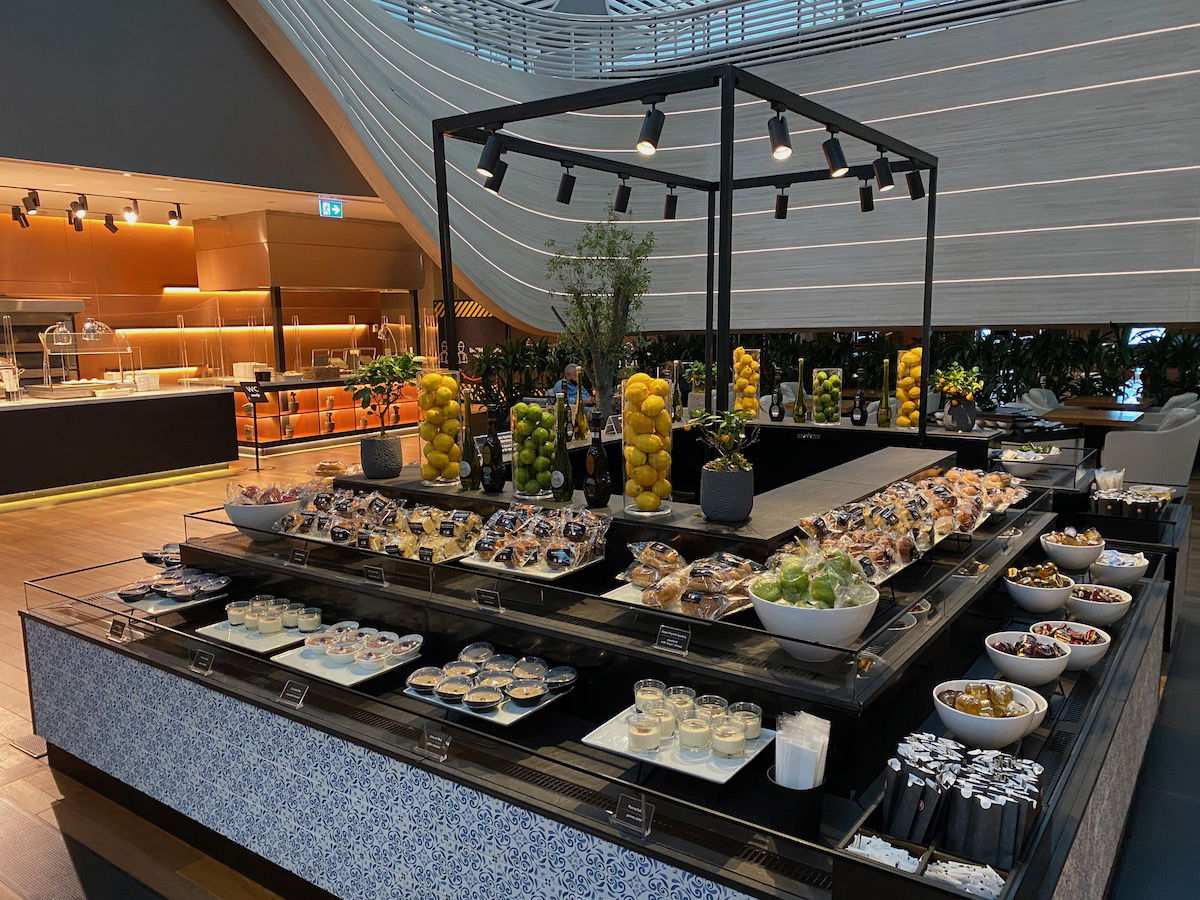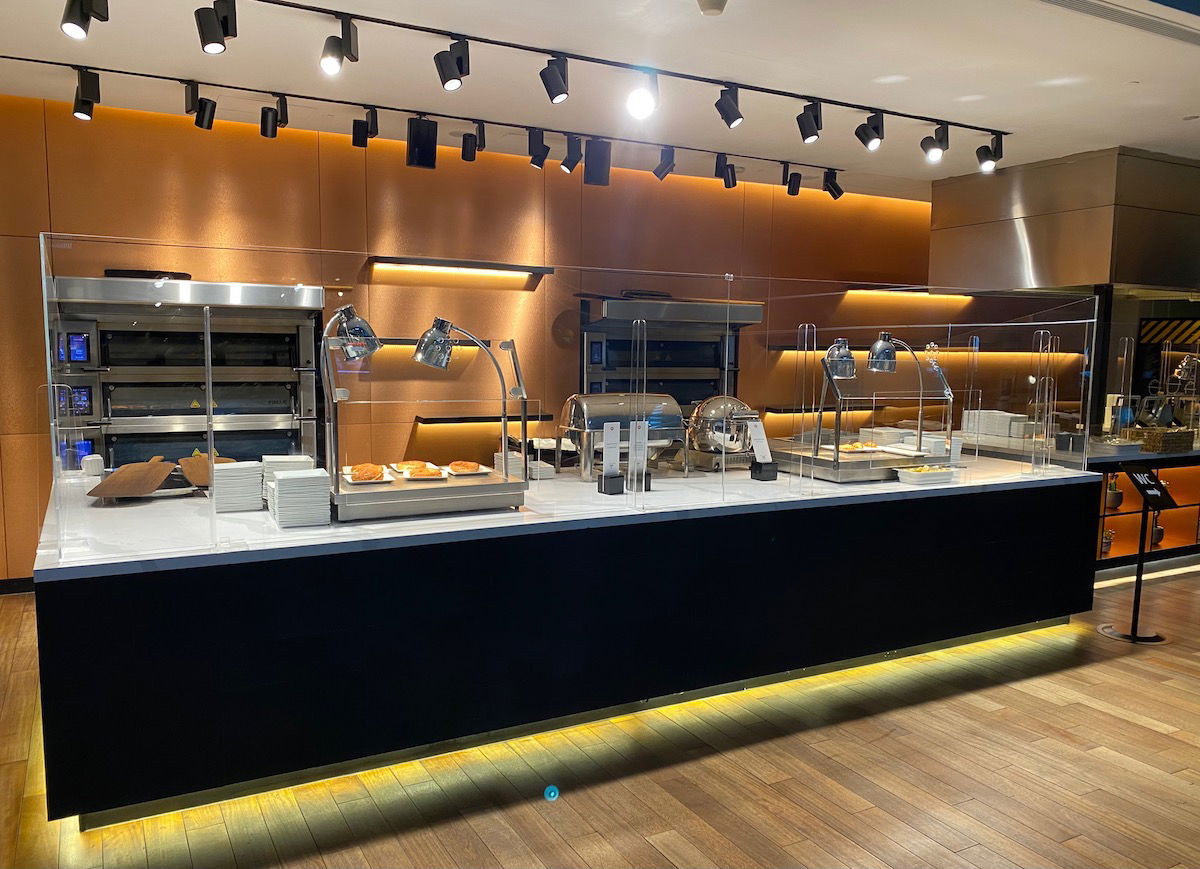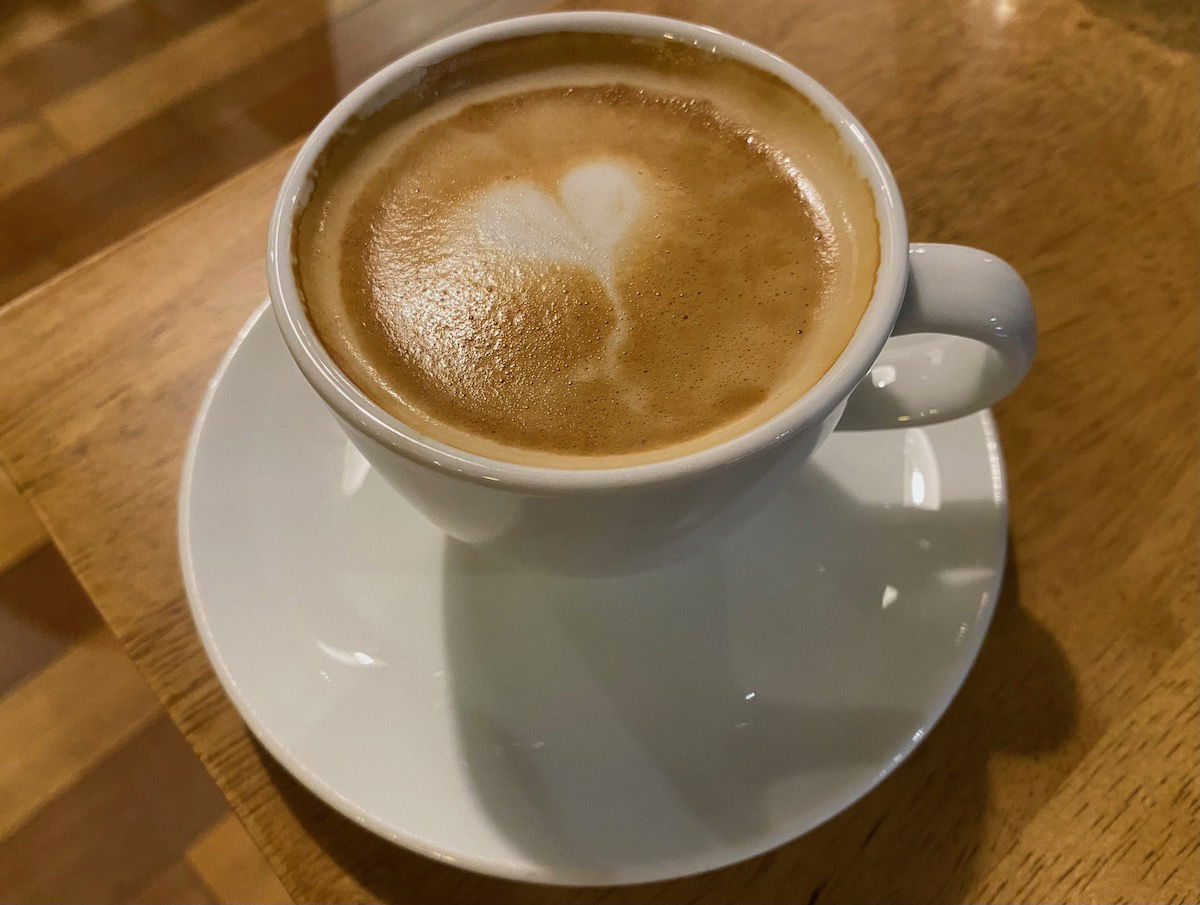 It was also nice to be able to get a shower during the layover. Unfortunately our stopover didn't qualify for a nap room — those are available when you have a layover of between four and nine hours, and one flight is at least eight hours long.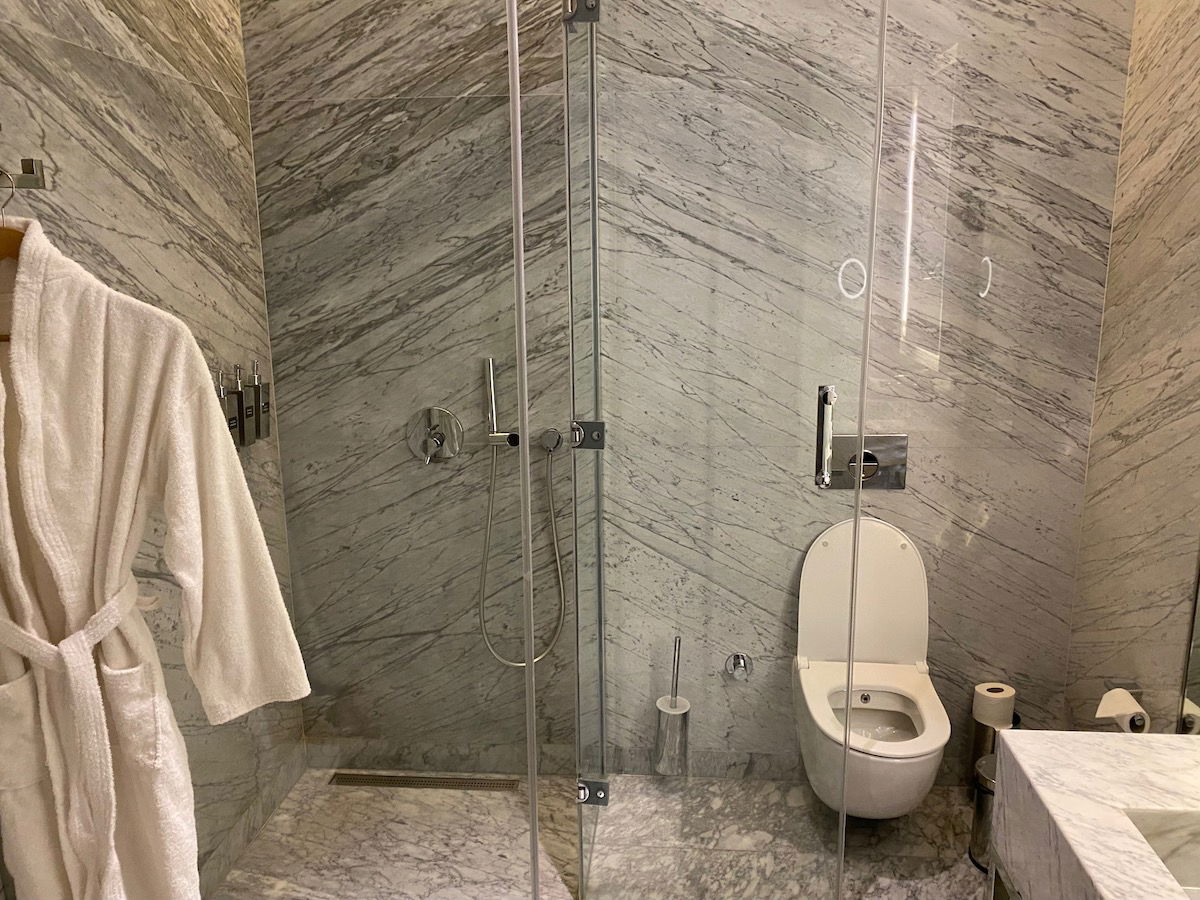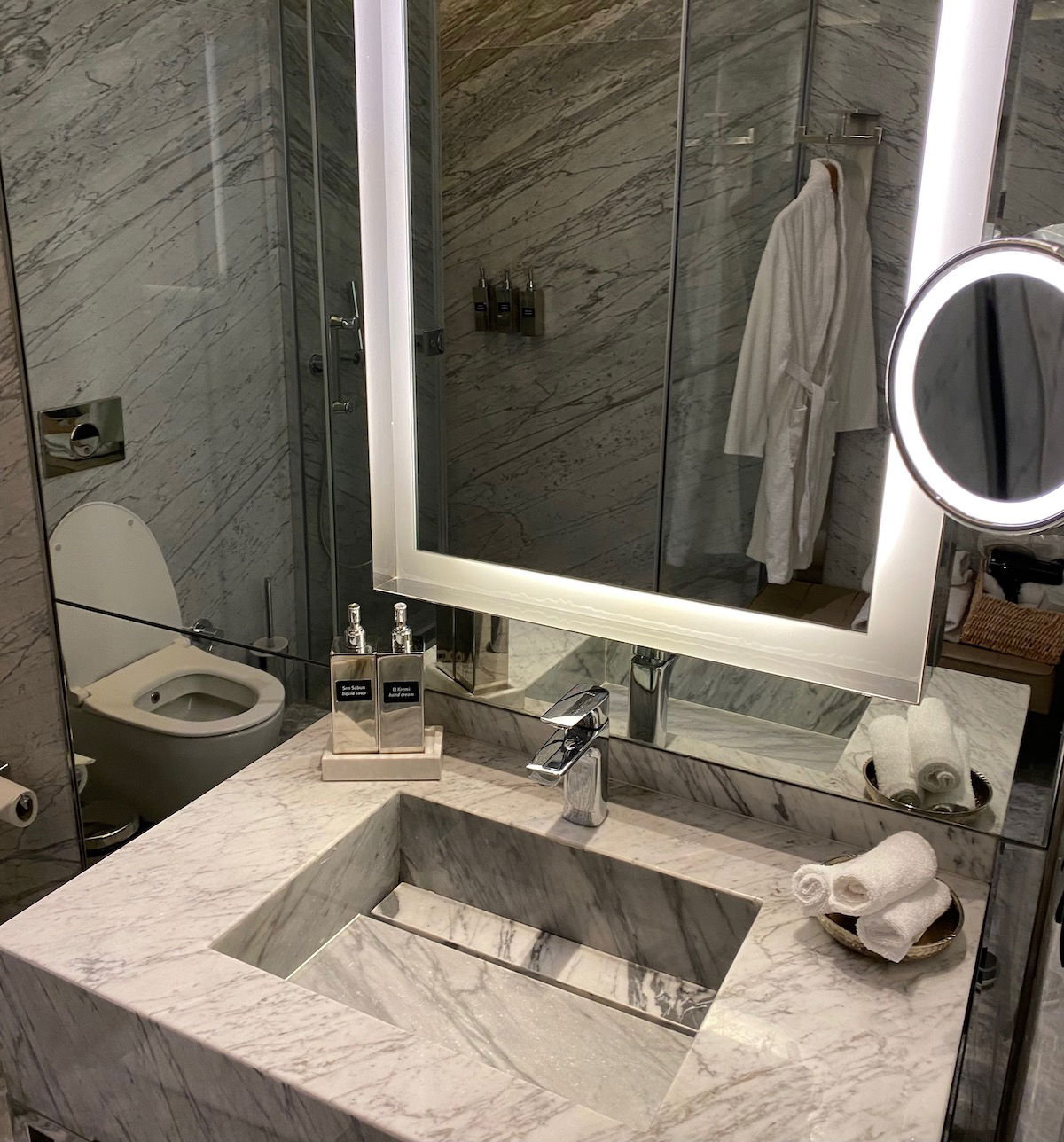 We did some terminal walking later in our layover, and there are certainly plenty of opportunities for that at Istanbul Airport, given how massive it is.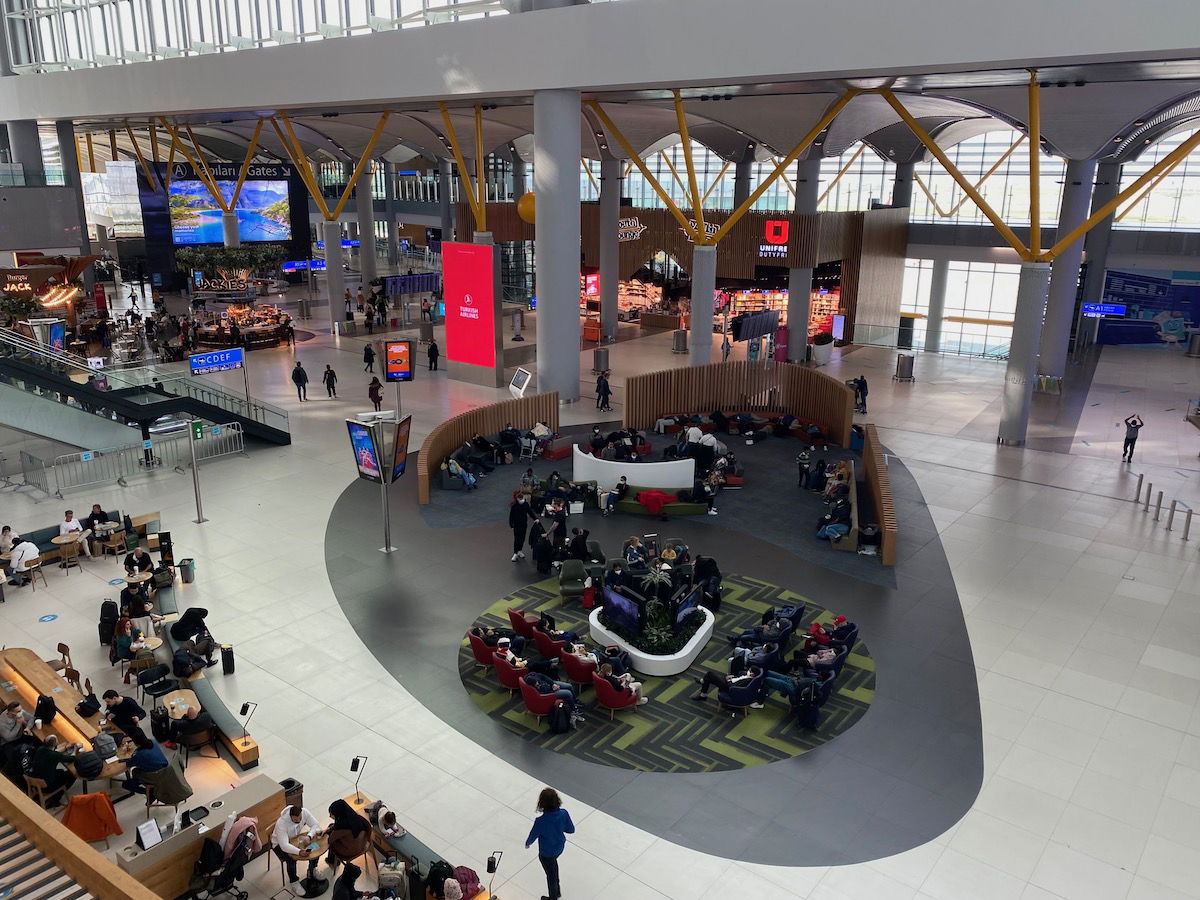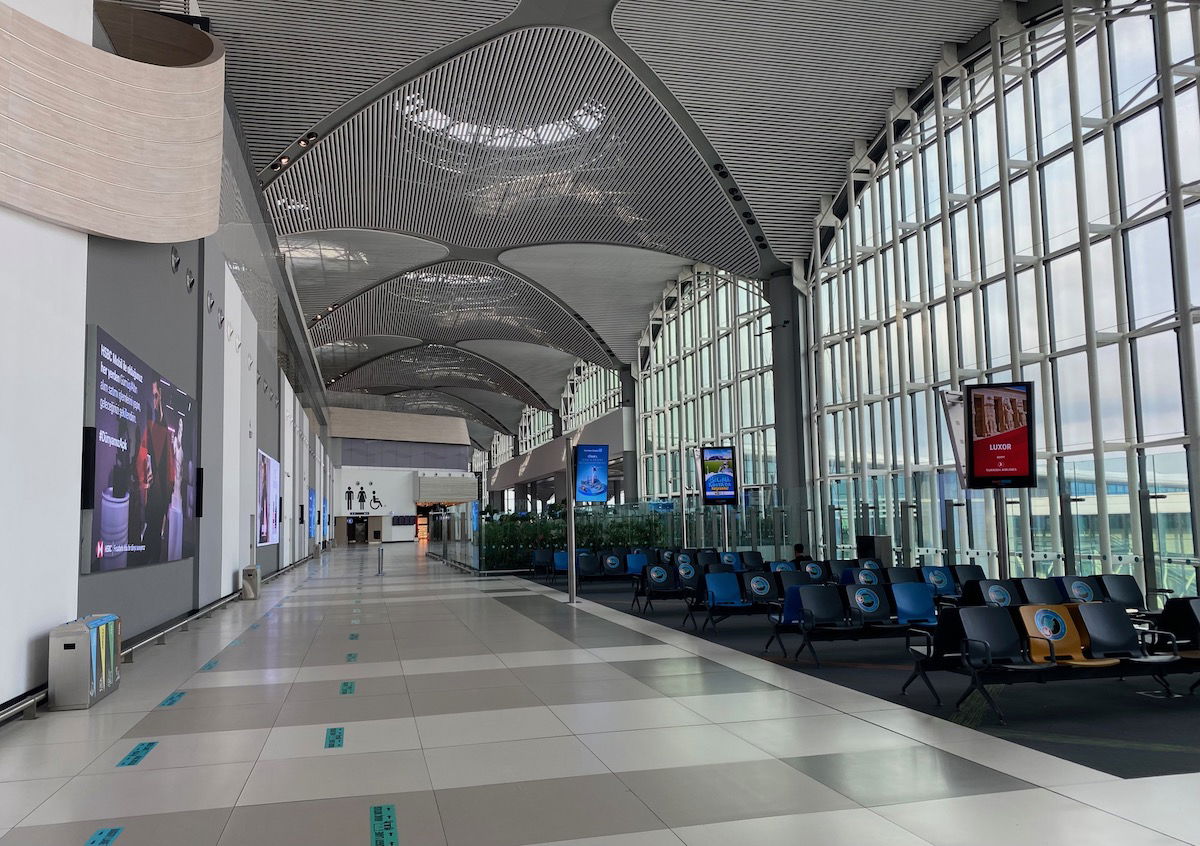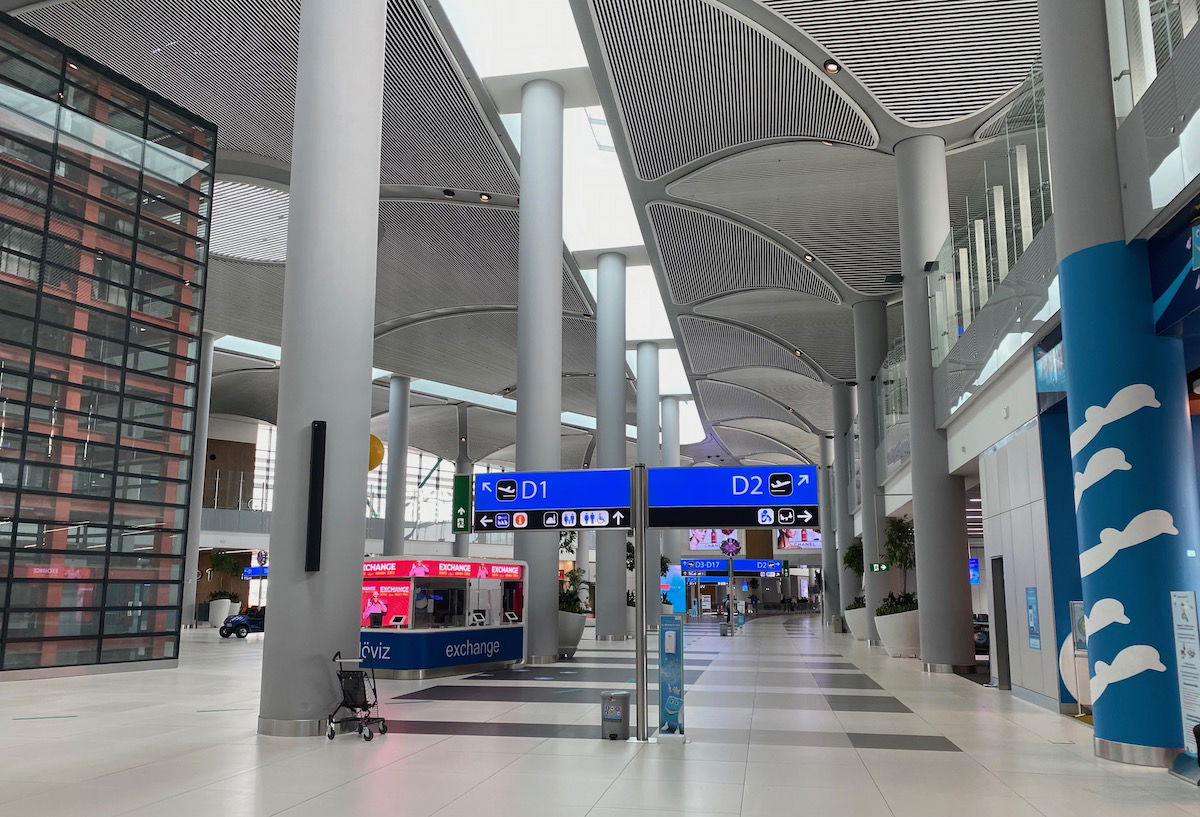 There was some great plane spotting — in addition to all kinds of Turkish Airlines jets, there was also a Mahan Air plane (from Iran).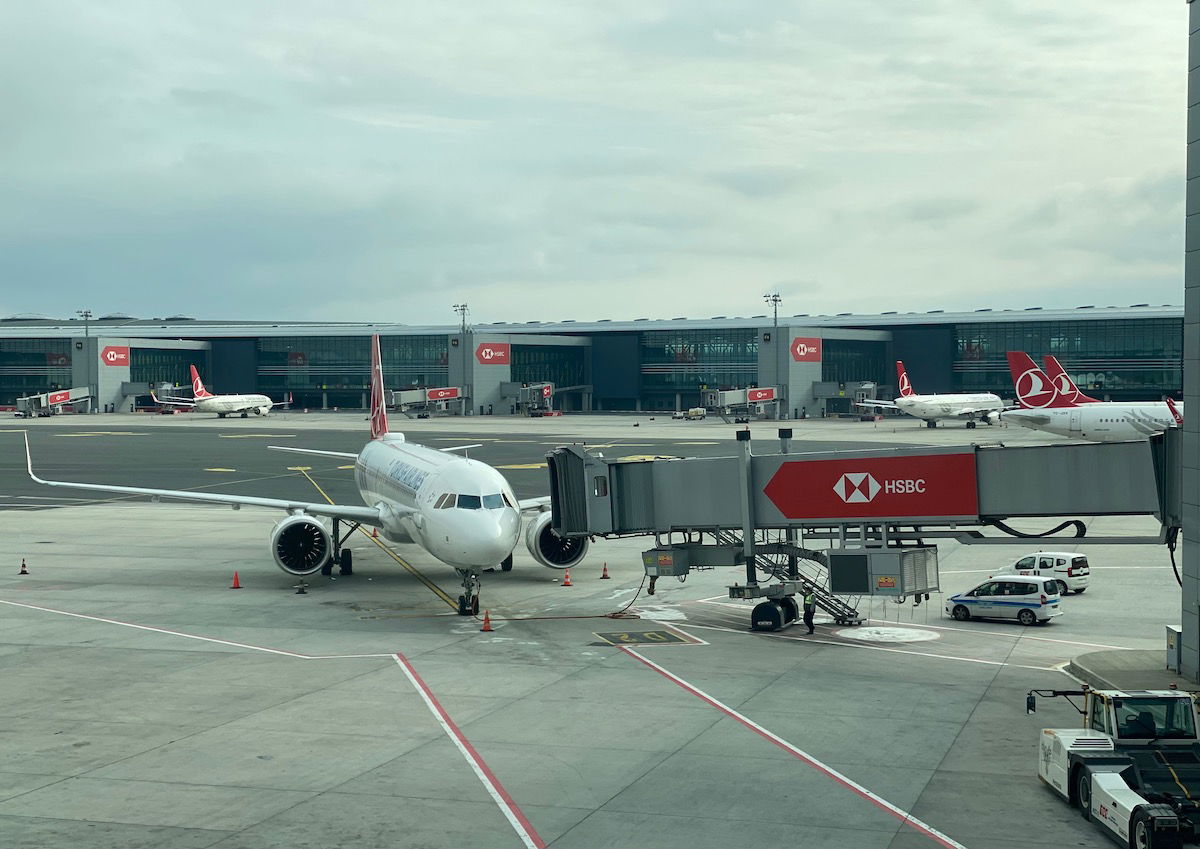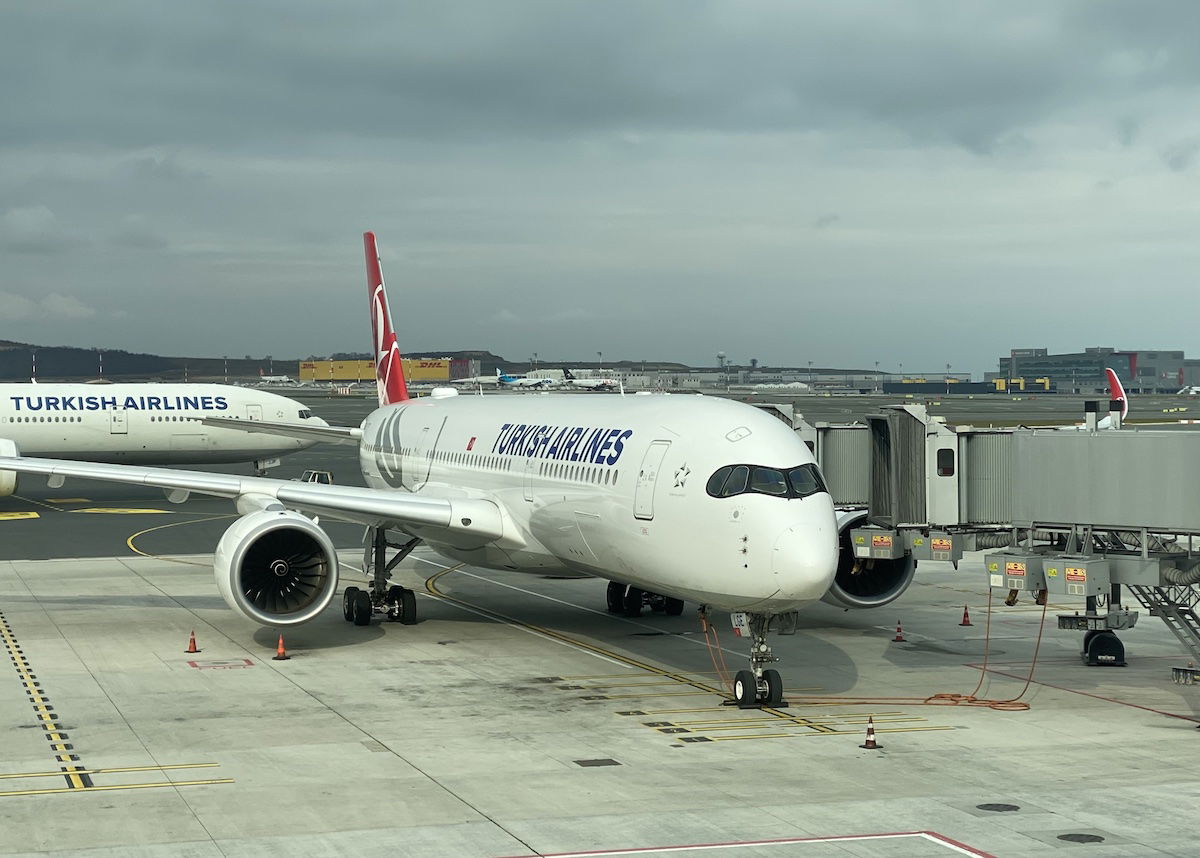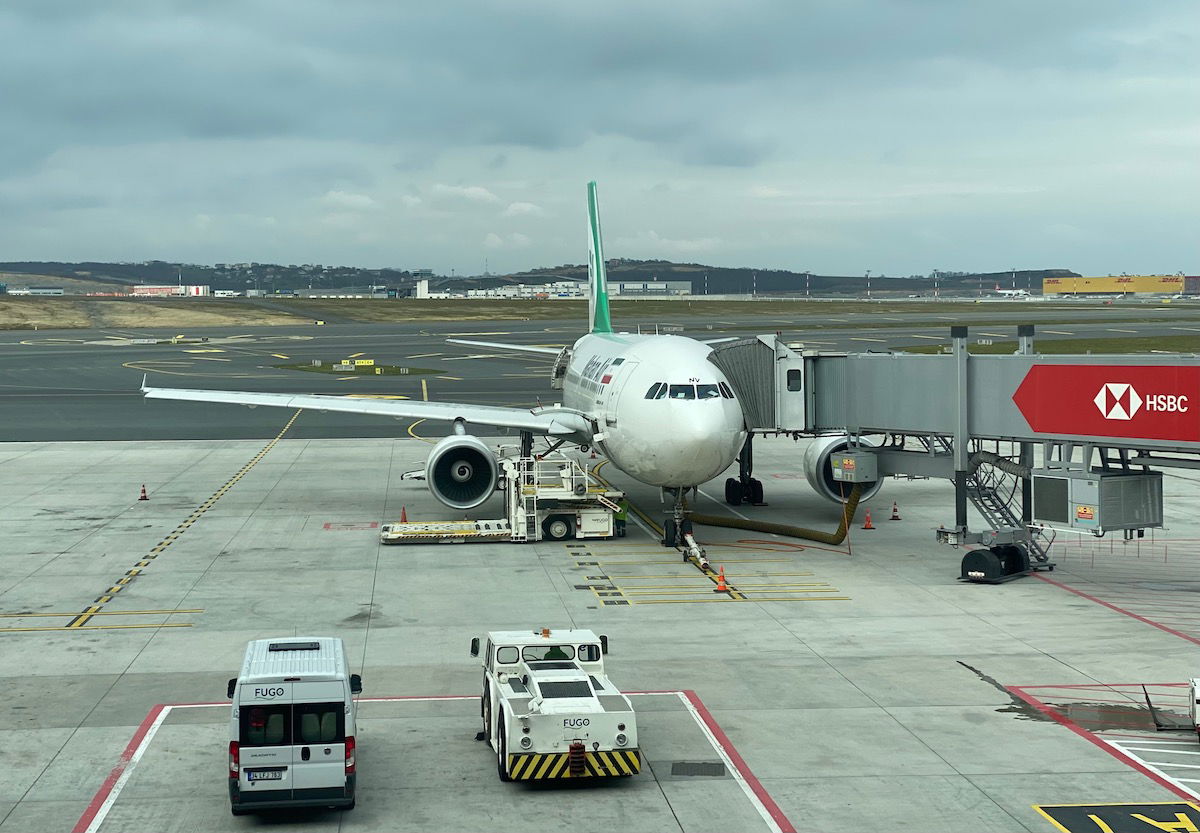 Turkish Airlines business class boarding
Boarding for our 11:50AM flight was scheduled to start at 10:50AM at gate A4D. Based on that it was obvious that we were departing from a remote stand (given that boarding was an hour before departure, plus the "D" at the end of the gate). There were several flights boarding from this part of the terminal dedicated to remote stands.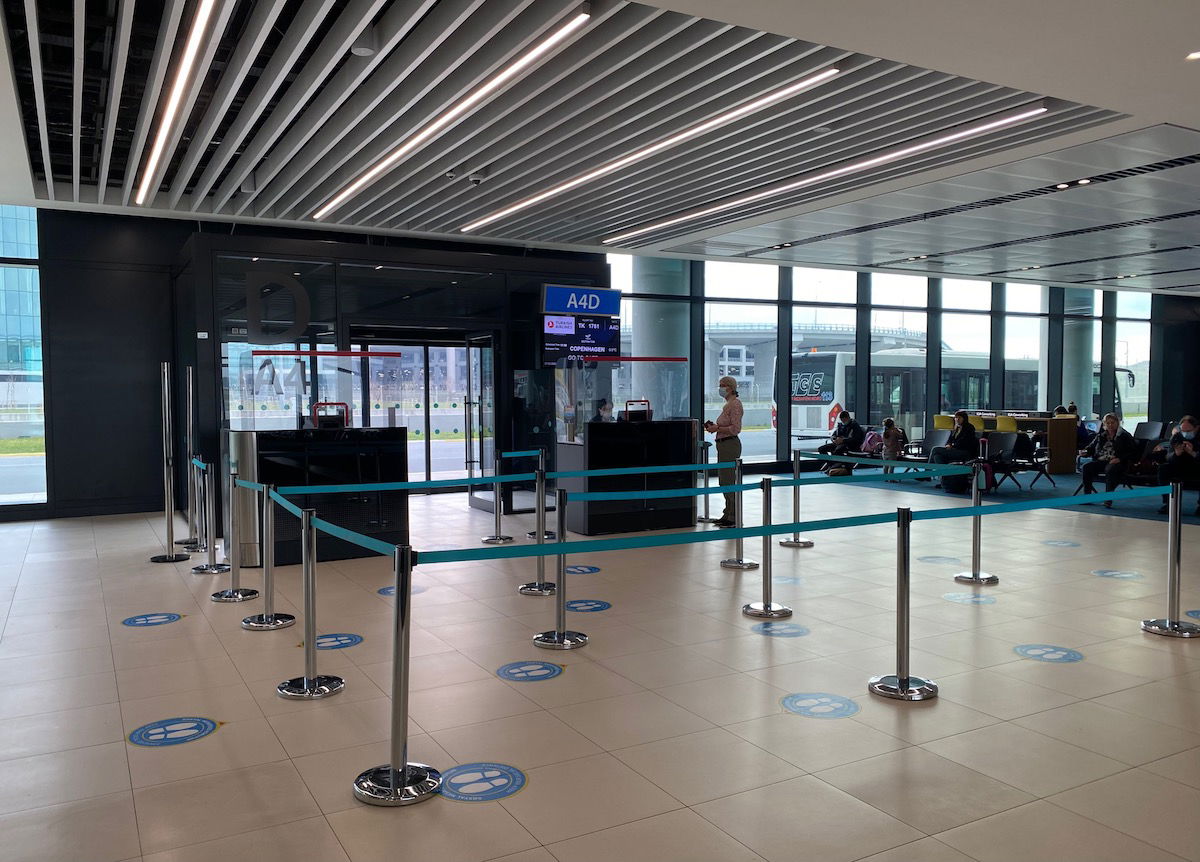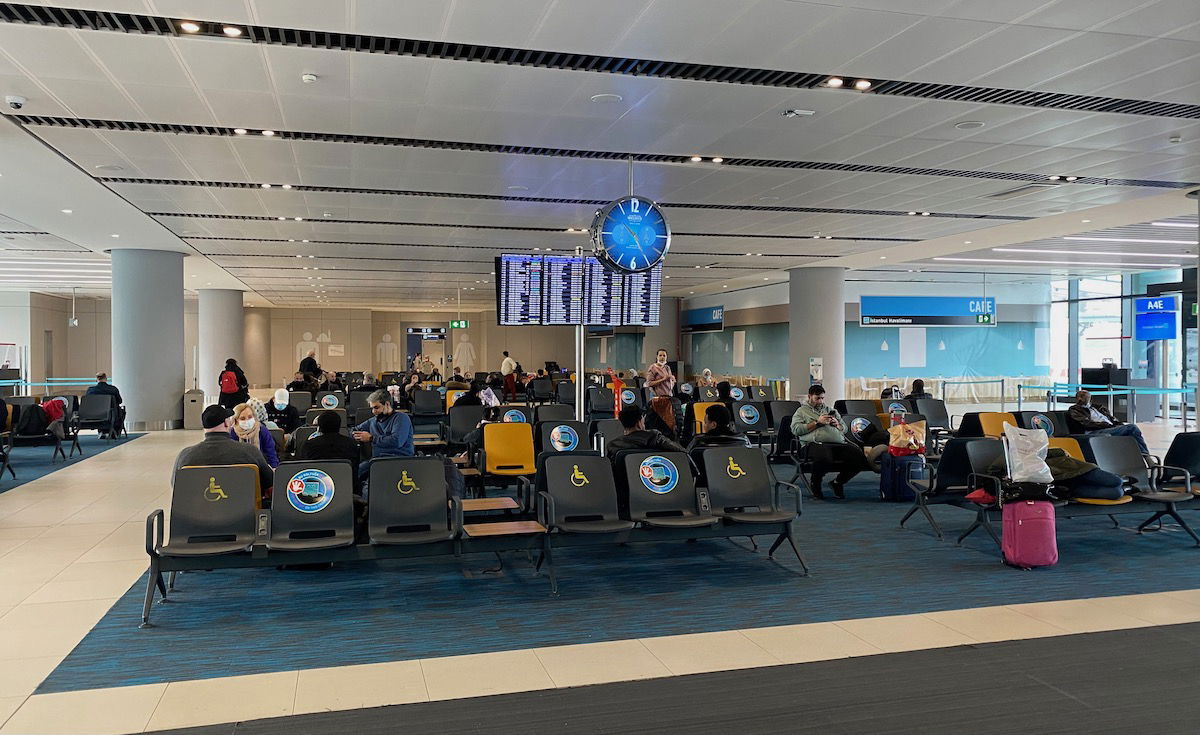 Boarding ended up starting at around 11AM. While business class passengers were invited to board first, there wasn't a dedicated business class bus, so this simply meant that we could stand on the bus for longer.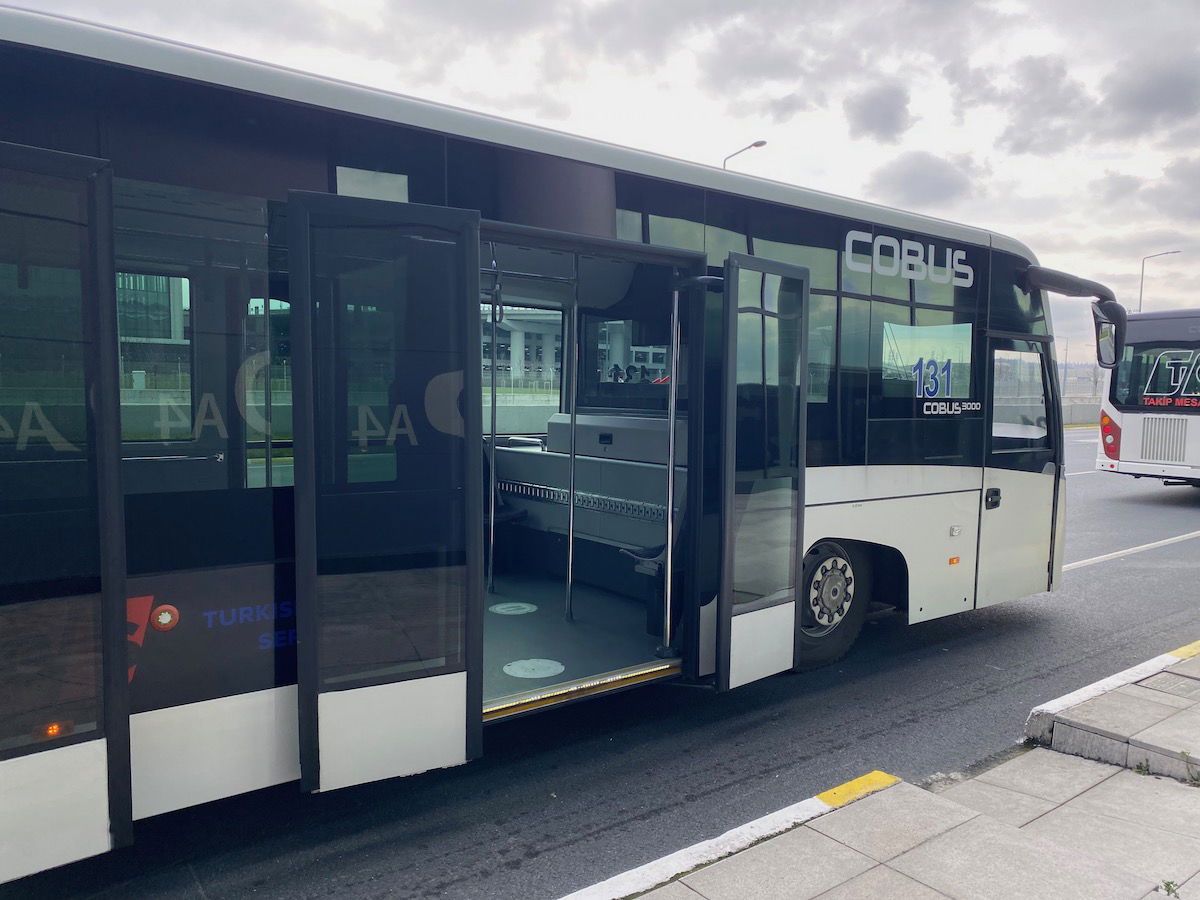 Our remote stand ended up being quite far away (which wasn't a surprise, given how huge this airport is). While I'm not a huge fan of remote stands in general, I do love the ability to snap a great picture of the exterior of the plane. In this case we were flying TC-LCB, a Boeing 737 MAX that joined Turkish Airlines' fleet in November 2018.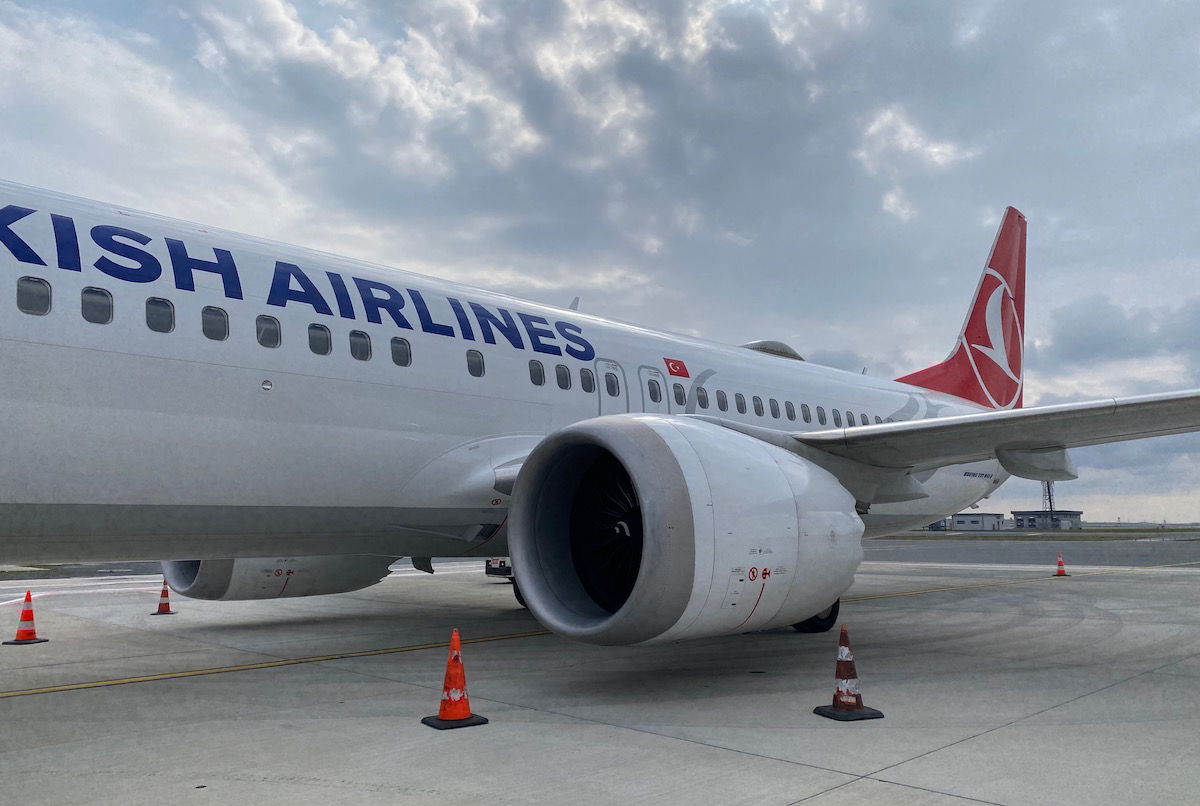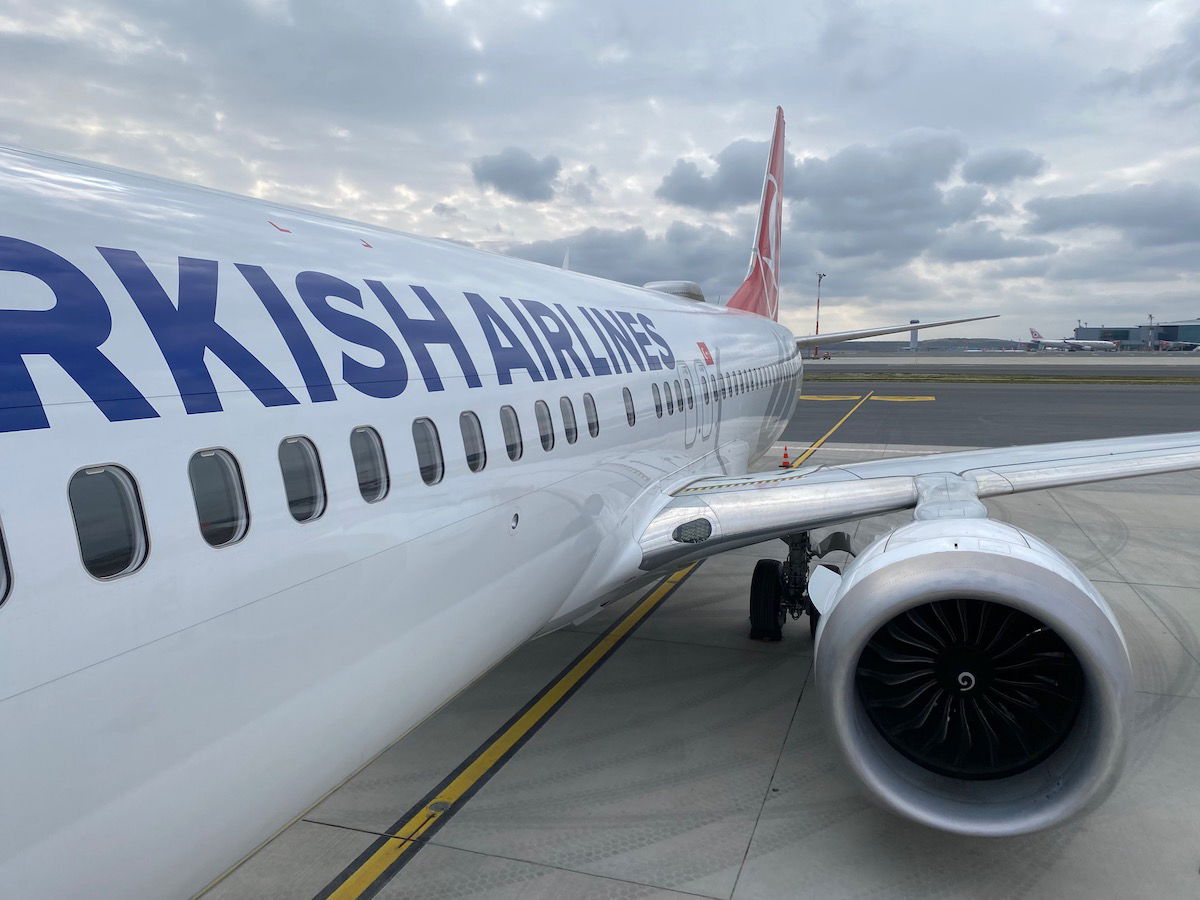 Turkish Airlines 737 MAX business class cabin & seats
Turkish Airlines' business class is nearly identical on the Airbus A321neo and Boeing 737 MAX, with the major difference being that the 737 MAX cabin is a bit smaller. Turkish's 737 MAX business class consists of a total of 16 seats, spread across four rows in a 2-2 configuration.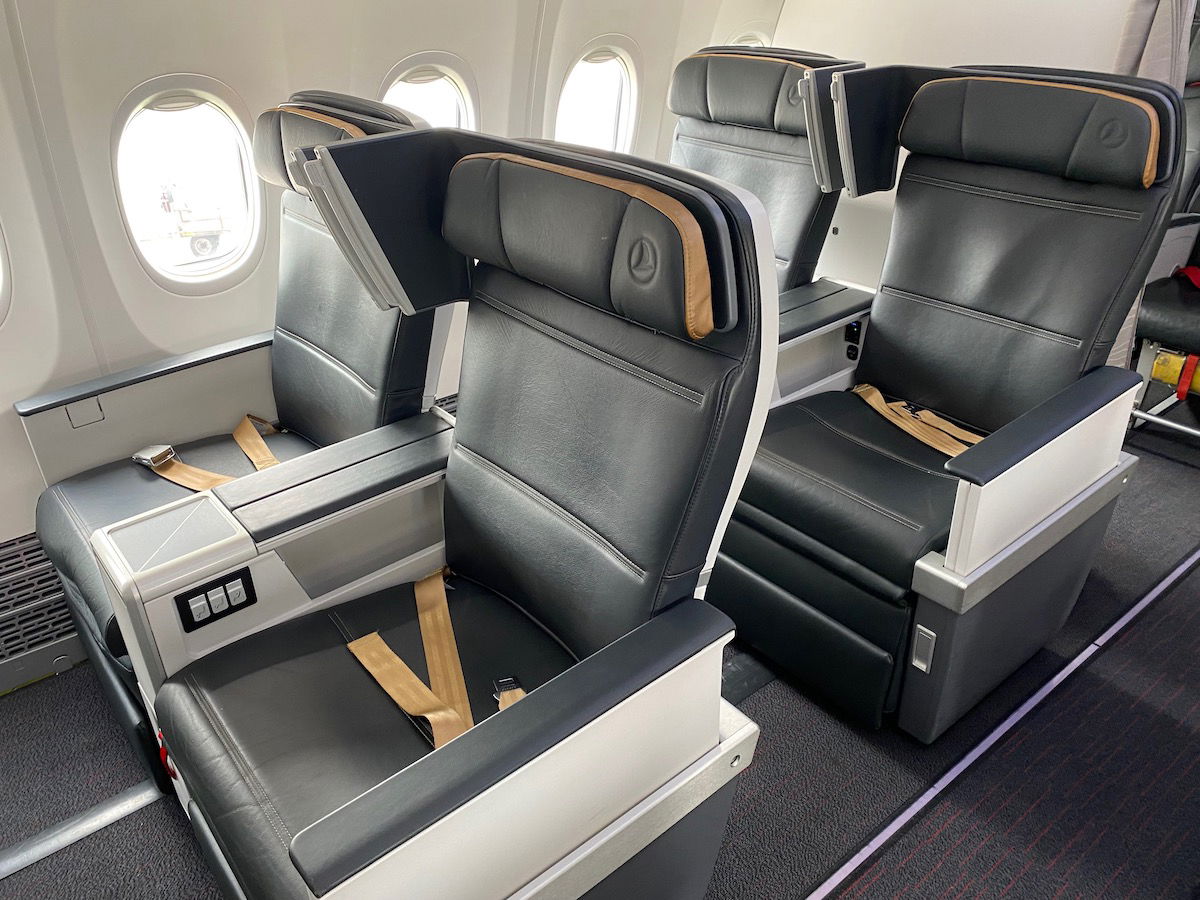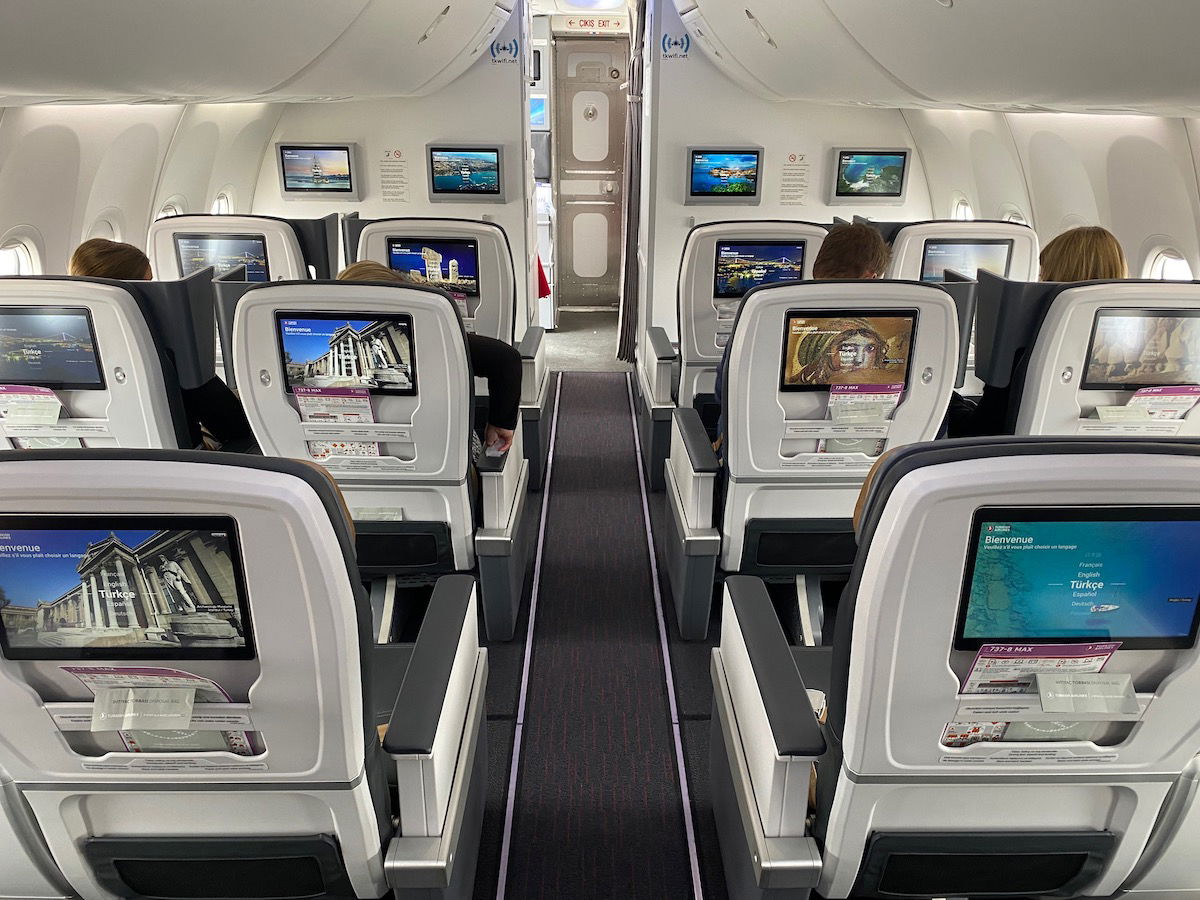 Once again I assigned us seats in the last row. These seats have exceptionally good legroom compared to similar configurations on other airlines.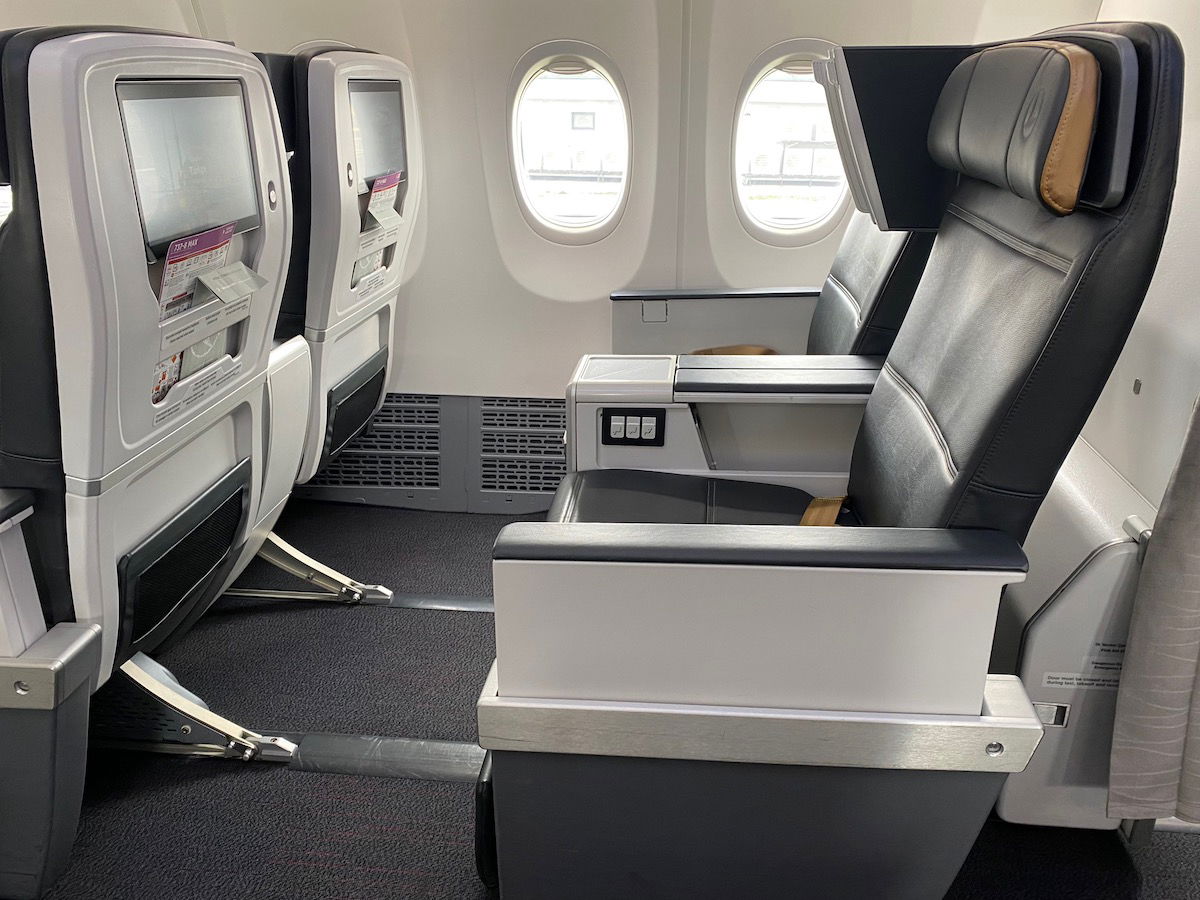 On the back of each seat was a personal entertainment screen, plus a literature pocket.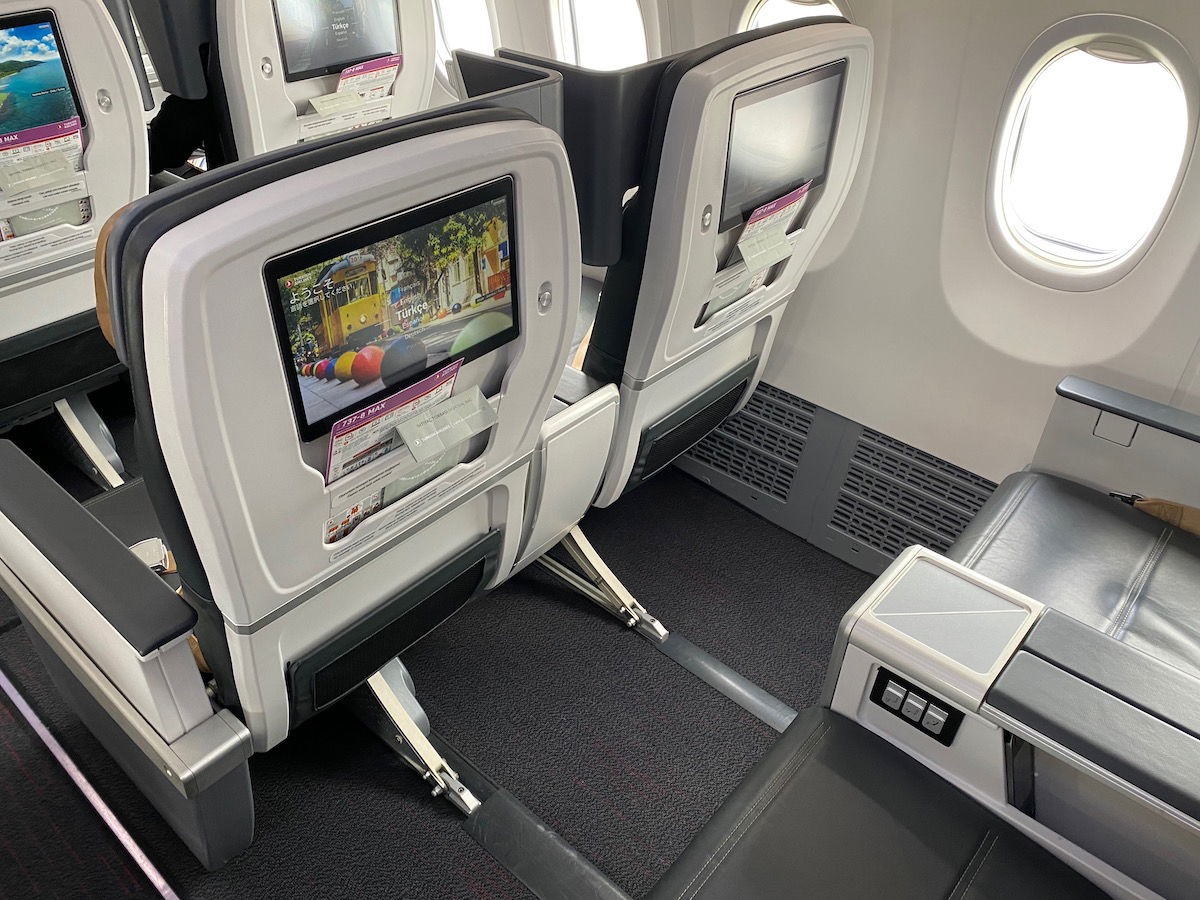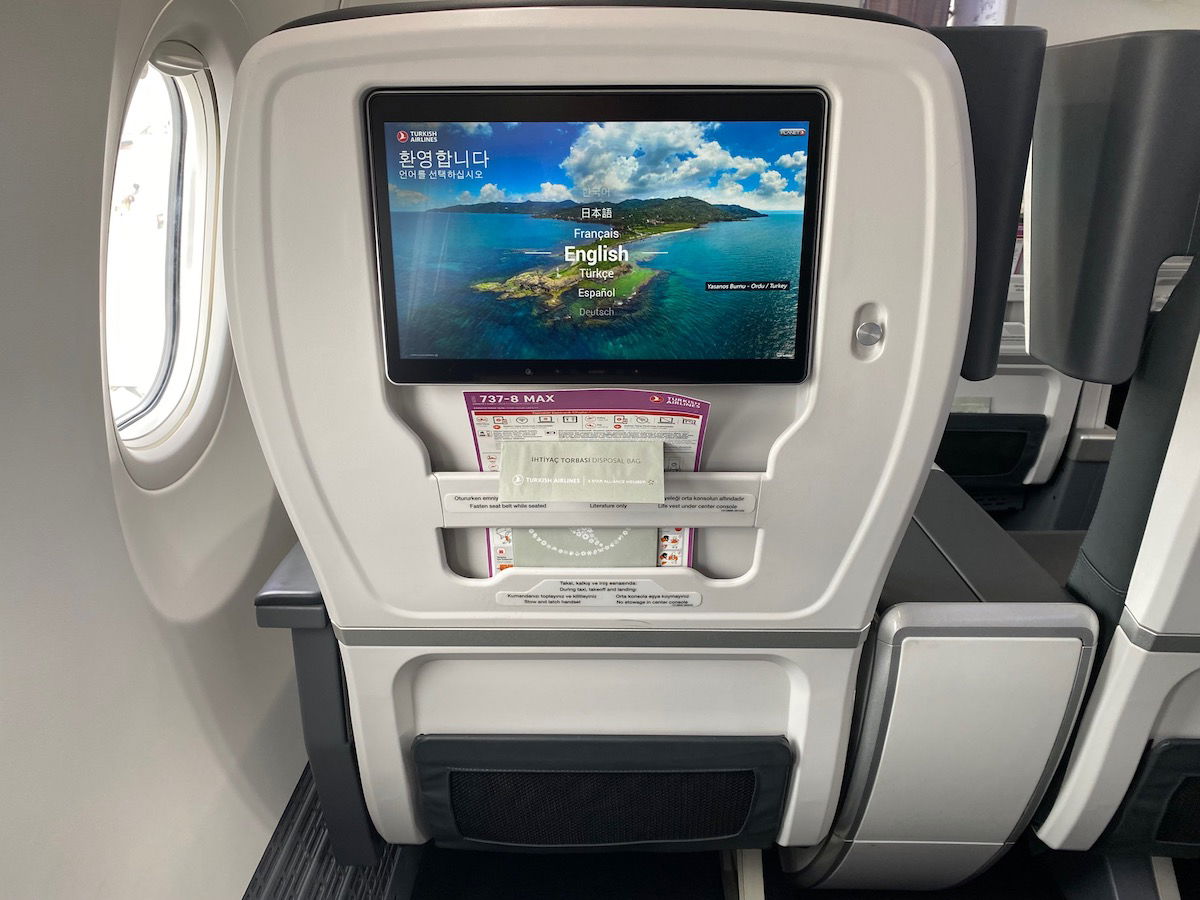 On the center console was a tray that could hold drinks, plus a second tray that could be extended.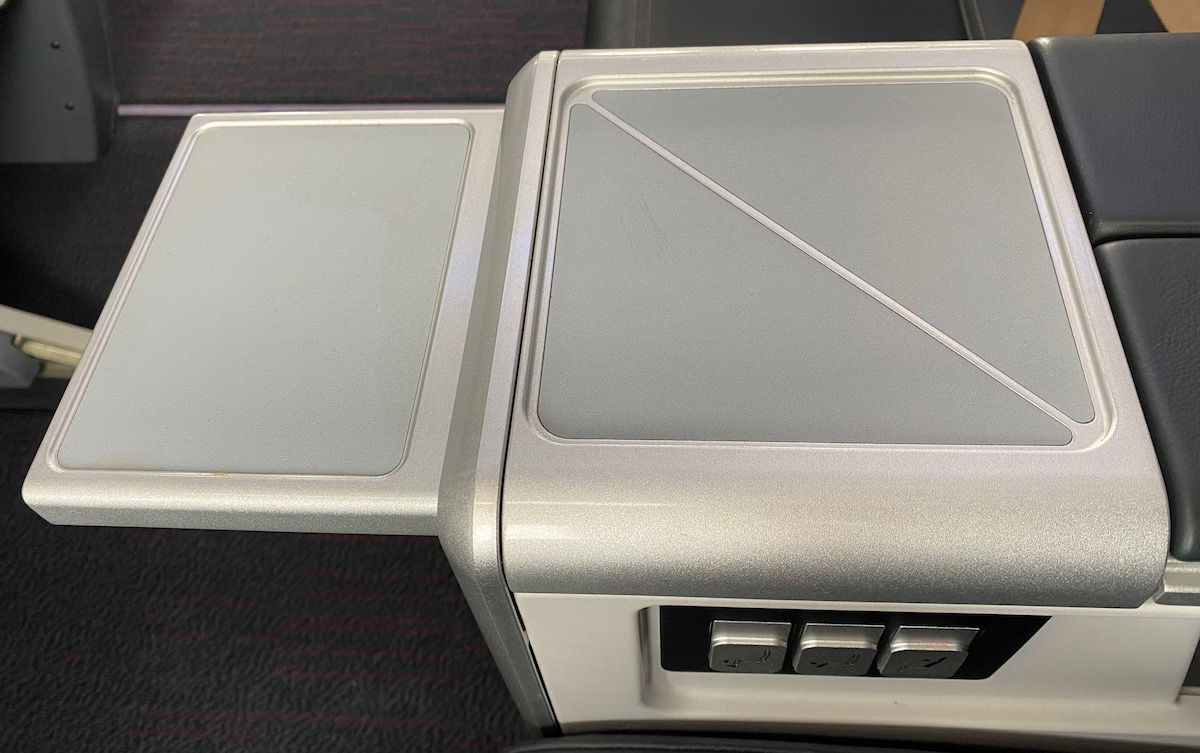 The center armrests could be raised, exposing a storage compartment, plus power outlets (AC and USB), headphone jacks, and an entertainment controller.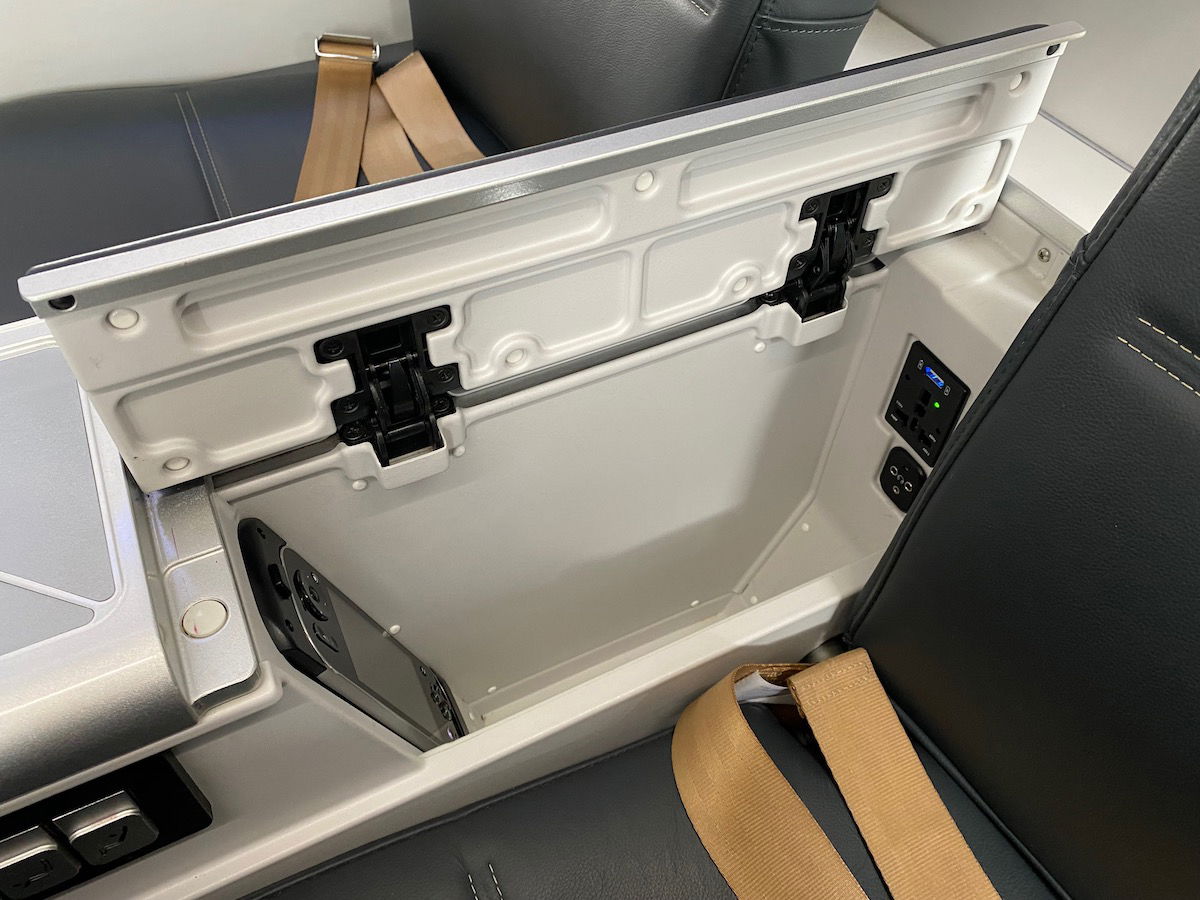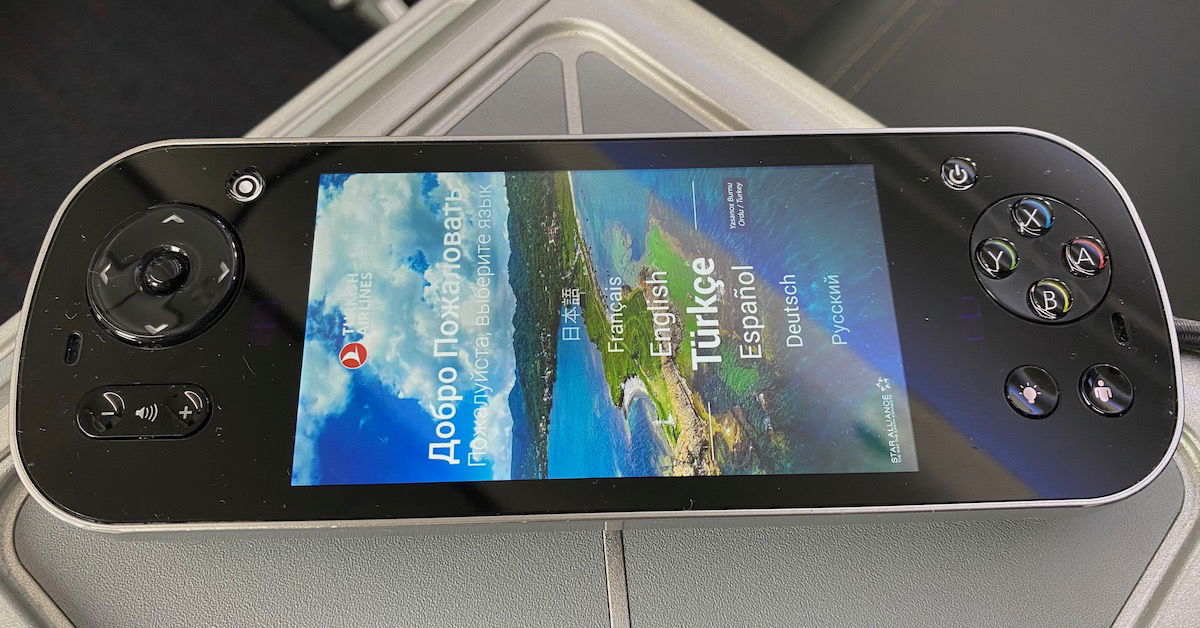 The controls for the seat recline and legrest extension were also underneath the center armrest. Speaking of which, the seat recline was pretty solid.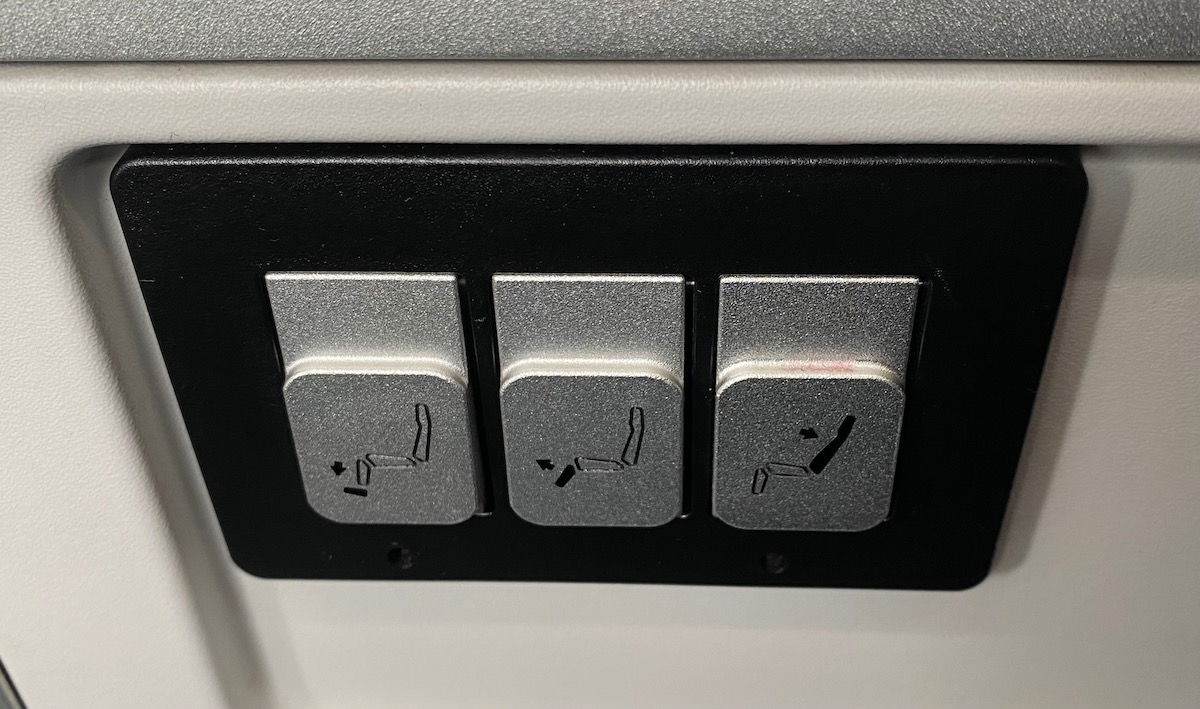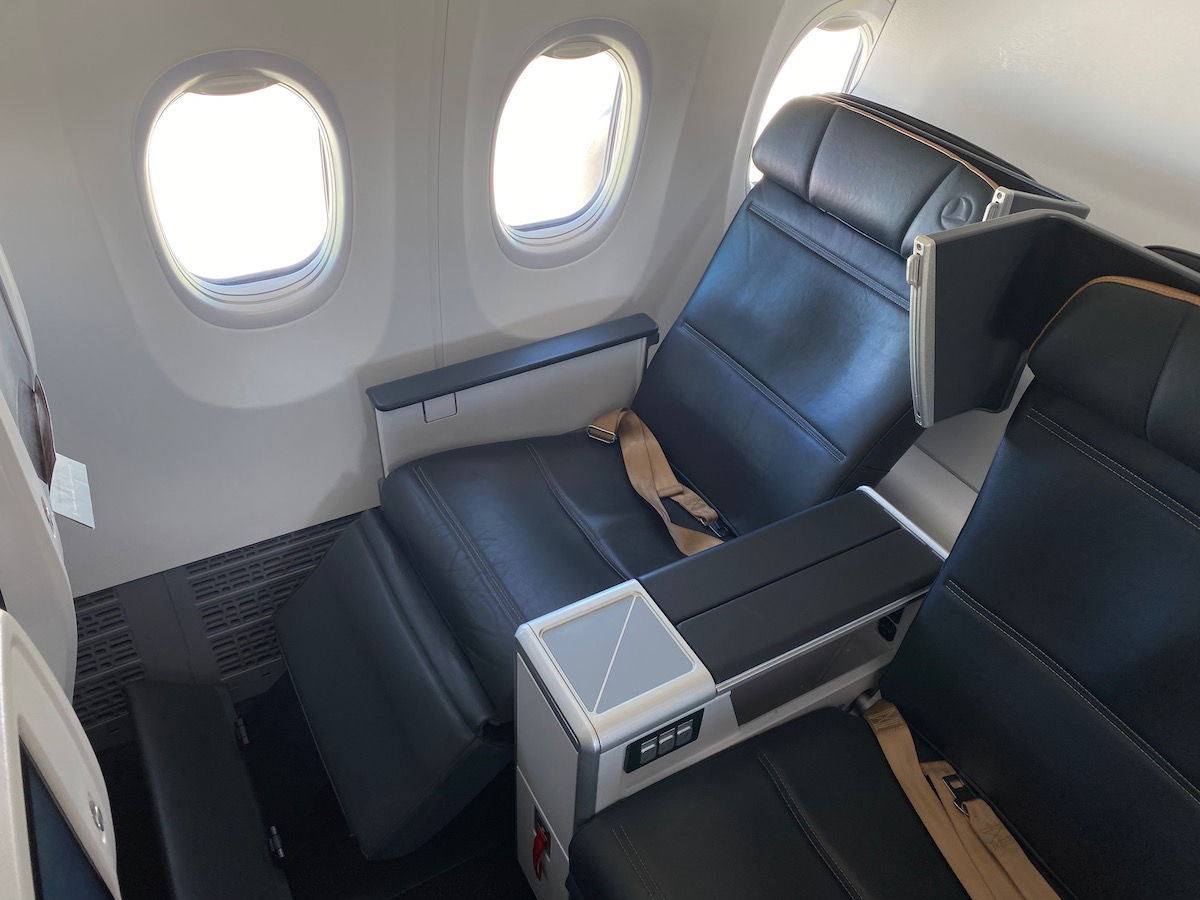 The tray table extended from the far armrest, and could be folded over in half.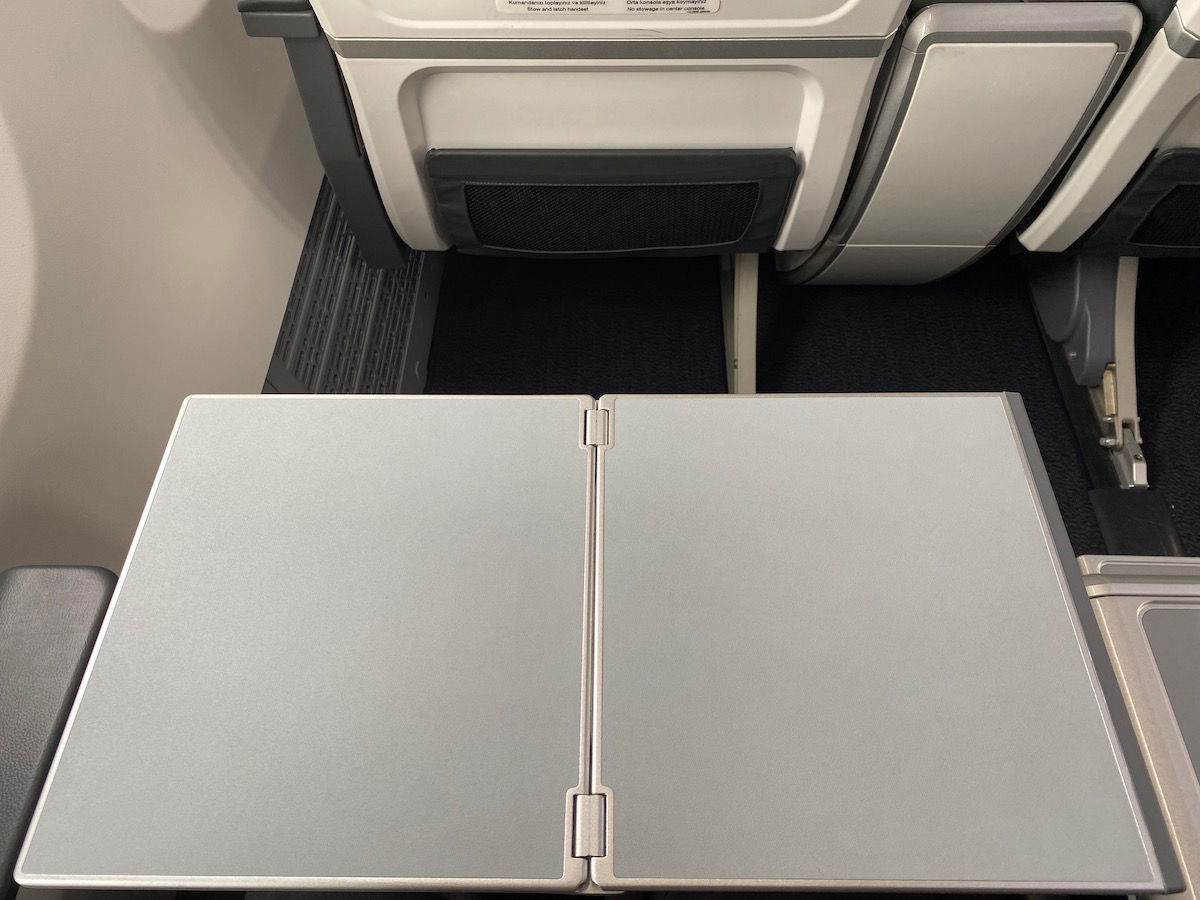 Just as was the case on the last flight, there were also rather odd privacy dividers between seats, which didn't extend very far in either direction.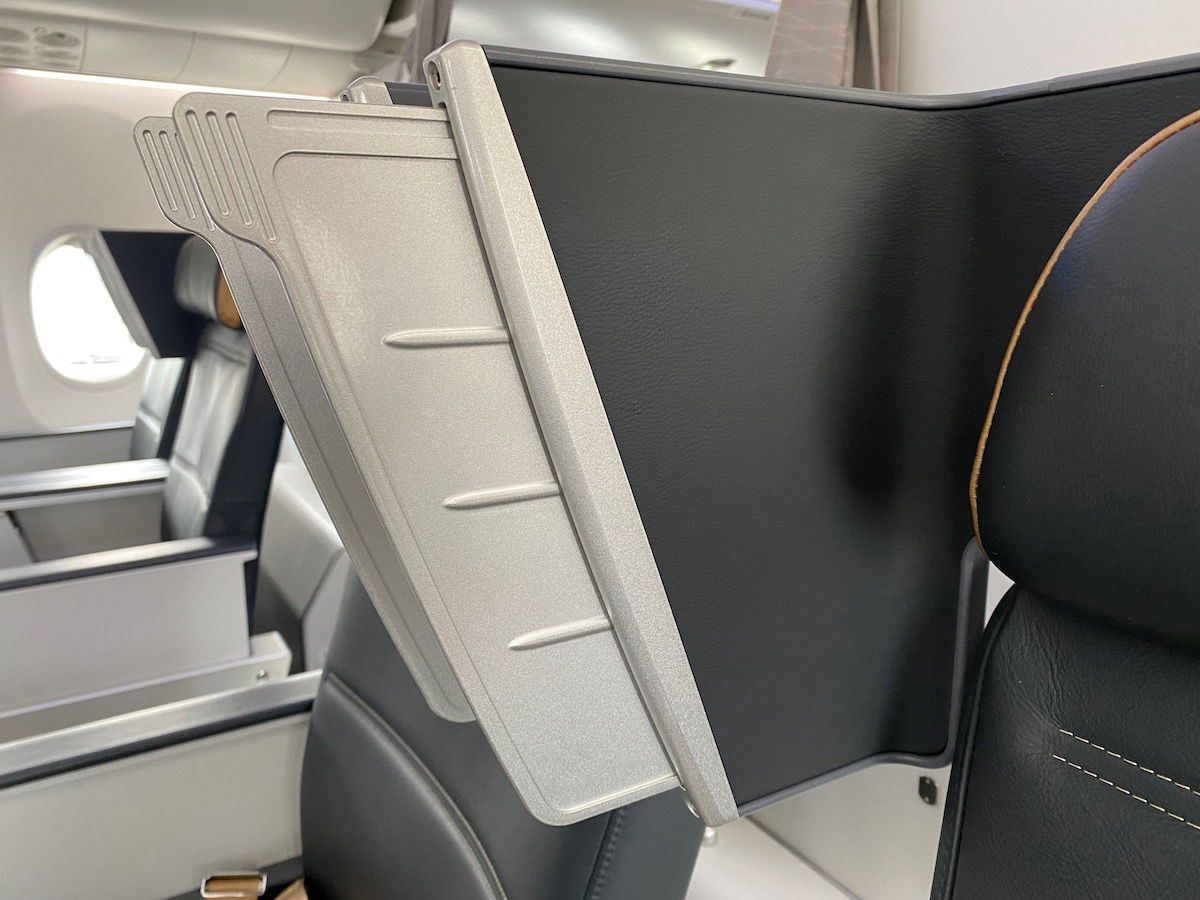 Overhead consoles had individual reading lights and air nozzles.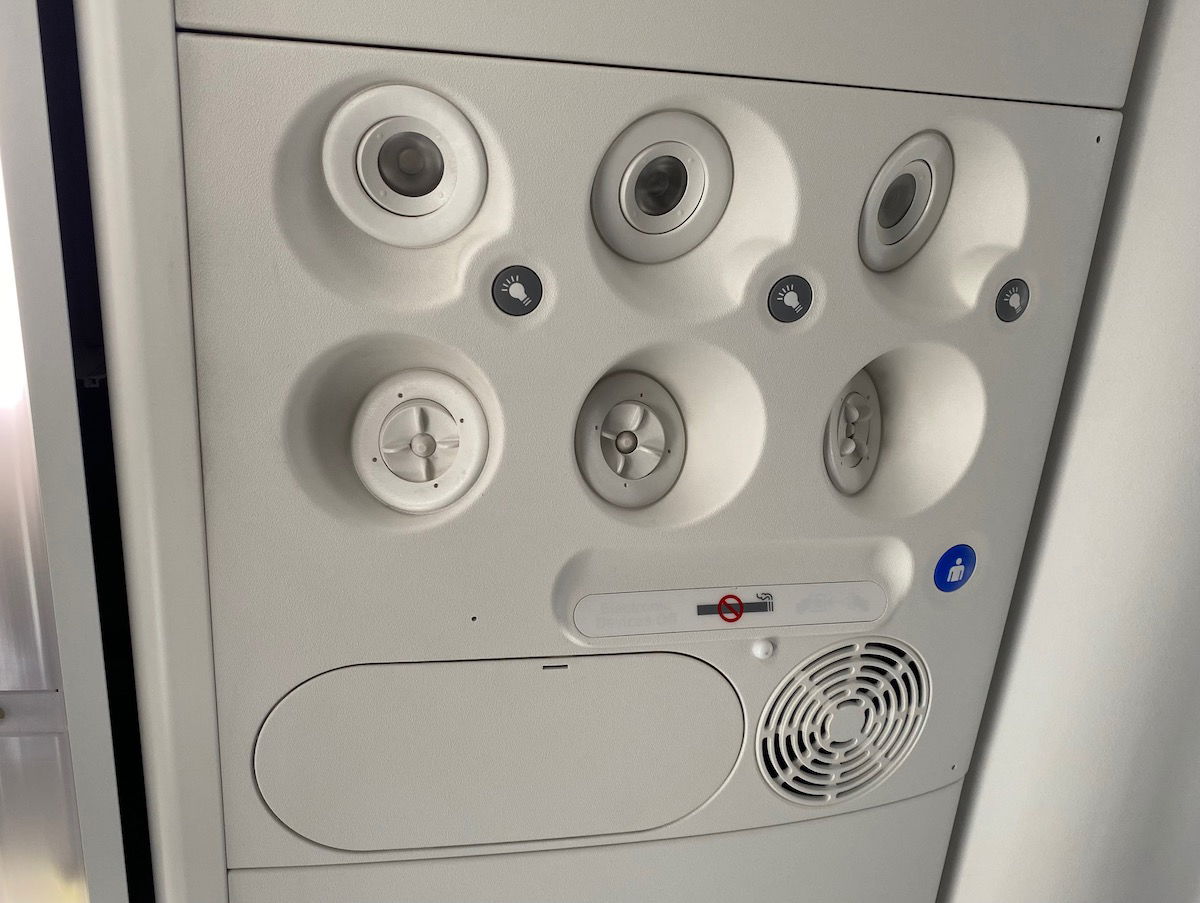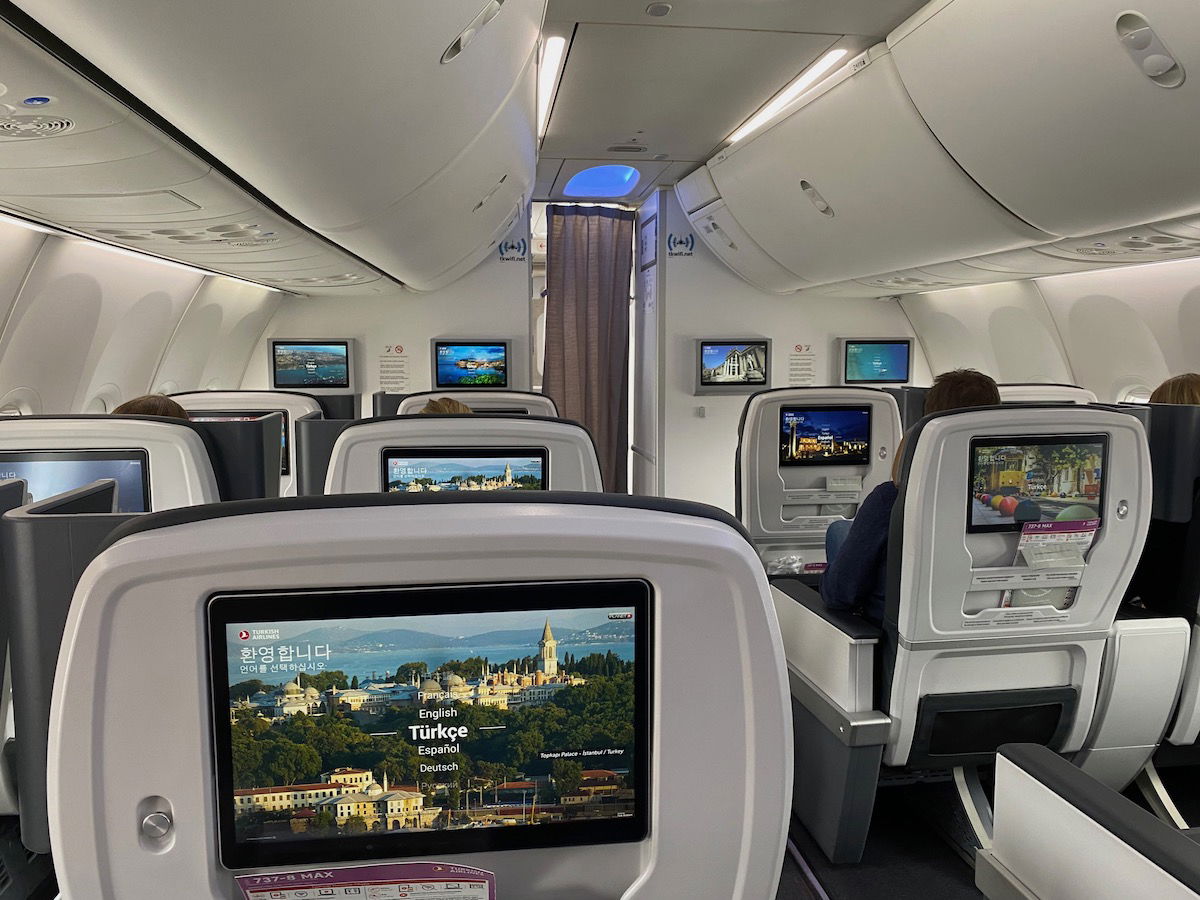 The aircraft also featured the signature Boeing interior for the 737 MAX, including huge overhead bins and mood lighting.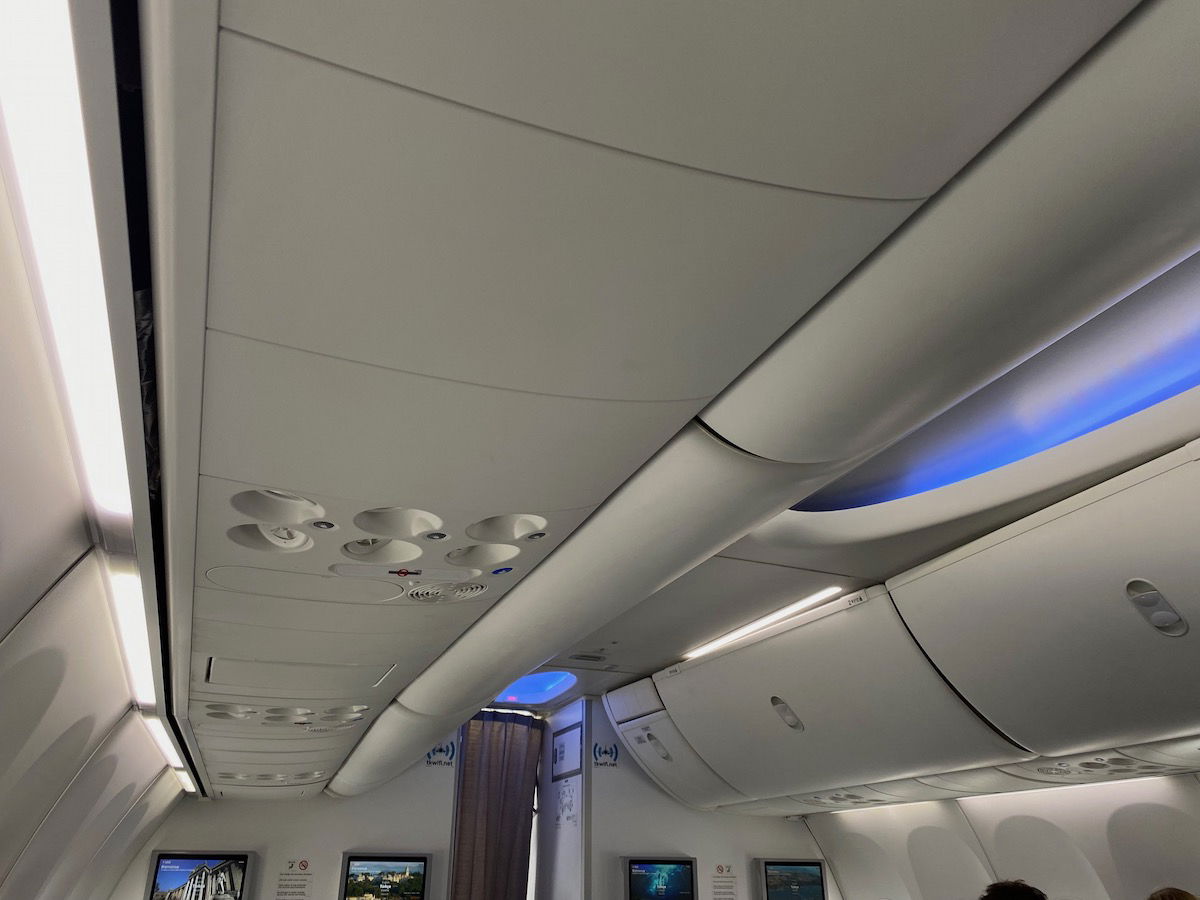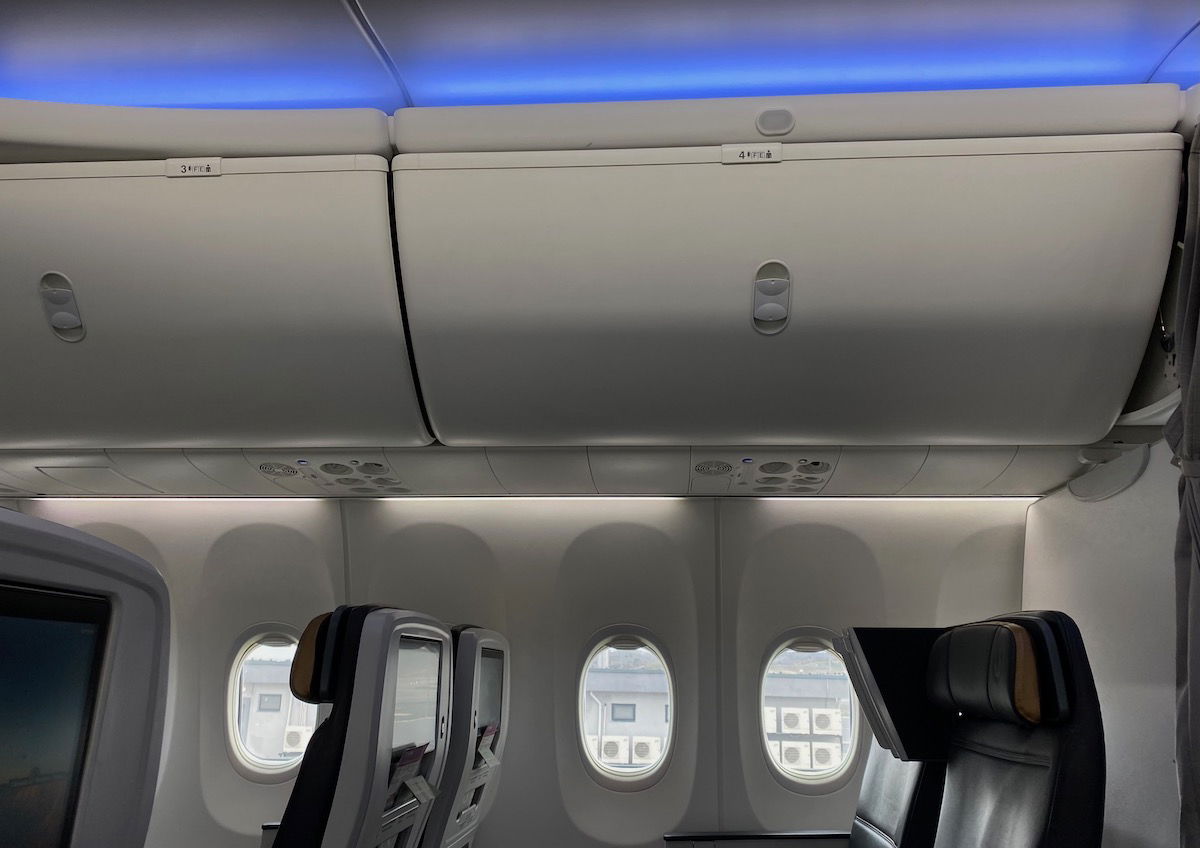 There was a lavatory located at the front of the cabin, featuring Molton Brown toiletries. Unfortunately Turkish Airlines decided on the tiny lavatories you'll find on other 737 MAXs (including those of American Airlines). Not only are the bathrooms as such so small, but the sinks are almost unusably tiny.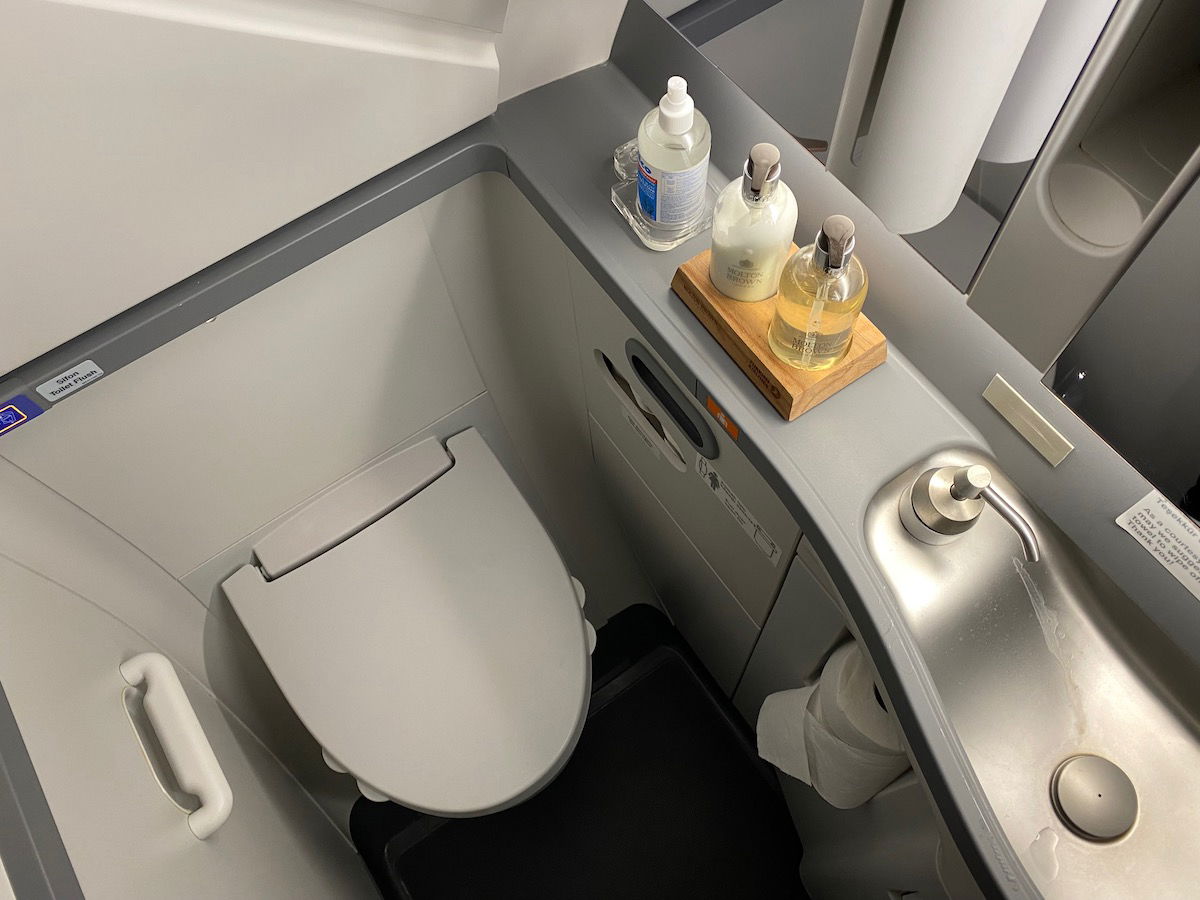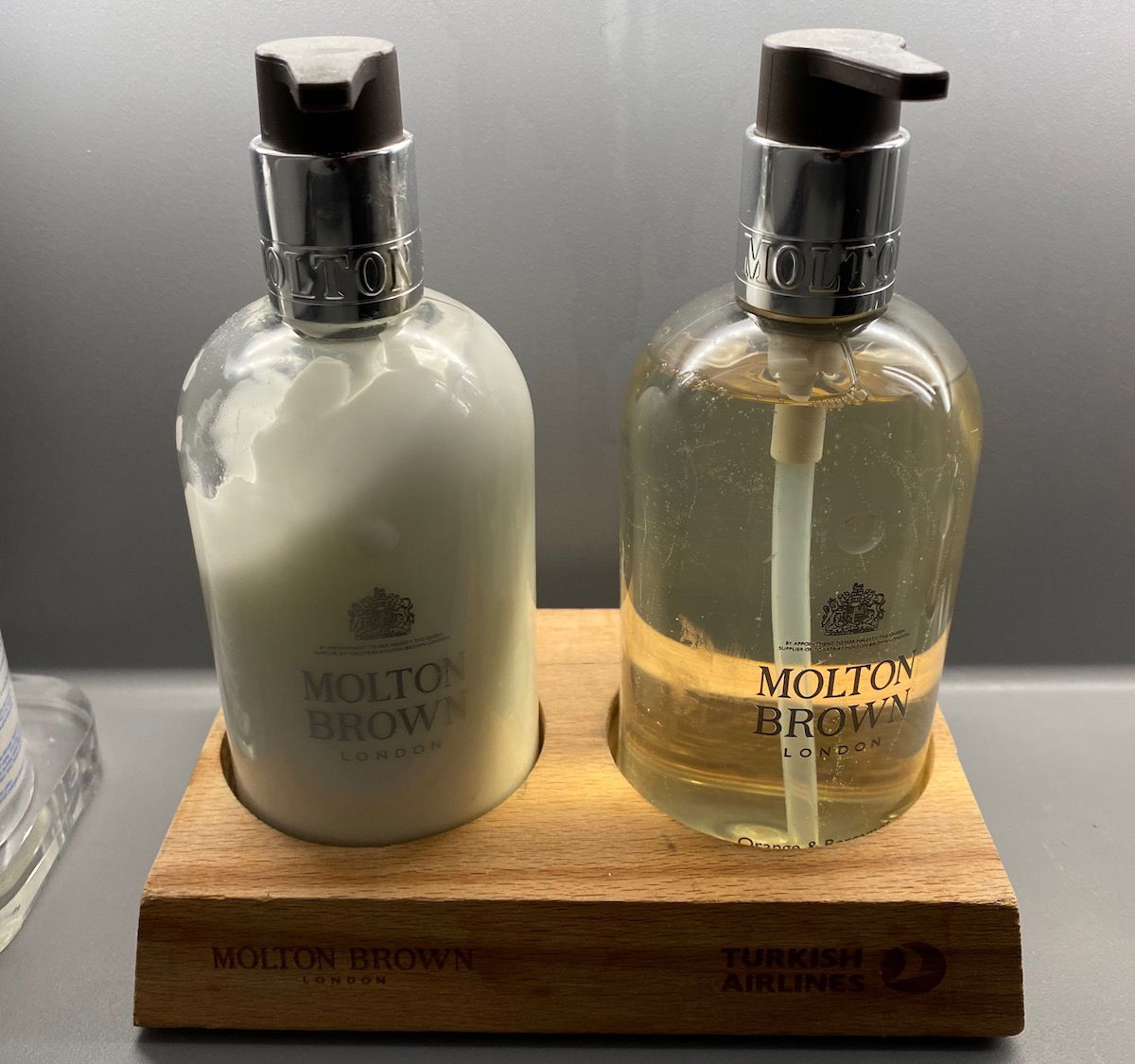 Turkish Airlines business class amenities
Before departure the crew served a variety of pre-departure drinks, and we had the lemonade and orange juice.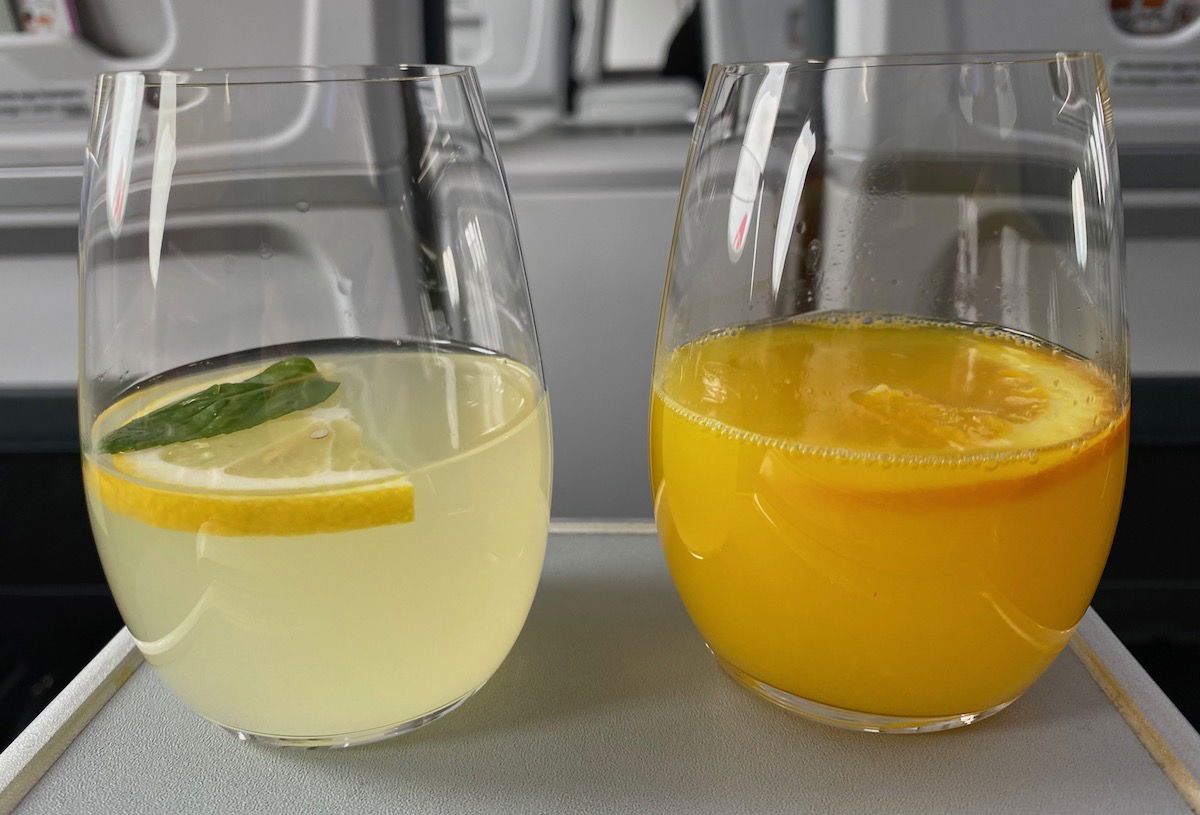 Headphones and menus were also distributed.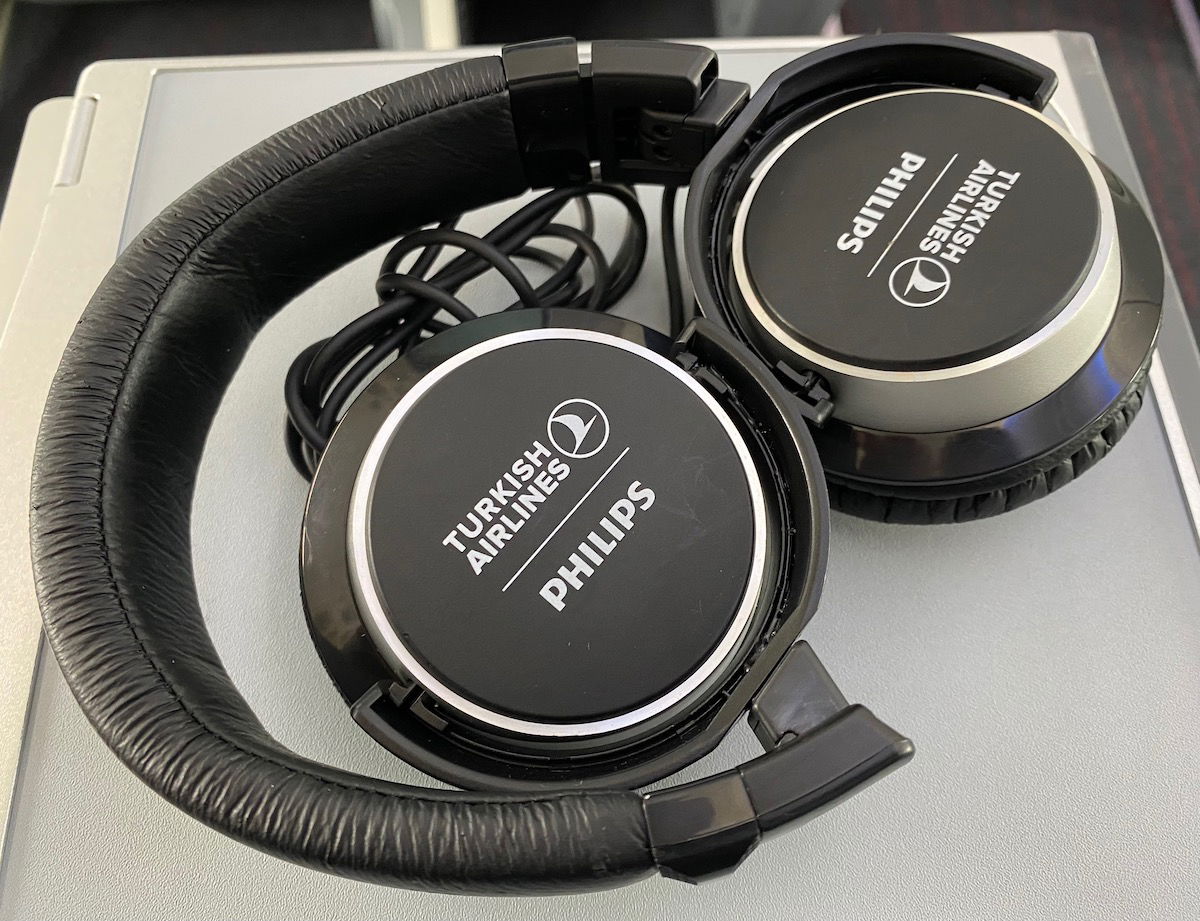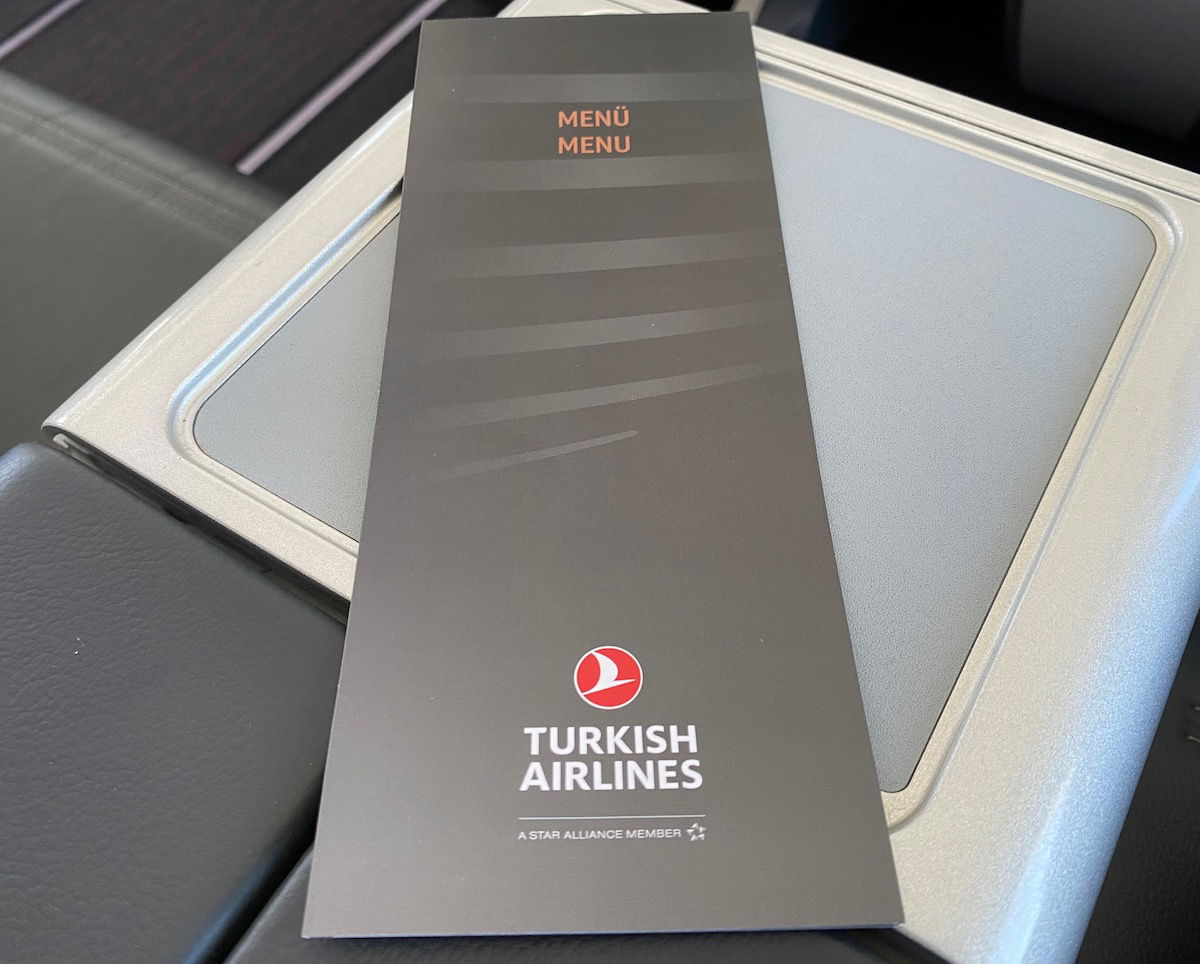 There were also pillows and blankets, the same as on the last flight.
Turkish Airlines departure from Istanbul
Passengers arrived on three buses, and by 11:40AM boarding was complete. Only six of the 16 business class seats were occupied, as it was us plus one family of four. Around this time the captain made her welcome aboard announcement — I don't think I've ever had a female Turkish Airlines captain, so I thought that was pretty cool! She informed us of our flight time of 2hr45min, and anticipated smooth flight.
At 11:45AM the main cabin door closed, and a few minutes later we began our pushback and taxi. Interestingly the apron where we were parked seemed to almost exclusively have jets that were in long term storage, with wheels and engines covered.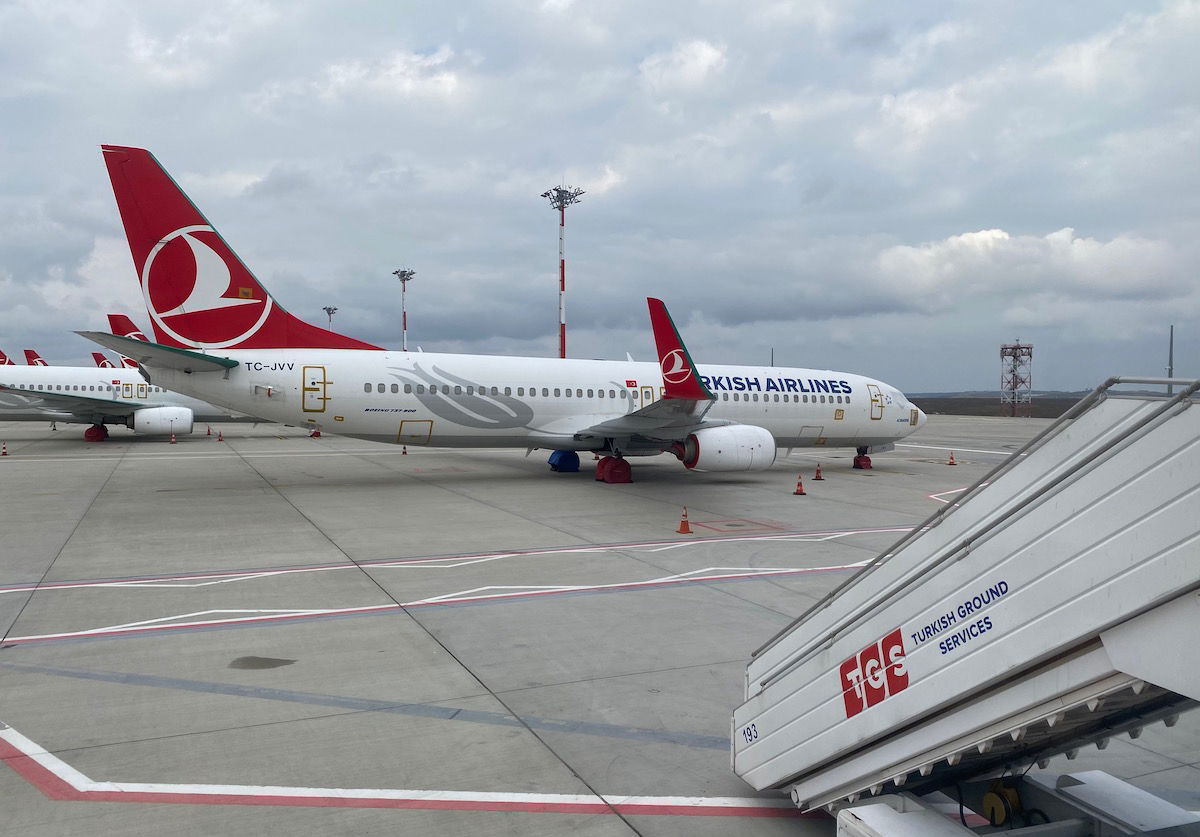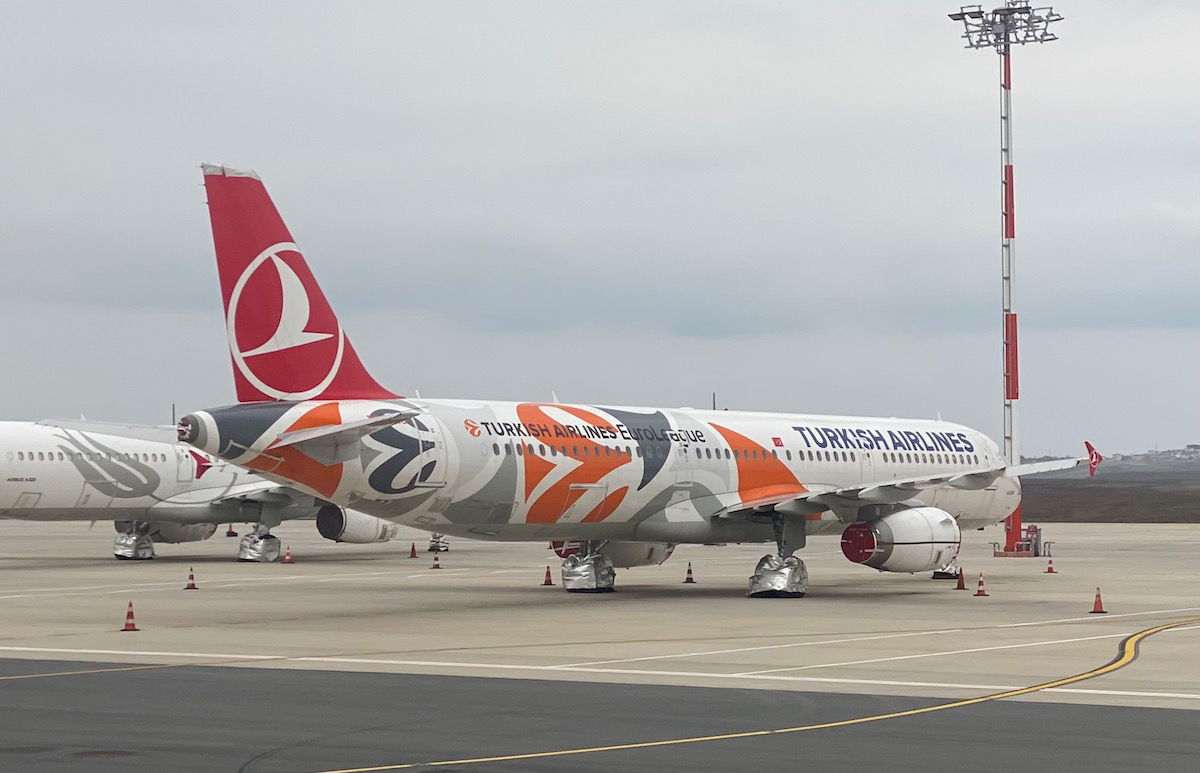 The safety video was screened as we pushed back, and we had a pretty quick taxi. By 12PM we were cleared for takeoff on runway 17L.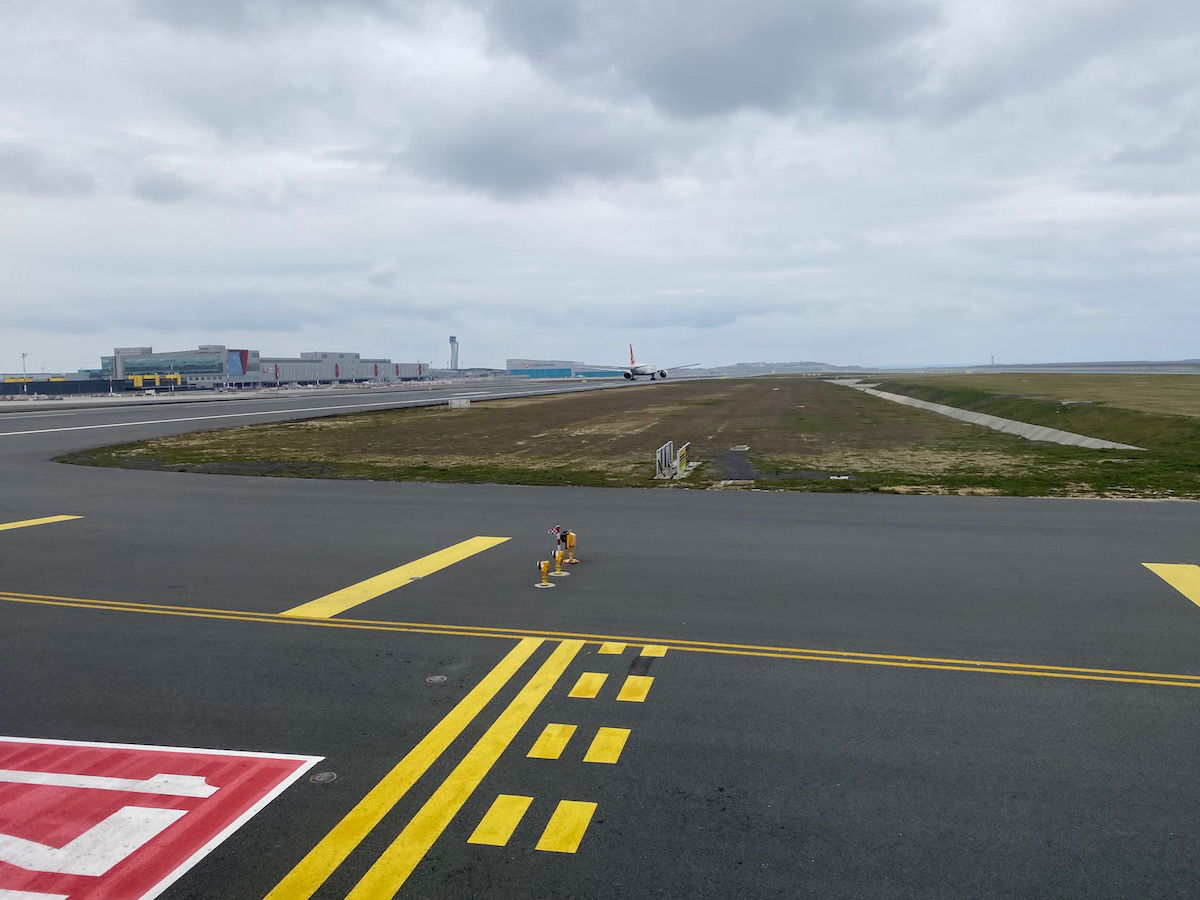 We had a short takeoff roll, and a smooth climb out. The seatbelt sign was turned off within five minutes.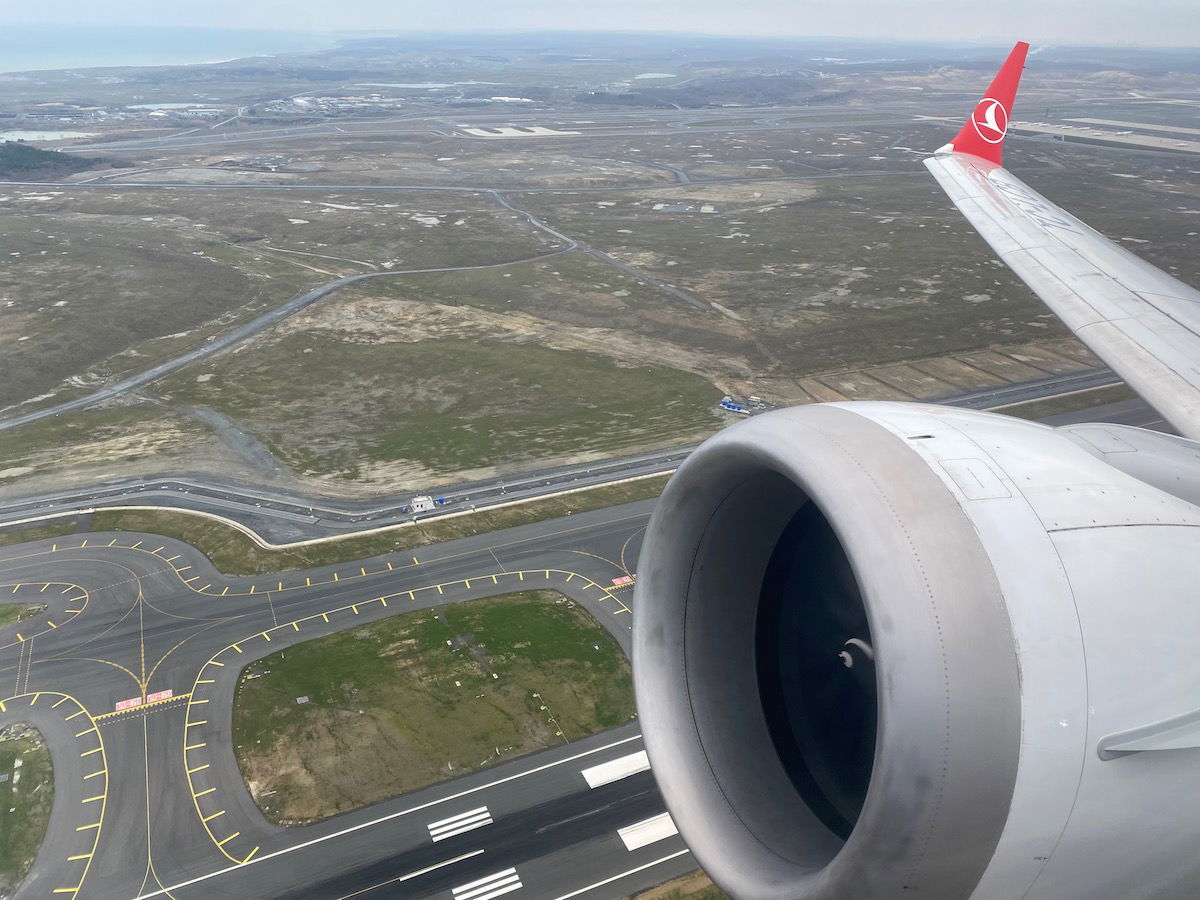 Turkish Airlines 737 MAX entertainment & Wi-Fi
Turkish Airlines' entertainment selection is exceptional, with 570+ movies and 990+ TV shows.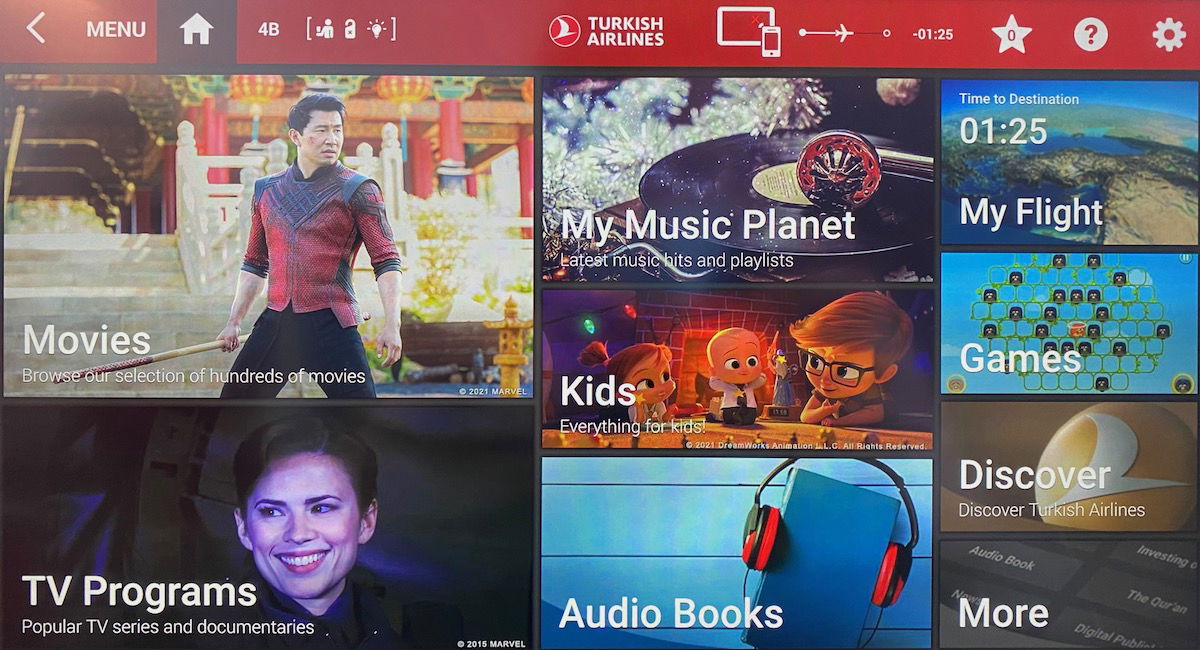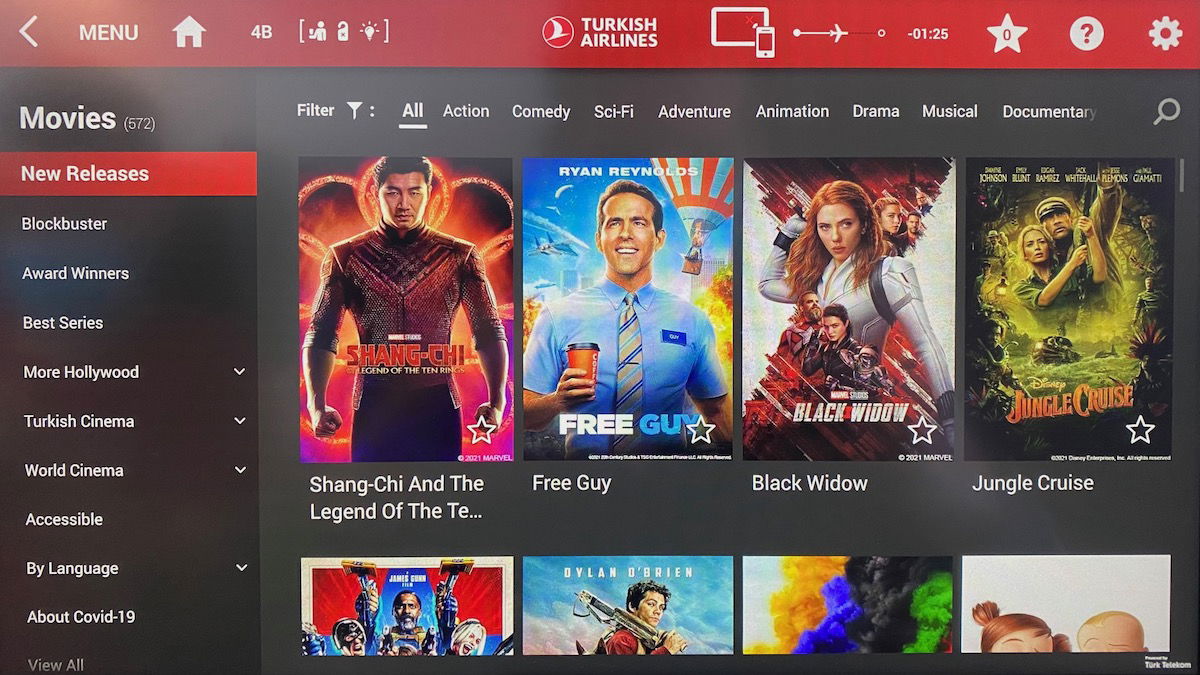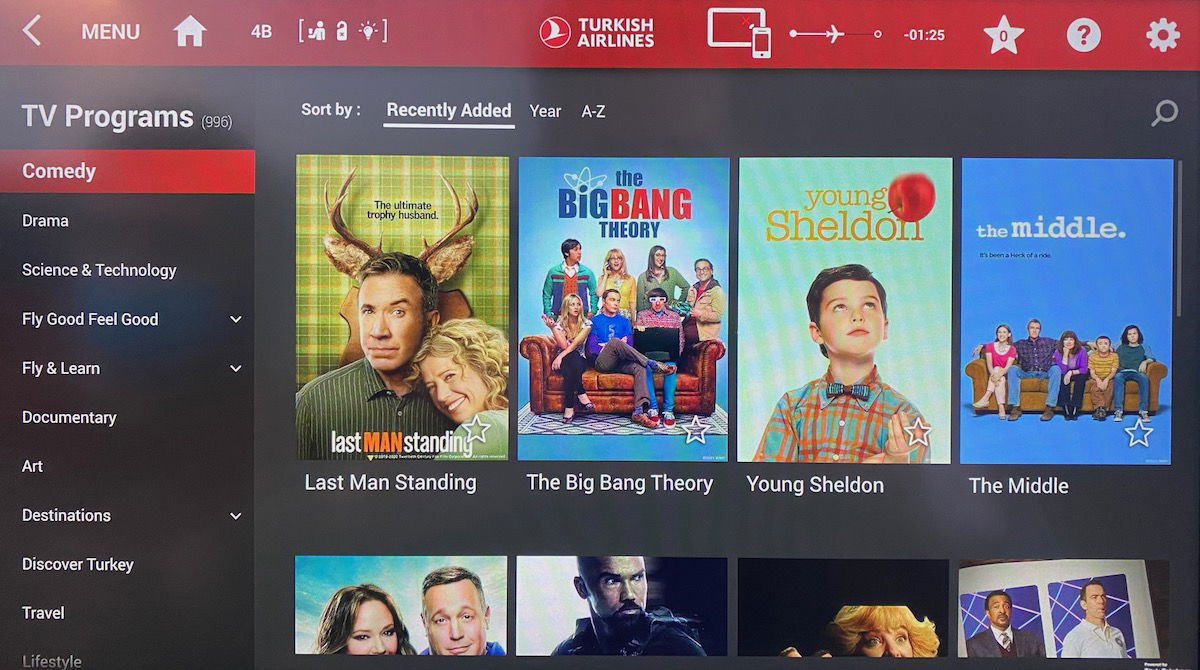 There's also the map feature, which is my favorite part of the inflight entertainment.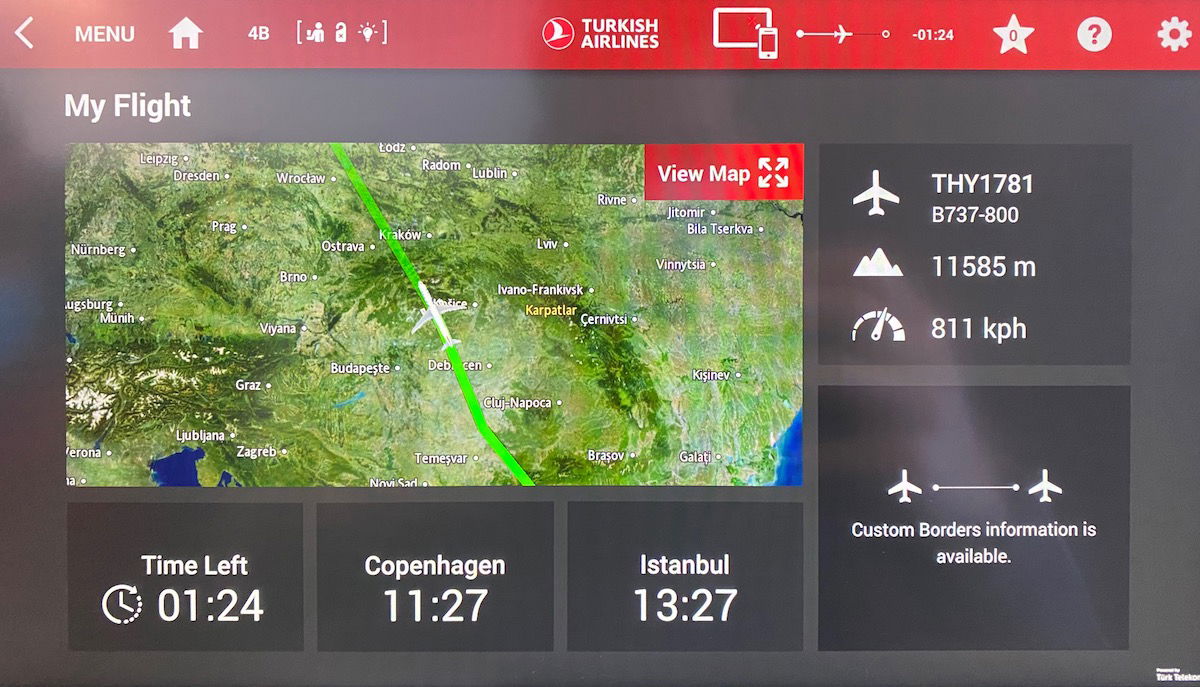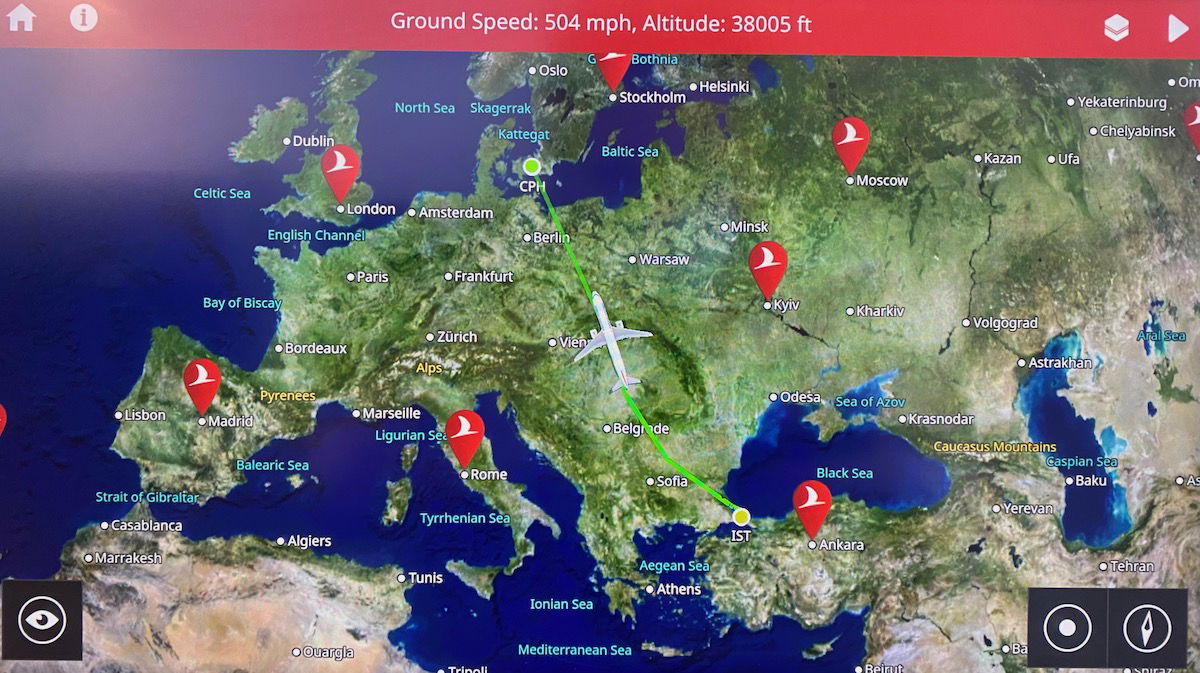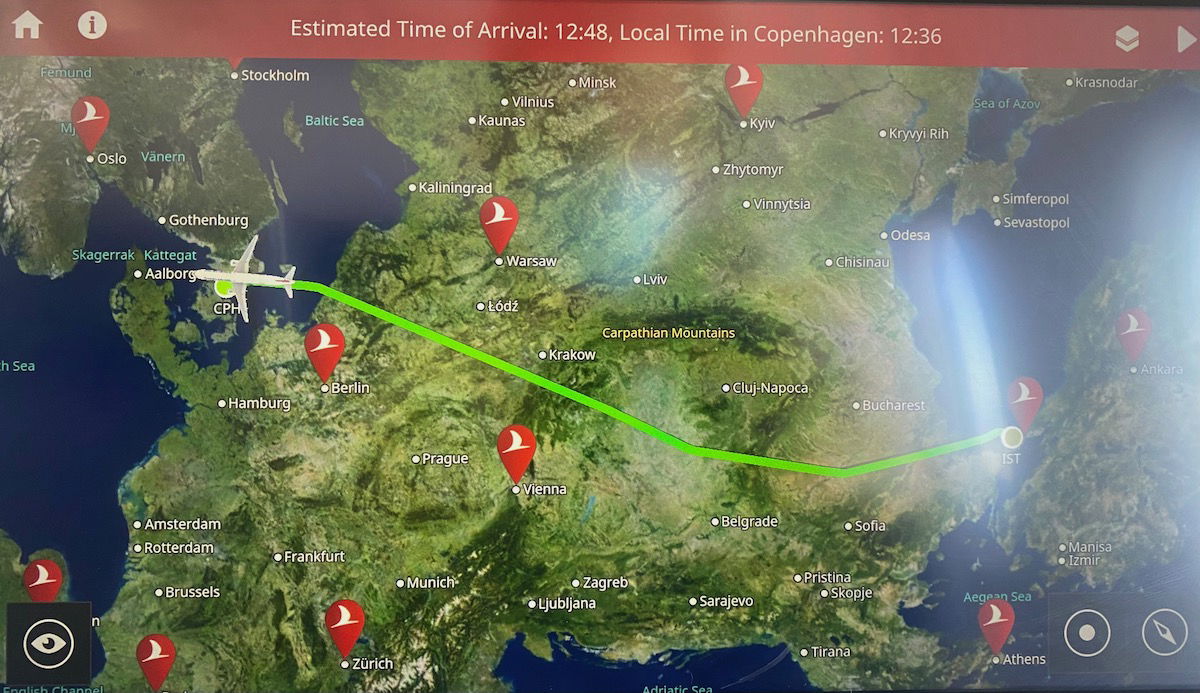 Turkish Airlines' Boeing 737 MAXs also have Wi-Fi. Pricing ranges from $2.99 to $24.99, depending on how much data you want.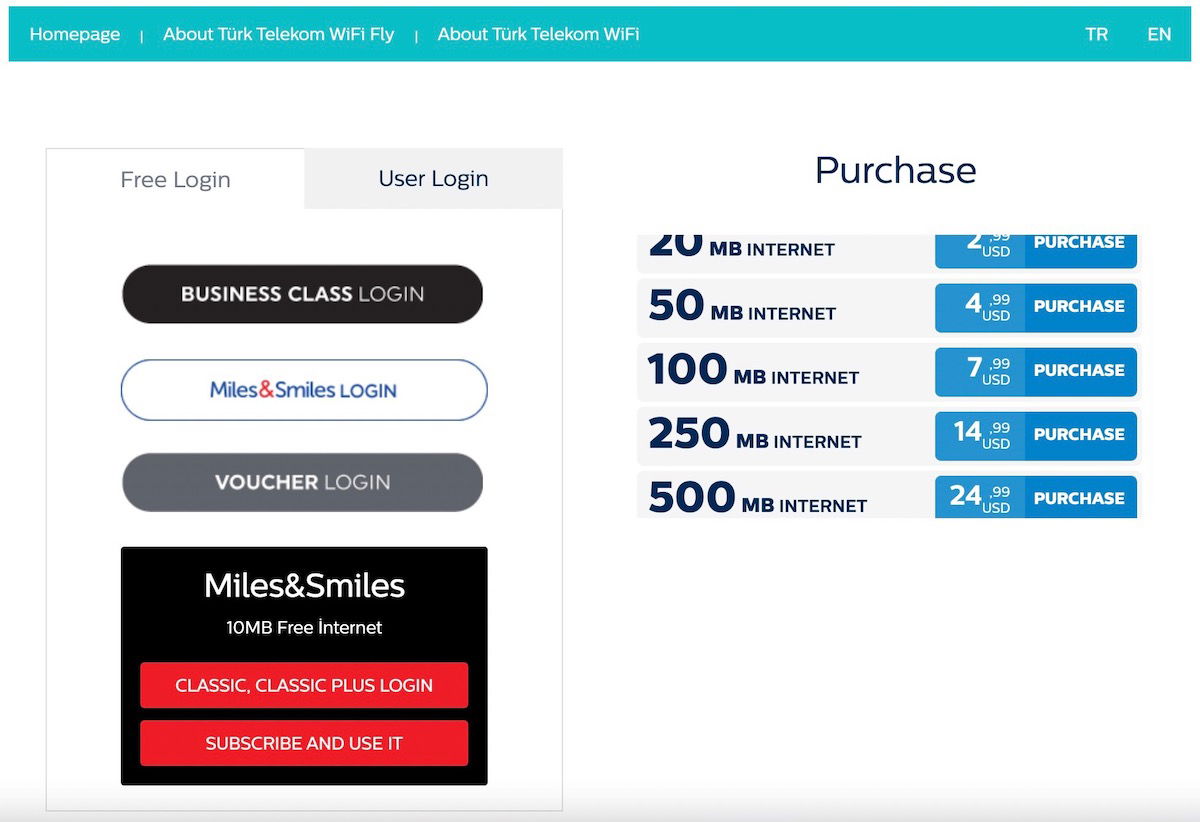 Fortunately business class passengers get 1GB of free data, which is awesome. I wish more airlines would offer business class passengers complimentary Wi-Fi.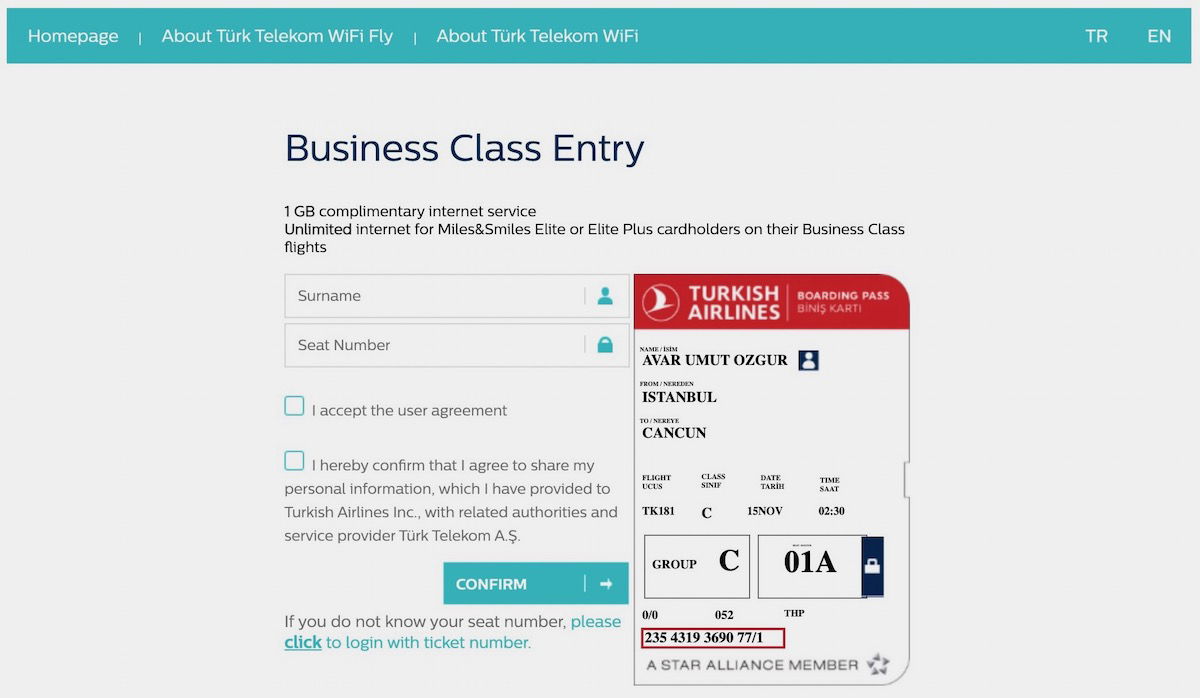 Turkish Airlines business class meal
About 20 minutes after takeoff the meal service began. You can find the menu below.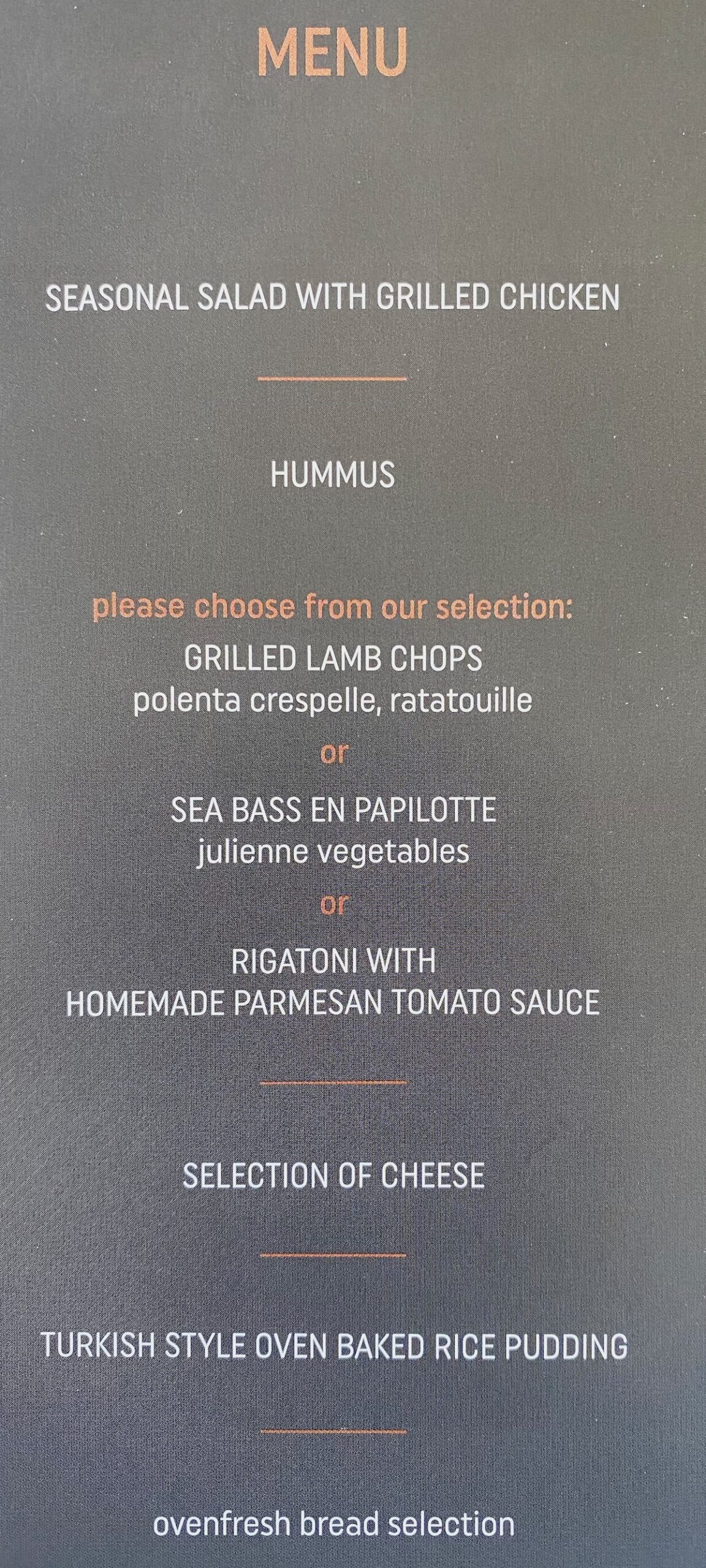 You can find the drink list below.

Service began with warm towels being distributed.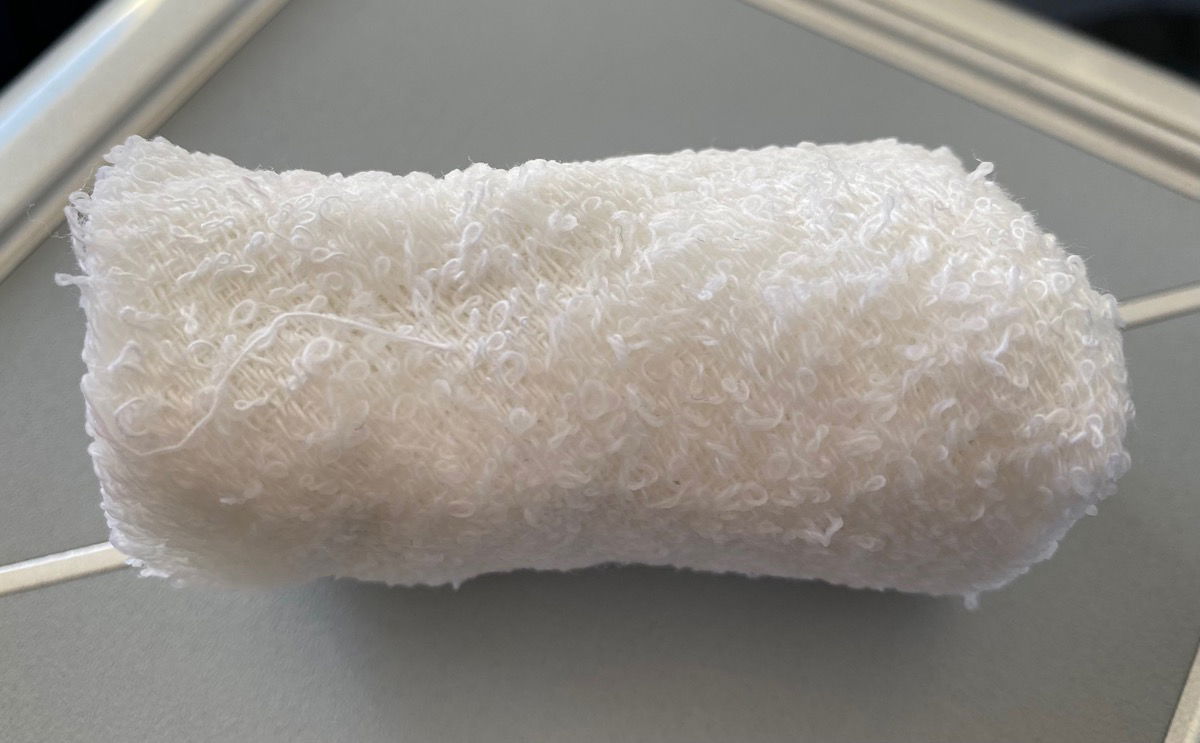 Drinks were then served — I ordered the Turkish sauvignon blanc (interestingly branded specifically for Turkish Airlines), plus a glass of sparkling water.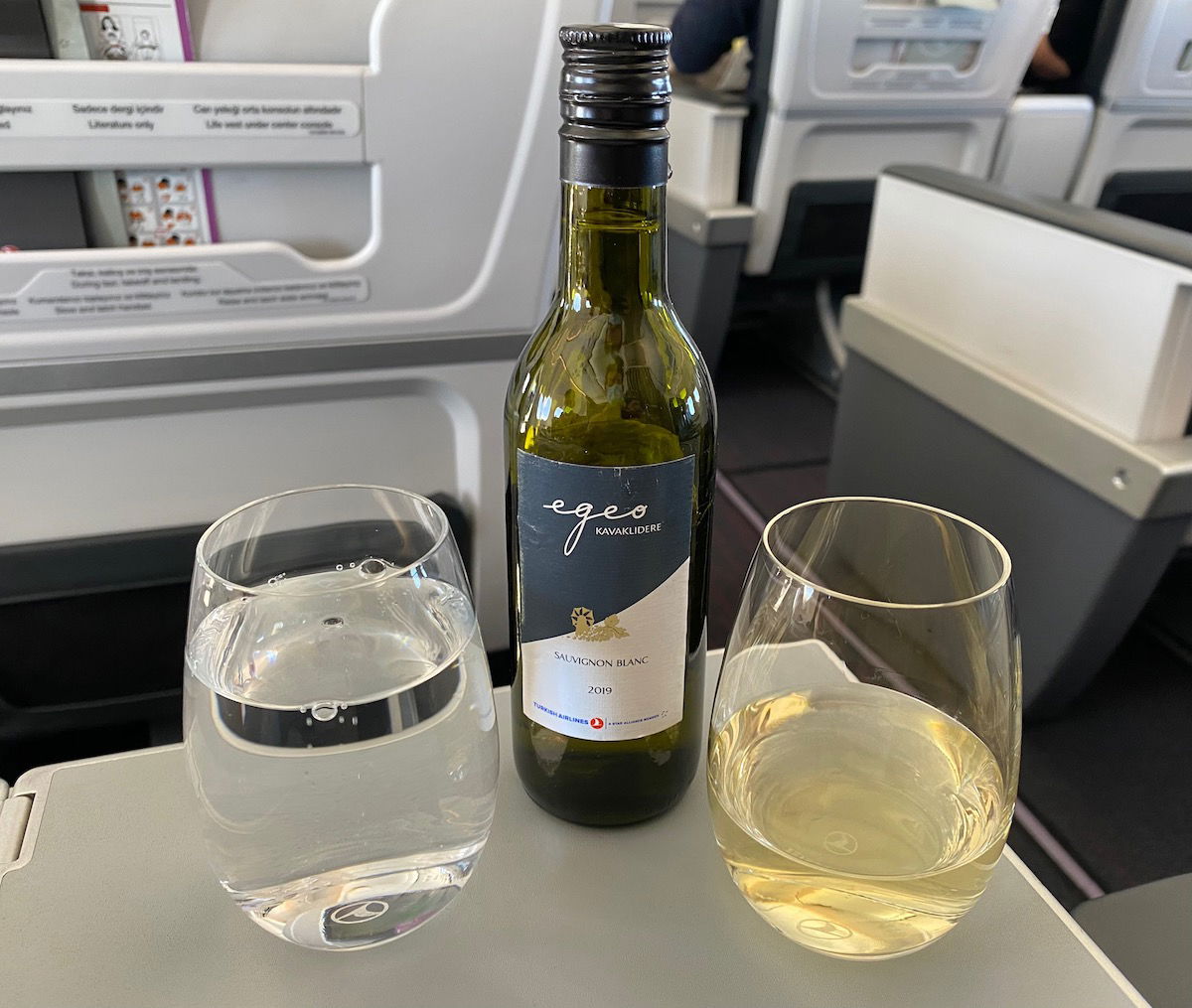 Next up, everything except the main course was served on one tray, covered.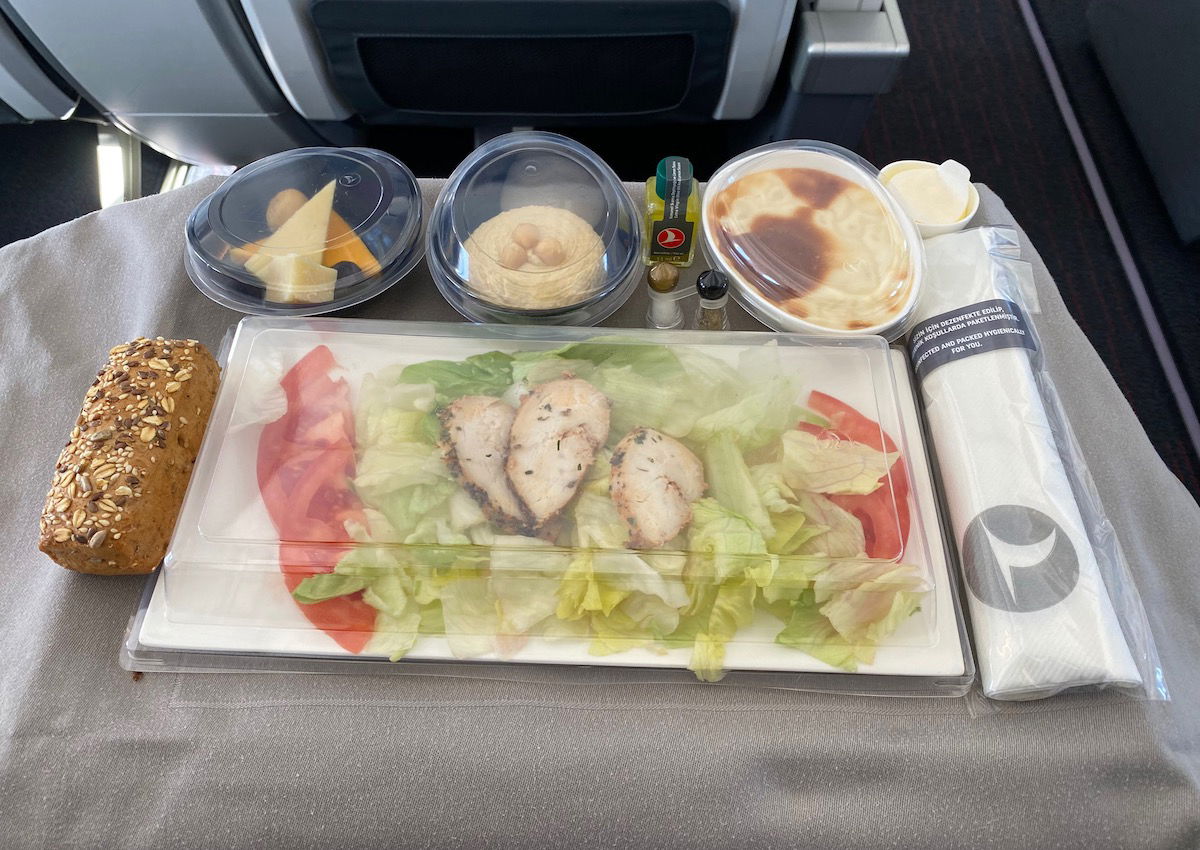 The meal consists of salad with grilled chicken, hummus, cheese, baked rice pudding, and bread. While the salad wasn't exactly the most interesting, it was a good meal overall.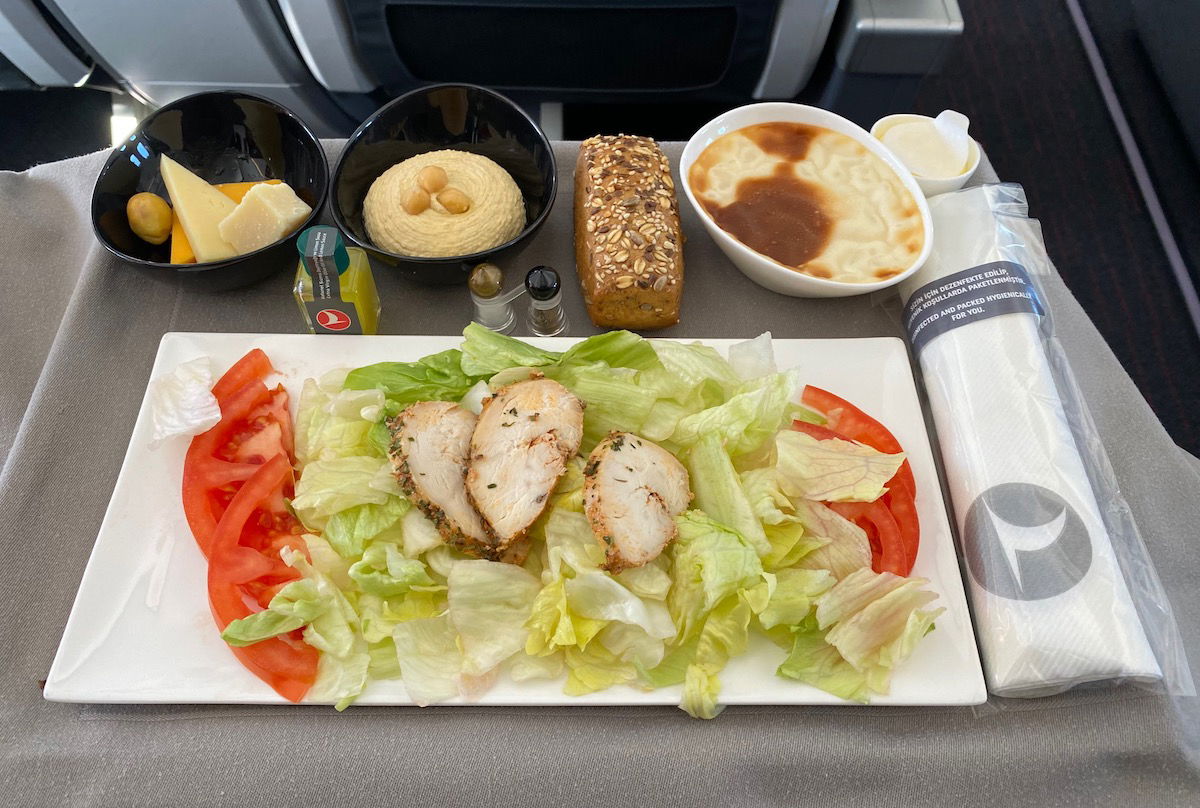 Next up, we were offered our choice of three main courses, which were served covered.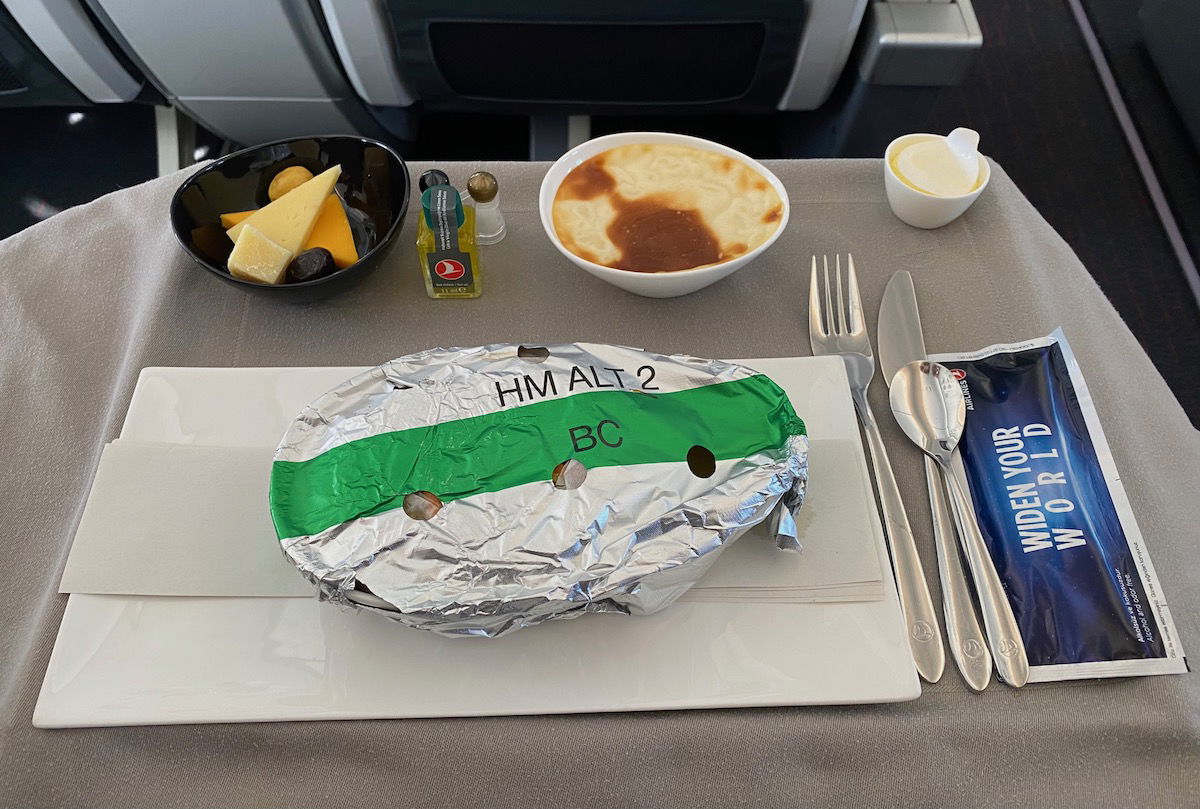 I ordered the sea bass en papillote with julienne vegetables. While I understand that the dish was intended to be served in paper (it's even in the name), this just seems like a weird way to serve a fish dish on a plane, when you're dealing with a small bowl and limited space. The fish as such tasted quite good.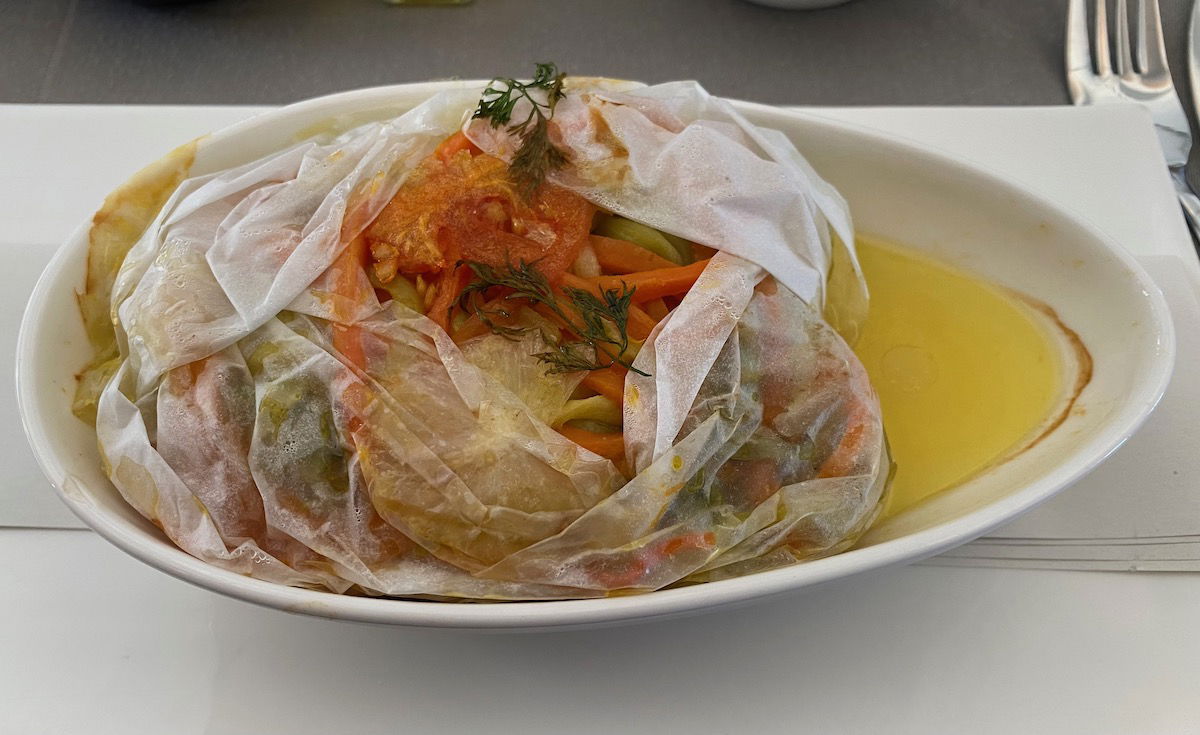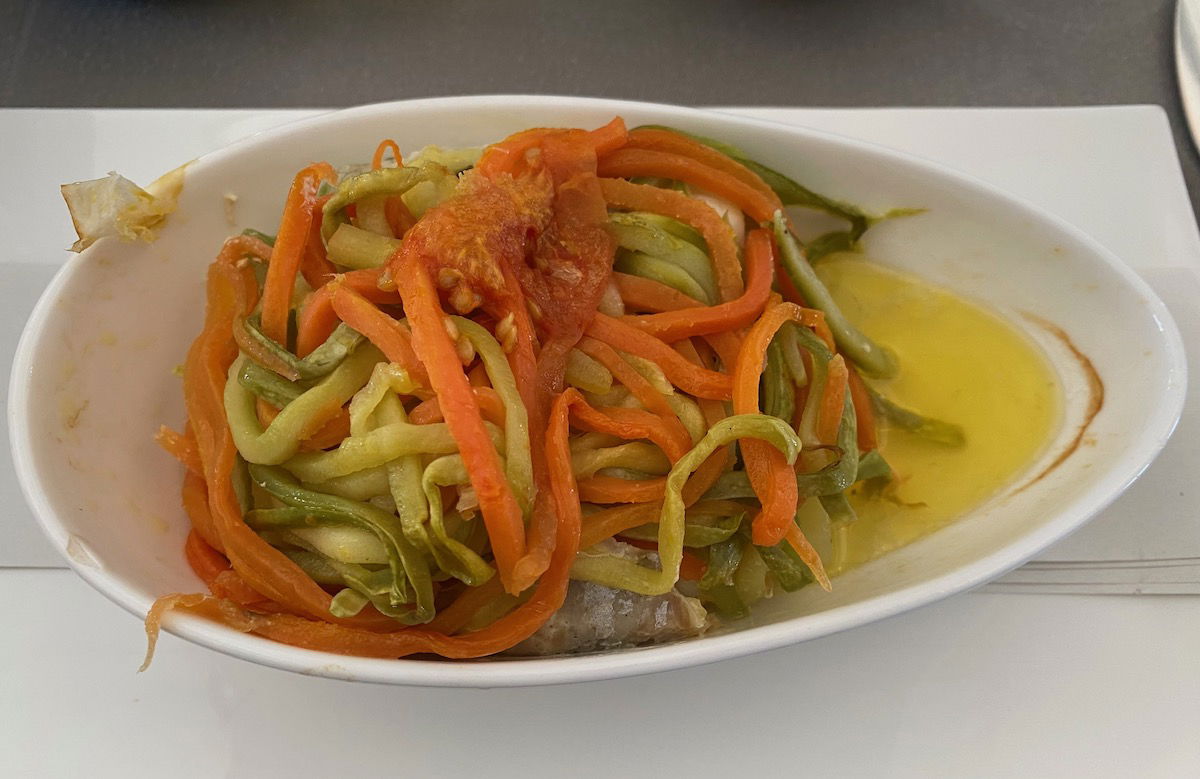 My friend had the grilled lamb chops with polenta crespelle and ratatouille.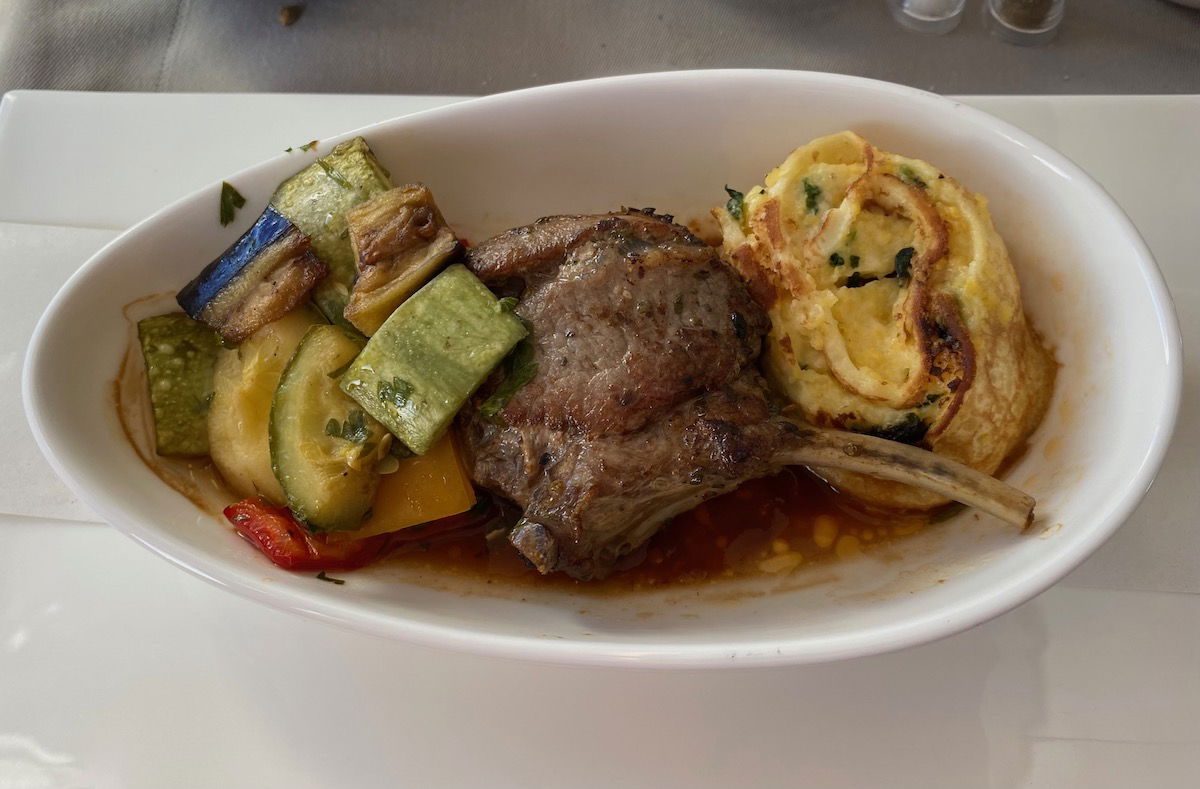 At the conclusion of the meal I ordered a coffee, which the flight attendant refilled a couple of times.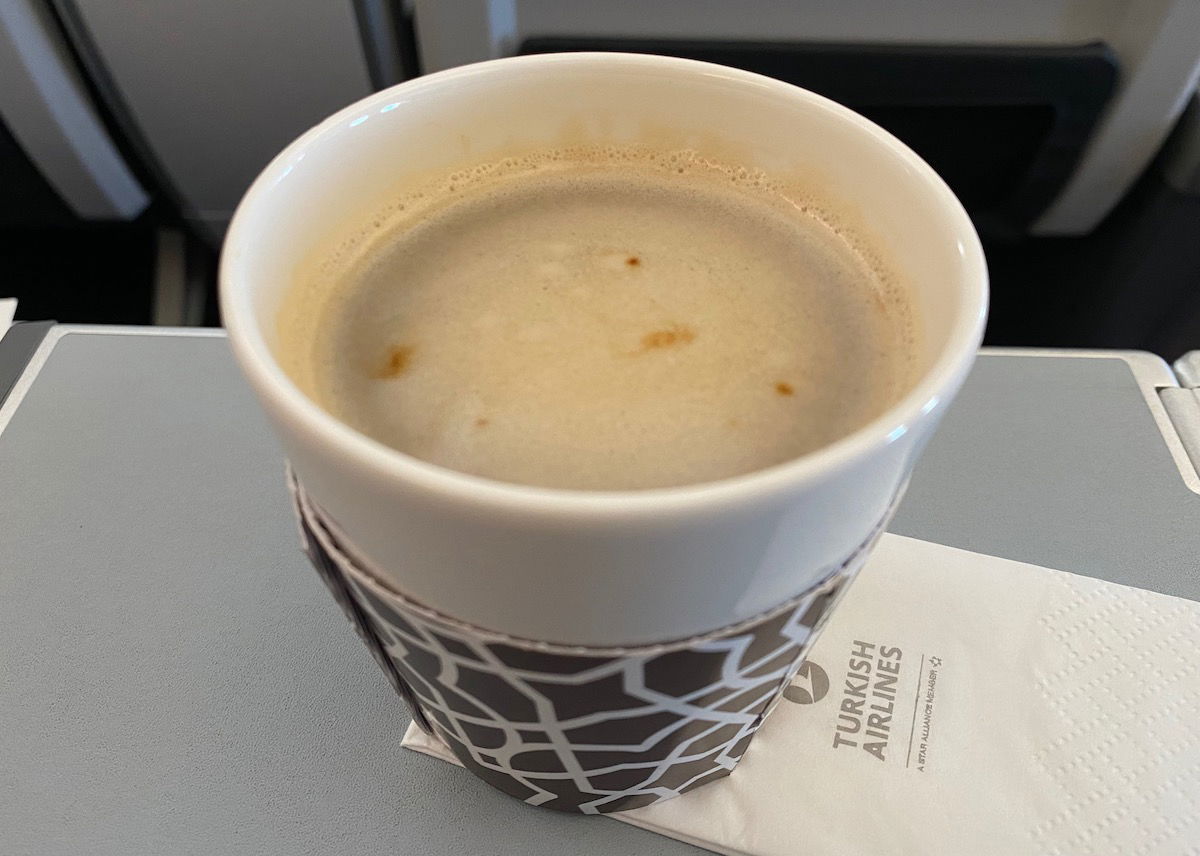 Turkish Airlines business class service
Turkish Airlines is quite consistent when it comes to service, and this flight was no exception. The two flight attendants working business class were friendly and professional, and provided great service. I'd say they maybe weren't quite as personable as the crew on the last flight, but they still did a great job.
Turkish Airlines arrival in Copenhagen
About 40 minutes before landing the captain made her pre-landing announcement, informing us of our anticipated arrival time of 12:45PM. About 10 minutes later the seatbelt sign was turned on, and cabin was prepared for landing. The views on the approach were beautiful.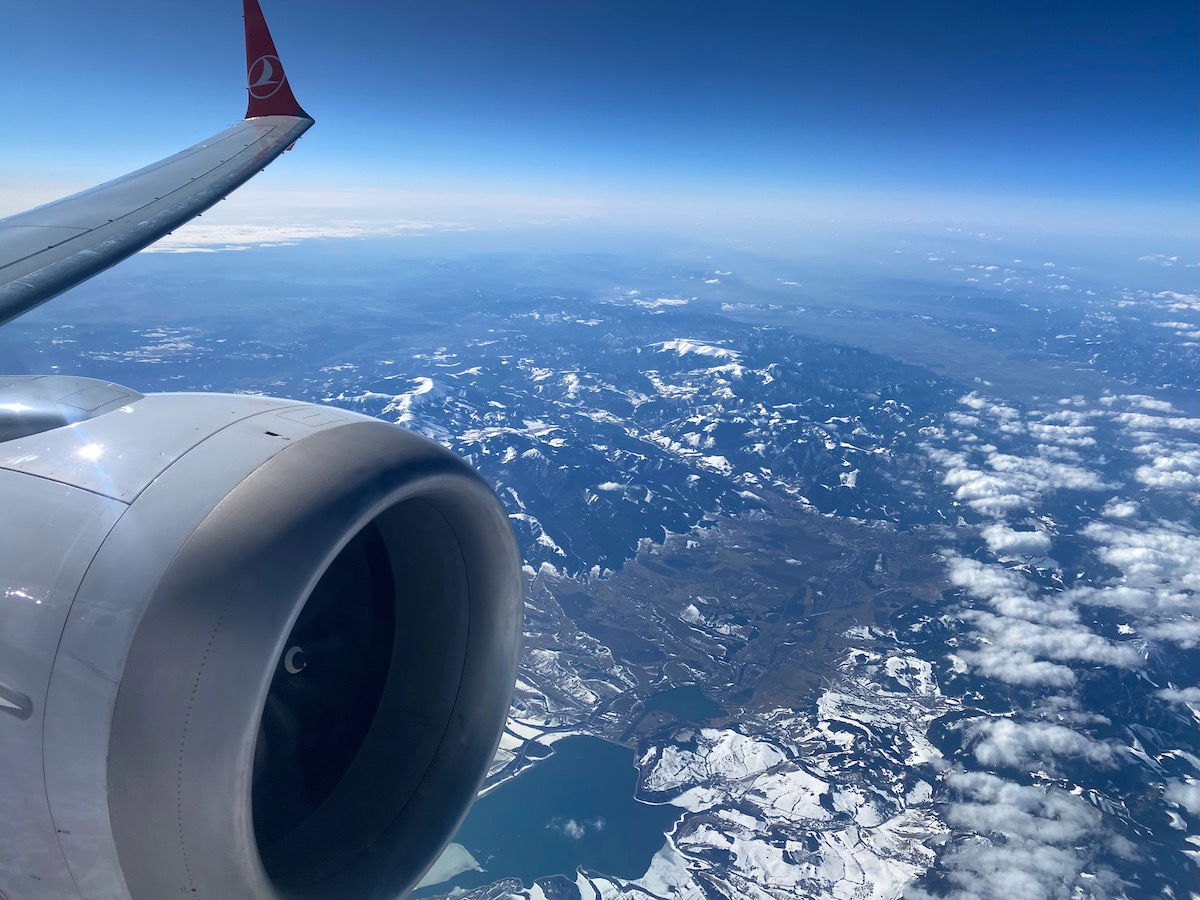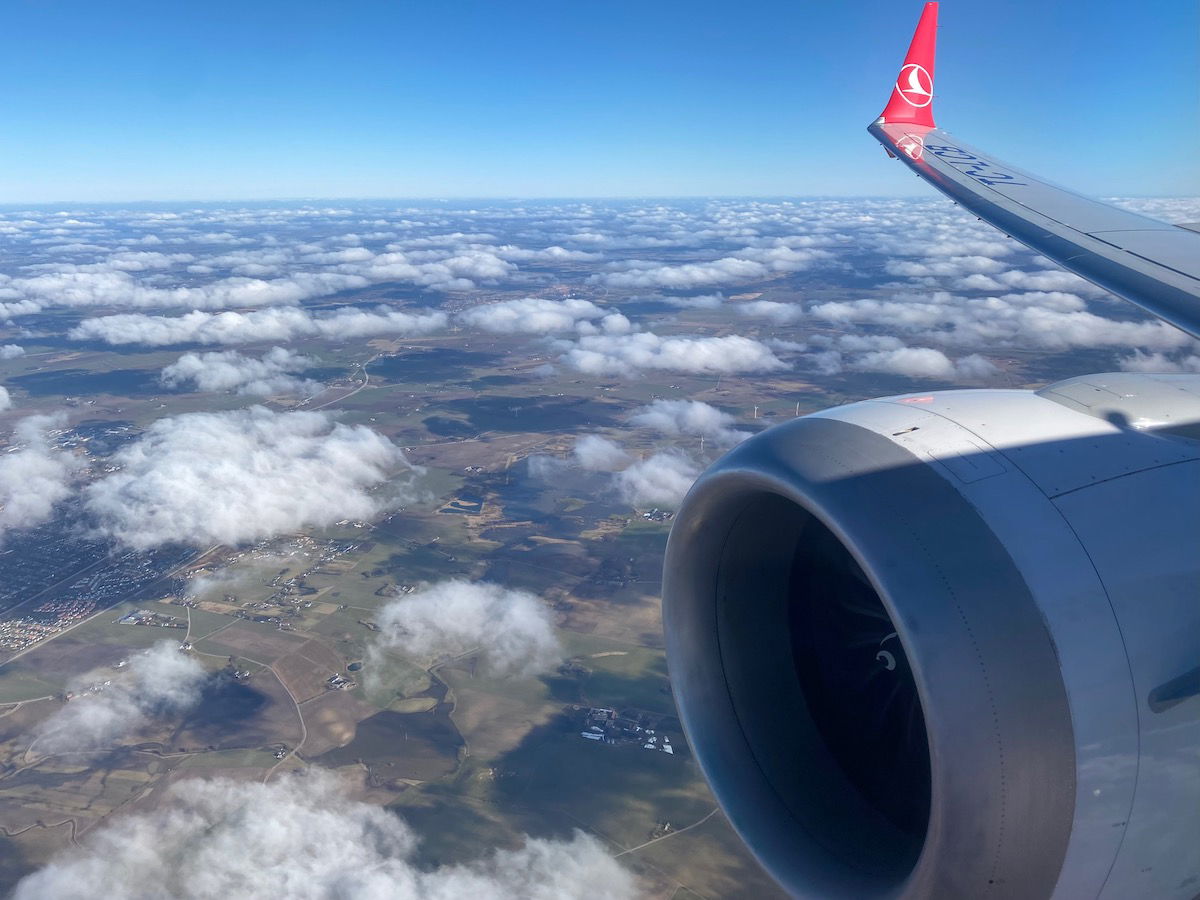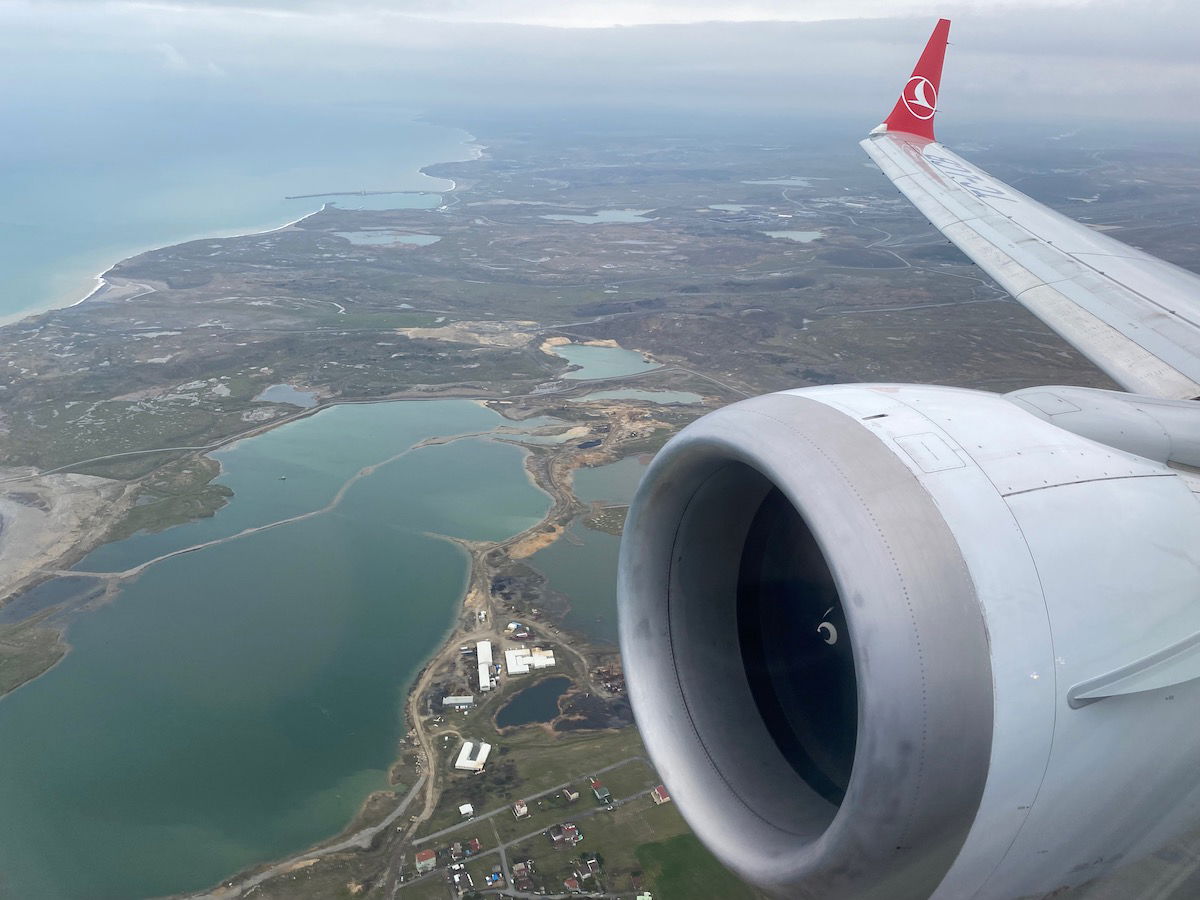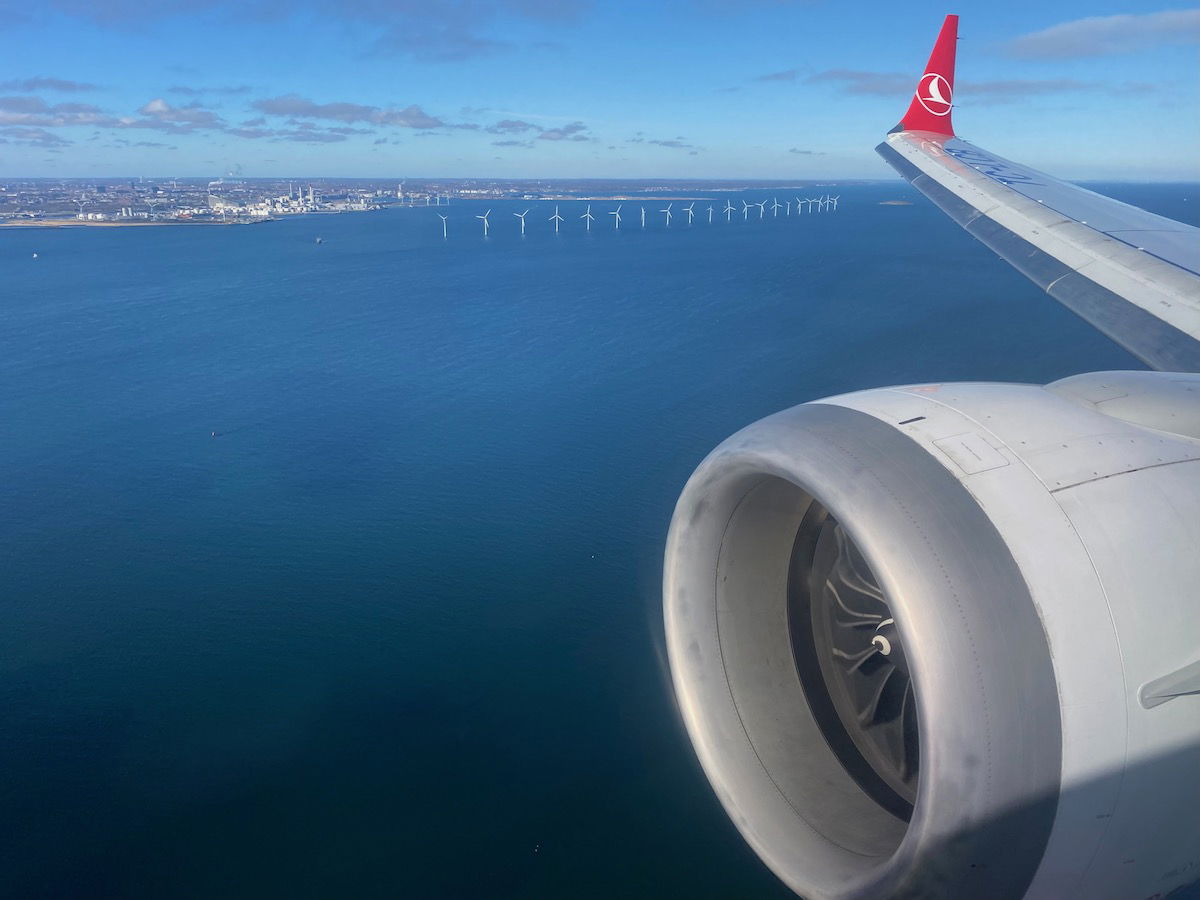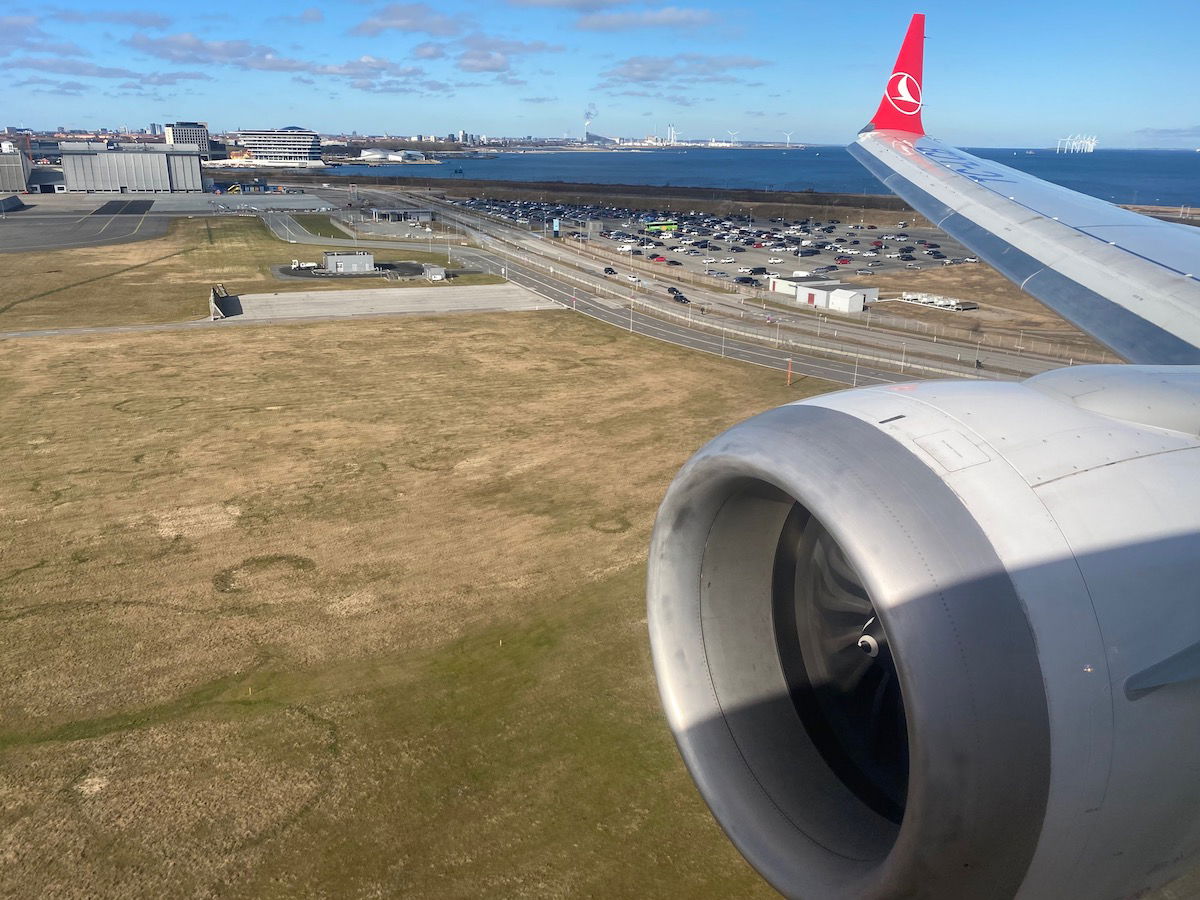 We ended up touching down in Copenhagen at 12:45PM, and from there had a roughly five minute taxi to our arrival gate. We taxied past an Aeroflot Boeing 737-800 (I think this was the last day that Aeroflot flew to the airport before being banned), as well as a Qatar Airways Boeing 787-9.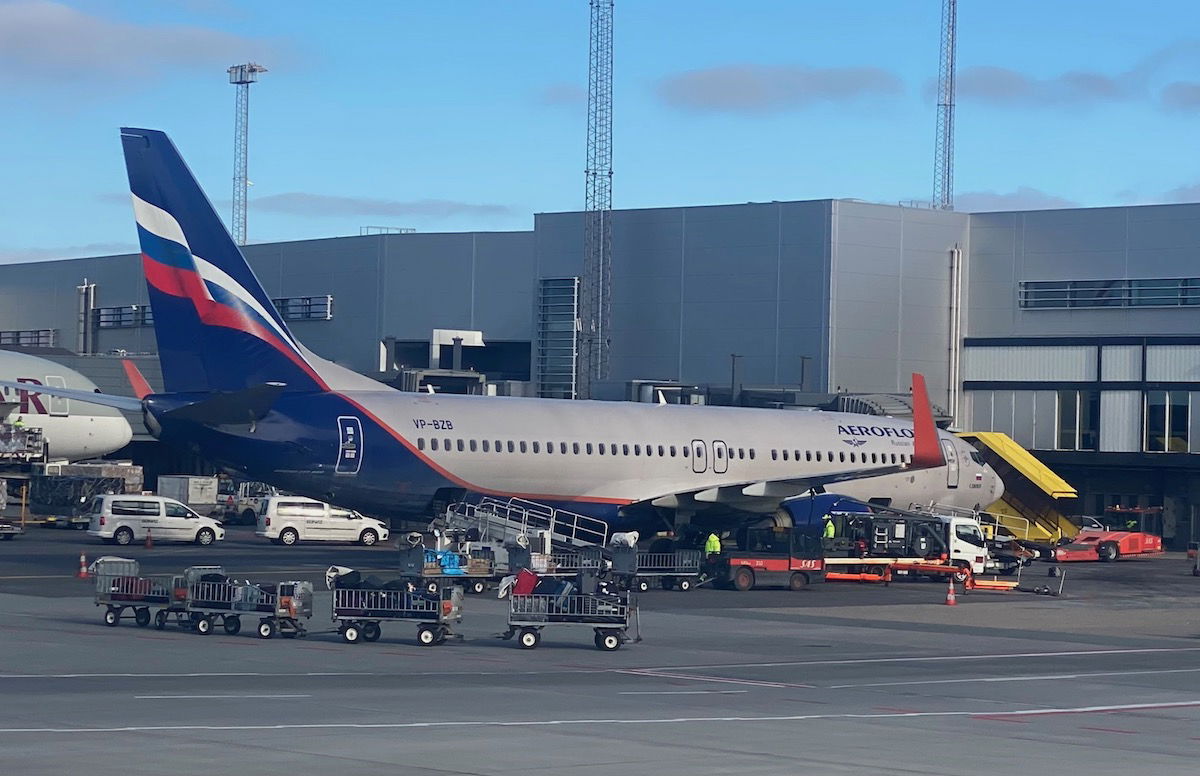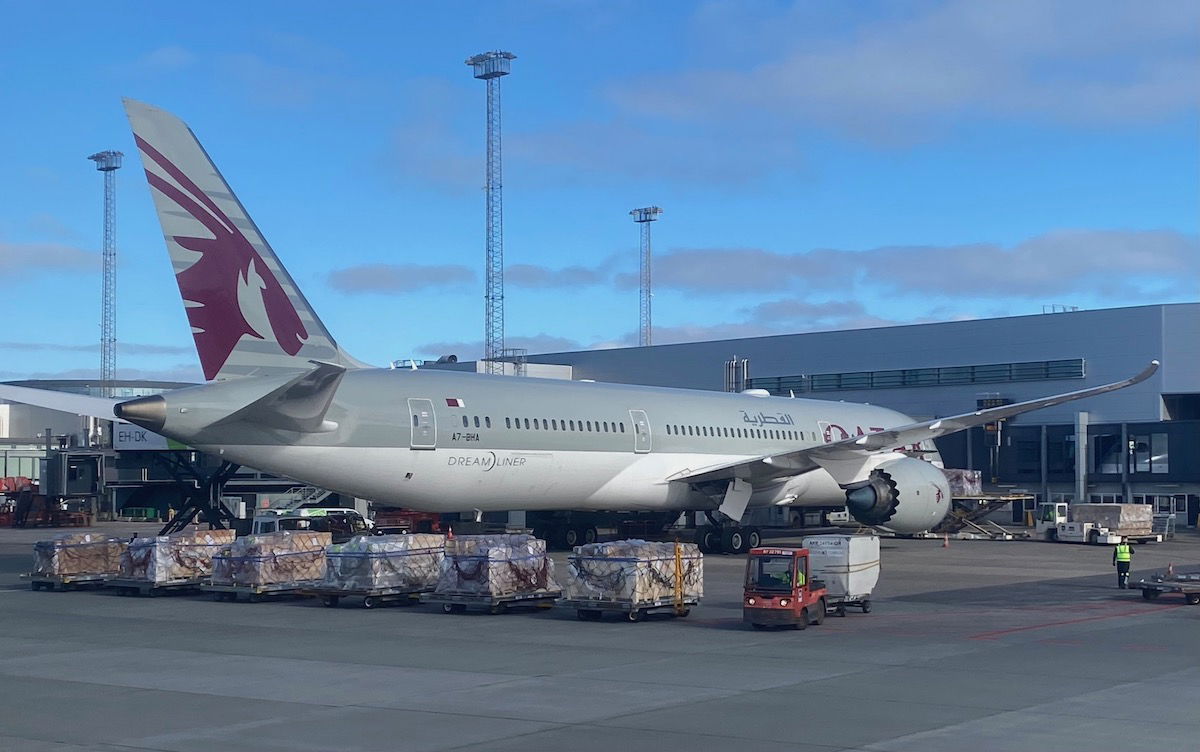 Bottom line
Turkish Airlines offers an exceptional short haul business class product. On a similar intra-Europe flight, most European airlines would offer economy seats with blocked middles, while Turkish has proper business class seats, free Wi-Fi, friendly service, and a great food & beverage selection.
Turkish continues to be one of my favorite airlines in the world, and I'm thrilled to see how good the carrier's short haul product is on new A321neo and 737 MAX aircraft. Personally I slightly preferred the A321neo experience, for the all around better plane and nicer lavatory. However, I rated this flight a bit higher than the other one because this is very impressive for an intra-Europe product.
If you've flown Turkish Airlines' Boeing 737 MAX business class, what was your experience like?