After an amazing trip to Oman, it was time for the last segment back to the United States, in Scandinavian Airlines' A350-900 business class from Copenhagen to Miami.
I was looking forward to this flight, as I hadn't flown SAS' A350 business class before. Furthermore, I've only ever flown SAS' long haul business class once (on the A330), and it wasn't a good experience. I was curious to see how the airline would do this time around.
I've gotta say, SAS really impressed me — while there are a few areas for improvement, the crew was friendly, the seats were comfortable, the food was good, and business class passengers get free Wi-Fi. This might just rank in my top five transatlantic business class products.
How I booked my SAS business class ticket
I booked the return itinerary through Air Canada Aeroplan, and managed to ticket the following in business class for 105,000 Aeroplan points plus $55.25 in taxes and fees:
02/27 TK775 Muscat to Istanbul departing 1:20AM arriving 6:05AM
02/27 TK1781 Istanbul to Copenhagen departing 11:50AM arriving 1:10PM
03/01 SK953 Copenhagen to Miami departing 9:35AM arriving 2:05PM
One of the awesome things about Aeroplan is that you can add a stopover to a one-way award for just 5,000 points, so I was able to add one of those here, so I could spend a couple of days in Copenhagen.
SAS business class boarding
After visits to both the SAS Lounge and Eventyr Lounge, it was time to head to the departure gate for our flight to Miami. Our flight was scheduled to depart at 9:35AM, and boarding was scheduled to start at 8:50AM, 45 minutes before departure.
The flight was departing from gate E129, which was a surprising distance from the Eventyr Lounge, even though we were already in the non-Schengen area. We walked really far, and the terminal was also totally deserted.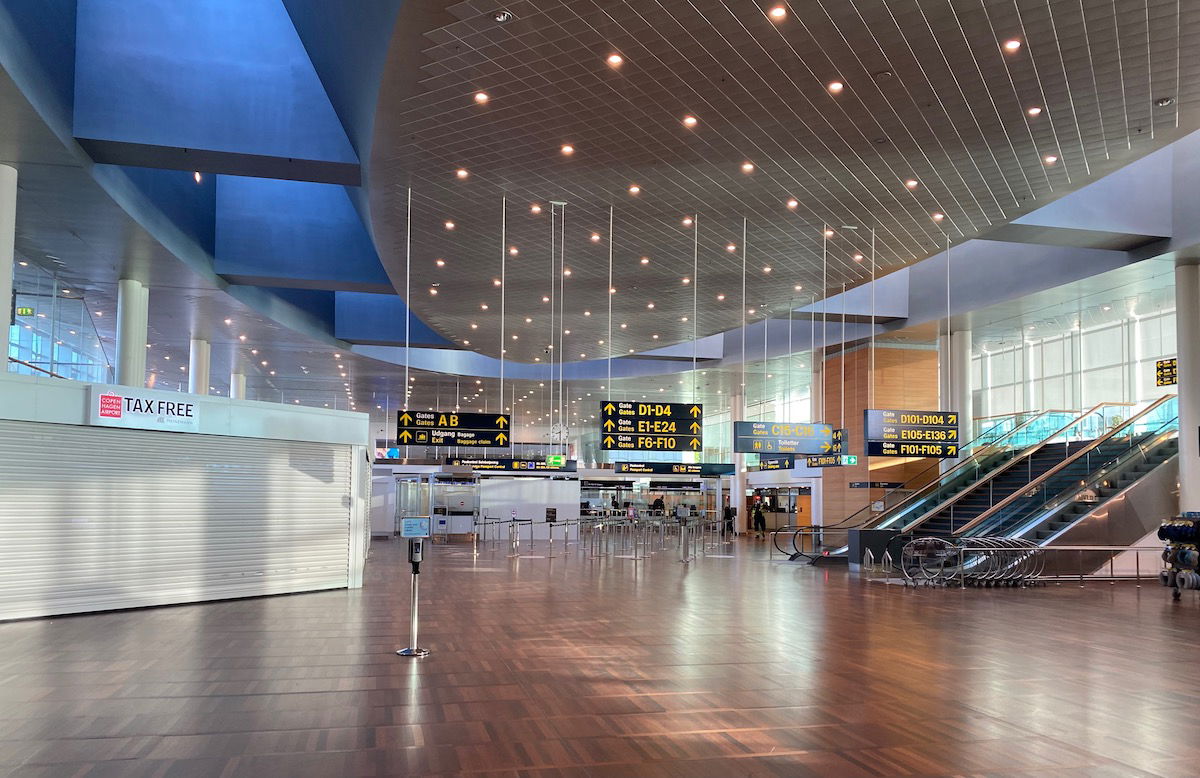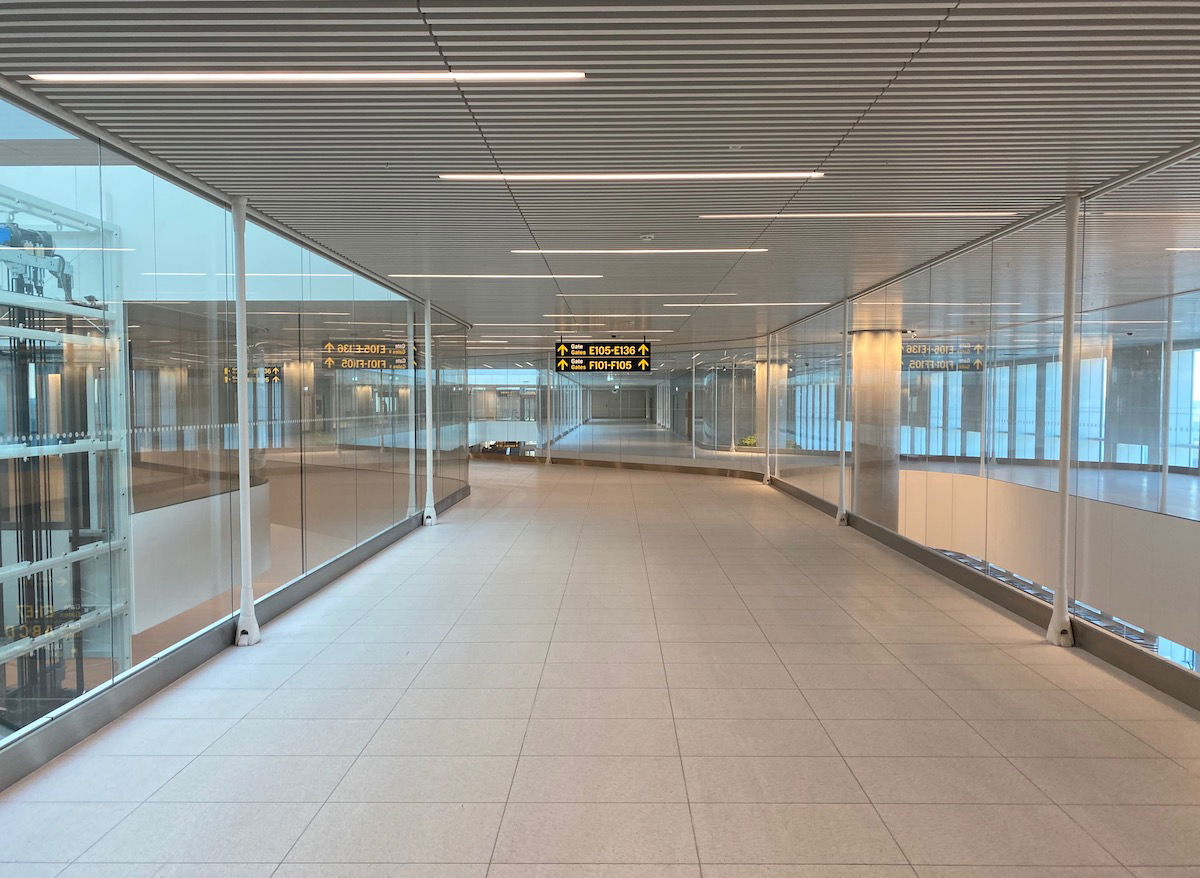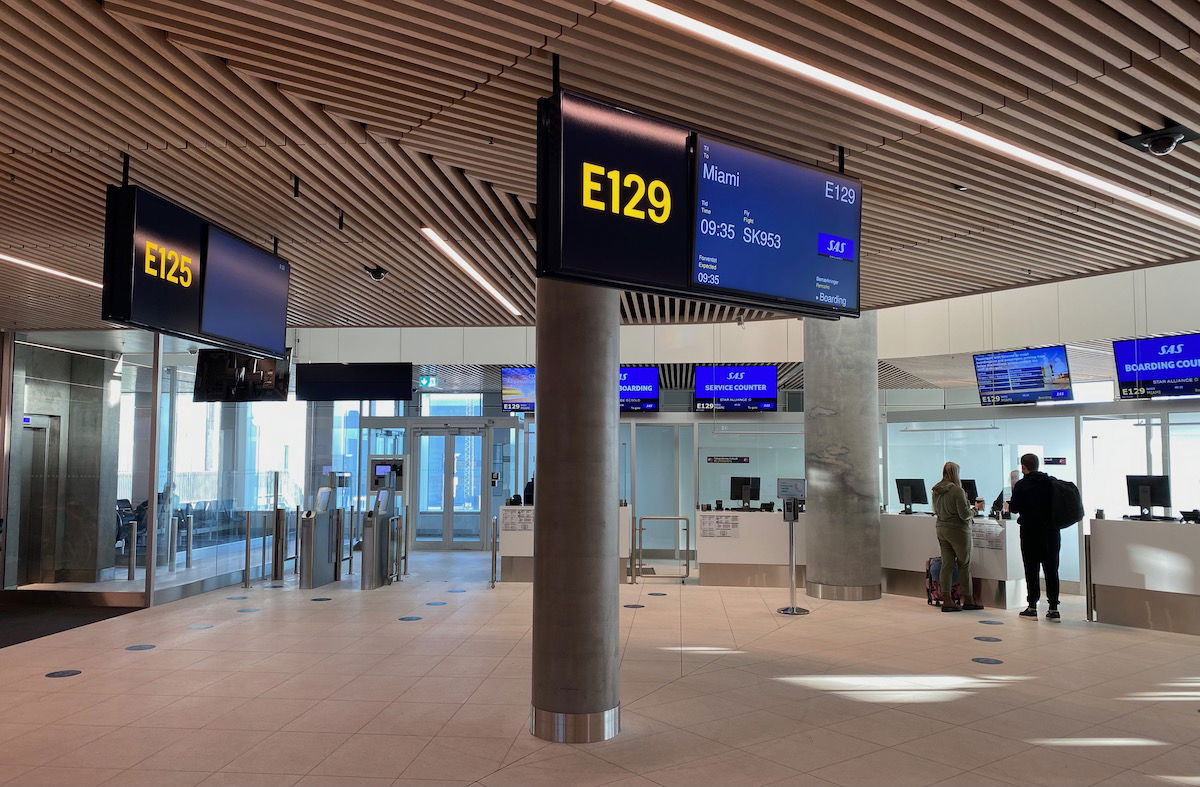 8:50AM came and went, and there was no announcement about boarding. As a matter of fact, the crew only showed up five minutes after that, at 8:55AM. A moment later the gate agents advised that there was one flight attendant missing, and they were working on finding a replacement, but didn't have a sense of how long that would take.
At 9:20AM the purser came into the gate area and made an announcement. He explained the situation in greater detail, and said that one flight attendant had called in sick last minute, and a replacement flight attendant should be arriving any minute.
He was extremely professional, and explained that the flight attendant that would be showing up shortly is helping us and not the reason for the delay, so we shouldn't blame her. Rather he suggested we cheer when she arrives.
Sure enough at 9:30AM the flight attendant showed up, and it was clear that she was rushing to get there, as she was out of breath. She wasn't just casually strolling with an iced coffee in her hand. Kudos to the crew for the professionalism with which this was handled.
Boarding began roughly two minutes after that last flight attendant arrived, with business class passengers being invited to board first.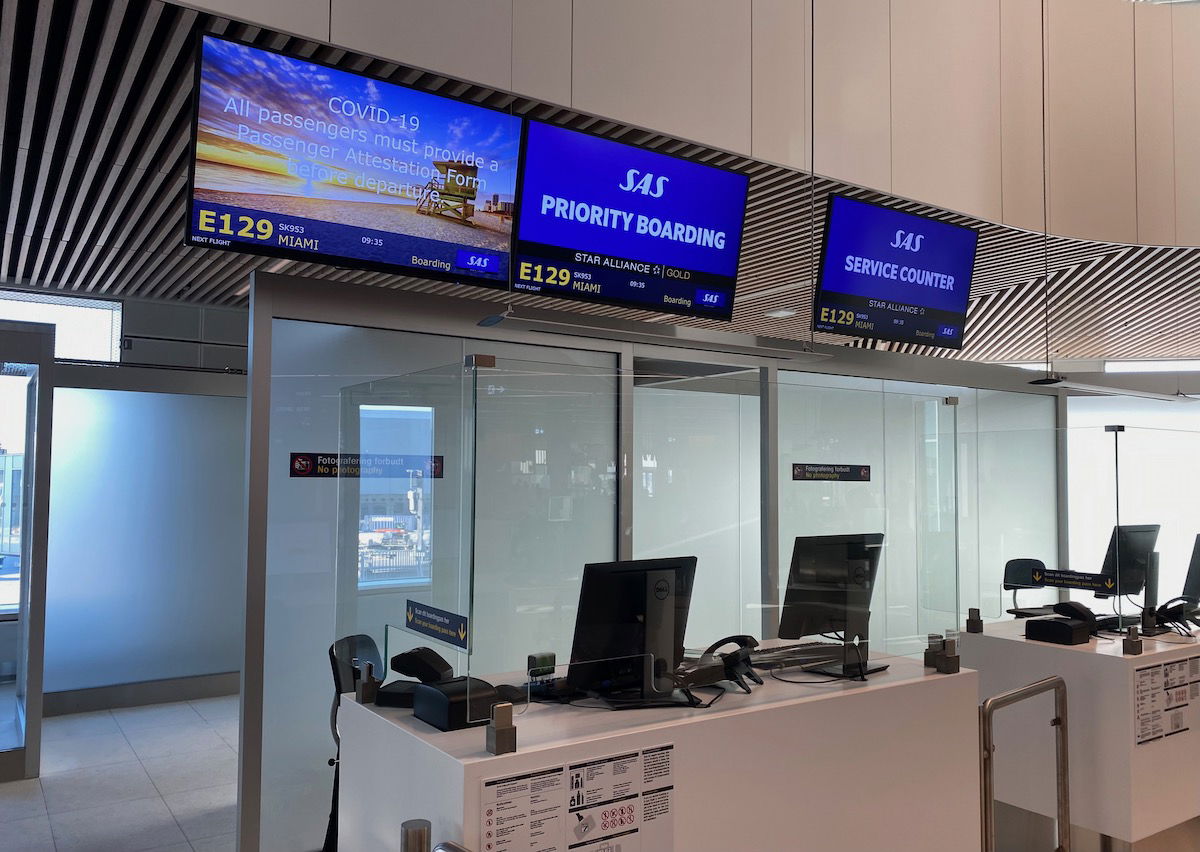 SAS A350-900 business class cabin & seats
Scandinavian Airlines' Airbus A350-900s have a total of 40 business class seats, in a 1-2-1 configuration. There's a forward cabin (between the first and second set of doors) with eight rows of seats, and a rear cabin (behind the second set of doors) with two rows of seats.
SAS has Vantage XL seats in business class, which you'll find on quite a few airlines, including Philippine Airlines, Qantas, RwandAir, and more.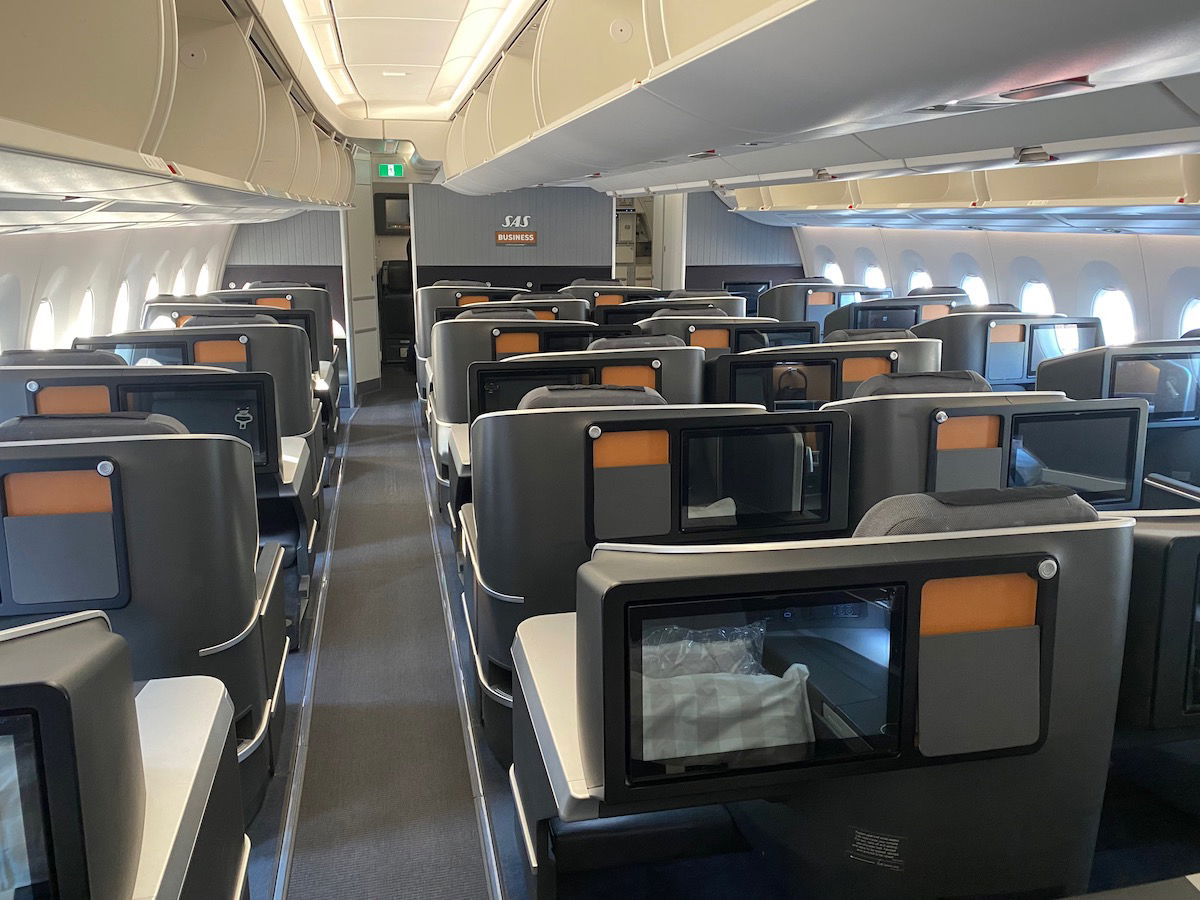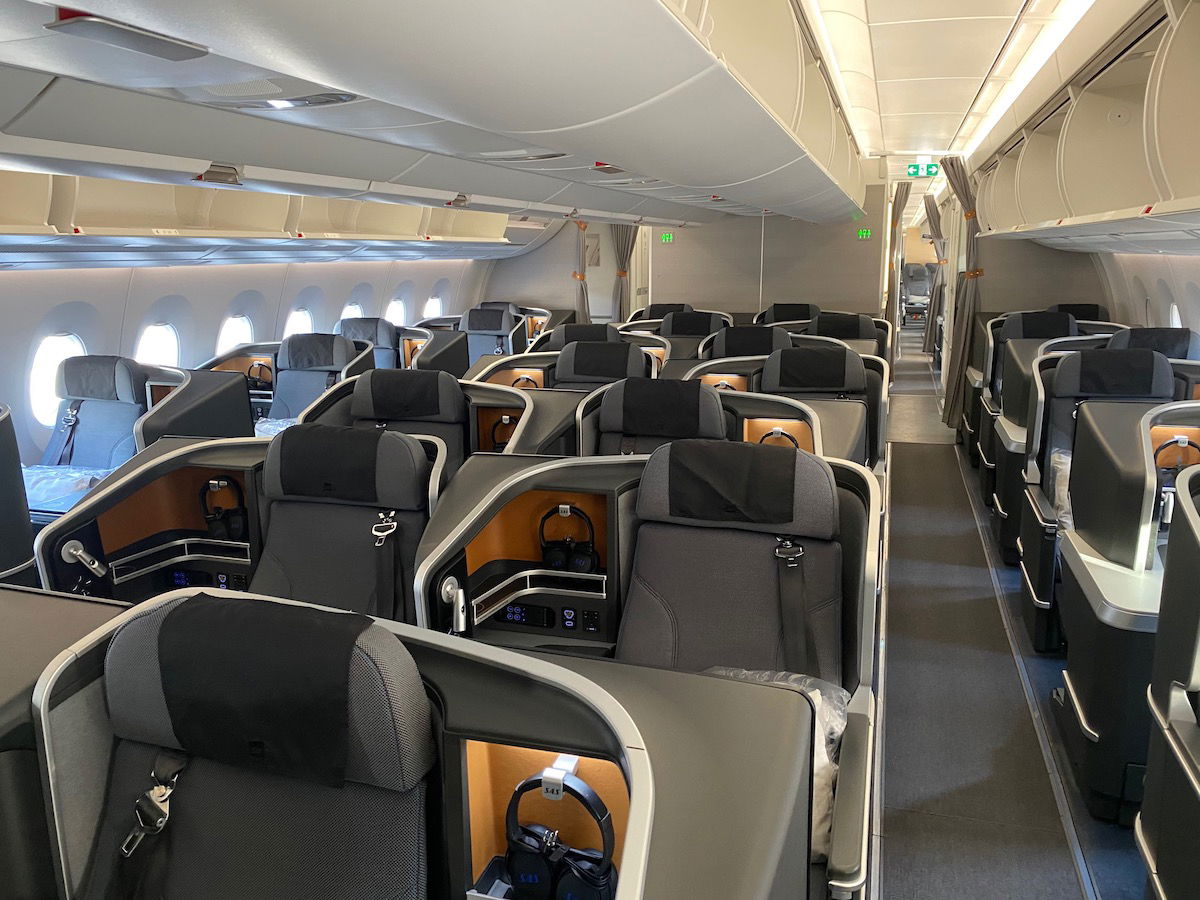 In these configurations, seats are staggered in alternating rows to maximize efficiency. This allows the footwell for a particular seat to be to the side of the seat in front. Some people may prefer to sit in the center section if traveling with someone, though in reality you still won't be that close to the other person (there are no "honeymoon" seats here, as you'd find in some other configurations).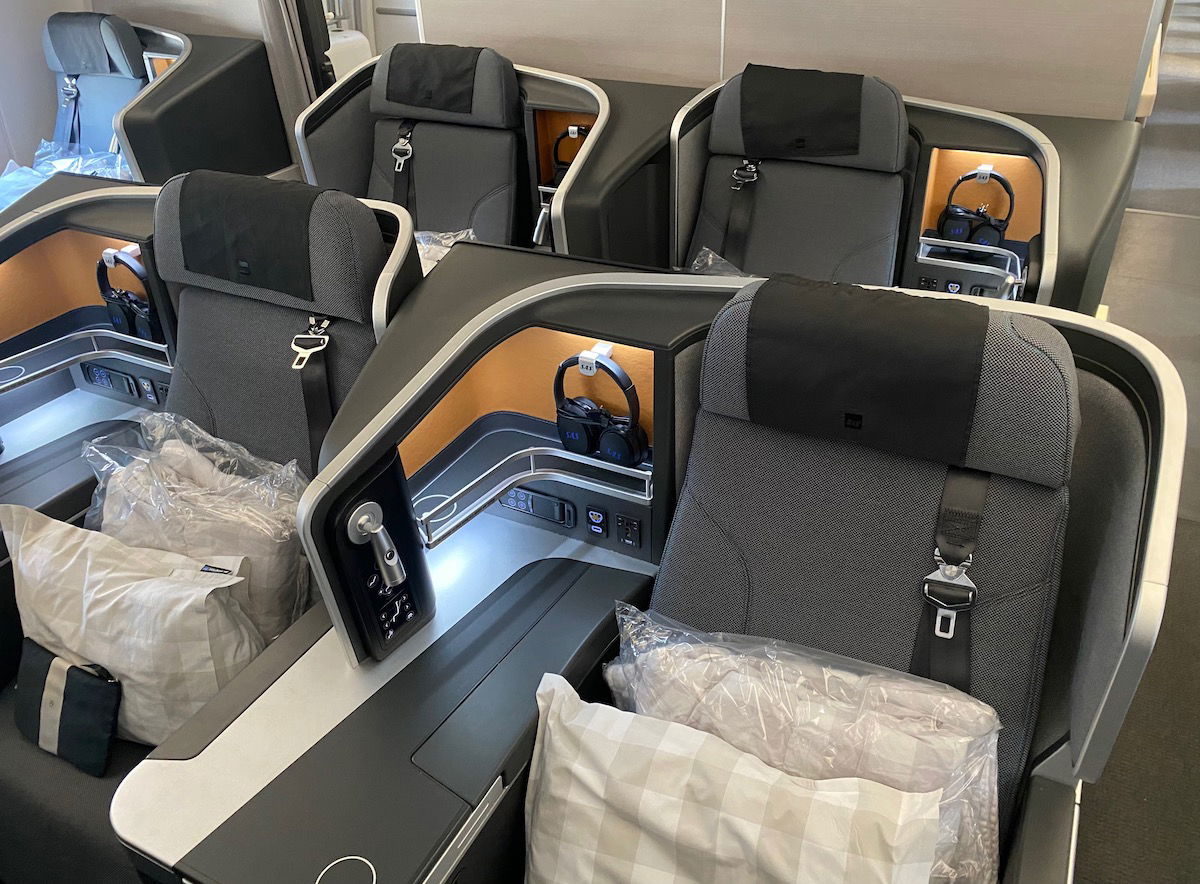 The differences between seats are more noticeable in the window seats. In odd numbered rows, the window seats are closer to the aisle, so they don't offer as much privacy, and it's harder to look out the window.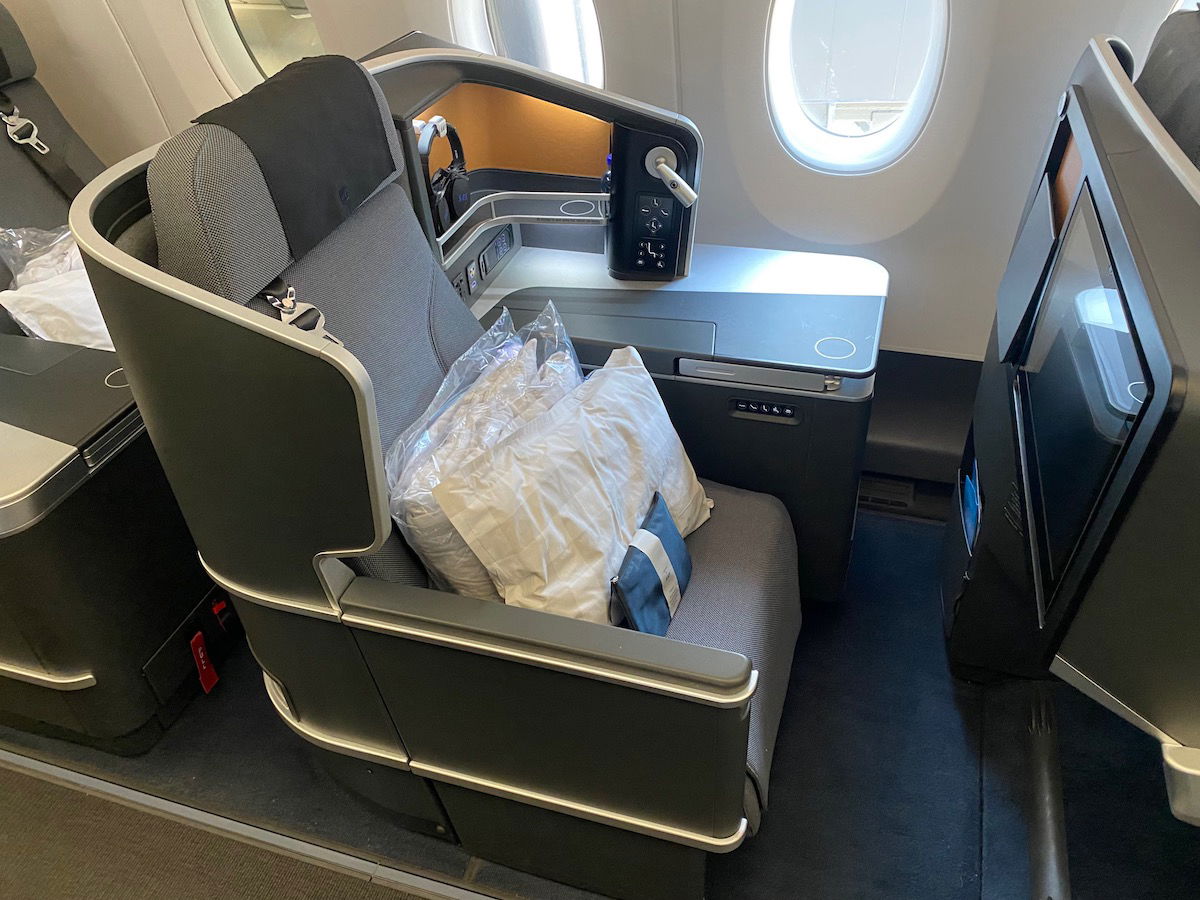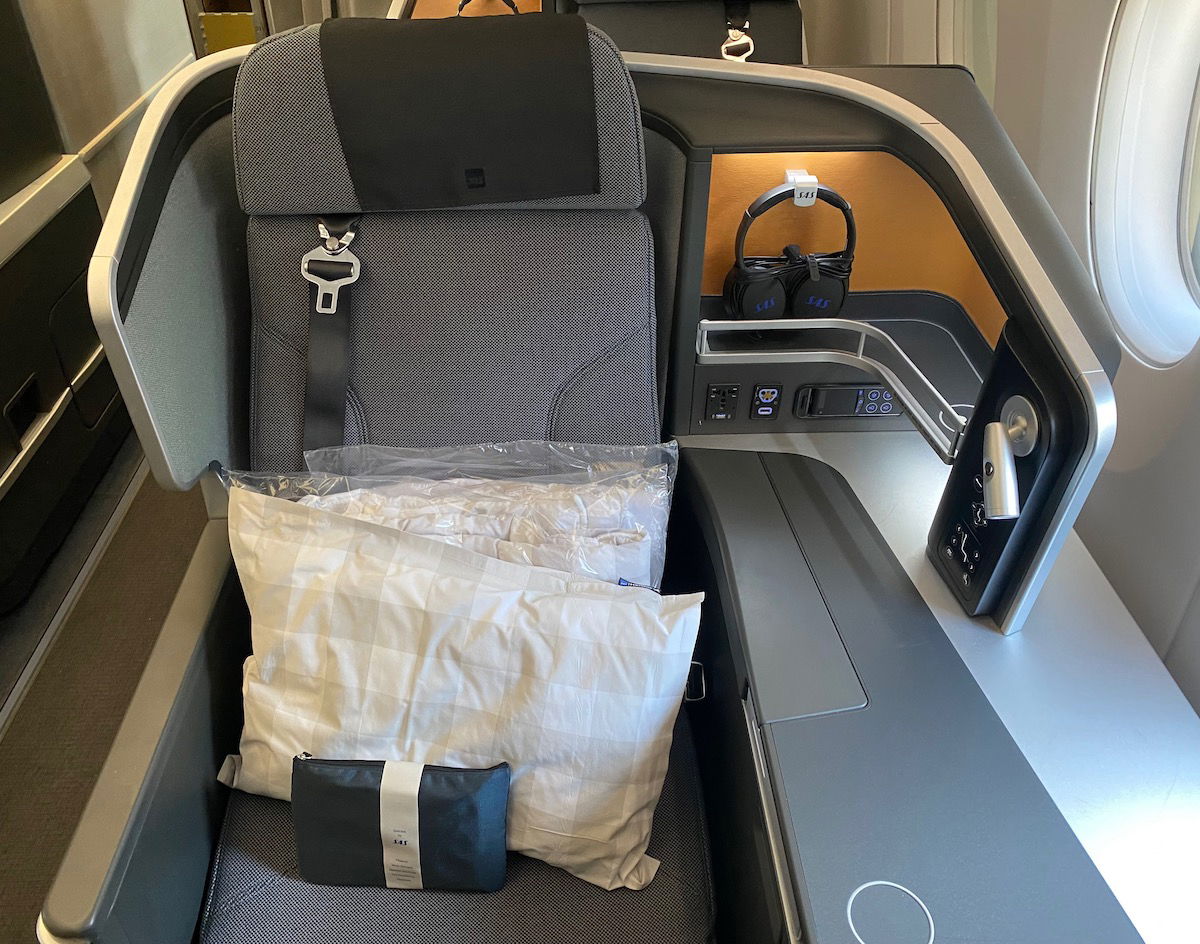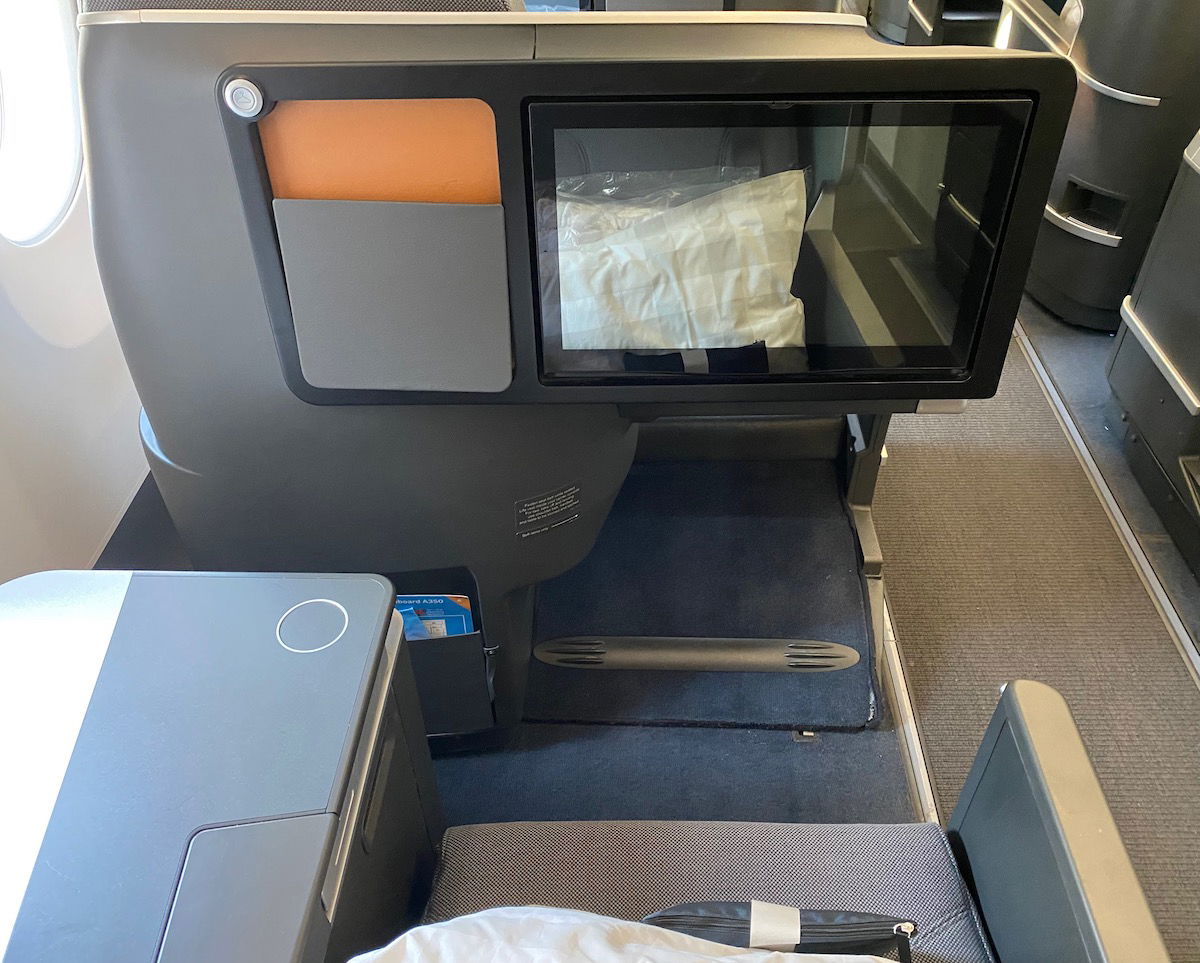 In even numbered rows, the window seats are closer to the windows, which would be my preferred seats, given that they offer the most privacy and the best views. I assigned myself seat 8A (row eight is the last row in the forward business class cabin).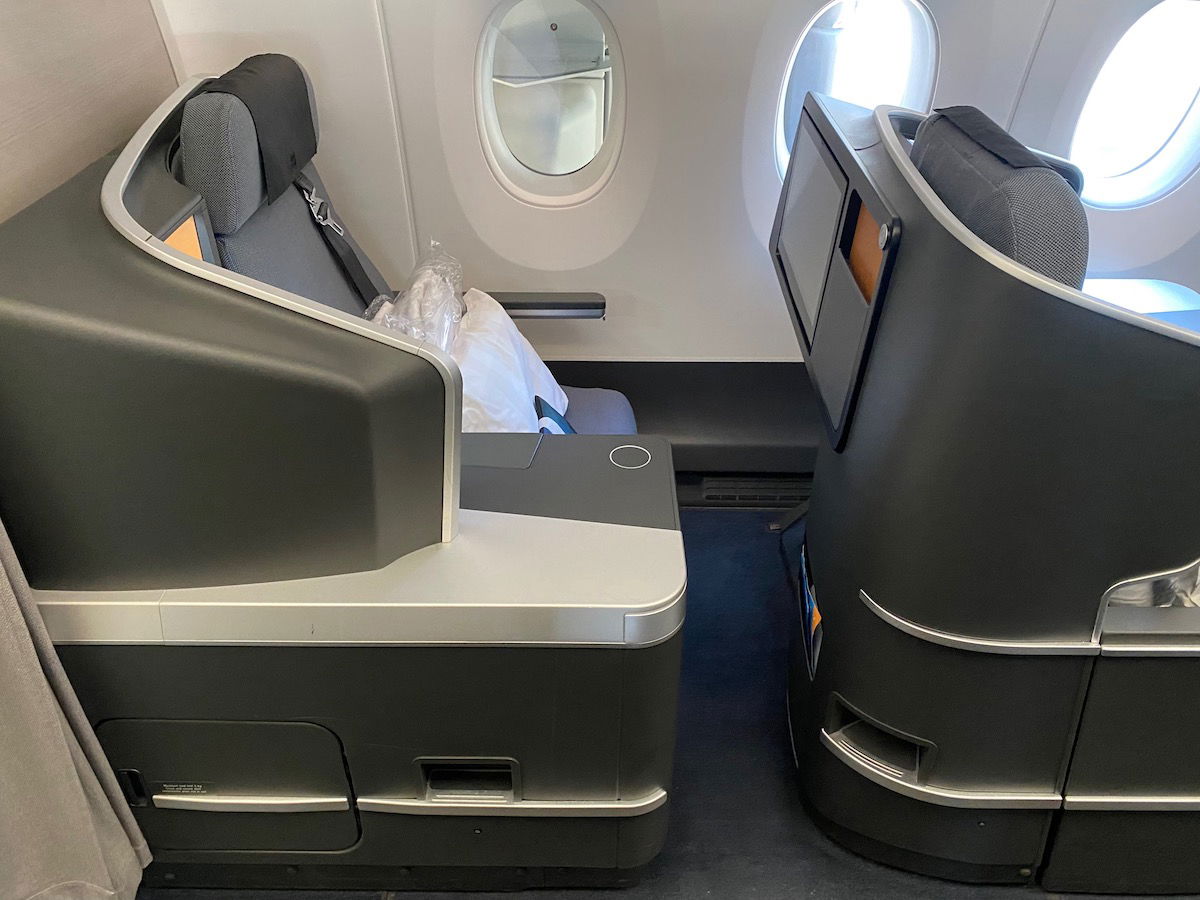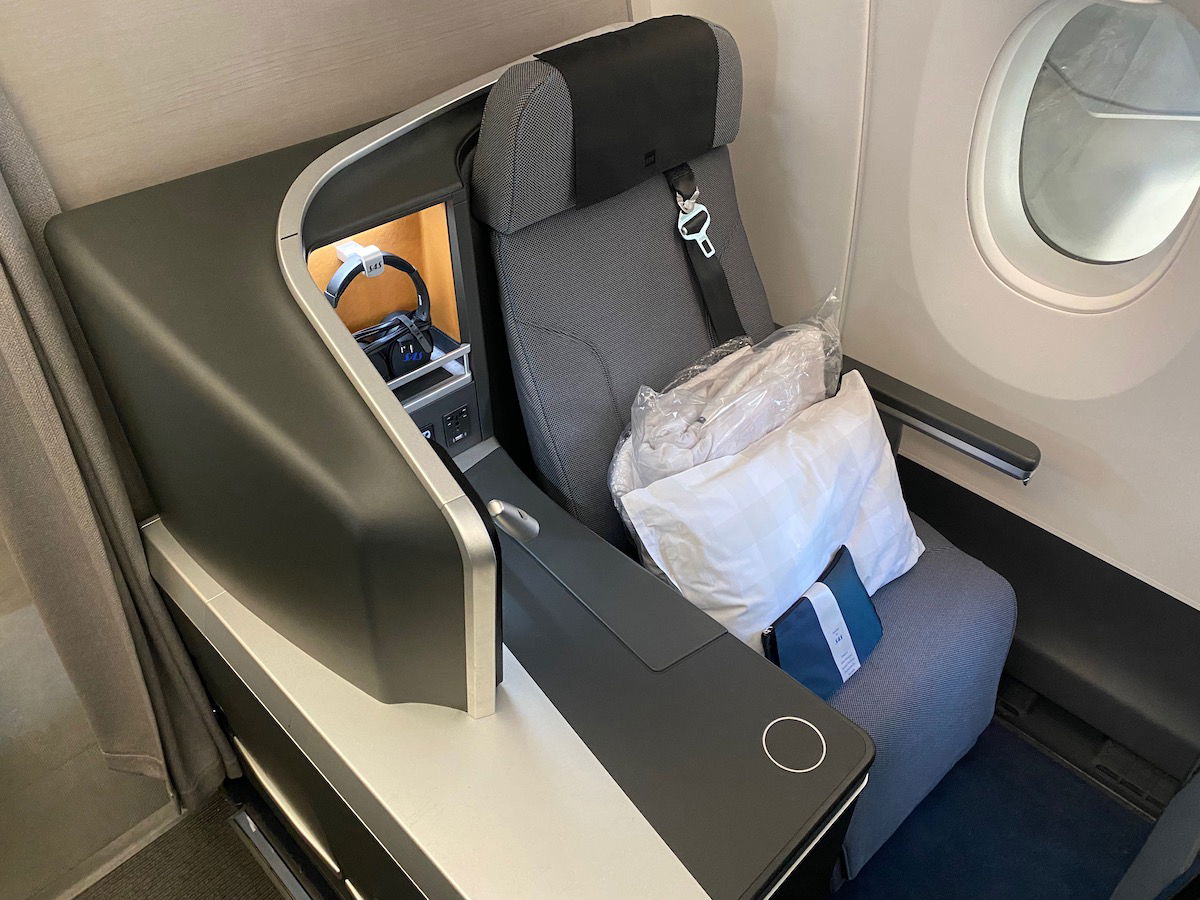 Each seat has an 18.5″ seatback television, plus a literature pocket and coat hook next to it.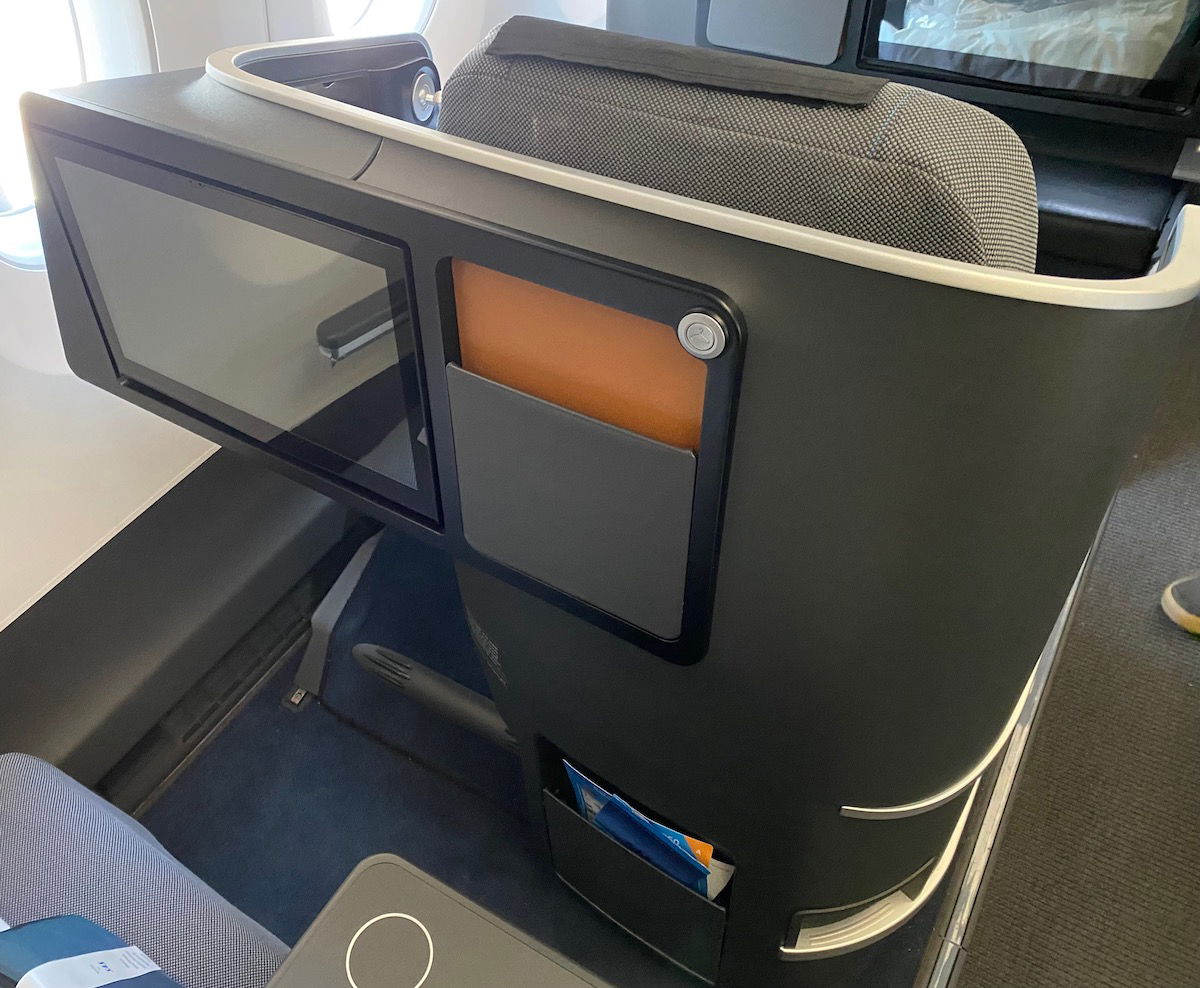 Along the other side of the seat is a "counter" where you can place things during the flight. There's also an exposed storage compartment that has a hook for headphones, plus a reading light, the seat controls, entertainment controller, headphone jack, and outlets (USB and AC power).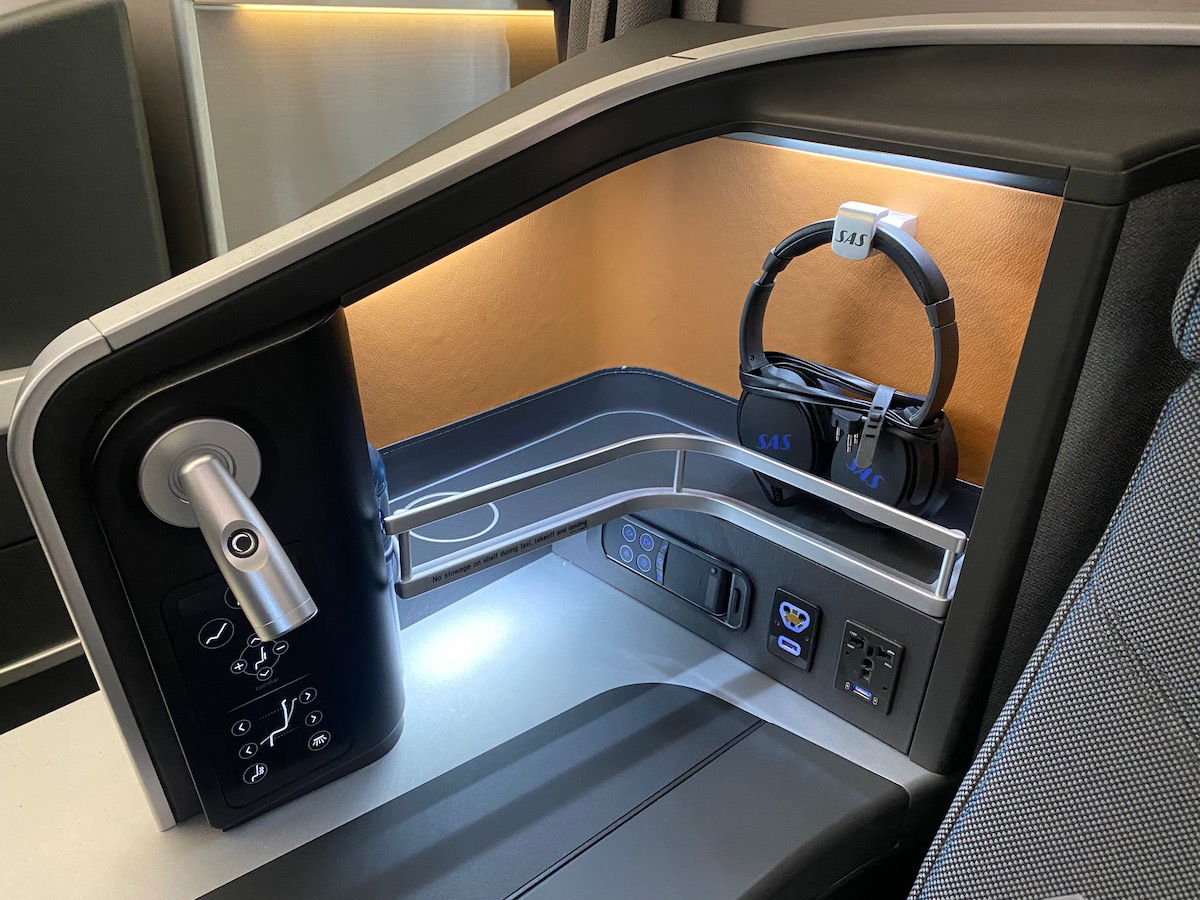 In addition to the more customizable seat control positions, there are a few pre-set positions you can control from a panel underneath the side table.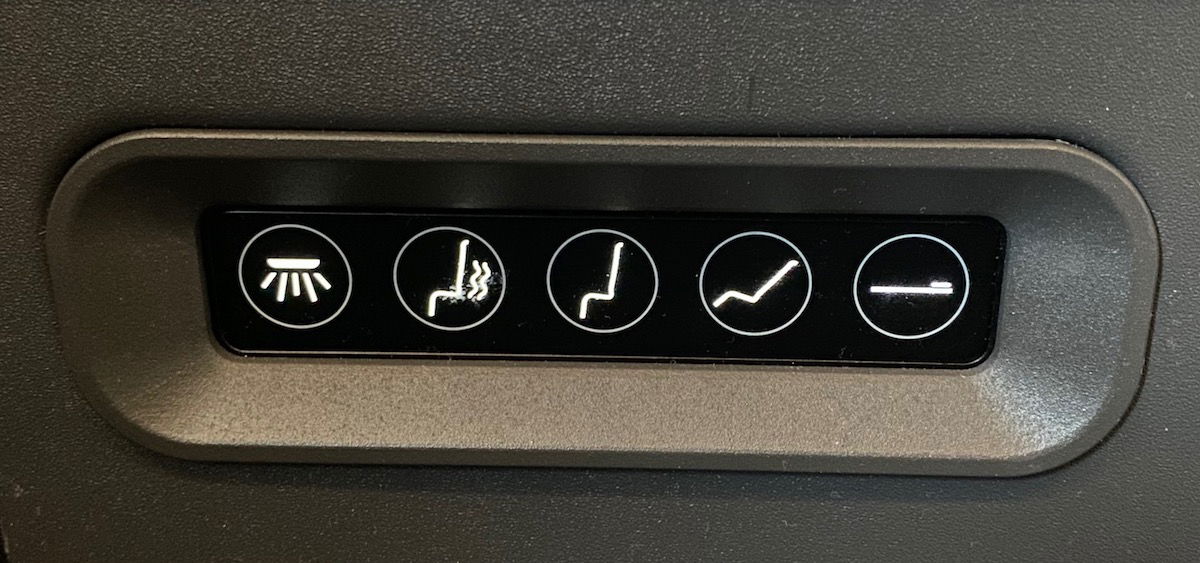 The tray table could be extended from the armrest on the right side of the seat, and it could be folded over in half.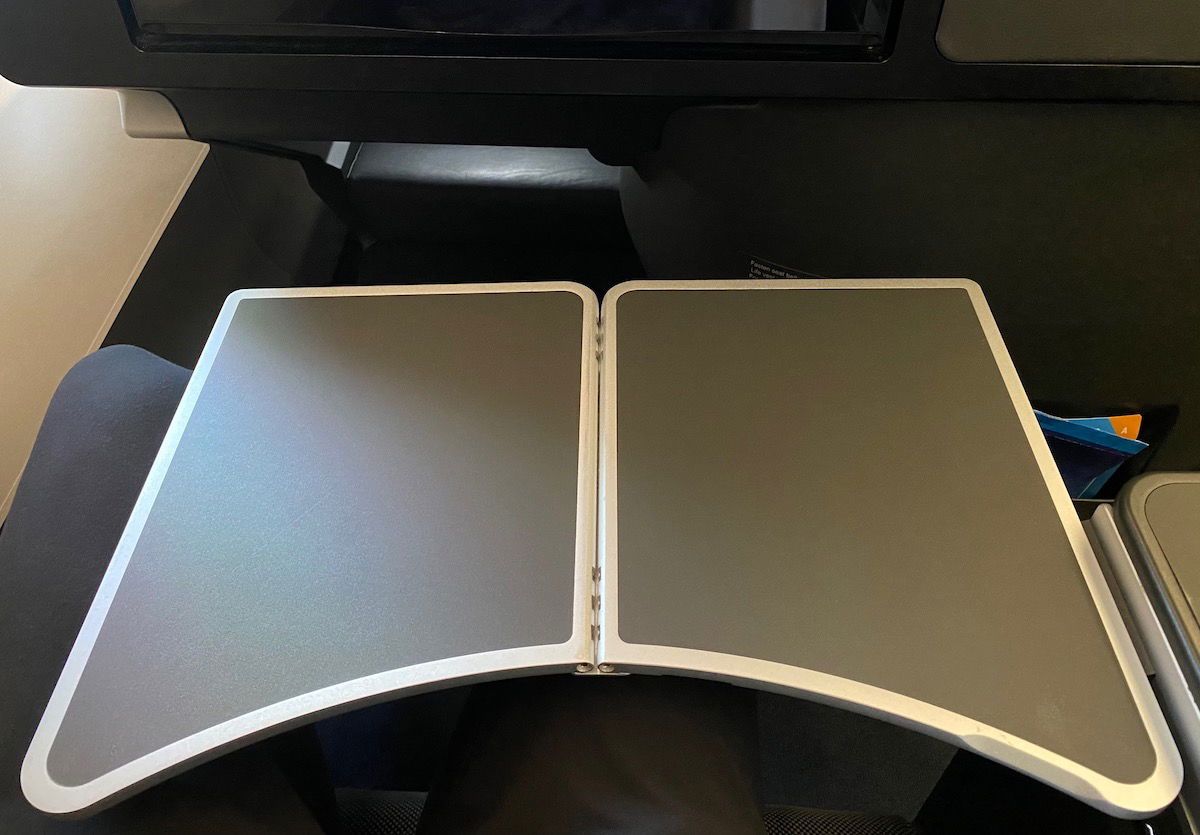 One issue with these staggered configurations can be that the footwell is sometimes on the small side, especially if you have big feet. Fortunately SAS' Vantage XL seats have reasonably big footwells, so I didn't find space to be an issue when trying to sleep.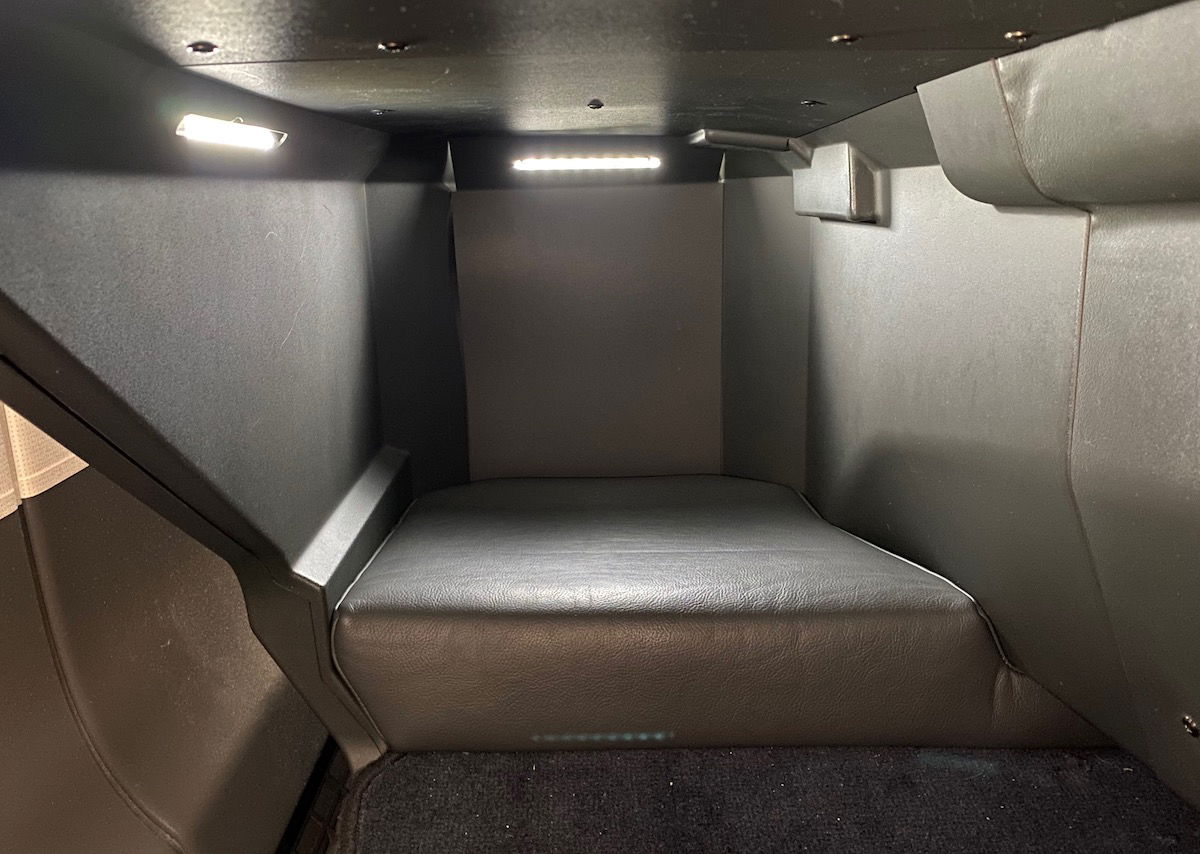 Each seat also had the latest generation Airbus overhead consoles, including a reading light and seatbelt sign. Unfortunately there were no individual air nozzles.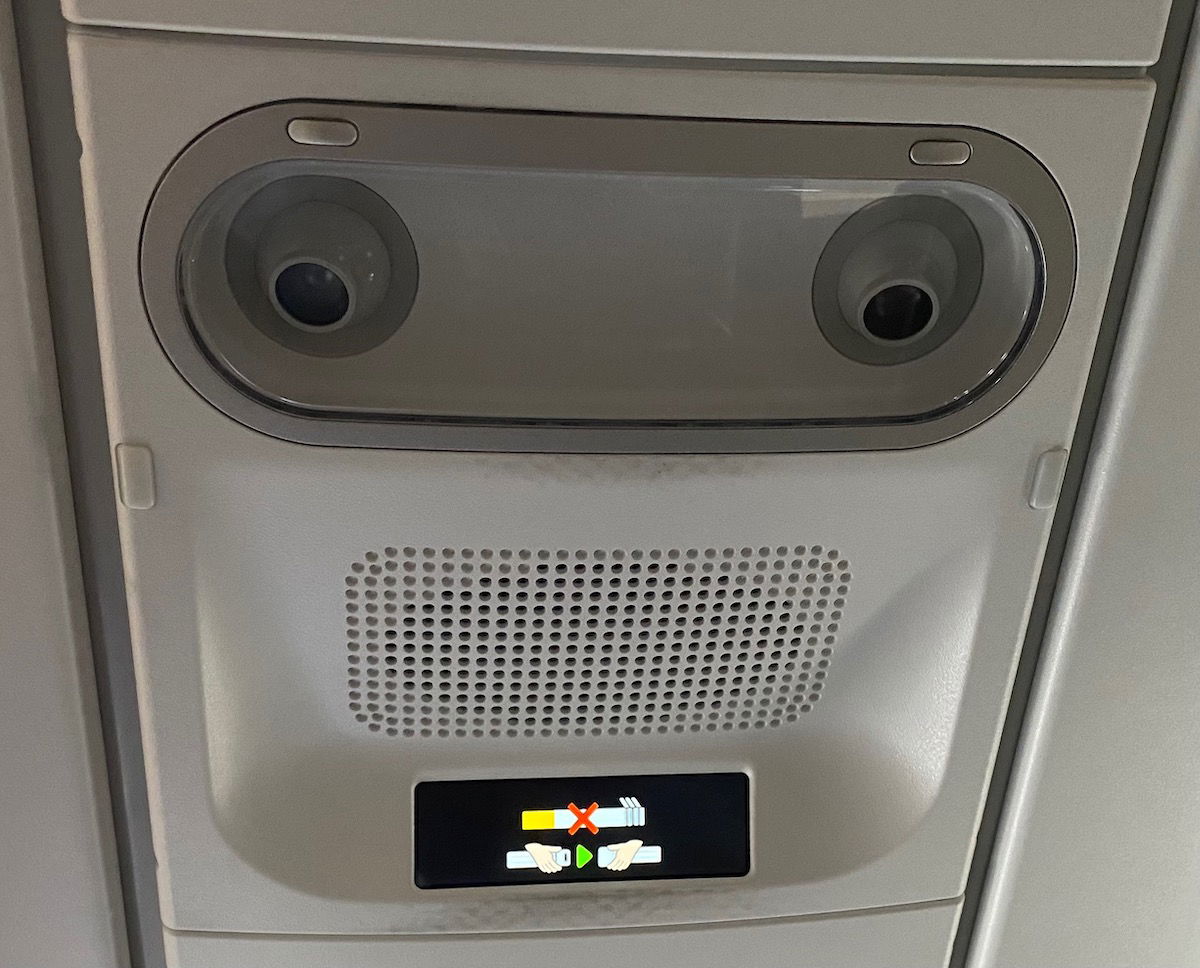 The two lavatories for business class passengers were located behind the cabin. They were quite no frills, and weren't particularly big, didn't have windows, and didn't have any exciting amenities.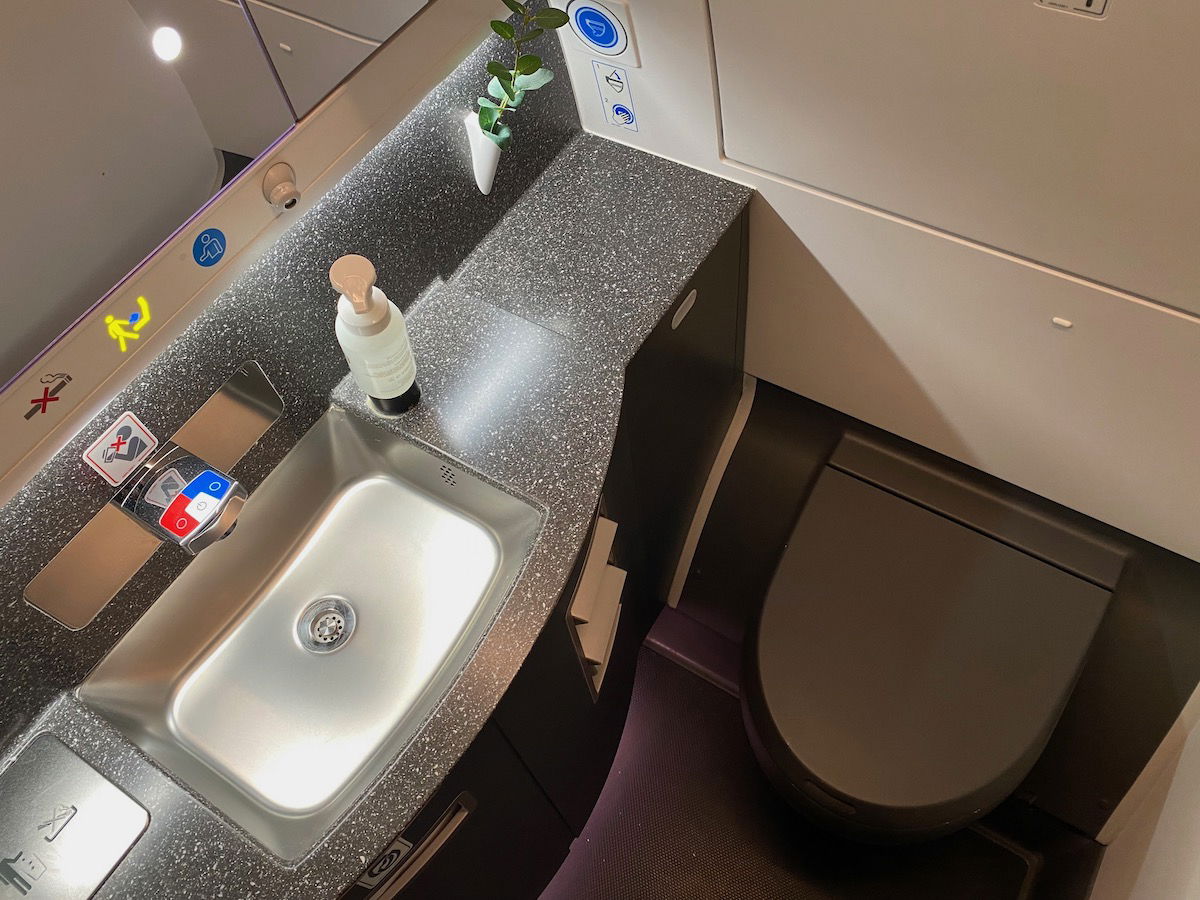 SAS business class amenities
Waiting at each seat upon boarding was a pillow, blanket, and mattress sheet. I found the bedding to be quite good — the pillow was quite large, the blanket was cozy without being warm, and it was nice to have a mattress pad (though perhaps it was more of a sheet, as it doesn't offer much additional padding).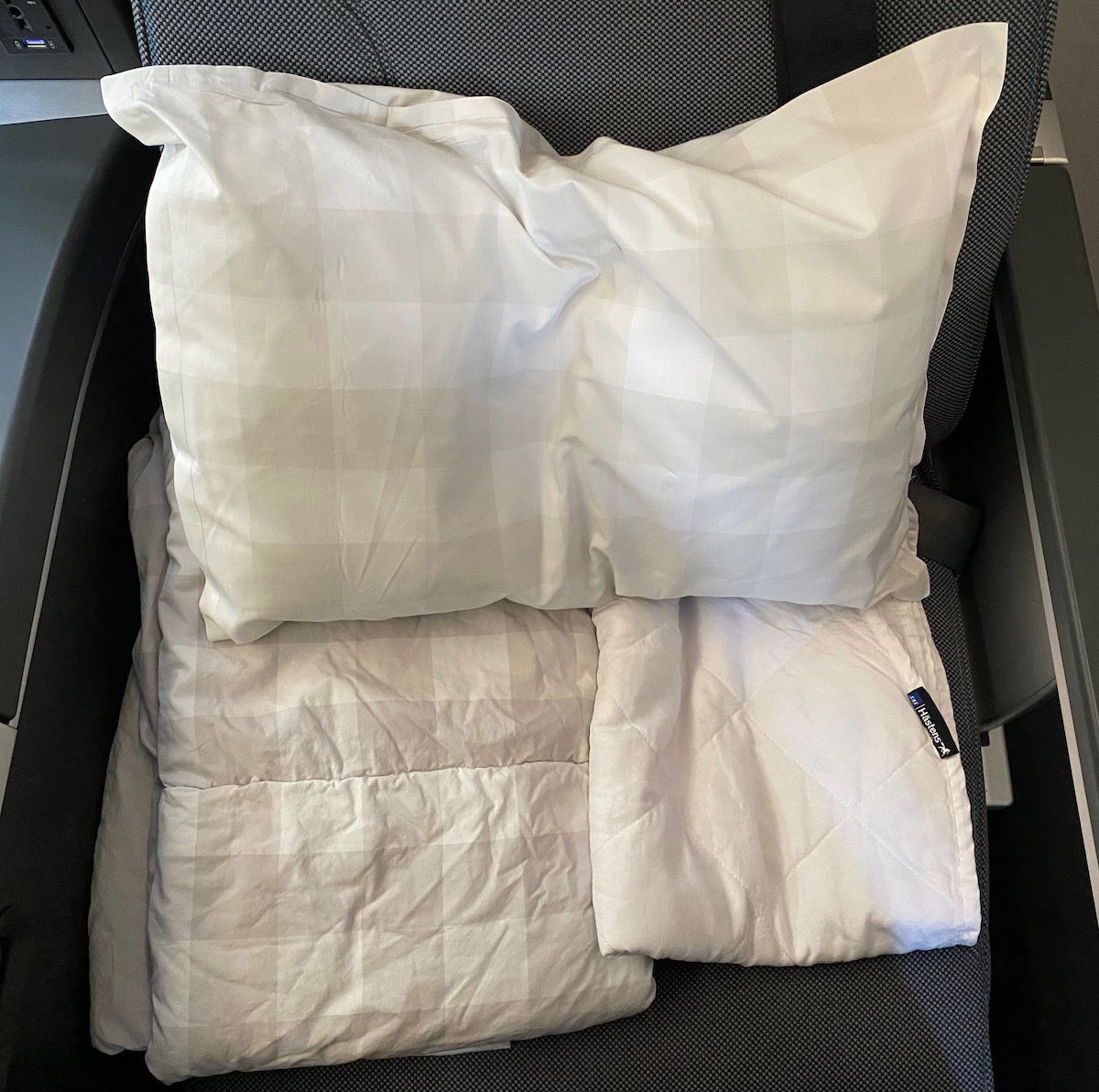 There was also an amenity kit waiting at each seat.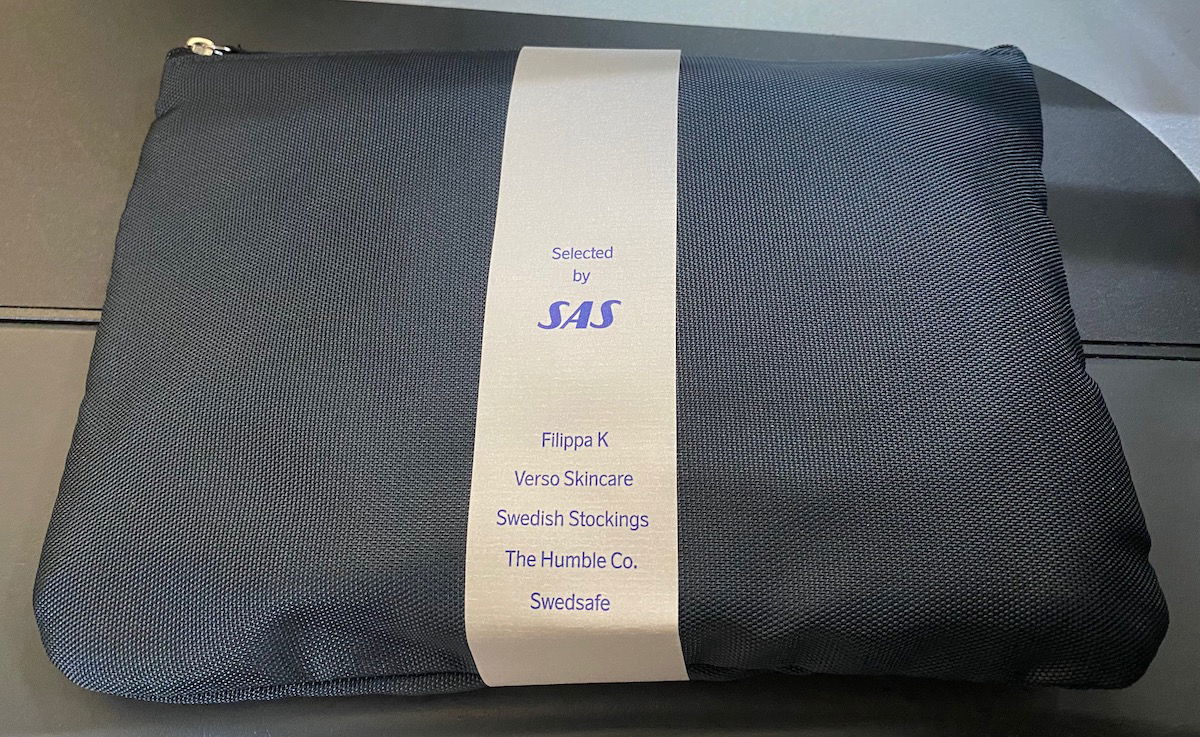 The contents were limited, and included a dental kit, socks, eyeshades, earplugs, face moisturizer, and lip balm.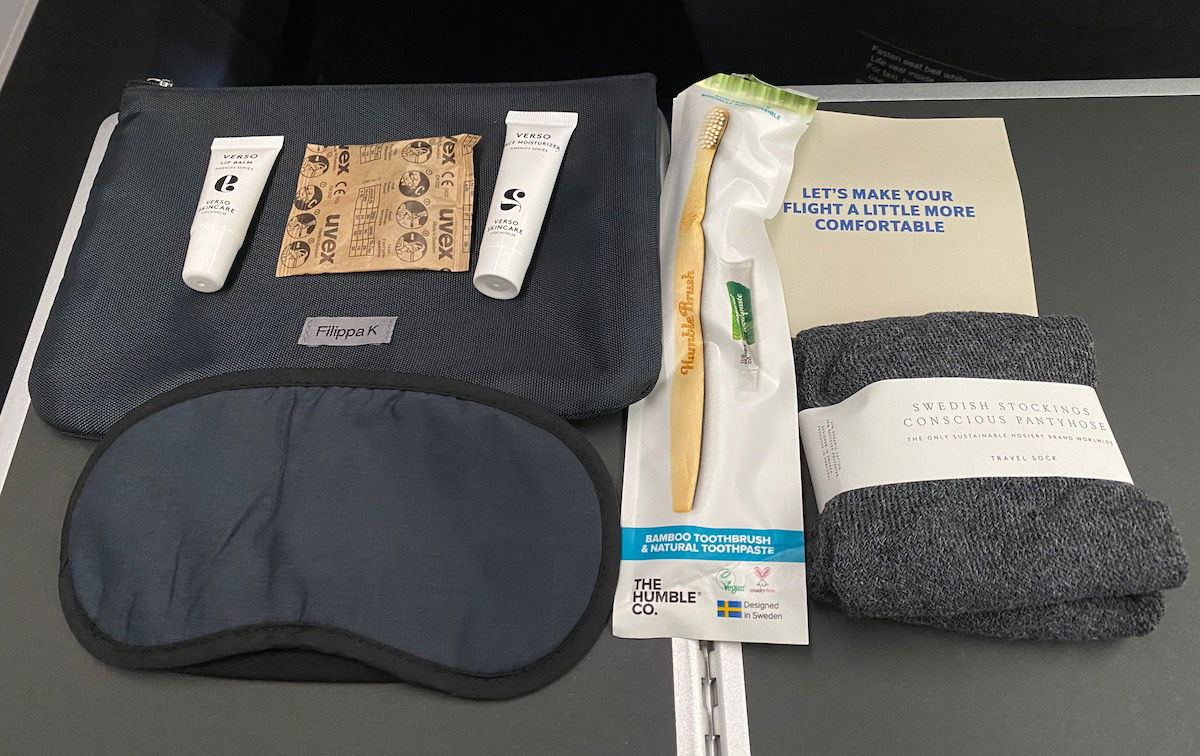 Then there were headphones, which had a mild noise canceling feature.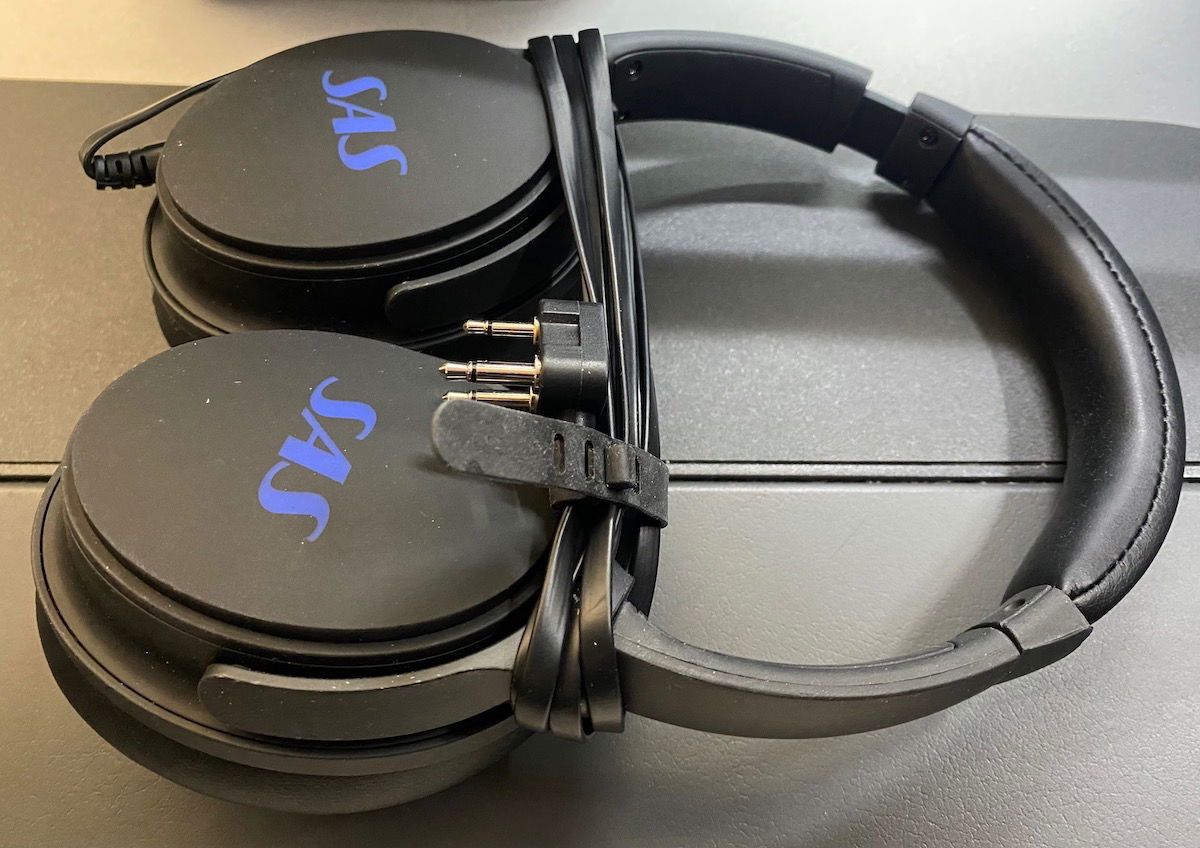 About 10 minutes after boarding, pre-departure drinks were served, with the choice of champagne, orange juice, or water. I selected the champagne, which was served in proper glassware.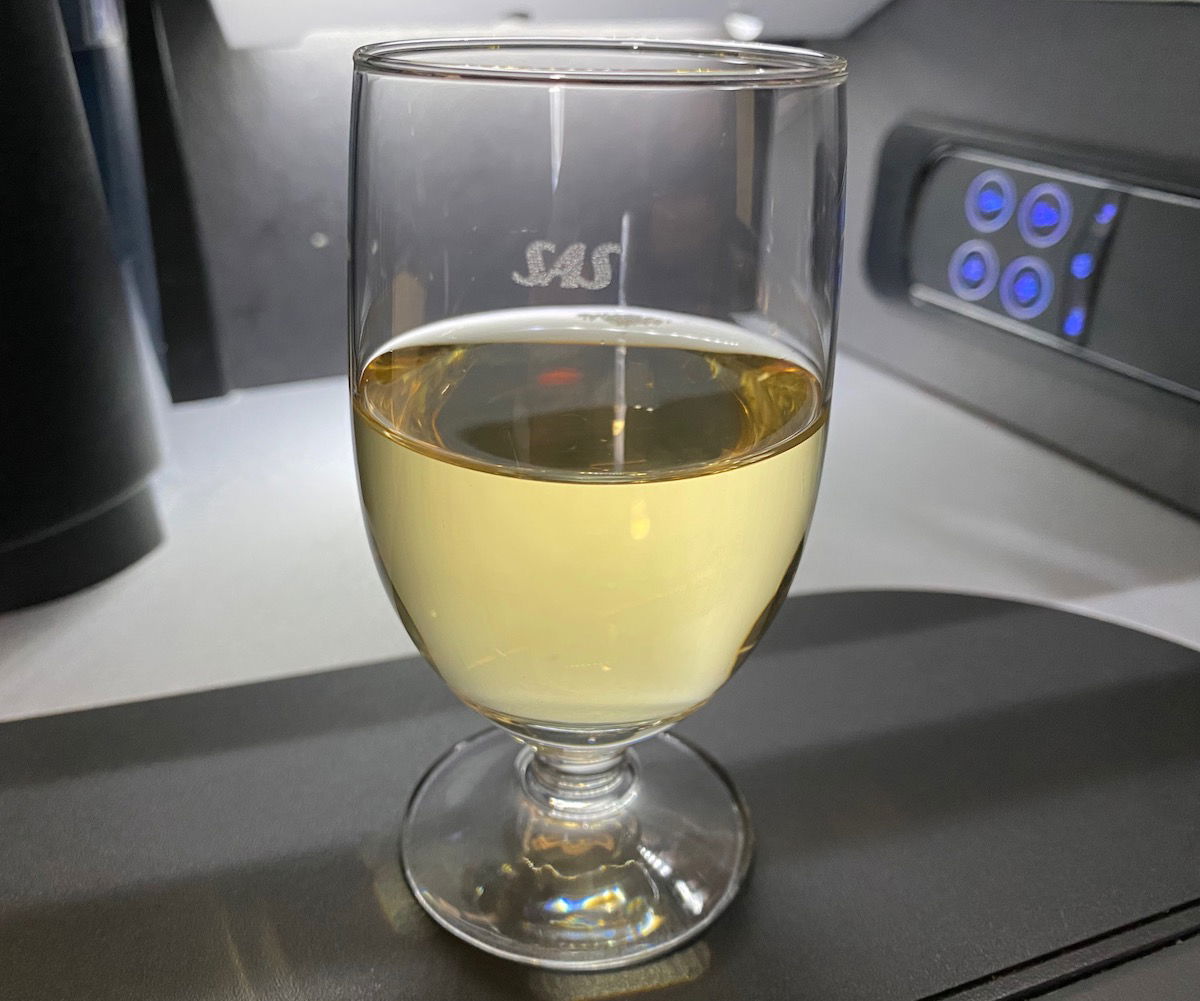 SAS departure from Copenhagen
Boarding was complete by 9:50AM, about 15 minutes after it started. It was an efficient boarding process, thanks largely to the flight not being too full — business class and premium economy were around 75% full, while economy seemed to be around 50% full.
Once everyone was settled in the purser made his welcome aboard announcement, informing us of our flight time of 10 hours. At 10AM we began our pushback, at which point the safety video was screened.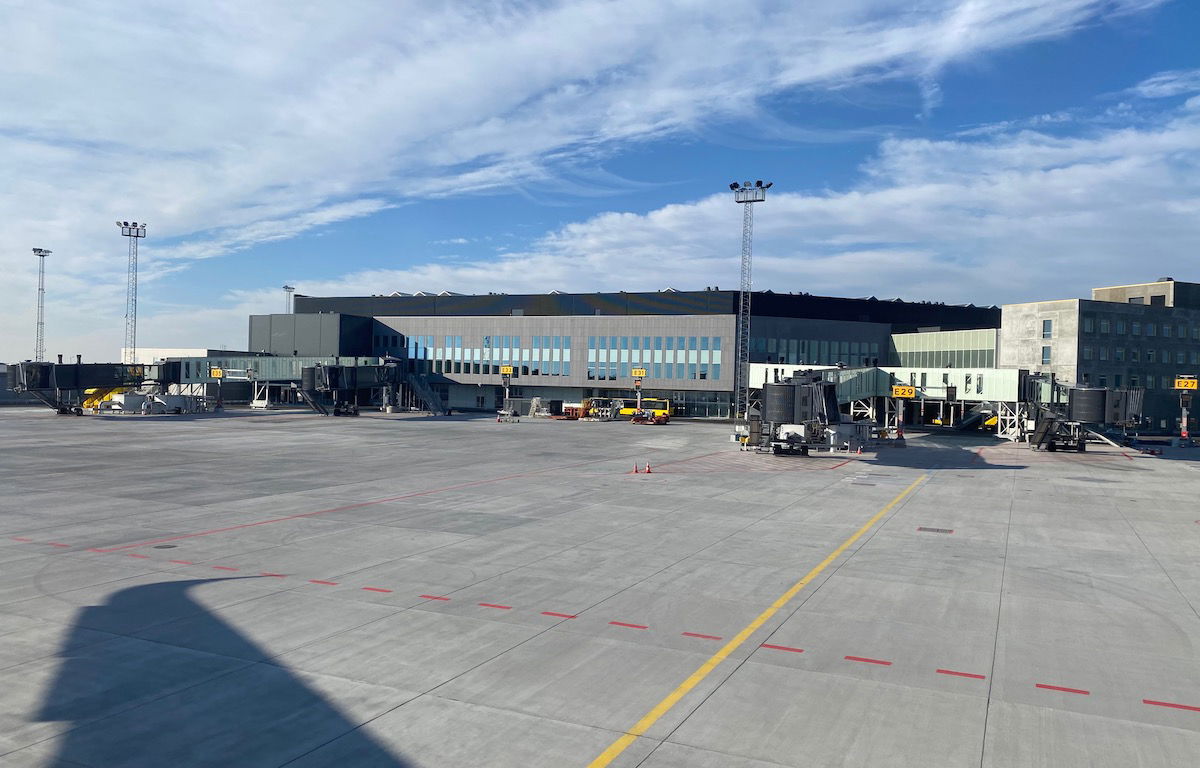 We started taxiing to the runway by 10:05AM — it was a pretty quiet day at the airport, without much movement. There weren't all that many interesting planes, perhaps aside from an Air China A330.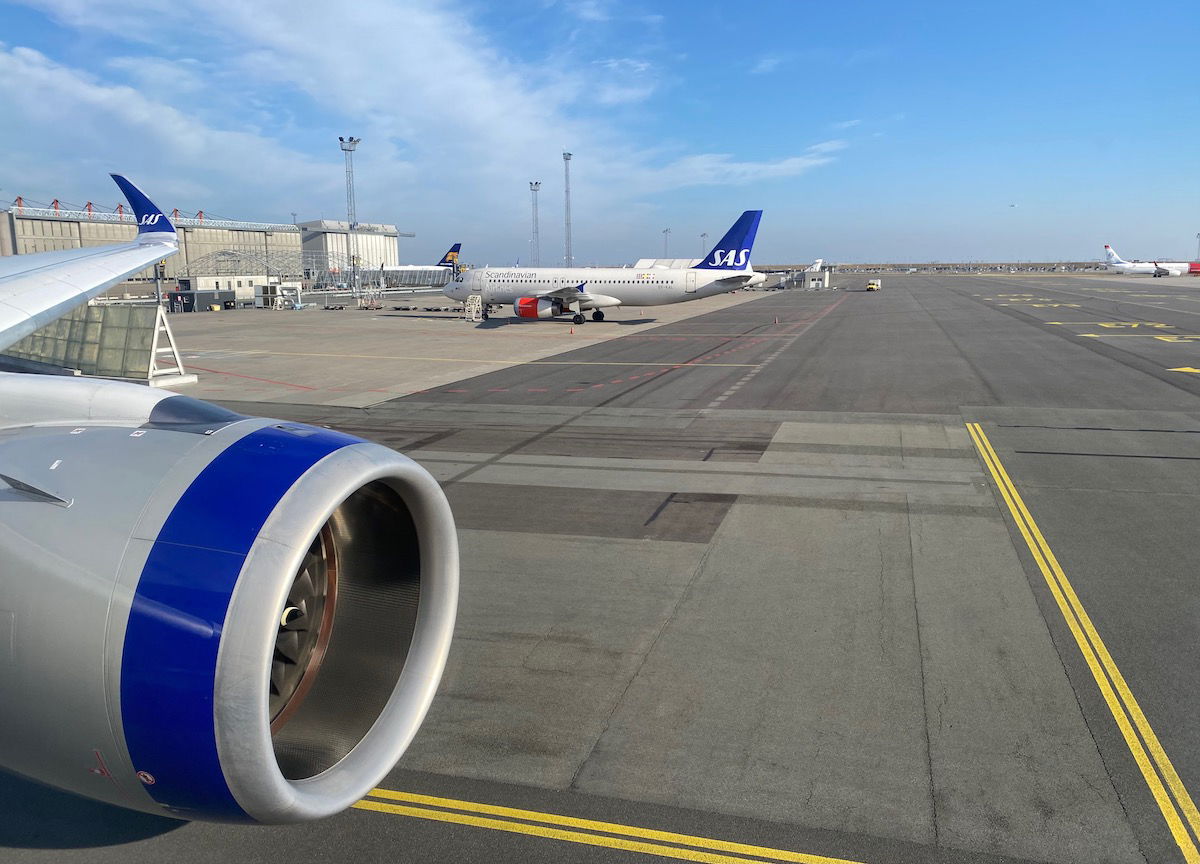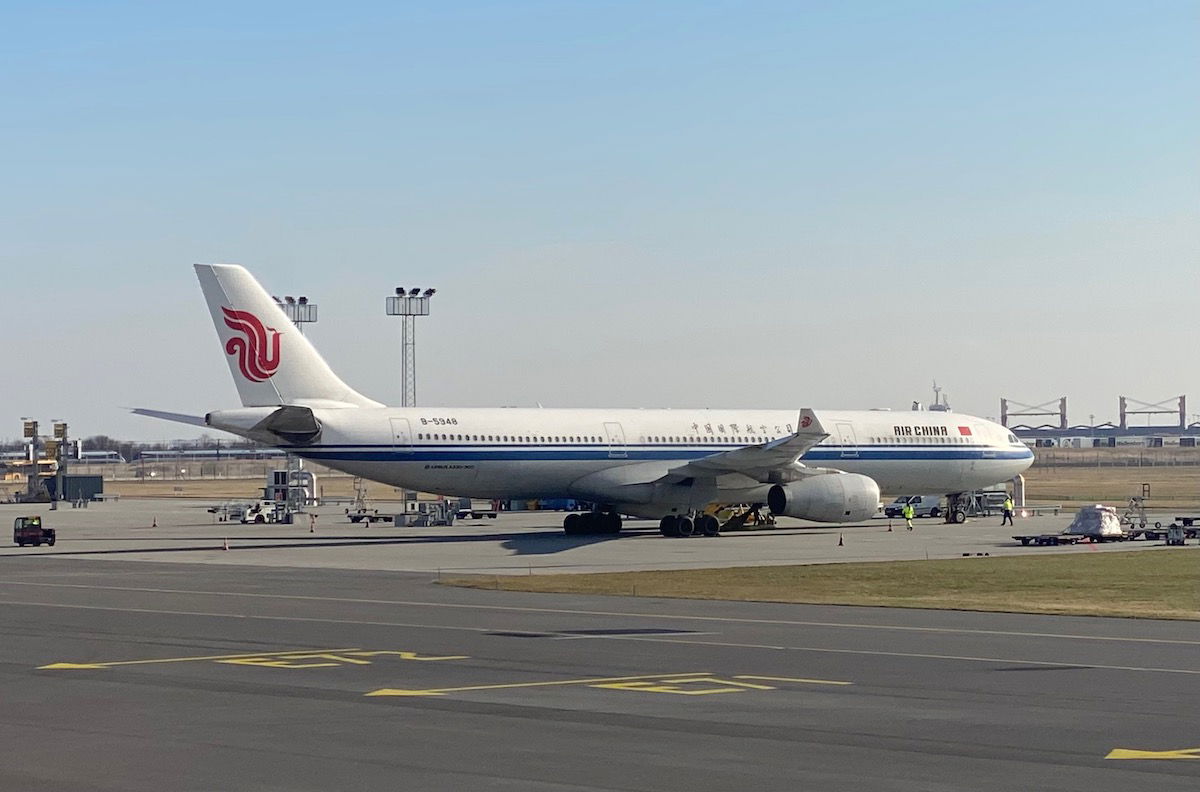 I didn't just look out the window, but also kept an eye on the awesome tail camera that SAS' A350s have. Gosh I could watch this all day. By 10:15AM we were cleared for takeoff on runway 22R.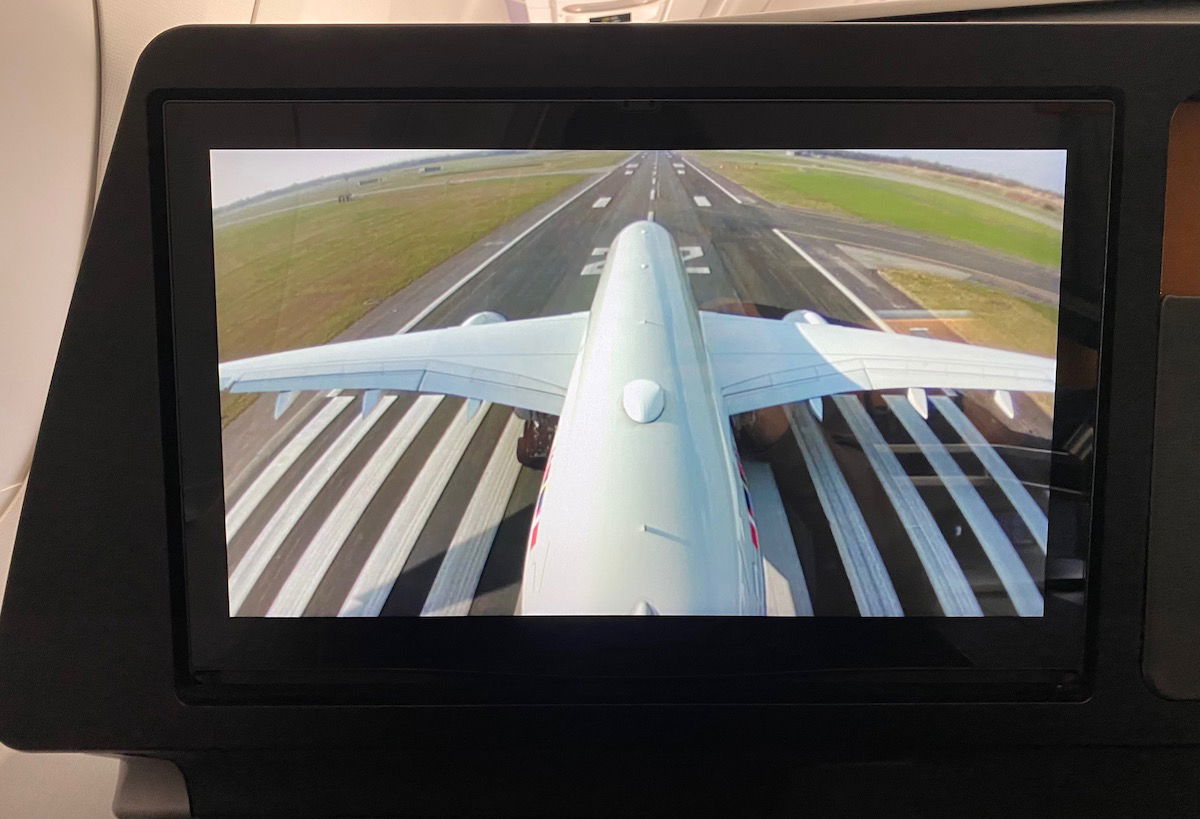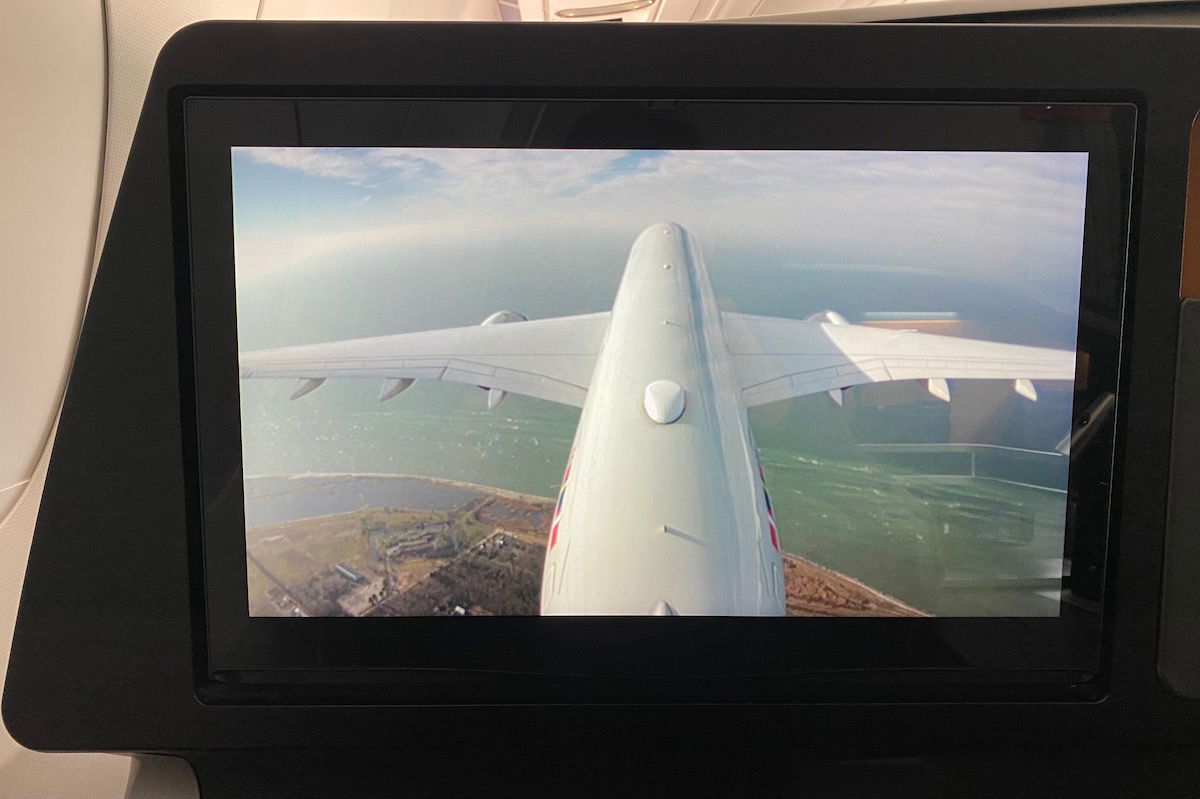 We had a smooth takeoff roll and gradual climb out — what a gorgeous wing and engine view I had from my seat!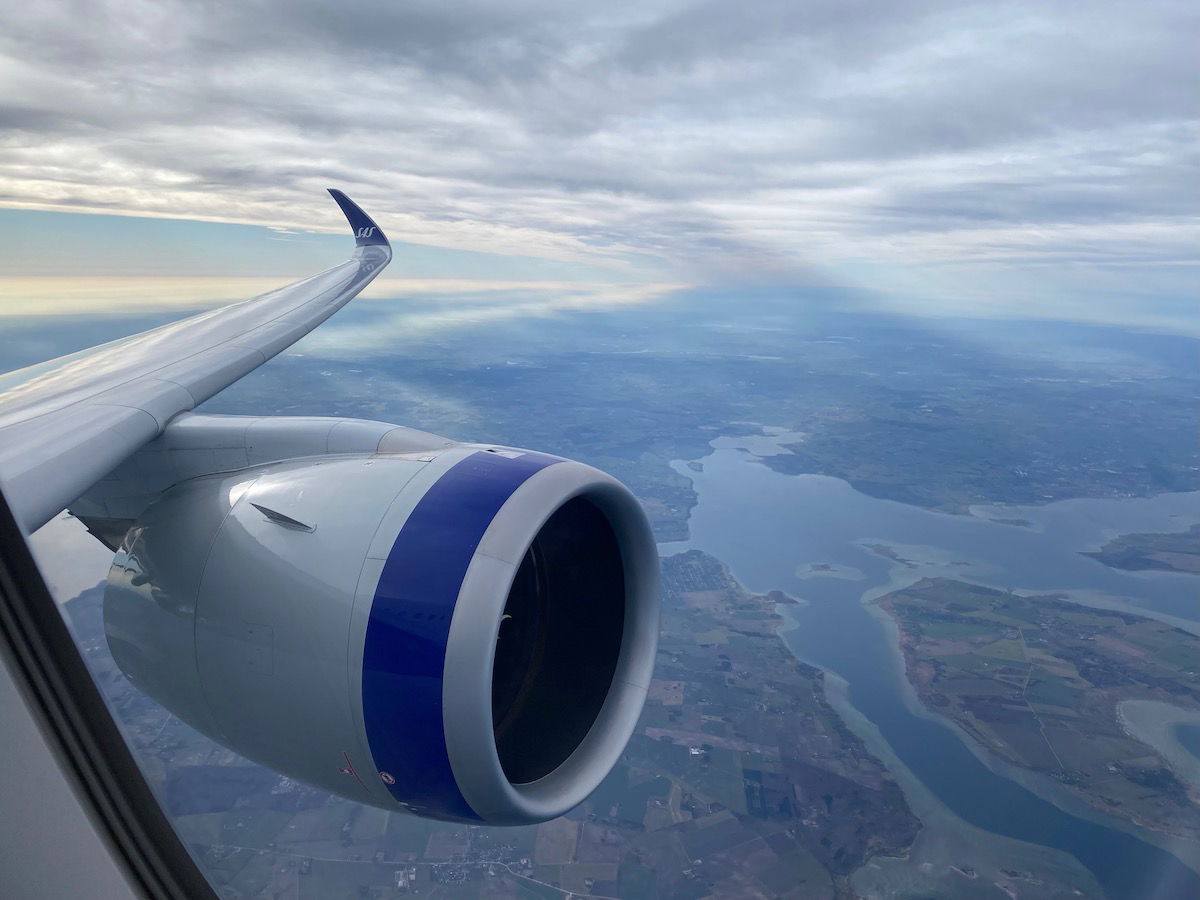 SAS A350 entertainment & Wi-Fi
As we climbed out I browsed the entertainment selection. While SAS' entertainment system is pretty responsive, the screen has a frustrating amount of glare, and there don't seem to be any ways to adjust the settings to improve that. So when the cabin lights are turned on, expect to be dealing with quite a bit of glare.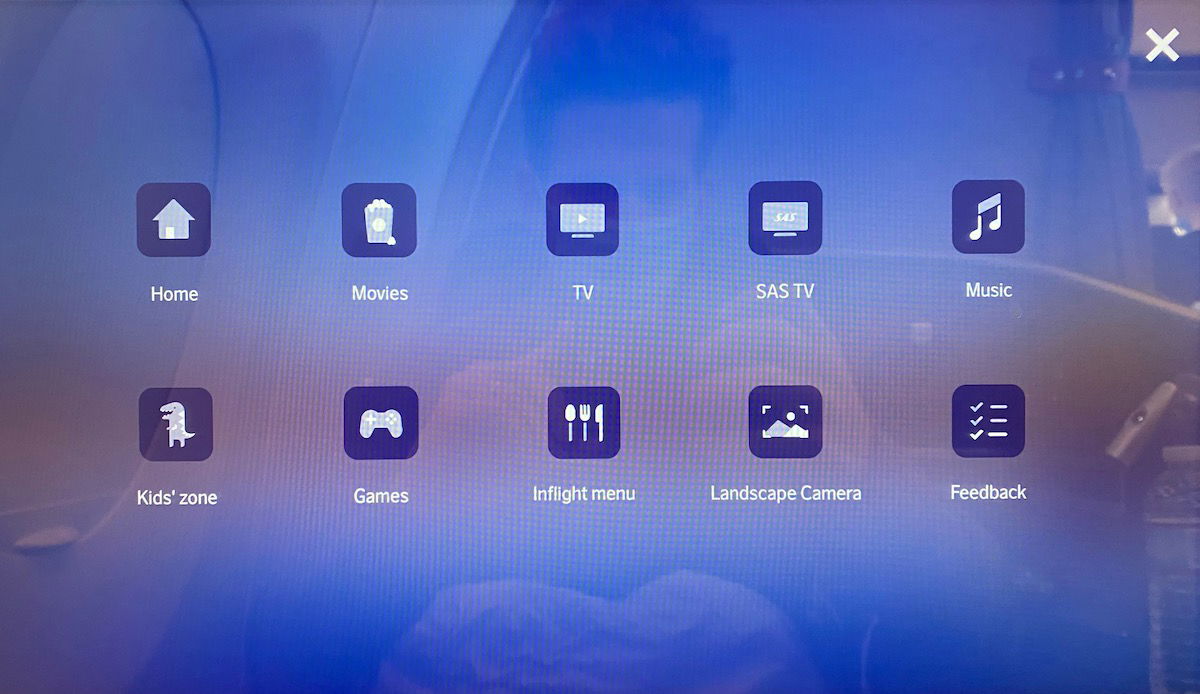 The entertainment selection was okay, but below average. There were a total of 87 TV shows and 57 movies, which isn't a huge selection. In particular, I wish there were more than one episode of each TV show, since it can be fun to get into a series sometimes.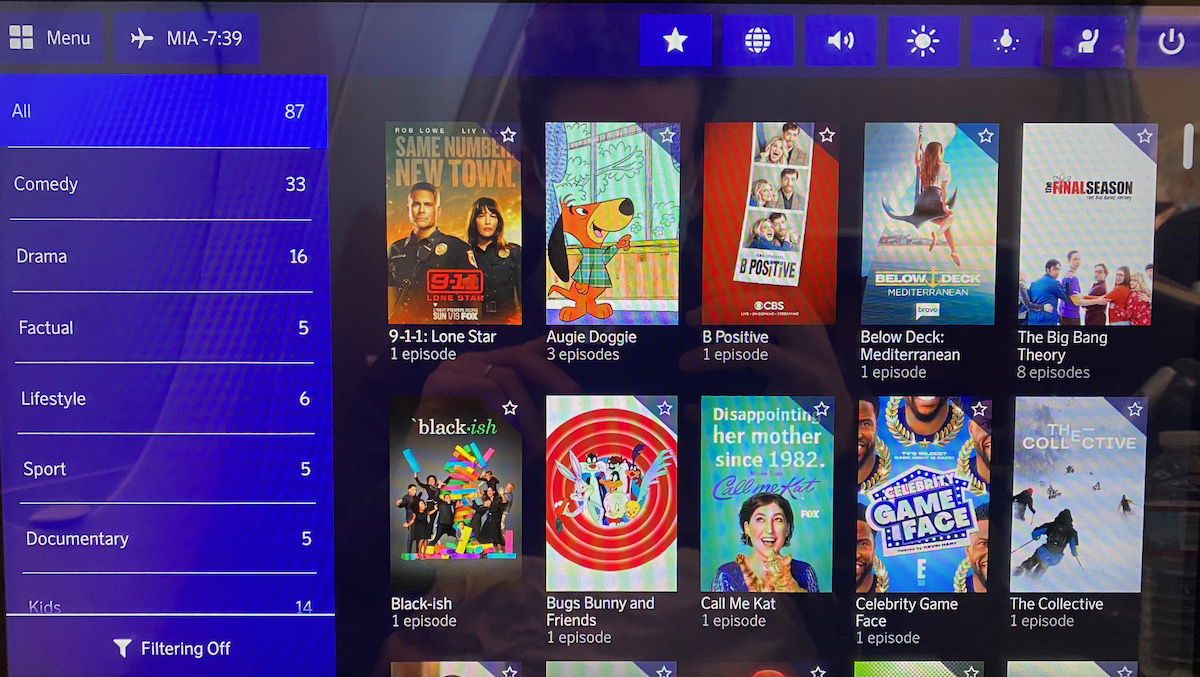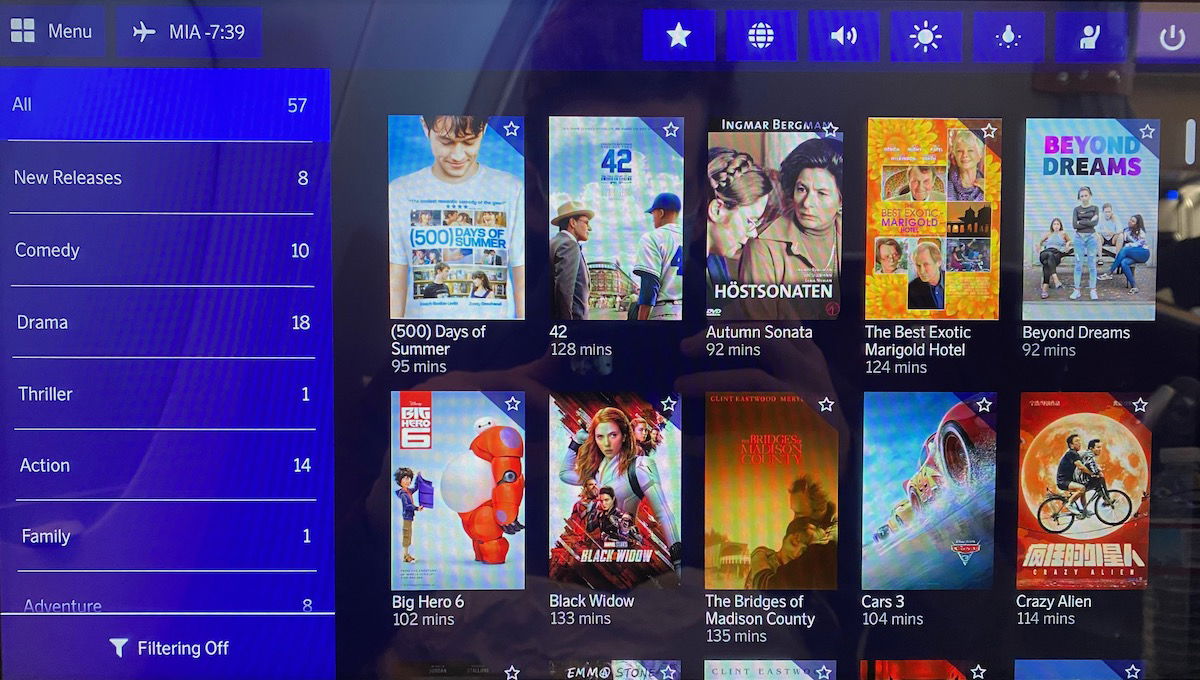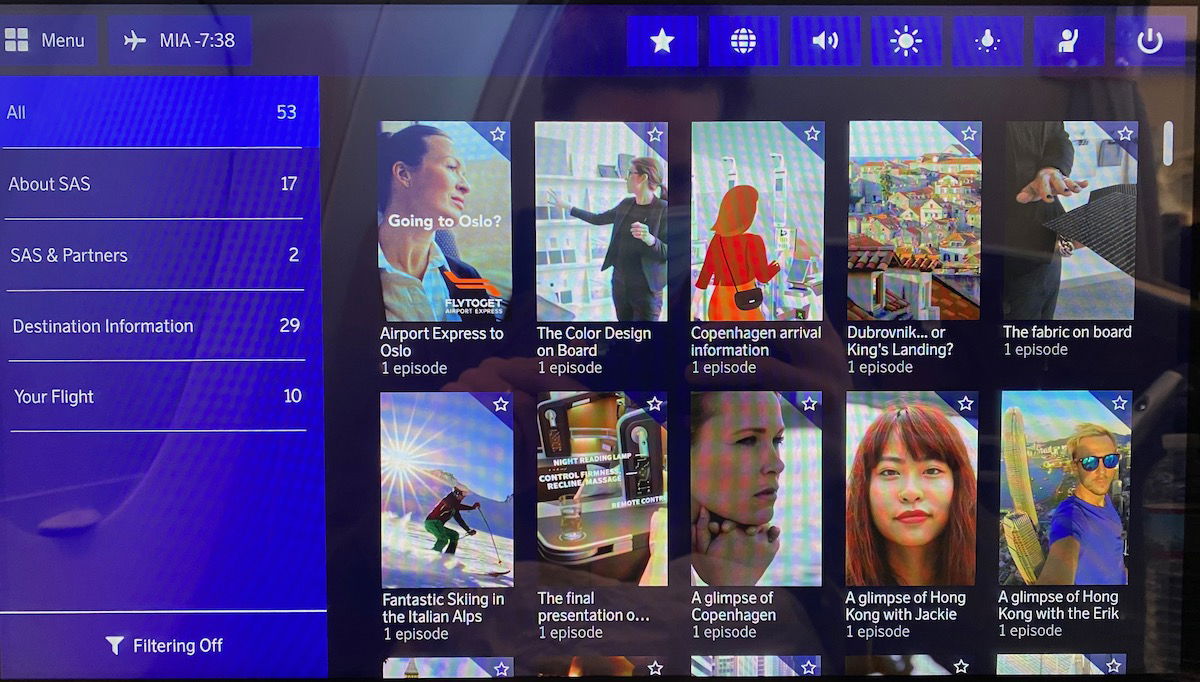 As an avgeek I did appreciate the shows on the entertainment about SAS, including how pre-flight inspections are performed, how to overcome fear of flying, etc. Unfortunately each of these only lasted a few minutes at most, so I exhausted that selection pretty quickly.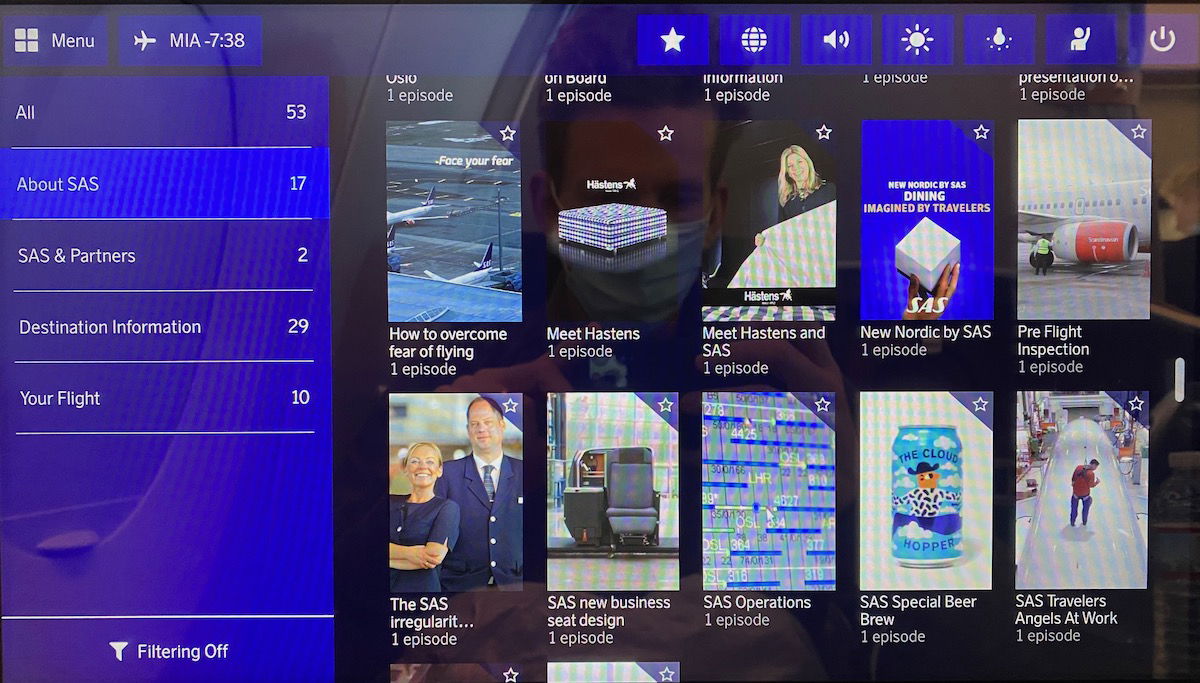 For most of the flight I simply had the tail camera or the map feature on, which is perfect entertainment, as far as I'm concerned.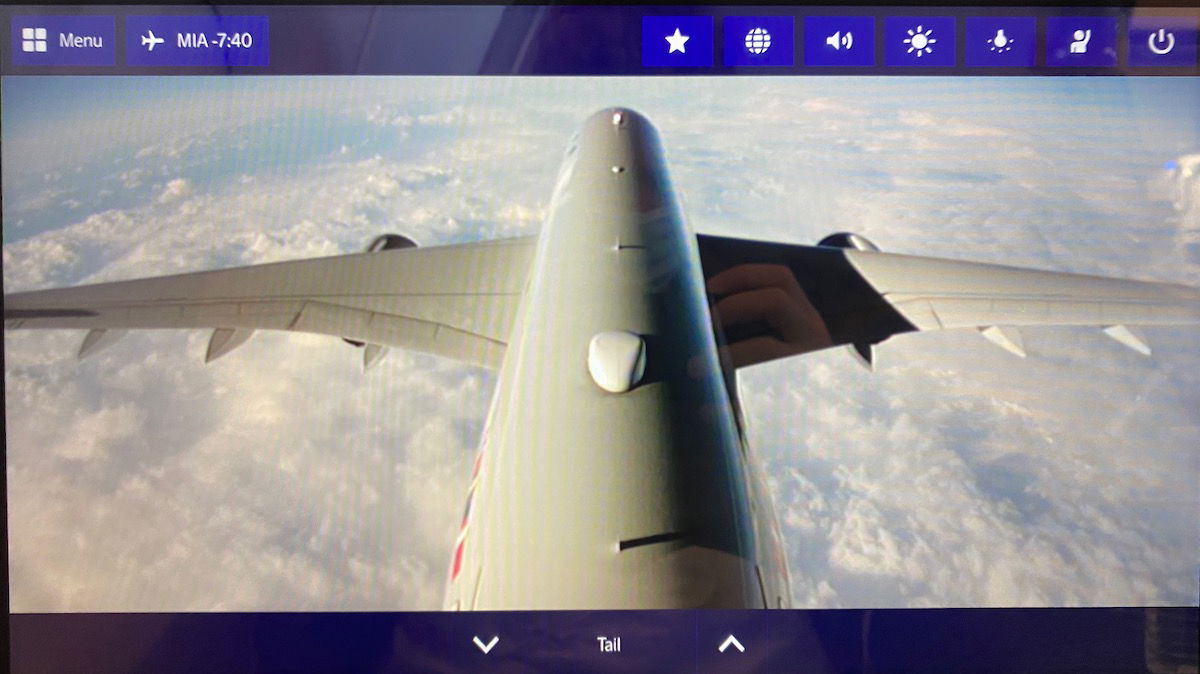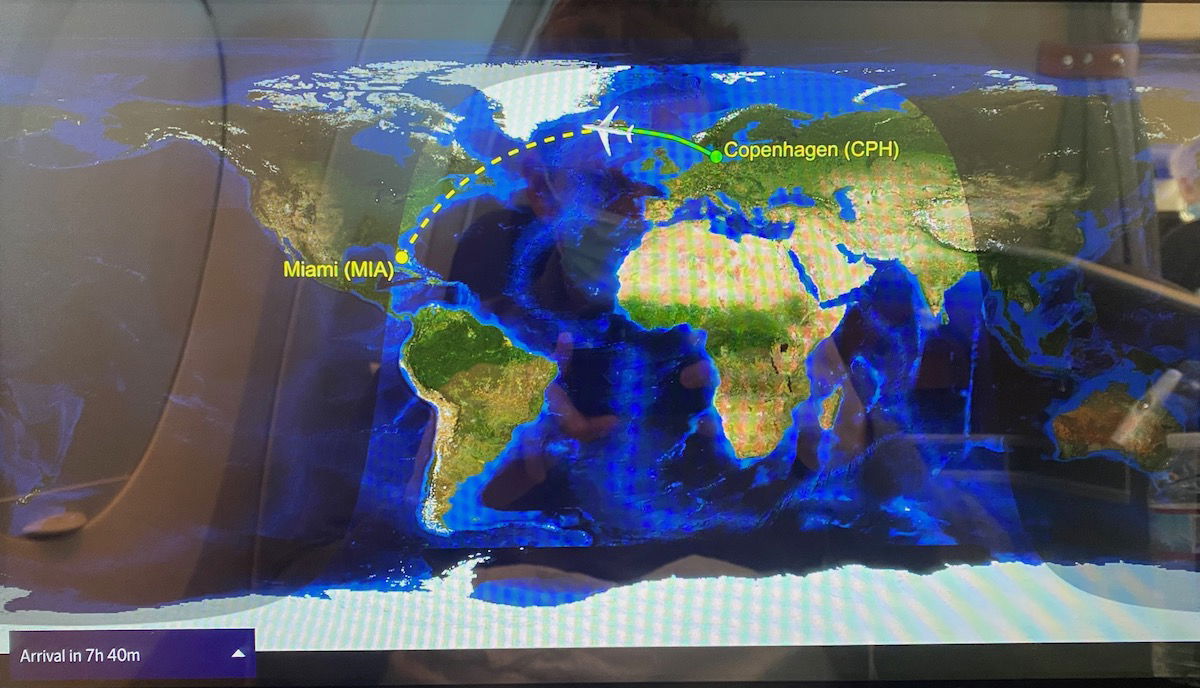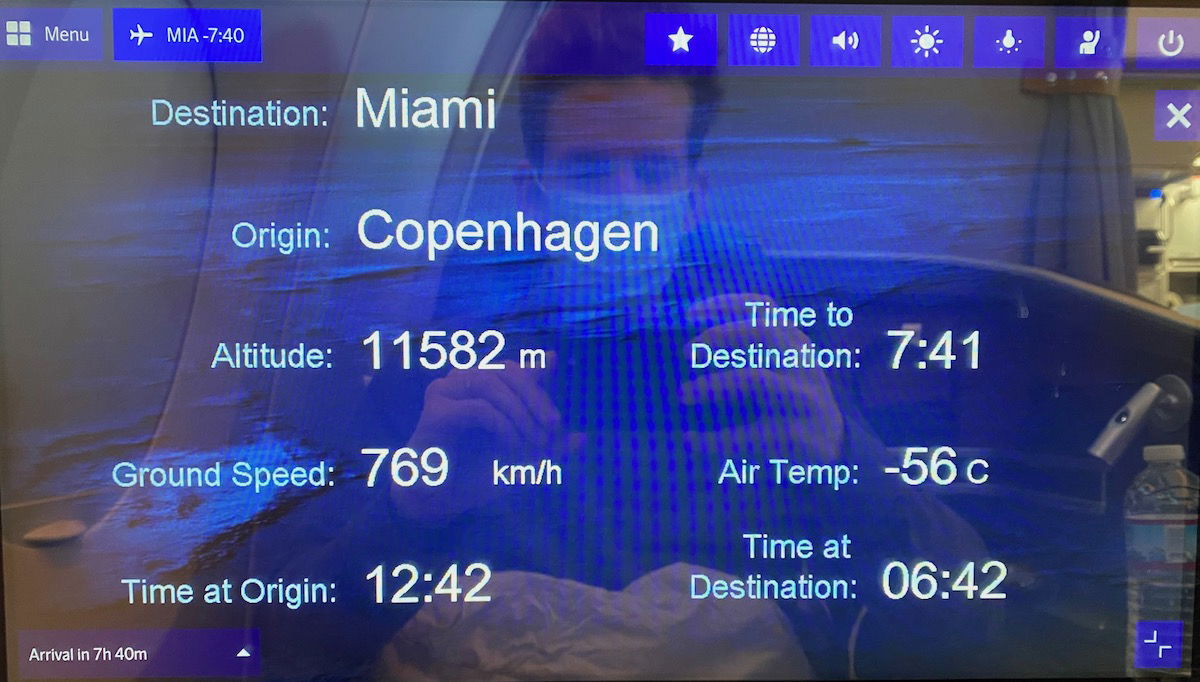 Whatever shortcomings SAS has with the entertainment system is more than made up for with Wi-Fi. SAS offers business class passengers complimentary Wi-Fi on one device. Speeds were even excellent.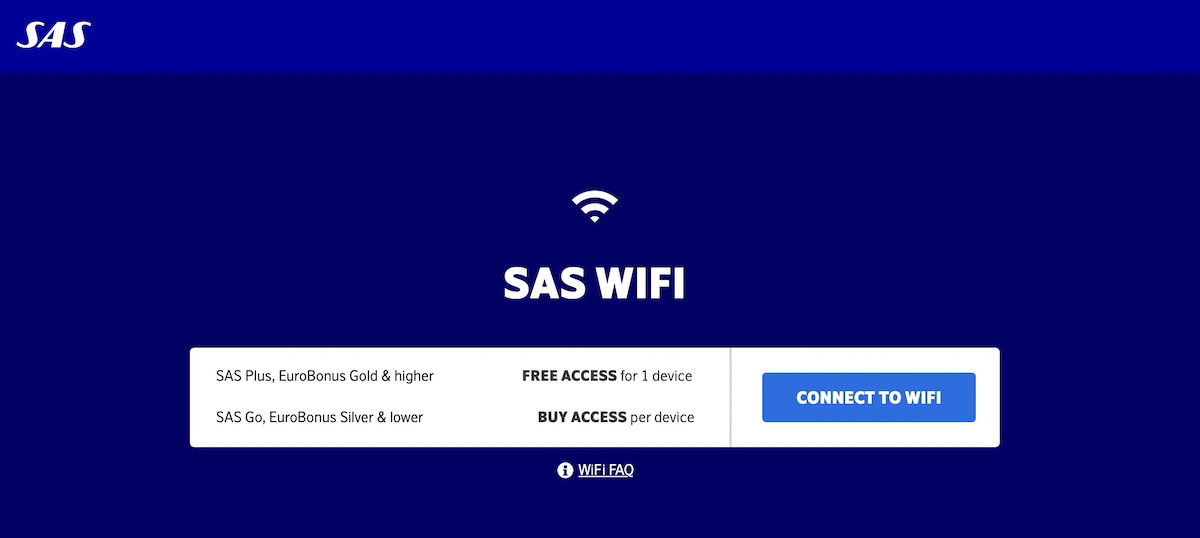 To access the free Wi-Fi you have to provide your first and last name plus your booking reference, so make sure you have that handy when boarding your flight.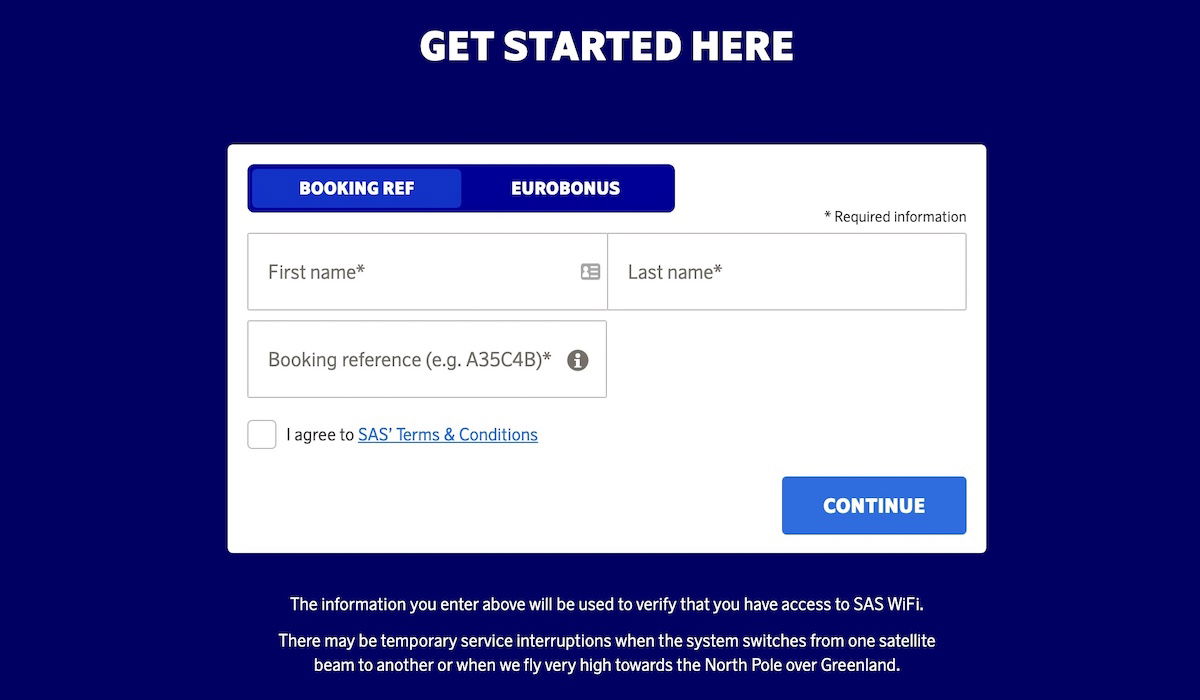 If you don't have access to free Wi-Fi (or want to buy access for a second device), the cost is a reasonable 199DKK (~$17) for the entire flight without data caps.

There aren't many airlines offering free Wi-Fi with no data caps across the Atlantic, so this is a huge competitive advantage for SAS, in my opinion.
SAS A350 business class bed
I didn't sleep on this 10 hour daytime flight, but I did test out the bed mode for comfort. I found the bed to be quite comfortable — the seat padding was good, and I found the seat to be spacious, even though I'm a side sleeper who likes to bend my knees.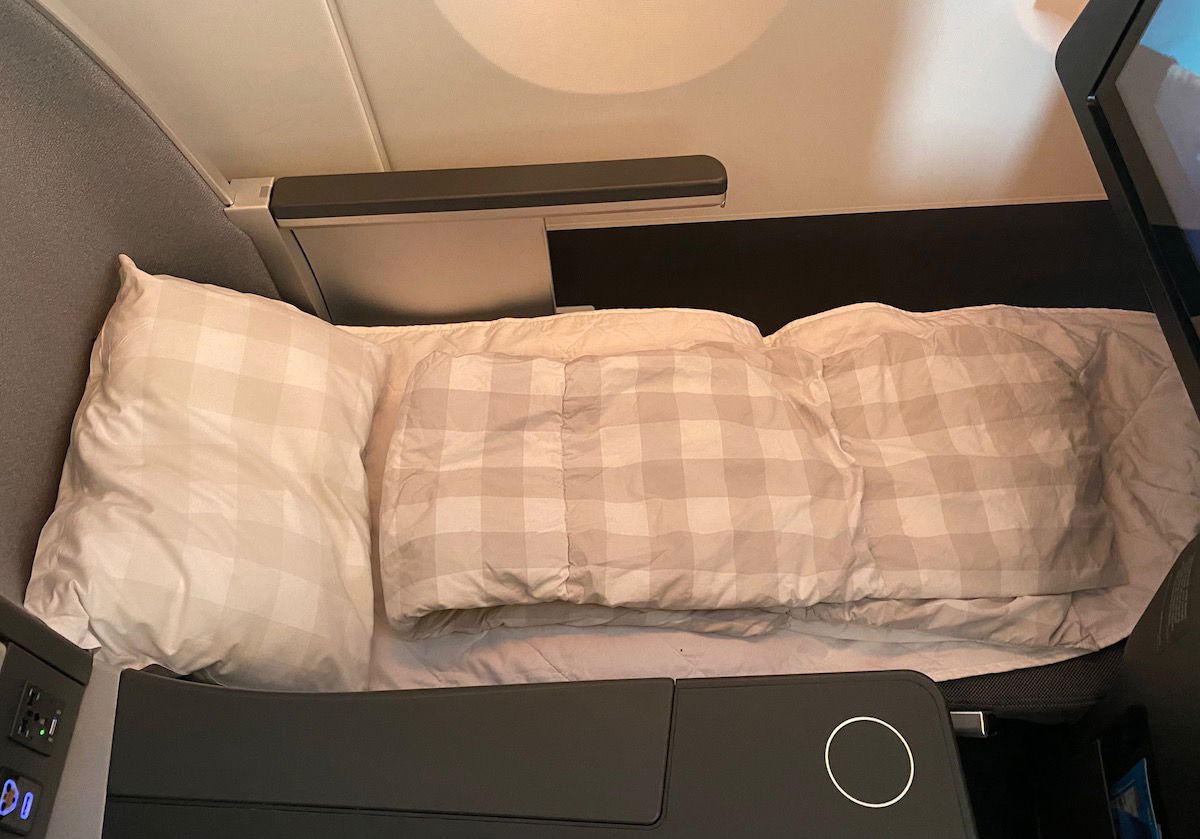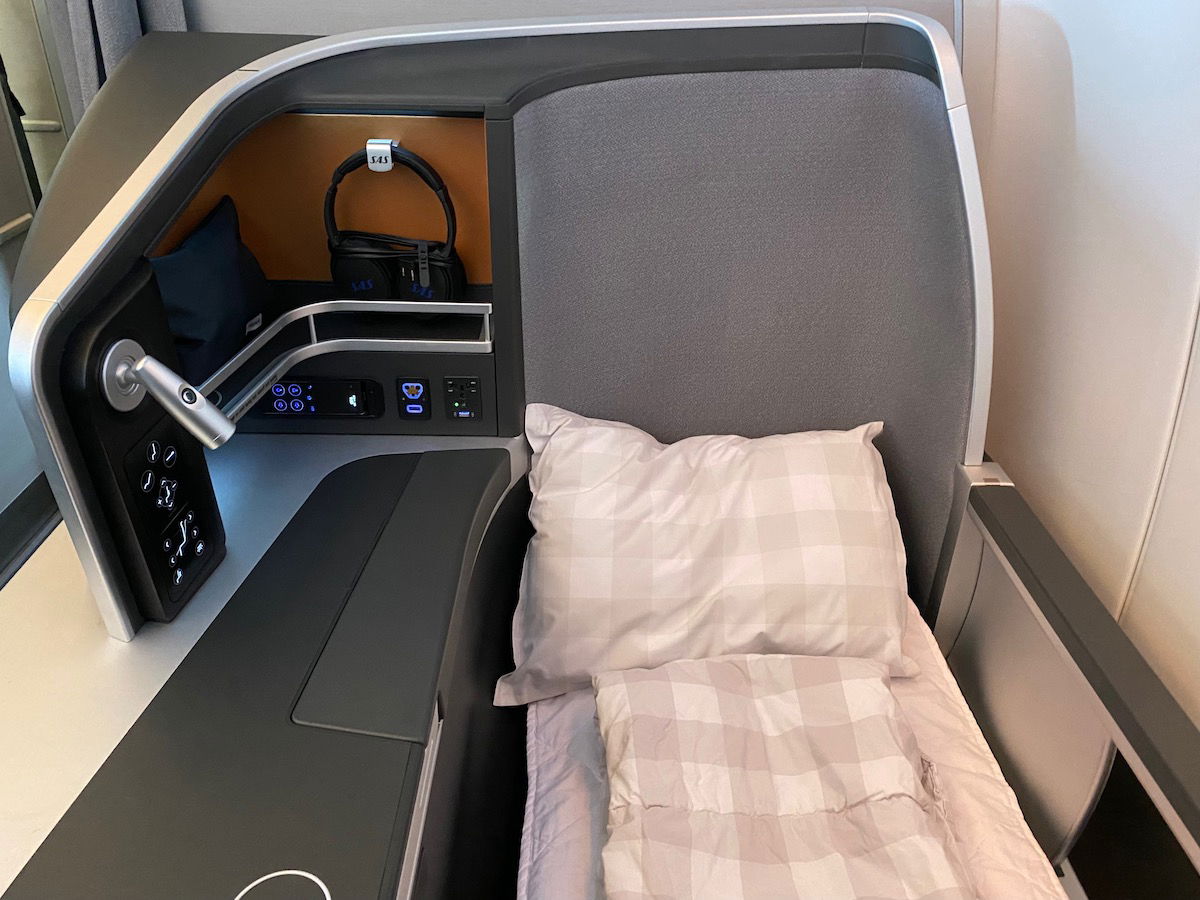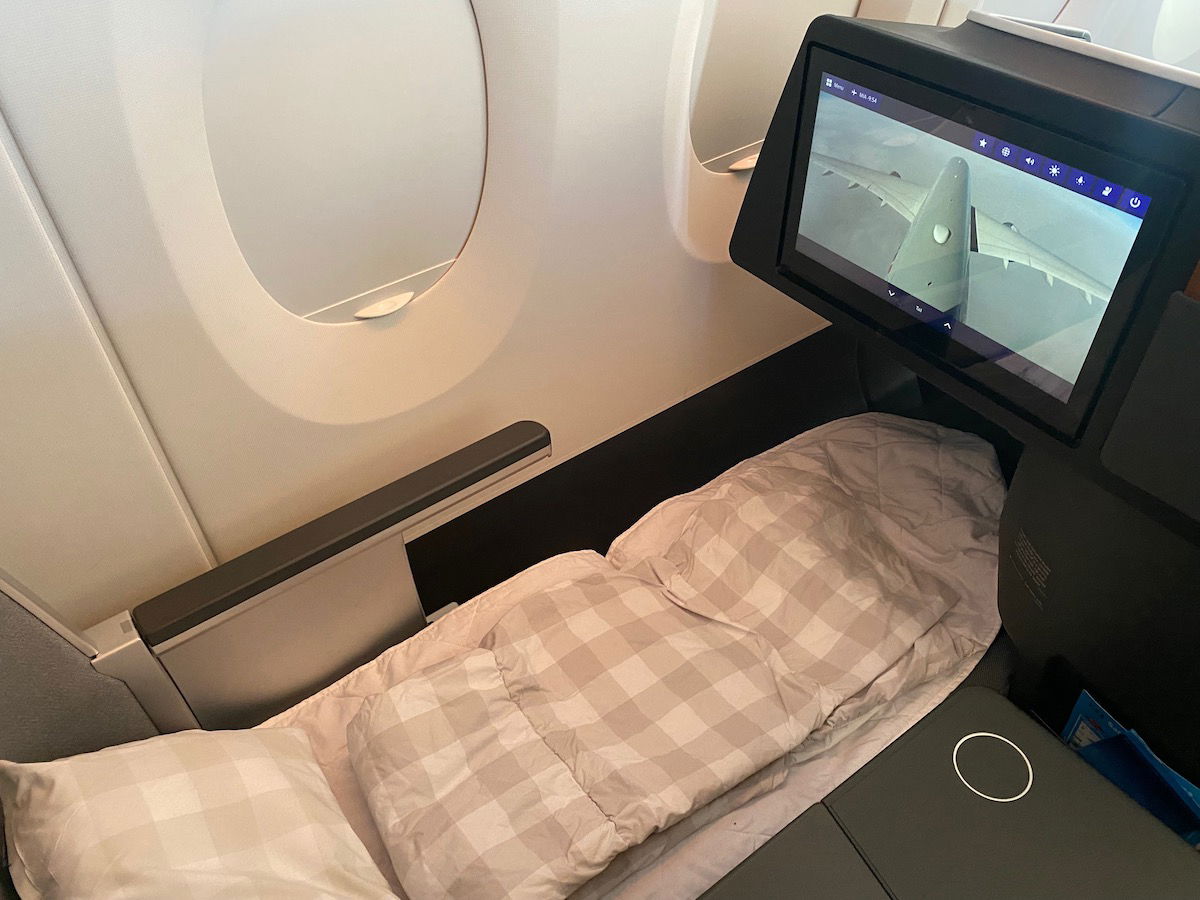 One other interesting note about cabin ambiance. The crew never turned off the lights in the cabin during the flight, but rather the below mood lighting was as dark as it got. I find that most airlines turn off lights on longer flights (even if daytime) so that people sleep, though as someone who wanted to stay up, I kind of liked this level of lighting.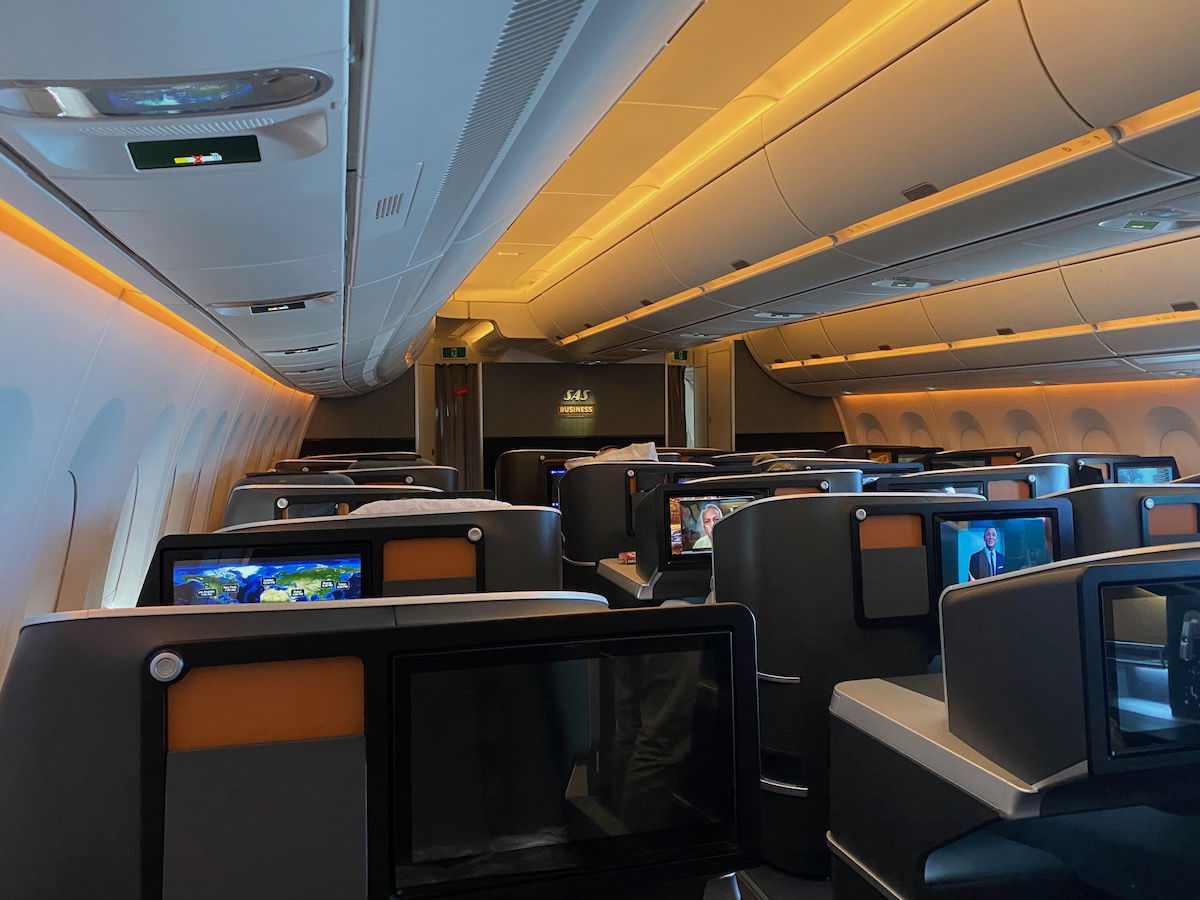 SAS business class lunch
The meal service started quickly after takeoff. Oddly there were no menus in business class, but rather an announcement was made over the PA informing passengers of the meal choices. Service started with tablecloths being distributed.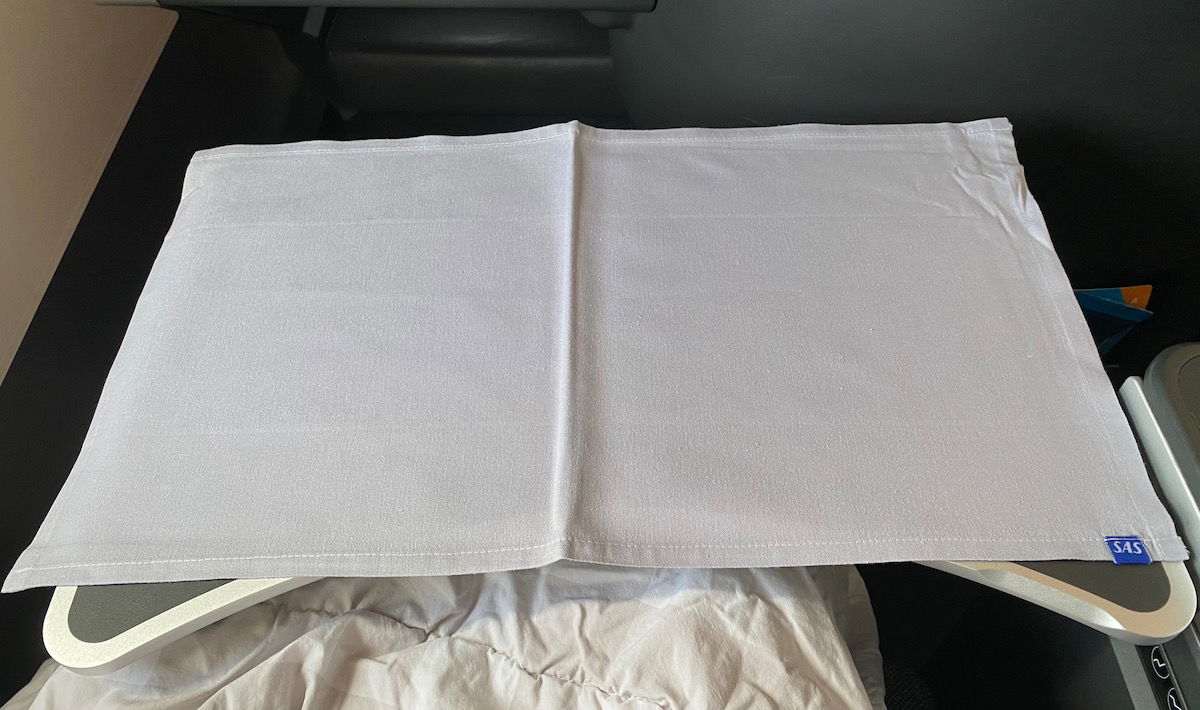 After that carts were rolled down the aisle with drinks. I ordered a glass of sparkling water as well as an Italian white wine, which were served with salted cashews. The flight attendant working my aisle had the chef uniform on. I find SAS' execution of the onboard chef concept to be a bit odd — it's not like Turkish Airlines, where there's a specific function the chef seems to perform.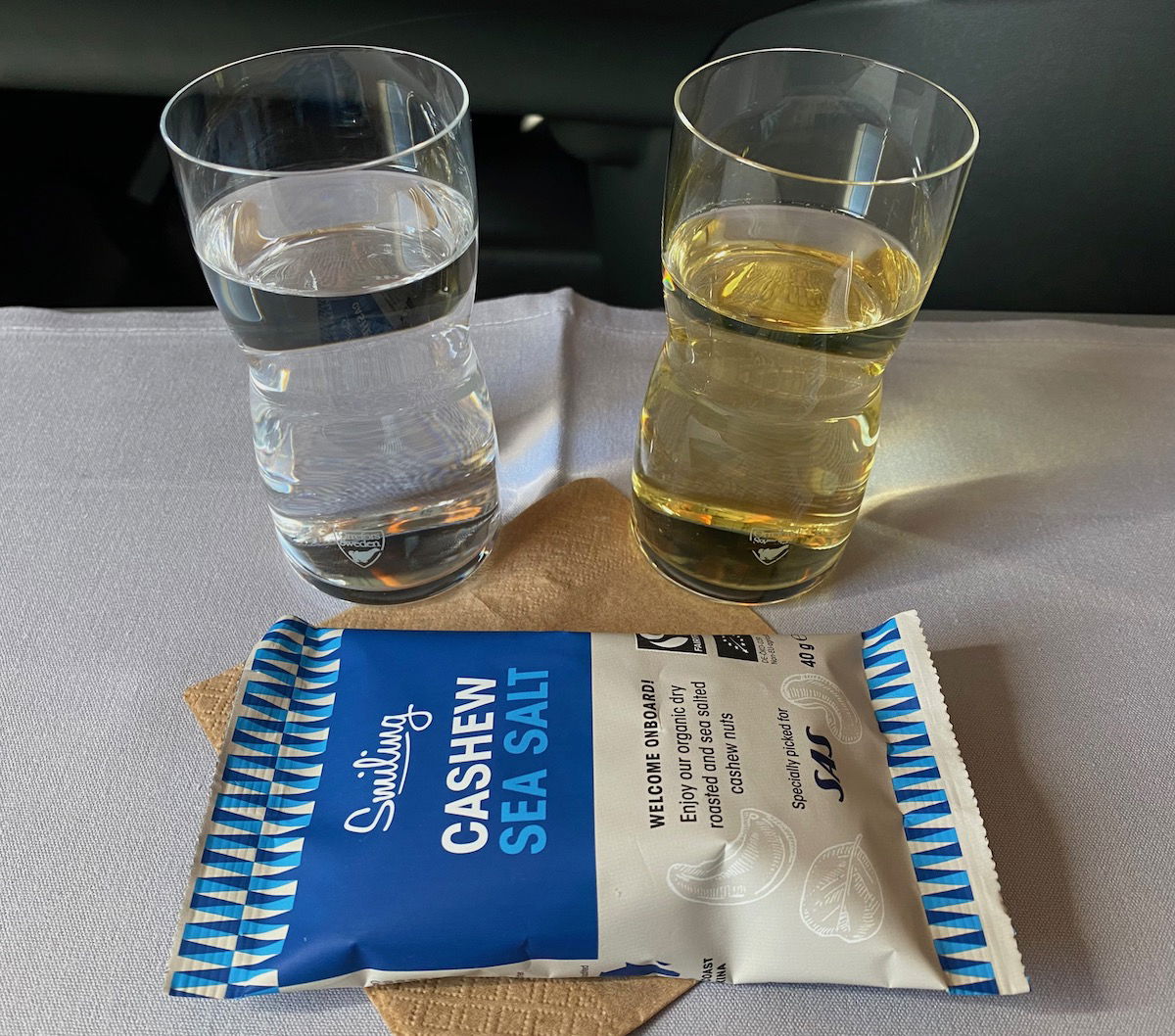 The entire meal, from starter to dessert, was served covered and on a single tray.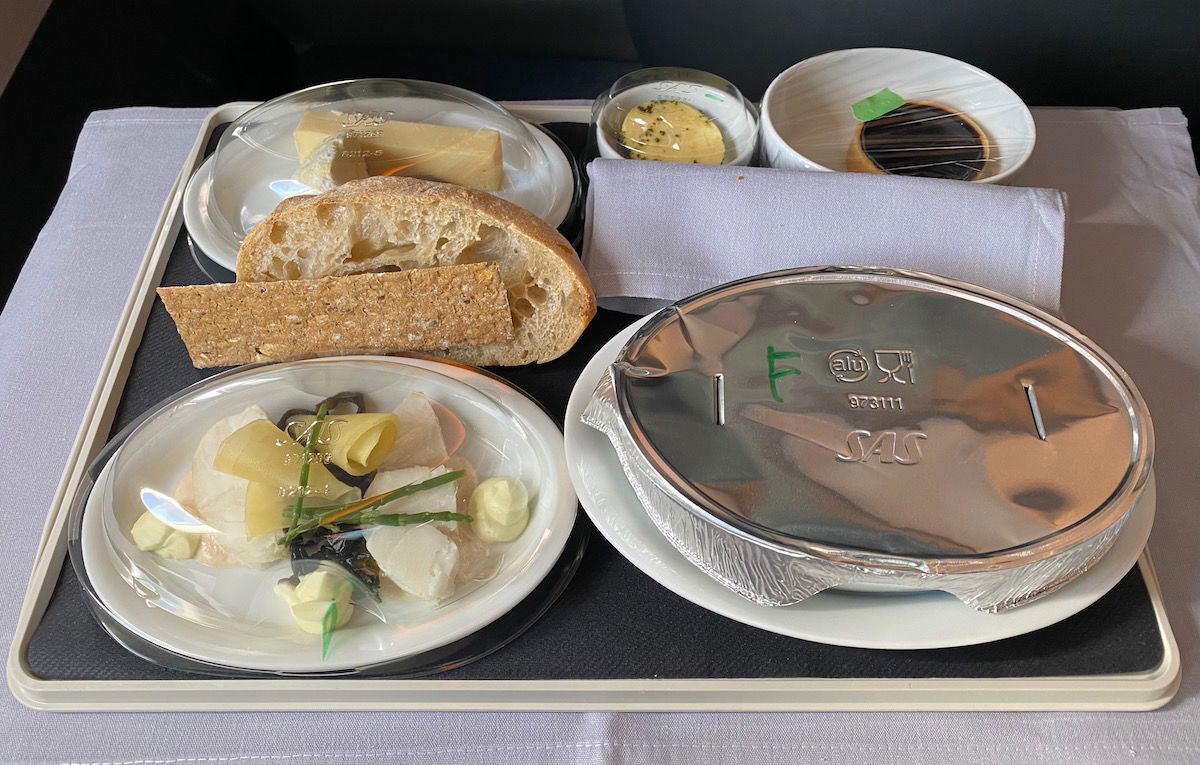 On the plus side, I found the food quality to be excellent. The starter was described as smoked cod loin with pickled beets and seaweed chunks.
Then for the main course there was the choice of steak with cranberry sauce and sweet potatoes, or Faroe Island salmon with jersualem artichoke sauce, and organic pasta with mushroom sauce.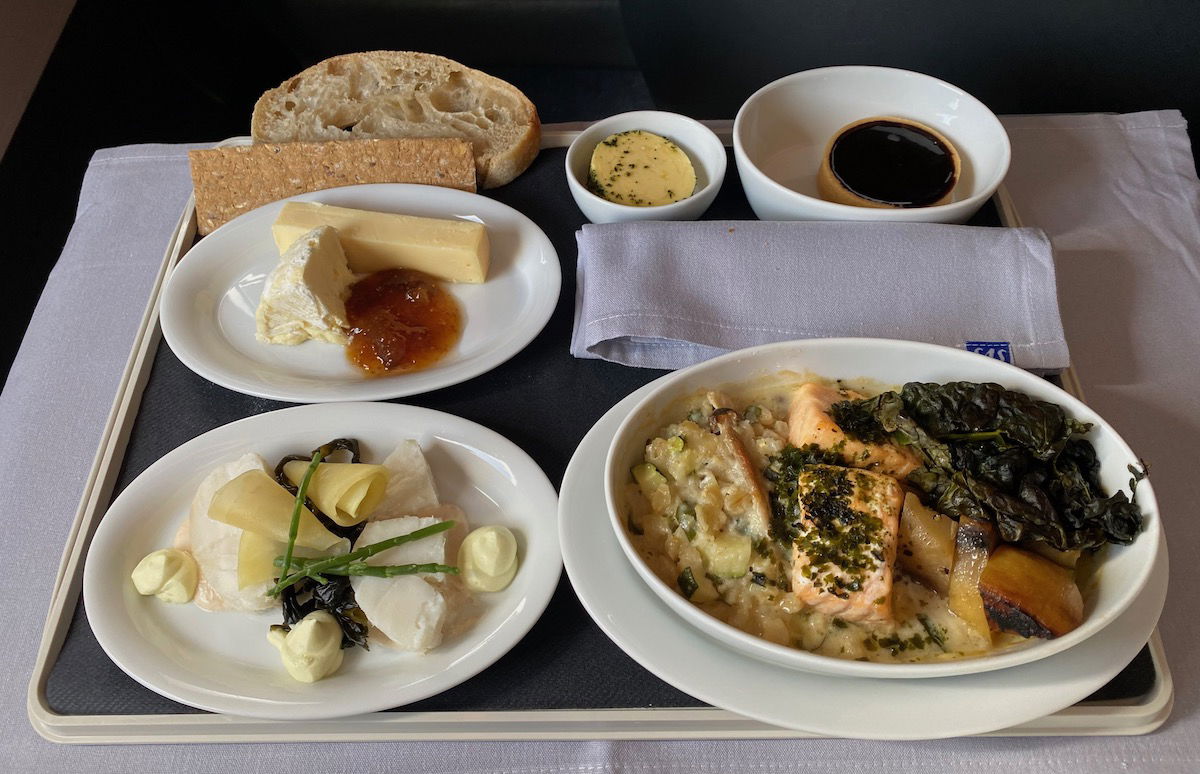 For dessert there was a dark chocolate tart. After the meal a coffee trolley was rolled down the aisle, so I had a cup of coffee to accompany my dessert.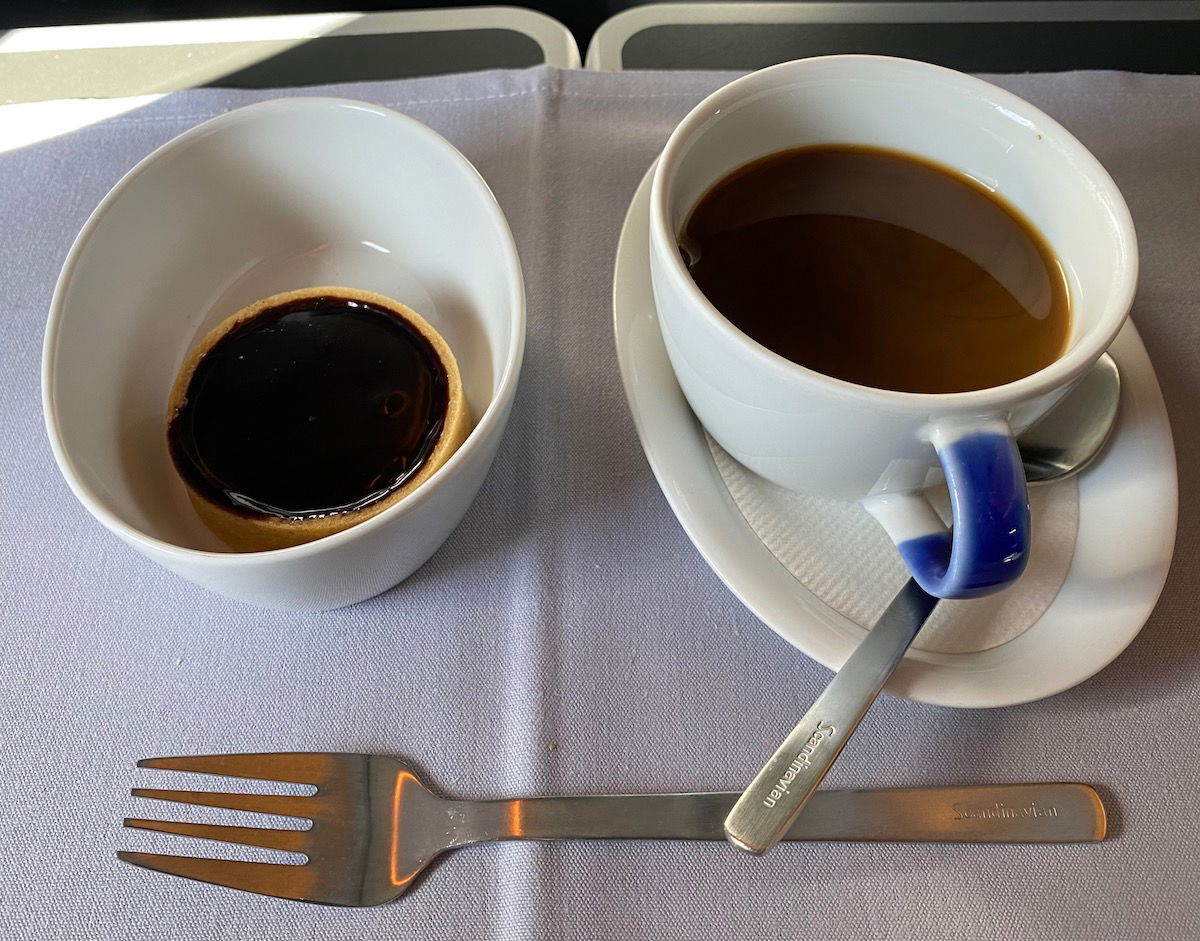 While the lack of menus and one tray presentation aren't ideal, the food quality as such was very good. I enjoyed the starter, main, and dessert, much more than the food I've had on most other transatlantic flights.
The entire meal service was also efficient, and within 90 minutes of takeoff all meals were fully cleared.
SAS business class snack & pre-landing meal
There was a self-serve bar in the galley between the two business class cabins. This had several types of drinks, as well as packaged snacks, ranging from nuts, to chocolates, to chips, to gummy bears. Of course other drinks were available directly from the crew.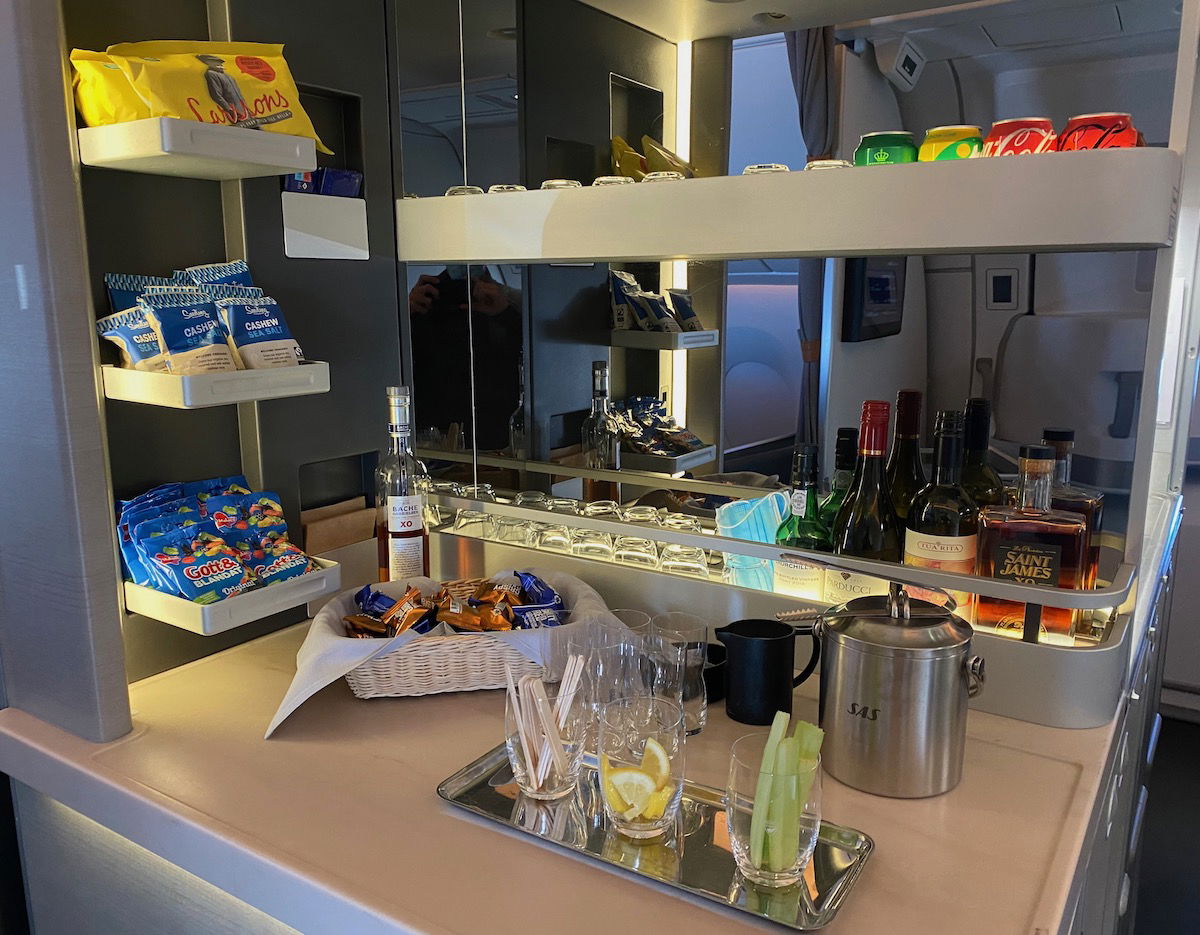 Roughly at the halfway point of the flight, the crew distributed packaged sandwiches, with the choice of either cheese or ham. I had a cheese sandwich, and it was reasonably tasty.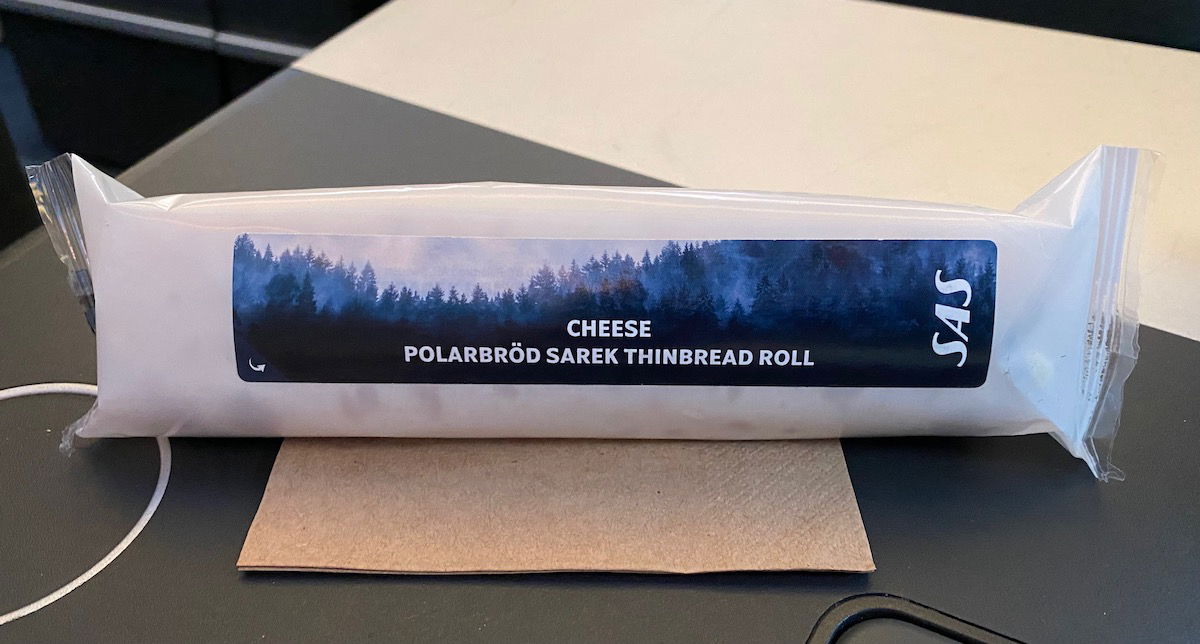 I had a couple of cups of coffee during the flight, which were served in paper cups.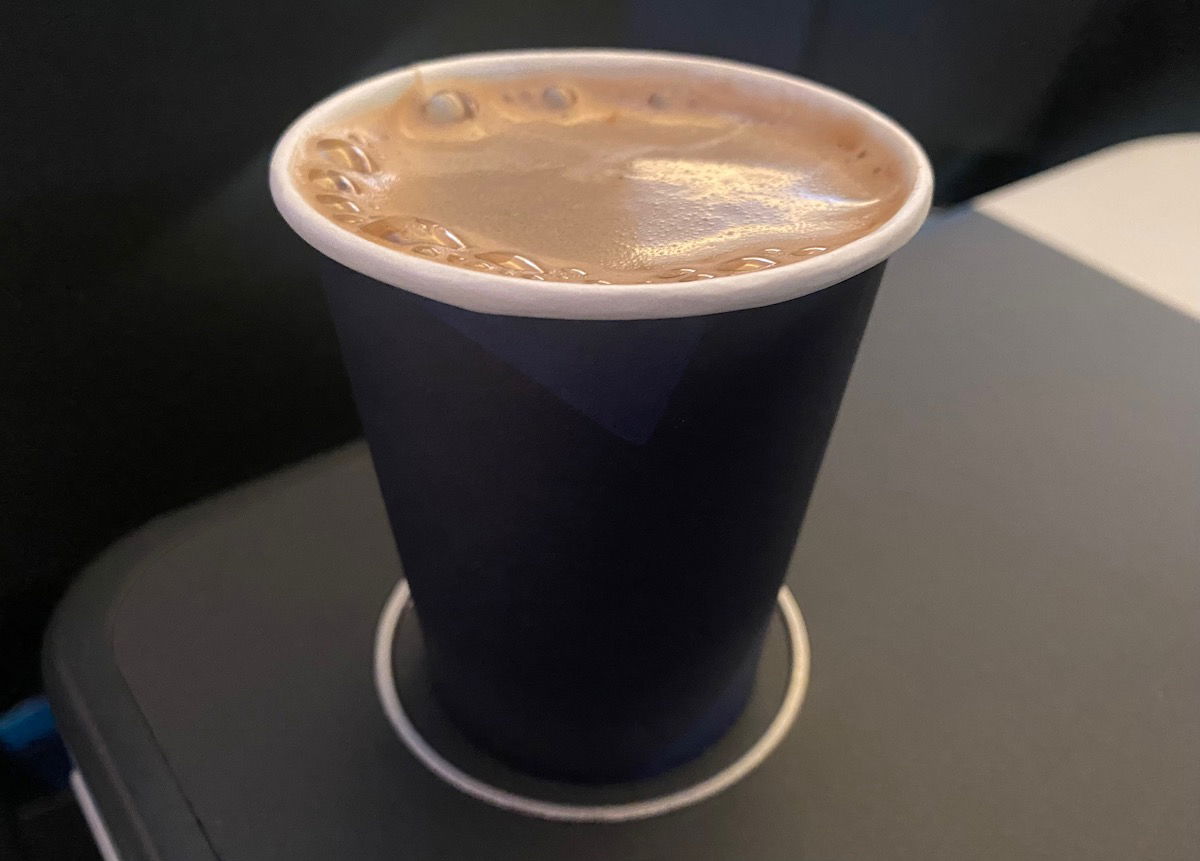 About 90 minutes before landing the pre-arrival snack was served. This consisted of a chicken sandwich on rye bread, and was quite tasty. This was served with a side of fruit and a box of chocolates.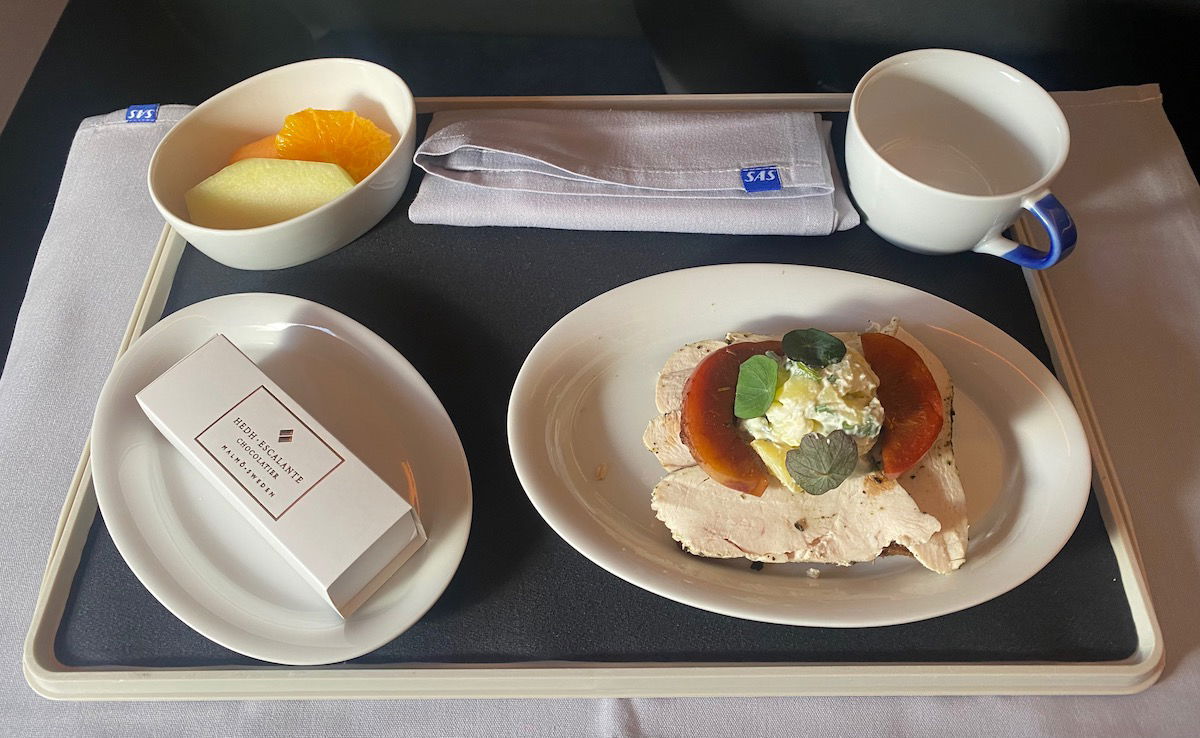 Coffee & tea were served after the meal, so I had a cup of coffee.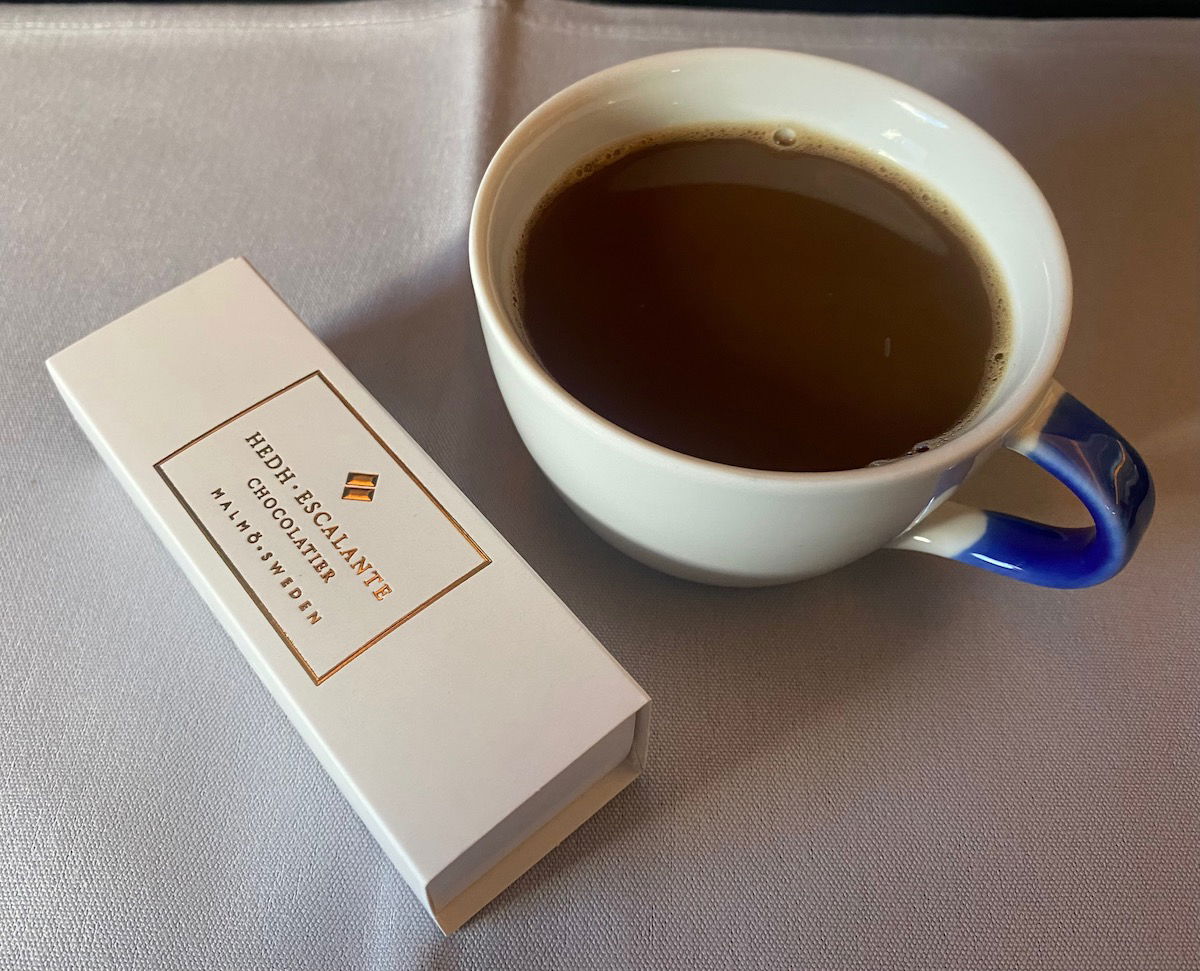 SAS business class service
This is probably what impressed me most compared to my last long haul flight on SAS. Unlike my last SAS business class flight, the crew on this flight was lovely. The flight attendants were friendly, attentive, and seemed genuinely happy to be working. Then again, maybe that was partly because they were flying from Northern Europe to Florida in winter, which I imagine might have something to do with it. 😉
SAS approach to Miami
At around 1:35PM local time the captain came on the PA to advise us that we'd be landing in Miami in around 45 minutes. Roughly 15 minutes later we began our descent, and at that point the cabin was already prepared for landing.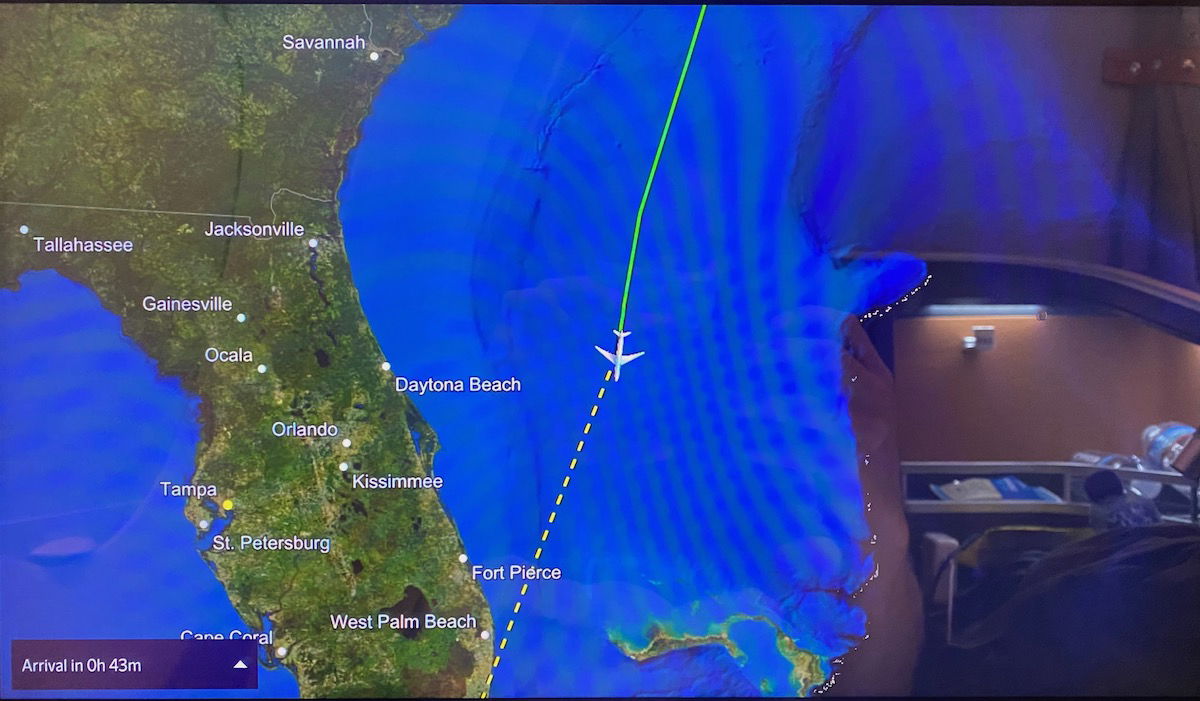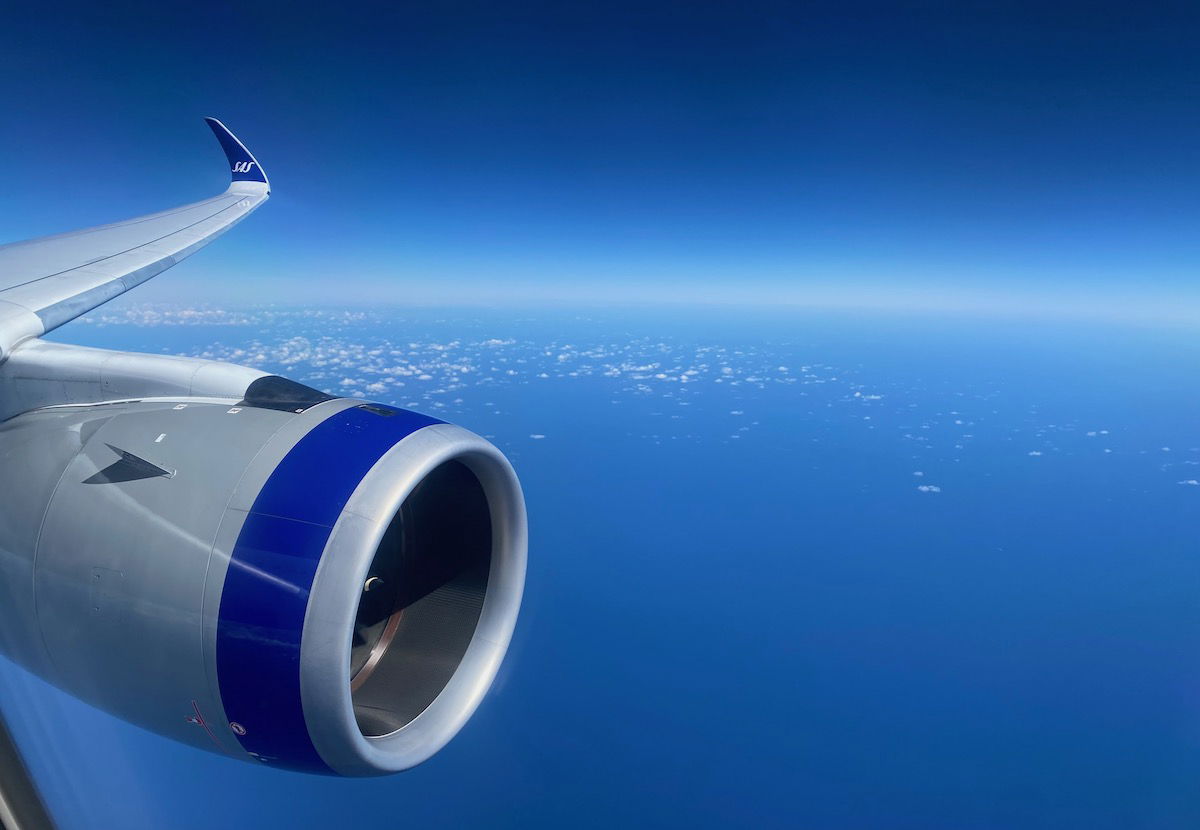 As usual, the views on approach to Miami were gorgeous, given that we were landing into the west. We had great views of Miami Beach, the Venetian Islands, Brickell, etc.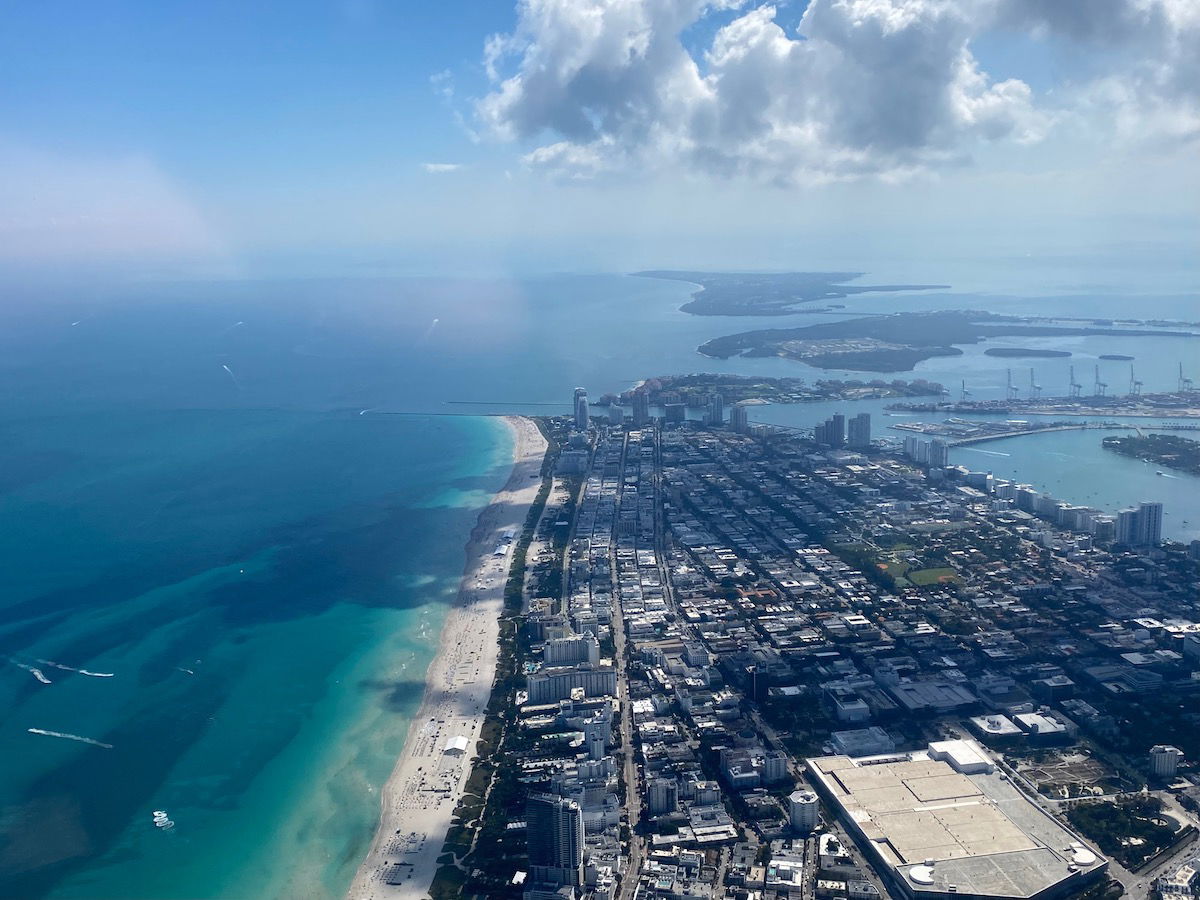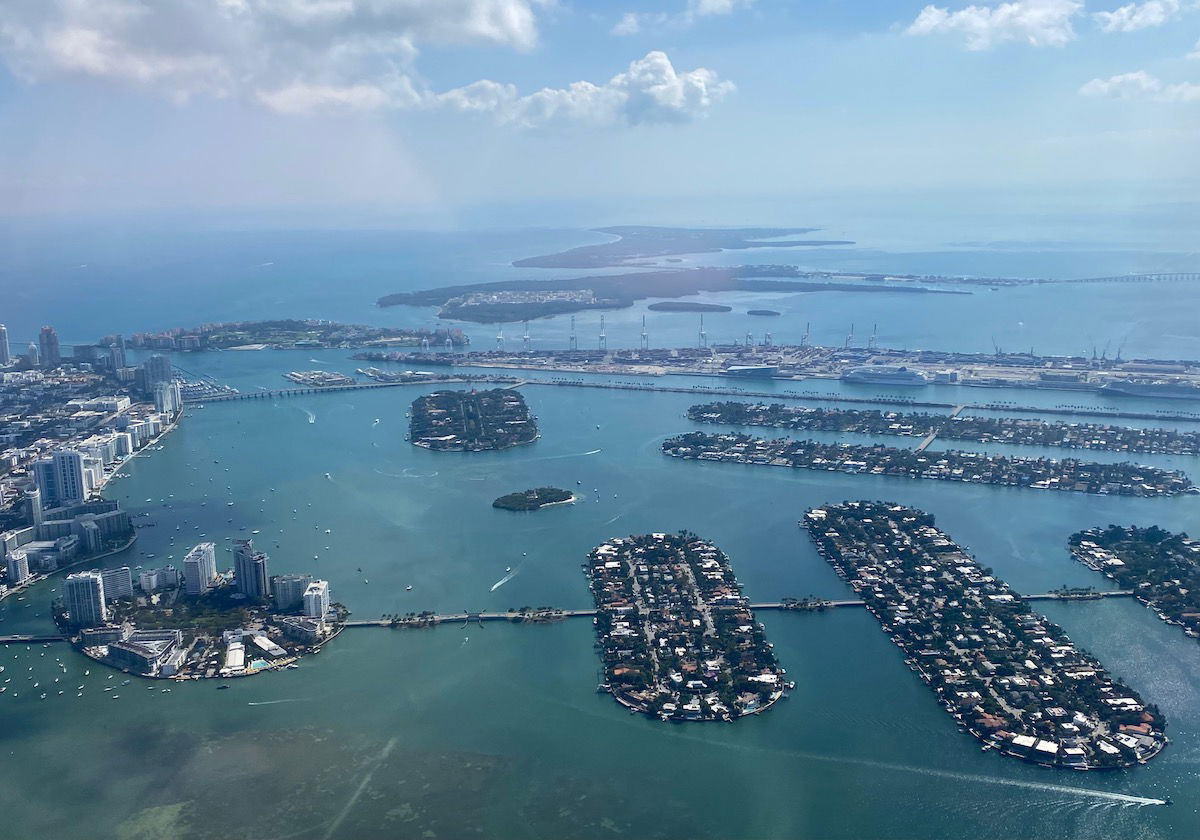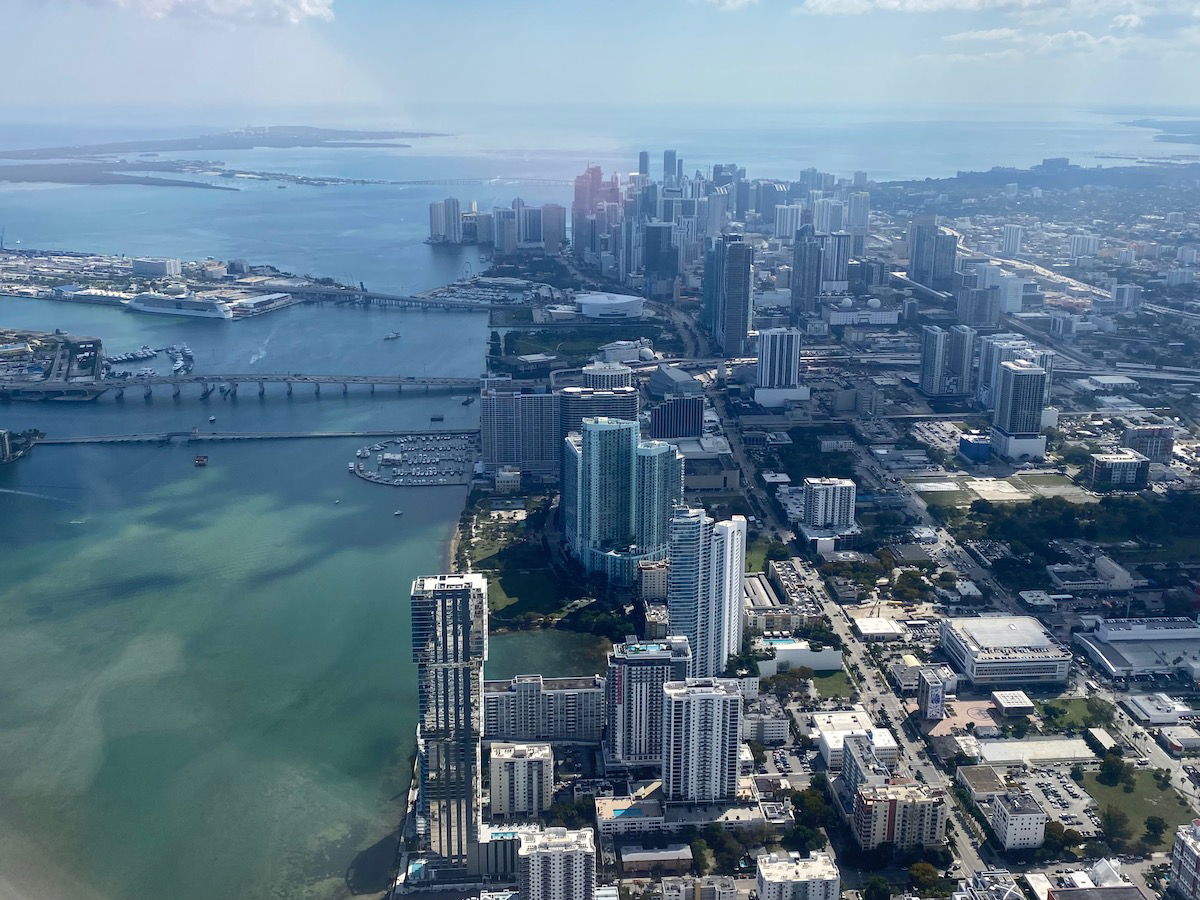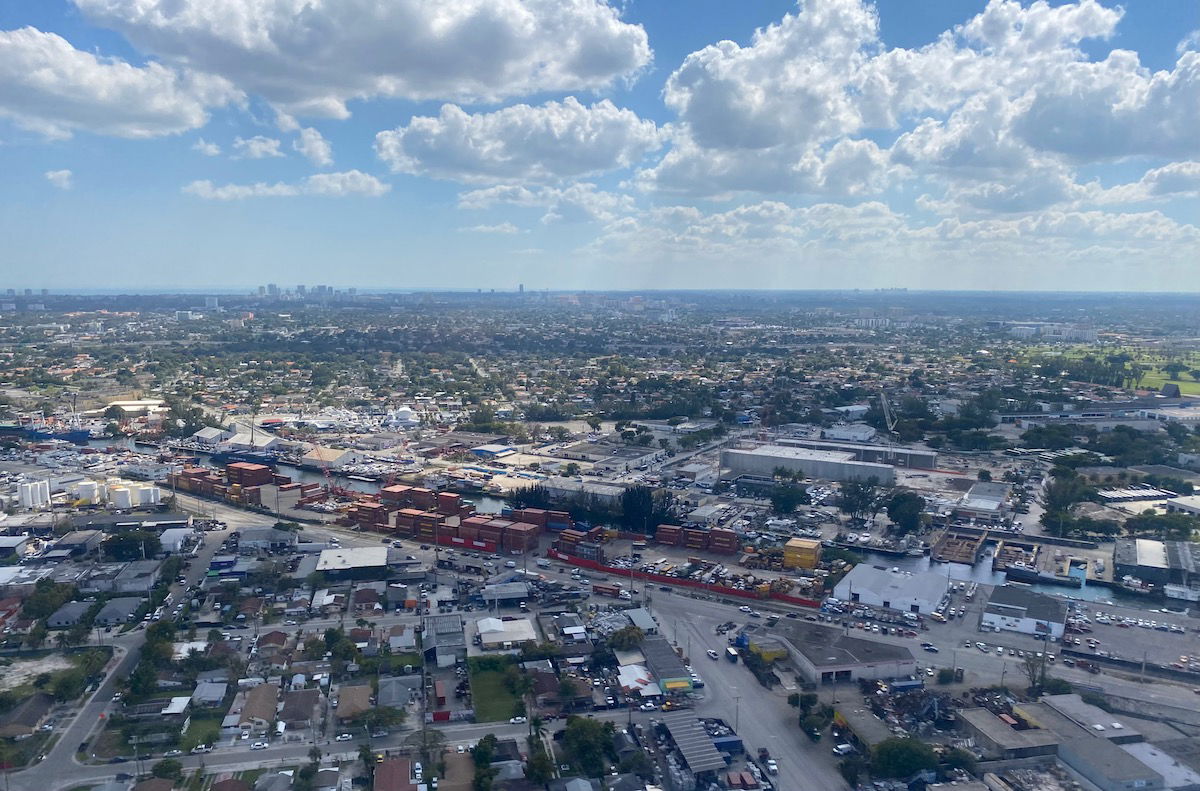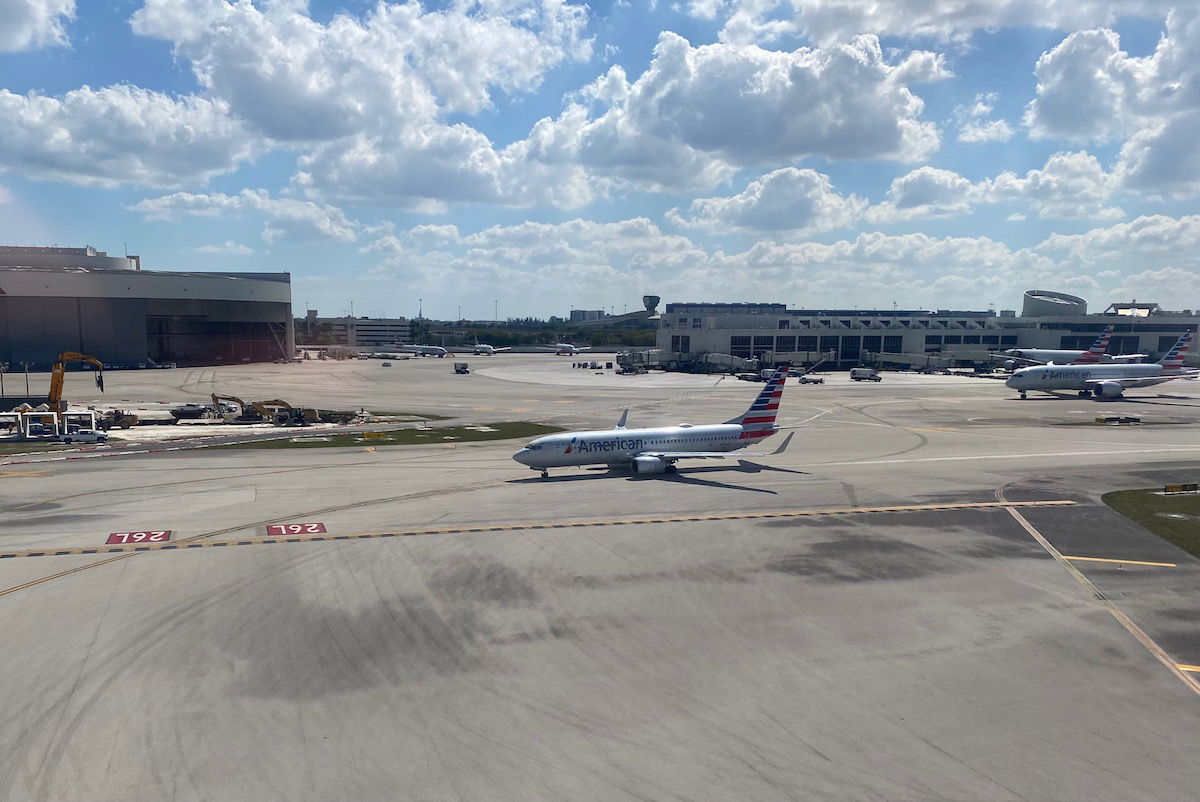 We touched down on runway 26L at 2:20PM.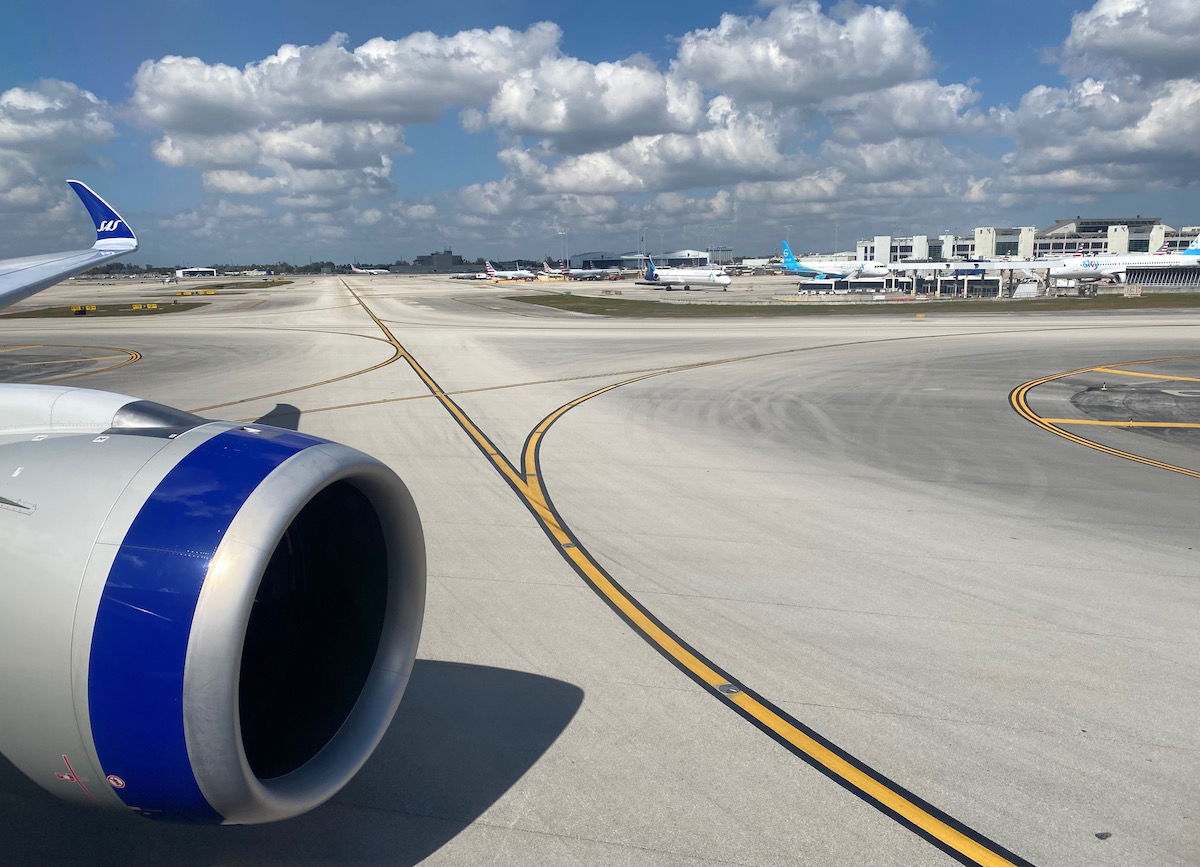 You've gotta love the traffic at Miami Airport, from an Icelandair Boeing 757 (operating charter flights to Cuba), to a Boliviana de Aviacion Boeing 767.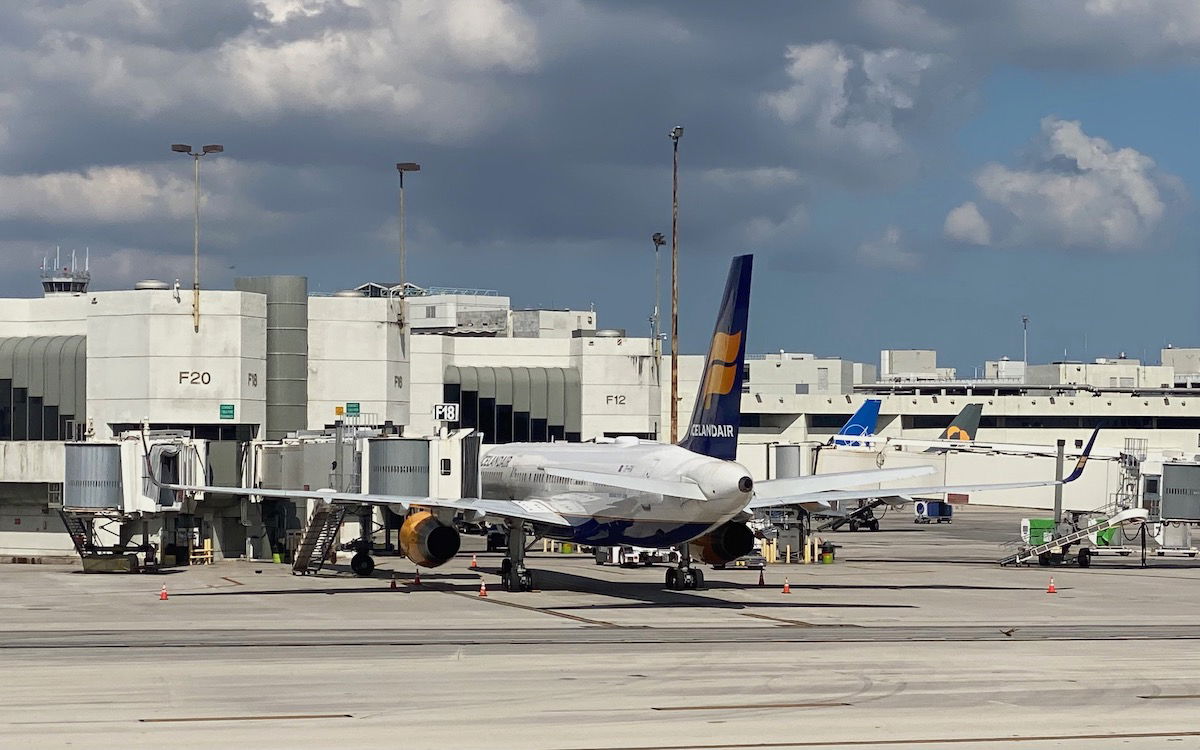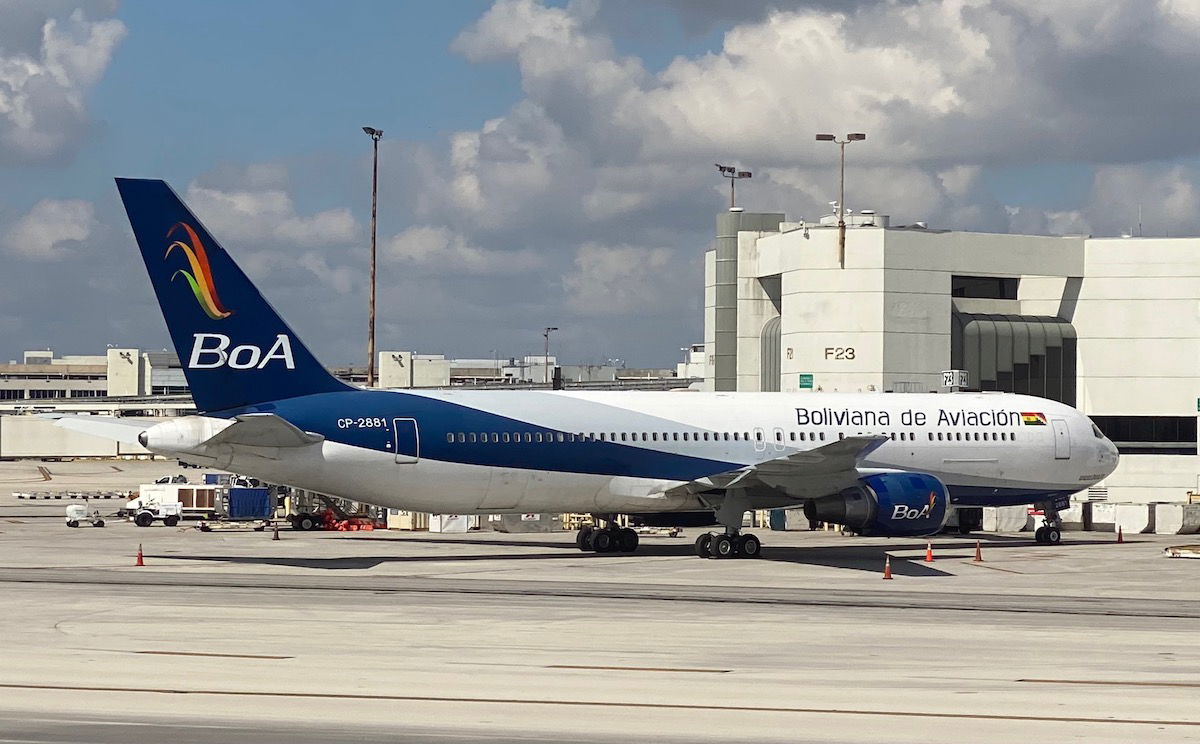 We ended up arriving at our gate at around 2:30PM, just a bit behind schedule. We were treated to a beautiful view of the SAS A350 while walking toward immigration.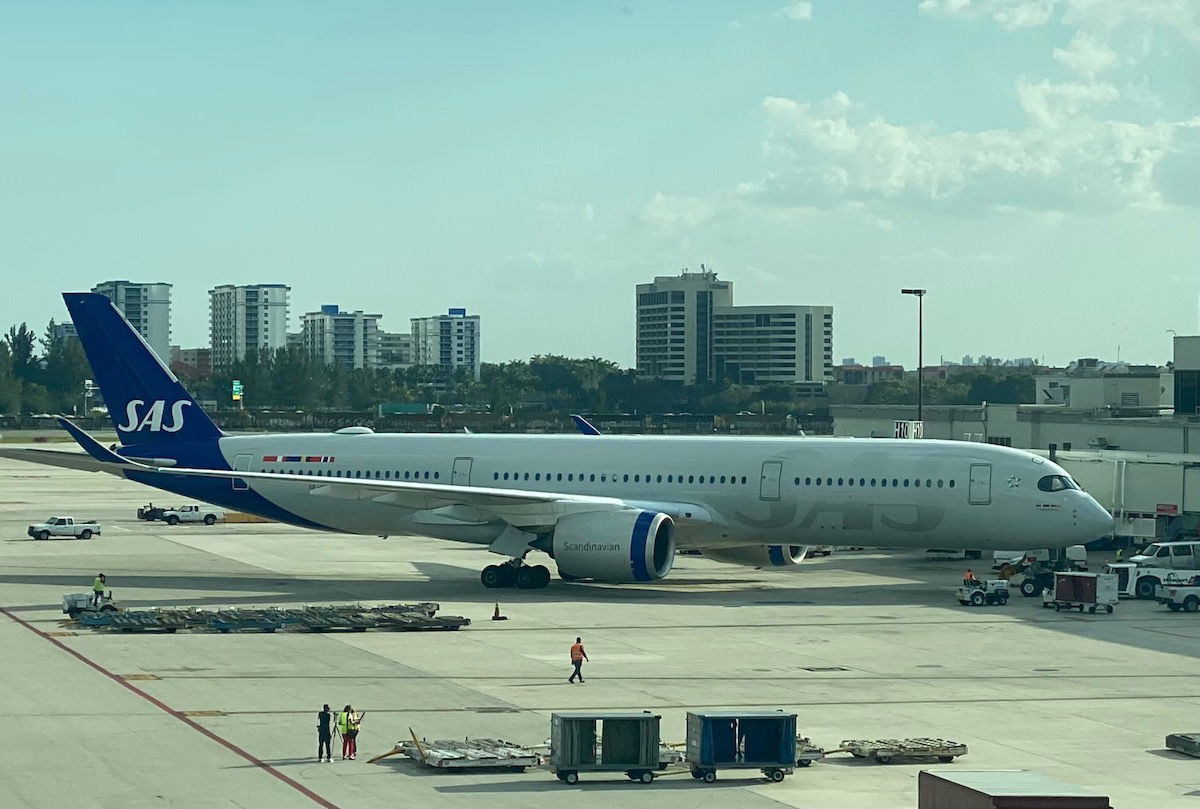 Bottom line
Based on my previous SAS long haul experience, I came into this flight with low expectations. Fortunately they were exceeded significantly. The Vantage XL seats are among the most comfortable transatlantic business class seats offered by a European airline. Add in the tasty food, friendly service, free Wi-Fi, and general comfort of the A350, and this was a fantastic experience.
I'd say the main room for improvement is with the entertainment selection and perhaps the introduction of a menu and drink list, so people can more easily figure out what they're ordering. But those are minor details in the grand scheme of things, and I'd choose SAS again on a long haul flight in a heartbeat.
Thanks so much for following along with this journey, and stay tuned for the next trip report, launching shortly!
If you've flown SAS' A350 business class, what was your experience like?