The next stop on our trip was in Muscat, where we spent two nights at the W Hotel Muscat. This stay was eye-opening for me, and I think this is the last time I'll be staying at a W (unless there's a really compelling reason).
The thing is, there was absolutely nothing wrong with this stay. We scored a great upgrade, breakfast was good, and the property is a fantastic destination for those who just want to lounge by the pool. But this stay made me realize that W just isn't a brand for me anymore.
I remember back in the day when I thought W was a cool brand. But as I've gotten older, the brand just annoys me — W properties are soulless, they're style over substance (and not even good style), and seem to have uncomfortable furniture by design. I just don't get it.
I feel like I've evolved in some ways, but maybe the W brand hasn't? I couldn't help but laugh at how Ford described his perception of the brand to me during our stay (and he also used to think W was coolish) — "staying at a W is like walking into a nightclub, but the party is over and the music is still going." I don't have much firsthand experience with that, but I'll take his word for it.
How we booked our stay at W Hotel Muscat
Why did we decide to book the W Muscat? Well, I had two Marriott Bonvoy free night certificates expiring in the coming months, and they're valid at properties costing up to 35,000 points per night. This hotel was charging exactly 35,000 points per night on our dates, so that was a fantastic use of these certificates.
I even used Marriott Bonvoy suite upgrade awards, and was able to confirm an upgrade to a Marvelous Suite five days before arrival. Woot!
As a point of comparison, for our dates cash rates for standard rooms started around $400 per night, while the suite we confirmed an upgrade to would have retailed for over $750 per night.
W Hotel Muscat location
The 279-room W Muscat is located on the Shatti Al Qurum beachfront, right across from the Royal Opera House. The hotel is around 20 minutes from Muscat International Airport (MCT), and a fairly short drive from many of Muscat's most popular sights. For example, the hotel is around 15 minutes from the Mutrah Corniche, Al Alam Palace, Al Jalali Fort, etc.
W Hotel Muscat lobby & check-in
We arrived at the hotel in the evening. I found the exterior of the hotel from the street-side to be cool-looking, and it ever-so-slightly gave the property a sense of place. For that matter, it looks super nice compared to the neighboring InterContinental Muscat, which from the outside might just be the ugliest InterContinental on earth.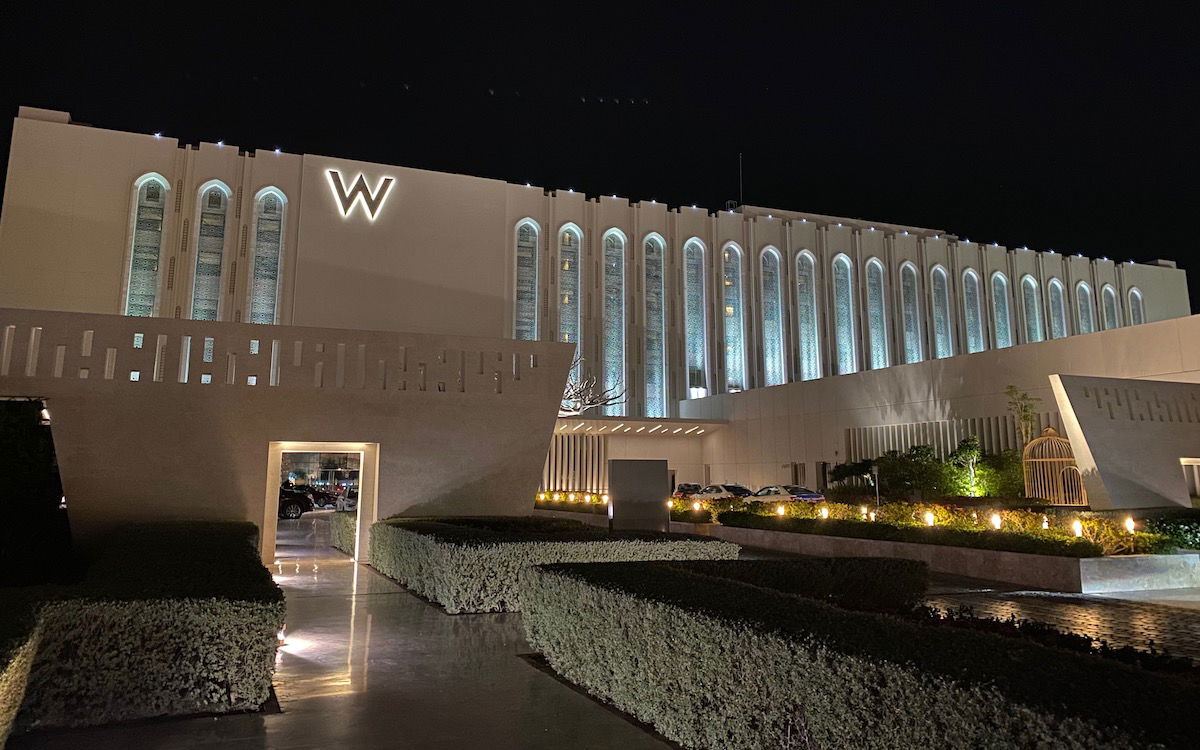 Unfortunately that's kind of where the sense of place for the public areas of the hotel ends, aside from the pictures of the Sultan at reception. Immediately inside the entrance to the hotel was some seating, and then reception was located to the right. The floor-to-ceiling windows are pretty cool, and give the lobby lots of natural light.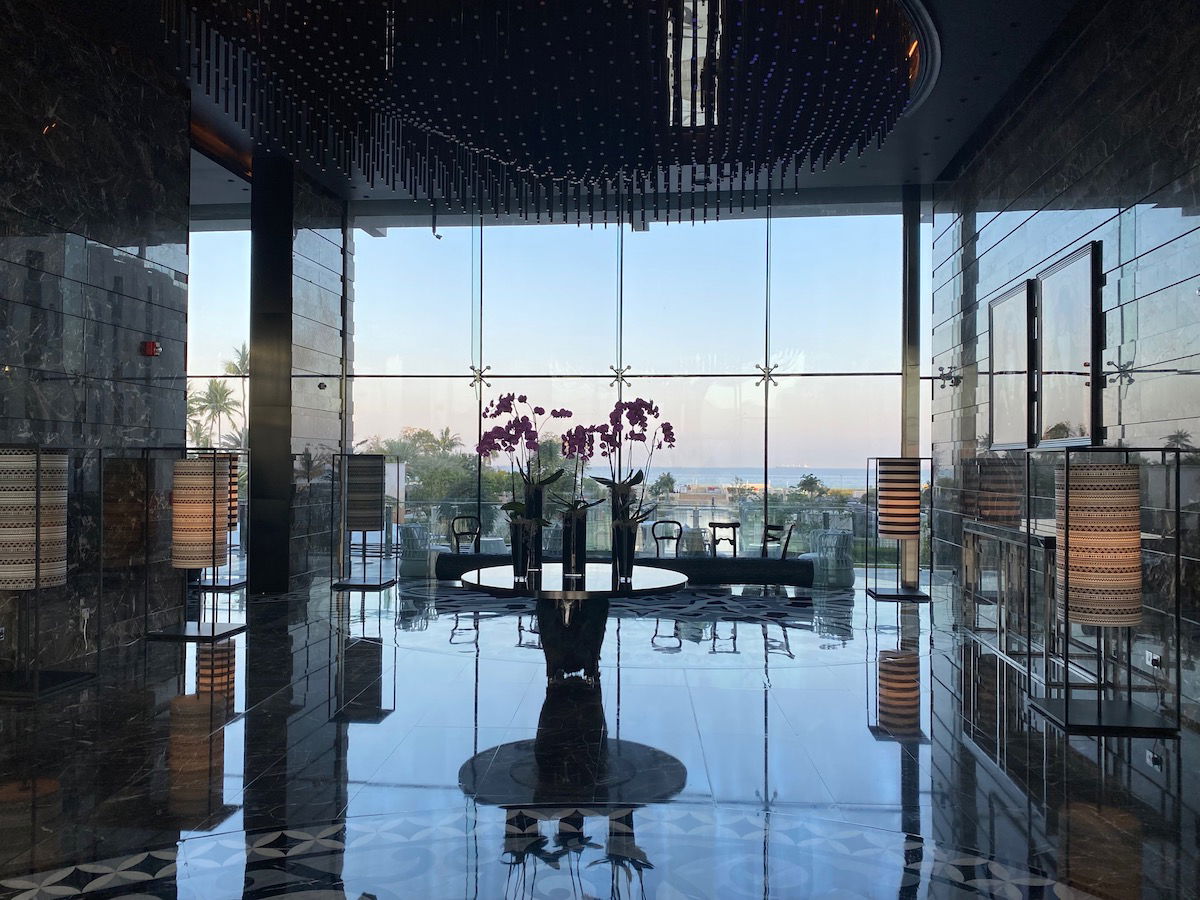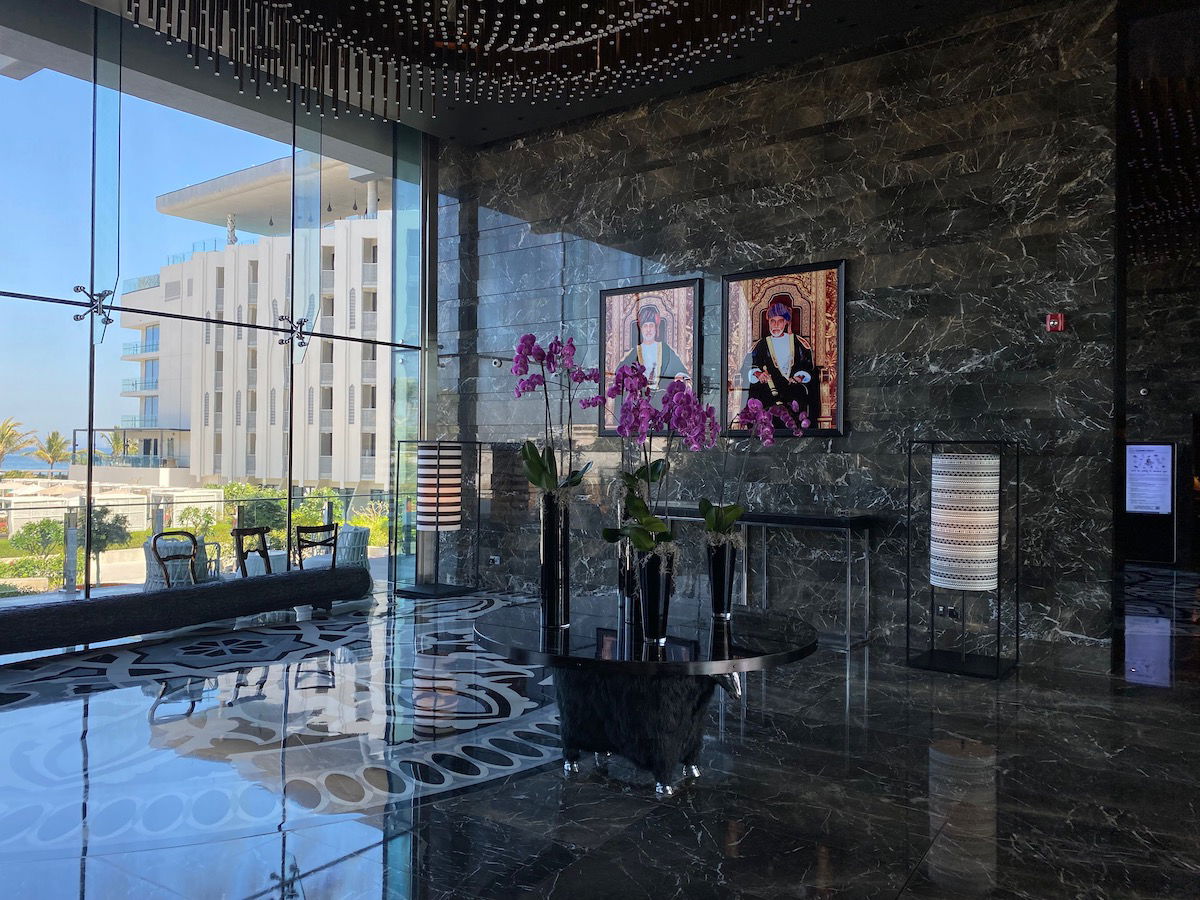 Our check-in process was reasonably quick, and the associate checking us in was friendly. He went over the basics of the property with us, and offered to escort us to our room (though we didn't need that). With keys in hand, we walked down the hallway toward the elevators.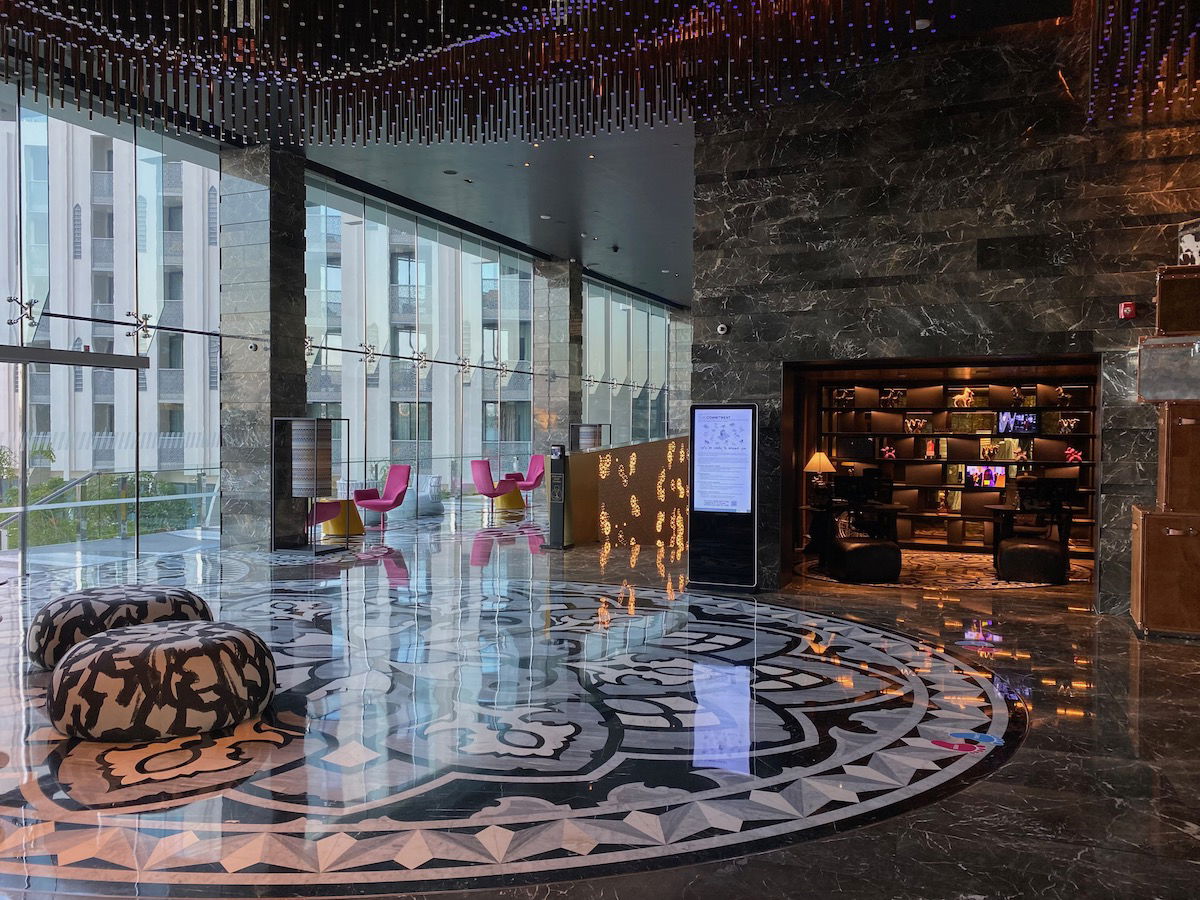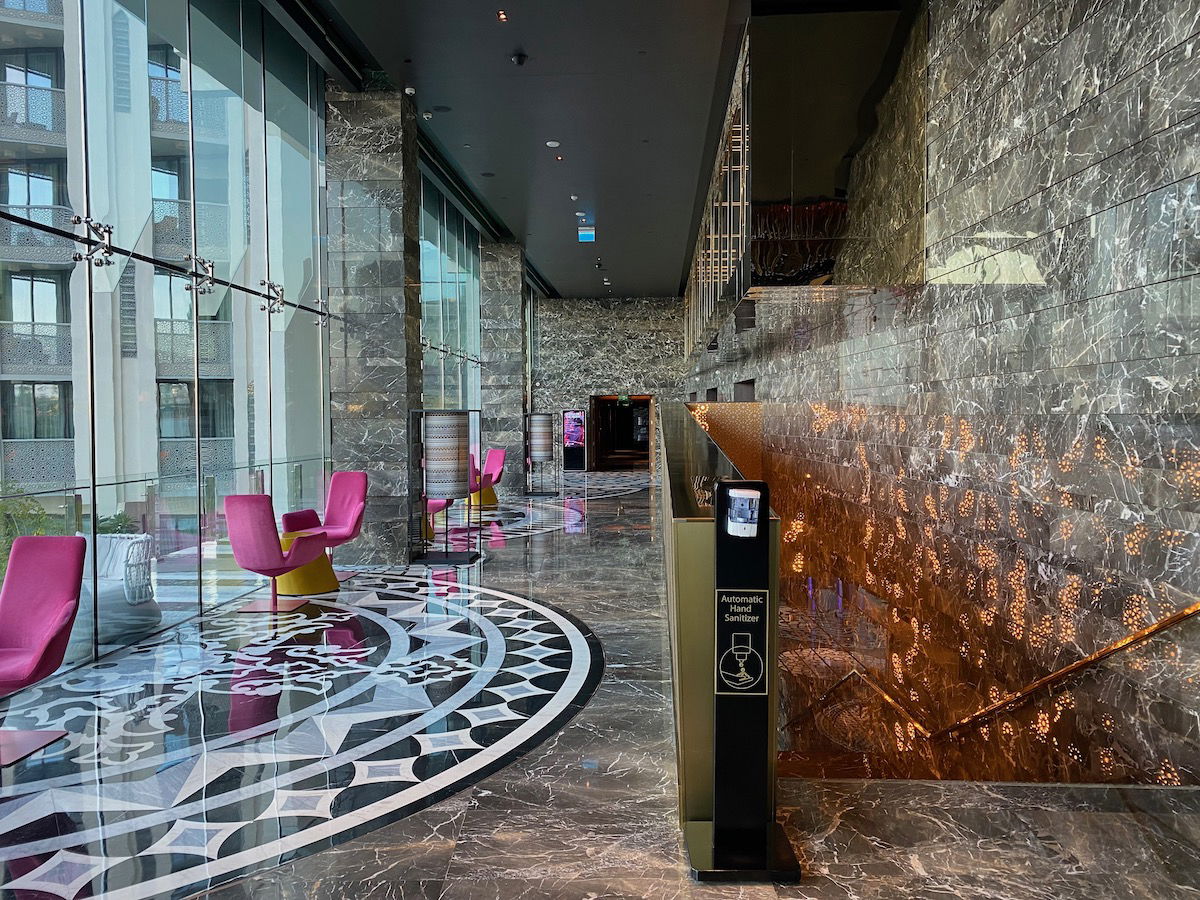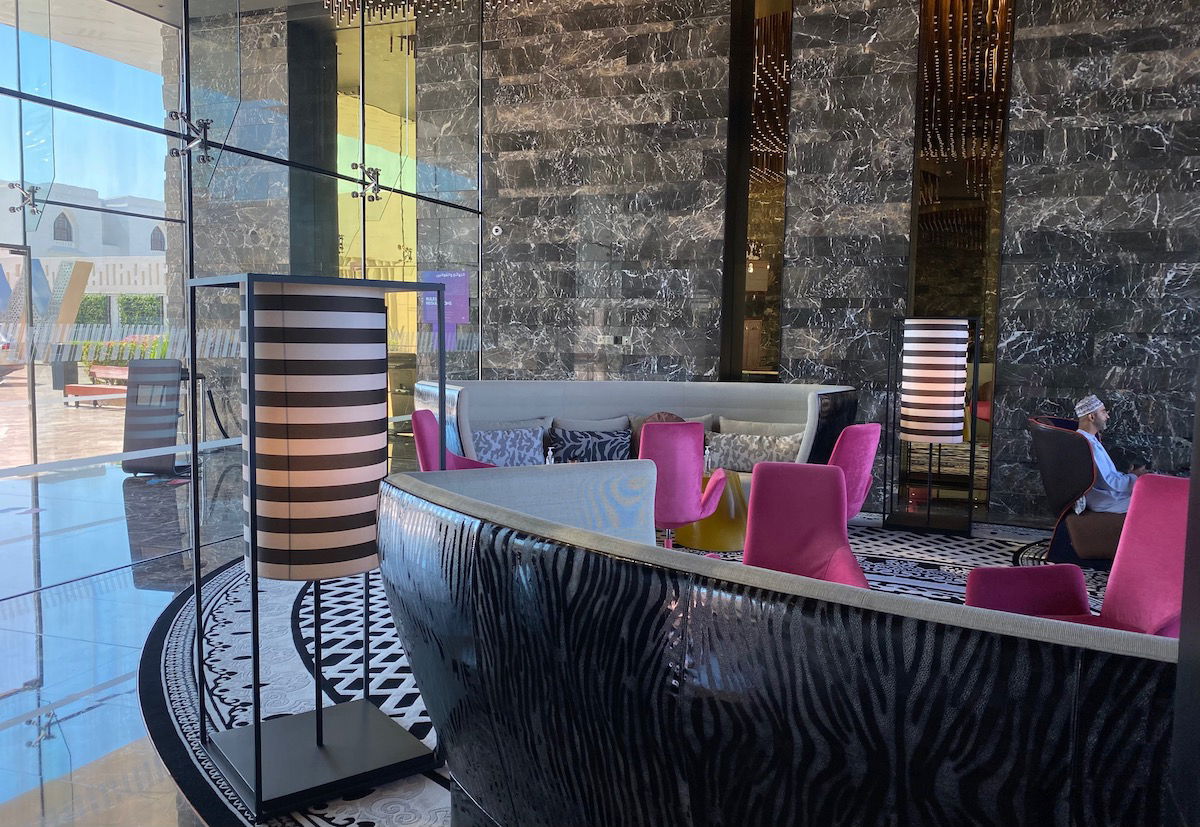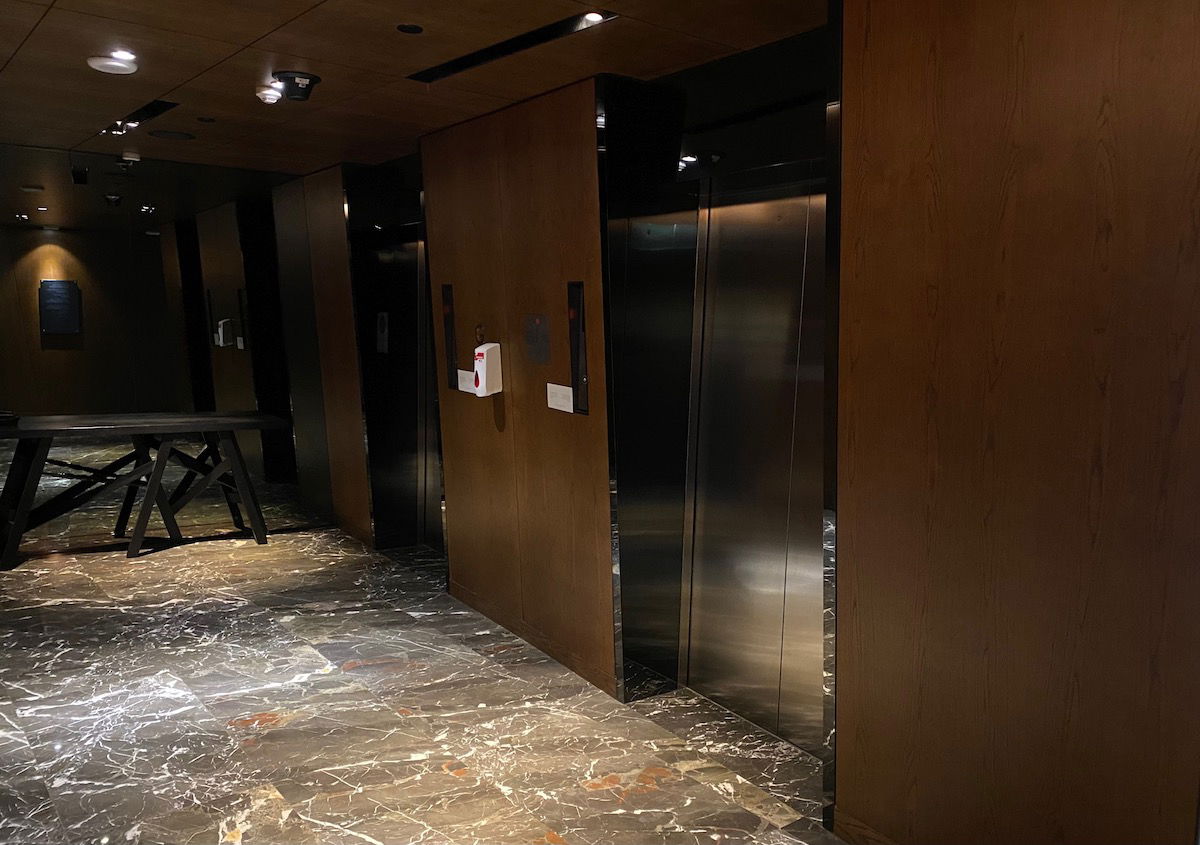 By the way, my biggest single point of frustration with W properties is the uncomfortable furniture they have. I found it interesting that so much of the artwork in the lobby was essentially supposed to look like really uncomfortable furniture. Is the brand poking fun at itself, or…?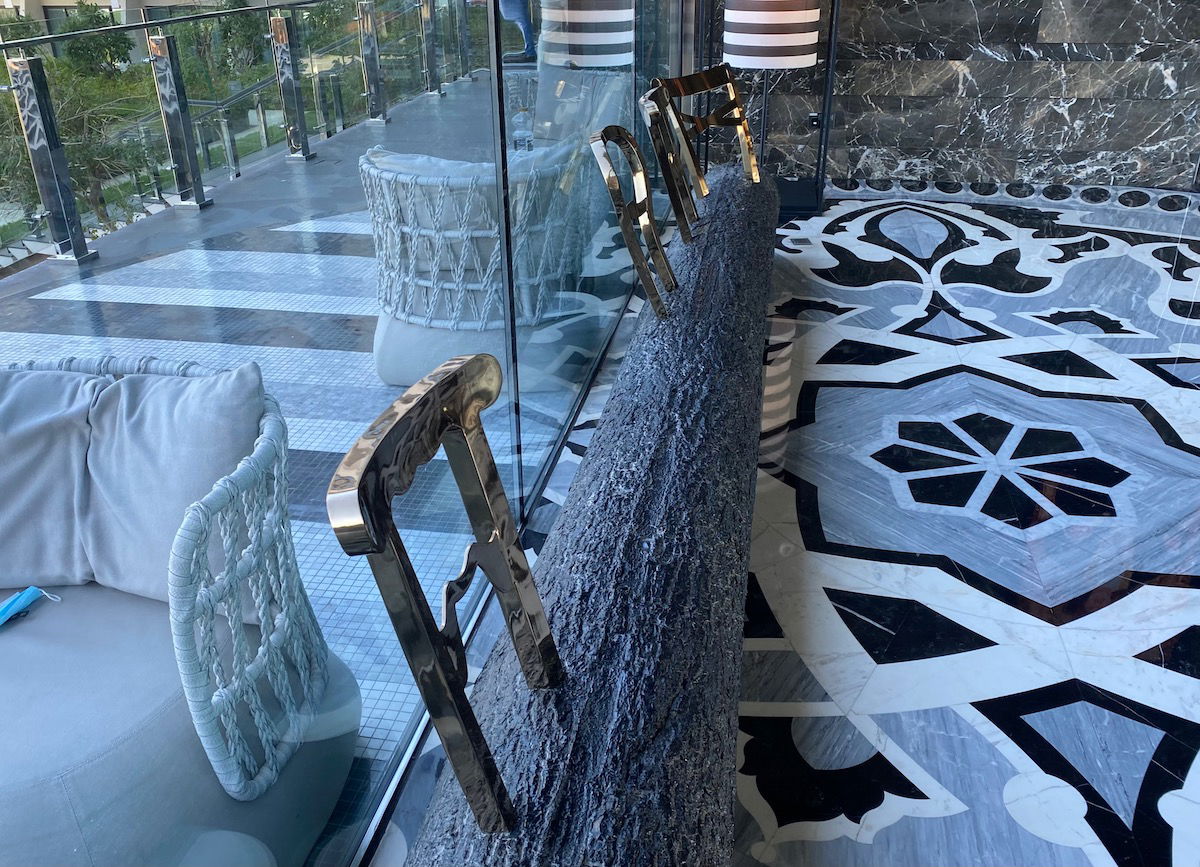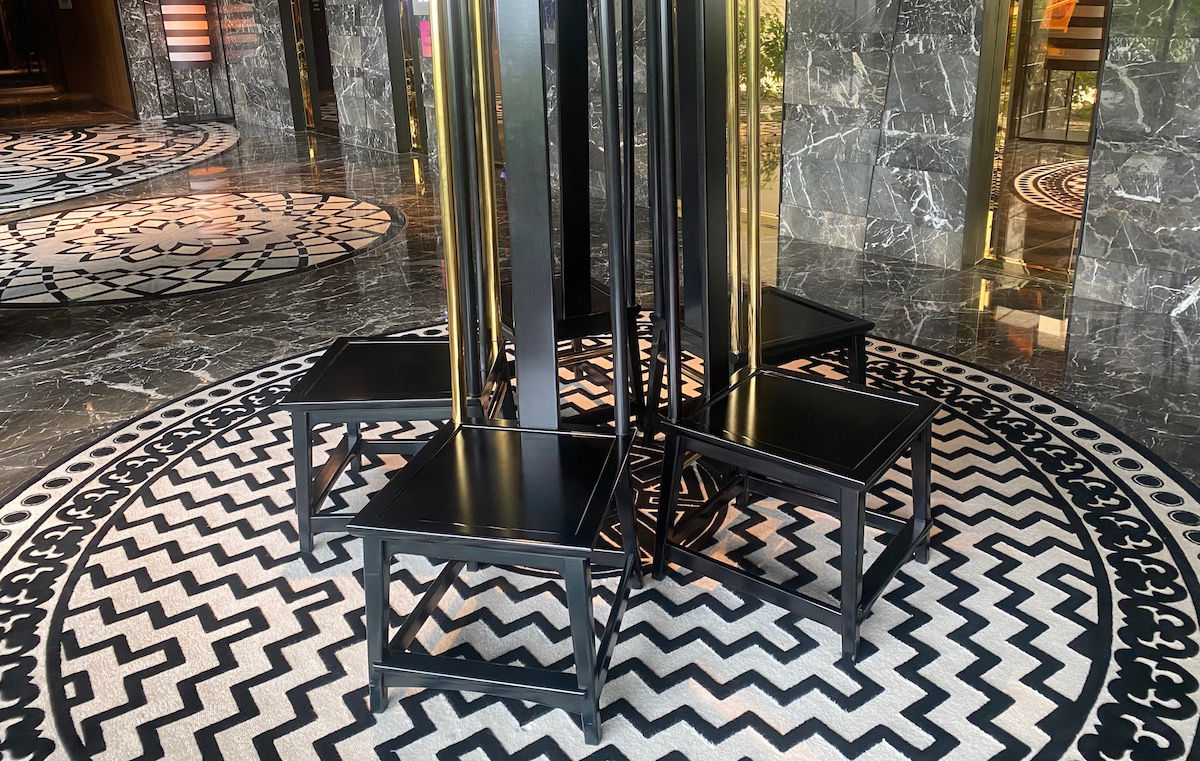 W Hotel Muscat Marvelous Suite
We were assigned room 236, a Marvelous Suite on the second floor (the hotel has eight floors). Our room was located at the very end of the hallway on the right.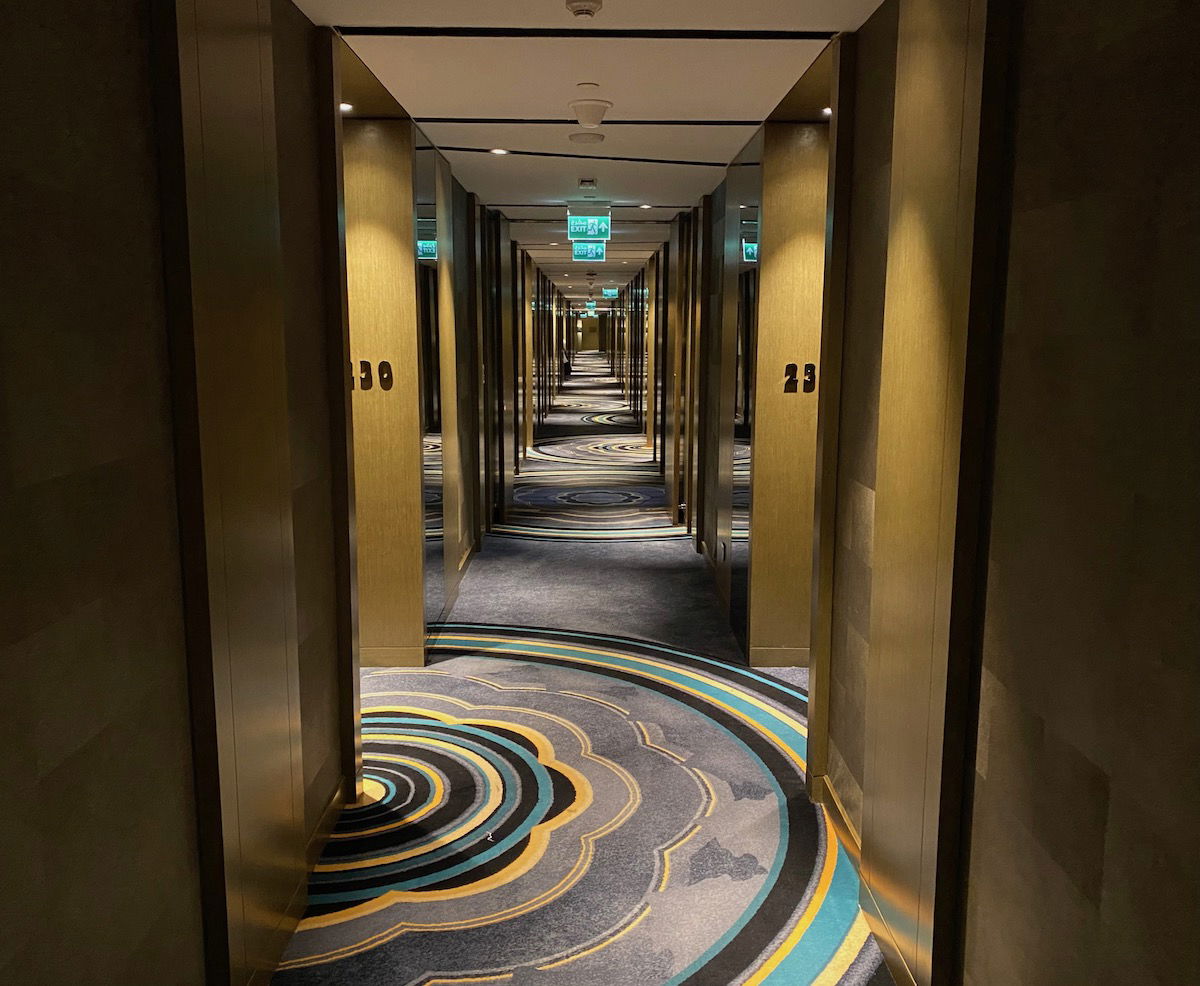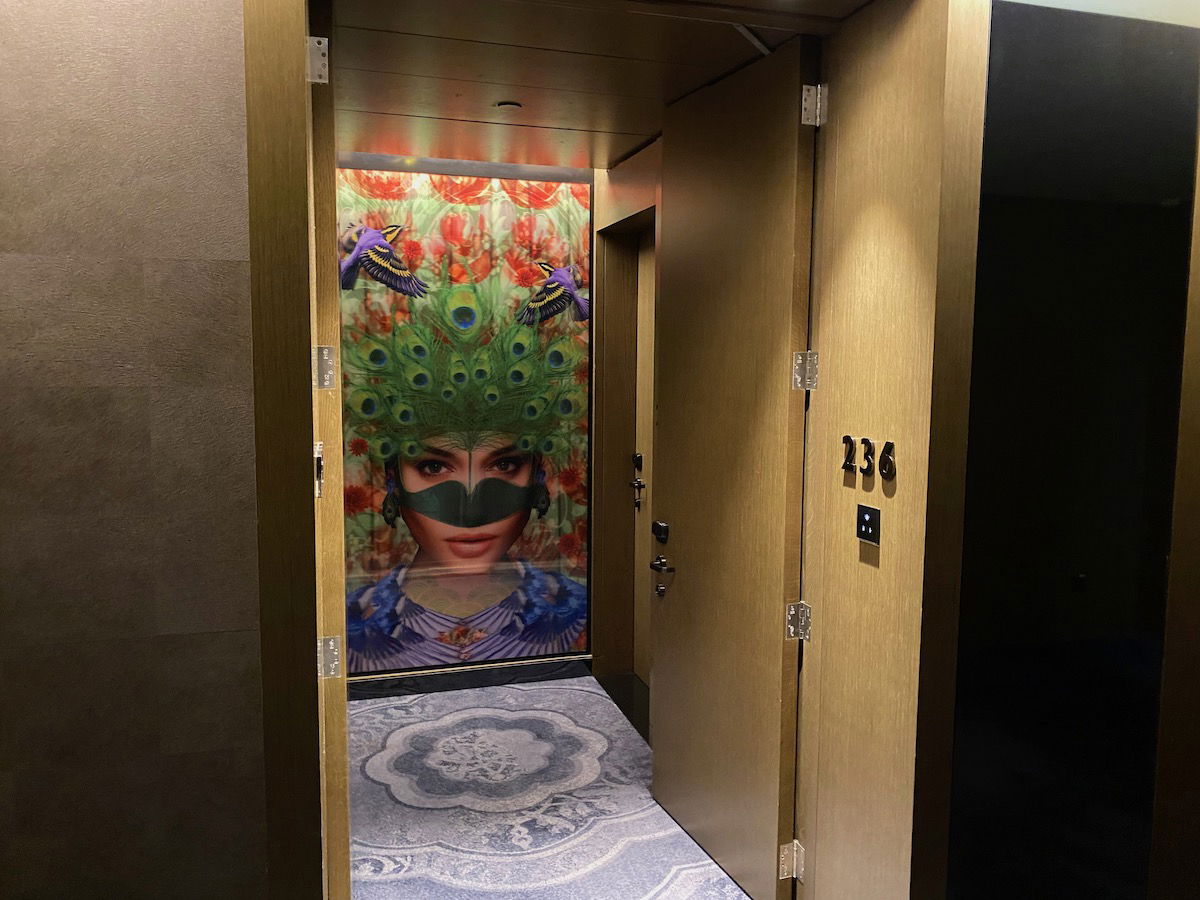 Marvelous Suites at the W Muscat are massive, and are marketed as being 936 square feet. The room had an entryway with a half bathroom to the right, and the living room straight ahead.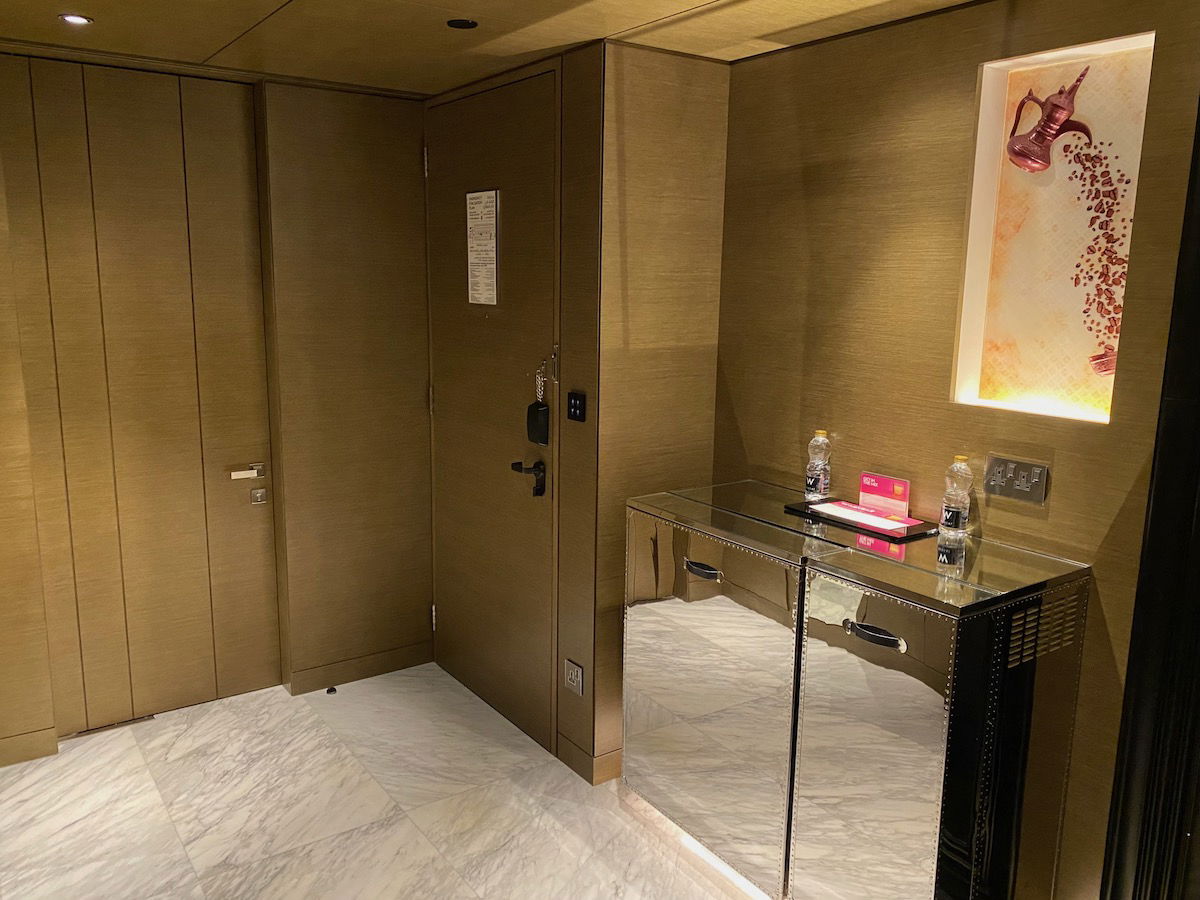 At the entrance was a well-stocked minibar, with complimentary coffee and tea, plus all kinds of snacks and drinks for purchase.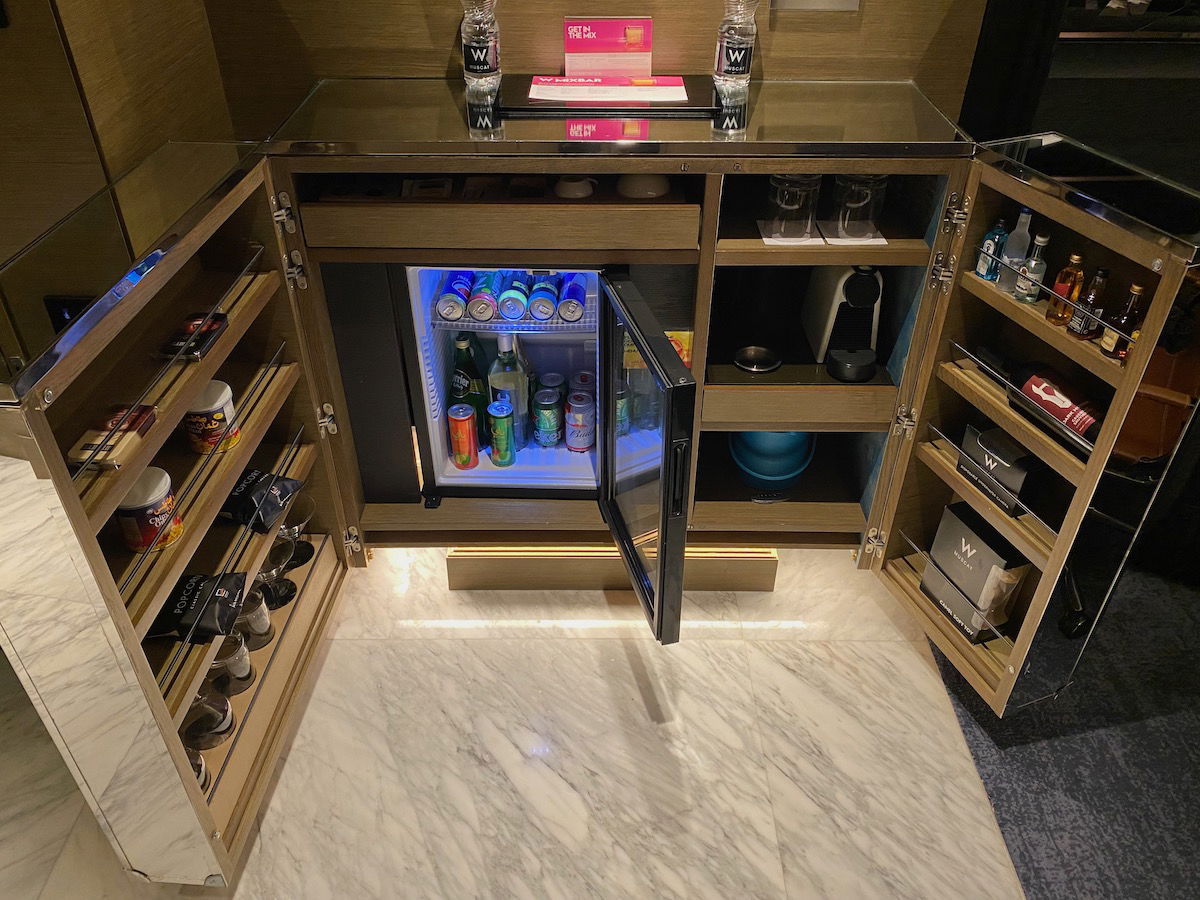 The living room was quirky, and had a desk with a chair, an "L" shaped couch, and a chair by the window.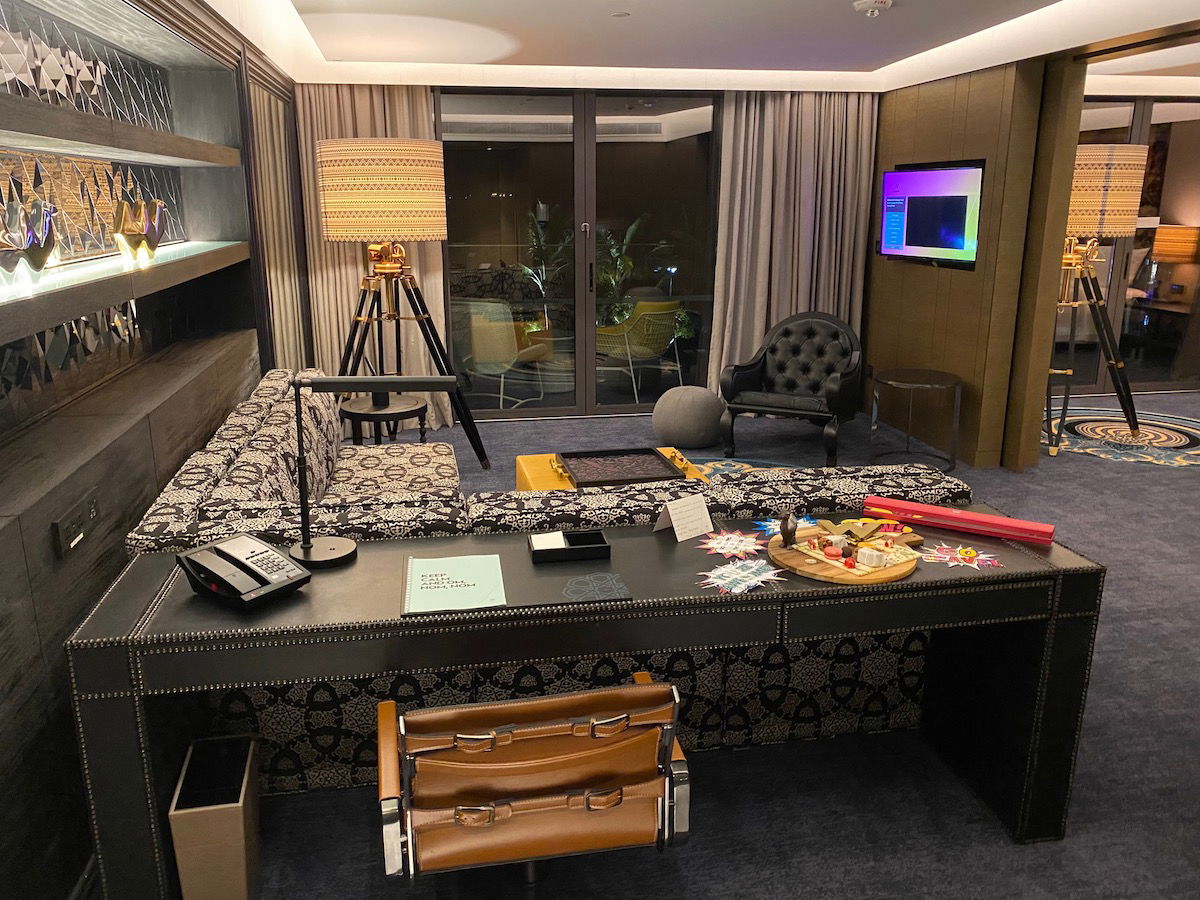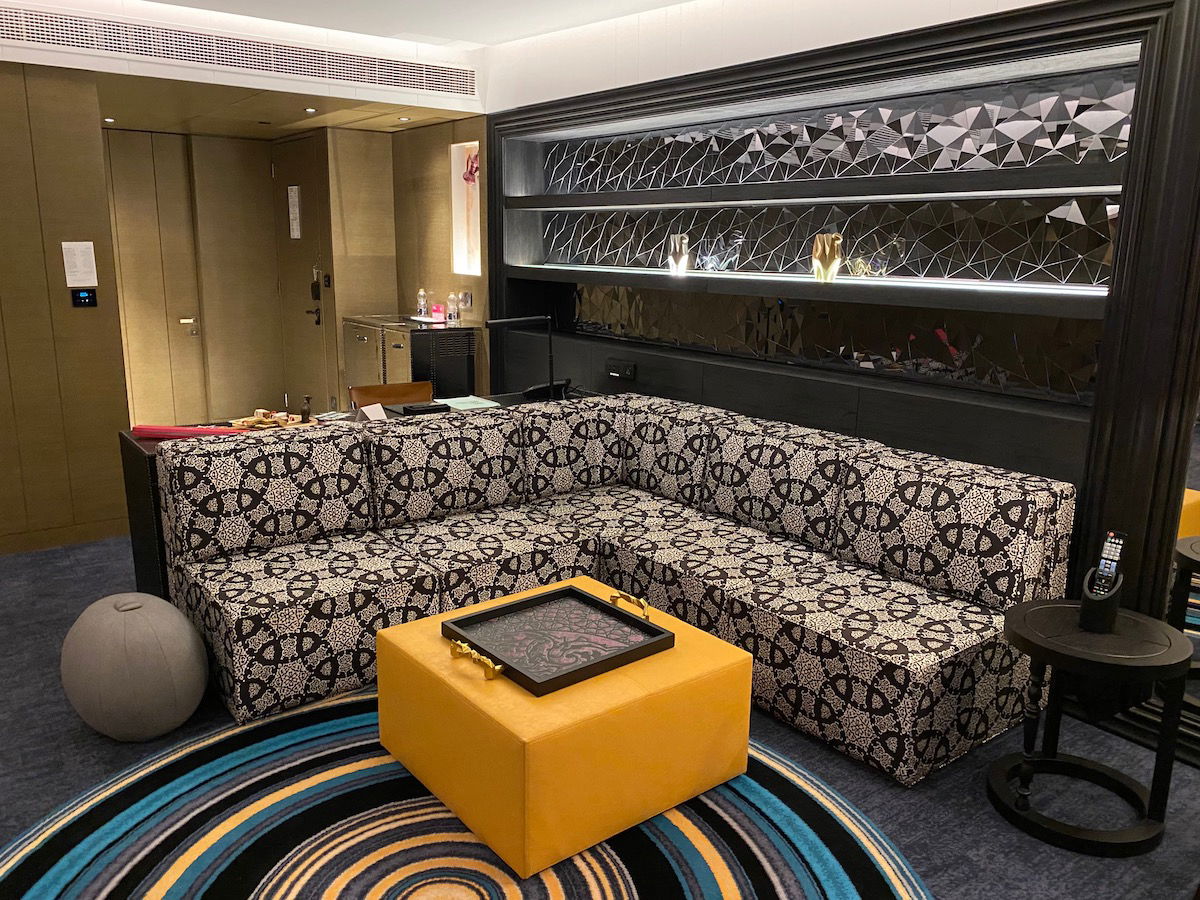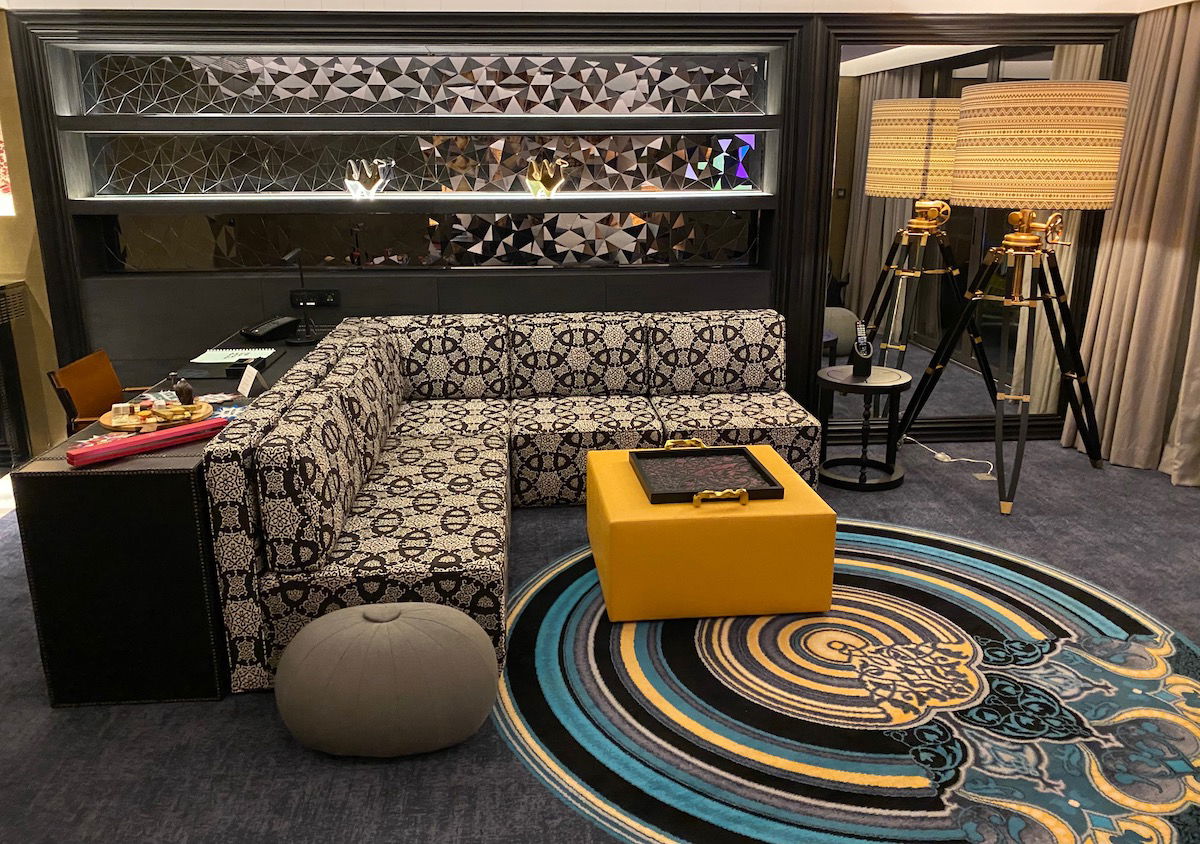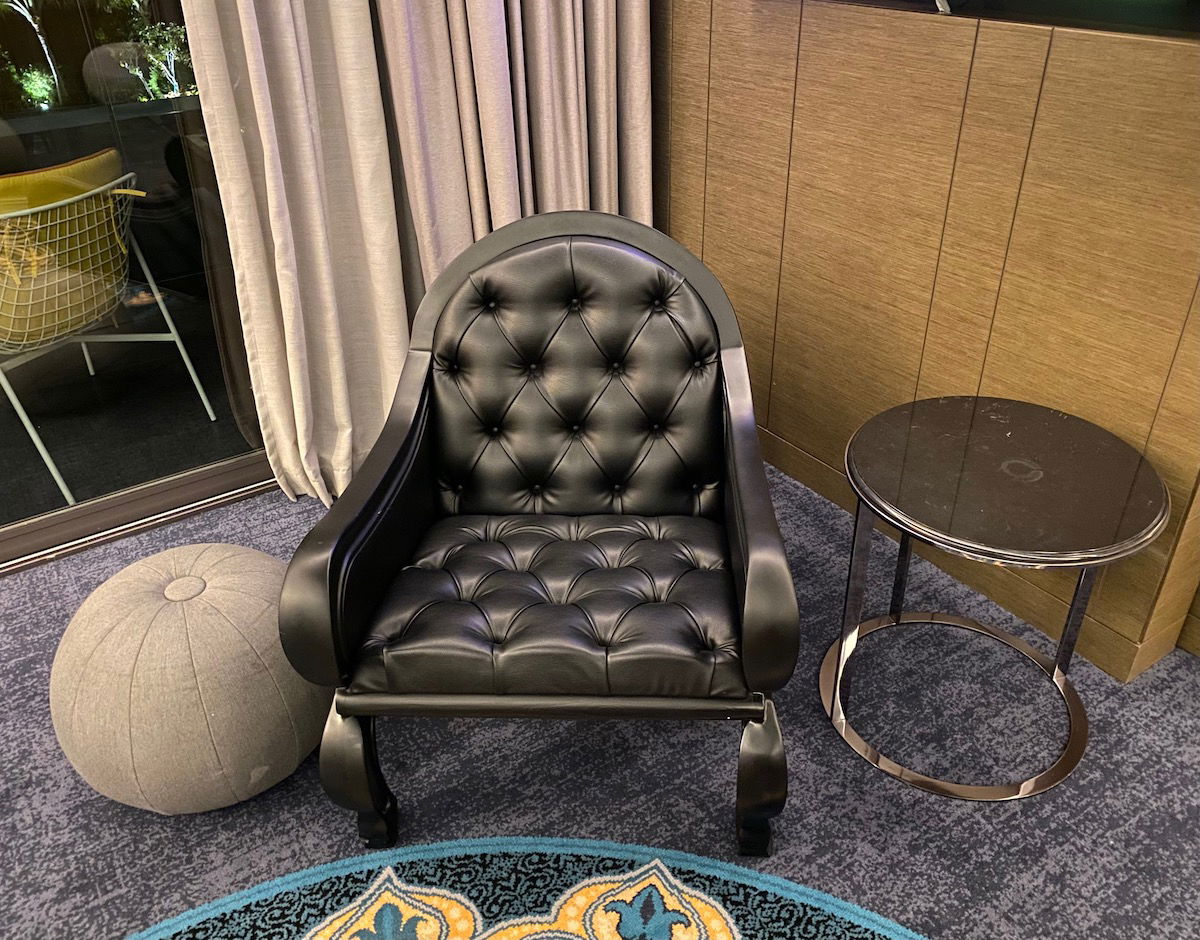 The style is definitely a bit out there, but I do appreciate that they at least put some local touches into the design. But here's my beef… why does all furniture at W properties have to be so darn uncomfortable? Not a single piece of furniture in the living room — not the desk chair, not the couch, and not even the chair in the corner — was comfortable. They were all hard as rocks.
This seems to be a conscious design choice by W, and I just don't get it. As I get older I value ergonomics more, and this just annoys me. Why, why, why, why why?! Do people like sitting on a chair at a desk that feels like a bench?
W properties often do a great job creating quirky welcome gifts for elite members, and I had quite a welcome gift waiting for me. It's pretty common for W properties to Google elite guests before arrival and create customized welcome amenities (I know some people have found it creepy when properties put a picture of you in the room as your welcome amenity).
As far as my welcome amenity goes, I hate to look a gift horse in the mouth (since no gift is required), but:
They literally created a laminated cutout with my name on it, but misspelled my name
I'm not am Ambassador member (though the box of sweets said "WOW! AMBASSADOR IN DA HOUSE"
Basically all the sweets tasted stale, so rather than giving me 20+ sweets that don't taste fresh, how about a smaller amenity of something that's actually good?
Why does W have to be so cheesy ("GO TRAVEL" and "YOU'RE AWESOME" and "WOW")? Are we in a cartoon or video game?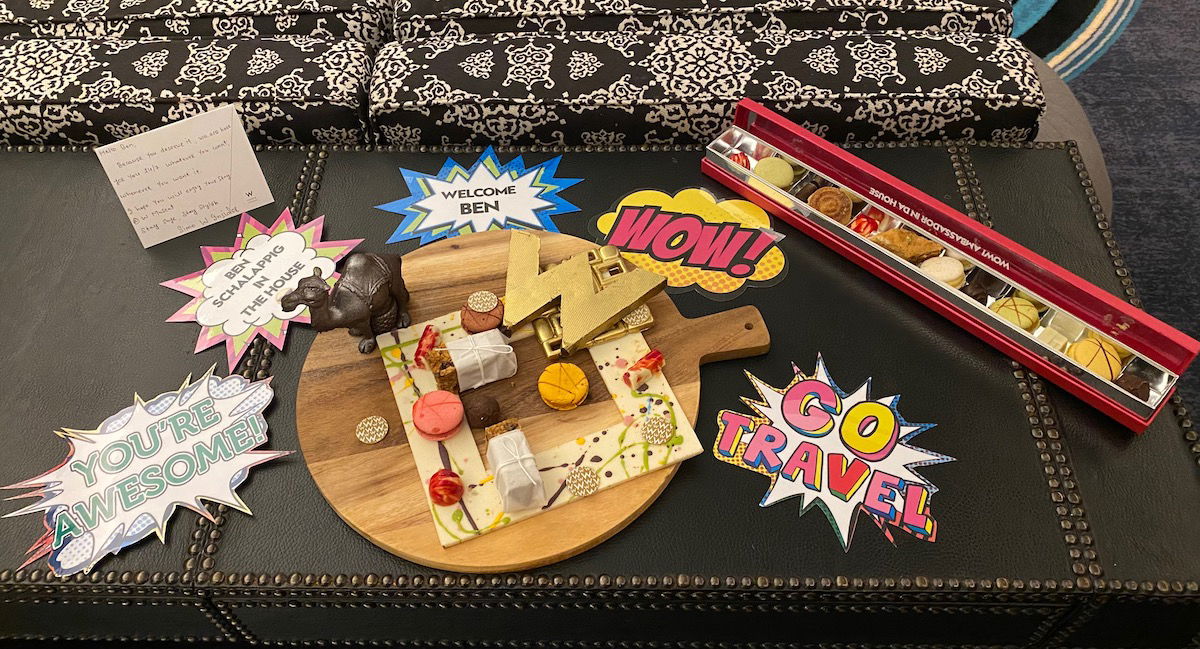 Speaking of the cheesiness, so much of the W branding is just kind of cringeworthy, in my opinion, with every phrase being turned into something silly (like the room service menu saying "KEEP CALM AND OM, NOM, NOM"). It's one thing if this were isolated, but this is the case everywhere you turn.
It's kind of like the Virgin America safety video, back in the day. It was kind of fun the first time you saw it, but by the tenth time…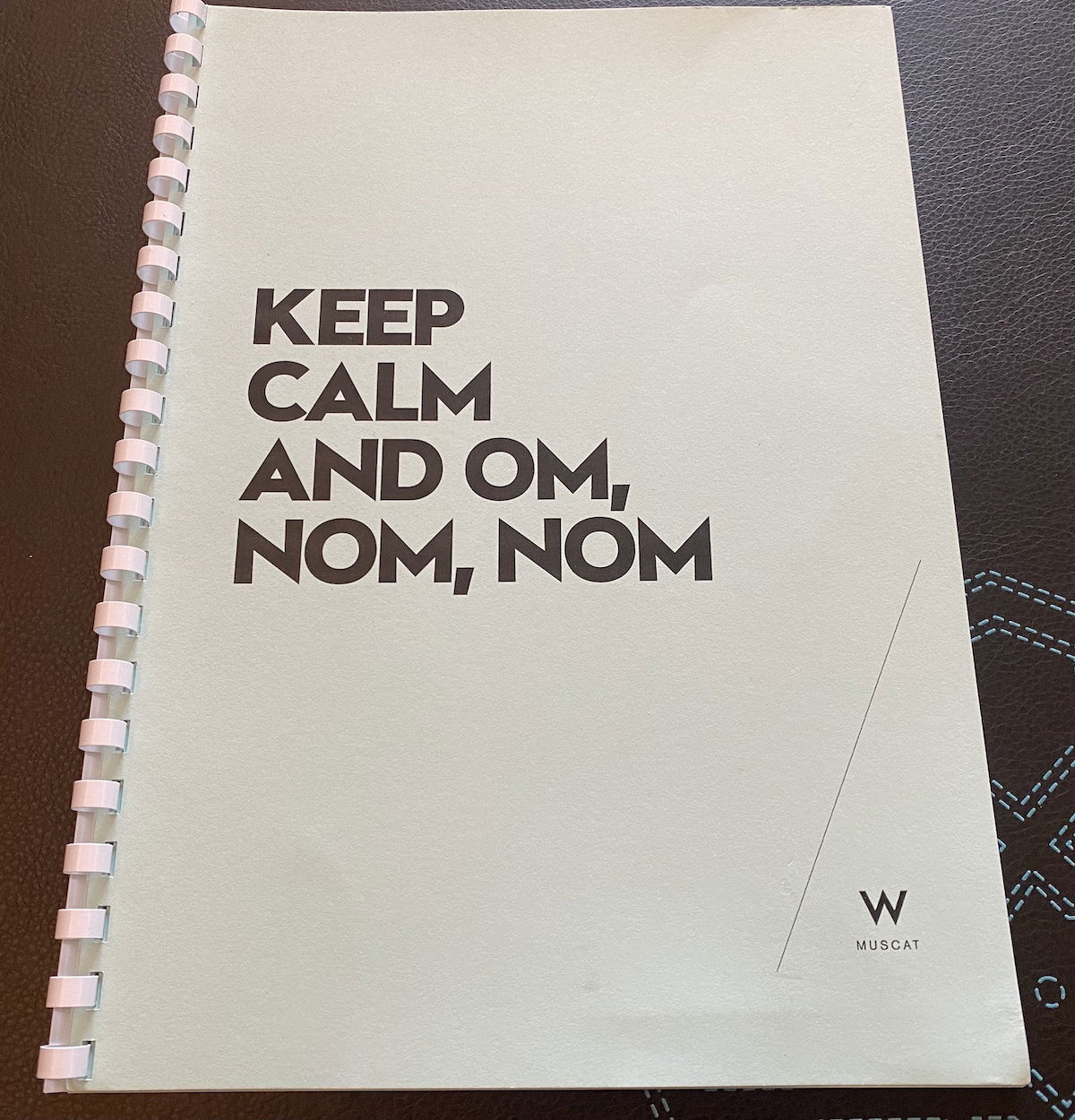 As mentioned above, there was a half bath near the entrance, featuring a toilet and sink. Oddly the sink was motion-activated, but it didn't seem like there was any way to control the temperature (at least not that I could tell).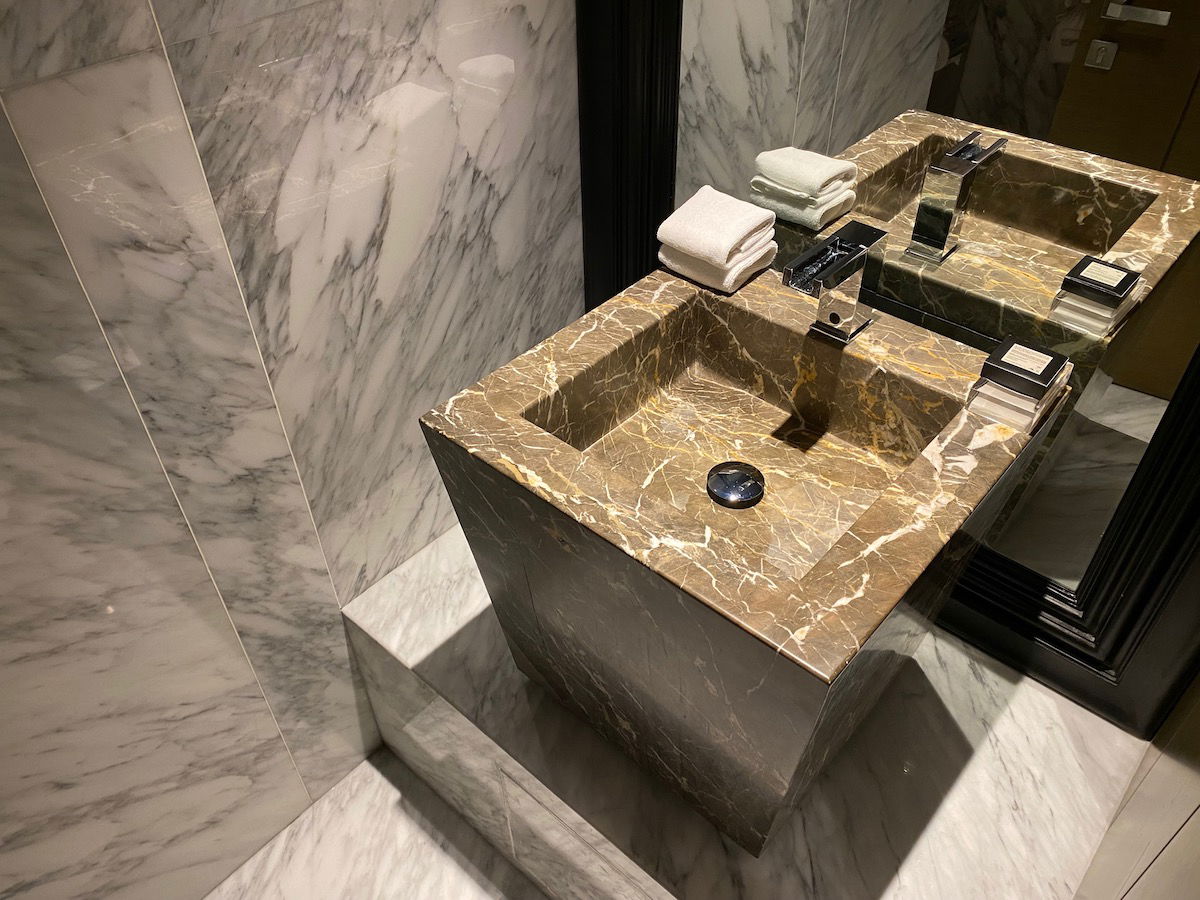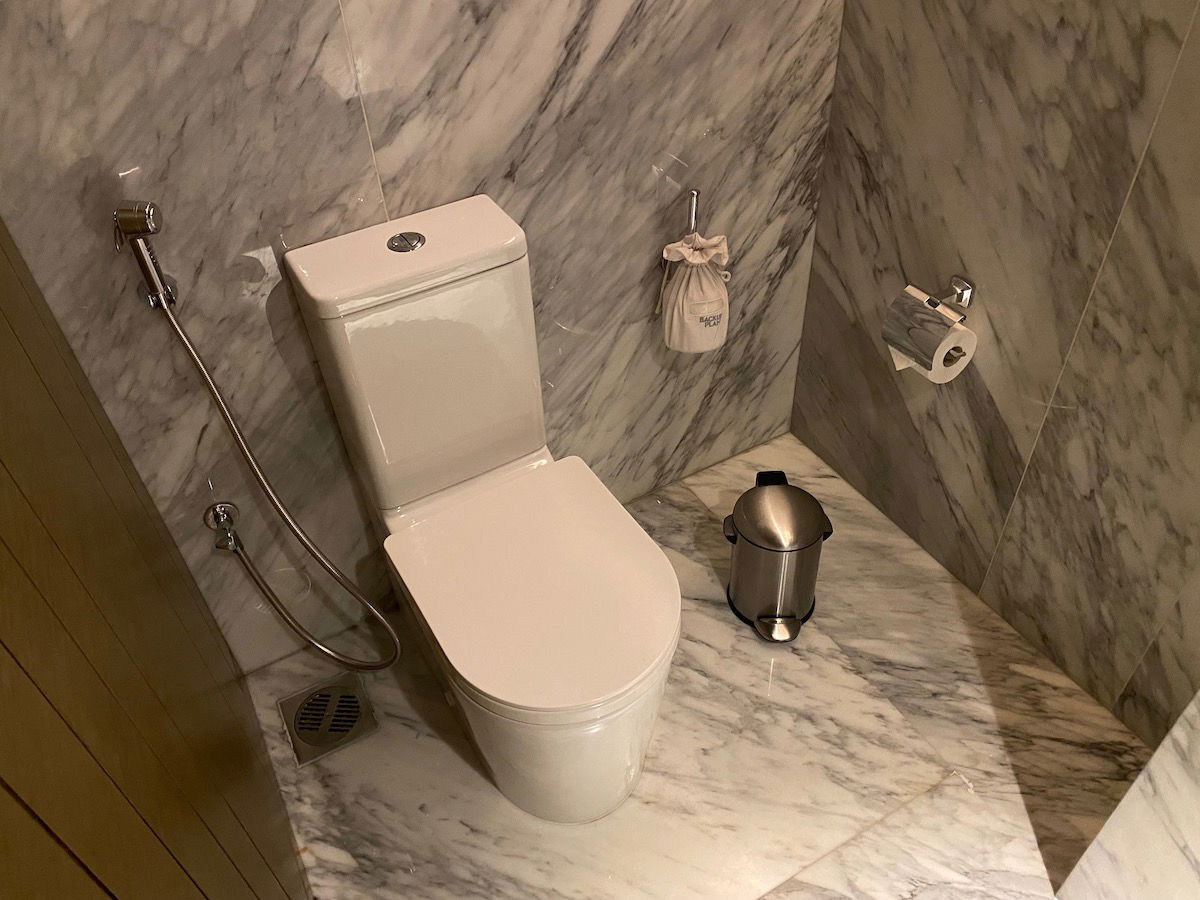 There were sliding doors separating the living room from the bedroom.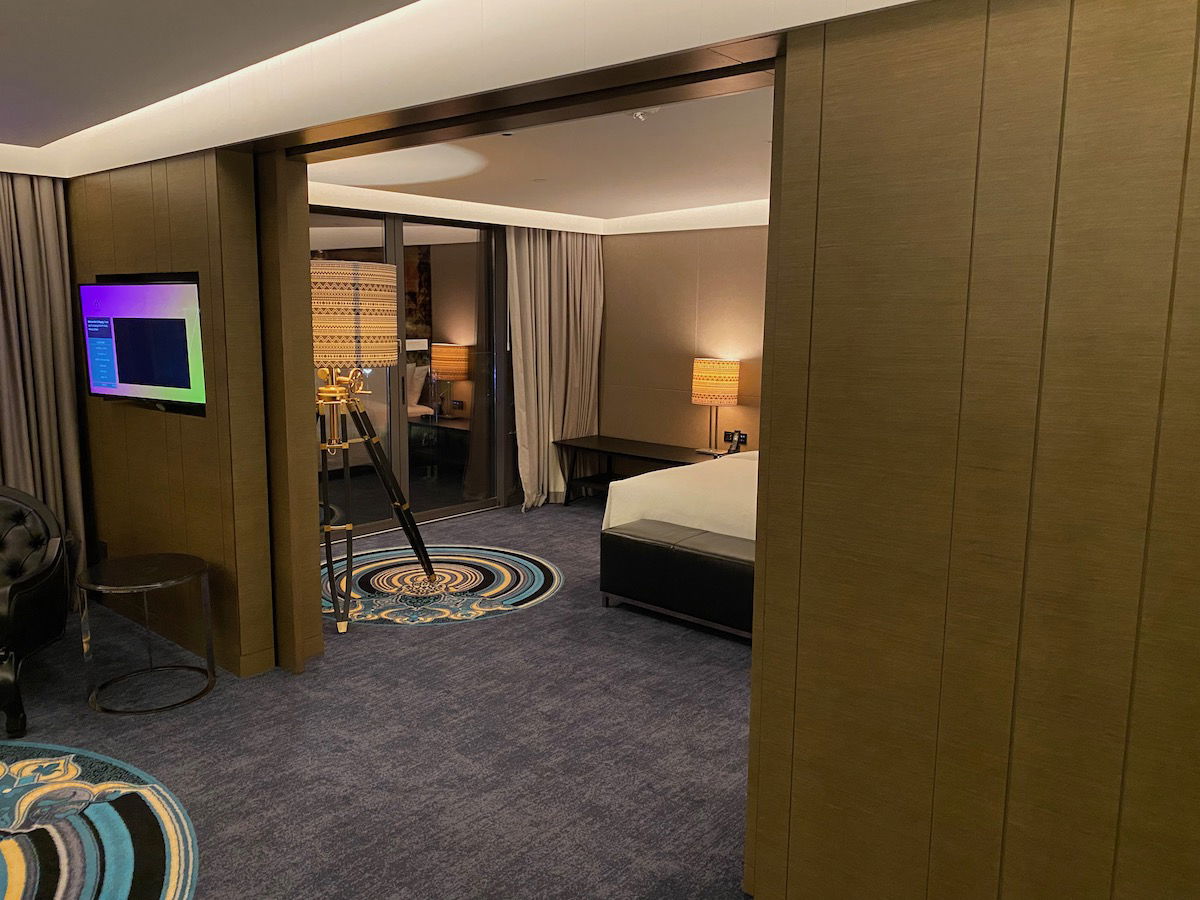 The bedroom was large and fairly sparsely furnished. Fortunately it had the W signature bed, which unlike all the other furniture at W properties, is actually comfortable.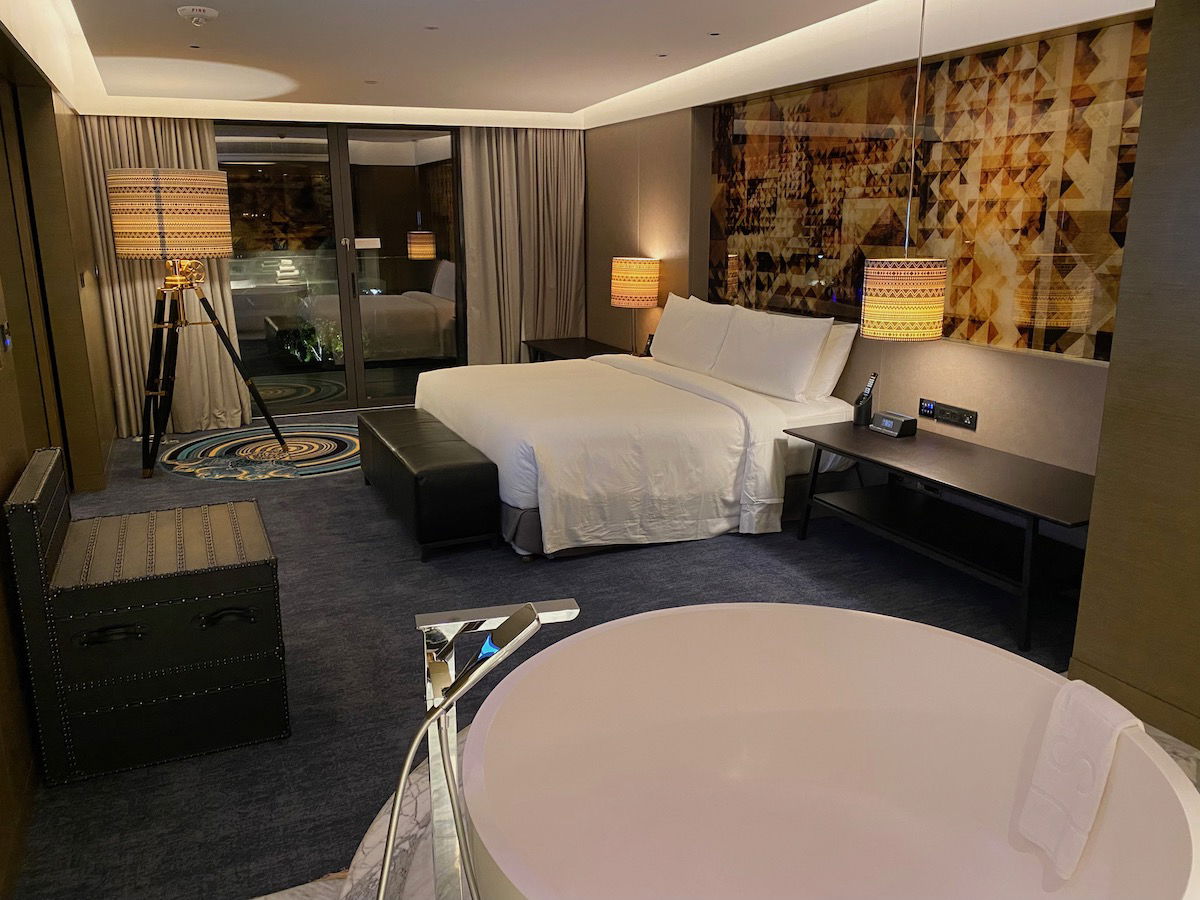 There was no real separation between the bedroom and bathroom, which seems to be pretty standard for W properties. Personally I strongly dislike that for a variety of reasons. The bathroom had a huge soaking tub, a walk-in shower, a partitioned off toilet, and a closet area. Yet I found it odd that for a suite of this size there was still only one sink.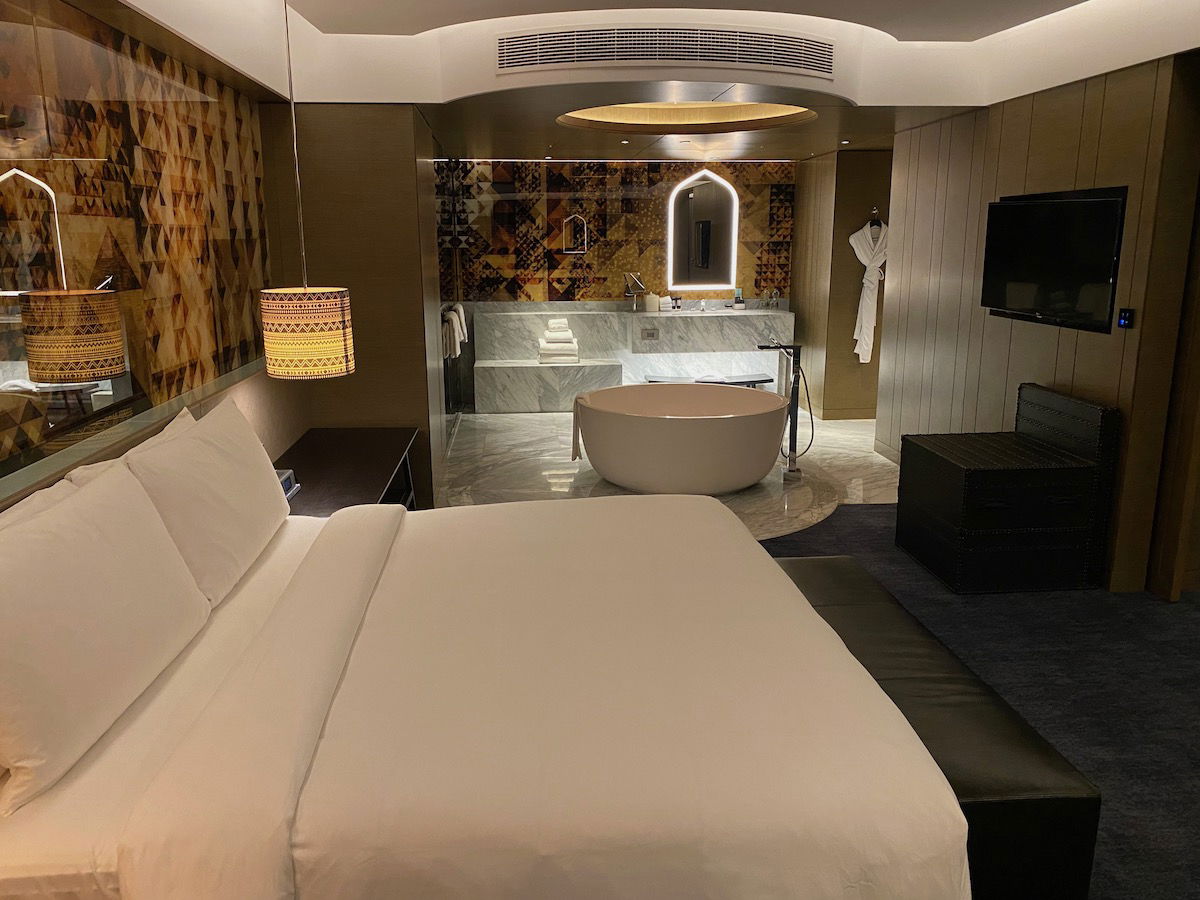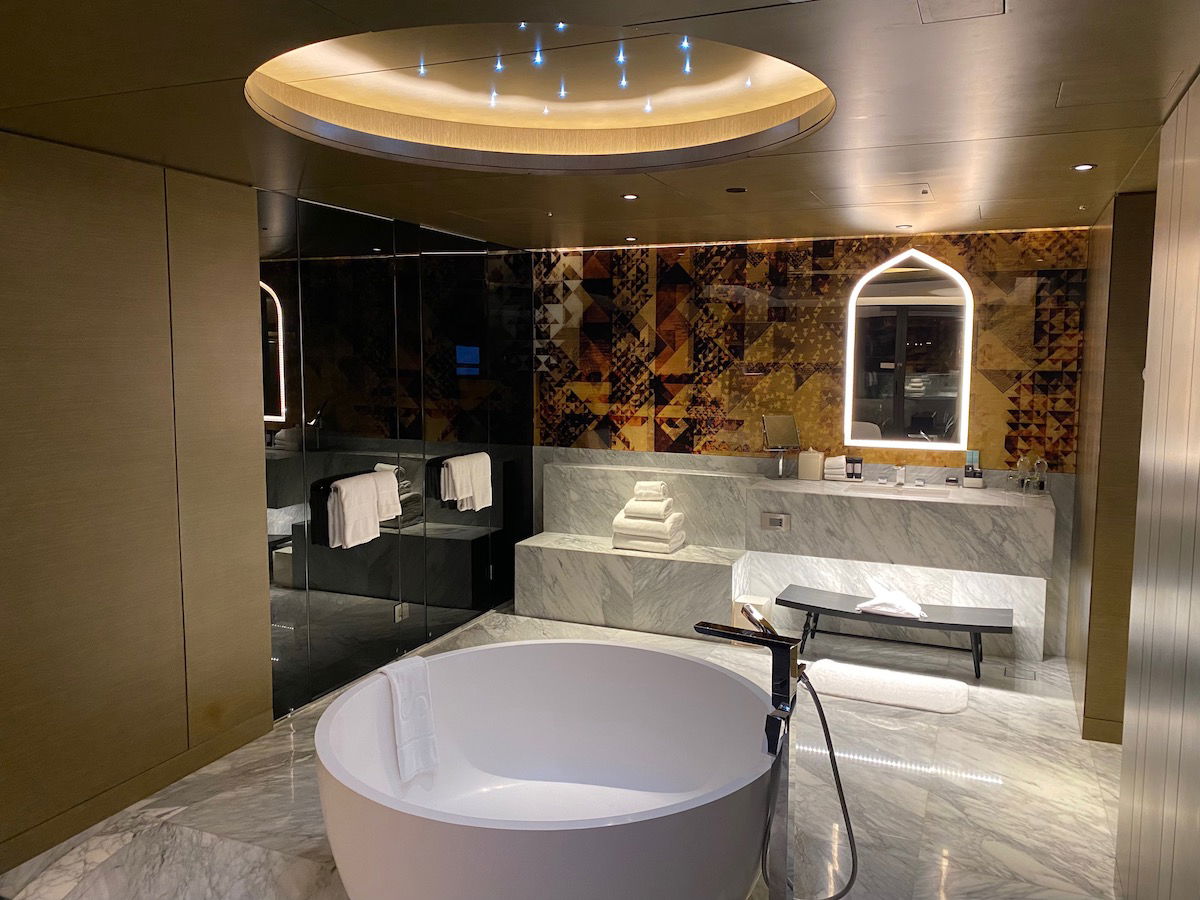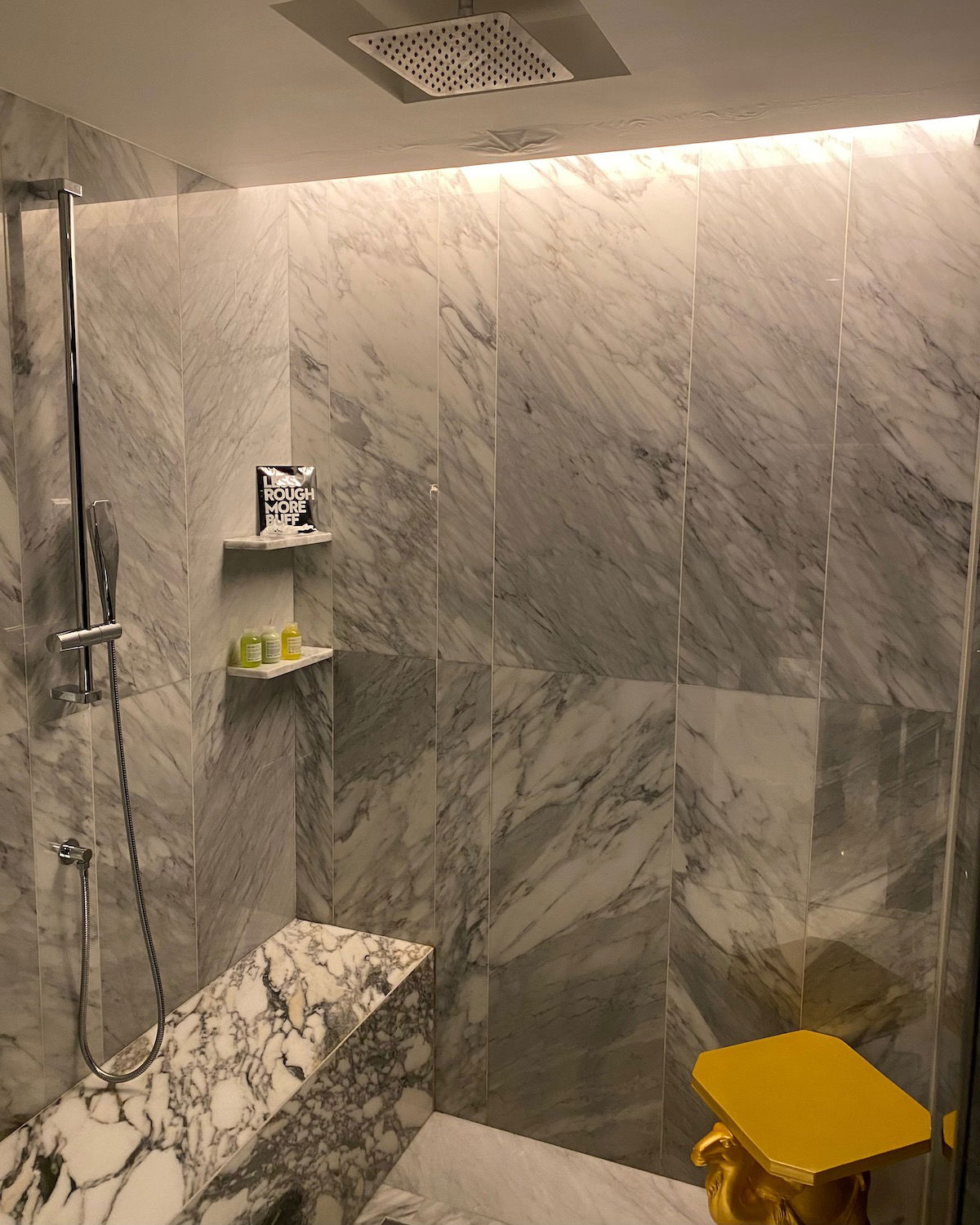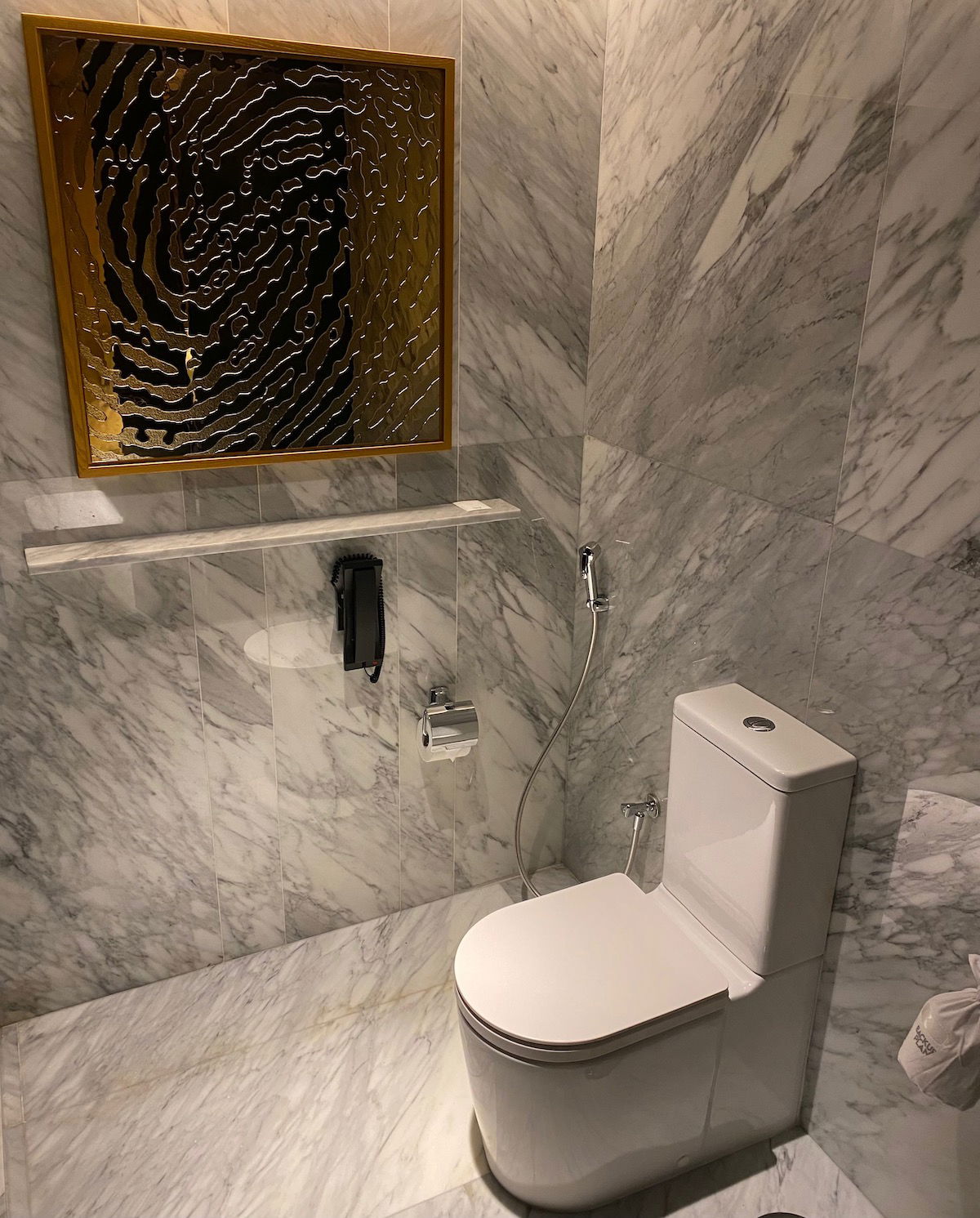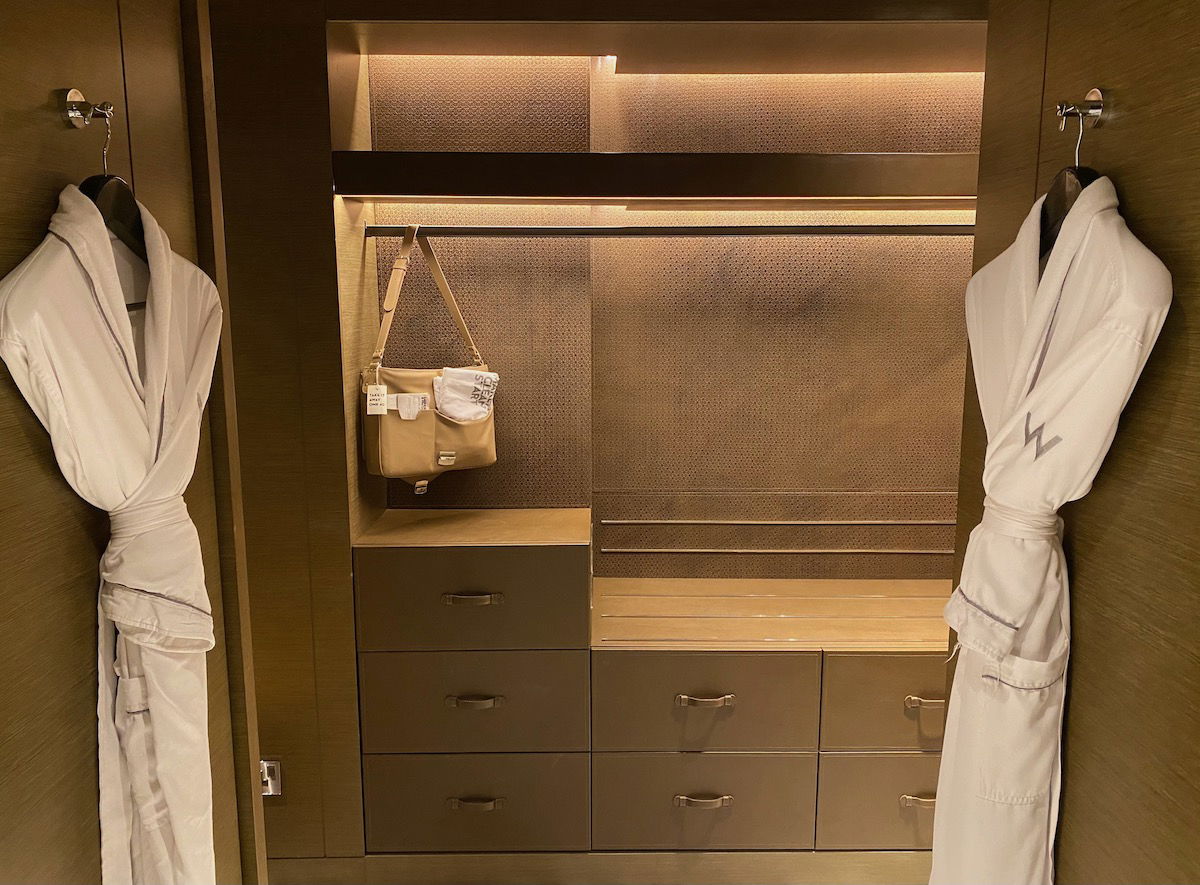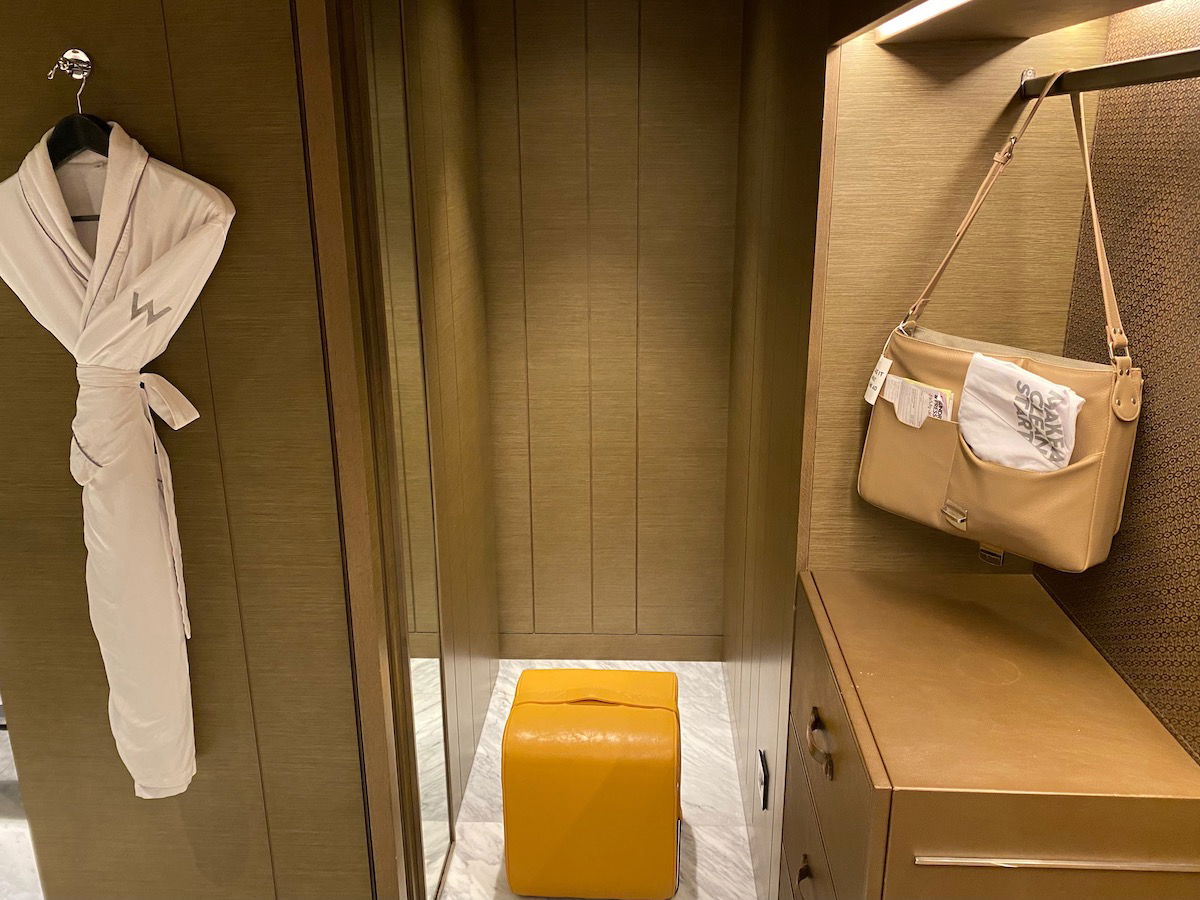 Toiletries were from MOMO, which have replaced the Bliss products that W used to have.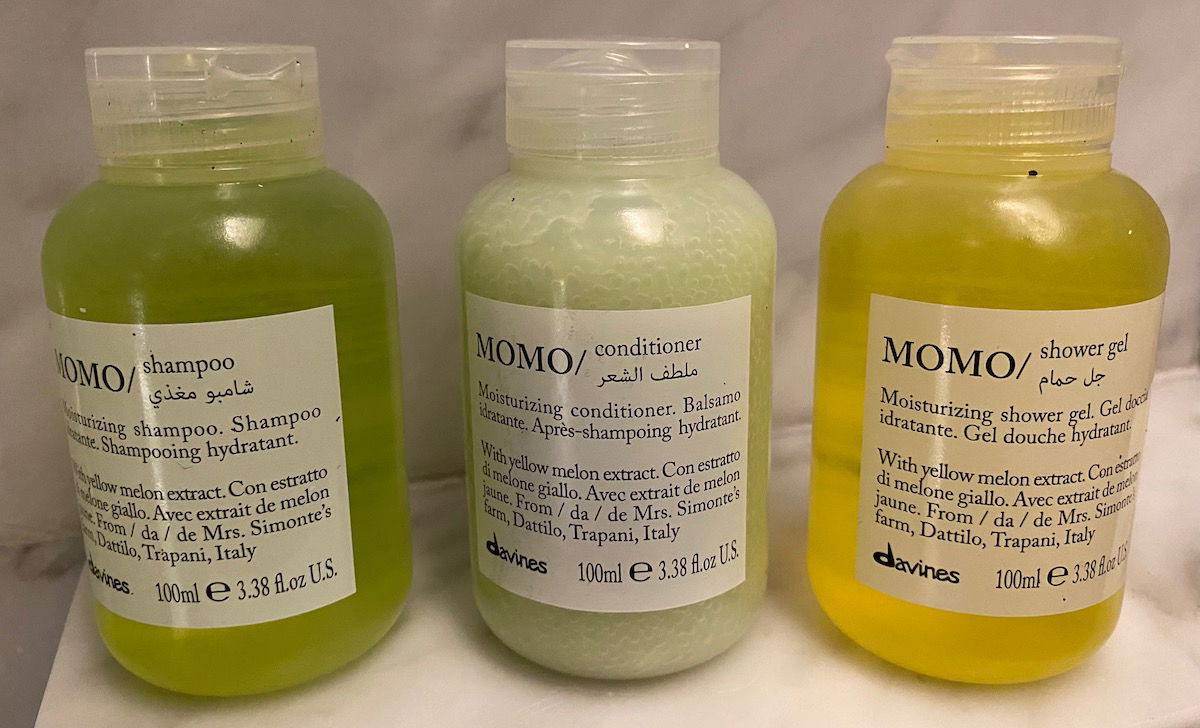 The room had a large wraparound balcony offering views of the property and the Gulf of Oman, with seating at one end.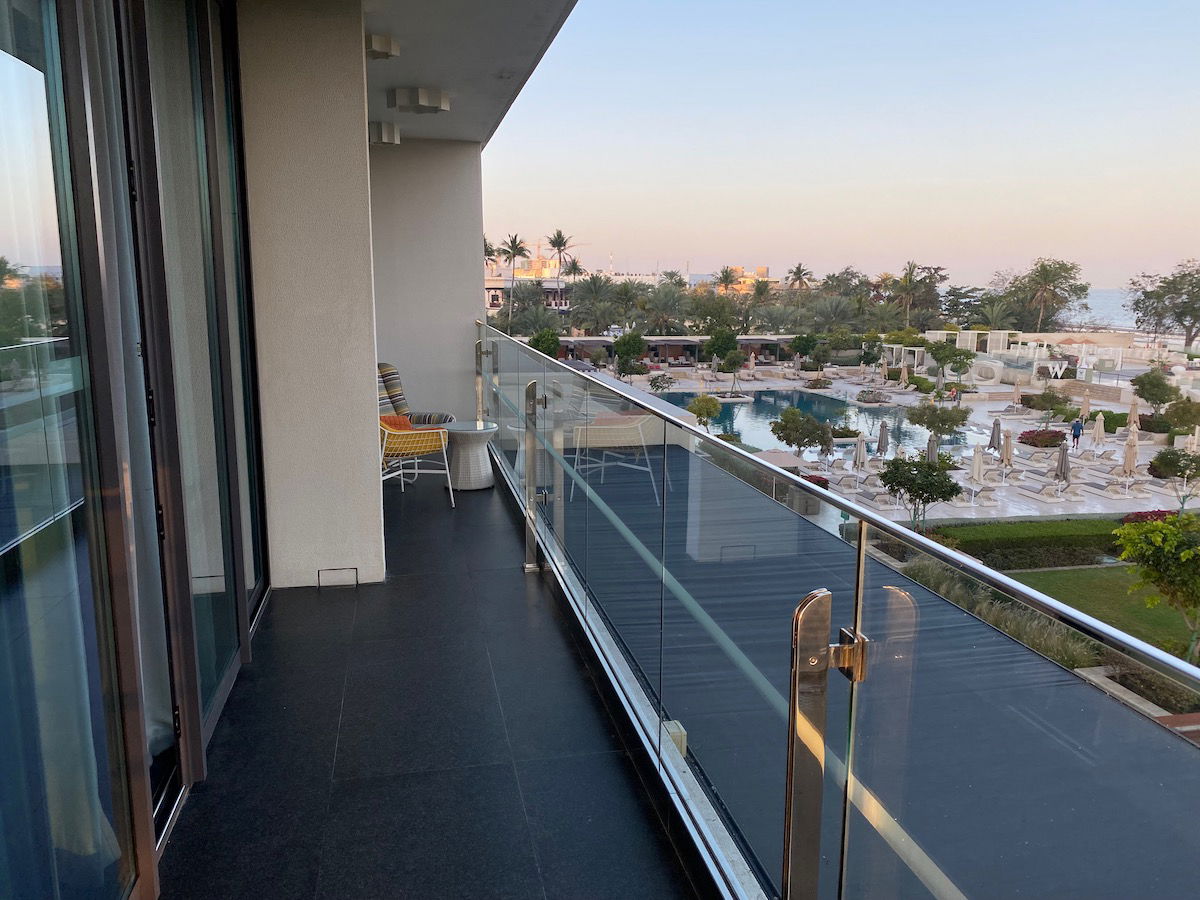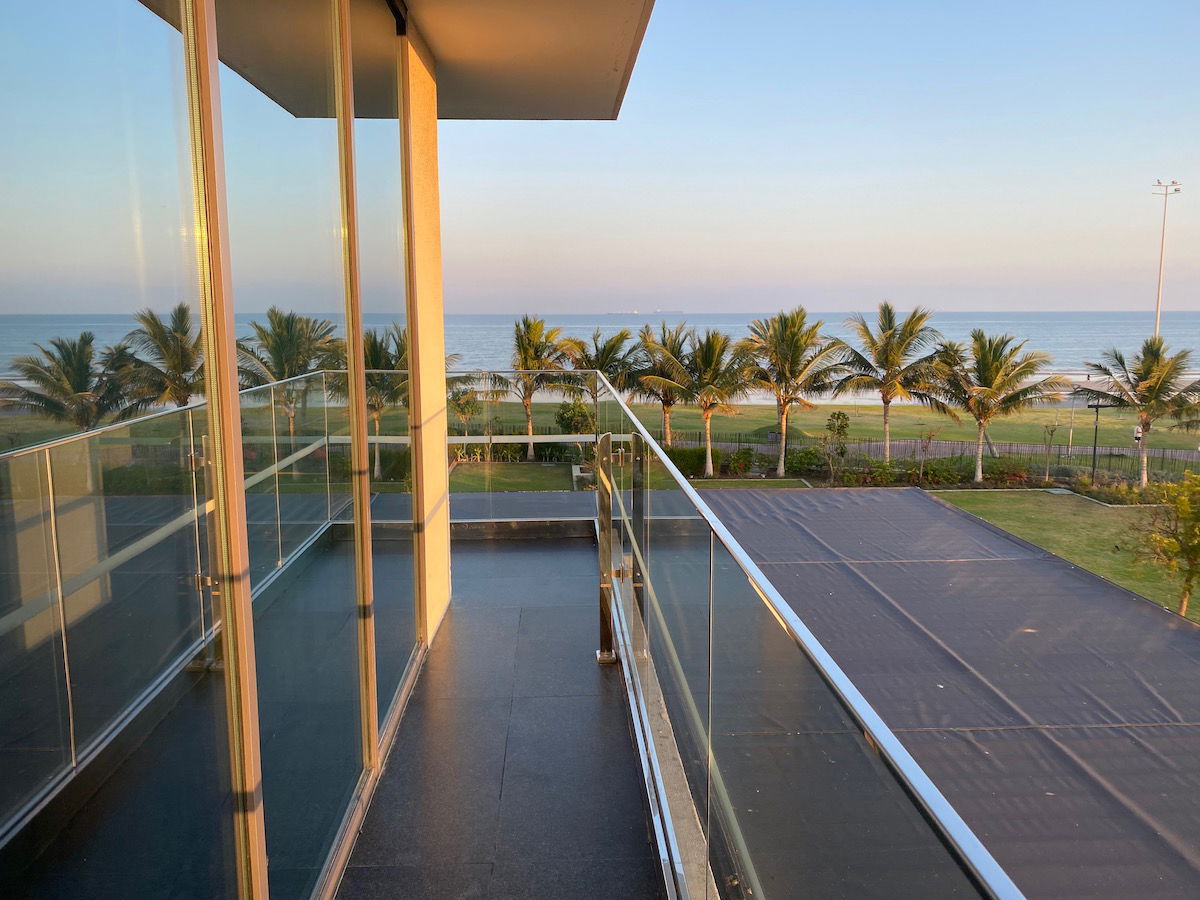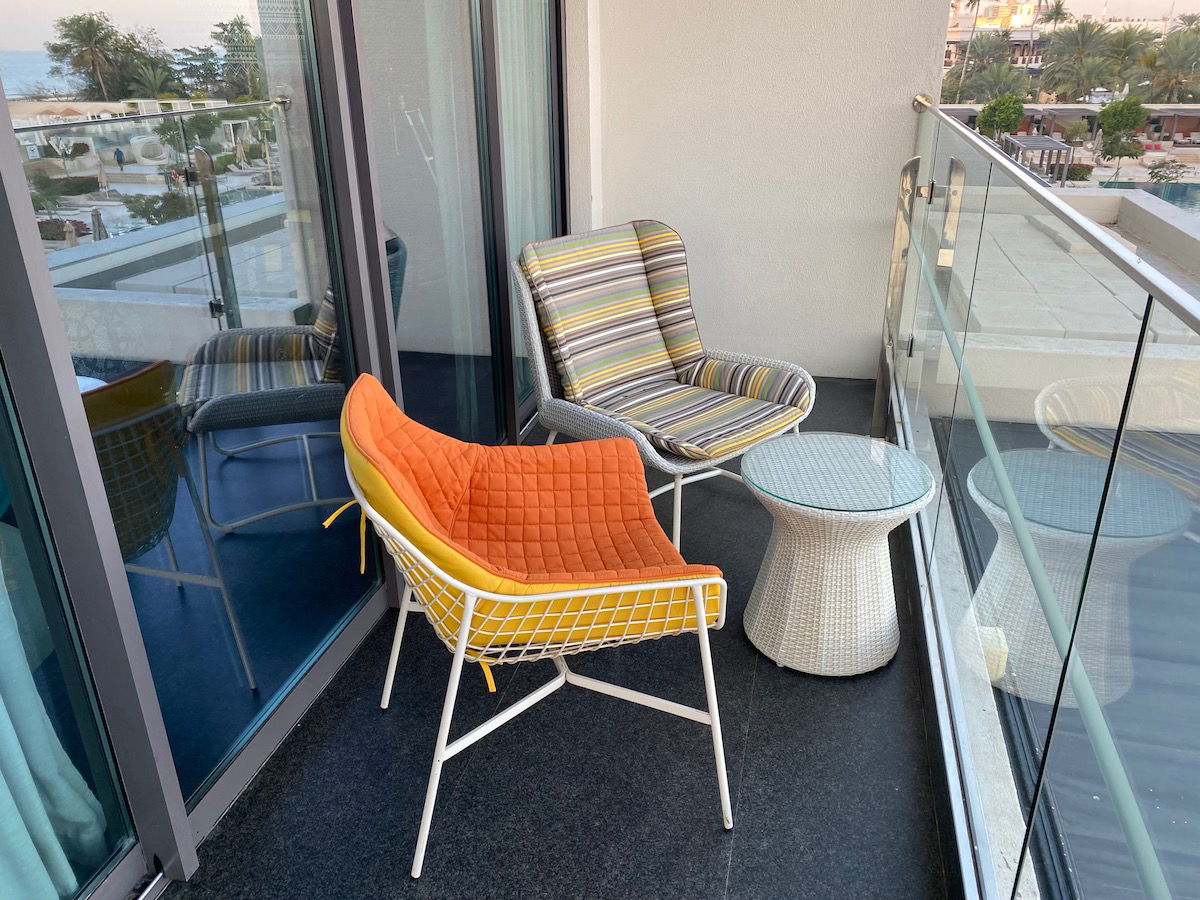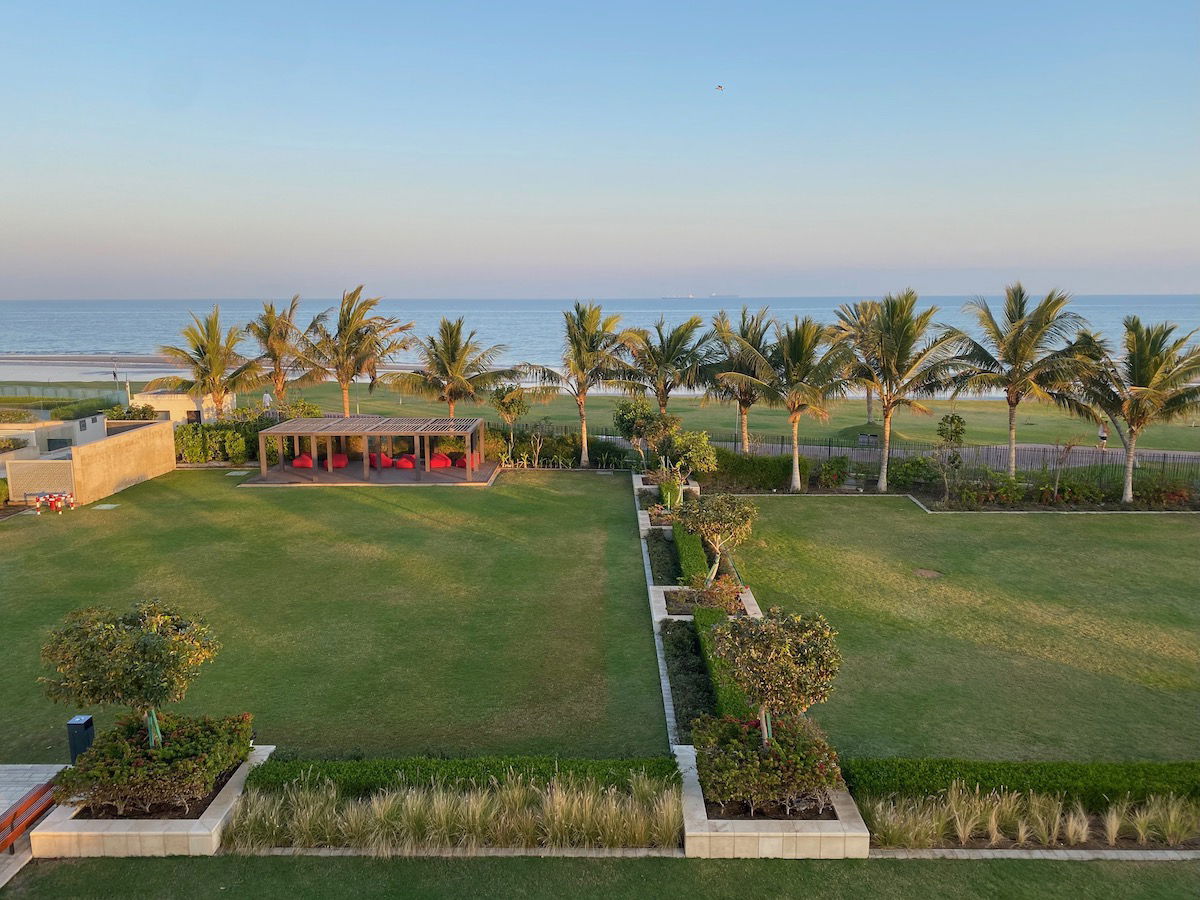 There were a couple more quirks with the room. For one, the phone in the bedroom just didn't work. Beyond that, when you turned off the master light switch, anything plugged in next to the bed also stopped charging, which doesn't seem ideal.
So yeah, I'm not really sure what to say. We got a great upgrade and the suite was spacious, but I strongly dislike how little thought goes into comfort rather than style.
W Hotel Muscat pool & beach
The W Muscat has a huge pool area. The thing is, there's absolutely no sense of place here — you could be in Ibiza, Marbella, or Muscat, and wouldn't know the difference.
There's one main pool with plenty of seating around it. Personally we were in Muscat to sightsee, though I recognize that many sun-starved Europeans love to visit Muscat in the winter to just sit at the pool. I'd say that a majority of the guests at the hotel were from Germany and the UK. Perhaps they almost appreciated that they could make themselves feel like they were in Ibiza.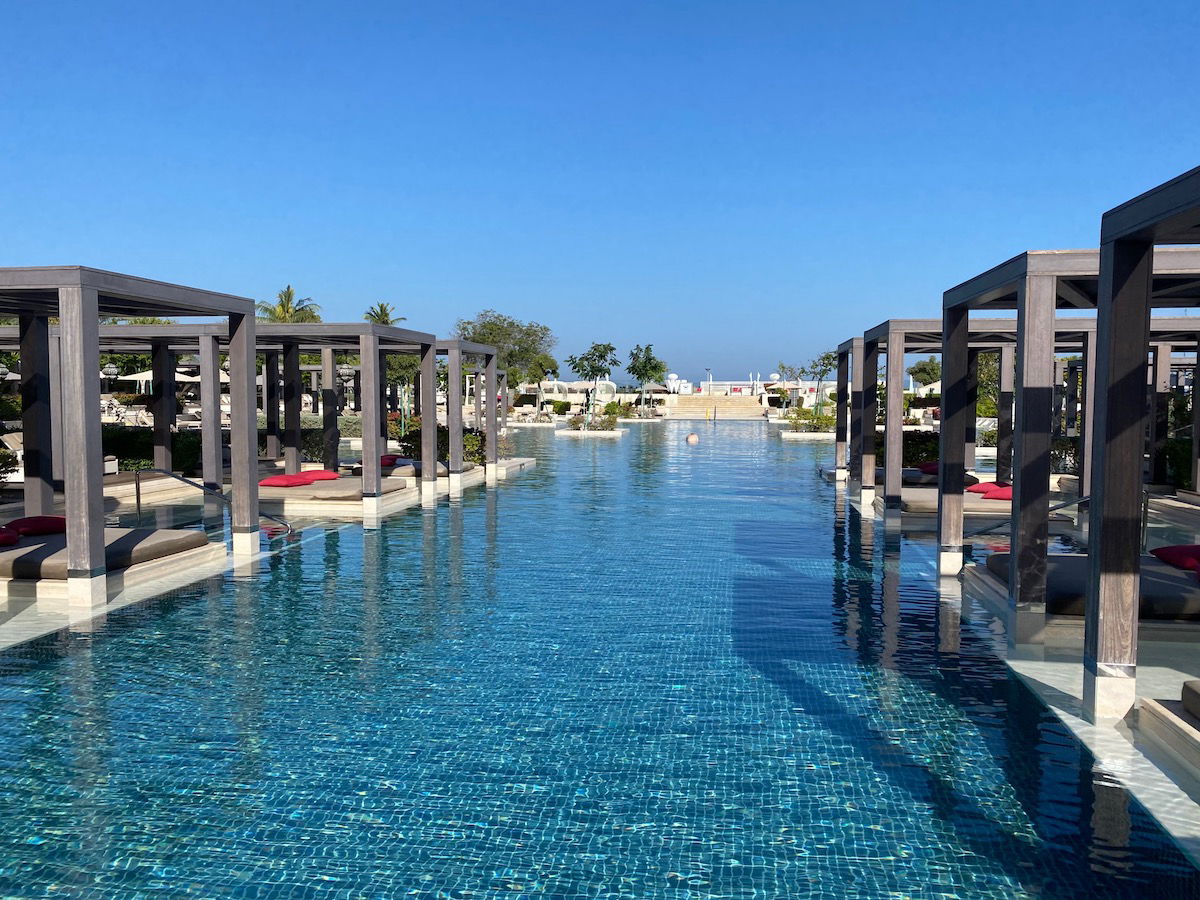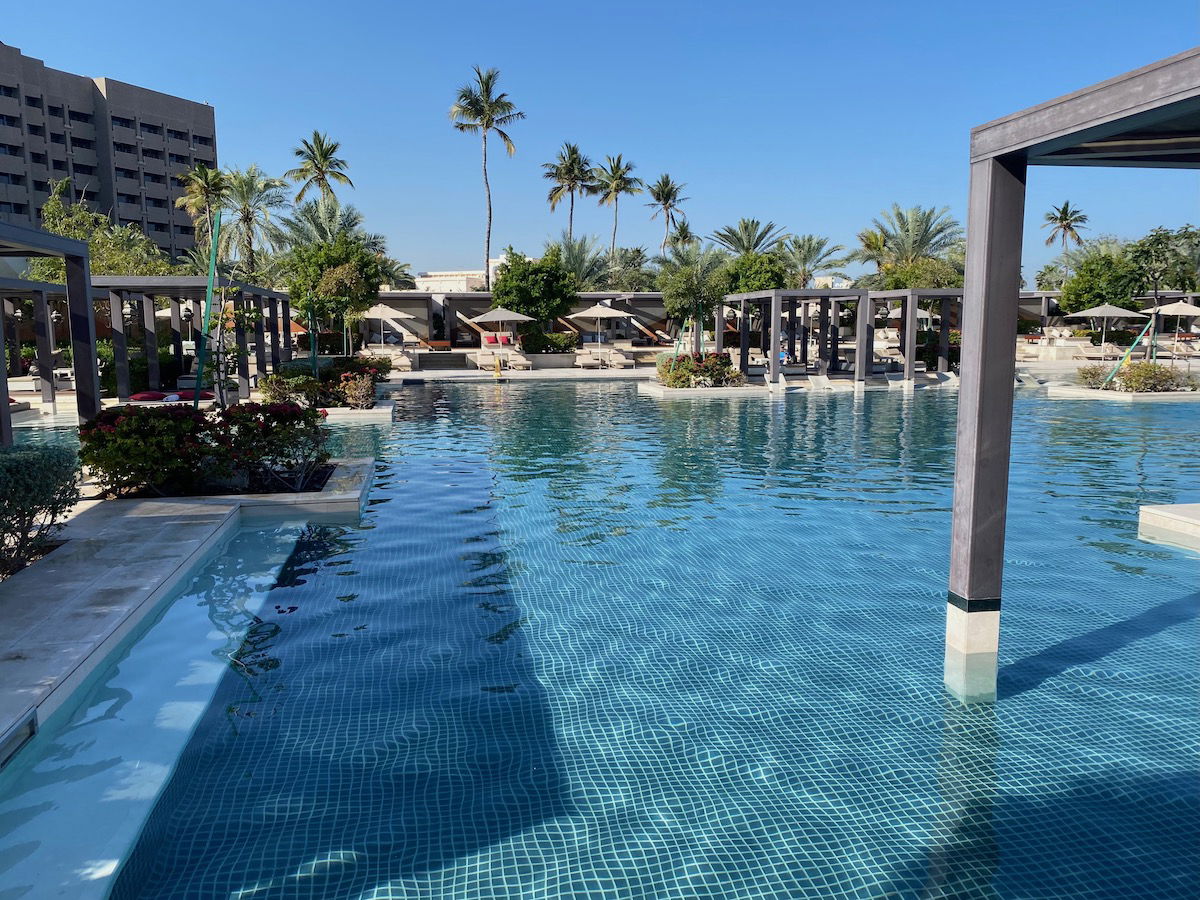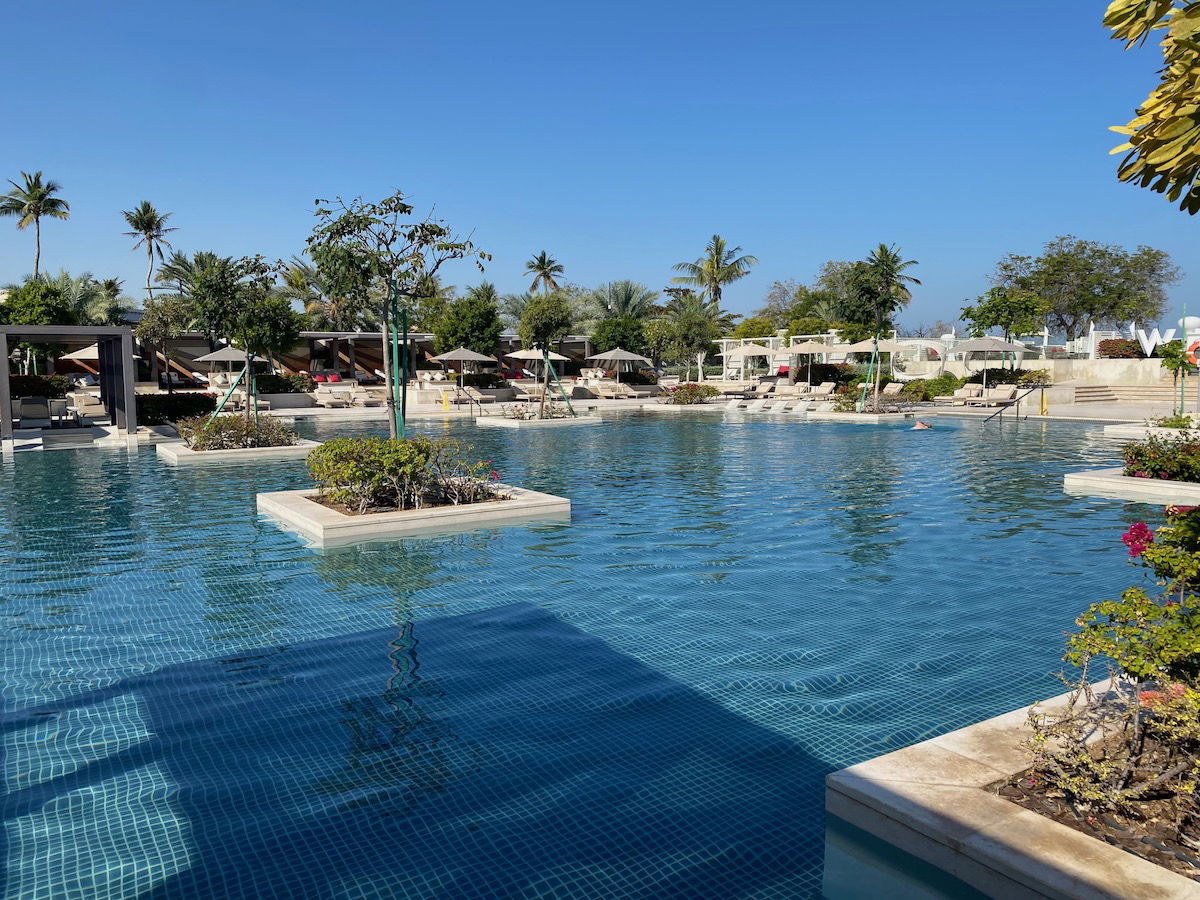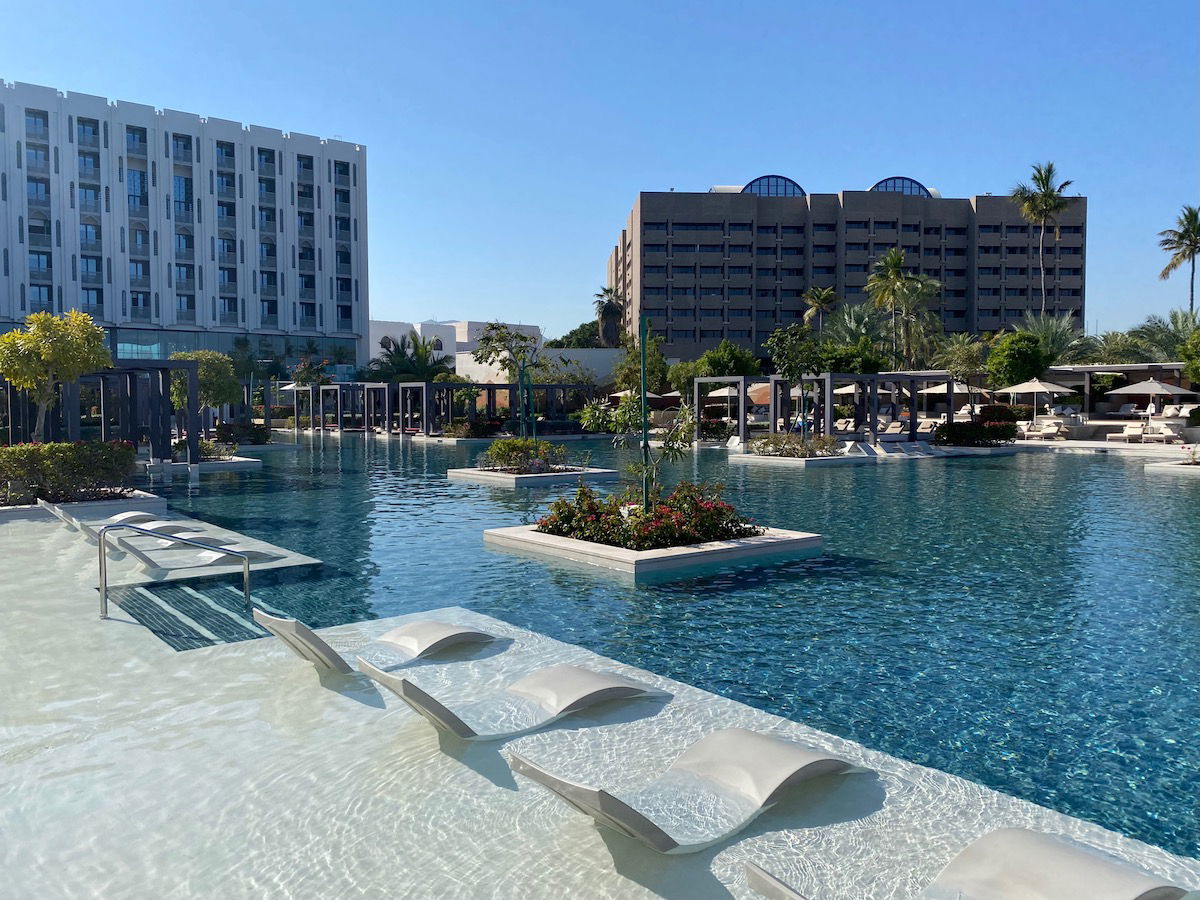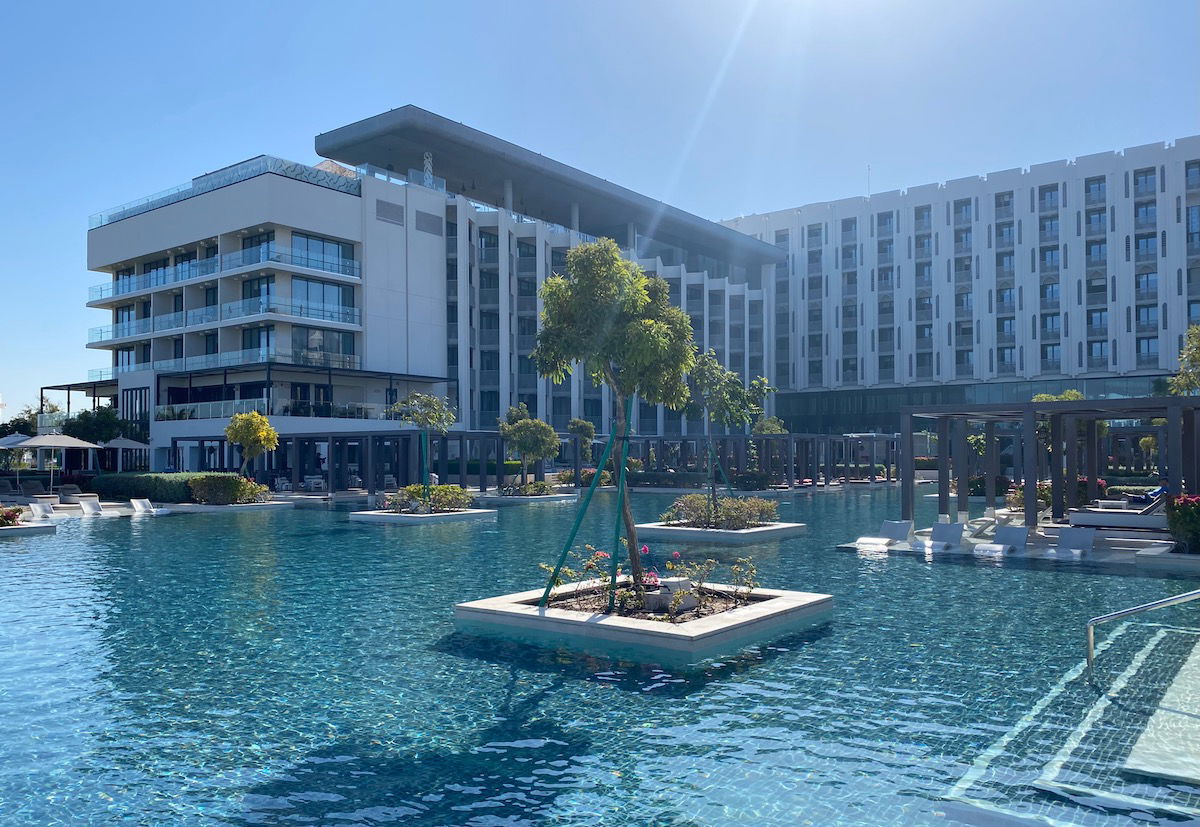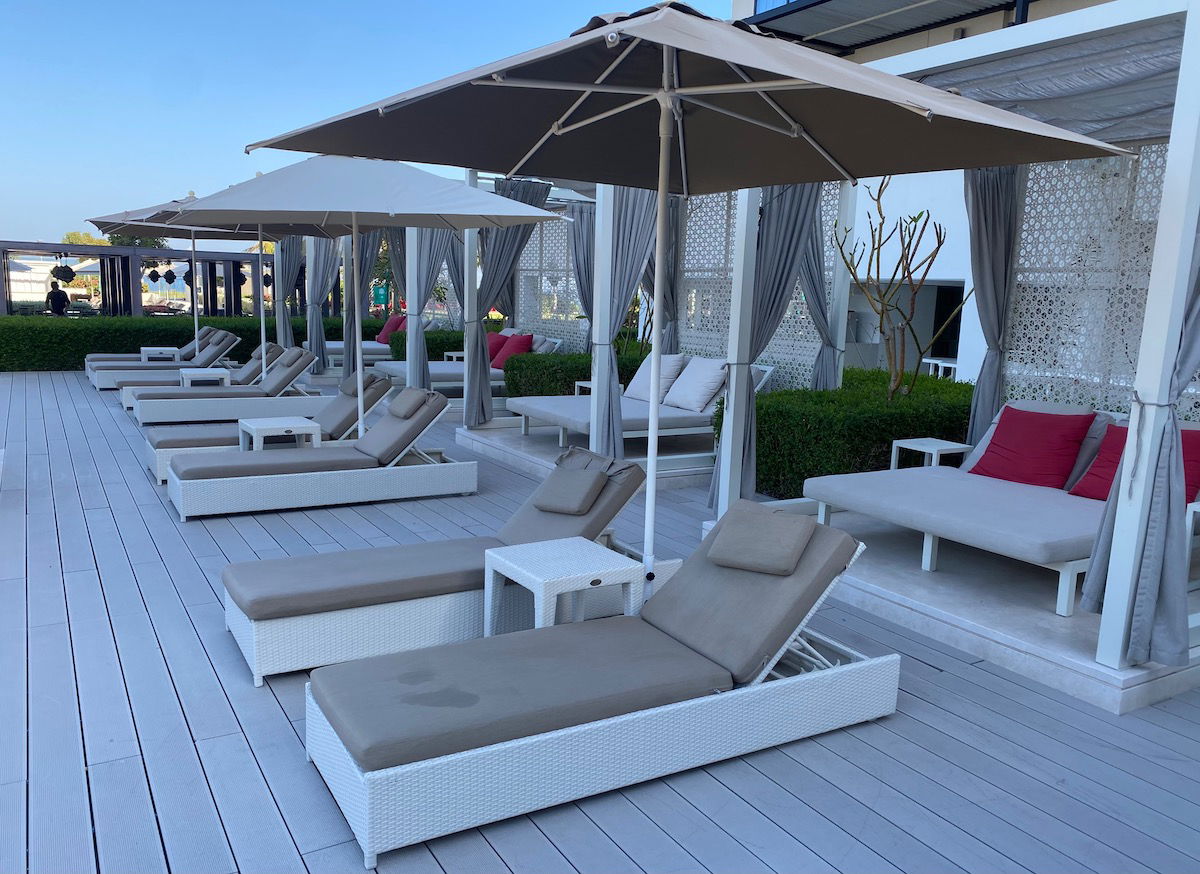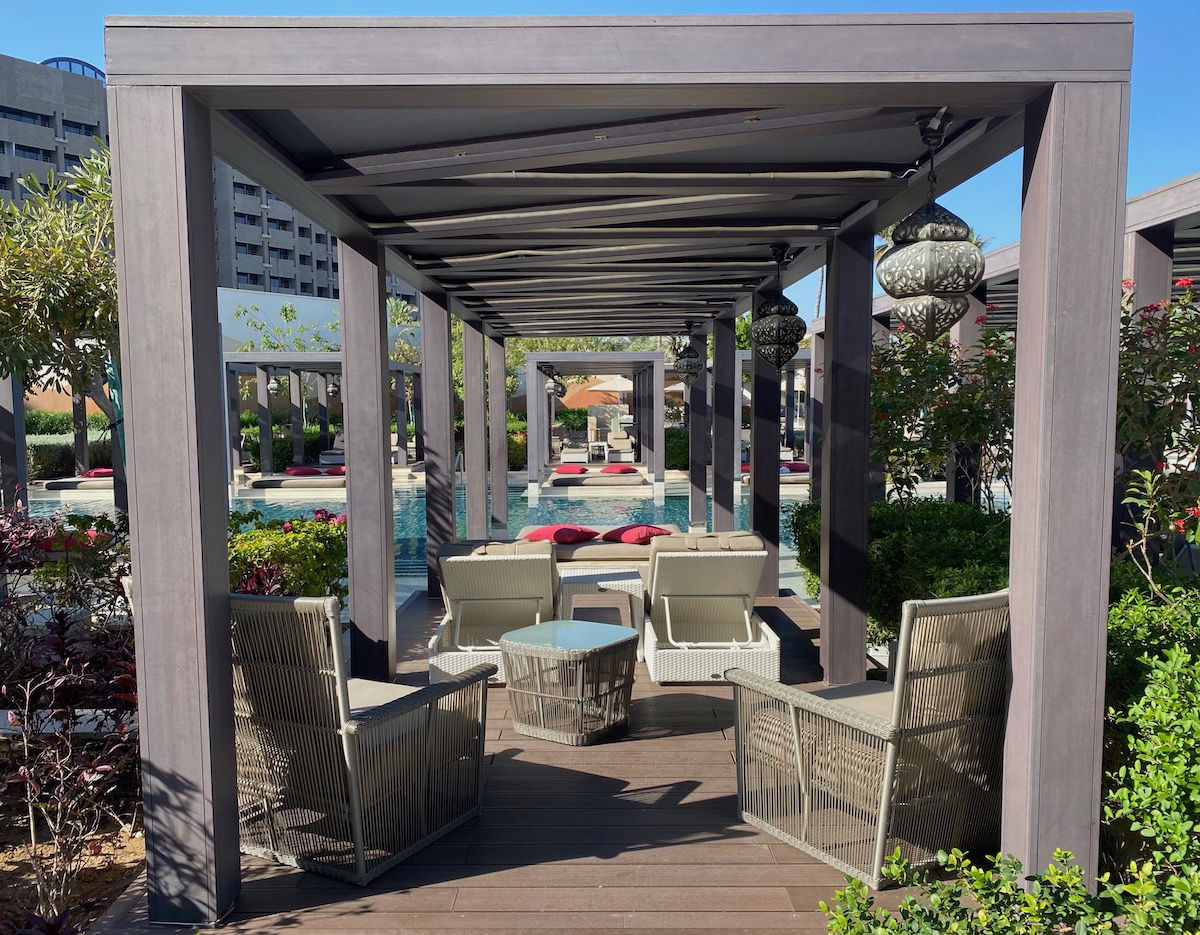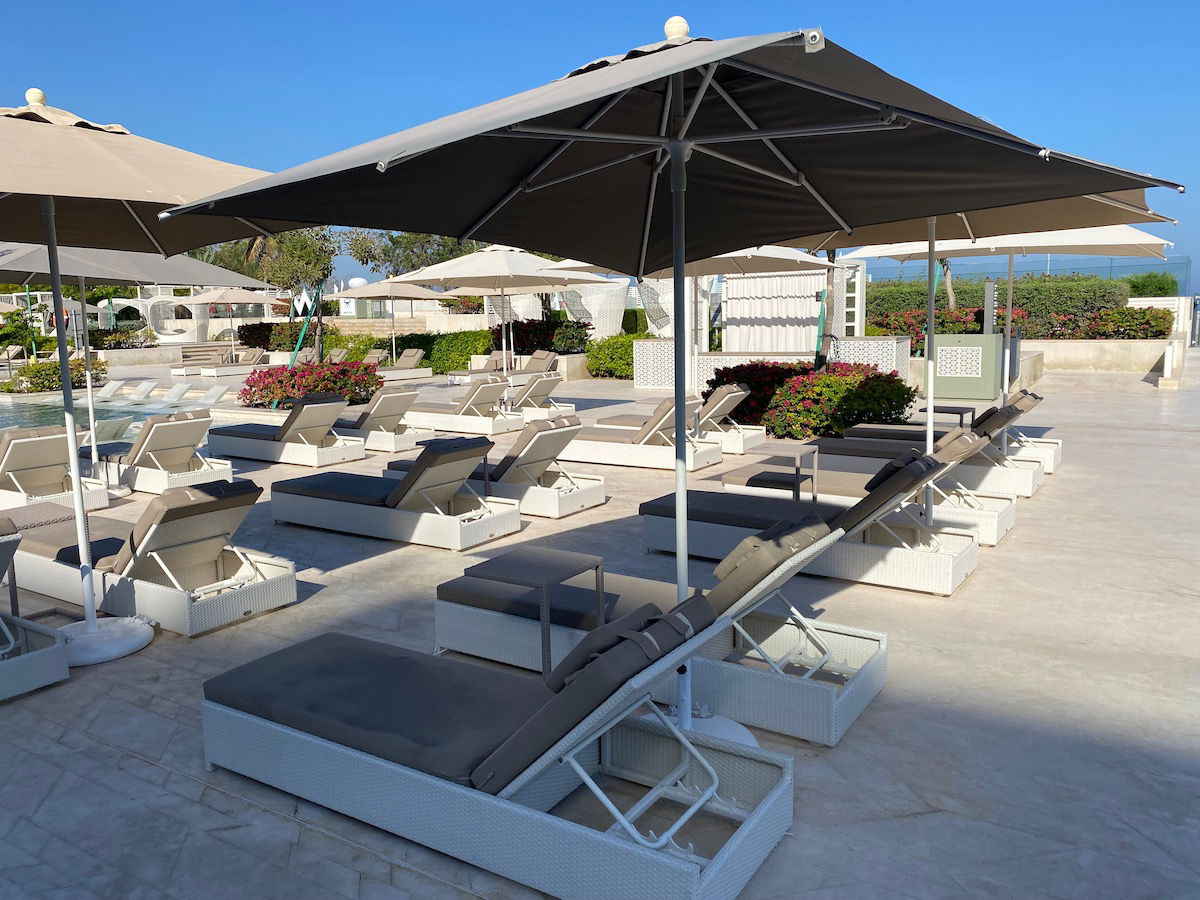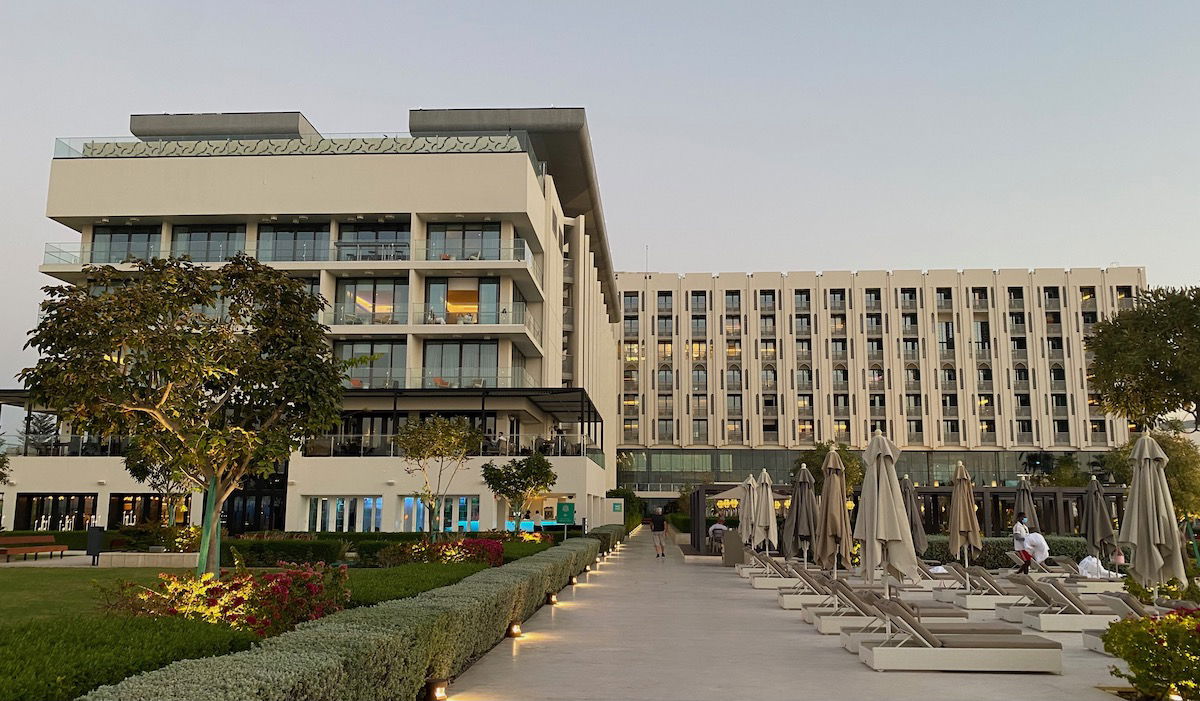 The hotel also has beachfront access, so that's kind of cool. While the beach doesn't hold a candle to what you might find in the Caribbean or Maldives (the water is kind of muddy and sand isn't amazing), it was still nice to go on a beach walk, and see so many local families enjoying a beautiful evening.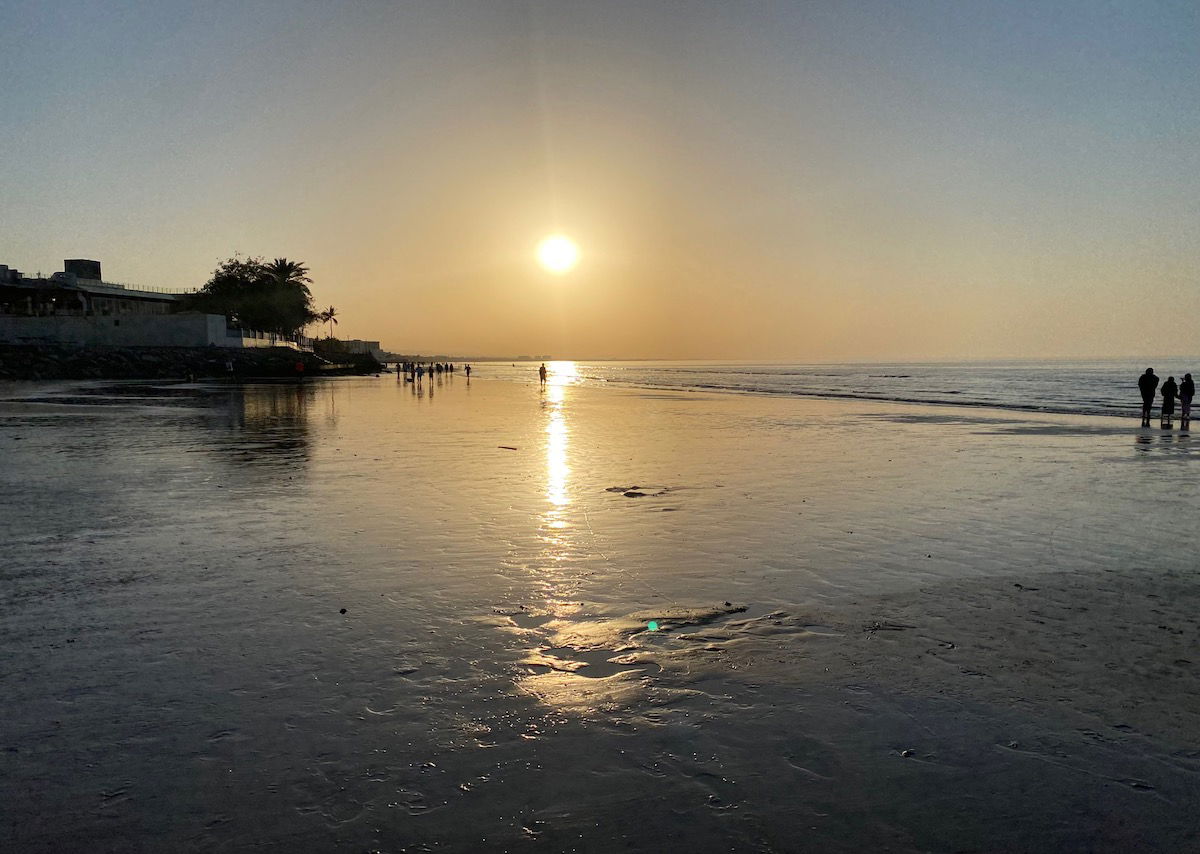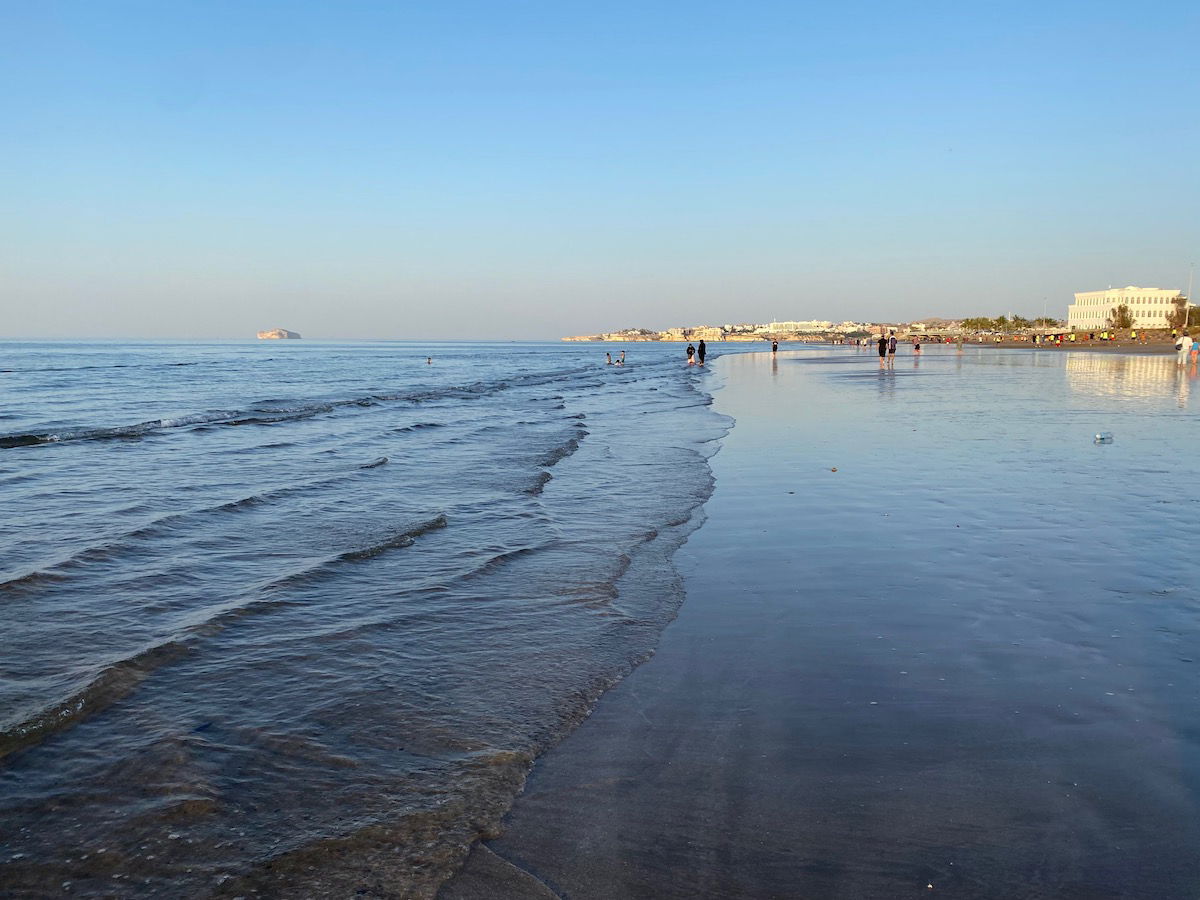 W Hotel Muscat gym
The W Muscat has a 24/7 gym, located on the second floor. The gym was pretty decent, with a variety of cardio and weight equipment. However, the gym also did get pretty busy, at least compared to other properties I've stayed at lately.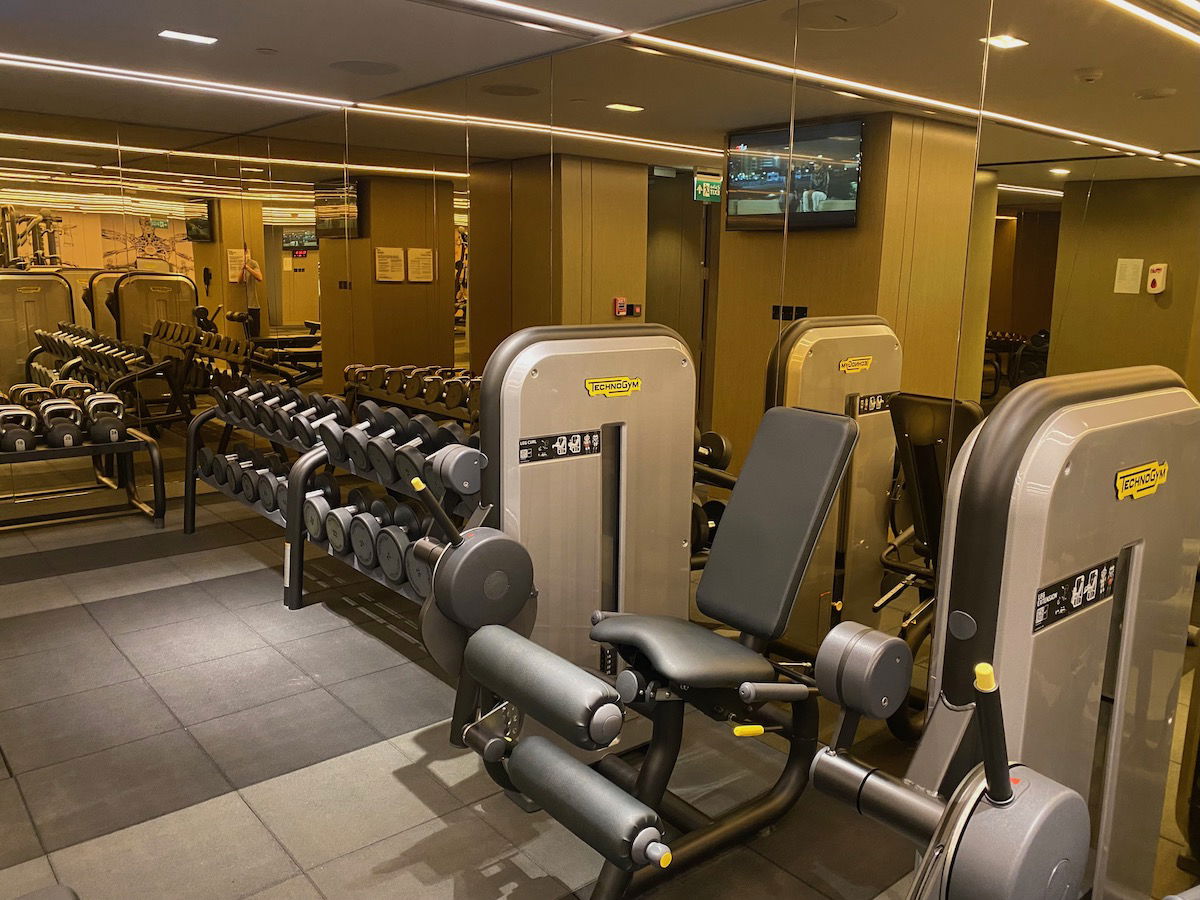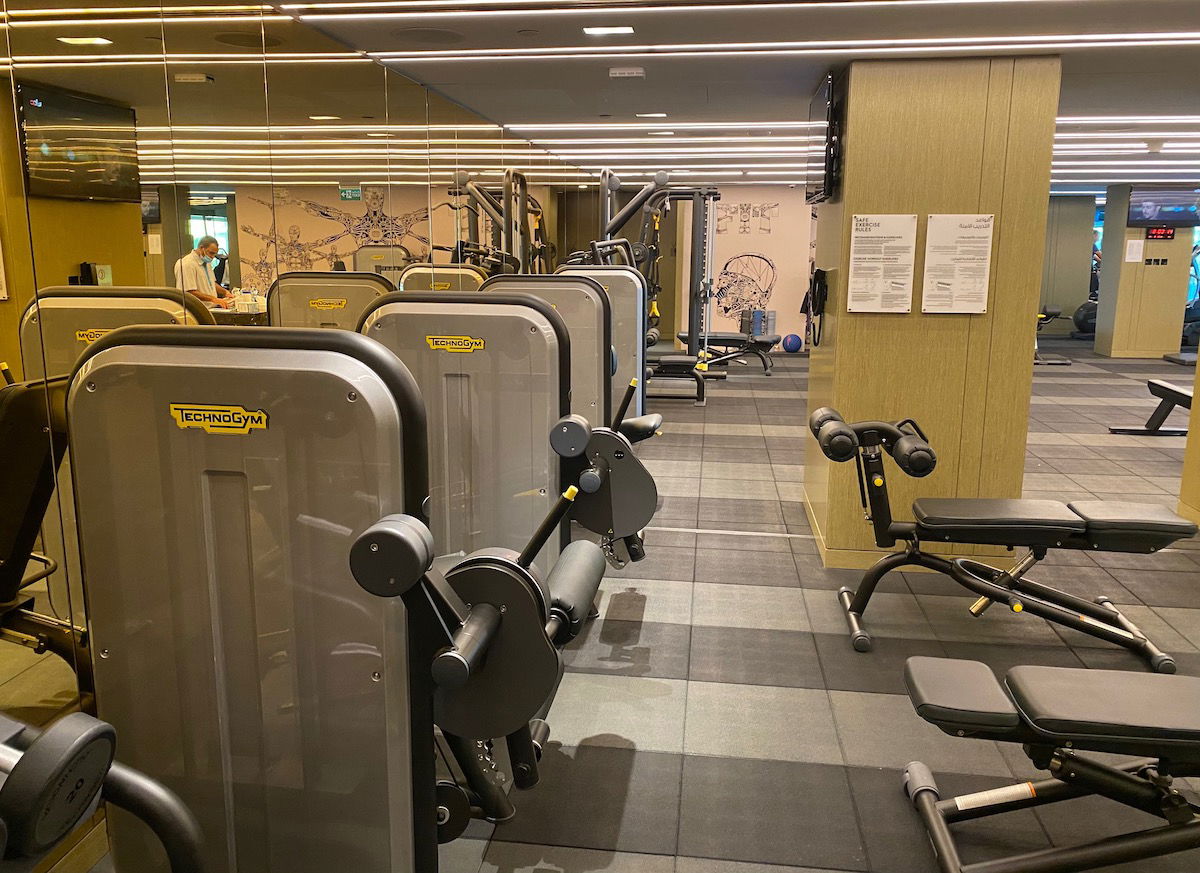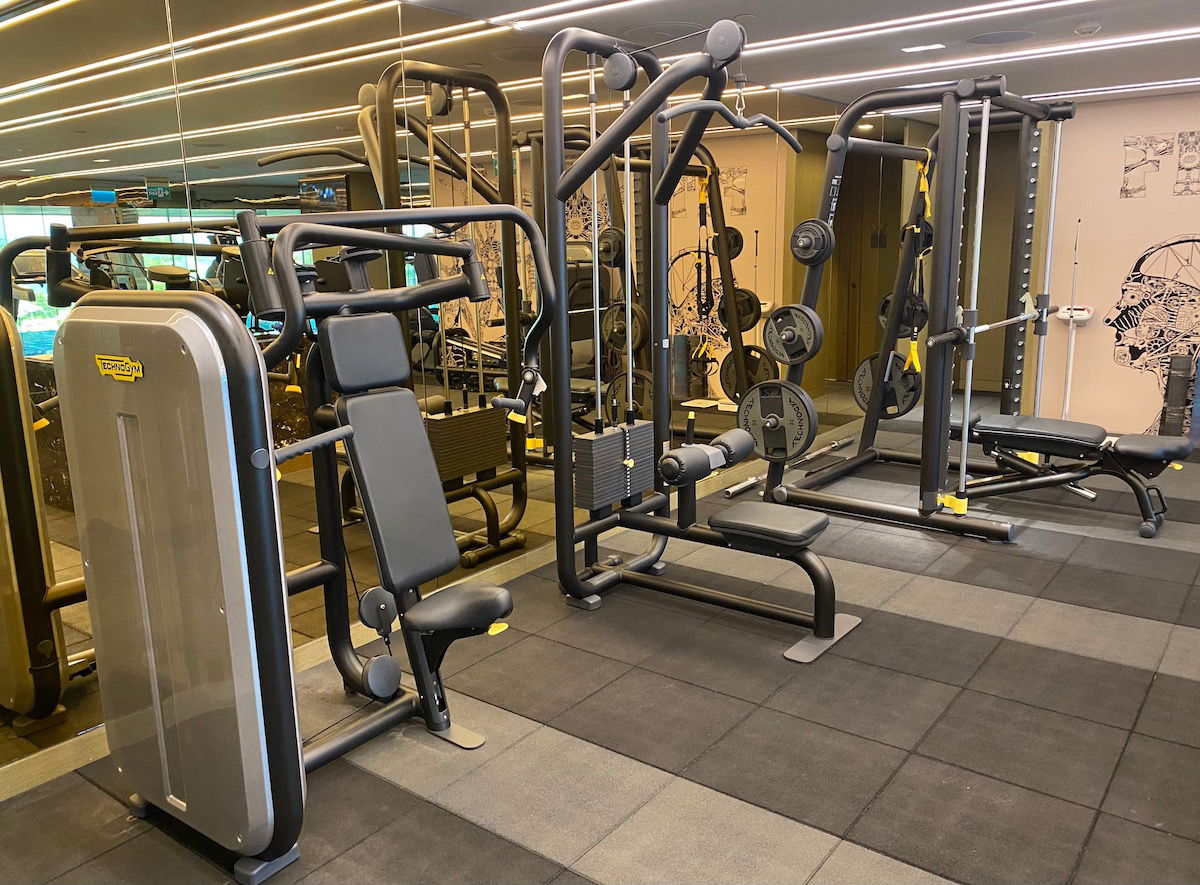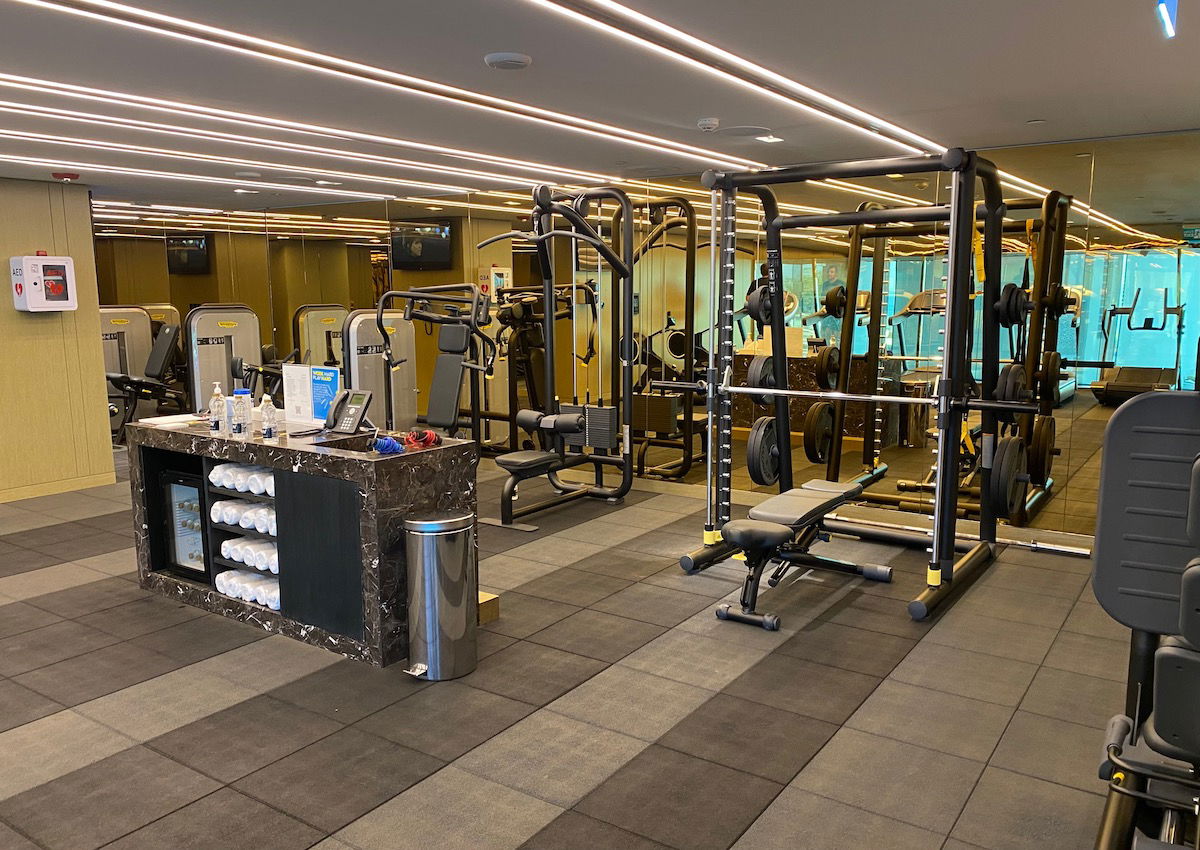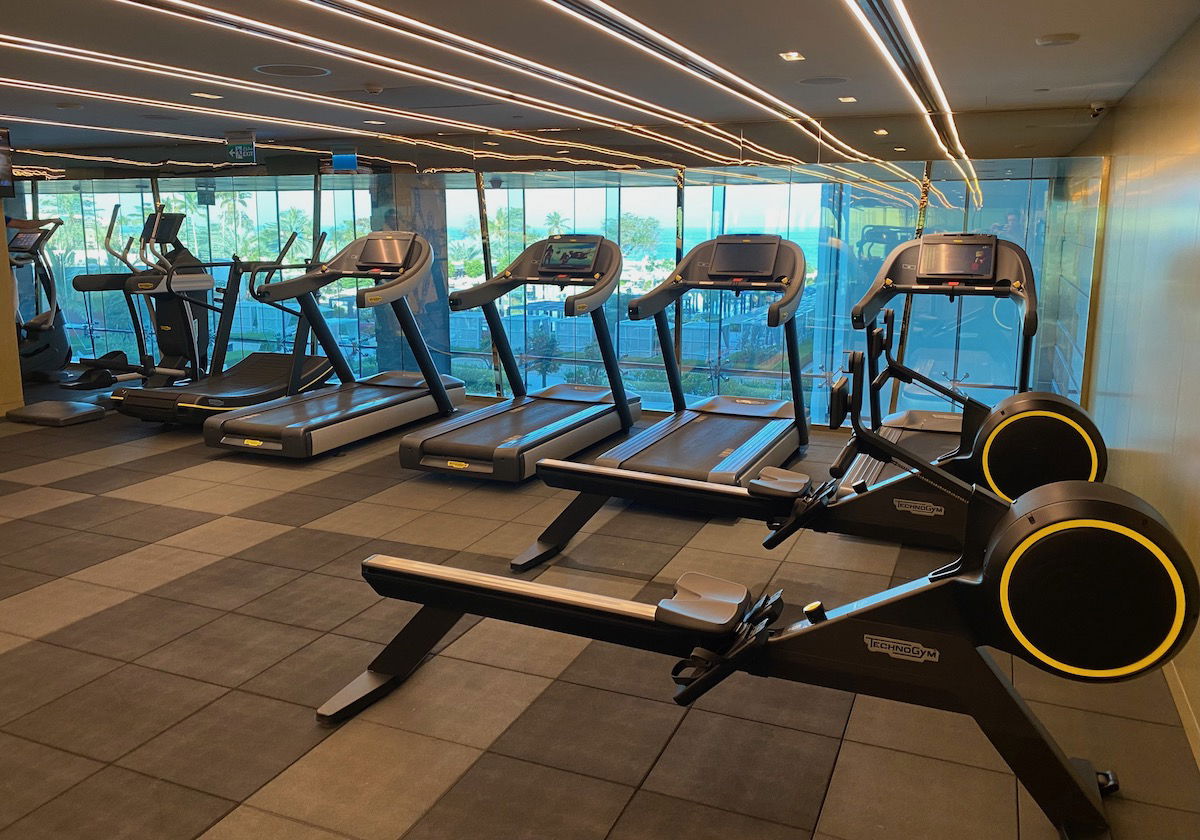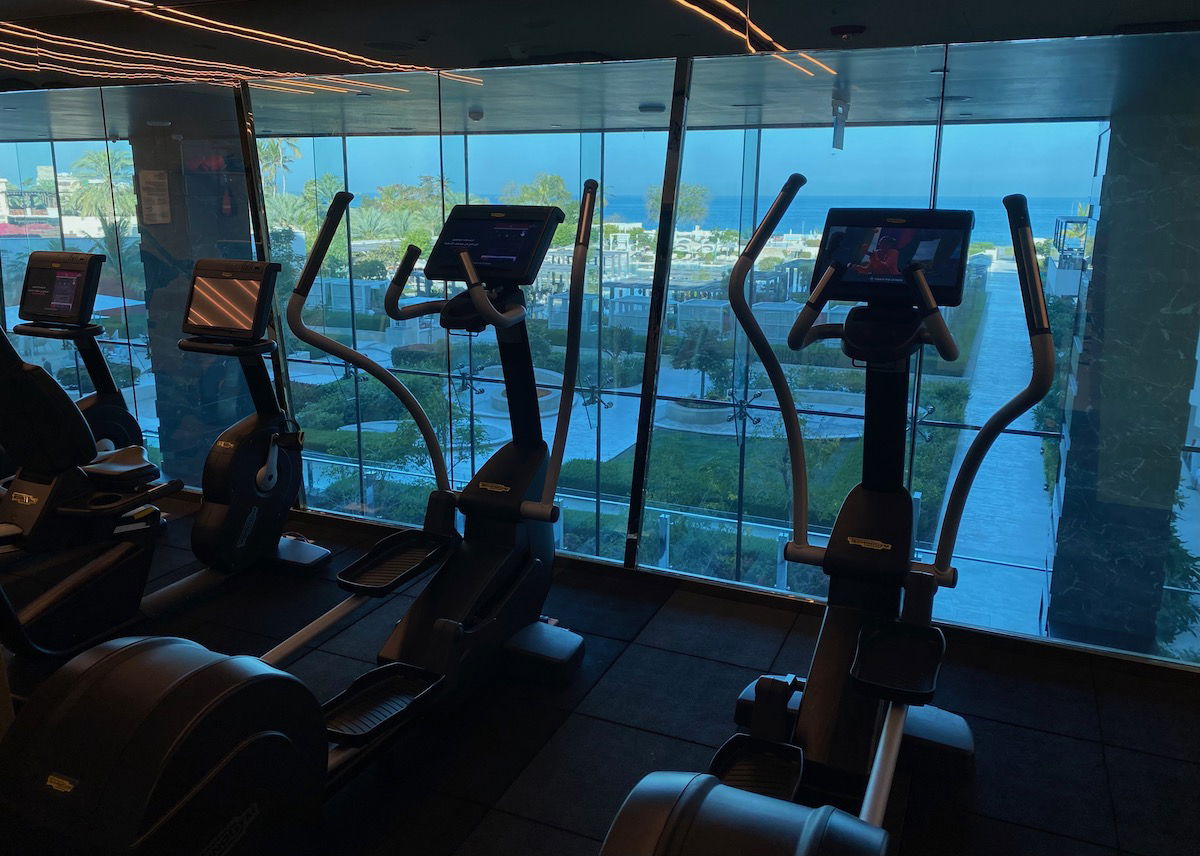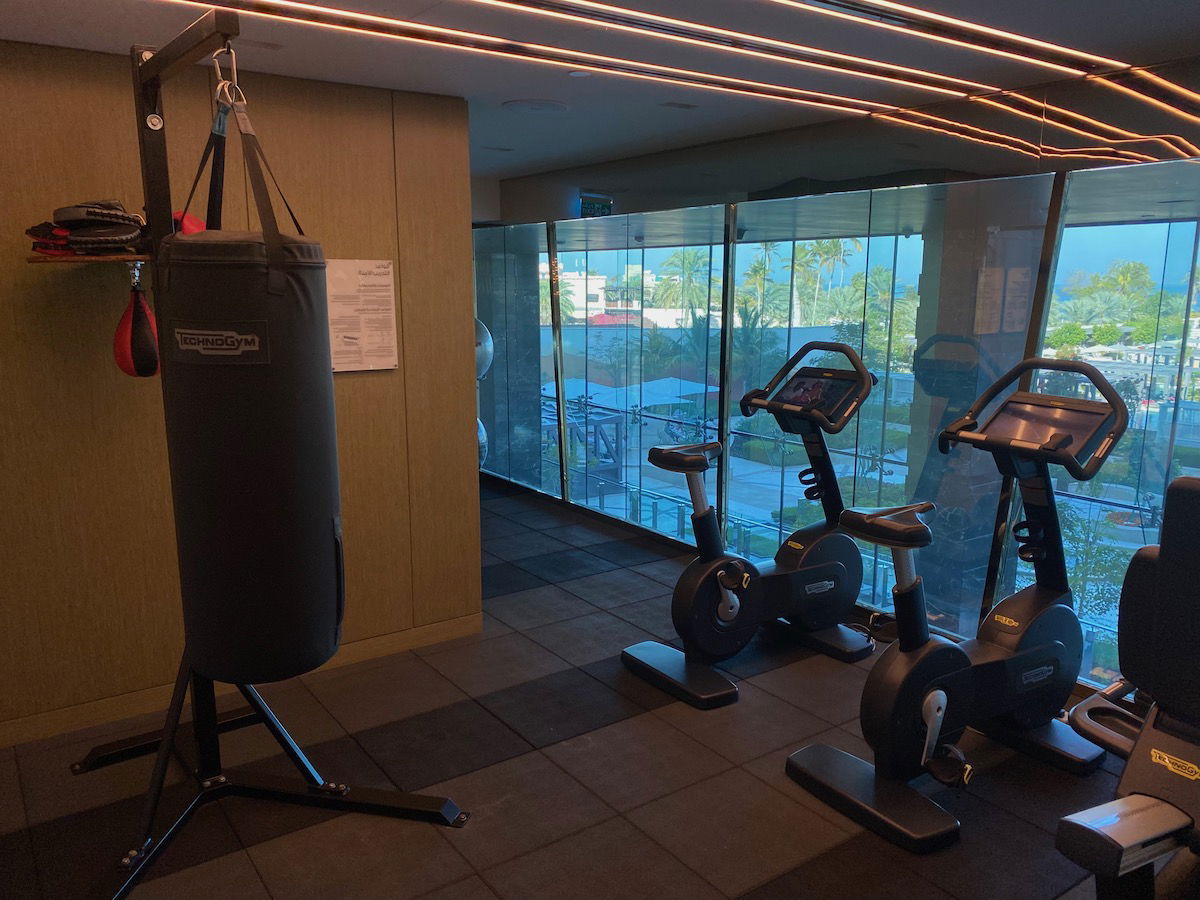 W Muscat Siddharta Lounge by Buddha Bar
On our first evening we decided to have dinner at Siddharta Lounge by Buddha Bar, since we were arriving fairly late. Buddha Bar is a chain of restaurants in many popular vacation destinations, so this is an offshoot of that. The restaurant was located on the top floor of the W Muscat, and had both indoor and outdoor seating.
Oddly this is regarded as one of the best restaurants in Muscat (at least based on the ratings), but the whole place lacked a vibe. The restaurant was really empty, and there was a DJ there who was basically just staring at his phone the whole time, because how the heck do you get into the vibe of this place? I guess maybe it's busier on weekends? The restaurant was more or less dead, with just a few tables occupied outside.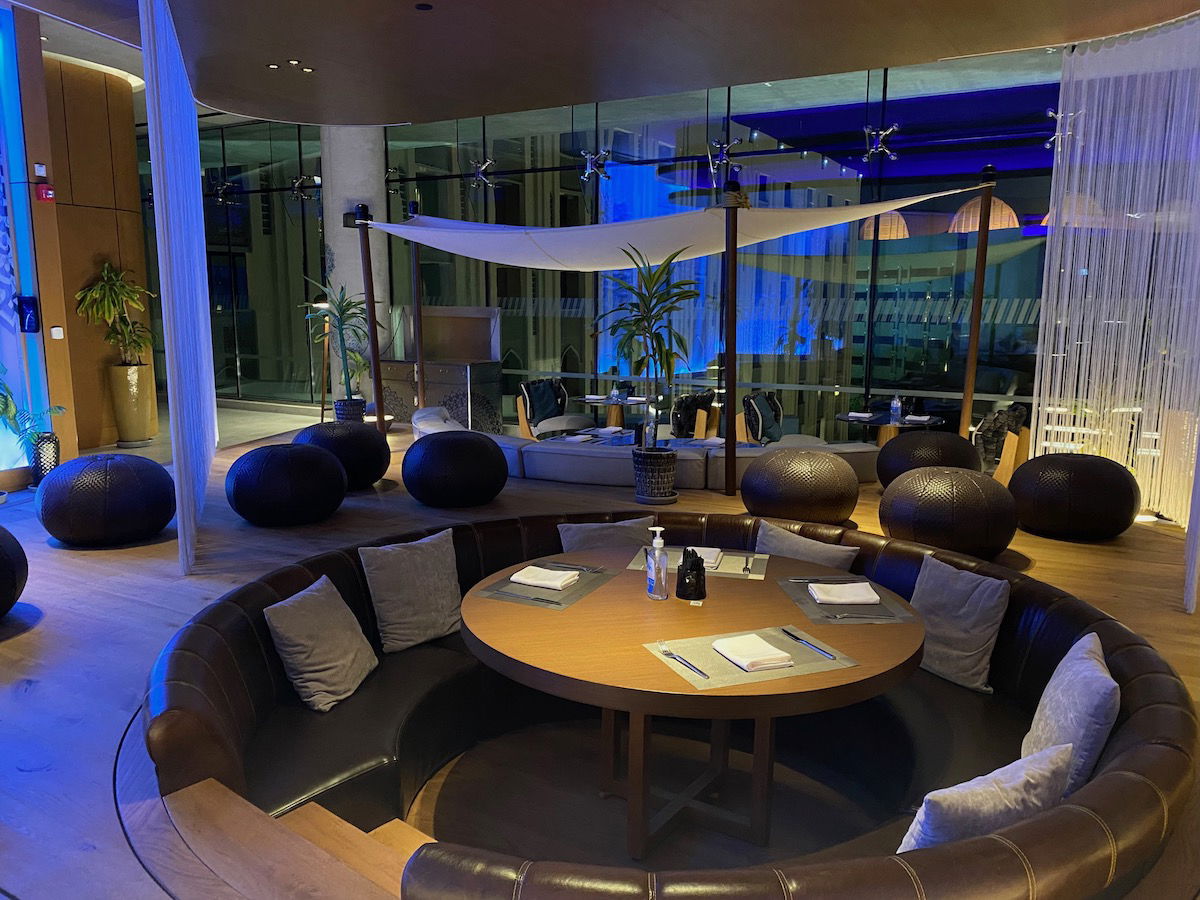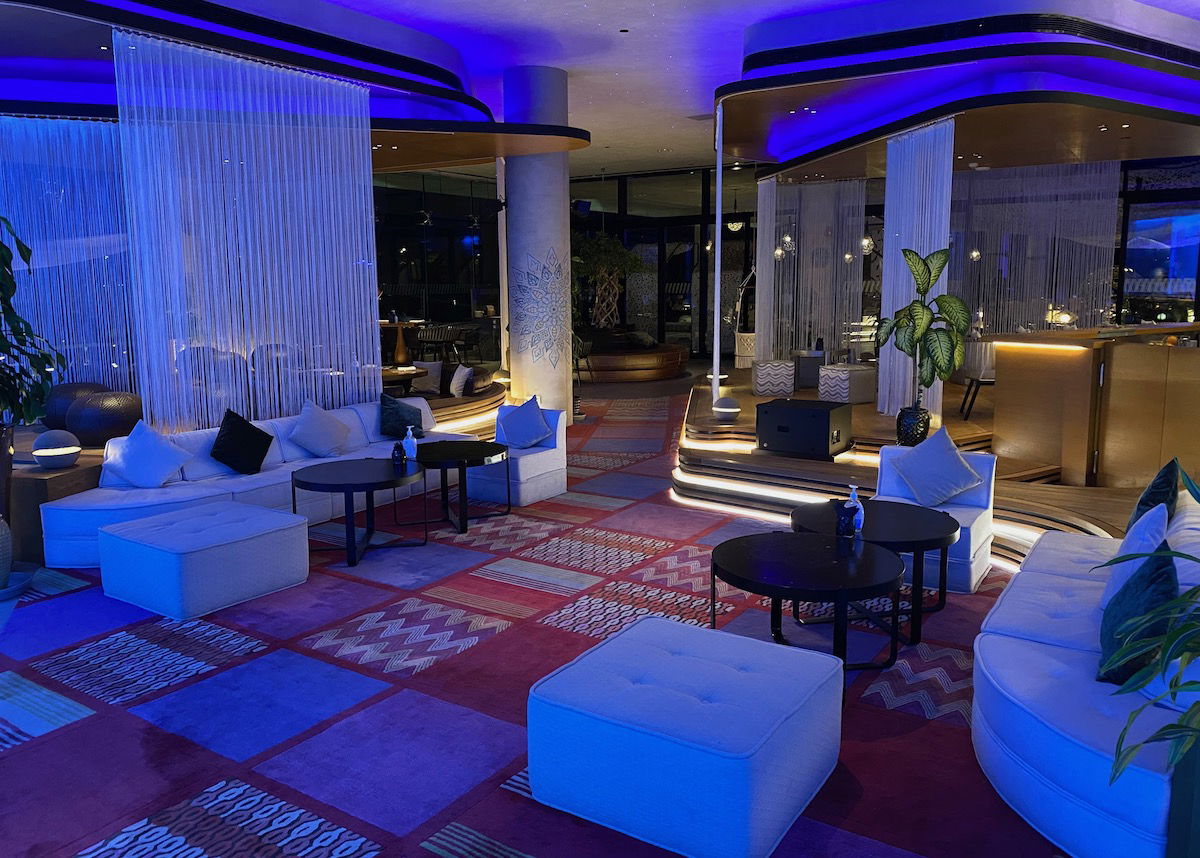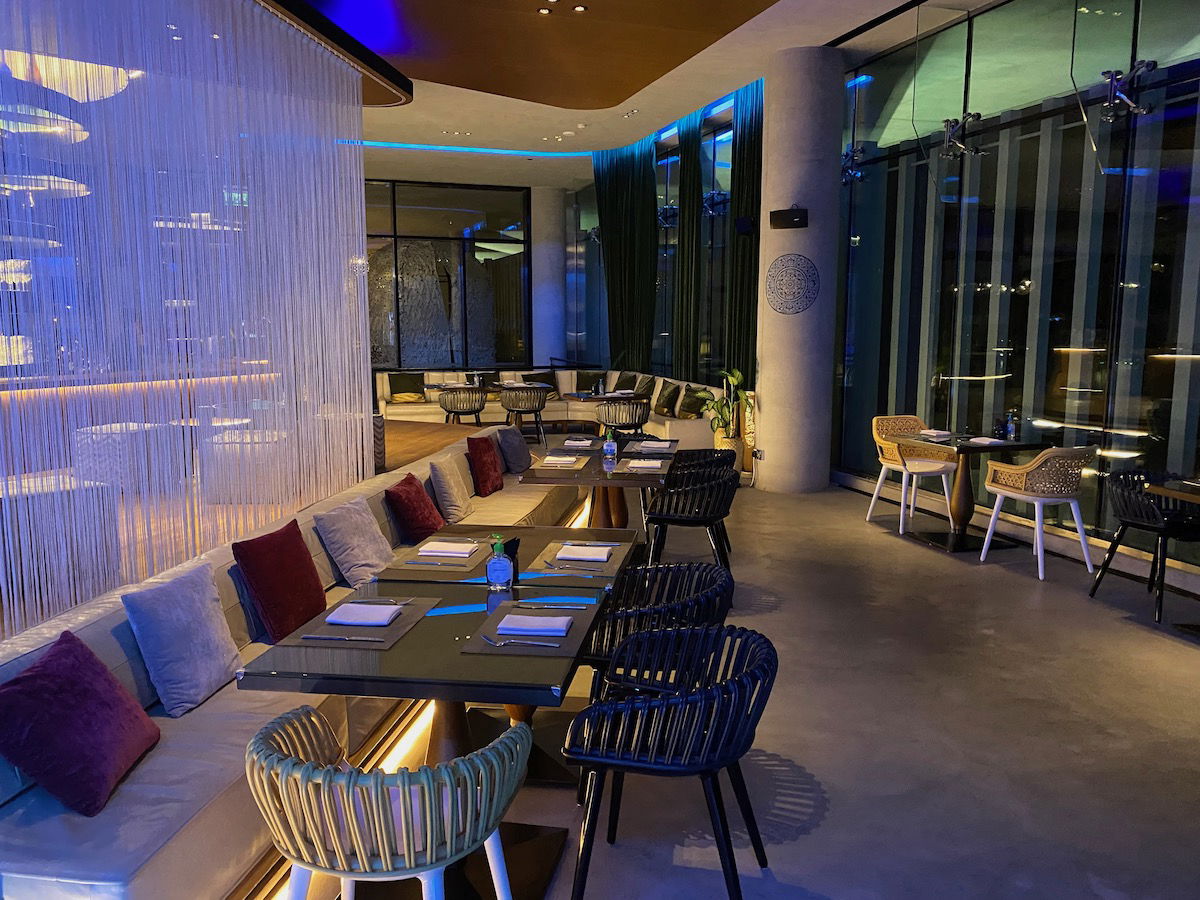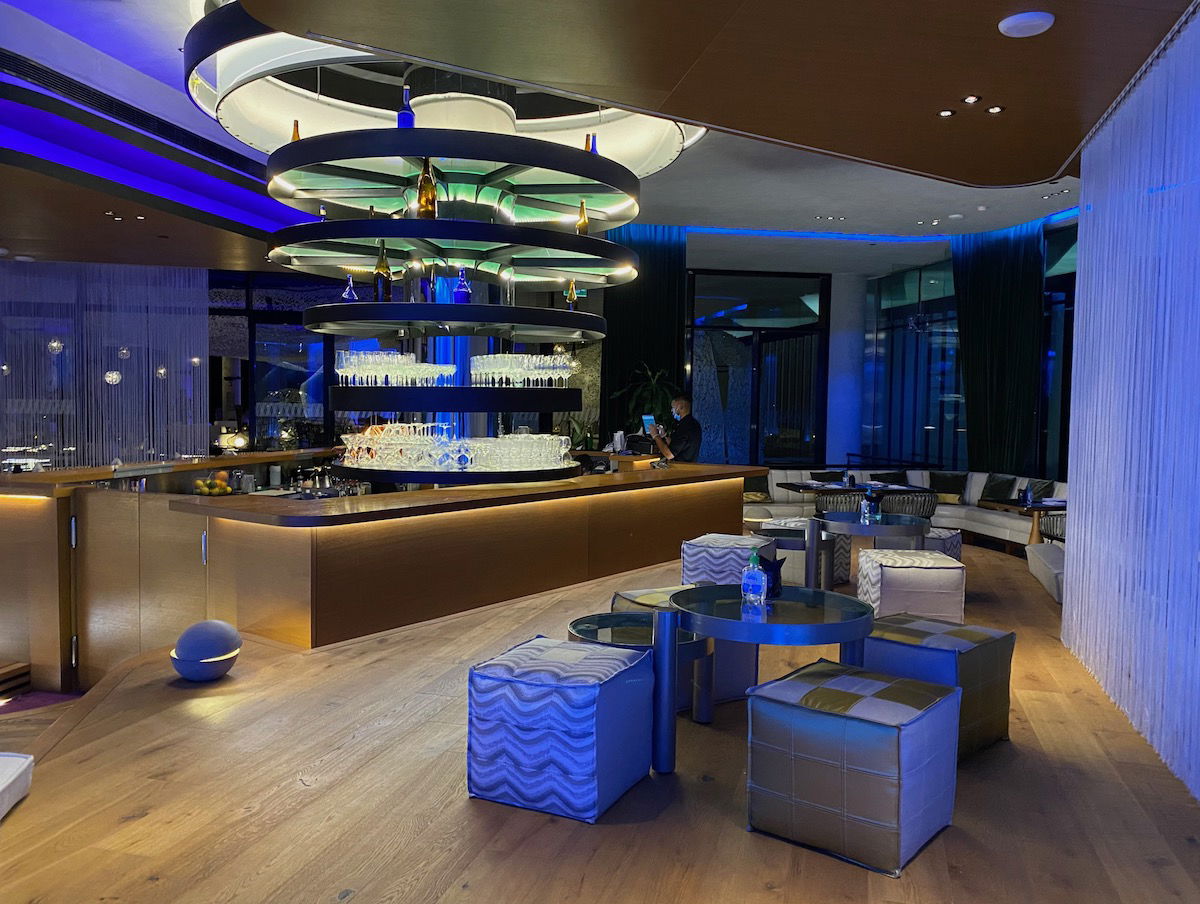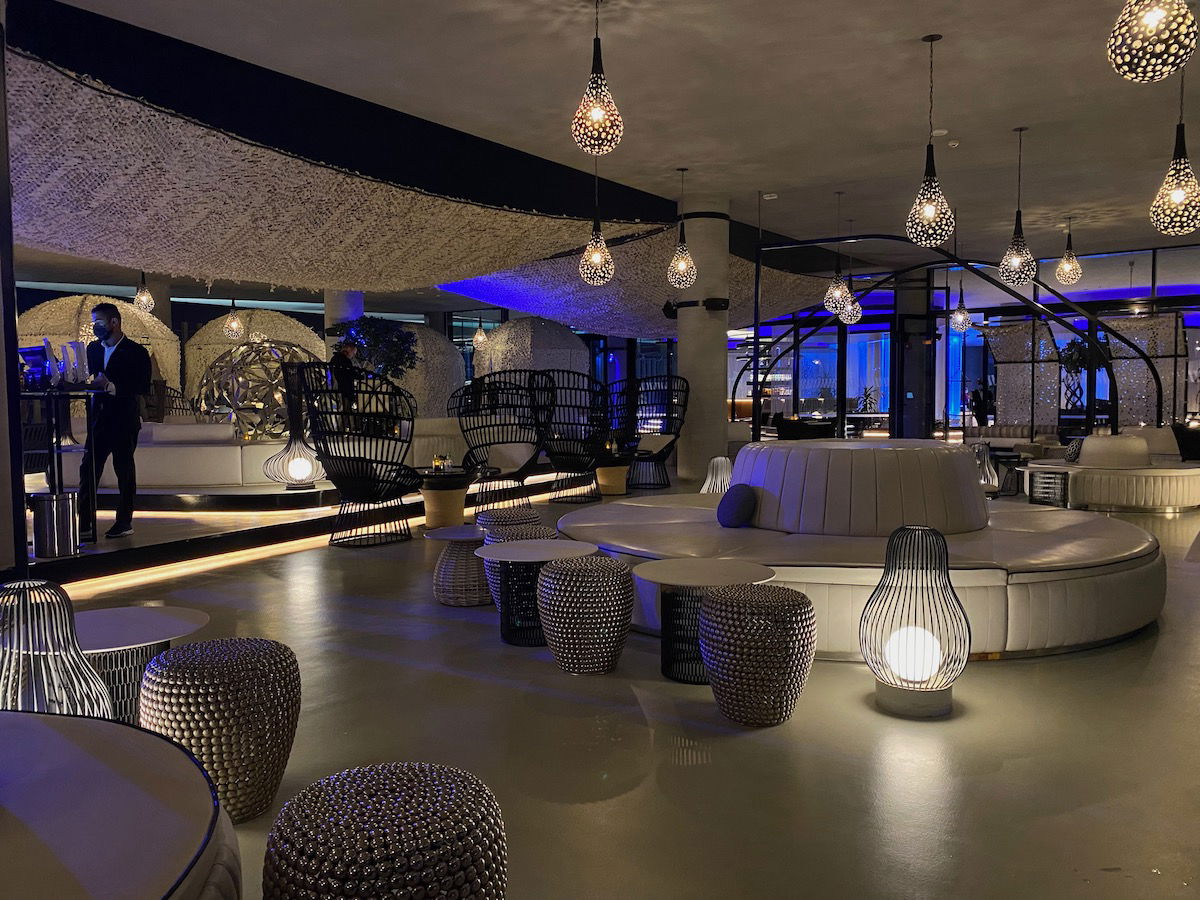 The whole dining experience was unremarkable and strange:
There didn't seem to be a dedicated server, but rather multiple people would come by our table and repeatedly ask the same questions (whether we wanted to order food or drinks, etc.)
There was no proper introduction as you'd expect at a decent restaurant, but rather just servers coming over and mumbling "want to order something?"
You can find the restaurant's menu here. To start we shared some salmon and tuna nigiri.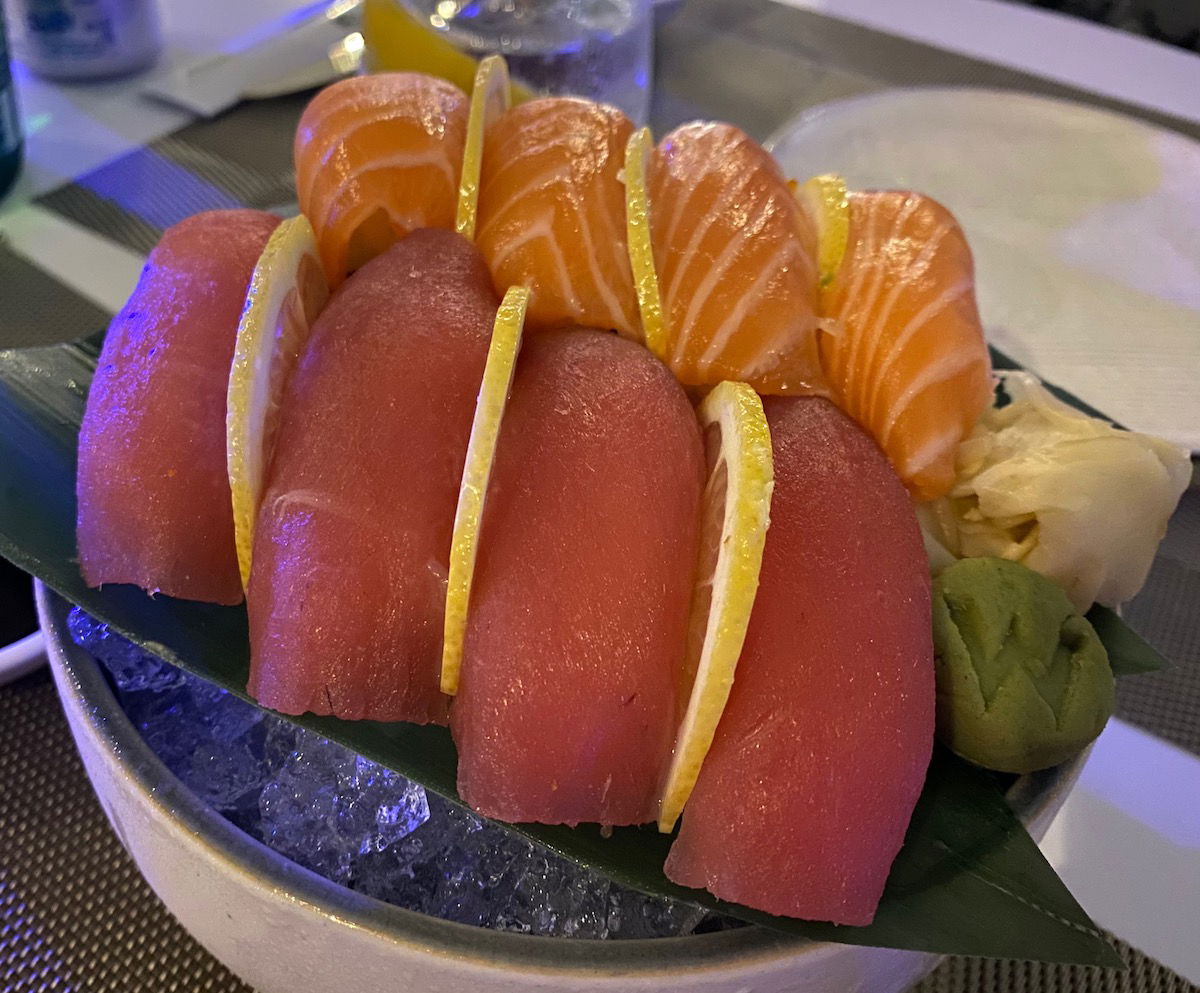 Then I ordered a chicken salad, while Ford had the miso salmon.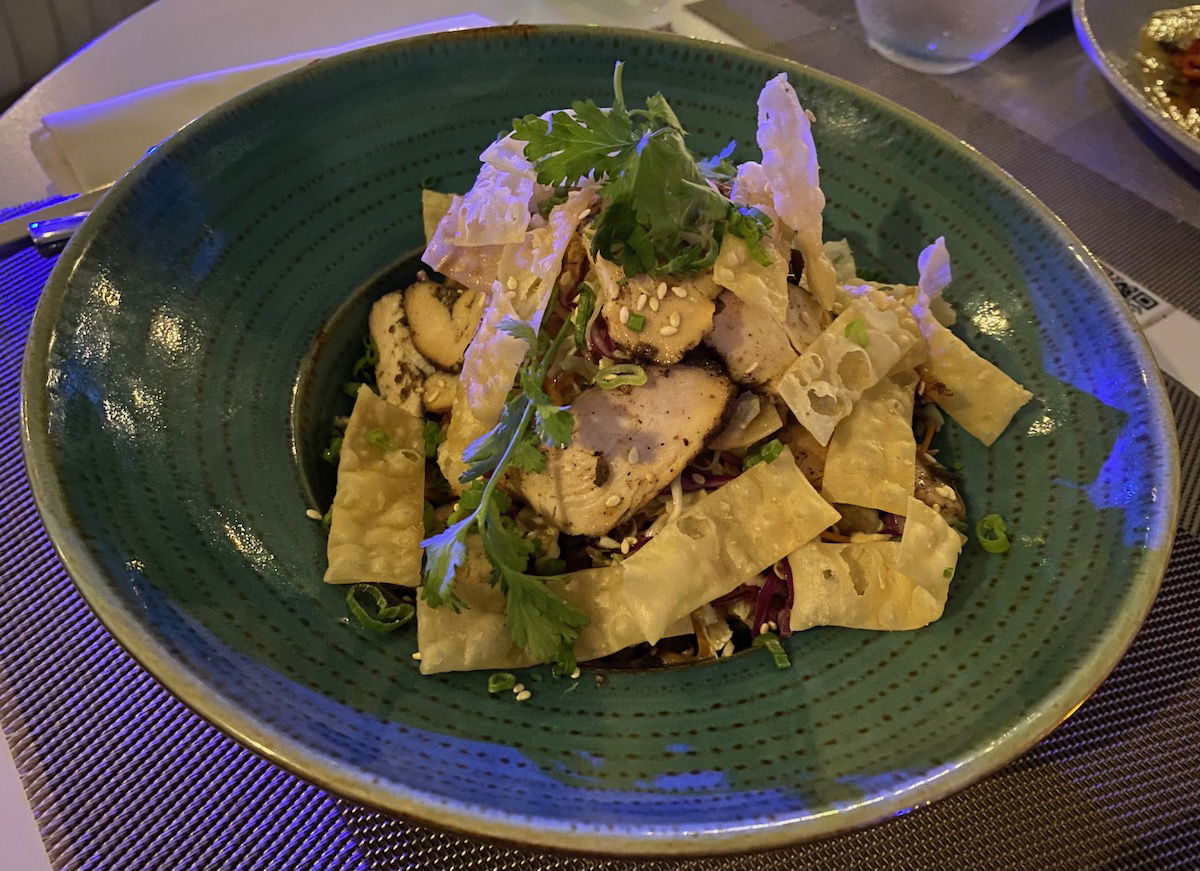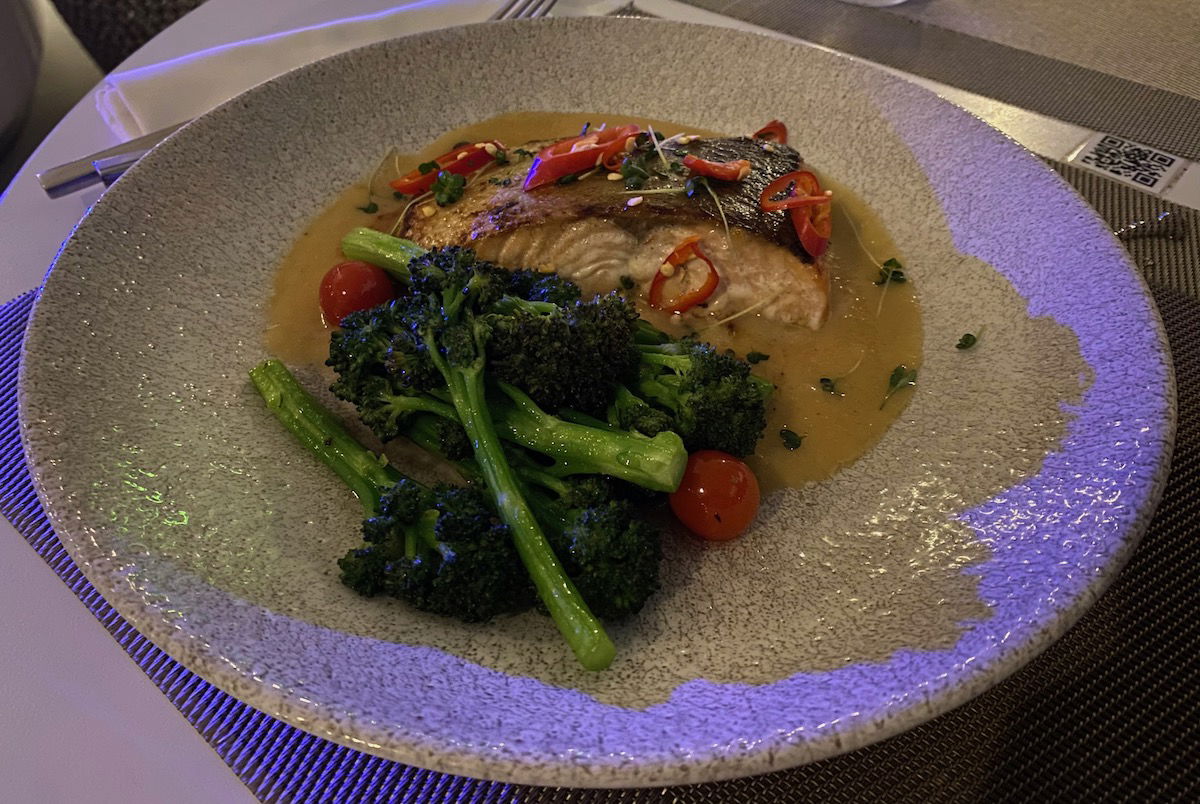 The food was decent, but nothing memorable. Credit to the hotel and restaurant, as they comped our appetizer because of my Bonvoy Platinum status, which was a nice touch.
W Muscat Harvest Restaurant (breakfast)
Breakfast at the W Muscat is served daily from 6:30AM until 11AM at Harvest Restaurant, located on the ground floor. The restaurant had both indoor and outdoor seating, and we chose to sit outdoors.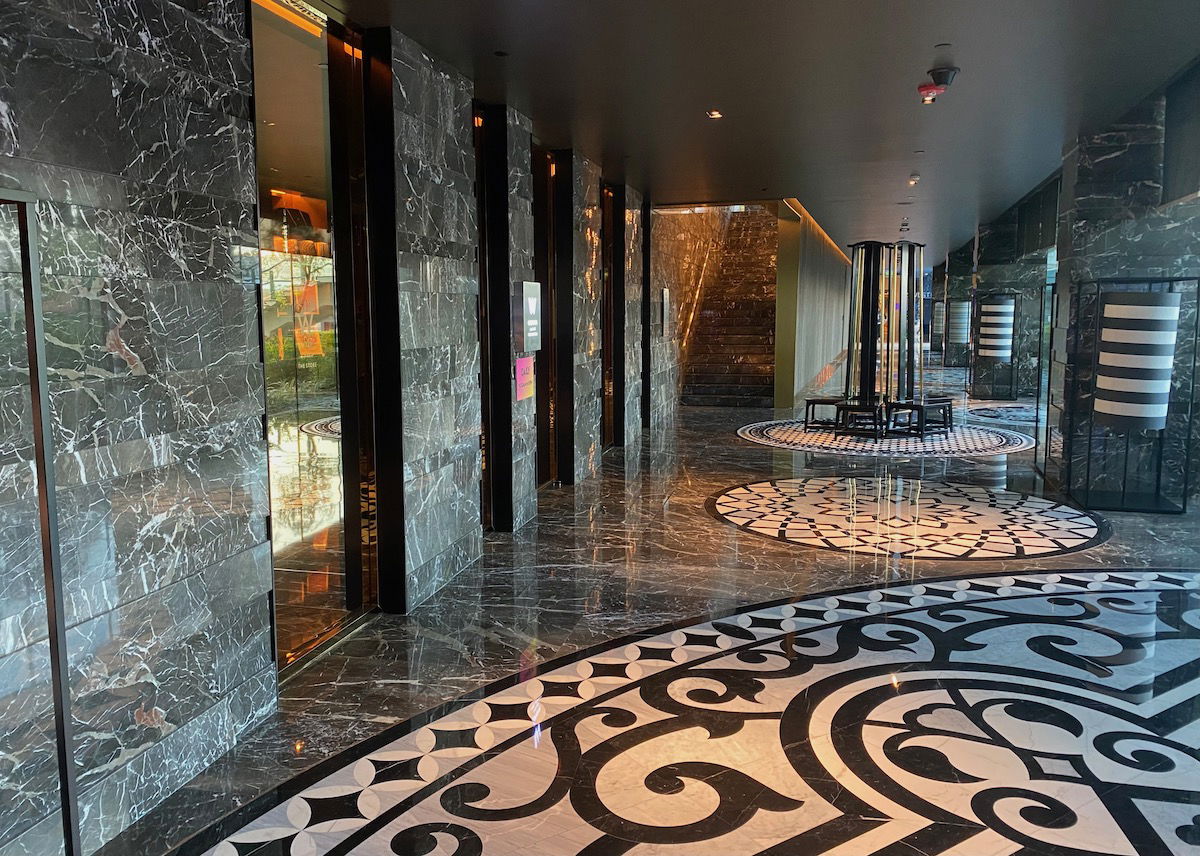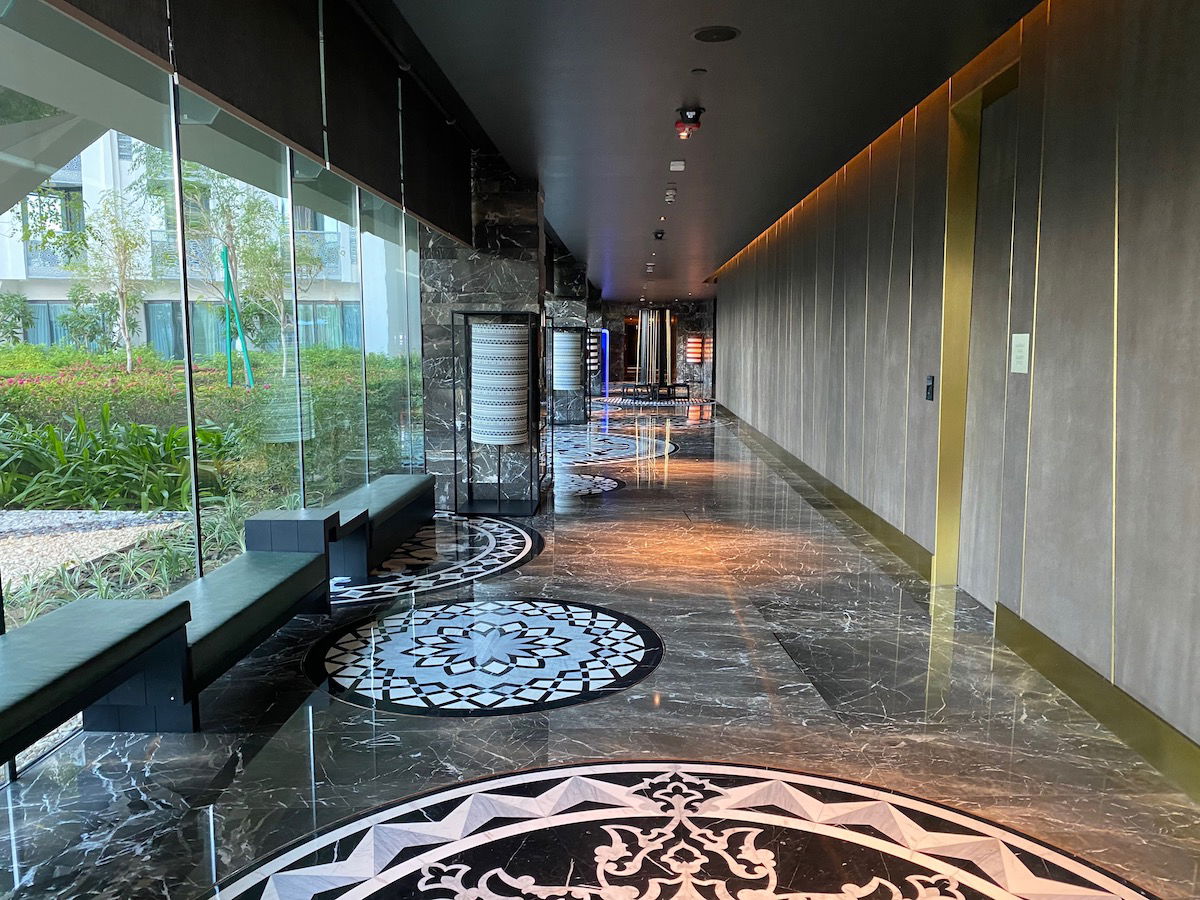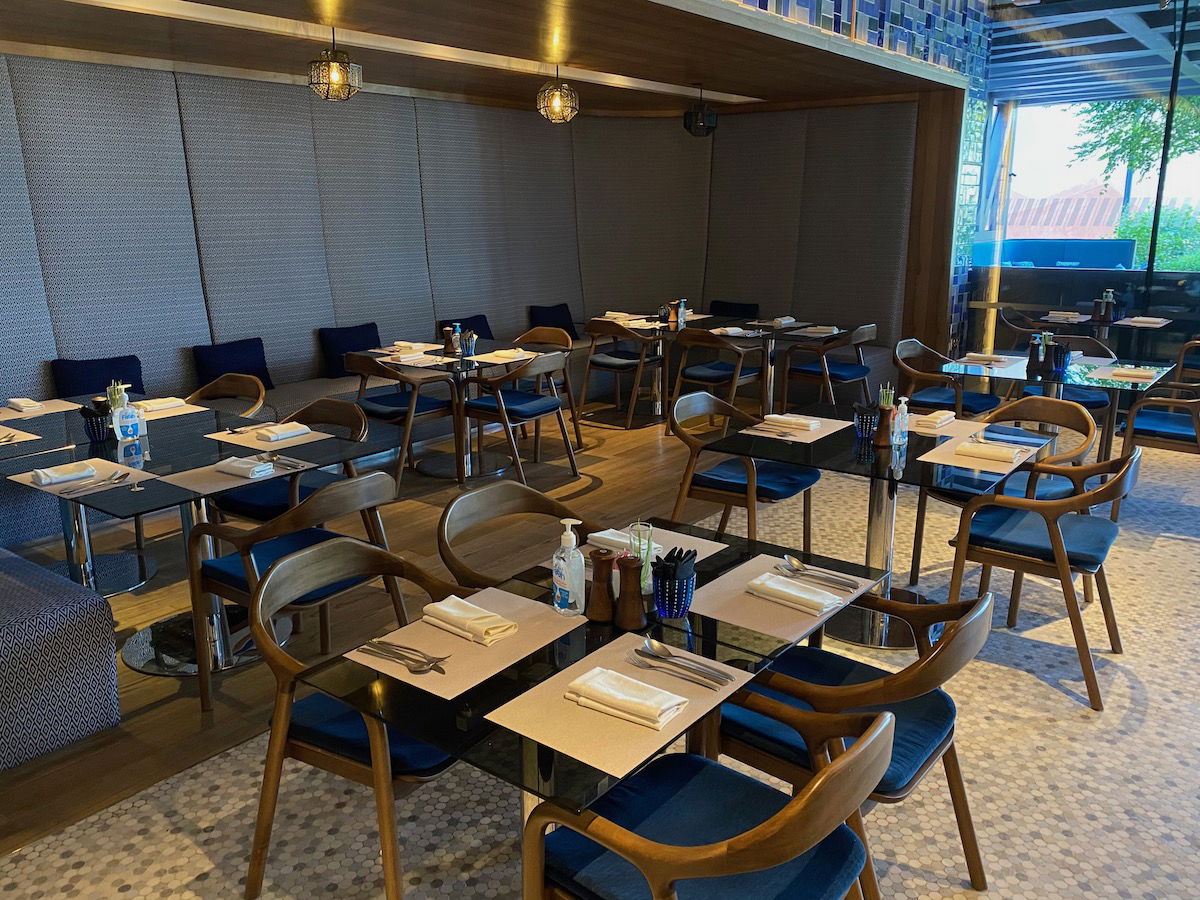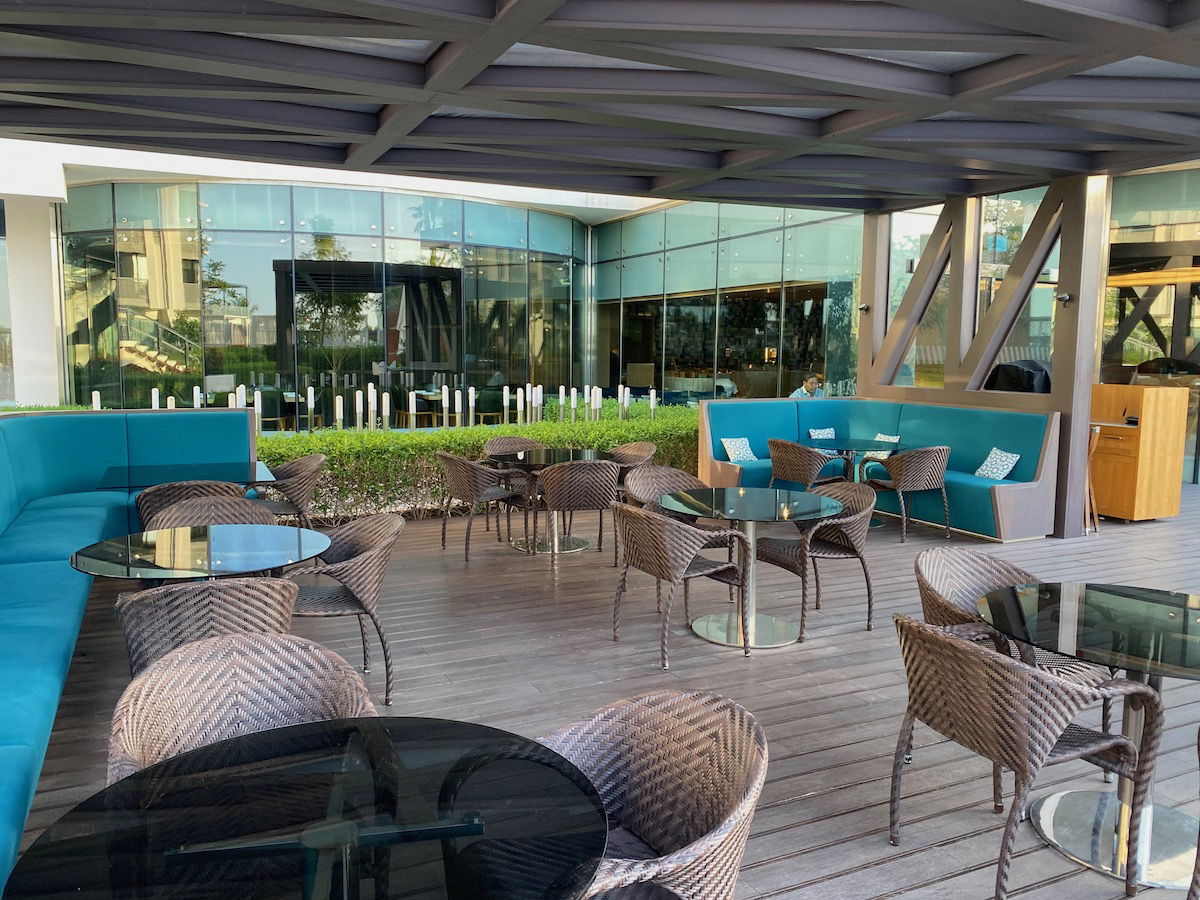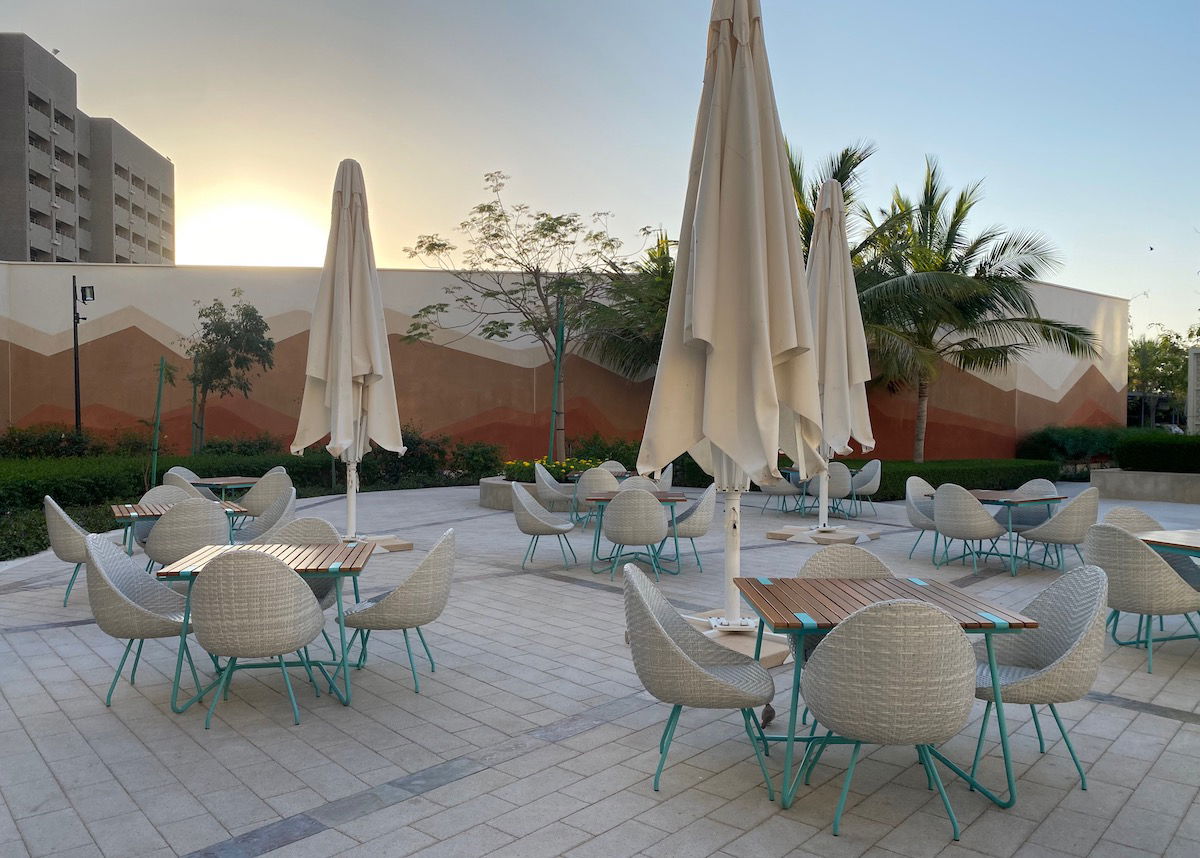 I selected breakfast as my Marriott elite welcome amenity, and that included full access to the buffet. The buffet was quite good. There was a huge variety of options, including plenty of tasty dishes from the region.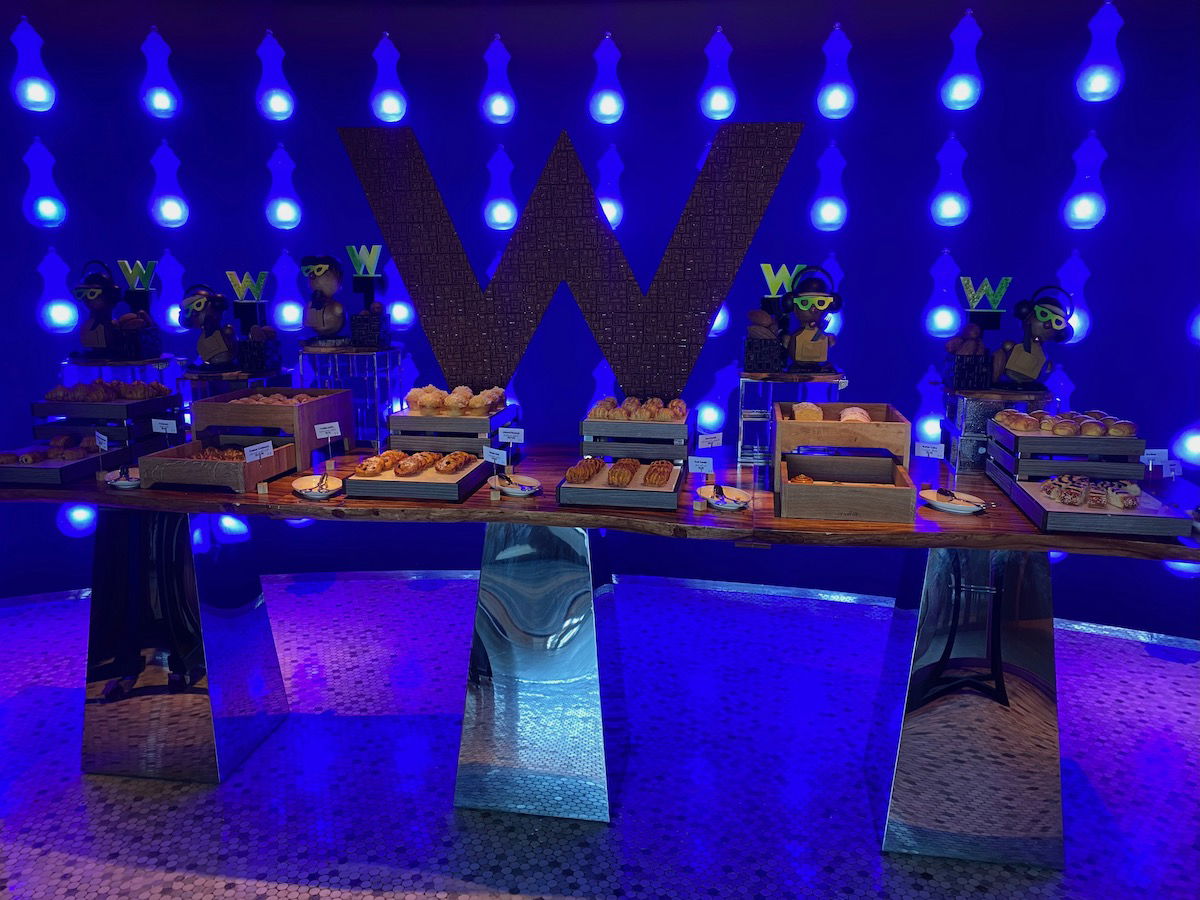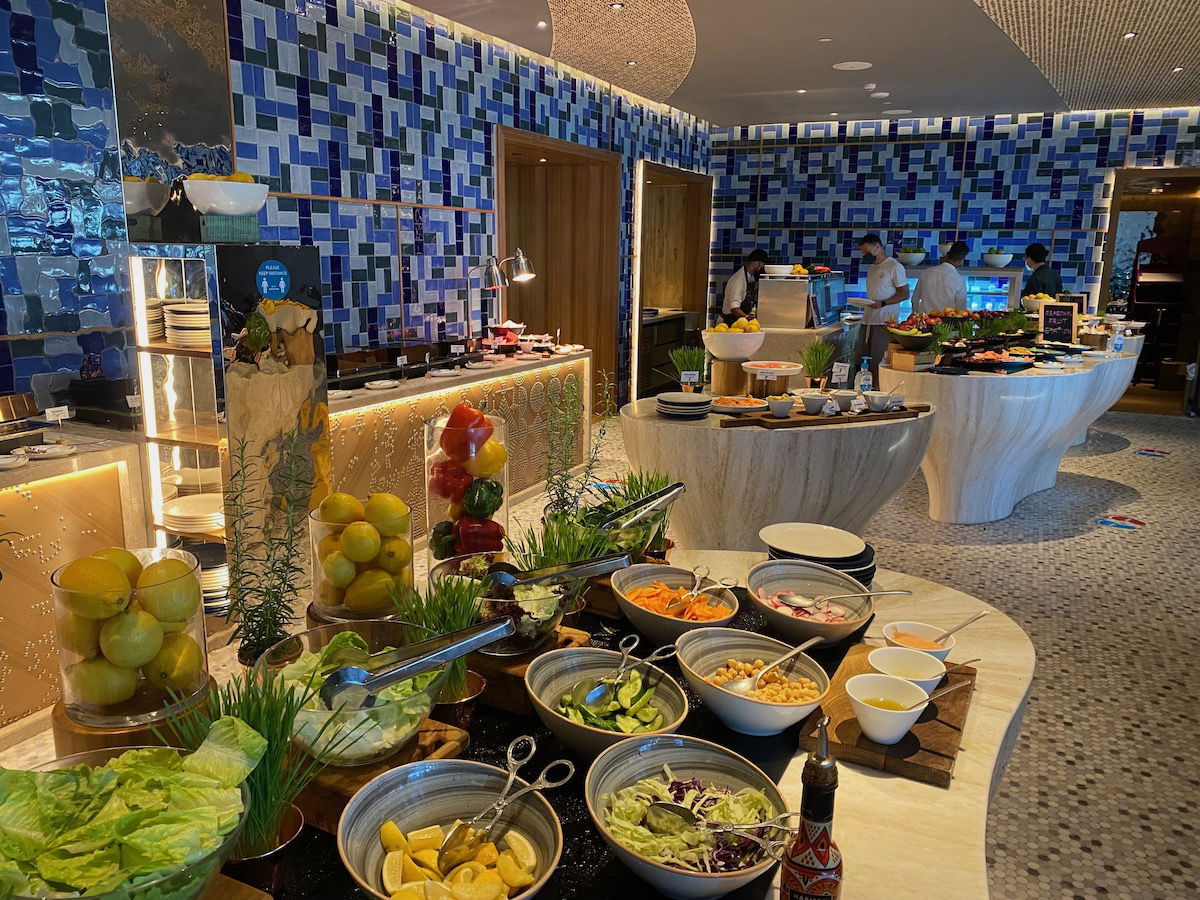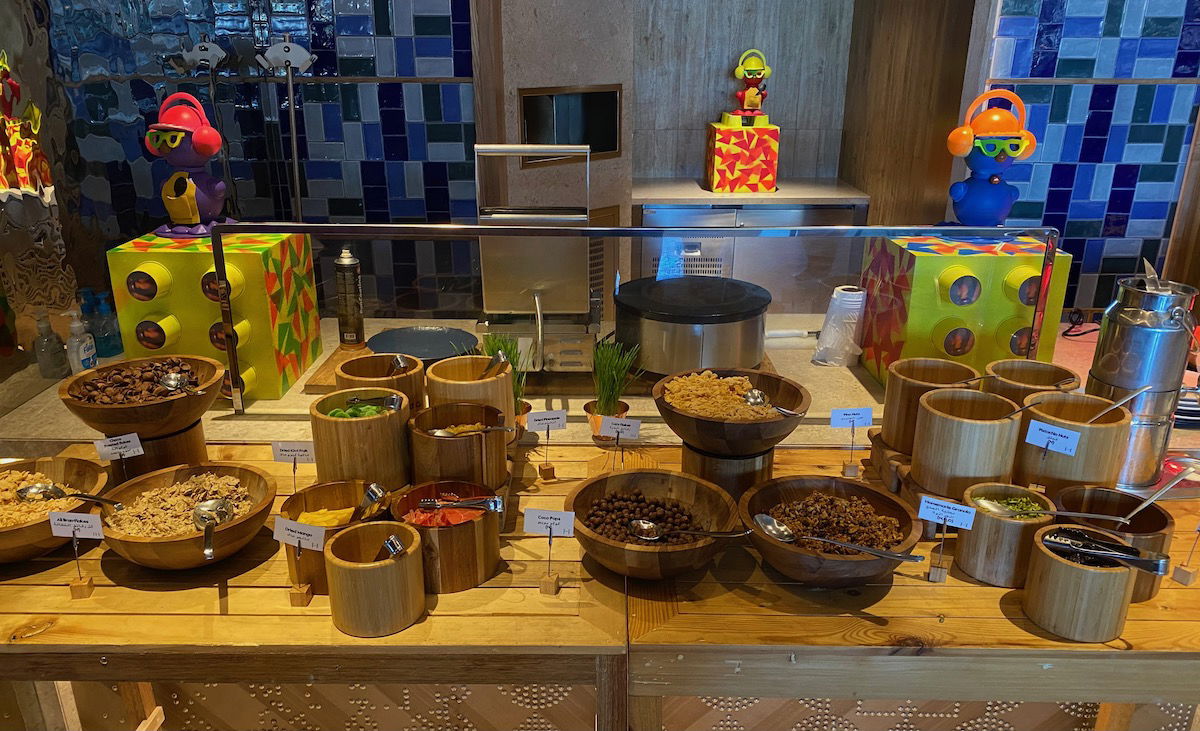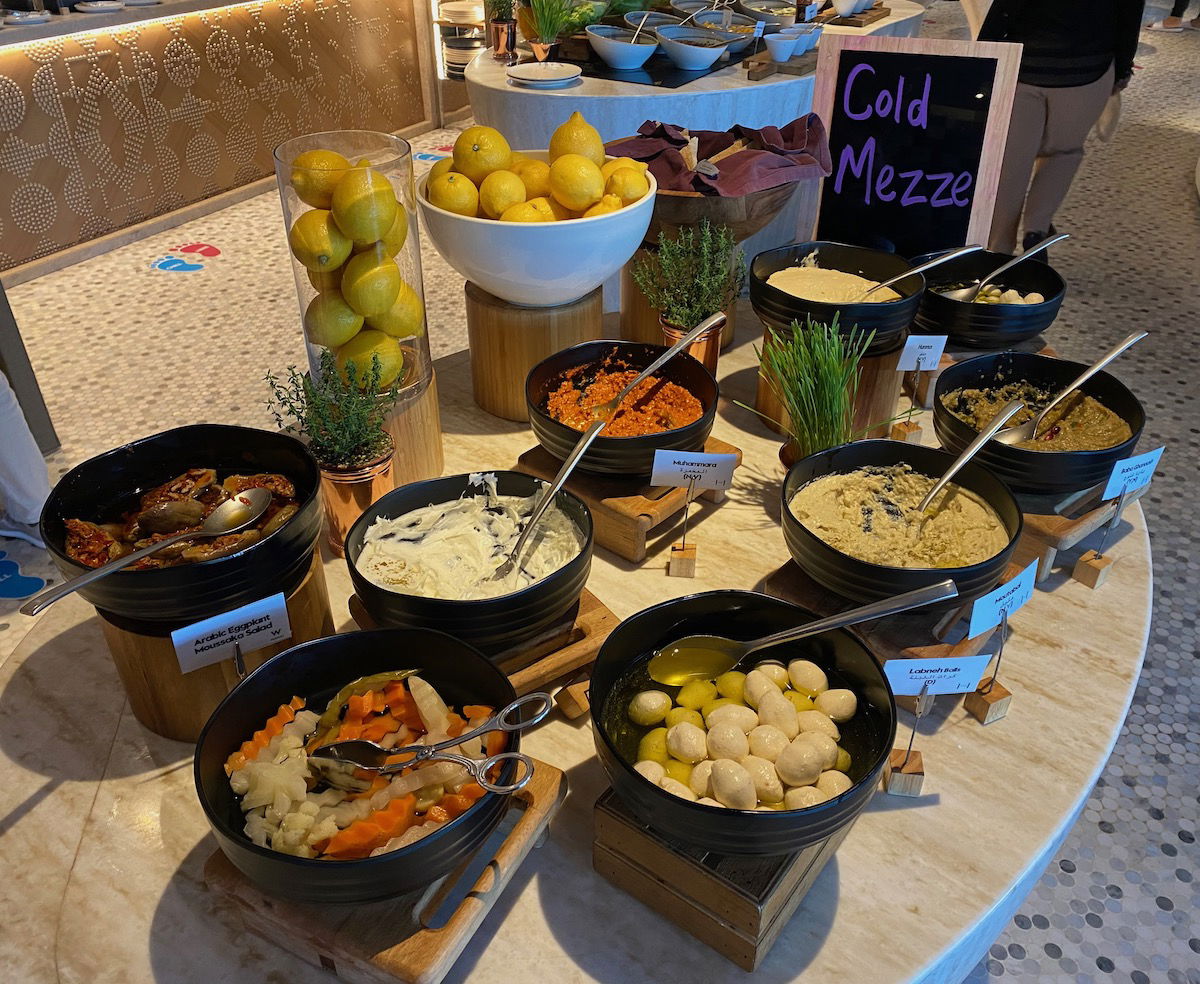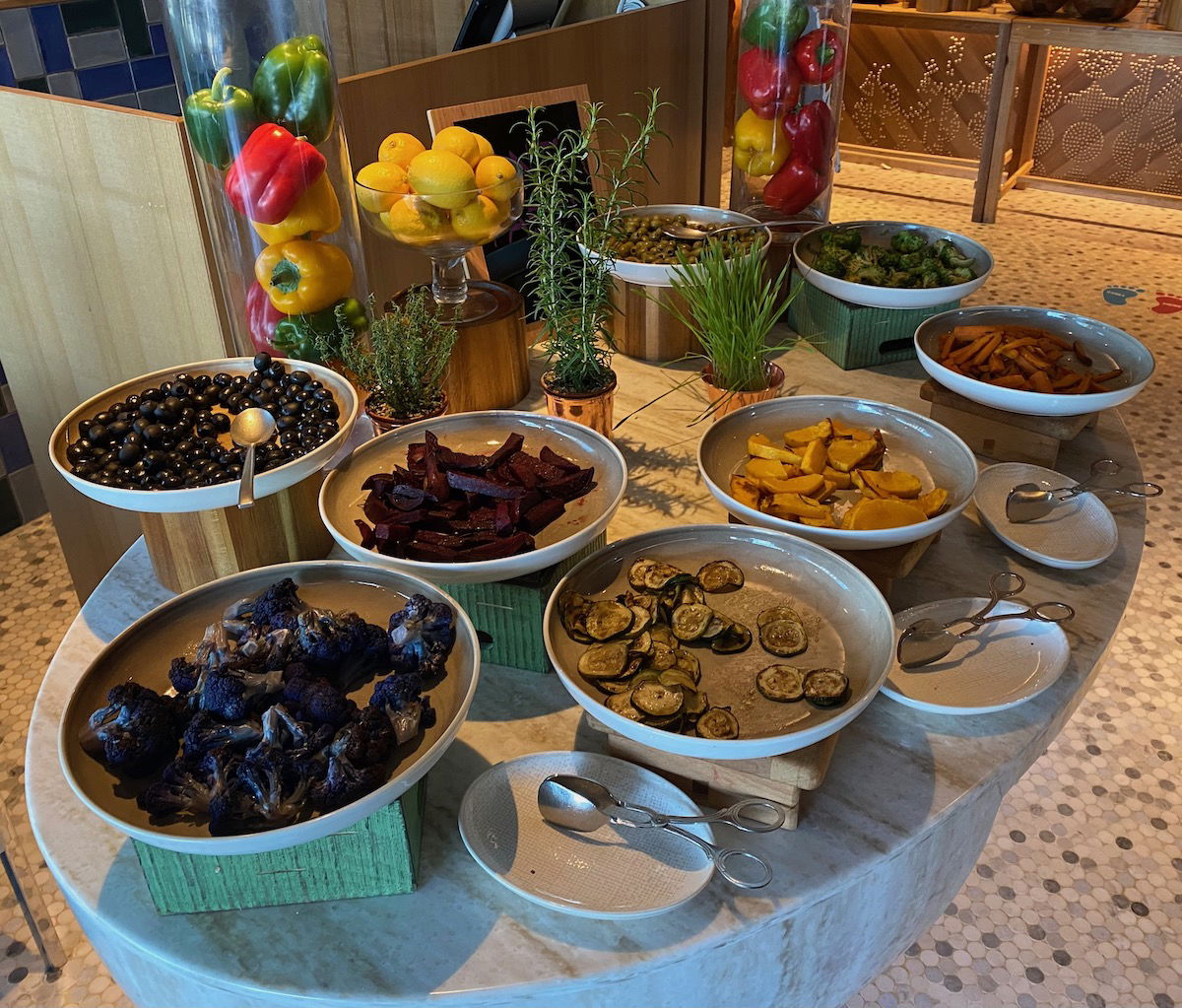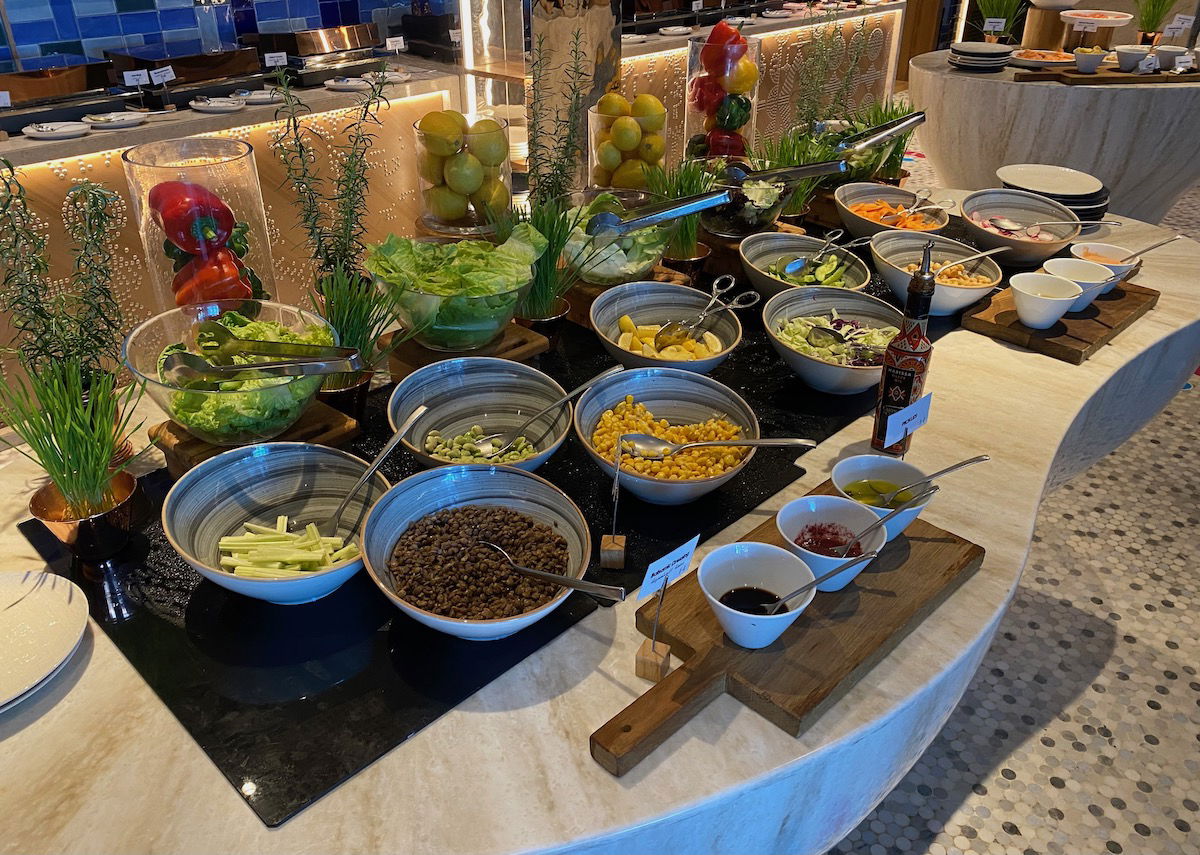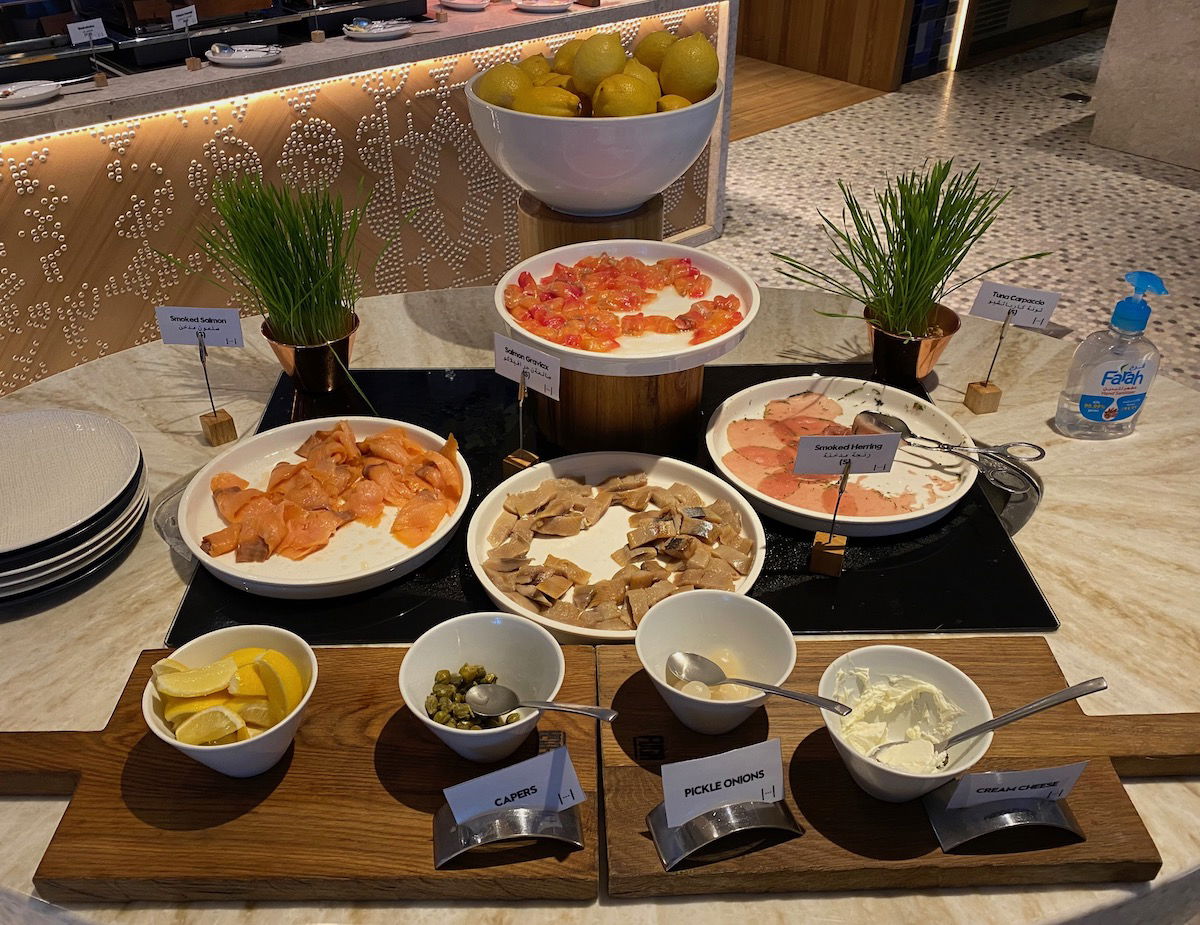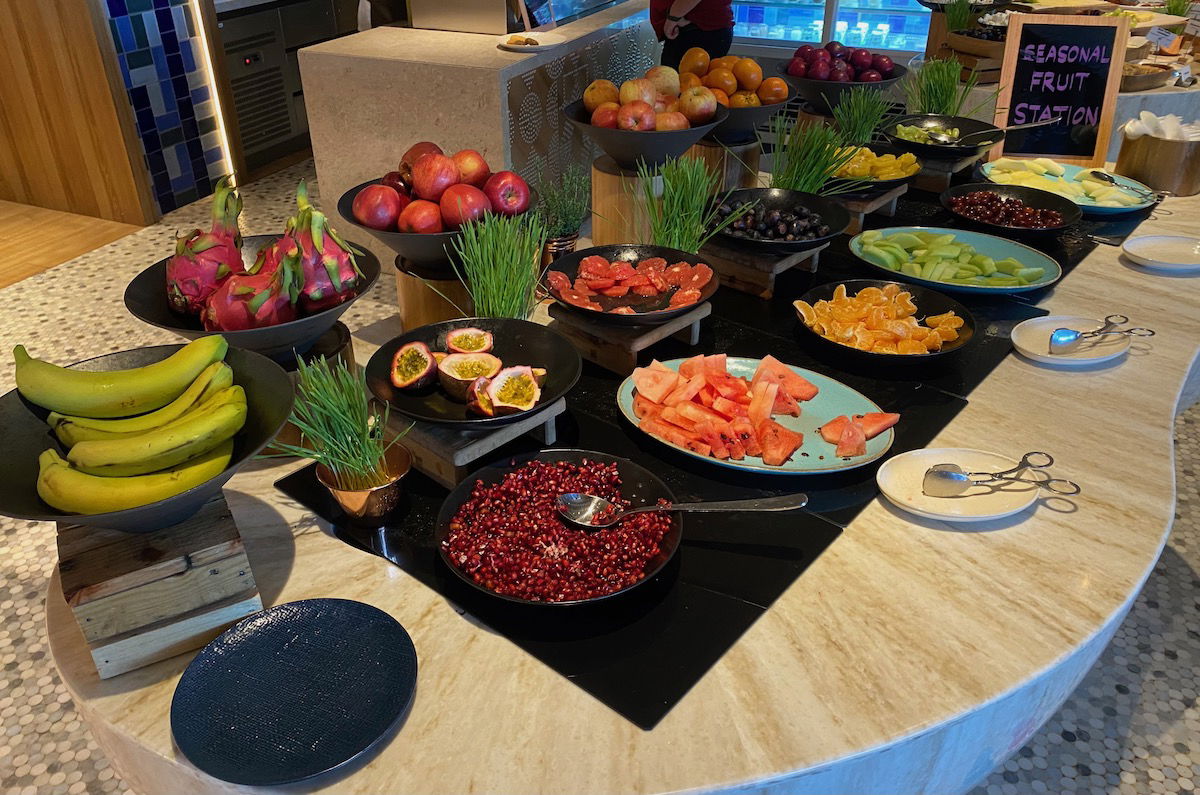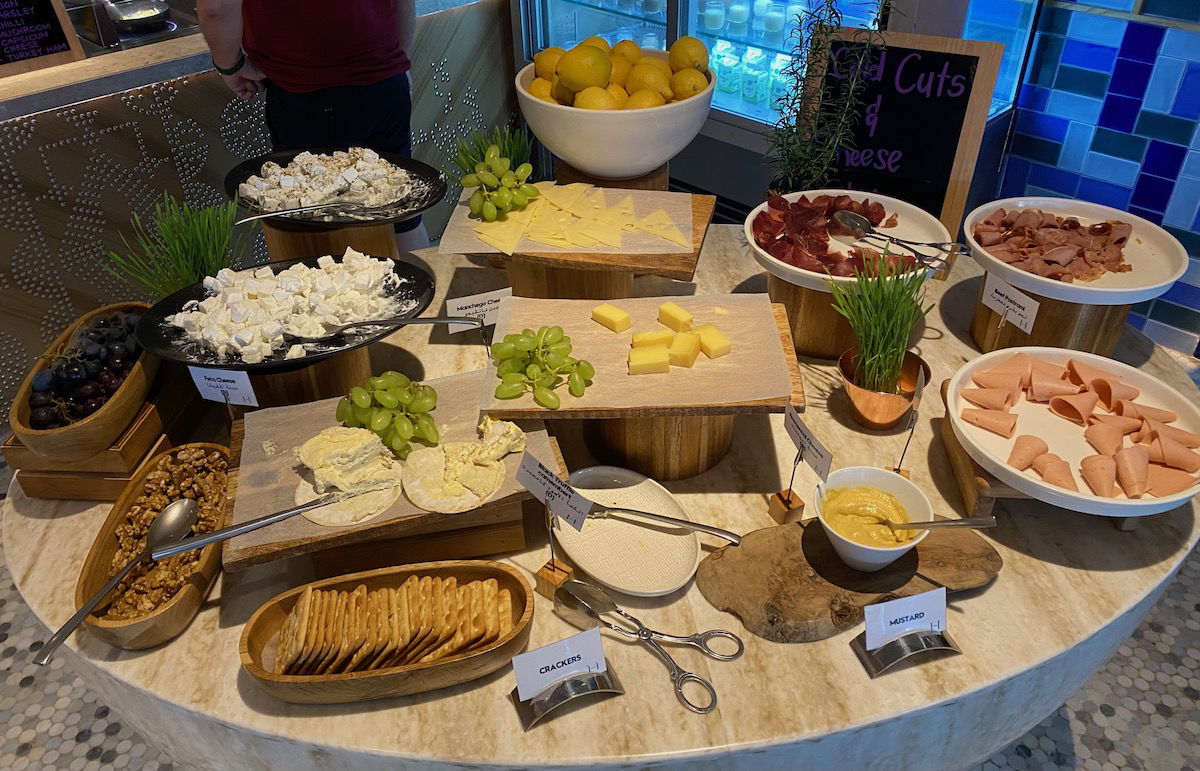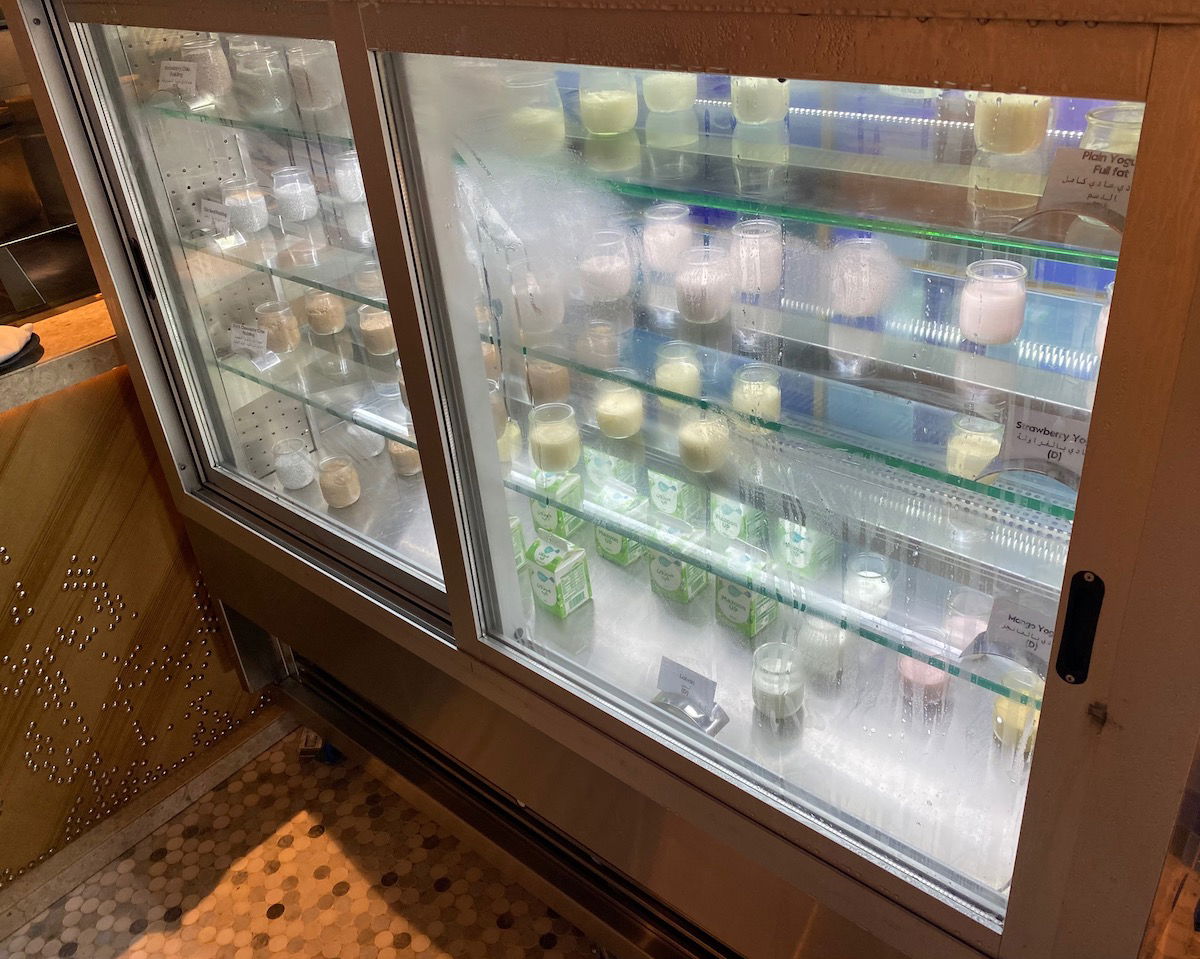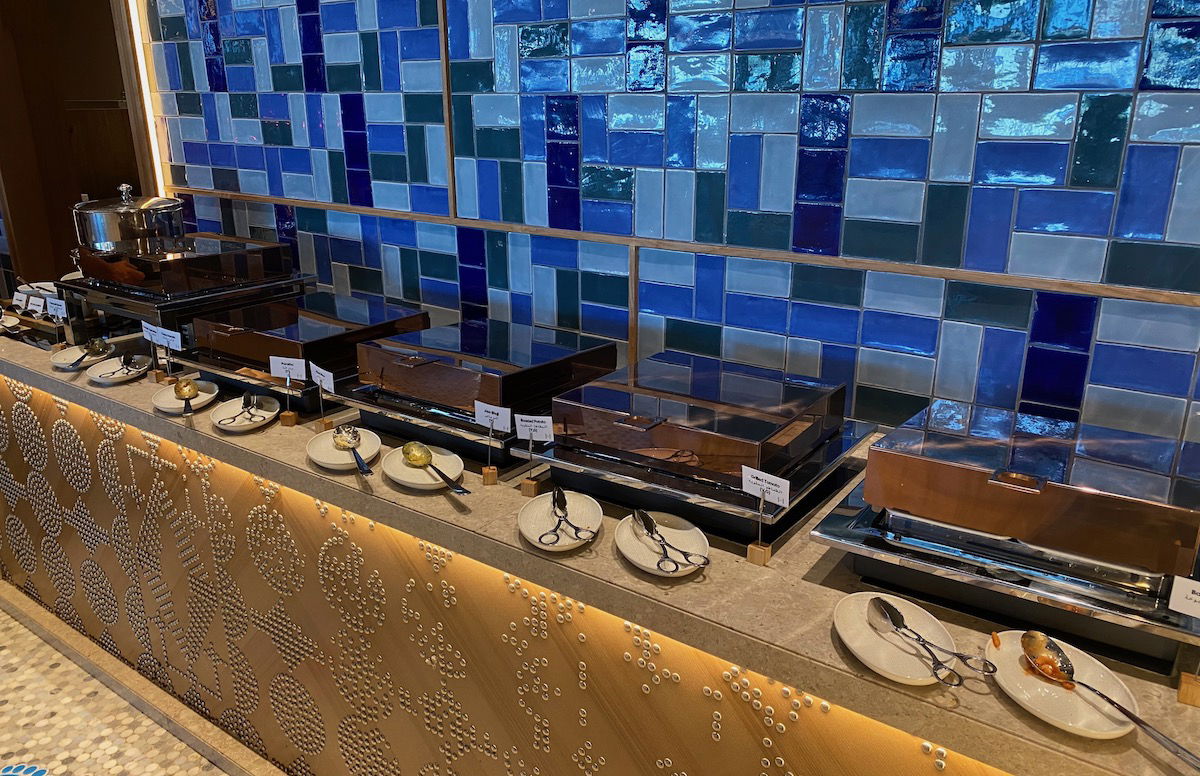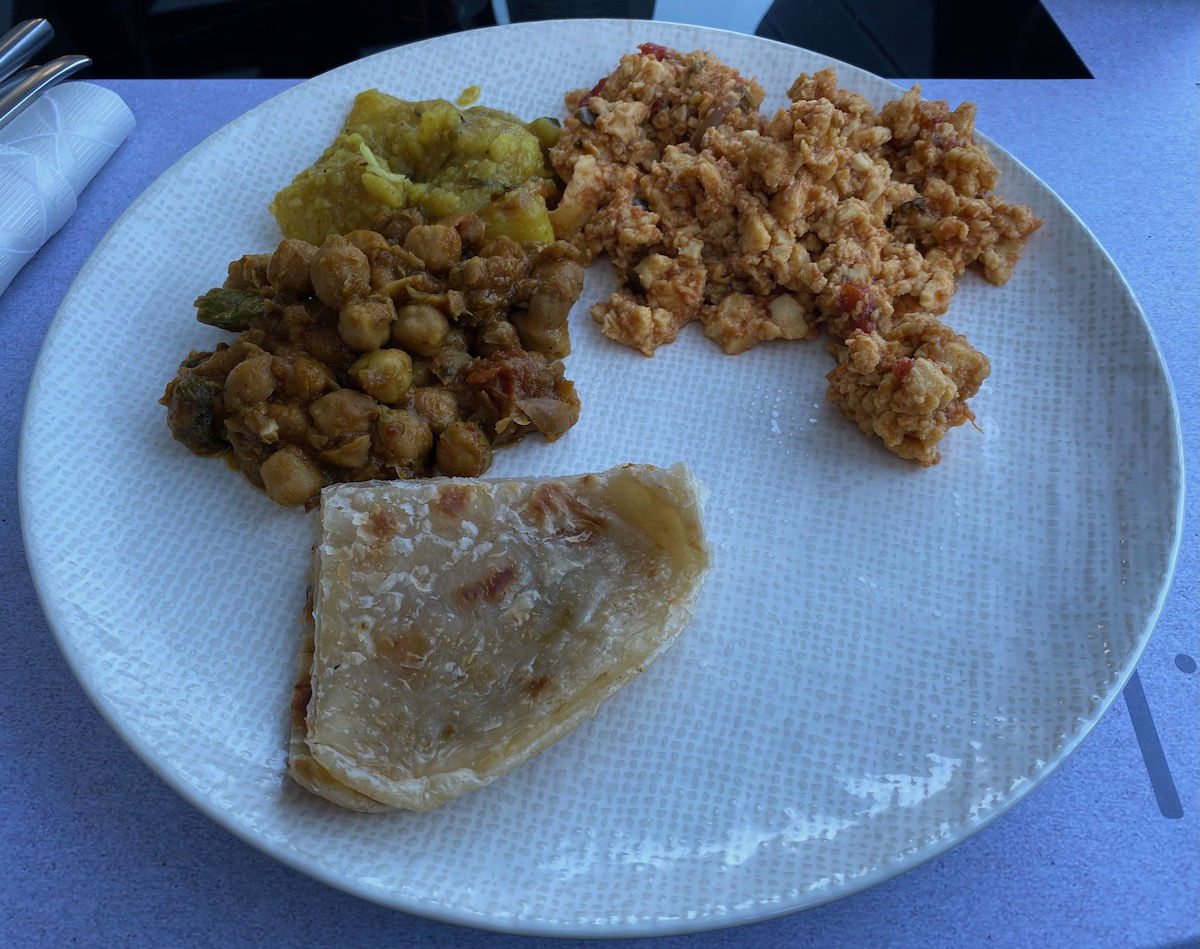 Drinks were supposed to be served by the staff, but we had to follow-up three times before we were served the iced coffees we had ordered.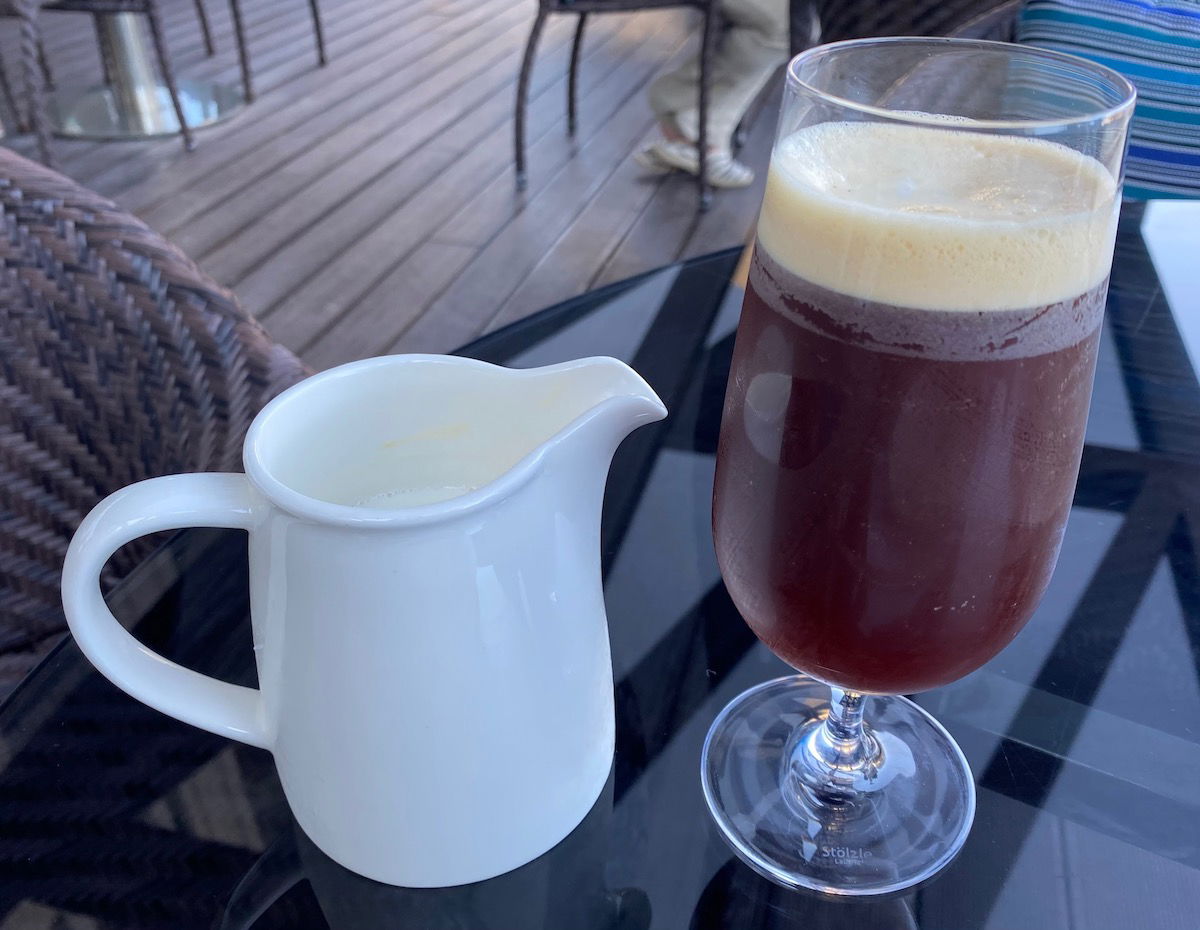 W Muscat room service
On our full day at the hotel we decided to order room service lunch, as we had gone sightseeing most of the morning and were tired, and had plans to go out for dinner. You can find the room service menu below.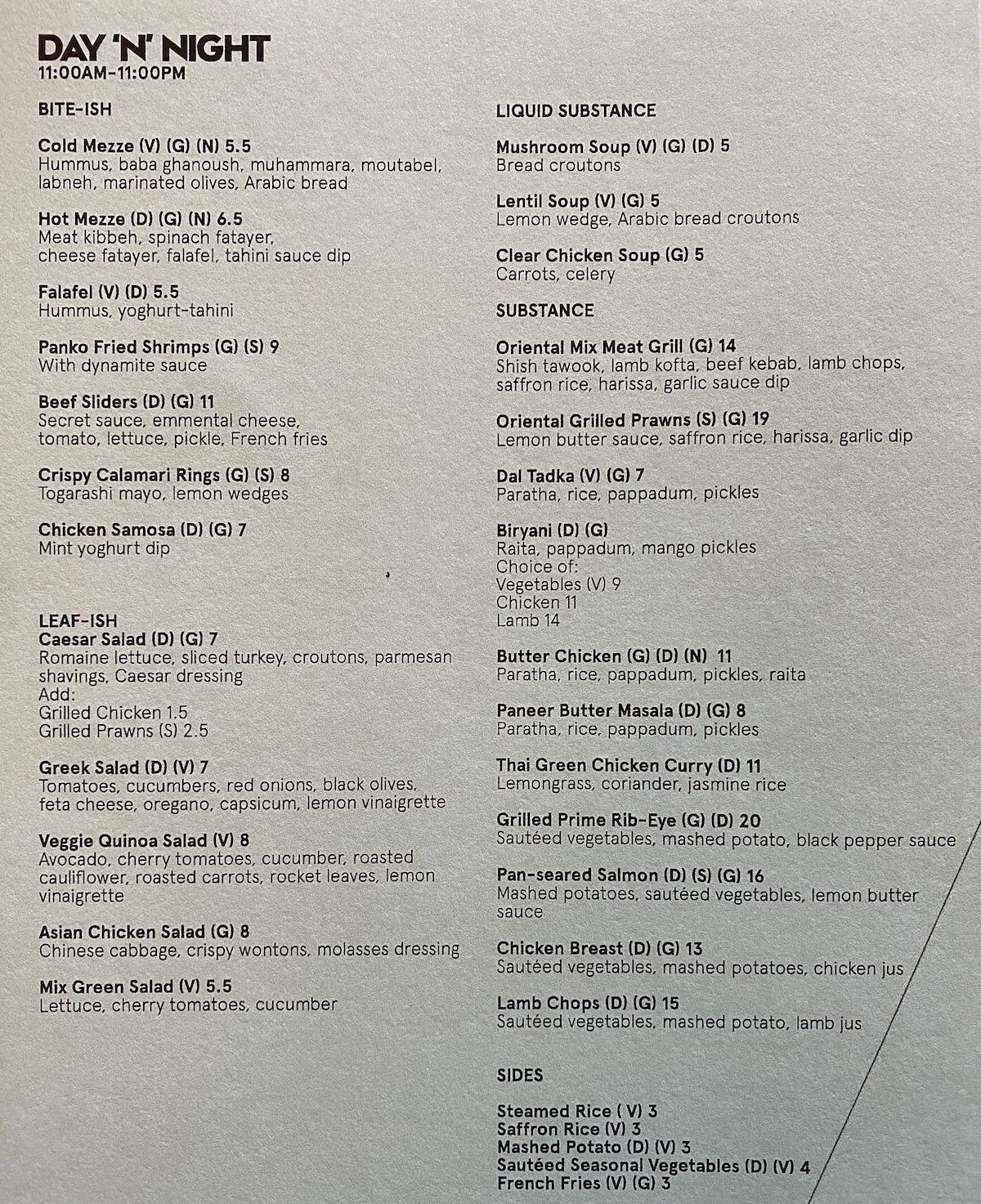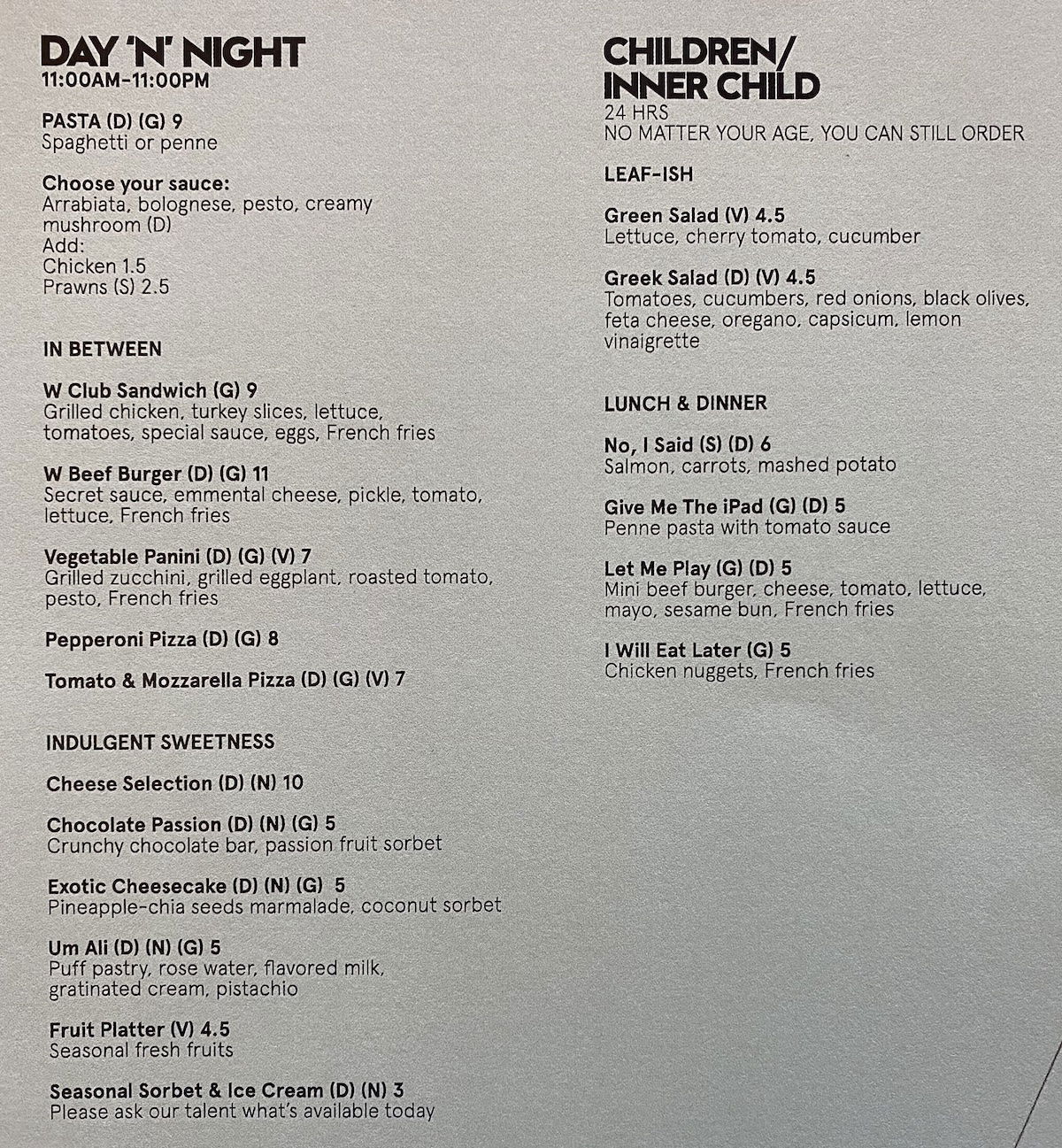 We ordered the cold mezze, Greek salad, and chicken breast, which were all quite good.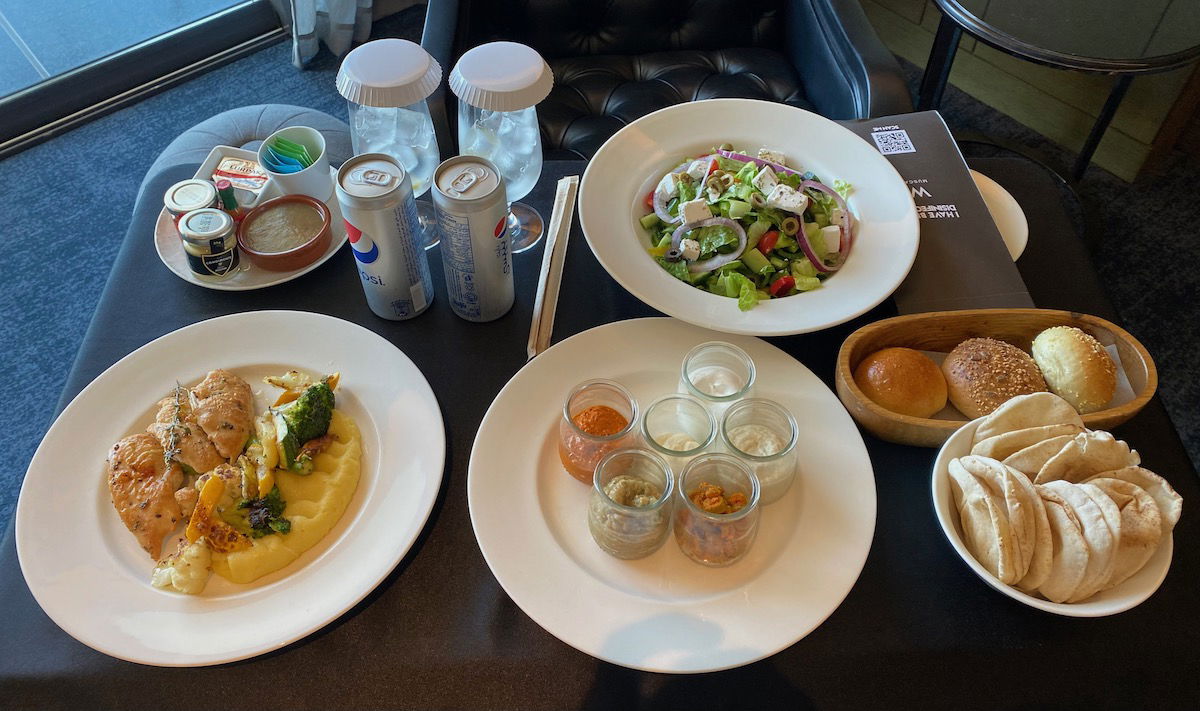 Bottom line
I know this is a mostly negative review, but I want to be clear, I'm not saying the W Muscat is a bad W property. The hotel has friendly employees, pretty cool design (for a W), an impressive pool, and elite recognition is very good. I'd say this is probably one of the better W properties, and if you're a huge fan of the brand, you'll love this property.
At the same time, this stay made me realize bigger picture that the W brand is no longer for me. My biggest gripe is the consistently uncomfortable furniture, which is a deal-breaker for me. Beyond that, I just can't with how cheesy W properties are, in the name of trying to be cool. Ultimately the W brand hasn't changed compared to a decade ago, but I have.
As far as Marriott properties go, personally I'd rather stay at… well, just about any other brand, which at least (hopefully) has comfortable furniture. And I really do think it's time for the W brand to be refreshed. There are lots of great hotel lifestyle brands — for example, I think Hyatt's Thompson brand is great. But at this point I think W needs a new vision, because it's more or less the same brand it was when it launched over two decades ago.
What do you make of the current state of the W brand? Do you still like it, or do you think it's time for it to evolve?