We had a solid Iberia business class flight from Miami to Madrid, and even arrived 40 minutes early. Things were looking up for us at first, though quickly went downhill…
We had booked a COVID-19 test at Madrid Airport
Our plan was to spend two nights in Madrid, and we had booked an appointment for a COVID-19 PCR test upon arrival. Why? There's no testing requirement to enter Spain if you're vaccinated. However, Oman requires visitors to get tested within 72-96 hours of travel (depending on where they're coming from).
We figured we might as well take care of this in Spain. We saw that Madrid Airport had a testing center, where you could get a PCR test for 79 EUR, with results guaranteed in 12 hours. It was even possible to make an appointment and pre-pay. It's sad that this is considered a deal, but it's significantly cheaper than in Florida.
Well, we ended up getting tested for COVID-19 at Madrid Airport, but not in the way we had intended…
We got selected for a rapid antigen test upon arrival
While we went through immigration as usual at Madrid Airport, there's then a separate health screening area you have to go through, where they check your vaccination status and look at your health attestation form. They asked where we were arriving from, and when we told them Miami, they put us both in a "holding pen" of sorts, and told us we'd have to be tested for coronavirus.
This isn't an official requirement (I had checked all the entry requirements), but presumably they have the right to randomly select people for testing, and I guess that's what was going on here. But it wasn't actually that random, because they seemed to specifically be selecting people arriving from Miami. Four more people joined us, and they were all from the Miami flight as well (there were other arrivals, and they were sent right through). I mean, I suppose I can't blame them for singling out people coming from Florida. 😉
So after waiting for about five minutes we were escorted to a testing center…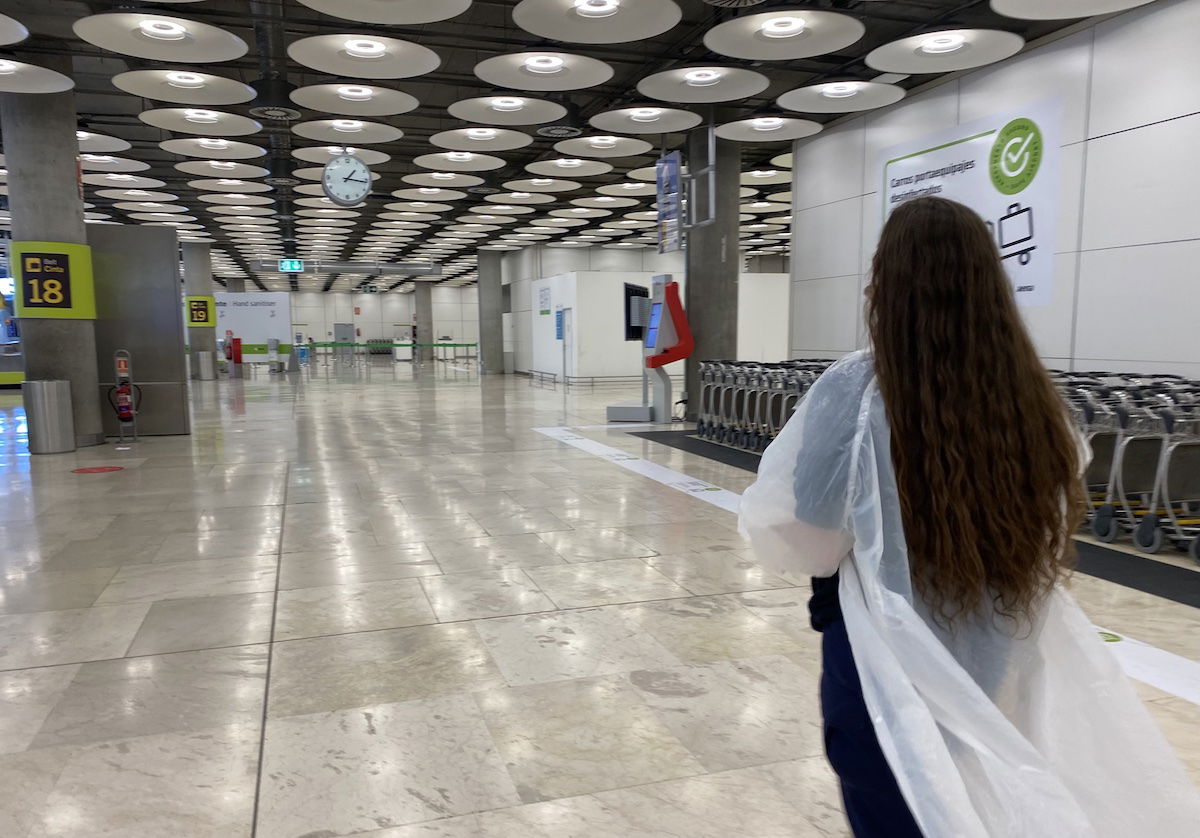 We were brought into separate rooms, and then given rapid antigen tests. On the plus side, they're "complimentary." I've taken more COVID-19 tests than I can count, and this one was probably the most invasive. I'm pretty sure it poked my brain.
We were then instructed to sit in a waiting area for our results. 15 minutes later we were told we were negative and could leave.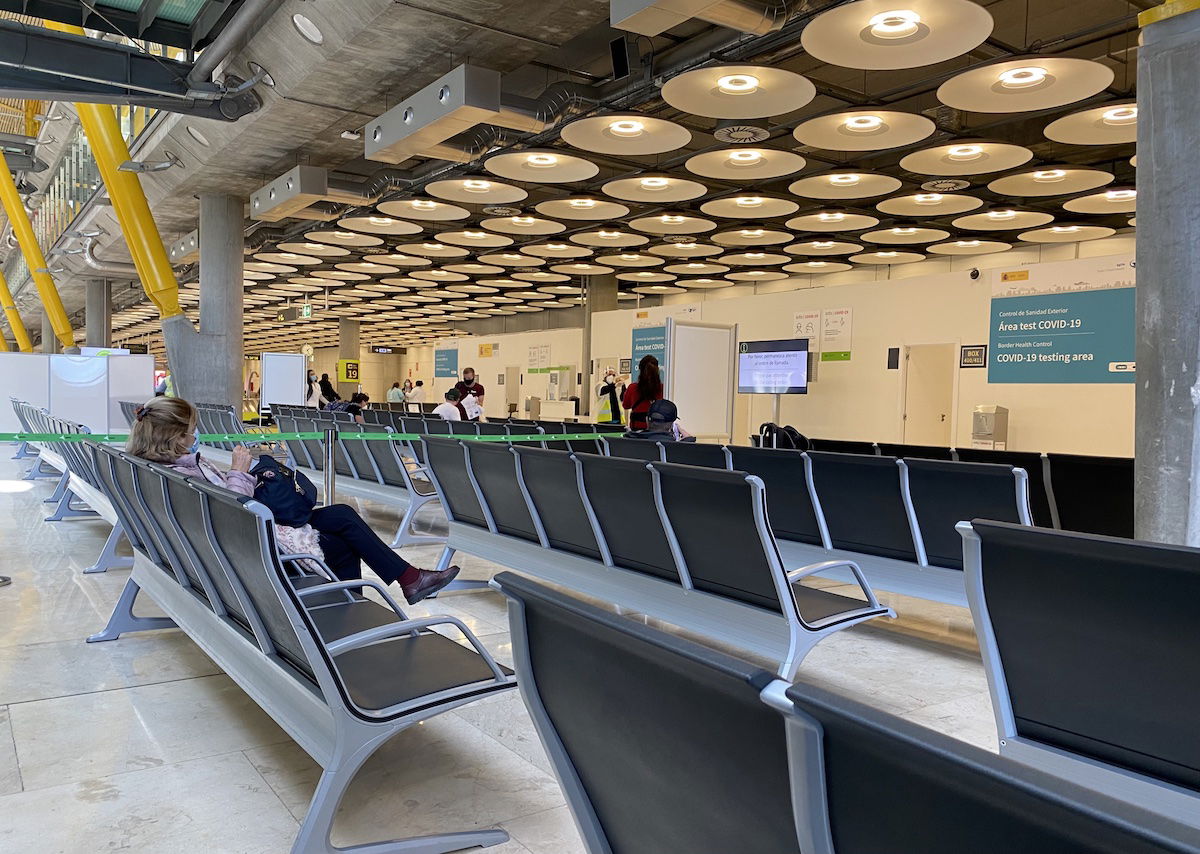 Oh well, it certainly wasn't a big deal, though it did eat up our time savings from an early flight arrival.
Our actual COVID-19 test didn't go so well
The COVID-19 testing center that we had booked an appointment at was located in the departures hall of Terminal 4, so we headed up there. While I like the architecture, Madrid Airport sure is an adventure to navigate.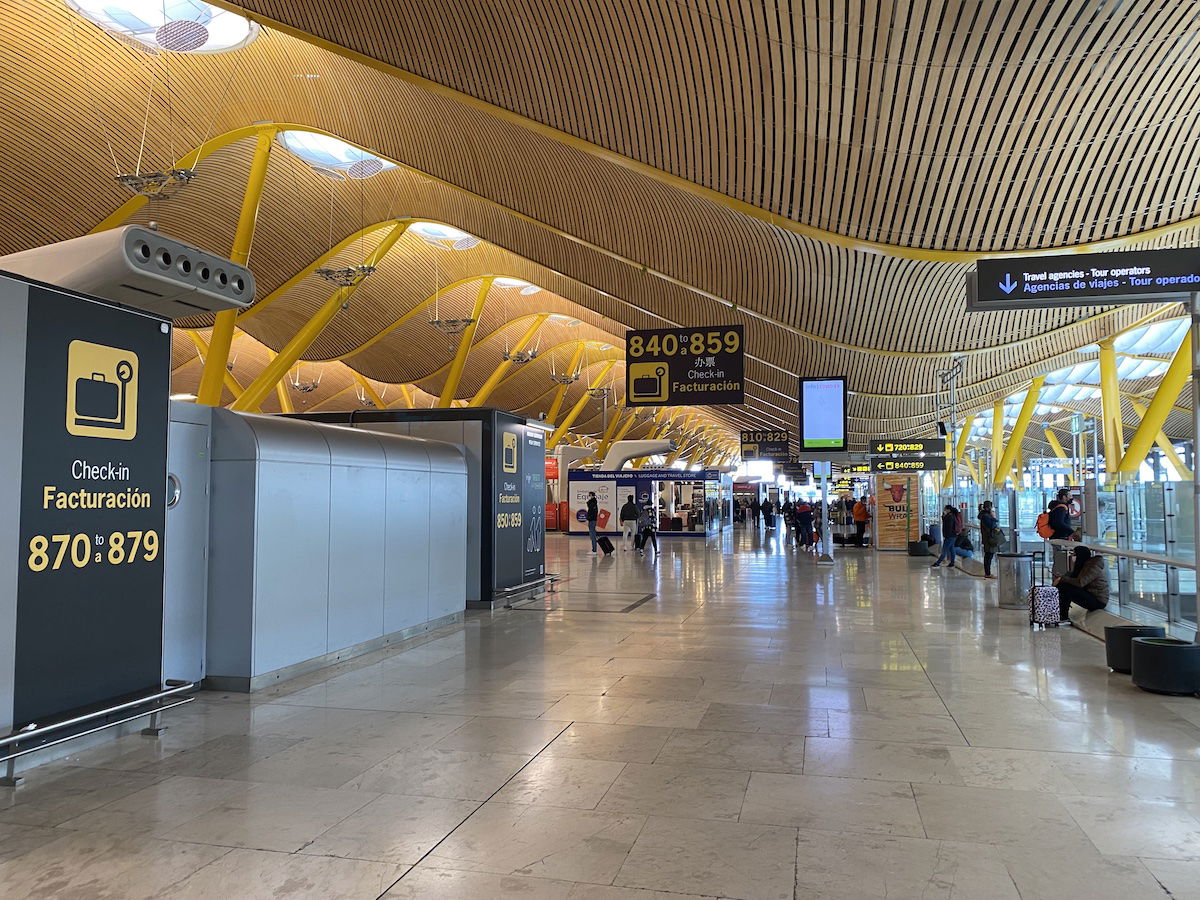 Obviously I was being naive, but I was picturing an orderly, calm testing center where we'd be helped at our appointment time, especially since we had pre-paid. Instead I found a scene with dozens of people lined up (you can't see all the people in the below picture) and zero organization.
Unsurprisingly the testing center is largely used by people departing on flights same day, and a lot of the people were panicked, and seemingly didn't realize that they needed a test to travel. Oops.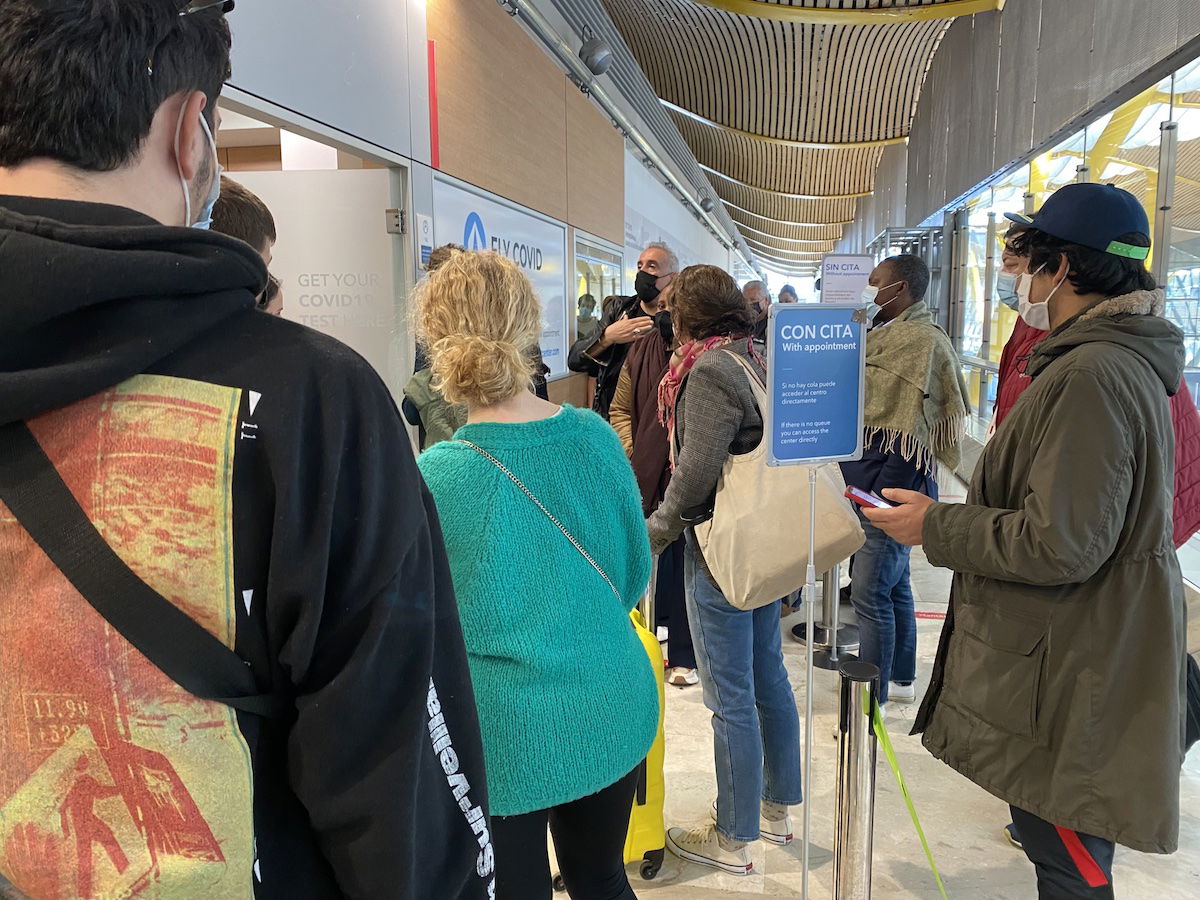 I figured the line would move, but we stood there for about 15 minutes and not a single person was helped. Eventually a friendly enough woman came out and said "the system is down, we are unable to do any tests."
Huh? I asked for how long the system had been down. She said 30 minutes. I asked if there was a timeline for when the system would be fixed, and she just shrugged her shoulders. She did say that once the system was back up, those with appointments would be helped first, which caused a near riot among those who didn't have appointments, and largely had flights to catch.
At this point we weren't sure what to do:
On the one hand, we had already pre-paid for our tests, and just wanted to get the testing behind us; the fact that they have an on-site lab also gave us the best odds of getting results in a timely manner
On the other hand, we had no indication of when things would be fixed, and for all we knew we could have been there all day long and still not gotten tested
Ford and I agreed we'd wait another 30 minutes to see if things resolved themselves, and if they didn't, we'd leave. At the same time we were using the chat feature for our hotel to ask if they could set up a test for us. While more expensive, there is something to be said for the convenience of someone coming to your room and taking care of the testing there.
They confirmed that they could have someone in our room within an hour, and after waiting for 30 minutes things weren't looking any better. We didn't even have two full days in Madrid, and the last thing we wanted to do was spend hours in a line with frustrated people. So after 30 minutes we decided to ditch, and head to our hotel.
Bottom line
While our Iberia flight was better than expected, our arrival experience in Madrid wasn't. We did get a COVID-19 test at Madrid Airport, but not the one we signed up for. We were selected for a rapid antigen test upon arrival, but then the actual PCR test appointment we had couldn't be honored because the "system" was down.
I guess I'm at least grateful that we weren't immediately flying out and would miss our flight because of this, unlike many other people (then again, I imagine many of those people didn't plan very well). Now I just have to go through the process of trying to get a refund for our pre-paid testing fee…
How long would you have waited in line at the testing center before seeking alternative options?