EXTRA PERKS AVAILABLE
Enjoy breakfast, upgrades, & more
Want to take advantage of Four Seasons Preferred Partner benefits, including a space available room upgrade, complimentary breakfast, a hotel credit, and more? Contact Ford ([email protected]) for more details. He may even be able to help if you already have a stay booked.
For the continuation of our trip, after a couple of nights in Dubai (at the Burj Al Arab and Bulgari), we spent three nights in Florence. Specifically, we stayed at the 116-room Four Season Florence, which is an exceptional city hotel.
The Four Seasons Florence is my favorite kind of hotel — it's a historic property that's oozing with character, while still having all the modern touches you'd hope for. But it goes way beyond that, offering many things you wouldn't expect from a historic city hotel. The property has an incredible gym (housed in its own building), a Michelin star restaurant, a beautiful bar, a 10-acre garden (which is unheard of for a city hotel), and more. Let's get into the review…
Booking Four Seasons Florence
As I think everyone knows, Italy is a ridiculously hot tourist destination at the moment, and rates at the Four Seasons Florence reflect that. Rates at the hotel currently range from €600 per night in the low season, to over €2,000 per night in the high season. For our April dates, the rate would have been around €1,200.
Full disclosure — Ford had won an incentive stay through work with Four Seasons, and used that for our stay here (he actually won a week-long stay, which we split between the Four Seasons Florence and the Four Seasons Megeve, which I've already reviewed). So in this case our room was complimentary, though all opinions expressed are my own.
Anyway, the best way to book any Four Seasons property is through a travel advisor affiliated with the Four Seasons Preferred Partner program. You pay the same rate you'll find directly on Four Seasons' website, but you'll receive extra perks, including things like room upgrades, complimentary breakfast, and a hotel credit.
Booking Four Seasons properties through Preferred Partner is better than booking through programs like Amex Fine Hotels & Resorts. That's because upgrades are generally prioritized for Preferred Partner guests, and on top of that Preferred Partner perks can be stacked with virtually any publicly available Four Seasons rate.
You can't beat getting all of these extra perks just for booking through an eligible travel advisor. Ford is happy to help book Four Seasons properties through Preferred Partner, and can be reached at [email protected].
Four Seasons Florence location
The Four Seasons Florence is located on a quiet street, and the entrance is rather unassuming. You could totally walk past it without realizing it's a Four Seasons.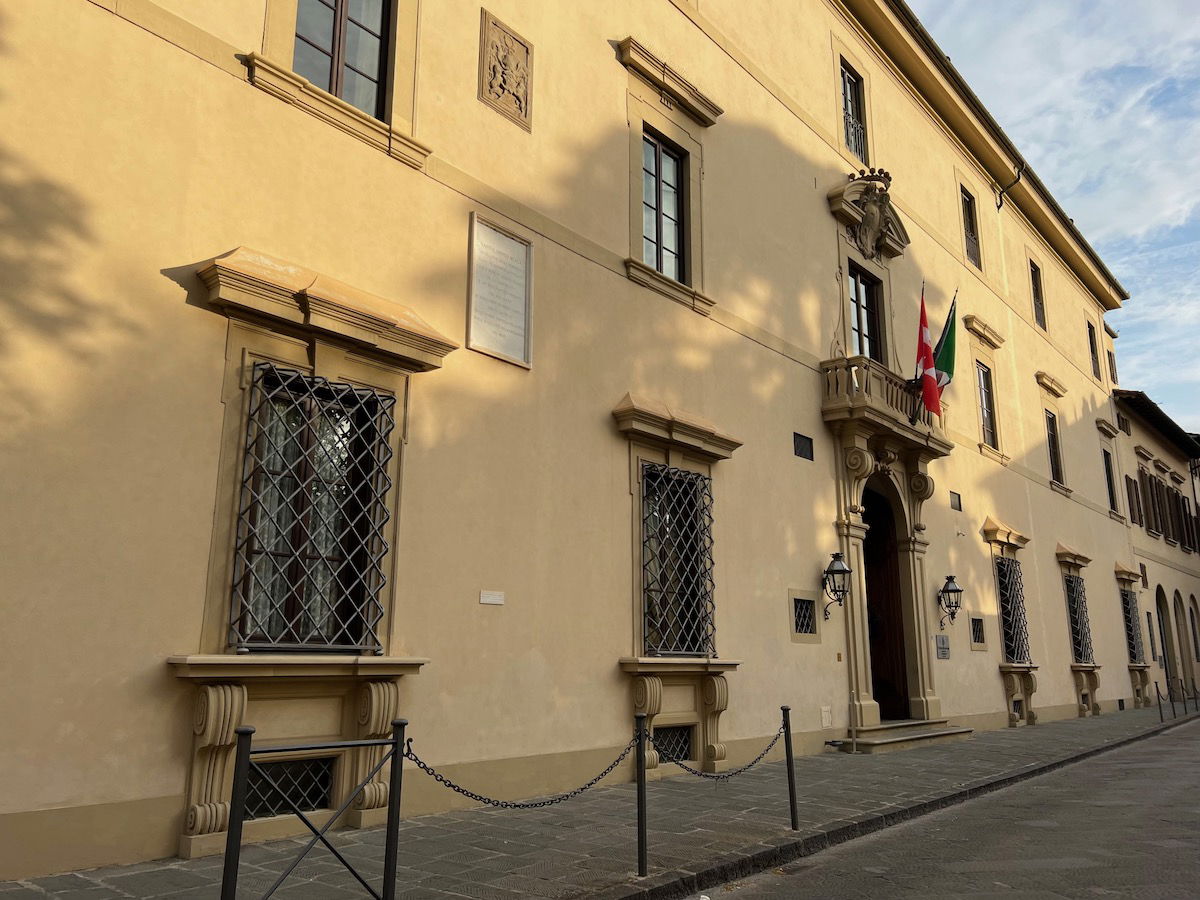 The hotel is about a 10-minute walk from Florence's most popular tourist sites, ranging from the Duomo, to the Uffizi Gallery, to Michelangelo's David in Accademia Gallery.
I've heard some people say that they don't like the location of the property, as it could be more central. Personally I preferred that the hotel wasn't right in the center of the action, since Florence is outrageously busy with tourists. For example, Hotel Savoy (a Rocco Forte property) is right in the middle of the action, but that area is just indescribably busy. I kind of enjoyed being able to retreat to a quieter area.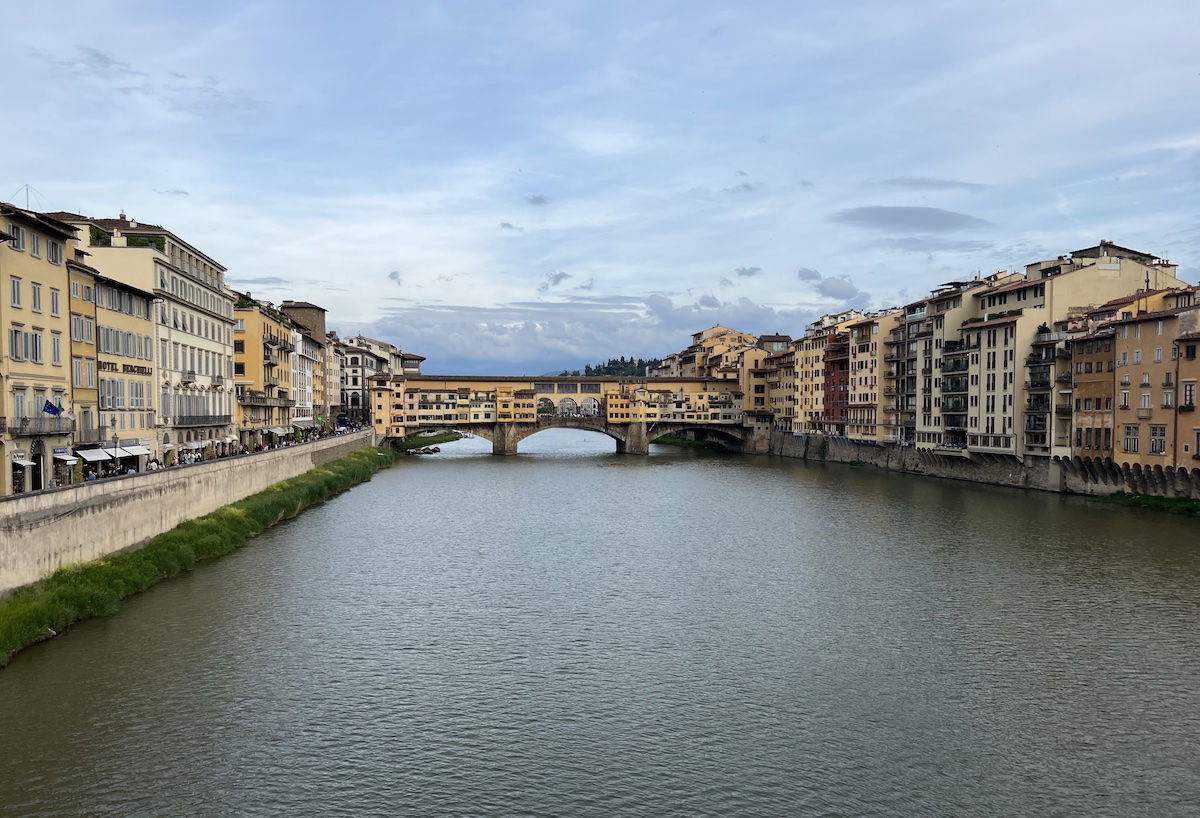 As far as getting to the hotel from the airport goes, Florence Airport (FLR) is just around 20 minutes from the hotel, while Pisa Airport (PSA) is just over an hour from the hotel, and then Bologna Airport (BLQ) is a bit further than that. We arrived in Bologna, as Emirates flies there nonstop from Dubai.
Four Seasons Florence lobby & check-in
While the Four Seasons Florence opened in 2008, the building dates back to the 16th century. This was the private residence of Florentine nobles for five centuries, before becoming a hotel. This building's history is evident from the moment you step inside, and throughout the property.
For example, when you enter the hotel, you'll find a beautiful lobby sitting area. The details in the design are endless.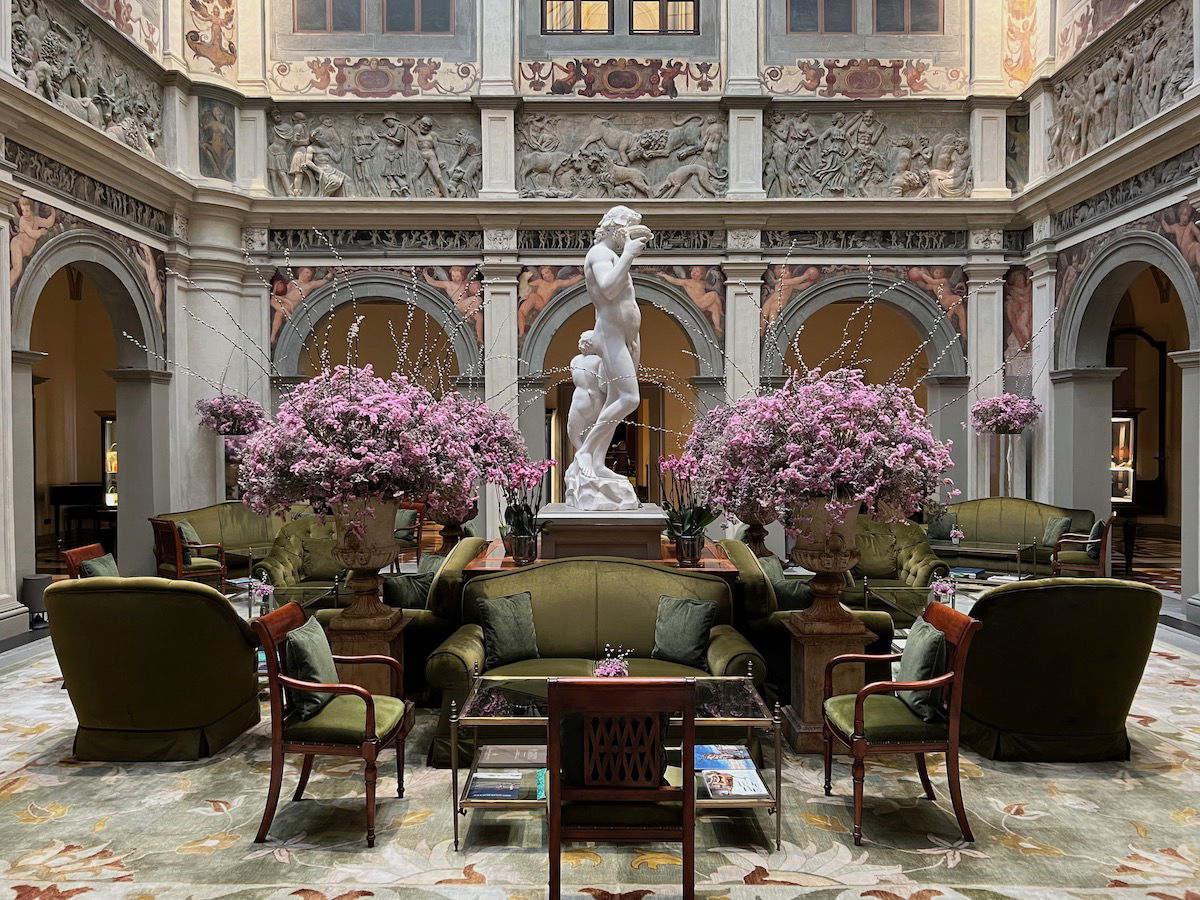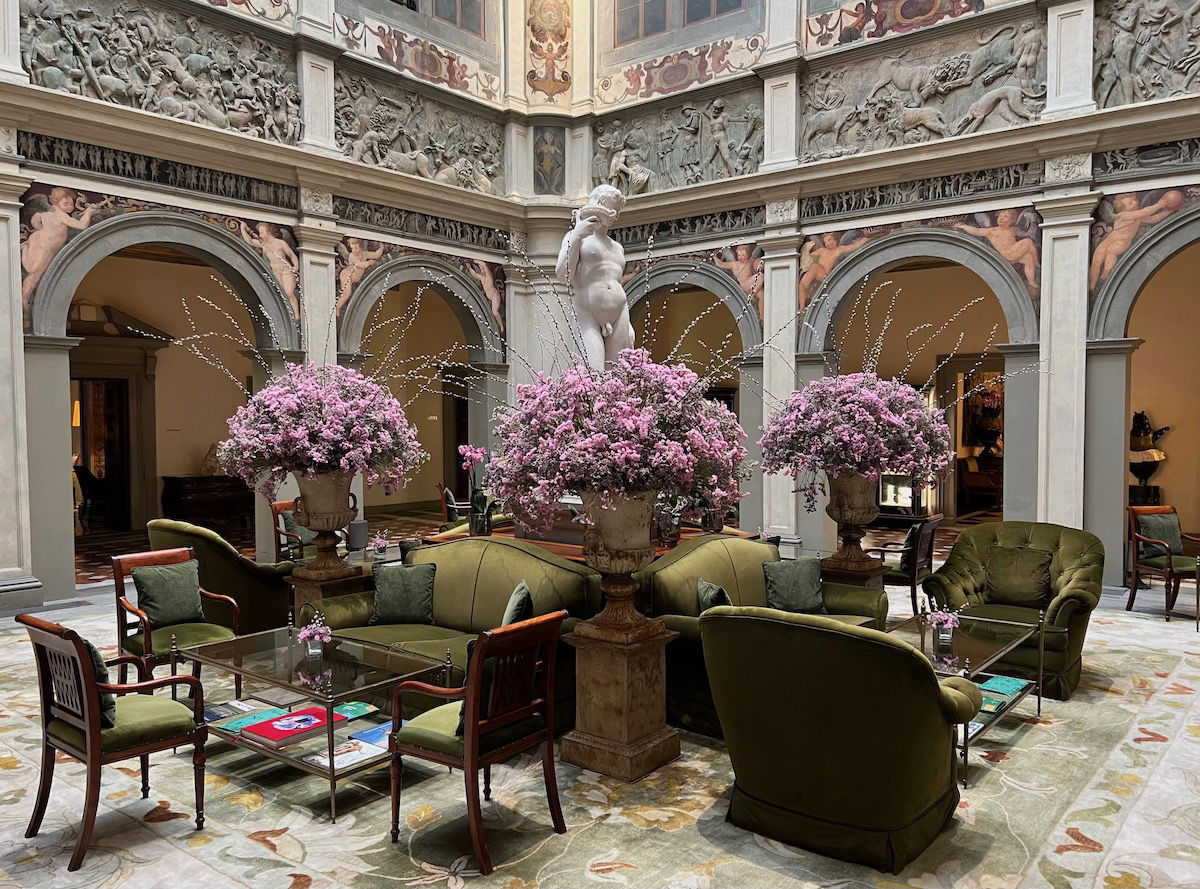 Even just walking down the hall makes you feel like you're in a museum, and I love that.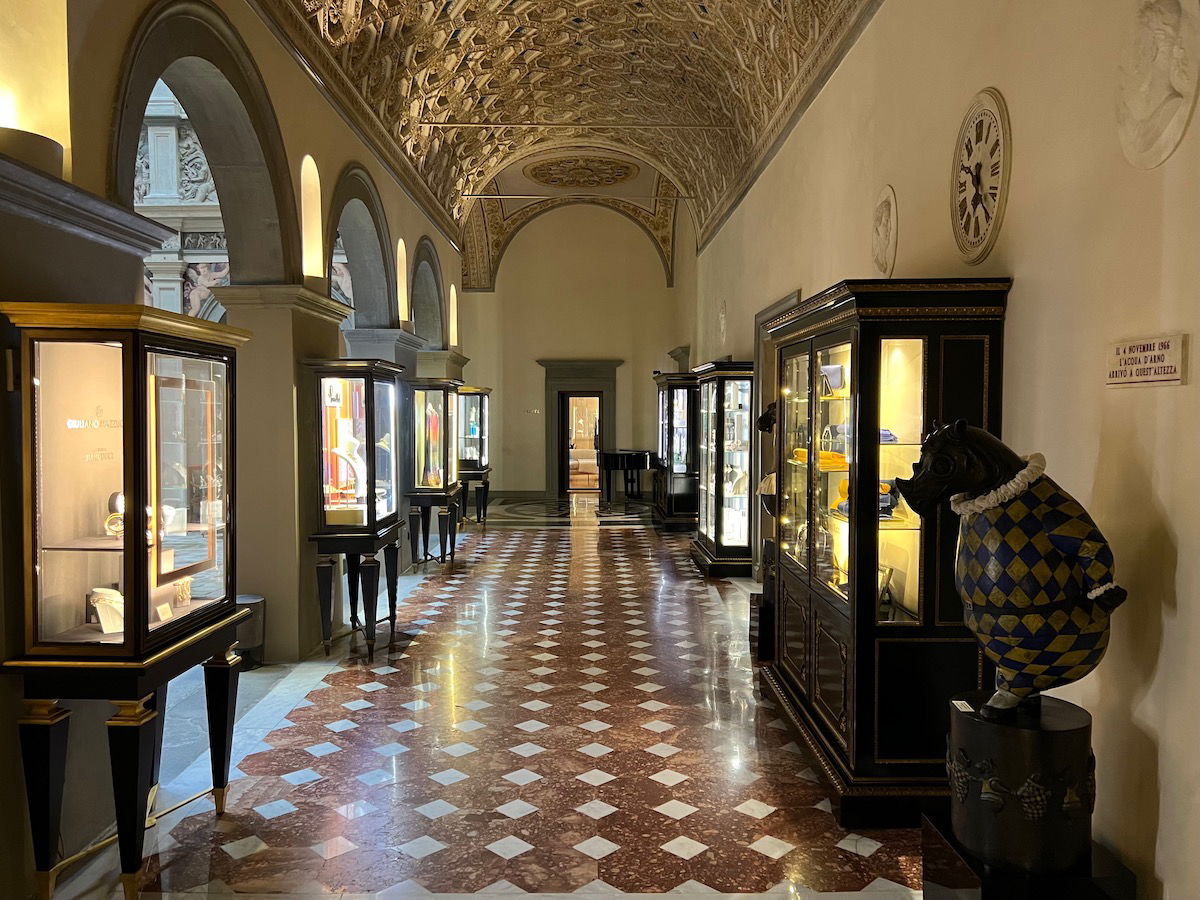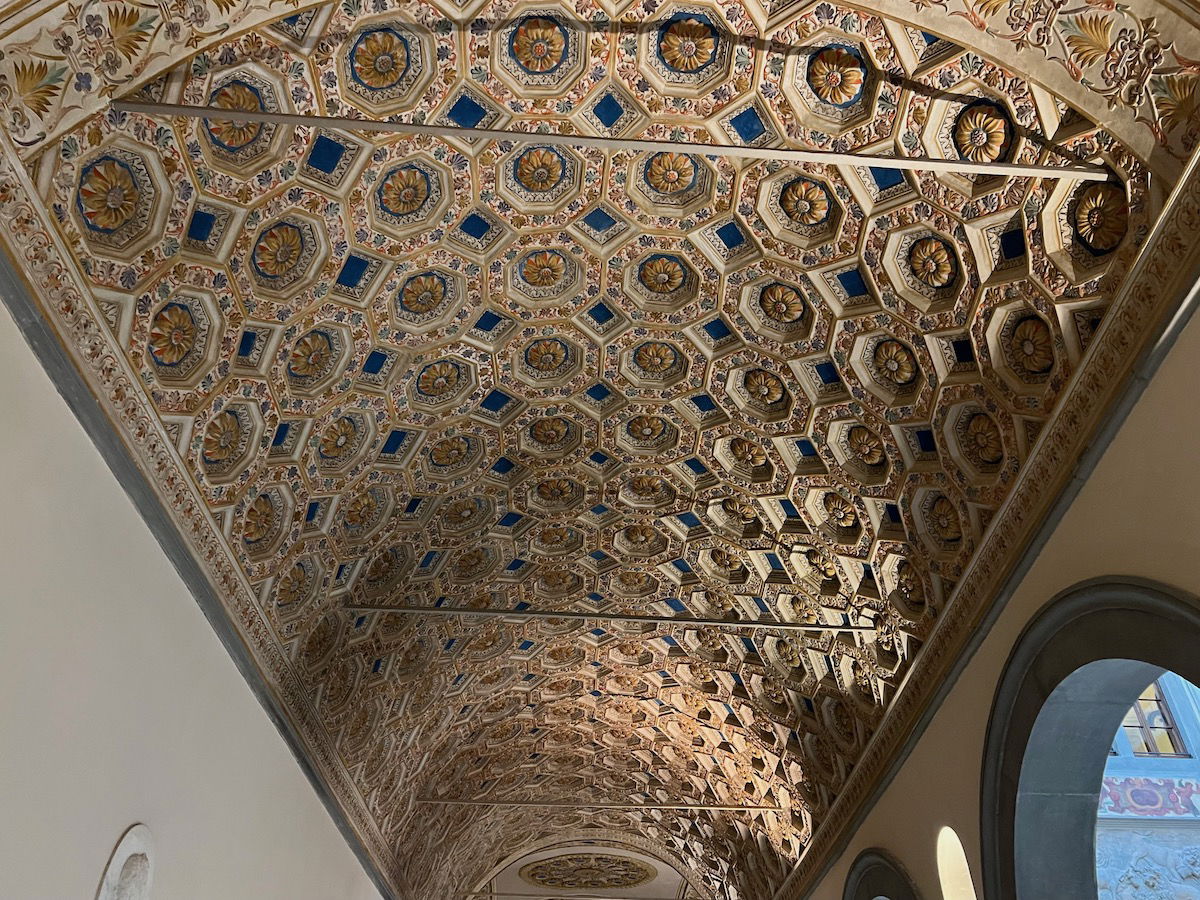 There's a chapel off the lobby, where you can have a private dinner, or have some sort of a small ceremony.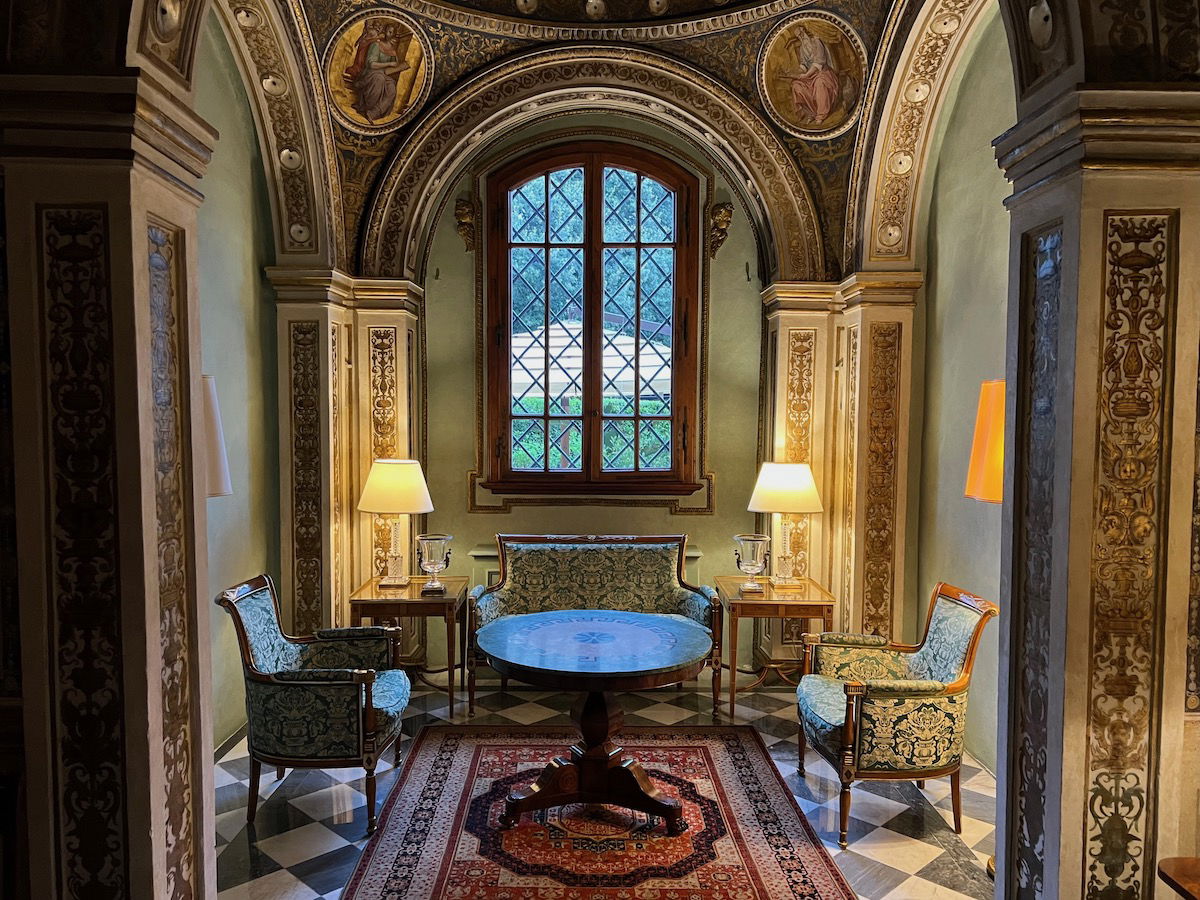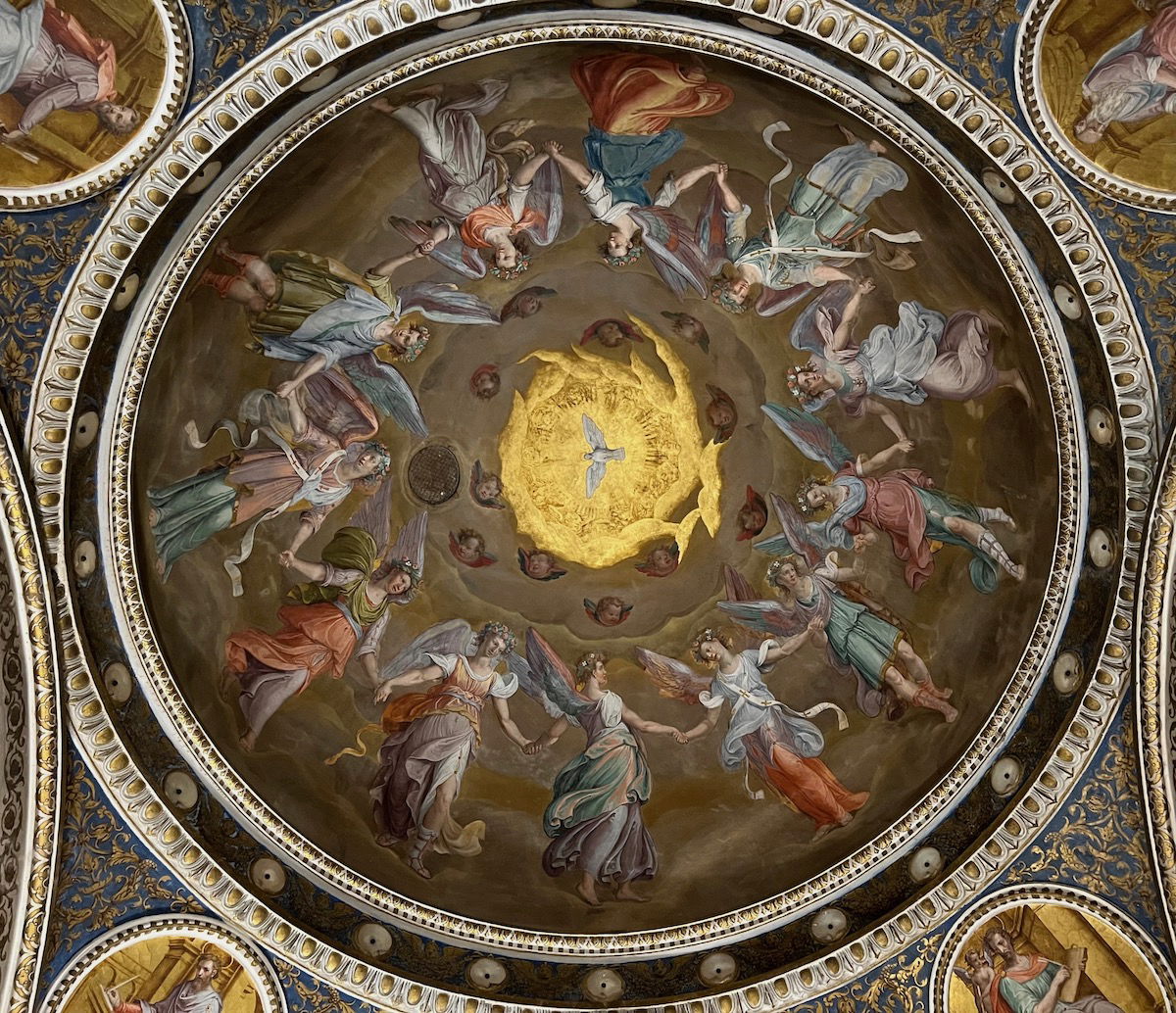 Off the lobby was the reception desk and concierge desk, where we were quickly checked in, and then shown to our room.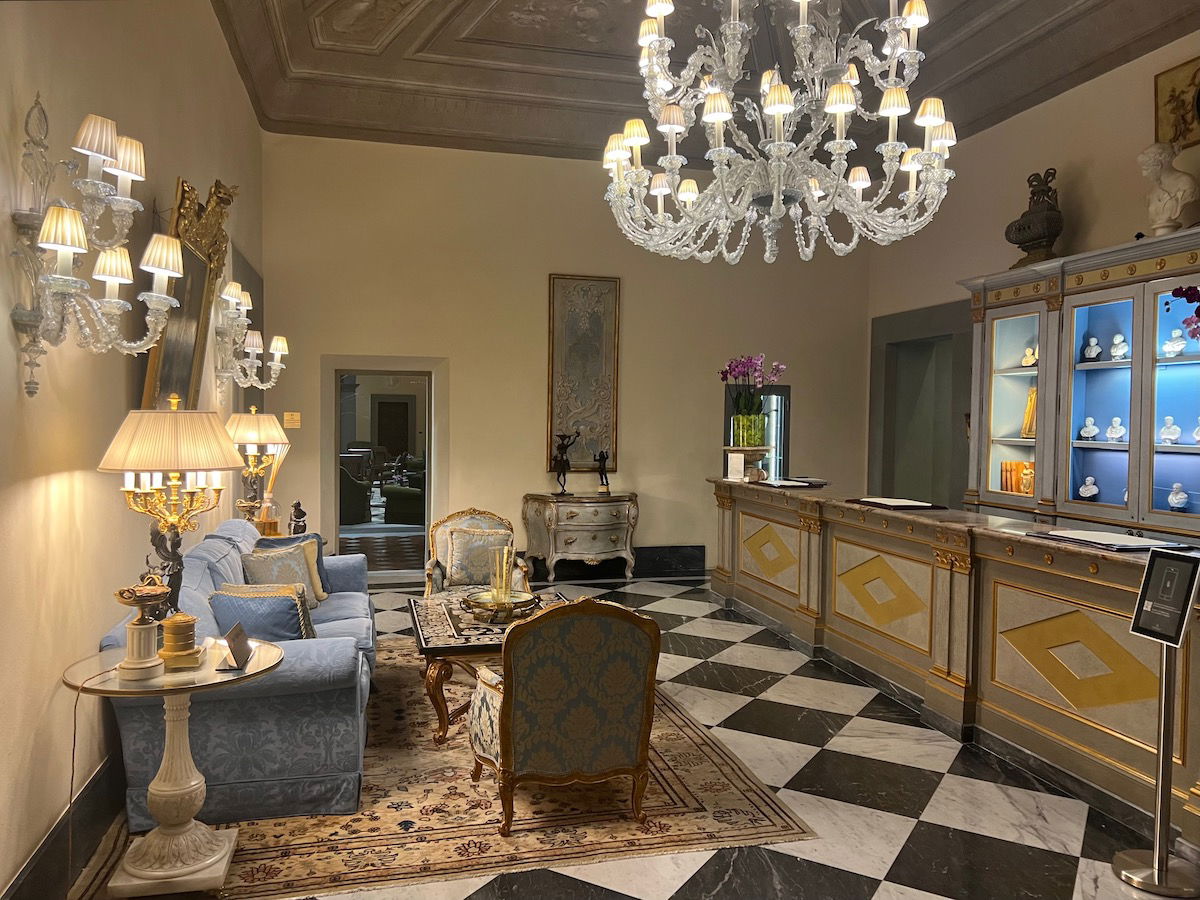 As you'd expect from a hotel this old, there are several different wings of rooms, so there's not just one set of elevators.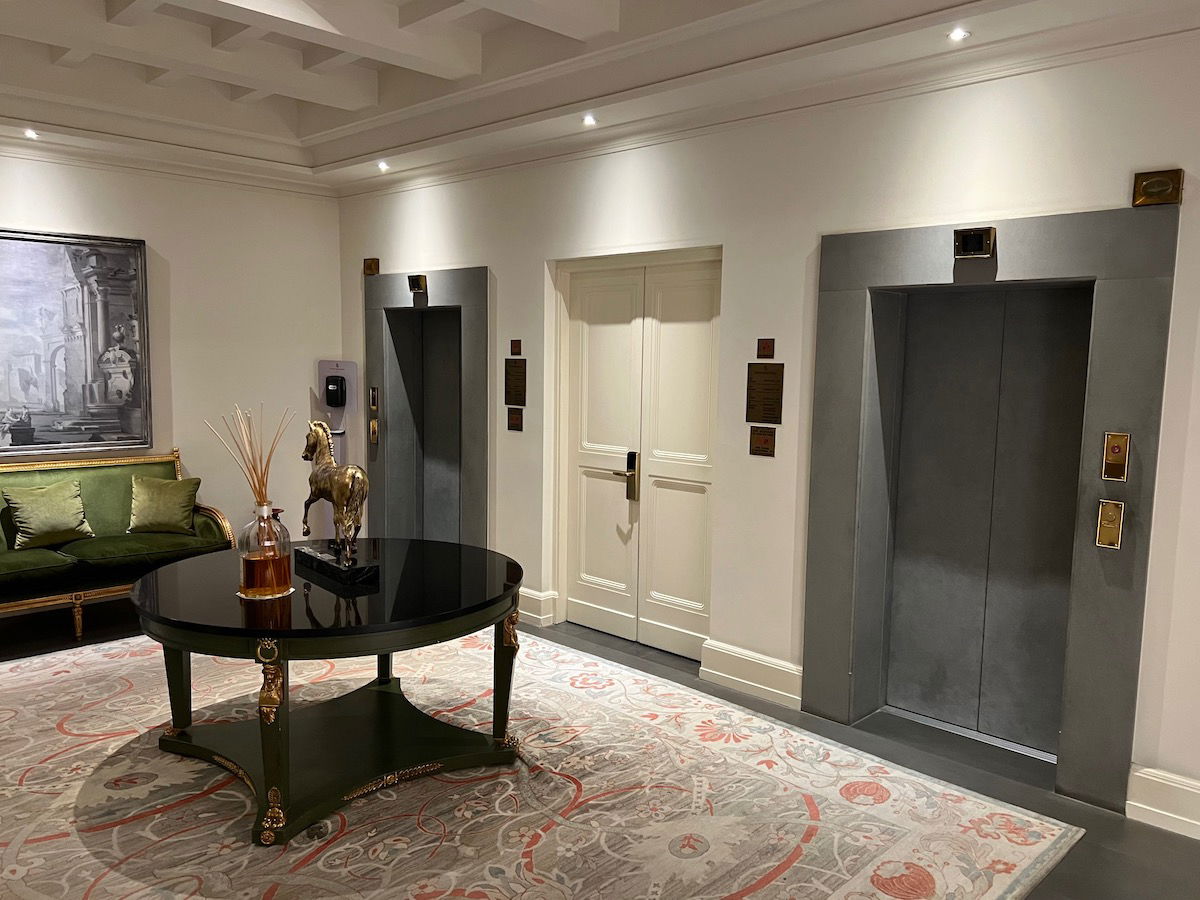 Our room could most easily be reached by going up a staircase right by reception. Again, look at that design…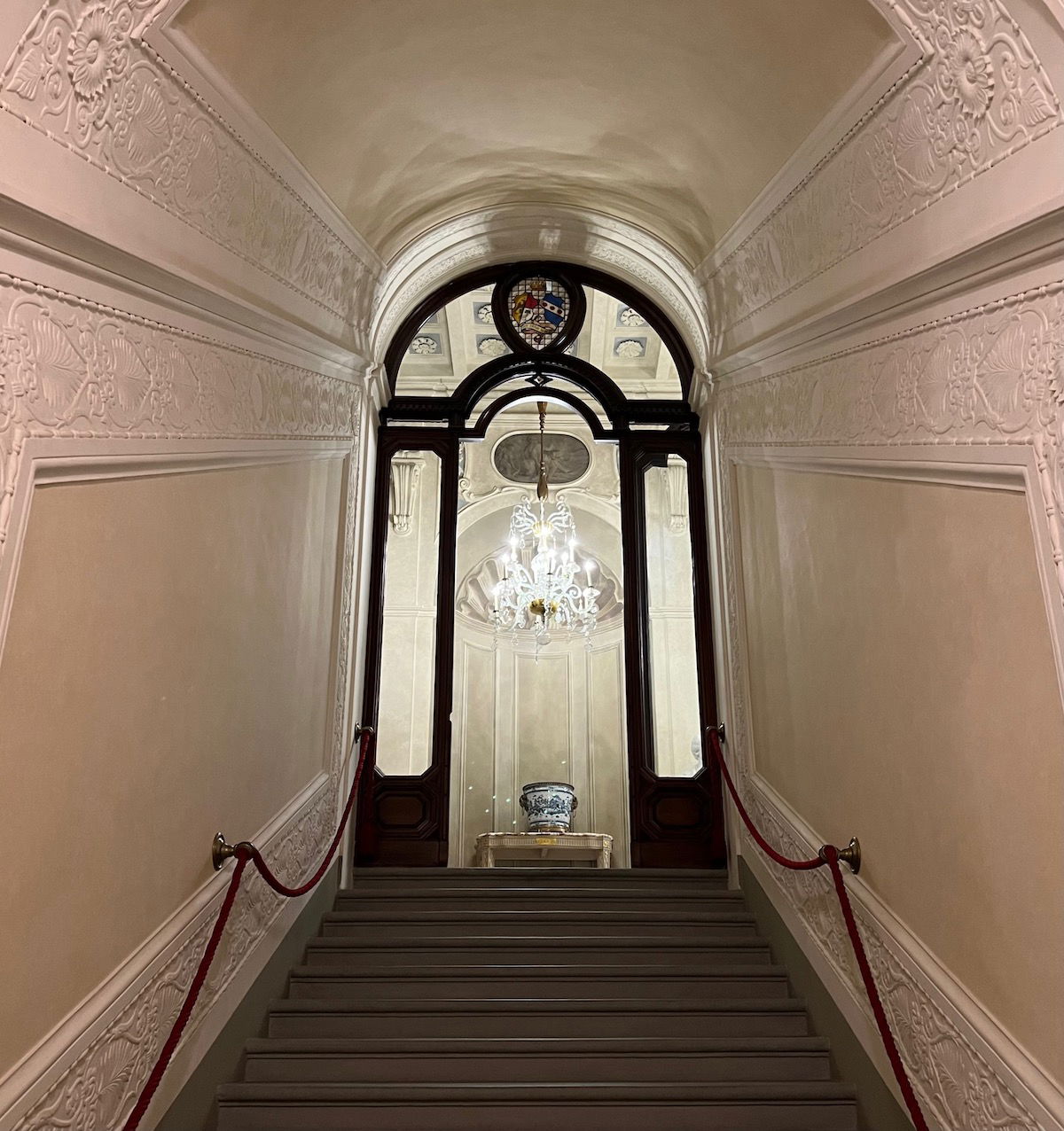 Four Seasons Florence suite
We were assigned room 118, a 60 square meter (646 square foot) Gallery Suite, as it's called.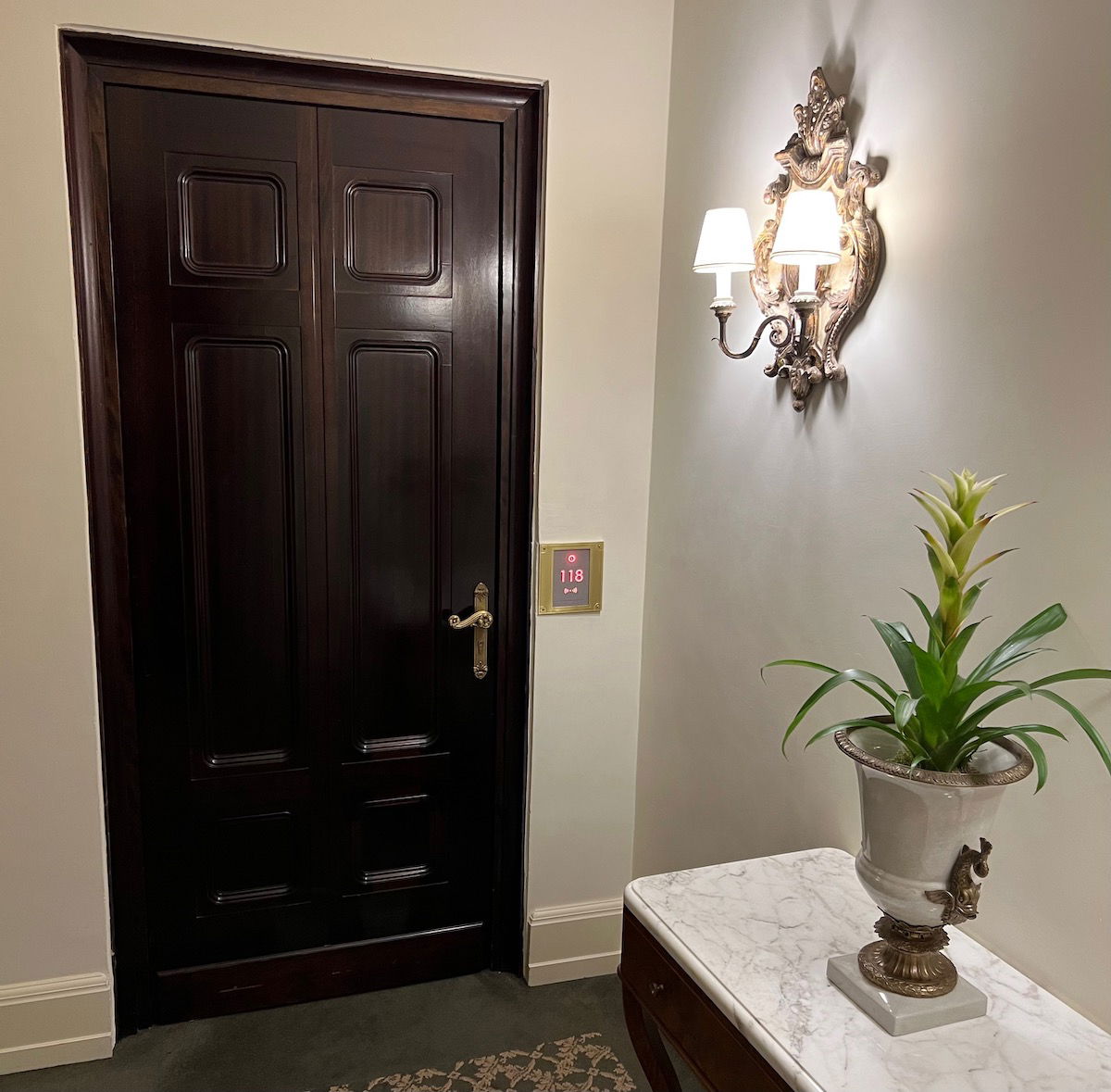 I'd say this was more of a junior suite than a full suite, in the sense that there was no separation between the living area and sleeping area. My gosh, what an epic room. You can see the amount of effort that was put into preserving the historic aspects of this room.
The room featured a signature Four Seasons king size bed, a sitting area with a couch and a chair, a desk with a chair, and a TV.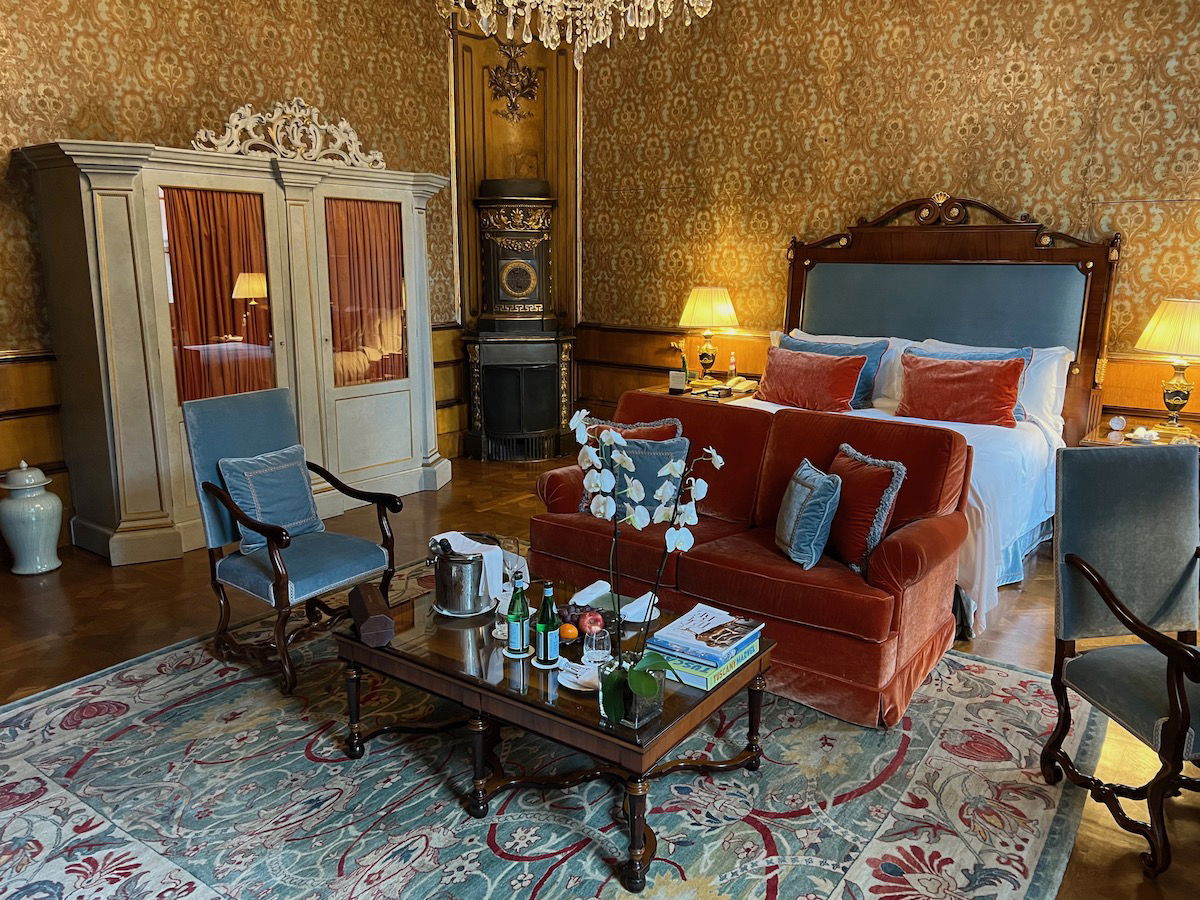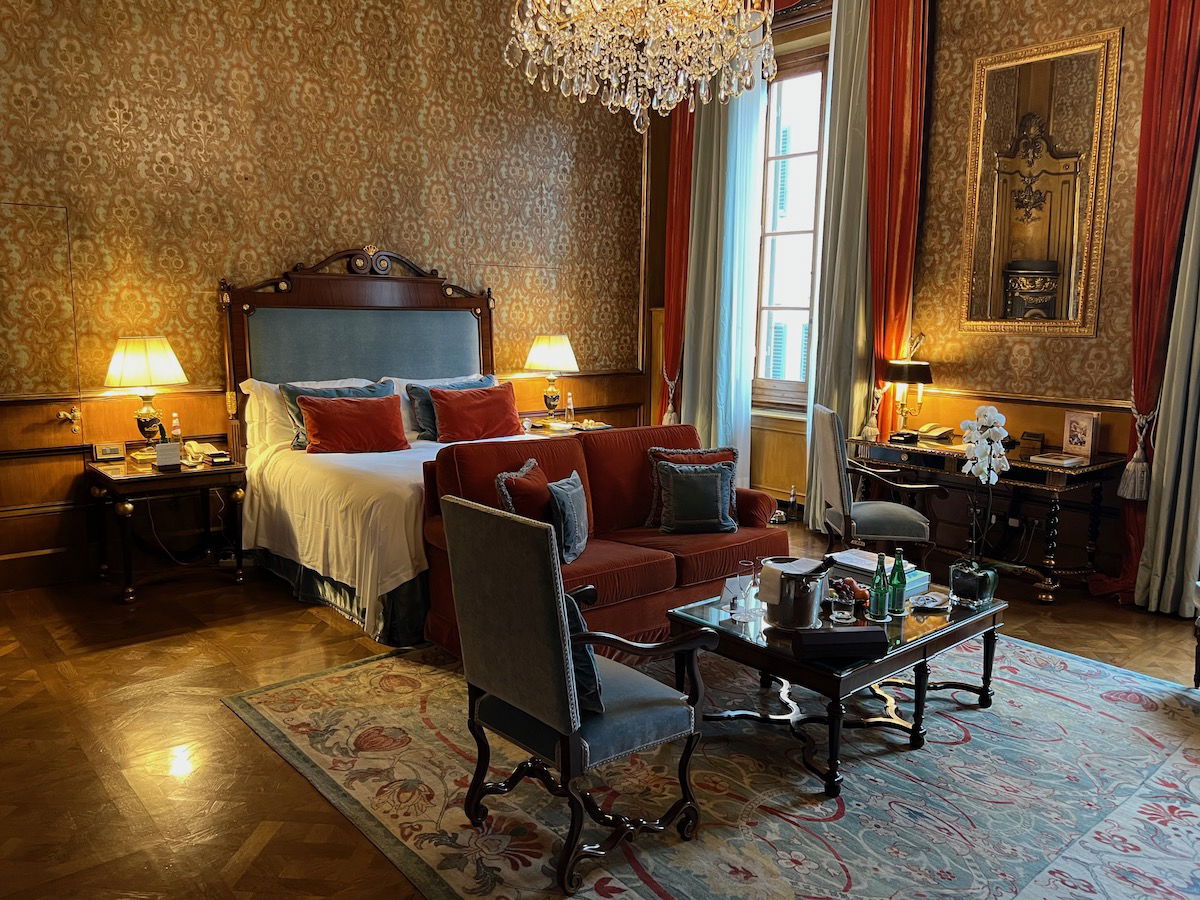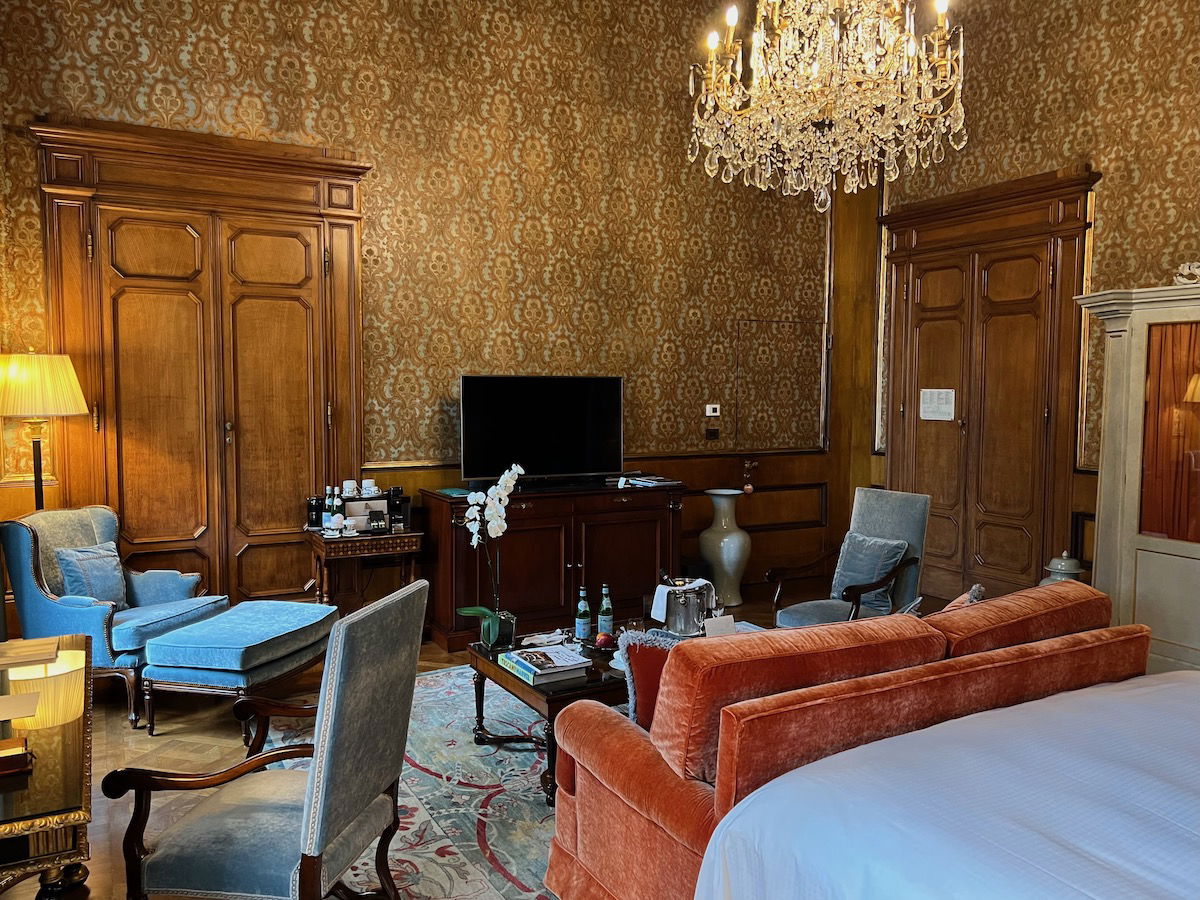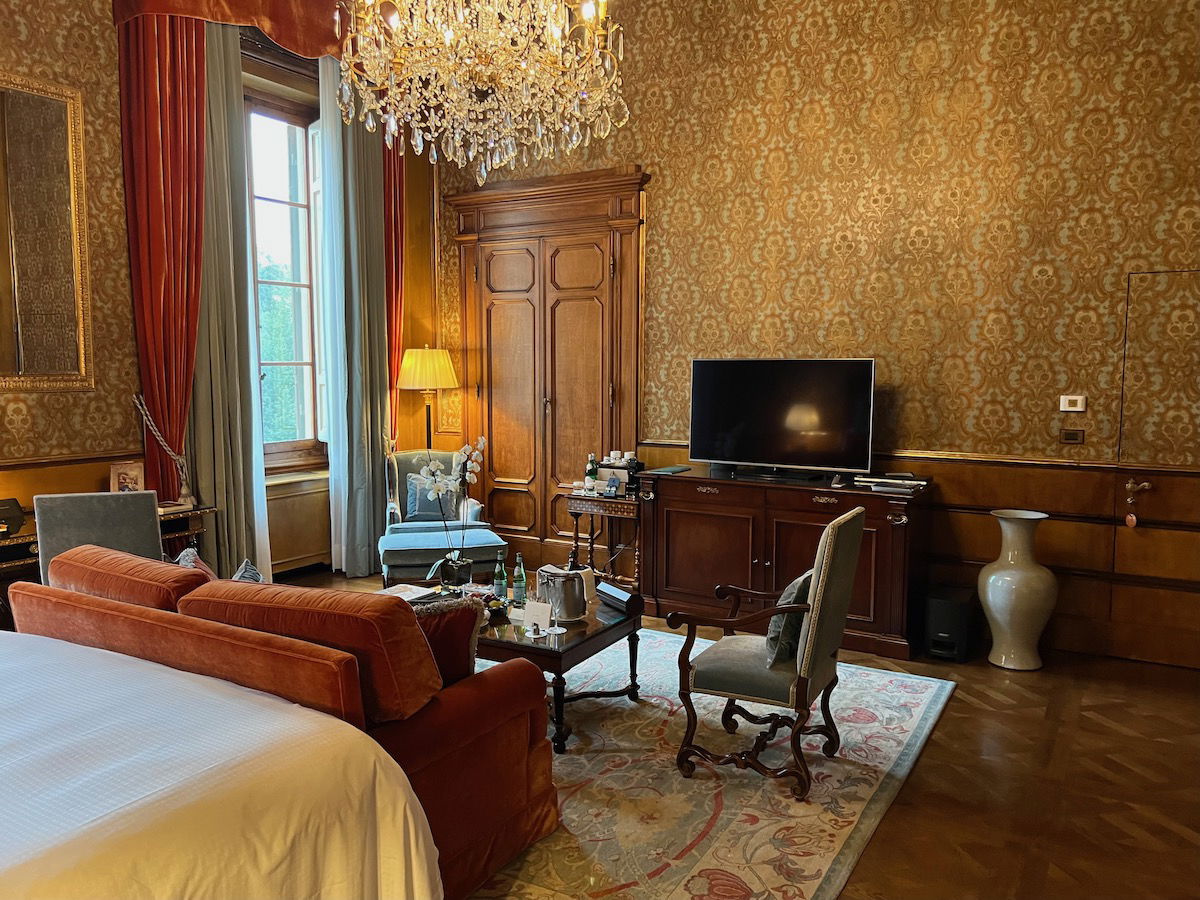 The ceiling was ridiculously high (it must have been over 15 feet), and on top of that, had the original paneling.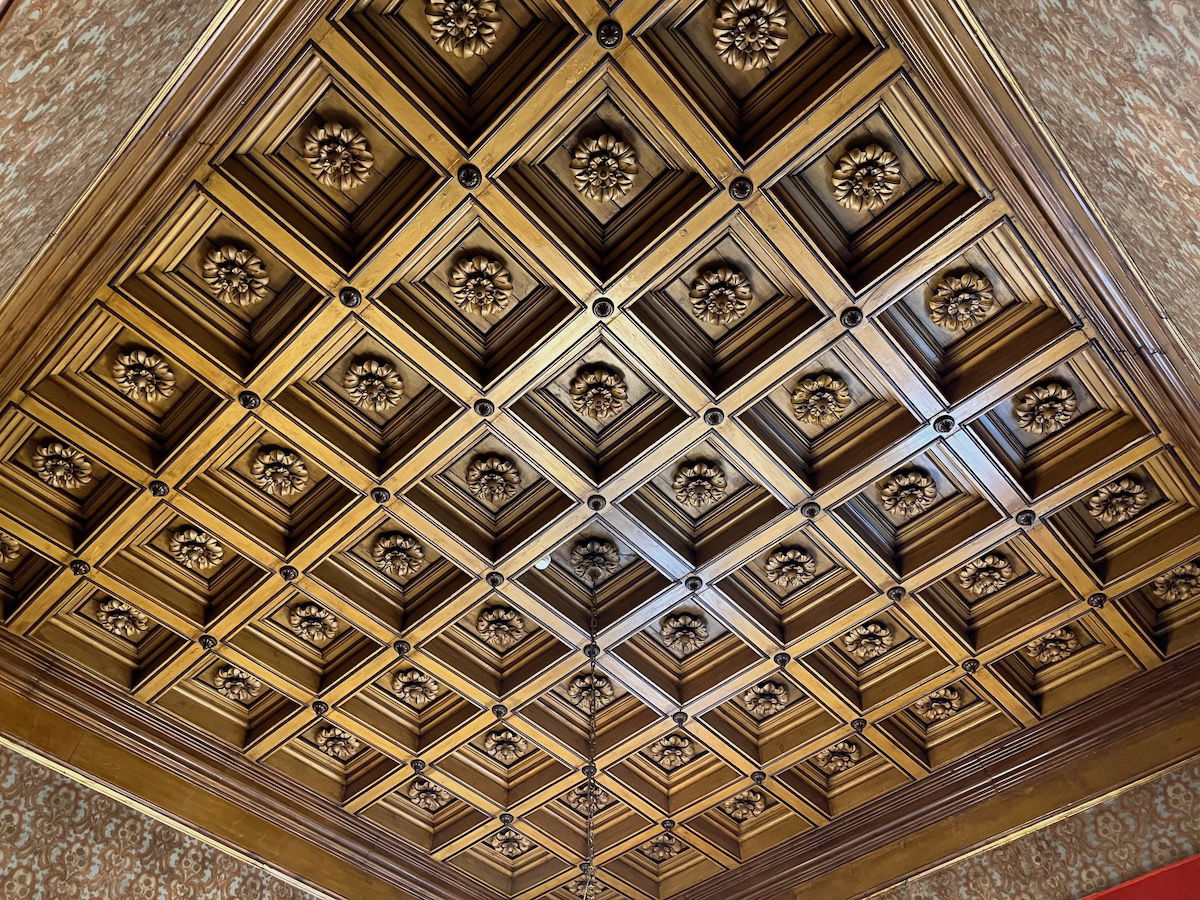 There was a minibar with drinks and snacks for purchase, as well as an illy espresso machine and some complimentary water.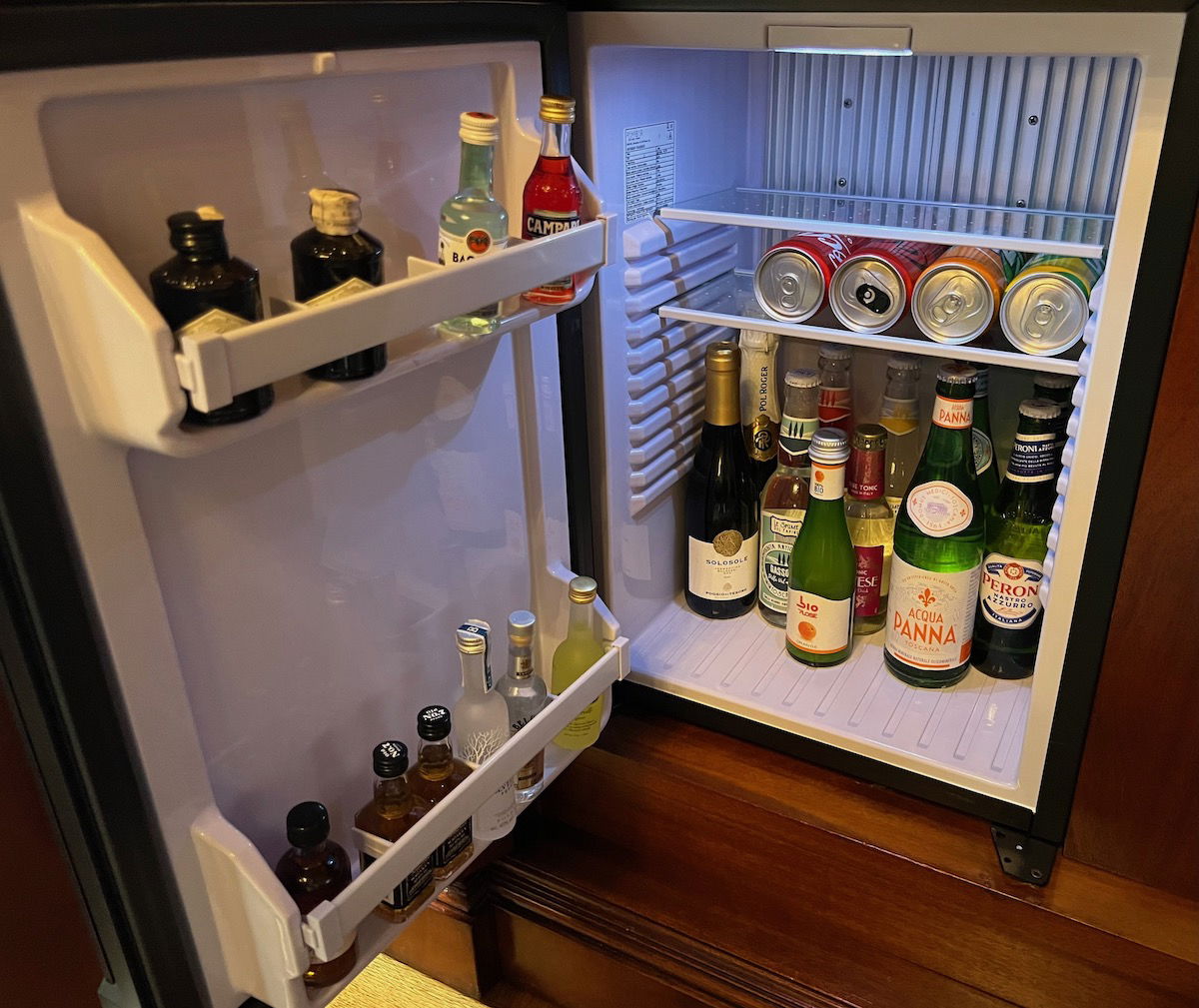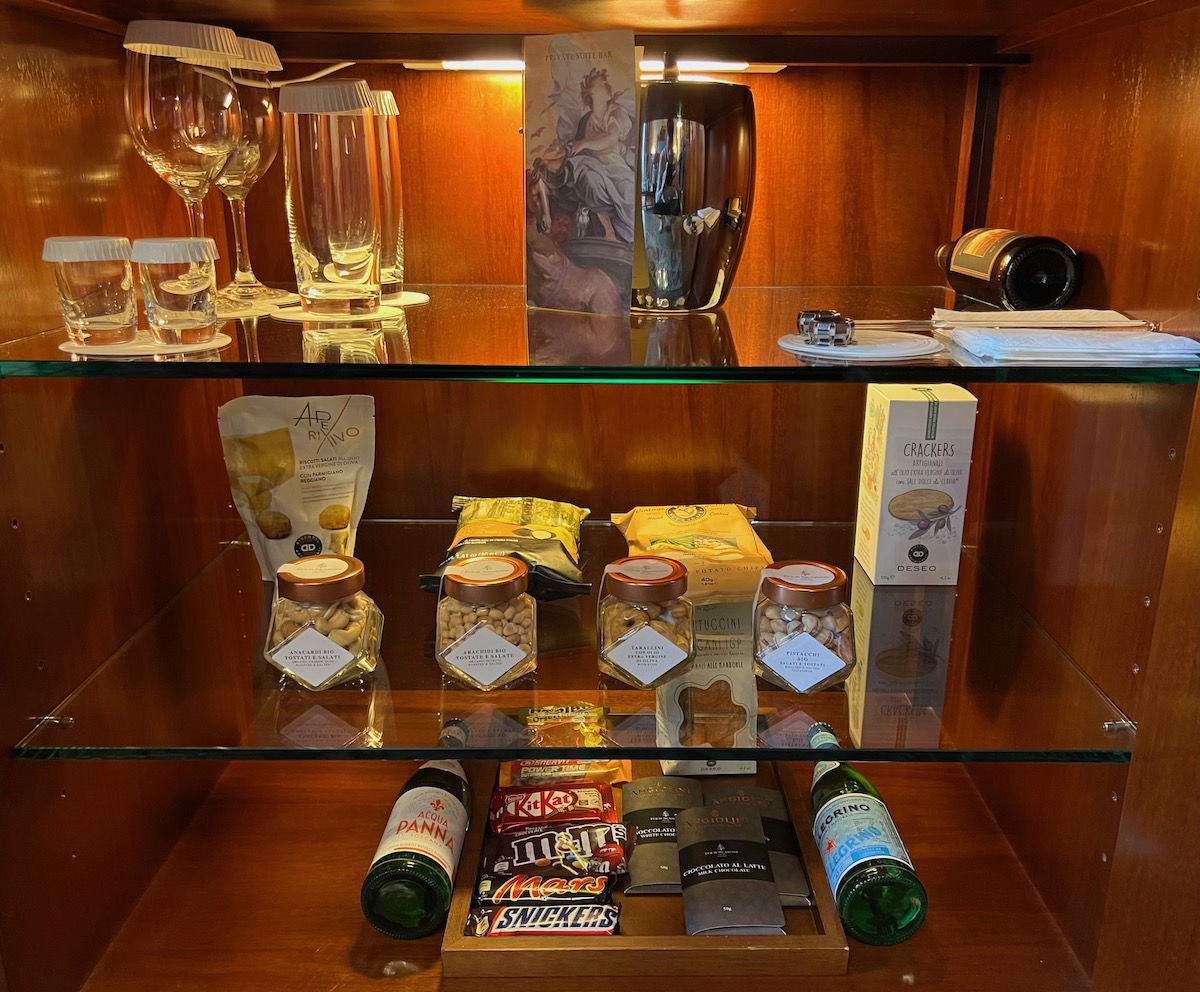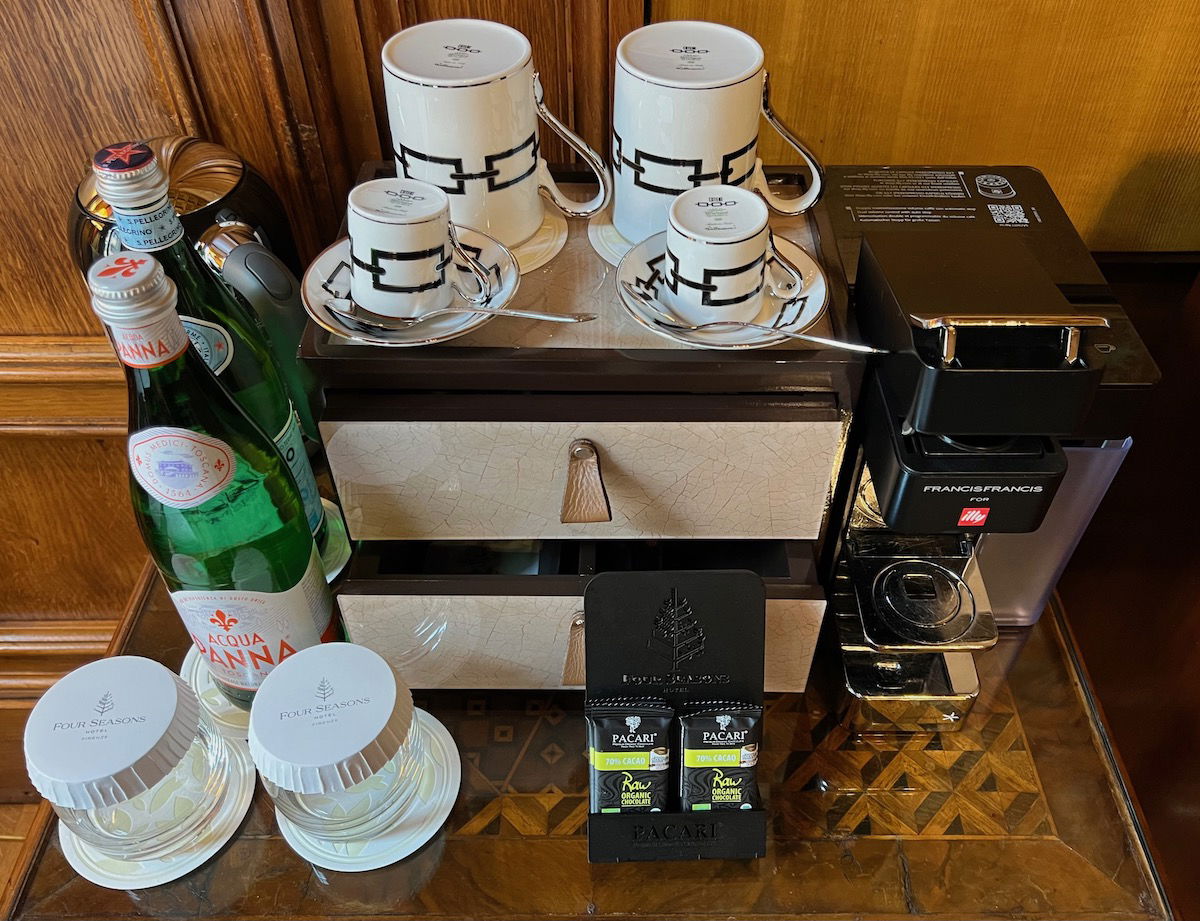 There was also a lovely welcome amenity, consisting of some fresh fruit, sweets, bottled water, and sparkling wine.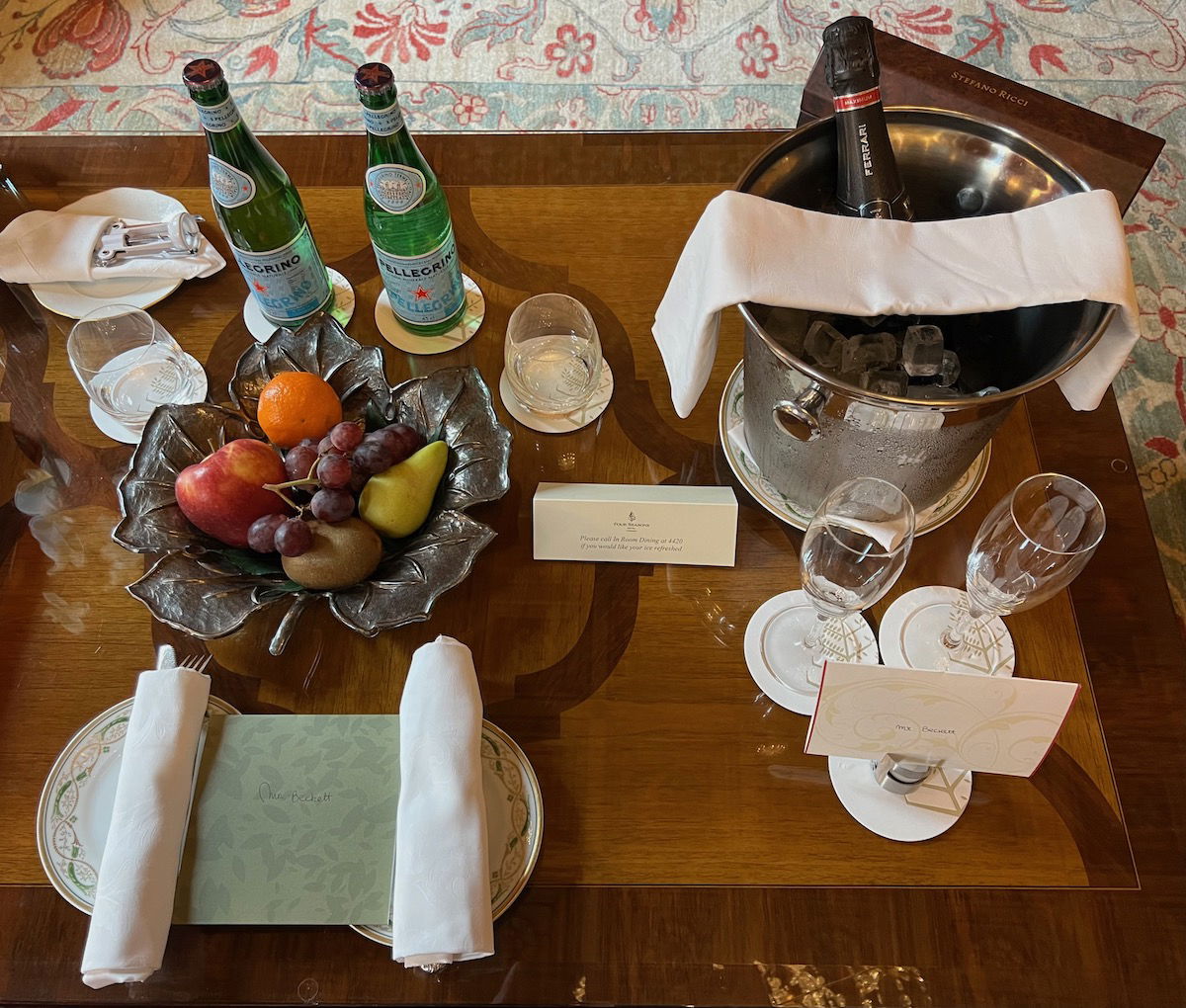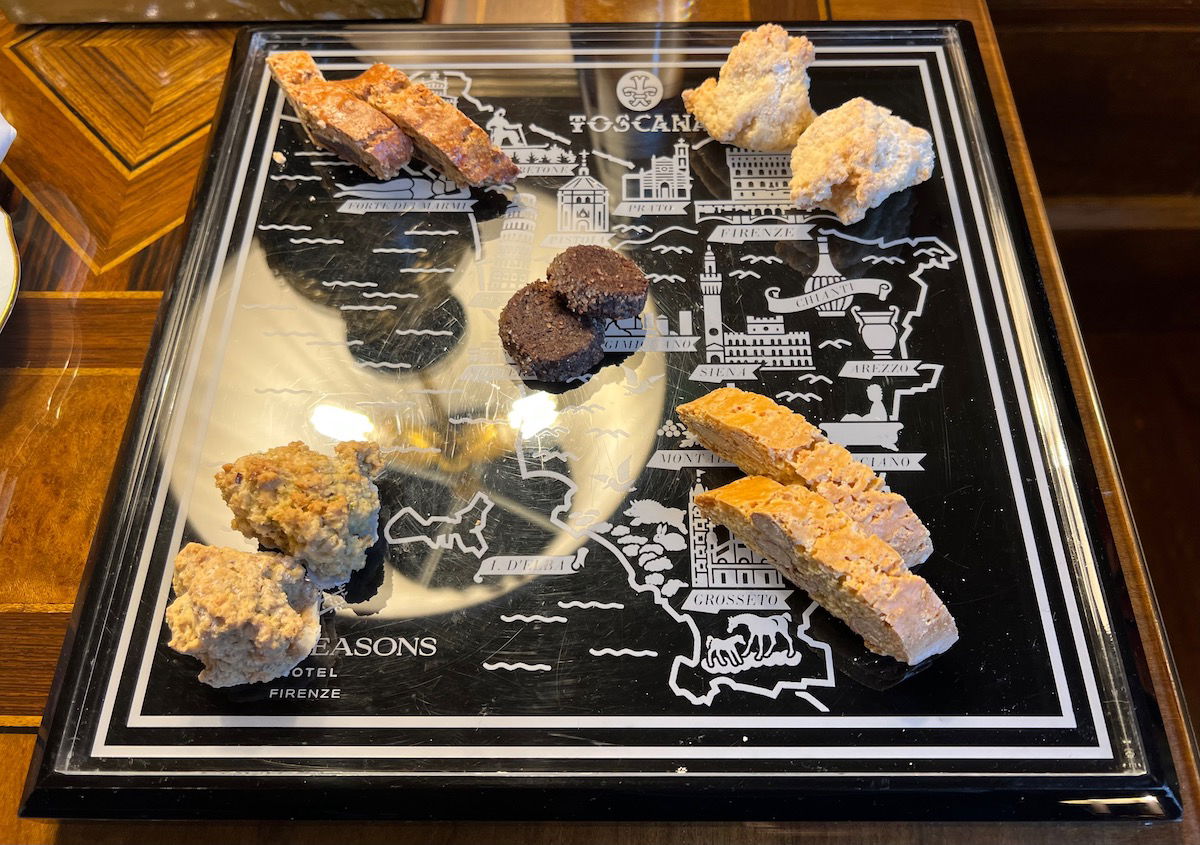 The room faced the street, and there weren't any noise issues, which was appreciated.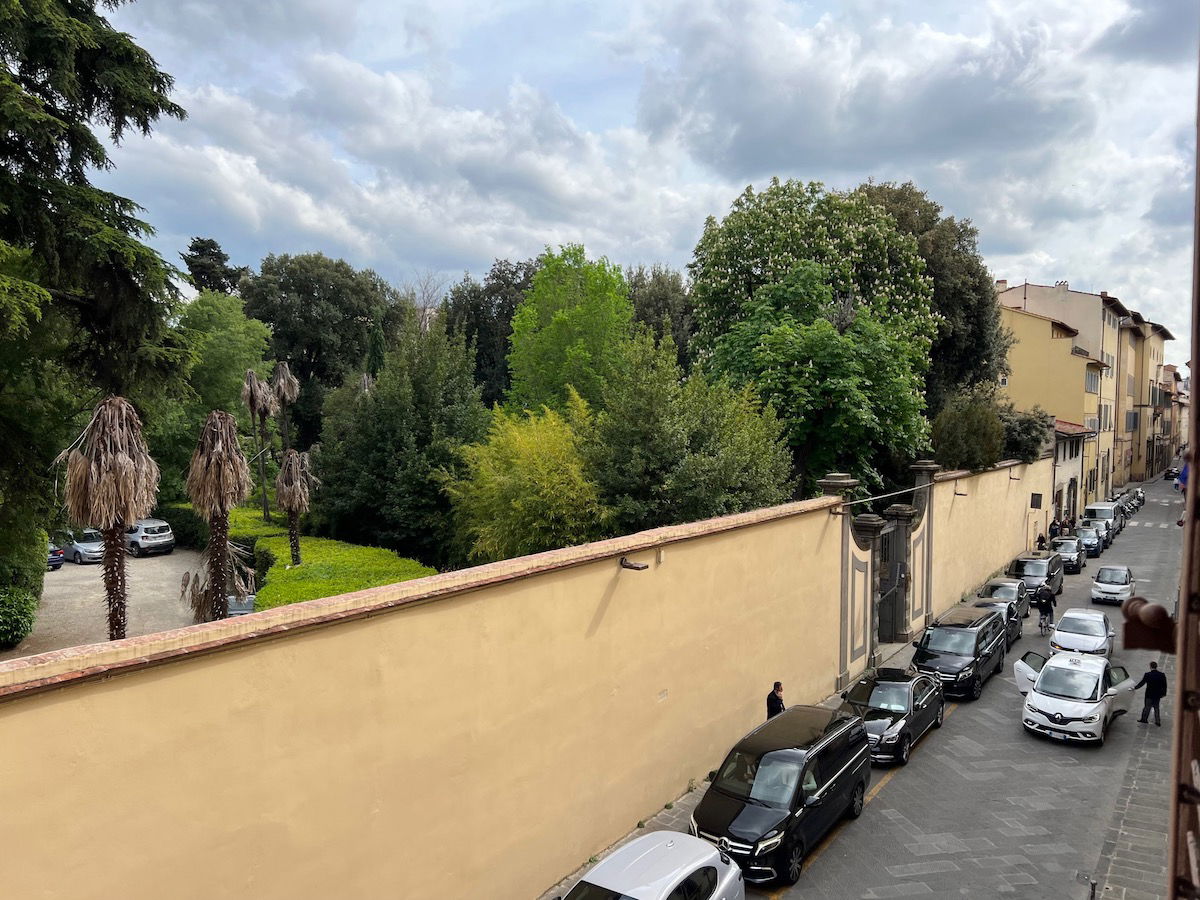 The bathroom was also quite large, and had double sinks, a soaking tub, a walk-in shower with two shower heads, and a toilet and bidet.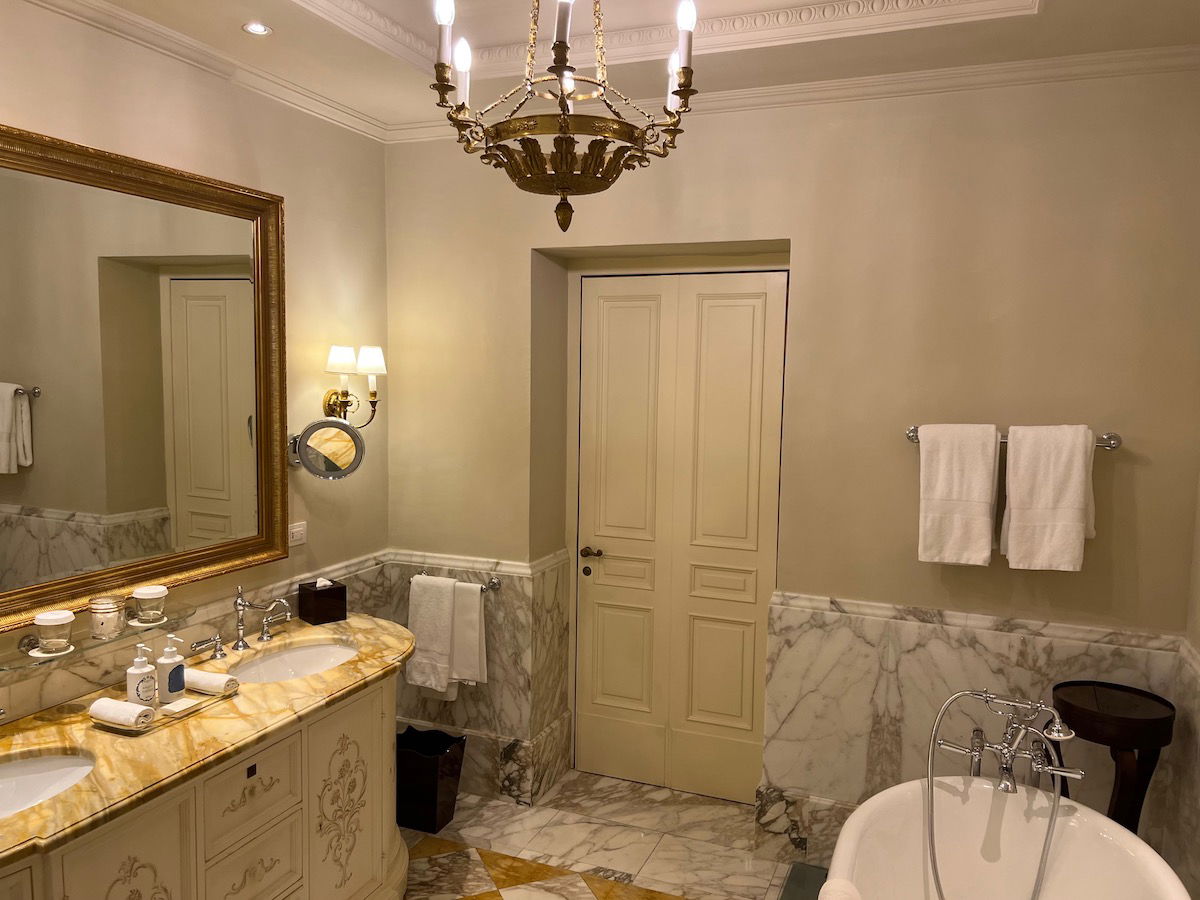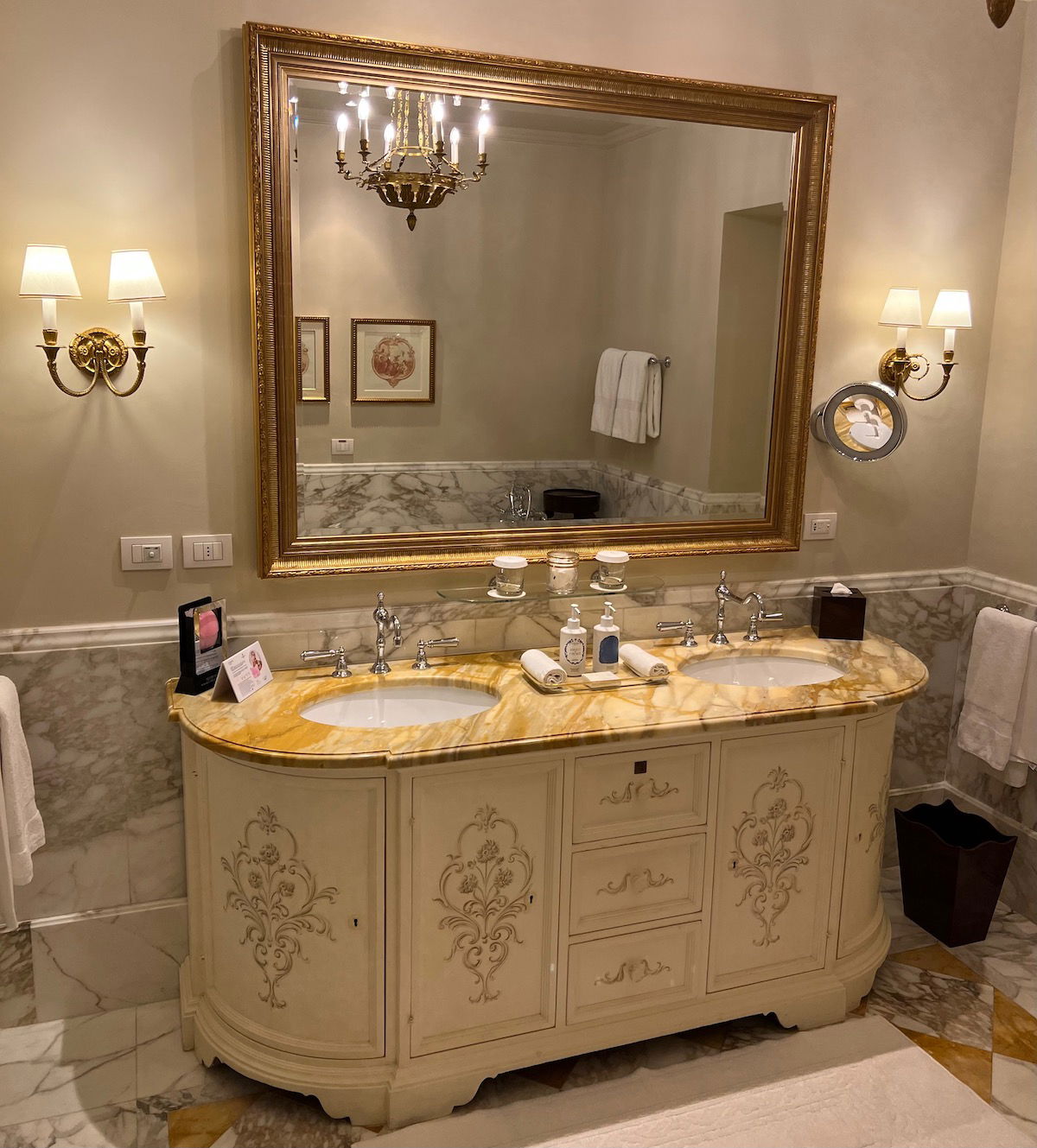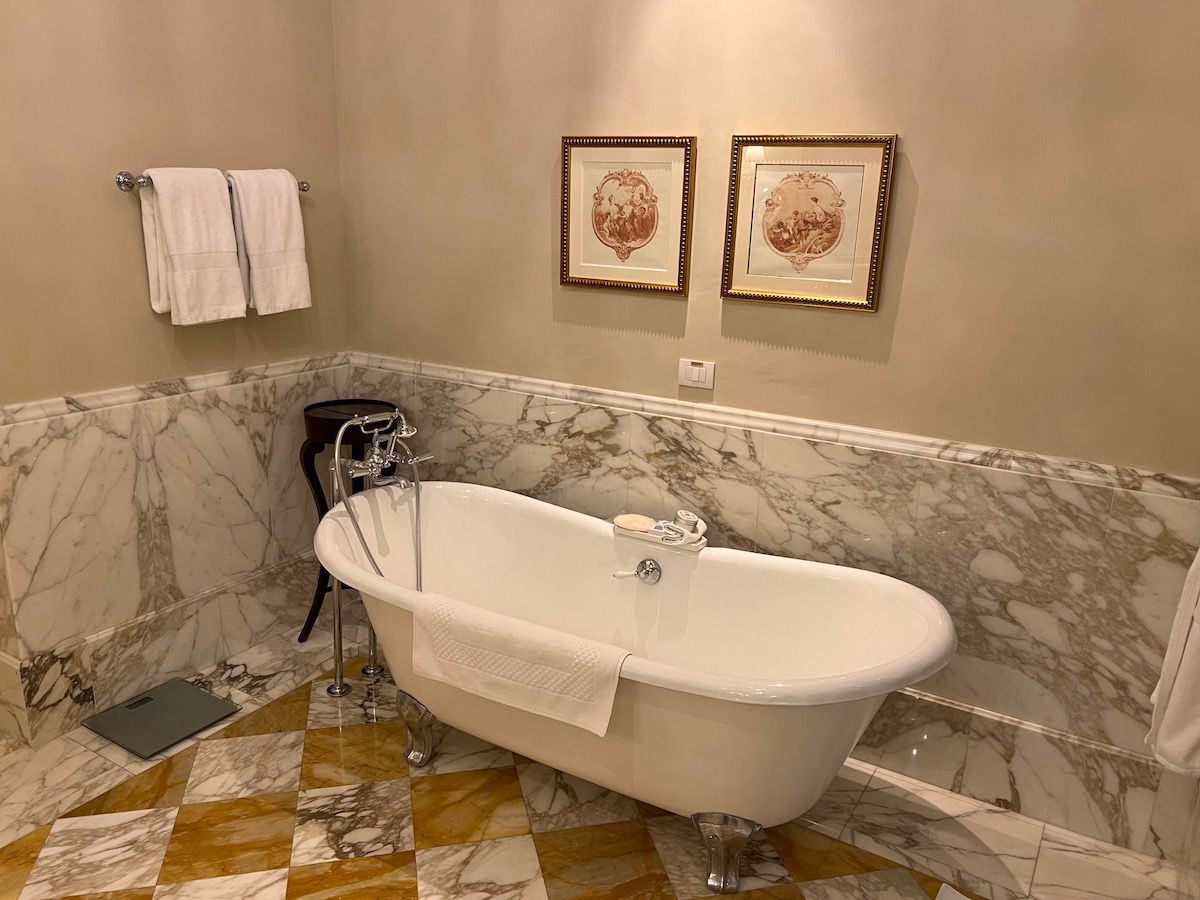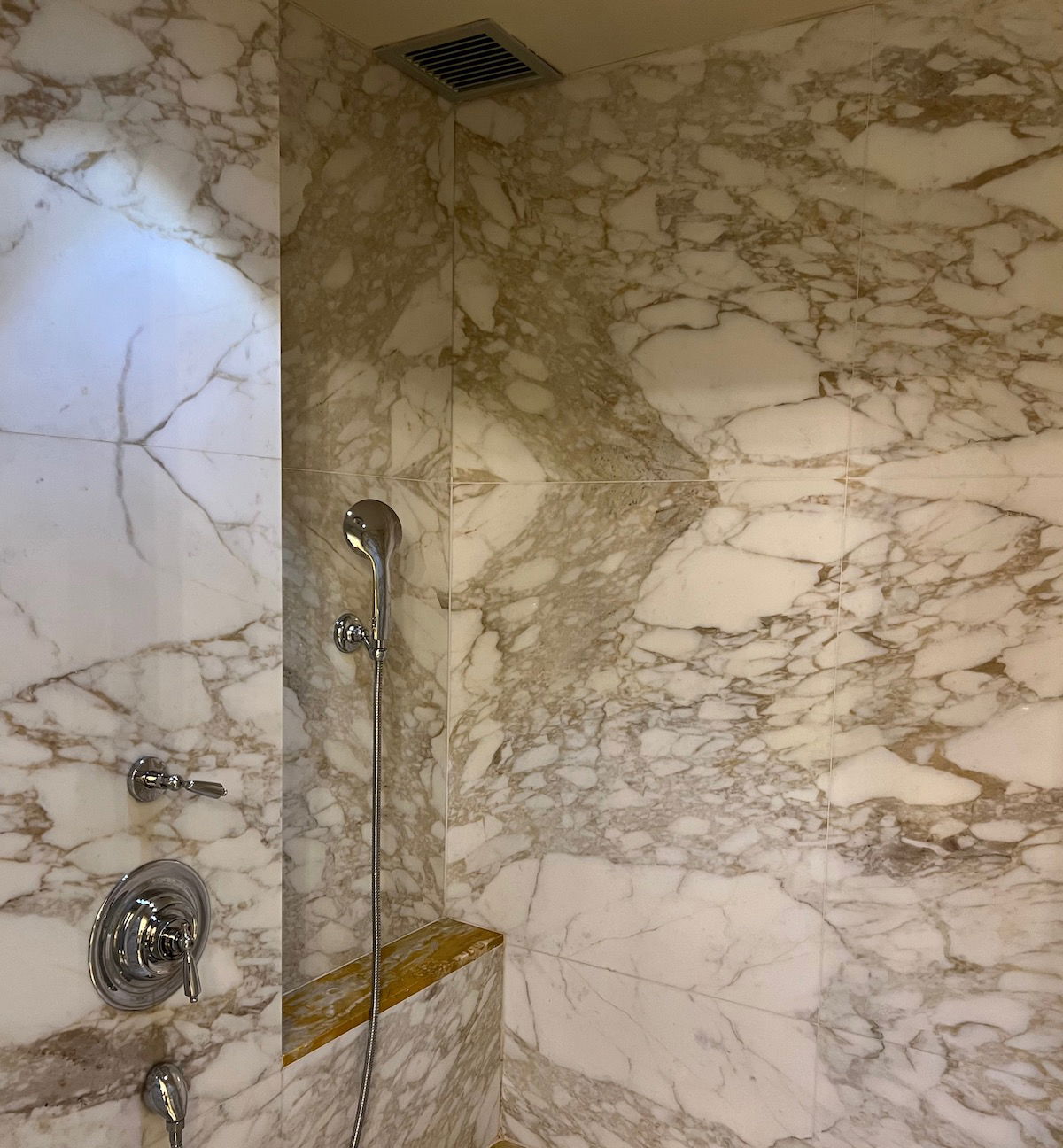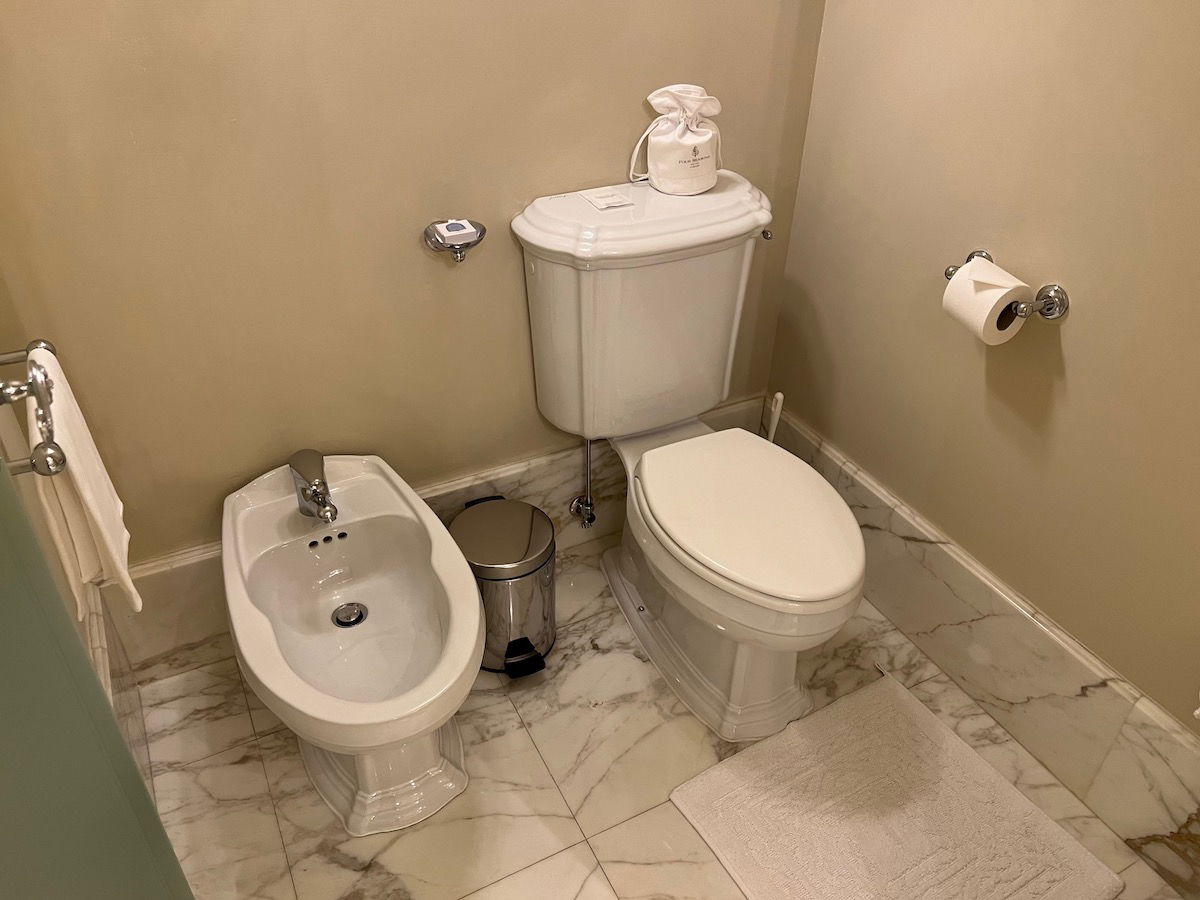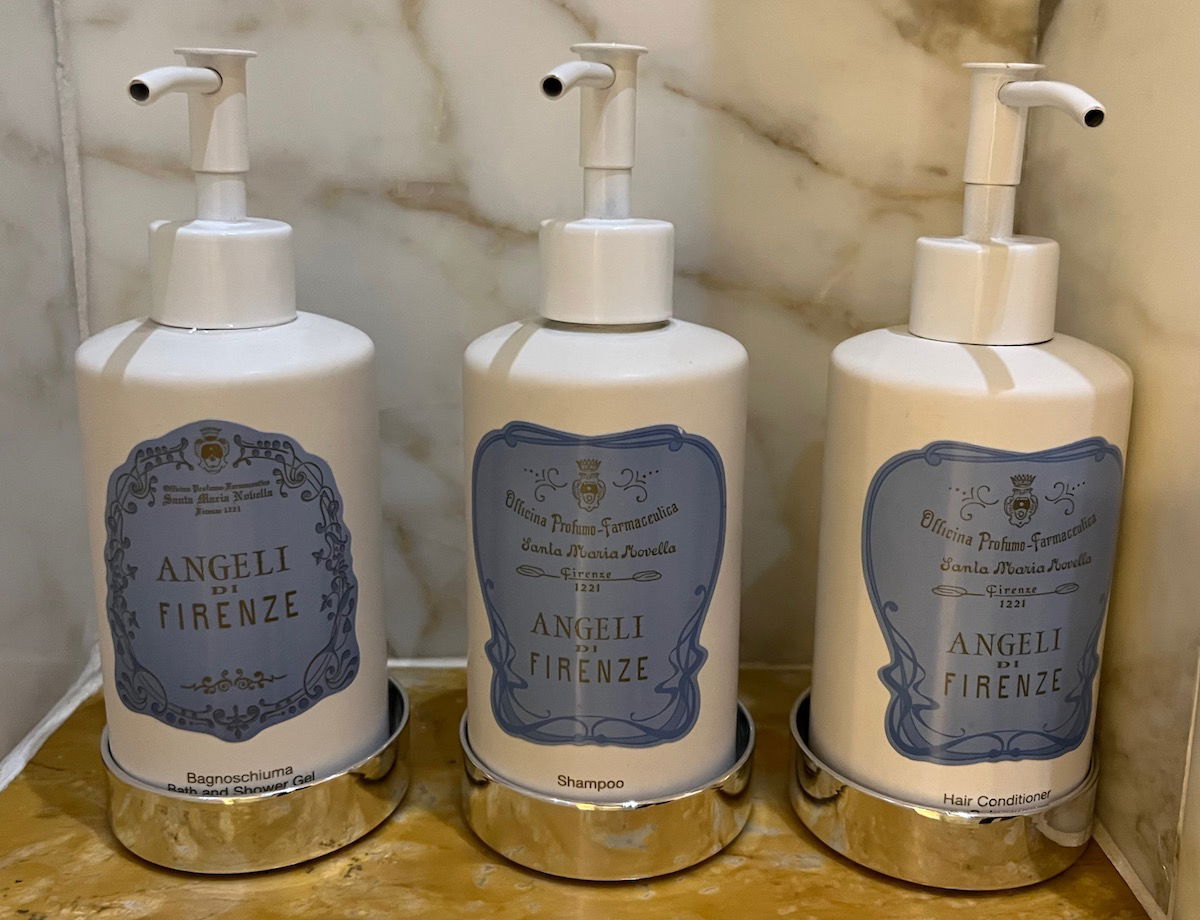 What an incredible room. Even though it was historic, it had all the modern amenities you'd hope for from a Four Seasons. There was also twice daily housekeeping.
While the room had Wi-Fi, it was a bit spotty — it worked perfectly most of the time, but would sometimes cut out. I think it's fair to be a bit forgiving of that in a building that's hundreds of years old.
Four Seasons Florence garden
Probably the most stand-out feature of the Four Seasons Florence is that it has a 10-acre garden. I don't think I've ever in my life stayed at a city hotel with a private garden like this. The garden had everything from beautiful trees and manicured lawns, to statues and art, to ponds, to gazebos and benches, to play areas for kids.
So many city hotels have virtually no outdoor space, so this property is in a league of its own on that front.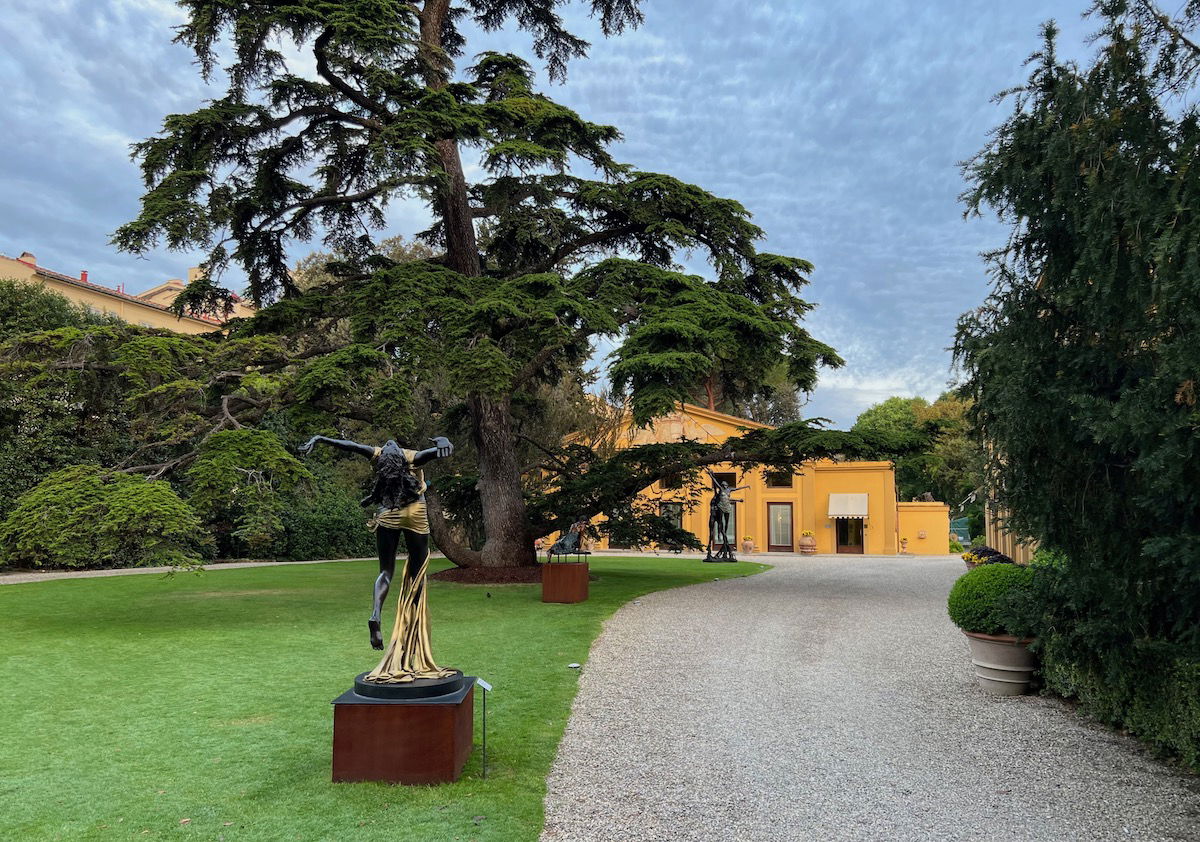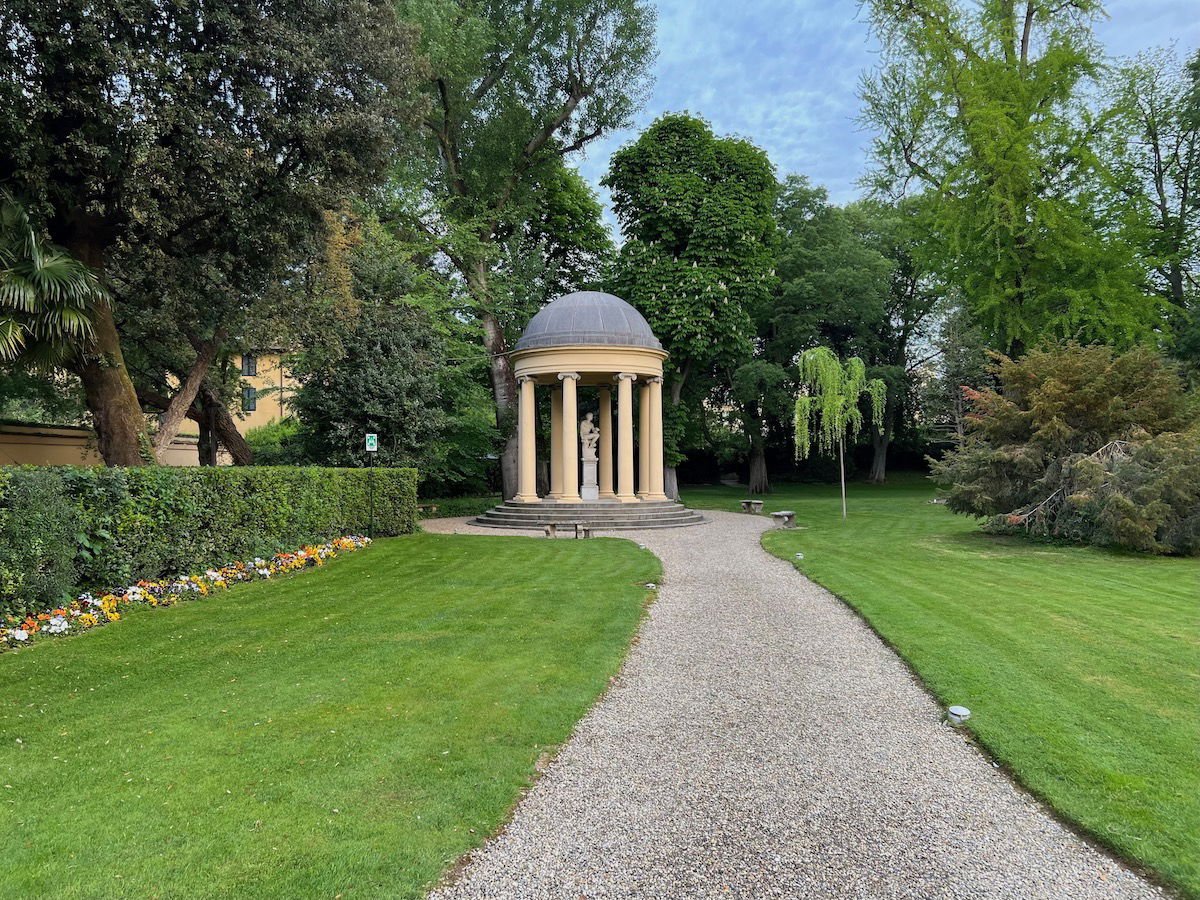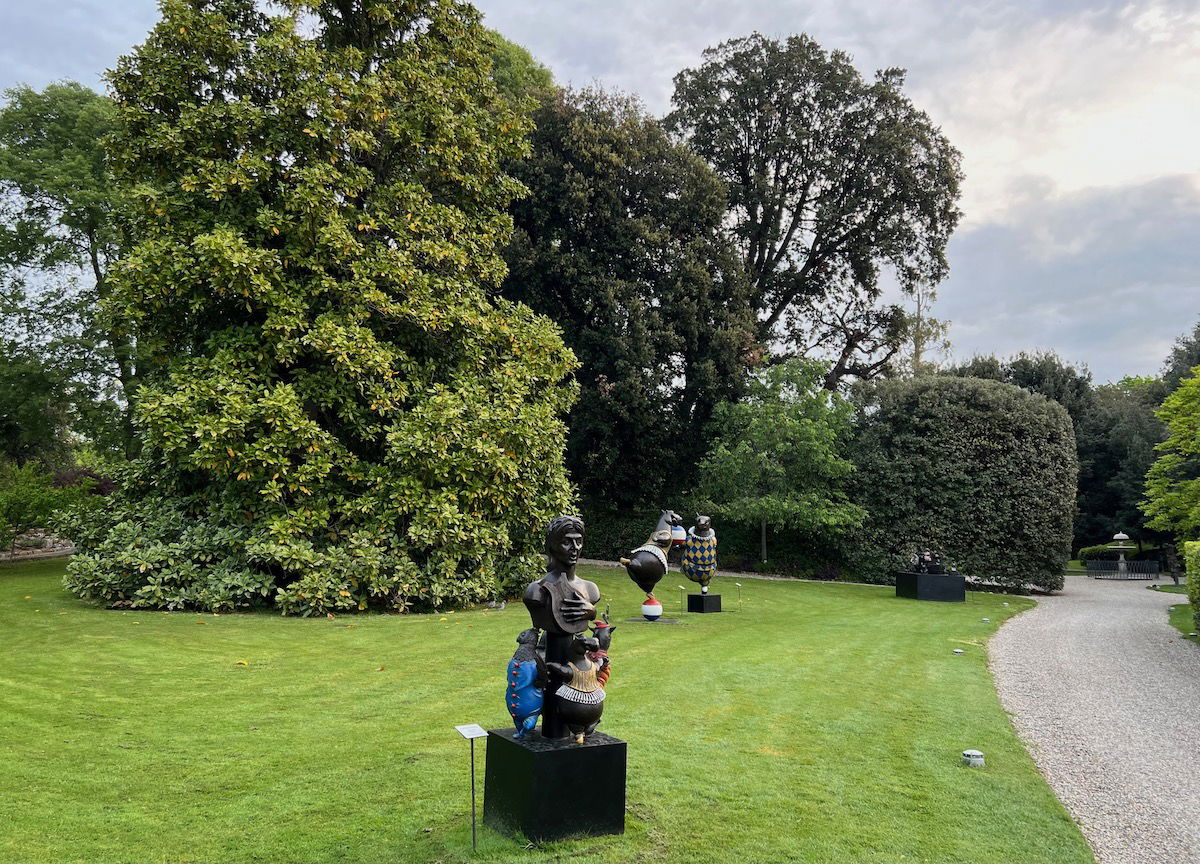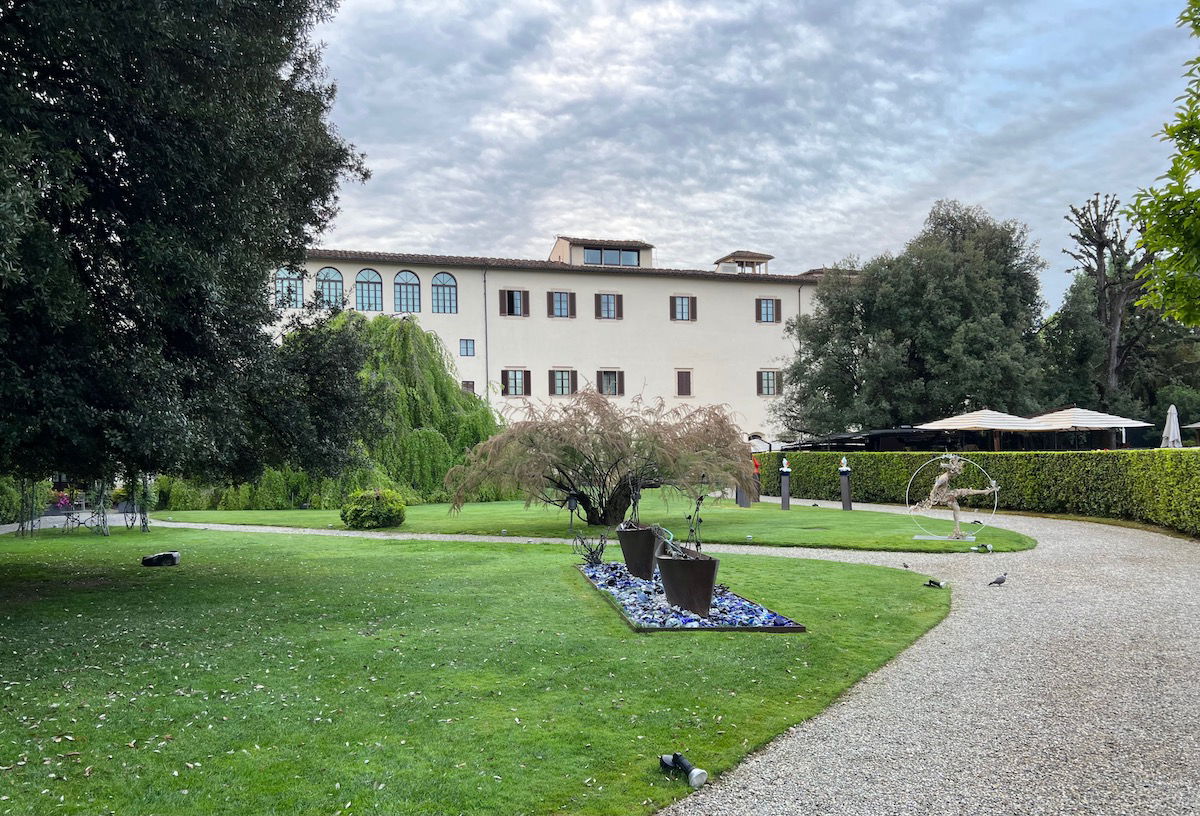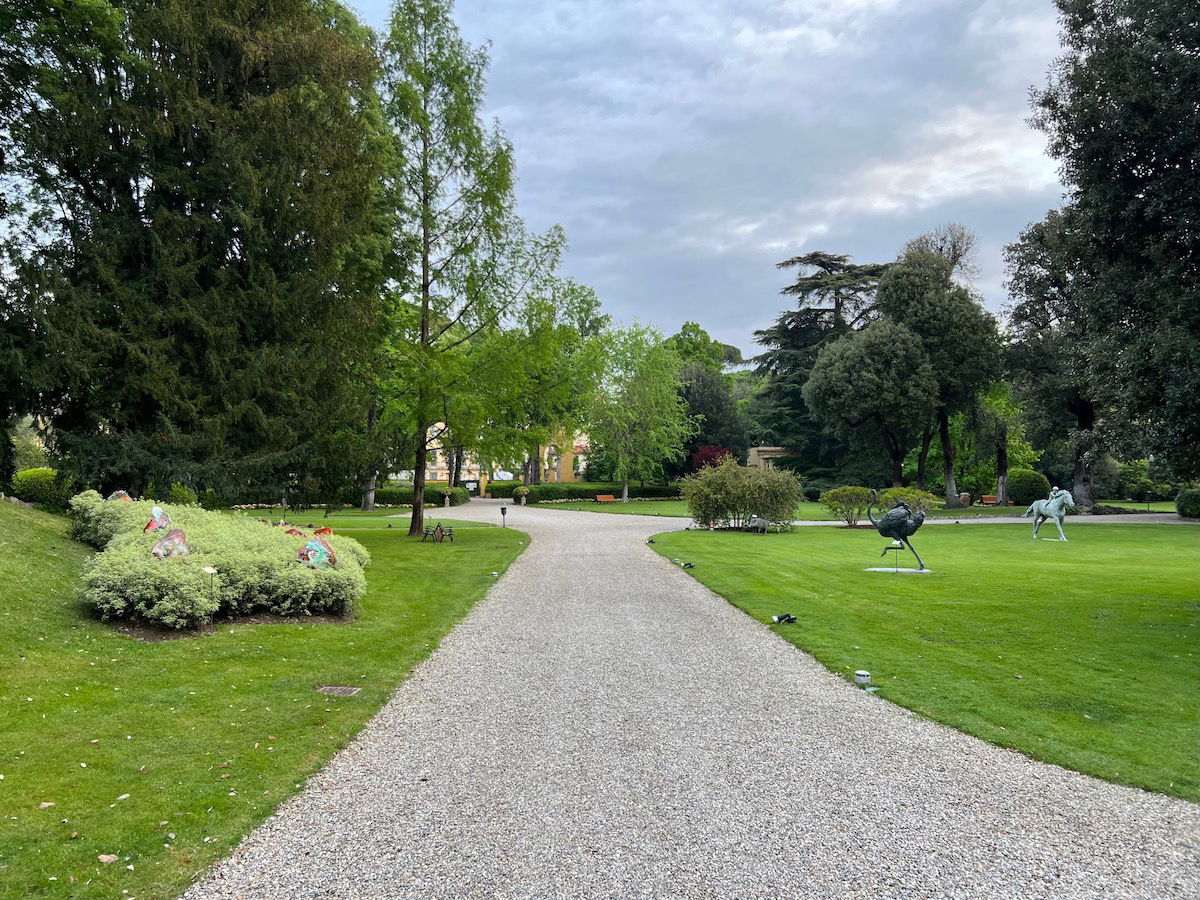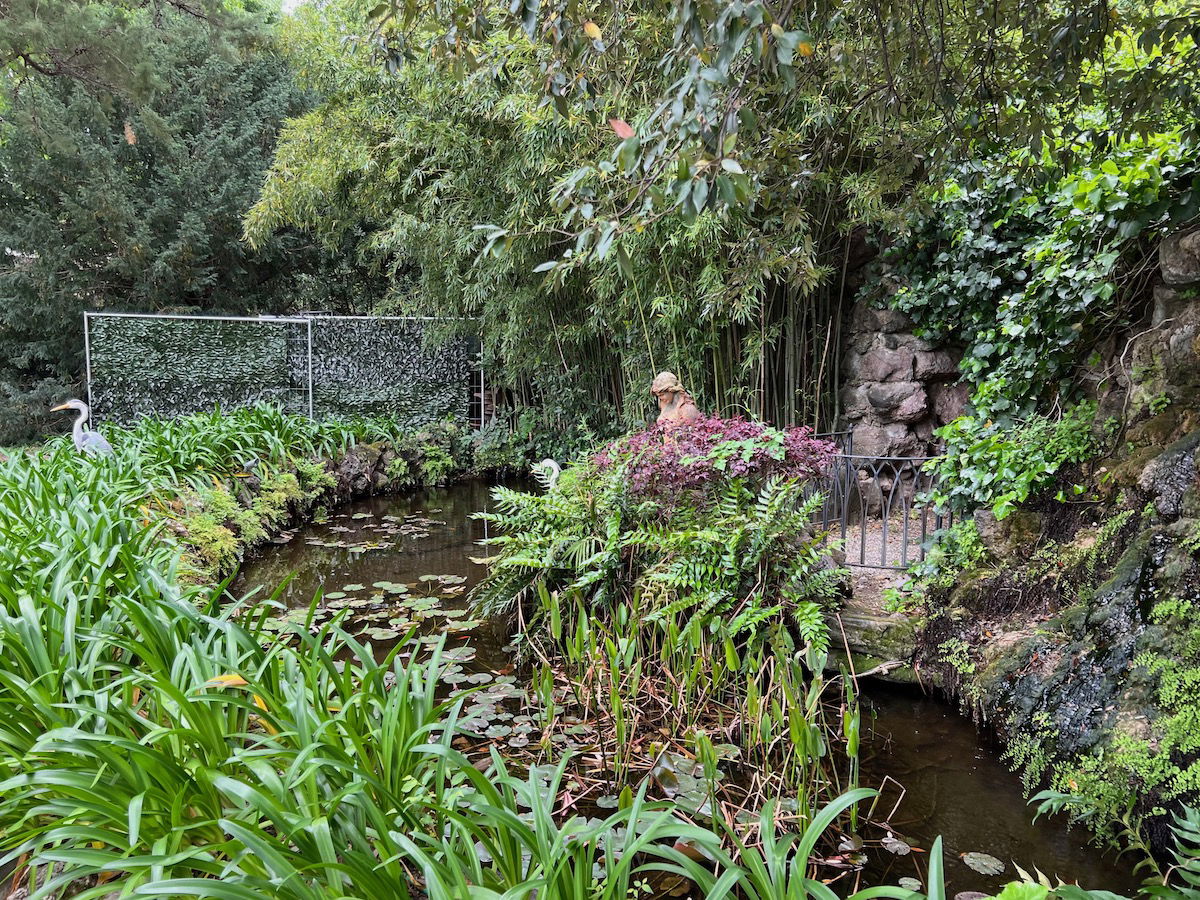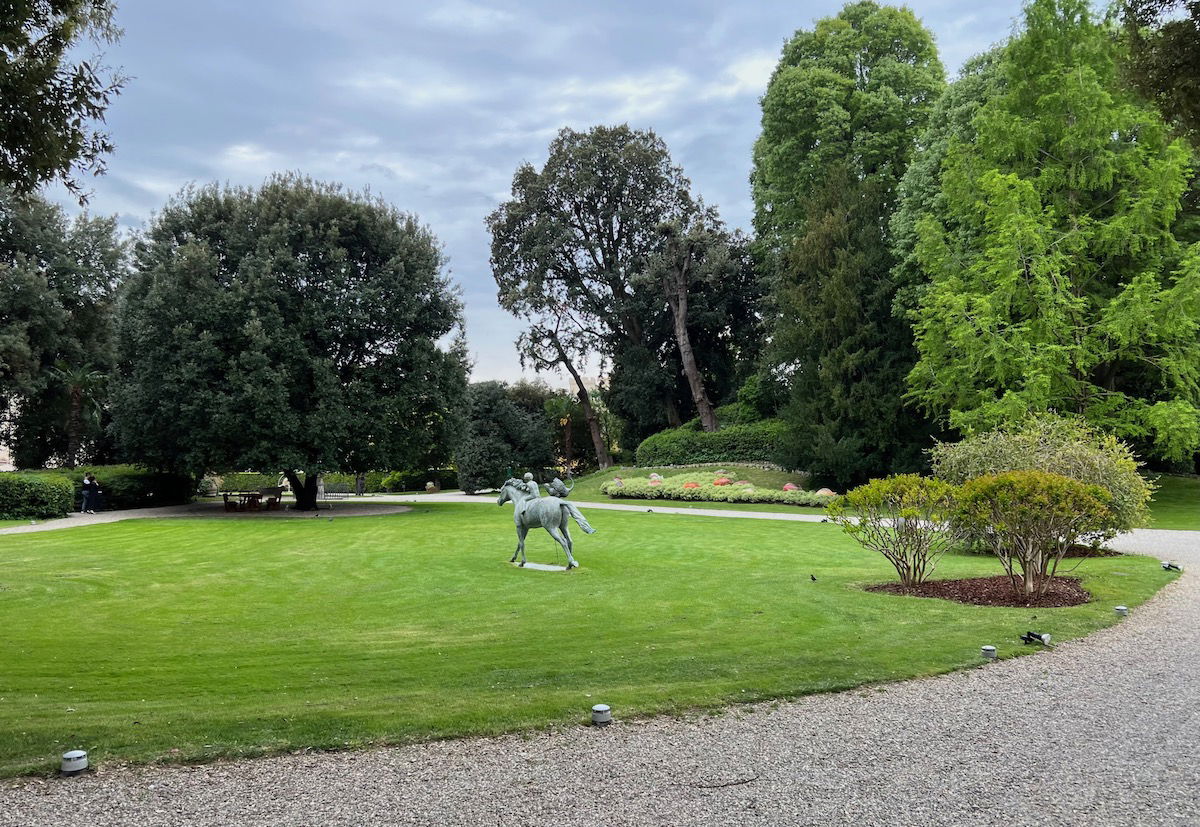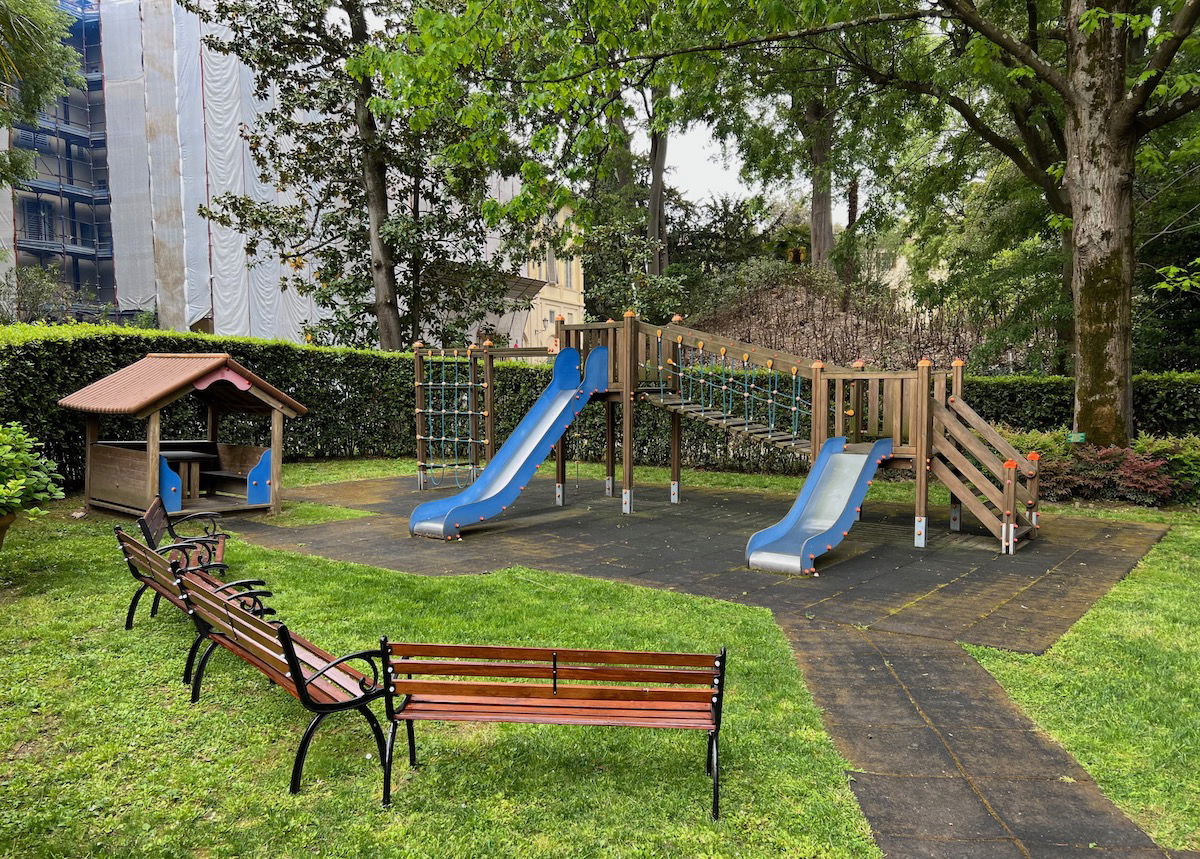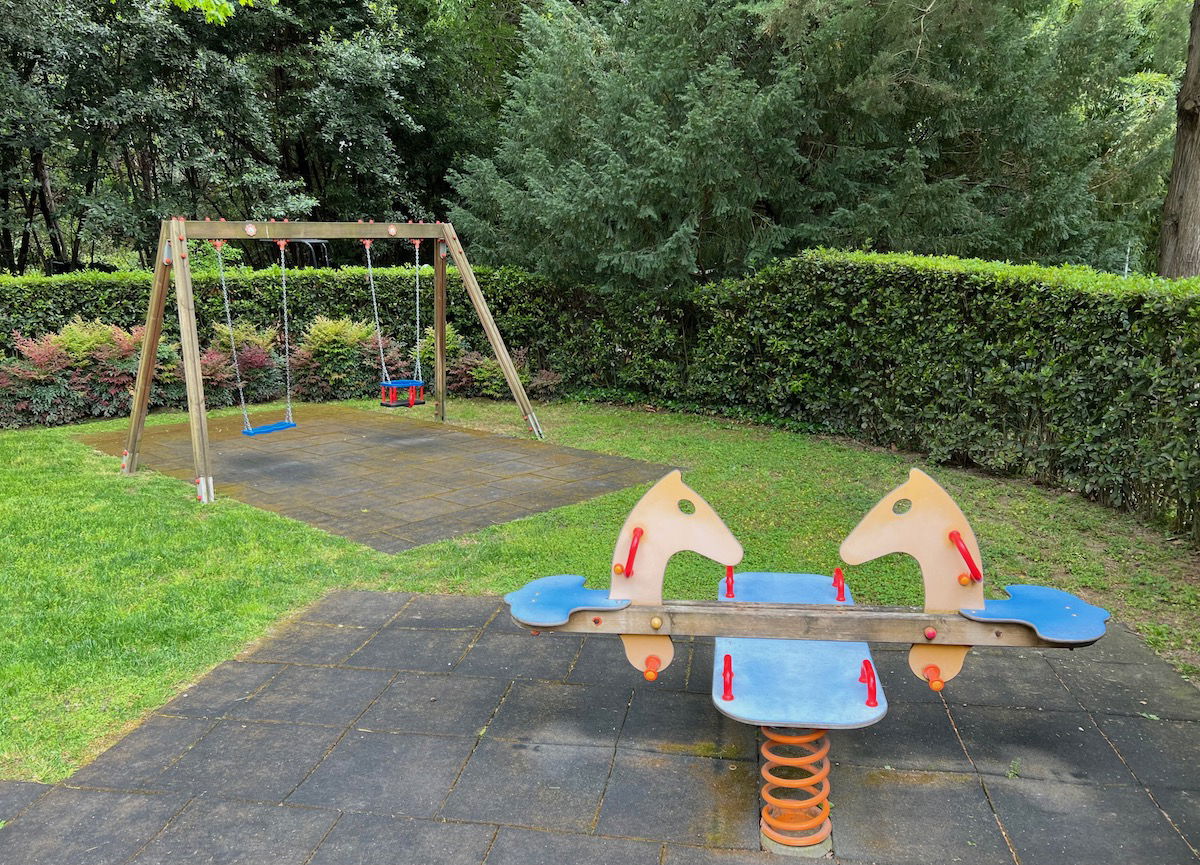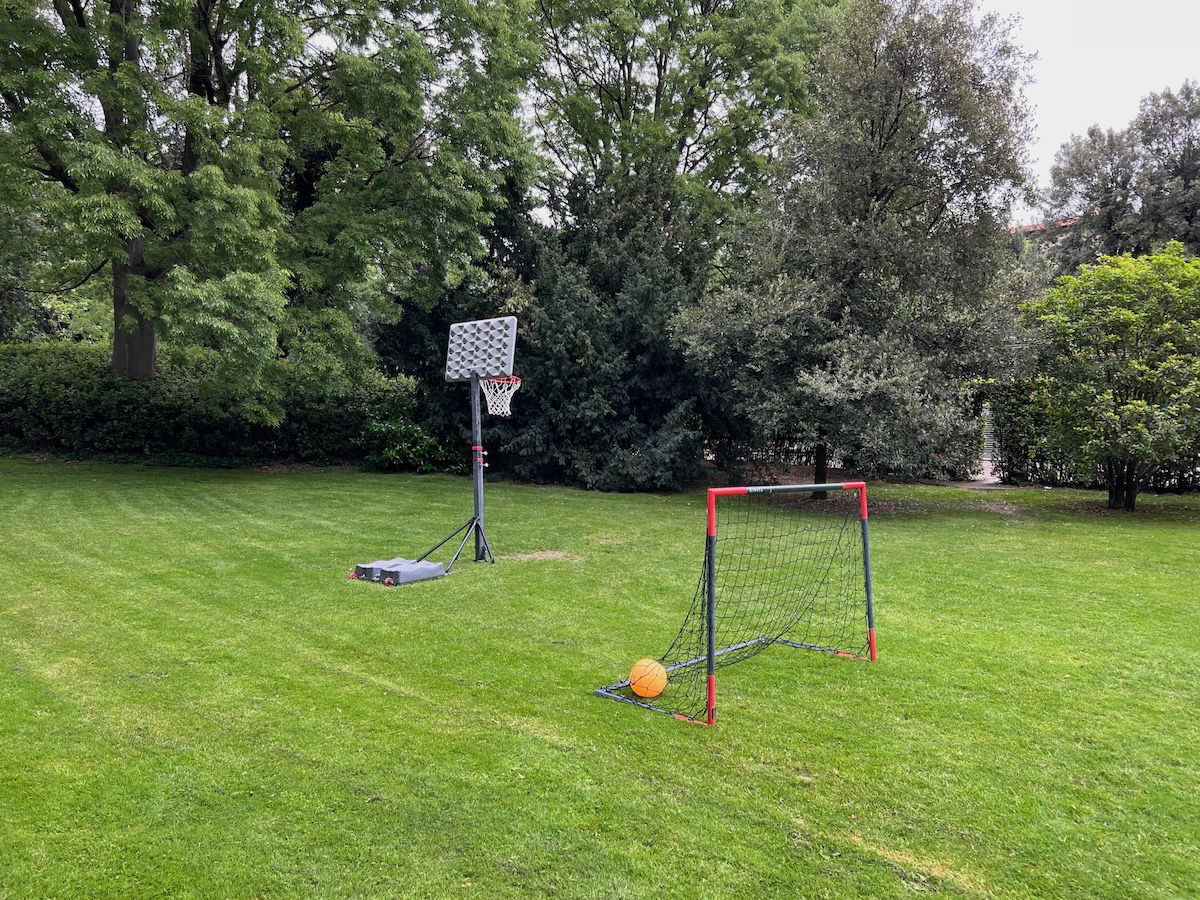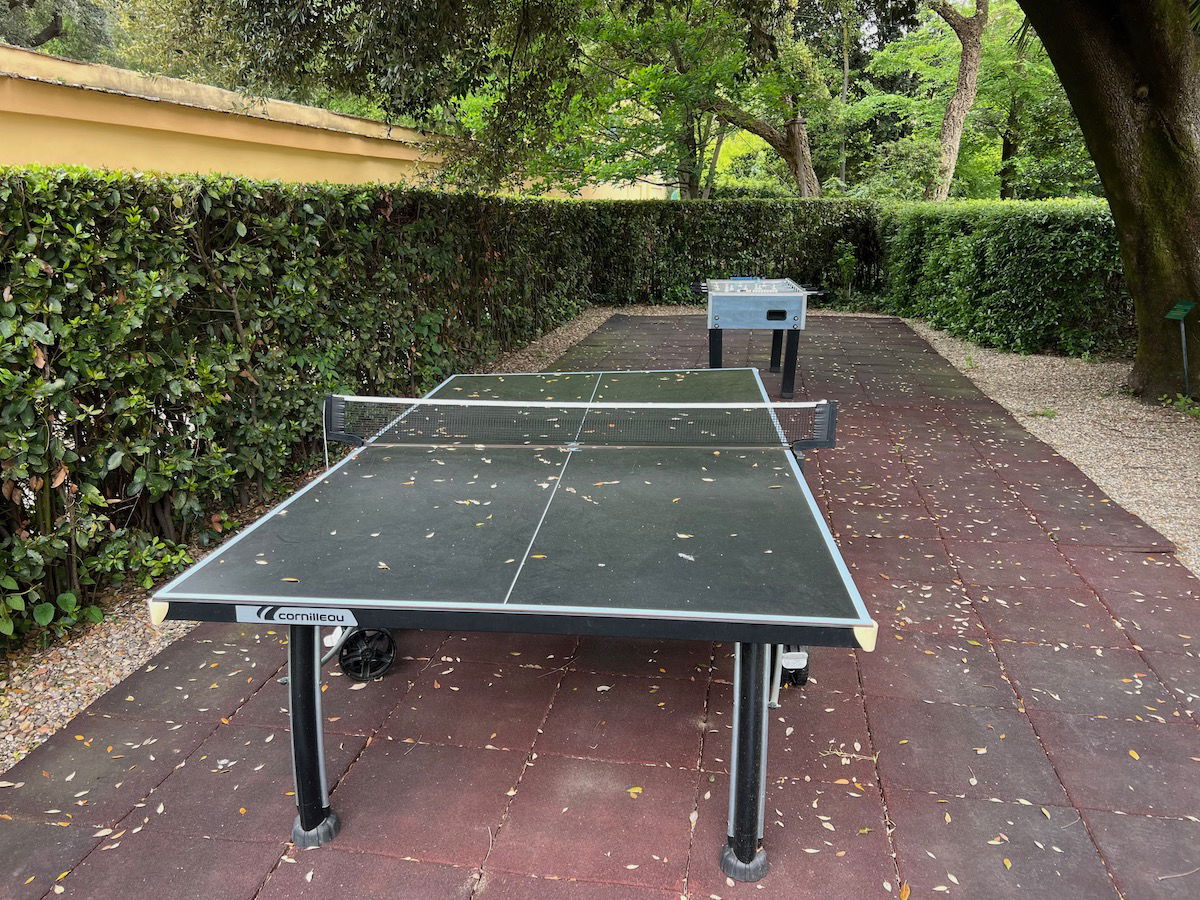 Four Seasons Florence gym
Four Seasons properties are known for consistently having top notch gyms. Shortly after arriving at a hotel, I always like to walk around and look at all the facilities. I was expecting that since this hotel is in a building that's hundreds of years old, it might have one of the less impressive gyms. Well, nope.
The Four Seasons Florence's gym is in its own building off the garden, and it's spread across three floors. The gym is officially open from 7AM until 10PM, but the staff are happy to unlock it for you if you'd like to visit earlier or later.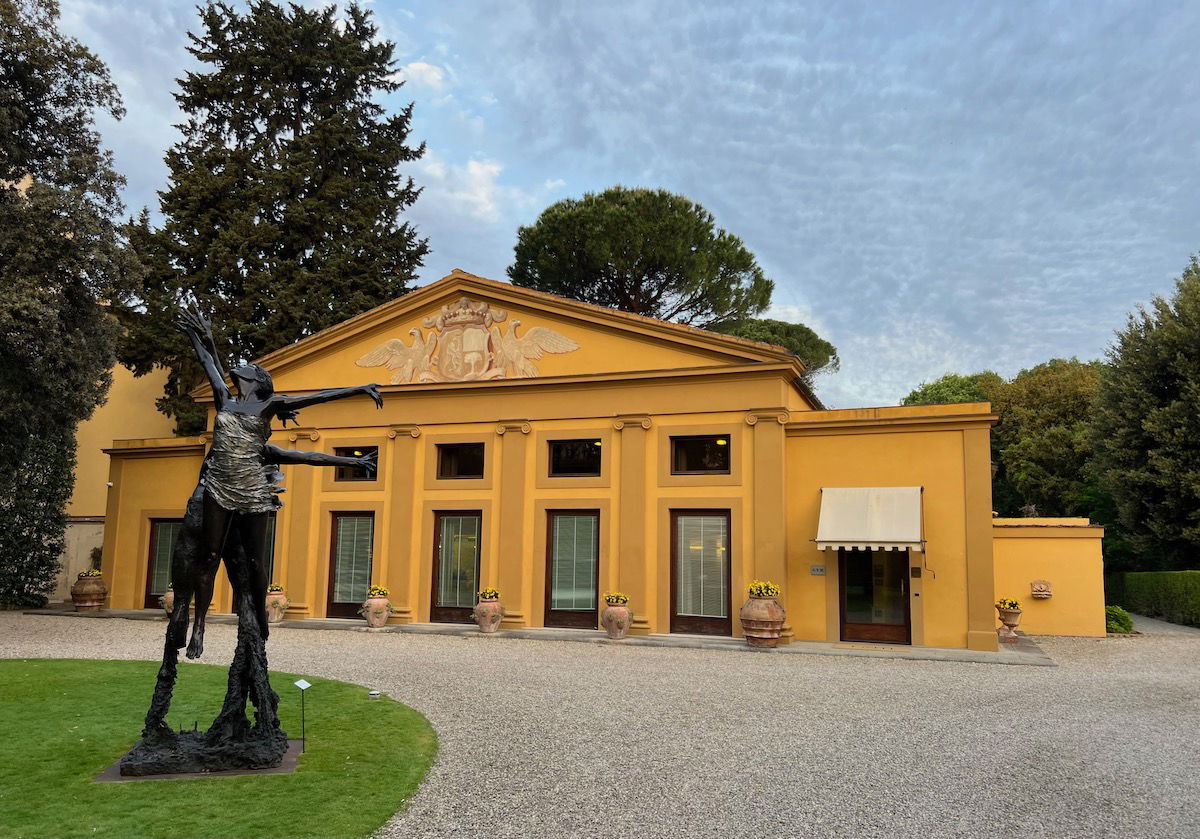 This is possibly the most impressive gym I've ever seen at a (relatively) boutique city hotel.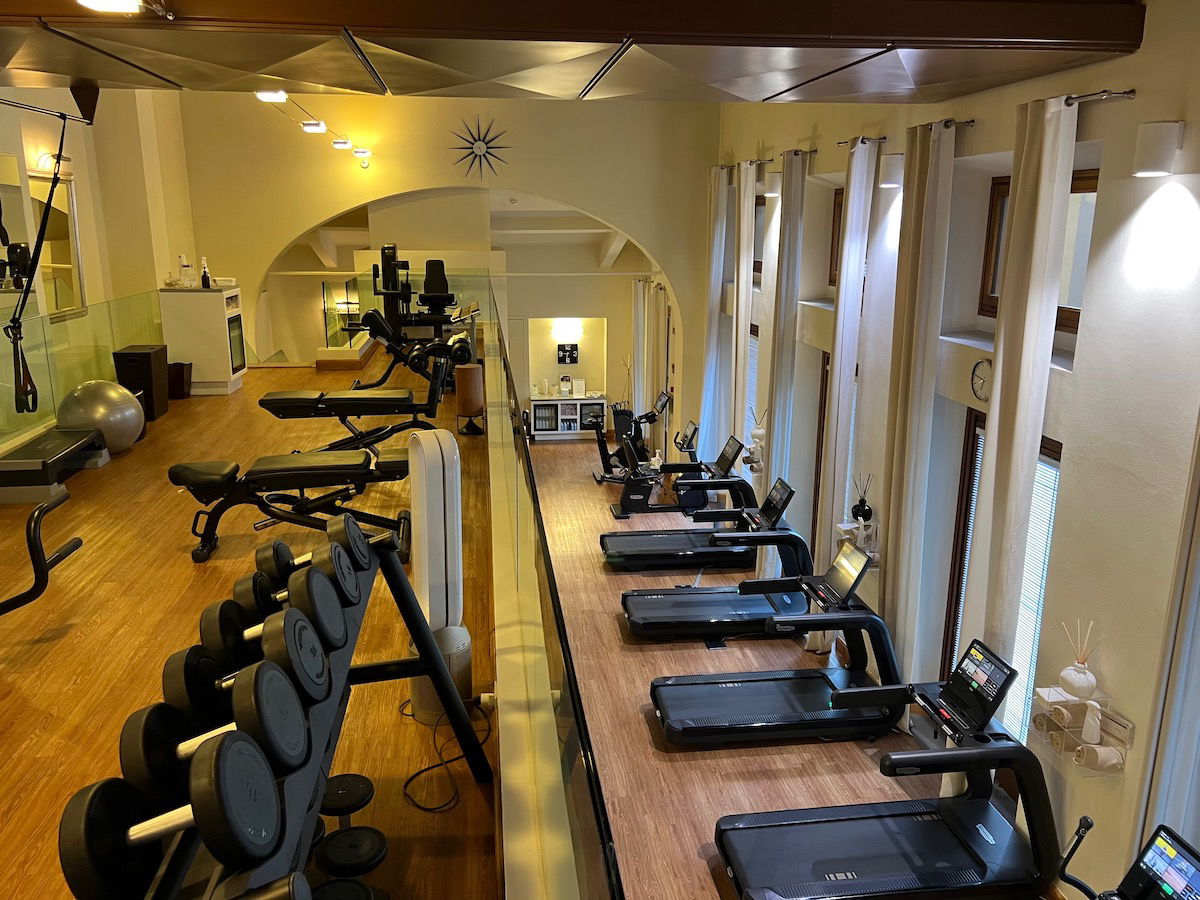 The first floor had a huge amount of cardio equipment, while the second floor had weights.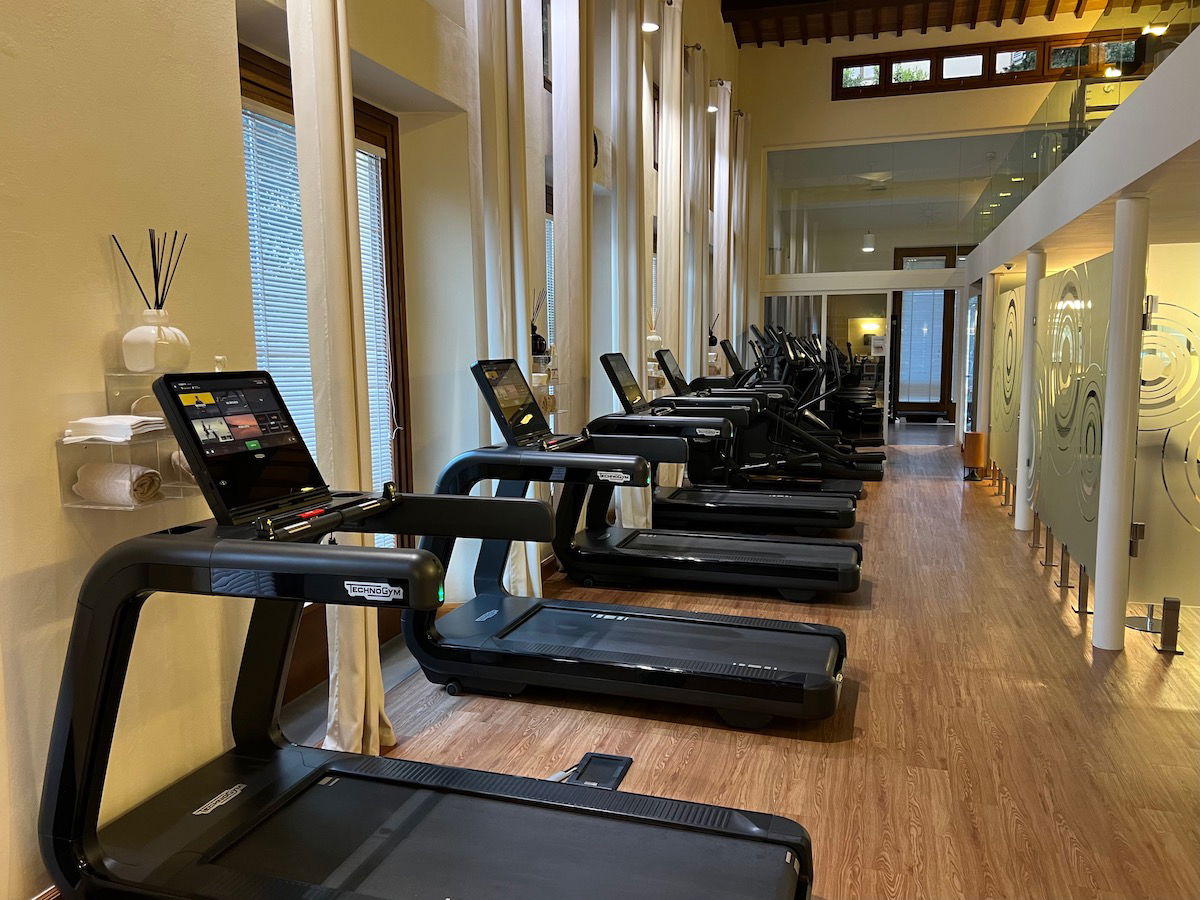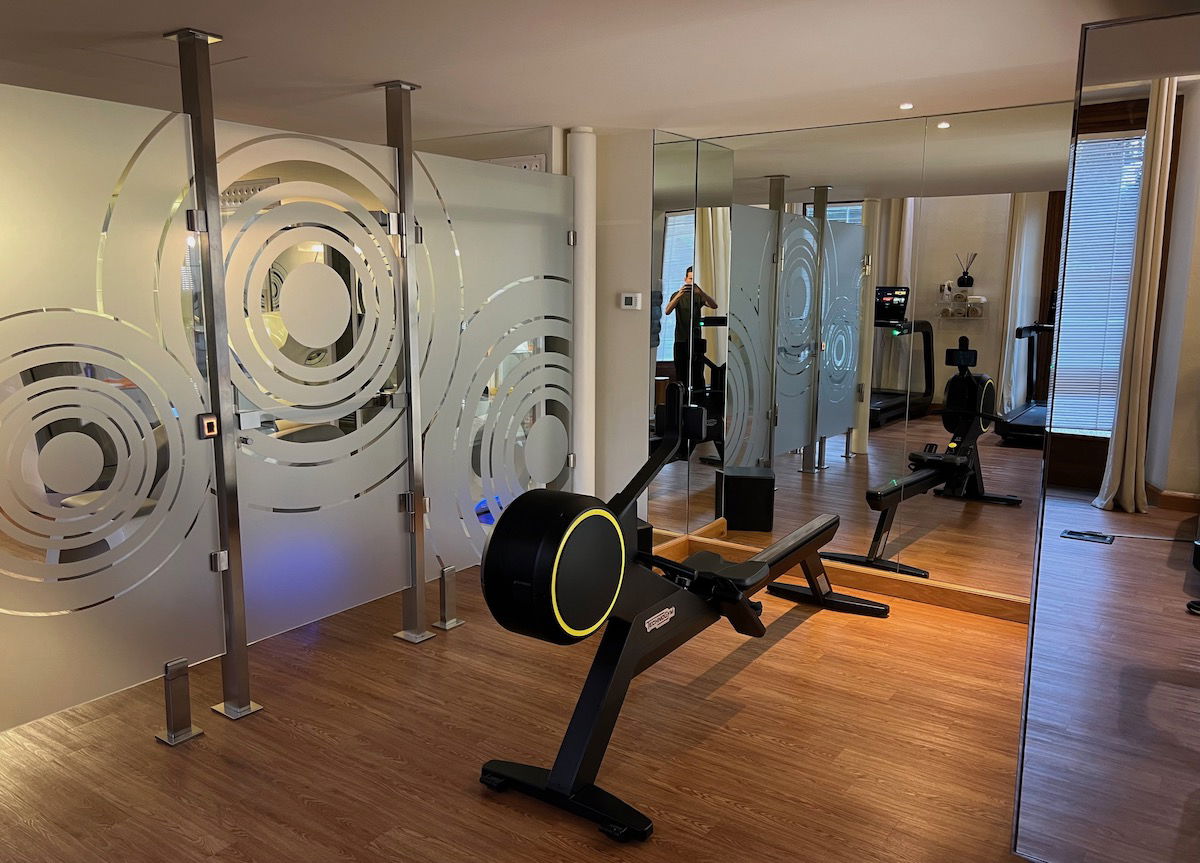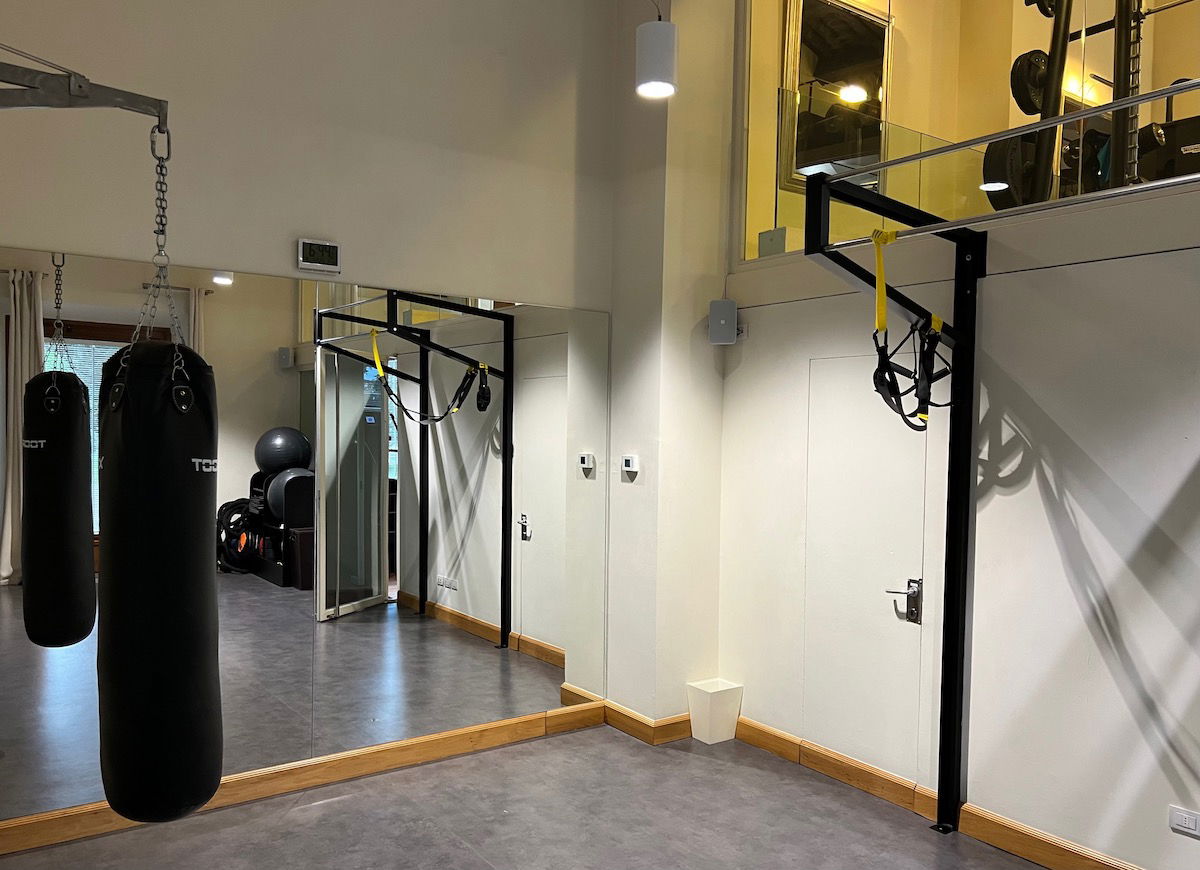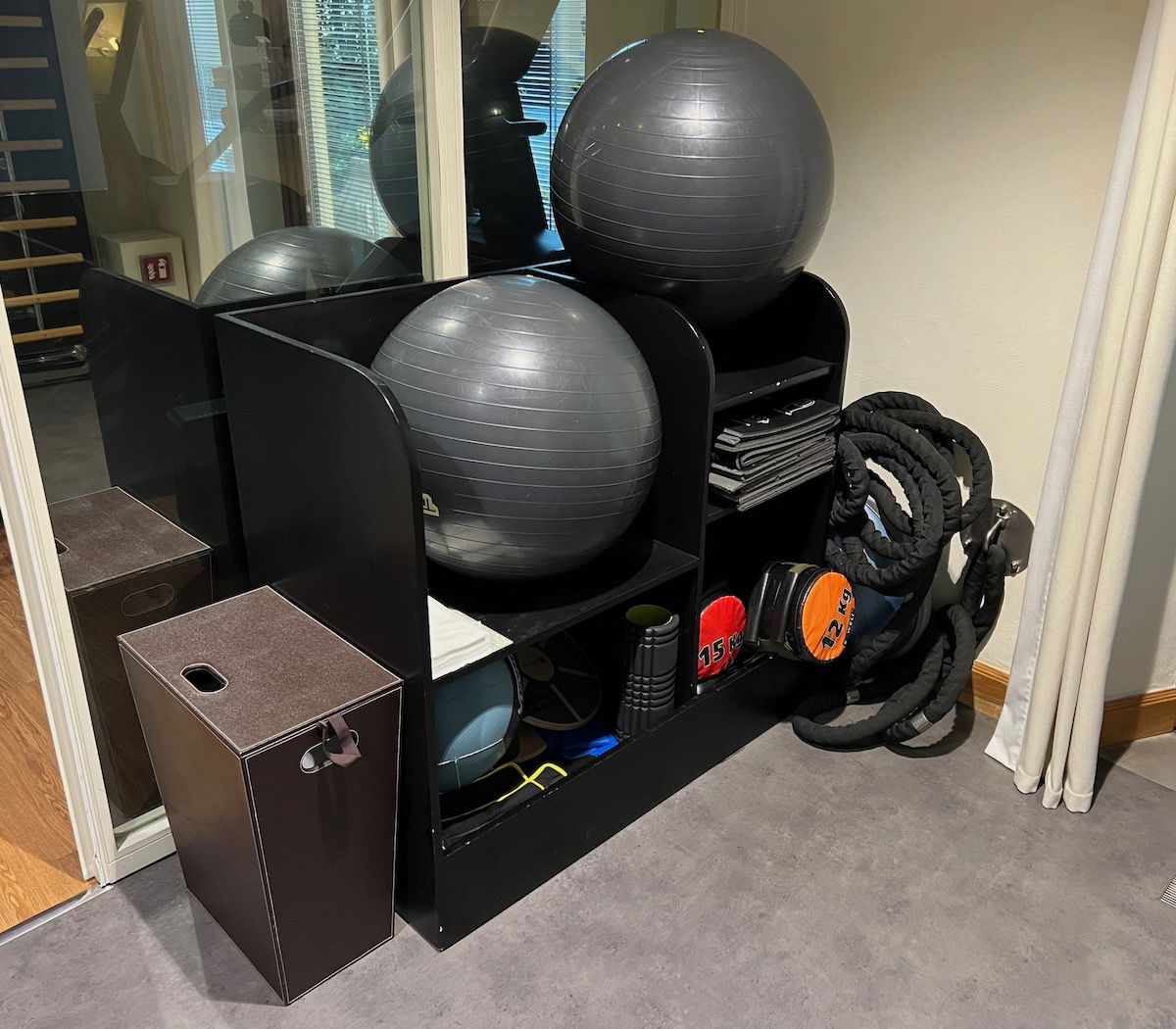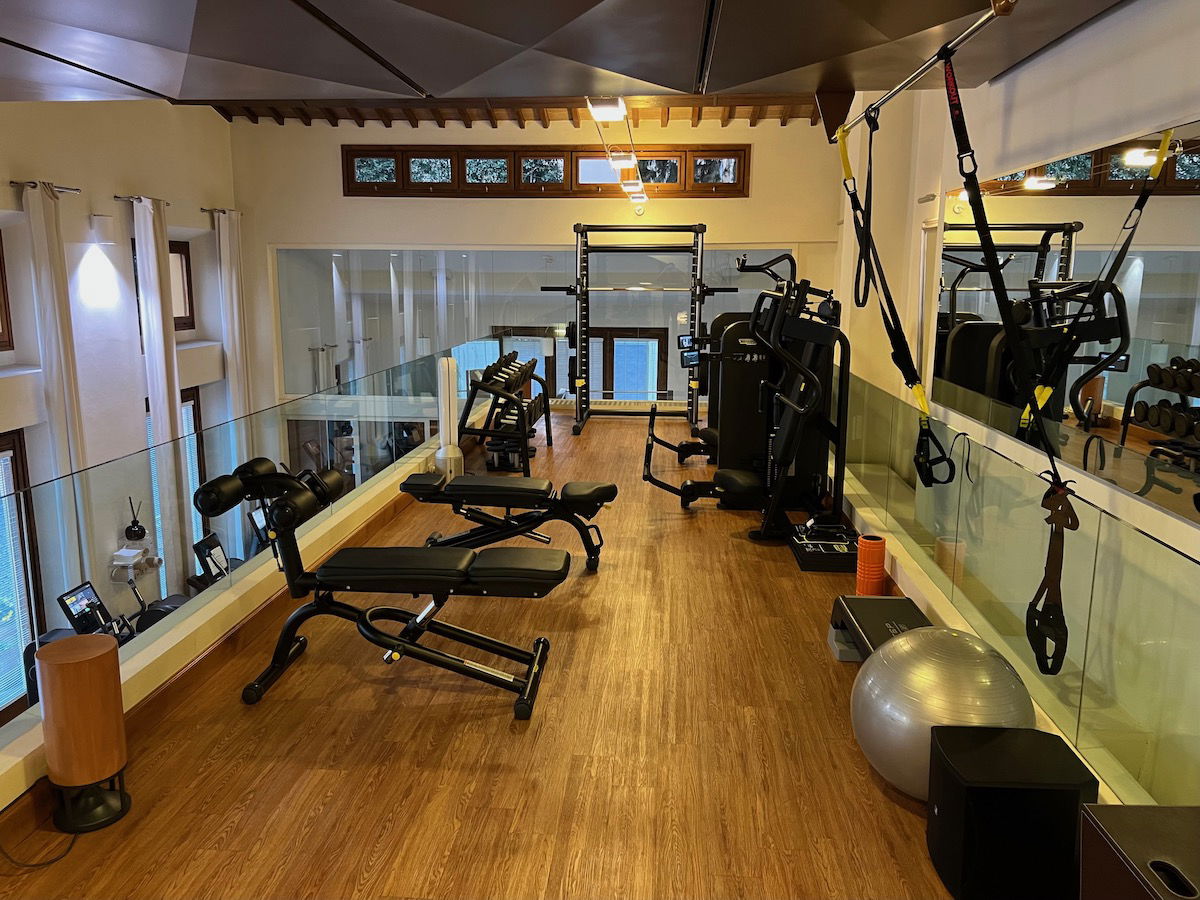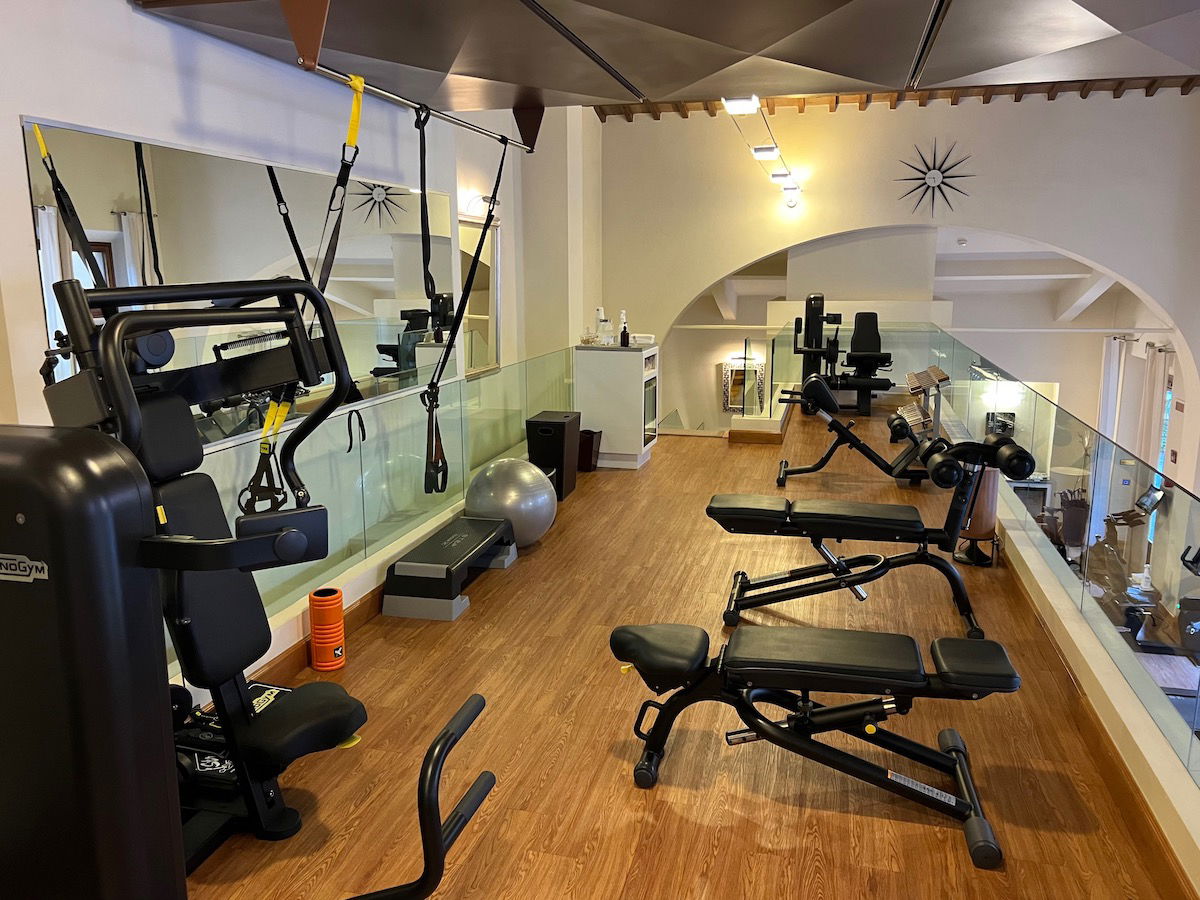 Then there was a basement level to the gym, which had changing rooms, a sauna and steam room, a relaxation area, and more.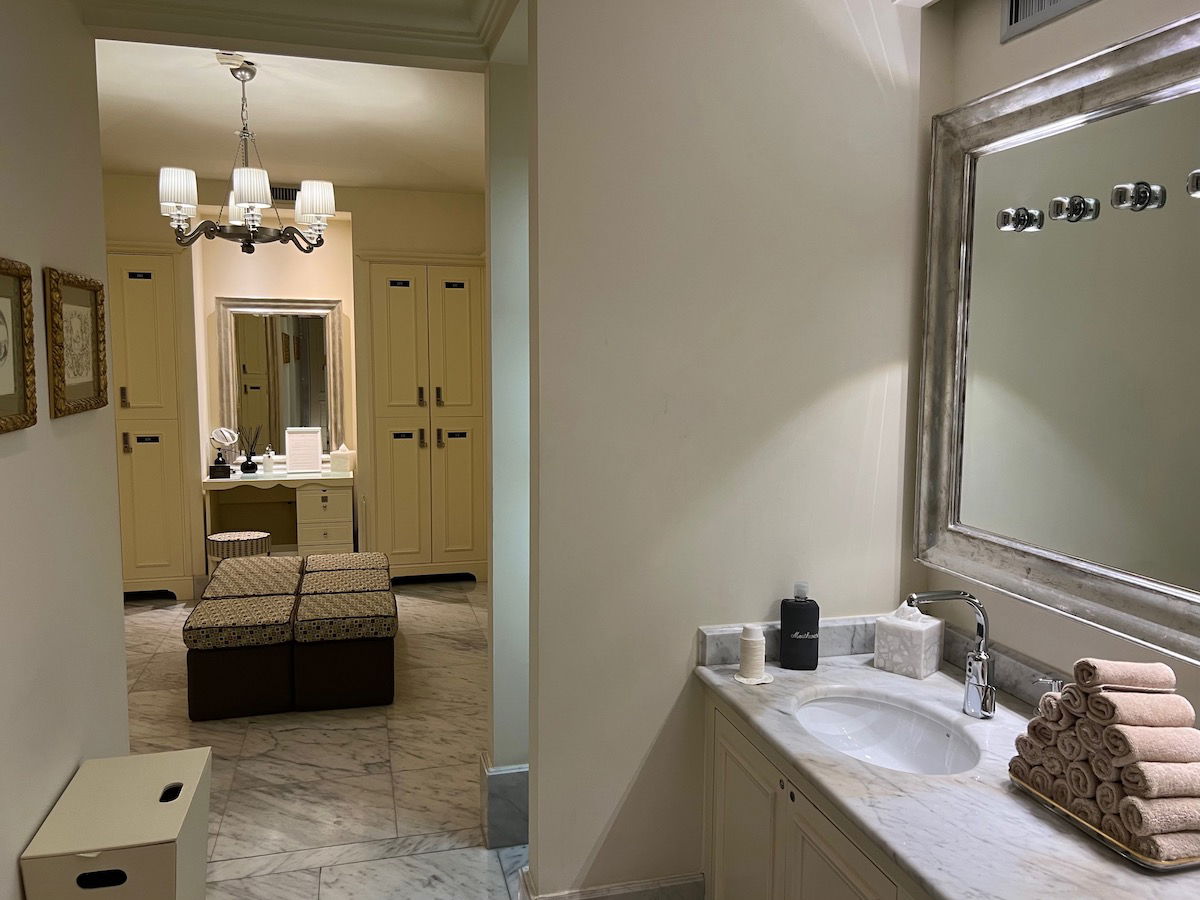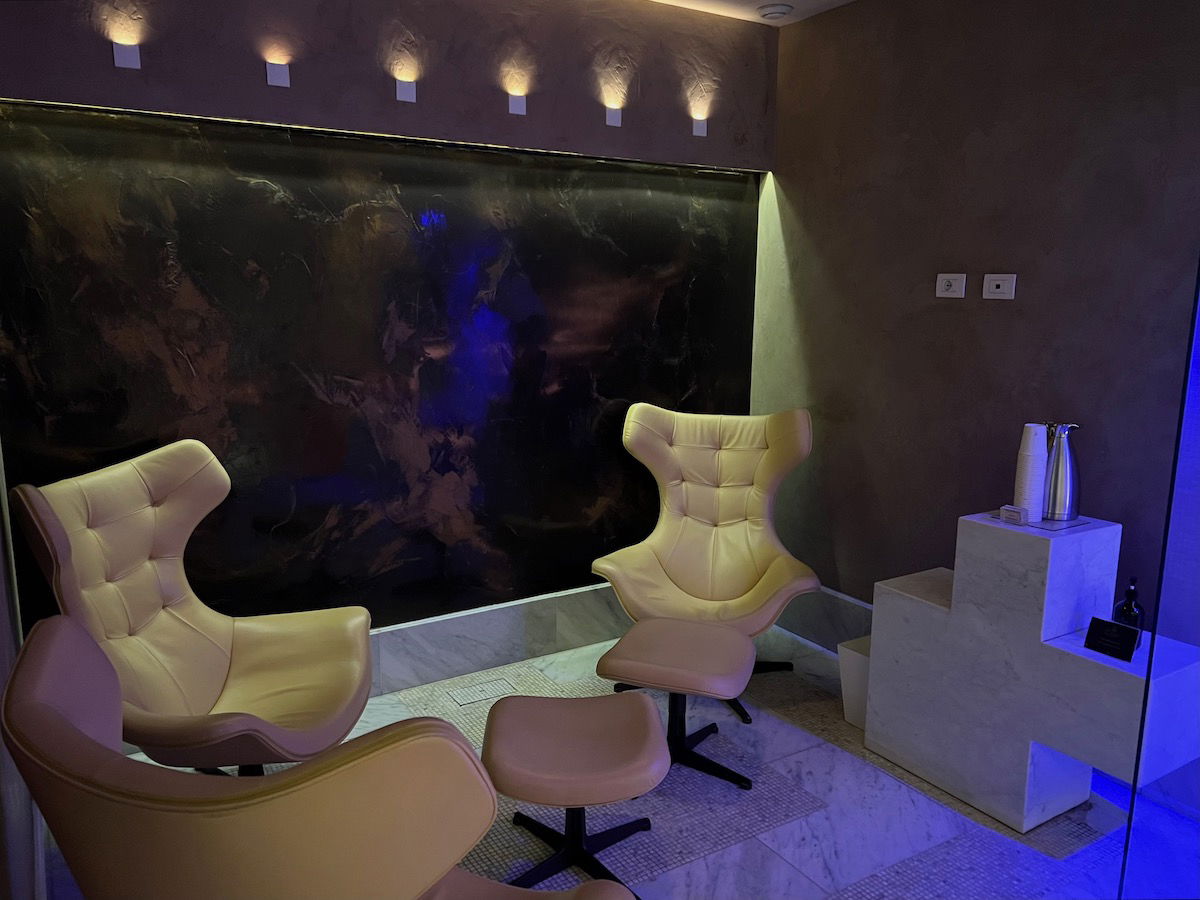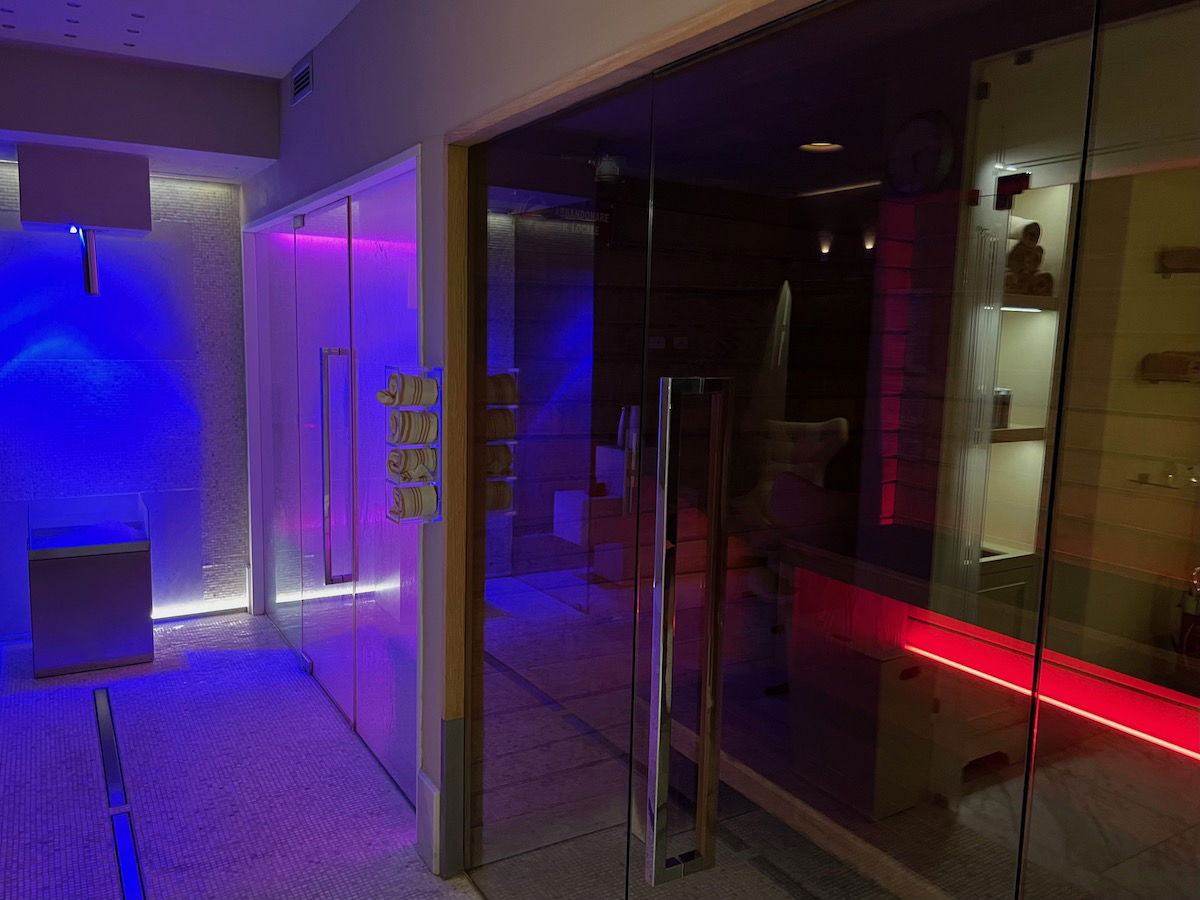 Interestingly the gym actually connects underground to the spa, which is in yet another building.
Four Seasons Florence spa
The Four Seasons Florence spa is off the garden across from the gym, and is open daily from 10AM until 8PM. I didn't use the spa during our visit, but you can find all the treatments here. Much like the gym, this appeared to be an impressive setup.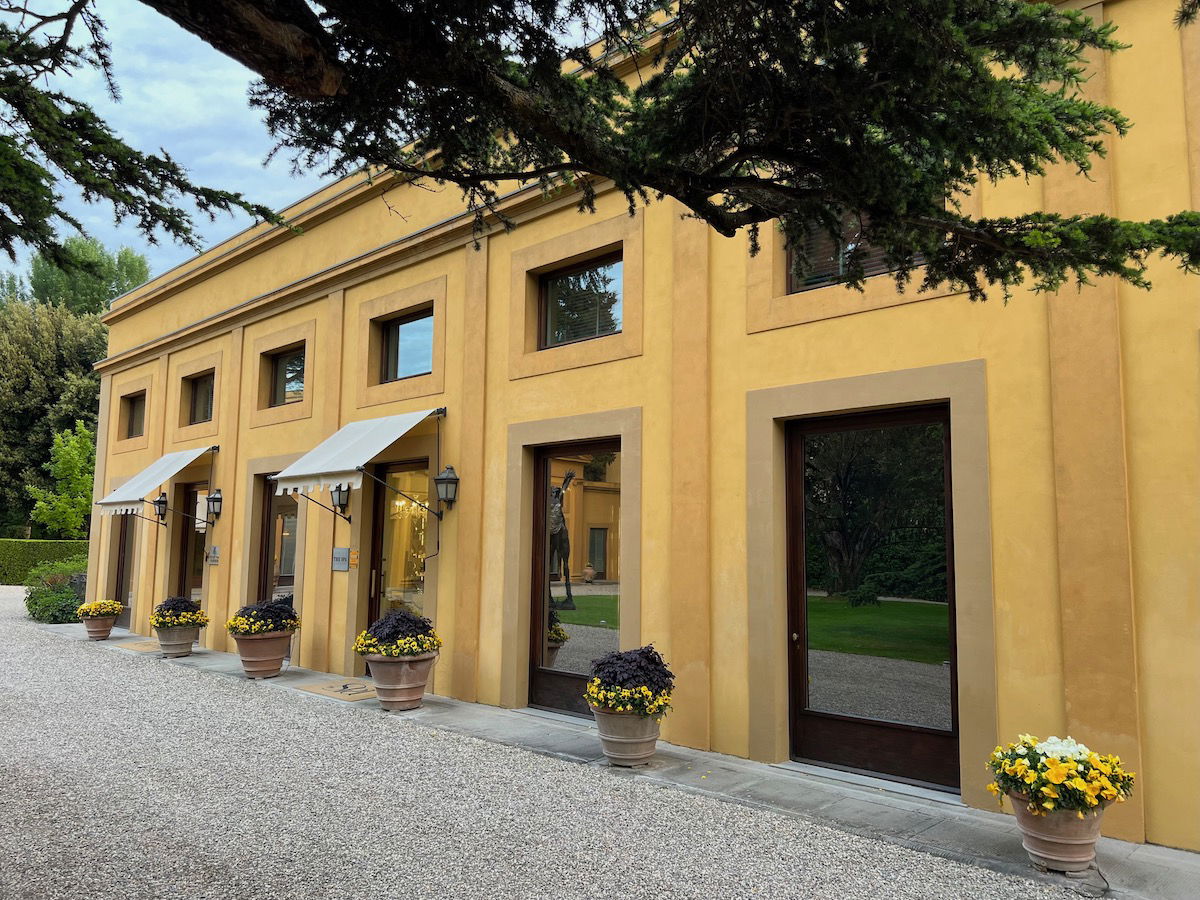 Four Seasons Florence pool
The Four Seasons Florence has an outdoor pool and hot tub, open daily from 9AM until 8PM. We were visiting the hotel in April, which is a little before the summer season, so we weren't really looking to use the pool. That being said, the pool is beautiful, as is the seating around it. There's also a pool bar there with food and drinks, but it wasn't yet open for the season. Like many of the features at this hotel, you'll quickly forget that you're in a city hotel.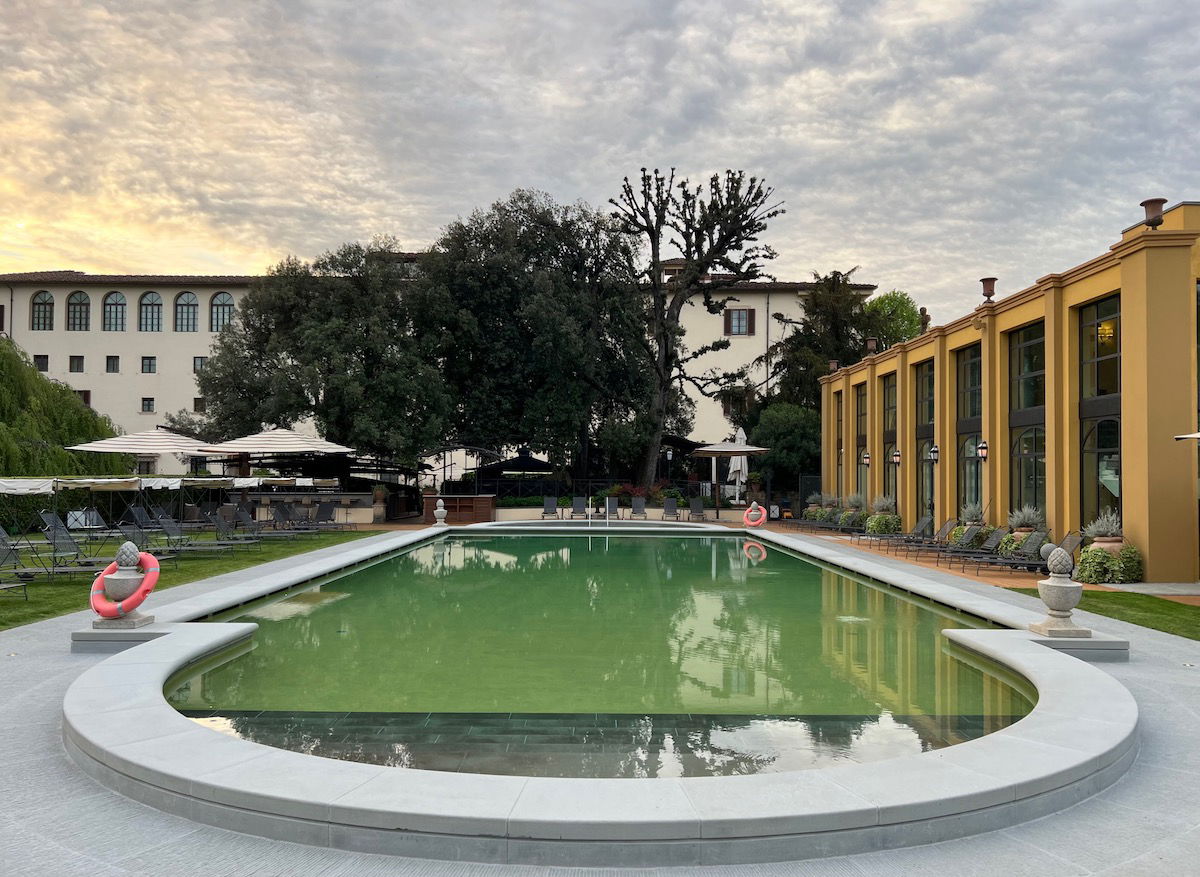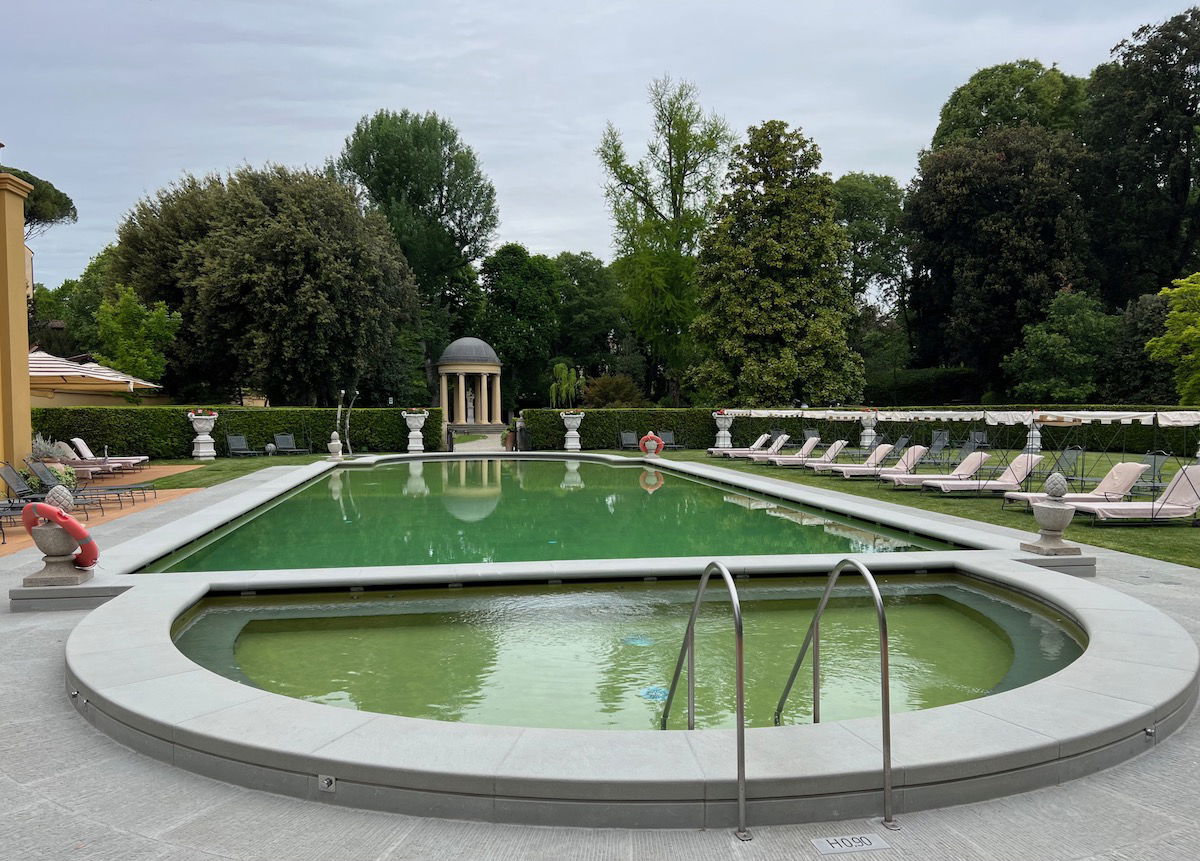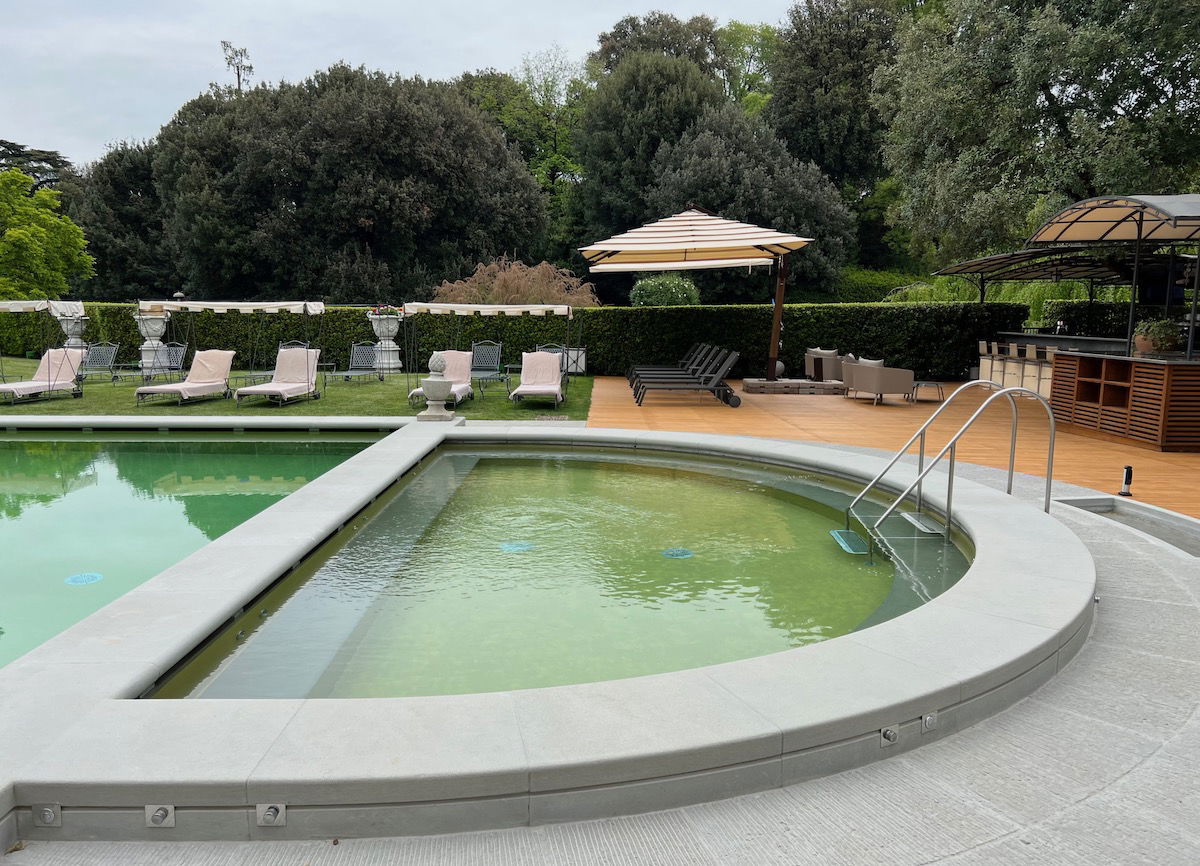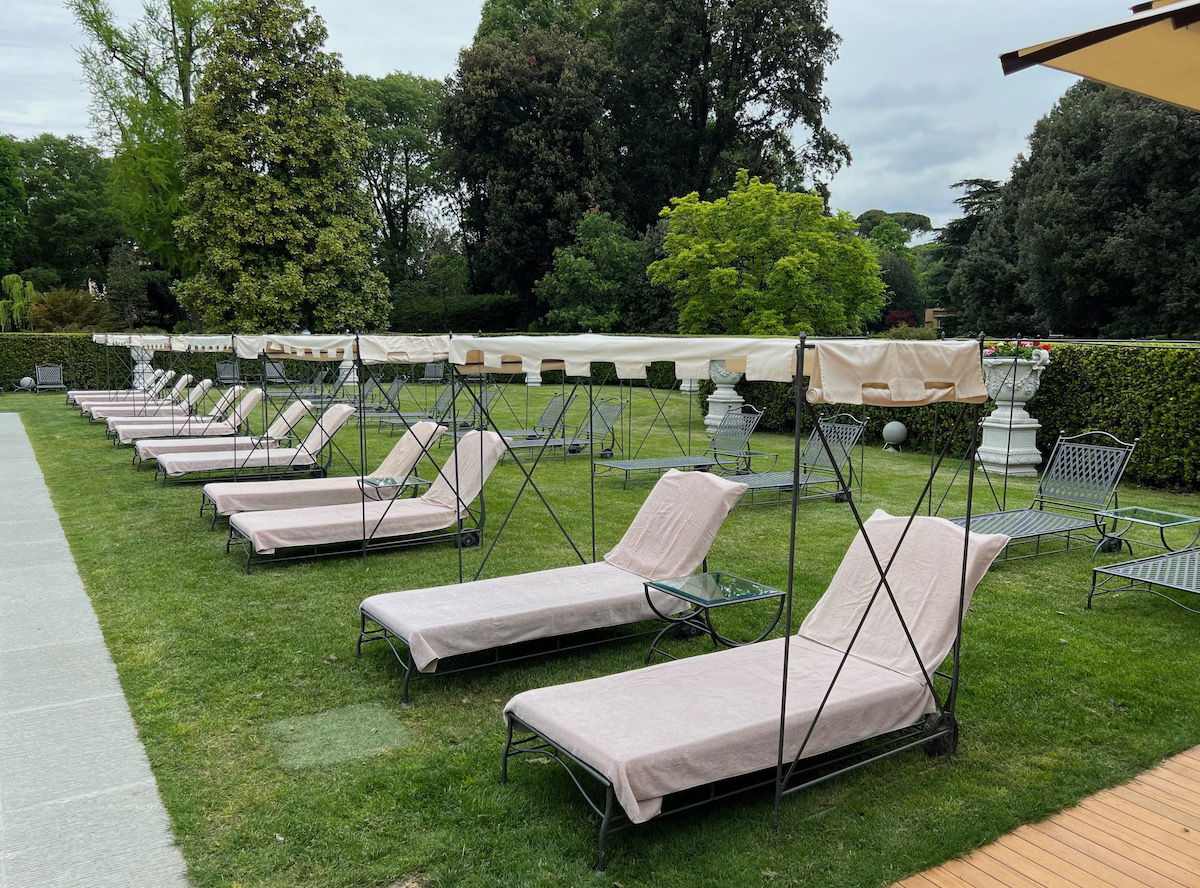 Four Seasons Florence Il Palagio
Il Palagio is the Four Seasons Florence's signature restaurant, and it has a Michelin star. The restaurant is open for breakfast, and then reopens for dinner. The restaurant is a pretty good size, and there's even an outdoor terrace if you're visiting in summer.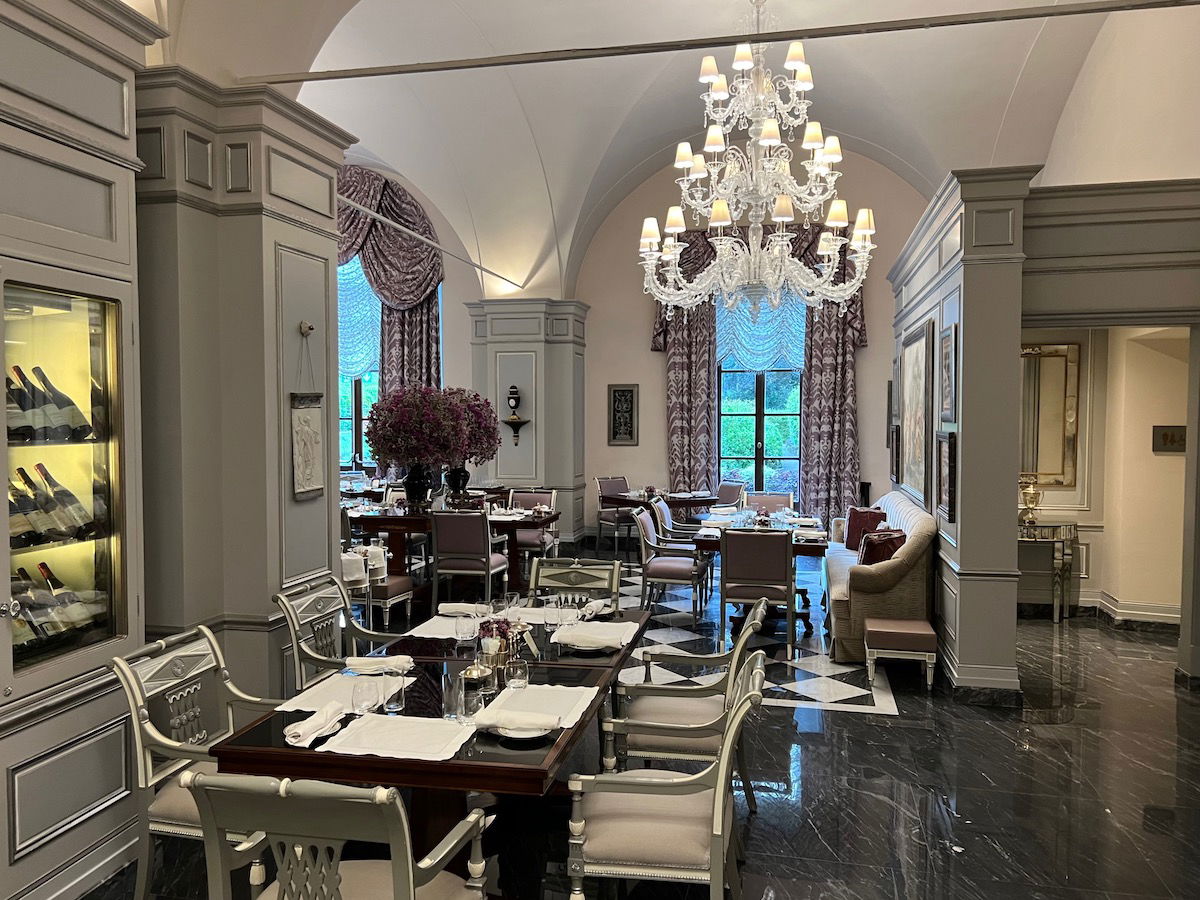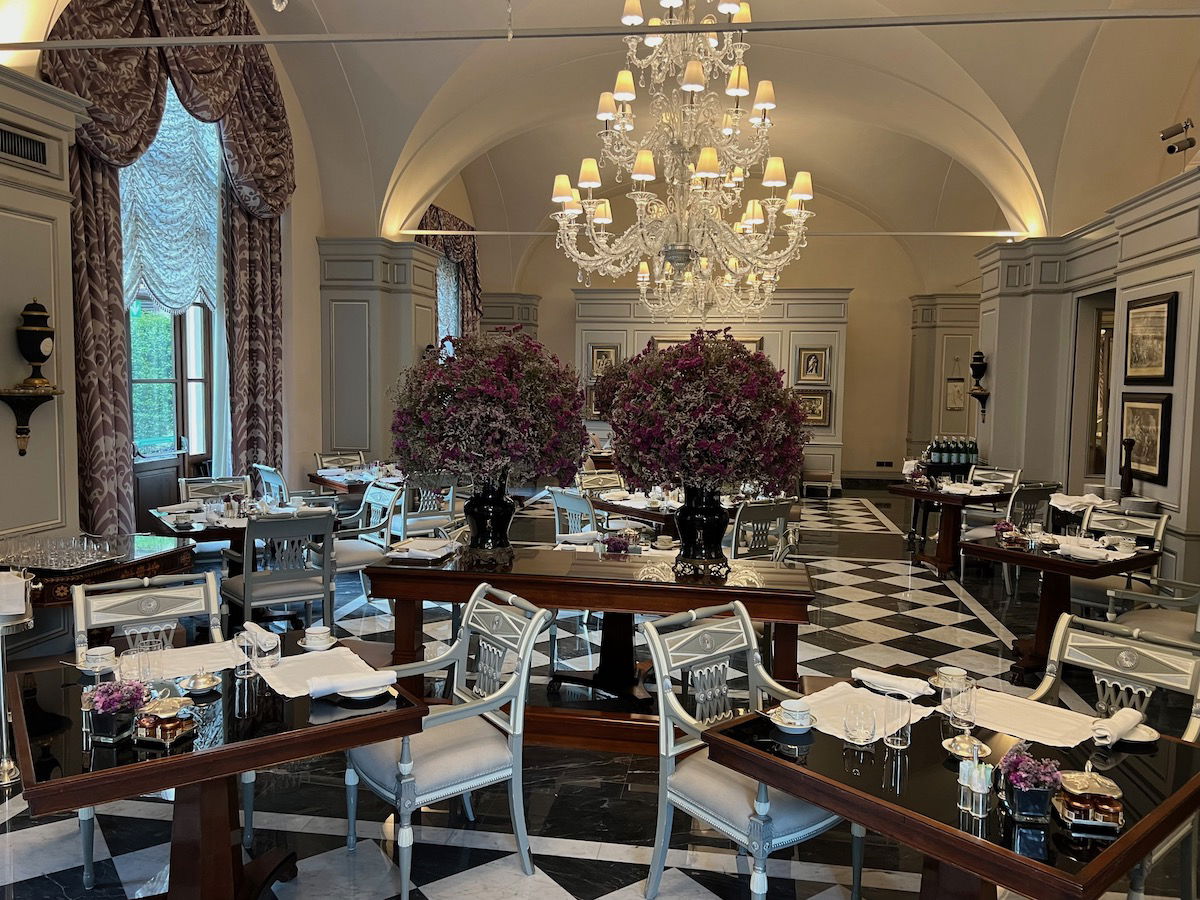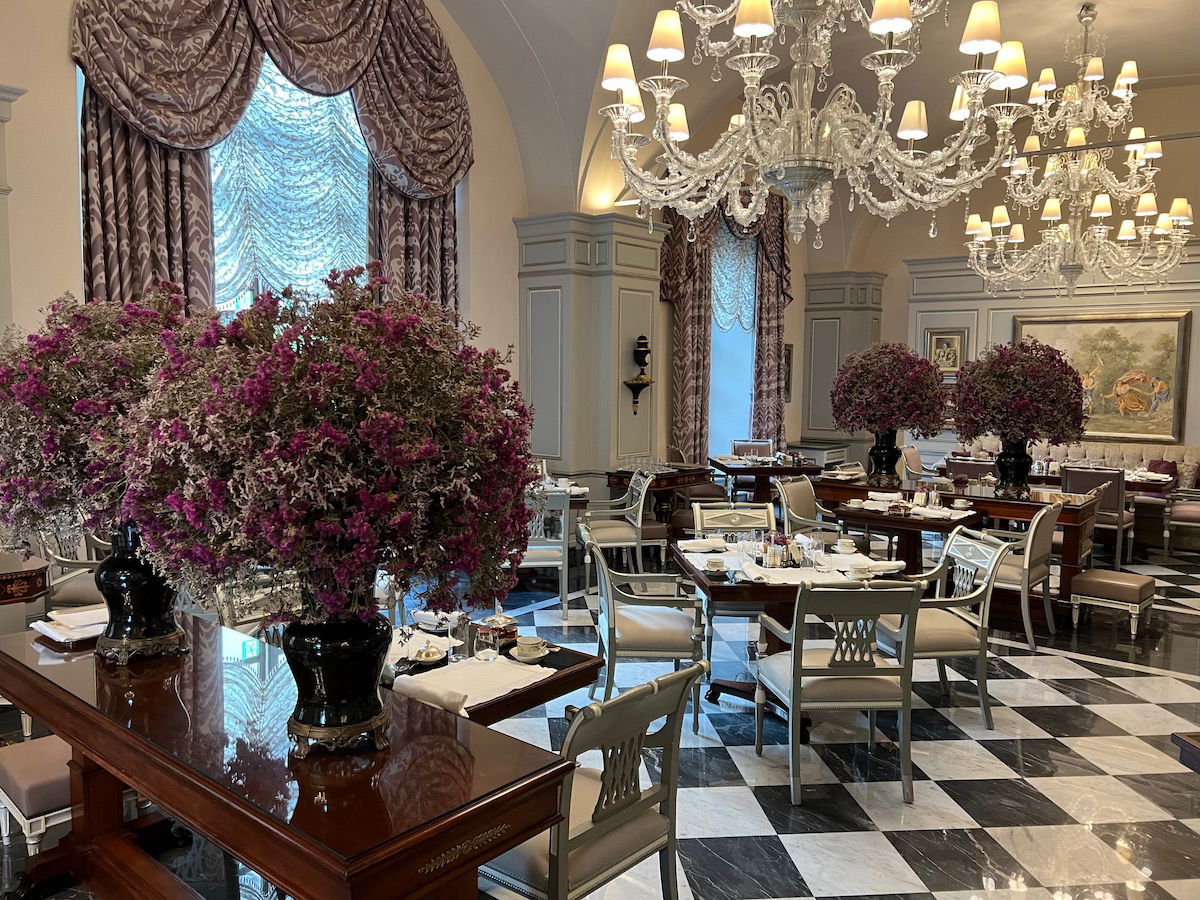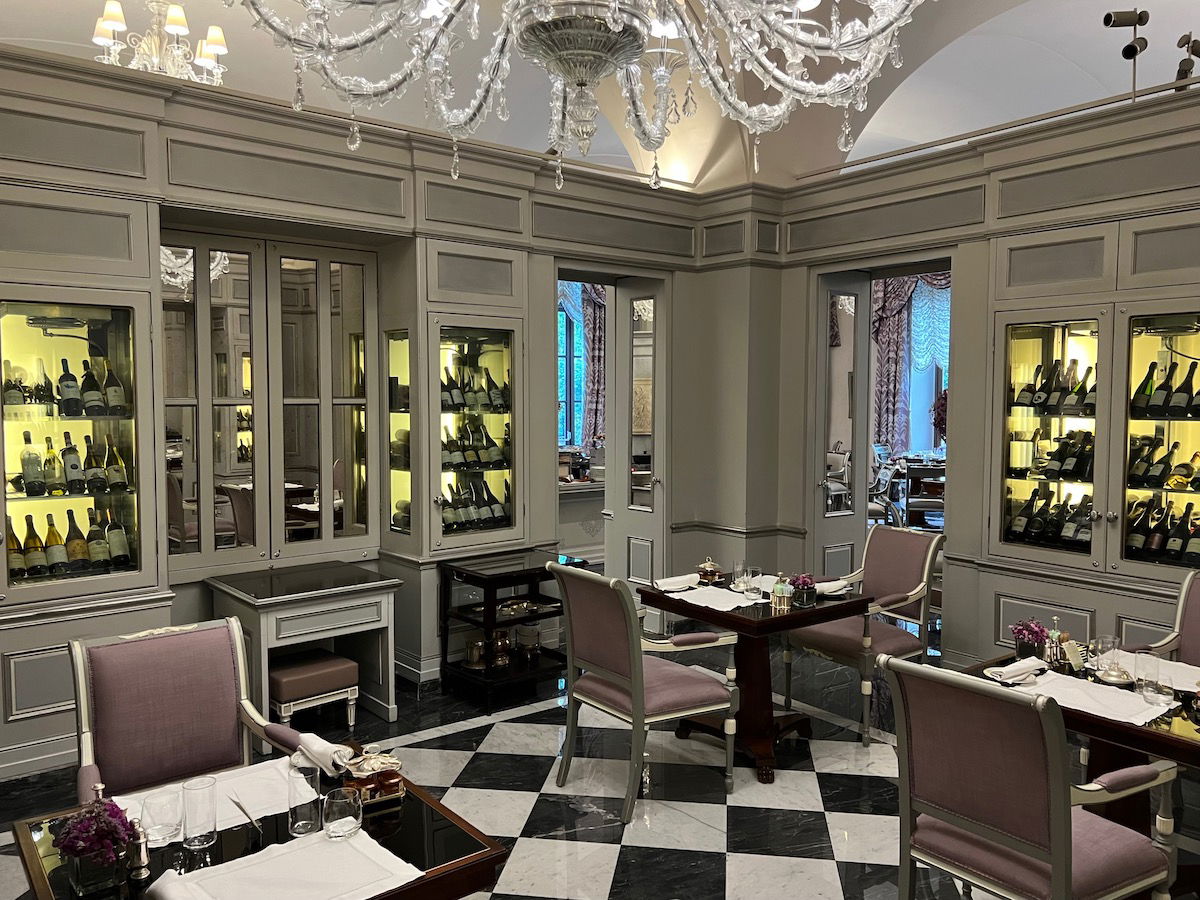 The Four Seasons Florence serves breakfast daily from 7AM until 11AM, and you can find the menu below (if you book through Four Seasons Preferred Partner, breakfast is included).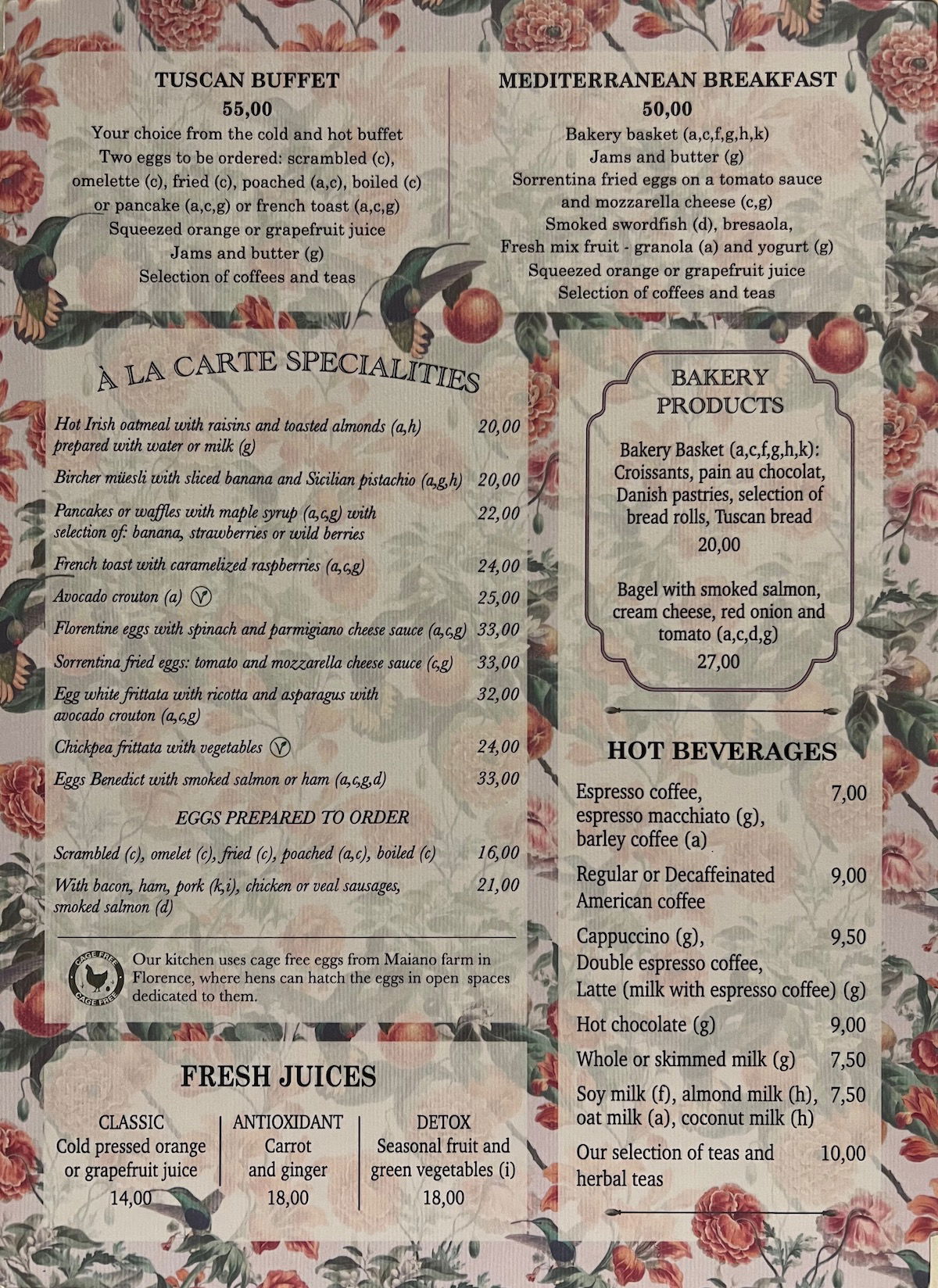 One breakfast option is to enjoy the hot and cold buffet, which is quite good by European standards. The buffet had everything from cold cuts and cheese, to fruit, yogurt and cereal, to bread and pastries, to several hot options. You could also then order eggs or other items off the menu.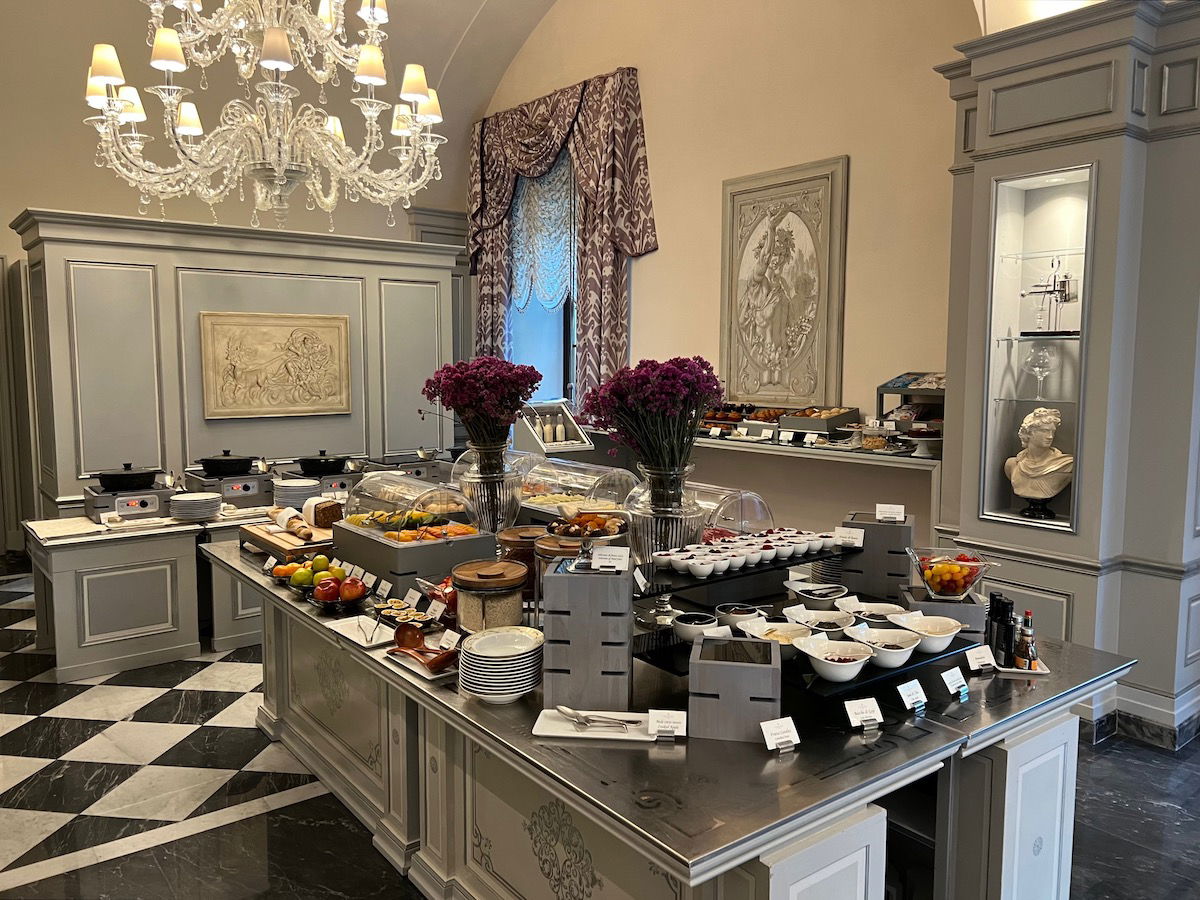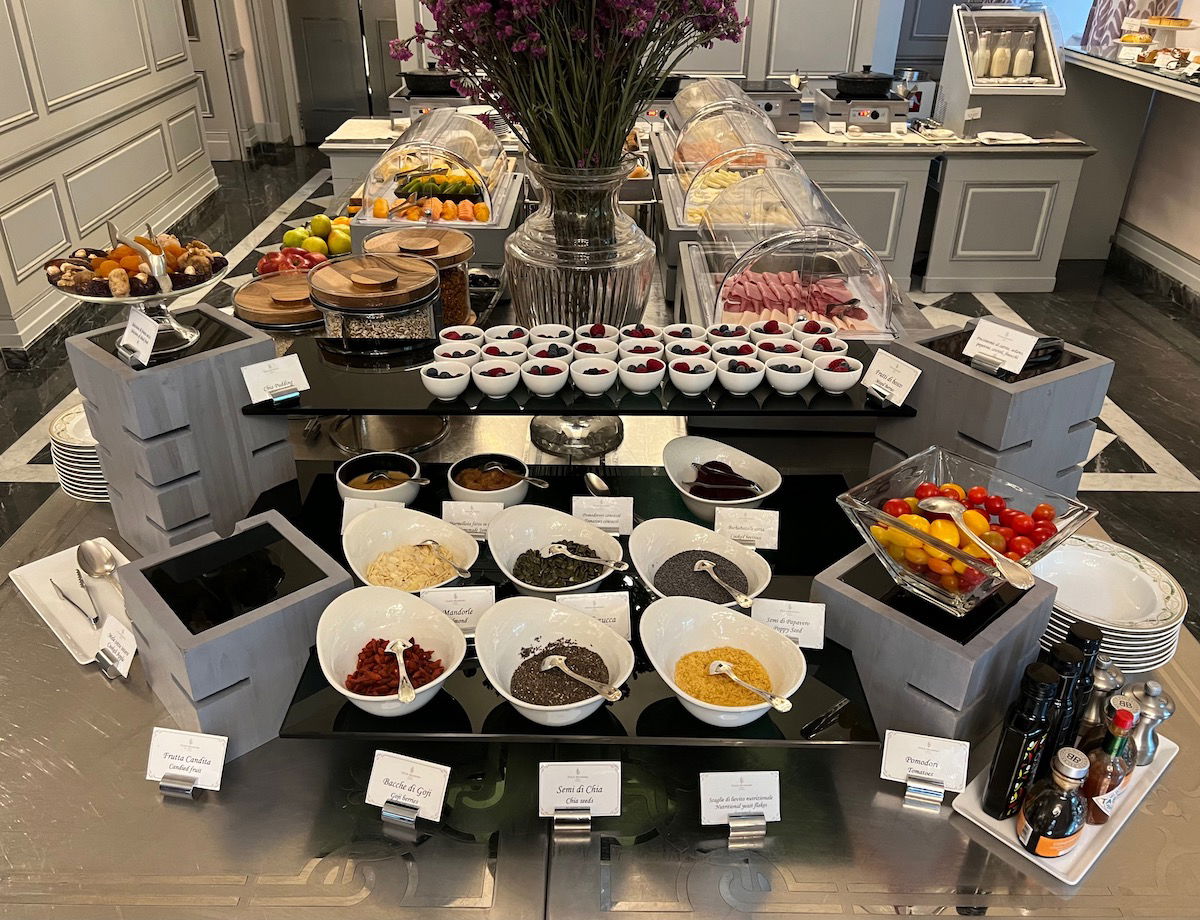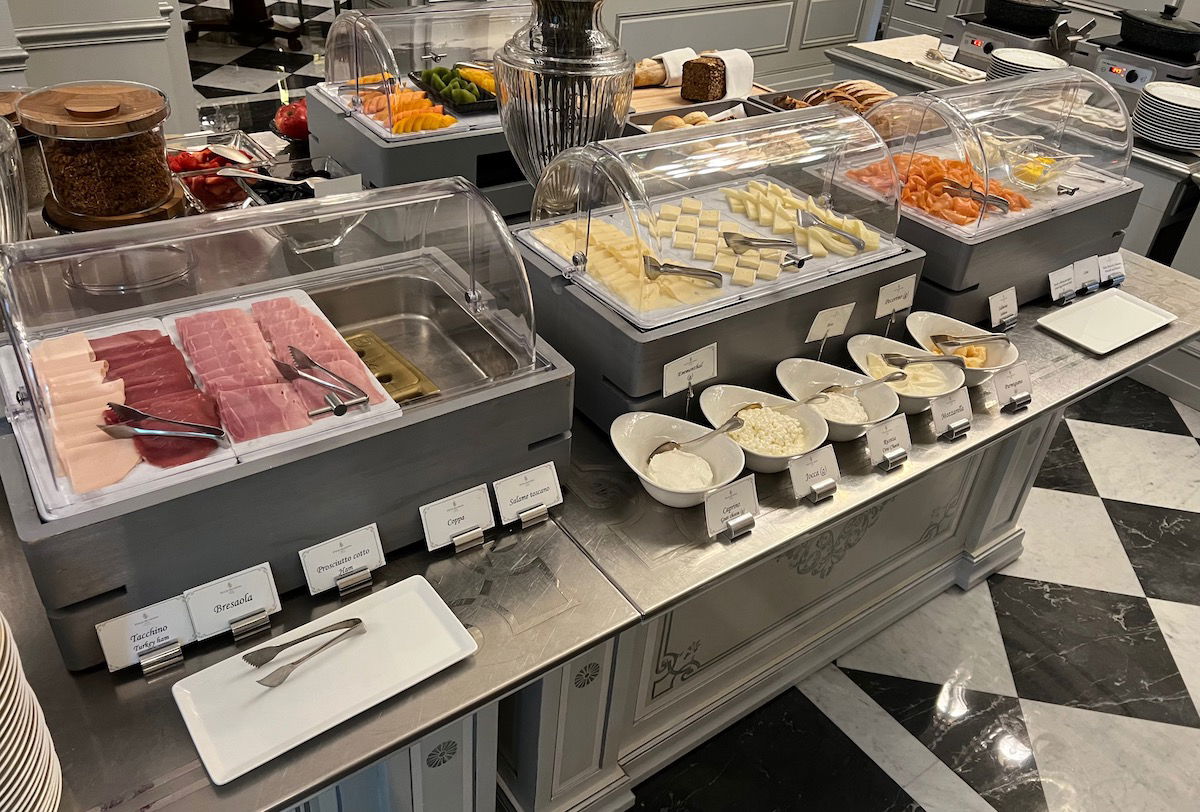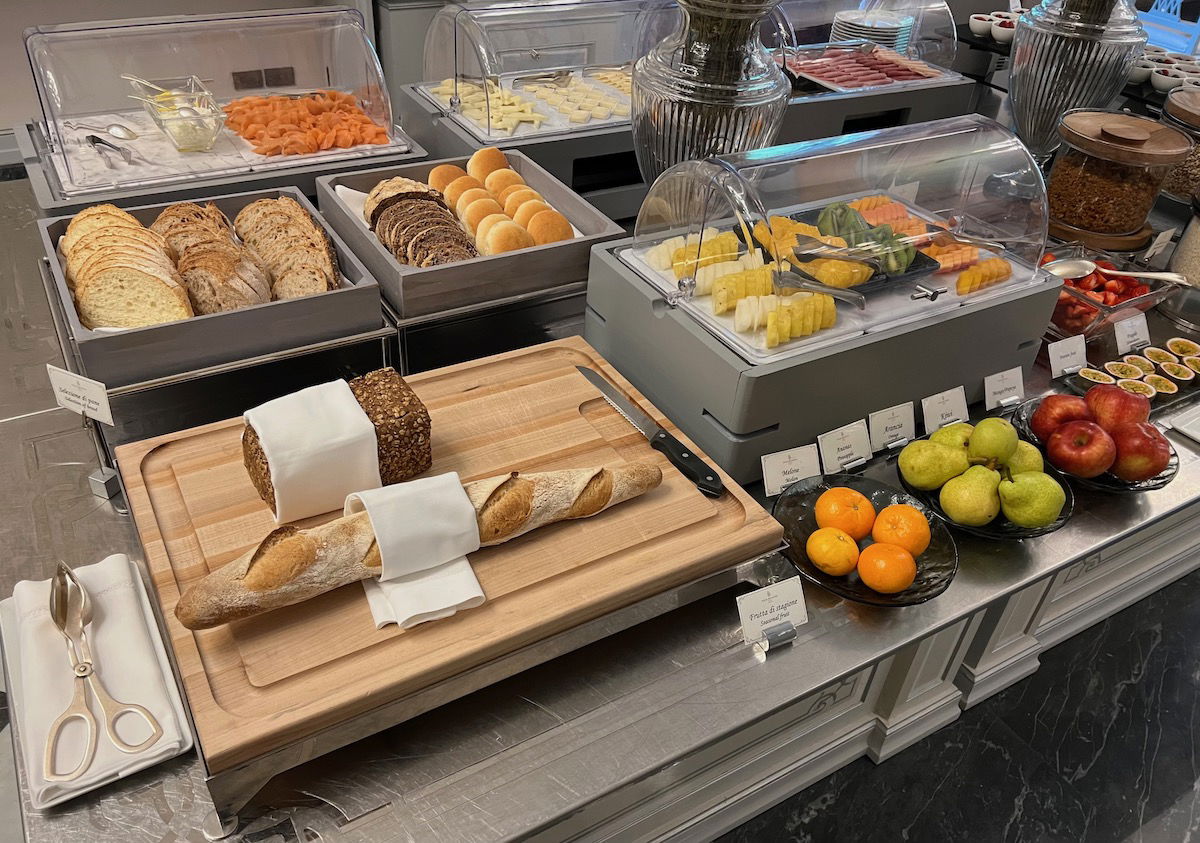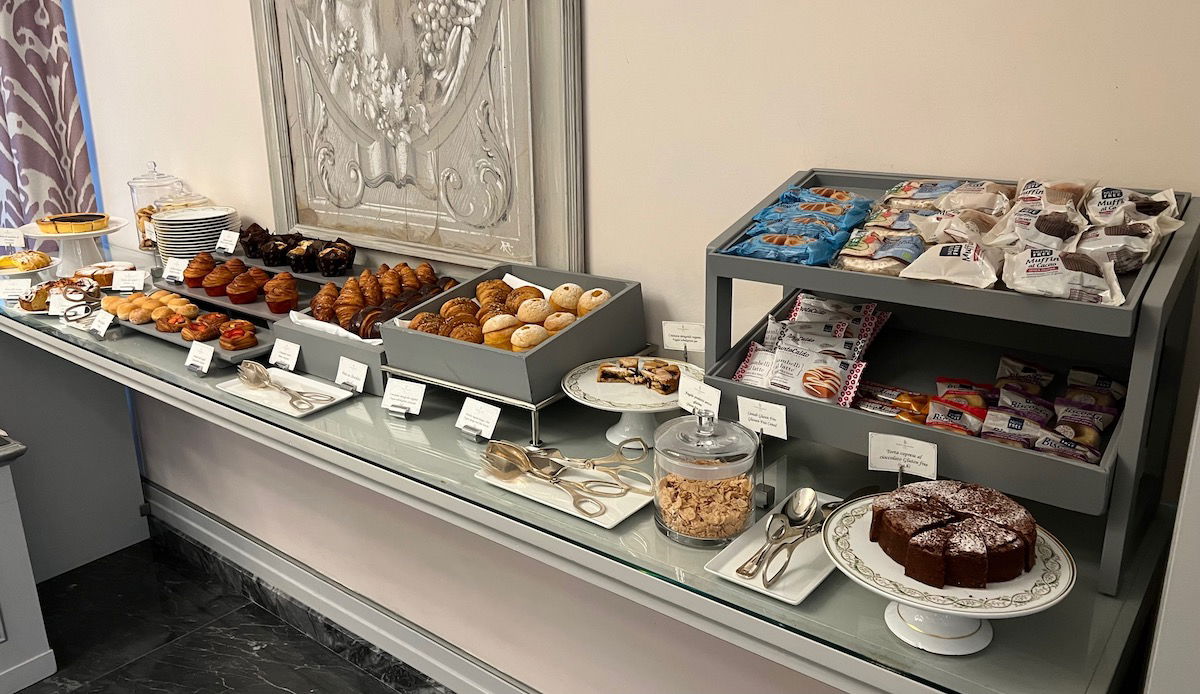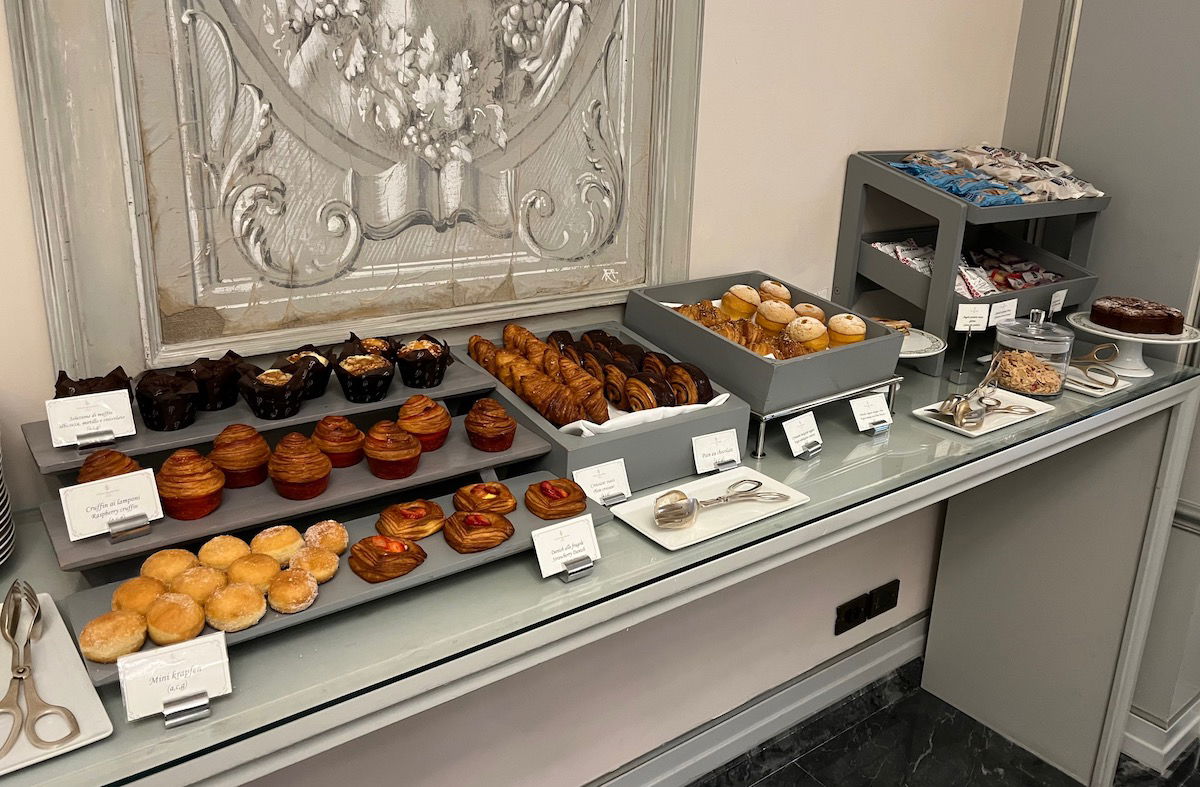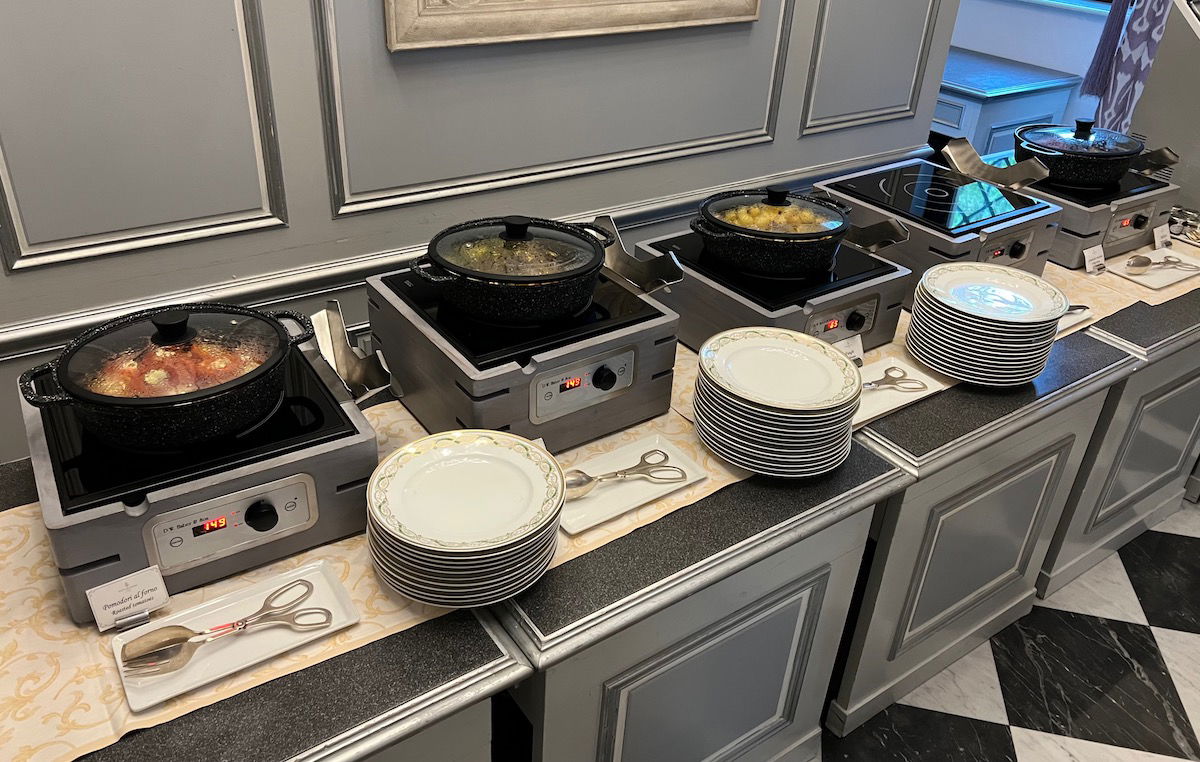 The cappuccinos were simply divine, and I enjoyed the freshly squeezed orange juice as well.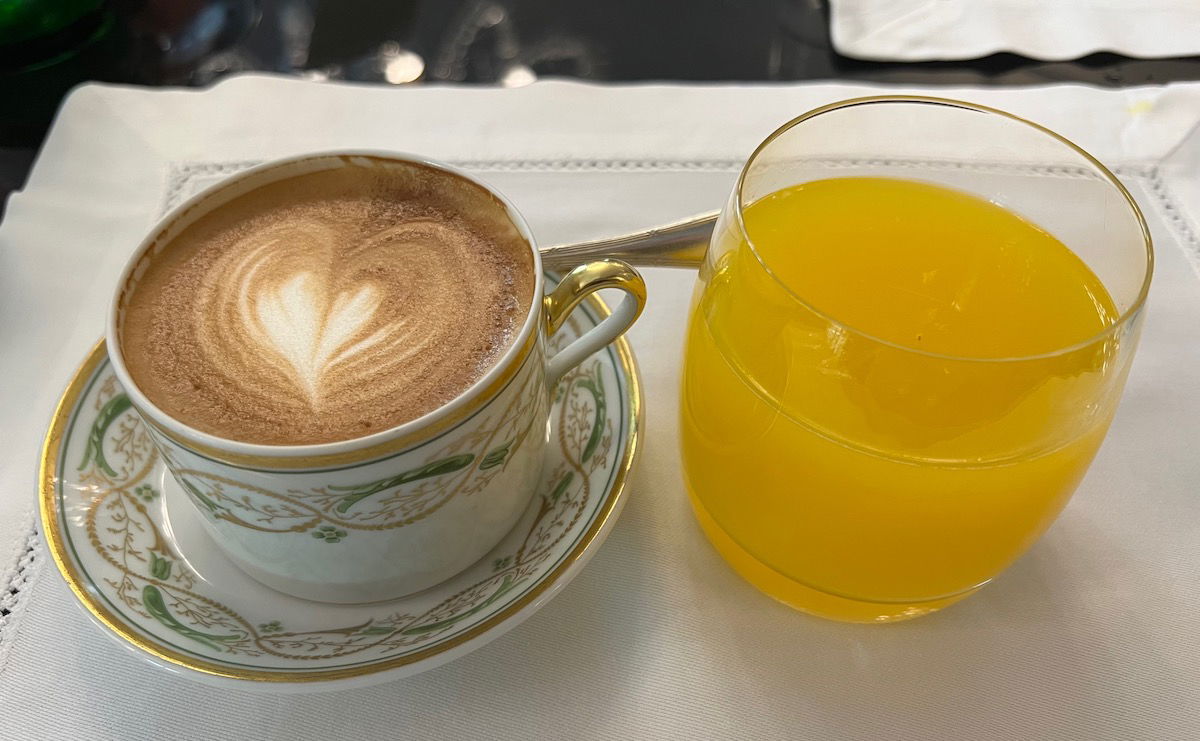 One morning Ford ordered the avocado toast, which looked amazing.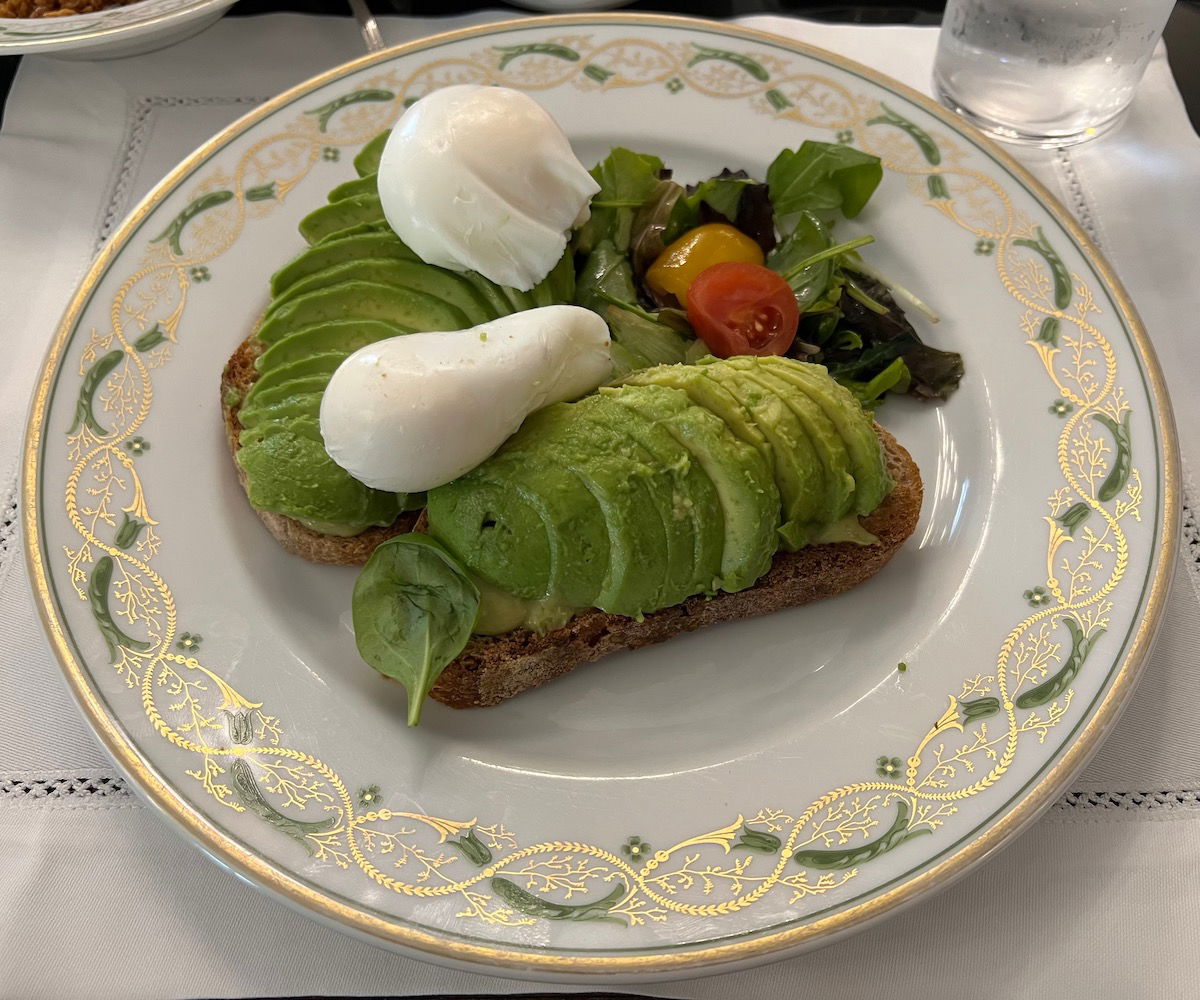 That morning I ordered the Mediterranean breakfast, which was a set menu. This came with fresh fruit, yogurt, and granola, to start.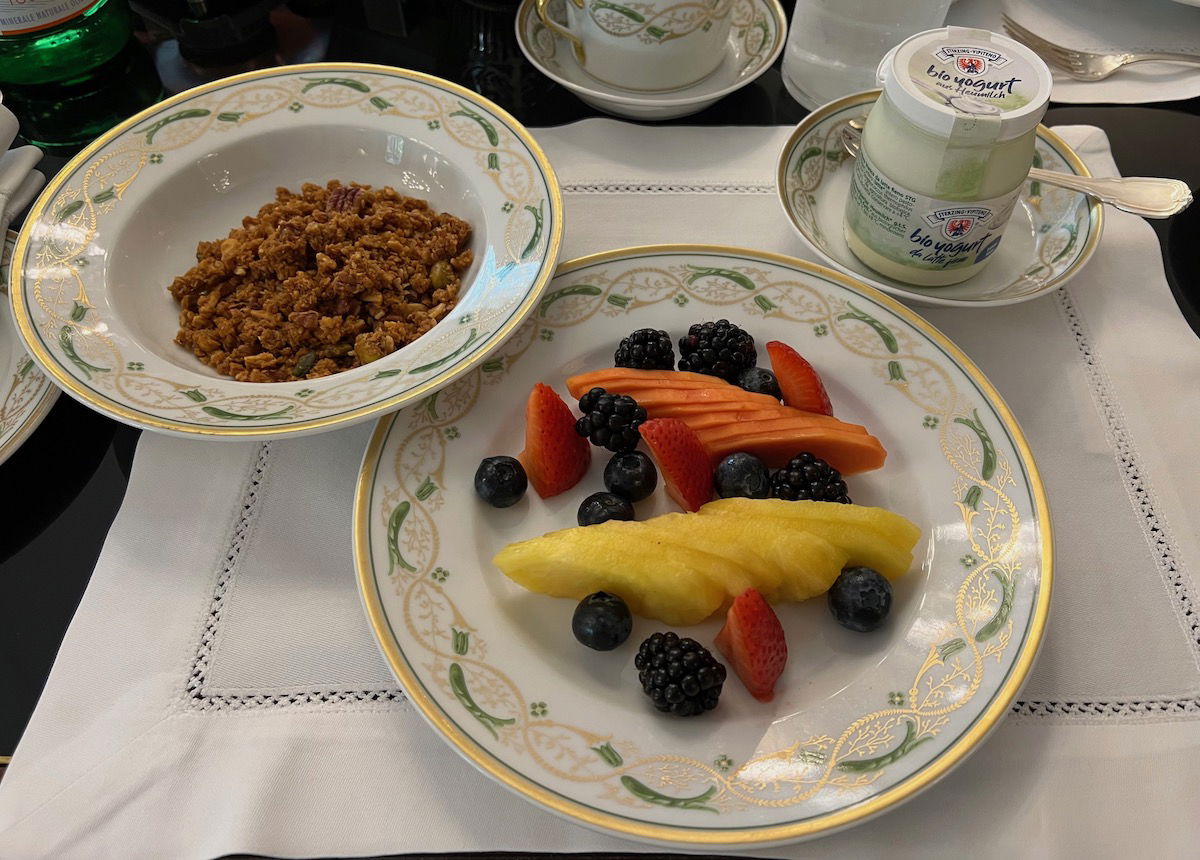 I was then offered a basket with all kinds of bread and pastries.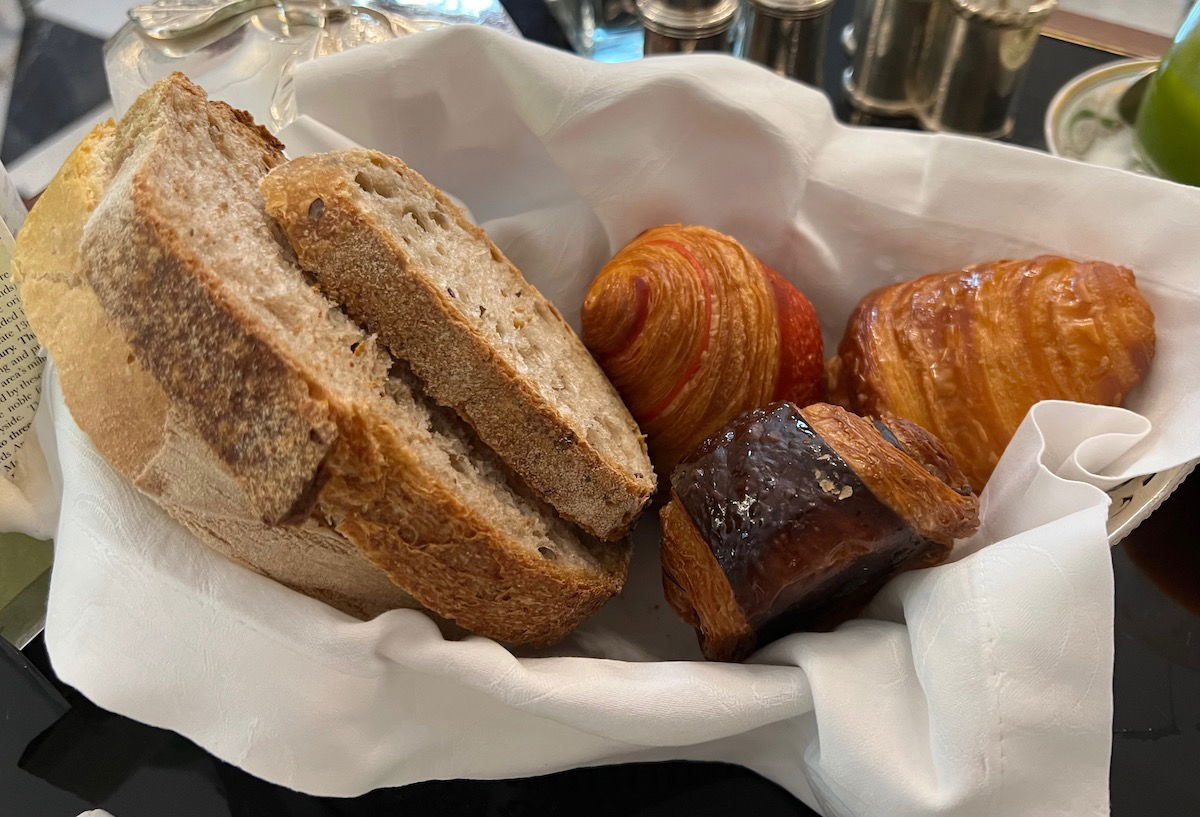 Then there was a dish with fried eggs and tomato sauce, as well as smoked swordfish and bresola. What a breakfast!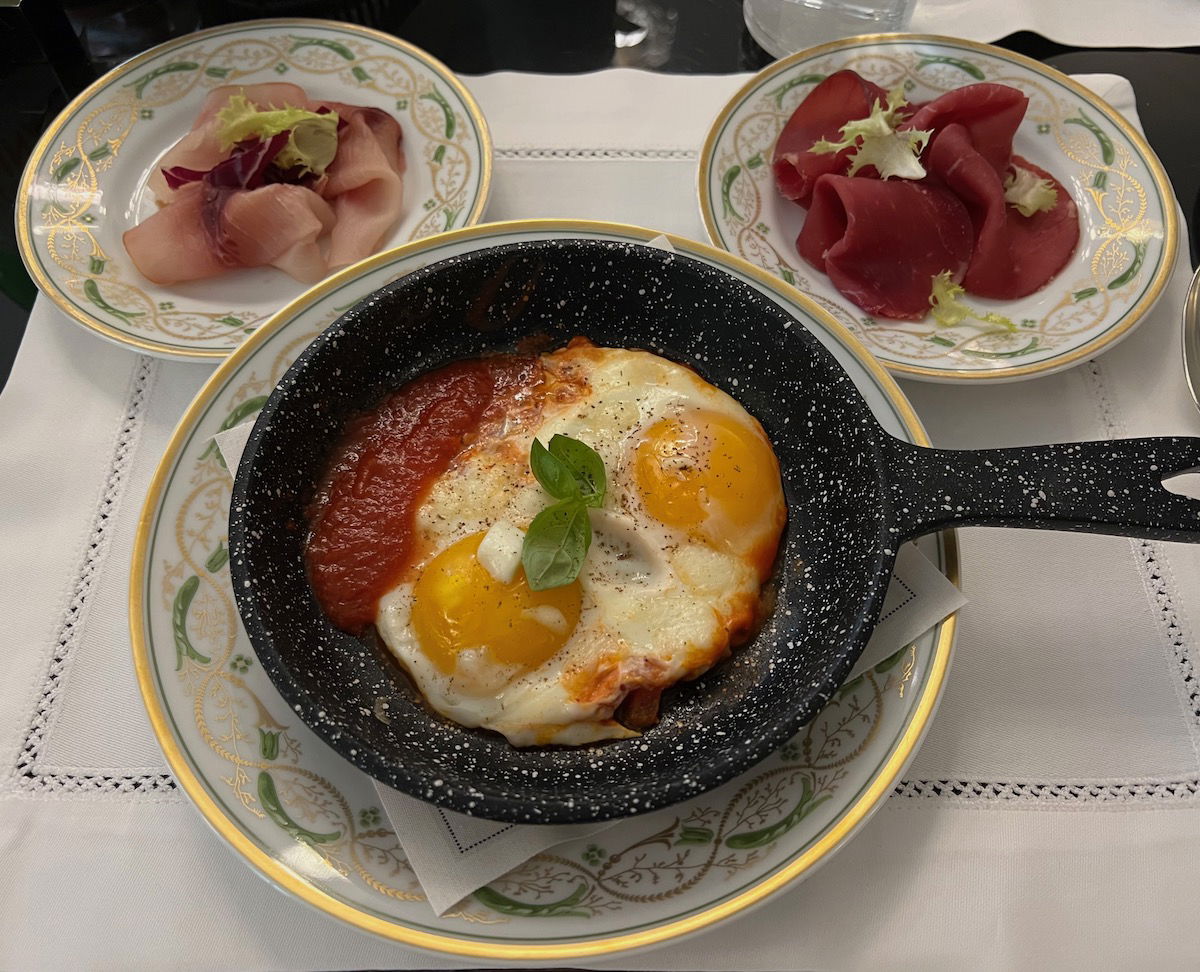 One evening we also had dinner at Il Palagio, and you can find the menu here (though it has changed since our visit). The meal started with an amuse bouche, and some tasty freshly baked bread.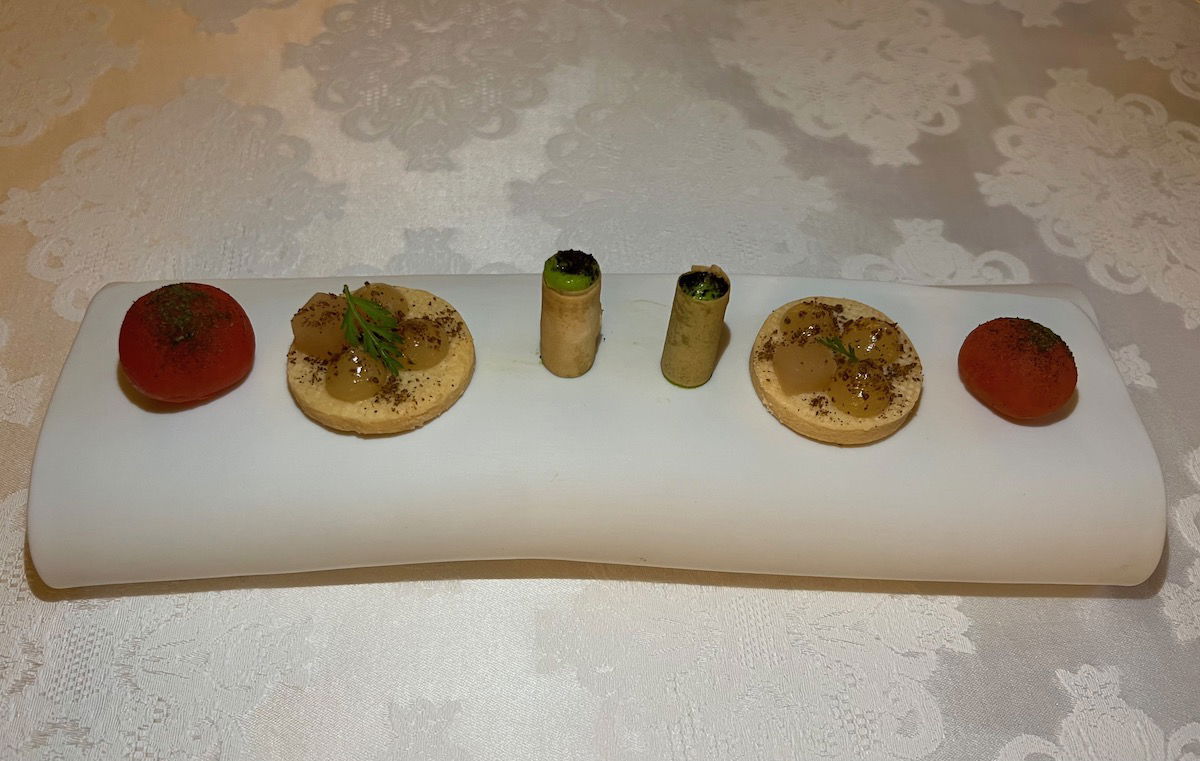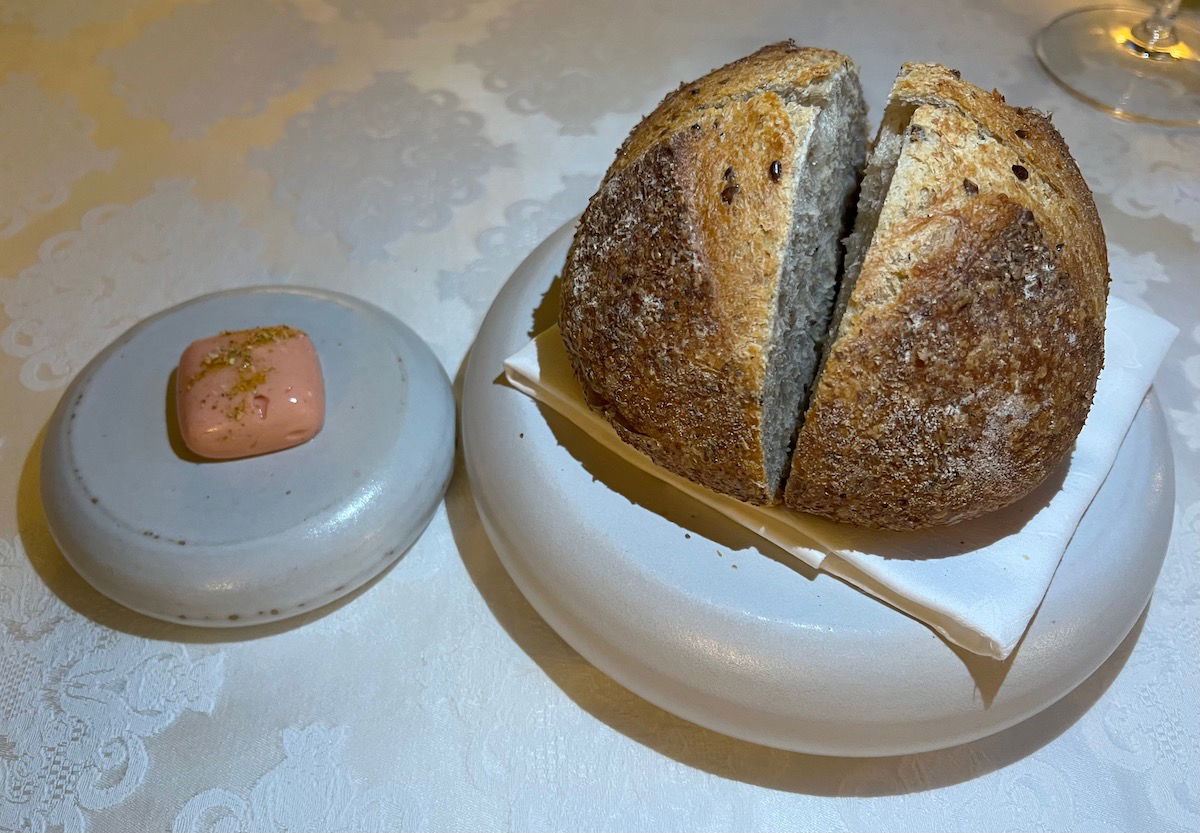 The first course consisted of marinated baby pink pawns with reduced shellfish cream and tapioca.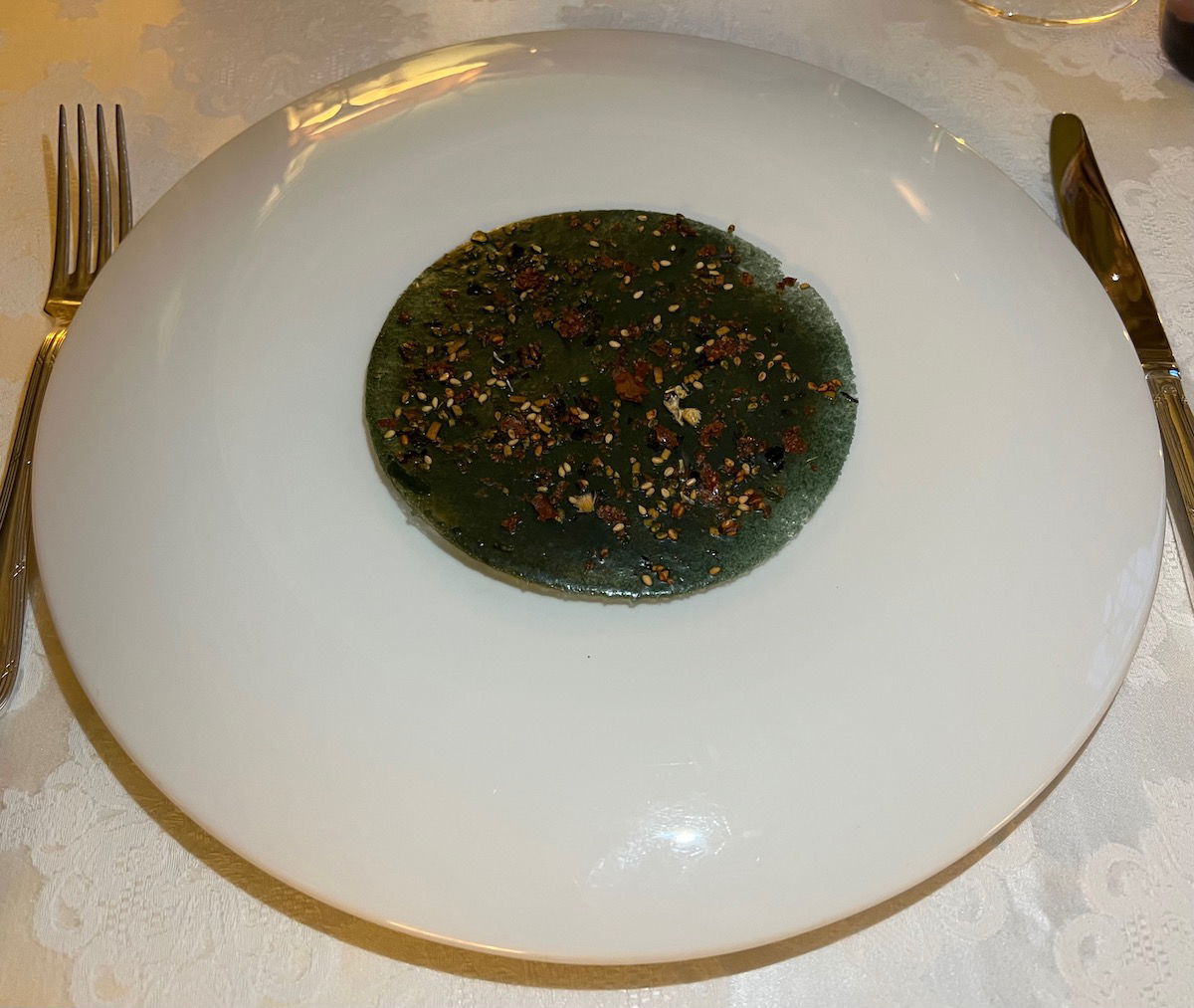 Next up was the livornese cockerel agnolotti with parmigiano reggiano cheese, garlic, and monk's wart.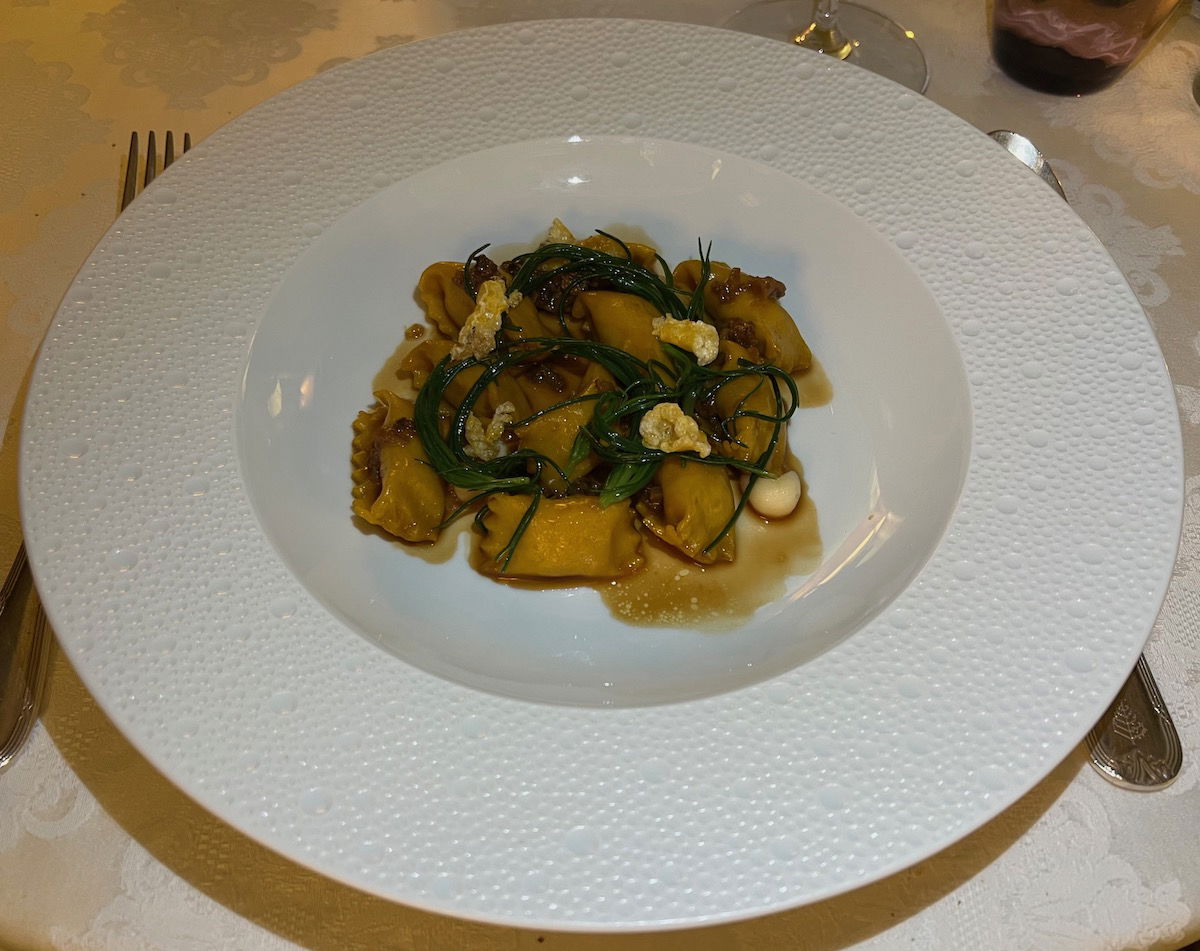 For the main course, we had sea bream with parsley, candied lemon, broccoli with garlic, and almonds.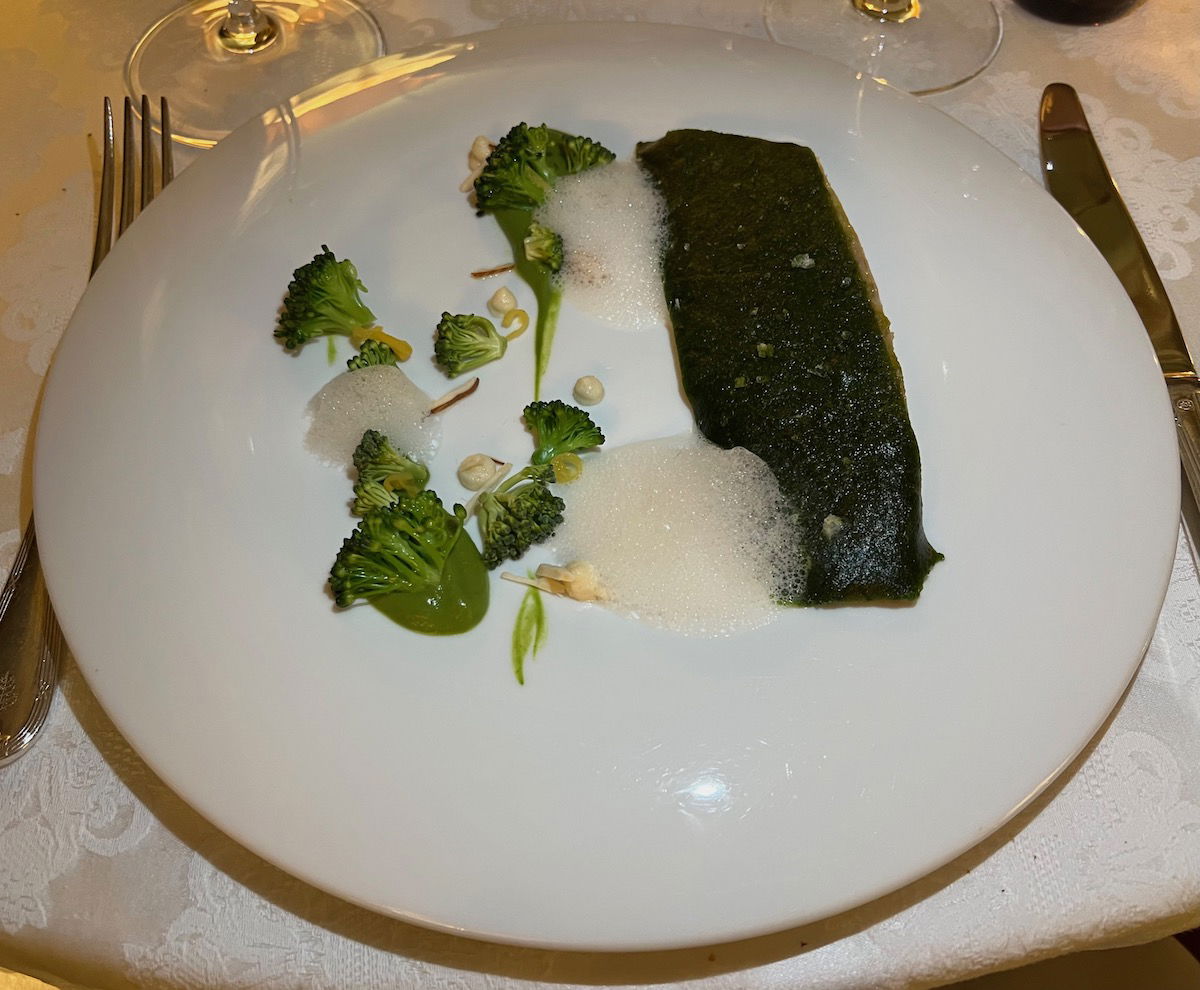 Finally, for dessert we had a caramelized puff pastry with rhubarb compote, ginger, and yogurt.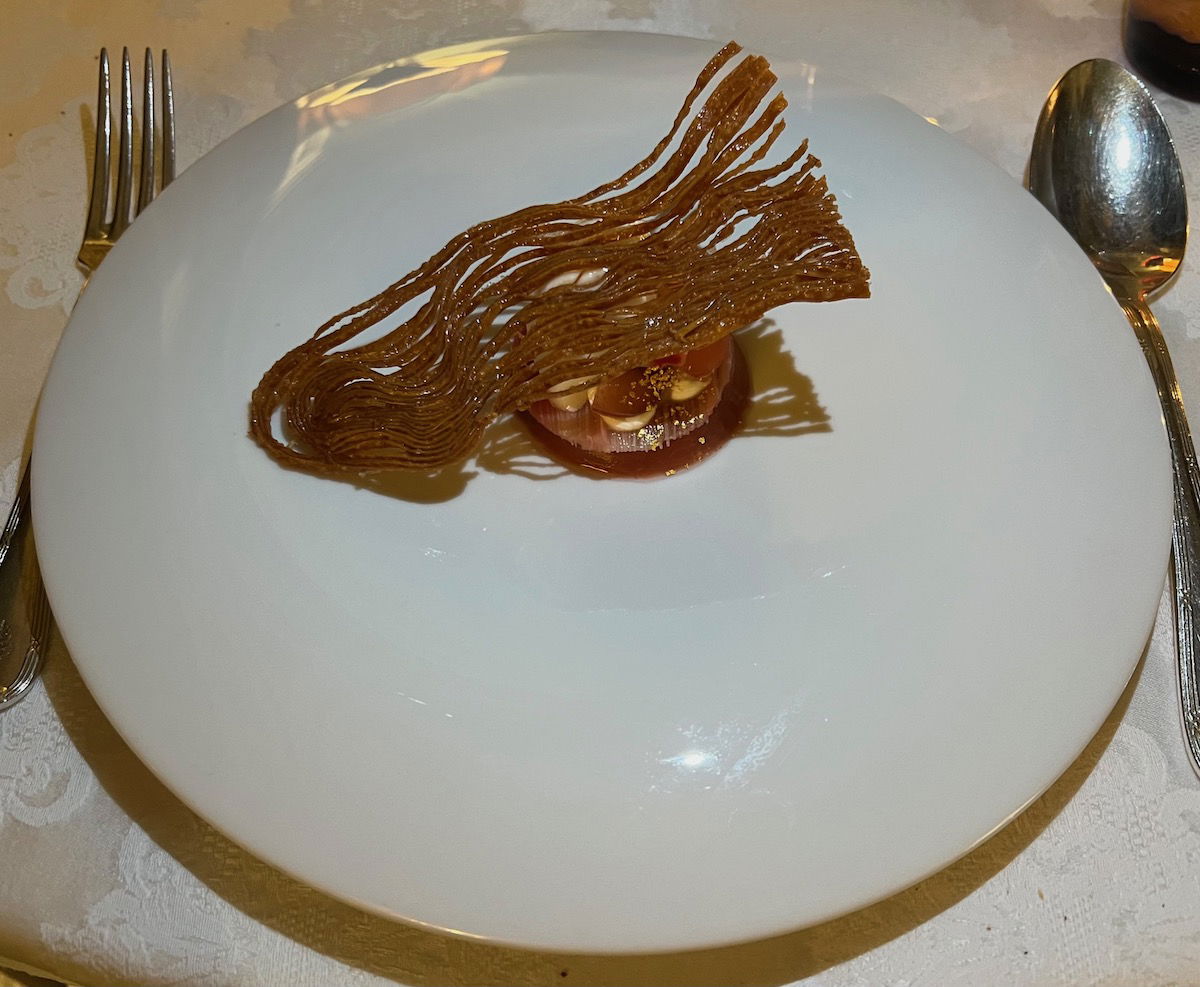 Then the meal finished with petit fours.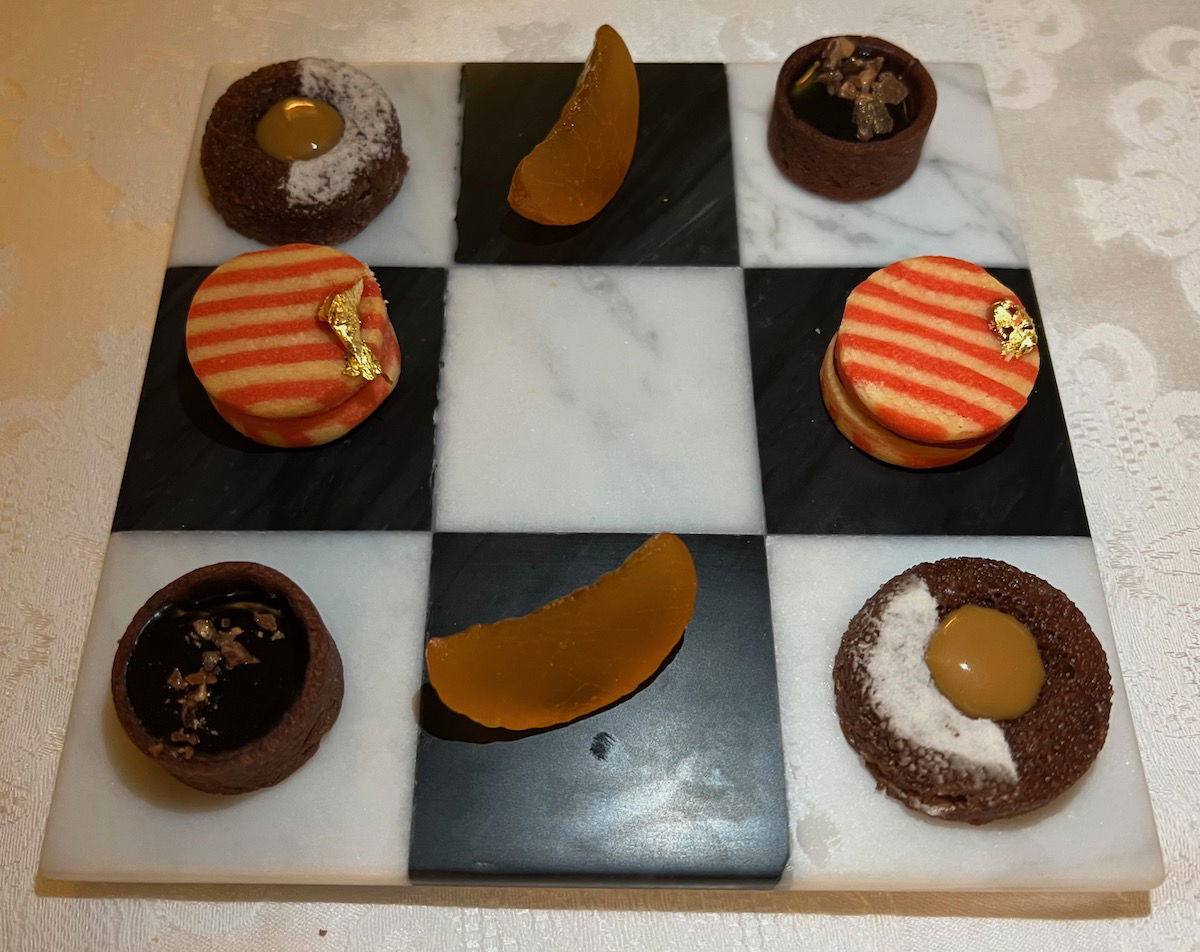 When you go to Michelin star restaurants, sometimes the food is really tasty and up your alley, and sometimes it's just really interesting. We had an amazing meal, and particularly loved the agnolotti and dessert. The starter and fish were both a bit salty for my liking, but that's just a function of personal preference.
Four Seasons Florence Atrium Bar
The social hub of the Four Seasons Florence is the Atrium Bar, which is open throughout the day, whether you want to grab a coffee or cocktail. This is such a lovely space, especially in the evenings, when there's live music. I love (love, love, love, love) any bar with live music, and could sit there for hours listening. This was one of those places.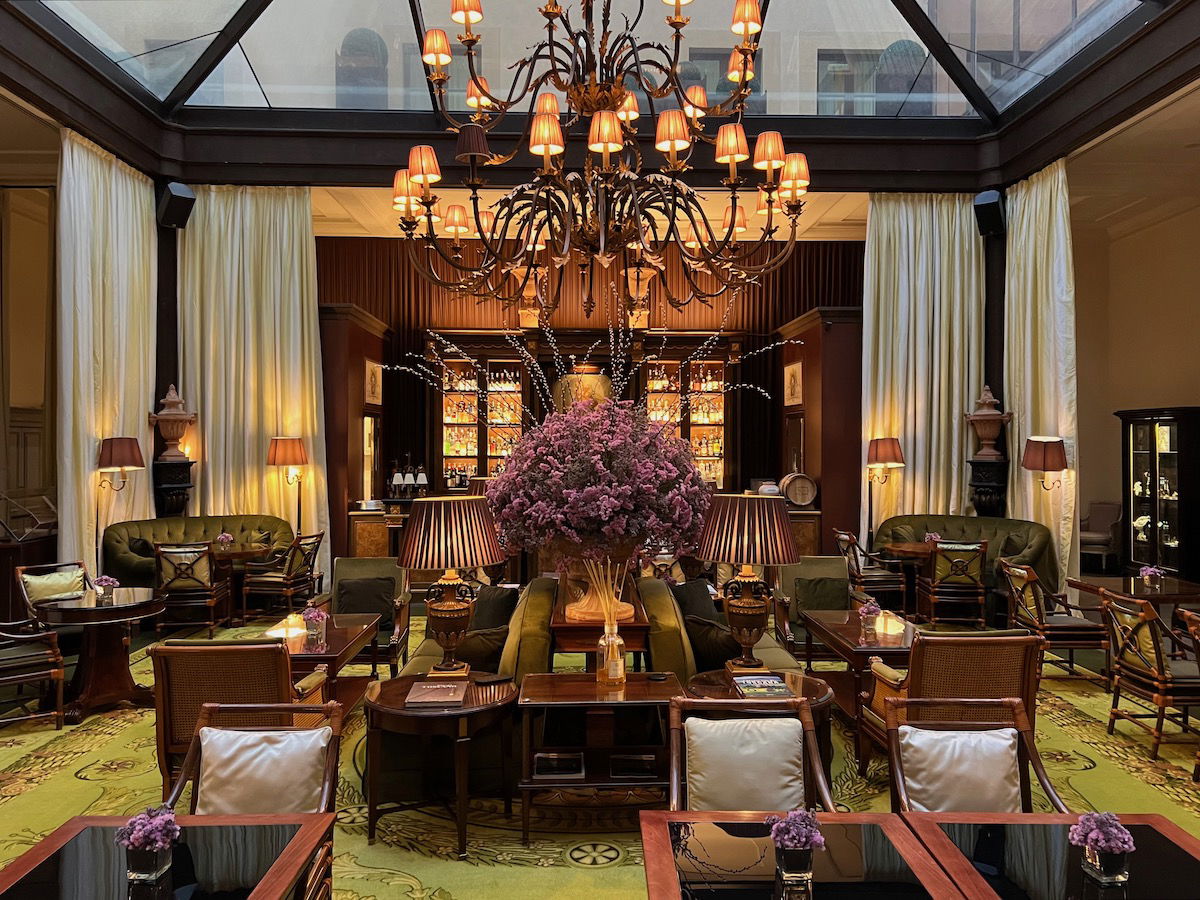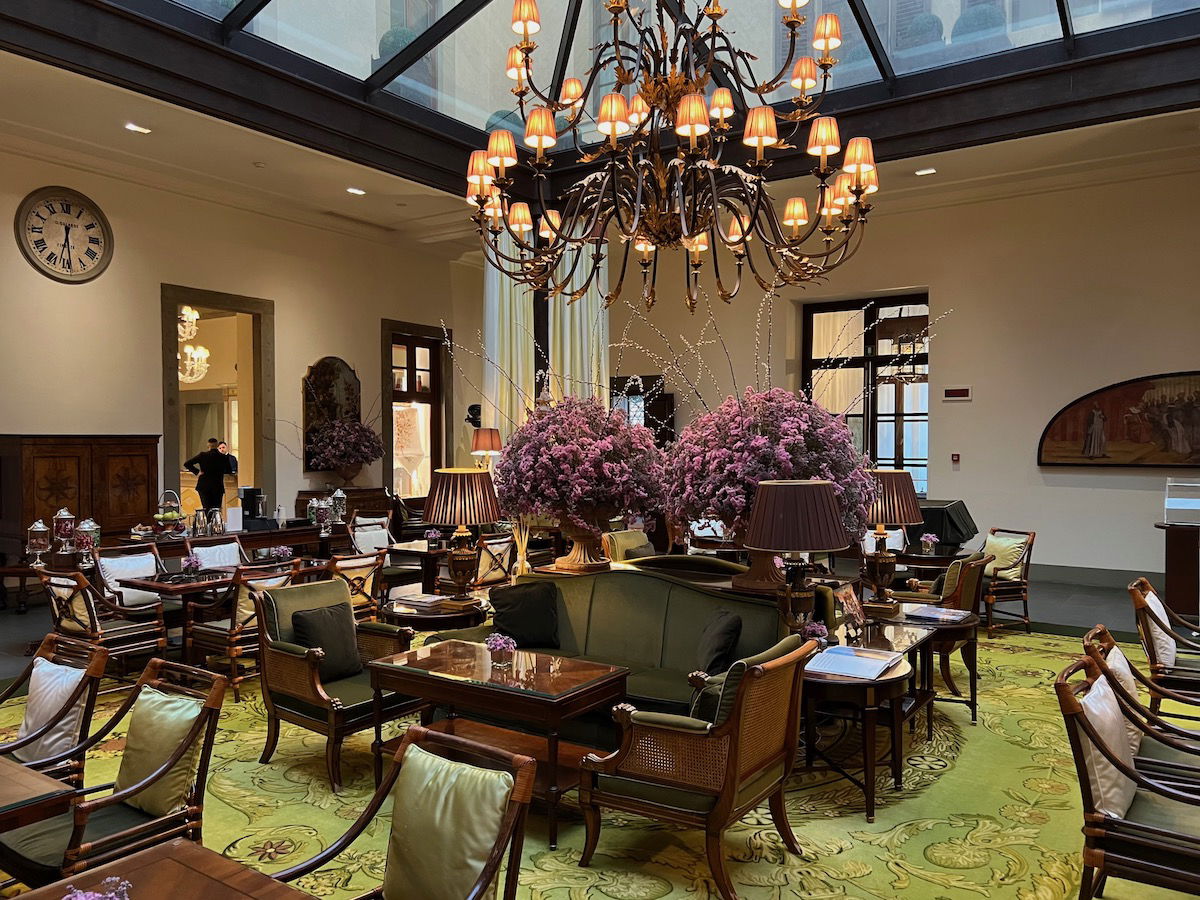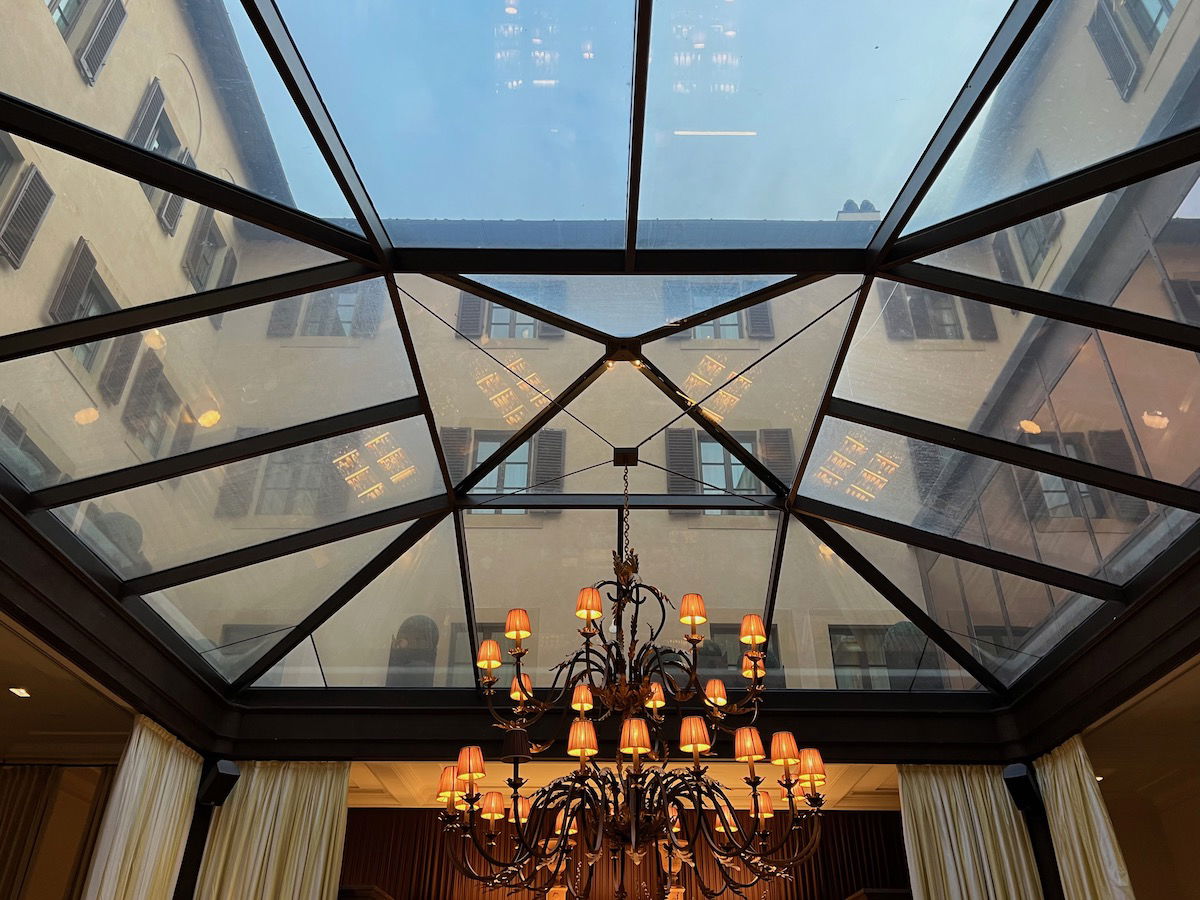 The bar also has a gorgeous outdoor terrace, which was a lovely place to get a drink in the afternoons.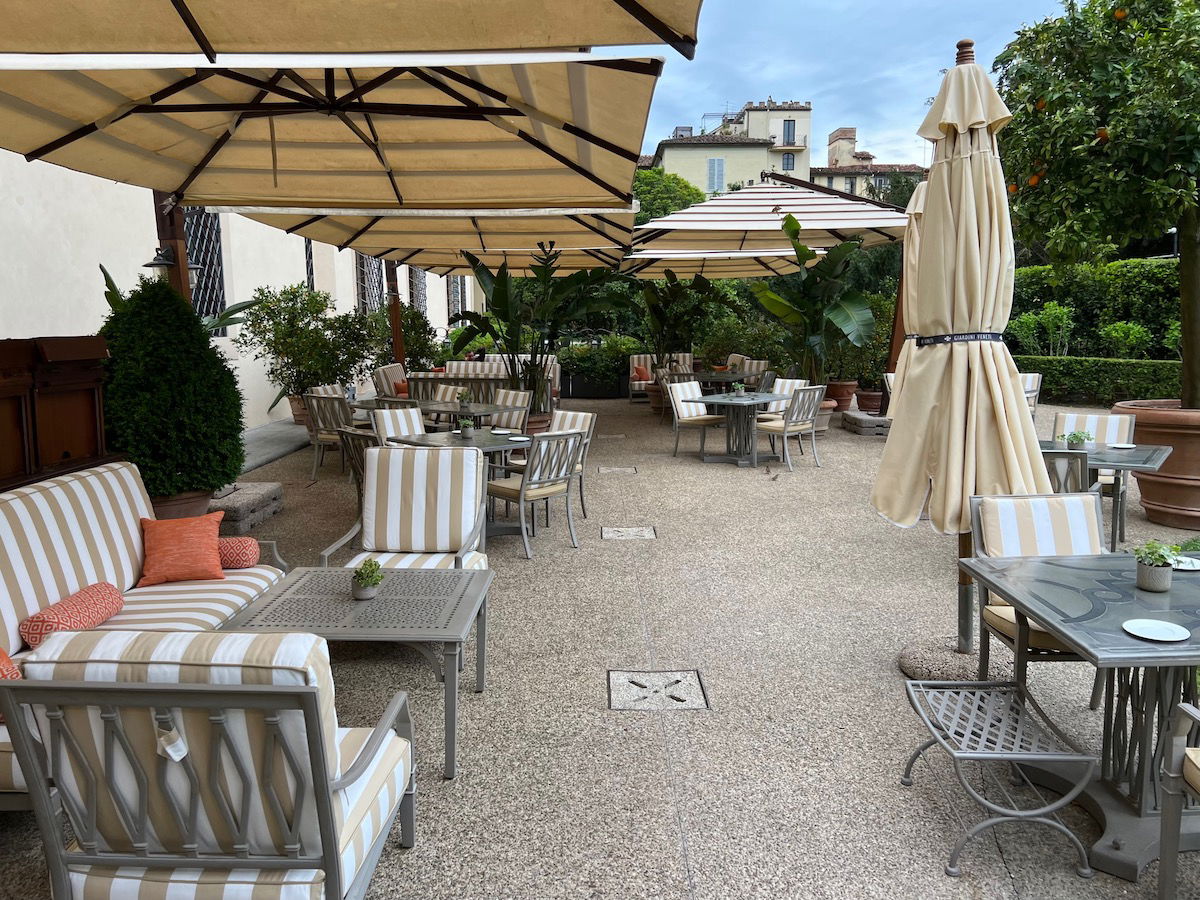 The Atrium Bar has an all-day dining menu, and you can find that here. It also has a unique cocktail list, with some house specialties.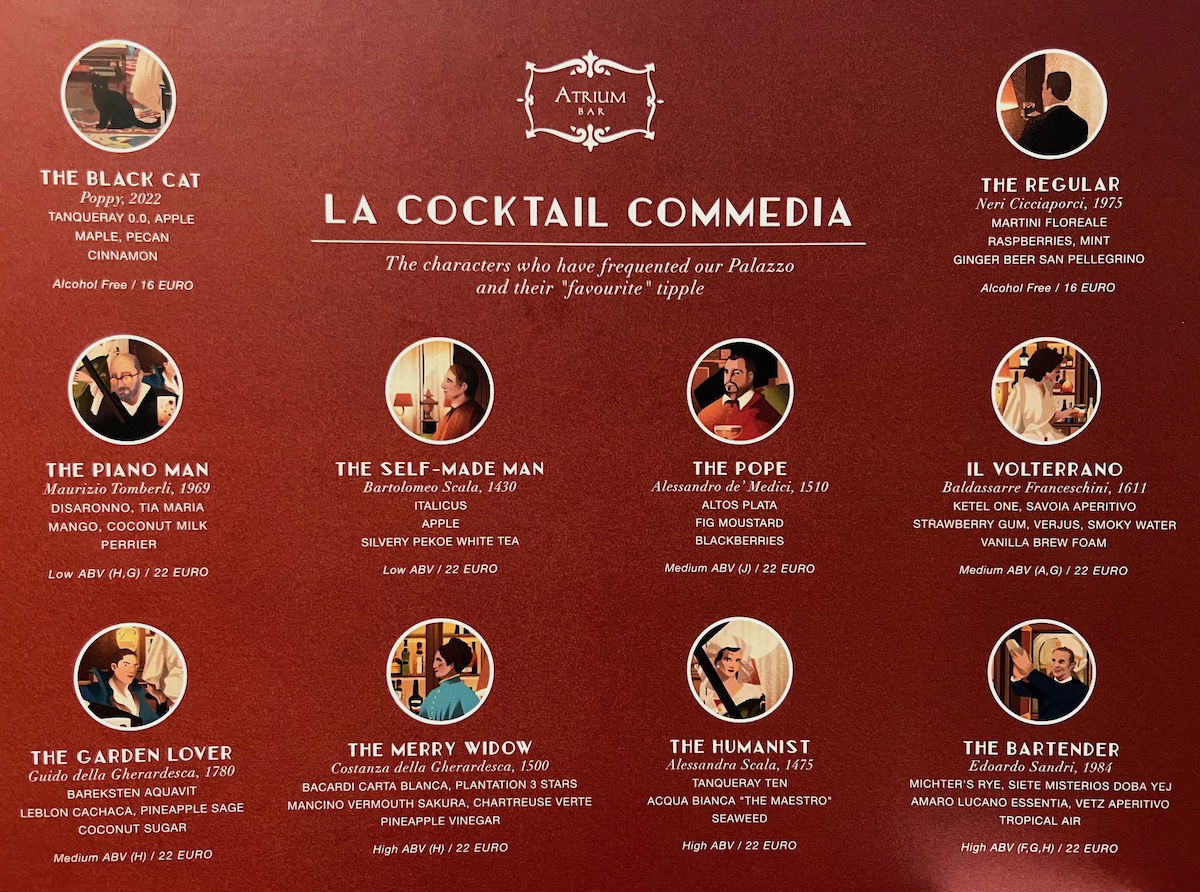 Ford and I both loved their take on the negroni, along with the bar snacks.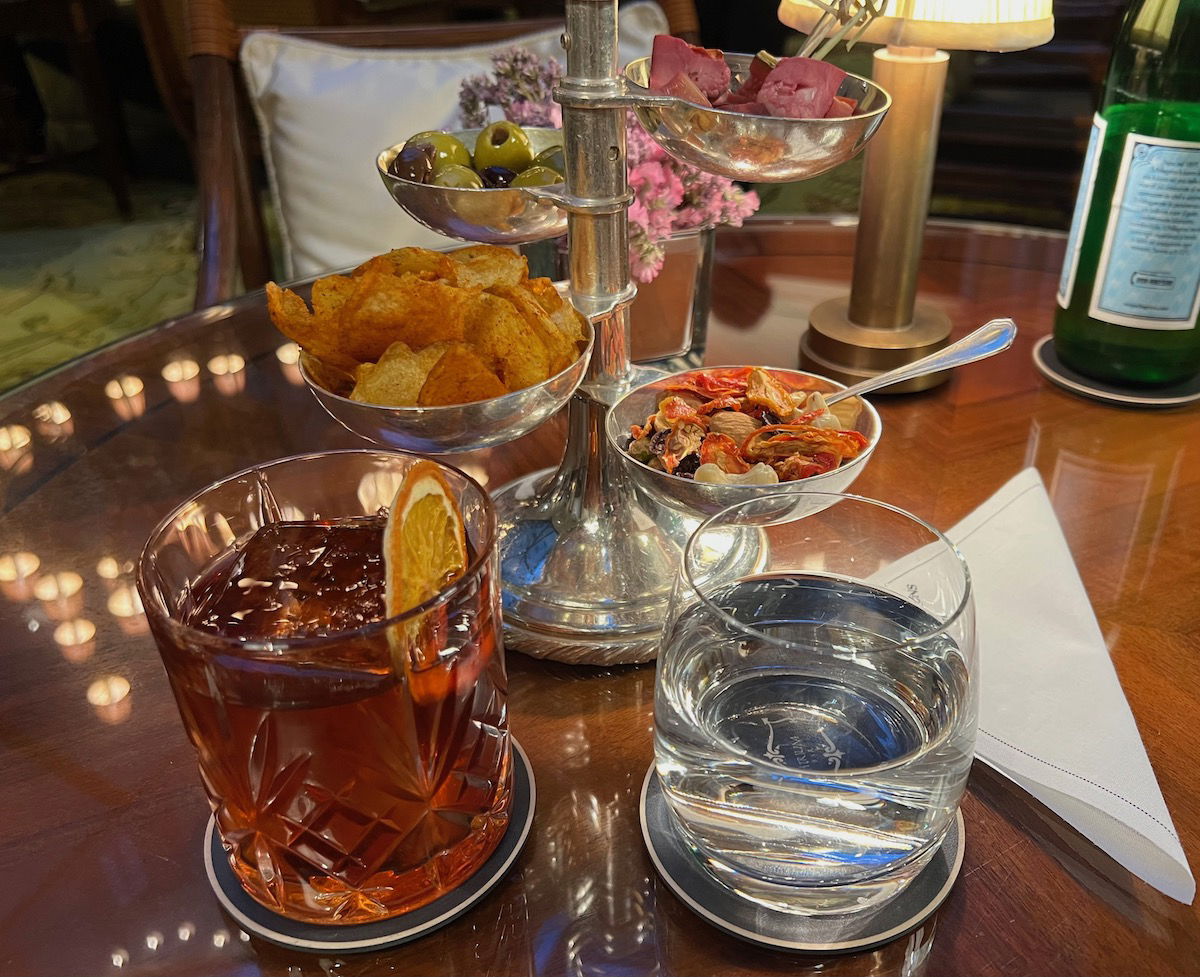 Four Seasons Florence service
Four Seasons is known for having consistently great service, though the staff at the Four Seasons Florence were especially awesome. I feel like at some of the historic five star hotels in Europe, staff just have a great sense of pride in their jobs, and that felt like it was the case here. It wasn't just that staff were professional and attentive, but they were also personable.
Bottom line
The Four Seasons Florence is a spectacular hotel. It's not often you get to stay in a city hotel that's not only hundreds of years old, but so well manages to preserve that history. Add in a 10-acre garden, an amazing gym and spa, a great restaurant and bar, and friendly service, and this is among my favorite city hotels in Europe.
What do you make of the Four Seasons Florence?
EXTRA PERKS AVAILABLE
Enjoy breakfast, upgrades, & more
Want to take advantage of Four Seasons Preferred Partner benefits, including a space available room upgrade, complimentary breakfast, a hotel credit, and more? Contact Ford ([email protected]) for more details. He may even be able to help if you already have a stay booked.
Read Four Seasons reviews: Athens, Boston, Cap-Ferrat, Denver, Desroches Island, Florence, Fort Lauderdale, Hualalai, Lanai, Los Cabos, Madrid, Maldives at Landaa Giraavaru, Maui, Megeve, Miami, Napa Valley, Naviva, Oahu at Ko Olina, Paris, Punta Mita, San Francisco at Embarcadero, Scottsdale, Seychelles, and Surfside
Learn about Four Seasons deals & offers: Anguilla, Athens, Atlanta, Austin, Bahamas, Bora Bora, Boston, Cap-Ferrat, Costa Rica, Dubai, Fort Lauderdale, Hawaii, Jackson Hole, London, Los Cabos, Maldives, Minneapolis, Nashville, Naviva, New York, Napa Valley, New Orleans, Orlando, Palm Beach, Paris, Philadelphia, Punta Mita, San Francisco, Santa Fe, Seattle, Sicily, Tamarindo, and Vail
Learn about Four Seasons basics: Four Seasons Preferred Partner, Four Seasons Private Retreats, Four Seasons Private Jet, Four Seasons travel agents, Four Seasons loyalty program, and maximizing value at Four Seasons