EXTRA PERKS AVAILABLE
Enjoy breakfast, upgrades, & more
Want to take advantage of Four Seasons Preferred Partner benefits, including a space available room upgrade, complimentary breakfast, a hotel credit, and more? Contact Ford ([email protected]) for more details. He may even be able to help if you already have a stay booked.
We spent our three nights in the South of France at the 74-room Four Seasons Grand-Hotel du Cap-Ferrat. This is such an incredible property that's a blast from the past, with the modern amenities and flawless service you'd expect from a Four Seasons.
How to book the Four Seasons Cap-Ferrat
Full disclosure — while we pay the going rate for a vast majority of our hotel stays, in this case Ford had won a prize through work with Four Seasons, for a week-long stay at any Four Seasons property. We decided to spend four nights at the Four Seasons Paris George V (which I've already reviewed), and then we decided to spend the other three nights at the Four Seasons Grand-Hotel du Cap-Ferrat (which I'm reviewing here, though all opinions expressed are my own).
As far as booking the Four Seasons Cap-Ferrat goes, rates vary throughout the year. Like most hotels in the South of France, the Four Seasons is only open seasonally, though it is a rather long season — the hotel is typically open from March through November. During off-peak periods you'll find that rates start at around 400 EUR per night, while during peak periods you'll find that rates start at over 2,000 EUR per night.
Anyway, the best way to book any Four Seasons property is through a travel advisor affiliated with the Four Seasons Preferred Partner program. You pay the same rate you'll find directly on Four Seasons' website, but you'll receive extra perks, including things like room upgrades, complimentary breakfast, and a hotel credit.
Booking Four Seasons properties through Preferred Partner is better than booking through programs like Amex Fine Hotels & Resorts. That's because upgrades are prioritized for Preferred Partner guests, and on top of that Preferred Partner perks can be stacked with virtually any publicly available Four Seasons rate.
You can't beat getting all of these extra perks just for booking through an eligible travel advisor. Ford is of course more than happy to help anyone book Four Seasons properties through Preferred Partner, and can be reached at [email protected]. He doesn't charge any booking fees for Four Seasons properties.
Grand-Hotel du Cap-Ferrat history
As you may have guessed based on the name, this is one of Four Seasons' historic properties. This used to simply be known as Grand-Hotel du Cap-Ferrat, until Four Seasons took over the hotel in 2015, at which point the Four Seasons branding was incorporated into the name.
The history of this property dates back well over 100 years. The land was first purchased by King Leopold II of Belgium in the late nineteenth century. Eventually the land was sold, and a hotel opened in 1908. That didn't last long, because in 1914 war broke out, at which point the hotel was transformed into a hospital. It was eventually transformed back into a hotel, and it was in the 1930s when this became a real scene.
Interestingly back in the day this hotel was exclusively a winter getaway, as it was closed in summer. The South of France has a lot of sunshine even in winter, which made it a popular escape. That's quite a contrast to nowadays, where the hotel is most popular in summer, and is closed in winter.
Four Seasons Cap-Ferrat location
The Four Seasons Cap-Ferrat is a roughly 45 minute drive from Nice Cote d'Azur Airport (NCE). It's not very far, but traffic can be bad, especially in summer. When coming from the airport, Cap-Ferrat is essentially in the same direction as Monaco, which is the opposite direction of Saint Tropez.
If you're just looking for a quick trip to the South of France it can be nice to avoid Saint Tropez, since the traffic can be awful. There's only one road, and if there's an accident it'll make you yearn for being stuck in Sao Paulo rush hour traffic.
Four Seasons Cap-Ferrat lobby & public areas
The Four Seasons Cap-Ferrat is located on a 17-acre property. There was a gate to enter the "compound," and from there it was just a short drive to the main building, where both reception and our room were located.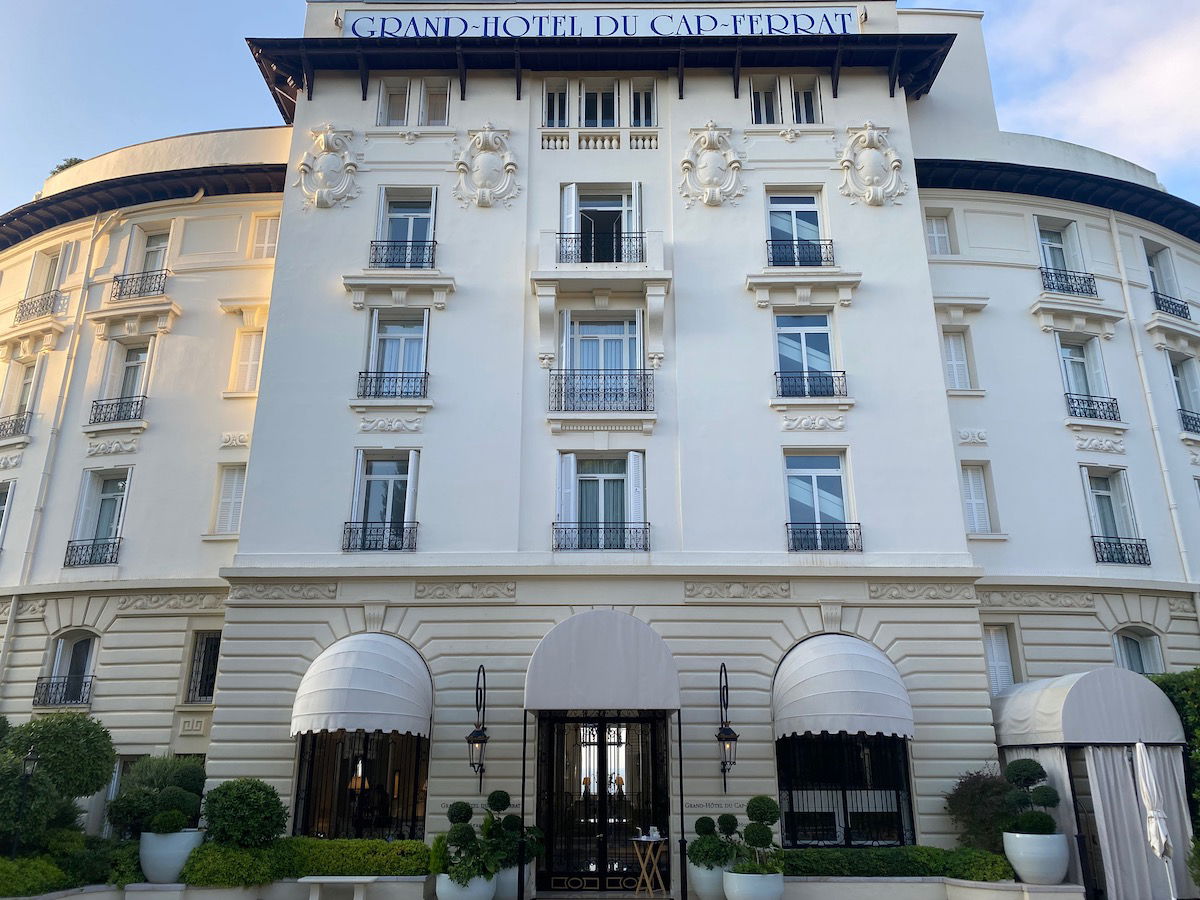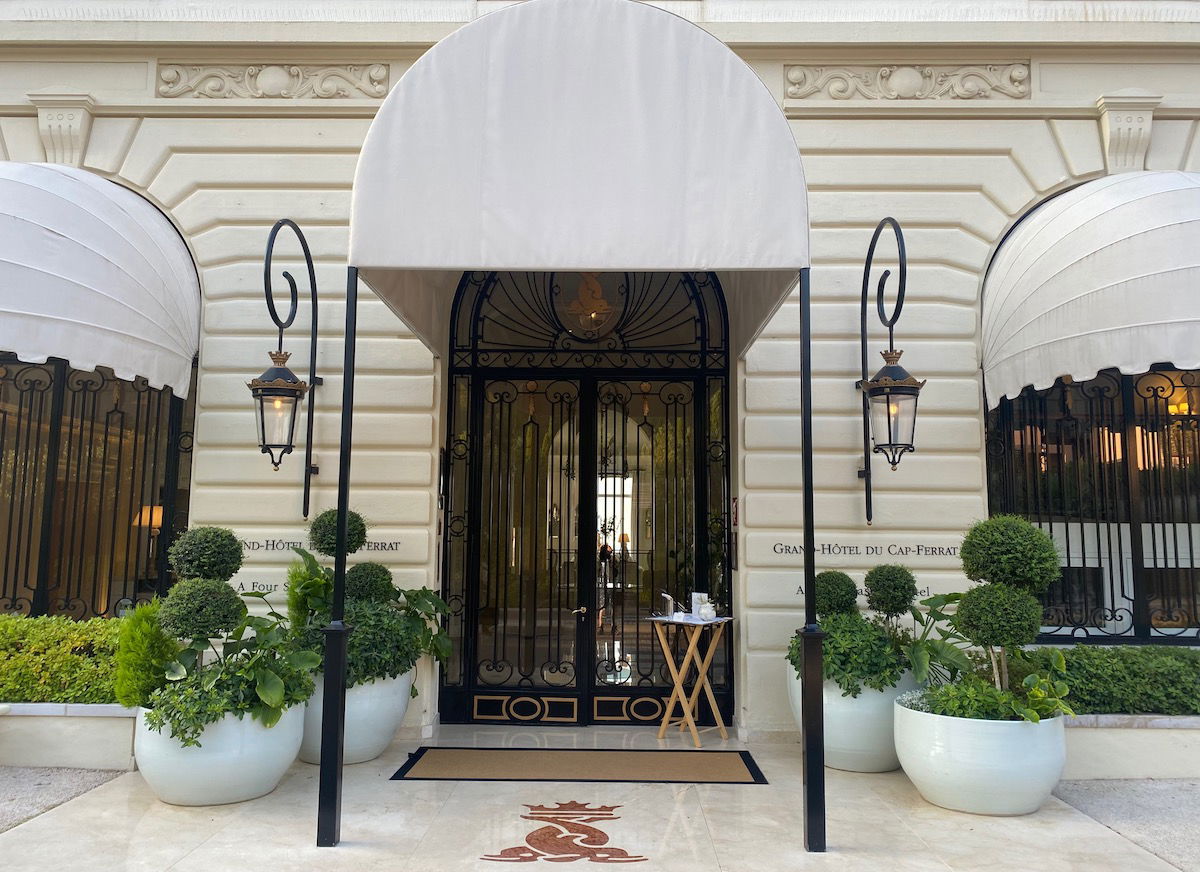 The arrivals experience was seamless — the security guard seems to phones reception when guests arrive, so then you're warmly greeted as you pull up. The bellmen helped us with our bags, while the front office staff quickly got us checked in.
The lobby was simply stunning, and struck the perfect balance between being old world (given the hotel's history) and being well maintained and luxurious.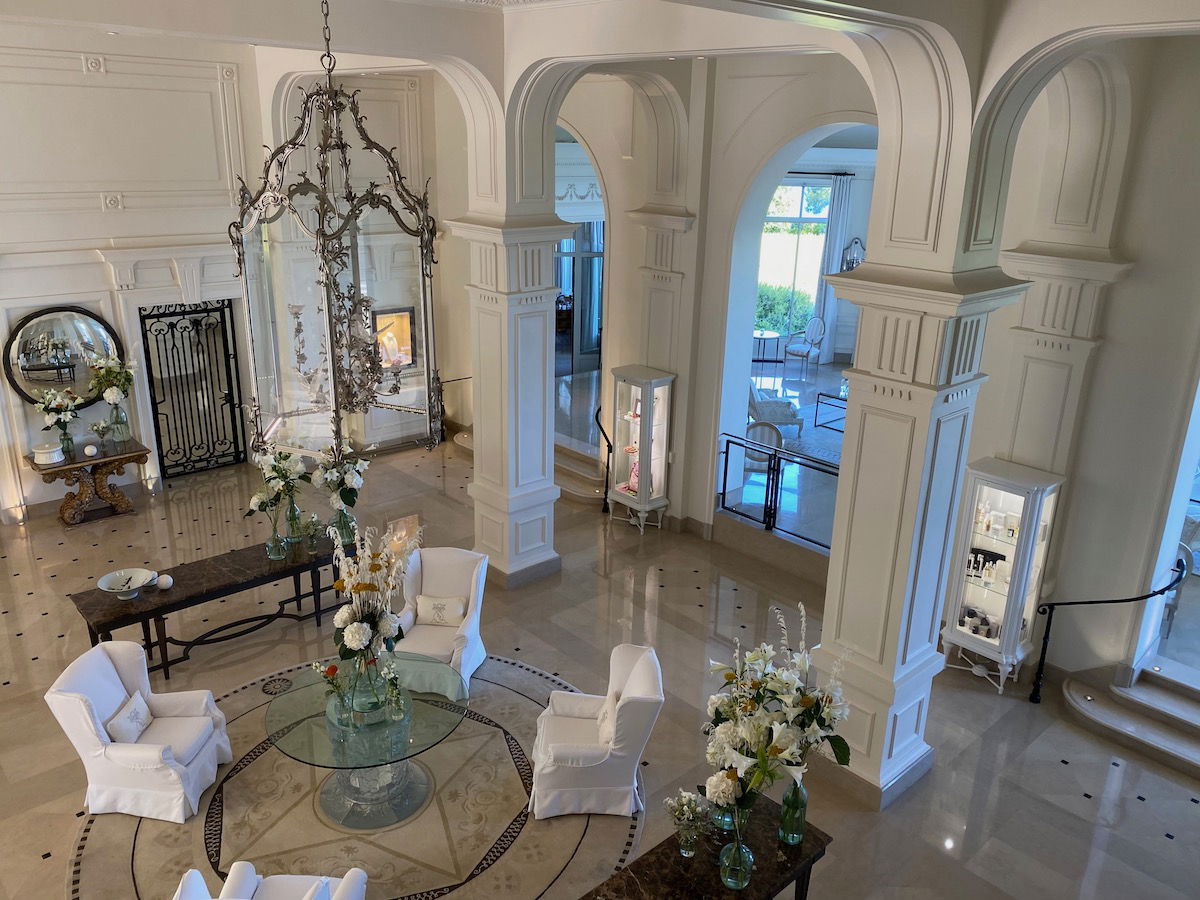 The reception desk was located just inside the entrance and to the left, and behind that was the concierge desk.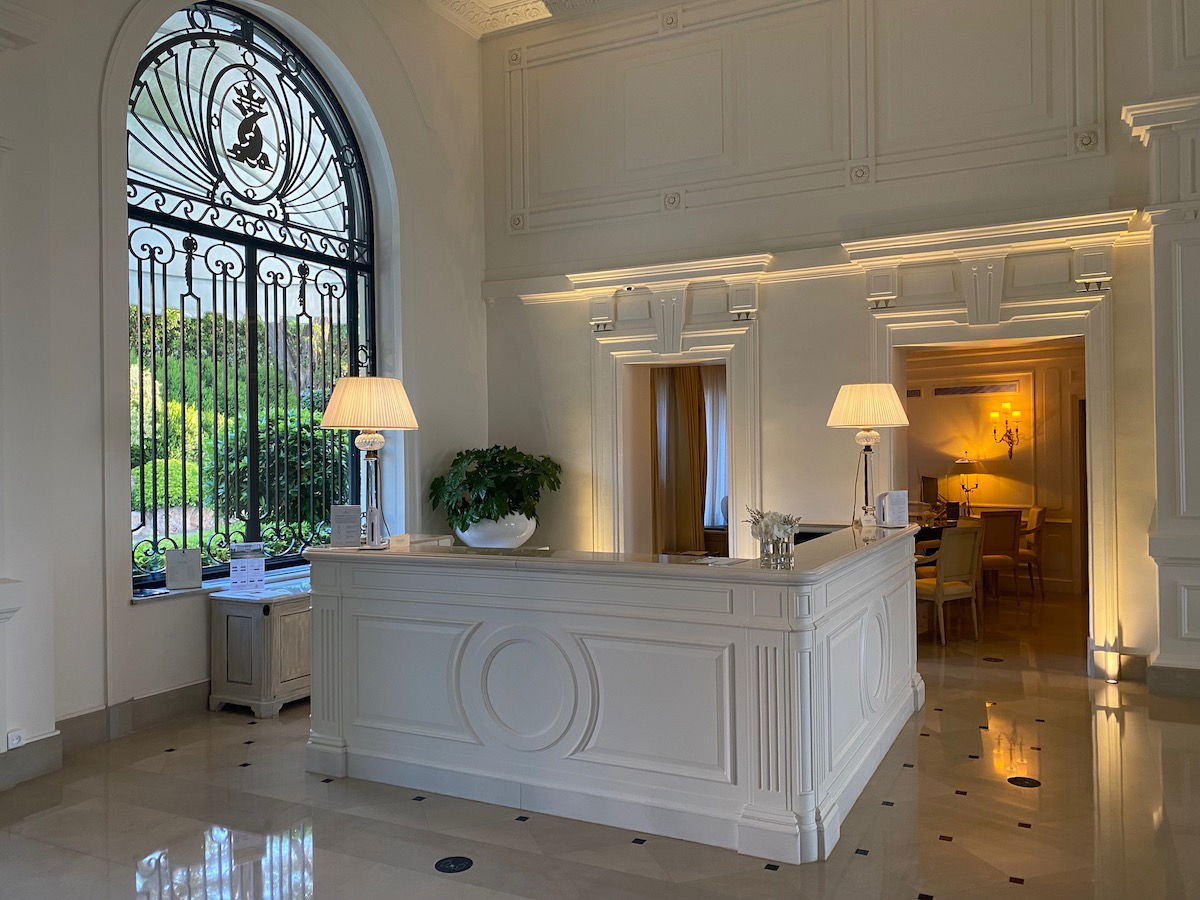 Then there was some more seating in the center of the lobby, right next to the staircase and the cool classic elevator.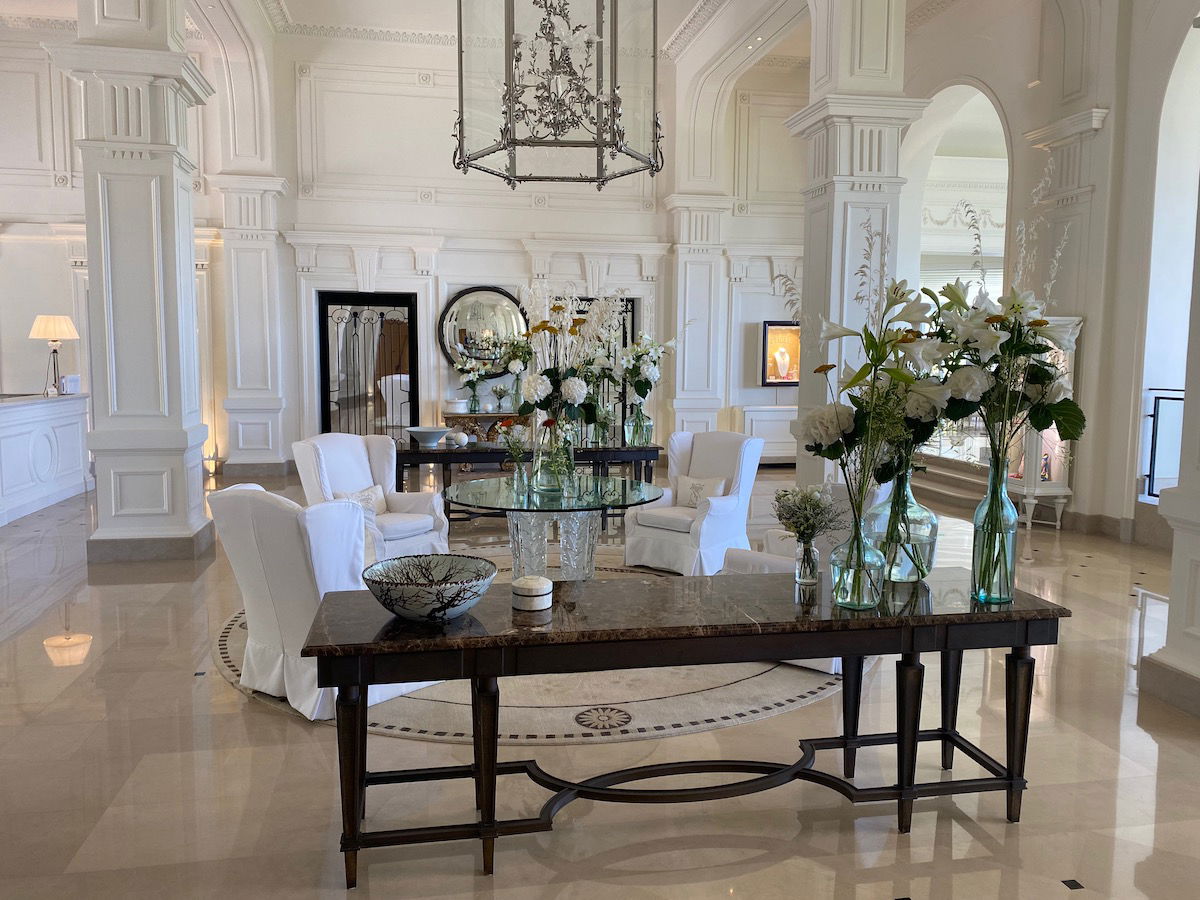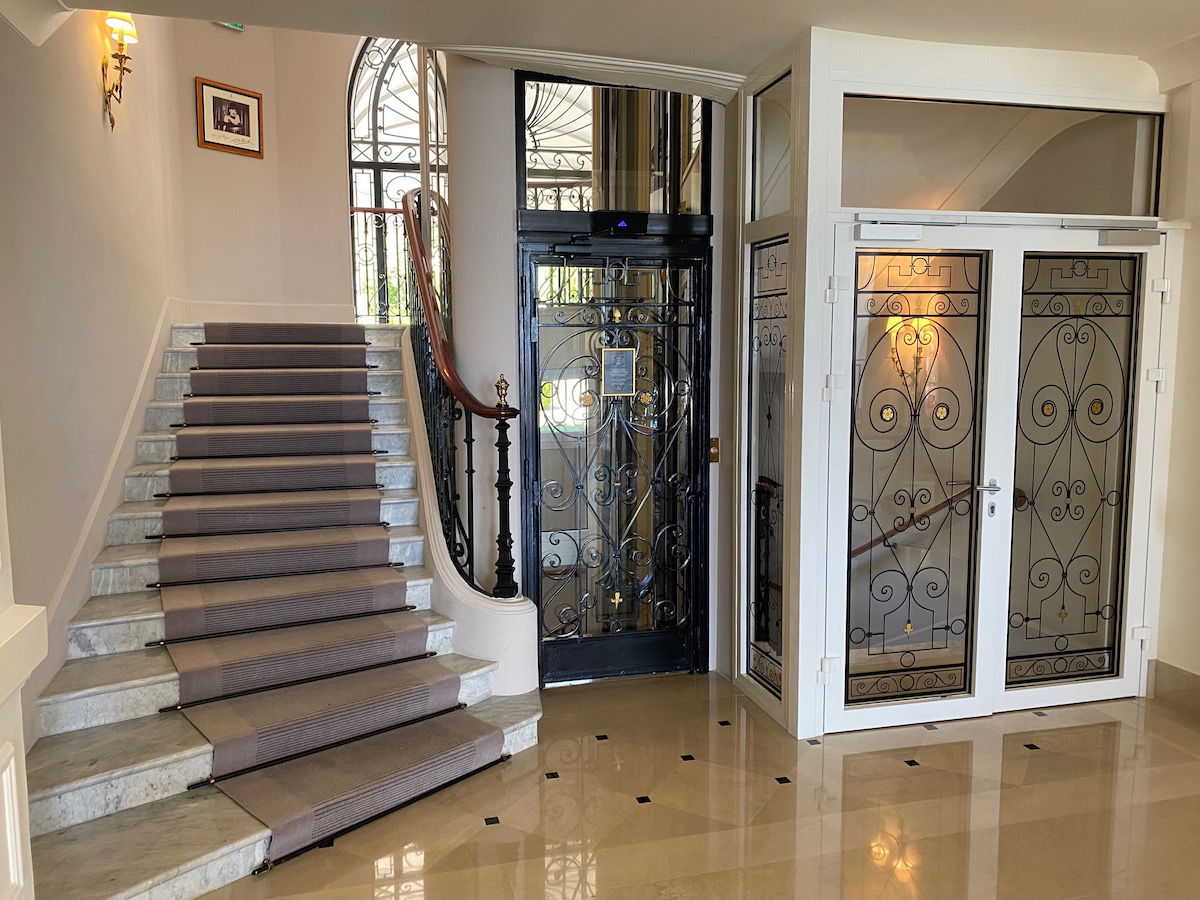 Past that was the largest sitting area in the lobby, with huge windows overlooking the garden and then the sea in the distance.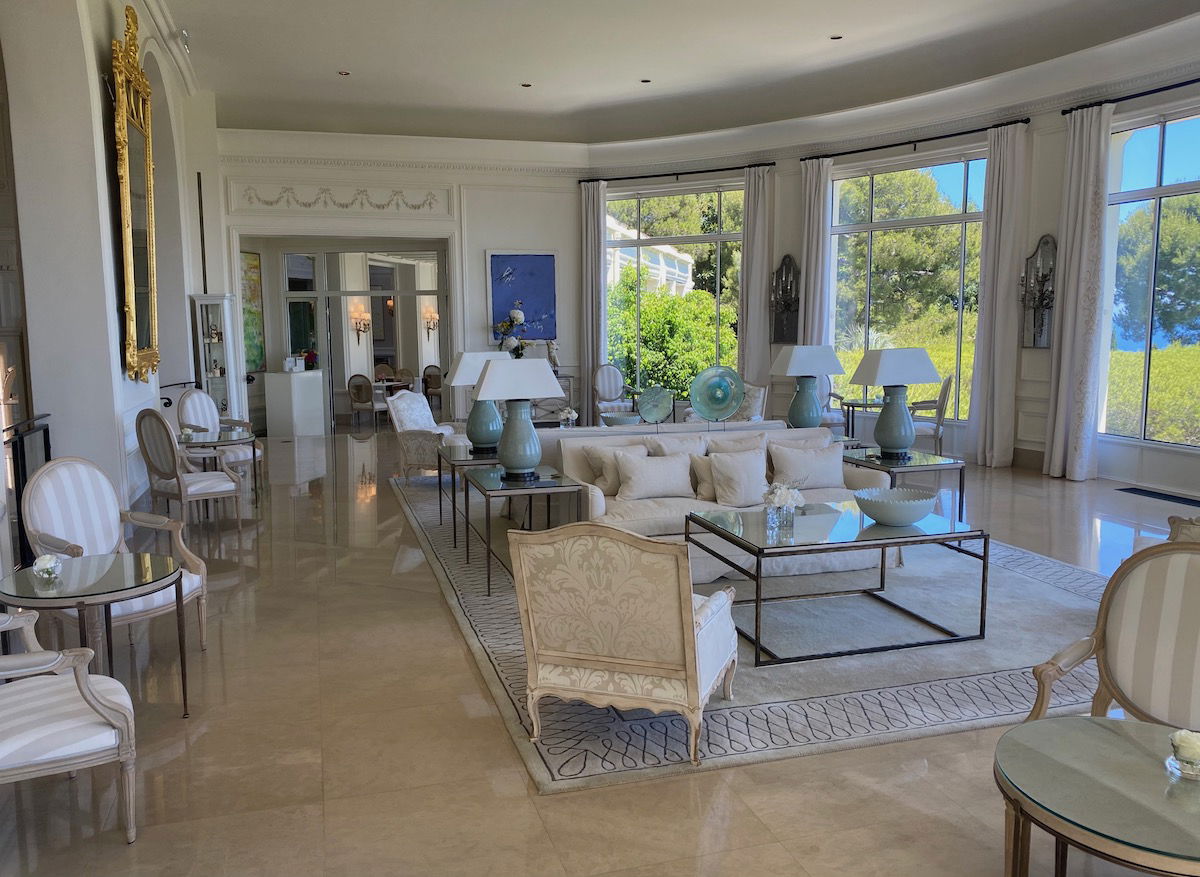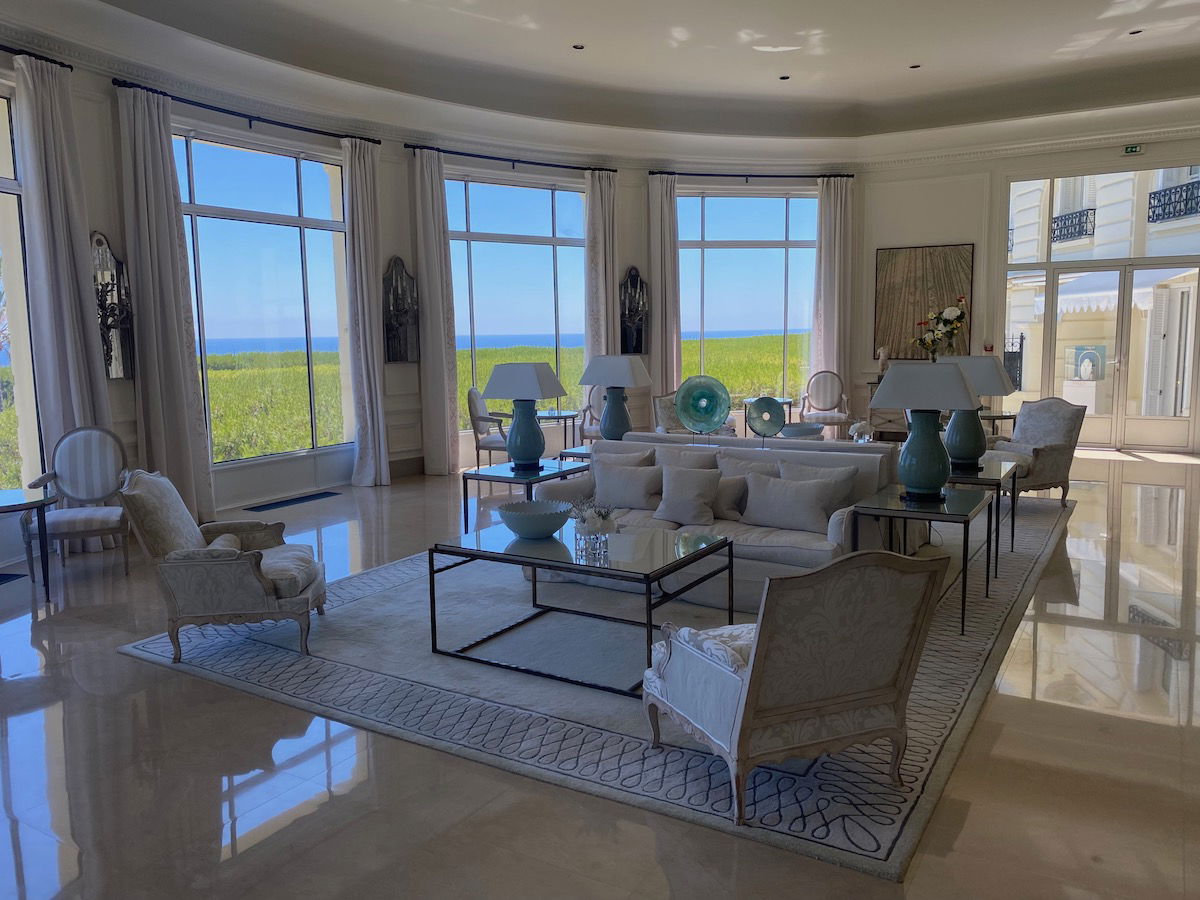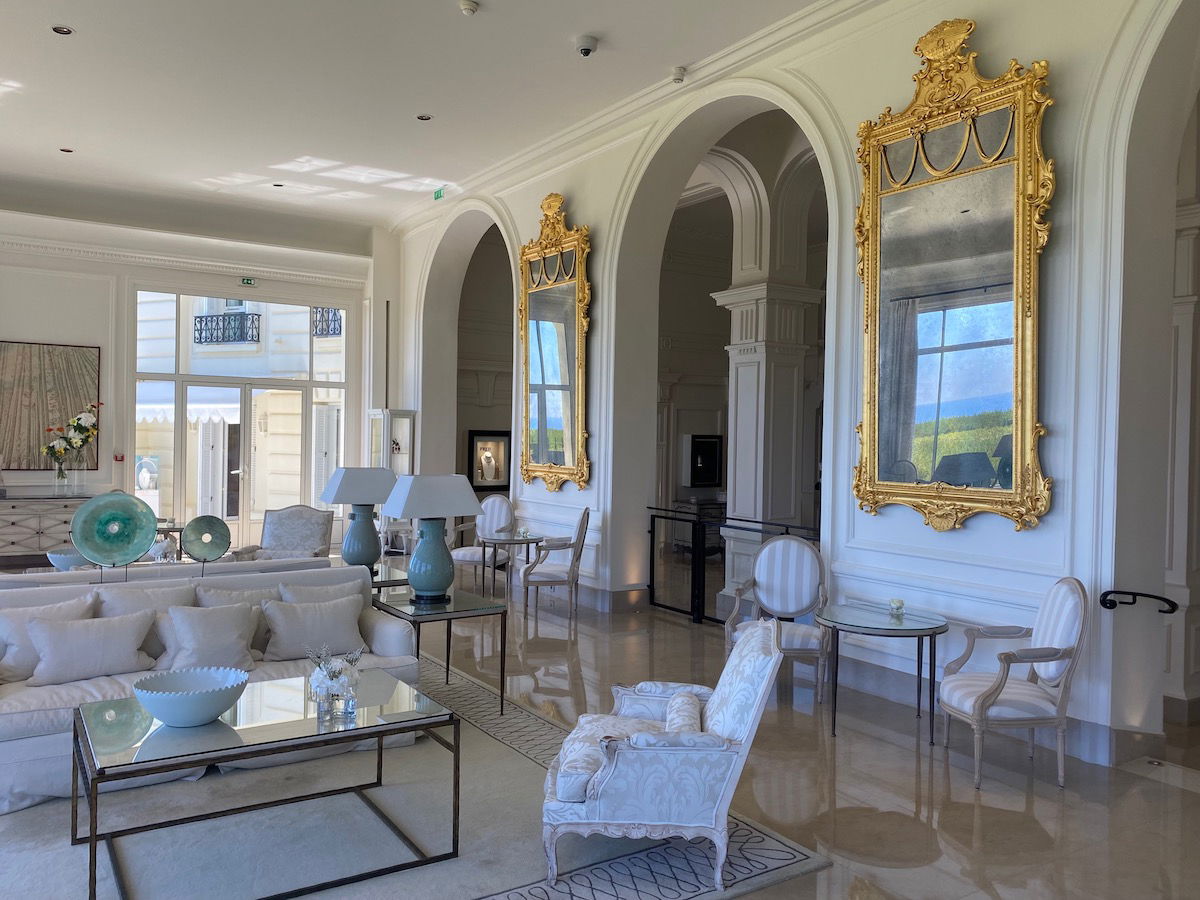 Four Seasons Cap-Ferrat Sea-View Suite
We were assigned room number nine, a Sea-View Suite (the hotel ended up being totally full when we were there, and the hotel has a high percentage of suites, so we lucked out). We could access it by taking the staircase up a level from reception, and then our room was the last one at the end of the hall on the left.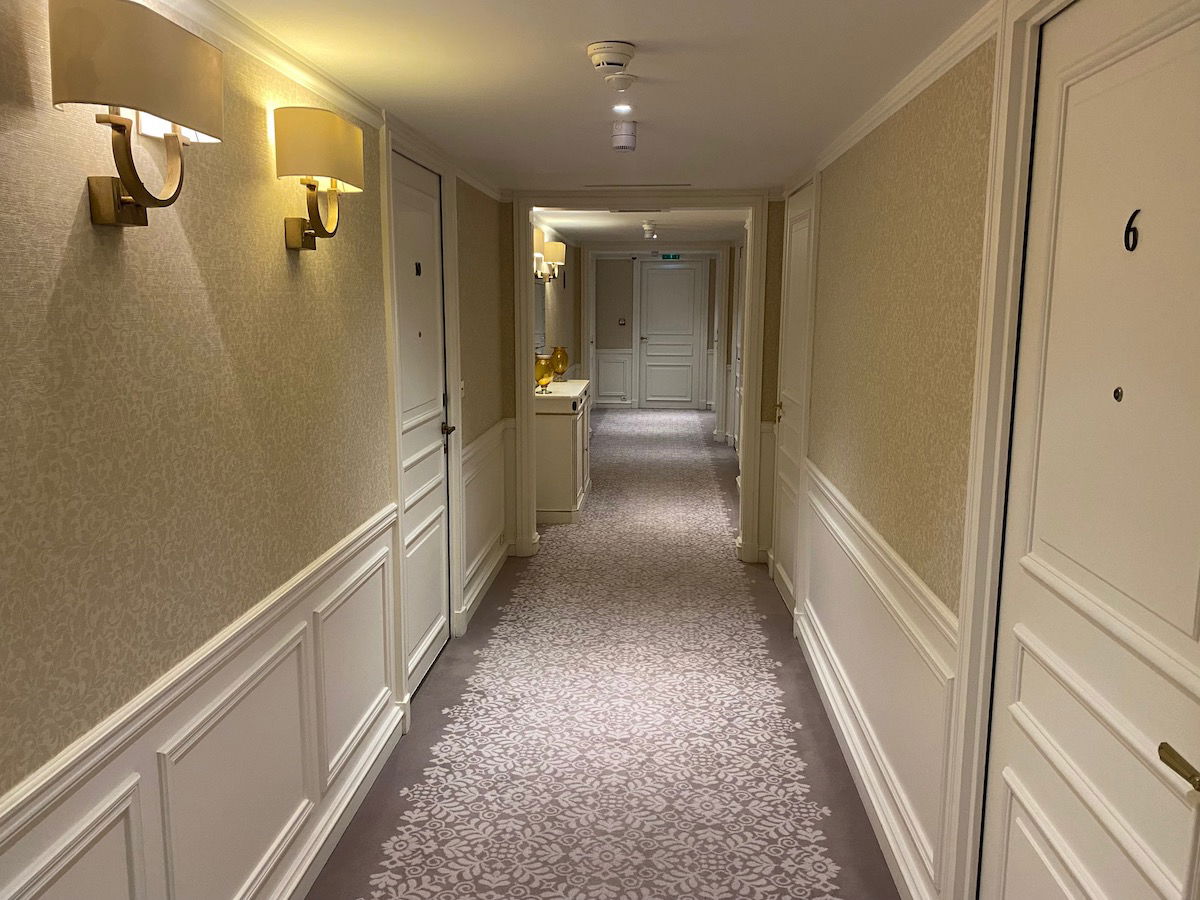 Sea-view suites are marketed as being around 600 square feet. They're (understandably) not huge, given that space comes at a premium in a building like this, though the space was well utilized. Inside the entrance to the room was an entryway. To the left was the closet and bathroom, and to the right was the living room and bedroom.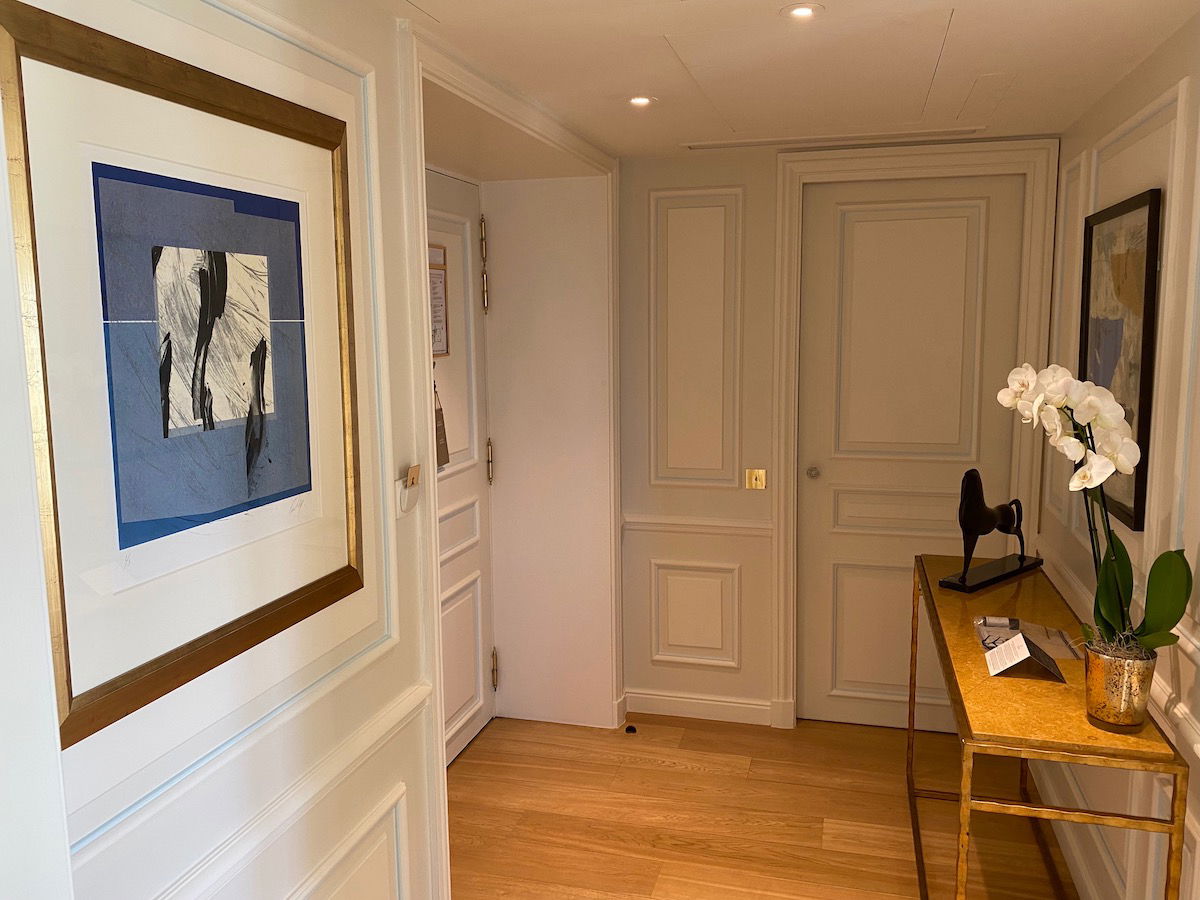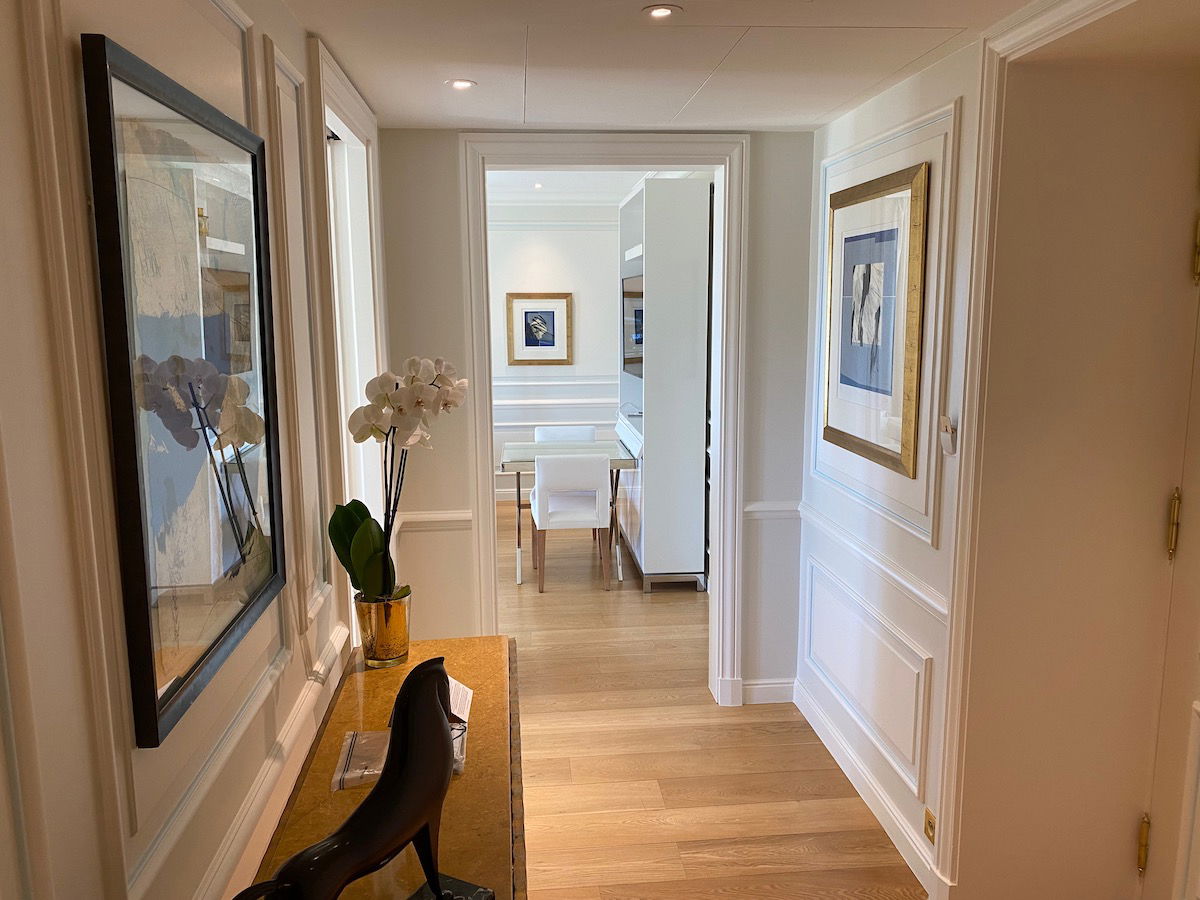 The living room was quite large, and featured a couch, a chair, and a table with seating for two, which could be used as a desk if you're working, or as a dining table if you order room service.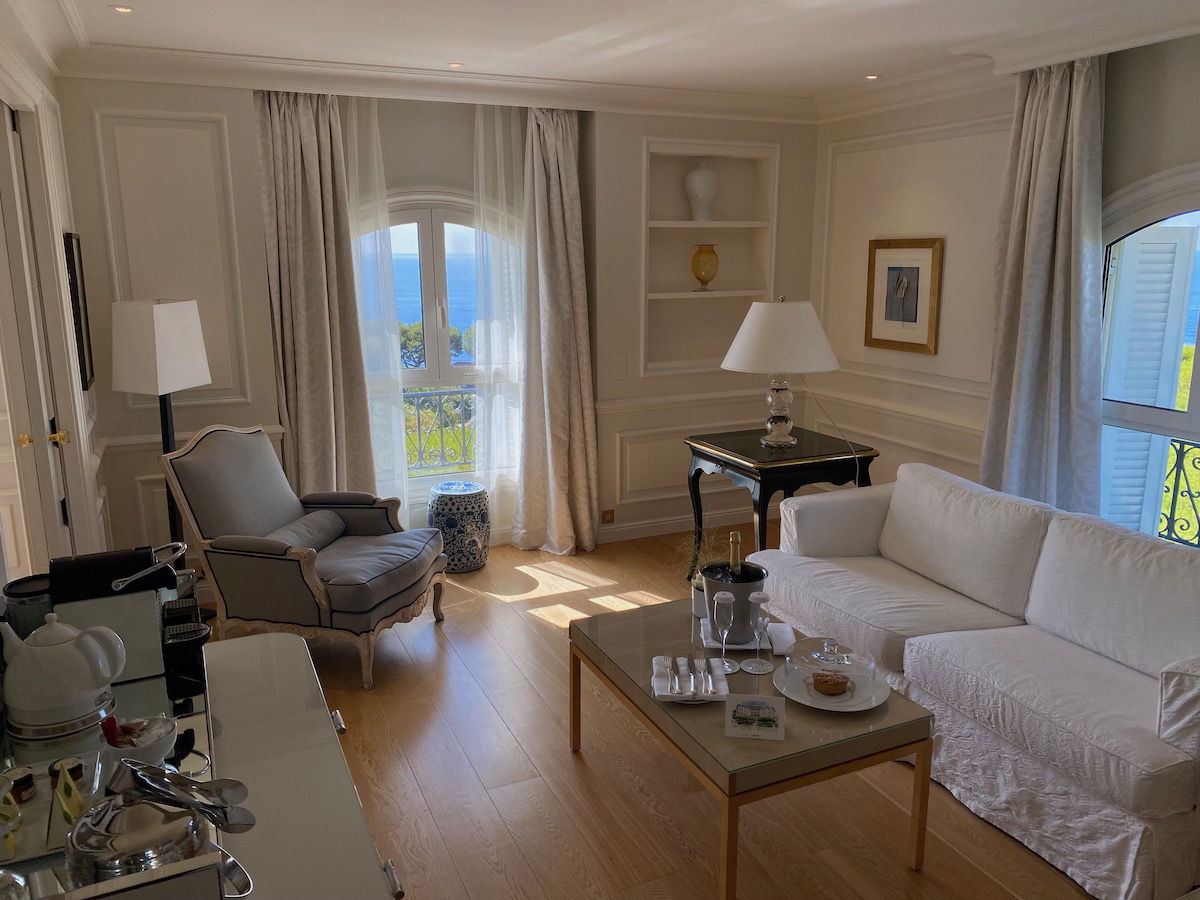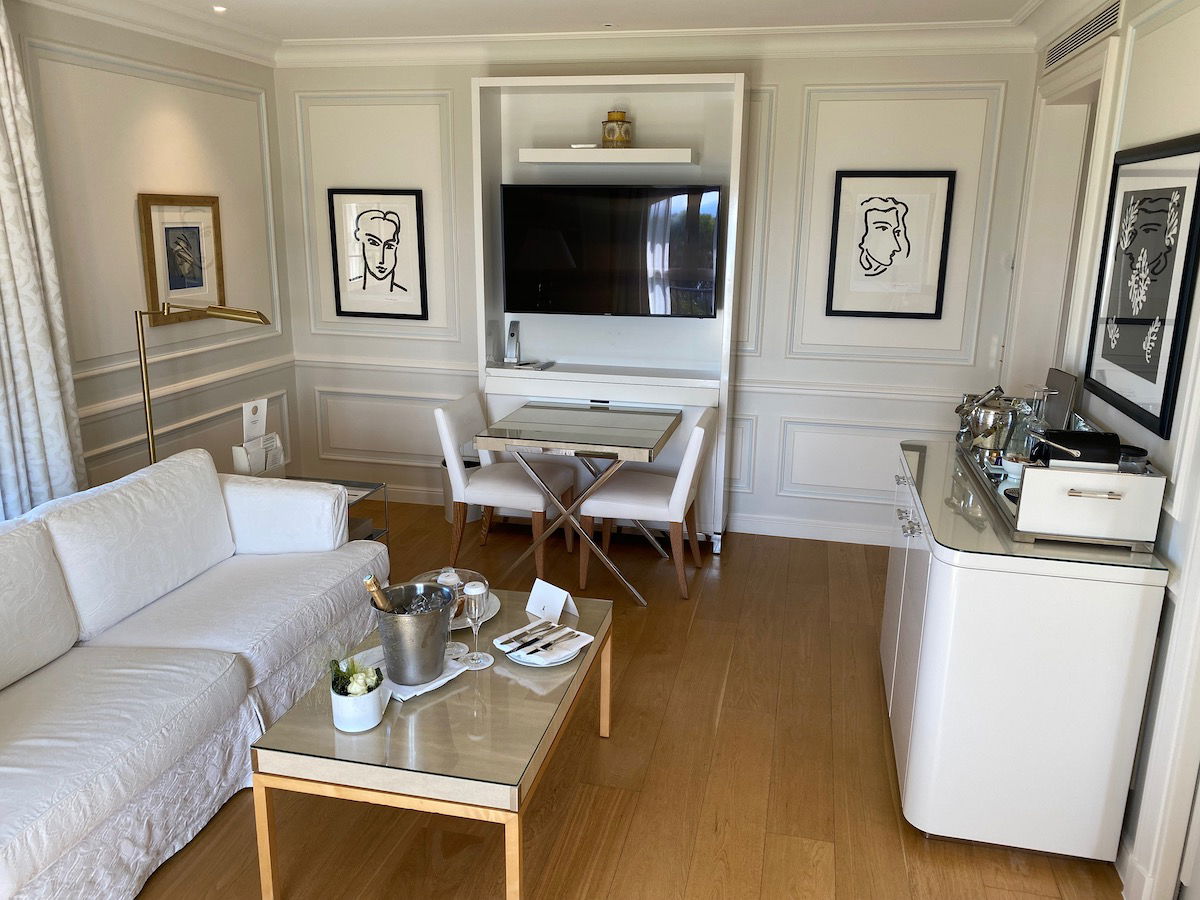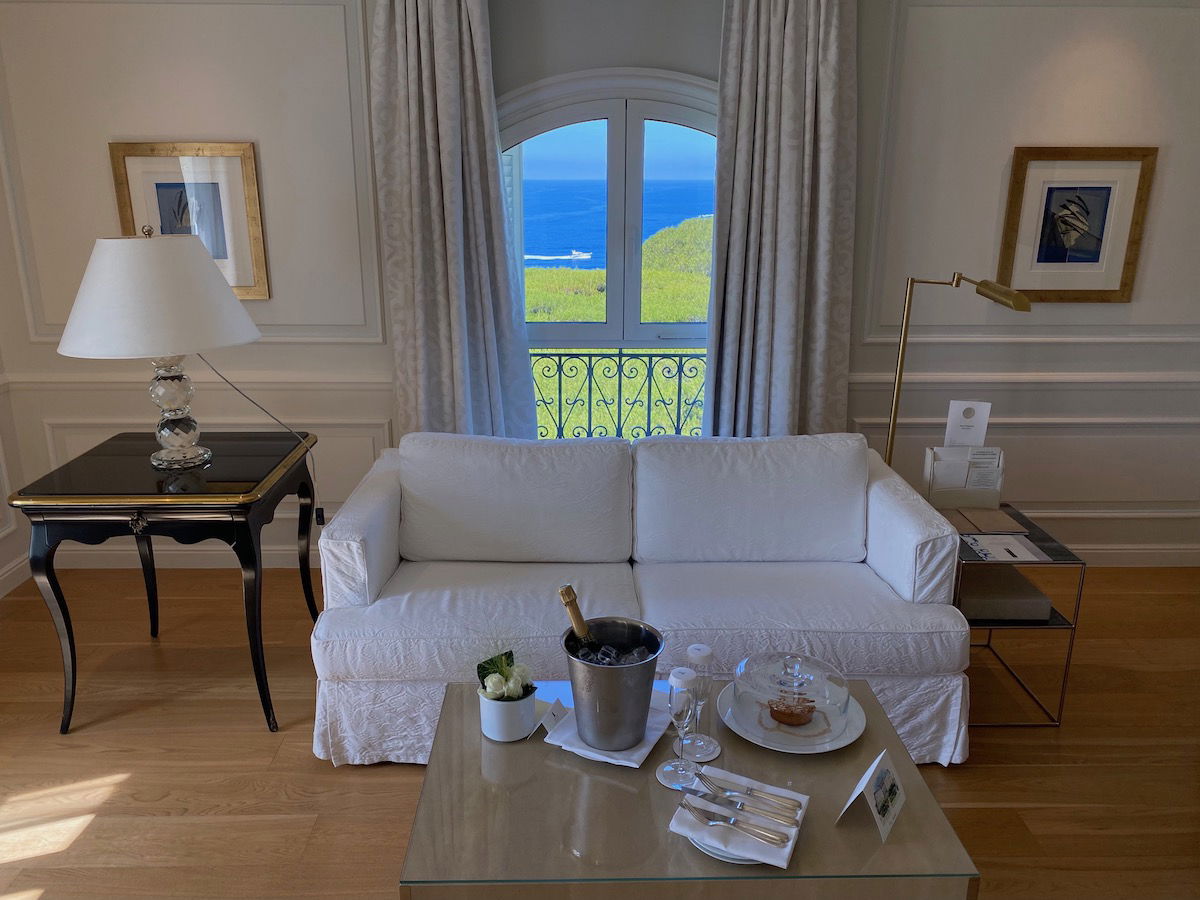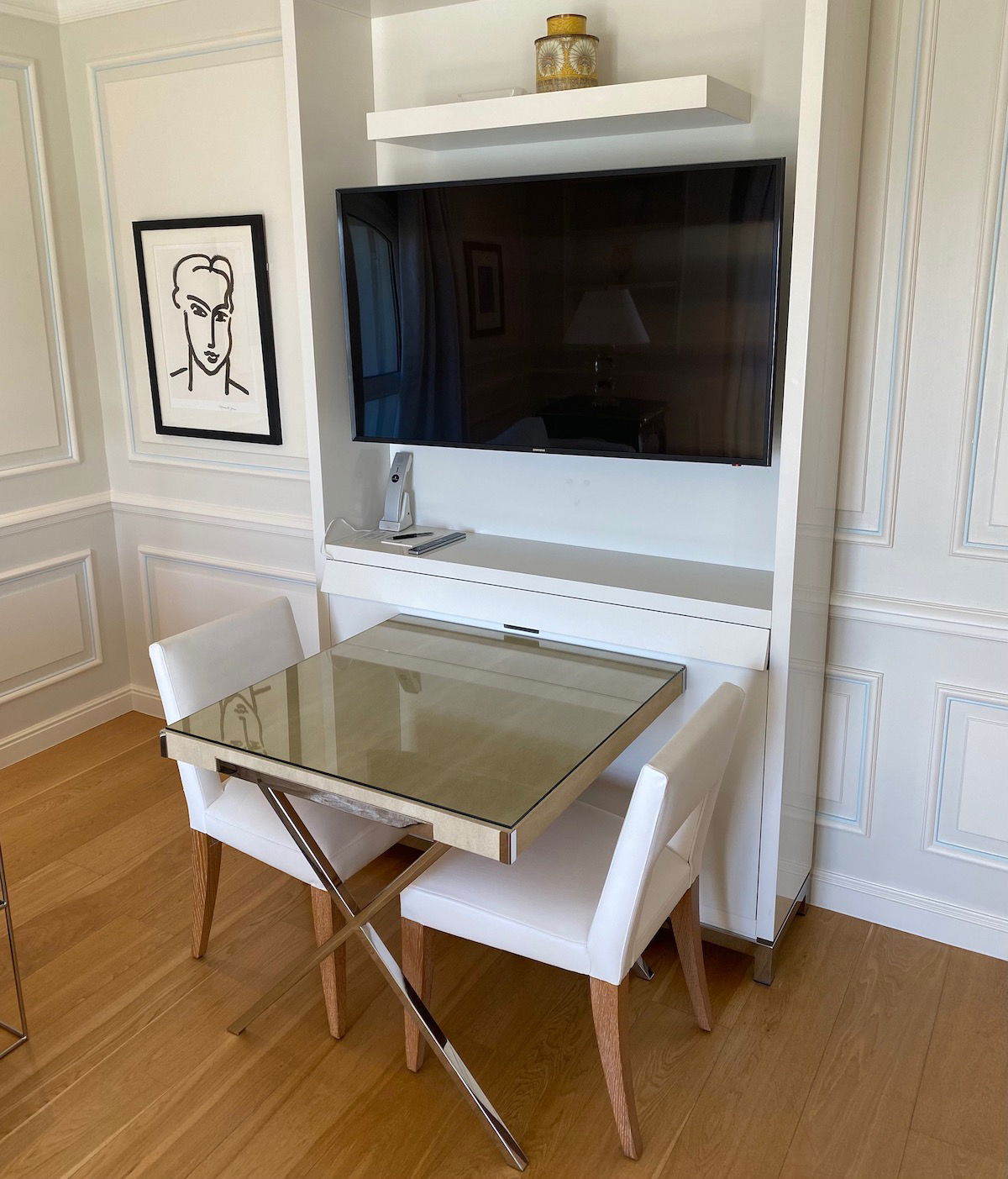 Waiting on the living room table was a welcome amenity, consisting of a bottle of champagne and a delicious tart.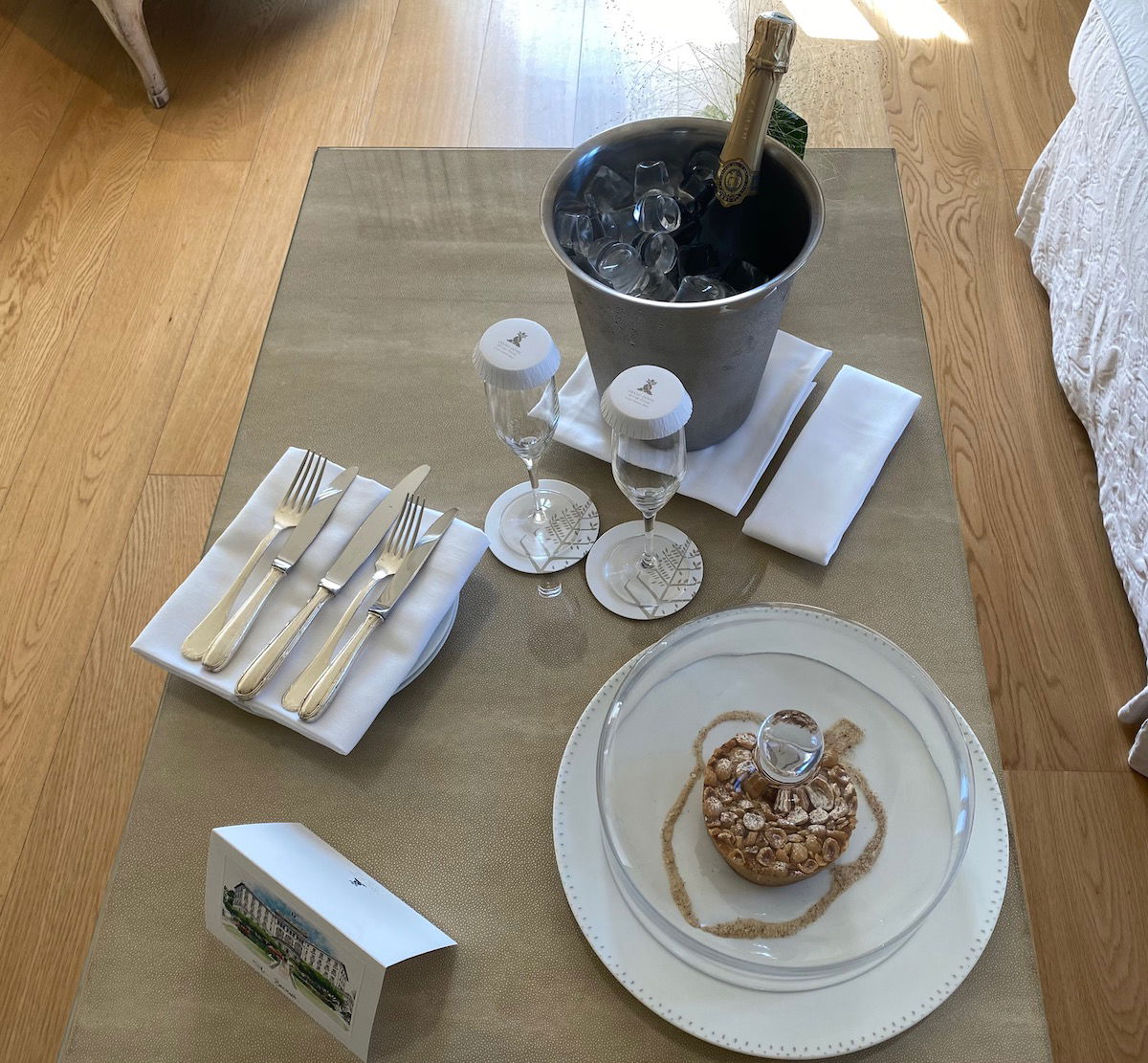 There was also a minibar along one of the walls, which featured complimentary tea & coffee, plus a variety of drinks and snacks for purchase.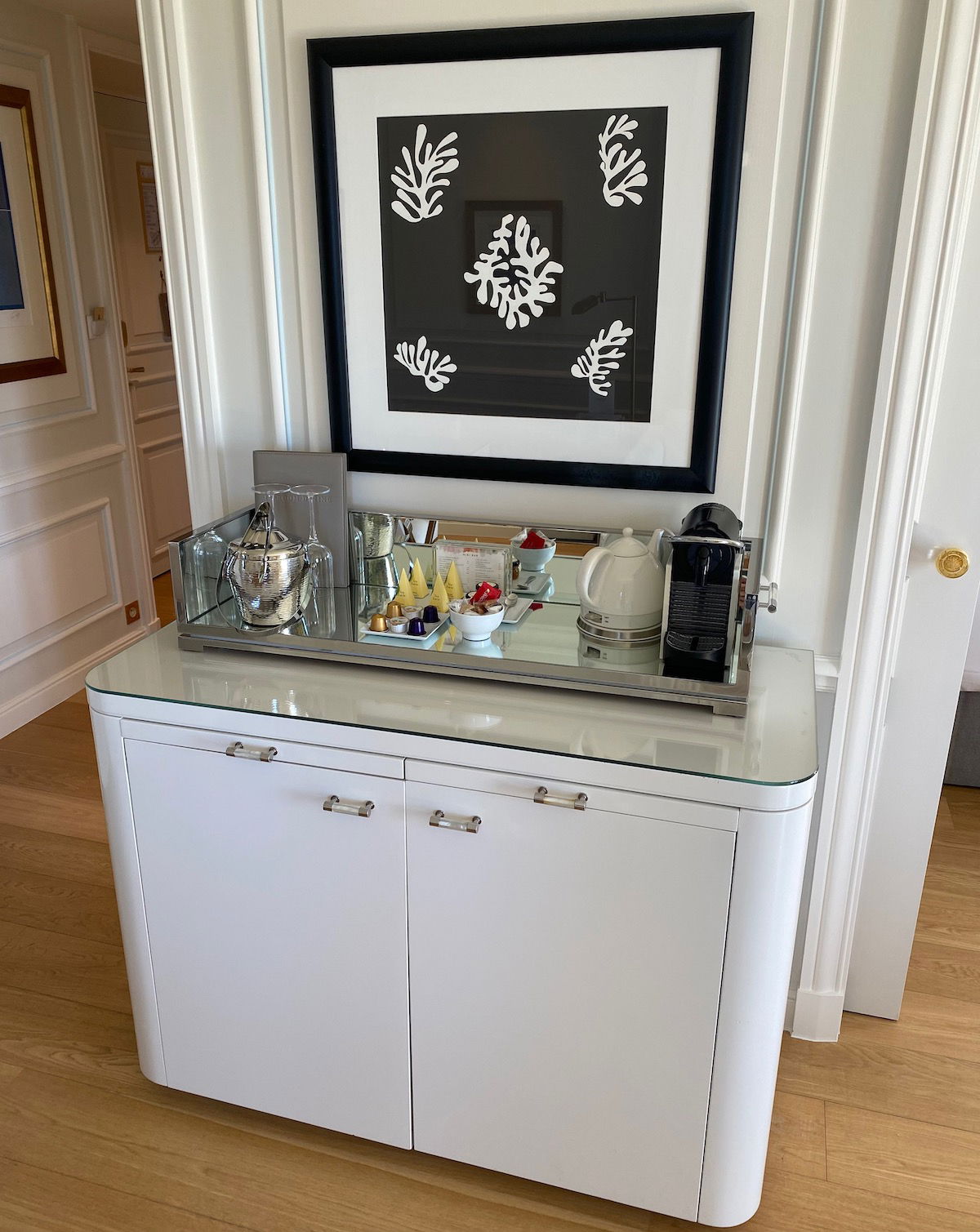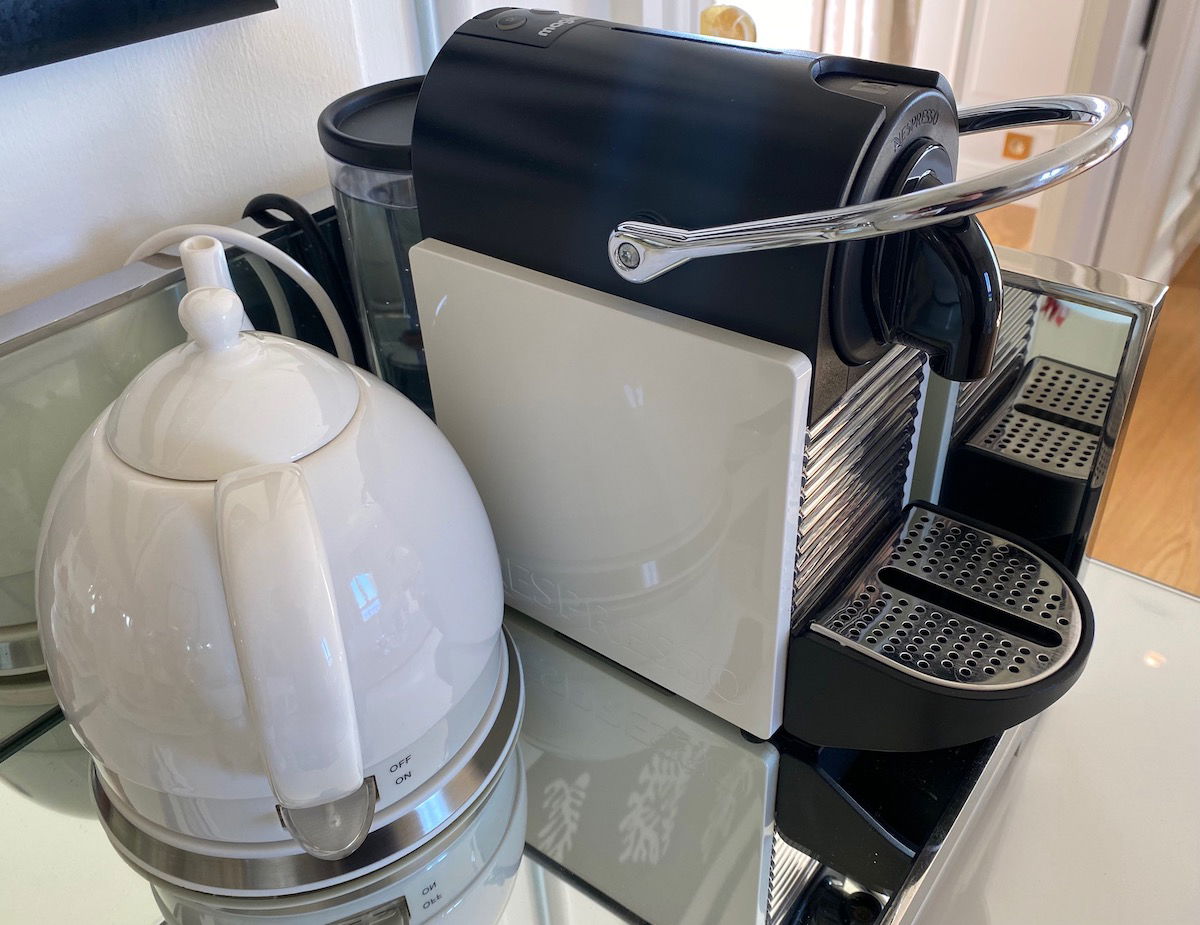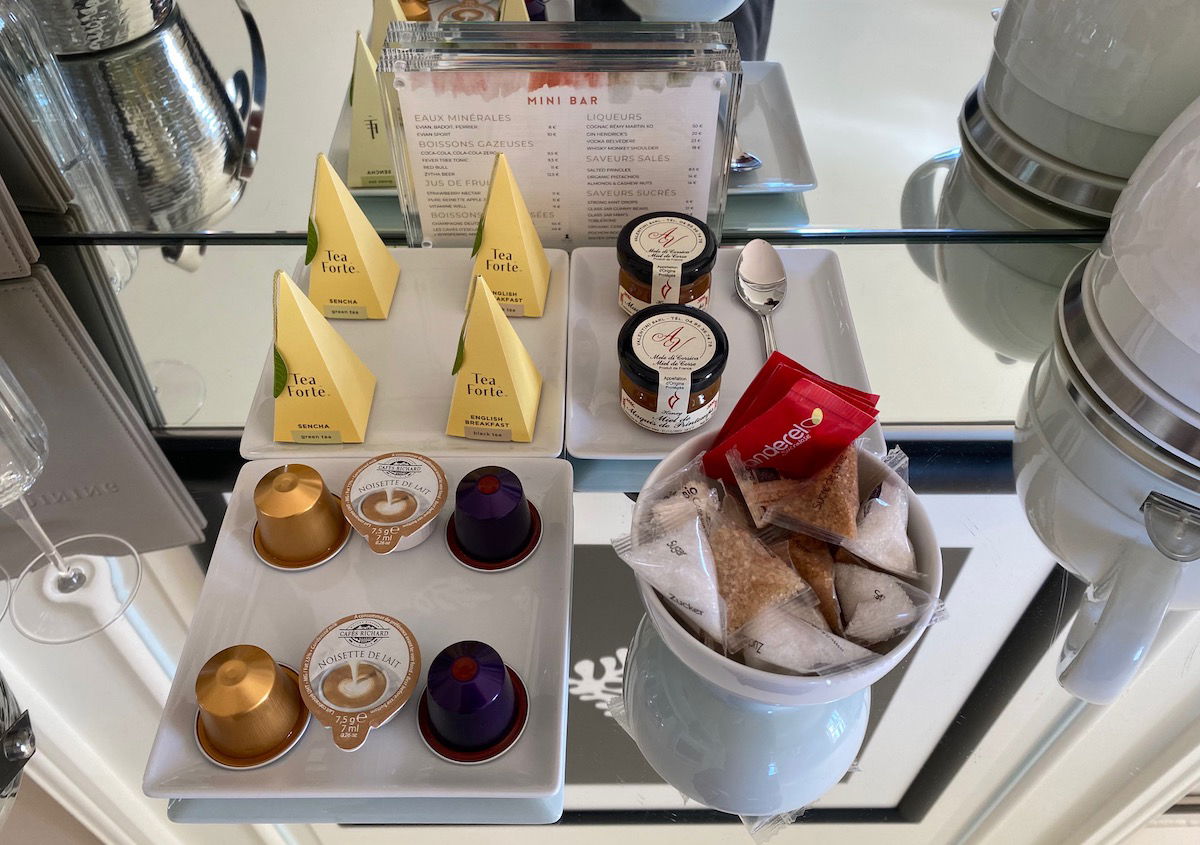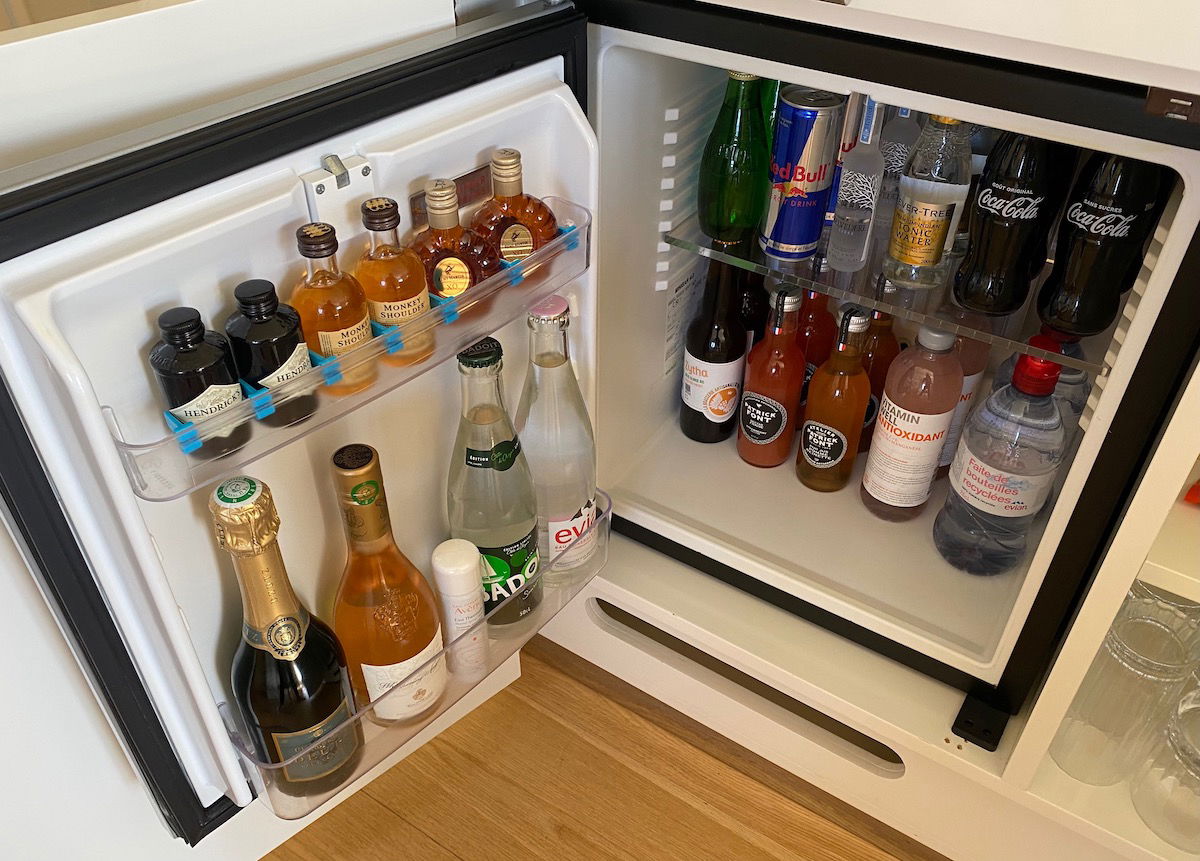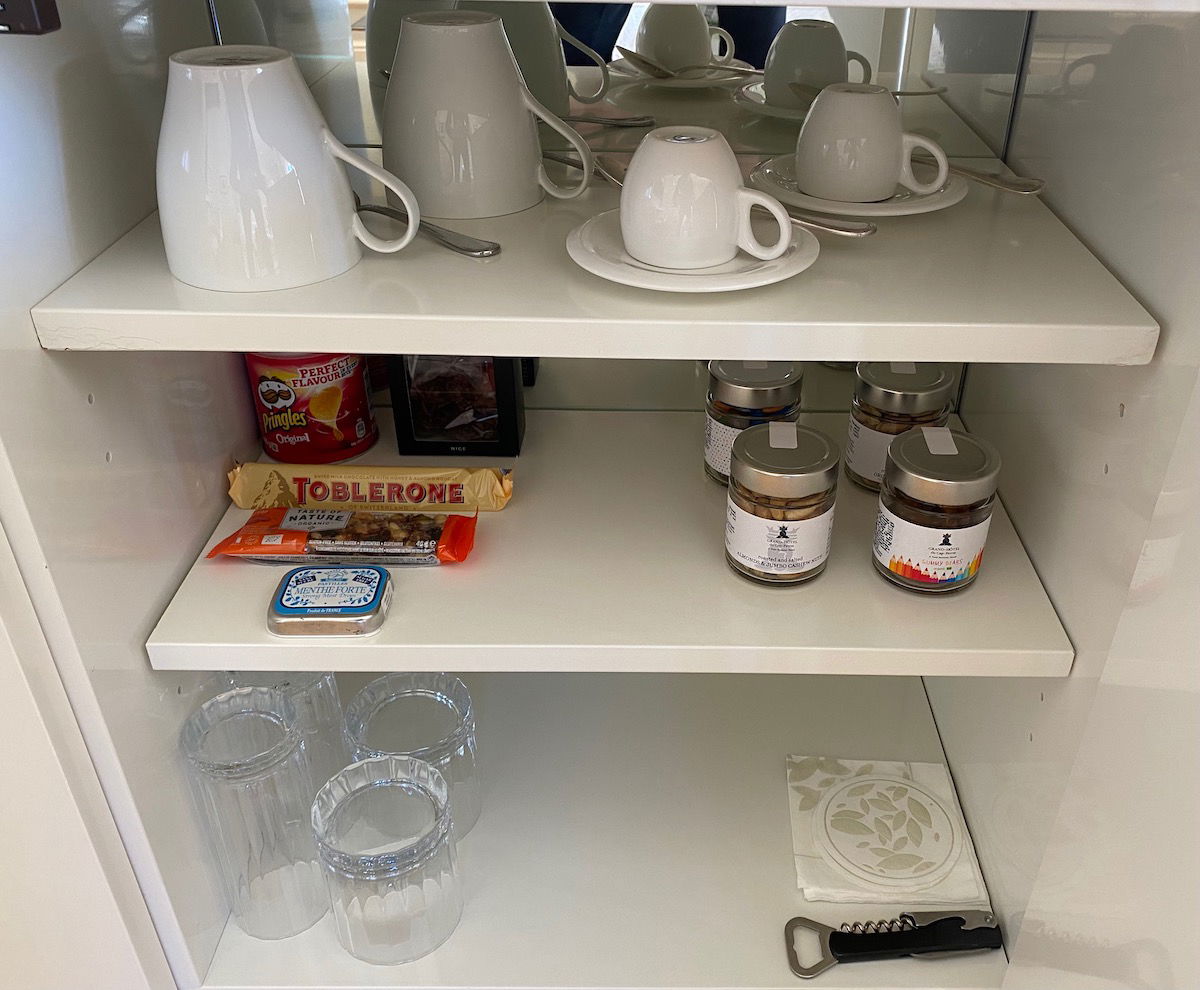 The bedroom was separated from the living room by sliding double doors.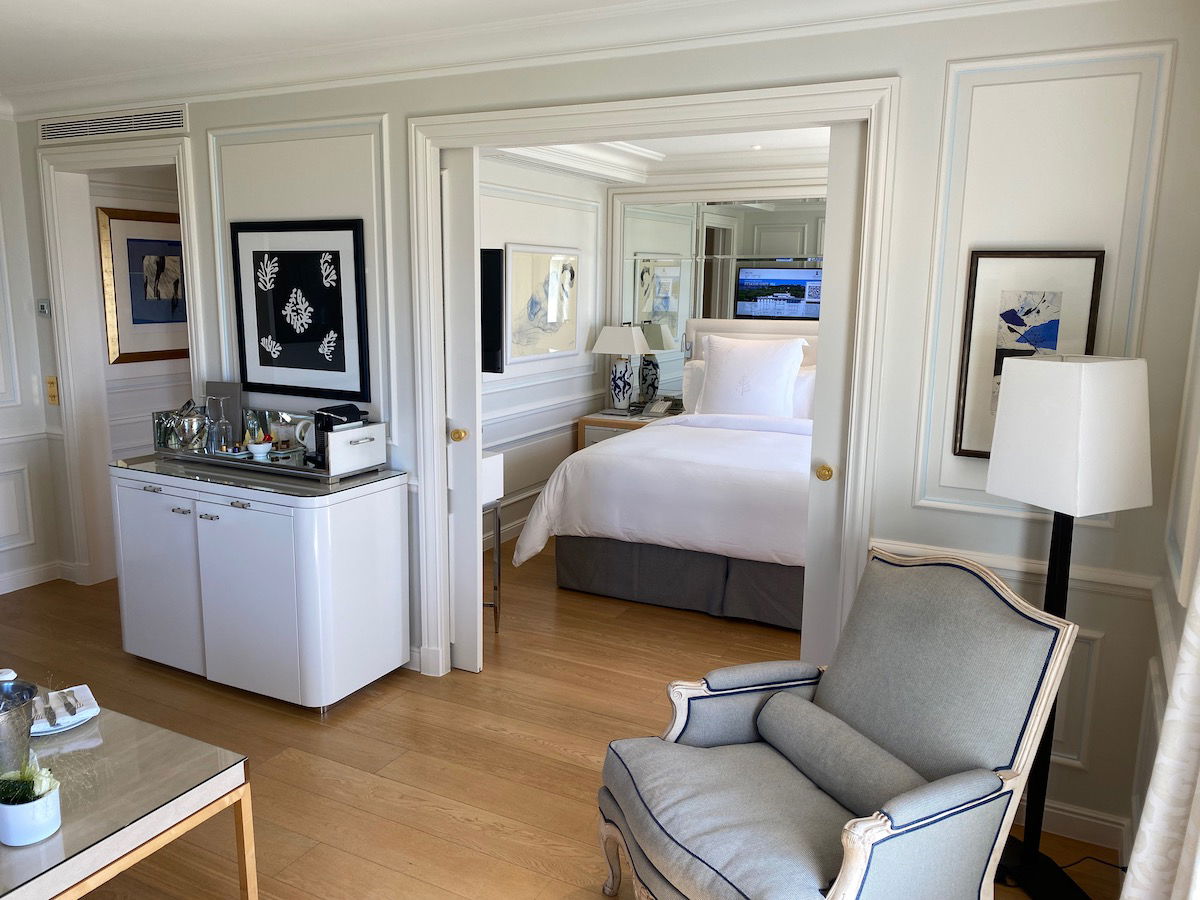 The bedroom was cozy, and featured the typical signature Four Seasons bed, which I consider to be the most comfortable hotel bed out there. The bedroom also had a wall-mounted TV.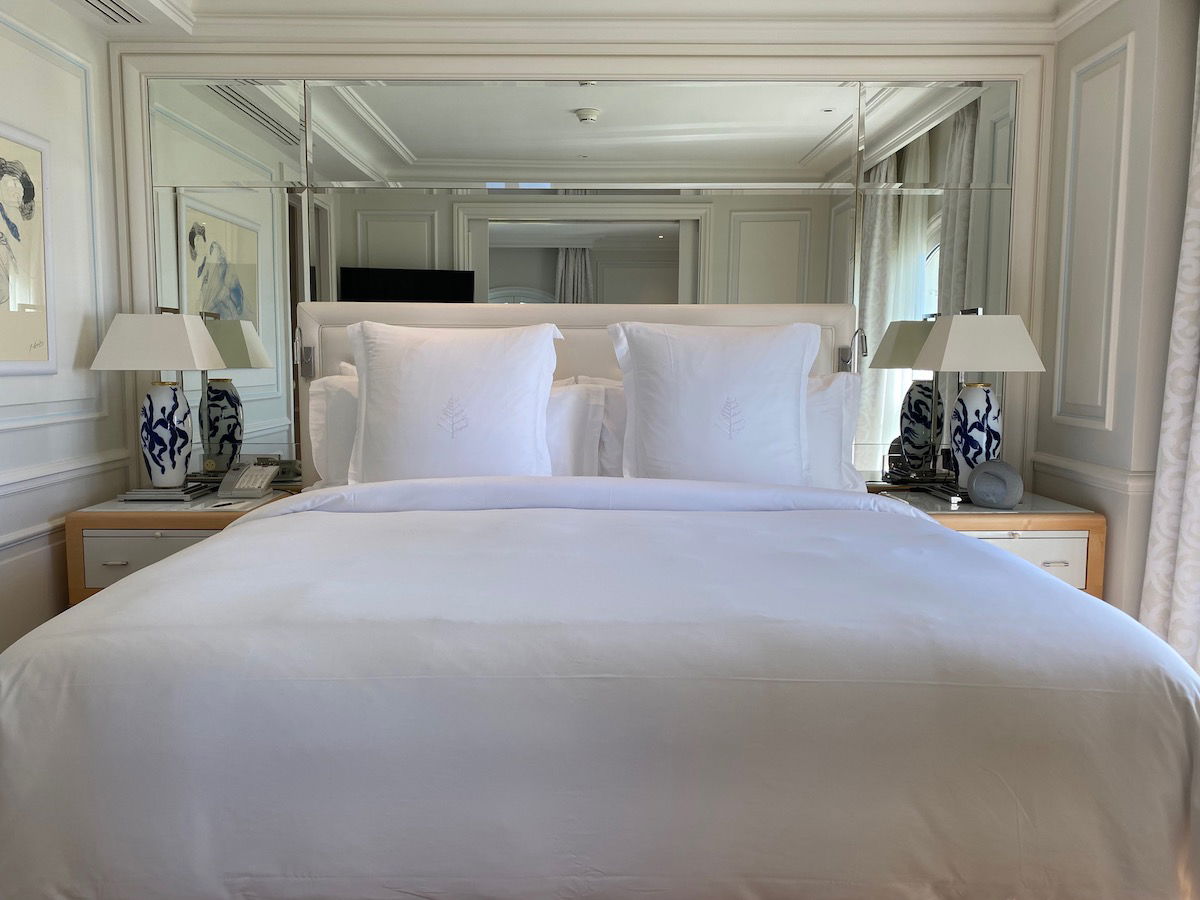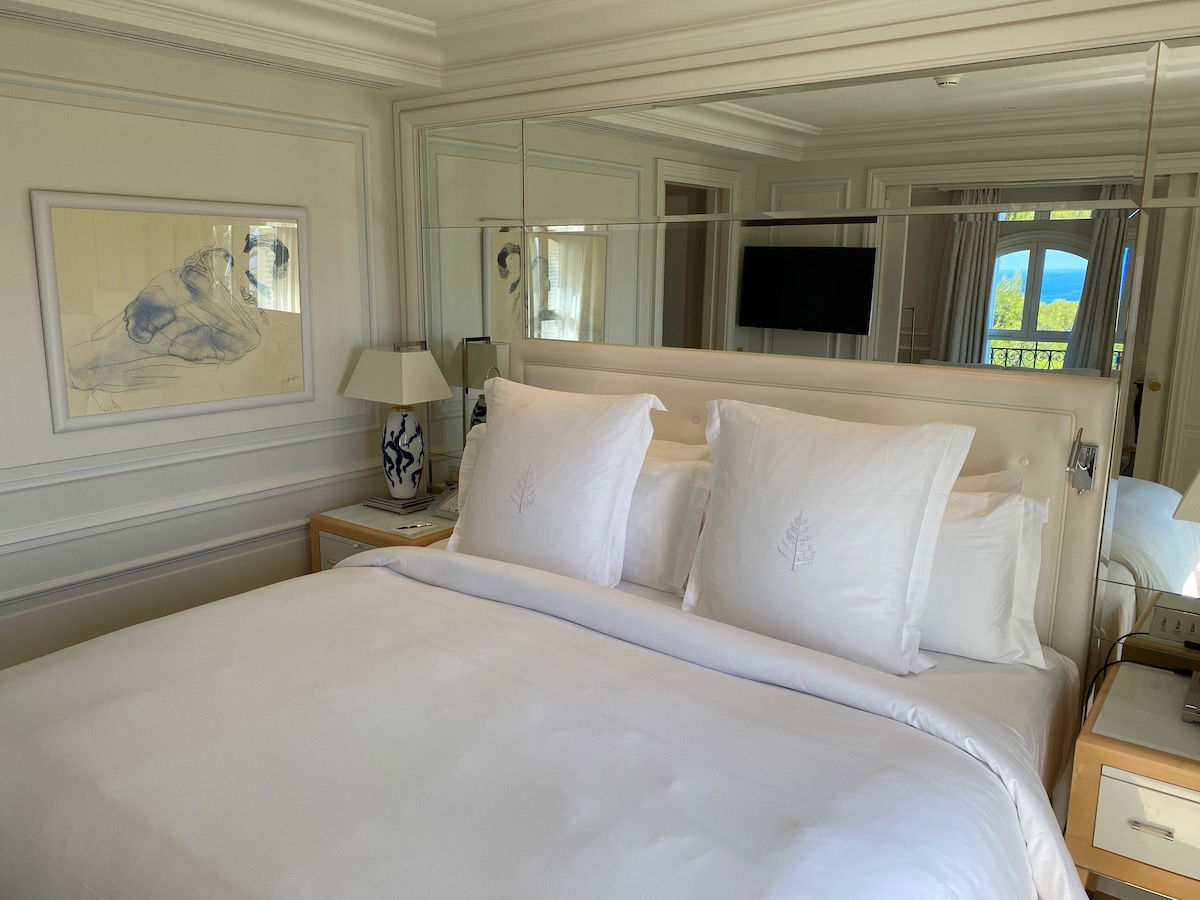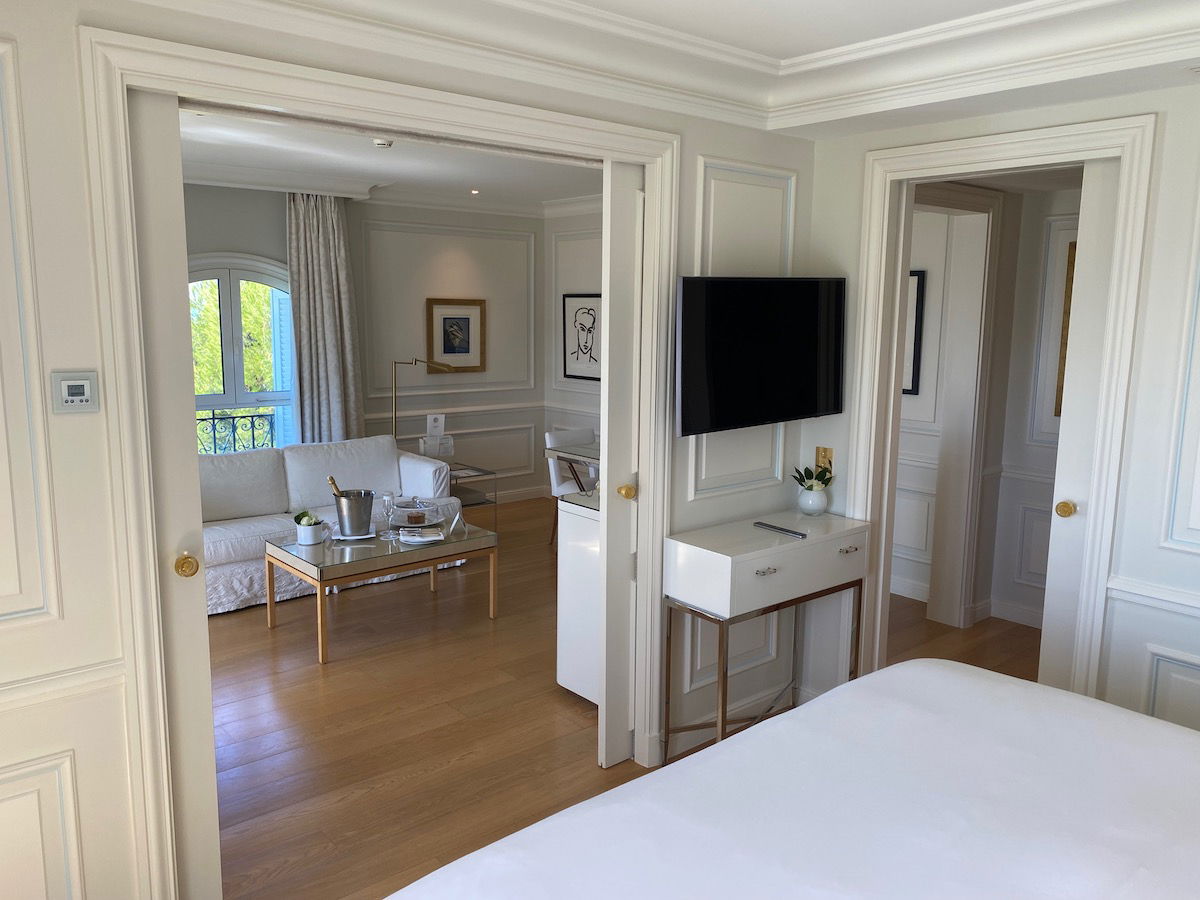 All rooms featured views of the hotel's gardens, and the sea in the background. It sure would be nice to have some outdoor space given the perfect summer climate here, but of course that's not something that was common in construction 100+ years ago.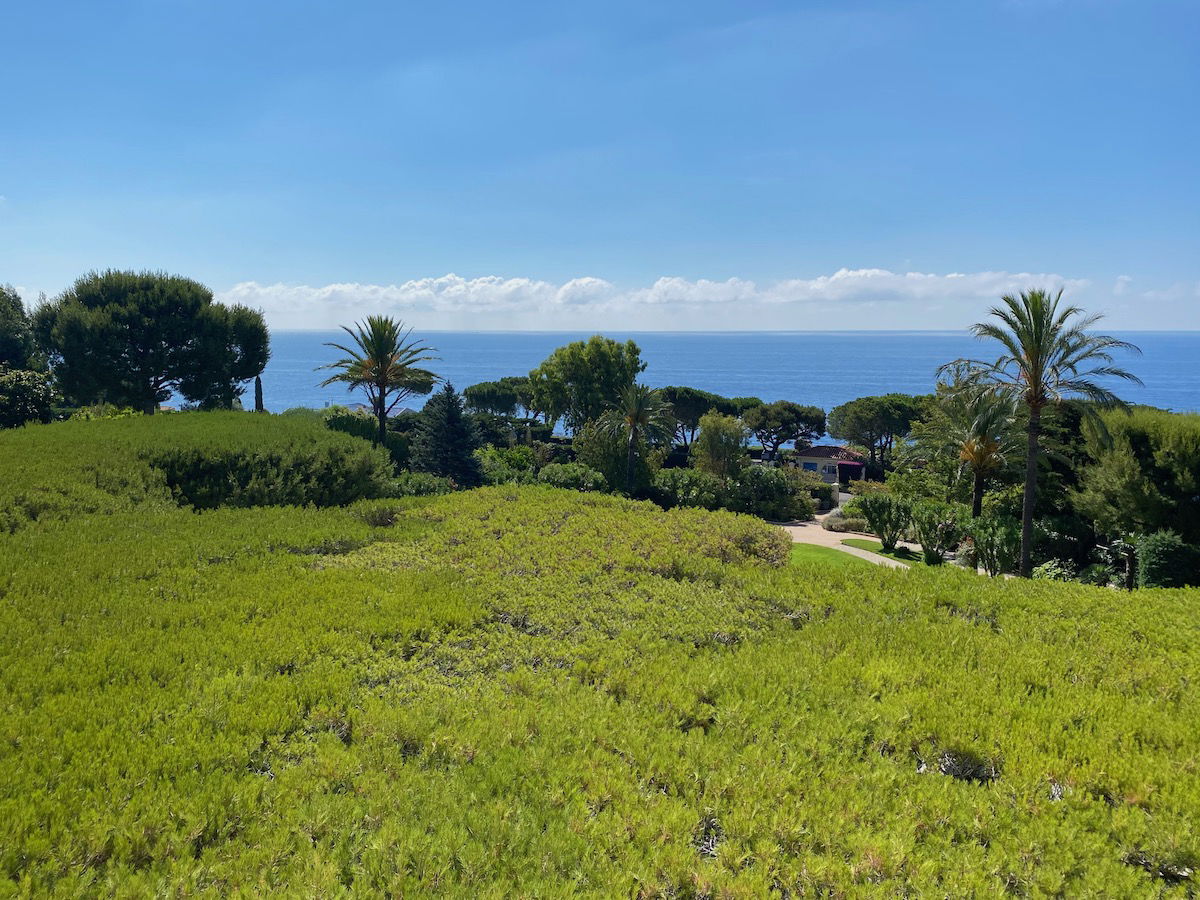 Back in the direction of the entrance was a large walk-in closet. Interestingly you had to walk through the closet to get to the bathroom. The bathroom was well appointed, and featured double sinks, a walk-in shower, a soaking tub, and a partitioned off toilet.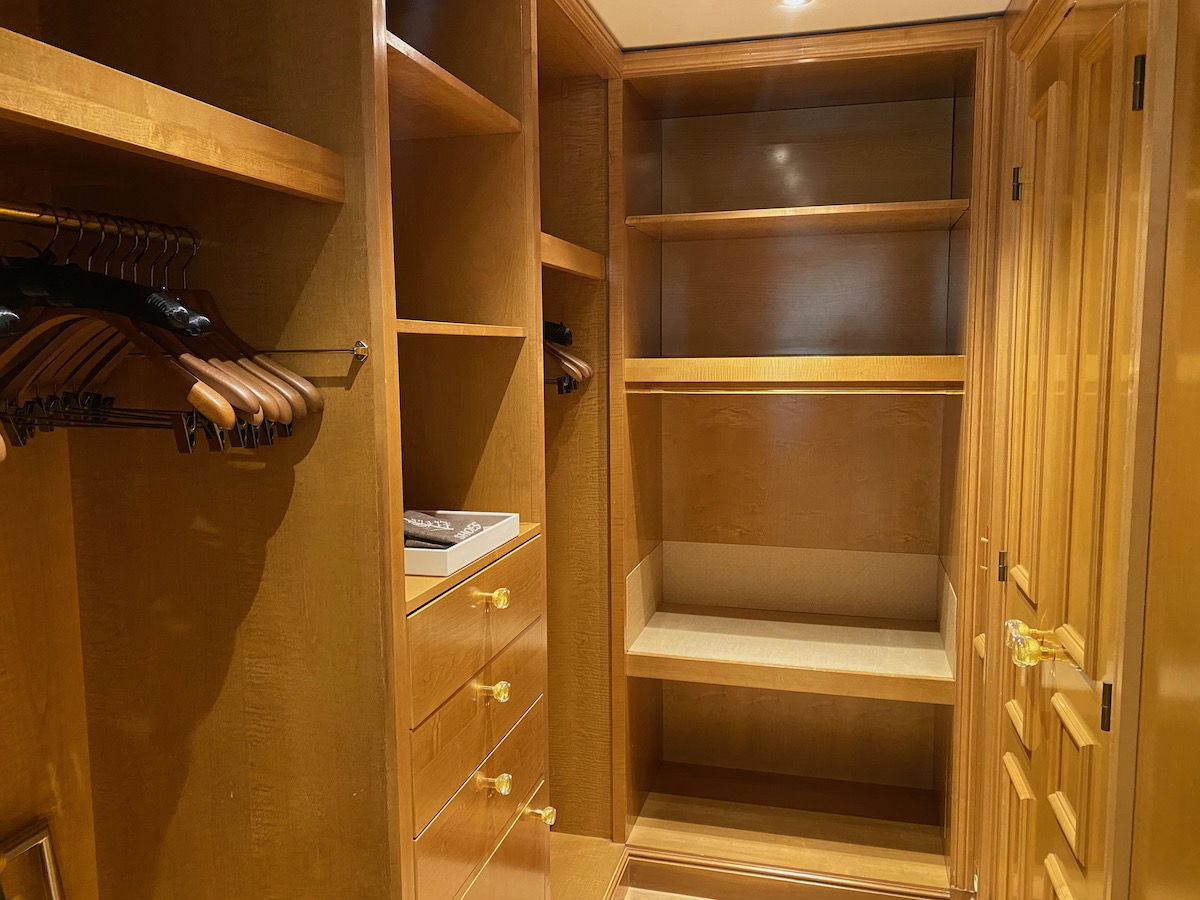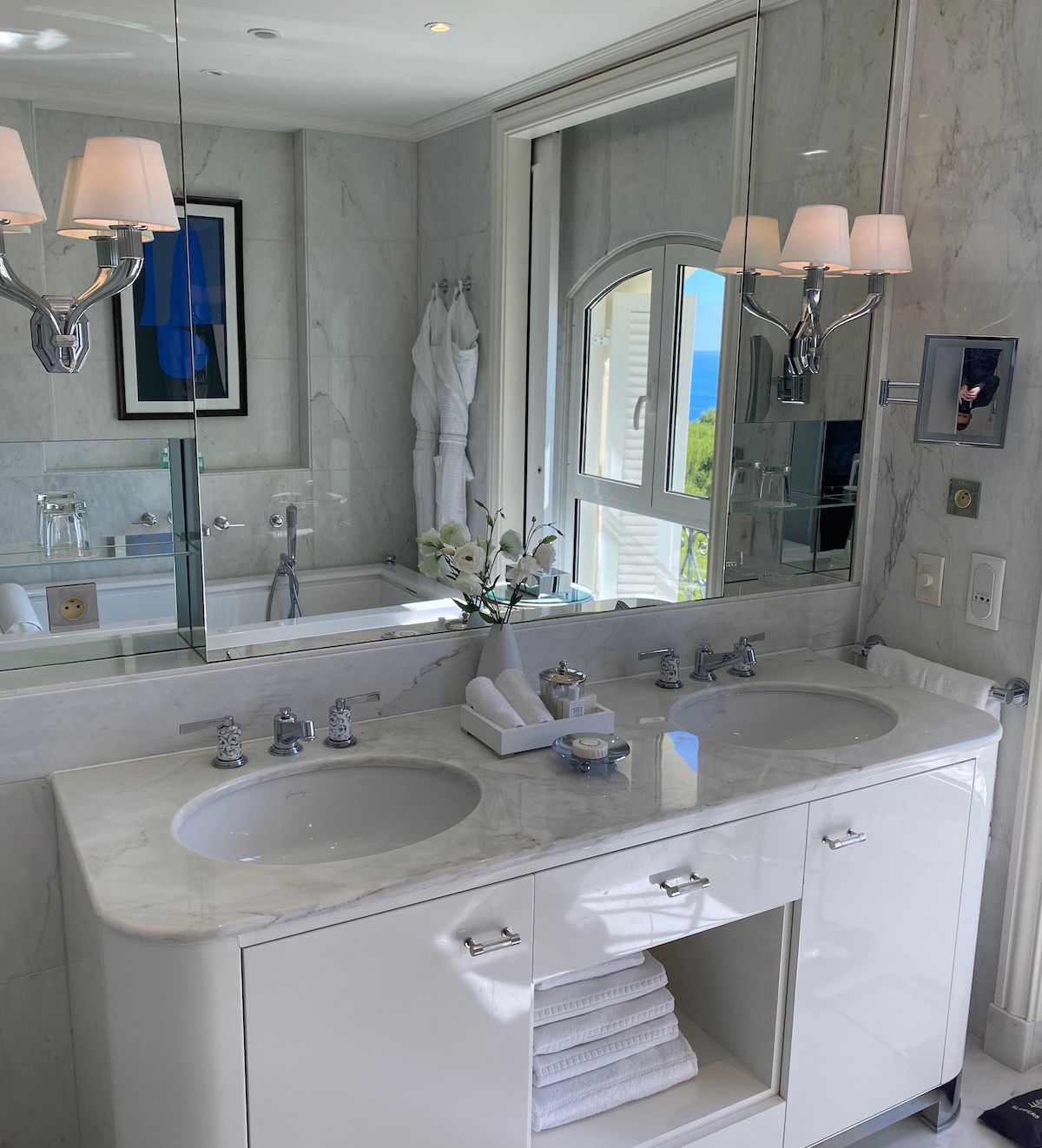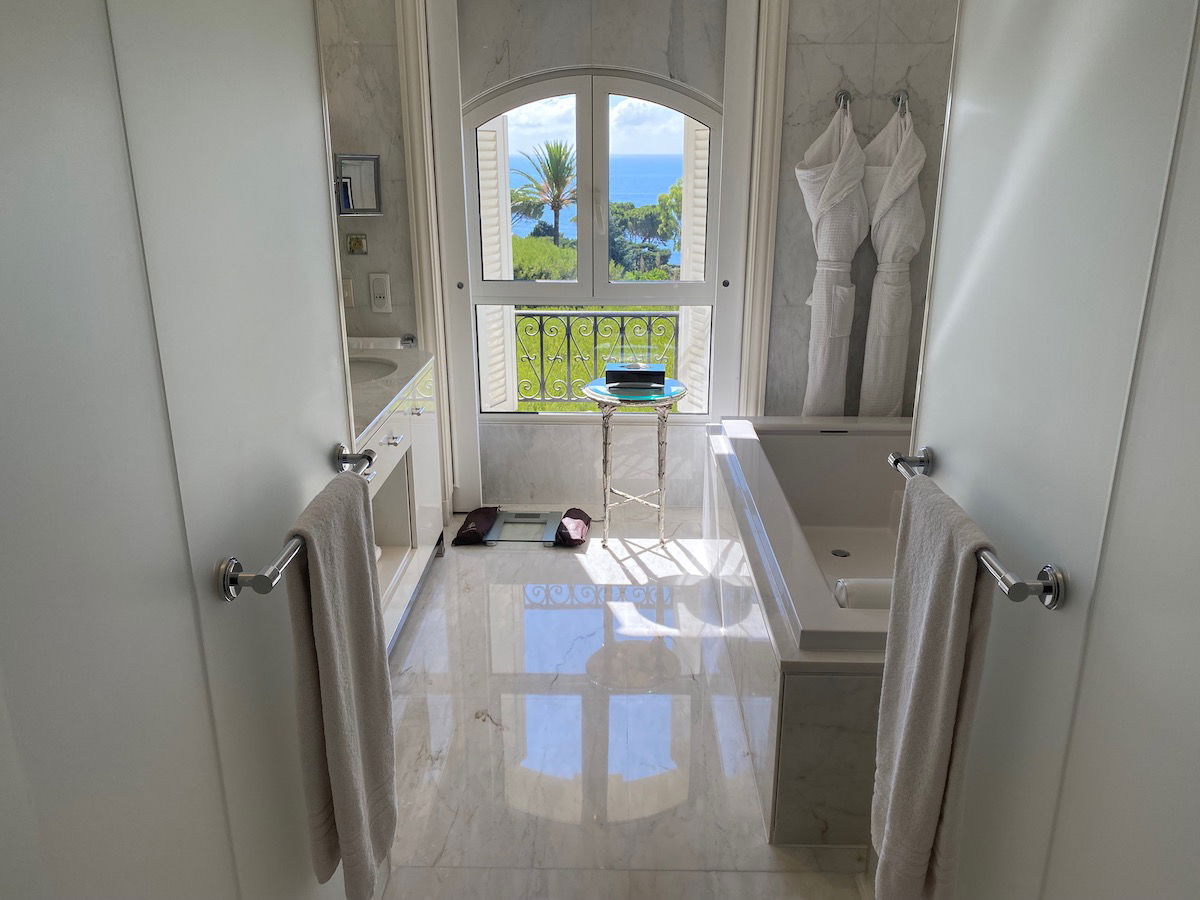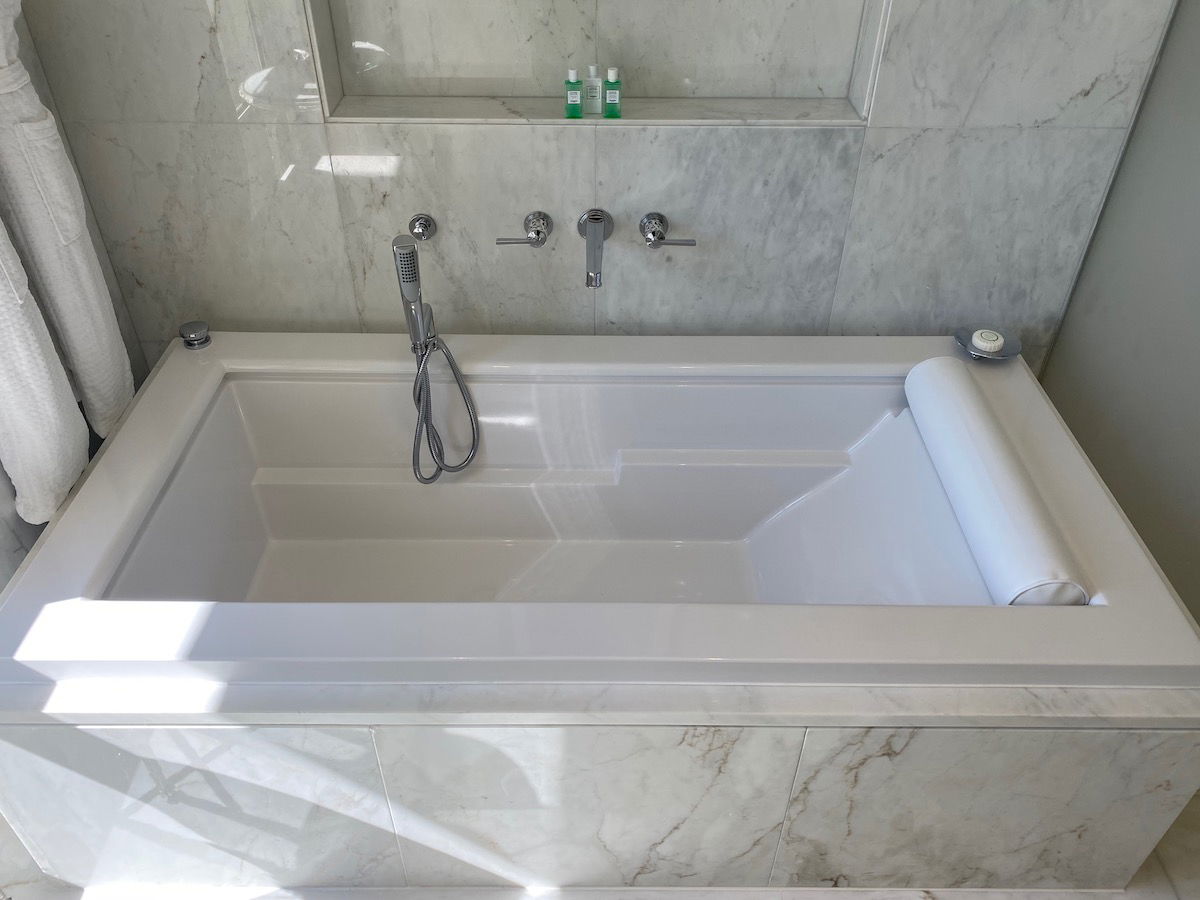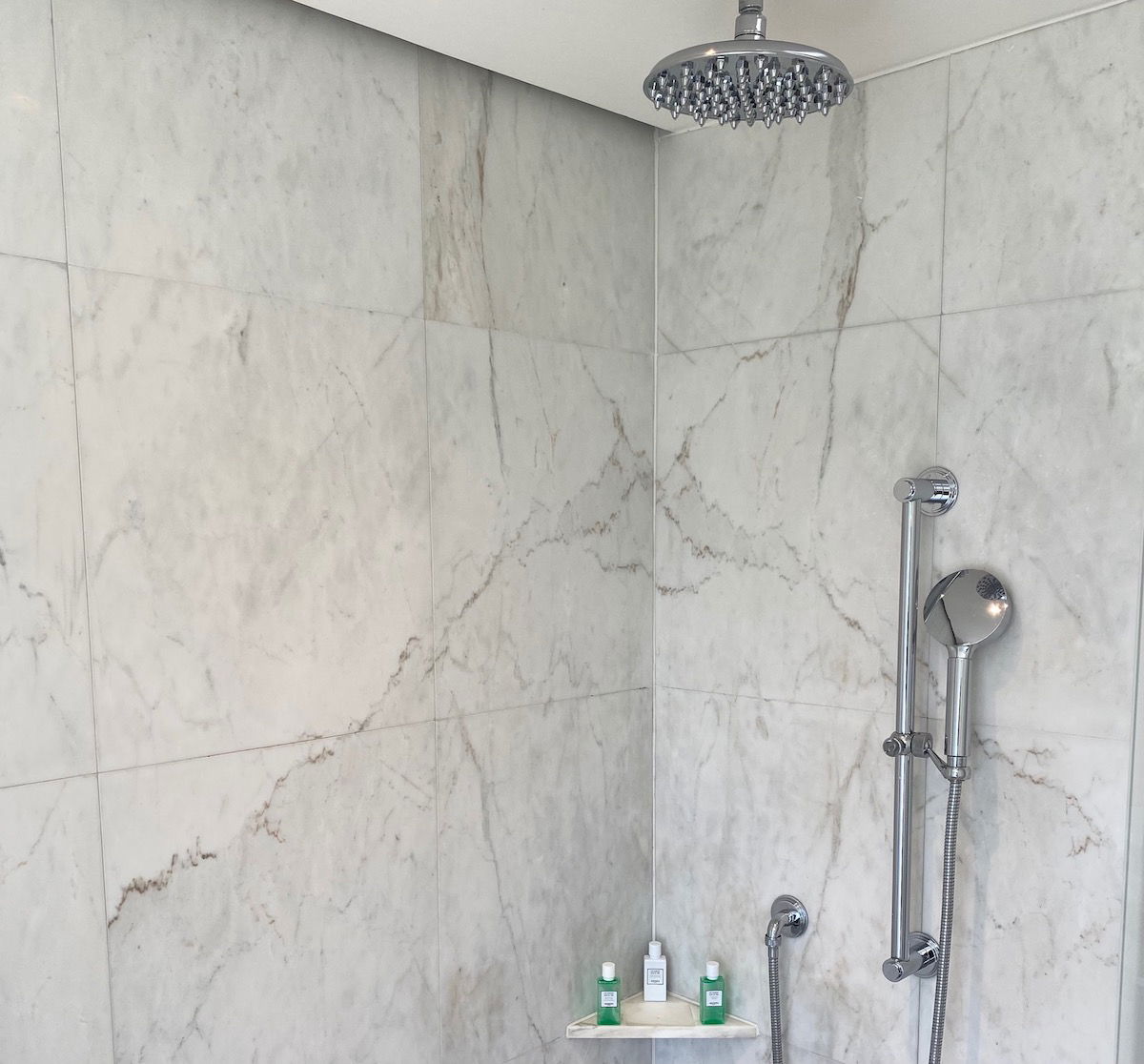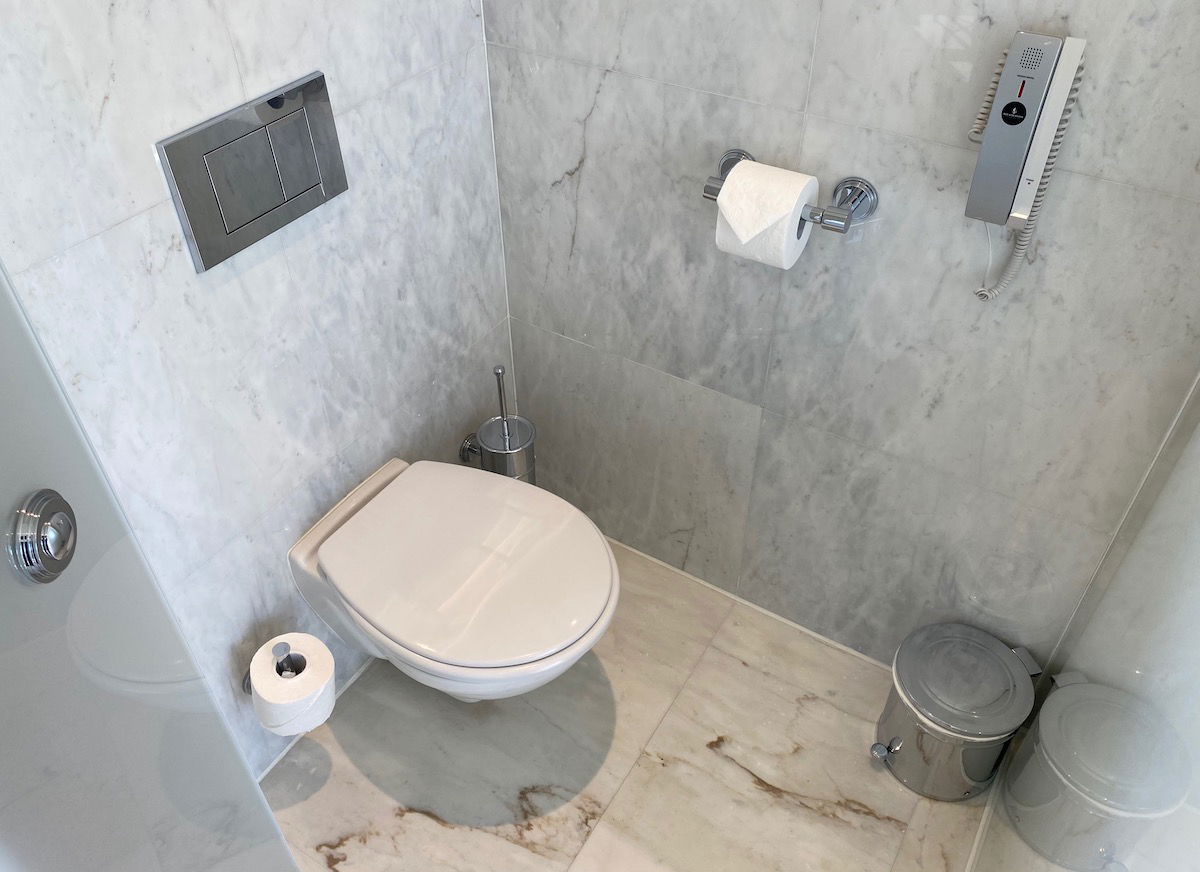 Toiletries were from Hermes, which sure is cool.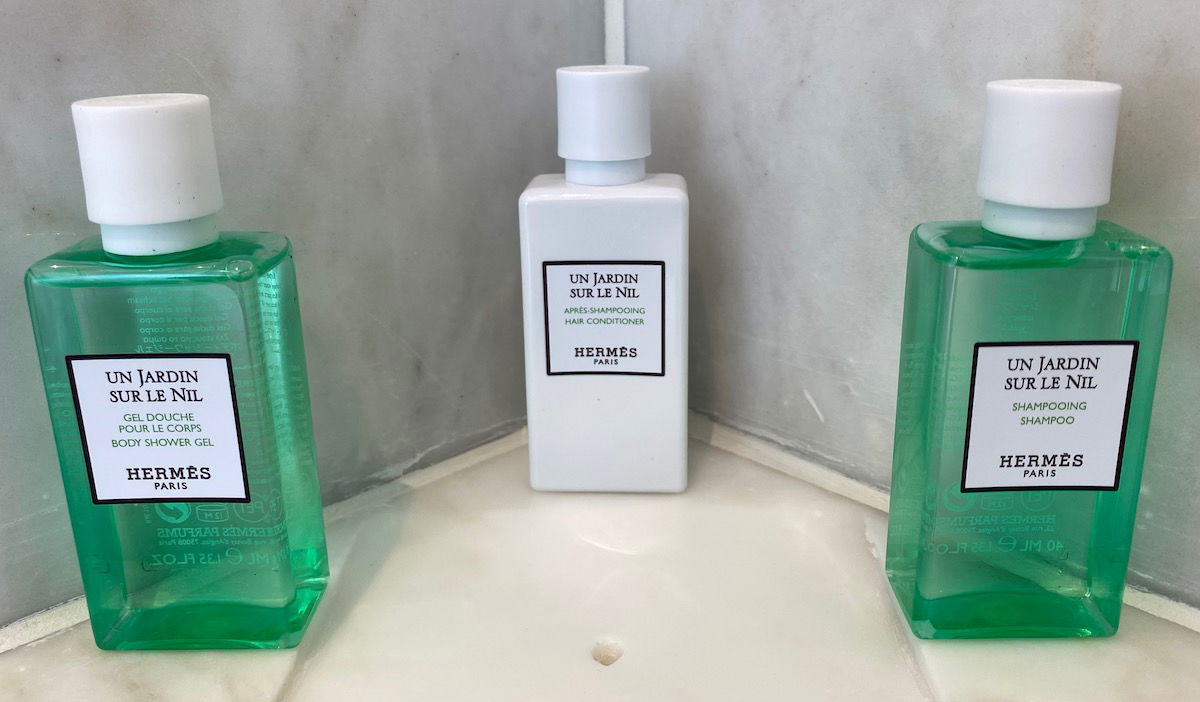 Wi-Fi in the room was fast and free, and it easy easy to connect. All-in-all, what a gorgeous suite with beautiful views. Four Seasons does a great job with maximizing space with room design, especially for properties are are housed in older buildings, like this one.
Four Seasons Cap-Ferrat Club Dauphin
Club Dauphin is the Four Seasons' daytime club, with a pool and restaurant. Cap-Ferrat is a peninsula with a bunch of cliffs, so it doesn't have a traditional beach, but rather has pools, and docks off of which you can jump into the sea. Four Seasons guests can access Club Dauphin for free, and it's easy to get to — just walk out the back of the hotel and down the stairs.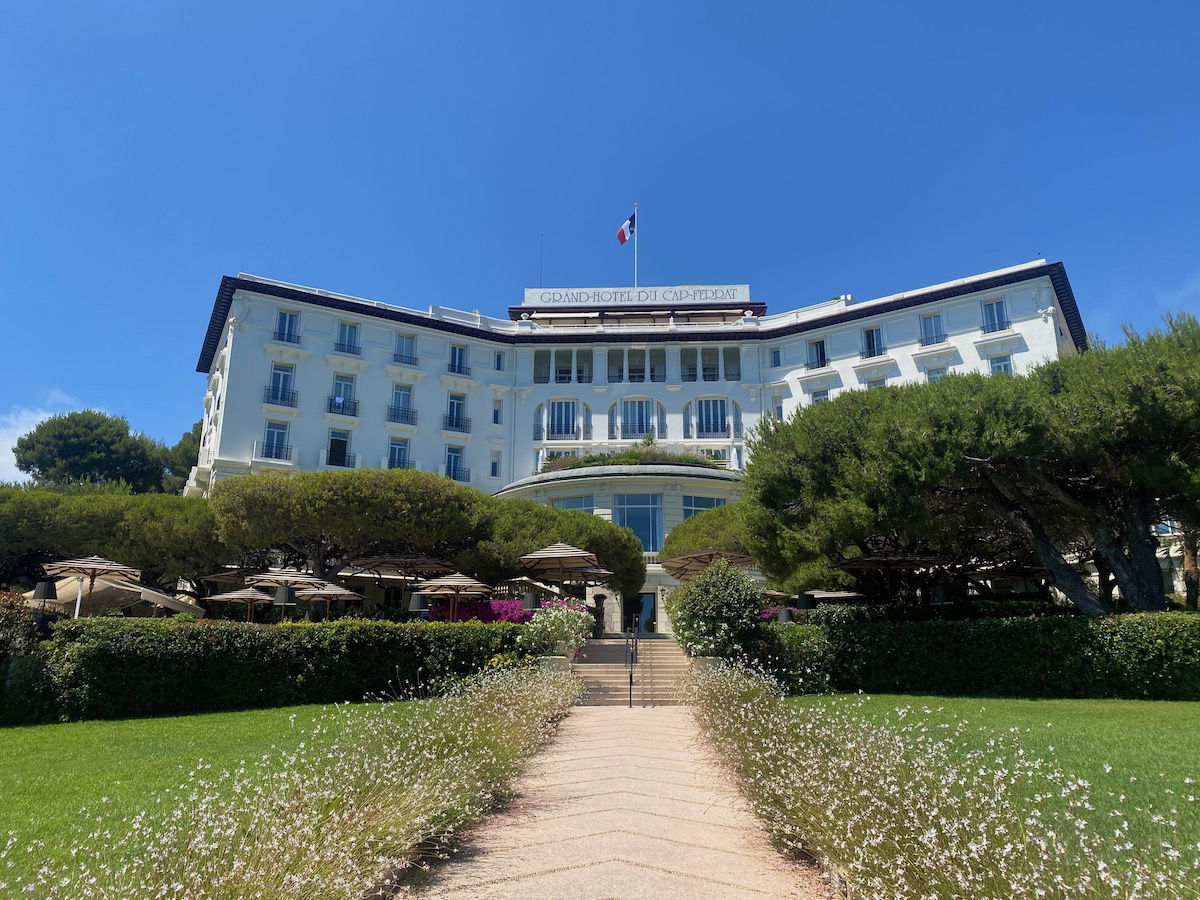 You just exit the Four Seasons' gate, and then across the street is the entrance to the club. You just have to give your room number and you're admitted. For the record, this is fully managed by the Four Seasons, so it has the same great service as the rest of the hotel, and you can charge everything to your room.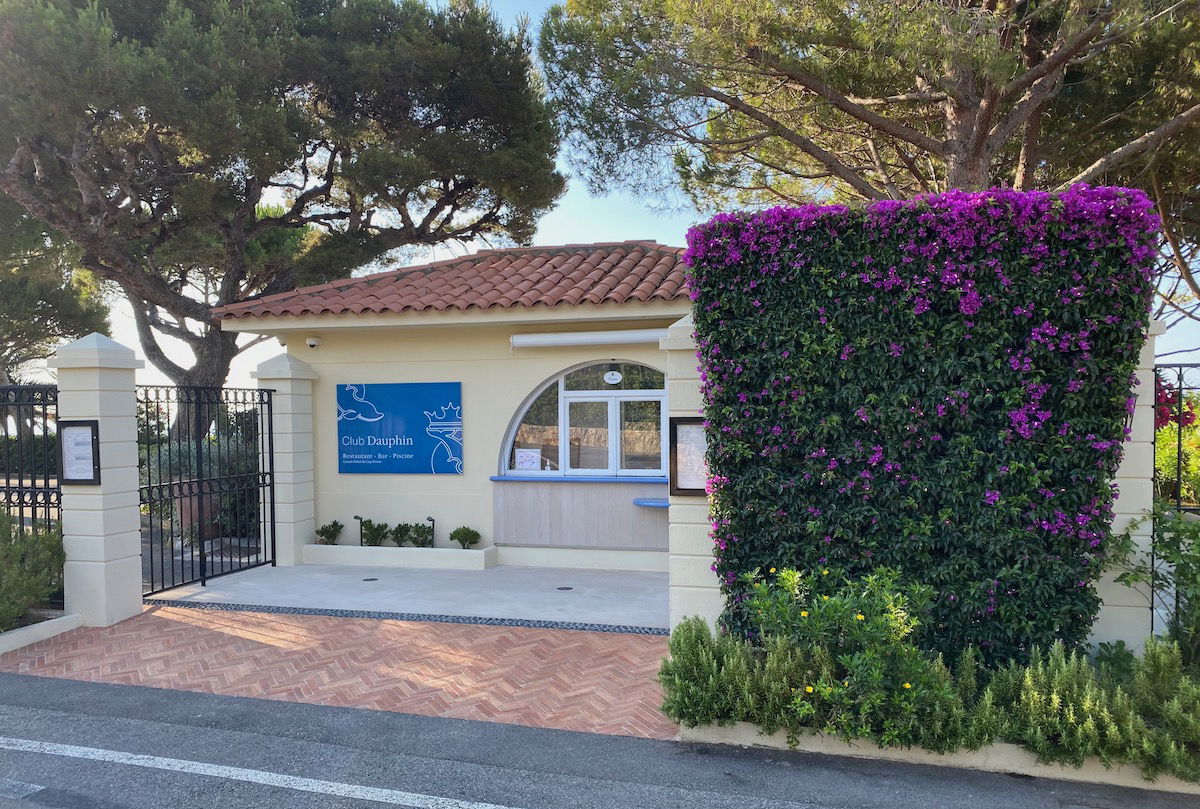 From the entrance you can walk down the path towards the club — it's a beautiful walk, as the landscape is breathtaking.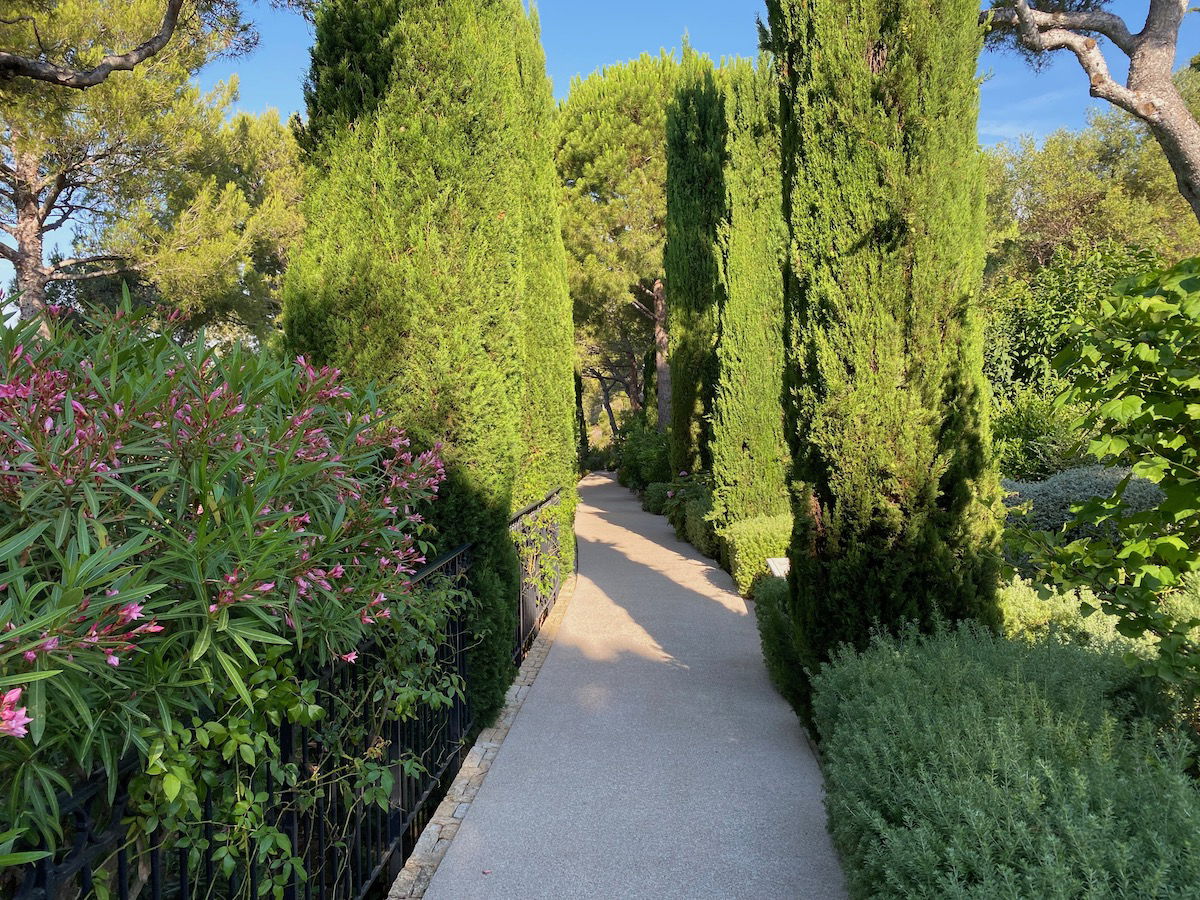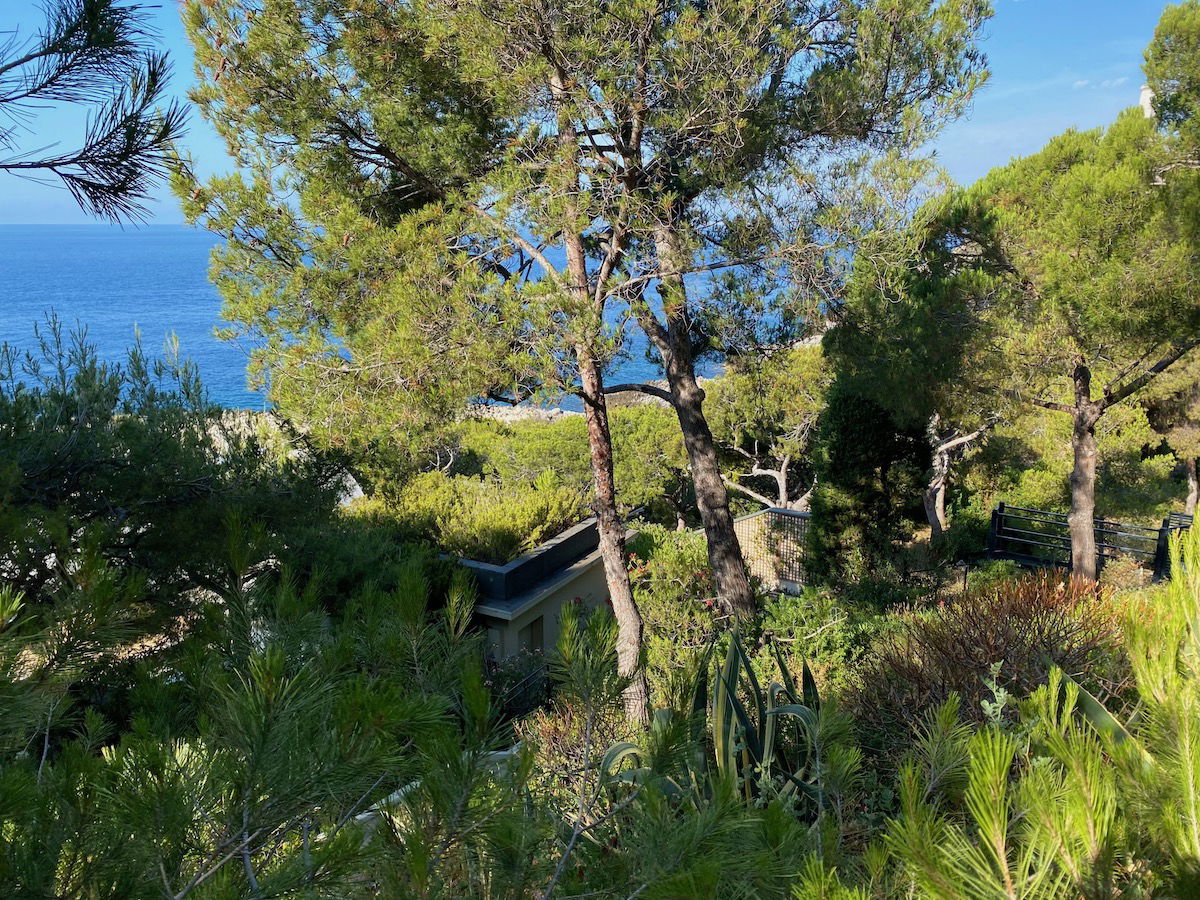 Alternatively you can take a funicular down, which is fun as well.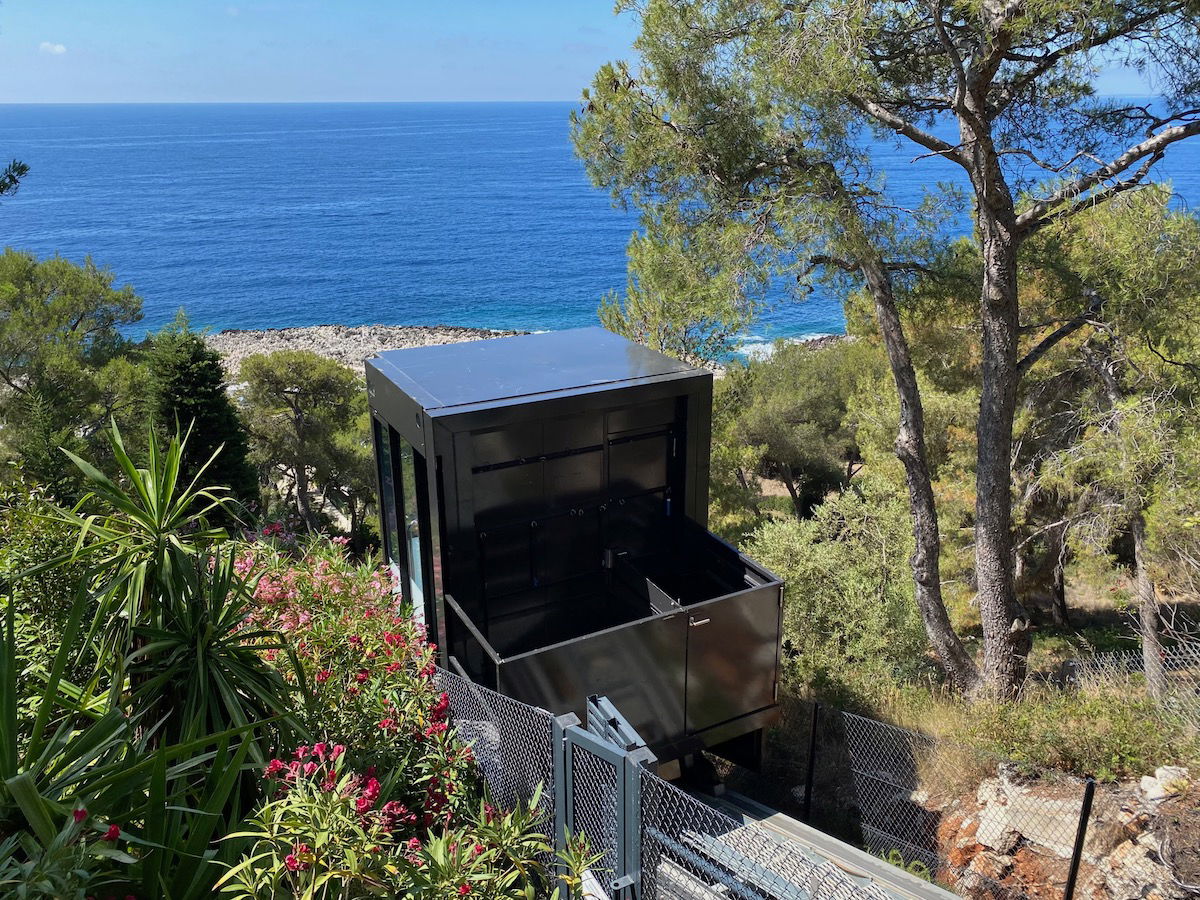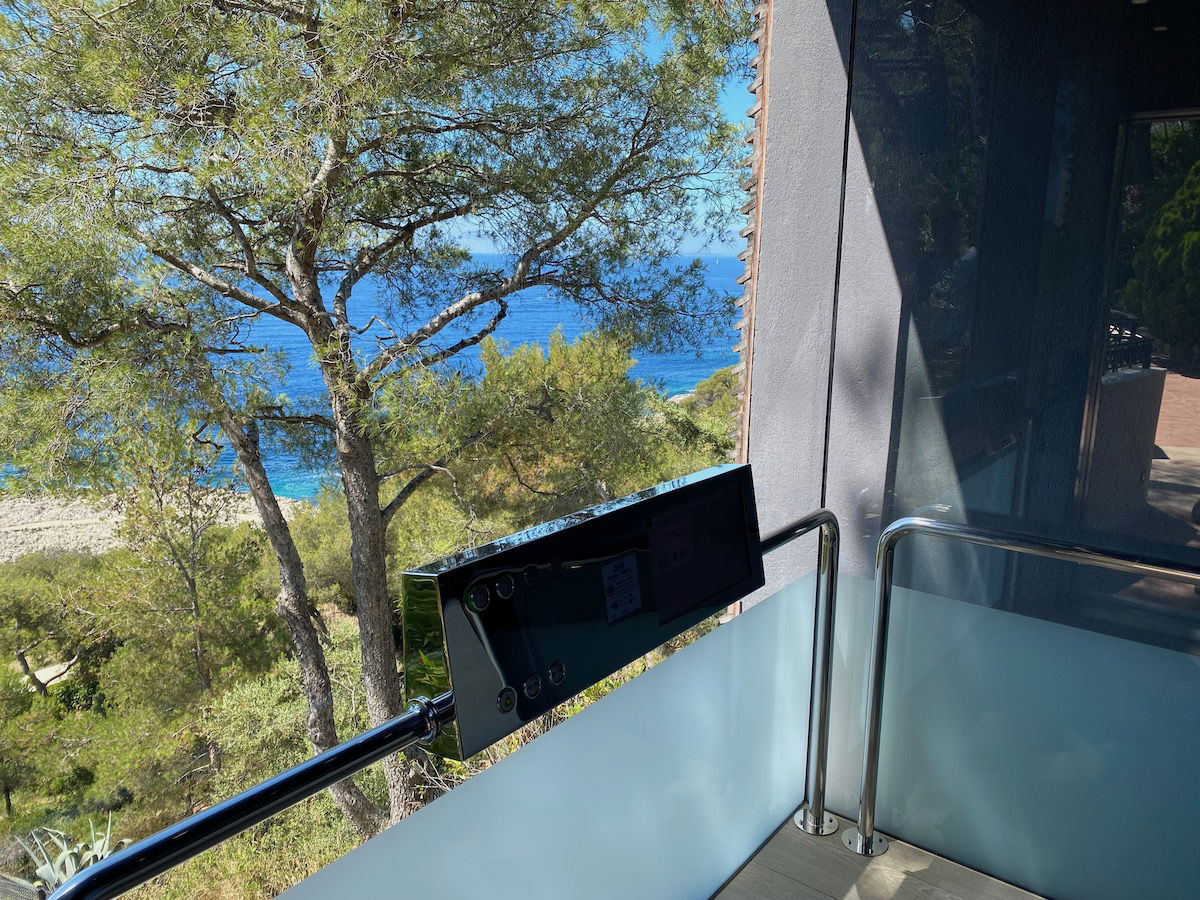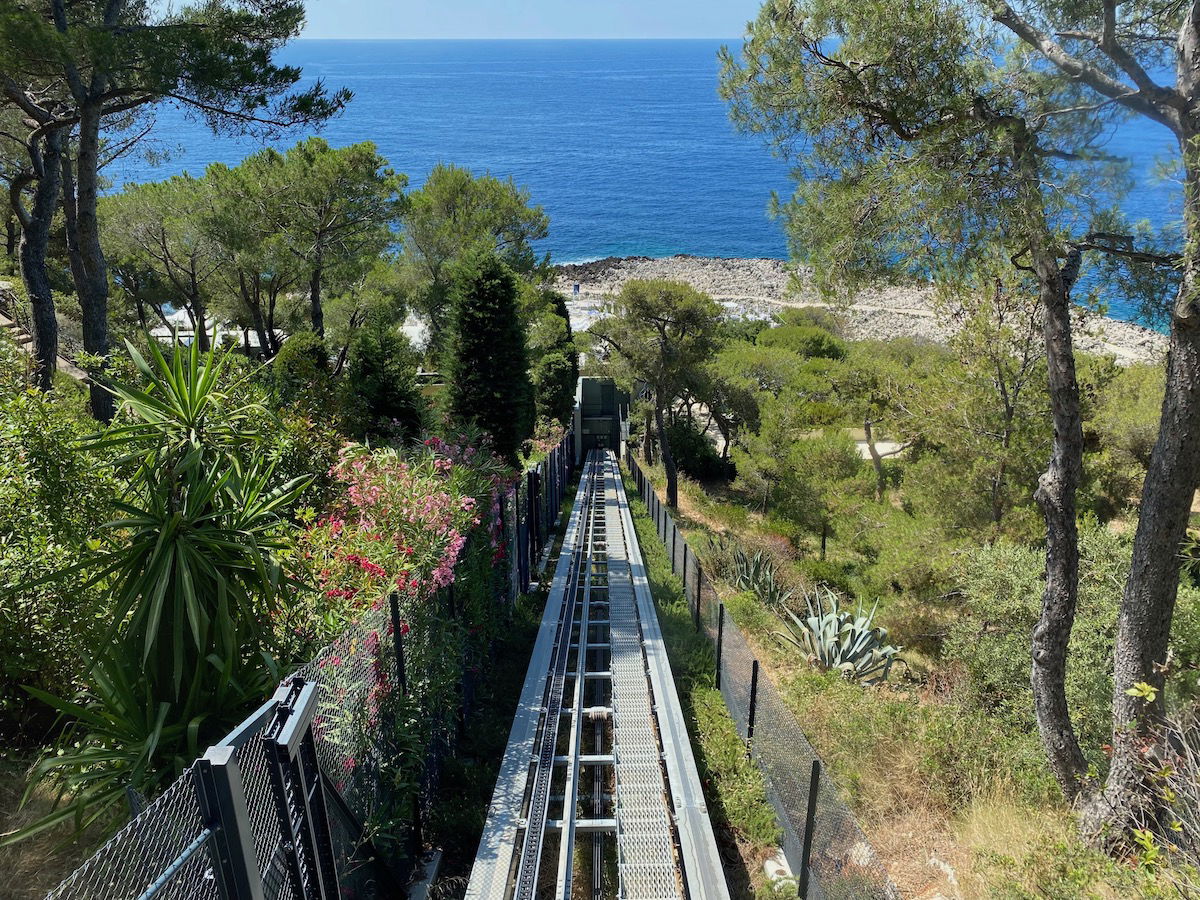 The centerpiece of Club Dauphin is a huge seawater infinity pool overlooking the sea.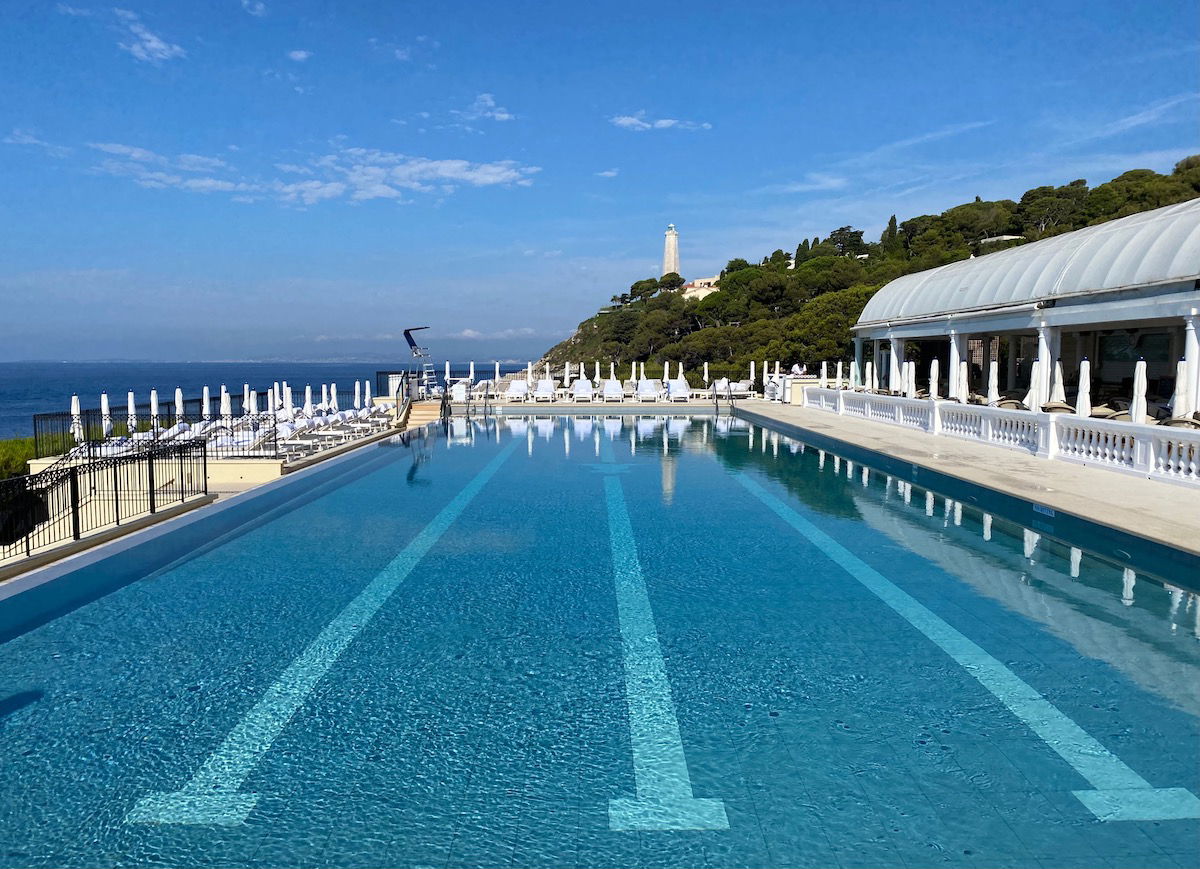 There's tons of seating around the pool, so you should never have trouble finding an empty chair, even when the hotel is at 100% occupancy (as if twas when we were there).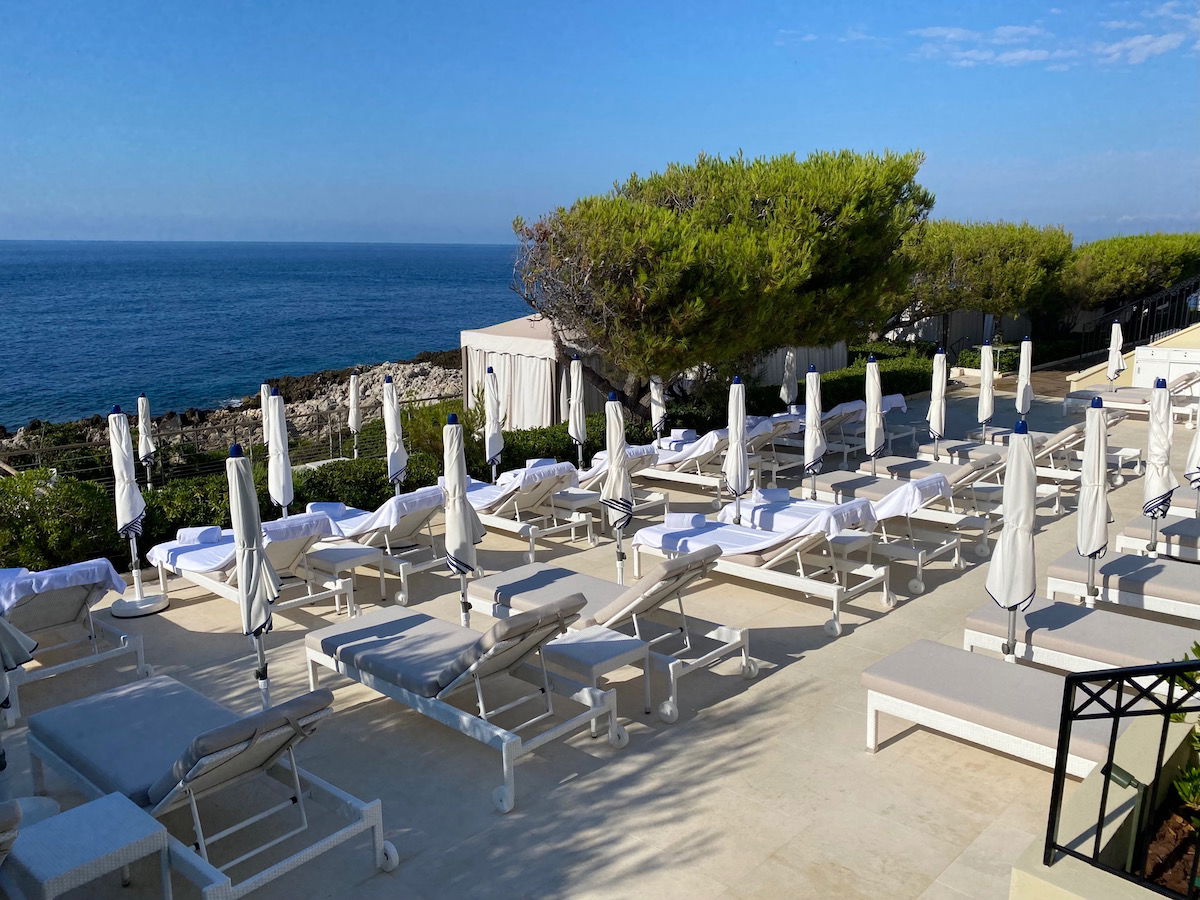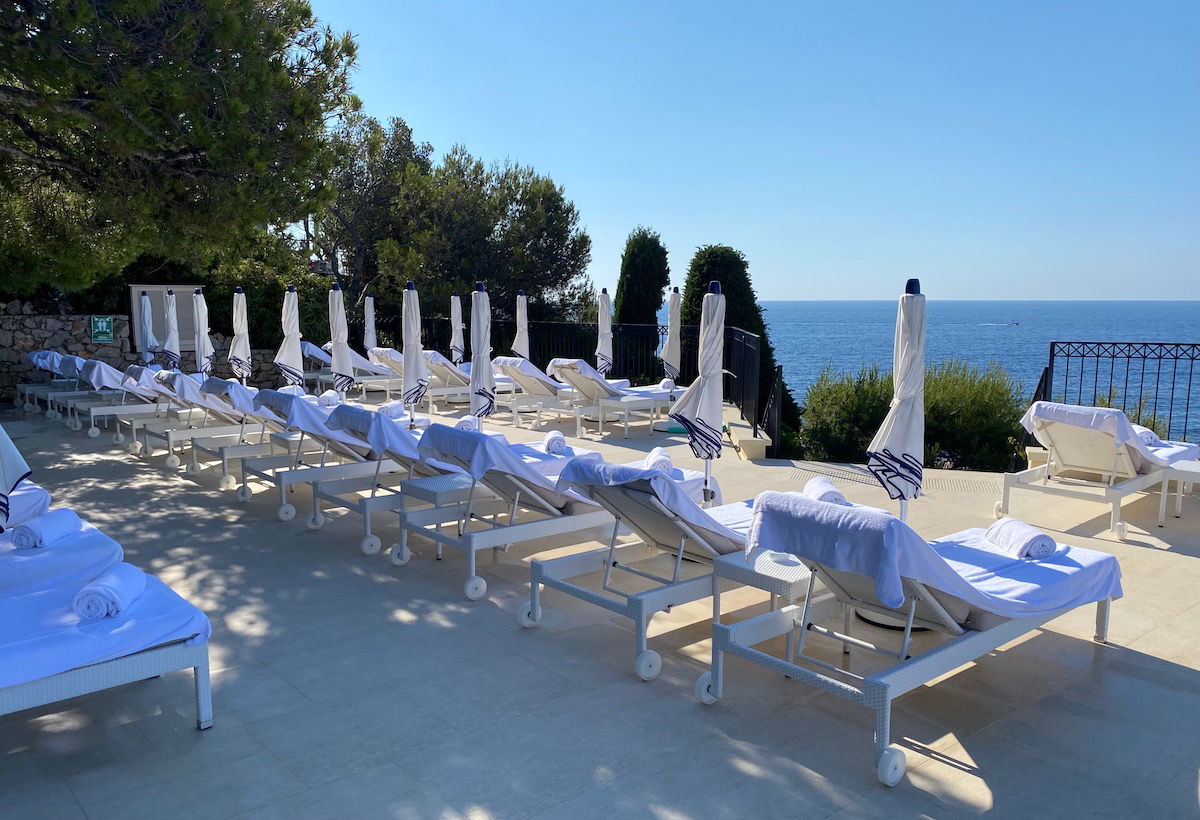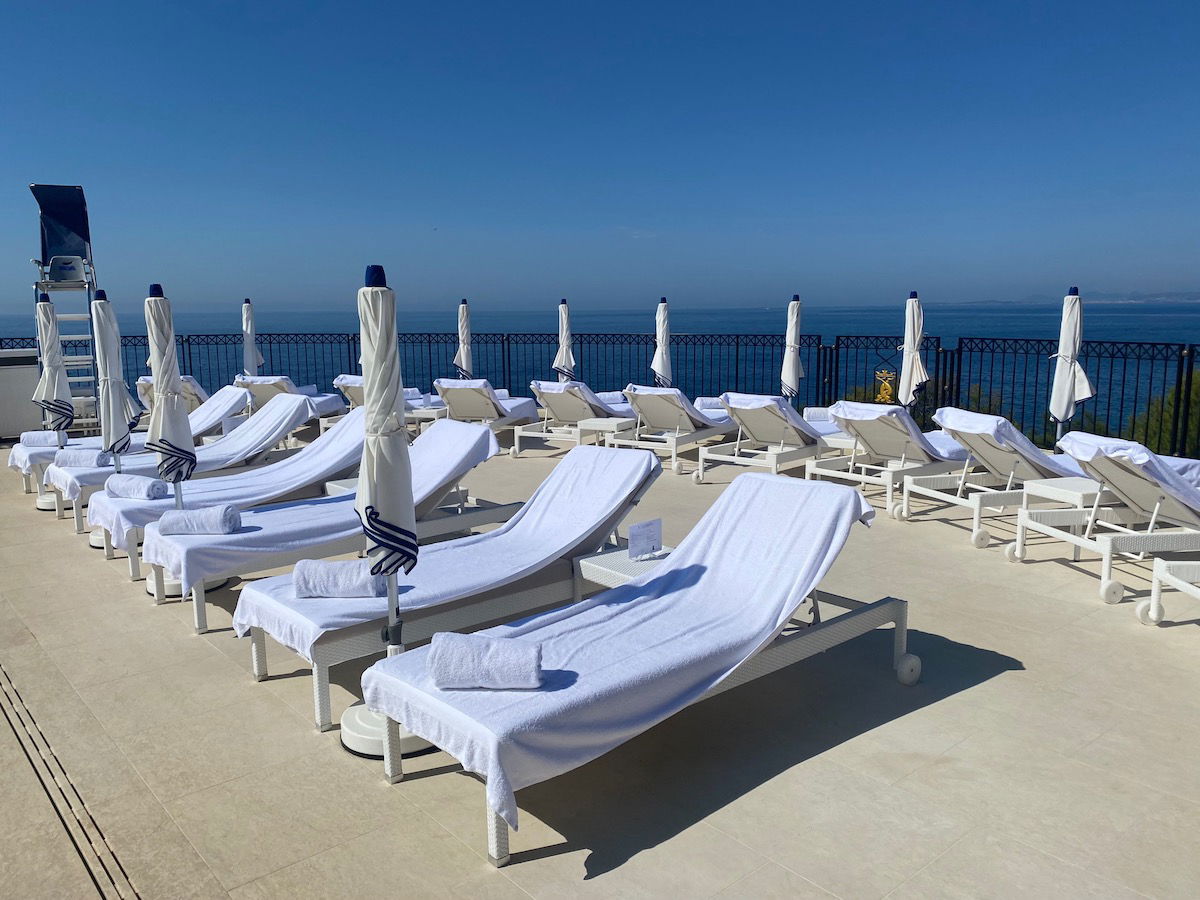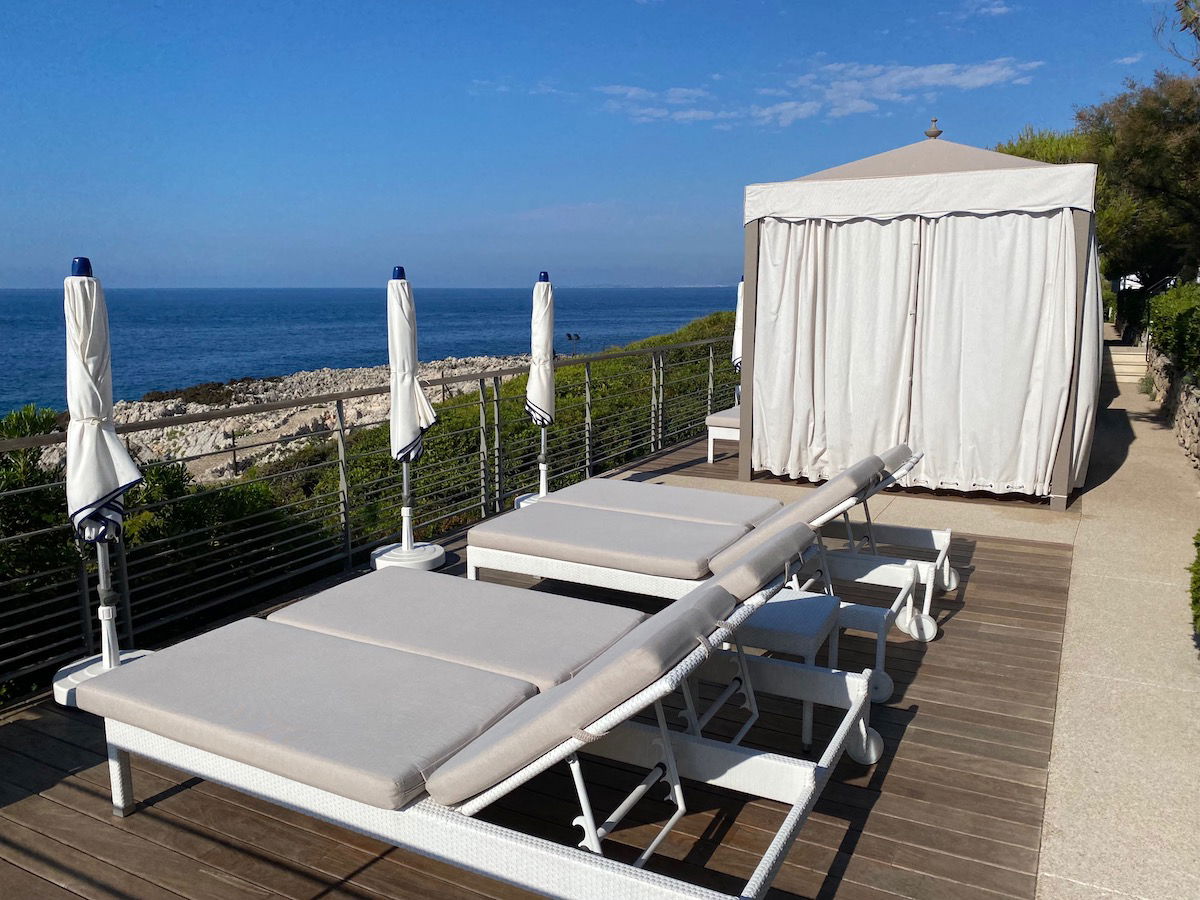 In addition to the main pool, there's also a kids pool, which is right next to the hotel's kids club.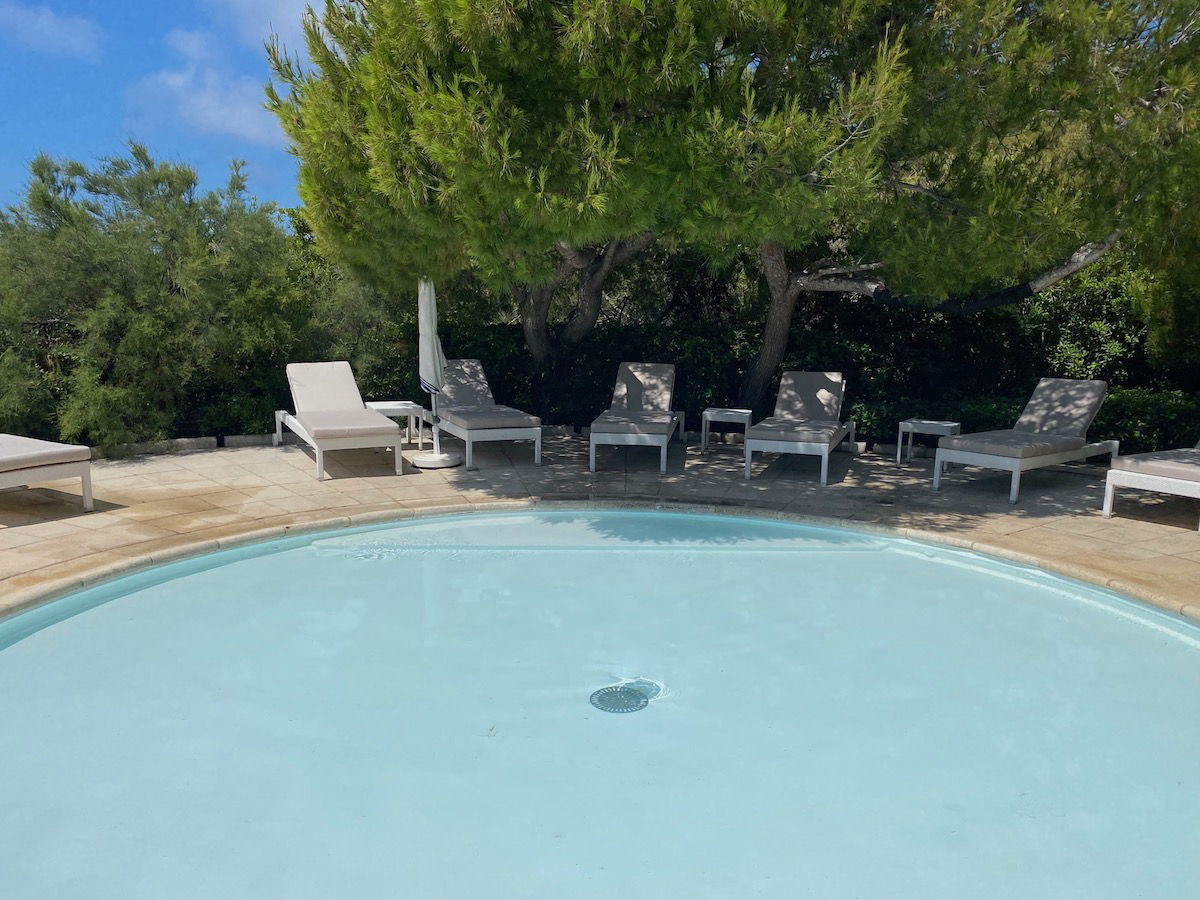 Also next to the pool is the Club Dauphin restaurant, which is open daily for lunch. I'll review that a bit further down, when I talk about dining.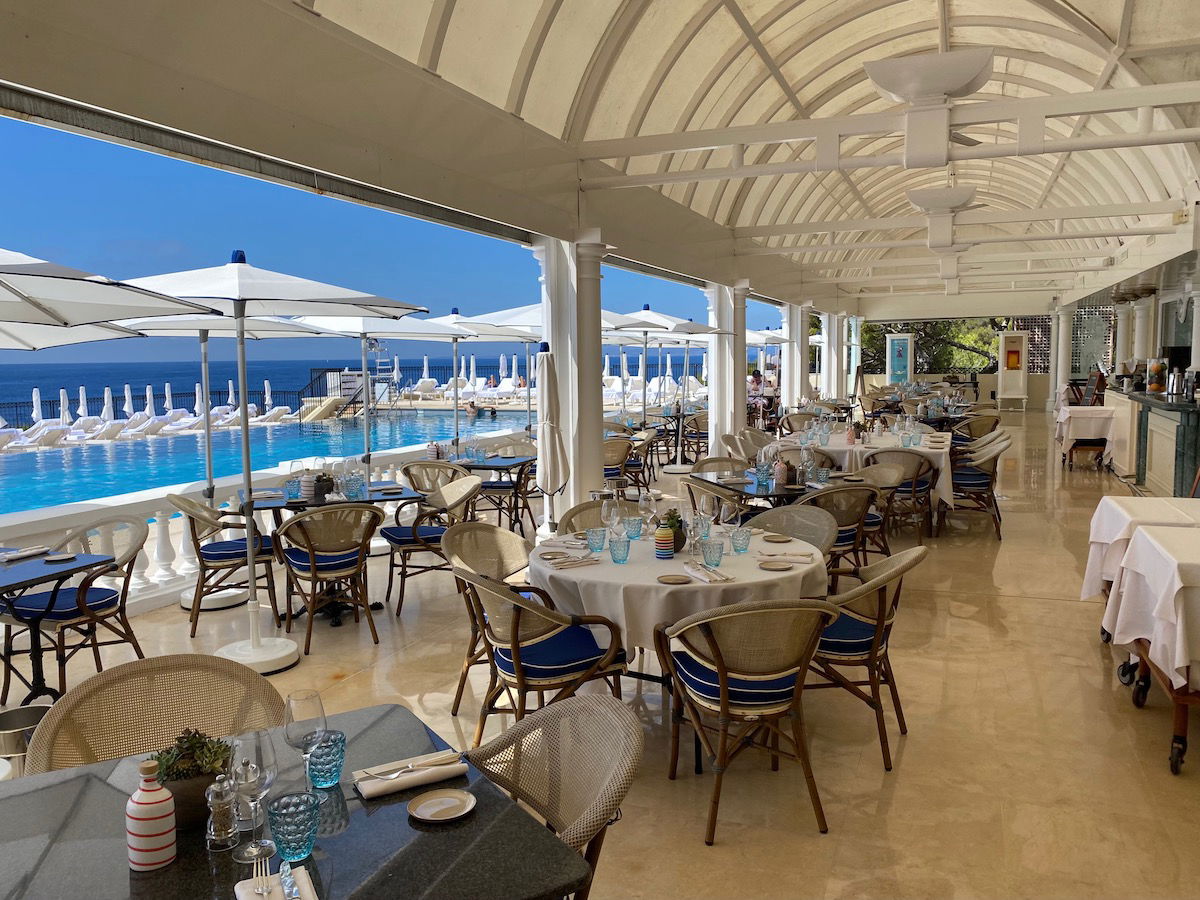 For those looking to go for a dip in the sea, at the very bottom of Club Dauphin there's an area with sea access, though don't expect to swim very far.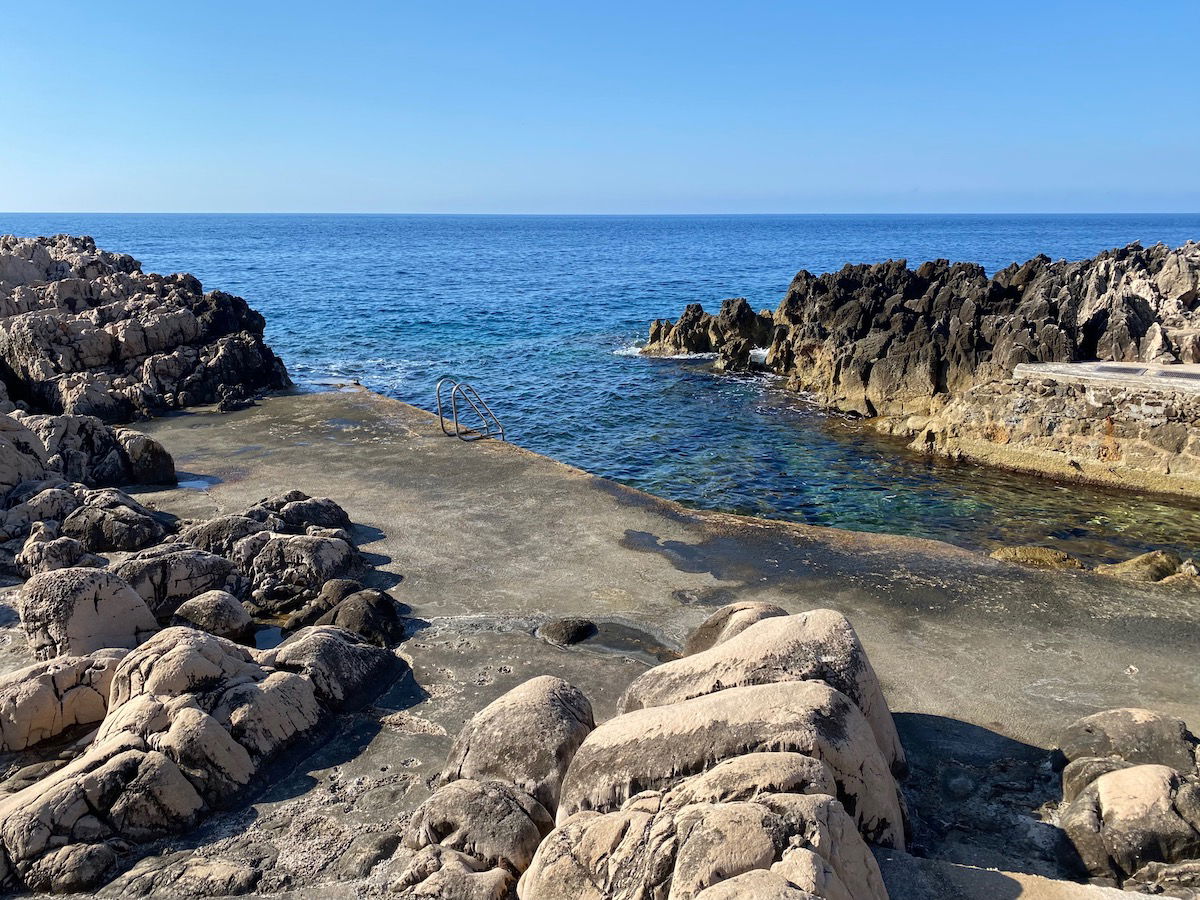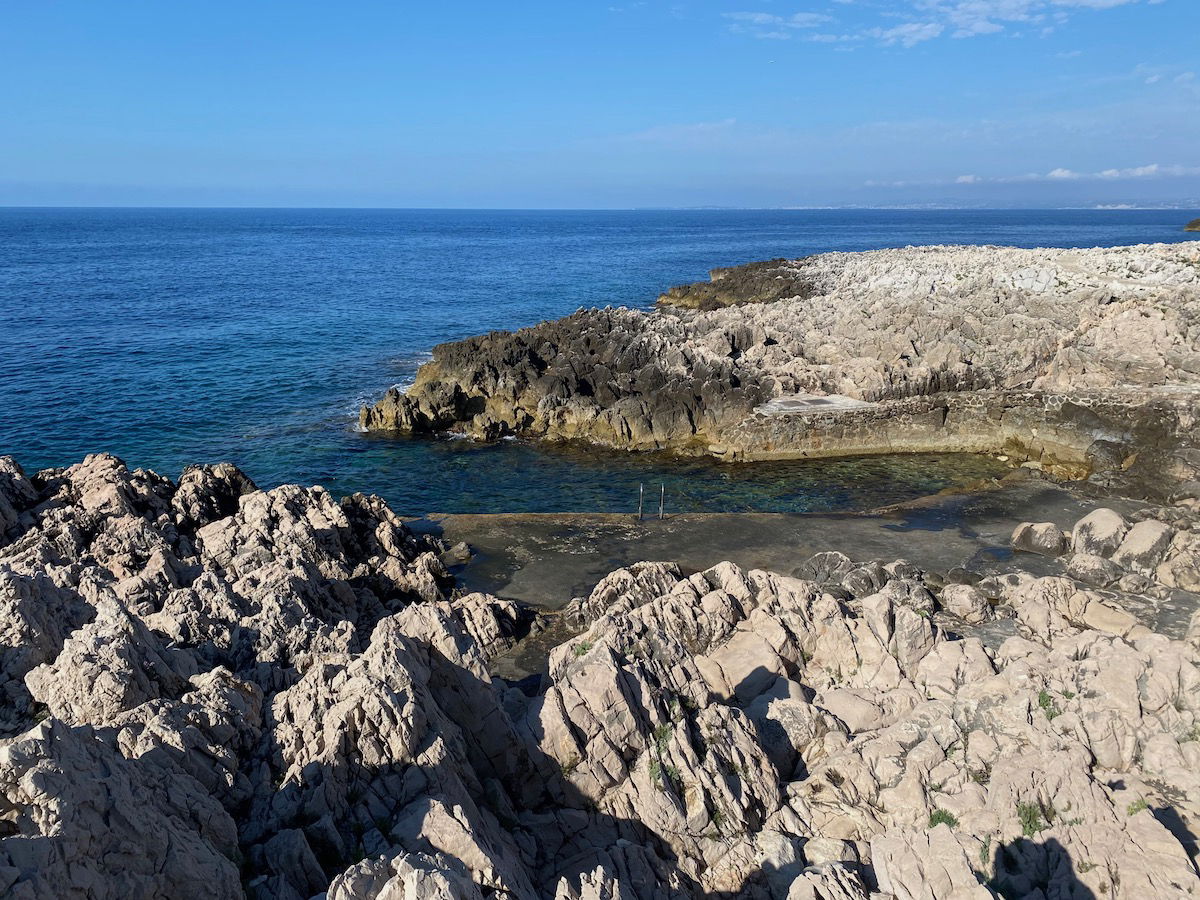 Four Seasons Cap-Ferrat spa & gym
The Four Seasons Cap-Ferrat has an incredible spa and gym complex. It's located in a separate building from the main one. It can be accessed by walking out the front door and up a set of stairs, and following the signs towards the gym and spa.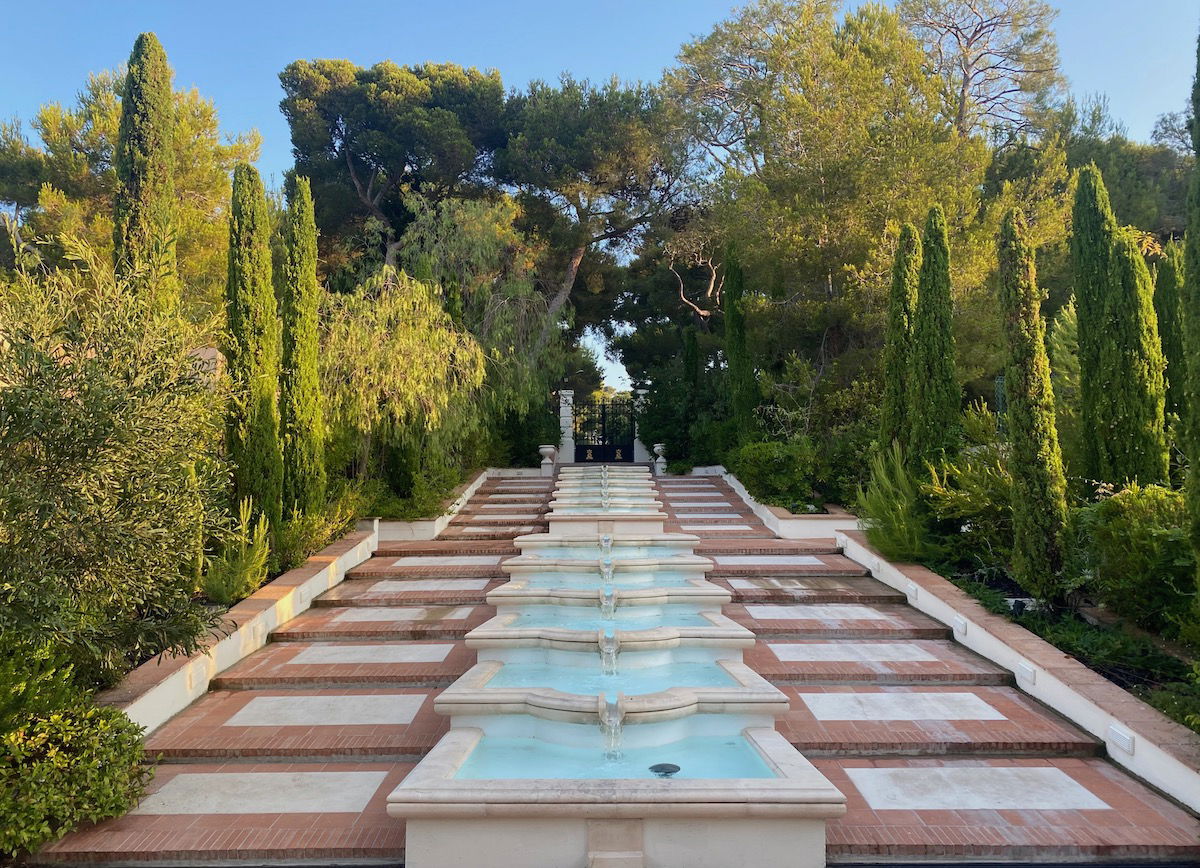 Alternatively there's an underground walkway that goes there from the main building. In the walkway are all kinds of pictures of some of the famous guests that have stayed at the property over the years, so that's pretty cool.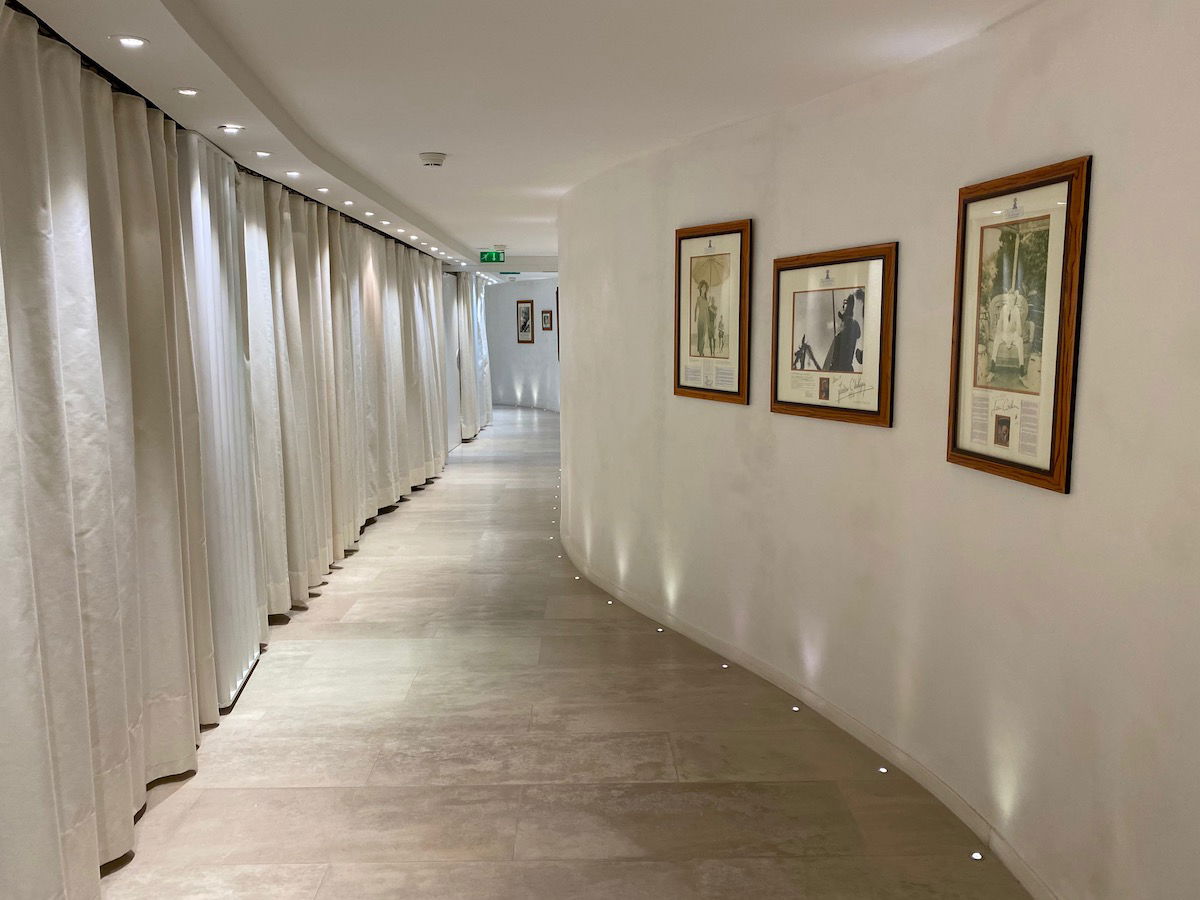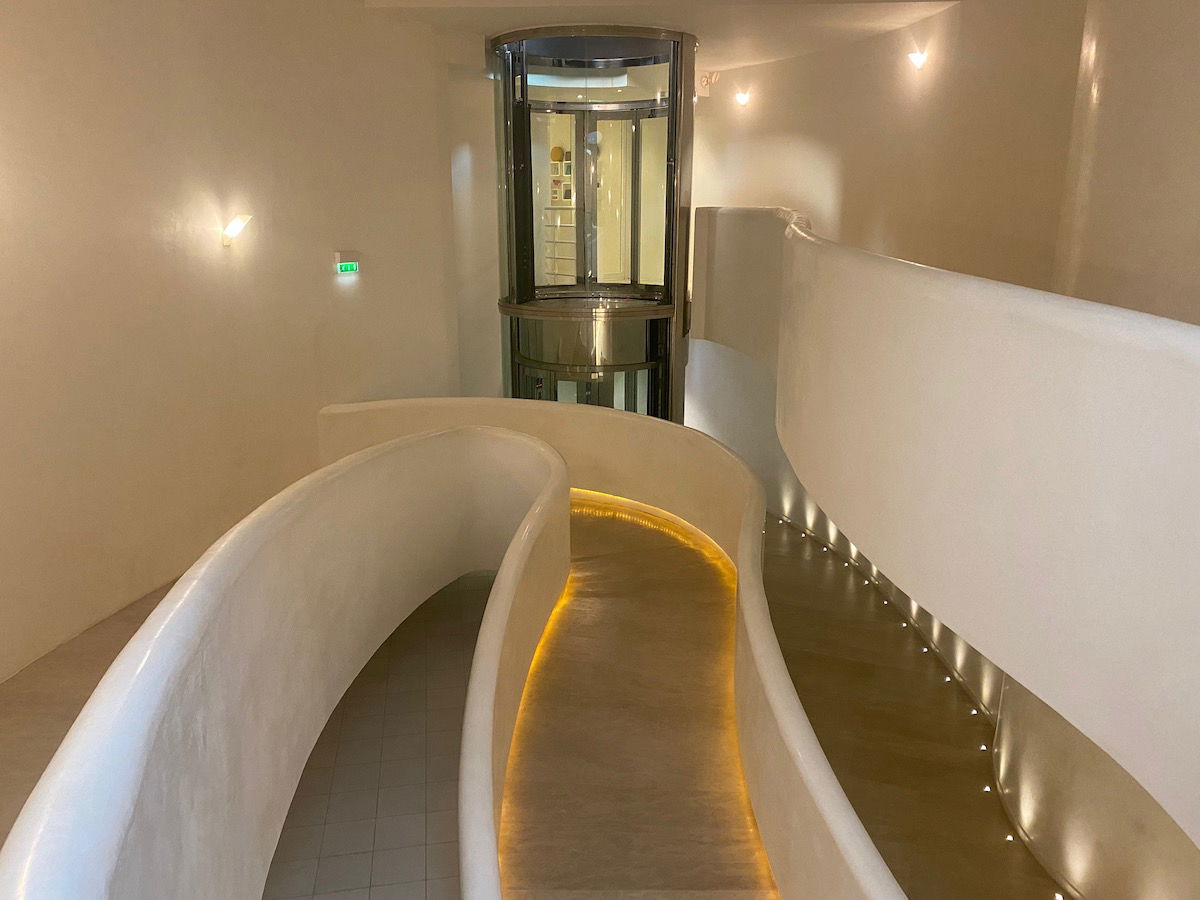 While we didn't get any treatments, the spa looked impressive, and it featured five treatments rooms, plus two outdoor pavilions where spa treatments could be performed. On top of that, the spa had an indoor pool with a counter-current system, a whirlpool, a sauna, a steam room, and water therapy showers. You can find the Four Seasons spa treatment menu here.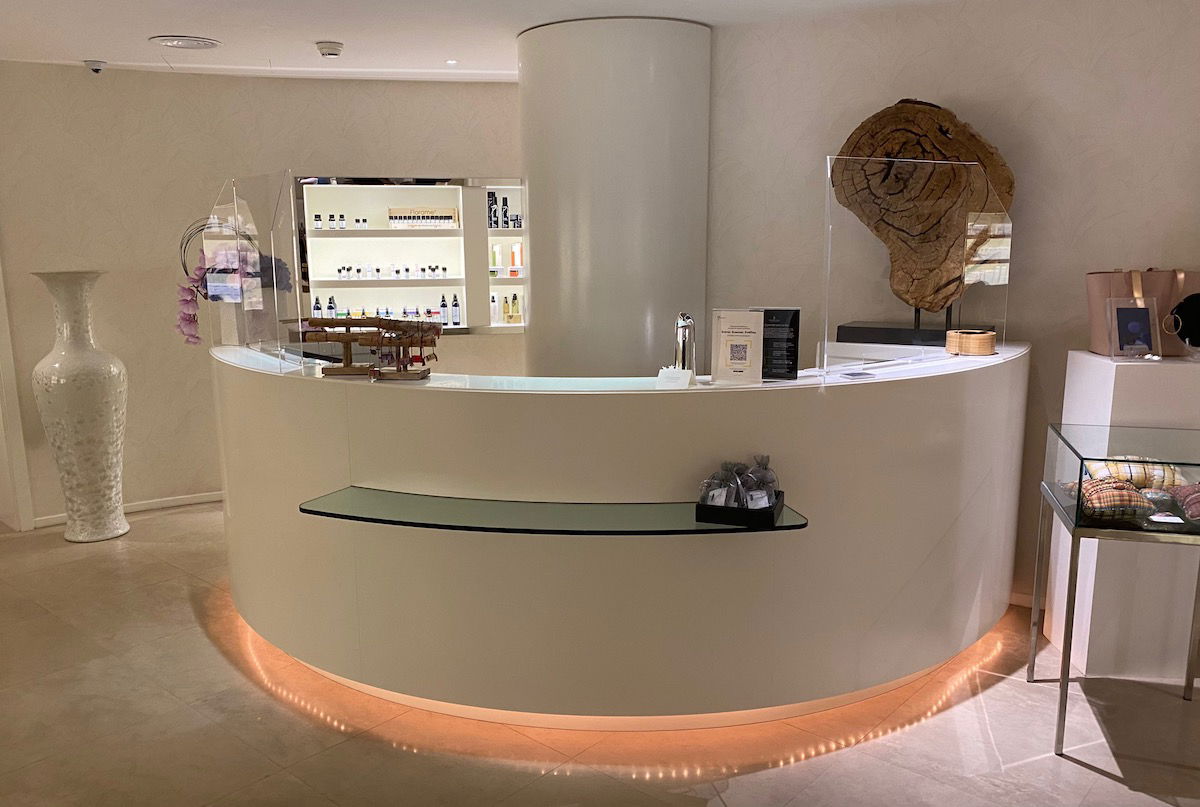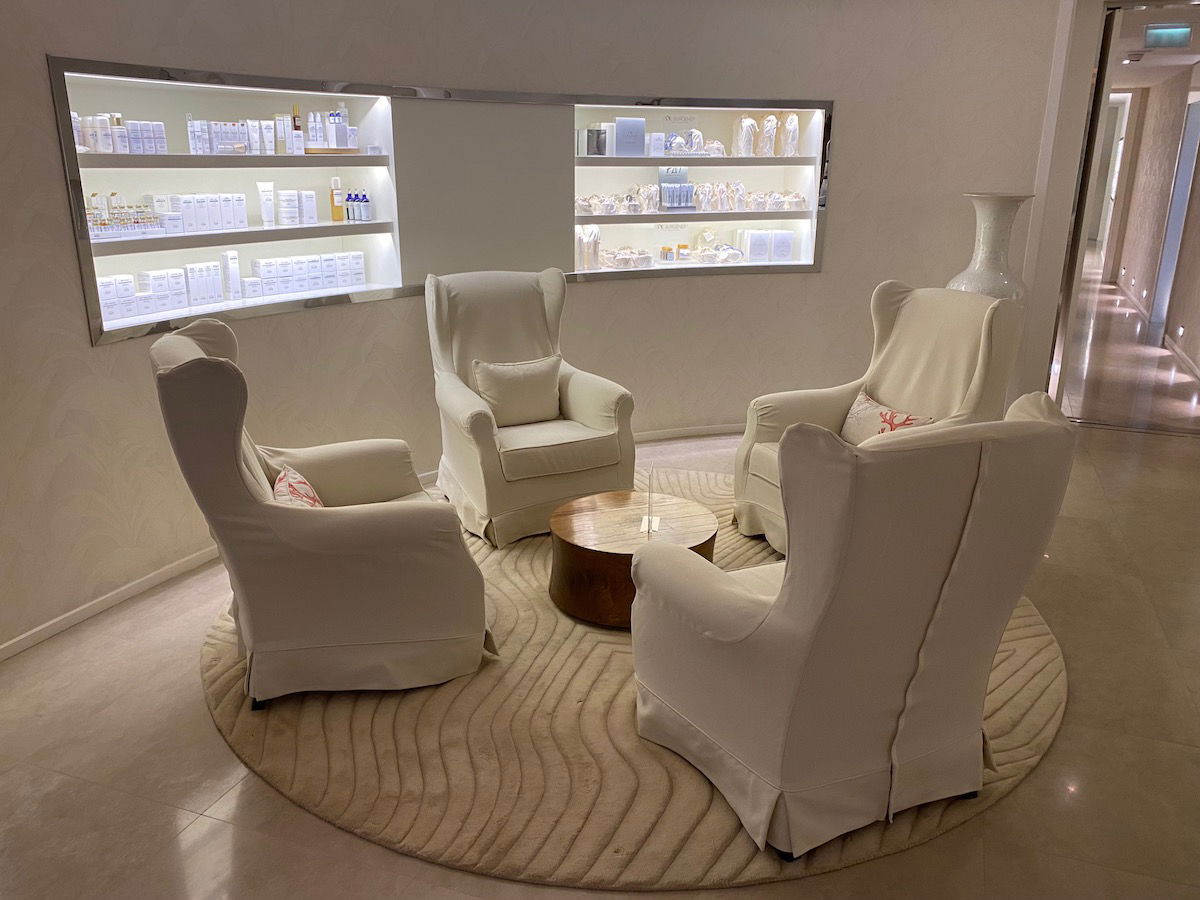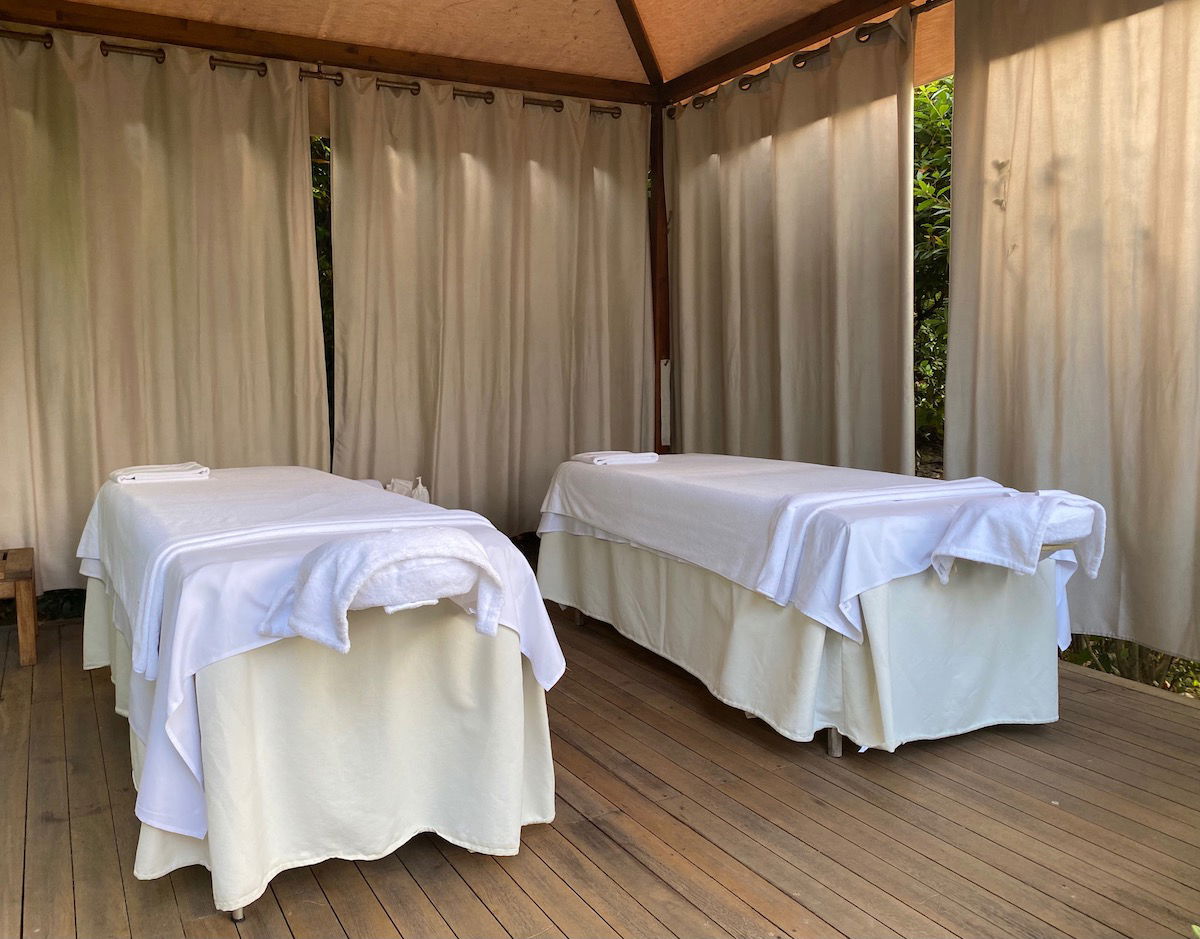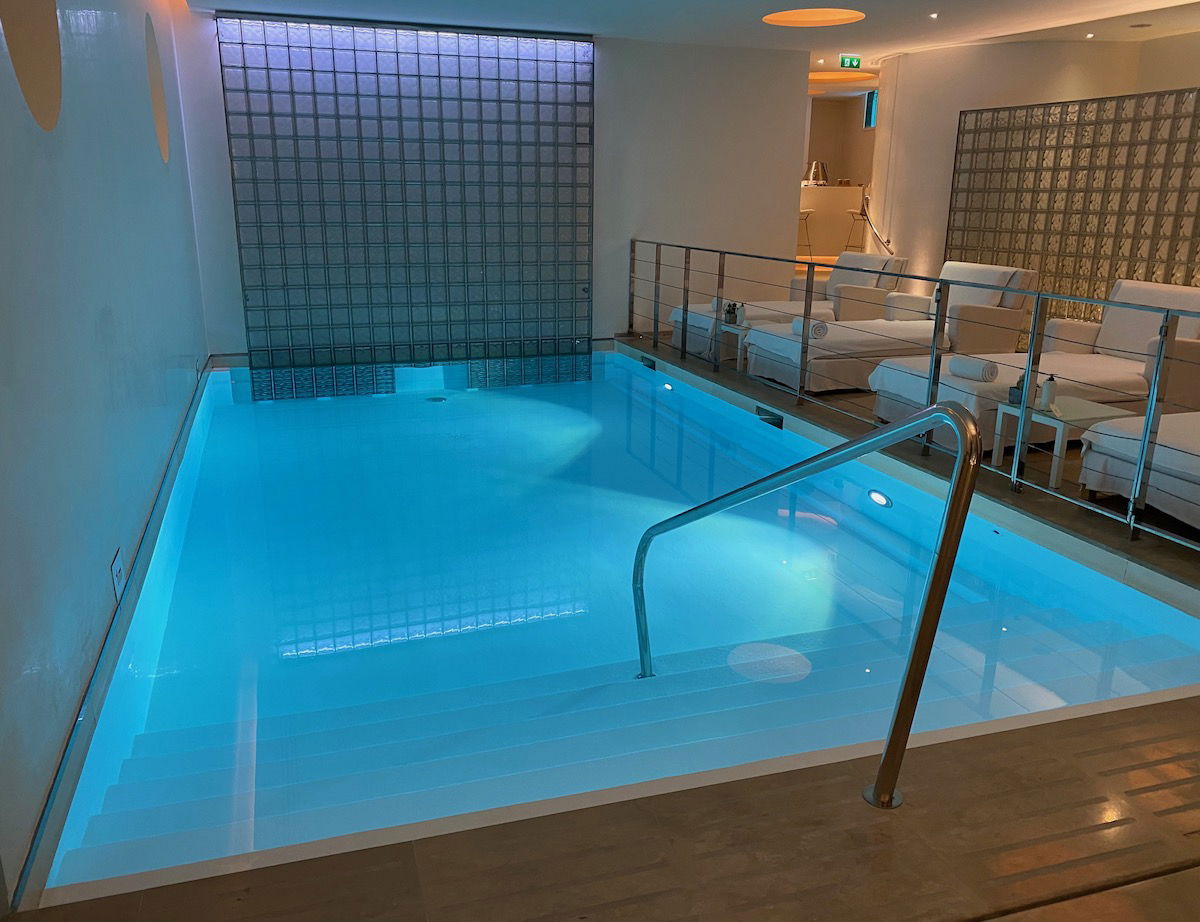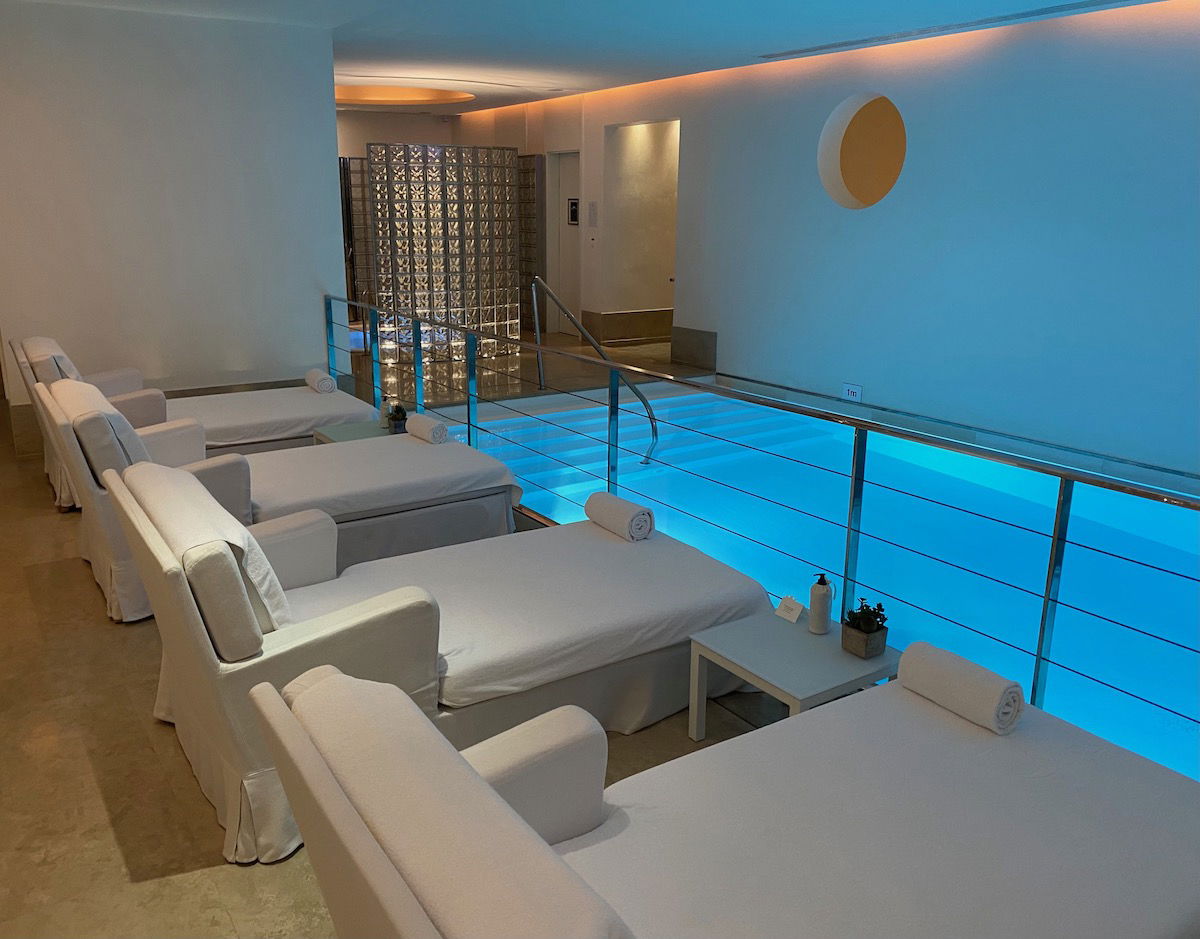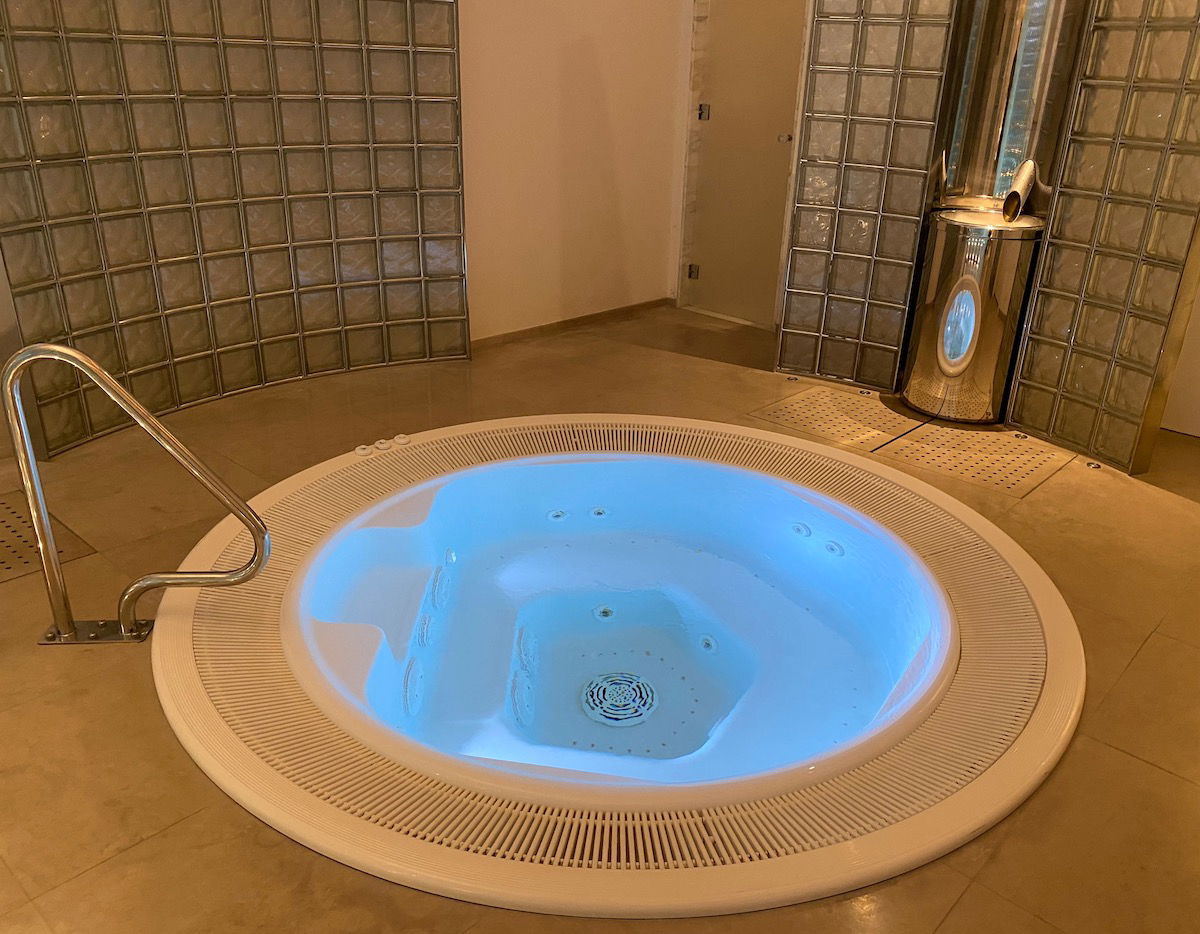 The Four Seasons spa also had the gym, which could be accessed by guests 24/7. While not as impressive as the gyms at some other Four Seasons properties, there was a good variety of modern equipment.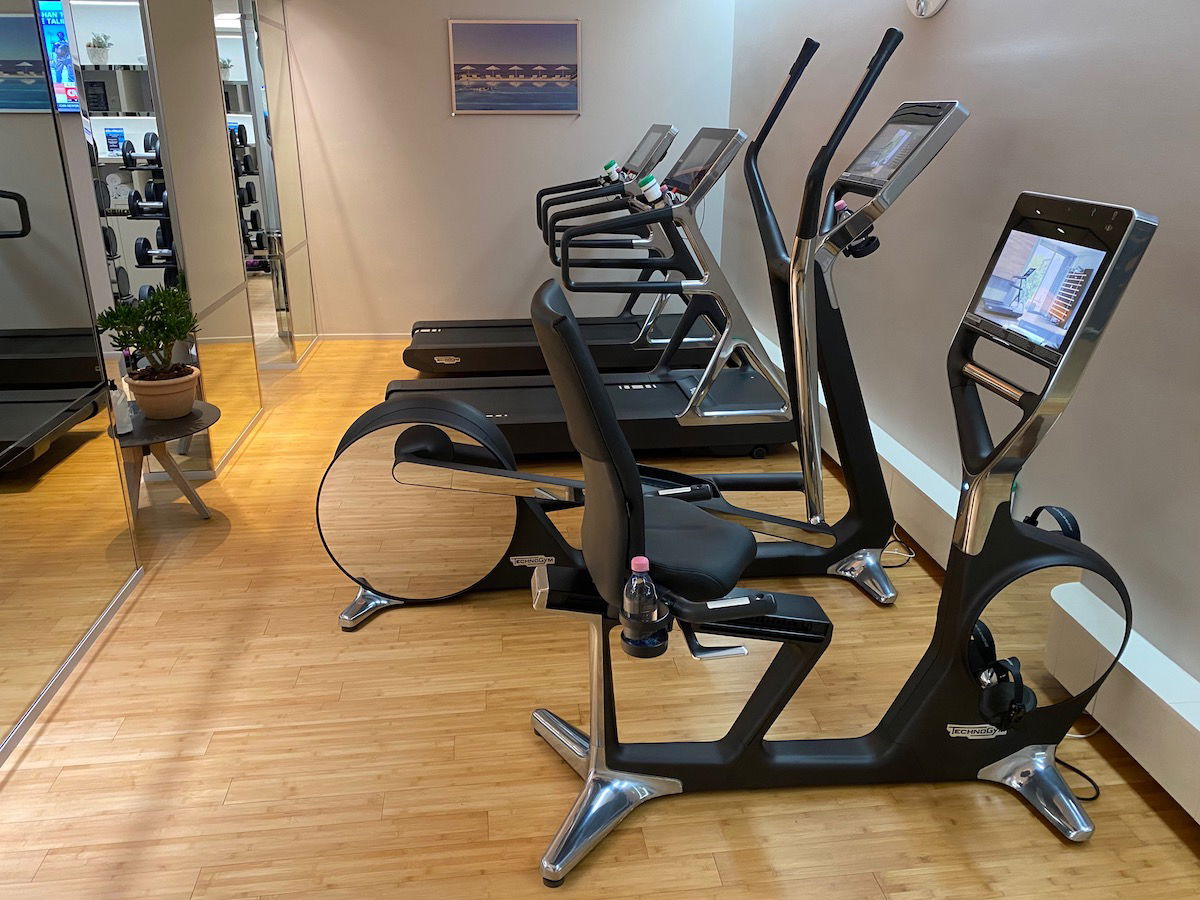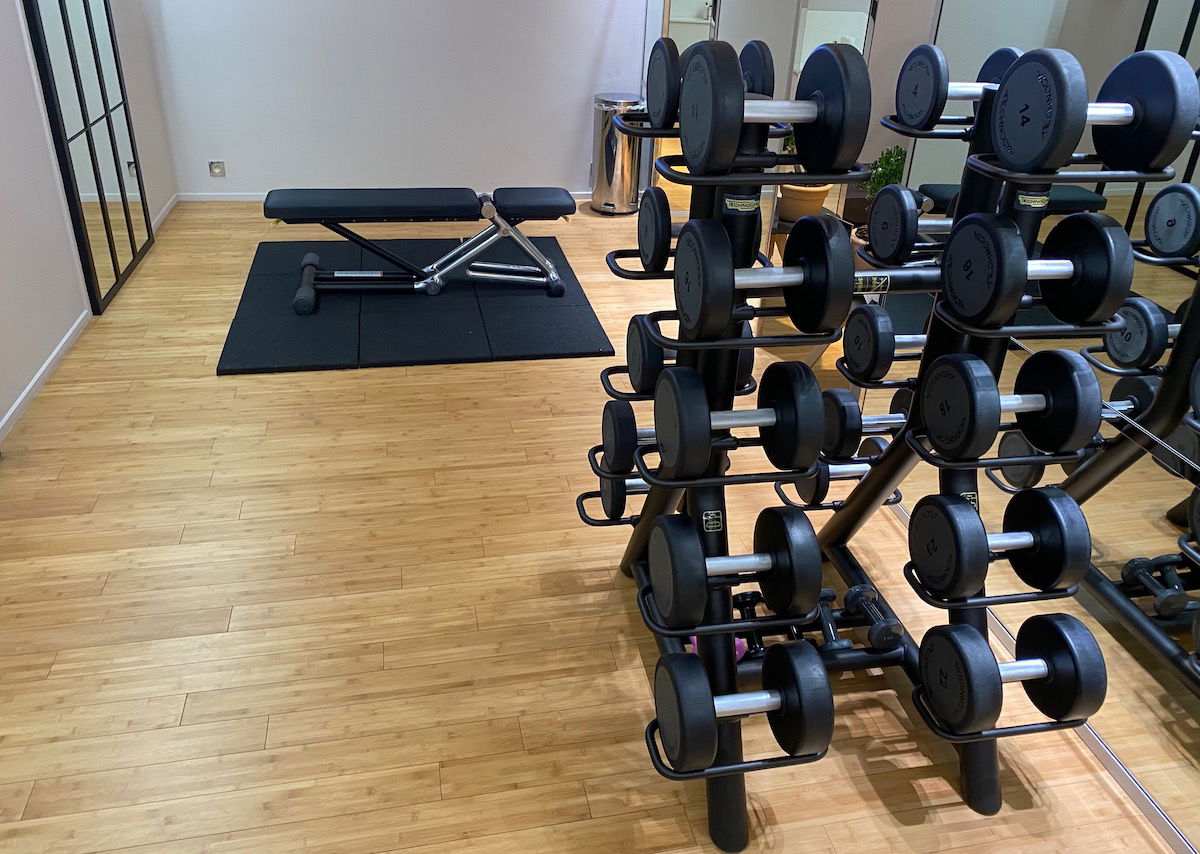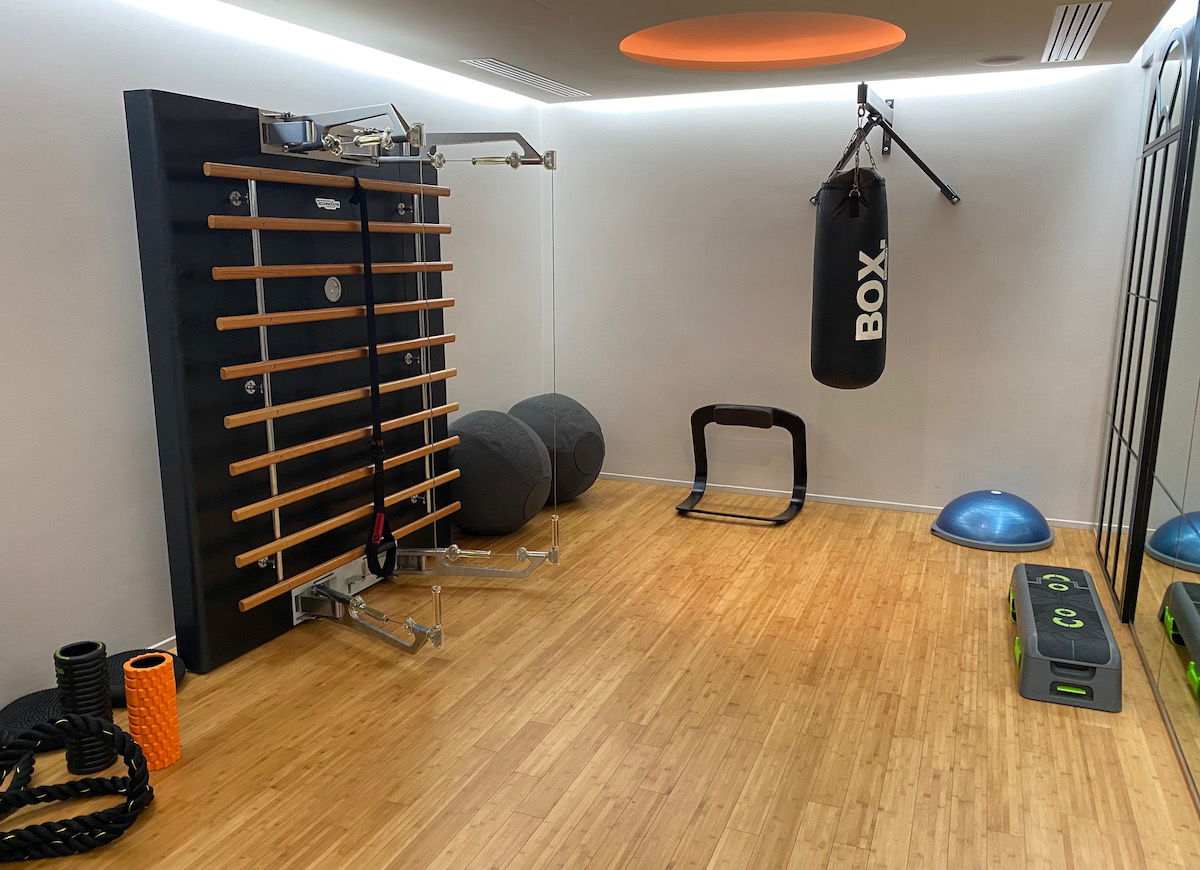 There was even an outdoor section to the gym — I love how Four Seasons regularly has at least part of the gym outdoors.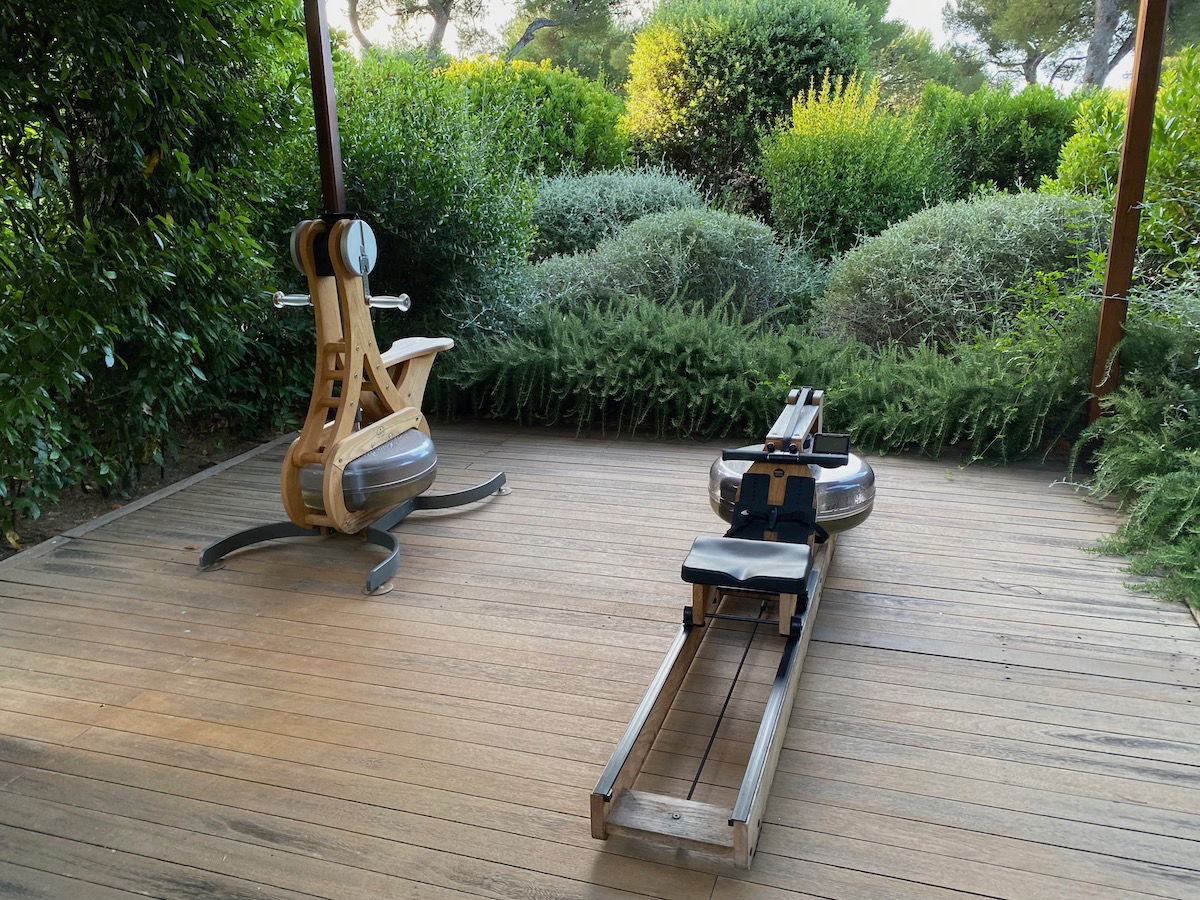 Four Seasons Cap-Ferrat dining
The Four Seasons Cap-Ferrat has a variety of dining options, In the peak of summer, all dining options are outdoors, weather permitting. In other words, while restaurants have indoor areas, they're simply not used, because why would you when when the weather is as perfect as it is in the South of France?
The dining options at the Four Seasons Cap-Ferrat include the following:
La Veranda is the hotel's all-day dining restaurant, serving breakfast, lunch, and dinner; the restaurant is described as offering "a menu reminiscent of a chic French Riviera bistro," and the chefs combine influences from Italy and the Mediterranean Sea
Club Dauphin is the hotel's poolside restaurant, and it's open for lunch
Le Bar is the hotel's main bar, and it's open in the evenings and serves wine, cocktails, and light bites
Le Cap is the hotel's fine dining restaurant from Michelin-starred chef Yoric Tieche
Then there's in-room dining, which has food from several dining outlets, and more
We managed to check out all of the hotel's dining outlets, except Le Cap (we just didn't have the time, and the days of the week didn't line up perfectly there, since it's not open every day).
Four Seasons Cap-Ferrat La Veranda (breakfast)
Breakfast is served daily at La Veranda from 7:30AM until 11AM. The restaurant is located right behind the hotel, and is essentially the hotel's top terrace (since there are a couple of terraces as the staircase goes further down).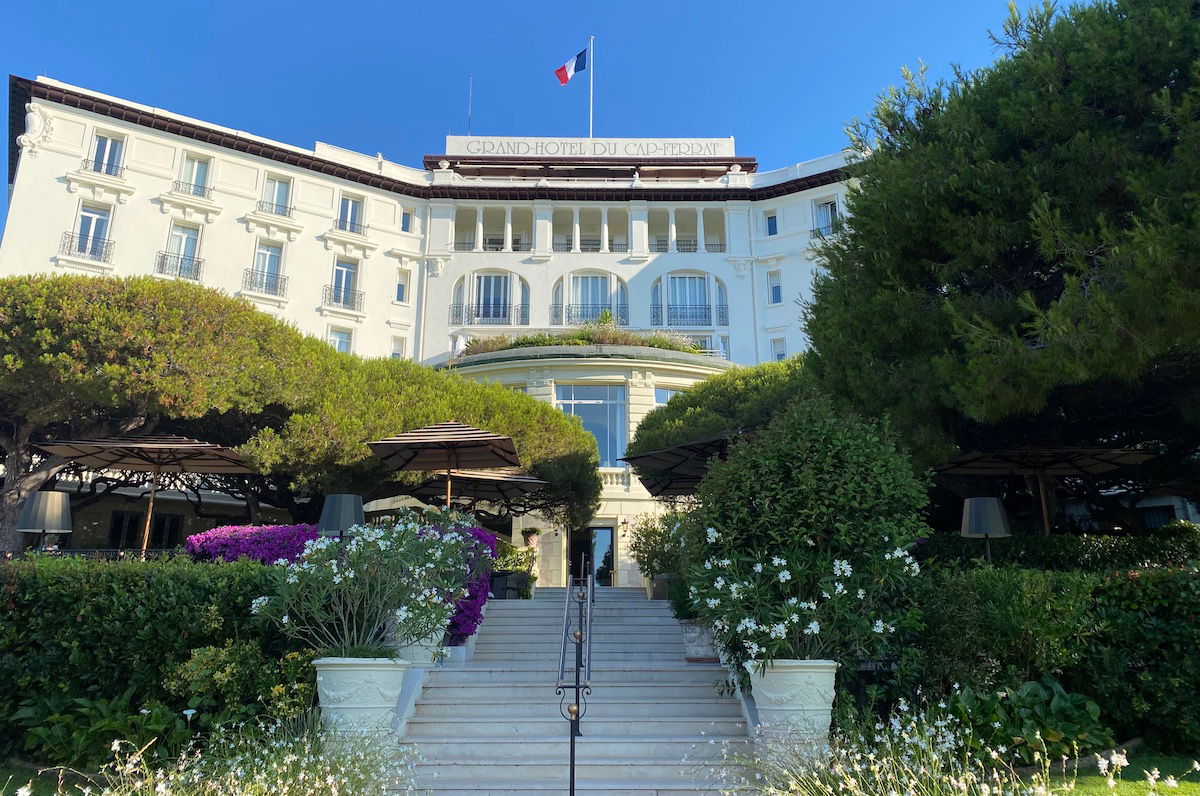 There were dozens of tables, and they had natural shade from the huge trees that the restaurant is built around.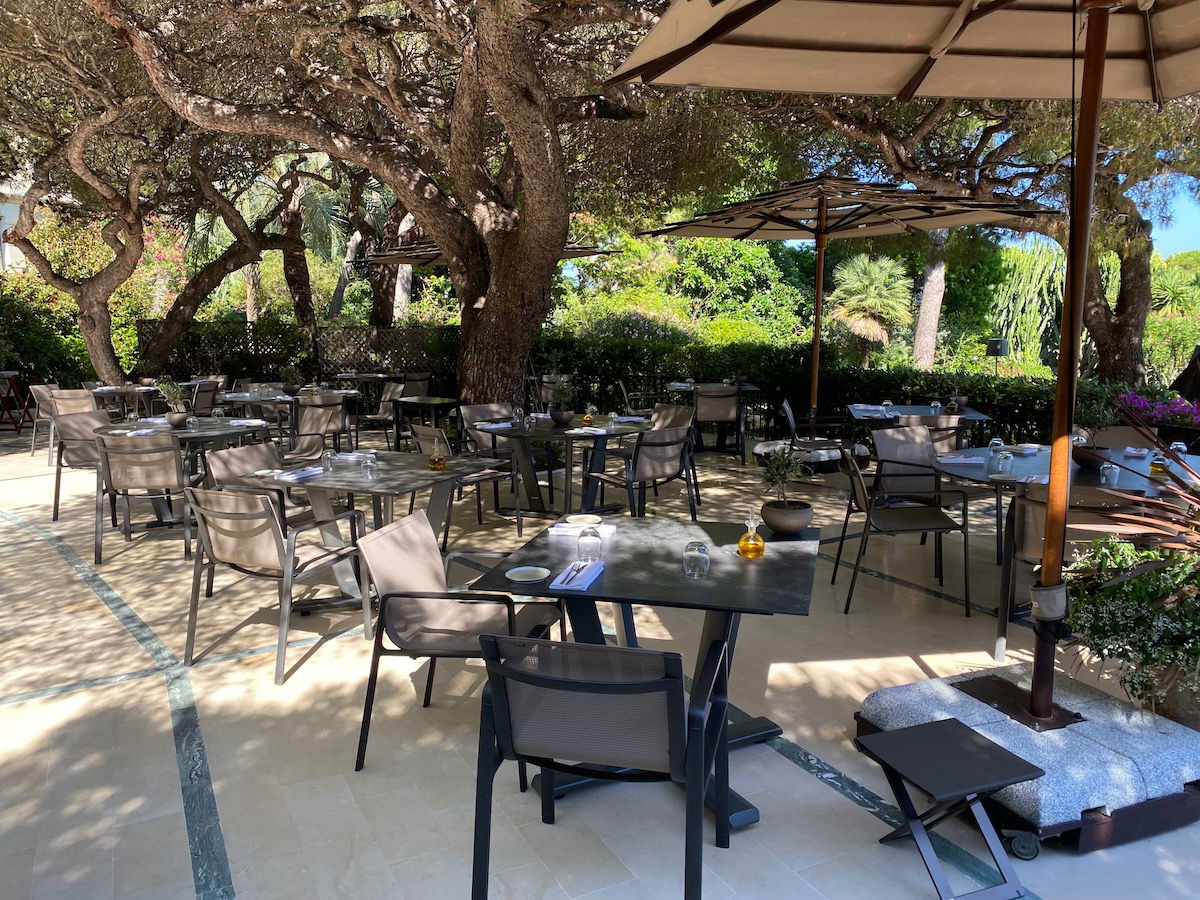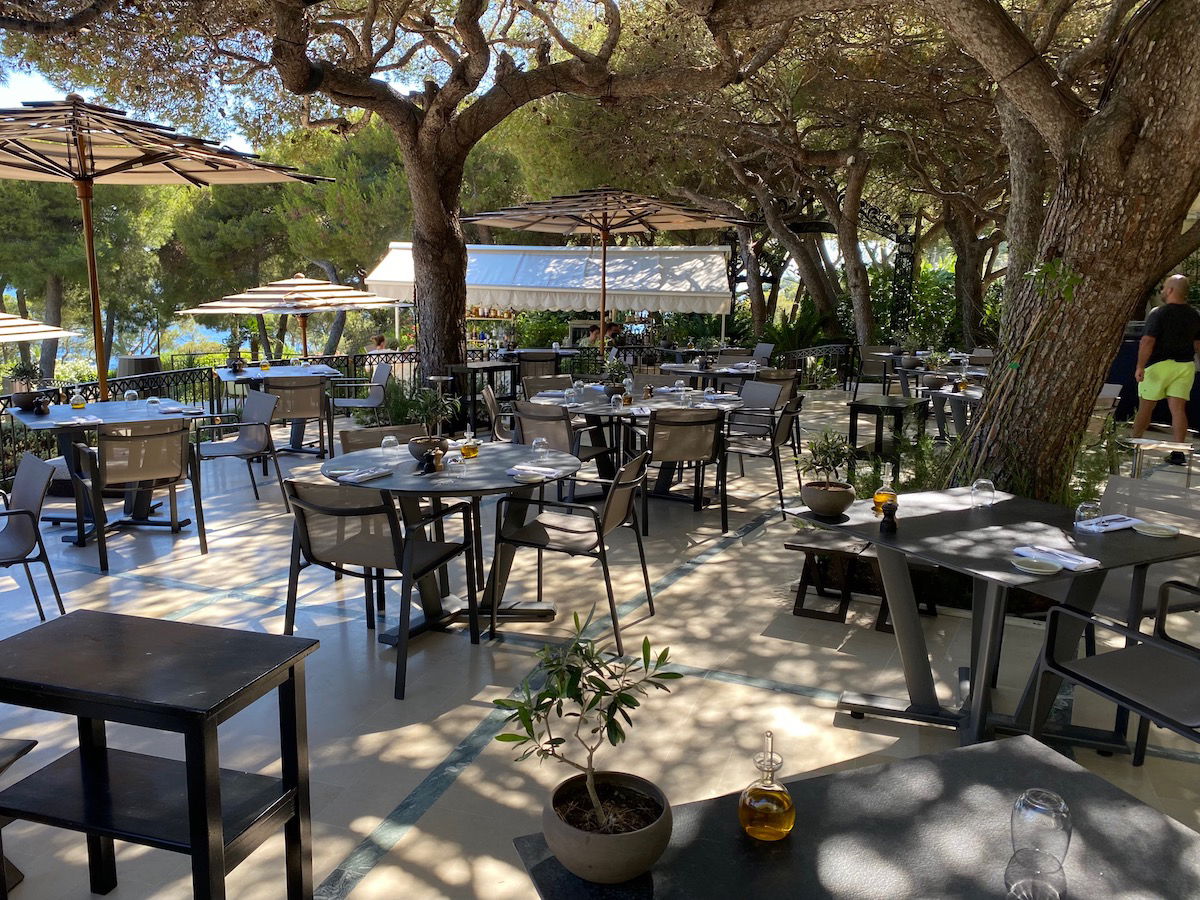 The breakfast menu read as follows: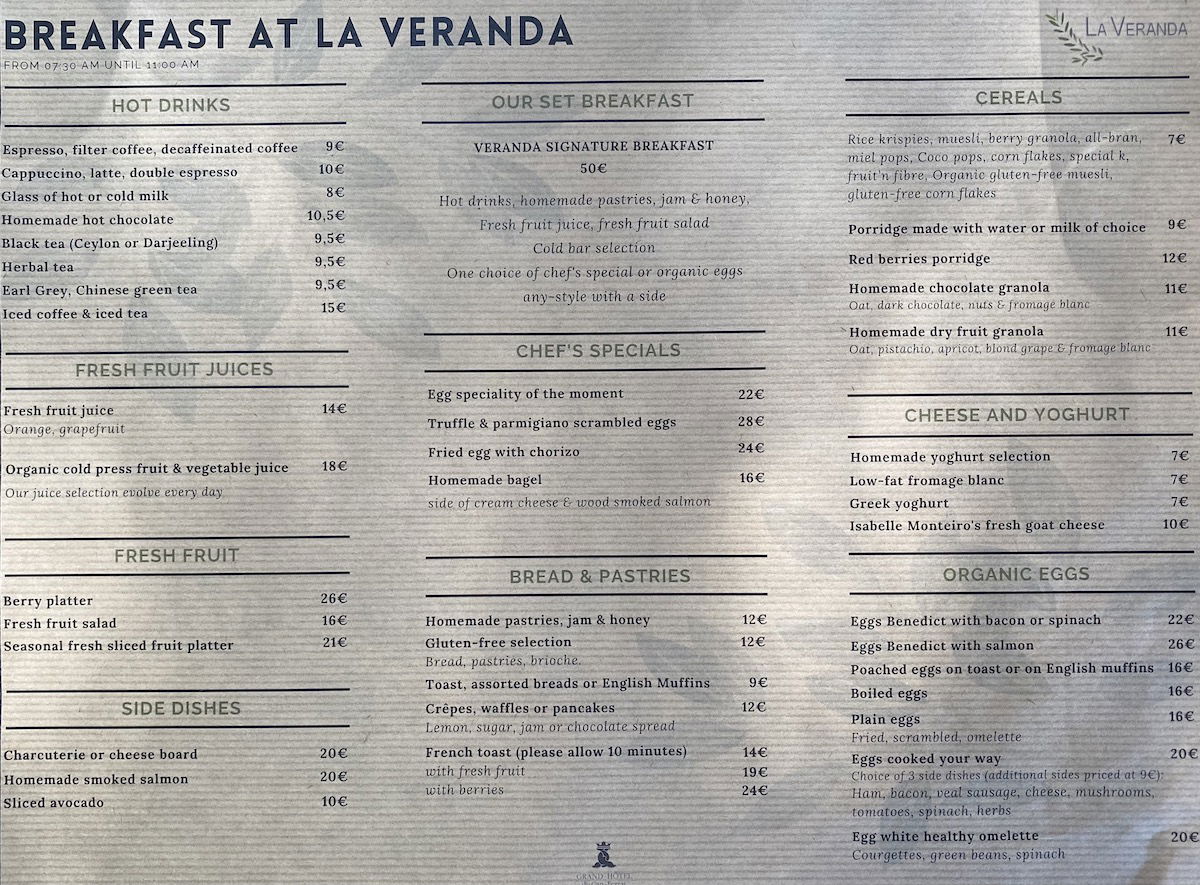 Keep in mind that you receive complimentary breakfast for booking through Four Seasons Preferred Partner, so savvy people shouldn't be paying for breakfast here. The standard breakfast is the Veranda Signature Breakfast, which includes hot drinks and fresh juice, fruit salad and pastries, access to the buffet, and then a hot item from the menu.
Coffee was always served quickly, and was tasty. I typically just had the filtered coffee, which I enjoyed.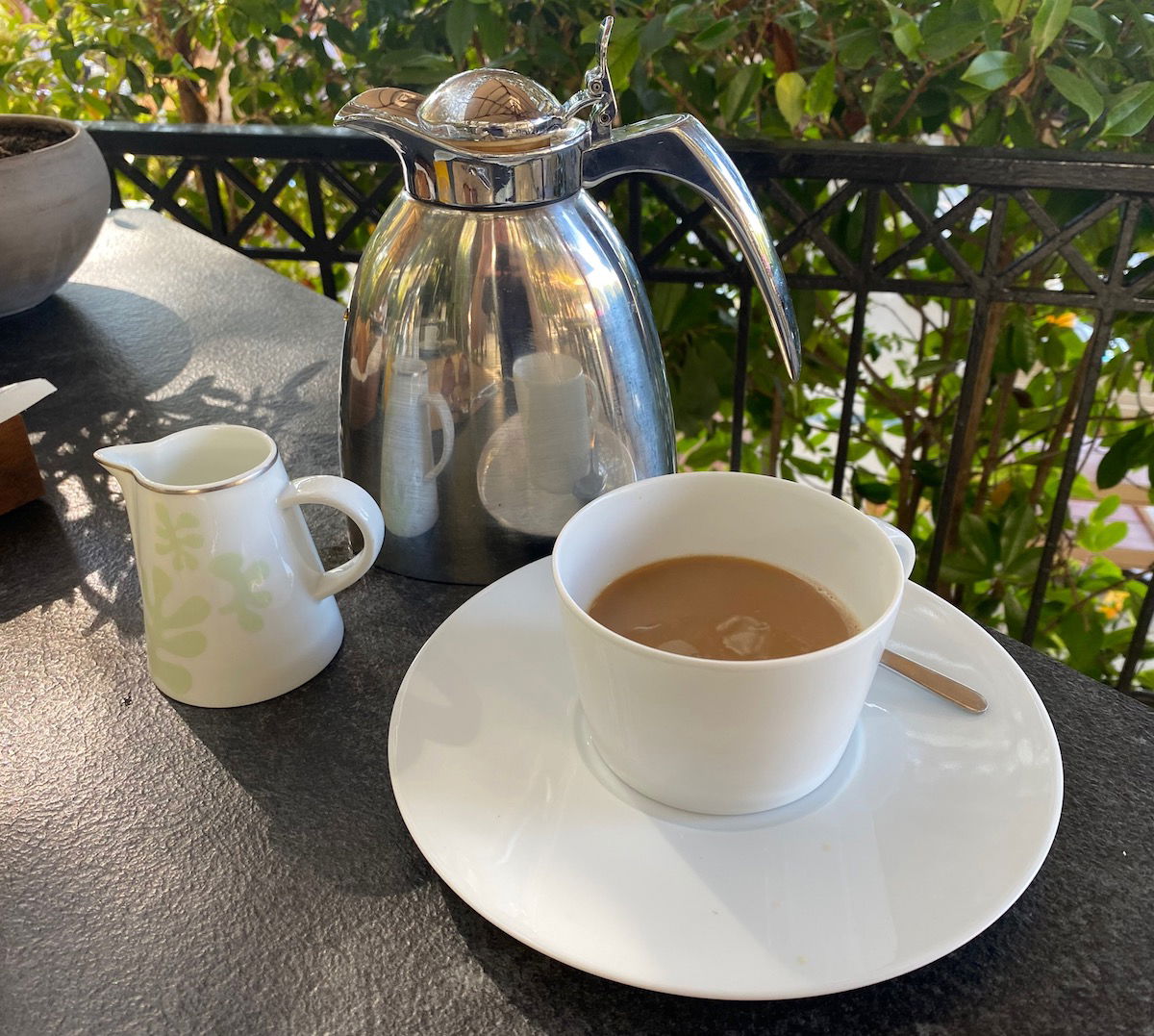 There were a variety of fresh juices as well, and those were served with the fresh fruit salad and pastry basket.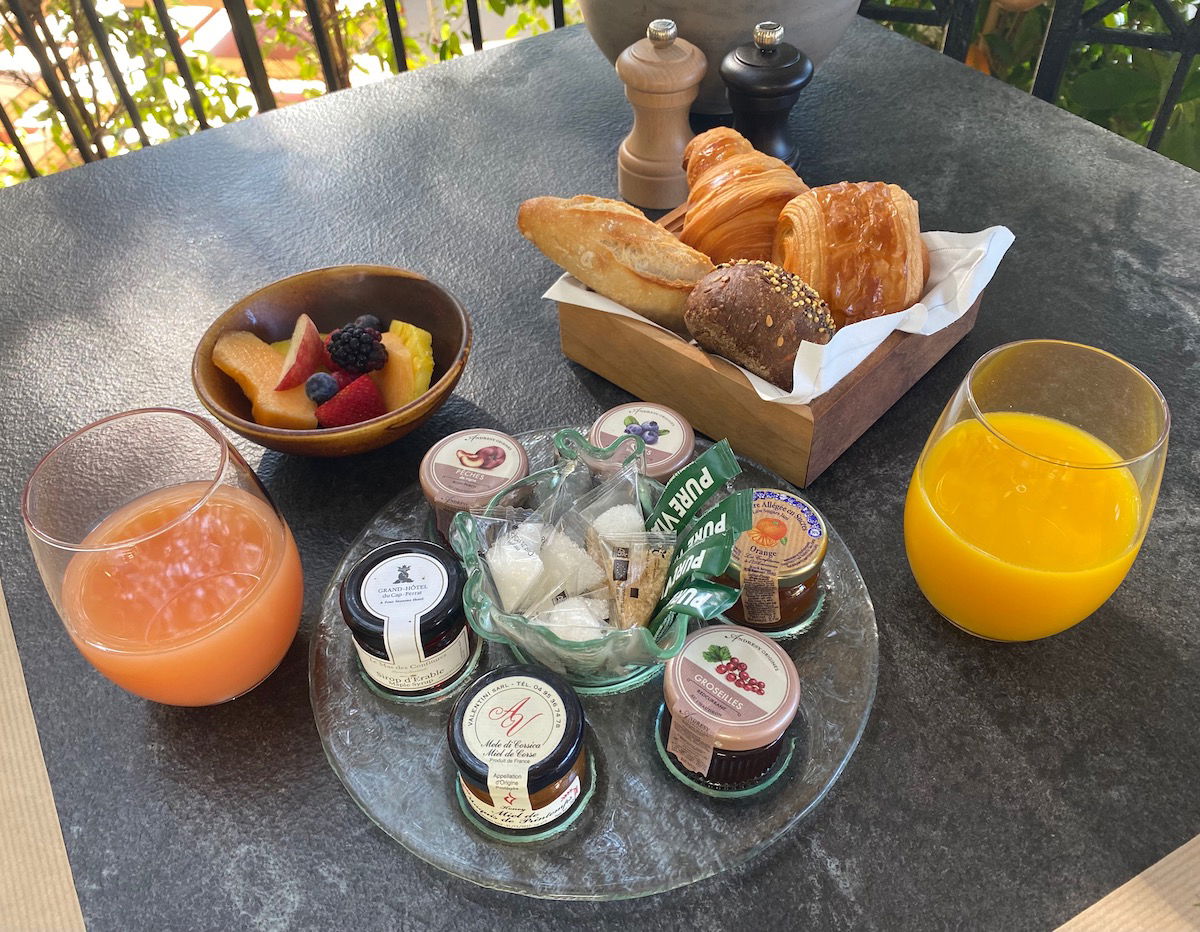 Then there was the cold buffet, which is intended to supplement the hot items that you can order. One awesome thing is that every single thing at the buffet (well, I guess with the exception of the whole fruit) is homemade. The buffet included everything from cereal, to muffins, to cheese and cold cuts, to muesli and yogurt, to tarts and sandwiches. The taste of everything was simply exquisite.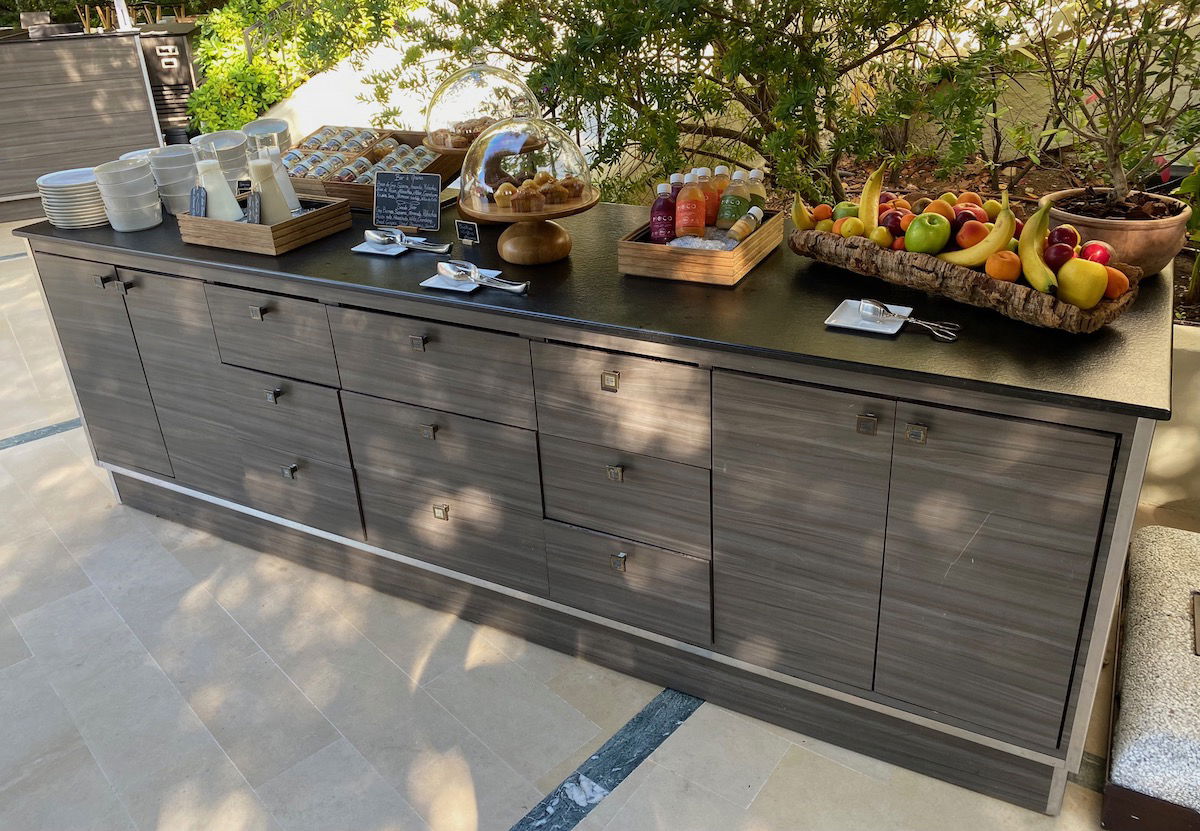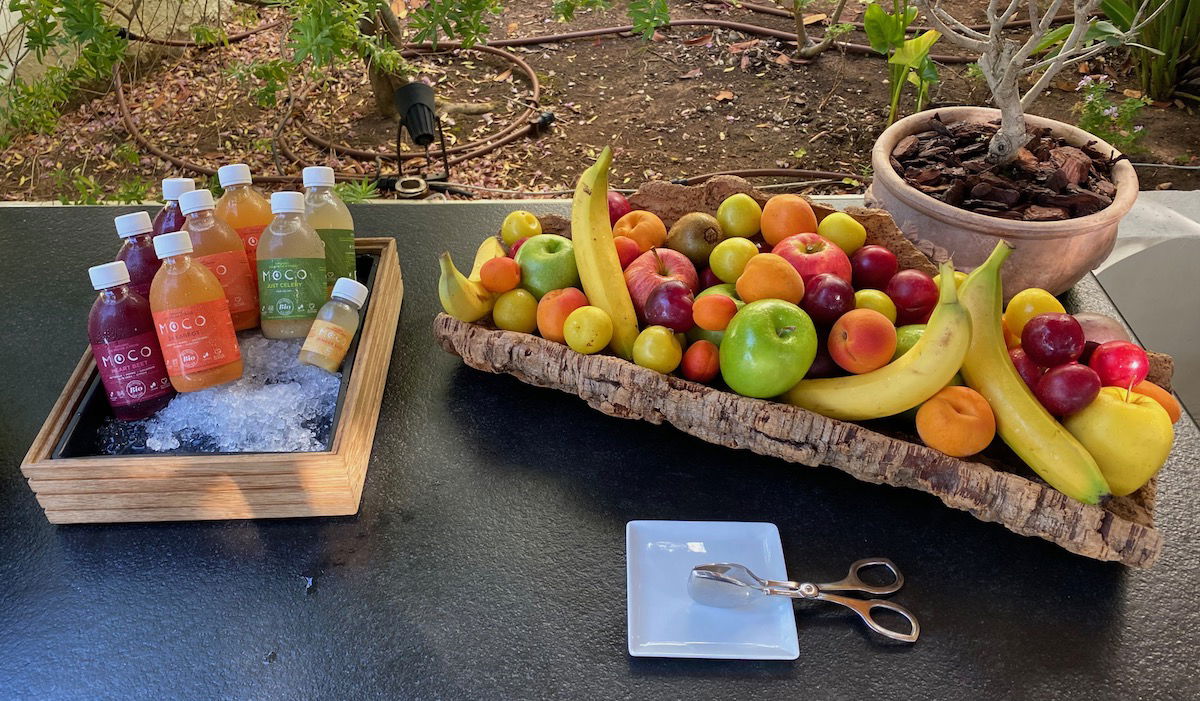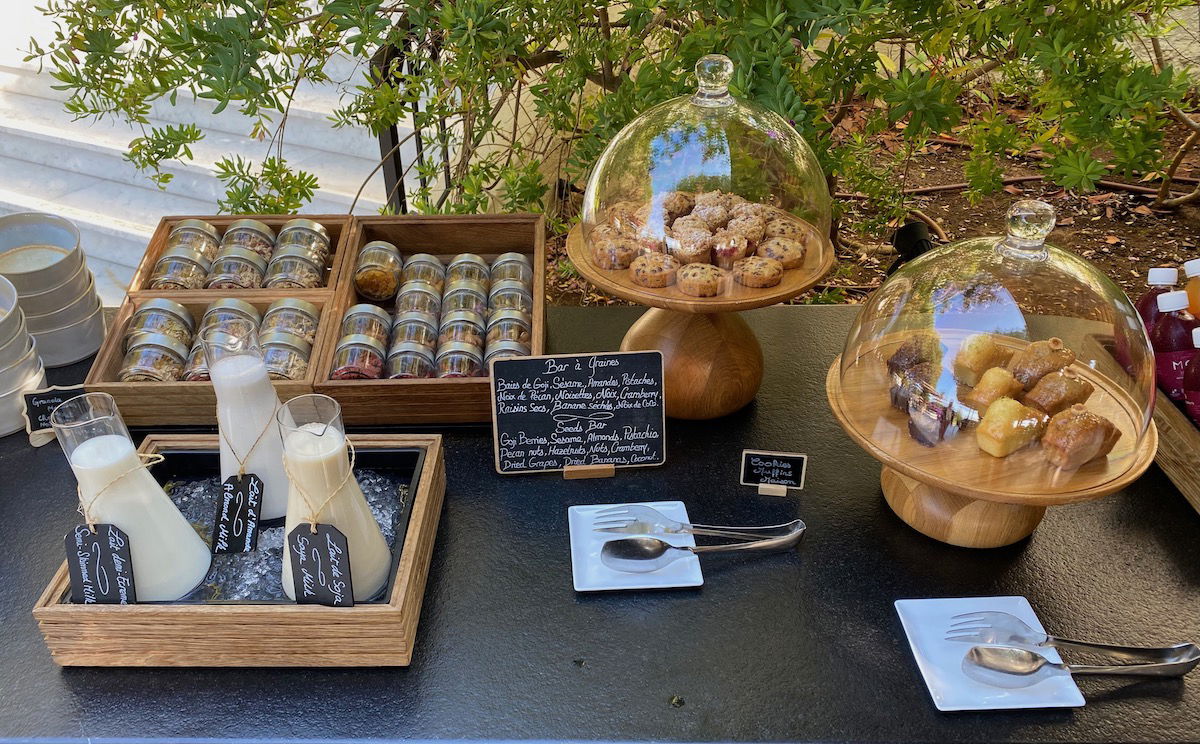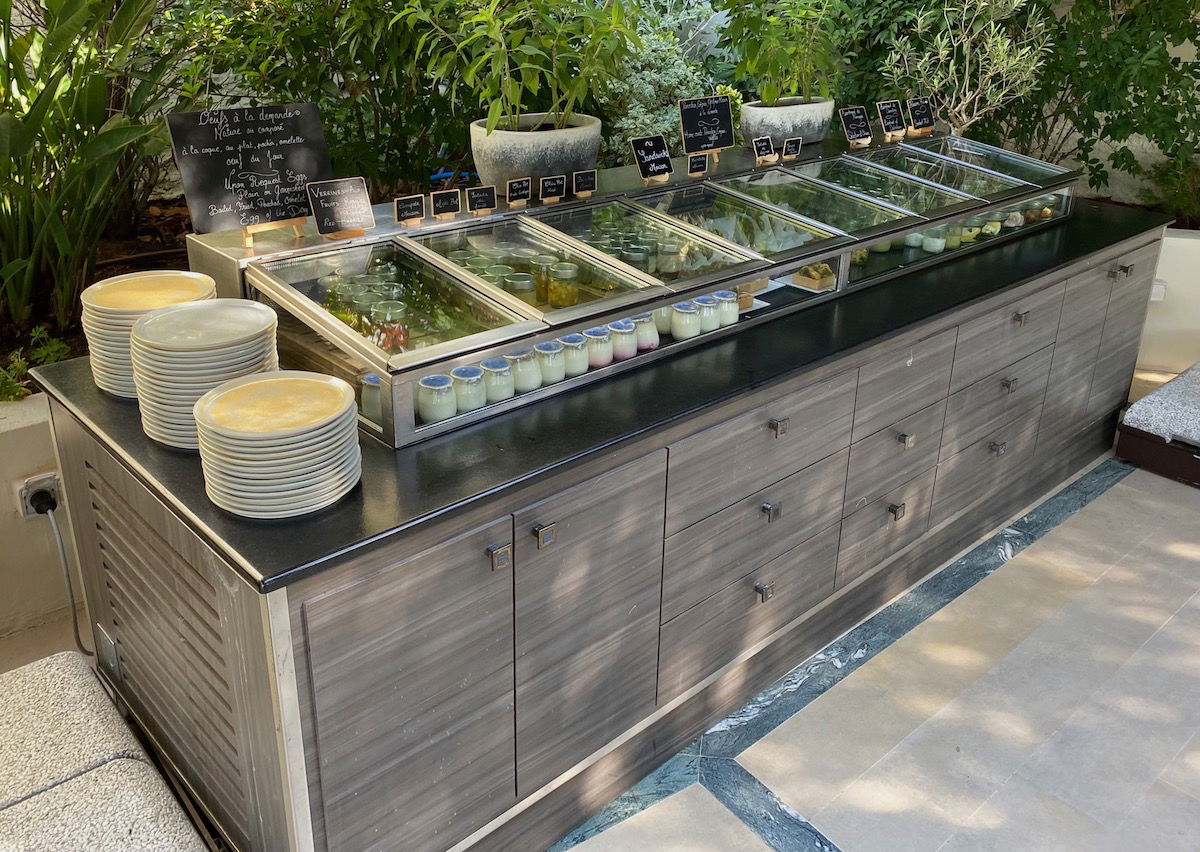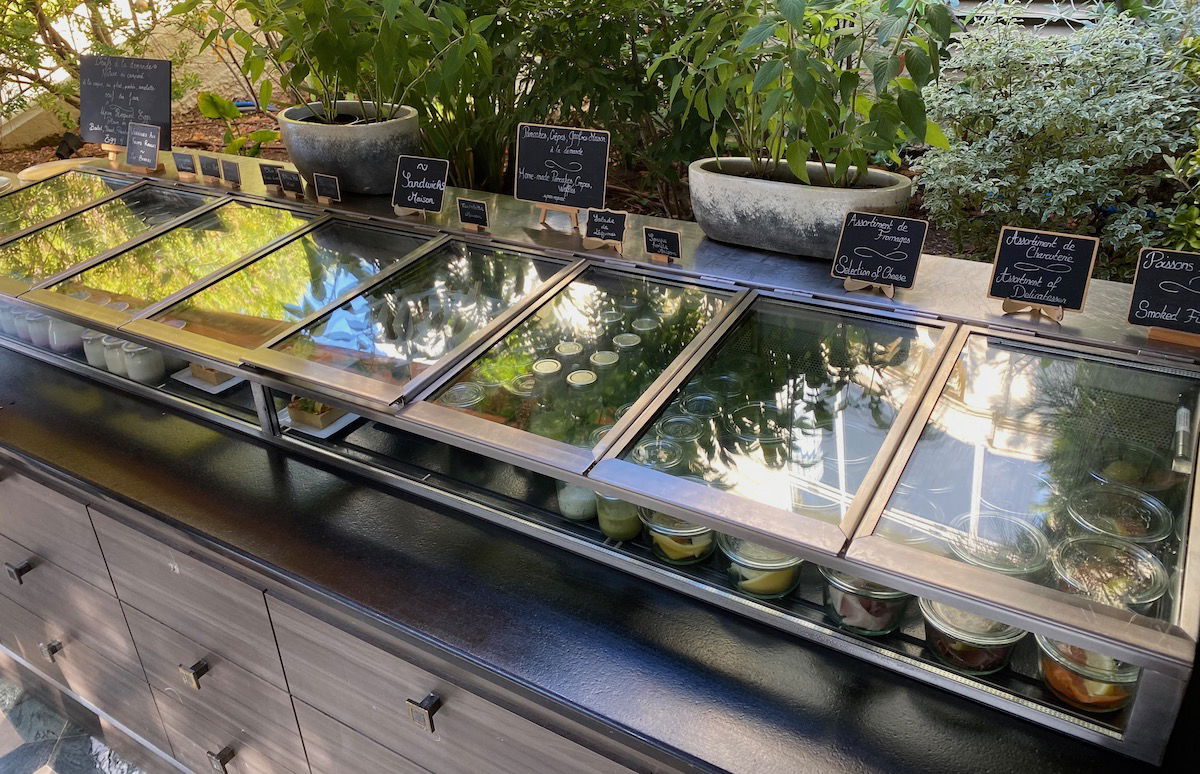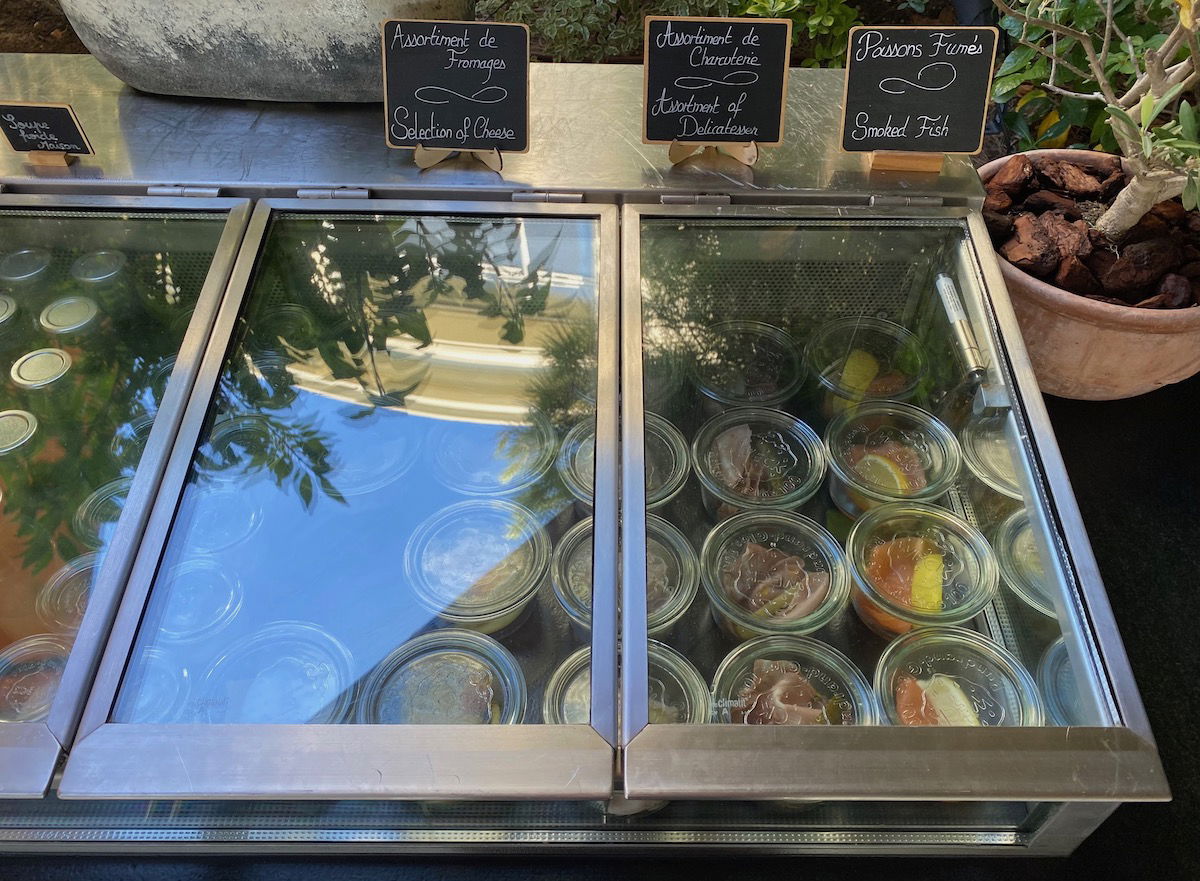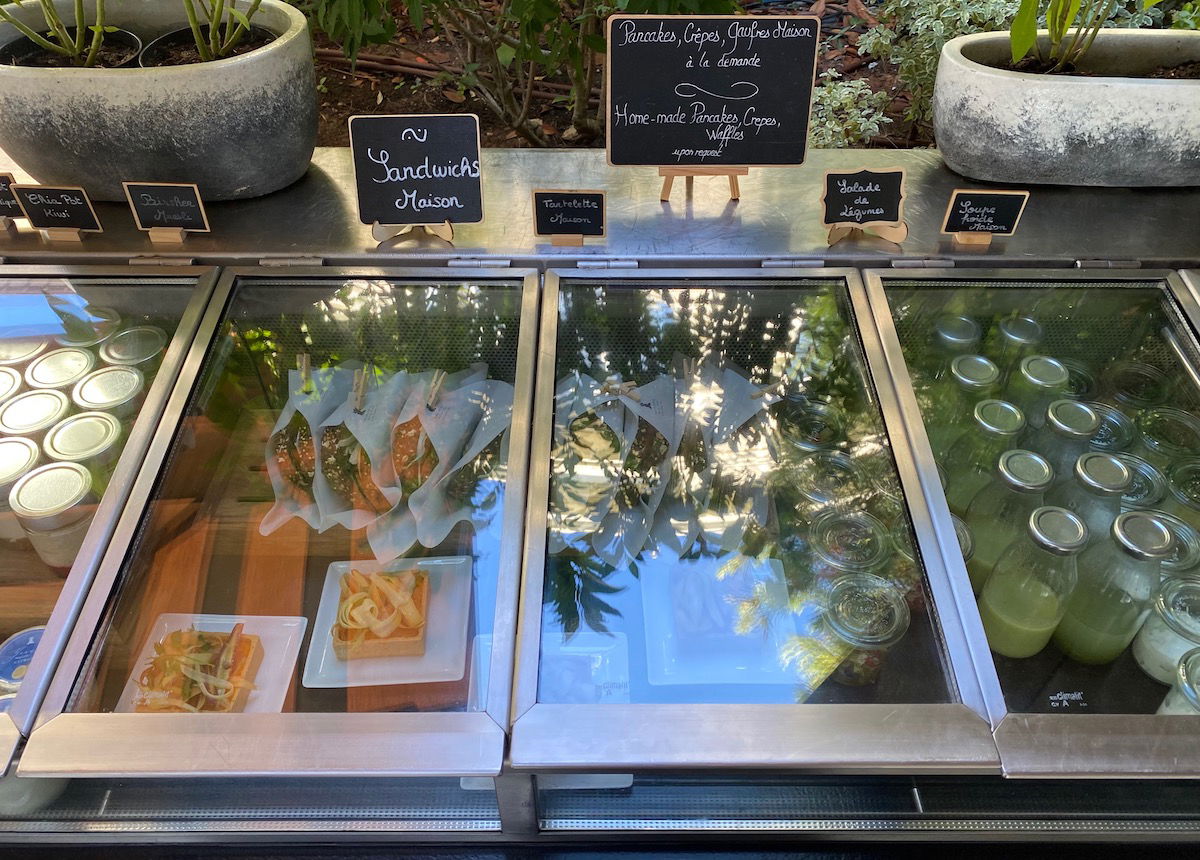 Then there were the excellent hot options, which included both some staple menu items, plus some rotating daily specials. Below is a look at some of the tasty dishes that we enjoyed.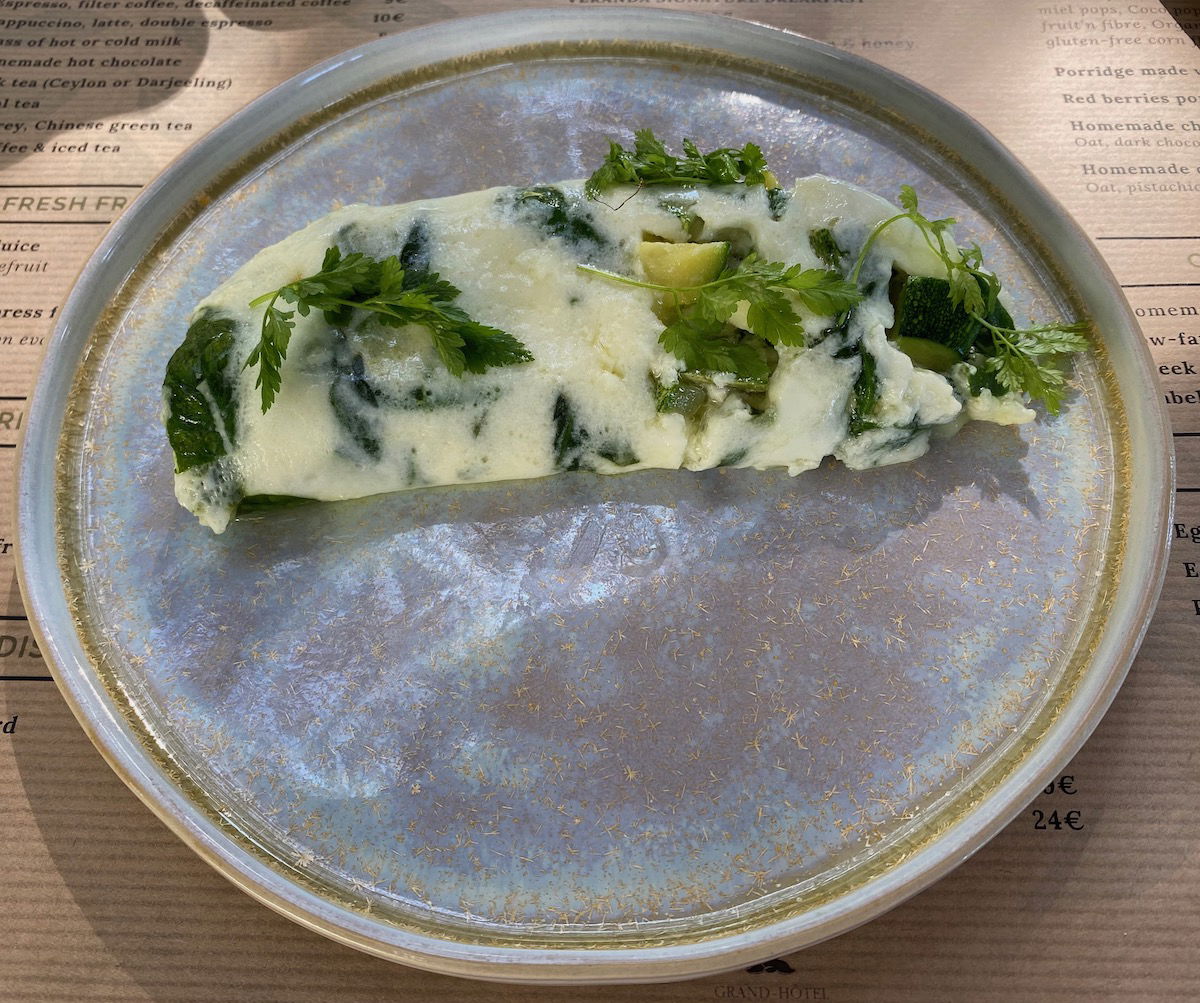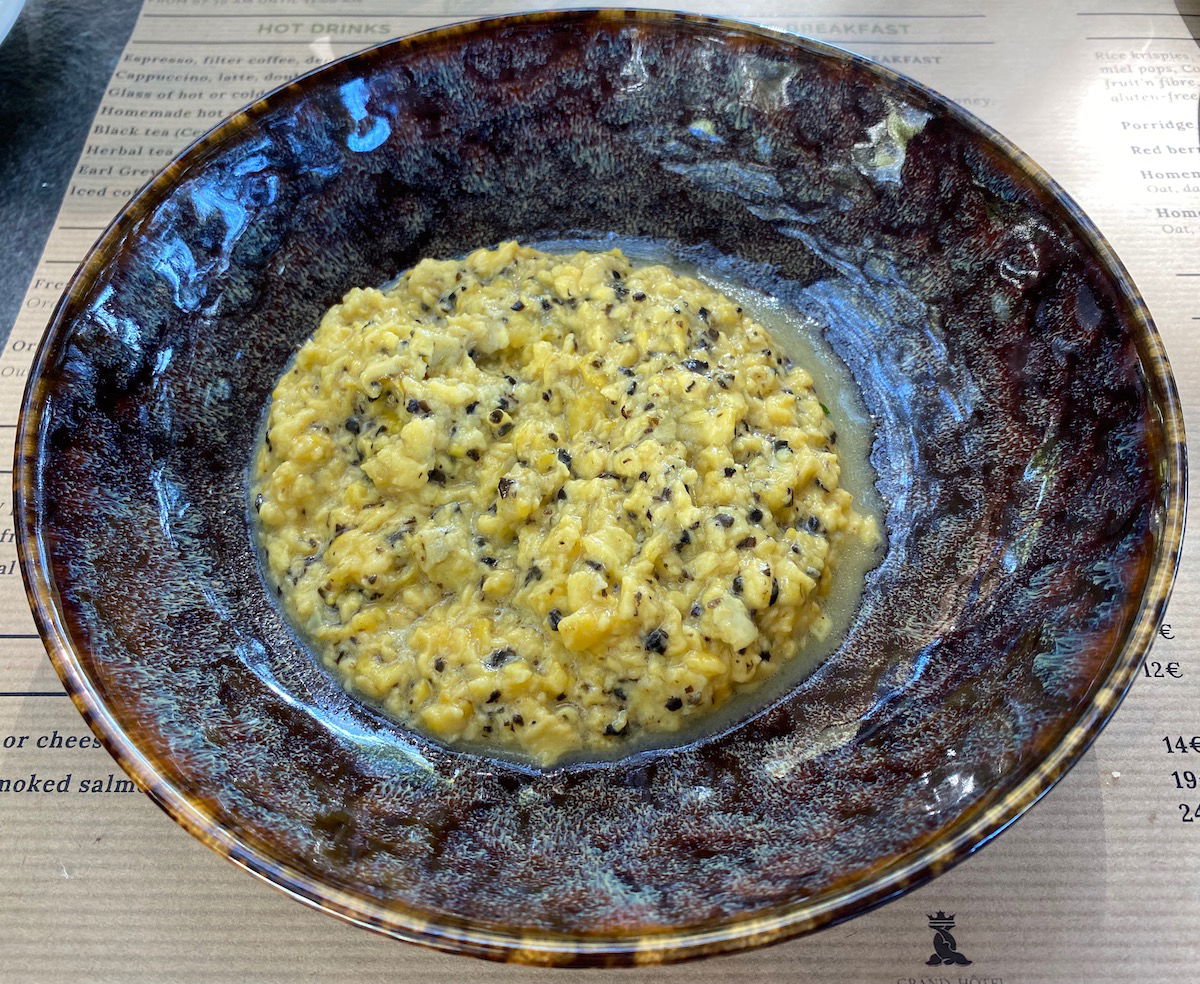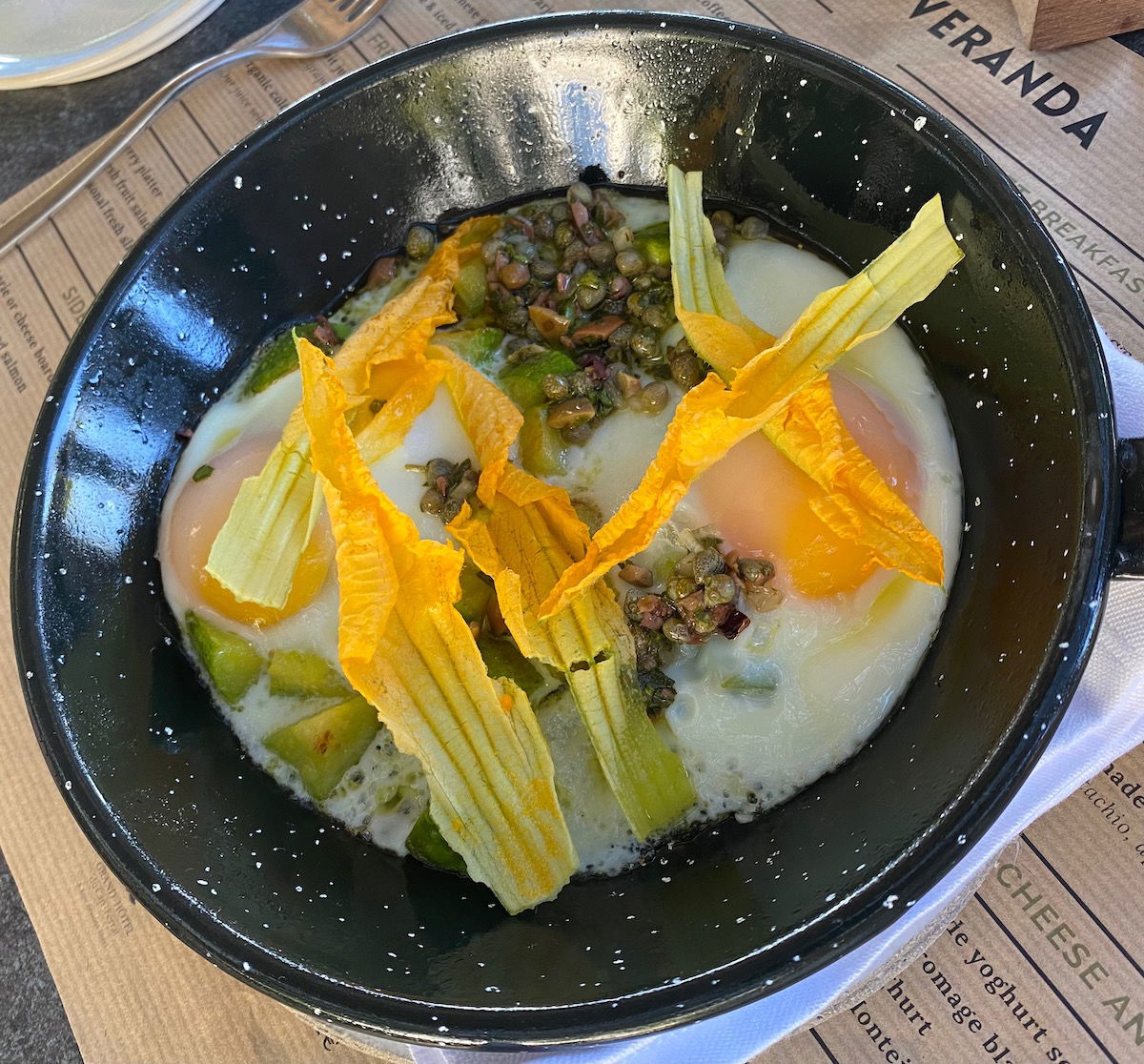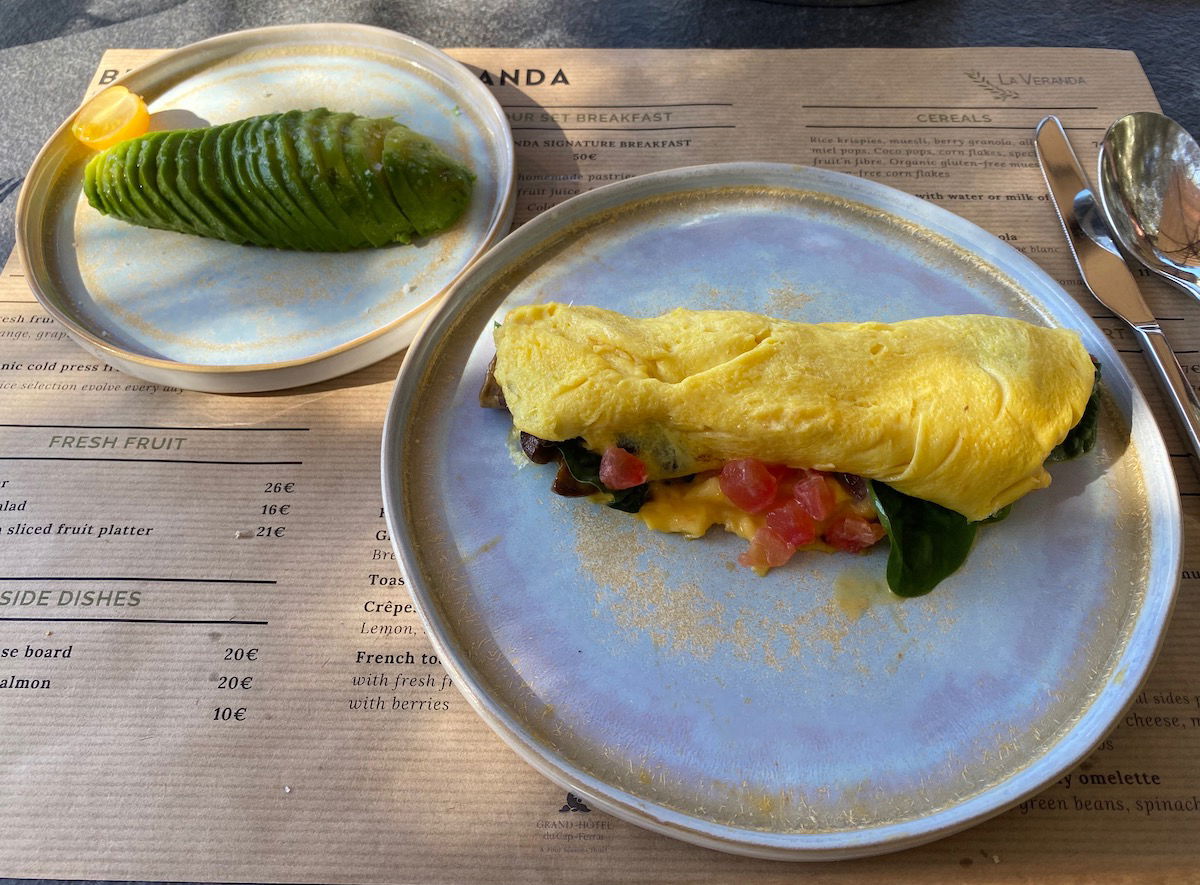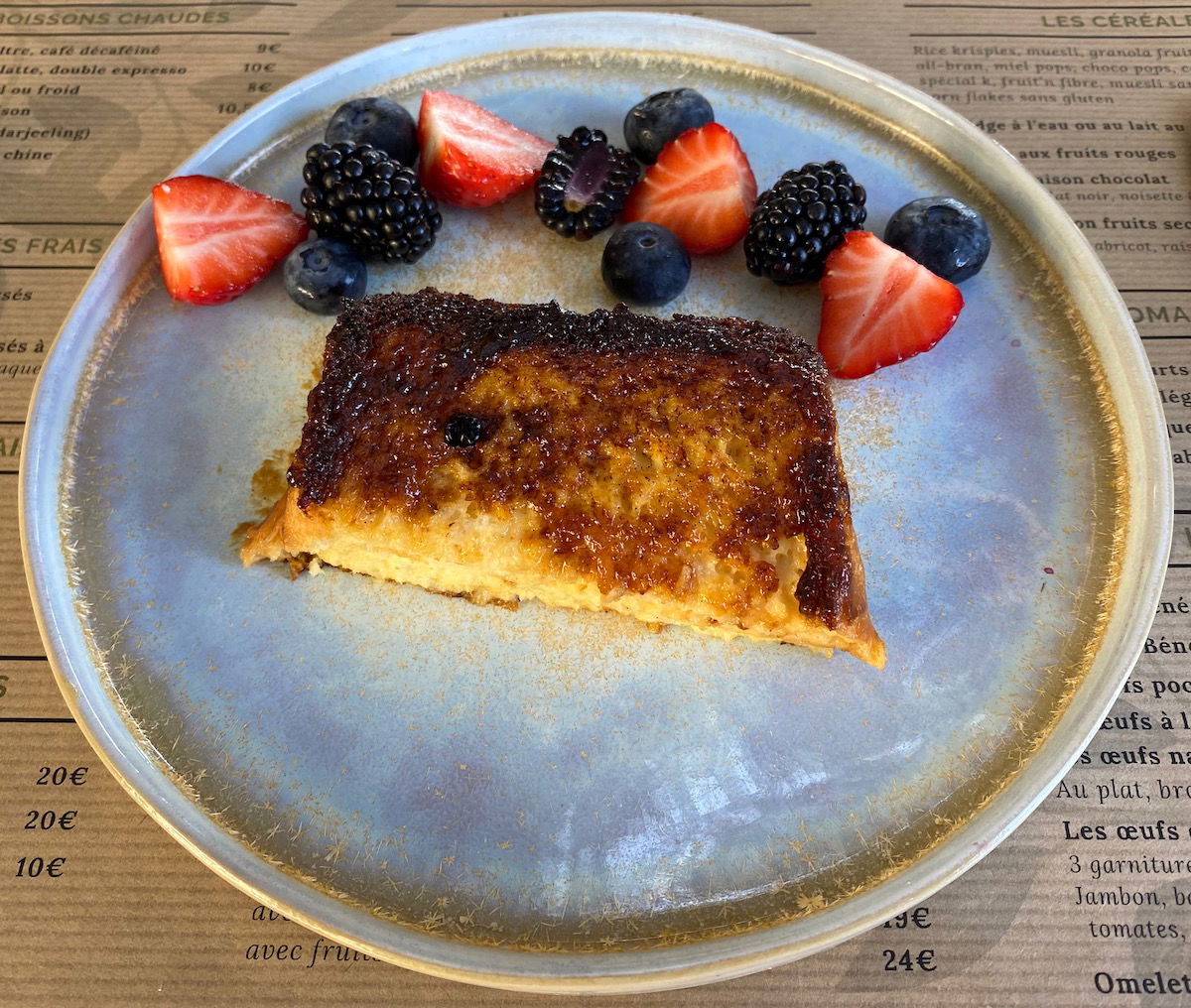 As I always mention in Four Seasons reviews, I love how Four Seasons properties consistently have complimentary coffee & tea in lobbies in the mornings. In this case there were even some sweets to go along with it. This is such a small thing that I appreciate so much — personally I like to go to the gym before breakfast when I'm traveling, but I can't do that without a good cup of coffee (or three) first.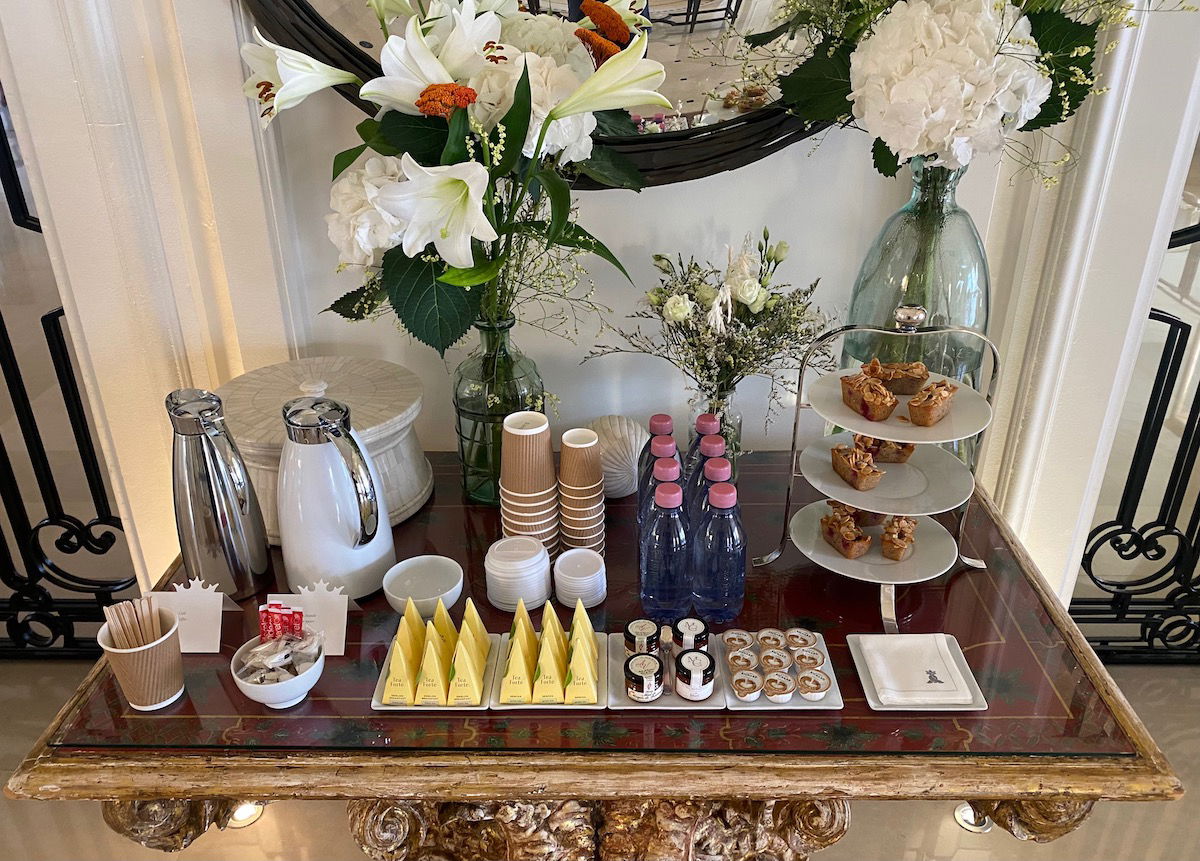 Four Seasons Cap-Ferrat Club Dauphin (lunch)
We had lunch twice at Club Dauphin, given that this is where guests seem to spend much of the days. The restaurant is quite large, so while you can make reservations, it's not really needed.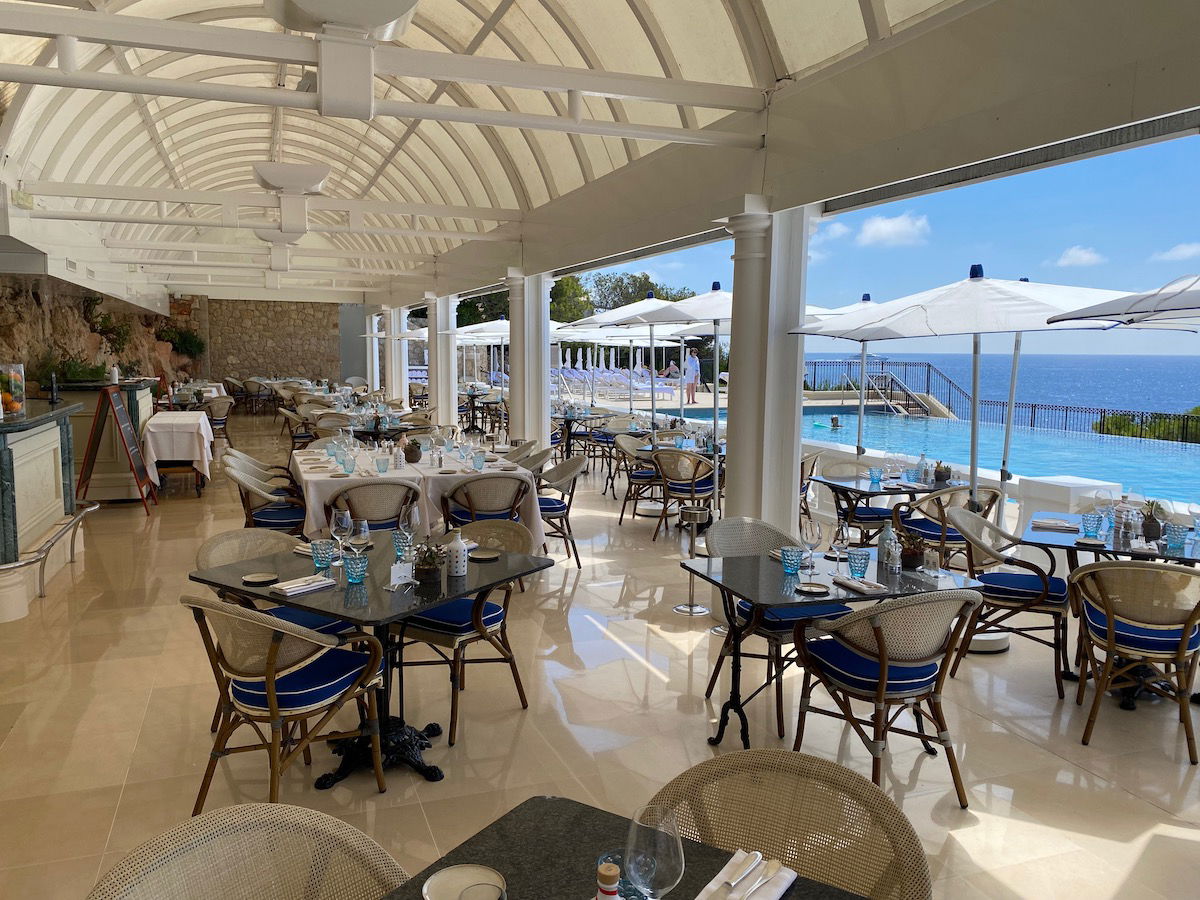 The lunch menu read as follows: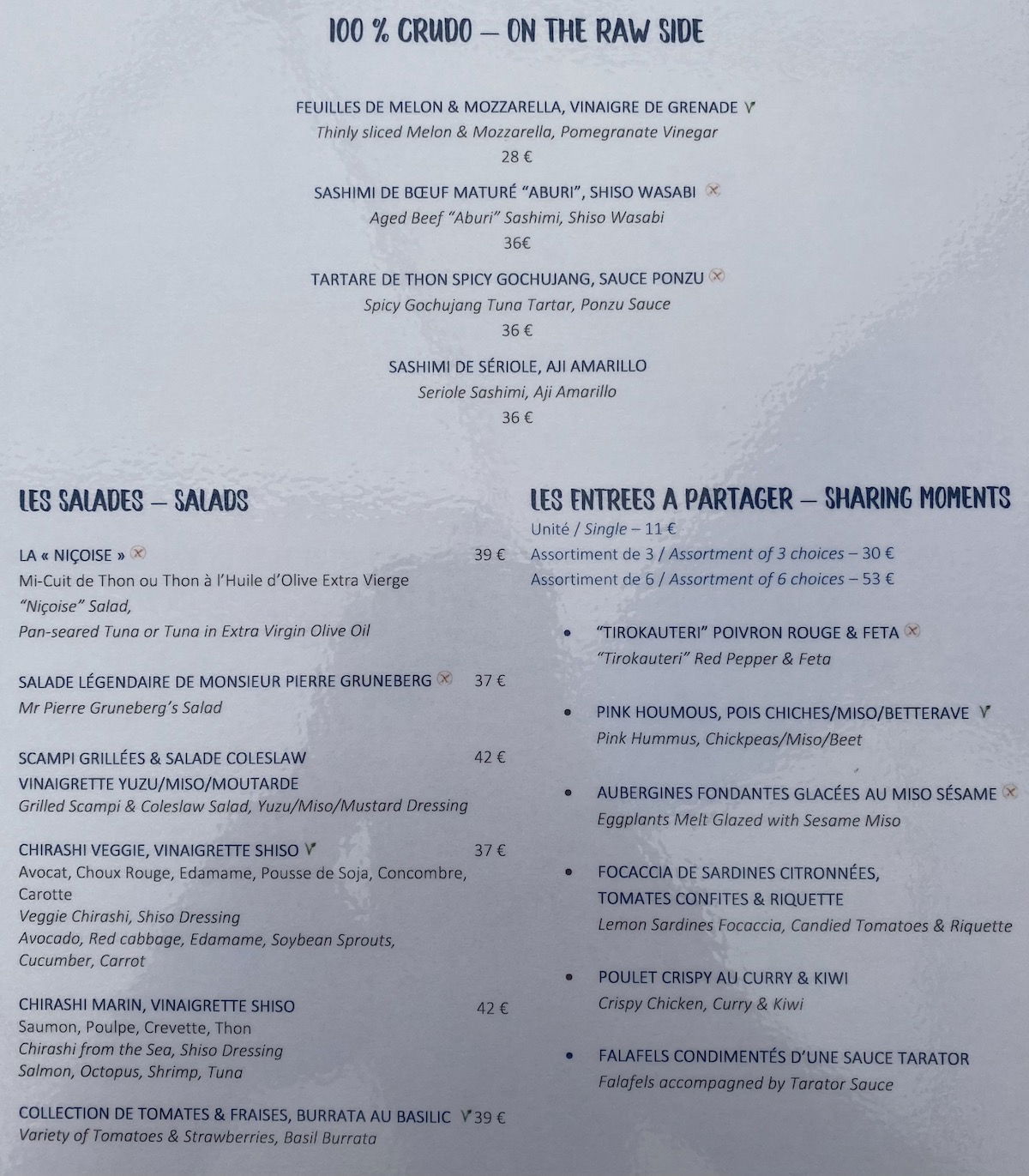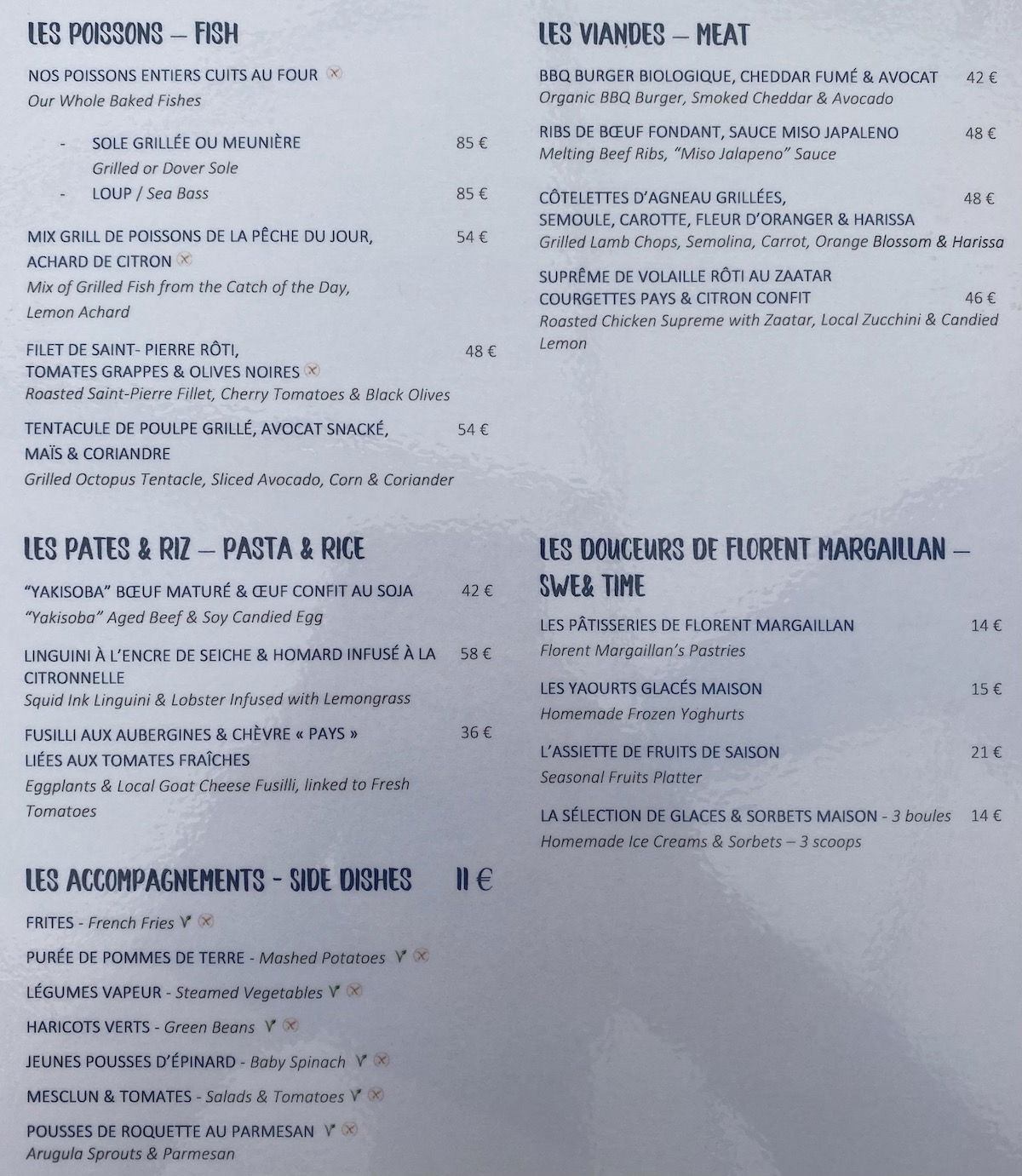 To start we were offered crackers with a tzatziki spread, plus some bread.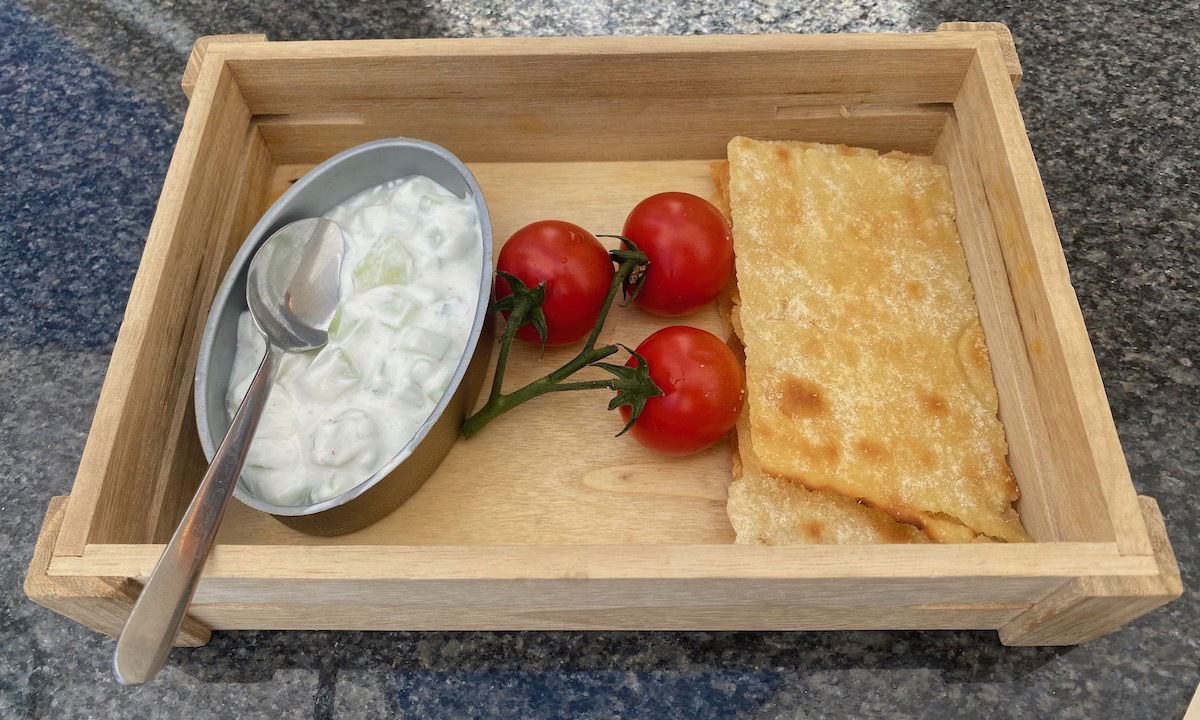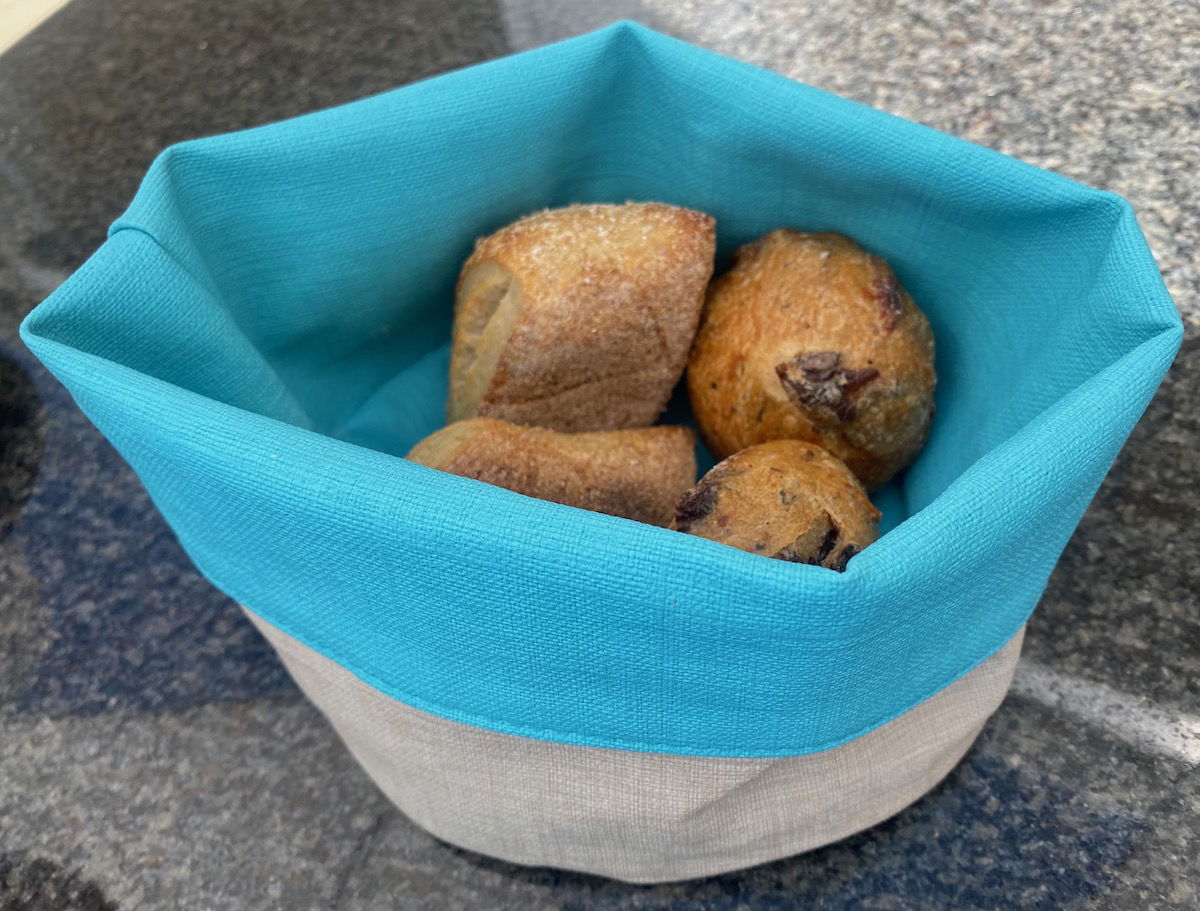 The drinks at the restaurant were excellent…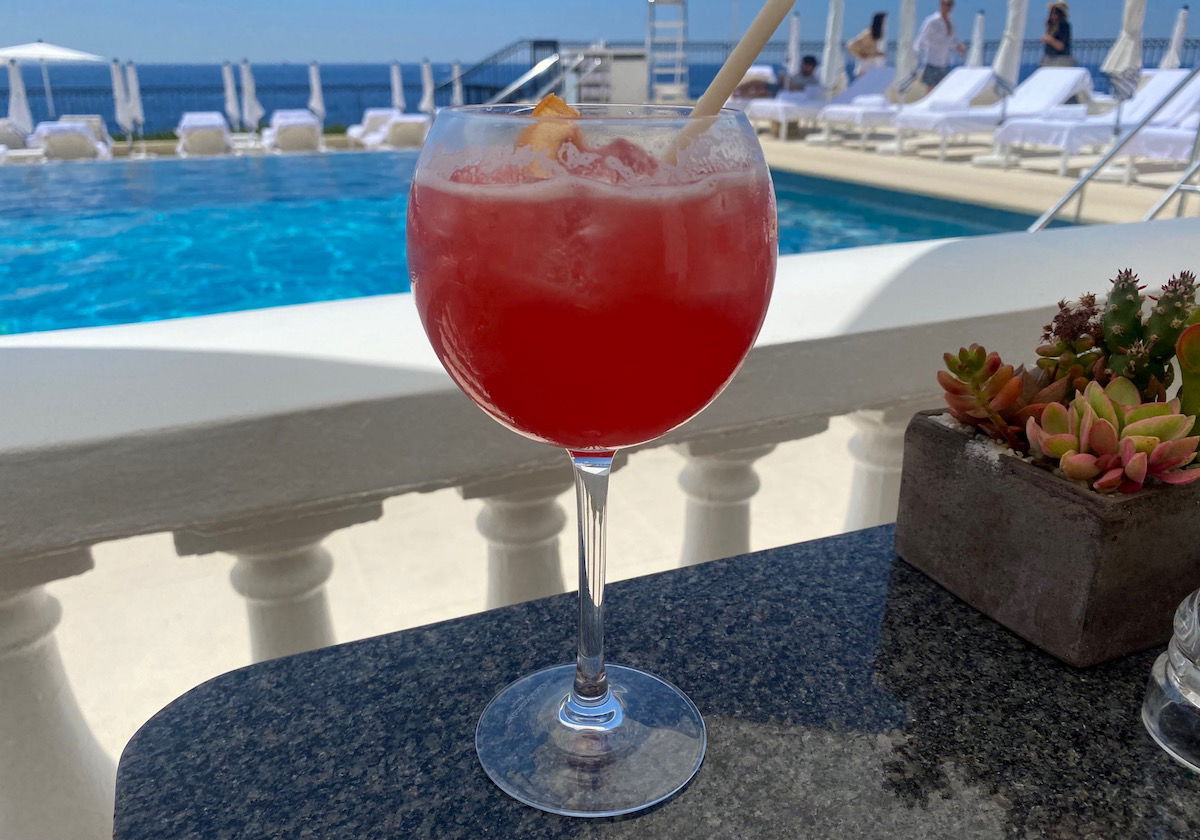 One day we shared a few appetizers to start, including the falafel, pink hummus, and red pepper & feta spread.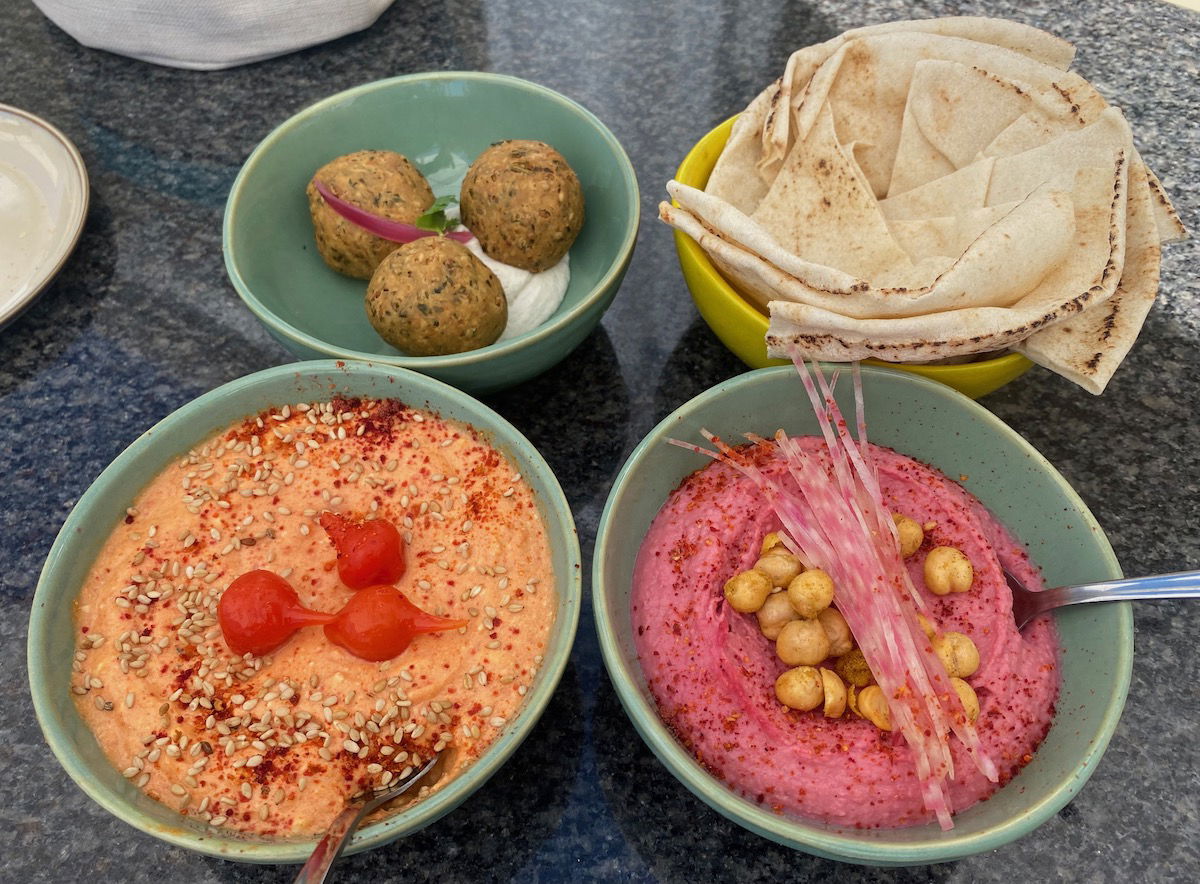 We both had a nicoise salad — in retrospect we should have shared, because it was massive (and delicious).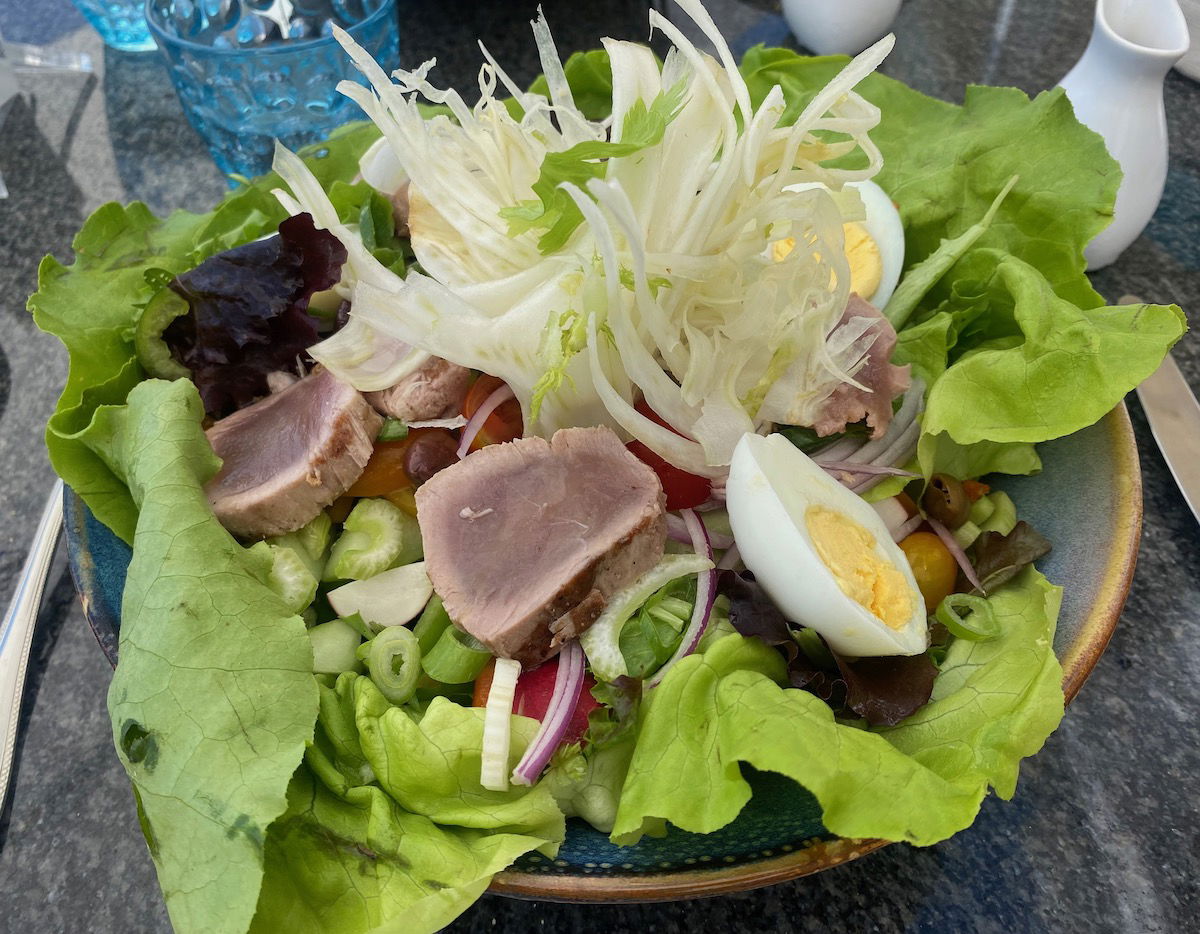 The other day I had the eggplant and local goat cheese fusilli, while Ford had the roasted chicken with zaatar, local zucchini, and candied lemon.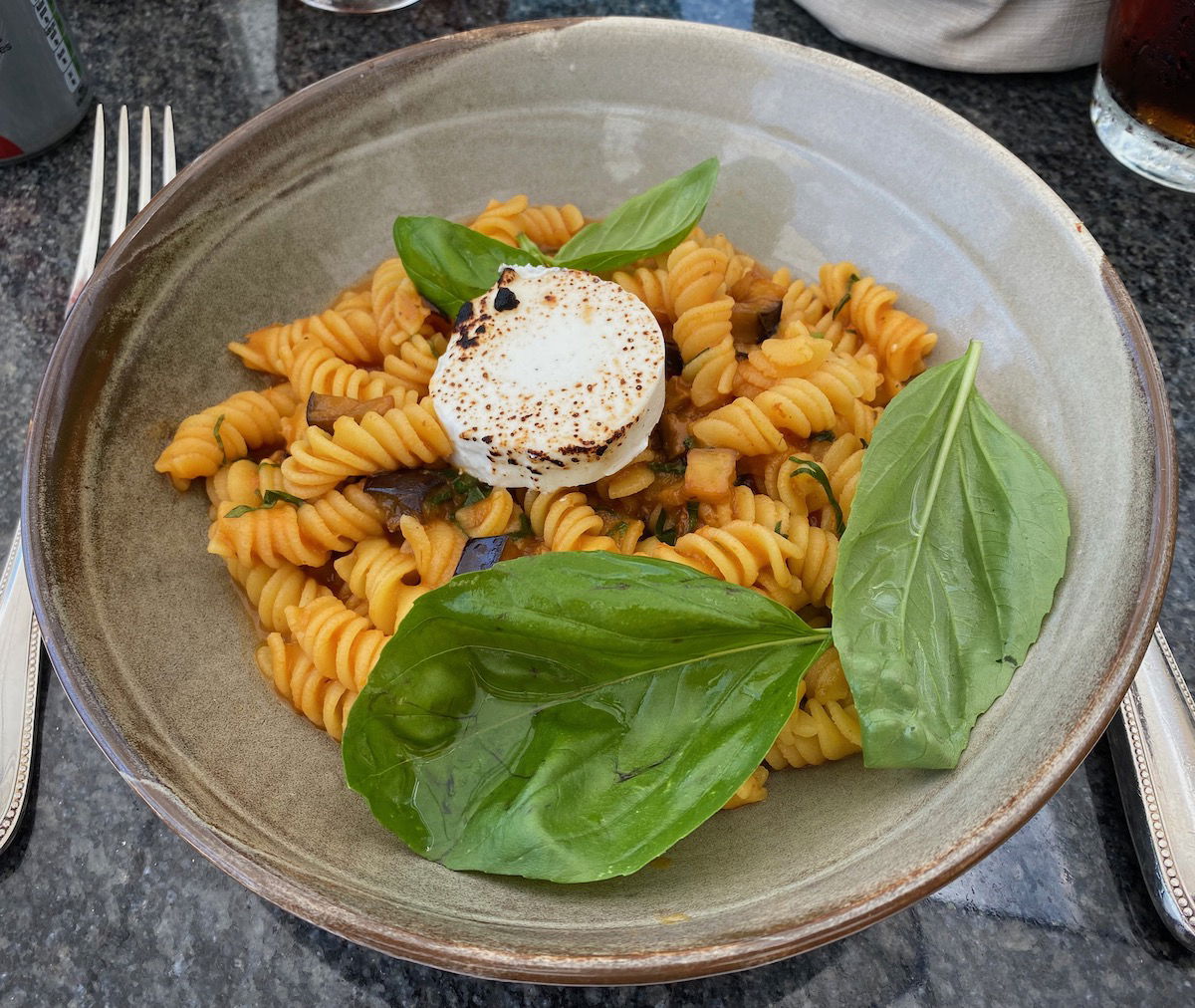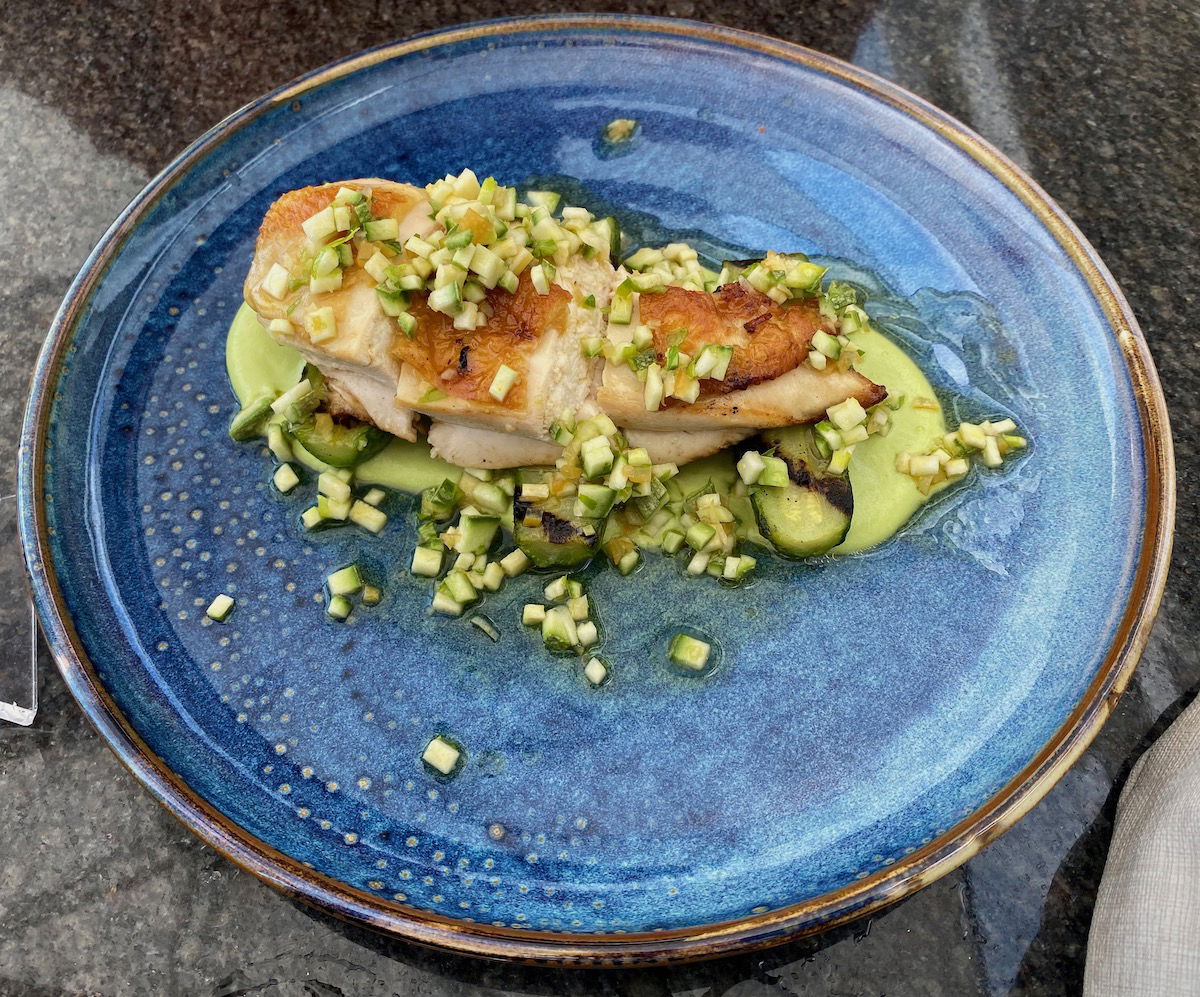 We enjoyed everything that we tried.
Four Seasons Cap-Ferrat Le Bar (cocktails)
Le Bar is located just underneath La Veranda, and it's a great place to grab a drink in the evenings before dinner. I loved the setting, as you had a great garden and sea view.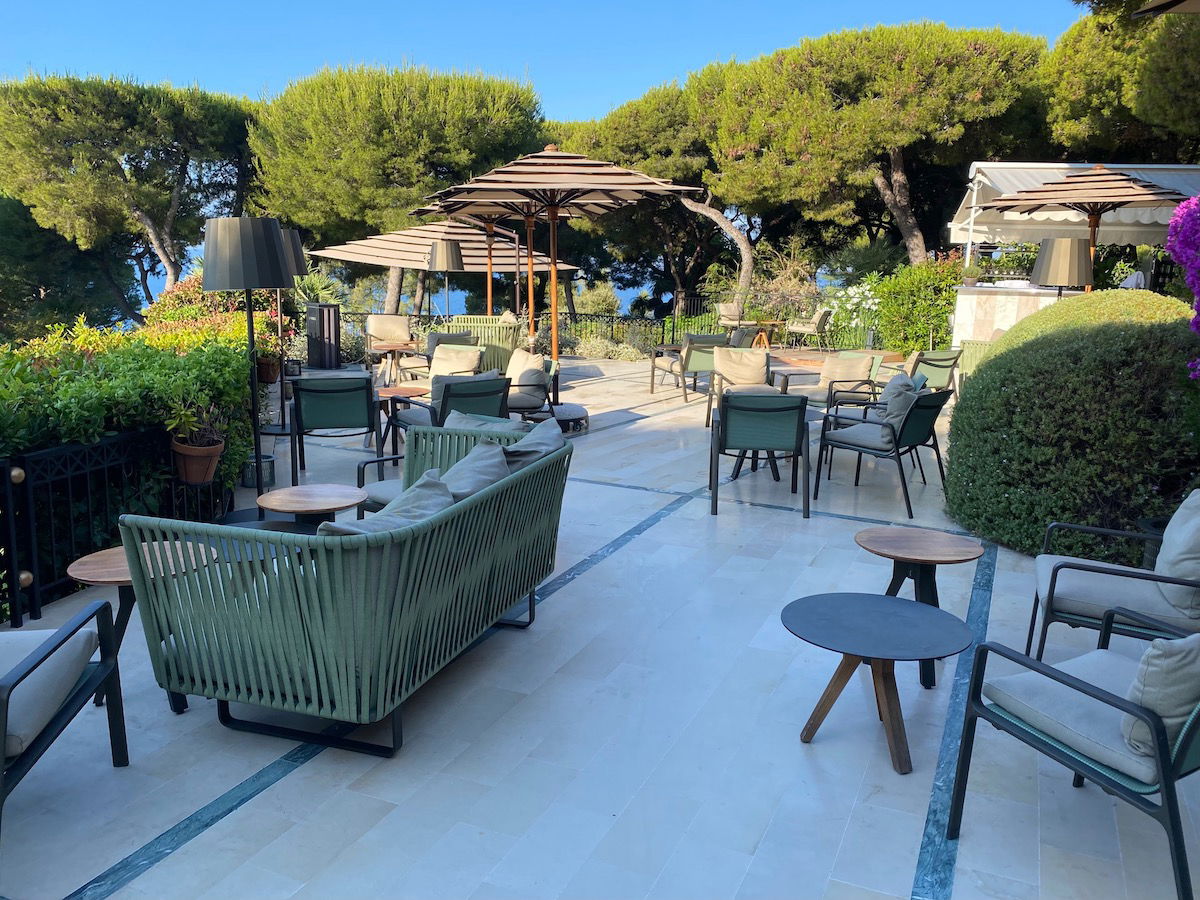 The cocktails, including the presentation, were pretty awesome as well…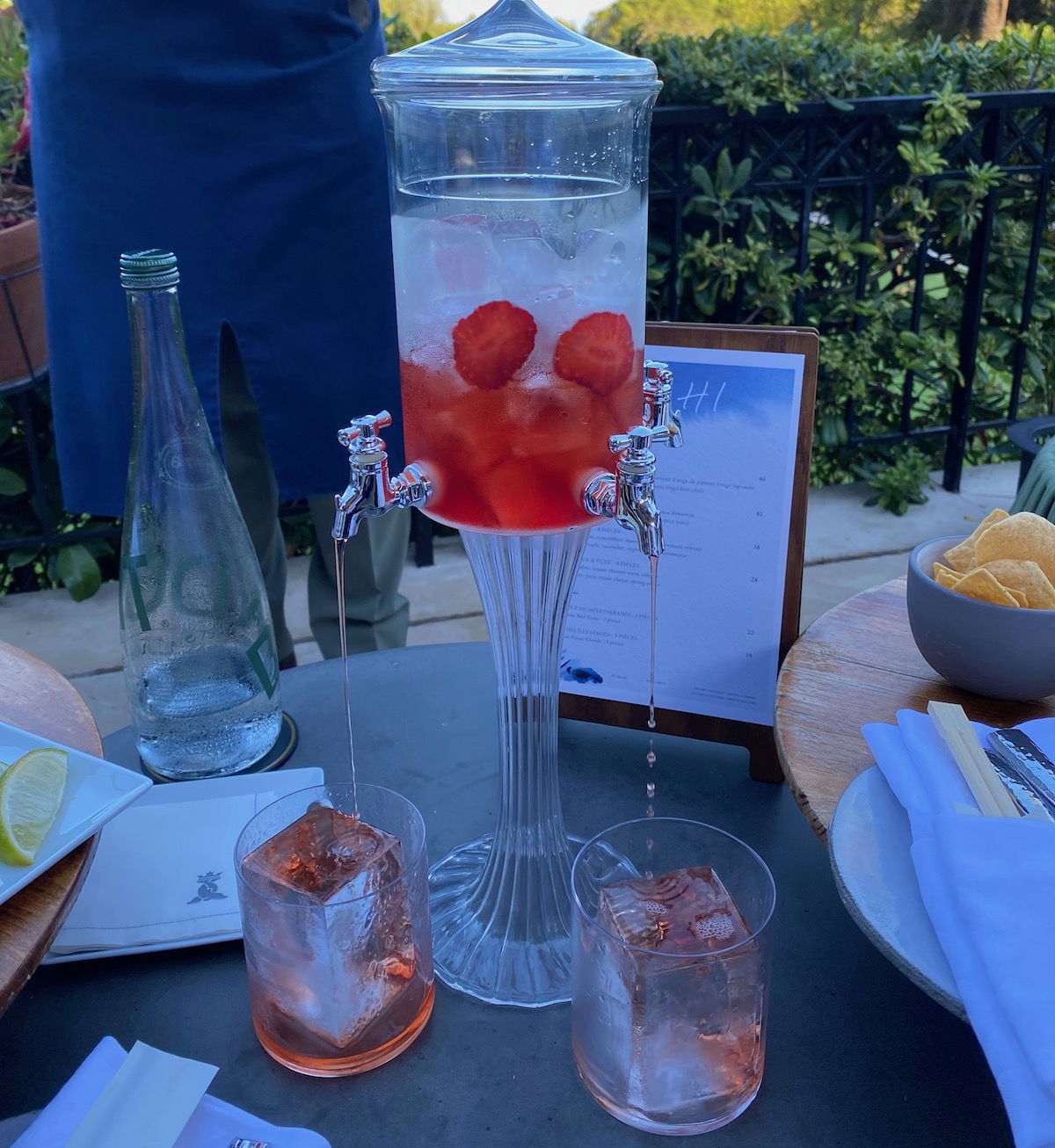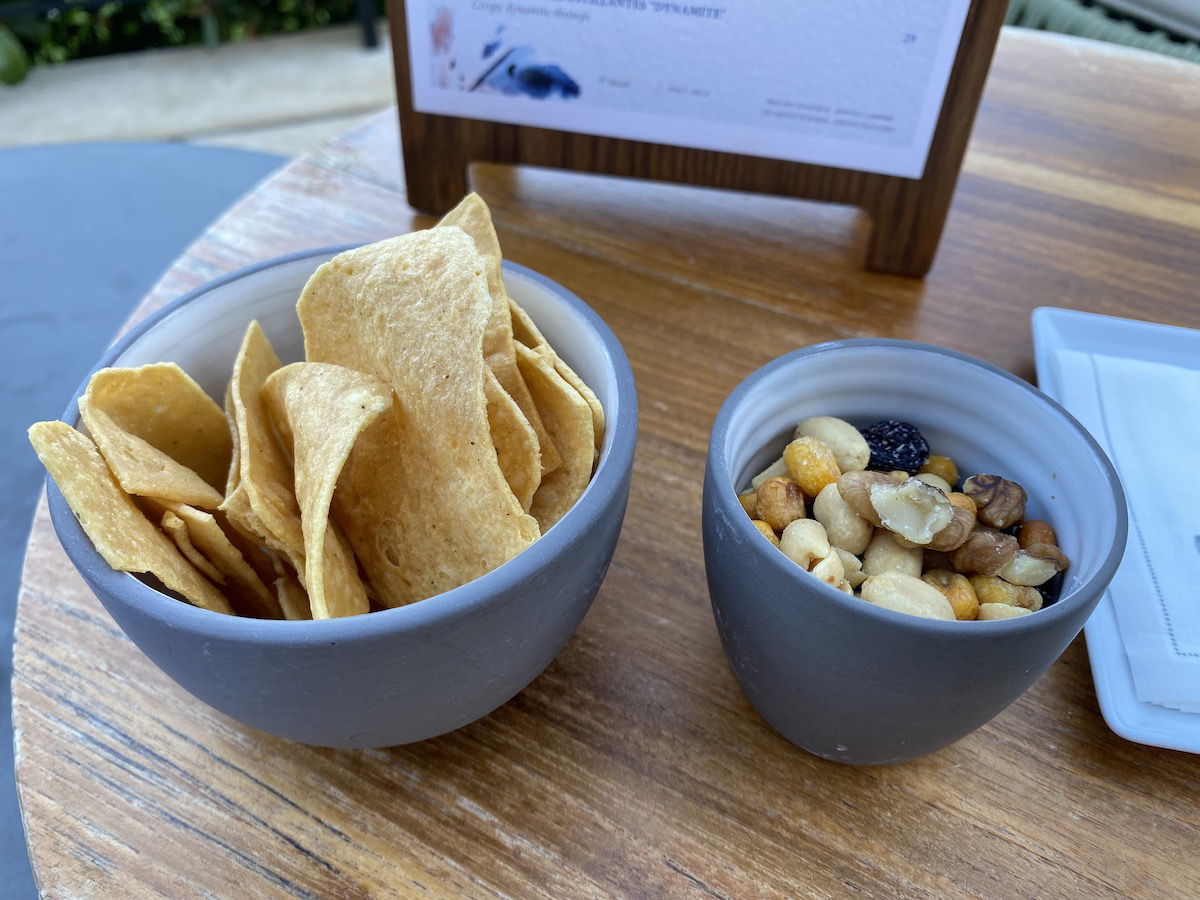 There's even a surprisingly excellent selection of sushi.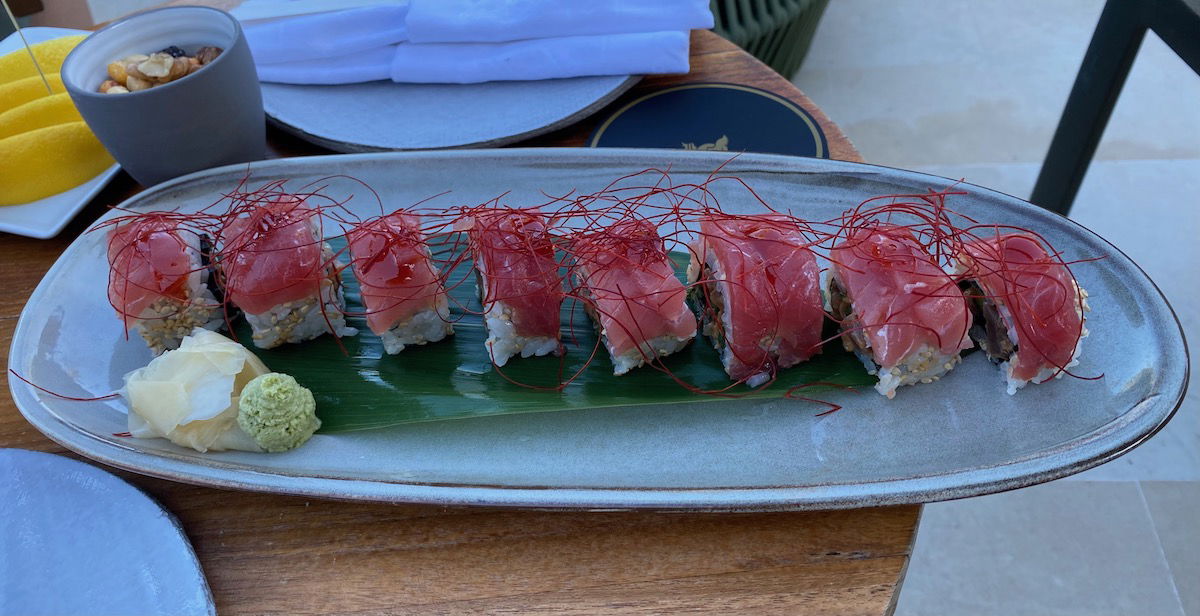 Four Seasons Cap-Ferrat La Veranda (dinner)
We had dinner one evening at La Veranda, the hotel's all-day dining restaurant. The dinner menu read as follows: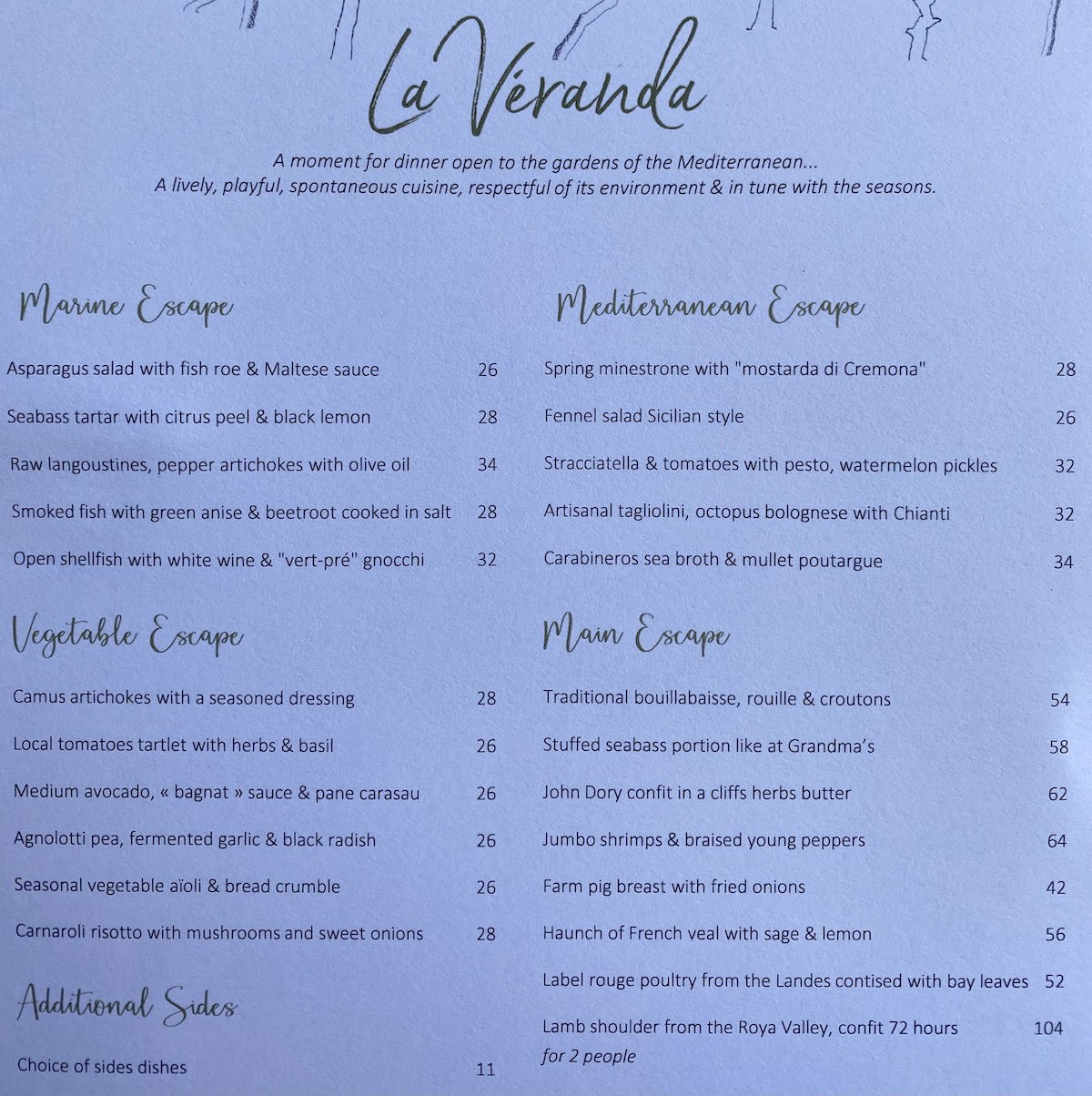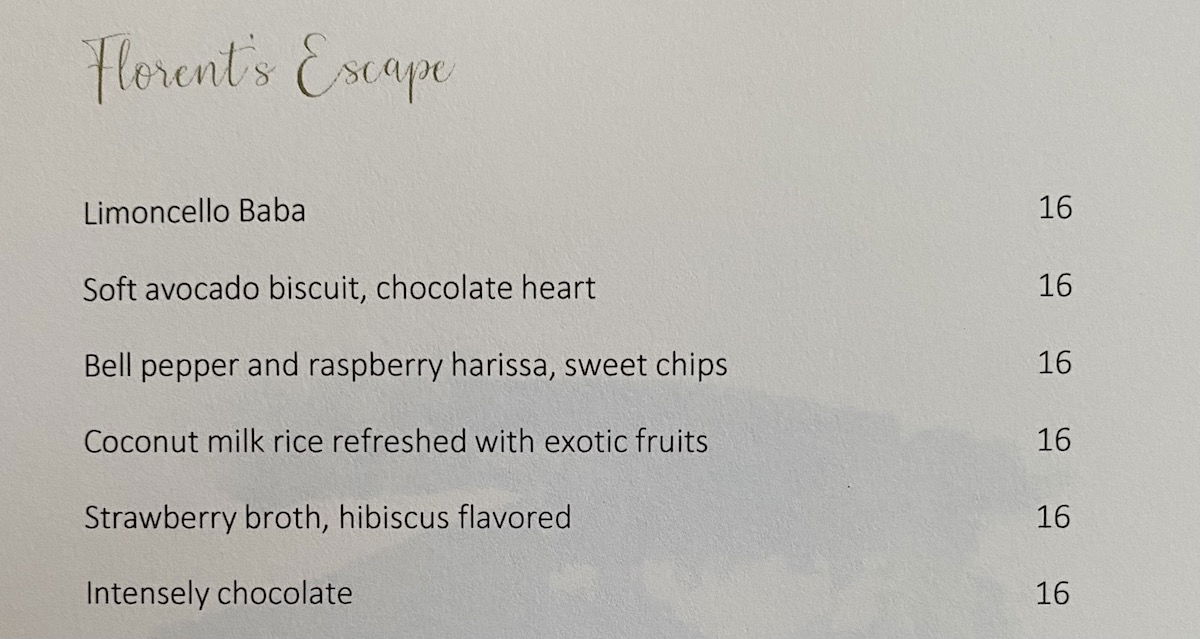 The meal started with an amuse bouche that consisted of a spread, along with some bread.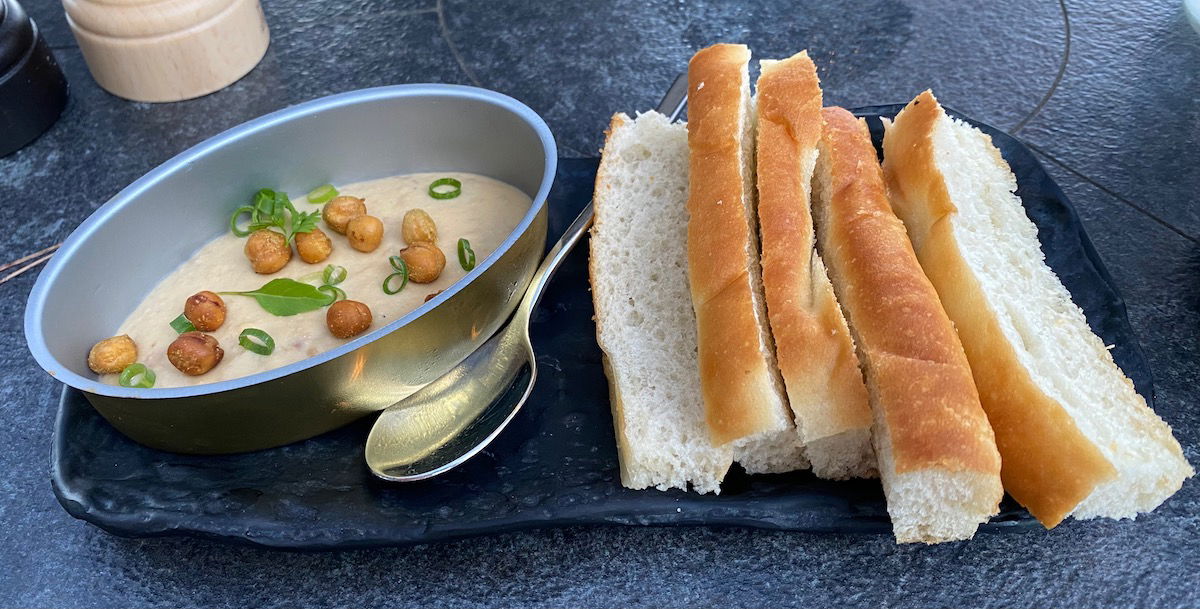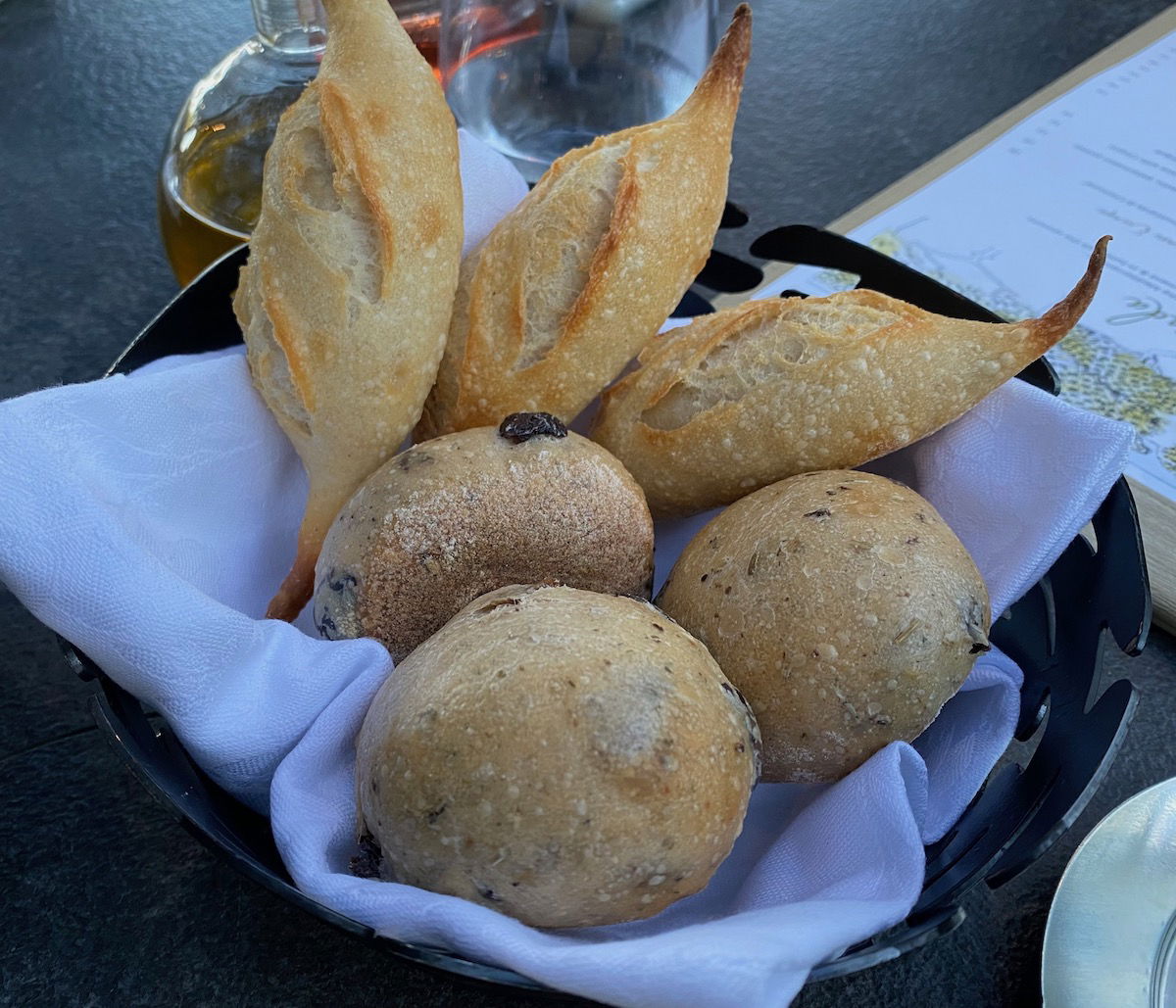 We didn't have starters, but rather ordered mains right away. I had the bouillabaisse, while Ford had the artisanal tagliolini with octopus bolognese and chianti. We loved both dishes, from the taste to the presentation.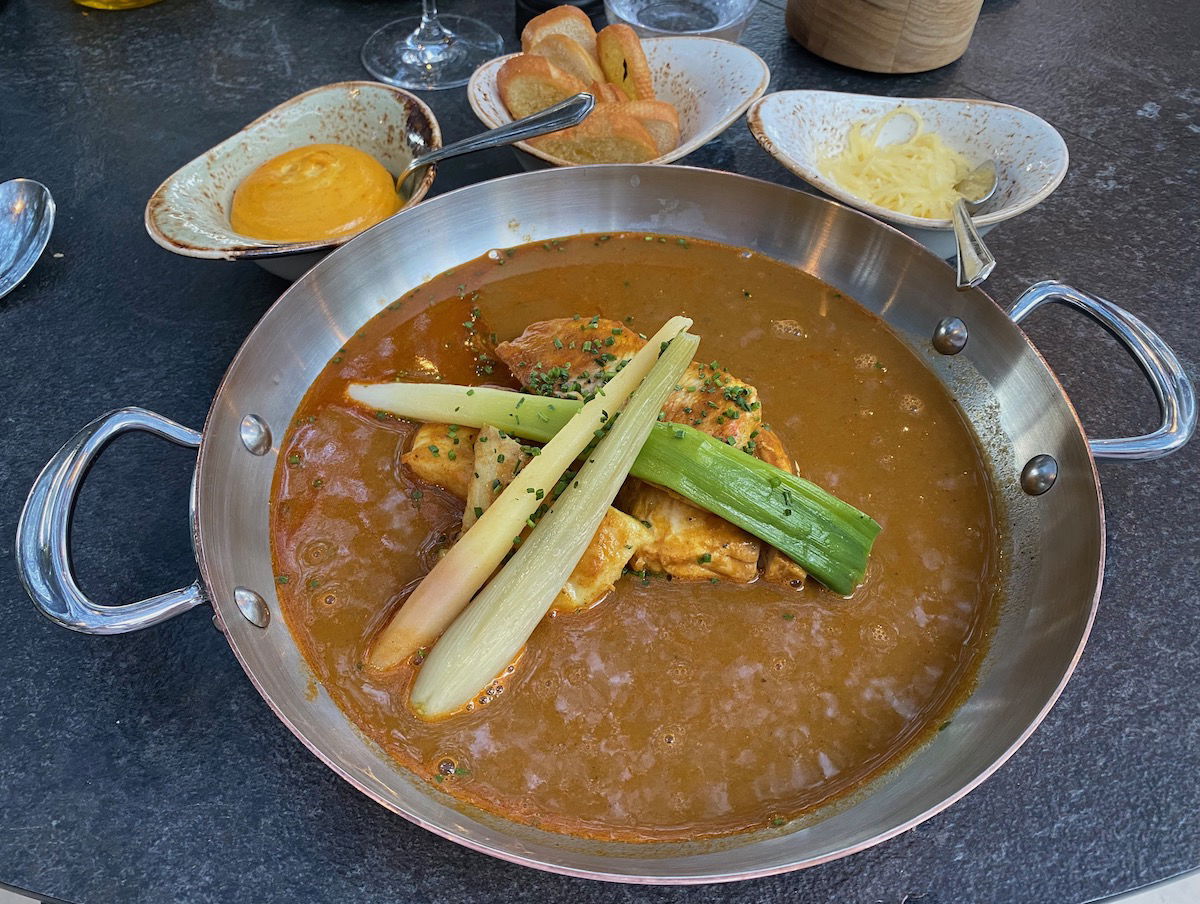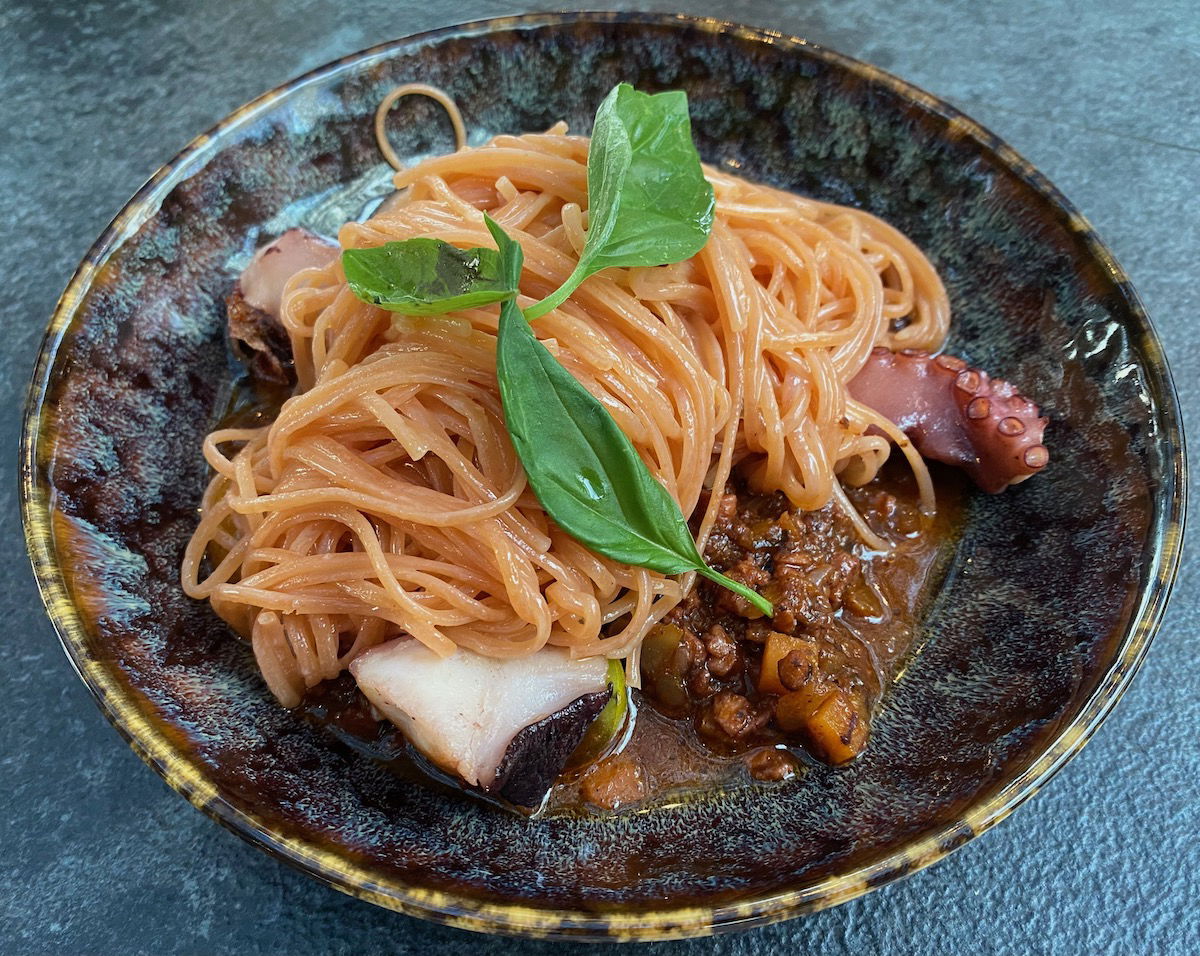 For dessert we decided to have two fruity options, including the bell pepper and raspberry harissa with sweet chips, and coconut milk rice with exotic fruits.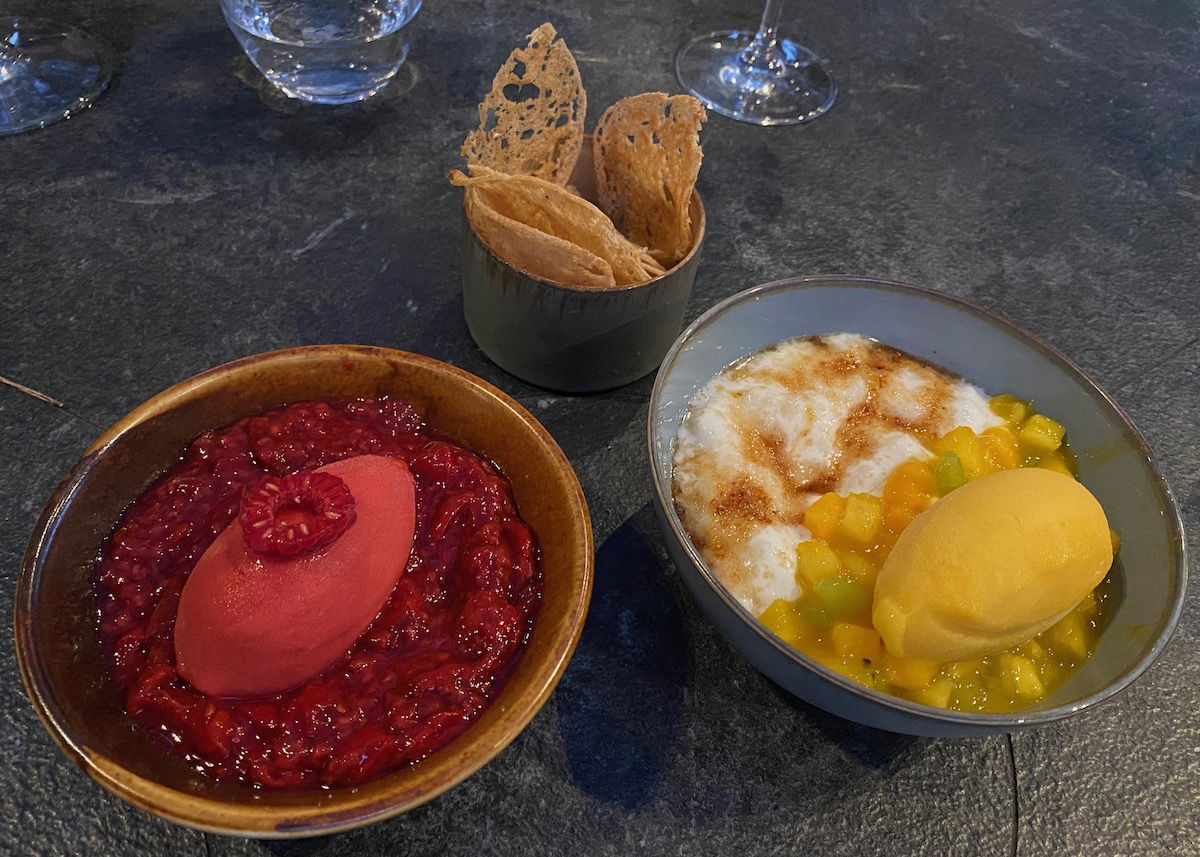 The entire meal was top notch.
Other Four Seasons Cap-Ferrat dining venues
As mentioned above, Le Cap is the Four Seasons' most premium restaurant. We didn't eat there, but it has a similar setting to La Veranda. Le Cap is just across from Le Bar, and beneath La Veranda.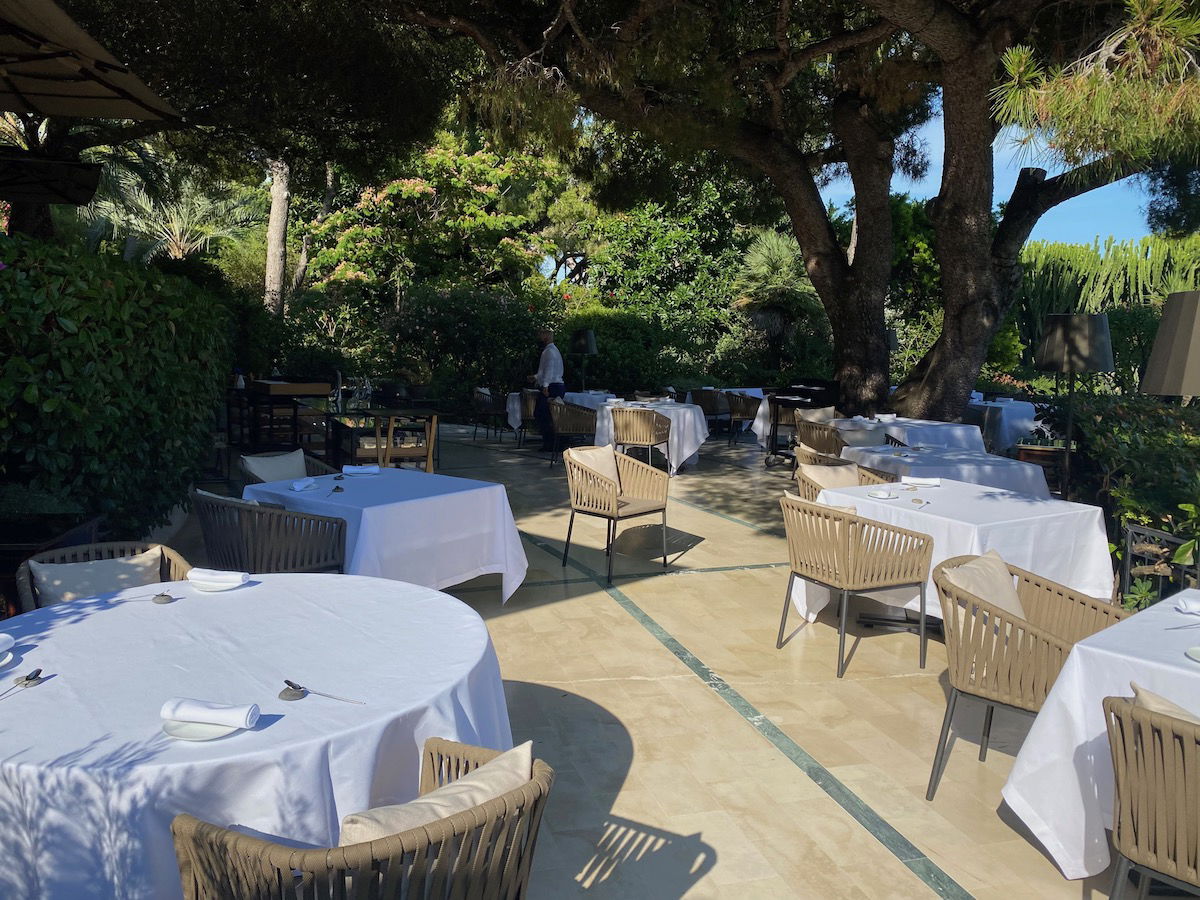 The Four Seasons also has some indoor dining space that could be used for either restaurant, but with perfect weather it wasn't being utilized.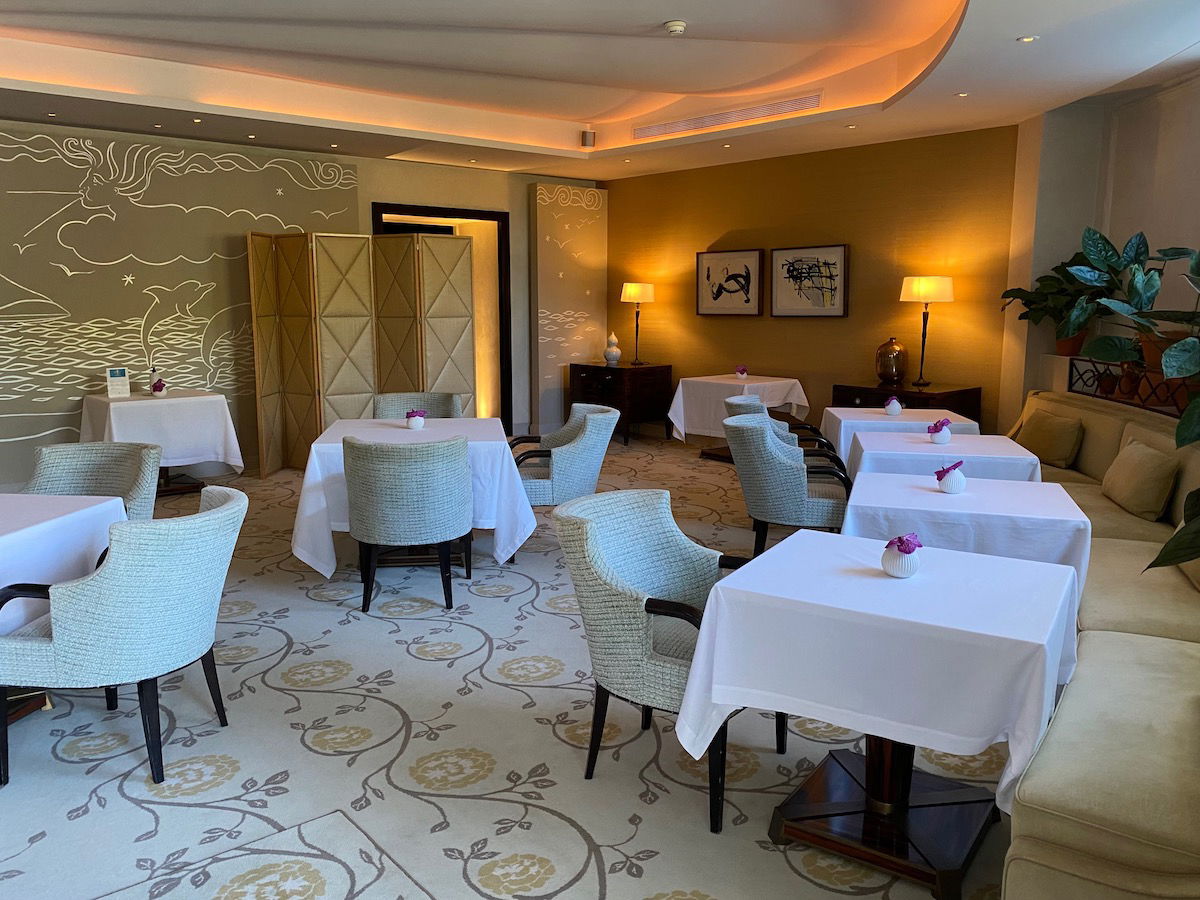 There was also an indoor bar area just off the lobby, though again, it wasn't being used this time of year.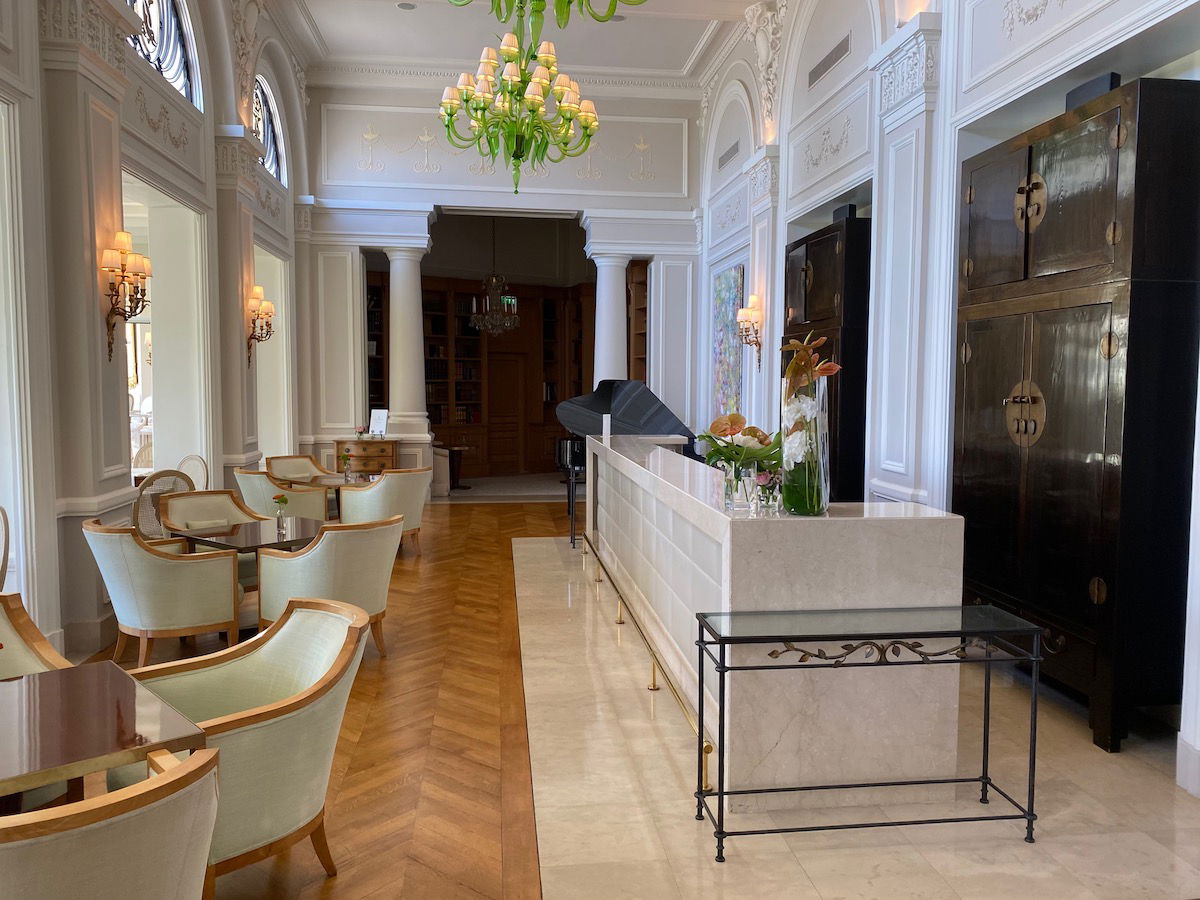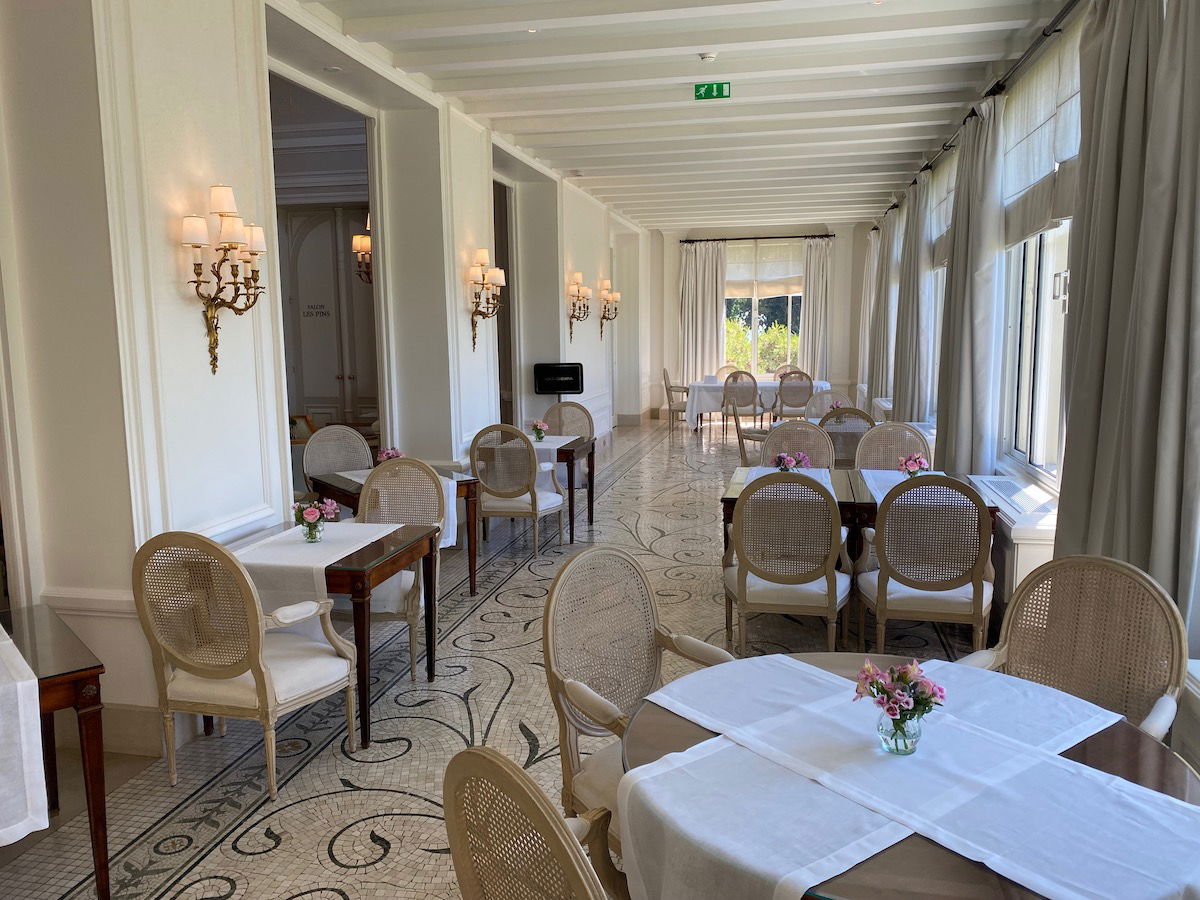 Four Seasons Cap-Ferrat service
Four Seasons consistently nails it when it comes to service. The company seems to hire for personality, and then train really well. Virtually all of the employees we interacted with were not only personable and charming, but also genuinely eager to help. This was true across front office staff, restaurant workers, housekeepers, pool attendants, and more.
Four Seasons Cap-Ferrat scene & area
Obviously the Four Seasons Cap-Ferrat is quite a scene, and the people watching is endlessly amazing. That being said, Cap-Ferrat as such is not nearly as much of a scene as Saint Tropez, for example. In Saint Tropez you have a countless number of beach clubs, hotels, and restaurants.
Cap-Ferrat, on the other hand, mostly has houses, and the Four Seasons is one of the only hotels in the area. As a result, the area is really quiet, and you almost feel like you're in a residential area. If you're into hiking, walking, stepping, or whatever you'd like to call it, the Four Seasons is an unbeatable place to stay. There's a path right along the sea that goes for miles, and we walked that every morning.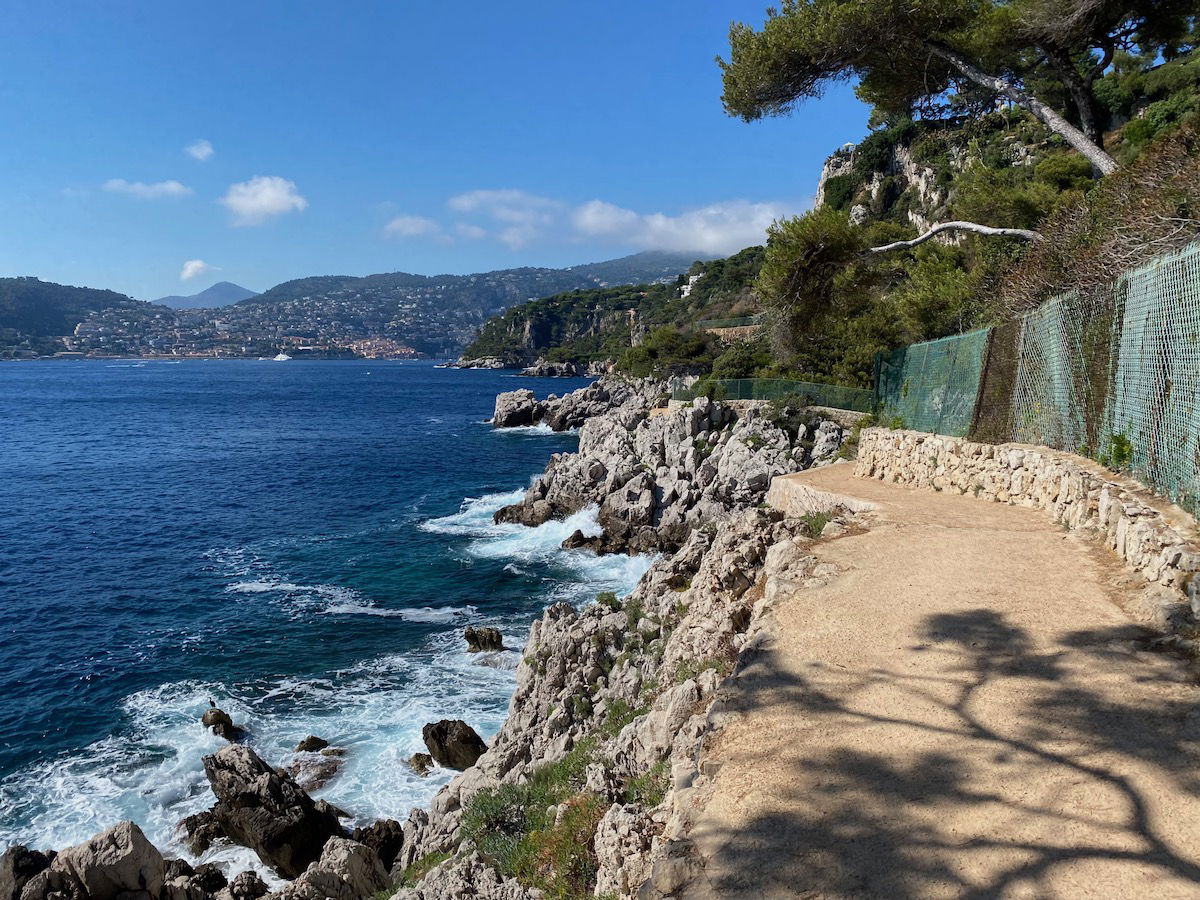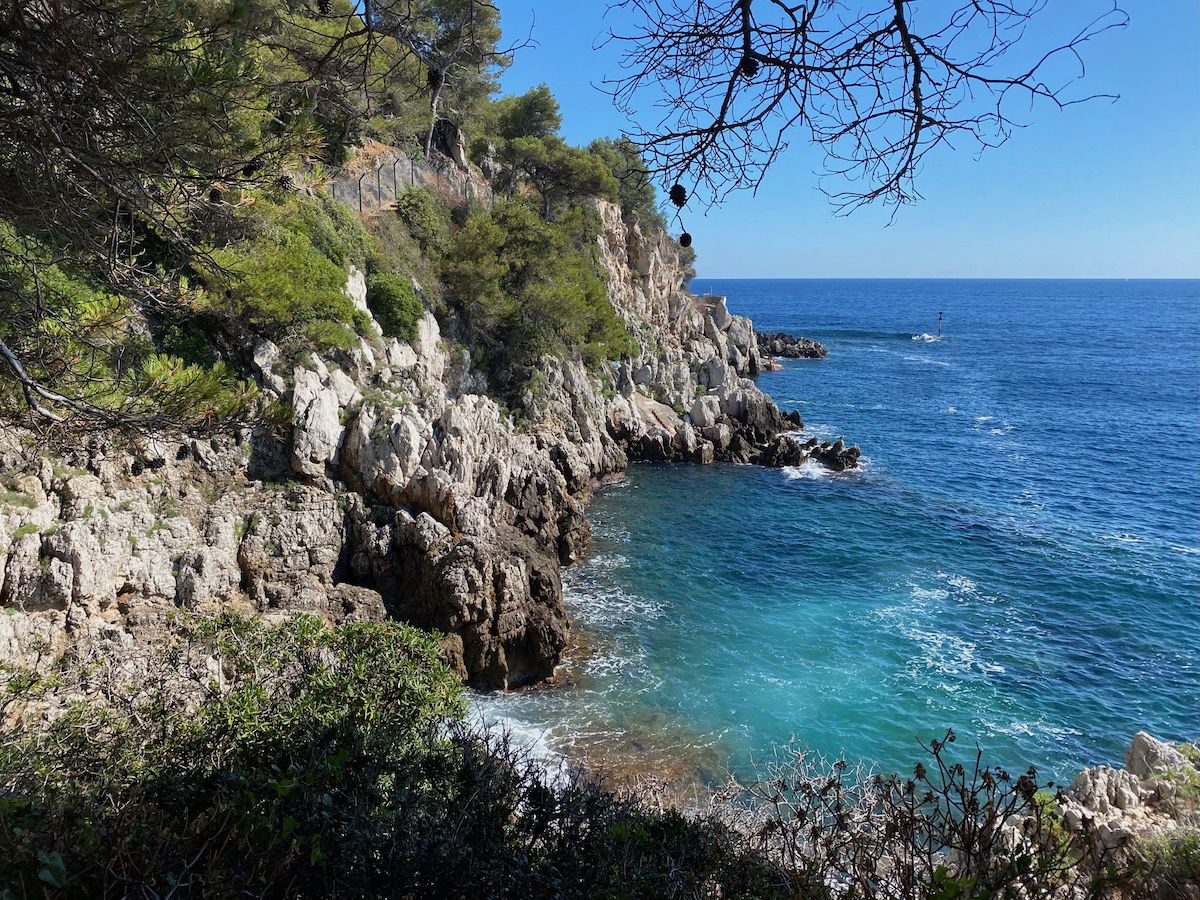 I had to laugh when I saw a Virgin Voyages ship parked just off the coast near Cap-Ferrat — I used to be able to see that ship from my apartment in Miami around the start of the pandemic, and now I saw it in Cap-Ferrat. Hah.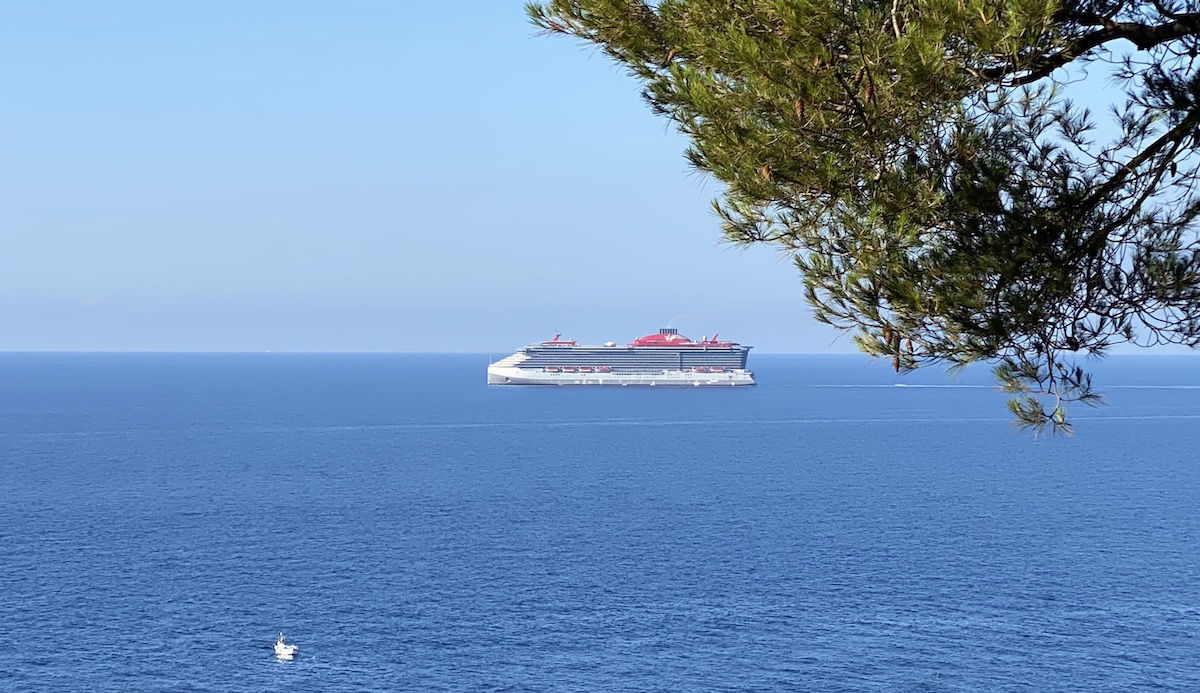 Even though Cap-Ferrat is quiet, don't worry, you won't get bored. There are a few beach clubs not far from the hotel that you can visit during the day.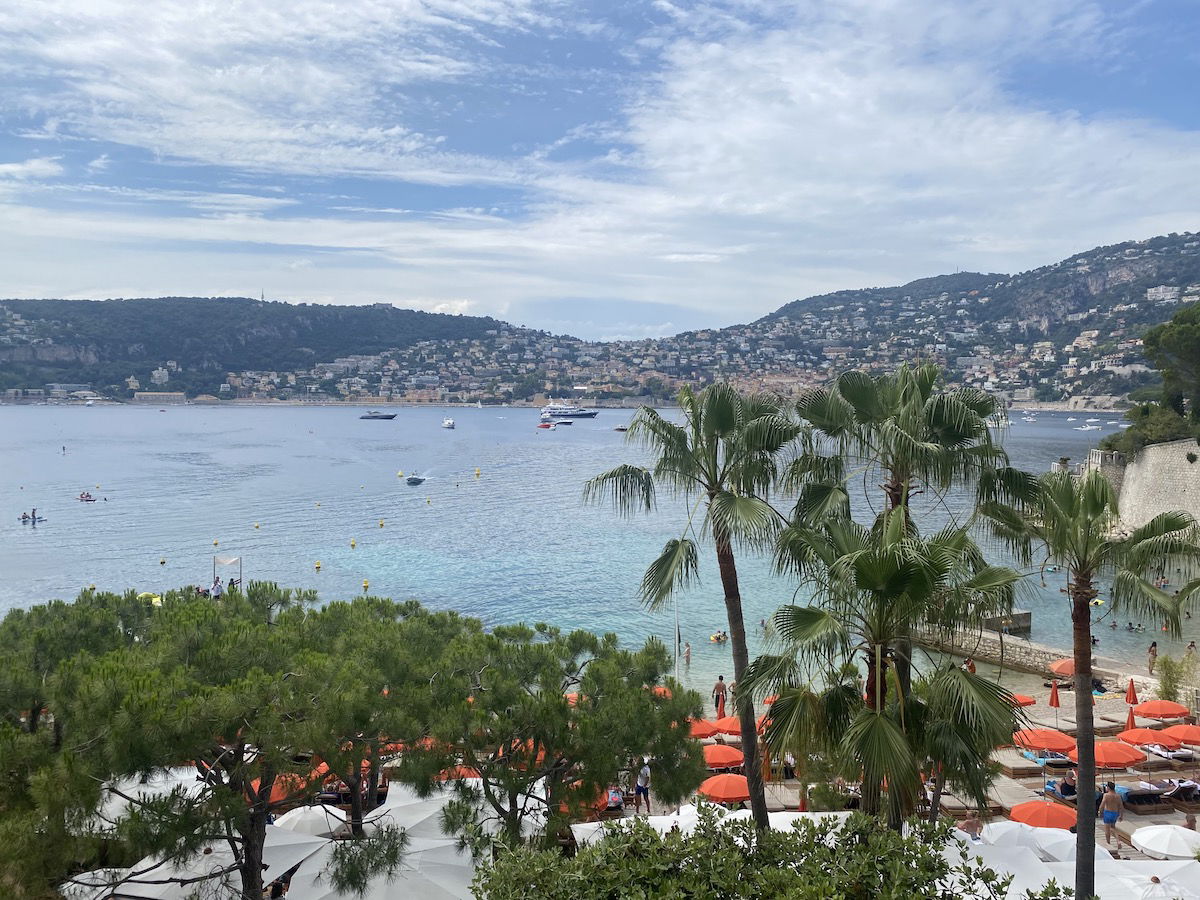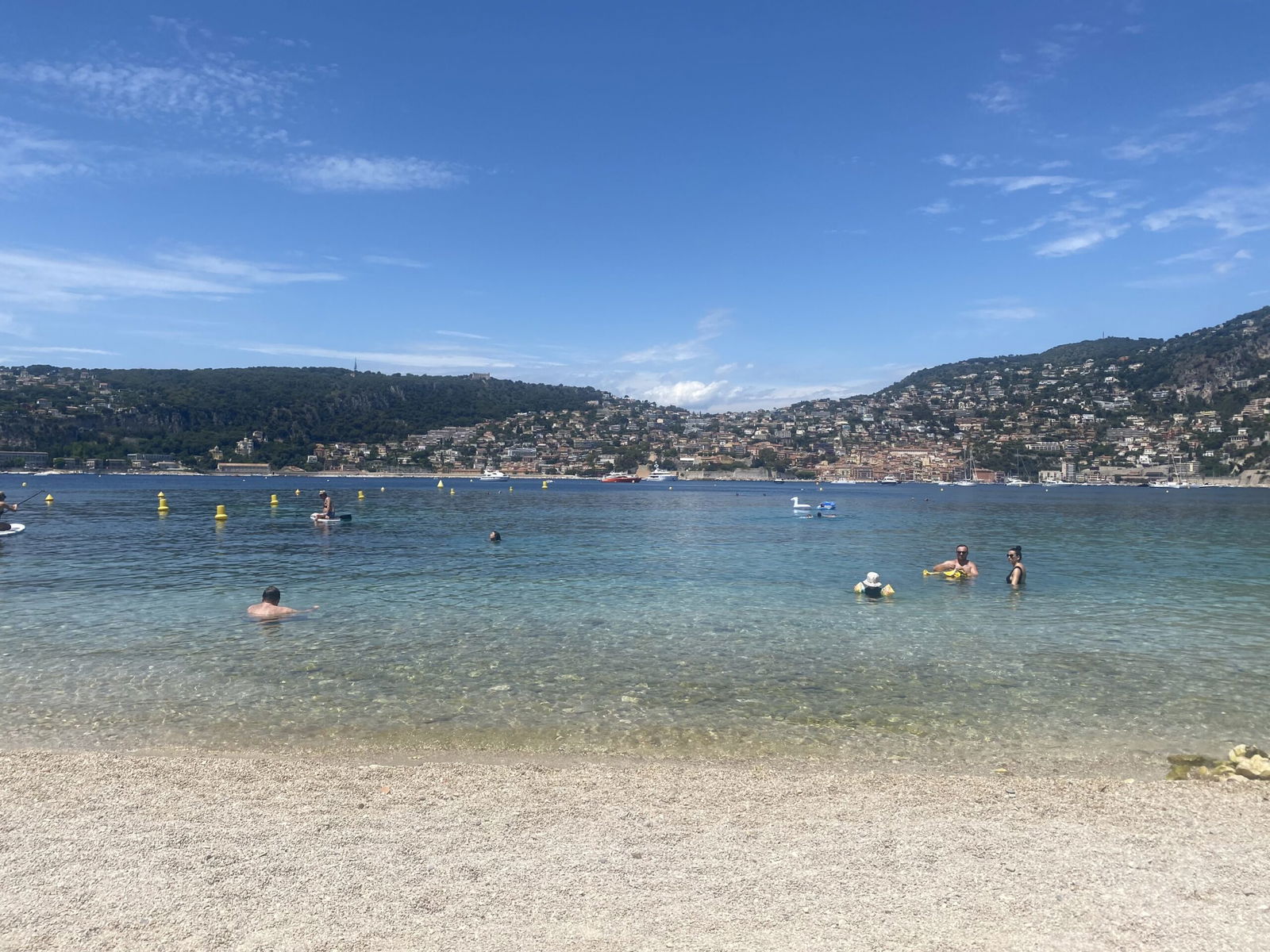 Cap-Ferrat is also only 20-30 minutes from Monaco and Nice, should you want to visit either place during your stay, given all the restaurants and shopping that gets you access to.
Bottom line
The Four Seasons Cap-Ferrat combines the best of a historic hotel in the South of France with the typical Four Seasons amenities and service you'd expect. The hotel features beautifully appointed rooms, great restaurants, a pool club, and a special setting.
It goes without saying the hotel is pricey, but that's to be expected — the peak season is short, and for that matter this hotel seems to run close to 100% occupancy in July and August, with many guests returning year after year.
If you enjoy luxury hotels in the South of France but have previously primarily gone to Saint Tropez, Cap-Ferrat is a great, quieter alternative (or perhaps complement, if you're staying for longer).
If you've stayed at the Four Seasons Cap-Ferrat, what was your experience like?
EXTRA PERKS AVAILABLE
Enjoy breakfast, upgrades, & more
Want to take advantage of Four Seasons Preferred Partner benefits, including a space available room upgrade, complimentary breakfast, a hotel credit, and more? Contact Ford ([email protected]) for more details. He may even be able to help if you already have a stay booked.
Read Four Seasons reviews: Athens, Boston, Cap-Ferrat, Denver, Desroches Island, Florence, Fort Lauderdale, Hualalai, Lanai, Los Cabos, Madrid, Maldives at Landaa Giraavaru, Maui, Megeve, Miami, Napa Valley, Naviva, Oahu at Ko Olina, Paris, Punta Mita, San Francisco at Embarcadero, Scottsdale, Seychelles, and Surfside
Learn about Four Seasons deals & offers: Anguilla, Athens, Atlanta, Austin, Bahamas, Bora Bora, Boston, Cap-Ferrat, Costa Rica, Dubai, Fort Lauderdale, Hawaii, Jackson Hole, London, Los Cabos, Maldives, Minneapolis, Nashville, Naviva, New York, Napa Valley, New Orleans, Orlando, Palm Beach, Paris, Philadelphia, Punta Mita, San Francisco, Santa Fe, Seattle, Sicily, Tamarindo, and Vail
Learn about Four Seasons basics: Four Seasons Preferred Partner, Four Seasons Private Retreats, Four Seasons Private Jet, Four Seasons travel agents, Four Seasons loyalty program, and maximizing value at Four Seasons