EXTRA PERKS AVAILABLE
Enjoy breakfast, upgrades, & more
Want to take advantage of Four Seasons Preferred Partner benefits, including a space available room upgrade, complimentary breakfast, a hotel credit, and more? Contact Ford ([email protected]) for more details. He may even be able to help if you already have a stay booked.
We spent the majority of our time in Paris at the 244-room Four Seasons George V, which is one of the most famous Four Seasons properties in the world, and for that matter one of the most well regarded luxury properties in Paris.
While the Ritz-Paris and Cheval Blanc were both impressive in their own way, to me the Four Seasons offered the all-around best experience. The hotel is gorgeous, has impeccable service, and features three different Michelin-starred restaurants. Furthermore, while the hotel no doubt caters to outside guests as well, I appreciated how hotel guests were made to feel like a priority (which isn't a feeling I got at the Ritz Paris, by comparison).
With that out of the way, let's get into the review.
How to book the Four Seasons Paris
Full disclosure — while we pay the going rate for a vast majority of our hotel stays (including the one night stays we did at the Ritz Paris and Cheval Blanc Paris), in this case Ford had won a prize through work with Four Seasons, for a week-long stay at any Four Seasons property. We decided to do four nights here and three nights somewhere else (which I'll review separately). So in this case we didn't pay for the accommodation (including breakfast).
As far as booking the Four Seasons George V goes, rates vary throughout the year (and there are sometimes promotions that can offer additional savings), though generally you can expect that entry level rooms start at around 1,200 EUR per night. This hotel is in the same price range as the Ritz Paris — both hotels have amazing reputations and are Paris institutions, and they charge accordingly.
Anyway, the best way to book any Four Seasons property is through a travel advisor affiliated with the Four Seasons Preferred Partner program. You pay the same rate you'll find directly on Four Seasons' website, but you'll receive extra perks, including things like room upgrades, complimentary breakfast, and a hotel credit.
Booking Four Seasons properties through Preferred Partner is better than booking through programs like Amex Fine Hotels & Resorts. That's because upgrades are generally prioritized for Preferred Partner guests, and on top of that Preferred Partner perks can be stacked with virtually any publicly available Four Seasons rate.
You can't beat getting all of these extra perks just for booking through an eligible travel advisor. Ford is of course more than happy to help anyone book Four Seasons properties through Preferred Partner, and can be reached at [email protected] He doesn't charge any booking fees for Four Seasons properties.
Four Seasons Paris location
The Four Seasons Paris is located on Avenue George V (hence the name). This is in the heart of the "Golden Triangle," in Paris' 8th arrondissement. There's lots of high-end shopping in the area, and the hotel is within walking distance of the Eiffel Tower, Arc de Triomphe, etc.
Everyone will have different location preferences within Paris. Ford and I love to get our steps in, so for us this was a perfect, central location. We didn't use a taxi once, but rather could comfortably walk everywhere from the hotel.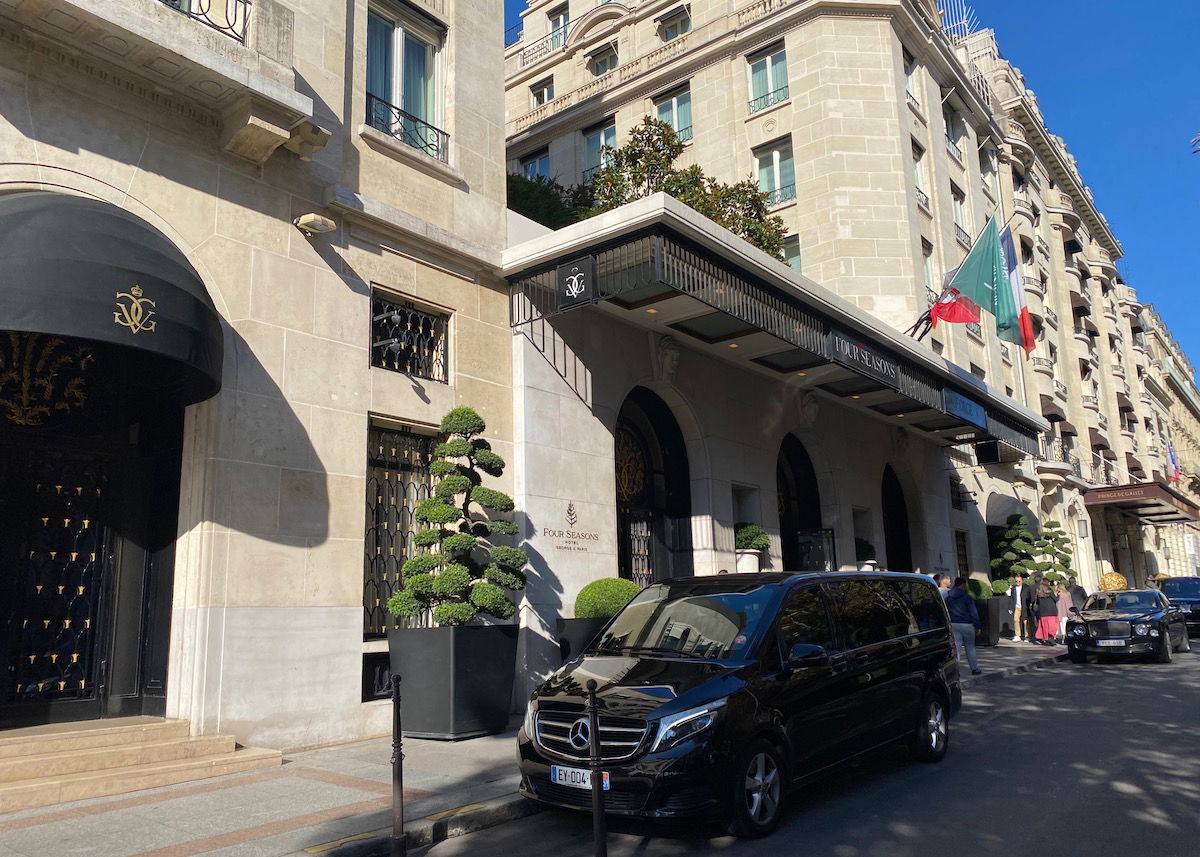 Four Seasons Paris lobby & public areas
The Four Seasons is certainly big on first impressions, as the hotel is known for its over-the-top floral arrangements. Jeff Leatham is the hotel's artistic director, and a big part of that is the flowers. Last I heard (this dates back to before our stay), this hotel spends over $1 million per year on flowers (as one does). New flowers are added every day, and the hotel goes through roughly 12,000 stems per week.
Personally I love the contrast between the beautiful historic building and the vibrant and contemporary flowers, as this is a combination that you won't often find. Anyway, inside the entrance to the hotel is the "grand" lobby area, with the reception desk to the left and the concierge desk to the right.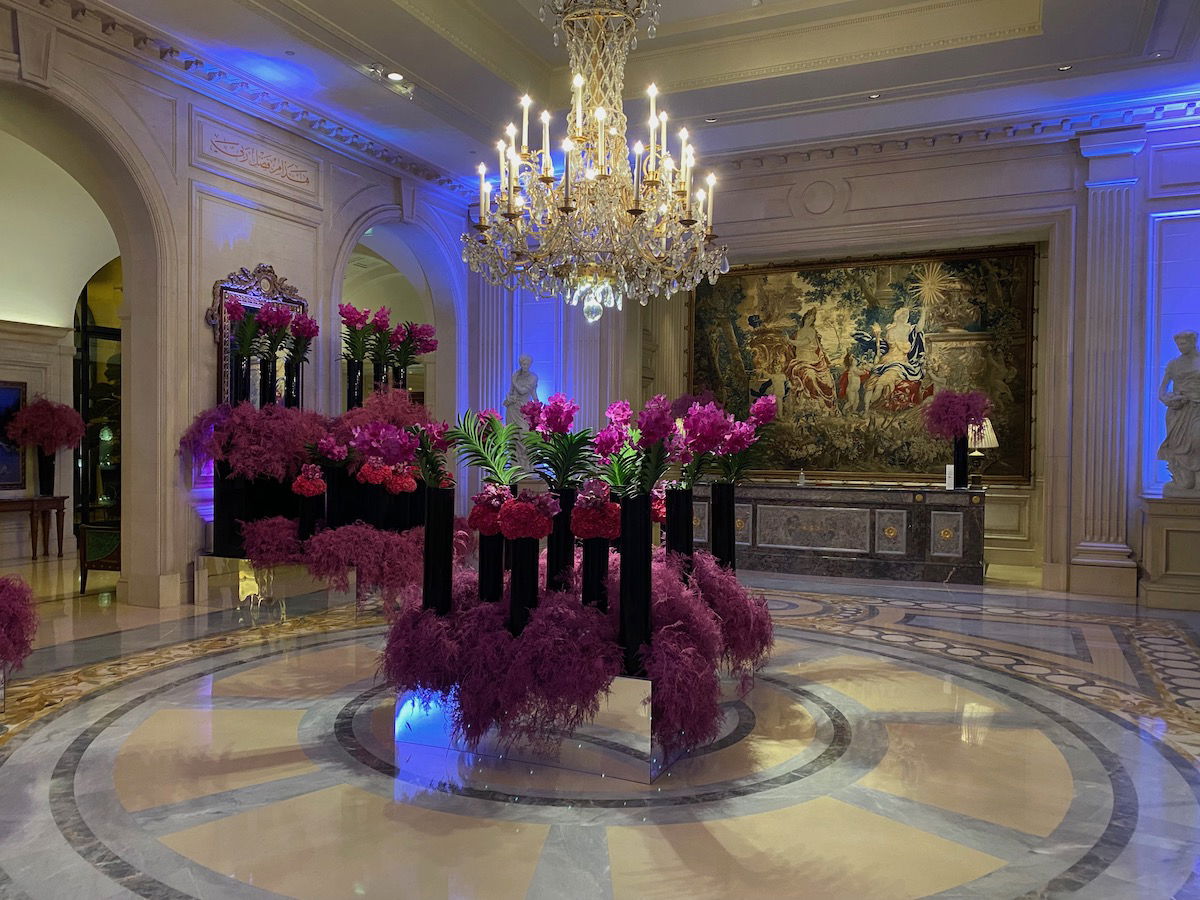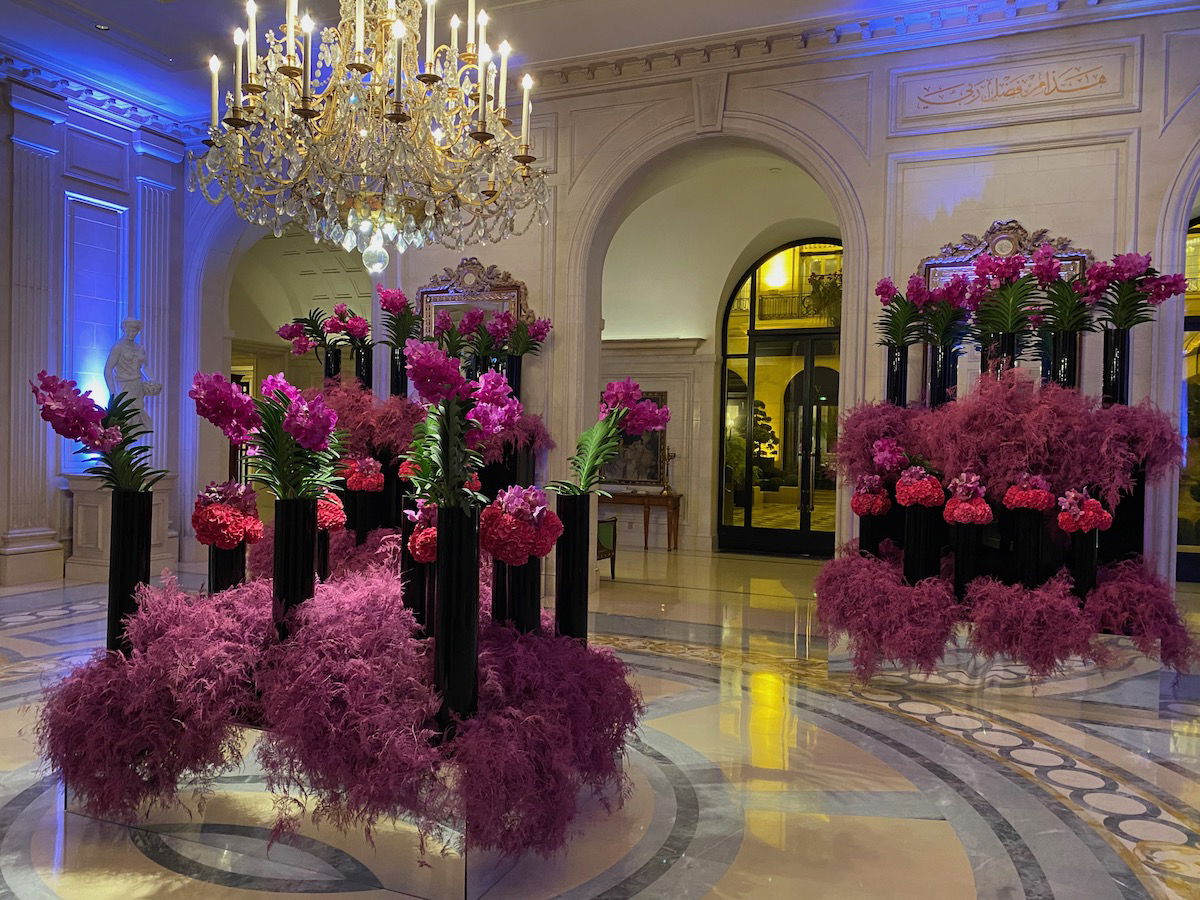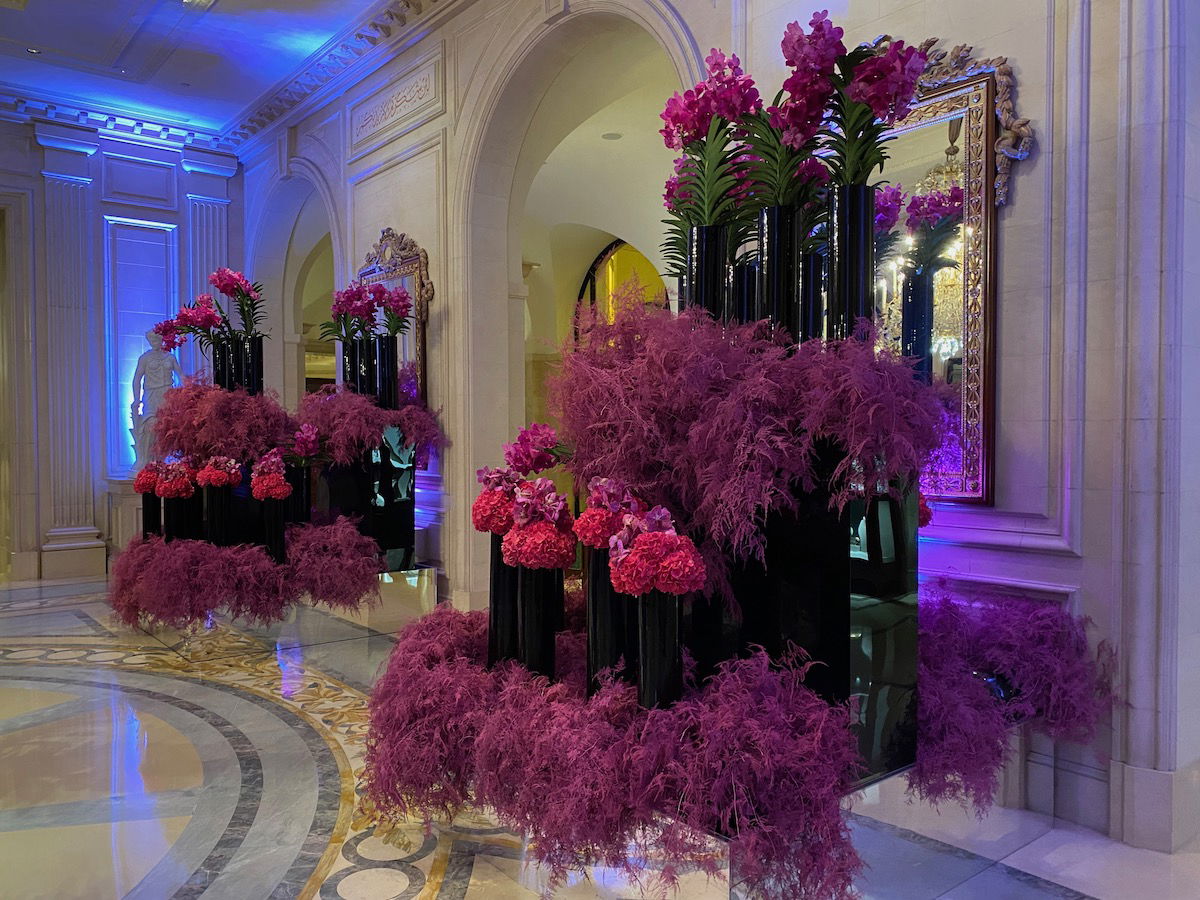 Immediately past the main part of the lobby are the hallways connecting various wings of the hotel, which also feature quite a few flowers.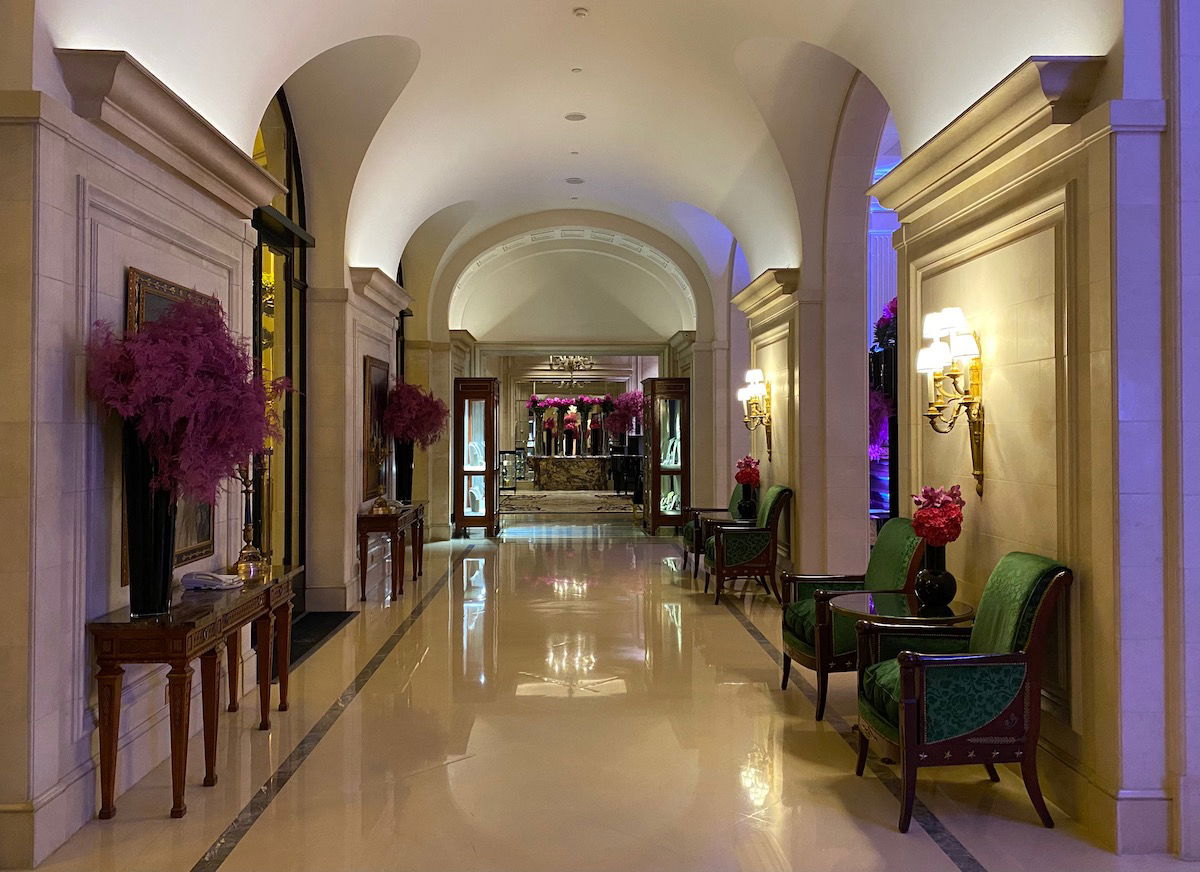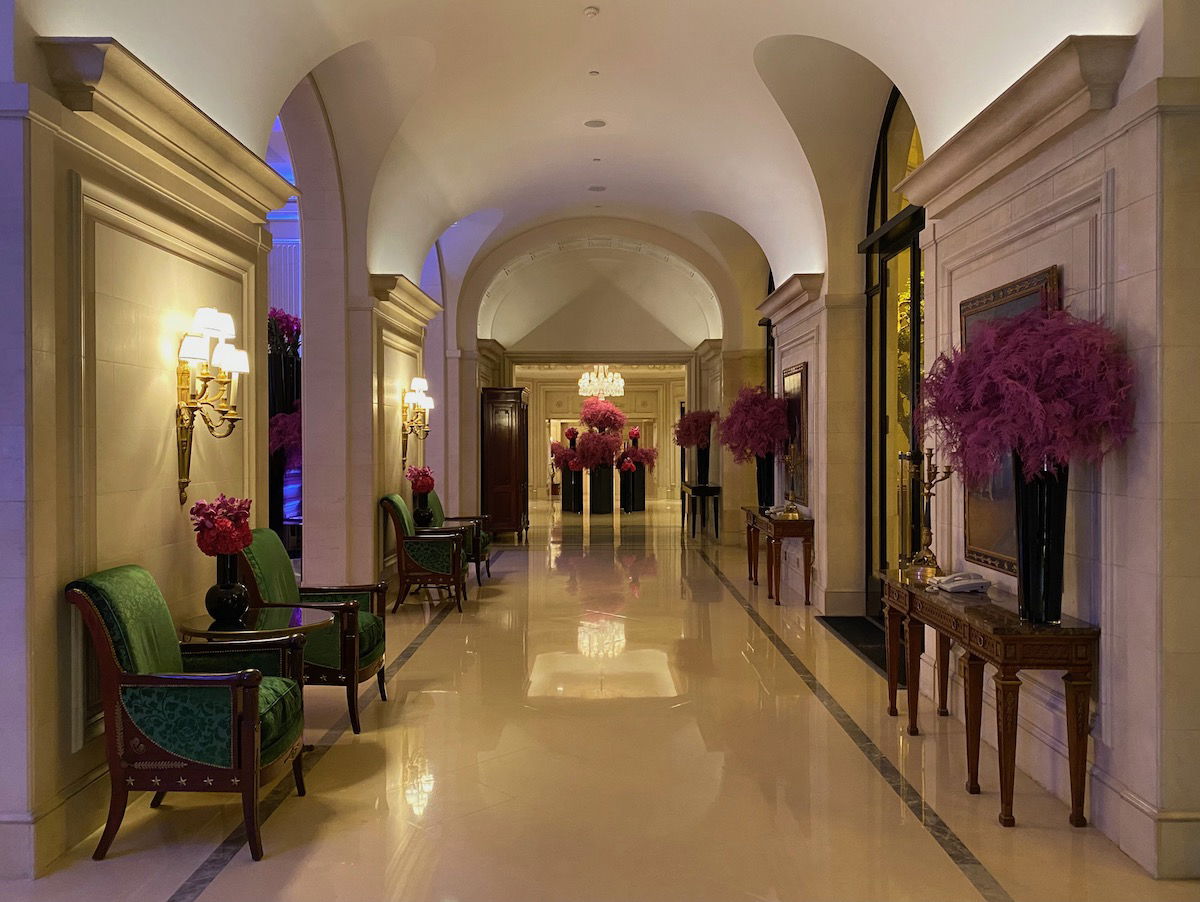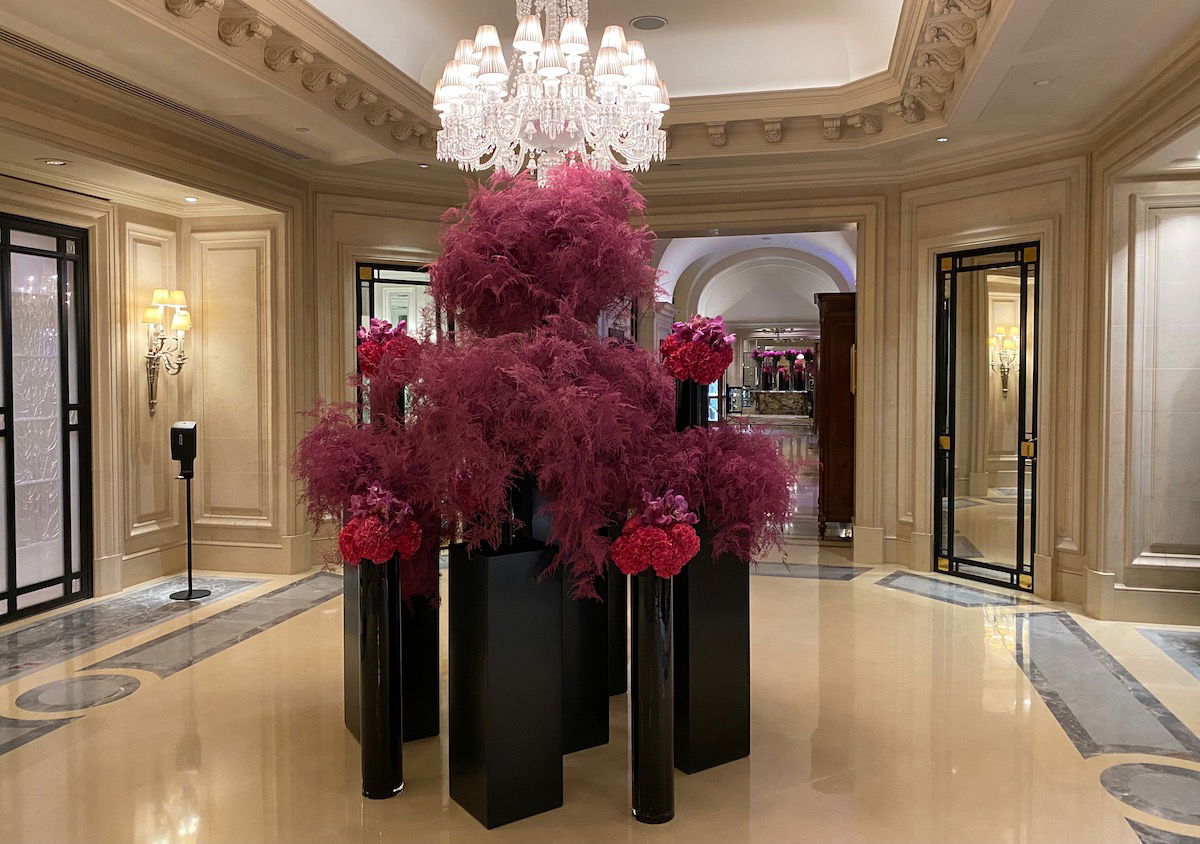 The ground floor of the Four Seasons has an incredible flow, as all five of the property's food & beverage outlets (including the three Michelin-starred restaurants) are located here. There's a central courtyard, and then an outlet on each side. We'll talk more about those in a bit.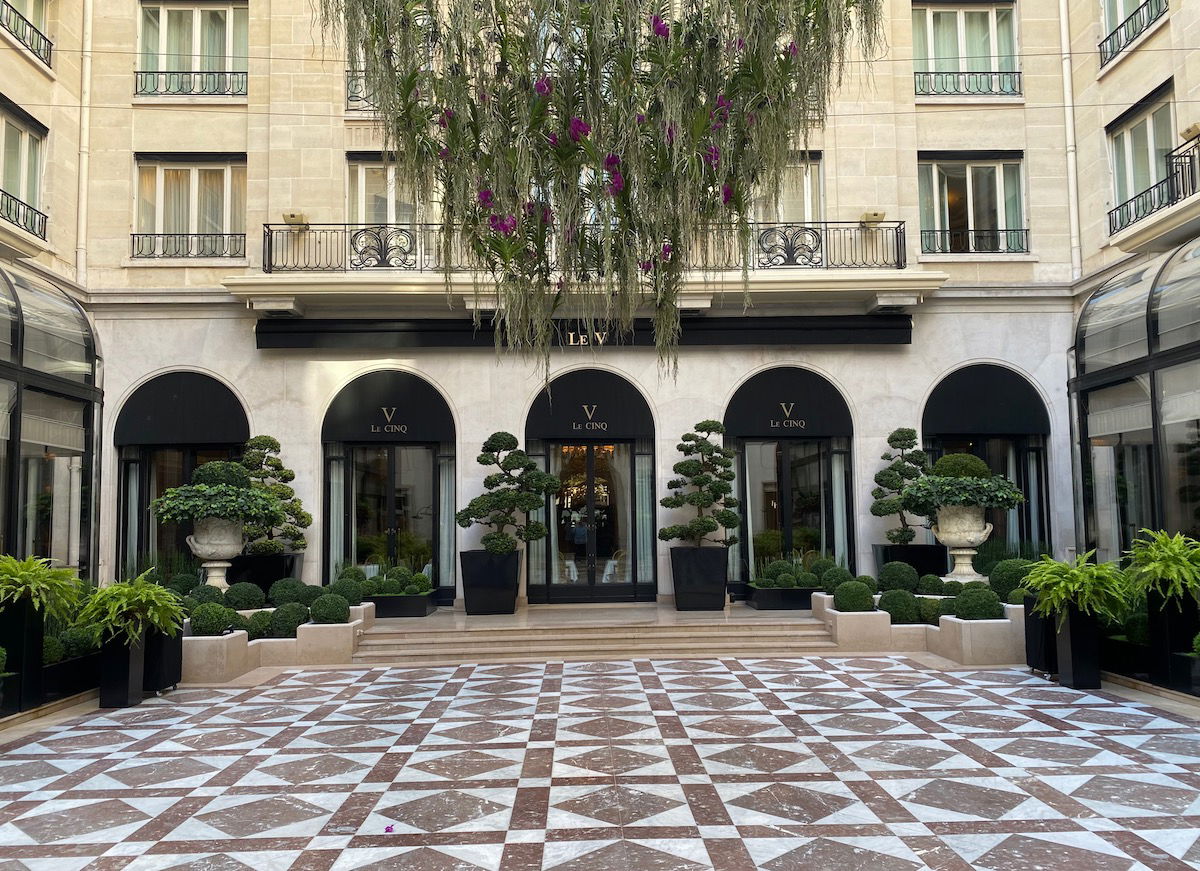 Since the Four Seasons is in a historic building, there are several sets of elevators, each of which is different. The elevators to our room were located to the left of reception.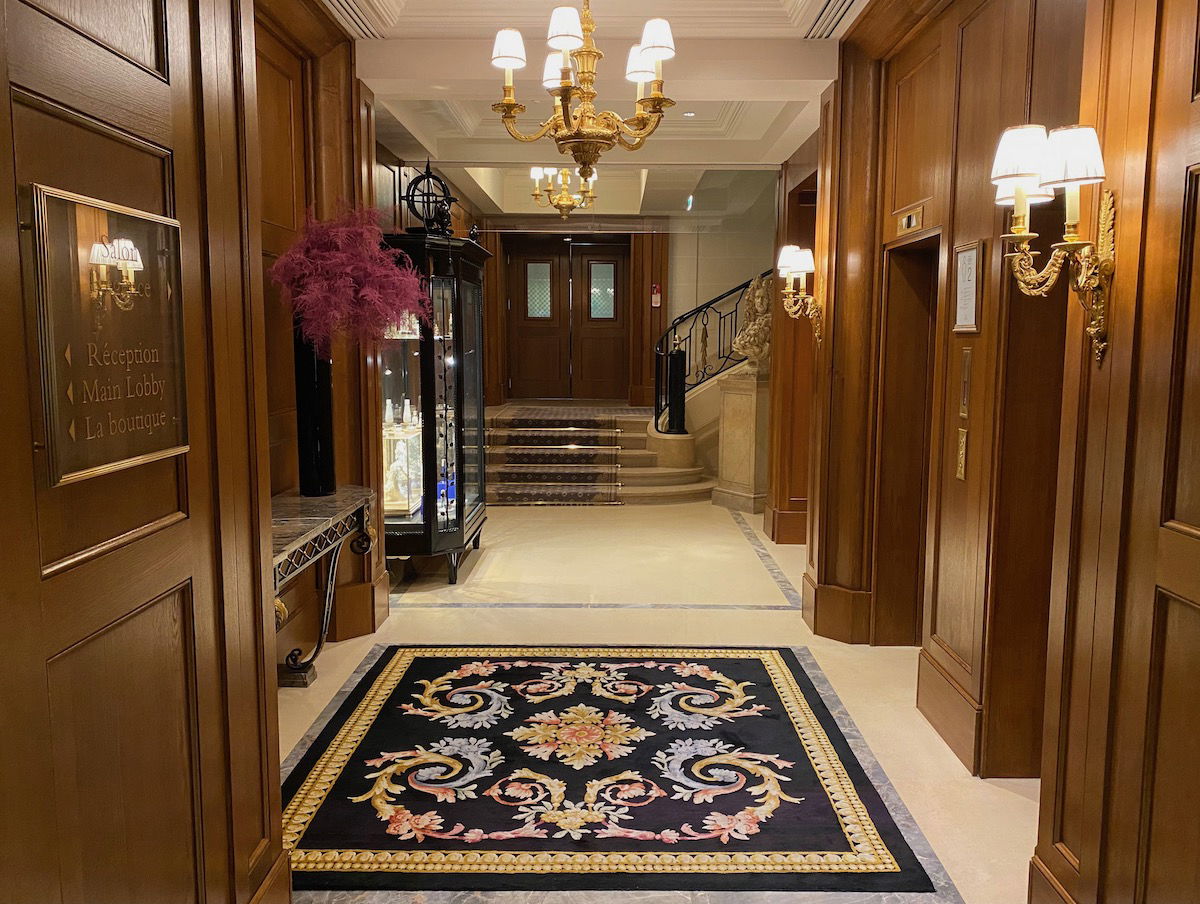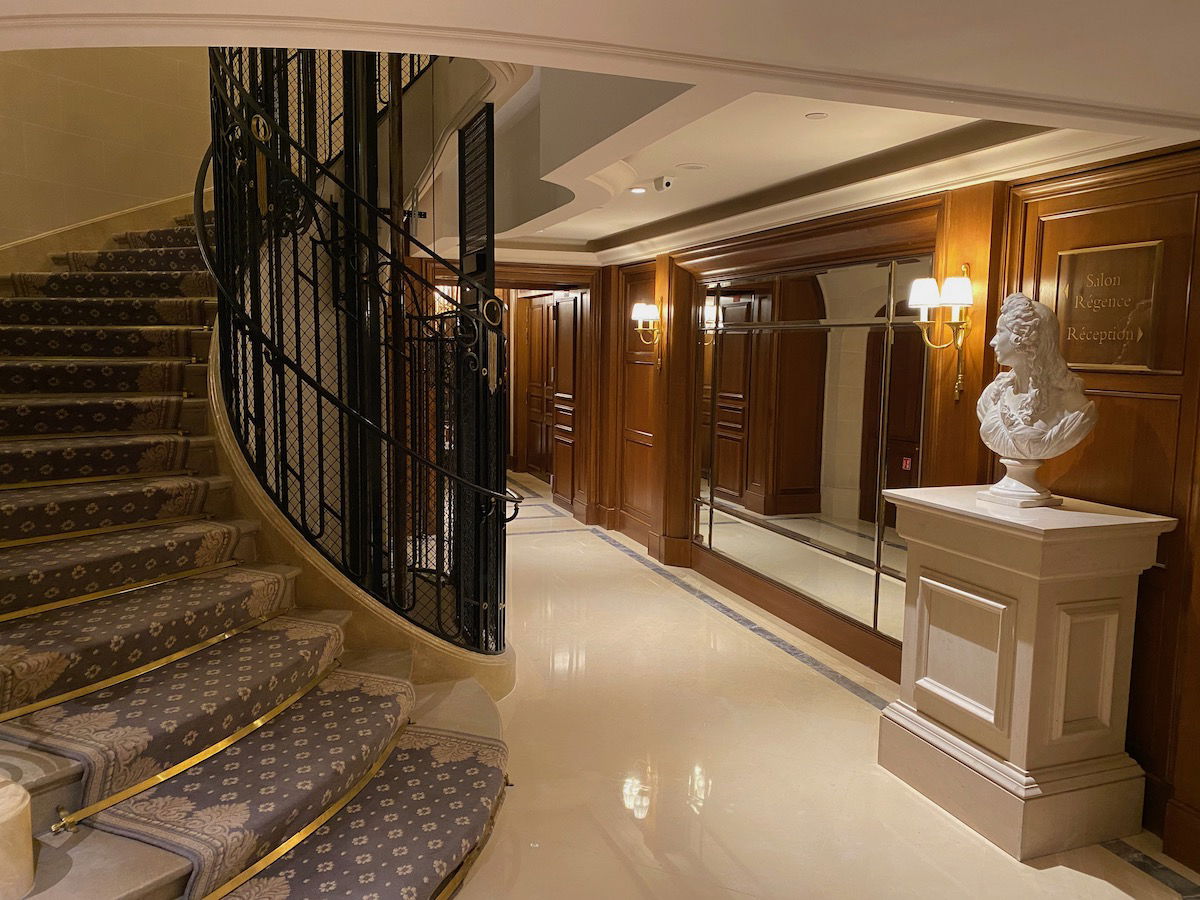 If you want to get your steps in, there's a pretty staircase in this area as well.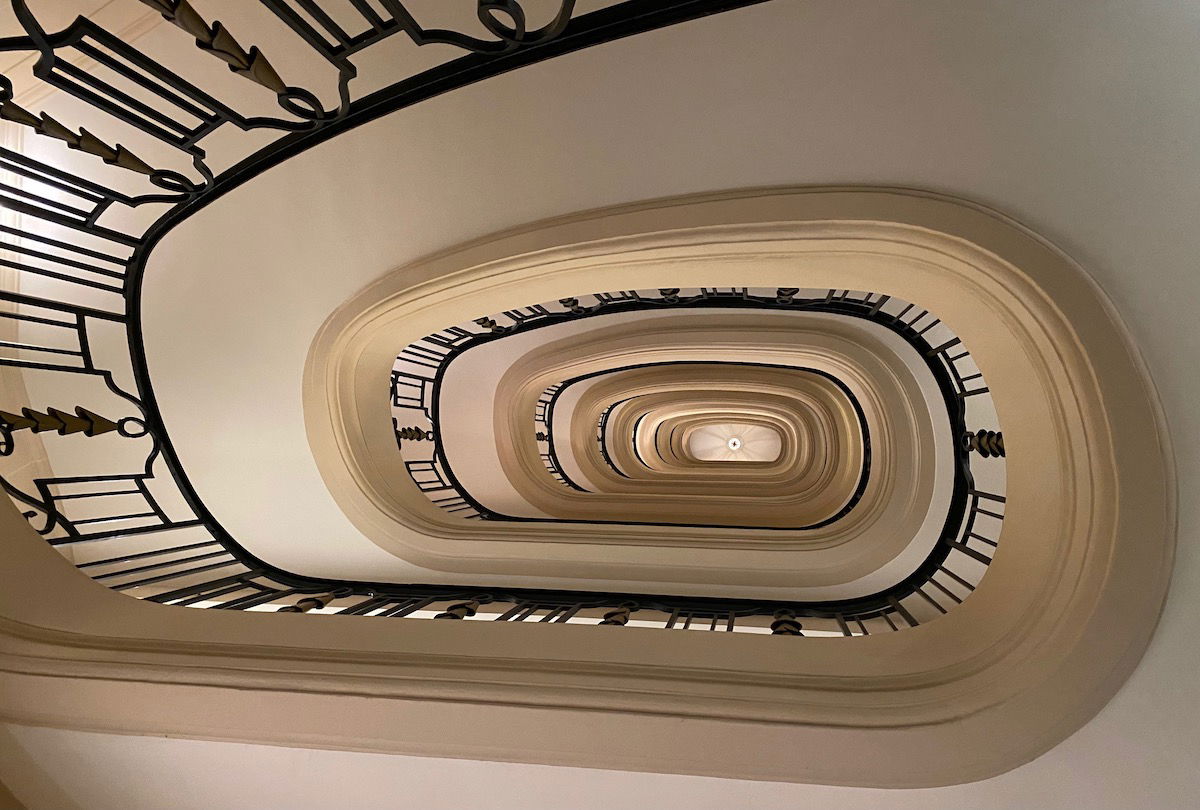 Four Seasons Paris suite
We were assigned room 331, a Four Seasons Suite (this is the hotel's standard suite) on the third floor. While I wouldn't want my home furnished like this, I found the decor of the hallways to be charming, and have a real sense of place.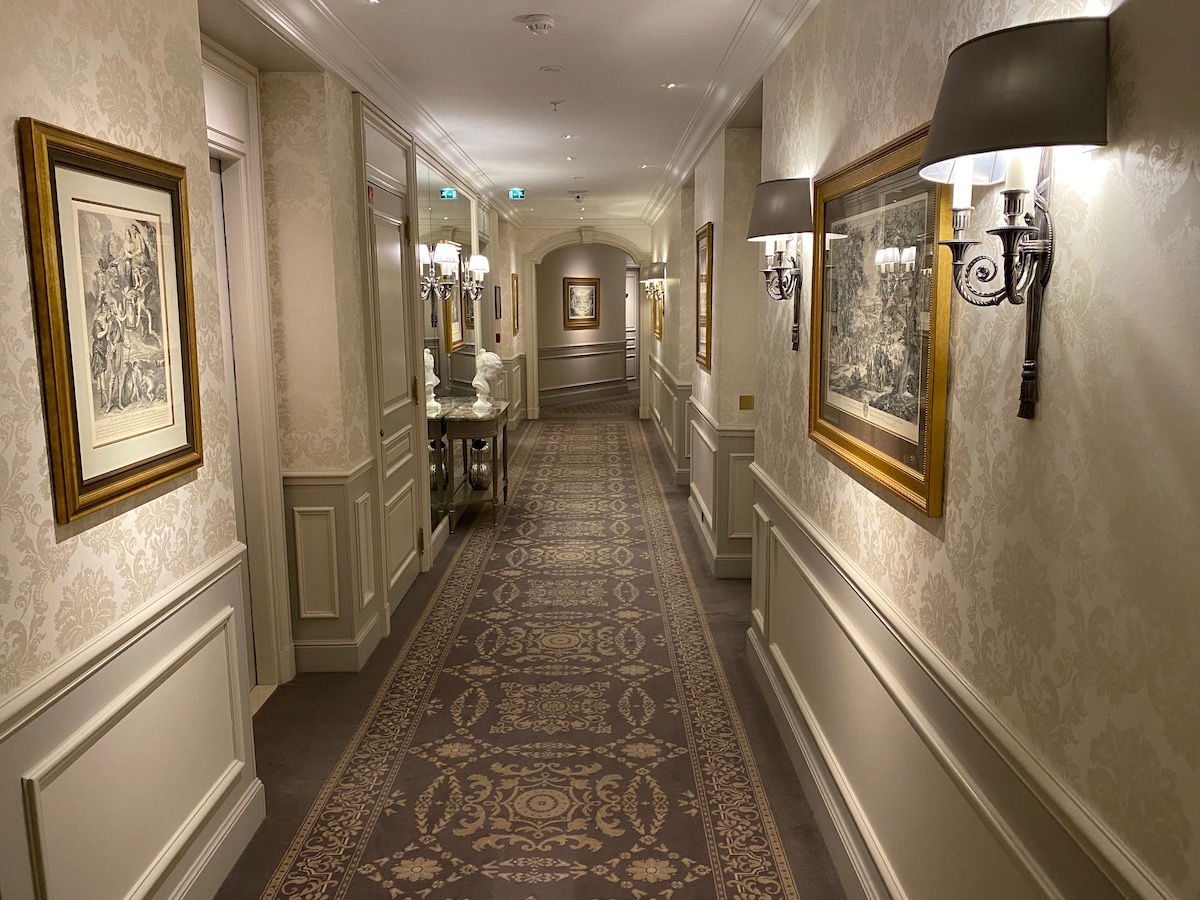 Inside the entrance to the suite was a half bath immediately to the right, and then a living room straight ahead.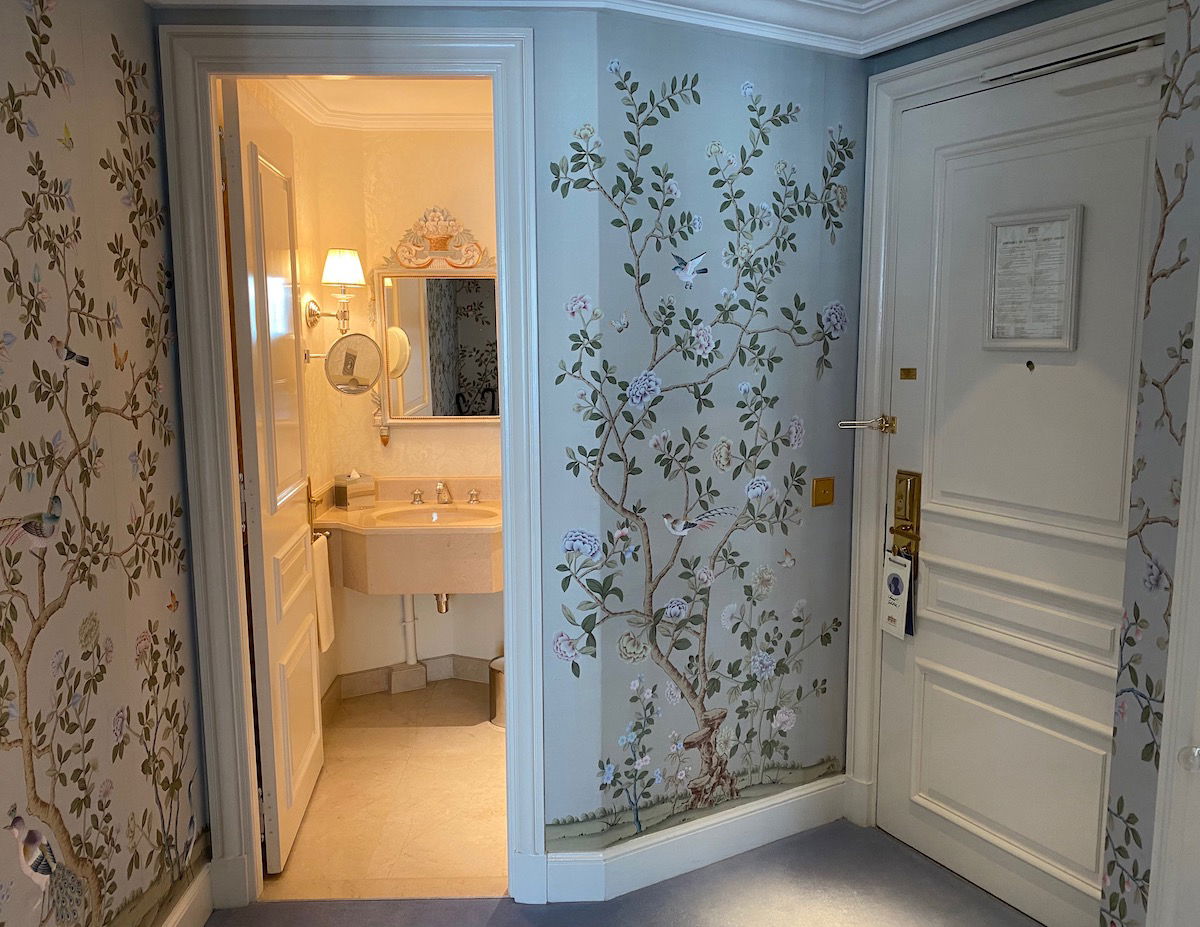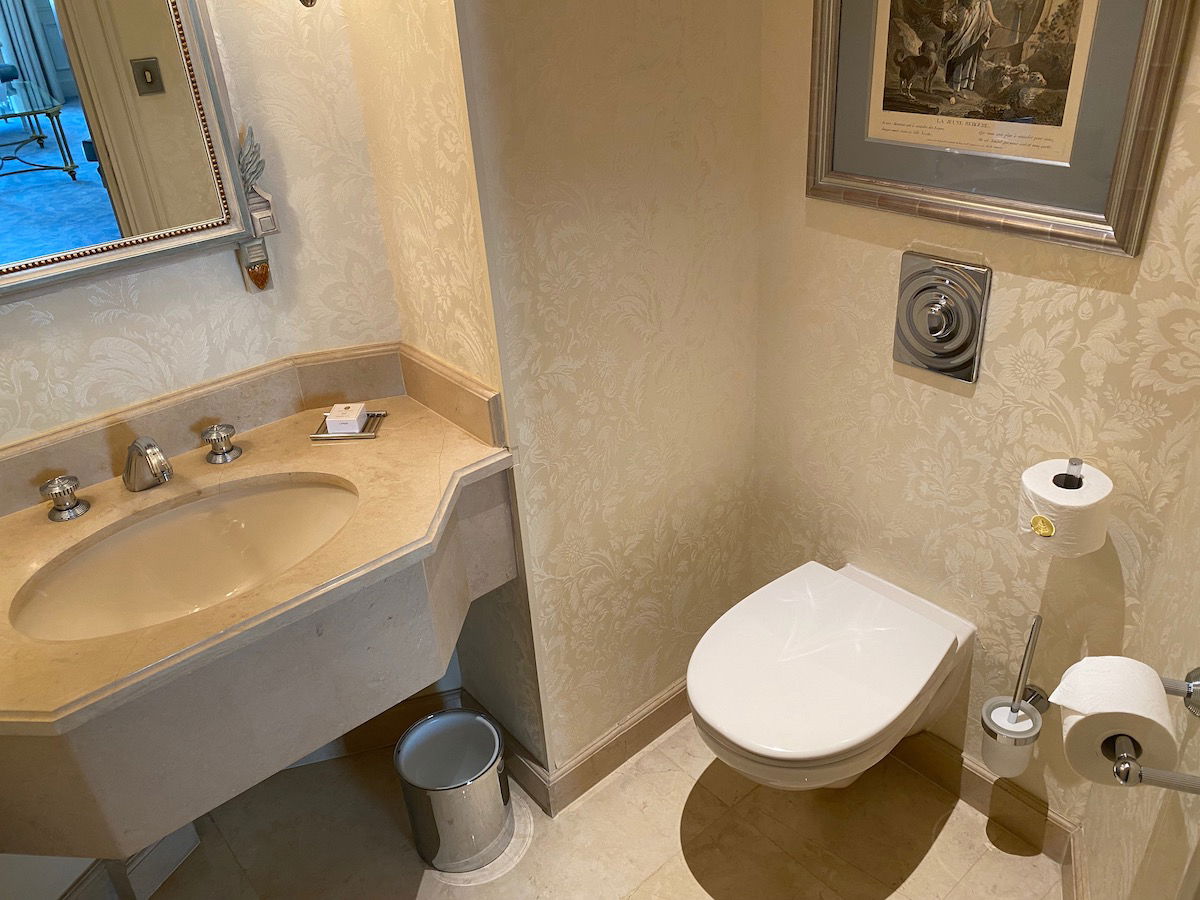 The living room was generously sized, and featured a couch with a TV, two chairs, and then a desk with a chair.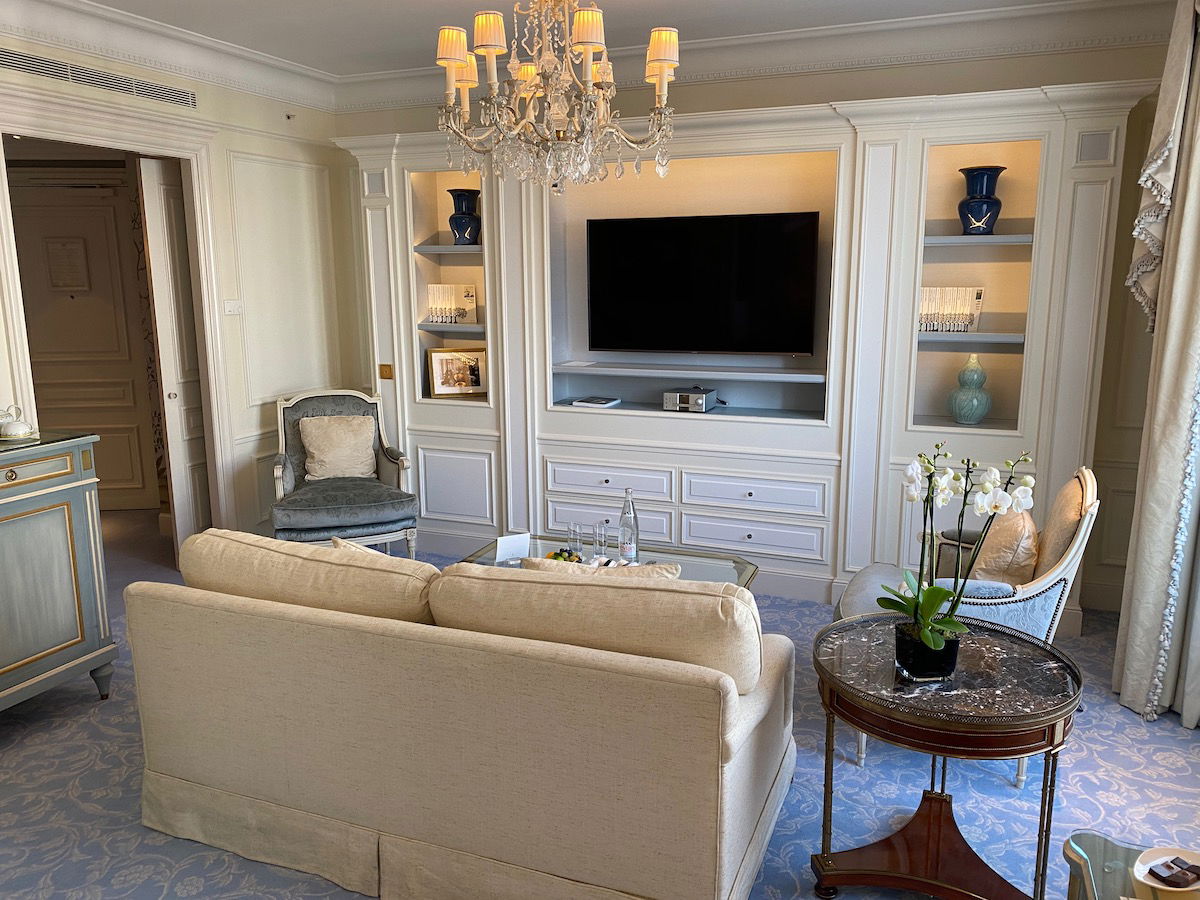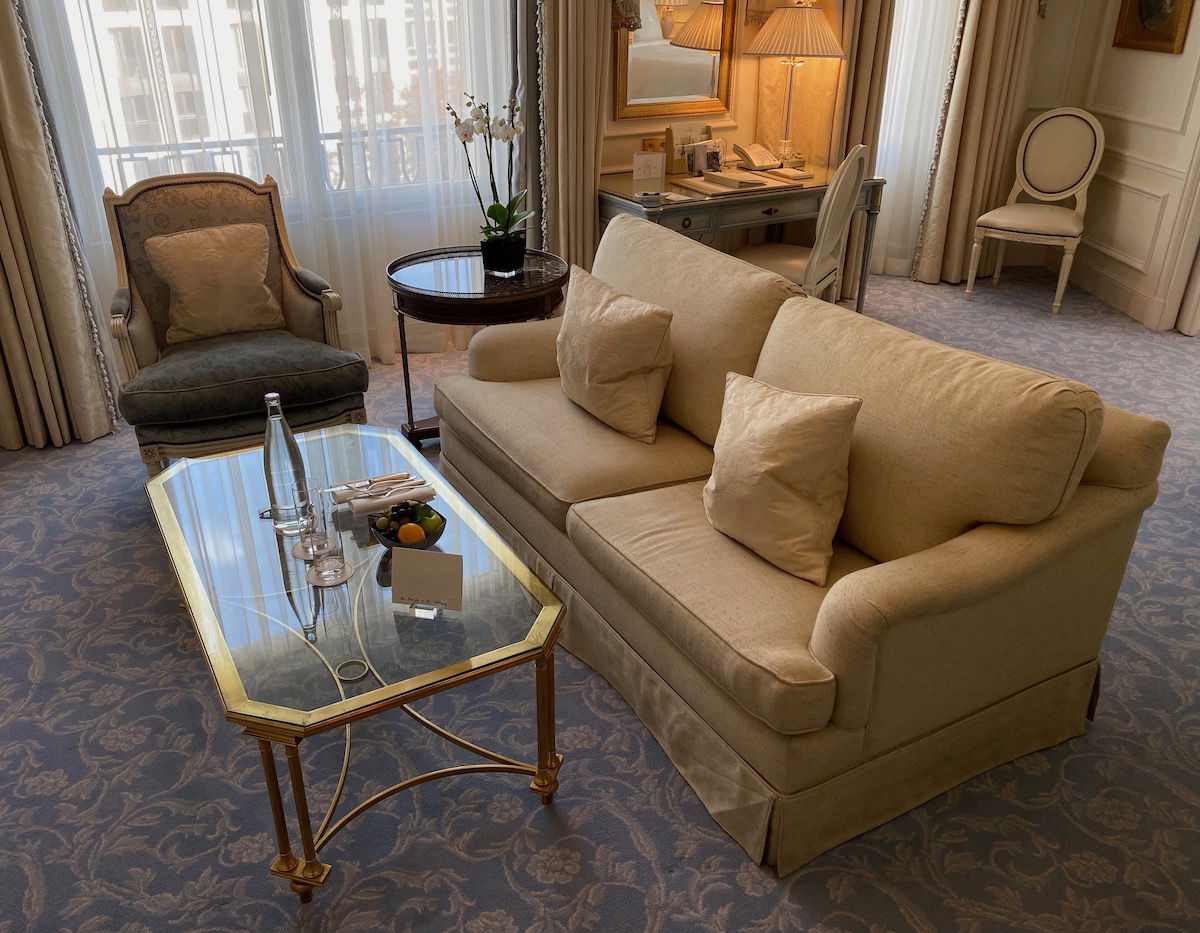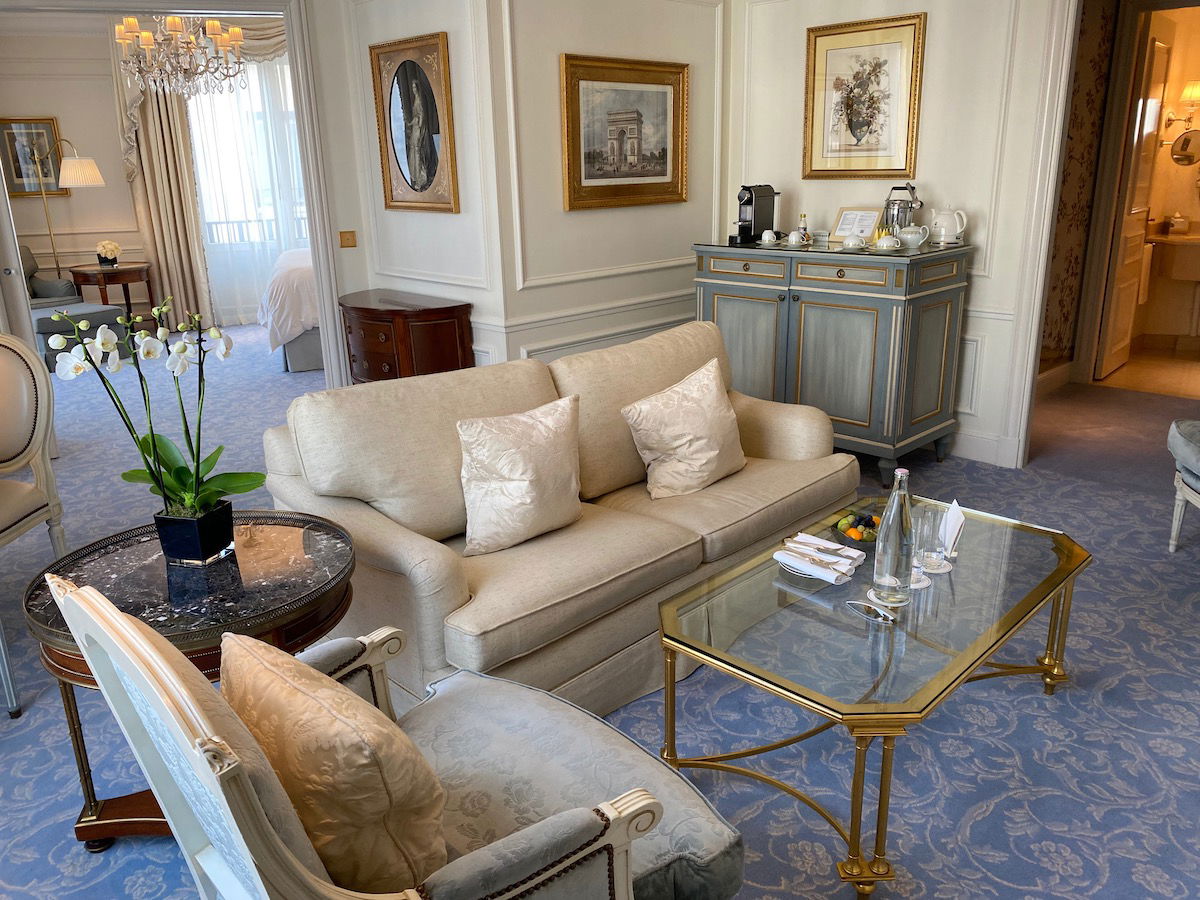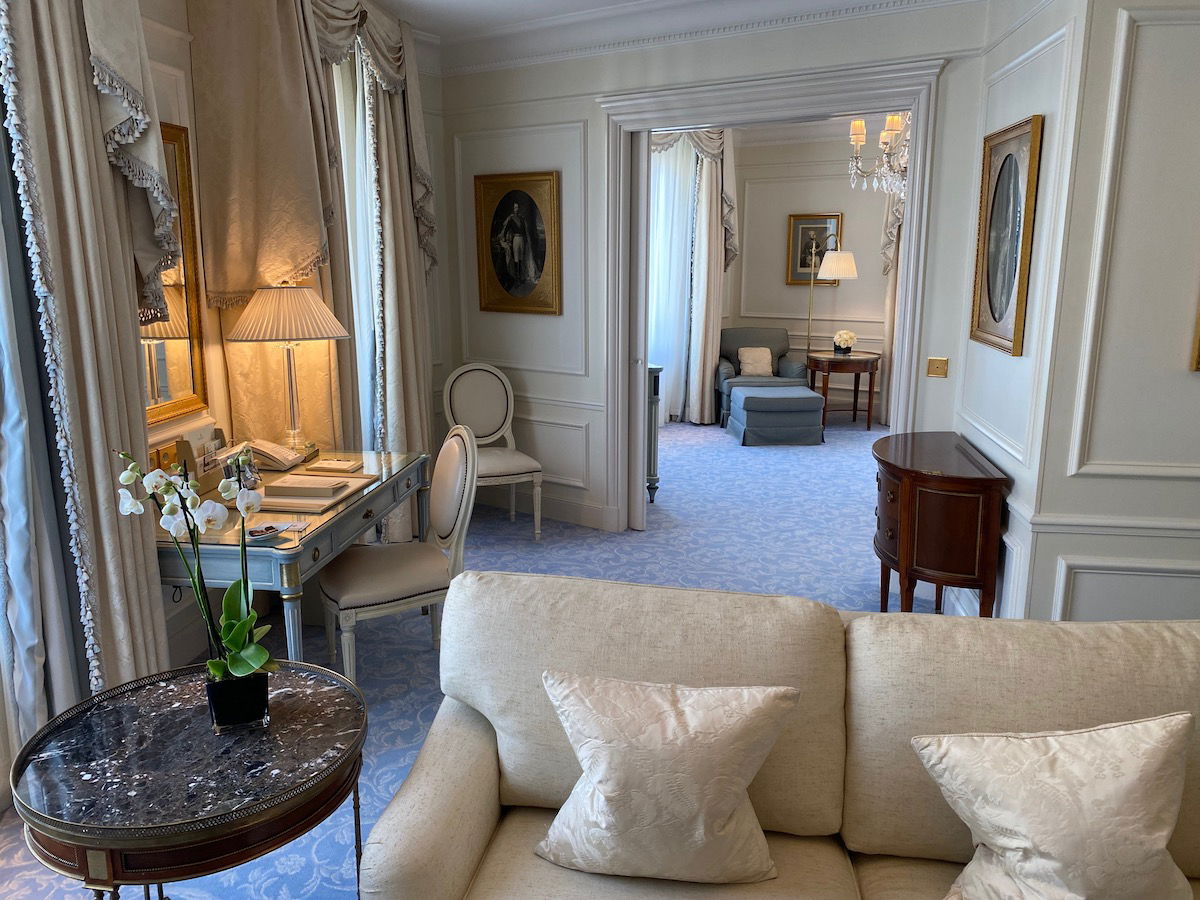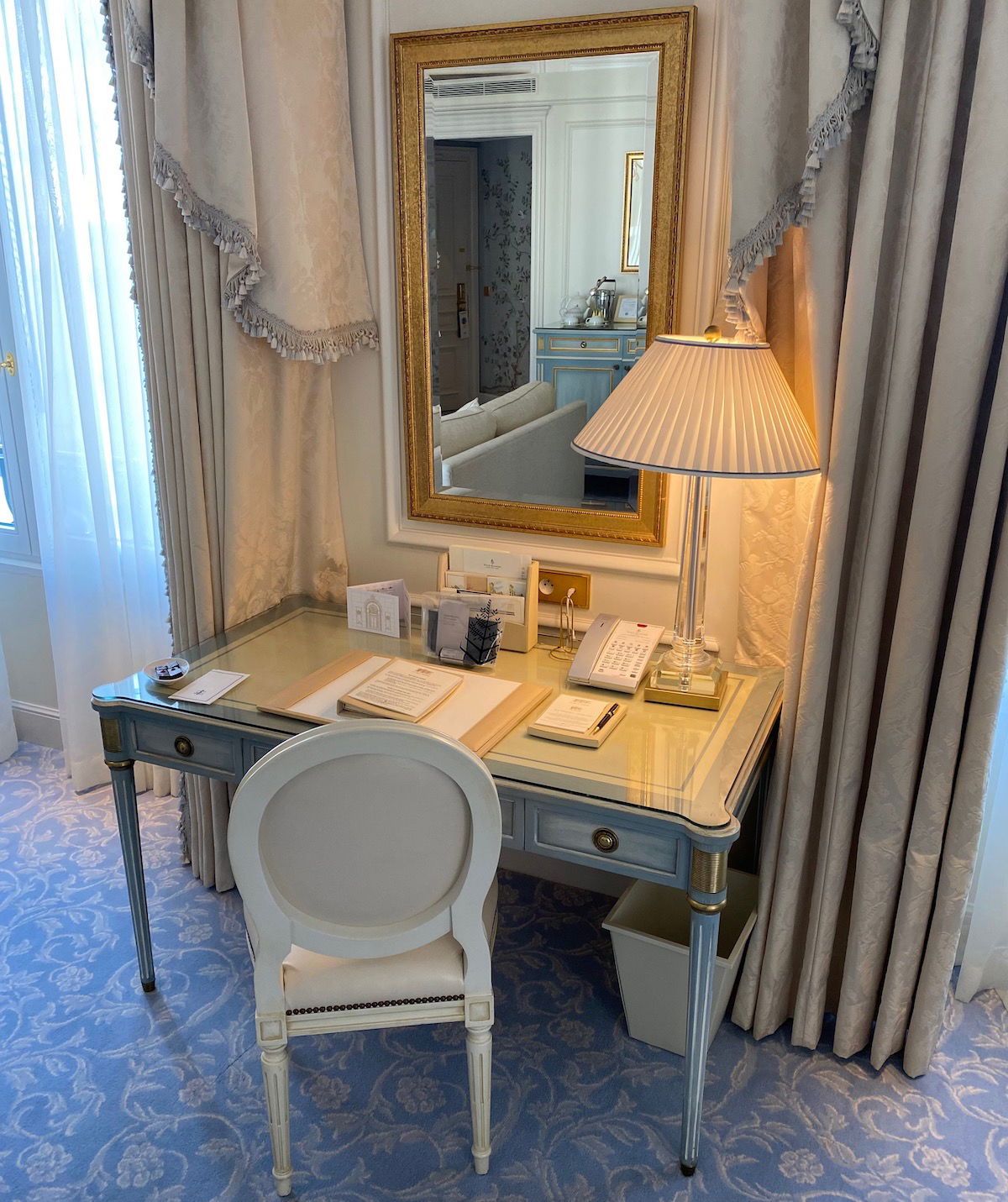 The minibar was in the living room, and unlike at the Ritz, there was an in-room coffee and tea setup (Four Seasons in general does an excellent job with coffee, as most Four Seasons properties also have a complimentary morning coffee & tea setup in the lobby).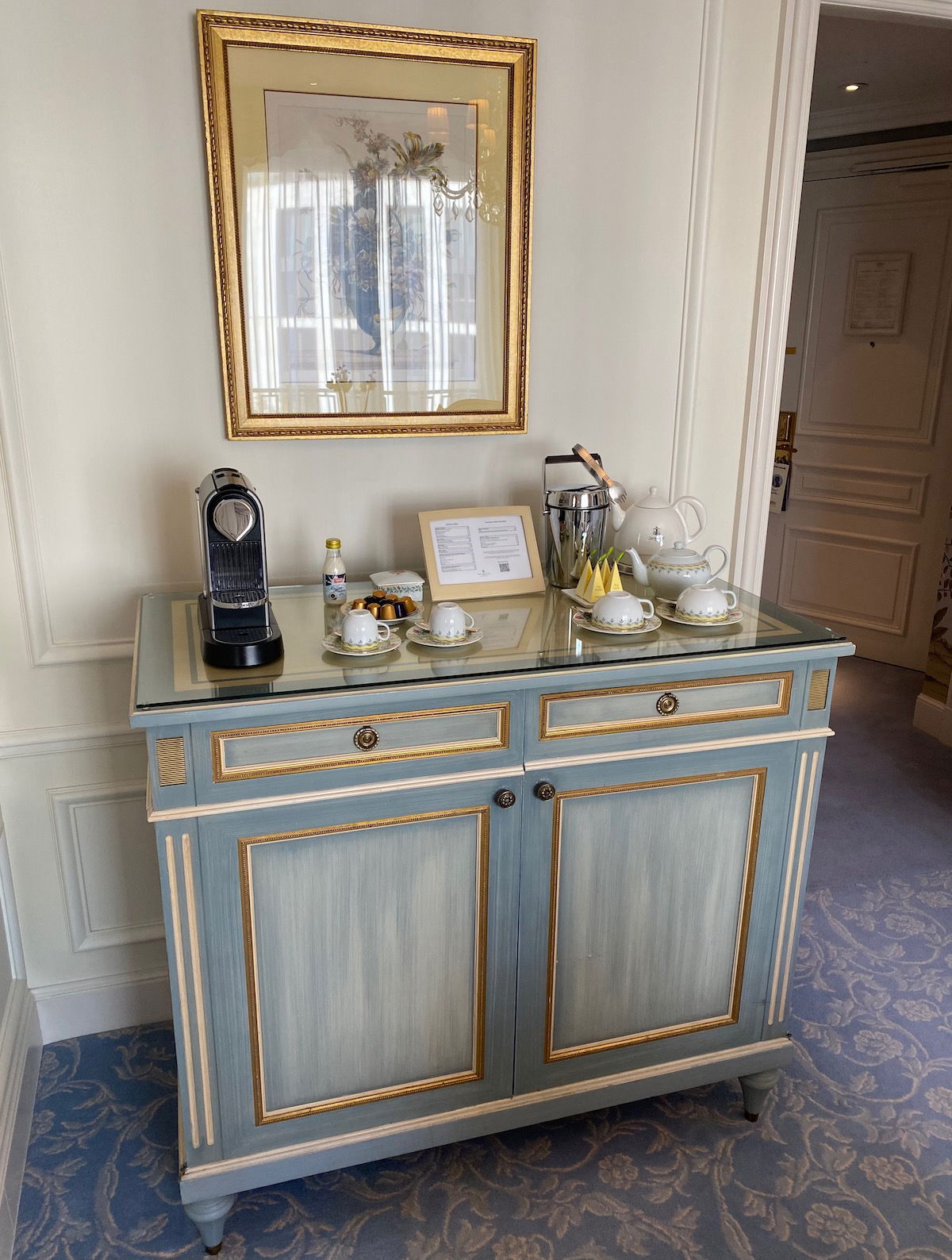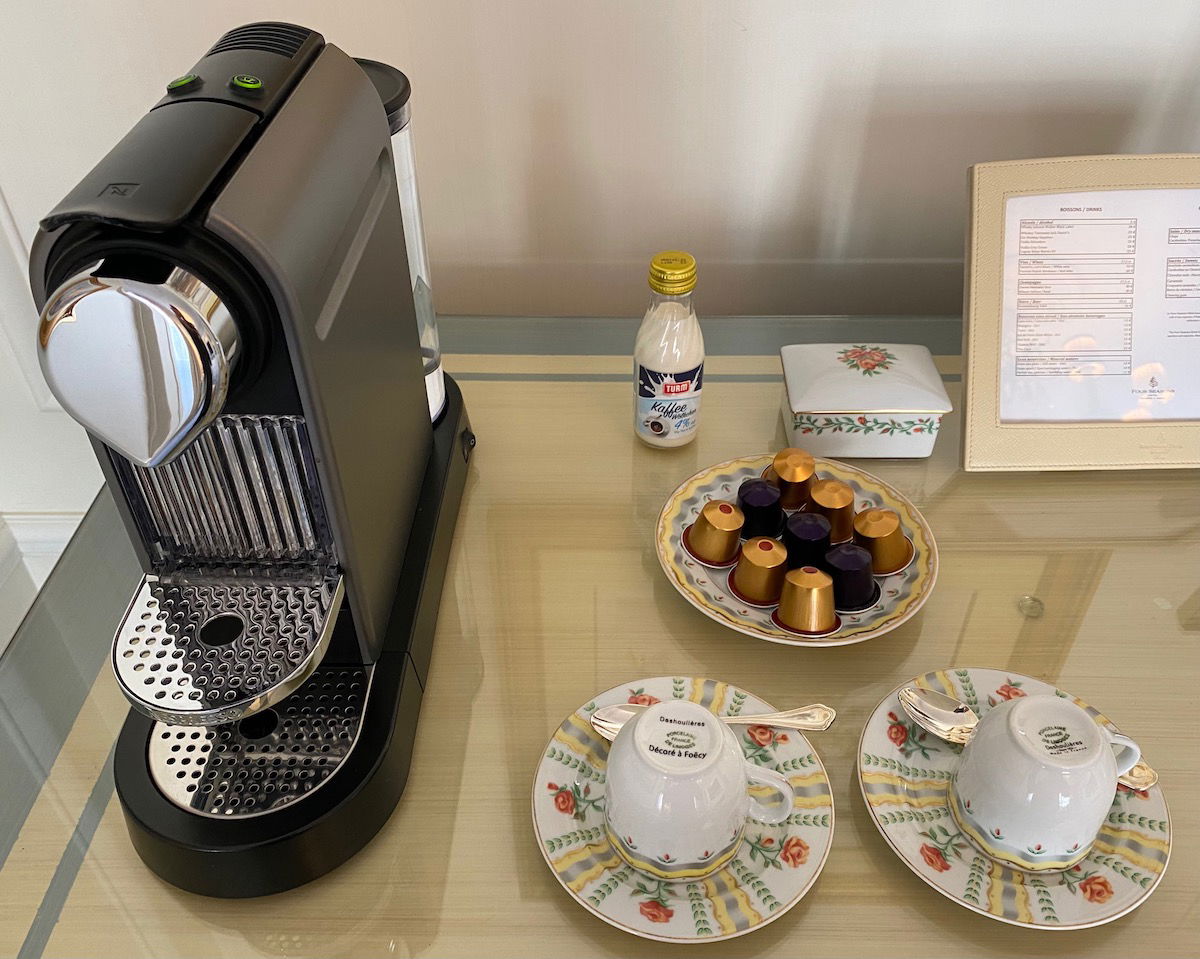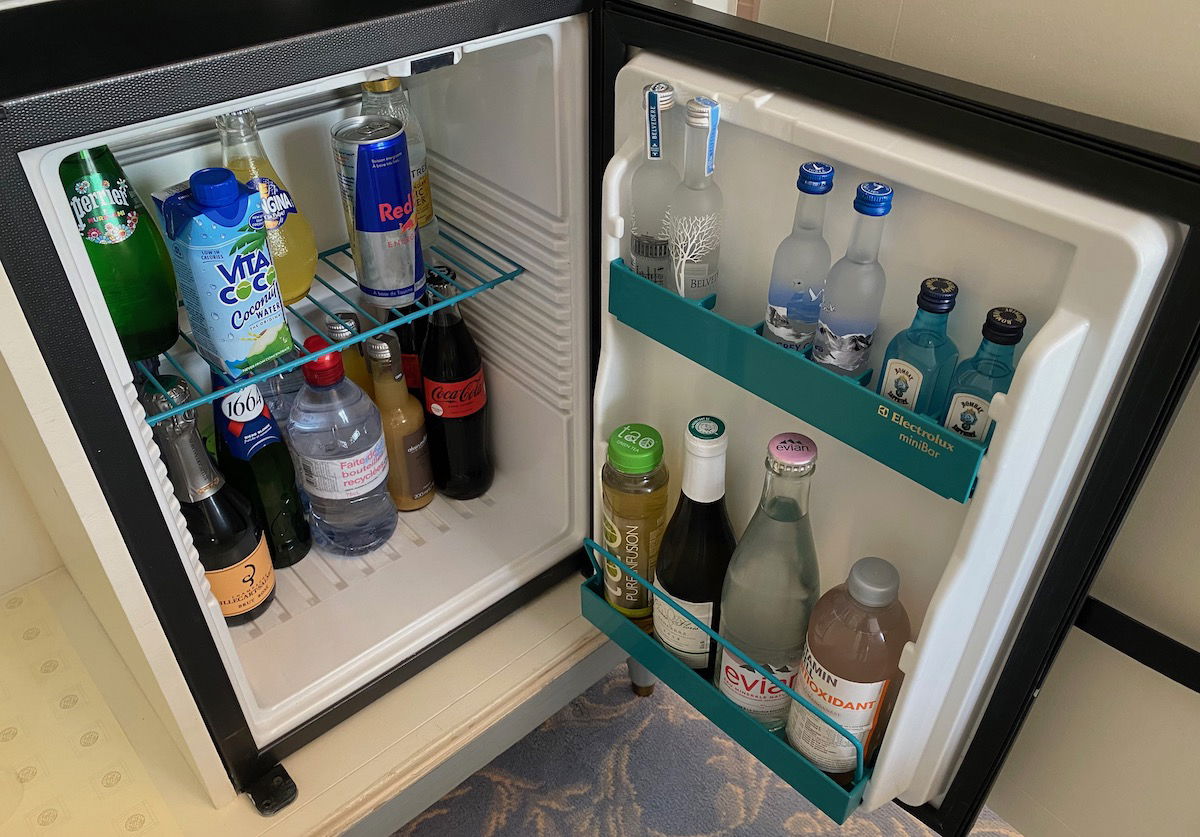 Waiting on the living room table was a welcome amenity consisting of a bottle of water, fruit, and some chocolates.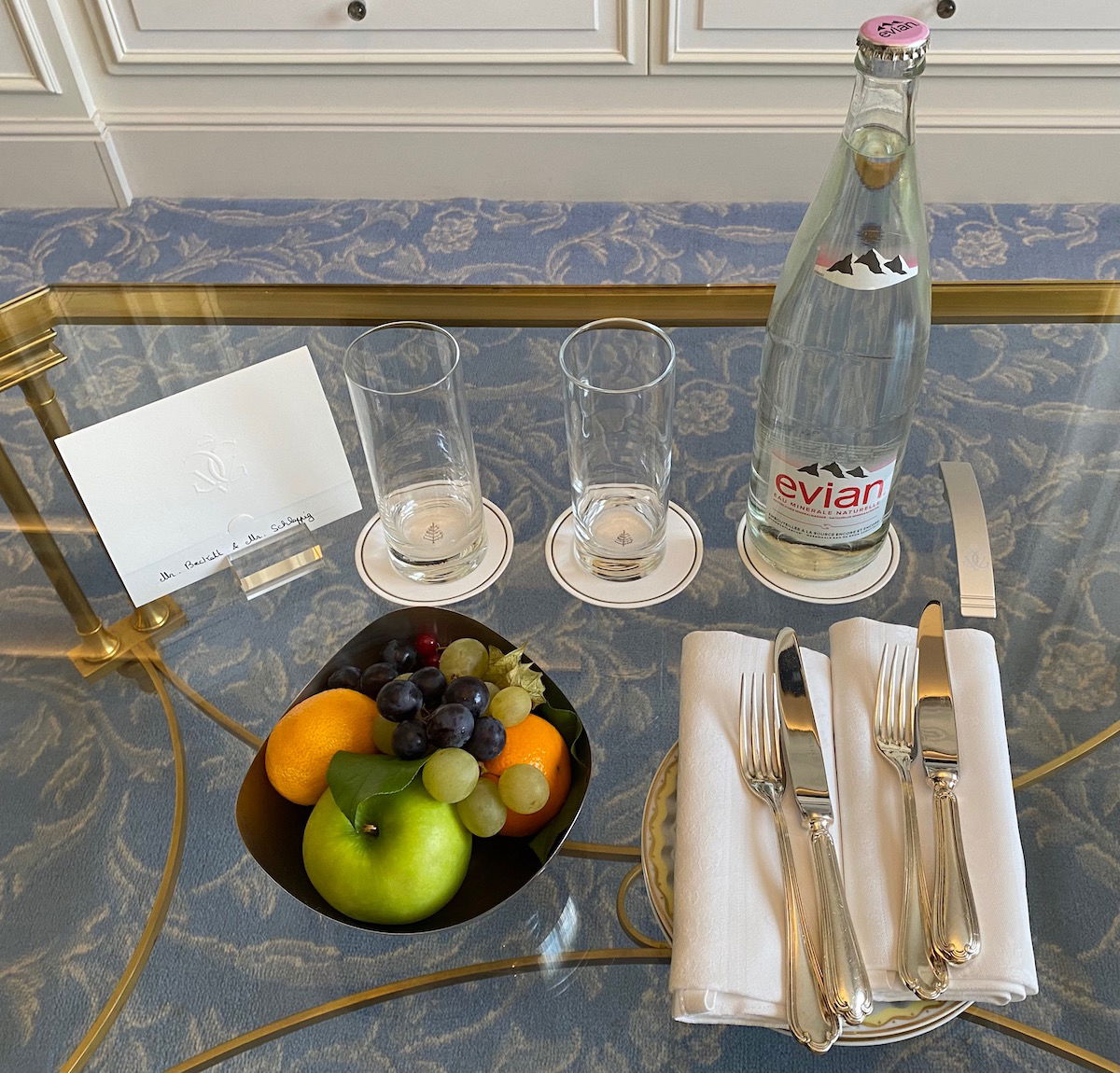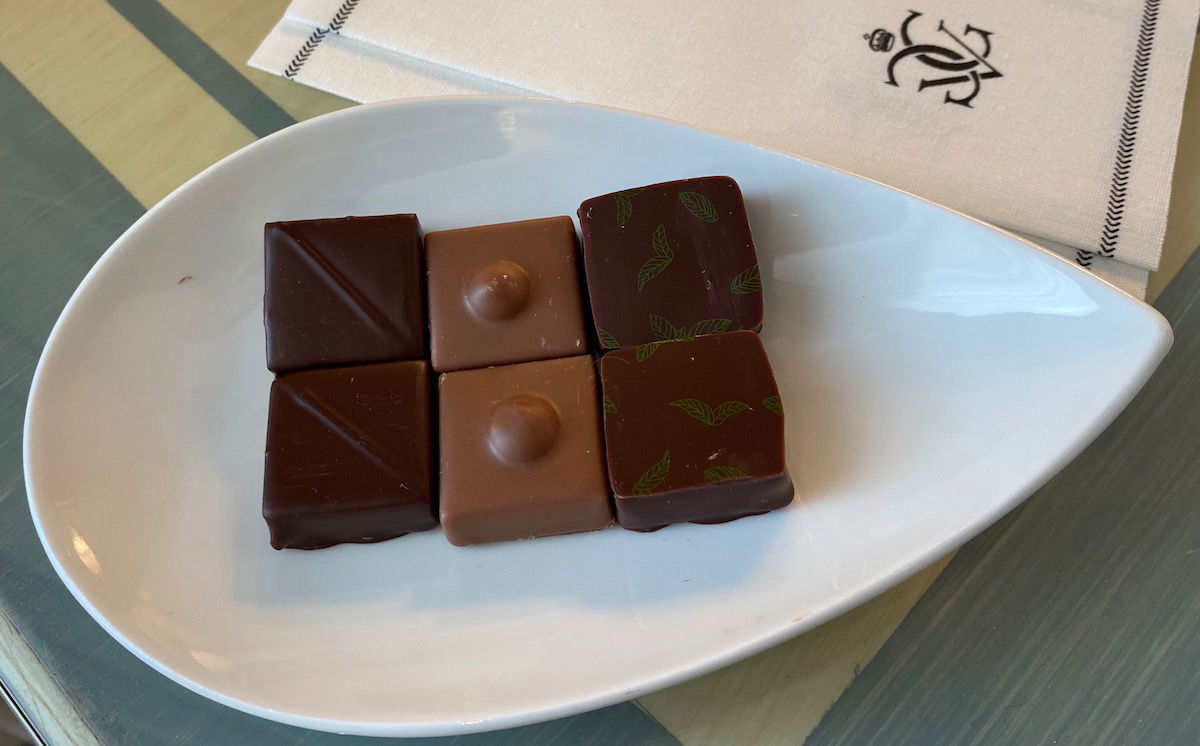 There were double sliding doors separating the living area from the bedroom. The bedroom had a signature Four Seasons bed, which I find to be the most comfortable hotel bed out there.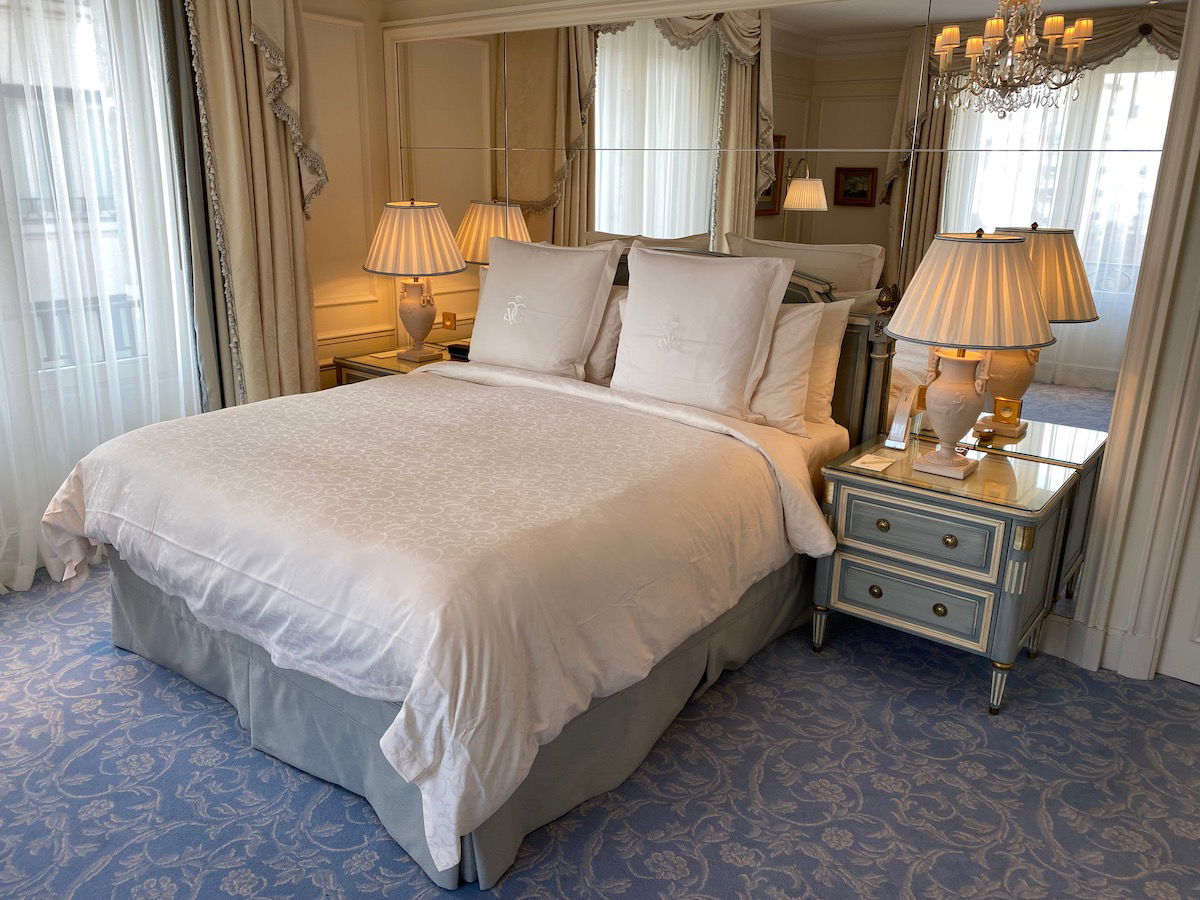 The bedroom also had a chair with an ottoman, as well as a TV.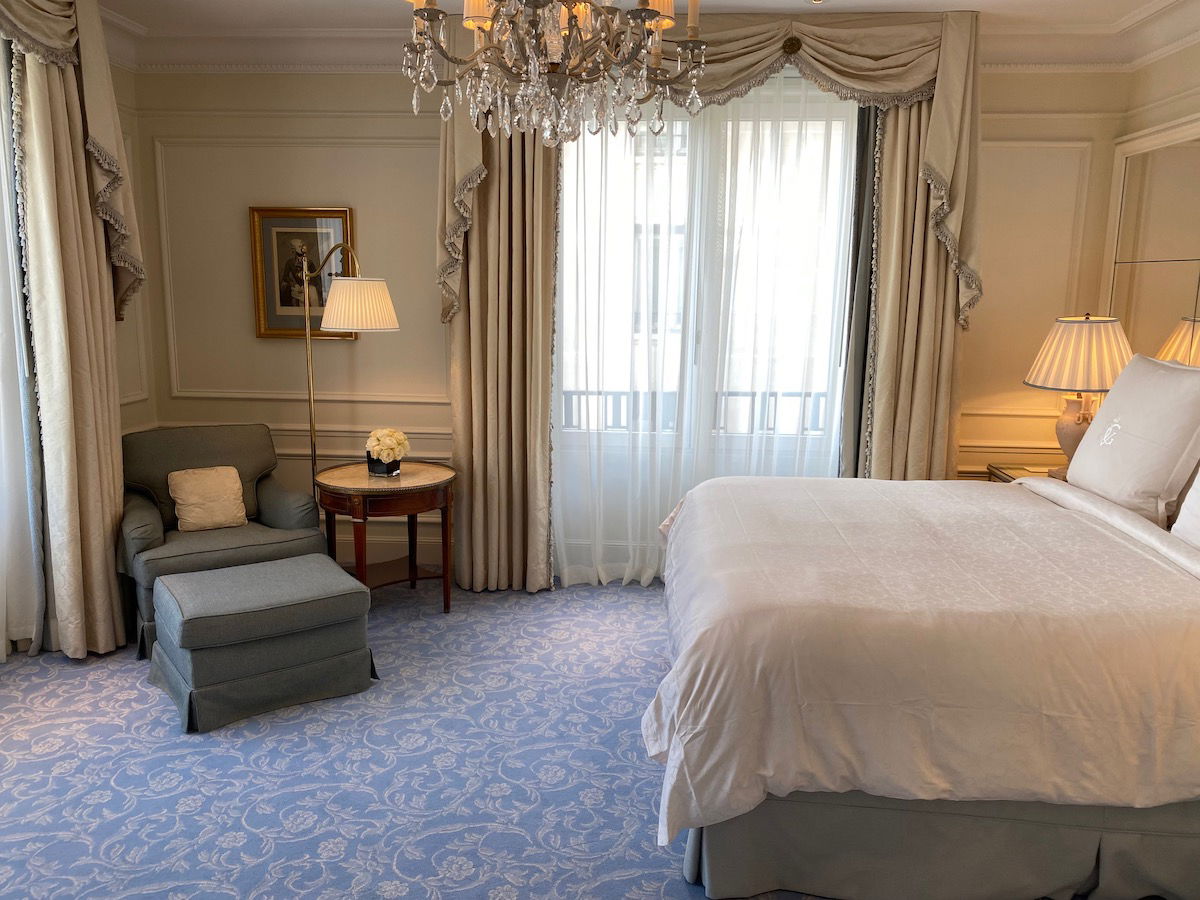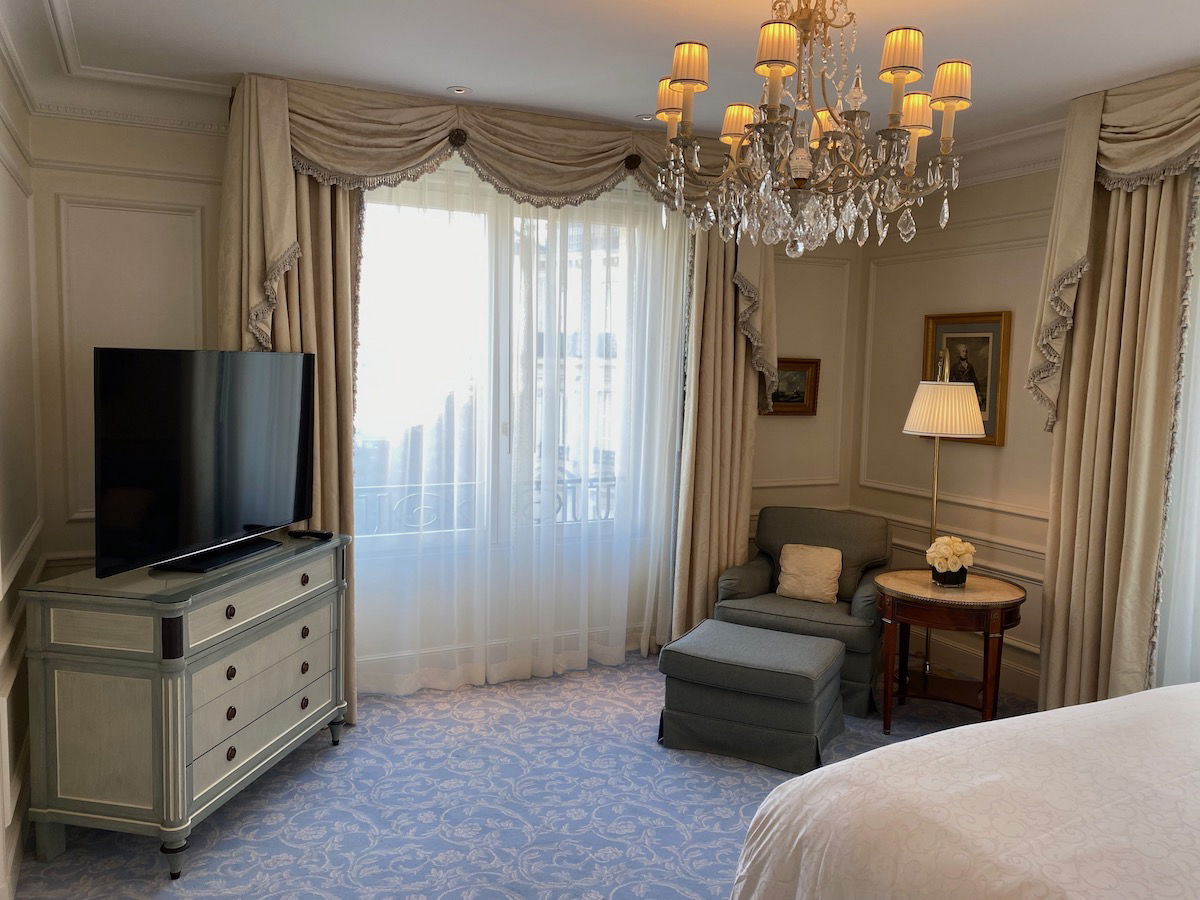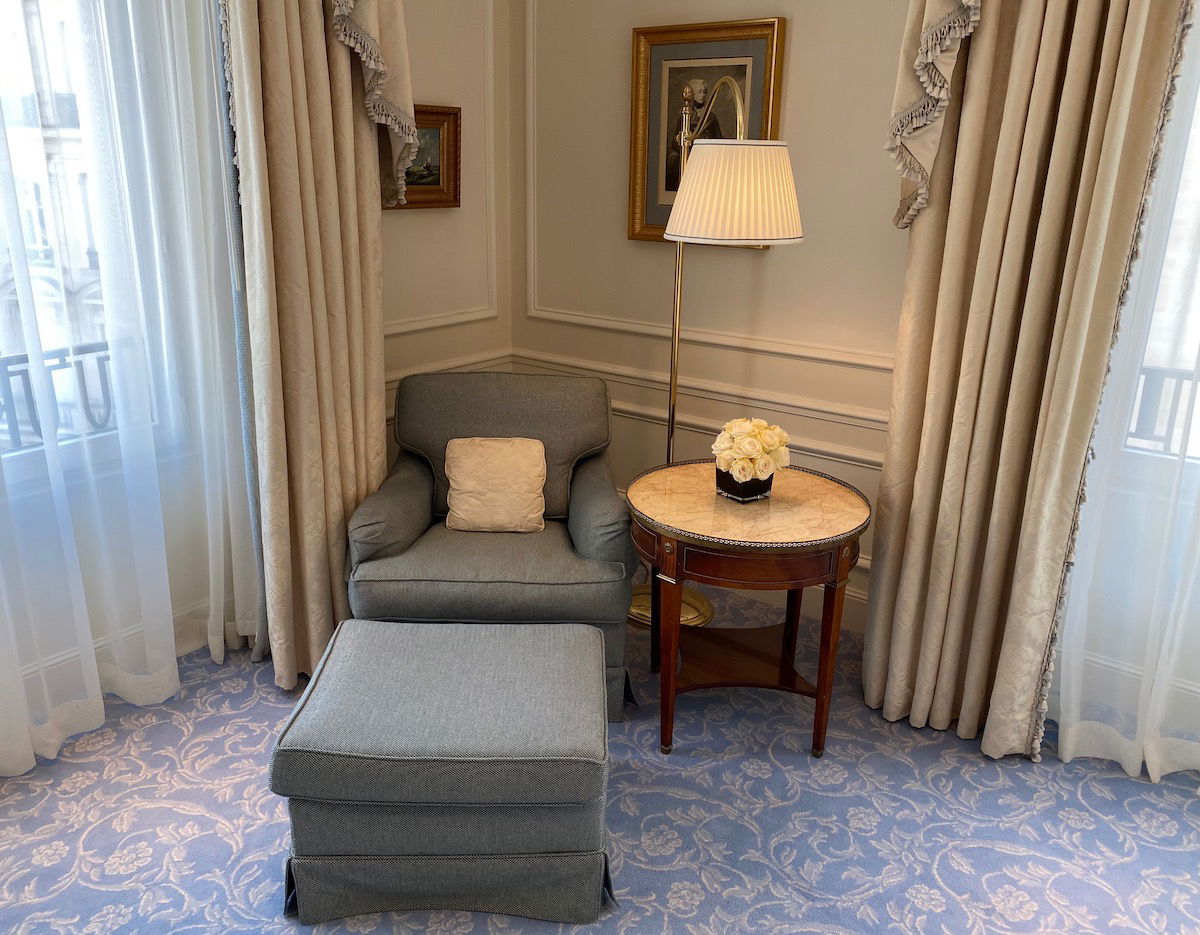 Our room had views of the surrounding neighborhood, and from one window we could even see the top of the Eiffel Tower.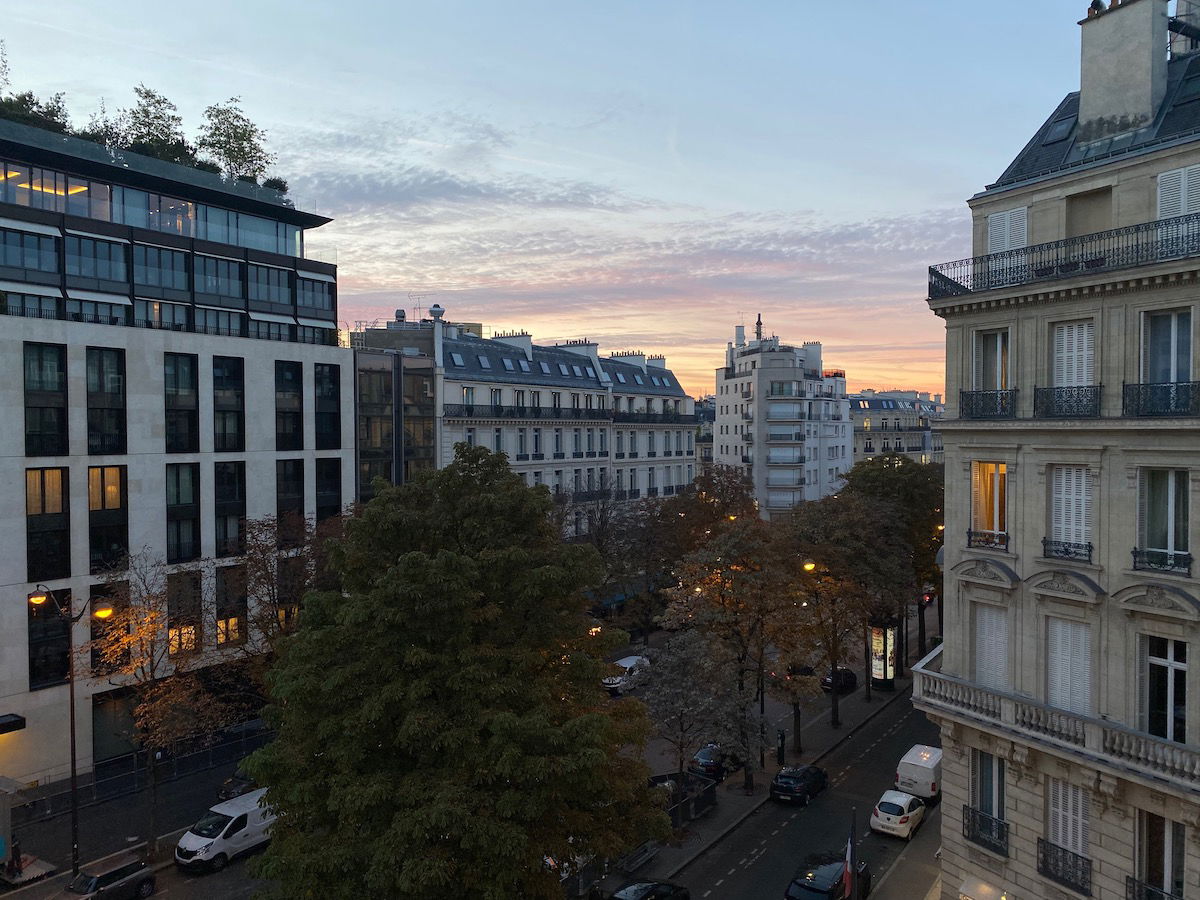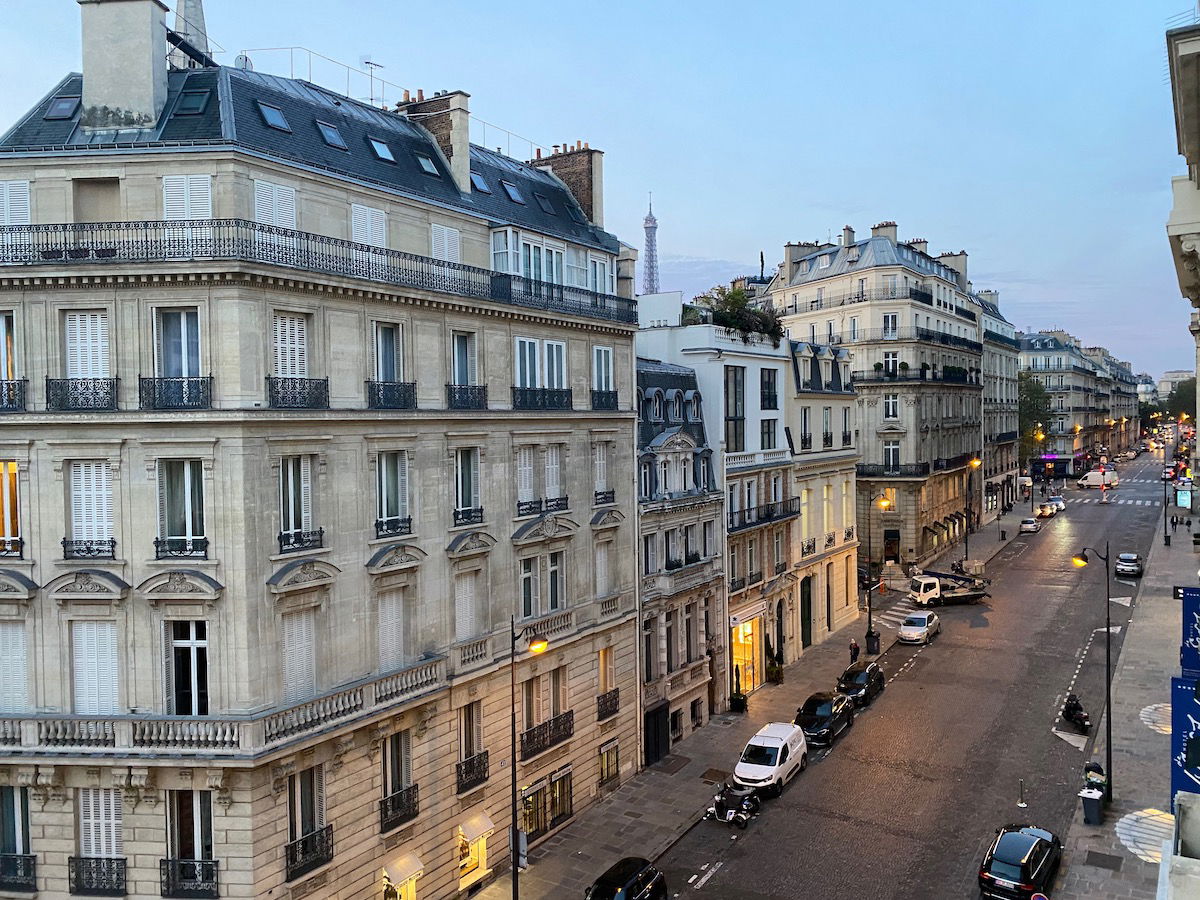 Behind the bedroom were some closets, and then the bathroom. The bathroom featured double sinks, a soaking tub, a walk-in shower, a toilet, and a bidet. Design-wise, this was probably the least impressive part of the room.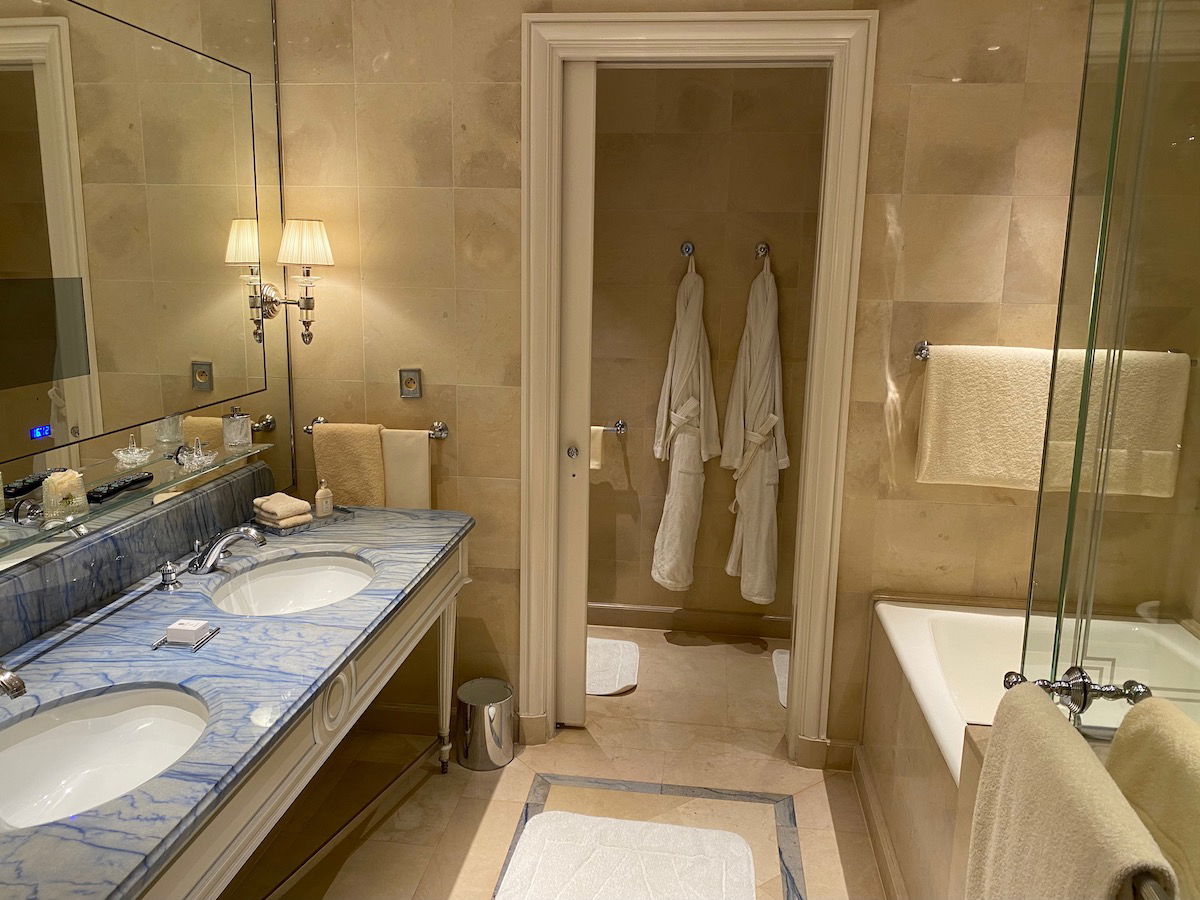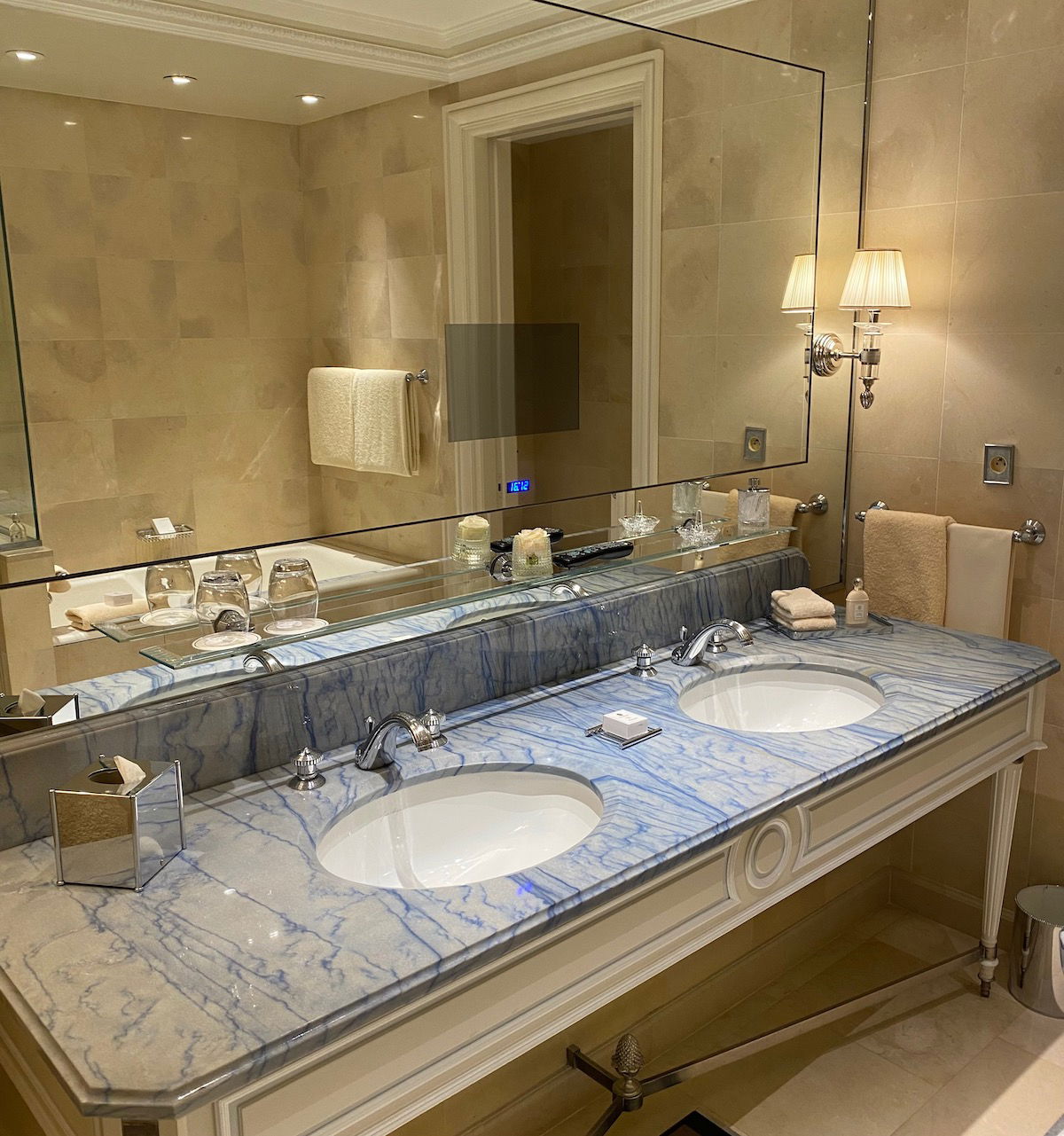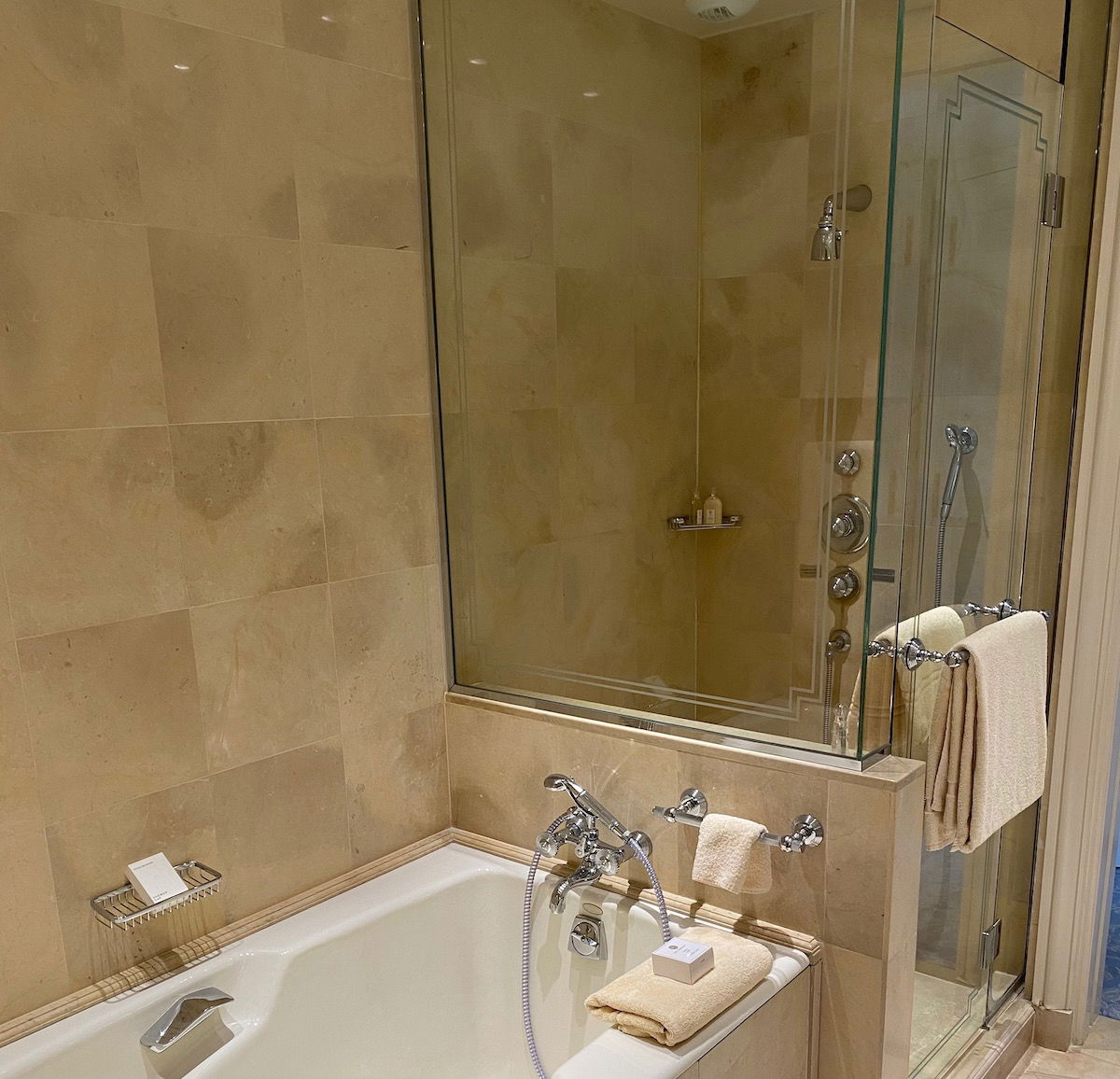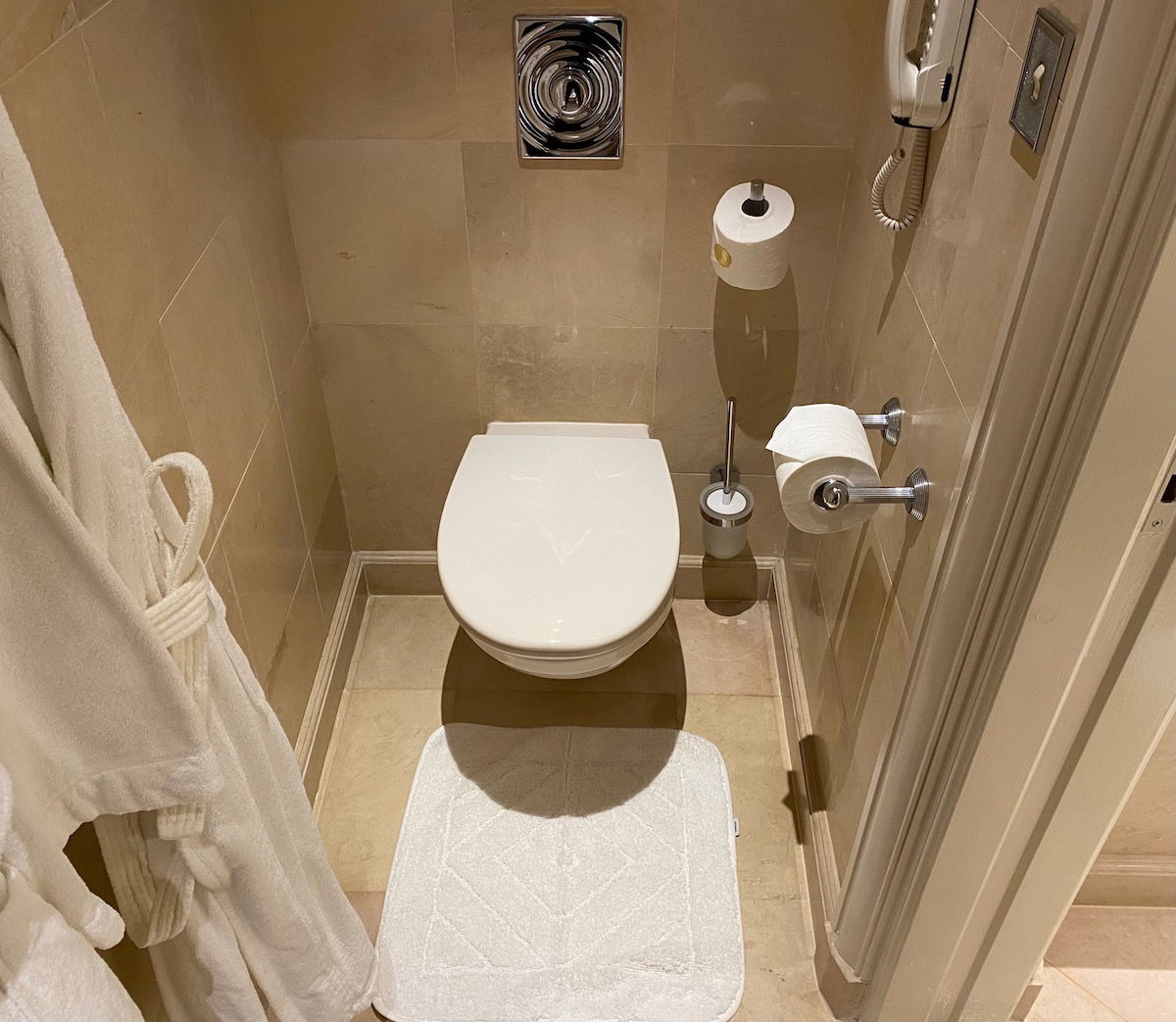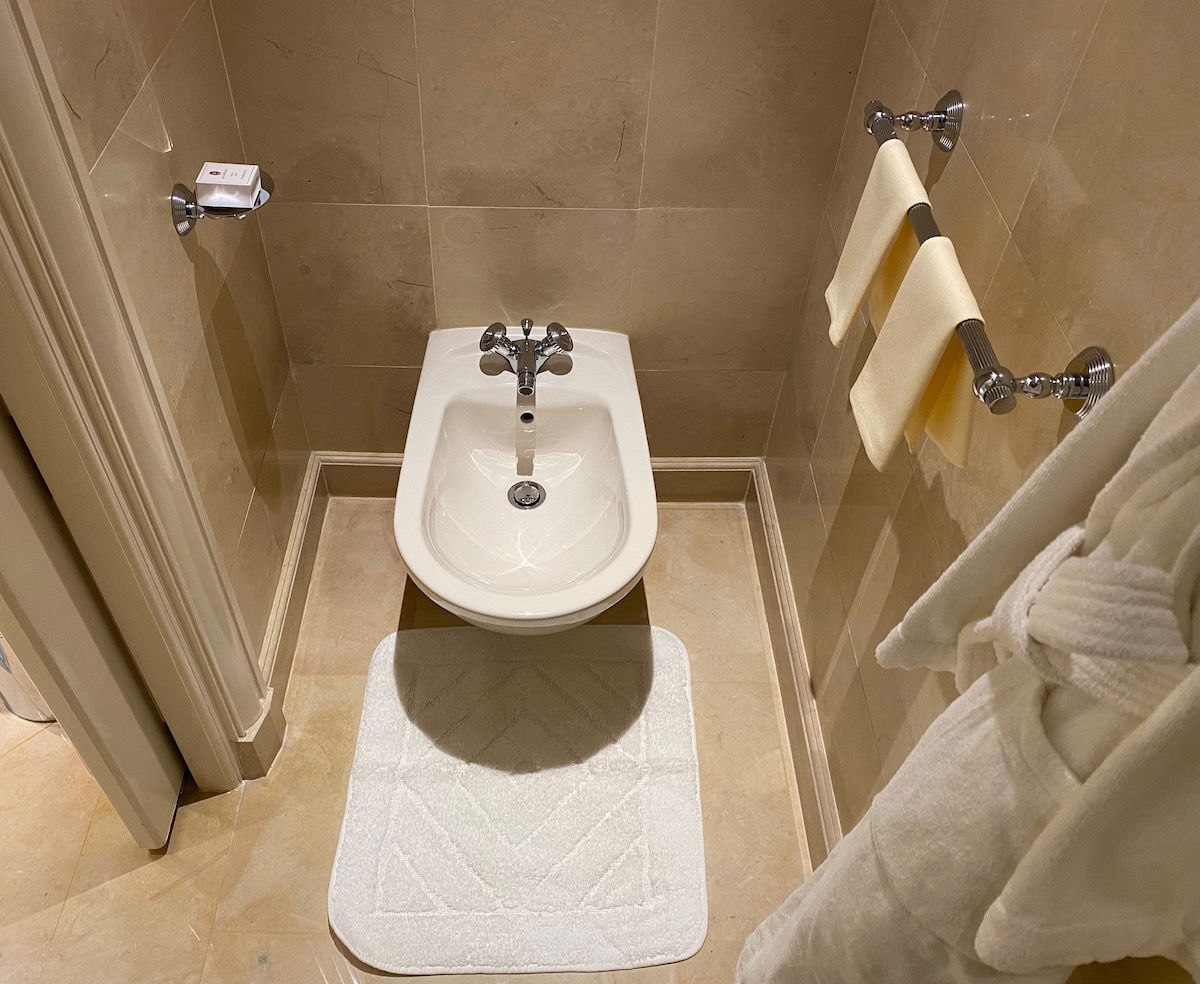 Toiletries were the Eau Imperiale collection from Guerlain, and the products felt high quality.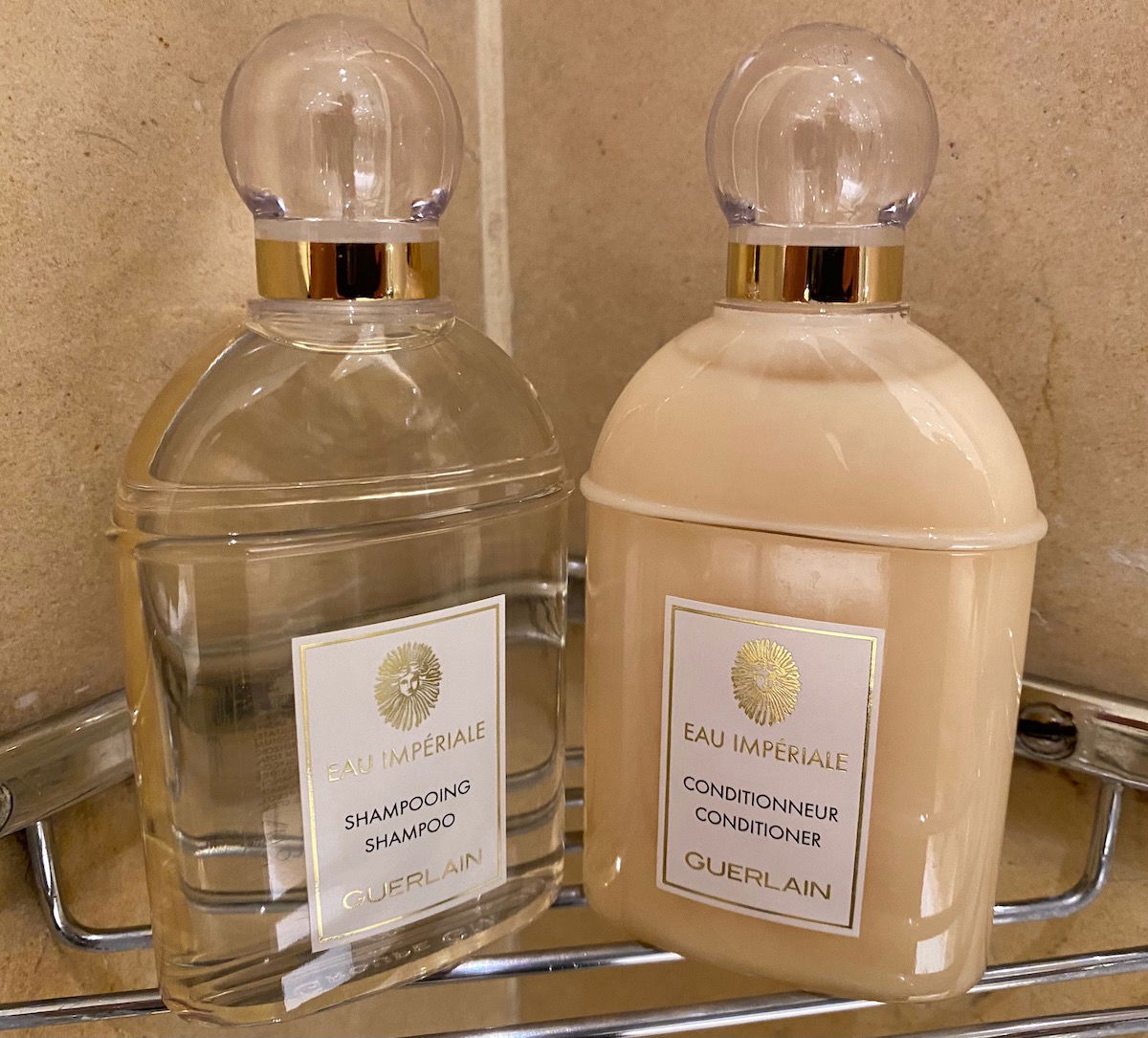 Wi-Fi in the room was fast and free, and housekeeping was offered twice a day and had great attention to detail (Four Seasons properties have some consistent housekeeping practices I appreciate, like placing cleaning cloths underneath glasses, for example)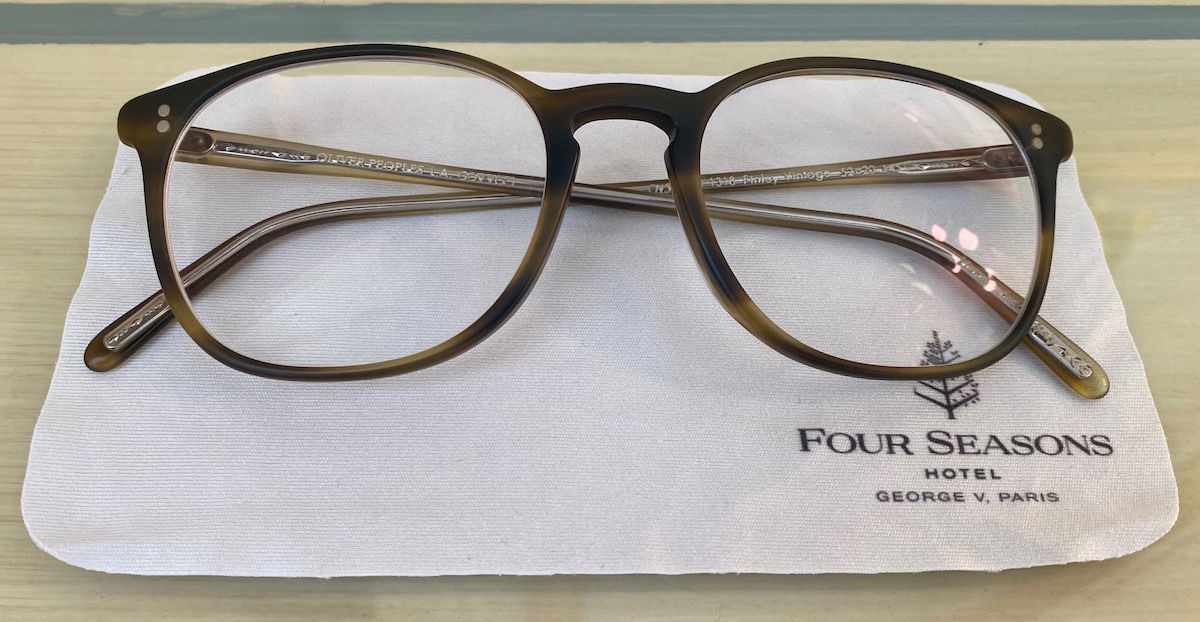 Of course we lucked out and were grateful to have a suite. Beyond that, I loved the general design of the room — it was immaculately maintained, and had a lighter color palette than some other historic hotels, which made it feel a bit cheerier and brighter.
Four Seasons Paris restaurants & bars
If you love great food and ambiance, the Four Seasons George V is an unbeatable property. To give you an overview of the food & beverage outlets at the hotel:
There's Le Cinq, the Four Seasons' three Michelin-starred restaurant, which is open for dinner
There's Le George, the Four Seasons' one Michelin-starred restaurant, which is open for lunch and dinner
There's L'Orangerie, the Four Seasons' one Michelin-starred restaurant, which is open for lunch and dinner
There's Le Bar, the Four Seasons' bar, which is open in the evenings
There's La Galerie, the hotel's all day dining lounge, open for everything from breakfast, to lunch, to afternoon tea, to dinner
The outlets at the hotel are not only all individually top quality, but they all complement one another beautifully. If you're into high-end dining, you could absolutely spend two days at this hotel having nothing but amazing meals (of course you'd also ideally want to leave the hotel, but rather I'm simply saying that this hotel has really great restaurants).
I don't think there's another hotel in Paris with three different Michelin-starred restaurants. For that matter, several top Paris hotels don't have any Michelin-starred restaurants. For example, Plaza Athenee recently lost its Alain Ducasse Michelin-starred restaurant.
Four Seasons Paris La Galerie (breakfast)
The Four Seasons Paris serves breakfast either at La Galerie from 7AM until 11AM, or it's also available through in-room dining. If you book a Four Seasons Preferred Partner rate (which is the best way to book), then you have your choice of enjoying breakfast in the restaurant or via room service.
As I hinted at above, I appreciate that there's a morning setup in the lobby with complimentary coffee, tea, juice, croissants, and granola bars. This is such a basic thing that still means so much to me when staying at a hotel — it shouldn't be a fight to get your first cup of coffee, and that's something Four Seasons consistently nails.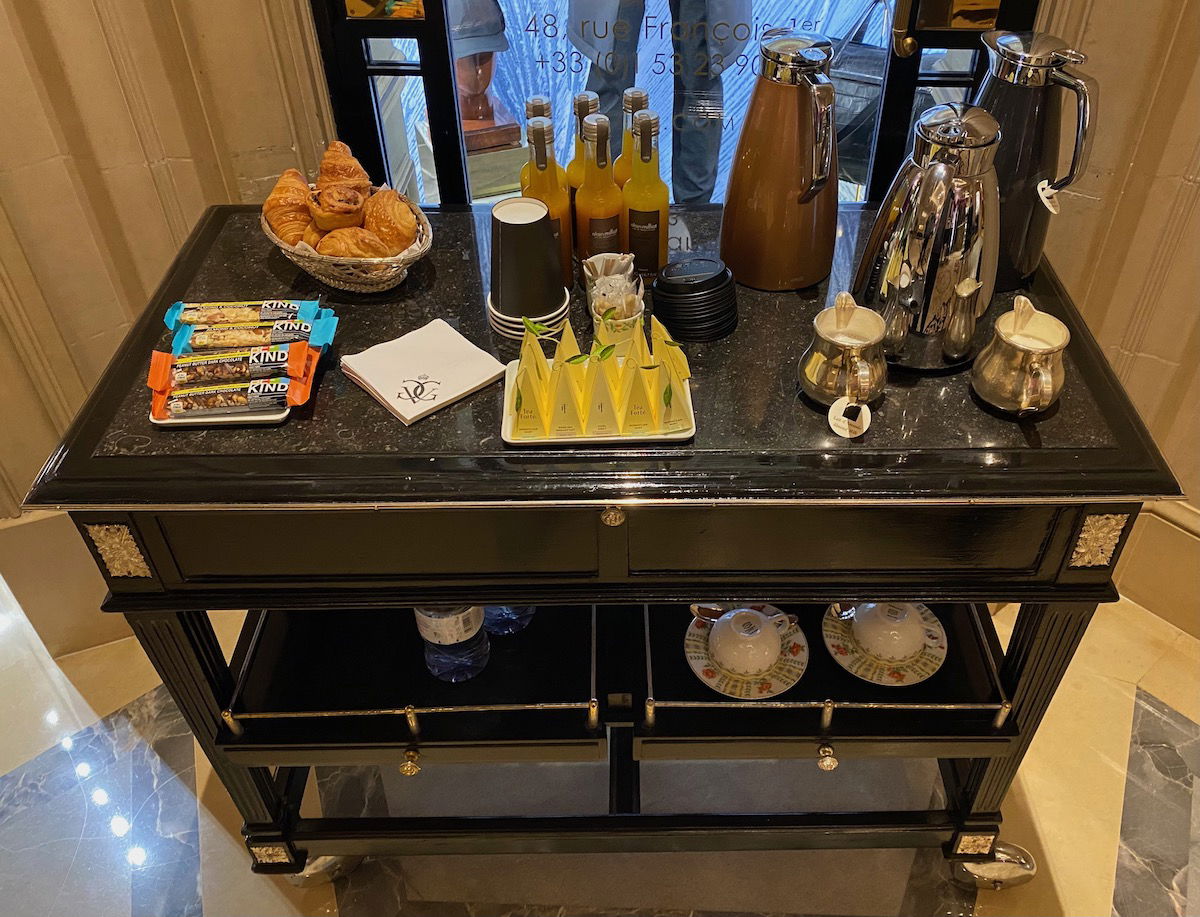 La Galerie is located just off the lobby and to the right, and it's a gorgeous room that makes you feel like you're in a different era. I think the pictures more or less speak for themselves.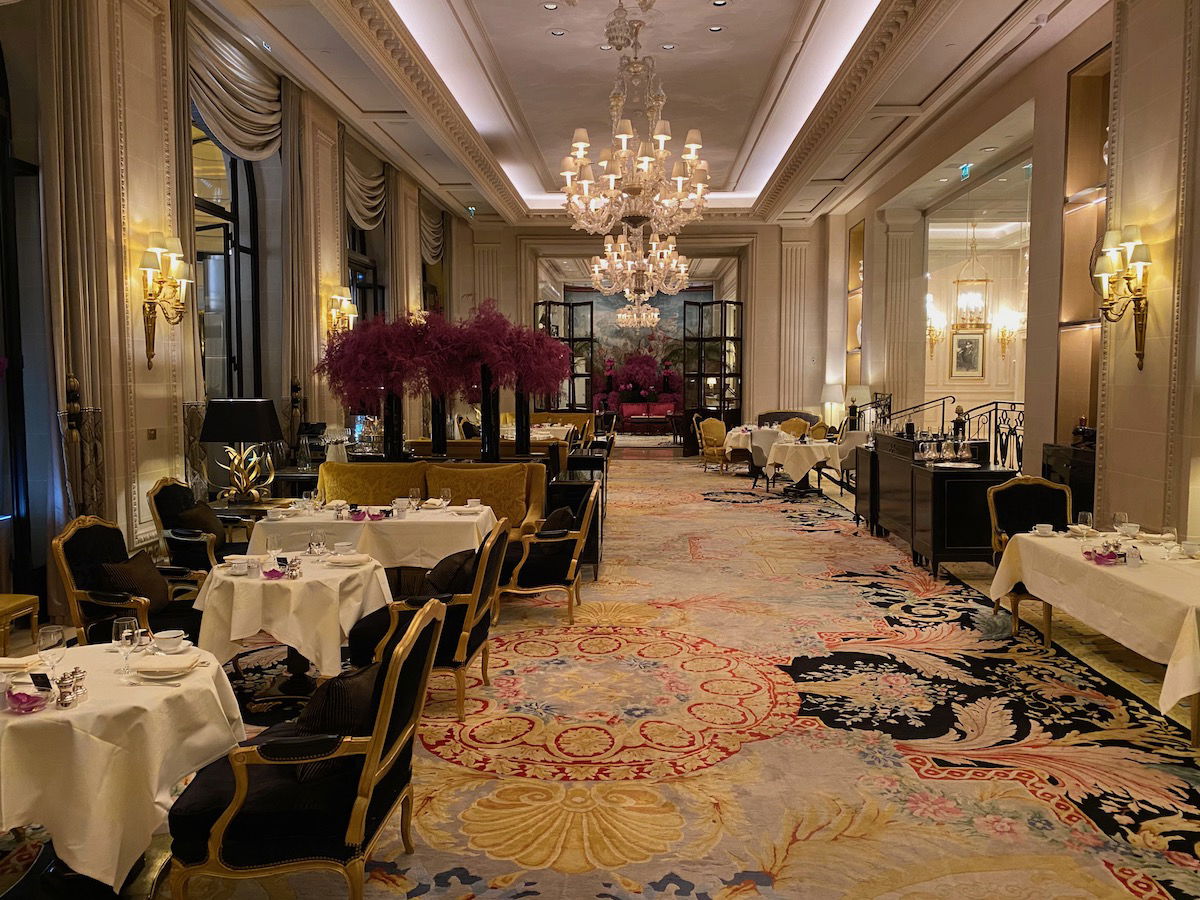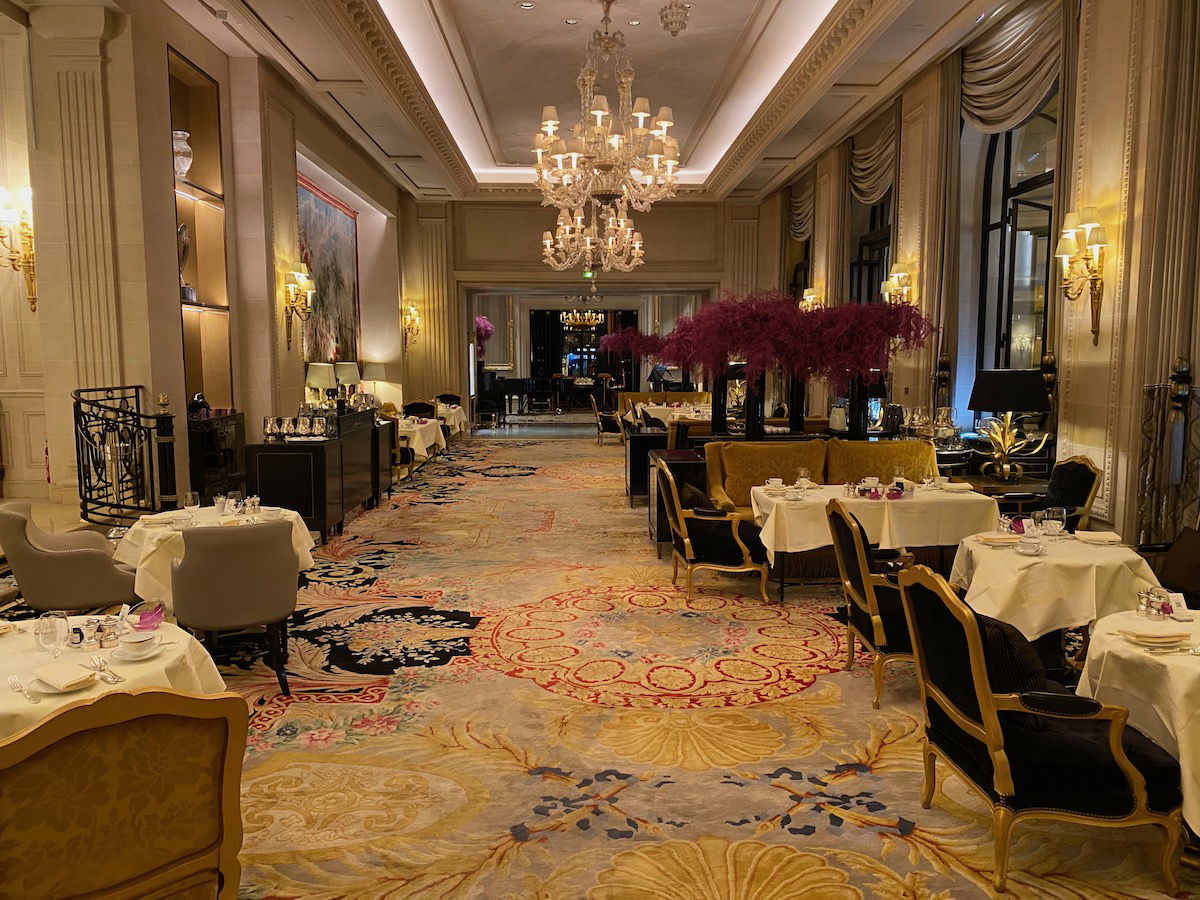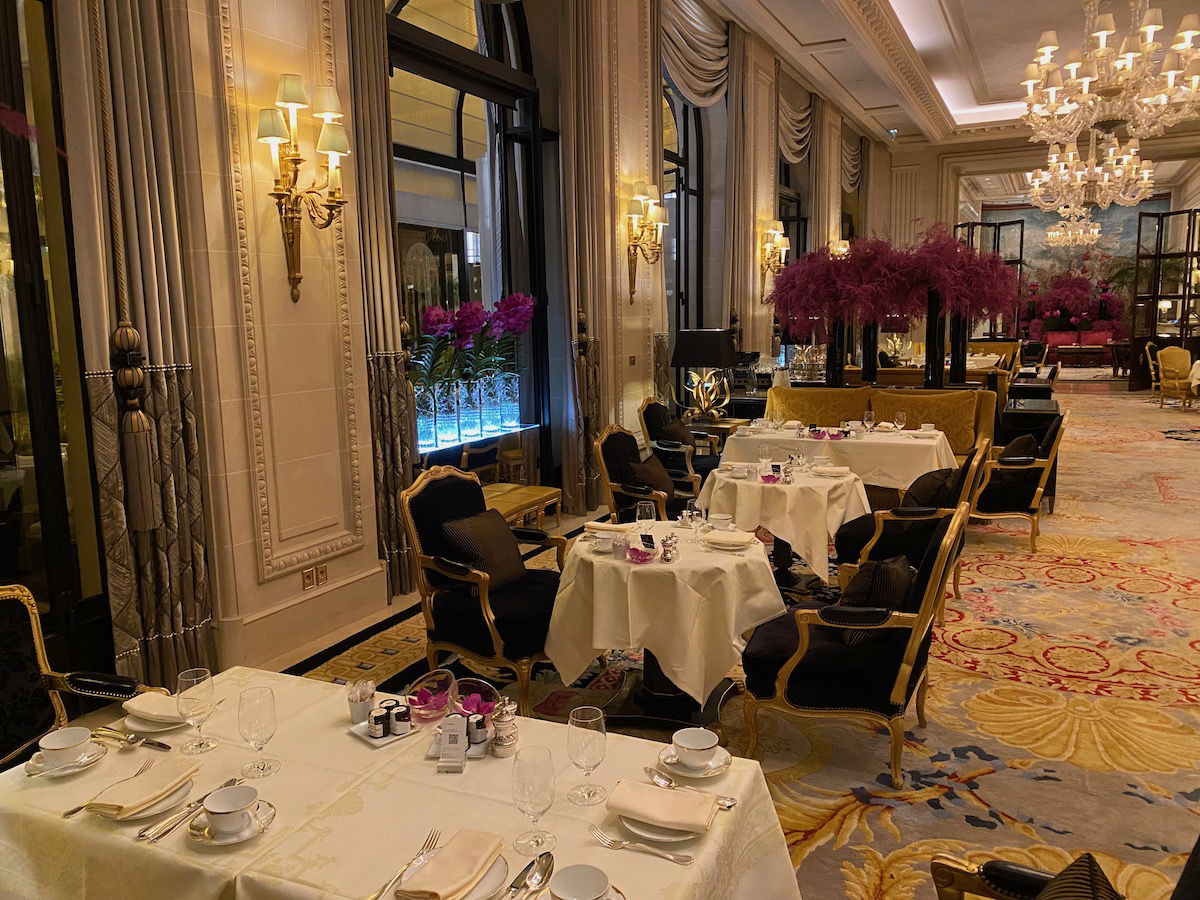 We had breakfast in the restaurant two mornings, and you can find the La Galerie breakfast menu here. We had the "healthy breakfast," which retails for 62 EUR (though again, breakfast is included if you book through Preferred Partner). To start this included coffee, a fresh detox juice, and a matcha latte. Yum, yum, and yum.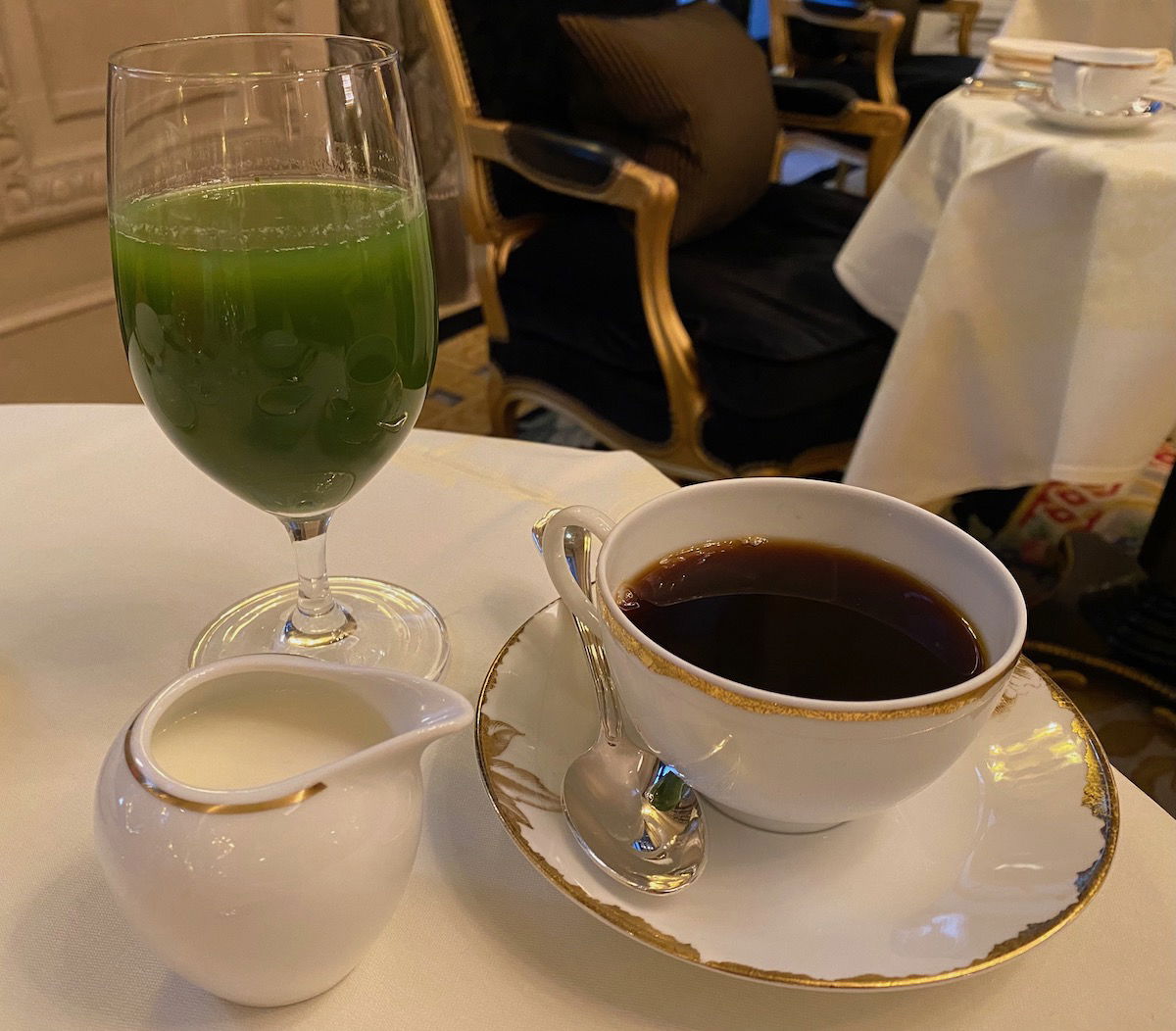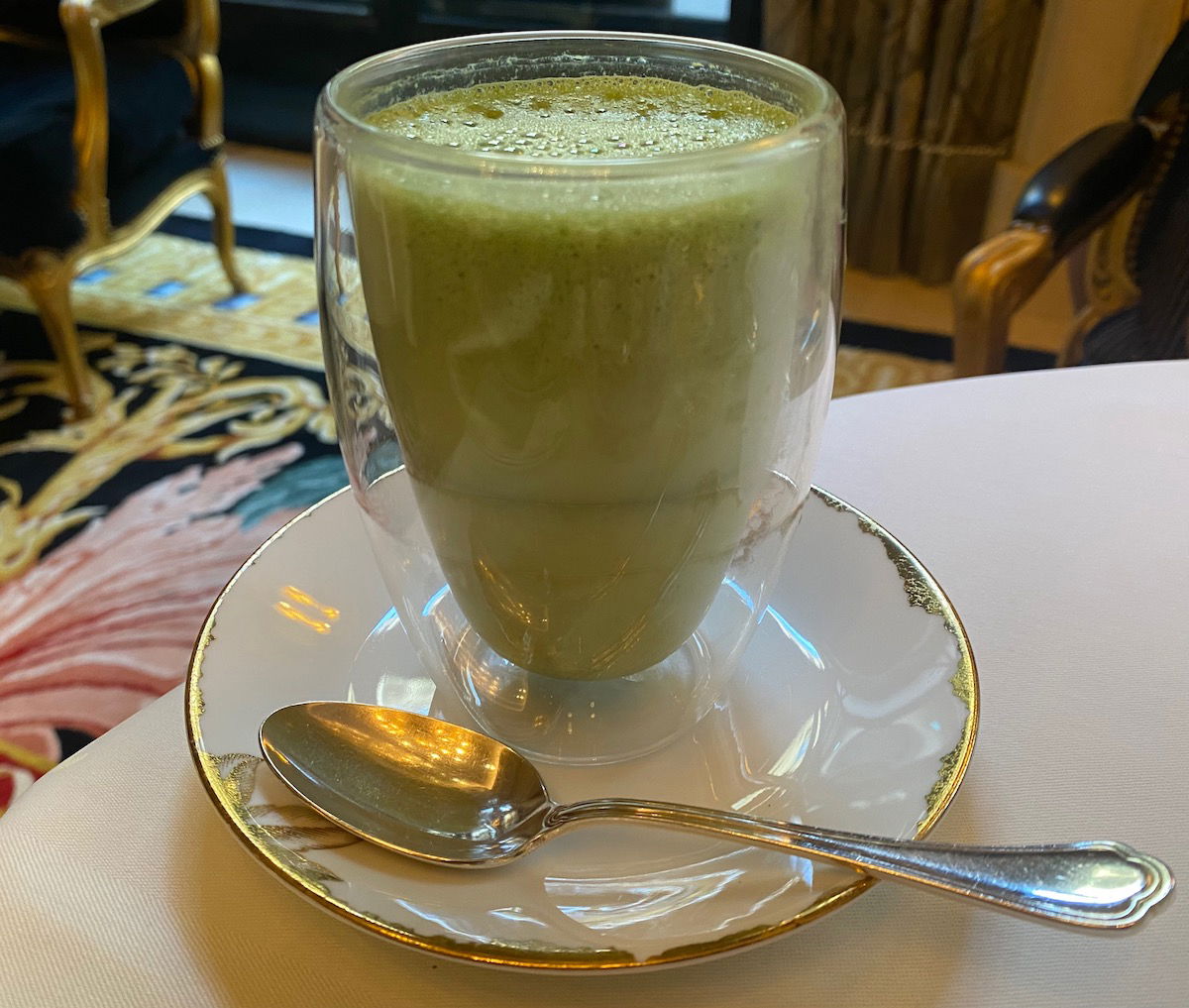 Then there was some gluten-free bread, served with peanut butter and a chocolate spread (I'll just trust the Four Seasons on this and believe that the chocolate spread is healthy). 😉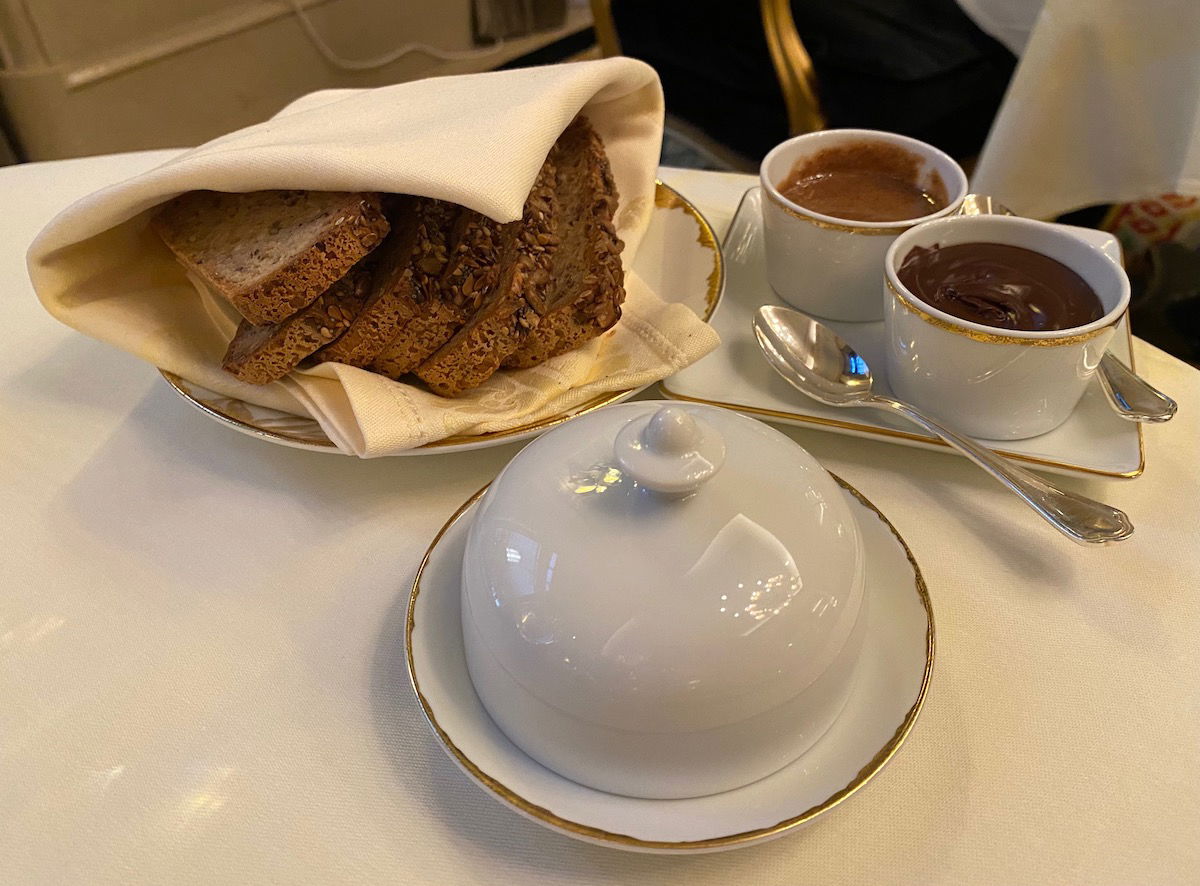 Next up was a delicious avocado toast, again on gluten-free toast.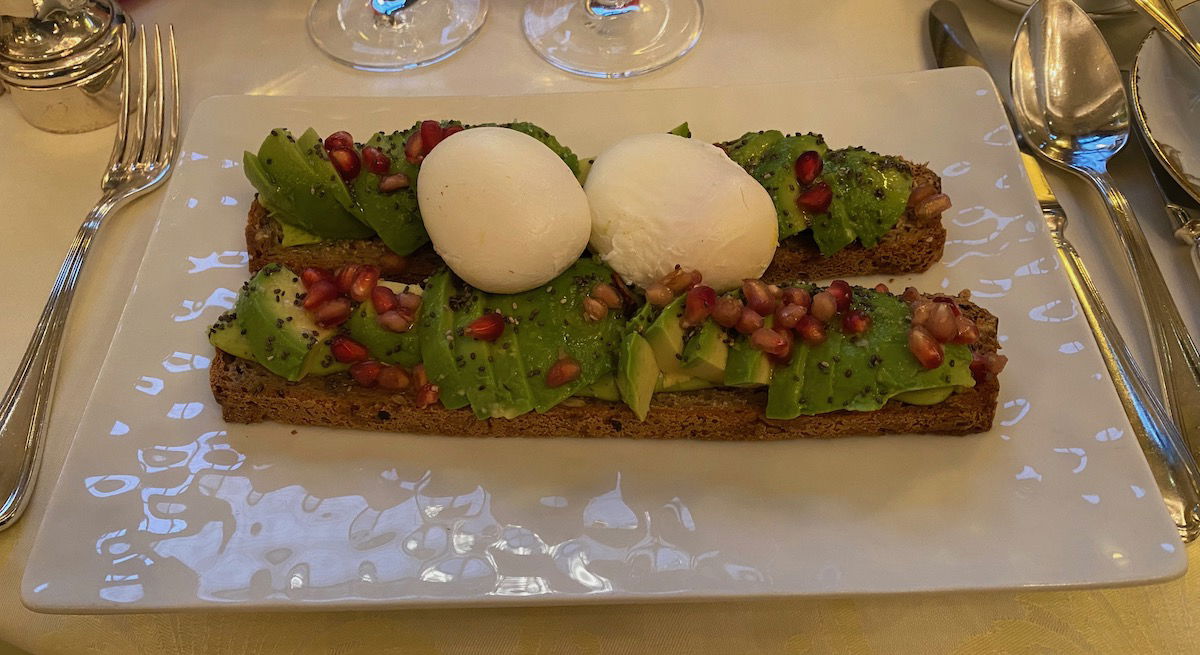 Then there was a tasty acai bowl.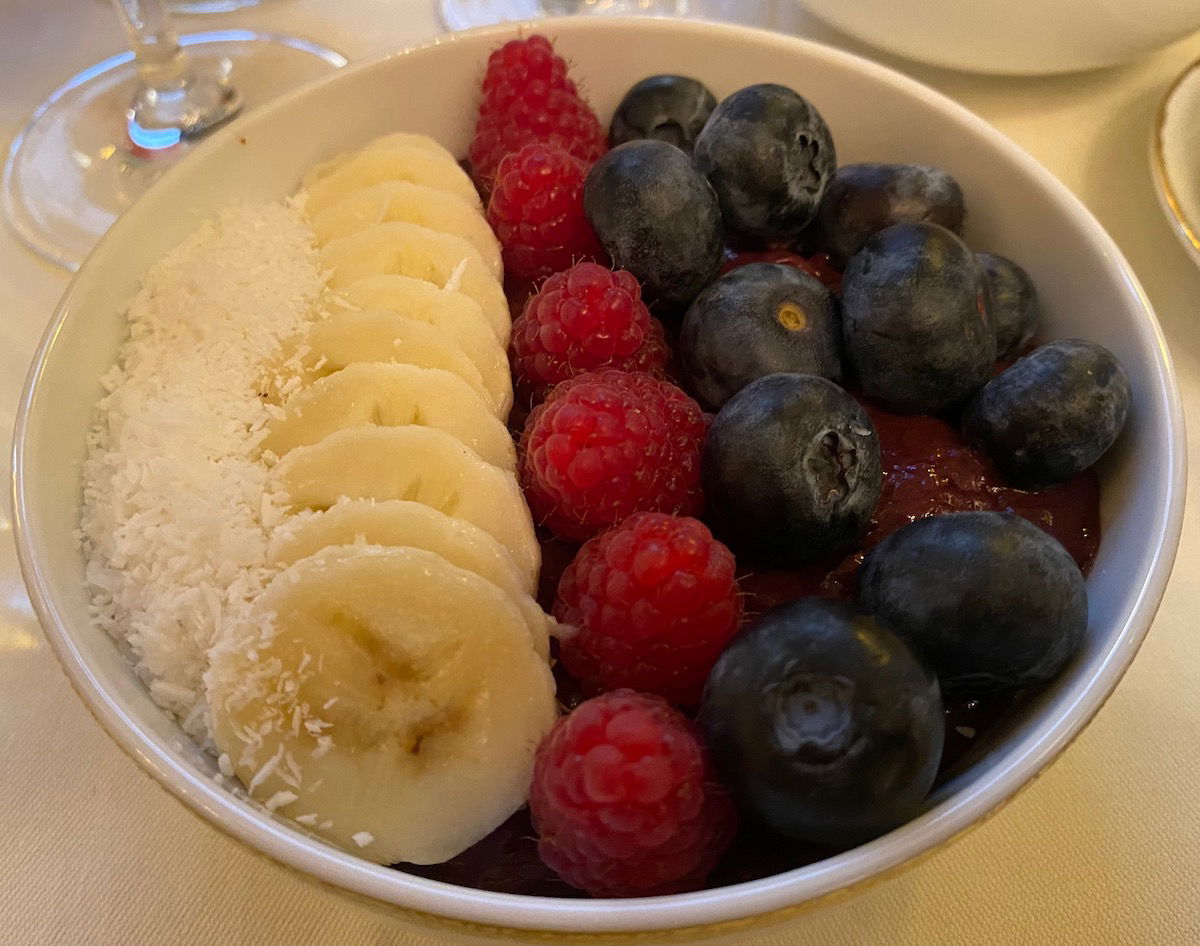 Four Seasons Paris room service (breakfast)
We also had room service breakfast two days at the Four Seasons (you can find the in-room dining menu here). One morning Ford had the American breakfast, while I had the healthy breakfast (this time with an egg white omelet rather than avocado toast), and the other day we both had the same healthy breakfast we had in the restaurant.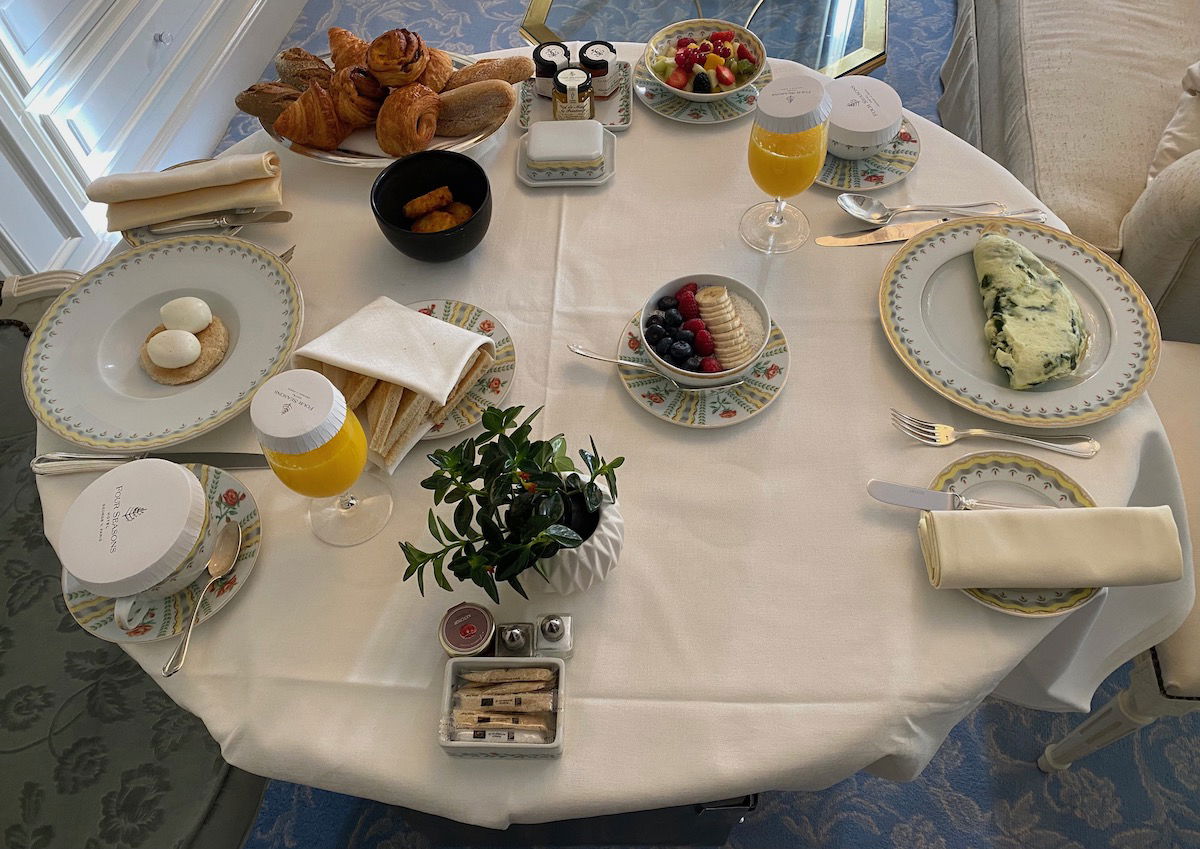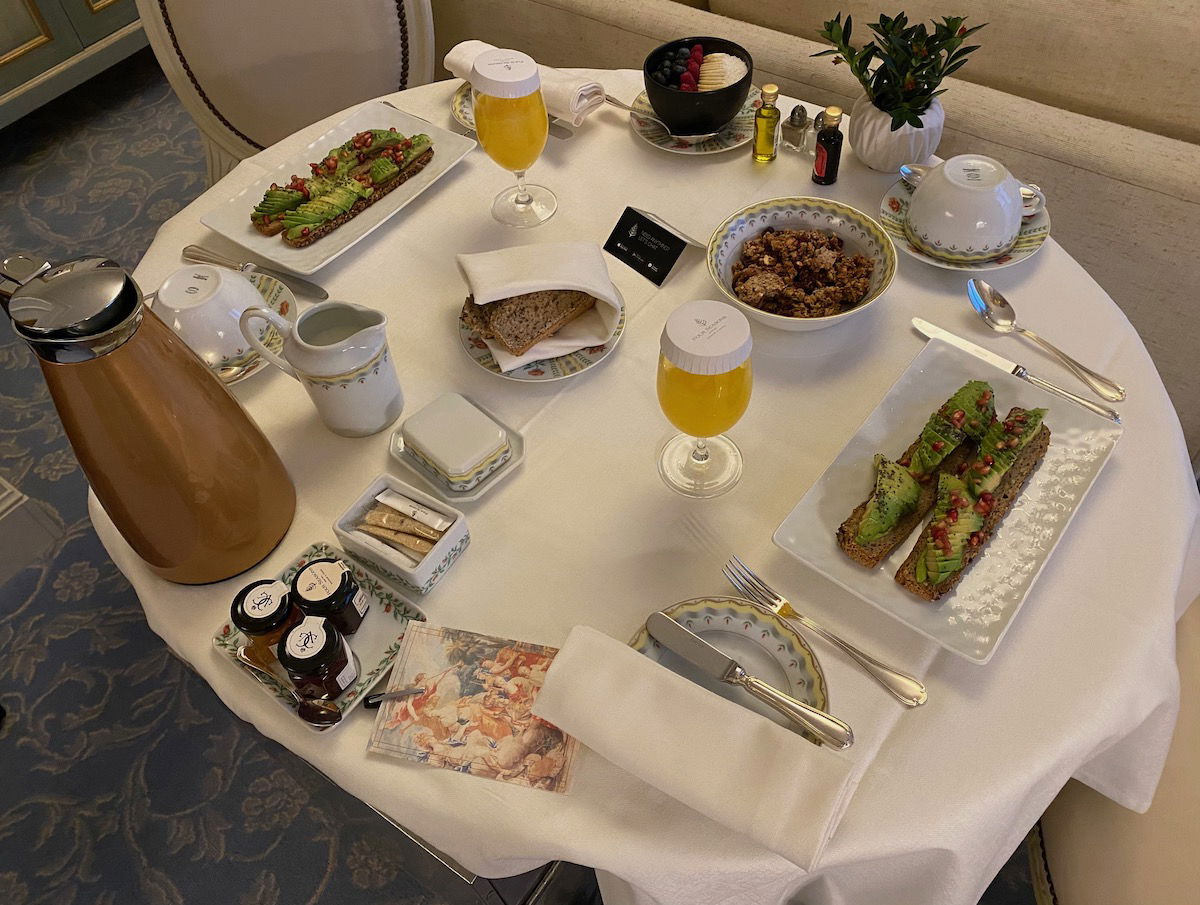 Four Seasons Paris Le Bar (drinks)
Le Bar is the Four Seasons' signature bar, and it's located next to La Galerie, not far from reception. The bar is intimate, but tables are still nicely spaced out.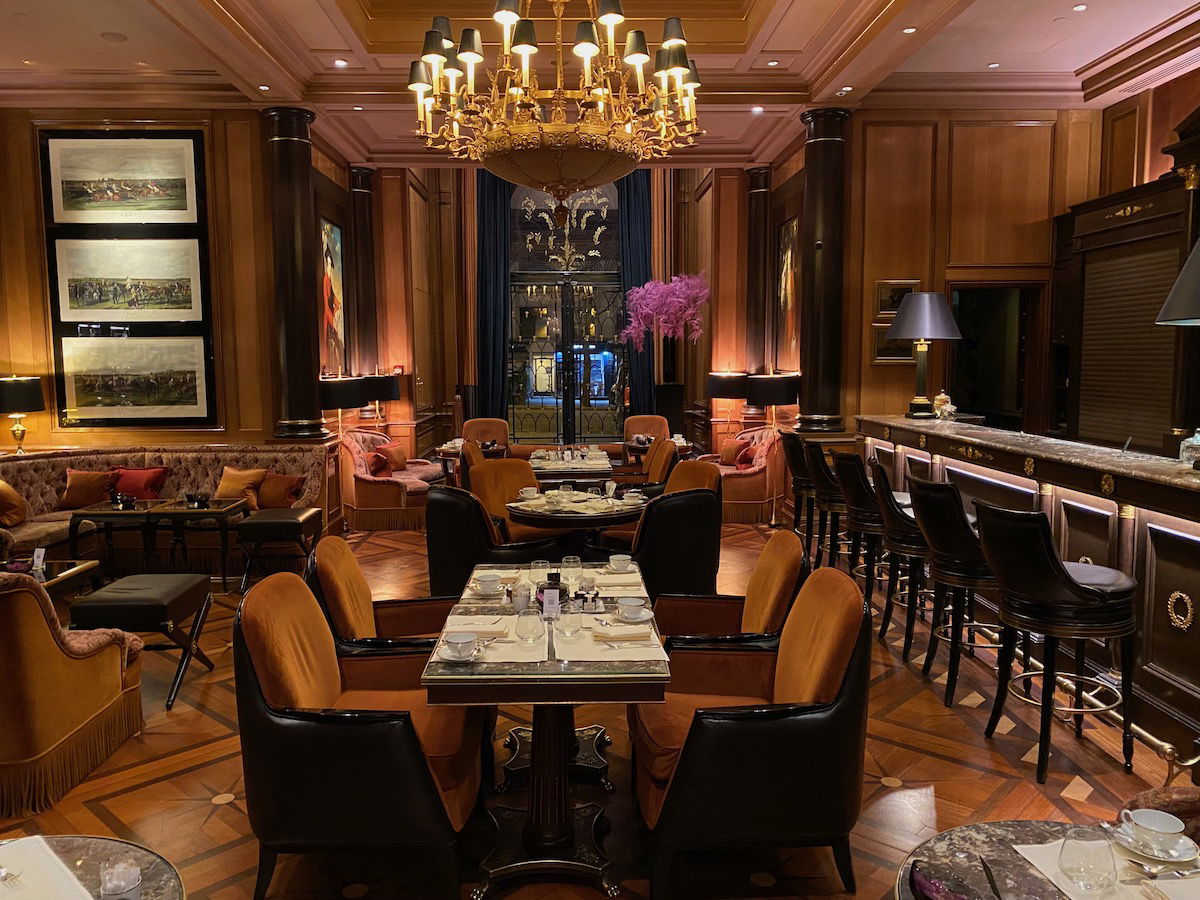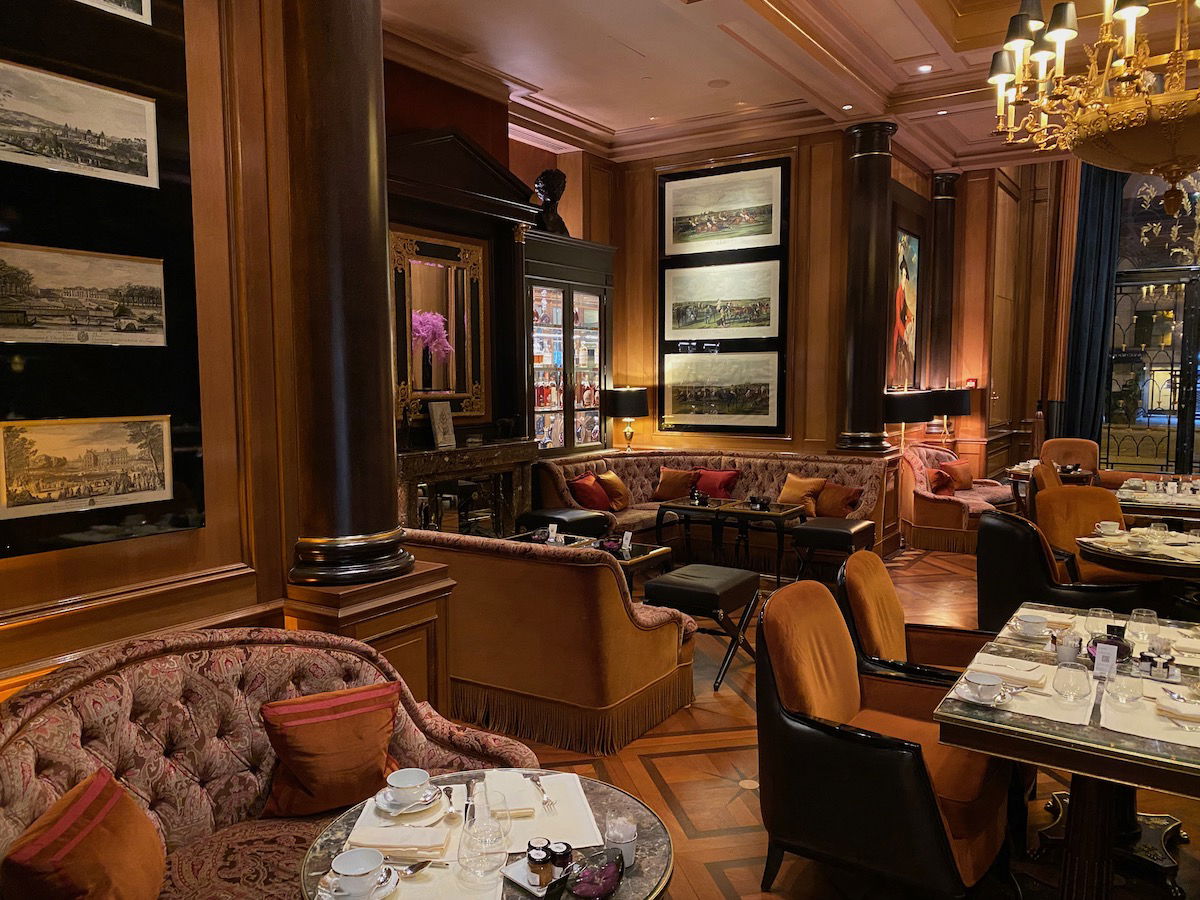 There's also a piano next to the bar, and for much of the evenings there's live music, which is a nice touch.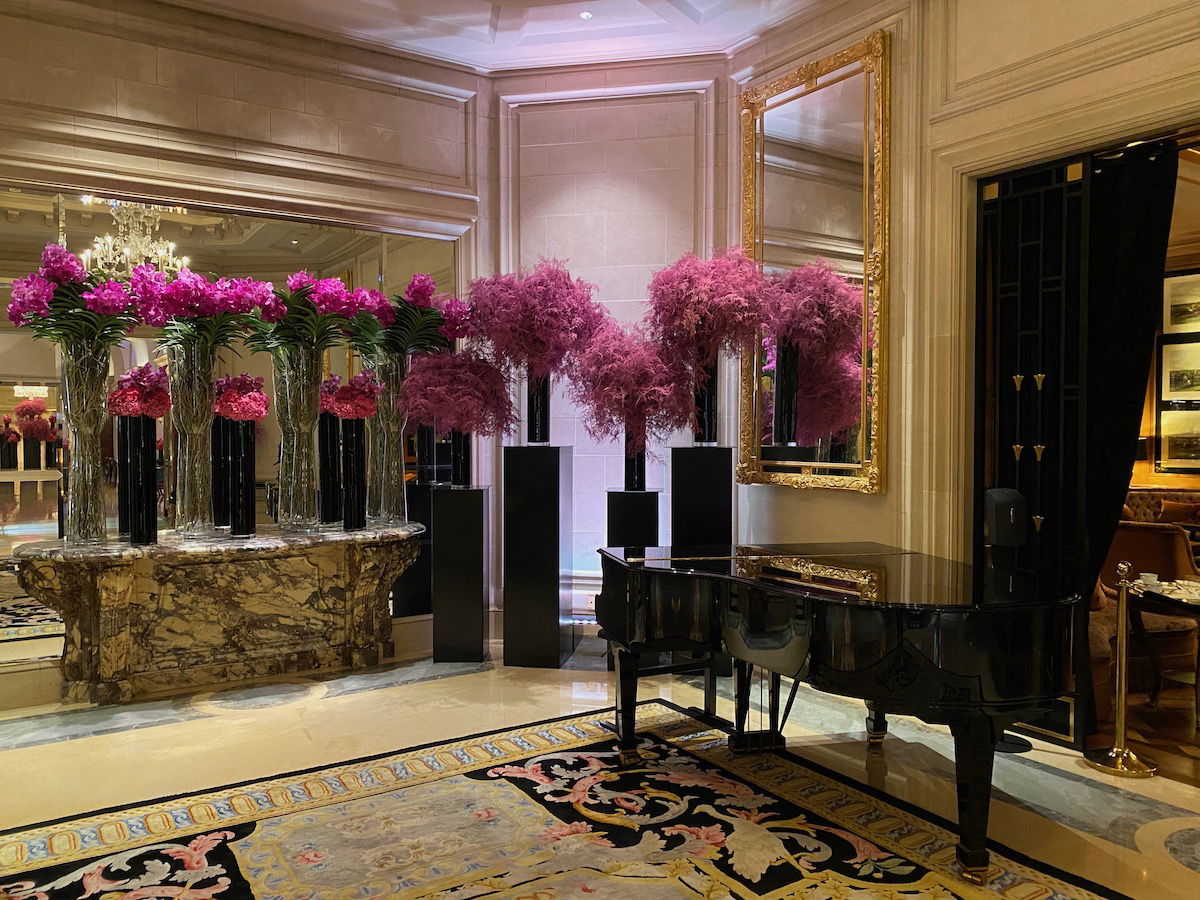 You can find the drink list for Le Bar here. Much like at the Ritz, cocktails are in the range of 30-32 EUR, so you're definitely paying for the scene and ambiance (as you'd expect). On the plus side, the cocktails were excellent, and came with olives and almonds.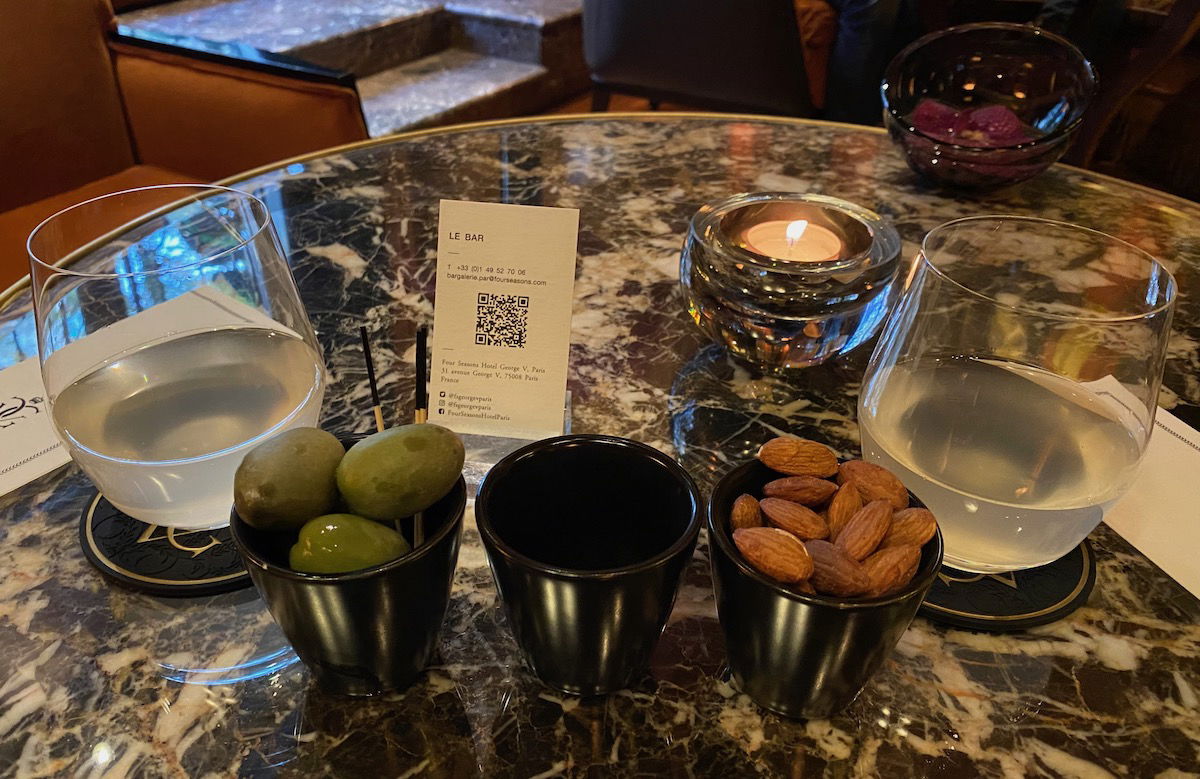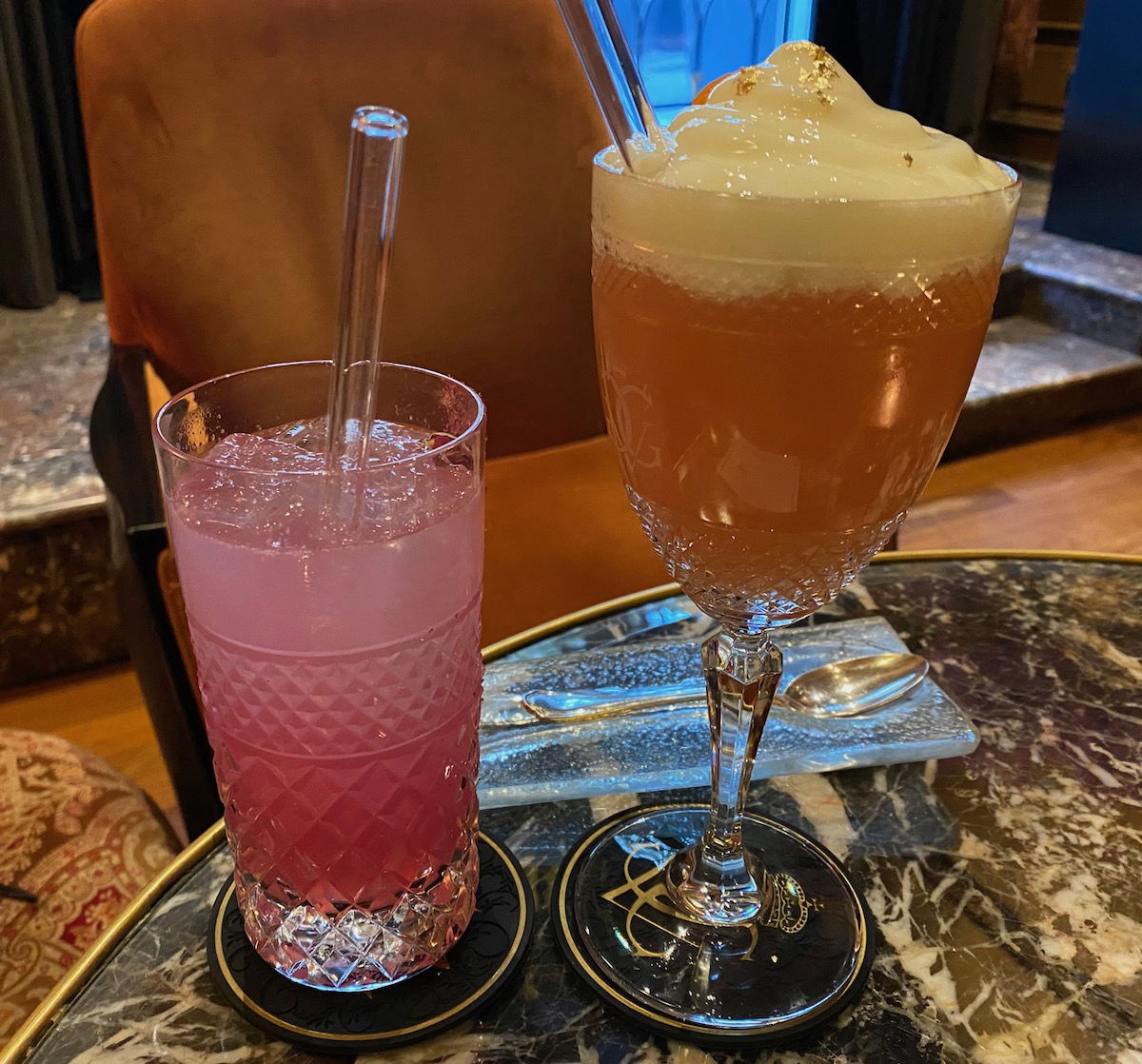 While Le Bar has a nice mix of hotel guests and outside guests, I appreciated that some tables were always held back for hotel guests. We visited the bar a few times, and as soon as we informed them we were hotel guests a table was immediately available.
This was true across outlets at George V, which is in contrast to the Ritz Paris, where it felt like there was no priority service for hotel guests.
Four Seasons Paris Le George (lunch)
Le George is one of the Four Seasons' one Michelin-starred restaurants, serving modern Mediterranean cuisine from Chef Simone Zanoni (who has quite a following, by the way). The restaurant is all about local sourcing and sustainability. I feel like every restaurant says that, except here:
The restaurant has its own garden in Versailles, where a vast majority of the vegetables come from, so that's kind of cool
The restaurant encourages guests to drink complimentary still or sparkling water from a purification system in the kitchen; I feel like virtually every fancy restaurant tries to profit off selling bottled waters, so kudos
We had lunch at Le George one day. The restaurant was bustling, with a nice mix of business people and leisure visitors celebrating special occasions.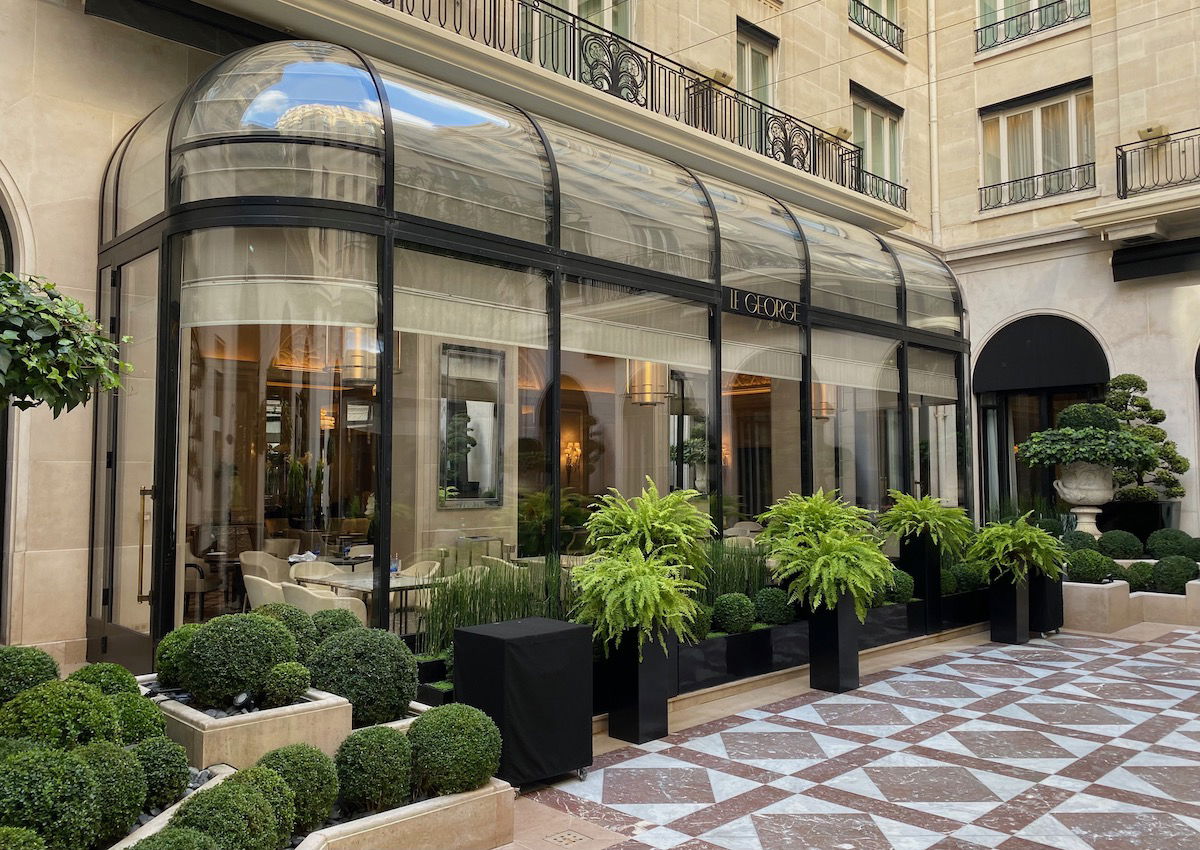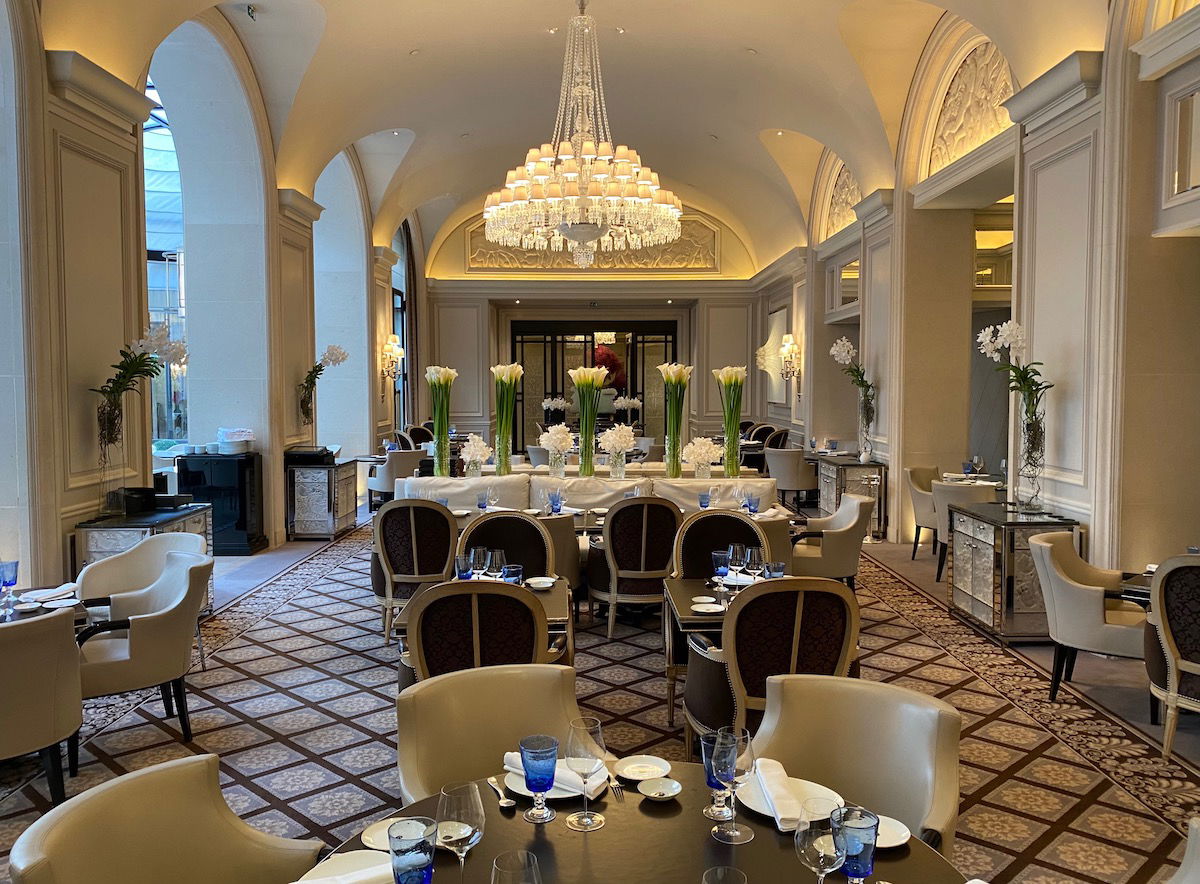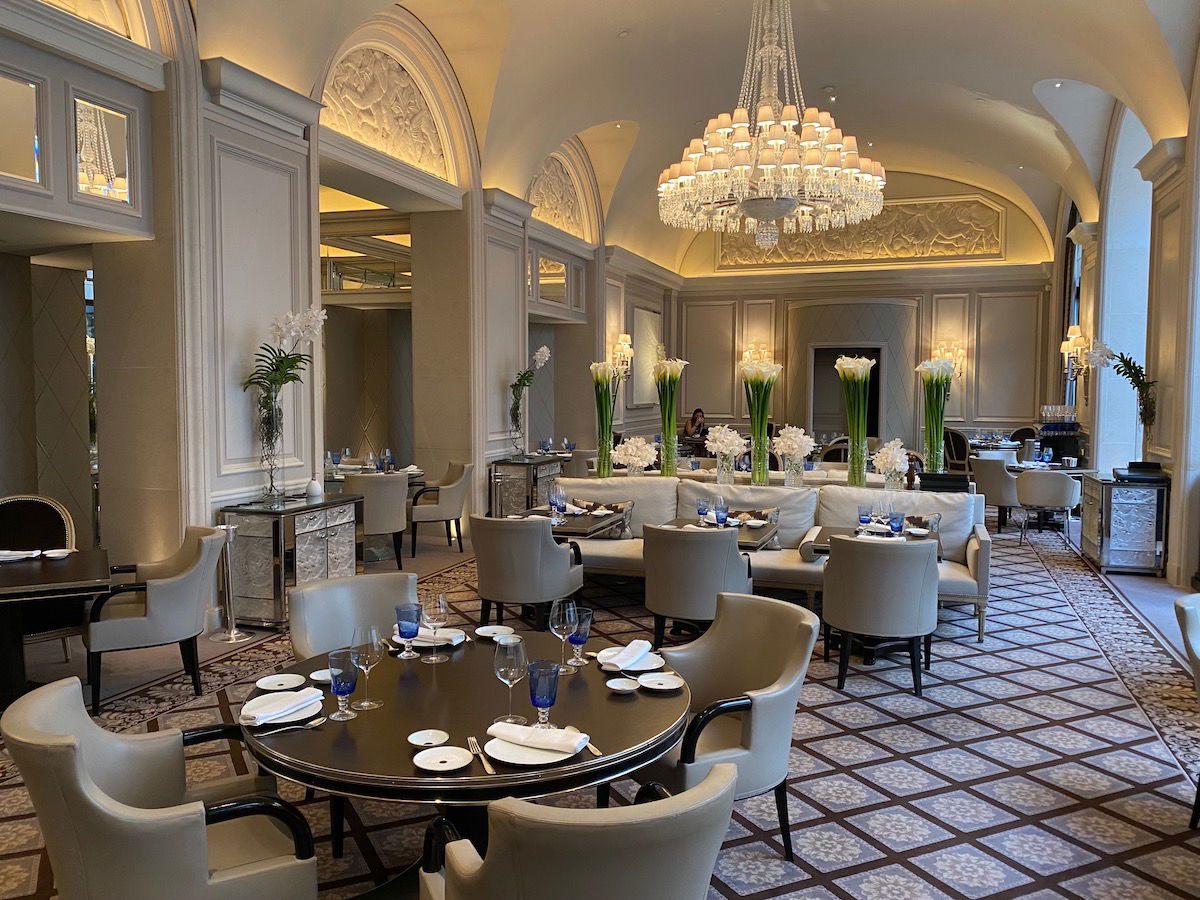 You can find the Le George menu here. We had an incredible testing menu here, which started with a delicious pumpkin soup.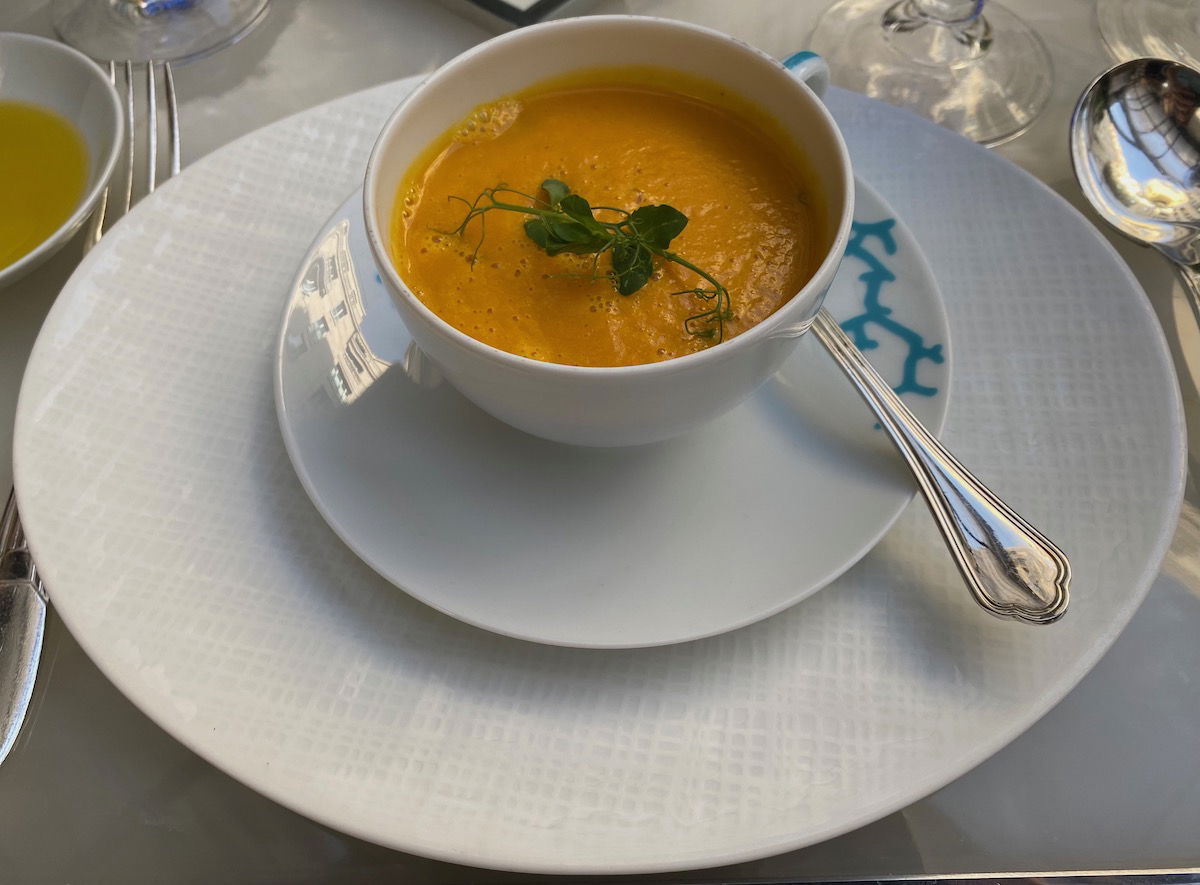 That was followed a red tuna crudo, as well as a tuna crispy rice dish, both of which were mouthwateringly delicious.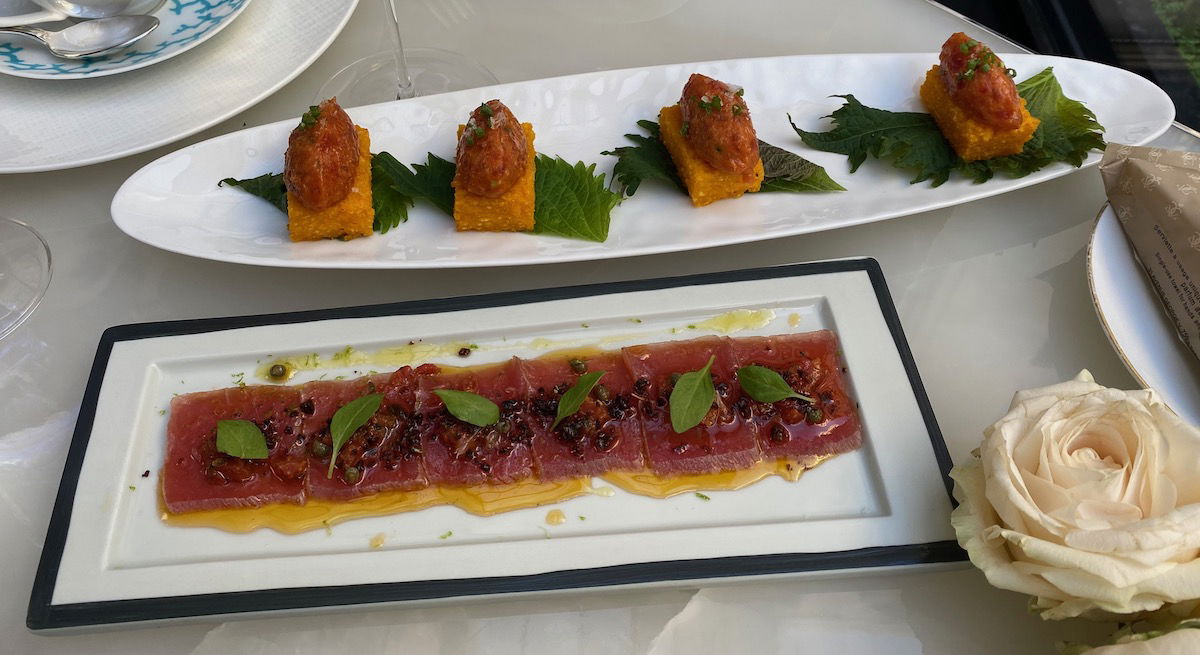 Next up was a ravioli dish, which we loved.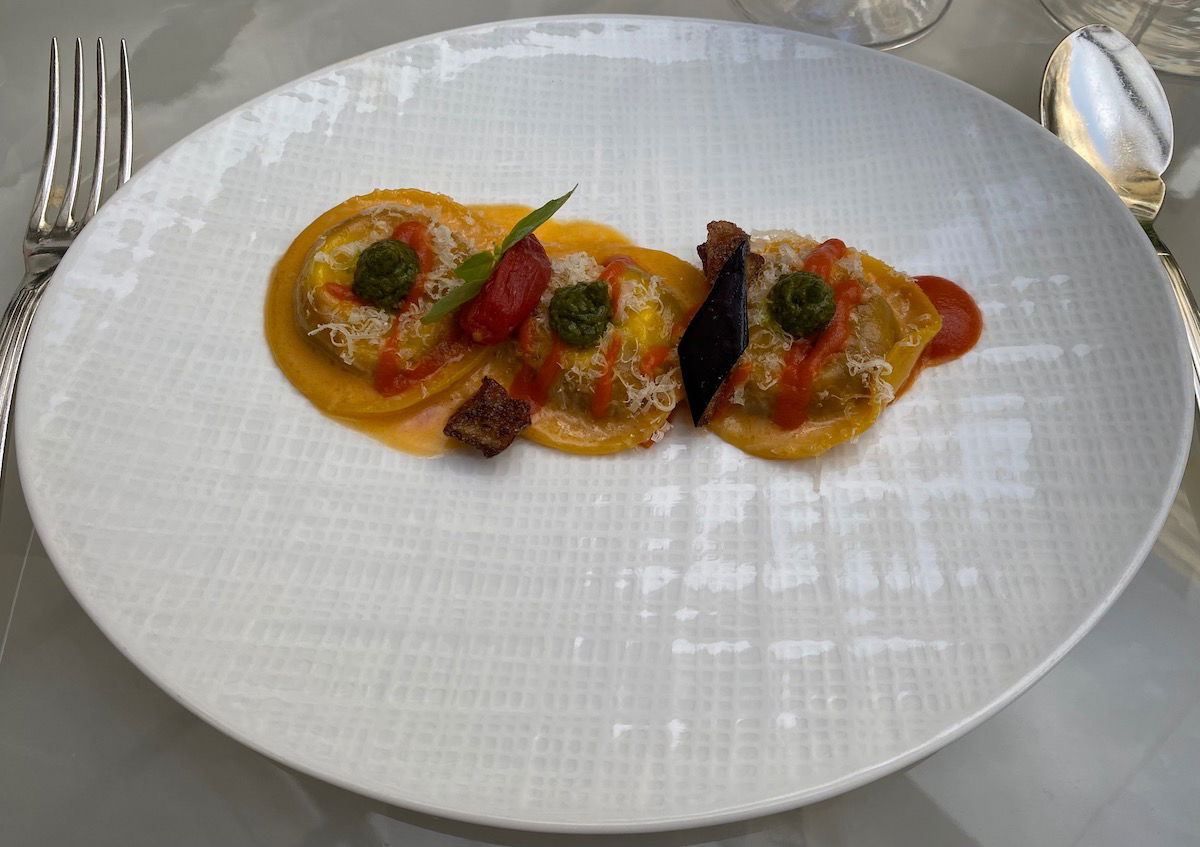 Then there was a roasted sole with basil and vinegar sauce, served with vegetables on the side.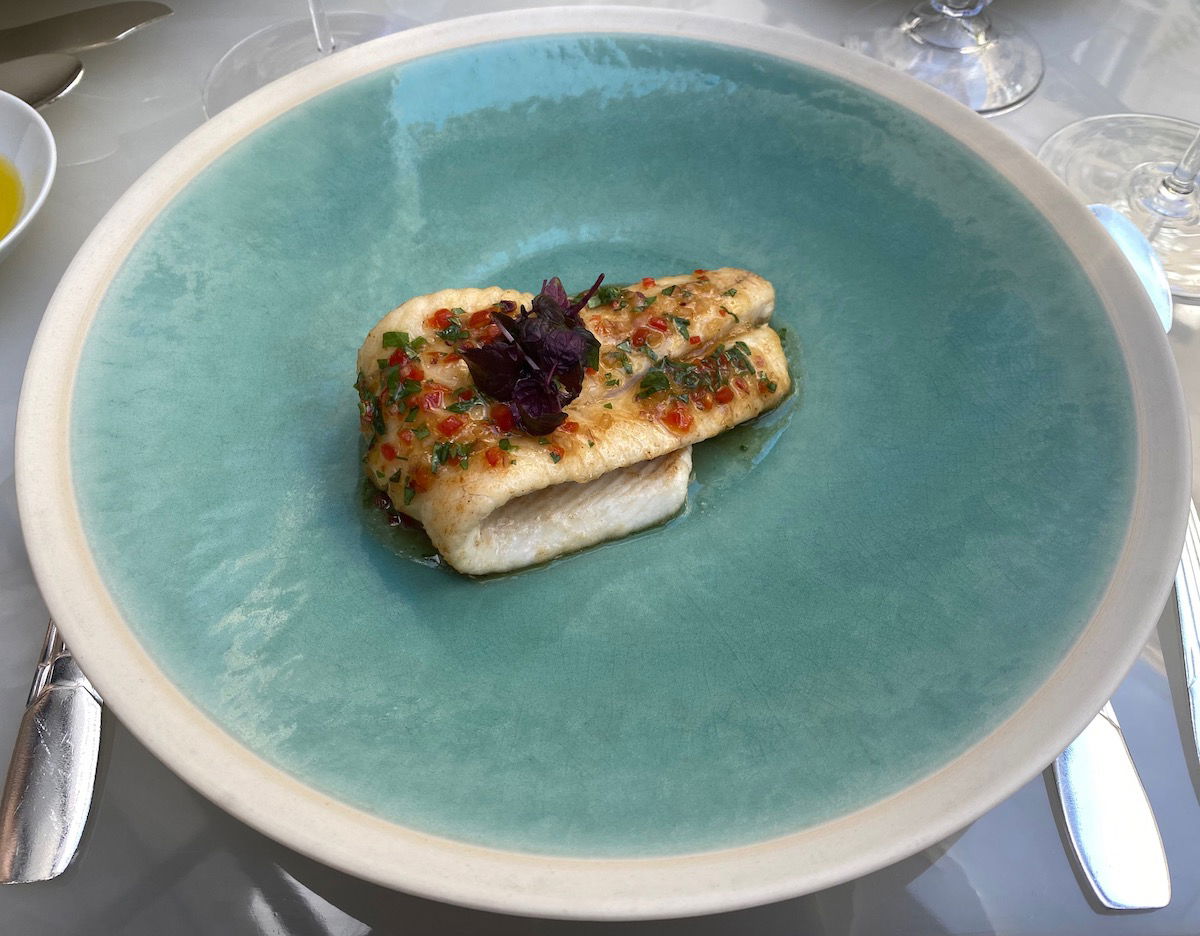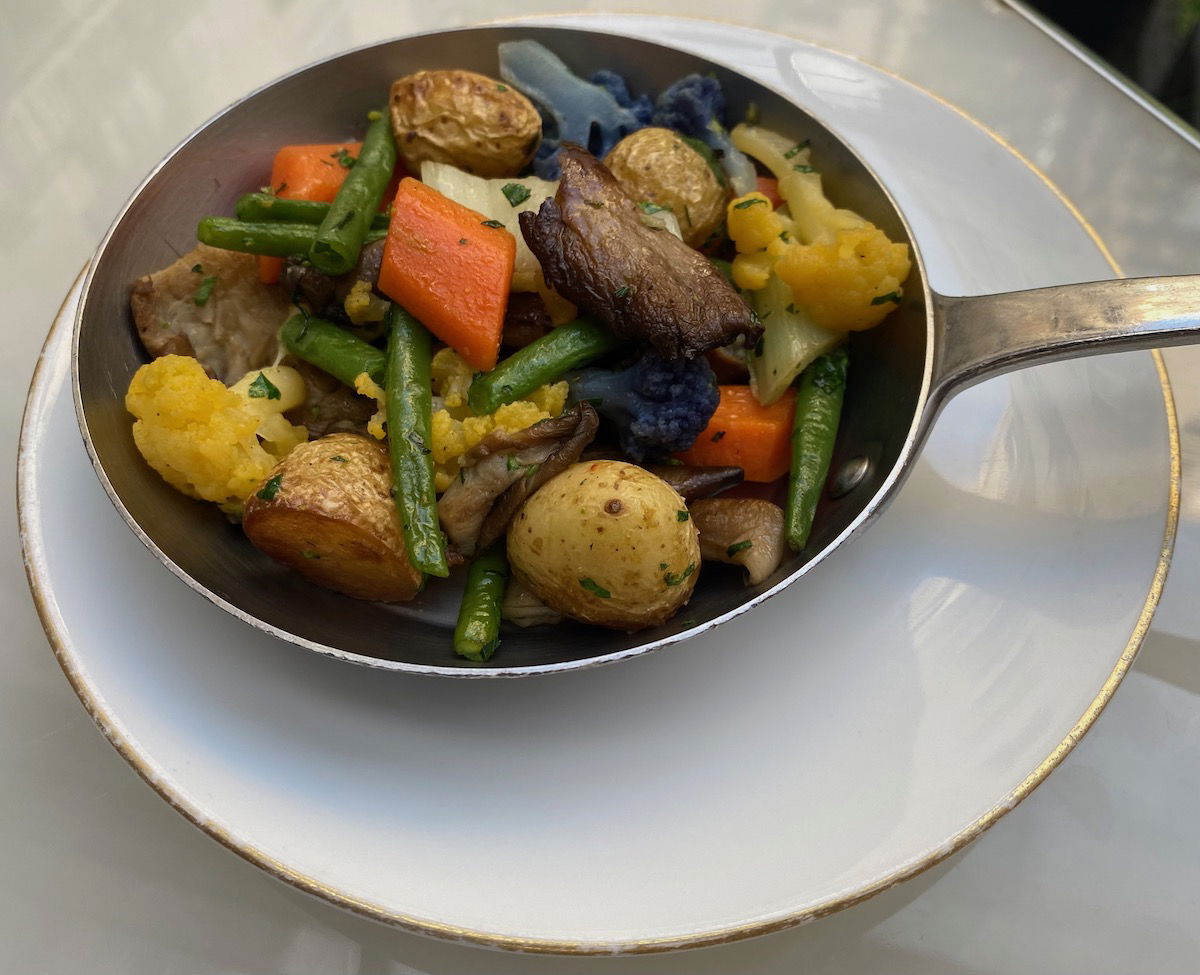 We were also offered a selection of desserts, including a tarte tatin, panna cotta, and shades of hazelnuts.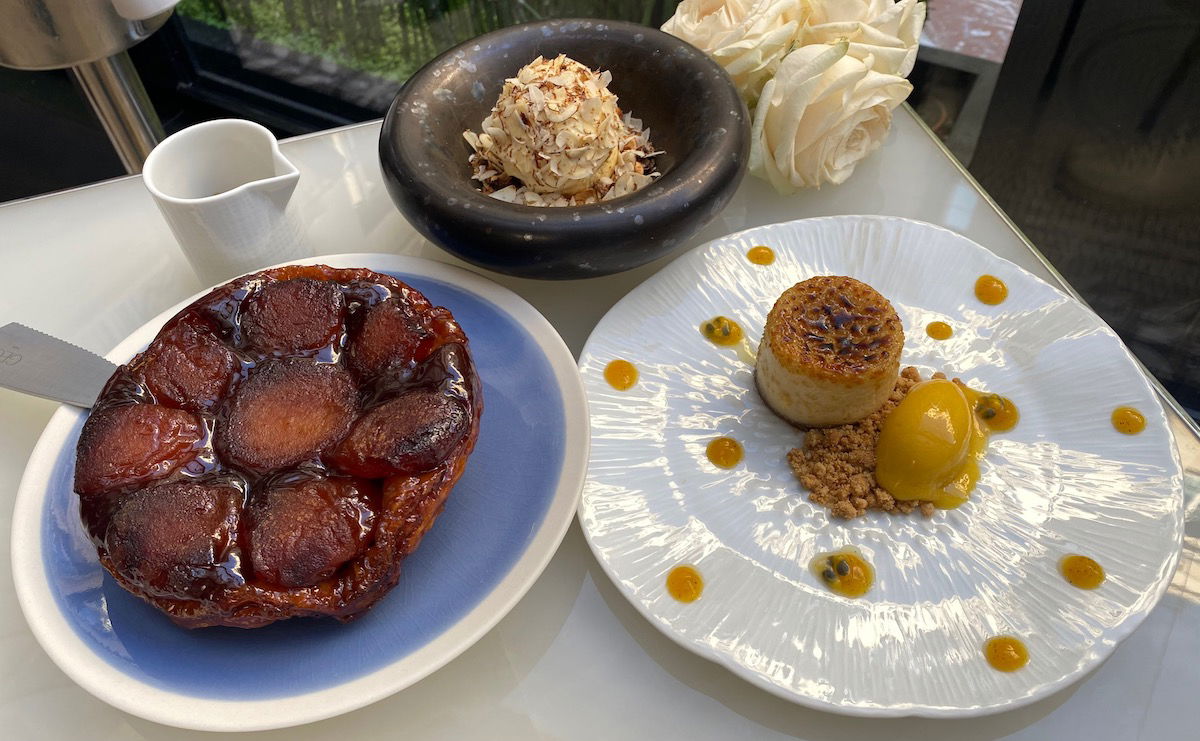 I couldn't put into words how delicious (or filling!) our lunch was. I have to be honest, I'm not someone who has historically sought out Michelin-starred restaurants, since I've often felt like the food has been overly fancy and not terribly approachable. This experience changed my mind about that.
Four Seasons Paris L'Orangerie (dinner)
In our quest to check out everything this hotel has to offer, we decided to have dinner one night at L'Orangerie, the Four Seasons' one Michelin-starred restaurant that has an emphasis on plants and fish. The restaurant has just 17 seats, and it's basically the glassed in area of the La Galerie lounge setup.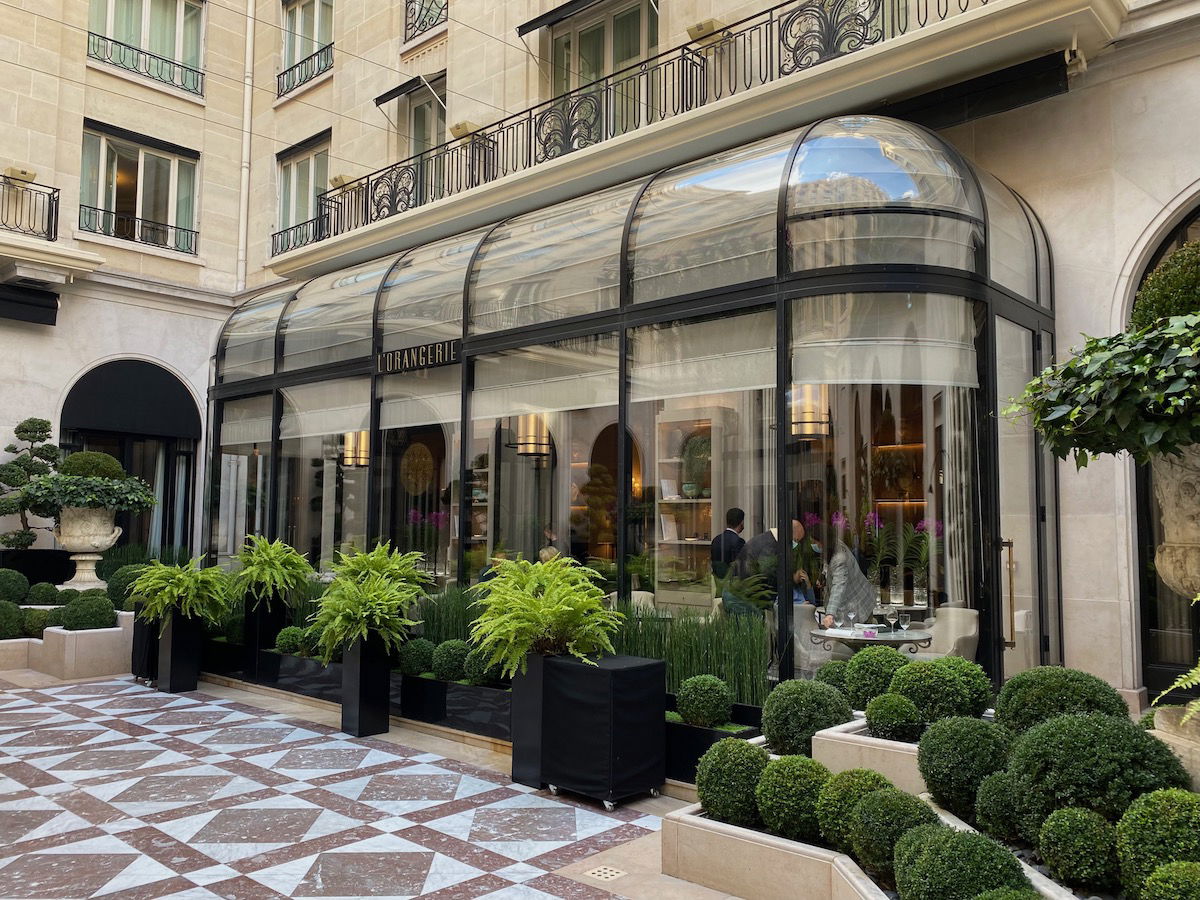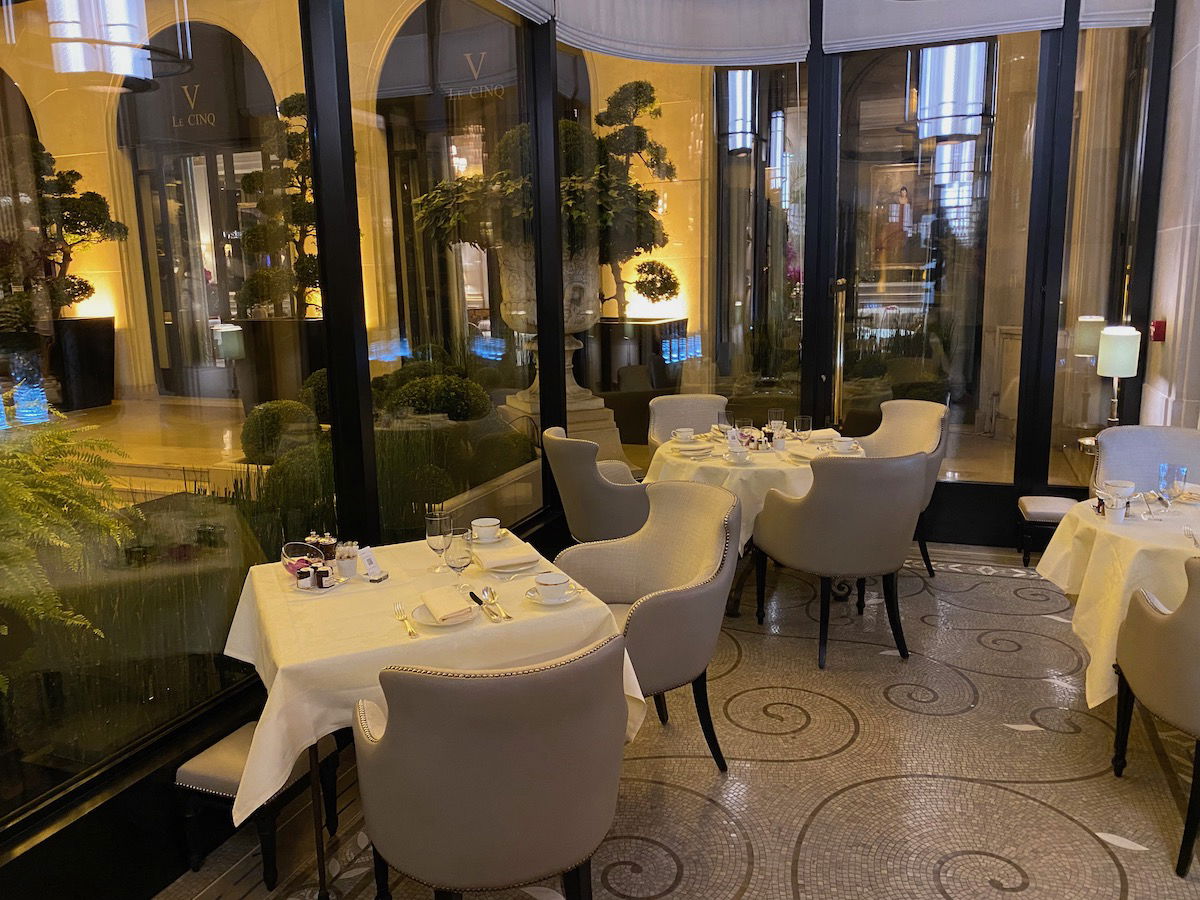 L'Orangerie exclusively has tasting menus in the evenings, and you can choose between a five or seven course tasting menu. You can find the L'Orangerie menu here. We decided to do the seven course tasting menu (165 EUR per person), because why not — you only live once, and it was a special trip.
Service began with some canapés (which were artfully presented), bread with seaweed butter, and an amuse bouche.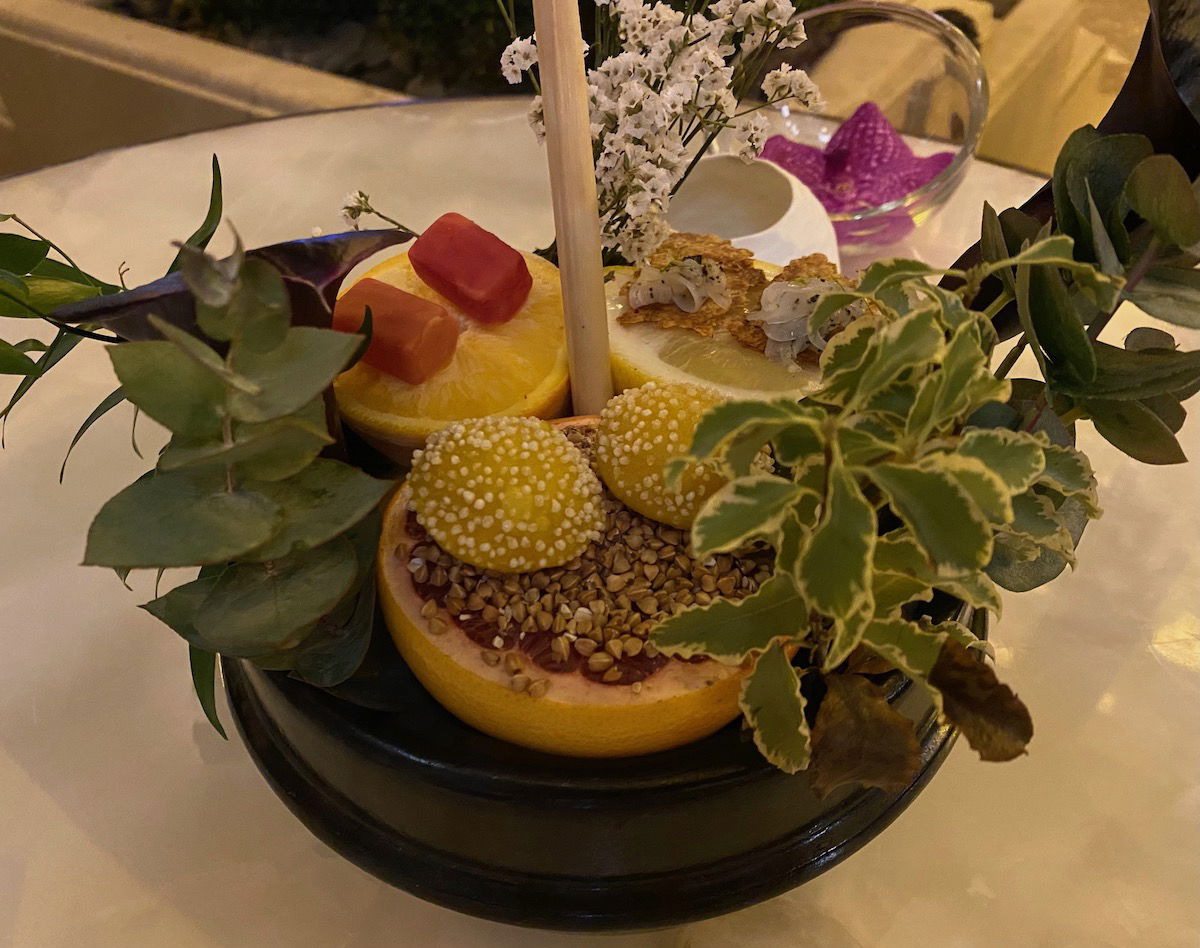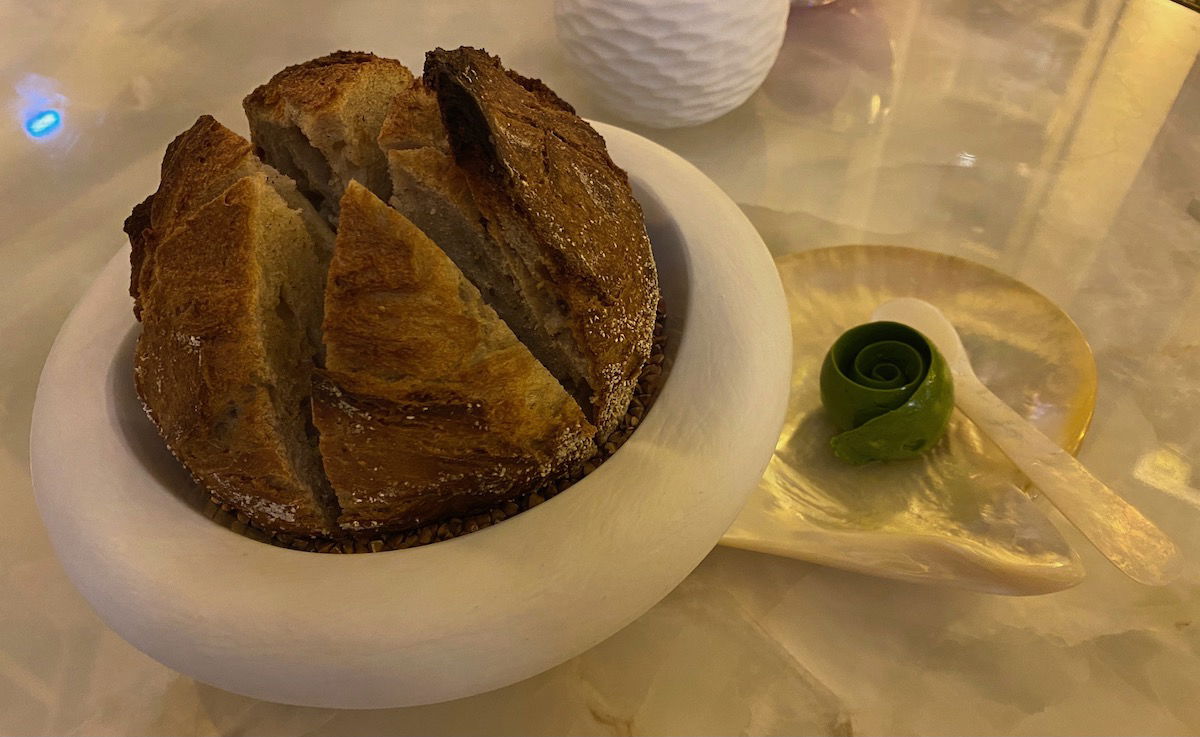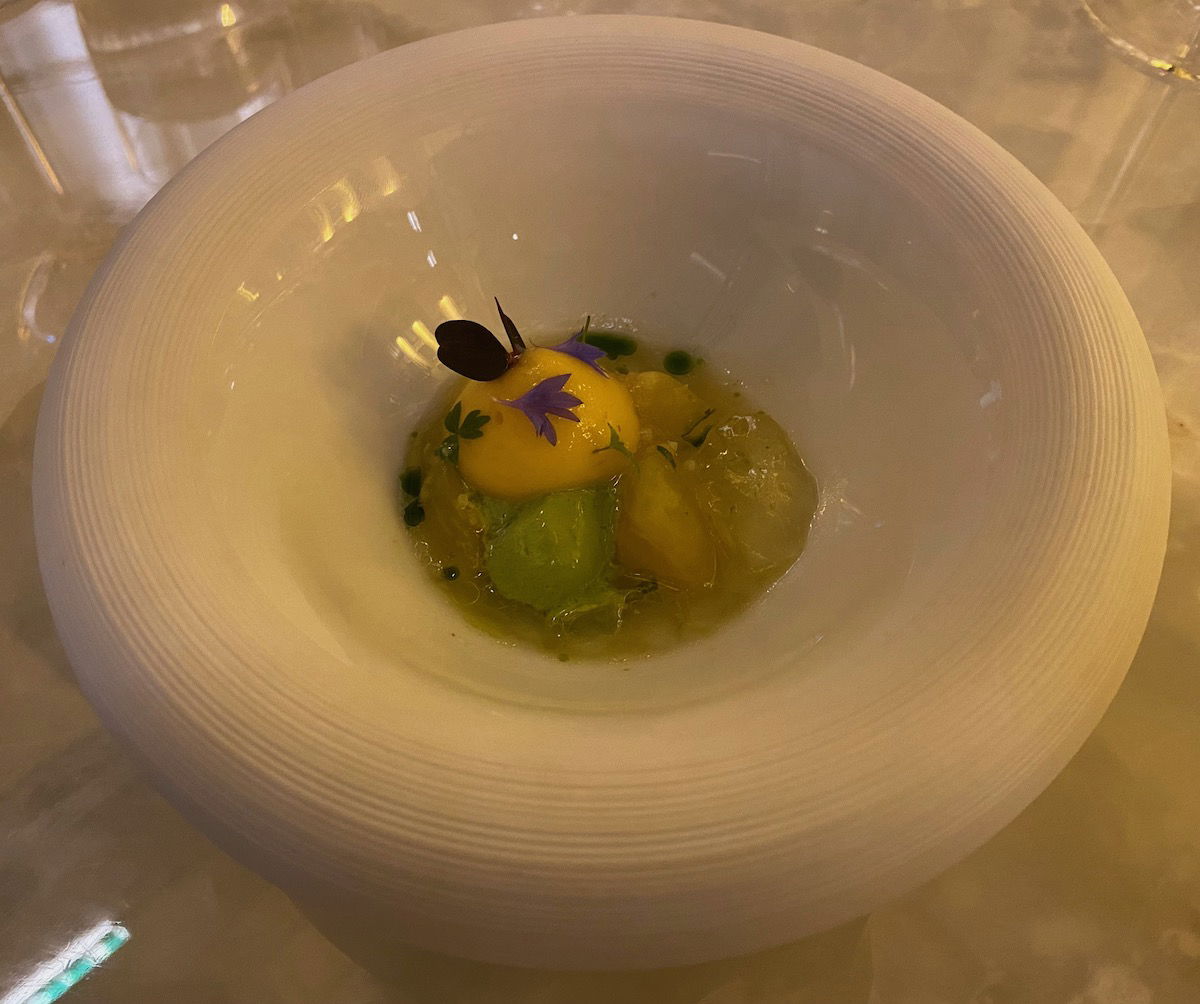 The first course consisted of fresh herbs tartare with goji berries.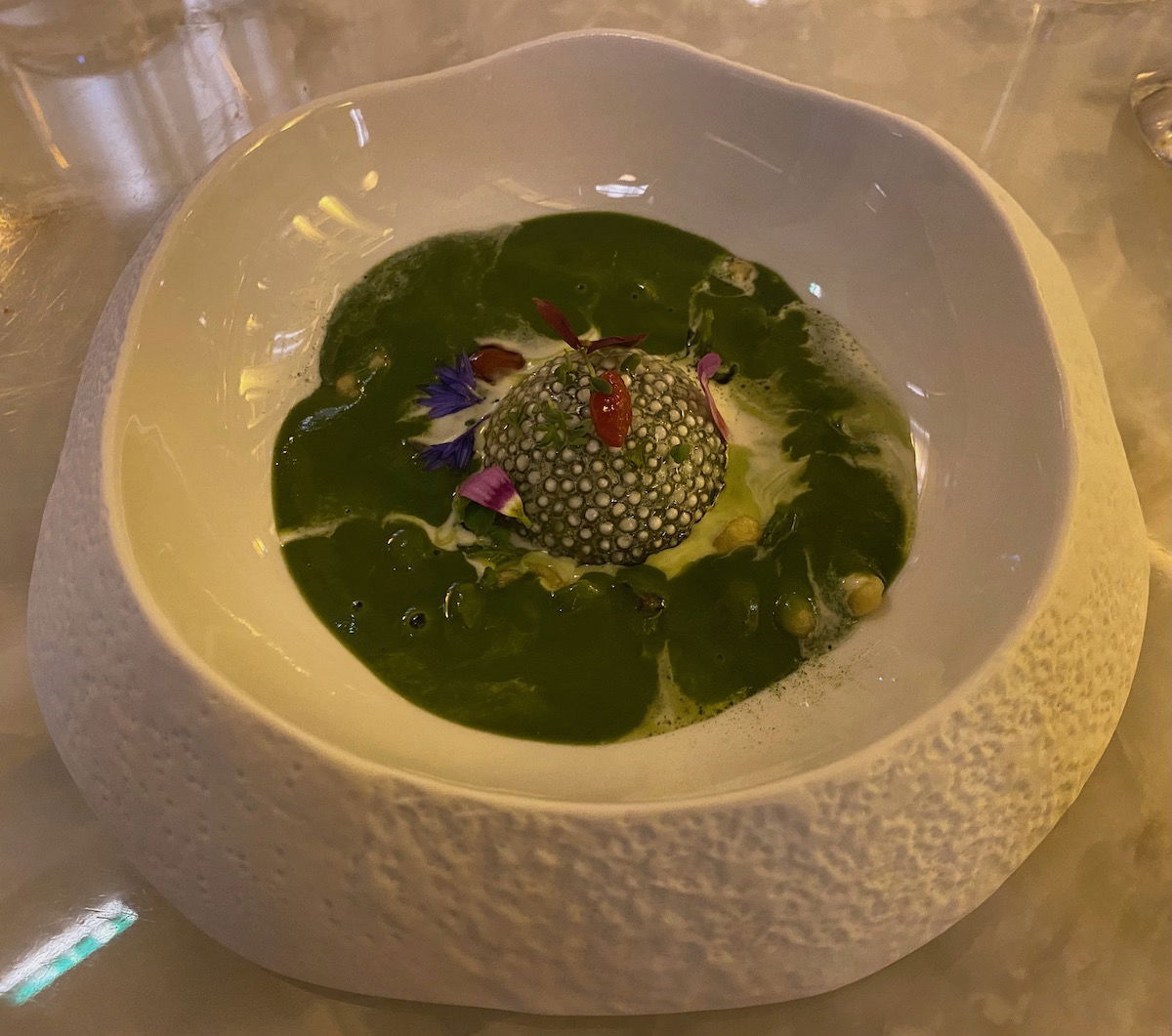 The next course consisted of a smoked salad of braised onions with tarragon.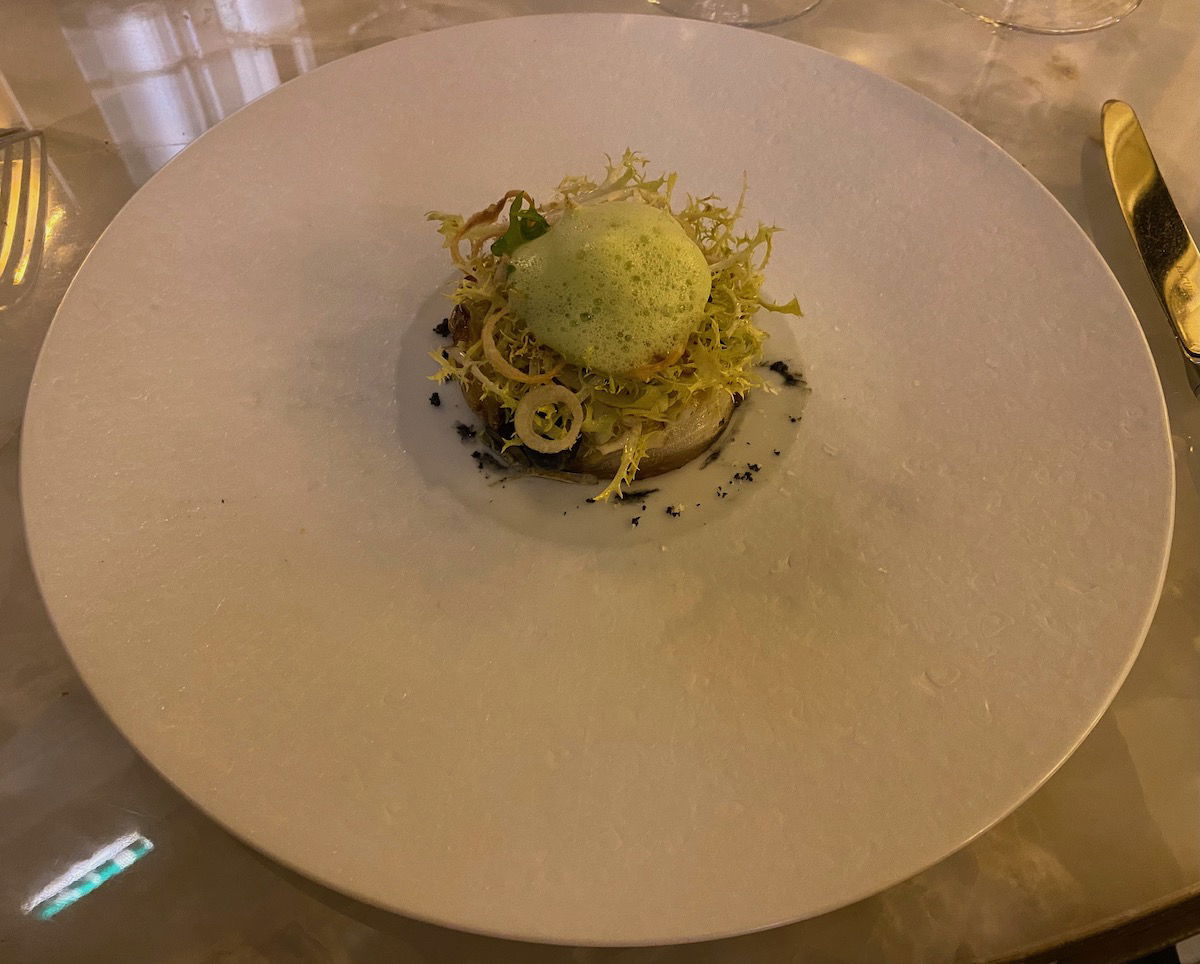 Next up were salt crusted bay prawns garnished with a bouquet of Oscietre caviar. This was plated tableside, and it was a pretty cool presentation.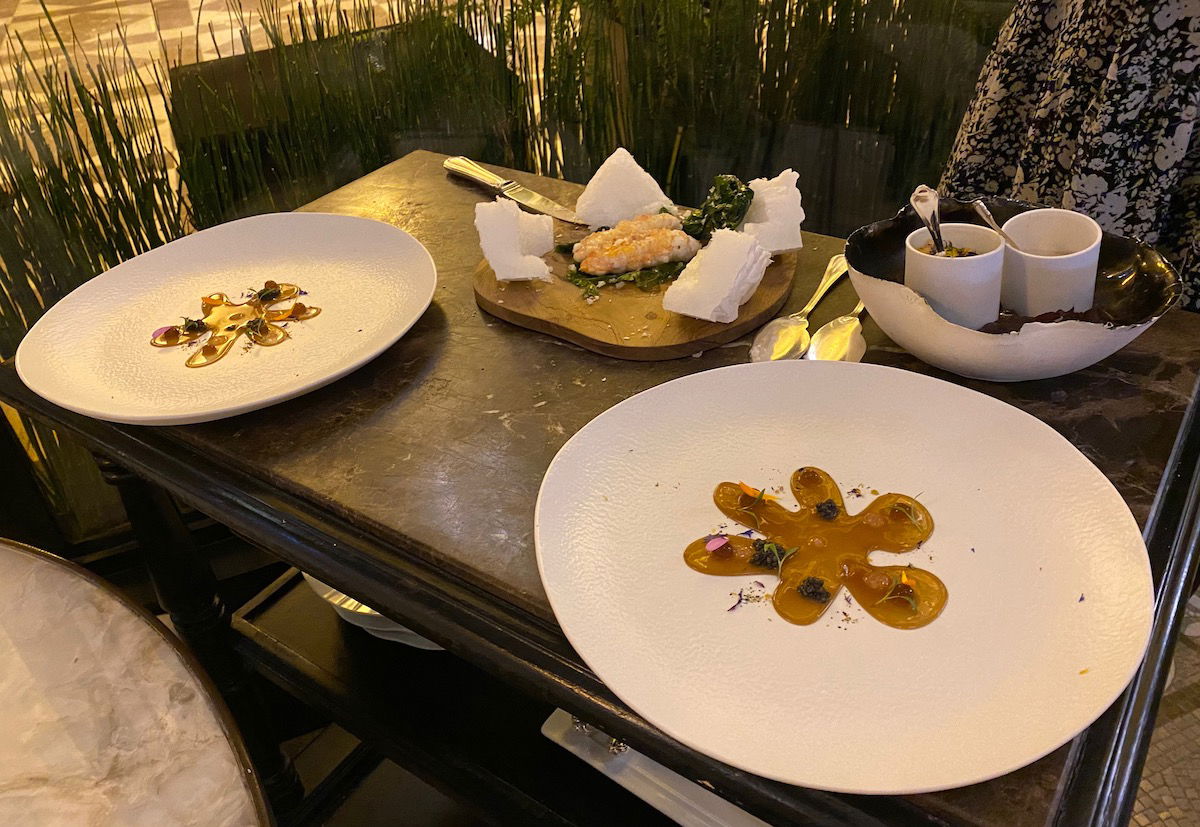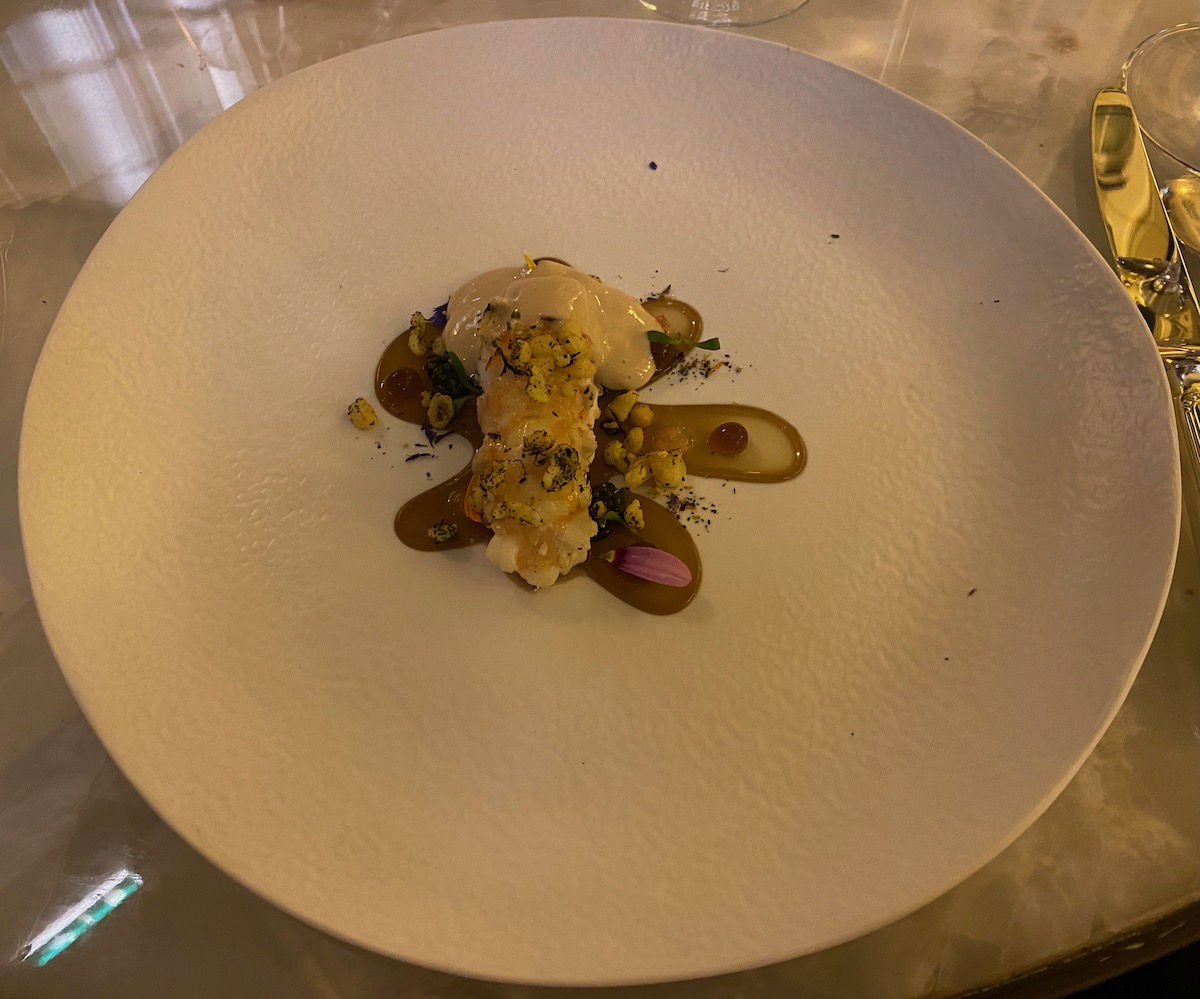 The first of the two mains was sea bream with cucumber tapioca and a spicy juice.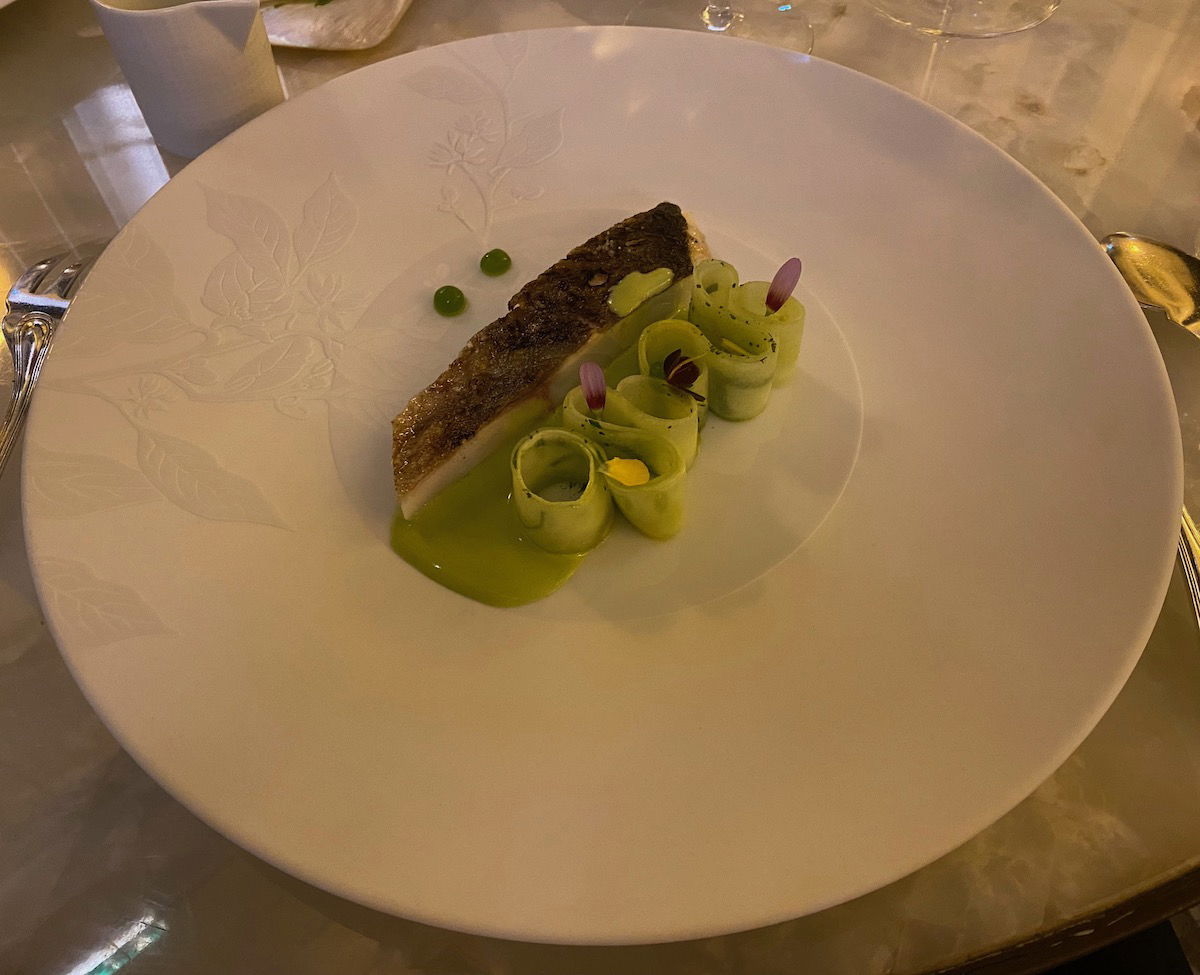 The second main was turbot with broth.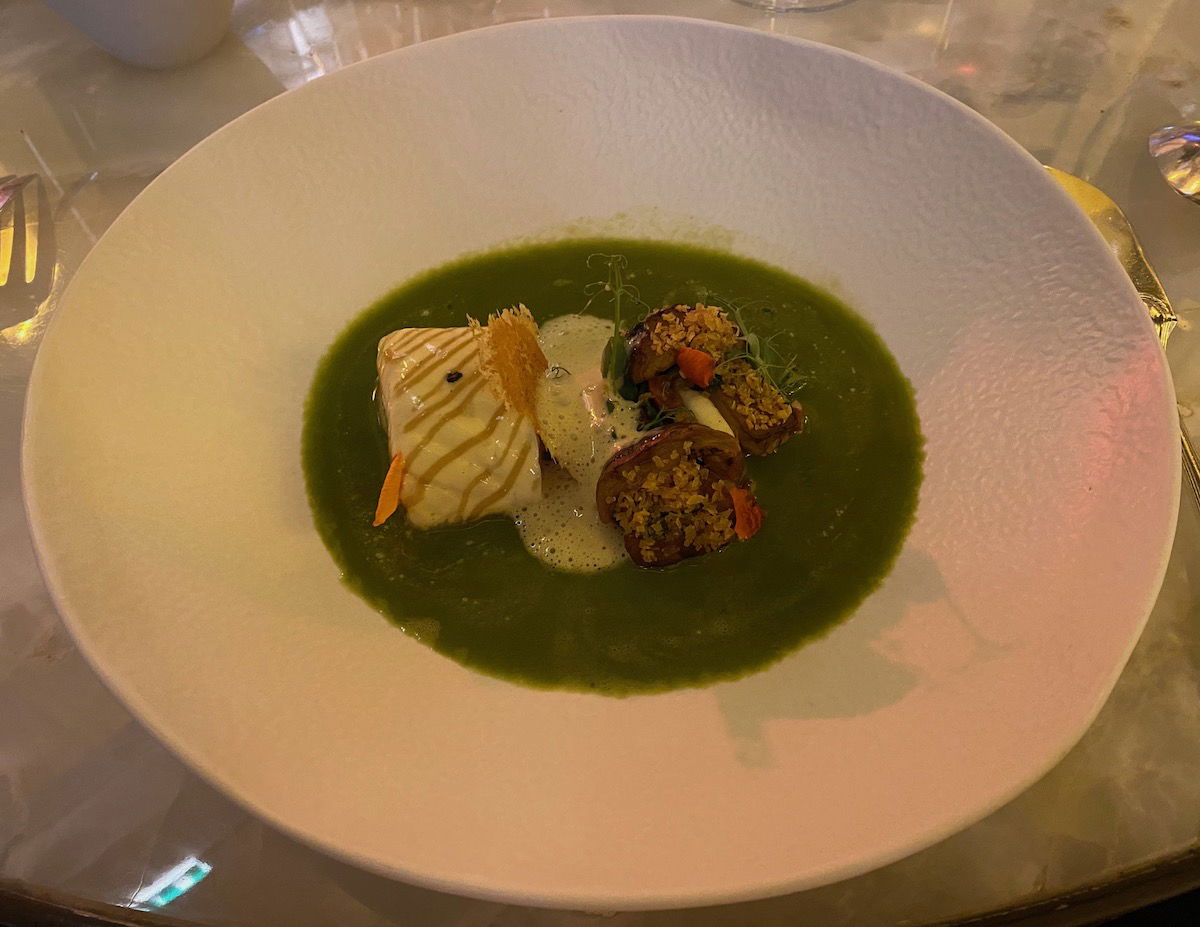 Those five dishes wrapped up the appetizers and mains, so at that point there was a palate cleanser.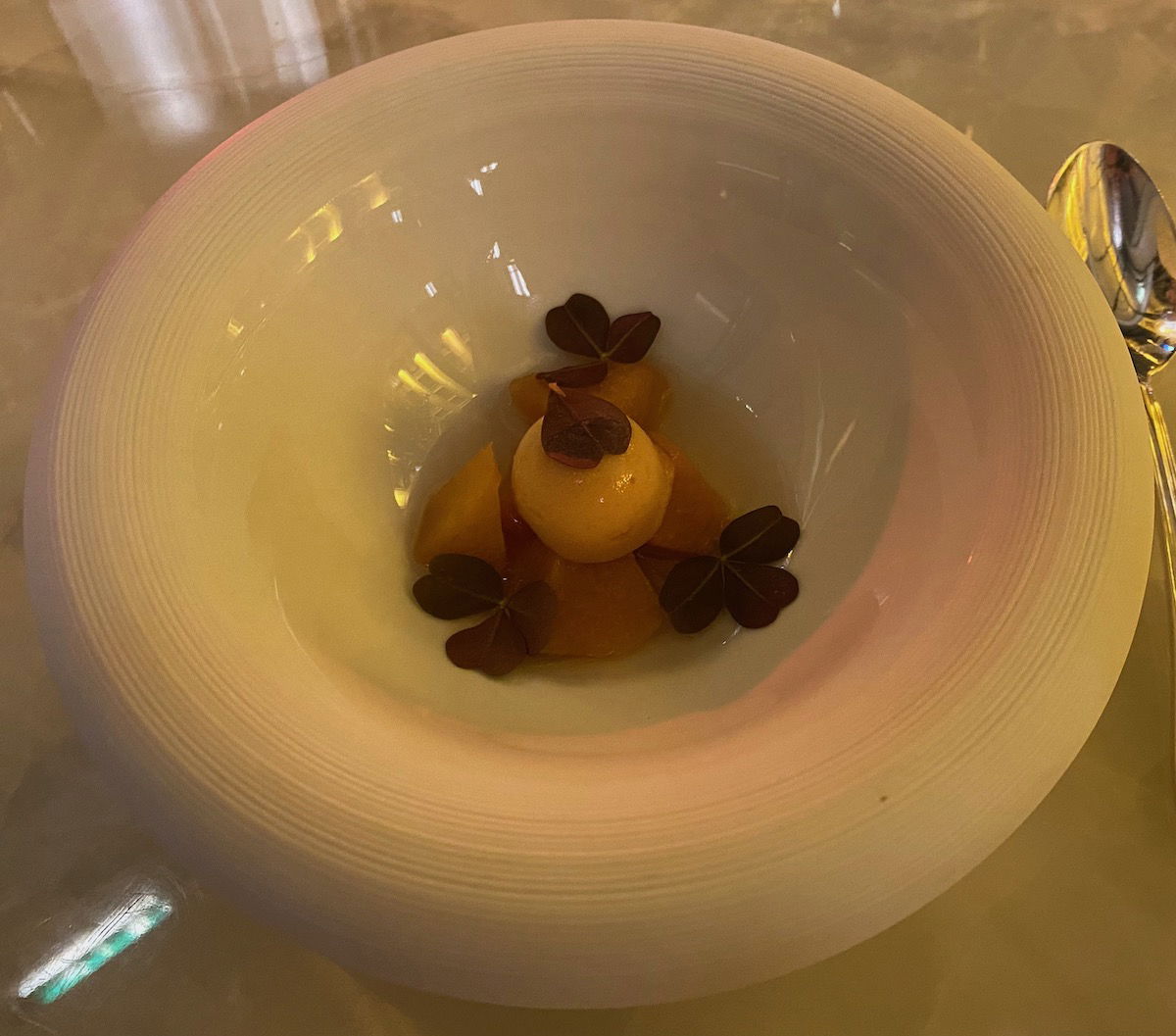 The first dessert consisted of lemon and sheep milk kefir, with a salty shell.
Then there was a pumpkin and passion fruit gavotte with a cinnamon perfume.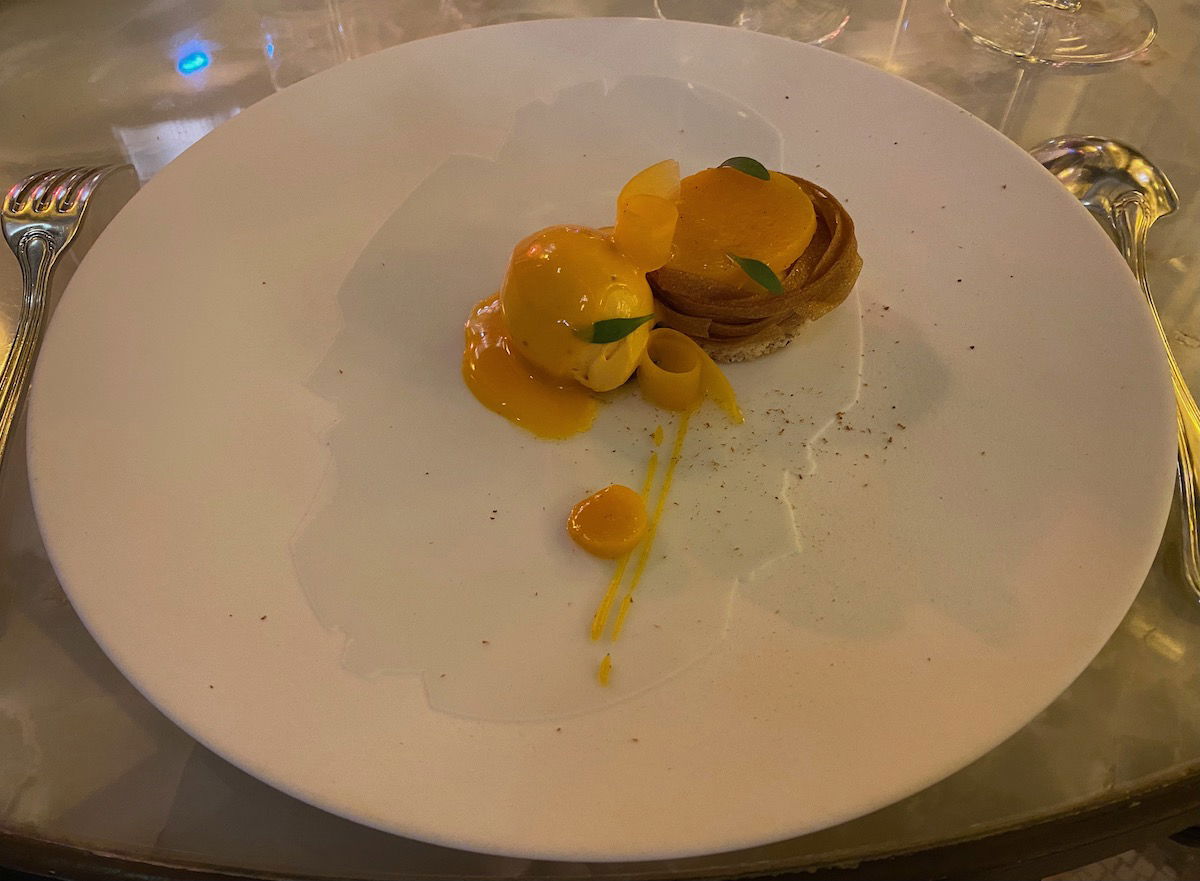 And as if that wasn't enough, there were a couple more small desserts on the house.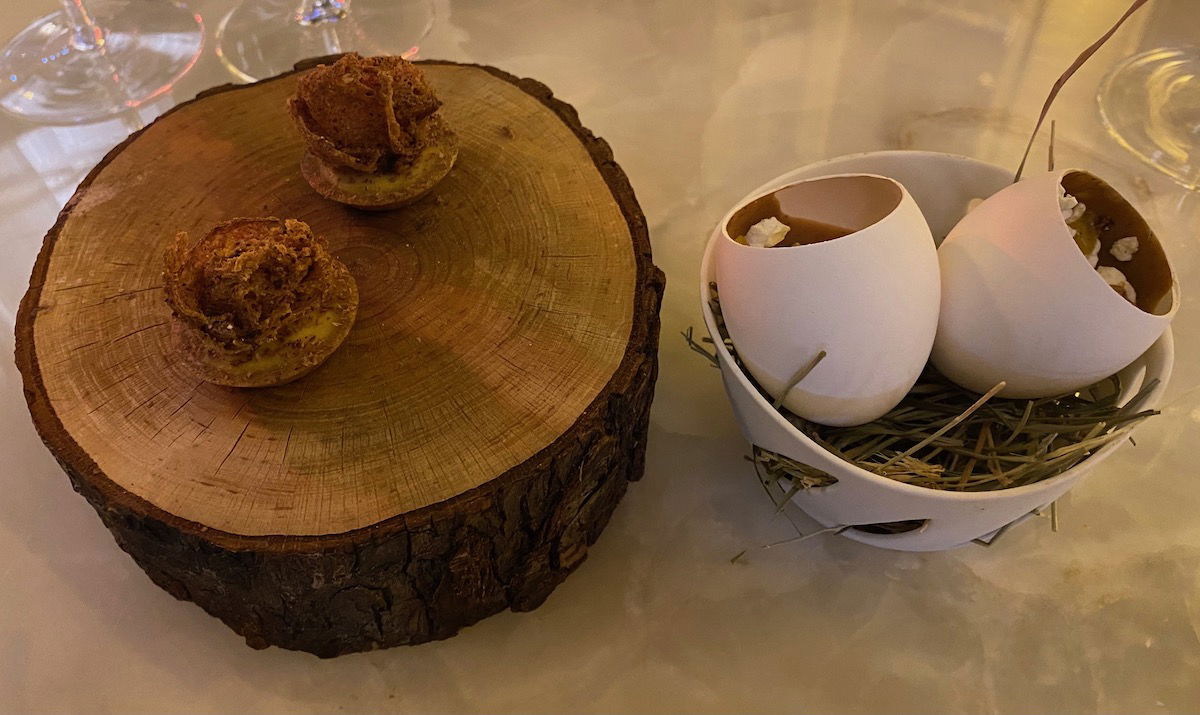 Four Seasons Paris Le Cinq (dinner)
We decided to celebrate Ford's 30th birthday by having dinner at Le Cinq, the Four Seasons' three Michelin-starred restaurants. We've never knowingly sought out Michelin-starred restaurants, but after two amazing meals at one Michelin-starred restaurants, we couldn't help but want to try a three Michelin-starred restaurant. How on earth could this be more over-the-top than the other restaurants?!?
Le Cinq is just open for dinner, and it's located behind La Galerie.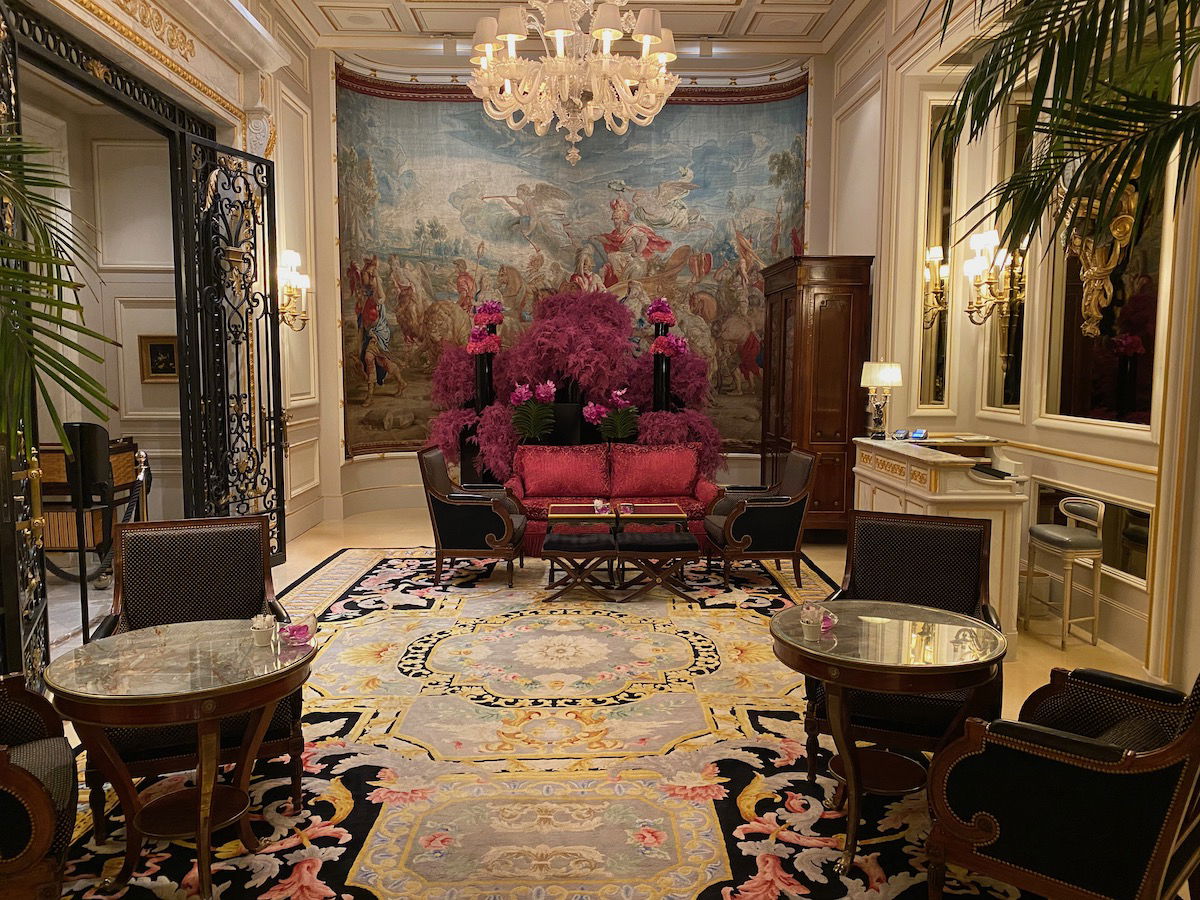 The restaurant is in what's probably one of the most elegant rooms I've ever seen. The below picture was taken in the morning, while in the evening it was set up even more exquisitely, with each table having candles and flower petals.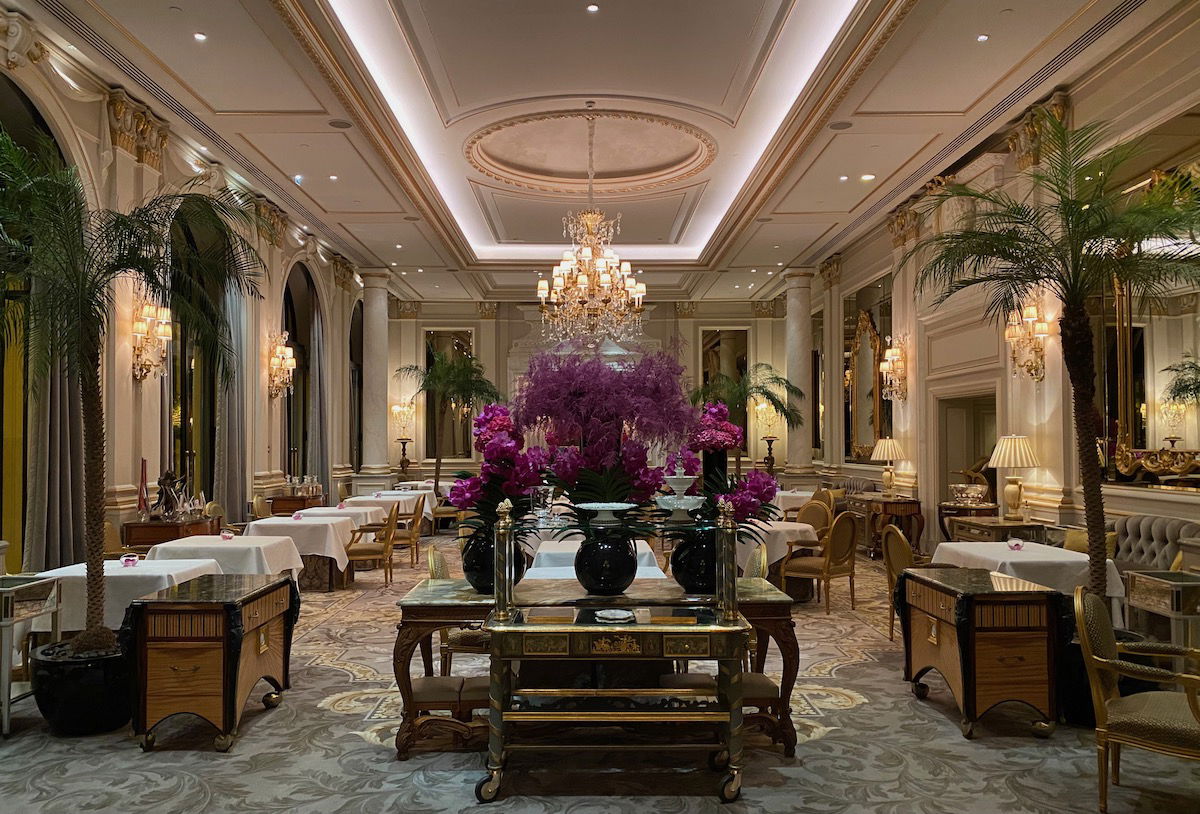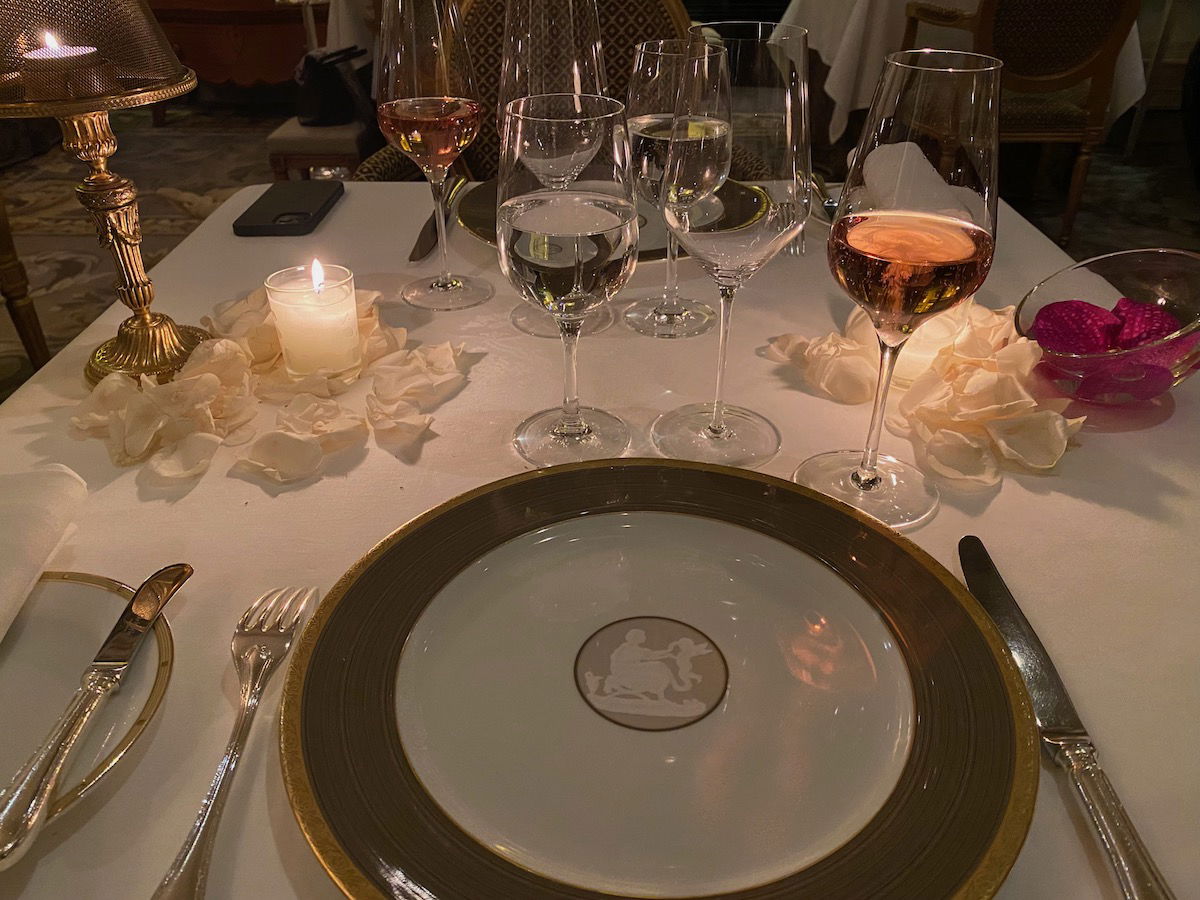 You can find the Le Cinq dinner menu here. As you can tell, it makes the other restaurants look like a bargain by comparison. Like I said, it was a special occasion, and if we were going to do it, we figured we should just fully lean into it and ignore the prices. So that's what we did.
Before we even talk about the food, I just have to say how much we enjoyed this whole dining experience. Dining at a restaurant of this level is almost like dinner and a show, because the precision, passion, and attentiveness that goes into this is next level. I was worried that the servers might be snooty or that we might feel out of place, but everyone working here made us feel so welcome, and was genuinely professional, confident, and hilarious.
The amount of effort that went into this meal just made it all the more enjoyable. While meals are expensive, this really is an experience. We were at our table for over four hours, and we didn't even do the tasting menu.
Our meal started with an amuse bouche. We each ordered a glass of champagne, and were brought some tasty snacks to go along with it.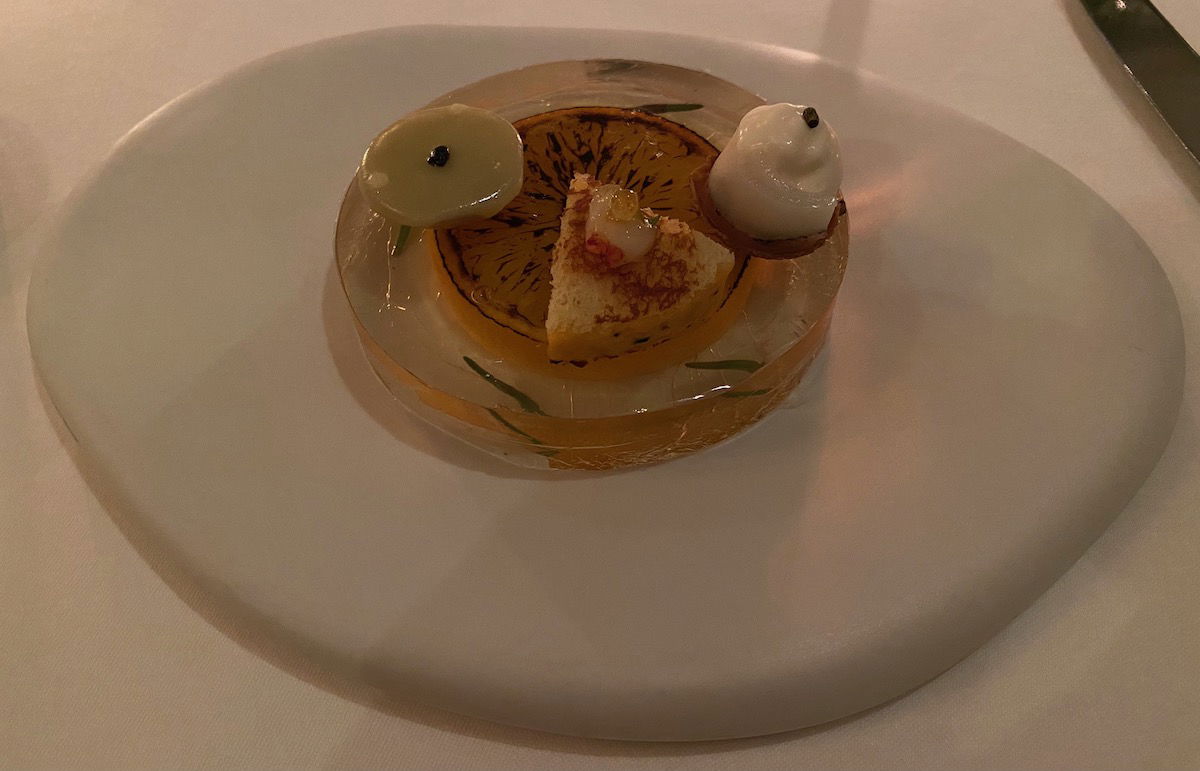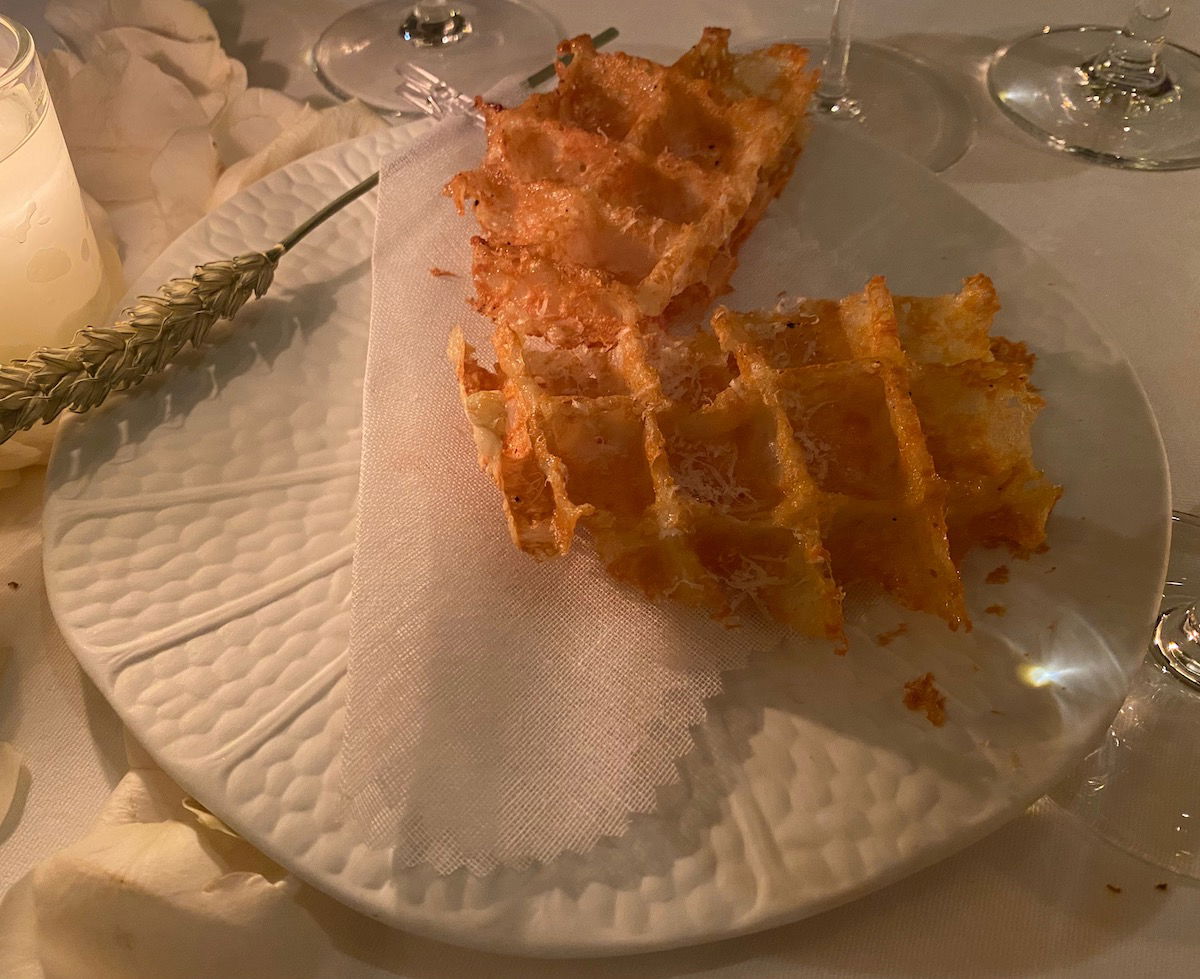 We were also offered a selection of bread.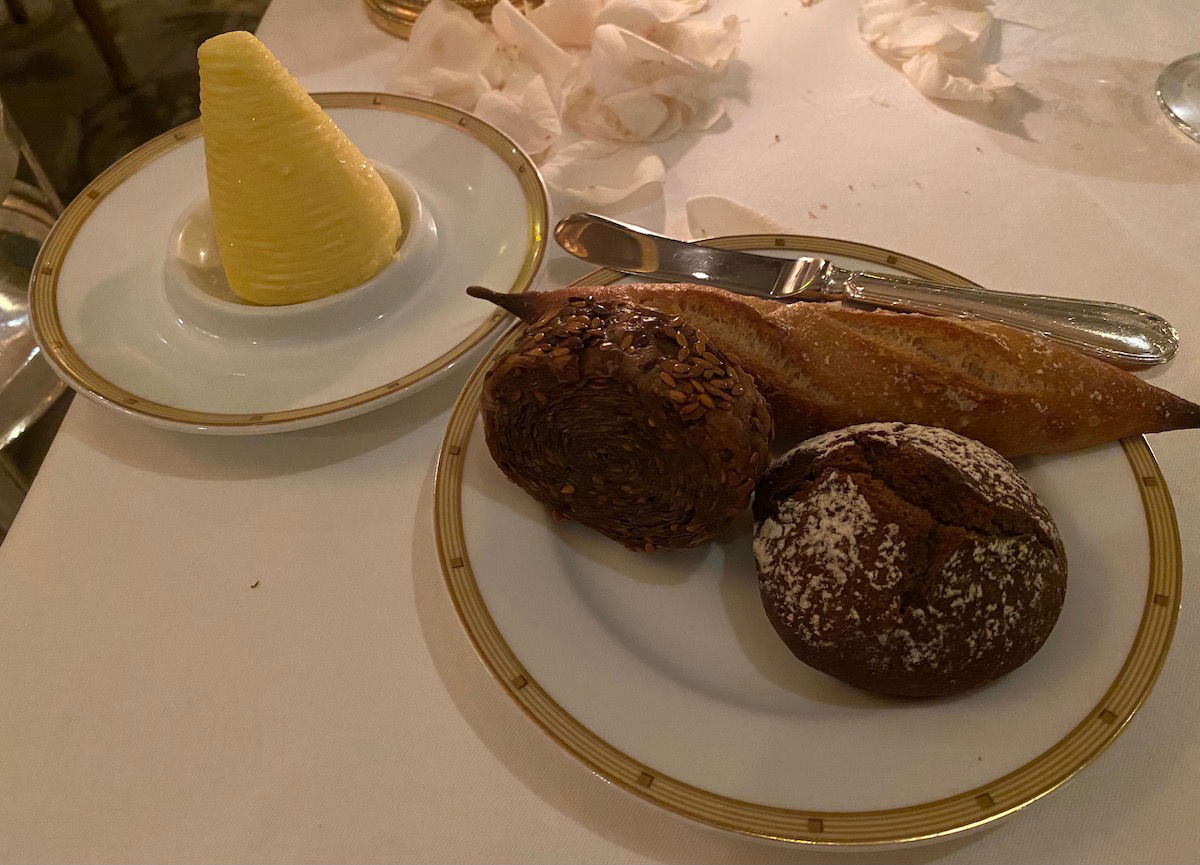 And then there was another amuse bouche, just for good measure.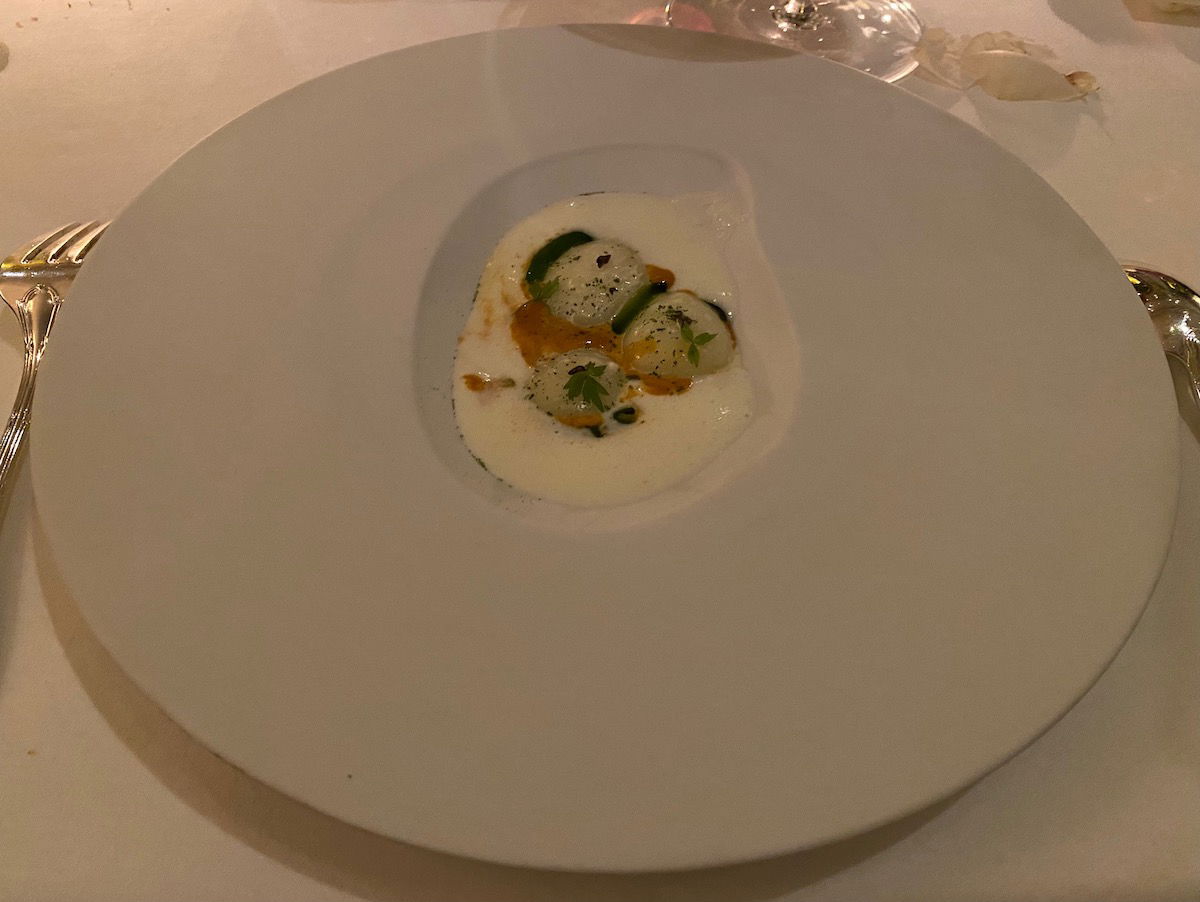 Getting to the part of the meal that we actually ordered, we started with gratinated onions and the wild porcini mushrooms roasted with thyme. They were happy to split the appetizers in two, so we could share them while getting two separate plates.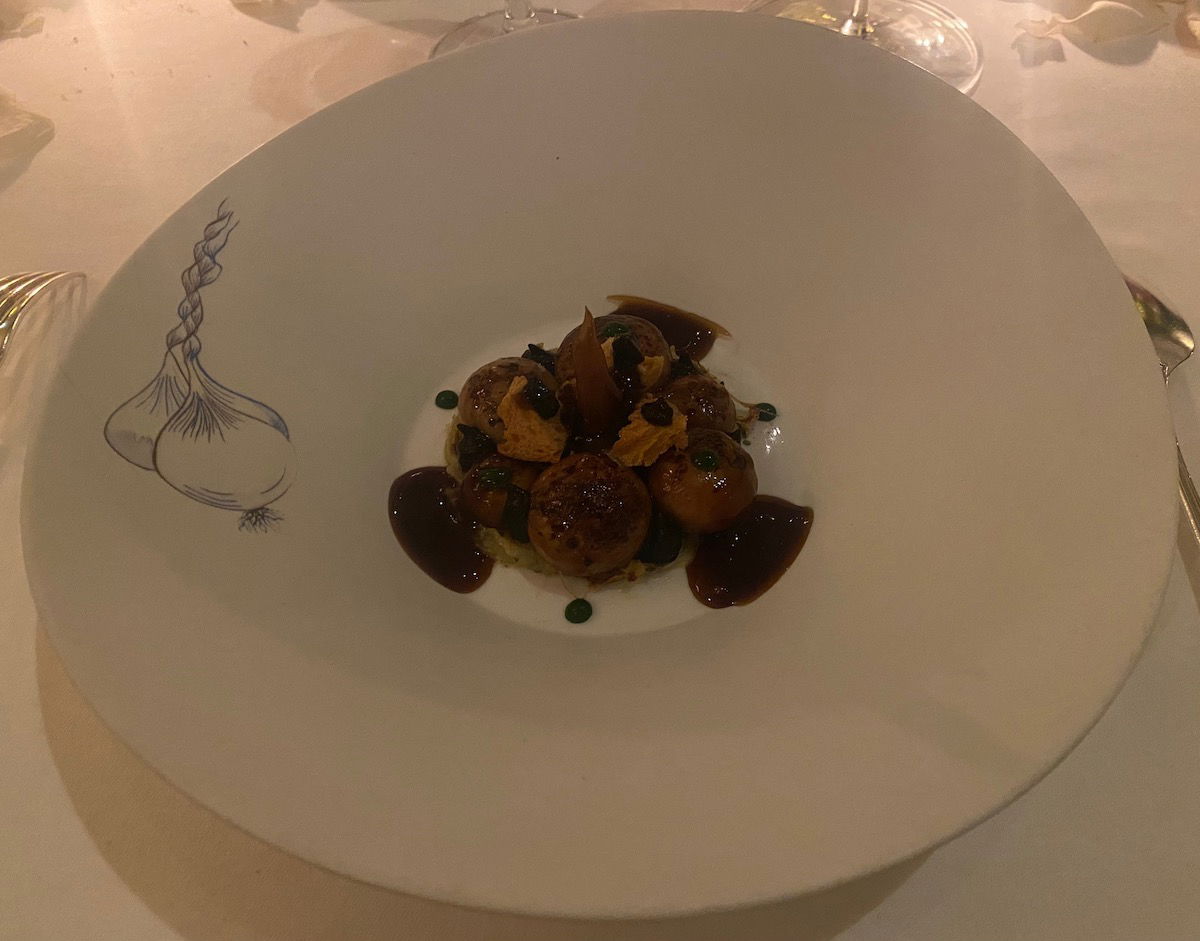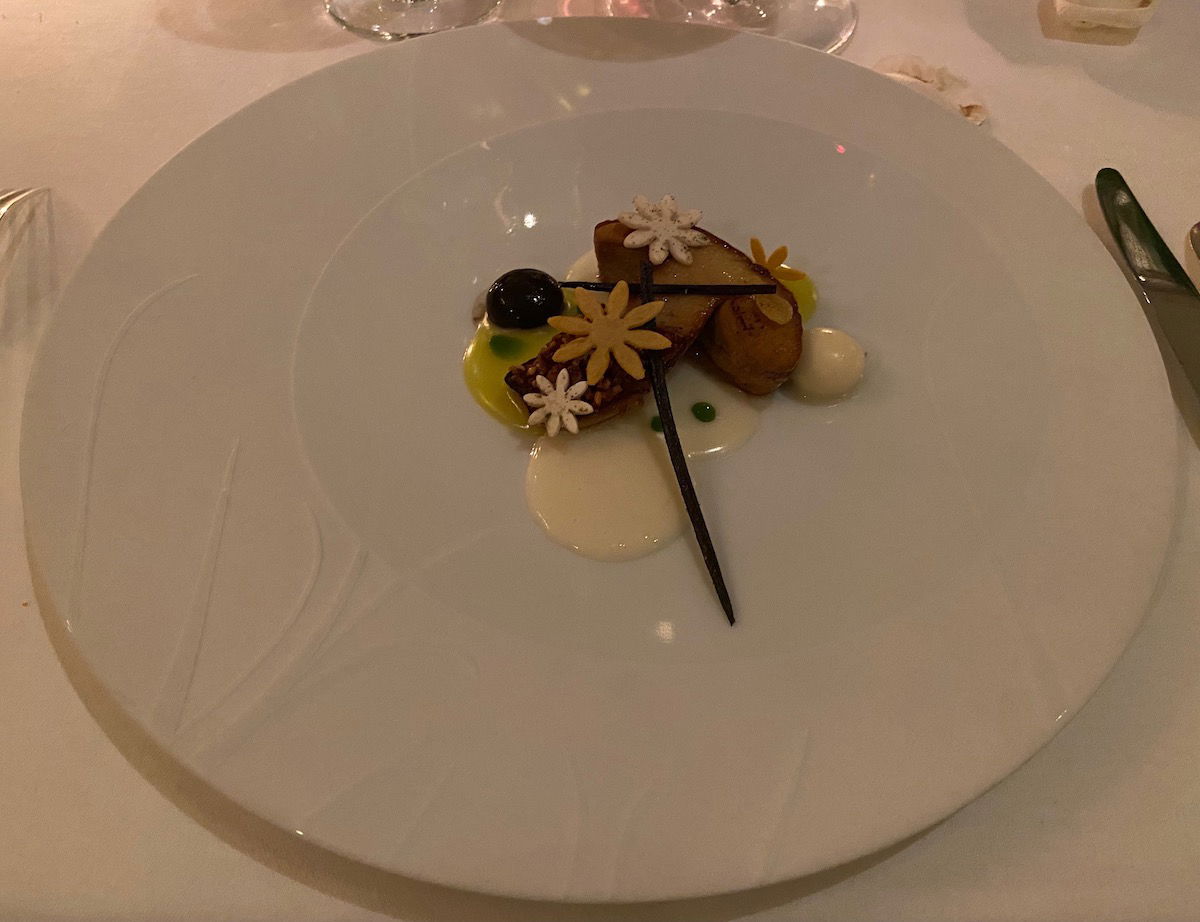 For the main course, I had the blue lobster roasted with salted butter and avocado crepes, while Ford had the ham, truffle, and spaghetti gratineur.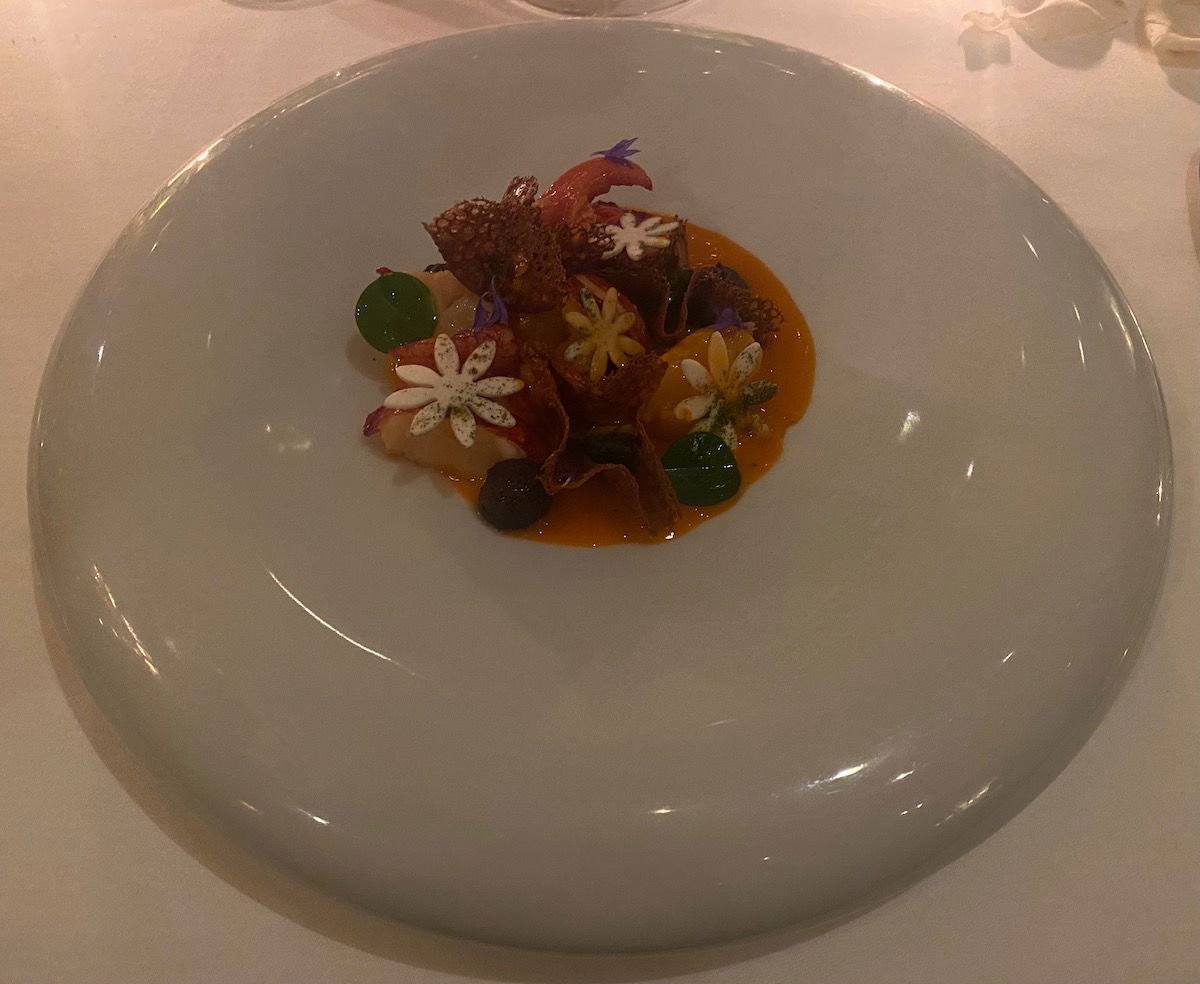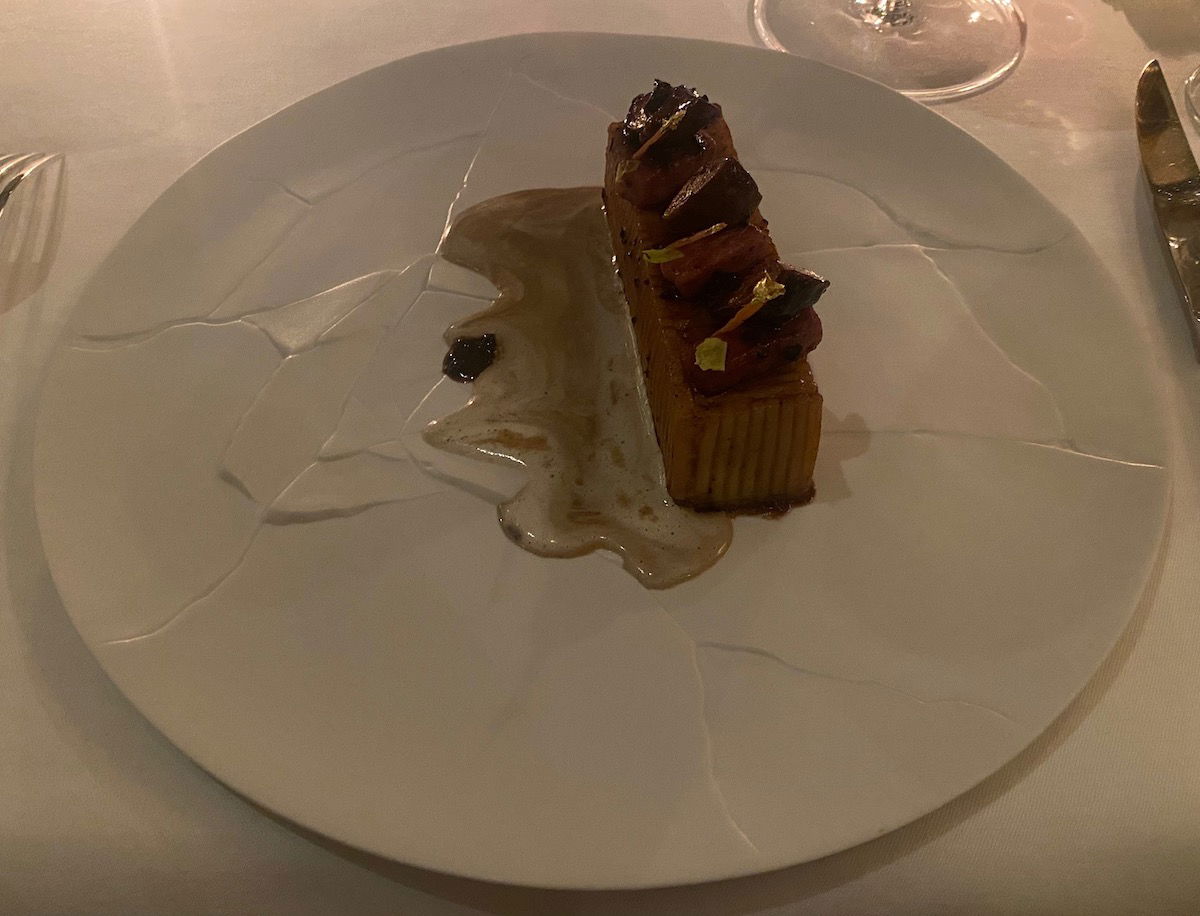 Next up was a cheese course, served off a trolley.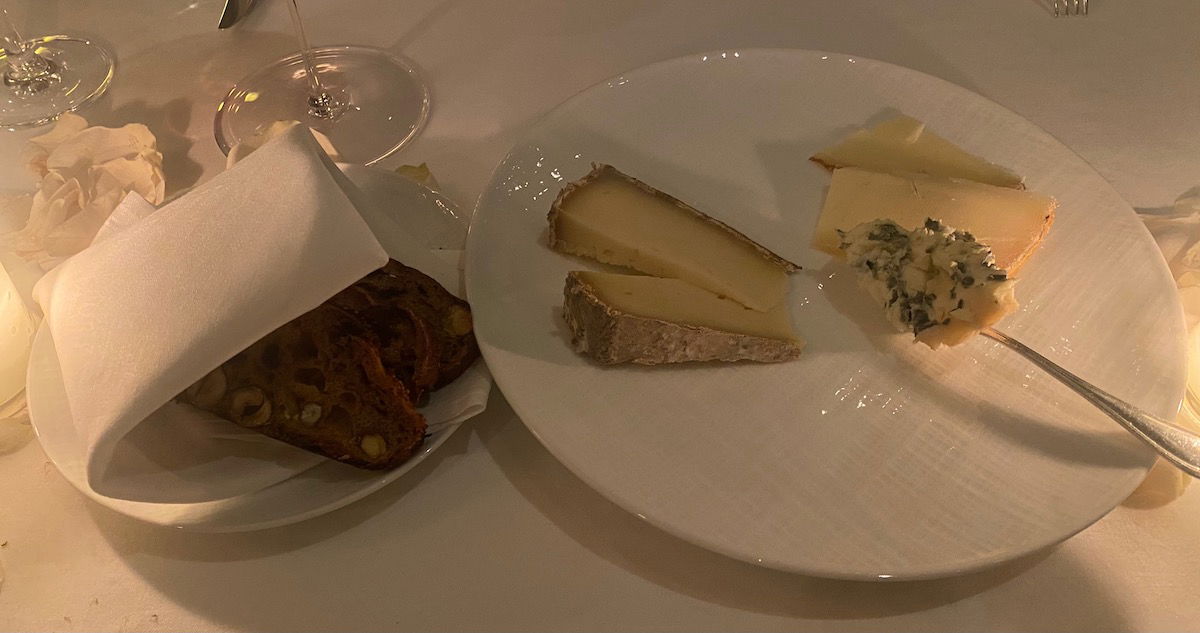 Then for dessert we ordered the crunchy grapefruit, which was once again split in half so we could share it.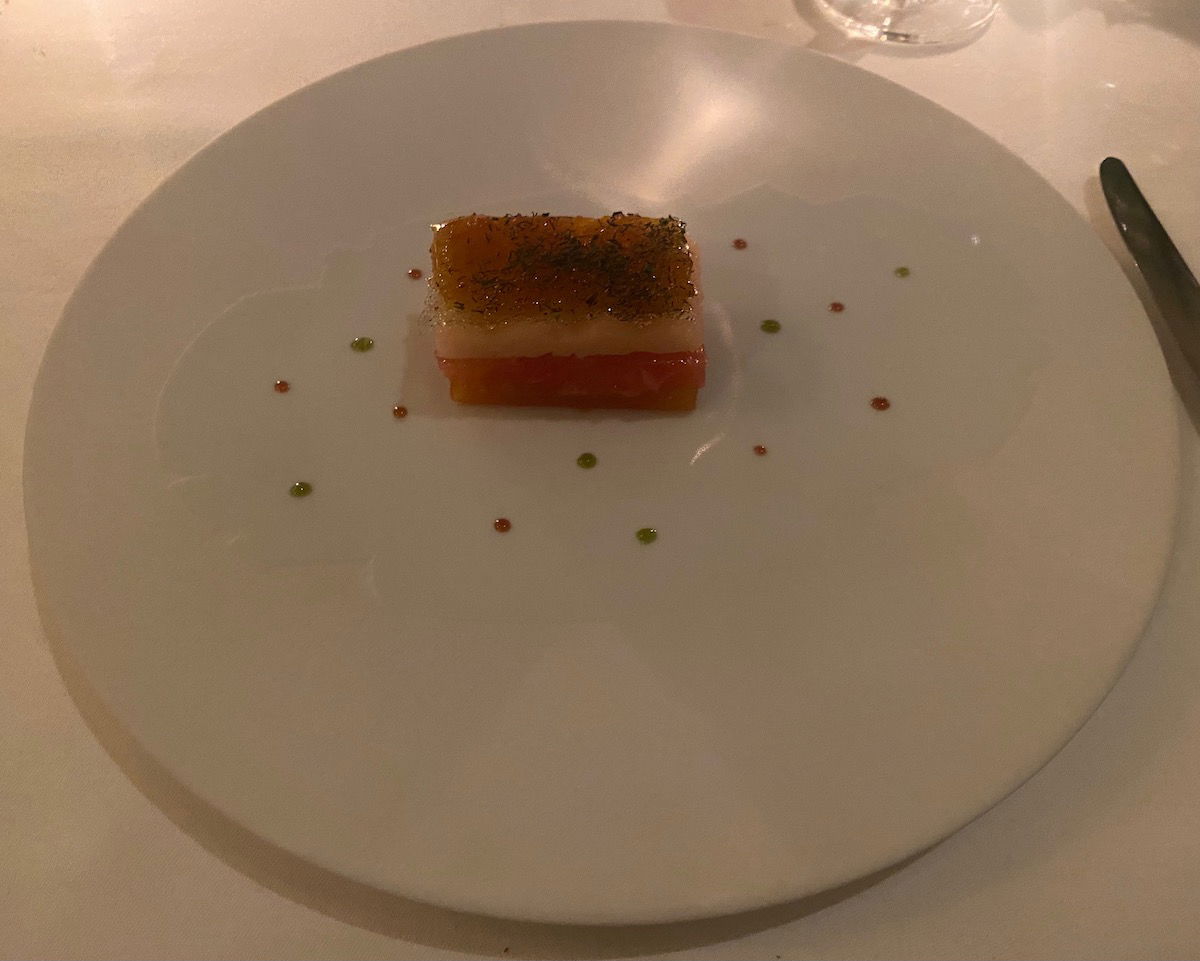 We were then served a variety of petit fours.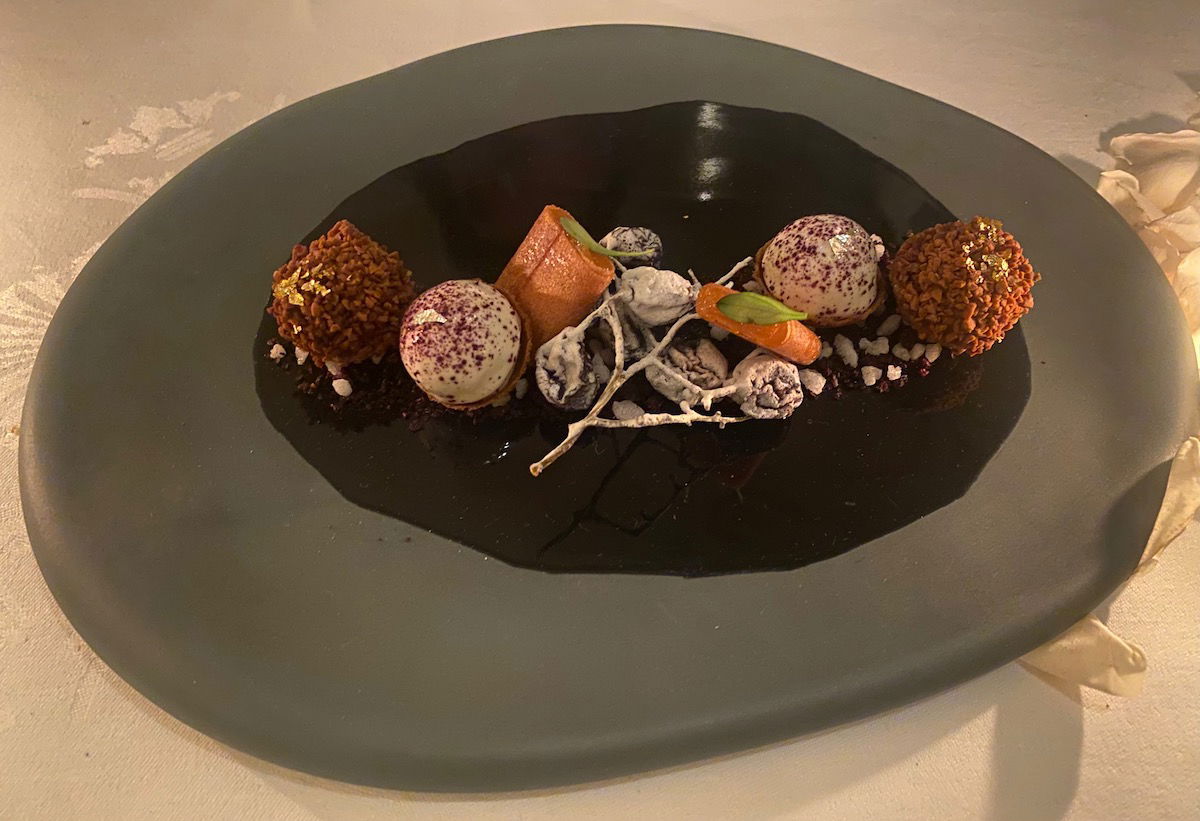 Then a cart was brought to our table with all kinds of truffles and other sweets, and we could select whichever we wanted. We were pretty stuffed at this point, so just had a couple of the things that our server recommended.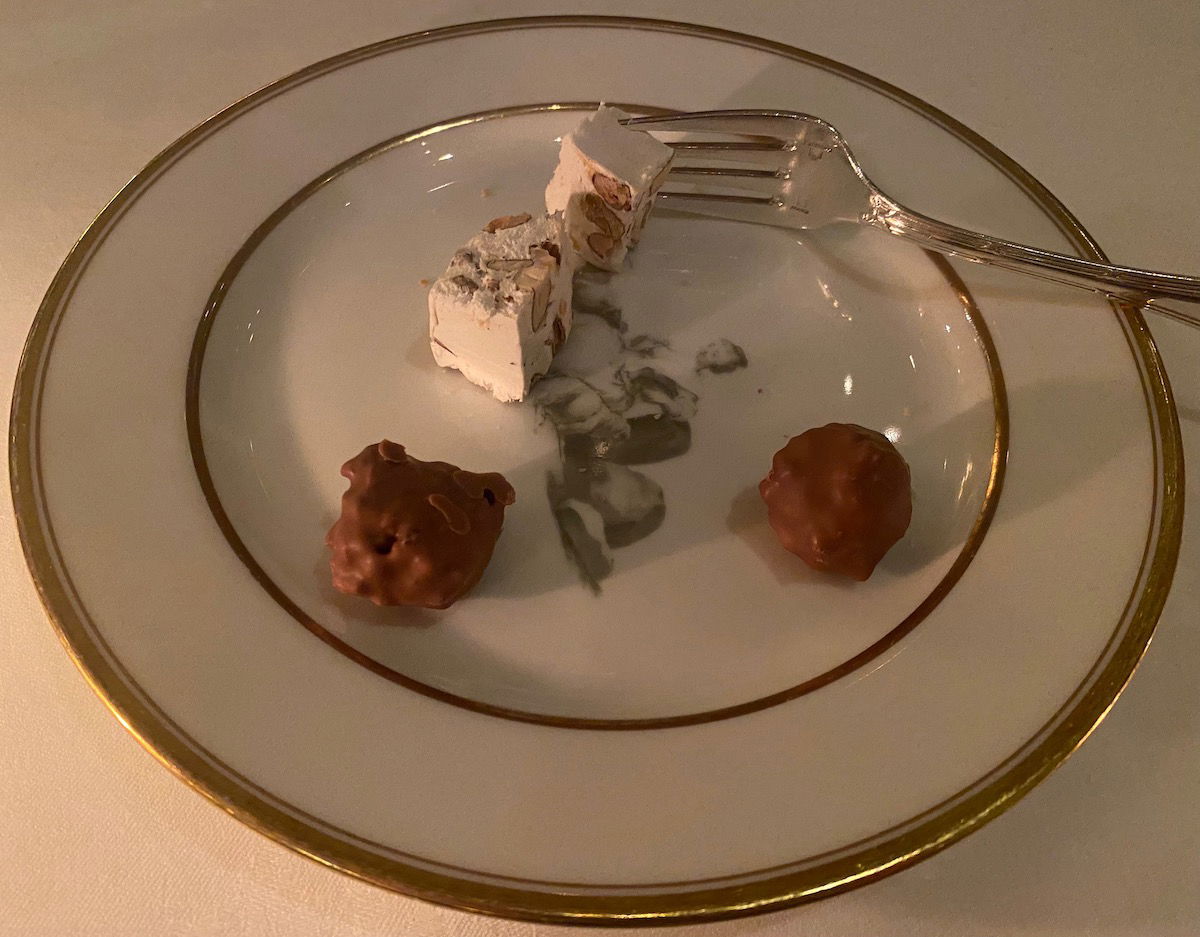 At the conclusion of our meal we were given to-go bags, with croissants and boxes of chocolates.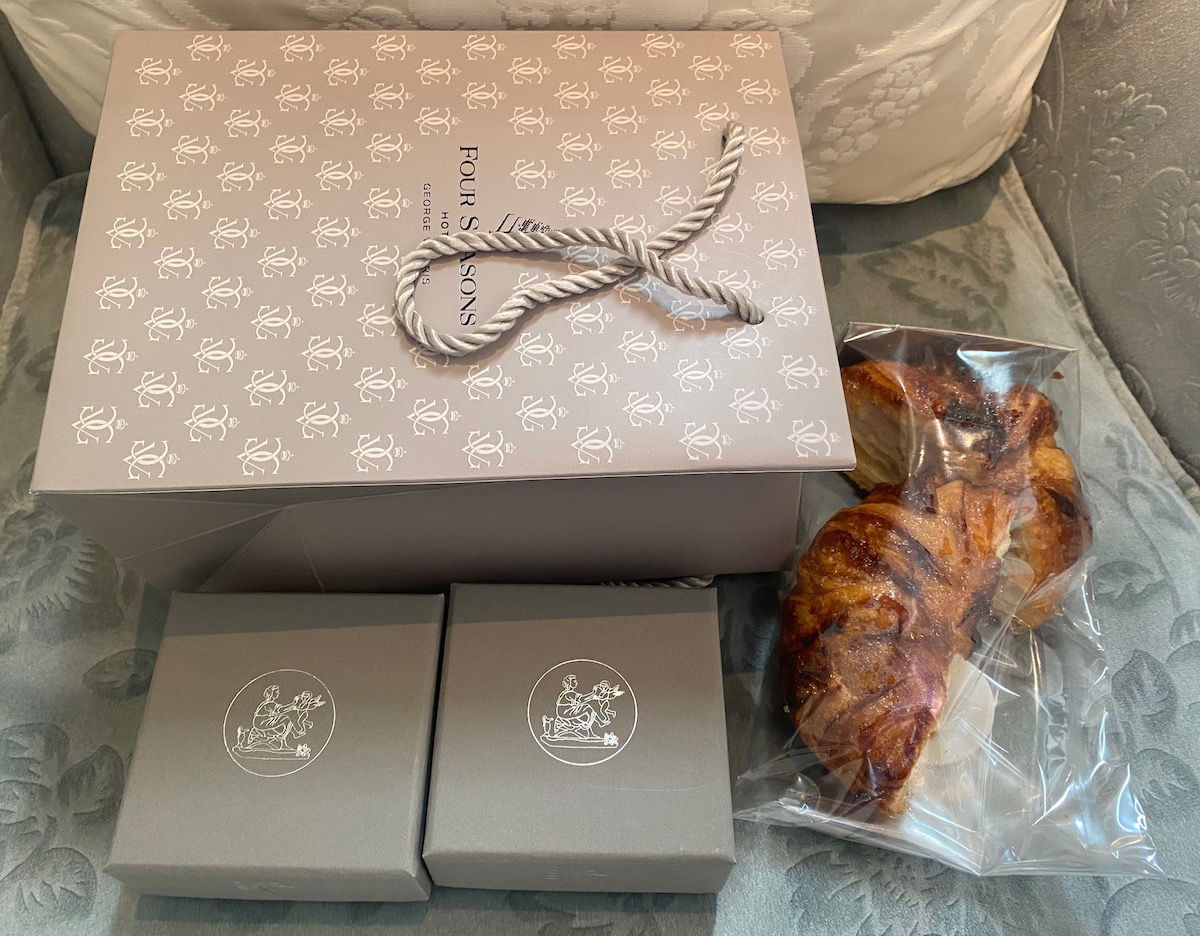 What a memorable experience. While the food was very good (both in terms of taste and presentation), what really set the experience apart was the service. Going to a restaurant like this is almost like attending a four hour performance, and we enjoyed every minute of it.
Four Seasons Paris spa, gym, and pool
The Four Seasons Paris has a spa on the basement level, which is quite impressive. While I didn't get any spa treatments, I did use the gym and pool.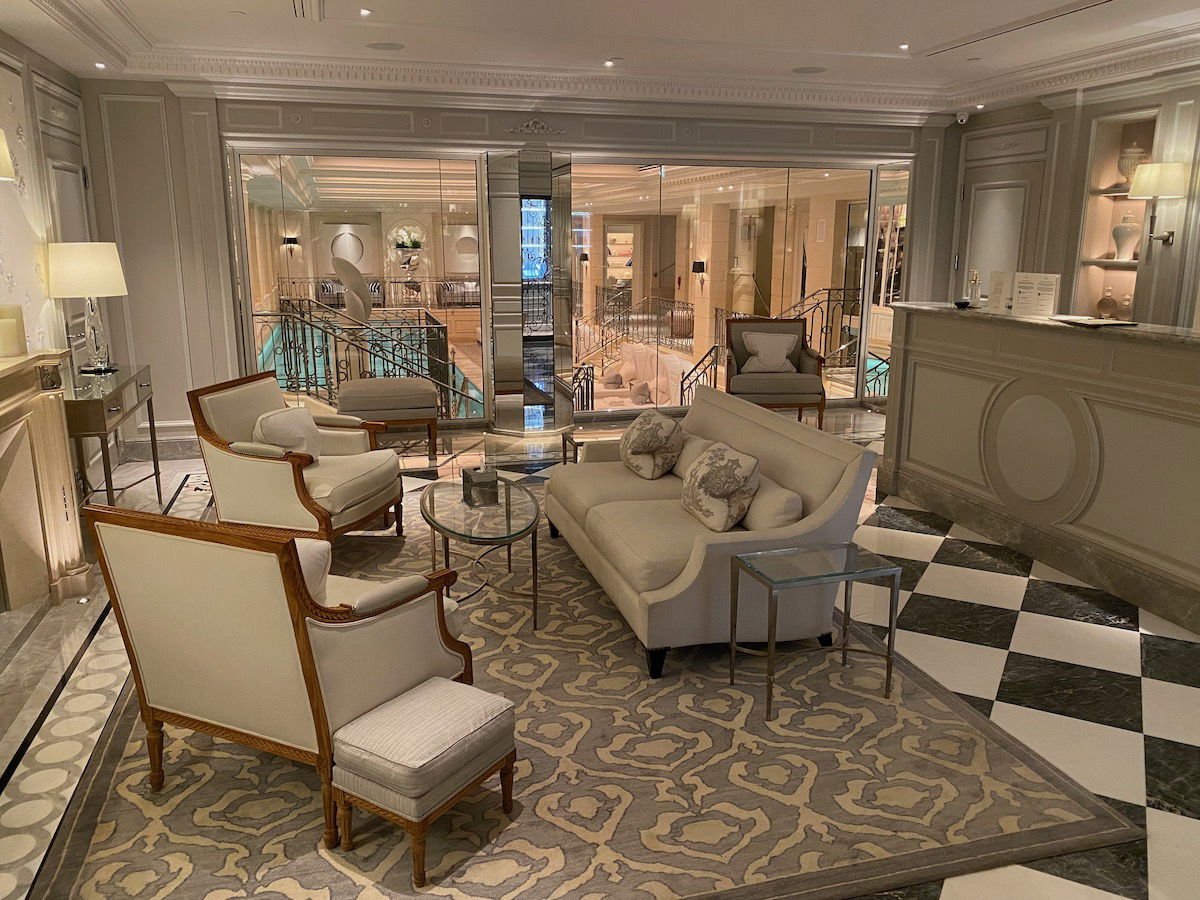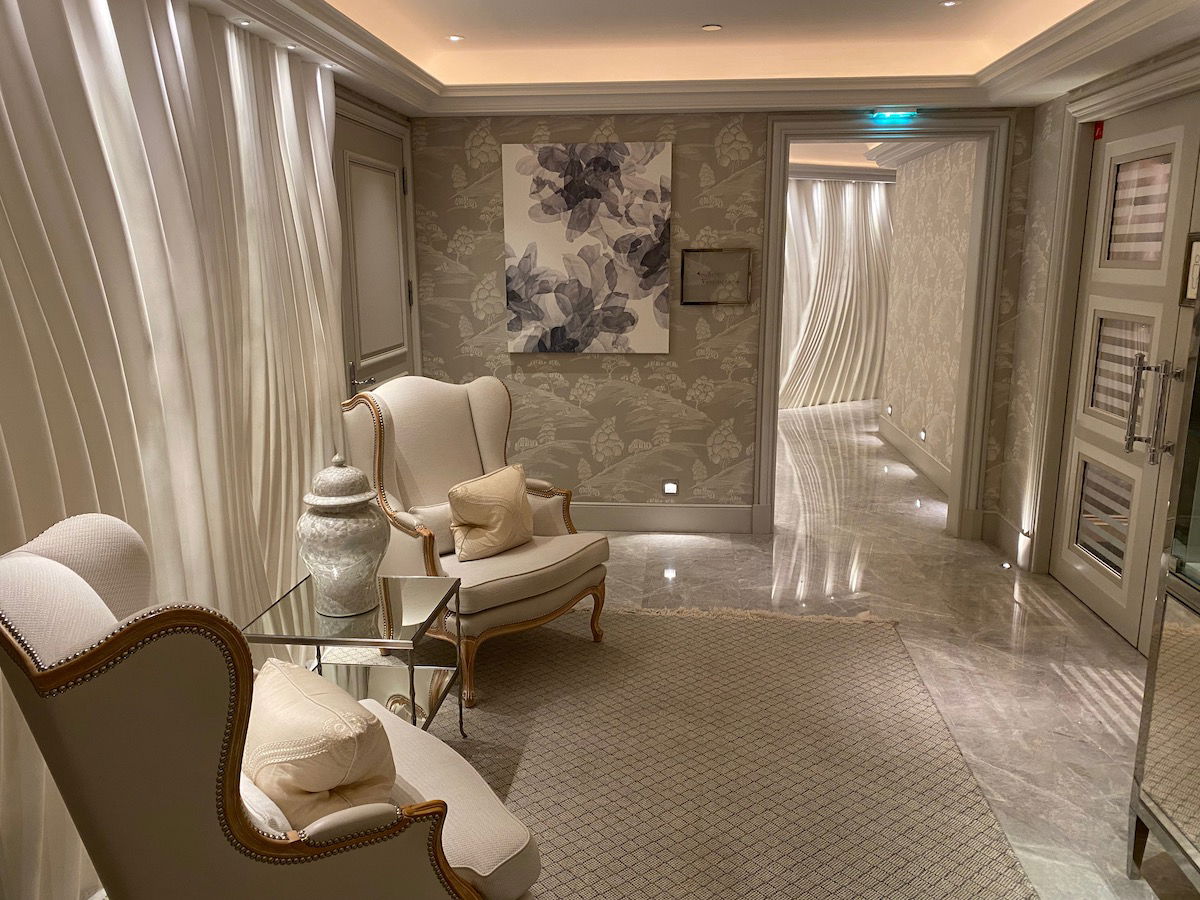 The gym can be accessed by guests 24/7, and is around 1,000 square feet. It had modern equipment, for both cardio and weights.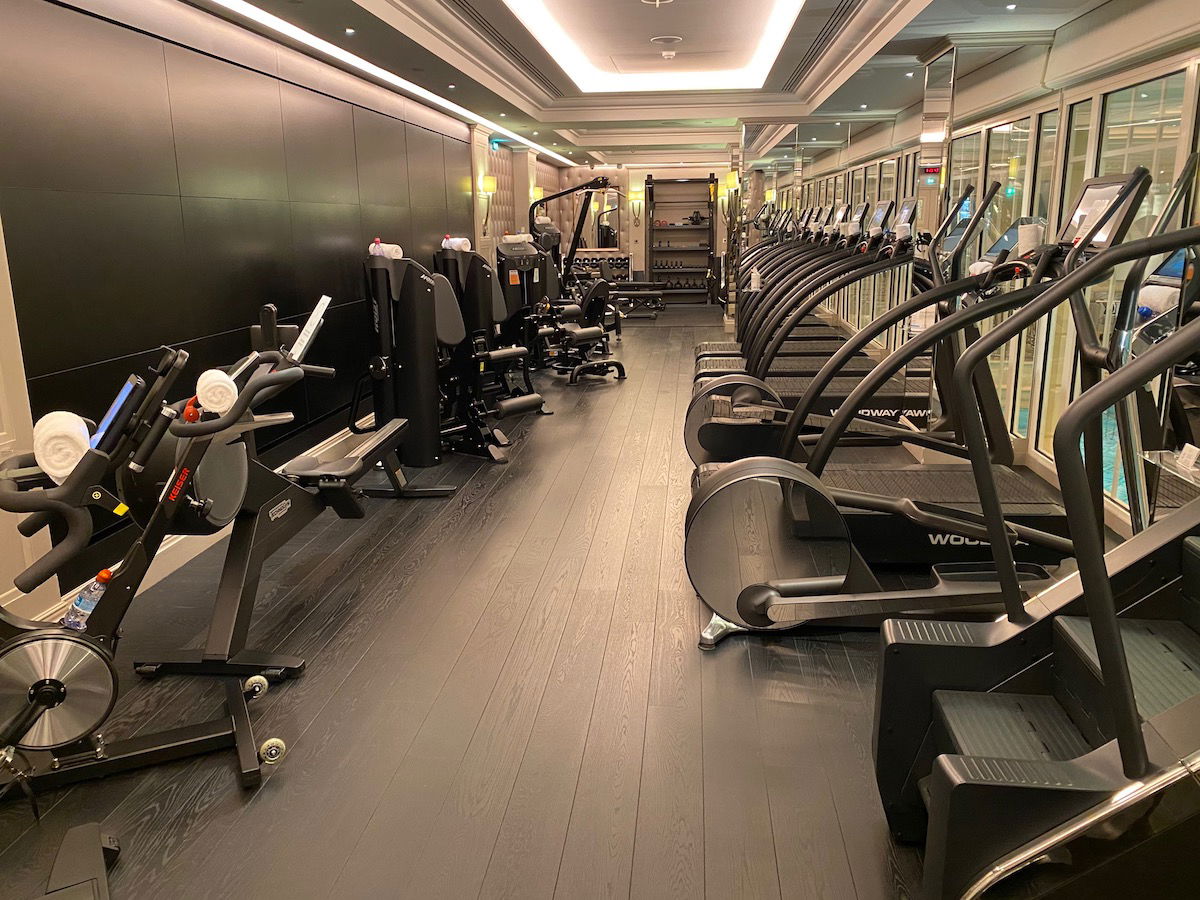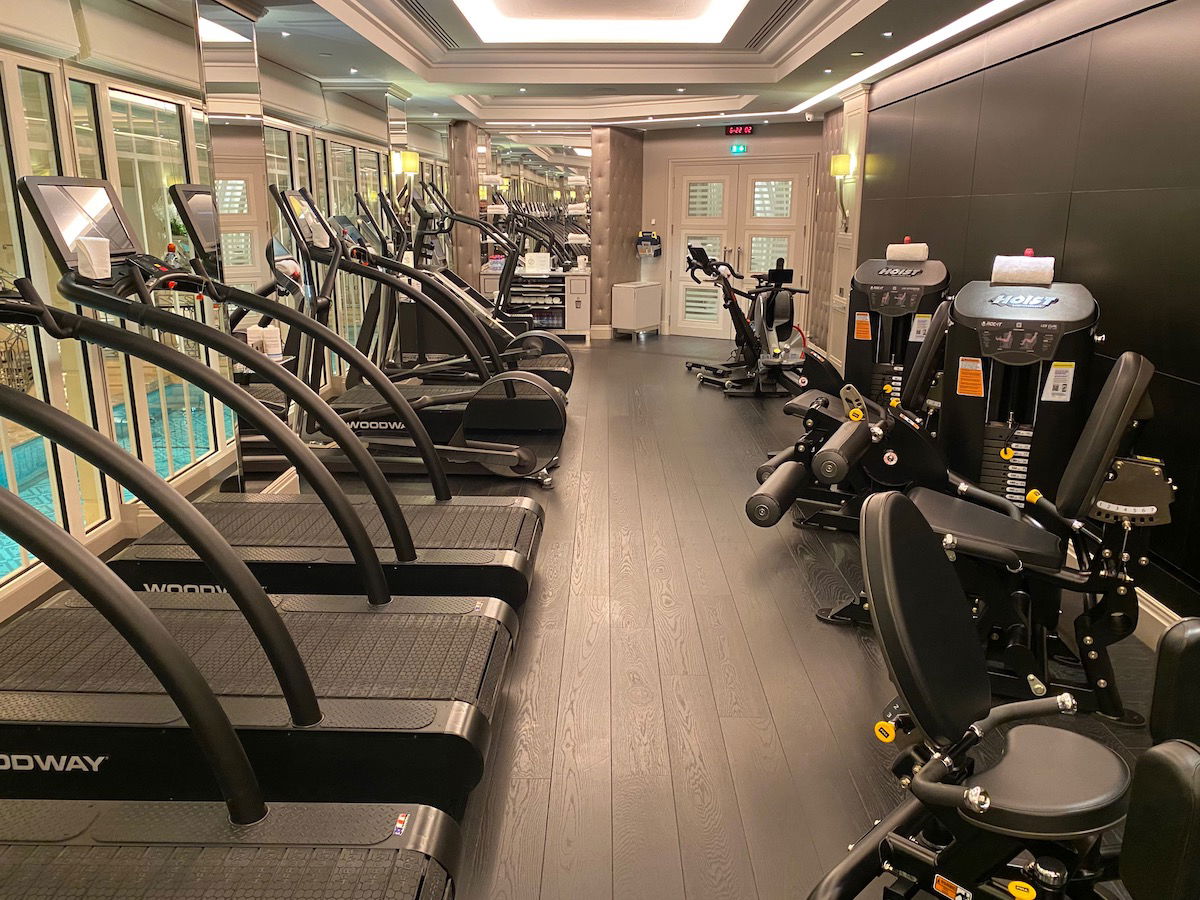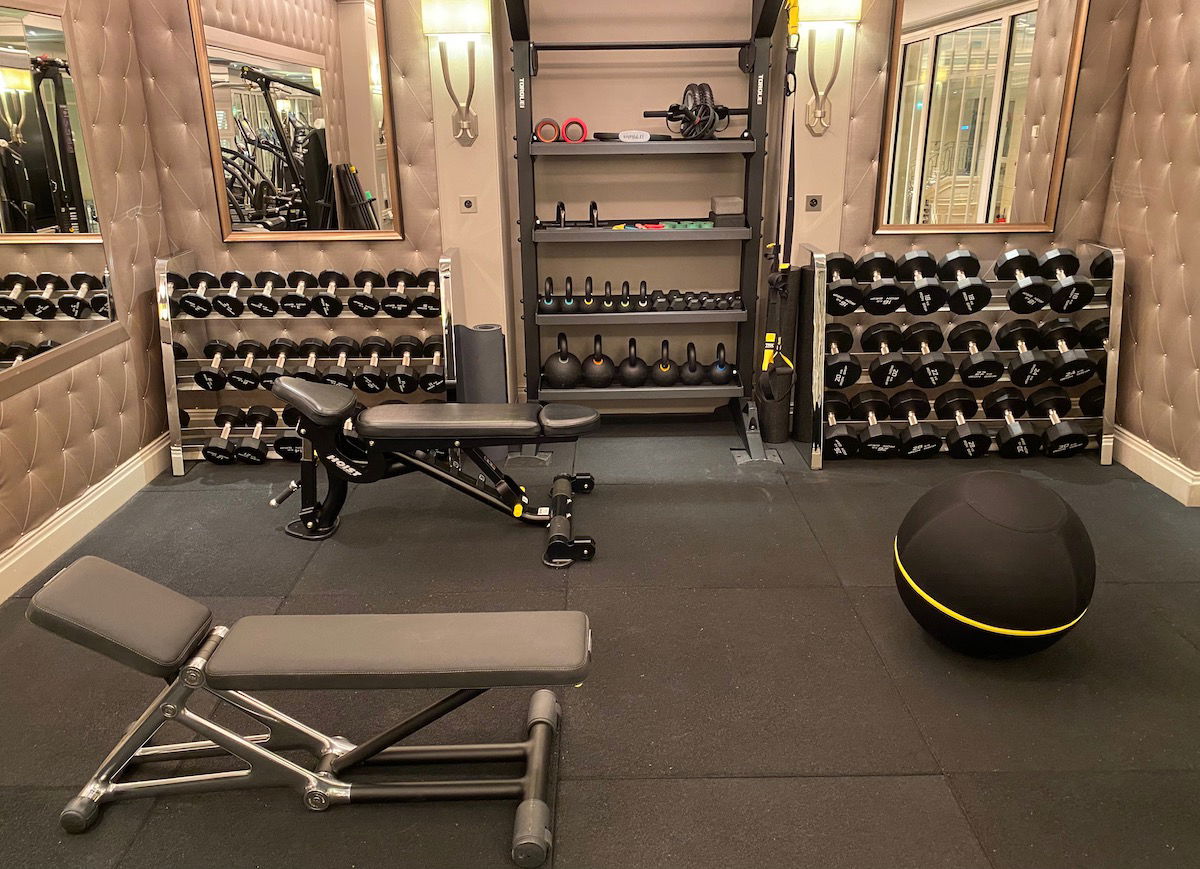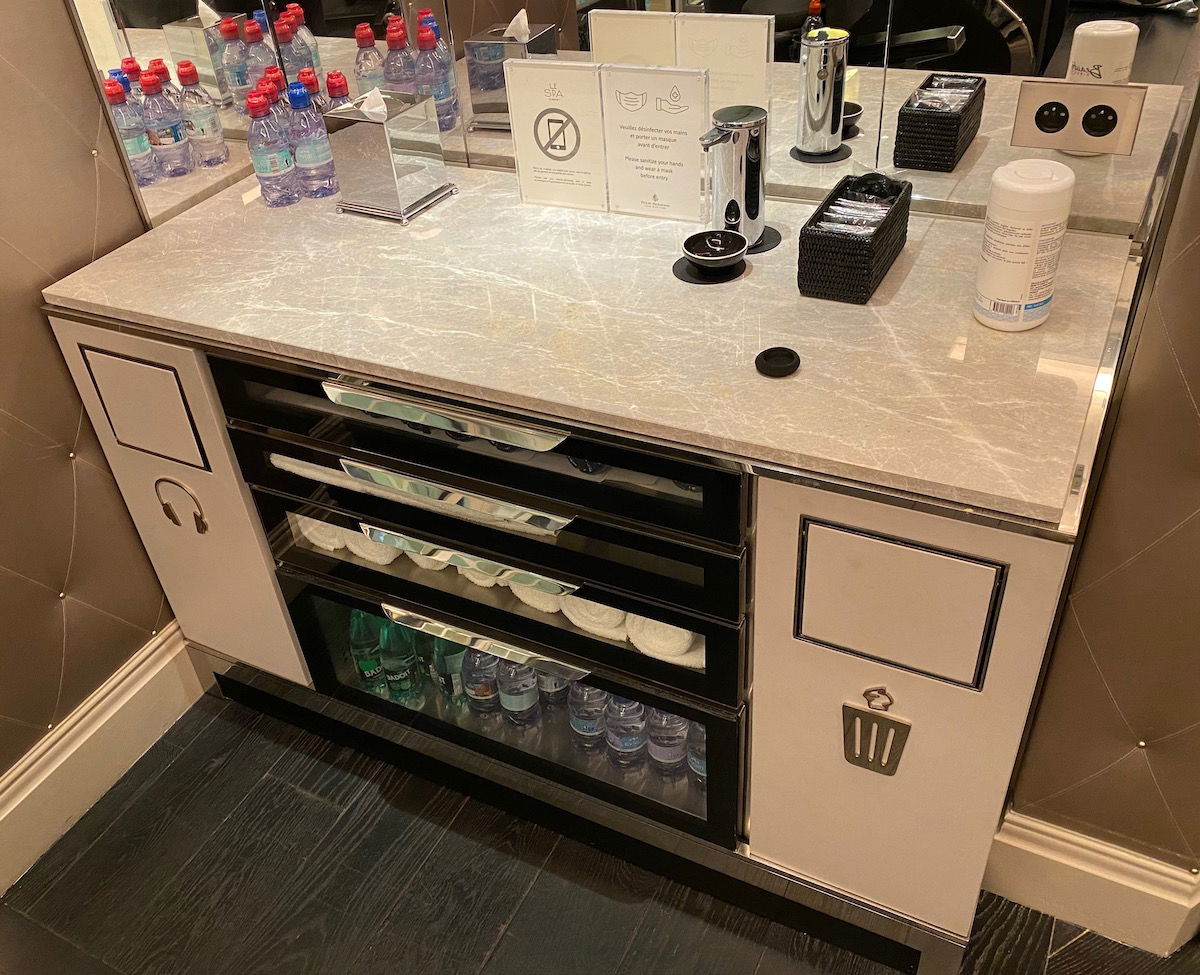 The 55-foot pool was open daily from 6:30AM until 10PM, and is a beautiful space. I don't think there's a city in the world with as many impressive indoor hotel pools as Paris. There was plenty of seating around the pool as well.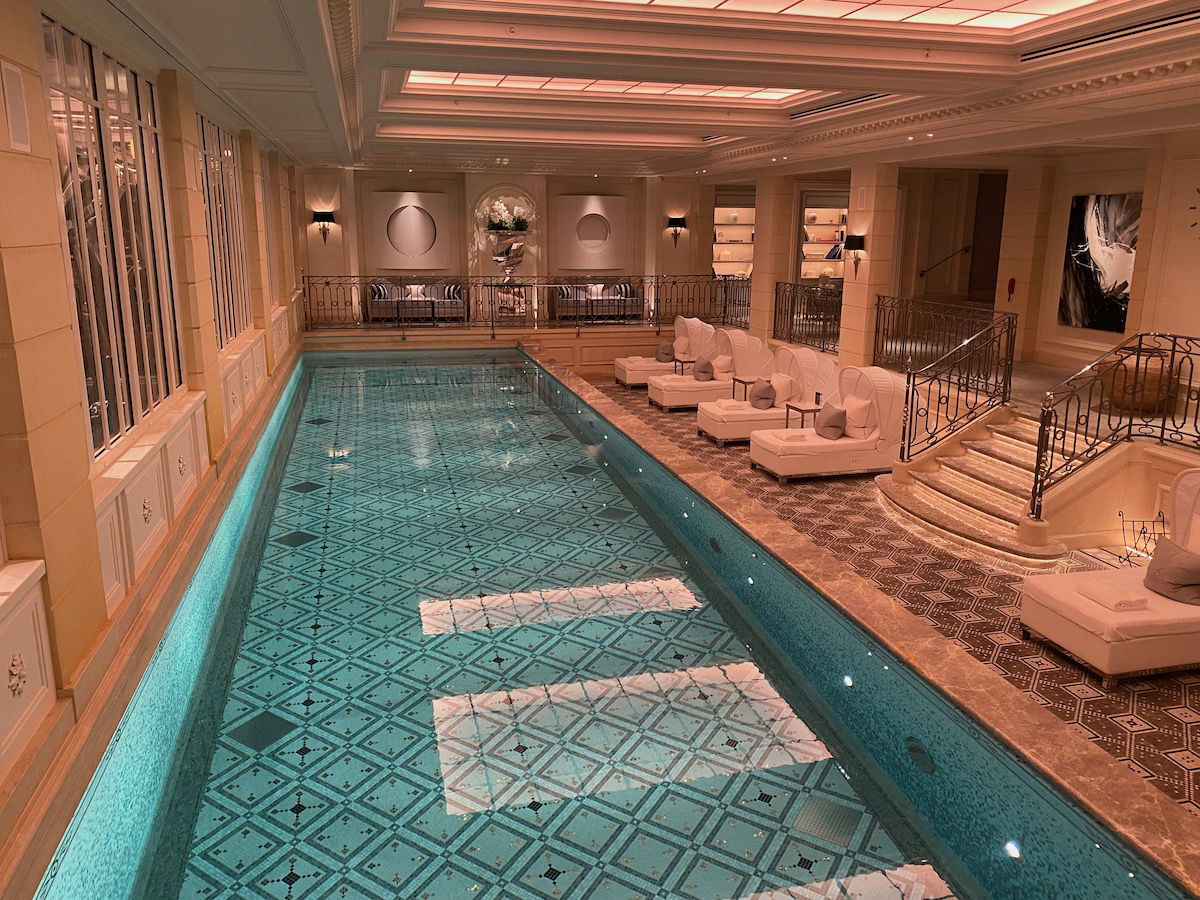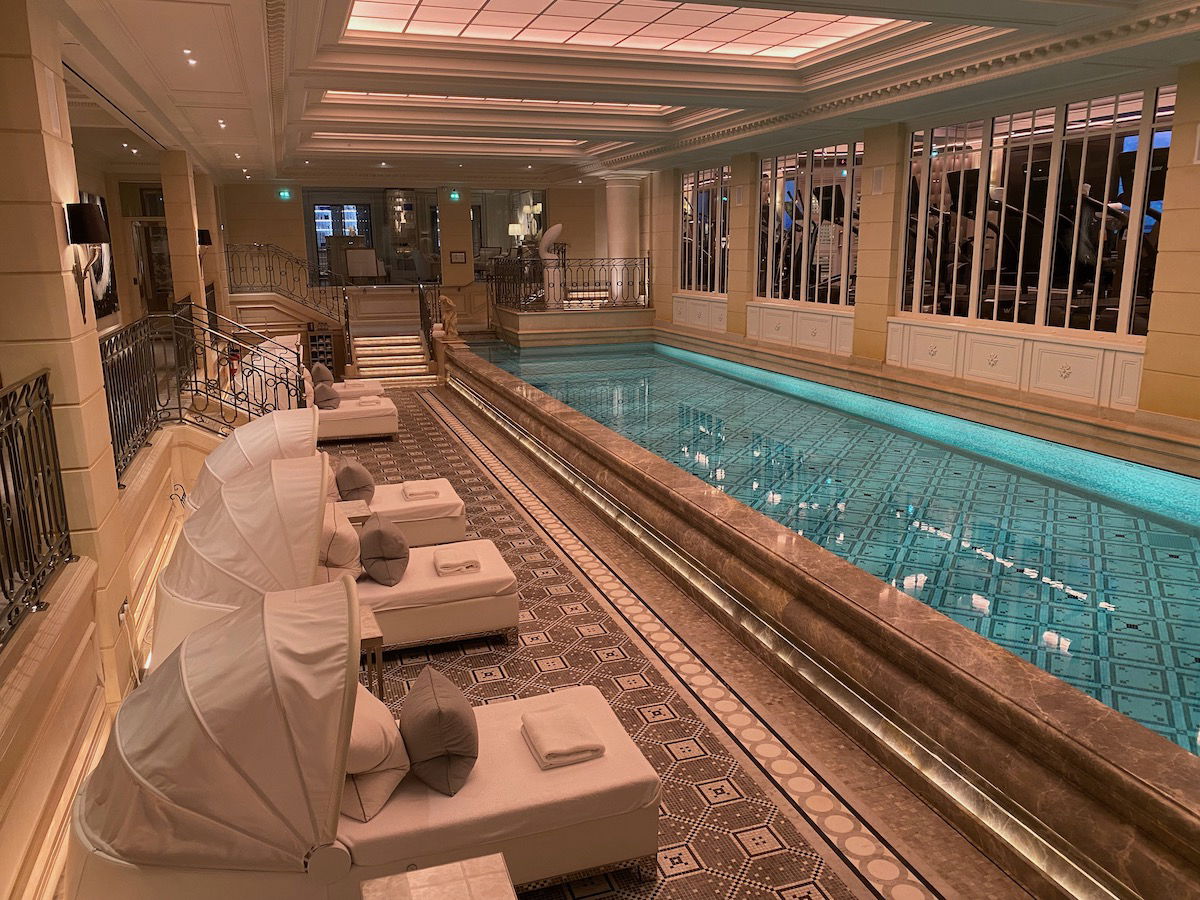 In addition to the pool, there was also a whirlpool with warmer water, as well as steam rooms and hammams.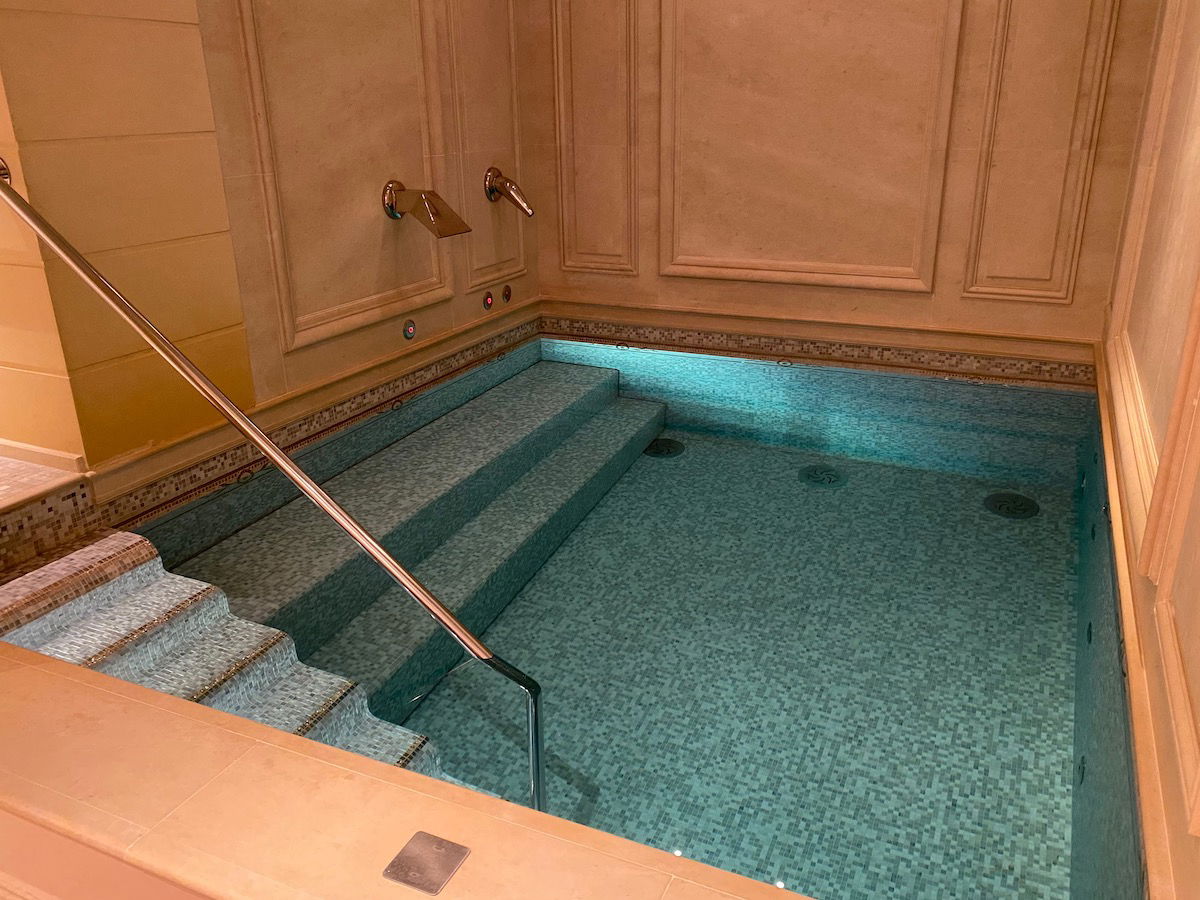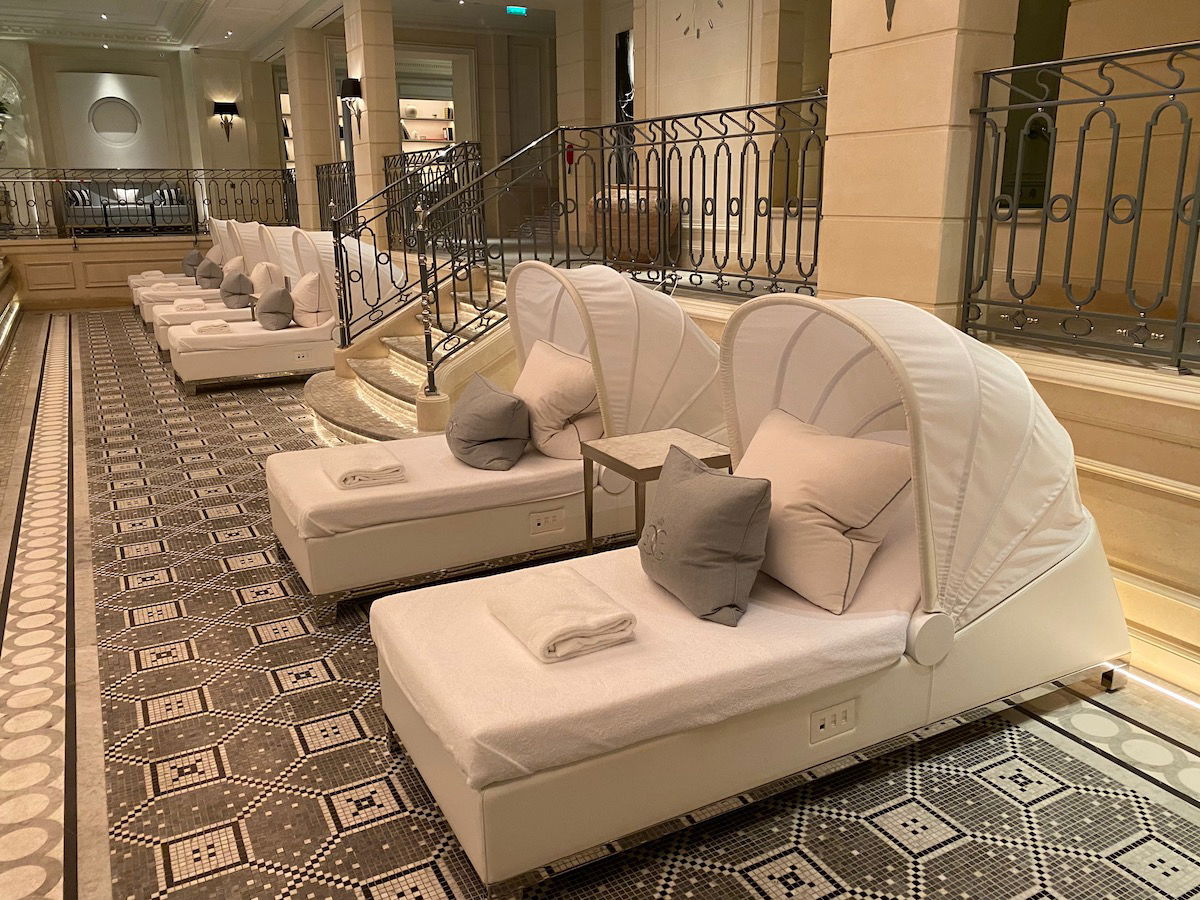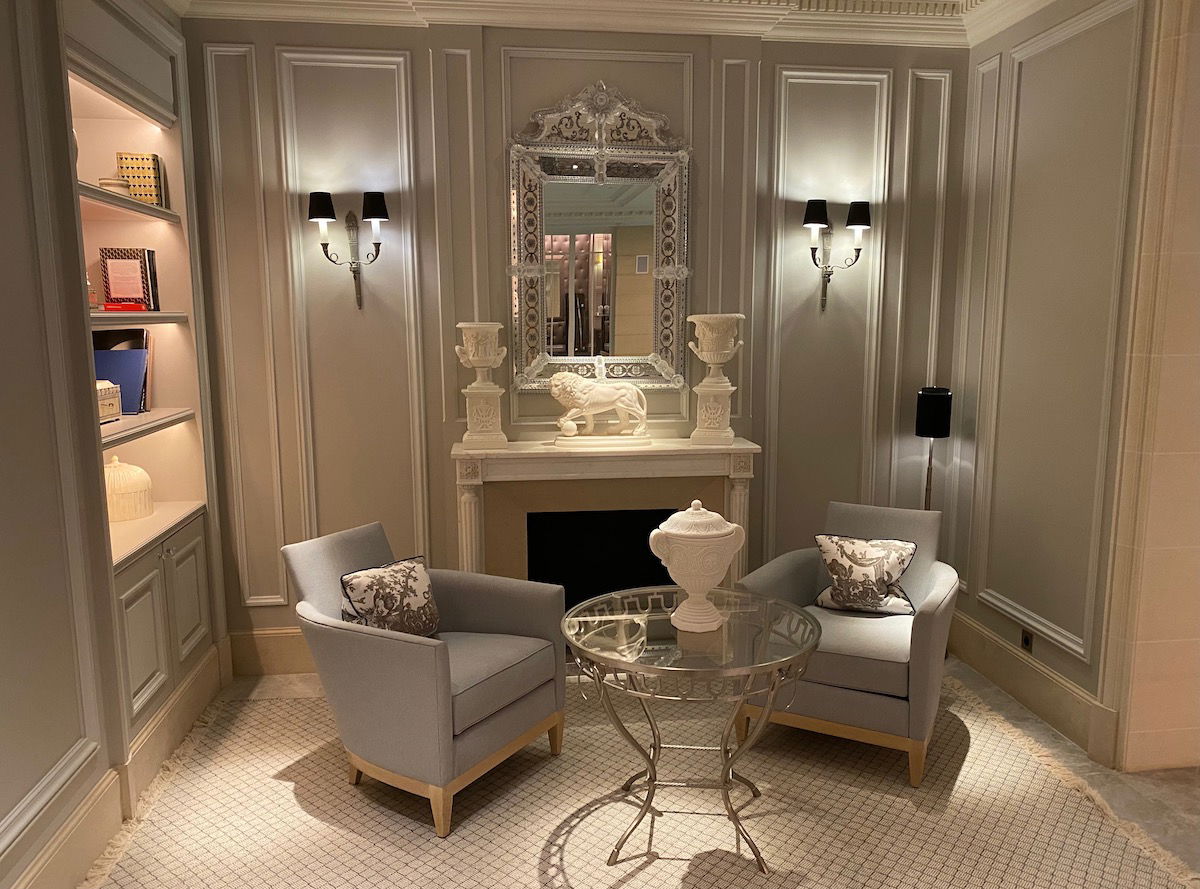 Four Seasons Paris service
Service at the Four Seasons was phenomenal across the board:
Every employee we interacted with was genuinely friendly and eager to please
The hotel did a great job delivering on expectations — whenever we called with requests they were promptly taken care of, when we were told room service would arrive within 30 minutes, it did in fact arrive within 30 minutes, etc.
The concierges at the Four Seasons are excellent, and can seemingly get you a table just about anywhere, which we took advantage of
Even though the hotel gets a lot of outside traffic due to the restaurants, I appreciated that the hotel prioritized guests for seating
Service in all three of the Michelin-starred restaurants was next-level amazing, but I guess that's to be expected at restaurants of that caliber
Bottom line
The Four Seasons Paris George V lives up to its reputation. This is a phenomenal city hotel, with top notch facilities that combine old world charm with a bit of flair, all while offering the amenities you'd expect at a modern property.
Beyond the nice rooms, excellent service, and great gym and spa, food & drinks are really a focal point at this property. The hotel has three different Michelin-starred restaurants, and we had the chance to eat at all of them.
Of course I should mention that much like at the Ritz, you should expect everything here to cost you dearly. This hotel is quite a scene and it's a destination for many, so expect it to be priced accordingly. On the plus side, the hotel did a great job prioritizing reservations and seating for hotel guests, so staying at the Four Seasons is also the best way to get a table at a restaurant or bar here.
What do you make of the Four Seasons George V? Have any OMAAT readers stayed there?
EXTRA PERKS AVAILABLE
Enjoy breakfast, upgrades, & more
Want to take advantage of Four Seasons Preferred Partner benefits, including a space available room upgrade, complimentary breakfast, a hotel credit, and more? Contact Ford ([email protected]) for more details. He may even be able to help if you already have a stay booked.
Read Four Seasons reviews: Athens, Boston, Cap-Ferrat, Denver, Desroches Island, Fort Lauderdale, Hualalai, Lanai, Los Cabos, Madrid, Maldives at Landaa Giraavaru, Maui, Miami, Napa Valley, Naviva, Oahu at Ko Olina, Paris, Punta Mita, San Francisco at Embarcadero, Scottsdale, Seychelles, and Surfside
Learn about Four Seasons deals & offers: Anguilla, Athens, Atlanta, Austin, Bahamas, Bora Bora, Boston, Cap-Ferrat, Costa Rica, Dubai, Fort Lauderdale, Hawaii, Jackson Hole, London, Los Cabos, Maldives, Minneapolis, Nashville, Naviva, New York, Napa Valley, New Orleans, Orlando, Palm Beach, Paris, Philadelphia, Punta Mita, San Francisco, Santa Fe, Seattle, Sicily, Tamarindo, and Vail
Learn about Four Seasons basics: Four Seasons Preferred Partner, Four Seasons Private Retreats, Four Seasons Private Jet, Four Seasons travel agents, Four Seasons loyalty program, and maximizing value at Four Seasons