This is probably long overdue, but we're finally updating our policy on commenting. All comments are already handled in accordance with our privacy policy, but this is something that a countless number of readers have asked for (and no, not in a "we're devaluing our frequent flyer program due to member feedback" kind of way).
Historically our policy has been that if people want to make fools of themselves online and have ridiculous comments, we'll let them. We figured that it reflects on them more than it reflects on us.
But we also want to be more conscientious of the environment we're creating around here, and the general state of dialogue on the internet suggests we need stronger guidelines.
To be clear, we don't want to shut down useful discourse. Rather, we want to return to that — at one point in time OMAAT had the best comments in the space, and when I look at posts from 2013 and 2014, I'm so impressed and proud of the back and forth discussion and shared knowledge.
Nowadays, the comments on our YouTube channel are often more pleasant and interactive than on the main page of the blog, so something needs to be done. We did start banning commenters who were consistently horrible a few years ago, and that helped for a while, but the level of hostility has been gradually increasing.
So I'd like to draw some lines as to what we consider to be acceptable and am of course open to your feedback as to how to make the comments more enjoyable and productive for everyone. Here are the three general guidelines we'd like everyone to consider when participating in the comments.
1) Don't be a you-know-what
Fundamentally, we'd like everyone to feel comfortable participating in the comments, but like, business-casual comfortable, not walking-around-drunk-in-your-underwear comfortable.
There are some things that should just be kept to yourself in polite company.
As such, and in our sole discretion, we will edit or delete comments that we consider to be:
Abusive, harassing, threatening, antagonistic, hurtful, or overly-personal — whether to us, our families, other readers, or public figures
Profane, pornographic, obscene, or otherwise inappropriate
Intolerant, racist, homophobic, sexist, or generally derogatory towards any individual or group
Spam or solely promotional in nature — including a link to relevant outside content is permitted (and encouraged!), but comments should be relevant to the post topic
Just be nice.
2) Add value
If you want to leave feedback on our posts, or business practices, or whatever else, that's great. We appreciate constructive feedback, especially from people who disagree with us, and that's a huge part of what has made OMAAT what it is.
Similarly, back and forth between readers is great, and nothing makes me happier than seeing readers helping each other in the comments. That includes pointing out deals or other resources — all of that is great, and adds value that everyone can benefit from.
"Am I writing this just to be annoying?"
There has been a rash recently of folks leaving the most ridiculous and off-topic comments. It's distracting and unfair to other people who are here to learn and engage.
If you're not adding anything to the conversation, we're going to ask that you refrain from commenting. We ultimately banned "Debit" because his comments just got tedious and boring, and we didn't feel like anyone else should have to suffer through that inanity on a daily basis (he at least used to be original back in the day, but recently he was just copying and pasting the same stuff).
Don't abuse anonymity
Along those lines, we keep a dated commenting system on purpose, because there are reasons for some people to need to comment anonymously at times, and we don't want to require logins.
But if you're commenting under multiple names in order to hurl insults or create the impression that your argument has outsized support, we will — without hesitation — delete said comments and block you from commenting further.
Again, it's irritating and doesn't add any value.
Facts versus opinions (a COVID-19 update)
You are welcome to your opinion, and we encourage everyone to share theirs. We will not, however, allow OMAAT to contribute to the spread of misinformation, particularly when there are serious health concerns at stake.
e.g. "bs hoax," "it's the flu," "it's not even as deadly as [insert random non-contagious cause of death]," "check out this [conspiracy theorist] site that has the real scoop," "vaccines are a racket by [insert group you're disparaging]", "hospitals are over-reporting/under-reporting because [wackadoodle reason]" — Not statements that are factual or evidence-based, and unhelpful during a global health crisis.

Whereas "I don't care if 2M Americans die, let's open everything back up!" while something we find reprehensible, is an opinion, and as long as you are meeting our other guidelines, we will host your comment.
Spreading conspiracy theories, spouting propaganda, or diminishing science in an attempt to conform the situation to your worldview doesn't add value to our community, and certainly doesn't get any of us closer to being able to travel again in the ways we love.
3) Be gracious and courteous
Look, we all have things that inspire us to turn into keyboard warriors, and the temptation to tell someone exactly what is wrong OMFG with their reasoning is probably universal.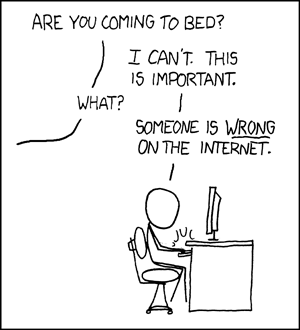 But we'd ask that here, at least, everyone try to extend some generosity and goodwill towards people who might see things in a different way. One of the things about OMAAT that is fairly unique on the internet is the extremely broad audience — we have readers from every part of the globe, across all demographics.
Everyone comes from different backgrounds and environments, so naturally are going to have very diverse perspectives, and might not think about things in the same way that you do.
What brings us together is that we all love some elements of travel, aviation, or getting a deal.
We'd like to keep the focus on that and encourage everyone to engage in robust dialogue through that lens. A comment on a touchy subject may not be intended to offend, and hearing someone out who you initially disagree with can be informative. Let's try and help each other out there.
That being said, if your specific perspective on the world makes you unable to participate in civilized discourse, we're not going to ask anyone else to tolerate it.
So at a minimum, please be polite about your disagreements, and keep the tone at "dinner table" levels.
On politics
In the polarized world we live in, it seems like the one thing that all reasonable people can agree on is that, regardless of country, the die-hards on the far-left and far-right are exhausting. We feel like we have a front-row seat to that, as we get an equal number of complaints from people saying we're too conservative as too liberal. They're all probably correct in ways.
Travel is inherently political. We're going to continue to talk about topics that you may consider to be political hot-buttons (but that aren't necessarily seen as such by others), because that's part of the exchange of ideas that happens when humans move and interact across the globe.
Similarly, if the US president tweets about something aviation or travel-related, it is news, and we might cover it if we feel it's relevant to the audience here. Let's try and keep the corresponding discussion as tolerant and well-mannered as possible.
Moderation practices
We essentially have two methods for monitoring comments — what WordPress can do automatically, and what we can do with our own eyeballs.
Auto-screening
From a technical perspective, there are a few situations where your comment might not post right away:
If you're commenting for the first time (this includes from a new email or IP address)
If your comment includes links of any sort (this is to protect from spam)
If your comment contains words on our filter list (an assortment of profanity and other spam-triggered words)
These all go into a queue, we read them, and 98% of the time they're approved. That number might drop to 97% with these new guidelines. 😉
Manual screening
One of the reasons why we've been hesitant to implement a formal comment policy is because it then has to be enforced, and try as we might we just aren't watching comments 24/7. We do read every comment eventually, but there have been goodness-knows how many times where a post is published late at night, or scheduled while I'm on a flight, and I land or wake up to several comments accusing us of harboring racists or whatever, because comments haven't been deleted.
So I'm asking you guys to help us out here, not just by sticking to the guidelines above, but also letting us know if there's something that needs our attention that we might have missed.
Similarly, we'd appreciate your patience and understanding both when we don't see something problematic right away, and when we don't initially see something as problematic. We're coming at this informed by our own perspectives, and while we're doing what we can to grow, there are definitely nuances to things that we don't see, so we appreciate the chance to learn.
At the same time, to a hammer everything looks like a nail, so if you're finding offense in every.single.comment. in a discussion, we'd ask that you step back from it and consider if everyone else was actually intending to be horrible (and there are certainly days where it seems like that might be the case), or if it's a topic where you're particularly sensitive and that might be influencing your part of the dialogue.
Bottom line
We don't want to censor people who disagree with us, and we really don't want to micro-manage the comments. But something has to be done here in order to maintain an environment that can be enjoyable for everyone.
If you have "First Amendment concerns" about any of this we will turn this car around and take you back to the civics lesson you so obviously missed remind you that shouting in the public square is one thing, but private companies aren't required to give you a platform. Please understand we're using our best judgment here. If you're a reasonable human being, these new filters won't affect you, other than that you'll perhaps enjoy the comments section more again.
The OMAAT community is really important to us, and this blog is our "home" in more ways than one. Our hope is that by putting some rails on the conversation we can return to a better dialogue on the site, and encourage more thoughtful discussion.