In the interest of full disclosure, OMAAT earns a referral bonus for anyone that's approved through some of the below links. These are the best publicly available offers (terms apply) that we have found for each product or service. Opinions expressed here are the author's alone, not those of the bank, credit card issuer, airline, hotel chain, or product manufacturer/service provider, and have not been reviewed, approved or otherwise endorsed by any of these entities. Please check out
our advertiser policy
for further details about our partners, and thanks for your support!
EXTRA PERKS AVAILABLE
Enjoy breakfast, upgrades, & more
Want to take advantage of Hyatt Privé benefits, including a room upgrade, complimentary breakfast, a hotel credit, and more, when booking a cash stay? Contact Ford ([email protected]) for more details. He may even be able to help if you already have a stay booked.
Our next destination in Oman was Alila Jabal Akhdar, a Hyatt property in the Al Hajar mountain range. This is probably the single Hyatt hotel in the world I've most been wanting to visit, and visiting this property was my primary motivation in planning this trip.
So, did Alila Jabal Akhdar live up to the hype? Yes… for the most part. This is one of the most stunning places I've ever been, and words can't do justice to the natural beauty of this destination. If you're into hiking and the outdoors, you'll love this place.
The only catch is that there's room for improvement with both the food and service. But then again, you come here for the nature, and not for the food. I'm hopeful that this is just a temporary issue, given how many places are having staffing issues due to the pandemic.
How we booked our stay at Alila Jabal Akhdar
We redeemed points for our stay at Alila Jabal Akhdar. The hotel is a Category 6 World of Hyatt property, meaning that a free night redemption costs the following number of points:
21,000-29,000 points in a standard room
36,000-44,000 points in a standard suite
42,000-58,000 points in a premium suite
We booked a standard room for three nights (25,000 points per night), and then I used a Globalist suite upgrade award to secure an upgrade. These upgrades clear either into the Jabal Terrace or Loft Suite, and I decided to upgrade into the former. Even though the Loft Suite has more interior space, I figured having a really cool outdoor space would be preferable.
Redeeming points at this property is an exceptional value, given that paid rates for our stay were $600+ per night. For what it's worth, I value World of Hyatt points at 1.5 cents each.
Even if you're not a Hyatt loyalist, earning World of Hyatt points can be pretty easy. In addition to being able to earn World of Hyatt points with the World of Hyatt Credit Card (review) and World of Hyatt Business Credit Card (review), you can also transfer over points from Chase Ultimate Rewards.
Earn World of Hyatt points with the following cards:
If you're gong to book a paid stay at this property, make sure you book through the Hyatt Privé program. Hyatt Privé rates cost the same as standard flexible rates (not member rates, advance purchase rates, AAA rates, etc.), and include the following additional perks:
Daily full breakfast for two in the hotel's restaurant
A $100 property credit per room per stay
A one category room upgrade confirmed within 24 hours of booking (room-to-room or suite-to-suite) — based on availability at the time of booking
Early check-in (as early as 9AM) and late check-out (as late as 4PM), subject to availability
A welcome gift and letter
Alila Jabal Akhdar location
The Alila is located in Jabal Akhdar (which in Arabic means "green mountain), which is in the Al Hajar mountain range. The closest major airport to the hotel is Muscat International Airport (MCT). From there it's a roughly two hour drive to the hotel.
You can either arrange a transfer through the hotel, or can rent a car. If you are going to rent a car, note that you'll need four wheel drive, given the mountainous area the hotel is in (this isn't just a recommendation, but rather there's a police checkpoint where they ensure that you have the correct kind of car).
When you drive from Muscat to the resort, the first half of the ride is pretty straightforward, with excellent and flat roads. The last half of the drive is a real adventure, as you drive through some of the most spectacular scenery you've probably ever seen. However, the roads are really winding and steep.
While I would have liked to rent a car, we ended up just booking a hotel car. The hotel charges 90 OMR (~$234) for the one-way transfer (I'm sure it can be had for less through a third party).
Alila Jabal Akhdar lobby, layout, & check-in
Not only does Alila Jabal Akhdar have an unrivaled vantage point of the mountains, but the resort itself also has a great sense of place. The property has 86 accommodations, spread out over many buildings. There's one main building as you enter, which is where the lobby, restaurants, pools, etc., are all located.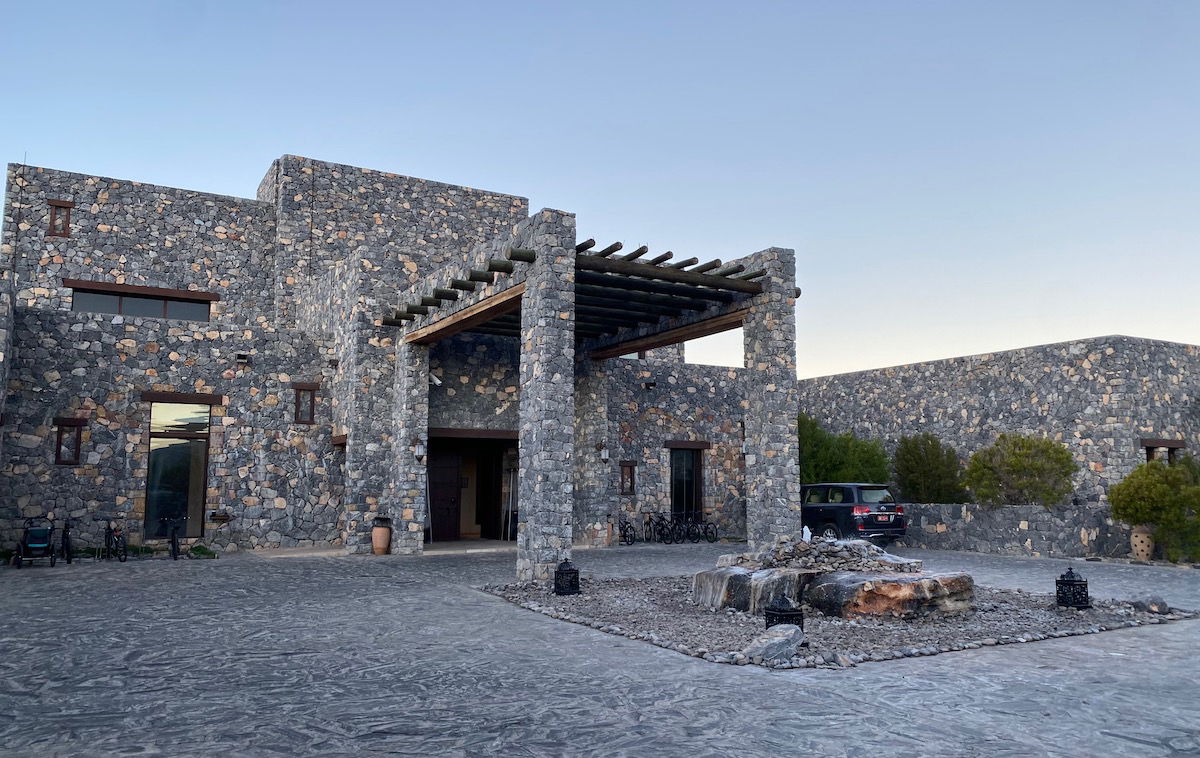 The lobby has plenty of seating, and also leads to most of the hotel's amenities.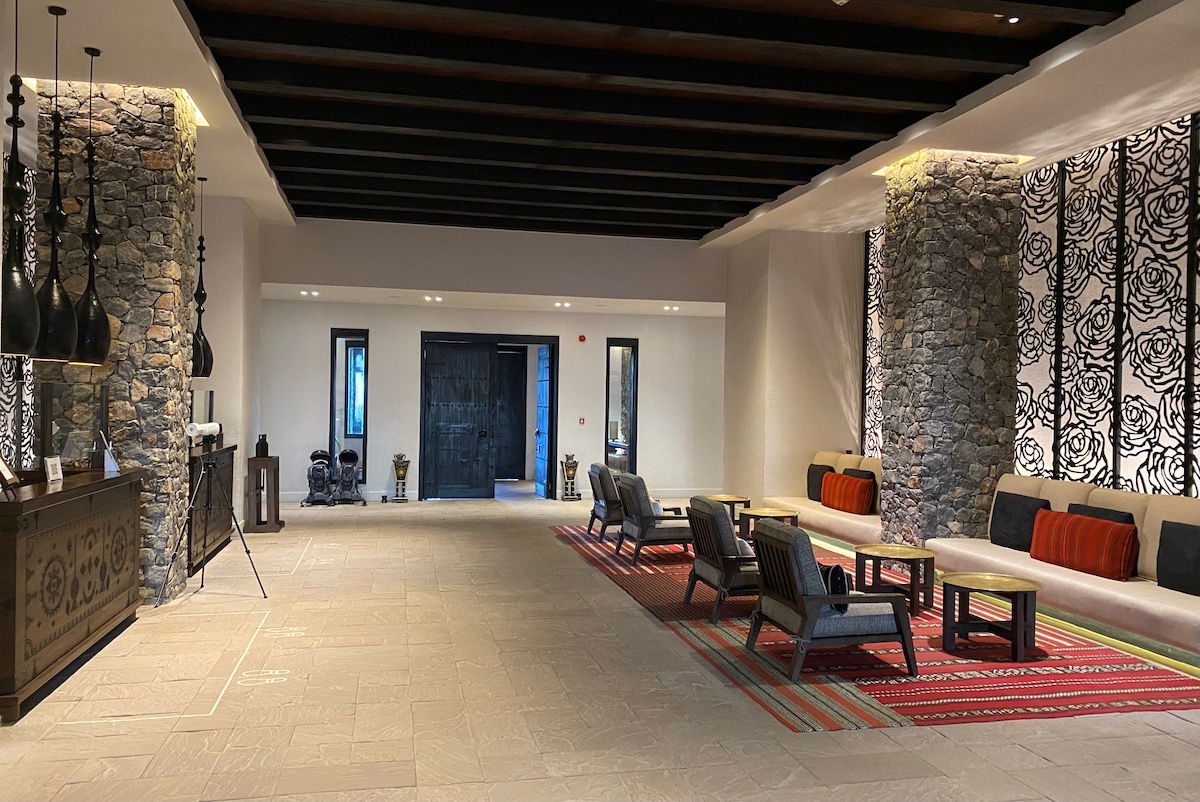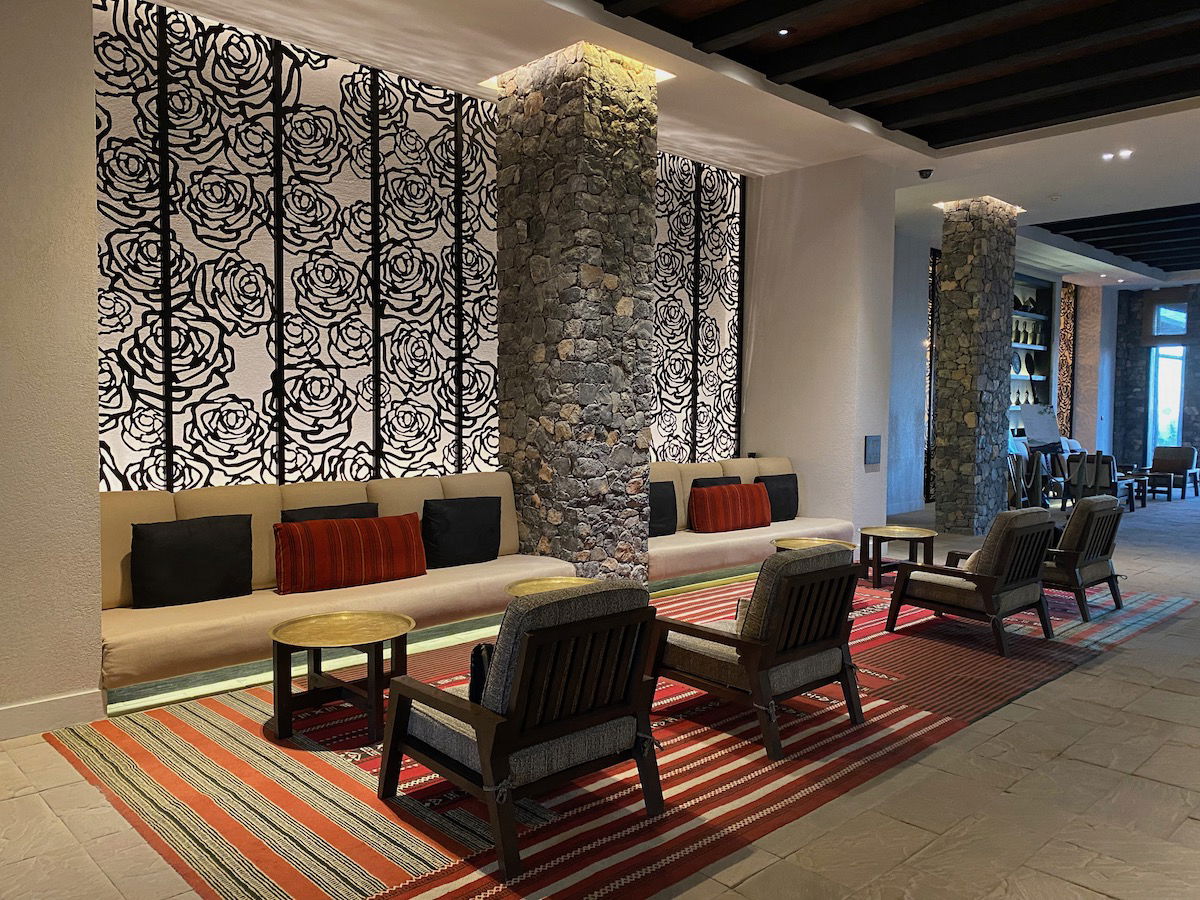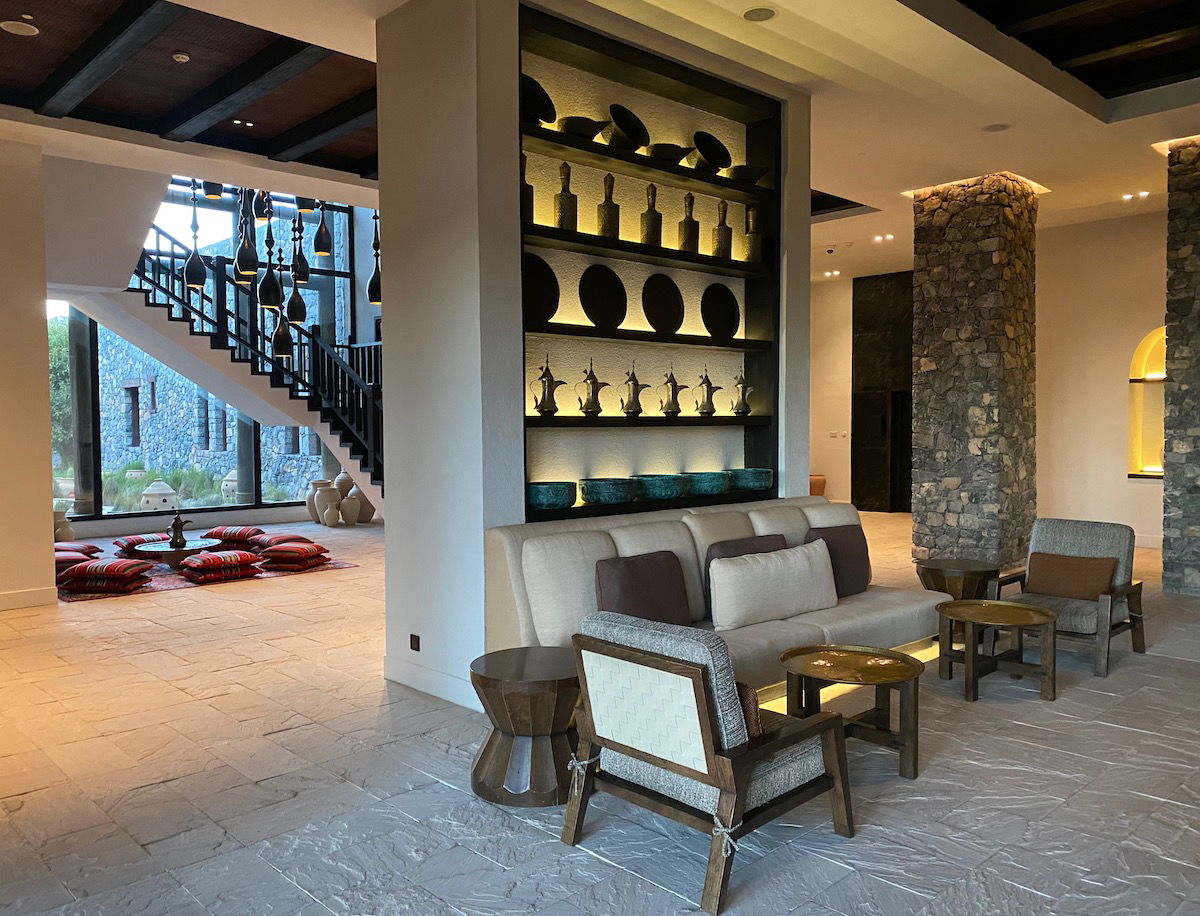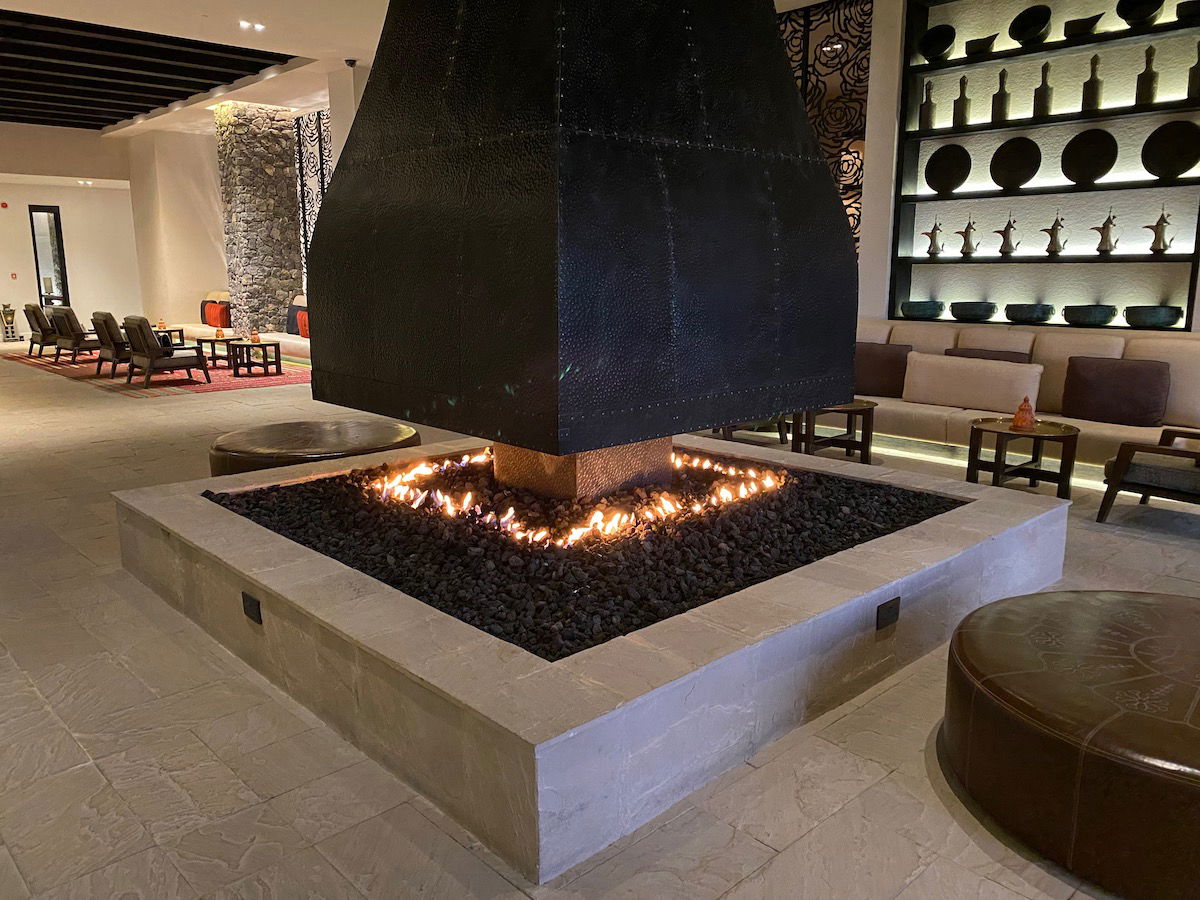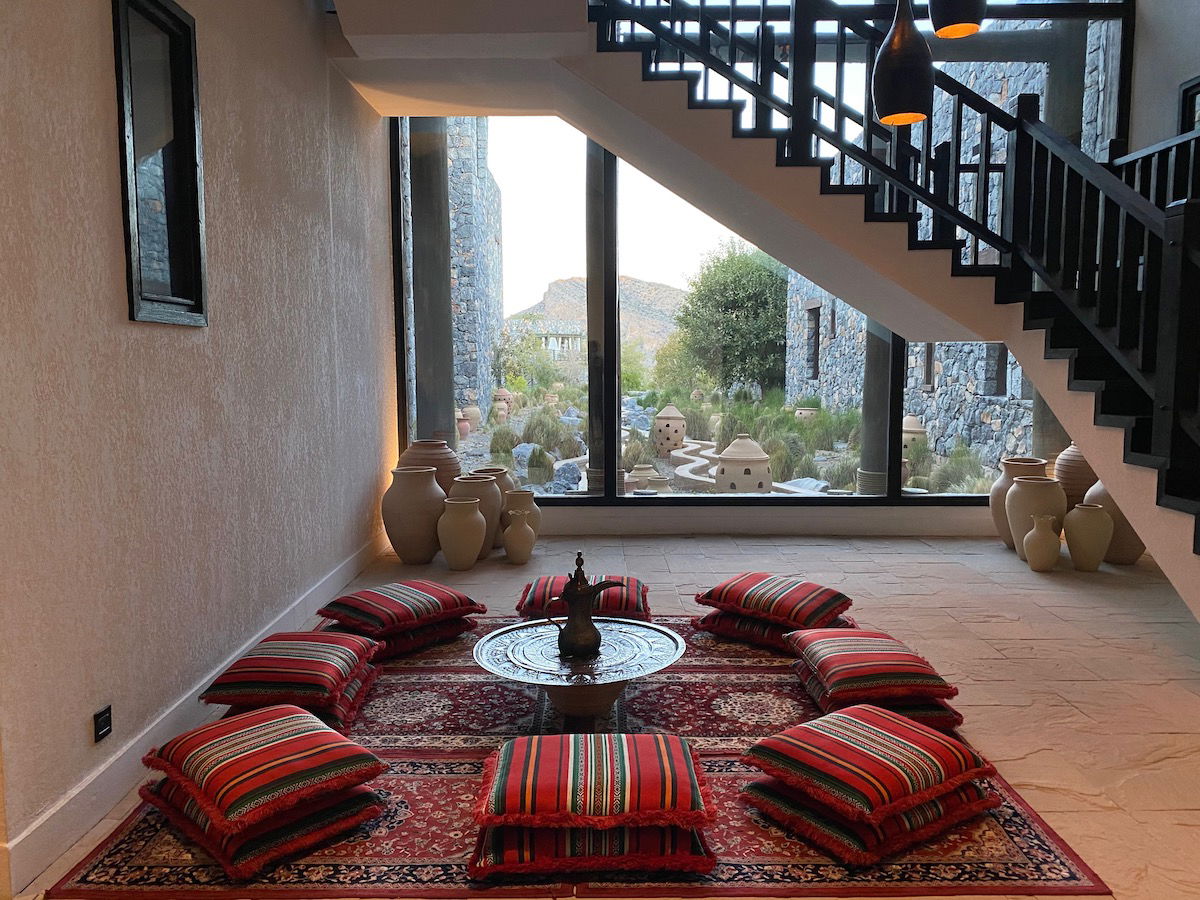 Also off the lobby is a library, should you want to find a quiet place to work or read a book that isn't your room.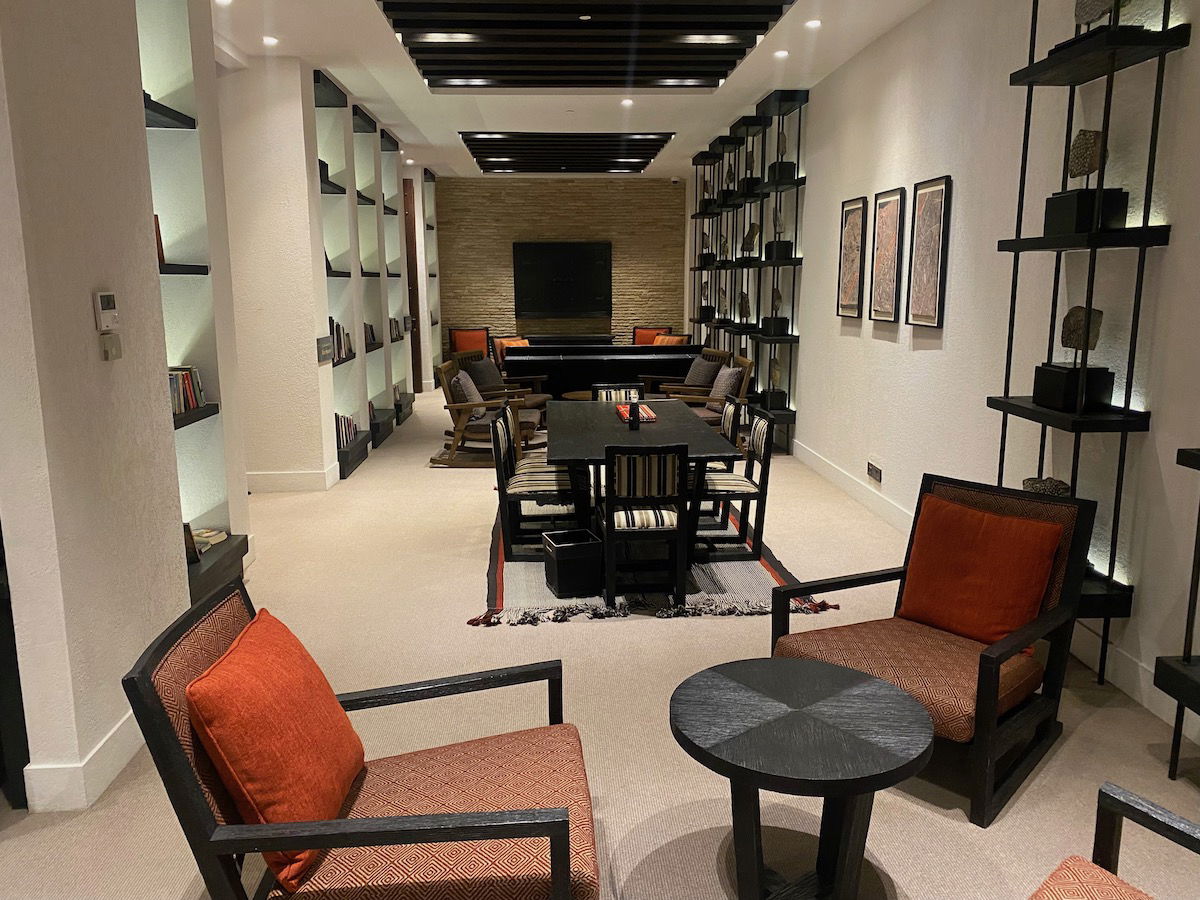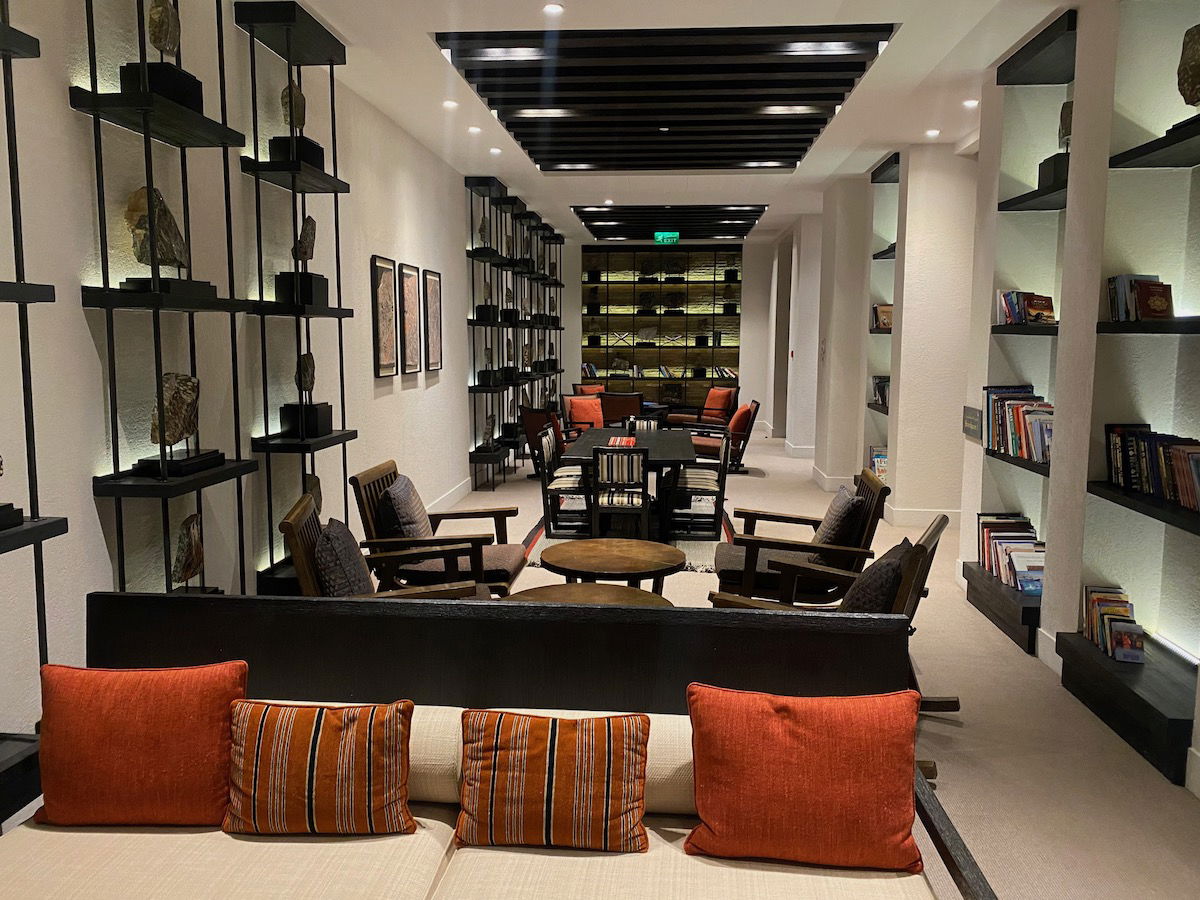 Our check-in process was efficient. Interestingly most of the front office staff at the hotel are Omani and are from nearby villages, so that's different than most of the other hotels we stayed at in Oman. It gives the hotel a bit more of an authentic feel.
Alila Jabal Akhdar Jabal Terrace room
Within a few minutes we were checked in and escorted to room 38, our Jabal Terrace. This was located in a building not too far from reception, which housed a total of four rooms (as far as I know). Our room was on the second floor.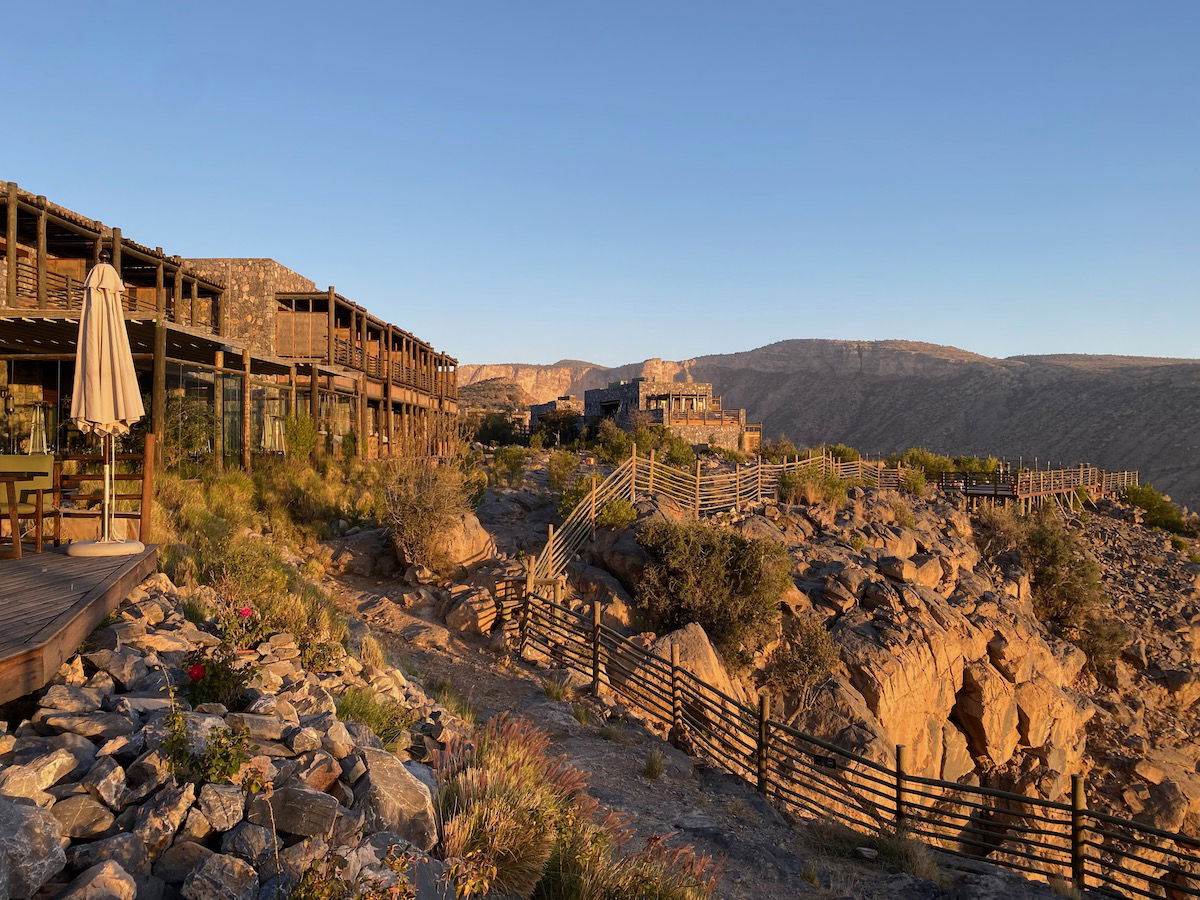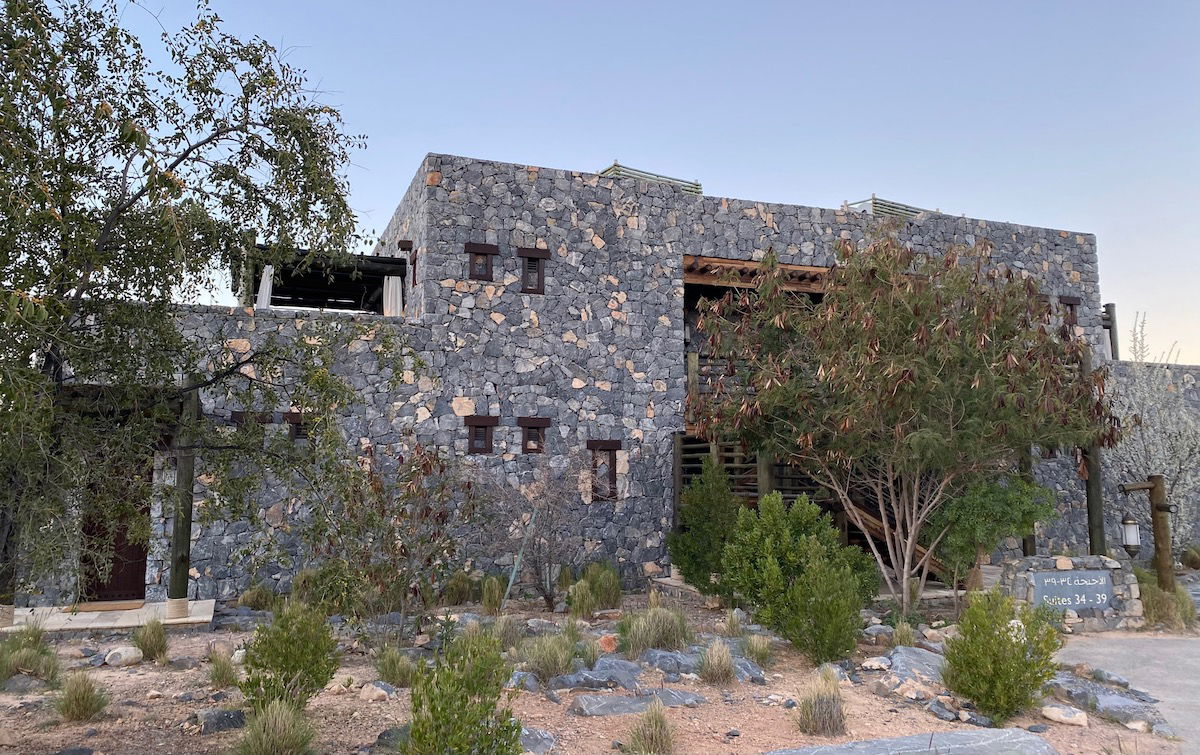 The interior of the room wasn't particularly big (the room is marketed as being 1,120 square feet, though that's mostly outdoor space), but was nicely appointed. It featured a comfortable king size bed, a chair with an ottoman, and a desk with a chair.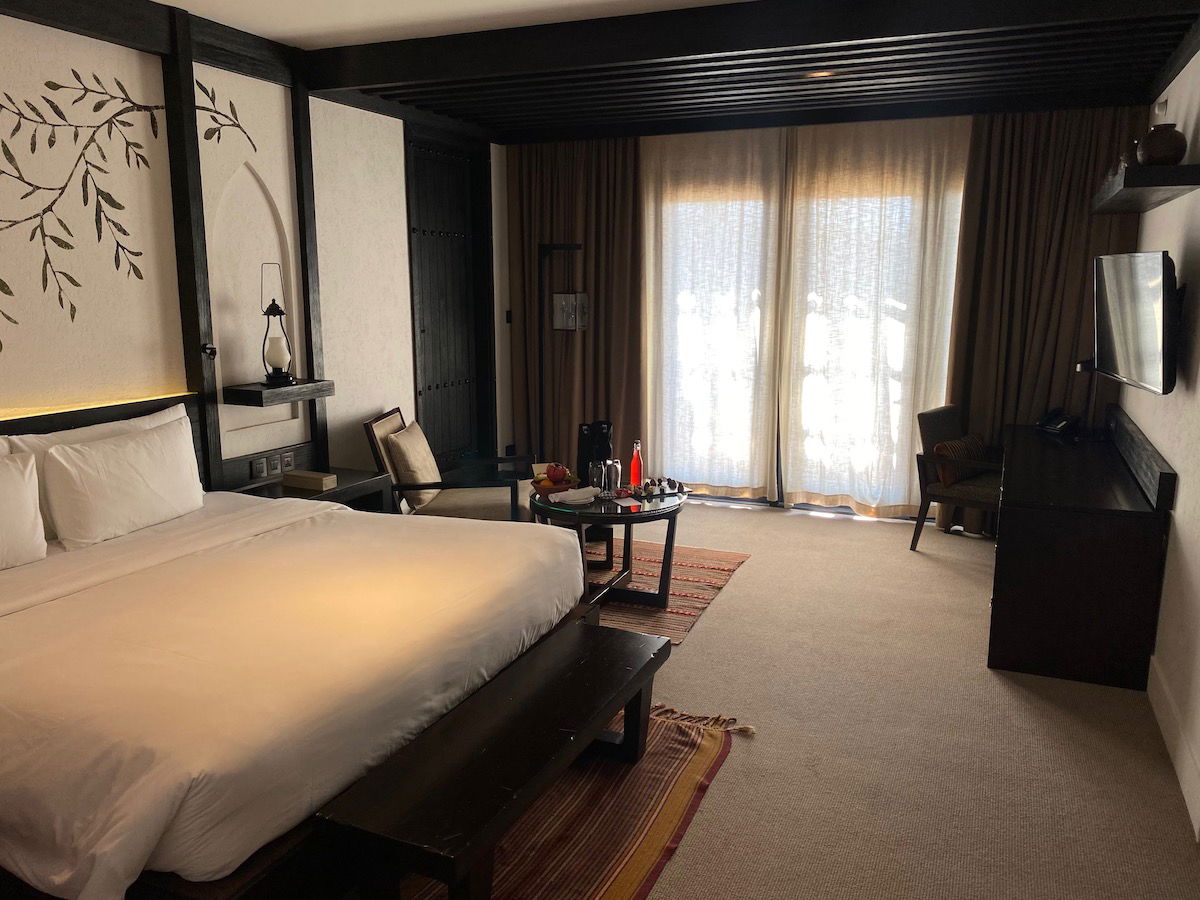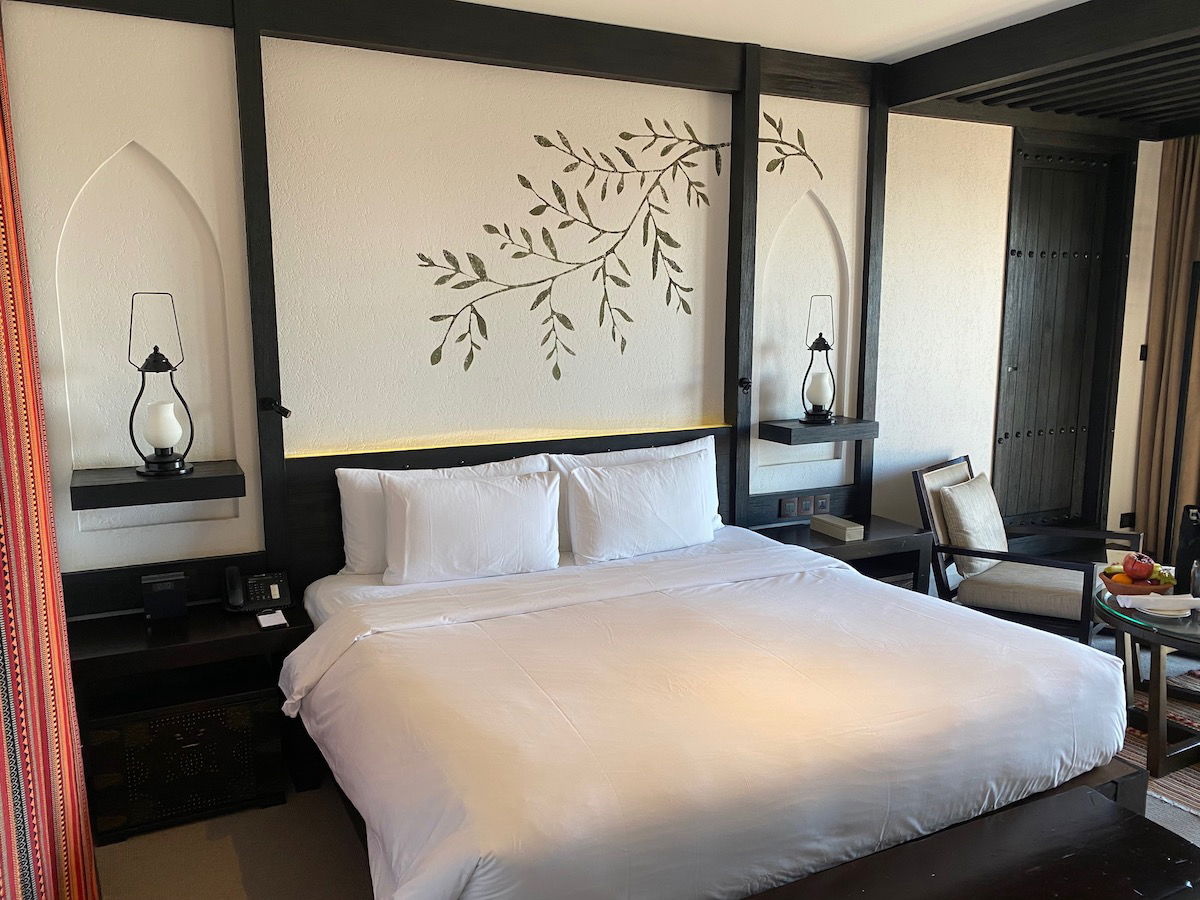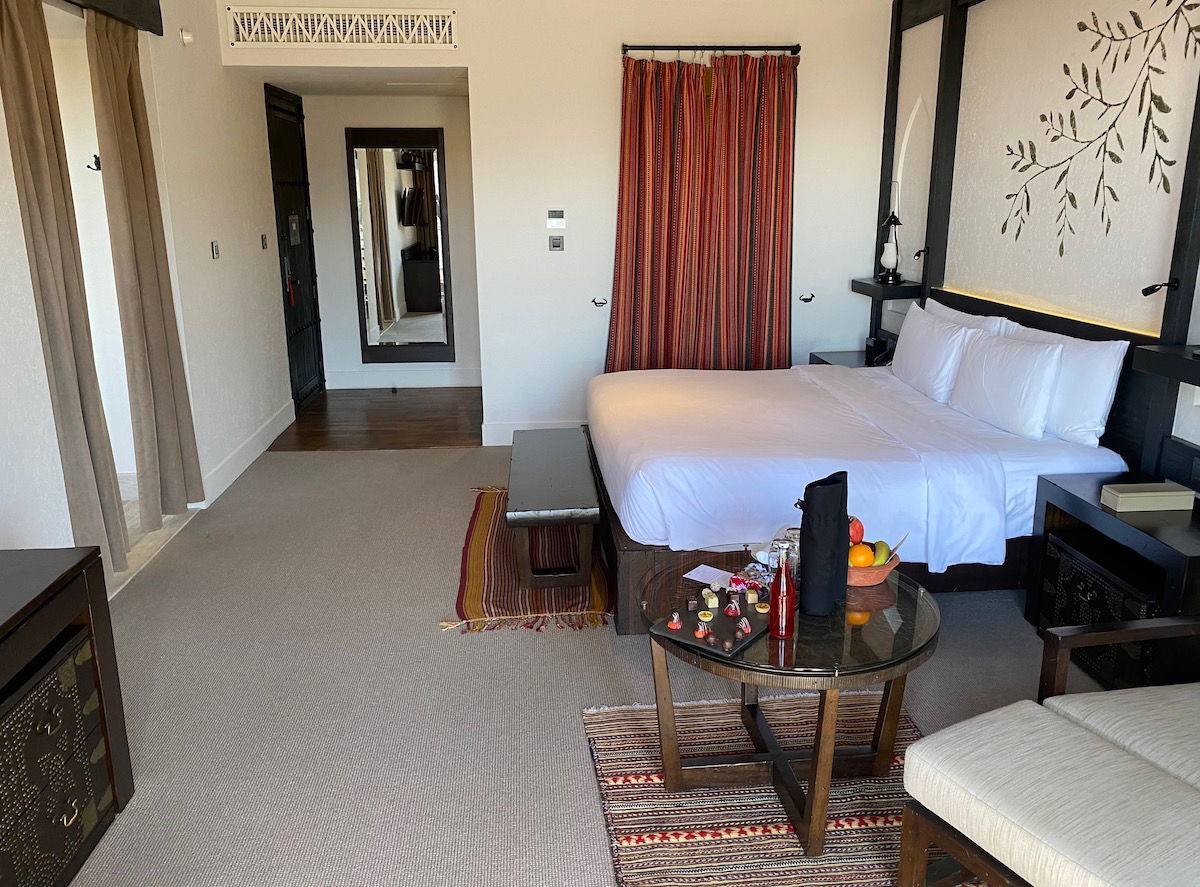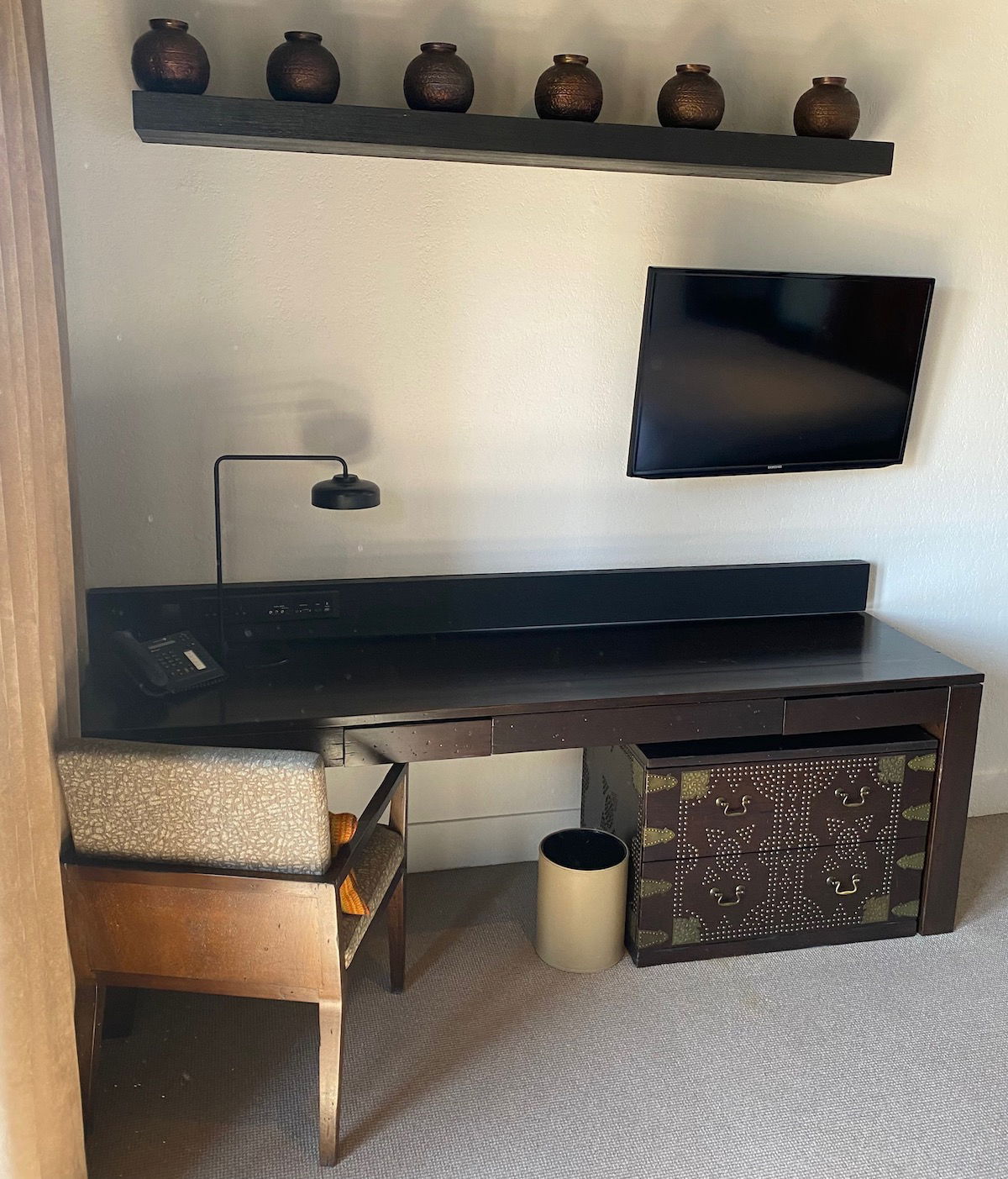 Behind the red curtain by the bed was a walk-in closet area, with plenty of space.
Near the entryway was the minibar, which had a Nespresso machine, a tea kettle, and some complimentary soft drinks.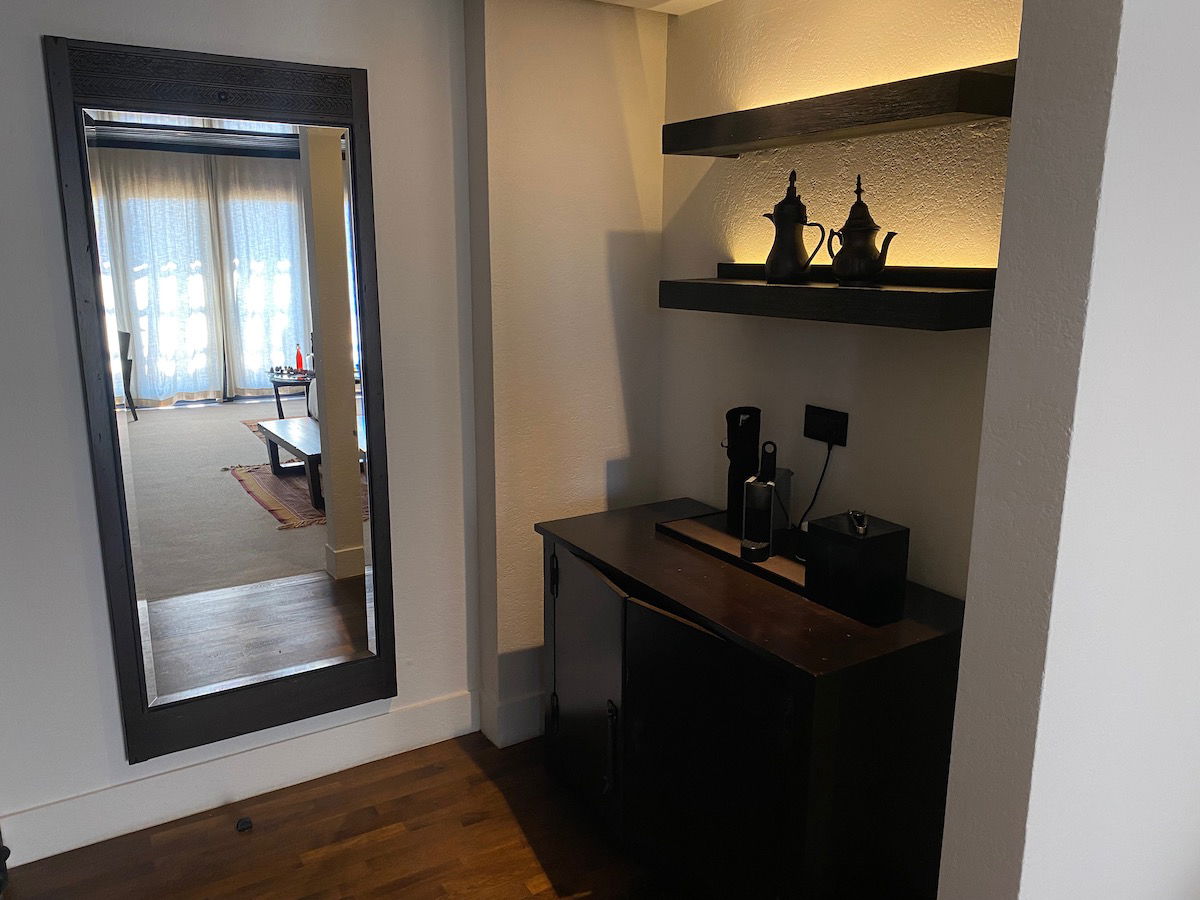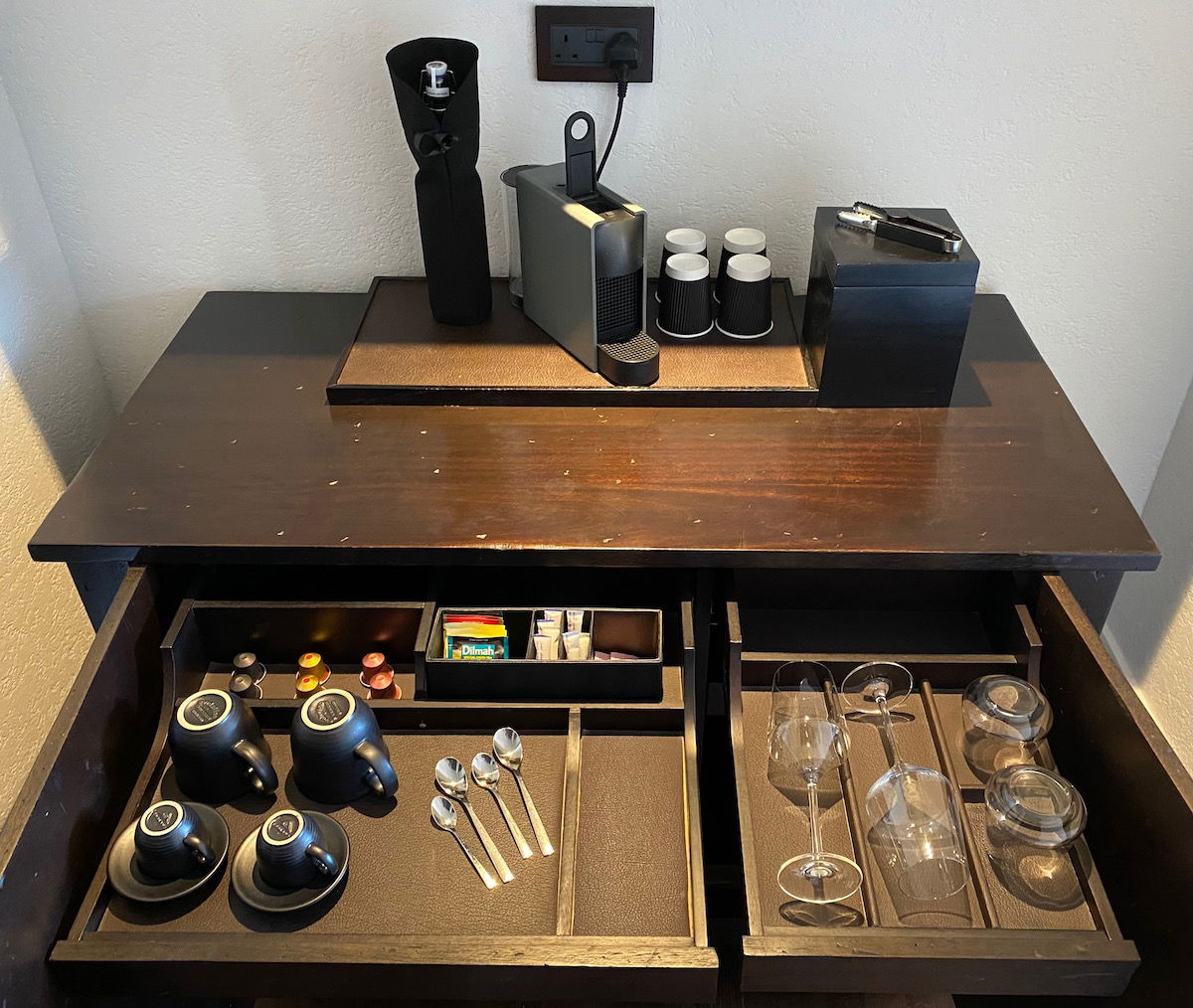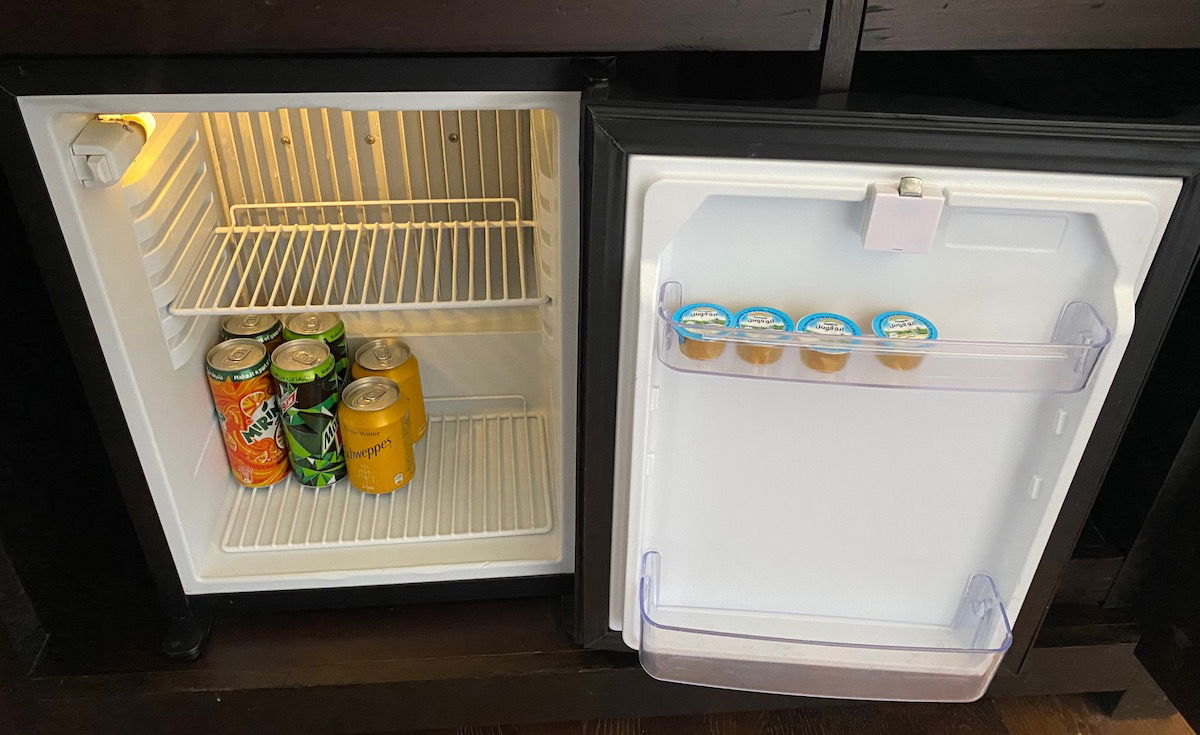 There was a lovely welcome amenity consisting of some fresh fruit, pomegranate juice, and some tasty sweets.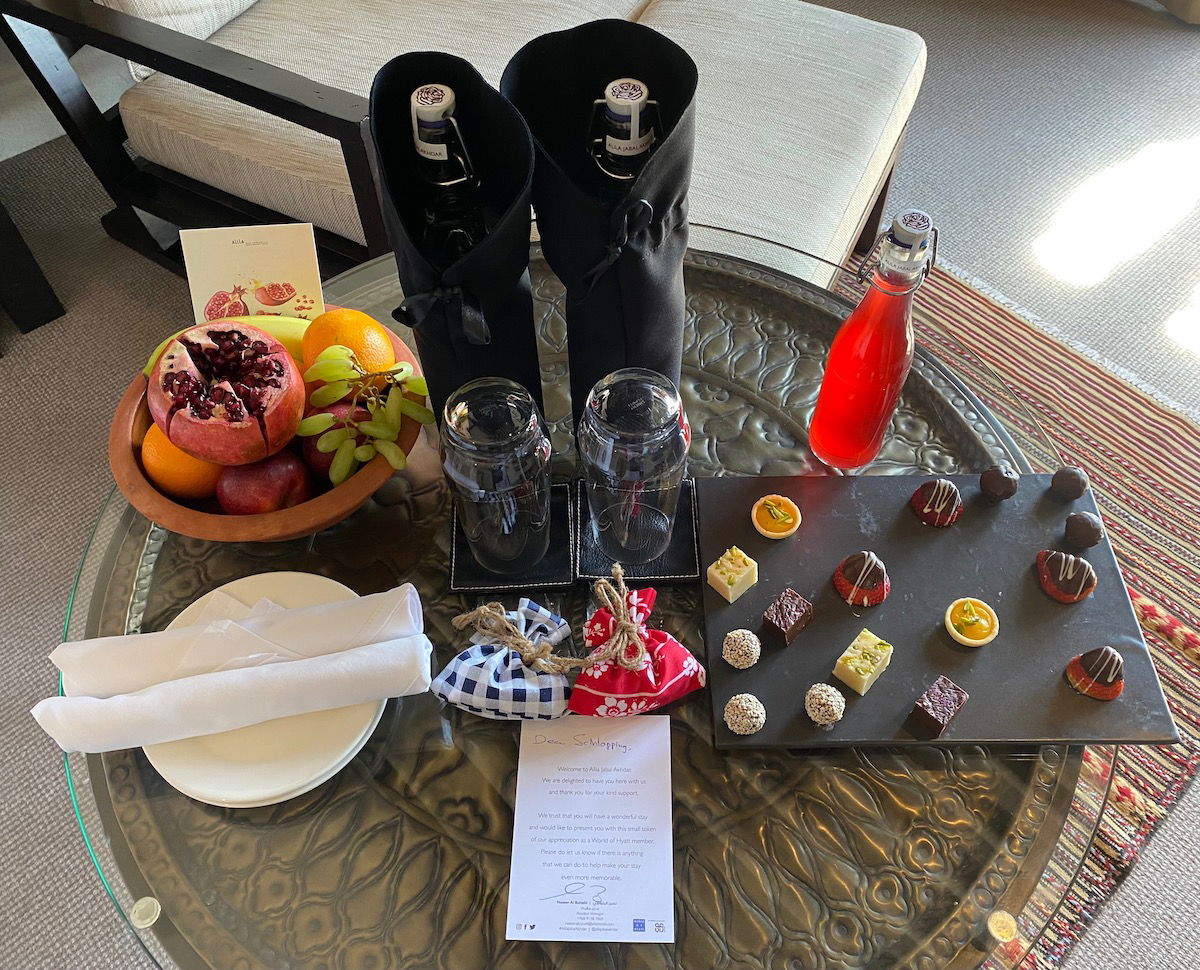 The bathroom was a great size, and had double sinks, a beautiful tub, a walk-in shower, and a toilet.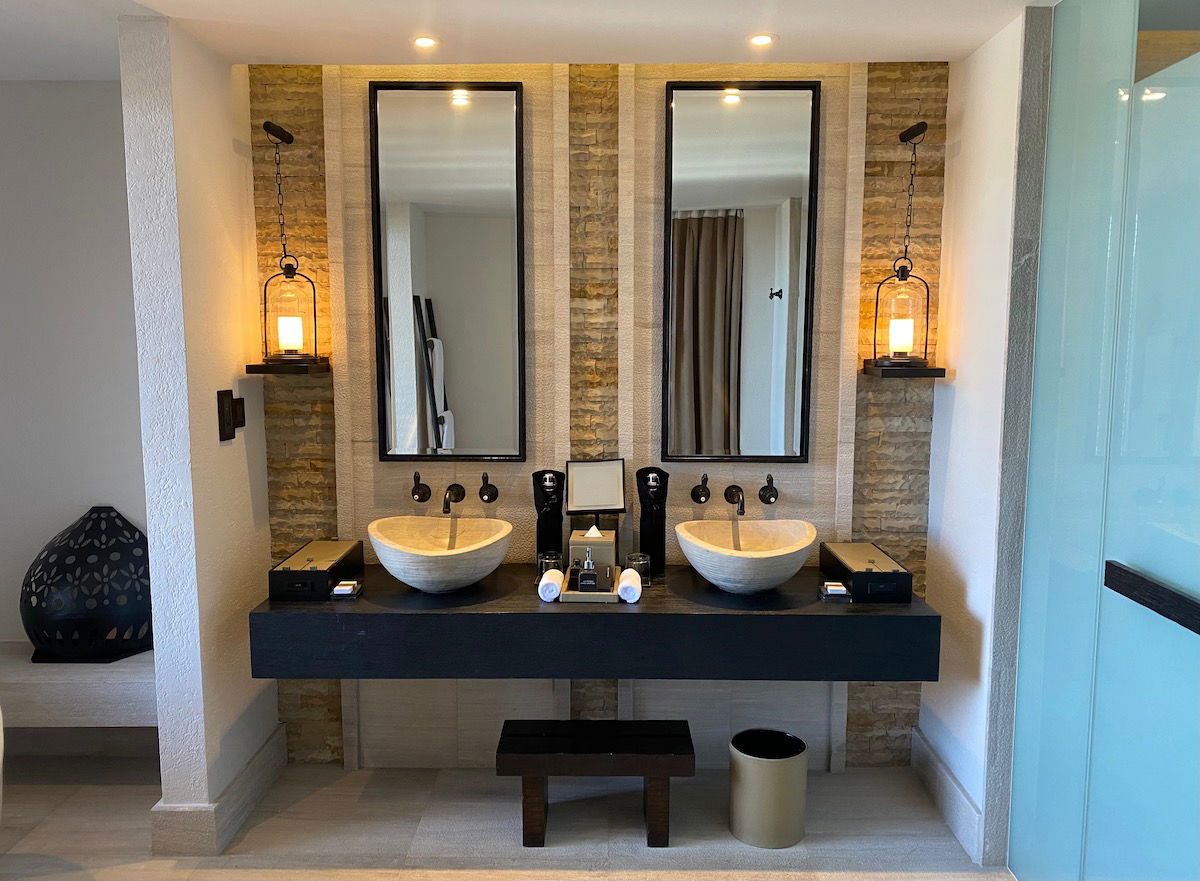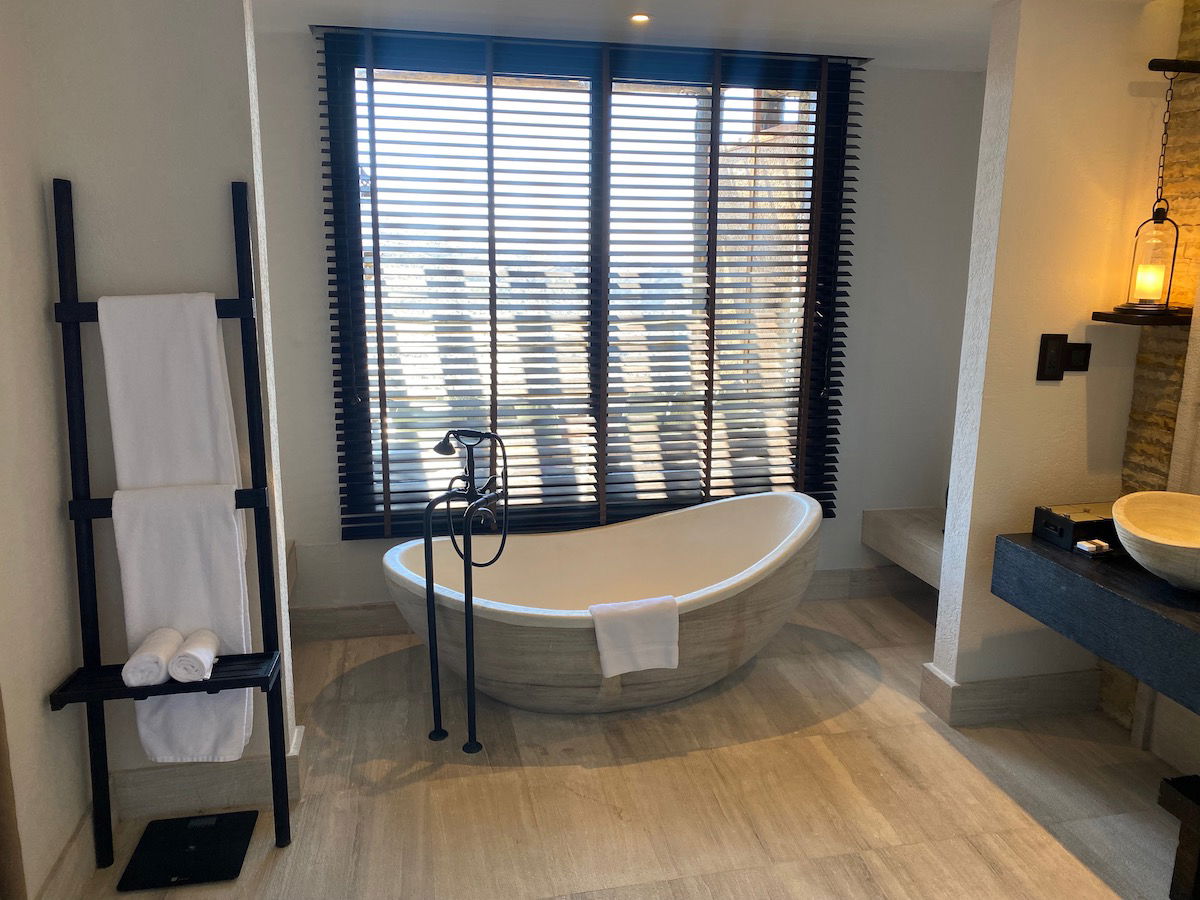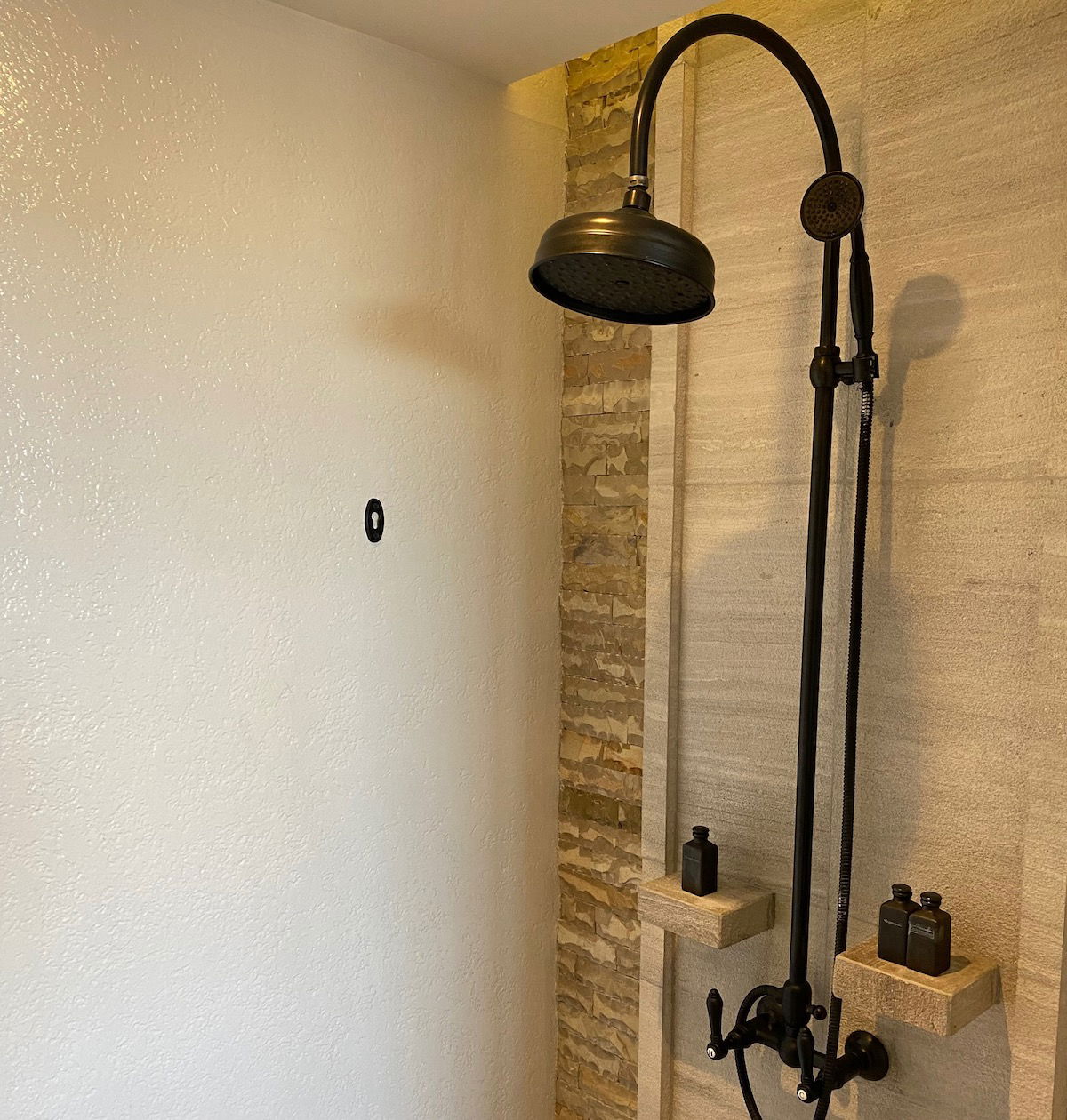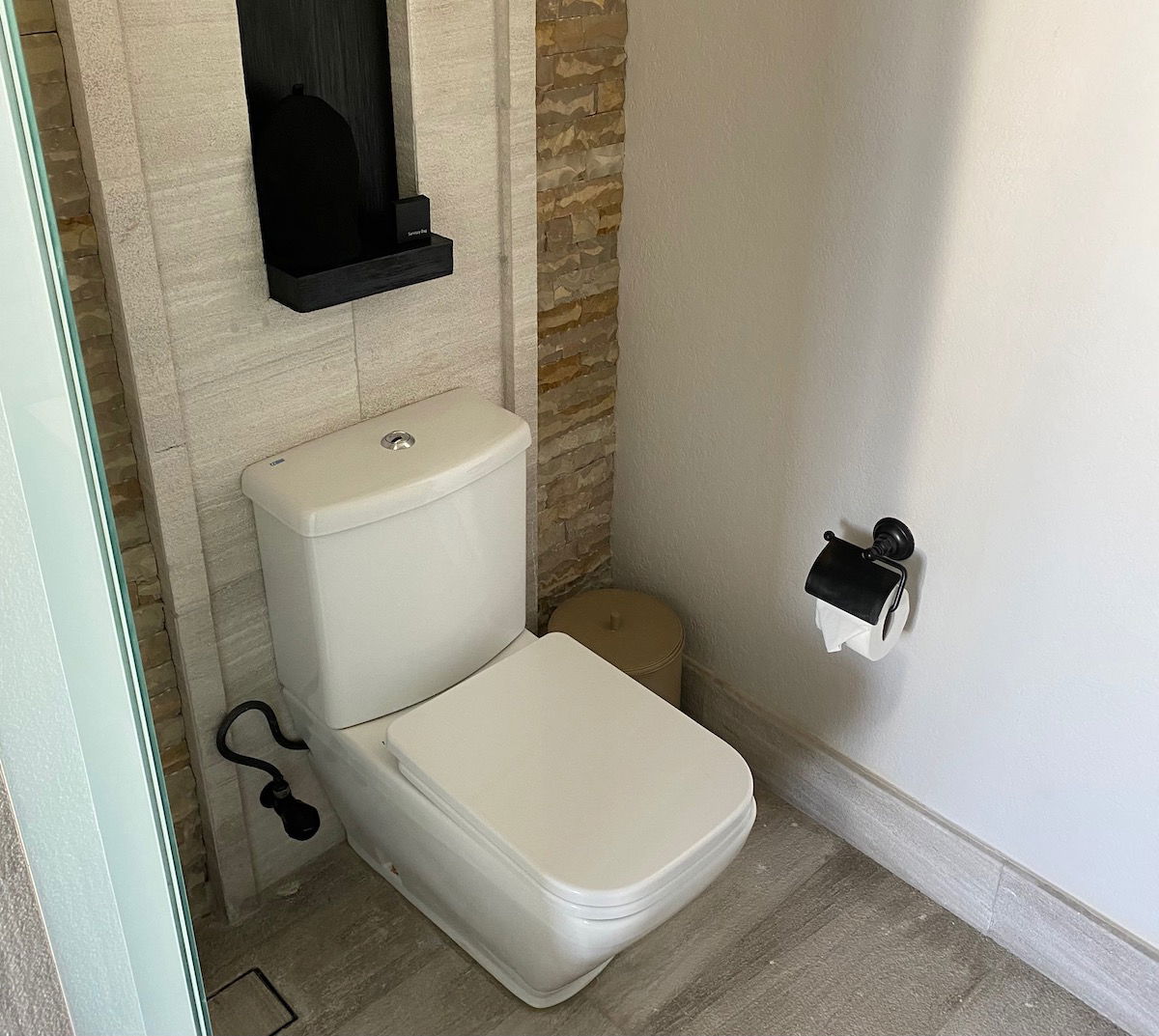 Note that the water controls in the bathroom (for both the sink and shower) were kind of problematic. If you turned on warm water it would immediately be scolding hot, so make sure you're careful when selecting the water temperature.
Toiletries were in reusable ceramic containers. While I can appreciate that this is intended to be sustainable, am I the only one who has a bad track record with breaking these, no matter how hard I try to be careful?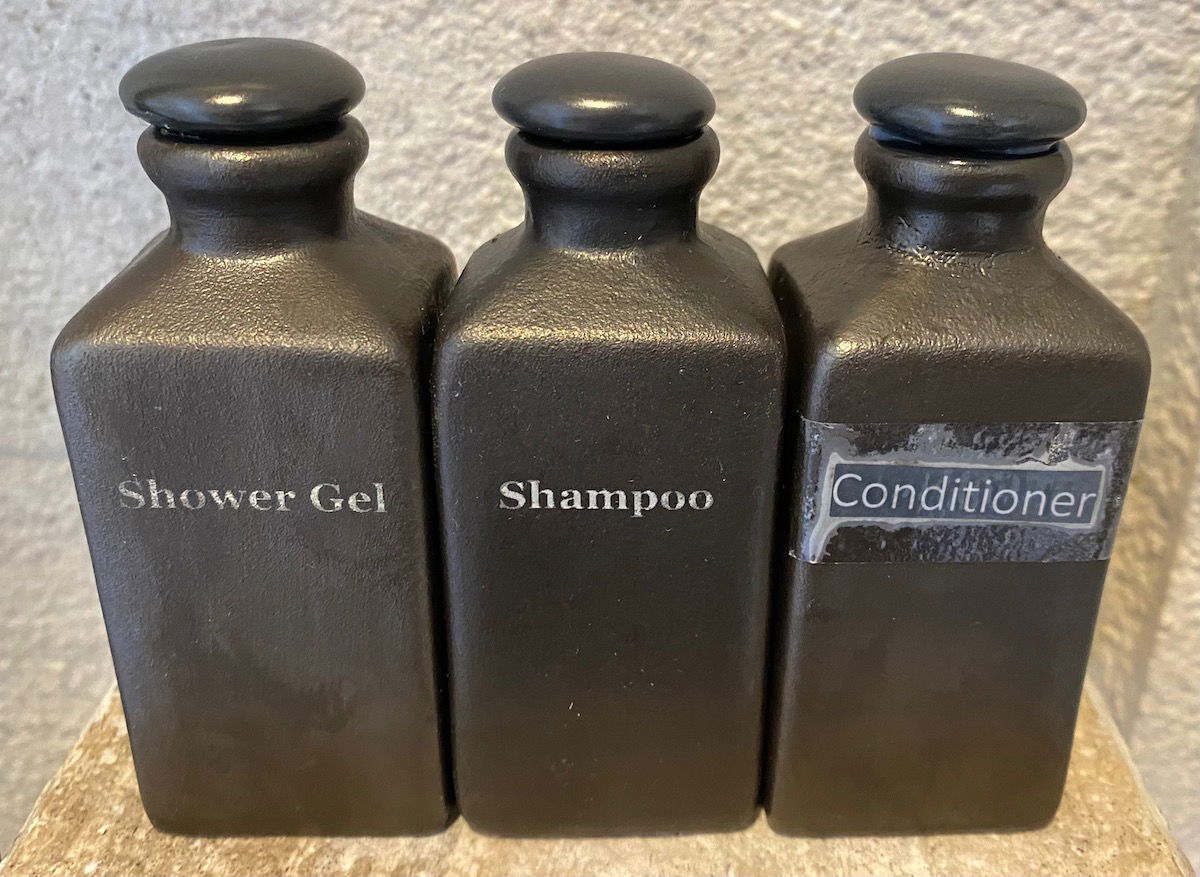 As you'd expect based on the room's Jabal Terrace name, the highlight of the room was the outdoor space. There was a smaller terrace at the far end of the room, which had a couch.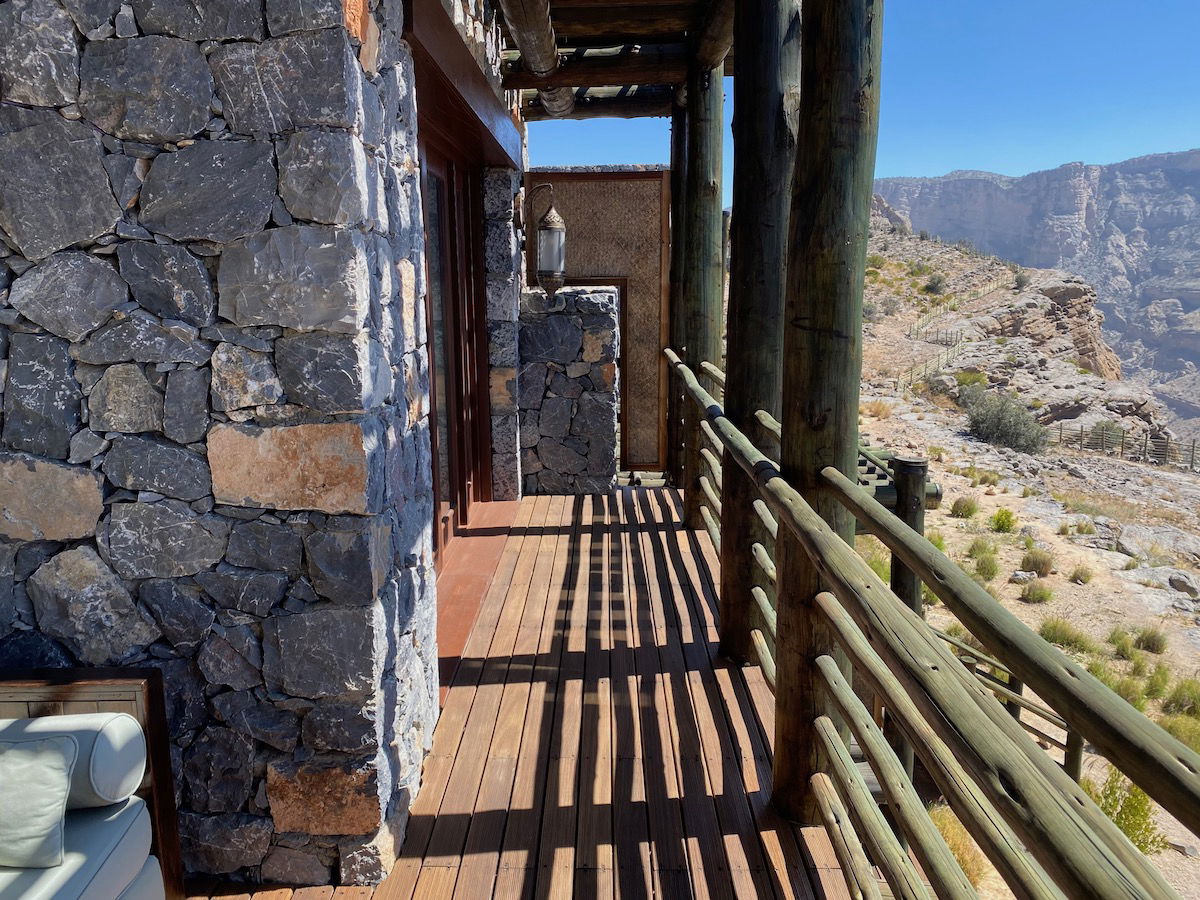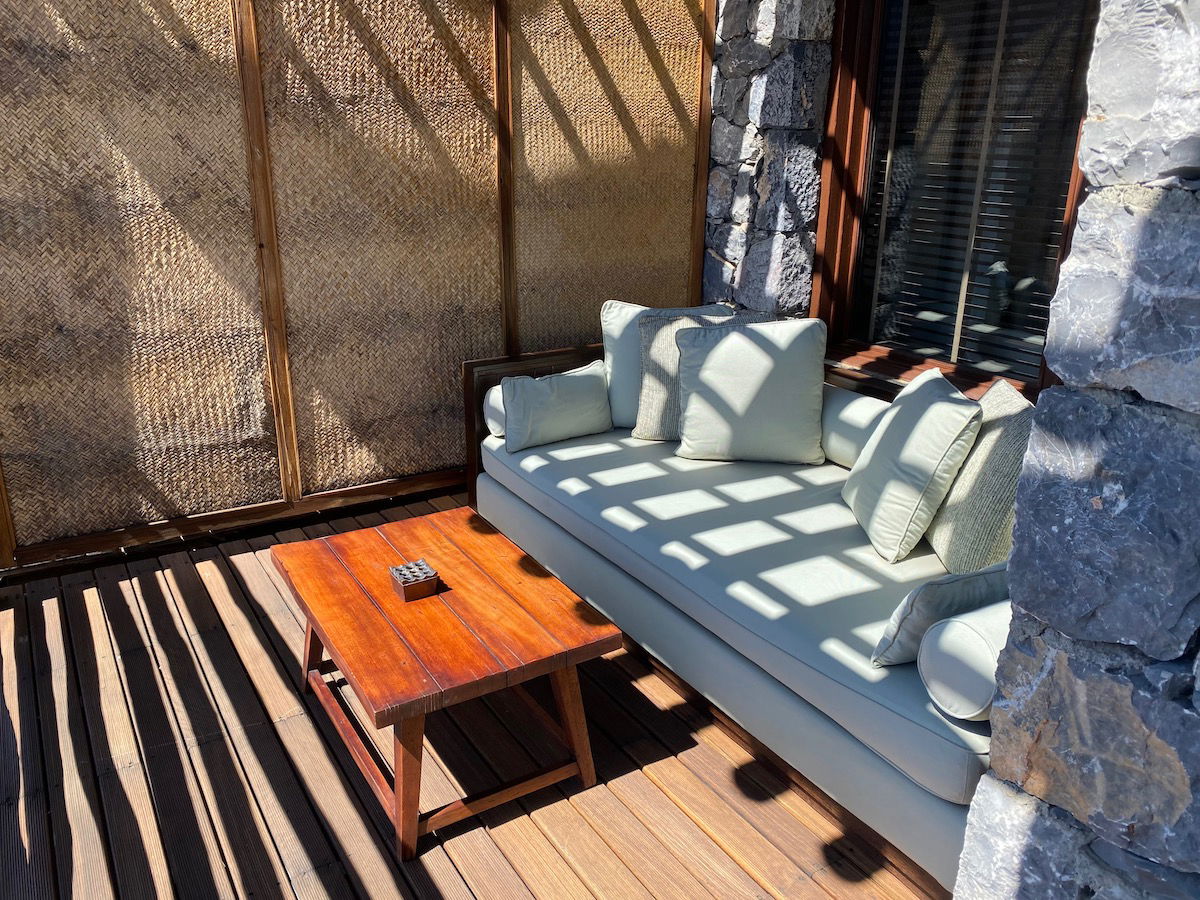 But the real highlight of the room was the massive terrace, which must have been the same size as the bedroom. It had a daybed, loungers, a large dining table, etc.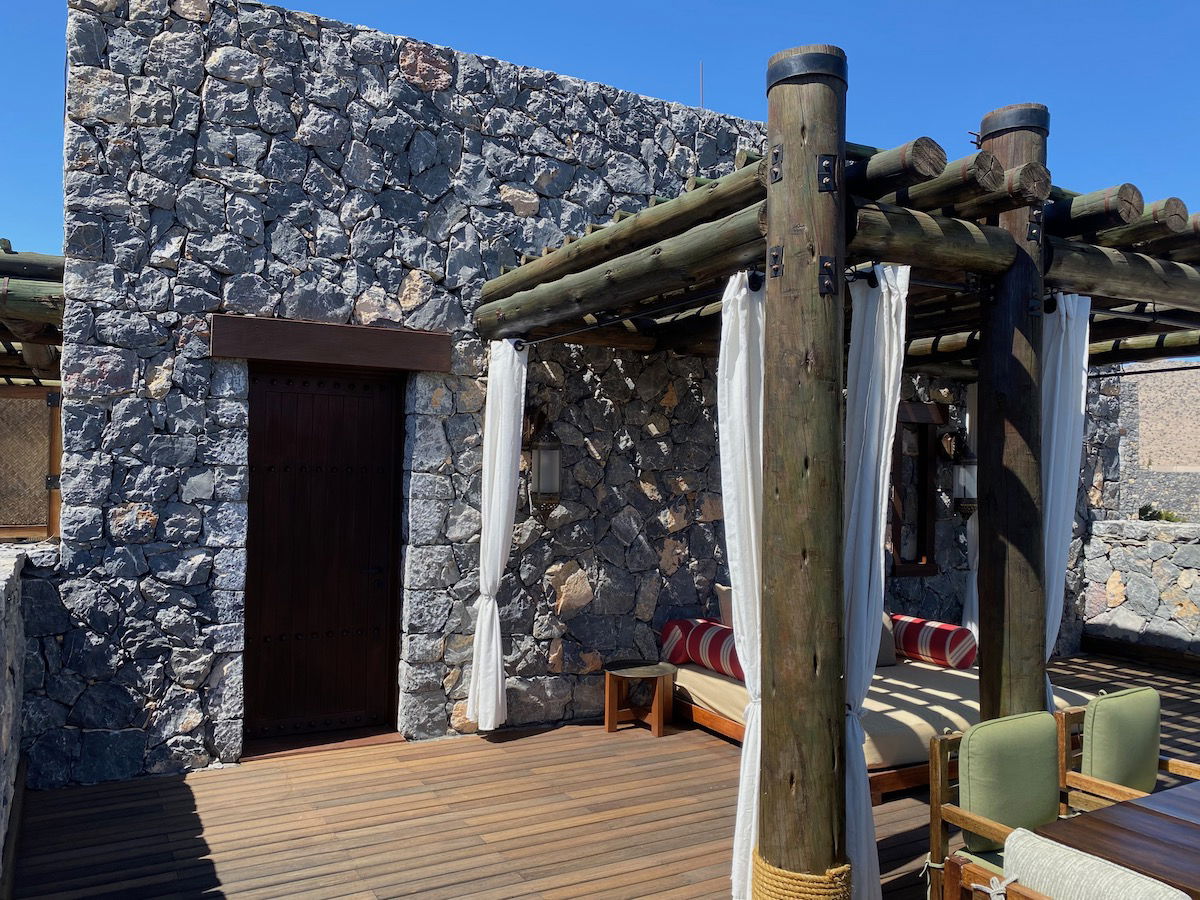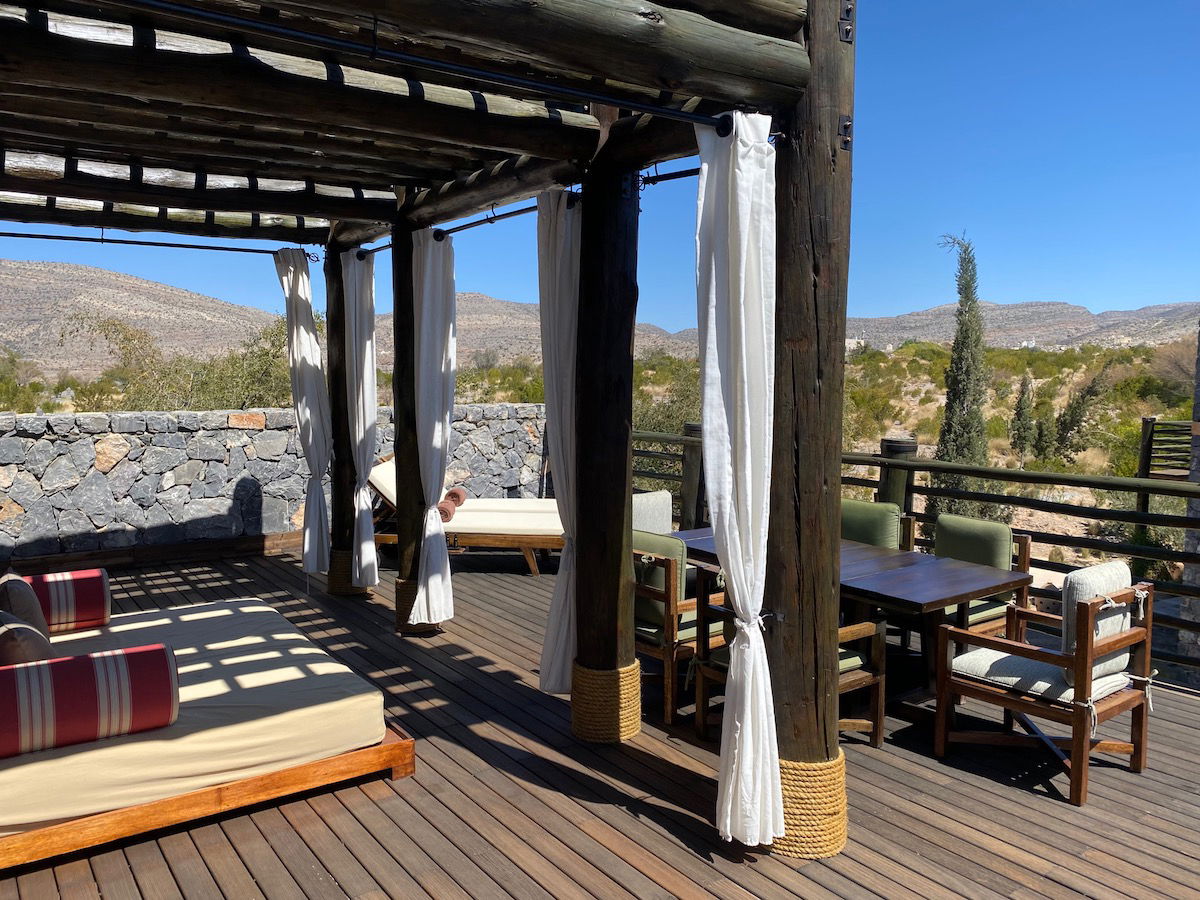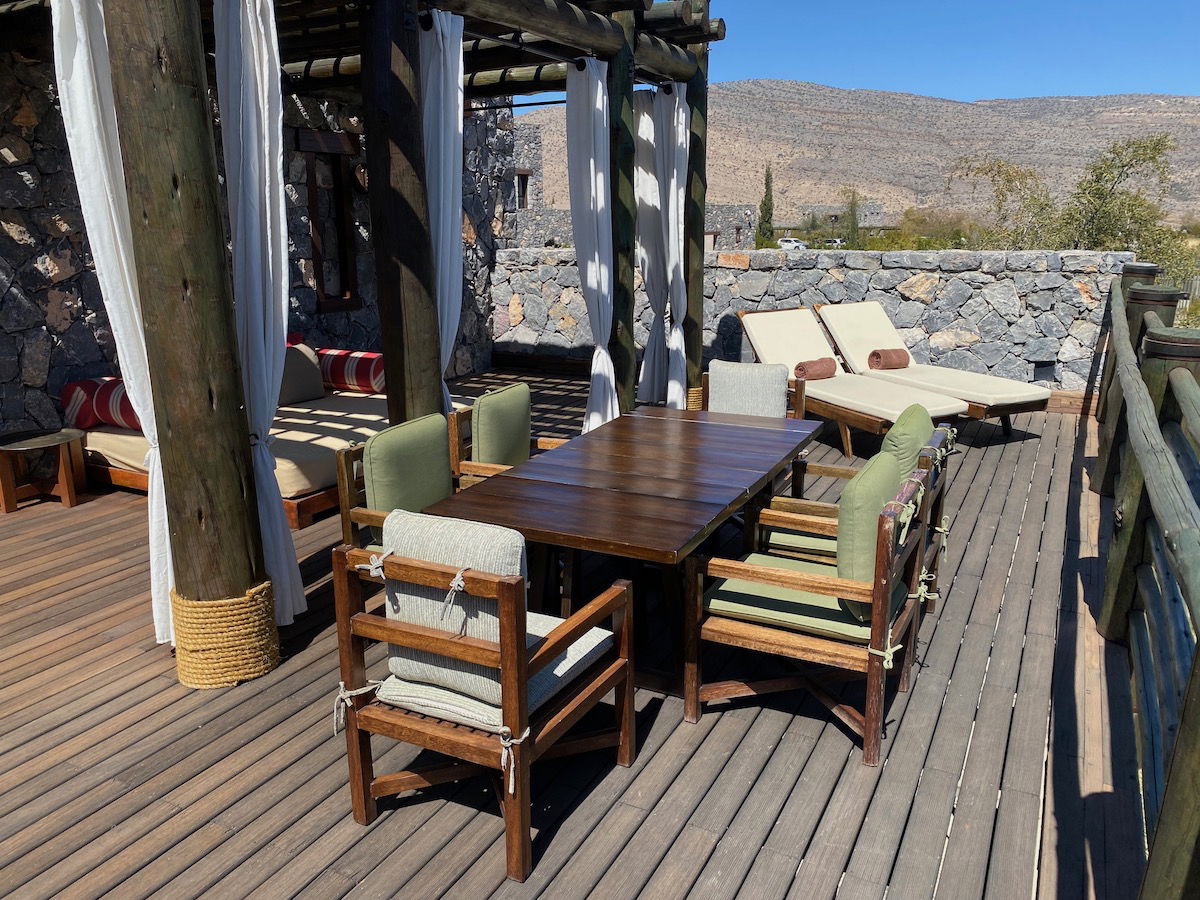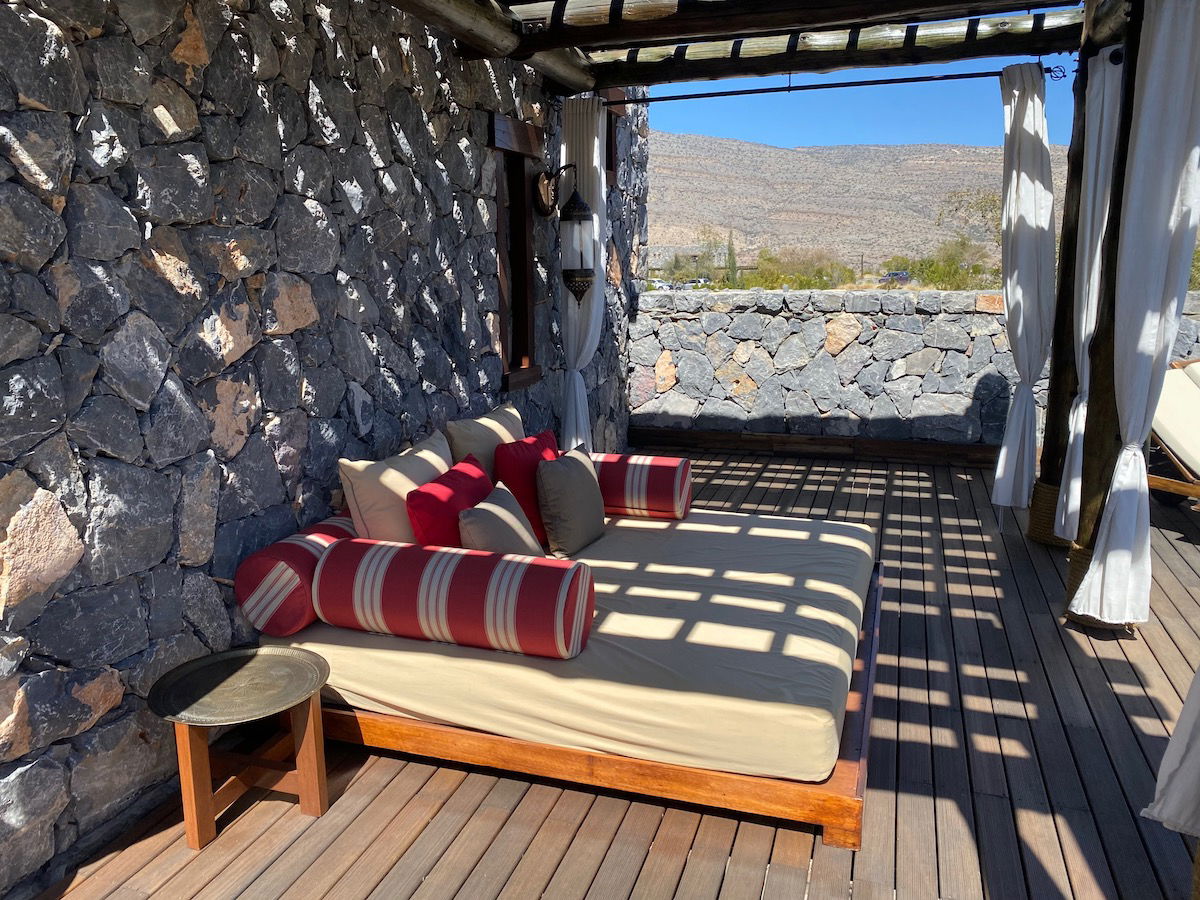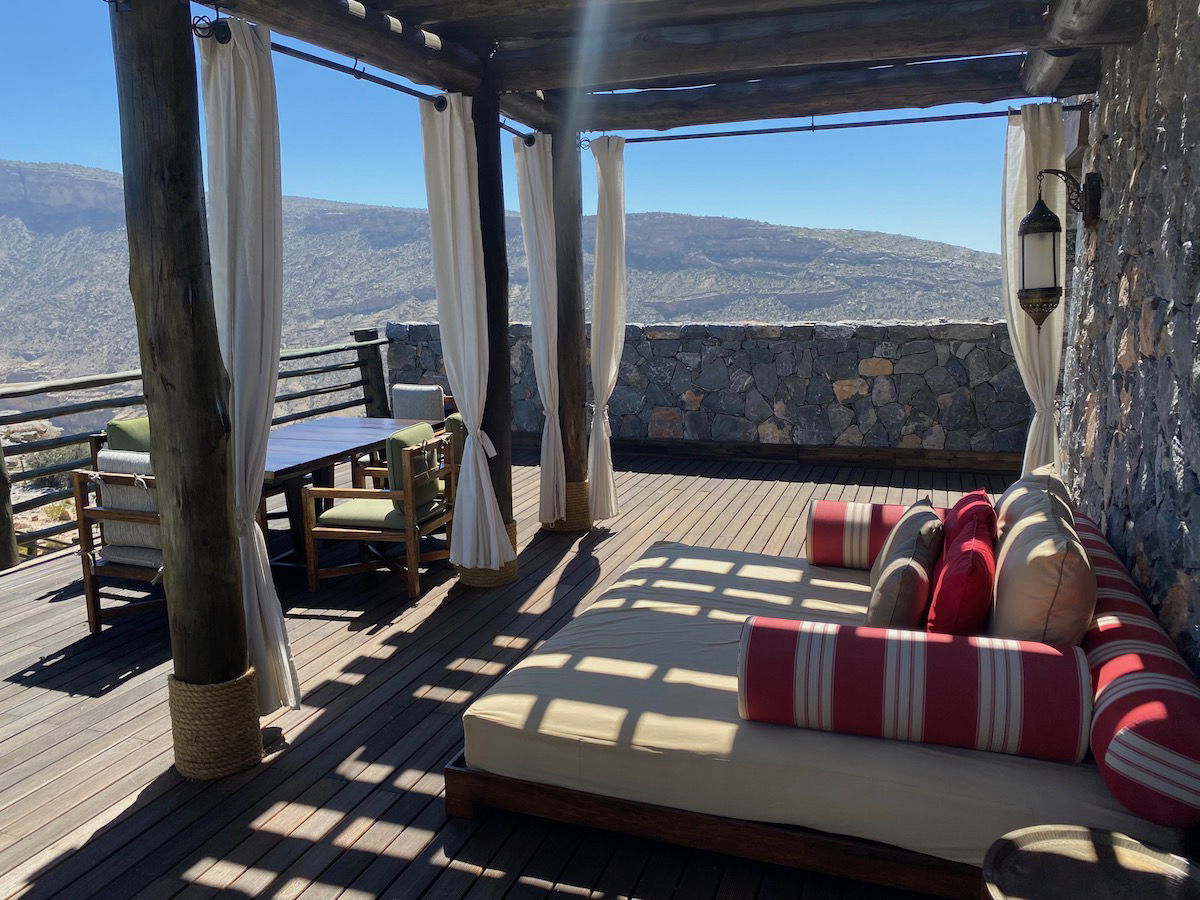 How unreal are these views?!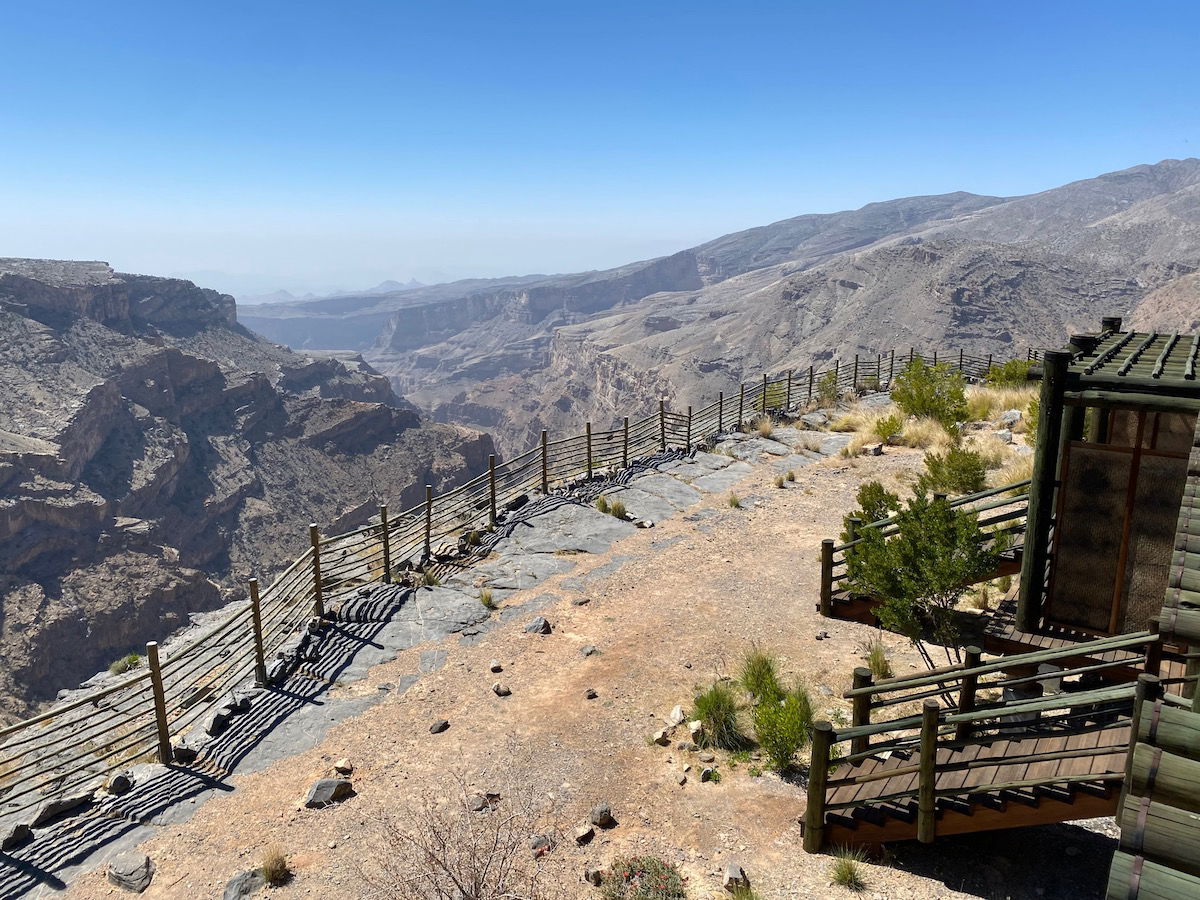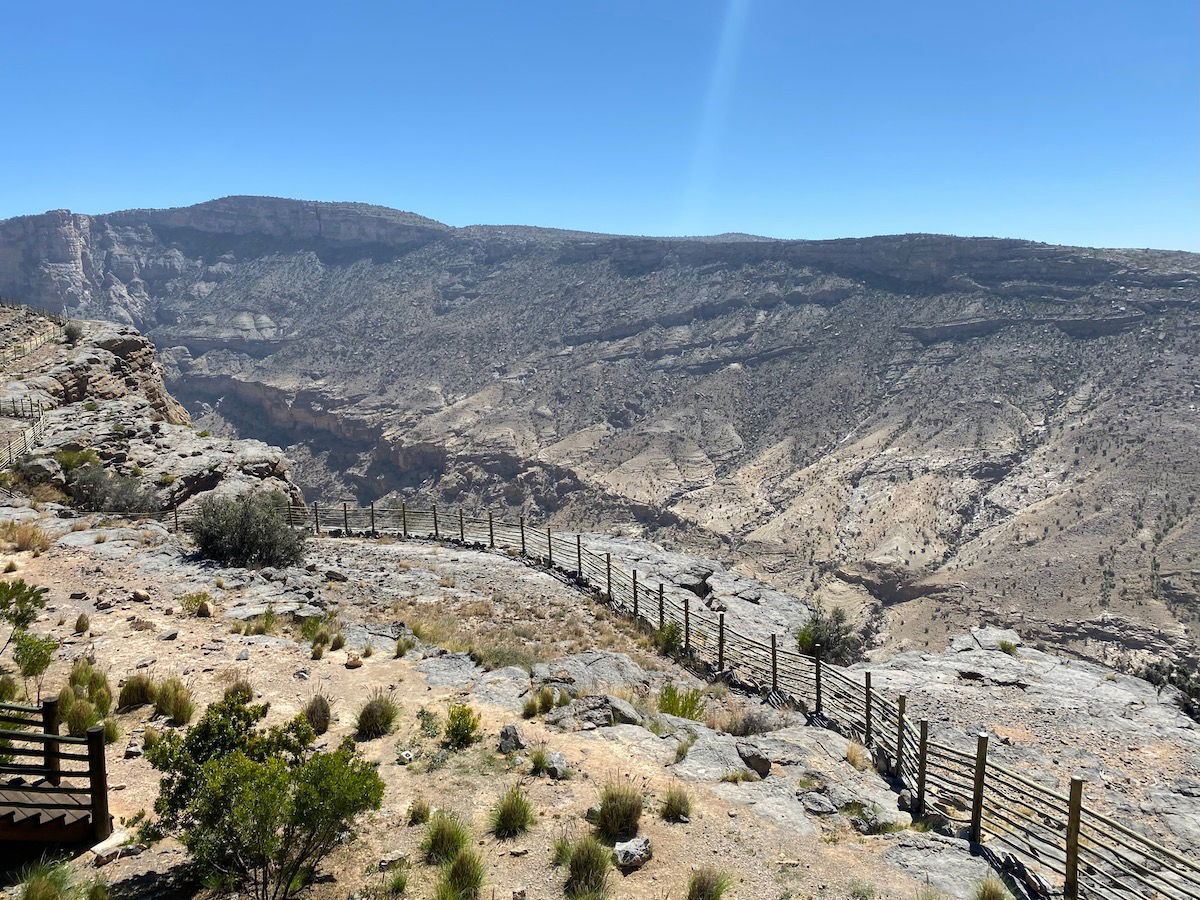 And they got even more spectacular at sunset.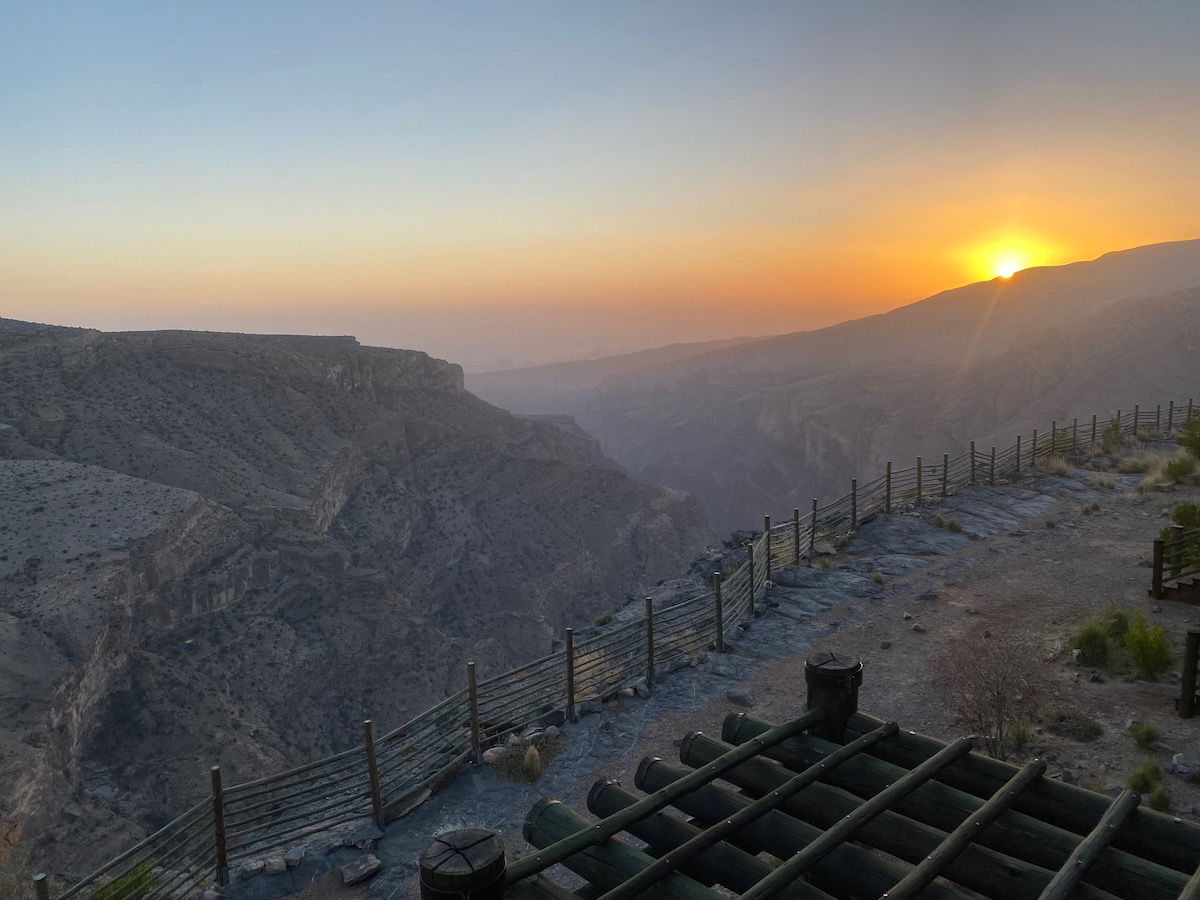 Alila Jabal Akhdar pools
Alila Jabal Akhdar has an indoor and outdoor pool. The outdoor pool is infinity-edge, and must have some of the most gorgeous views of any pool I've seen.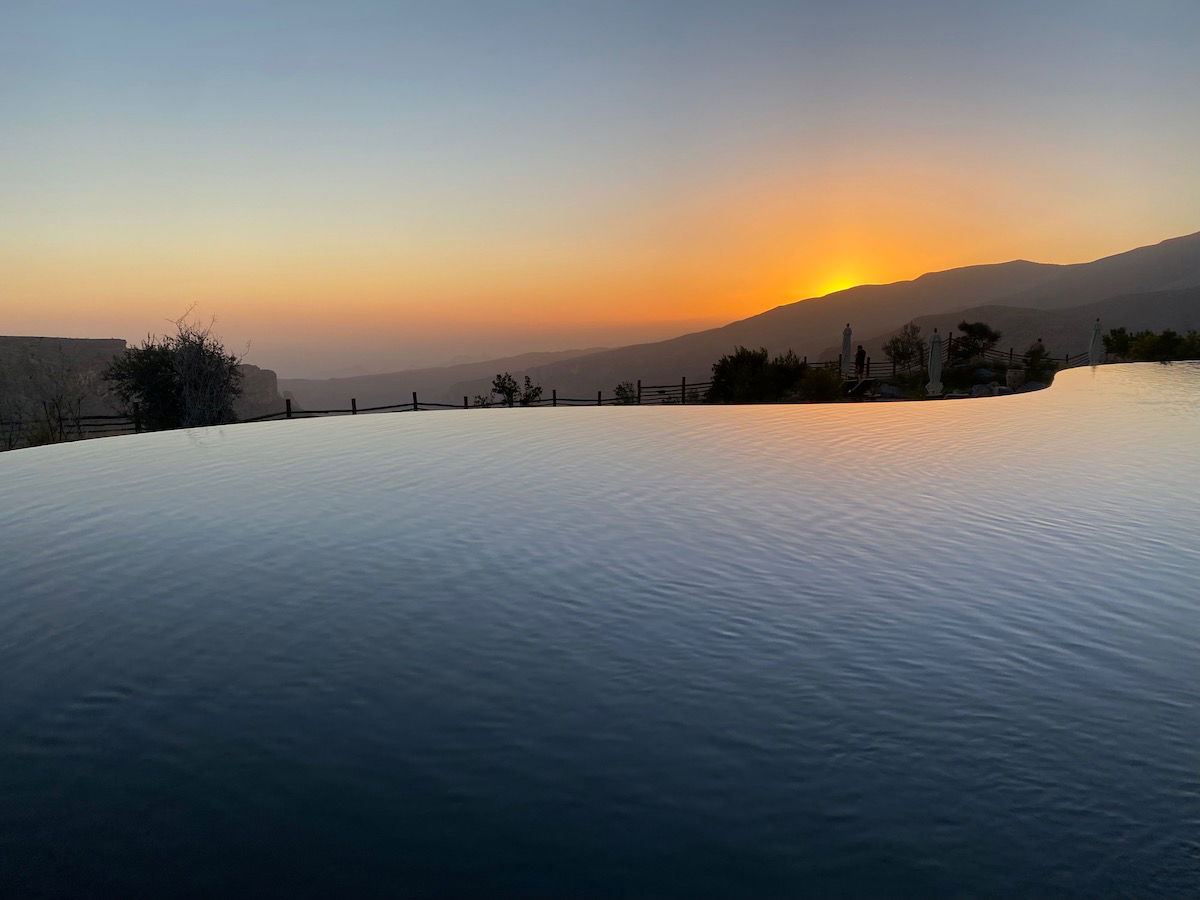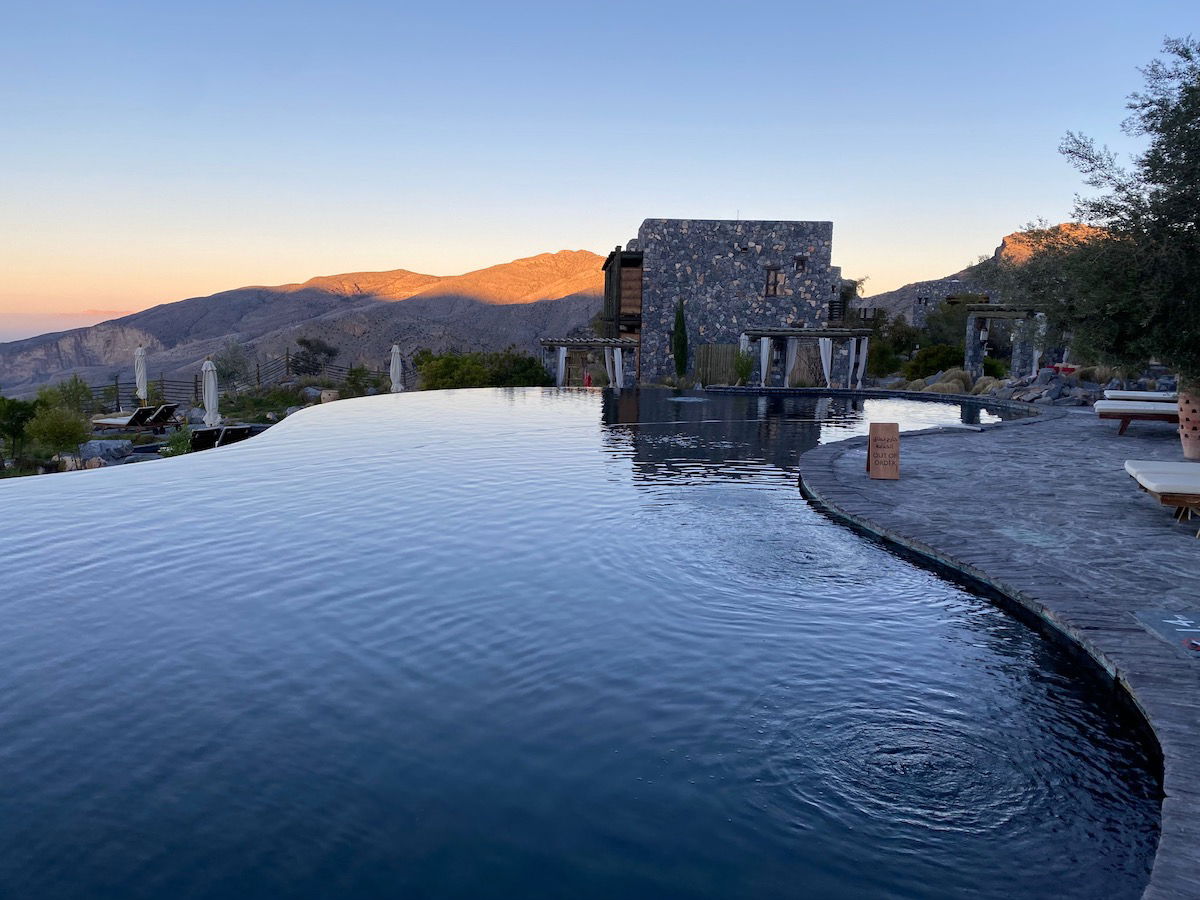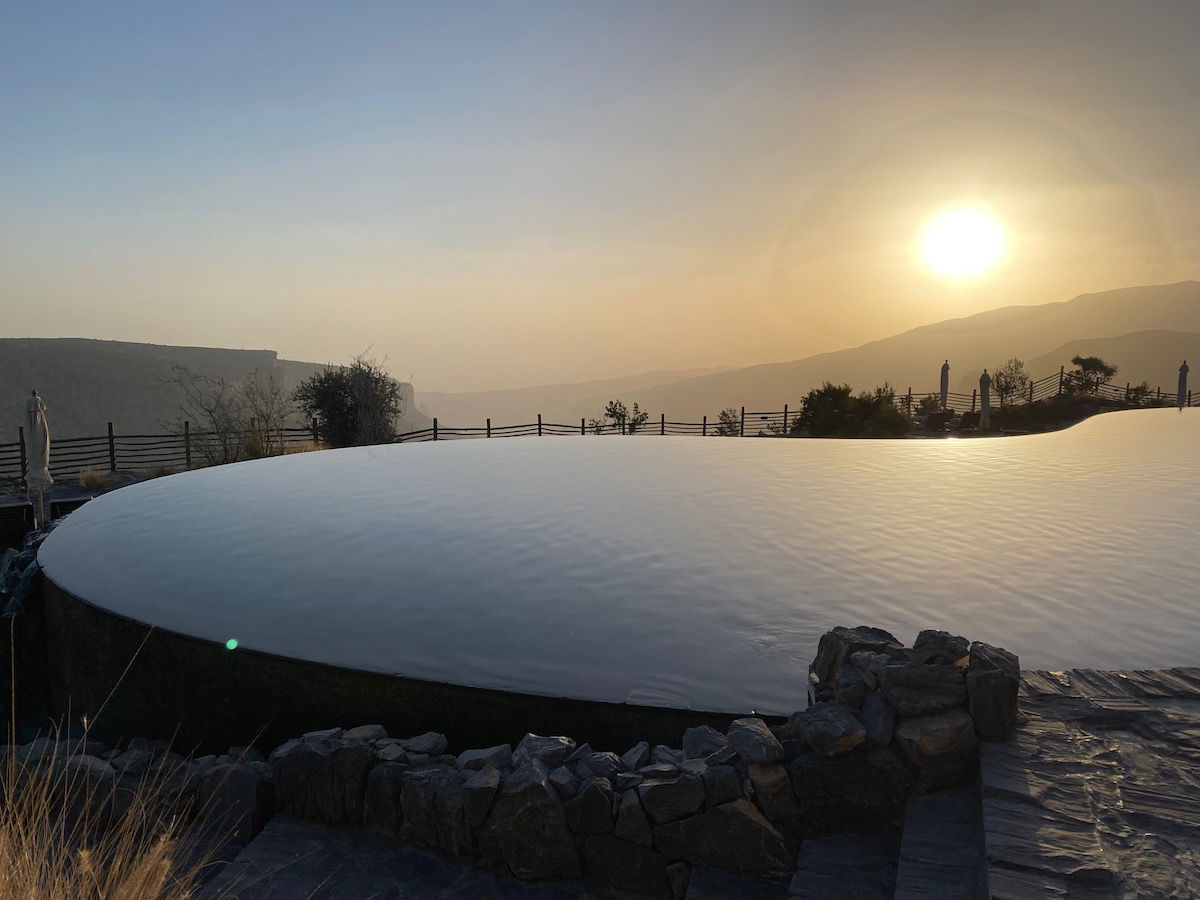 There was plenty of seating around the pool as well. There were loungers right next to the pool, as well as a variety of daybeds scattered all around the pool, many with amazing views of the mountains.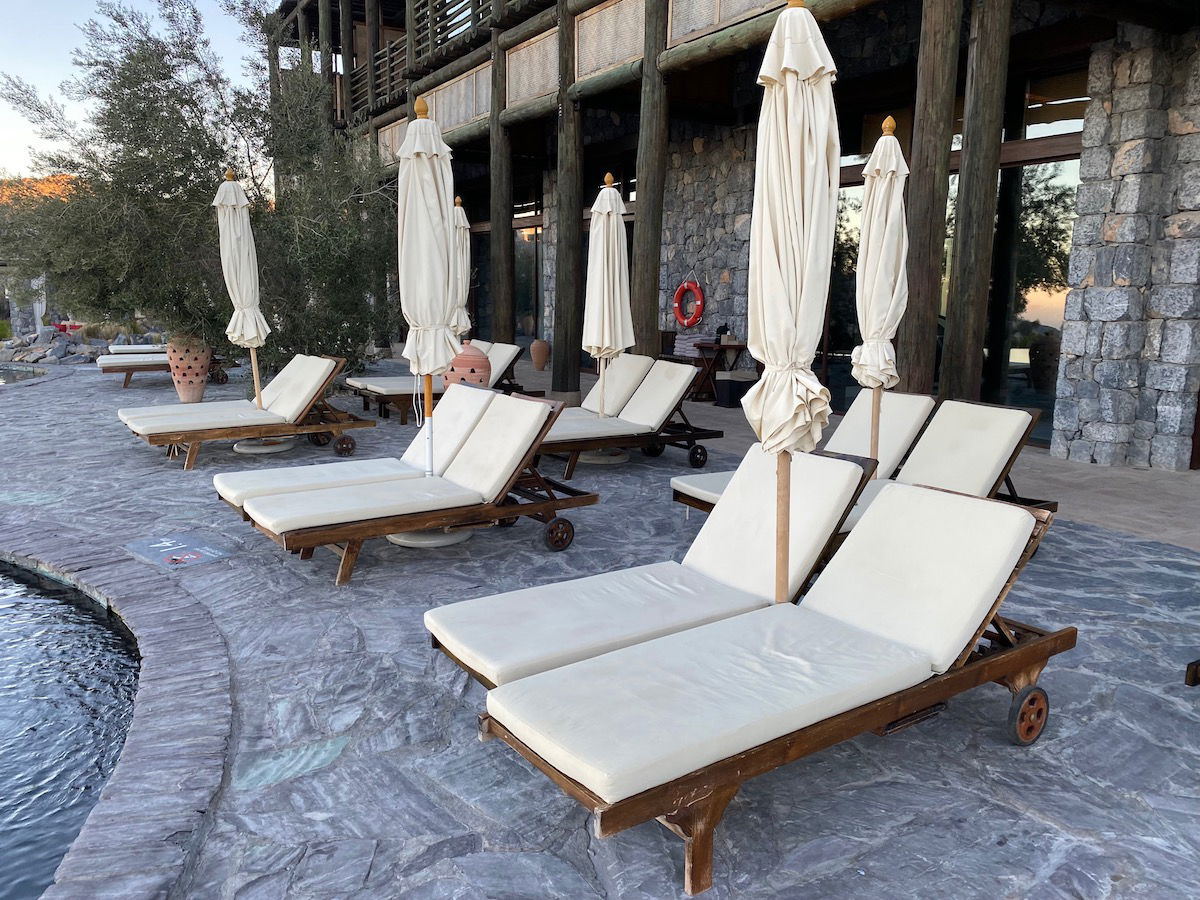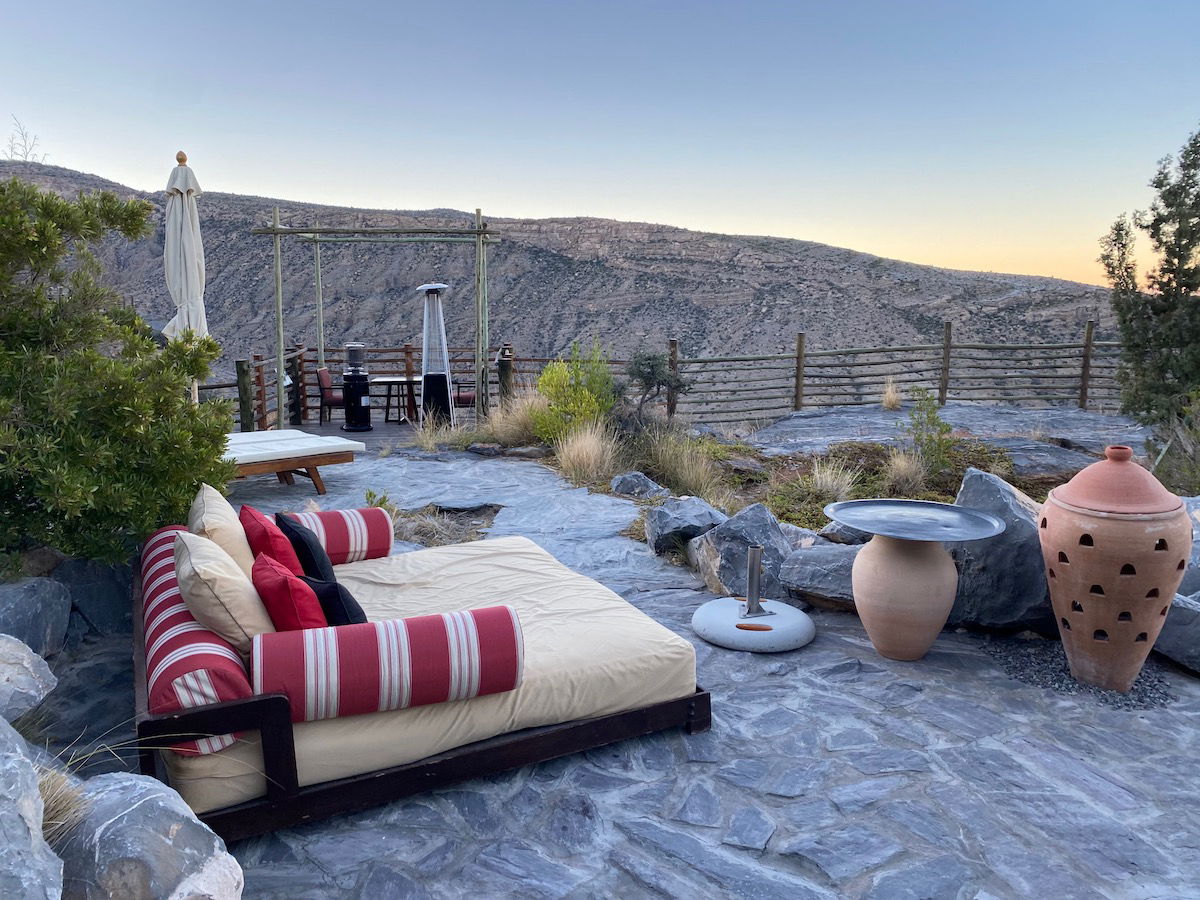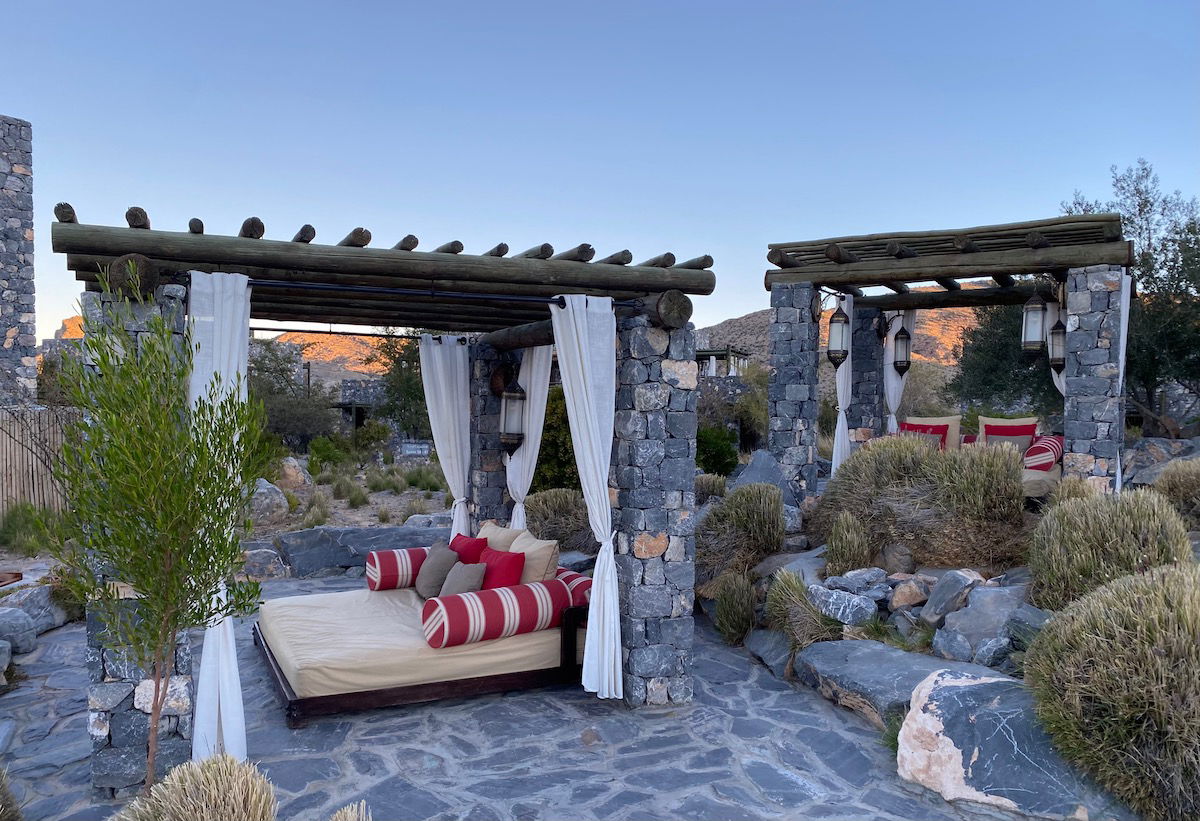 There was also a hot tub in this area.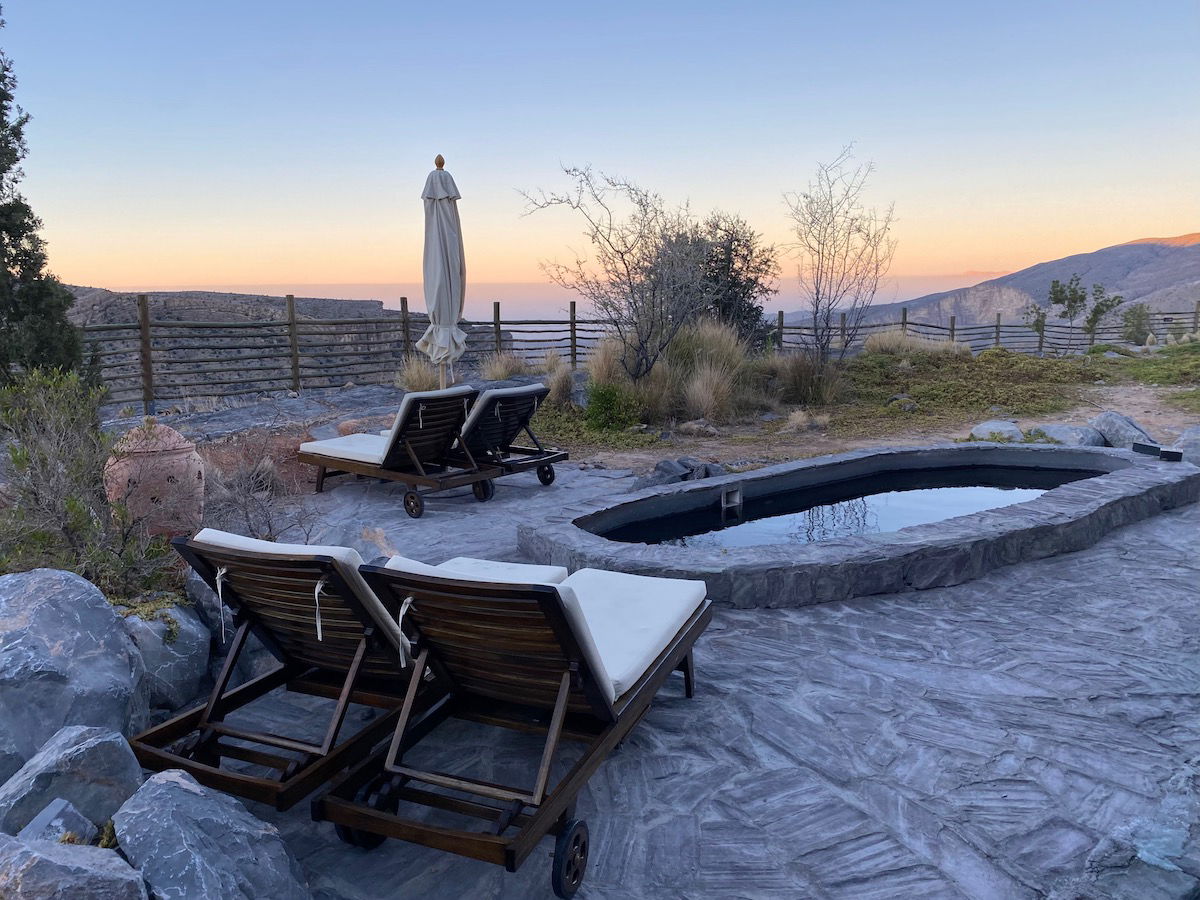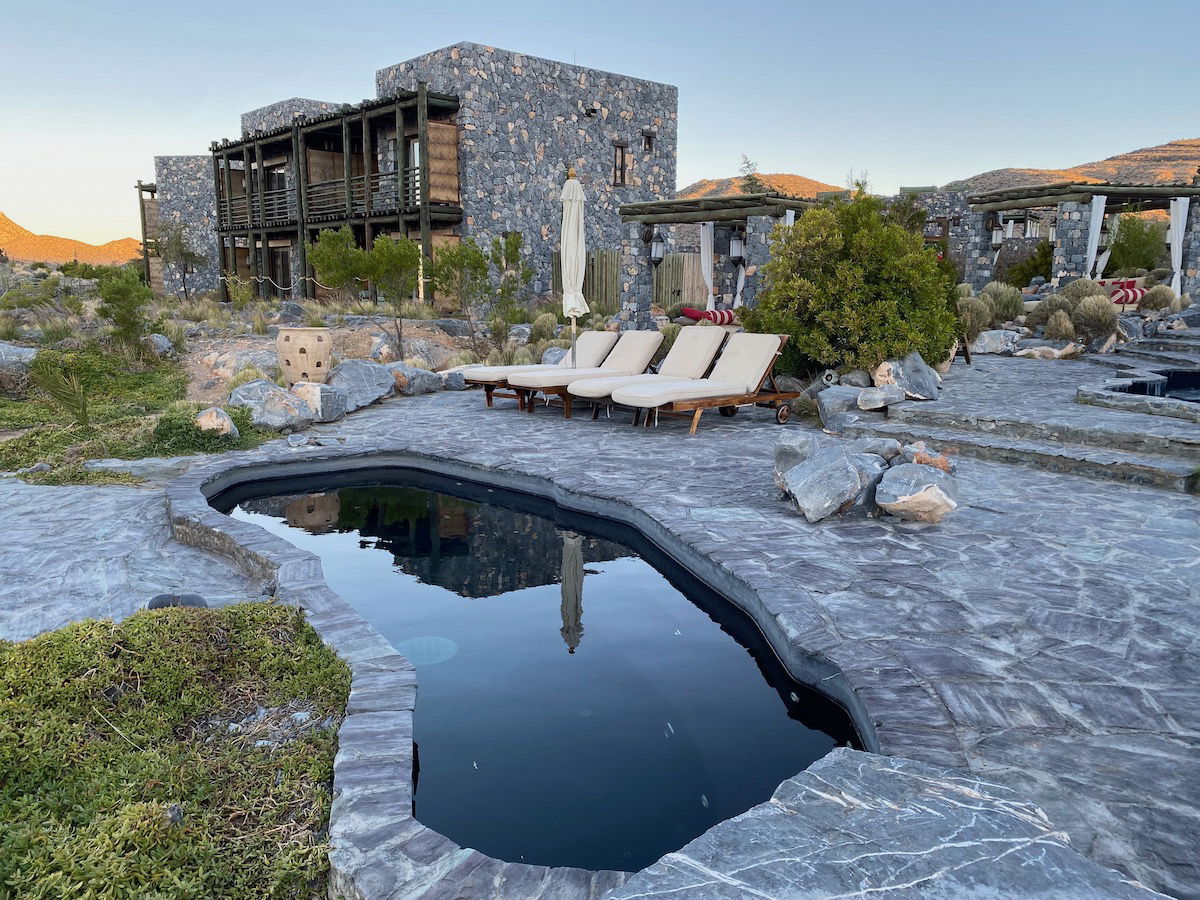 In addition to the outdoor pool, there was a small indoor pool.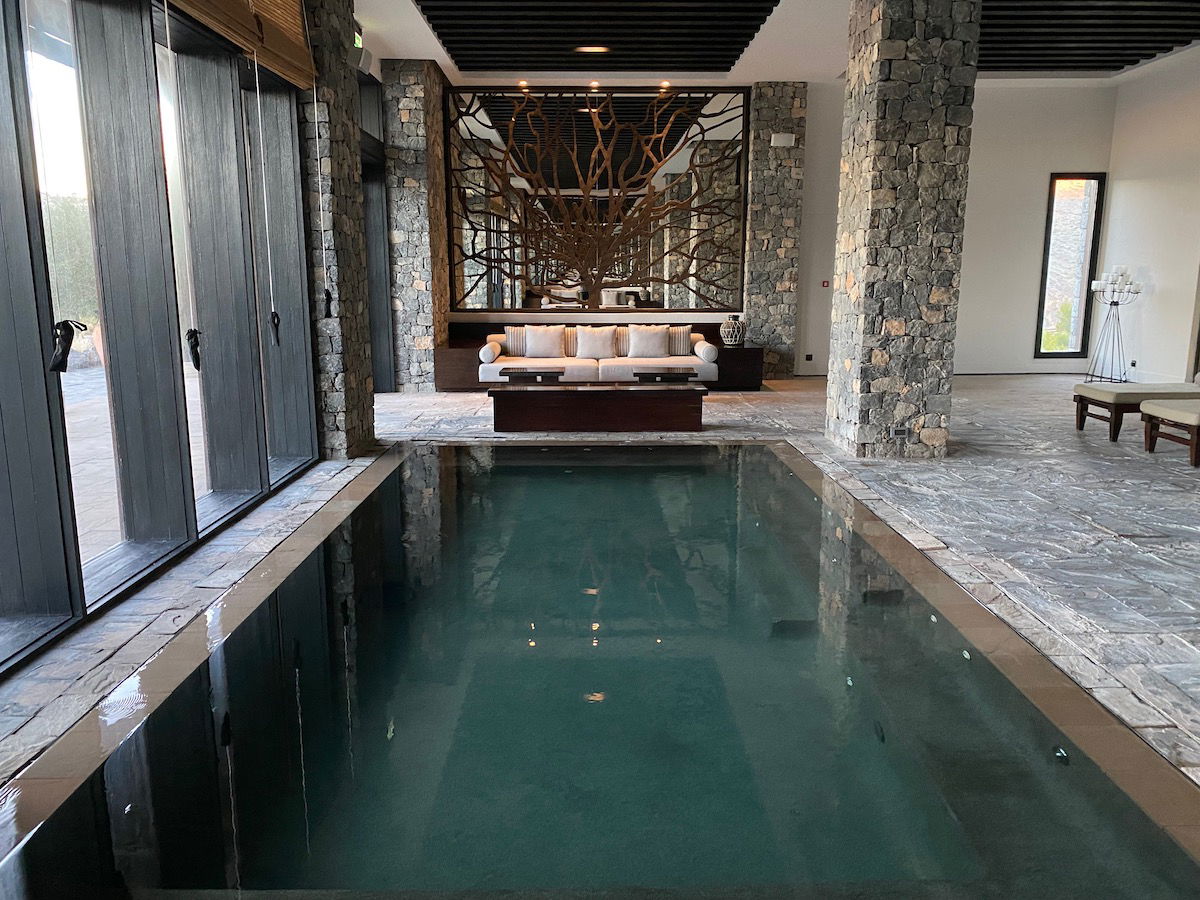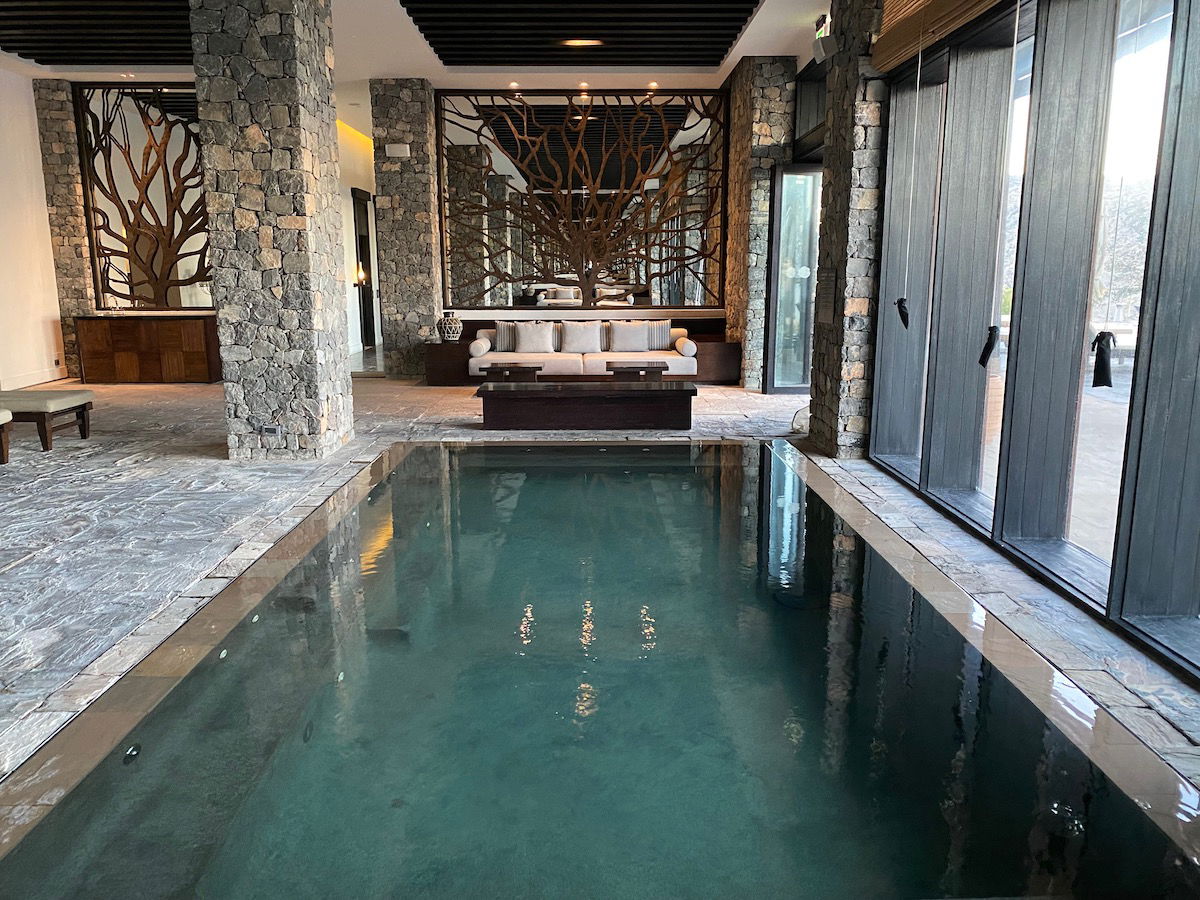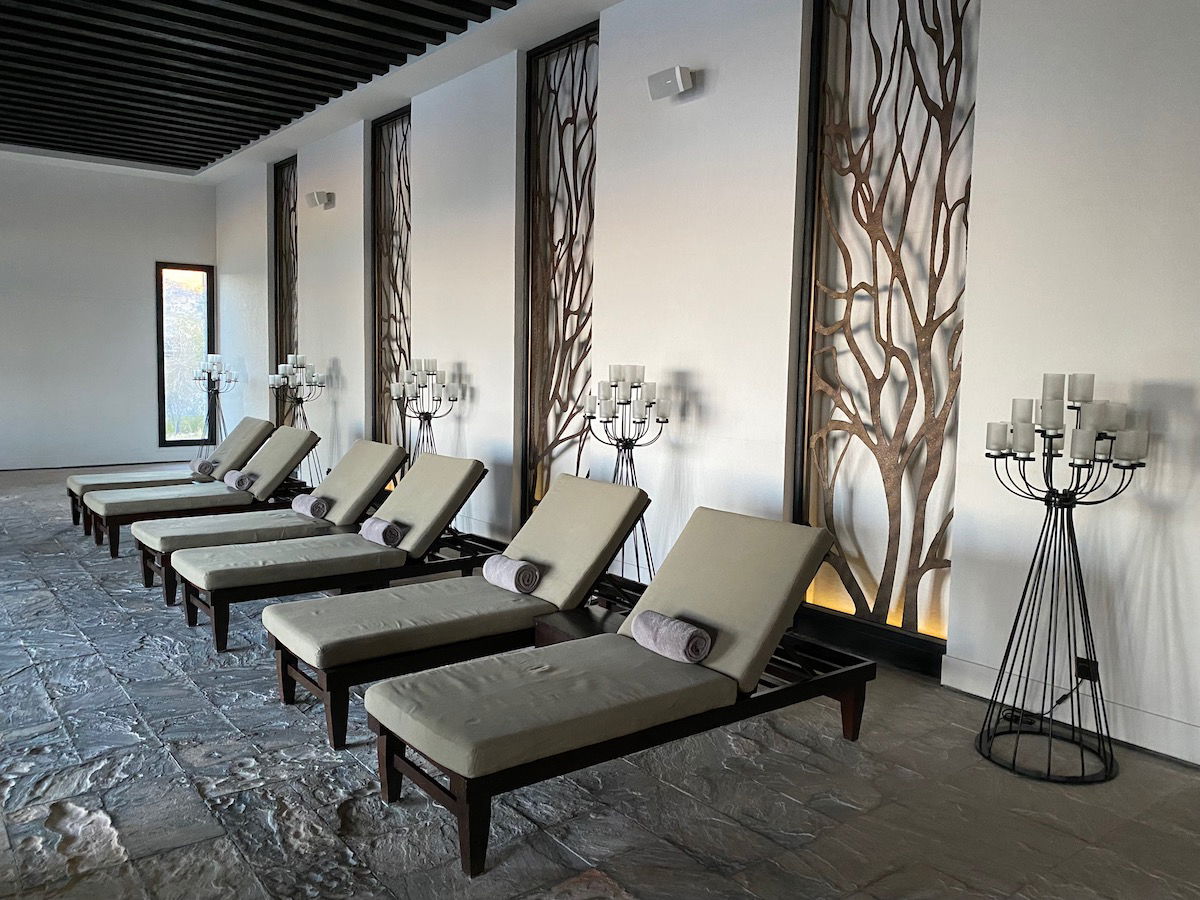 Across from the outdoor pool was a yoga deck.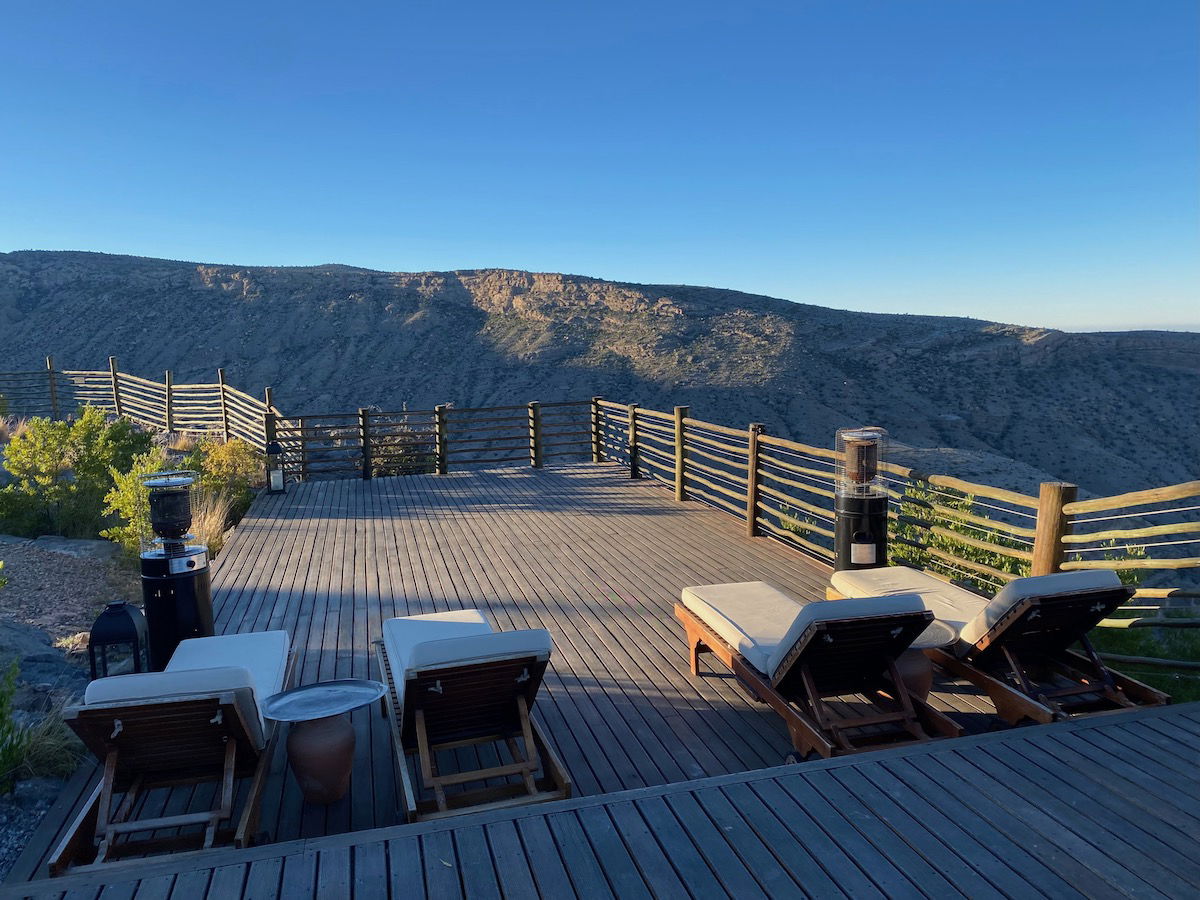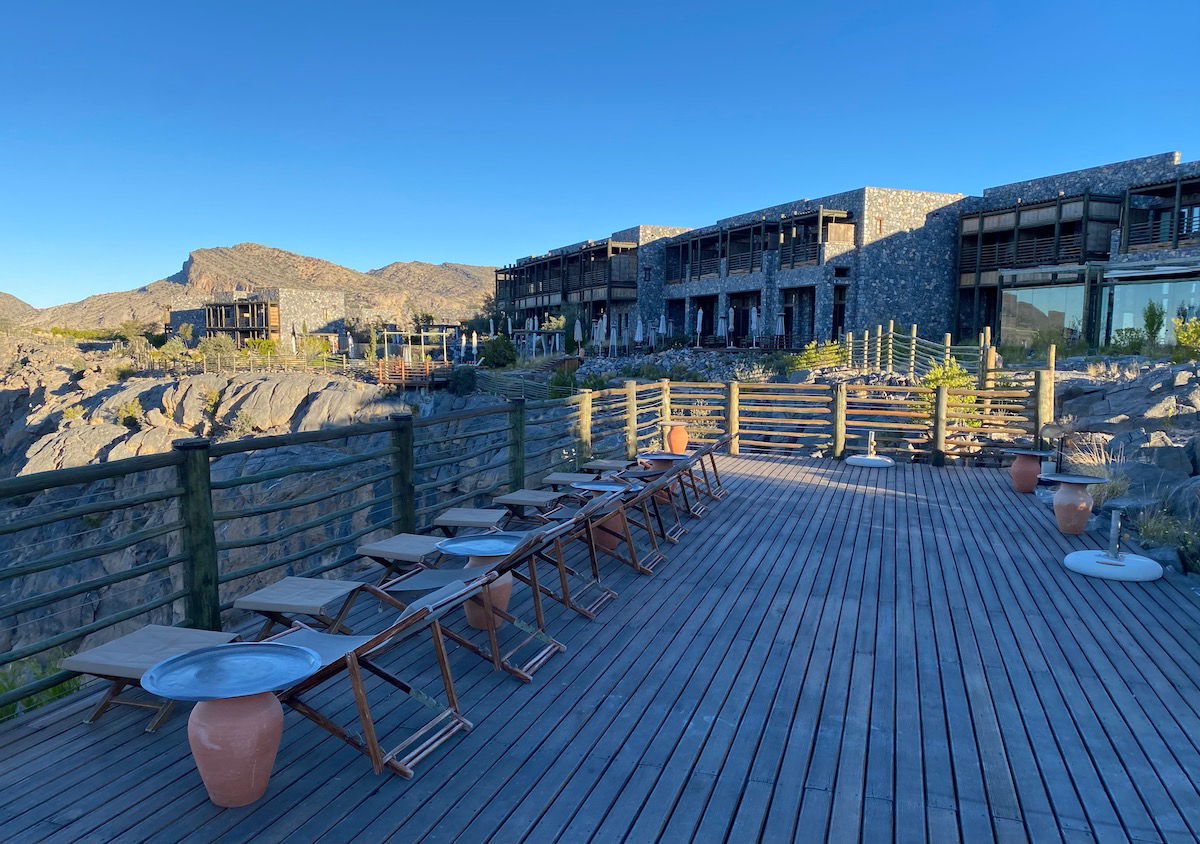 The views from this area during sunset were unbelievable.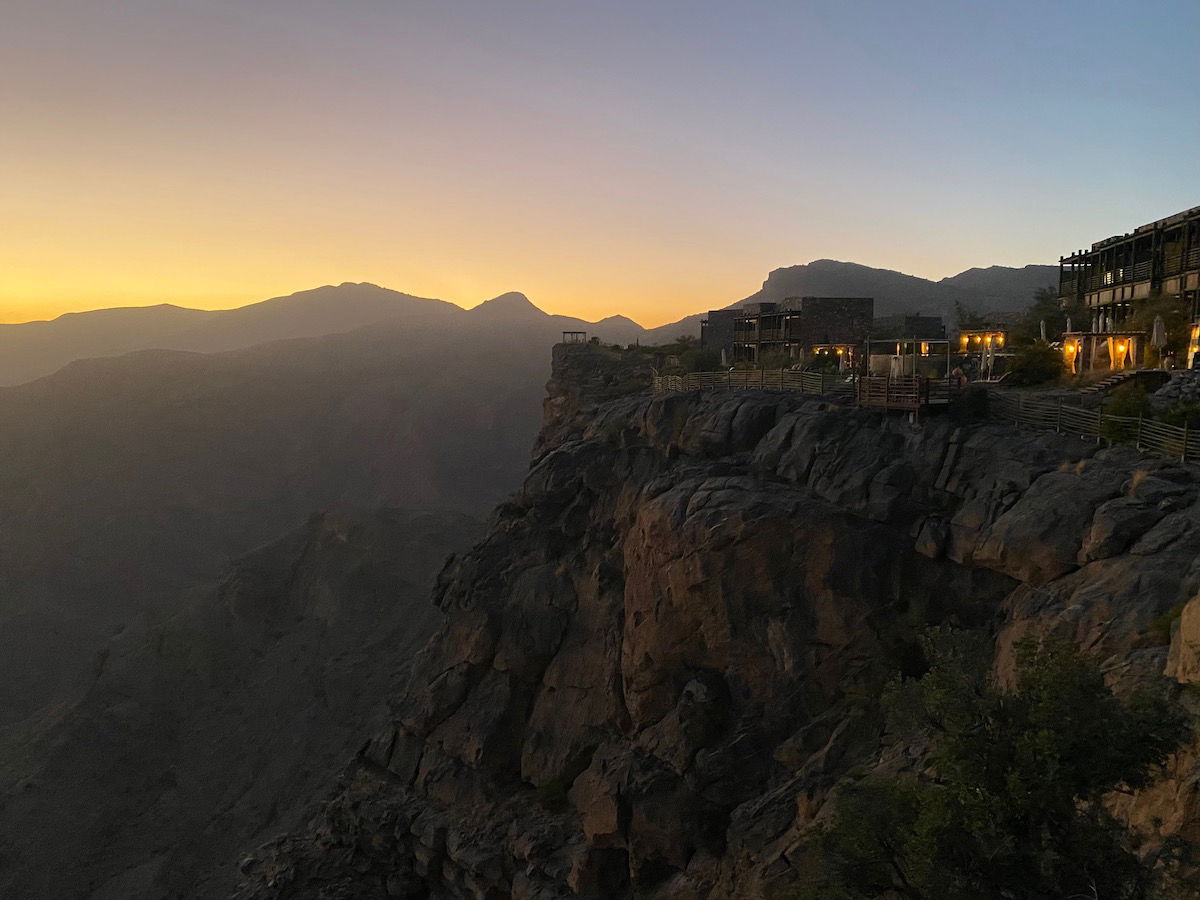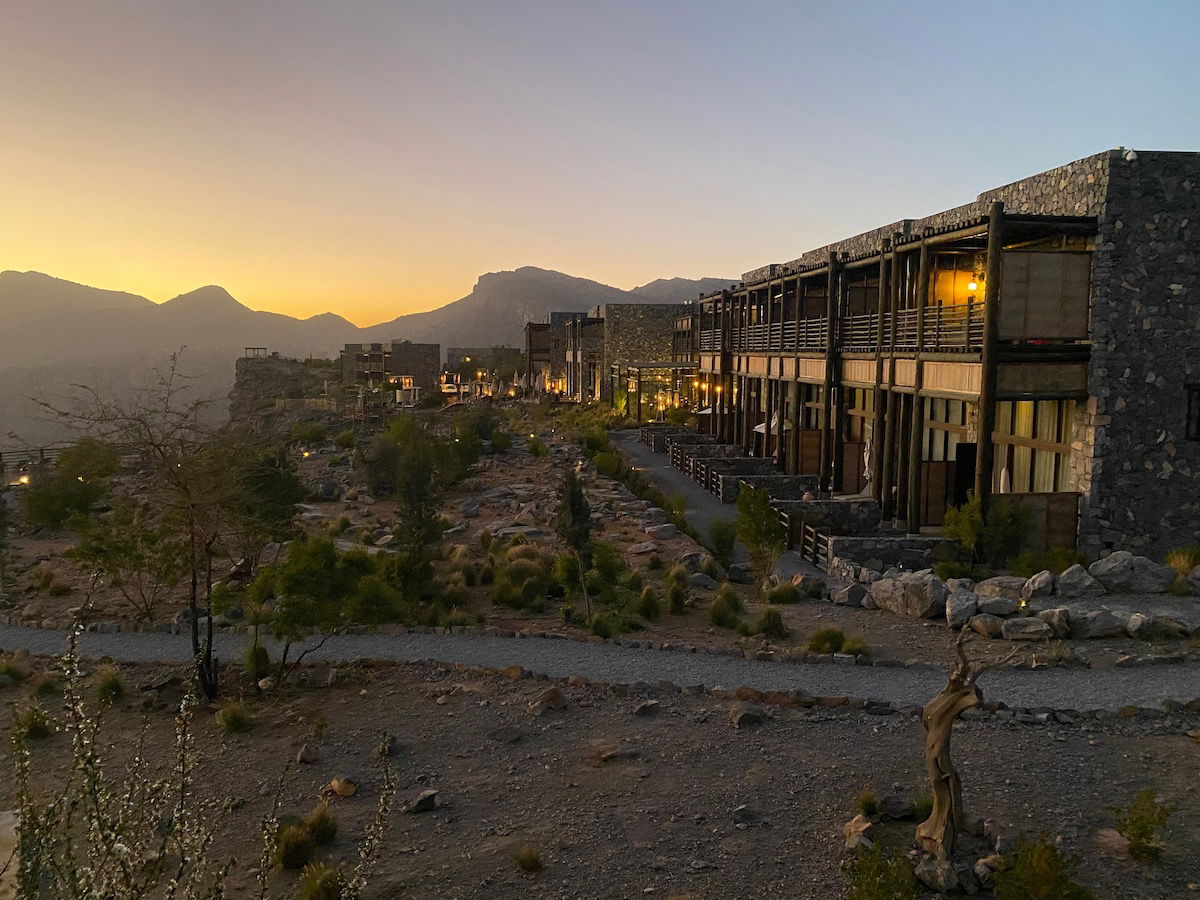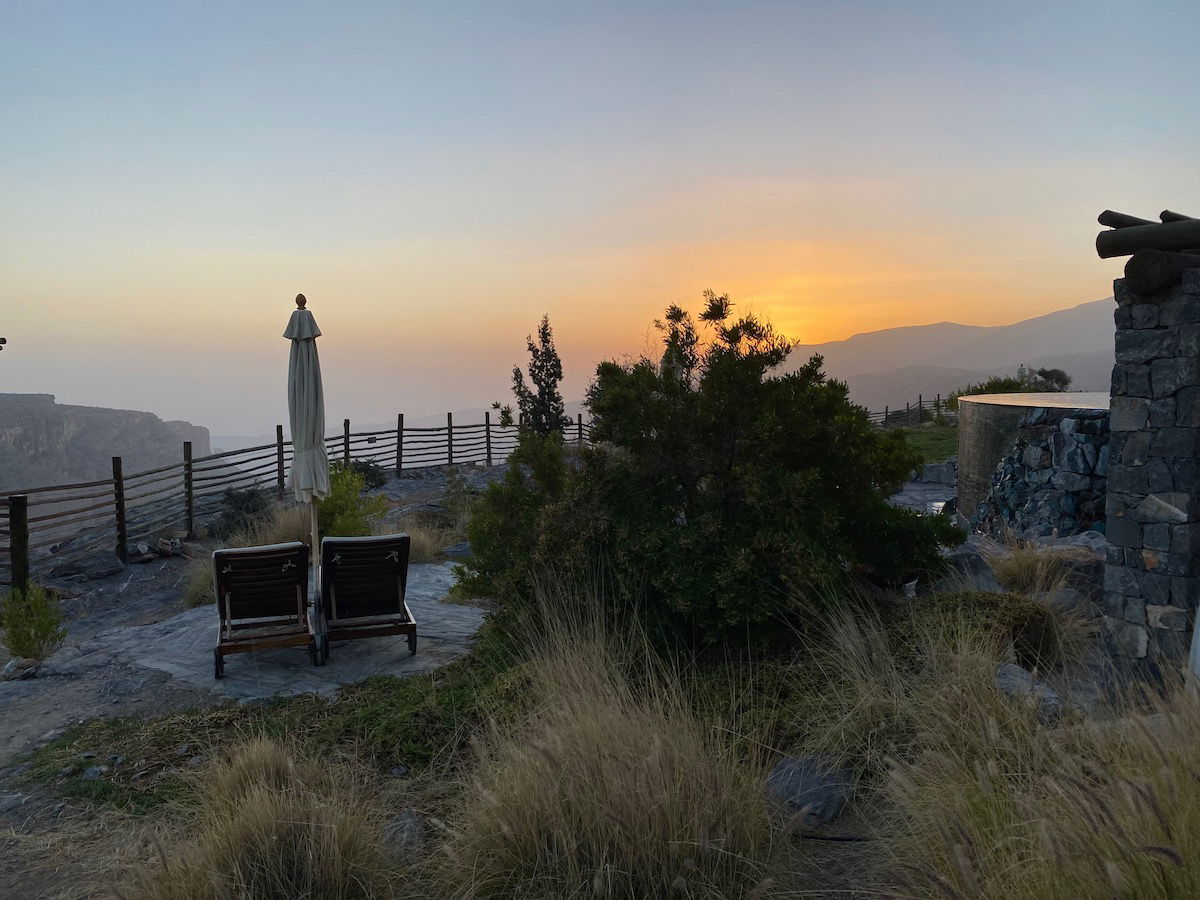 Alila Jabal Akhdar gym
Alila Jabal Akhdar has a 24/7 gym, located right next to the indoor pool. It's on the basic side, but did the trick for a secluded mountain resort.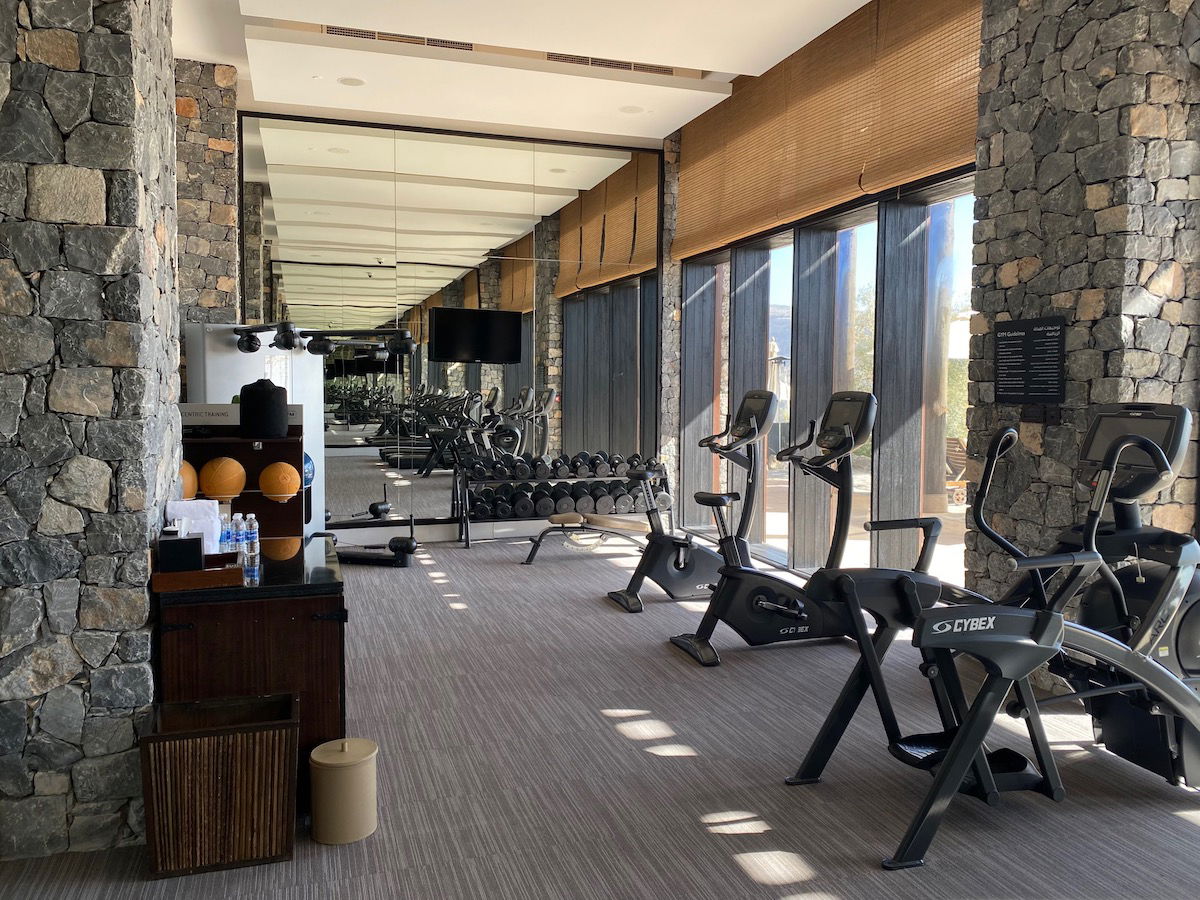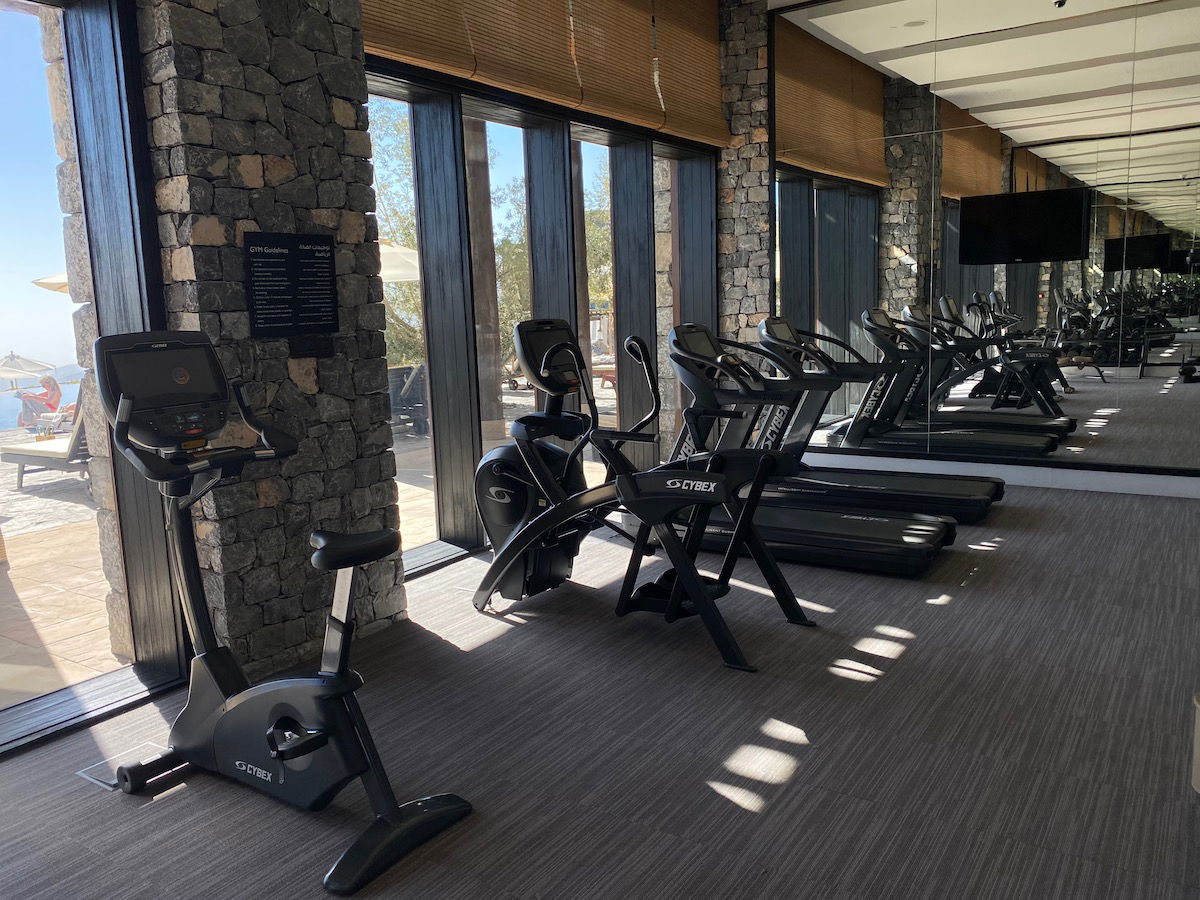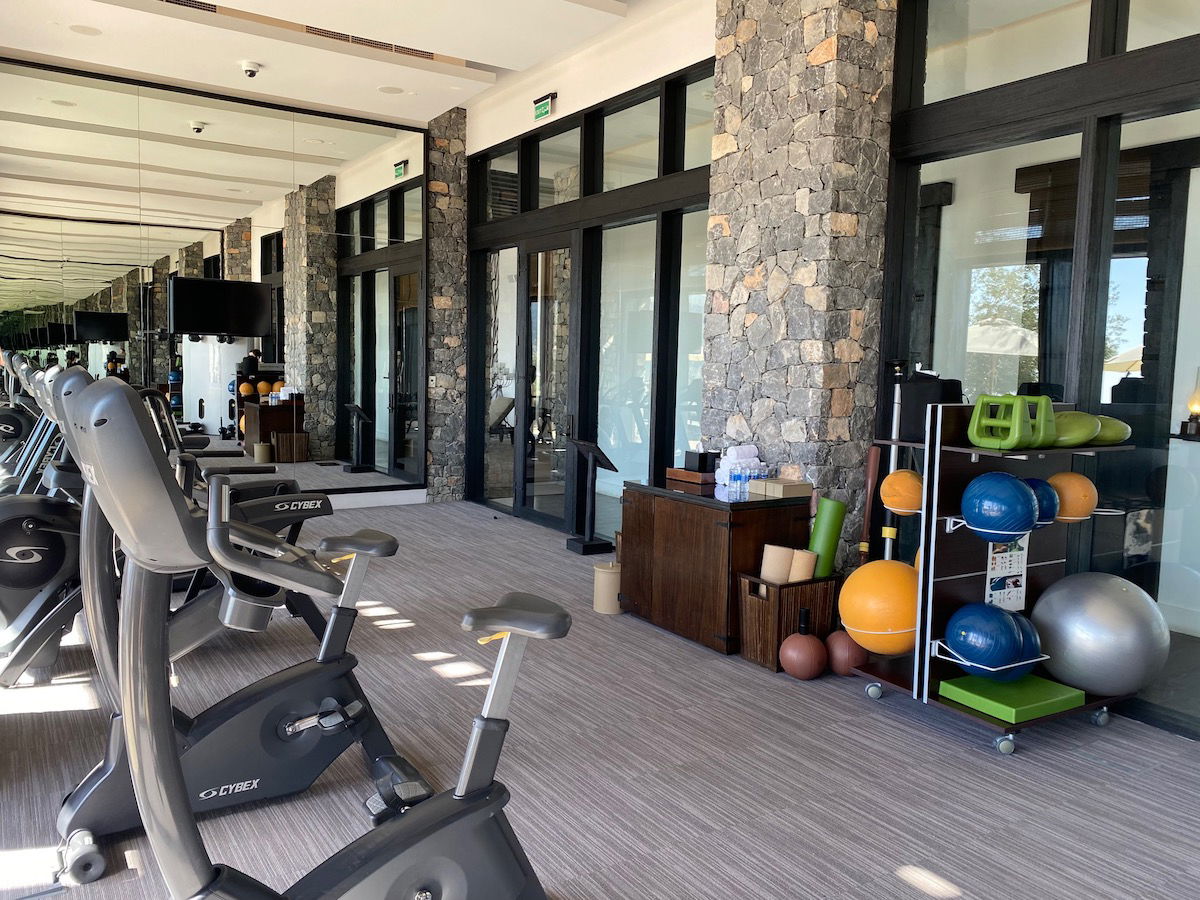 Alila Jabal Akhdar spa
A big focus for Alila properties is spas, so Alila Jabal Akhdar has one. While we got a couple of spa treatments at Alila Hinu Bay, we didn't get any here, since we were so busy with other activities. The spa looked beautiful, and I'd imagine the treatments are probably great. You can find the Alila Jabal Akhdar spa menu here.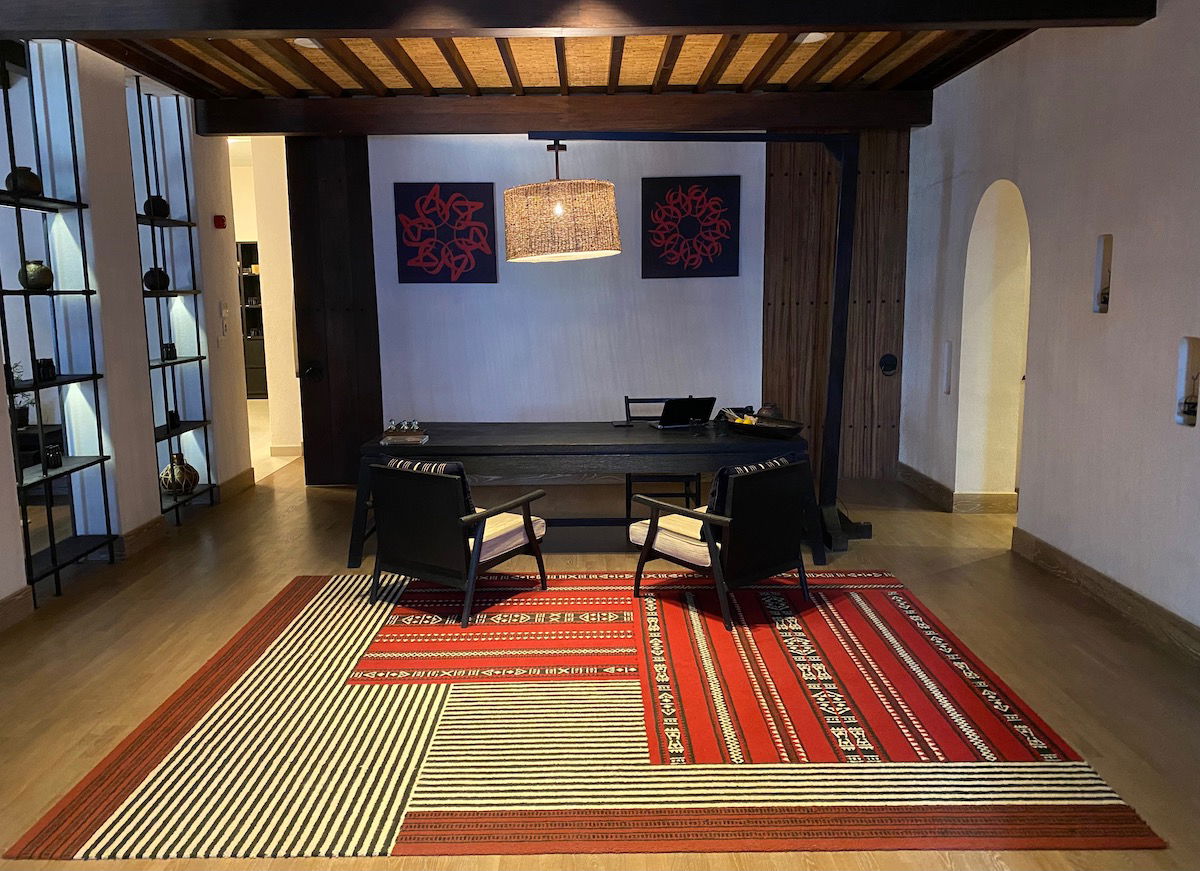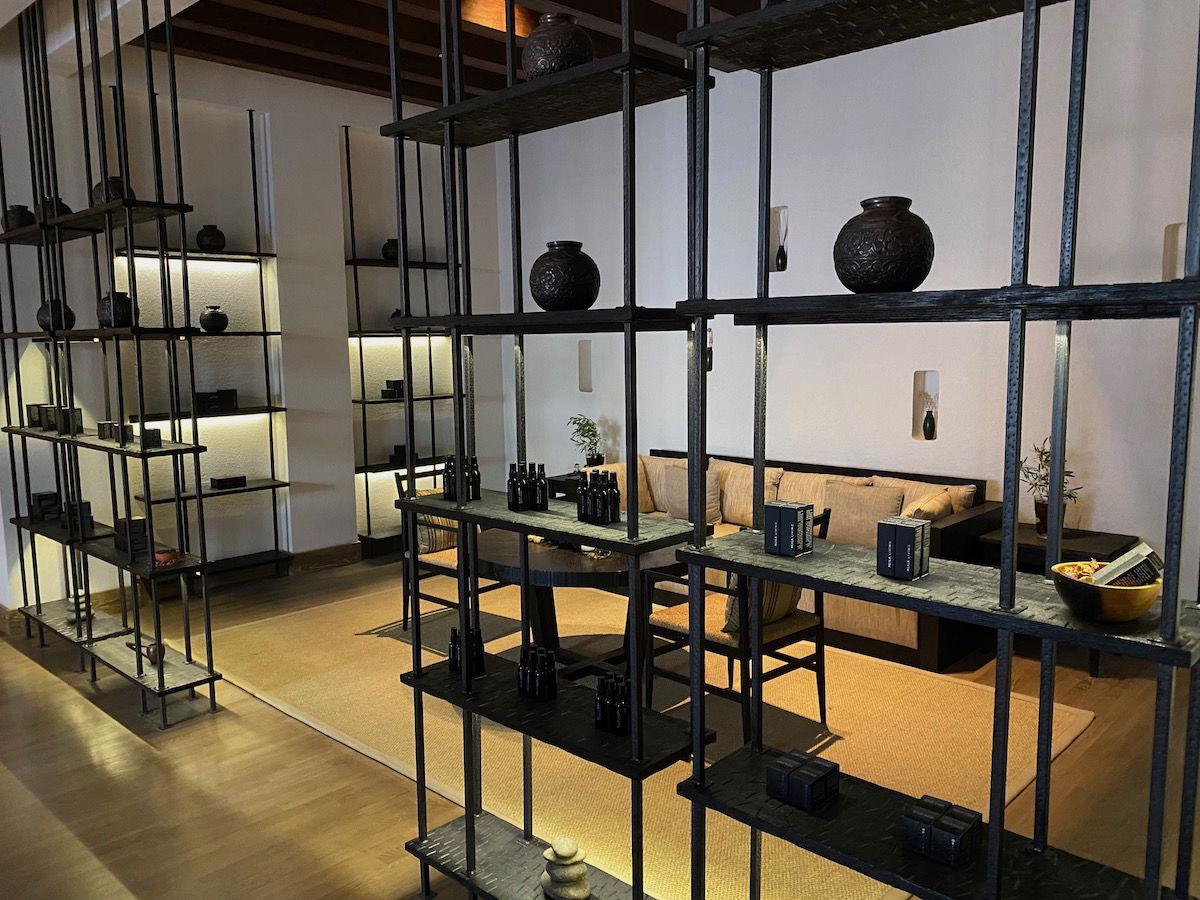 Alila Jabal Akhdar Juniper Restaurant (breakfast & dinner)
Dining options at Alila Jabal Akhdar are fairly limited. Juniper Restaurant is Alila Jabal Akhdar's signature restaurant, and it's where breakfast (7AM until 11AM) and dinner (6:30PM until 10:30PM) are served. The restaurant has a large indoor space, as well as an enclosed outdoor terrace with heating lamps.
Guests almost always chose to eat in the beautiful enclosed terrace, so that was typically full, while the indoor space stayed empty.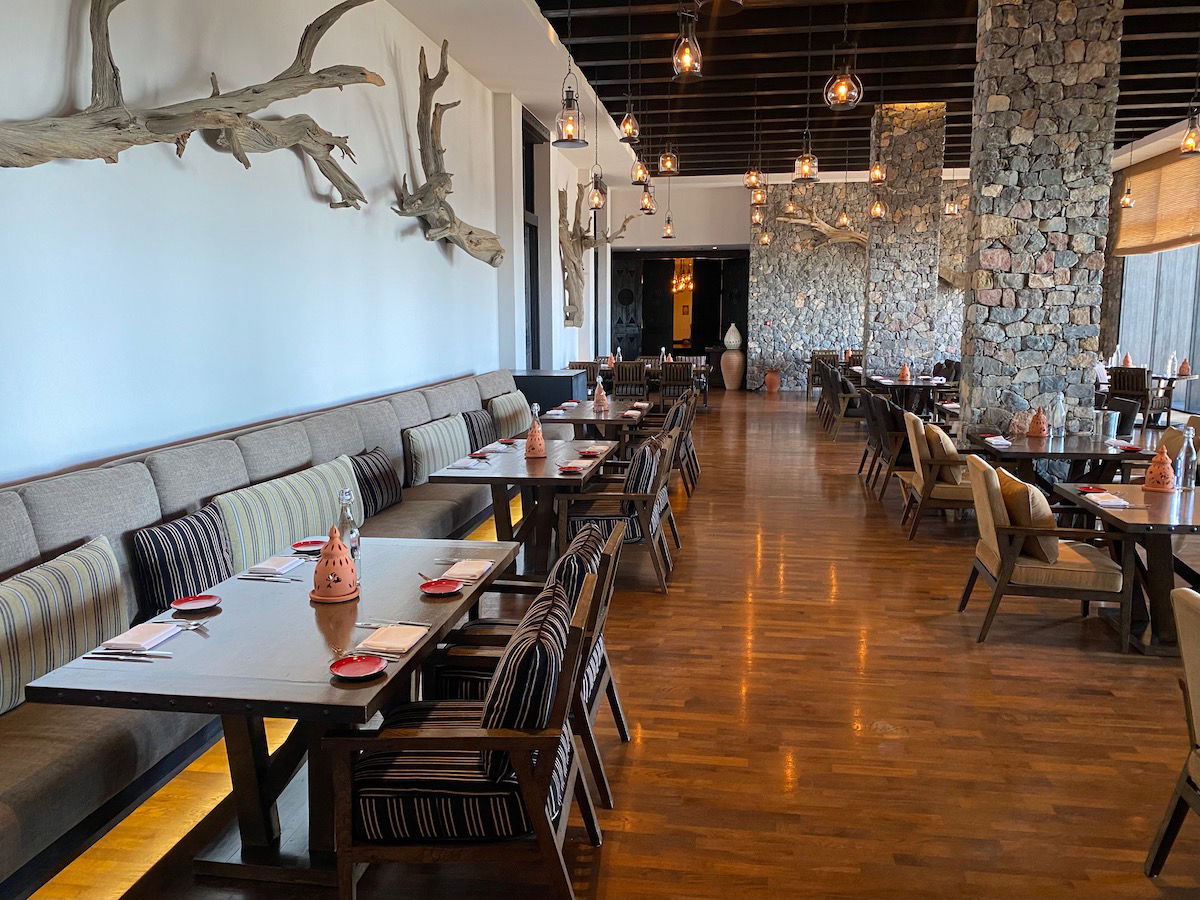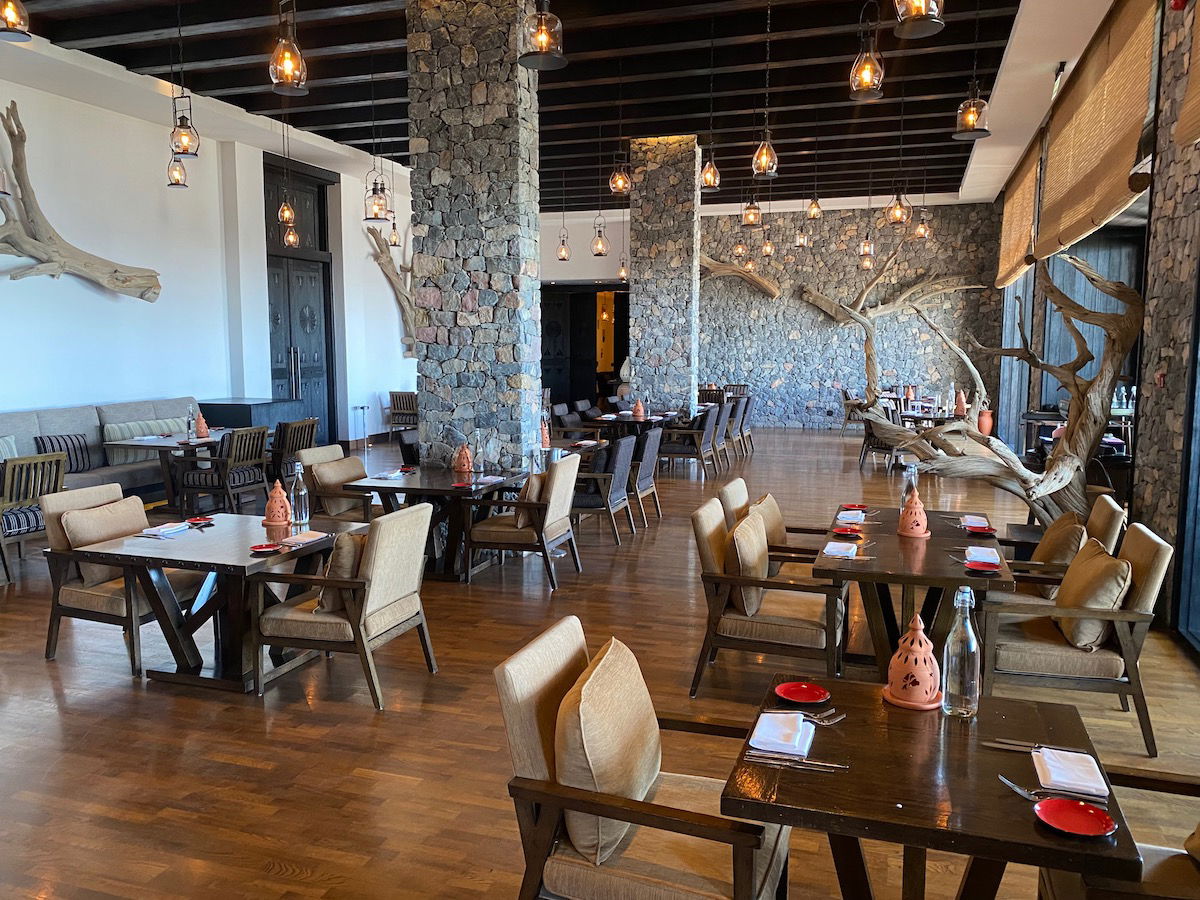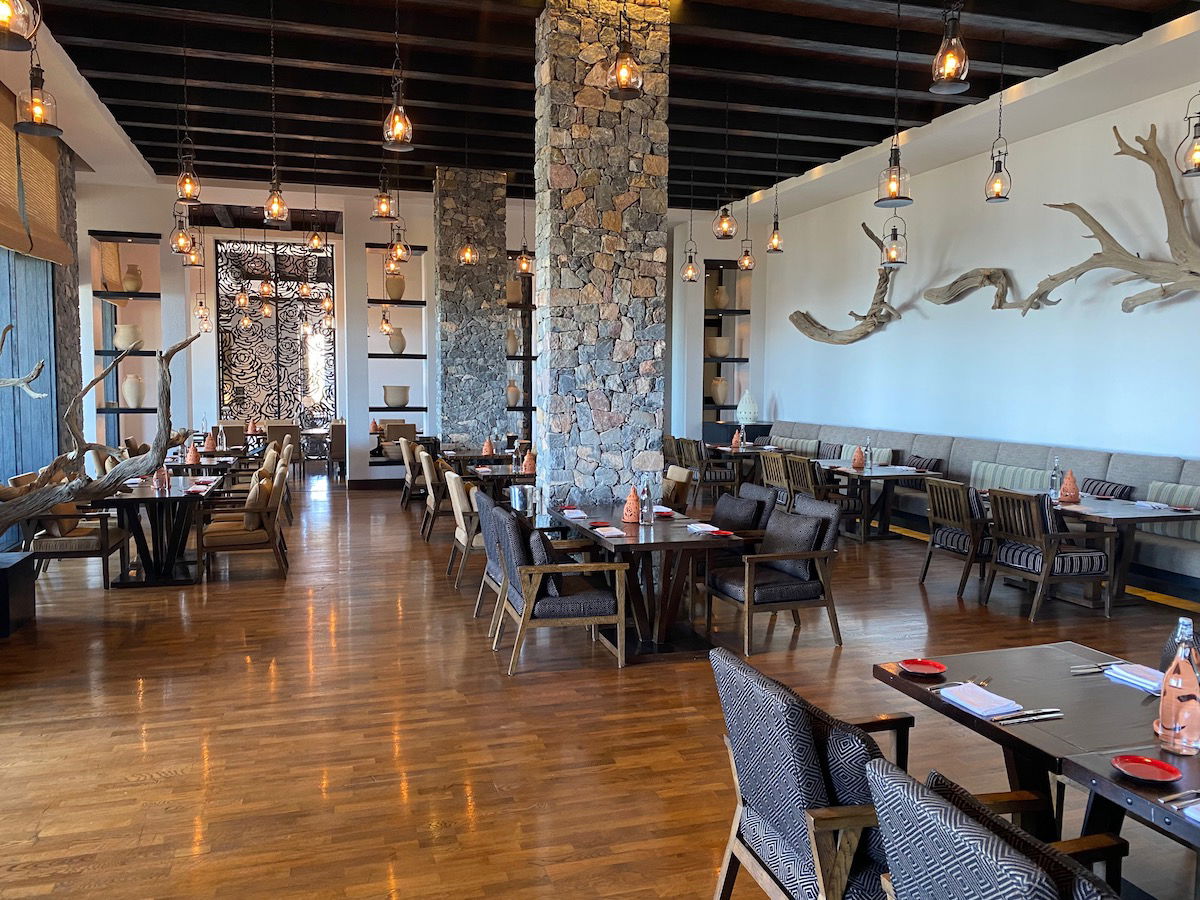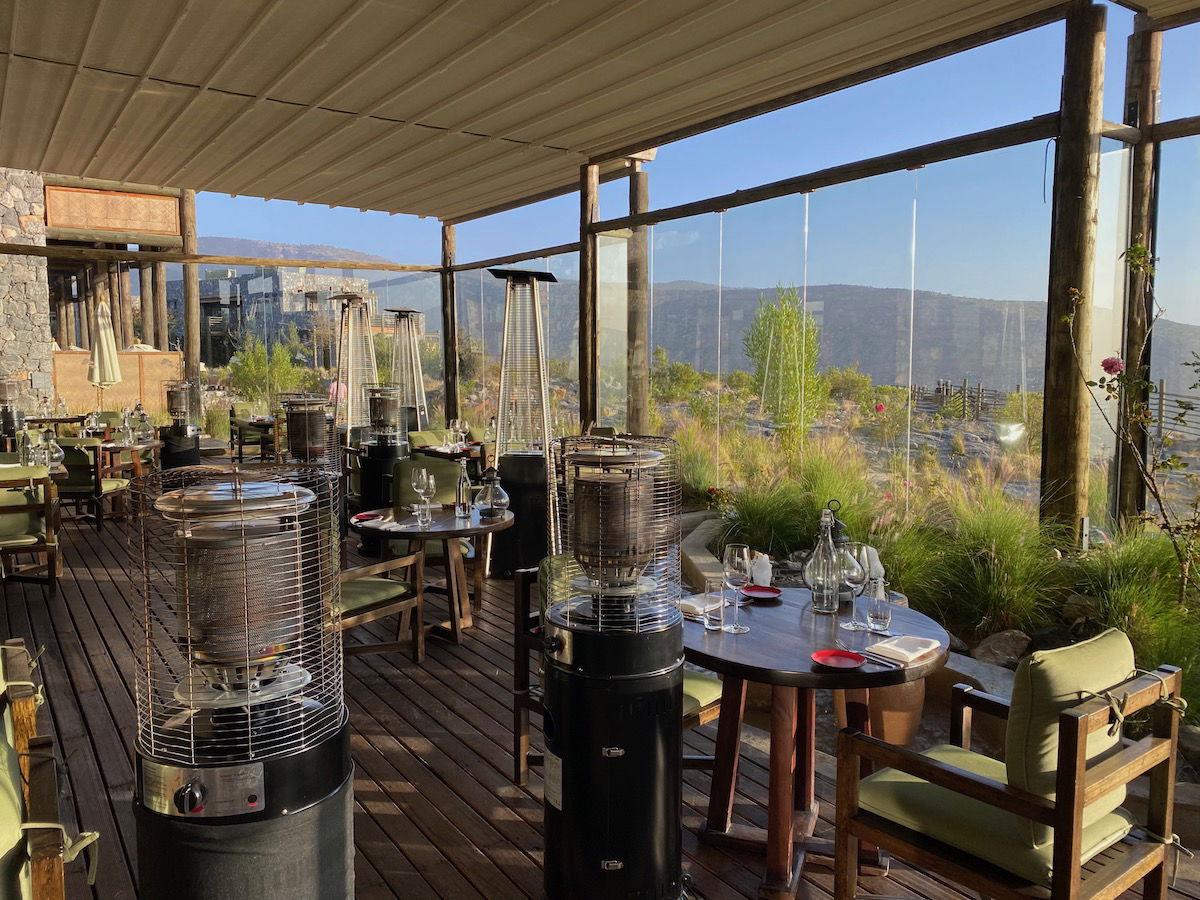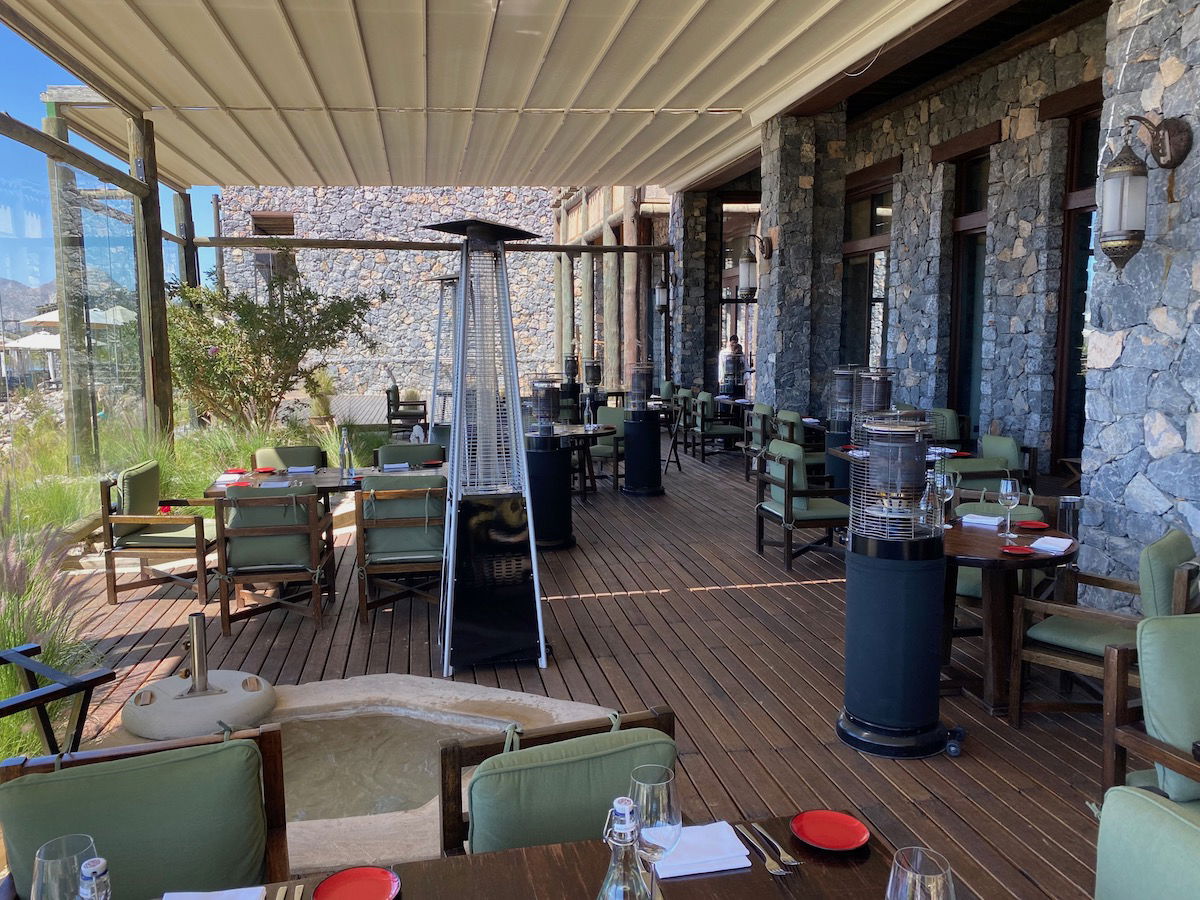 In the evenings at sunset the outdoor terrace is even more beautiful.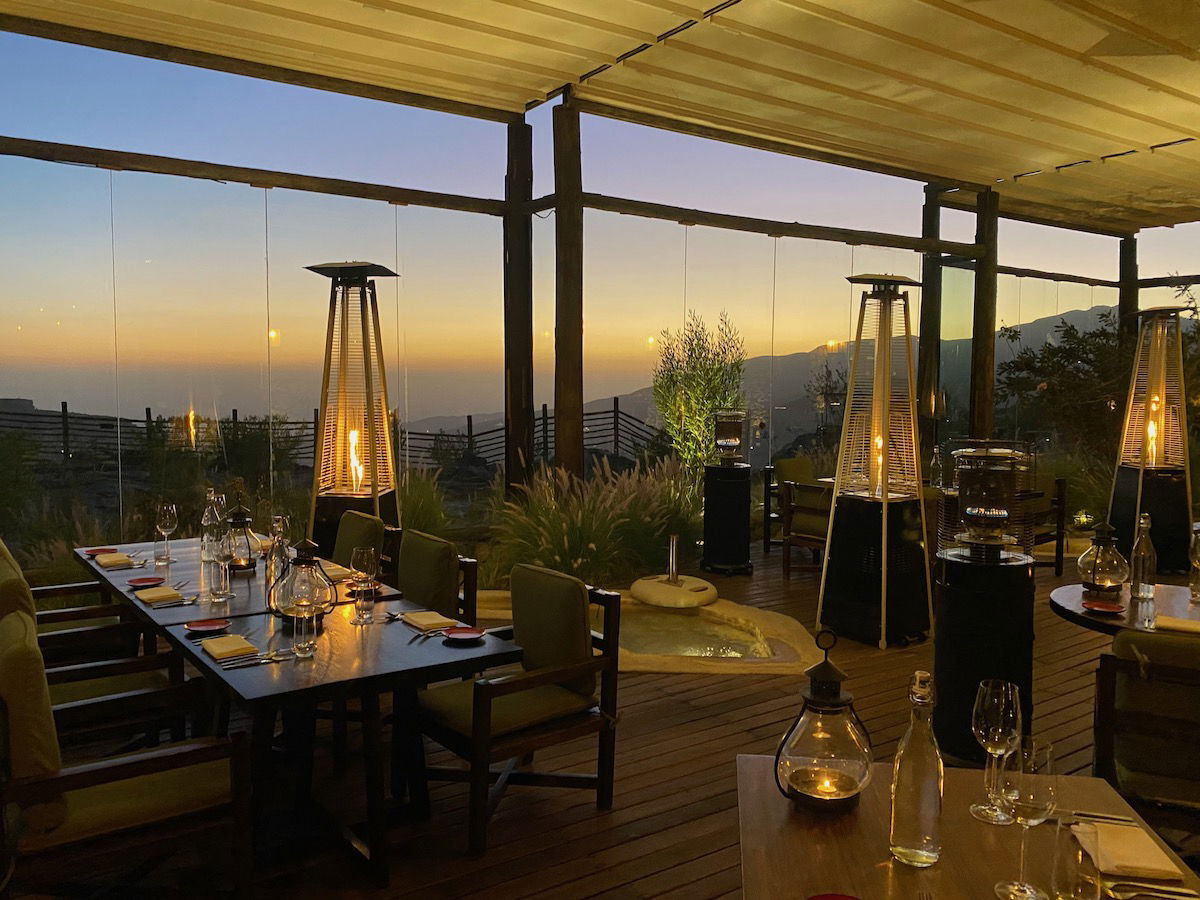 Breakfast at Alila Jabal Akhdar is a la carte, and you can find the menu below.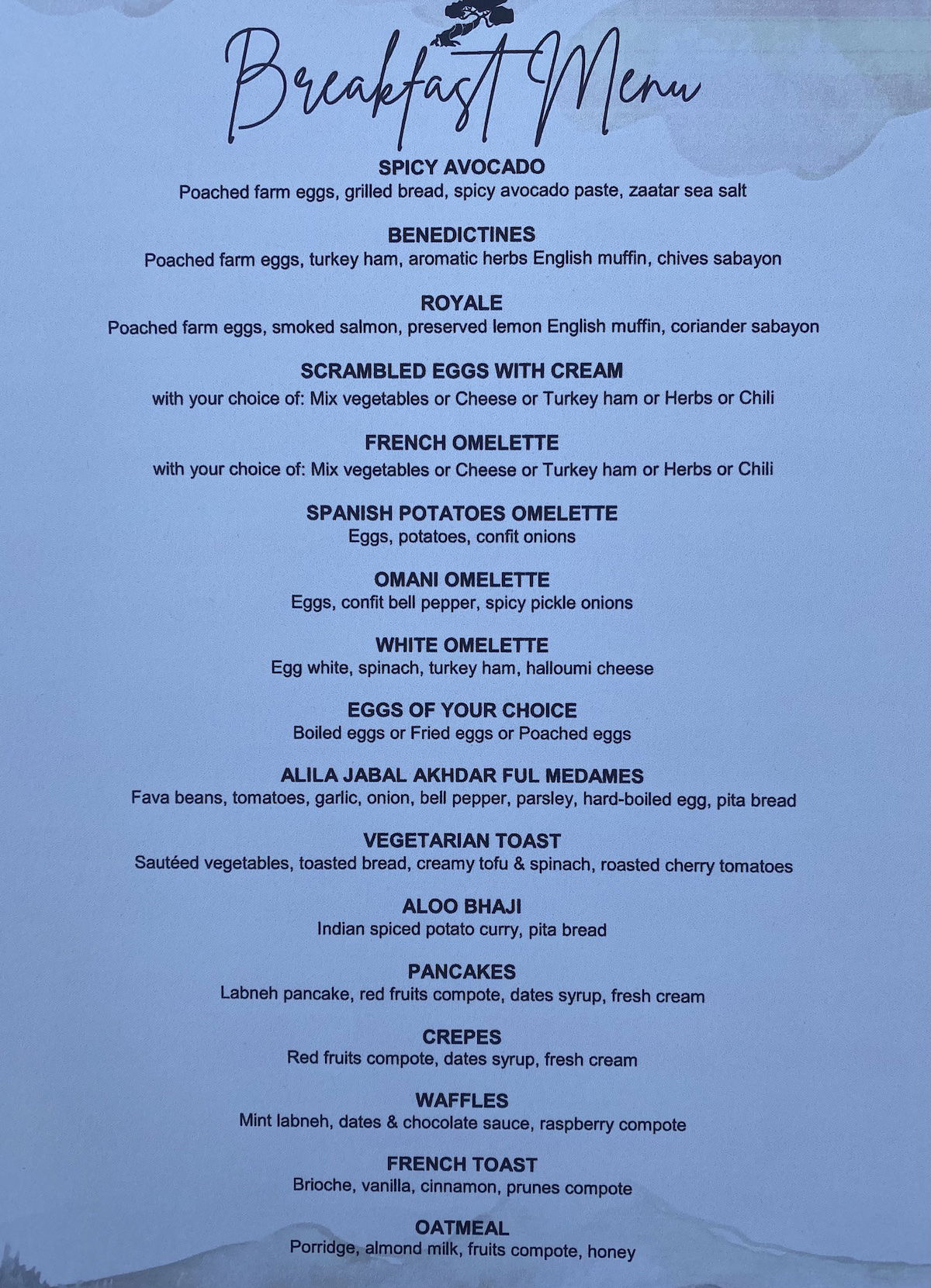 You can order coffee or tea plus a variety of fresh juices, all of which we enjoyed.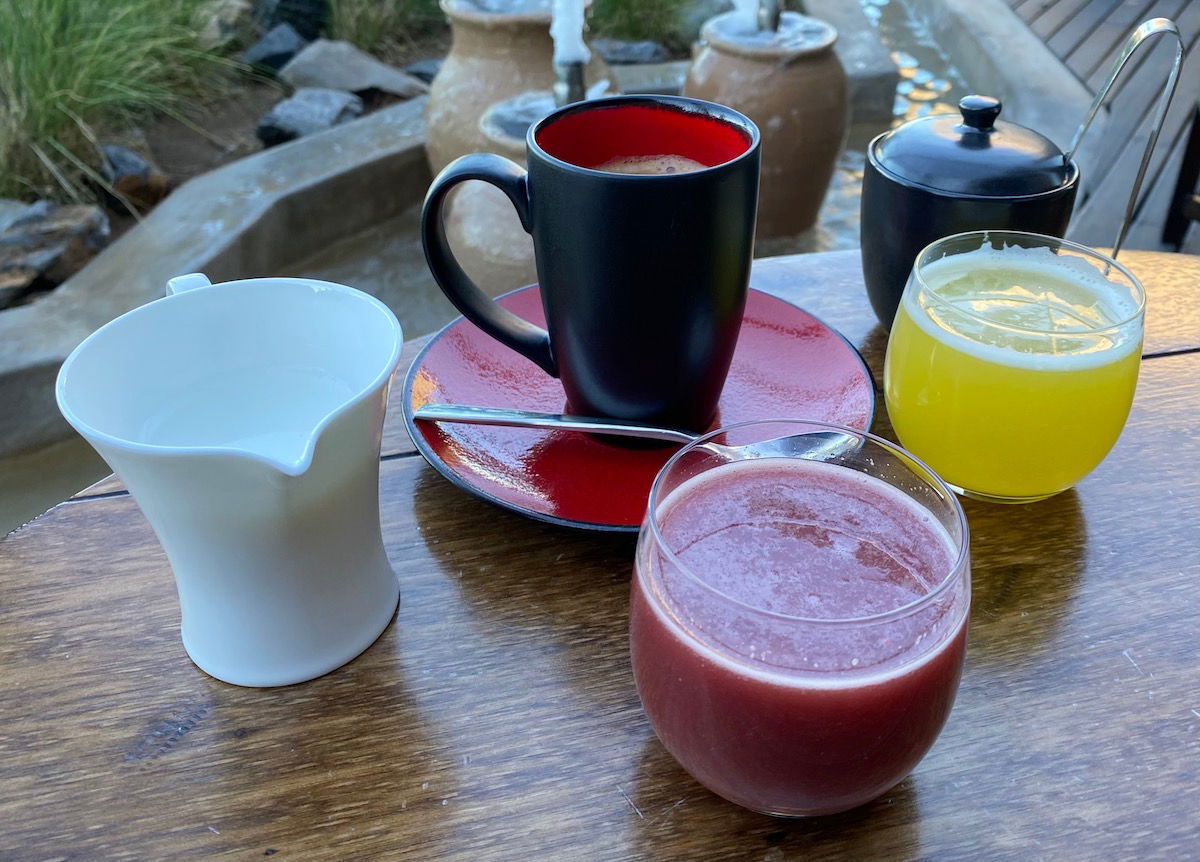 Then several small dishes were automatically brought out, including a fruit salad, a salad, some cold cuts, a bread basket, and some homemade spreads.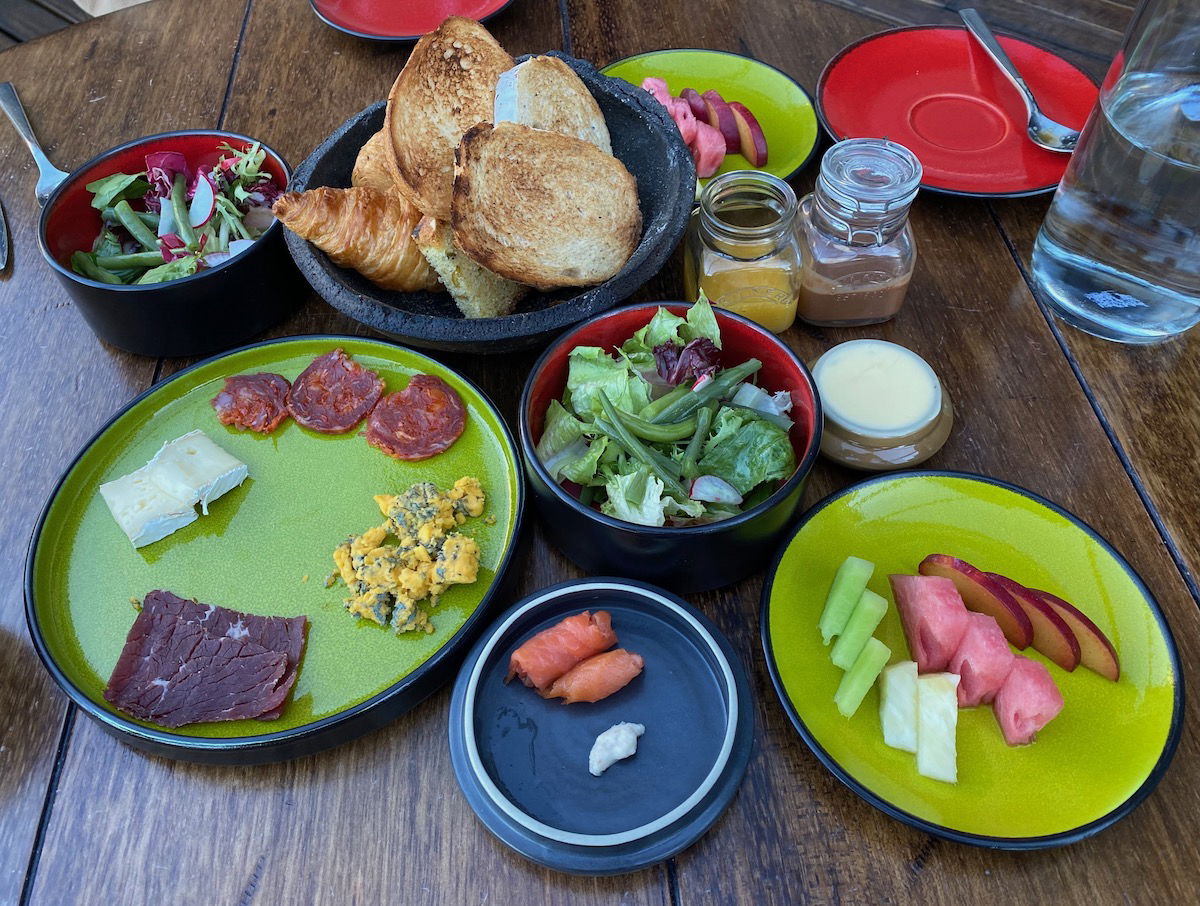 From there you could order as much as you wanted from the menu. Over the course of our stay we tried several dishes, including the Omani omelet, aloo bhaji, oatmeal, and spicy avocado.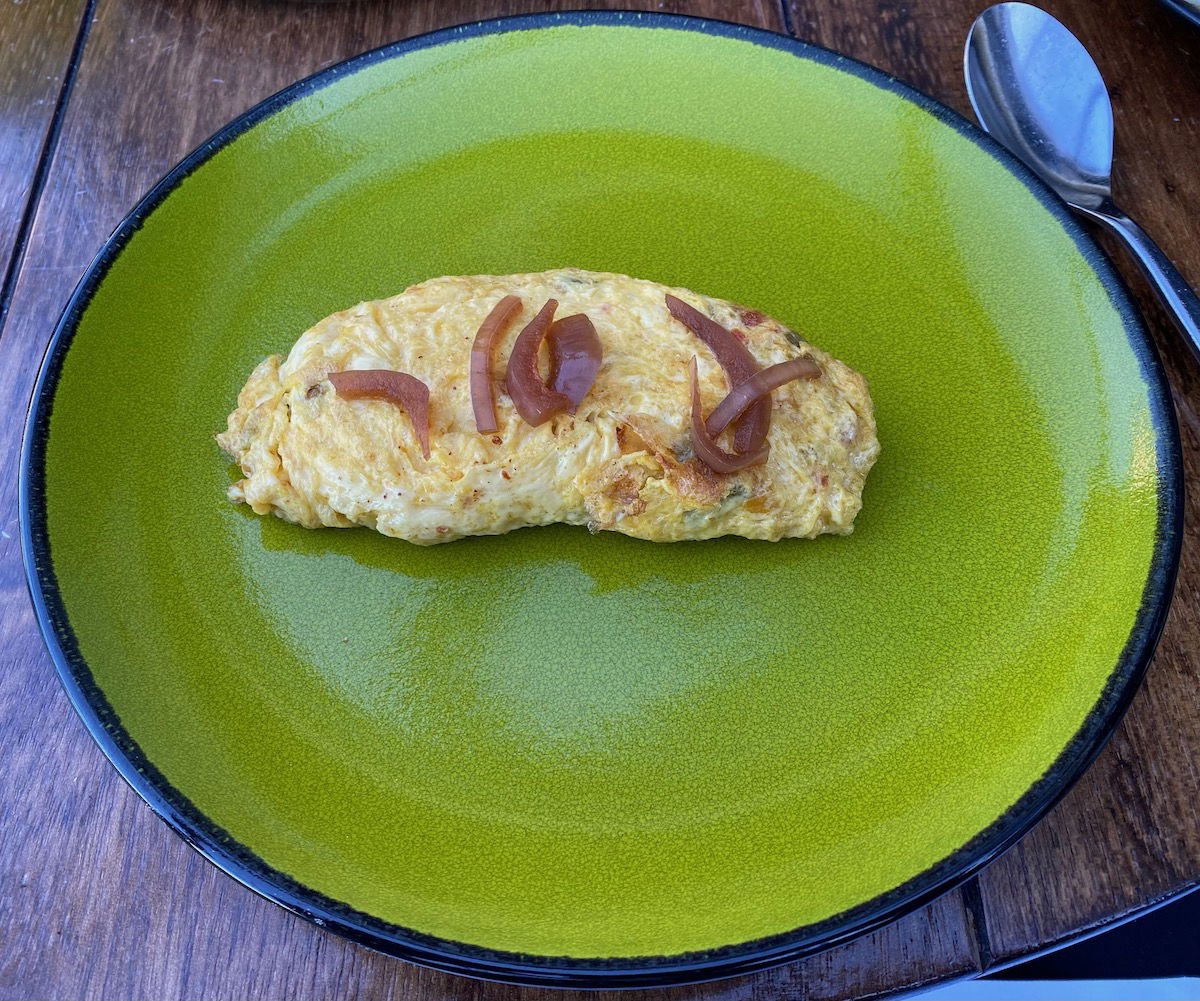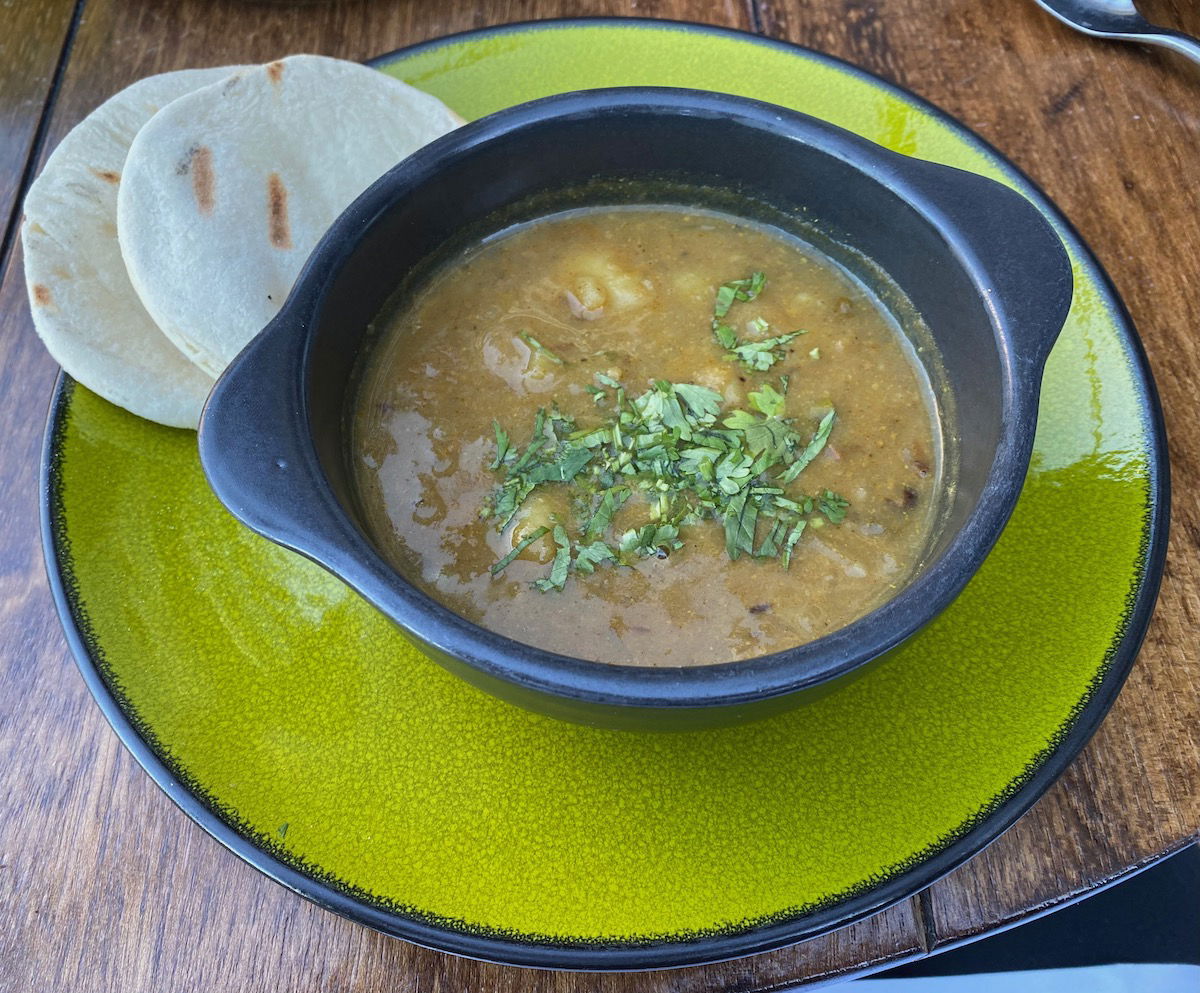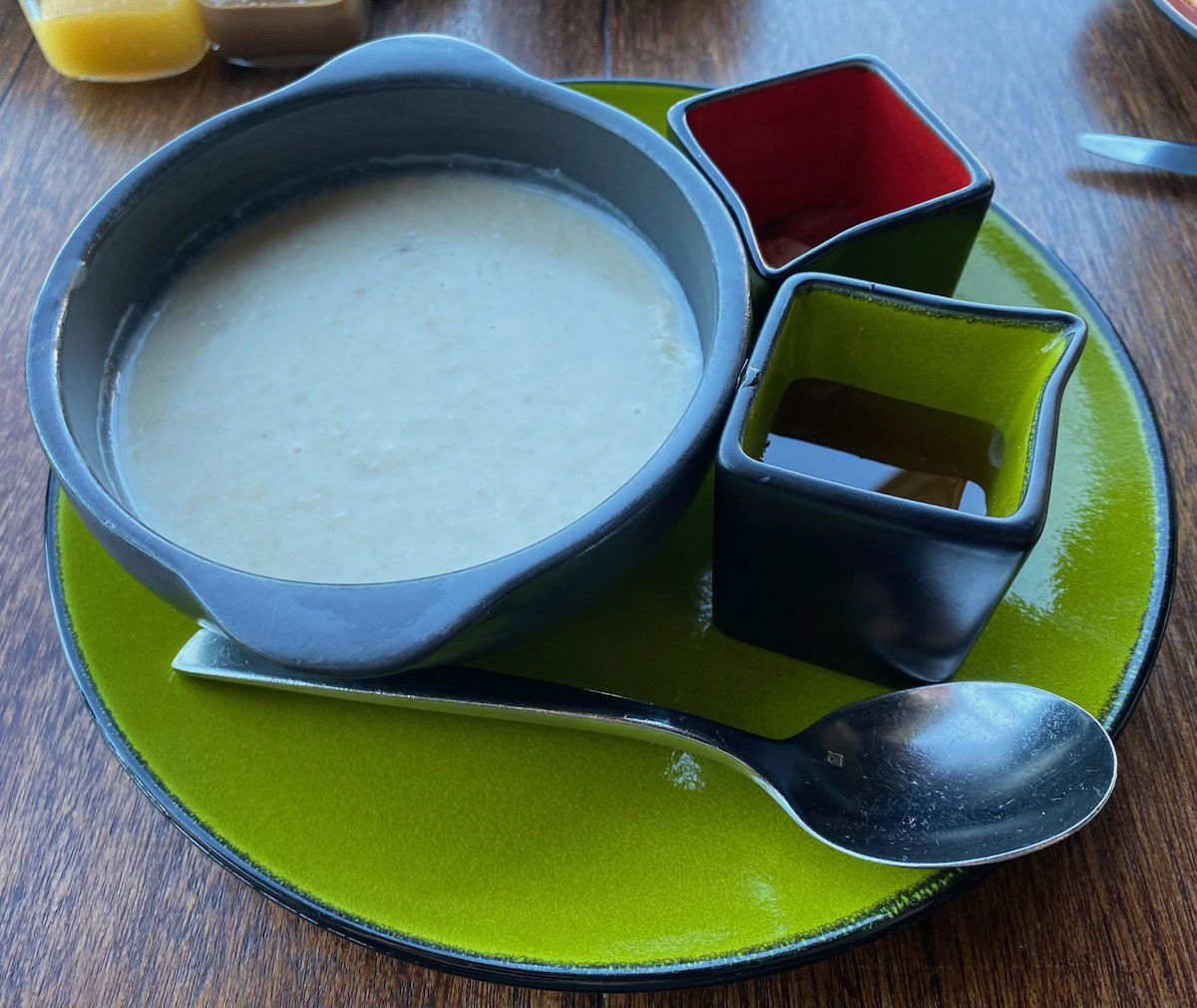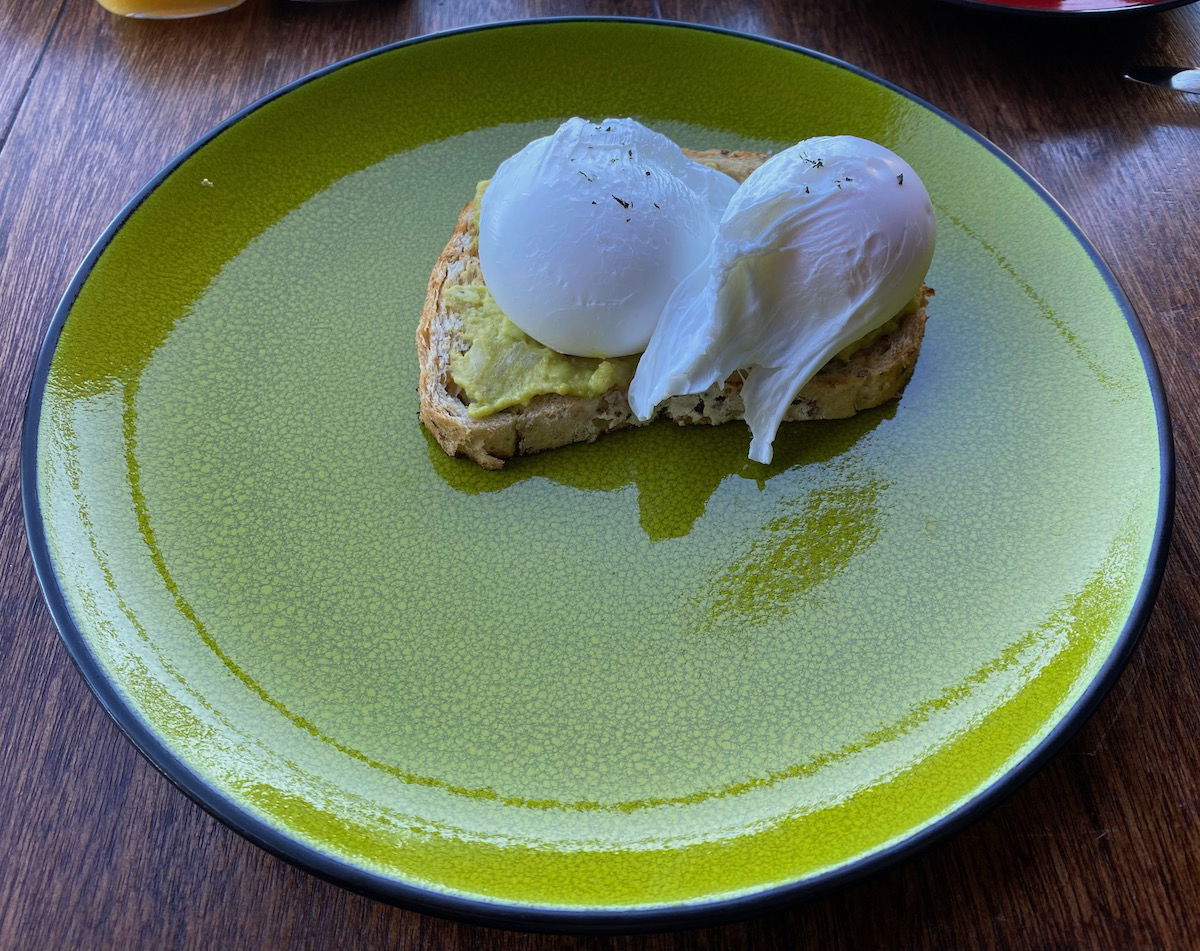 For the most part breakfast was very good. Personally I'm a fan of the a la carte concept, especially since you can order as much as you'd like.
The issue is with dinner, as you only have a single restaurant to choose from. While the menu is a decent size, you'll probably pretty quickly get bored. That's especially true when you consider that there are some overlapping dishes with the lunch menu.
The restaurant serves a little bit of everything for dinner, ranging from salads, to pasta, to burgers, Omani dishes, to Indian dishes. You can find the menu below (for context, 1 OMR is roughly 2.5 USD).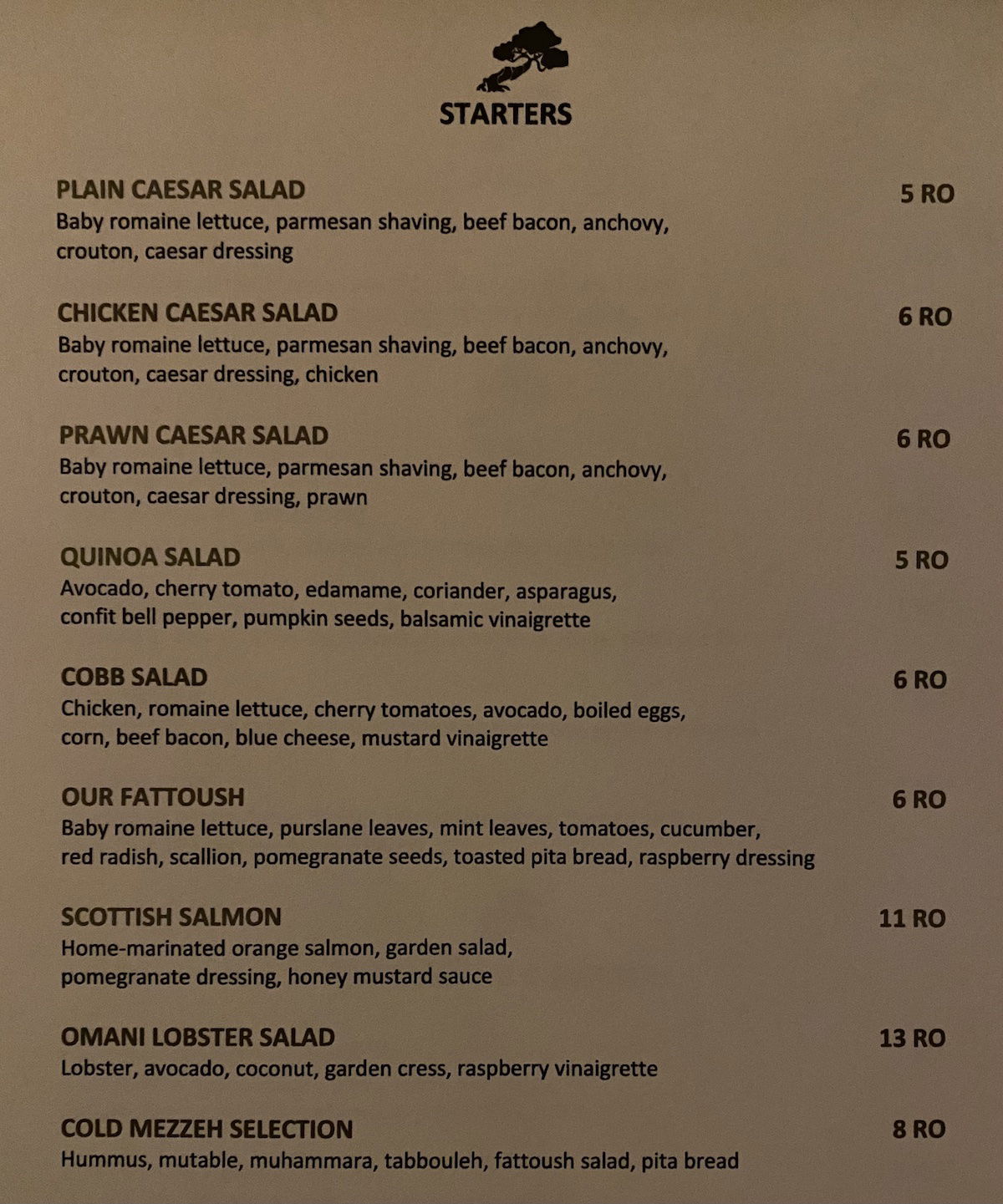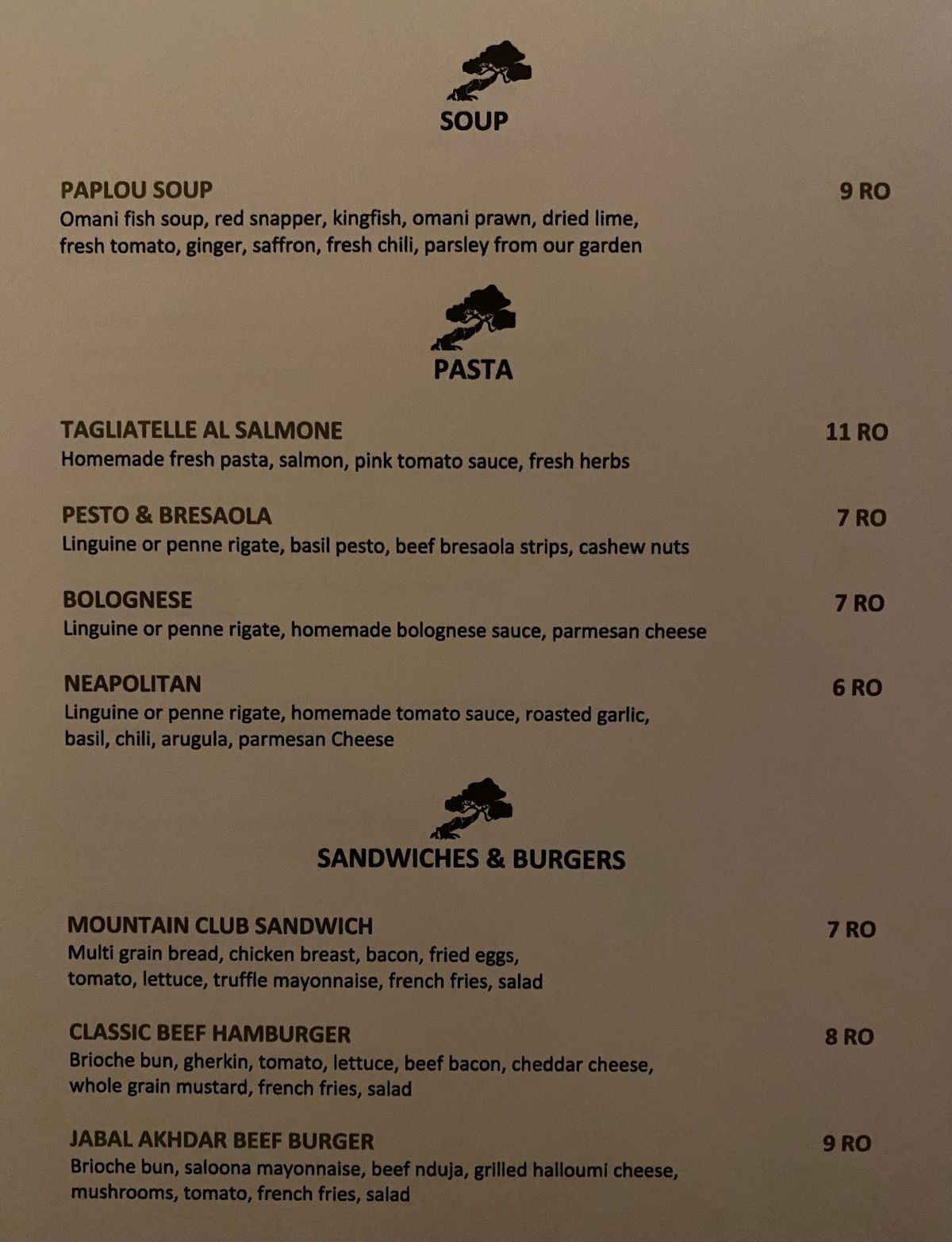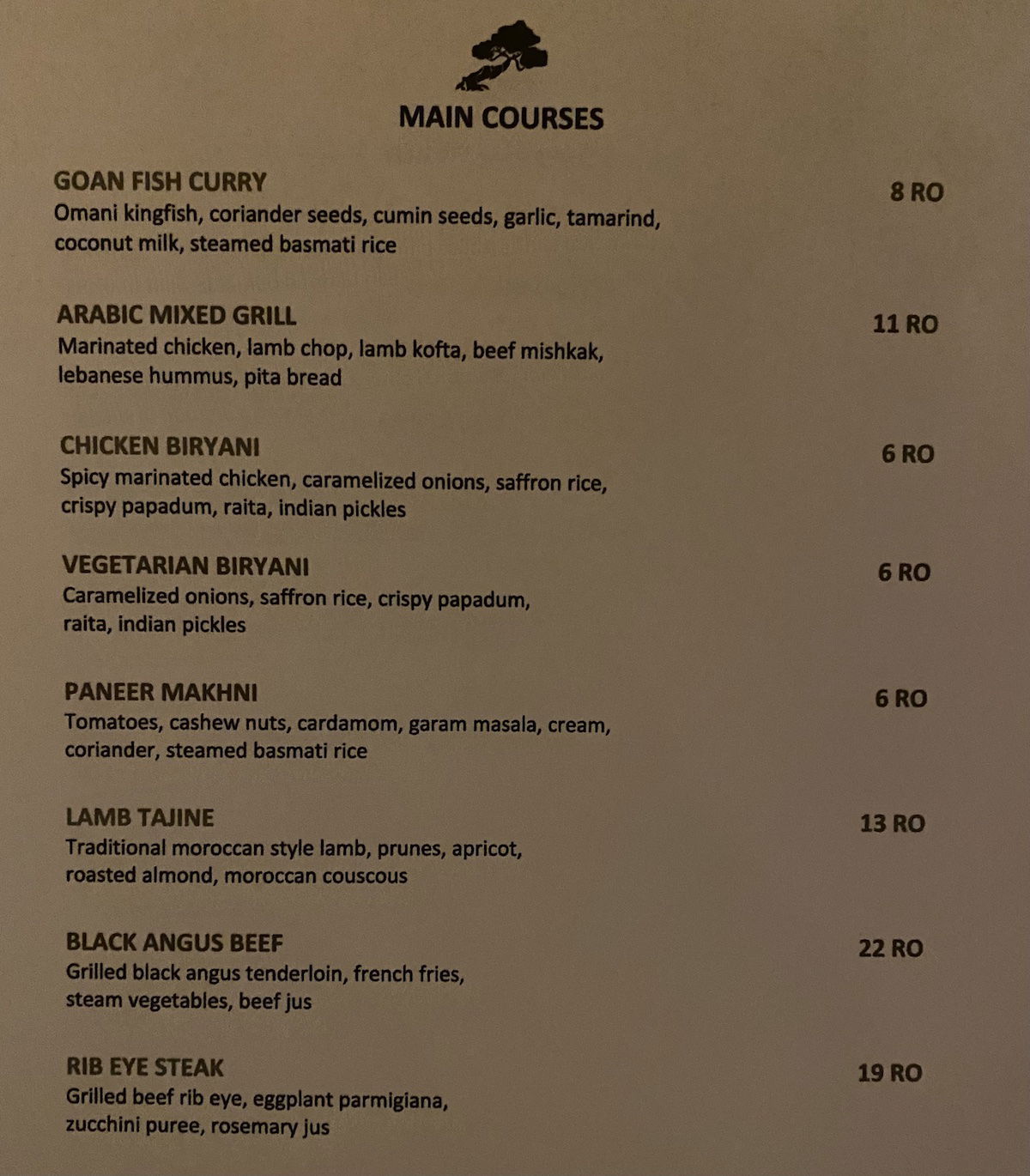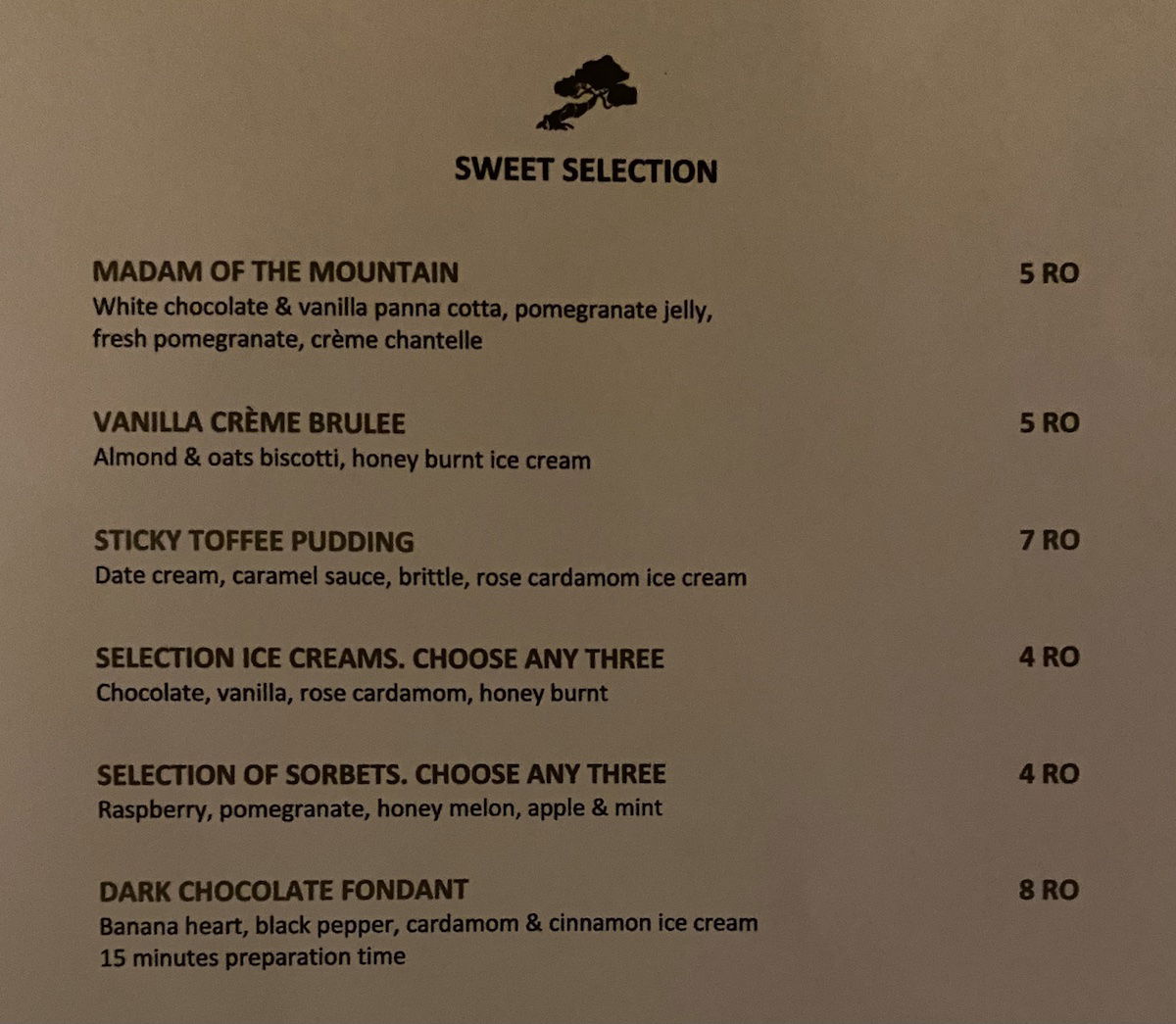 Every dinner started with fresh focaccia with labneh and honey. It was of course ridiculously delicious, but I also kind of wish they'd switch things up a bit.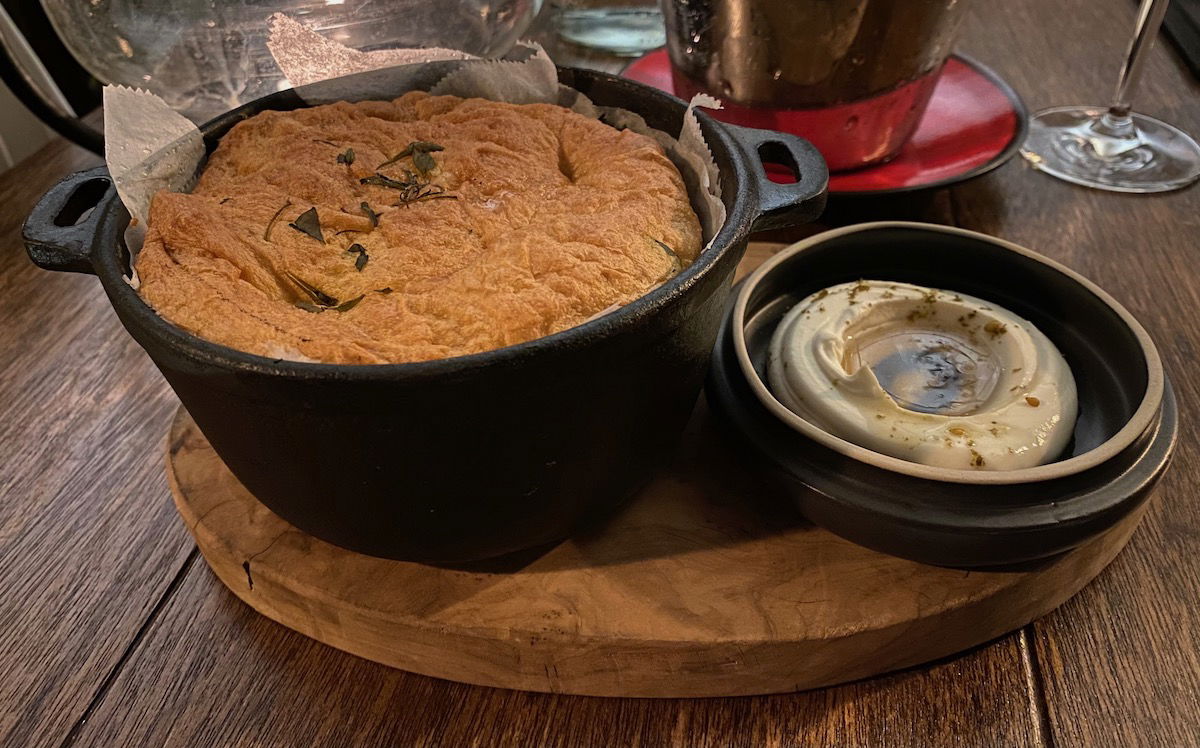 Over the course of our stay we tried a variety of the starters, including the quinoa salad, caesar salad, and cobb salad.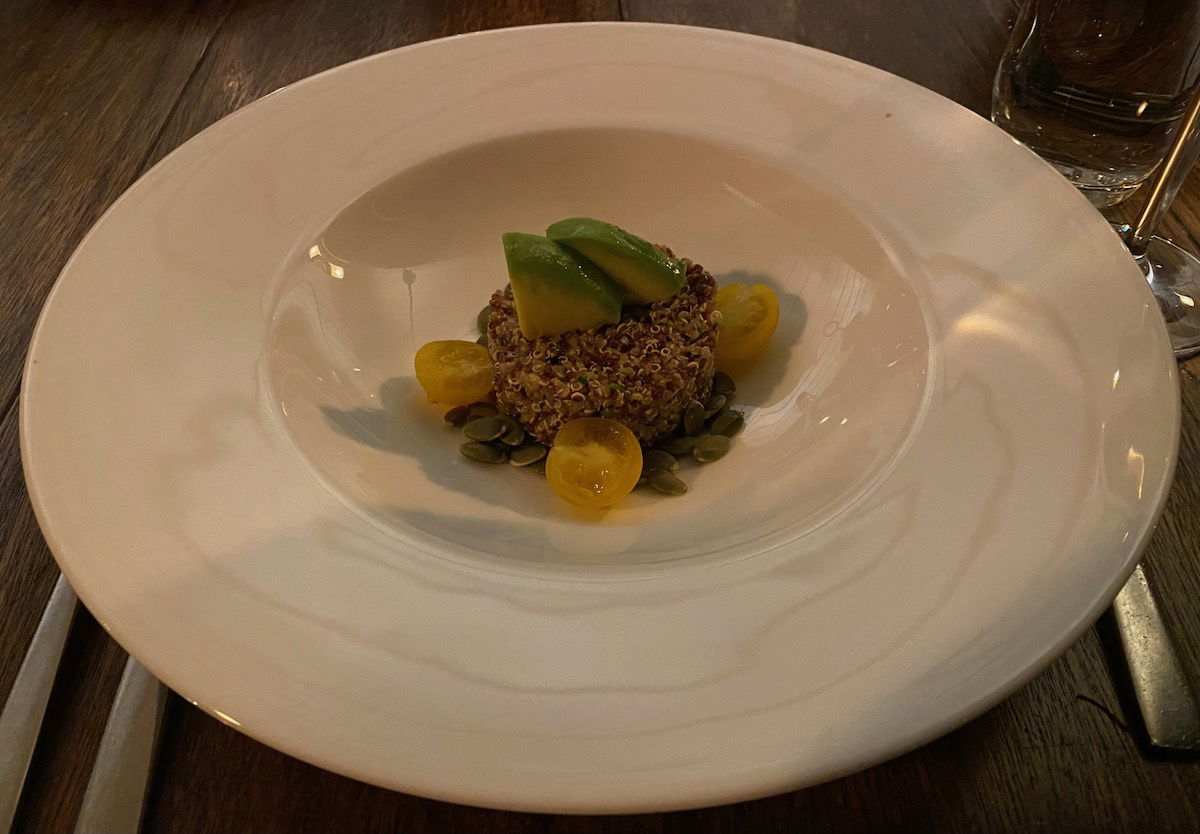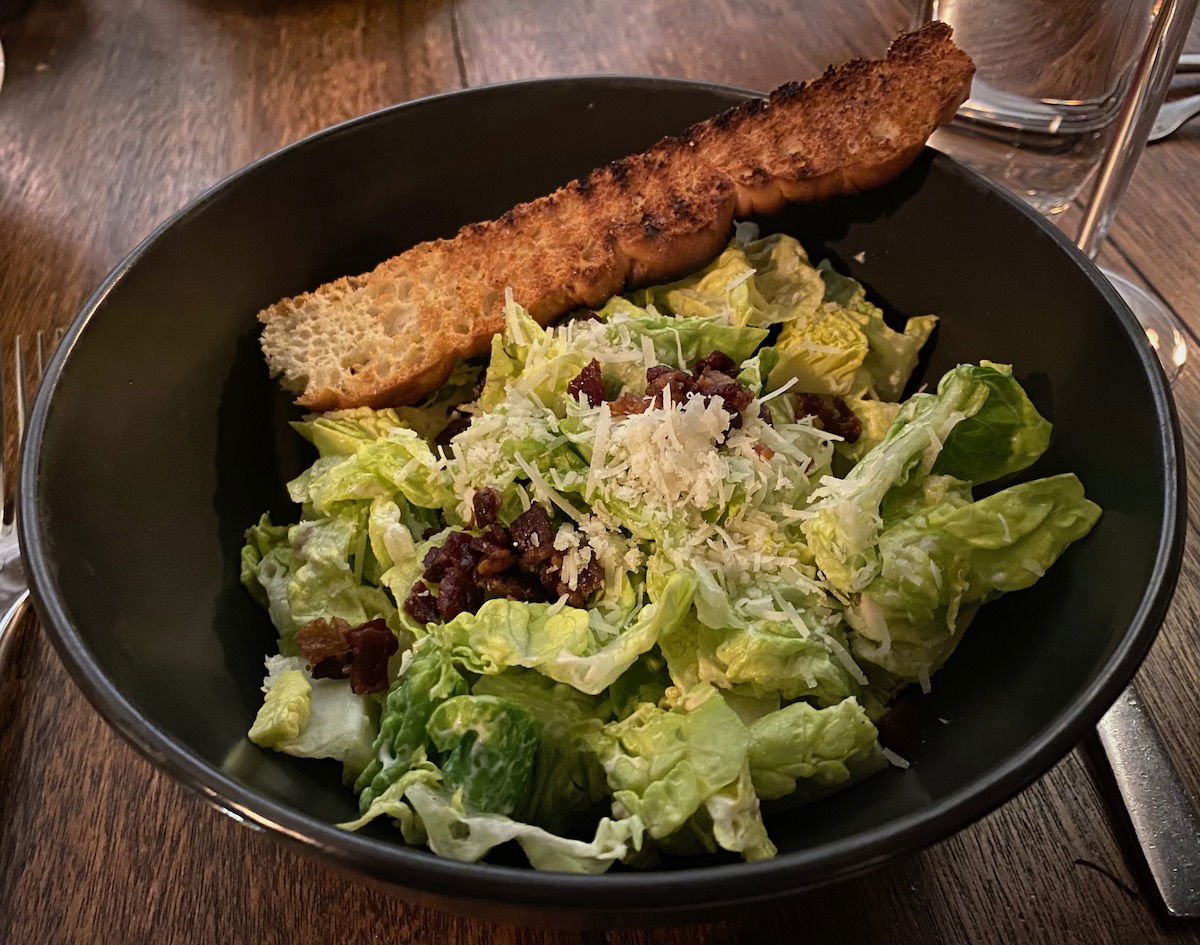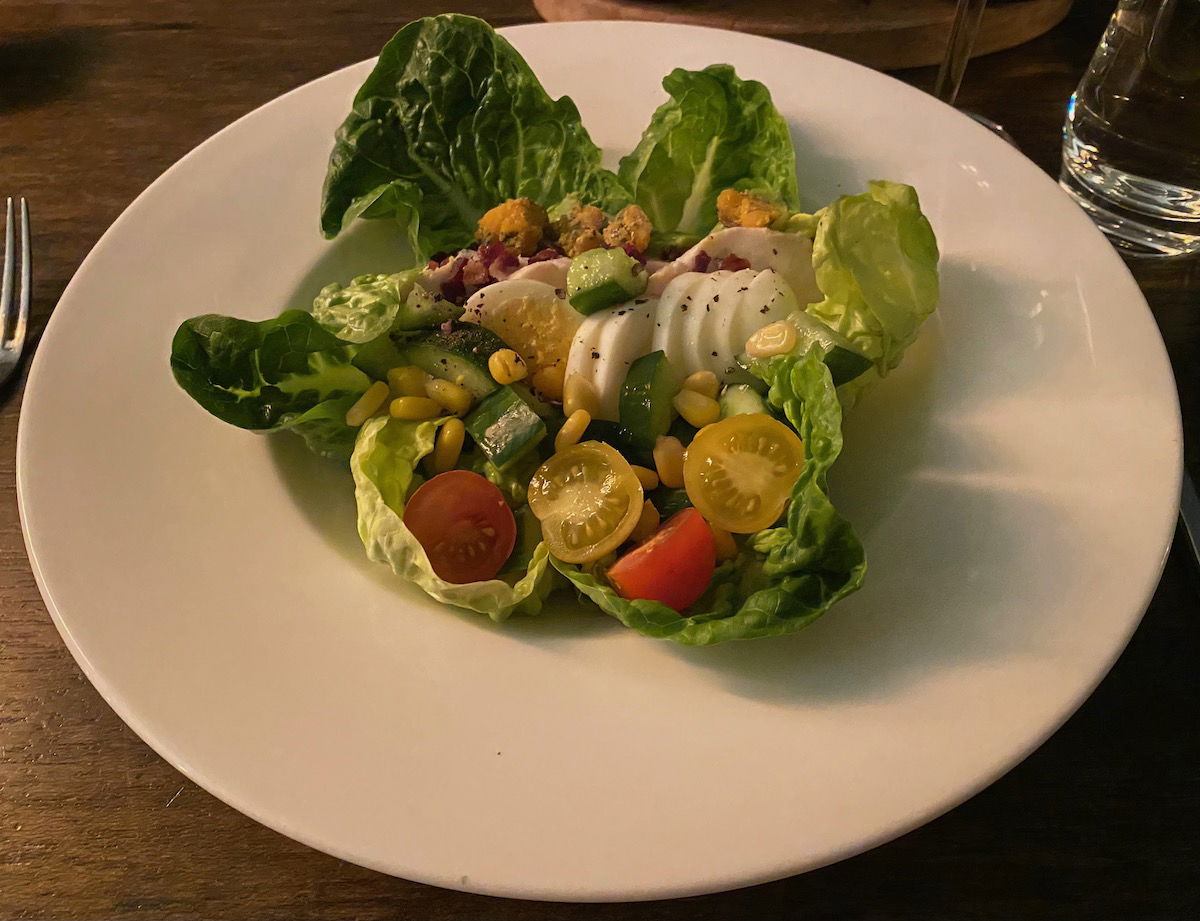 For the mains we ordered the goan fish curry, chicken biryani, Arabic mixed grill, and tagliatelle al salmone.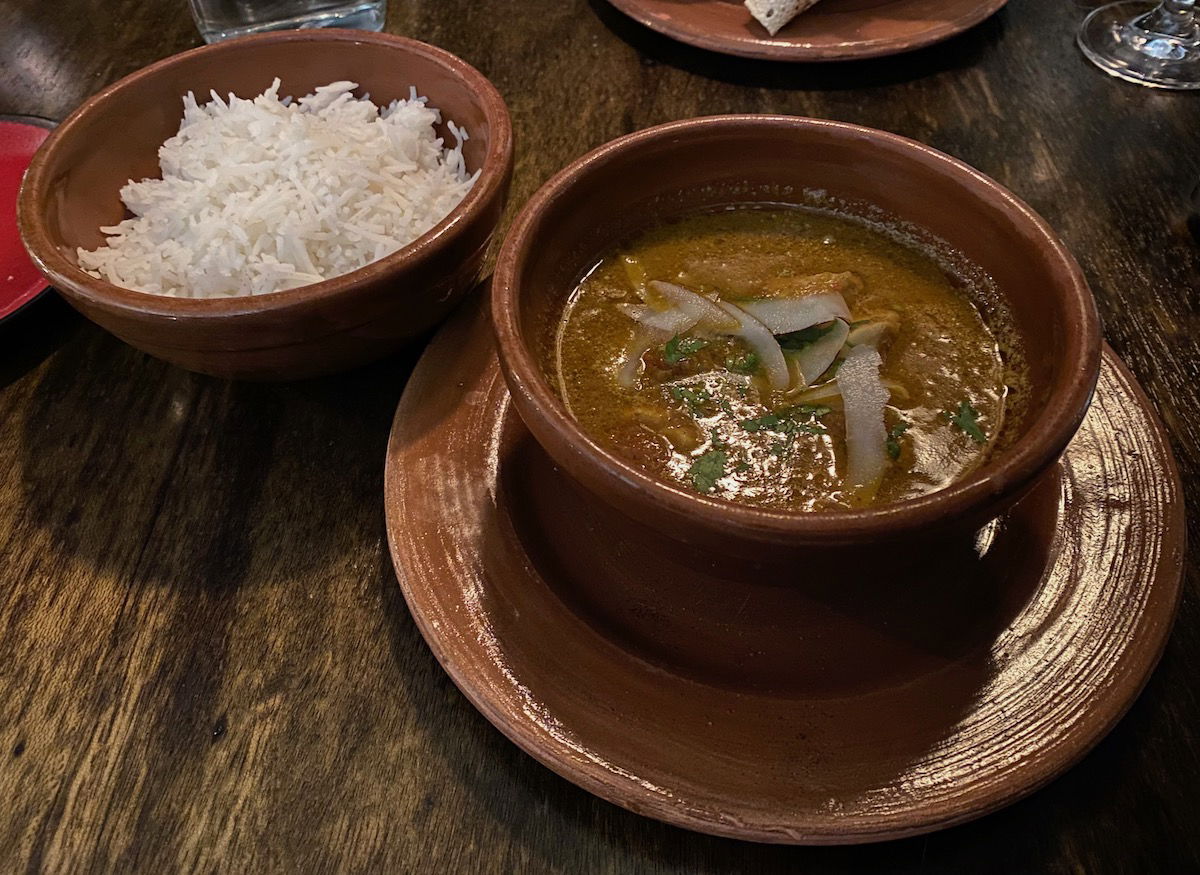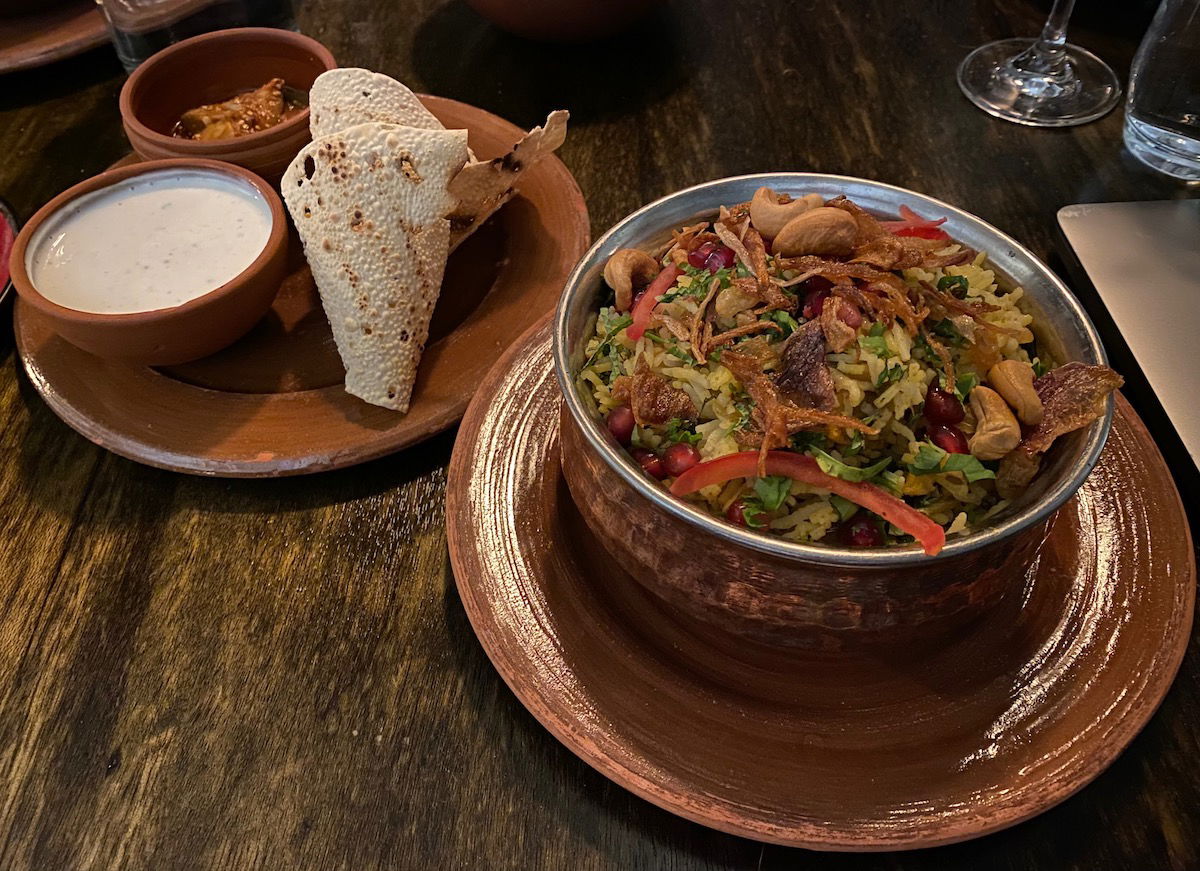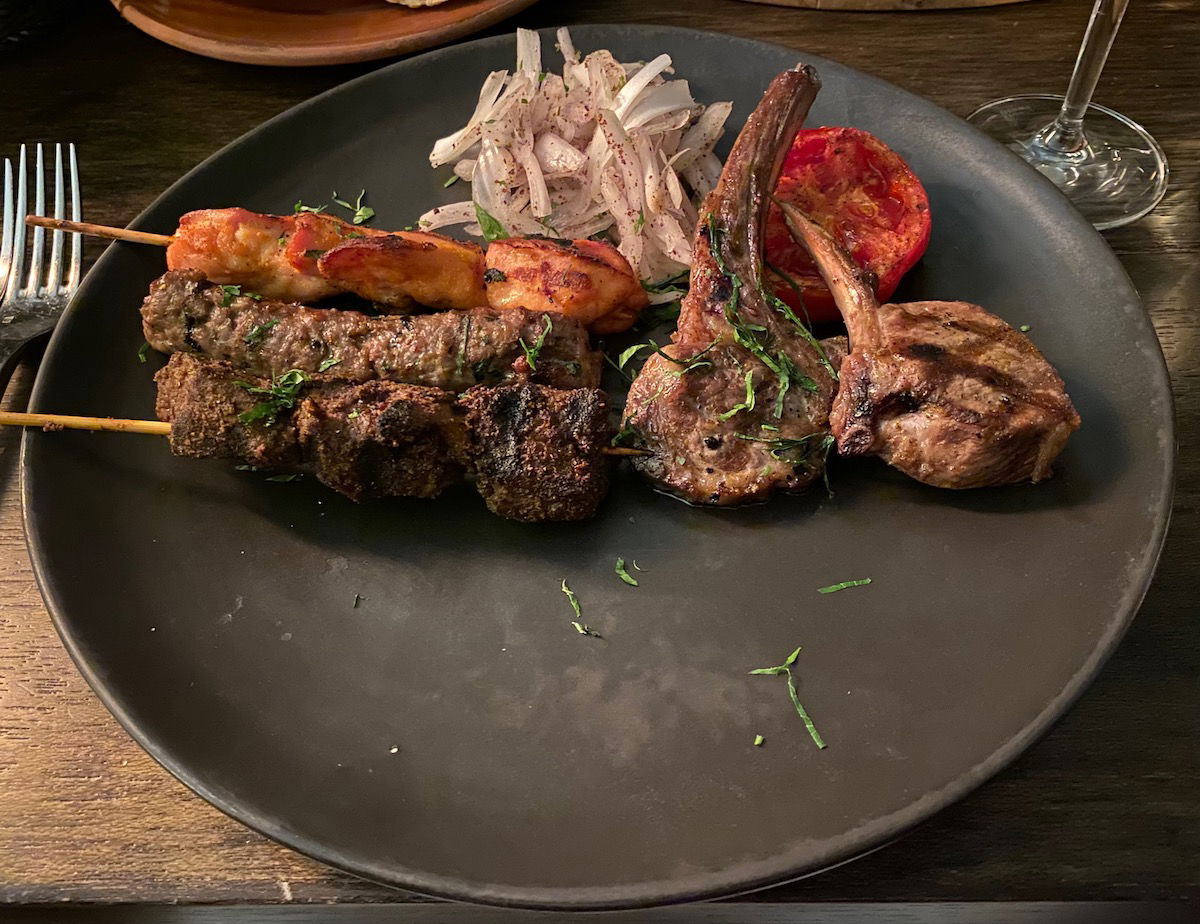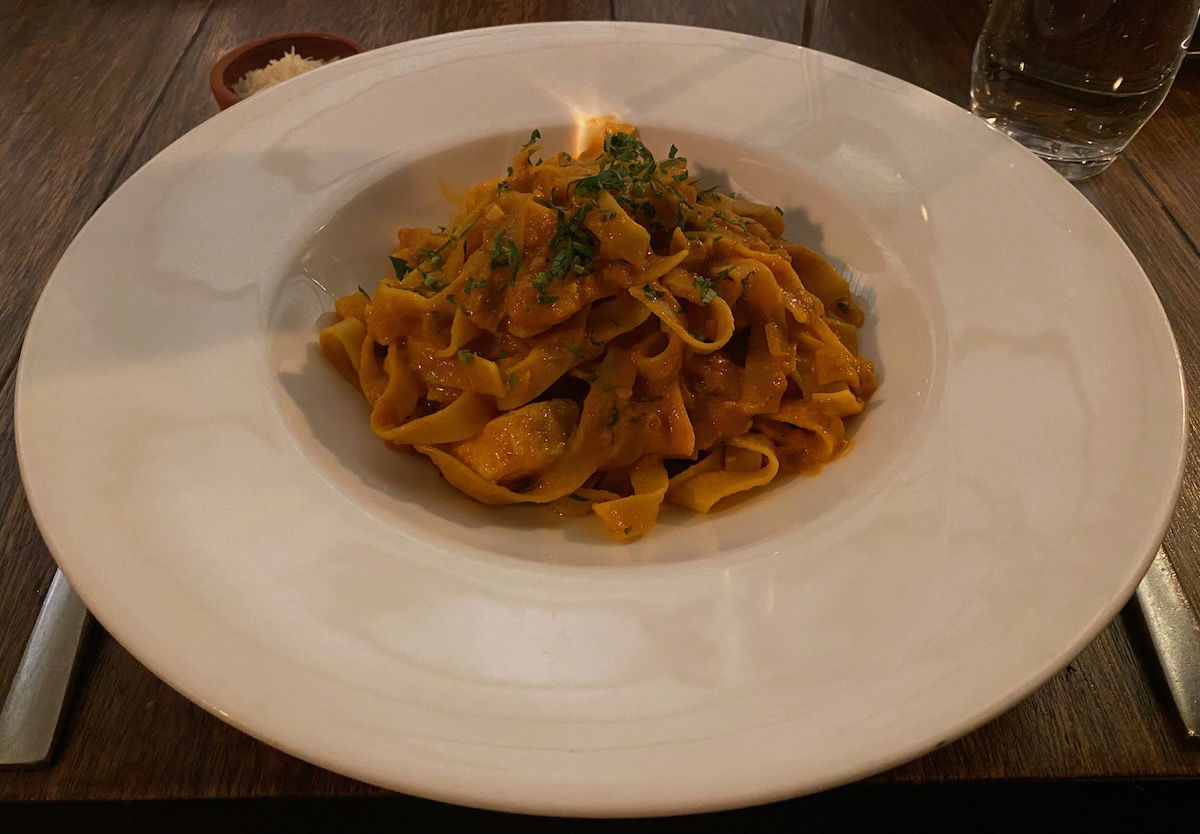 Then for dessert we tried the dark chocolate fondant and a selection of ice cream.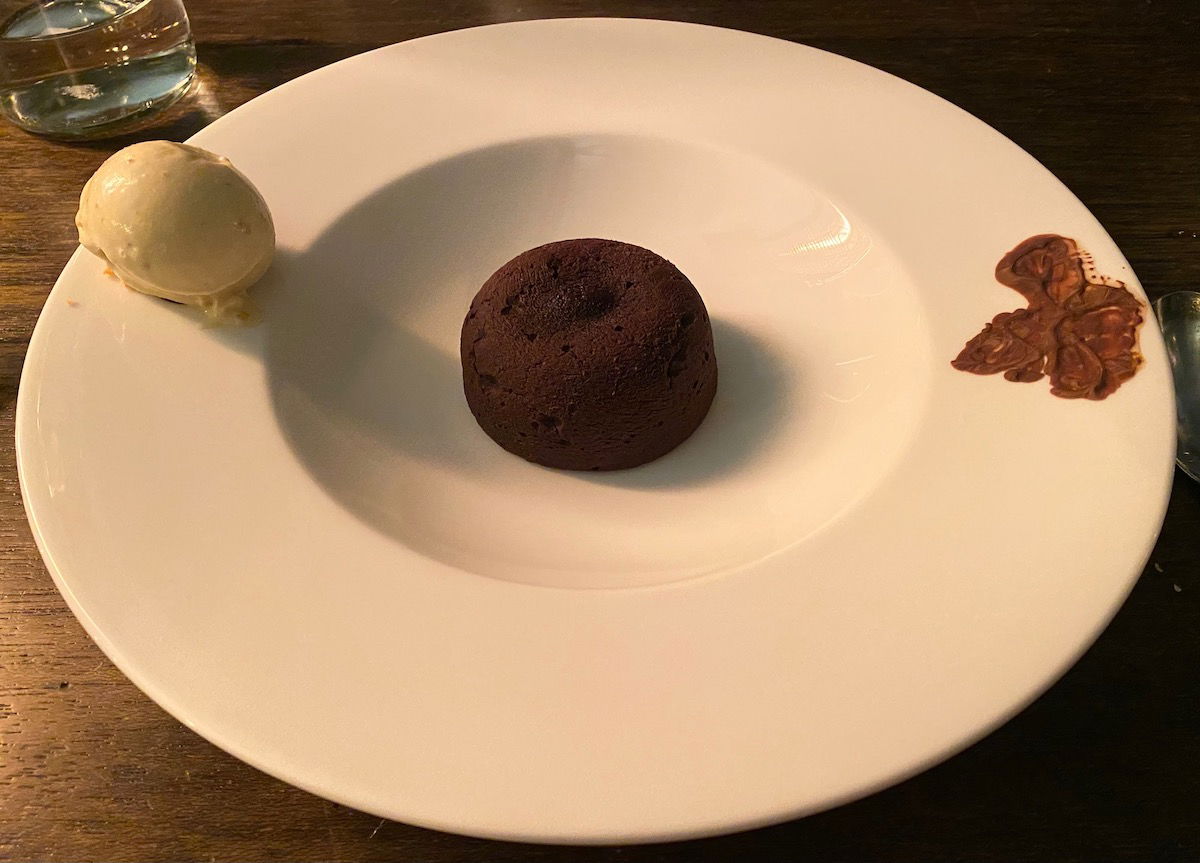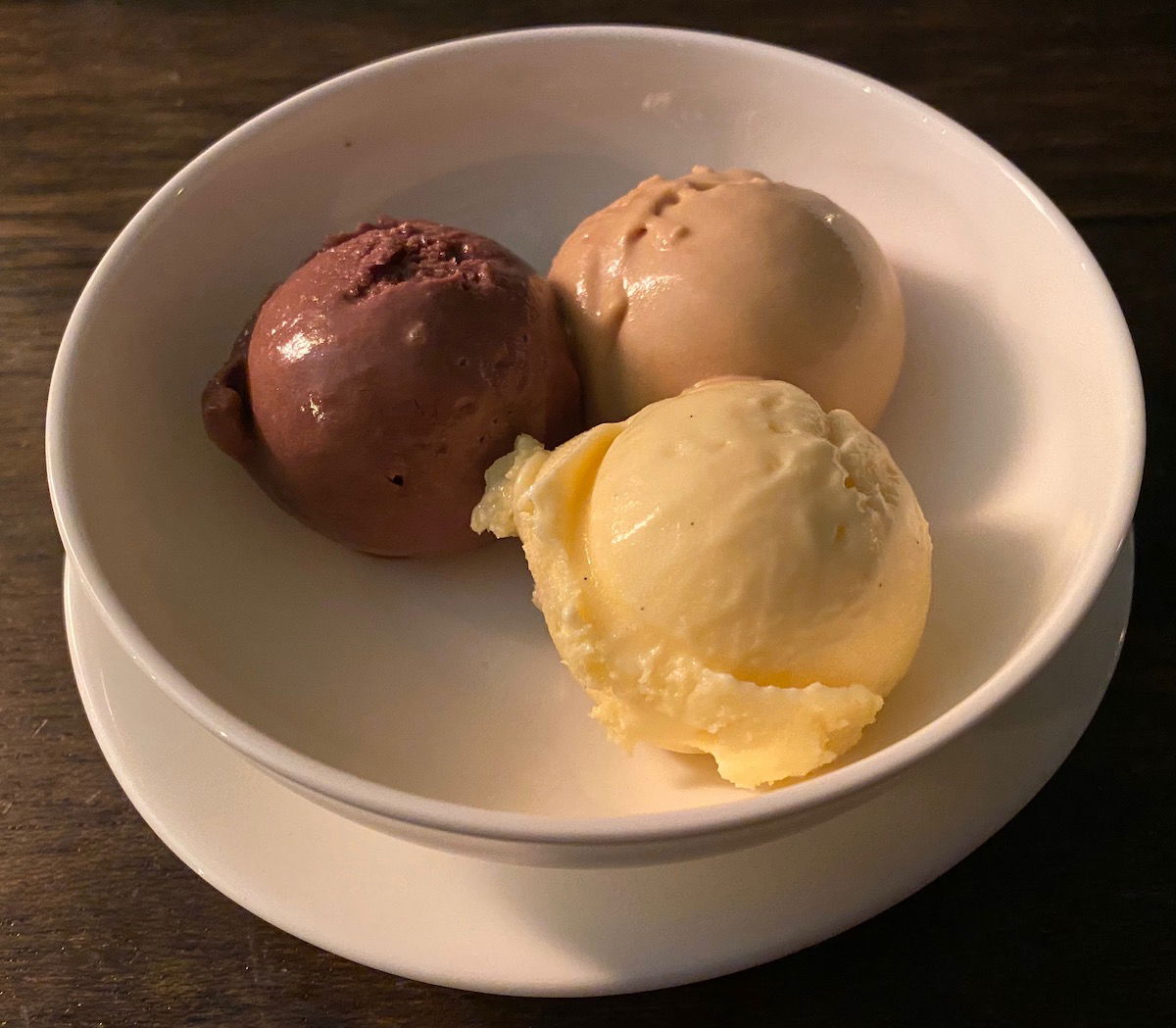 The food was mostly quite good, but after three nights I feel like we exhausted the menu. I should also mention that I appreciate that the hotel doesn't charge for still or sparkling water, even in the restaurant. That's a nice touch, because for so many other resorts that's a huge profit center.
Alila Jabal Akhdar Rose Lounge (lunch & drinks)
While Juniper Restaurant serves breakfast and dinner, Rose Lounge serves lunch and drinks throughout the day (it's open from 12PM until 10:30PM). This is the poolside restaurant, and it has outdoor seating, as well as some limited indoor bar seating as well.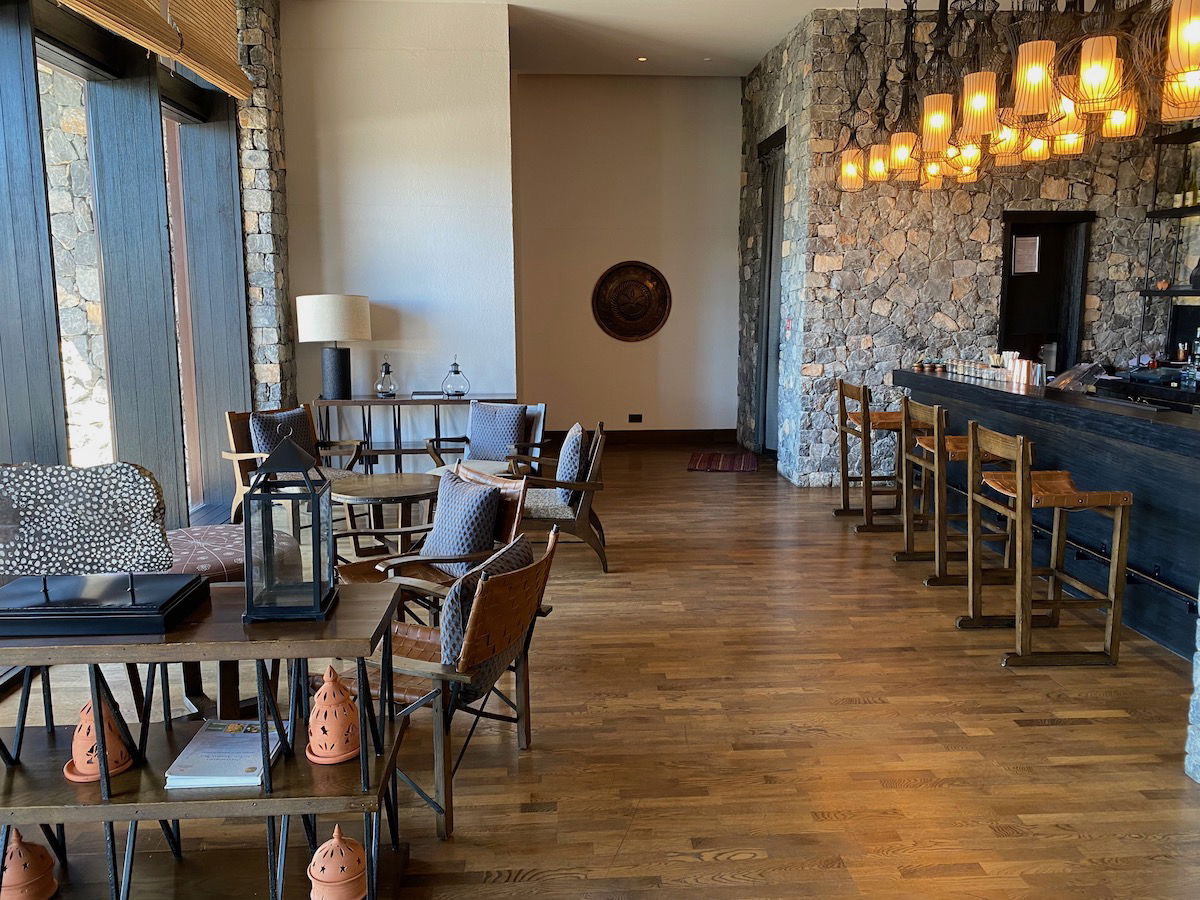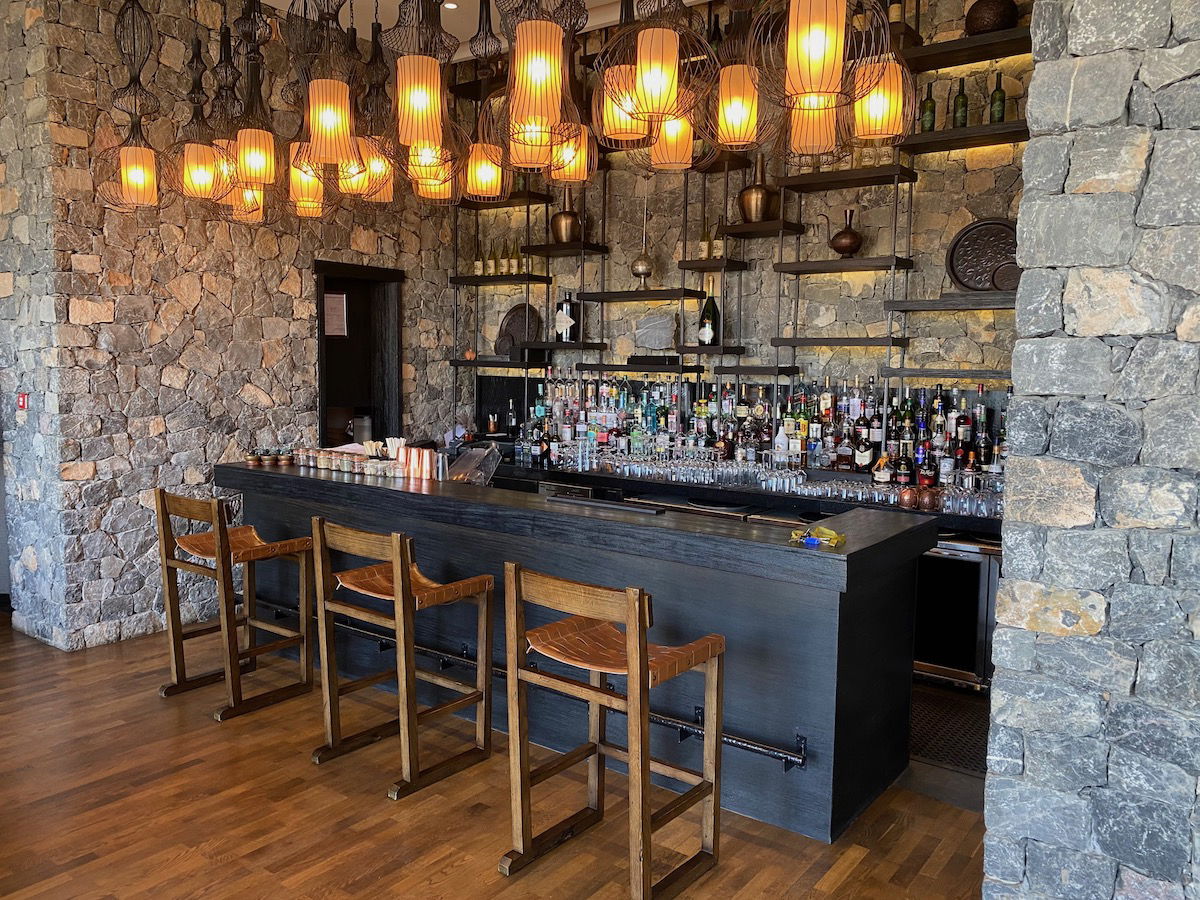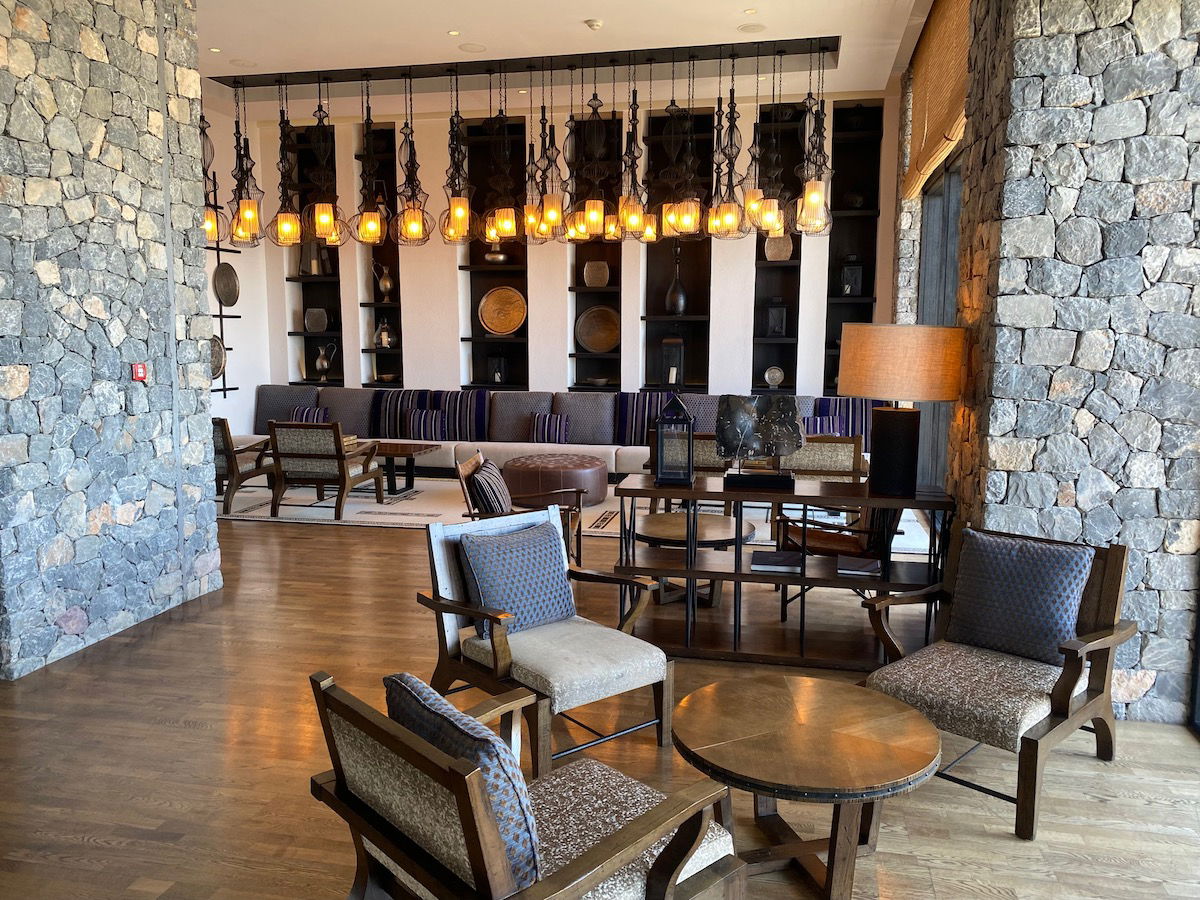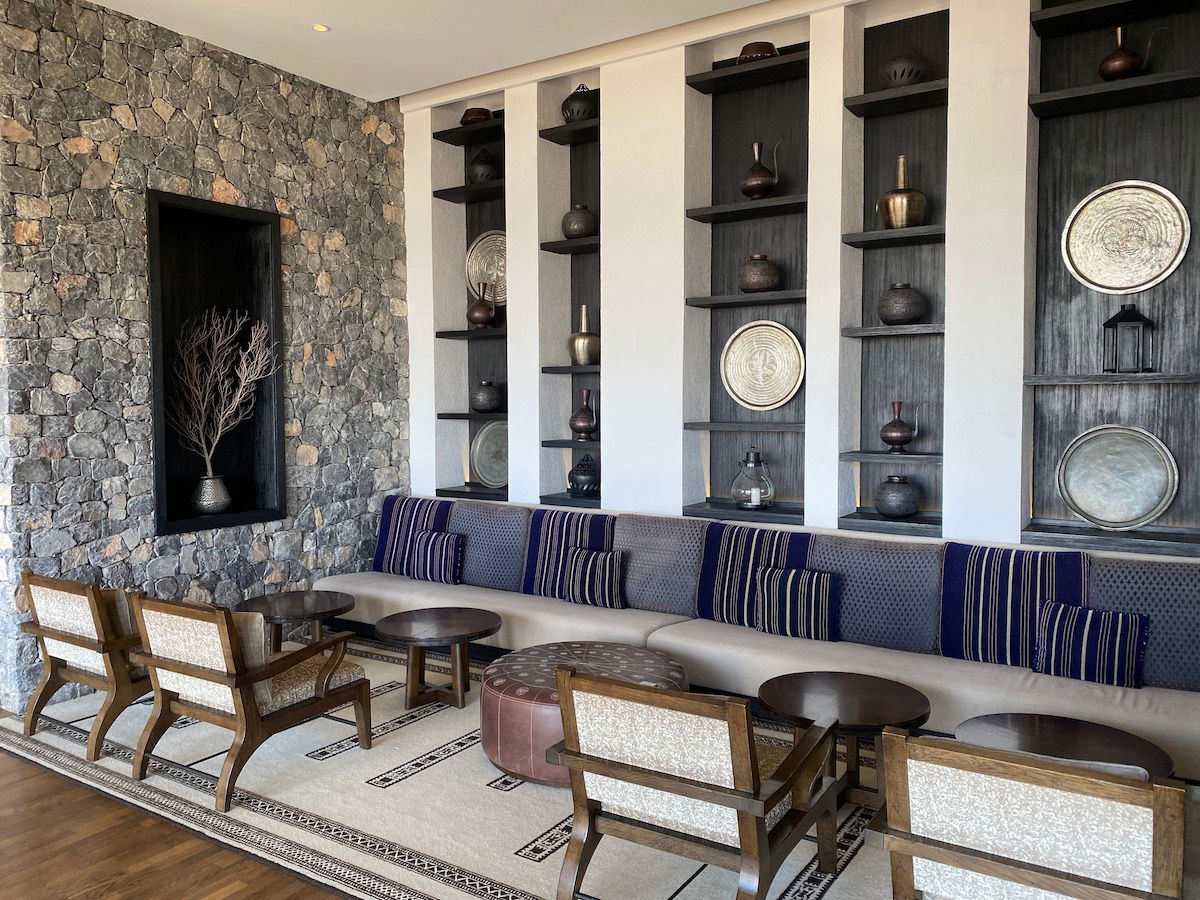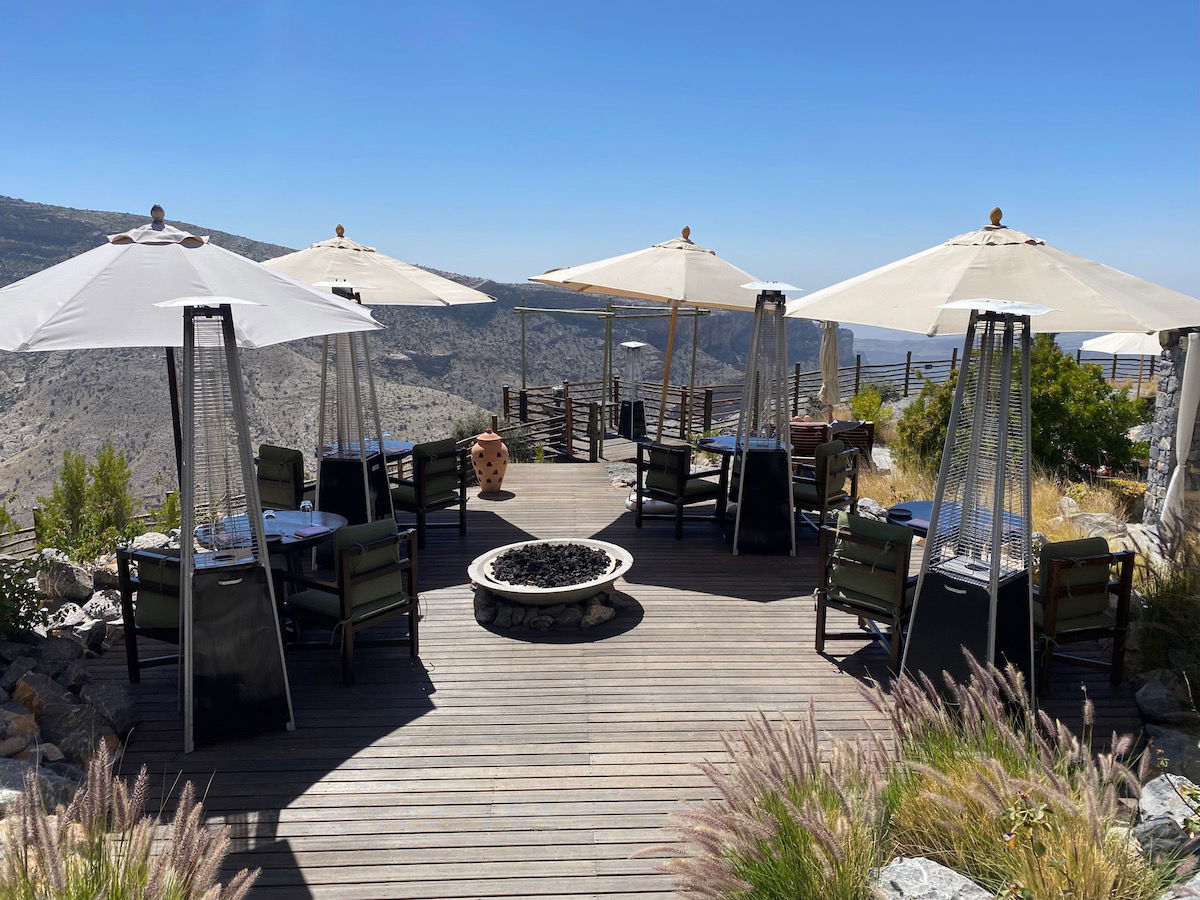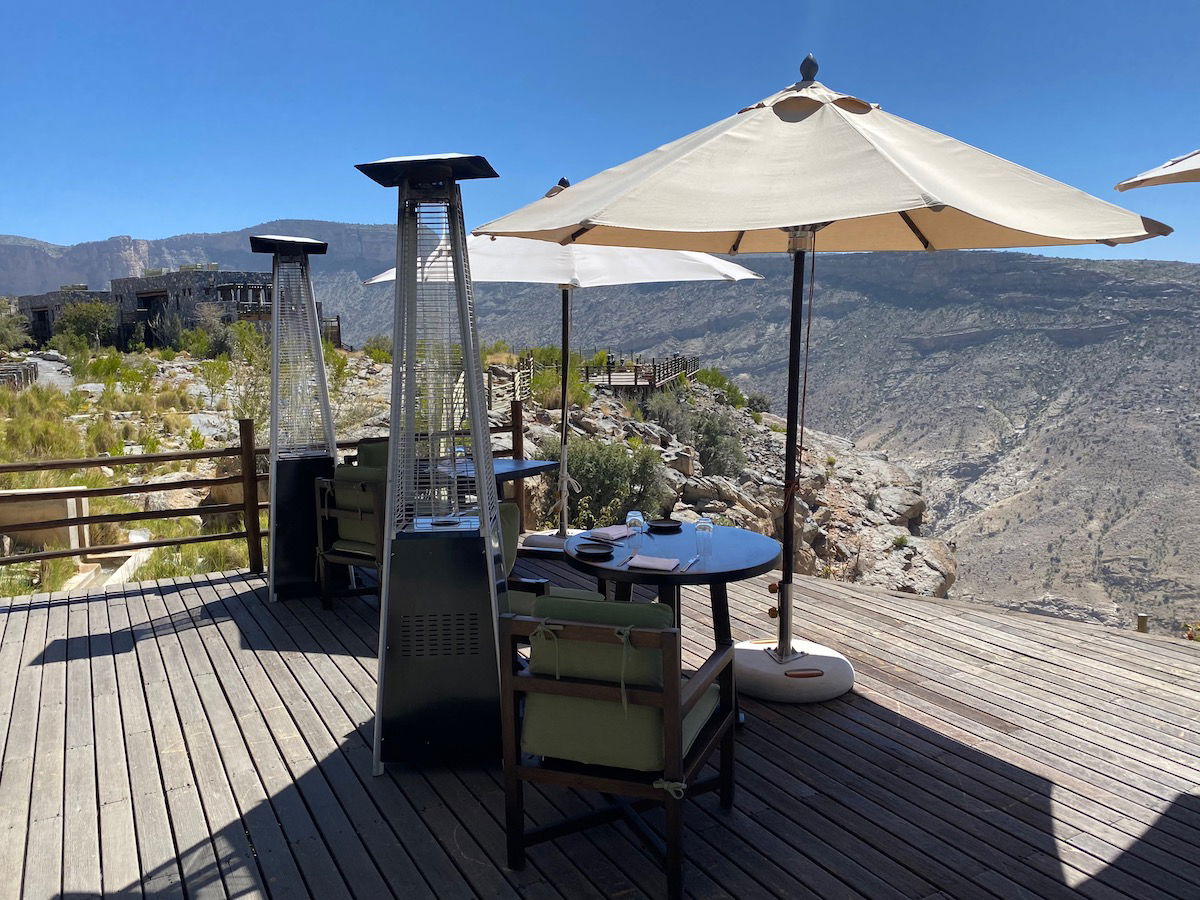 You can find the lunch menu below (with the first page being the European menu, the second page being the Americas menu, and the third page being the Asia menu — I don't make the rules, but that's what the menu claimed).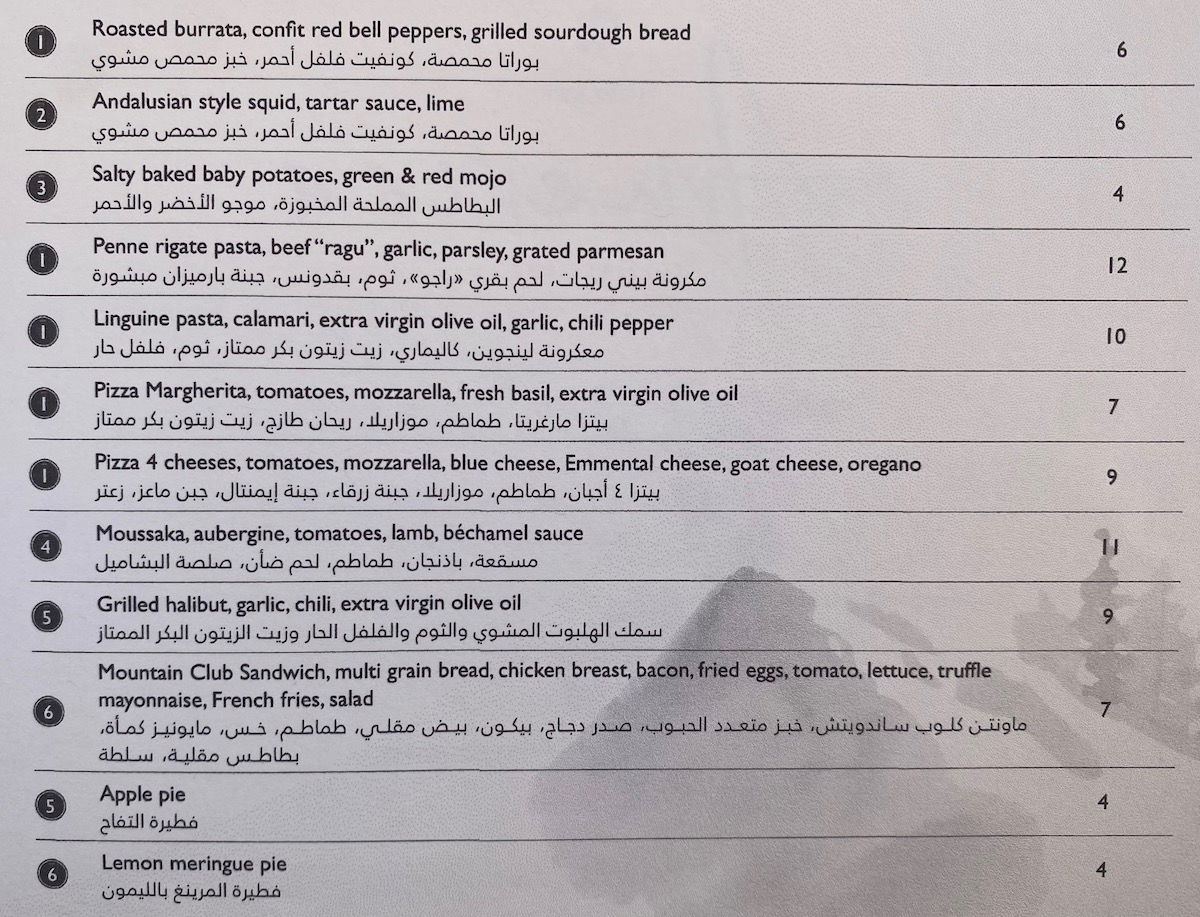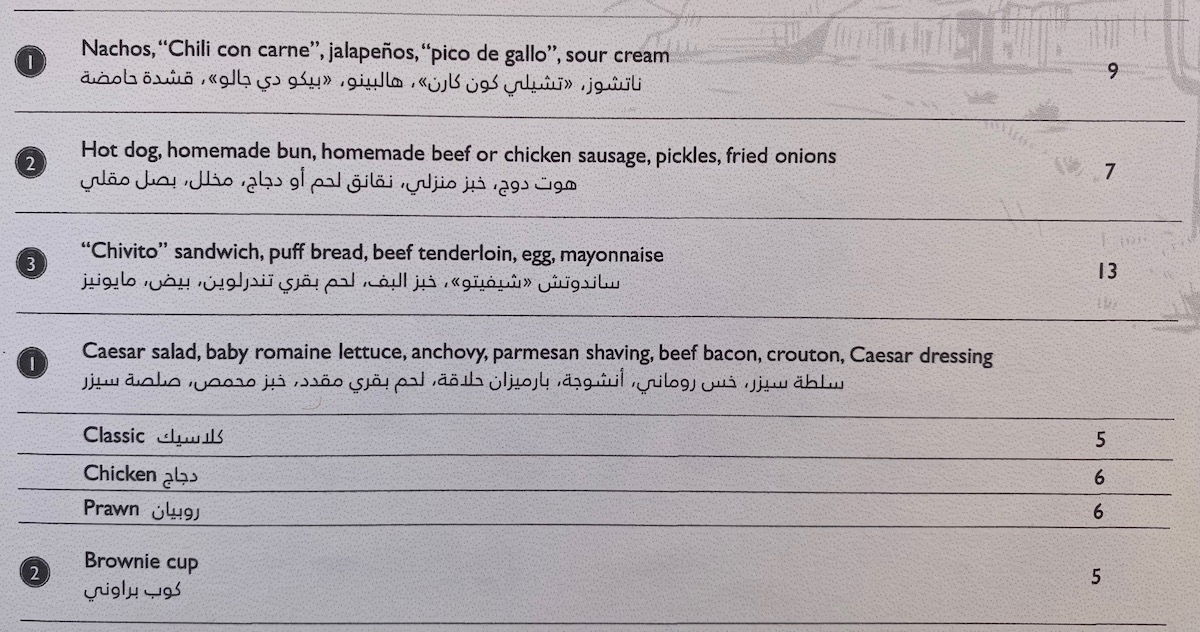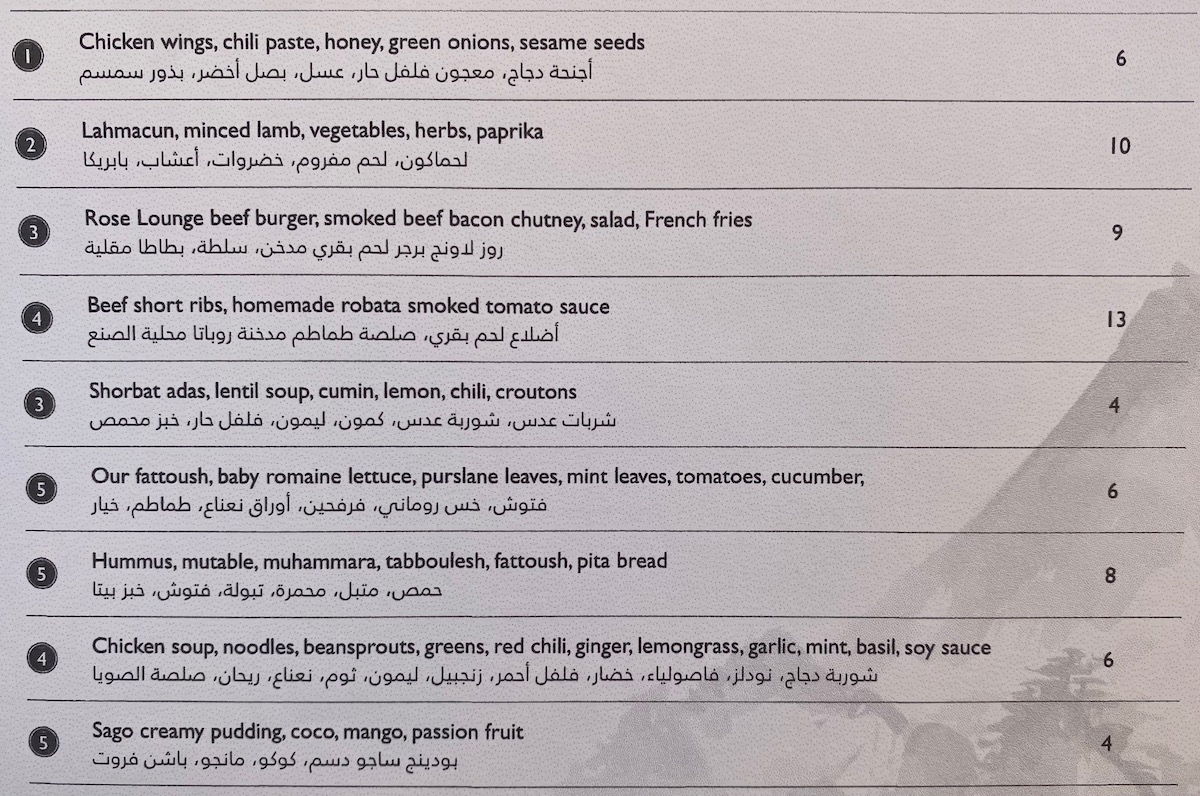 Lunch always started with the same bread basket…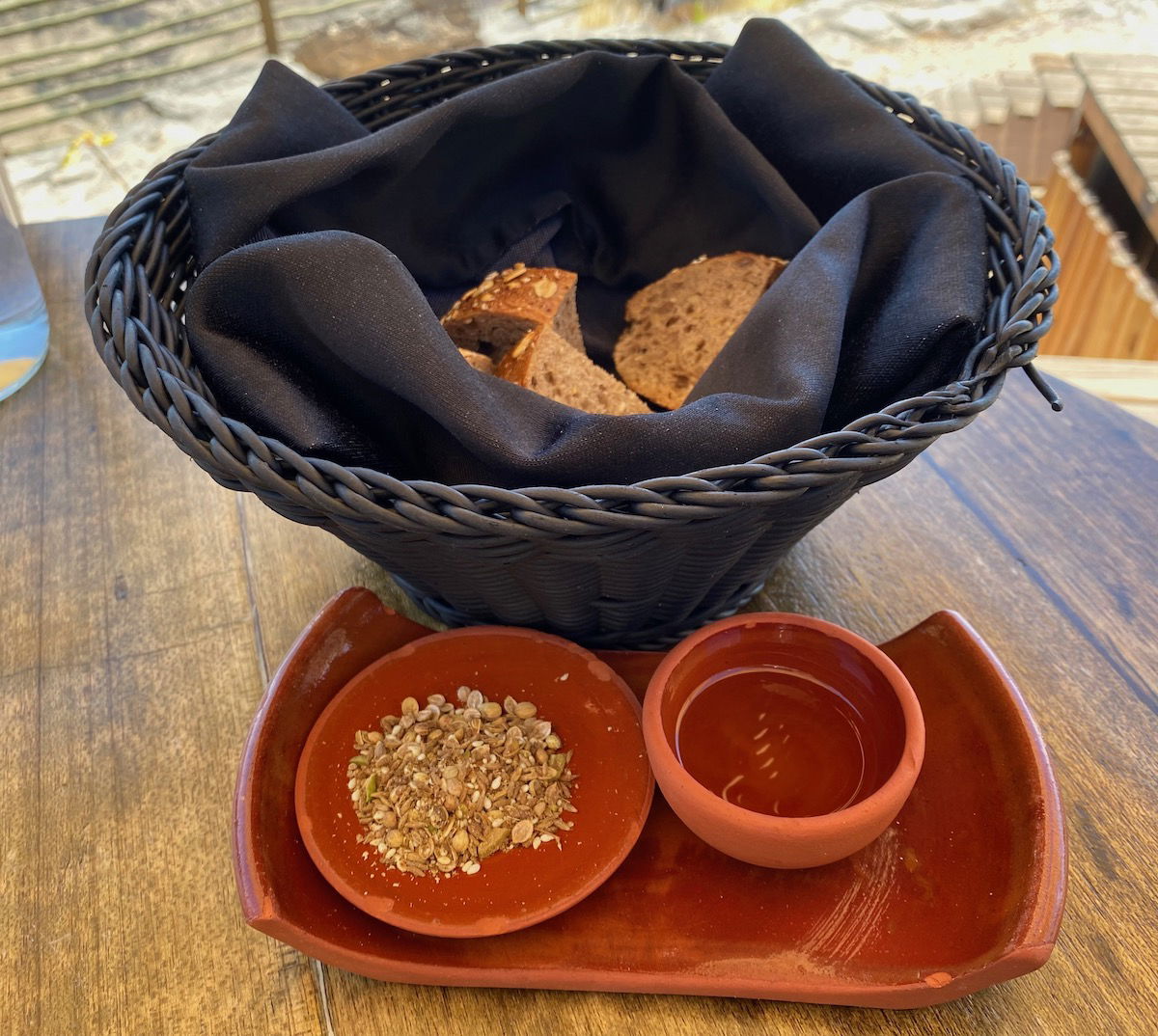 To give you a sense of the food, we ordered the fattoush salad, a pizza margherita, and lahmacun.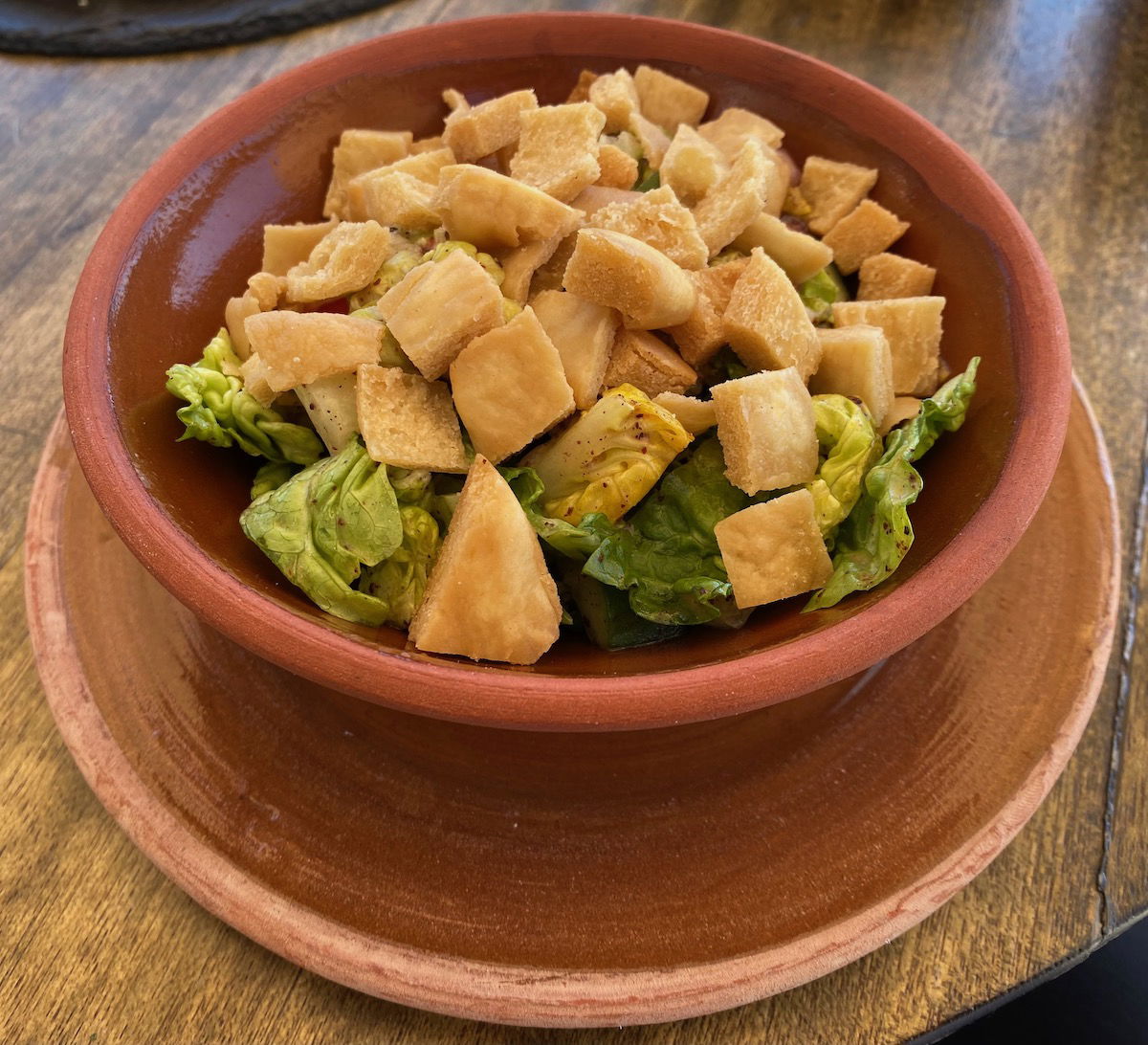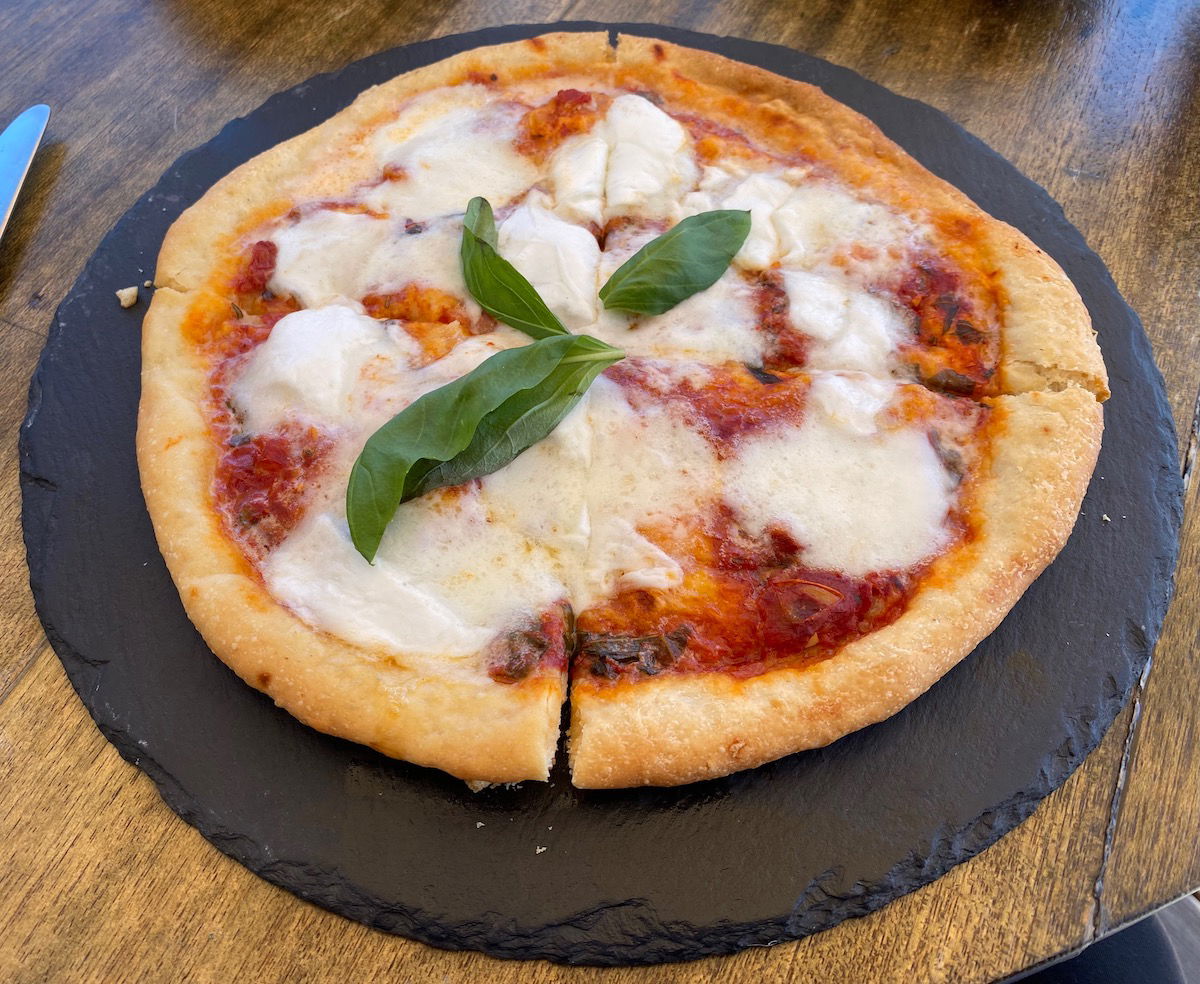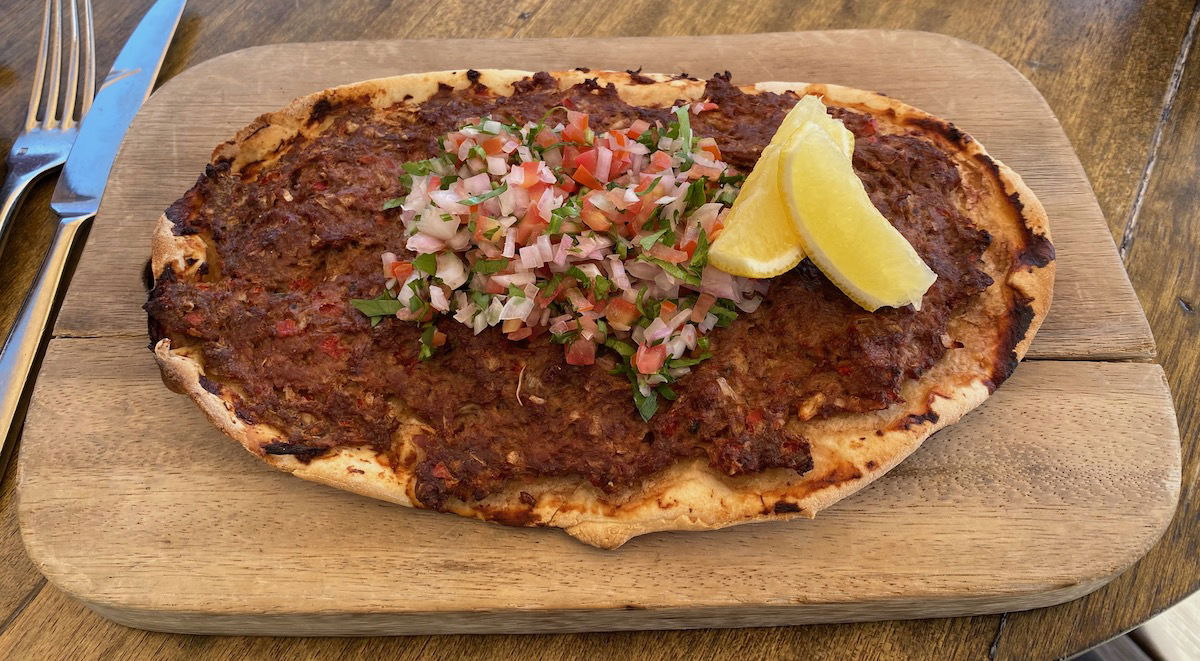 We also generally had a cocktail at Rose Lounge each evening, as this offered the best view of the sunset. The cocktails were fine, but paled in comparison to the passion that went into drinks at Alila Hinu Bay.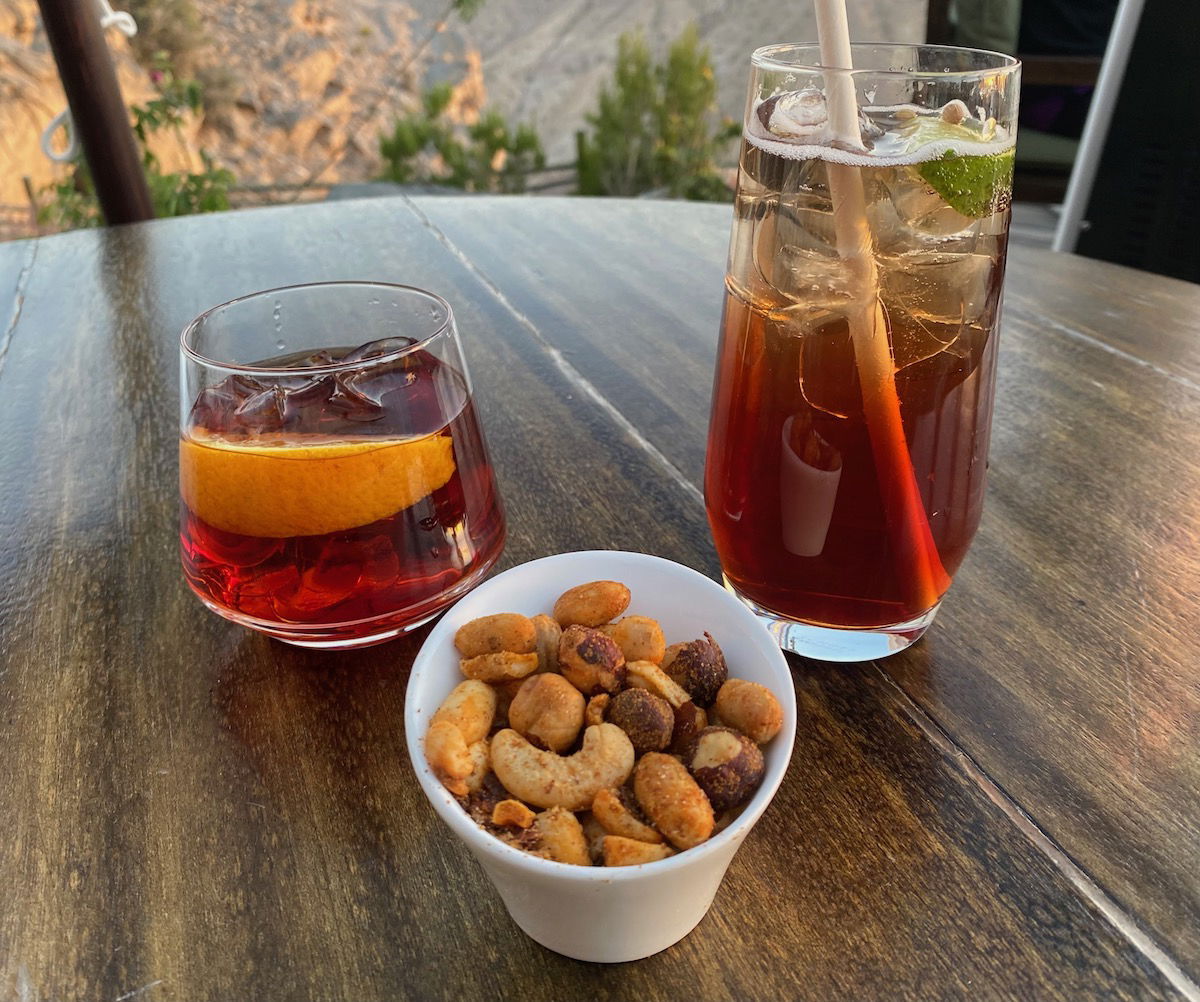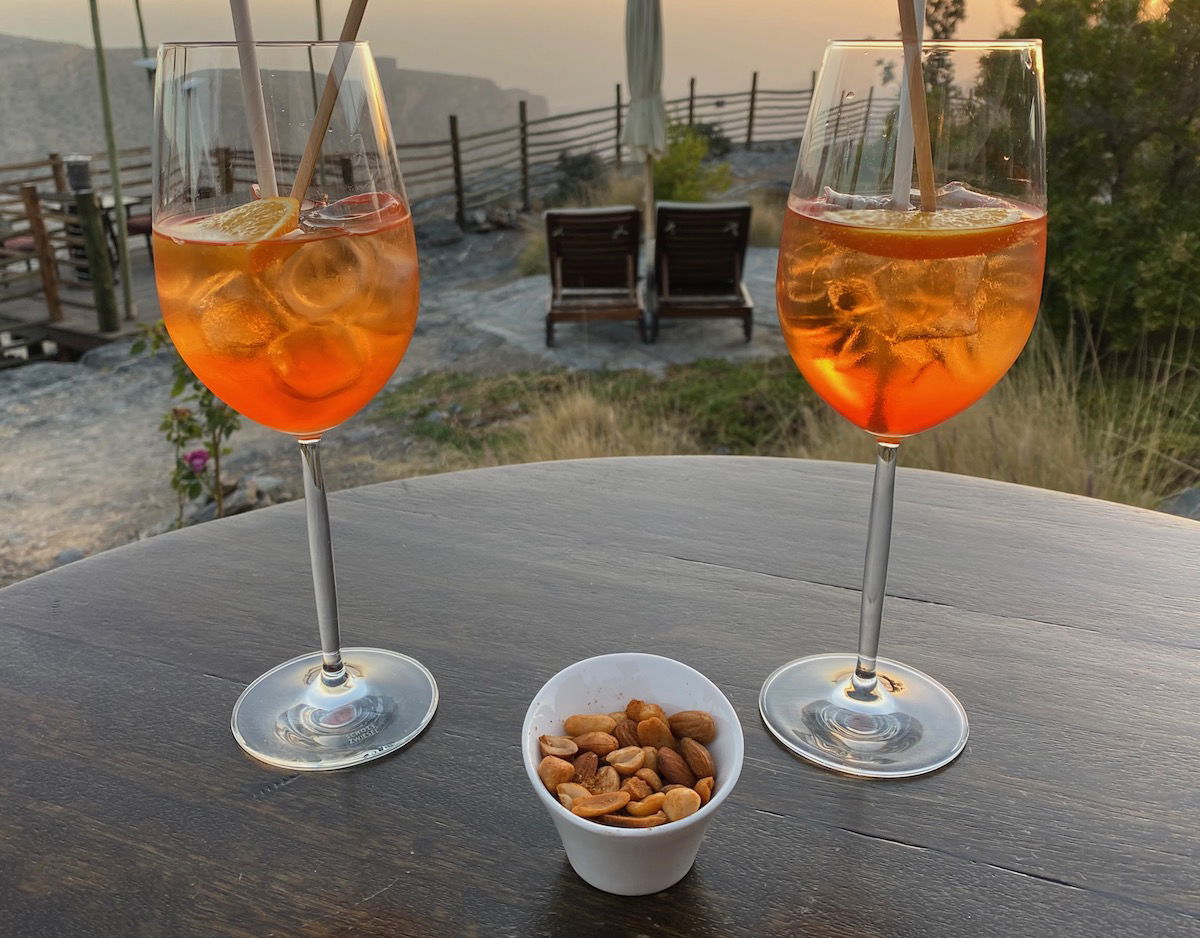 Alila Jabal Akhdar room service
Alila Jabal Akhdar offers 24/7 room service, and one afternoon we ordered room service after a very long hike. That was delivered promptly, and allowed us to also try the dips as well as the club sandwich.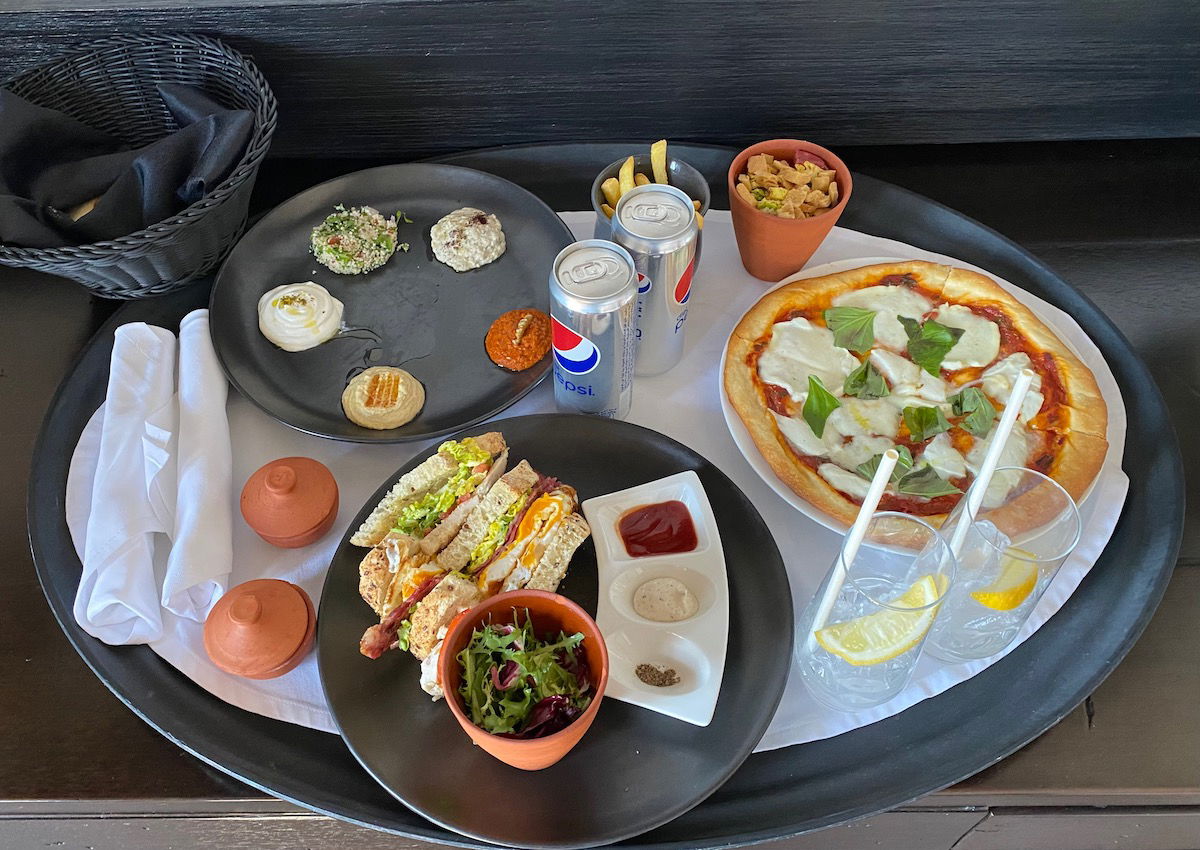 Alila Jabal Akhdar service
Alila Jabal Akhdar is an absolutely stunning property that I can't recommend visiting enough. At the end of the day you come here for the beautiful nature, and the jaw-droppingly beautiful setting.
At the same time, service at this property needs to be improved. The hotel seemed to be woefully understaffed, and on top of that it seemed like no one was in charge. I think the only management person we ever interacted with was the food & beverage manager, who busted his tail taking care of guests.
But beyond that there's so much room for improvement for service here. Where do we even begin?
At Rose Lounge you literally had to beg to be served; there was often one person working the entire restaurant and pool, and I'd frequently have to go inside to the bar to ask a server to come out
The servers here are obsessed with constantly asking for room numbers, and it's bizarre; at sunset it once took us 30 minutes to get a single drink, and while waiting for the drink a server came out four times to ask us for our room number, and then we went straight to the restaurant, where we were asked for our room number two times
Staff are generally friendly and well intentioned, but many don't speak English well, and as a result seem to try to avoid contact with guests, and are too timid to communicate
Service just wasn't very refined; for example, empty plates and cups often wouldn't be cleared, but rather they'd just pile even more stuff on your table (below you can see how we were brought more coffees, but our original coffees weren't taken, despite being empty)
We did two excursions through the hotel — for the first excursion we were told that there would be Arabic coffee during a stop, but the guide forgot the cups, and for the second excursion the guide forgot to bring water for us (though he ended up stopping at a store to get us some); this is minor, but still, that shouldn't happen when you're paying a premium for a tour arranged through a hotel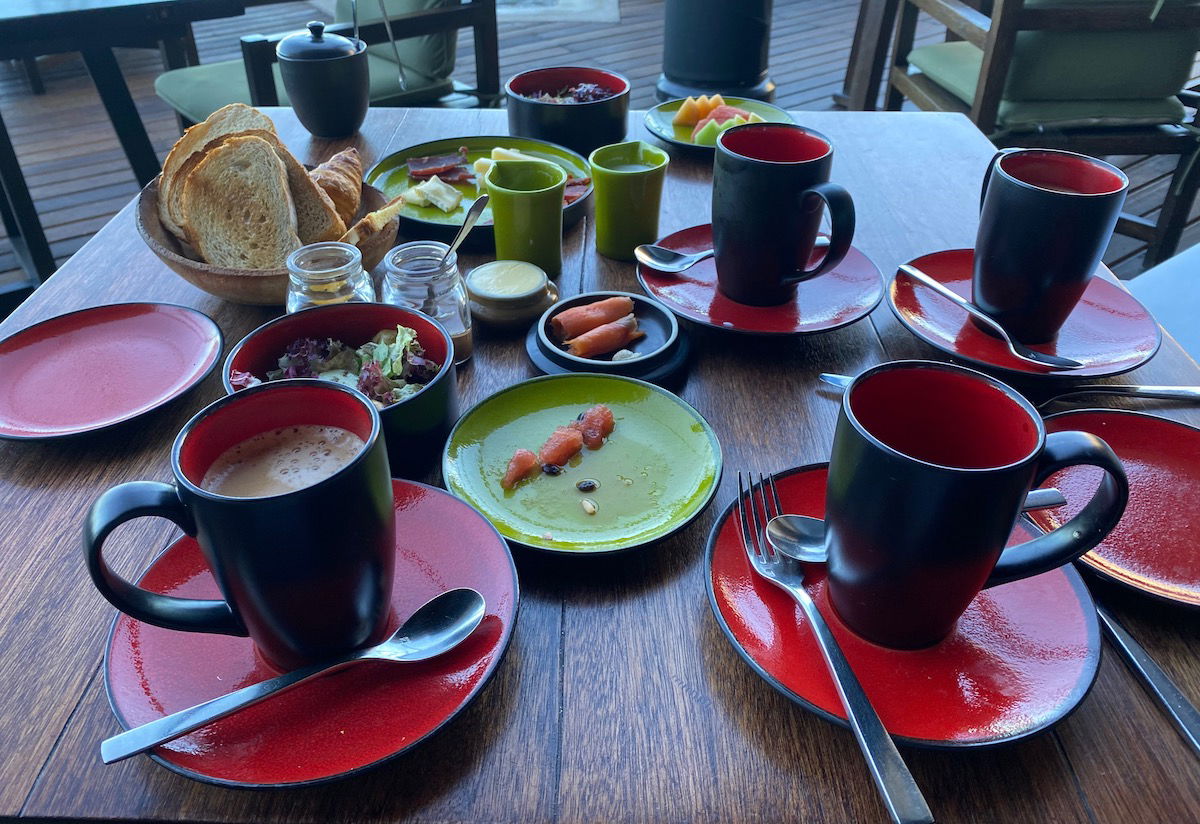 Seriously, everyone was genuinely friendly and well intentioned. Any shortfalls with service fall on management, for not training staff enough, and not having enough staff to take care of guests. If this hotel could get service fixed, it would be next-level amazing.
It's funny that service at Alila Hinu Bay was amazing, by comparison. Admittedly the hotel was much emptier, but the staff there seemed to be more "with it" across the board. If you could combine Alila Hinu Bay staff with the Alila Jabal Akhdar property, you'd have an unbeatable combination.
What to do at Alila Jabal Akhdar
Staying at Alila Jabal Akhdar puts you right in the middle of a stunning mountain range. The outdoor activities here are endless, especially if you're into hiking. Though truth be told, even if you're not big into hiking, you can enjoy so many of the gorgeous views without even leaving the hotel.
Ford and I love hiking, so our first full day we did the Lost Village Hike. This was described as being the most challenging hike, and the brochure said it should take five to six hours. To be honest we typically complete hikes in about half the time that hotels suggest they'll take, though we were surprised to see that this was legitimately challenging.
A guide drove us about five minutes from the hotel, and then we essentially descended into the canyon below the hotel. While there were paths for much of the way, in some cases we were basically just climbing big rocks. To give you a sense of how deep we went, at the top left of the picture below you can see part of the hotel, and then we went all the way to the bottom of the canyon.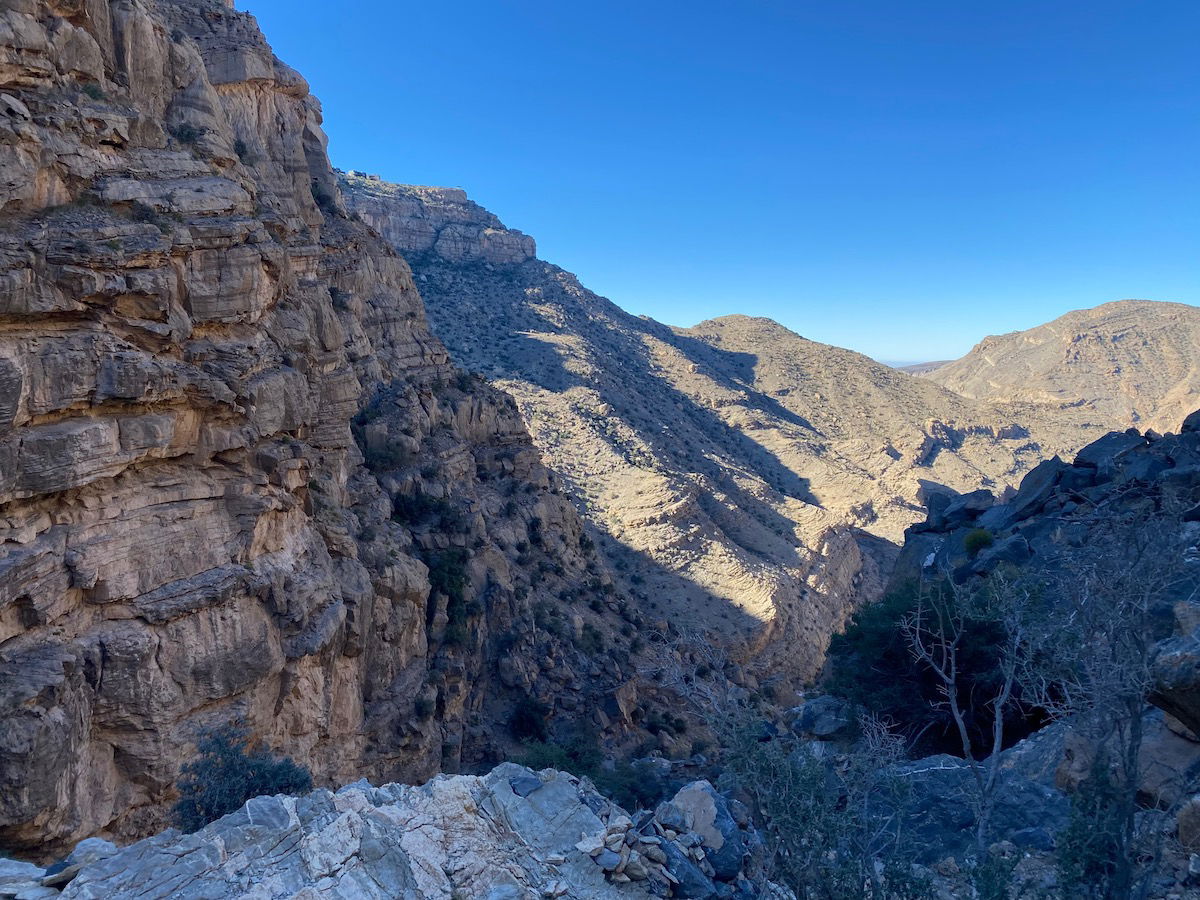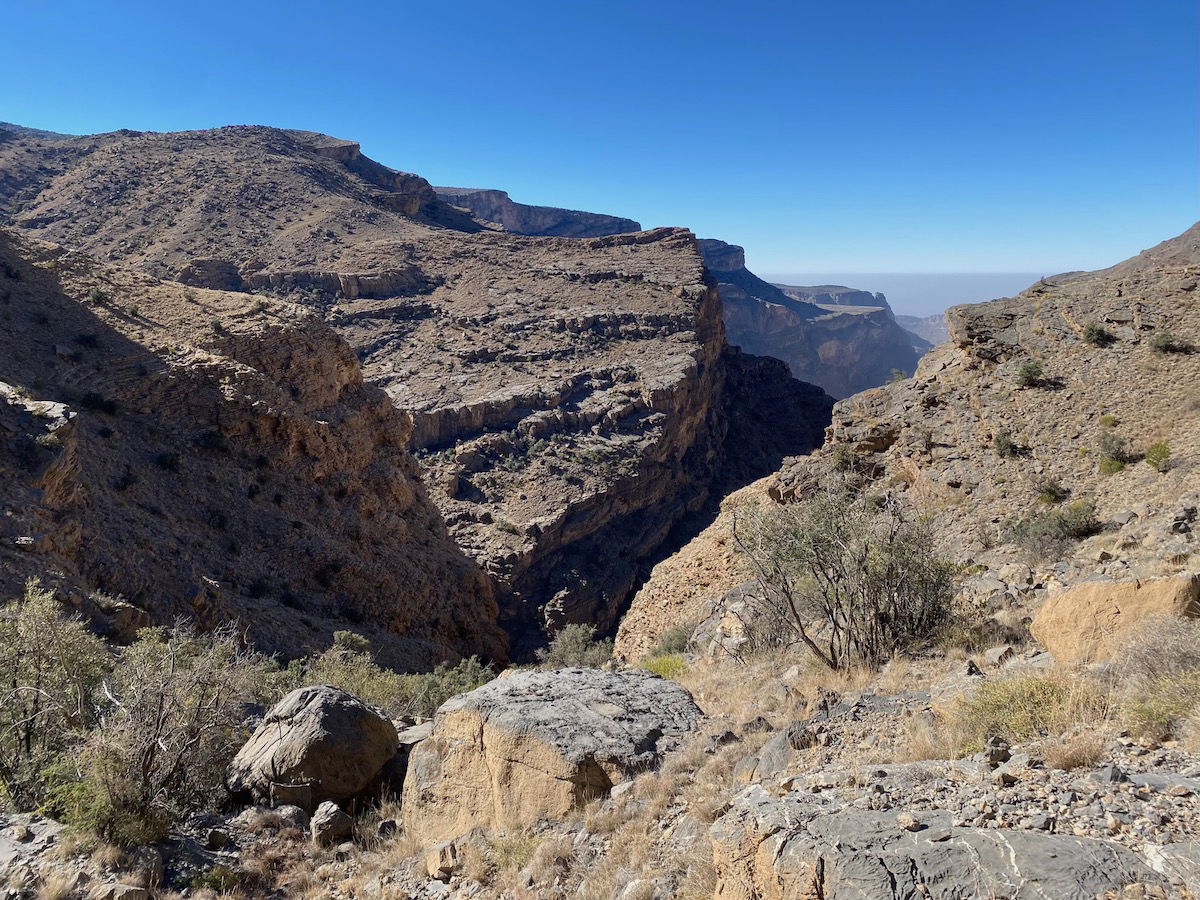 It was amazing how varied the landscape was, and there were even palm trees at the bottom of the canyon.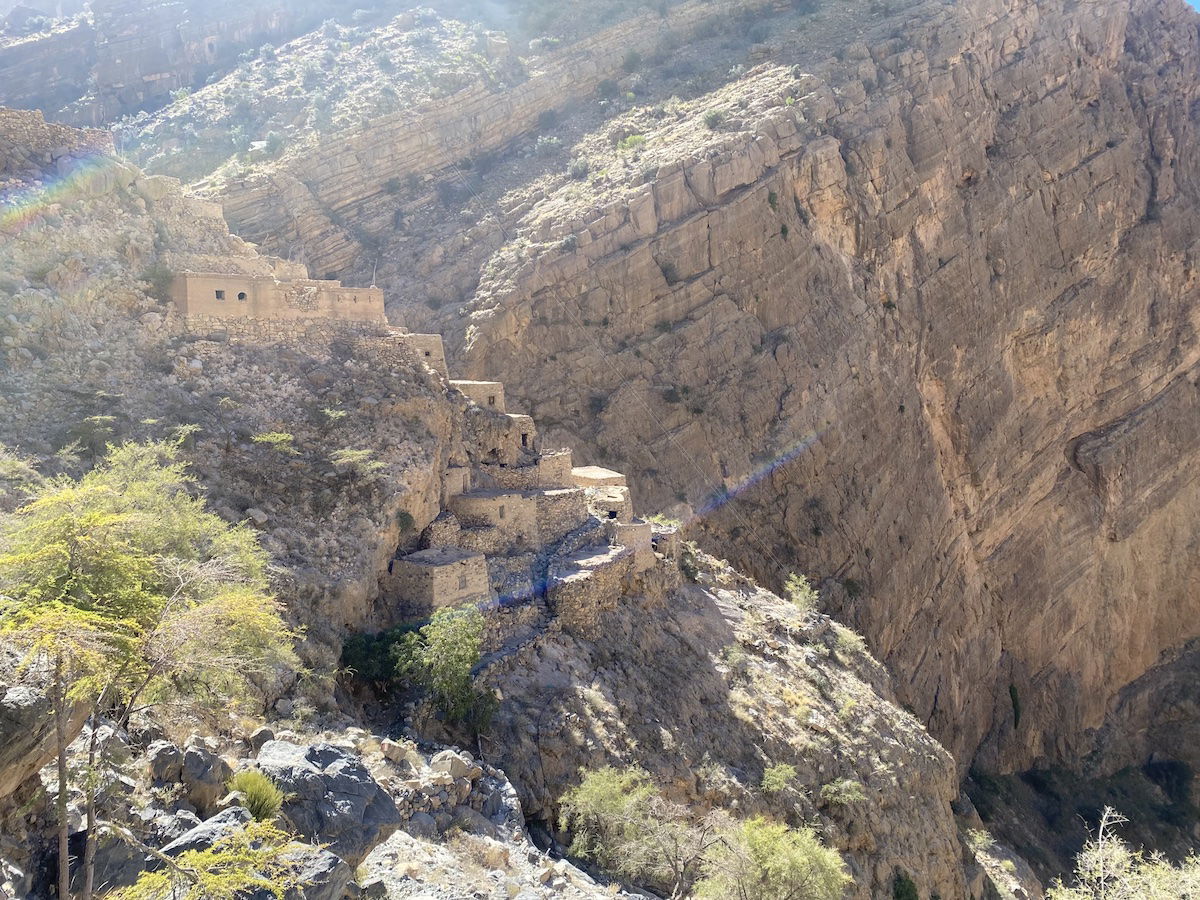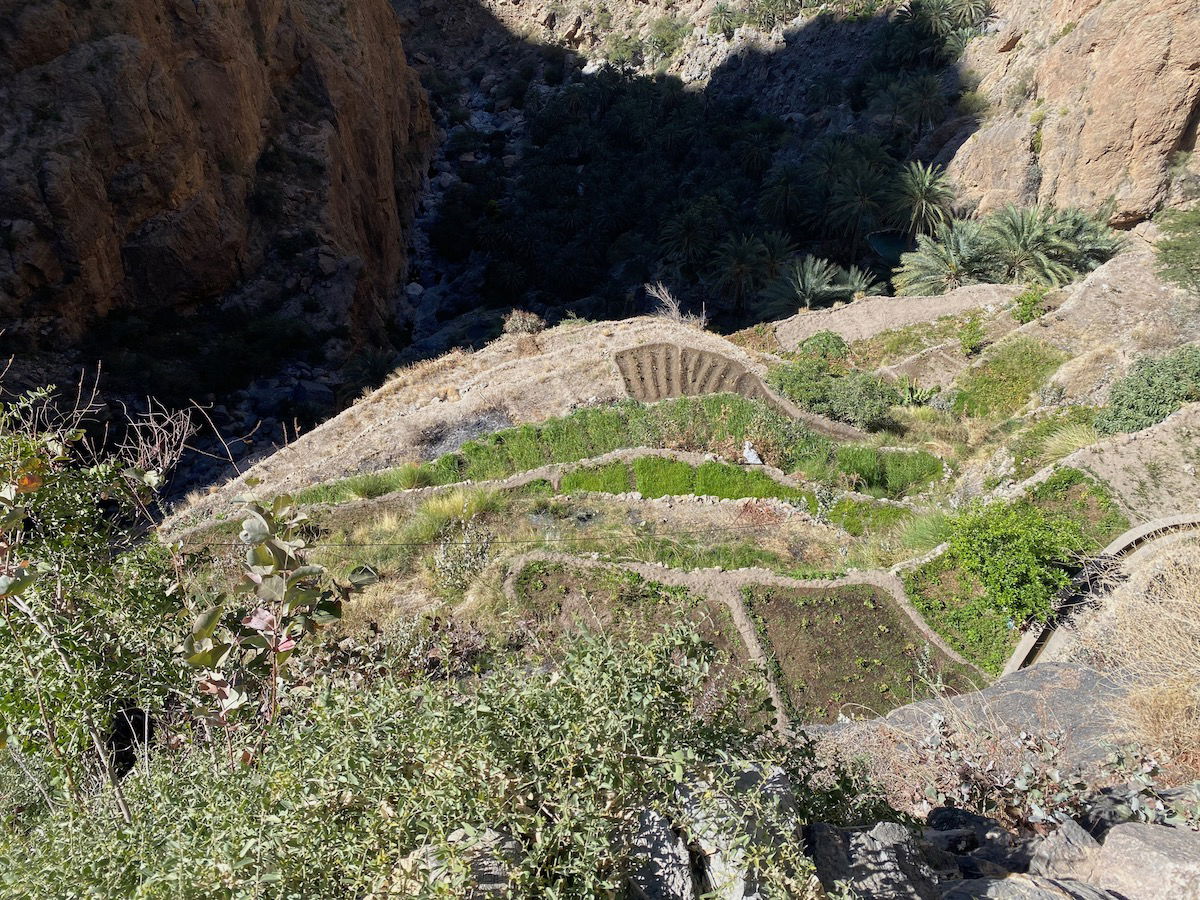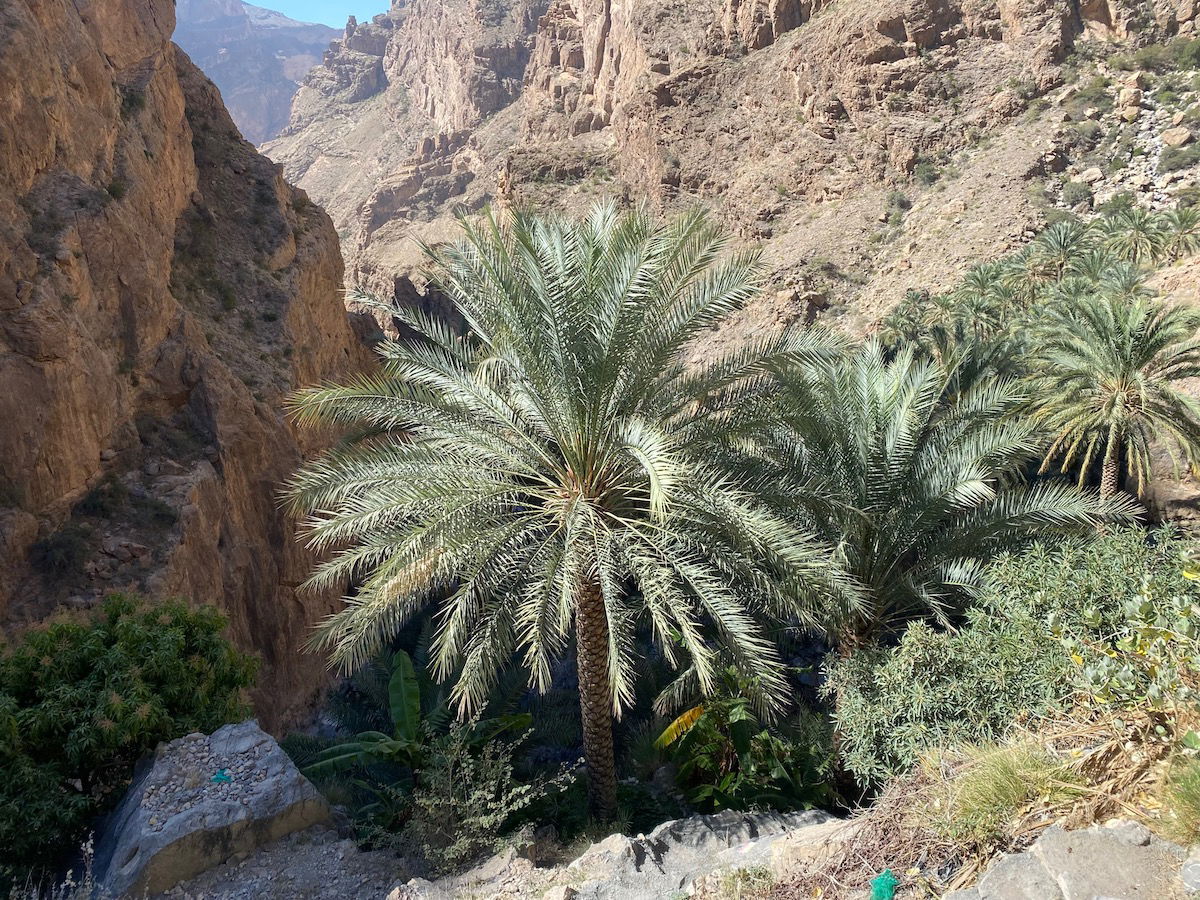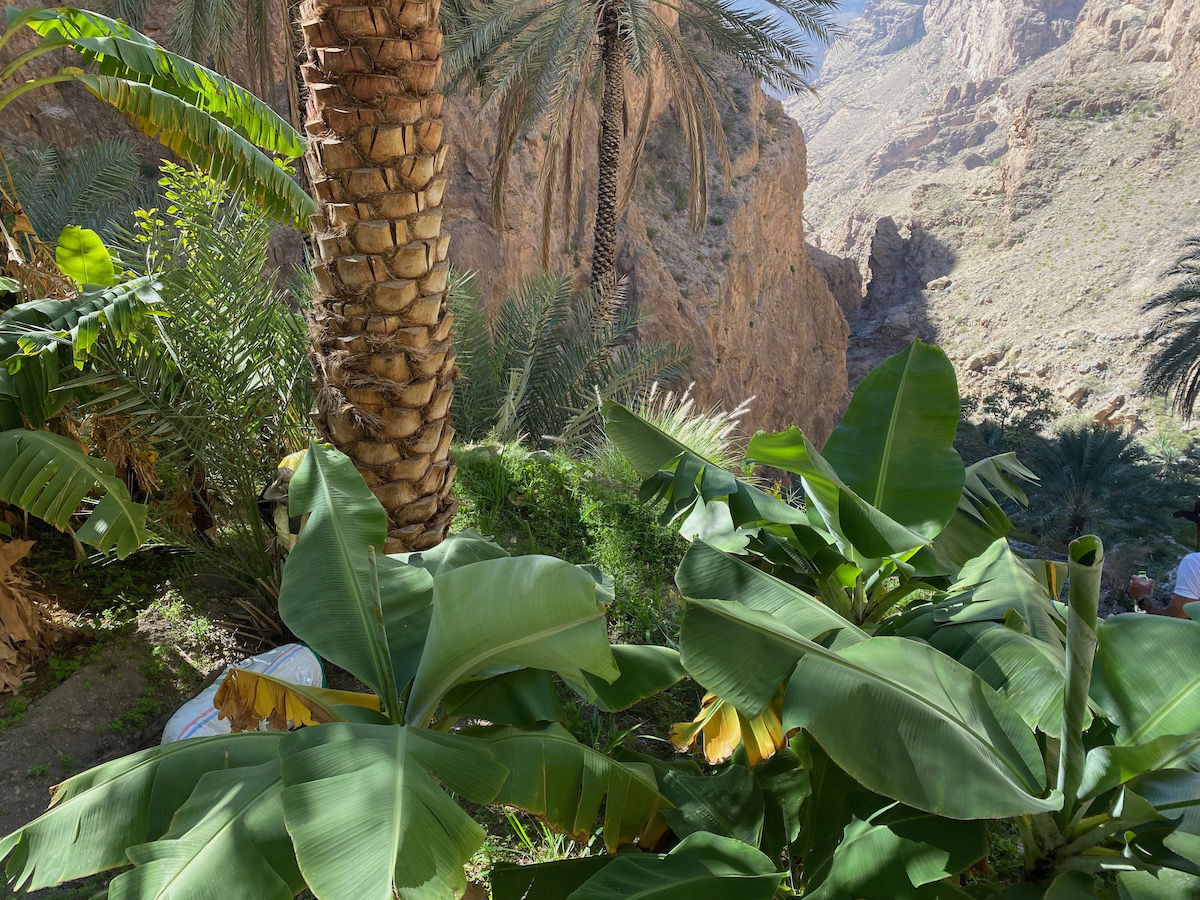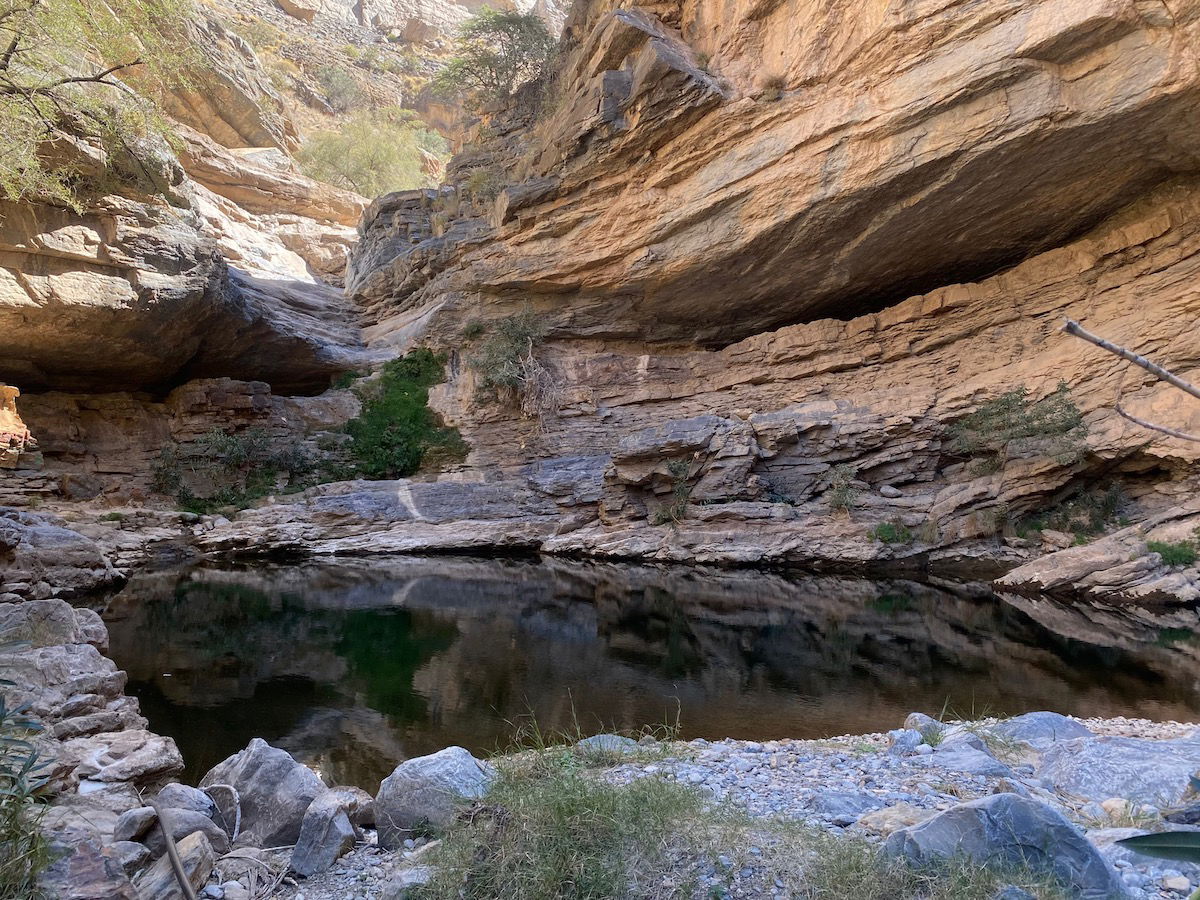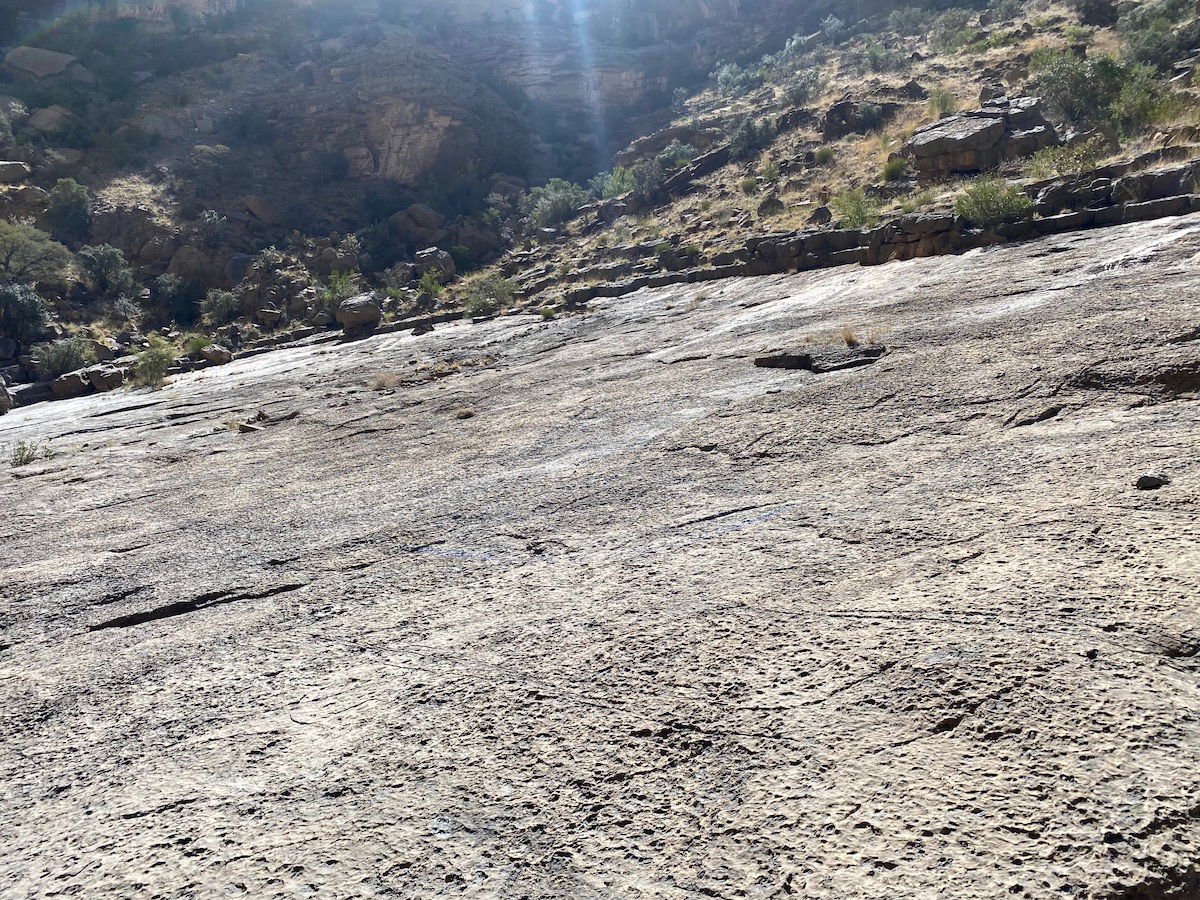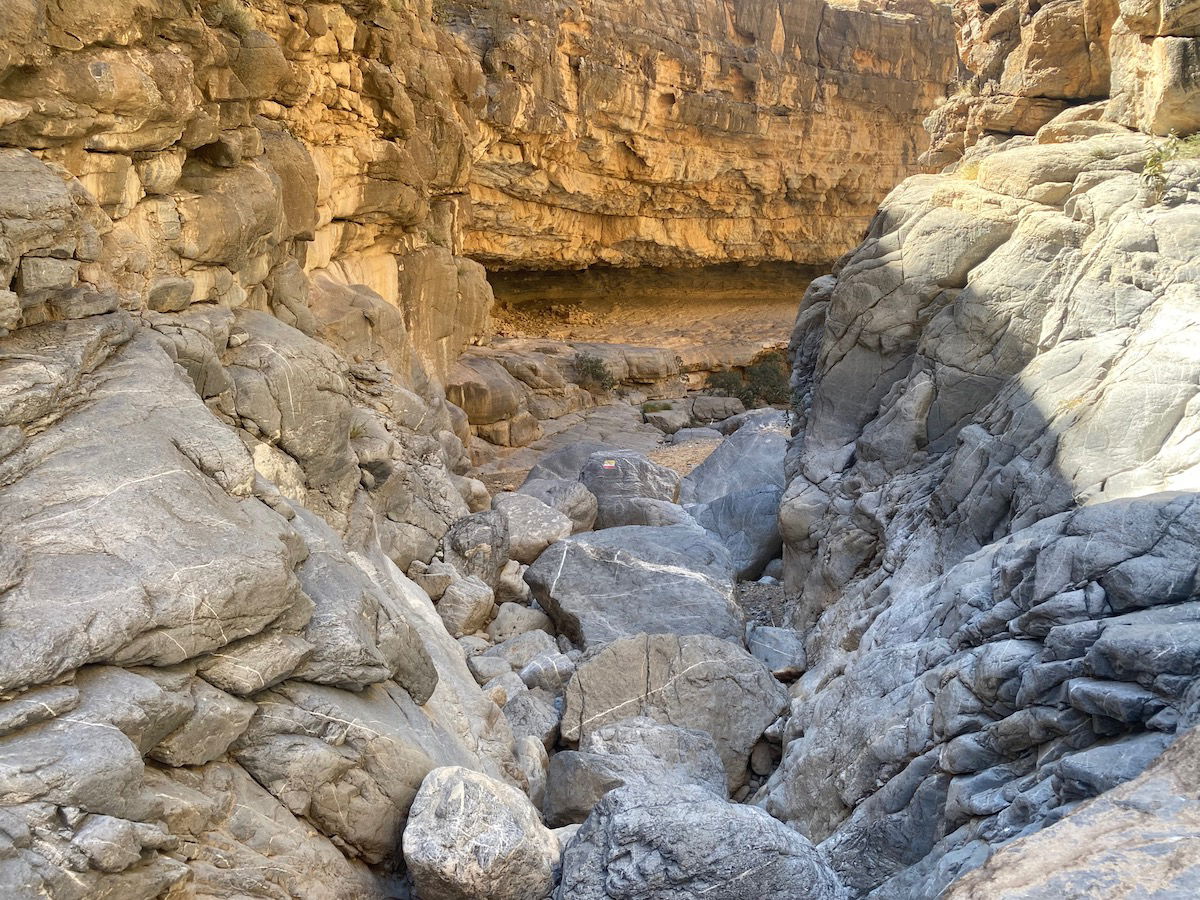 The hike ended up taking us just under four hours (including a break at the bottom), but we were rather sore and tired after.
The next day we did a much easier excursion. We were driven to two different points, and from each point we did a roughly one hour hike. We enjoyed this, and were grateful it was a bit easier after our activity the day before.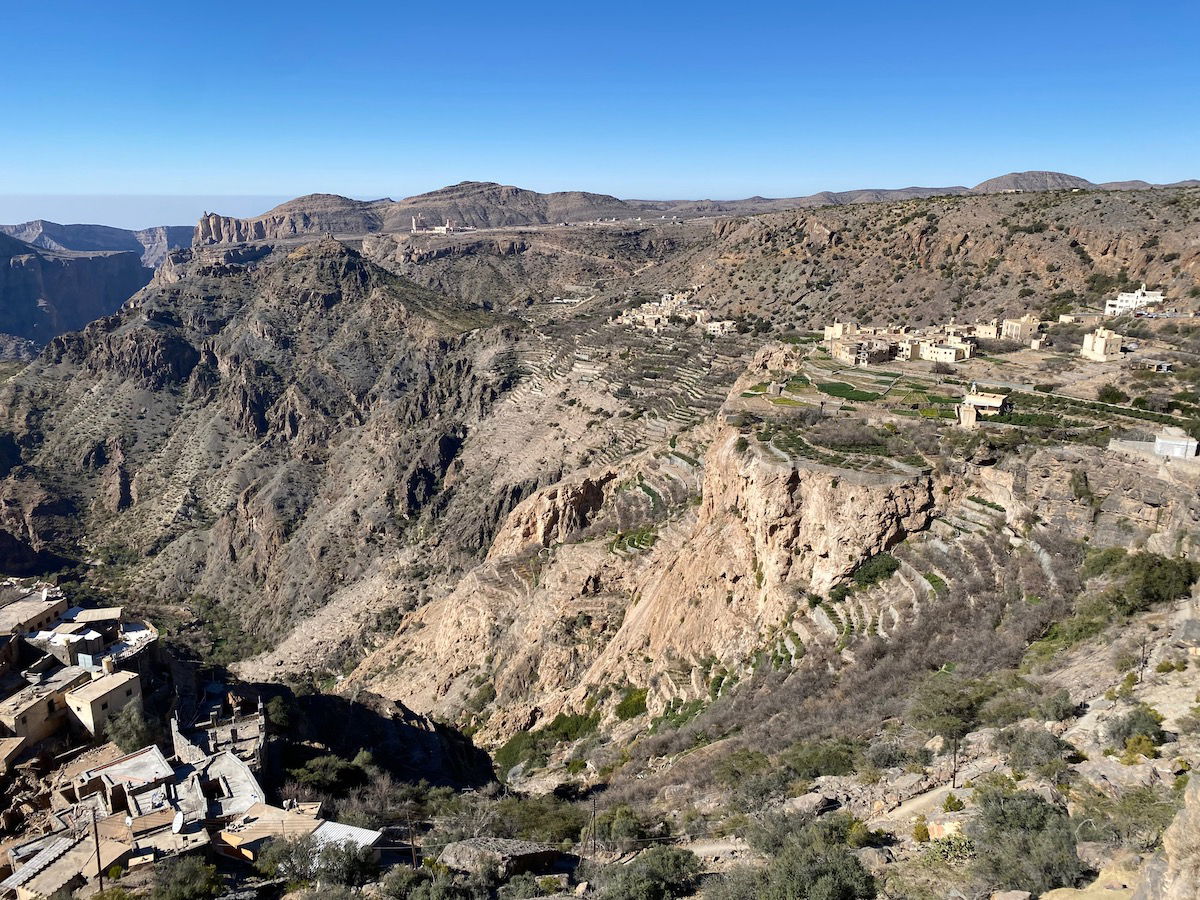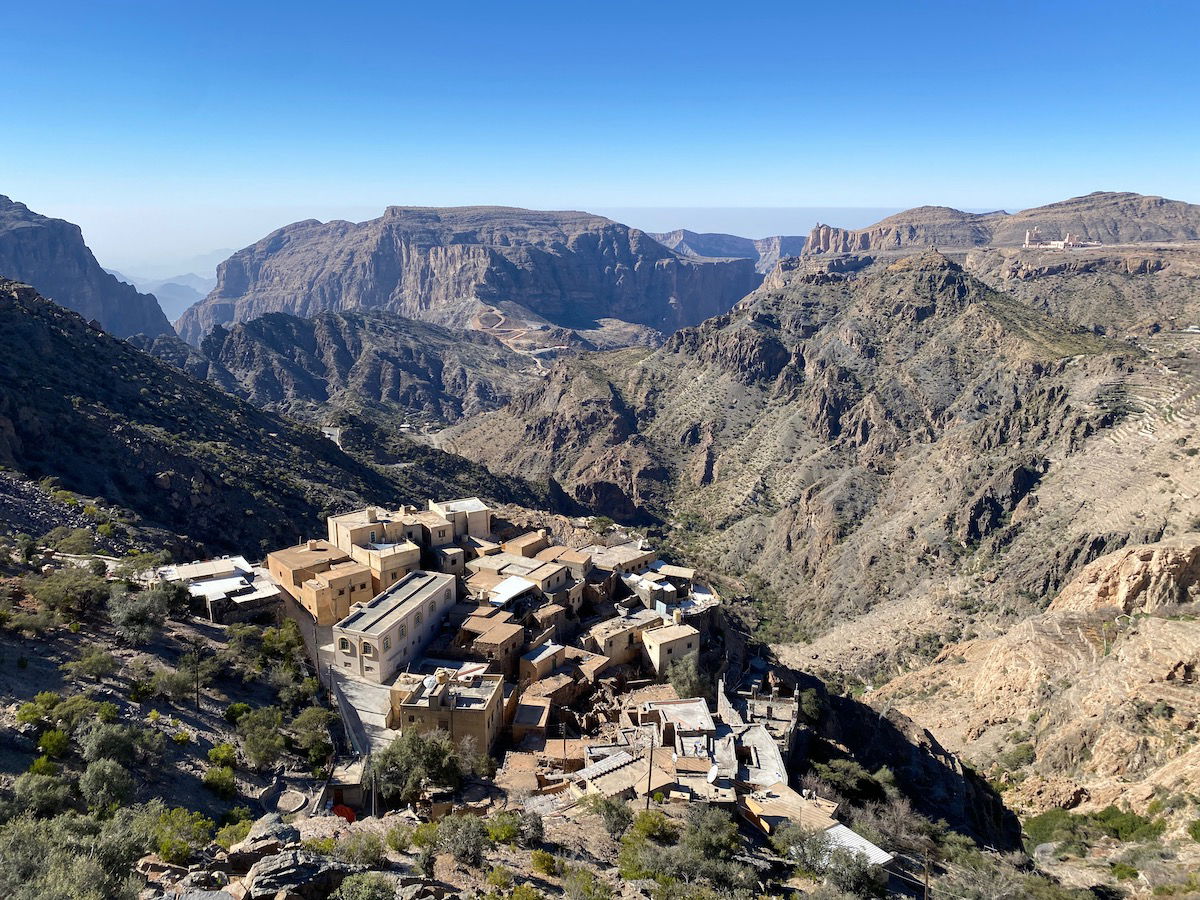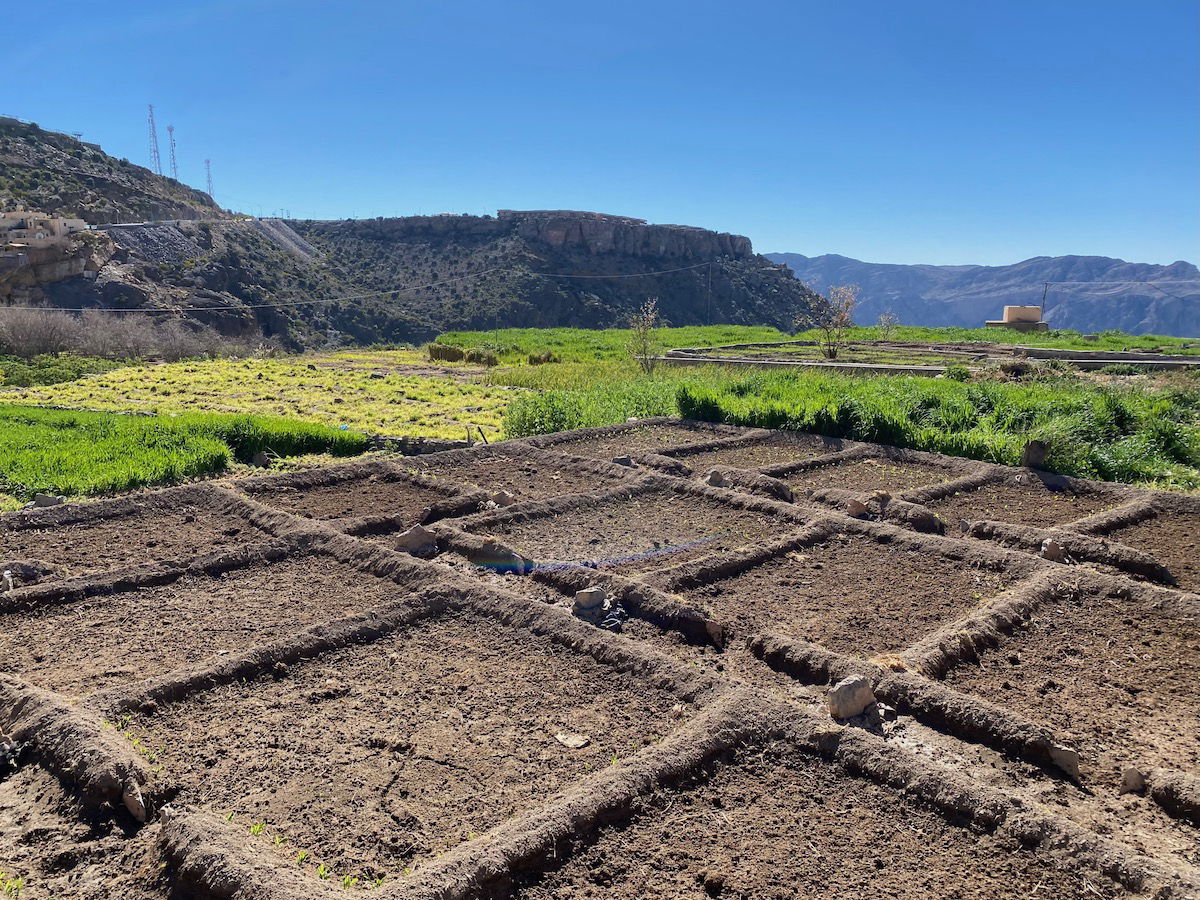 Bottom line
Alila Jabal Akhdar is an incredible hotel that's worth a visit if you're into the outdoors. Words can't do justice to how beautiful the area around the hotel is. Not only that, but the hotel has a great sense of place, from the room design, to the infinity-edge pool overlooking the mountains.
I'd absolutely recommend visiting this property and would return in a heartbeat. The only feedback I have is that it would be nice if there were a bit more food variety, and the service also needs to be improved. Admittedly the pandemic has caused staffing issues in many places, so I'll hope that these issues are just temporary. Despite shortcomings with food and service, this hotel is 100% worth a visit.
What do you make of Alila Jabal Akhdar? Would you consider visiting?