EXTRA PERKS AVAILABLE
Enjoy breakfast, upgrades, & more
Want to take advantage of Four Seasons Preferred Partner benefits, including a space available room upgrade, complimentary breakfast, a hotel credit, and more? Contact Ford ([email protected]) for more details. He may even be able to help if you already have a stay booked.
During our recent trip to California (where I also reviewed Alila Marea Encinitas), we spent a night at the new Four Seasons San Francisco at Embarcadero. The hotel has breathtaking views (it's the highest hotel in San Francisco) and extremely friendly service, though the hotel hasn't quite reached its full potential yet.
Booking the Four Seasons San Francisco at Embarcadero
For our date, the nightly rate at the Four Seasons was around $420 when booking in advance, though pricing does vary considerably (closer to our stay, the rate was roughly $600). The best way to book any Four Seasons hotel is through a Preferred Partner travel advisor. When booking through Preferred Partner you pay the same rate you'll find directly on Four Seasons' website, but you'll receive extra perks, including the following:
A room upgrade, subject to availability
Complimentary daily breakfast
A hotel credit to use during your stay
Four Seasons Preferred Partner is generally combinable with promotions being offered directly through Four Seasons, like a third or fourth night free offer. Note that booking Four Seasons properties through Preferred Partner is better than booking through programs like Amex Fine Hotels & Resorts. Why?
With Preferred Partner you have the option of room service breakfast in place of restaurant breakfast (though that's a moot point at this hotel, since currently only room service breakfast is available
Upgrades are prioritized for Preferred Partner bookings, given that it's Four Seasons' own proprietary program (and the value of an upgrade at a hotel can be significant)
You can combine Preferred Partner perks with virtually any rate on Four Seasons' website (other programs don't allow you to stack promotions in the same way)
You can't beat getting all of these extra perks just for booking through an eligible travel advisor. Ford is of course more than happy to help anyone book Four Seasons properties through Preferred Partner, and can be reached at [email protected]. He doesn't charge any booking fees for Four Seasons properties.
Full disclosure — Ford got a travel agent rate here. To be honest, it wasn't that much cheaper than the best published rate if you were to factor in the $100 food & beverage credit we would have gotten through Preferred Partner.
Four Seasons San Francisco at Embarcadero location
The Four Seasons San Francisco at Embarcadero is located in the 345 California Center building, at 222 Sansome Street. The hotel takes up the top floors of the 48-story building, making it the highest hotel in San Francisco. It's so awesome to have a hotel that occupies the top floors of a high-rise, rather than the bottom floors (the latter seems to be most common nowadays).
The hotel has a great location, as far as I'm concerned. It's just a few blocks to the Ferry Building, and a few blocks to Chinatown. Interestingly the hotel is also quite close to the Four Seasons San Francisco (the one that doesn't have the Embarcadero branding).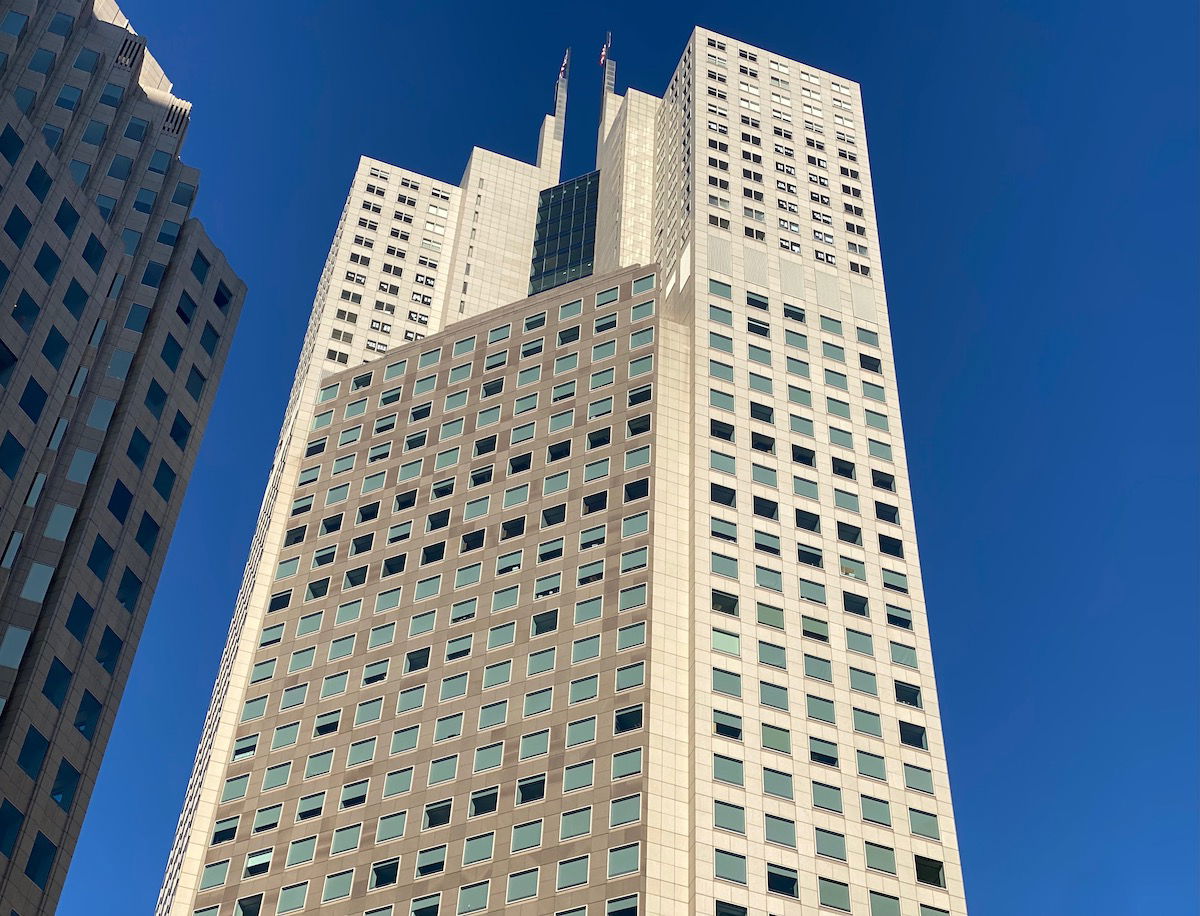 Four Seasons San Francisco at Embarcadero history
There's an interesting backstory to this hotel, in case the building and views sound familiar. This was originally the Mandarin Oriental San Francisco, which opened back in 1986. Then in 2015 the hotel was sold, and it was rebranded as the Loews Regency San Francisco. Then the hotel was sold again in 2019, at which point it closed for renovations and was rebranded as the Four Seasons San Francisco at Embarcadero.
The Four Seasons is the hotel's third brand. The Four Seasons finally opened in October 2020, but then closed again in December 2020, given the lack of demand due to coronavirus. The hotel then finally reopened in May 2021, and has been open ever since. I don't envy operating a hotel in San Francisco right now, given that the city was so dependent on conventions and business travel, and that's something that hasn't recovered all that much yet.
The other interesting element here is that Four Seasons is doing a full renovation of the hotel, and that's still a work in progress. While the hotel will eventually have 155 rooms, only 40% of those rooms are currently operational, as the rest are still being renovated. Fortunately they're doing this floor-by-floor, and we didn't notice any noise issues.
It's also worth noting that the hotel doesn't yet have a restaurant or spa, but rather the only amenities are in-room dining and a gym. That should change soon, and I'll talk more about that below.
Four Seasons San Francisco at Embarcadero lobby & check-in
The Four Seasons has an entrance off Sansome Street. When we arrived at the hotel we were promptly welcomed by the friendly bellmen, and directed to the front desk.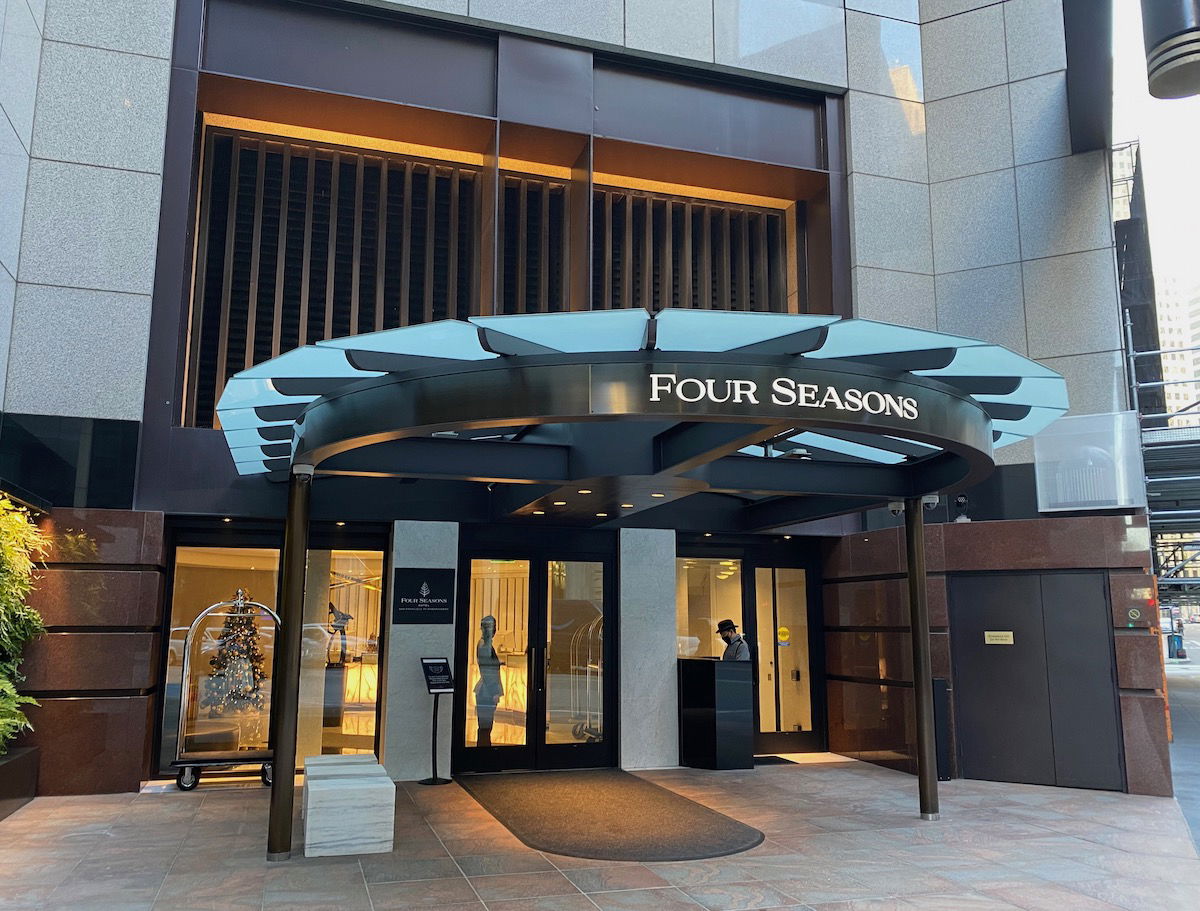 Reception was located just inside the lobby, and our check-in process was quick and friendly. Four Seasons consistently has phenomenal employees, and this hotel was no exception.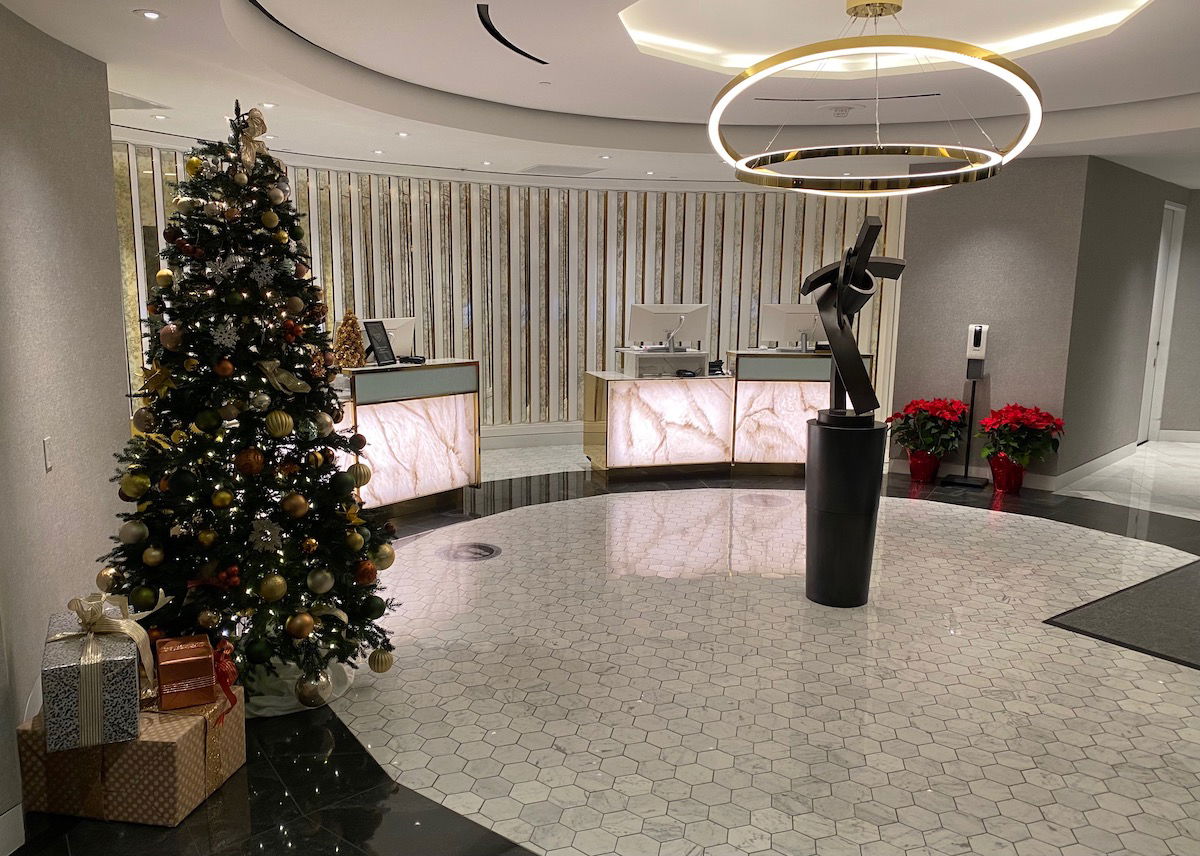 There's not a whole lot to the lobby as of now, aside from some Christmas decorations — it's just a small space. There's an area to the side of the lobby that will eventually become the hotel's signature restaurant, but it's not yet operational.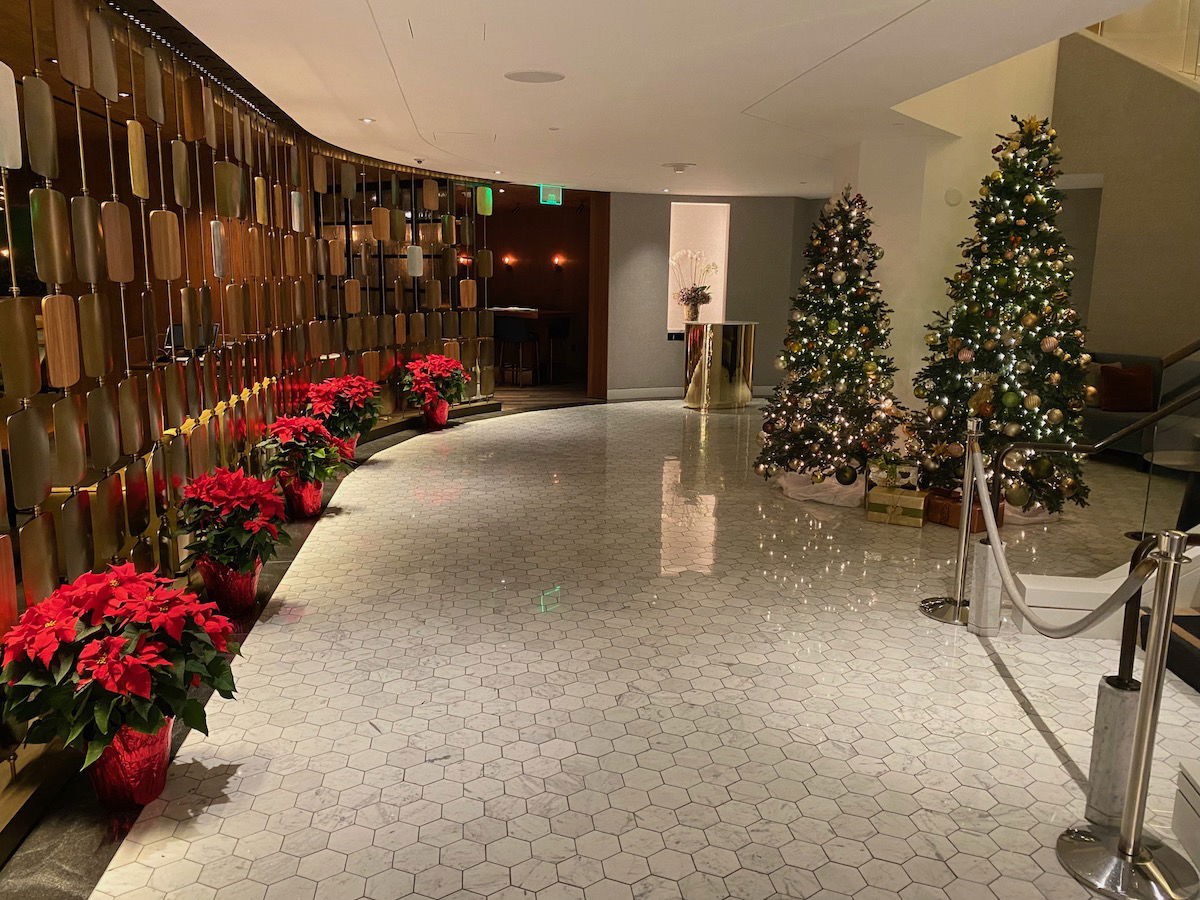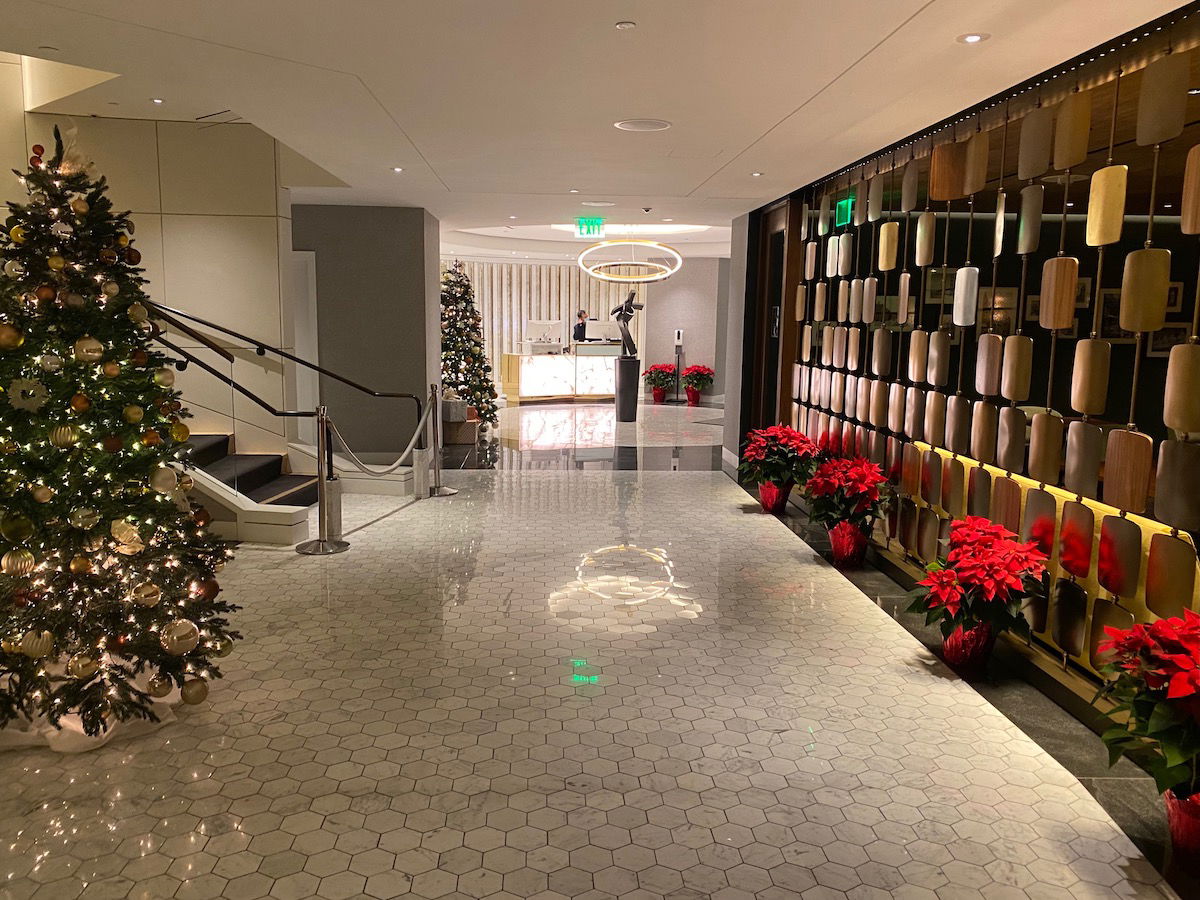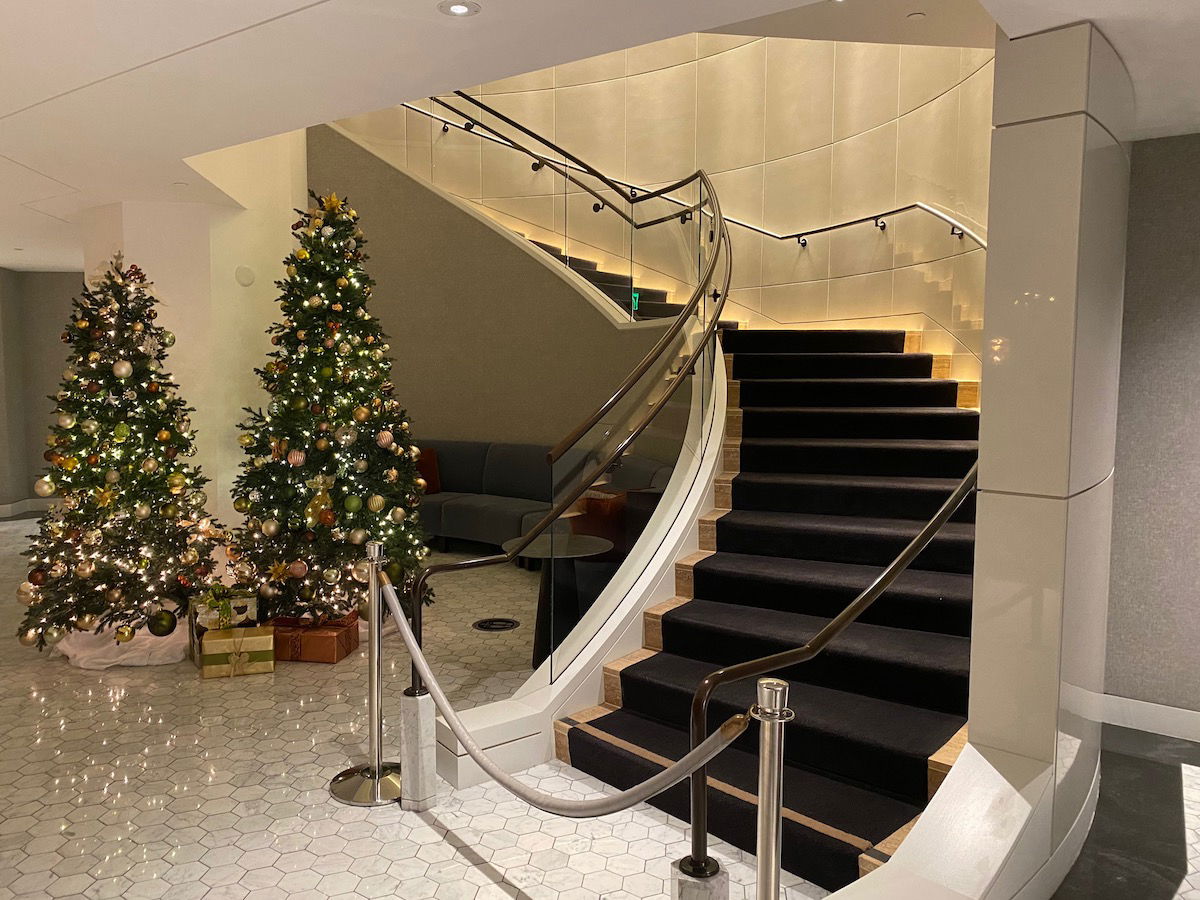 The elevators are located at the end of the hallway. One thing I love about this hotel is that you can take a single elevator from the ground floor all the way to your room. Many hotels with guest rooms at the top of a building require you to take two sets of elevators, so it's awesome to be on a high floor while only having to take a single elevator ride (and the elevators here are fast).
Guest rooms at the Four Seasons are on floors 36 through 48, though I believe only the top several floors are operational as of now.
Four Seasons San Francisco at Embarcadero corner suite
We were assigned room 4714, a corner suite on the 47th floor.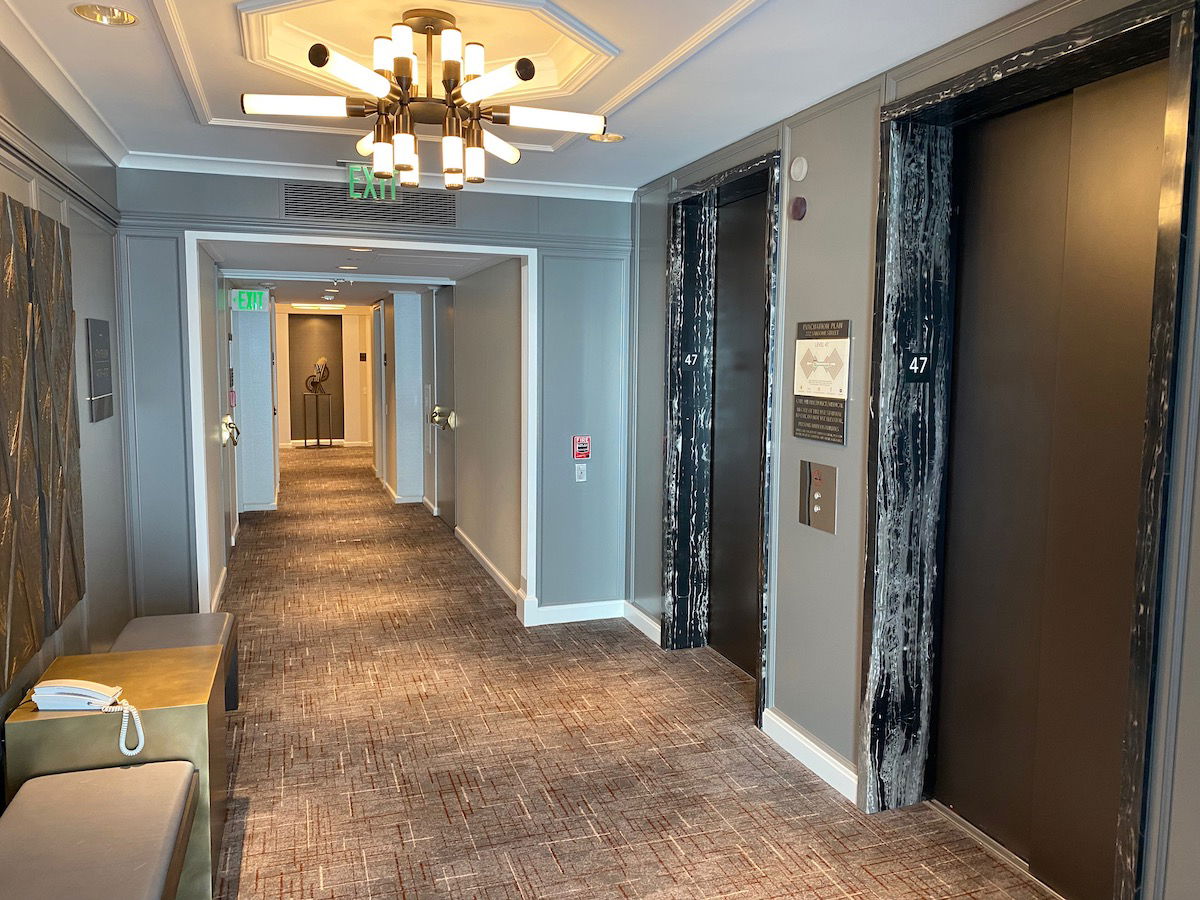 The single coolest thing about the Four Seasons Embarcadero is the views, and what enhances that is that each hotel floor has a glass "bridge" that connects the two sides of the building.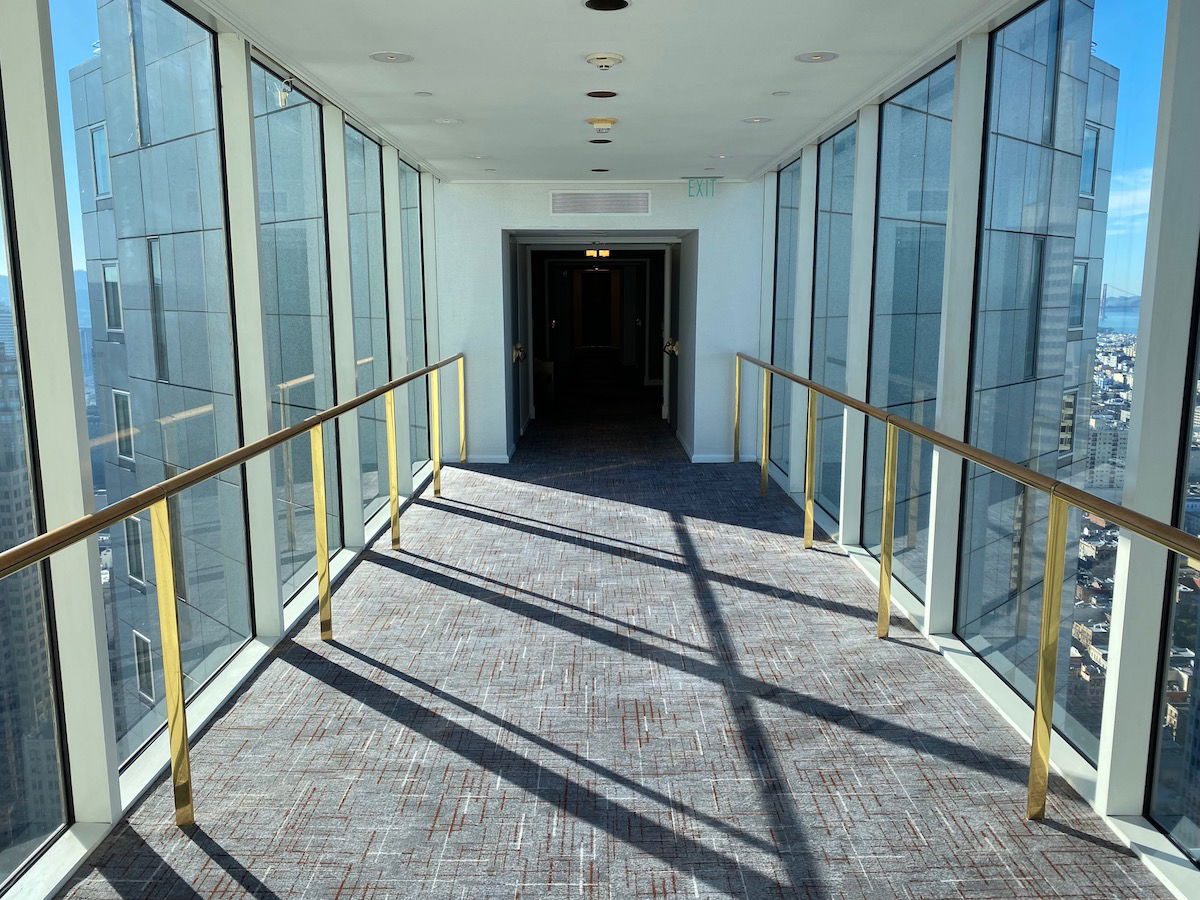 How unreal are these views?!?! I'm going to go out on a limb and say that these might just be the best views from a hotel hallway anywhere in the world…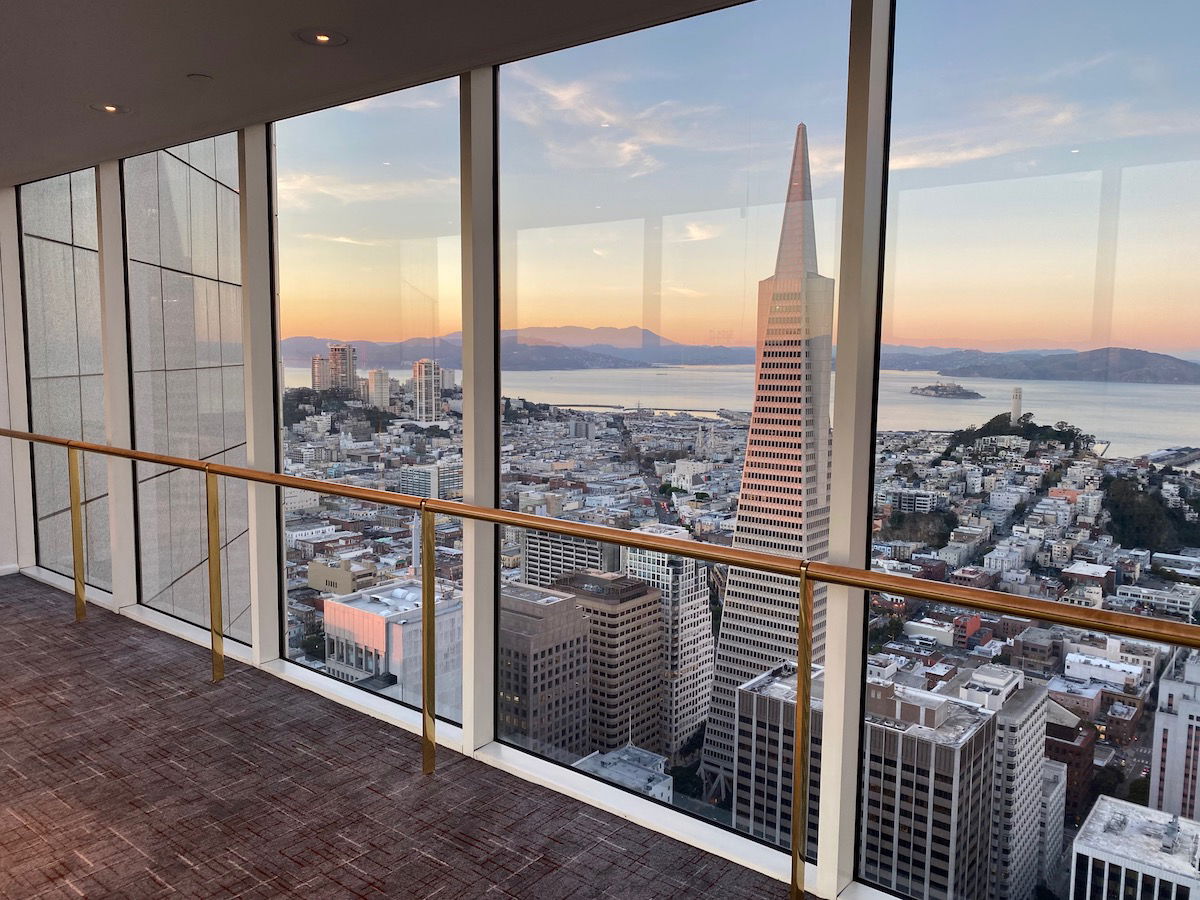 If you go to the 48th floor, there's even an "EYE SPY" feature, where you can scan a QR code and then identify various landmarks in the city.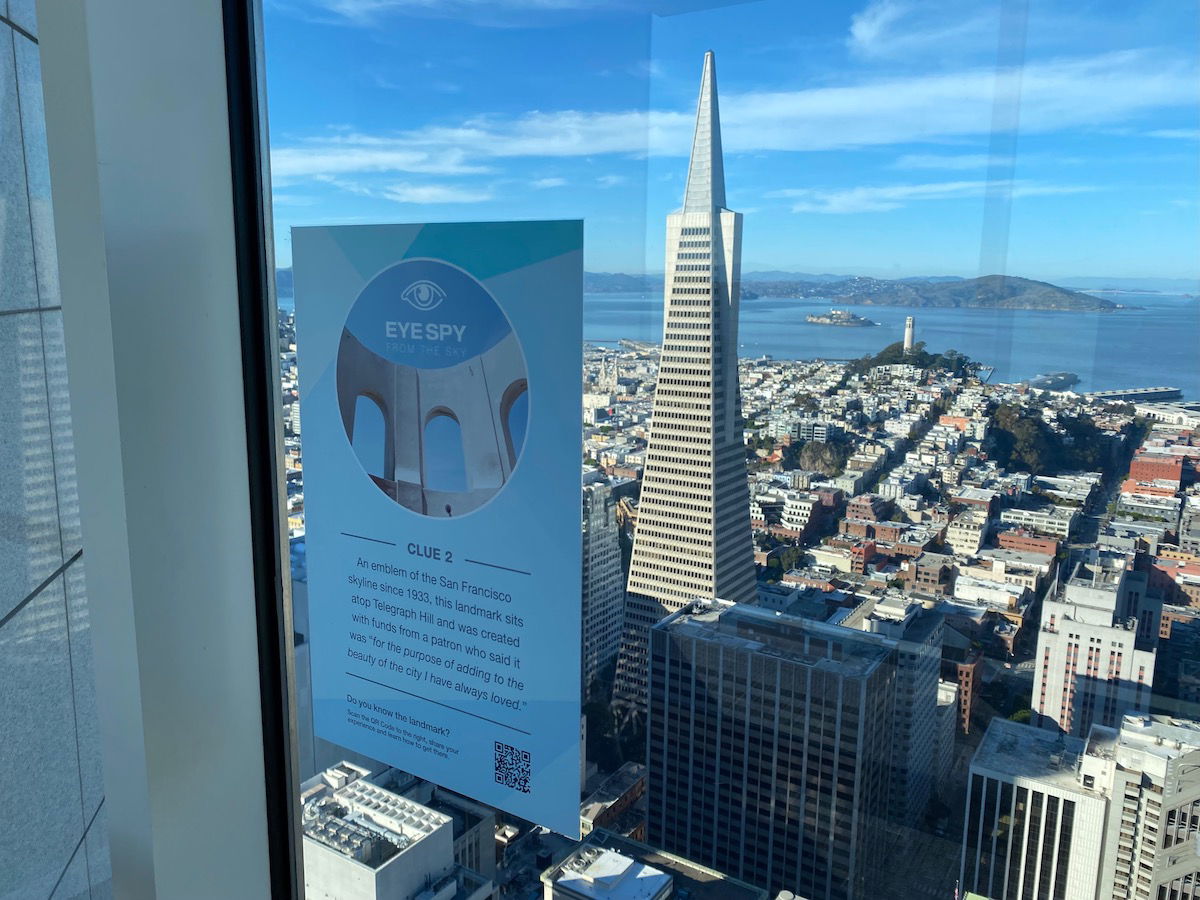 Our room was located at the end of a hallway, and it had two sets of doors, so that presumably the two rooms next to each other could be turned into one room if needed.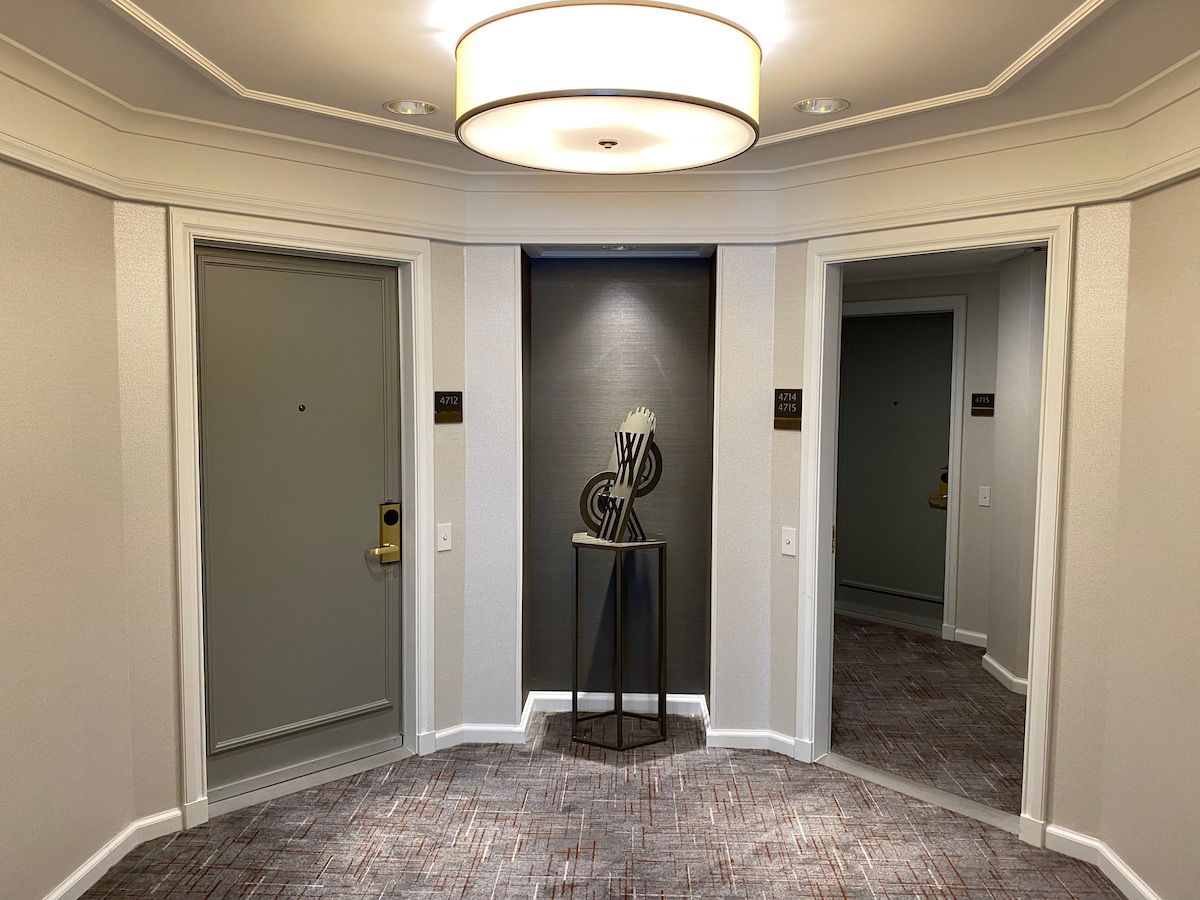 The corner suites at the Four Seasons Embarcadero are 575 square feet, so they're more junior suites than full suites (the "real" suites are marketed as being one-bedroom suites). It goes without saying that the second we stepped into the room, our eyes were immediately drawn outside to the views.
Anyway, the room as such was beautifully appointed, as you'd expect from Four Seasons.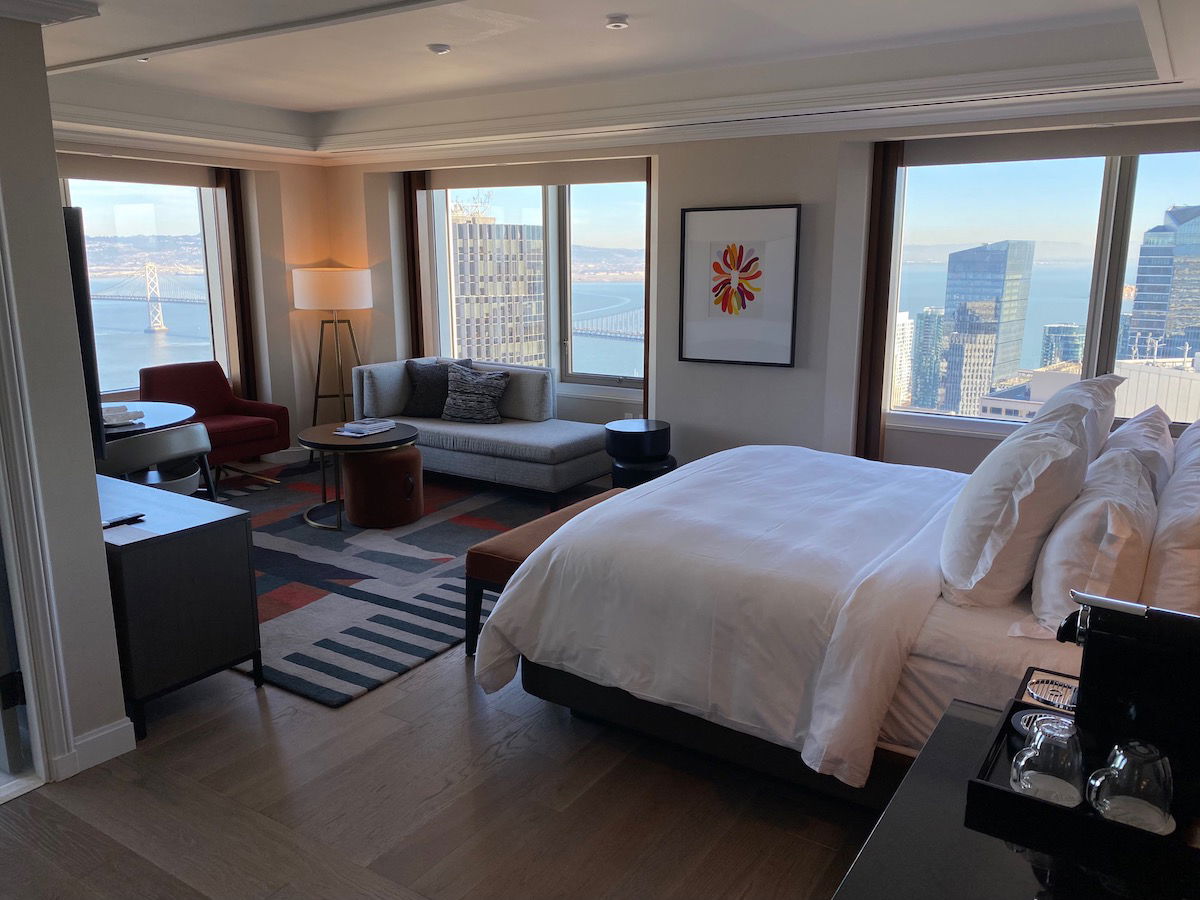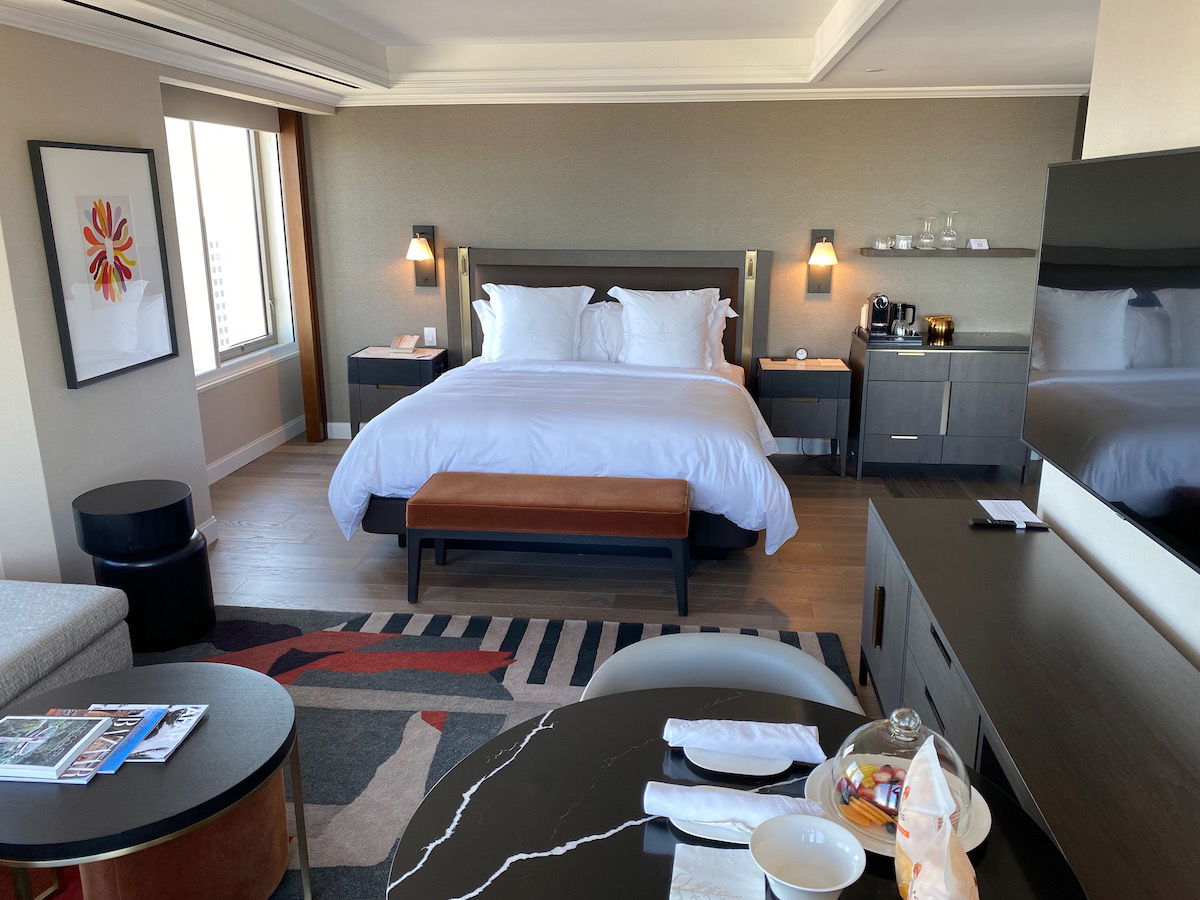 The room had a signature Four Seasons bed, which I consider to be the best hotel bed out there.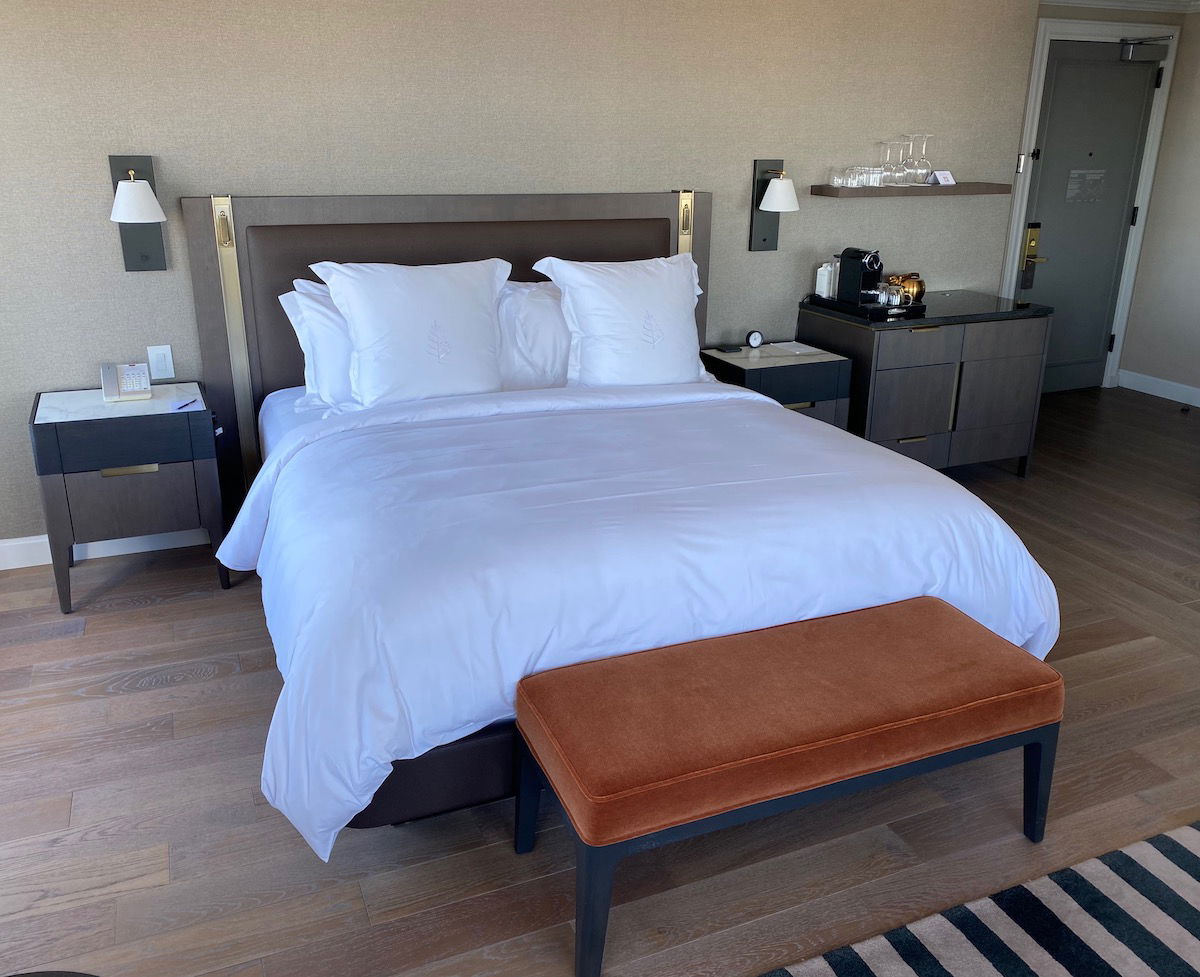 The living area featured a lounger chaise, a chair, a dining table with a chair, and a wall-mounted TV. The room primarily had hardwood floors, and then there was a nice carpet in the living room area. Waiting on the dining table was a welcome amenity, consisting of some fresh fruit and popcorn.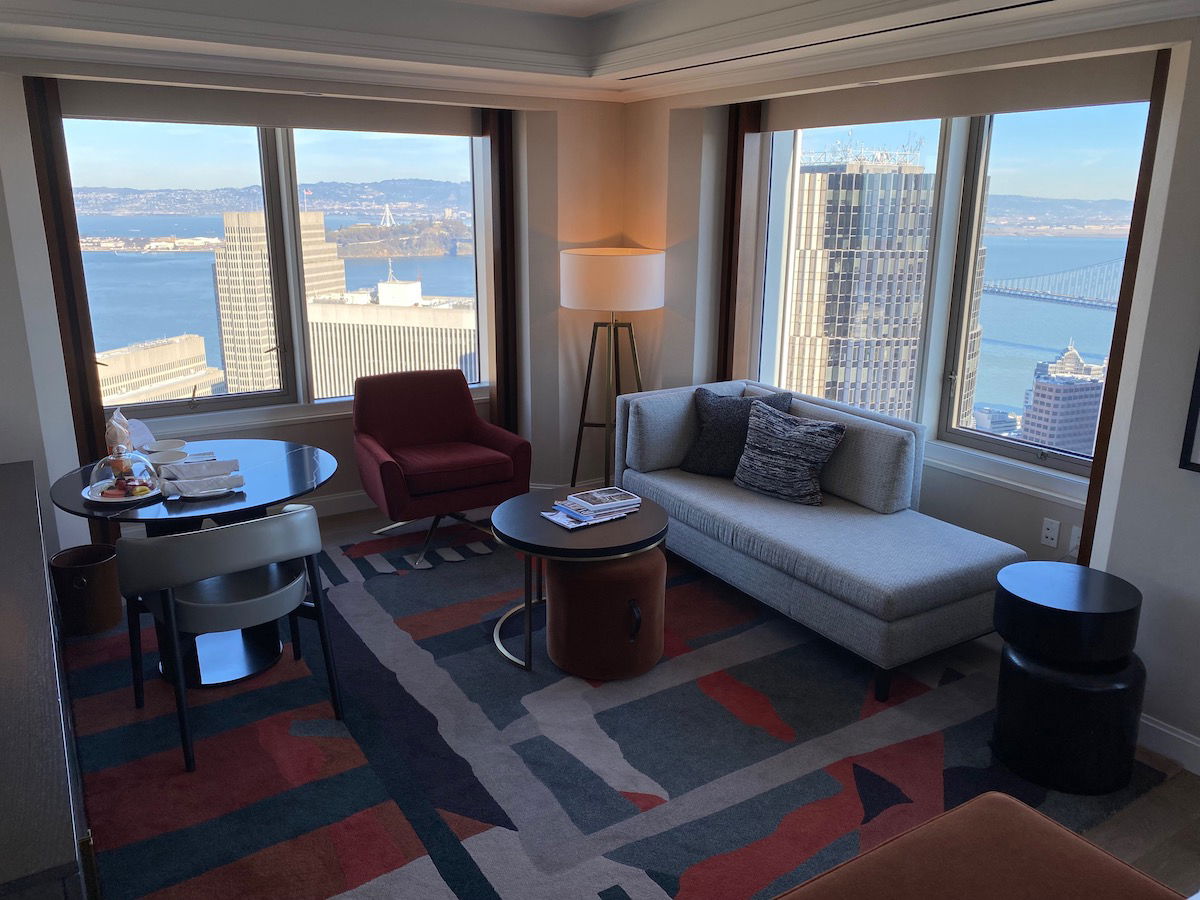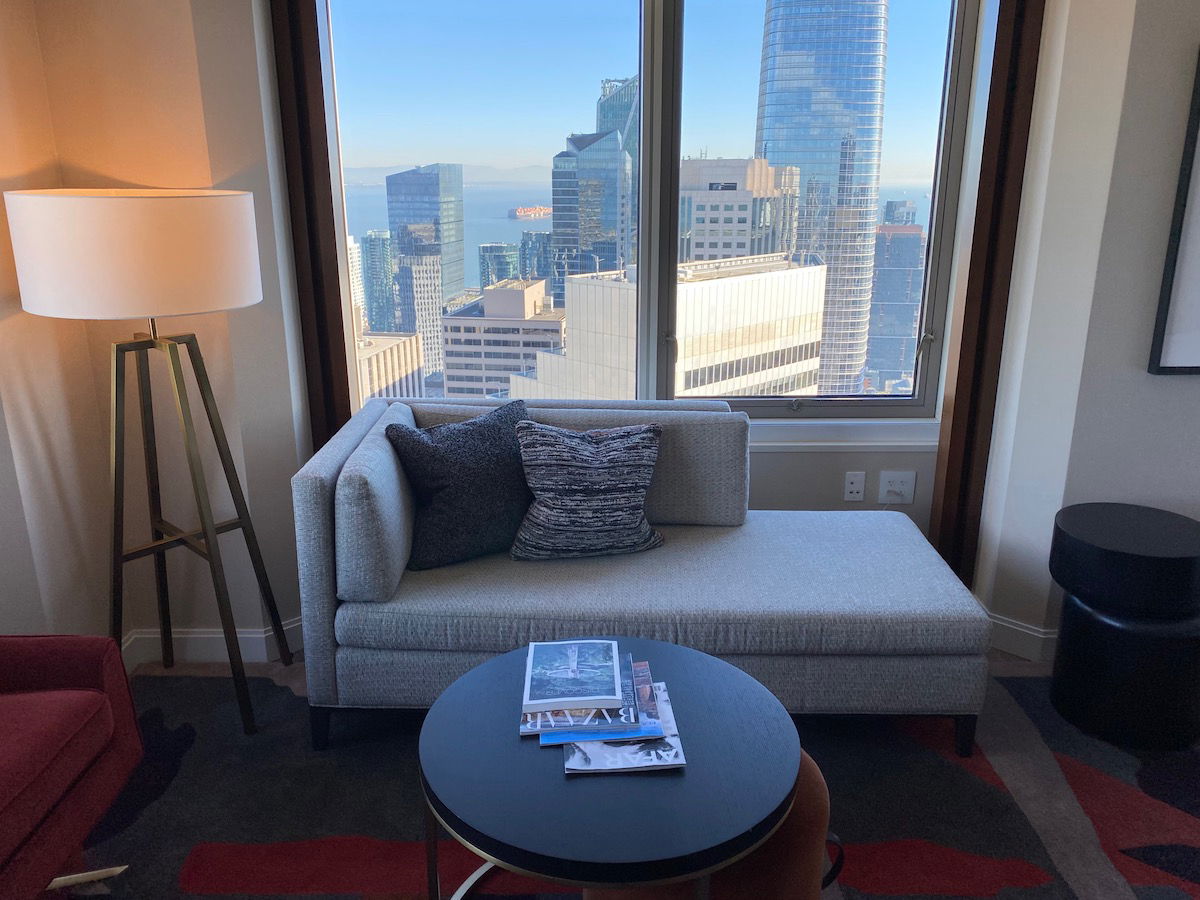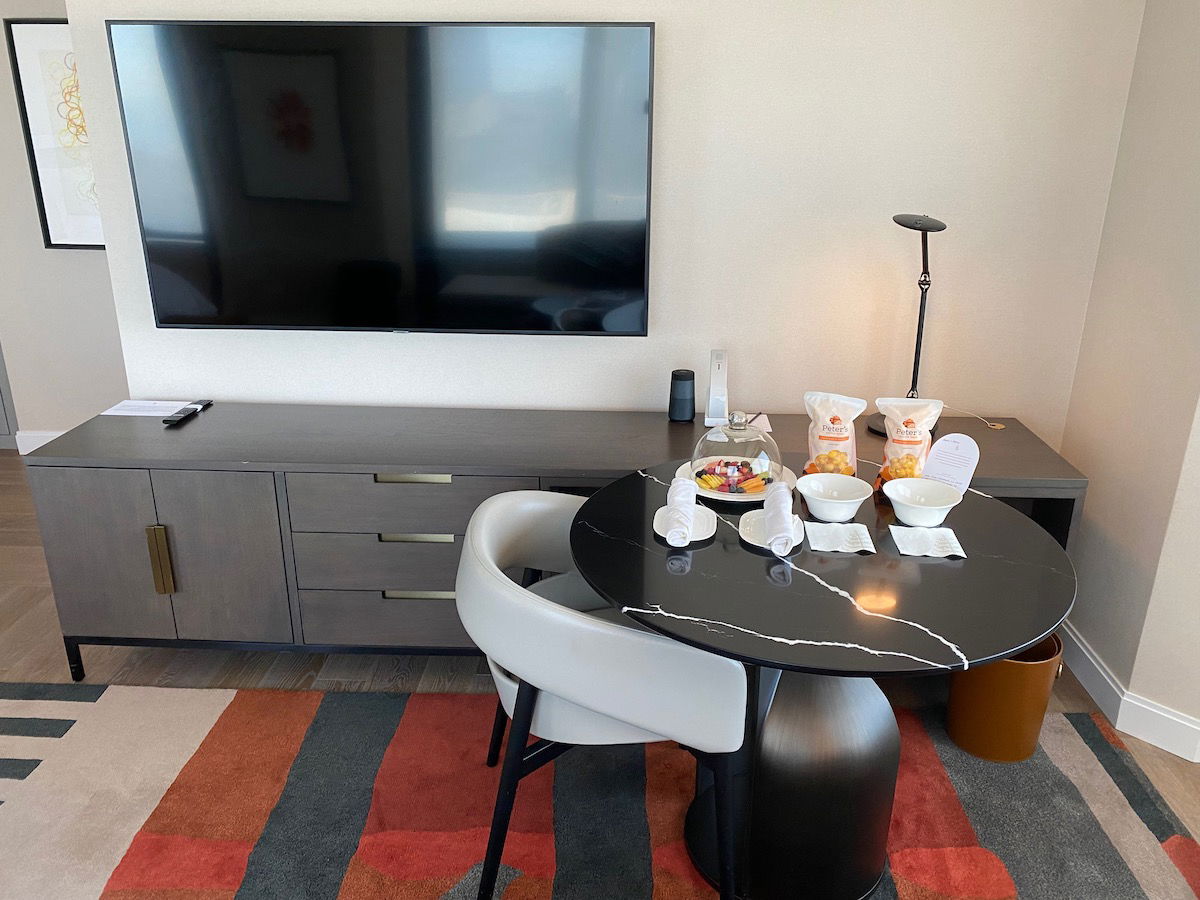 Back towards the entrance was the minibar area, which had a Nespresso coffee machine and a tea kettle.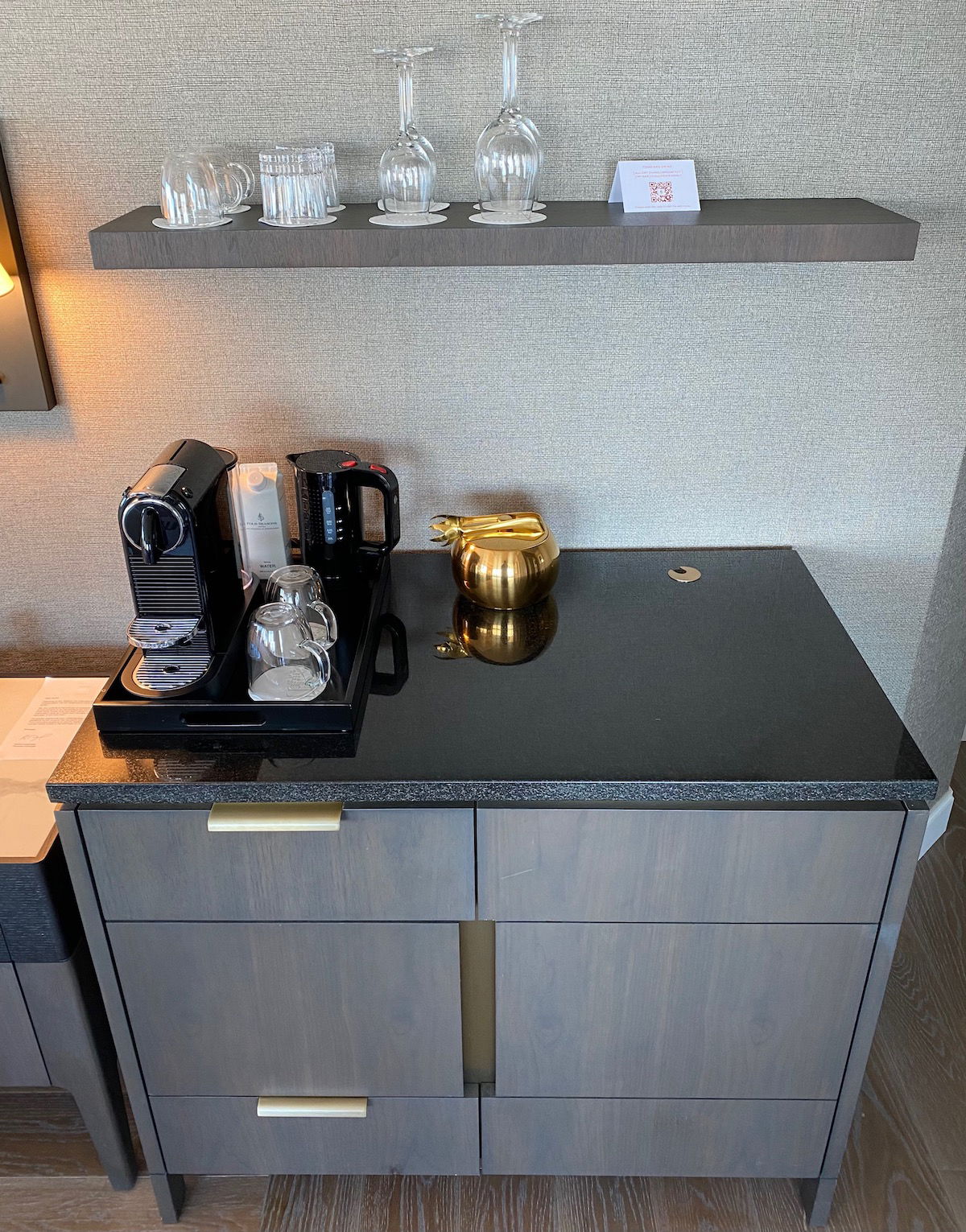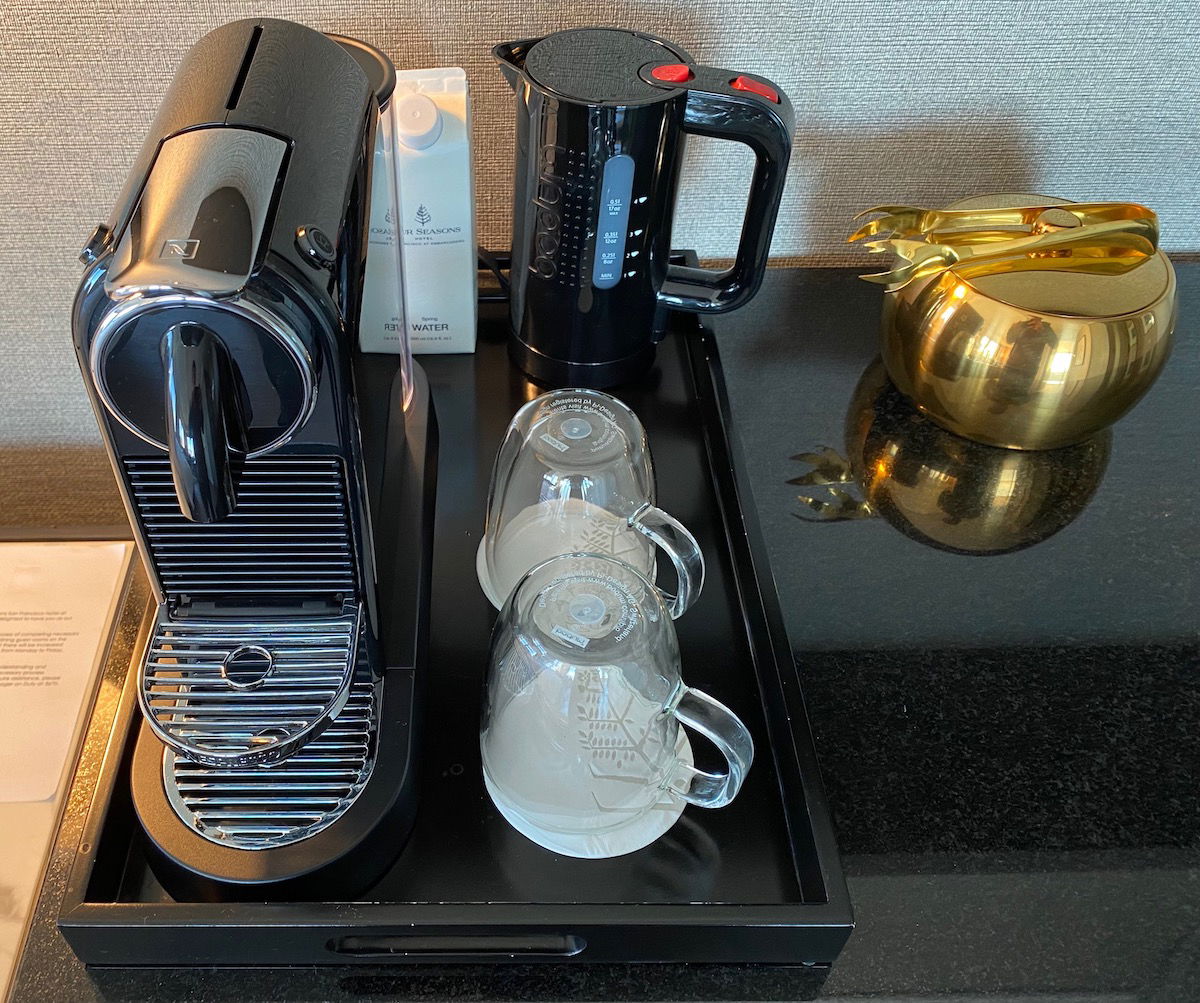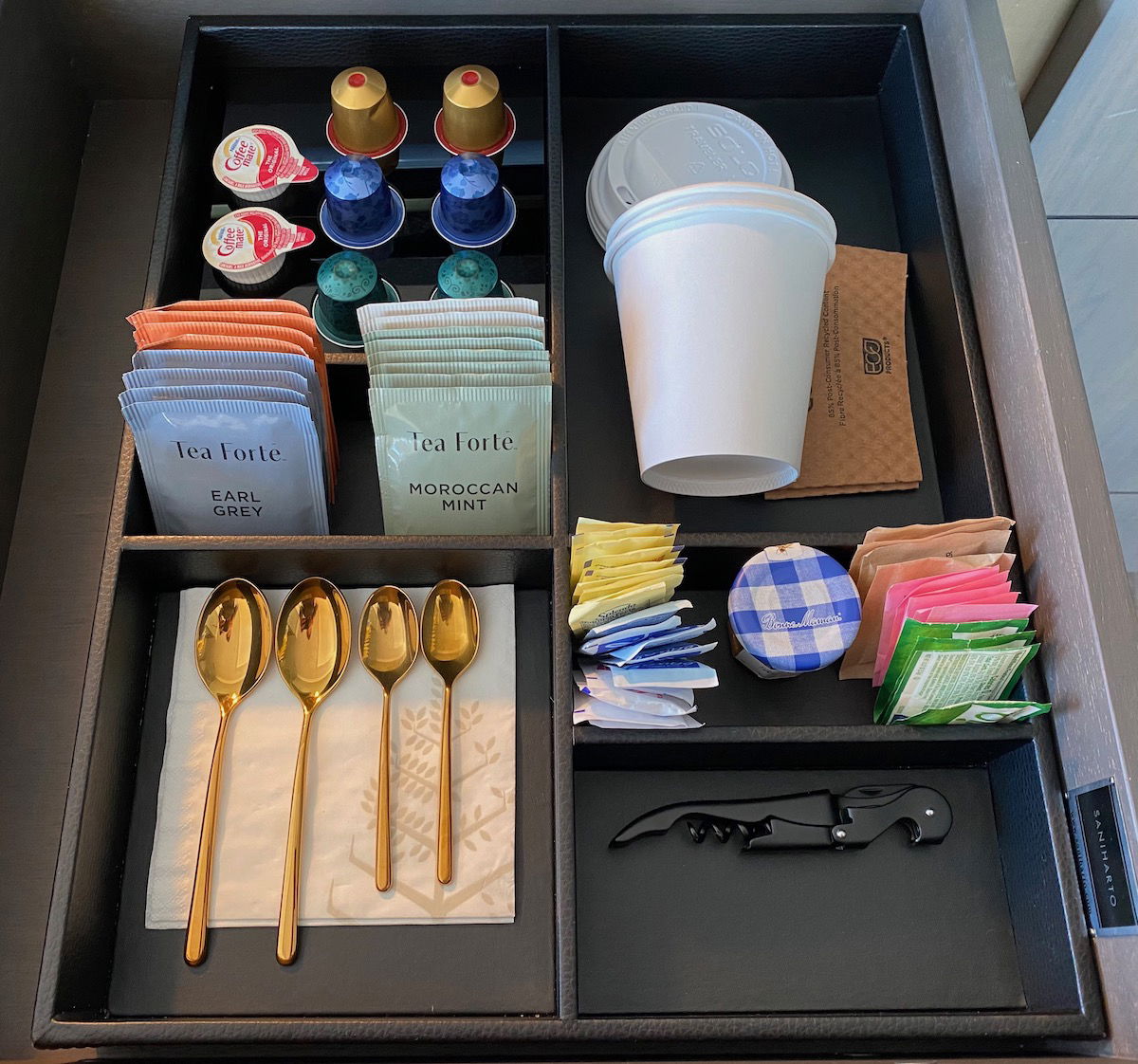 Interestingly there was no stocked minibar, but rather just a mini-fridge. However, we were given a sheet at check-in explaining that the minibar could be stocked on request, and this was part of the property's policy of minimizing the number of people entering rooms.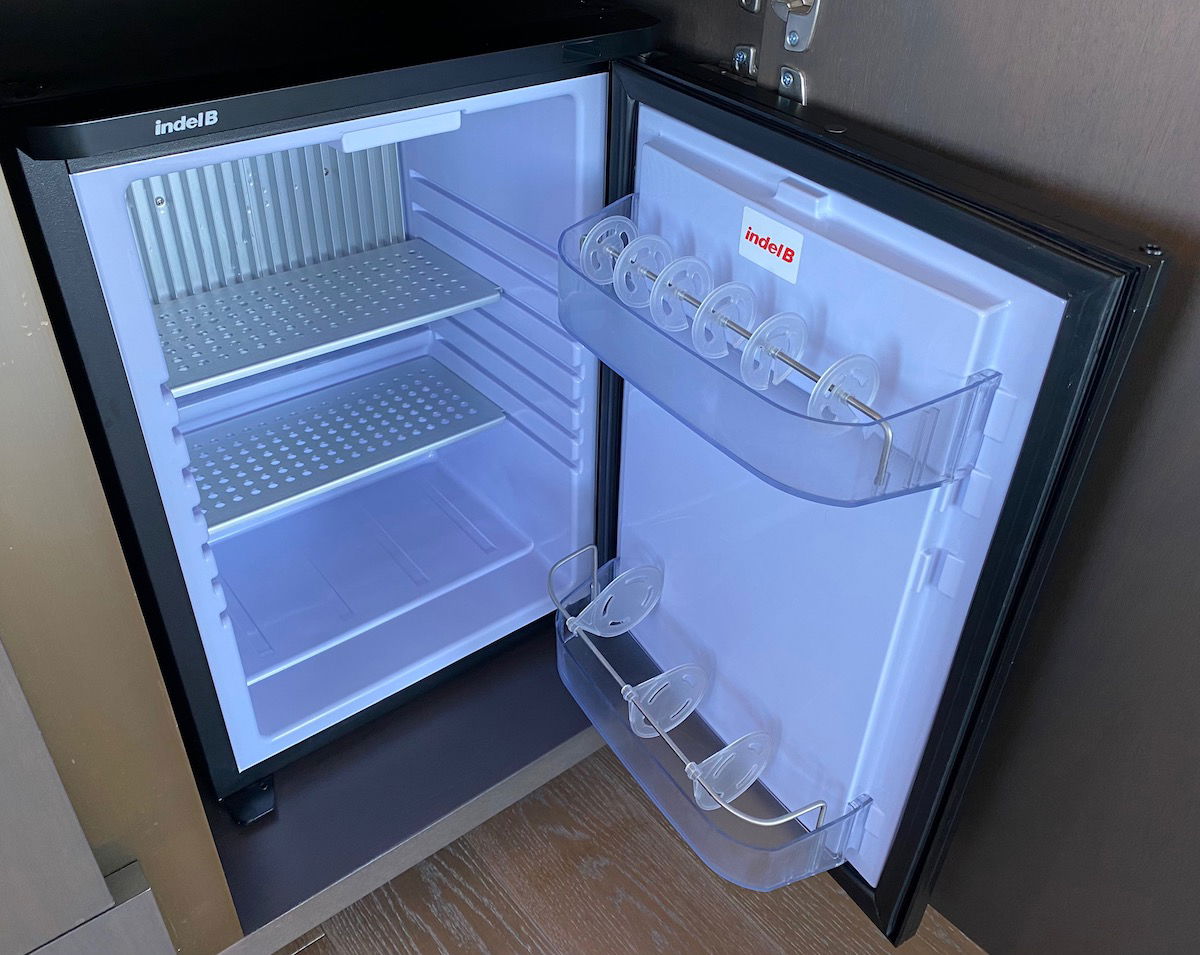 The bathroom was back towards the entrance, and featured a sink, a soaking tub, a walk-in shower, and a toilet.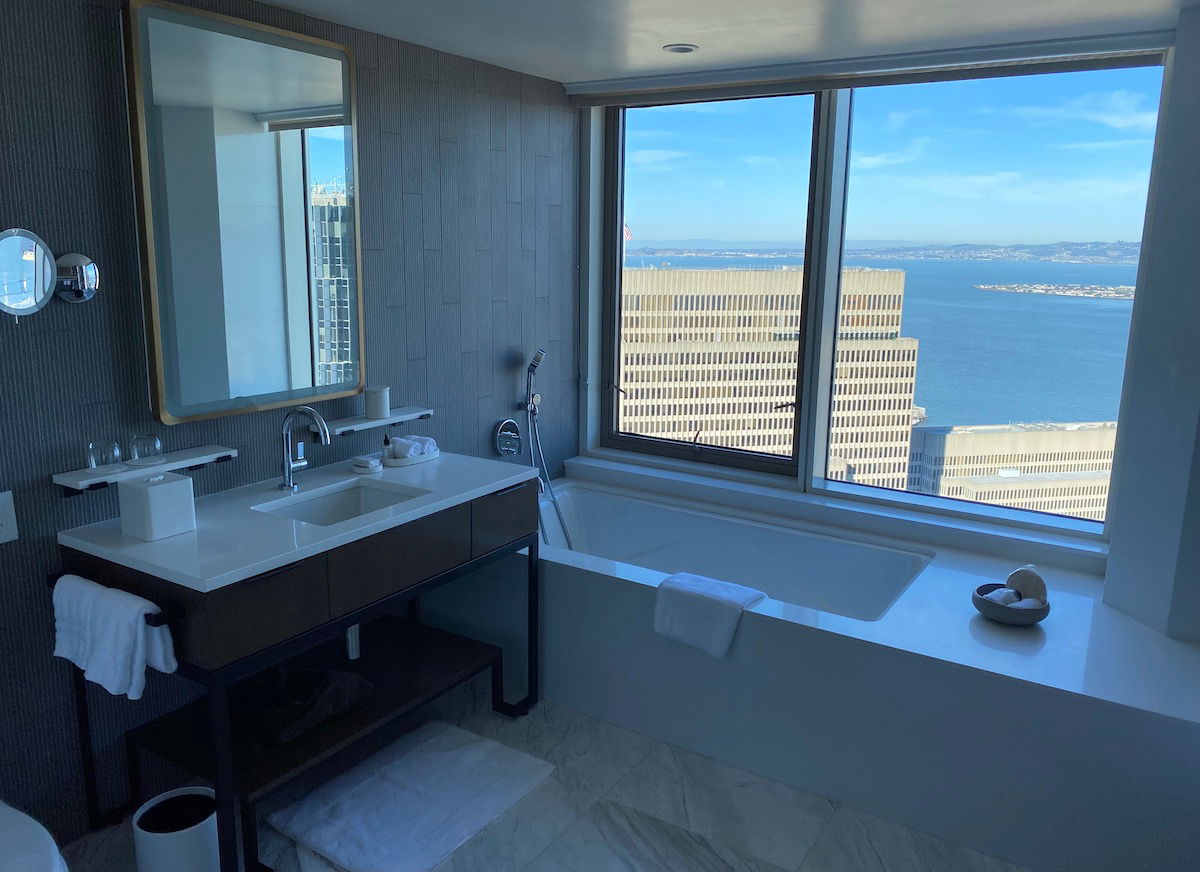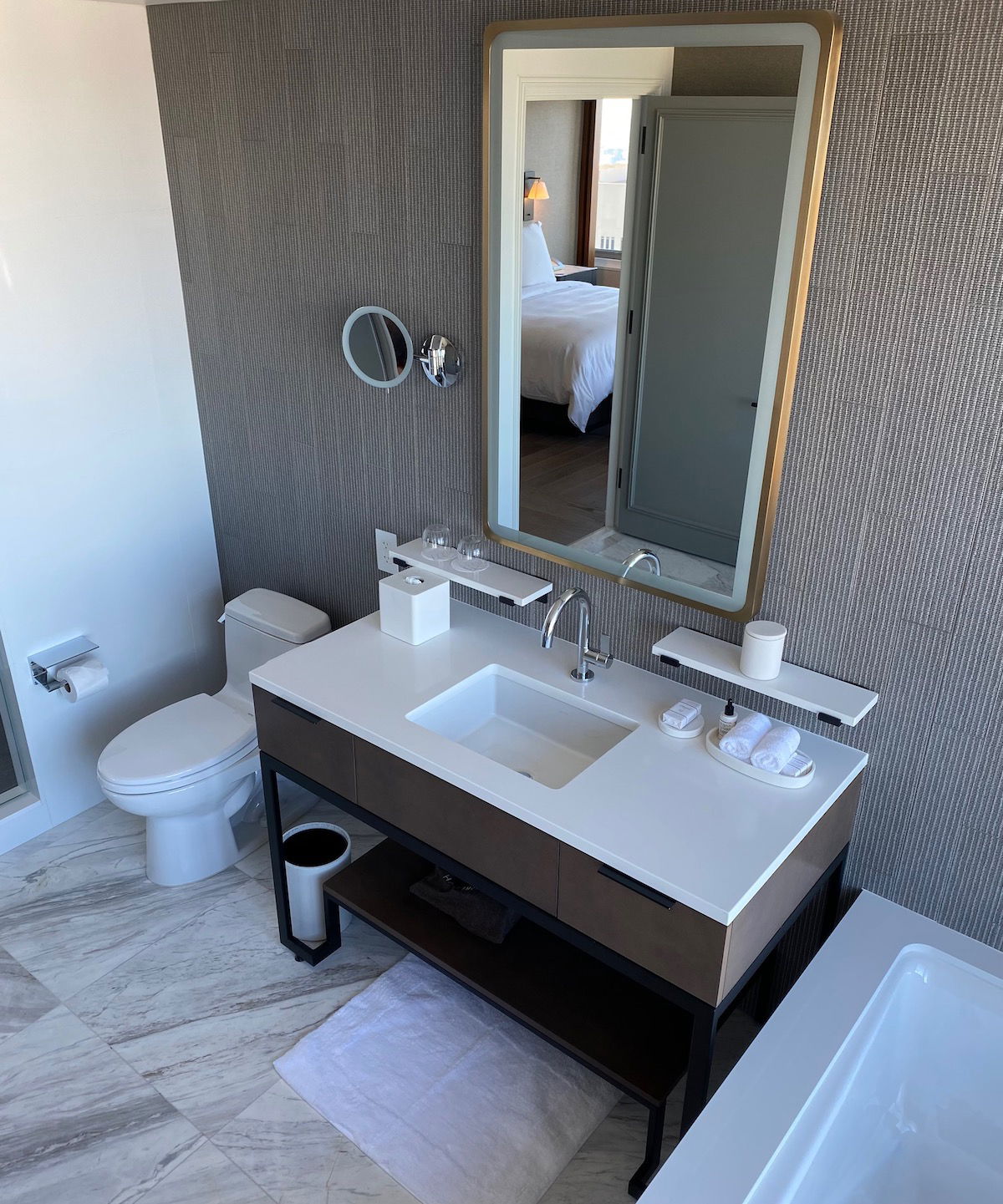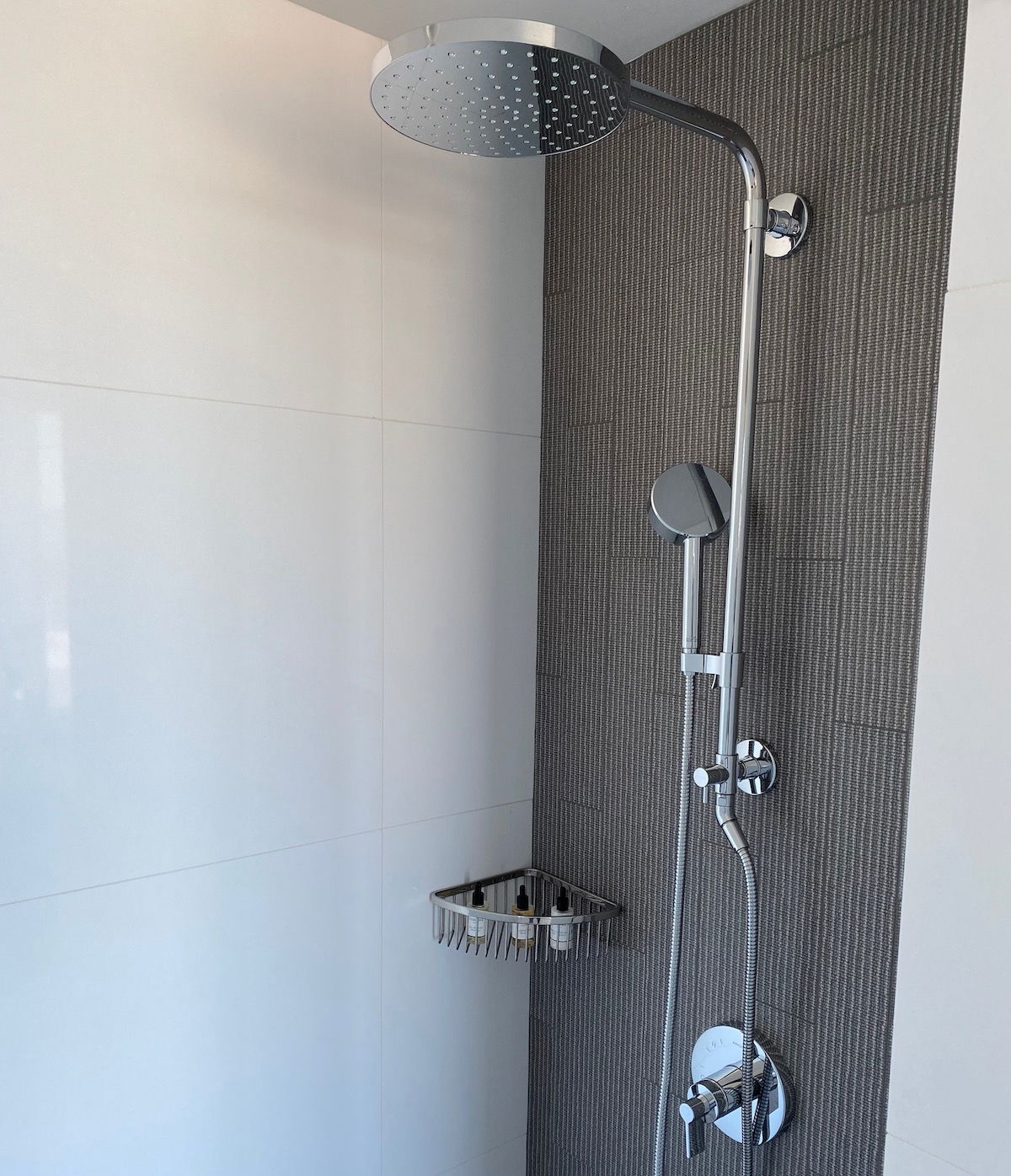 Toiletries were from CODAGE Paris — this was my first time using these toiletries, and I quite liked them.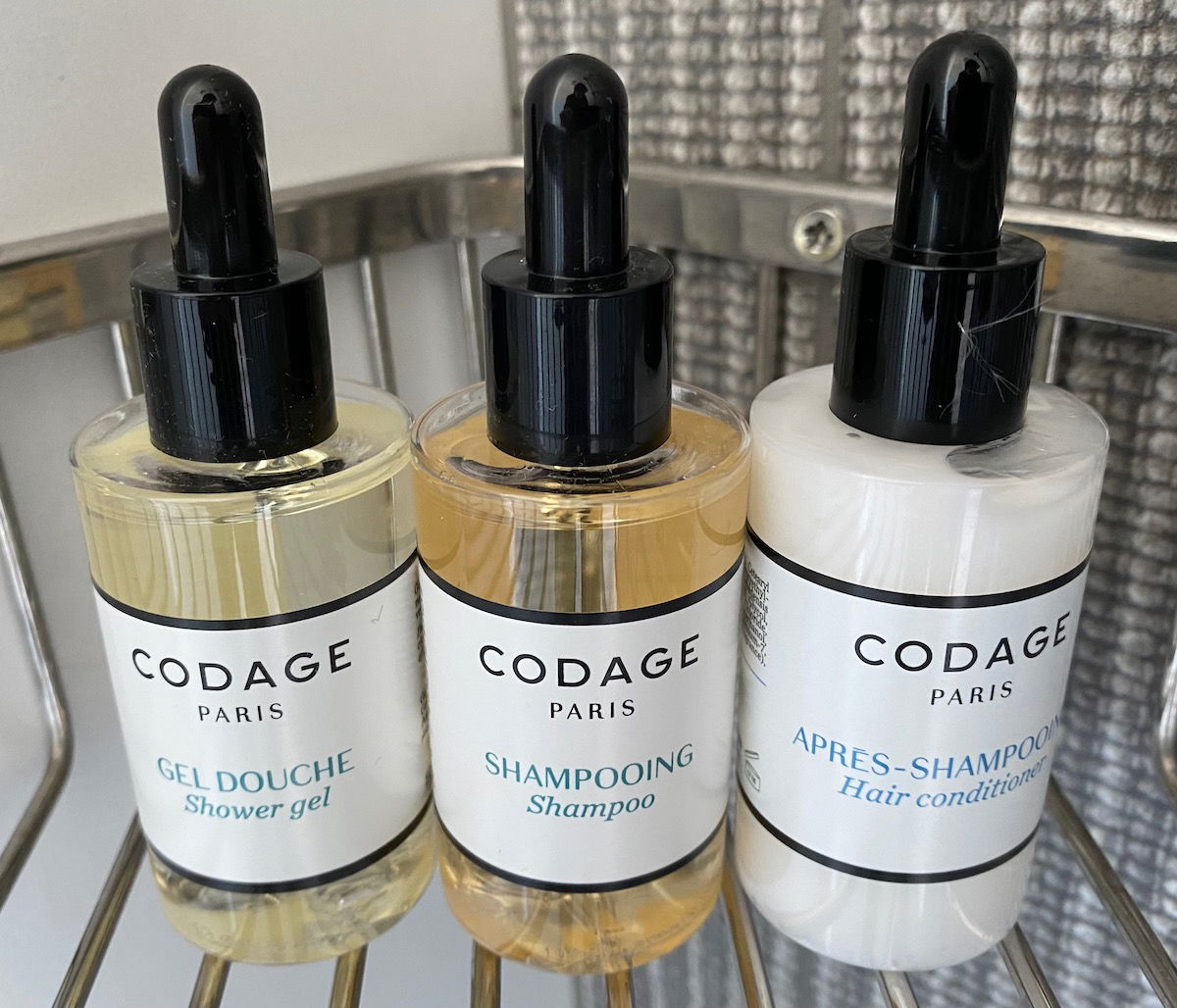 Of course the highlight of the room was the views in every direction. Simply amazing.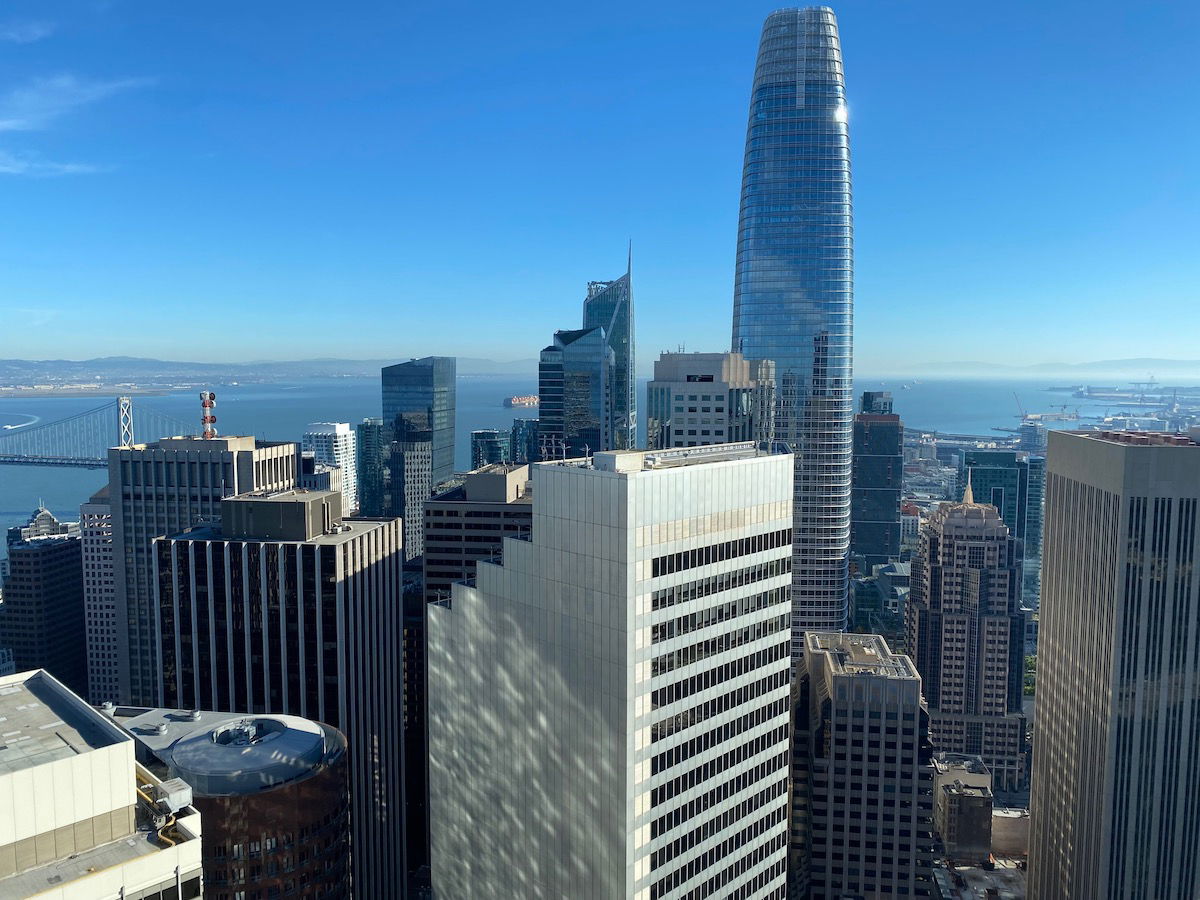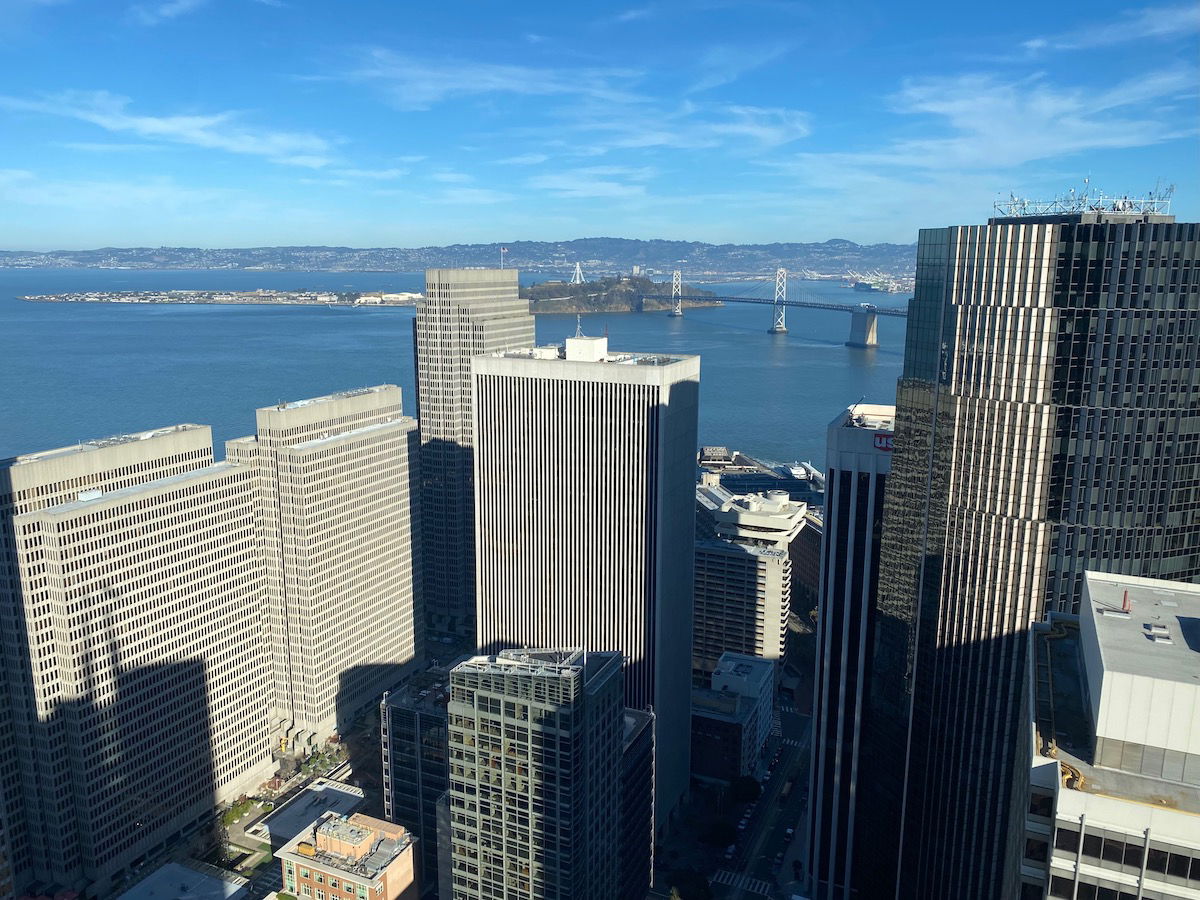 Ford and I both usually sleep best when a room is really dark, but in this case we couldn't help but keep the curtains open, because it seemed like a shame not to with views like this. In the morning we were treated to an incredible sunrise.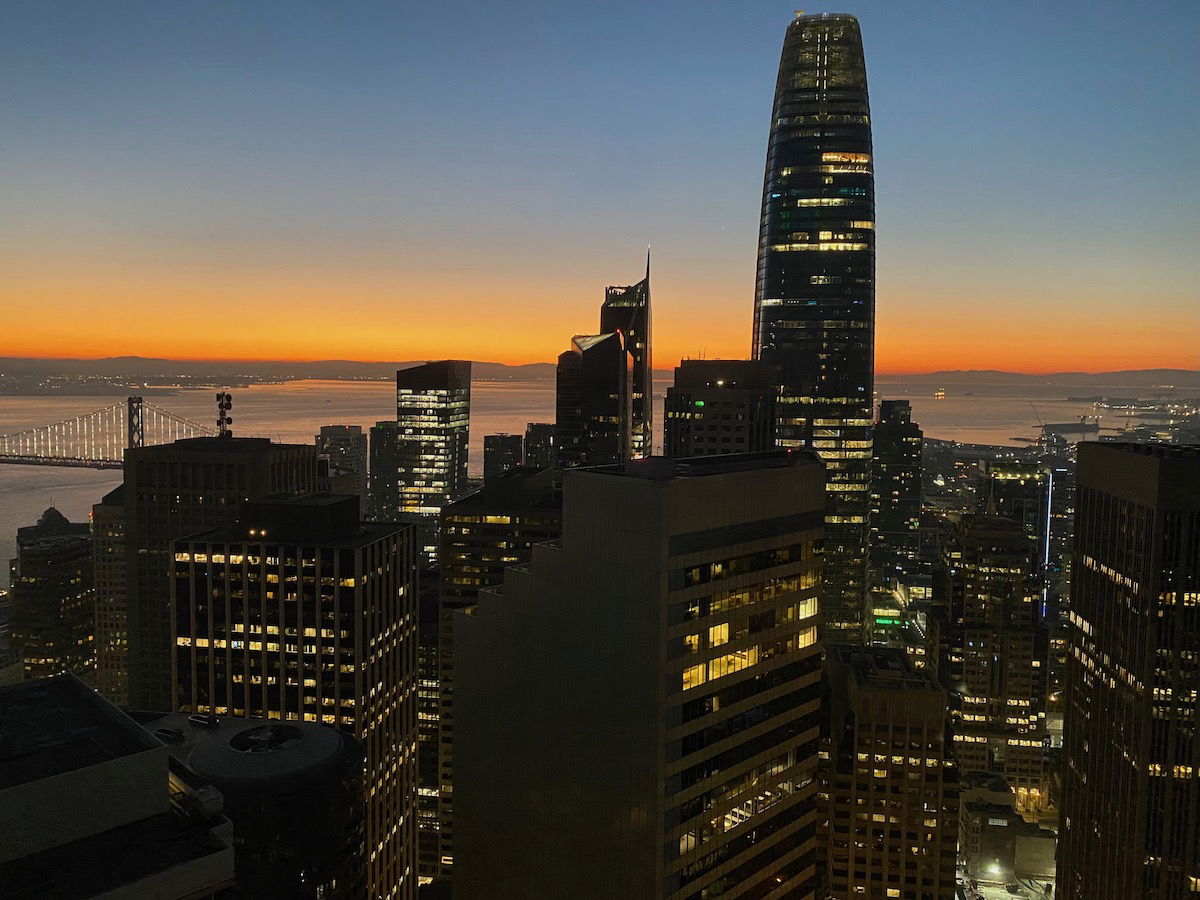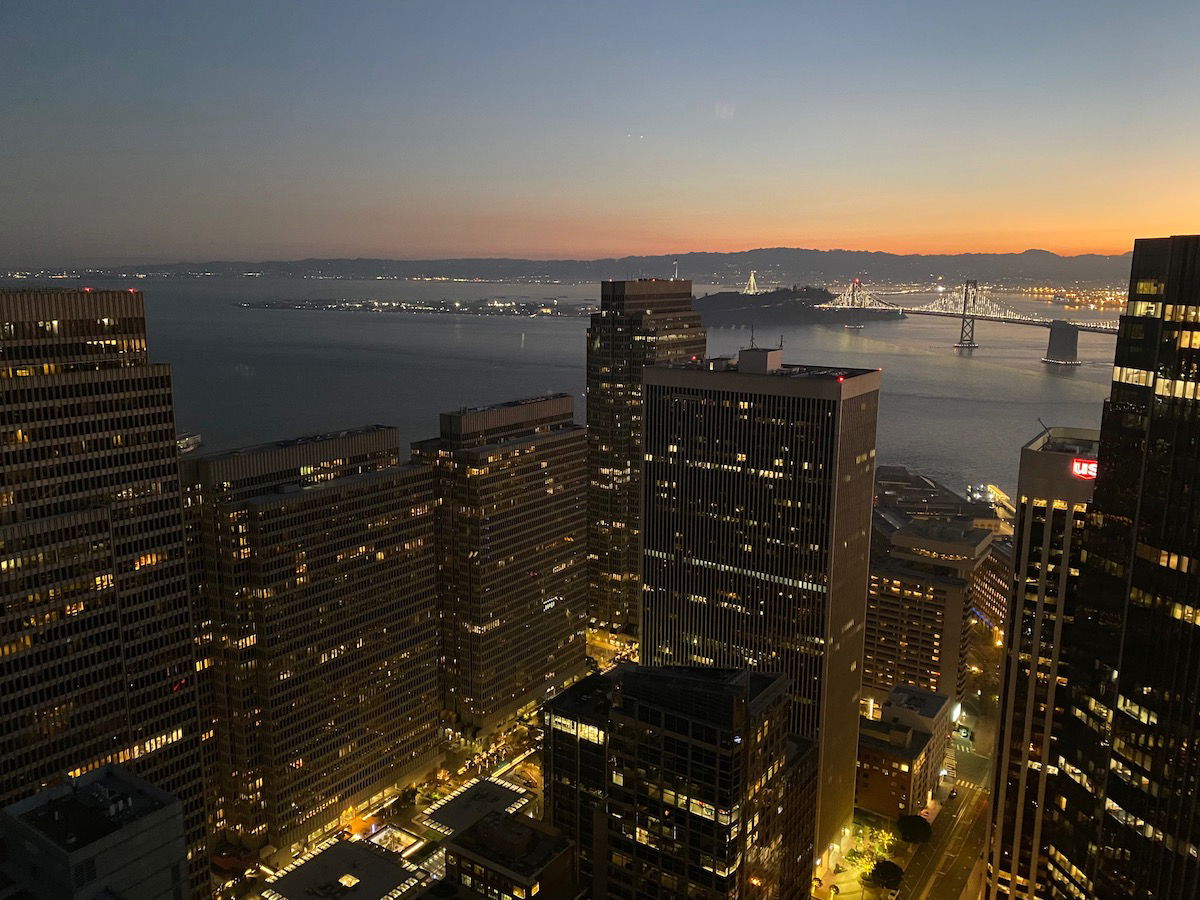 The views were even better from the glass bridge down the hallway.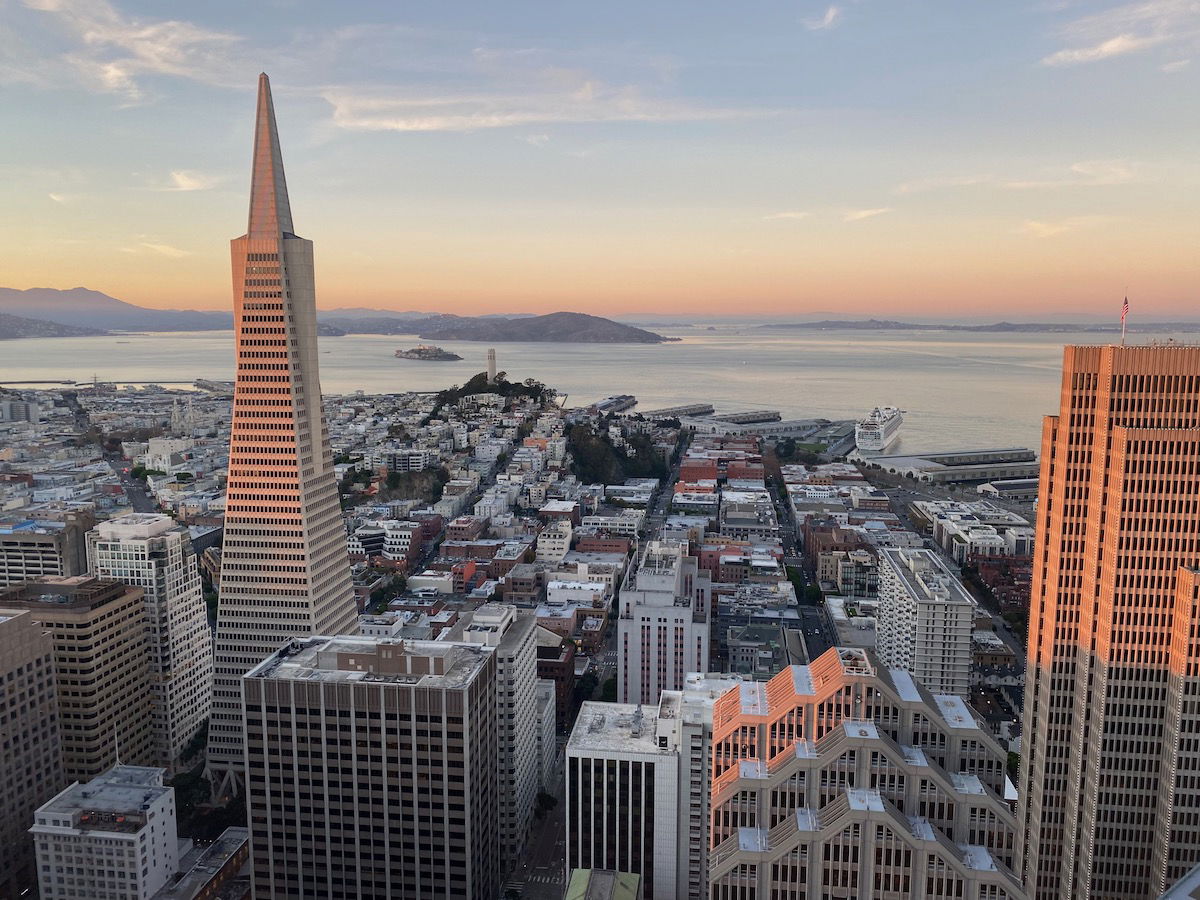 It goes without saying that the pièce de résistance of our room (and the hotel in general) is the view, but even beyond that the room was beautifully and functionally appointed.
However, I didn't get the sense that this was a "no expenses spared" renovation, as we've seen at some other Four Seasons properties. I imagine a hotel being renovated during the pandemic doesn't exactly help with that, especially in a market like San Francisco, which is recovering slowly.
For example, the curtains and blinds in the room were manual, rather than electric. Furthermore, while the bathroom was beautiful, it didn't have double sinks and the toilet wasn't partitioned off, etc. (in fairness, making major changes to bathrooms and plumbing in buildings like this can be very costly).
Four Seasons San Francisco at Embarcadero room service breakfast
Currently the only food available at the Four Seasons Embarcadero is through in-room dining. You can find the hotel's breakfast menu here, and find the hotel's all-day dining menu here. Breakfast is served from 6AM until 11:30AM, and we had an excellent room service breakfast, which is also included with Four Seasons Preferred Partner.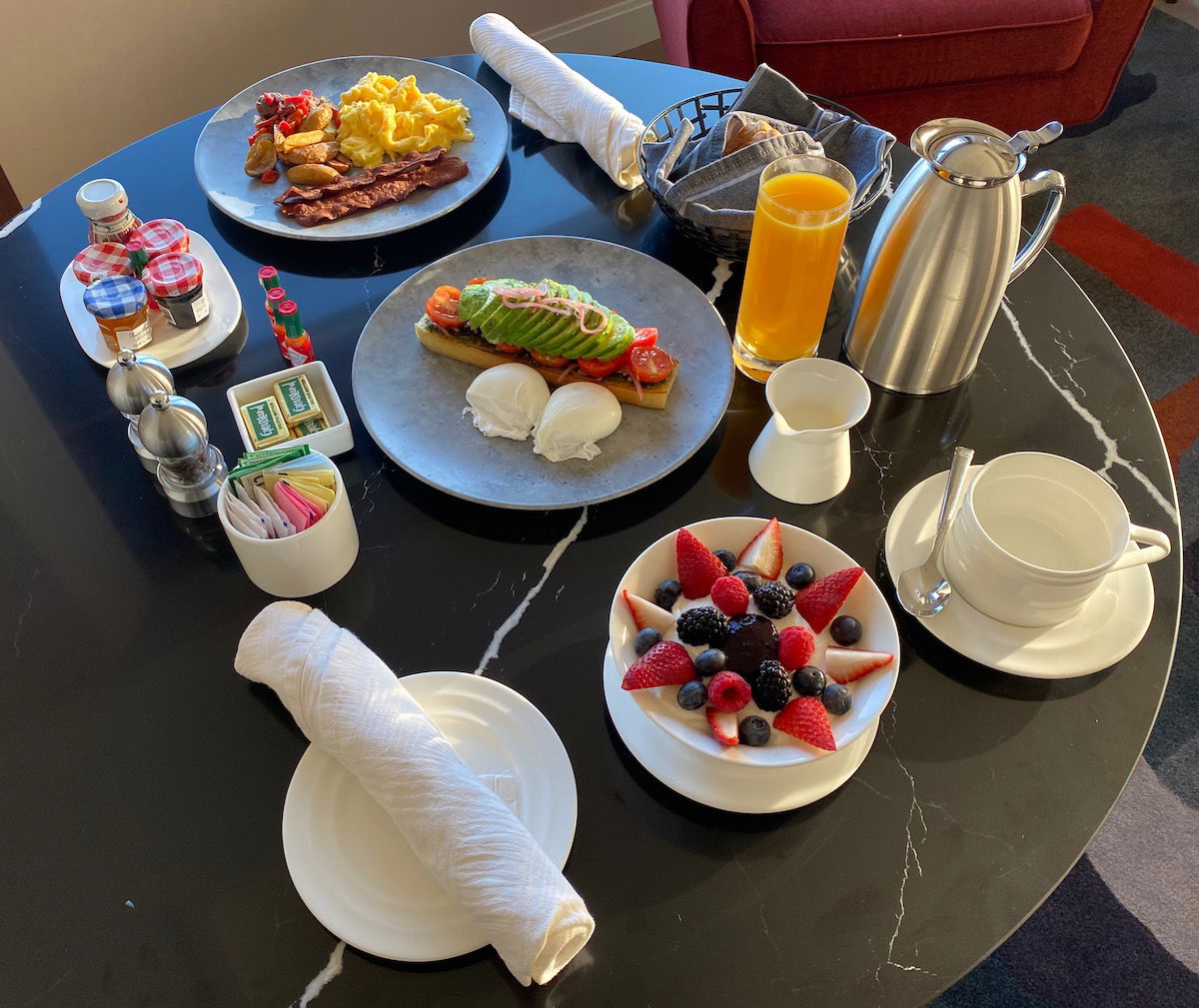 We ordered a berry parfait to share.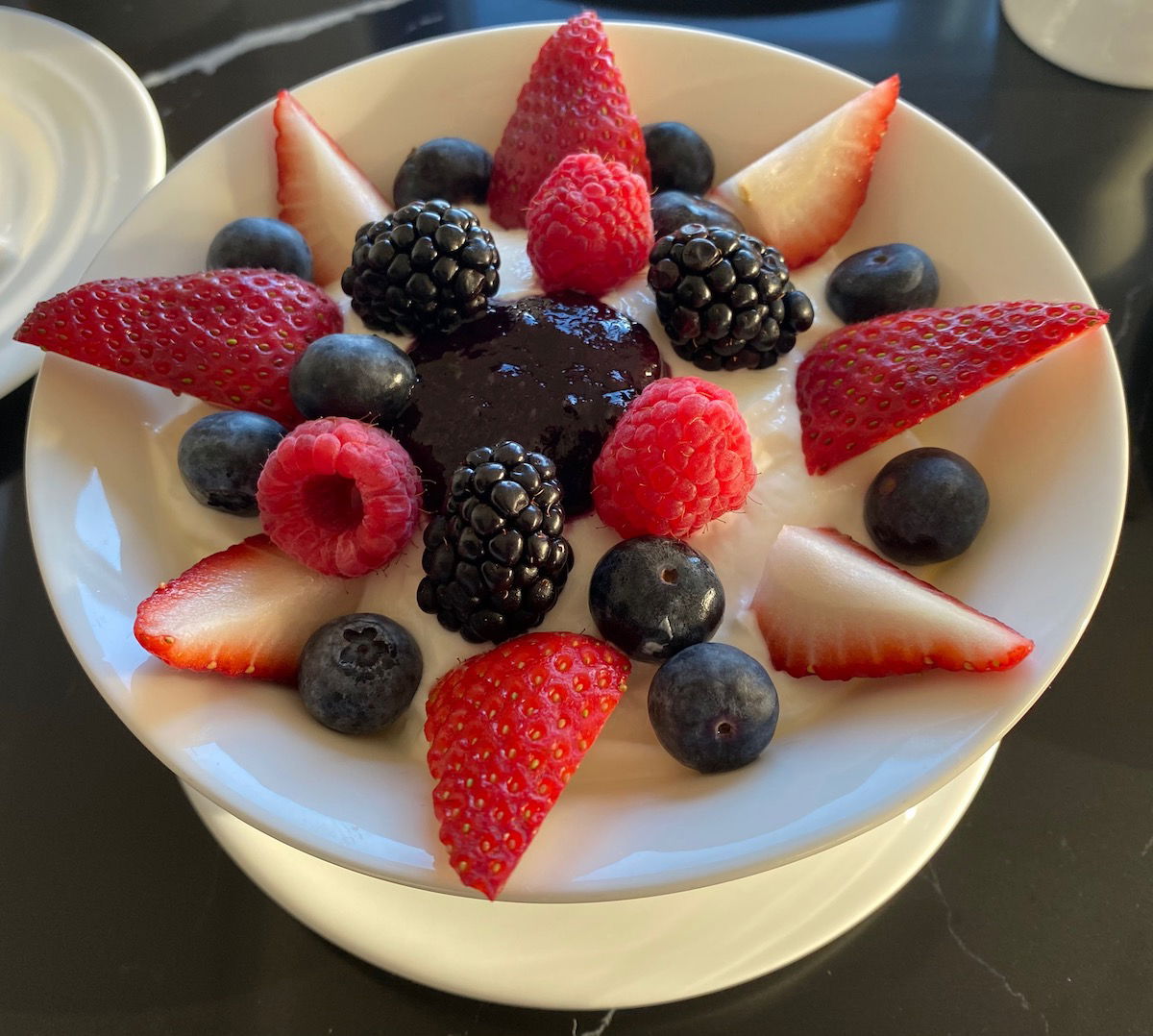 Then I had the avocado toast with poached eggs.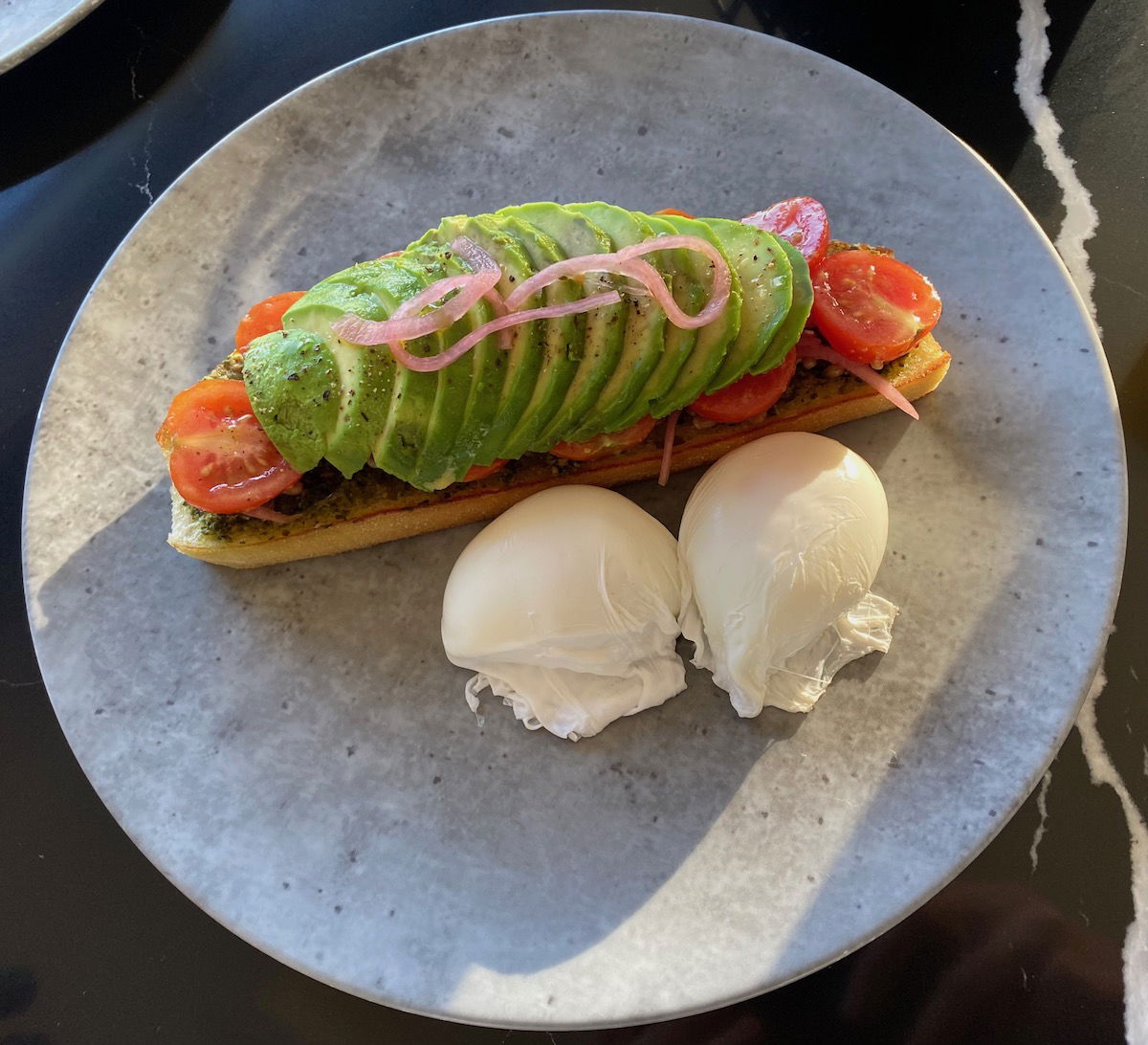 Ford had the two scrambled eggs with breakfast potatoes and turkey bacon.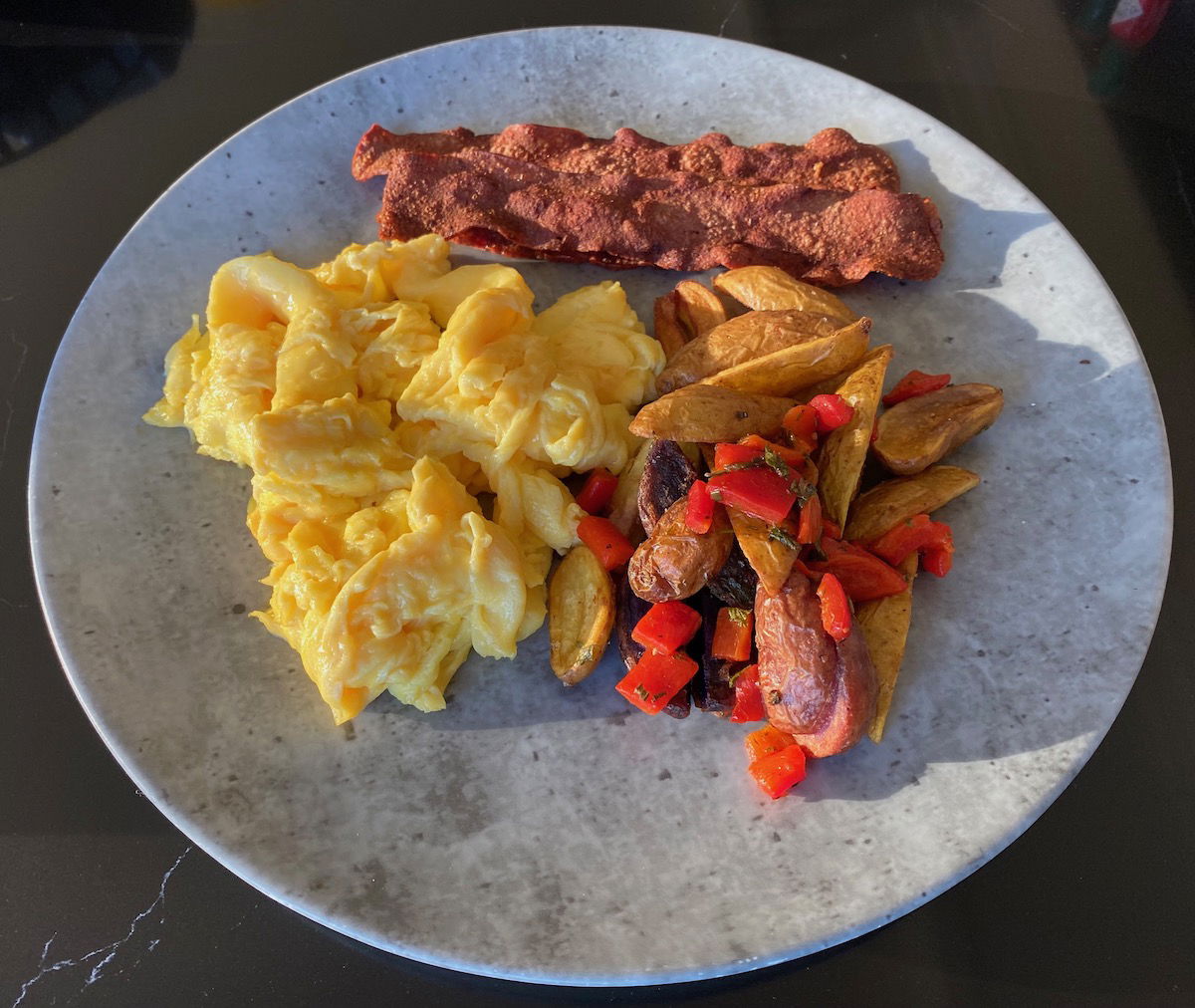 As is standard at Four Seasons properties, there was also complimentary coffee in the lobby in the morning, which is a feature I love.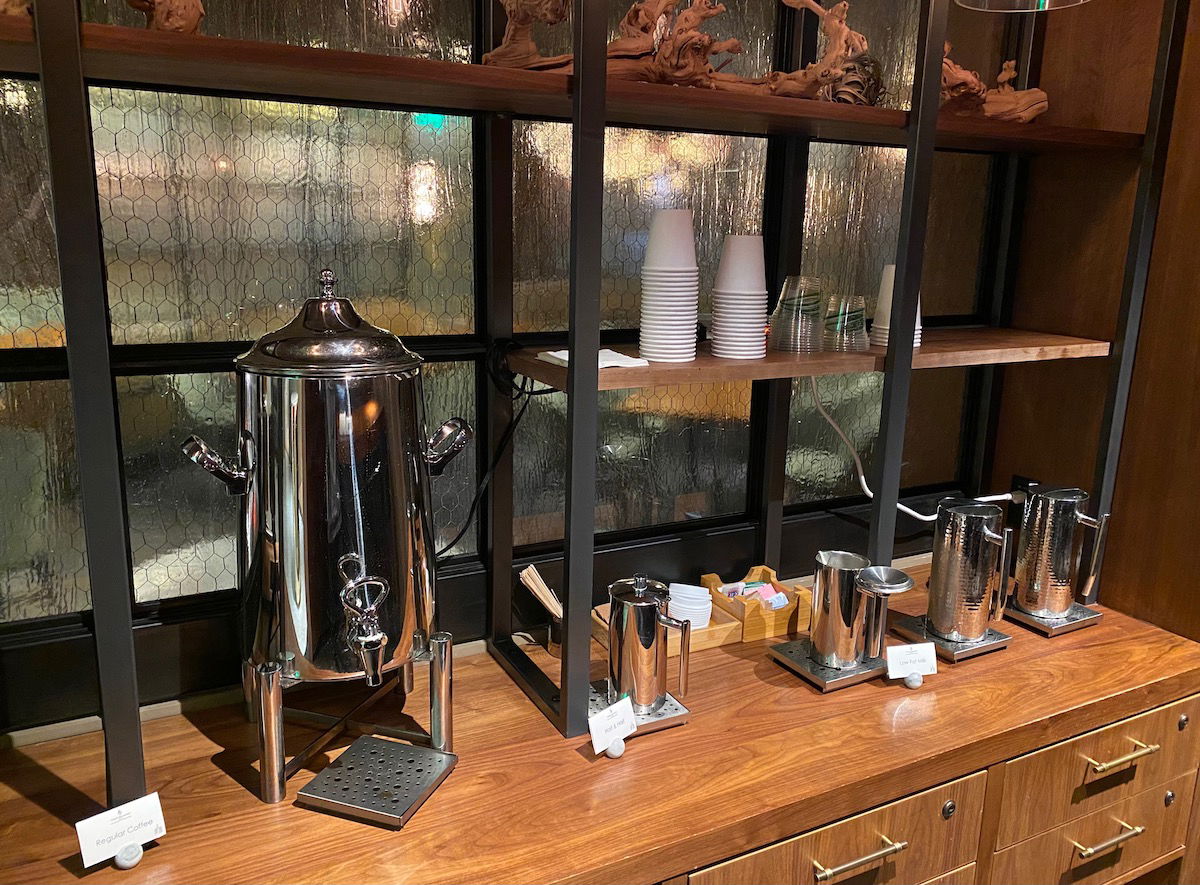 Four Seasons San Francisco at Embarcadero gym
Four Seasons properties consistently have very good gyms, and this property is no exception. The hotel's gym is located on the third floor, and it features a great selection of cardio and weight equipment. The gym is open 24/7, and you're asked at check-in if you plan to use it. In the event that you do, your vaccine card is checked, in line with current guidelines in San Francisco.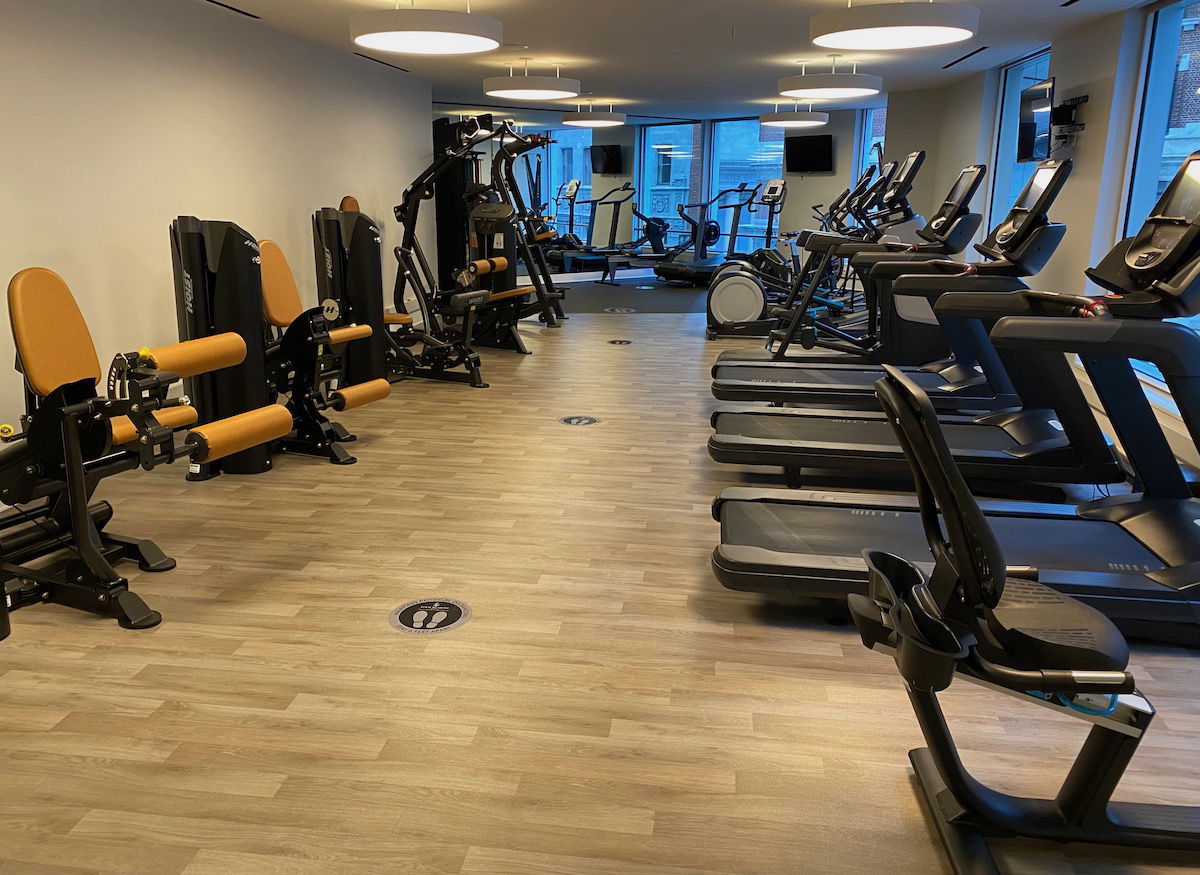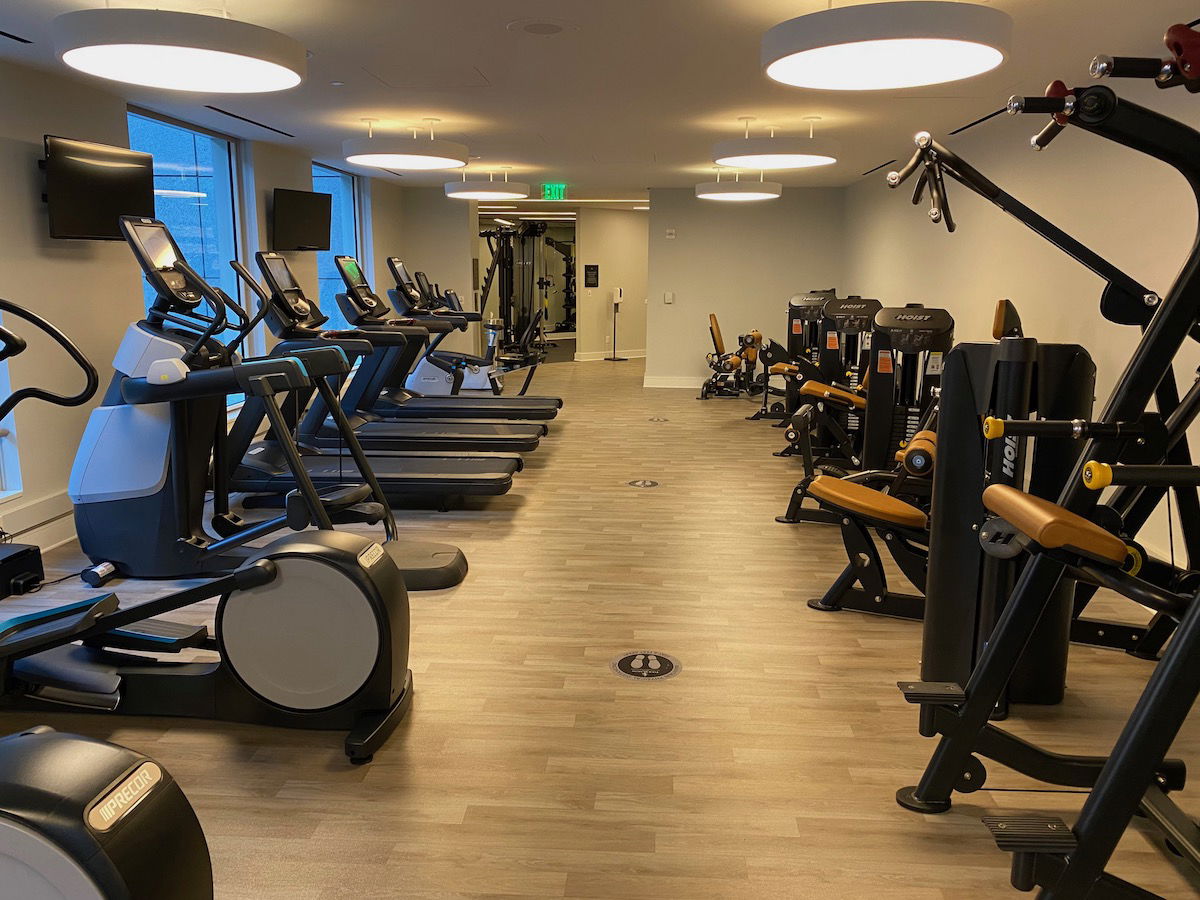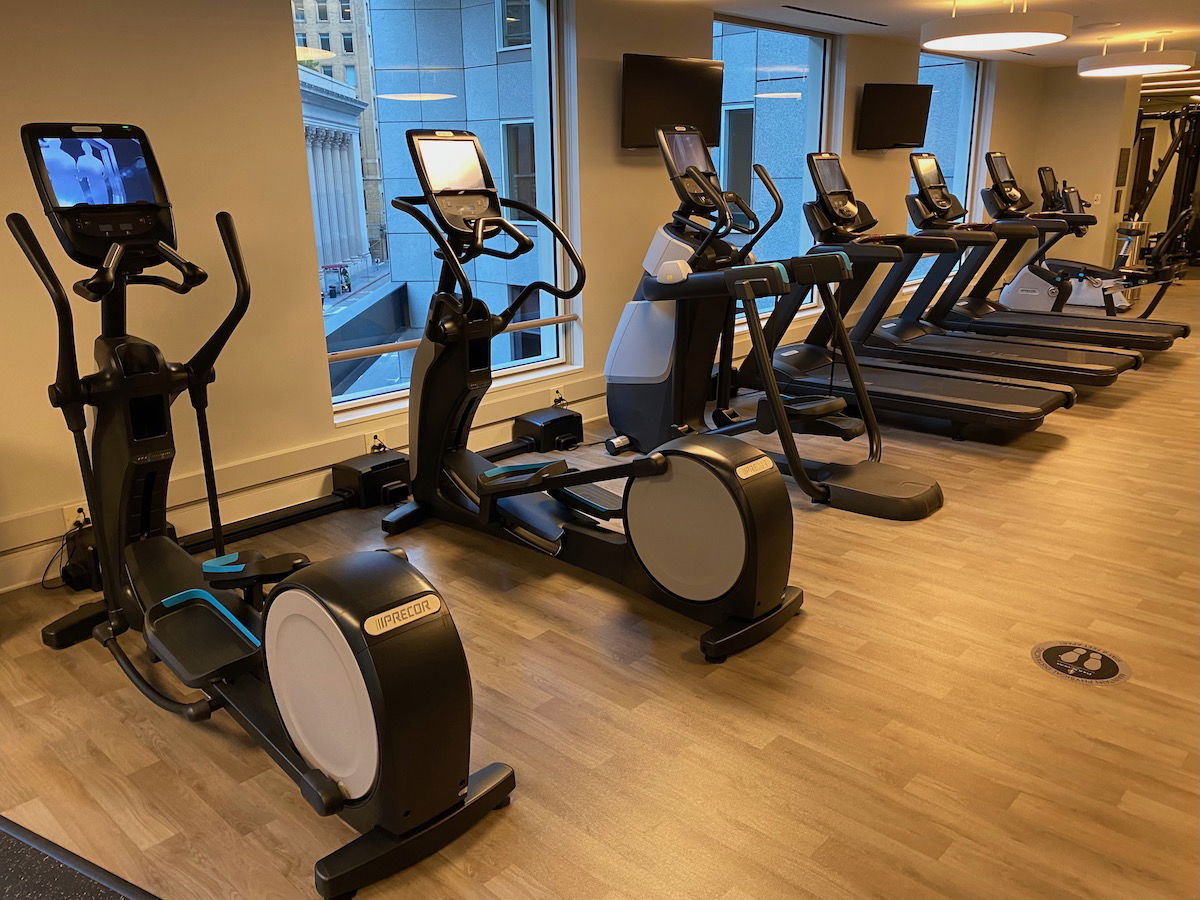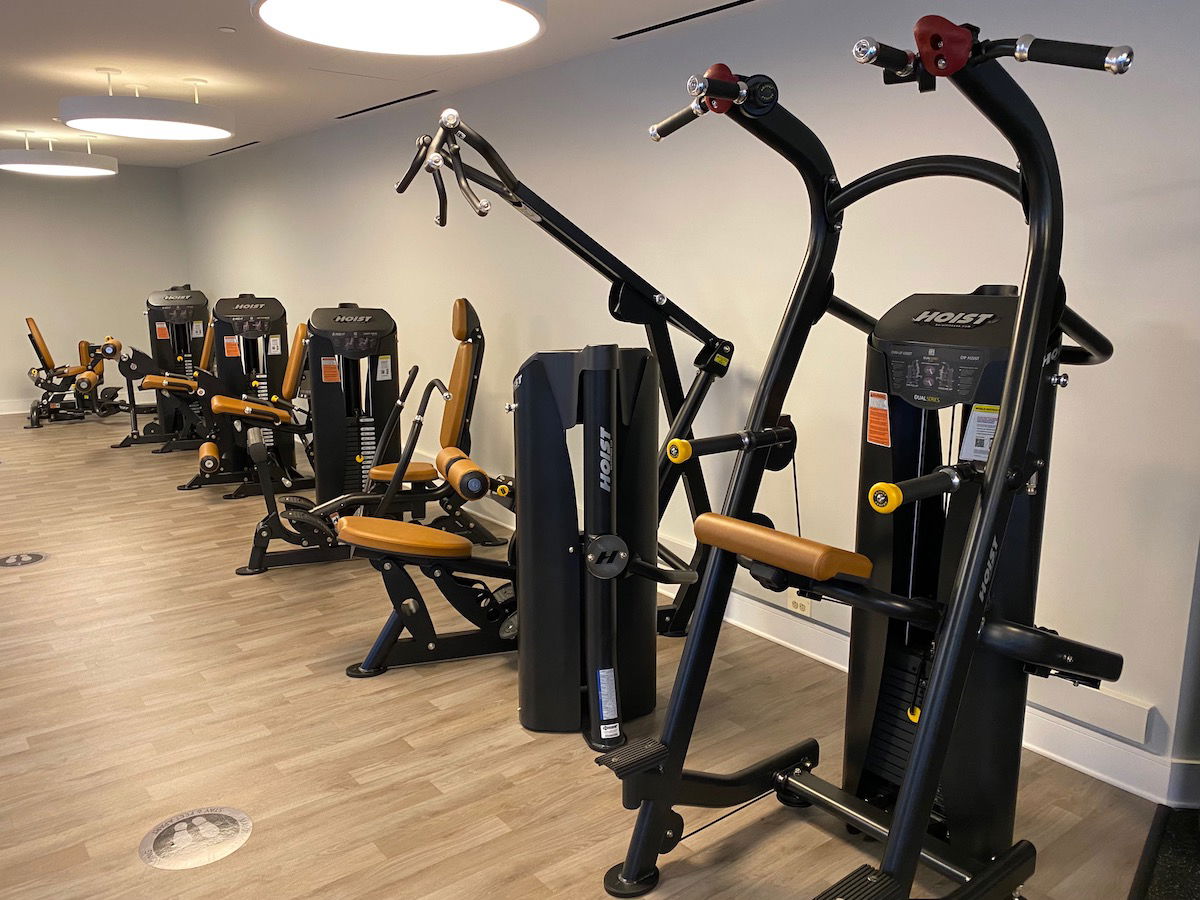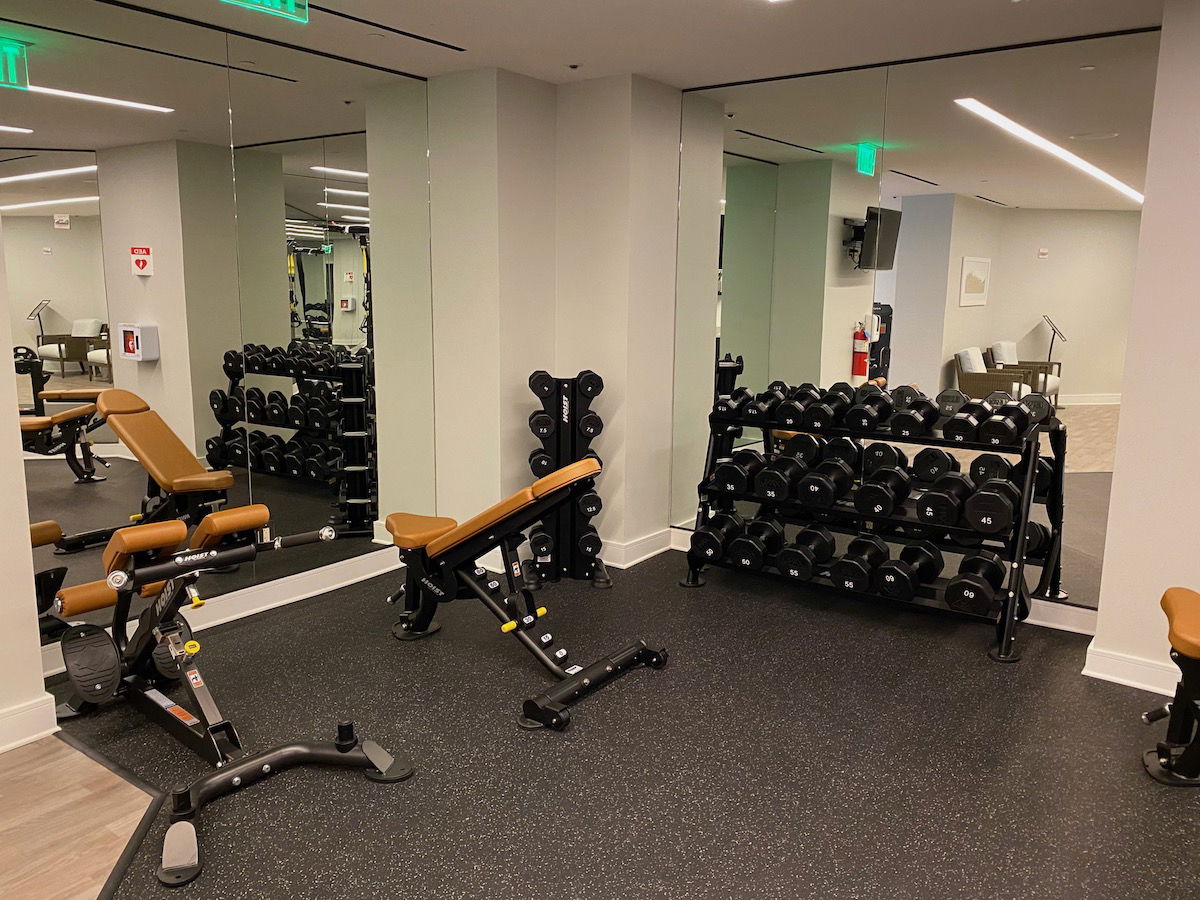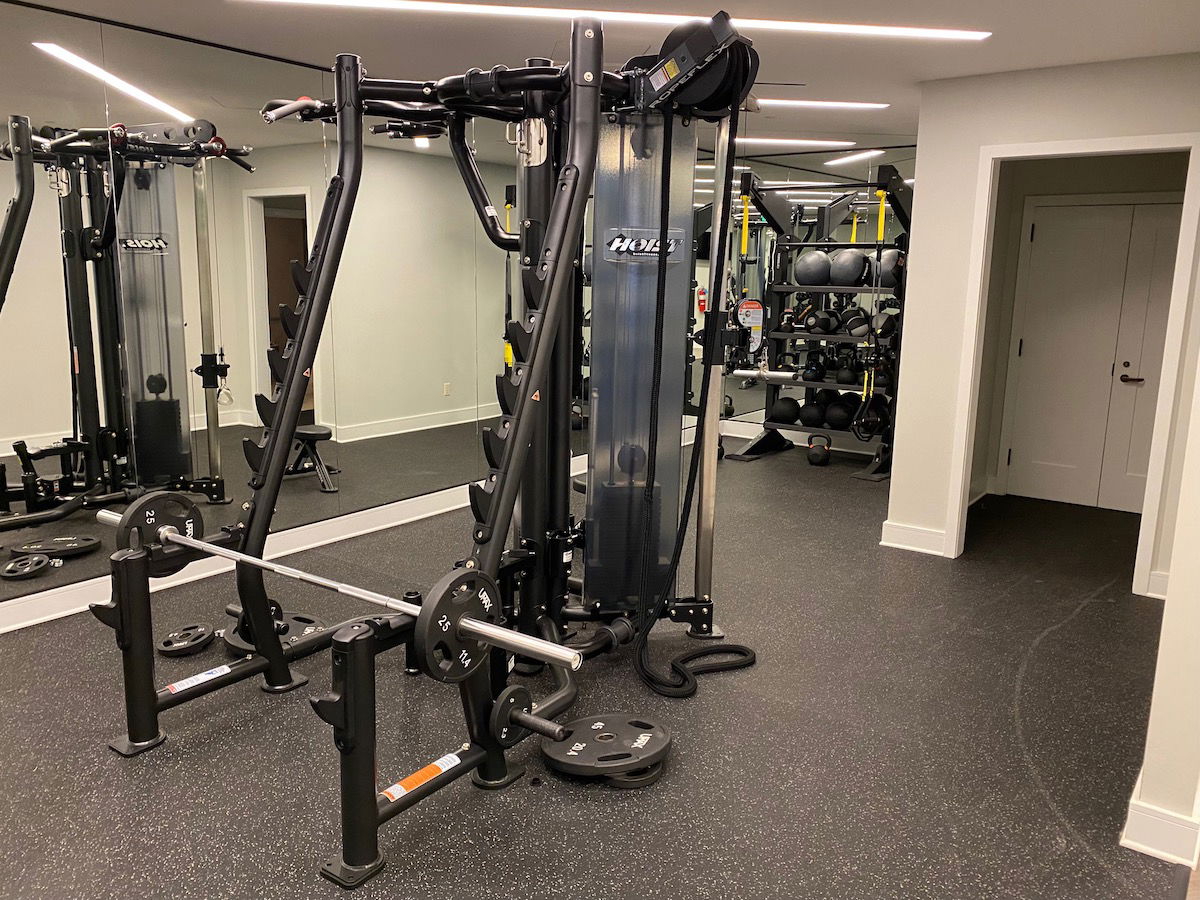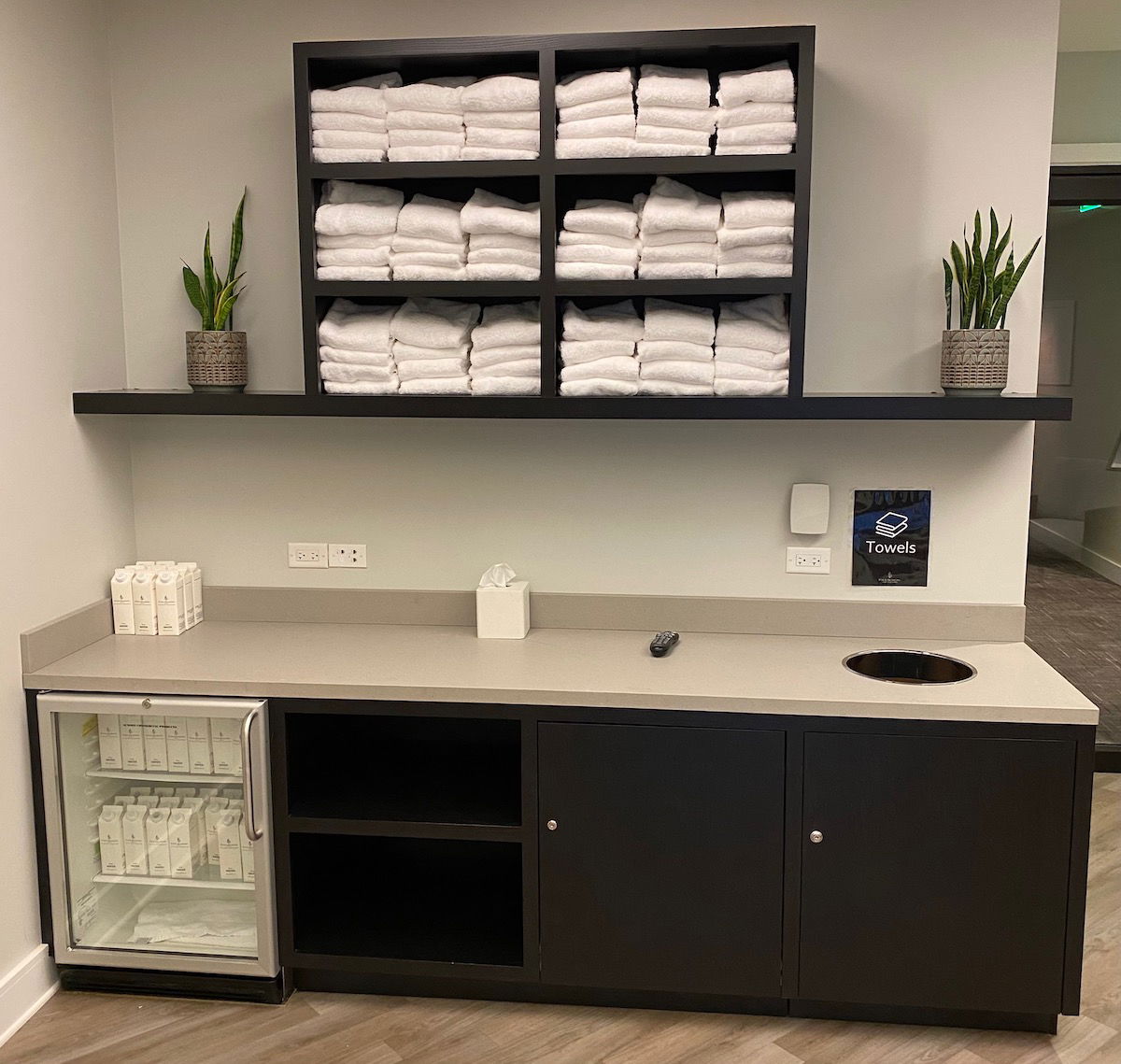 Four Seasons San Francisco at Embarcadero service
With the limited services being offered by the hotel at the moment, admittedly interactions with staff were fairly limited. However, every employee we interacted with was friendly, from the bellmen, to the front desk agents, to the in-room dining staff.
Because of how few rooms are in operation right now, this really does feel like a boutique hotel. For example, some of the staff welcomed us back by name after returning to the hotel, which is always a nice touch. That's one benefit of so few rooms being in operation right now.
Four Seasons San Francisco at Embarcadero restaurant & spa plans
The Four Seasons Embarcadero is still a work in progress, so what can we expect in the future? The Four Seasons is supposed to open a ground floor signature restaurant in 2022. There are no details yet on what kind of a restaurant it will be or who the chef is behind it, though hopefully we learn more soon.
Currently the restaurant section next to the lobby is just roped off. Below are some pictures of what the space looks like, though note that it still has the old decor from when the hotel was a Loews, so expect the decor to change completely.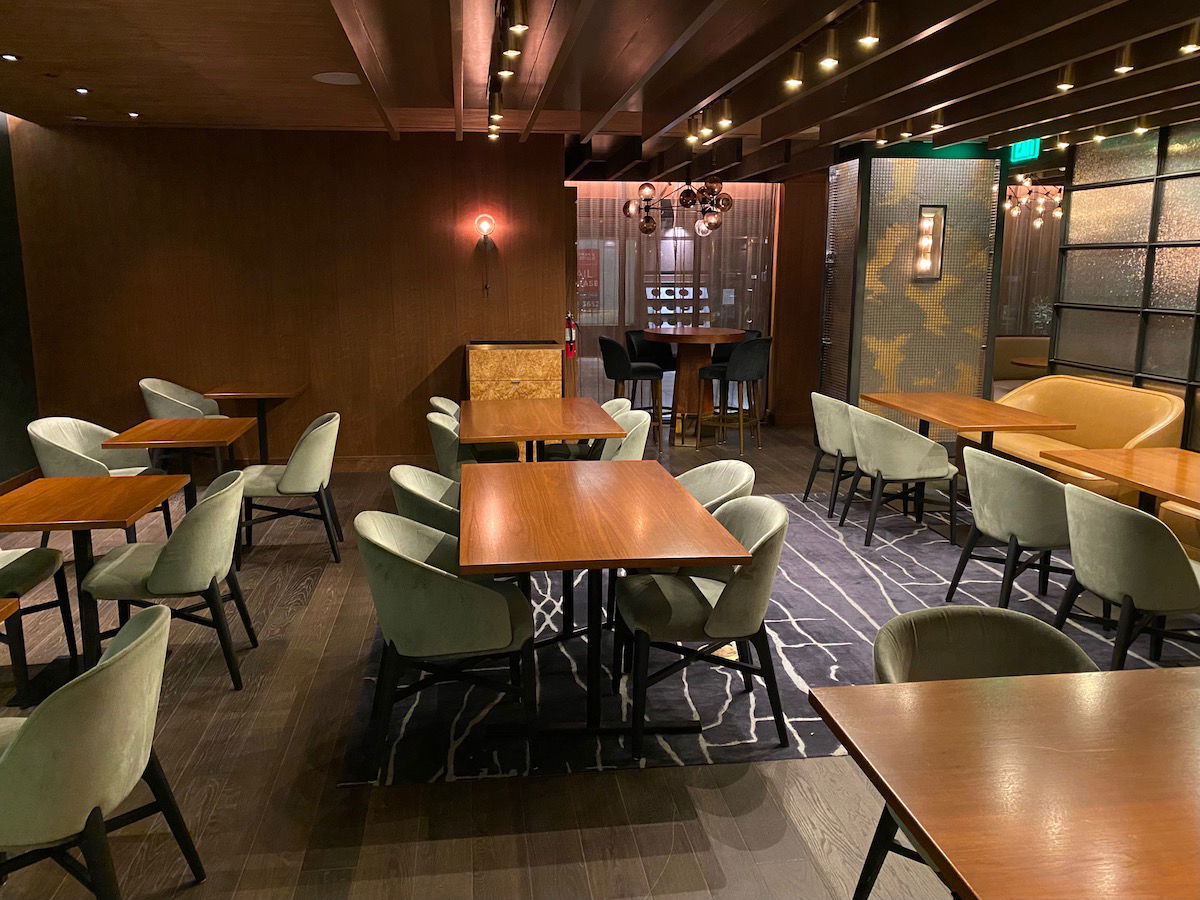 While not open yet, it's expected that the Four Seasons Embarcadero will have a Sky Deck on the 40th floor. The building has some outdoor space there, so we'll see what exactly the hotel chooses to do with it, and whether it's just used for events, or if it eventually turns into a bar. Suffice to say this could be an incredible space (below are a couple of pictures from Four Seasons' website that give you a sense of this potential venue).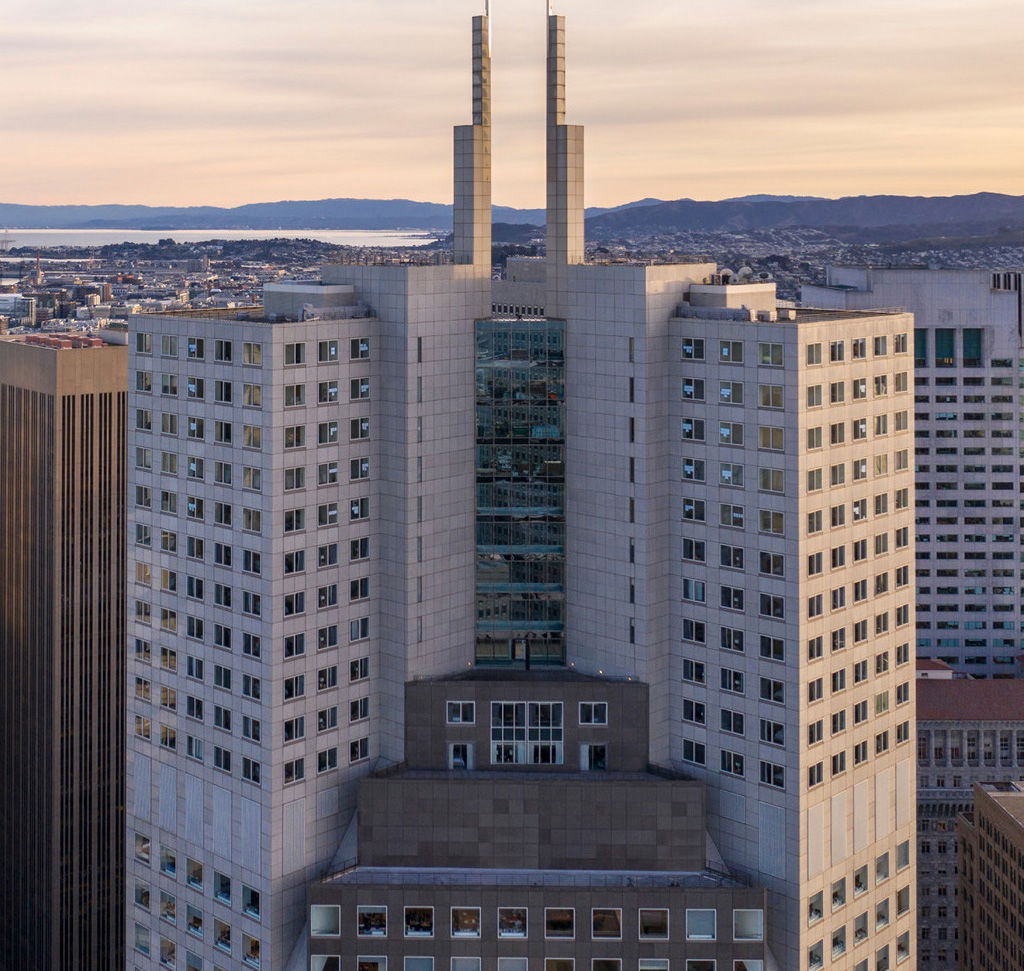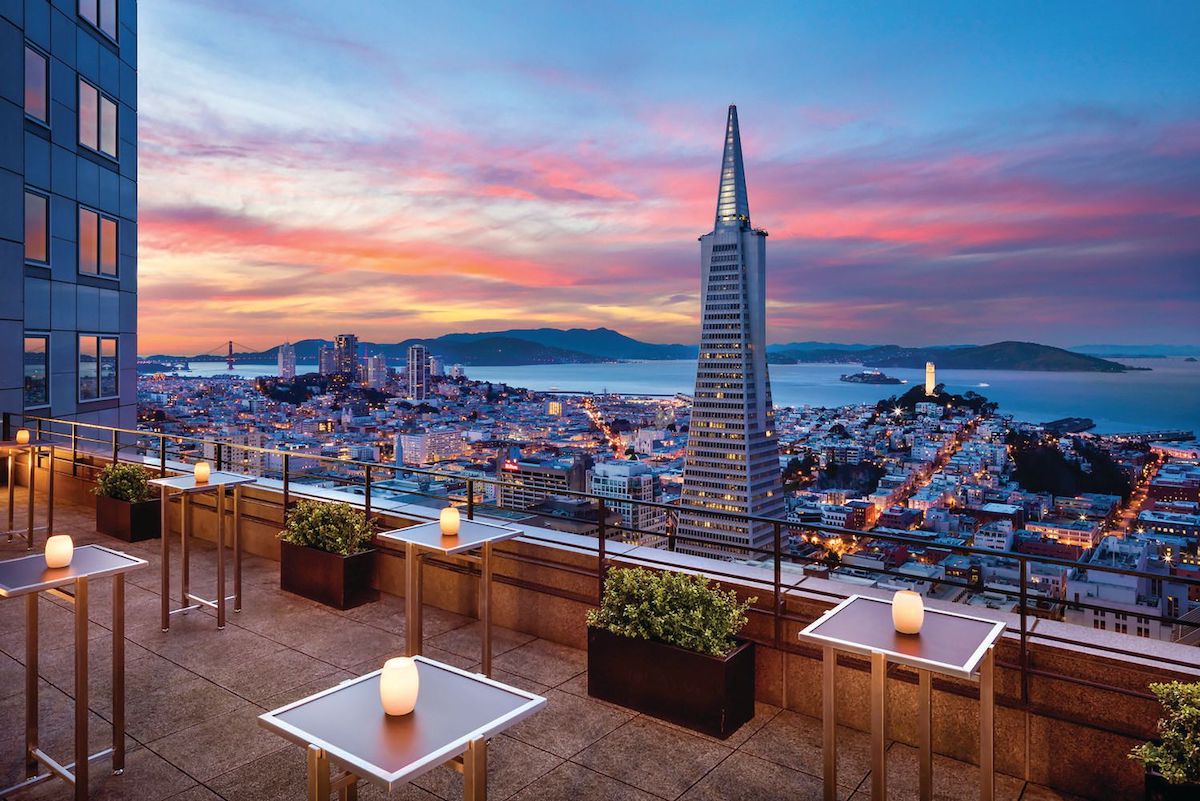 Furthermore, both the Mandarin Oriental and Loews had a spa, located on the third floor, near the gym. While no official plans have been announced yet, it's my understanding that a spa is under consideration, and could be opened here.
Bottom line
The Four Seasons San Francisco at Embarcadero is one of Four Seasons' newest properties in the United States, and there's a lot to like about the hotel. I feel confident saying that the Four Seasons has the best views from any hotel in San Francisco, and some of the best views from any city hotel in the United States. That's something really special. On top of that, the hotel has newly renovated rooms, friendly service, a good gym, and a solid in-room dining menu.
That being said, this hotel is still a work in progress — a signature restaurant should be opening soon, and we may also see a spa and amazing outdoor space on the 40th floor at some point in the future. Admittedly those are amenities that some people value greatly, so this hotel isn't for everyone for the time being.
For now I'd recommend staying at the Four Seasons Embarcadero if you care a lot about views and an intimate-feeling property. Meanwhile if you're someone who likes a lively hotel with a popular restaurant & bar, this isn't the place to stay… for now.
This stay was a good reminder of how uneven the travel recovery is in the United States. While hotels in Florida are busier than pre-coronavirus, San Francisco hotels still really seem to be struggling.
What do you make of the Four Seasons Embarcadero?
EXTRA PERKS AVAILABLE
Enjoy breakfast, upgrades, & more
Want to take advantage of Four Seasons Preferred Partner benefits, including a space available room upgrade, complimentary breakfast, a hotel credit, and more? Contact Ford ([email protected]) for more details. He may even be able to help if you already have a stay booked.
Read Four Seasons reviews: Athens, Boston, Cap-Ferrat, Denver, Desroches Island, Florence, Fort Lauderdale, Hualalai, Lanai, Los Cabos, Madrid, Maldives at Landaa Giraavaru, Maui, Megeve, Miami, Napa Valley, Naviva, Oahu at Ko Olina, Paris, Punta Mita, San Francisco at Embarcadero, Scottsdale, Seychelles, and Surfside
Learn about Four Seasons deals & offers: Anguilla, Athens, Atlanta, Austin, Bahamas, Bora Bora, Boston, Cap-Ferrat, Costa Rica, Dubai, Fort Lauderdale, Hawaii, Jackson Hole, London, Los Cabos, Maldives, Minneapolis, Nashville, Naviva, New York, Napa Valley, New Orleans, Orlando, Palm Beach, Paris, Philadelphia, Punta Mita, San Francisco, Santa Fe, Seattle, Sicily, Tamarindo, and Vail
Learn about Four Seasons basics: Four Seasons Preferred Partner, Four Seasons Private Retreats, Four Seasons Private Jet, Four Seasons travel agents, Four Seasons loyalty program, and maximizing value at Four Seasons