After flying Iberia A330 business class from Miami to Madrid and staying at the Four Seasons Madrid, it was time to continue our journey to Oman. That started with an Iberia A320neo flight from Madrid to Milan, which I'll be reviewing in this post.
How I booked our Iberia business class tickets
Our time in Oman would be starting in Salalah, so I booked the following in business class for 42,500 AAdvantage miles plus $74.60 in taxes and fees (what a deal!):
02/16 IB3252 Madrid to Milan departing departing 11:30AM arriving 1:45PM
02/16 QR128 Milan to Doha departing 3:50PM arriving 11:35PM
02/17 QR1130 Doha to Salalah departing 12:50AM arriving 4:20AM
While we could have flown nonstop from Madrid to Doha, I decided to book us a connection in Milan instead. Why? Because I wanted to experience Qatar Airways' new Boeing 787-9 business class, which is only available on select routes.
Iberia business class boarding
After spending some time at the Iberia Premium Lounge Dali, we headed to our departure gate, H16. Boarding was scheduled for 11AM, and we left the lounge at around 10:45AM.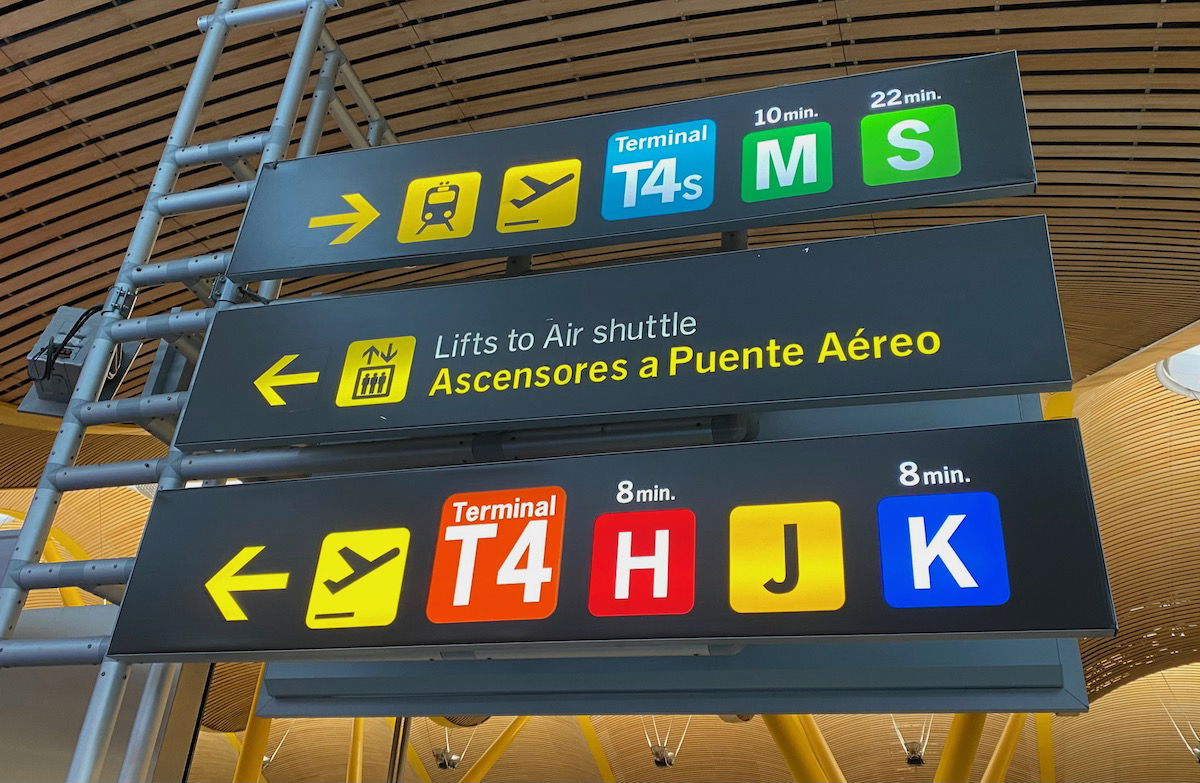 The gate was maybe a five minute walk from the lounge, and that mainly consisted of walking down one long hallway.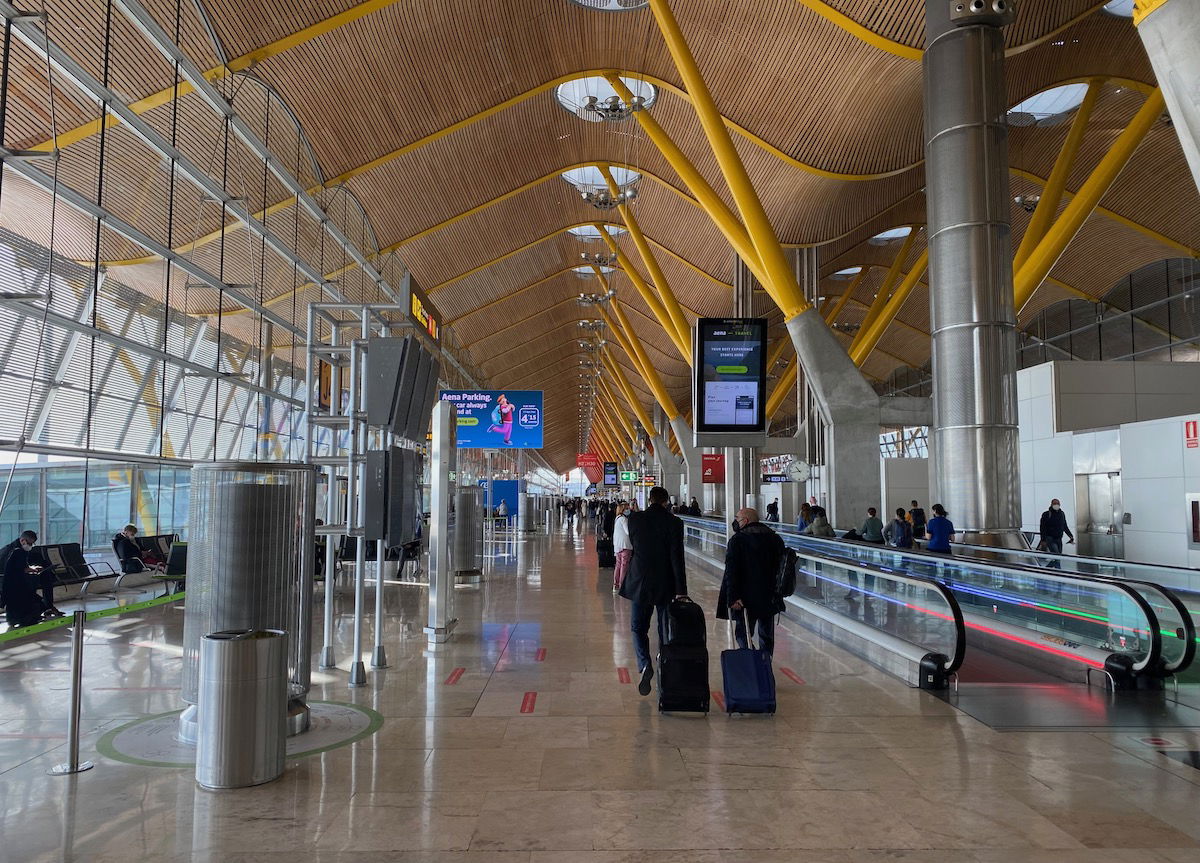 I was surprised to find that boarding started at 10:50AM (10 minutes early), with business class passengers being invited to board first.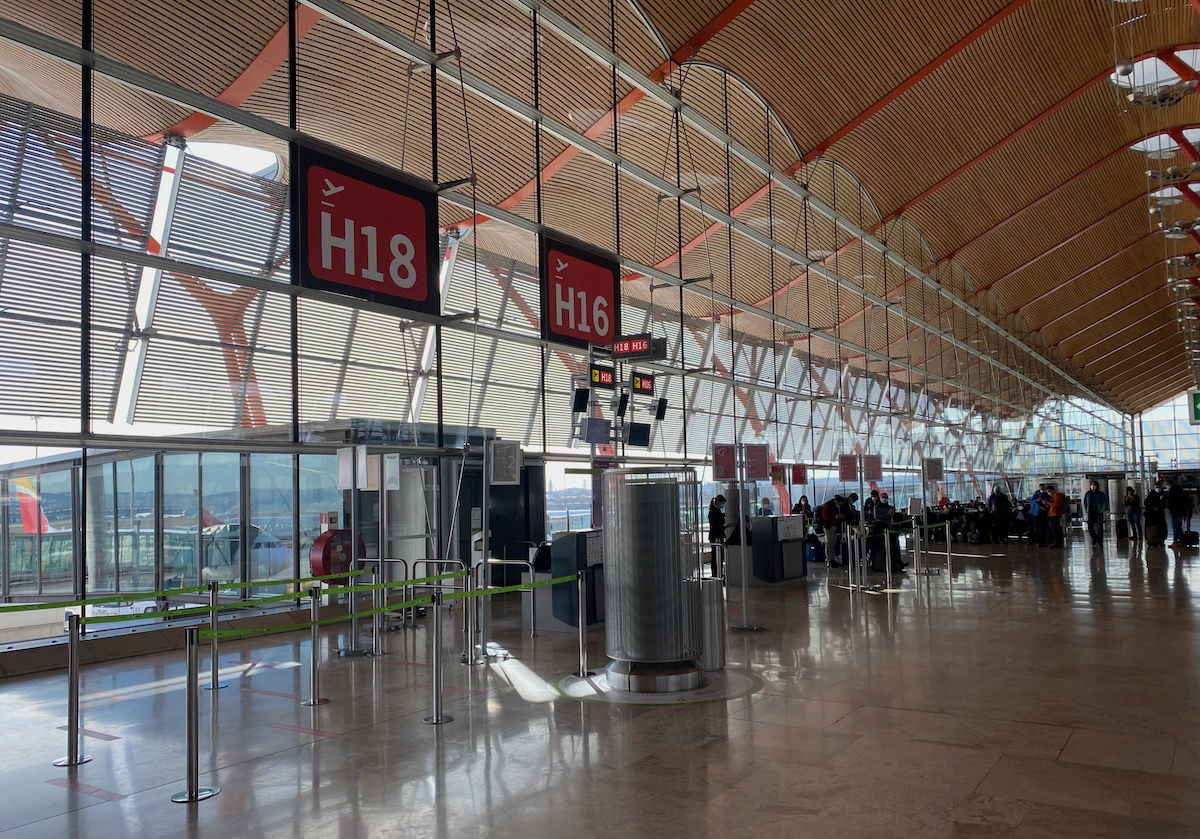 Once down the jet bridge, there was still a barrier preventing boarding from starting. However, that was removed within a few minutes.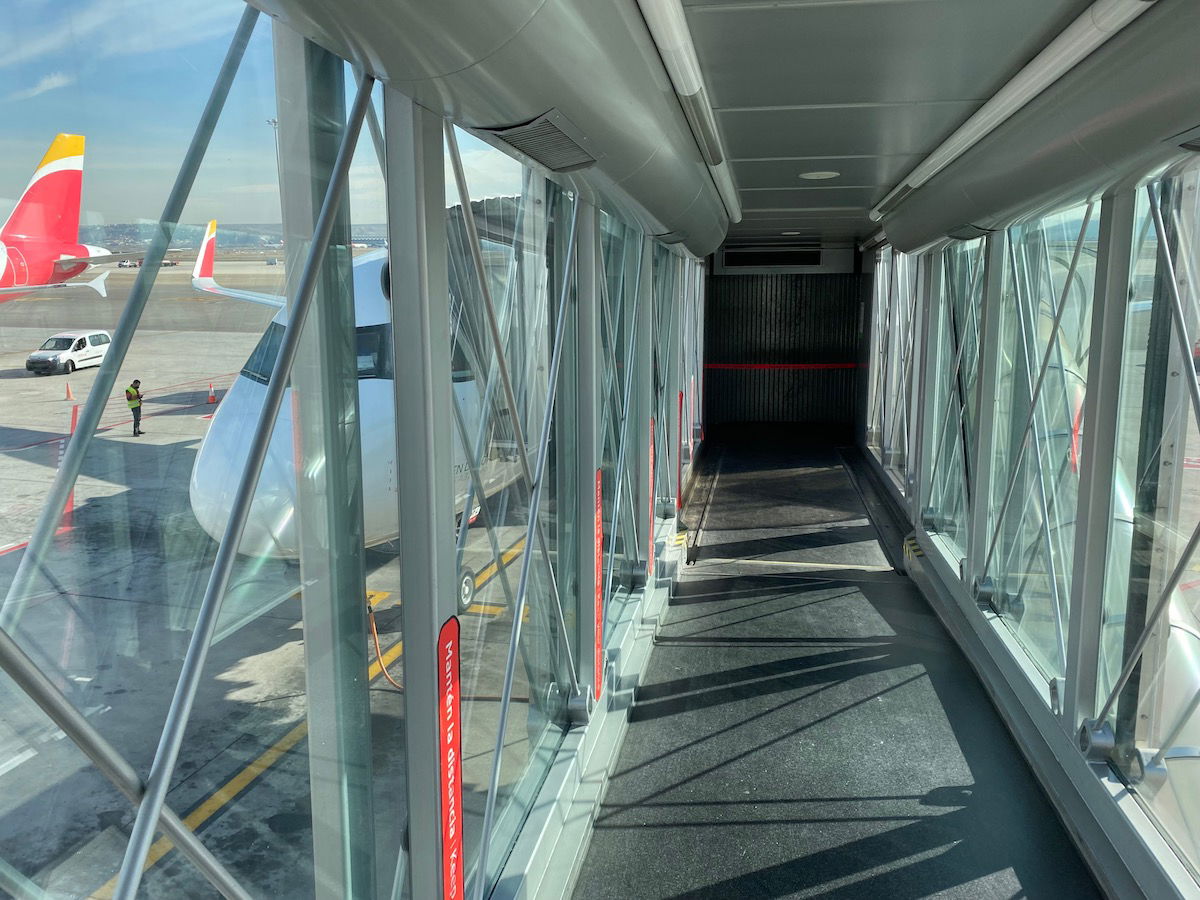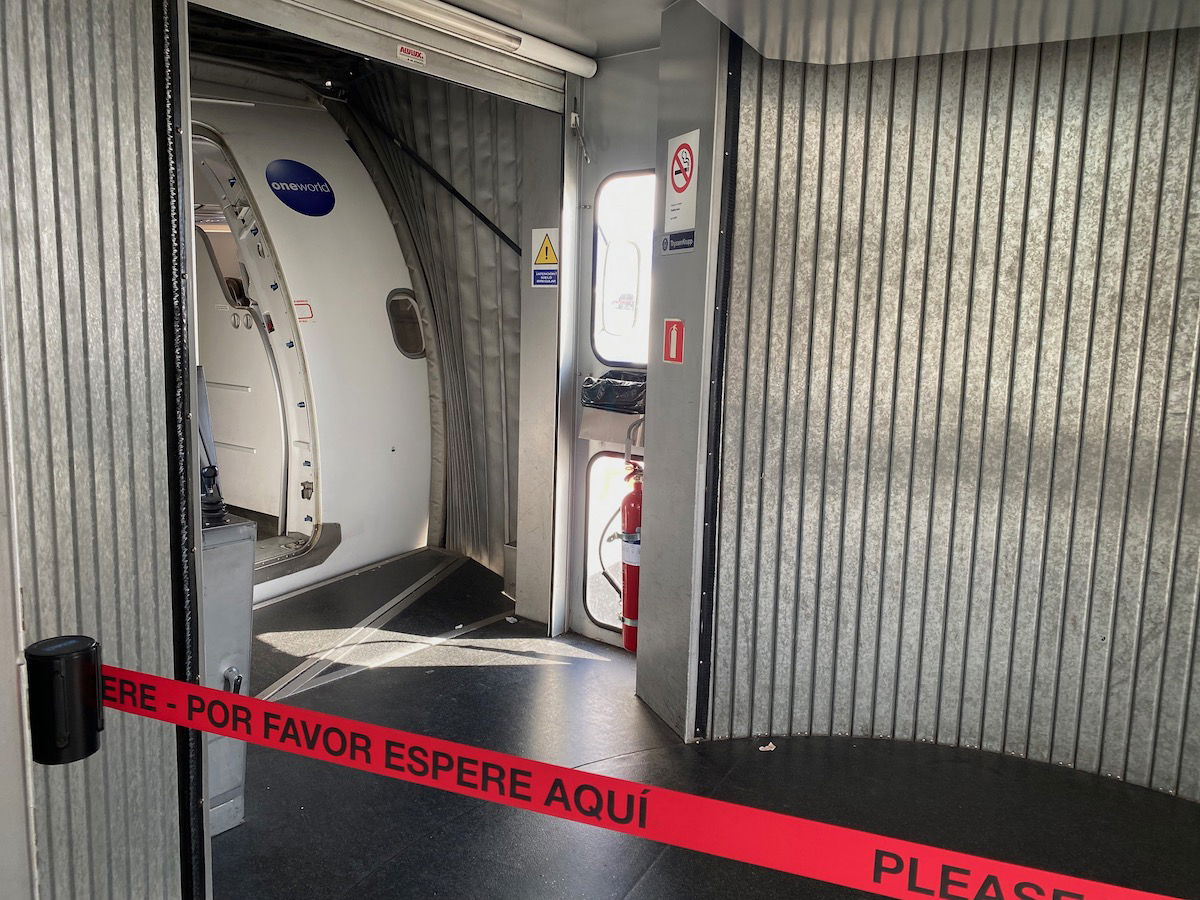 Iberia Airbus A320 business class cabin & seats
As is standard on intra-Europe flights, business class simply consisted of economy seats with blocked middles. In this case there were five rows, and eight of the 20 seats were occupied. In theory the size of the cabin could change with each flight by just having the partition moved around. However, this particular plane actually had different seats in business class than economy.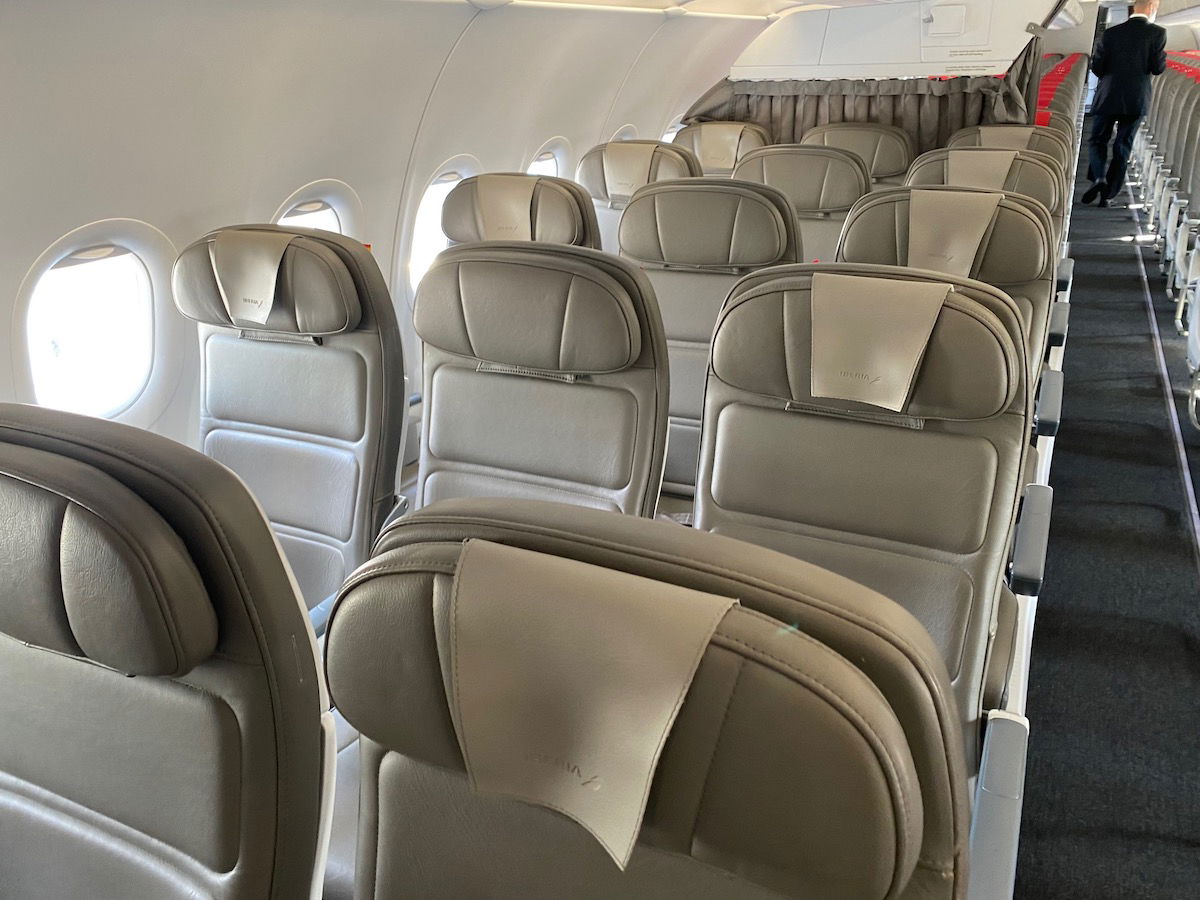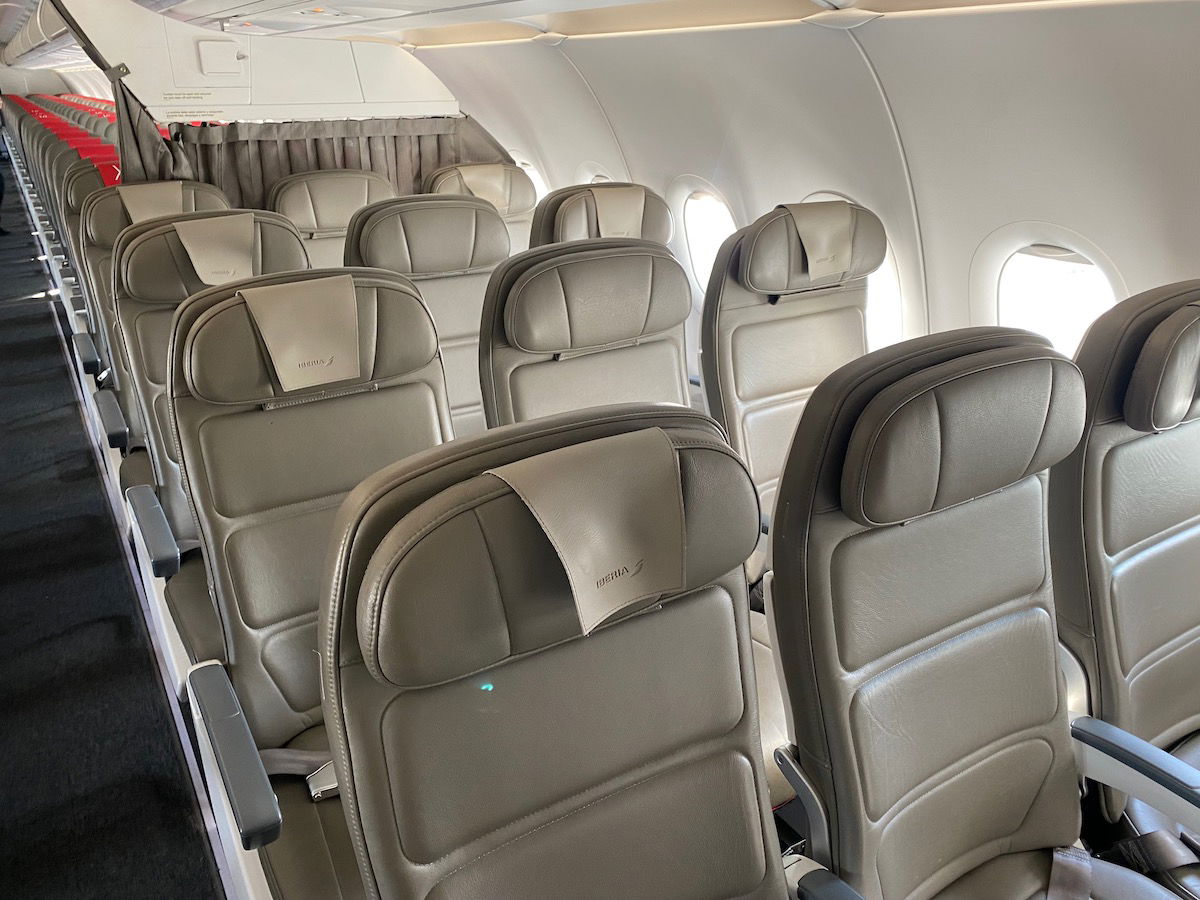 Below is a look at the economy cabin — as you can see, these are different seats. It seems like the business class seats are the same that you'll find on British Airways, while the economy ones… aren't. The cabin still felt pretty "fresh" — for what it's worth, we were flying on the two year old A320neo with the registration code EC-NFZ, so it was one of Iberia's newer A320s.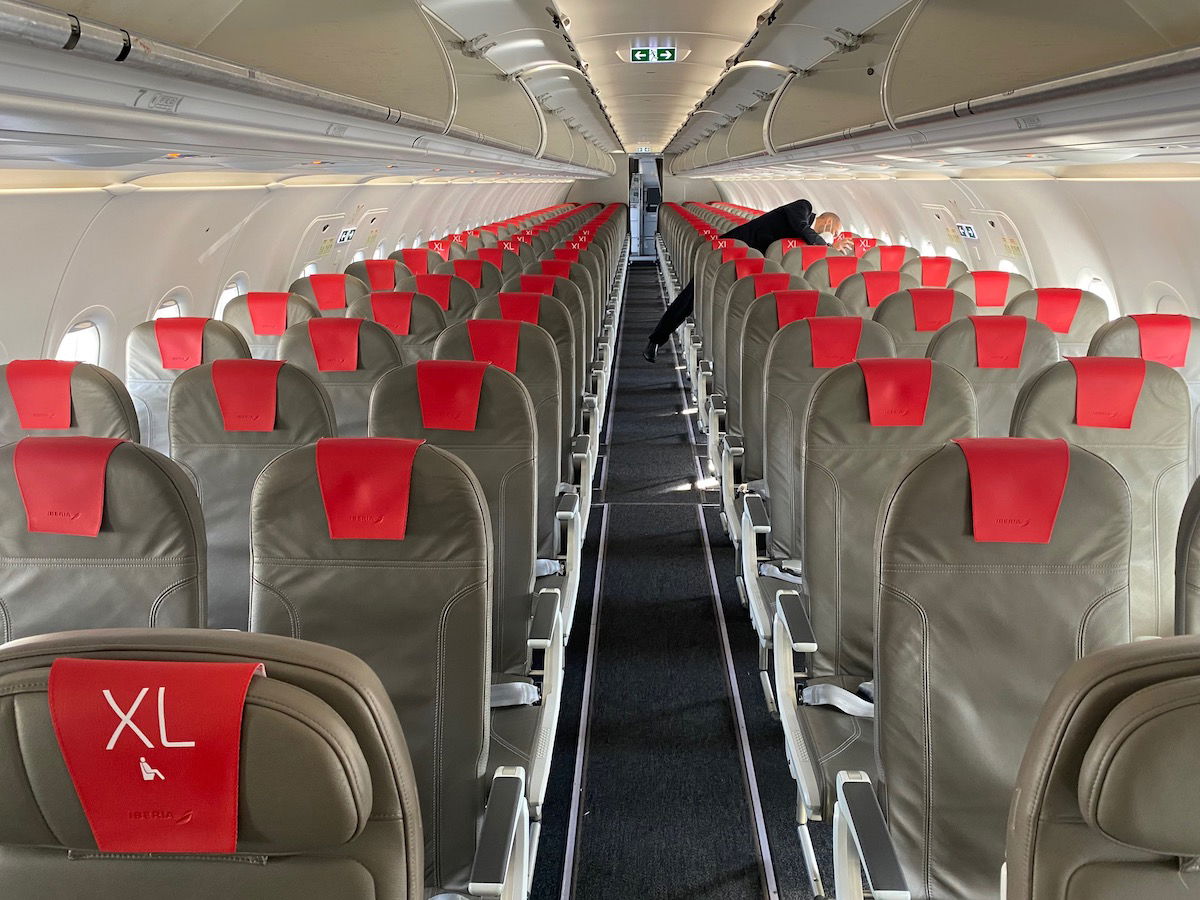 I assigned us seats 5A & 5C, the aisle and window in the last row of business class on the left. While legroom was by no means great, it wasn't awful either.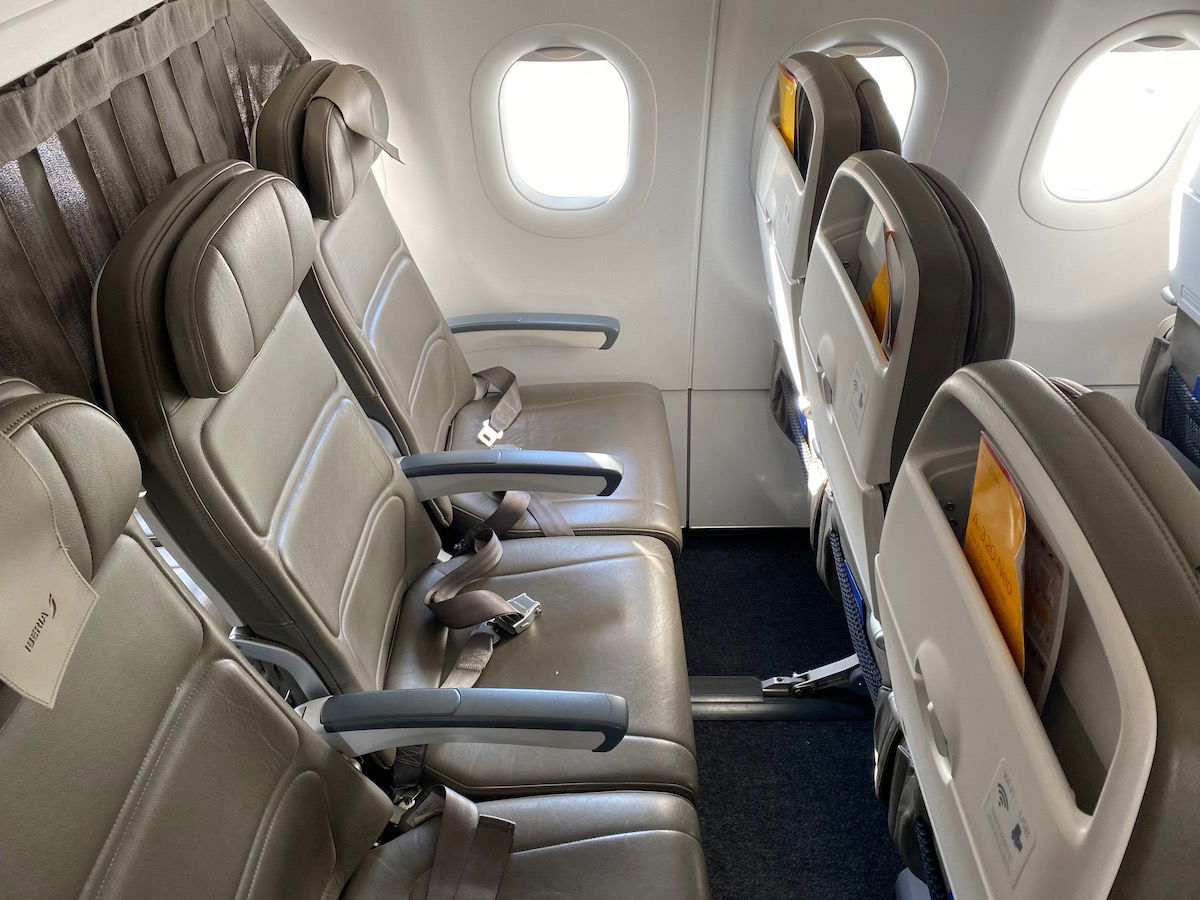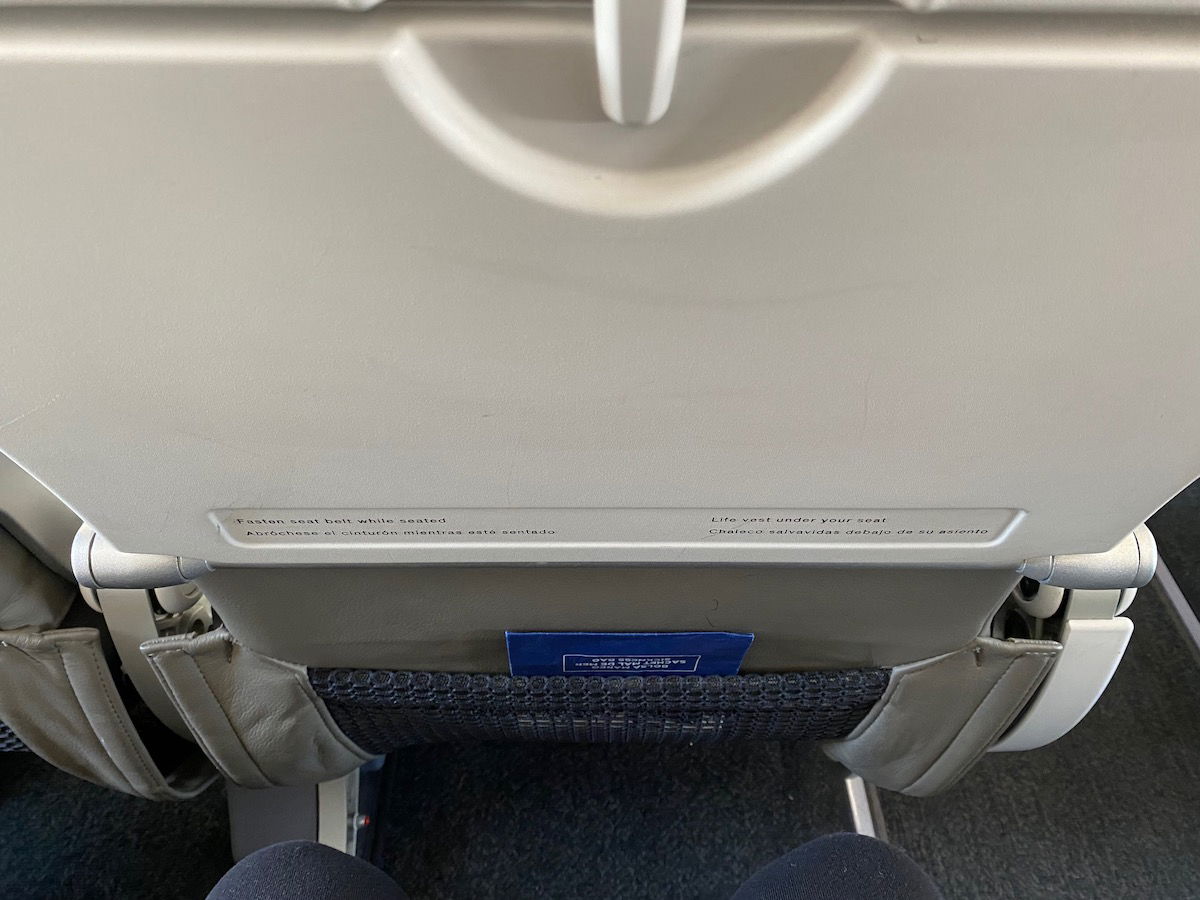 Each seat had a tray table plus a literature pocket.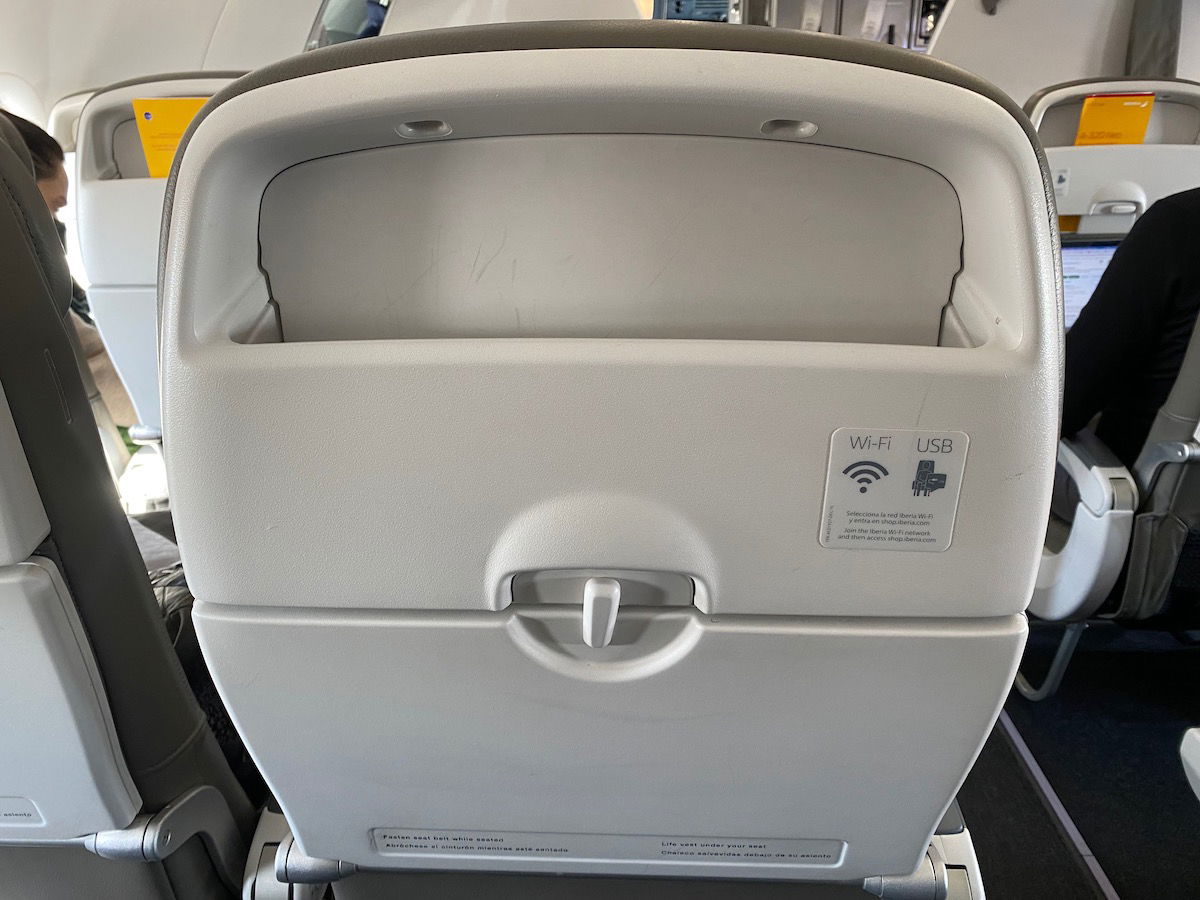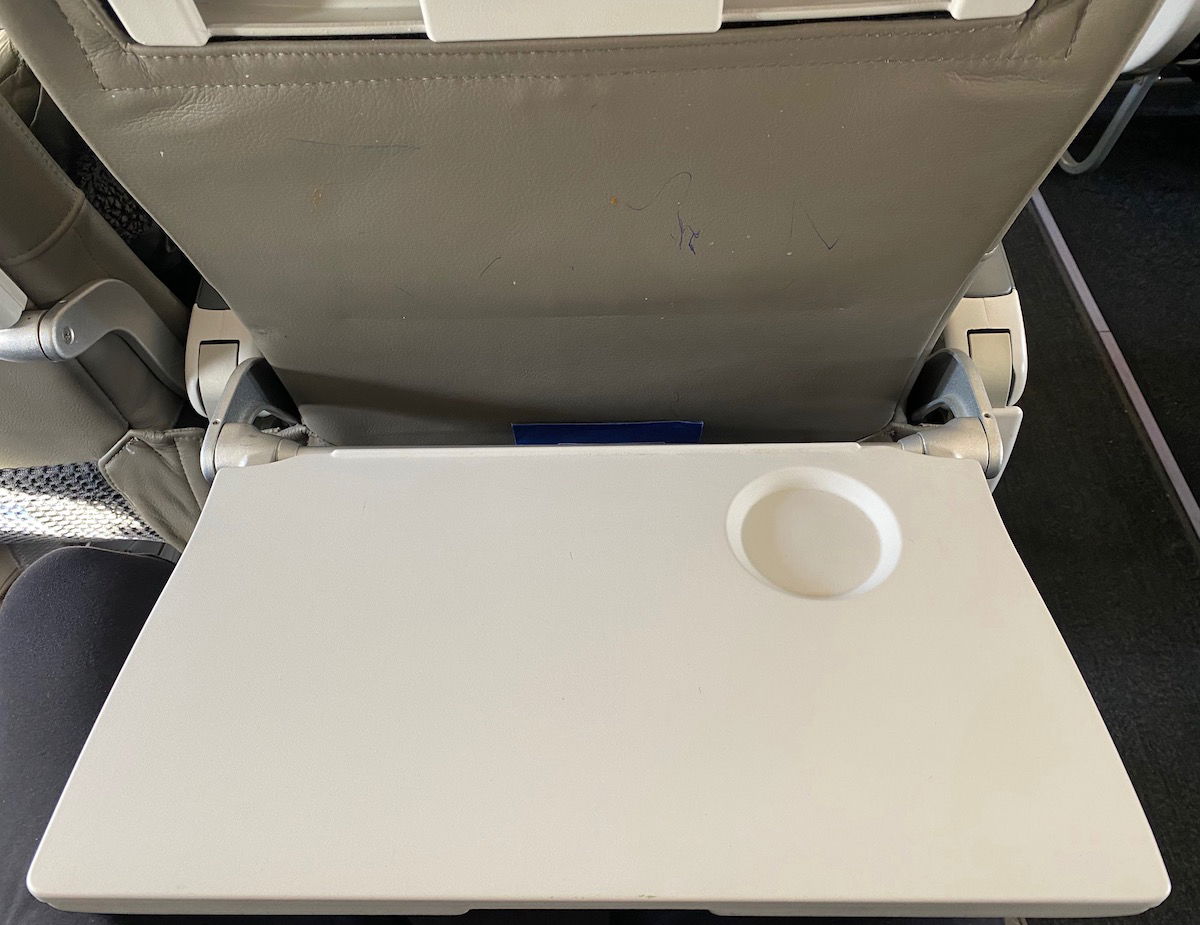 What was most pleasantly surprising is that each seat also had an AC and USB power outlet. It's sad how low my expectations are of short haul aircraft in Europe (minus Aeroflot and Turkish, which are great), but I'd consider that to be a near cutting edge amenity.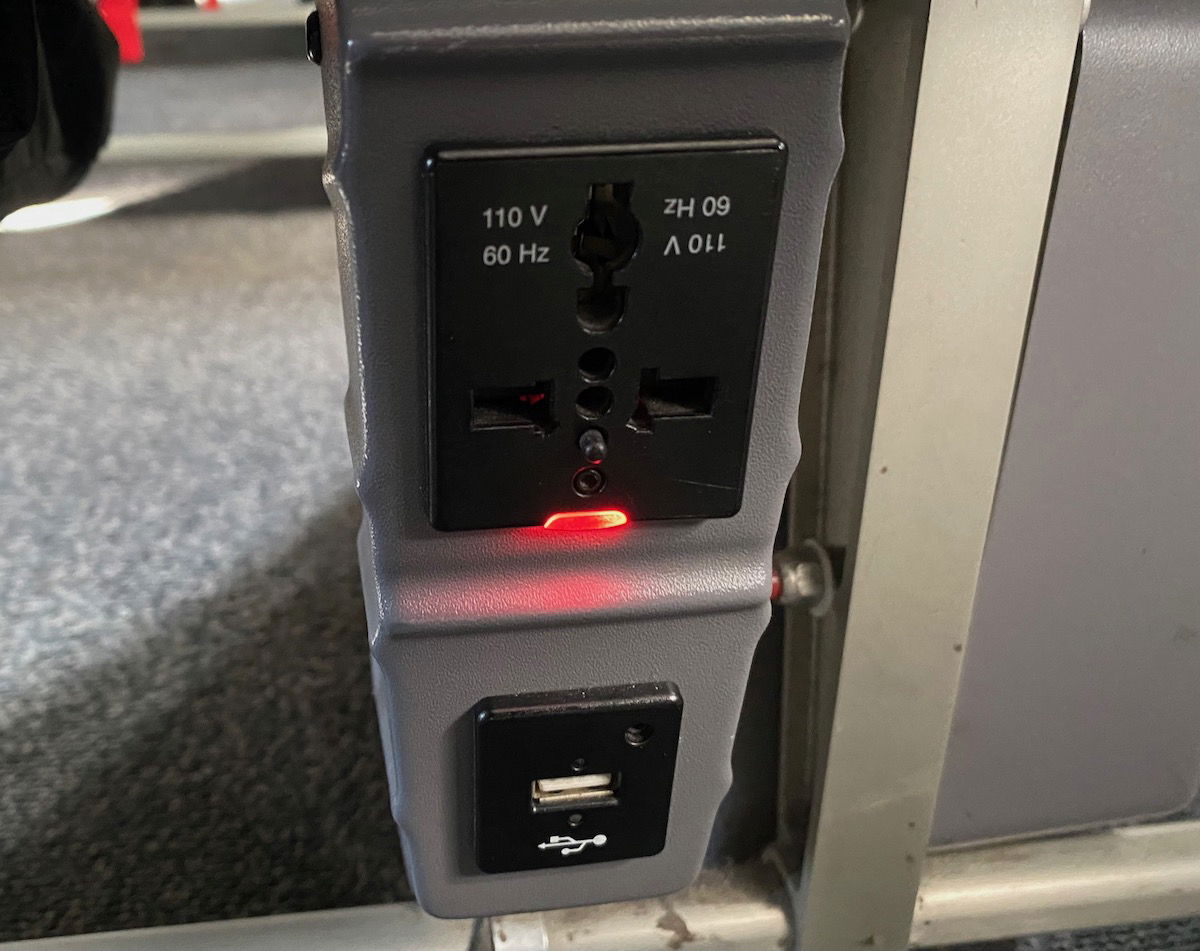 The overhead consoles were also modern, and had individual air nozzles.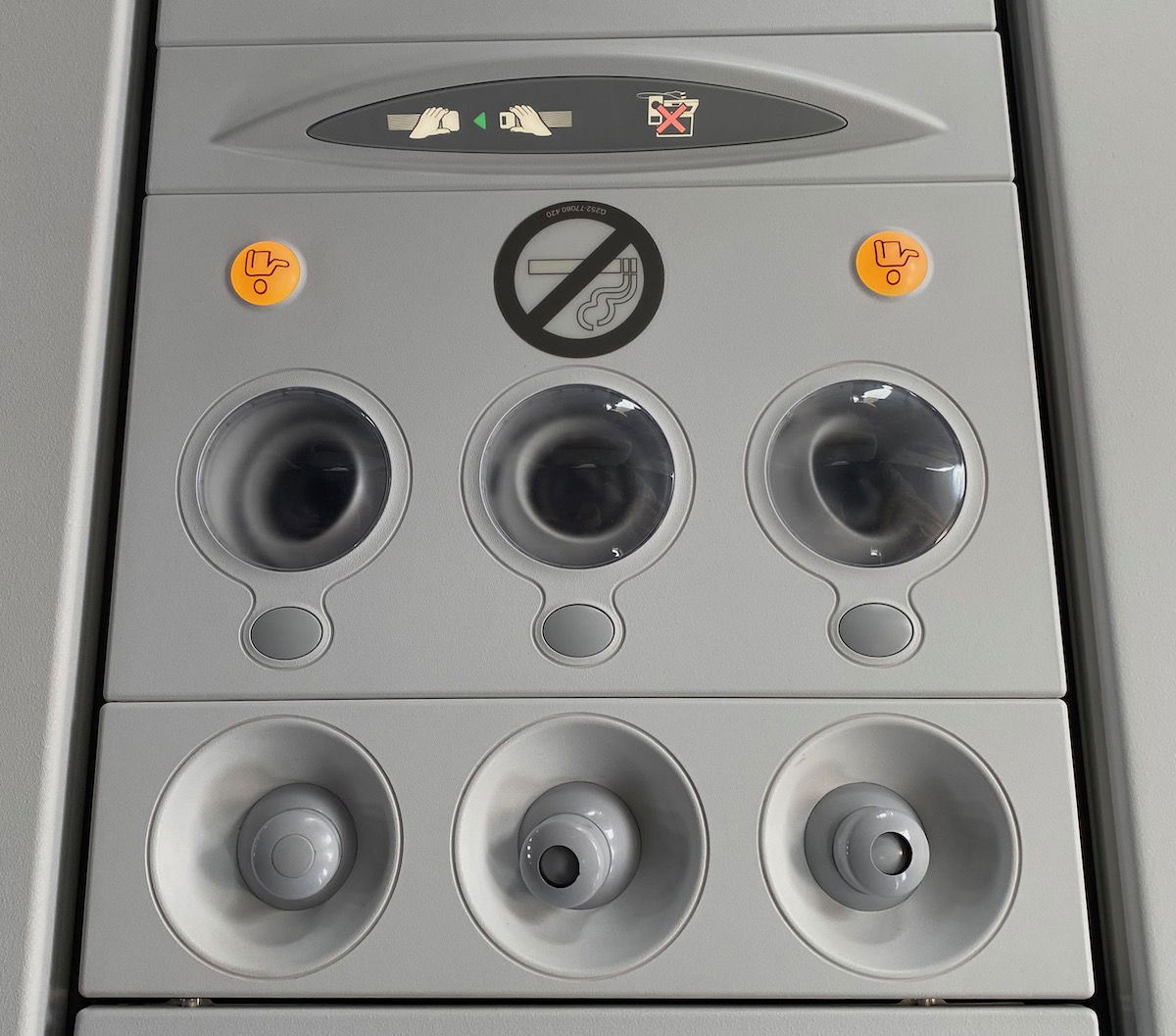 There was also a lavatory at the front of the cabin, which was reasonably clean.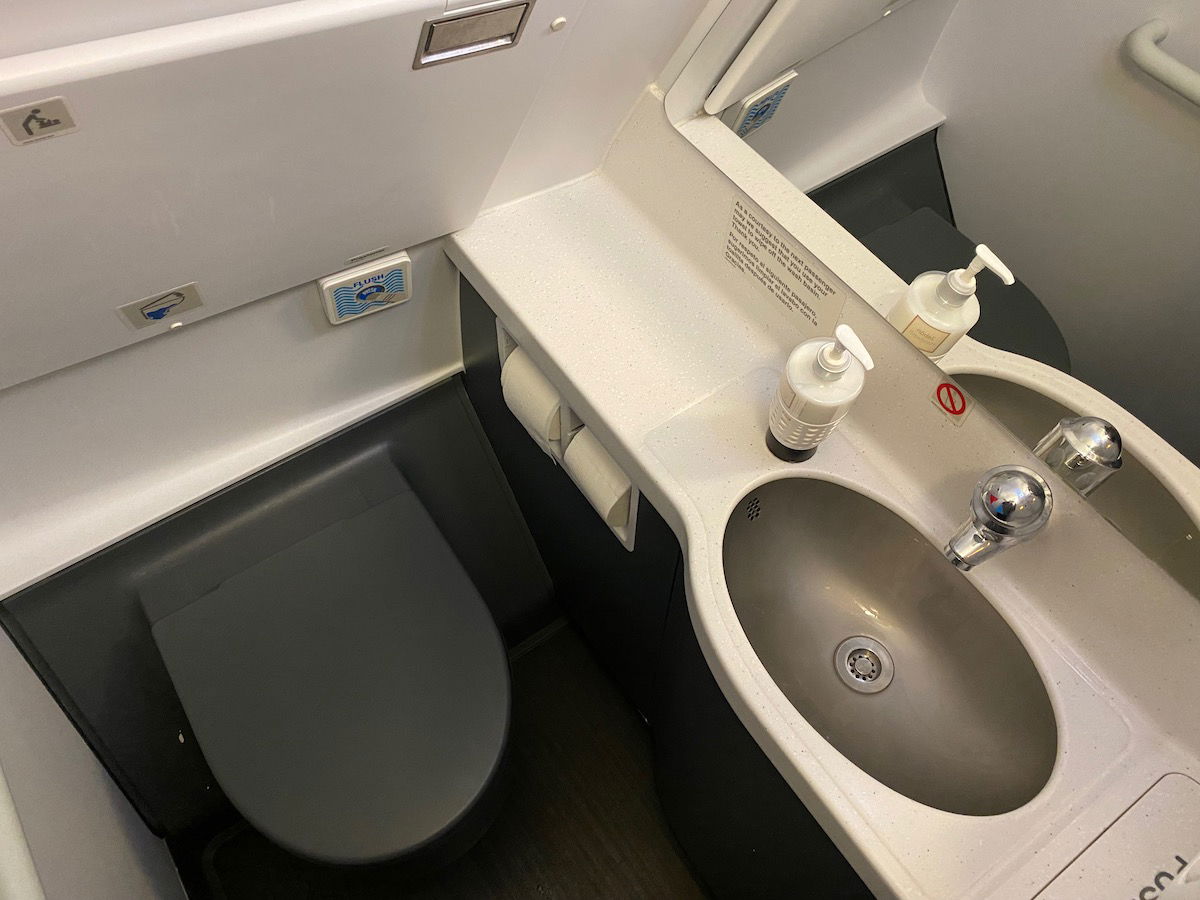 Iberia departure from Madrid
Boarding was surprisingly slow, given that this isn't a huge plane, and we started boarding early. I was impressed that all of the flight attendants were wearing N95s or KN95s (unlike in the US, where flight attendant unions complain that they feel unsafe and want to suspend service, and then they wear cloth masks). Furthermore I noticed that the flight attendants strictly enforced correct mask use during boarding, which is to say that anyone with a mask under their nose was asked to pull it up.
Once boarding was completed, sanitizing wipes were distributed.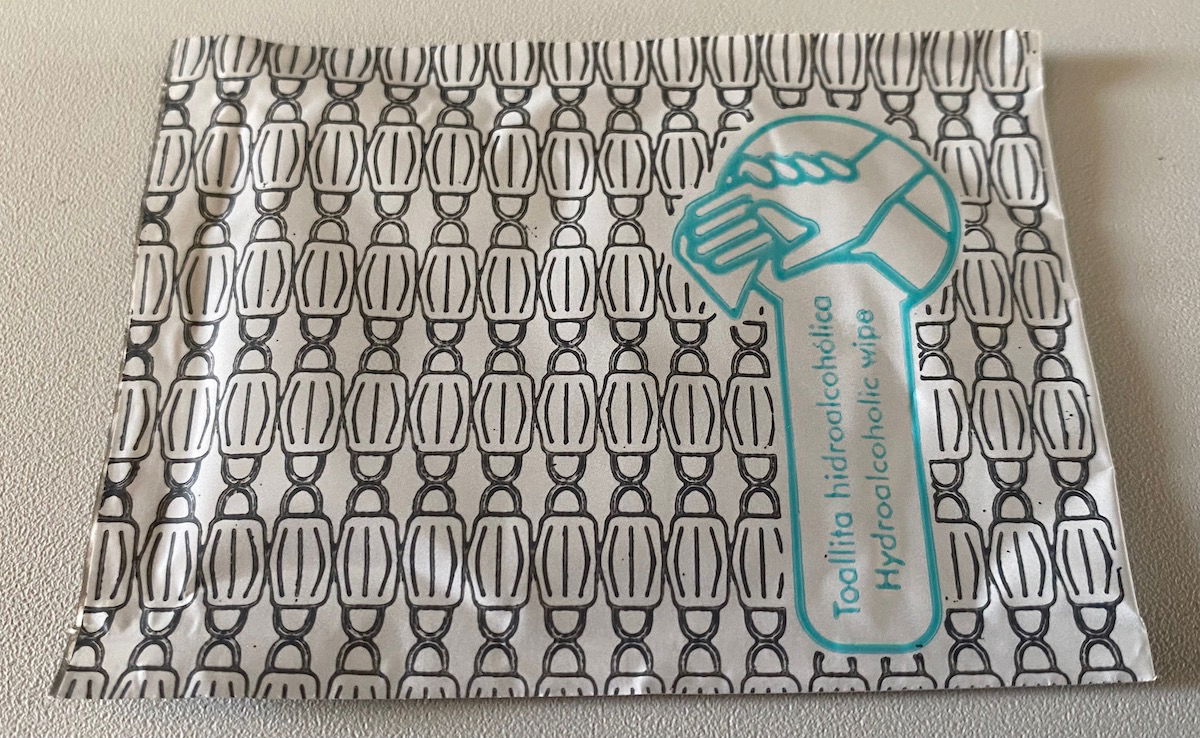 At 11:25AM the captain came on the PA to announce our flight time of 1hr55min, but said that we were still waiting on one passenger who had checked a bag. If the passenger didn't show up they'd have to offload the bag, which can take a while. Fortunately the person showed up within a couple of minutes.
At 11:30AM we began our pushback, and five minutes after that we began our taxi. Around this time the safety demonstration was performed — there was a recorded track, and then flight attendants performed the demo in the aisle.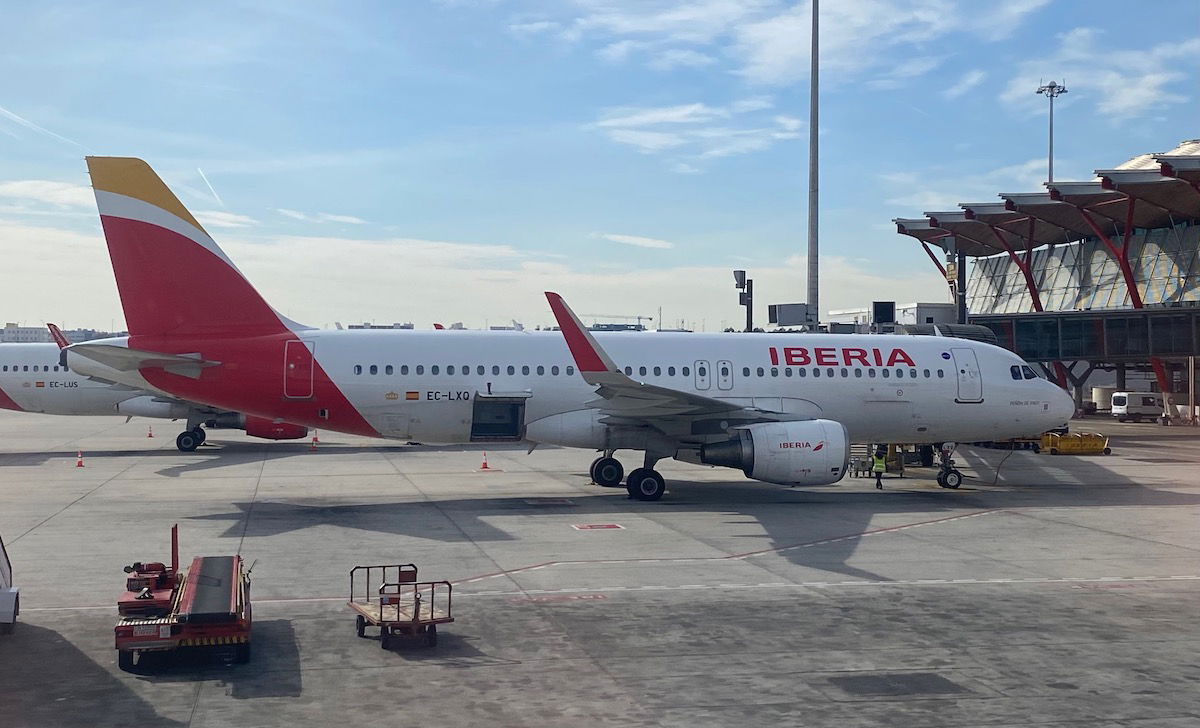 I enjoyed the view as we taxied out, and in particular all the Iberia jets lined up at T4.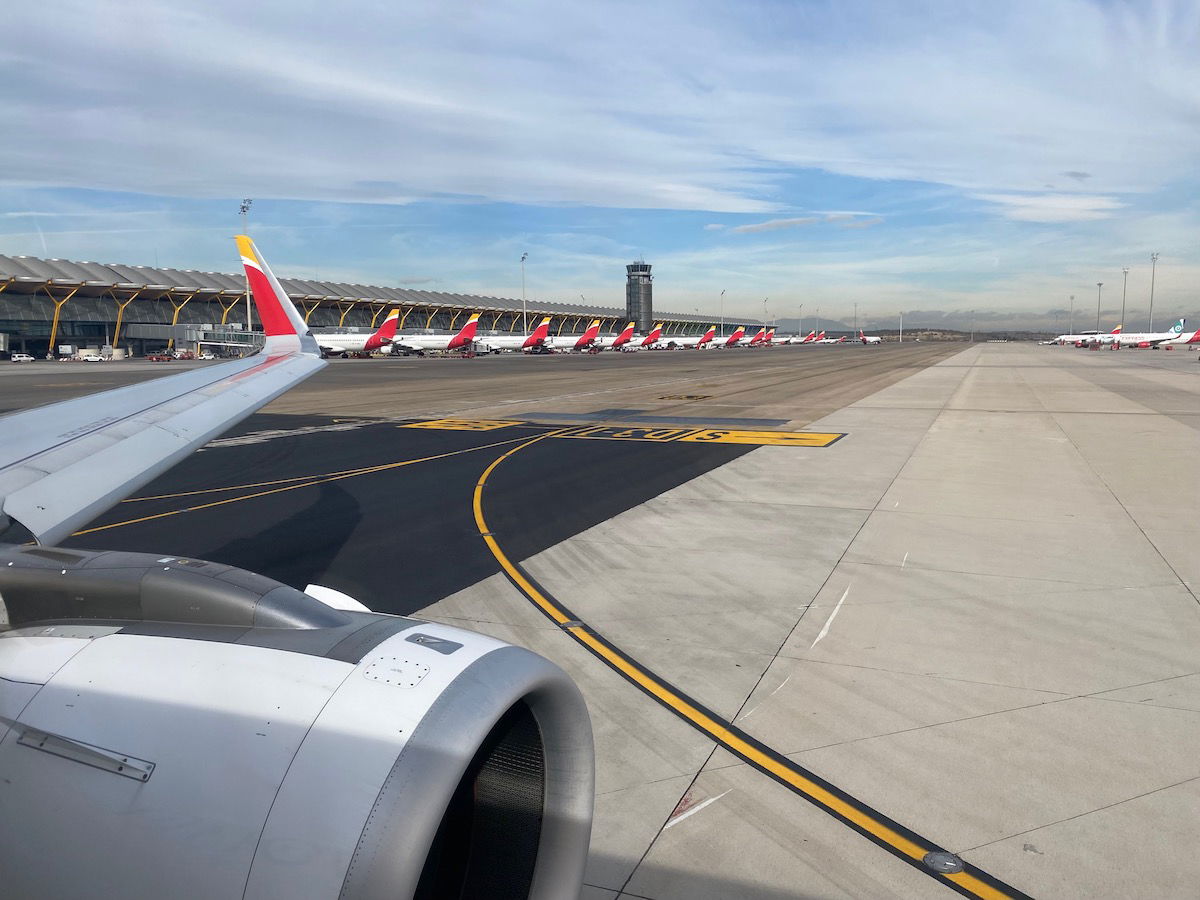 We taxied out behind another Iberia A320neo, and made it to runway 36R by 11:45AM.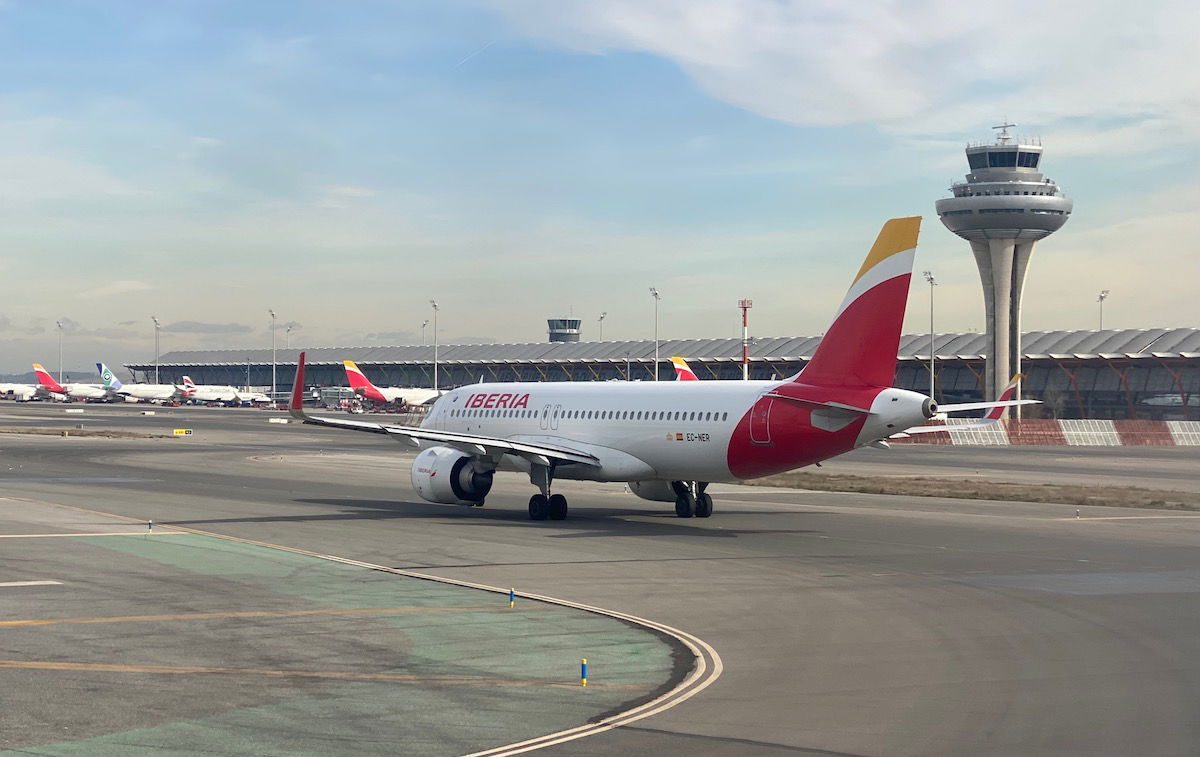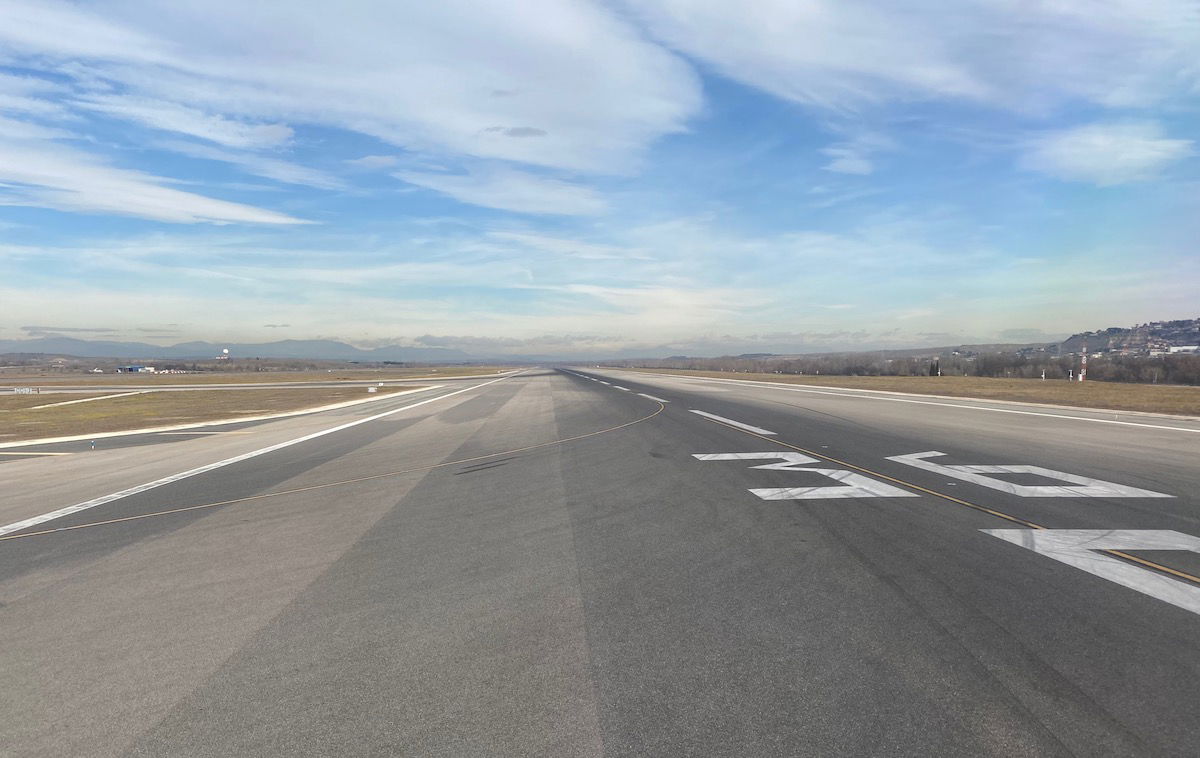 We had a quick takeoff roll and a steep climb out of Madrid. The seatbelt sign was turned off within five minutes.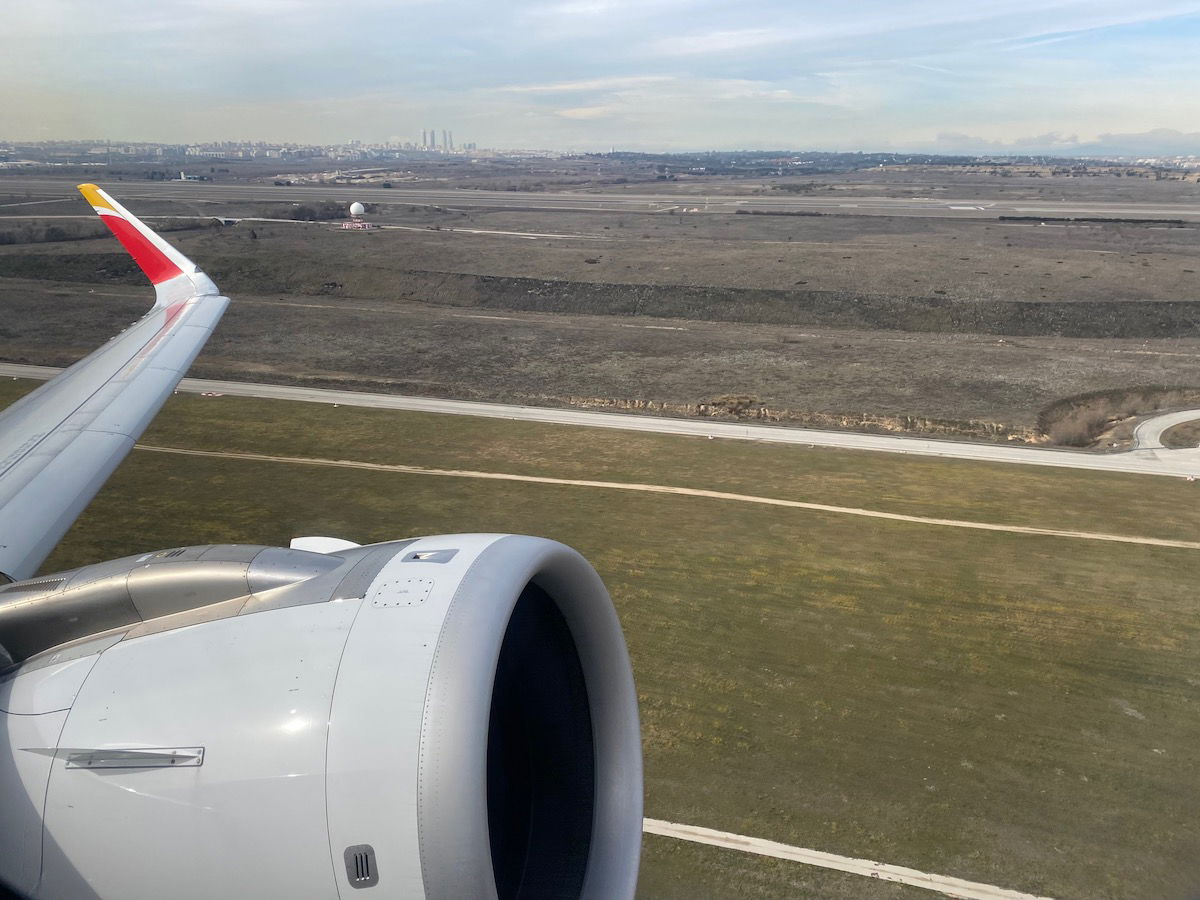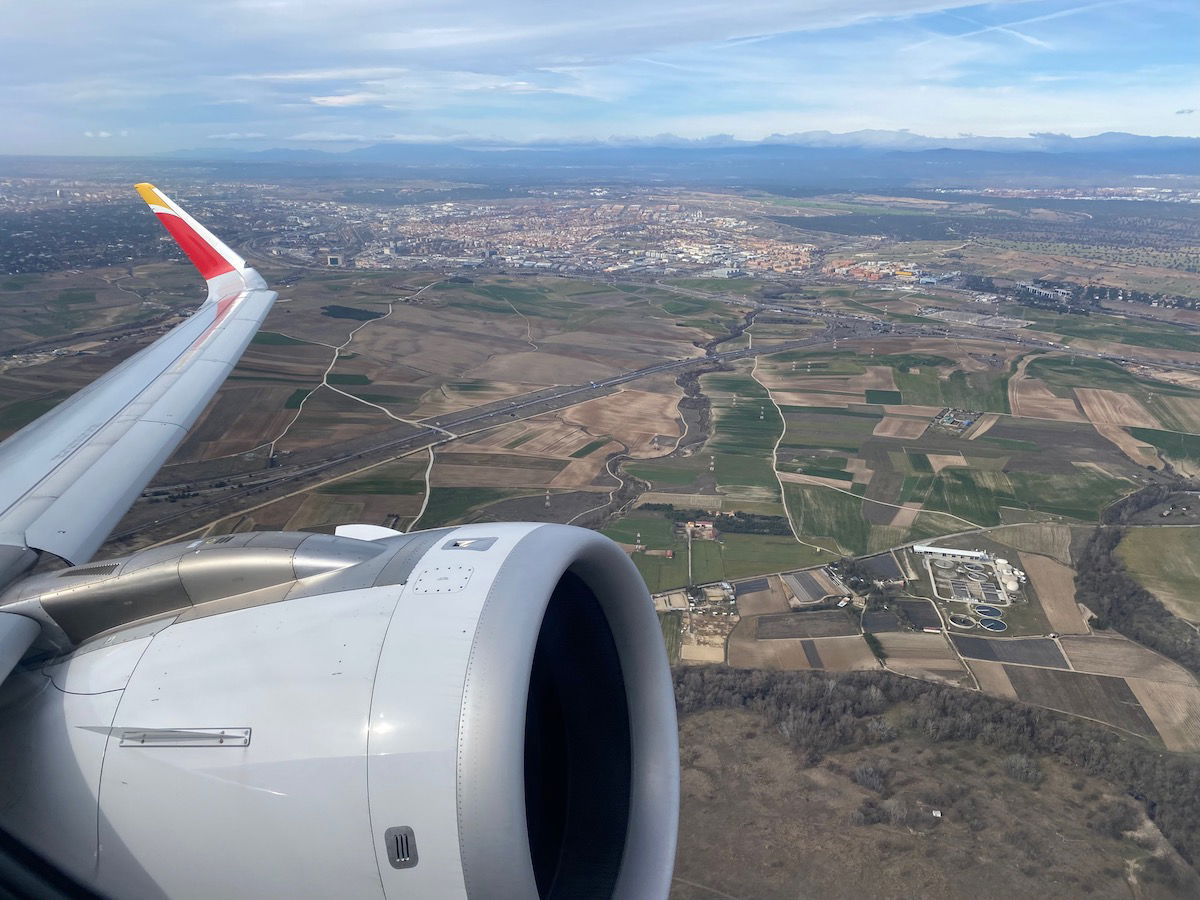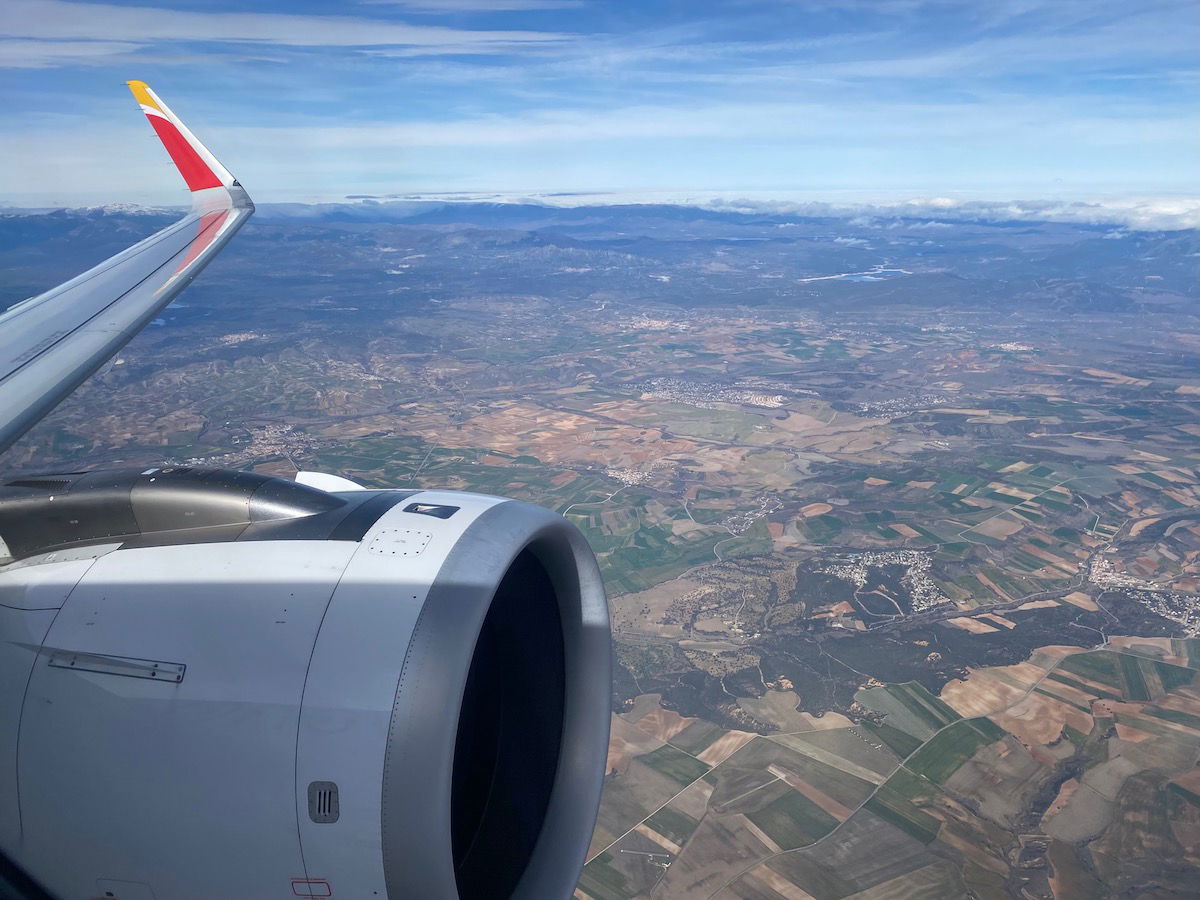 Iberia business class Wi-Fi
I was delighted to find that this Iberia A320neo had Wi-Fi. Power outlets and Wi-Fi on an intra-Europe flight? I should buy a lottery ticket!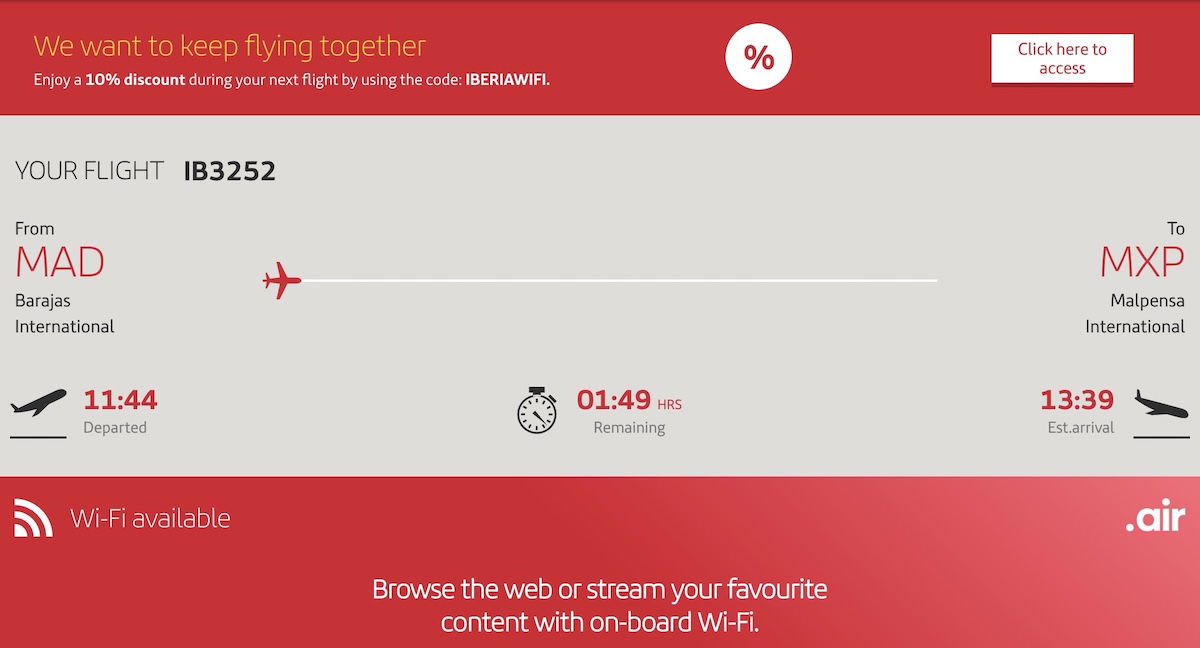 Not only was there Wi-Fi, but it was quite reasonably priced. A Wi-Fi pass for the entire flight cost 8.99 EUR, and included unlimited data usage. Speeds were excellent as well, so I was able to stay productive the entire flight.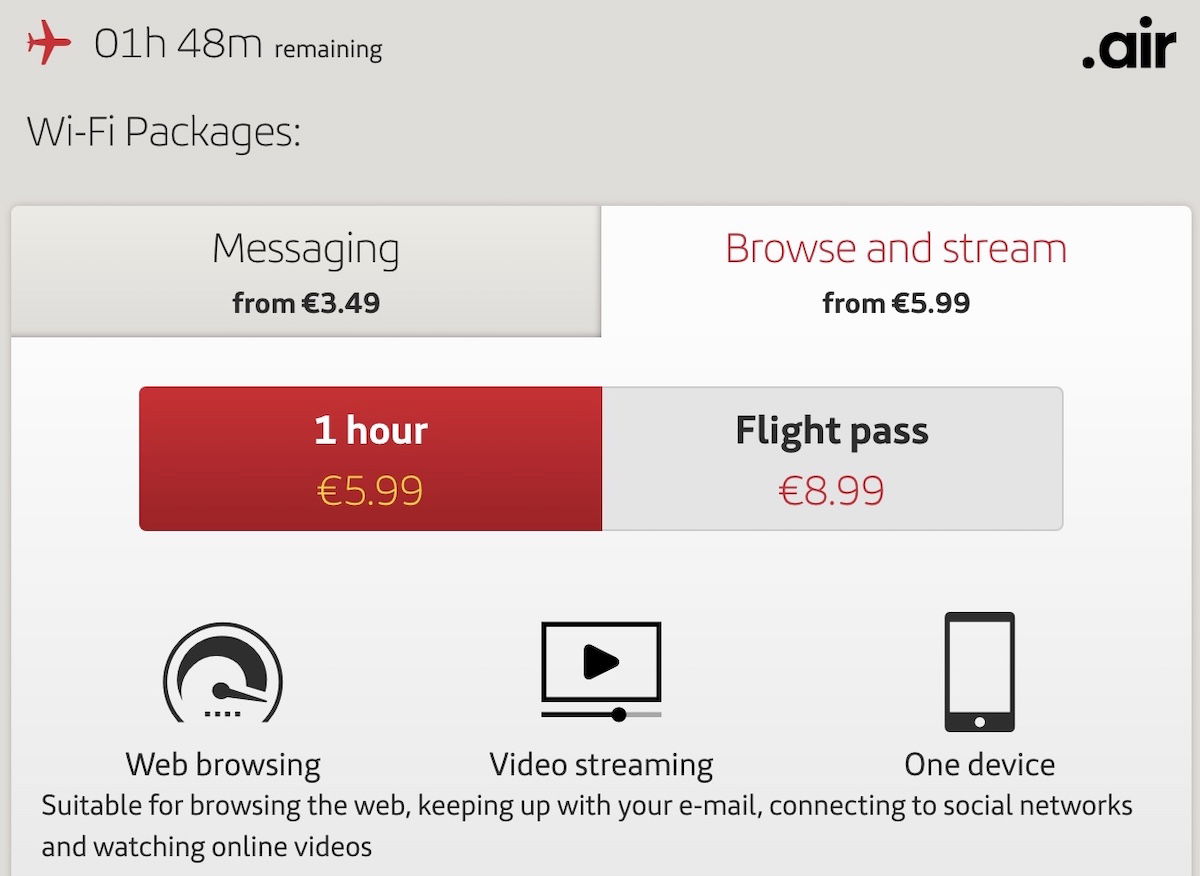 Iberia business class lunch & service
After takeoff the curtains were closed between the galley and the cabin.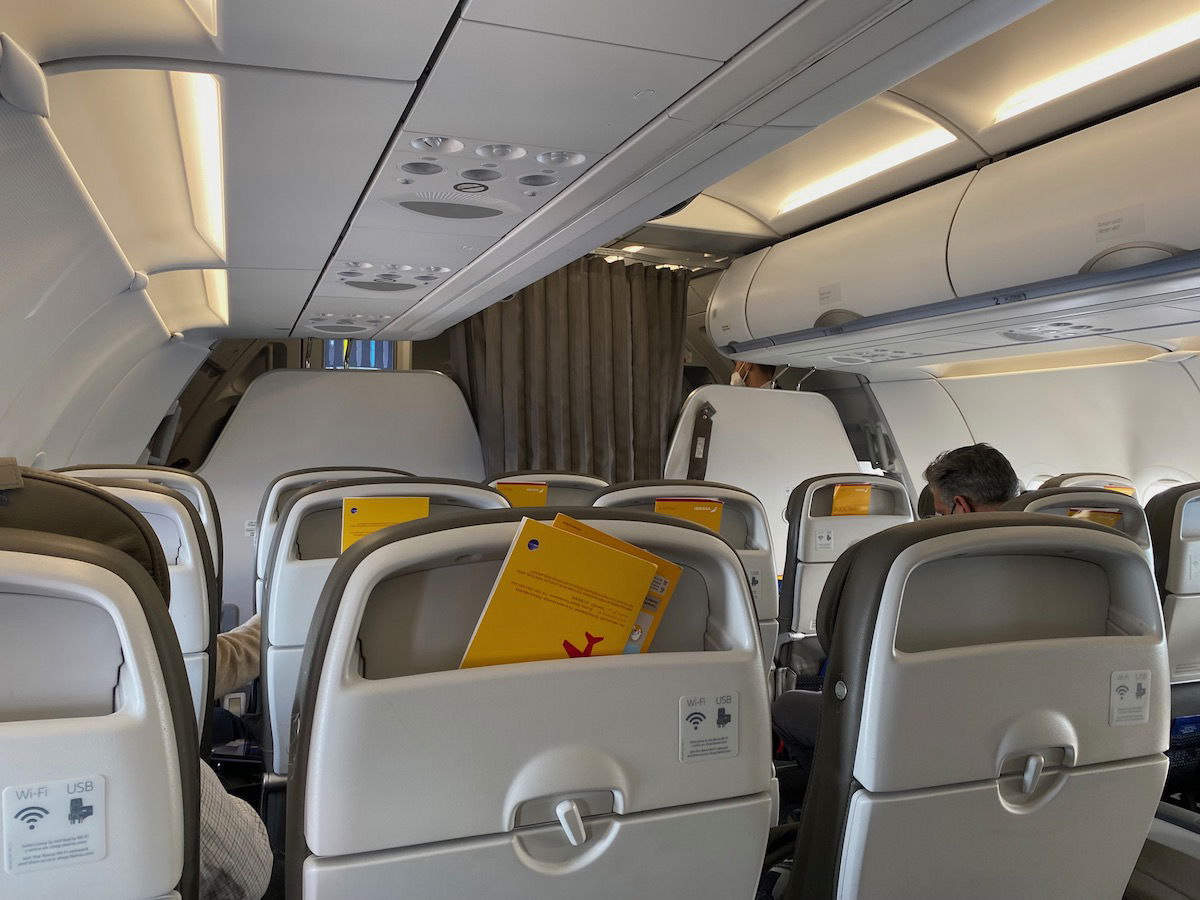 Shortly thereafter a flight attendant came through to take lunch orders. The choices were described as either cod with vegetables and mustard sauce or spinach gnocchi. Everything was brought out on a single tray about 10 minutes later. Like on the long haul Iberia flight, dishes were served covered.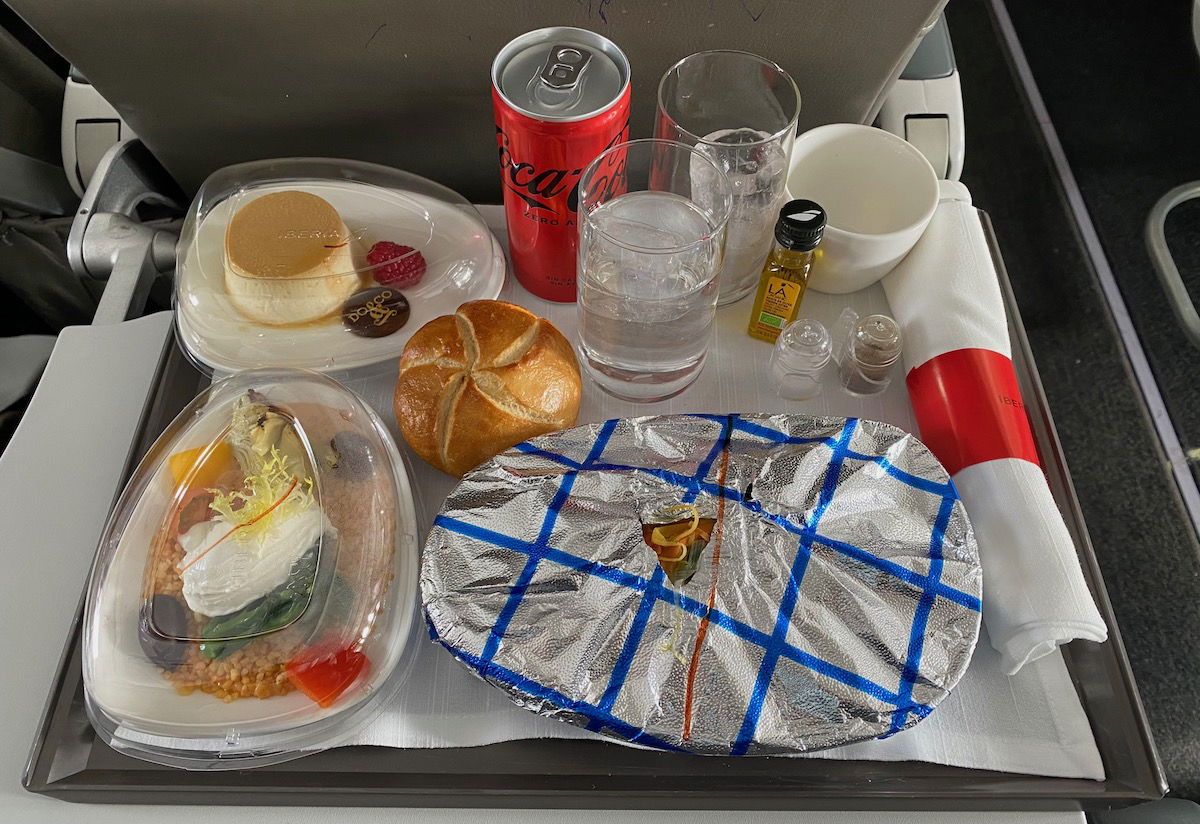 I was impressed by the catering, as there aren't many airlines that serve hot meals intra-Europe on flights of under two hours. My cod was decent enough, and was served with an appetizer (I think it was some sort of a quinoa salad), a bread roll, and a panna cotta dessert.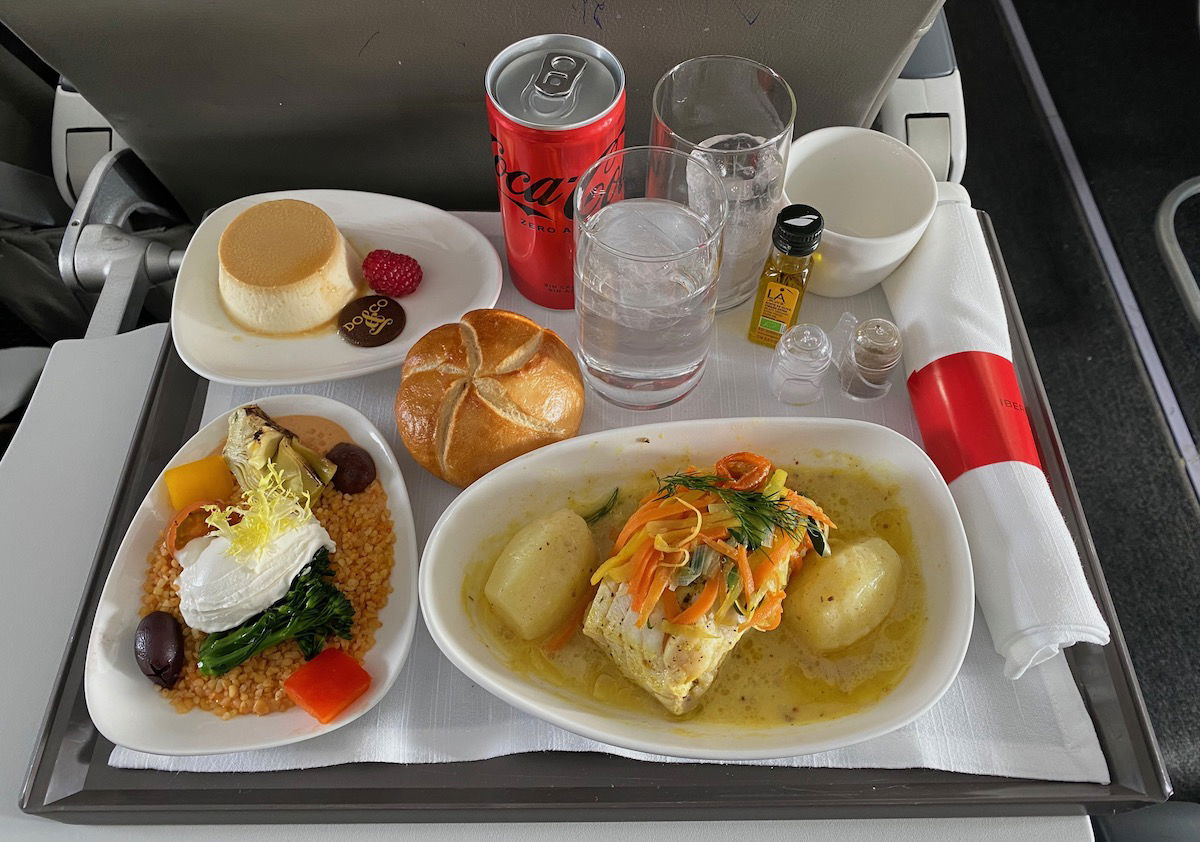 Ford ordered the spinach gnocchi, which was swimming in a cheese sauce, but was otherwise quite good.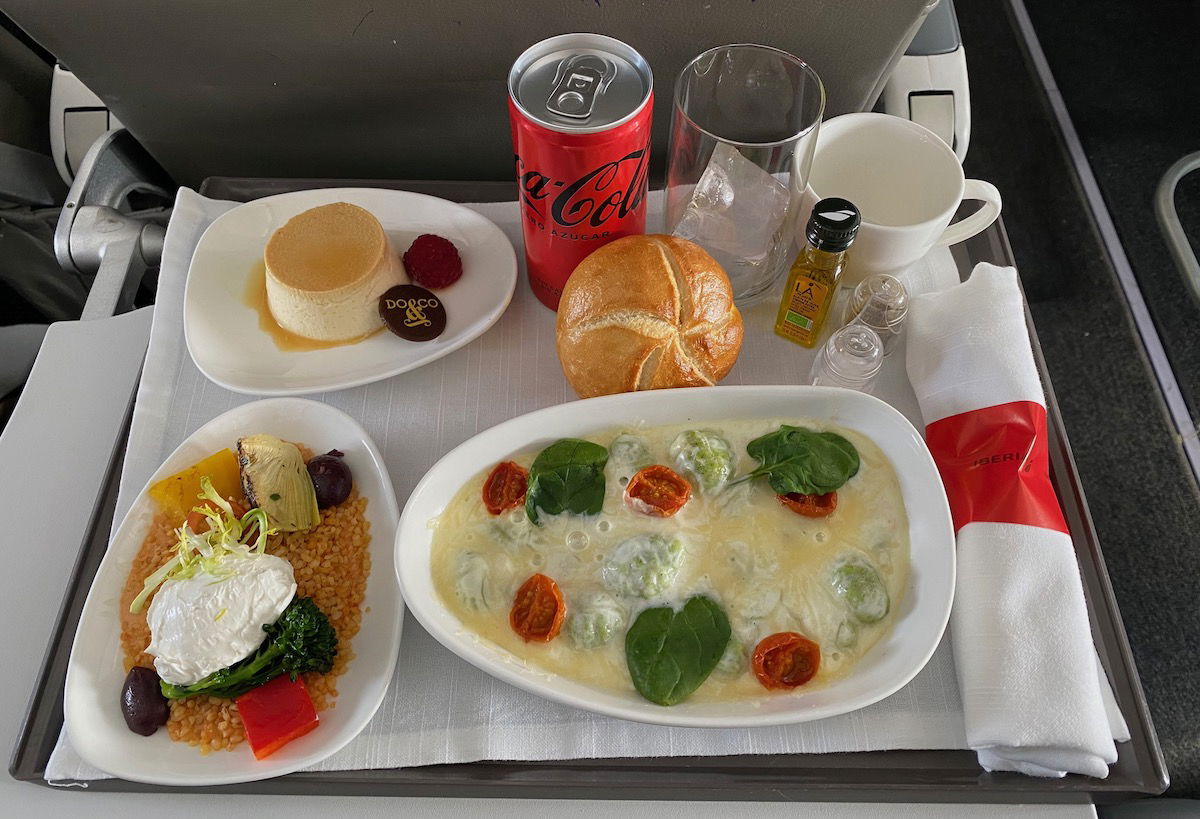 After the meal I ordered a cup of coffee. Iberia's coffee cups are comically small (more like espresso cups), though fortunately the flight attendant was happy to provide a couple of refills.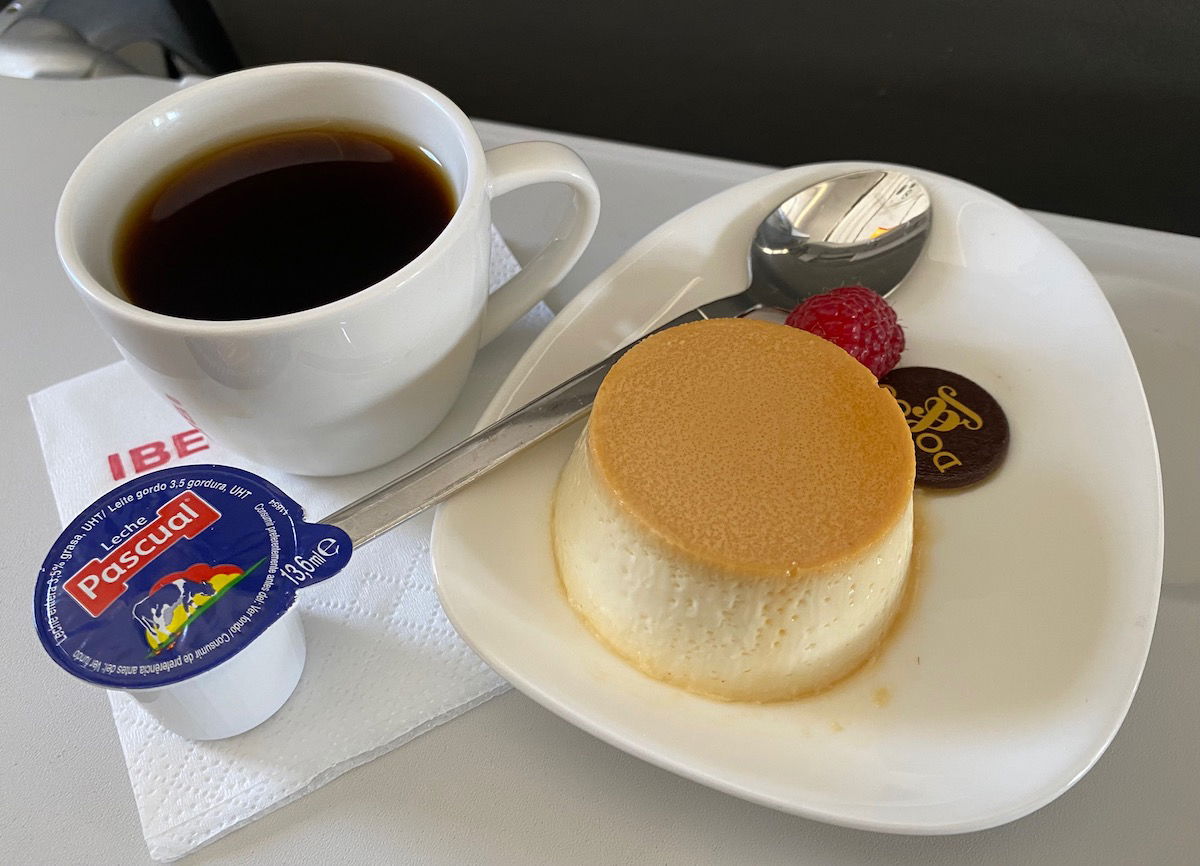 The crew on this flight was efficient and willing to fulfill requests, but was hardly over-the-top friendly.
Iberia arrival in Milan
At around 1:10PM we began our descent for Milan, and 10 minutes after that the seatbelt sign was turned on. We had a smooth approach, and touched down at 1:35PM.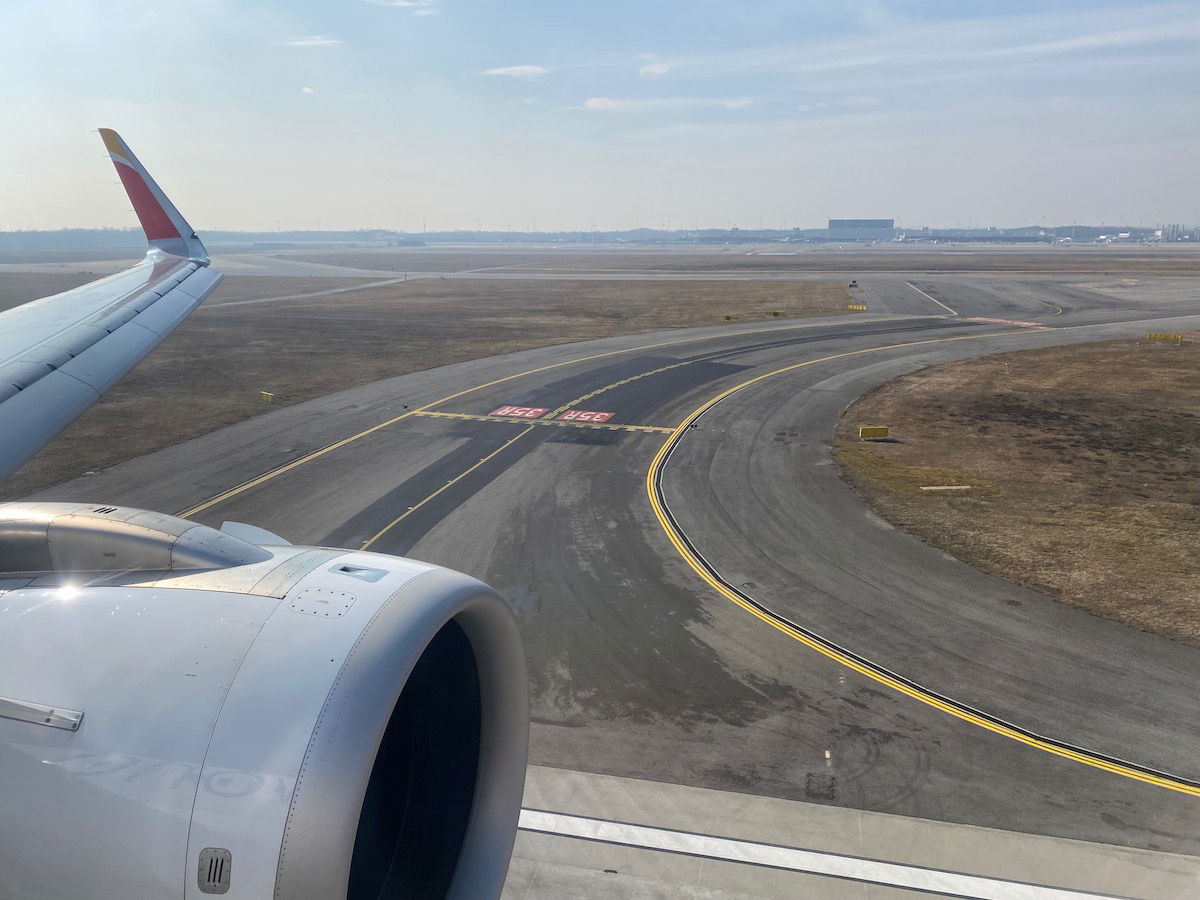 From there it was just a short five minute taxi to our arrival gate, where we pulled in five minutes ahead of schedule.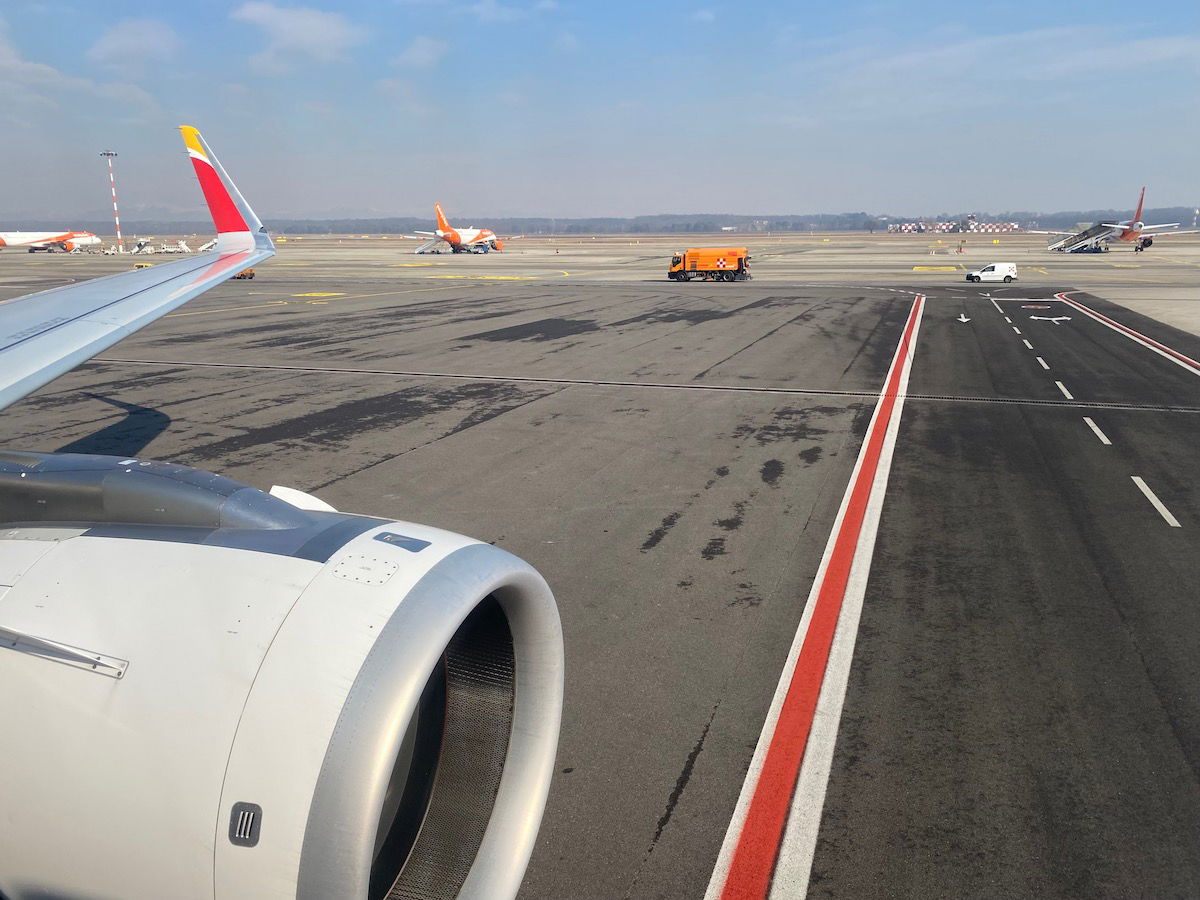 Bottom line
Iberia really impressed me with its short haul product. The plane had power outlets (AC and USB), fast and reasonably priced Wi-Fi, and hot meals. On top of that, our flight departed and arrived on schedule. That's about as good as intra-Europe business class gets, so kudos to Iberia. I wouldn't hesitate to fly Iberia again, especially on an A320neo.
If you've flown Iberia's short haul business class, what was your experience like?